The drive from Calgary to Vancouver (or vice versa) is far from boring, unlike many other drives worldwide. It presents numerous scenic stops along the way that can transform the trip into an extraordinary road trip adventure.
Although feasible to accomplish the drive in a single, extended day, it is recommended to divide it into smaller portions, as there are so many beautiful places to enjoy and small towns to see along the way!
---
There Are Many Routes to Drive from Calgary to Vancouver
Fastest Route: The fastest route is to take the Trans Canada (Highway 1) from Calgary all the way to Kamloops and then hop on Highway 5 through Merritt and Hope. This is not only the quickest way, but also the easiest with the best roads. However I do find this route to be one of the most uneventful.
Most Scenic Route: In our opinion, this is the most scenic route, and one we will focus on in this article. Travel from Calgary to Kamloops and then take the Duffy Lake Road (Highway 99), which is a scenic route, but beware it is subject to avalanches, and landslides, and is overall not the easiest road to drive in the winter. We've been caught a few times on it in a snowstorm and can tell you it is a scary experience.
Alternative Scenic Route: Another scenic route is to travel Highway 1 out of Calgary and head towards Kelowna. This route will take you through the Okanagan and towns like Vernon and Kelowna. It's a great summertime route from Calgary to Vancouver, but not so much in the winter.
Longest Route (Adventure option): If you have time on your hands and want to explore some really cool towns you can head south from Calgary and travel through Okotoks, and hit Waterton National Park. After Waterton you'll venture through cool mountain towns like Fernie, Nelson, and Rossland and pretty much skirt the US/Canada border. It's a great wintertime option if you are looking to ski at some of Canada's best ski resorts like Fernie, Red Mountain, and Whitewater.
---
How Far is the Calgary to Vancouver Drive?
It all depends on which route you take, but in general you can expect the drive to be about 1000 km and take anywhere from 10.5 (fast way without stops) to 14 hours, or even longer if you really take your time!
---
Can You Drive From Calgary to Vancouver in One Day?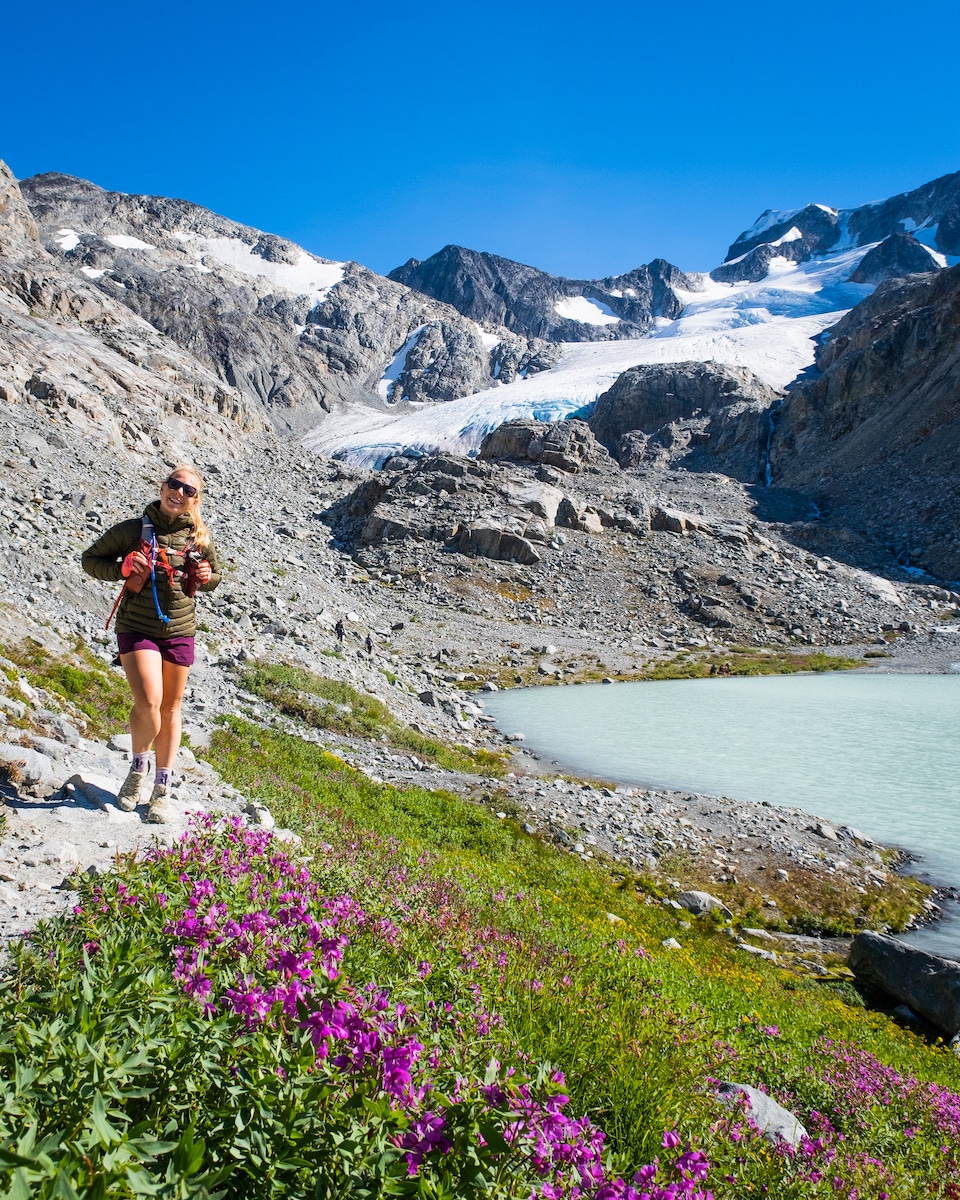 Yes you can! Granted, it is a very long day and will require you to start your day early, make minimal stops, and arrive pretty late in Vancouver.
However it is doable if necessary. But what would the fun in that be? There are so many beautiful places to stop and see between the two cities that it deserves at least two days!
Get the Gypsy Guide Audio Tour for your Vancouver to Calgary road trip!
---
The Best Ways to Travel Between Calgary and Vancouver
By Car: Besides flying, the best way to travel between Calgary and Vancouver is by car. This will allow you to take as much time as you need between the route, and stop when you feel like it. You can rent a car in Calgary and drop it off in Vancouver, often for a one-way drop-off fee. This can also be done vice versa.
By Bus: Rider Express will take visitors between Vancouver and Calgary by bus. The trip takes 15 hours and costs $161 one way. There are no scenic stops on this journey, it is solely for transport.
By Train: There is no direct train between Calgary and Vancouver, however the Rocky Mountaineer runs scenic rail journeys between Vancouver and Jasper and Vancouver and Lake Louise.
By Air: Of course the easiest and quickest option between Calgary and Vancouver is by air. WestJet and AirCanada both run frequent routes between Calgary and Vancouver. I'm talking like one flight every 1-2 hours frequent. You can often find tickets for $100-200.
---
Driving from Vancouver to Calgary in Winter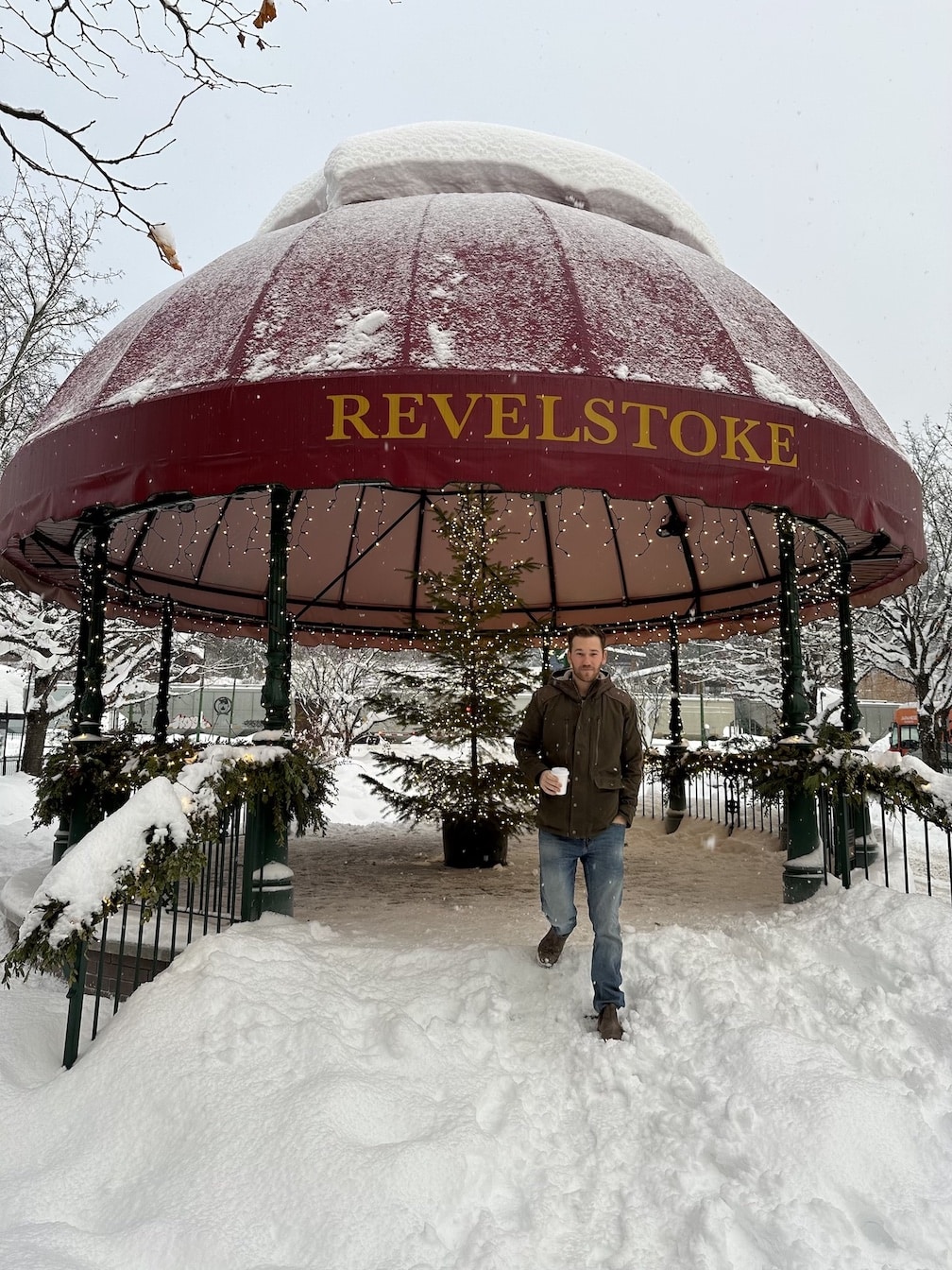 You must take extra precautions when driving in the winter in Western Canada. This is especially true if you are driving Highway 99 and going over the Duffy Lake Road, or driving Rogers Pass (Revelstoke to Golden).
These routes are treacherous in the winter, and if you hit the road during a winter storm it will make driving conditions very difficult and scary, even with winter tires. We've done it a few times now, and whe we get caught in a bad one, we pull over and try to find a hotel for the night.
Winter tires or chains are required on most routes in British Columbia from October 1 to April 30th, and a few routes in Alberta as well.
Stay to date with Alberta driving conditions on 5.11 Alberta and British Columbia conditions on Drive BC.
---
Important Things to Note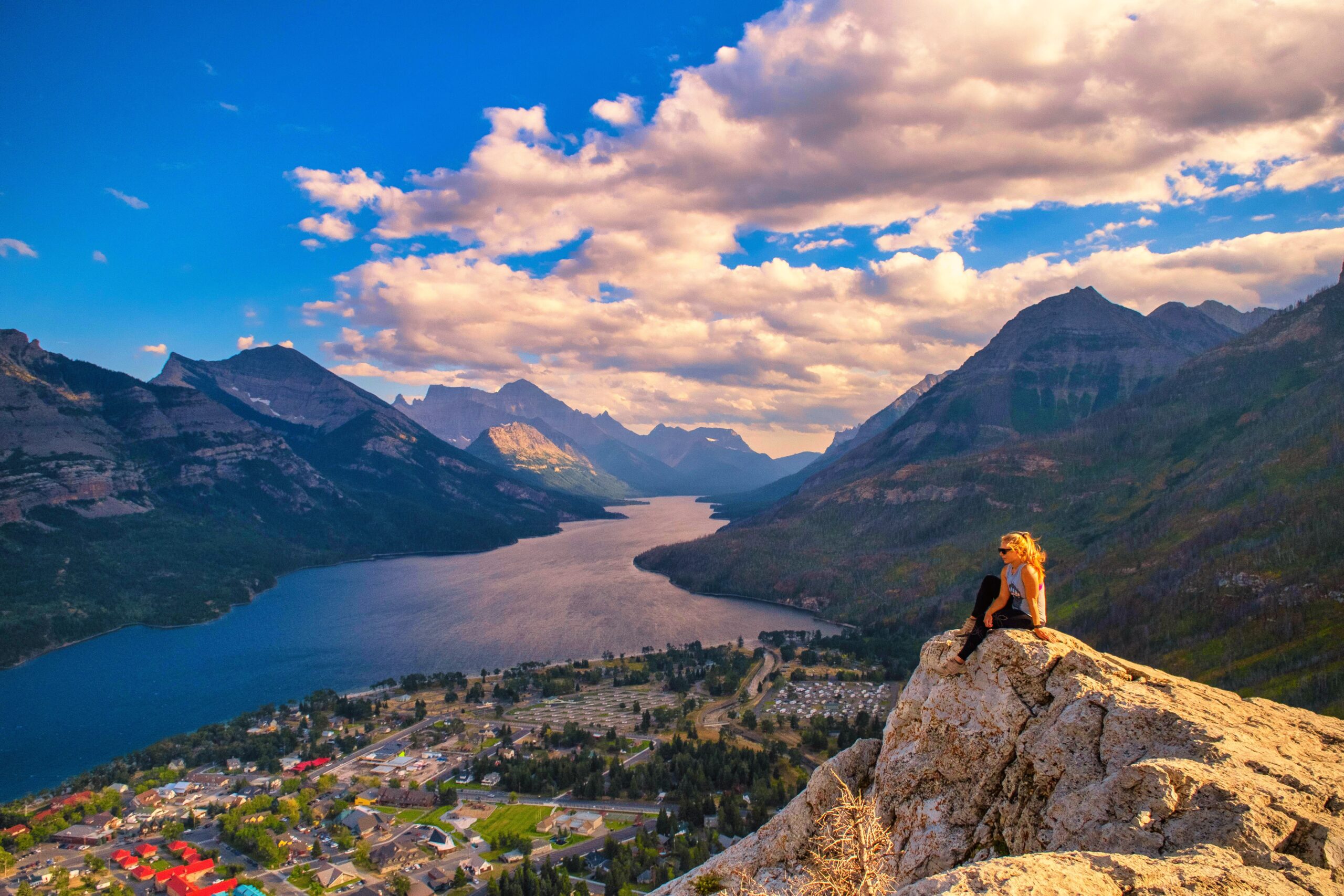 Watch out for wildlife on the roads when driving from Calgary to Vancouver. This includes bears, deer, elk, and moose. They are present, especially during the summer months. If you see wildlife on the road please respect its space.
Cell Service is intermittent on much of this drive. Notably between Pemberton to Lillooet, Salmon Arm to Revelstoke, Revelstoke to Golden, and Golden to Lake Louise.
Many routes will get you from Calgary to Vancouver. We recommend you study a map to see which would be best for you to take and which detours may be worth your time.
There's a time change when driving between Calgary and Vancouver which will fall into place somewhere around Revelstoke. Calgary operates one hour ahead of Vancouver on MST. Meaning when driving from Calgary to Vancouver you will gain an hour. If driving from Vancouver to Calgary you will lose an hour.
The Kicking Horse Canyon. When driving between Field and Golden it's essential to know about the Kicking Horse Canyon project, which is part of the comprehensive Highway 1 – Kamloops to Alberta – Four Laning Program. The roadwork means Highway 1 may be shut, but this is most important in during the winter months when they often close the road at night and traffic is diverted via Highway 93 through Kootenay National Park. It's important to stay up to date with announcements and closures here.

---
Calgary to Vancouver Best Stops
---
Calgary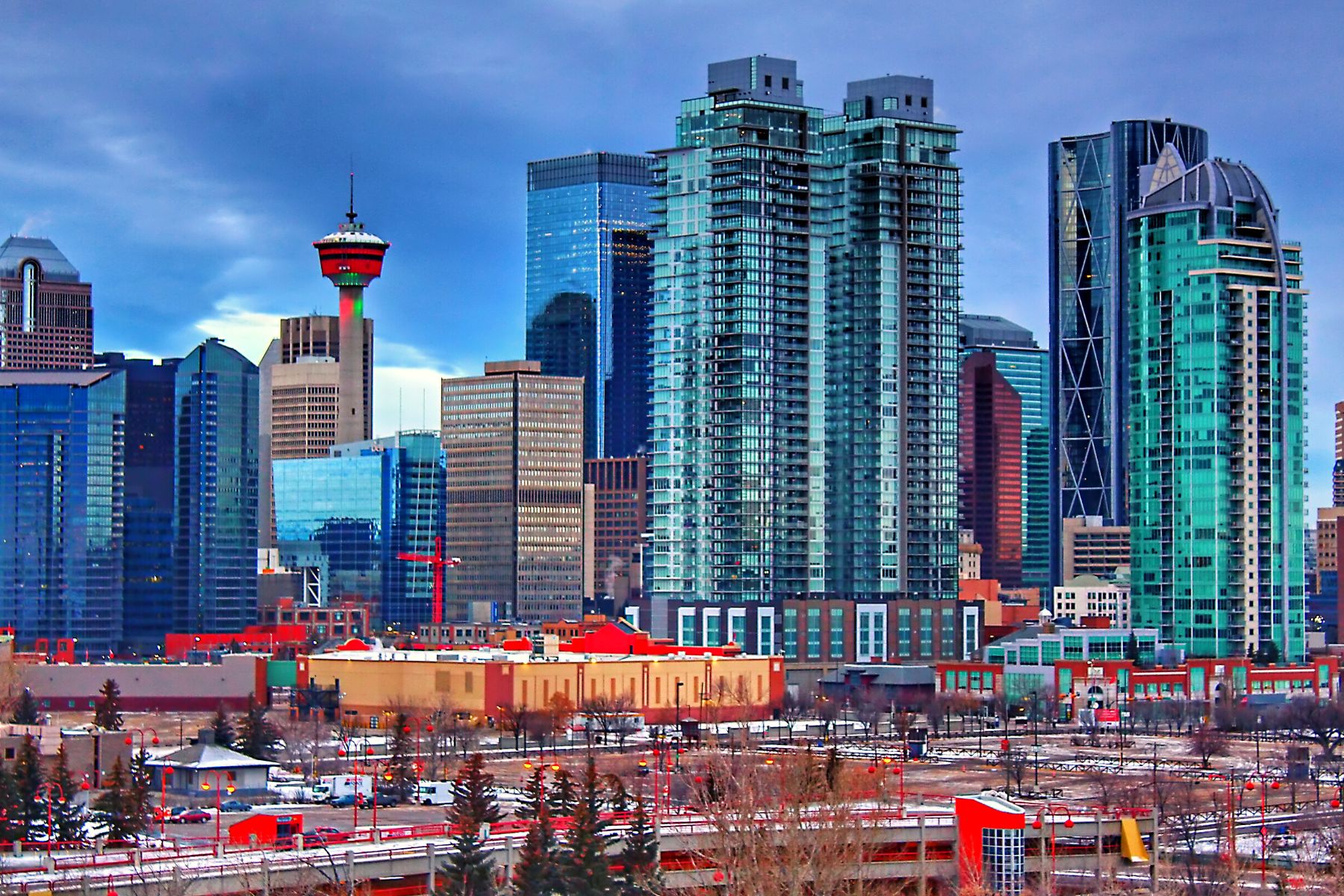 Once primarily associated with cowboys and oil, Calgary has transformed over time into an innovative city featuring diverse activities, shops, breweries, museums, and restaurants. Though the Canadian Rockies continue to be Alberta's top attraction, Calgary is a destination that should not be overlooked. As the fourth-largest metropolitan area in Canada, it offers ample opportunities for visitors to explore throughout the year.
Situated only 80 kilometers east of the Rockies, Calgary provides convenient access to Banff and Canmore, making it an excellent base for travelers seeking to venture out. If you're flying into the area, chances are you are flying into YYC. Of course, you can pick up your rental car and get on with it, ignoring Calgary, but if you have an extra day to spare, take the opportunity to explore the city for a day!
Some of the top experiences in Calgary include having lunch at the Calgary Tower, exploring Studio Bell, or taking a Pedal Pub Tour in the summer. And if you happen to be visiting in July during the Calgary Stampede, the experience is not to be missed!
---
Yamnuska Wolfdog Center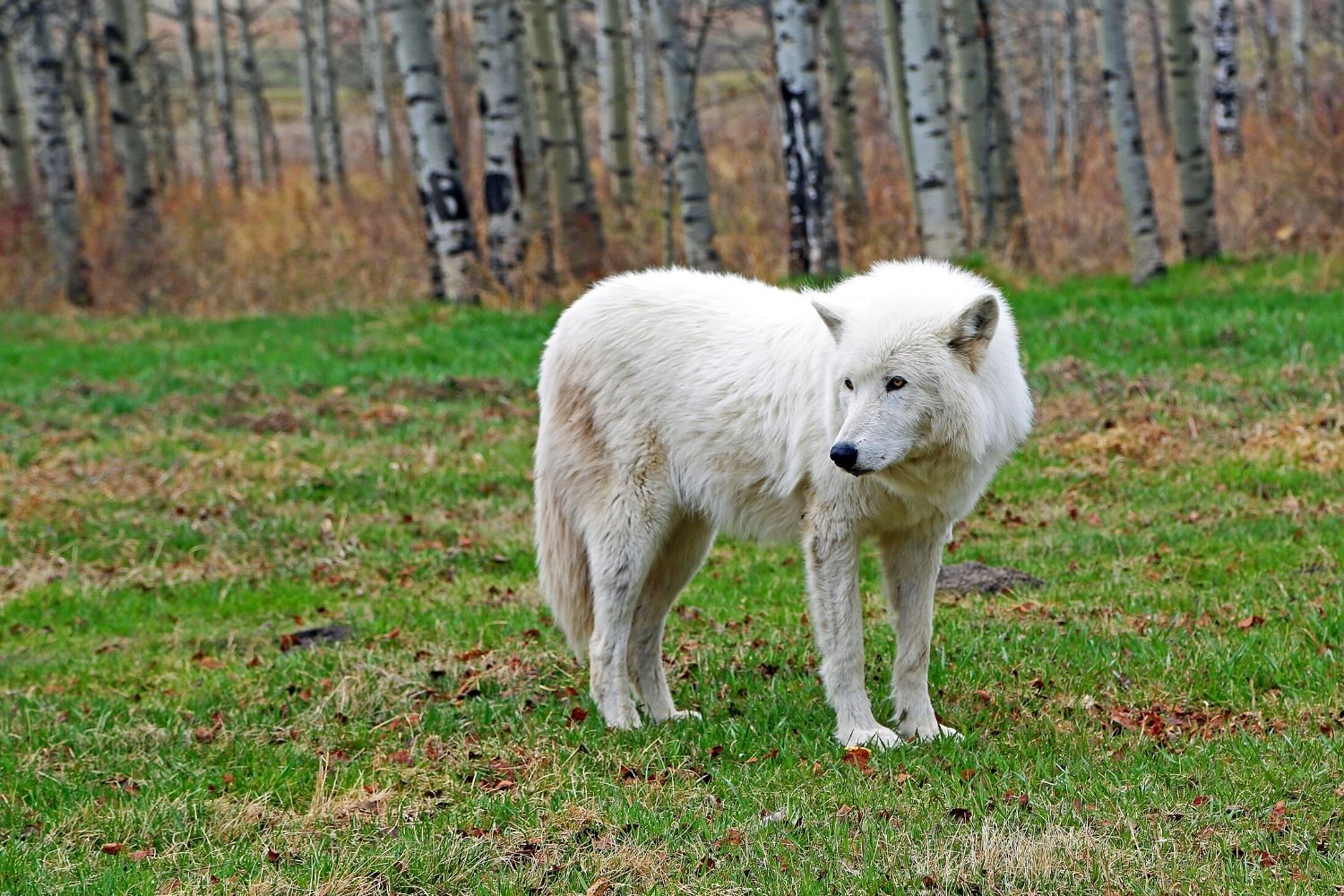 Located in the foothills of the Canadian Rocky Mountains in Cochrane, the Yamnuska Wolfdog Sanctuary is home to more than 35 magnificent wolfdogs.
The sanctuary offers the opportunity to observe and learn about wolfdogs, but visitors can also interact with them by sharing treats and giving them pats.
However, the sanctuary's mission goes beyond providing a safe haven for displaced wolfdogs. It is also dedicated to raising awareness and promoting knowledge about these majestic animals. Guests can enjoy a leisurely walk around the sanctuary or take an interactive tour to learn about wolfdogs in Canada. Along the way, they can witness impressive dog tricks and meet some furry friends.
When driving between Calgary and Vancouver, a visit to the Yamnuska Wolfdog Sanctuary is an interactive and educational experience that should not be missed by any animal lover. Families with children particularly love this experience!
---
Kananaskis Country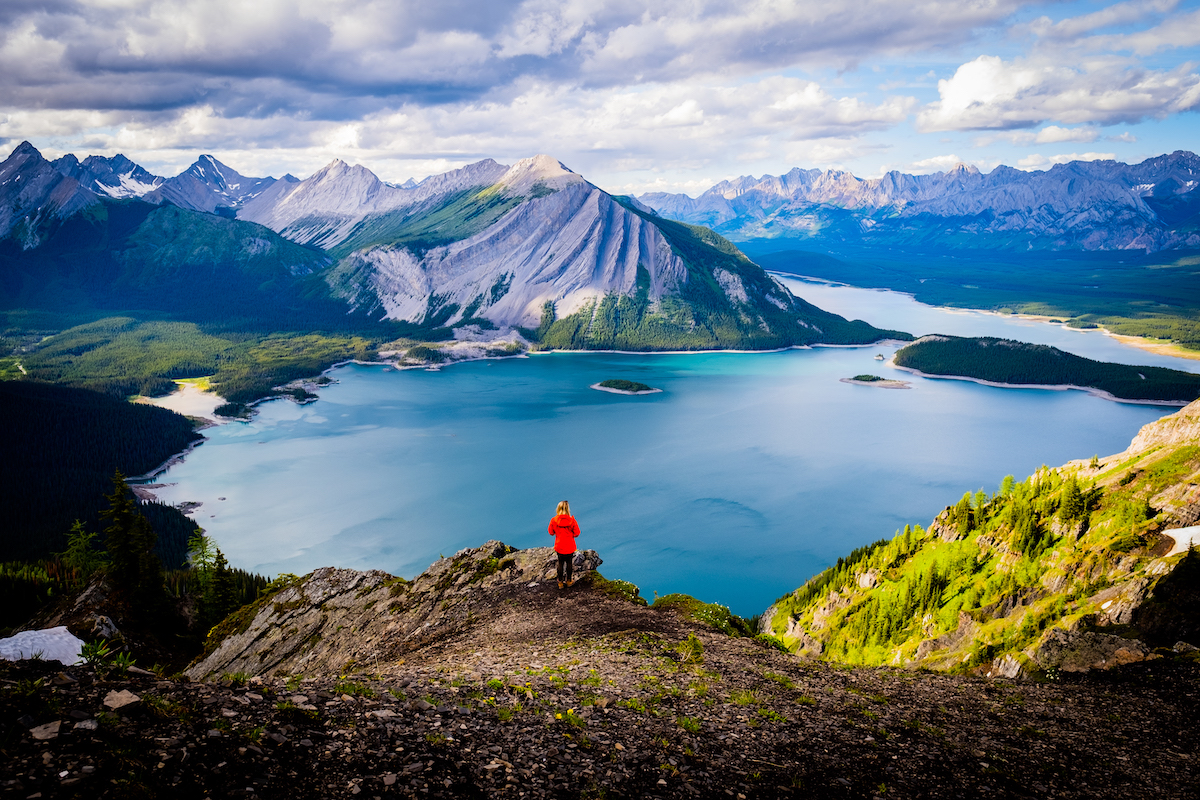 While Banff may take center stage, Kananaskis Provincial Park offers many unique activities and sights that should not be overlooked. We highly recommend setting aside at least a day to explore this stunning park, as falling in love with its beauty won't take long. And if you're pressed for time, we suggest driving down Highway 40 for just an hour or so to bask in the epic views.
Kananaskis has been the backdrop for countless movies, so see if you can spot some familiar peaks featured in The Revenant, Inception and The Edge.
In addition to the breathtaking scenery, Kananaskis offers numerous hiking opportunities in the summer. A few of our favorite hikes are Rawson Lake and Sarrail Ridge, Arethusa Cirque, and Prairie View Trail.
If not in the mood to hike, take a picnic basket and some inflatable stand-up paddleboards to Kananaskis Lakes or unwind in the pools at the Kananaskis Nordic Spa.
---
Canmore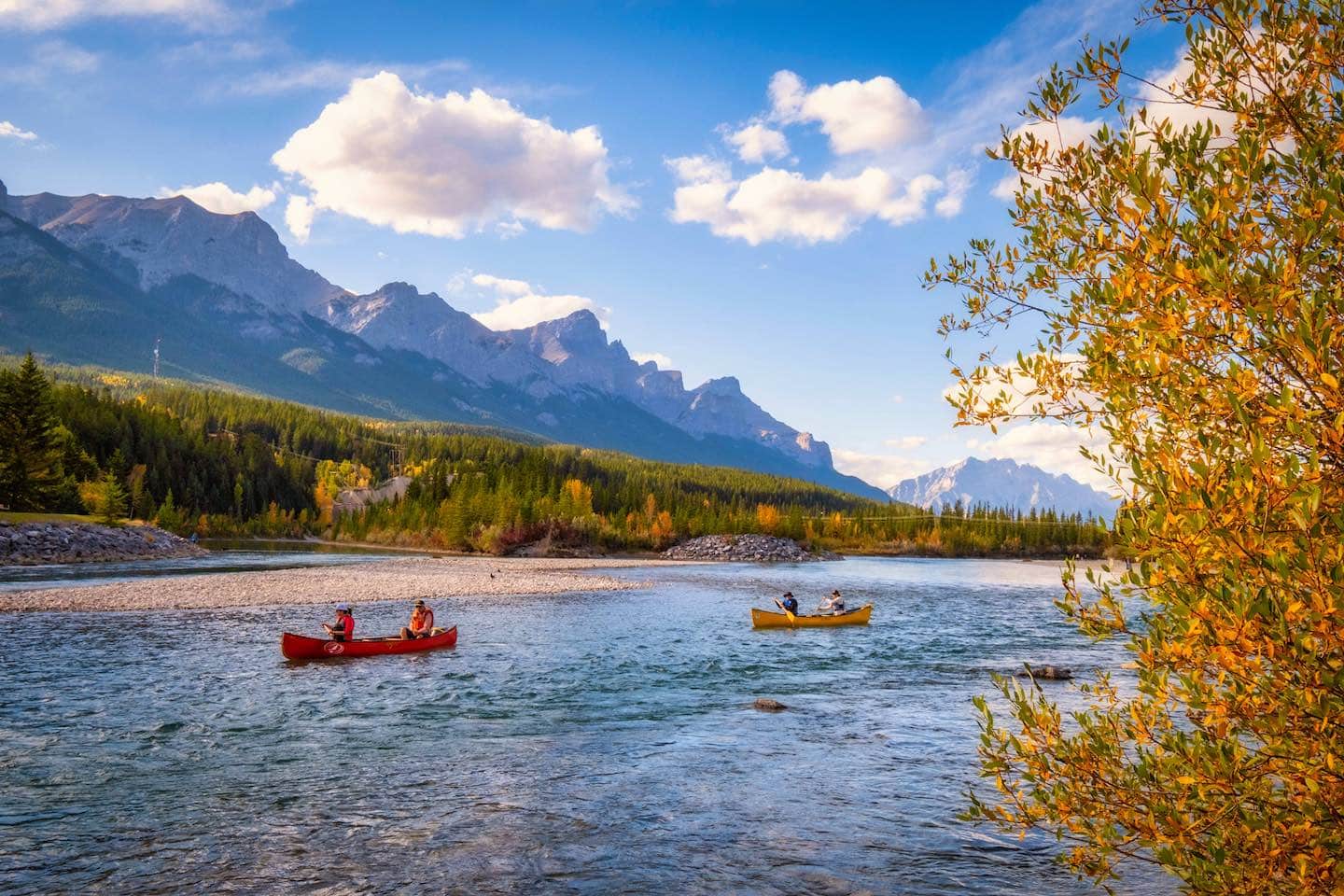 When driving from Calgary to Vancouver, you must stop in the stunning town of Canmore. Canmore is one of Alberta's best places to visit and offers something for every visitor.
Stroll down Main Street with a coffee from Eclipse, venture into Stonewaters, or have lunch at Communitea – one of the best Canmore restaurants.
If you're up for some adventure, we recommend renting a paddleboard to take out onto the Spray Lakes Reservoir, picnic by Goat Pond, or hike up Ha Ling Peak!
---
Lake Minnewanka / Two Jack Lake / Johnson Lake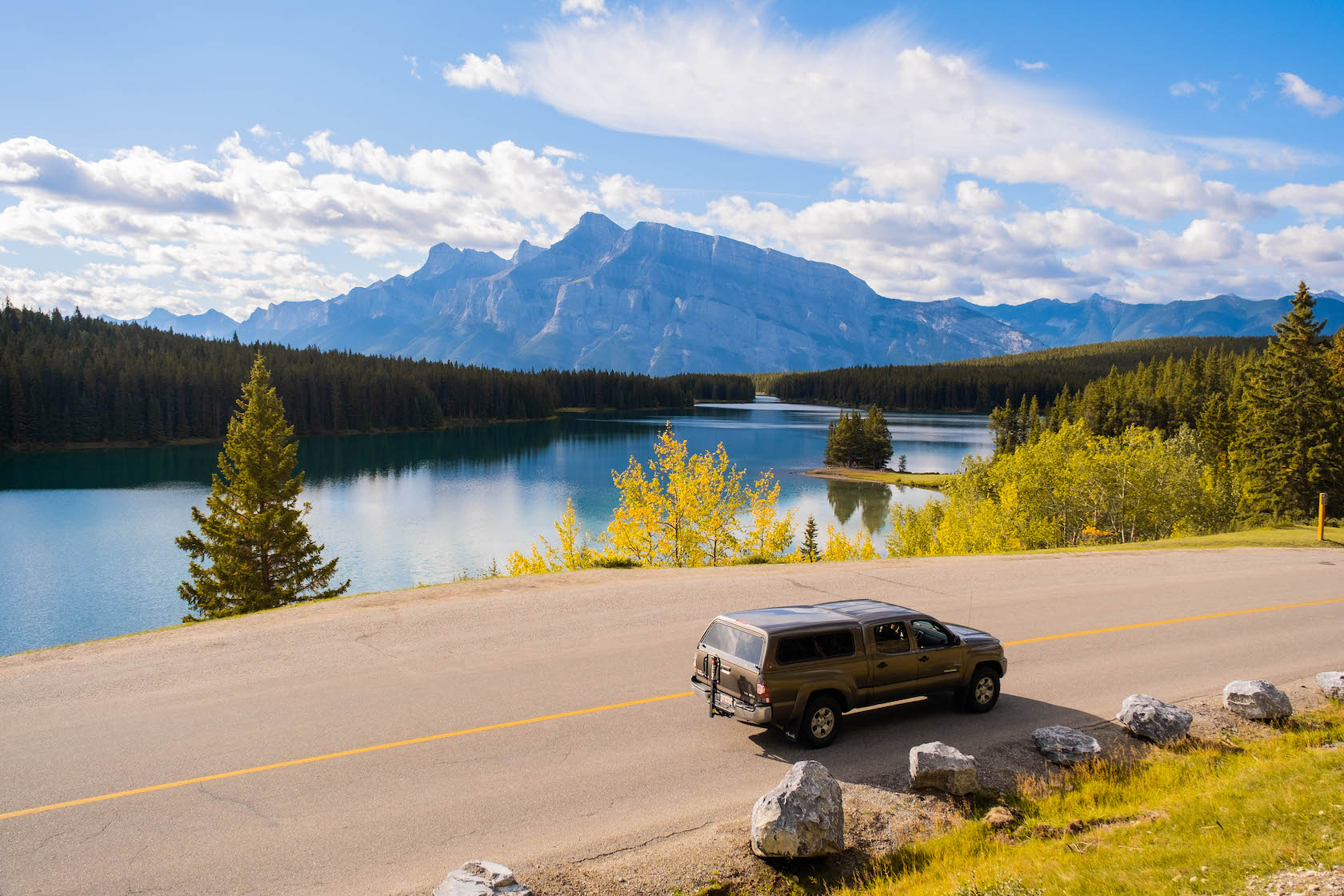 As you drive from Canmore to Banff, you'll see a turn-off for Lake Minnewanka/Cascade Ponds on your right-hand side.
We highly recommend taking this exit and embarking on the Lake Minnewanka Scenic Dr. This loop drive will take you by Cascade Ponds first, where you can enjoy a lovely picnic, followed by Johnson Lake, which offers a beautiful and easy loop hike if you have time, Two Jack Lake, and then the stunning Lake Minnewanka.
Each body of water provides a unique perspective and is sure to impress. During the summer, you can rent a canoe, kayak, or motorboat to explore further on Lake Minnewanka.
The whole drive could take you a day if you want to relax at each lake, or if you wish to see the lakes quickly you can easily drive this in under an hour.
---
Downtown Banff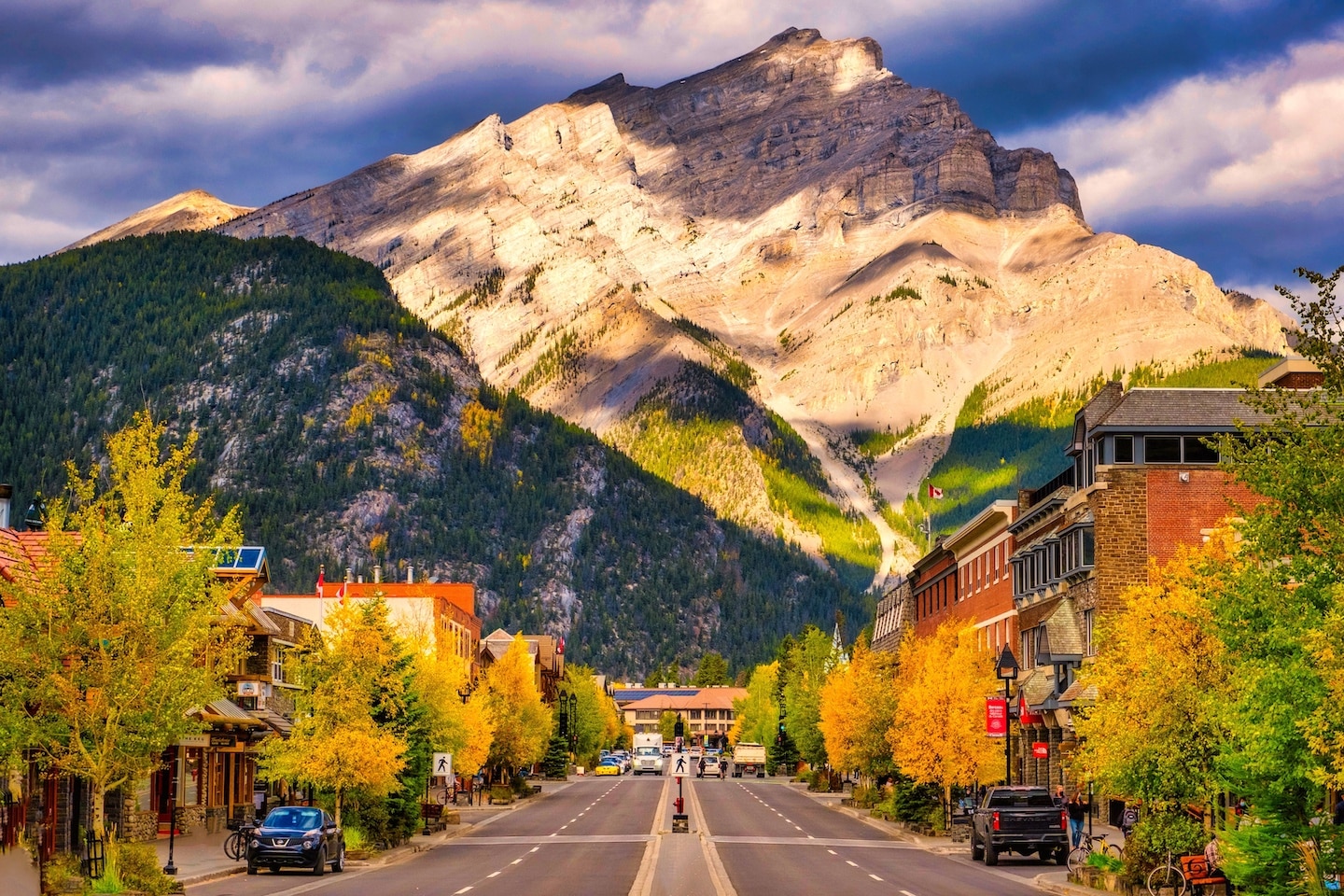 I'm guessing that Downtown Banff will be on your hit list when driving from Calgary to Vancouver, and you'll likely even stay a few days, as there are so many things to do in Banff.
Although you'll technically be in Banff National Park for a large portion of this road trip, Downtown Banff offers quite a bit for visitors that don't want to venture too far from civilization.
Head to Banff to stroll Banff Avenue, walk into the many shops, smell the flowers at Cascade Gardens, dine at the many restaurants, walk to Bow Falls, stop at the Cave & Basin Museum, head up the Mount Norquay Charilift, or go up the Banff Gondola and enjoy the views over Cascade Mountain.
---
Vermilion Lakes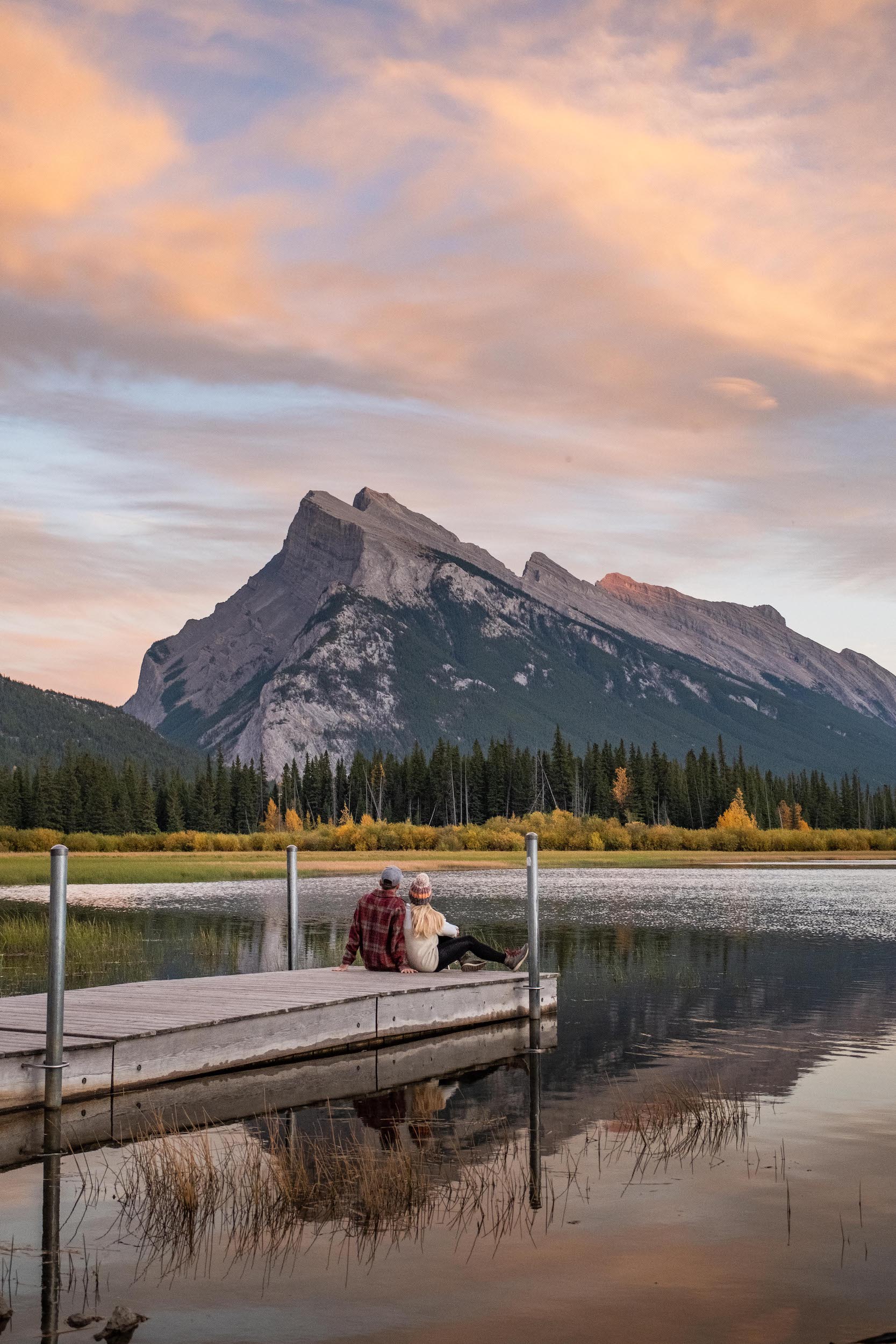 Vermilion Lakes, just outside Downtown Banff, offers a stunning reflection of the iconic Mount Rundle and is one of Banff's best photo spots in Banff.
During the golden hours, photographers flock to Vermilion Lakes to capture the sublime landscape and perhaps even spot some wildlife near town. You don't have to be a photographer to enjoy the magic here.
Vermilion Lakes is a fantastic spot to head with a book and enjoy the scenery. There are a few benches and docks to sit and relax. It's also possible to bring a kayak, canoe, or stand-up paddleboard and take it to the water. Vermilion Lakes, although windy sometimes, or one of the most accessible places to paddle in the Rockies for beginners.
---
Bow Valley Parkway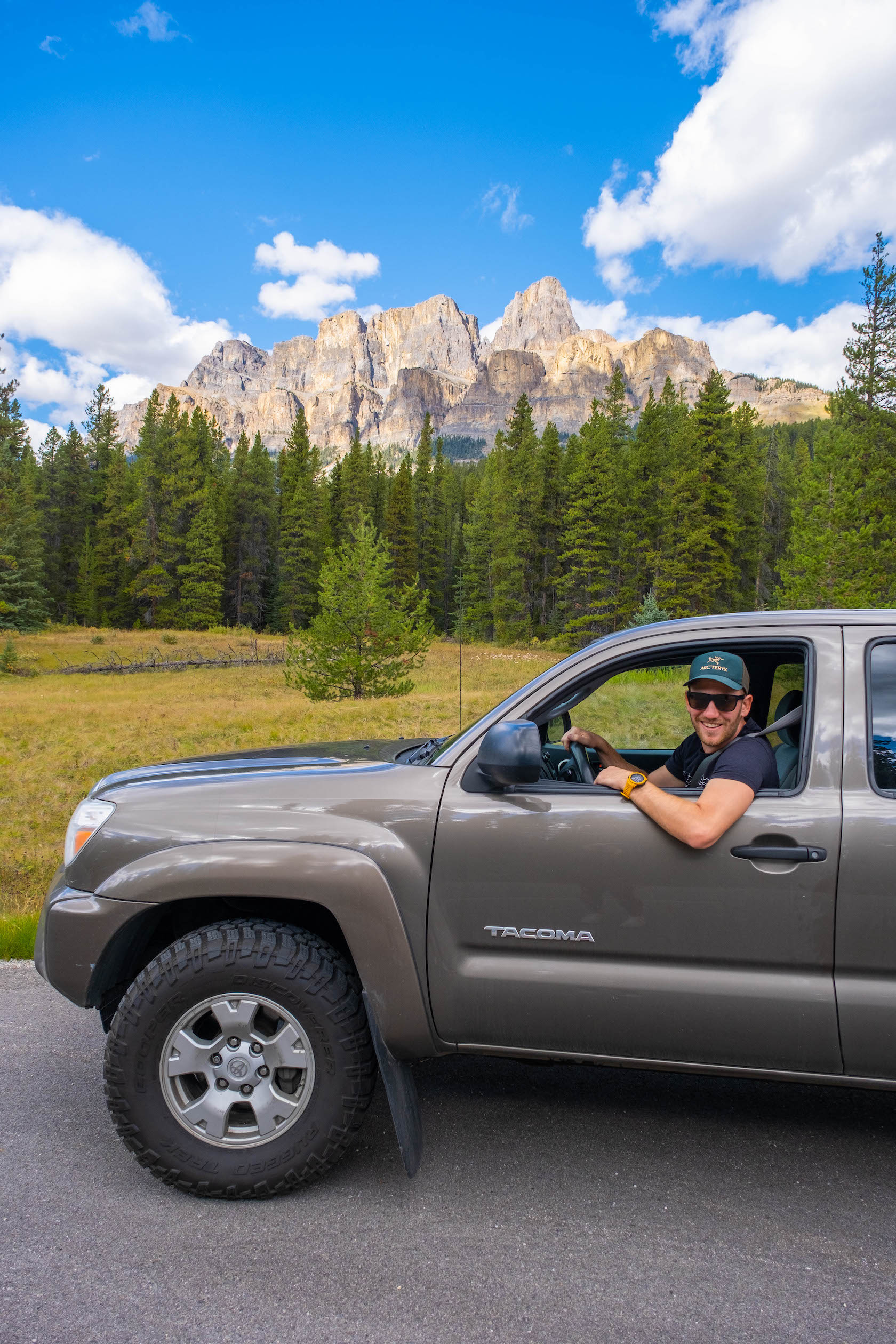 The Bow Valley Parkway, or the 1A, is a road that every visitor to Banff National Park should drive on at least once. Before the Trans Canada, the Bow Valley Parkway was the original road linking Banff and Lake Louise in the early 1900s.
Now it's a scenic drive primarily used for sightseeing and outdoor recreation. It's a road not meant to be driven quickly, with plenty of beautiful stops along the way, including Morants Curve and Johnston Canyon.
Johnston Canyon is one of Banff's most family-friendly hikes and a popular site year-round. In just a few hours' canyon walk, you'll go past some of the best waterfalls in Banff on one of the most well-maintained trails in the park.
---
Lake Louise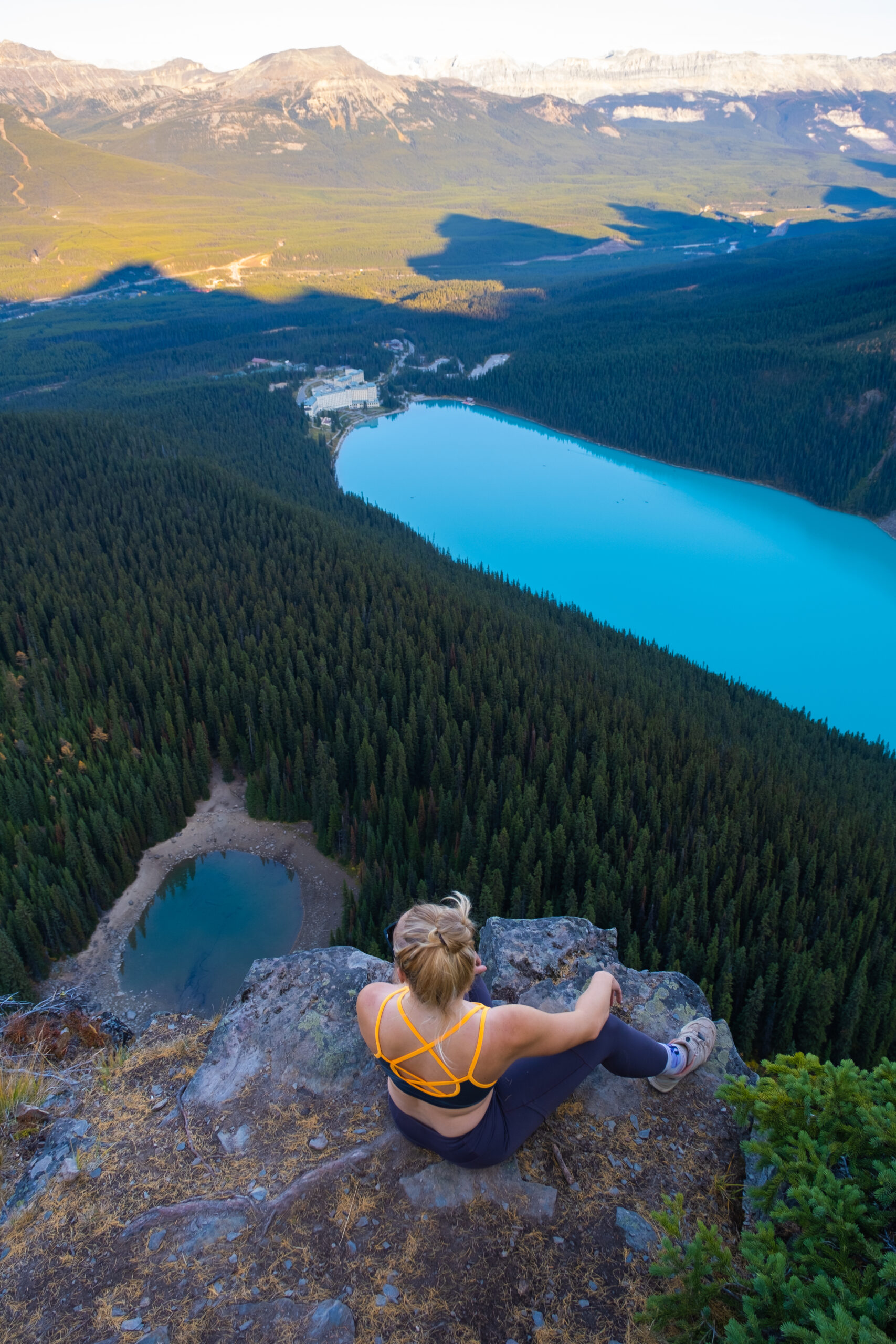 Lake Louise is one of the most popular lakes to visit in Banff, and if you have never seen it, it's best to work it into your Banff itinerary.
Be forewarned that parking here can be a significant problem, so we recommend planning for an early visit, a late one, or taking the Lake Louise Shuttle. One thing is for certain – however you decide to visit Lake Louise, it's best planned in advance.
Once at Lake Louise, take in the views from the lakeshore, have tea at the Fairmont, hike up to Lake Agnes and the Beehives, hike the Plain of Six Glaciers Trail, or go for a paddle on one of the bluest lakes you have ever seen. If you have a large budget, book a night at the only hotel on the lake – the famous Fairmont Château Lake Louise.
---
Moraine Lake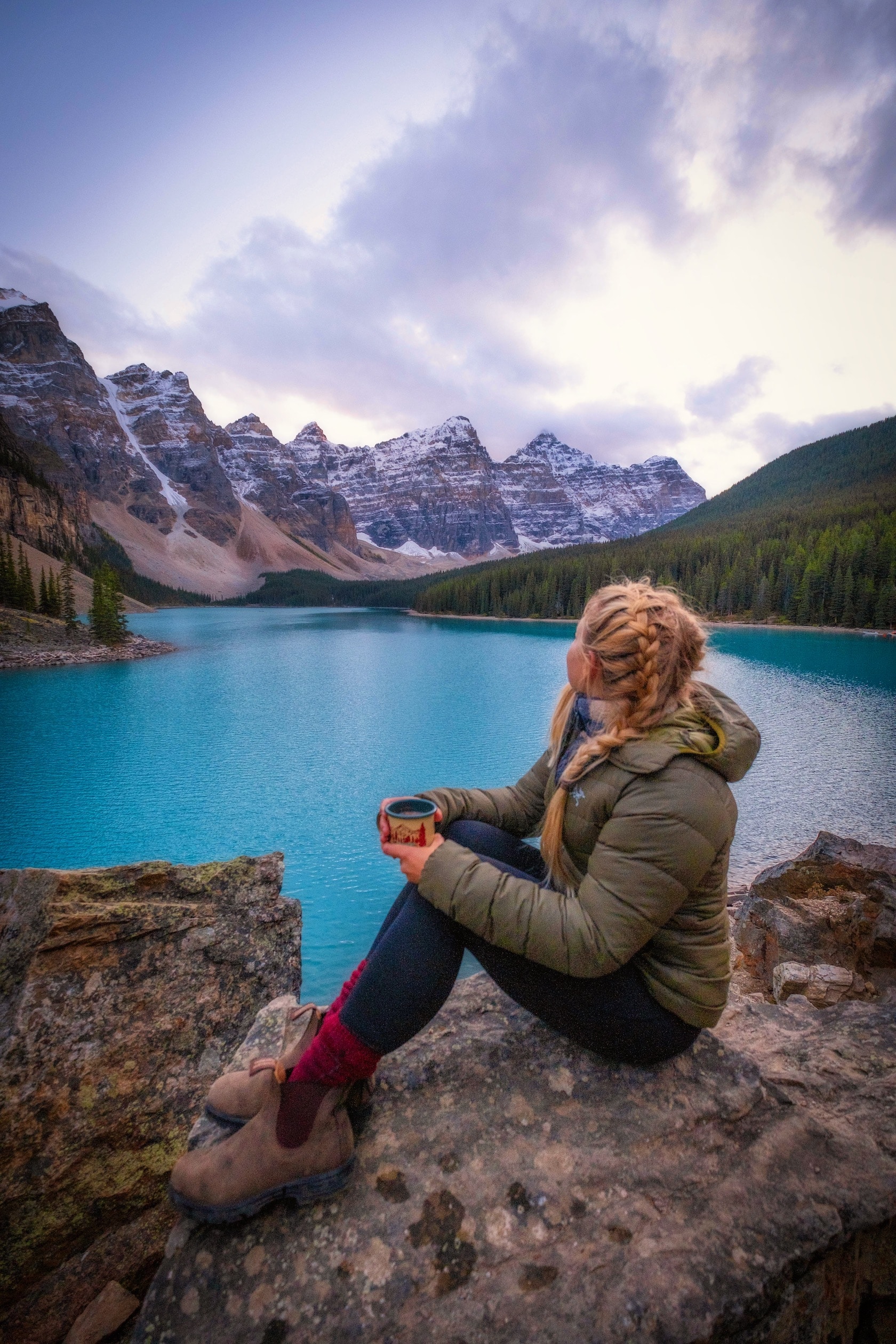 If you are visiting Lake Louise, it's best to work Moraine Lake into your itinerary as well. If there is one lake even more popular than Lake Louise it is Moraine Lake. The alpine lake is a wild turquoise blue fed by glacier melt and set with a backdrop of the Ten Peaks. If heaven were a place, Moraine Lake could definitely be it.
However, you won't be able to drive right up to Moraine Lake while on your road trip, and you'll have to book the Moraine Lake shuttle or a tour to get there.
Once at Moraine Lake, rent a canoe and paddle on the lake, hike to Consolation Lakes, or just take in the views from the easy Rockpile trail.
---
Sherbrooke Lake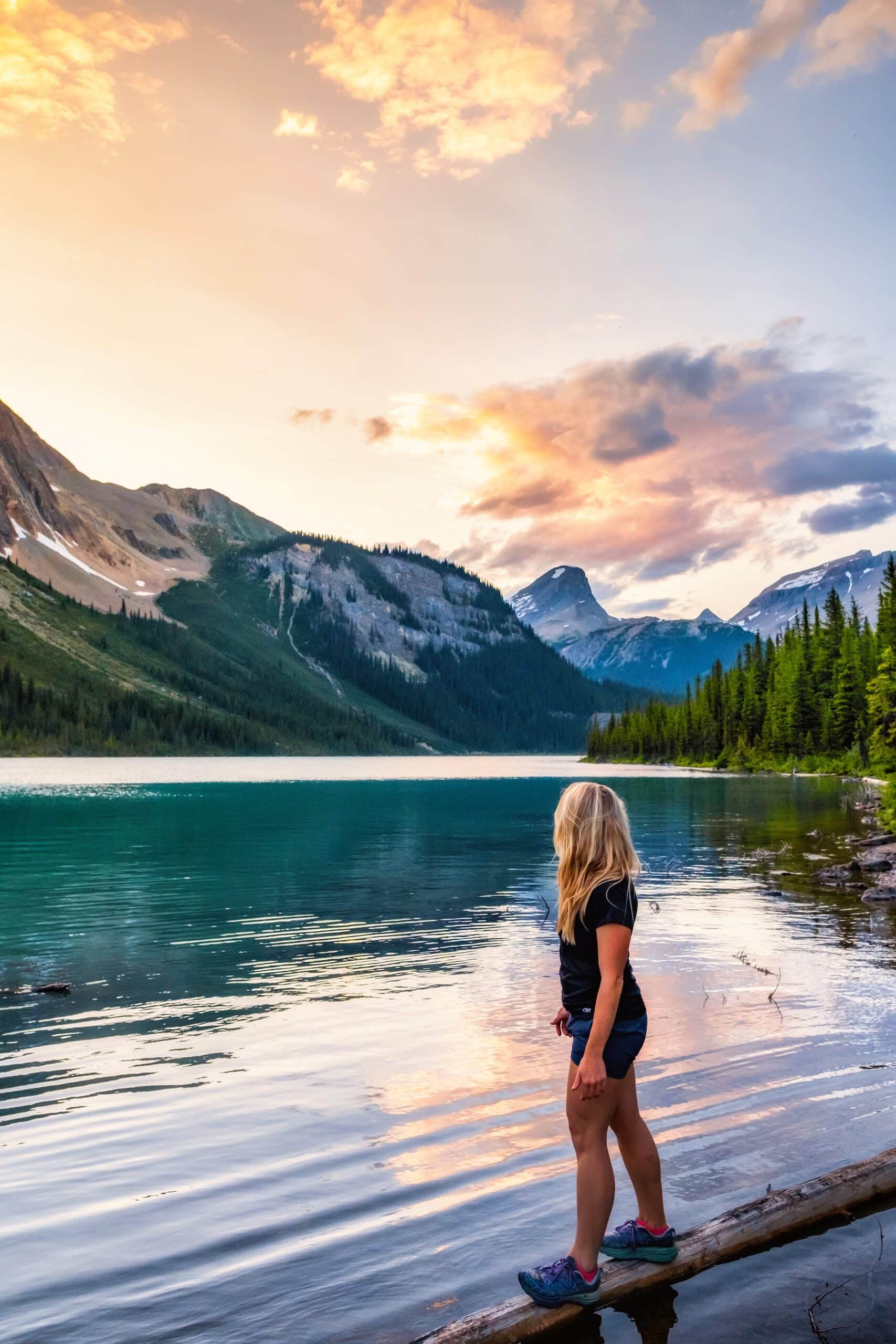 Sherbrooke Lake is a hidden gem between Calgary and Vancouver that attracts significantly fewer visitors than popular hot spots nearby, like Emerald Lake or Lake Louise. It's a short hike to reach Sherbrooke Lake with minimal elevation gain.
The trail leading to the lake meanders through the woods for several kilometers, eventually revealing stunning vistas of Mount Ogden and Mount Niles once you reach the lakeshore.
Take in the beauty of the bright blue lake without hordes of people around. If you want an extended hike, you can continue to Paget Lookout or scramble to Paget Peak.
---
Spiral Tunnels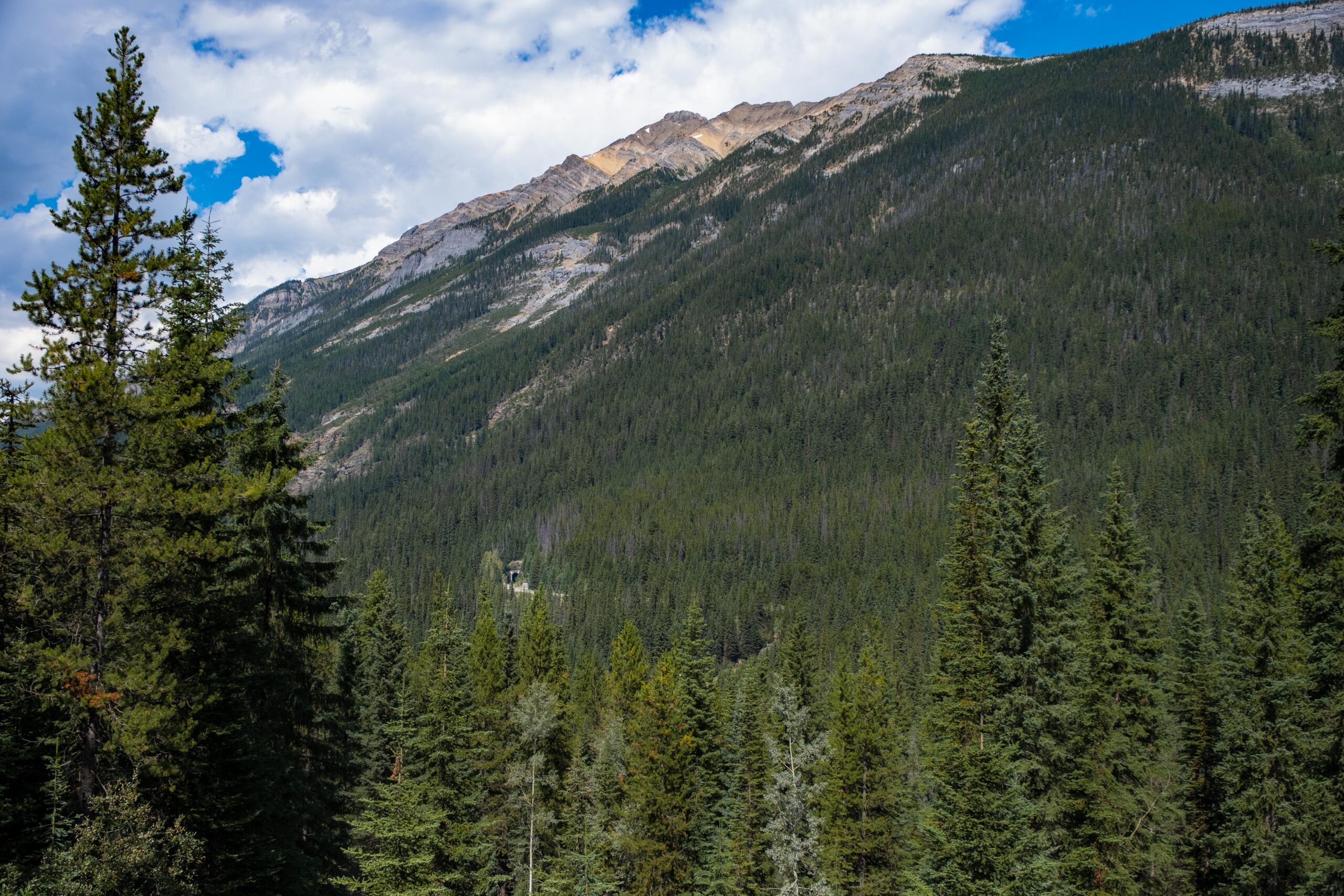 The railway engineering feat known as the Spiral Tunnels, located near Field on the drive from Calgary to Vancouver along Highway 1, is remarkable.
In the late 1800s, connecting British Columbia through the Rocky Mountains presented a challenge. Despite its proximity to the US and Pacific Coast, the steep grade of Kicking Horse Pass posed difficulties for trains. This led to the creation of the Spiral Tunnels, and their fascinating workings can be explored here.
Even today, trails pass through the Spiral Tunnels, and visitors can admire the stunning views from either of the two viewpoints. The Lower Spiral Tunnel viewpoint, located 7.4 km east of Field, and the Upper Spiral Tunnel lookout, situated 2.3 km up the Yoho Valley Road, offer incredible sights.
Although approximately 25-30 trains travel through the tunnels each day, there is no fixed schedule, so visitors may have to rely on luck to catch a glimpse of them.
---
Takakkaw Falls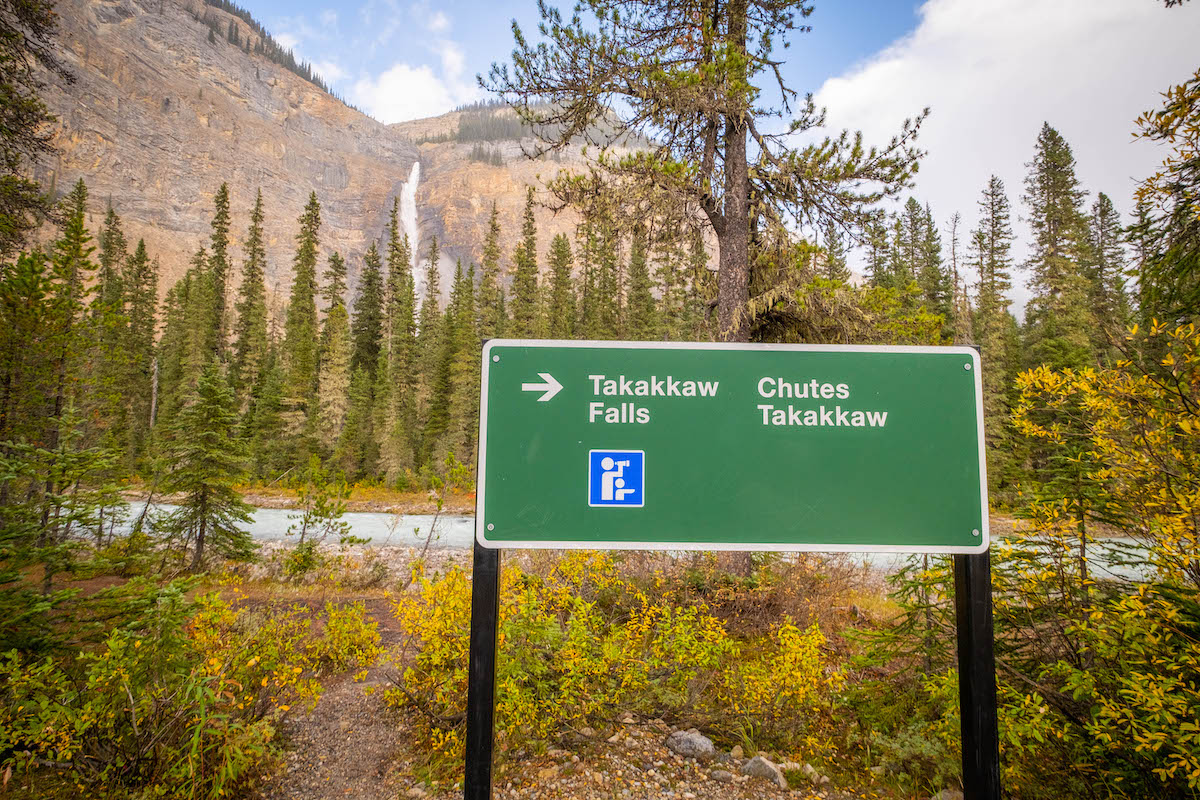 Only accessible in the summer, one of the top attractions in Yoho National Park is Takakkaw Falls, a perfect choice if you are looking for a quick and enjoyable activity on your road trip. You don't have to hike to these falls to get a view.
At 373 meters, Takakkaw Falls, also known as "Tak Falls," is one of Canada's most breathtaking single-drop waterfalls. Its name originates from the Cree language, meaning "wonderful," which is precisely what it is.
The stunning waterfall can be viewed from different angles throughout the valley, creating an awe-inspiring sight. To get up close, travel to the Tak Falls parking area; the viewpoint is less than a 5-minute walk from the parking area.
---
Emerald Lake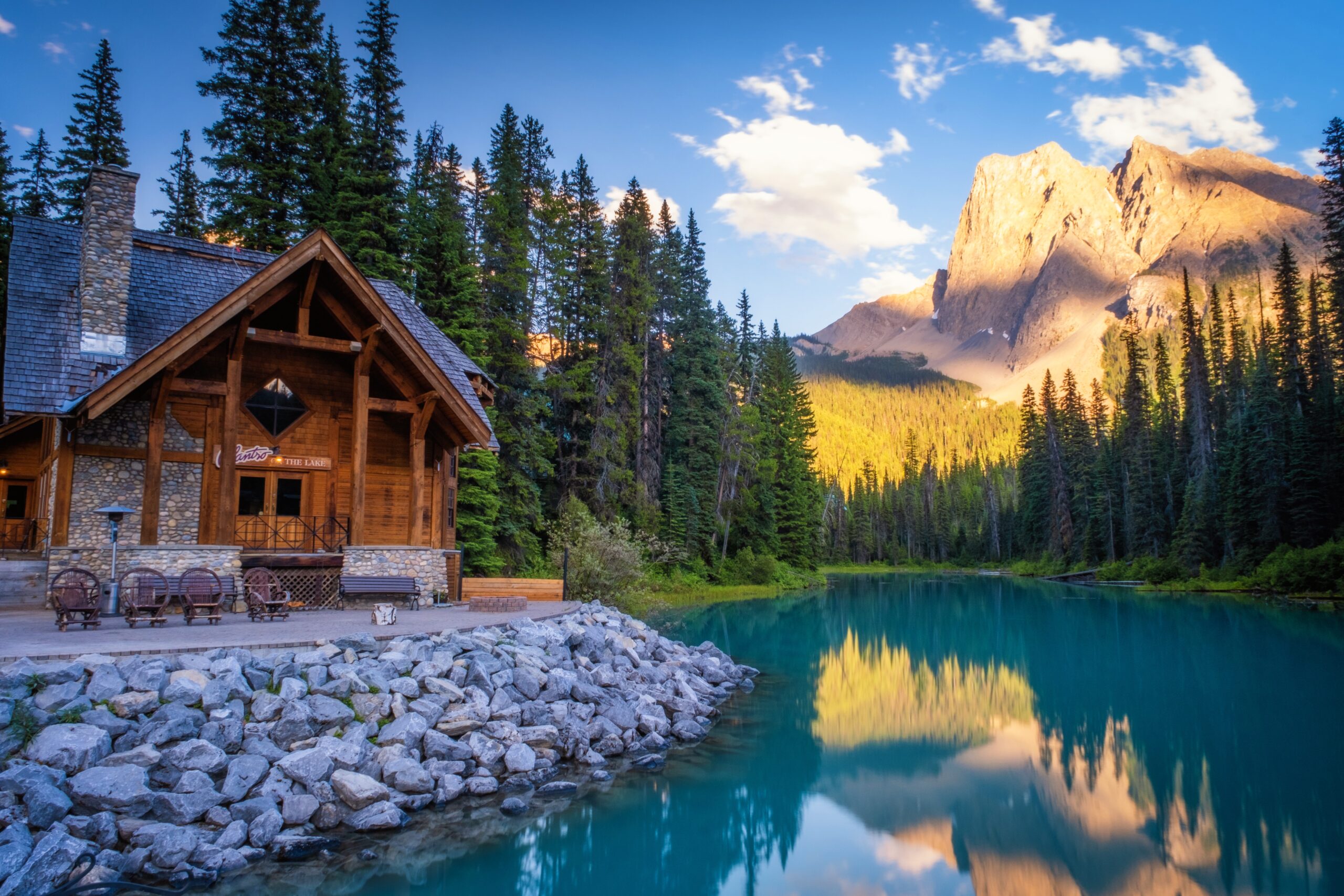 Just past Tak Falls, across from Field, is Emerald Lake Road. Drive 13km up and be met with one of Canada's most stunning lakes.
At Emerald Lake, many simply visit and take in the views. However, you can walk around the entire lake, canoe on Emerald Lake, have a bite to eat at Cilantro Cafe, or even book a night on the lake at the Emerald Lake Lodge.
On your way back to Trans Canada from Emerald Lake, stop at the Natural Bridge. Once you stop, you'll see where it gets its name!
---
Wapta Falls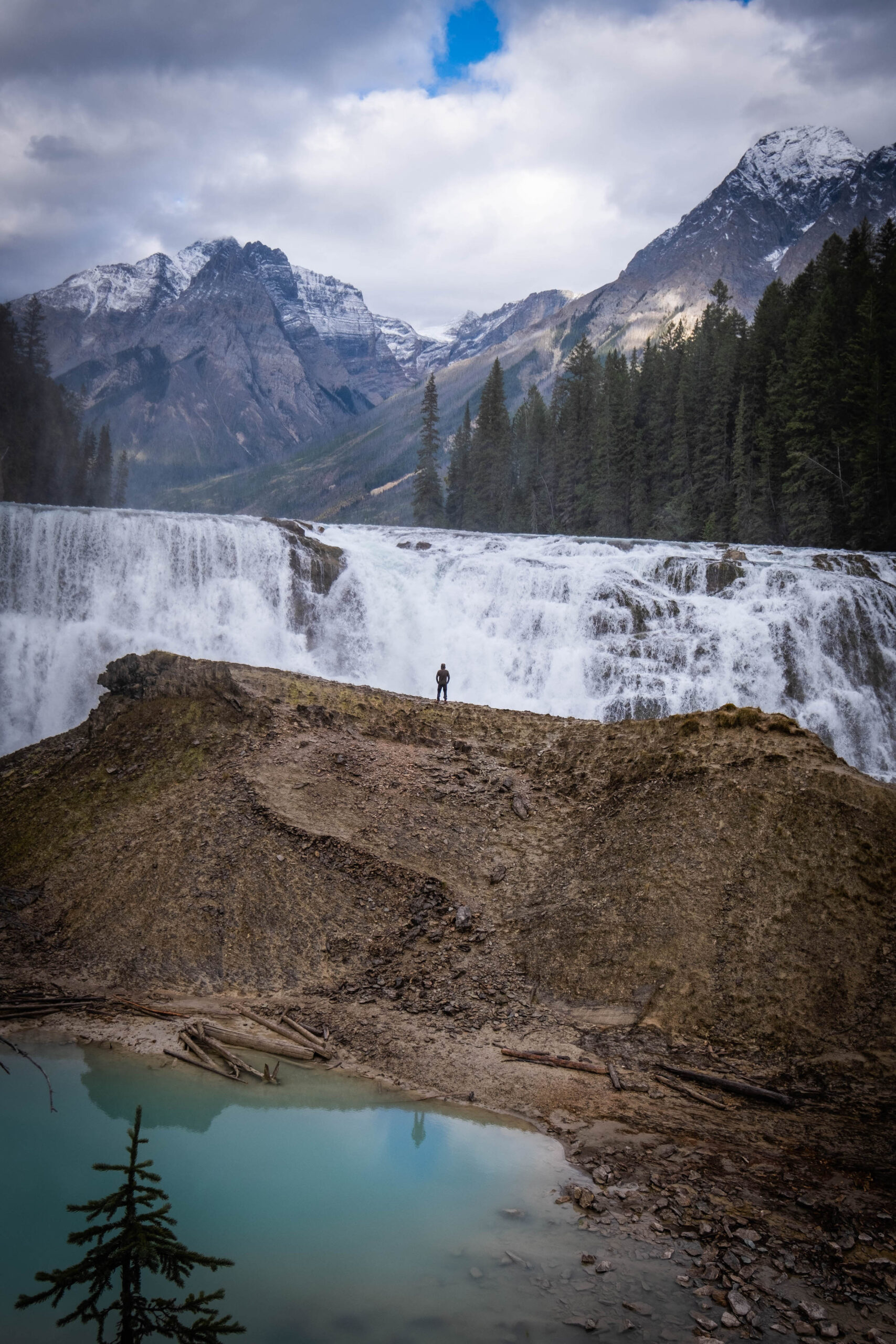 After leaving Emerald Lake, make sure to go sometime for an epic 5km hike to one of the most beautiful BC waterfalls.
Among the must-see attractions in Yoho National Park, Wapta Falls stands out as the biggest waterfall along the Kicking Horse River, measuring an impressive 18 meters in height and a staggering 107 meters in width.
It's a beautiful sight to see in both the summer and winter. In the winter, you'll be surrounded by frozen falls, while in the summer, you can get close enough to feel the mist on your face. This short hike takes 1-2 hours, making it the perfect easy excursion connecting Lake Louise to Golden.
---
Golden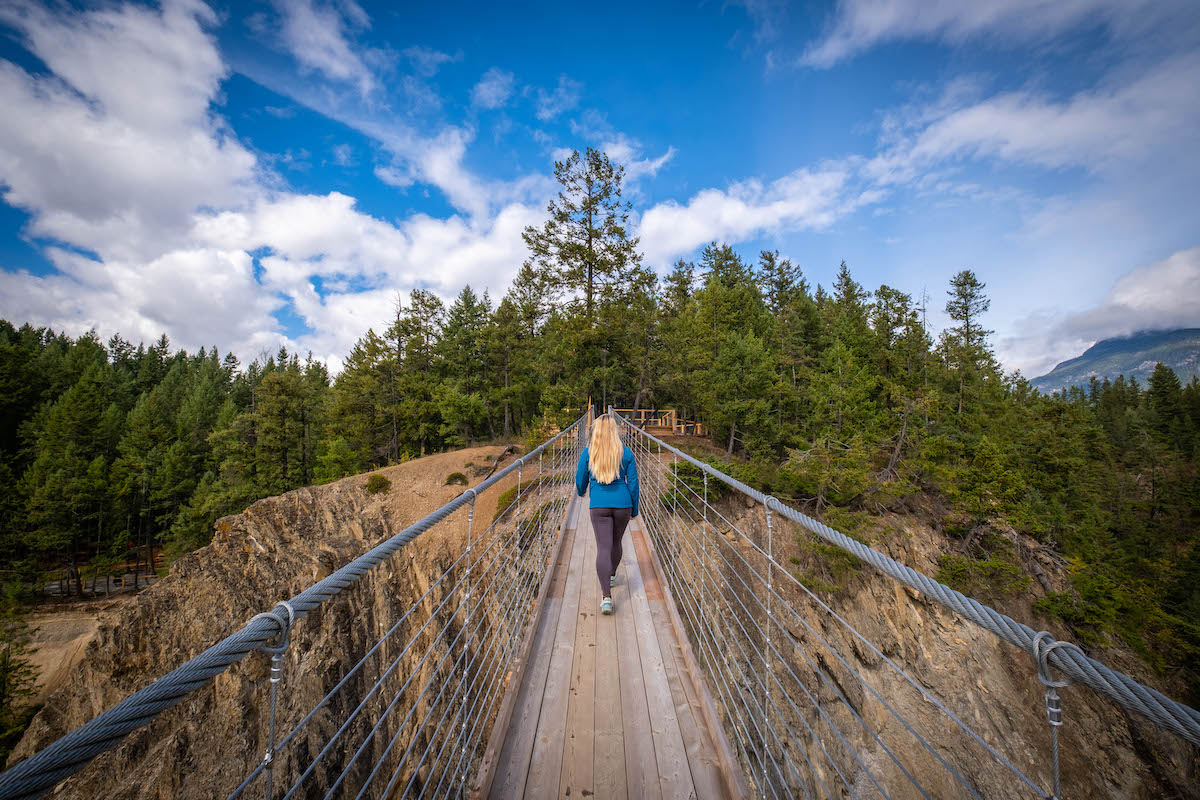 Golden is a mountain town that may be easy to drive by and not think anything off the highway, but there are so many things to do in Golden that it's possible to spend a few days here enjoying the mountains.
If you want to get your adrenaline pumping, book a ferrata tour with Kicking Horse Mountain Resort or go downhill mountain biking there. One of the best things to do with the family walks across the Golden Skybridge or visit Boo, the Grizzly Bear!
---
Revelstoke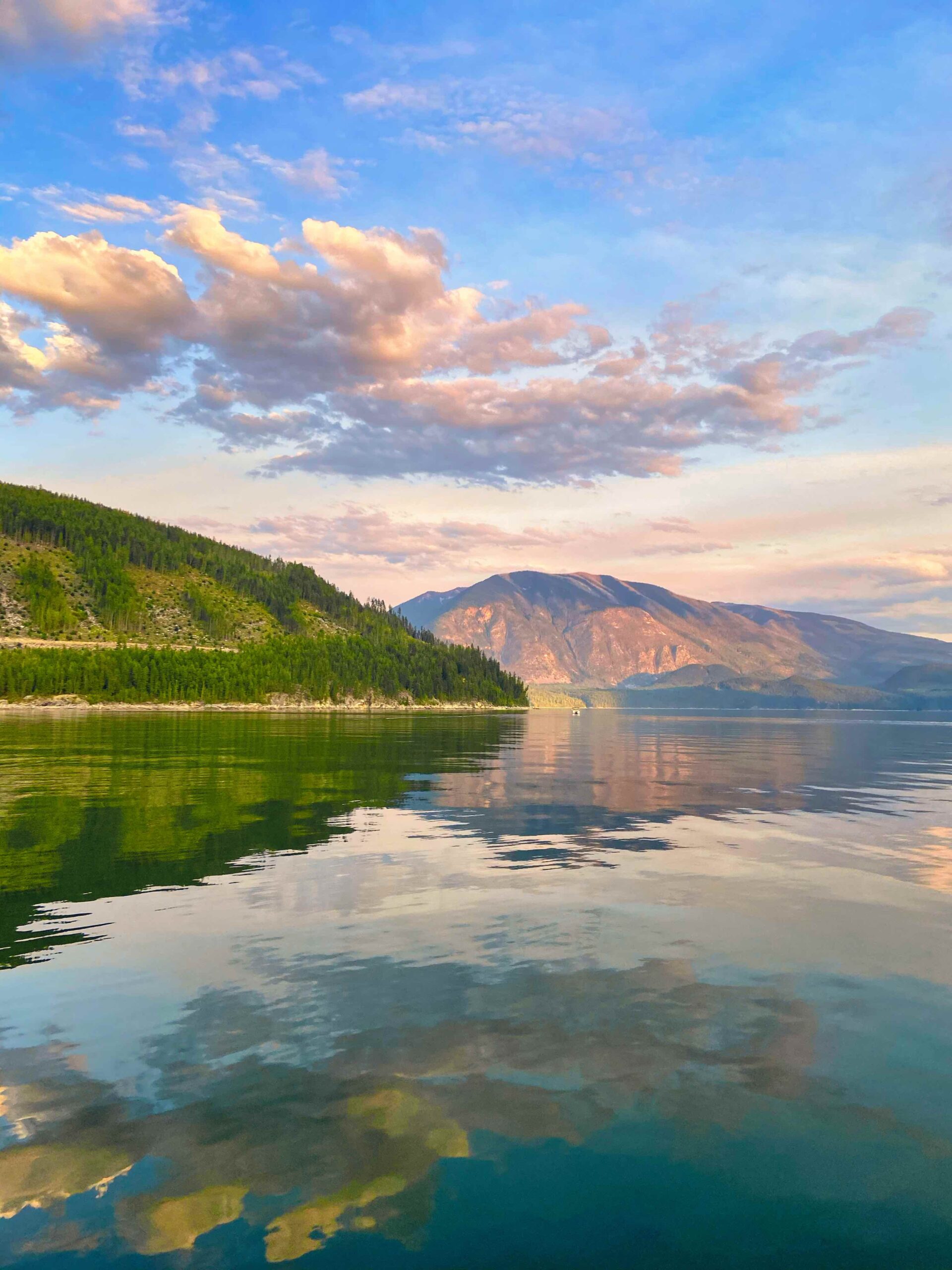 Revelstoke, nestled near the Selkirk Mountains and Glacier National Park, is one of the best places in BC and should not be missed when driving between Calgary and Vancouver. It is one of our top recommendations for must-visit destinations in Canada, especially if you enjoy skiing and snowboarding during a winter road trip.
Although it was once relatively unknown, Revelstoke is now world-renowned for its exceptional powder, attracting winter sports enthusiasts year after year. It is not as busy as other mountain towns, such as Whistler, because it is situated off Trans Canada and near Rogers Pass, almost seemingly in the middle of nowhere. In the winter, the highway around Revelstoke will close after a significant snowstorm, causing everyone to become "Revystuck." If you get Revelstuck, enjoy it and get up on Revelstoke Mountain Resort immediately to enjoy the powder. Nevertheless, it offers plenty of attractions for visitors in both summer and winter.
If you're traveling from Calgary to Vancouver during the summer, you can enjoy paddling on Arrow Lakes, driving the Meadow of the Sky Parkway, mountain biking, or riding on The Pipe Mountain Coaster.
---
Sicamous/Shuswap Lake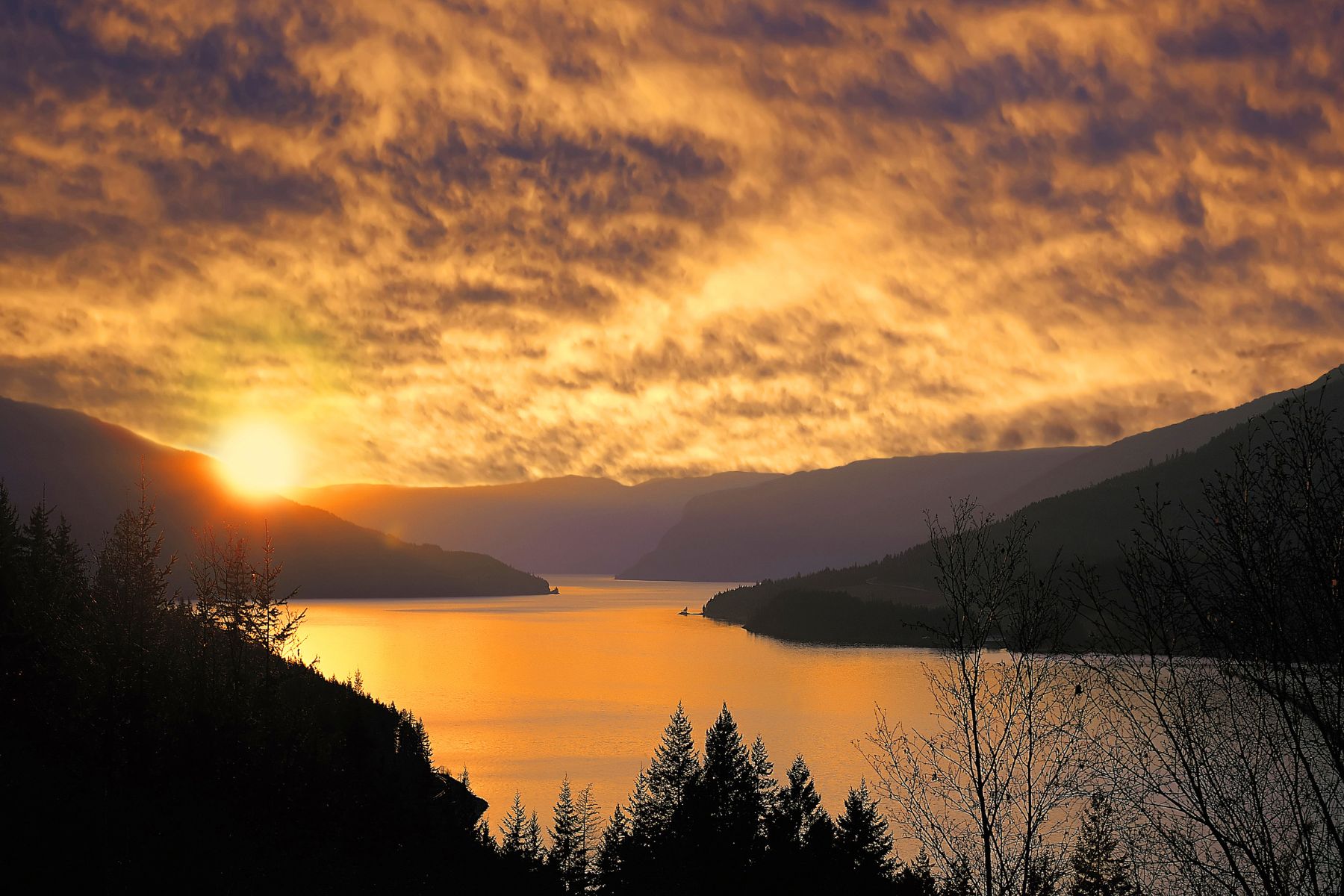 Sicamous is a small town located in the interior of British Columbia on the shores of Shuswap Lake. Shuswap Lake itself is a large, deep freshwater lake that spans over 400 km² and has over 1,000 km of shoreline, making it one of the largest lakes in the province.
The area is known for its stunning natural beauty, with crystal-clear waters, lush forests, and stunning views. It is a popular summer destination for outdoor activities such as boating, fishing, hiking, and camping.
Sicamous is also a popular destination for houseboating, with many companies offering houseboat rentals for exploring the lake. Visitors can cruise around the lake and stop at various beaches, islands, and marinas along the way.
They are a nice stop to make after Revelstoke and before you get to Kamloops, especially on a beautiful summer day.
---
Kelowna and the Okanagan (Alternative Route Off the Highway 1)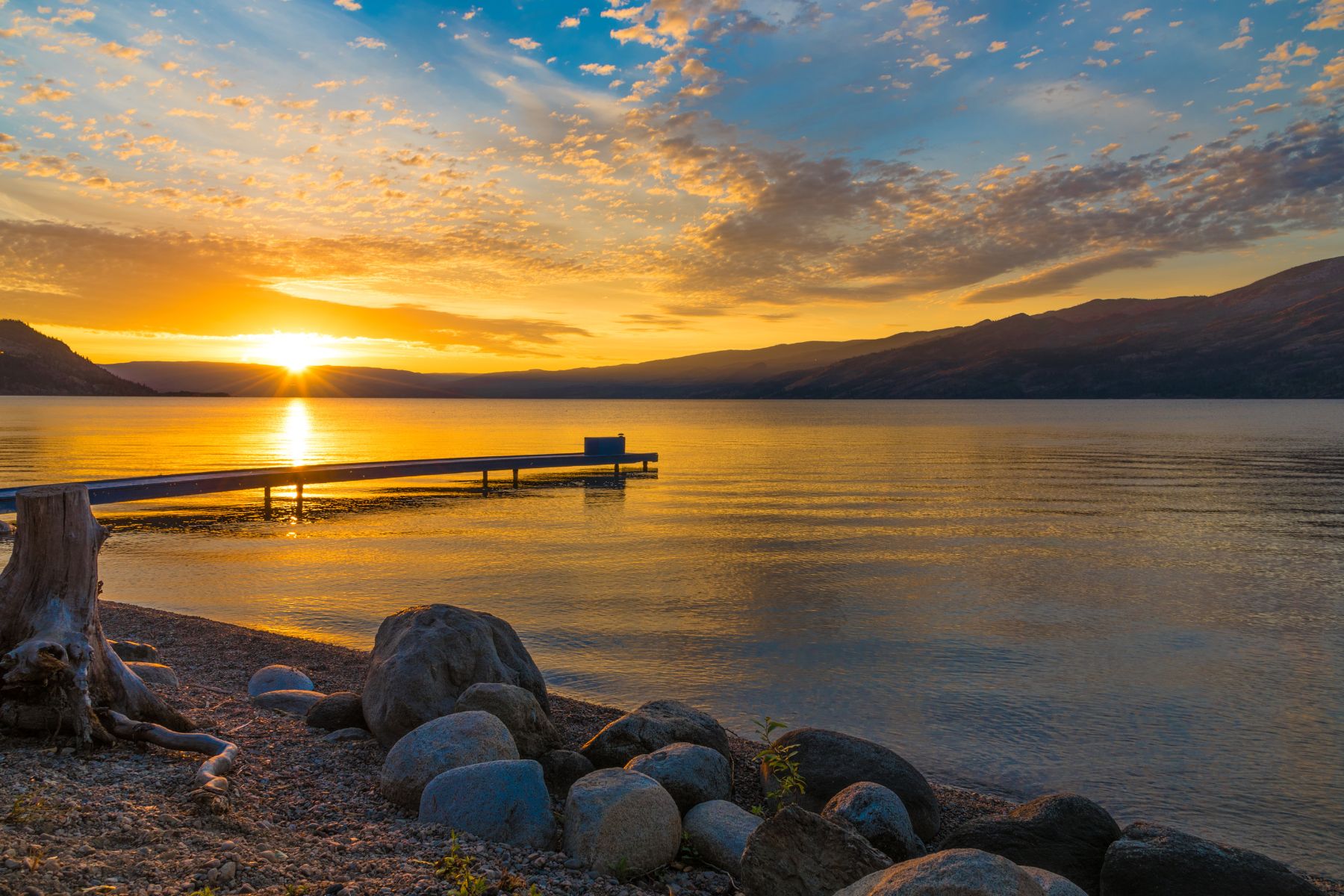 Kelowna is a popular destination in the summer for those wanting to explore the Okanagan Valley. This is Canada's famed wine region, and people will travel from around the country to sit in the sun and sip up the local wine on the shores of Lake Okanagan.
You can also find some of the best produce in Canada here, and farmer's markets are severe in the summer and fall.
If you are driving during the winter and skiing or snowboarding, plan a day or two to enjoy the slopes at Big White Ski Resort.
---
Kamloops
I wouldn't say Kamloops is a must-stop on your drive between Calgary and Vancouver, especially if you're short on time. However, separating the long drive is a nice break if you have time. There are plenty of restaurants here and affordable hotels if you need to rest your head.
If you have over a few days and it's winter, we recommend heading to Sun Peaks for skiing!
---
Duffey Lake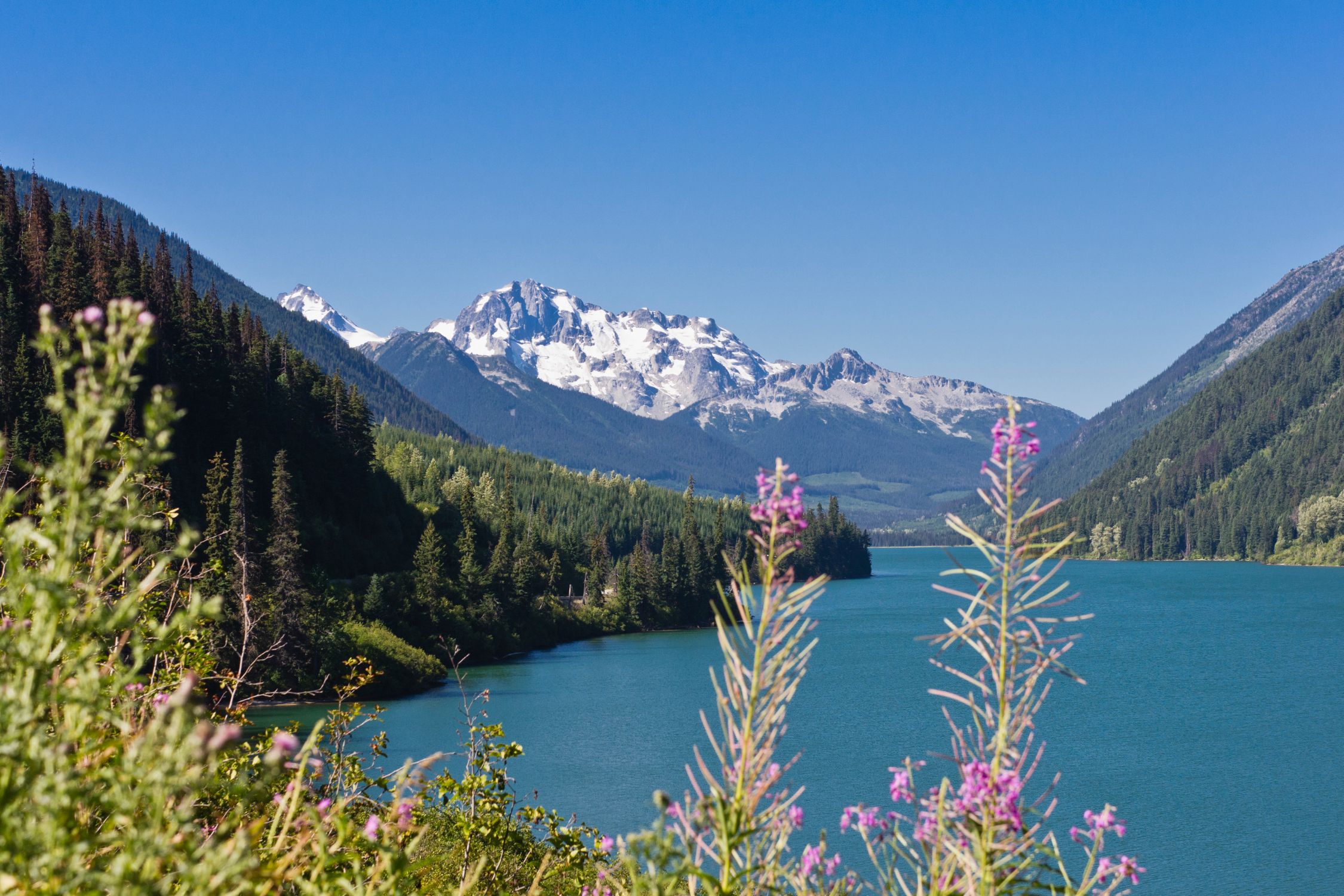 After Kamloops you can hop on Duffey Lake Rd which takes you to Pemberton. Along the way you'll pass a beautiful blue lake on your right-hand side. This is Duffey Lake, and there is quite a stunning viewpoint to stop at.
It's the perfect place to stop and indulge in a snack for continuing on one of the most scenic parts of this entire Calgary to Vancouver drive (I know, it's hard to imagine it getting more scenic). Our top tip is to drive Duffey Lake Road during daylight hours – you won't want to miss these views!
---
Pemberton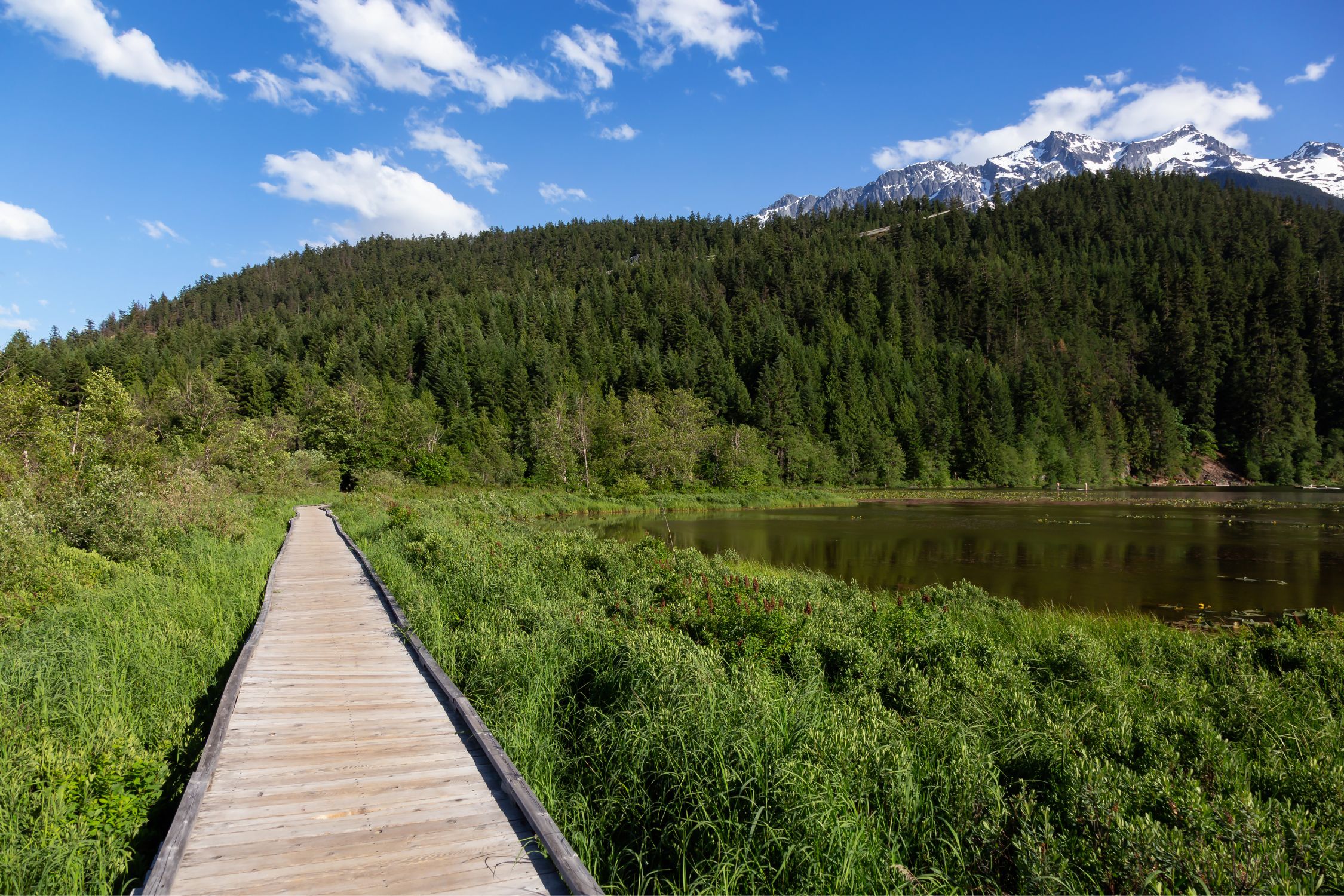 After driving Duffey Lake Rd (Highway 99), you'll pass Lillooet Lake, a popular place to recreate in the summer. You'll then find yourself back in civilization in the small town of Pemberton.
Despite its small size, Pemberton still has plenty to offer, including various shops, dining options, and walking trails to explore. Popular activities include visiting North Arm Farm or a horseback ride through the valley with Copper Cayuse Outfitters.
For those looking for more affordable accommodation options than Whistler, Pemberton is a great alternative, with many BC cabins offering lower rates than their southern neighbor.
---
Whistler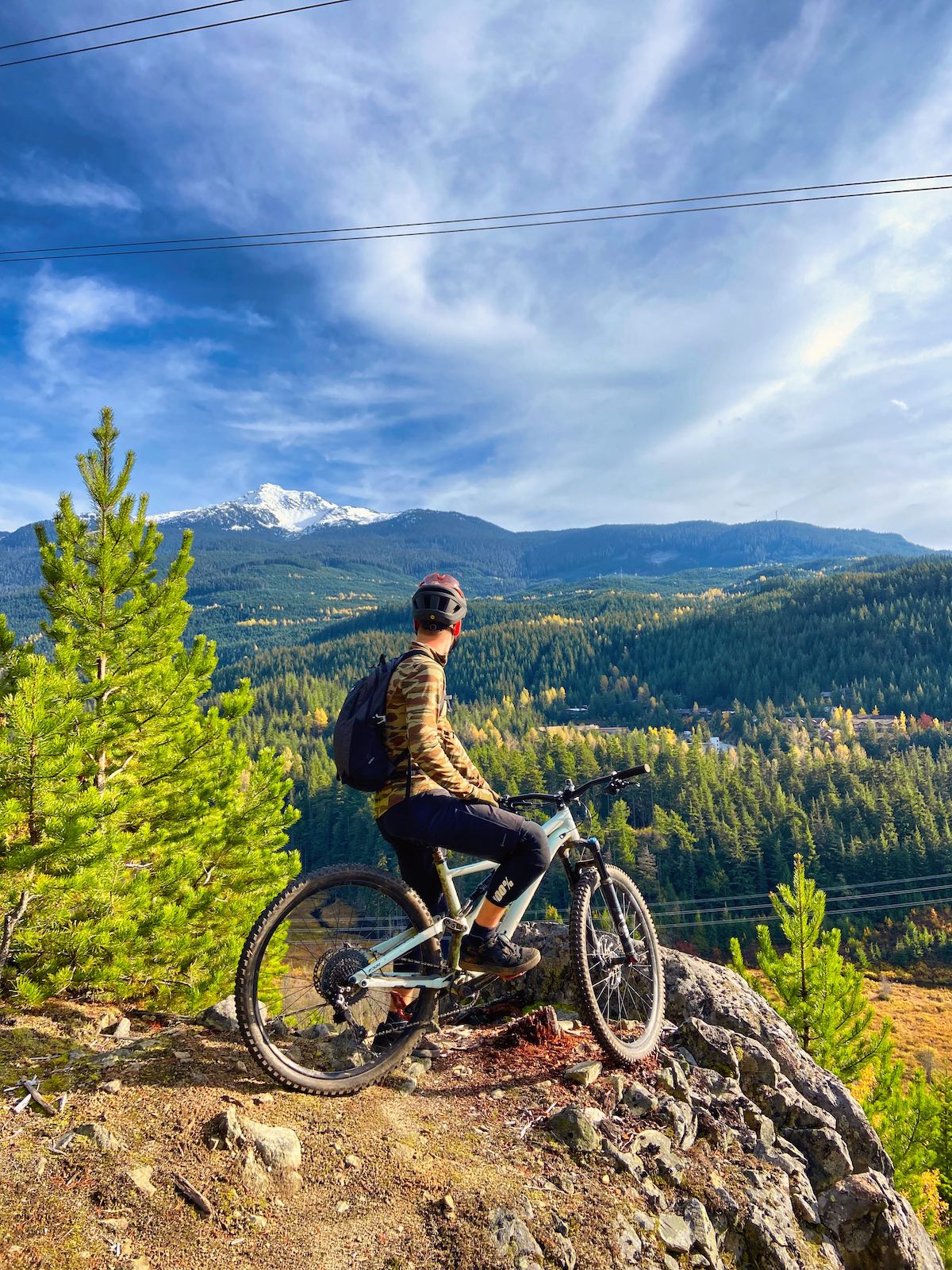 Whistler is a premiere destination in North America in summer and winter. As we're ski bums, we typically prefer winter in Whistler as the Ski Resort here is world-class.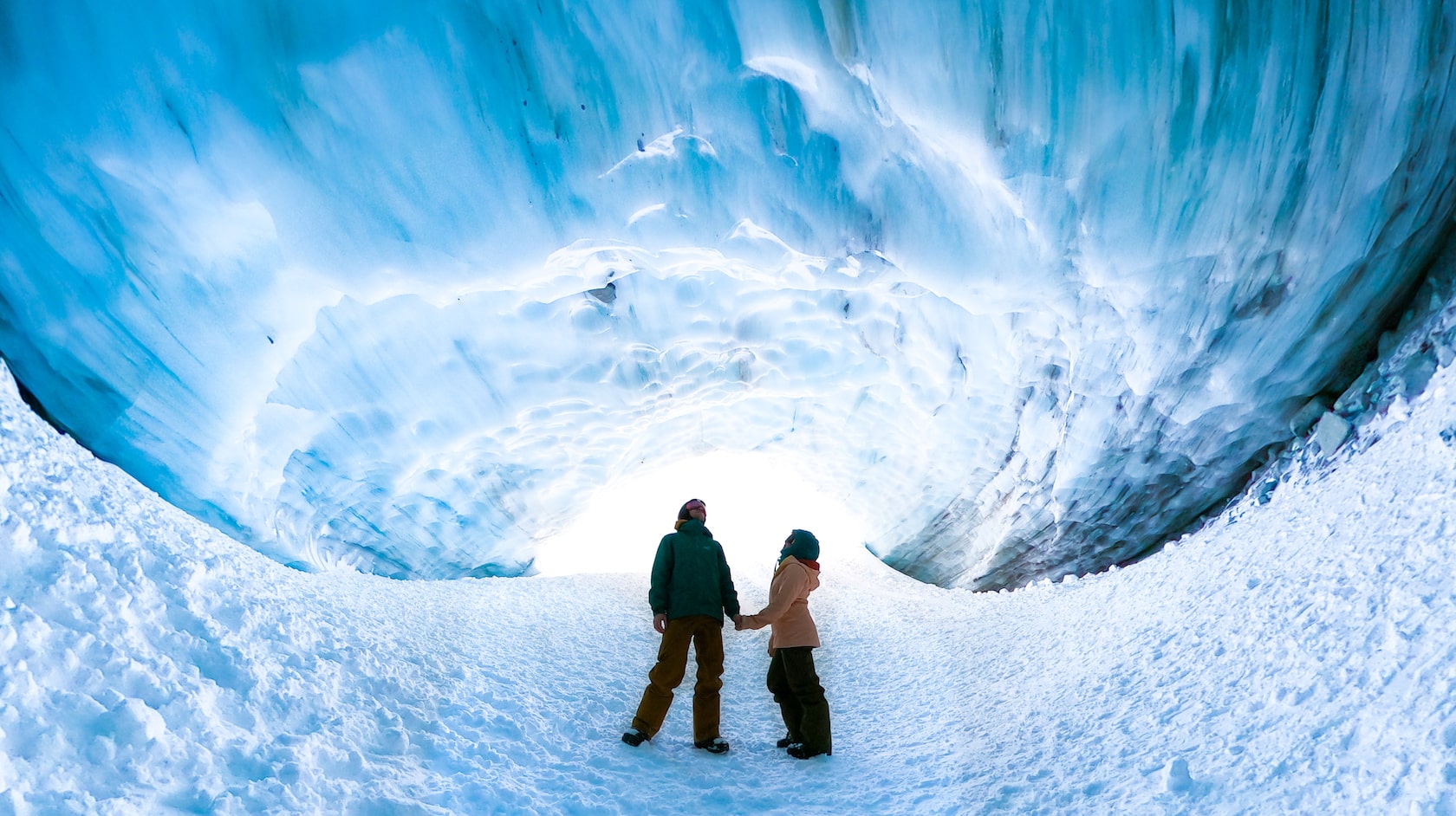 If you're visiting in the winter and don't ski or snowboard, not worry; there are still plenty of things to do in Whistler. Walk the Valley Trail, take an icy dip in Nita Lake, or hire a snowmobile guide for backcountry fun.
If visiting in the summer, a mountain bike is a big thing to do here. The mountain biking trails around Whistler are world-class, and some of the hardest in the world! Besides biking, there are plenty of hikes to enjoy, Whistler restaurants, or a view of beautiful Brandywine Falls.
---
Squamish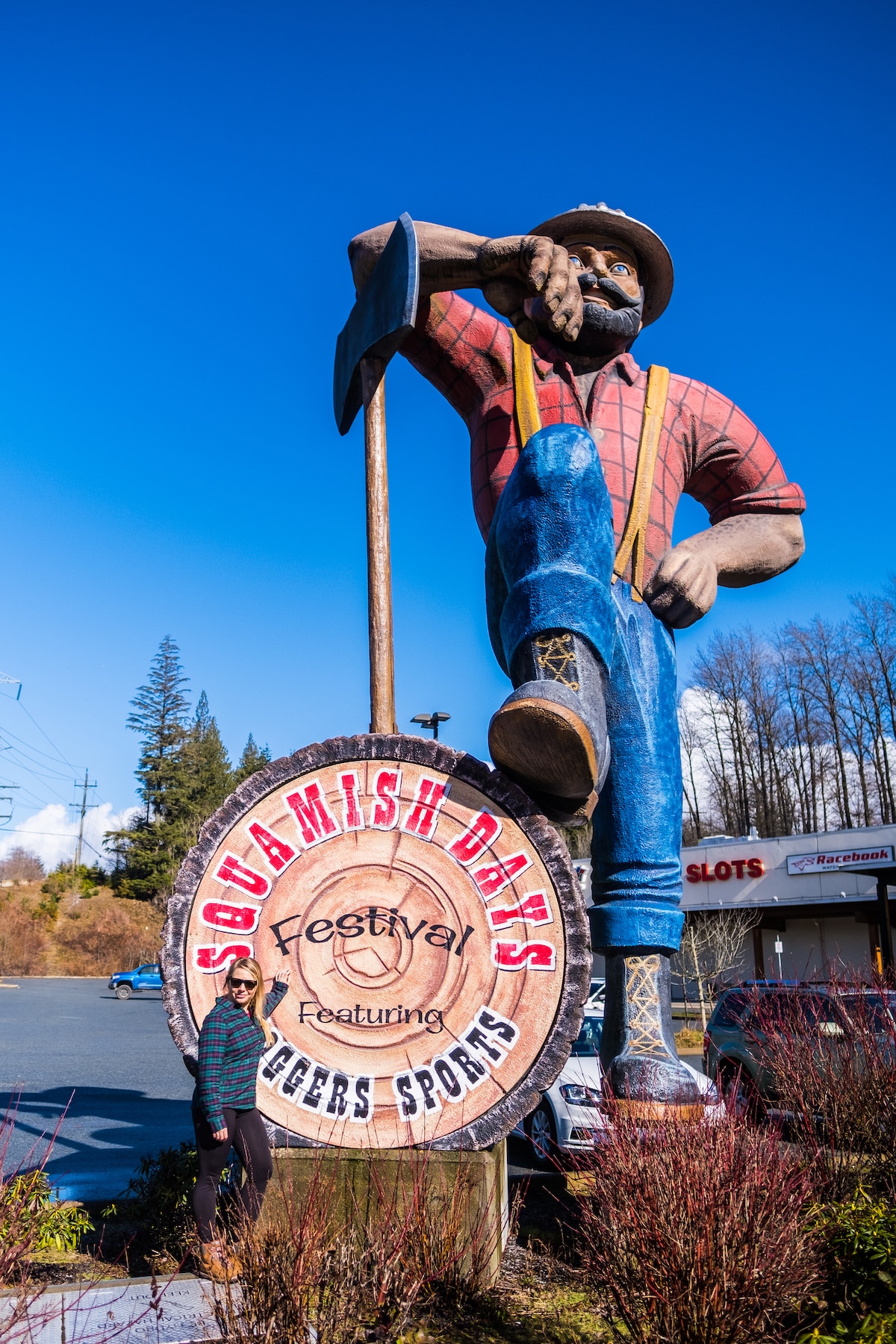 After taking some stunning views along the Sea to Sky Highway, you will reach Squamish. Don't worry – more views are coming when you drive from Squamish to Vancouver.
Squamish is a large town at the northern edge of Howe Sound, surrounded by mountains and coastline in all directions; it's a place to hang out if you love all things nature while still having creature comforts like hip coffee shops and vegan cafes.
Squamish is an ideal destination for outdoor enthusiasts looking for hiking, biking, and climbing adventures. Stawamus Chief, a granite monolith, towers over the town and is an iconic and beloved landmark for locals and visitors alike.
It is a haven for adventure seekers, with world-class opportunities for climbing and mountain biking. It's common to spot professional athletes enjoying the area's natural playground while lunching in town.
---
Vancouver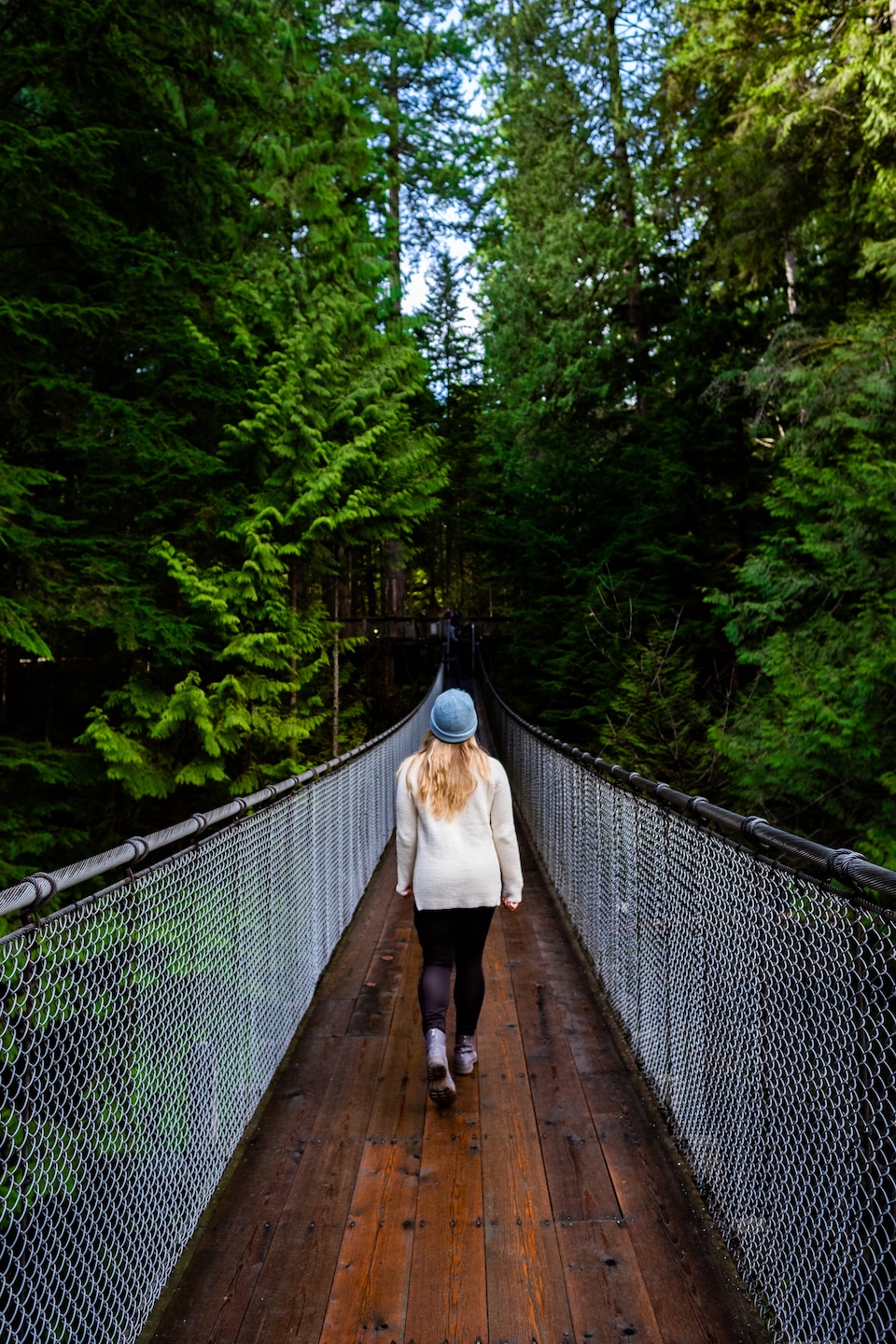 Woohoo, you have made it to Vancouver – Canada's most incredible city (at least in our opinion).
Vancouver is one of Canada's largest cities, so there should be no surprise that there are endless things to do in Vancouver. It's tough to comprehend the beauty that surrounds the city. It defies the notion of a city as it is surrounded by snow-capped mountains, rainforests, coastal islands, wildlife, sweeping forests, waterfalls, and a rugged coastline.
The city is the ultimate playground for people of all ages, and if you have an extra day to spare before ending your road trip, it's worth exploring. Our favorite thing in Vancouver is to go to the Capilano Suspension Bridge Park, followed by a leisurely stroll around Stanley Park.
---
Renting a Car in Canada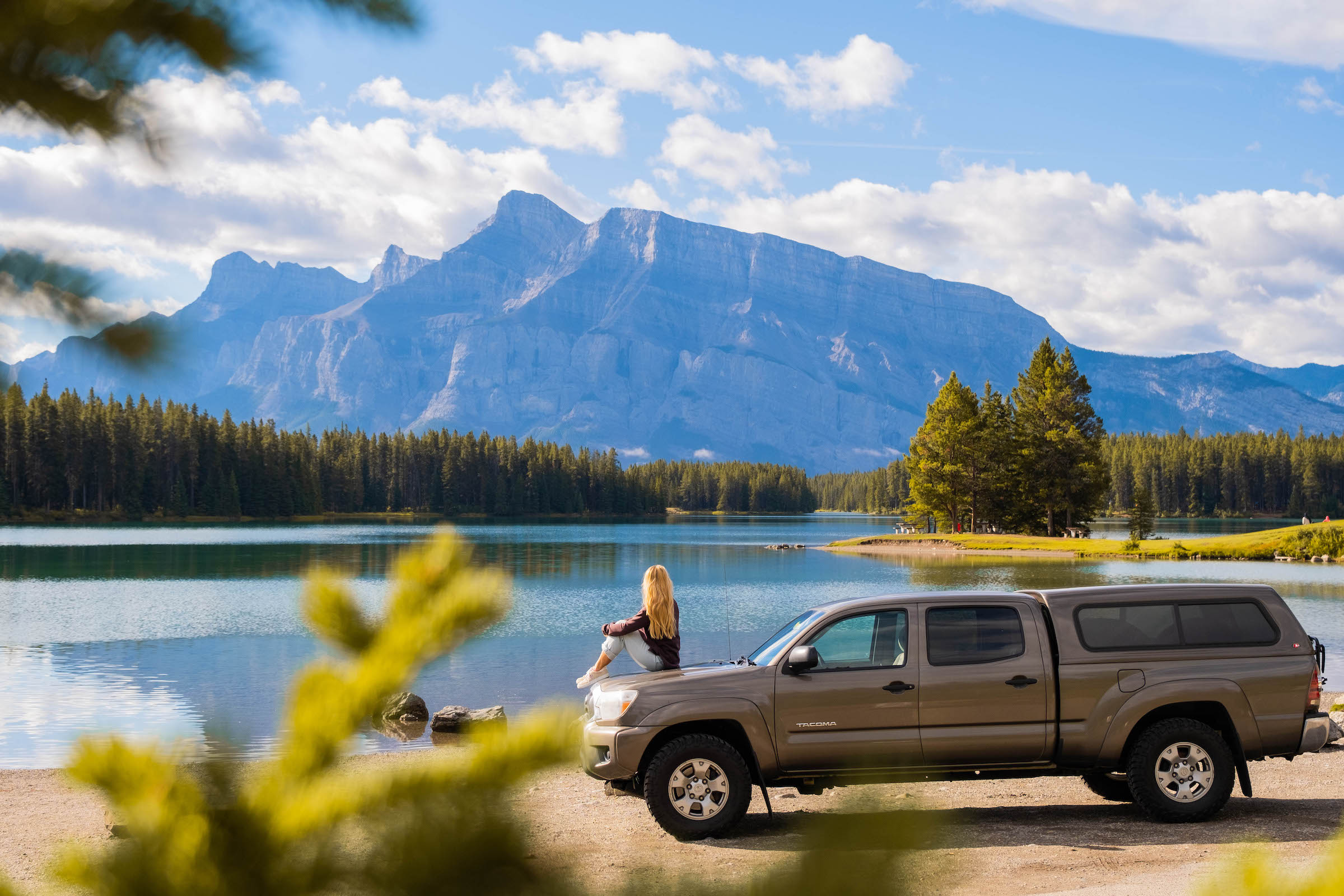 If you don't have your own car, it's best to rent a car in Vancouver or Calgary. You can rent one at Vancouver International Airport (YVR) or Calgary International Airport (YYC) or in the city centers. You can either rent a one way or do a return trip.
Although rates tend to get a bit cheaper once you get away from the airport and into the city. We like to use Discover Car Hire to find the best deals. See our best rental car tips before renting!
---
Where to Stay in Calgary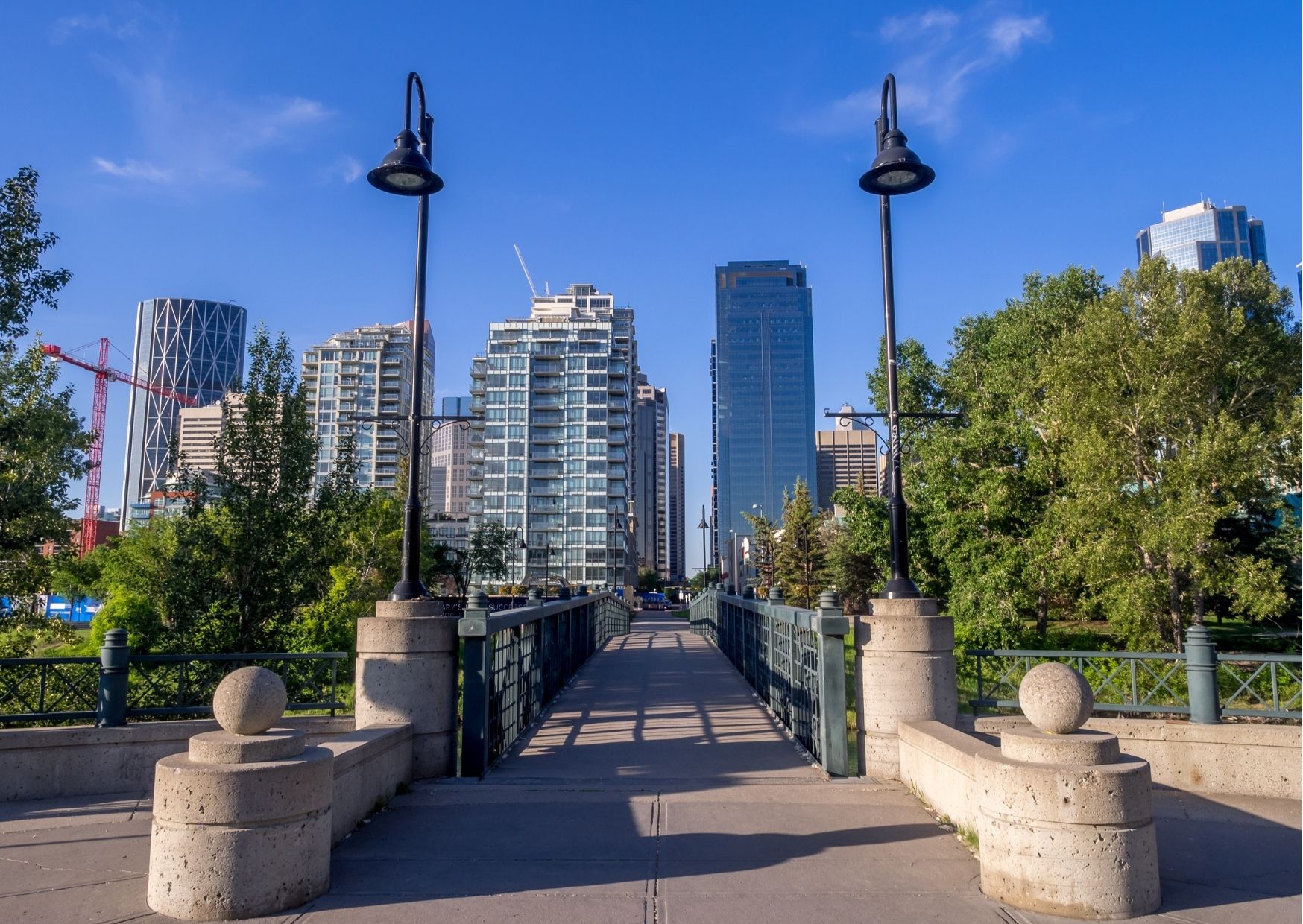 Delta Hotels by Marriott Calgary Downtown — This is our go to hotel when we're staying in Calgary. It's a beautiful modern hotel that is located in downtown Calgary. It's convenient to Chinatown, the Bow River, and the downtown core. We also love the ability to earn Marriott Bonvoy points and rewards nights.
Fairmont Palliser Hotel — Fairmont has an impressive portfolio of Canada's most iconic hotels such as the Banff Springs, The Empress, and Le Château Frontenac. The Palliser is no exception and is the best hotel for luxury in Calgary.
aLoft Calgary — This is a great option for a trendy hotel that is more affordable. We've stayed at a number of aLofts and they always offer a reliable level of service and comfort. The hotel offers a spa, fitness centre, pool, and bar.
---
Where to Stay in Vancouver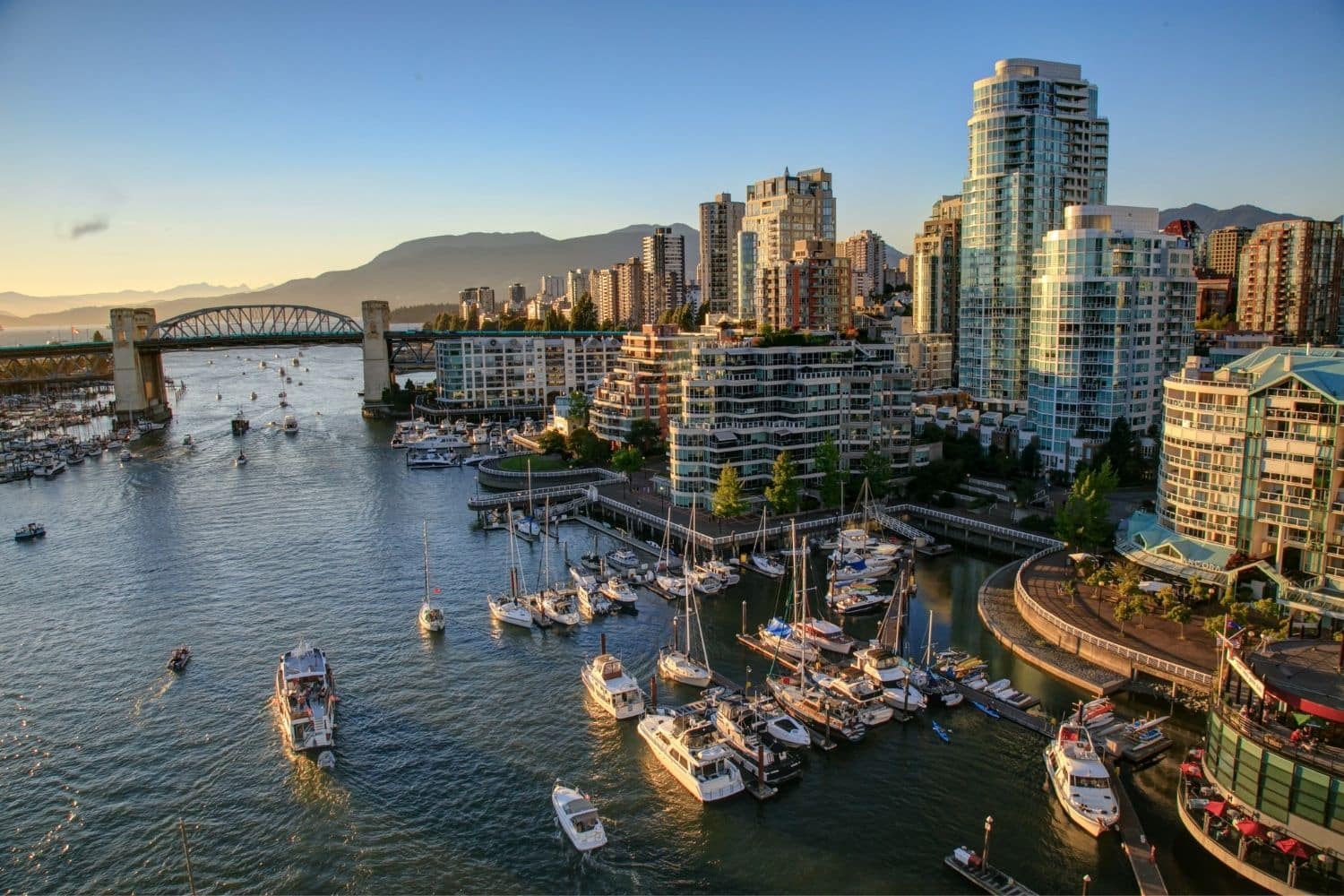 Fairmont Pacific Rim — This is certainly the most renowned hotel in Vancouver and it's known for excellent service and a buzzing atmosphere. The interiors here are modern and luxurious. If nothing else the hotel restaurant The Botanist is well worth a visit. Its location along the waterfront is may be the best in the city.
Rosewood Hotel Georgia — The opulent lobby of the Rosewood provides a good idea to the rest of the luxury hotel. The Rosewood has been welcoming guests since 1927 and has hosted a long list of celebrities. It's a glamorous hotel with services to match such as an award winning spa and Hawksworth Restaurant.
Coast Coal Harbour Vancouver Hotel by APA — We love Coast hotels for value in Canada. The Coast Coal Harbour delivers great quality service and comfortable rooms in a excellent location in downtown Vancouver. It's even got a rooftop pool, deck, and hot tubs.
---
Hopefully, this helped you determine the best sights to see on a Calgary to Vancouver drive!
If you have any other questions leave a comment or see our Canadian Rockies travel guide for more articles about photography spots, lakes, hikes, and everything else.
Plan Your Trip to the Canadian Rockies