There is no place like the Okanagan Valley to enjoy the countless Kelowna wineries that surround the area. Kelowna, known for its mild weather, makes for the perfect spot for a long growing season. Easily one of the best places to visit in BC, this is an oenophile's paradise.
With over 40 wineries in Kelowna that all have their own unique tastes and styles, there are endless wines to try out and locations to discover.
Touring wineries is an activity that you could choose to spend one hour doing or you could spend an entire afternoon enjoying. It's up to you to choose your ideal experience, we're just here to help you pick the some of the best Kelowna wineries for your day out!
---
The Best Kelowna Wineries
---
Mission Hill Family Estate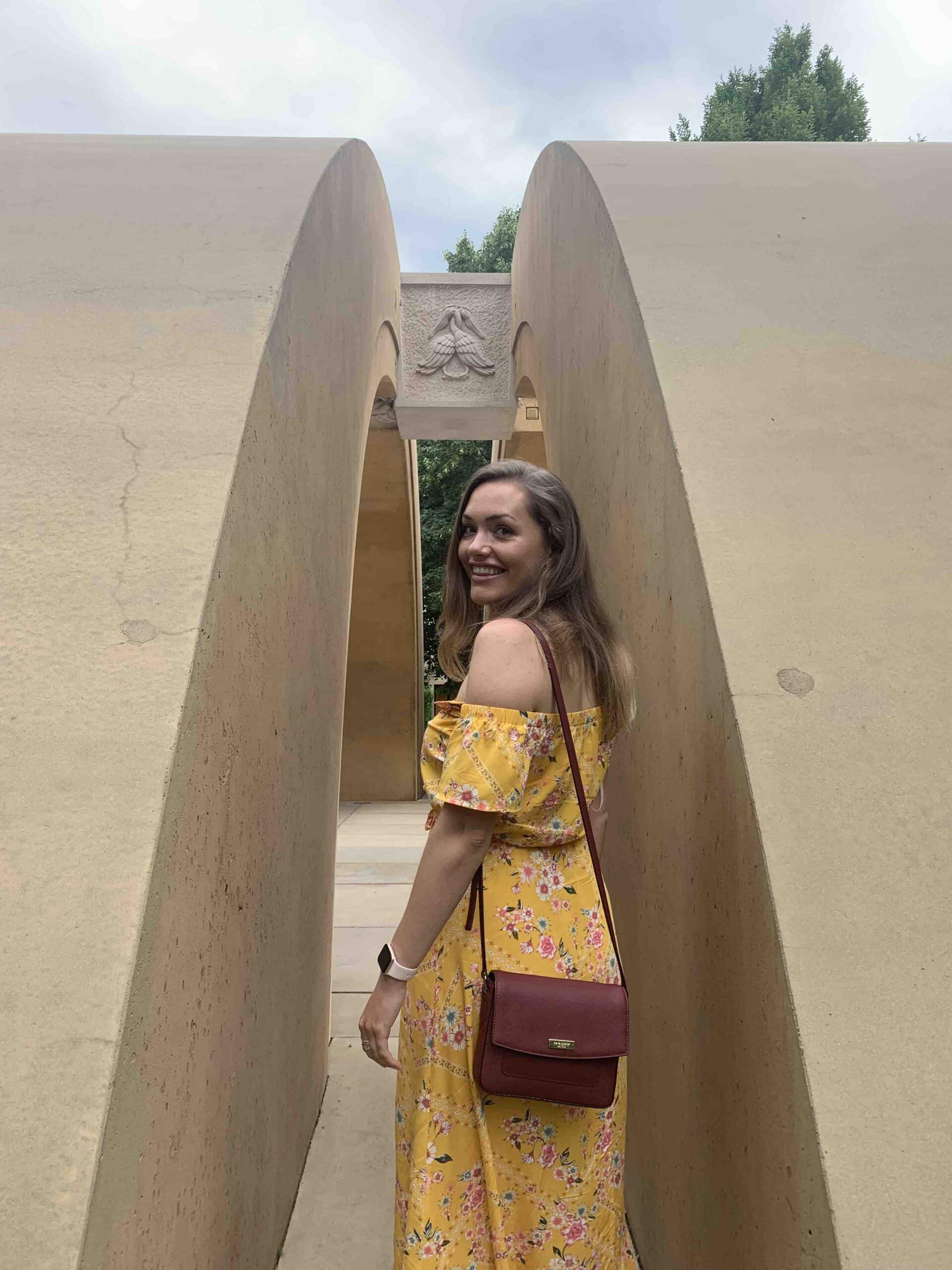 Mission Hill Family Estate is among the top wineries in Kelowna. What makes it stand apart from the others is the beautiful and remarkable architecture that surrounds you as you walk around.
They have won Winery of the Year a total of five times. Their wines are made from the vineyards right on their estate, and they offer a wide variety of tastings between 11am-6pm. Due to the high popularity of this winery, reservations are strongly recommended.
Wine tasting options at Mission Hill Family Estate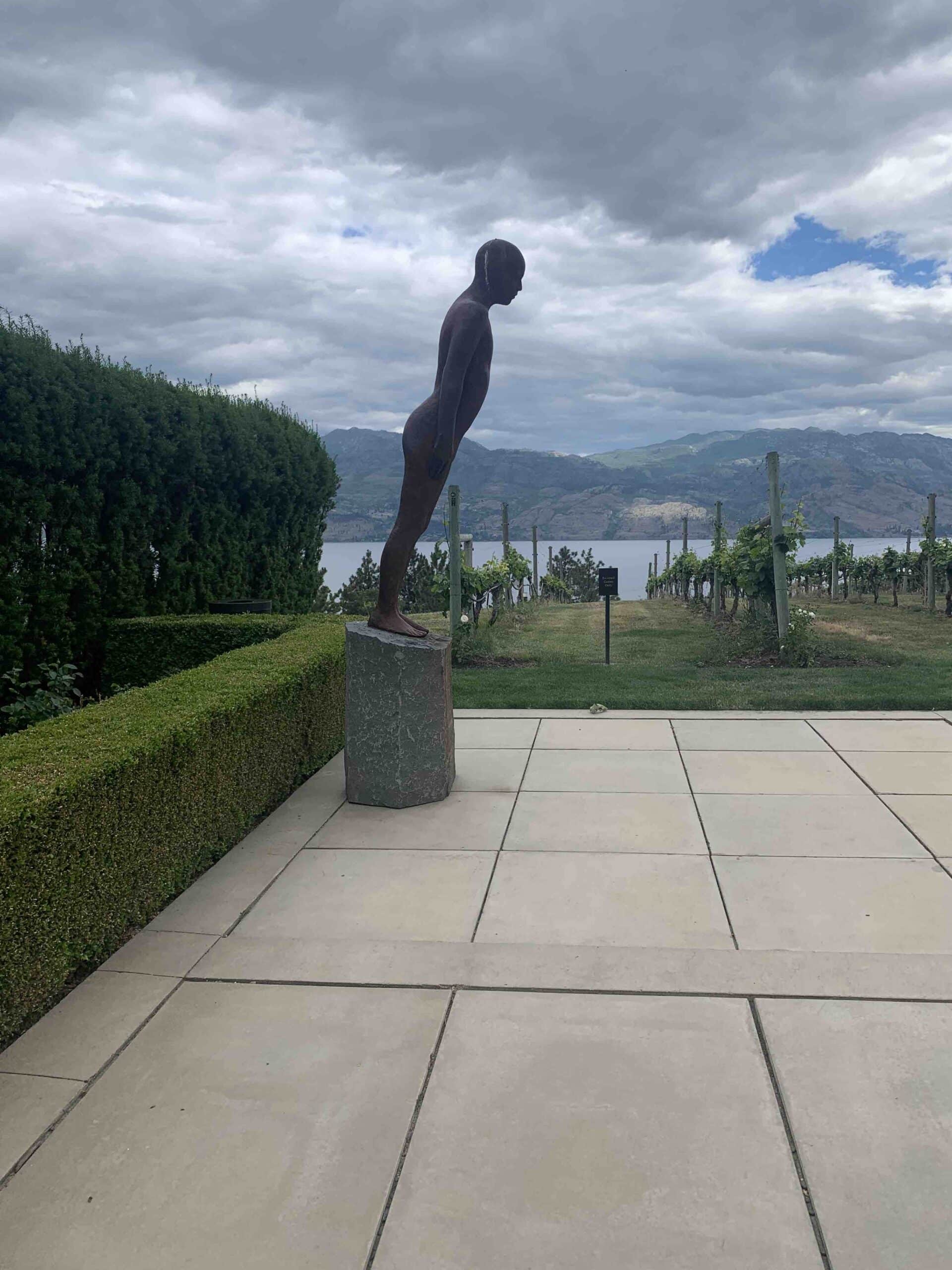 While you're there, be sure to walk around the sites and enjoy the notable architecture and design that they have to offer.
If you're looking to spend more time at their location, I recommend making reservations to dine at the Terrace Restaurant. They are open for small bites (3:30pm-5pm), lunch and dinner. For dinner, there are two choices: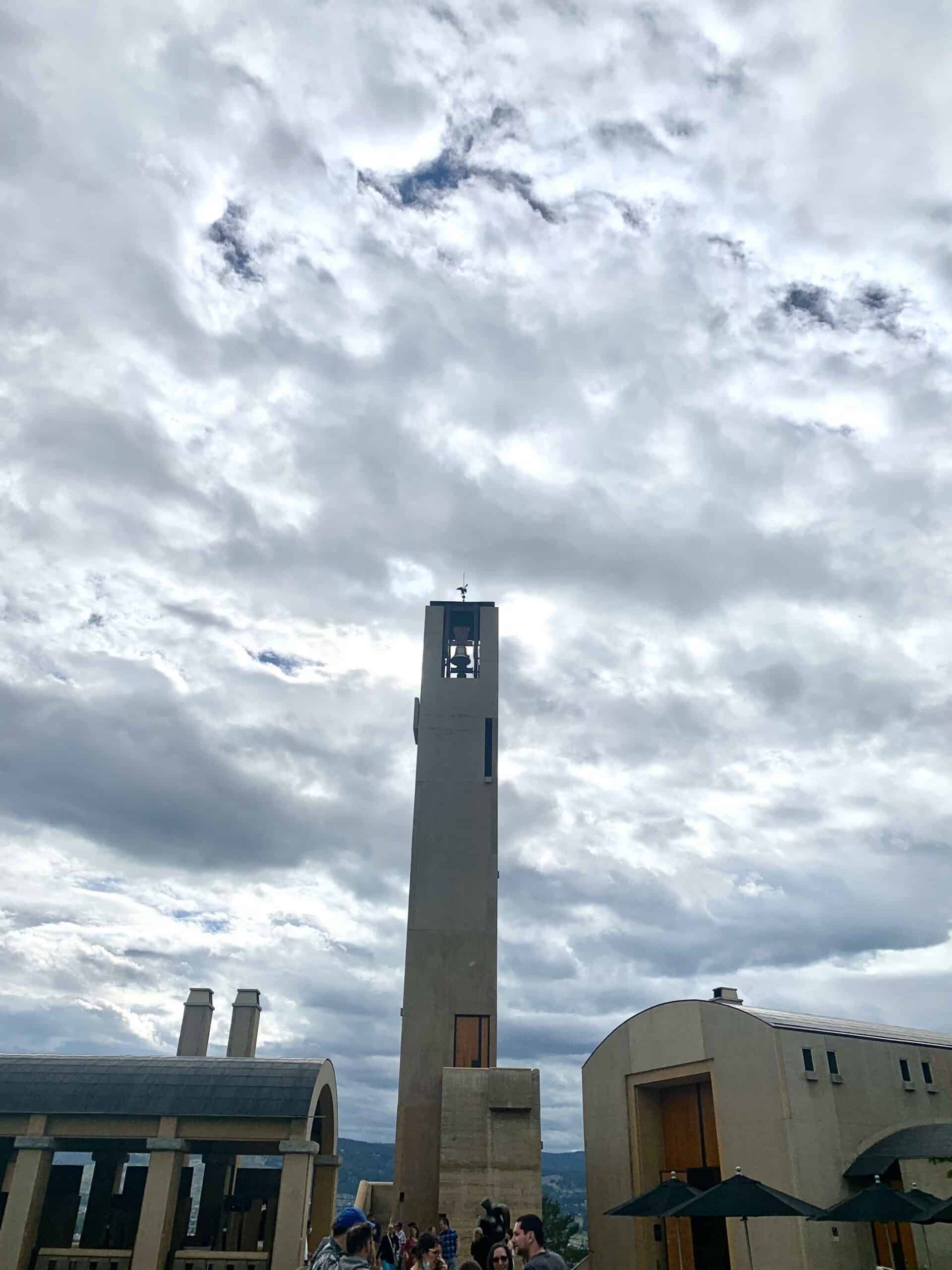 It is highly recommended to book a table in advance, especially in the summer months.
---
CedarCreek Estate Winery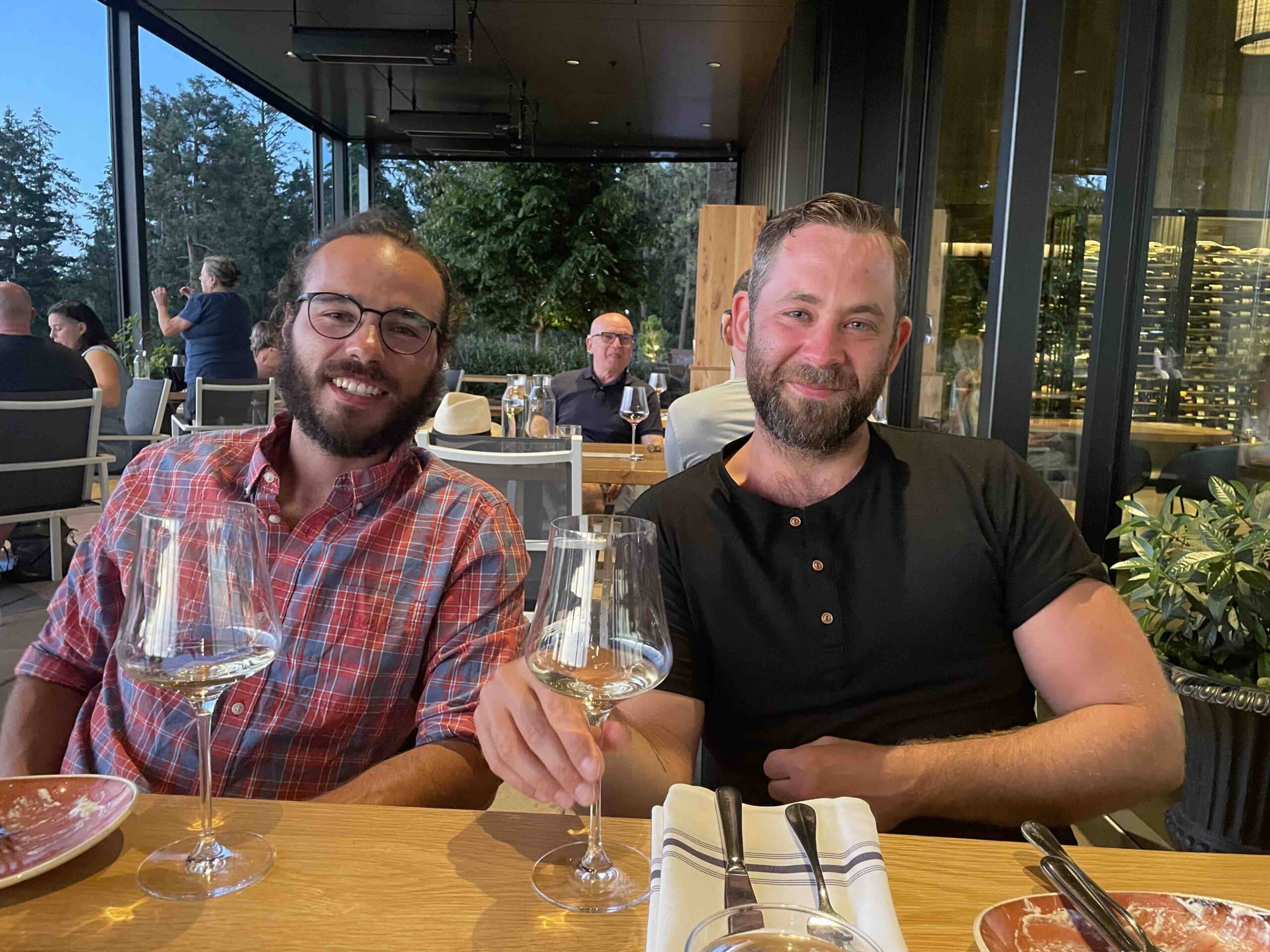 CedarCreek Estate is amongst the oldest wineries in the Okanagan Valley, with its roots beginning in the 1980s. Their 50 acres of vineyards produce delicious, high-quality wine using a northern approach.
They see immense value in preserving a balanced vineyard. They believe that the animals, people, plants and land play equal parts in creating a thriving vineyard. The animals that play a large part in their ecosystem are bees, worms, kestrels, chickens, Scottish highland cows and a Kangal Mountain Dog named Deo.
Tastings / Experiences
Sunset Hour
- Two glasses of wine and a shared plate for two
- $30 / person
- 45 minutes
- Thursdays
- Make a reservation
Silt & Stone
- Tasting of award winning Platinum wines
- $27 / person
- 30 minutes
- Make a reservation
North to South Tour
- Vineyard tour with focus on the northern approach to winemaking 
- $60 / person
- 60 minutes
- Begins May 12
- Make a reservation
---
Quail's Gate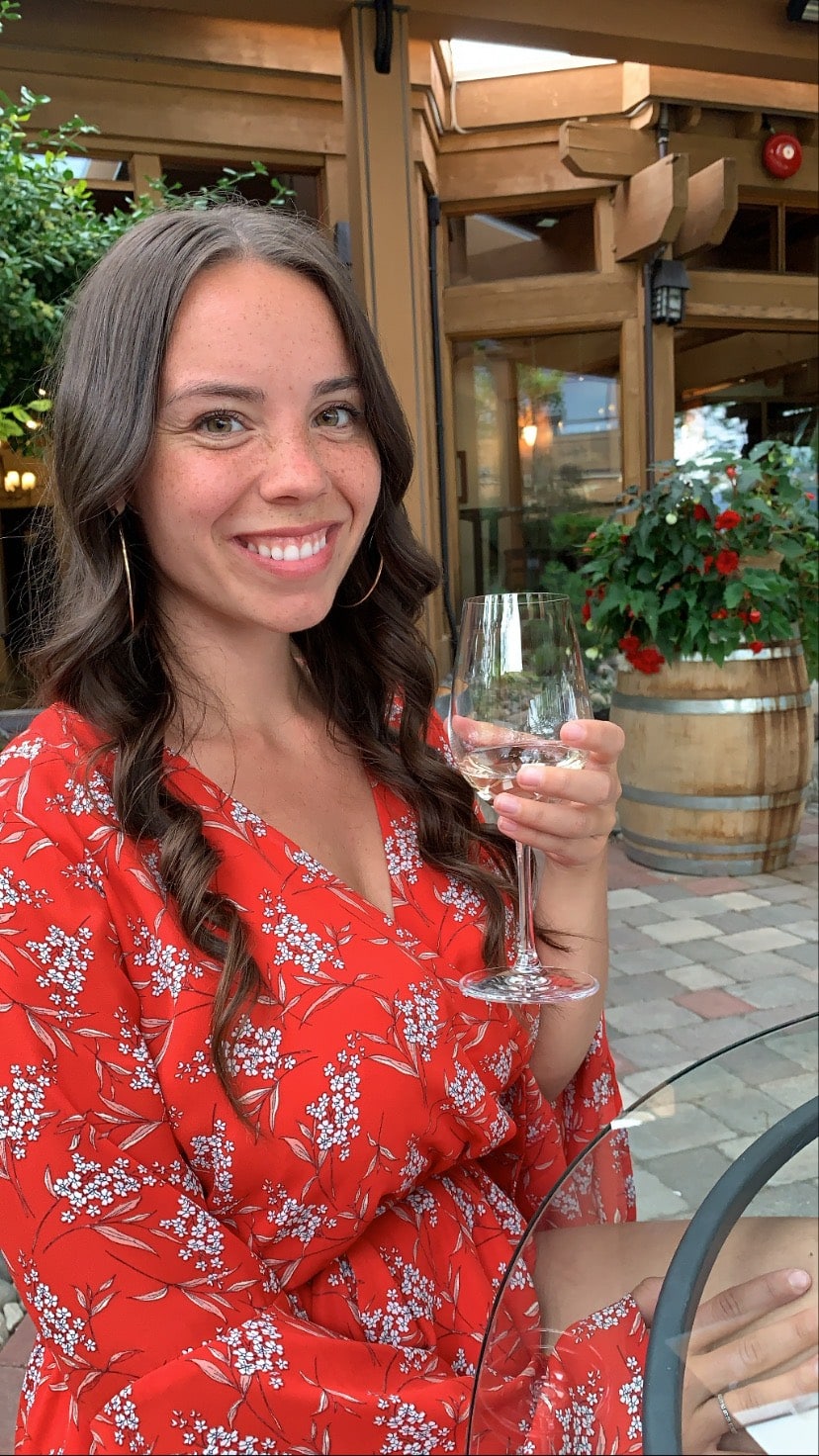 Quail's Gate is by far one of my favorite Kelowna wineries. It offers incredible views of Okanagan Lake and the surrounding mountains. It is a three-generation family-owned winery that has been producing wine for over 60 years, making them one of the original wineries in the area.
One of the best things to do while at Quail's Gate is to stop at Old Vines Restaurant for a glass of wine and charcuterie. This Kelowna restaurant focuses on a farm-to-table approach with sustainably sourced local ingredients. The courtyard patio transports you into a serene state, surrounded by flowers, vineyards, mountains and Okanagan Lake.
What's better, Old Vines Restaurant is certified as a sustainable wine-growing winery, using socially responsible approaches.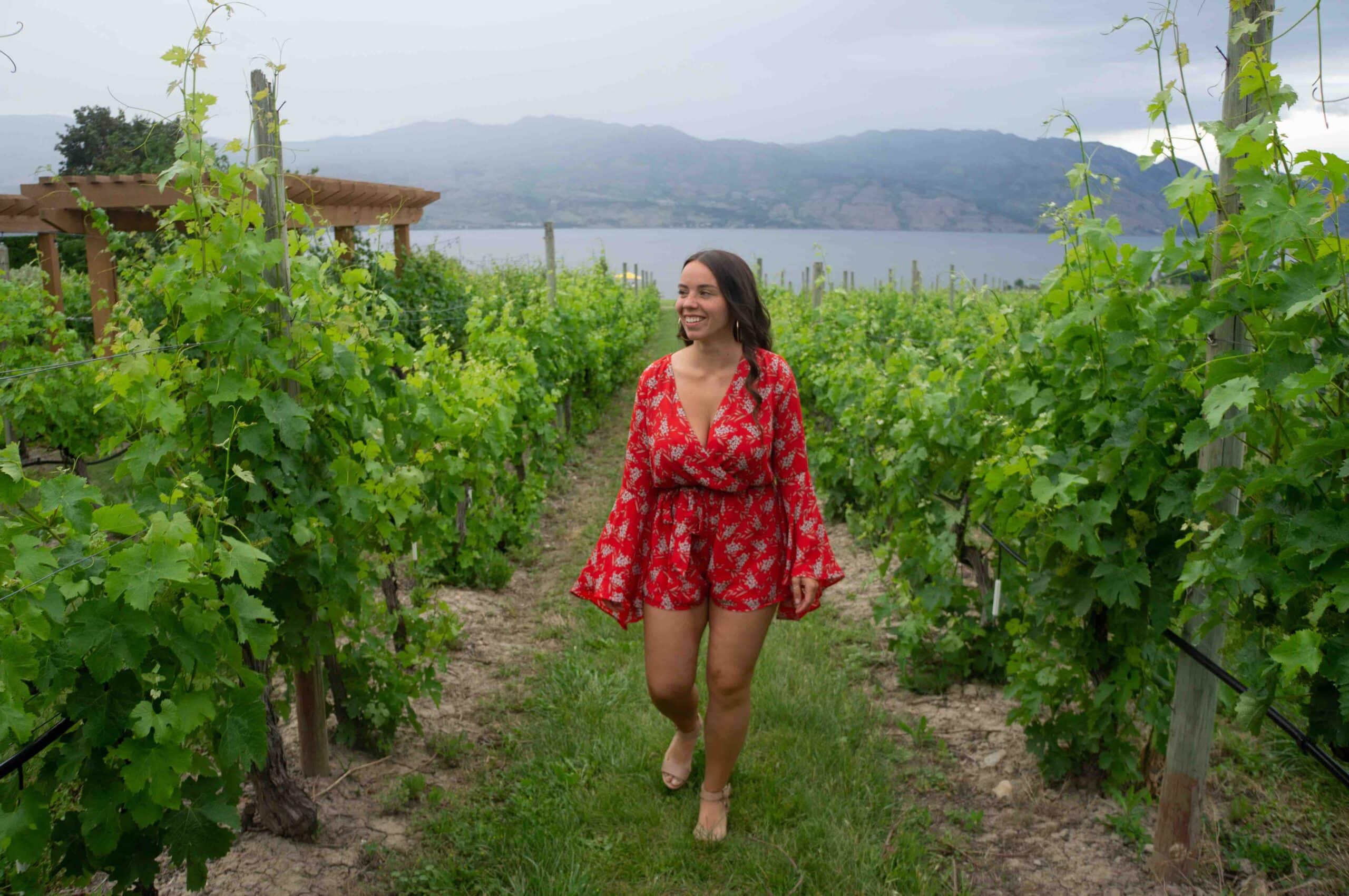 The Quail's Gate wine tasting room is open from 11:10-6:00pm and reservations are recommended, especially in the peak summer months.
They have a variety of tastings to choose from:
Noble Pursuits
- Tasting flight of Estate and Reserve Chardonnay
- Offered daily on the hour
- 45 minutes
Estate or Collector Tasting
- Sample 4 award winning wines
- Offered daily
- 30 minutes 
Wine and Cheese Paired Tasting
- Elevated tasting and cheese plate
- Hosted by a Senior Wine Educator
- 45 minutes
---
Indigenous World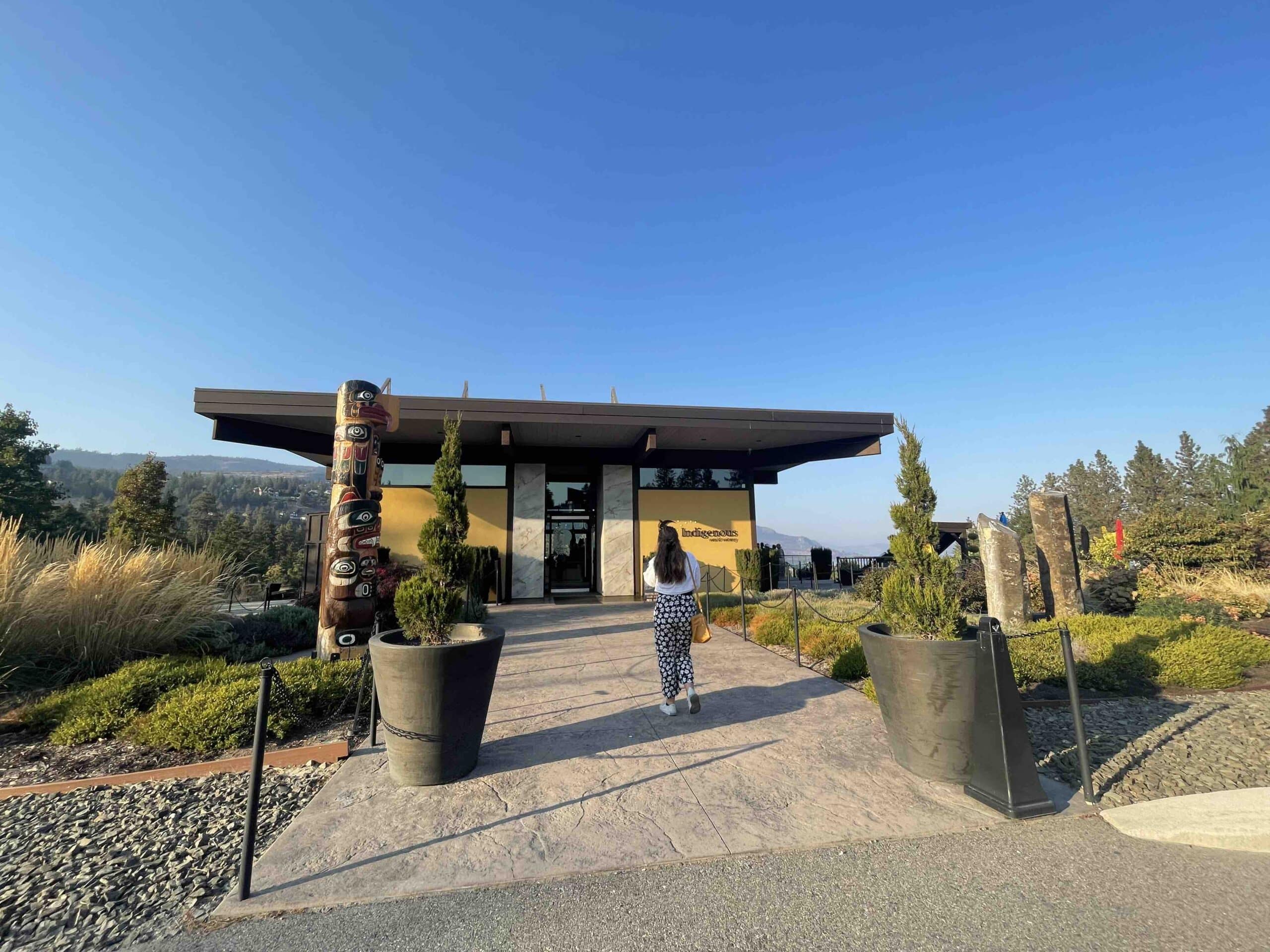 Indigenous World Winery has the goal of combining modern culture with Indigenous roots. The owners are descendants of the Syilx people, Indigenous First peoples of the Similkameen and Okanagan Valleys. Syilx people have protected these lands for thousands of years, protecting its rich and important history.
Indigenous World Winery has a 2.5-acre vineyard that commenced in 2014. They take pride in doing all that is possible to make their wine in a respectful way, all while protecting the land and its people.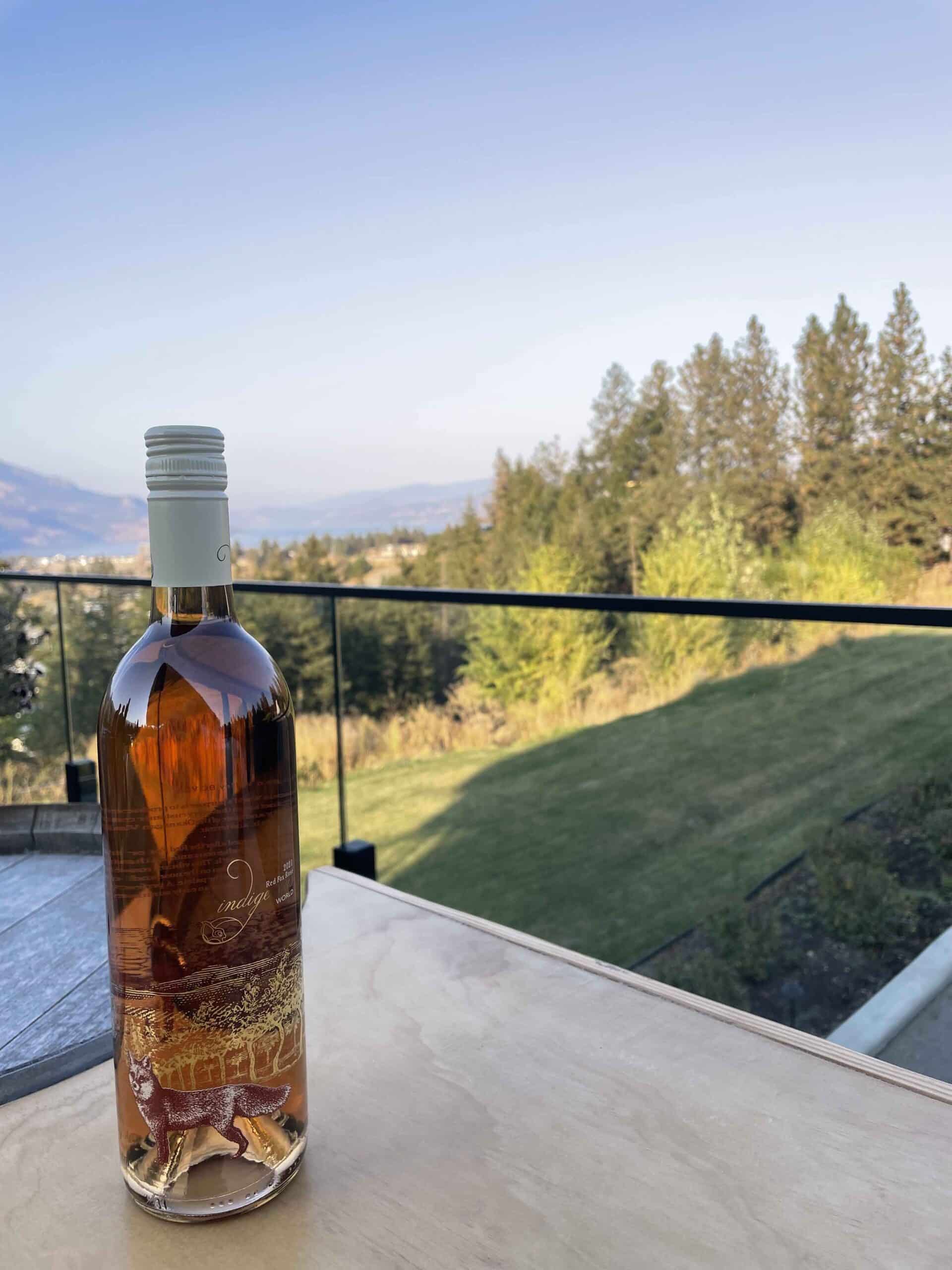 Take the time to look around the lovely gift shop while you are there. Each and every bottle is decorated with beautiful art, all with an important story to tell.
They are open for tastings daily from 11am-6pm on a drop-in basis.
---
The Hatch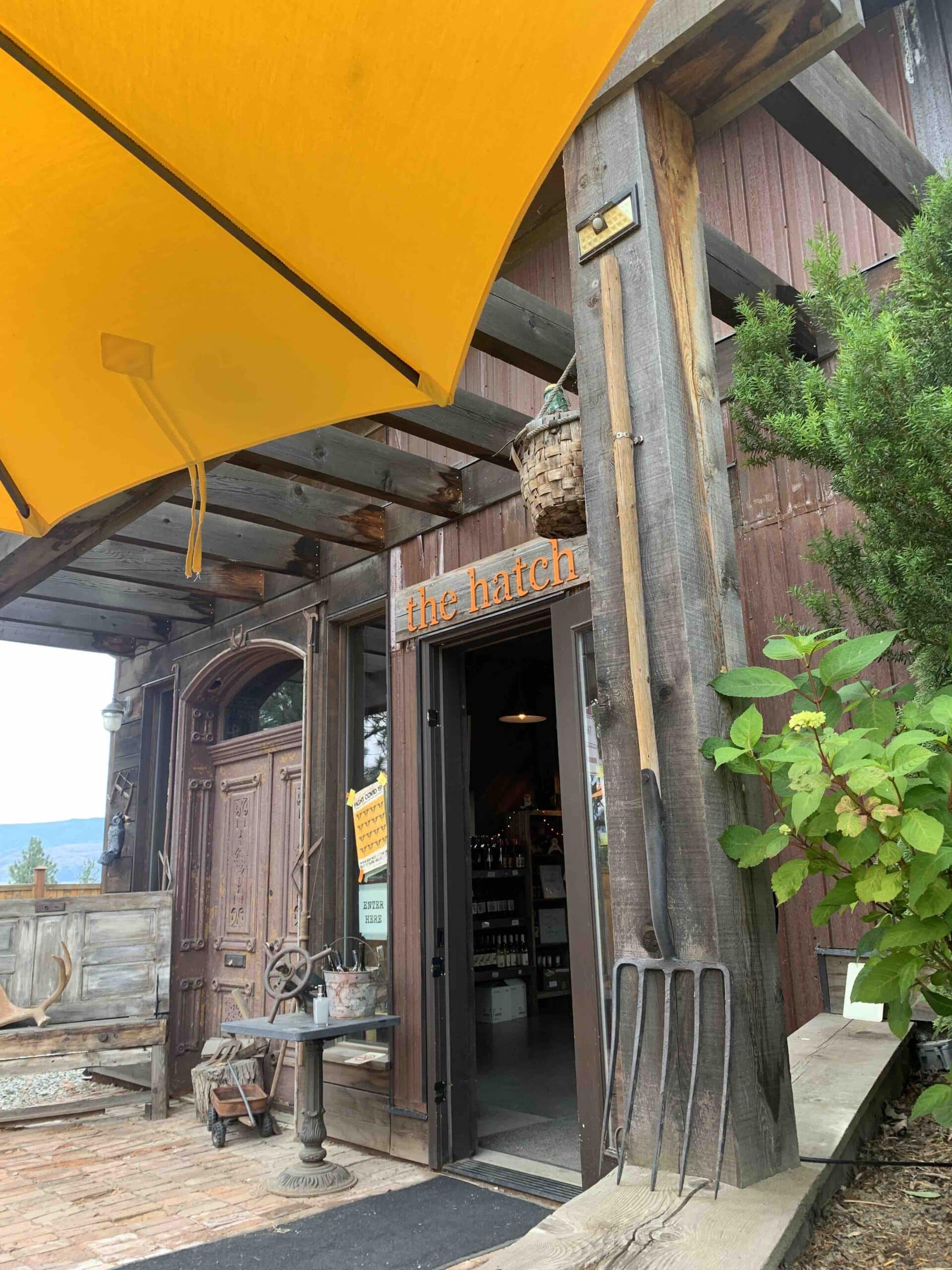 The Hatch is a fun, funky and unique Kelowna winery. As you're sitting to enjoy a tasting, you won't run out of things to look at! This fun winery takes pride in being accepting of all, allowing you to show up as your most authentic self.
Tastings at The Hatch happen on a daily basis from 11am-6pm (on fair weather days). Seating is outdoors, so their hours can be weather dependent. In the summer months, this location can get very busy and you may need to wait in line for a tasting as they don't take reservations.
That said, I believe it is worth the wait, as this is the most unique winery I have experienced on a wine tour of Kelowna.
When you have finished your tasting, it is worth heading into the gift shop to appreciate their wide selection of wines. What is to be appreciated is the unique drawings on their labels, each with a story to tell.
In my opinion, you can't visit Kelowna without stopping at The Hatch.
---
Mount Boucherie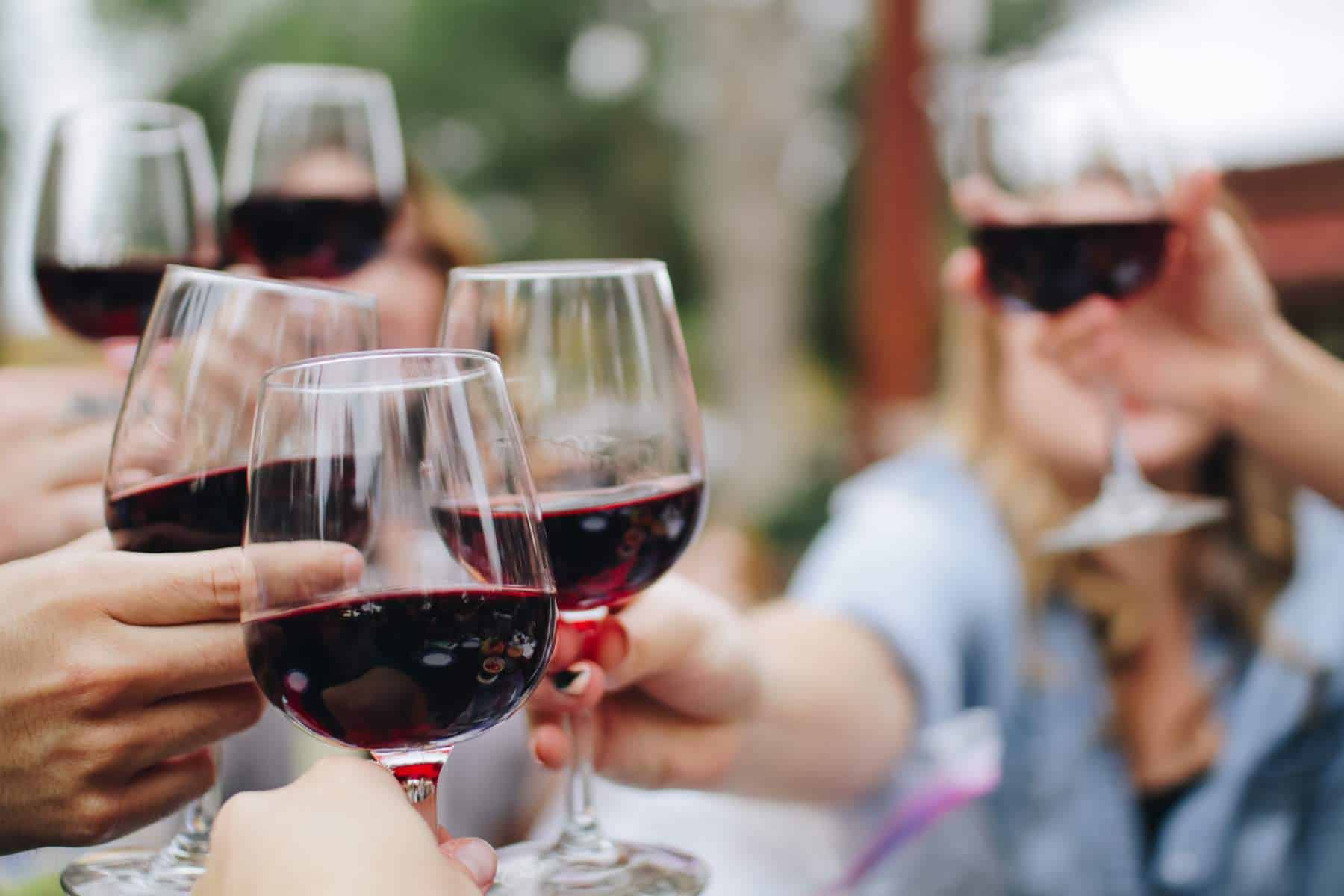 Mount Boucherie is an elegant and modern winery located in West Kelowna. It is situated on the eastern side of the former volcano: Mount Boucherie. This is the perfect spot for a winery, with its clay and limestone soils combined with warm weather and long hours of daylight.
If you're a meat lover, consider enjoying a meal at The Modest Butcher. The chefs use a mix of local meats and ingredients, as well as hand selecting one's from further destinations that add to the quality of their menu.
If you're looking for tastings, their indoor tasting room is open from 11:00am-7pm and costs $10. With many of the winery tastings closing at 6pm, this is a great spot to explore and extend your time touring the beautiful wineries of Kelowna.
What I love most about Mount Boucherie is their ice wine collection. Though ice wine wasn't invented in Canada, it has become a Canadian product over the course of the last couple of decades. This is definitely something to try during your trip to Kelowna!
---
Frind Estate Winery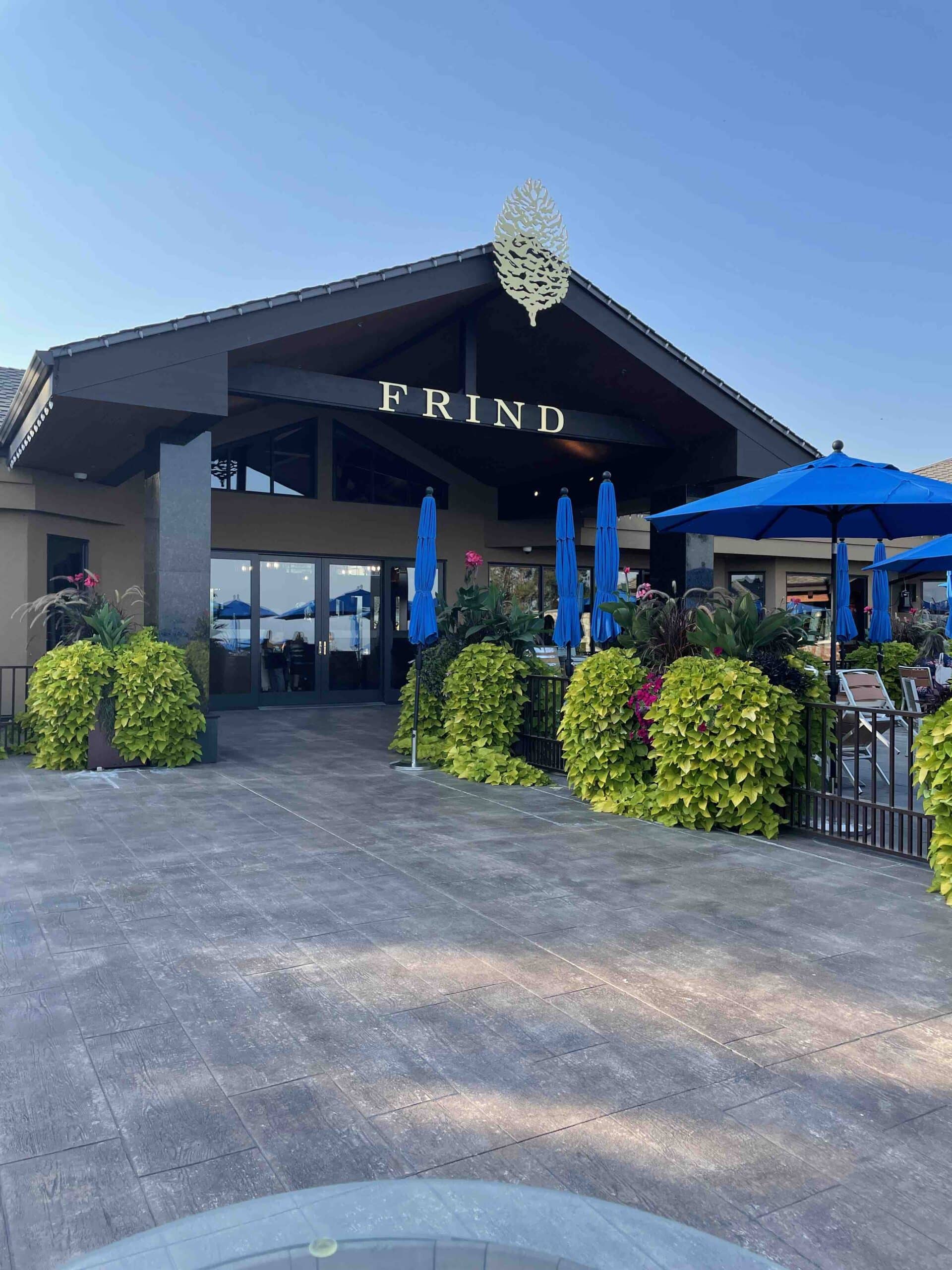 Frind Estate Winery is a breathtaking, modern and innovative winery, located in West Kelowna. Their wines are smooth and fruit-forward. While exploring Frind, be sure to head out the back to spend time on their stunning patio, surrounded by flowers, mountains and Okanagan Lake.
It is worth spending a bit of extra time at Frind to enjoy a bite at Annie's Beach Cafe, located on their lakefront picnic area. You really can't go wrong with their pizzas, the best the prosciutto and roasted chicken options.
Tastings are open from 10:00am-7pm on a daily basis. Note that most Kelowna wineries open for tastings from 11:00am-6pm, making Frind a great option to start or end with.
There are two tasting options to choose from:
Standard Tasting: This tasting is from 10am-7pm with the latest reservation at 5pm. This is an opportunity to taste 5 wines you can hand-select from an extensive list. The standard tasting is only $10.
Elevated Tasting: This option runs from 12:00pm-5:00pm and can accommodate between 5-20 guests. Hosted by a wine expert, enjoy wines paired perfectly with charcuterie. The elevated tasting has a cost of $50 a person and should be booked in advance.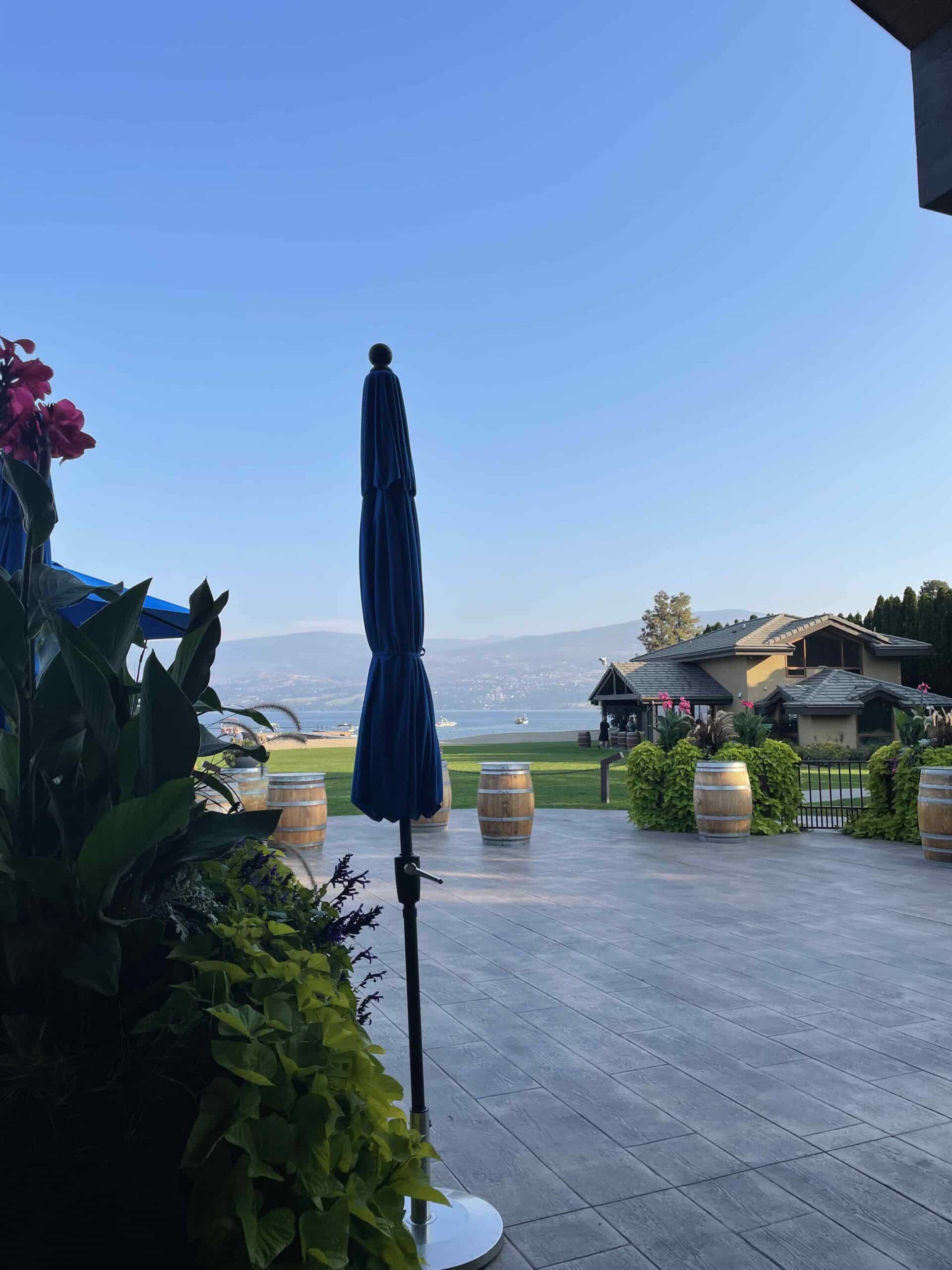 ---
Arrowleaf Cellars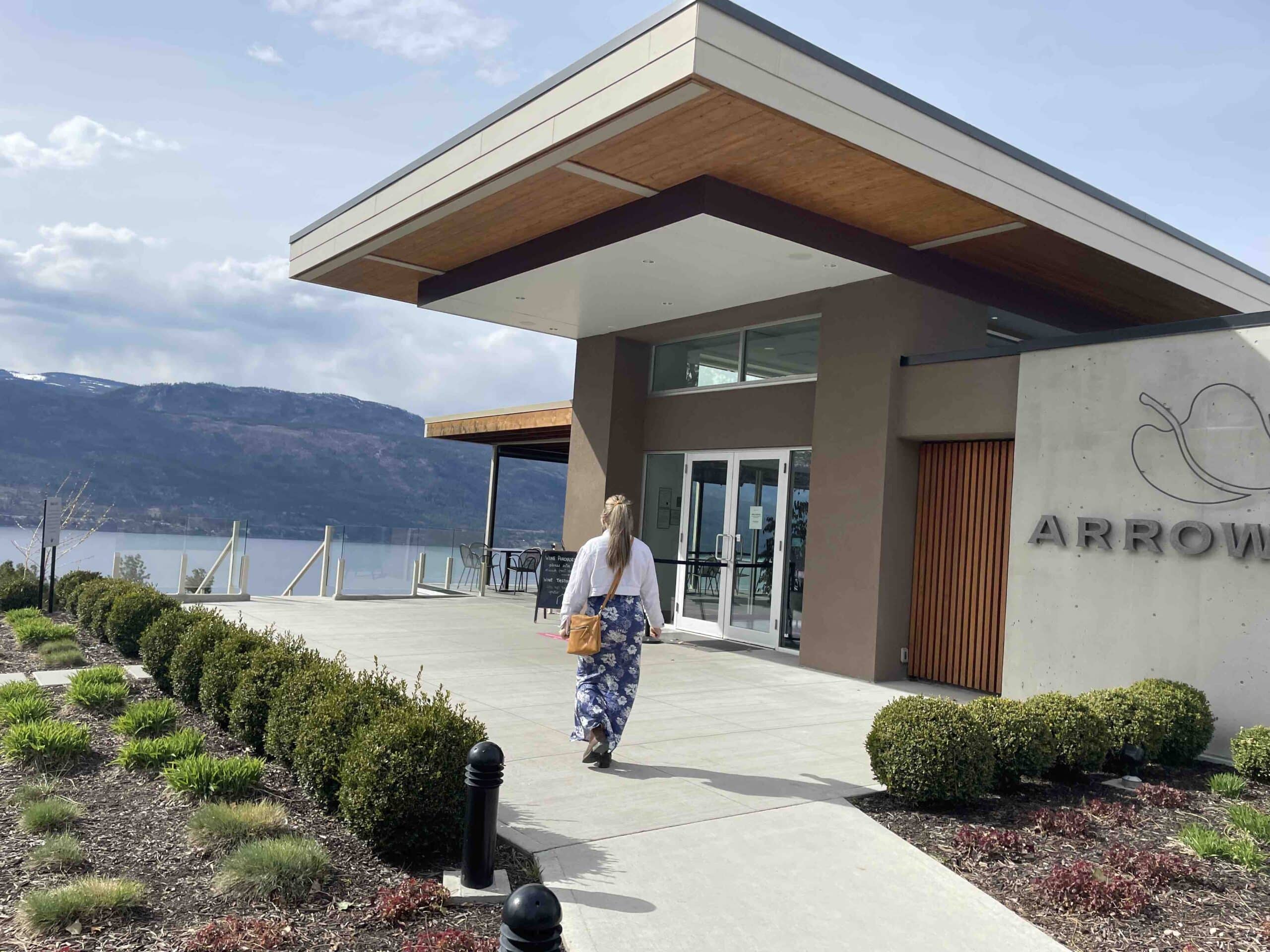 Arrowleaf Cellars has been proudly serving high-quality wines for the last 22 years. They focus on local, sourcing 90% of their grapes in their specific area and the last 10% in the Kelowna area.
Their name comes from the Arrowleaf Balsamroot, also named the Okanagan Sunflower. The Okanagan Sunflower is native to that area and blooms in early spring.
Their estate, founded in 2001, now has 16 acres of vineyard and has connections to 30 other acres in the area. They have since won multiple awards between 2014 when they opened their tasting room and today.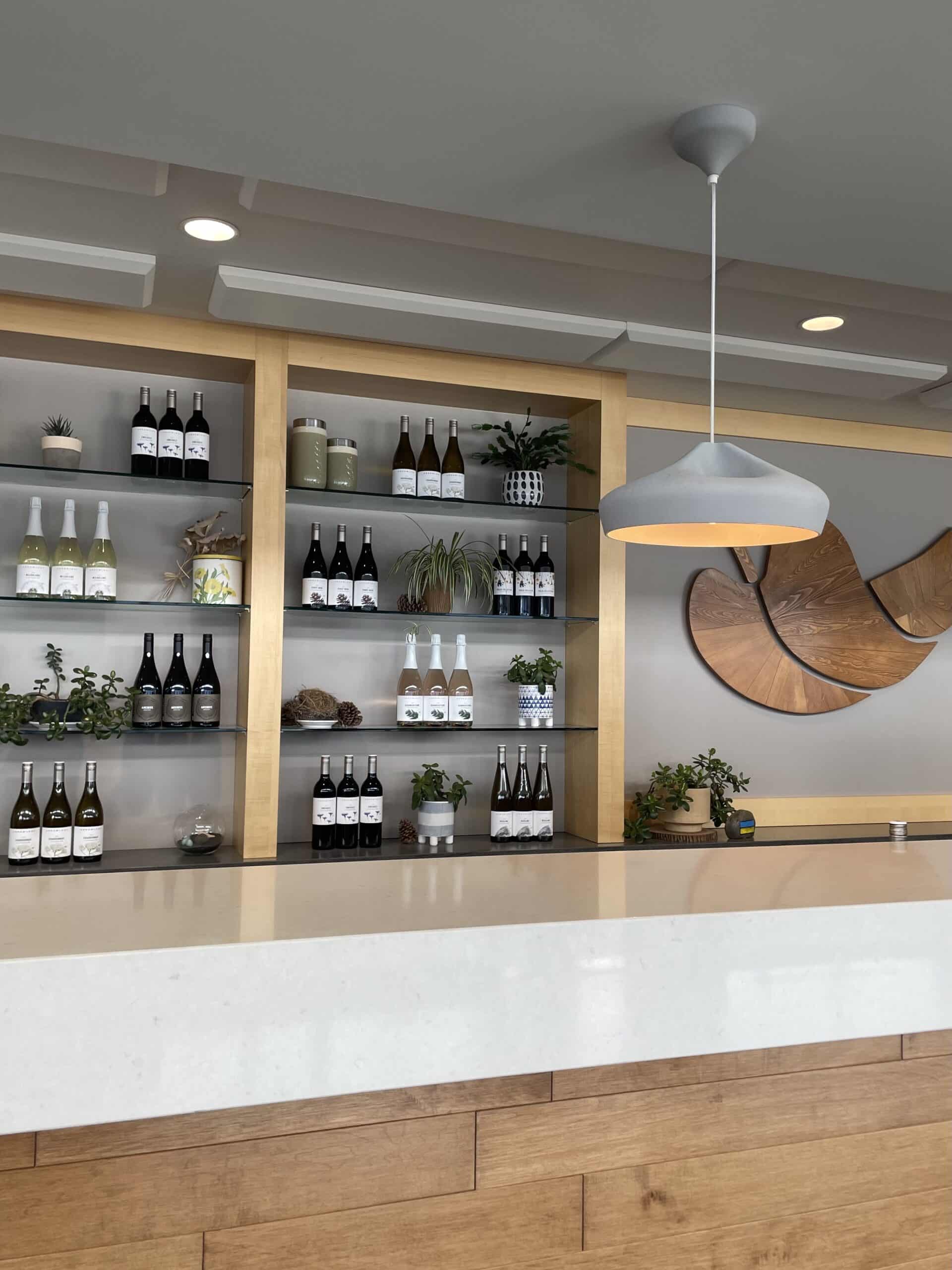 Basic wine tastings are offered at their bar between March 1 and December 23. This is an opportunity to sample four of the wines from their portfolio. Tastings are only $5, being a super reasonable option when it comes to tasting prices.
Reservations are recommended, especially during the summer months and the weekends. Drop-ins are a possibility, but it is always best to reserve to guarantee a spot.
There is also the option to do a private seated group tasting, which can accommodate between 7-16 people, has a cost of $10 per person and must be reserved in advance. It runs Wednesday-Sunday from April to October.
Have a sweet tooth? Arrowleaf is a fantastic spot to head to on the weekends as they have two rotating cream puff options from March to Thanksgiving weekend.
If you're looking for a quick bite to eat, they offer picnic boxes, charcuterie and cheeses at their picnic area. Not to mention, this is a great opportunity to buy your favorite wine from your tasting by the glass.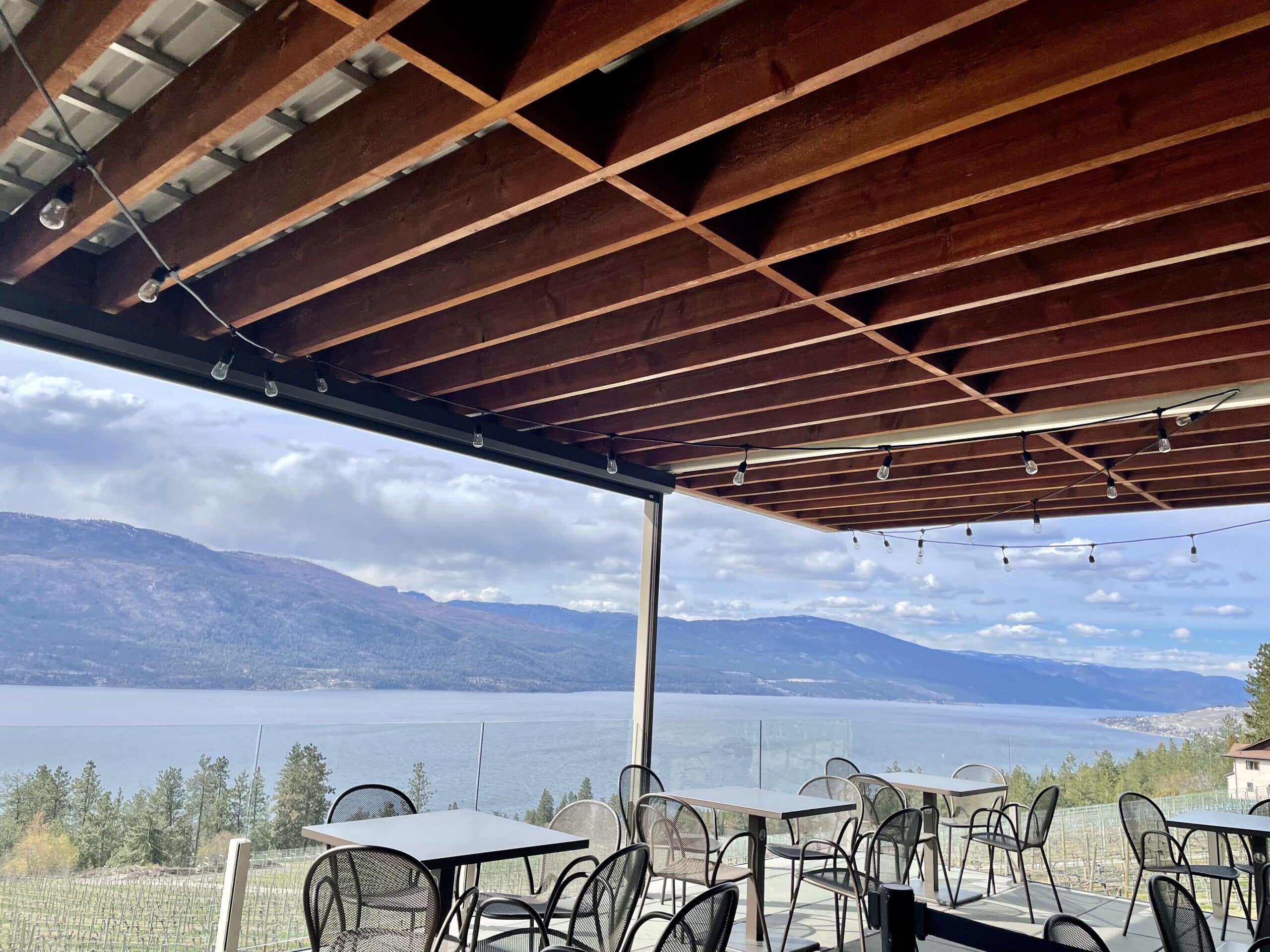 ---
Crown & Thieves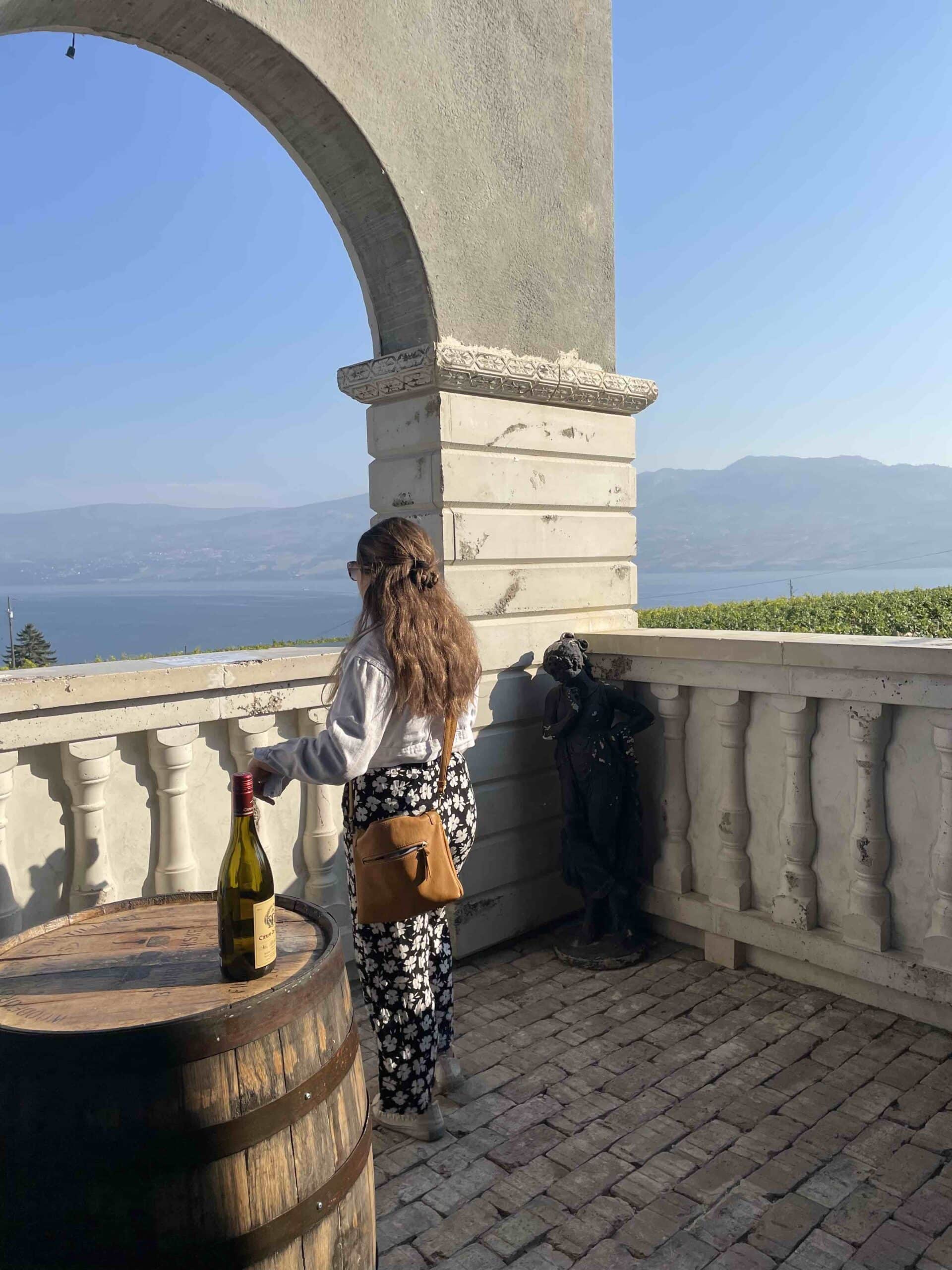 Crown and Thieves is a jaw-dropping, one-of-a-kind location that offers beautiful scenery both indoors and outdoors.
This location is uniquely decorated and has become a "playground for pushing limits". Their decorative flare and outdoor atmosphere have the goal of making you feel like royalty.
Once you have completed your tasting, you have the opportunity to choose between their delicious selection, which is strategically placed on what looks to be bookcases, blending in nicely with the royal decor.
This location offers a variety of events such as cabaret nights and speakeasies. This could be a fantastic way of extending your experience at Kelowna wineries.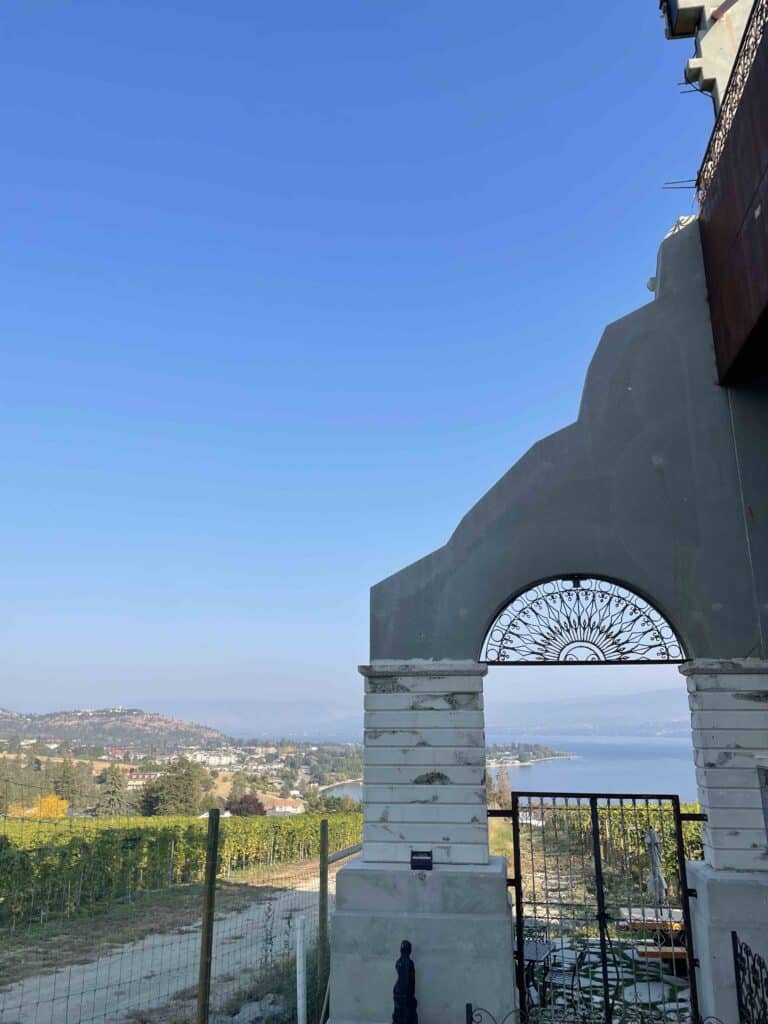 As for wine tastings, you have the option of enjoying your tasting either indoors, or out on their patio. It is recommended to book tickets in advance, as it is a fairly small location.
Enjoy a unique experience by reserving a table at their rooftop restaurant; Angel Share. They are open for lunch, happy hour and dinner.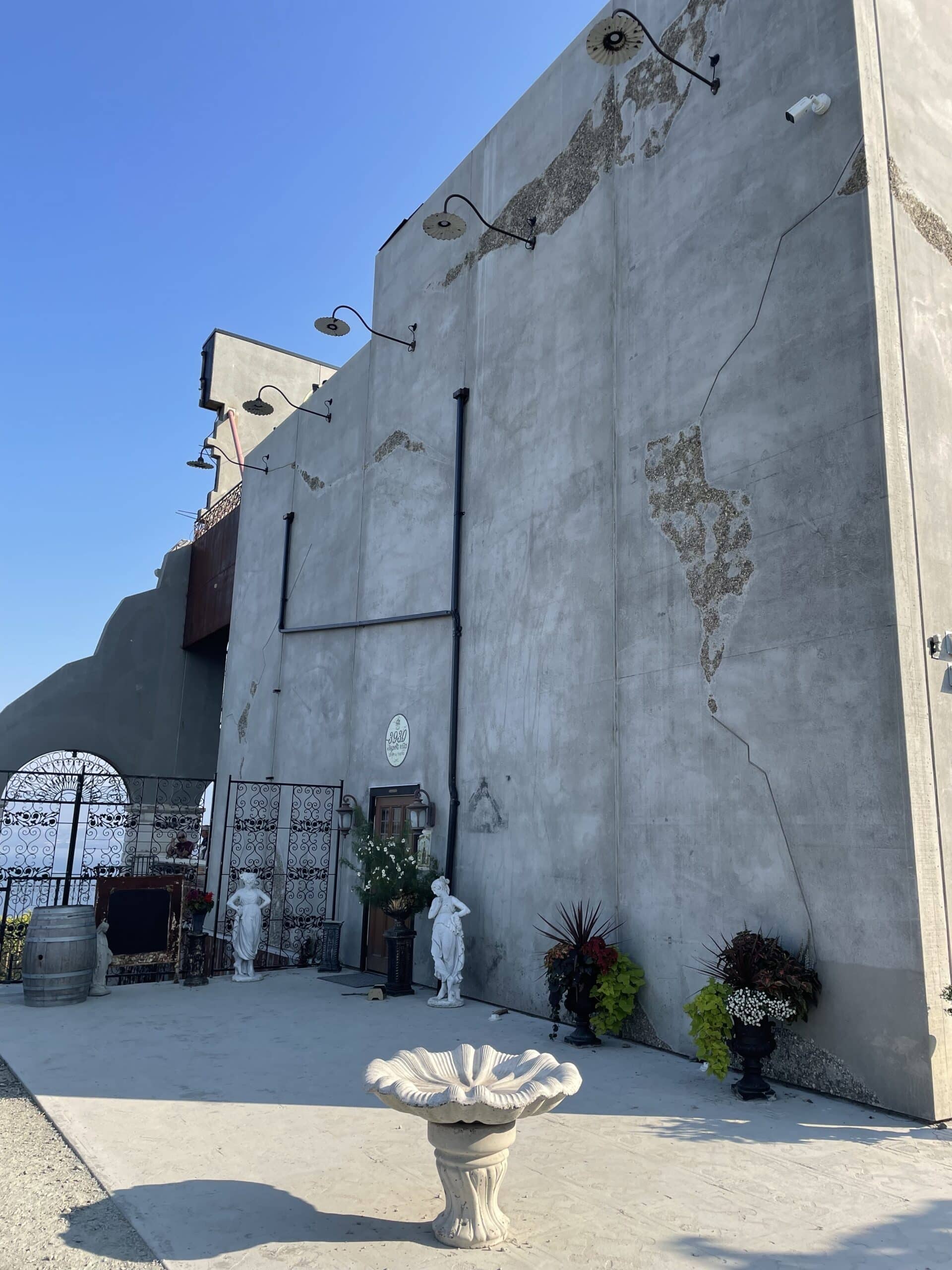 ---
Meadow Vista Honey Wines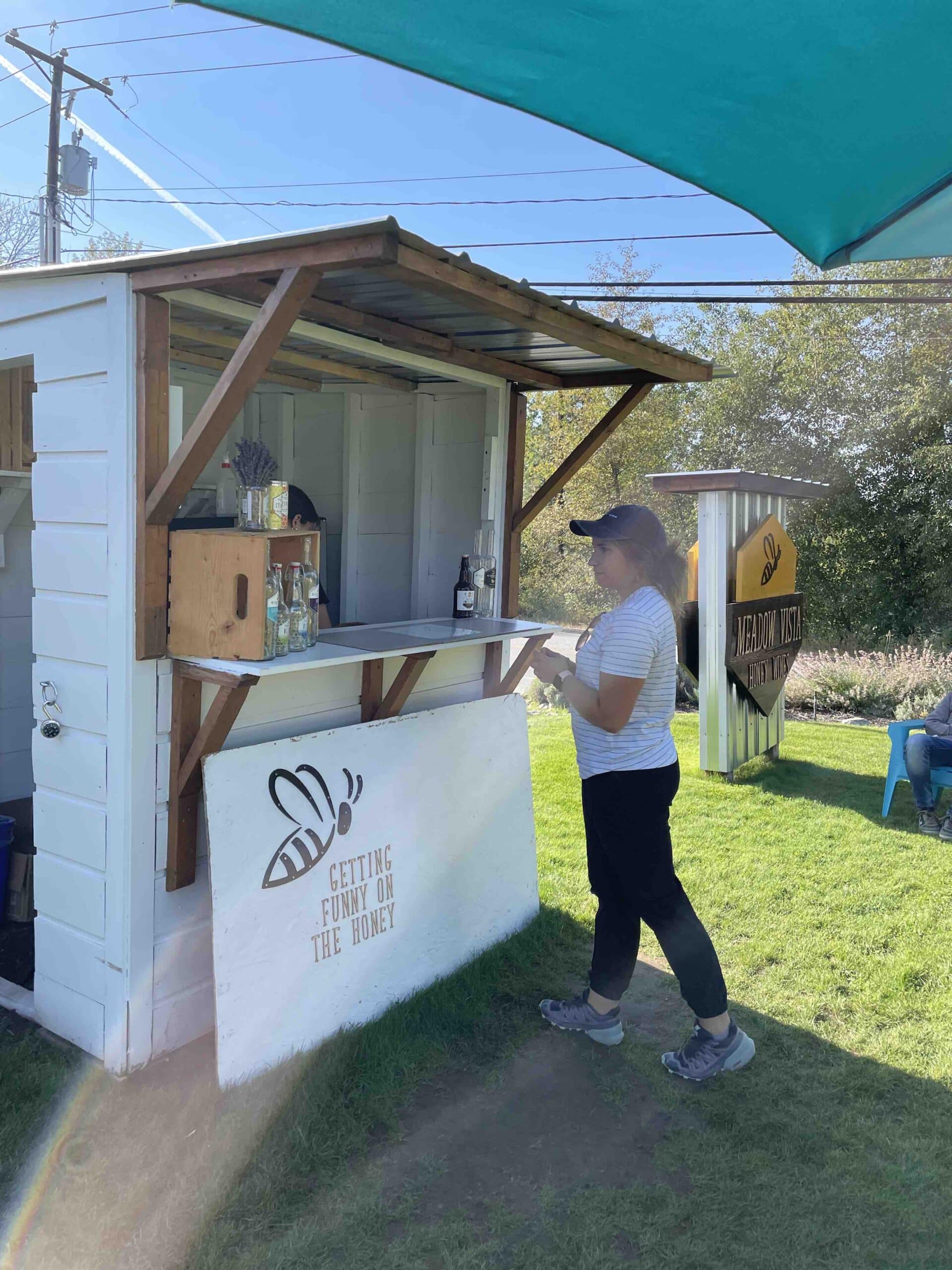 Not a huge fan of standard wine? Looking to think outside the box? Meadow Vista Honey Wines has got you covered!
Meadow Vista focuses on using high-quality, local ingredients to create renowned meads. They take pride in creating the taste of "Nature in a Glass".
Mead is made from honey, making it important to have a healthy bee population. Meadow Vista takes pride in doing everything they can to support their local honey population. They are continuously working towards increasing awareness and protecting the bees.
They do so by ensuring that they have ample amounts of food by planting bee-friendly flowers and attaching bee-friendly seeds to their bottles that you can plant at home. In addition, every wine-tasting fee increases their ability to spread both seeds and knowledge across British Columbia.
While you're there, be sure to take a walk around the grounds to enjoy their thriving gardens and appreciate their bee hives.
They also offer some light food options as well as mead by the glass. I loved getting their charcuterie option with a "Meadjito" to drink (Mead + Mojito).
As you enter the gift shop, you're welcomed with pleasant smells of honey, showcasing their lovely bee-related products that are for sale.
---
Specialties of These Kelowna Wineries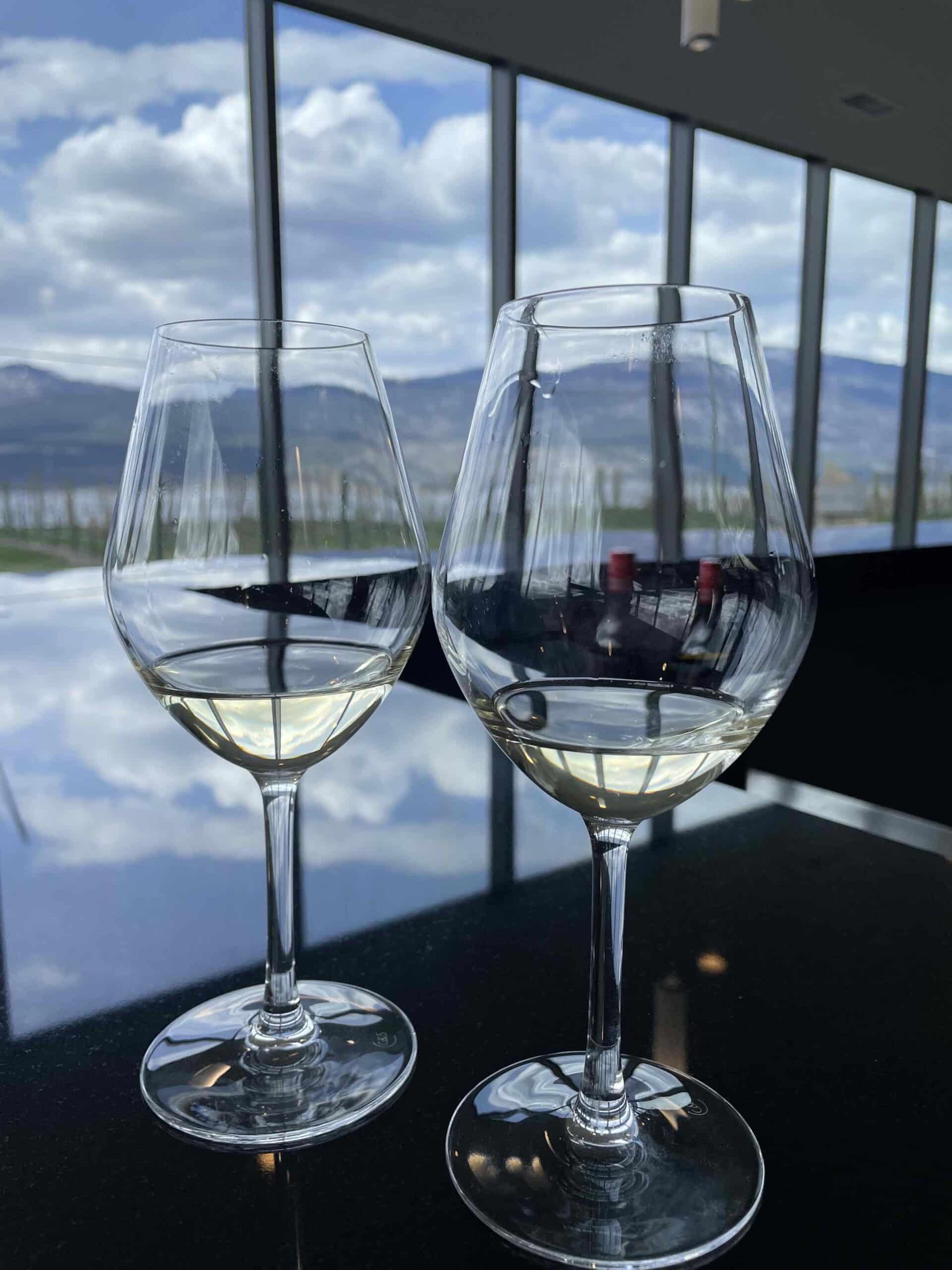 Every winery has its specialties, depending on the location and vineyards. Here is a quick reference table to help you choose your wineries accordingly.
| | |
| --- | --- |
| Mission Hill Family Estate | Bordeaux-style reds / Pinot Noirs / Aromatic whites |
| CedarCreek Estate Winery | Pinot noirs / Merlot / Riesling / Pinot Gris |
| Quail's Gate | Chardonnay |
| Indigenous World | Varied |
| The Hatch | Varied |
| Mount Boucherie | Pinot Gris / Riesling / Chardonnay / Gamay Noir / Pinot Noir / Merlot / Cabernet Sauvignon / Syrah / Zinfandel |
| Frind | Merlot / Cabernet Sauvignon / Cabernet Franc / Syrah |
| Arrowleaf Cellars | Pinot Noir / Pinot Gris |
| Crown & Thieves | Varied |
| Meadow Vista | Honey wine (Mead) |
---
How To Get Around The Wineries in Kelowna Safely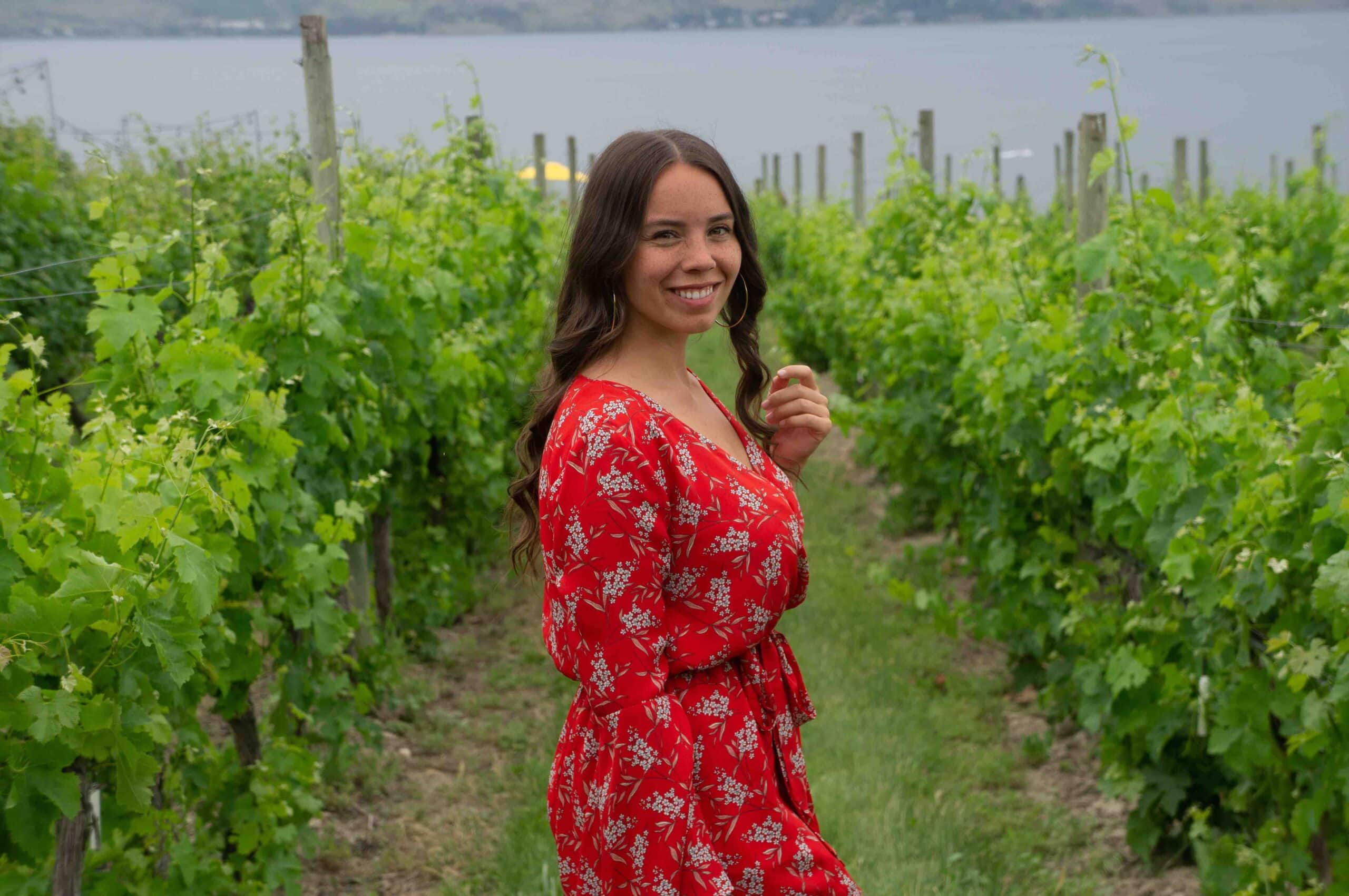 If you're looking to make the most of your time in Kelowna by visiting various tastings, it is essential to keep both yourself and those around you safe on the roads.
If you are only looking to head to a couple wineries, the cheapest option may be to call a taxi. That said, taxi services get quite busy in the summer months, which might leave you waiting a while for your next pickup.
Another option that is quite popular is to hire a shuttle. This allows you to extend your trip to several Kelowna wineries, without having to wait for a taxi. There are several different shuttle companies in the Kelowna area, all offering their own unique experience. Be sure to read through their descriptions to see which company is the best fit for your needs and your budget.
Kelowna Wine Tour Shuttle Options:
---
Making the Most of Your Time in Kelowna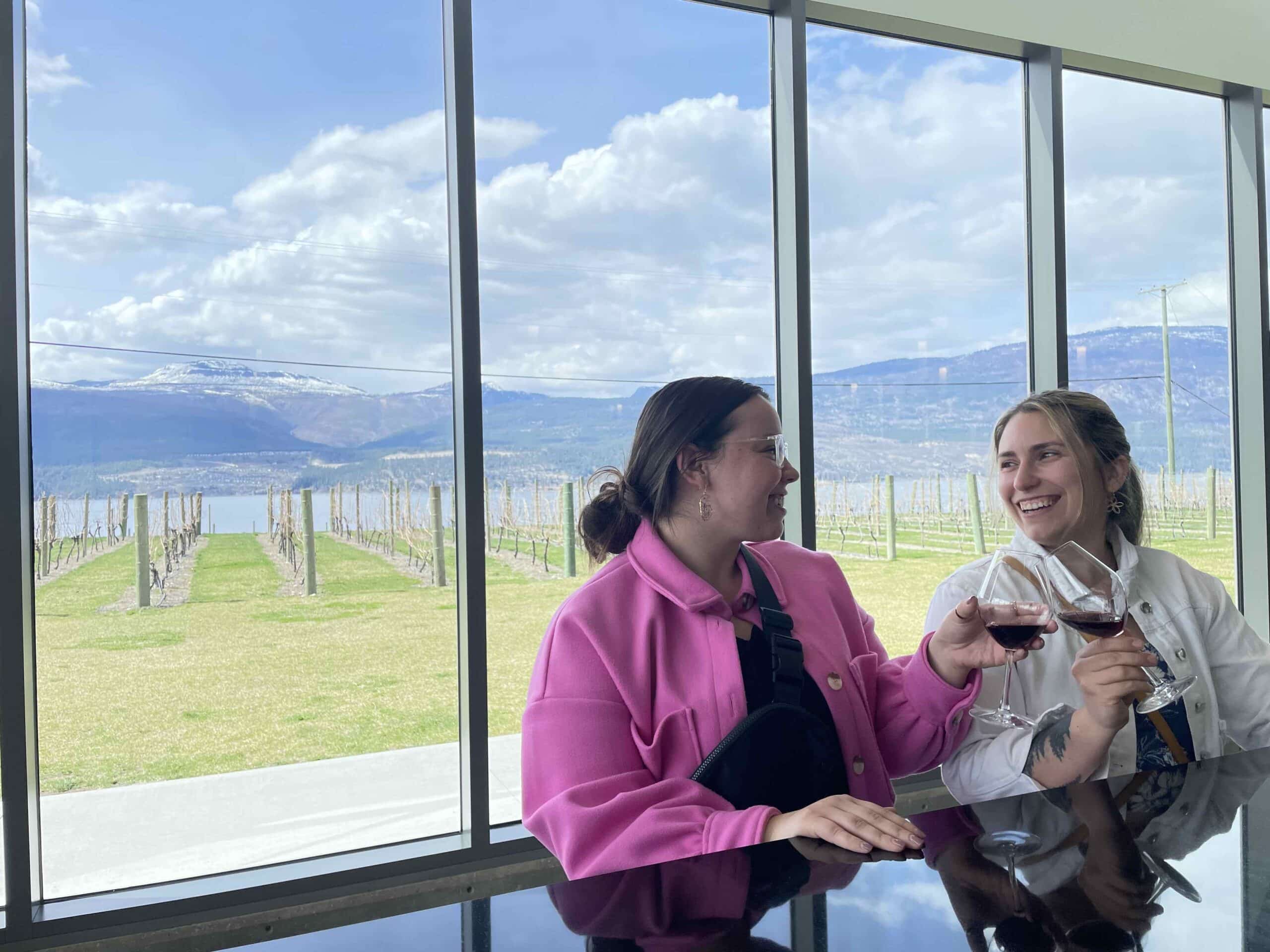 Kelowna is a popular and beautiful destination for wine lovers. With an abundance of winery options to choose from, you are sure not to be twiddling your thumbs, wondering what to do next.
On top of that, Kelowna is not only a wine-lovers paradise, but it also has countless fun activities to choose from.
Here are a few of the best things to do in Kelowna:
Golfing
Paddleboarding
Rooftop patios
Laying on the beach
Renting a boat
Hiking Myra Canyon