If you've ever been curious to know what lies beyond the wineries and beaches of Kelowna, you won't want to miss Myra Canyon; a note-worthy hike, loaded with breathtaking views and rich history.
Also sometimes called the "Kelowna Trestles," this hike is one of the best things to do near Kelowna. Myra Canyon is a section of the Kettle Valley Railway (KVR), built by hand in the early 1900s. This hike brings you on a journey through 18 trestle bridges and two tunnels. 'Kelowna trestlesMyra Canyon is a section of the Kettle Valley Railway (KVR), built by hand in the early 1900s. This hike brings you on a journey through 18 trestle bridges and two tunnels.
The Myra Canyon Trestles hike was built after a devastating fire in 2003, being one of British Columbia's biggest and most destructive fires in its history.
This 25.1 km out-and-back trail brings you up 554 m of elevation and is a great trail for beginners/ moderate hikers, someone looking for a free activity, or anyone looking to enjoy a stroll with incredible views.
---
Key Points for Hiking The Myra Canyon Trestles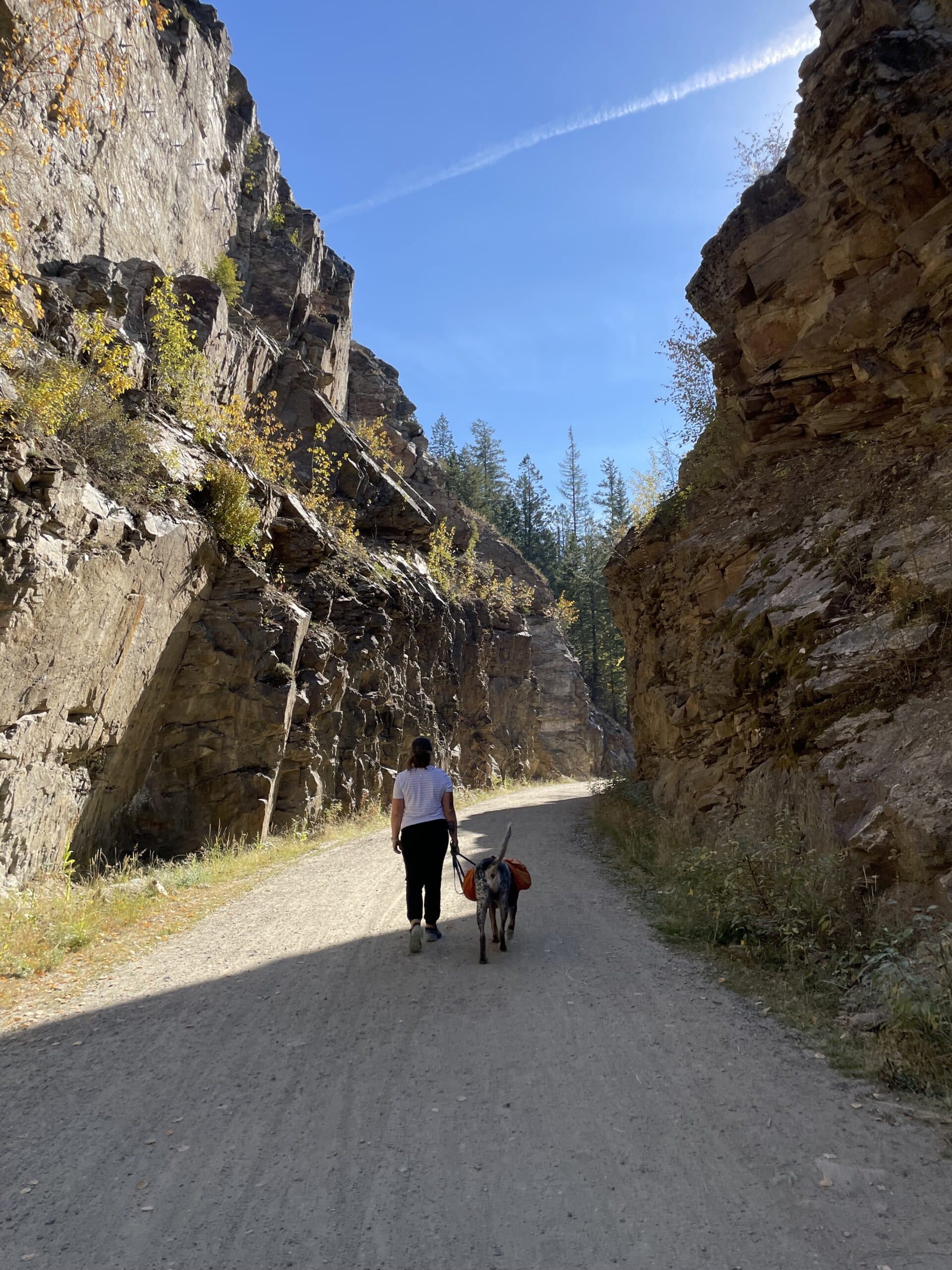 If driving from Calgary to Vancouver, or vice versa, Myra Canyon is a not to be missed experience in Kelowna, one of the best places to visit in British Columbia. Here are some key points to consider when planning your visit.
- The trail is 25.1 km long

- It is an out-and-back trail

- It can be enjoyed at any given length, turn around when you're ready

- You will gain 554m of elevation

- It is dog-friendly

- There are bike rentals available on site

- Keep your eyes open for bikes, runners and on-leash dogs going by

- It is a beginner/moderate trail that is fairly flat

- Wear comfortable shoes

- The trestles make for uneven ground 

- Myra Canyon is not mobility aid accessible 

-Bring lots of water, sun glasses and sunscreen; there isn't a lot of shade
---
All About Myra Canyon Trestles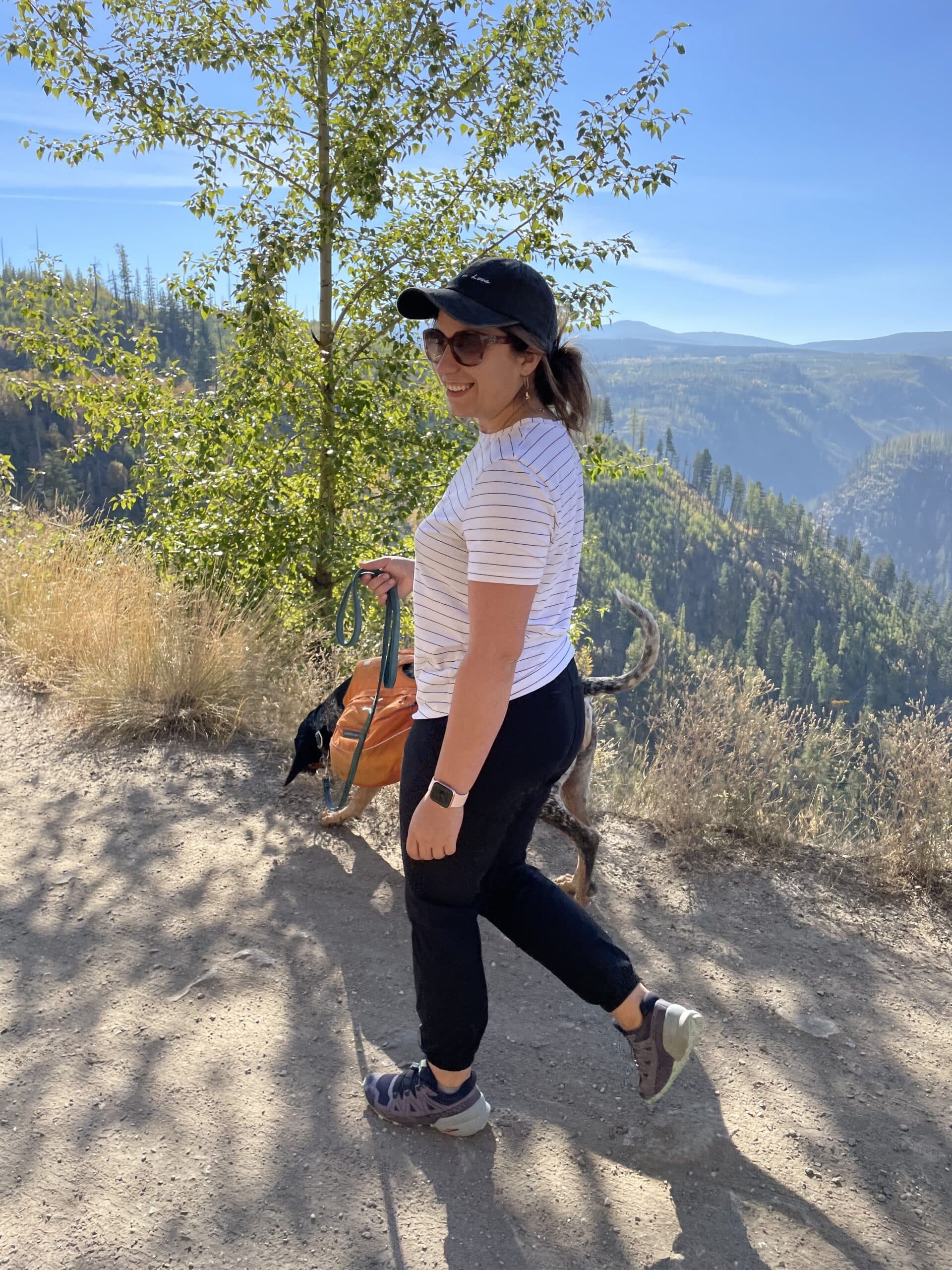 Myra Canyon is located in Kelowna, and was originally built as a railway line to connect Kelowna to Penticton, BC, and was quite impressive for its time. The railway line cut through Myra Canyon, with steep cliffs on both sides. In order to complete the project, workers built trestle bridges and tunnels.
Sadly, in 2003, a massive wildfire destroyed many trestles and bridges, including trestles #18 and #19. The fire is believed to be human caused. Because of windy and dry conditions, the fire spread quickly. The fire began in Okanagan Mountain Provincial Park on August 16, 2003 and reached Myra Canyon by August 23, 2003.
This fire destroyed over 250 square kilometers of land and 240 homes. It took 2,500 firefighters, 200 water planes and countless support staff to extinguish the last bits of the fire in October 2003. This caused damage of approximately $300 million.
Since then, countless volunteers have come together to rebuild Myra Canyon into a stunning walk, where you can find various informative displays to enjoy and learn from along your walk.
---
Preparing for Your Walk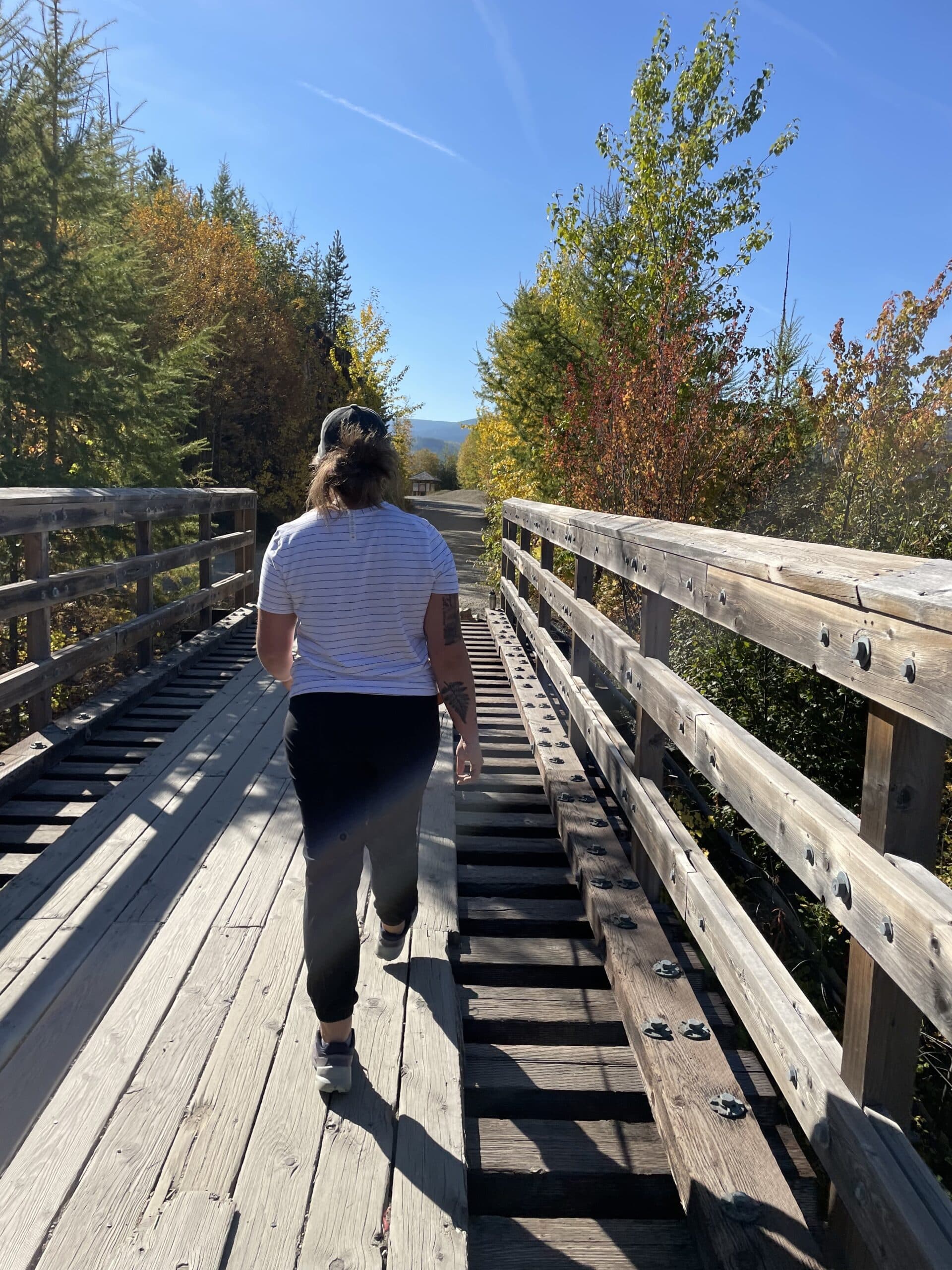 Regardless of the adventure, it is always important to prepare in advance to enjoy the best possible experience.
When heading to Myra Canyon, what you need will depend on the season.
Summer

If you're planning to head to Myra Canyon Trestles during the summer, it is important to keep yourself protected from the sun and to stay hydrated. When visiting in the summer, we notice that there wasn't very much shade protection on the trail. One of the only times we were are in the shade is in the tunnels. The tunnels are also quite cool, which can be a really nice temporary escape from the blazing heat of the summer. 

In the summer months, it is super important to stay hydrated. Pack lots of water and sunscreen. Consider bringing snacks as well if you are planning to do the entire hike, as it takes an average of 6 hours and 20 minutes to complete.
Fall

If you're heading to Myra Canyon Trestles in the fall, there are a few things you should keep in mind. Kelowna's fall weather can be quite unpredictable. Though you could fall on a gorgeous sunny day, you could also experience some brisk weather. 

To add, seeing as Myra Canyon is at a much higher elevation than the city of Kelowna itself, the air will be cooler as elevation increases. Be sure to dress in layers. Hydration is always important during hikes, so be sure you've packed enough water. 
Winter

Myra Canyon is accessible during the winter season if your car is 4-wheel drive. With shorter days, be sure to turn around with enough energy and daylight left. Hiking through the snow is more challenging than on even ground. Be sure to wear steady boots as there is uneven terrain, especially on the trestles. Dress warm as you can always take layers off as needed.

The first trestle is accessed within 1km, so if you are getting cold or tired, this can be a shorter goal to set that still has rewarding views and a set destination that you can work towards. 

Seeing as there are less people enjoying the trail in the winter, it is possible to run into wildlife such as bears, bobcats and cougars. Hike in groups and stay aware of your surroundings. 
Spring

Spring in the Kelowna area can be such a beautiful time in the year, where the sun is starting to get stronger and you are dying to get outside. The spring has an array of weather bursts, so be sure to double check the weather forecast before visiting Myra Canyon. Though you could head there in rainy weather, we find that the rain can impact the visibility of the views. Believe me, these views are not to be missed! Not to mention, a rainy day makes for slippery conditions on the trestles. 

If you have time to wait for a sunny day, it is worth while. Once again, dress in layers, pack water and snacks and enjoy!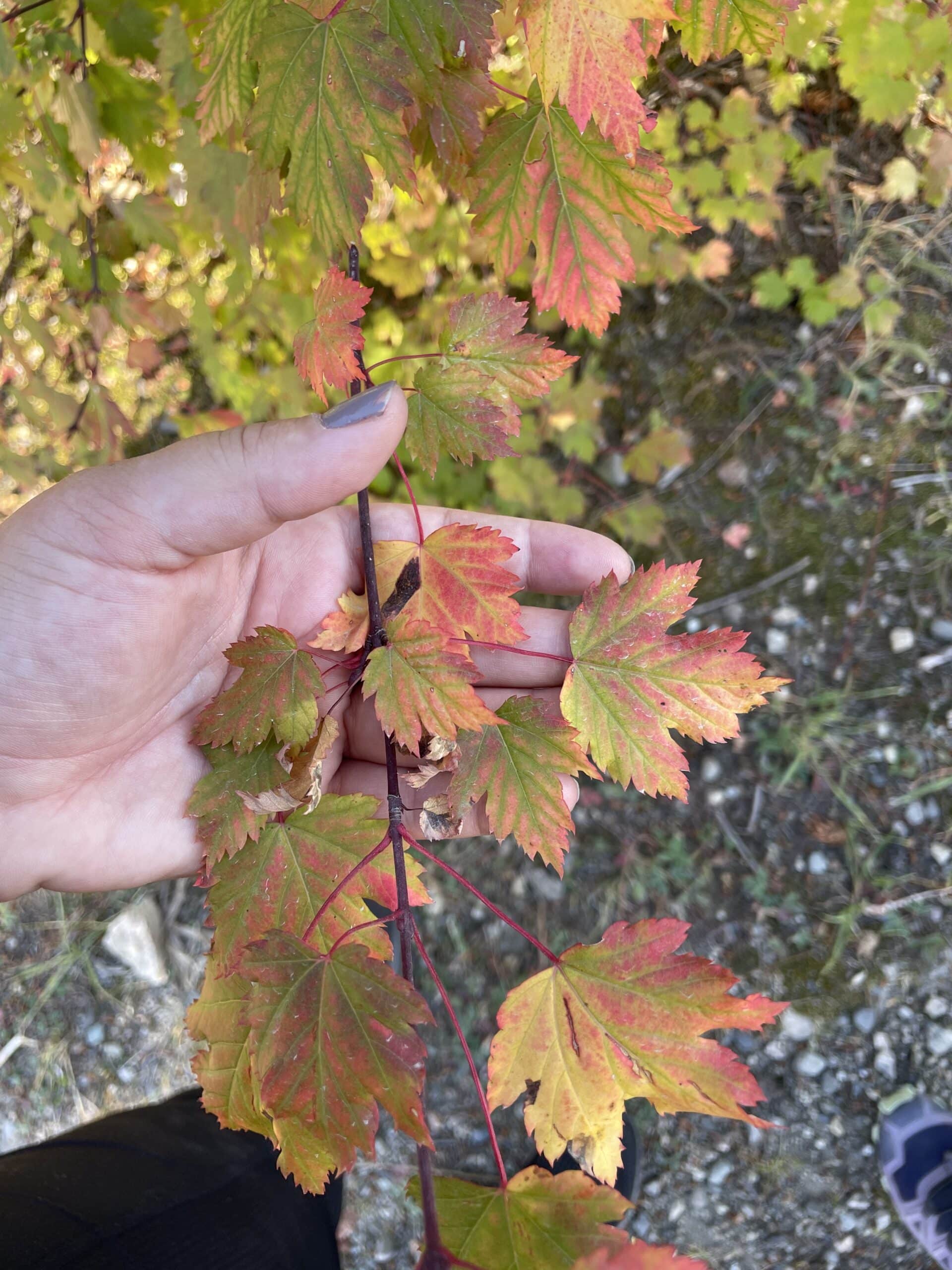 ---
How To Get To Myra Canyon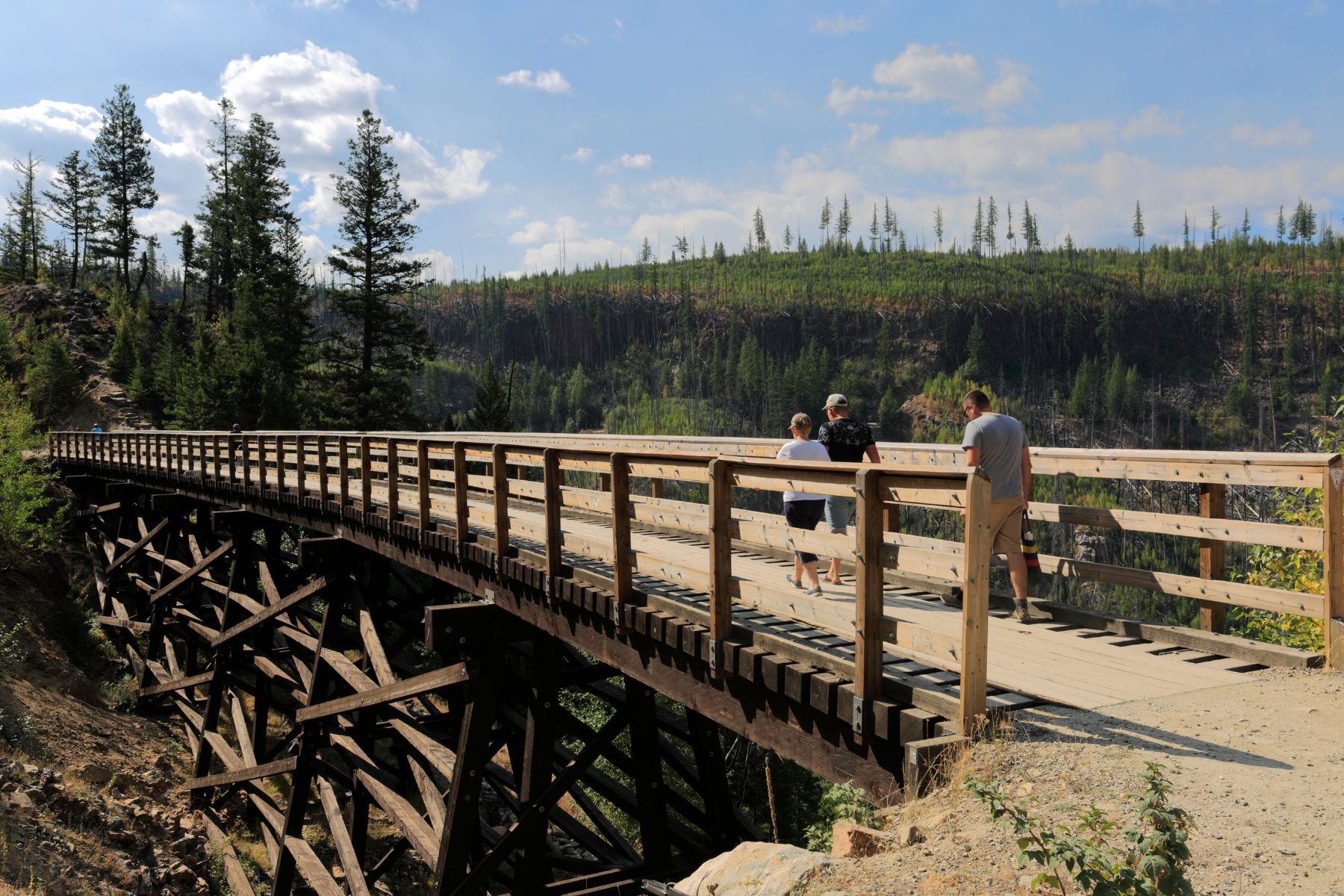 Myra Canyon is located in the heart of the Okanagan Valley. It is a 35-minute drive from downtown Kelowna, but it is well worth the drive. Once you arrive in KLO Creek National Park, the drive will start going up in elevation and will eventually turns into a gravel road. When there is no snow or rain on the ground, almost all vehicles should be ok to climb up to the canyon. The drive can be quite dusty in the summer months as you drive through the gravel.
When we visited, we drove a super small car and we got up there without trouble. If visiting in the winter months, we recommend taking a vehicle that has four-wheel drive or putting chains on your tires.
The drive is beautiful, heading through the local flora and fauna along the way. Keep your eyes open, as you might even spot some wildlife.
Once you've arrived in the parking lot, you are close to the trailhead. There is quite a bit of parking, but it will fill up quickly in the mornings of the summer months. When possible, consider arriving early morning or heading there on weekdays.
There isn't very much signage to help guide you to the trailhead. To find it, walk to the furthest end of the parking lot and it will be found in the left corner.
Consider leaving yourself enough daylight to enjoy this hike and drive back down, as it can be a challenging drive if done in the dark.
---
Myra Canyon Hike Length and Difficulty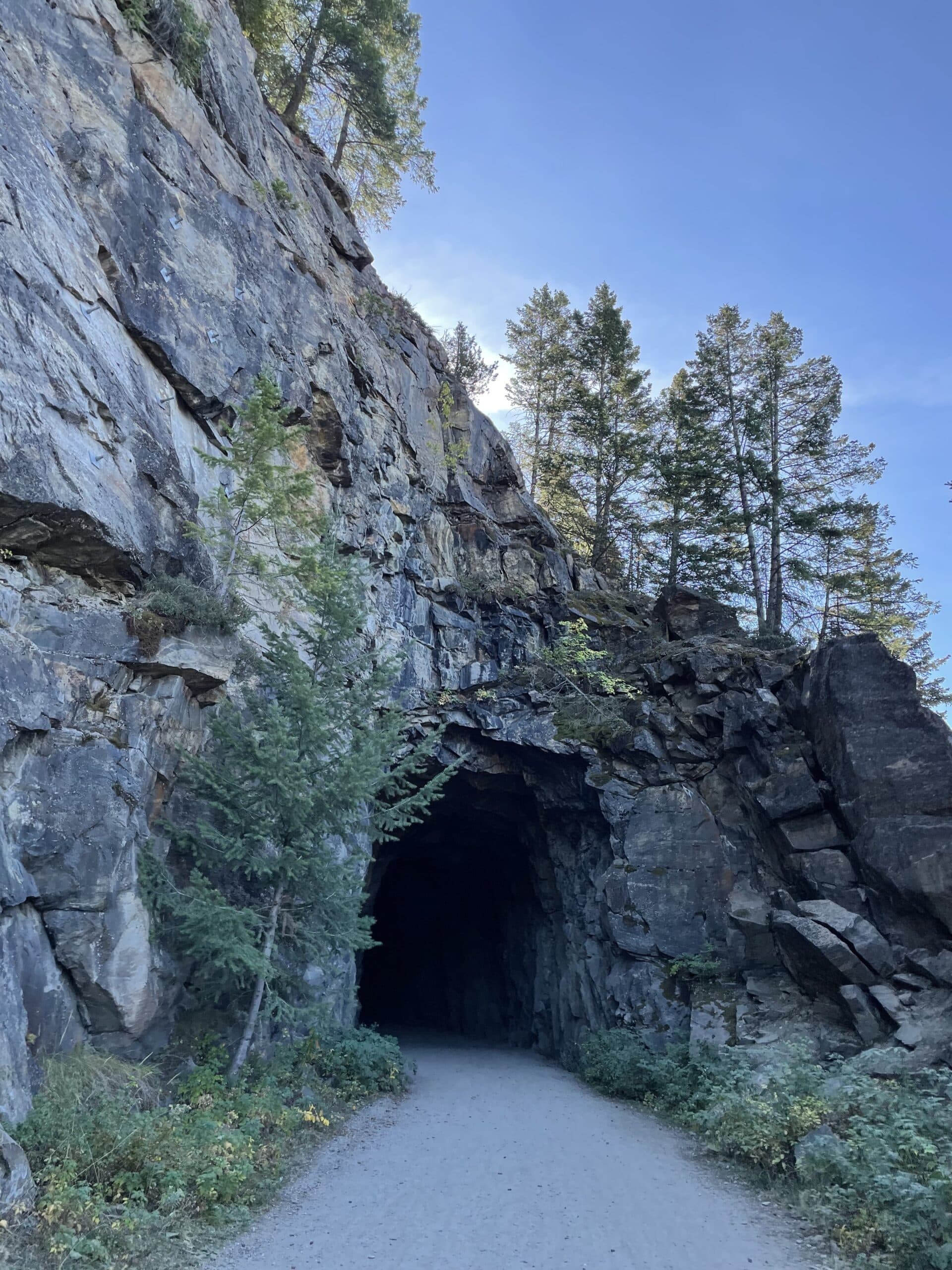 Myra Canyon is such a great trail as it can be enjoyable for people at all fitness levels. It is a 25.1km trail that takes on average, 6.5 hours round trip.
This hike is not a loop, so whatever you decide to walk on the way in, you will need to do it again on the way out. Check in with your energy level along the way and save some water for the way out.
For beginners, it can be a great trail to try out, as you can set your own length. Regardless of how far you decide to go, the views are incredible and they start right from the beginning of the trailhead. Seeing as it is a fairly flat trail, it is a great spot to bring a coffee and catch up with a friend.
For intermediate hikers, this could be the perfect trail for you to enjoy. Enjoy any length up to the full 25.1km to enjoy all 18 trestles and 2 tunnels. This could be a good spot to enjoy a half day immersed in the fresh air and local wildlife, flora and fauna.
For advanced hikers, this could be a good spot to challenge yourself and set goals. Consider running the trail and tracking your stats. Though the trail can get quite busy in the summer months, advanced hikers could really enjoy this spot in the off-season. This can also be a great trail to enjoy in part if you are just looking to get outside when recovering from a hike or workout.
---
Parking at Myra Canyon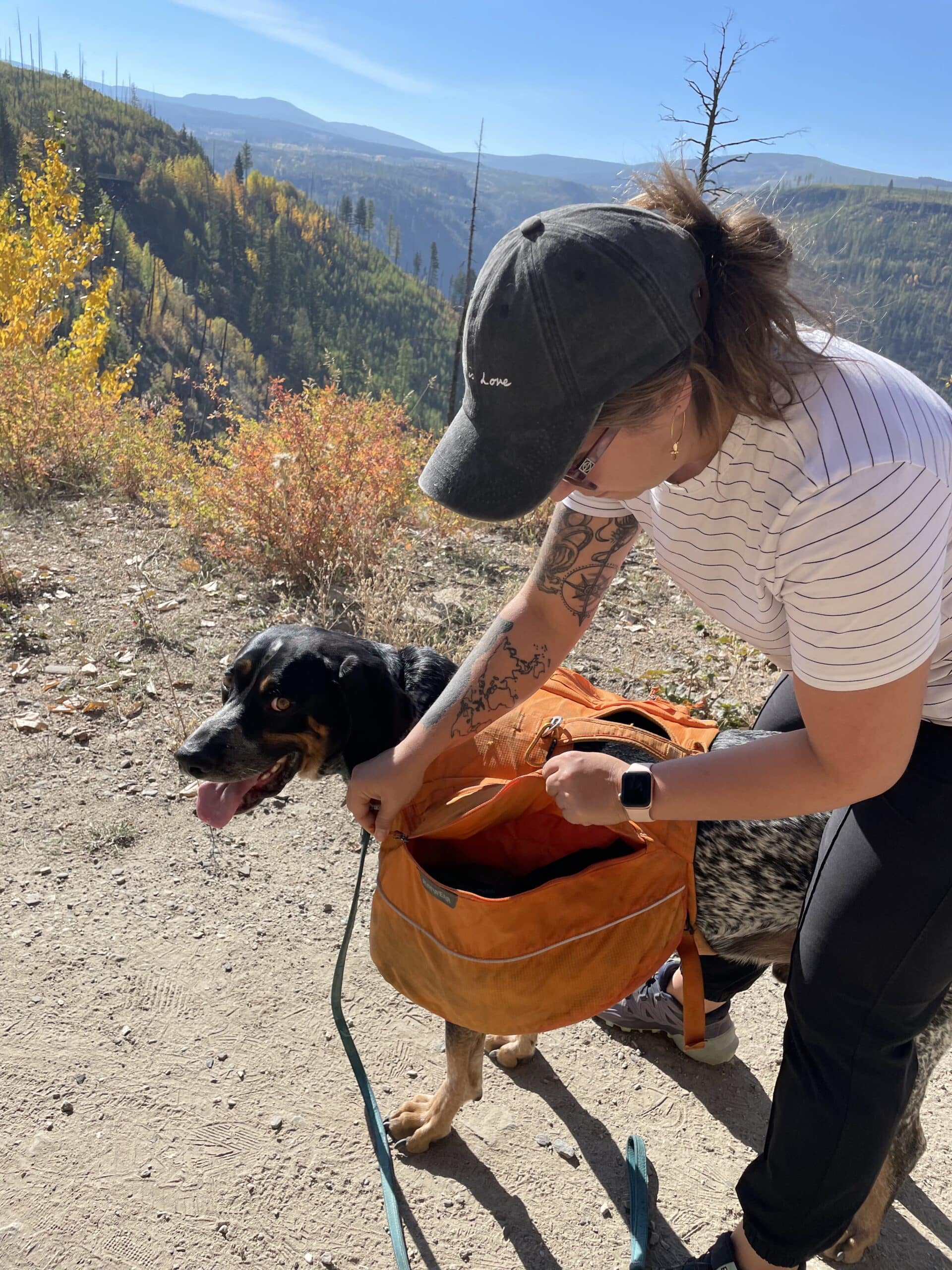 Once you have reached the top of the winding gravel road, you will arrive in the parking lot of the Myra Canyon trail. Spots fill up quick in the summer months, so we recommend arriving early in the morning.
In the spring, fall and winter, there are higher chances of easily grabbing a spot.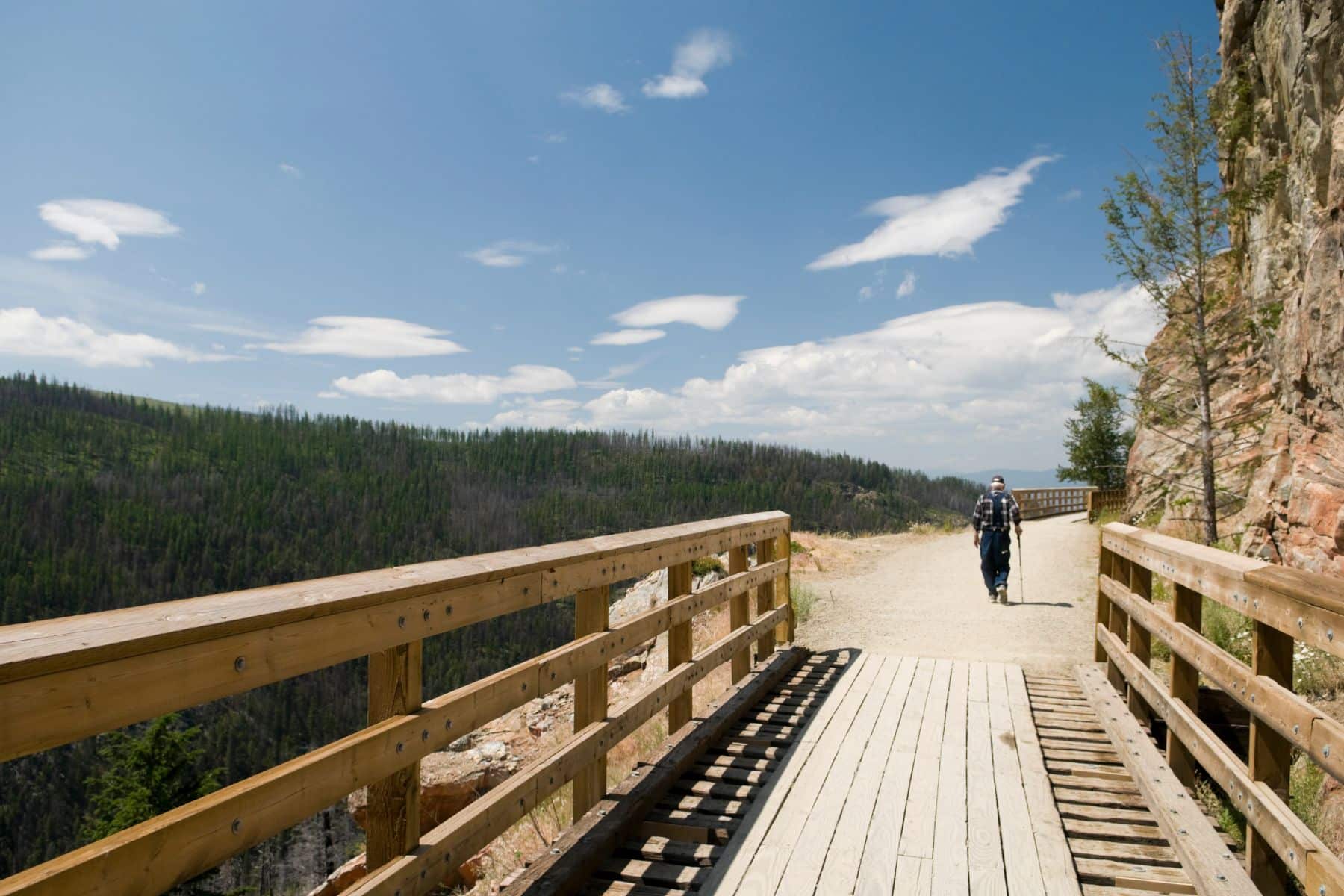 If you arrive in the parking lot and it looks like cars are parked super far back, try circling the entire parking lot instead of grabbing the first spot you see, which will likely be quite far. Seeing as people are coming and going at different times, you might just be able to snag a spot closer than you would think!
If you are looking to rent a bike, we recommend you park close to the rental hut for easy pick up and drop off.
There is an outhouse in the middle of the parking lot. One thing we noticed is that there aren't many garbage cans around. If you have garbage from a picnic, your dog or anything in between, please kindly bring it with you after the hike.
---
What Else Can You Do at Myra Canyon Trestles?
Myra Canyon isn't just about enjoying the walking trail. With a bit of creativity, there are so many things to choose from while you are there.
Biking
Besides walking, the most popular option is to rent a bike and enjoy peddling over the trestles and through the tunnels. It is easy to spot bike rental companies as you pull into the parking lot. Myra Canyon Bicycle Rental Tours Inc offers bike rentals for the whole family.
Renting a bike is a great option for someone looking to enjoy the entirety of the canyon, but doesn't have time to allocate a half day for it. If you have your own bike, you are welcome to bring one instead.
Be careful as there will be other bikers, walkers and dogs on the path. Be aware of your surroundings and make use of the bell on the handlebars to warn others of your presence. Take extra caution when you are biking on the trestles, as they are uneven. We recommend biking in the middle part.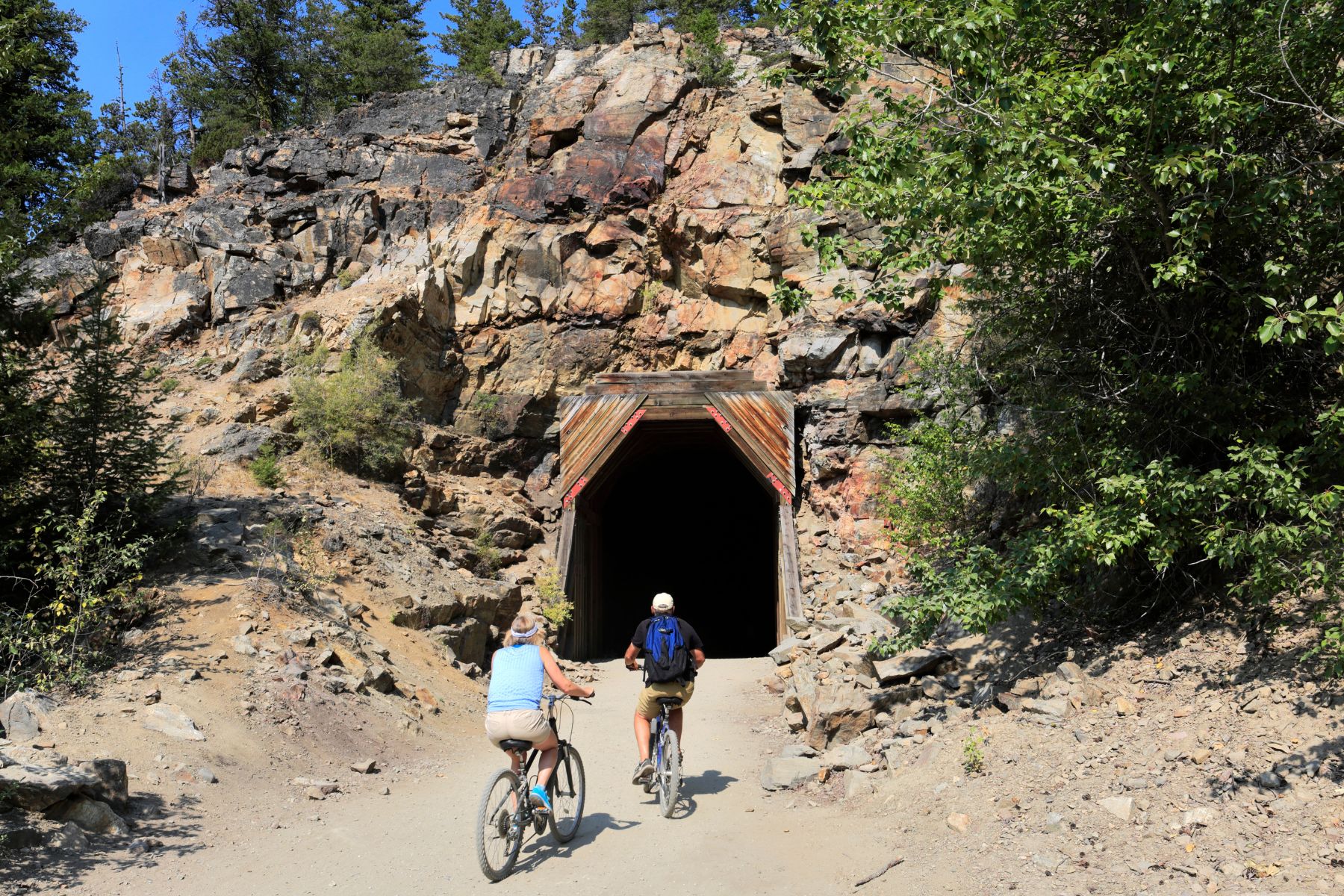 Picnic
Another idea would be to pack a picnic to enjoy during your adventure. There are a few benches along the way, facing the stunning view of the mountains. If you're planning on bringing a picnic, be sure to pick up all wrappers and food to keep the trail clean and to keep wildlife safe. There aren't many garbage bins around.
History
If you're a history buff, you could focus on the story of Myra Canyon. As you walk along the path, there are various signs and displays that explain the history of the fire, the rebuild and the surrounding flora and fauna. Consider downloading a plant identification app to learn more about the nature of the area.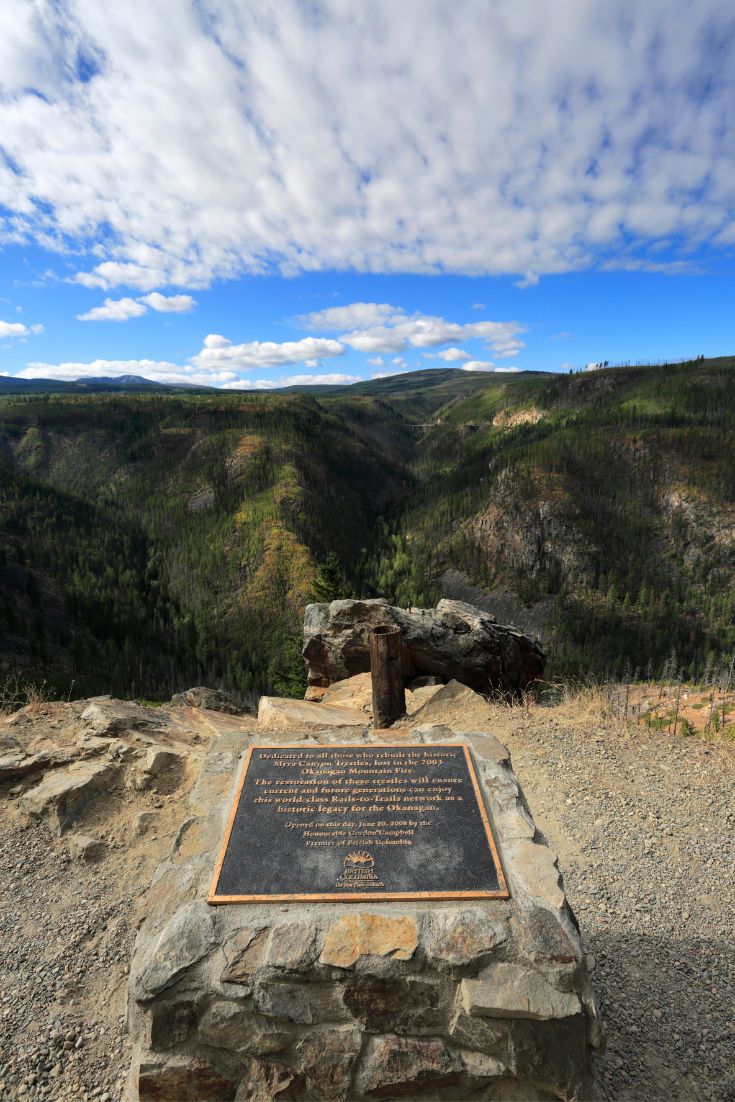 ---
Safety at Myra Canyon Trestles
Though Myra Canyon is a beginner/intermediate trail, there are still some safety concerns to keep in mind.
Uneven ground: Though the trail itself is fairly flat, when going over the trestles, they are built with two different levels. Whether you're on a bike or walking, keep this in mind. Passing others while on a trestle wouldn't be a safe decision. 

Steep cliffs: Seeing as the train tracks were built in the canyon, the path is set on steep cliffs. The trail itself is wide, leaving lots of space to keep you feeling safe. That said, we recommend avoiding walking close to the edge. 

Wildlife: In the busier seasons (summer, fall and spring), there are less chances of wildlife inhibiting the trail. That said, in the winter months, when the trail is quieter, it is possible to spot bobcats, cougars and/ or bears. Consider hiking in groups, bringing your bear spray and avoiding listening to music to stay aware of your surroundings.

Different Speeds: Seeing as you can either bike, walk or run the trail, you will come across people going at all different speeds. Keep an eye on your surroundings at all times and make your presence known to keep not only yourself, but others safe. 
---
Is Myra Canyon Worth all of the Hype?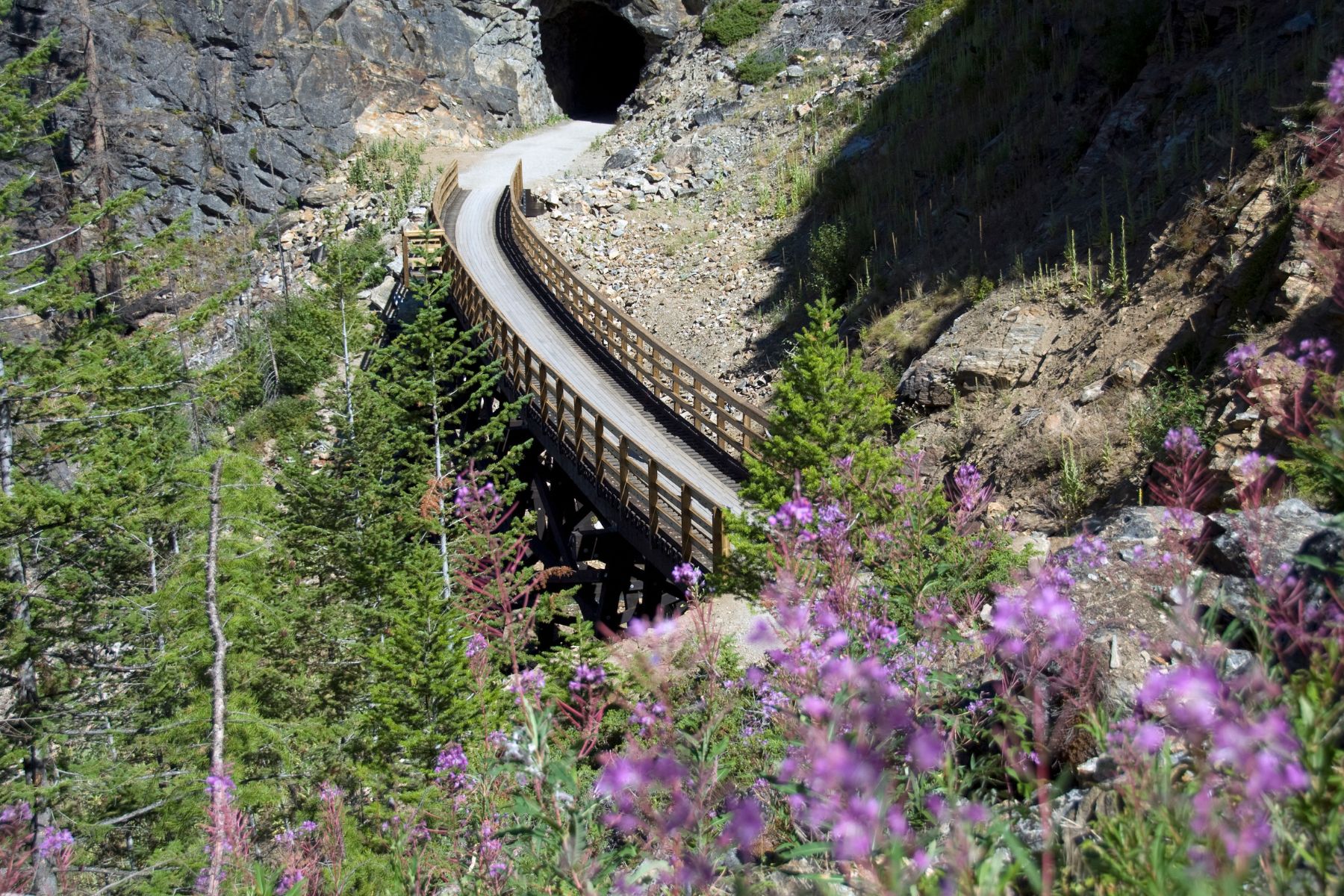 Myra Canyon is a must-visit destination. Regardless of the season, Myra Canyon offers beautiful views and has an option for everyone.
Situated on the outskirts of Kelowna, British Columbia, it is a great stop to add to your itinerary. Our favorite time to visit the canyon is in the fall, when we can easily snag a spot in the parking lot and the weather is pleasant for a hike.
If you're someone that not only likes to spend time in the great outdoors but likes to learn and make the connection between what you're doing and its history, Myra Canyon is the spot for you.
We are not surprised to see that Myra Canyon has become one of the most popular hikes in British Columbia, with its stunning views and various options that appeal to everyone.