Banff in the fall is a magical time. Visitors flock from all over the world to visit the Canadian Rockies throughout the entire year, but in my opinion, fall in Banff is simply the best. The larch needles turn gold the last few weeks of September, and the aspen trees fall colors last even longer.
It's a time when flannels, sweaters, and hot chocolate is all the rage. Banff in the fall is also one of the best times to go hiking in the Canadian Rockies. The area has tons of larch trees that turn gold for just a few sweet weeks. Wondering what some of the best larch hikes in the Rockies are? Let us help!
---
What's a Larch Tree?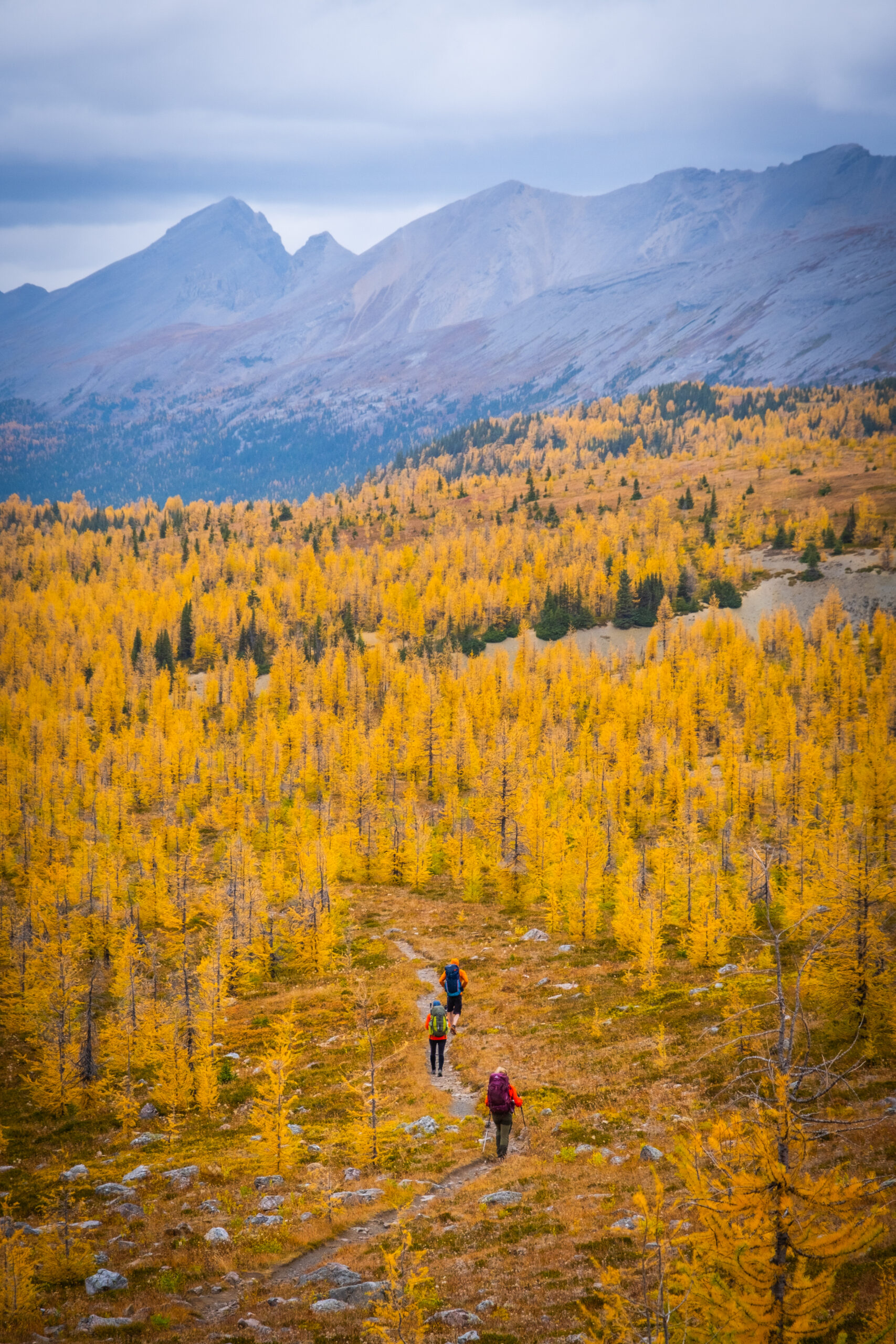 Larches are conifers that are native to cooler temperatures. Although they are conifers they are deciduous that lose their needles in the autumn. Right before they lose their needles they turn a golden color for a few short weeks creating an amazing scenic landscape that people flock from around the world to see.
---
Best Larch Hikes in Banff
---
Larch Valley and Sentinel Pass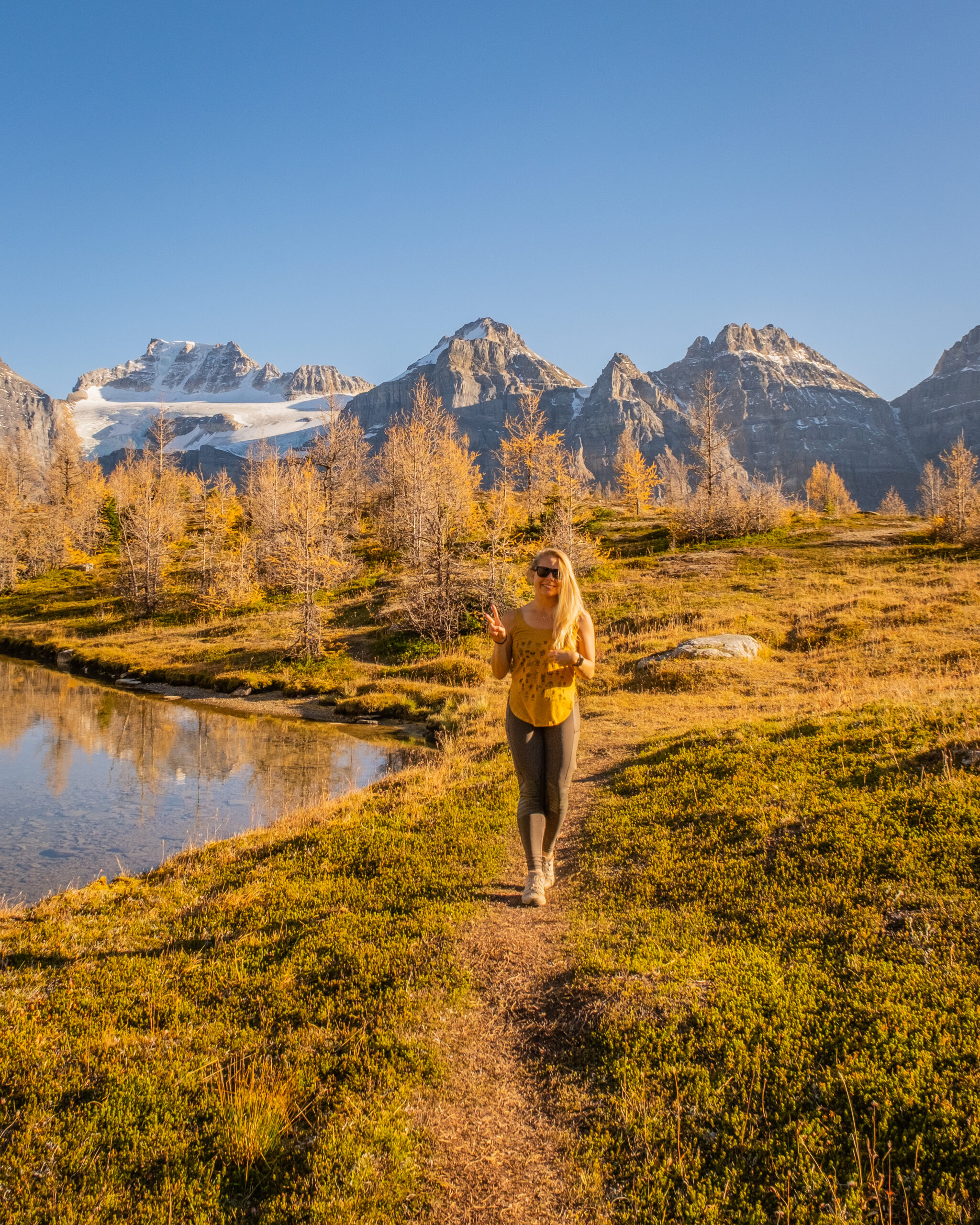 This is the quintessential Canadian Rockies hike and definitely one of the best larch hikes in Banff, although keep in mind, it's easily the most crowded too. It's fairly challenging, hugely popular, and offers some of the most stunning natural scenery in Canada. The route starts at Moraine Lake and follows neverending switchbacks as it climbs 350 meters.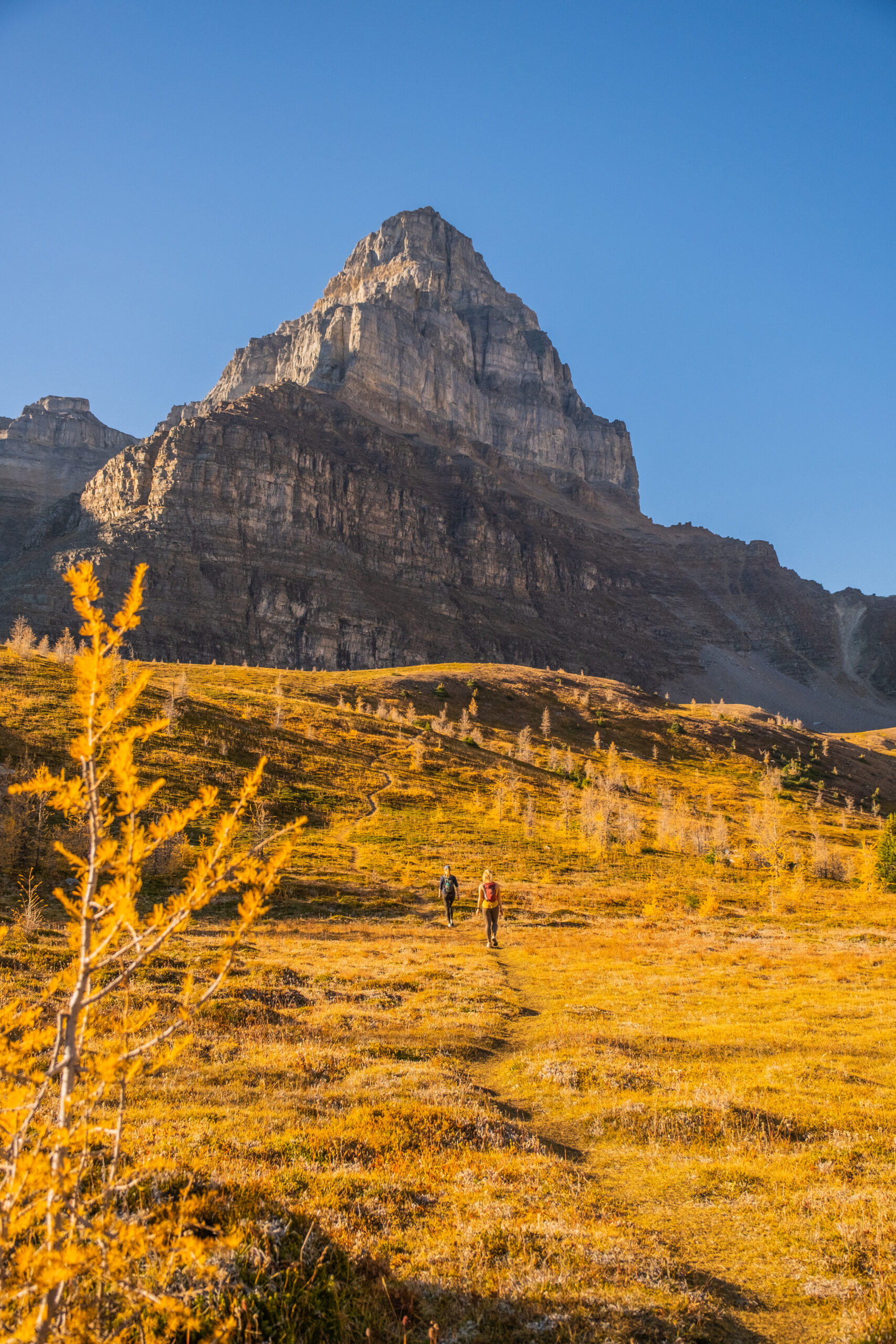 At the fork, you'll follow the trail to the right towards Sentinel Pass, and you'll quickly be surrounded by neverending larches. This trail is how you enjoy Banff in the fall properly. Take your time exploring Larch Valley. If you're feeling energetic continue up to the top of Sentinel Pass, which climbs another 450 meters, and the views are spectacular.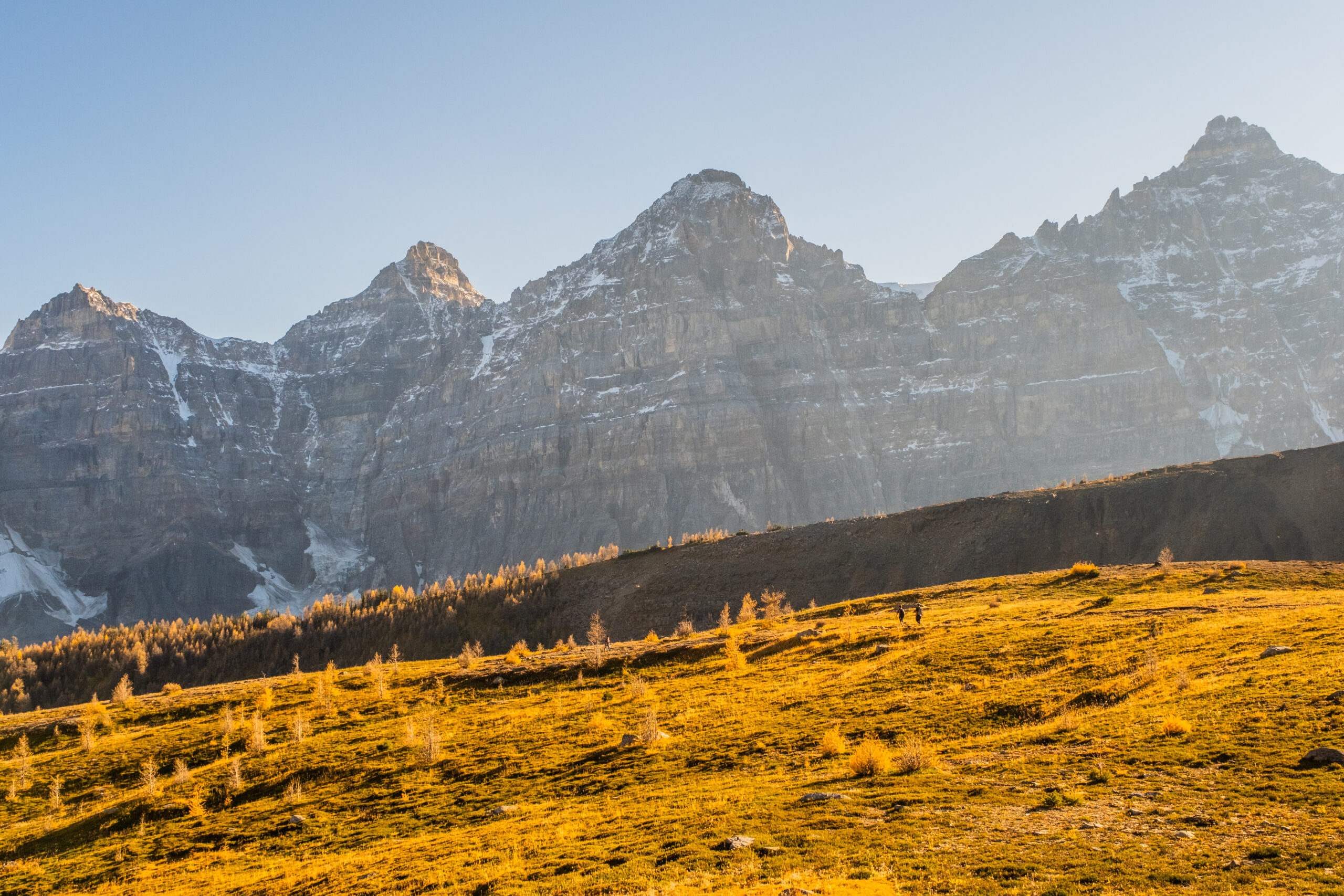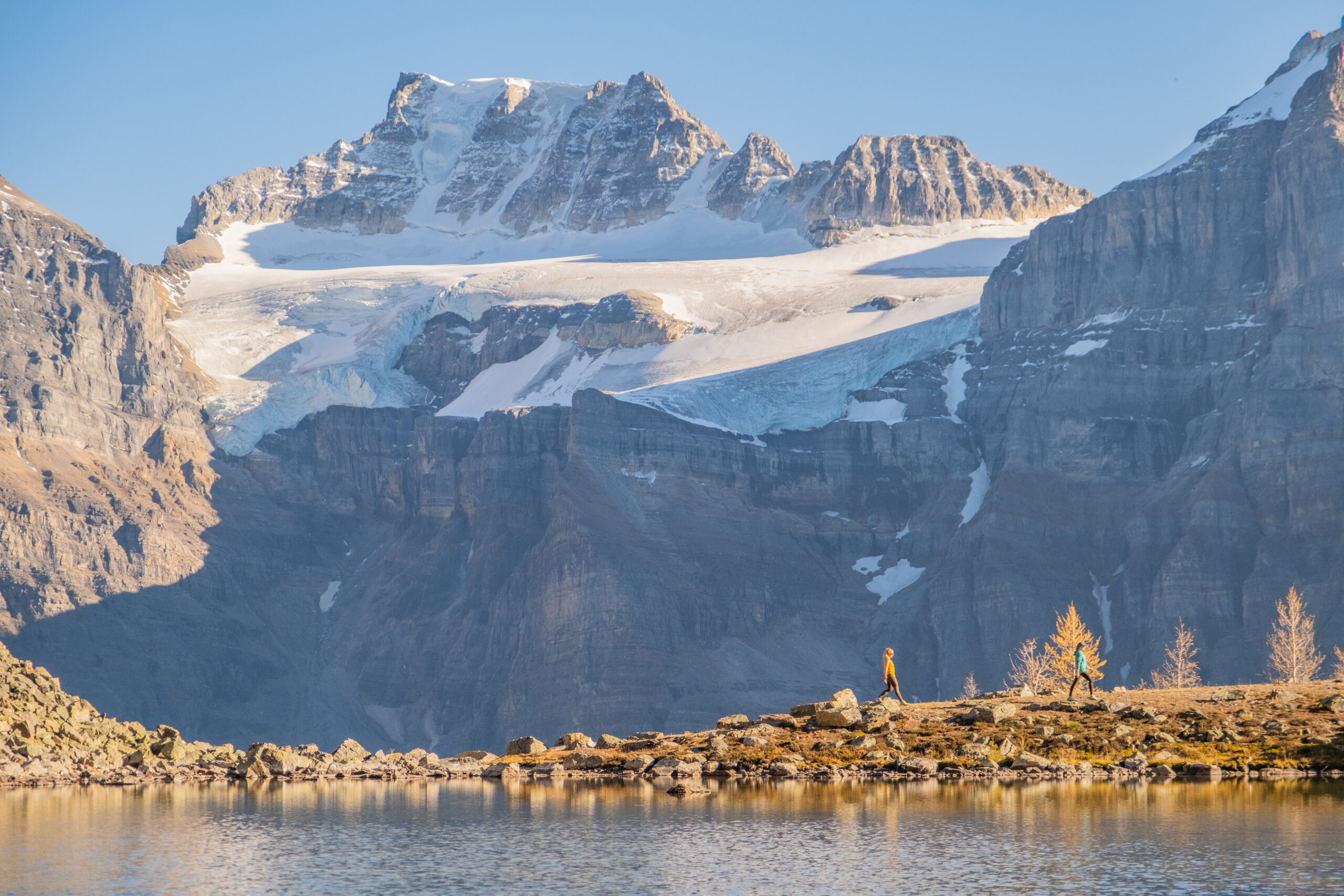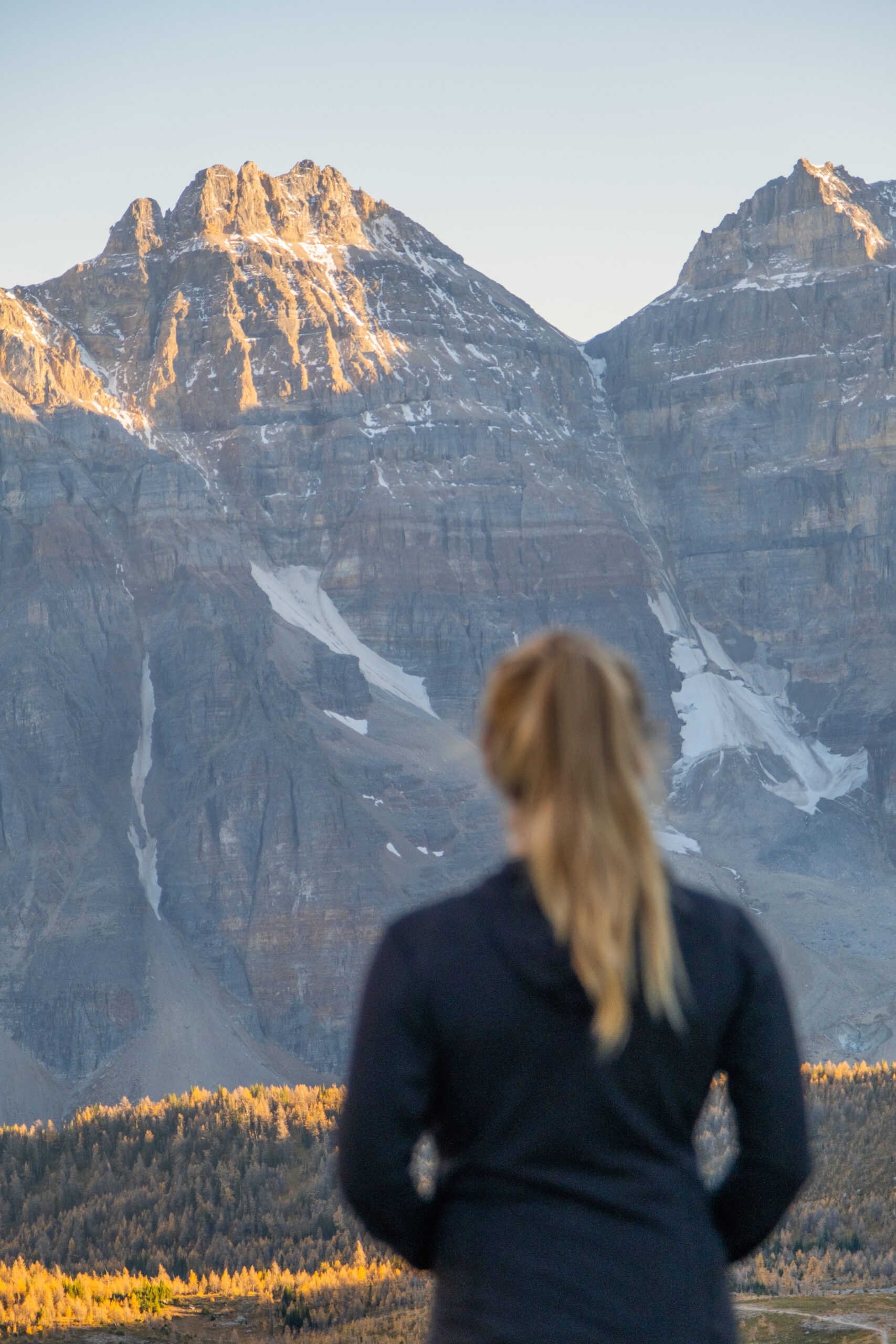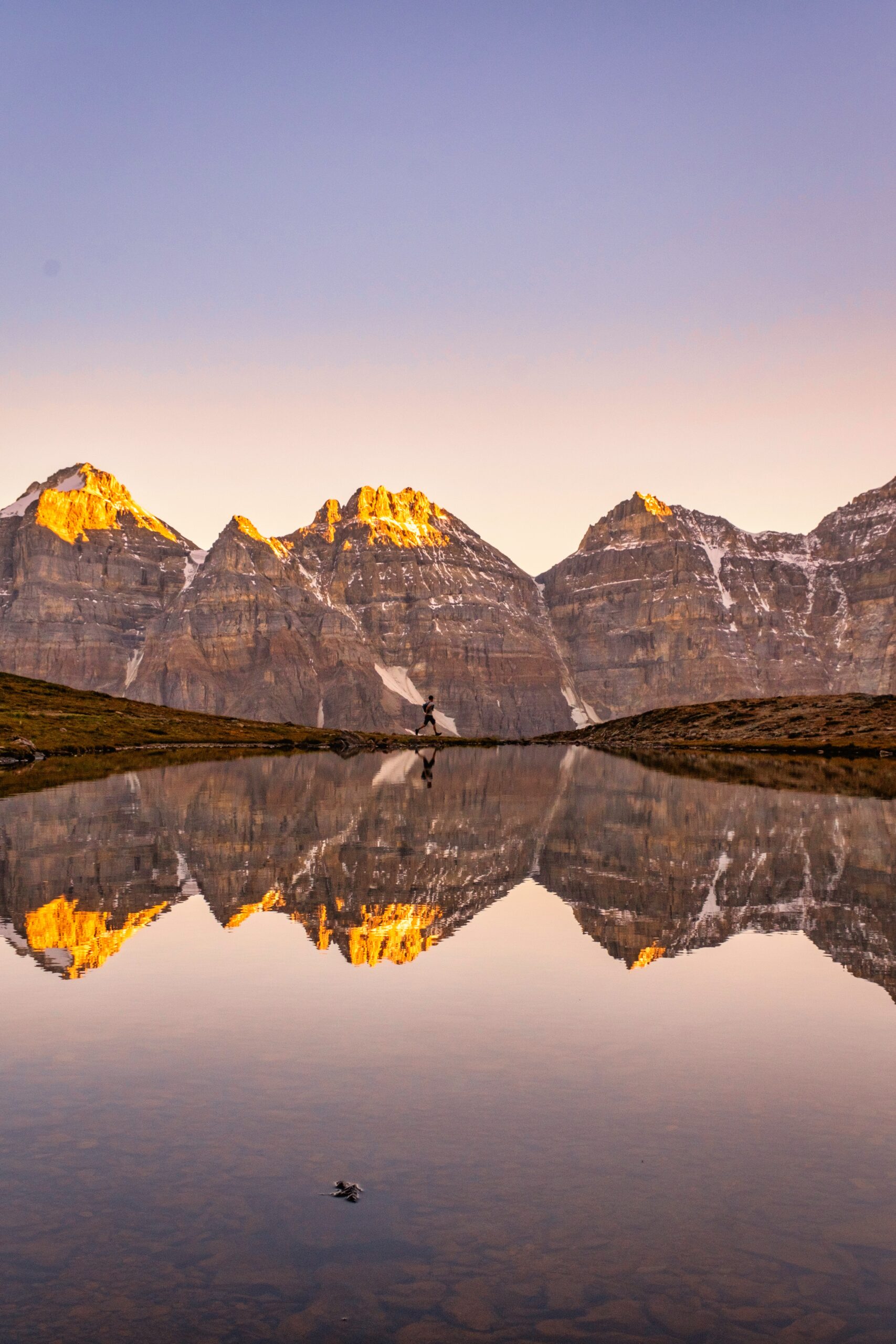 The pass is most well known and attracts hundreds of photographers and hikers during the larch season in late September. It's during this period the valley trees turn to a bright golden color and the famous Ten Peaks are topped with the first signs of the new season's snow. It's a soul-stirring scene that can easily be considered one of the best day hikes in the world.
Trailhead: Begins at canoe docks at Moraine Lake.
Distance: 10.9
Elevation: 792 meters
Difficulty: Moderate
Time: 2 to 4 hours
---
Healy Pass (+ Egypt Lake)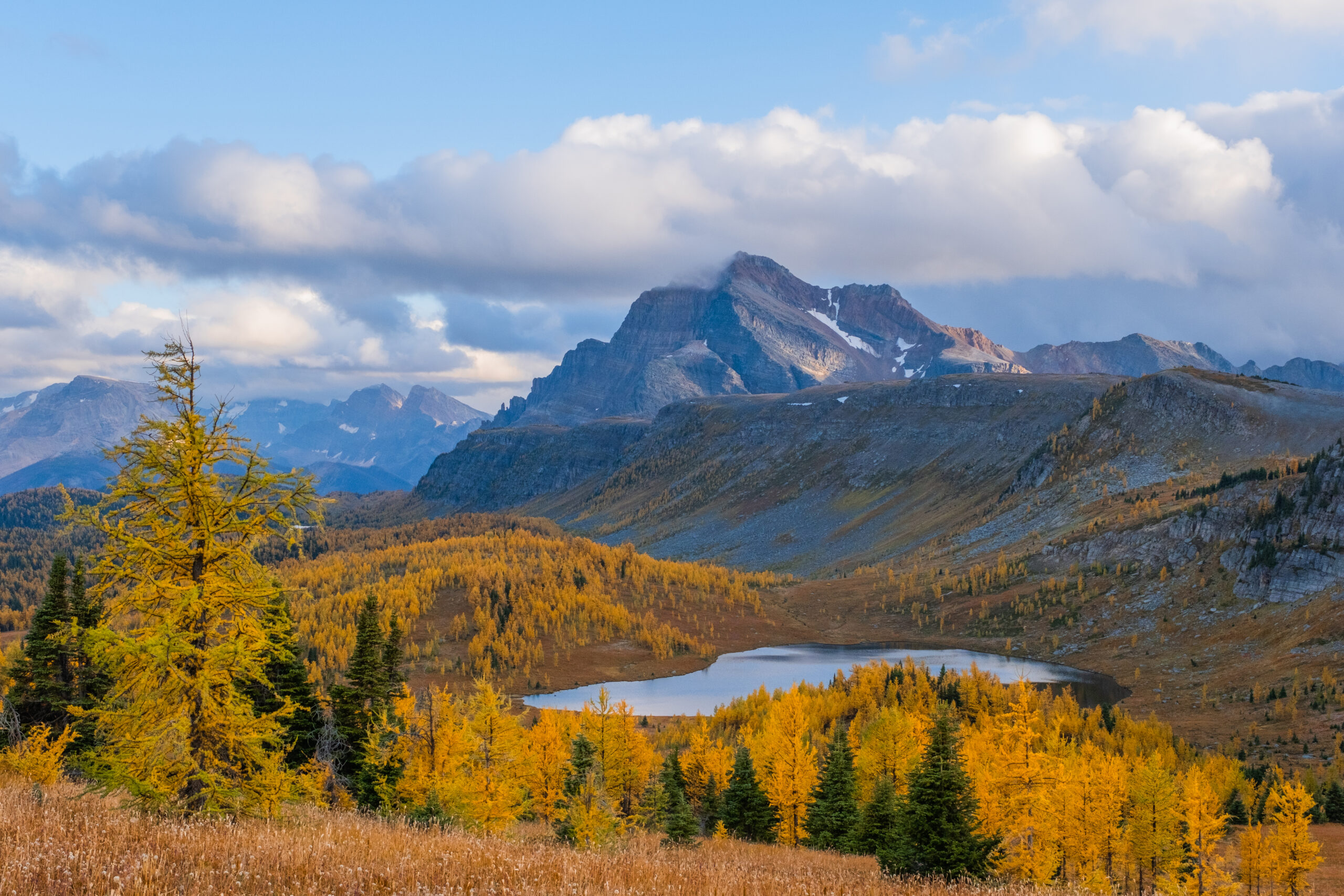 Healy Pass is one of my all-time favorite hikes in Banff. It's a great adventure in the summer for the wildflowers, but it's even better in Banff in the fall for the larches.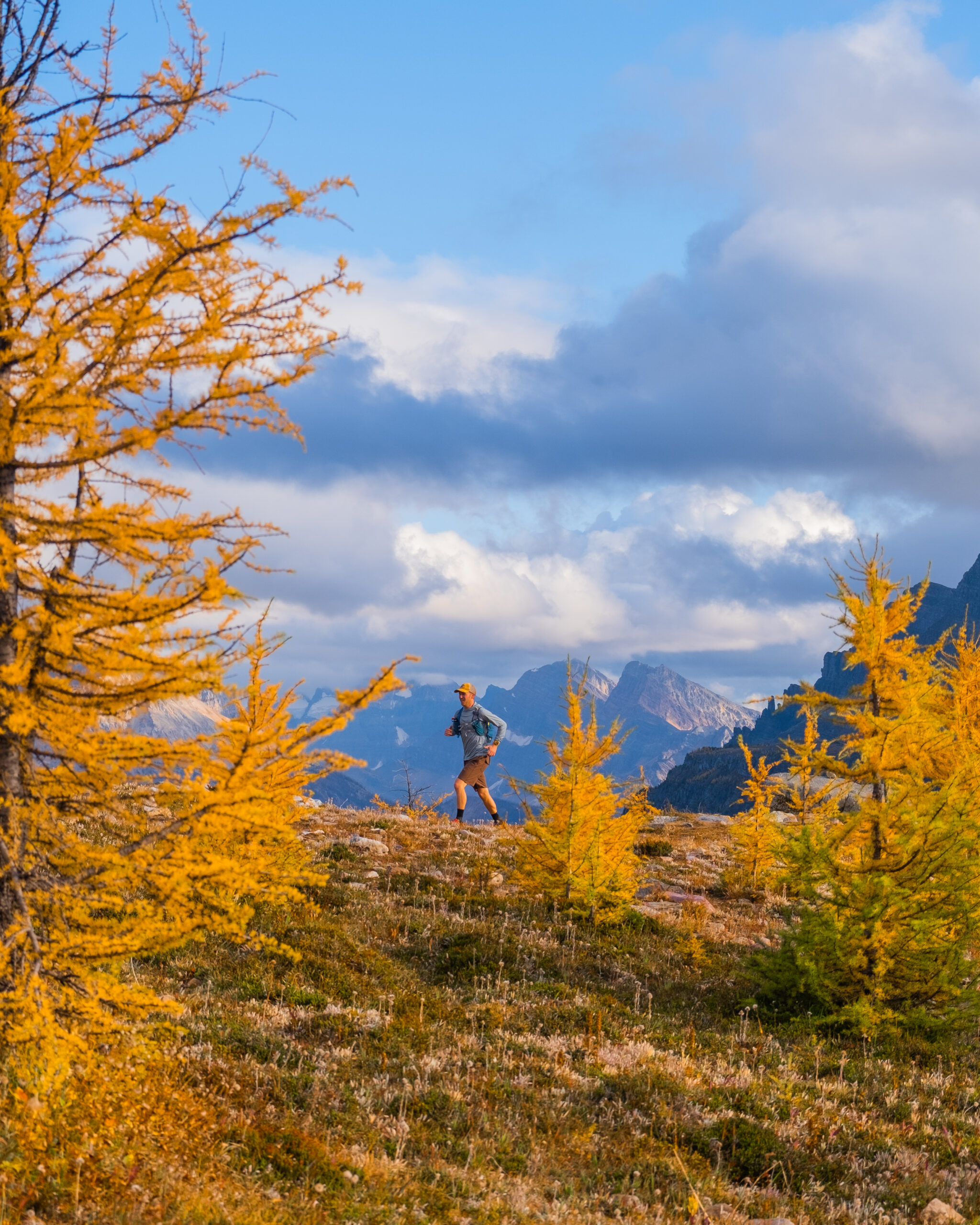 This is a beautiful hike that is sure to be loved by all who set out on the journey — easily one of the best hikes in Banff. Parks Canada maintains the trail, and it remains one of the most popular hikes in Banff National Park. The trail begins at the Sunshine Village parking lot, and the trailhead is located behind the main building. It's a quick 20-minute drive from the town of Banff and a tremendous option for a day hike for visitors looking to get out on the trail.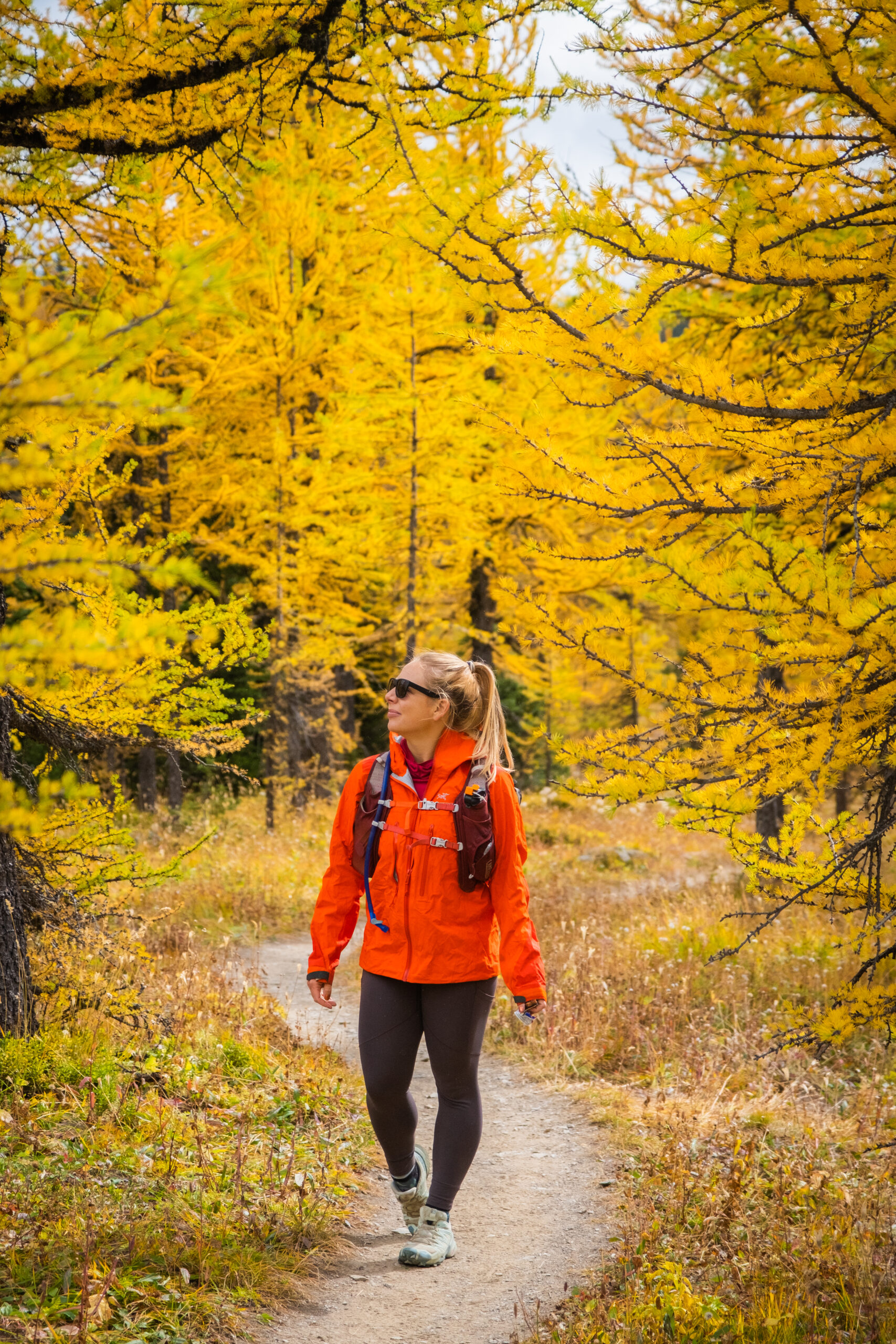 At its start, the trail does a gradual climb through a lush shaded forest. Due to the elevation grade, the elevation gain on this hike feels much more manageable for novice hikers. As hikers work their way through the woods, they cross a series of bridges, creeks, avalanche paths, and one infrequently used backcountry campsite.
There have been some complaints about the monotony of a long approach through the trees, but we found it relaxing. After 7.5 km, the forest gives way to a gorgeous alpine meadow and the vast expanse of larches — it's one of the best places to witness them in the park.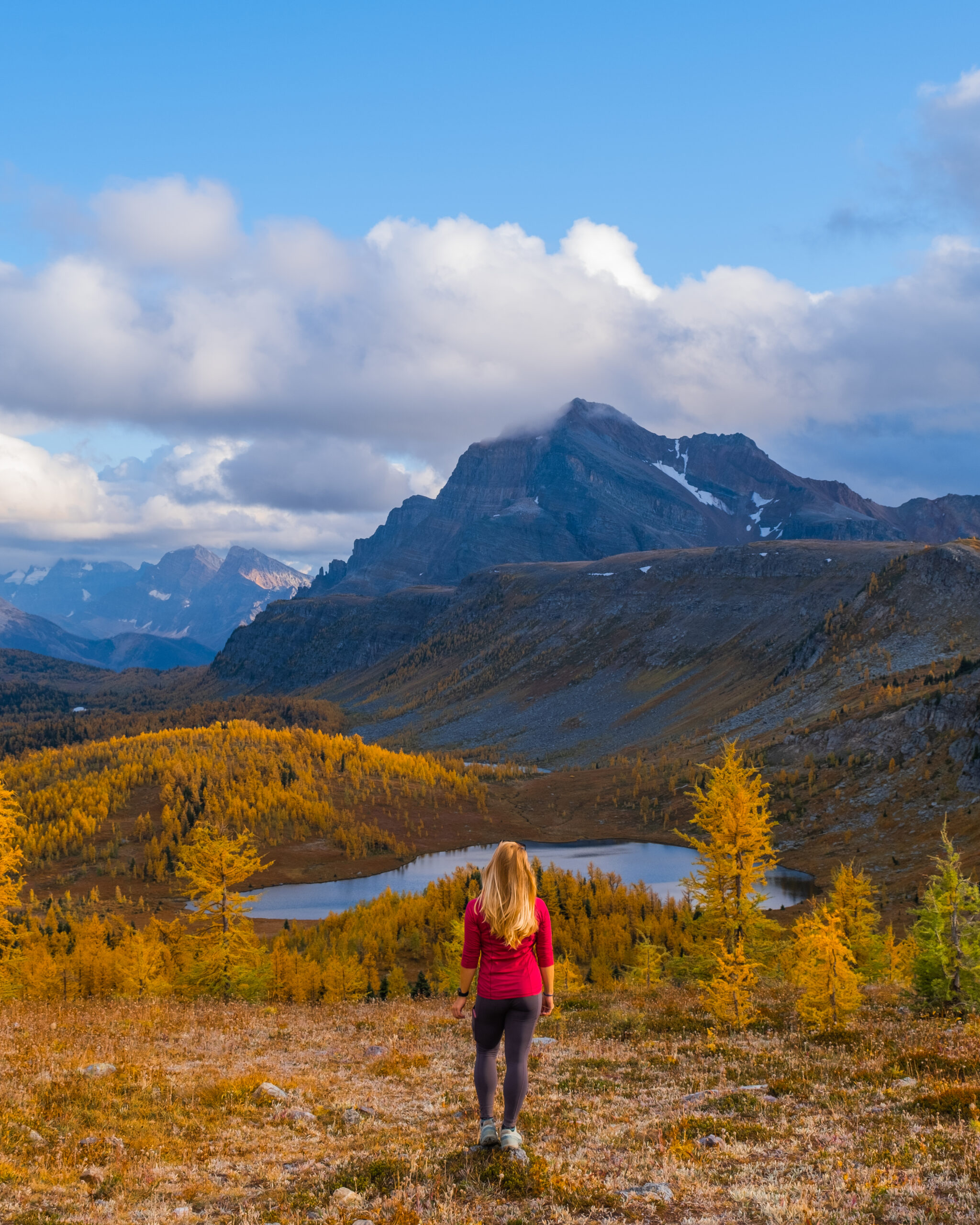 Once you're in the meadow, the hike provides expansive views of lakes, rolling hills, and towering peaks in the distance. If you have the energy you can continue further to Egypt Lakes or perhaps even climb Pharoah Peak for a very big day out!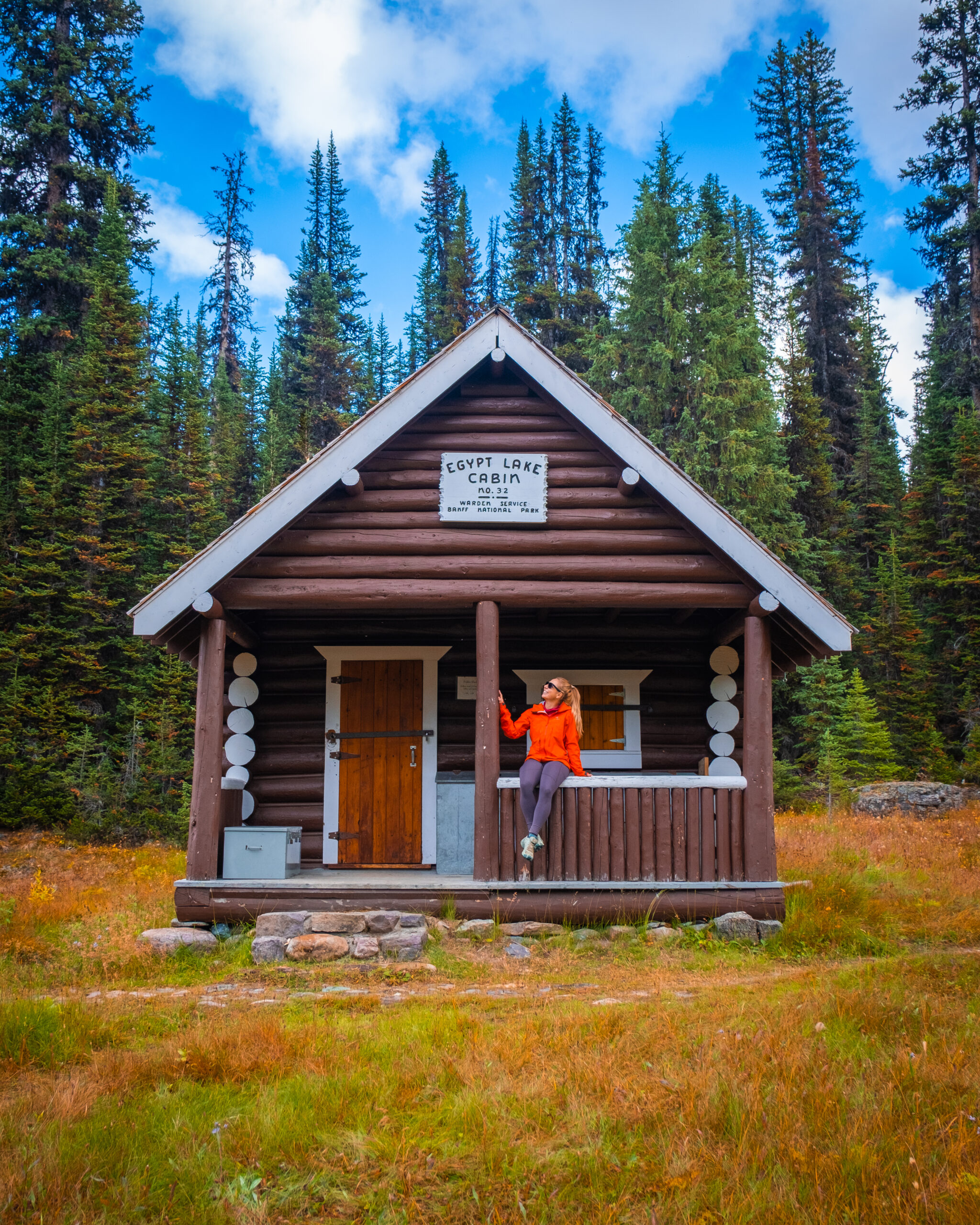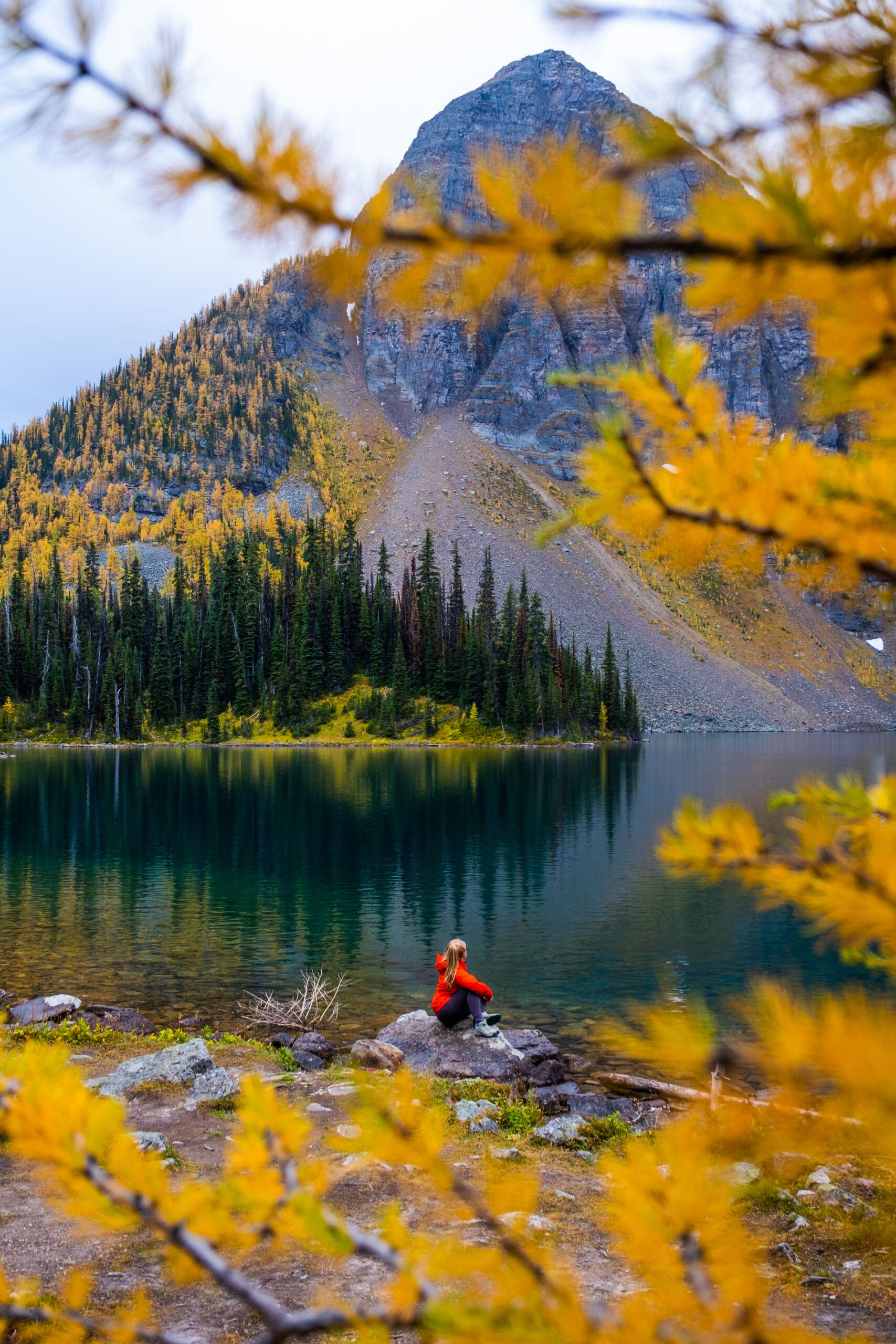 Trailhead: Sunshine Village Parking
Distance: 20.9 km (24.3km for Egypt Lake)
Elevation: 890 meters (1340 for Egypt Lake)
Difficulty: Moderate
Time: 4 to 8 hours
---
Skoki Range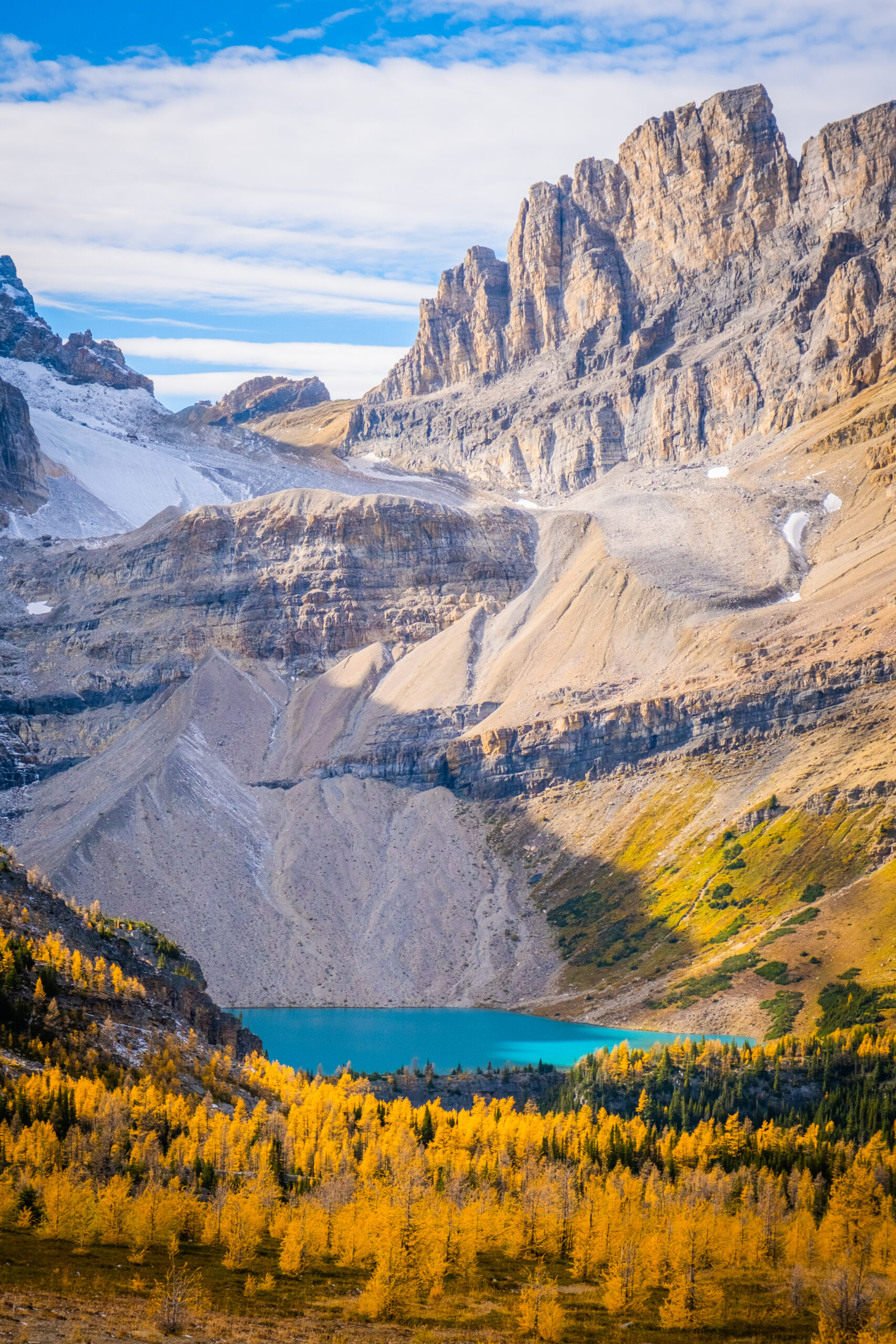 Although the Skoki area is right next to Lake Louise ski resort and literally across the TransCanada from Lake Louise and Moraine Lake it is far less frequented or even heard about. But if you go on this adventure to hike back to Skoki Lakes and the peaks in the area you will be amazed by the scenery.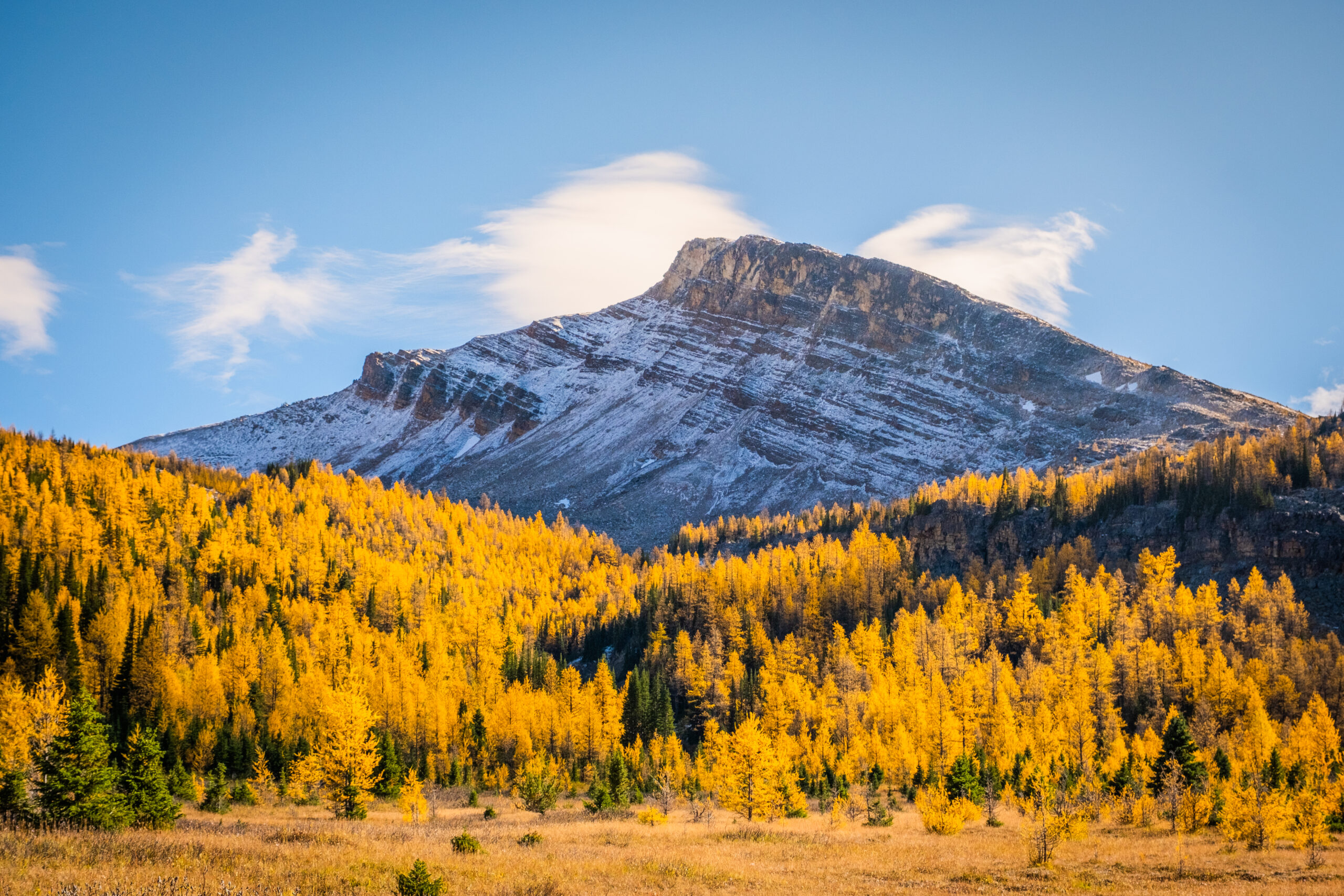 Start at the car park area for Skoki Lodge near Lake Louise Ski Resort. The start of the hike is pretty boring as it trails along a ski-out road until you reach the Larch side of Lake Louise. Once you reach the chairlift the real fun begins as you hike along easily trails coming across mind-blowing larches and impressive peaks.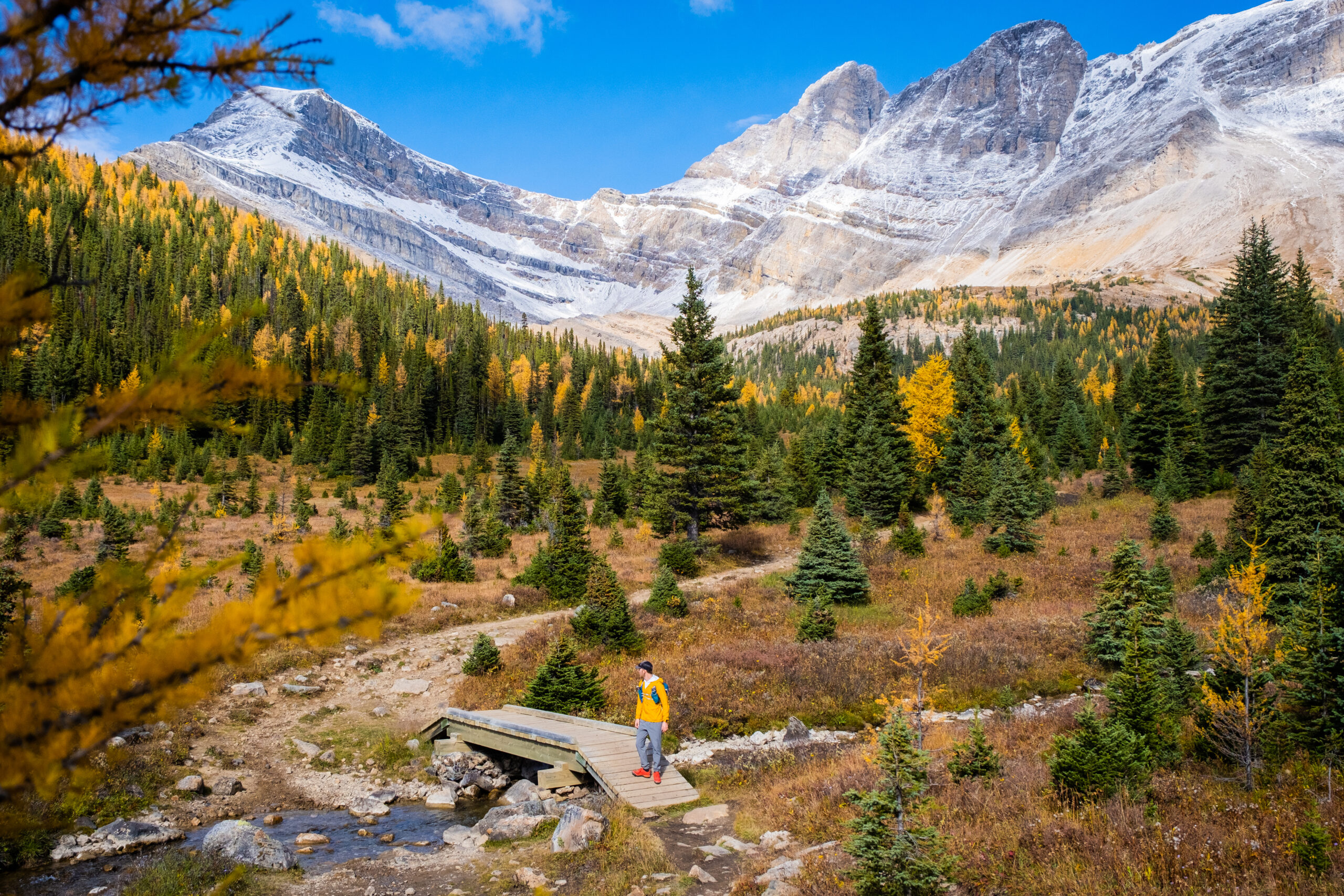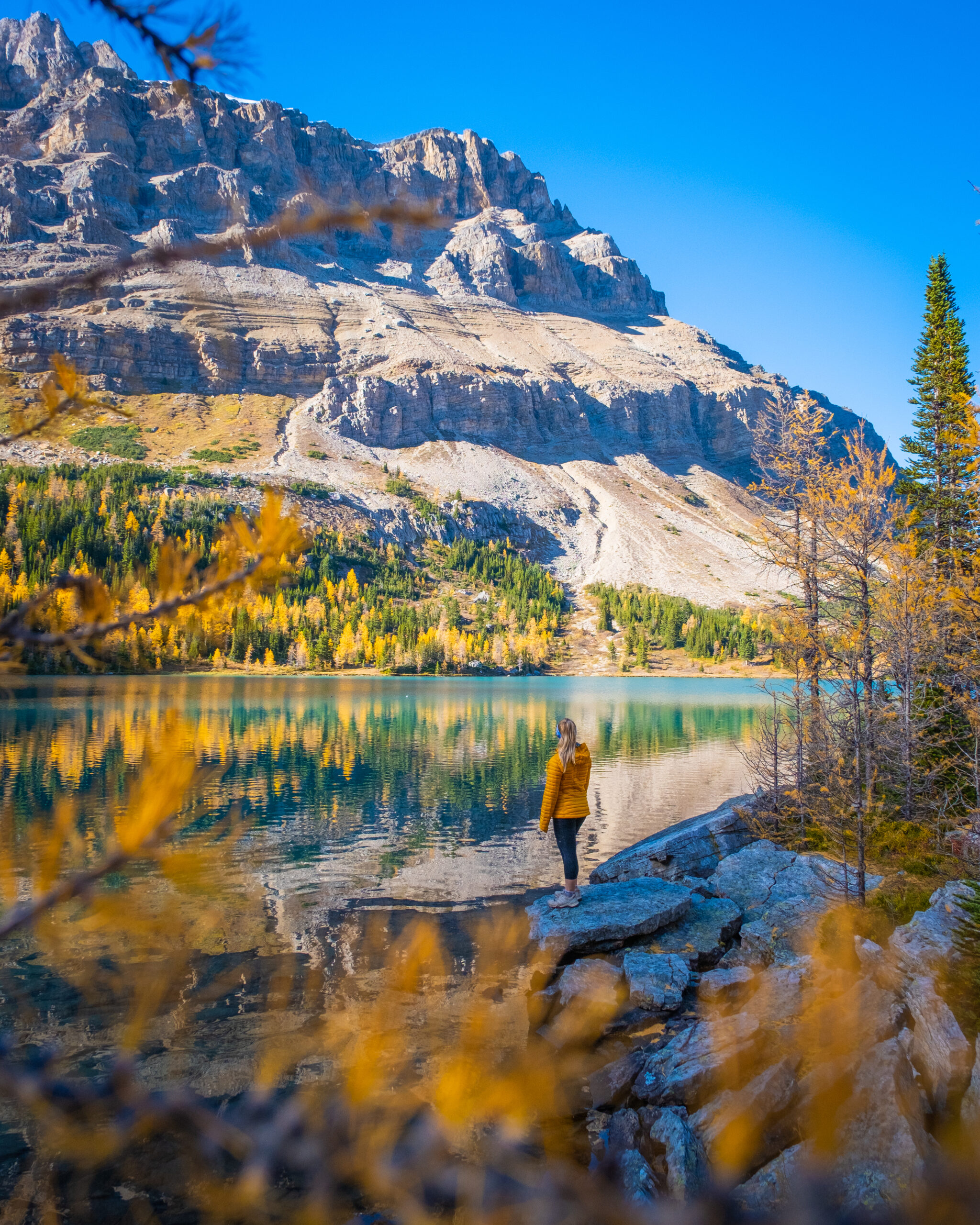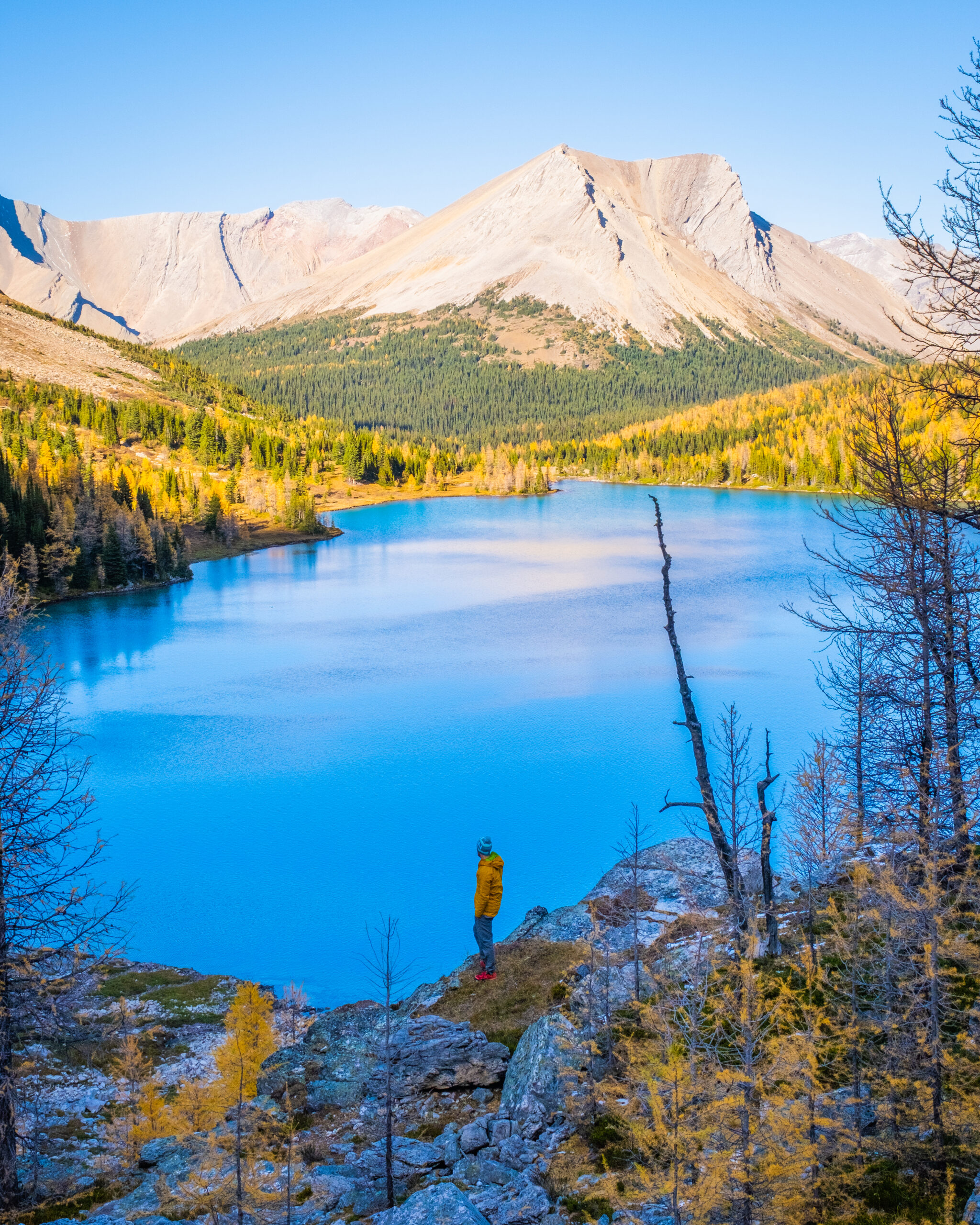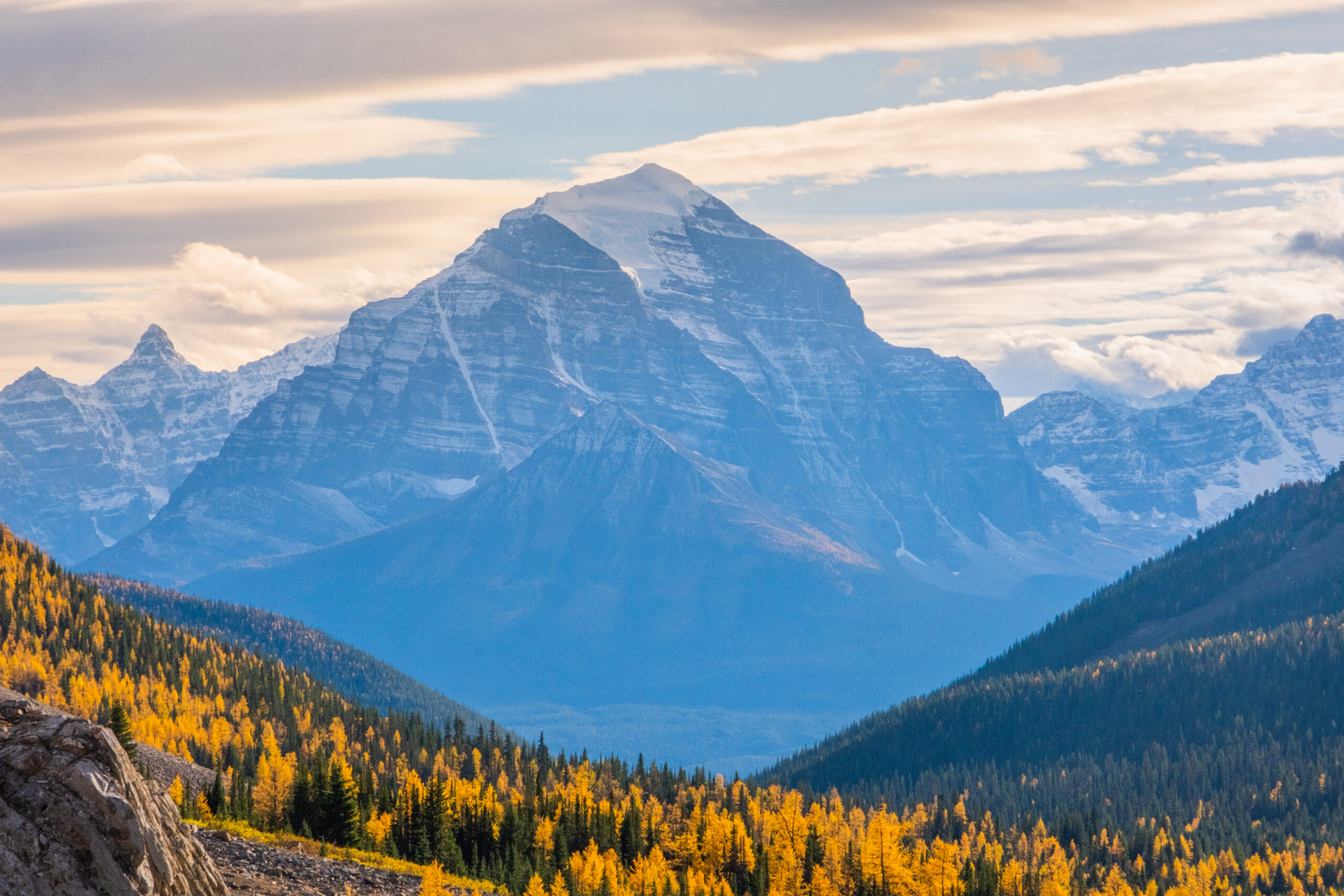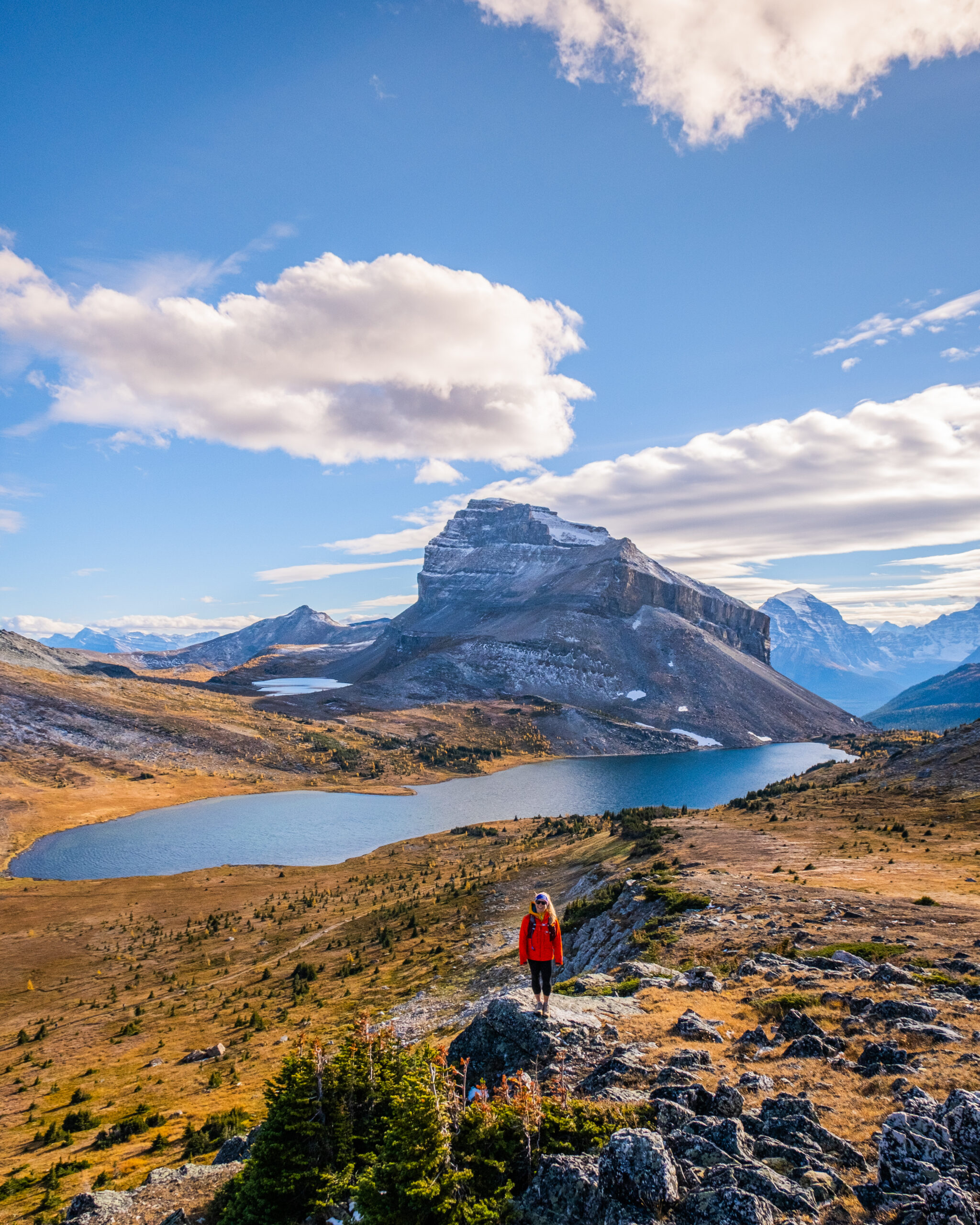 There are tons of hiking trails and mountains to climb once you get back here, including Mount Richardson and Brachiopod Mountain, which are both fantastic. However, I found the most amazing larch trees to be around Myosotis Lake and Zigadenus Lake.
Trailhead: Skoki Lodge Parking
Distance: Depends on route, but plan on at least a 20 km day
Elevation: 965 meters
Difficulty: Hard because of the length
Time: 4 to 8 hours
---
Taylor Lake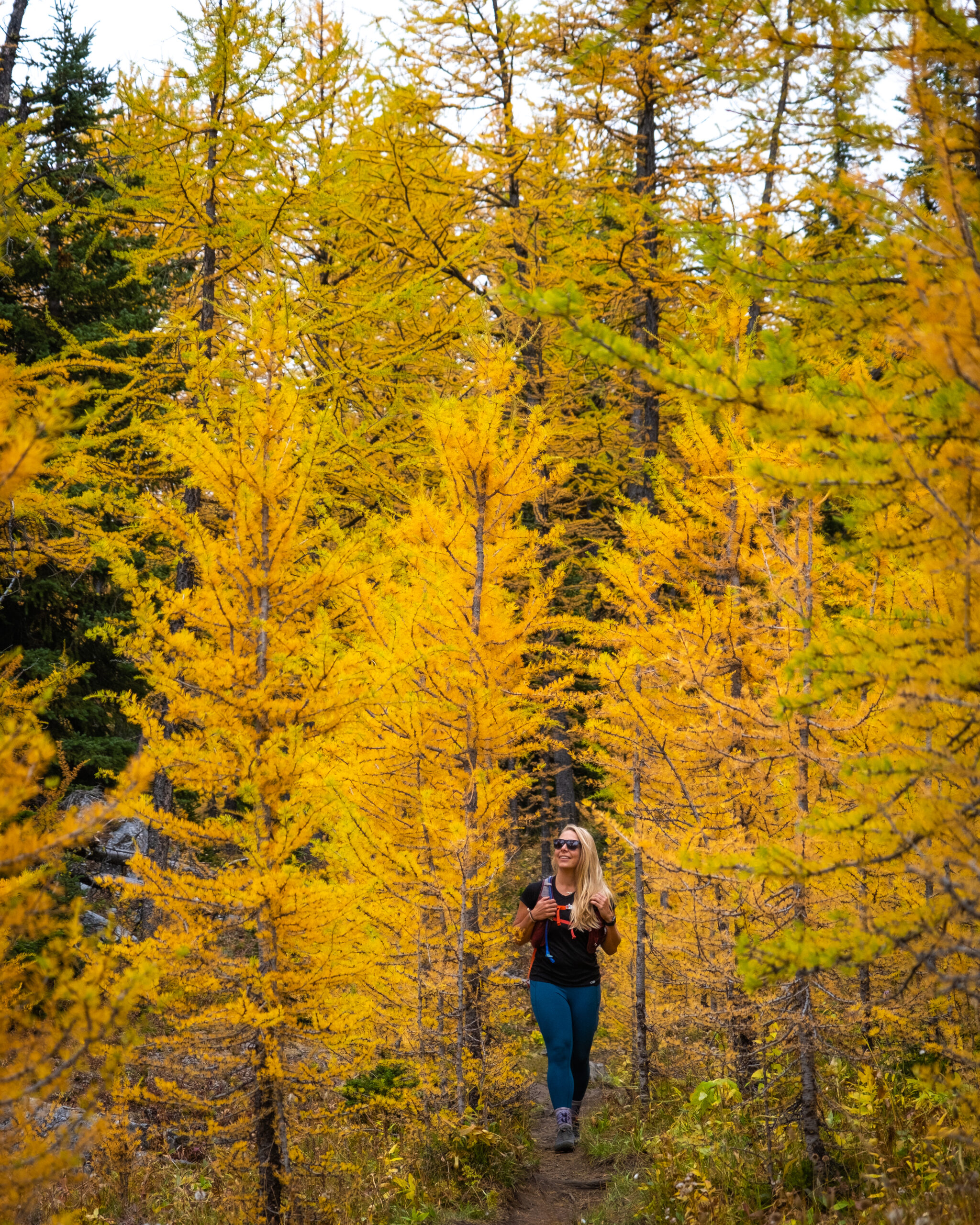 Taylor Lake sits at the base of Mt Bell and opens up to some spectacular views. It's a really serene place and a fantastic day out in the mountains for active visitors who come to Banff. It's a pretty boring hike until you reach the lake itself, but once you get there you'll be surrounded by yellow goodness. It's one of the easier hikes on this list and is a great autumn activity in Banff.
Continue on the trail and enjoy the nearby Panorama Meadows as the widely spaced trees and elevation provide some great views of the valley down below. During the weekend you may find it hard to get parking as space is limited, since this is one of the easier Banff hikes on this it's one of the more crowded. As mentioned the other downside to this hike is that the vast majority takes place in the forest so there isn't much for views until the end. It's a great payoff though!
Trailhead: Taylor Lake Parking Area
Distance: 13.7km
Elevation: 907 meters
Difficulty: Moderate
Time: 3 to 6 hours
---
Pocaterra Ridge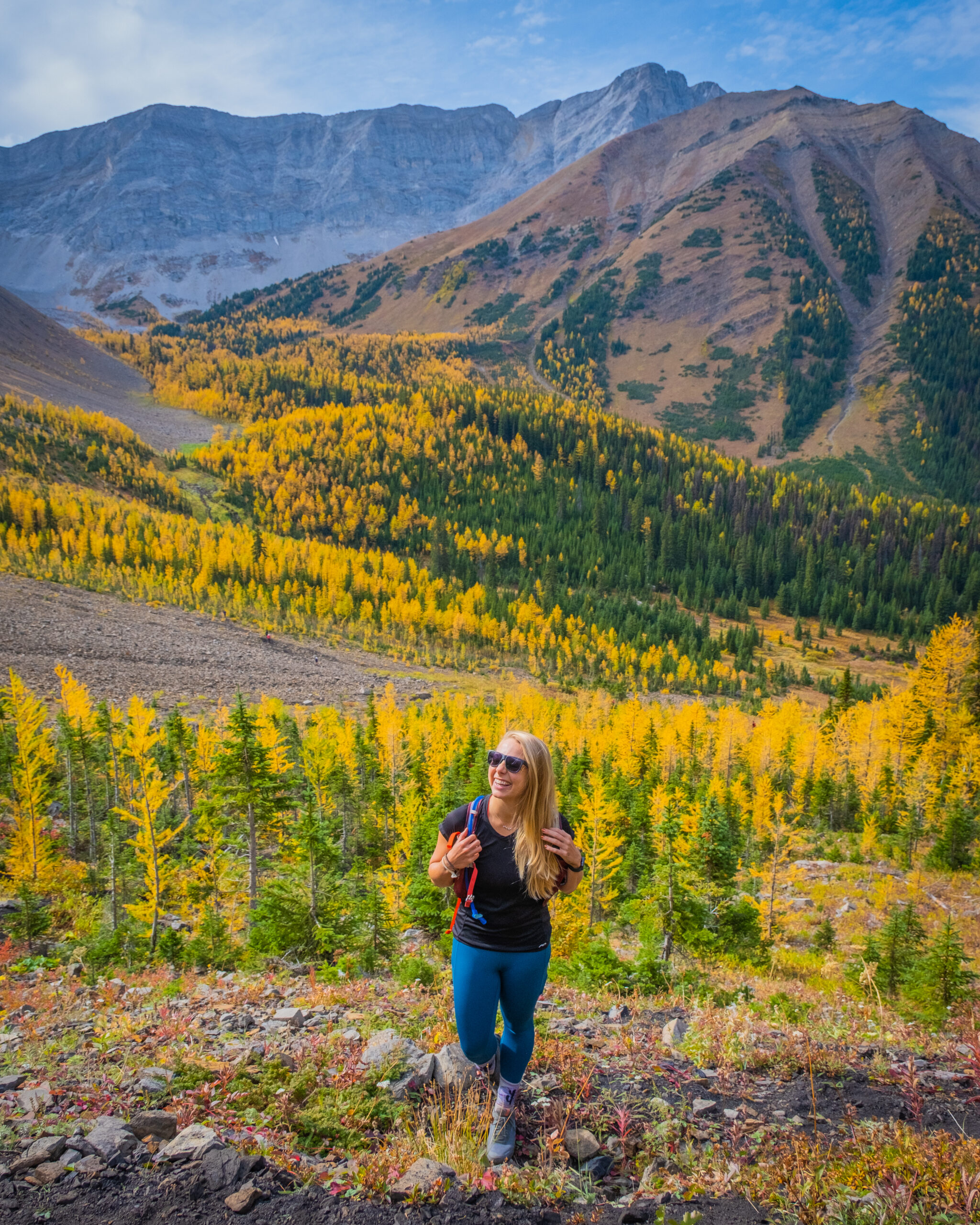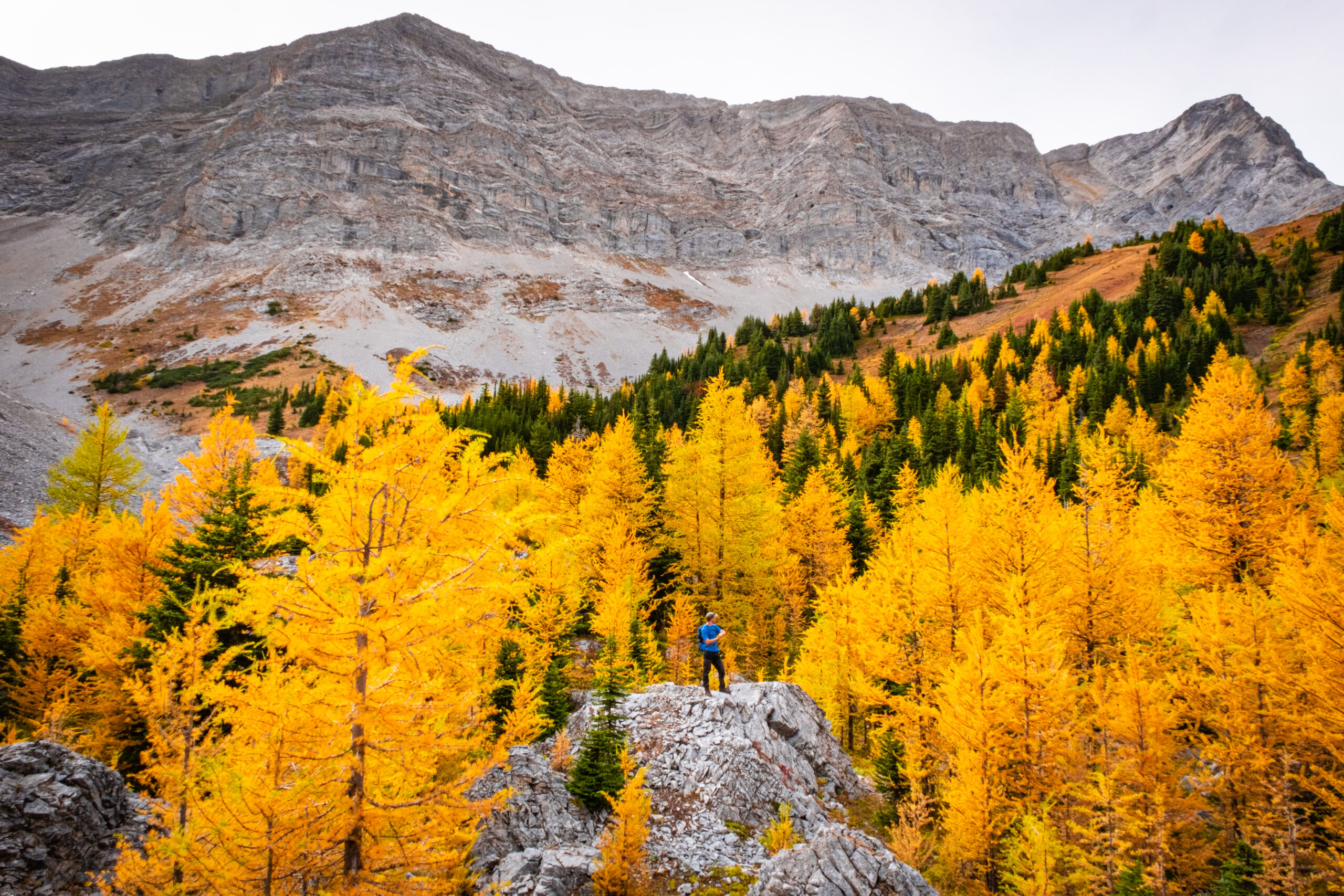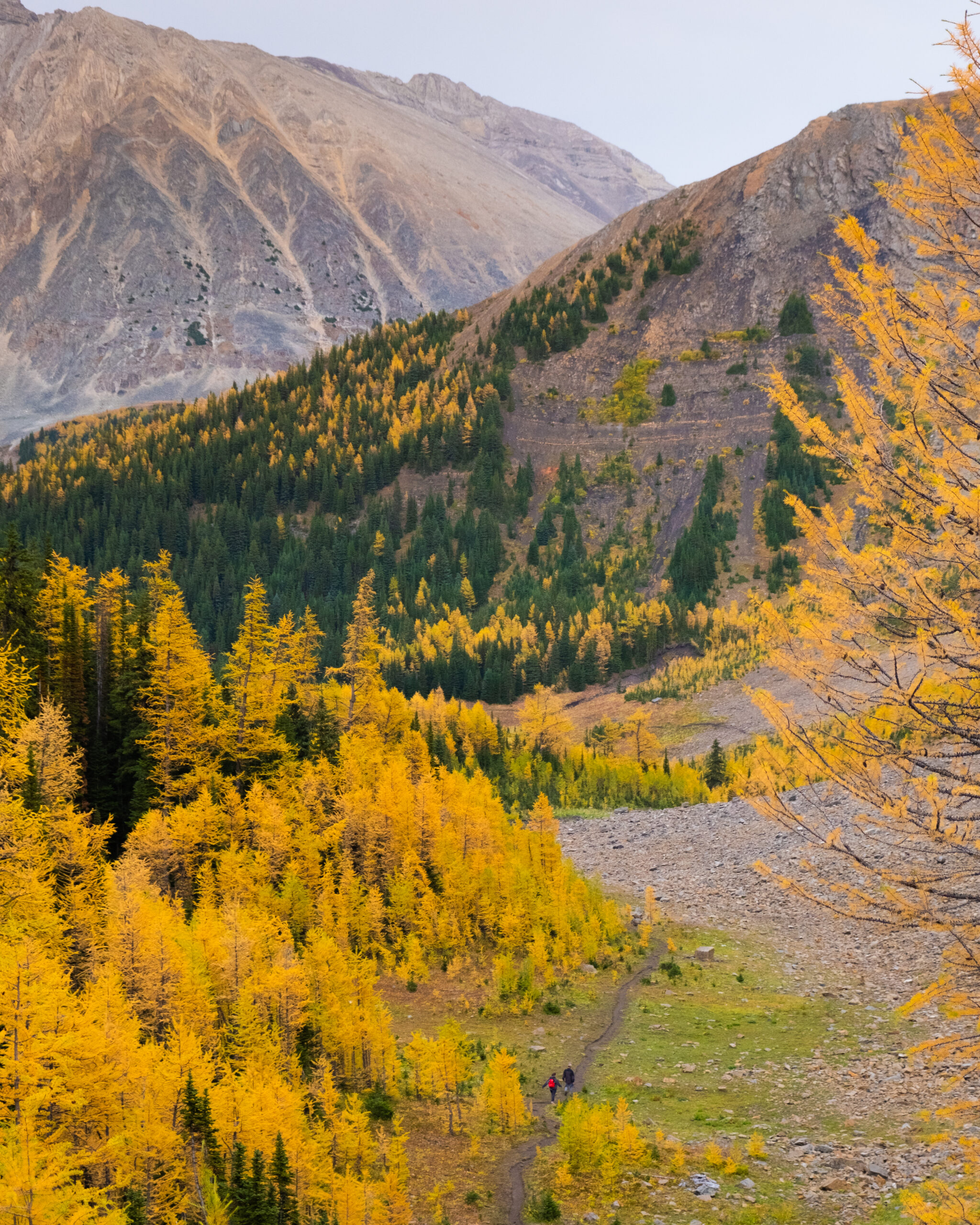 Although not in Banff National Park, Pocaterra Ridge is easily one of the most popular and best larch hikes on this list. It's a great thing to do in Banff in the autumn. Located near Highwood Pass in Kananaskis, Pocaterra Ridge is home to tons of larches. When the needles start to turn yellow this is one of the first places you should head. Although if you can try and avoid weekends – it's a busy one!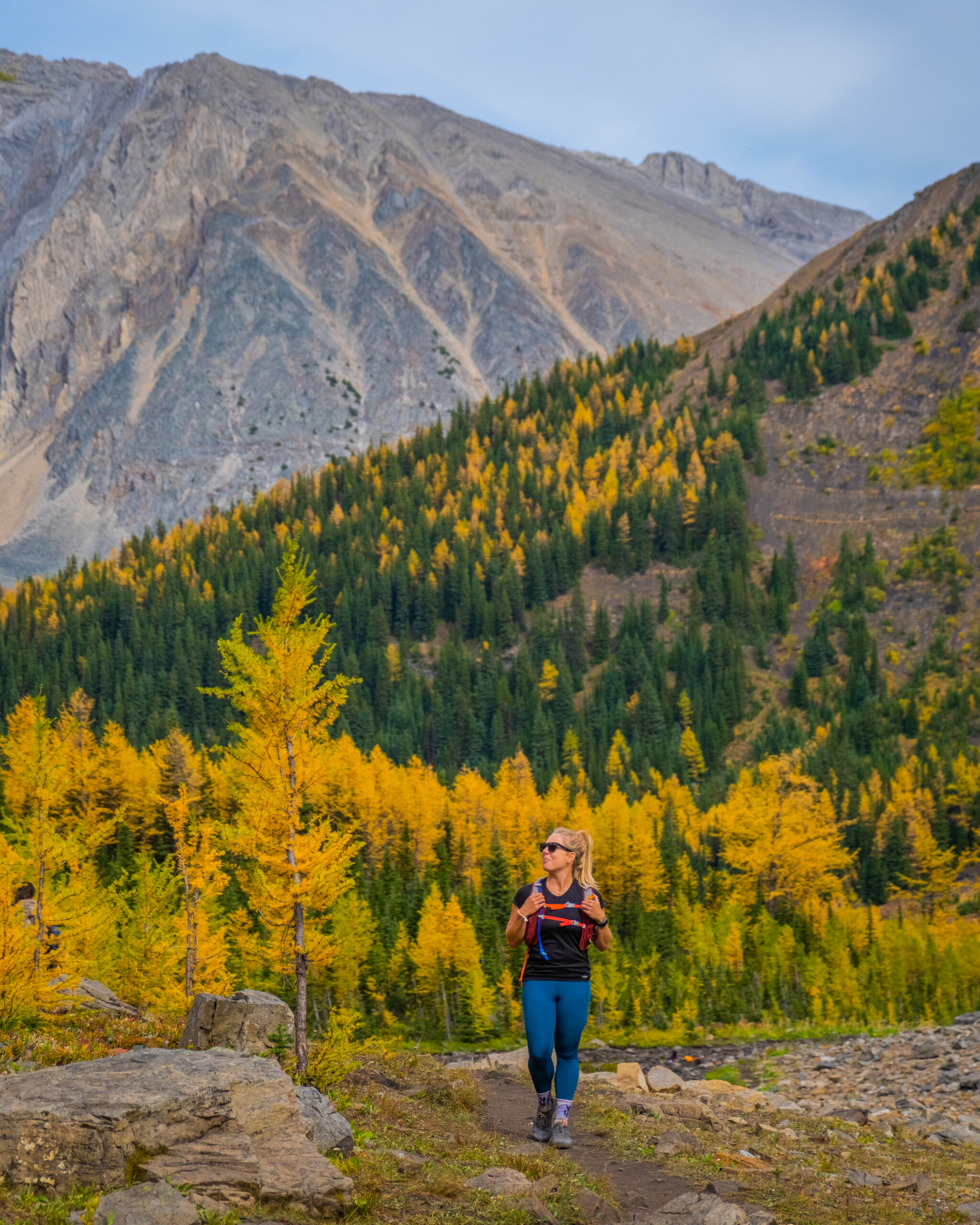 Pocaterra Ridge is typically done as a point-to-point hike, so if you have two cars I would definitely try to do it this way. We only had one car so we completed this as an out and back hike. To do this you follow the trail network until you reach the open valley. Make sure to stay on the trail though, scores of people going off-trail have caused this trail to become extremely braided and confusing to navigate.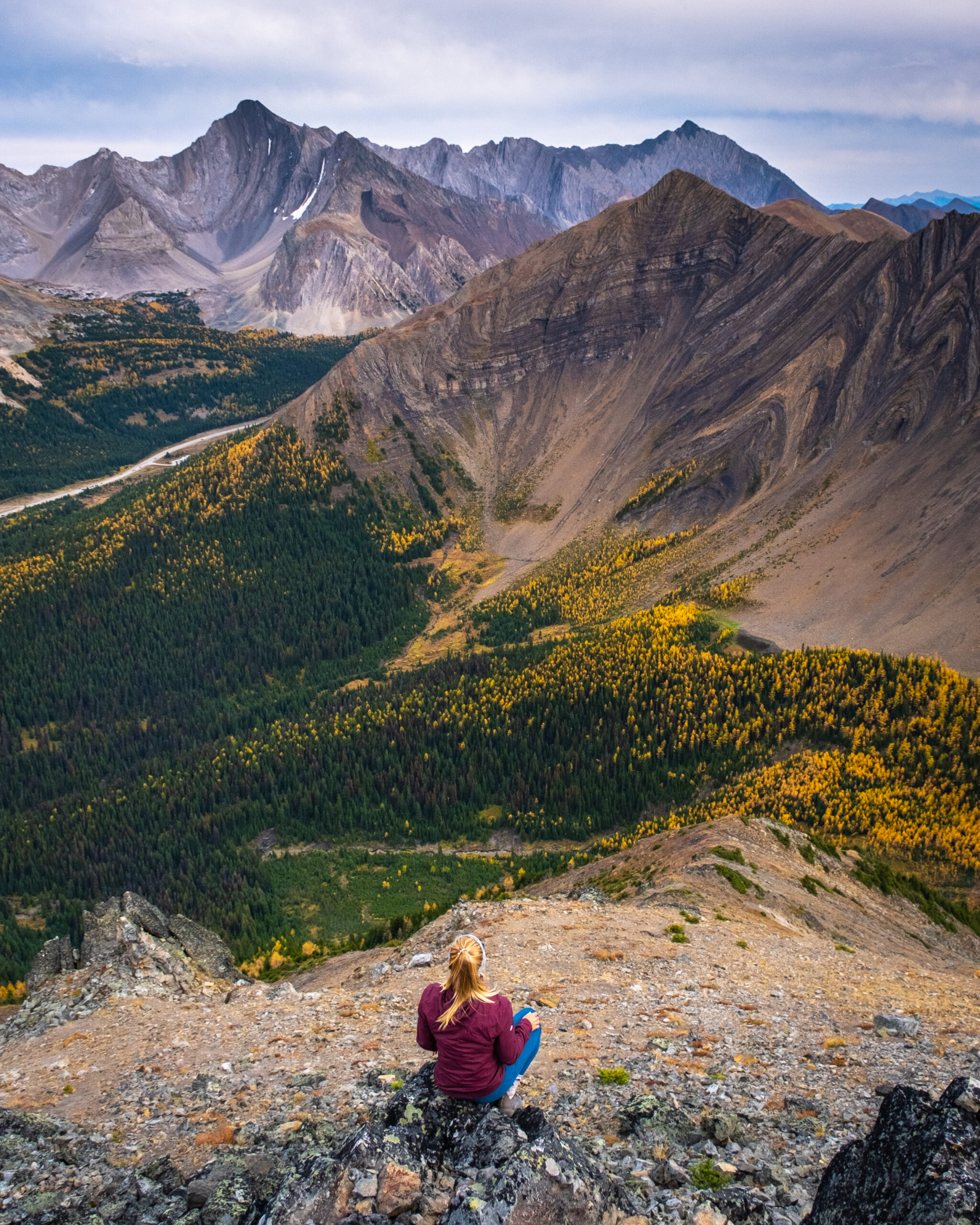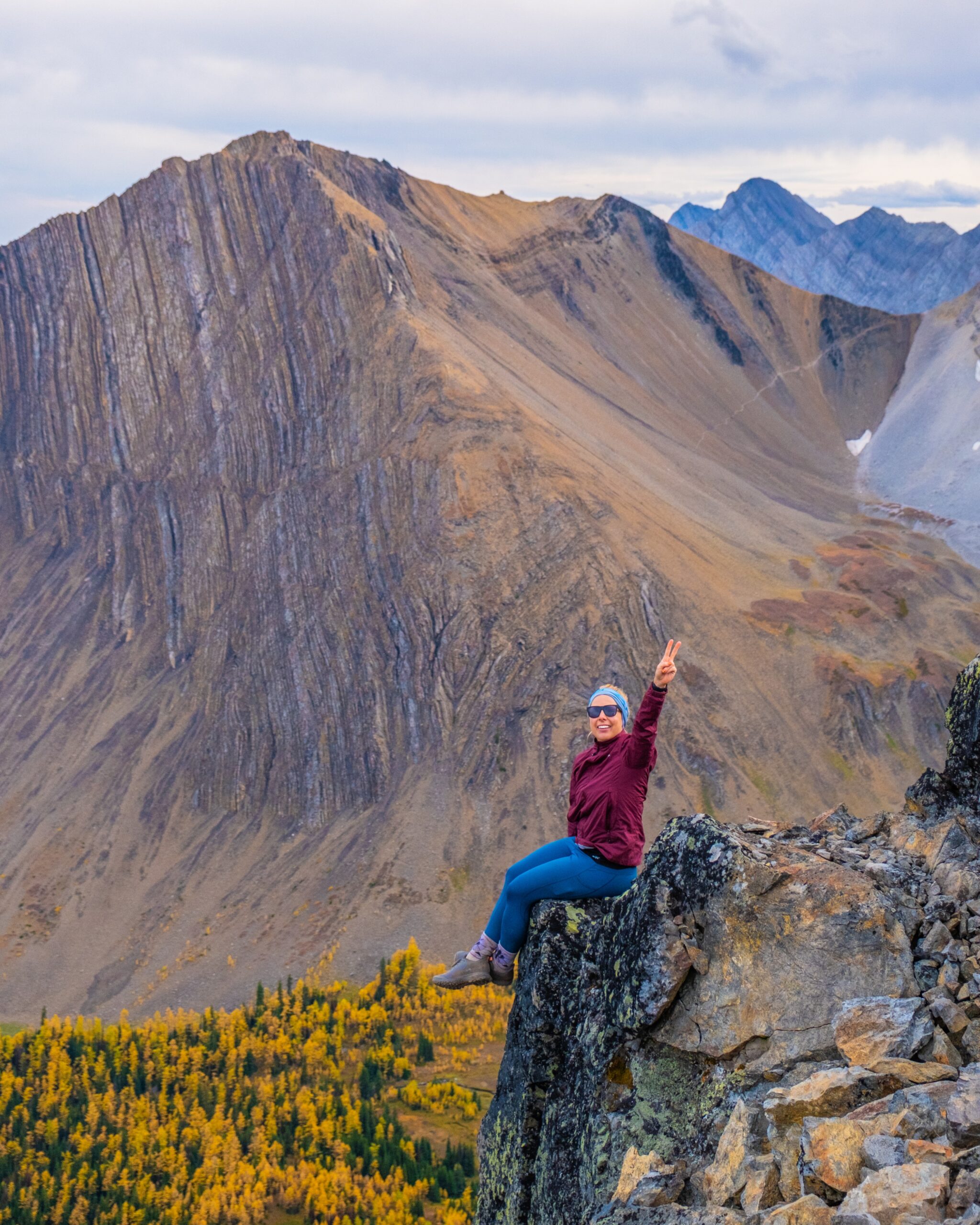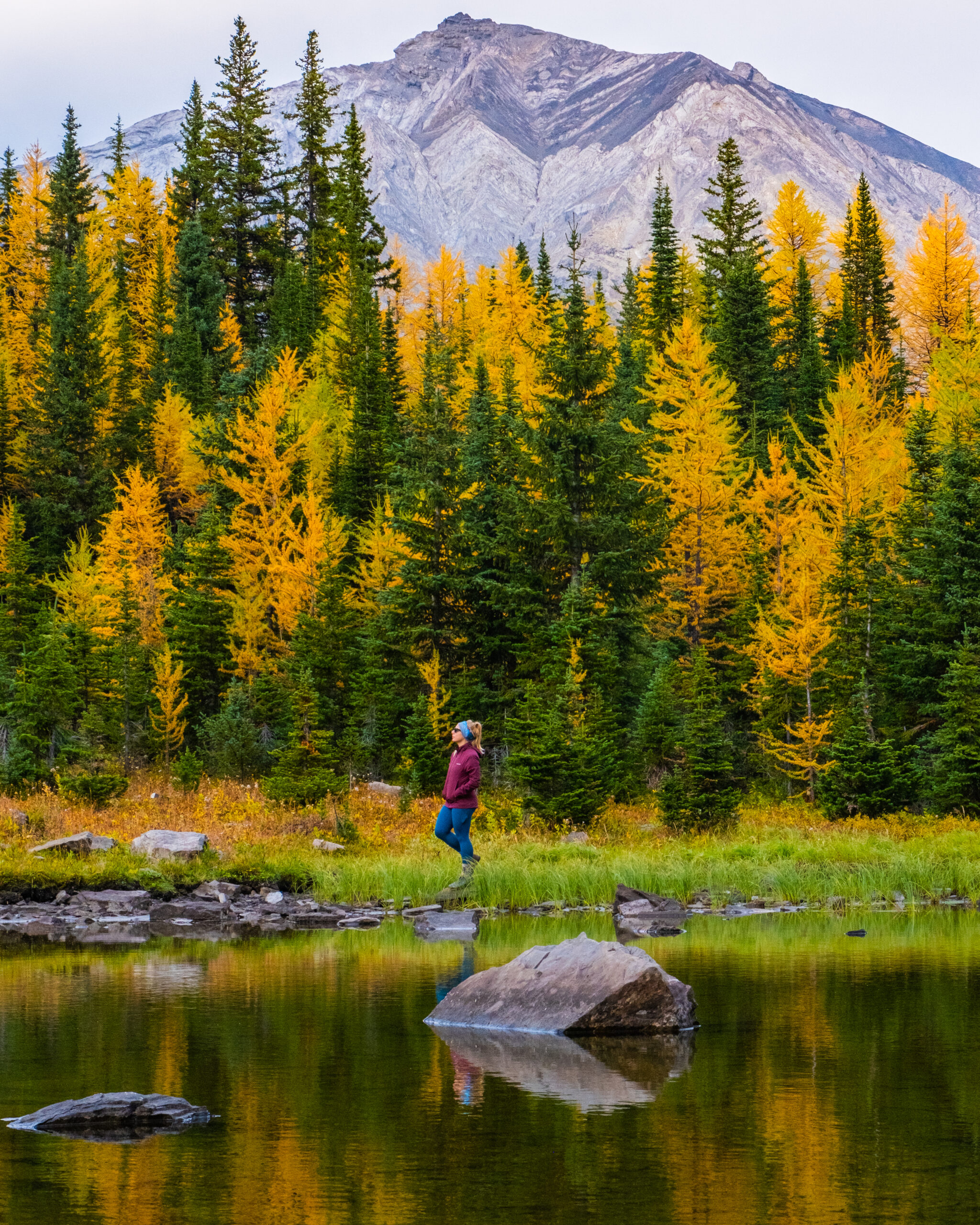 Once it opens up you can continue along Pocaterra Cinque which only takes you 430 m up and is easier than trying to summit the ridgeline. Once you reach the summit of the ridge which is about 600 meters up, you can either keep walking the ridge with some easy scrambling or head back down!
Trailhead: Near the Highwood Meadows Trail
Distance: 11.4km
Elevation: 764 meters if doing point to point
Difficulty: Moderate
Time: 4 to 7 hours
---
Ptarmigan Cirque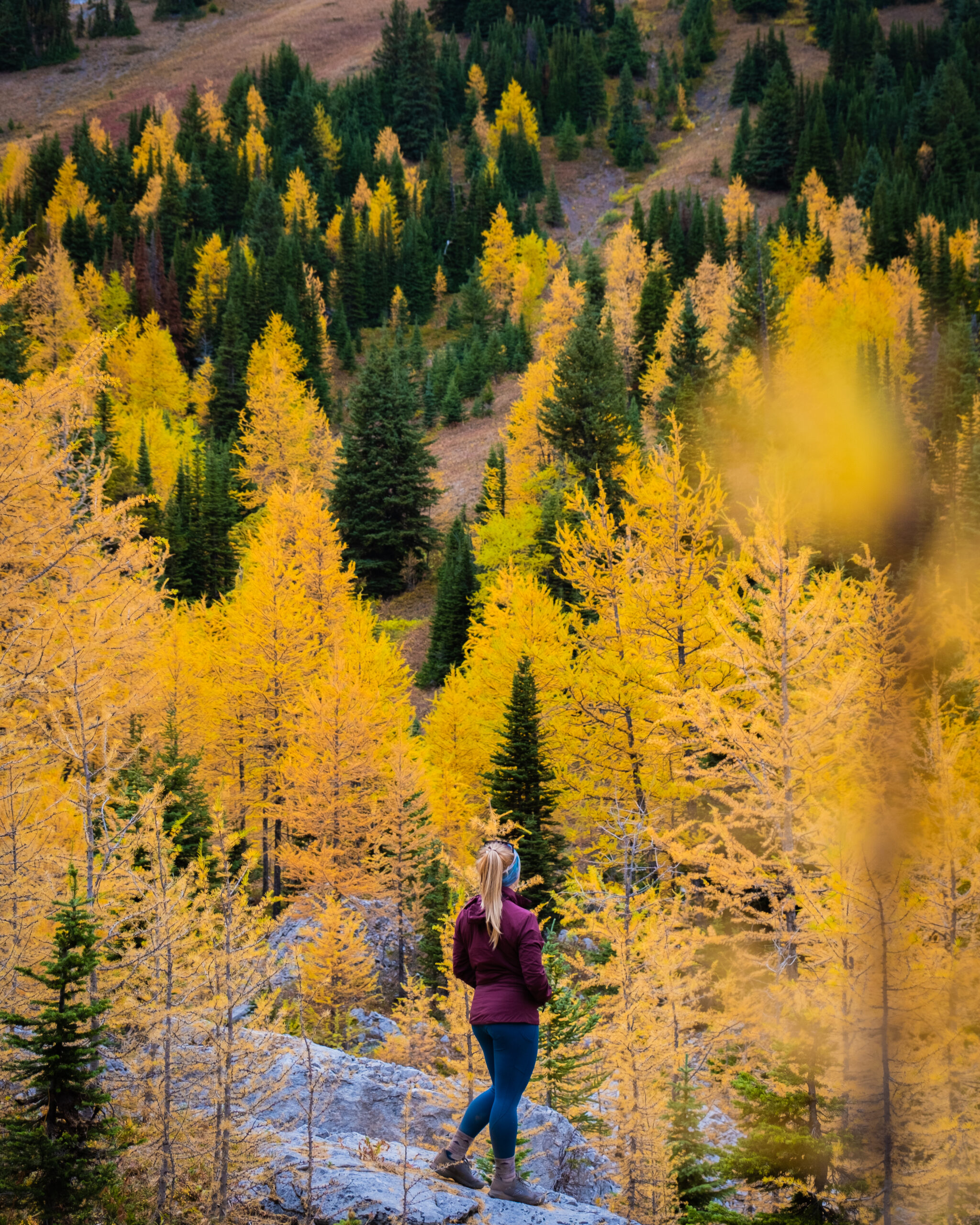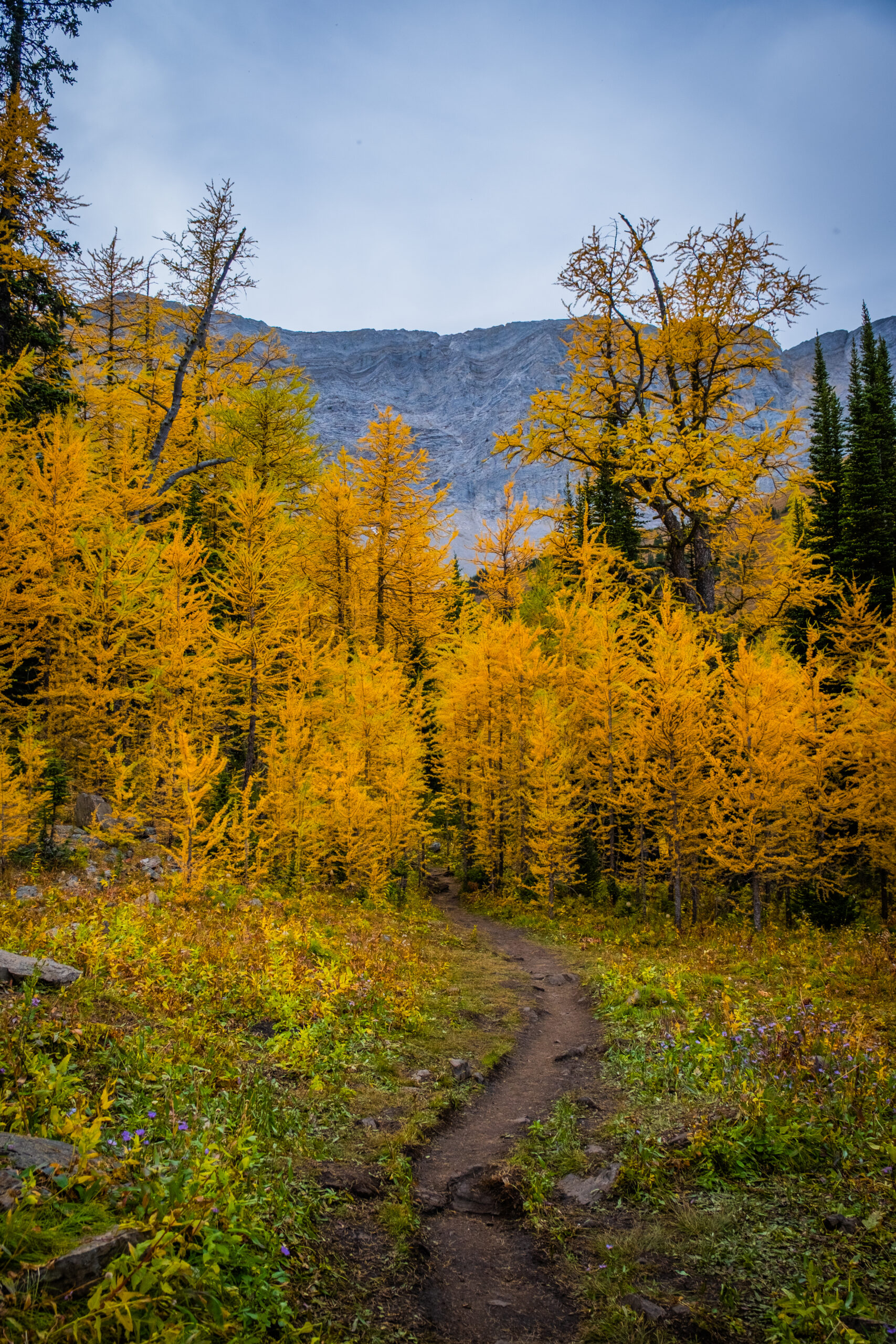 Ptarmigan Cirque is a short and sweet larch hike in Kananaskis that the whole family can enjoy. Located just across the street from Pocaterra you'll have to get here early to get parking on weekends. This hike is only a 4.2 km round trip and has an elevation gain of 271 meters. To start cross Highway 40 and follow the well-trodded trail and walk until you get a stunning open vista of the larches.
Ptarmigan Cirque is a quick and easy hike, but provides amaing views. For more of a full day combine it with Pocaterra.
Trailhead: Near the Highwood Meadows Trail
Distance: 4.2 km
Elevation: 271 meters
Difficulty: Easy
Time: 1-2 hours
---
Chester Lake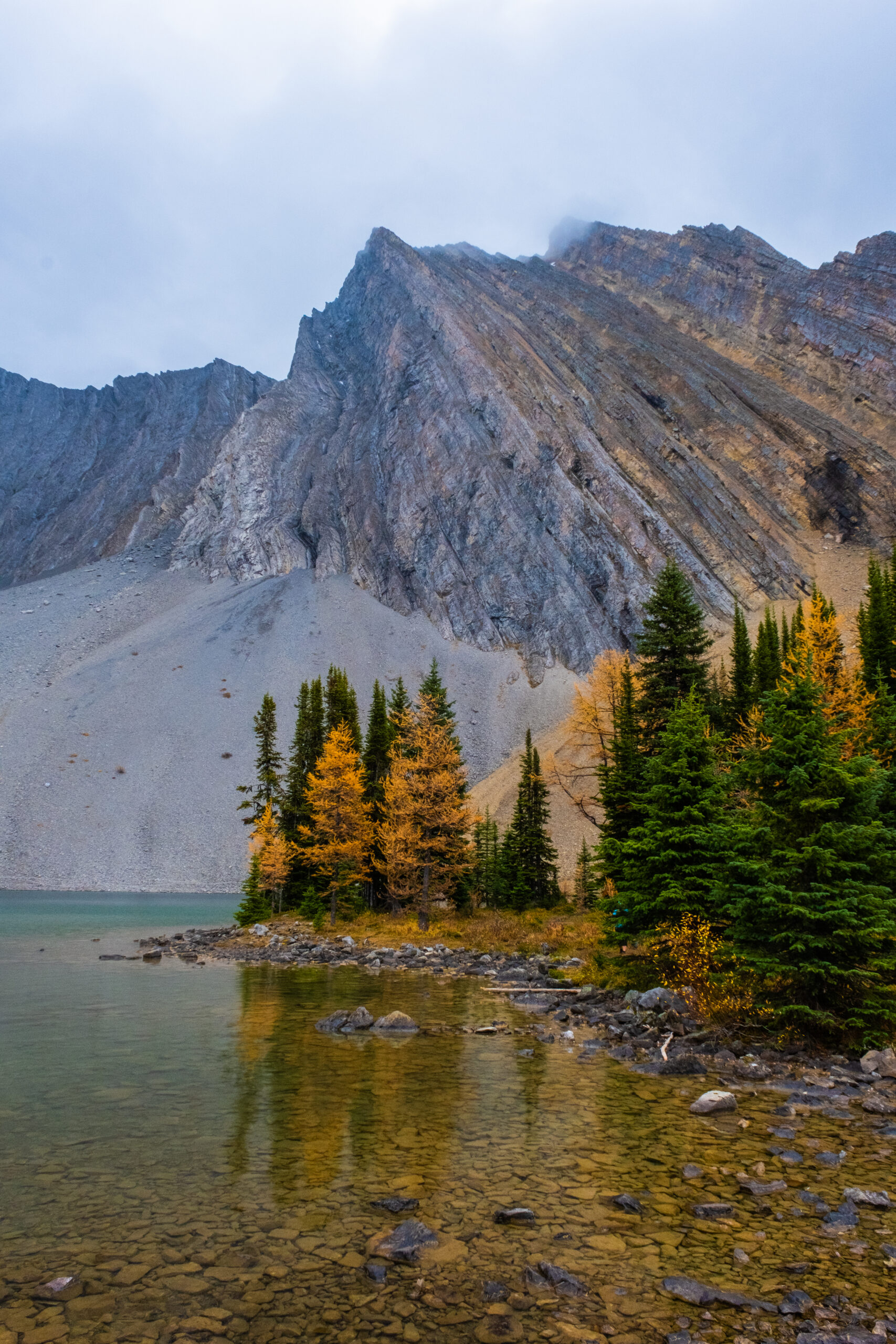 Chester Lake is not based in Banff National Park and is instead in Kananaskis Country Provincial Park so it makes more sense for those who chose to base themselves in Canmore over Banff.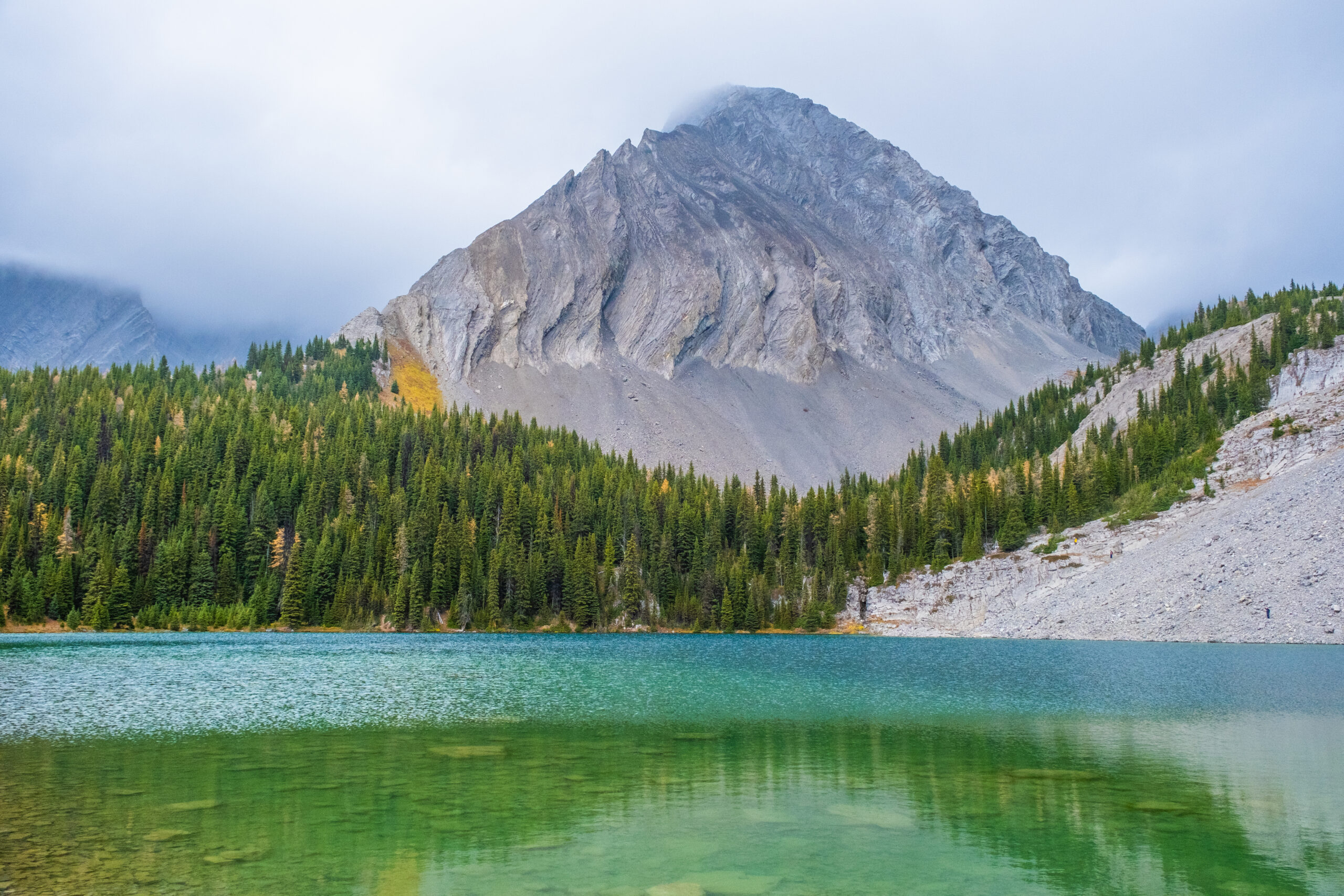 It's a fantastic snowshoe and very popular, but it also has some amazing larches around during the last few weeks of September. It's another short and sweet hike on this list that is great for beginner hikers or families with children or the grandparents in town.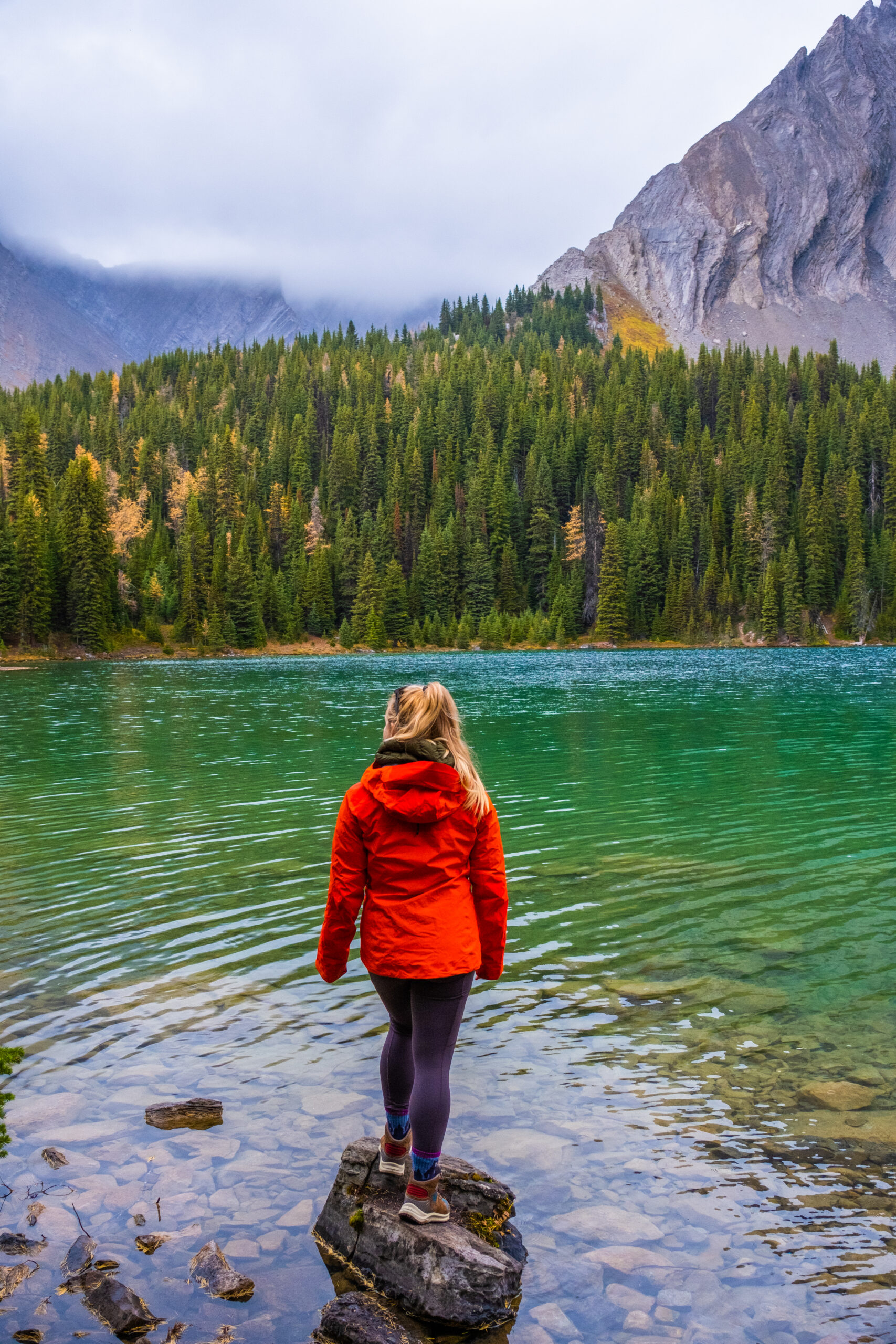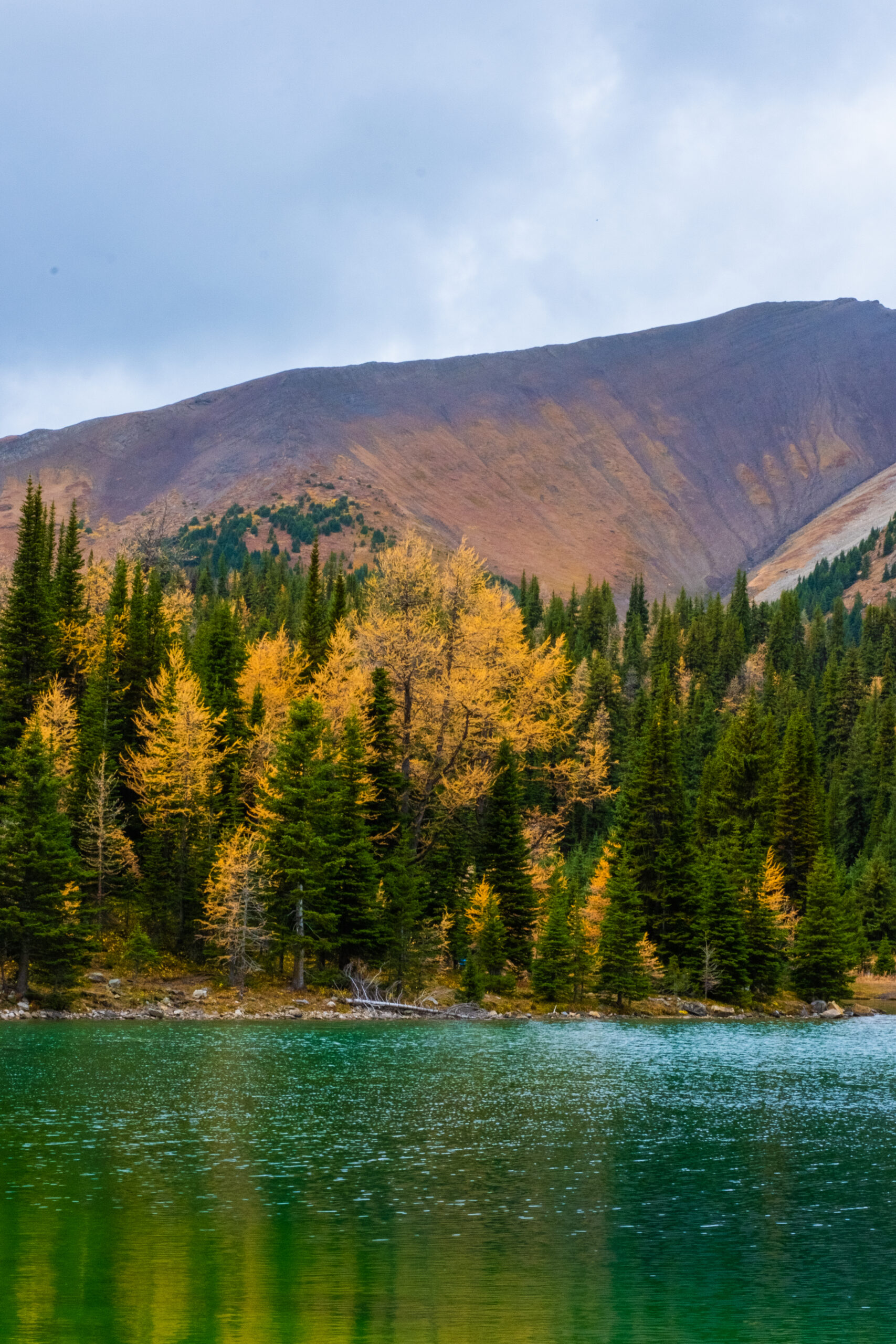 Most of the trail is pretty boring, but eventually it will open up as it takes you to Chester Lake itself. It's here you can walk around the entire lake and the surroundings and take in all the colors!
Trailhead: Chester Lake Trailhead
Distance: 9.7 km
Elevation: 424 meters
Difficulty: Easy
Time: 2-4 hours
---
Mount Assiniboine Provincial Park
---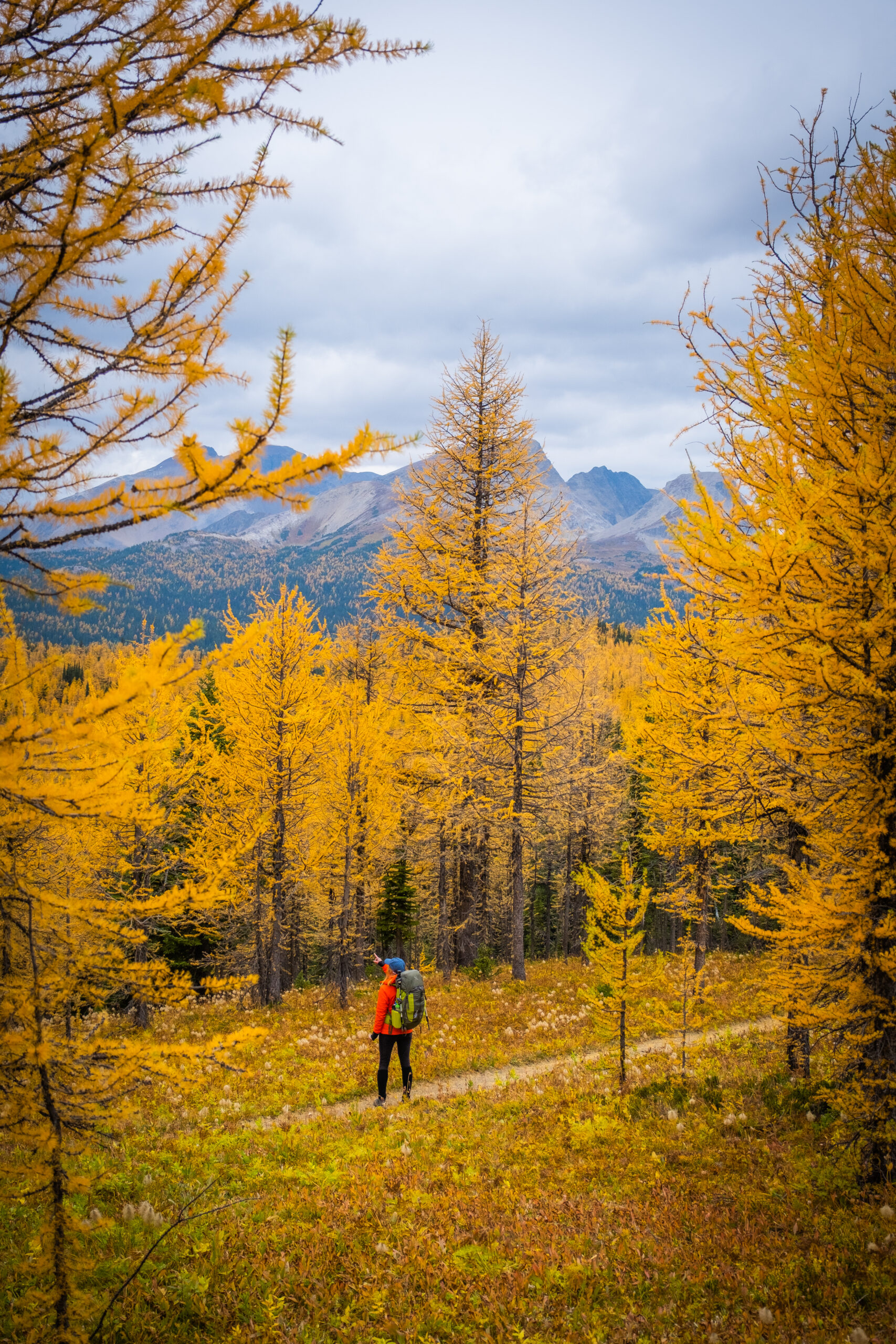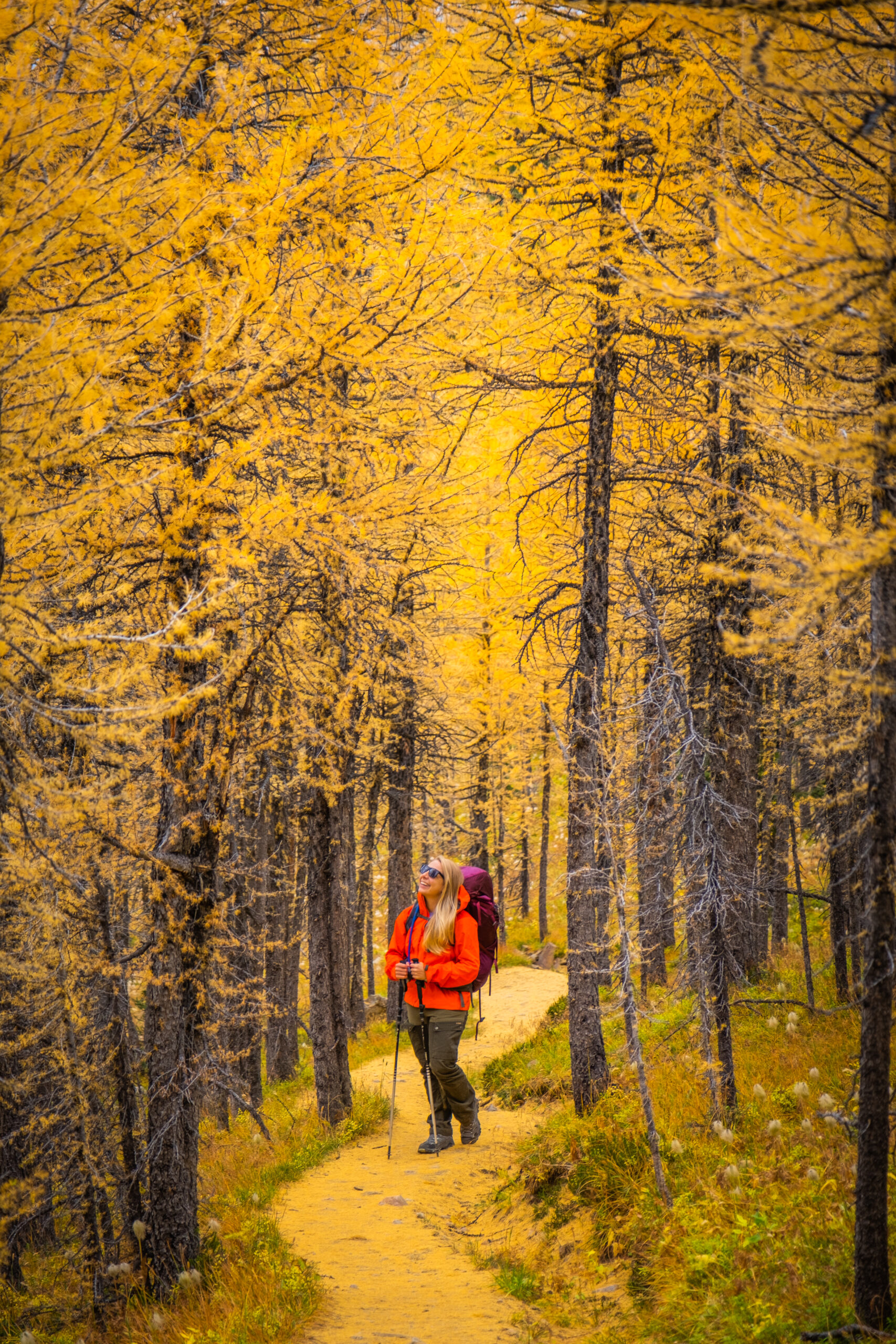 While Mount Assiniboine is not in Banff it deserves a special mention on this list as it is just incredible. If you are able to get back here during Banff in the fall consider yourself extremely lucky! First, to hike back around Mount Assiniboine you will need campsite reservations or a reservation at Assiniboine Lodge, both should be booked well in advance. Spaces are limited and book up fast due to the beauty of this area.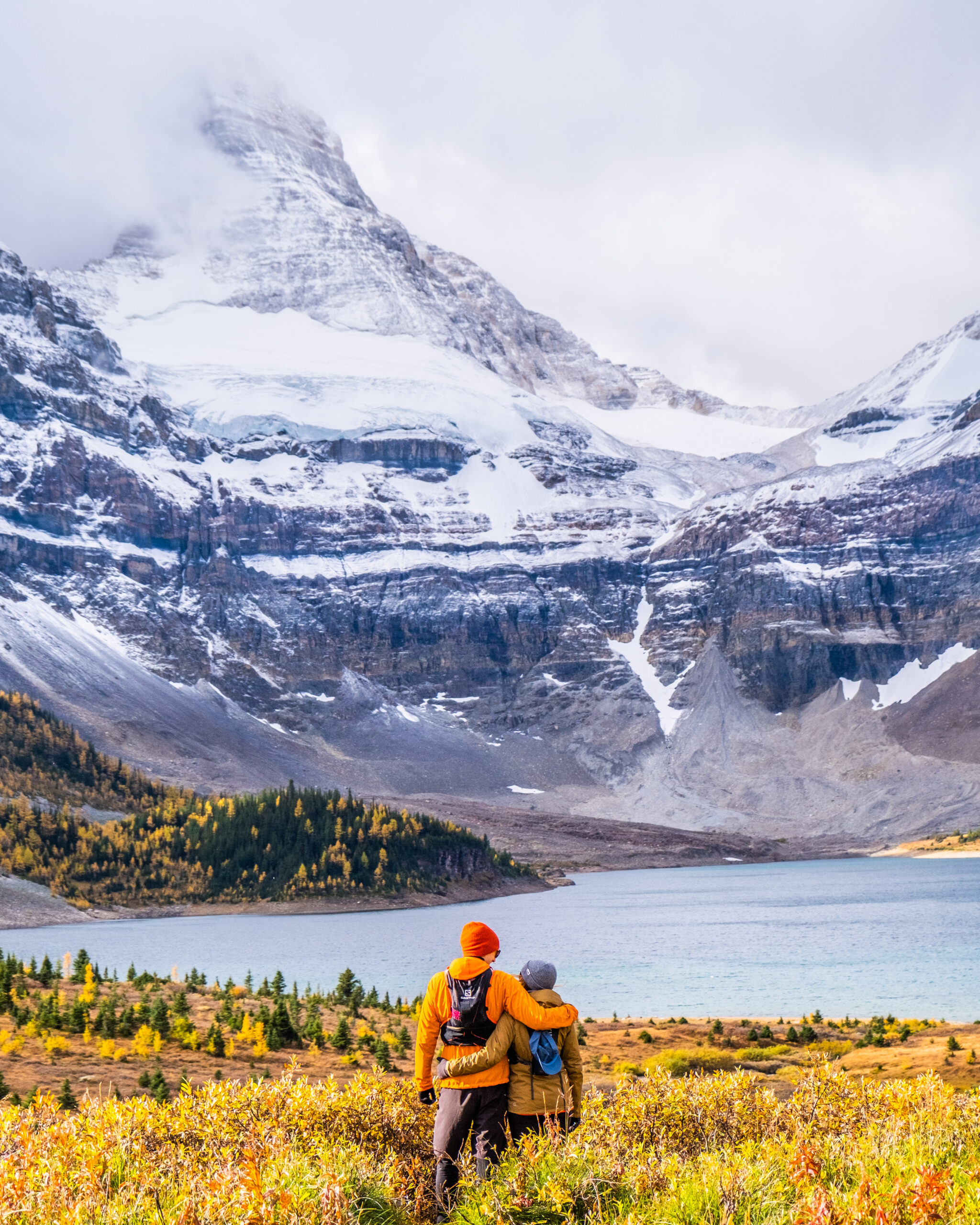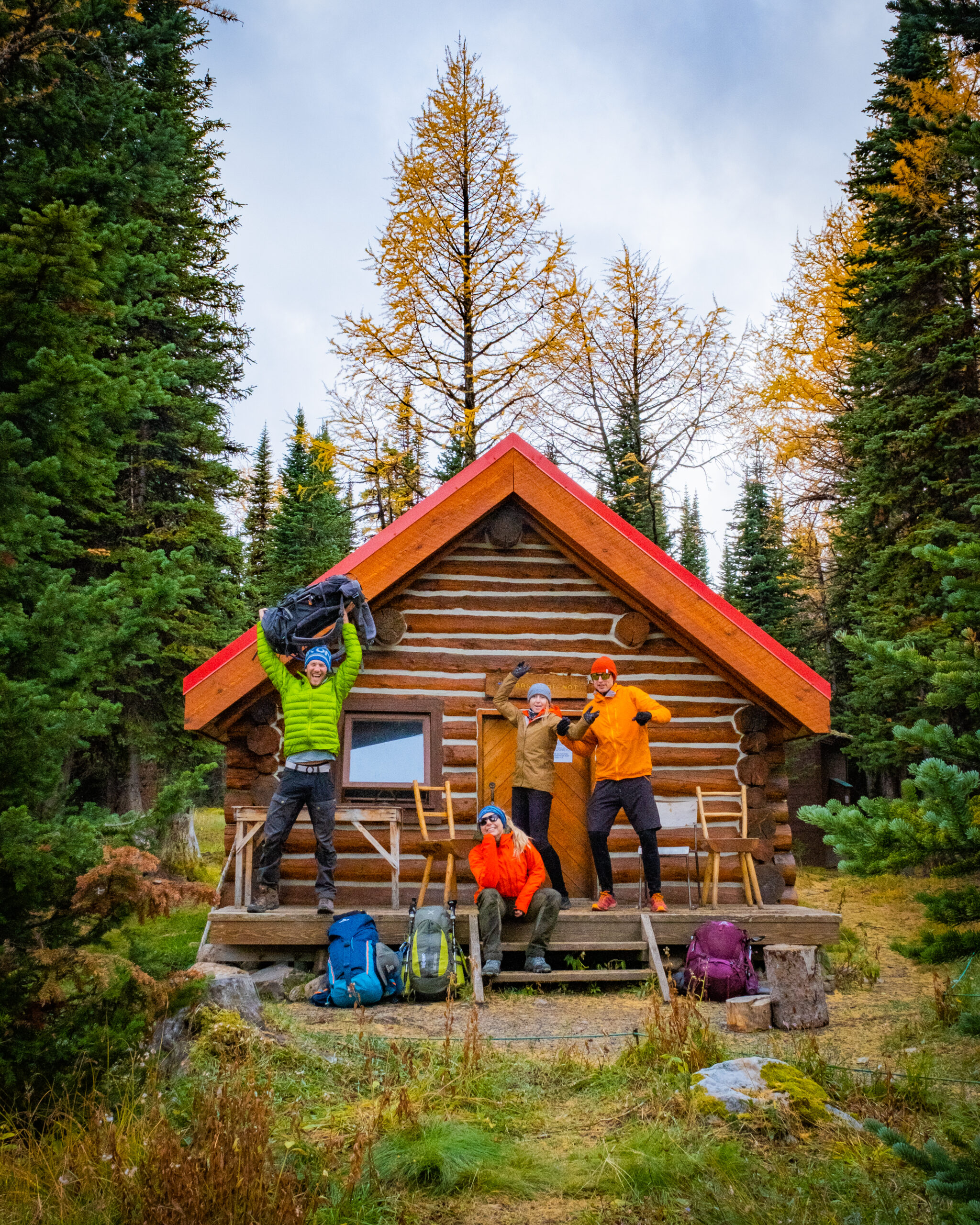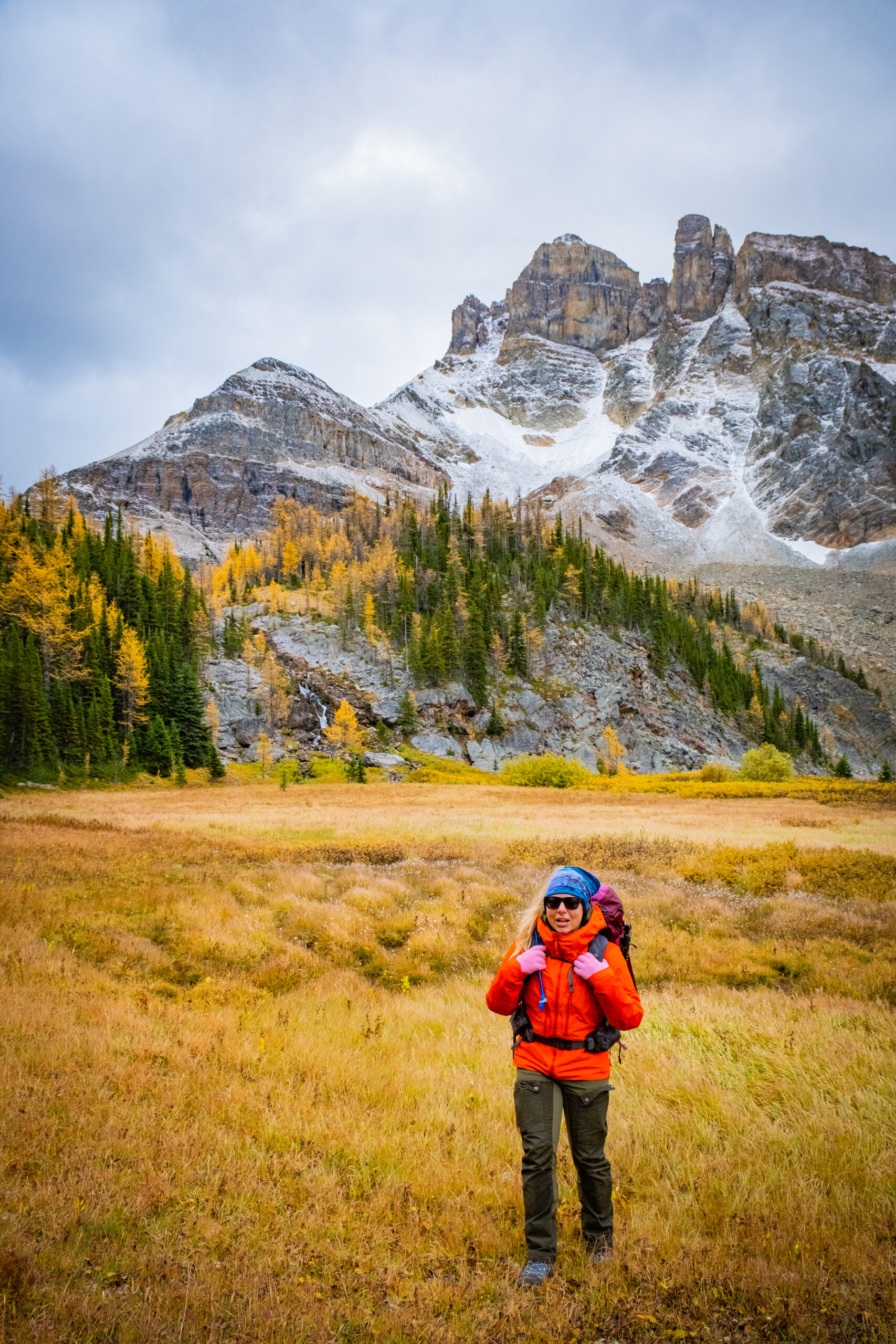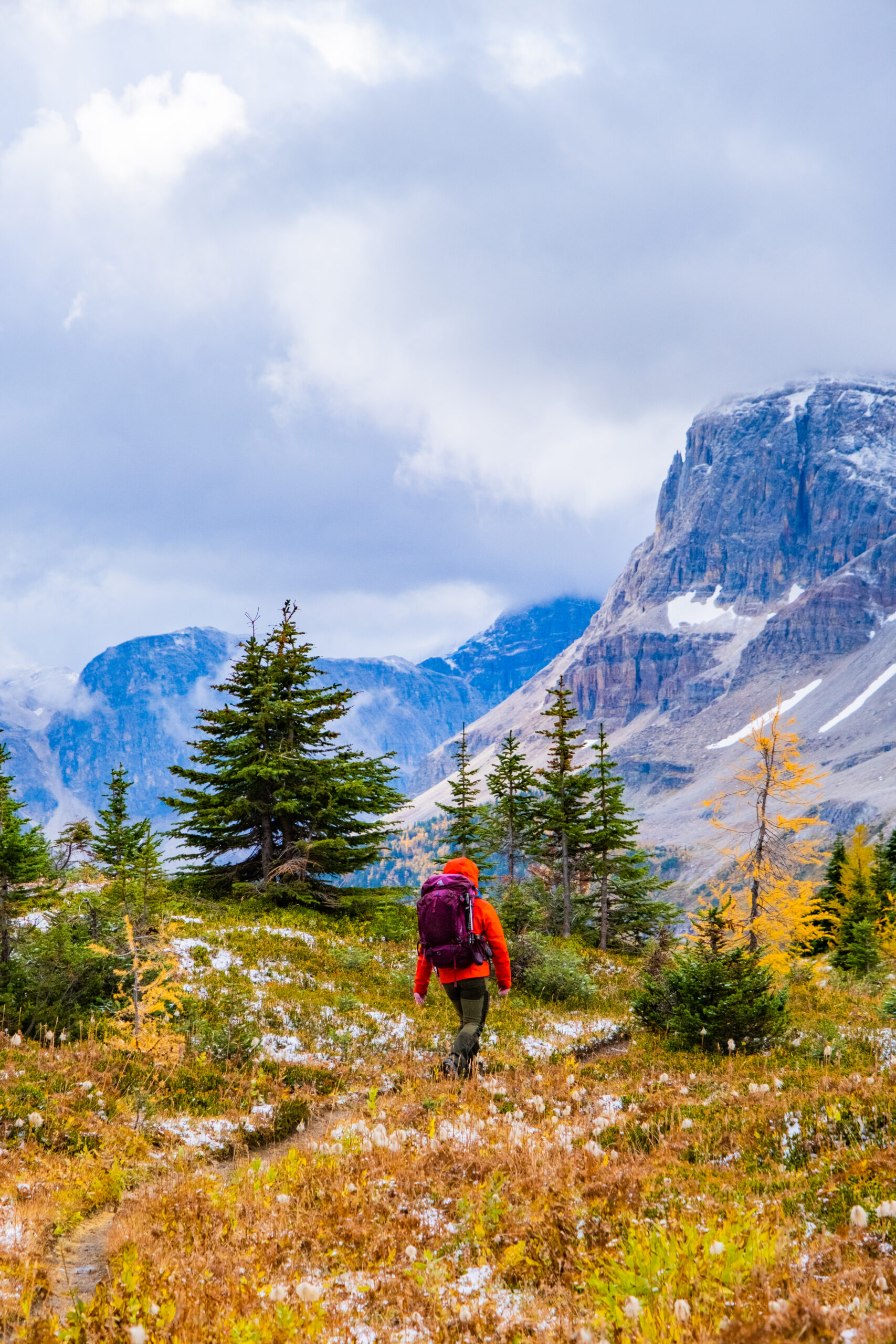 Mount Assiniboine is far back there, and not a day hike unless you are a capable trail runner. To get back to Lake Magog (the lake that sits under Assiniboine and where the campsite is) you'll need to be able to hike over 25 km from Mount Shark parking lot. This can be split up into multiple days if you want to stay overnight at the Marvel Lake campground.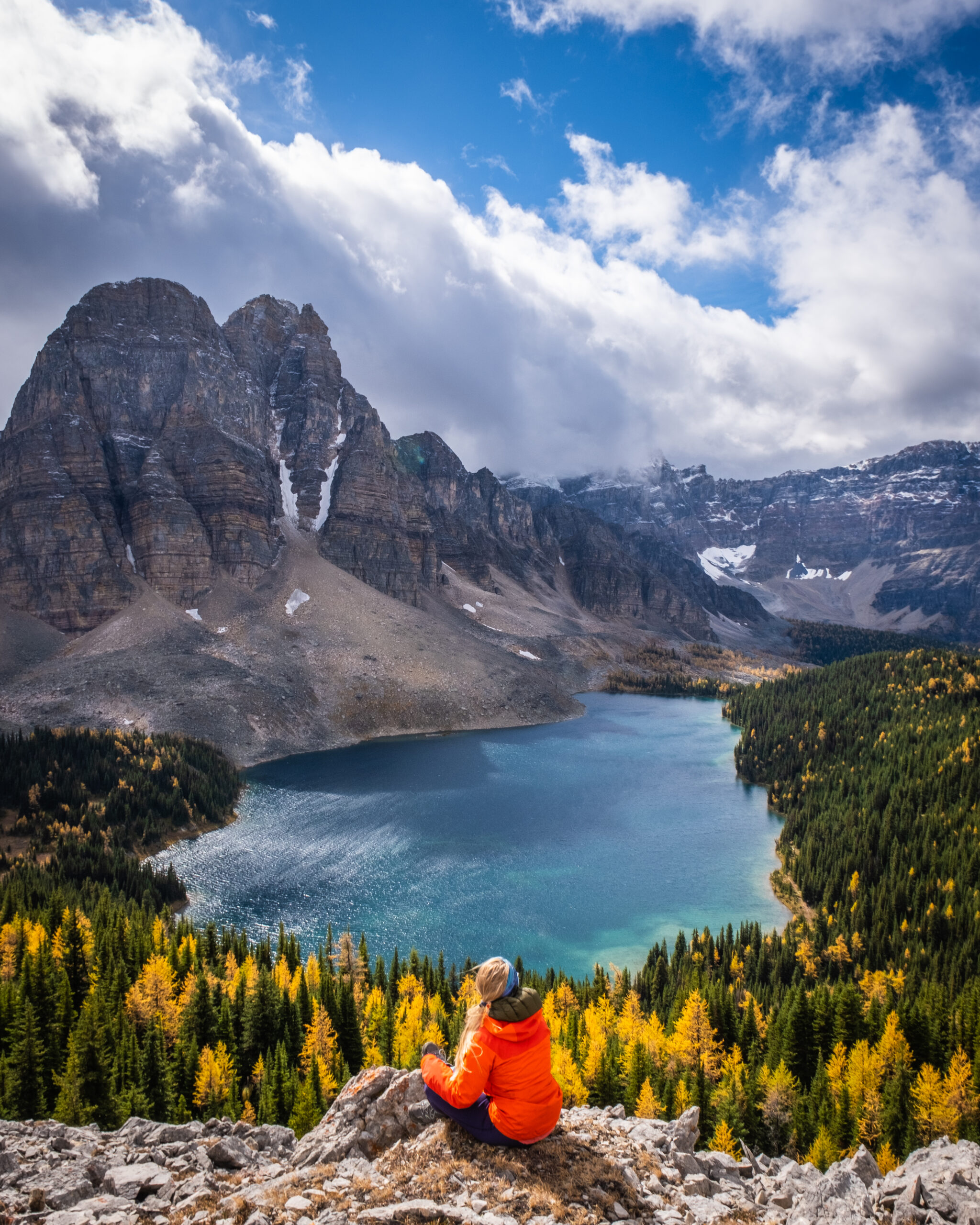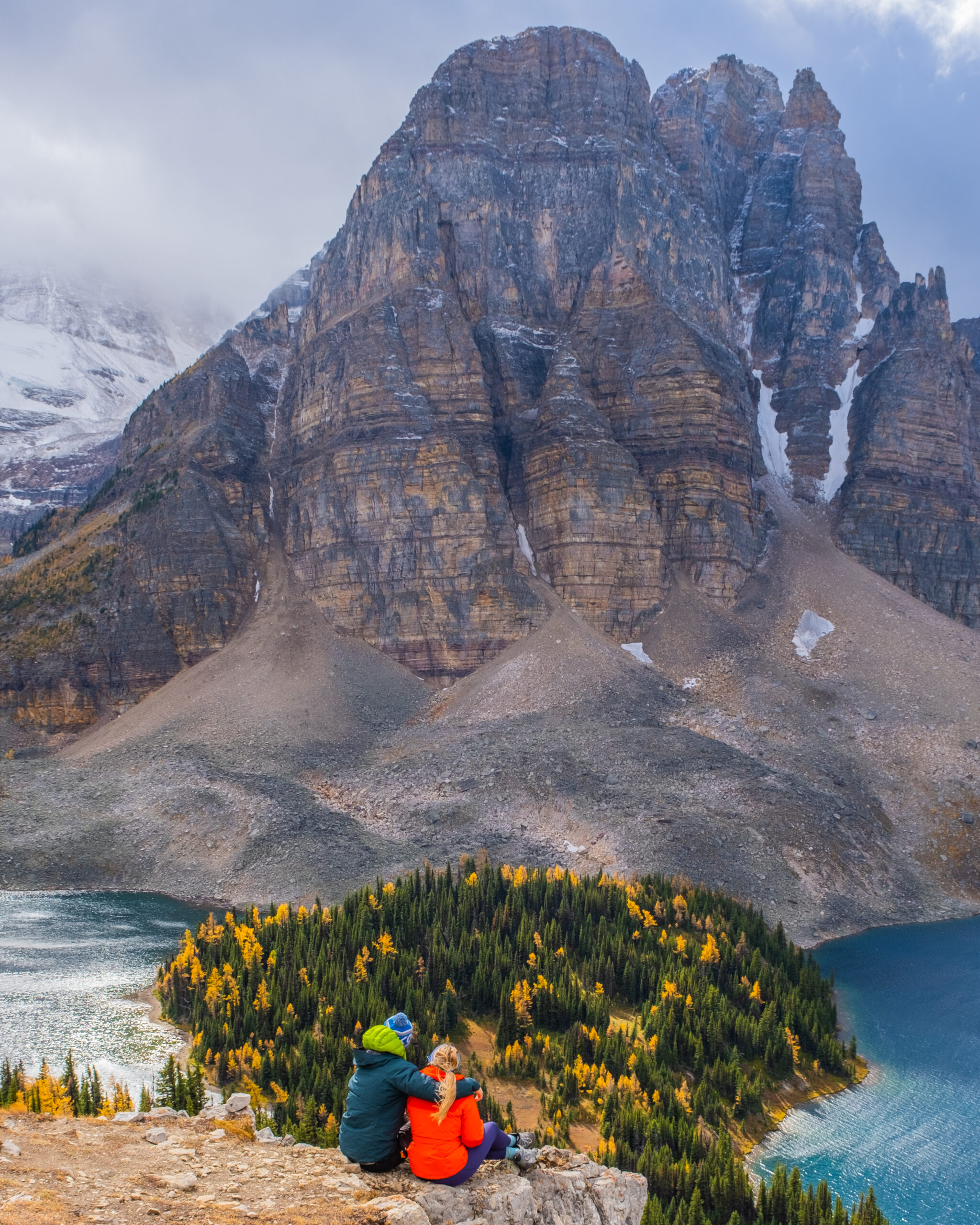 Or the other option is to hop on a helicopter operated by Assiniboine Lodge to take you into the park. Once in you can hike around The Niblet, Nublet, and Nub Peak. You can choose to either hike out with a lighter pack or heli out!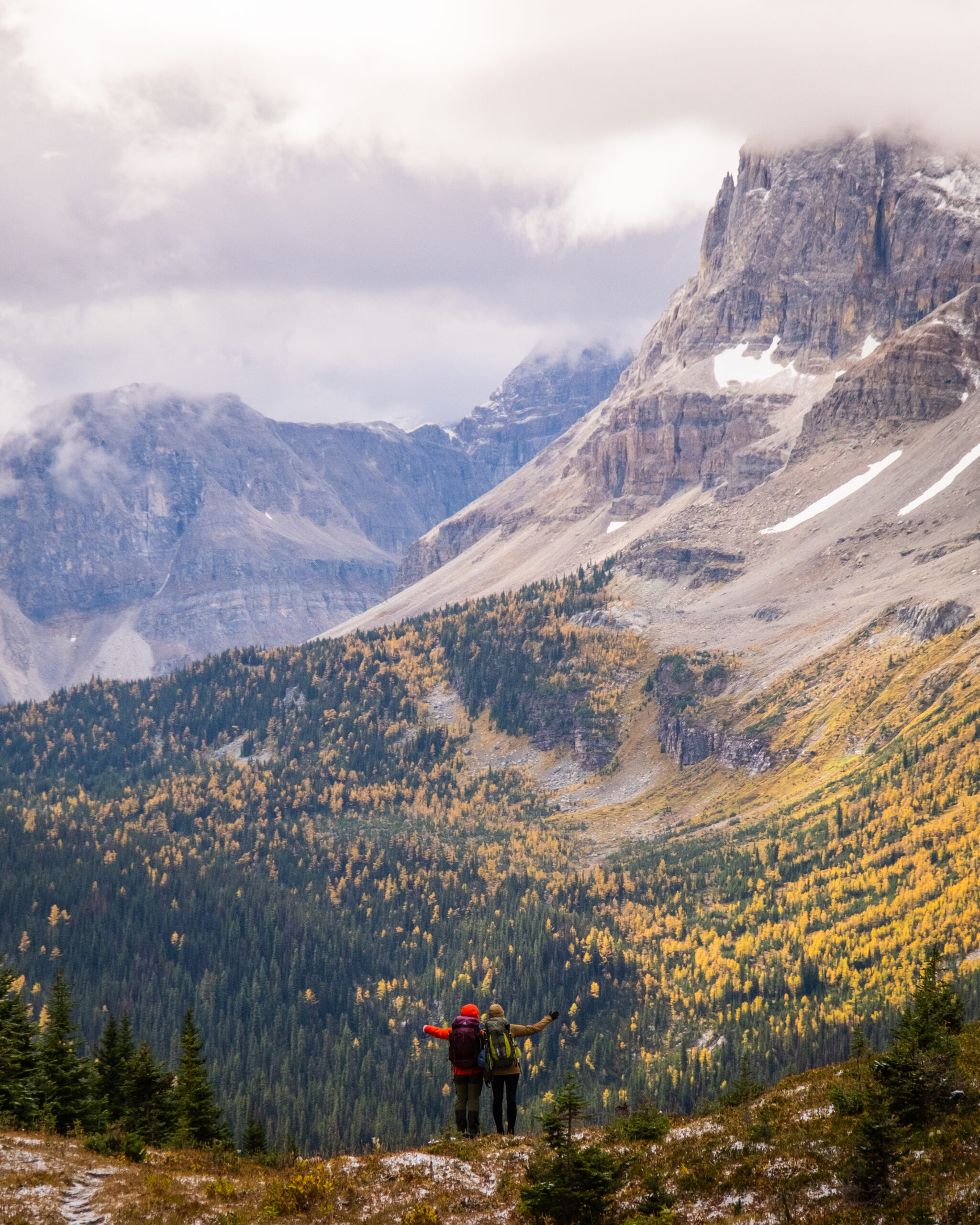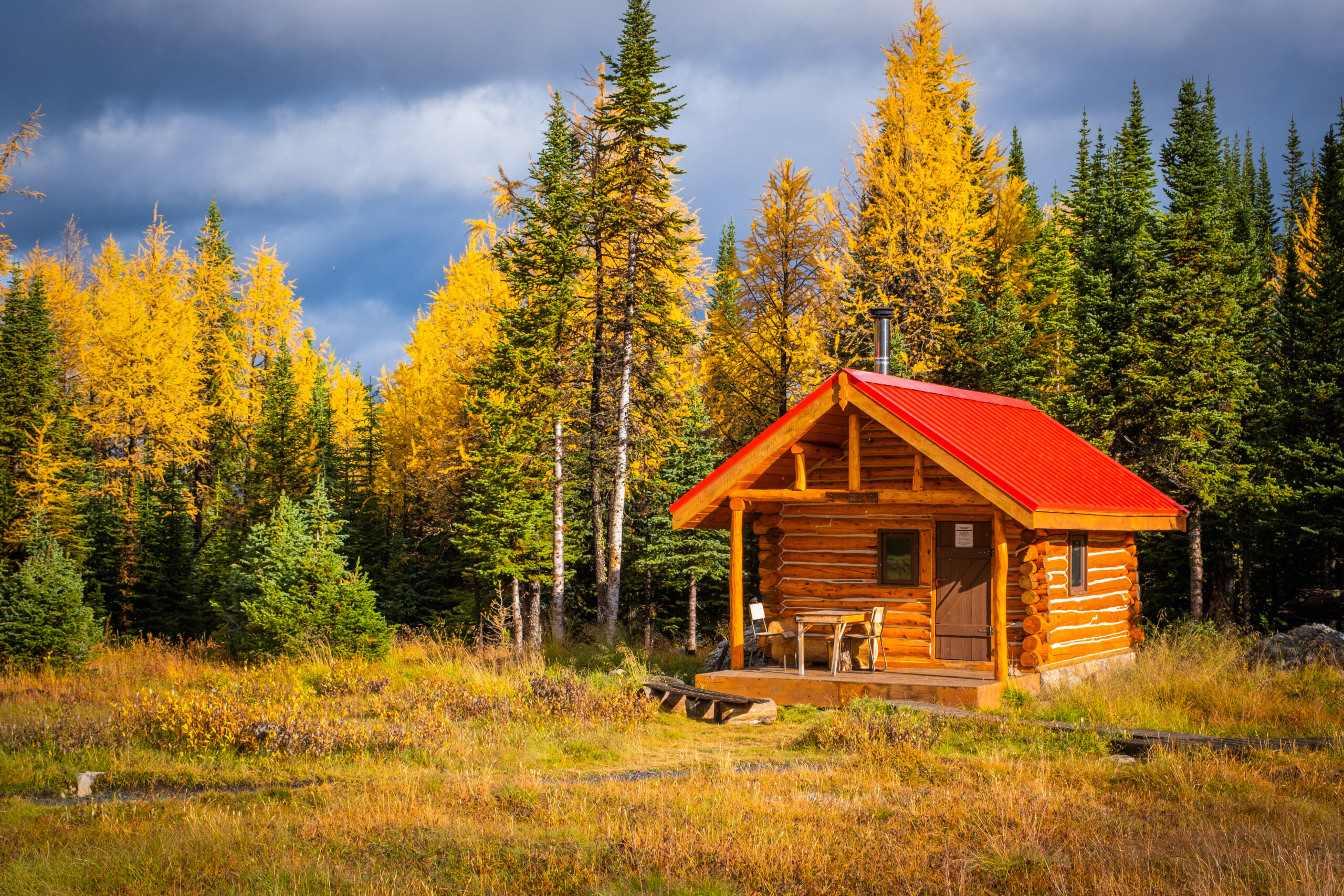 We did this hike during larch season and started at the Mount Shark Trailhead and hiked to the Naiset Huts in one day. It took us about 6 hours, at a fast pace, to reach the huts, about 25 km in. The hike in is pretty boring until you get to Marvel Lake and skirt the lake, the next exciting part is Wonder Pass which is an endless meadow of larches.
You can either hike out the same way or if you have a car stationed at Sunshine Village you can hike out The Assiniboine Pass was fora point to point hike. Though it's less scenic that Wonder Pass. The good news about Mount Assiniboine is that it is relevantly inaccessible and sees almost no crowds.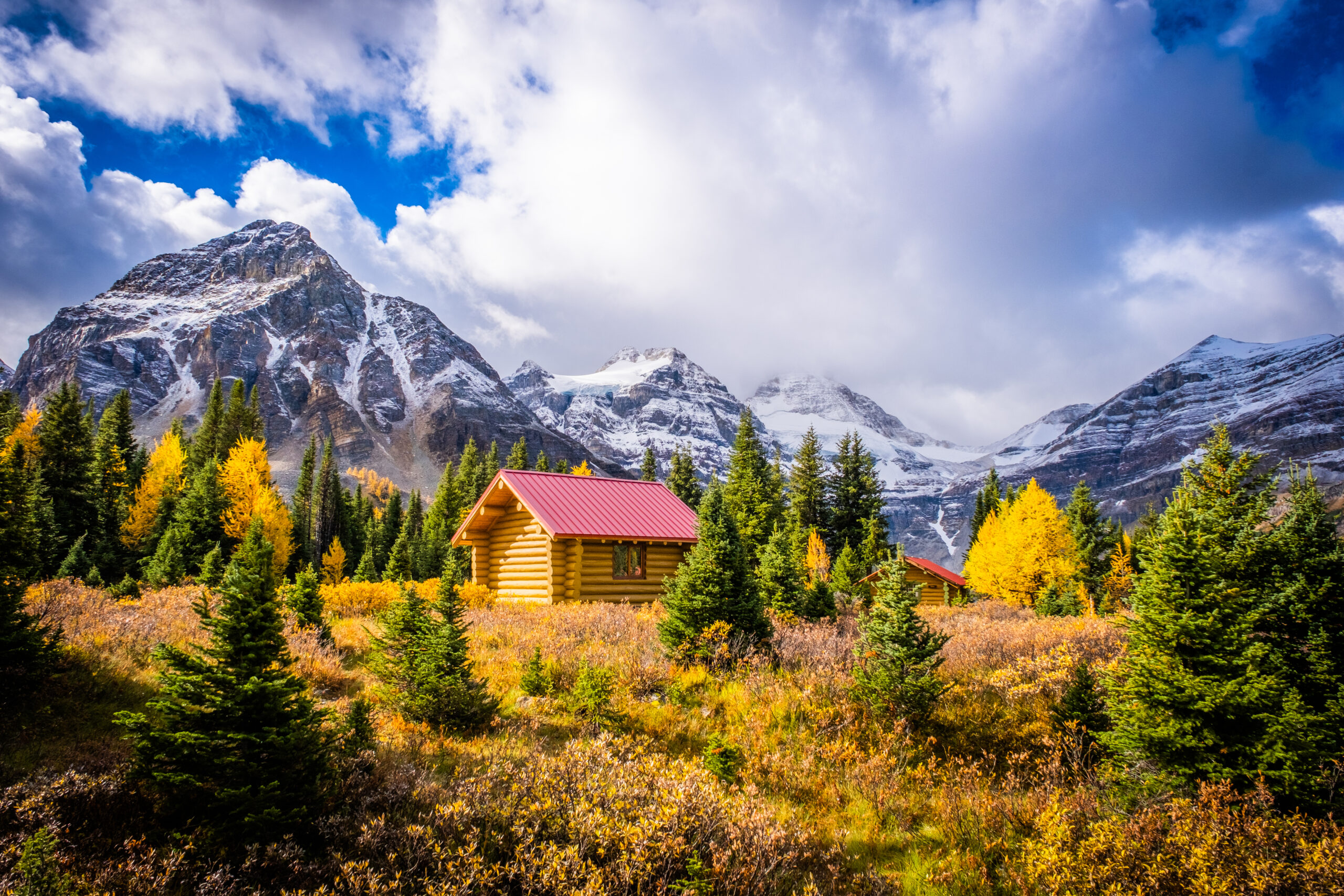 Trailhead: Mount Shark Parking Area
Distance: 50+ km (Multi Day)
Elevation: 800+ meters
Difficulty: Hard because of the length
---
Gear We Recommend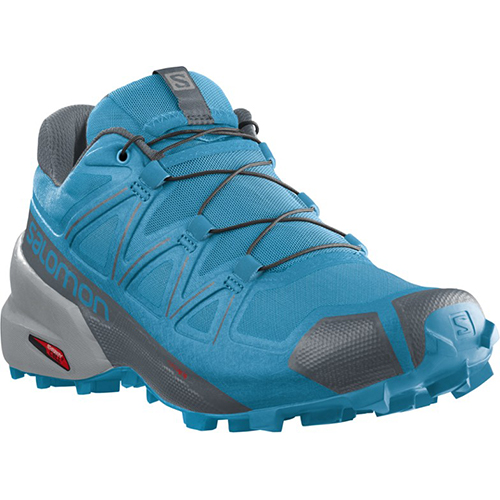 The vast majority of hikes and easy scrambles in the Rockies, you'll find us in our trusty Salomon Speedcross.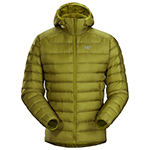 Arc'teryx Cerium is our pick for the best down jacket. It's incredibly light, and we bring it on almost every hike in the Rockies.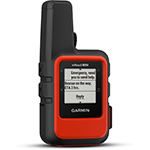 There is not much in terms of cell phone service around the Canadian Rockies. In case of emergencies, we carry an emergency beacon with GPS.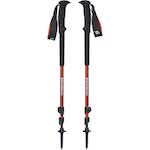 A pair of durable and lightweight hiking poles are a great asset on the hiking trail. We'll always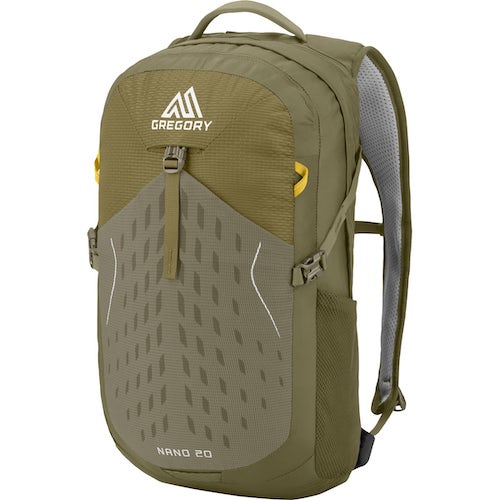 20L feels like the ideal size for quick hikes and scrambles. We love the Nano from Gregory with a hydration reservoir.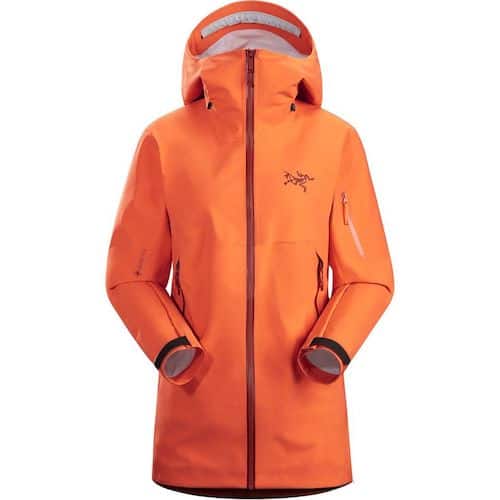 At only 10 oz, the Zeta is an excellent shell jacket that blocks out the elements without too much weight in the backpack.
No Autumn in Banff is Complete Without at Least One Larch Hike. Happy Larch Season!
↓ Join the community ↓
The Banff Blog Facebook Group is your headquarters for the Canadian Rockies travel advice and information. Including hike info and off-season travel information. This is also a place where you can meet one another when you need adventure buddies.