Banff in the fall is a magical time. Visitors flock from all over the world to visit the Canadian Rockies throughout the entire year, but in my opinion, a Banff fall is simply the best. The larch needles turn to gold the last few weeks of September, and the aspen trees' fall colors last well into October.
It's a time when flannels, sweaters, and hot chocolate are all the rage. It's a fantastic time to go hiking, wander around downtown Banff, cozy up in a delicious restaurant, and enjoy the glacial lakes before they freeze over. Winter is quickly coming, so make the most of September and October and enjoy all these best things to do in Banff in the fall.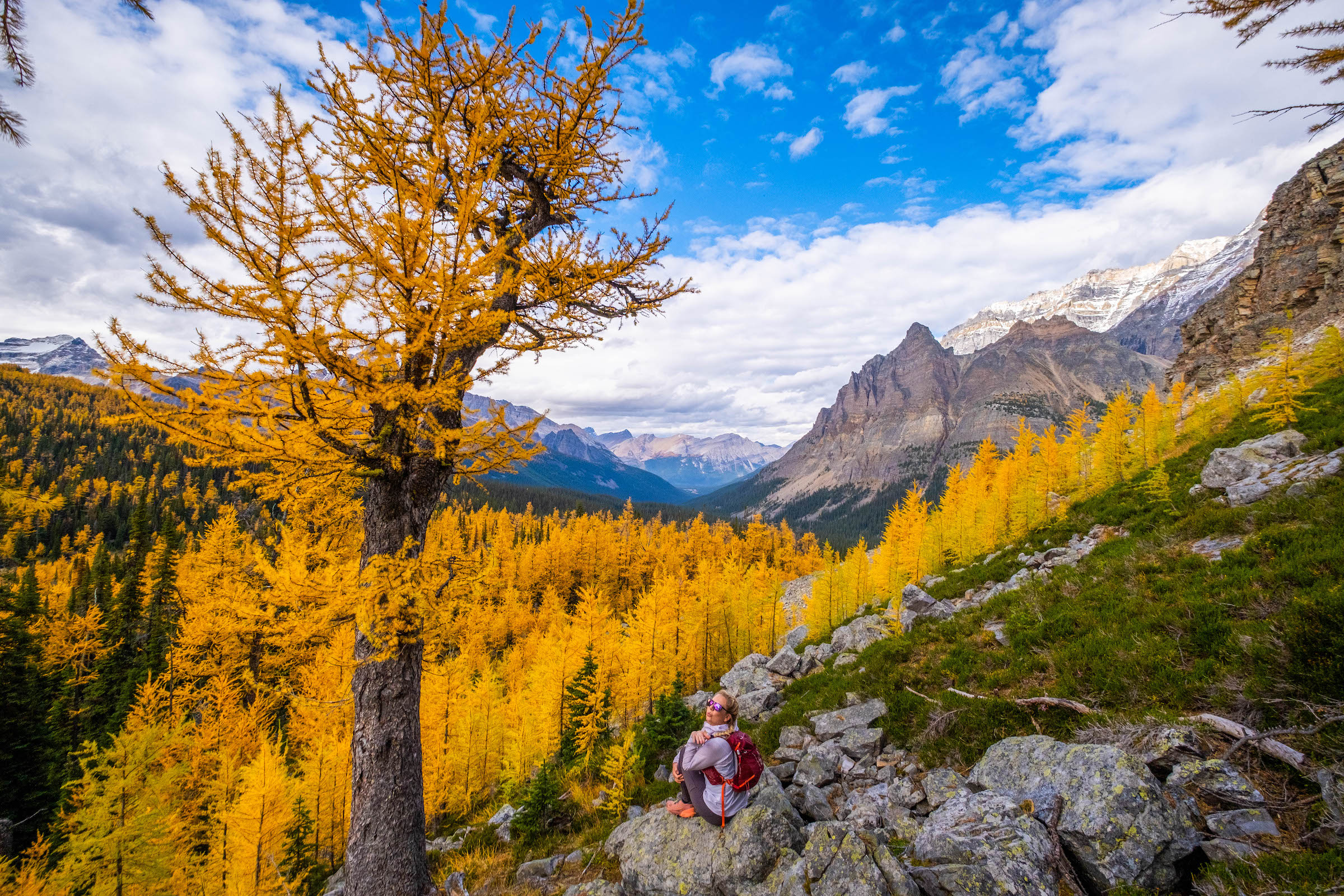 When is Fall in Banff?
While the rest of North America celebrates fall on September 22nd, it can feel like fall much earlier in the Rockies. If you are visiting at any time in September, be prepared for a bit of everything. It could be summer weather in early September, but don't be fooled. At any time, it could snow, and temperatures drop.
The fall feeling lasts until about October 15th, give or take, as it all depends on the year. After you'll quickly see that the leaves are falling off the trees and a fresh dusting of snow is on the way.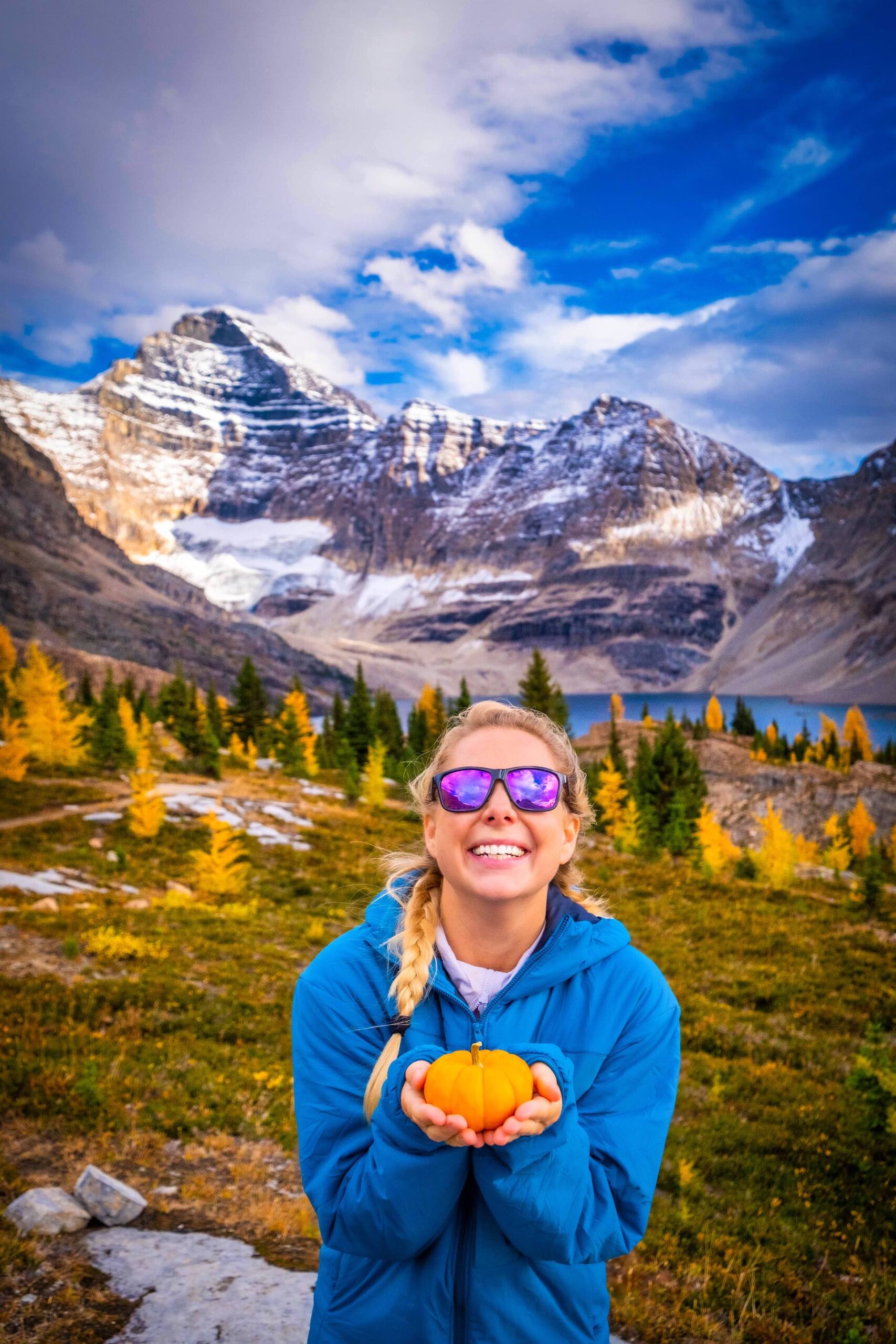 When is the Best Time for the Ultimate Banff Fall Experience?
The best time to visit Banff for fall colors is the last two weeks of September and the first week of October. If I were basing a trip around visiting Banff at its prime, I would plan for between September 20th and October 5th – give or take a few days.
How Long Should You Spend on a Banff Fall Trip?
If you are visiting the Canadian Rockies in the fall, I would allocate at least a week to the region. Number one is because there is so much to do, and once you see how beautiful it is, you likely won't want to leave. Number two is because the weather in Banff in the fall is unpredictable. You could get a few rainy days, so you'll want to stay for multiple days to give you flexibility with your plans and the weather.
Where to See the Best Fall Colors?
You can honestly see them everywhere come the last few weeks of September. As soon as you get to the Rockies, you'll instantly know that it is fall. If your goal is to see the beautiful larch trees, we break down our favorite spots here.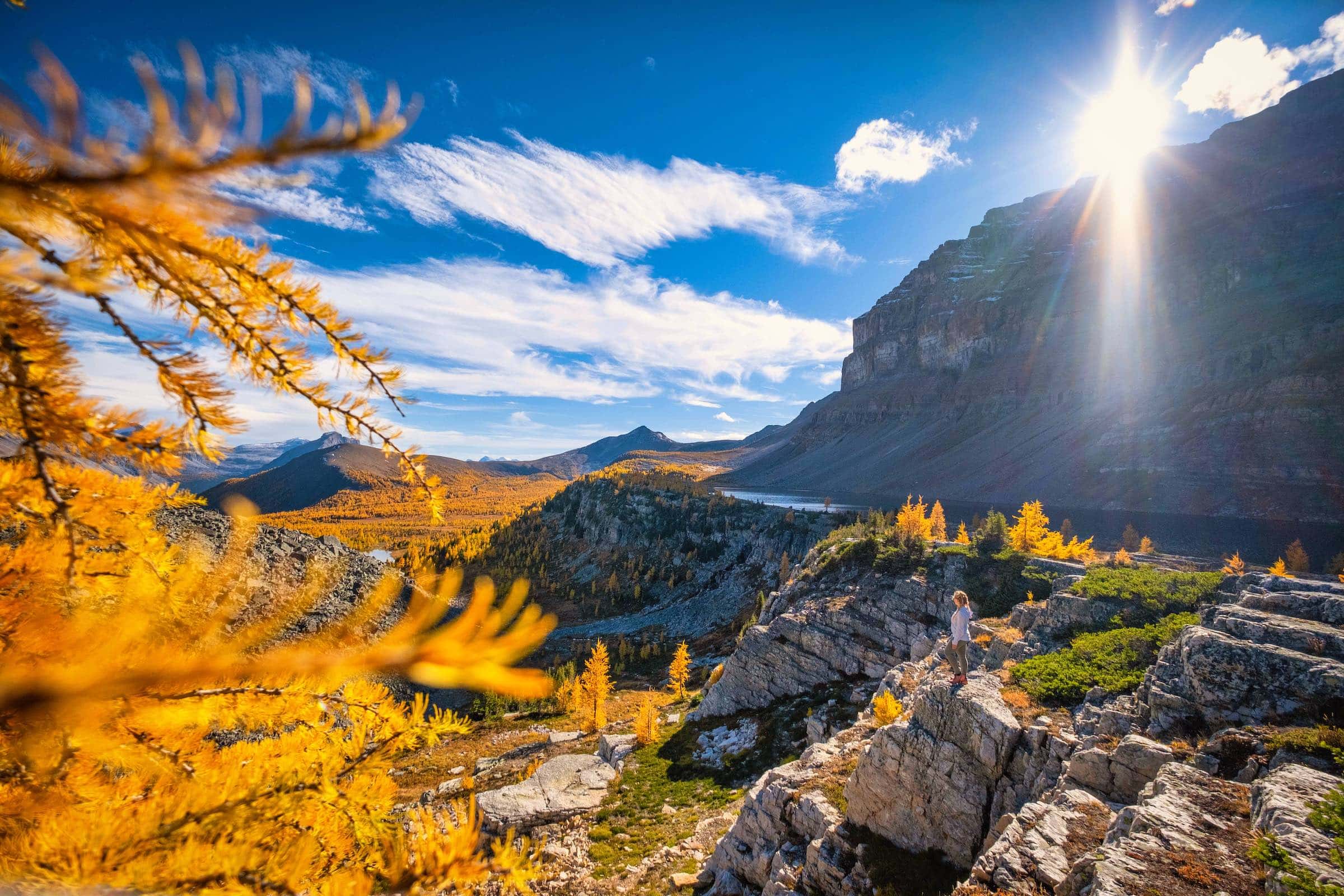 Why Should You Visit Banff in the Fall?
Because it's stunning, for one! Banff in the fall is short and sweet – but it is beautiful to see the fall colors contrast the Goliath peaks. The whole scene is surreal with a fresh dusting of snow on the mountain peaks.
Beyond the beauty, Fall in Banff is slightly less busy than the summer. Though people still come in droves to see the larches, so don't expect Banff to be quiet.
Accommodation prices are slightly lower, but you won't truly get off-season prices in the Rockies until November.
---
The Best Things to Do in Banff in the Fall
---
Enjoy Larch Mania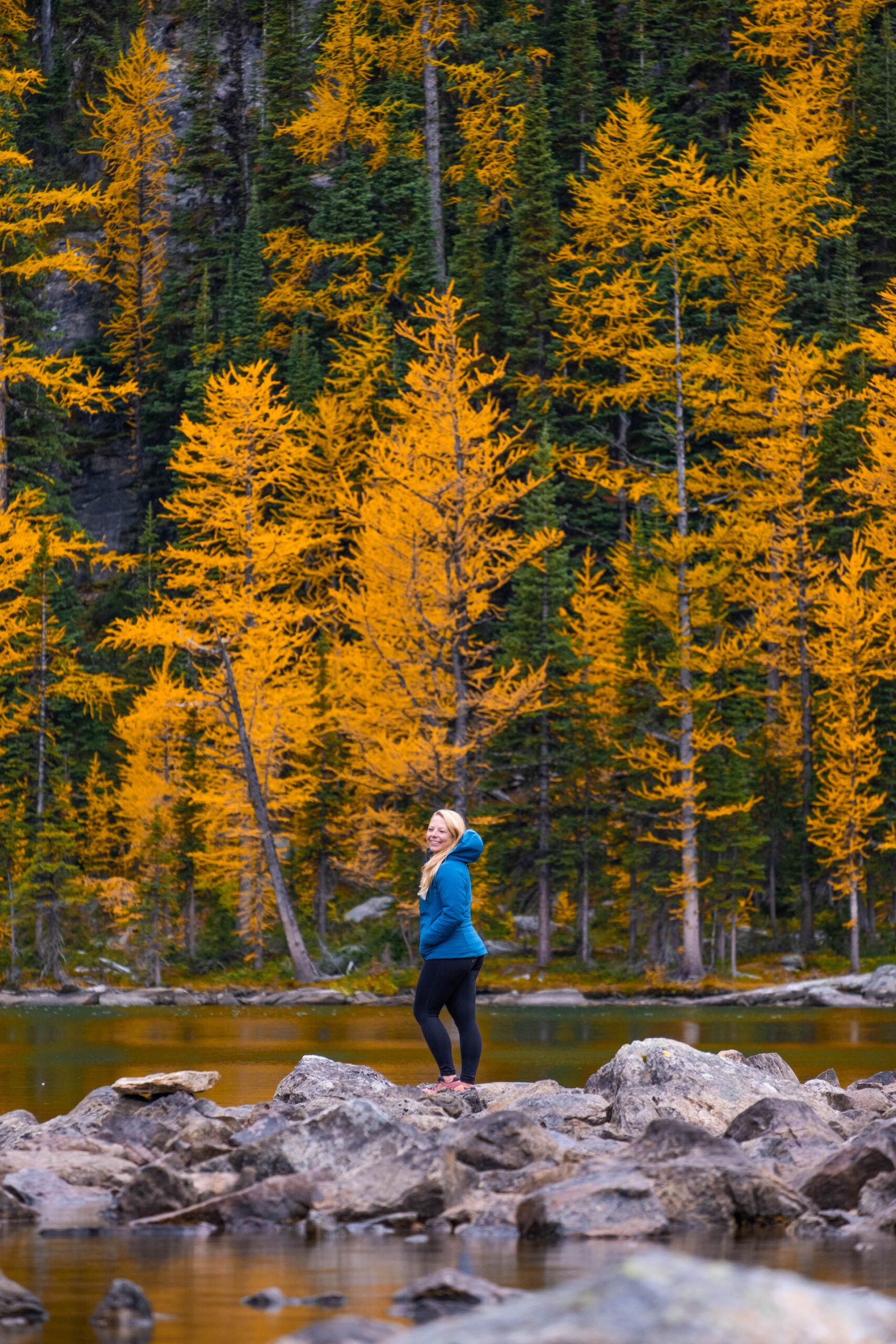 Fall in Banff is known for being beautiful, primarily due to the larches all over the Rockies. What's a larch tree, you ask? Larches are conifers that are native to cooler temperatures.
Although they are conifers, they are deciduous that lose their needles in the autumn. Right before they lose their needles, they turn a golden color for a few short weeks creating a fantastic scenic landscape that people flock from around the world to see.
The larches typically turn from green to a beautiful yellow gold in the last two weeks of September and the first week of October. It's a very short three-week period that has everyone in the Rockies going gaga.
During this period, everyone is trying to get out on as many larch hikes as they can. We call this the "larch march," "larch madness," or "larch mania." It's a busy time in the Rockies, but you will understand why once you see the yellow everywhere.
During the larch season, we try and kill ourselves hiking every day. Last year we did 130km of hiking in 5 days! That's because not only is it beautiful, but it's the best time in Banff for photography.
There are plenty of larch hikes to enjoy! The most popular would be Larch Valley and Sentinel Pass, Pocaterra Ridge, Ptarmigan Cirque, and Taylor Lake. Don't worry, though – there are plenty. You can see all of our favorite larch hikes in Alberta here.
---
Have a Bonfire at Cascade Ponds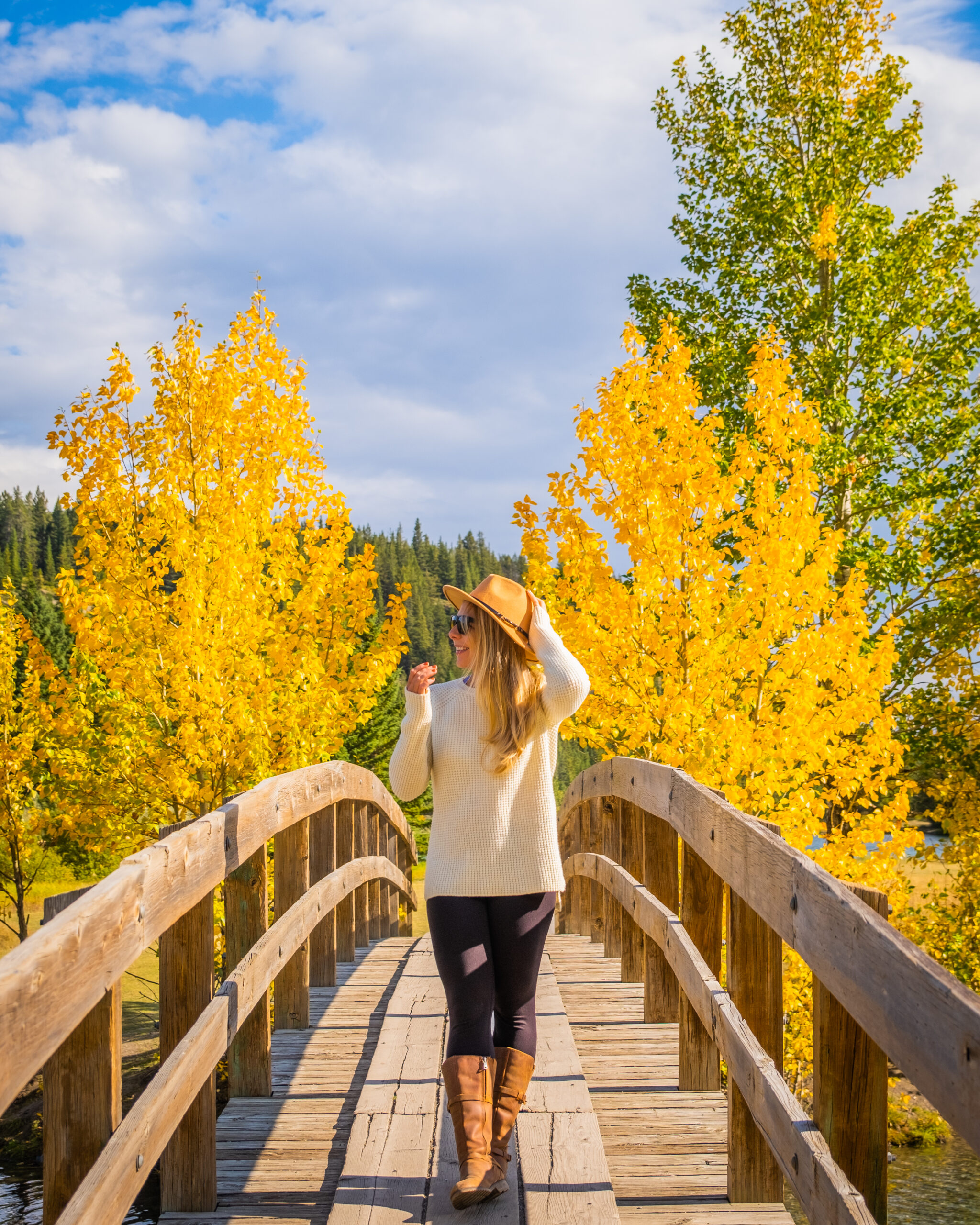 Cascade Ponds are a popular place for families in Banff to head as they are close to Downtown Banff and are a beautiful spot to head for a bonfire. They sit right under Cascade Mountain and are an excellent area to walk around.
Beginner paddleboarders like to paddle here in the summer because they are shallow, and there is little room for danger. If you have a paddleboard, you can definitely still enjoy the area from the water; just make sure to dress warmly.
There are numerous picnic benches and bonfire pits at Cascade Ponds, which is why I love heading here on a cool day with a thermos of hot tea.
---
Have a Hot Cocoa on Vermilion Lakes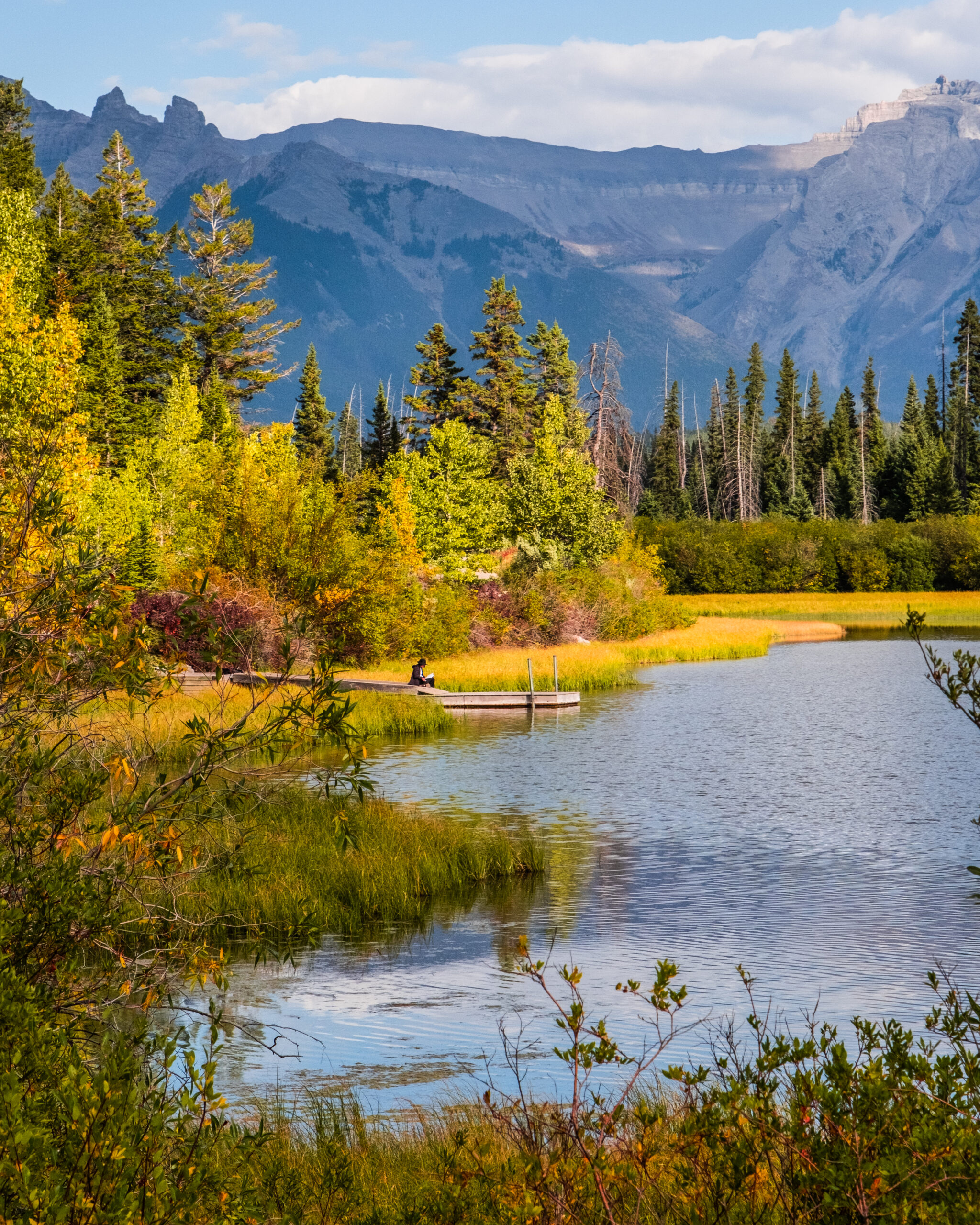 Vermilion Lakes are the perfect place to chill out with a warm drink. The fall colors are beautiful around the lake, and if you have a good book and hot coffee, one of the best things to do is pop a squat on one of the canoe docks.
You'll have amazing views of Mount Rundle ahead of you!
---
Drive the Icefields Parkway
The Icefields Parkway that connects Banff to Jasper is one of the most beautiful drives in the entire world! Starting just after Lake Louise and finishing in the town of Jasper, there are plenty of impressive stops to enjoy along the way. Herbert Lake, Waterfowl Lake, Parker Ridge, and the Columbia Icefields Center are just a few.
While there aren't a plethora of larches along the Icefields Parkway, the fall colors are still in full burst. The fall is a great time to drive this route, as it will be a winter tundra come November.
---
Stroll Around Banff Ave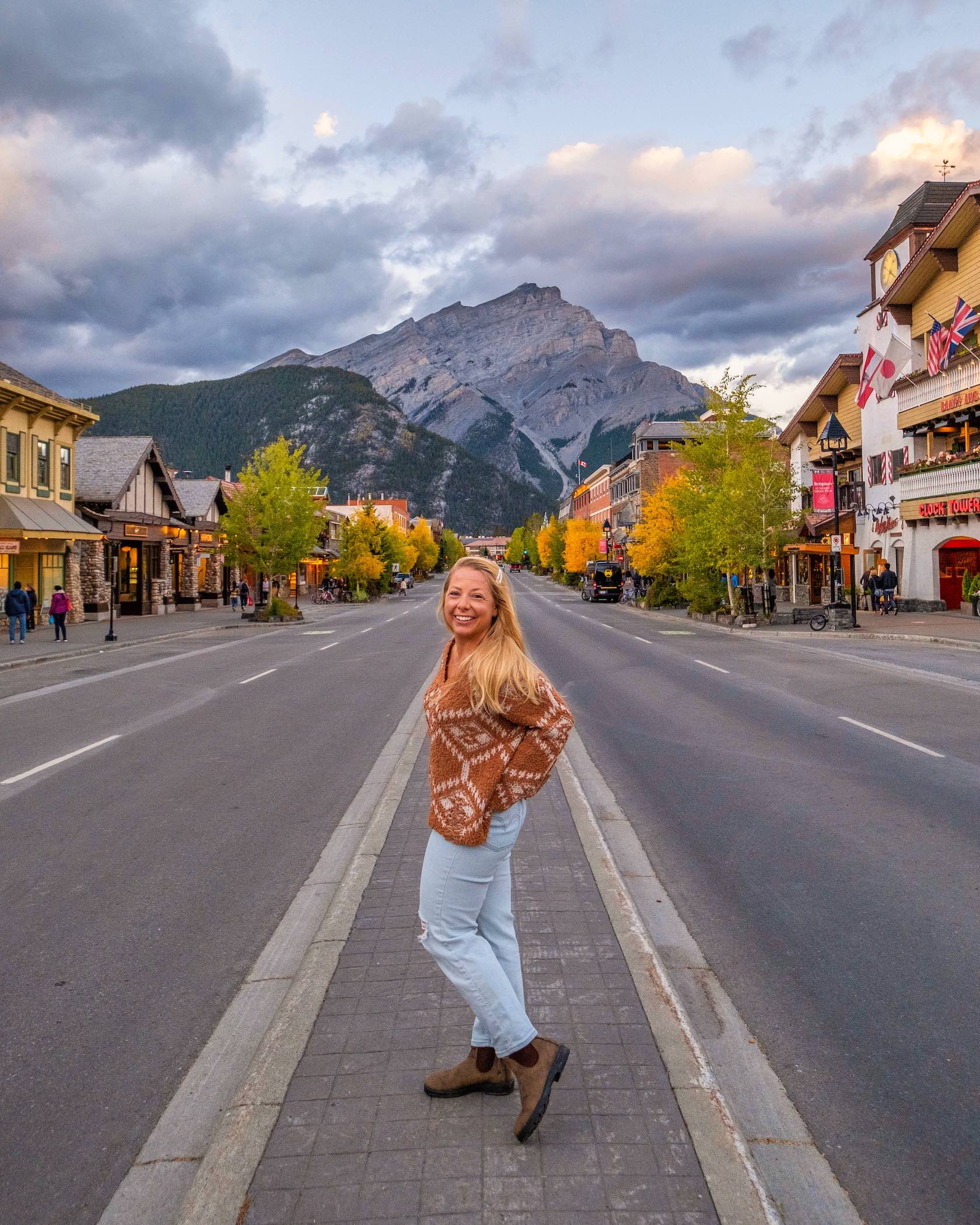 In general, Banff Avenue and Downtown Banff are crazy busy and packed during the summer. However, come the fall, the crowds really start to subside.
The overall atmosphere is pretty chill, and the beautiful Aspen that line the streets turn a golden yellow, creating a stunning foreground for photos of Cascade Mountain.
In the fall, I really love to grab a cup of coffee in the morning, stroll through the Cascades of Time Garden, and go down to Bow Falls in the afternoon. If I'm walking around Banff Avenue in the evening, a visit to a Banff brewery is a must.
---
Bike the Lake Minnewanka Loop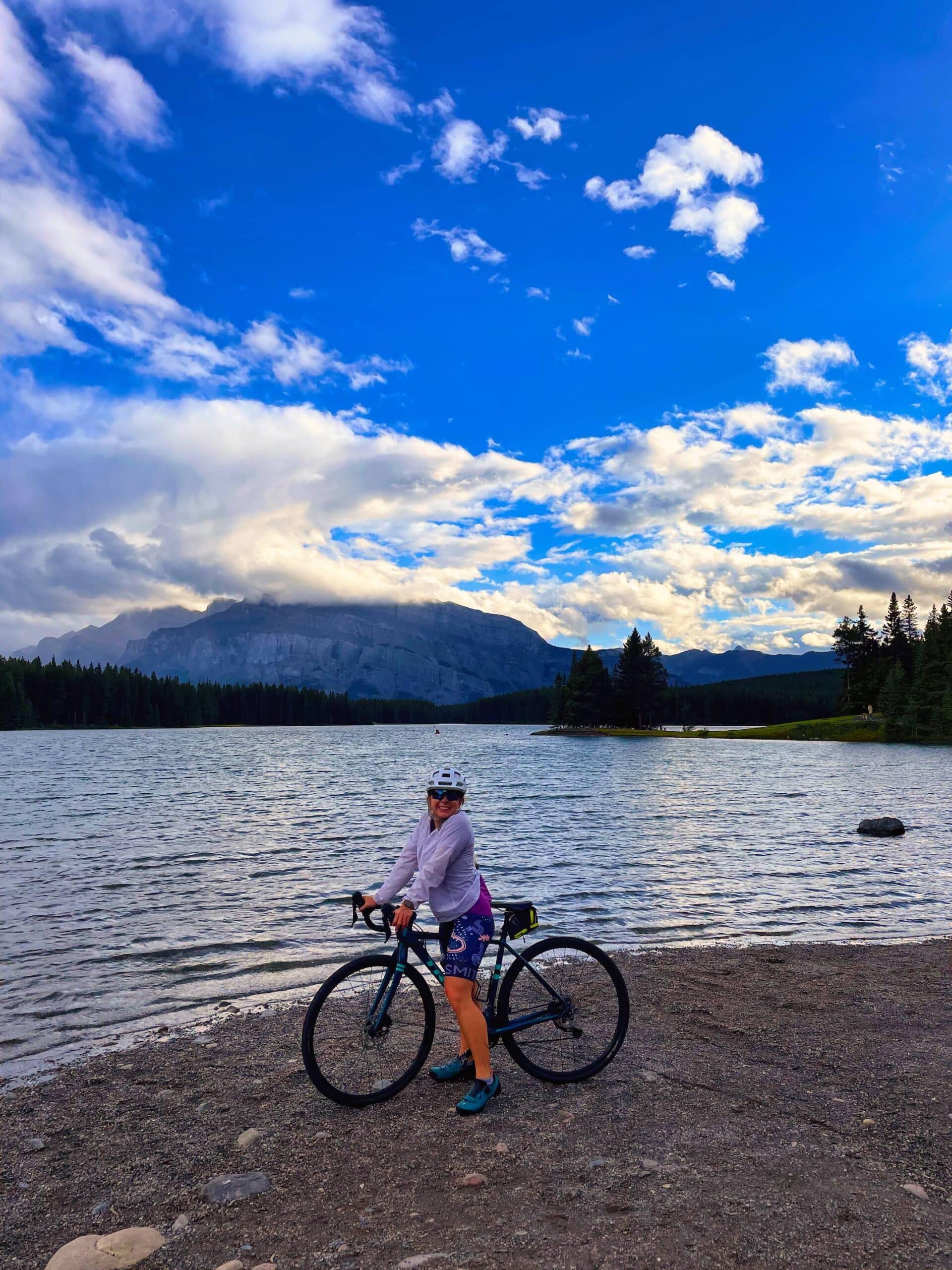 Fall is a great time to hop on the road bike and get your heart pumping. Besides riding the Legacy Trail between Banff and Canmore, my other favorite bike ride is the Lake Minnewanka Loop.
This 32 km route (when starting from downtown Banff) will take you past Two Jack Lake, Lake Minnewanka, and Cascade Ponds. If you want a little extra, you can always add a stop at Johnson Lake to your itinerary.
It's a great cycle route with plenty of ups and downs, so bring water as you're sure to get your heart rate up. On weekdays it's never too busy with cars.
---
Road Trip on the Bow Valley Parkway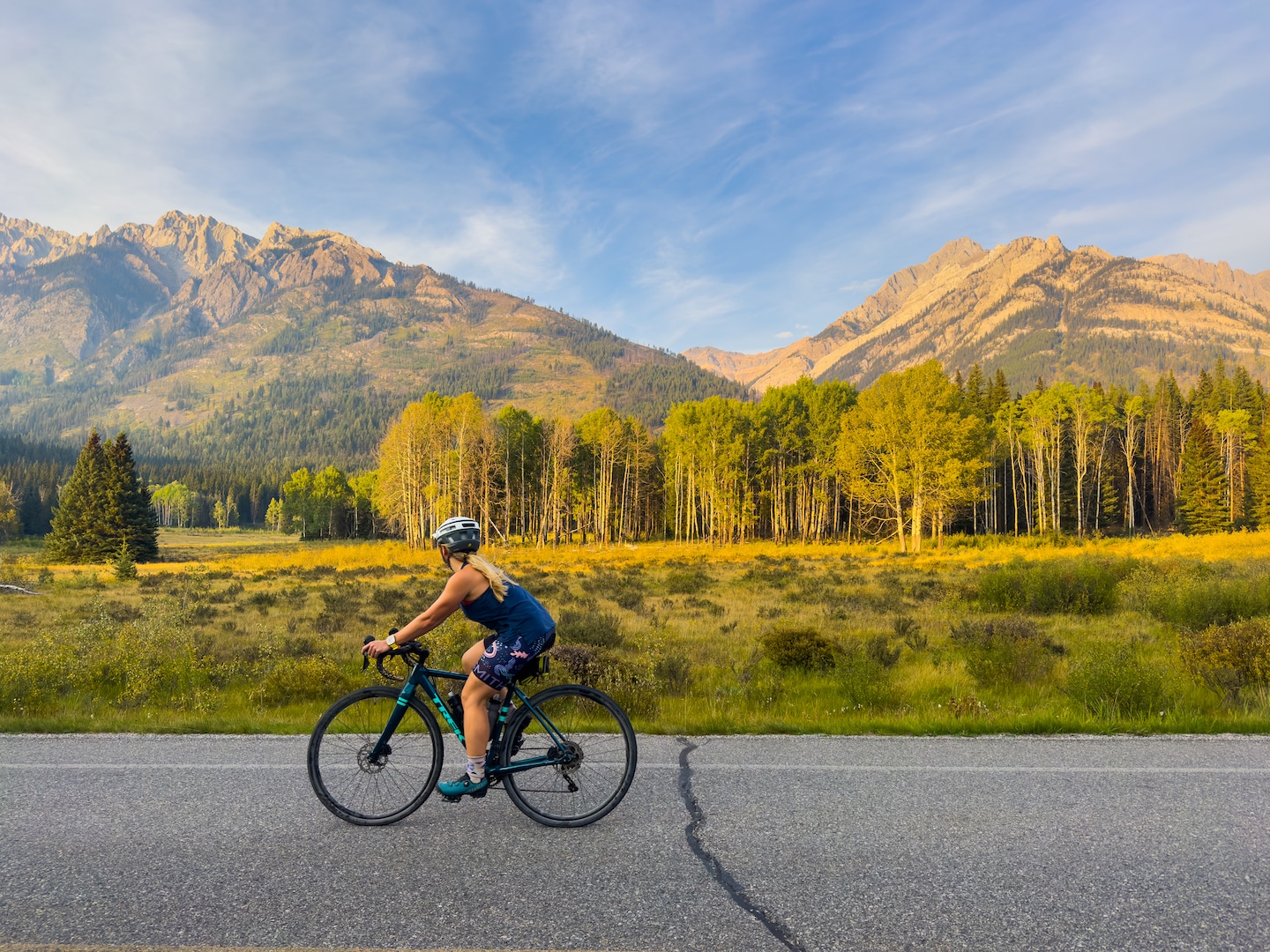 The Bow Valley Parkway, or the 1A, is an excellent alternative to taking the Trans Canada Highway. It begins just after Vermilion Lakes and goes all the way to Lake Louise.
It's a beautiful route with scenic stops such as Morant's Curve. Take a drive on it in the fall, and I'm positive you'll have to pull over multiple times to take photos – it's that gorgeous.
I love driving the Bow Valley Parkway when I'm on my way to the Skoki area, Lake Louise, or Moraine Lake.
It's also possible to cycle the Bow Valley Parkway, which is a great way to see the sights while being active.
10 AMAZING Bow Valley Parkway Stops (Driving Banff to Lake Louise)
---
Paddle on Moraine Lake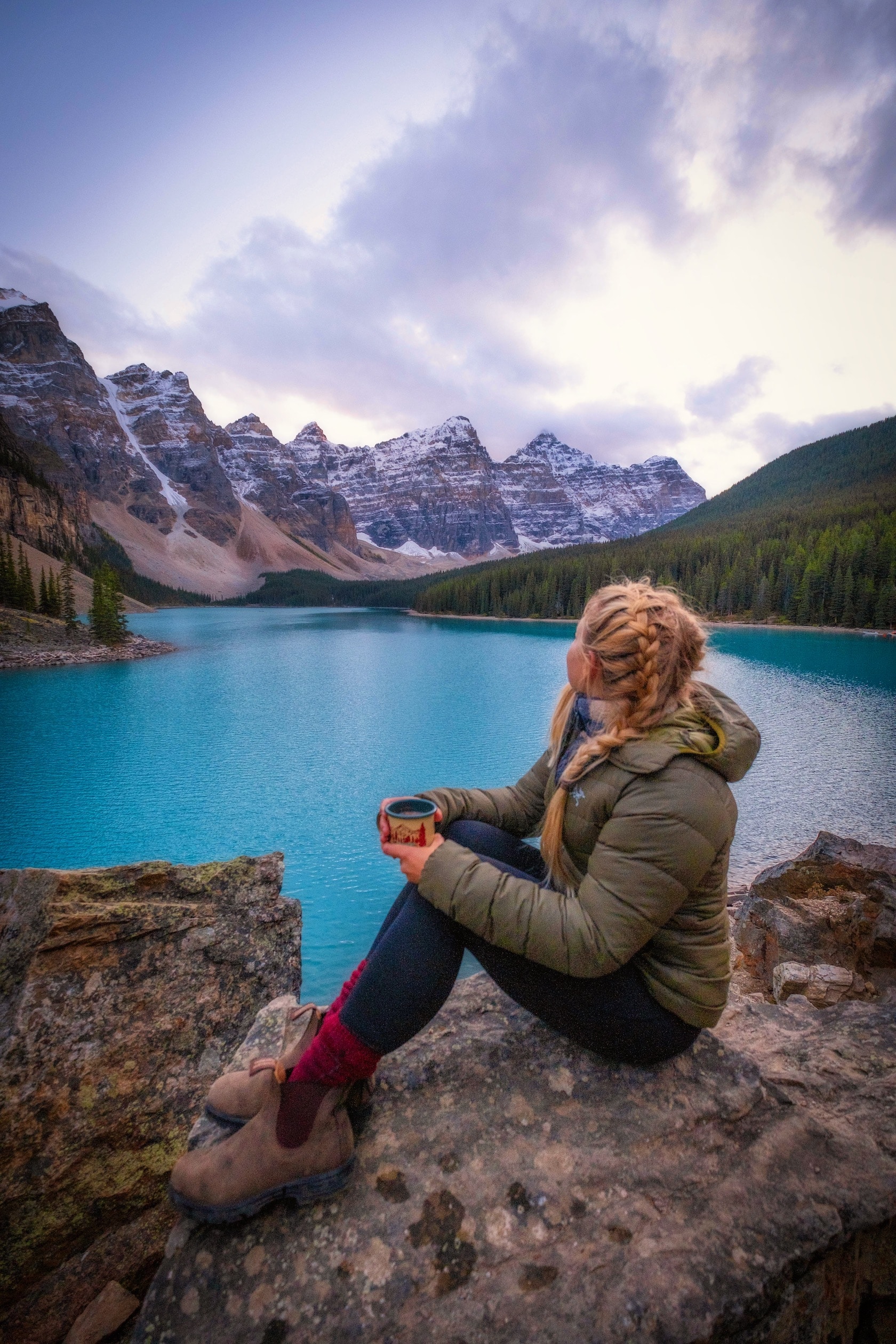 Fall is your last time to visit Moraine Lake before they close Moraine Lake Rd for the winter. I would love to say that Moraine Lake is less crowded because it is fall and the summer crowds are gone. However, unfortunately with Larch Valley and the burning desire of every visitor in the park to see the famed ten peaks, Moraine Lake crowds are still high.
Nevertheless, Moraine Lake is a beautiful place to head in the fall if you can score a spot on the Park and Ride. While canoe rentals at Moraine Lake end in September, it's possible to still bring your own floating device and enjoy the lake before it freezes.
Just dress warm and bring a life jacket. It's cold at Moraine Lake in the fall. I always find it significantly cooler than the temperatures in Banff town or even at Lake Louise.
Read more about visiting Moraine Lake
---
Hike Through the Larch Valley and Up to Sentinel Pass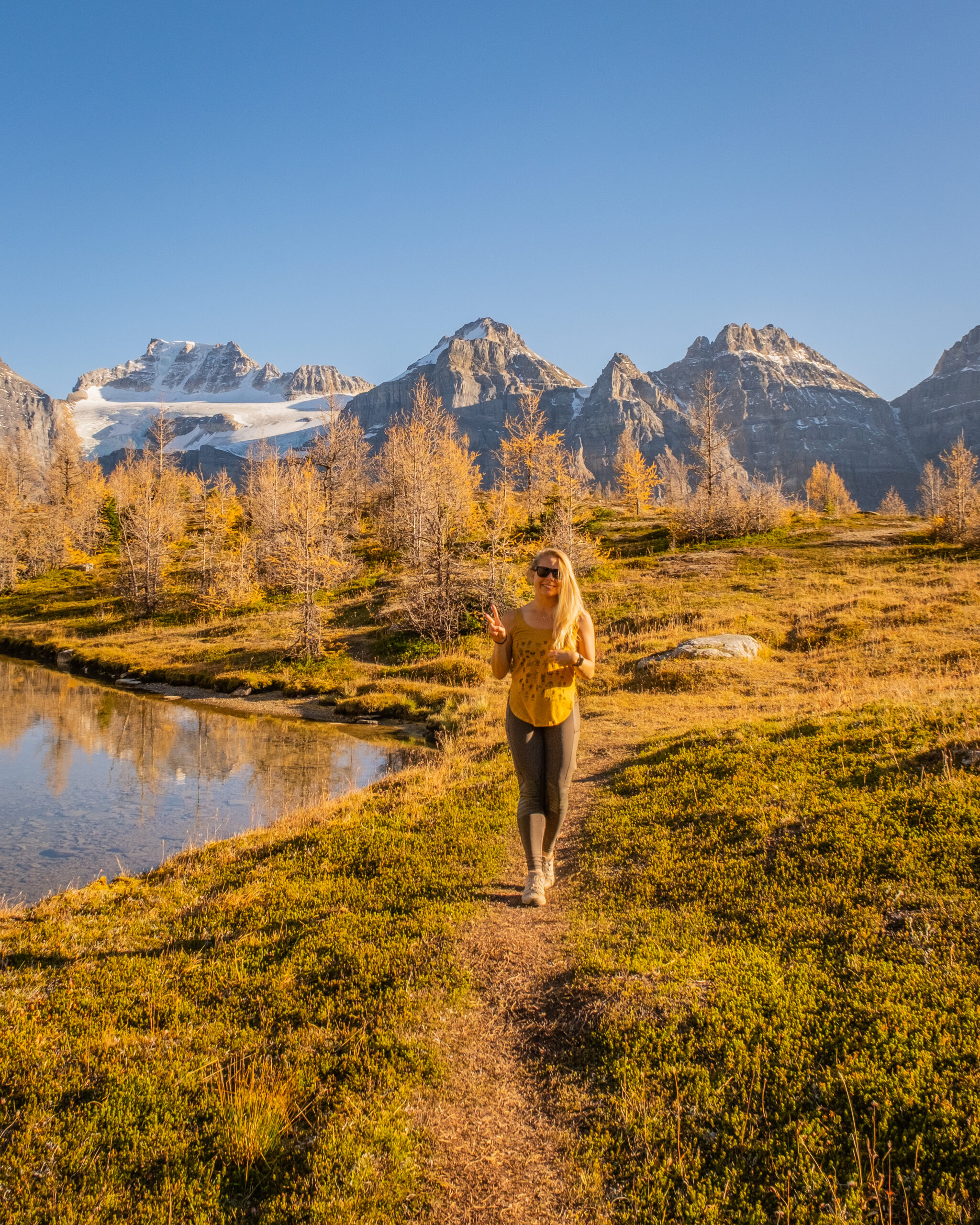 Come fall in Banff, the Larch Valley is the most popular place to head. The route up to Larch Valley starts at Moraine Lake; just past the canoe docks, you'll see a sign on your right, which marks the trail for Larch Valley and Sentinel Pass. It's a well-trodden switchback path up to Larch Valley.
At around 3km, you'll see a sign where you can break off to the left for Eiffel Peak and Lake. Continue on up to Larch Valley to your right for the most glorious display of larches.
Once you get past the switchbacks, the views open up, and you'll find yourself among all the beautiful larches. After the switchbacks, the elevation gain is very gradual; you probably won't even notice because it will be so breathtaking. Don't forget to look behind you at the larches and Ten Peaks!
There's a small alpine tarn to your right that you can detour to for some beautiful photos with Mount Faye behind you or continue up the trail to Minnestimma Lake. Once you reach the lake, don't forget to snap photos.
If you look straight ahead of you, you'll see the trail up to the top of Sentinel Pass. It may look steep, but I would say to go for it! It's only another 170 meters of gain and 1 km of distance, and at the top, you'll get stunner views over the valley.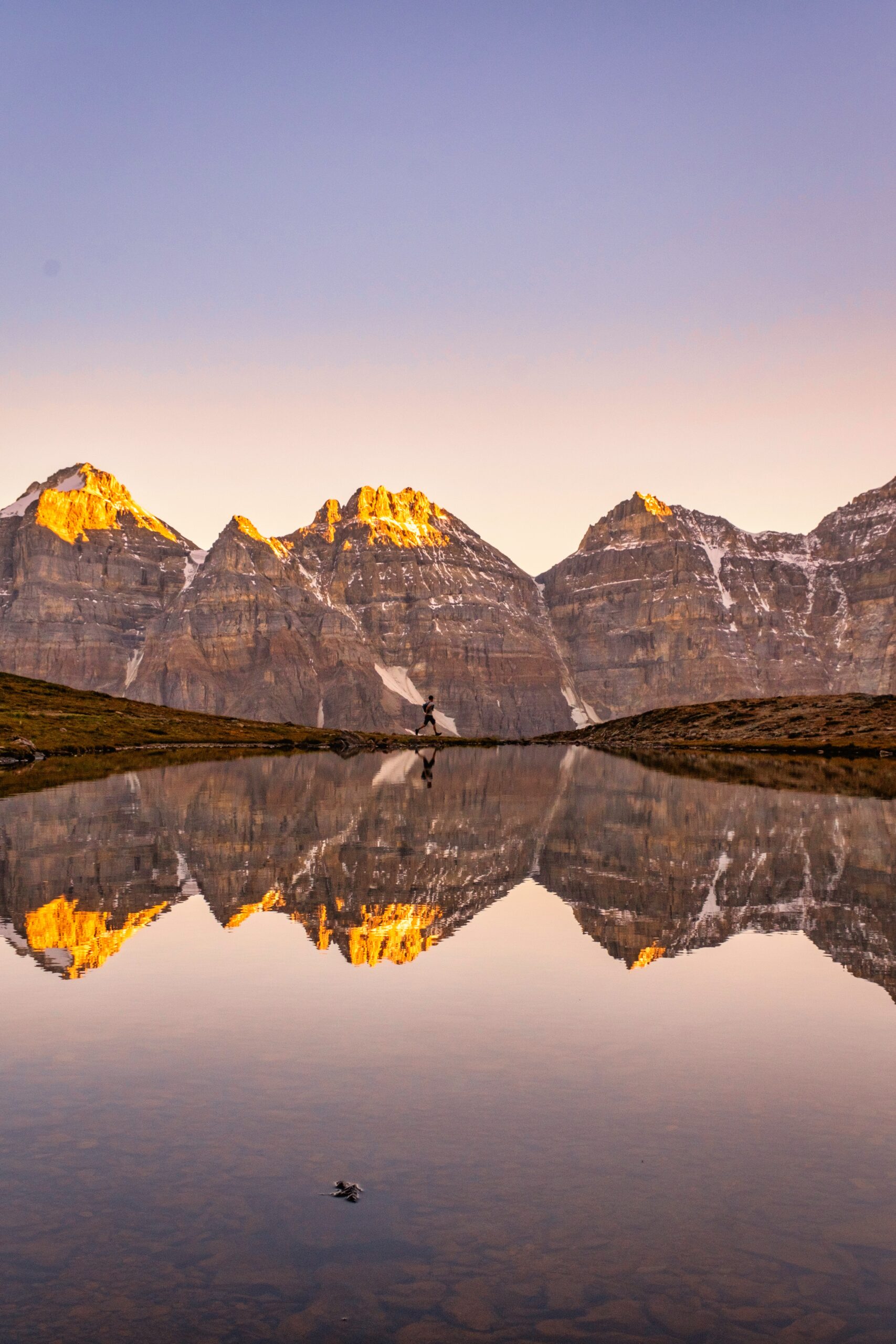 You can make it to the top of the pass in another 20-30 minutes, or if you are content, you can stop at Minnestimma Lake and enjoy the views of the ten peaks.
Once at the top of Sentinel Pass, take a grand look over Paradise Valley on the other side.
---
Hike to the Plain of Six Glaciers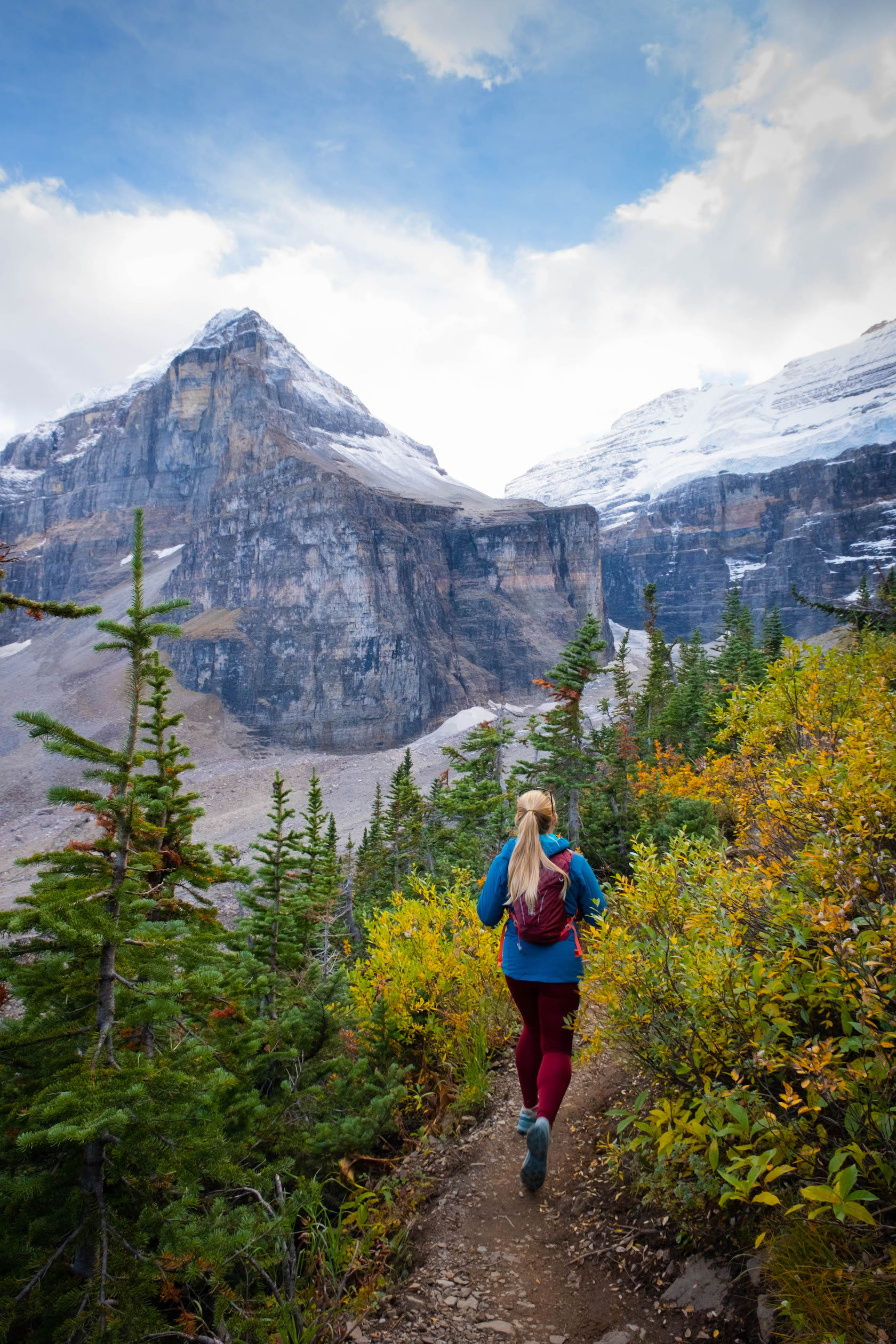 The Plain of Six Glaciers is a stunning hike at Lake Louise that starts at the brilliantly blue lake and ends among a plain of glaciers.
At one point, this massive valley was the convergence of six glaciers that have all since retreated due to warming temperatures. Most of what is left now is a debris field, but you still get staggering views of Mount Victoria, Aberdeen, and Lefroy.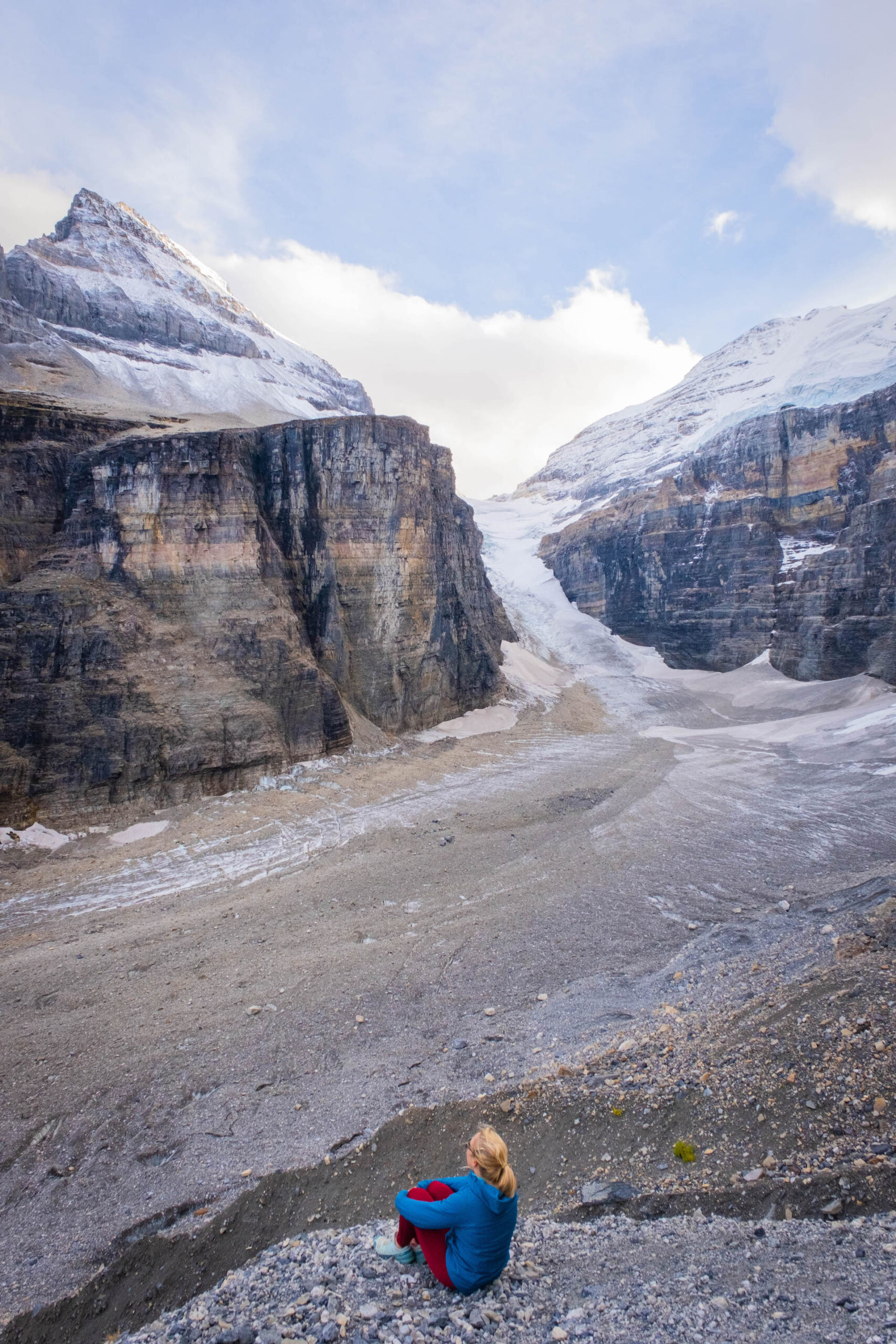 The Plain of Six Glaciers is a 13.8 km hike; however, with only 487 meters of gain, it's nothing too tricky. Come September, the fall foliage on this hike is like something out of a movie!
---
Hike the Beehives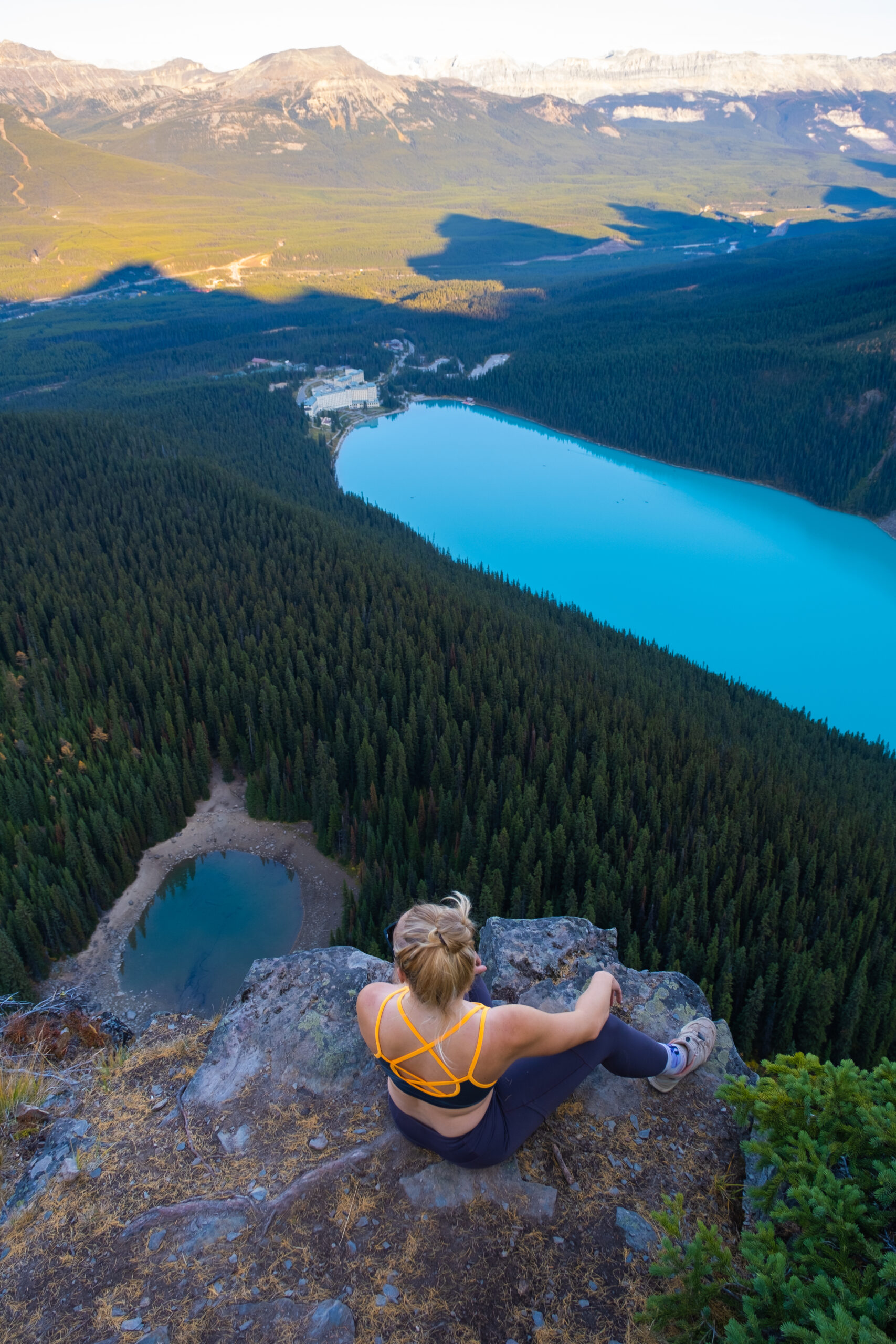 There are too many hikes around the Lake Louise area to list all of them. That being said, my favorites in Banff in the fall are the Little and Big Beehive. These are two separate hikes that both start from Lake Agnes Teahouse. Though it's best to do them both in one day!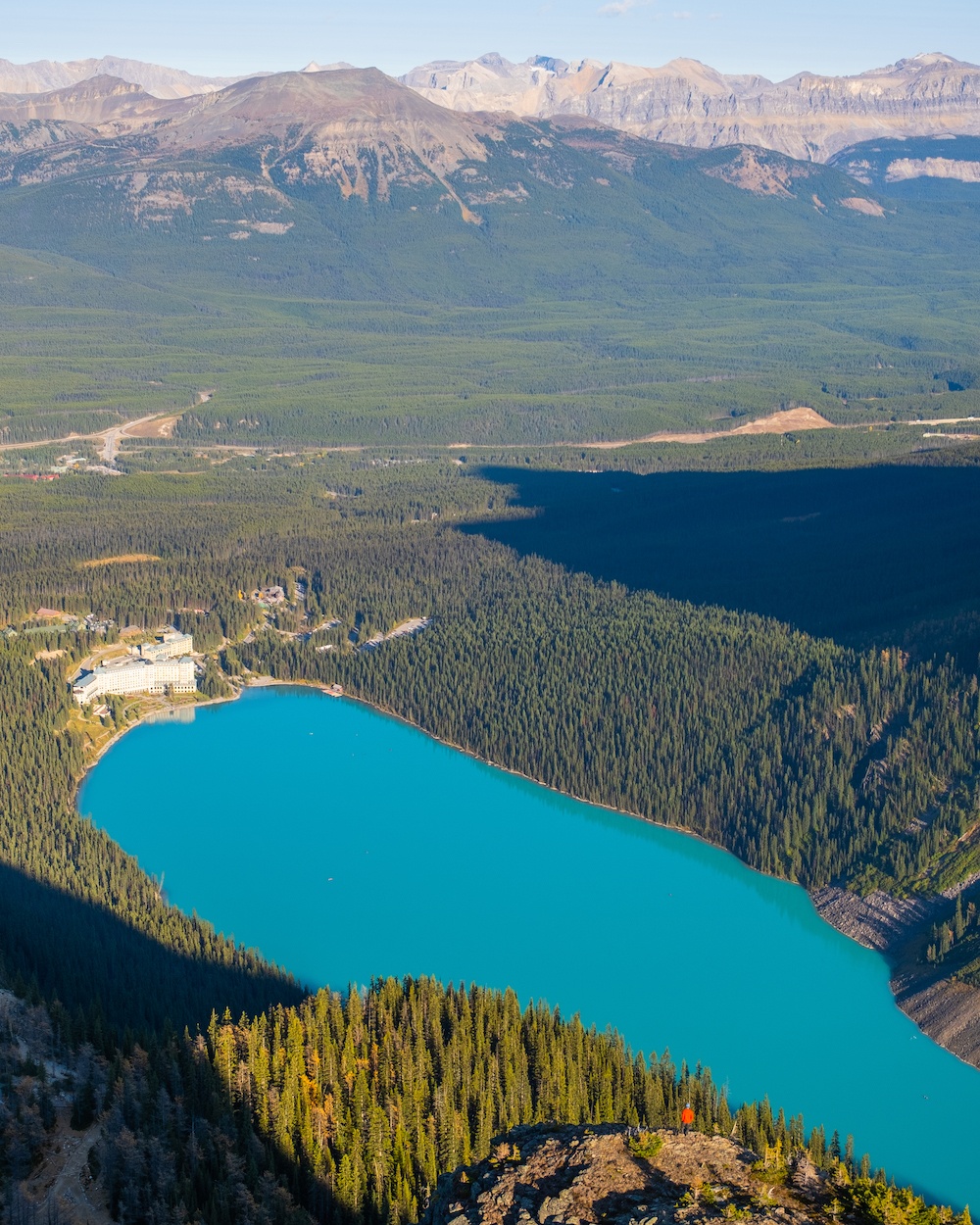 I love heading up here in the fall as you can get panoramic views from both the Little and Big Beehive of Lake Louise and the stunning surroundings. Head here the last week of September, and you're sure to be rewarded with plenty of yellow larches below you when you reach the top!
How to Hike Devil's Thumb in Lake Louise
---
Backpack to Mount Assiniboine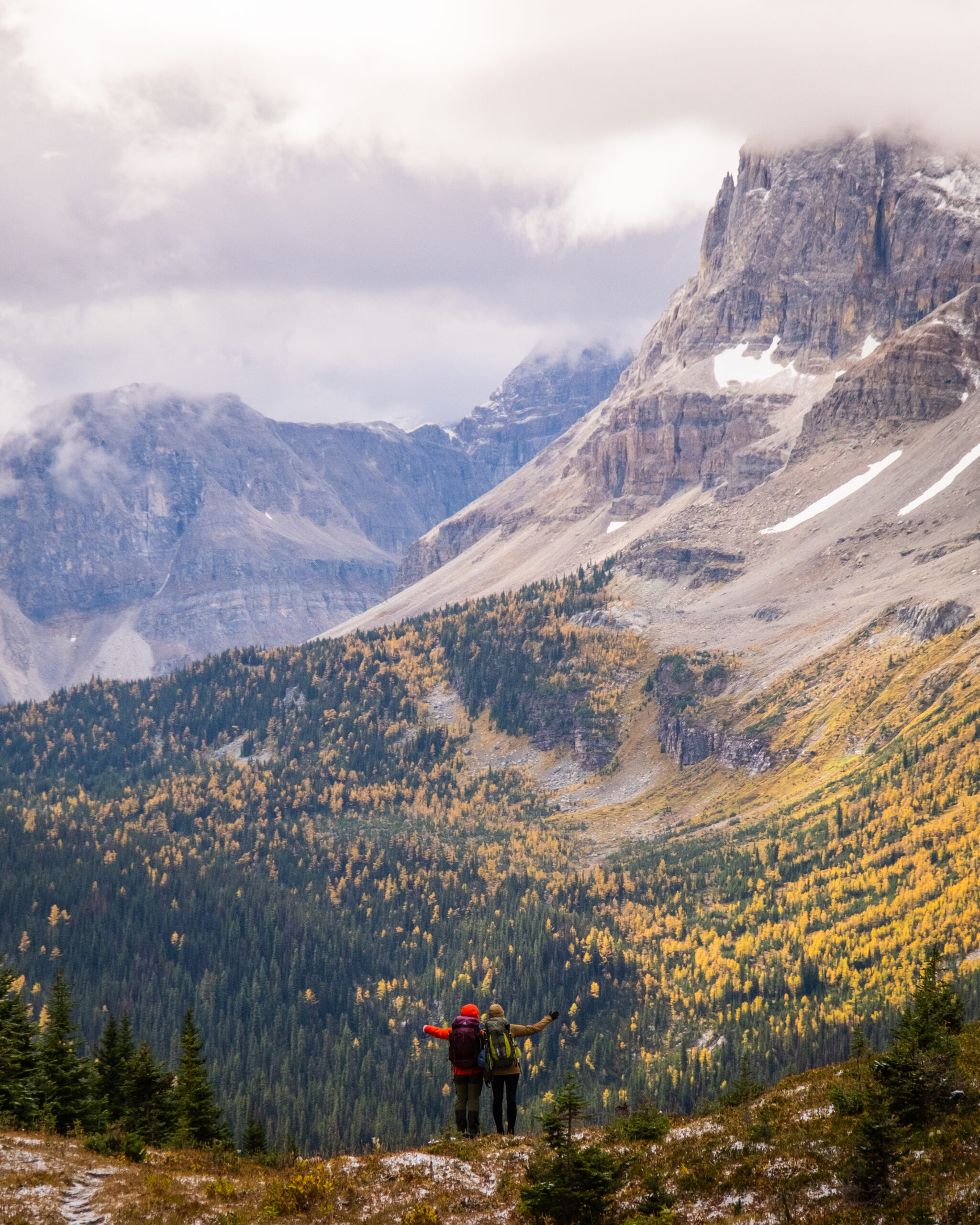 If you can score camping reservations or a few nights at the Assiniboine Lodge during the fall season, scoop them up as soon as you can. These reservations go like hotcakes during the larch season because Mount Assiniboine is one of the most beautiful areas for larch trees.
To get back to Lake Magog and Mount Assiniboine, you'll have to trek in at least 25km one way, but it's well worth it to spend a few days back in this paradise.
In the fall, be prepared for all types of weather in Mount Assiniboine Provincial Park. Last year we camped here on September 25th and woke up every morning to a couple cm of snow.
---
Take the Banff Gondola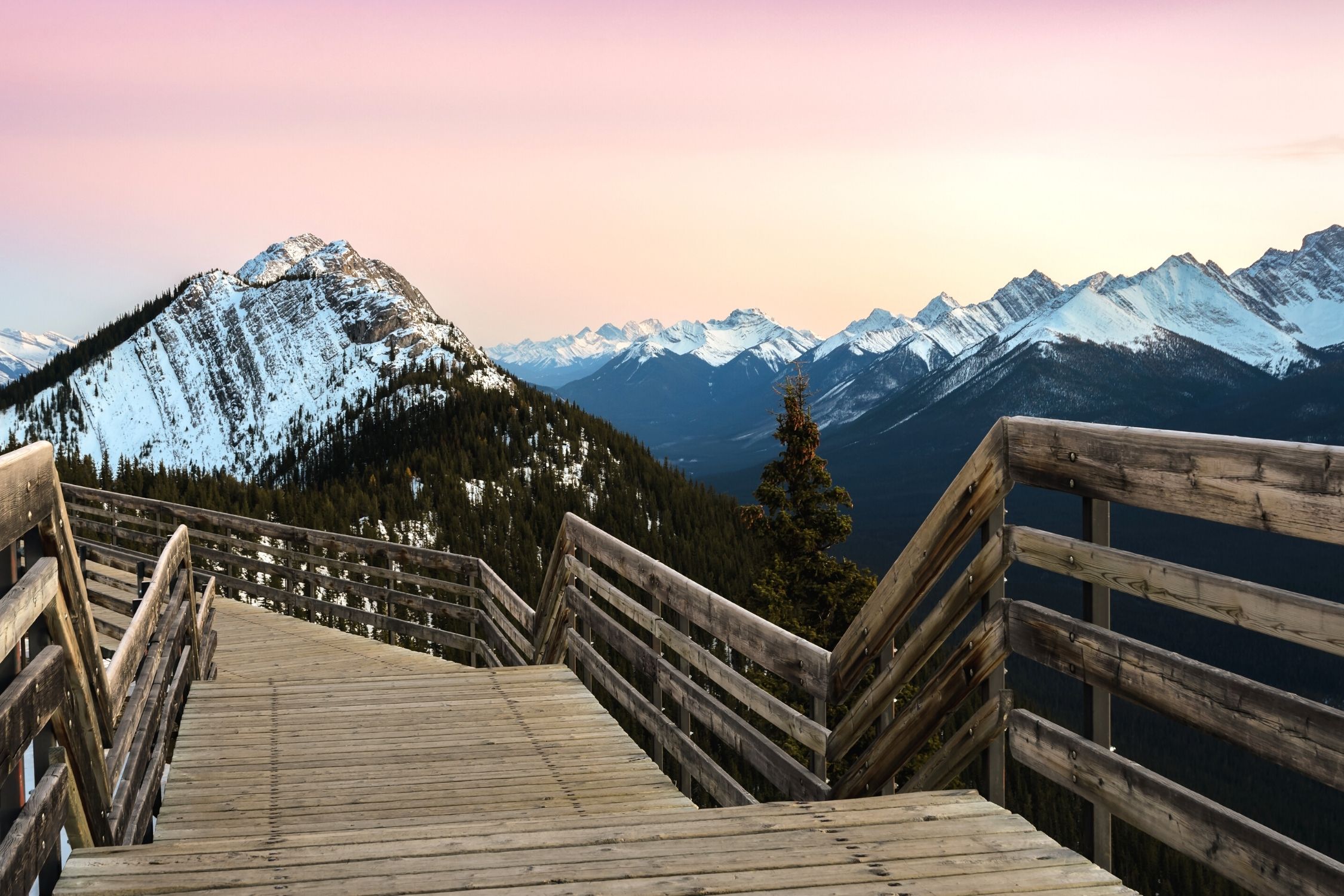 For an enjoyable family-friendly thing to do in Banff in the fall, consider taking the Banff Gondola up to Sulphur Mountain.
The Banff Gondola is a pleasant half-day experience that lets visitors walk around the well-maintained wood platforms, enjoy the exhibit inside, and enjoy a meal at the Sky Bistro.
If you prefer to save money in Banff and avoid the ticket cost to go up the Banff Gondola, you can hike up Sulphur Mountain through a series of switchback trails. This hike should take you between 2-4 hours round trip.
Banff Gondola – Everything You Need to Know
---
Soak in the Banff Hot Springs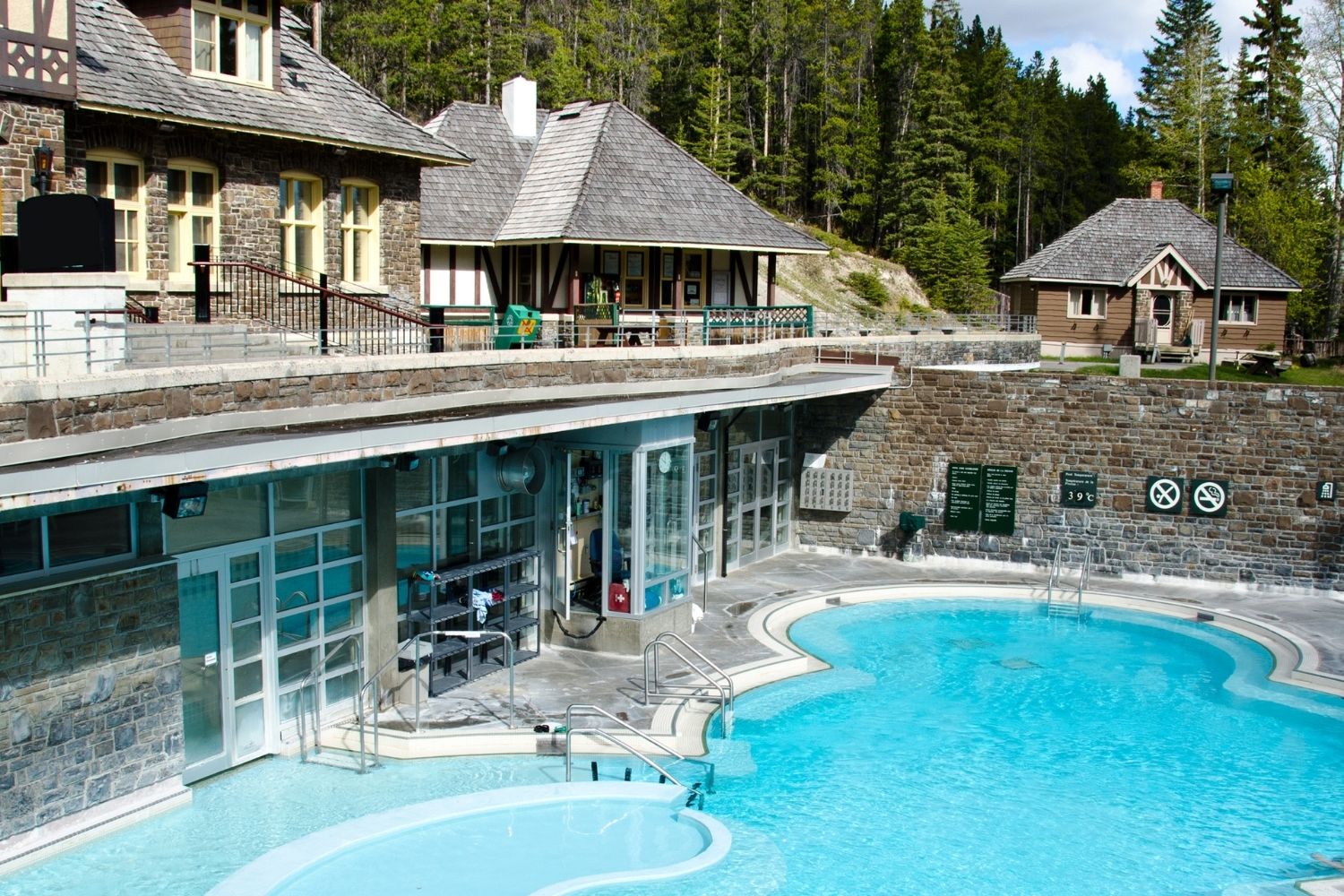 There's really nothing better to do when it's cool out than soak in hot springs. The Banff Upper Hot Springs are located at 1585 meters, making them the highest hot spring in Canada!
The Banff Upper Hot Springs water is geothermal, coming from the earth's crust 3 km down, so truly ideal for spending an incredible day in October.
---
Get Warm in a Brewery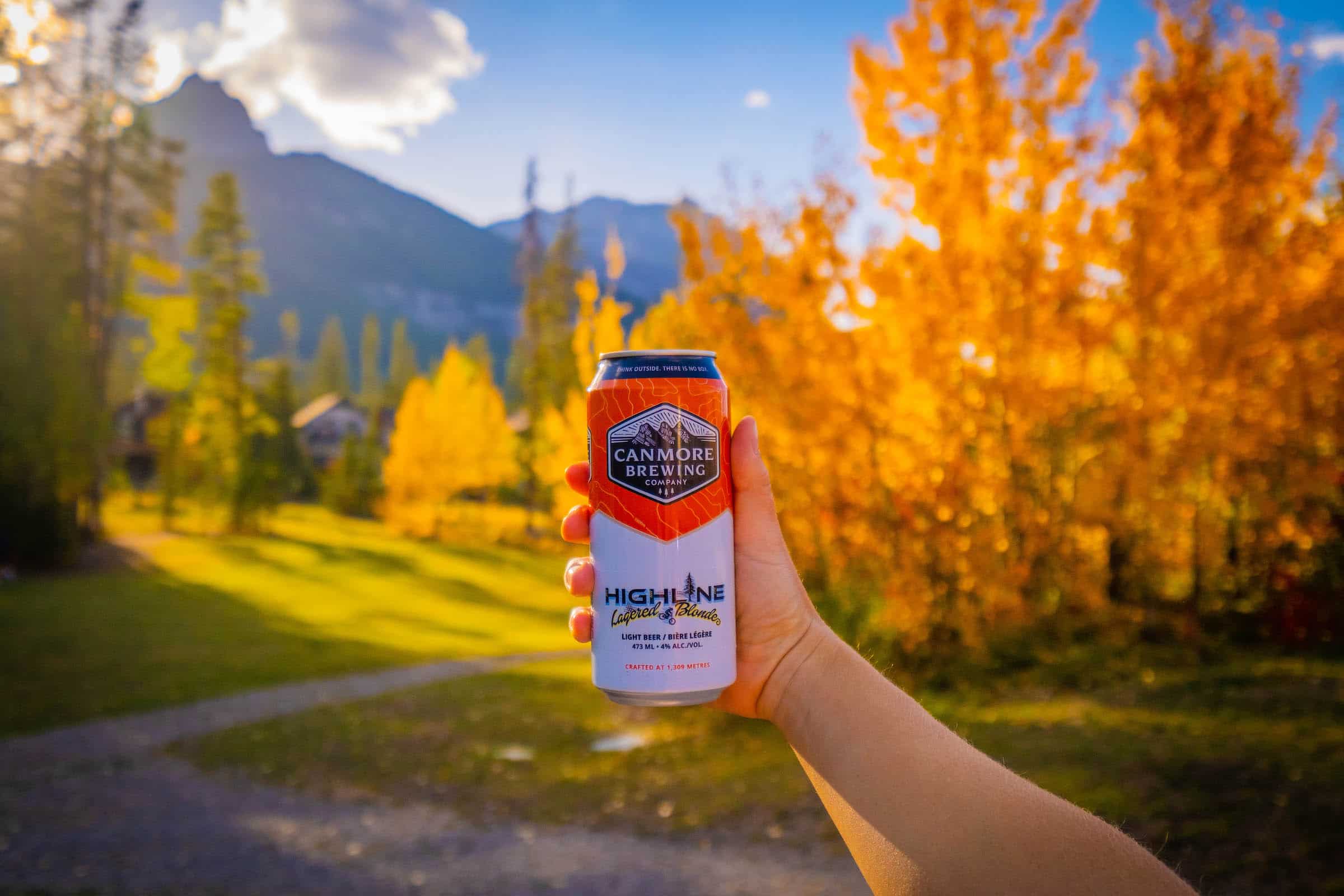 The Canadian Rockies have their fair share of good breweries. I love putting on my sweater and scarf and enjoying a cold beer by the fire at Grizzly Paw in Canmore or Three Bears and Banff Avenue Brewing in Banff.
Best Banff Breweries and Canmore Breweries to Check Out
---
Get Cozy at Mount Engadine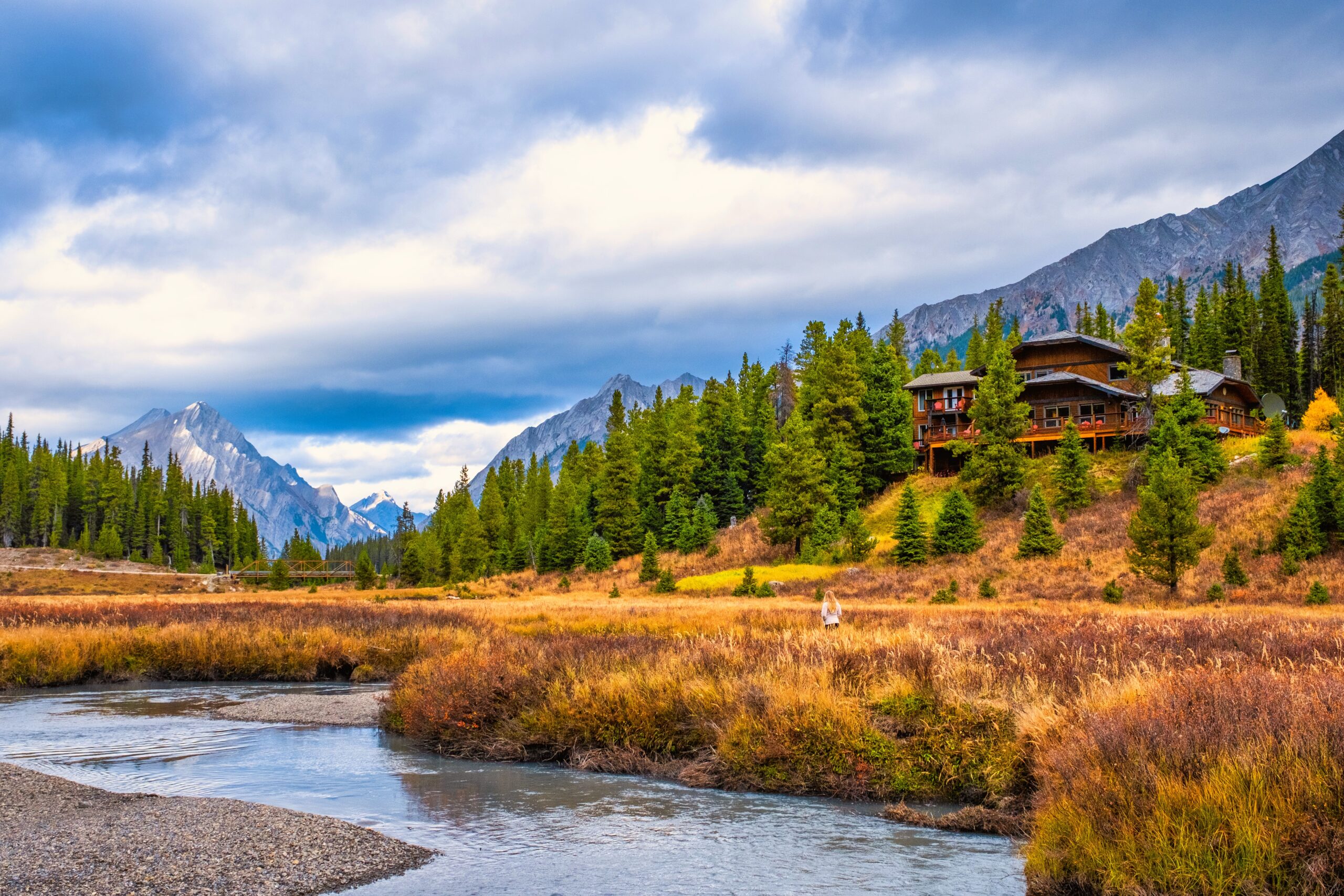 Mount Engadine Lodge is a quiet lodge located along the Smith Dorrian Road/Spray Lakes Road, about one hour away from Canmore and an hour and a half away from Downtown Banff. It's one of the best places to stay in the Rockies and a fantastic Alberta cabin, truly remote in the wilderness.
It's surrounded by plenty of beautiful trees and bushes that all change color in September and early October.
I highly recommend booking a night or two in one of their cabins overlooking the meadow. With a fireplace, king-sized bed, and nice bathrooms, this is as glamptastic as it gets in the Rockies!
From Mount Engadine, you can easily hike up Tent Ridge, Chester Lake, or the Blackshale Creek Suspension Bridge.
Even if you aren't staying here, you can still come here for Afternoon Tea. Served from 2-5pm daily, Mount Engadine's afternoon tea is no regular Afternoon tea with crumpets. Instead, expect a charcuterie board with great Alberta products.
The Mount Engadine Lodge: 8 Reasons to Book a Stay!
---
Go for a Paddle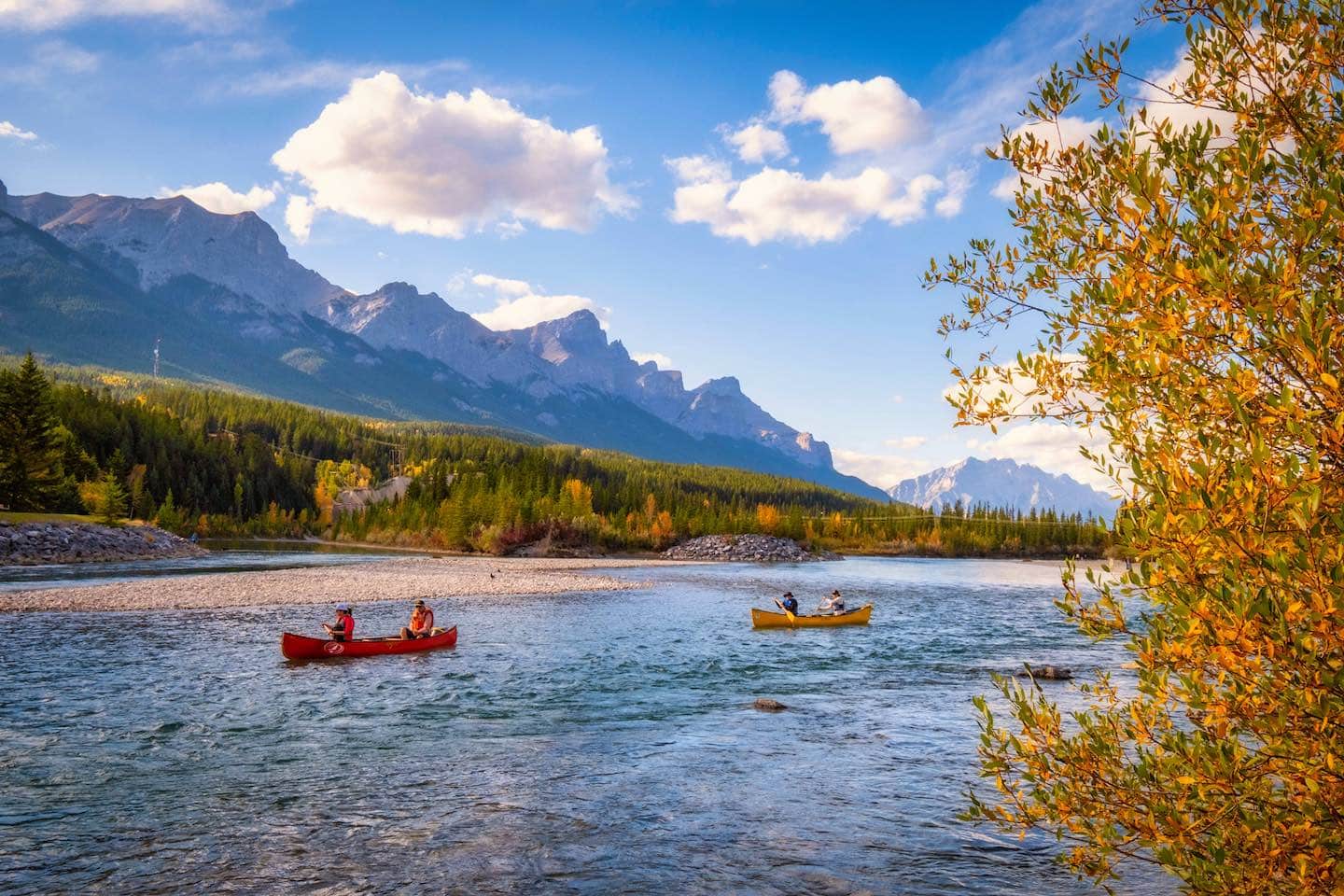 Don't think that just because summer in Banff is over that the paddle season is done. There is still plenty of time to enjoy the water before the snow falls and the lakes freeze over.
It's still possible to paddle on Goat Pond in Kananaskis, the Canmore Reservoir in Canmore, Lake Louise and plenty of other epic spots.
11 Amazing Paddle Boarding Locations in the Rockies
---
Play a Game of Disc Golf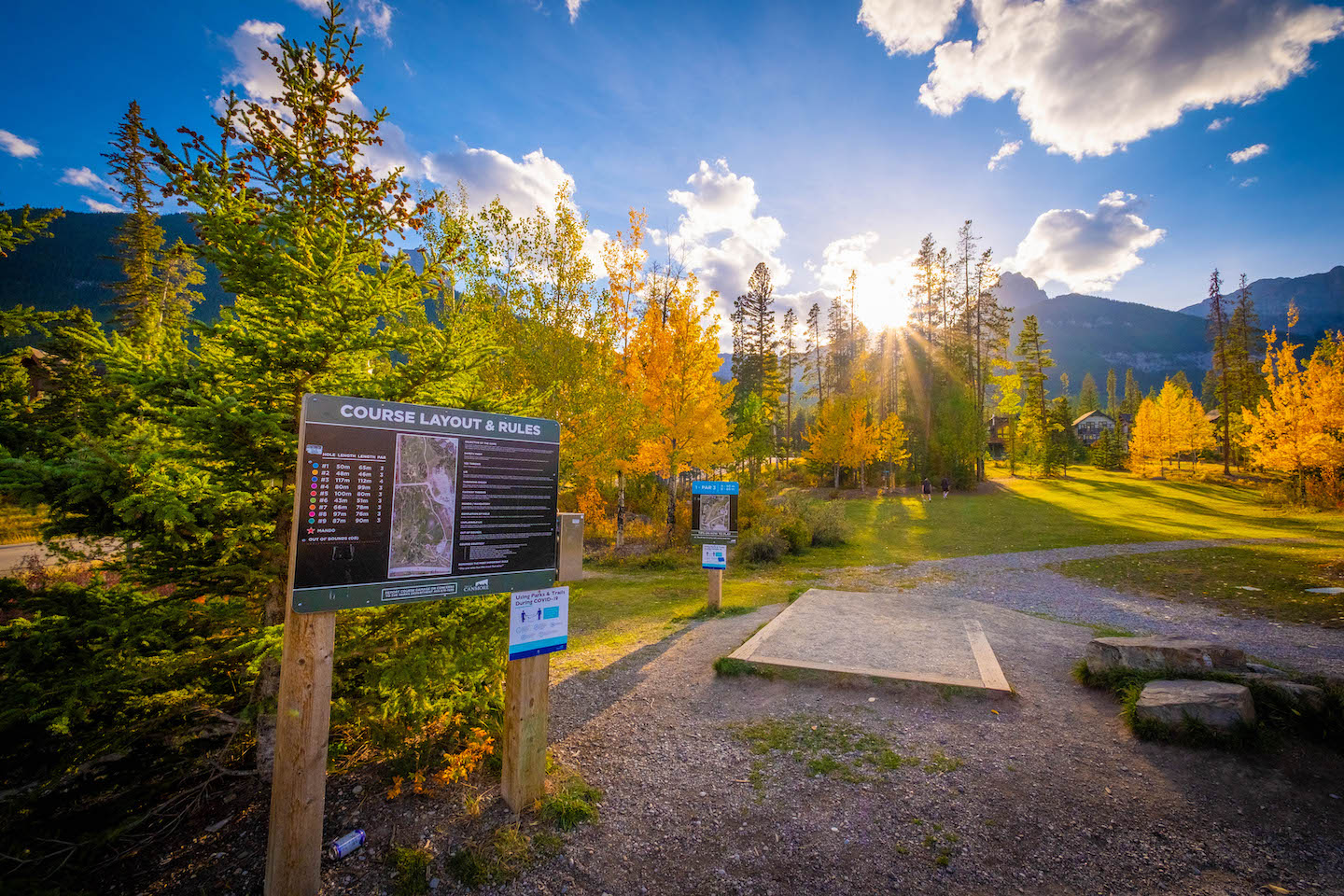 A fun thing to do in Canmore in the fall is play disc golf with friends. There are a few disc golf courses around the valley, but two of the best are the Three Sisters disc golf course and at the Nordic Center.
This is a super fun activity when you are tired of hiking and want a chill day.
---
Hike at Lake O Hara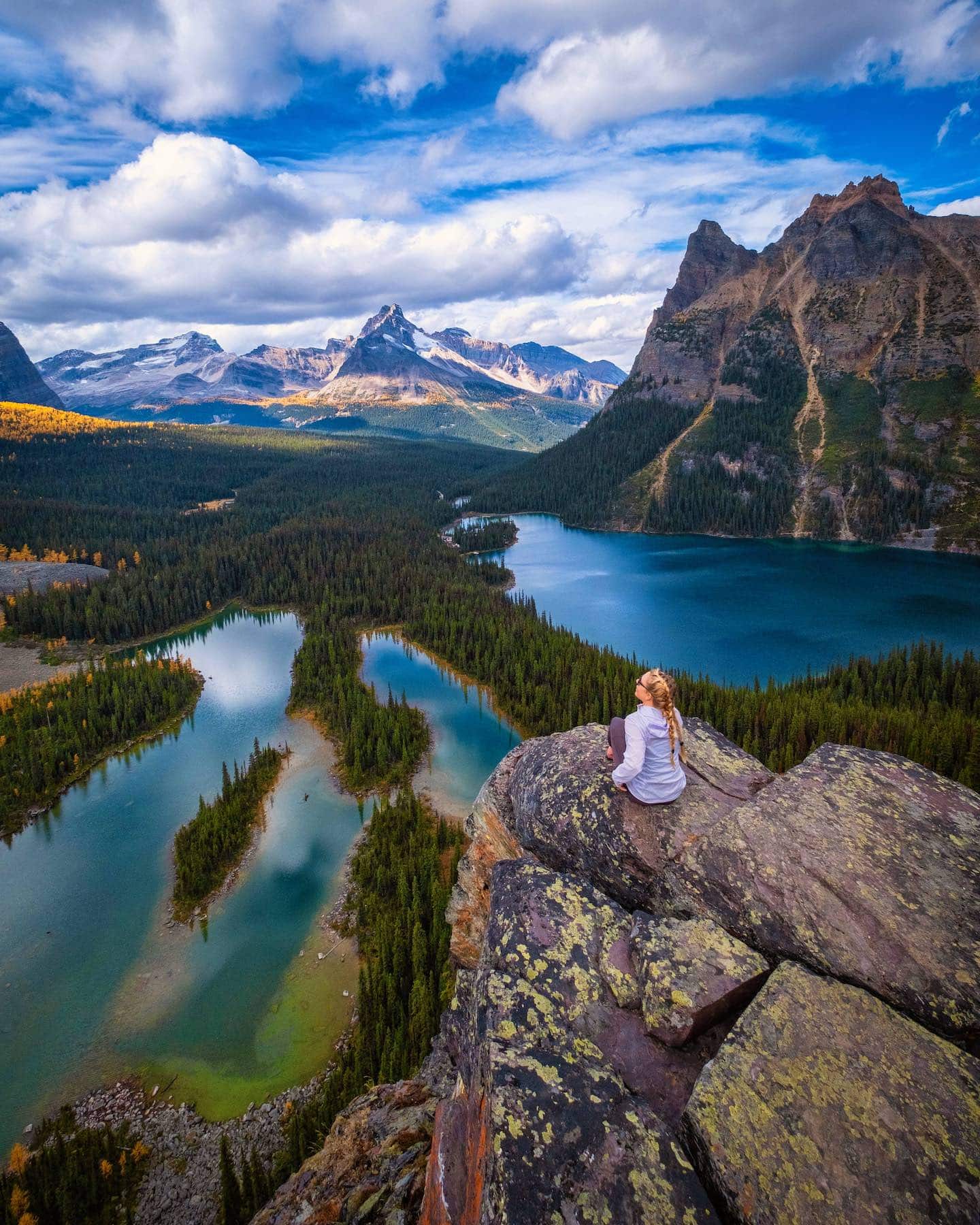 A great place to go hiking in the Canadian Rockies in the fall is the Lake O Hara area. There are larches everywhere around Lake McArthur, Schaffer Lake, and you get panoramic views from the Obapin Plateau.
If you can get camping reservations or bus ticket reservations here in the fall don't hesitate to book them. Lake O Hara is one of the most stunning areas I have ever been, especially in the autumn.
The only problem is if you don't get a precious reservation in the area you'll have to hike 11km up the access road to see the famed lake. We've done it a few times, and always find it worth it!
Lake O'Hara in Yoho – Camping and Hiking Guide 2021
---
Visit Golden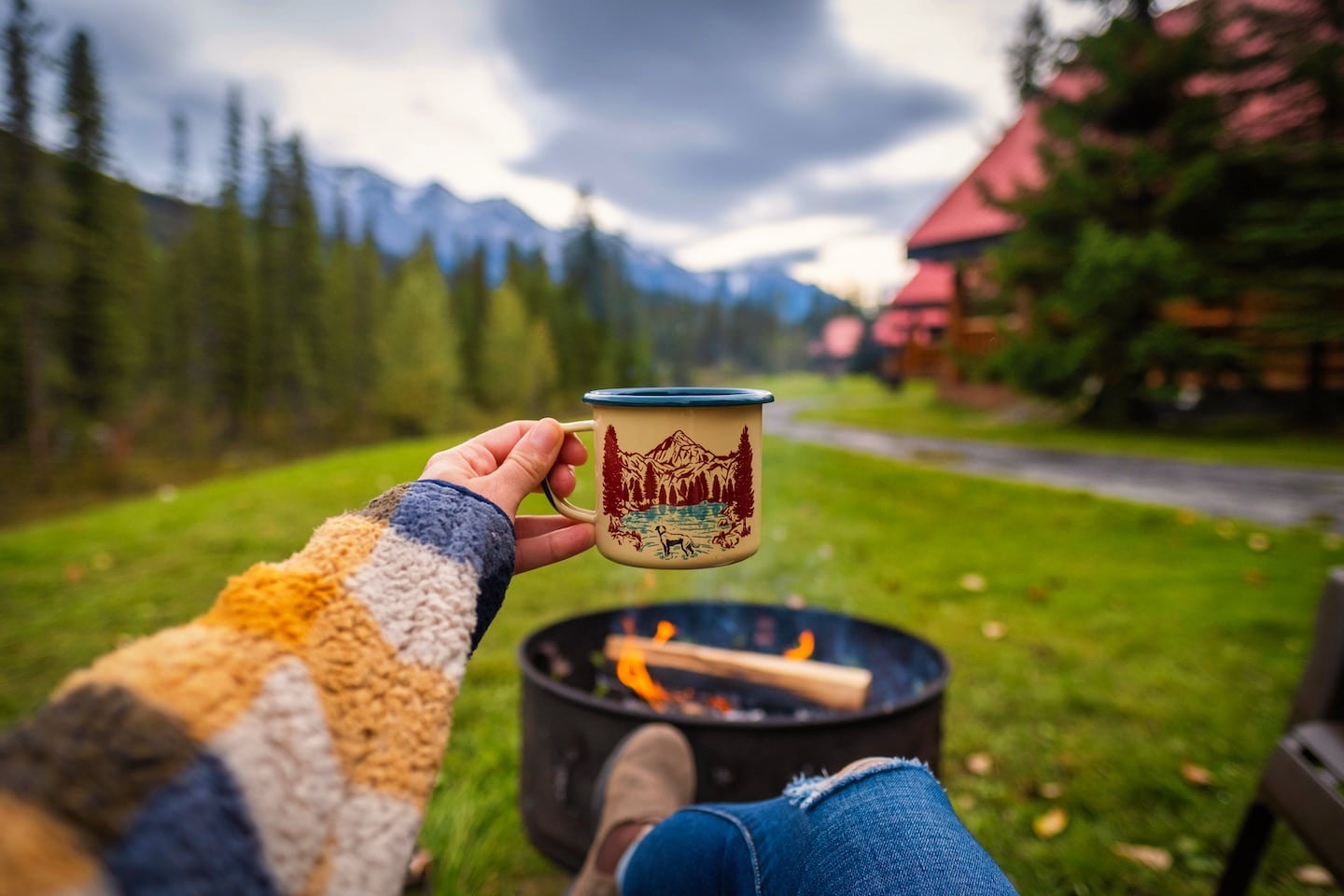 Golden is a small town just past the Yoho Valley in British Columbia. It's a great addition to any Banff itinerary, and I love coming here when the seasons are changing.
Golden is not in a national park, meaning there is much more freedom you can have in the mountains here. Think fires freely by the Kicking Horse River, or taking a 4×4 up into the mountain.
If you're into mountain biking, you'll want to head to the Kicking Horse Mountain Resort before they close their downhill bike park in October. Or if you are looking for an accessible and family-friendly thing to do in Golden, check out the new Golden Skybridge!
---
Things to Consider Before Visiting Banff in the Fall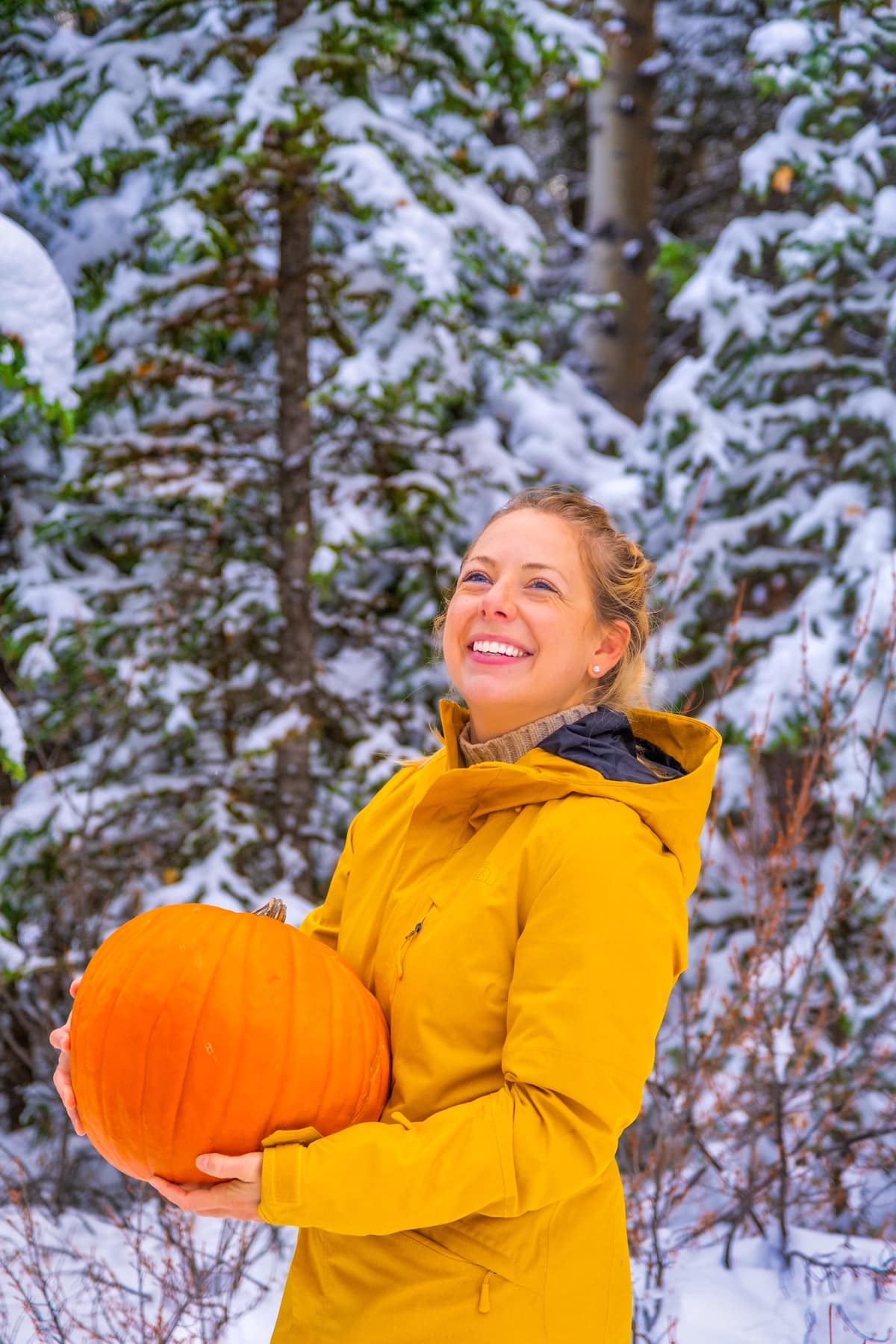 While we may have convinced you to book a flight and plan your next trip to the Canadian Rockies next fall, there are some things you should know about this season.
Some Attractions May Be Closed: The Lake Louise Gondola, Lake Minnewanka Boat Cruise and a few other attractions start to close in October. The most notable Banff attraction that "closes" is Moraine Lake. Every year around the middle of October Parks Canada closes the access road because of avalanche risk, essentially cutting off car access to Moraine Lake.
Some Hikes are a No Go: As the snow starts to fall at high elevation many Banff hikes and scrambles become dangerous. The further we head towards winter, the more hikes you should start saving for next year.
It's Colder Than You Think it Will Be: The temperature throughout most of October is between 10-15°C, though past October 20th temperatures usually start dropping below that during the day. In other words – it's cold – especially at night.
It Will Probably Snow: Last year I remember we got almost 10cm of snow overnight in Canmore around October 17th. The next day we went out and frolicked in the snow with our pumpkin – no joke! See the photo above. It's hard to predict what the weather will do, but you should be prepared for it all.
Days Are Getting Short: Winter is coming, and days are getting shorter. The sun is going to set between 6-7pm, so if you have any long days plan you'll need to get an early start.
---
What Should You Wear in Banff in the Fall?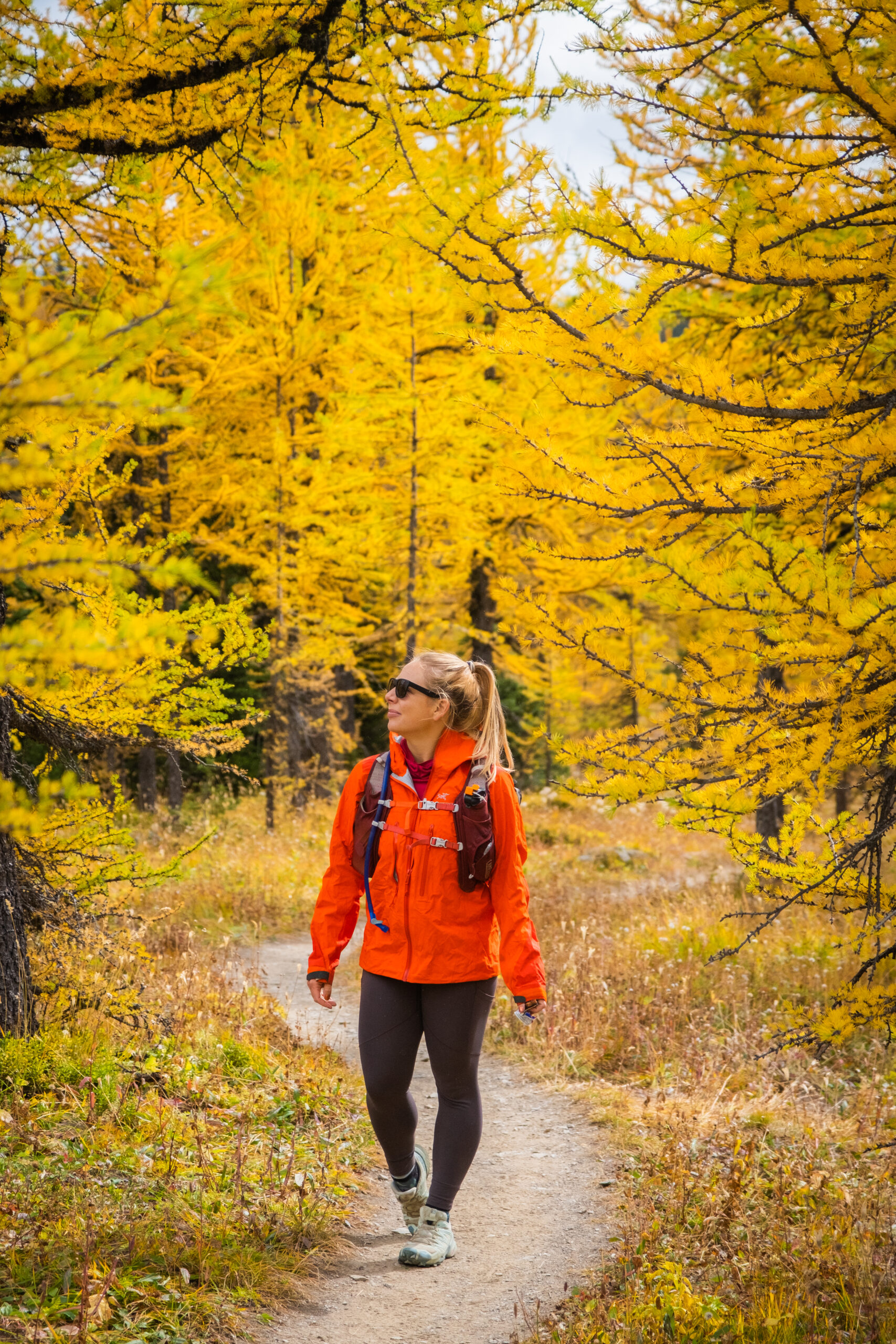 Put away the flip flops and shorts – summer is over. Pack for fall weather when visiting Banff. That means flannels, sweaters, jeans, a hat, scarf, and warm shoes.
I would suggest everyone coming to Banff have a down jacket (mine is the Arc'teryx Cerium) to stay warm, and some nice walking shoes like Blundstones or Danners for hiking.
Other helpful things in the fall are a rainjacket, a backpack, and bear spray! The grizzlies and black bears aren't sleeping quite yet.
---
Hopefully, this helped you determine what you want to in for a Banff fall visit.
If you have any other questions leave a comment or see our Canadian Rockies travel guide for more articles about photography spots, lakes, hikes, and everything else.
---
Where to Stay in Banff
For a small mountain town, Banff has a plethora of accommodation options. Some of our favorites are:
---
↓ Join the community ↓
The Banff Blog Facebook Group is your headquarters for the Canadian Rockies' travel advice and information. Including hike info and off-season travel information. You can also meet new adventure buddies.

Plan Your Trip to the Canadian Rockies