Setting out on an Alberta larch hike is one of the best feelings you can have on a Banff vacation. Visitors flock from all over the world to visit the Canadian Rockies throughout the year, but in my opinion, a Banff fall is simply the best. The larch needles turn gold in the last few weeks of September, and the aspen trees' fall colors last even longer.
It's a time when flannels, sweaters, and hot chocolate is all the rage. Banff in the fall is also one of the best times to go hiking in the Canadian Rockies. The area has tons of larch trees that turn gold for just a few sweet weeks.
Wondering what some of the best larch hikes in the Canadian Rockies are? Let us help you enjoy a Banff fall properly.
---
What is a Larch Tree?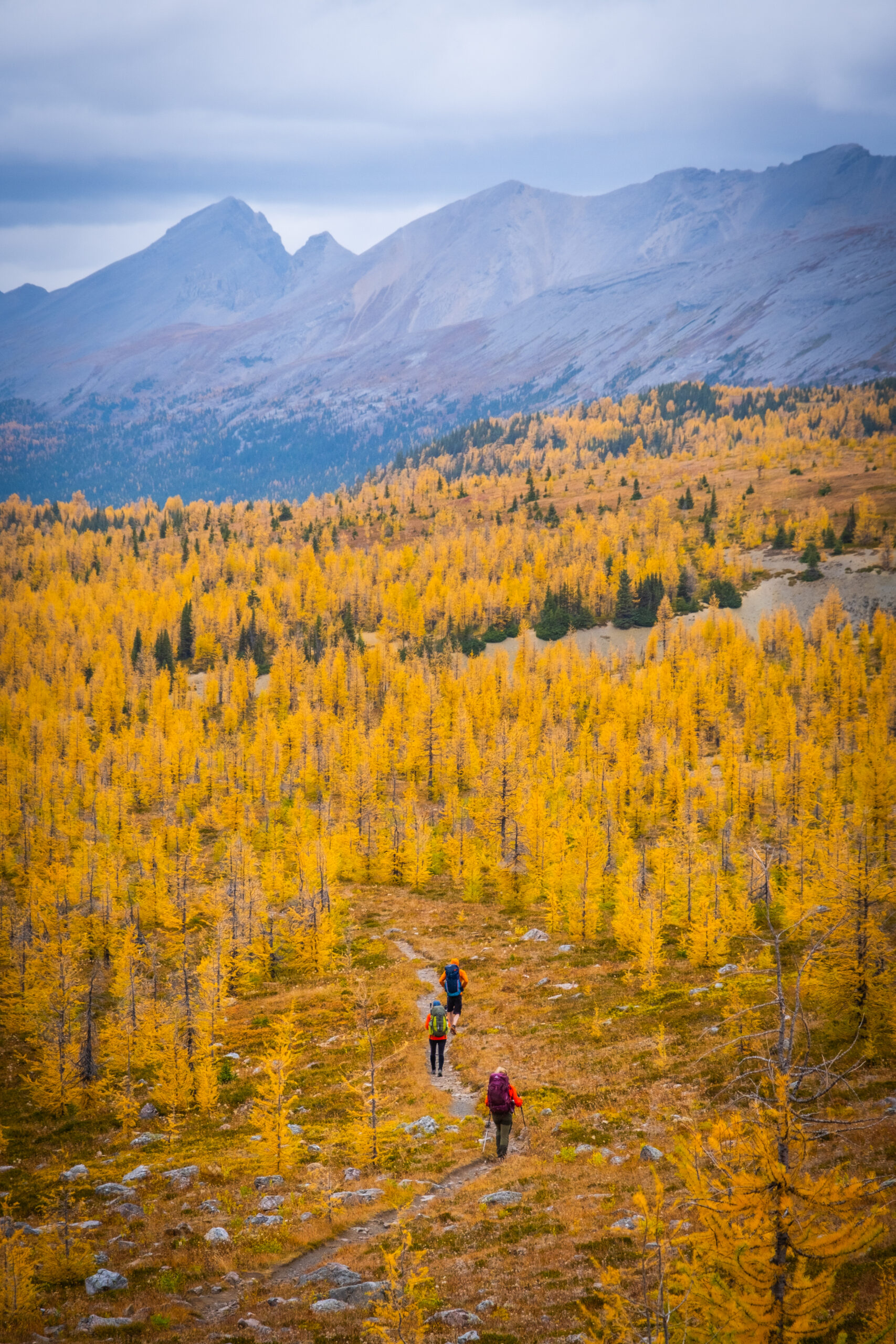 Larches are conifers that are native to cooler temperatures. Although they are conifers, they are deciduous that lose their needles in the autumn. Right before they lose their needles, they turn a golden color for a few short weeks creating a fantastic scenic landscape that people flock from around the world to see.
In the summer season, it can be challenging to identify a larch tree among the other evergreen conifer trees as everything is green! However, if you want to be on the lookout for larches, look at the needles. Their buds bear a cluster of needles, and an Alberta larch tree has softer, more fragile needles to the touch.
---
When is the Best Time To See the Larches in Banff?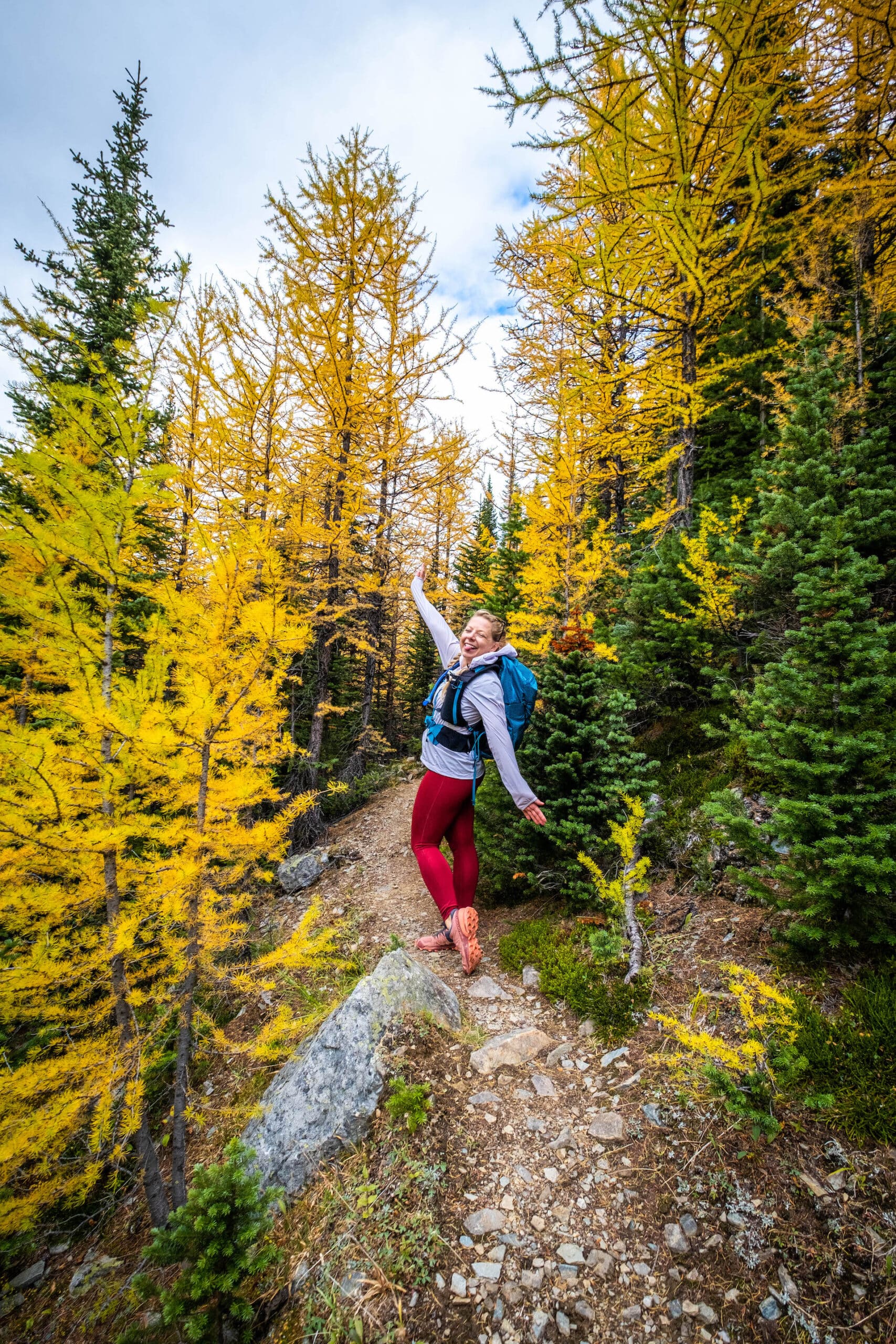 First I need to emphasize that every year is different in the Canadian Rockies, and the time the larch needles change from green to yellow depends on several factors.
However, you can typically count on frolicking through a sea of golden goodness by the third week of September every year. By the second week of October, most of the larch needles have dropped, and winter is approaching fast.
Fall in Banff is very short, but it is terrific. If you are basing a whole trip around seeing the larches, I suggest planning a trip between September 20th and October 5th – give or take a few days. Most of the photos in this article were taken in that period.
---
Best Larch Hikes in Banff National Park
---
Larch Valley and Sentinel Pass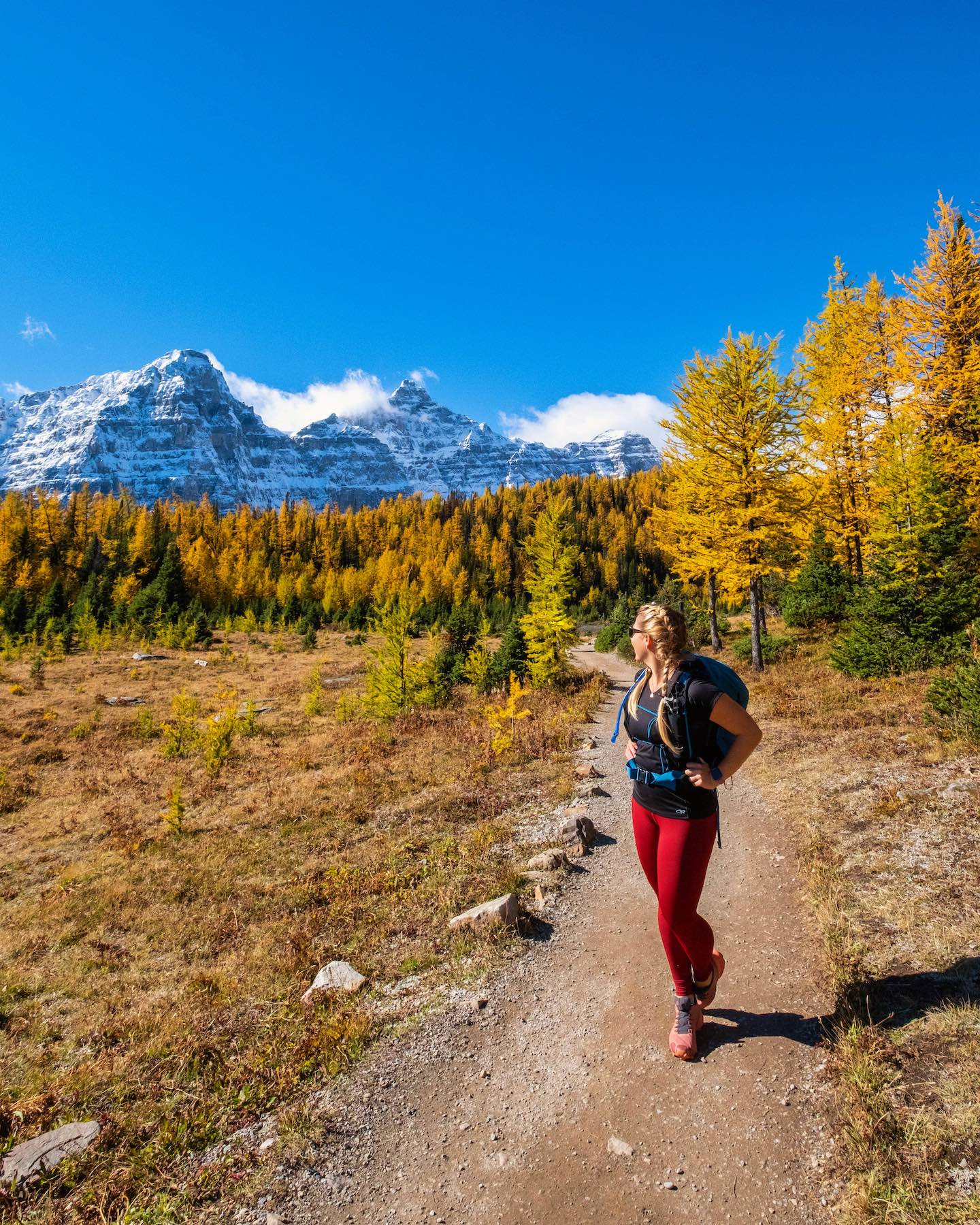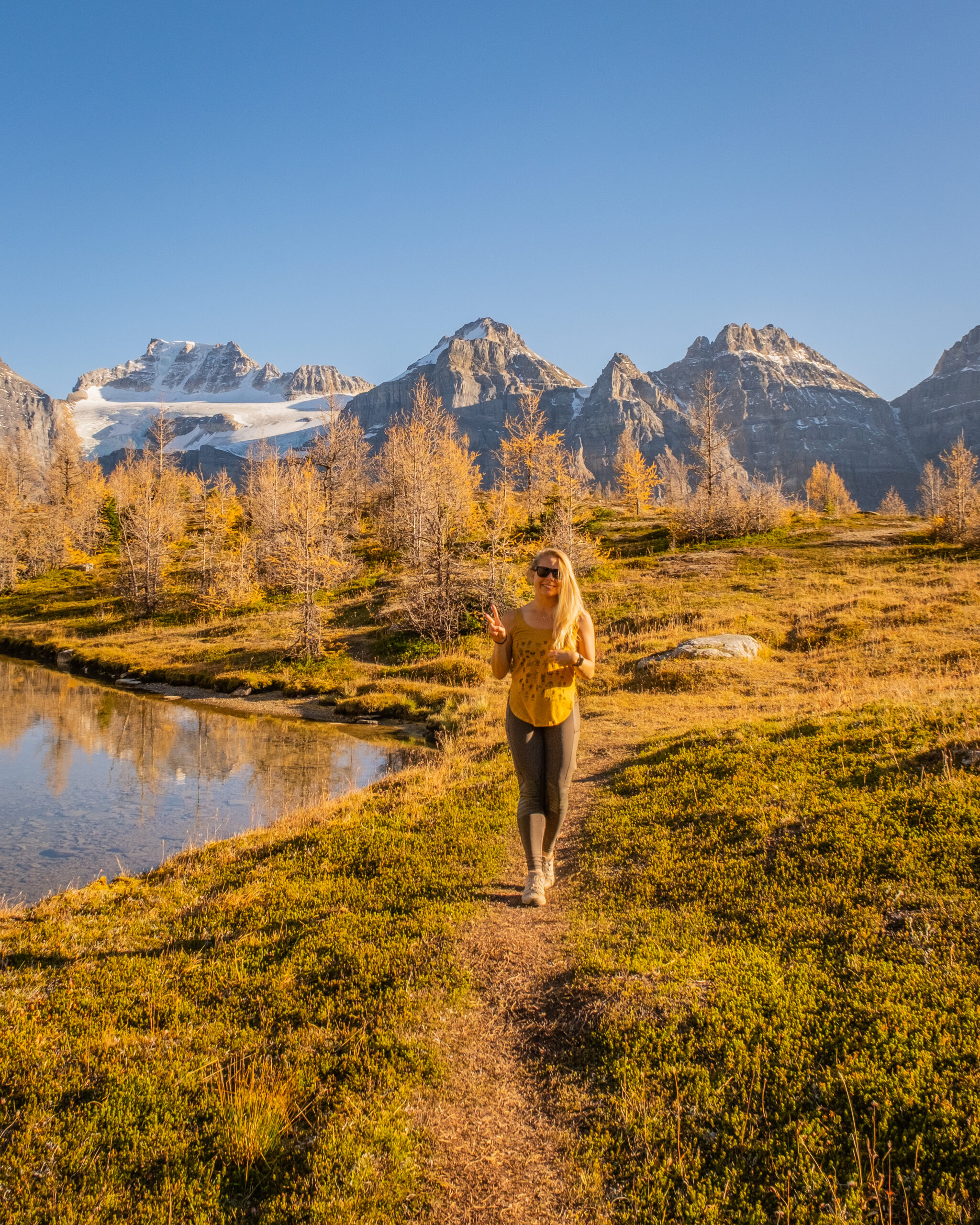 Trailhead: Begins at canoe docks at Moraine Lake.
Distance: 10.9
Elevation: 792 meters
Difficulty: Moderate
Time: 2 to 4 hours
The Larch Valley/Sentinel Pass is the quintessential Canadian Rockies hike and definitely one of the best larch hikes in Banff, although keep in mind, it's easily the most crowded too.
Sentinel Pass is relatively challenging, hugely popular, and offers some of Canada's most stunning natural scenery. The route starts at Moraine Lake and follows neverending switchbacks as it climbs 350 meters.
At the fork, you'll follow the trail to the right towards Sentinel Pass, and you'll quickly be surrounded by neverending larches. This trail is how you enjoy Banff in the fall properly.

Take your time exploring Larch Valley and head to Minnestimma Lake for views of the ten peaks over the small pond. If you're feeling energetic, continue up to the top of Sentinel Pass, which climbs another 200 meters from Minnestimma Lake, and the views are spectacular.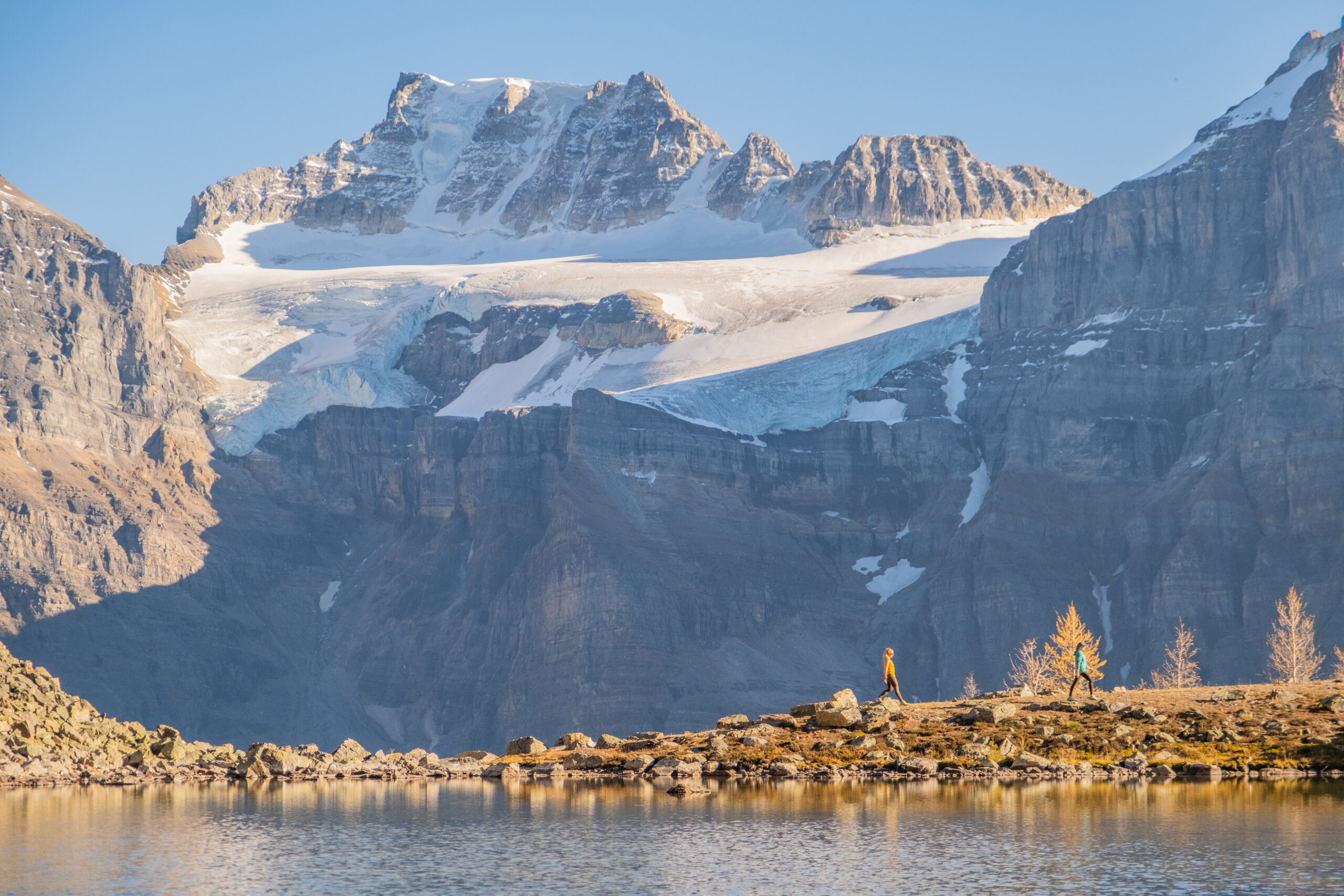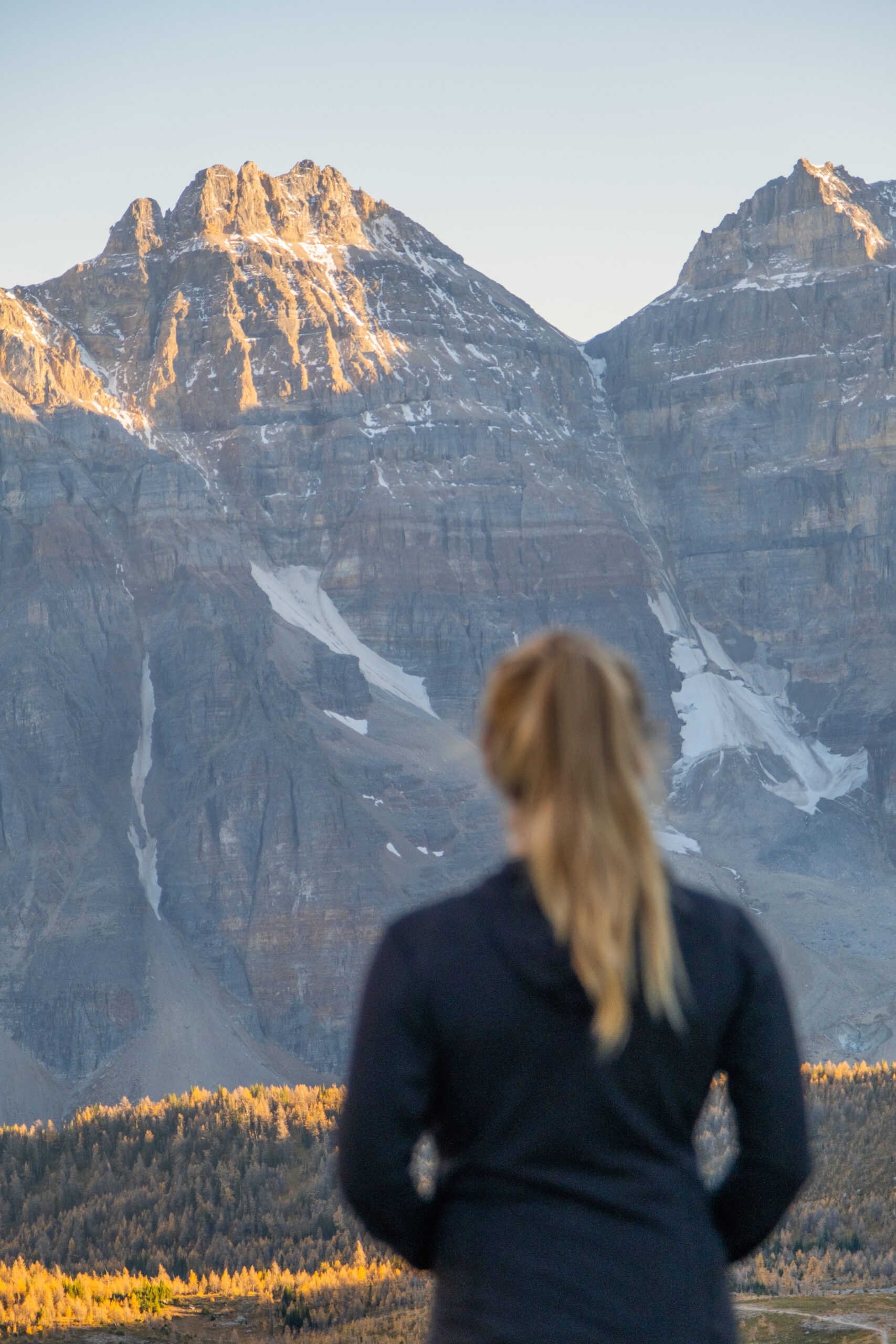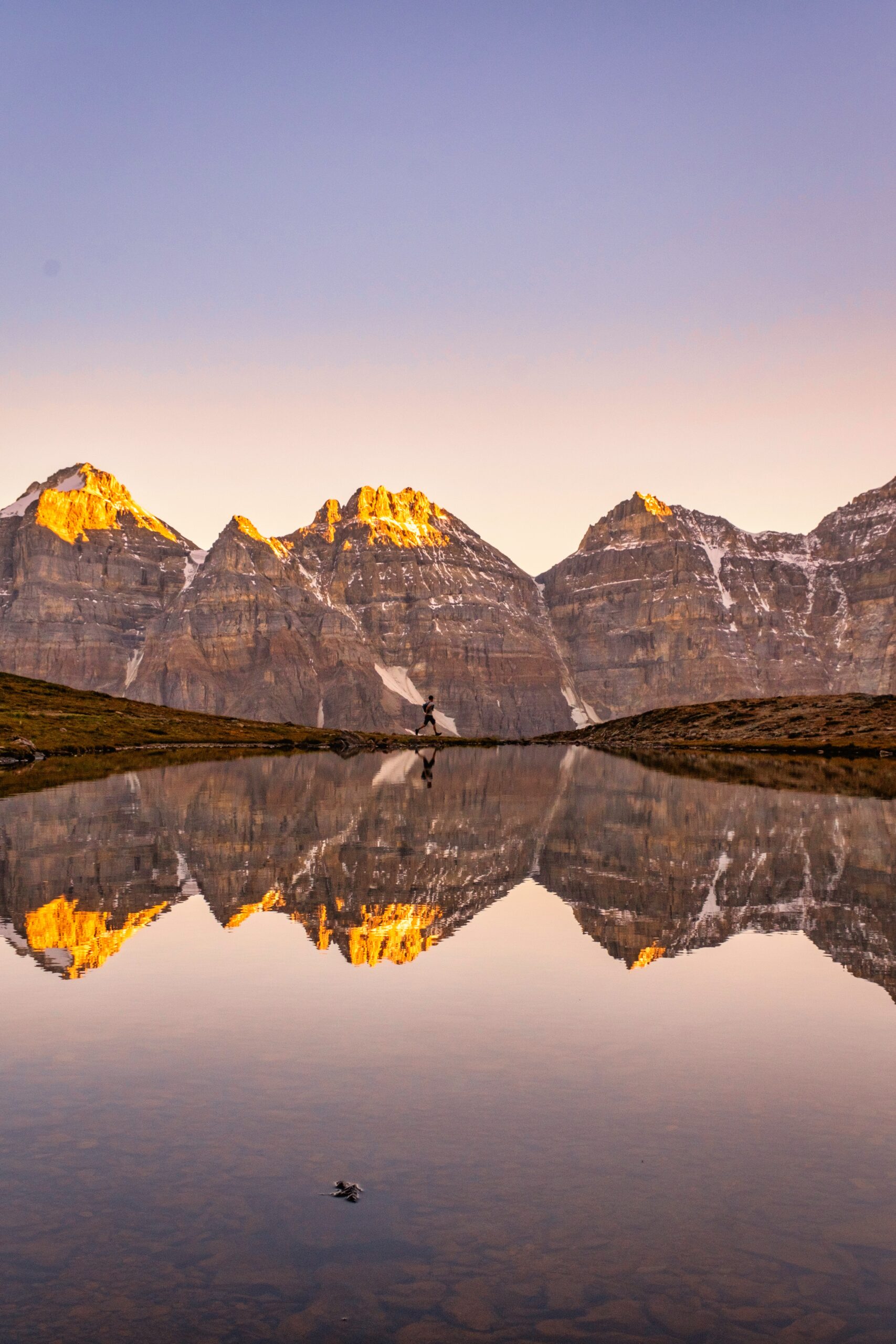 The pass is the most well known and attracts hundreds of photographers and hikers during the larch season in late September. During this period, the valley trees turn to a bright golden color, and the famous Ten Peaks are topped with the first signs of the new season's snow. It's a soul-stirring scene that can easily be considered one of the best day hikes in the world.
The Best Moraine Lake Hikes With Amazing Views
---
Paradise Valley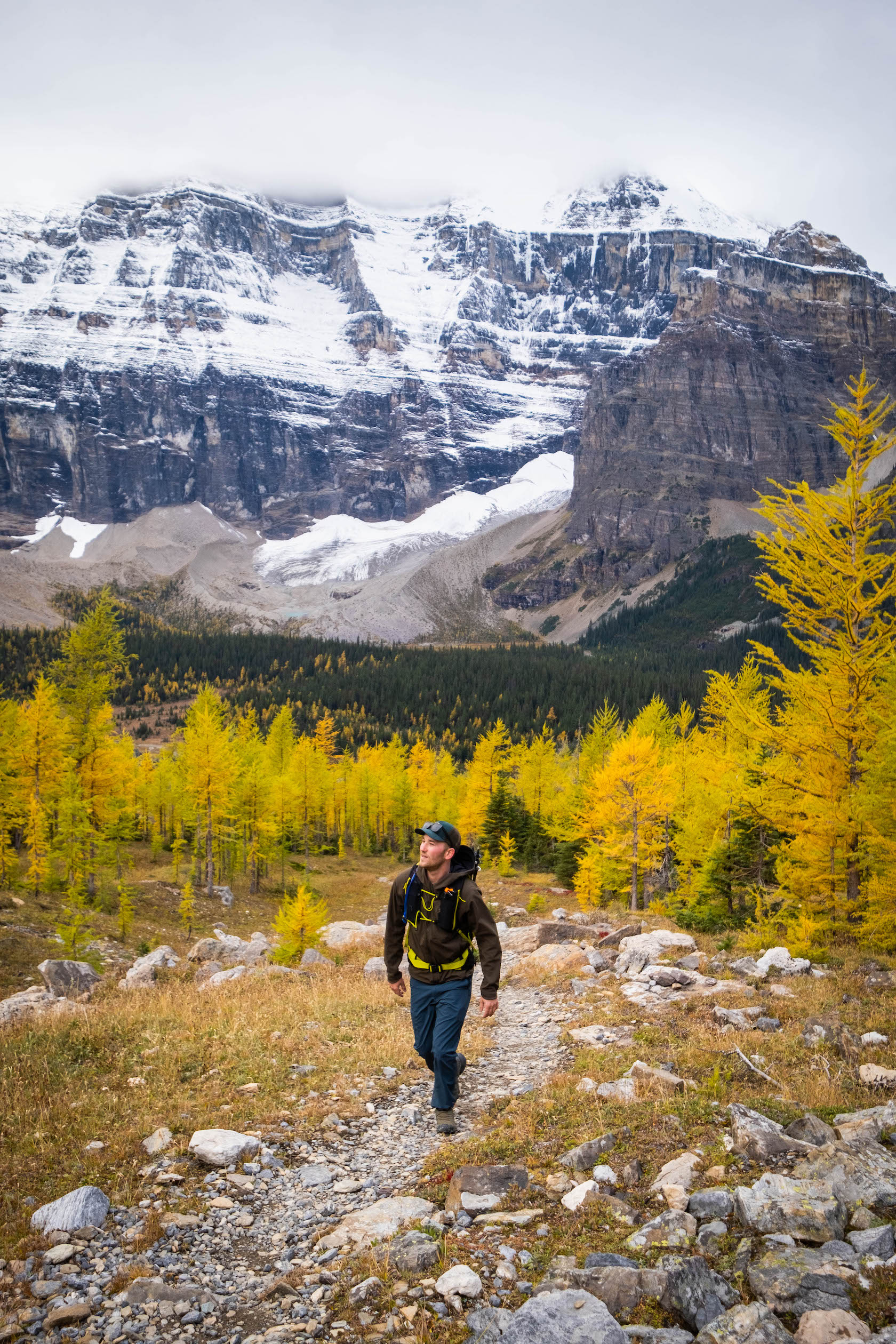 Trailhead: Moraine Lake canoe docks, or at Lake Louise
Distance: 20km
Elevation: 800 meters if going from Moraine Lake to Lake Louise
Difficulty: Hard because of length
Time: 6-8 hours
The Paradise Valley trail is an extension of Sentinel Pass. The Paradise Valley Trail connects Moraine Lake to Lake Louise via Sentinel Pass. It's one of the best larch hikes in Alberta, and not for the Larch Valley portion that everyone sees, but for the larches you'll walk through once you drop down into the valley. The reward for hiking past Sentinel Pass and getting off the beaten path is a trail all to yourself.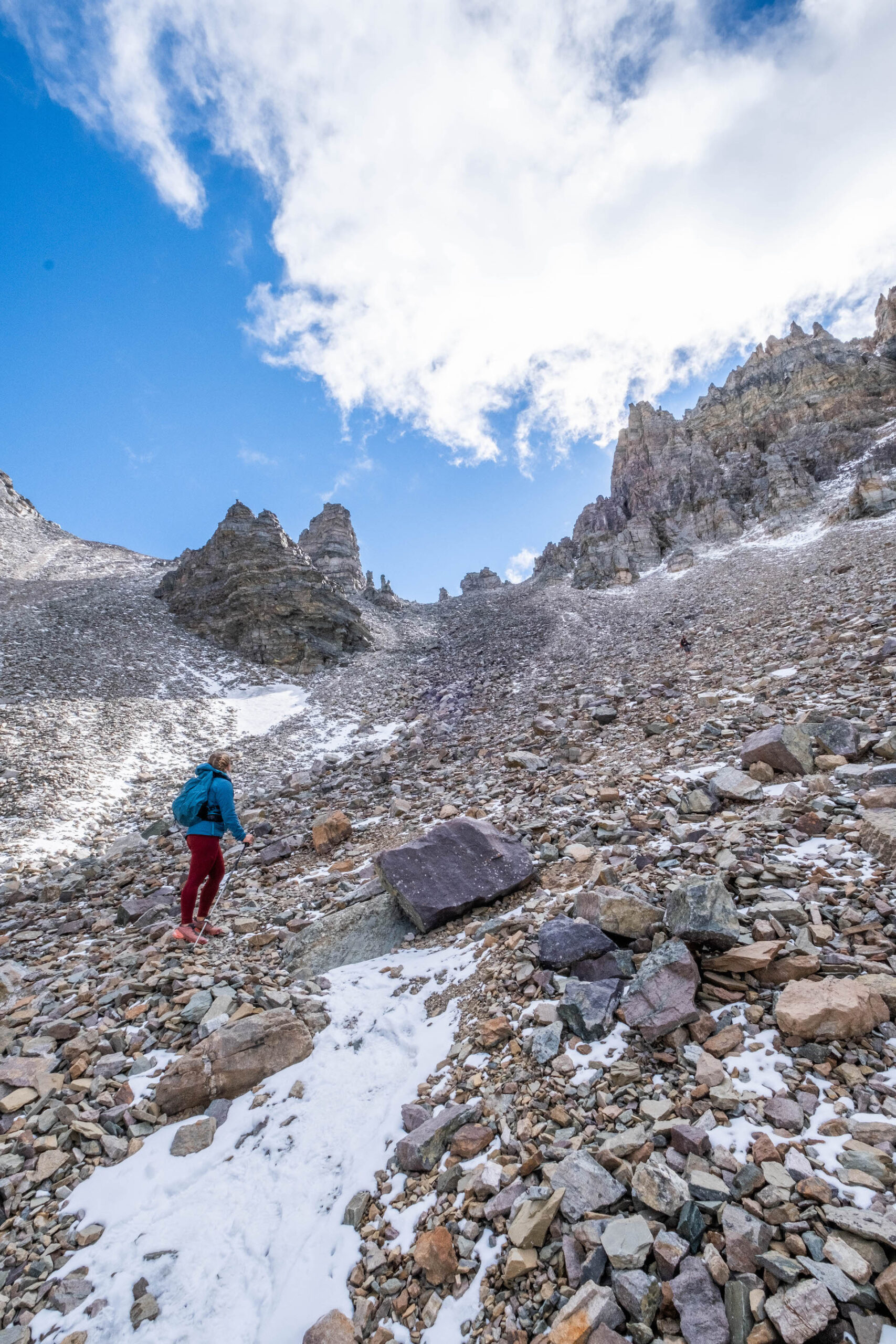 Although you could start this trail at either Lake Louise or Moraine Lake. This trail is best done starting at Moraine Lake and hiking up to Sentinel Pass and dropping down into Paradise Valley; that way, you're gaining most of your elevation gain on a well-worn trail up to Sentinel Pass and descending on a rough scree trail to Paradise Valley rather than ascend up to it. (See the photo above for this section).
Along the route, you'll pass through thousands of larches while hiking under Mount Temple. You'll pass by Annette Lake along the trail, which is a great place to stop for lunch.
Keep hiking to Lake Louise or head up to Saddleback Pass for more beauty!
---
Saddleback Pass/Sheol Valley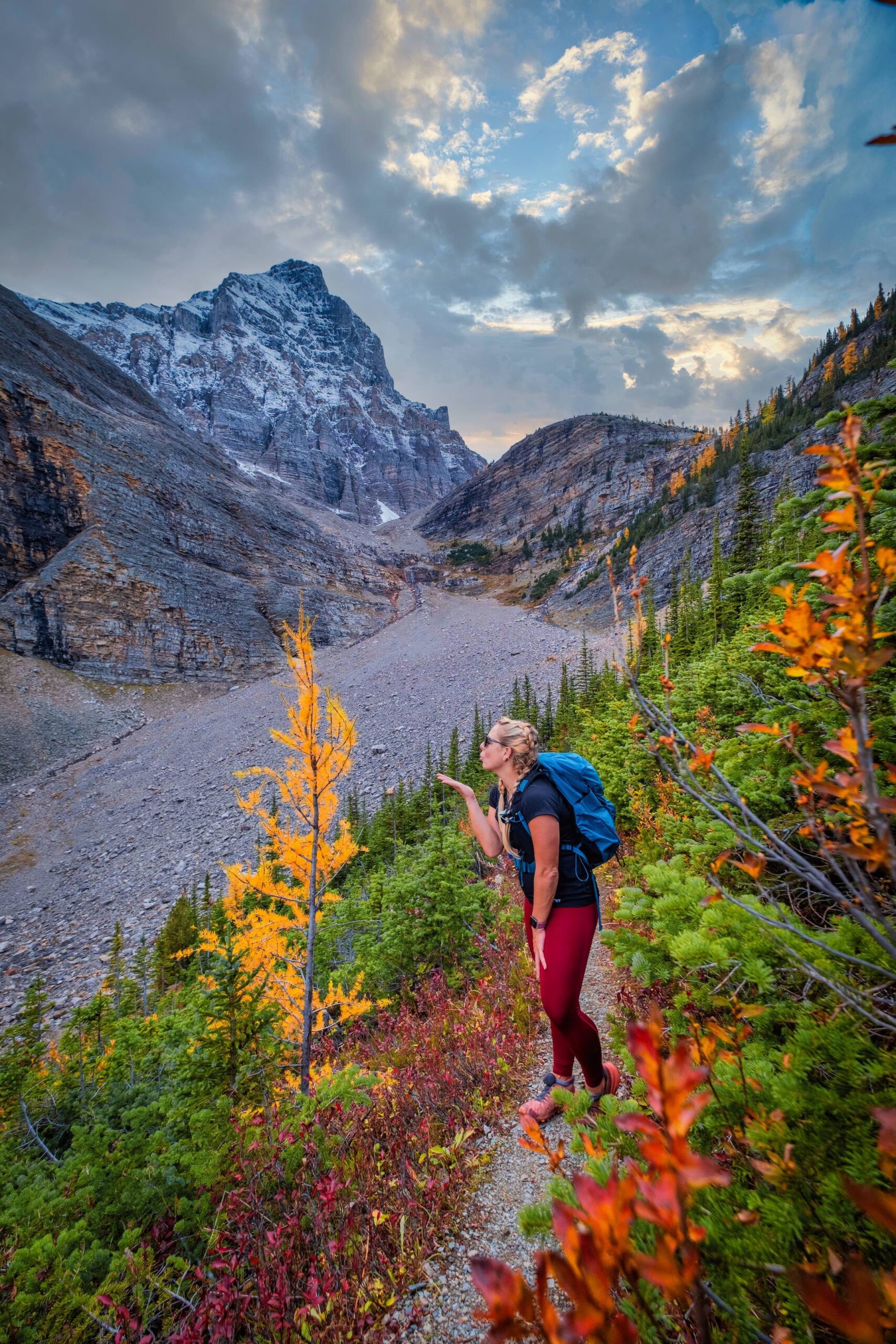 Trailhead: Lake Louise, or Lake Annette, or Moraine Lake depending on which way you hike it.
Distance: 14 km (many variations that make distance hard to determine)
Elevation: 500 meters give or take depending on how you take this trail
Difficulty: Hard because of length
Time: 3-6 hours
One of my favorite Alberta Larch Hikes that not many people seem to talk about is the hike up to Saddleback Pass and through the Sheol Valley. If you want to escape the crowds at Lake Louise or Moraine Lake, this larch hike is for you.
This hike is best done from Lake Louise, but we connected it with our long day on the Paradise Valley Trail, which is also possible.
Saddleback Pass is one of the best larch hikes in the area; from Lake Louise, you'll start towards the trail to the Fairview Lookout and continue on the path up to summit Fairview Mountain. From the top of Saddleback Pass, you'll enjoy Mount Temple, Haddo Peak, and Sheol Mountain views.
At the top of the pass, there is signage to continue through Saddleback Pass and to the Sheol Valley to loop back around to Lake Louise, or you can continue up Saddle Mountain or Mount Fairview. All are great quiet options that you could hit on a single day if you have the time.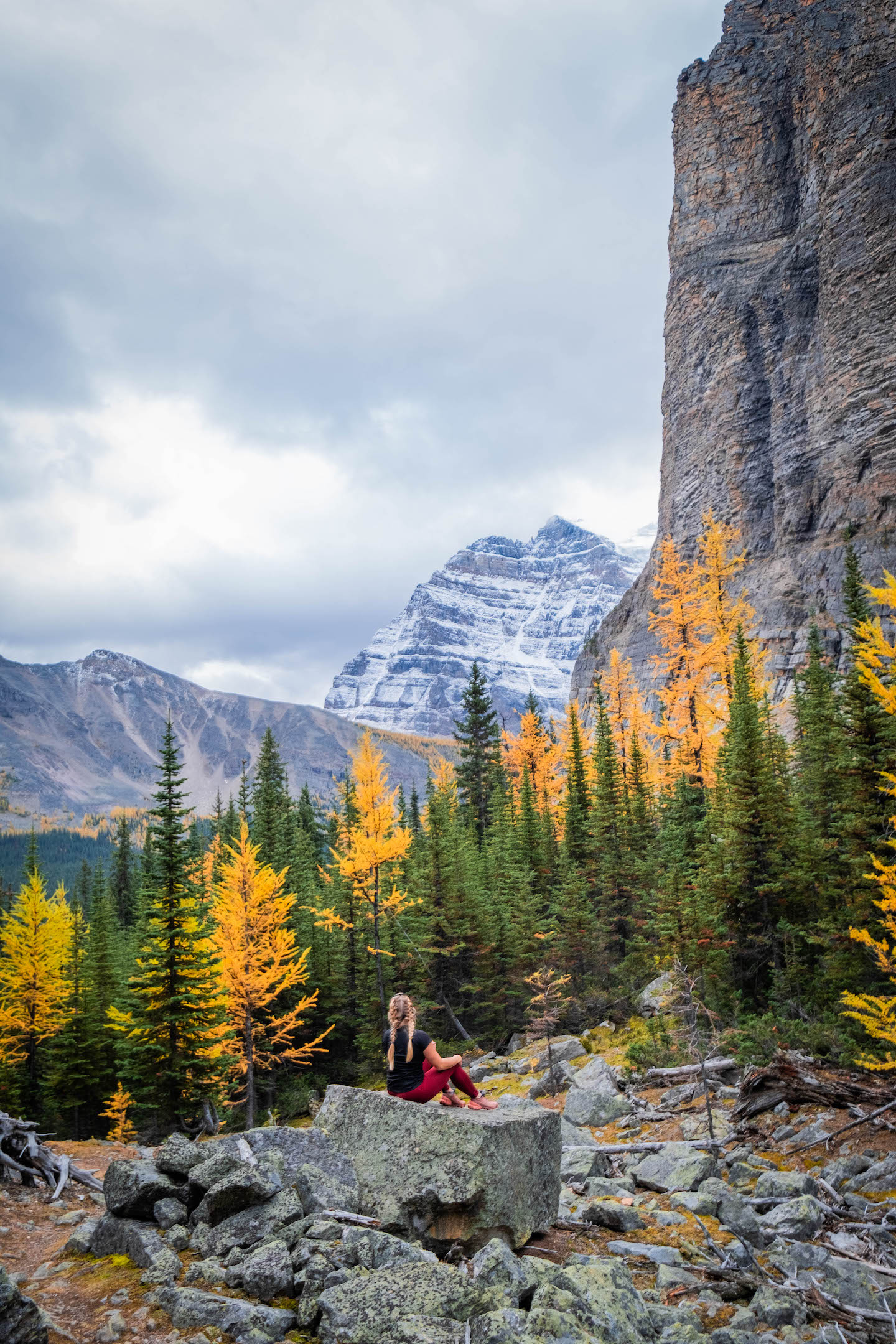 We highly recommend taking the Sheol Valley Trail that loops around Saddle Mountain on a well-distinguished trail until you make it back to the lake connector trail.
As mentioned, we had a long 24 km day that allowed us to cross Saddleback Pass off the list. With a start at Moraine Lake, up to Sentinel Pass, through the Paradise Valley Trail to Lake Annette, and onwards through the Sheol Valley to Saddleback Pass, up to summit Saddle Mountain and down to the Lake Louise Chateau, it made for very long, but utterly epic day in Banff that was absolutely full of wonderful golden larches.
---
Saddle Mountain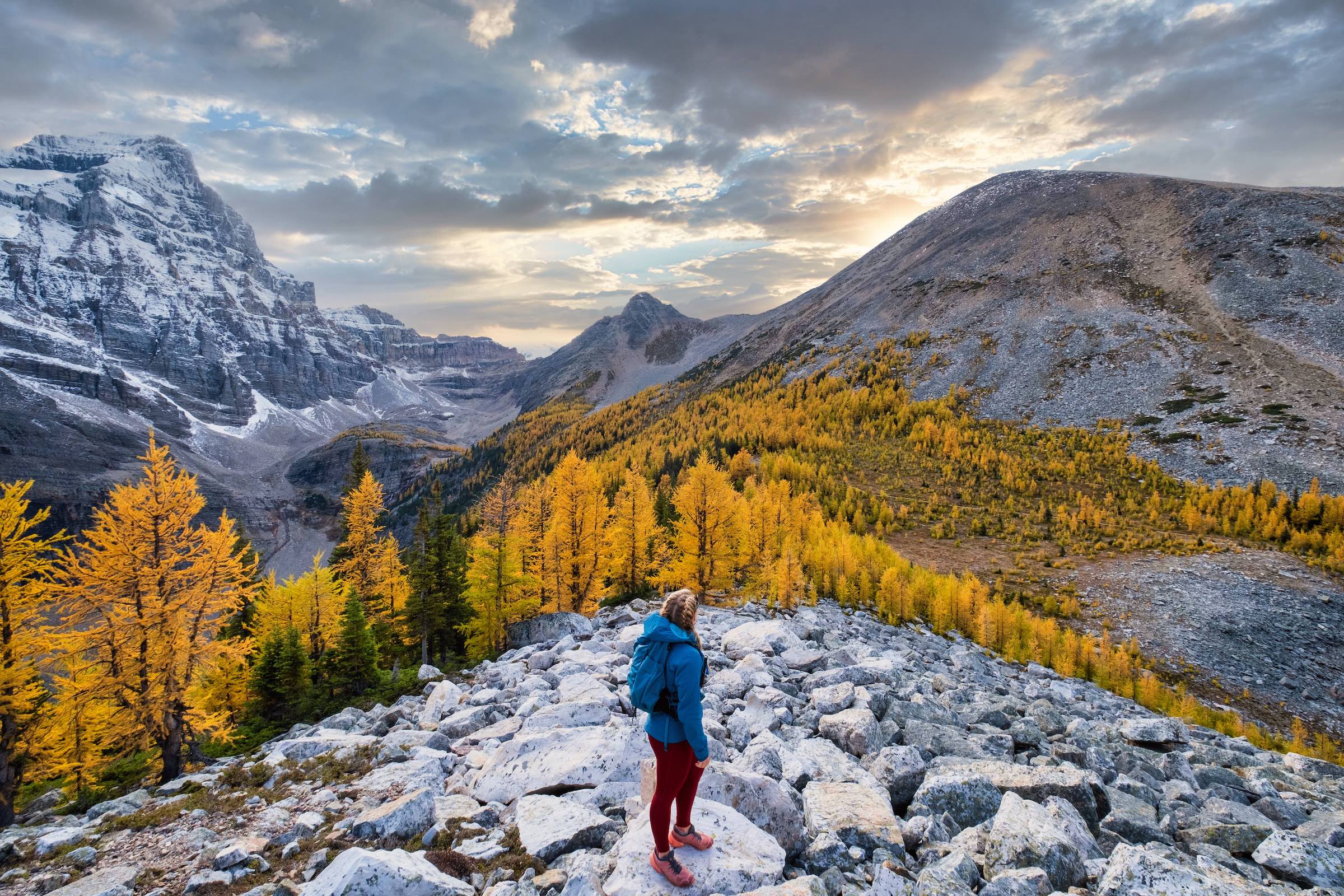 Trailhead: Lake Louise
Distance: 2 km from Saddleback Pass
Elevation: 100 meters or so from Saddleback Pass
Difficulty: Easy (from Saddleback Pass)
Time: 1 hour
If you are looking for an accessible mountain summit to bag Saddle Mountain is for you. I had Saddle Mountain on our list since we saw it from the summit of Mount Fairview last year.
It looked like a simple and straightforward summit; however, what I didn't know was just how amazing the views would be from the top – especially when the larch trees turn golden in the autumn.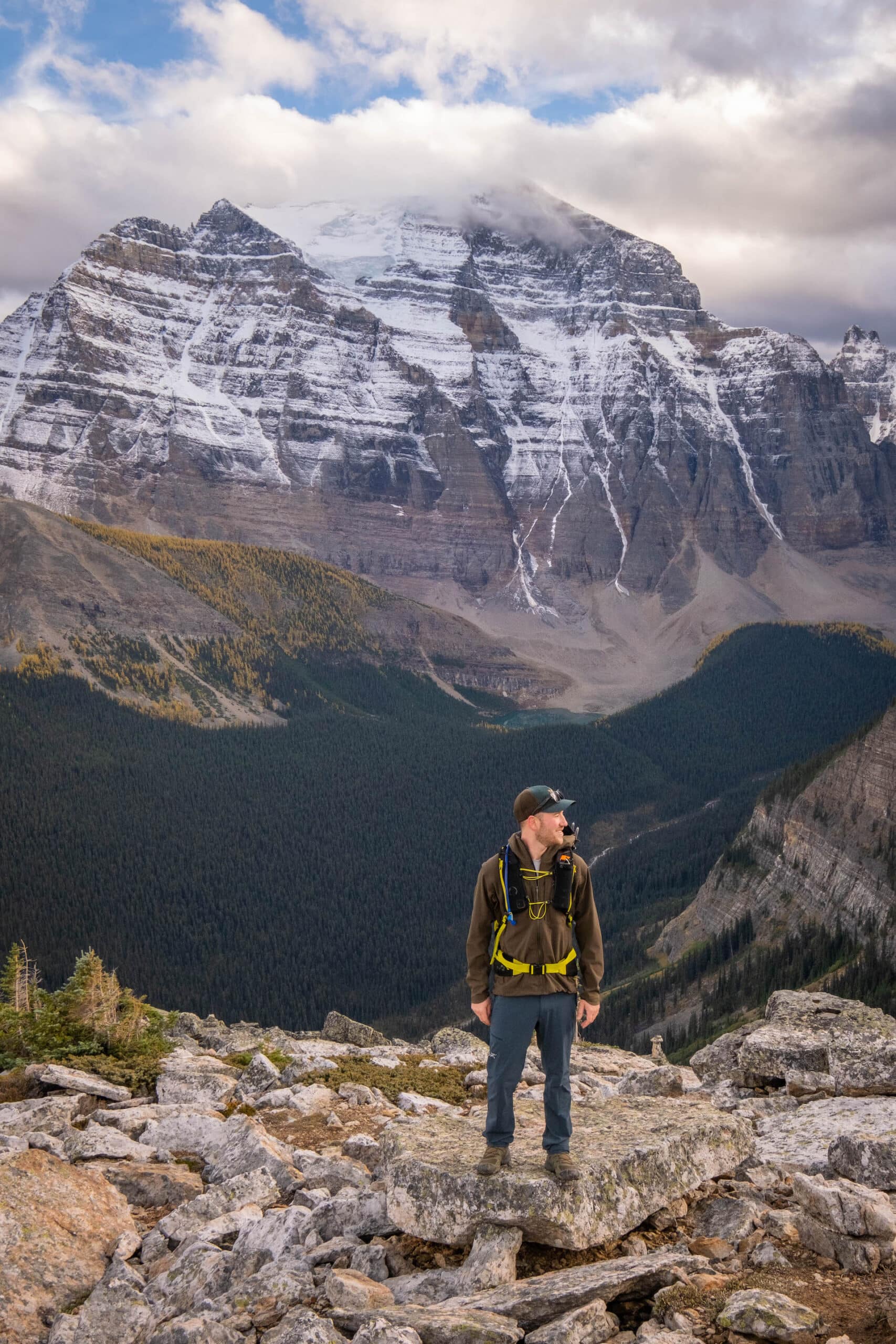 If you are already heading up Saddleback Pass anyway, it's well worth it to take the extra 30-60 minutes and ascend Saddle Mountain. It took us about 15 minutes to climb around 100 meters to the summit from Saddleback Pass; however, there is no well-worn trail up here, and you'll be hiking on a boulder field – so sure footedness is required.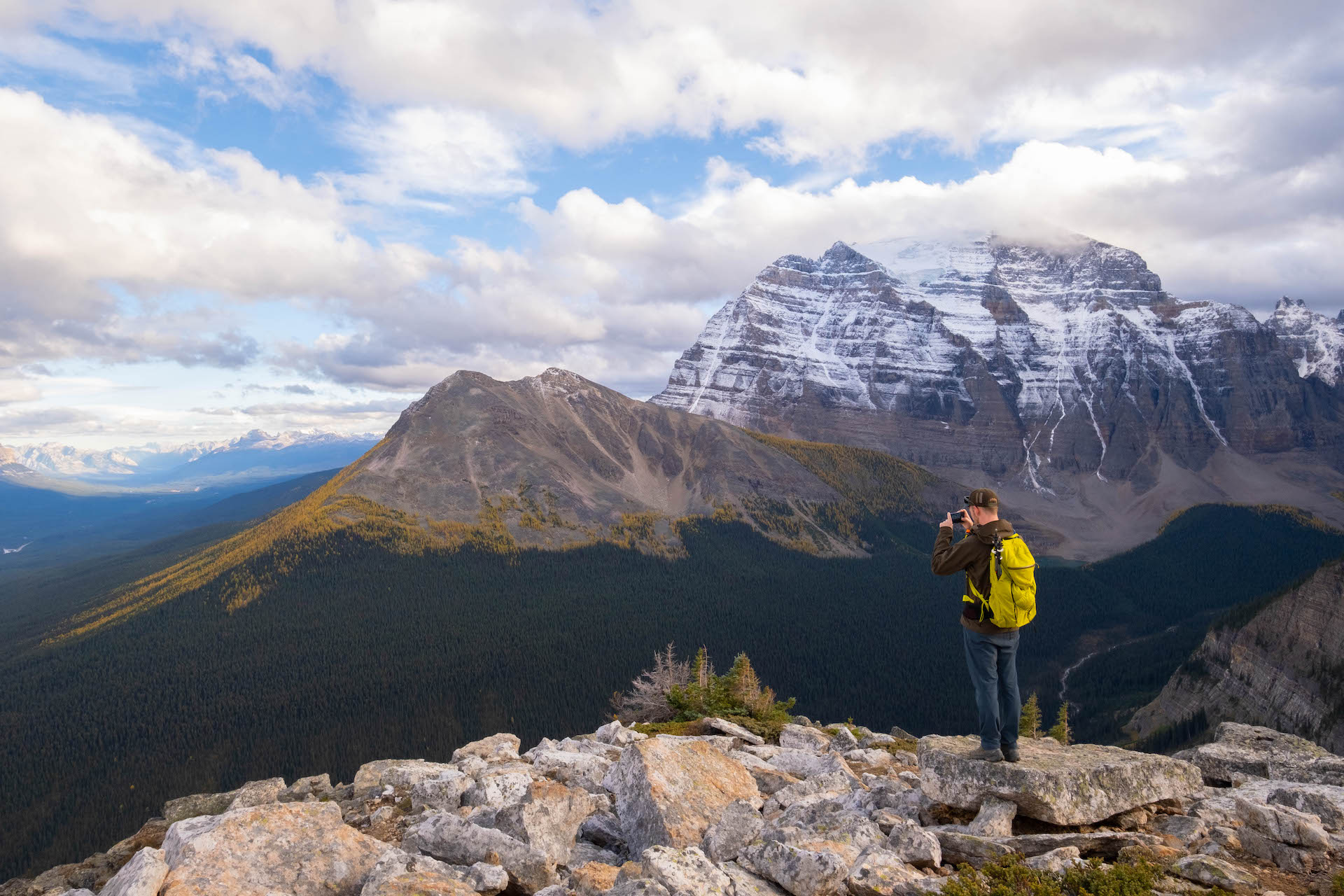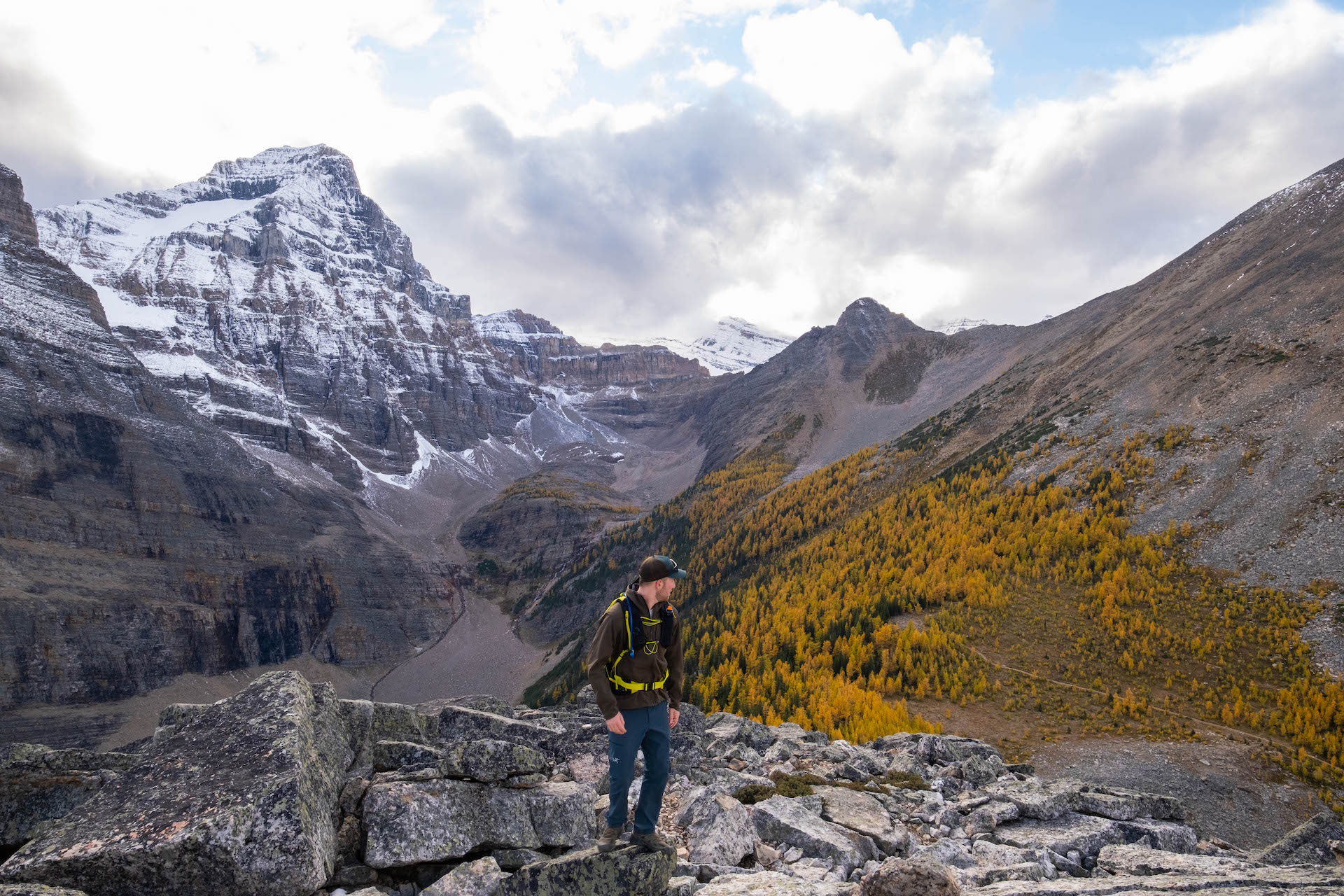 From the top of Saddle Mountain, you'll get the most beautiful view I've seen yet of Mount Temple, and on a clear day, you can even see all the way down the Bow Valley – we got a glimpse of Mount Assiniboine from here.
Saddle Mountain was much more enjoyable to me than Fairview, which is a steep scree slog the entire way up.
---
Lake Annette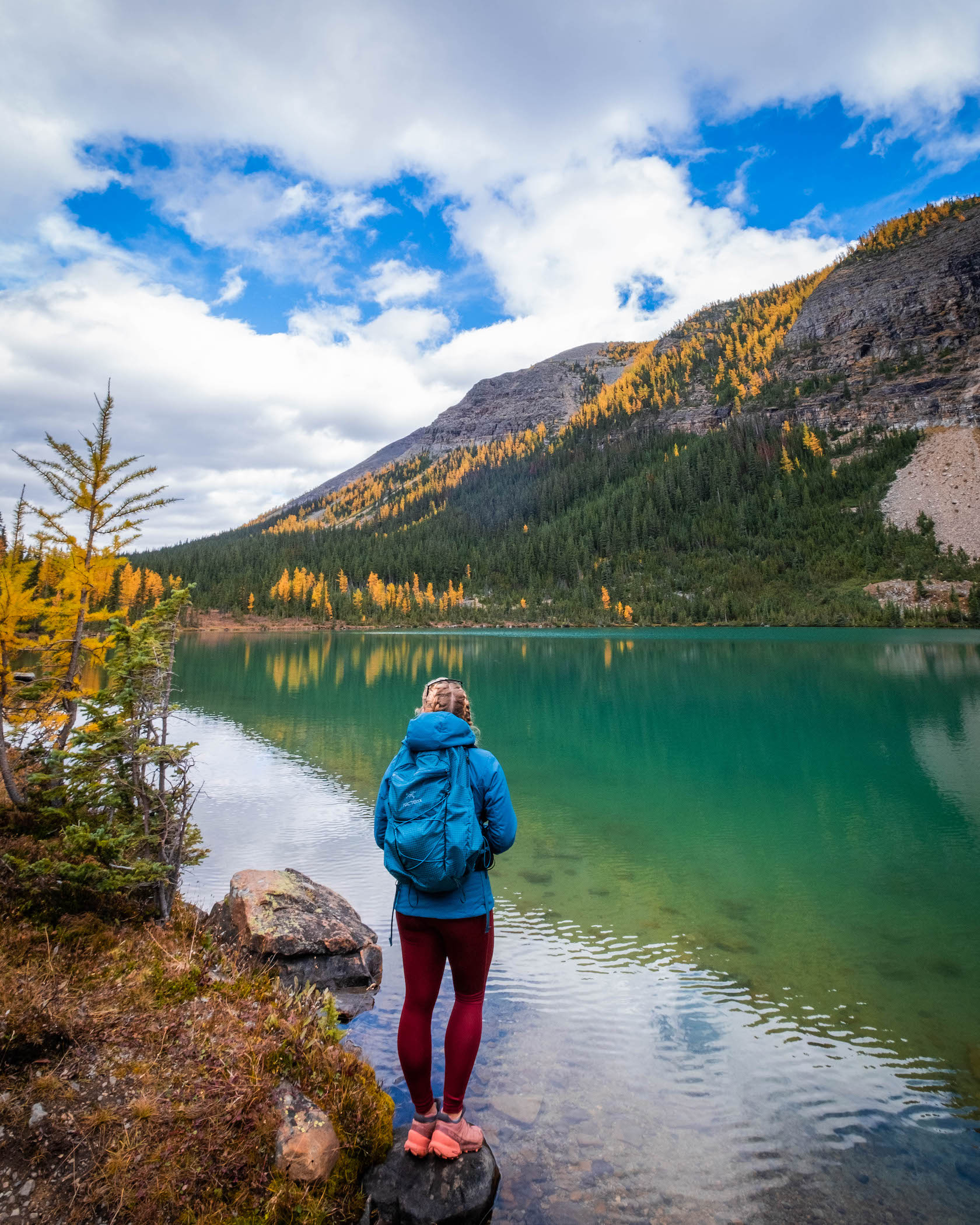 Trailhead: Paradise Valley Trailhead off Lake Moraine Rd.
Distance: 11.4 km
Elevation: 392 meters
Difficulty: Moderate
Time: 3-4 hours
I mentioned Lake Annette above in the Paradise Valley trail section because you'll hit Lake Annette if you hike from point to point (Lake Louise – Moraine Lake via the Paradise Valley Trail).
However, if you don't want to commit to the entire Paradise Valley trail, it's possible to hike just to Lake Annette from Moraine Lake Rd.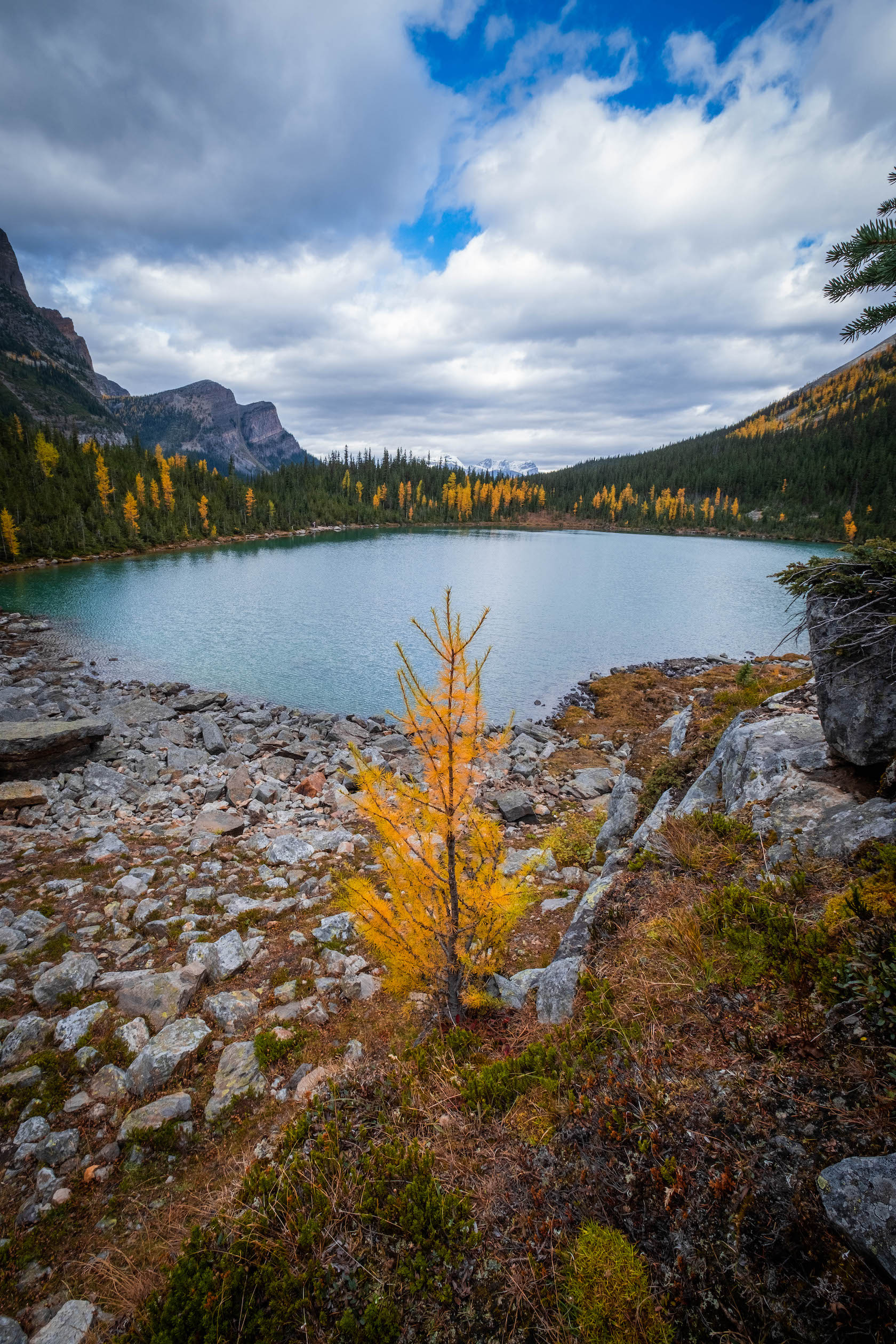 Look for the trailhead to the Paradise Valley Trail/Lake Annette right off Moraine Lake Rd. There's limited parking here. The trail in Lake Annette is an easy-to-moderate one with less than 400 meters of gradual elevation gain.
You'll be in the forest for most of the trail, but you'll get some stunner views of Mount Temple, with larches surrounding the entire lake.
---
Rockbound Lake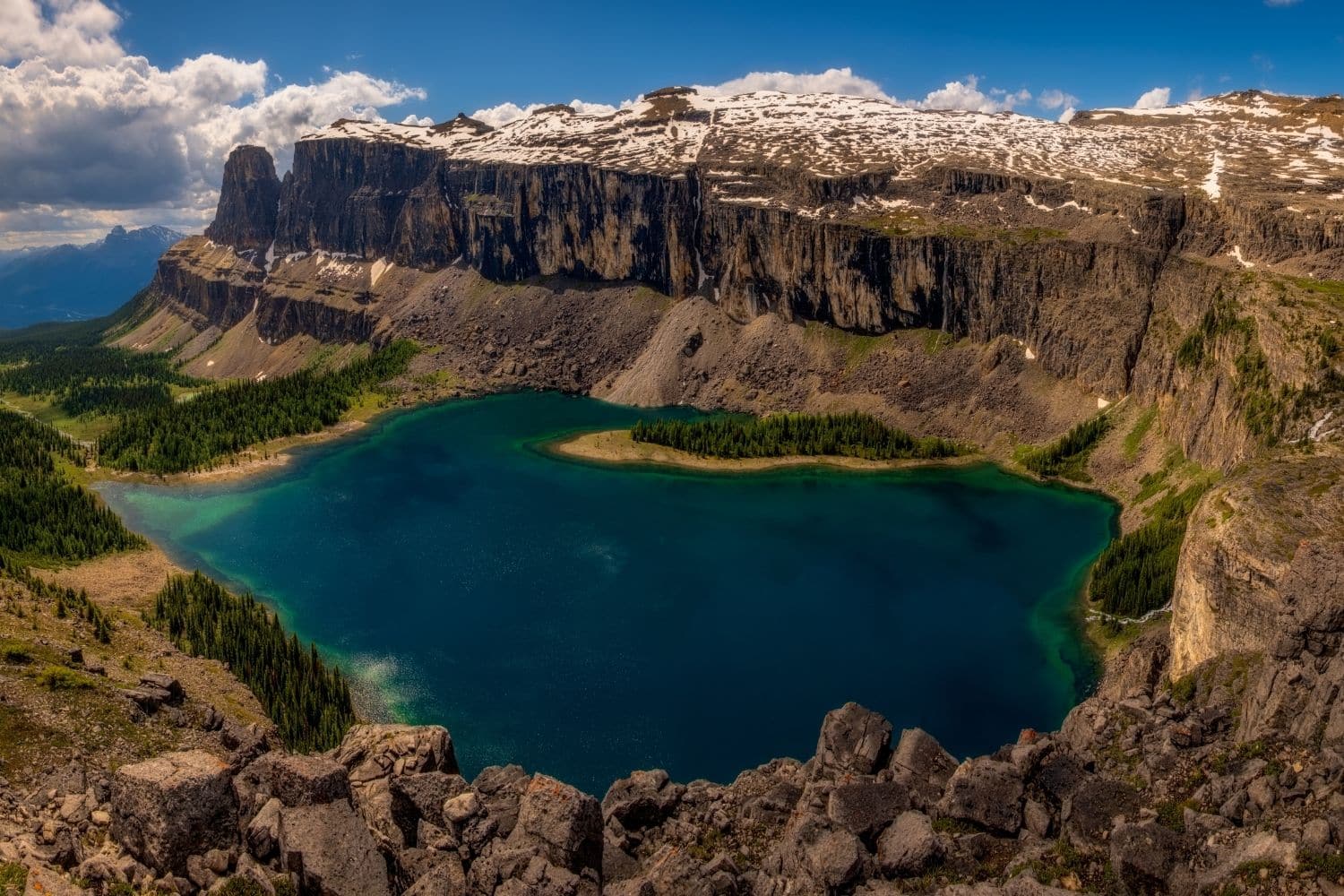 Trailhead: Paradise Valley Trailhead off Lake Moraine Rd.
Distance: 18 km
Elevation: 1020 meters
Difficulty: Moderate/Hard because of length and gain
Time

: 4-8 hours
Rockbound Lake is the only Alberta larch hike on this list that we haven't personally completed. However, I wanted to mention it as it's an excellent alternative for those looking for a good long day hike out among the larches. It's less frequented than most hikes on this list. Due in larch part to its length and elevation gain.
However, the larches around Rockbound lake are phenomenal, and if you hike a bit above the lake, you get a superb panorama of the lake below you. We're saving this one for when we want to summit Castle Mountain because we figure if we are already hiking so high and far to see Rockbound, we may as well keep going up to Castle Mountain for a very long and epic day.
---
Arnica Lake/Twin Lakes/Gibbon Pass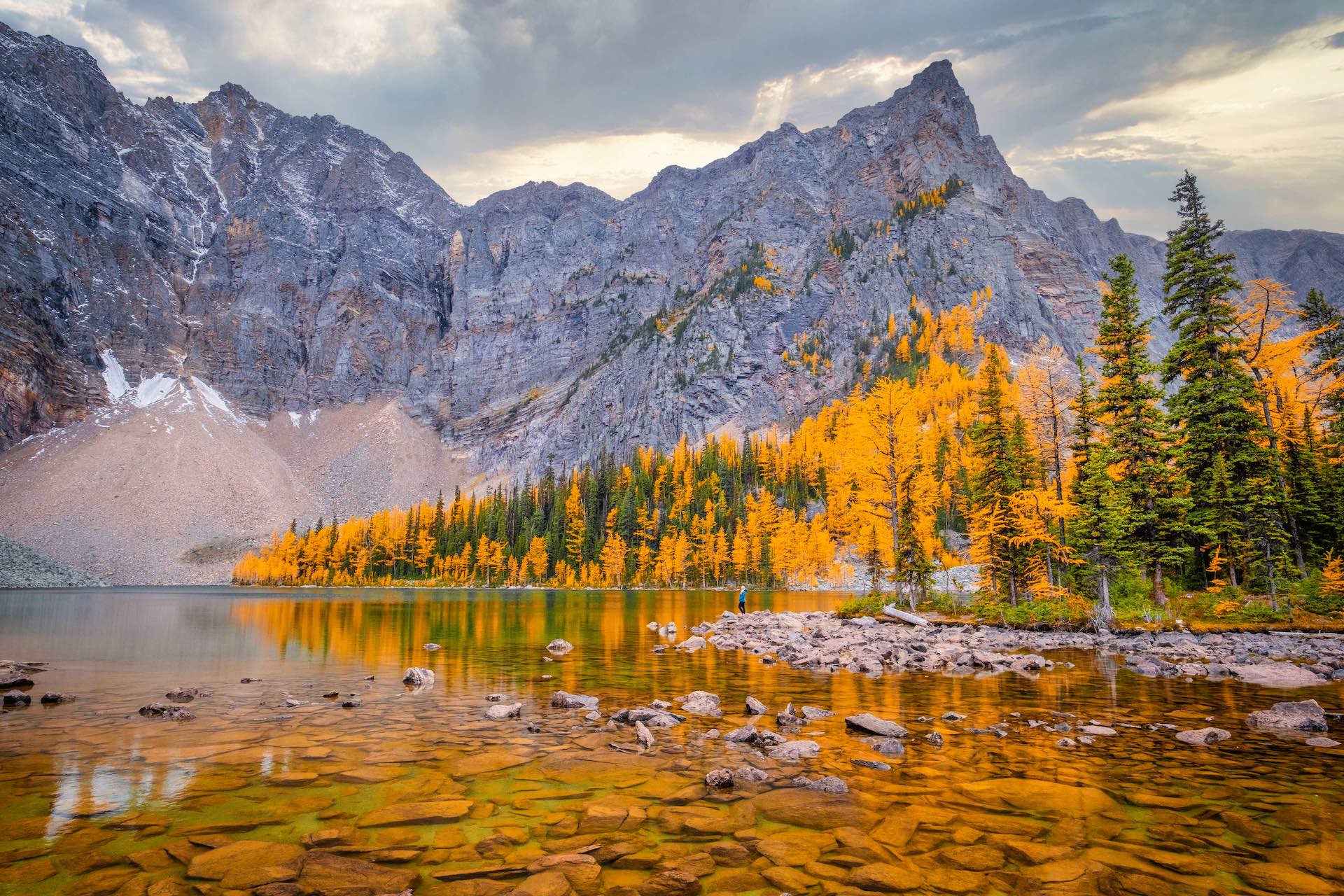 Trailhead: Vista Lake Pull Off. Off Hwy 93
Distance: 10 km+
Elevation: 750 meters
Difficulty: Moderate
Time: 4+ hours
I had little idea that this area was known for larches until we pulled off to check out Vista Lake, and I saw all the larches surrounding Storm Mountain. As soon as we saw the yellow and gold, we put it on our Alberta larch hike list and set off!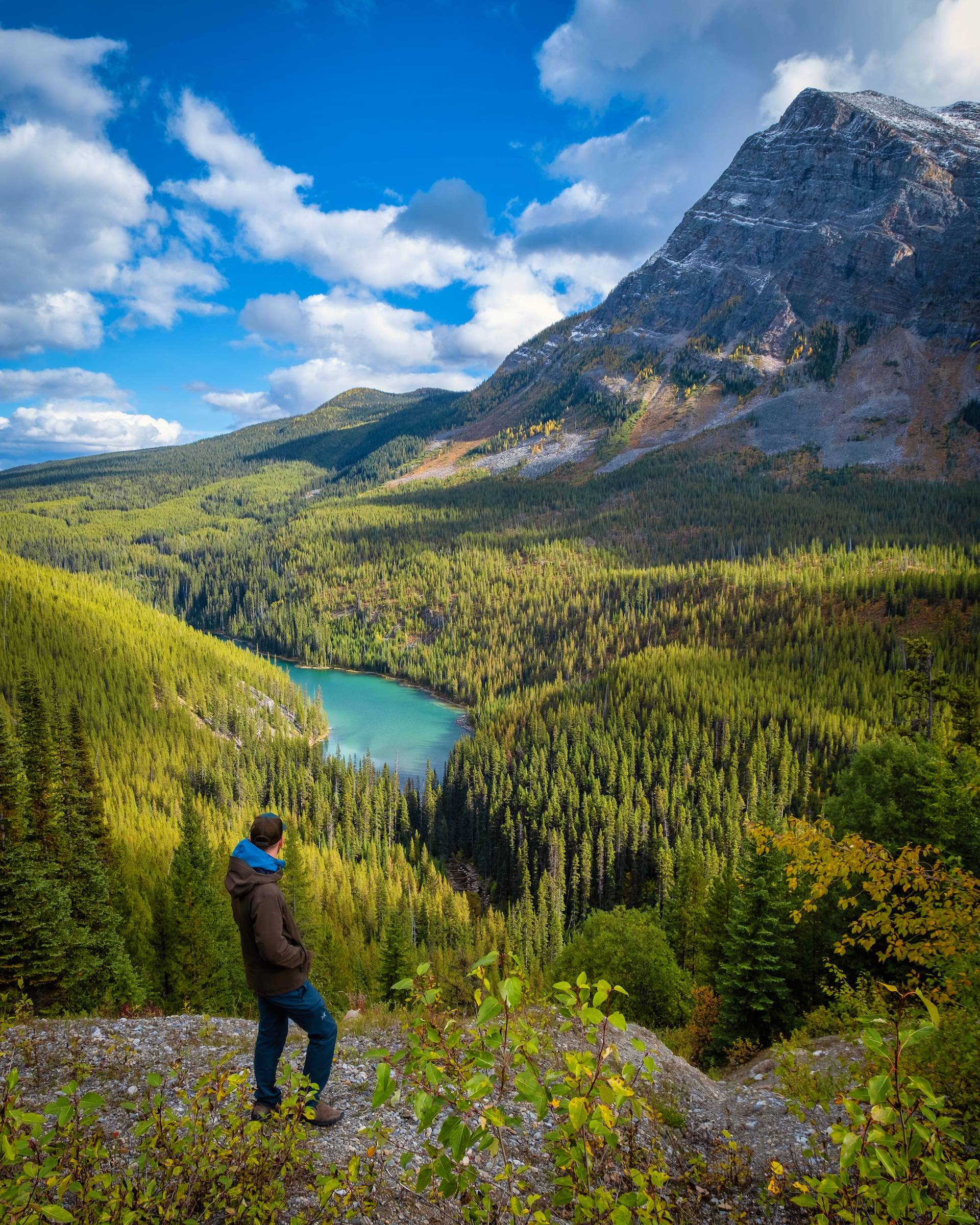 Enjoy the view of Vista Lake from the car park; you'll be heading the 1 km down to the lakeshore to get to Arnica Lake.
Once you pass Vista Lake, there are minimal views until you get to Arnica Lake. The trail is quite rooty and a fairly steep one, but it's 750 meters spread out over 5 km, so plenty of chances to take it slow and relax among the trees.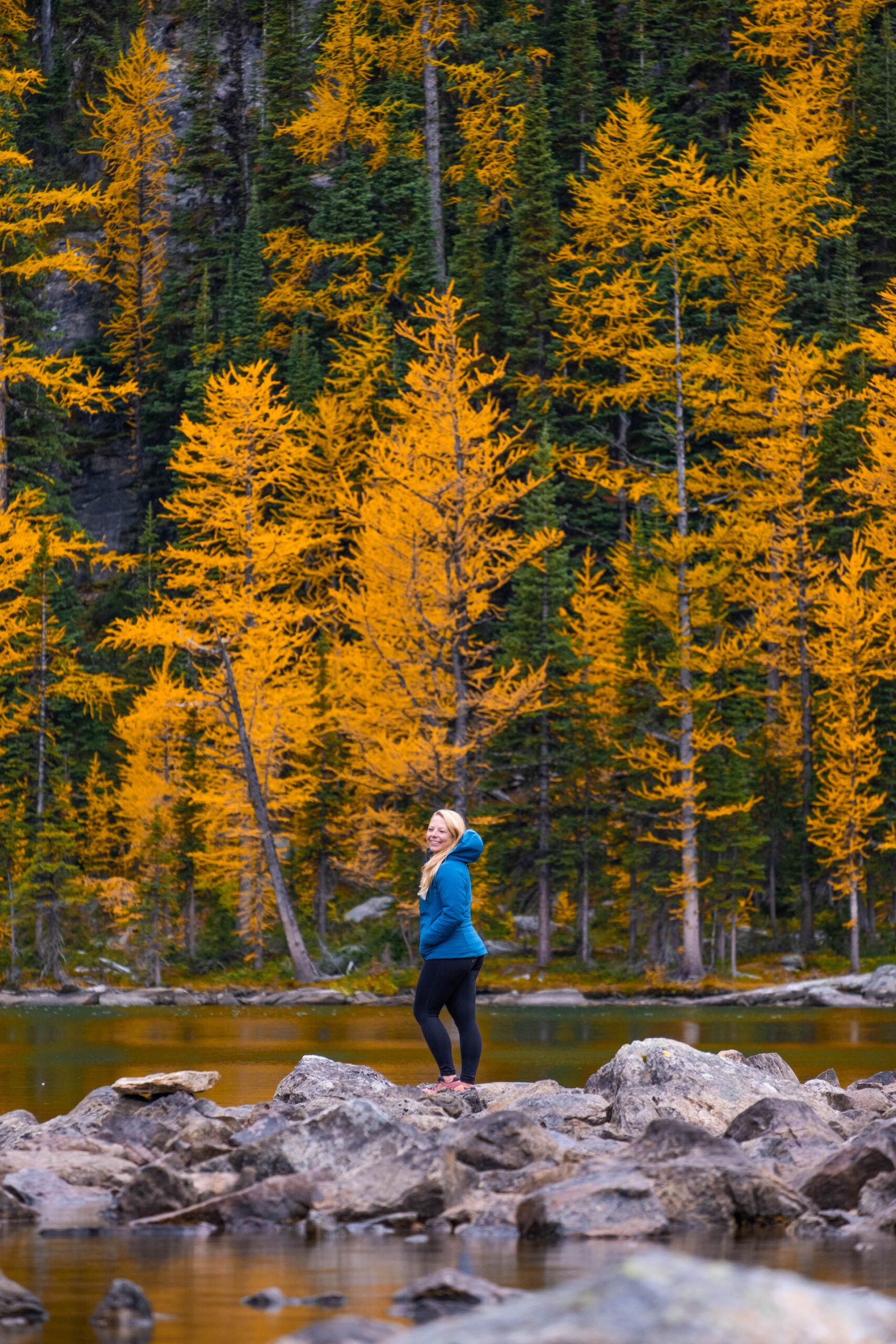 Once you get to Arnica Lake, you'll be amazed by the views and the golden larch trees among the evergreens.
If you want to hike further, you'll continue to Twin Lakes, where you can camp at Twin Lakes Campground. For a truly epic circuit, you can hike up to Gibbon Pass, which is said to be one of the most beautiful hikes in all the Rockies!
This whole circuit makes for a great backcountry trip where you can hike 15 km to Shadow Lake and stay at the Shadow Lake Campground, or continue on to Ball Pass campground, then to Scarab and Mummy Lakes to end at the Sunshine Parking lot. So many great options in this area for 2, 3, 4, or a 5-day backcountry trip!
---
Healy Pass (+ Egypt Lake Extension)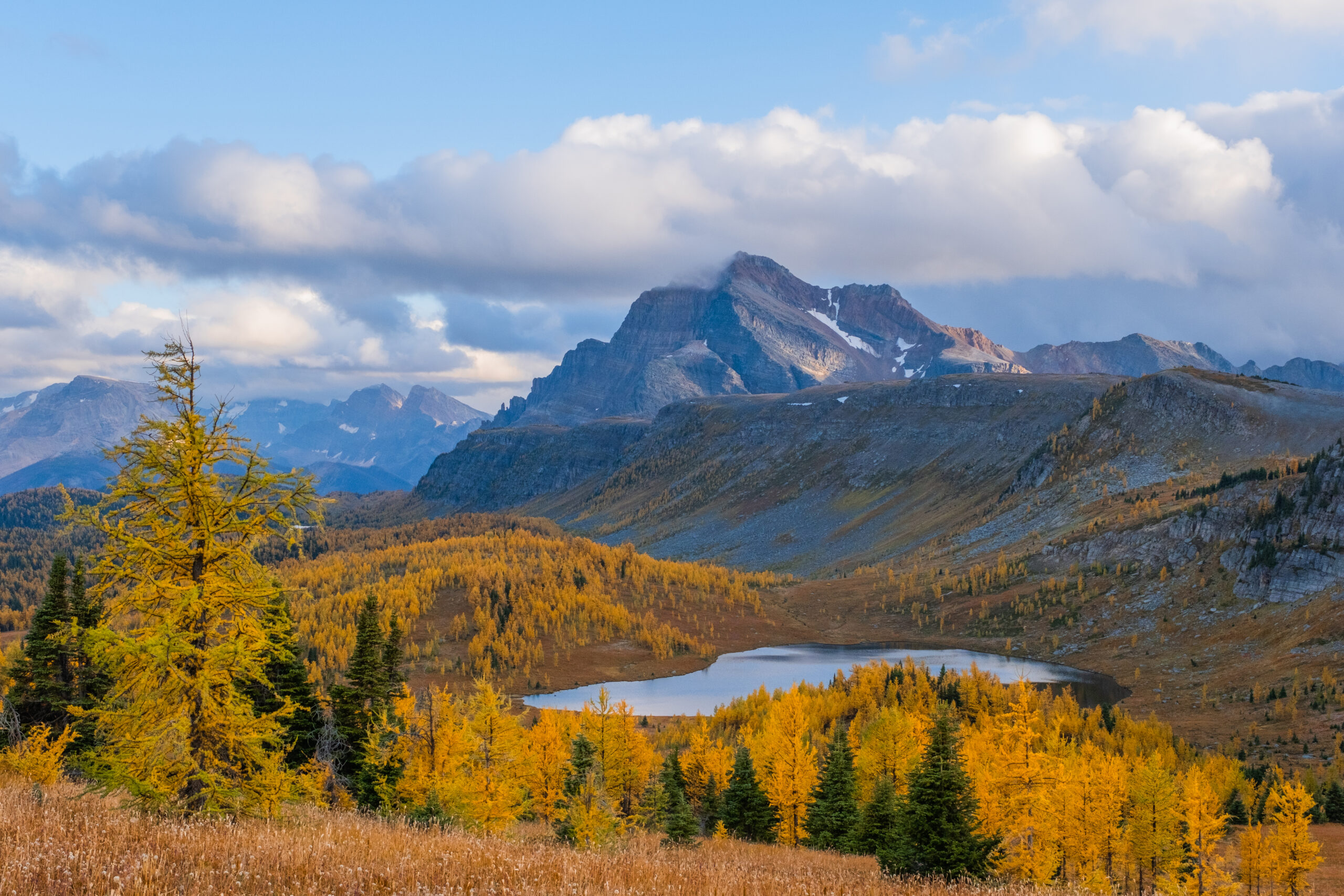 Trailhead: Sunshine Village Parking
Distance: 20.9 km (24.3km for Egypt Lake)
Elevation: 890 meters (1340meters for Egypt Lake)
Difficulty: Moderate
Time: 4 to 8 hours
Healy Pass is one of my all-time favorite hikes in Banff and one of the best hikes in all of Alberta. It's a great adventure in the summer for the wildflowers, but it's even better in Banff in the fall for the larches.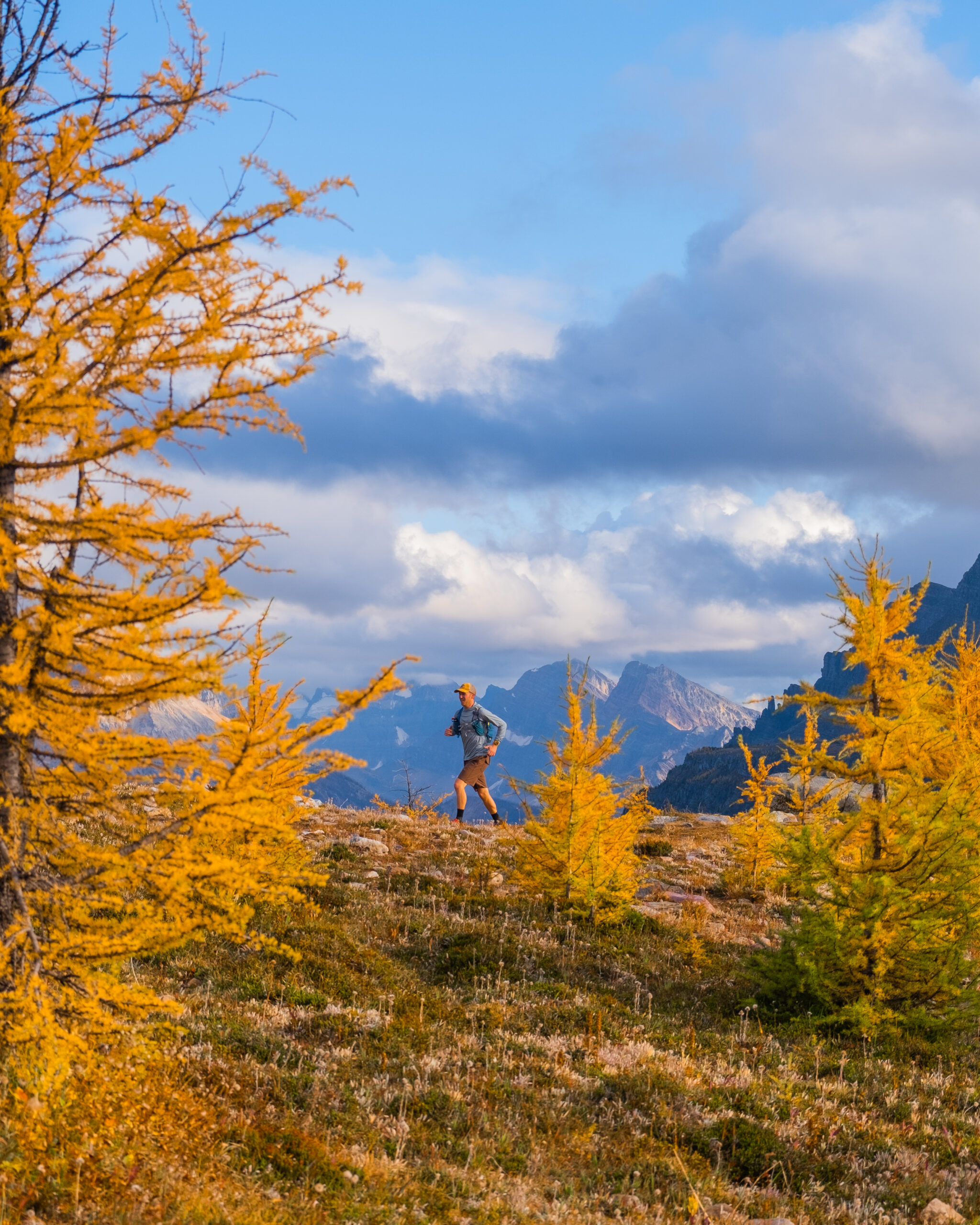 This is a beautiful hike that is sure to be loved by all who set out on the journey — easily one of the best hikes in Banff. Parks Canada maintains the trail, and it remains one of the most popular hikes in Banff National Park.
The trail begins at the Sunshine Village parking lot, and the trailhead is located behind the main building. It's a quick 20-minute drive from the town of Banff and a superb option for a day hike for visitors looking to get out on the trail.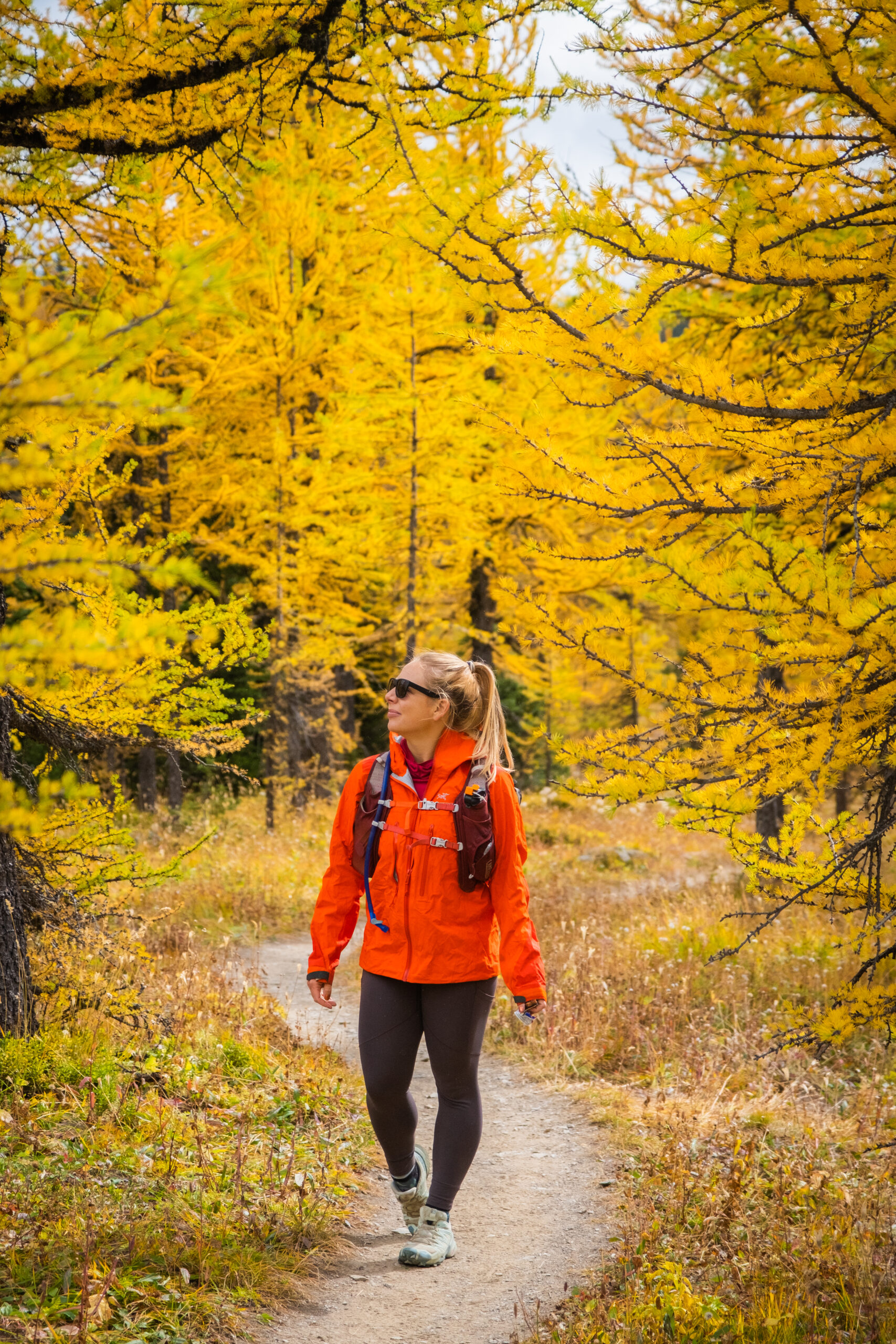 At its start, the trail gradually climbs through a lush-shaded forest. Due to the elevation grade, the elevation gain on this hike feels much more manageable for novice hikers. As hikers work through the woods, they cross a series of bridges, creeks, avalanche paths, and one infrequently used backcountry campsite.
There have been some complaints about the monotony of a long approach through the trees, but we found it relaxing. After 7.5 km, the forest gives way to a gorgeous alpine meadow and the vast expanse of larches — it's one of the best places to witness them in the park.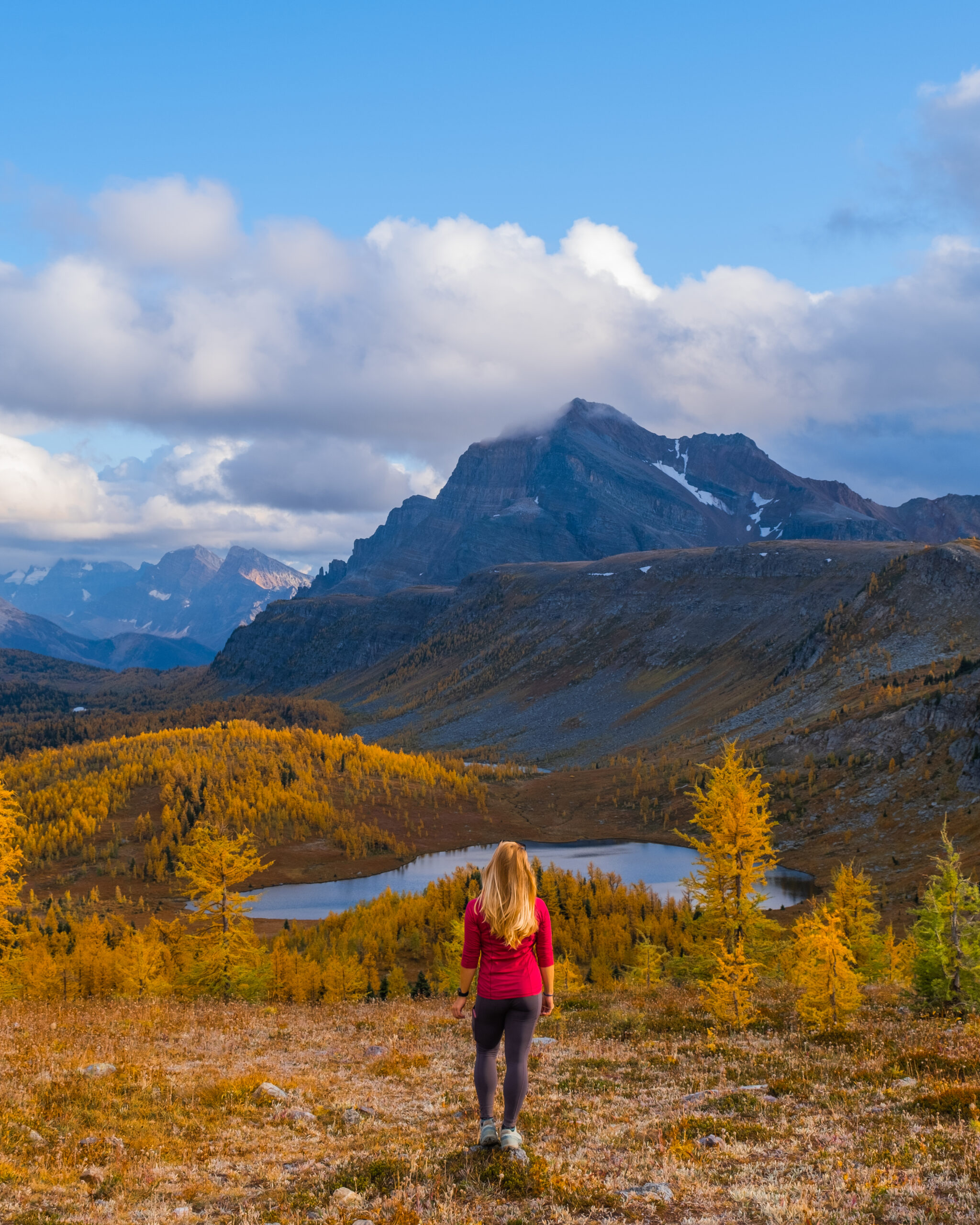 Once you're in the meadow, the hike provides expansive views of lakes, rolling hills, and towering peaks in the distance. You can continue to Egypt Lakes or perhaps climb Pharoah Peak for a massive day out if you have the energy!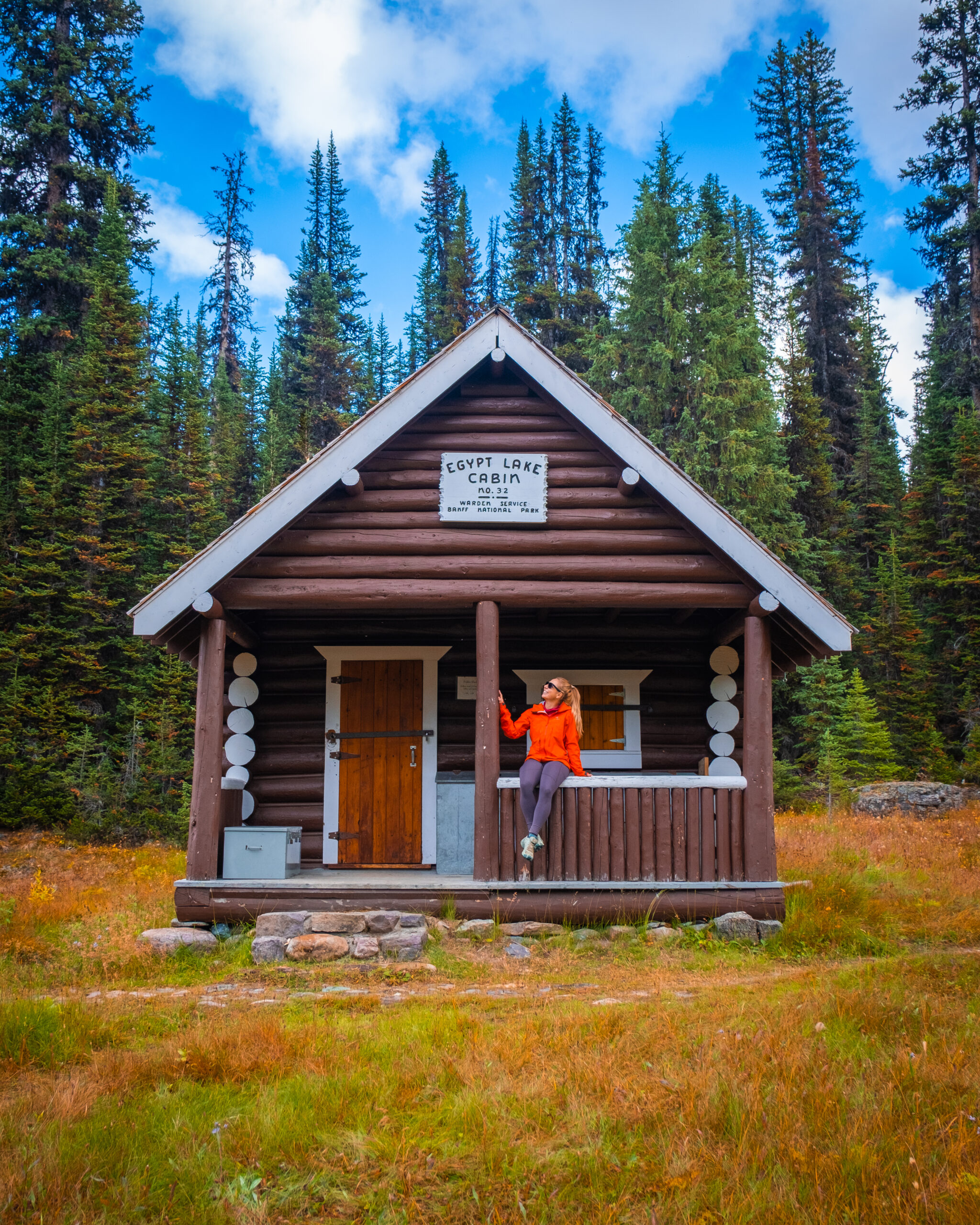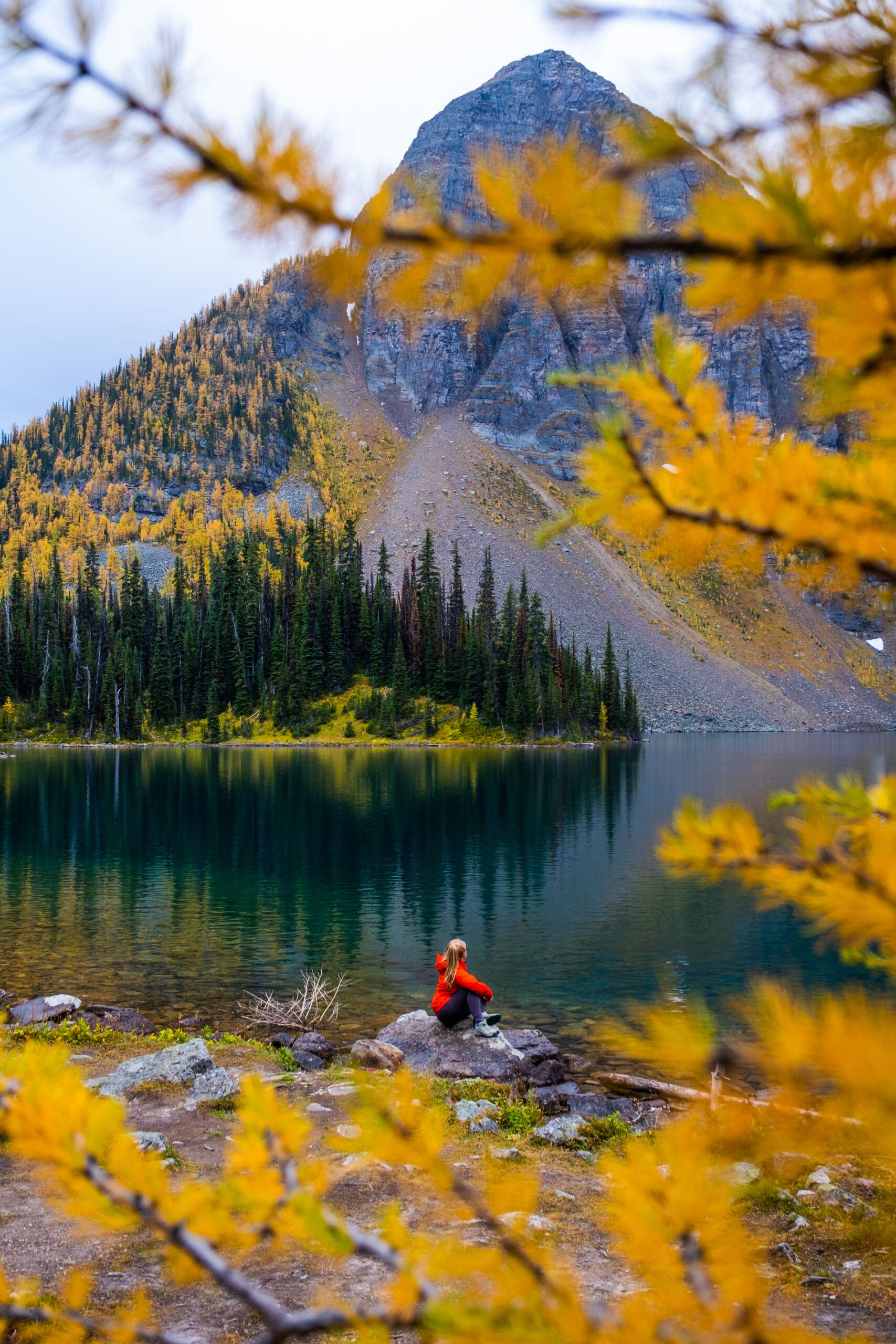 The Healy Pass Trail Hike Guide
---
Skoki Range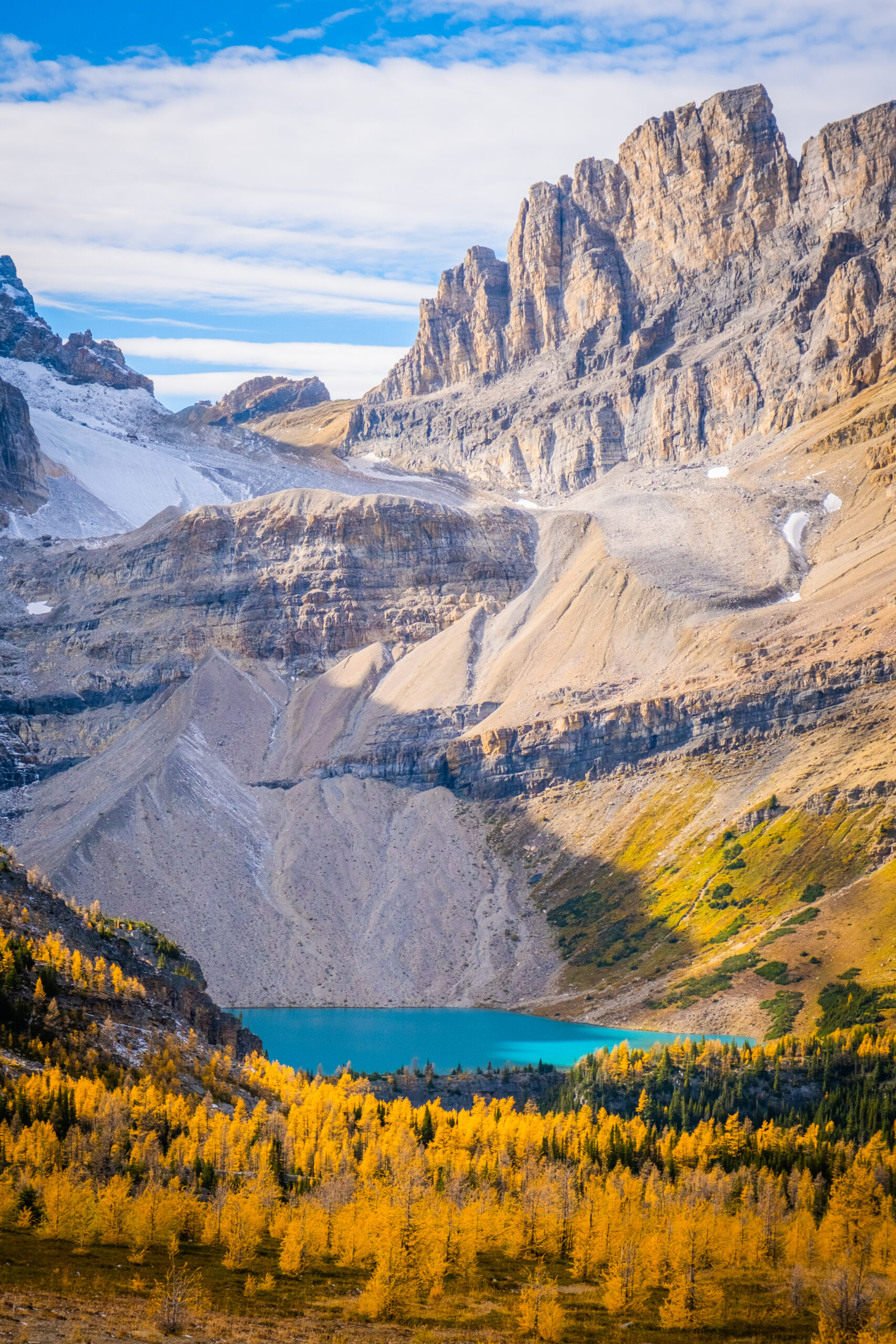 Trailhead: Skoki Lodge Parking
Distance: Depends on route, but plan on at least a 20 km day
Elevation: 965 meters
Difficulty: Hard because of the length
Time: 4 to 8 hours
This is hands down my favorite area to go see the larches in Banff in the fall. I note this as one whole area rather than a particular trail because the options are absolutely endless once you get back here.
However, you will have to put the work in just to make it back to the area, which I love as it keeps the area quiet. We've traveled back here a few different times in the larch season and every time find new views we have never seen before. A sense of adventure and route-finding helps explore here!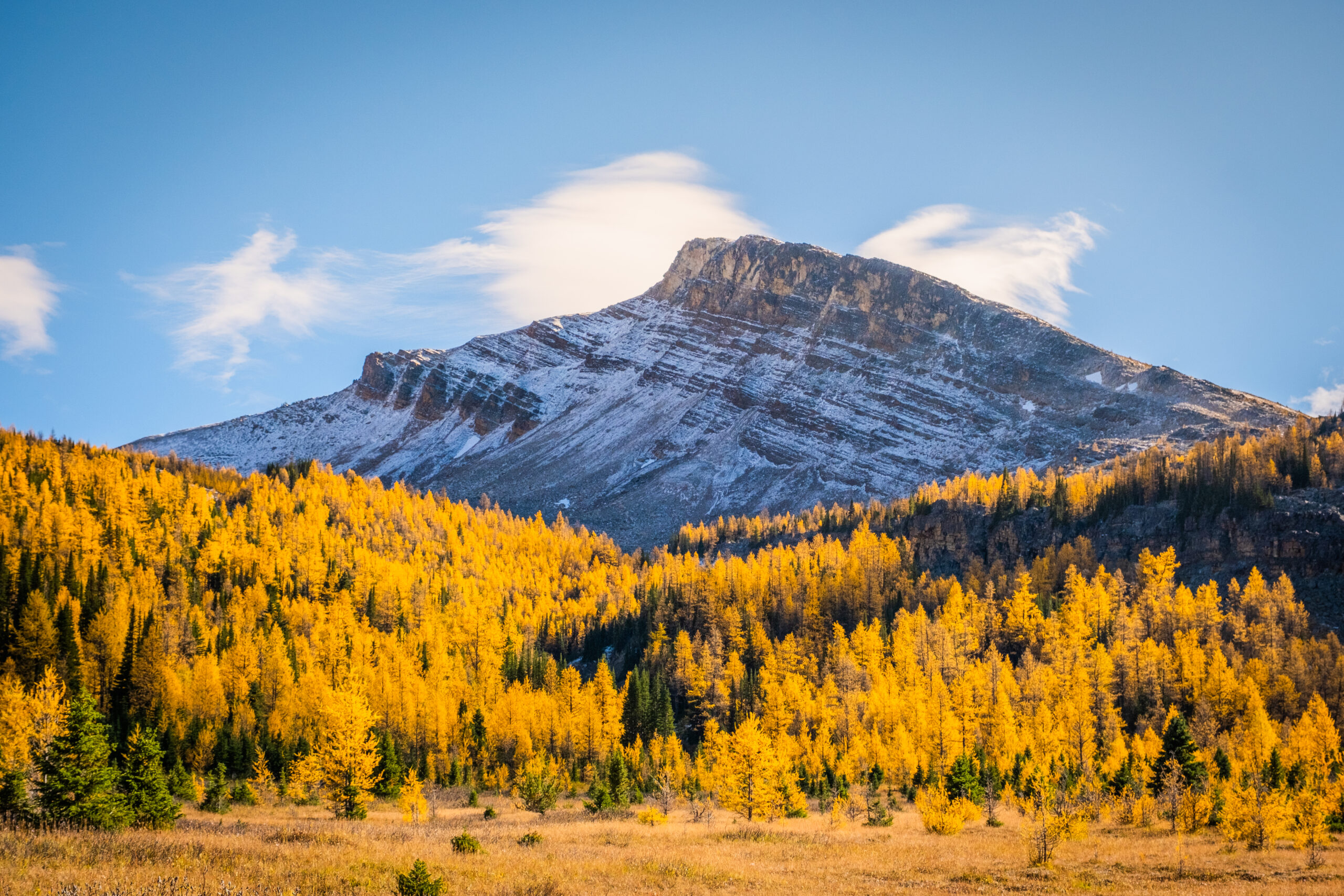 Although the Skoki area is right next to Lake Louise Ski Resort and literally across the TransCanada from Lake Louise and Moraine Lake, it is far less frequented or even heard about.
You'll start at the car park area for Skoki Lodge near Lake Louise Ski Resort to access the area. The start of the hike is incredibly dull as it trails along a ski-out road until you reach the Larch side of Lake Louise. Once you reach the chairlift, you have a few more km of hiking before the fun begins.
At about 7km, you'll emerge from the trees to a stunning valley. Continue along the well-established trail as you come across mind-blowing larches and impressive peaks.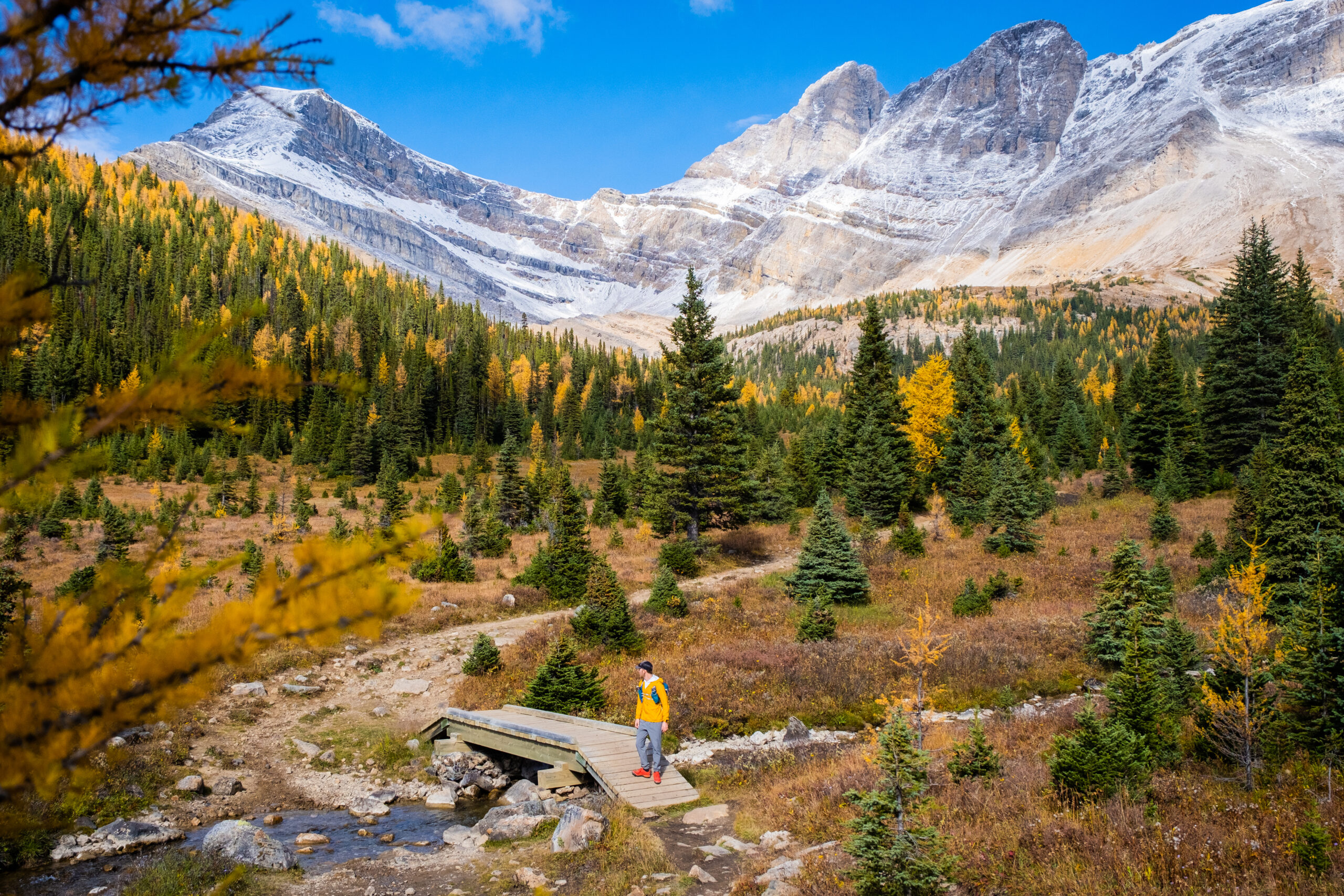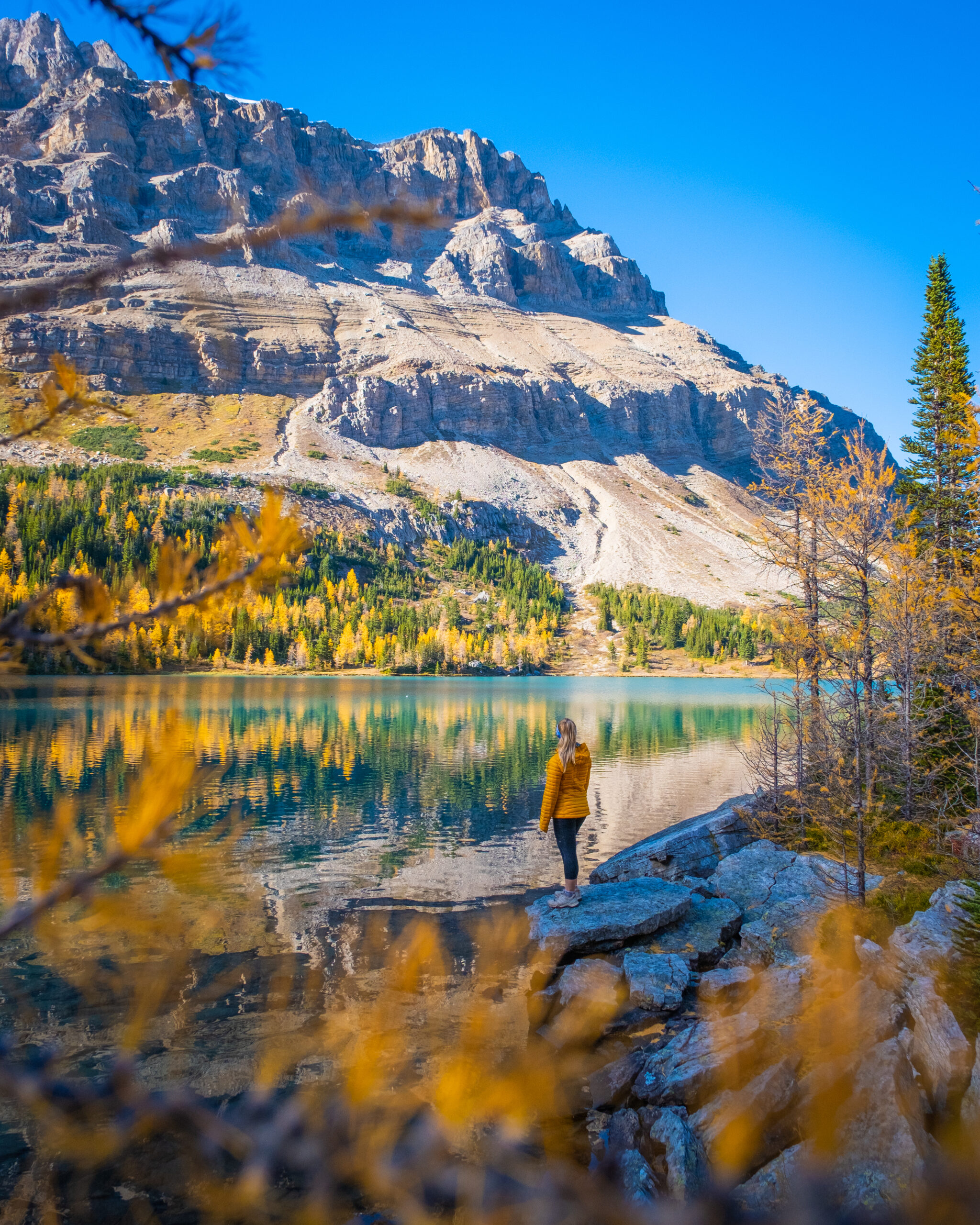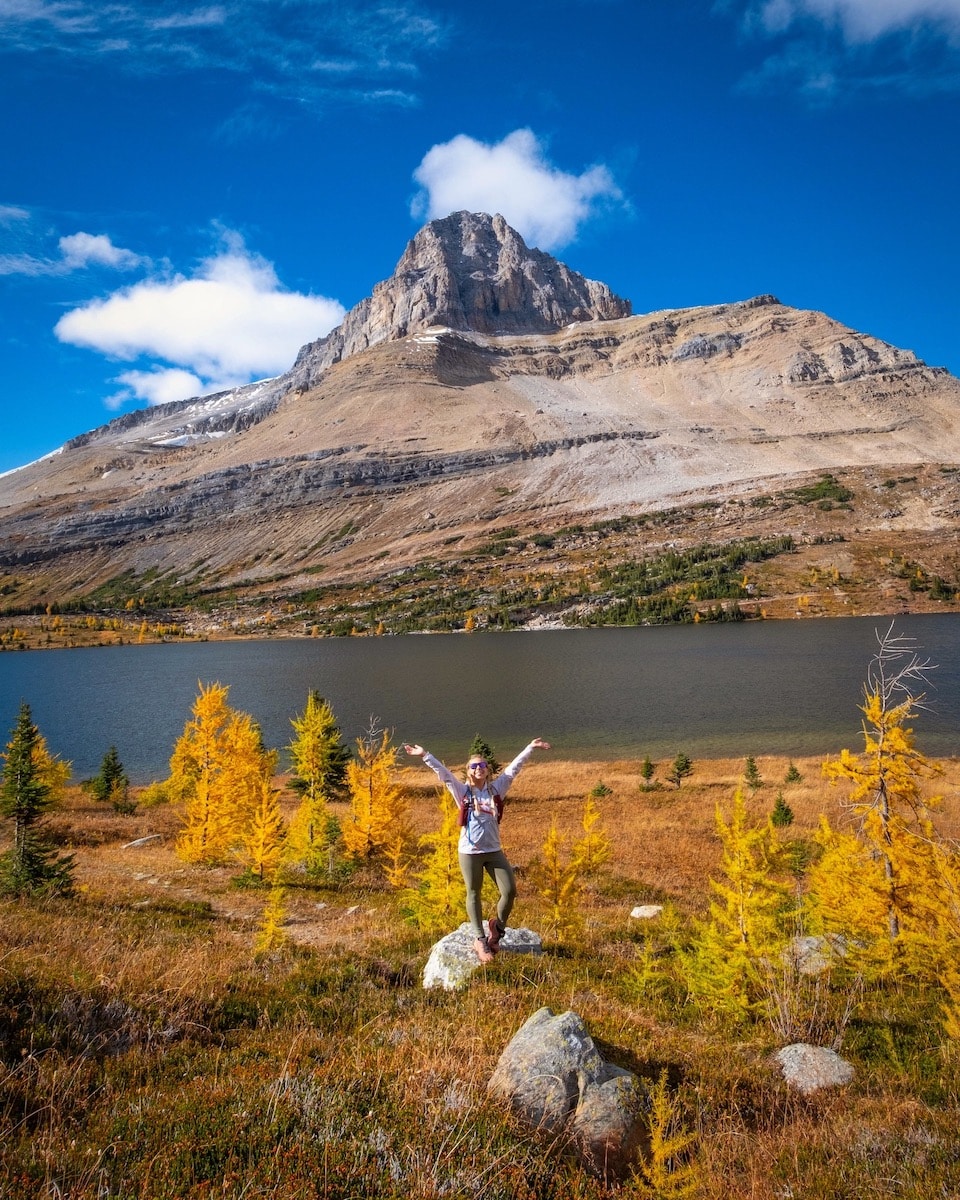 The first significant sense of accomplishment here is Ptarmigan Lake under the impressive Ptarmigan Peak. From here, you should have some understanding of where you are heading.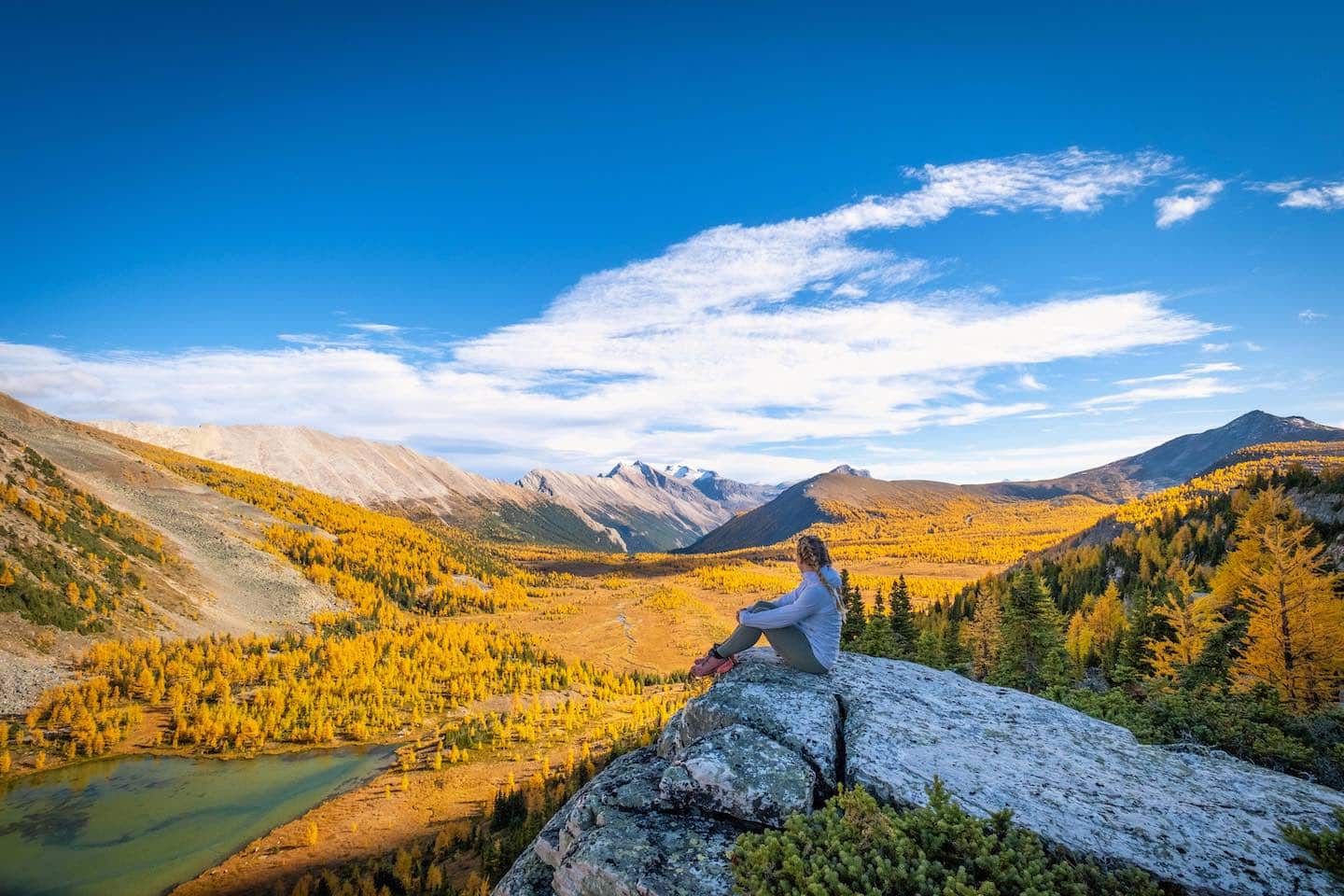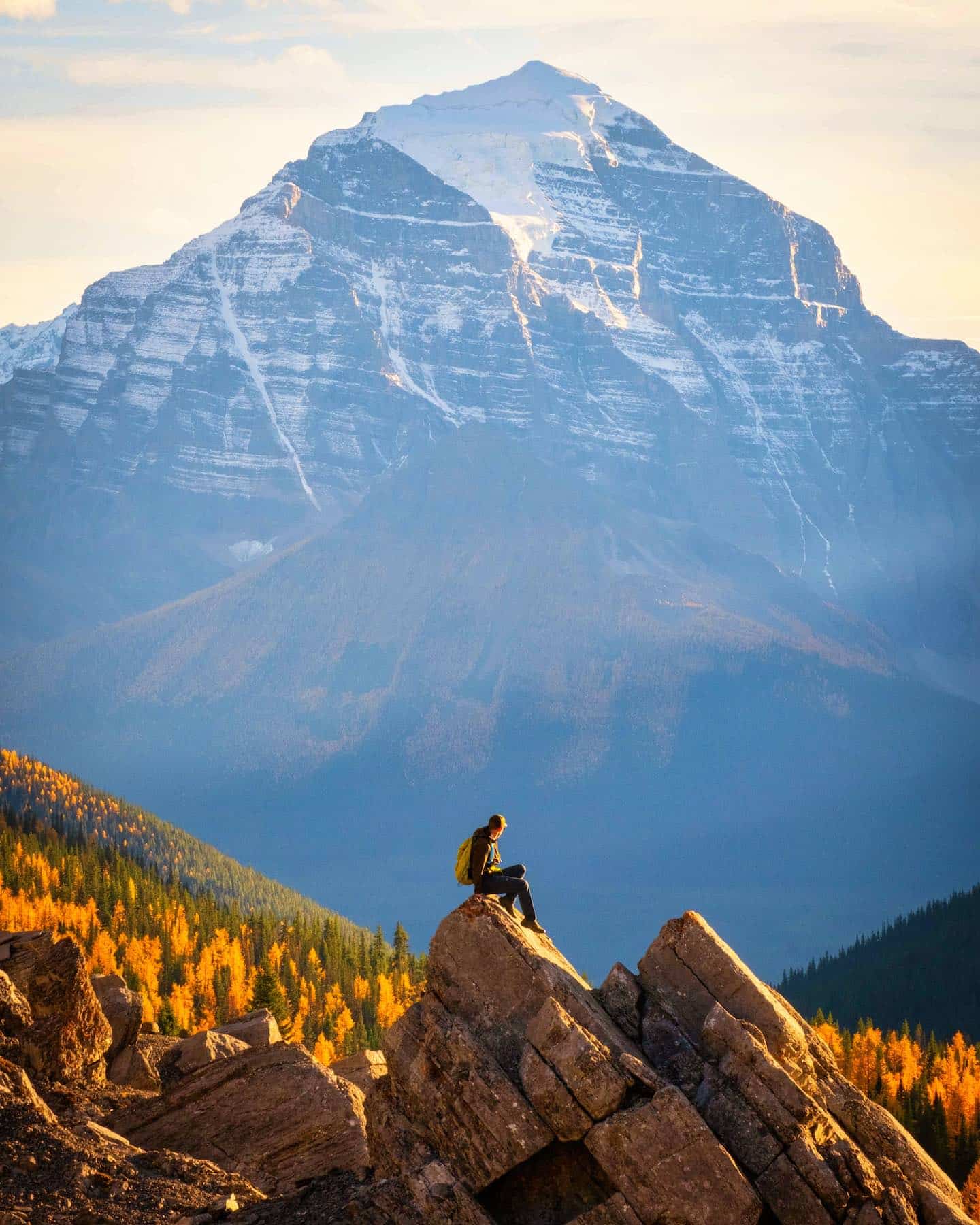 There are tons of hiking trails and mountains to climb, including Mount Richardson and Brachiopod Mountain. Or continue around Redoubt Mountain to see Redoubt Lake and possibly scramble up Unity Peak. Other options include hiking to Baker Lake and staying at Baker Lake Campground.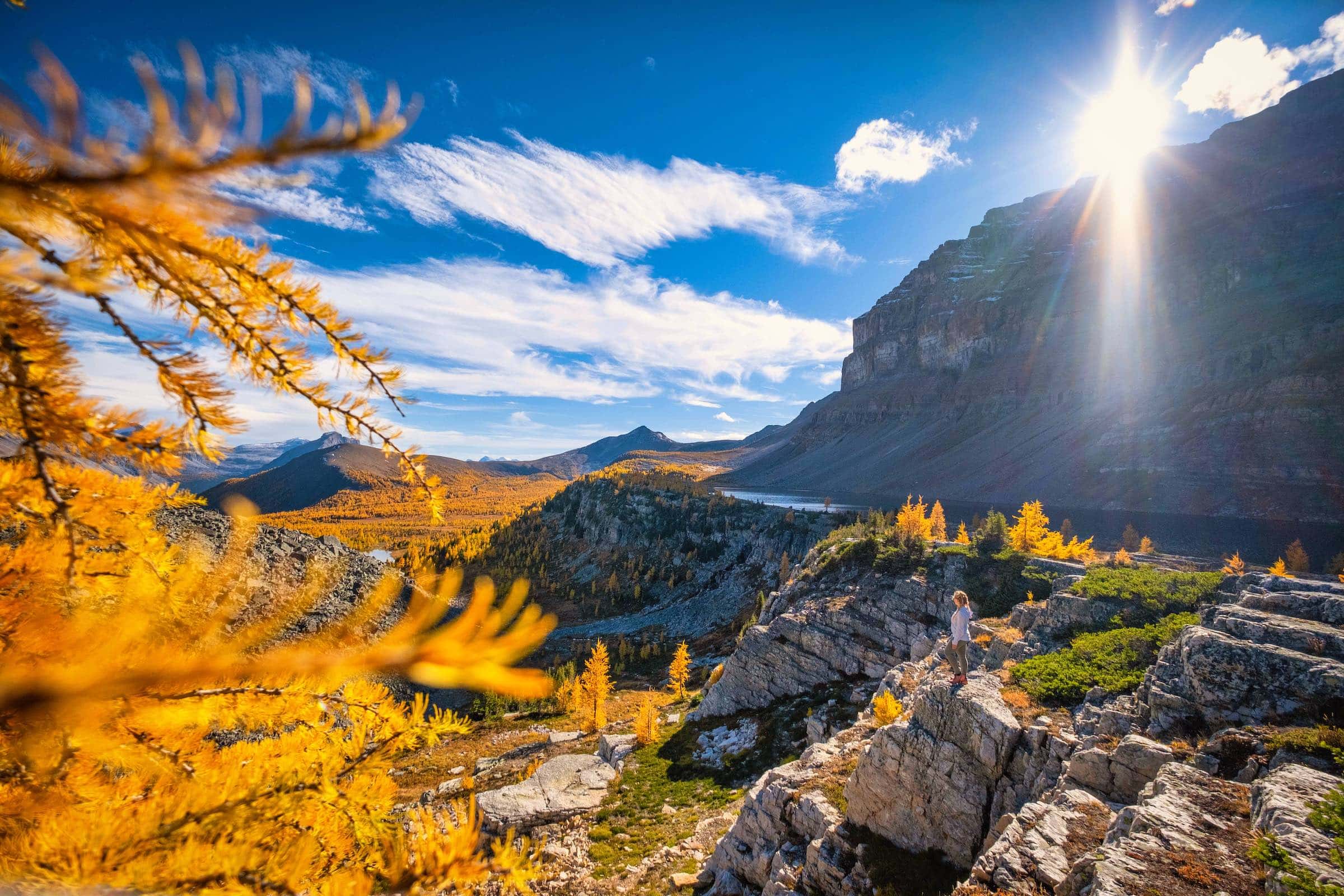 Many people hike up Deception Pass, where you can choose the trail to Myosotis Lake and Zigadenus Lake or to Skoki Lodge. Honestly, there are so many options here, so you'll have to grab a map and do your research and find out which area is best for you.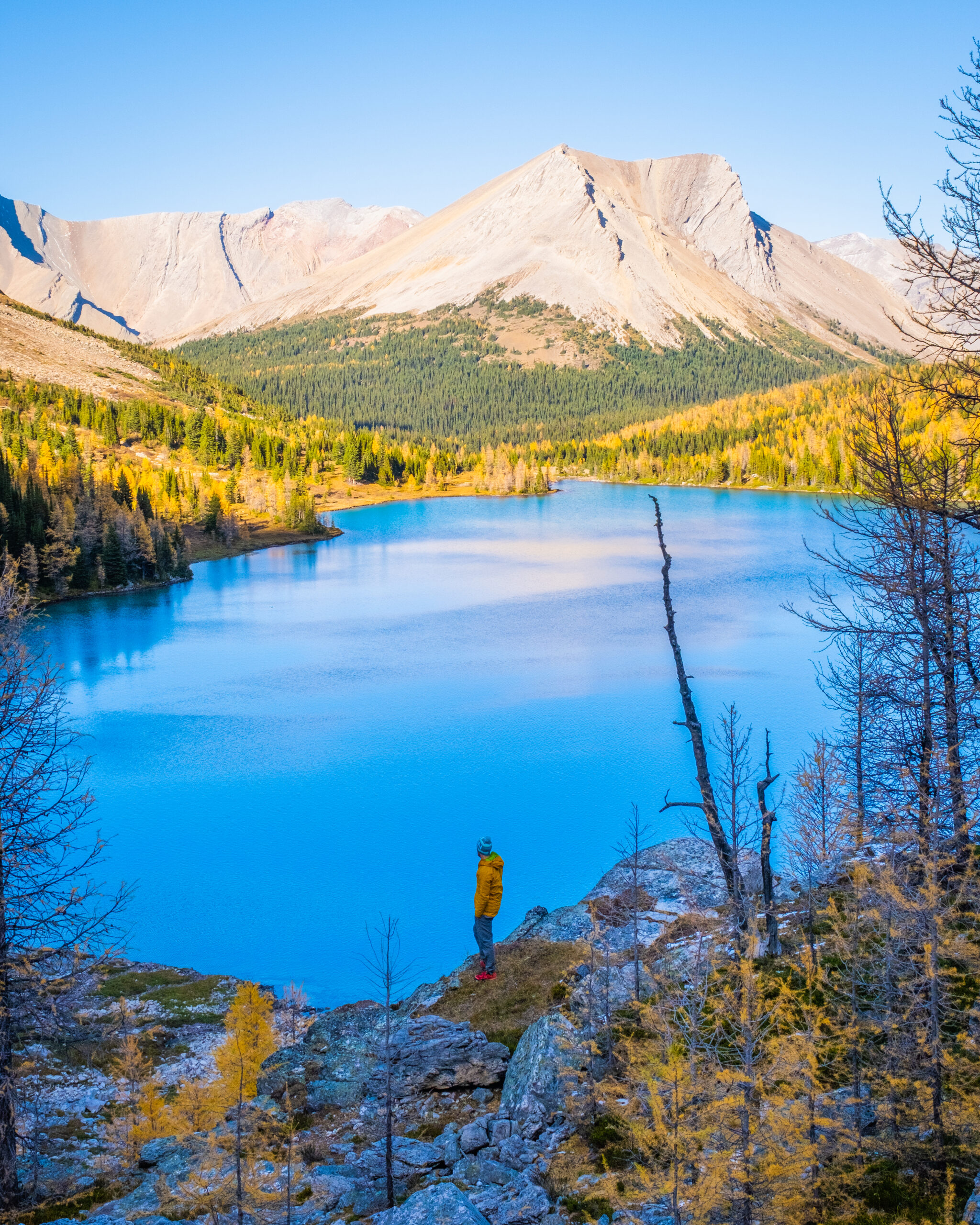 Just know that whatever you choose, be prepared for a very long day or to camp, as you have at least 18 km of hiking in and out to make it just to Ptarmigan Lake.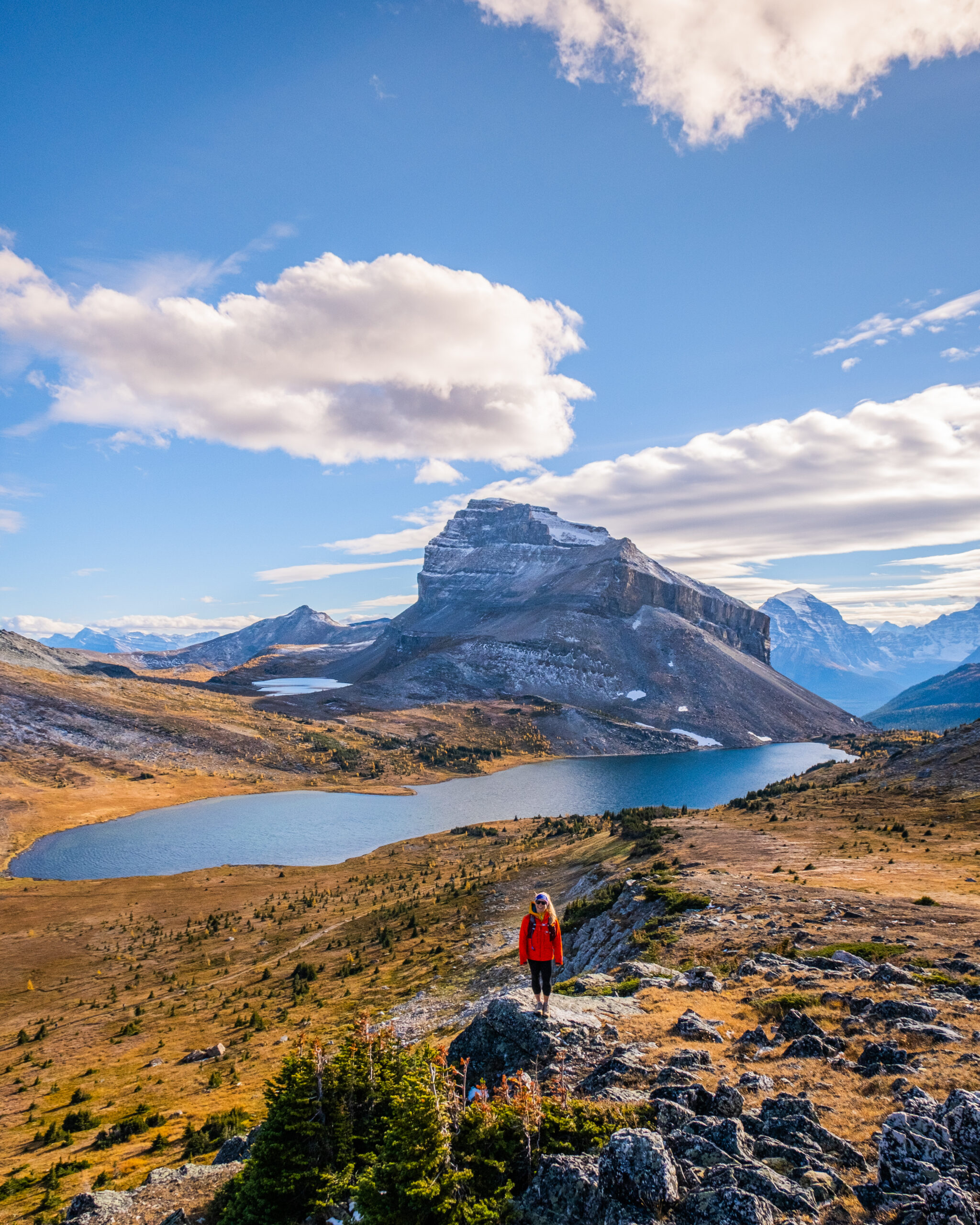 The only way to cut out a tad bit of hiking is to book an overnight at Skoki Lodge, one of the best cabins in Alberta, but it doesn't come cheap and must be booked well in advance.
Skoki Lodge will transfer overnighters from Lake Louise to Temple Lodge, where hikers can then start their hike – cutting out the boring access road.
---
Taylor Lake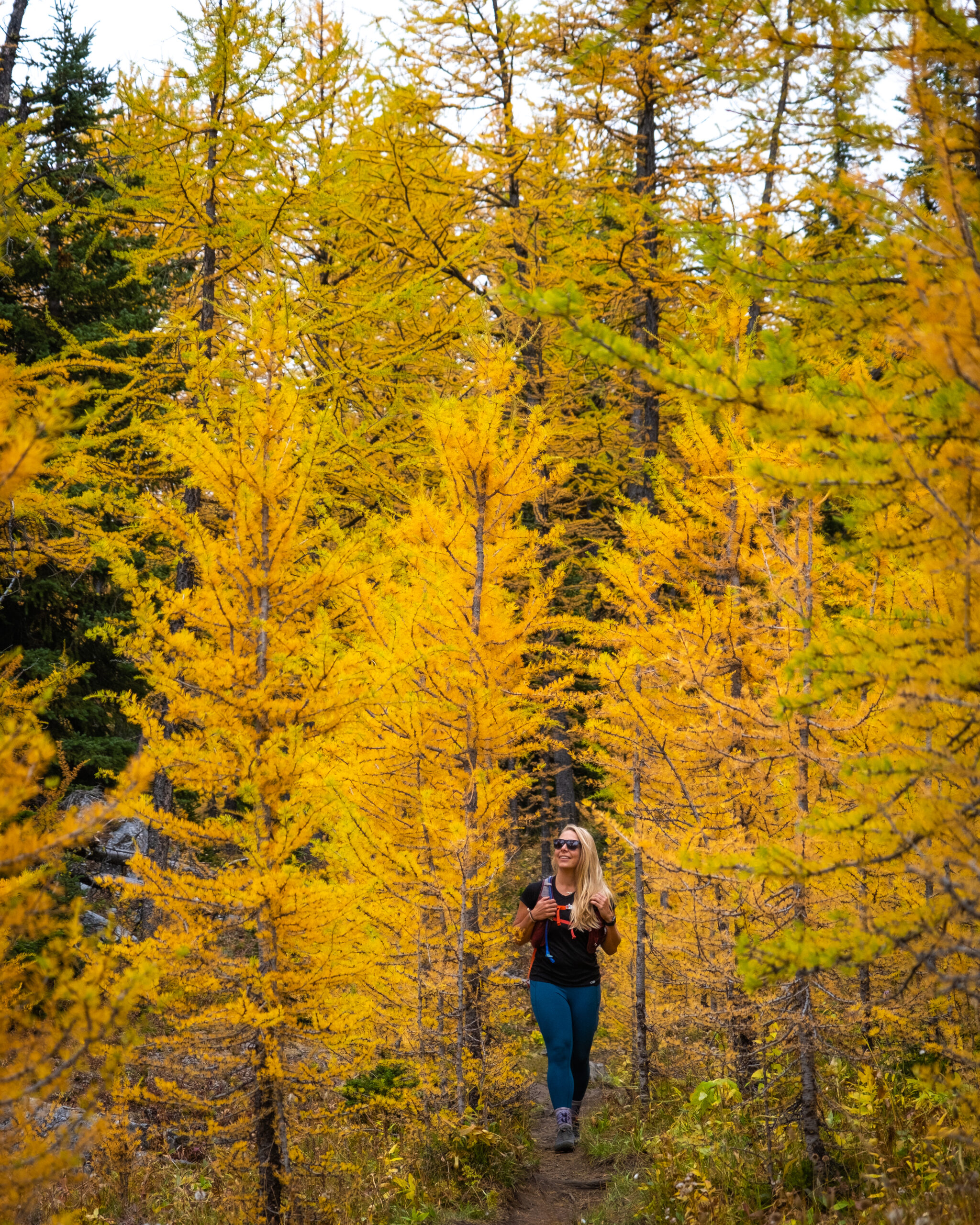 Trailhead: Taylor Lake Parking Area
Distance: 13.7km
Elevation: 907 meters
Difficulty: Moderate
Time: 3 to 6 hours
Taylor Lake sits at the base of Mt Bell and opens up to some spectacular views. It's a serene place and a fantastic day out in the mountains for active visitors who come to Banff.
Honestly, it is a pretty boring hike until you reach the lake itself, but once you get there, you'll be surrounded by yellow goodness. It's one of the more accessible hikes on this list and is a great autumn activity in Banff.
Continue on the trail and enjoy the nearby Panorama Meadows, as the widely spaced trees and elevation provide some great views of the valley below. During the weekend, you may find it hard to get parking as space is limited. Last year there were cars parked 1km each way on the Trans-Canada highway, which didn't seem exactly legal and would deter me from this trail.
Since this is one of the easier Banff hikes on this, it's more crowded. As mentioned, the other downside to this hike is that the vast majority takes place in the forest, so there isn't much for views until the end. It's a great payoff, though!
---
Best Larch Hikes in Kananaskis
---
Pocaterra Ridge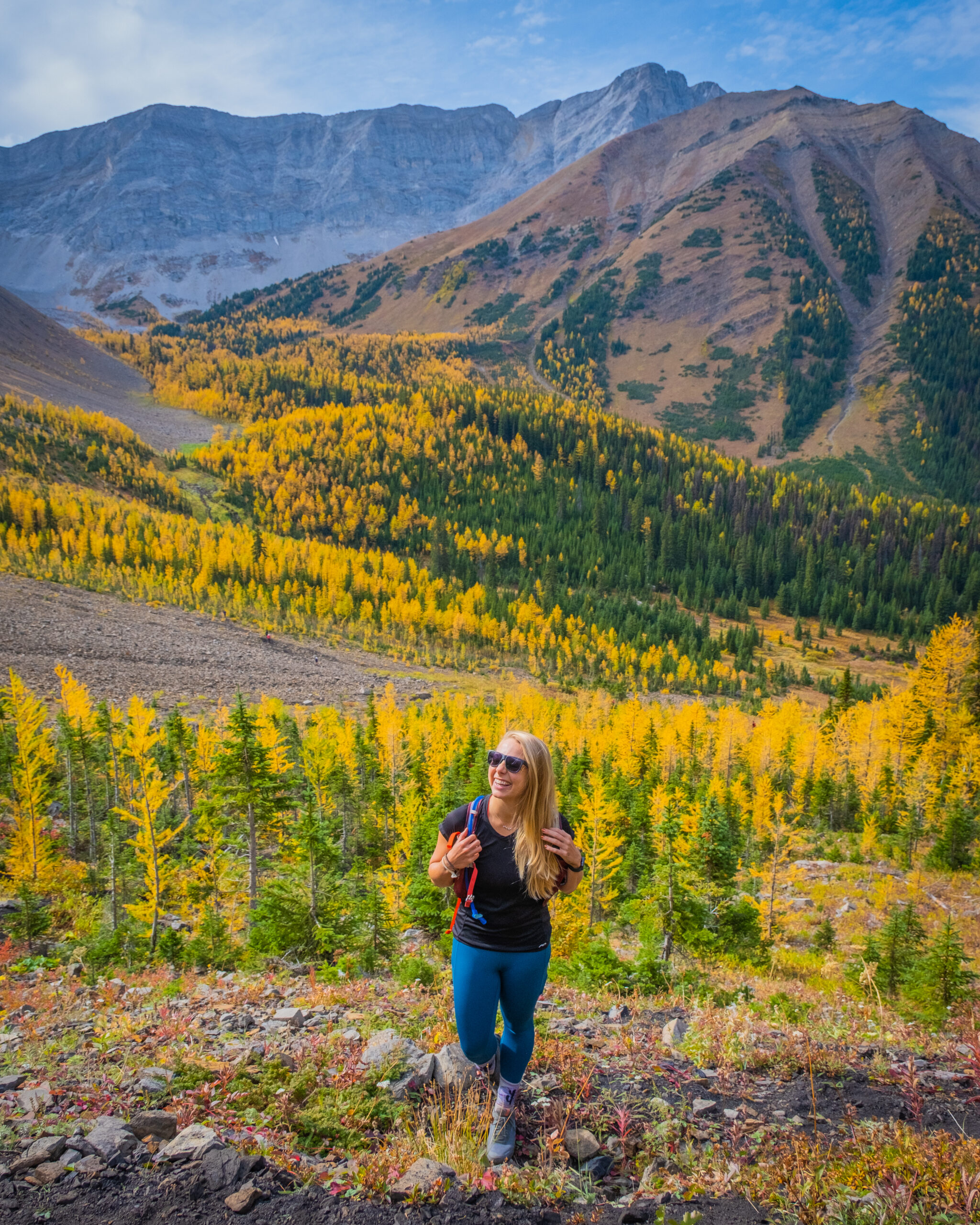 Trailhead: Near the Highwood Meadows Trail
Distance: 11.4km
Elevation: 764 meters if doing point to point
Difficulty: Moderate
Time: 4 to 7 hours
Although not in Banff National Park, Pocaterra Ridge is easily one of the most popular and best larch hikes on this list. It's a great thing to do in Kananaskis in the autumn.
Located near Highwood Pass in Kananaskis, Pocaterra Ridge is home to tons of larches. When the needles start to turn yellow, this is one of the first places you should head. Although if you can try and avoid weekends – it's a busy one!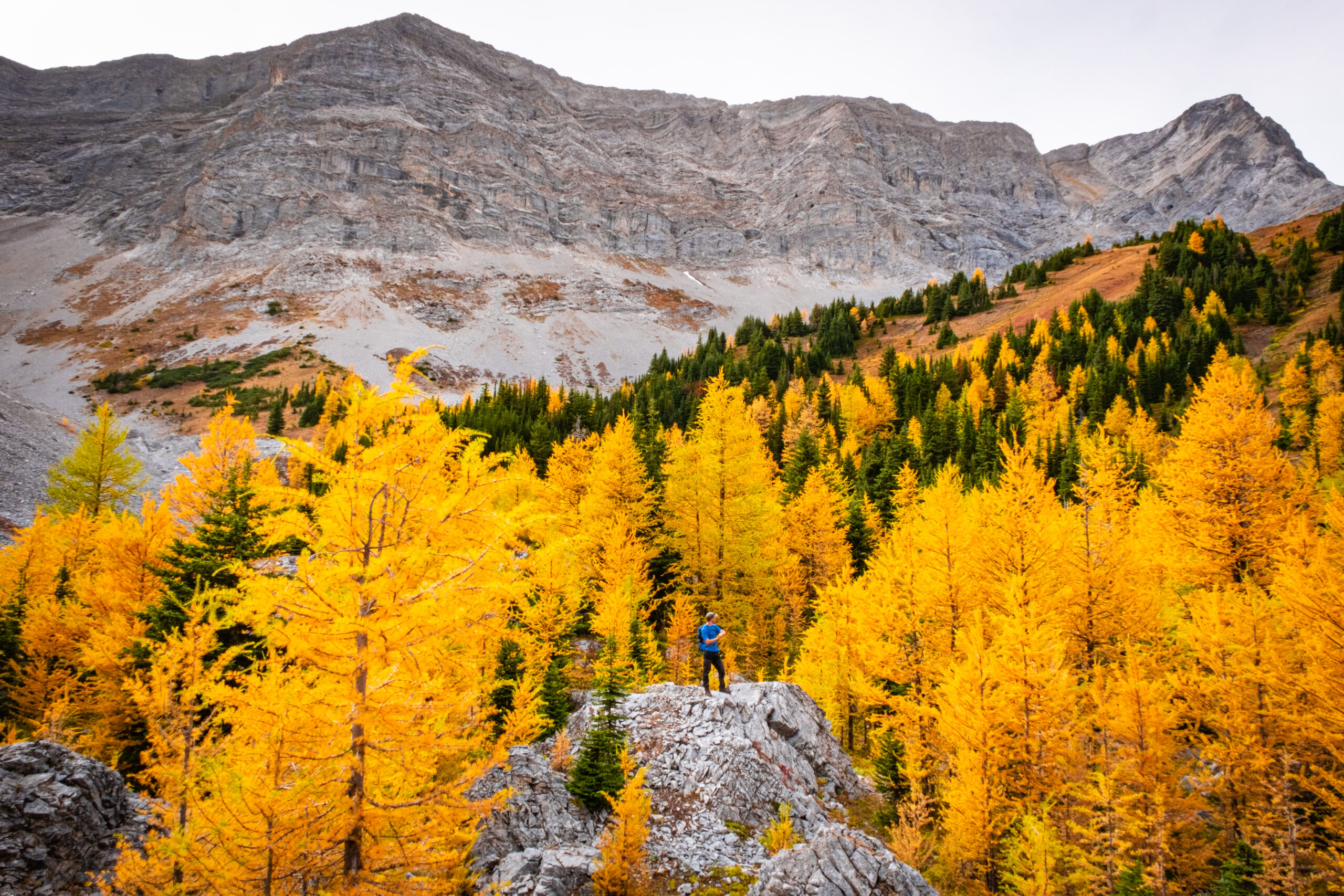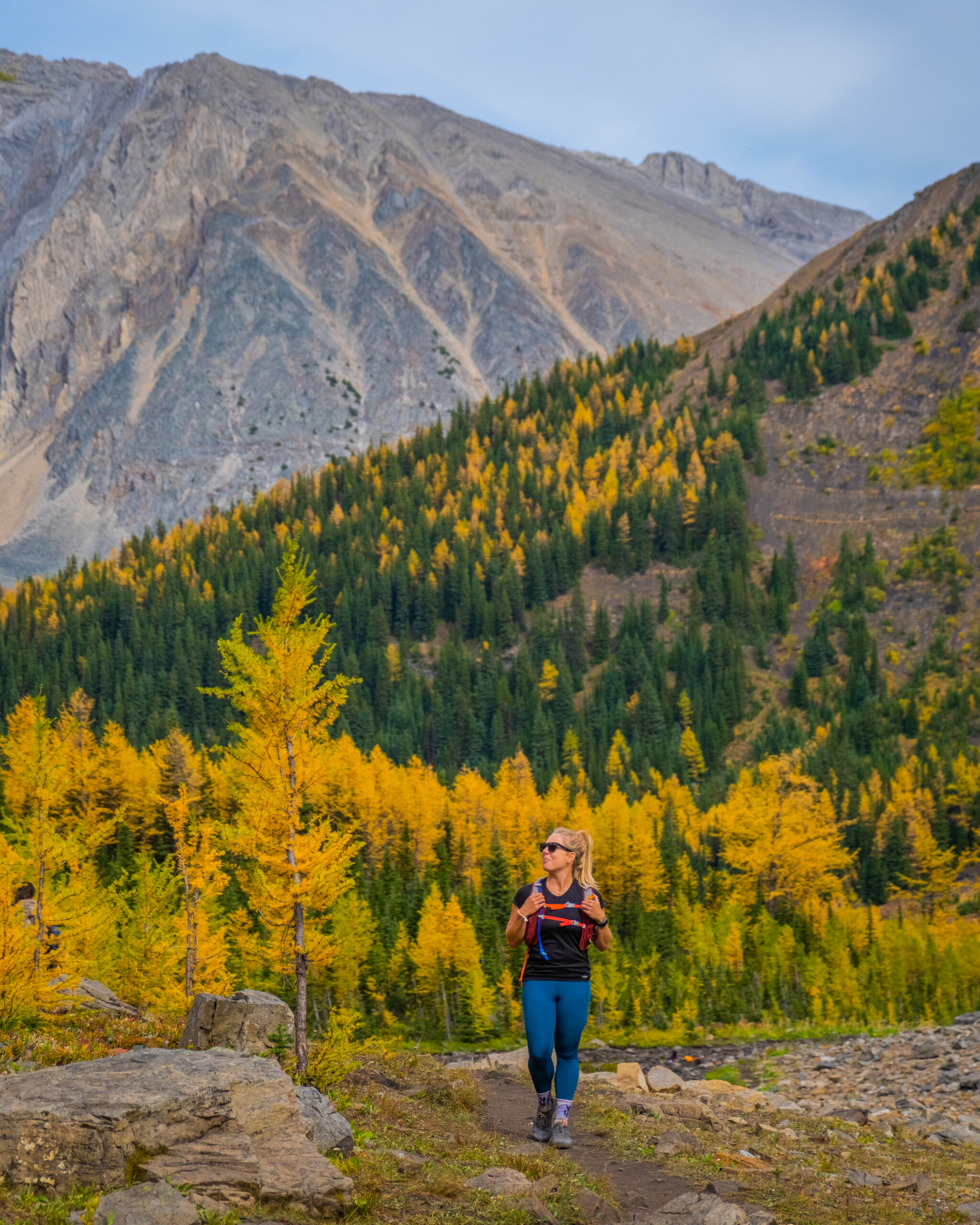 Pocaterra Ridge is typically done as a point-to-point hike, so I would definitely try to do it this way if you have two cars. We only had one car, so we completed this as an out and back hike.
To do this, you follow the trail network until you reach the open valley. Make sure to stay on the trail though, scores of people going off-trail have caused this trail to become extremely braided and confusing to navigate.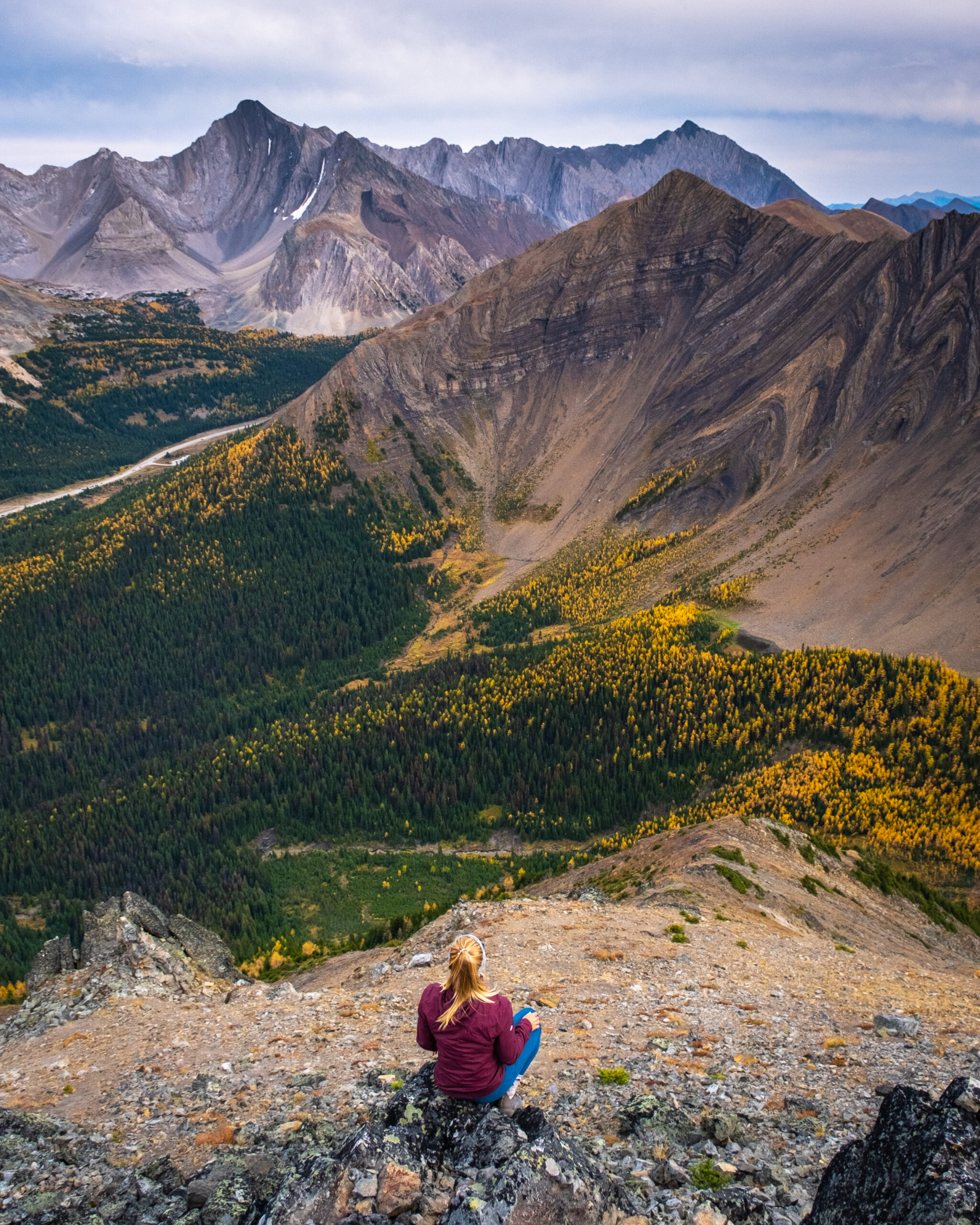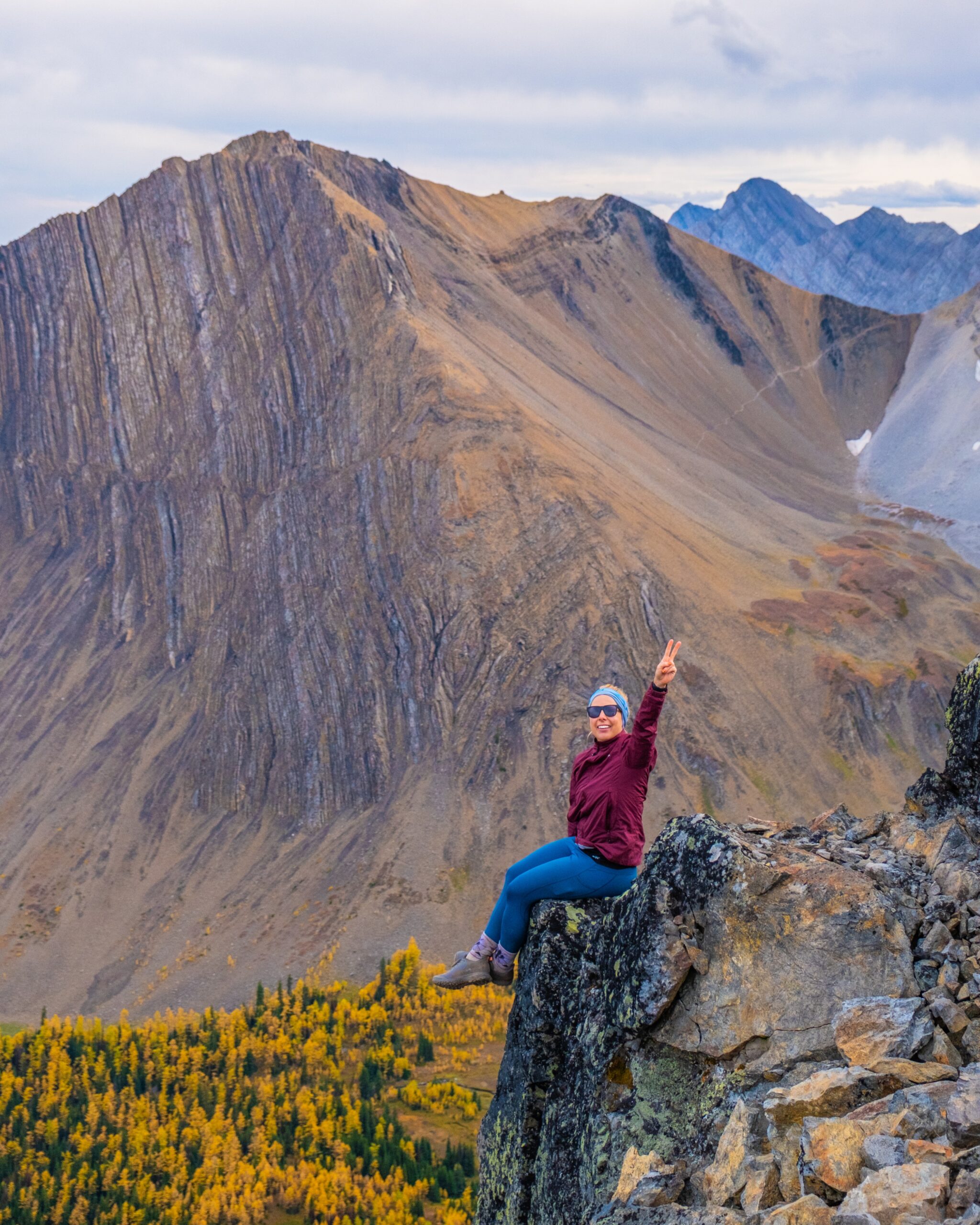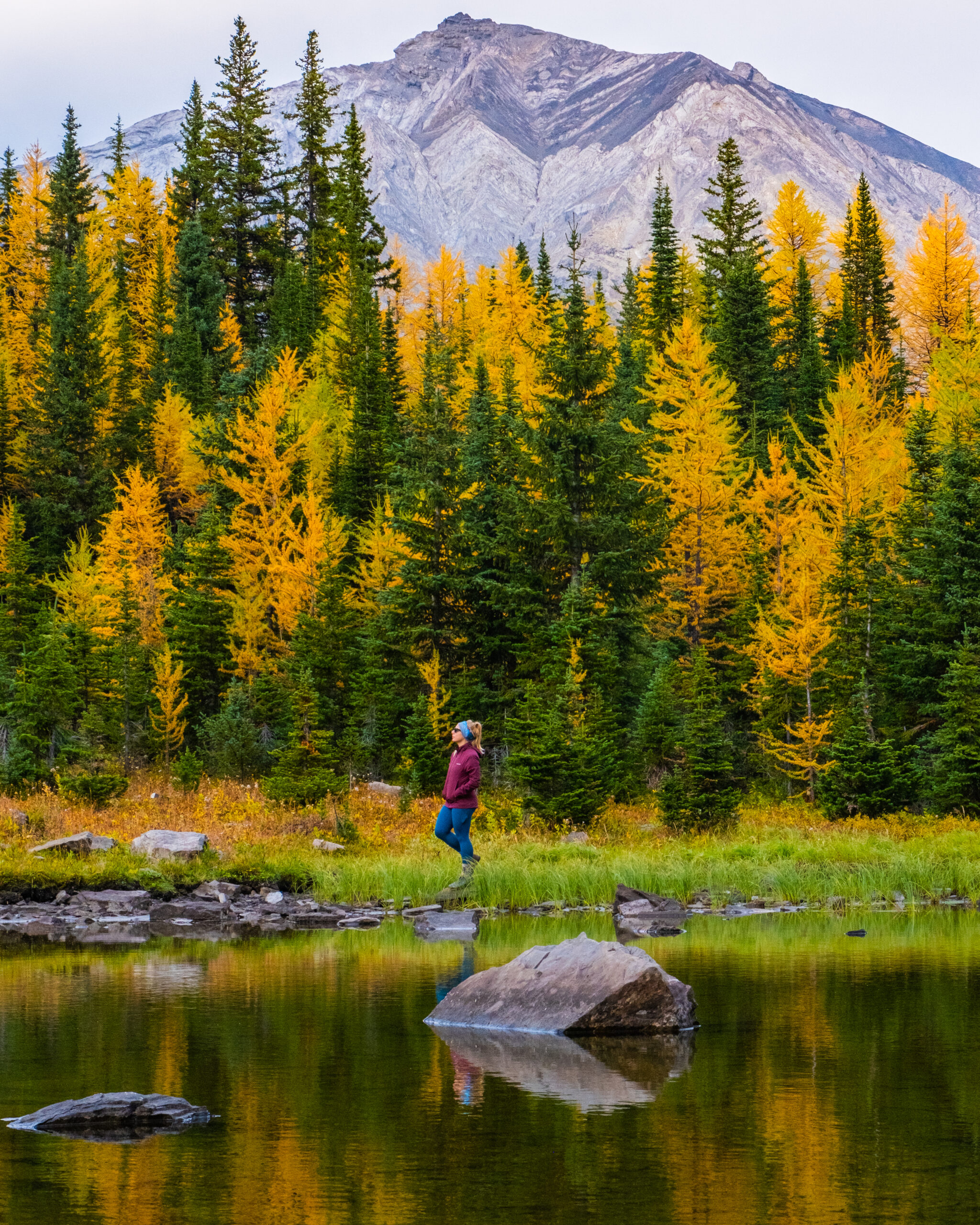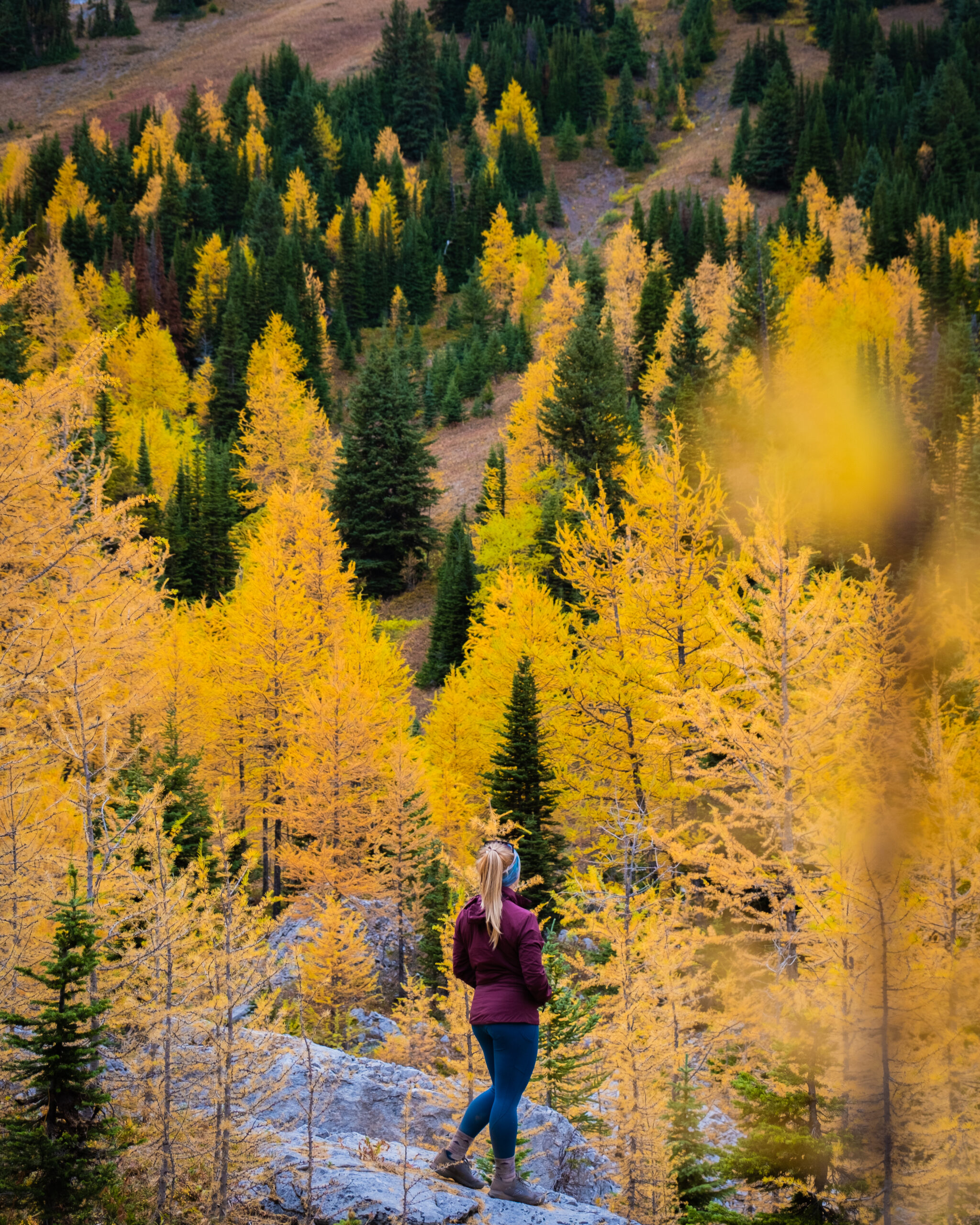 Once it opens up, an option is to continue along Pocaterra Cirque, which only takes you 430 m up and is easier than trying to summit the ridgeline.
Or you can head for the ridge summit. Once you reach the ridge's summit, about 600 meters up, you can either keep walking the ridge with some easy scrambling or head back down!
Pocaterra Ridge Hike in Kananaskis – All You Need to Know
---
Ptarmigan Cirque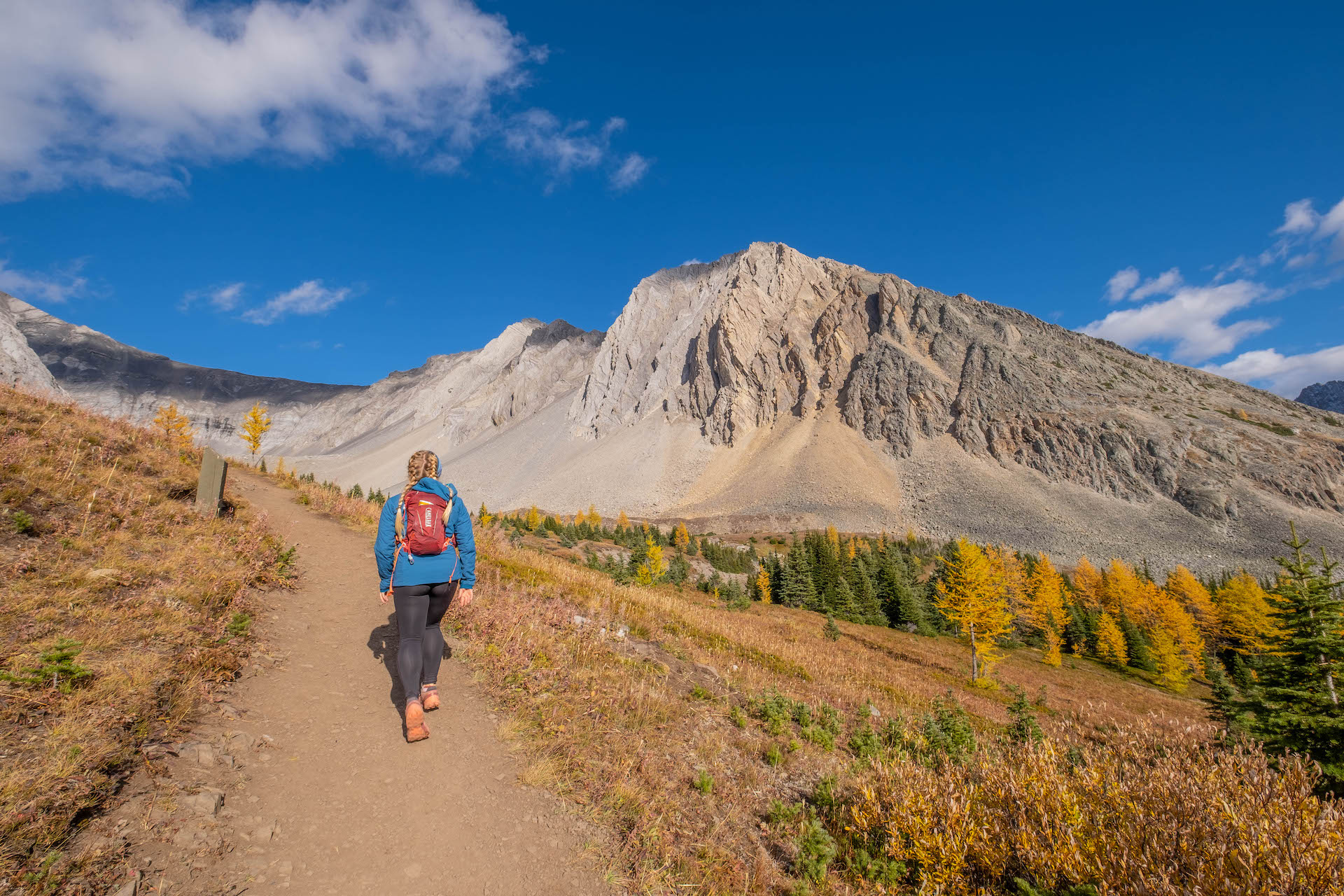 Trailhead: Near the Highwood Meadows Trail
Distance: 4.2 km
Elevation: 271 meters
Difficulty: Easy
Time: 1-2 hours
Ptarmigan Cirque is a short and sweet larch hike in Kananaskis that the whole family can enjoy. Located just across Highway 40 from the Pocaterra trailhead, you'll have to get here early to get parking on weekends.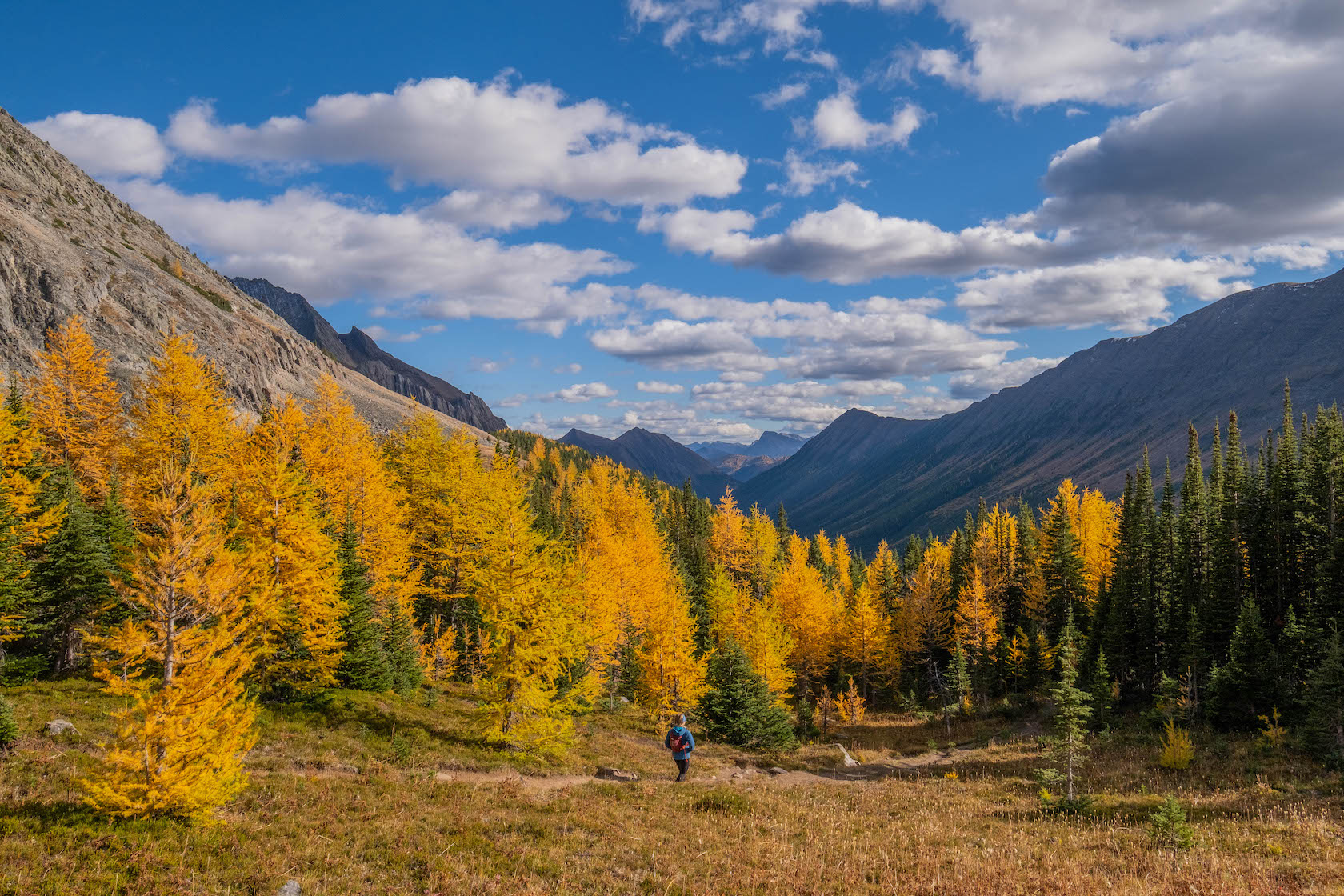 This hike is only a 4.2 km round trip and has an elevation gain of 271 meters. To start, cross Highway 40 from the car park and follow the well-trodden trail and walk until you get a stunning open vista of the larches.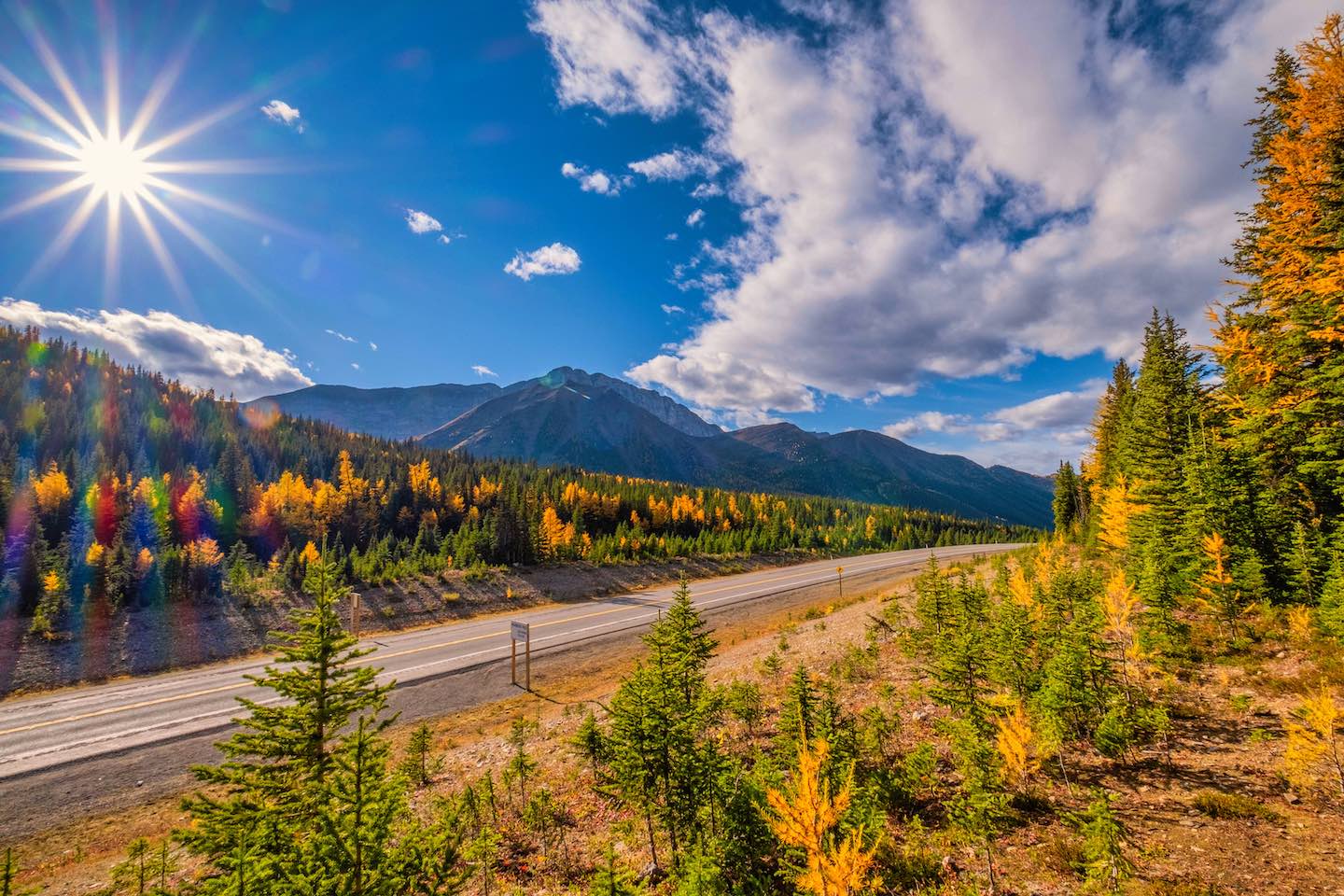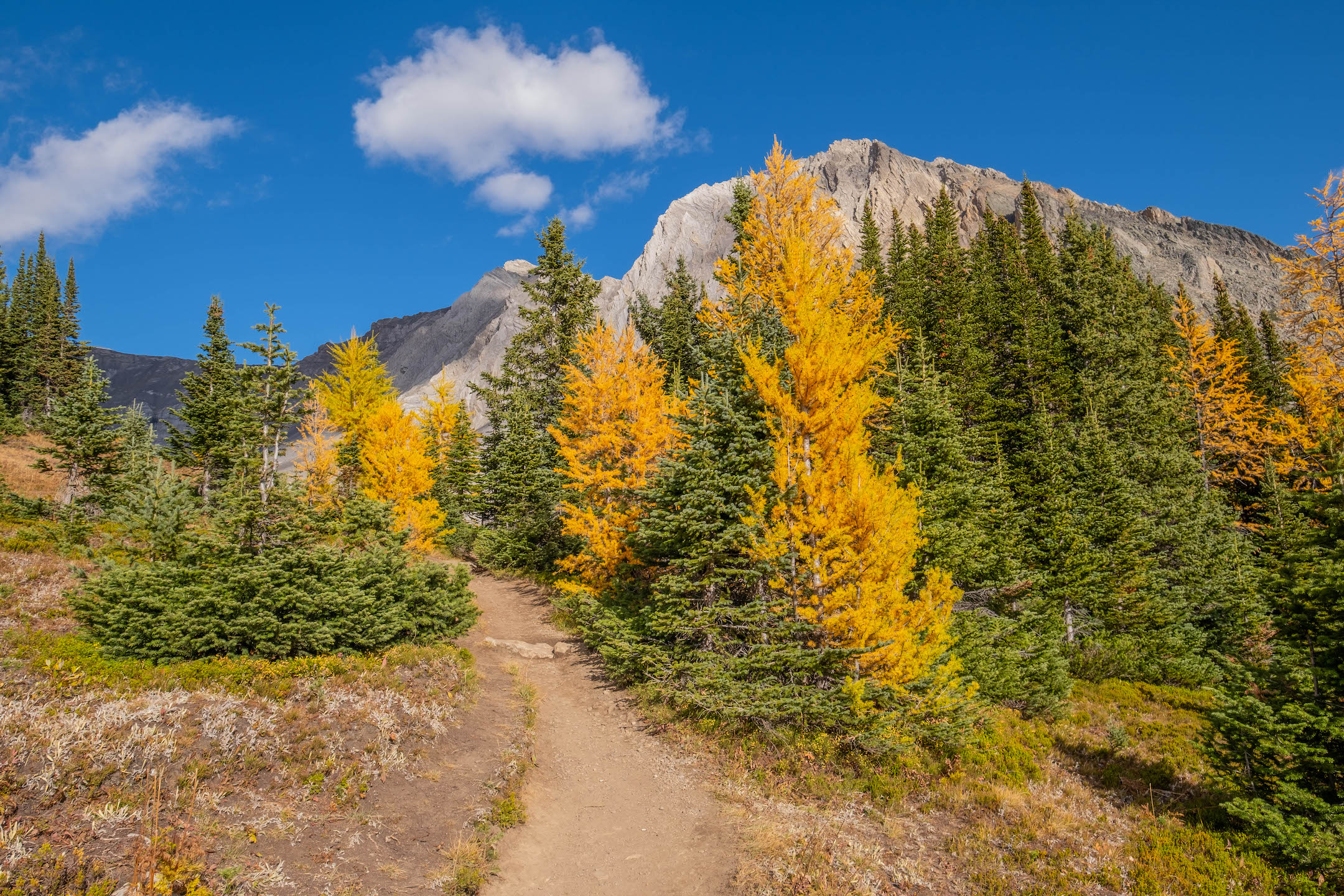 Continue up to the valley, where the views will quickly open up, and you'll see the trail ahead of you. It's a loop trail that goes by rather quickly, and I personally wouldn't make the drive just for this hike.
In my opinion, Arethusa Cirque (mentioned below) is comparable in difficulty but much more enjoyable. I would highly suggest combining Ptarmigan Cirque with Pocaterra Ridge or Arethusa Cirque for a full day, as chances are you drove quite a ways to get here.
Nevertheless, Ptarmigan Cirque remains one of the busiest Alberta larch hikes because of its ease and accessibility.
During peak larch season, there have been parking and crowding issues here. If you arrive and find cars lined up down HWY 40, consider another hike, as it's best not to add to the congestion. Or, to mitigate this issue get here early or in the evening, especially on weekends.
15 EASY Hikes in Kananaskis to Enjoy
---
Arethusa Cirque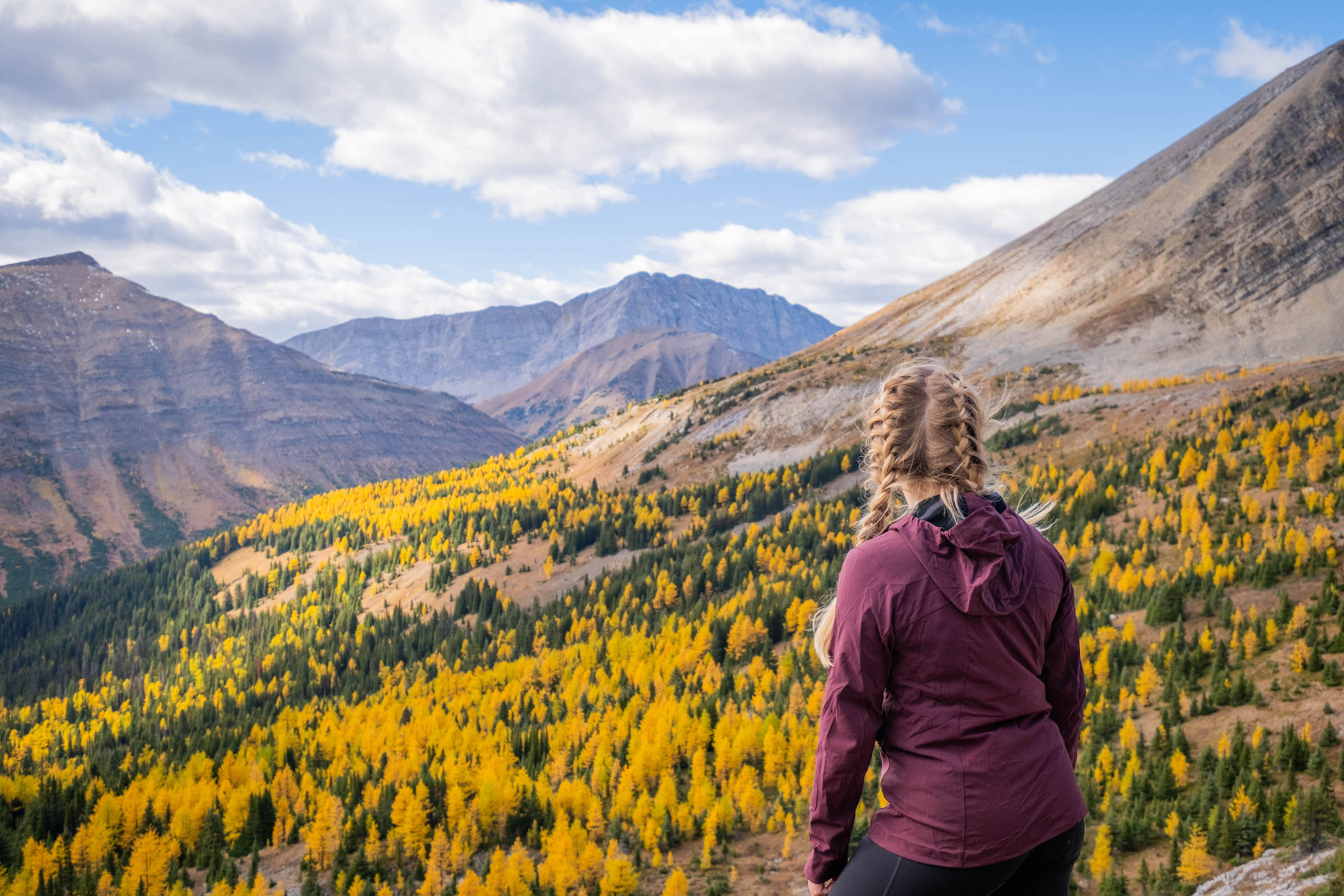 Trailhead: Arethusa Cirque Trailhead off HWY 40
Distance: 5 km
Elevation: 350 meters
Difficulty: Easy
Time: 2-3 hours
As a well-known family-friendly hike in Kananaskis, I wasn't expecting much from Arethusa Cirque. We decided to do it with a 4-week old newborn since it looked simple for a new momma and the babes.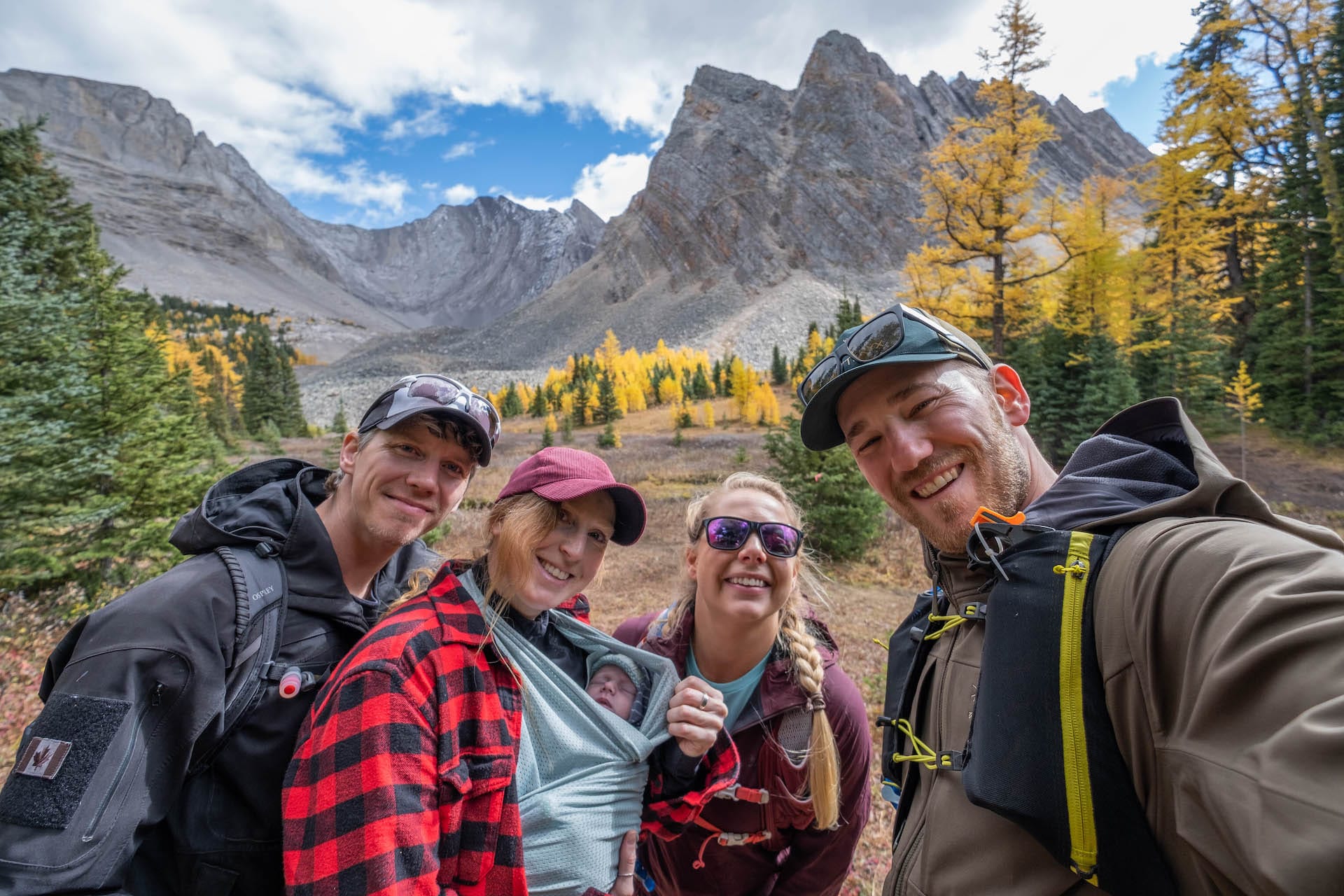 Boy, was I wrong about my perceptions with this hike as the views of Mount Arethusa, Mount Tyrwhitt, and Storm Mountain will amaze you. The views from the trail completely blew me away and were on par, if not better than Pocaterra Ridge.
If you are looking for an easy half-day larch hike, put Arethusa Cirque on your list. This is a loop trail that I would suggest taking clockwise. There is one very steep and loose section that is better to ascend than descend – especially with children or older hikers with less mobility.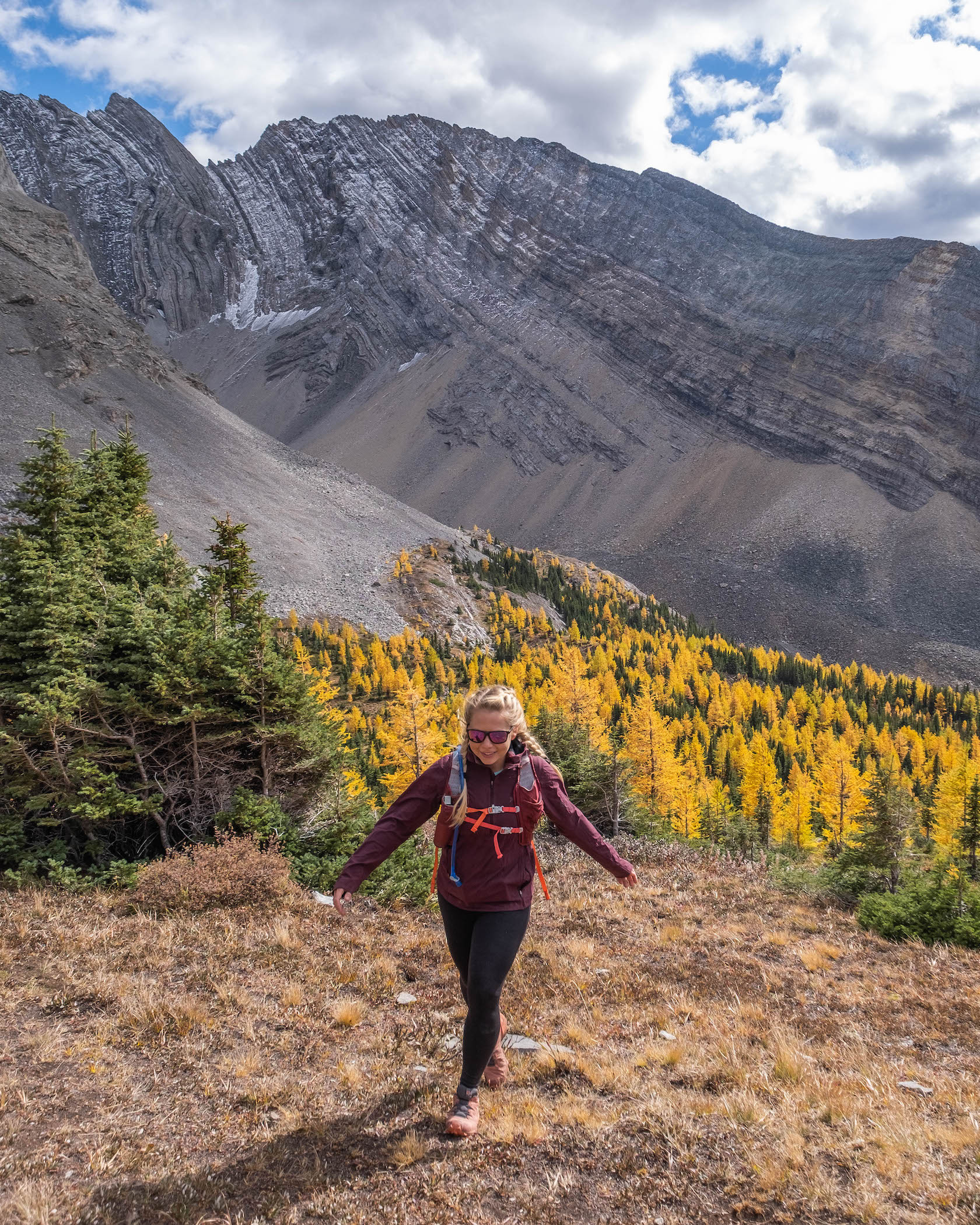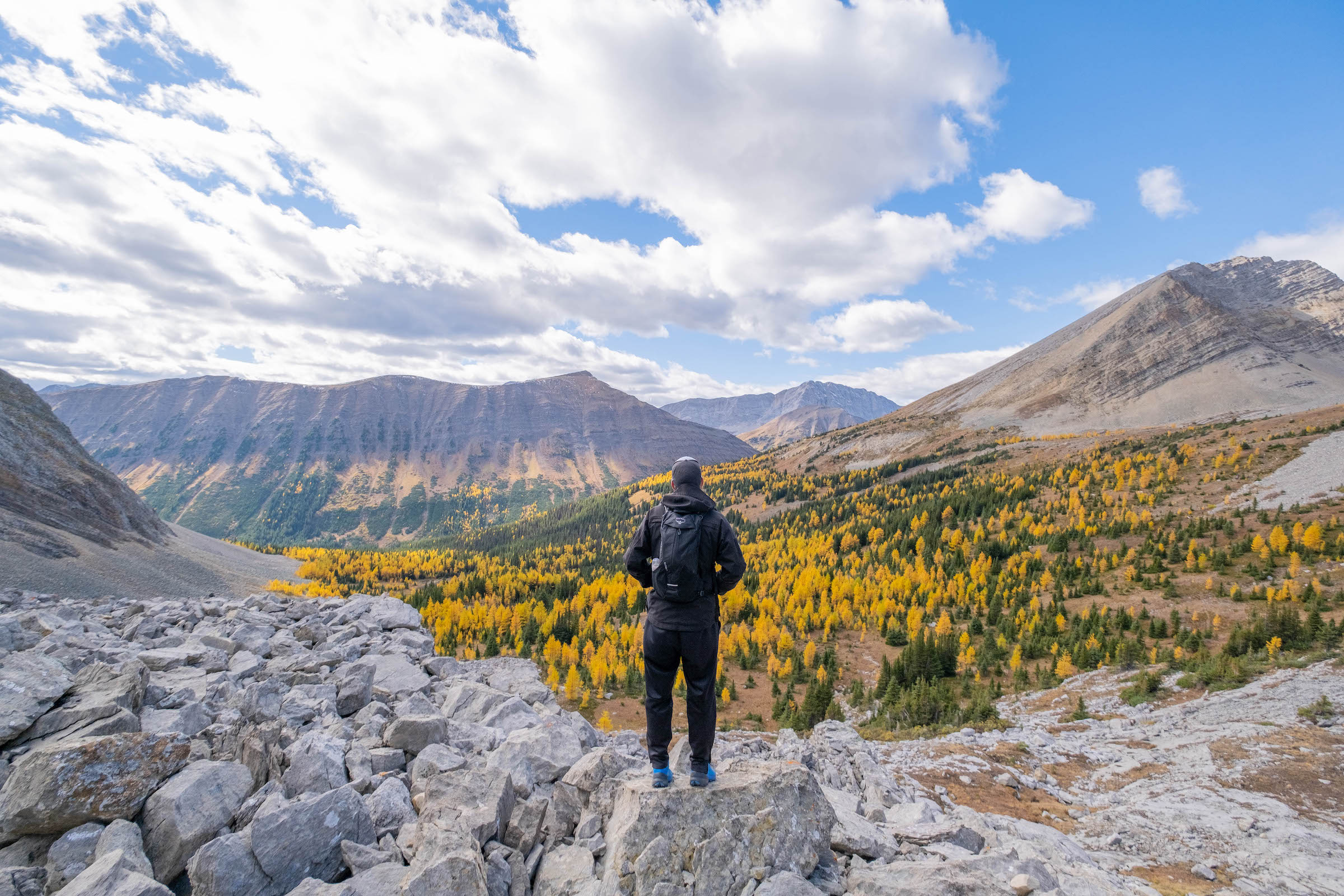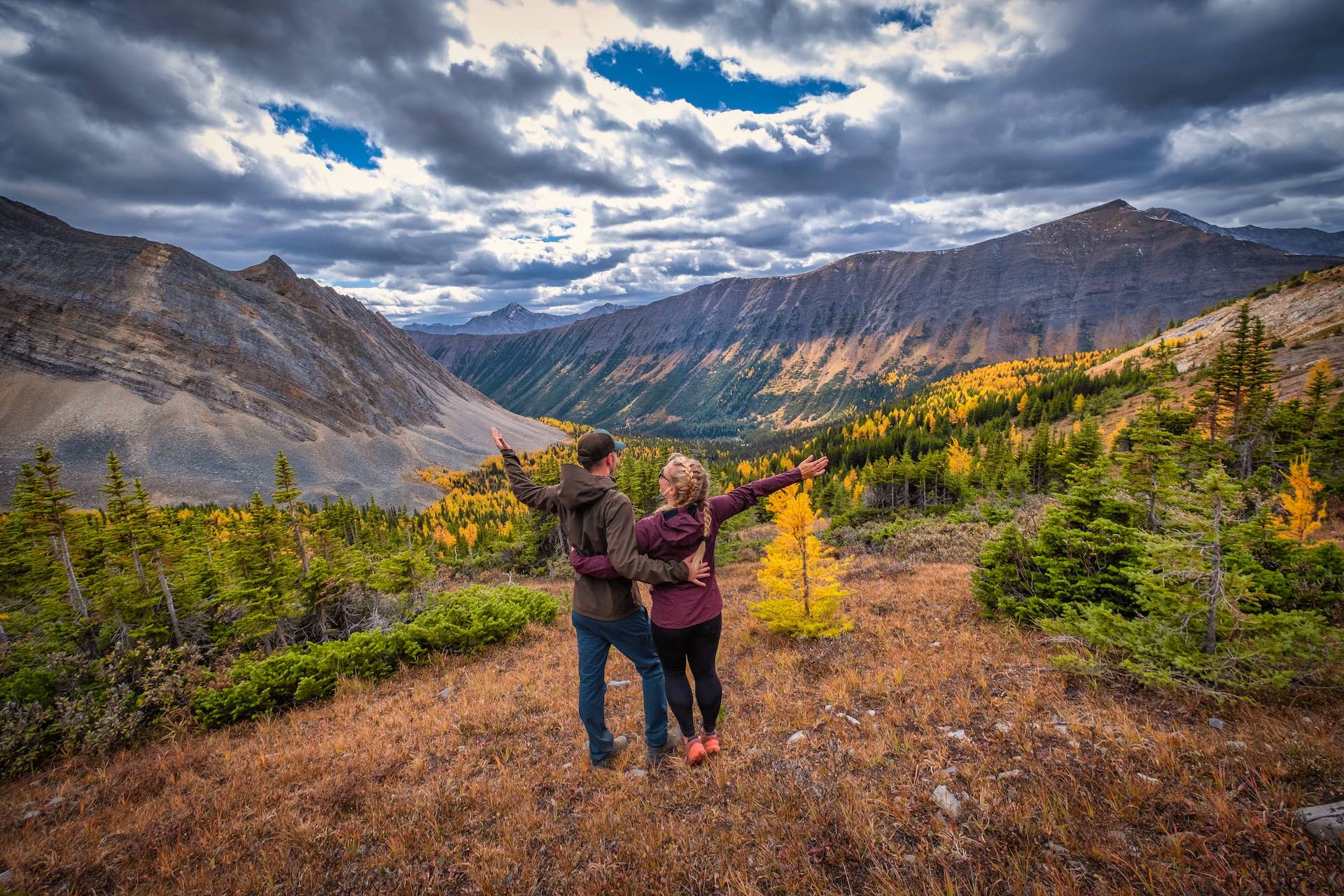 ---
Chester Lake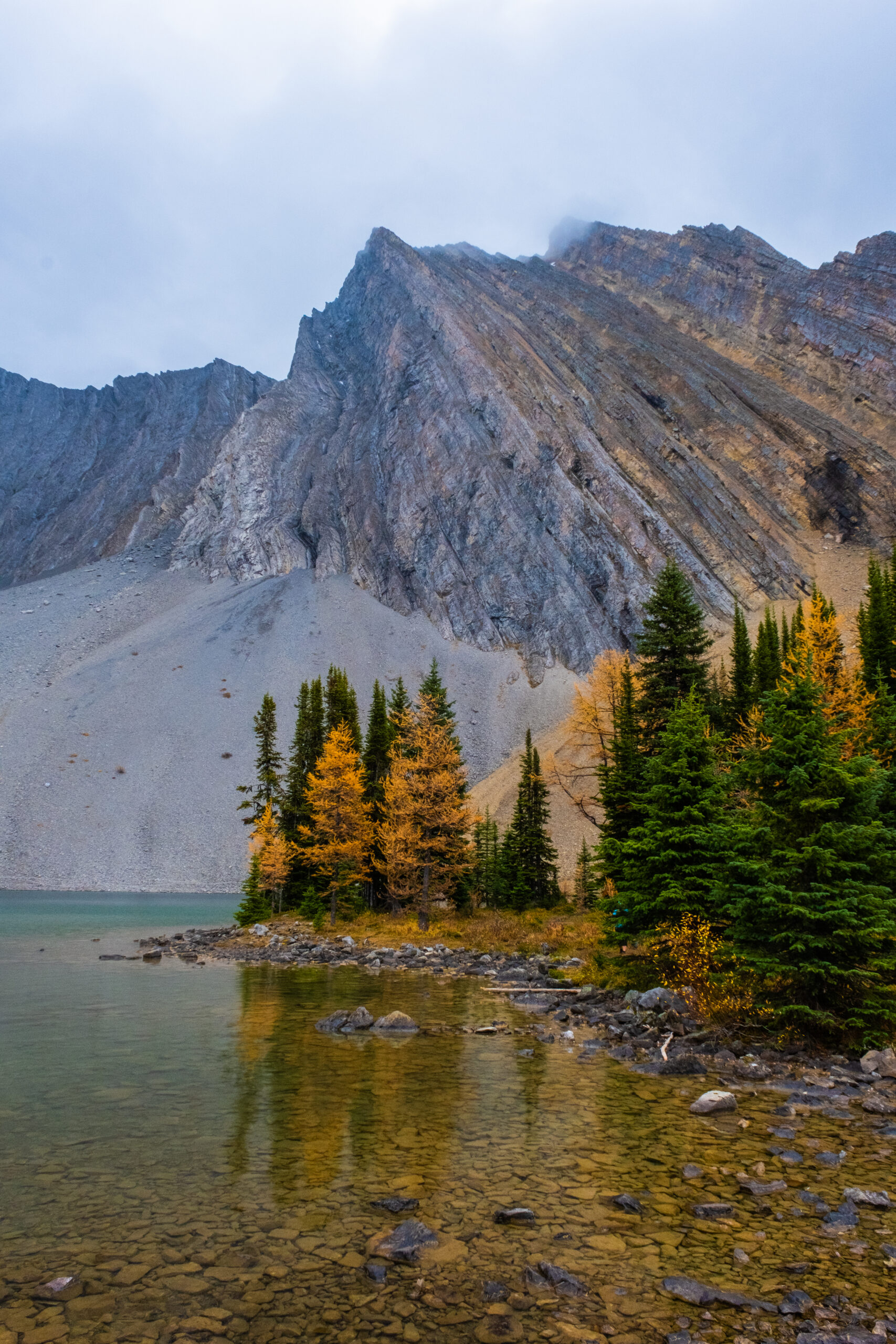 Trailhead: Chester Lake Trailhead
Distance: 9.7 km
Elevation: 424 meters
Difficulty: Easy
Time: 2-4 hours
Chester Lake in Kananaskis Country Provincial Park, is a great hike for those who chose to base themselves in Canmore over Banff.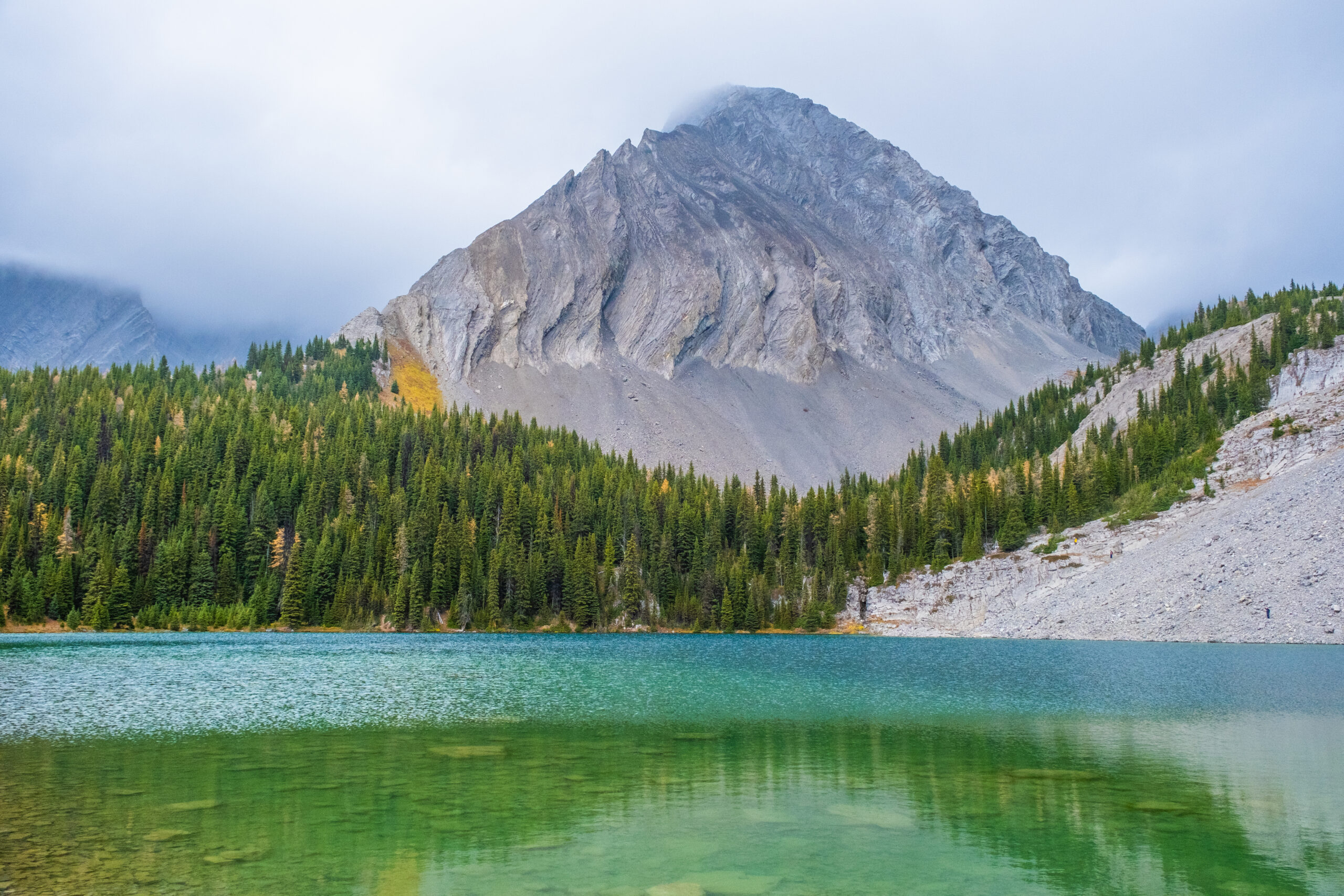 It's a fantastic snowshoe and very popular, but it also has some larches around during the last few weeks of September. Another short and sweet hike on this list is great for beginner hikers or families with children or grandparents in town.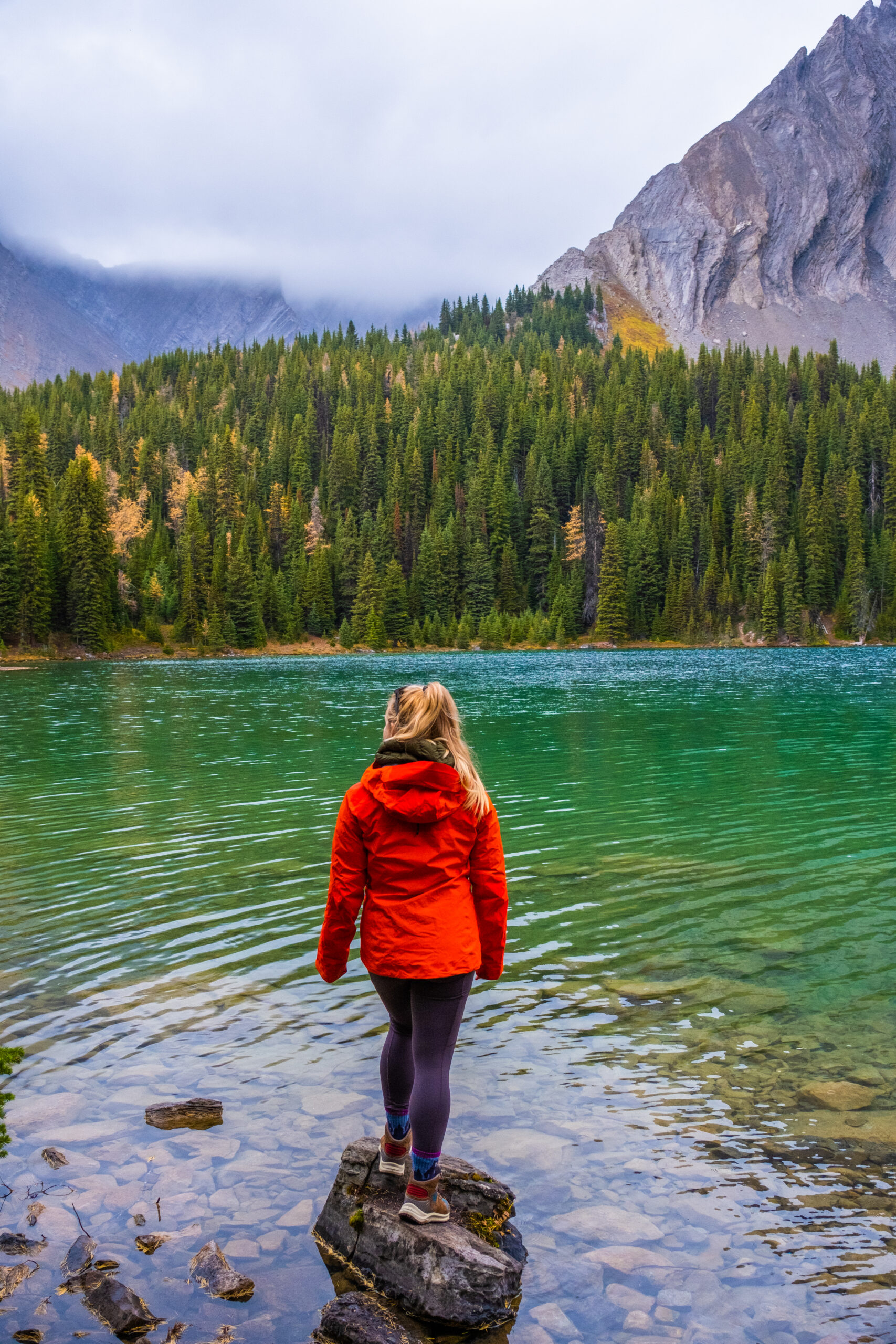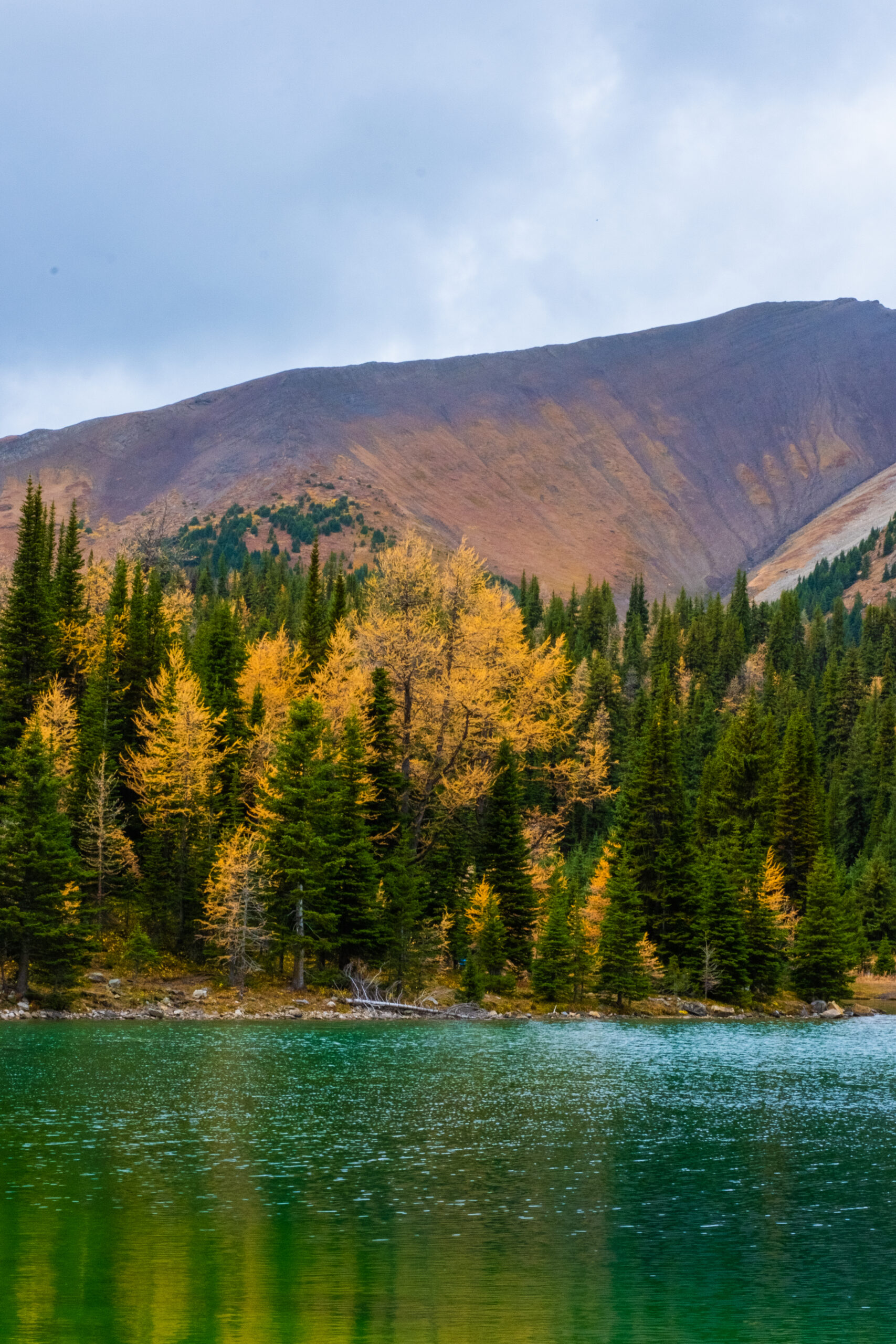 Most of the trail is pretty boring, but eventually, it will open up as it takes you to Chester Lake itself and you get great views of Mount Chester and The Fortress mountain.
It's certainly not the most thrilling hike on this list, and there aren't as many larches here as the other hikes, but it's still a nice short day hike out in the Rockies!
---
Smutwood Peak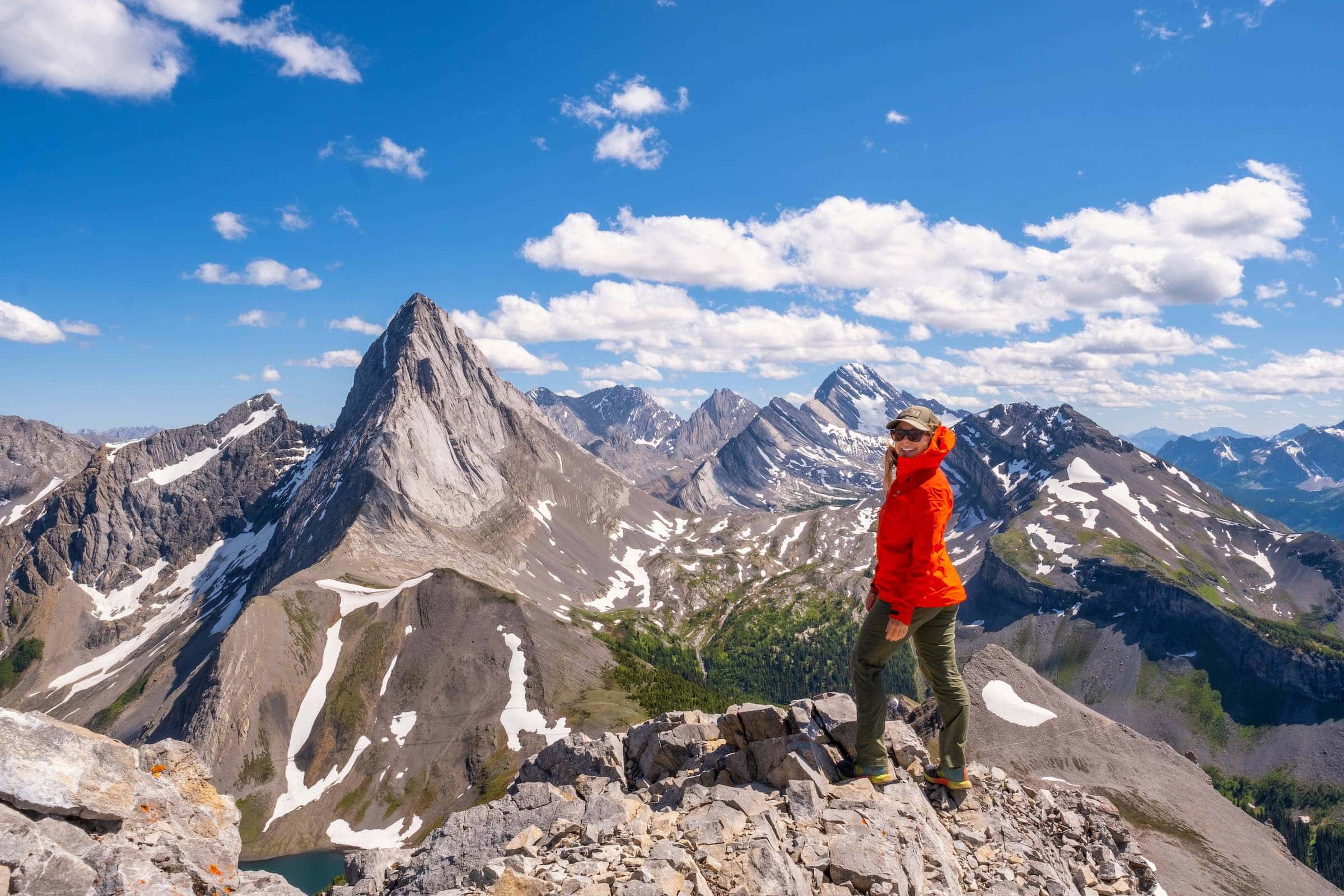 Trailhead: Just Past Mt Engadine Lodge along Mt. Shark Rd.
Distance: 17.9km (11.1 miles)
Elevation Gain: 961m
Difficulty: Moderate-Difficult, mainly towards the summit.
Duration: 5 – 9 hours
Smutwood Peak is one of our favorite Kananaskis hikes and possibly one of Alberta's best hikes. The views almost the entire way are absolutely stunning, and from the top of Smutwood Peak you'll get some amazing larch tree views.
The first hour or so of this Kananaskis hike is straightforward, with no elevation gain. You'll pass an incredible waterfall, and once you get into the alpine meadow, the views are amazing. Your first taste of steepness is going into Smuts Pass, where it's relentless uphill for 2 km or so but then lightens up again as you first lay your eyes on Mount Birdwood.
The route from the saddle up to the top of Smutwood Peak looks long and steep, but it's easier and shorter than it seems.
Continue on past Birdwood and around the two lakes to your right. Here's where your ascent truly begins. You have about 45 minutes to one hour to go. The view from the false summit of Birdwood is great but continue on to the true summit for 360 views. Keep pushing for the summit and enjoy the spectacular views.
---
Tent Ridge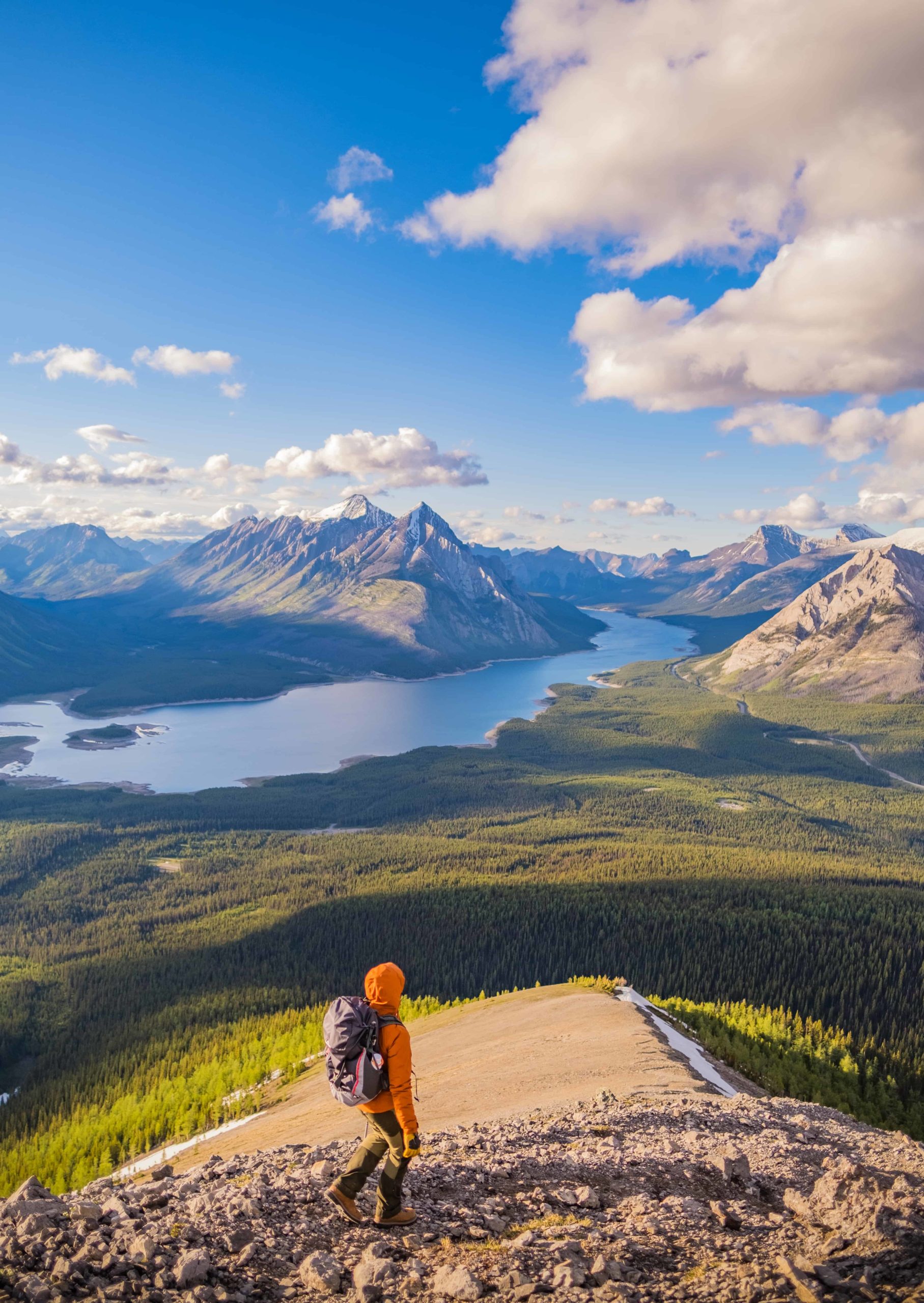 Trailhead: Just past the Smutwood Peak Trailhead on Mt. Shark Rd.
Distance: 10.6km (6.6 miles)
Elevation Gain: 750m (2460ft)
Difficulty: Moderate
Duration: 3-6 hours
Tent Horseshoe Ridge is one of my favorite hikes in all of Alberta. This beautiful loop trail is just an hour's drive from Canmore in the Spray Valley. If you're looking for a half day moderate larch hike, Tent Ridge is a must-do.
Tent Ridge Horseshoe is a 10-kilometer loop trail and although AllTrails rates this as hard, I would put it at a moderate. A few steep pitches will have you panting, but I believe the real reason it's rated as hard is because of the scramble up (or down, depending on which way you go) from the ridge. We recommend doing a clockwise loop so you are scrambling up, which is significantly easier than scrambling down.
Once you get to the viewpoint over Spray Lakes you'll see plenty of larch trees below you.
---
Mount Assiniboine Provincial Park
---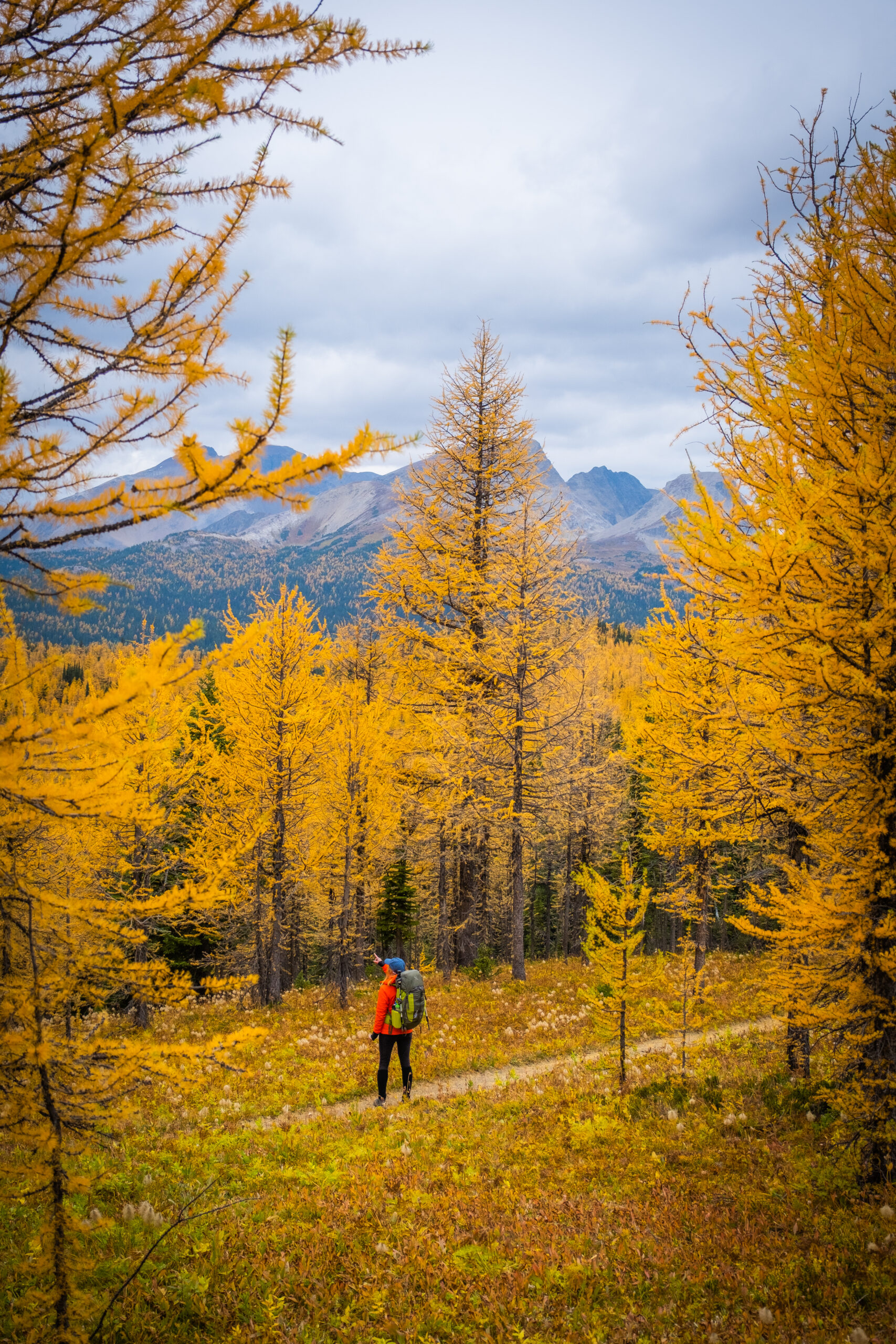 Trailhead: Mount Shark Parking Area
Distance: 50+ km (Multi Day)
Elevation: 800+ meters
Difficulty: Hard because of the length
While Mount Assiniboine is not in Banff or technically Alberta for that matter, it deserves a special mention on this list as it is just incredible for larch viewing. If you can get back here during the fall in the Rockies, consider yourself extremely lucky!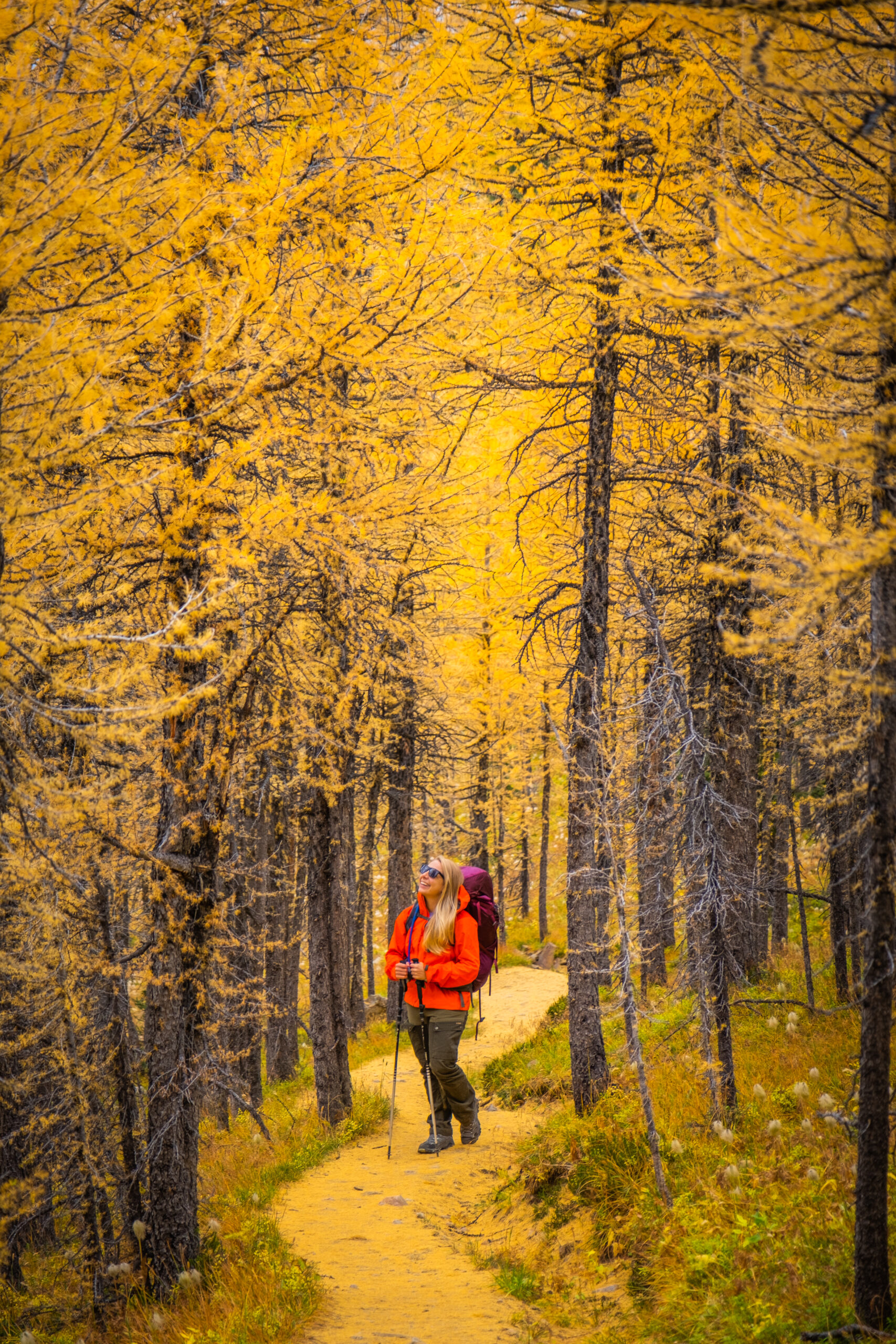 First, to hike back around Mount Assiniboine, you will need campsite reservations or a reservation at Assiniboine Lodge. Both should be booked well in advance. Spaces are limited and book up fast due to the beauty of this area.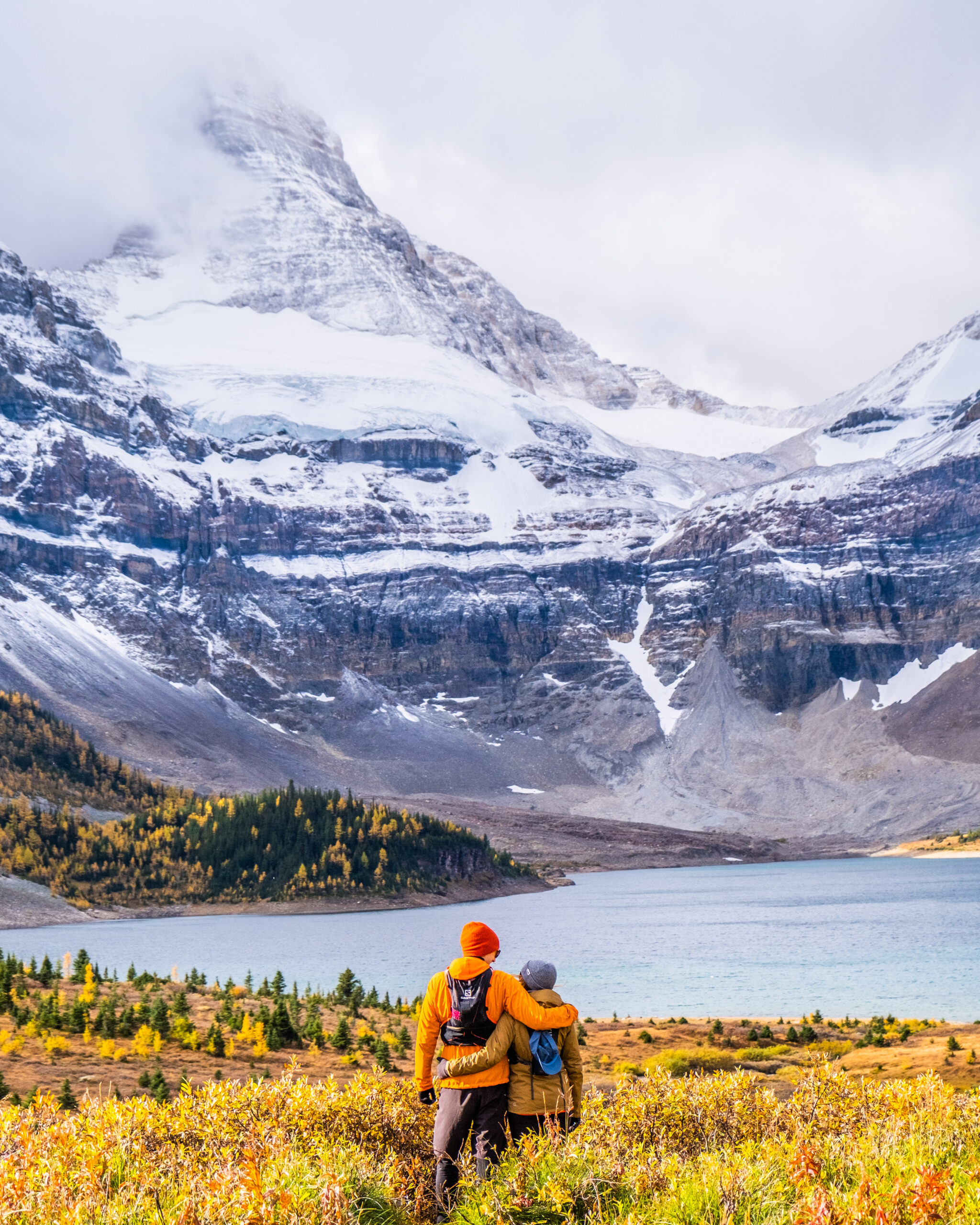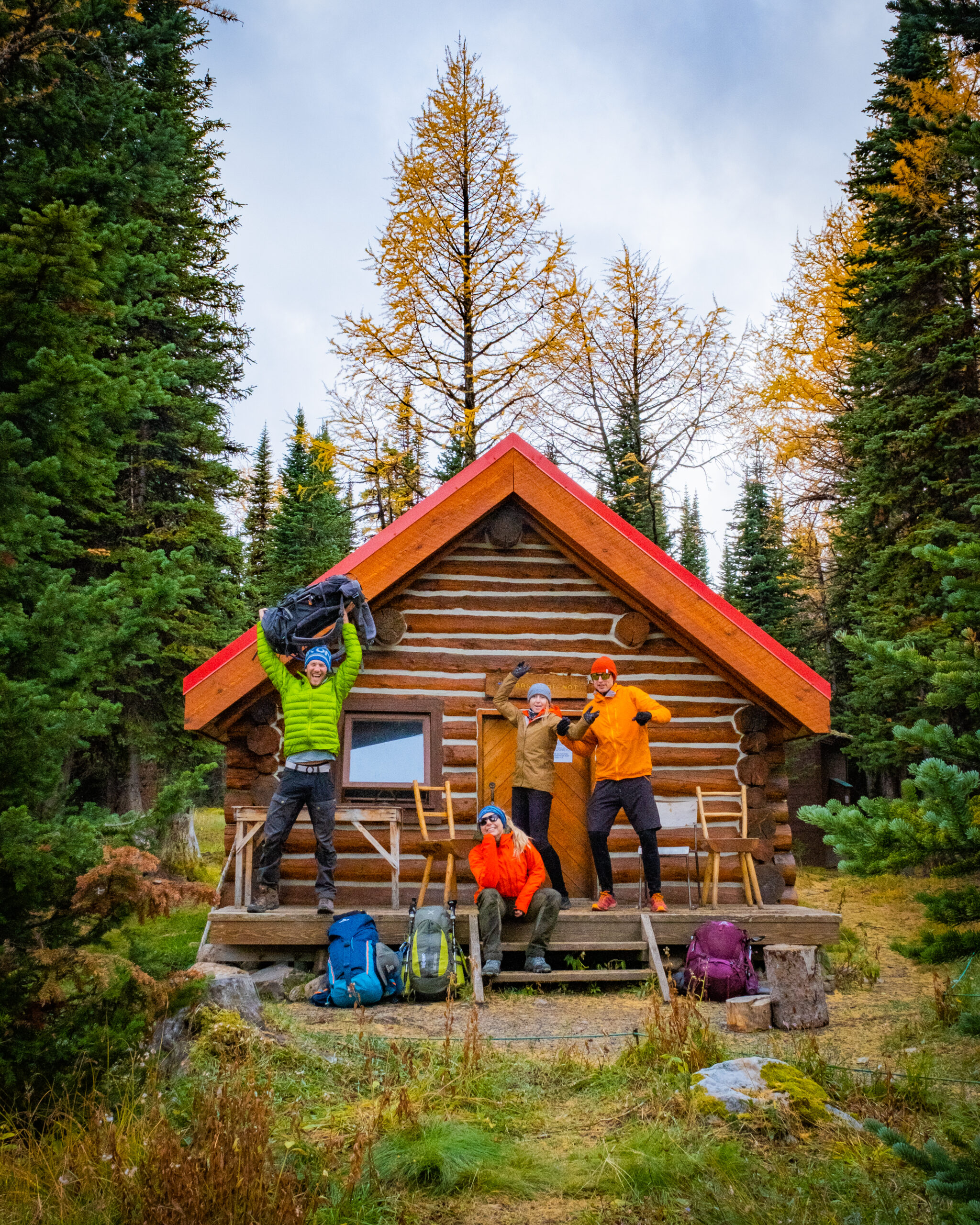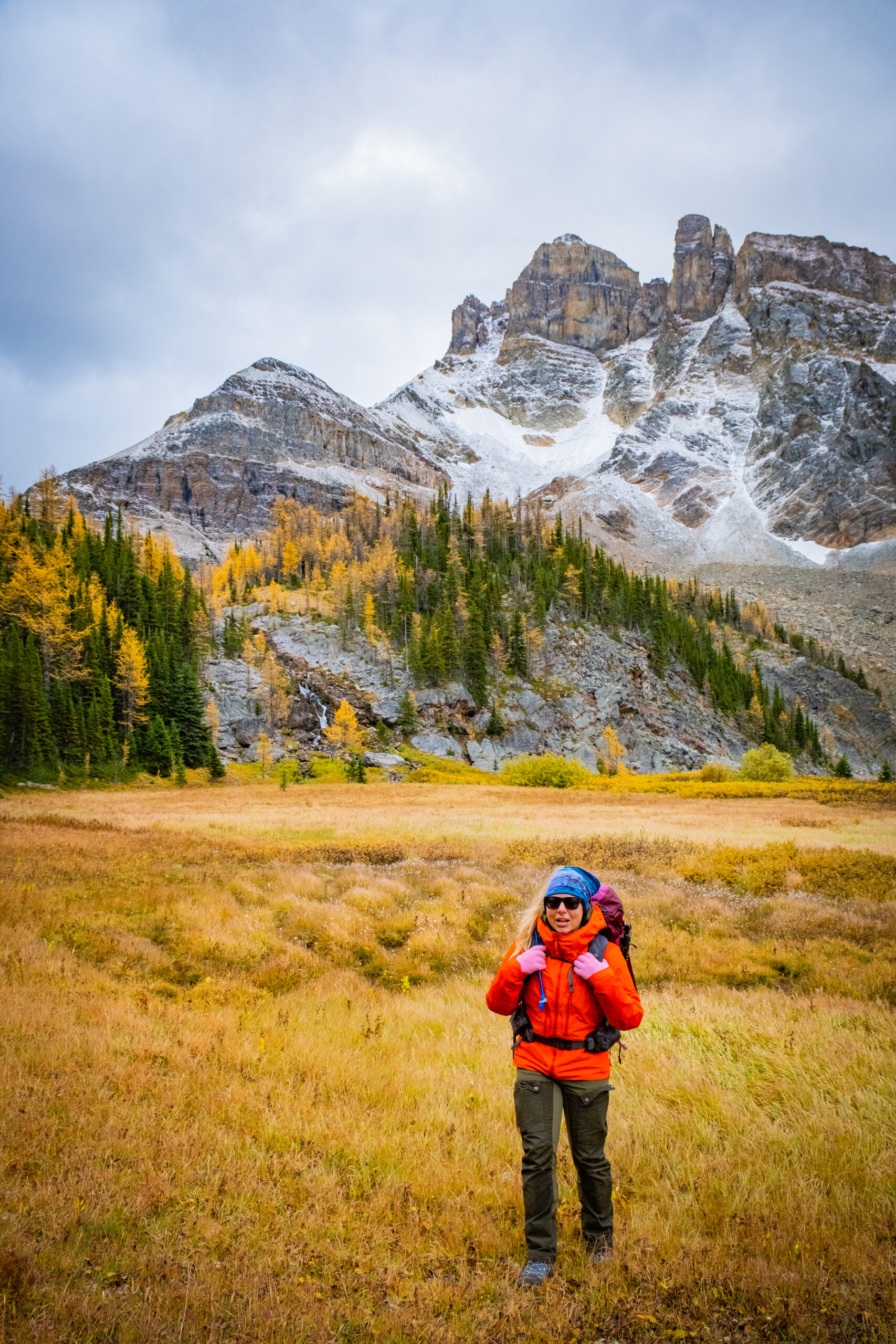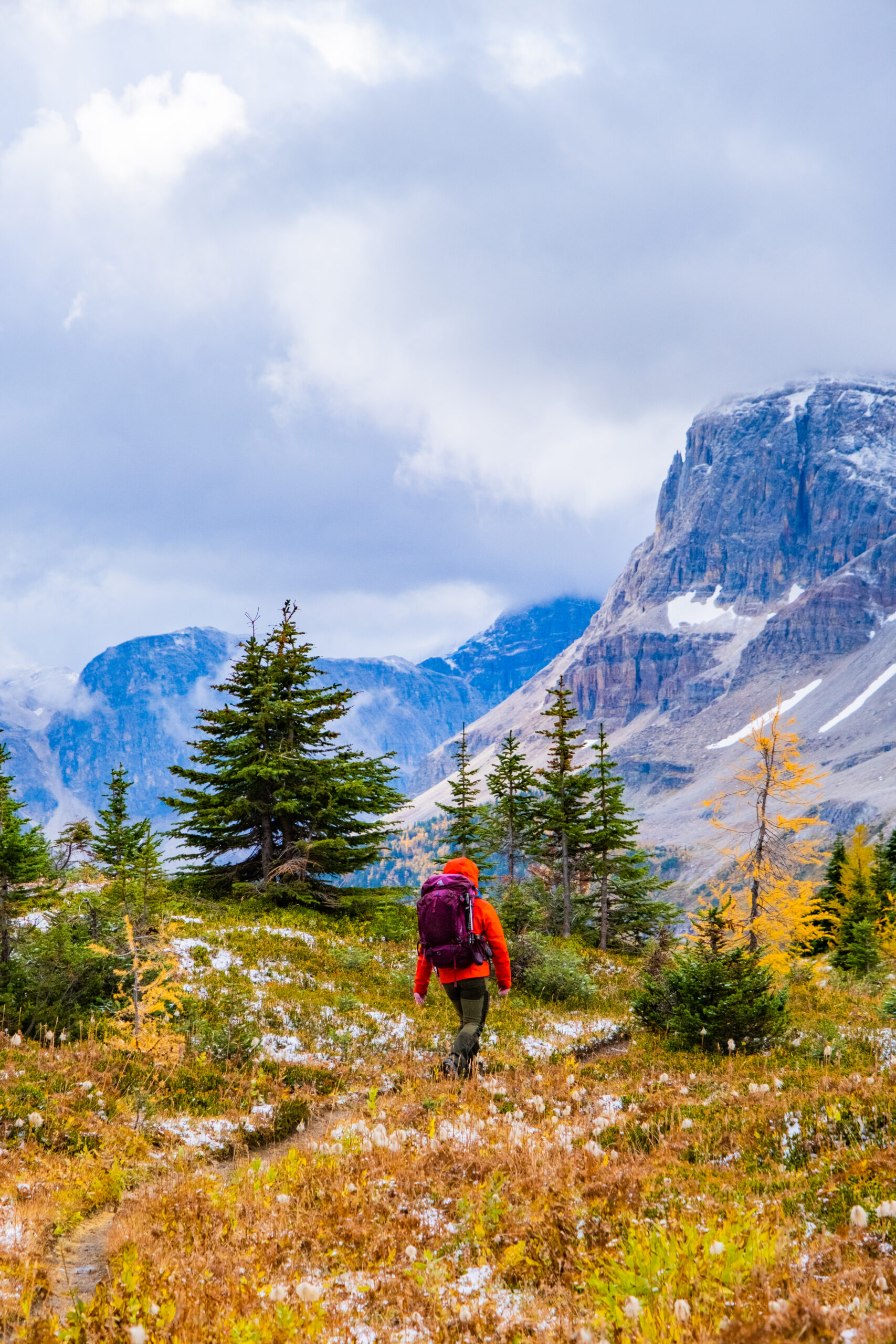 Mount Assiniboine is far back there and not a day hike unless you are a capable trail runner. To get back to Lake Magog (the lake that sits under Assiniboine and where the campsite is), you'll need to be able to hike over 25 km from the Mount Shark parking lot, which will take quite a bit of time with a heavy backpack on your back.
This can be split up into multiple days if you want to stay overnight at the Marvel Lake campground.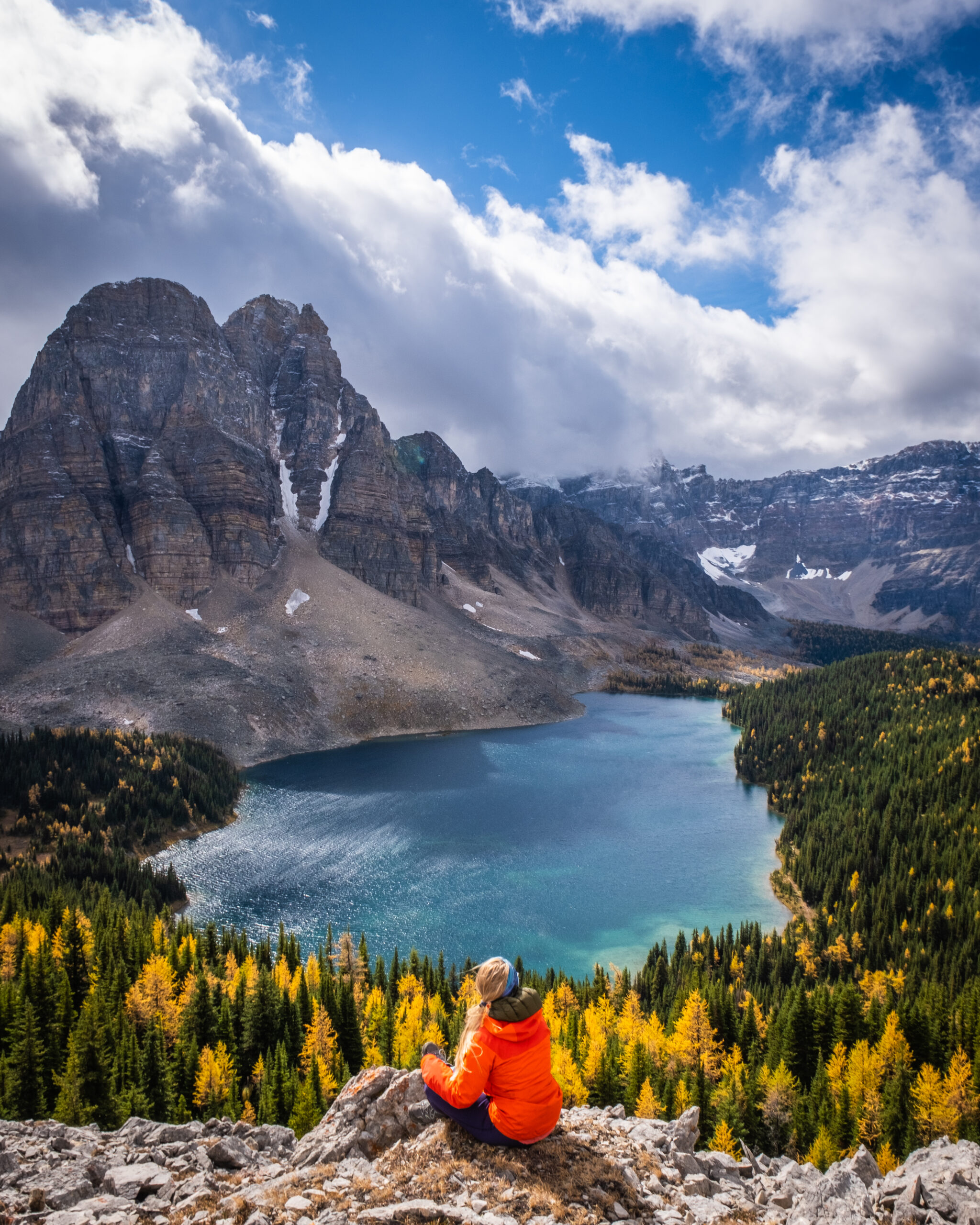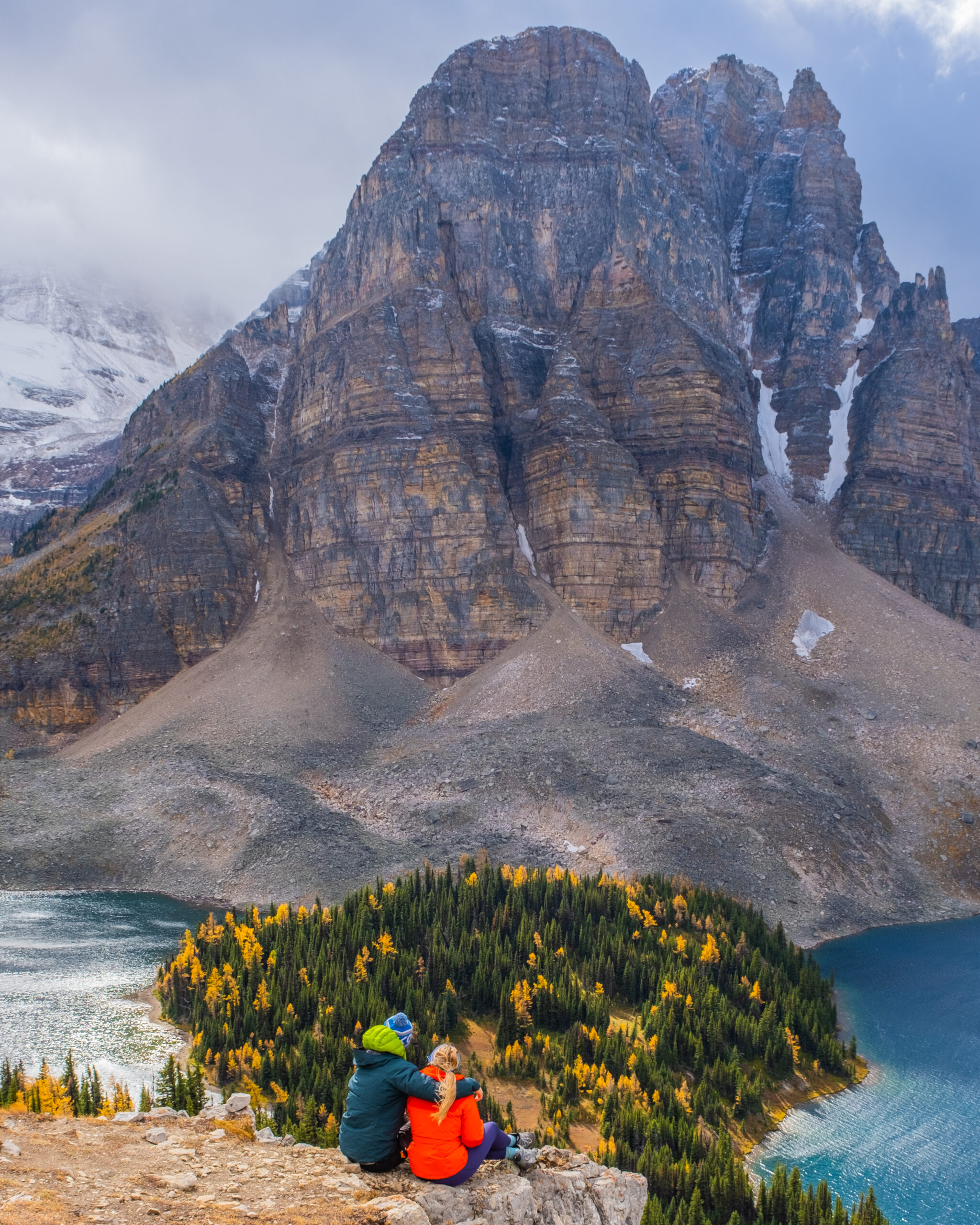 Or the other option is to hop on a helicopter operated by Assiniboine Lodge to take you into the park. Once in, you can hike around The Niblet, Nublet, and Nub Peak. You can choose to either hike out with a lighter pack or heli out!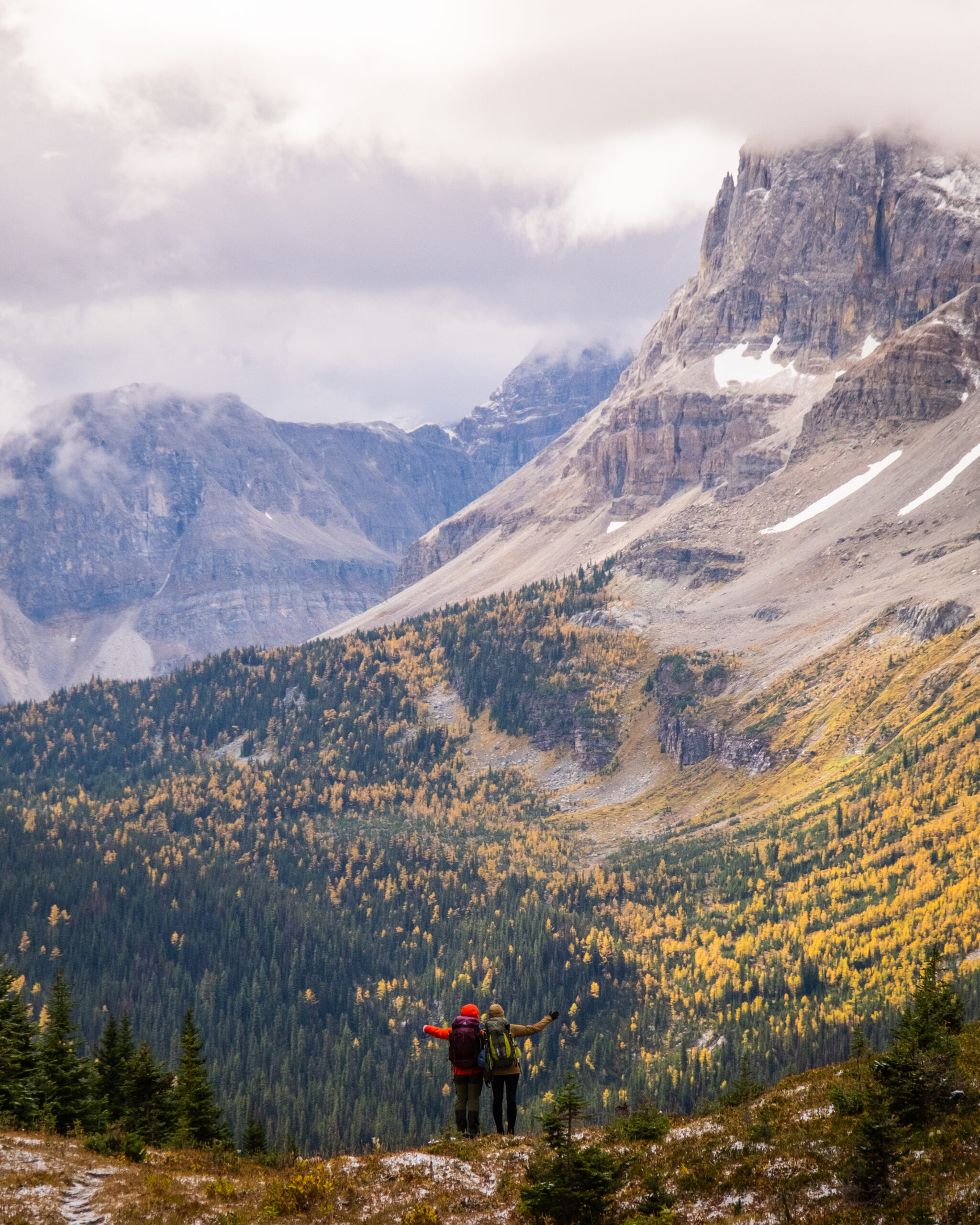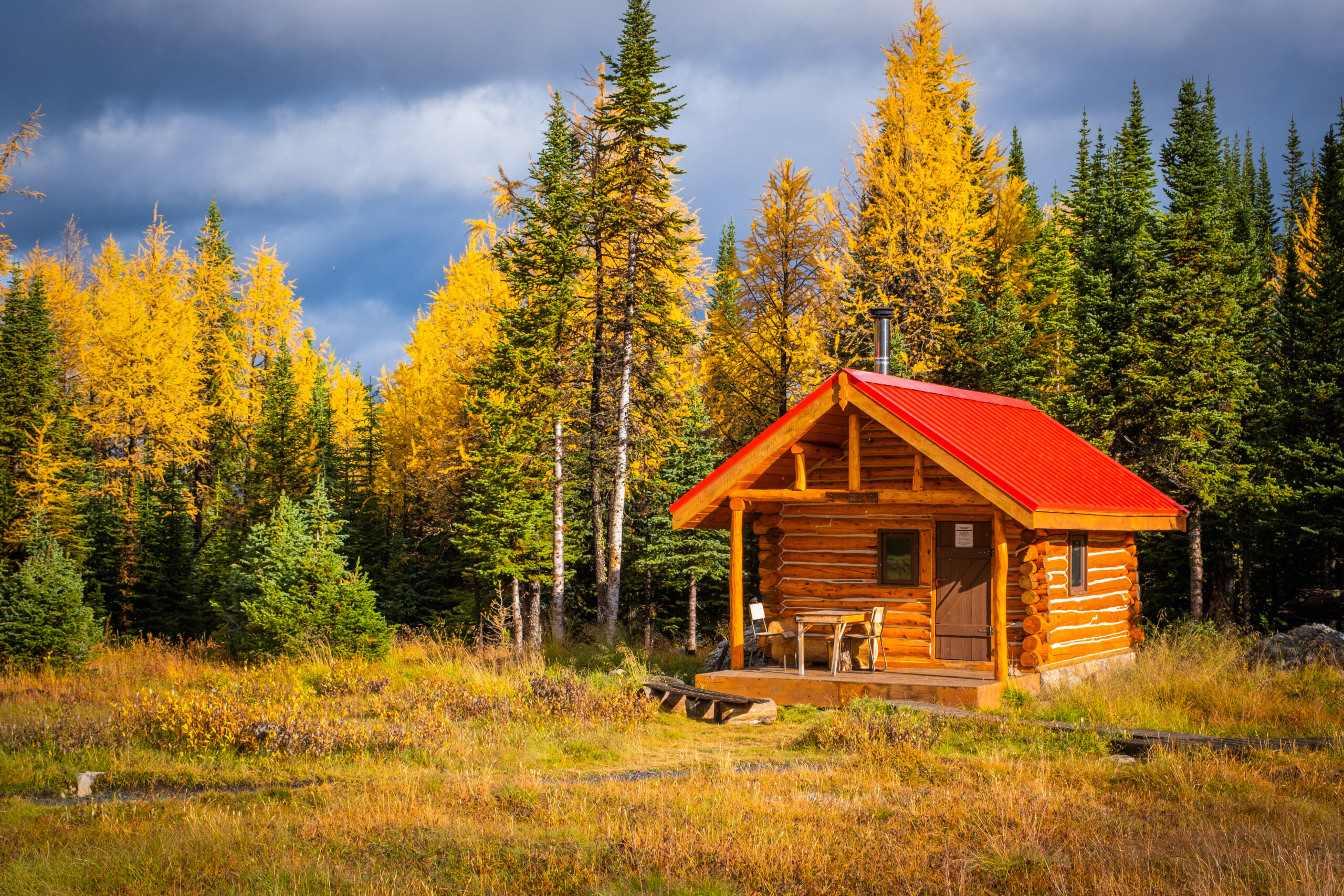 We did this hike during larch season and started at the Mount Shark Trailhead, and hiked to the Naiset Huts in one day. It took us about 6 hours to reach the huts, about 25 km in, at a fast pace. The hike is pretty boring until you get to Marvel Lake and skirt the lake. The next exciting part is Wonder Pass which is an endless meadow of larches.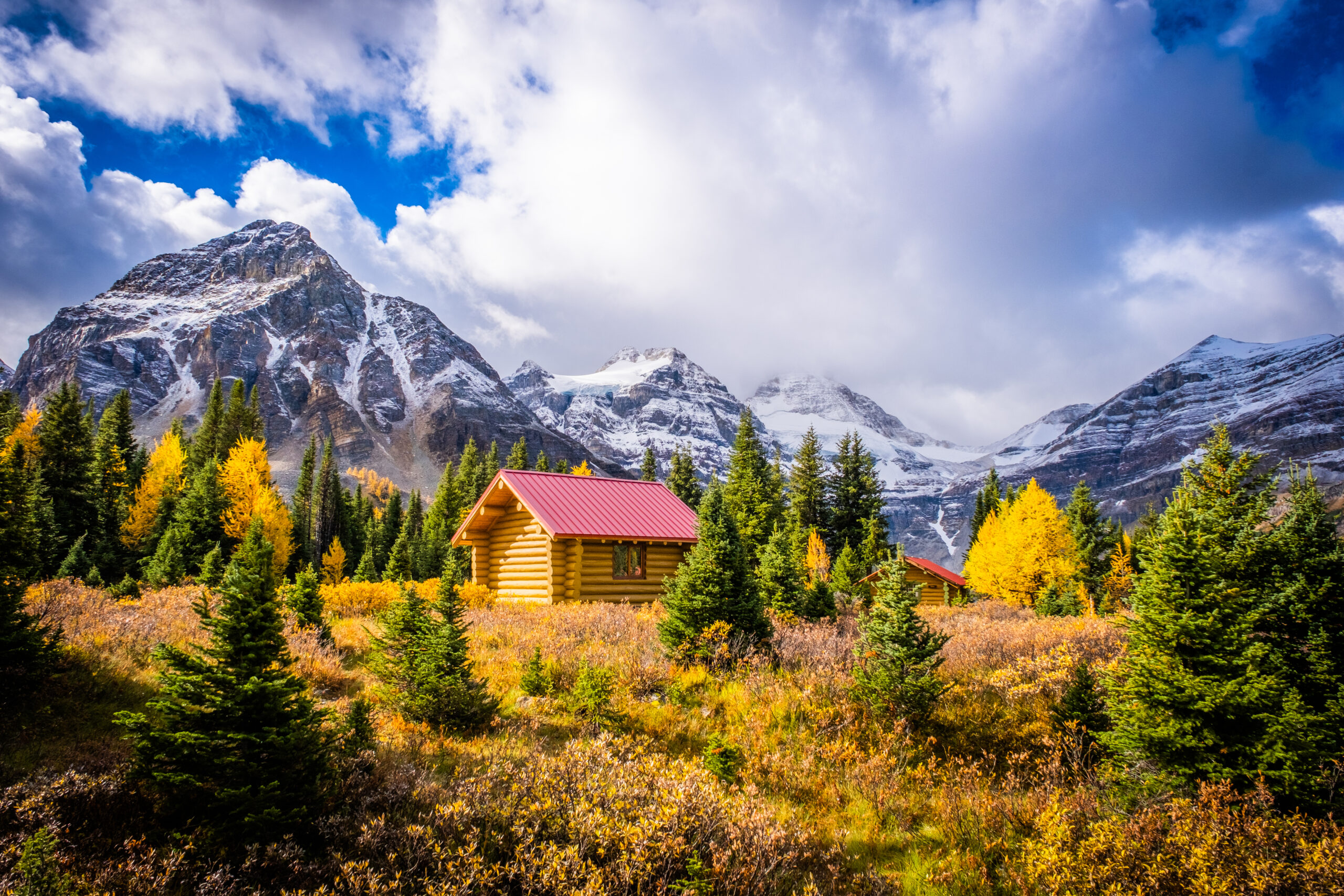 You can either hike out the same way, or if you have a car stationed at Sunshine Village, you can hike out. The Assiniboine Pass was for a point-to-point hike. Though it's less scenic than Wonder Pass. The good news about Mount Assiniboine is that it is relevantly inaccessible and sees almost no crowds.
Mount Assiniboine Provincial Park Ultimate Hike Guide
---
Yoho National Park
---
Lake O Hara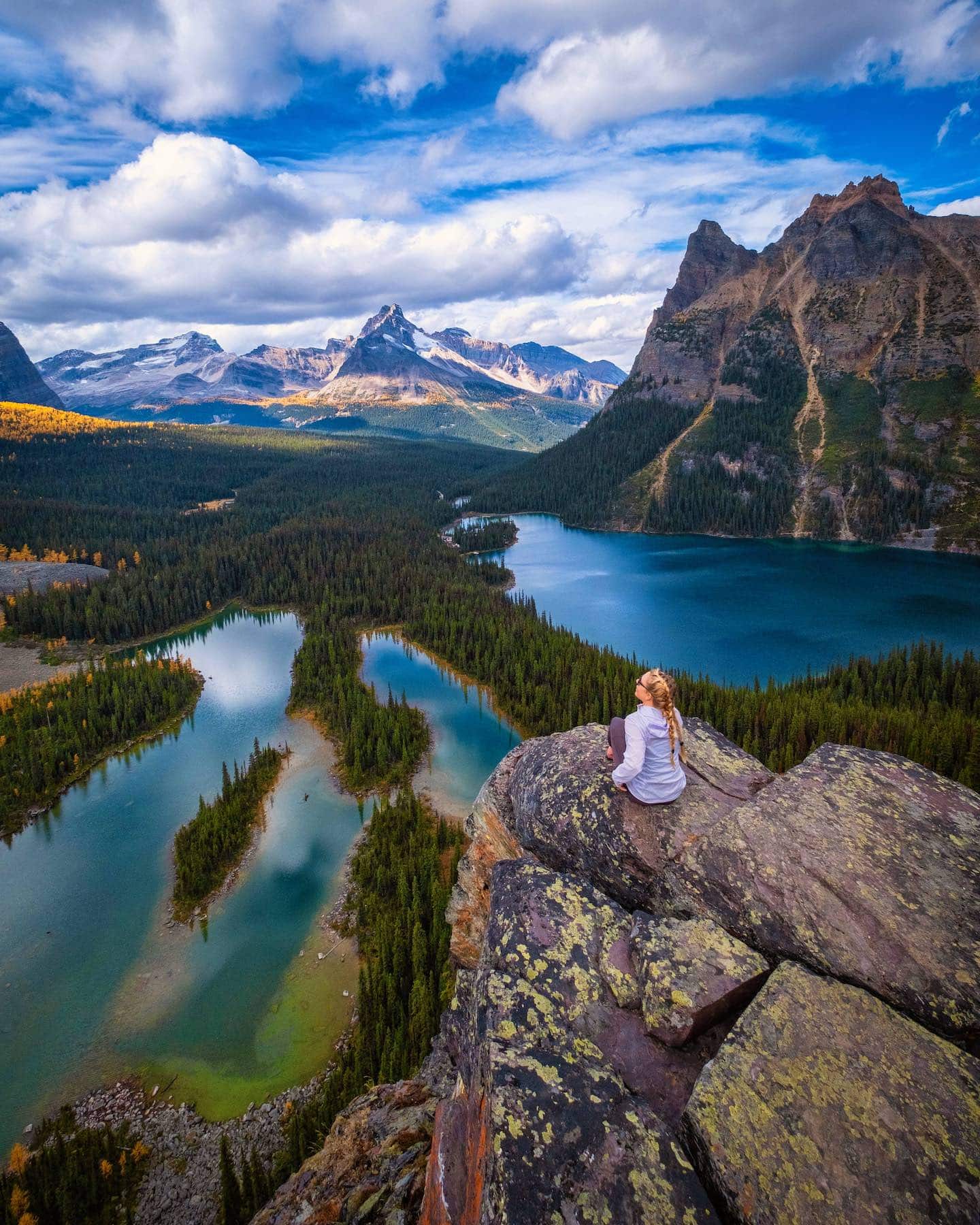 Trailhead: Lake O Hara
Distance: 10+ km
Elevation: 500+ meters
Difficulty: Varies
Although Lake O' Hara in Yoho National Park is technically in British Columbia, it's close enough that it also deserves to be included in the best Alberta larch hikes post.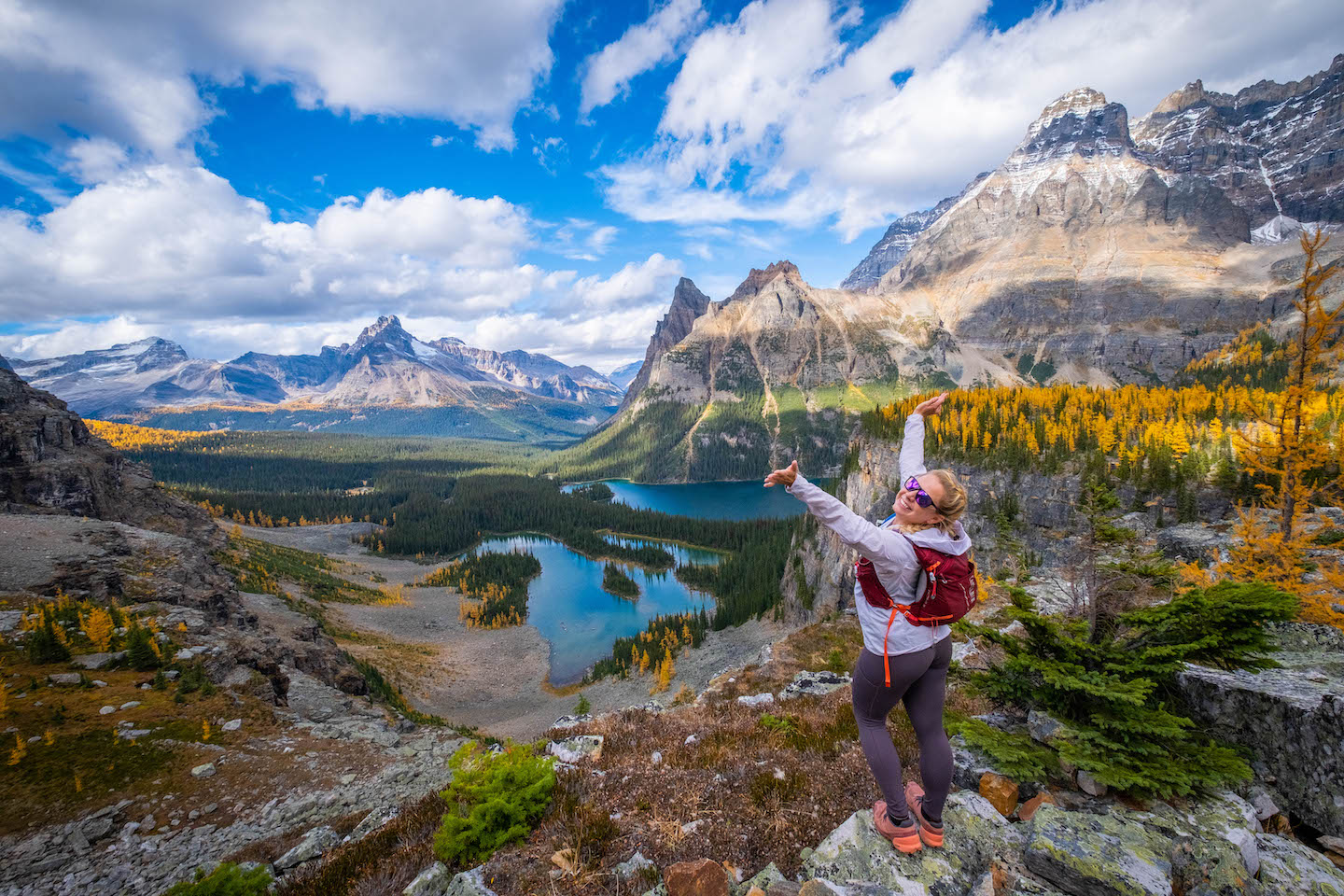 If you can score camping reservations or bus tickets back here in the larch season, scoop them up immediately. Otherwise, to see the larches surrounding the entire area will require you to hike in on a boring 11 km access road and possibly out if you can't get on a bus back.
We've hiked to Lake O Hara twice now, and I can confirm that the 11km road sucks, but you'll forget all about it once you are at Lake O Hara.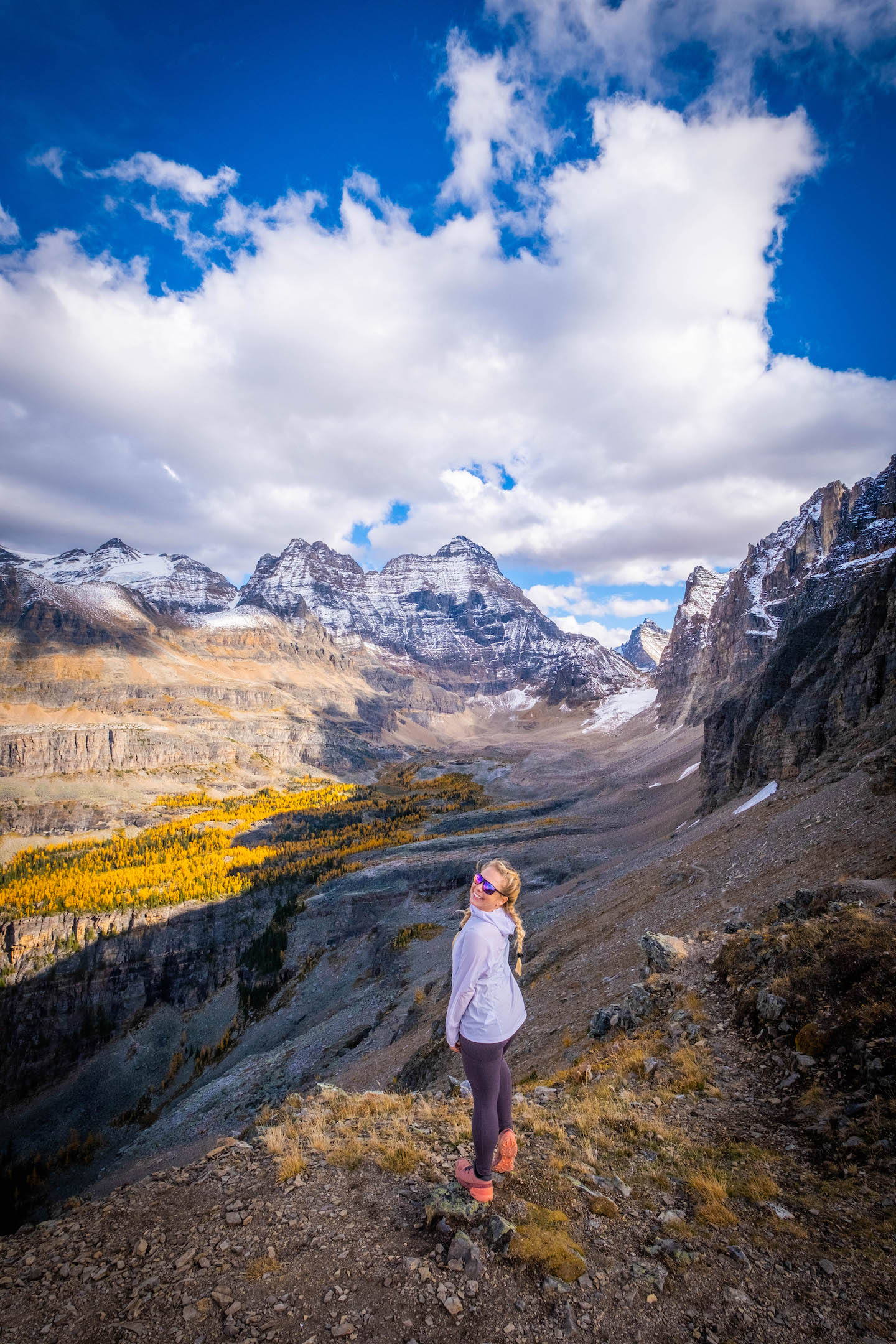 This whole area is teeming with endless larches. Head up to the Opabin Plateau for a view of O Hara and Mary Lake. You can also hike the famous All Souls Prospect Route and detour to Lake Oesa. Or opt to go to Schaffer Lake and McArthur Lake.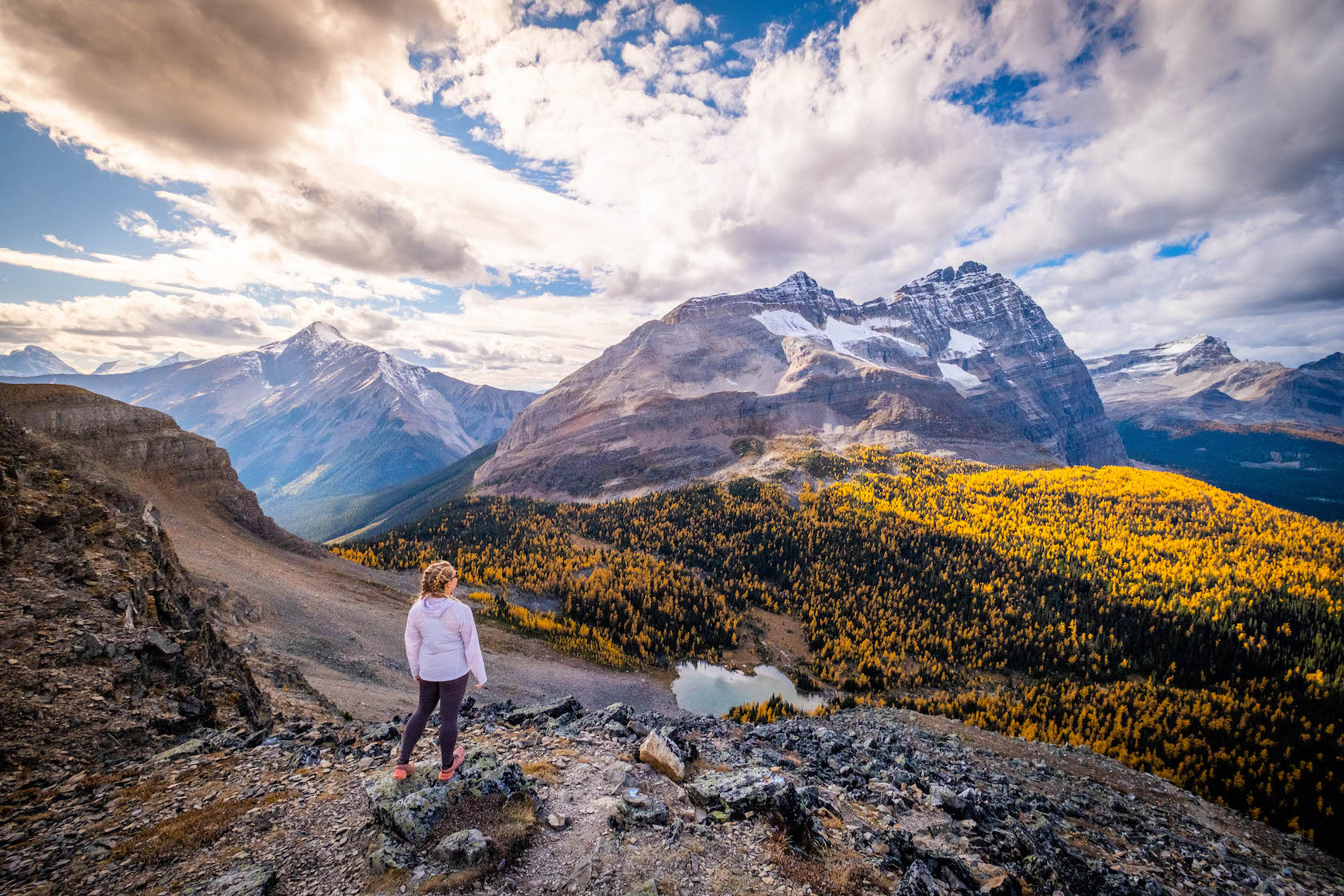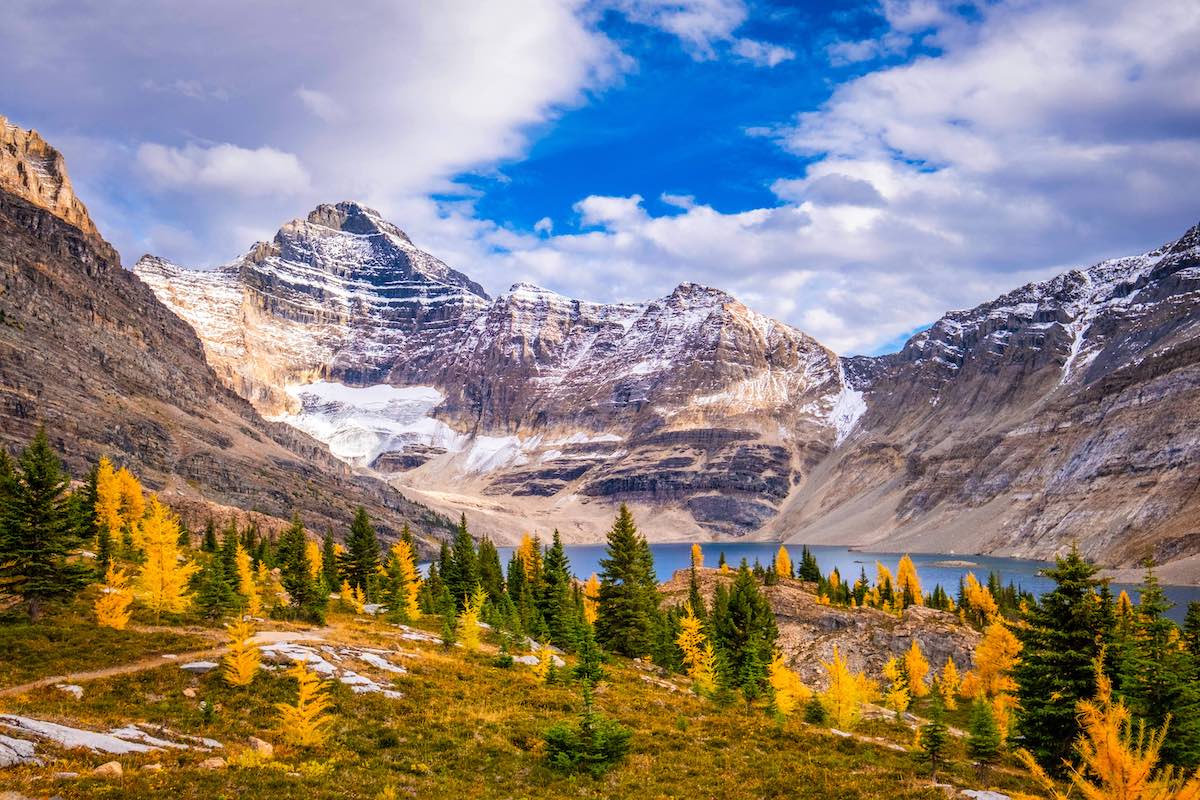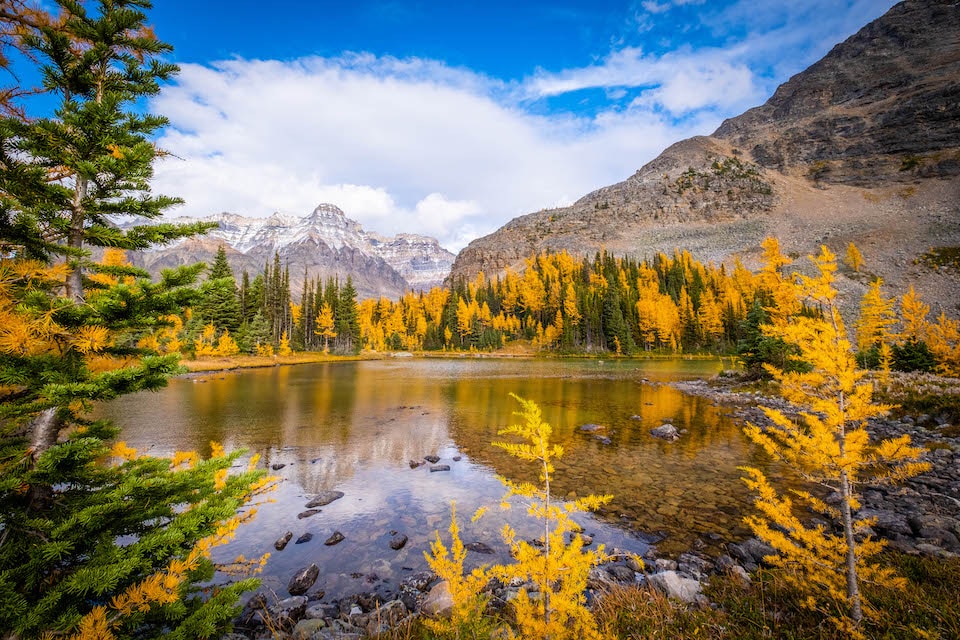 Like the Skoki Area and the Lake Louise area, there are tons of hiking route options here, so you'll have to research and choose which ones are right for you. My best advice would be to camp at Lake O Hara for three nights and choose a different trail to hike every day!
Lake O'Hara in Yoho – Camping and Hiking Guide 2022
---
Kootenay National Park
---
Floe Lake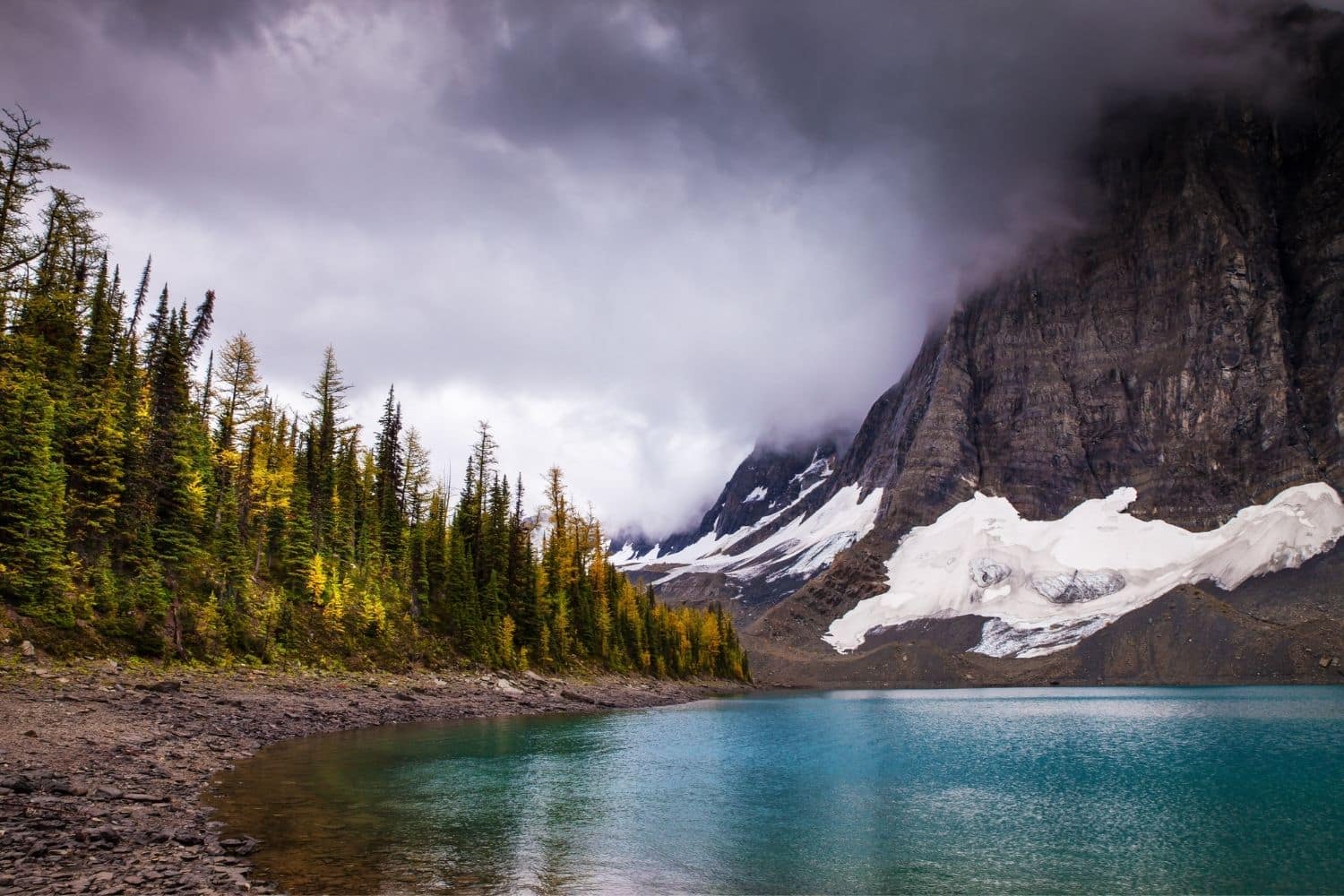 Trailhead: Floe Lake Track off Hwy 93
Distance: 19.3 + km
Elevation: 950+ meters
Difficulty: Moderate
Surprise! Another amazing larch hike that isn't actually in Alberta, but plenty of Albertans will drive the extra distance to cross this one off their fall bucket list.
Floe Lake is a fantastic backcountry destination and is a well-known Instagram spot thanks to the beauty of Floe Lake under the impressively shaped Floe Peak. Plenty of larch trees surround the lake, making it a great fall hike. If you get a clear morning here, you're in for a treat as the sun lights up the whole lake quite peacefully.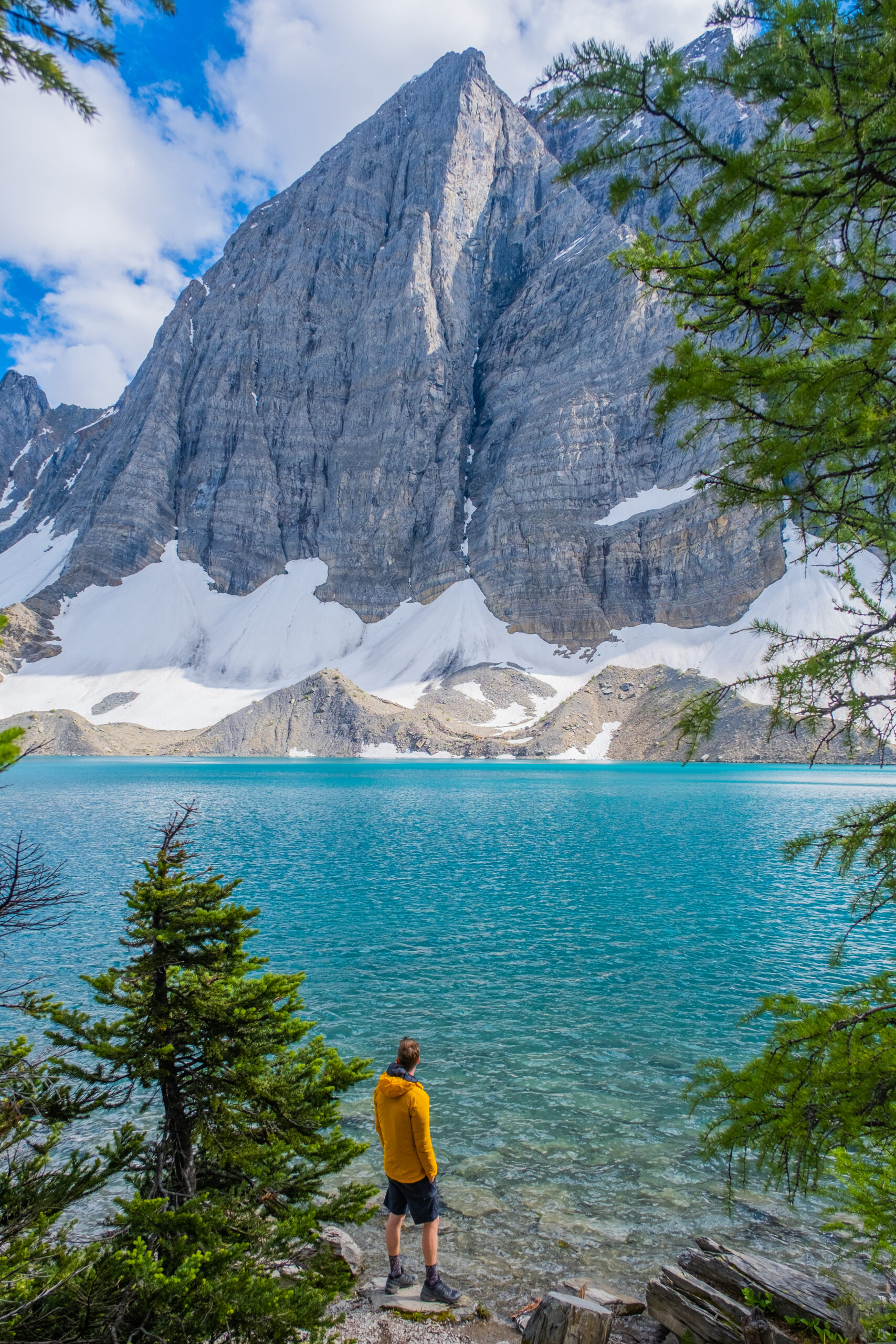 You'll have to hike 10km to reach the lake with just about 1000 meters of elevation gain. Here is one of the prettiest campsites in the area, so don't hesitate if you can book a spot here. From here, you can turn back, making for a 20km hike, or continue along the Rockwall trail for an incredible backcountry experience.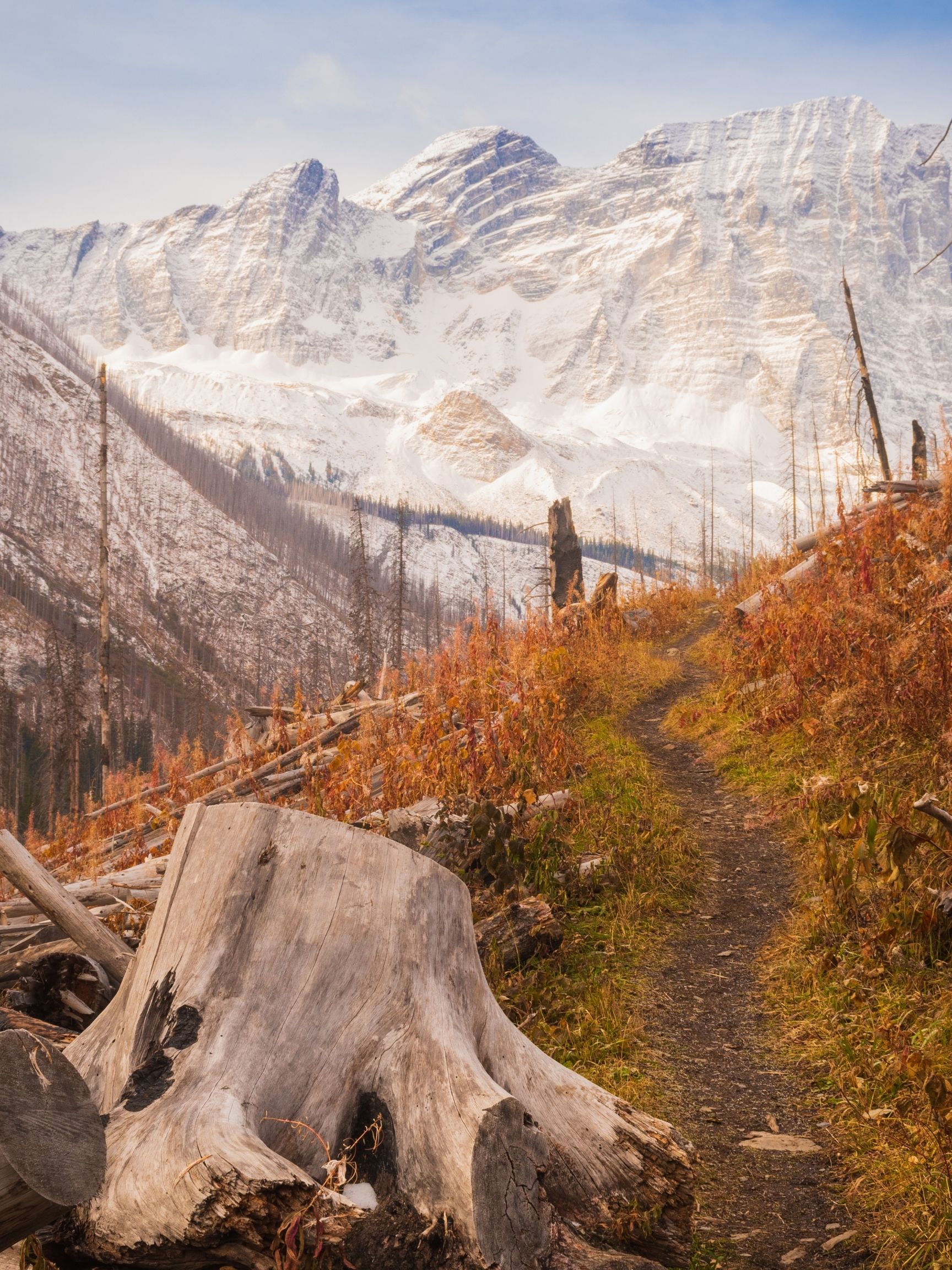 ---
Alberta Larch Hikes That Will Give You a Taste of Golden Goodness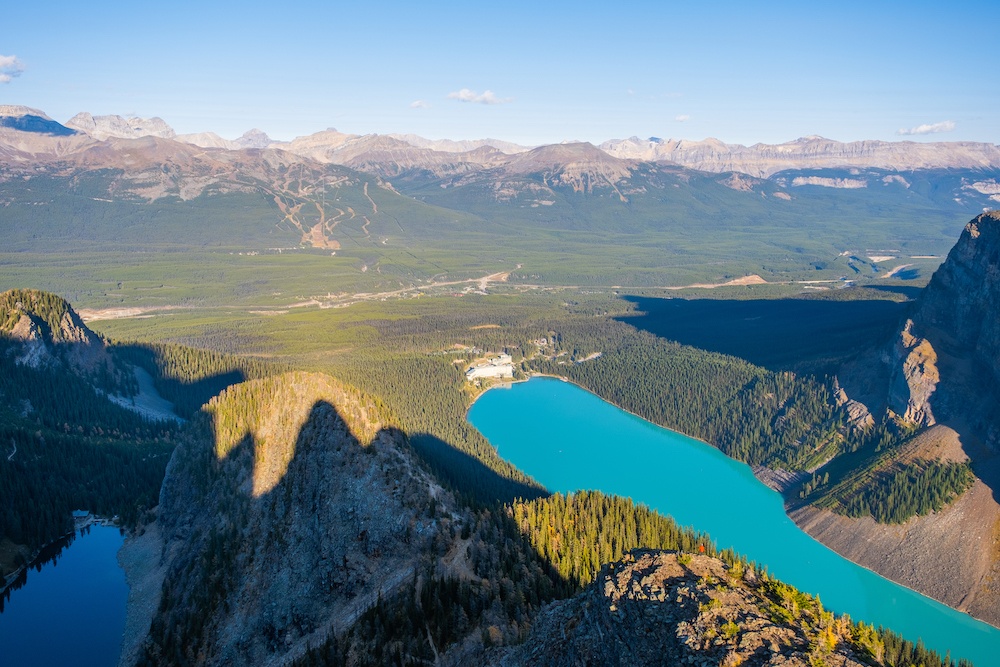 The following aren't what I would typically describe as a solid larch hike in the Rockies, however there are larches scattered about the area and embarking on any of these hikes will give you a little taste of yellow larches.
Beehive Circuit: There are plenty of larches around Lake Louise scattered about and you can see them below Fairview Mountain from the Little Beehive or Big Beehive trail.
Devil's Thumb: From the top of the Devil's Thumb scramble you will be able to see a few golden larches around Lake Louise.
Plain of Six Glaciers: You see plenty of fall color and a few larch trees if you complete the Plain of Six Glaciers trail.
---
Hike Gear We Recommend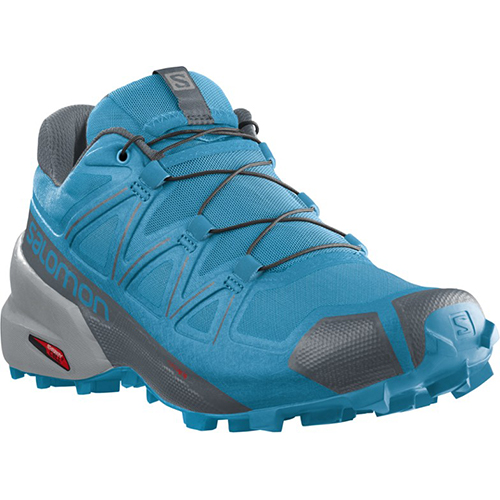 The vast majority of hikes and easy scrambles in the Rockies, you'll find us in our trusty Salomon Speedcross.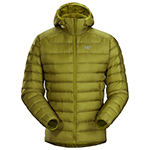 Arc'teryx Cerium is our pick for the best down jacket. It's incredibly light, and we bring it on almost every hike in the Rockies.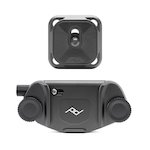 This nifty clip from Peak Design secures a camera to my backpack strap for easy reach. No more digging in the backpack!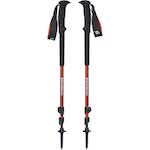 A pair of durable and lightweight hiking poles are a great asset on the hiking trail.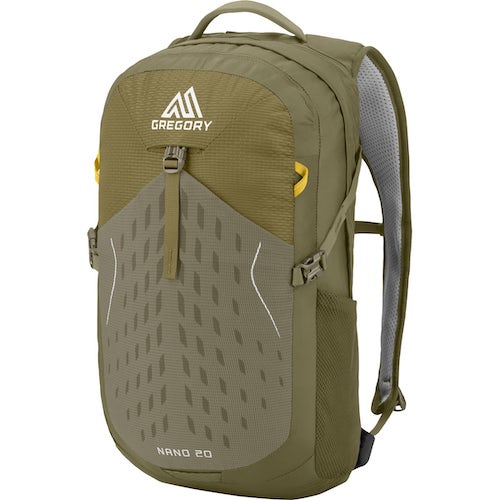 20L feels like the ideal size for quick hikes and scrambles. We love the Nano from Gregory with a hydration reservoir.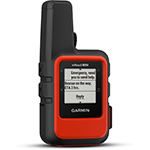 There is not much cell service in the Canadian Rockies. In case of emergencies, we carry an emergency beacon with GPS.
---
Our Tips for Seeing the Golden Larches in Alberta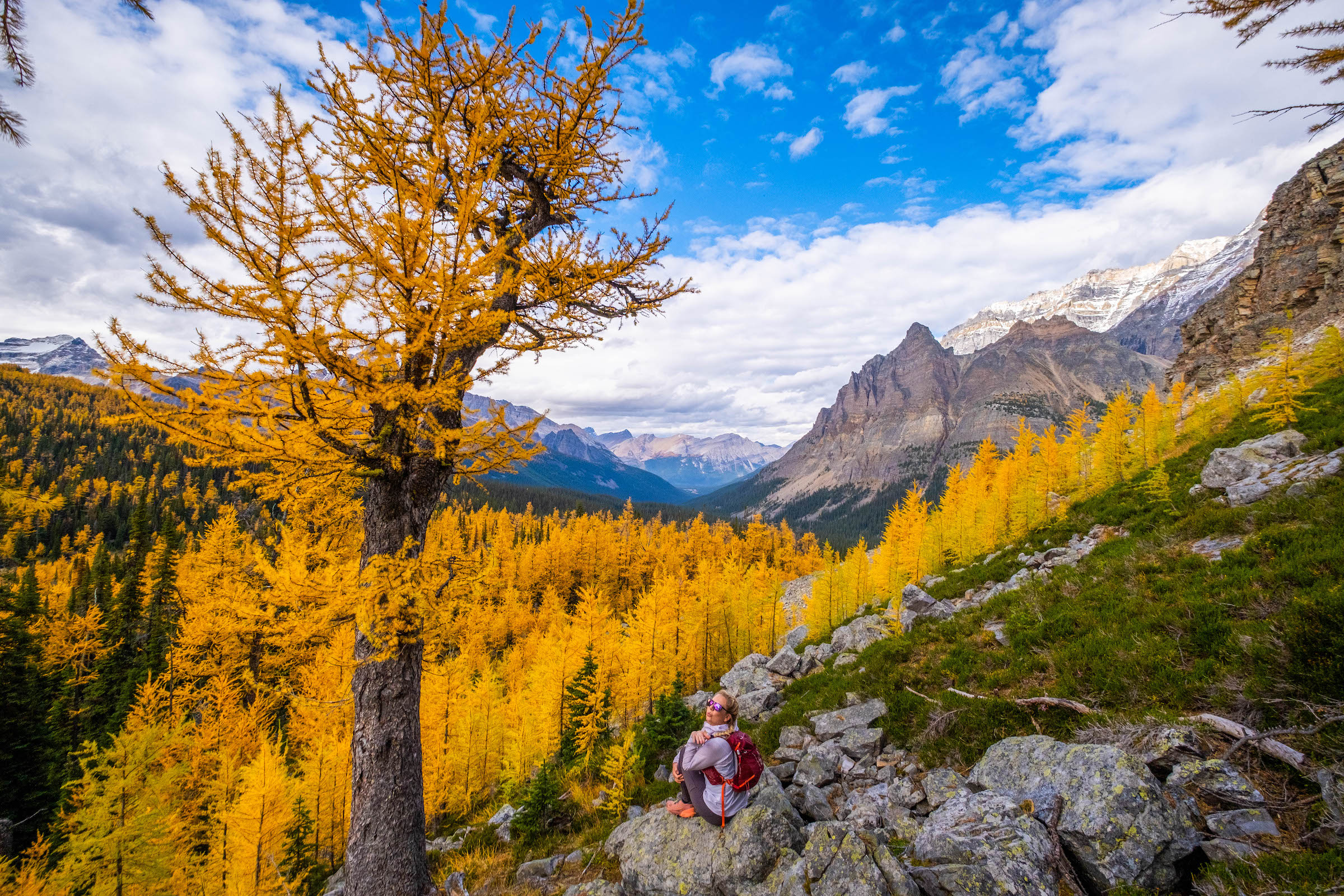 Weekdays are best. Just because it's fall in Alberta doesn't mean the crowds have subsided. People flock from around Canada and the rest of the world to see the golden larches in the Rockies. To avoid the crowds hike on weekdays if possible.
Early starts on weekends. Obviously, weekdays are not possible for everyone. So if you're heading to the mountains to see the larches on a weekday it's best to either start before the sun rises, or go for an afternoon start. Keep in mind the sun sets around 7:30-8pm during this time period so plan your day accordingly. We aren't morning people, and often start our hikes in the afternoons or evenings when others are on the trail or finishing up. However, we are pretty fast hikers so we can time our late starts and know our timing with the sunset.
Utilize the shuttle system. The Lake Louise and Moraine Lake area get extremely busy during this season. It's best to utilize the Parks Canada shuttle system as parking can be an absolute nightmare.
Layers, layers, layers. It's fall in one of the coldest areas in Canada. The day can start off warm, and end with freezing hands. Pack layers. I always have a down jacket, windbreaker, gloves, and a hat or buff in my bag so that I can adjust my body to the temperature.
Get a map: I just threw a lot of hiking options at you, and it's easy to feel overwhelmed. Many of these hikes have so many off shoots you can explore, and if you're not from here or know the area you probably feel like you've just read a bunch of words with no meaning. It's critical to get a topo map of the Rockies so you can visualize everything I am talking about on paper and properly plan your route! You can pick these up at outdoor stores in town.
---
Do I Have to Hike to See the Golden Larches?
You don't have to hike for hours to get a glimpse of larchy goodness. There are alternative ways to see the beauty of the Canadian Rockies in the fall.
By Car
Just taking a drive down Highway 40 will let you view plenty of fall colors from the window. We often see many yellow trees from Barrier Lake and up over Highwood Pass.
You can also see plenty of larch trees from the car driving down the Trans Canada. We keep our eyes especially peeled when driving past Mount Temple and the Lake Louise exit.
By Horse
Timberline Tours Ltd. and Brewster Adventures offer various day trips to areas around Lake Louise. The Lake Agnes Trail and Little Beehive offer great views in a half day. There are also tours that go back to Skoki Lodge.
Heli Tour
Rockies Heli Tours Canada, Alpine Helicopters, and CMH all offer helicopter tours which will give an incredibly unique perspective of the fall colors.
Gondola Tour
Take the Lake Louise Gondola which continues running until early October and get a great view of the larches as walk onto the Lake Louise viewing platform. From here you'll also get views across the valley of Little Temple, Mount Fairview, and the larches along Saddleback Pass.
---
Which Larch Hike is Our Favorite?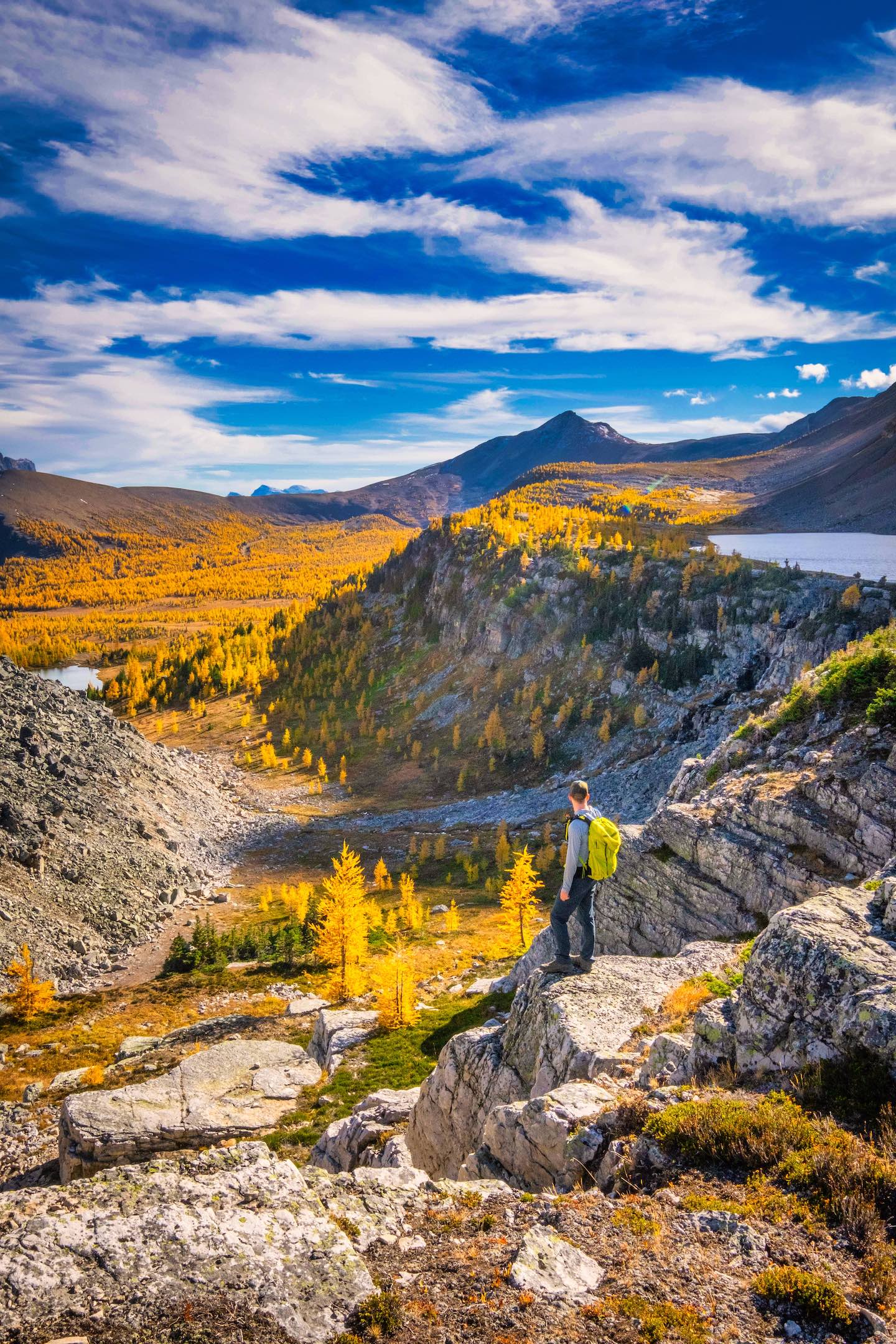 I don't have one set of favorite larch hike. But instead, I have favorite areas that consistently deliver on larch goodness. Skoki, Mount Assiniboine, Sunshine Valley, and Lake O Hara are those areas.
Other popular areas are around Highwood Pass in Kananaskis and, of course, Moraine Lake and Lake Louise. However, the busyness detracts me a bit, and I prefer the areas requiring longer approaches as it keeps the crowds down.
---
Stay Near the Larches!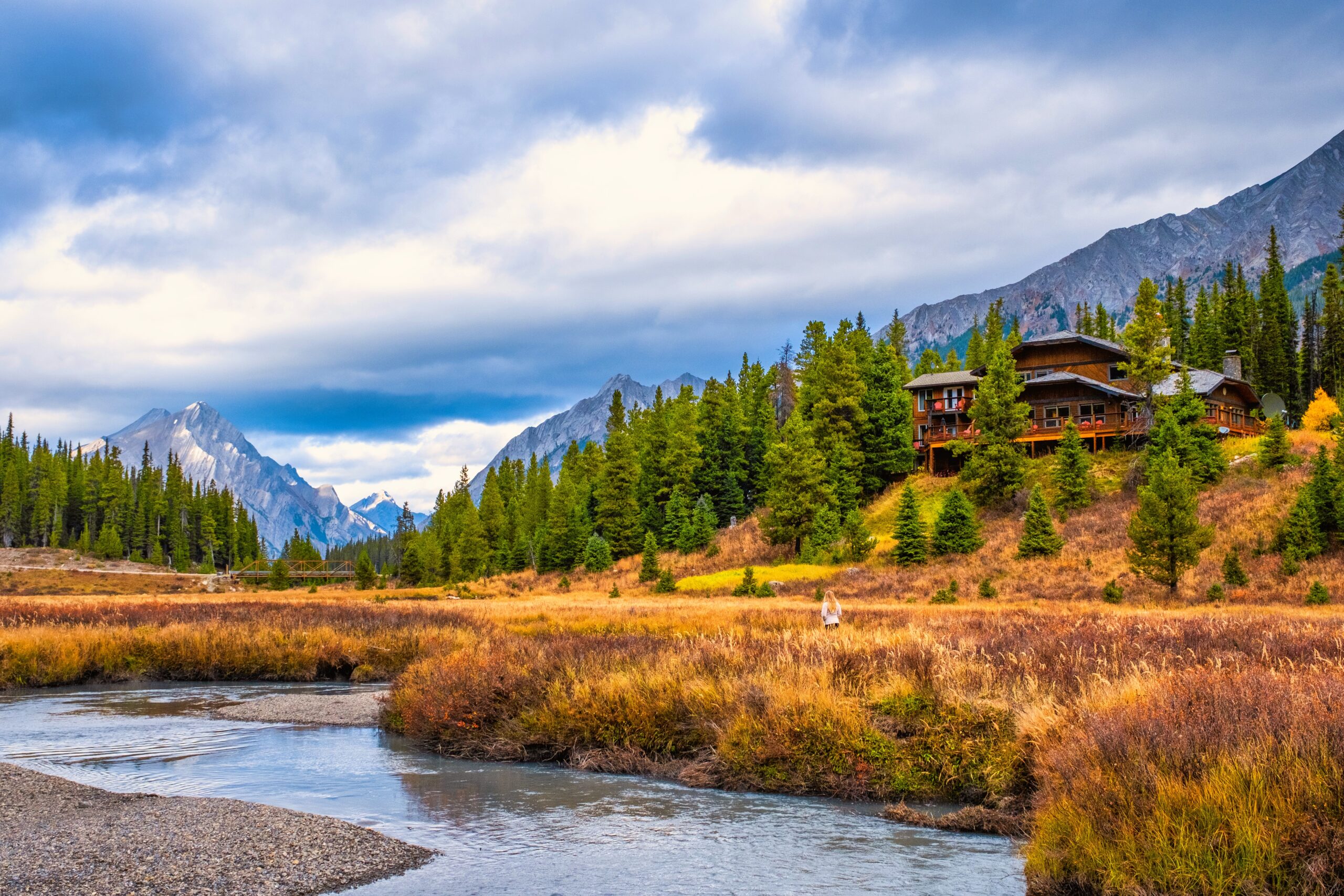 If you want to get out on a sunrise hike during larch season, it's best to stay near the action. Driving to Banff from Calgary is no fun at 5am.
The best area to stay near the action in Banff is at Lake Louise. Our favorite hotels here are Baker Creek, the Fairmont Chateau Lake Louise, and Paradise Lodge and Bungalows. If you want to stay right next to the Sentinel Pass trailhead you'll have to stay at Moraine Lake Lodge.
The other option is to stay in Kananaskis Country! Our favorite place to stay in Kananaskis is Mount Engadine, though this cabin is closer to hikes like Tent Ridge, Chester Lake, and Read's Tower than Hwy 40. Still a memorable place to stay in the fall! If you want to stay closer to hikes like Pocaterra Ridge and Arethusa Cirque book a night at Kananaskis Mountain Lodge.
---
Hopefully, this helped you determine which of these Alberta larch hikes is best for you.
If you have any other questions leave a comment or see our Canadian Rockies travel guide for more articles about photography spots, lakes, hikes, and everything else.
---
↓ Join the community ↓
The Banff Blog Facebook Group is your headquarters for the Canadian Rockies' travel advice and information. Including hike info and off-season travel information. This is also where you can meet one another when you need adventure buddies. 

Plan Your Trip to the Canadian Rockies