There aren't many hotels with such epically close views of one of the world's most revered lakes. The Fairmont Lake Louise is that one in a million hotel.
Situated right on the banks of the turquoise blue beauty that is Lake Louise in summer or the most picturesque skating rink in winter, The Fairmont Chateau Lake Louise is one of the most popular hotels in Banff.
A stay at this luxurious property is a dream come true and a once-in-a-lifetime experience.
---
Quick Details on the Fairmont Chateau Lake Louise
---
Fairmont Lake Louise Hotel History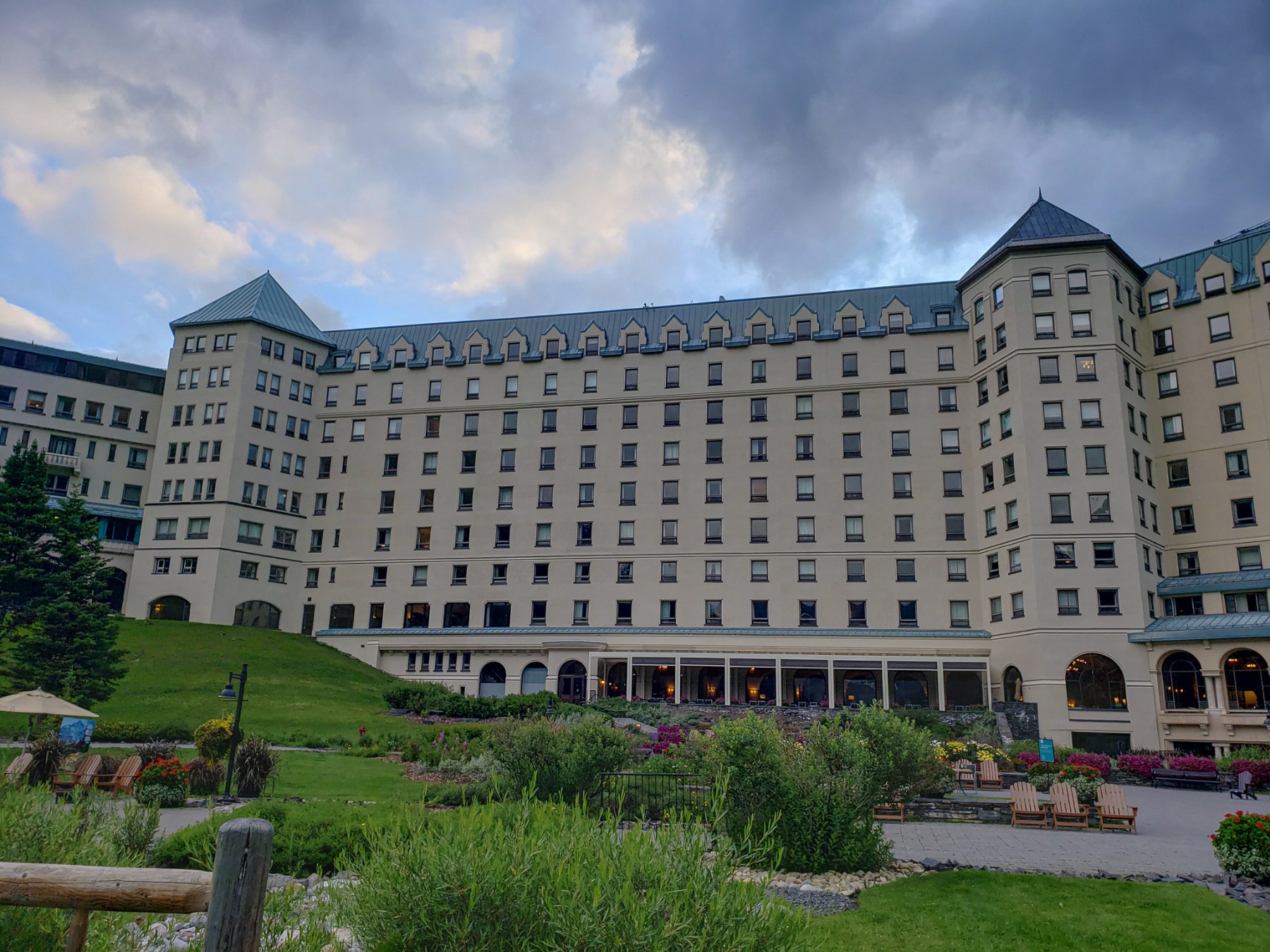 The Chateau Lake Louise was built as a Canadian Pacific Railway hotel at the turn of the 20th Century, around the same time as the nearby Banff Springs Hotel. Originally built as a log cabin, there have been numerous changes to the building over the years, the most recent addition being the Mount Temple Wing.
Fun Rockies Trivia: Lake Louise was named after Queen Victoria's daughter Princess Louise Caroline Alberta (the province of Alberta was also named after her).
---
Location of the Fairmont Chateau Lake Louise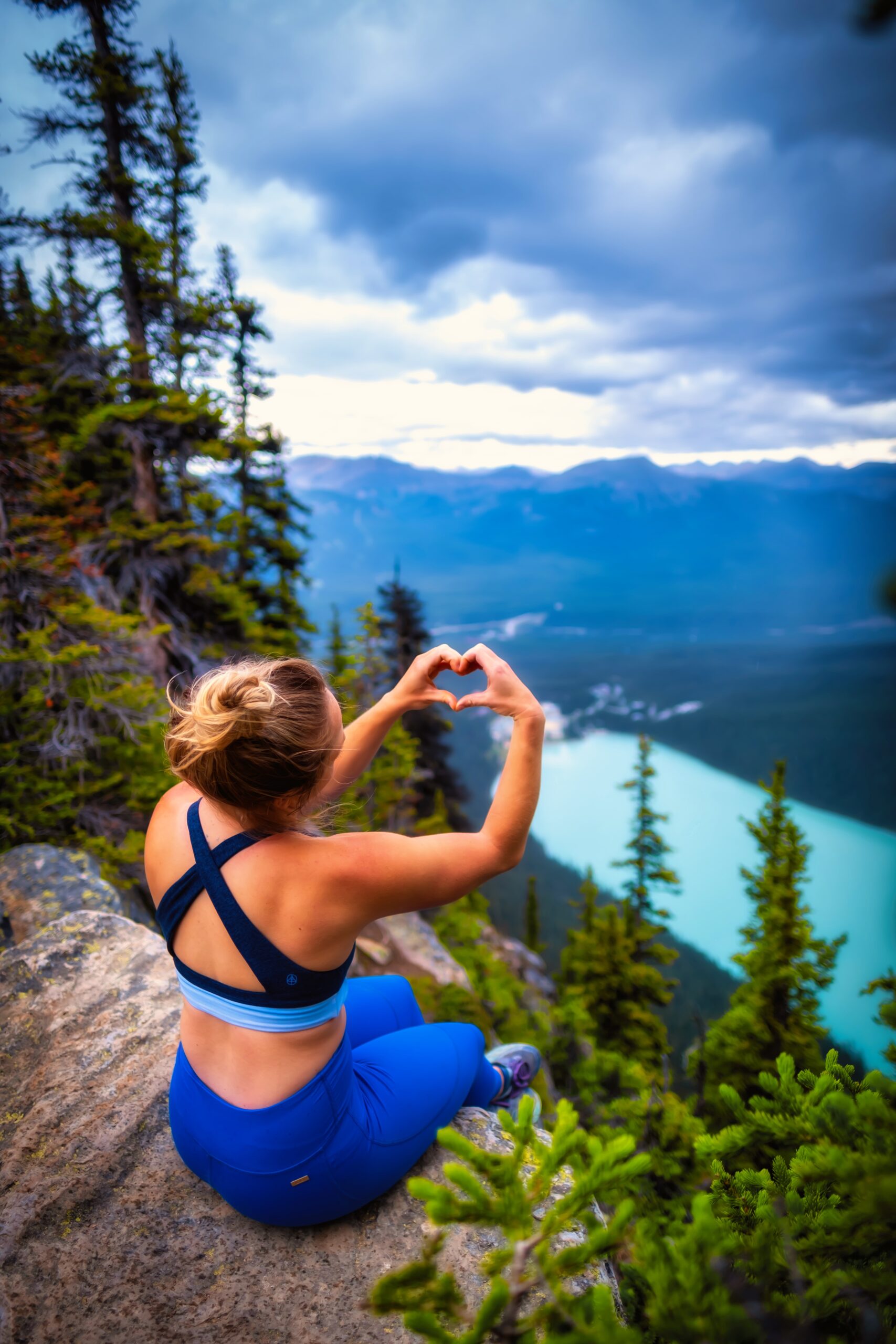 There is likely no better hotel location in the Canadian Rockies than the Fairmont Chateau Lake Louise. Just steps away from the rear of the hotel is the incredible glacier-fed Lake Louise.
Visitors from far and wide flock to this famous lake throughout the summer months to see the water that changes shades of blue at every angle.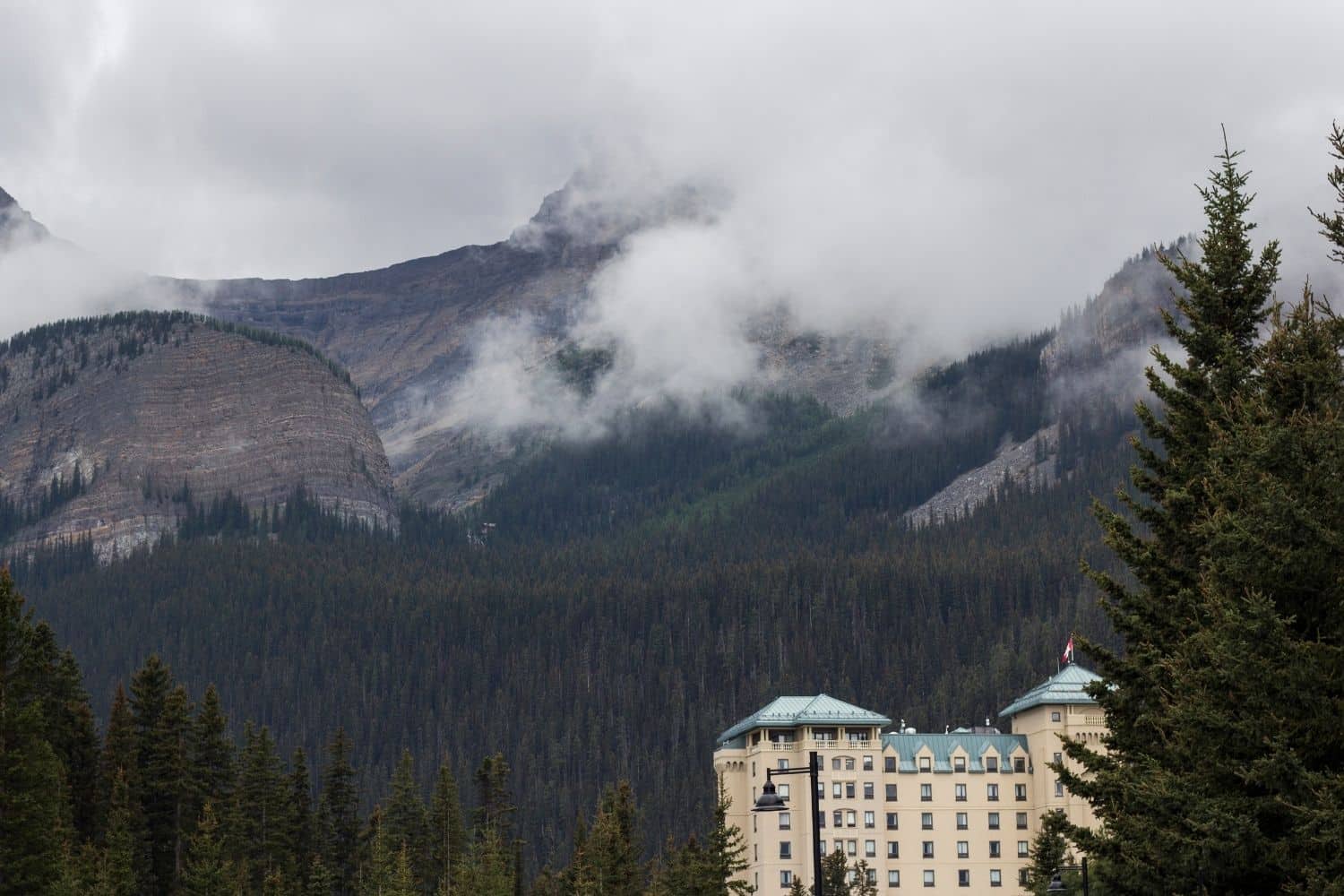 And as the starting point for several local Lake Louise hikes, you can get even better and more unique views of the lake (and the hotel) by exploring further.
---
Rooms at the Fairmont Chateau Lake Louise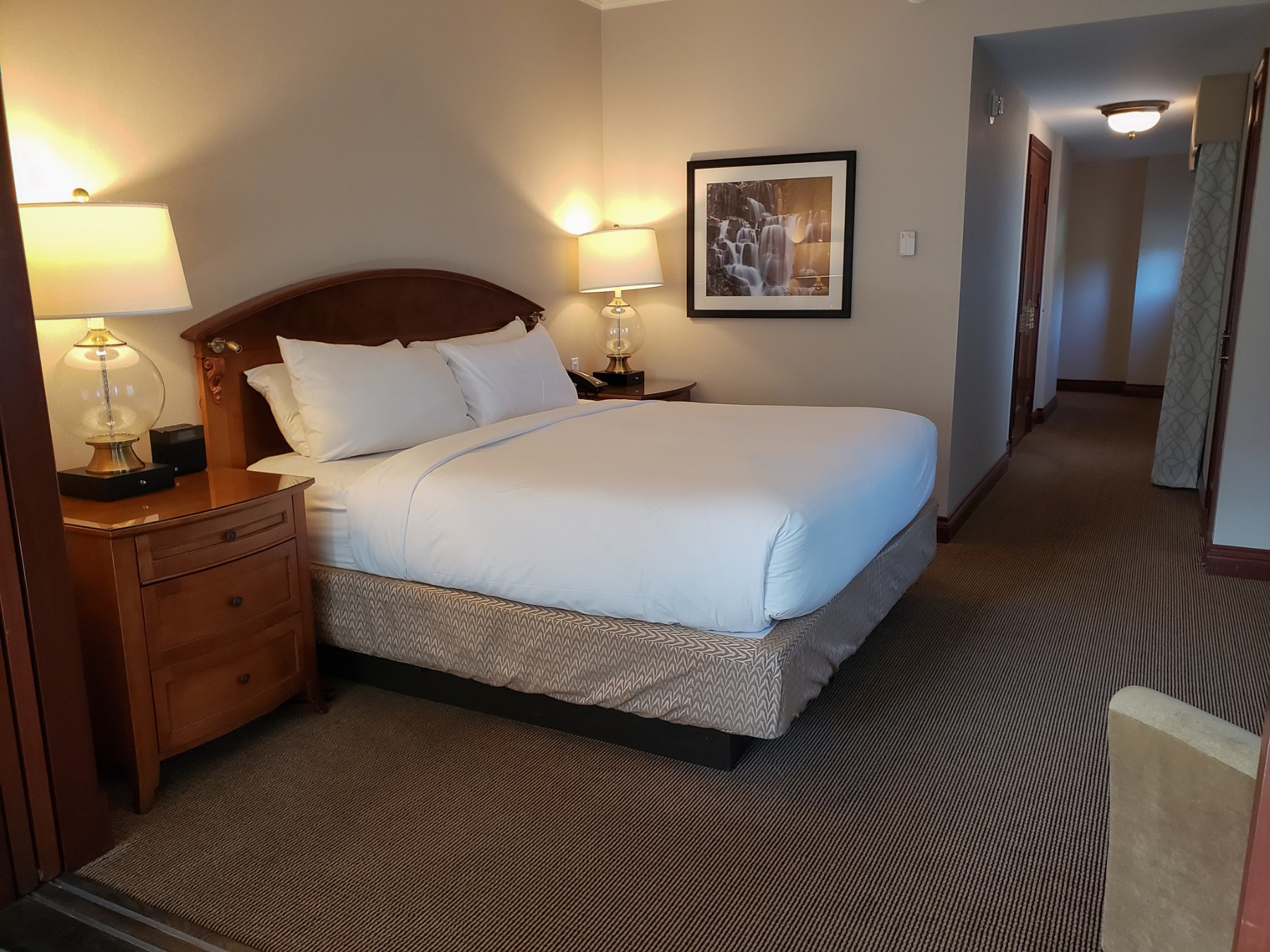 There are 539 rooms and eight different room types at the Fairmont Chateau Lake Louise ranging from the lead-in standard Fairmont Room to the Deluxe Rooms.
This coveted hotel has prices to match, but if you take advantage of the shoulder season pricing, you might just get a good deal.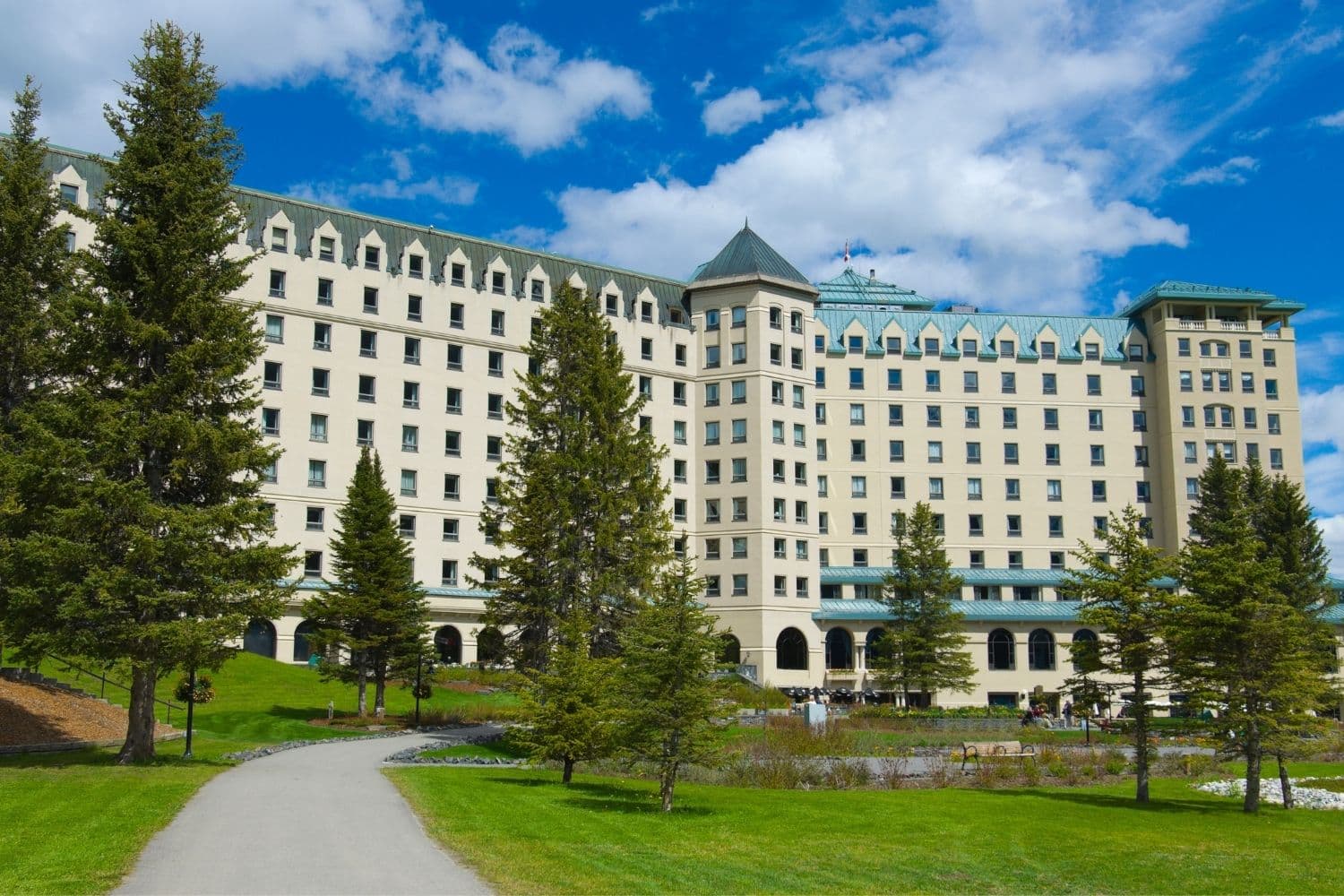 With the exception of the Mount Temple One Bedroom Suite (which has partial lake views), if the room type doesn't have the word Lakeview in it, you won't have one and will instead be on the other side of the hotel. So, of course, without a doubt, the most coveted room type is a Lakeview Room of some description.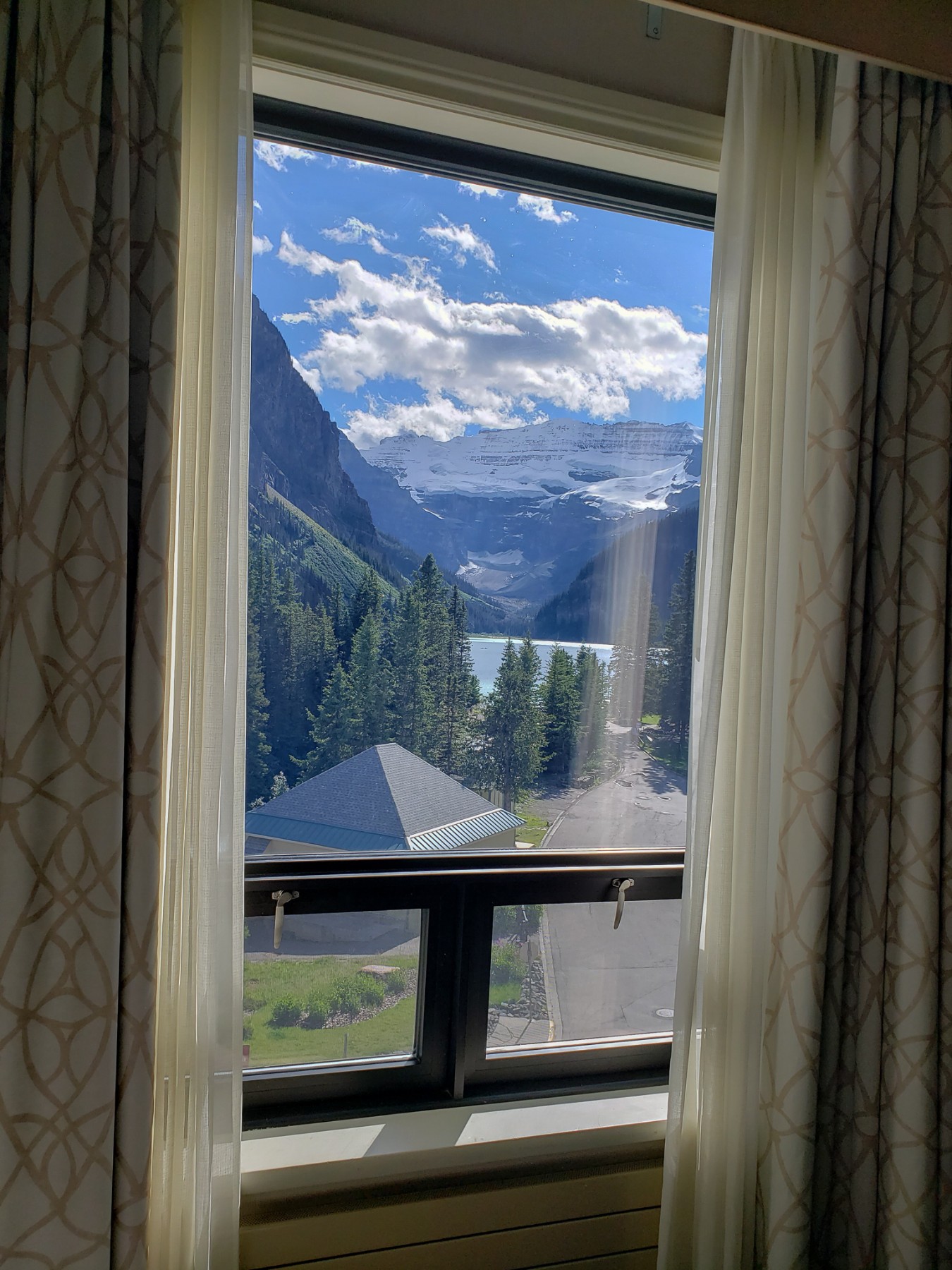 Opening the curtains and seeing the formidable Lake Louise and the imposing Victoria Glacier in the background is a unique experience. It almost makes you want to sleep with the curtains open, so this is your first view in the morning.
Having stayed in the Lakeview Room, I can put my hand up and tell you this is what I did. On my last trip to the Fairmont, I stayed in the Mount Temple One Bedroom Suite, which was much more spacious, had a separate living area with a sofa bed and an extra-large bathroom, as well as stunning views.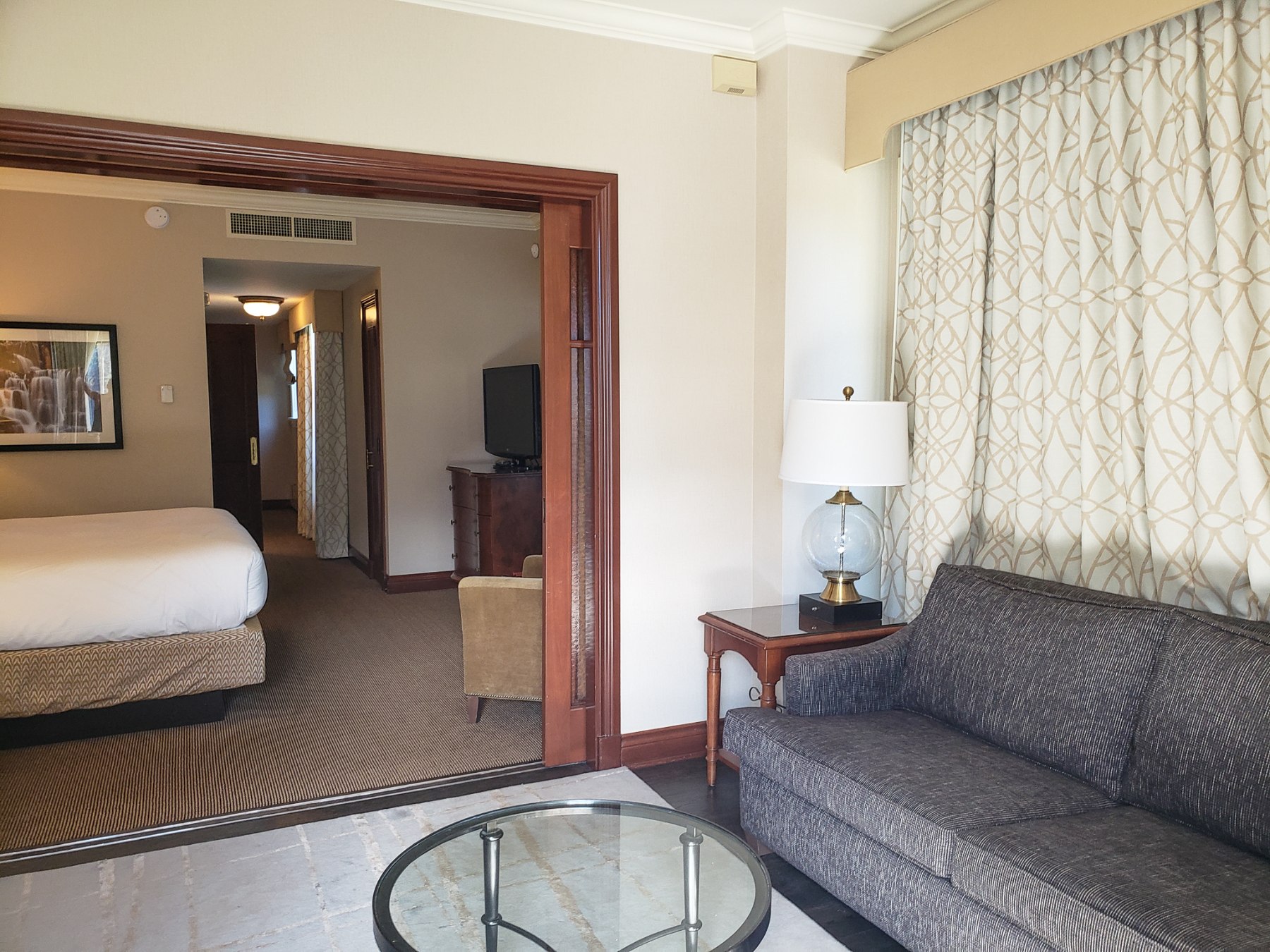 Room location tip: Since the Mount Temple wing is relatively new (built 2004), it is a little further from the hotel lobby but closer to the parking. It is also the only part of the hotel with air conditioning instead of the more basic temperature control that the rest of the hotel has. However, you rarely need air conditioning in the Rockies, even in the summer.
---
Resort Fees at the Fairmont Chateau Lake Louise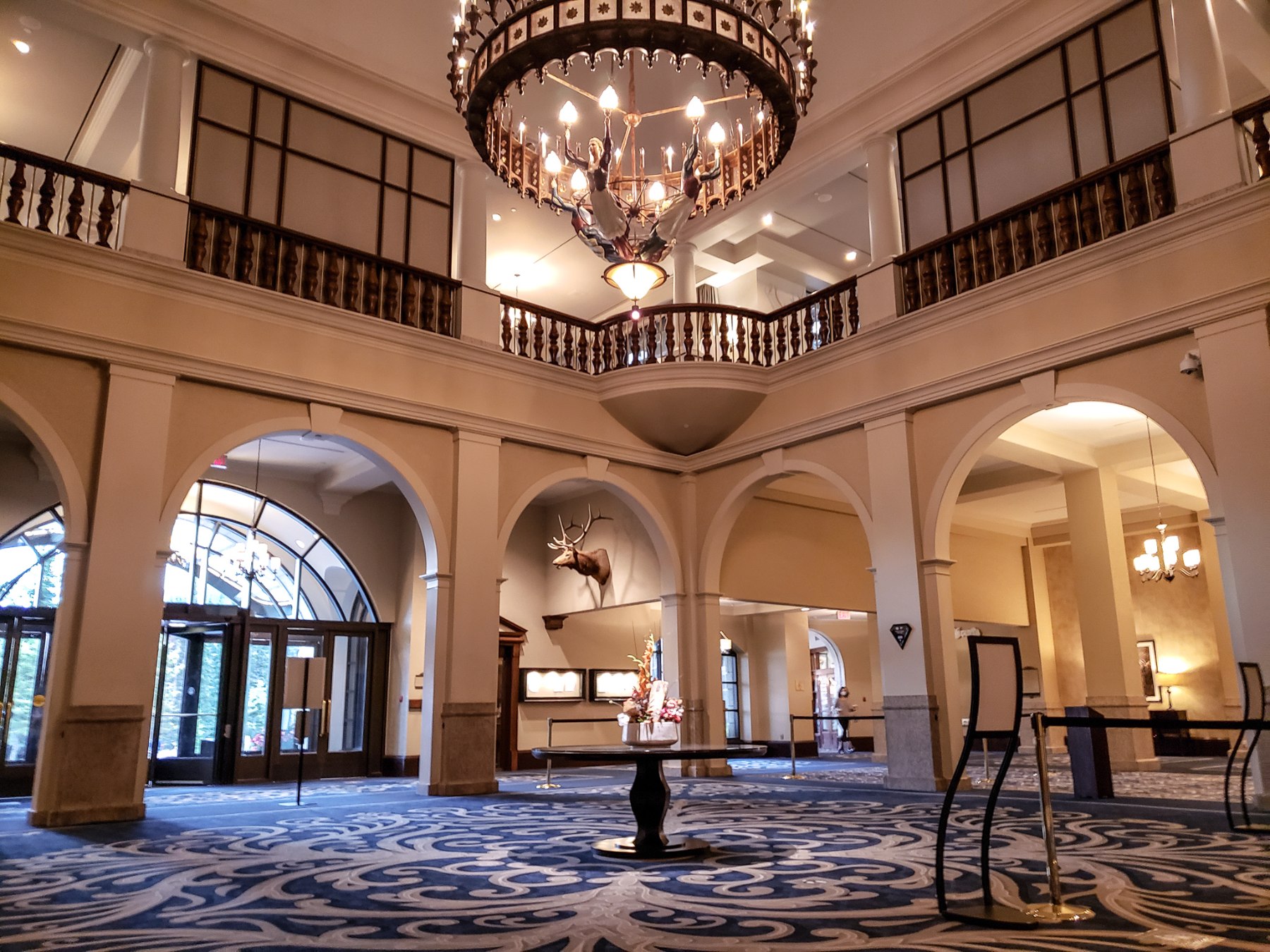 The Fairmont Chateau Lake Louise has a resort fee of $40 CAD per room per day. This covers high-speed internet, seasonal activities and rentals (see activities), pool and fitness club access, and a shuttle to Lake Louise village.
---
Hotel Parking at the Fairmont Lake Louise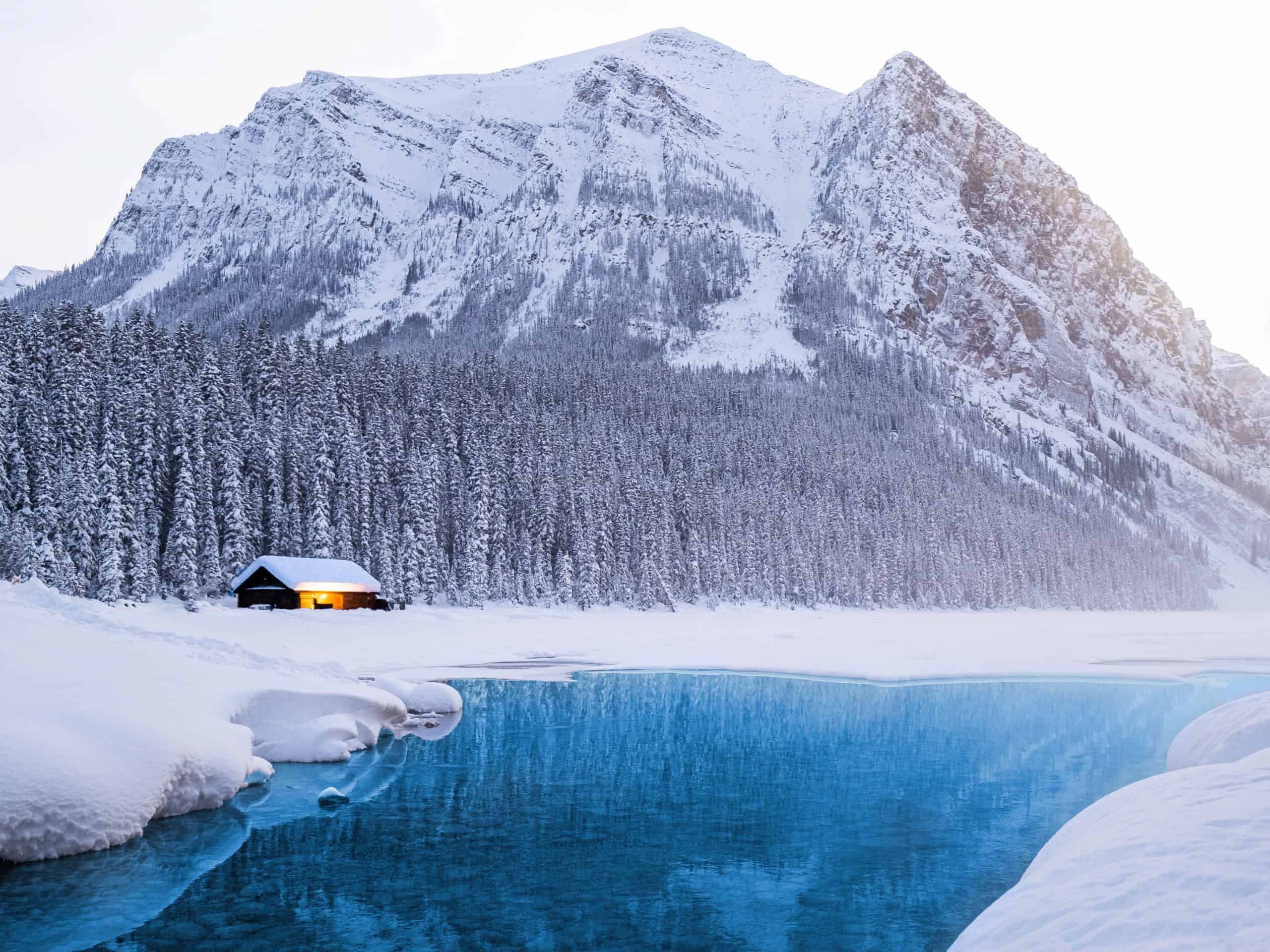 Considering Lake Louise's location, it's likely you will be arriving by car to stay at the hotel (unless part of a tour, or you get a transfer bus from Calgary).
There's a day parking lot for those just visiting the lake that fills up early and fast in the summer, but for hotel guests, there's gated access to the hotel and a parking garage on the right as you drive towards the hotel. Self-parking is not included and is $30 CAD per day.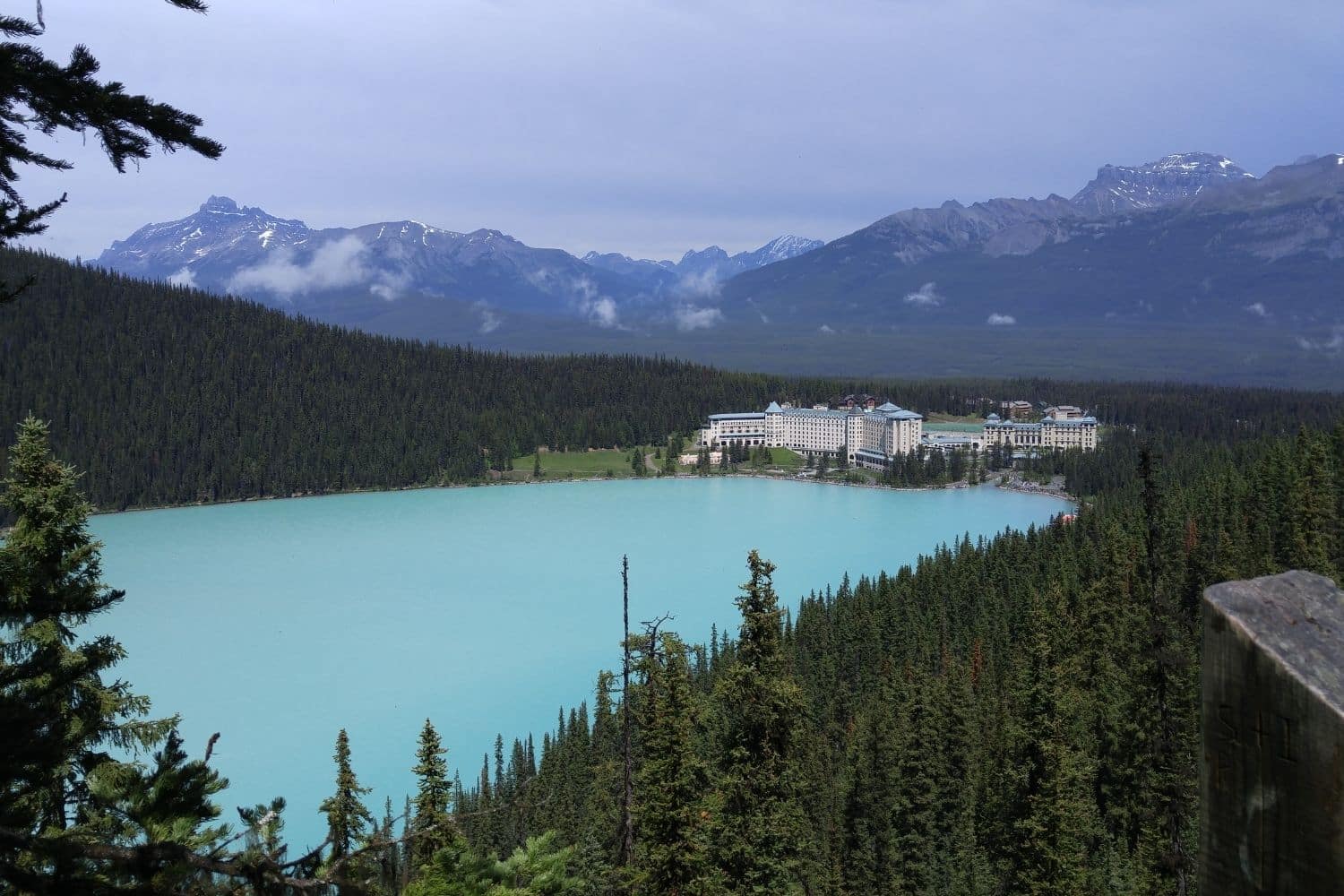 Pull up to the lobby area while you check-in, and you will be able to use your hotel key to access the parking garage. At the guarded gate, show your key for in and out privileges, and at the end of your stay, they'll give you a ticket to exit the parking lot one more time since you won't have your hotel key anymore.
It's worth it to note that staying at the Fairmont does not get you special private access to either Moraine Lake or Lake Louise.
Lake Louise Parking: Everything You Need to Know
---
Activities at the Fairmont Chateau Lake Louise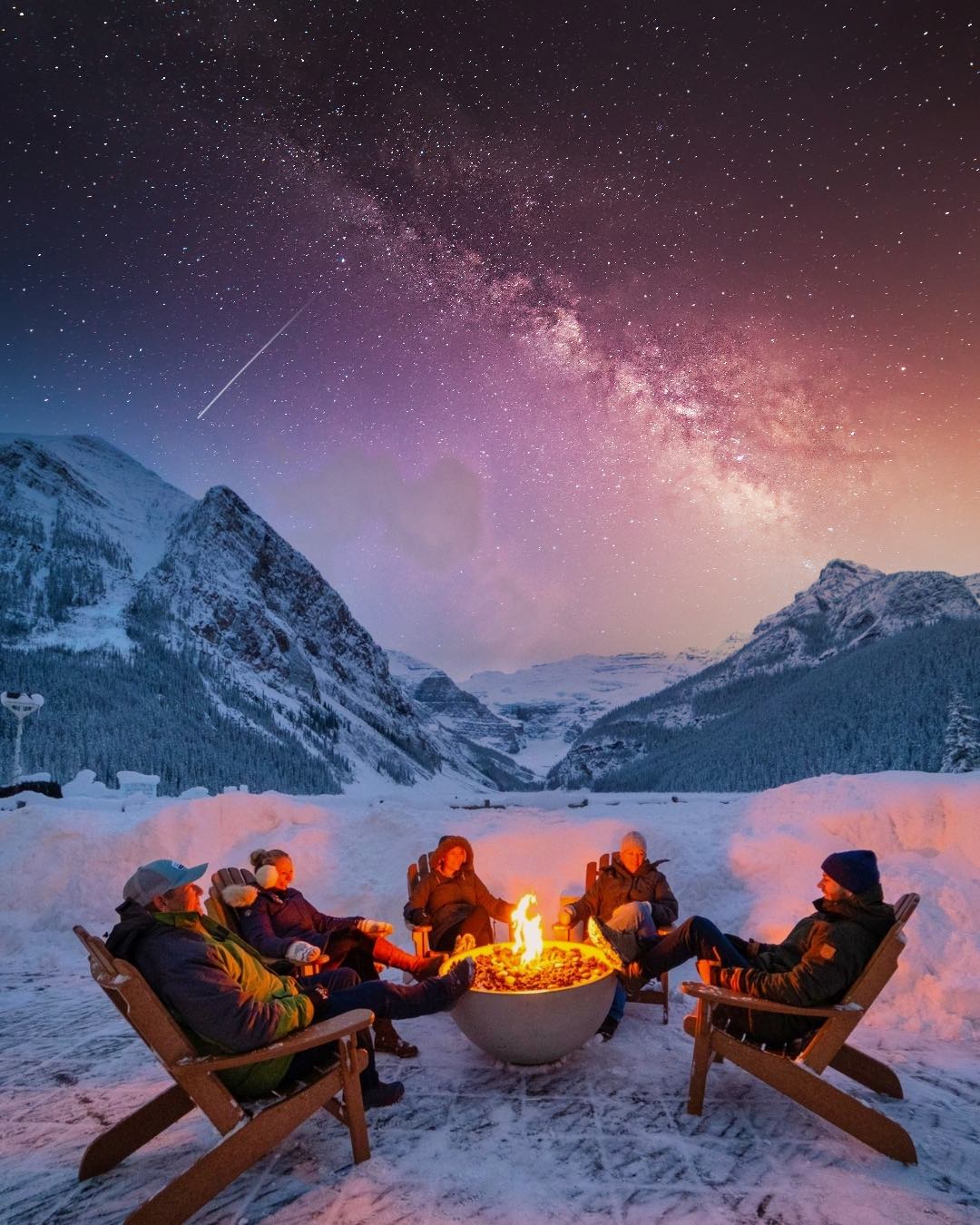 The Fairmont Chateau Lake Louise is a resort with many activities to keep you busy for a few days. Plus, there are so many day trips, hikes, and other places in the area to visit that you'll have plenty of outdoor activities to plan.
Your pre-arrival update will include links to the current events and activities which change seasonally, but these are my picks for the best options at the Chateau Lake Louise.
---
Pool and Fitness Centre
The pool and fitness center are a little smaller than many hotels, but there's everything you'll need for a quick stay, including a pool, whirlpool, steam room, fitness machines, and yoga supplies.
Insider tip: Check the activity guide during your stay as there are often fitness and wellness classes offered for free as part of your resort fee.
---
Painting the Spectacular View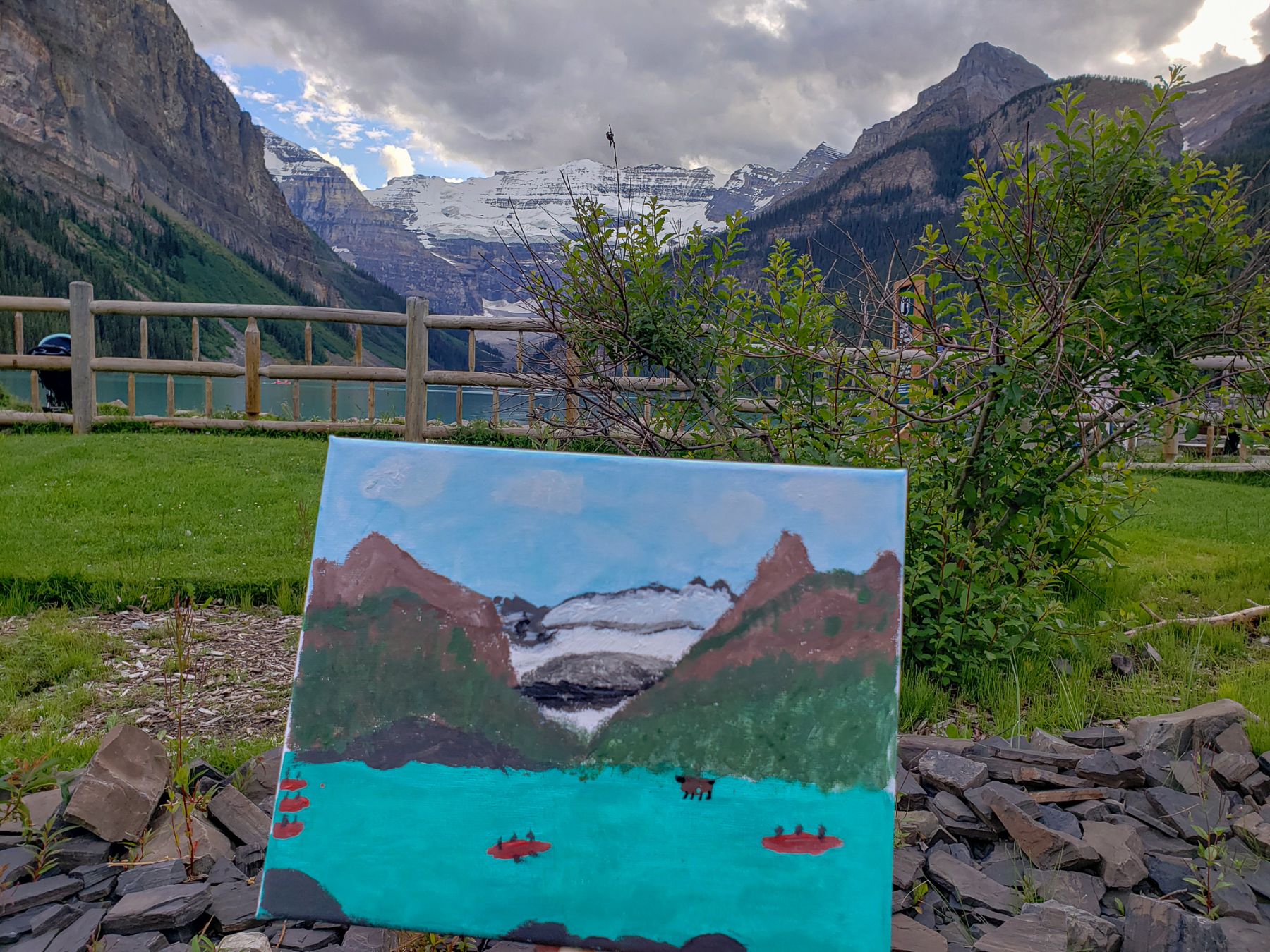 One of the most unique activities the hotel offers is an art kit, so you can paint the stunning scenery yourself from inside or outside in the garden facing the lake.
It's $10 from the Concierge desk and includes a small blank canvas and paint set. While the kit is probably aimed at younger visitors, go ahead and try out your art skills, I think we made the Concierge's day with our awful attempts at painting.
---
Horse Riding Around Lake Louise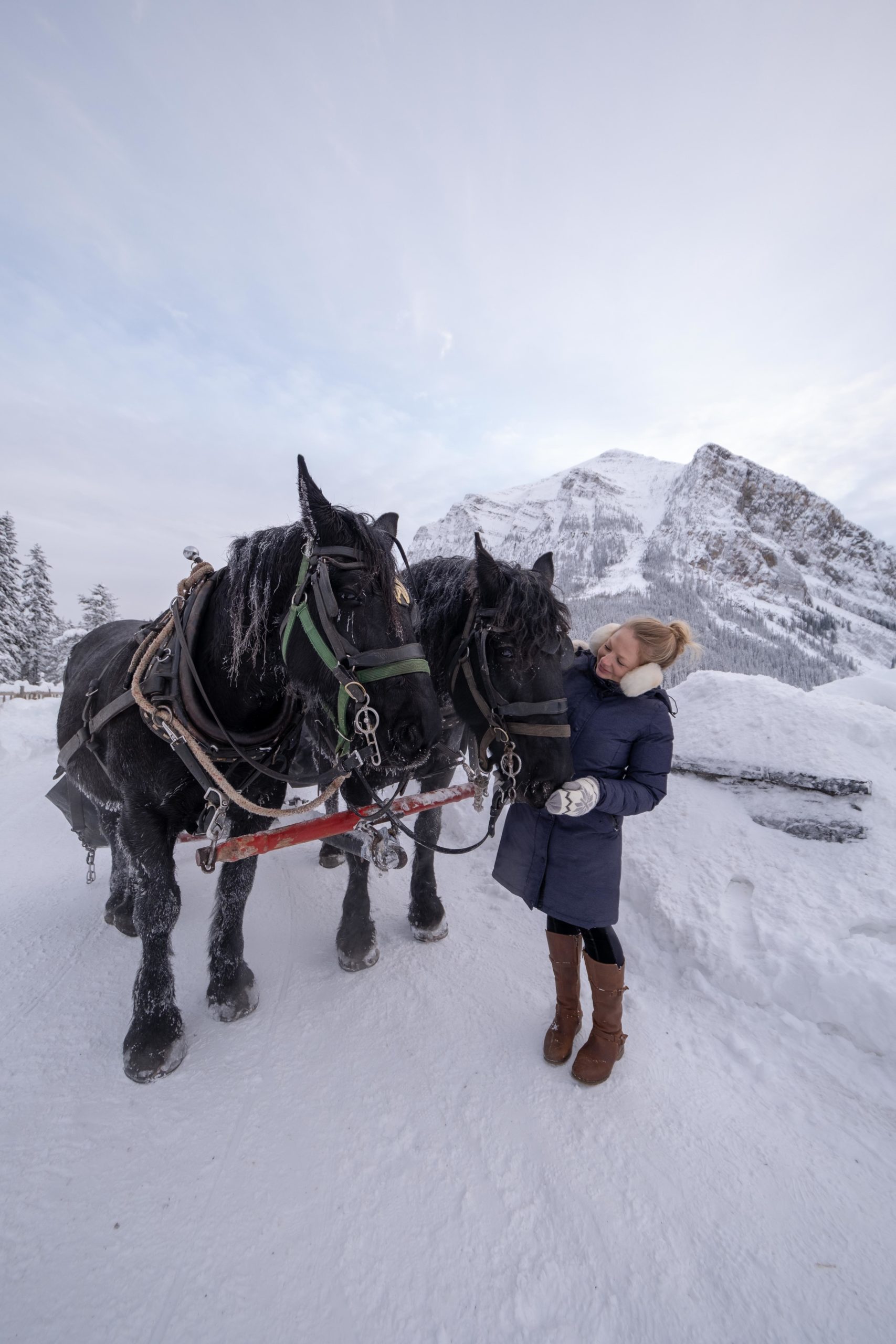 Alberta is the Texas of Canada, which means that you're never too far away from a horseback experience in Banff. The Fairmont Chateau Lake Louise has stables on-site, and for additional fees, a horseback ride can be booked through the concierge. Take a short tour around the lake or further on one of the nearby mountain trails.
It's possible to take a horsedrawn carriage around the lake, which is one of the best things to do in Lake Louise in the winter.
---
Canoeing on Lake Louise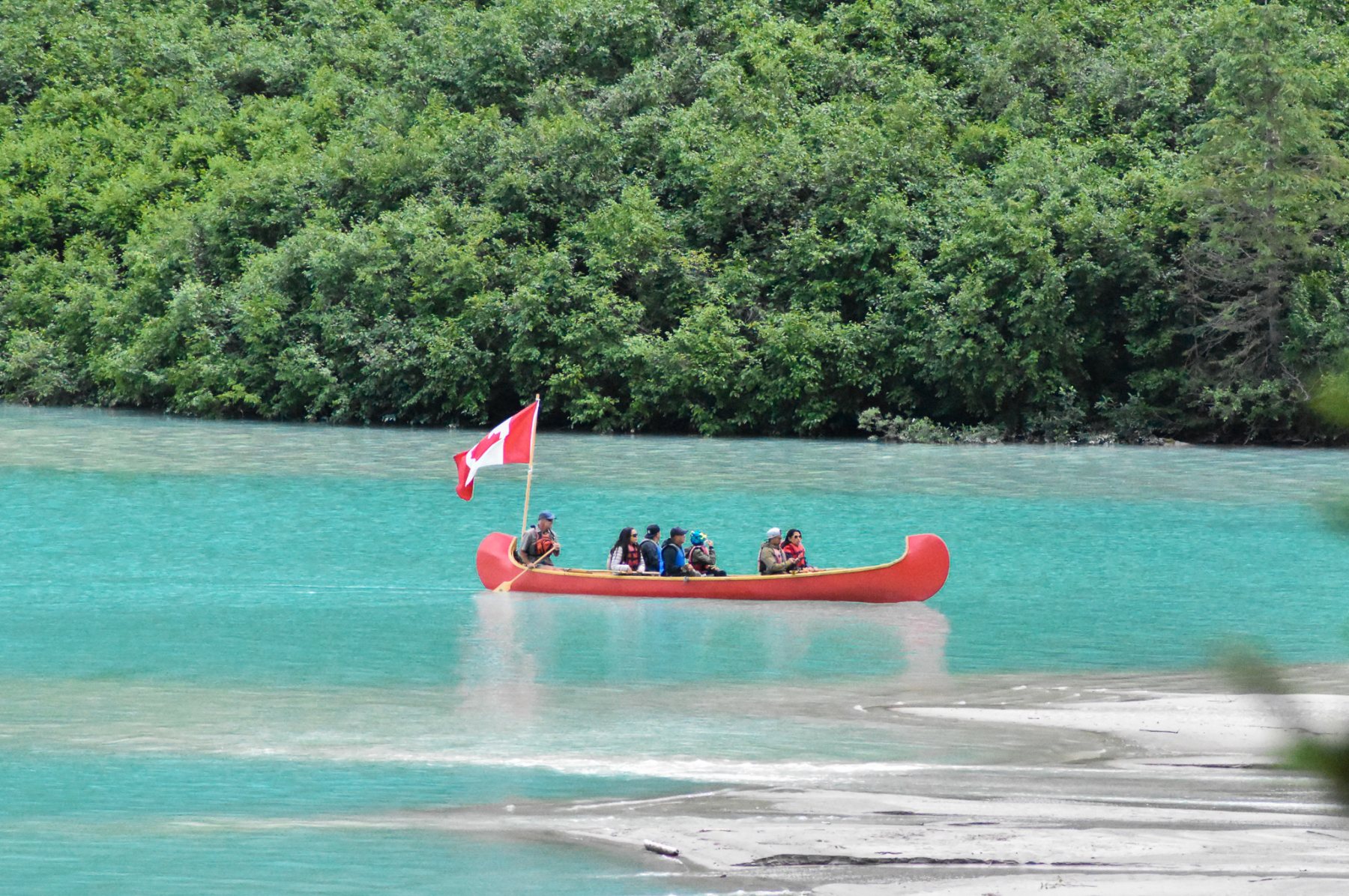 One of the most coveted activities at Lake Louise is to take a vibrant red canoe out for a unique perspective of the lake. Canoeing on Lake Louise is so popular you might have to join a queue, but guests often get priority access.
There's also an evening canoe option open to hotel guests only on certain days, which might mean fewer crowds. Canoes hold 2 or 3 adults, and there are discounts available for hotel guests. Another option if you don't want to row yourself is the guided Voyageur Canoe Experience for up to 6 adults.
---
The Food at the Fairmont Lake Louise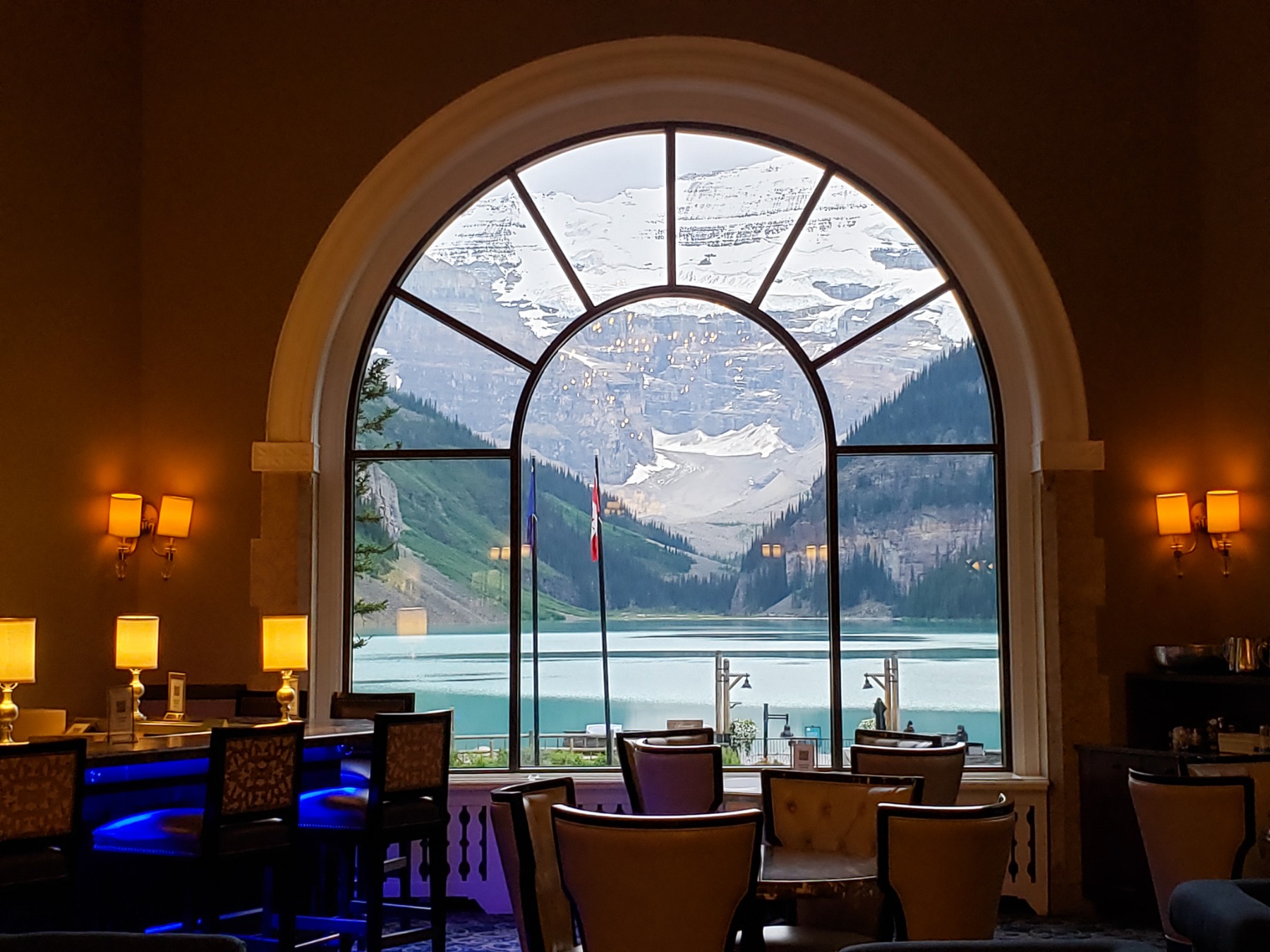 Within the Chateau Lake Louise Hotel, there are at least four sit-down restaurants, most with at least some lake view seating. With delicious house-crafted cocktails, food sourced locally in Alberta, and resort-inspired menus, it's worth dining in at least once while you are staying.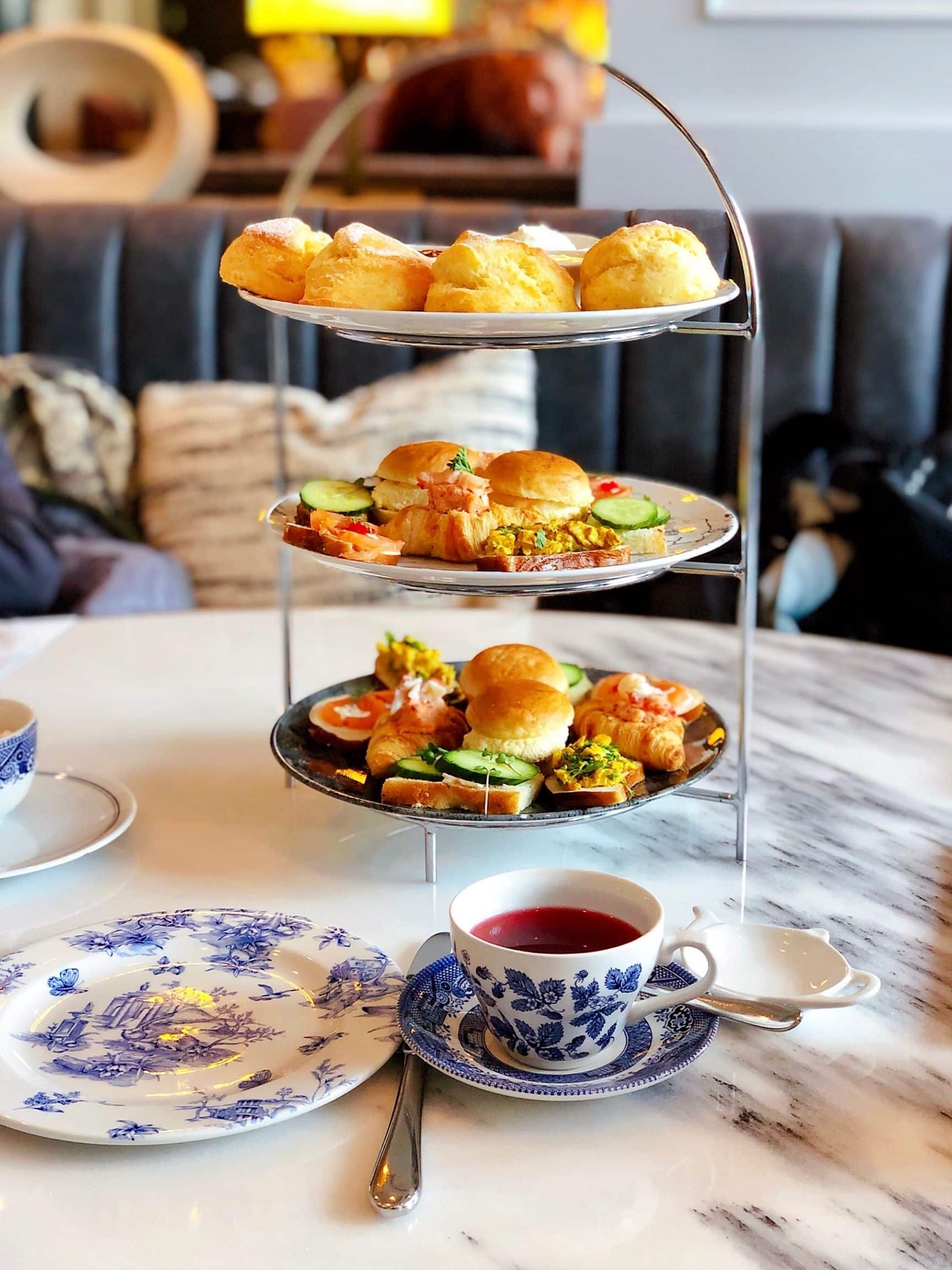 While staying at the Fairmont, it should be noted there are not many other dining options in Lake Louise, so budget for your meals as you plan your trip. If you are trying to save money, there is one small grocery store in the Lake Louise village, as well as Laggan's, Bill Peyto Cafe, Trailhead Cafe, and Legend's Restaurant.
---
Cheap Eats at The Guide's Pantry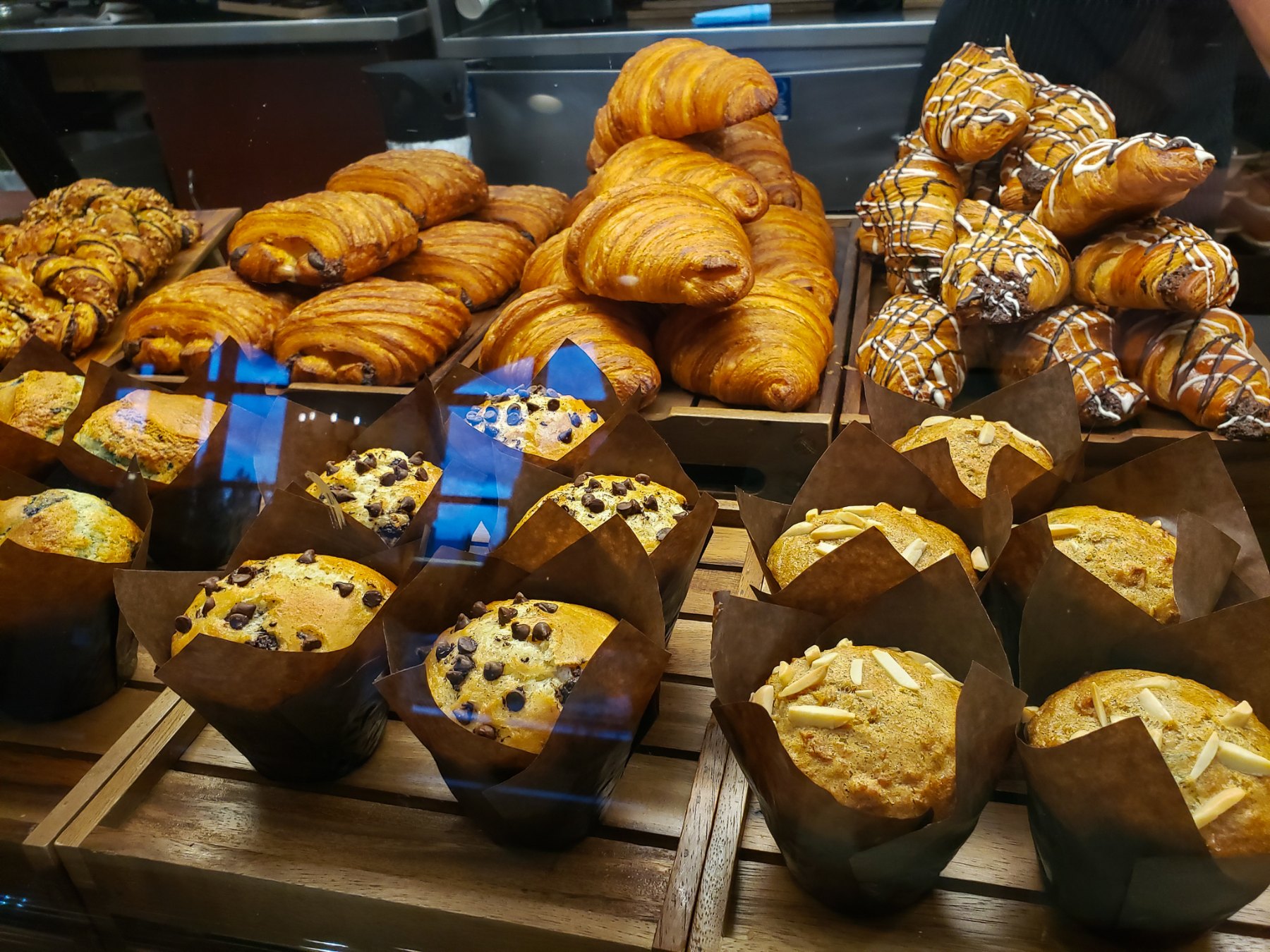 Start your day off right with a more budget-friendly breakfast than some of the dining rooms will give you. Open from 6:30am to 10pm, The Guide's Pantry is the perfect place to get a cup of coffee, a muffin or pastry for breakfast, or sandwiches and salads for a light lunch. Eat-in or take-out, this is a good place for quick and easy options.
---
Fondue at the Walliser Stube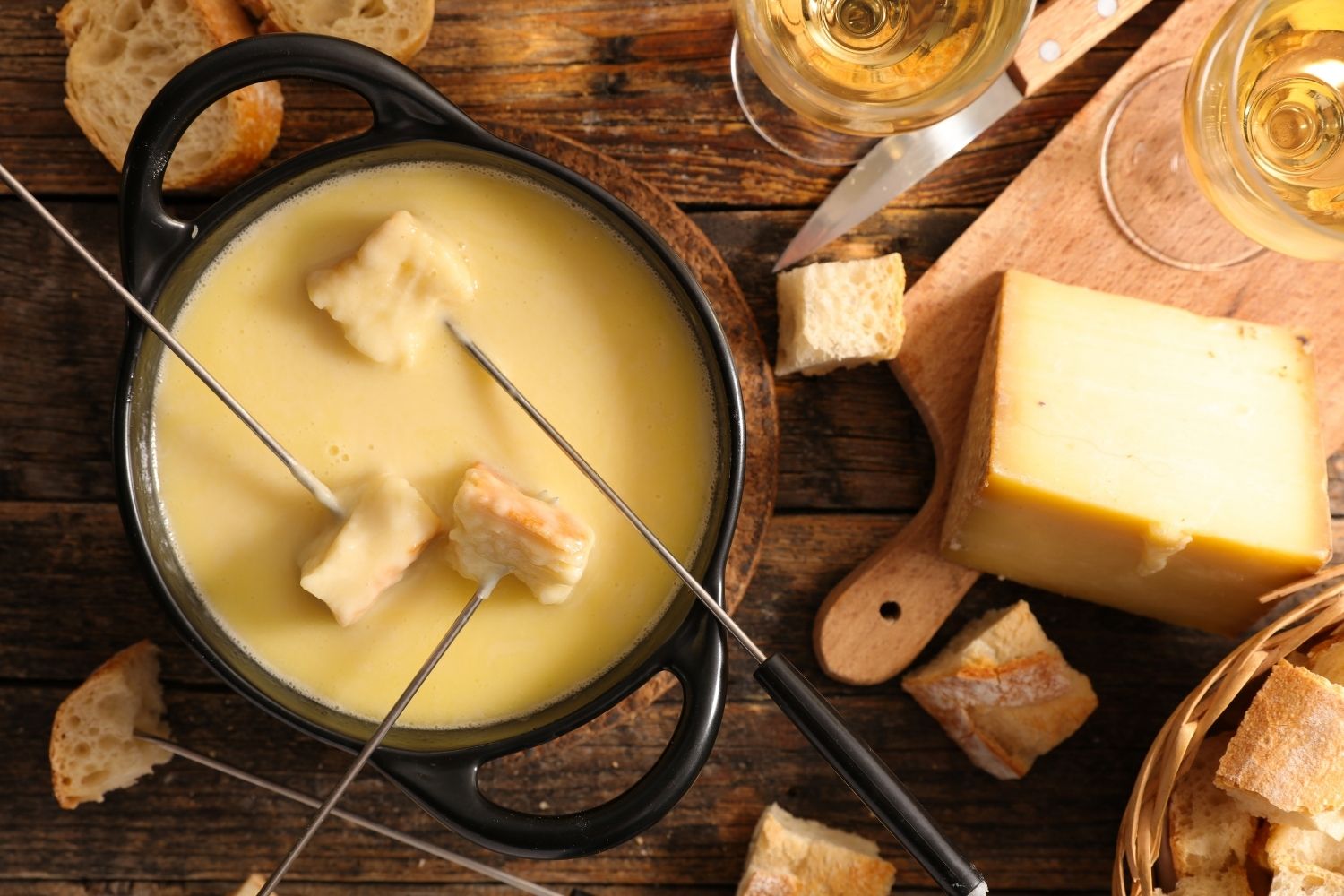 With all these mountains and lakes, you'll feel right at home in this alpine-inspired restaurant with a cozy pub feel. There's a more fun option to go for with schnitzels and strudels to choose from. Fondue. Indulge in the "Chateau Experience" with a Fairmont-worthy 3 course meal, 2 of which are fondue. Cheese fondue to start and chocolate fondue for dessert.
---
Romantic Dining at the Lakeview Lounge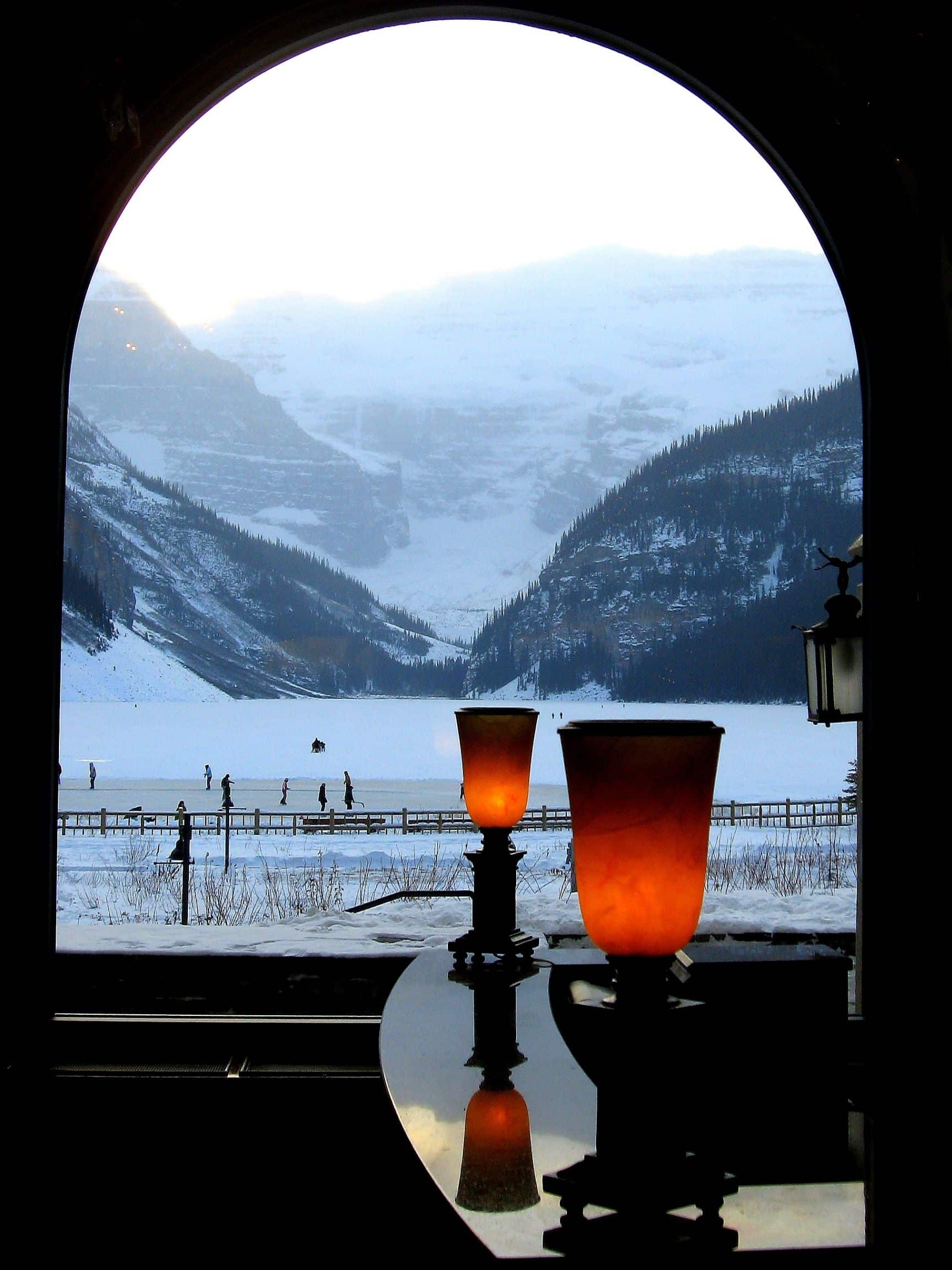 You're at the Fairmont Chateau Lake Louise; you may as well spend as much time looking at this sensationally wonderful lake as you can. Enjoy a classic cocktail and a delectable dinner while gazing out of the oversized windows at Lake Louise and the glaciers behind. On summer days, try the patio seating. I recommend the tomato coconut soup and the lobster mac & cheese.
---
When Should You Book a Stay at Lake Louise?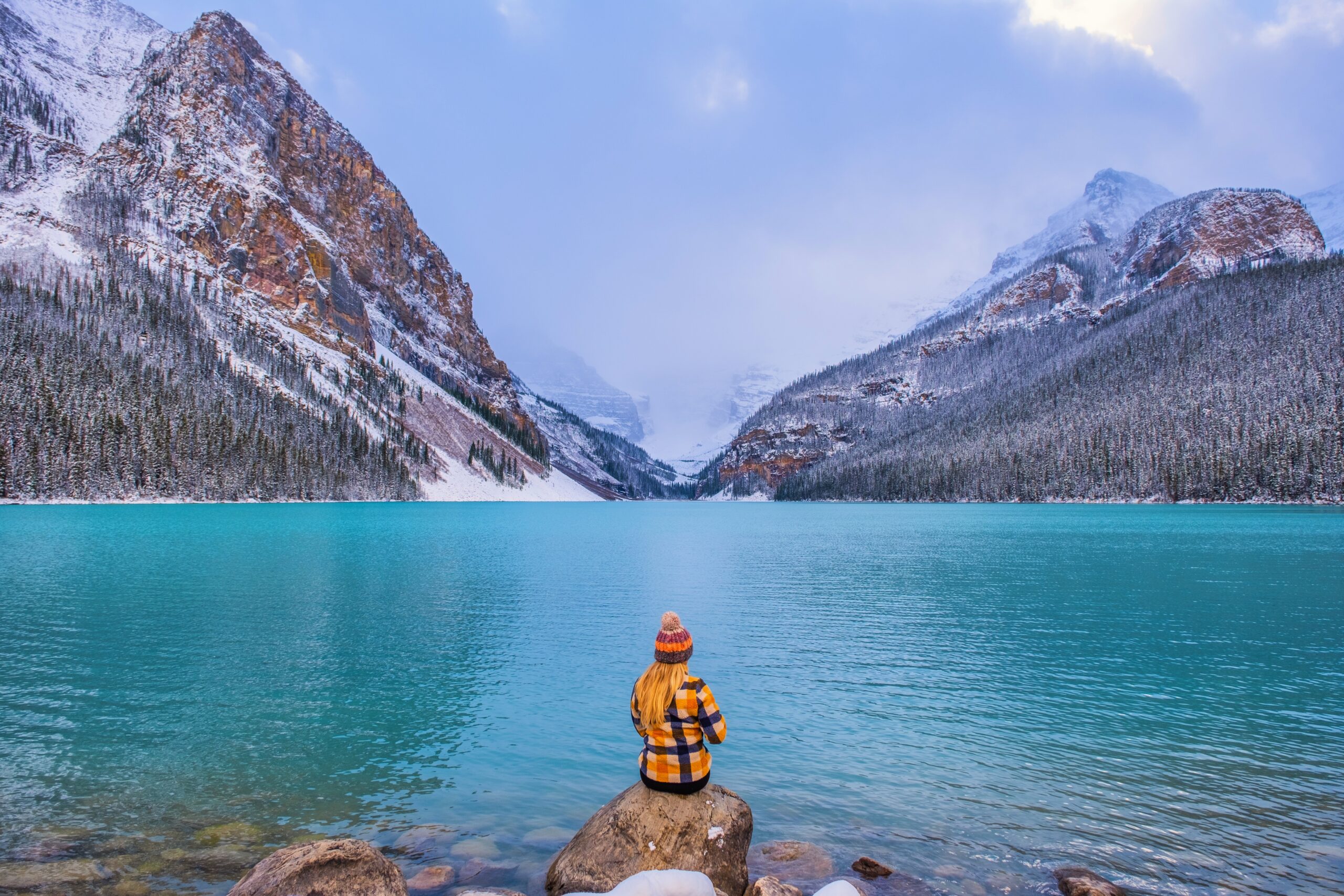 So is Lake Louise better in the winter or summer? Well, they are entirely different experiences, and it depends on if you want a beautiful North American summertime trip or be enchanted in a winter wonderland.
The best time to visit Lake Louise is in the summer, between June and September, while the lake is thawed. However, this is the busiest time to visit Lake Louise, and the crowds and prices will reflect that.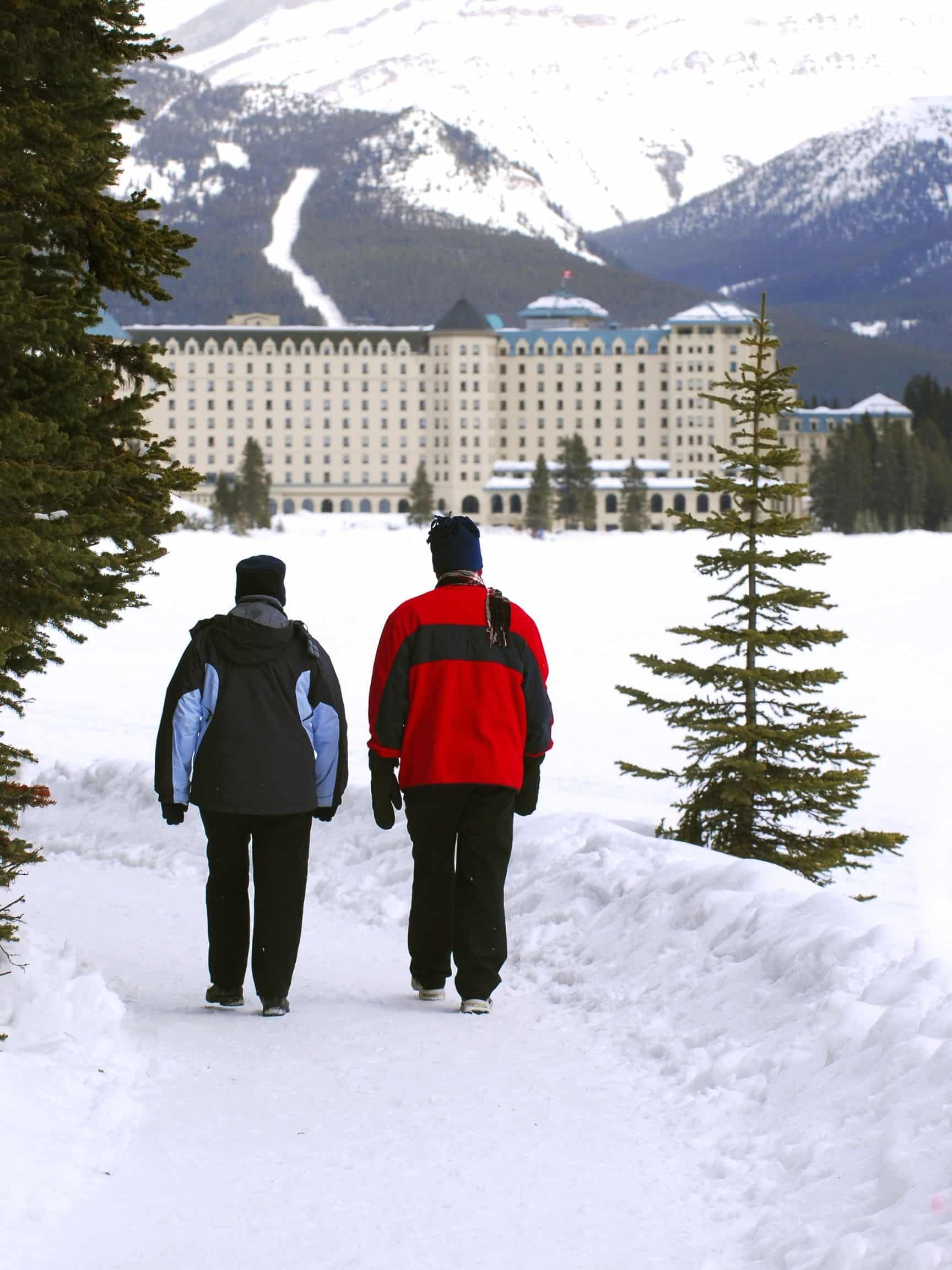 If you think visiting in the winter will provide you with much lower prices, you are unfortunately wrong. Banff sees another high season come December that will last until March since there is excellent skiing to be had. Christmas in Banff will be especially busy and pricer.
For the best rate at the Chateau, you should look to book a room in April, May, and November. However, Lake Louise will, without a doubt, be frozen during this time.
---
Final thoughts on the Fairmont Chateau Lake Louise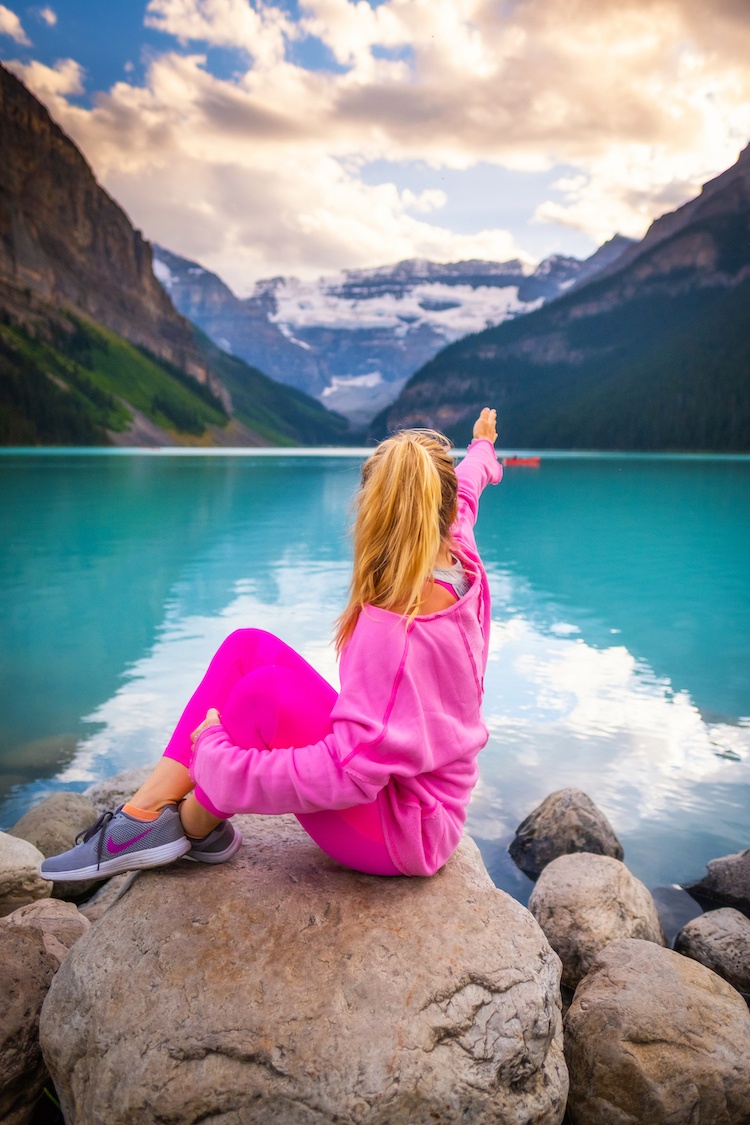 If you're visiting the Canadian Rockies, Banff is definitely one of the best central locations to base yourself. But since you won't want to see the Rockies without experiencing Lake Louise, I would recommend at least one night here at the Chateau, if you can splurge, although you should really stay 2-3 if your budget allows.
The price is very high, but you'll get more out of your stay than any couple of hours visit, especially if you value hiking around Lake Louise and getting up to Moraine Lake.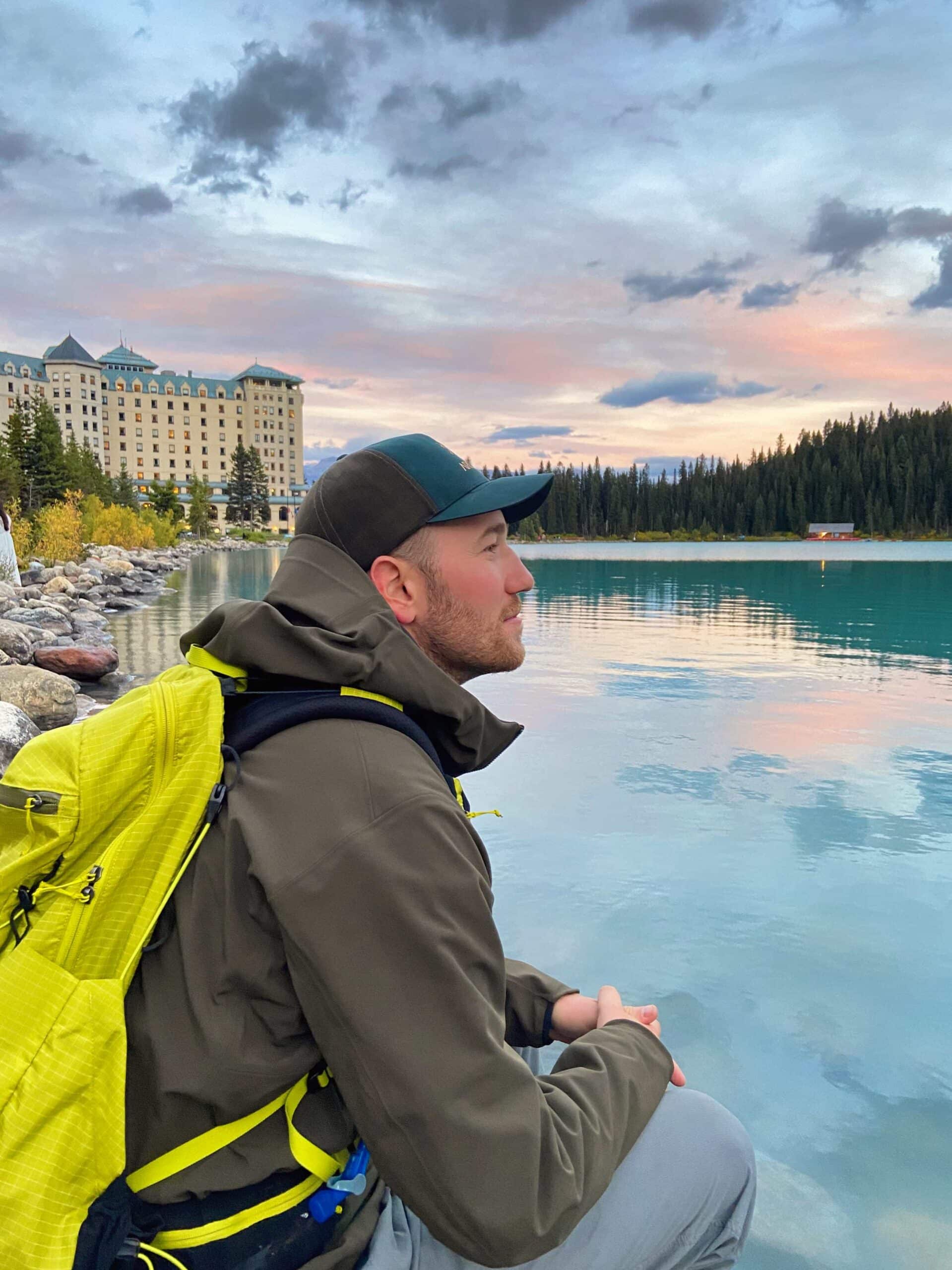 Relax and enjoy the luxury resort activities, see the lake up close at sunrise and at sunset before the masses arrive. Sit by the water's edge in the evening or stroll around the lake by first light. A stay at the Fairmont Chateau Lake Louise is the best place to do any of that and is truly a stay you won't soon forget.
---
Things to do at Lake Louise
In the Summer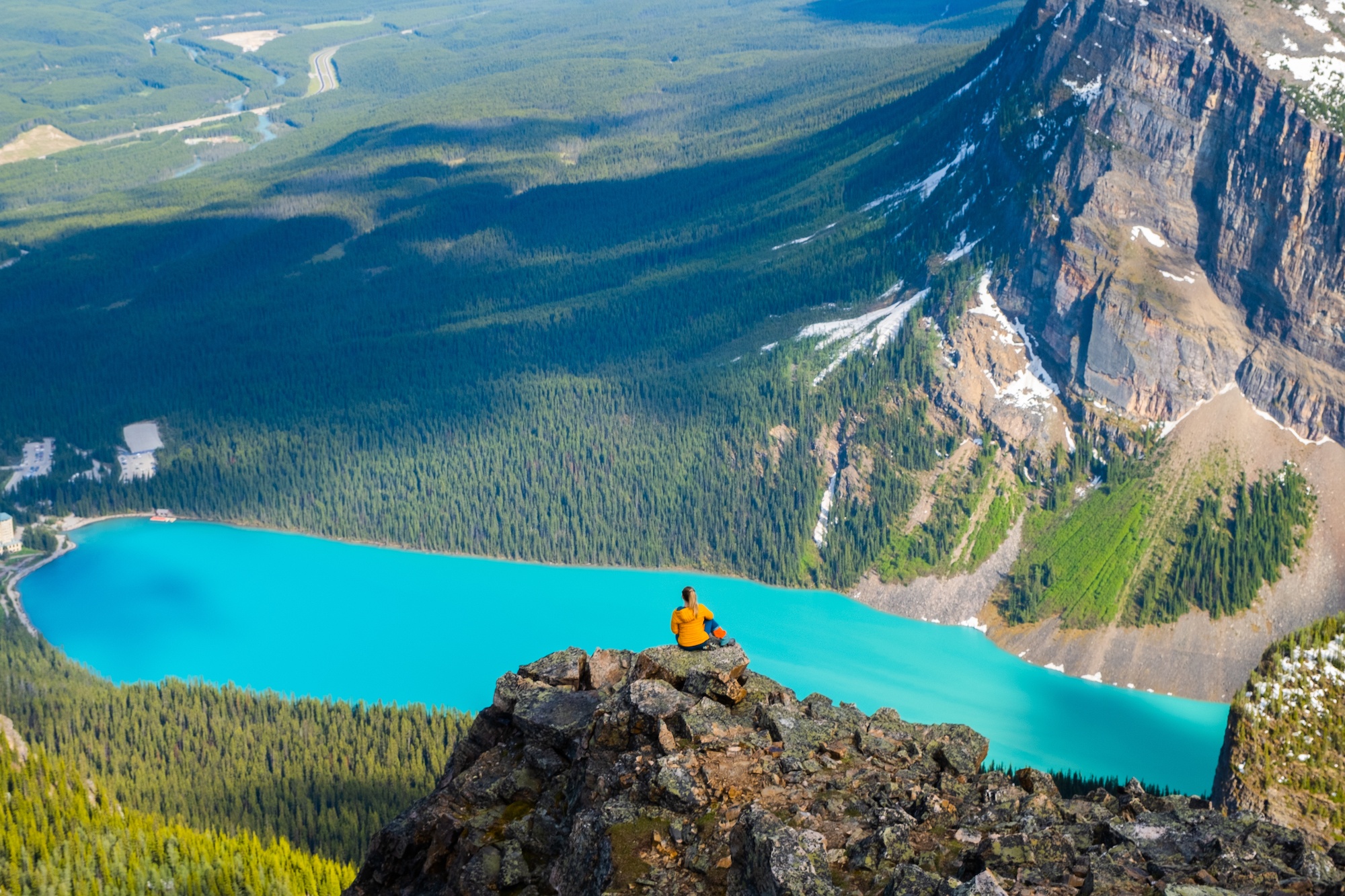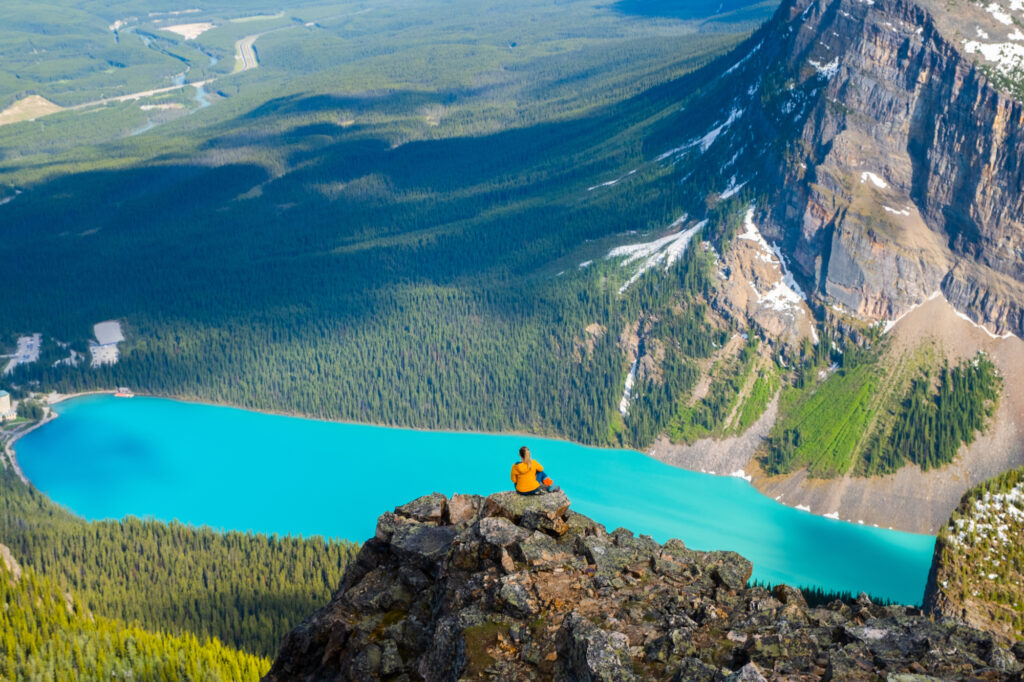 In the Winter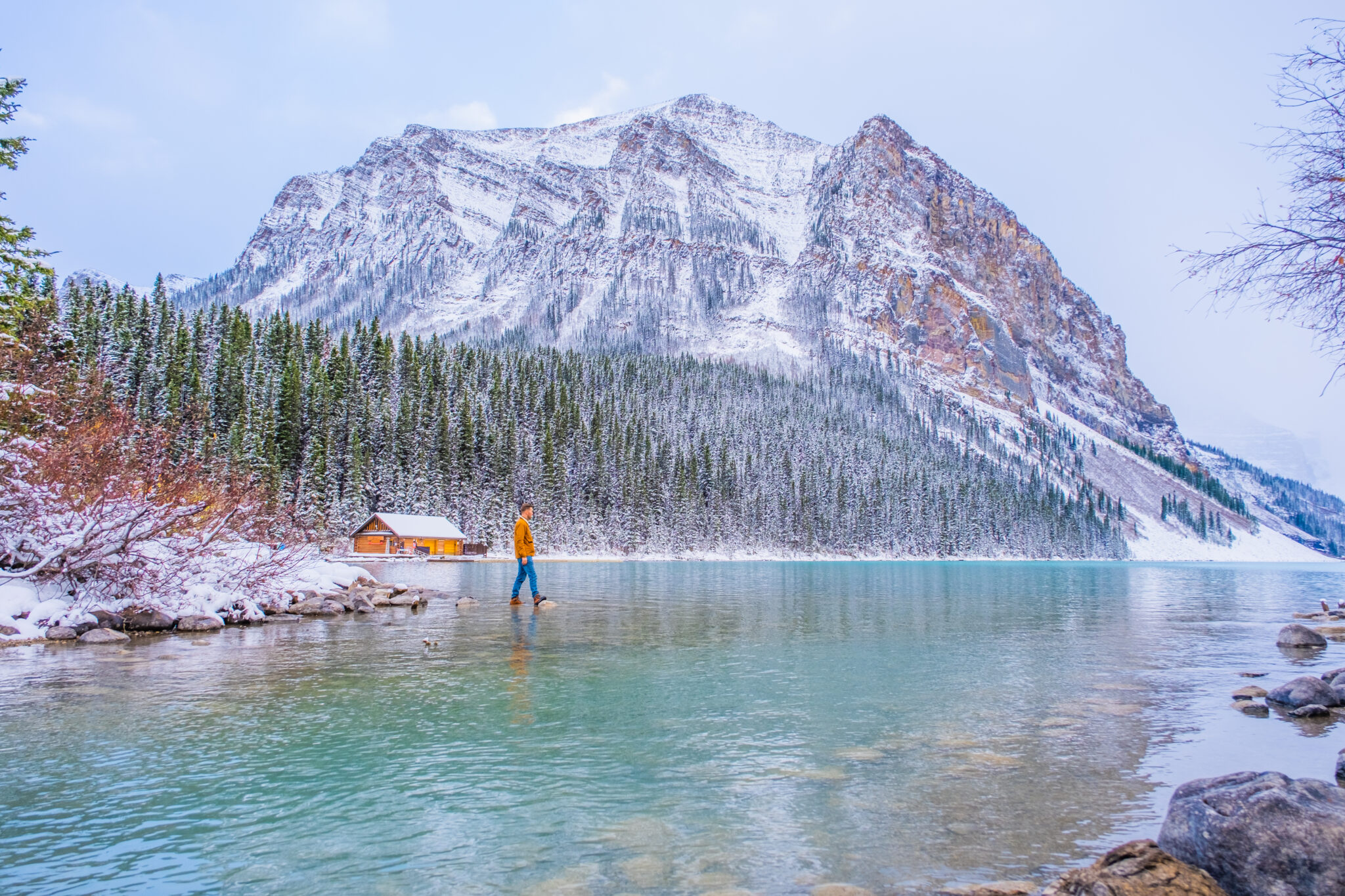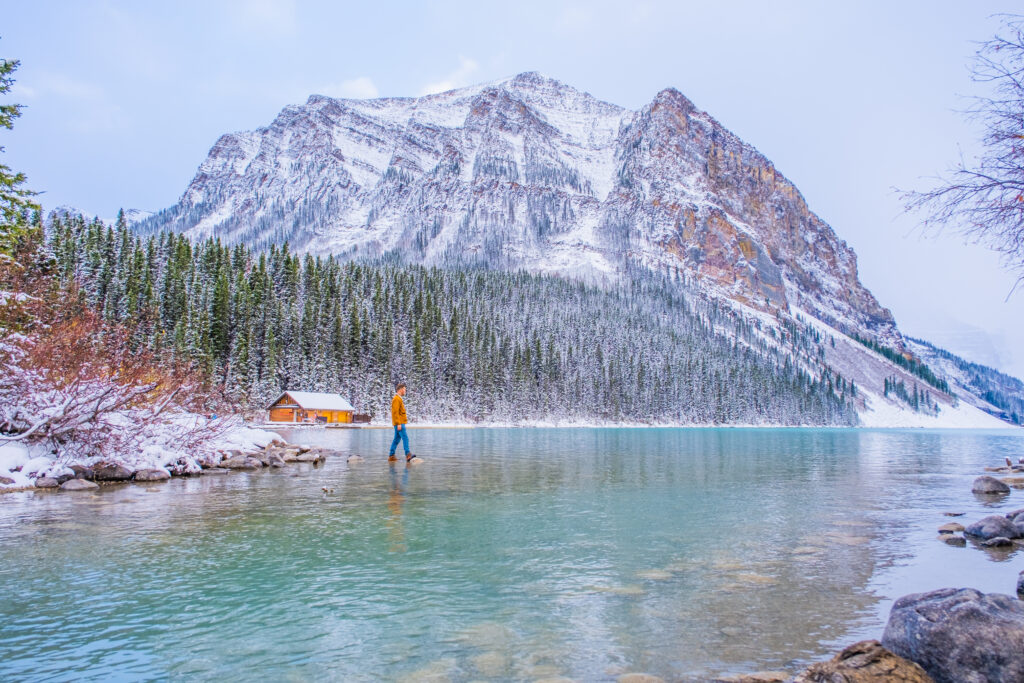 ---
Staying at the Fairmont Chateau Lake Louise FAQ
What are Check in and Check Out times?
Check-in time is 4:00 p.m. and check-out time is 12:00 p.m.
Are pets permitted at the Fairmont Chateau Lake Louise?
The Fairmont Chateau Lake Louise welcomes pets but there are restrictions in place. The 6th floor of the main building and the 5th floor of the Mount Temple Wing are off-limits to pets. A charge of $85.00 per room, per night plus taxes will be added to your guestroom folio for pets. However, for stays of 6 nights or longer, the charge will not exceed $480.00. Additionally, if extra servicing to the room is required upon checkout, an additional charge starting at $125.00 may apply.
Pets are not allowed in the Food & Beverage areas of the hotel, which includes the outdoor patio, waiting area outside of dining venues, and the Health Club pool deck due to health regulations.
It is important to supervise your pet at all times as pets are not allowed to be left in the room alone. If noise becomes a concern and the hotel has to remove the pet, a holding fee of $75.00 will be applied to your guestroom folio.
There is pet sitting available at the hotel!
What Does the Resort Fee include?
As mentioned, there is Resort Experience Fee of $40 CAD plus applicable tax, per room per day. The fee is added to your guest room folio daily. This resort fee includes a range of amenities and activities for guests to enjoy.
These include daily fitness classes, yoga and meditation classes, access to in-room programming from Three Sages Wellness, and thousands of newspapers and magazines through Press Reader.
Guests also have access to a ski shuttle bus, high-speed internet, and discounts on professionally guided tours such as bike tours, hikes, and stargazing. The rental also includes discounts on summer canoe rentals, outdoor equipment use, and a variety of family, recreational, and cultural programs such as paint nights, live music, and holiday special events.
Guests of the resort don't get any special access to Lake Louise or the hiking trails around Lake Louise. Other than the fact that they get to wake up on the lake itself and be some the first at the lakeshore before the masses arrive everyday.
Can you eat at Fairmont Lake Louise if you are not a guest?
Yes, you can dine at Fairmont Chateau Lake Louise's restaurants and bars even if you are not a guest at the hotel. However, it is recommended to make reservations in advance, especially during peak seasons, as the restaurants are busy and some of the best in Lake Louise.
What to wear to Fairmont Chateau Lake Louise?
Guests may wear anything they want in the hotel, however some of the hotel's restaurants may have dress codes or require a certain level of dining etiquette, it is recommended to dress in smart casual attire.
How many stars is Fairmont Chateau Lake Louise?
The Fairmont Chateau Lake Louise is a 5 star Hotel.
Is splurging on the Fairmont Chateau Lake Louise worth it?
If you have already checked the rates, I'm sure you've realized staying at the Fairmont is not a cheap affair. In the summer, the rates easily go above $1000 a night. Still, the resort sells out months in advance.
While the actual property may not reflect the price tag itself, the location does. The Fairmont Chateau Lake Louise is the only place to stay actually on Lake Louise. So if it's your dream to wake up on the bright blue lake, you can bet your butt it's worth it to book a night here! However it's all up to you and your budget while in Banff!
The next closest options are Paradise Lodge and Deer Lodge.
---
Hopefully, this helped you determine if you want to stay at the Fairmont Chateau Lake Louise.
If you have any other questions leave a comment or see our Canadian Rockies travel guide for more articles about photography spots, lakes, hikes, and everything else.
---
---
Plan Your Trip to the Canadian Rockies
---
↓ Join the community ↓
The Banff Blog Facebook Group is your headquarters for the Canadian Rockies' travel advice and information. Including hike info and off-season travel information. You can also meet new adventure buddies.

---