Looking for the best things to do in Lake Louise in winter? We love Lake Louise all year round, but I particularly love Lake Louise in winter. While most people think of the Canadian Rockies as a summer destination, I believe that winter in Lake Louise is what it's all about.
There are so many amazing things to do in Lake Louise during the winter. I actually got sad this past year when spring rolled around. Of course, when the lake thaws and the lake's dizzying turquoise color returns, it's a glorious moment.
The truth of the matter is I love winter in the mountains. I love snowboarding and that cozy feeling you have when you walk through the door after a long day out and have a hot chocolate by the fire. Banff is great for that feeling, and we are positive you will love it too.
---
Best Things To Do in Lake Louise in Winter
---
Enjoy the Winter Wonderland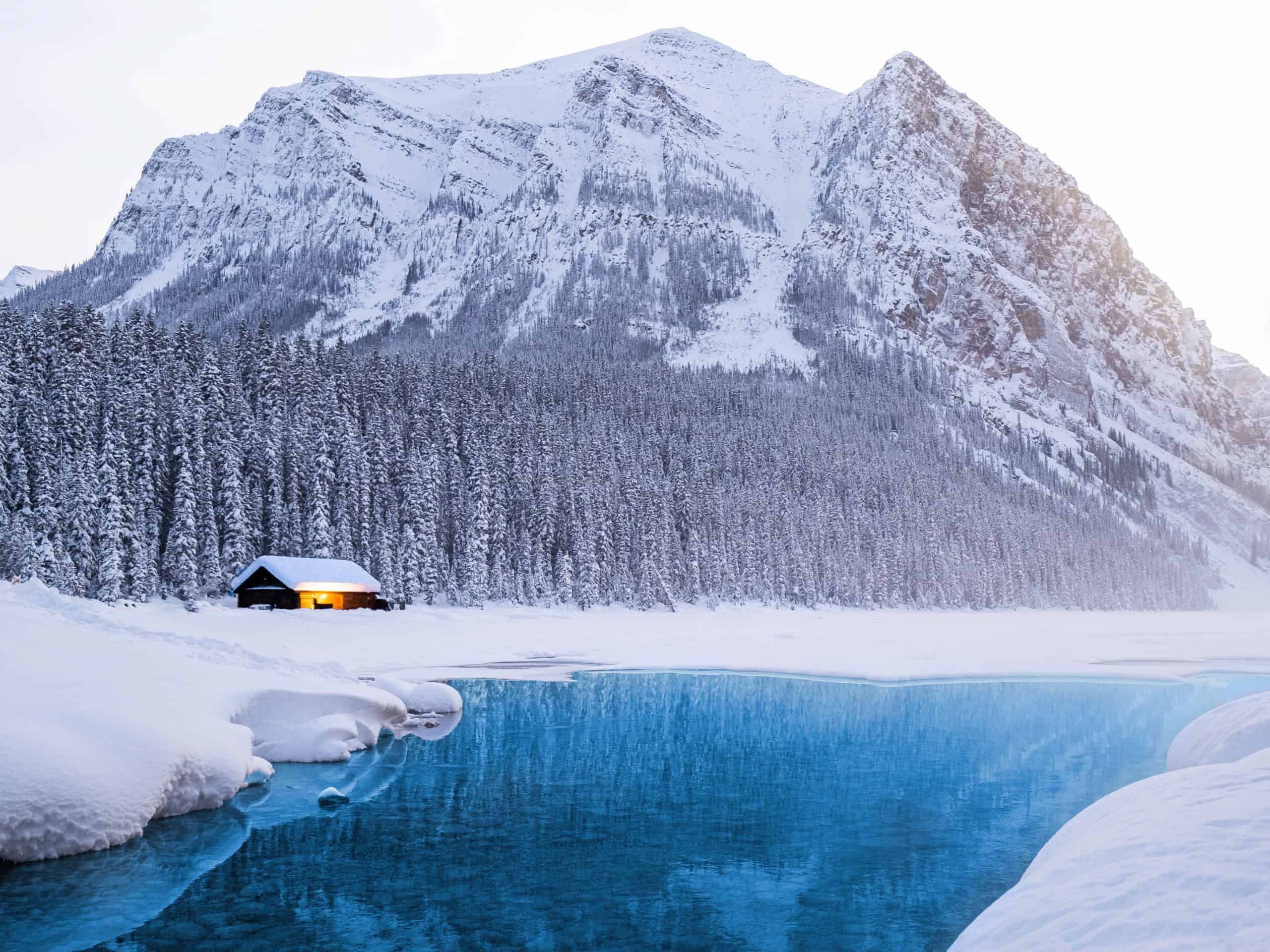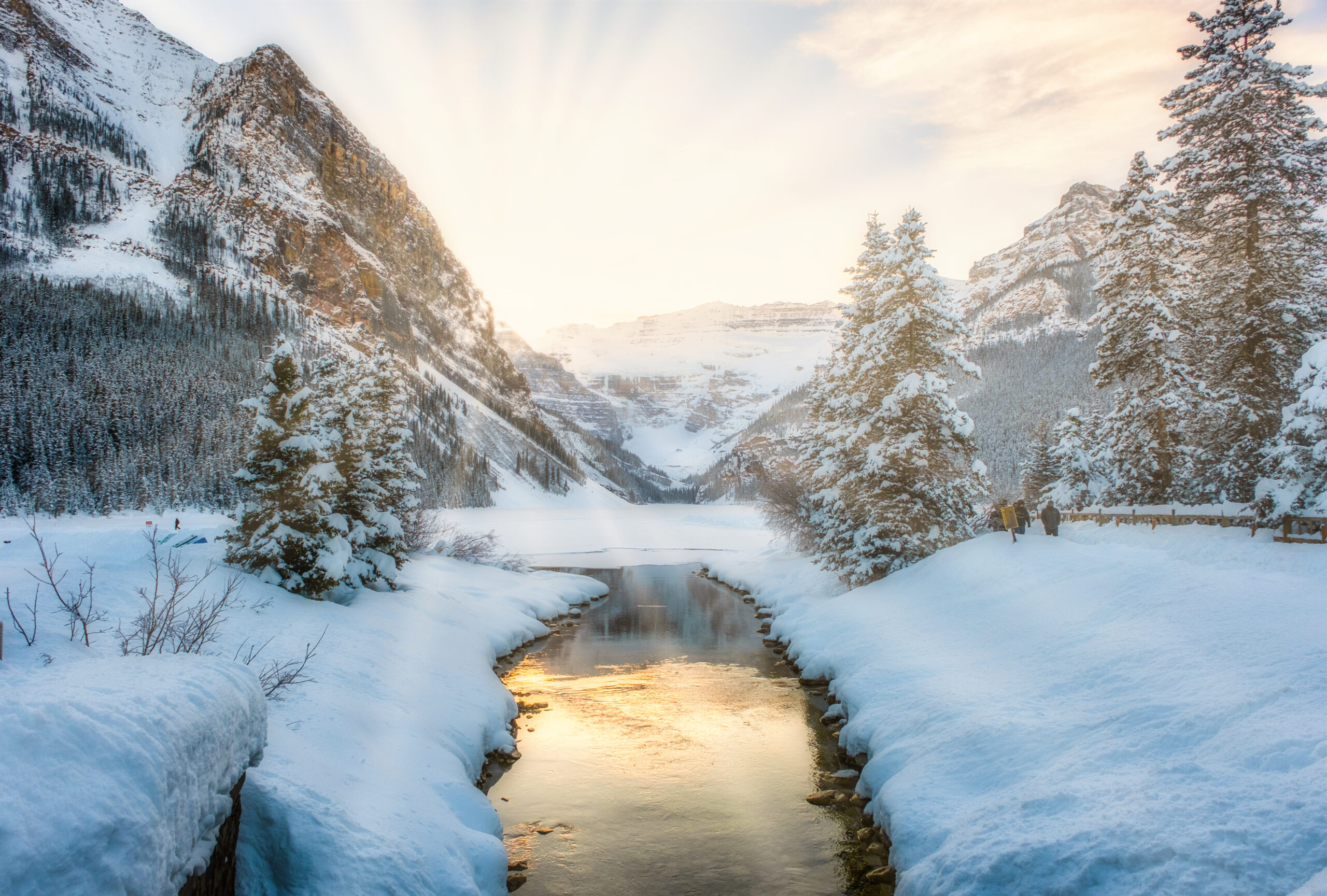 One of the best things to do in Lake Louise in the winter is simply to enjoy the spectacular views of Lake Louise. Lake Louise has been drawing in visitors to the Canadian Rockies for over a century. In the winter, Lake Louise is blanketed in a fluffy layer of snow and set by a backdrop of Mount Victoria and a hanging glacier. This pristine piece of wilderness draws in millions of visitors a year.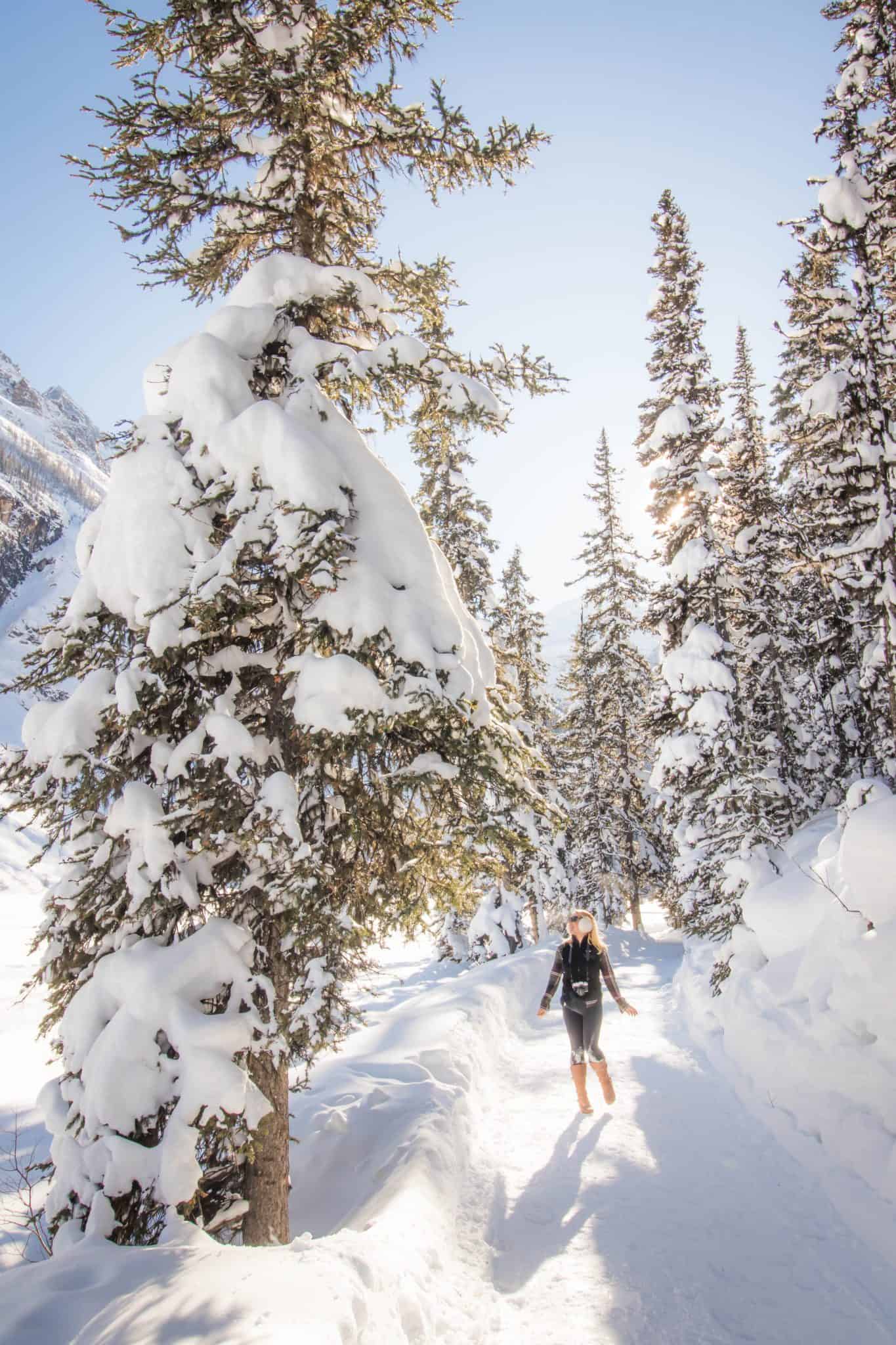 It is a stunning sight, and the magic of natural beauty is not lost. Despite visiting Lake Louise many times, it still takes our breath away no matter the season. The best season may just be the winter. Sit down with a cup of hot chocolate by the fire and enjoy the winter wonderland at Lake Louise.
Just make sure to dress warmly as the lake sits in the shade the majority of the day in the winter so it can get bone-chillingly cold.
---
Ice Skate or Play Hockey on Lake Louise
There is no place to ice skate in Banff more iconic or scenic than the famous Lake Louise. Not much of a surprise, but it's regularly been considered one of the world's best ice skating rinks.
It's also tremendous as the frozen lake is maintained by the Fairmont Chateau Lake Louise. The lake is regularly cleared of snow and resurfaced, so visitors can enjoy ice skating during the winter despite conditions on other natural lakes.
Lake Louise every few winters can freeze very early before a significant snowfall, resulting in a blue glass lake. It's an absolutely stunning natural occurrence and can happen in November, but don't count on seeing the lake as a visitor this way, as November is generally the worst month to visit Banff.
The lake freezing like this has also only happened a few times in the last 30 years. I say this only to manage expectations as the surface will likely be a frosted white, but the views are stunning nonethelesss!
---
Snowshoe Around Lake Louise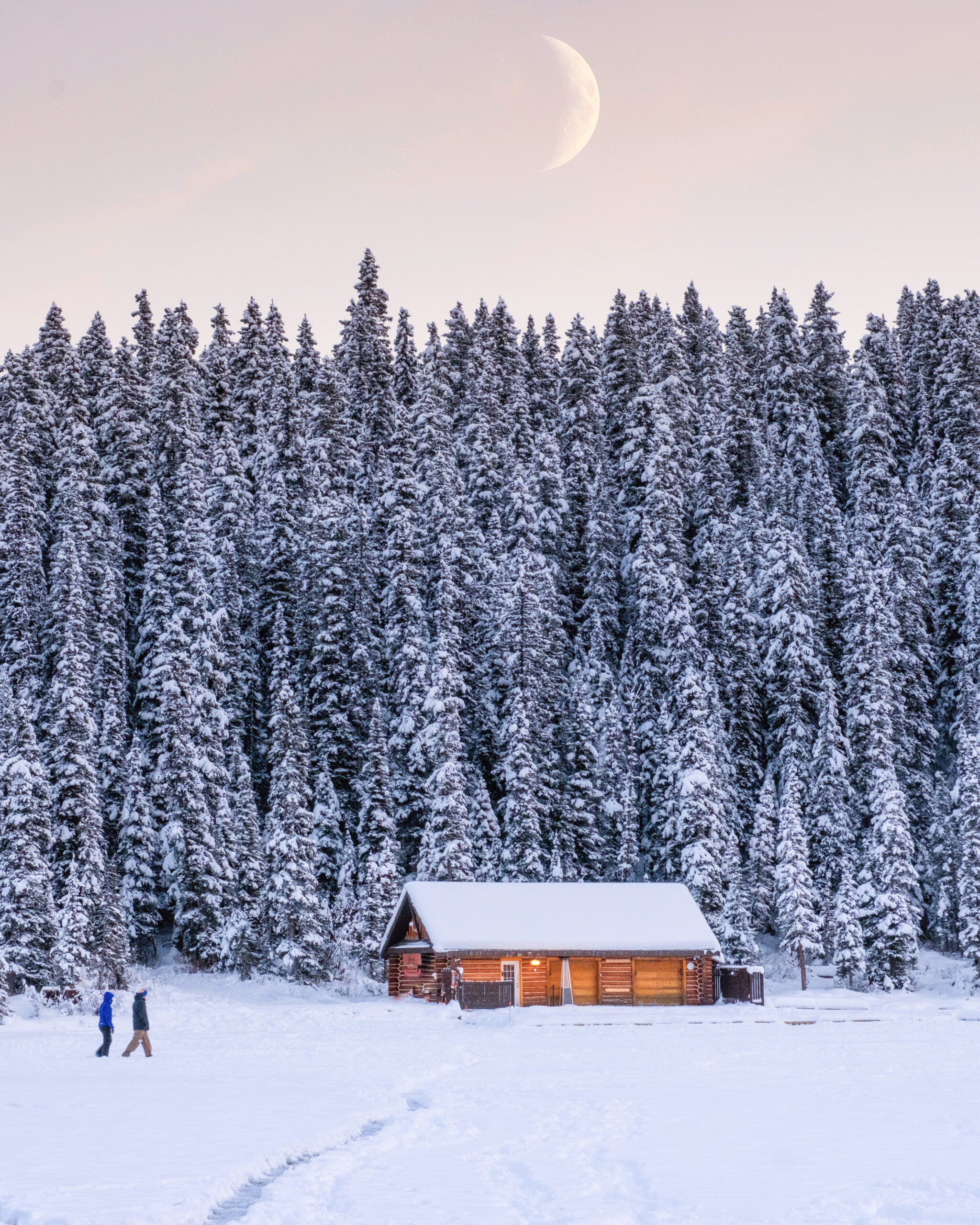 Lake Louise is an excellent place for a snowshoe tour. You'll be hard-pressed to find a more scenic location in the world for a snowshoe than Lake Louise. Every year as the lake freezes over, it is blanketed in a heavy layer of snow. Take advantage of the winter trails along the lakeside, or hire a local guide.
The most popular snowshoe is along the Northern side of Lake Louise, but you can also head up to Mirror Lake or over to Paradise Creek. You can grab rentals at Wilson Sports in the village, or you can book a tour with Great Divide Nature Interpretation.
---
Go Ice Climbing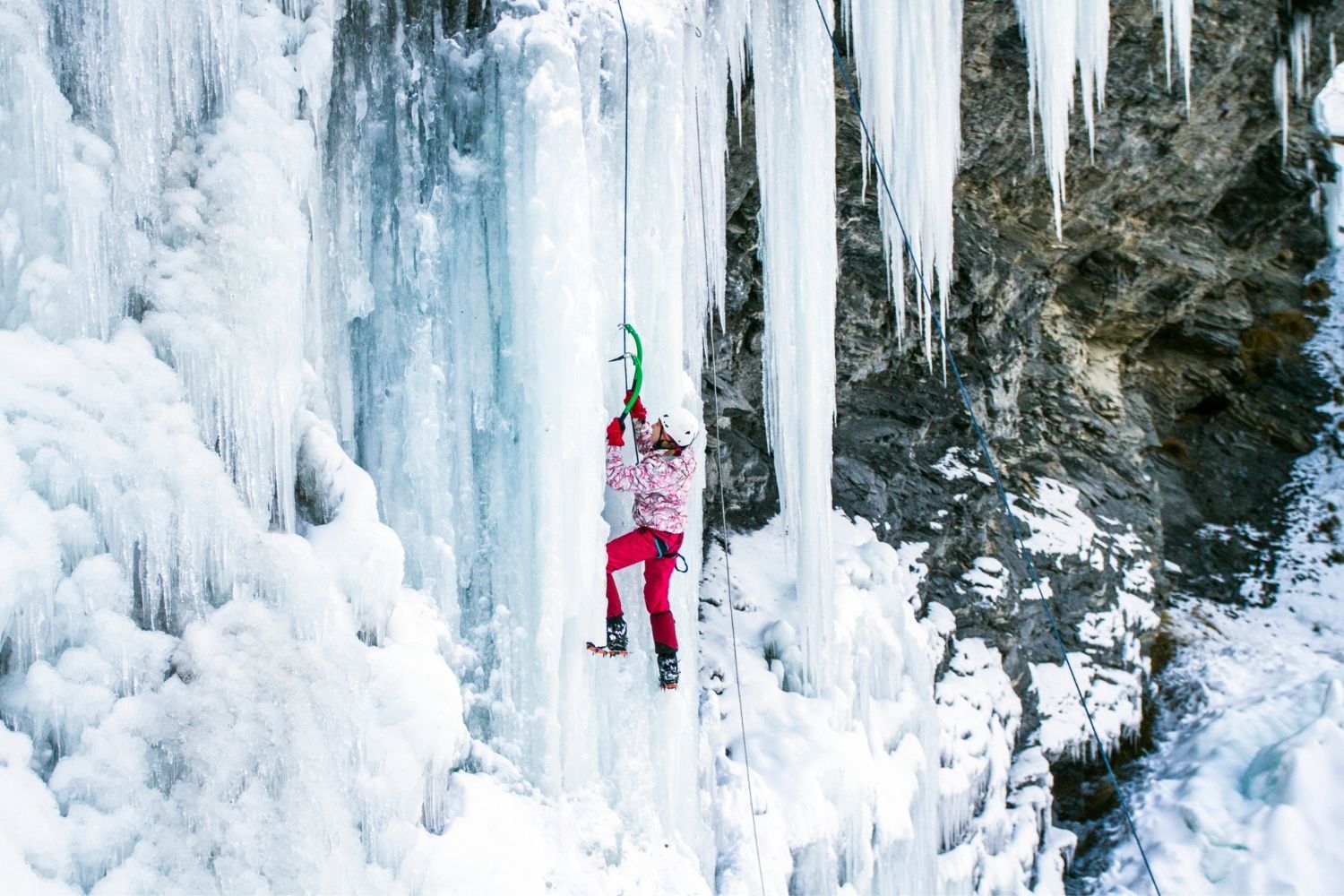 Banff National Park draws in lots of ice climbers with a plethora of routes and mixed winter climbs. Most notable in the Lake Louise area is the Louise Falls, a frozen waterfall that allows for a solid ice climb. It's a popular route in the park so expect to share the climb with others on the weekend. Even if you're not interested in climbing, and can still be fun to watch the ice climbers.
If you've never gone ice climbing, it's best to book a beginner experience with Yamnuska Mountain Adventures who will meet you at Johnston Canyon. It's a great beginner area and the guides at Yamnuska are some of the best in all of North America. If you're more interested in the sport consider one of their courses or camps on ice climbing.
---
Enjoy the Lake Louise Ice Bar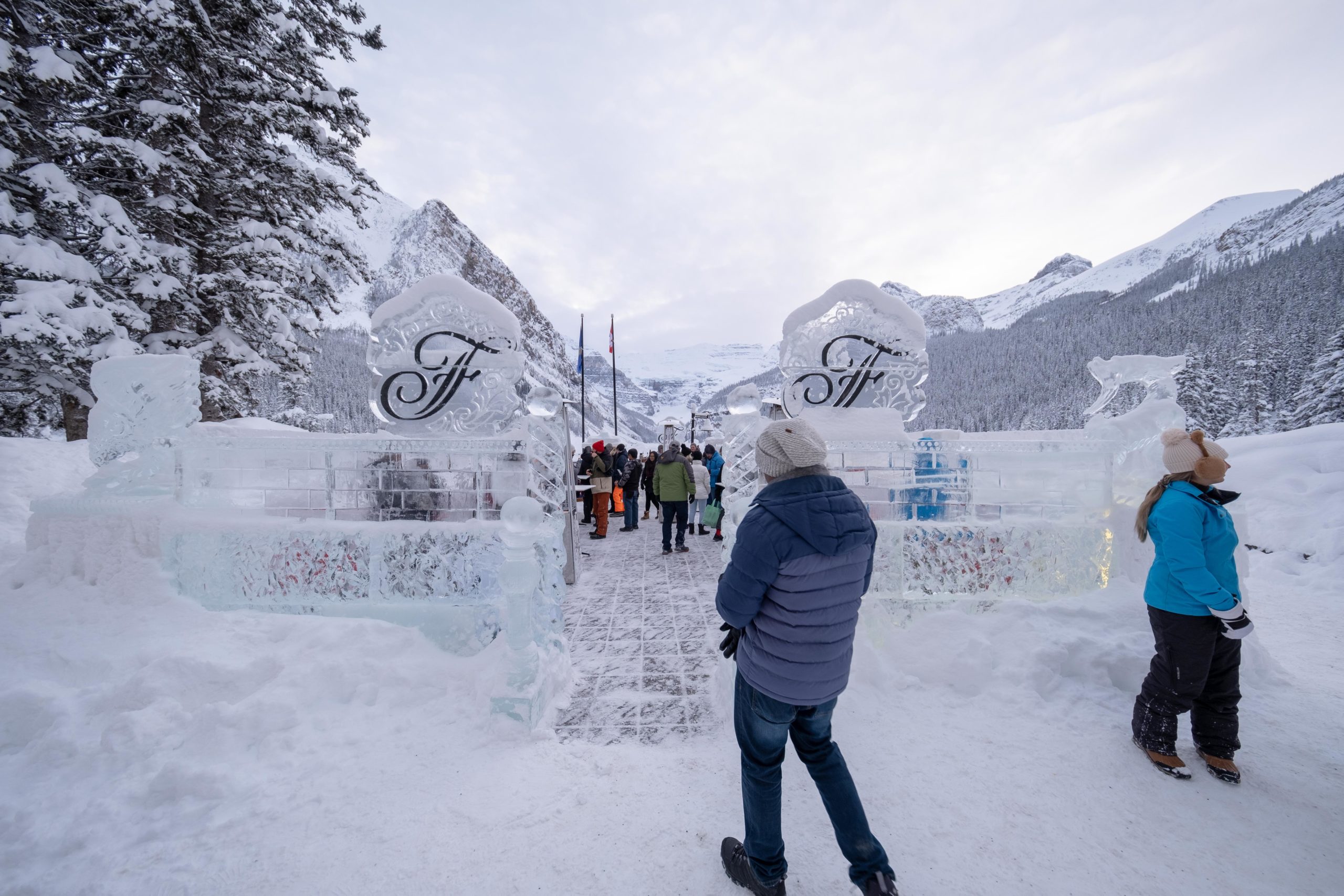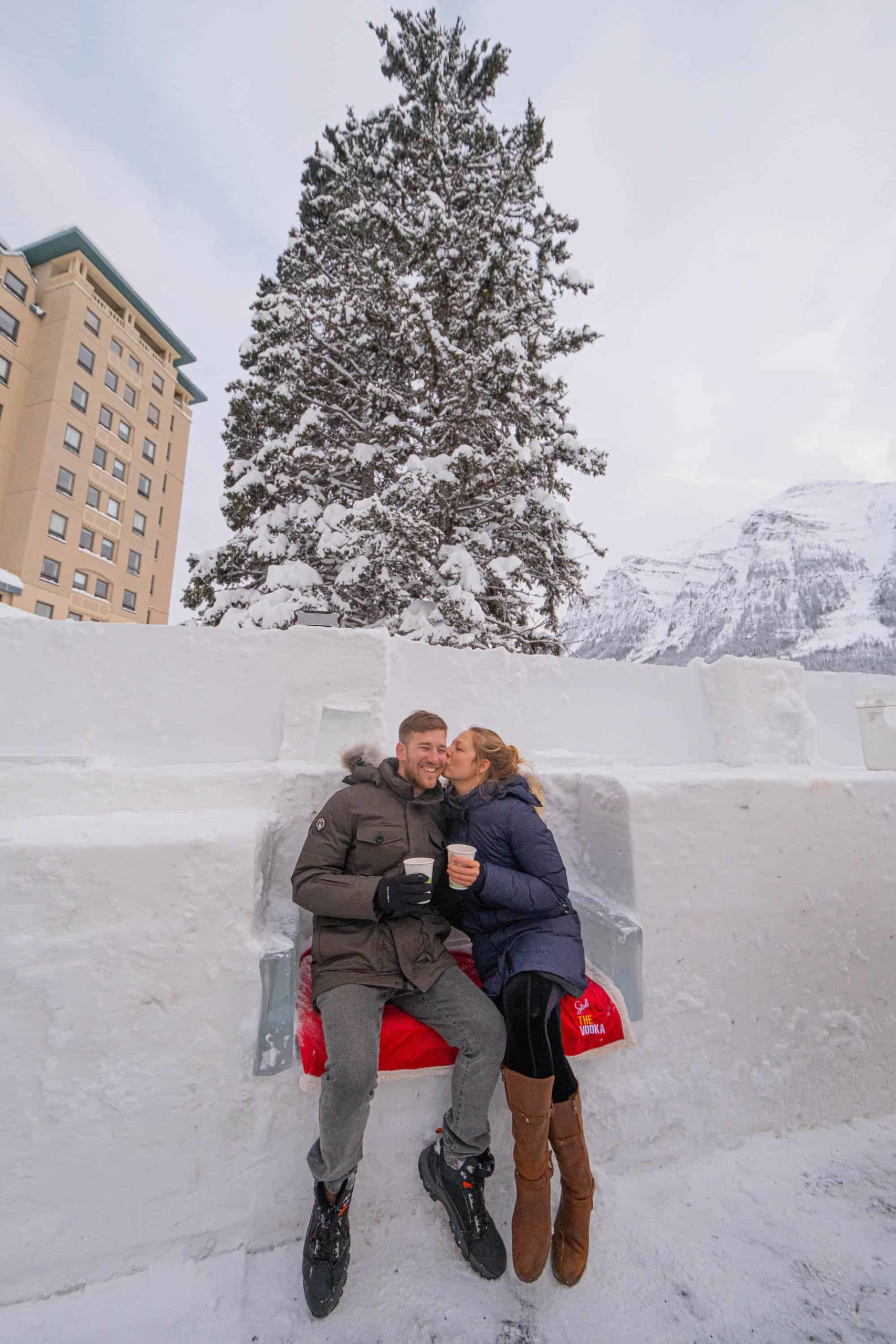 Another fun thing to do in Lake Louise in the winter is to enjoy the ice bar. During weekends at Lake Louise, you can enjoy mulled wine at the Banff Ice Bar! The Ice Bar is open from around December 20th to mid-April. They dish up all kinds of hot chocolate goodness and even have special treats for the kids.
20 blocks of ice, each weighing 300 lbs, were used to make this bar, so it's truly a special place to visit in Banff in the winter.
---
Ski at Lake Louise Ski Resort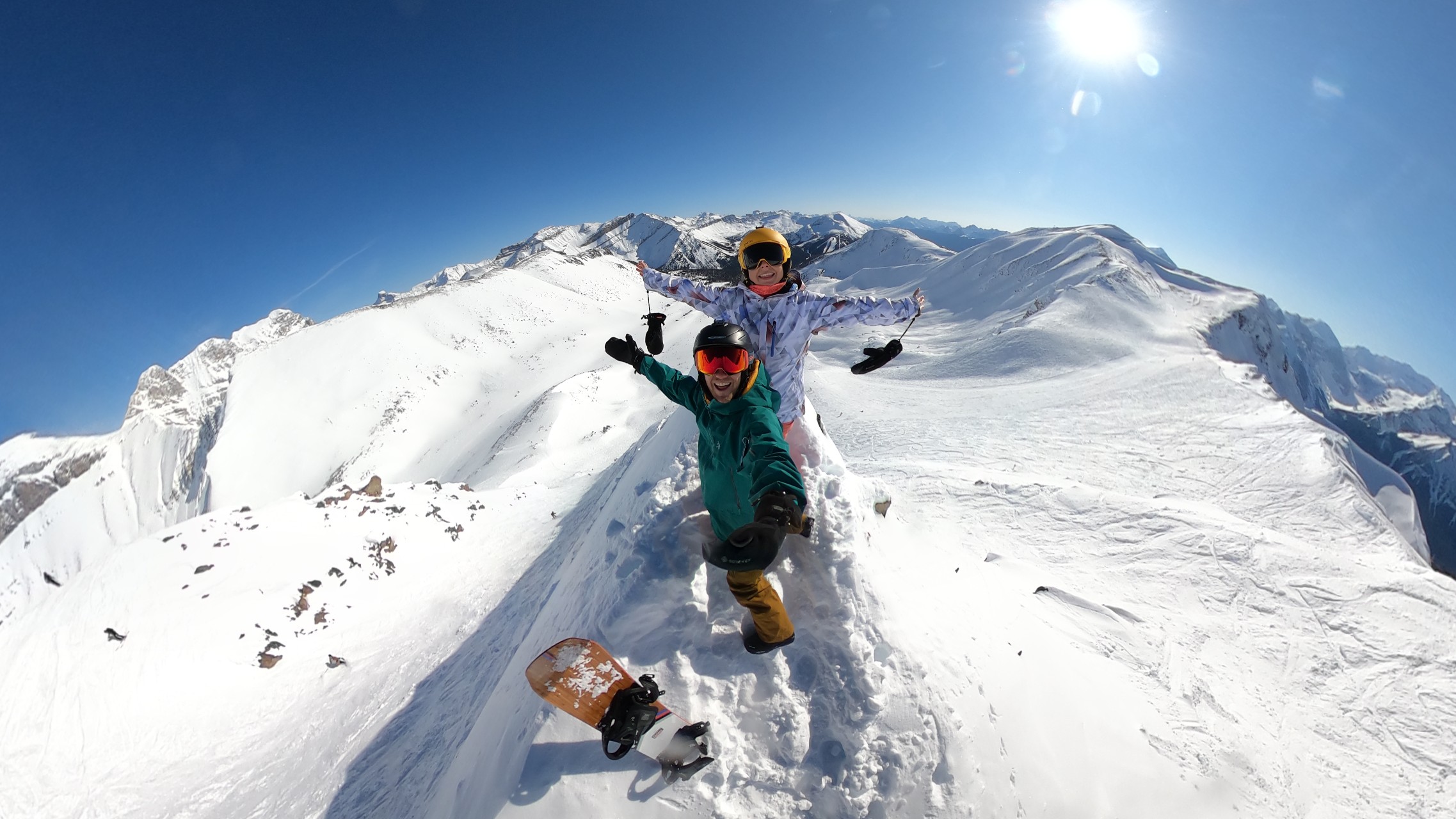 One of the best things to do in Lake Louise in the winter is go skiing or snowboarding! There is arguably no ski resort in the world with a better view than the Lake Louise Ski Resort. Located in Canada's oldest and first national park, the resort has an ample supply of natural scenery.
In between runs screaming down groomers, tackling a bowl, or defying death in a steep chute Banff National Park provides you some fresh air and stunning landscapes. There is something for everyone here with terrain that will thrill even expert skiers.
---
Go Tubing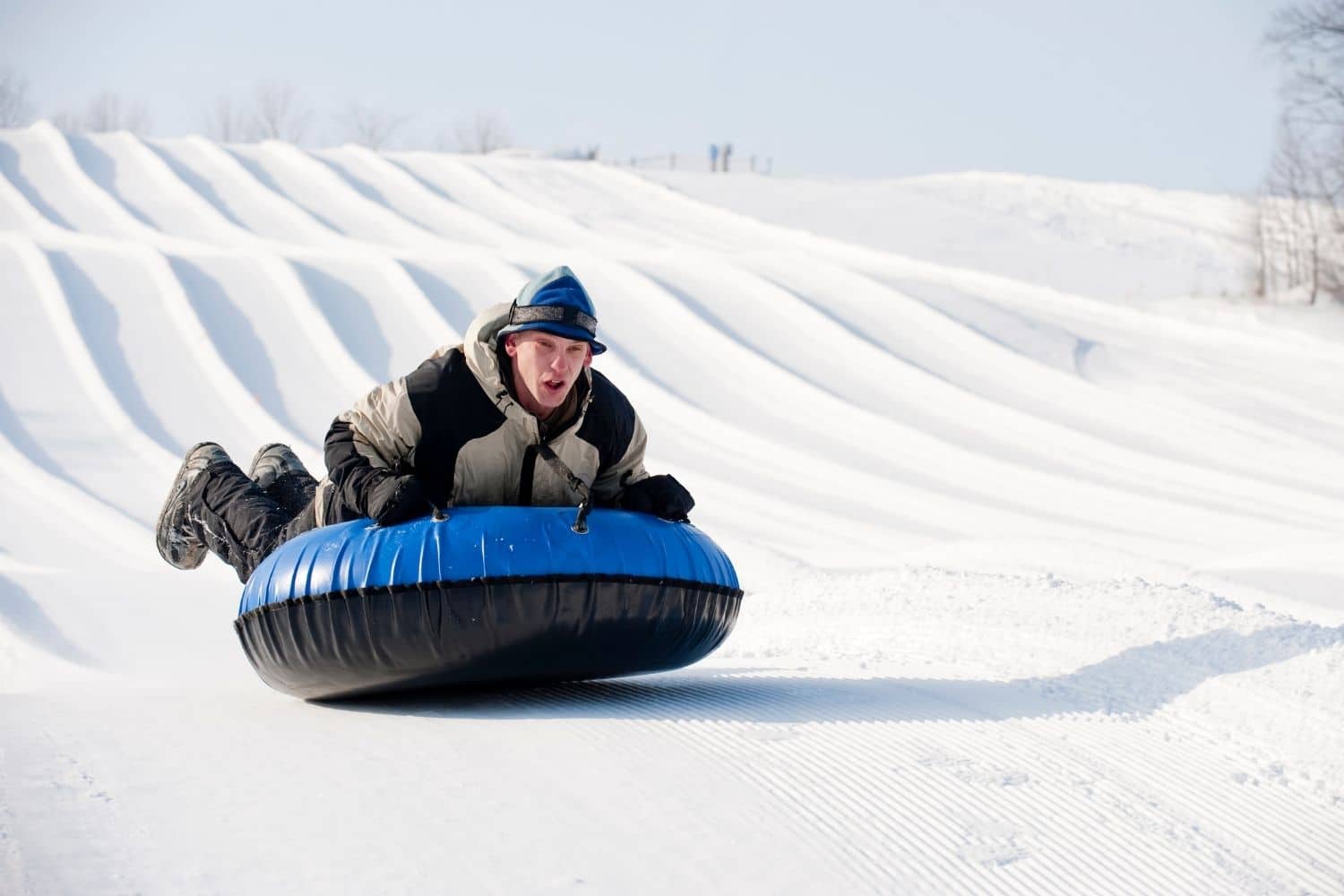 If you are not much for skiing or snowboarding, Lake Louise Ski Resort also has a tubing park for kids and families. Have fun sliding solo, racing friends, or group tubes together!
---
Mush On a Dog Sled Team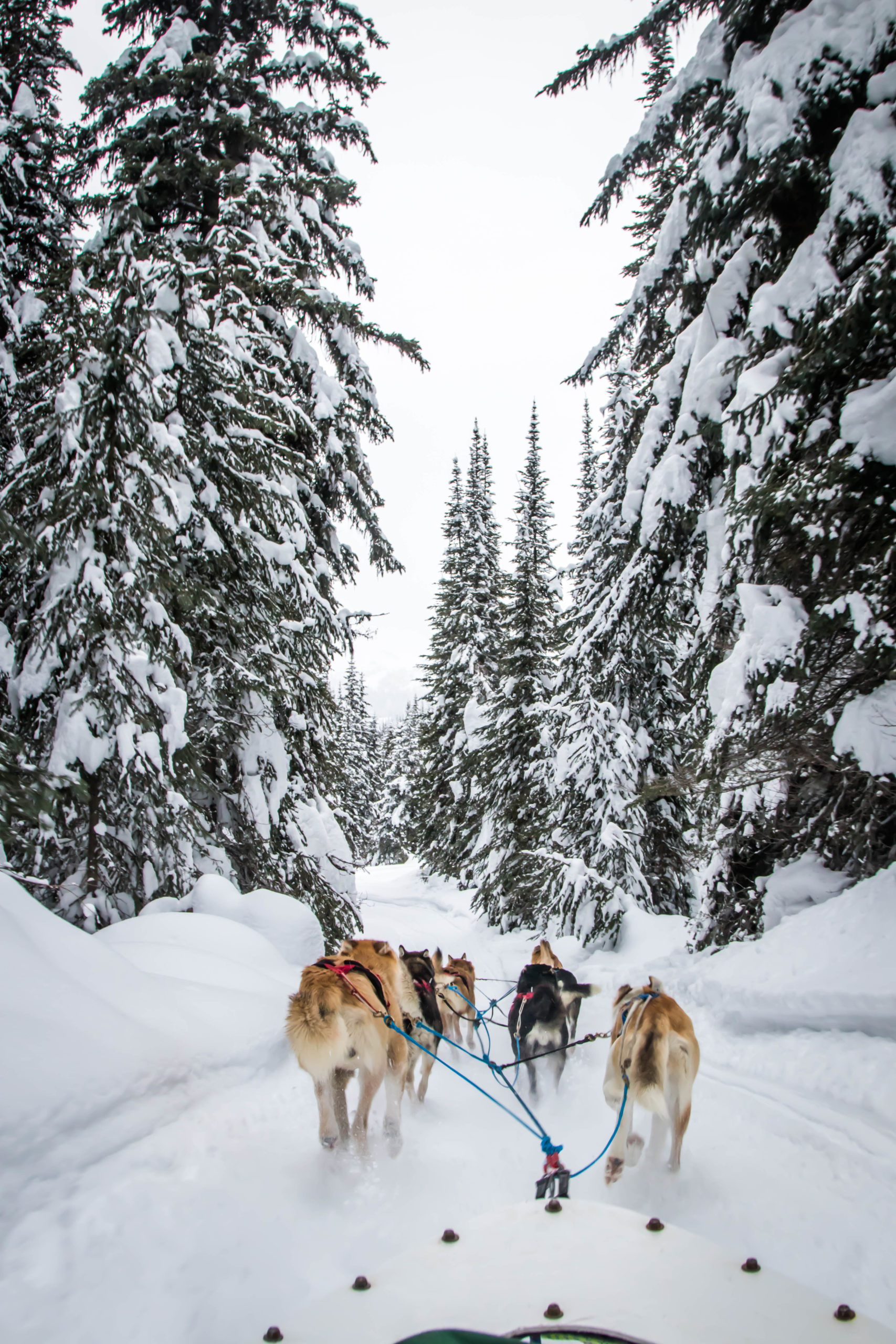 Kingmik Dogsled tours operate at Lake Louise and make for a fantastic winter experience. We've been fortunate enough to enjoy many dog sled tours over the years, and it's always a fun experience. I particularly love how quiet the ride is, with only the sound of the dog steps against the snow.
---
Take an Authentic Horse Sleigh Ride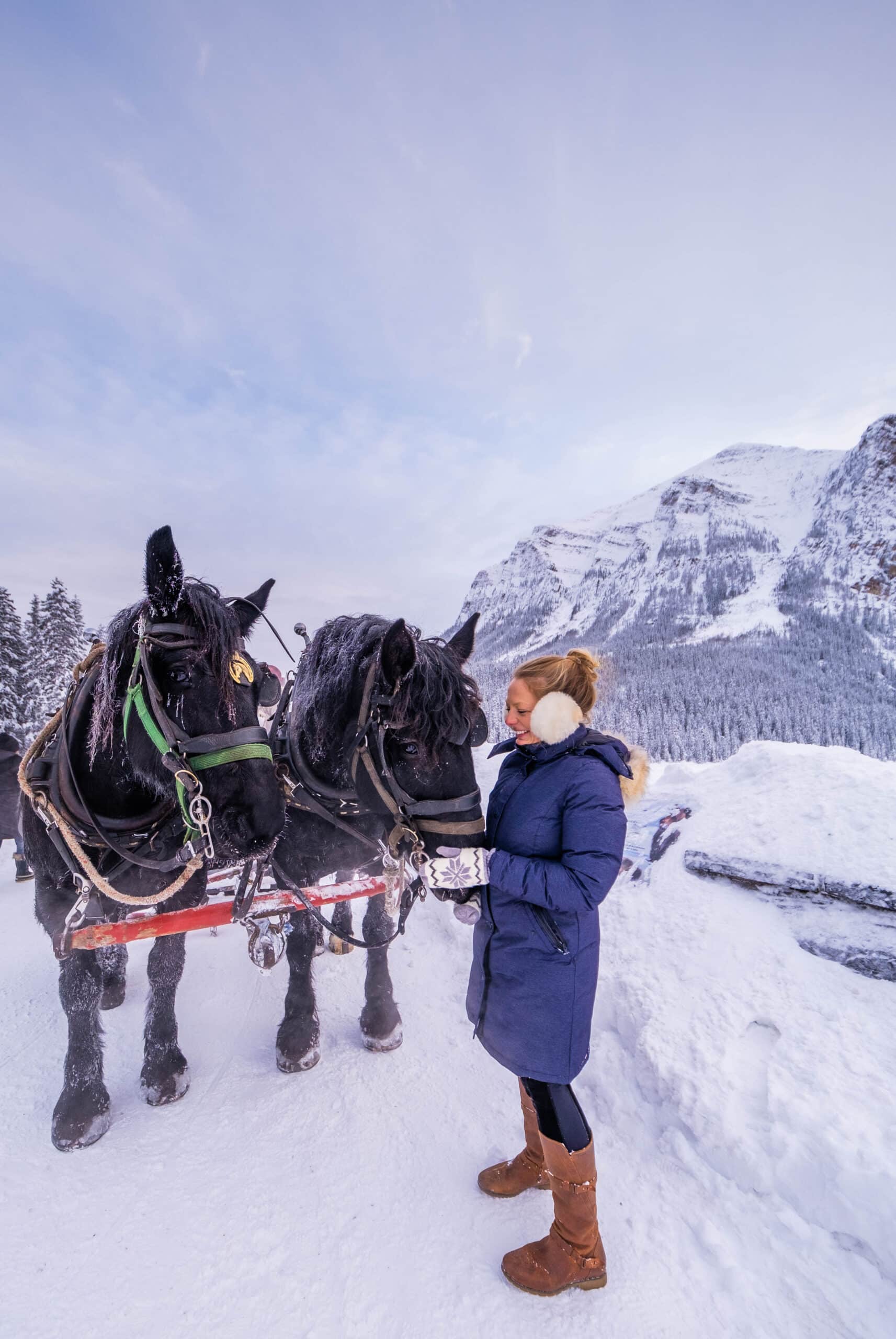 In the wintertime you might not be able to take to the trails on horseback, but you can ride on a horse-drawn sleigh. There aren't many places you can still ride on a real sleigh through a winter wonderland. The ride is about an hour long and moves along the lakeside trail to the end of the Lake
The sleigh starts around mid-December in time for Christmas in Banff and runs until mid-April, but this all depends on the weather. Lake Louise primarily sits in the shade during the winter months, and it's typically well below freezing, so come prepared and dress warmly. You can book this experience at the Fairmont or with Brewster Adventures and start at $45. Group tours are offered as well as private tours.
---
Tackle the Trail on Cross Country Skis
Parks Canada manages several cross country or nordic ski trails for you to take in the views from a pair of skis. Trails are rated by difficulty so even if you're a beginner, you can find a trail appropriate for your skillset. Two of the most popular trails are the Moraine Lake road trail and the Great Divide Trail.
You can find rentals in Lake Louise, Banff, or Canmore. Of course, if you're passionate about cross country skiing, you'll have to head to Canmore and check out the Nordic Ski Center.
---
Cheer on The World's Fastest Skiers at the Ski World Cup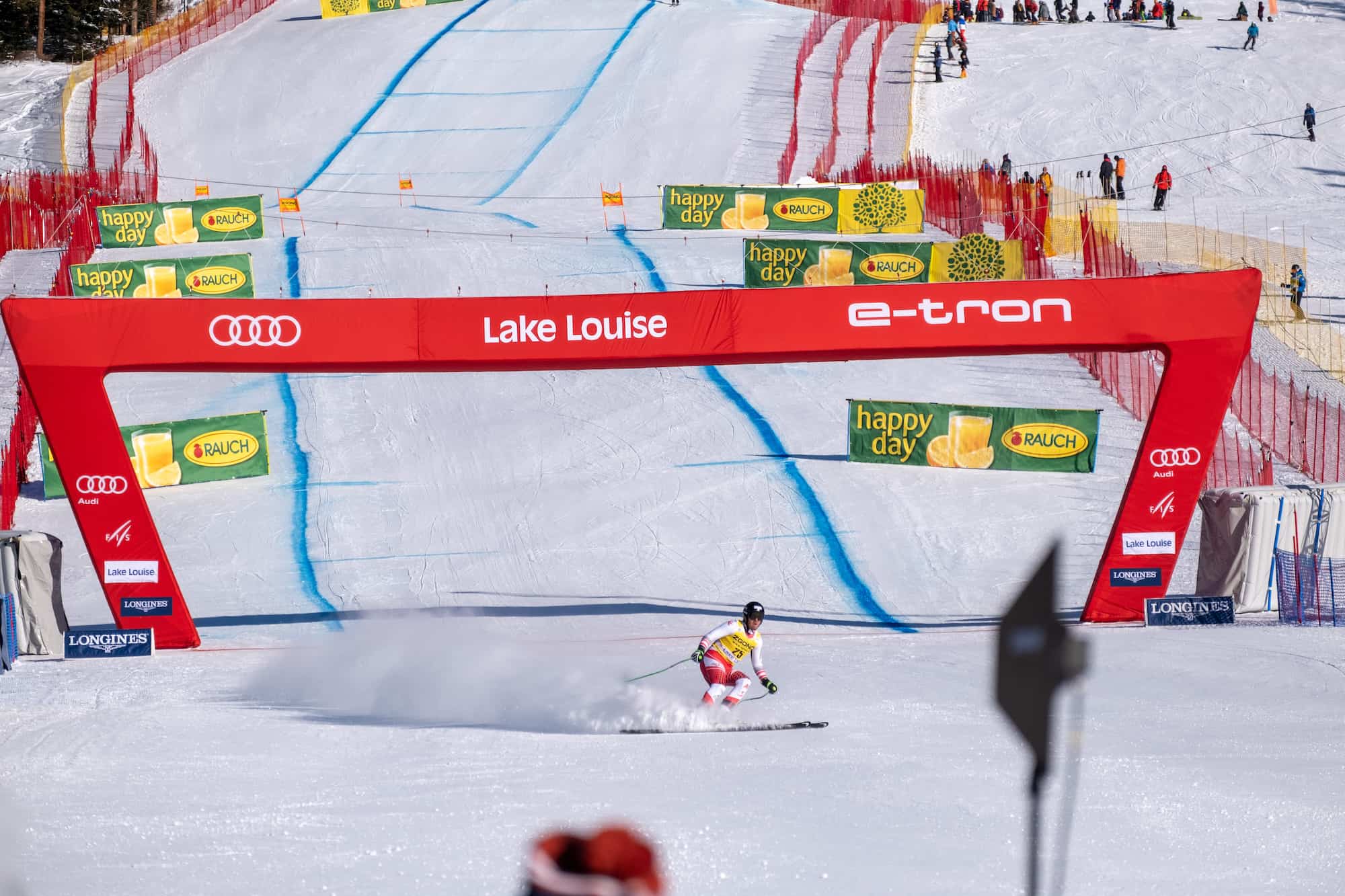 There's no better way to kick off winter in the Canadian Rockies than attending the Audi FIS Ski World Cup at Lake Louise. Every year a small army of visitors, volunteers, media, and world-famous athletes descend on the tiny resort town with big mountain terrain.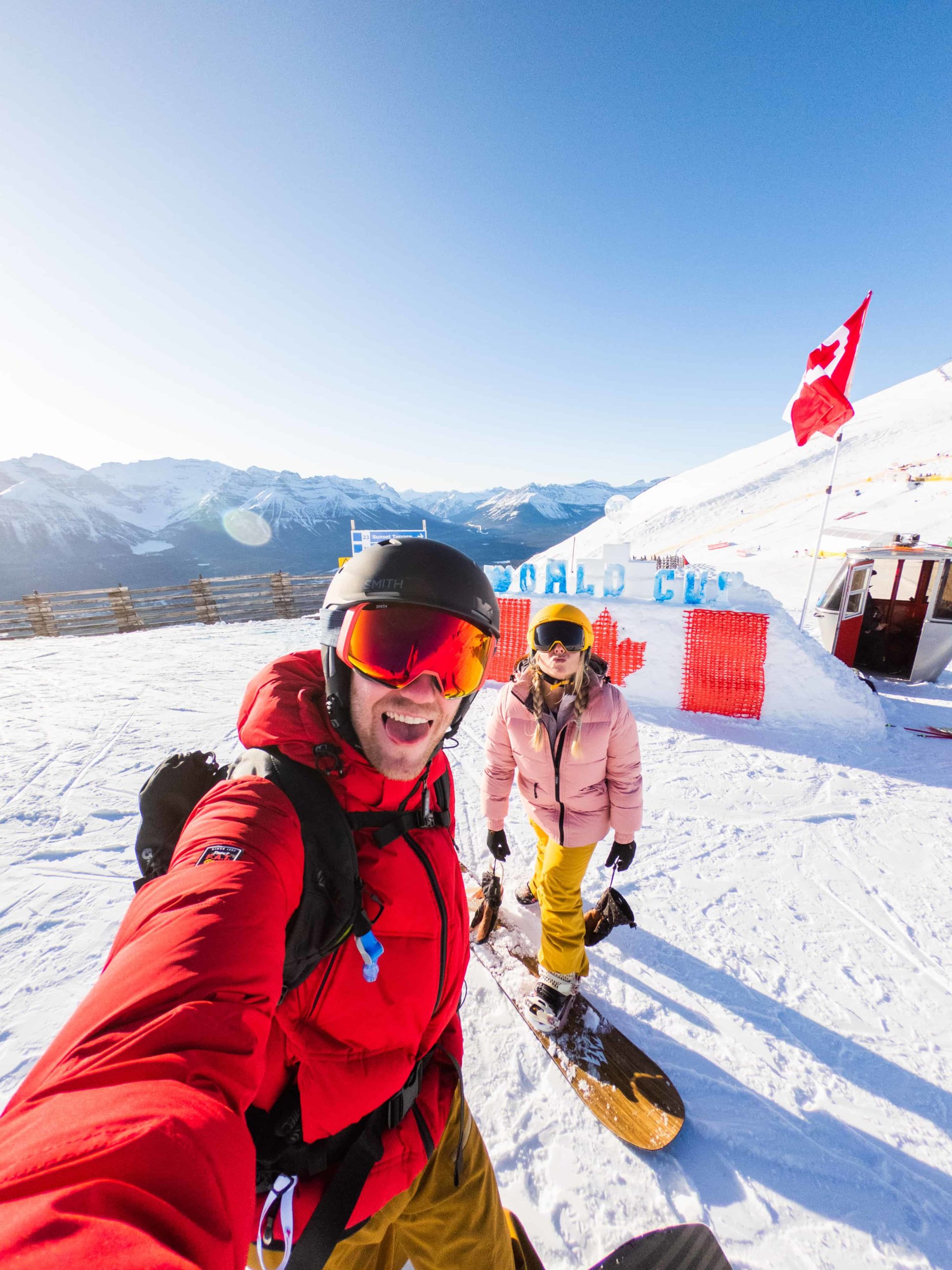 It's the start of the World Cup speed circuit where the fastest skiers in the world compete to be crowned champ as they travel around the world. You'll also enjoy some of the best skiing in North America in November.
How To Enjoy the Lake Louise Ski World Cup to the Fullest
---
Experience the Ice Magic Festival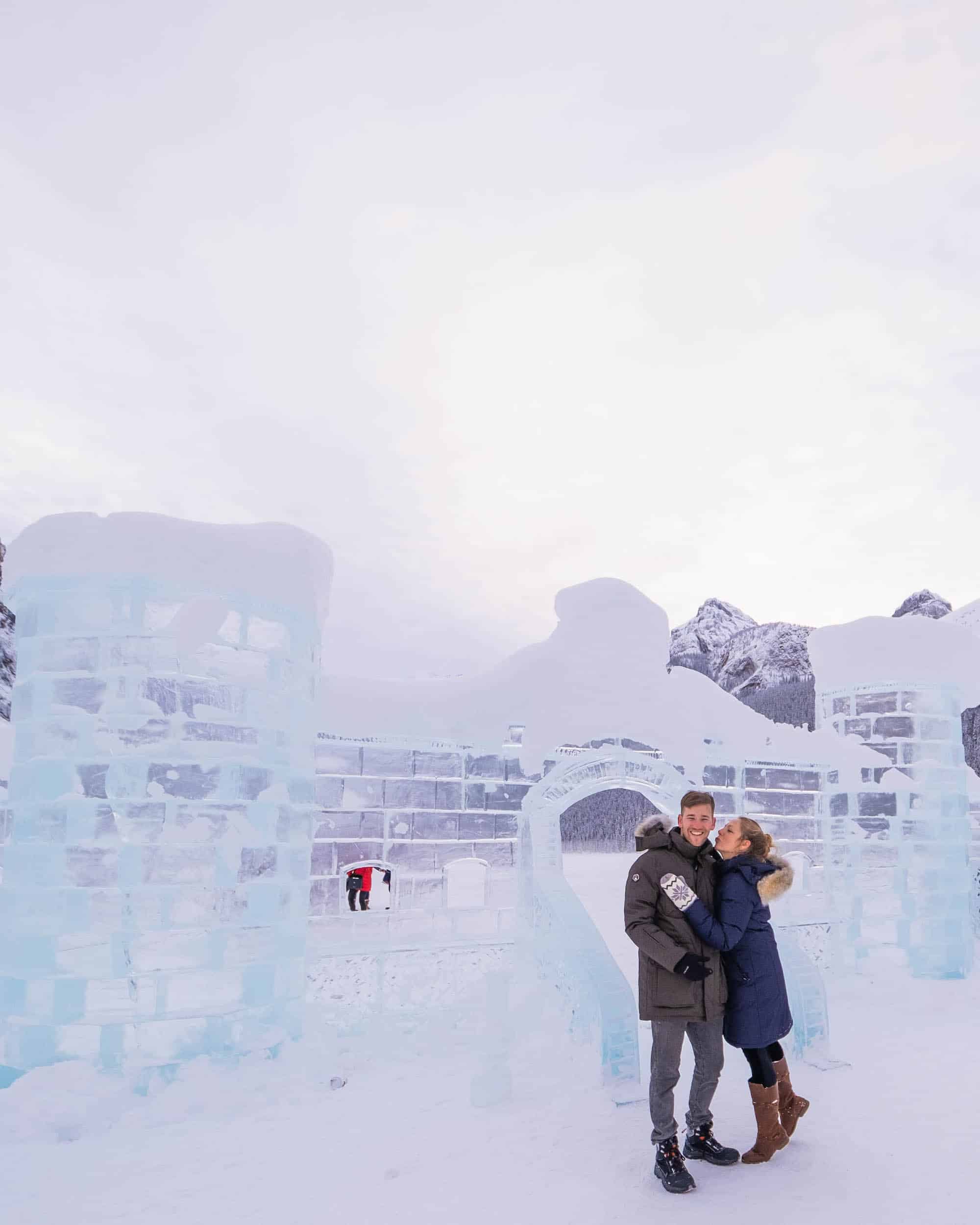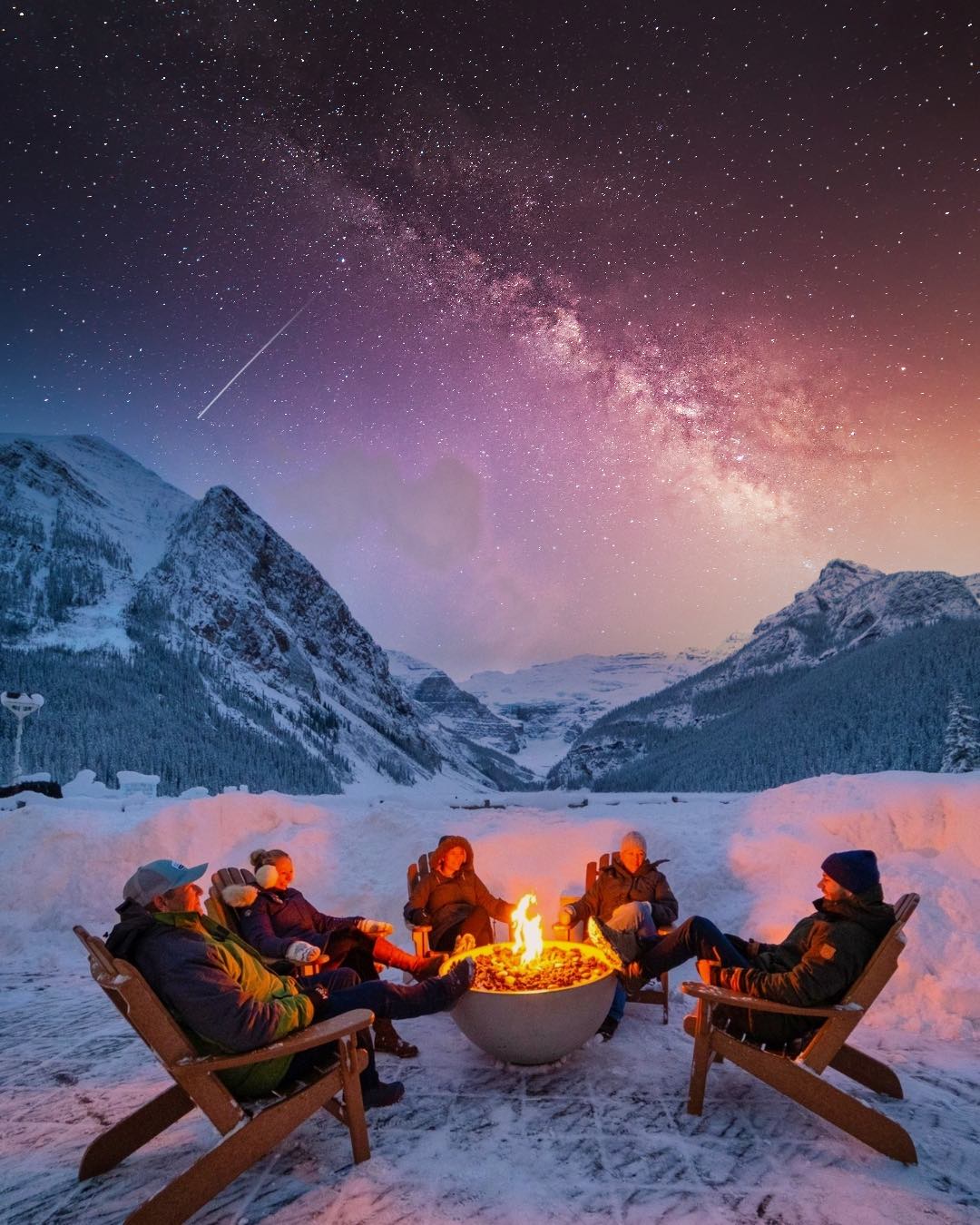 For 12 days around January 15 – 26 (check dates first though), there is an exceptional event at Lake Louise. The Ice Magic event is what winter in Canada is all about. This is where ice comes alive and serves as a form of art and architectural design. During this time, you can watch artists from around the world carve different frozen figures.
It's free to visit the ice carving events between Monday – Friday and on the weekends before 10 am or after 5:30 pm. During peak times on the weekend, an admission fee is charged. If you can't make the dates of the actual Ice Magic events don't worry, the carvings will be on display throughout February.
---
Warm Up at Walliser Stube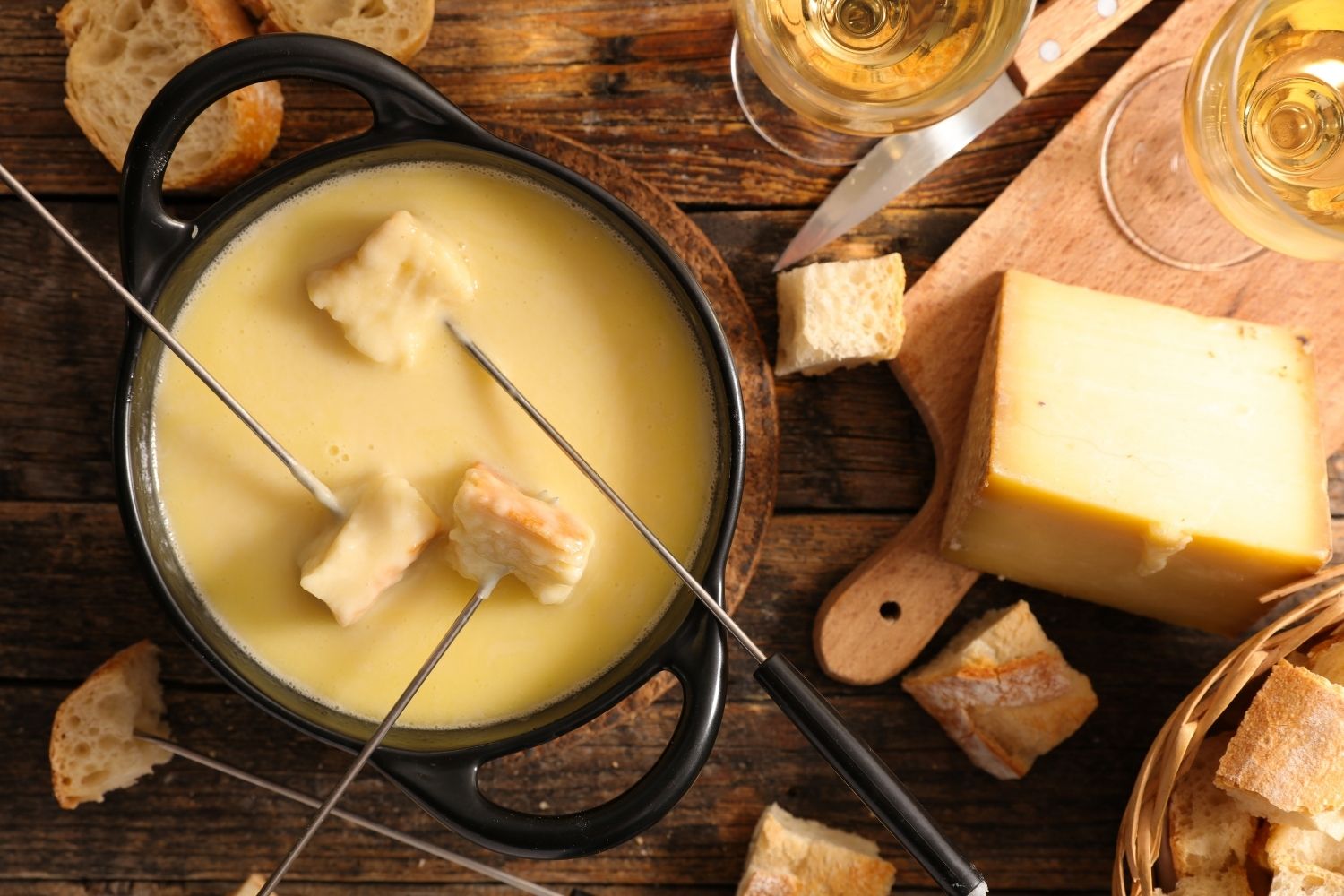 Walliser Stube is a European restaurant at the Fairmont Chateau Lake Louise. It's an upscale affair perfect for when you want to celebrate a special occasion, like a Banff winter honeymoon.
You'll enter and find vast views of Lake Louise, but feel like you are in Switzerland when you try the food.
They are only open at night from 5:30 pm – 9:30 pm, and reservations are highly recommended. Especially around Christmas in Banff or in the peak summer months. Go ahead and add on the wine pairing; it's likely the best you'll find outside of the Alps!
---
See Nearby Emerald Lake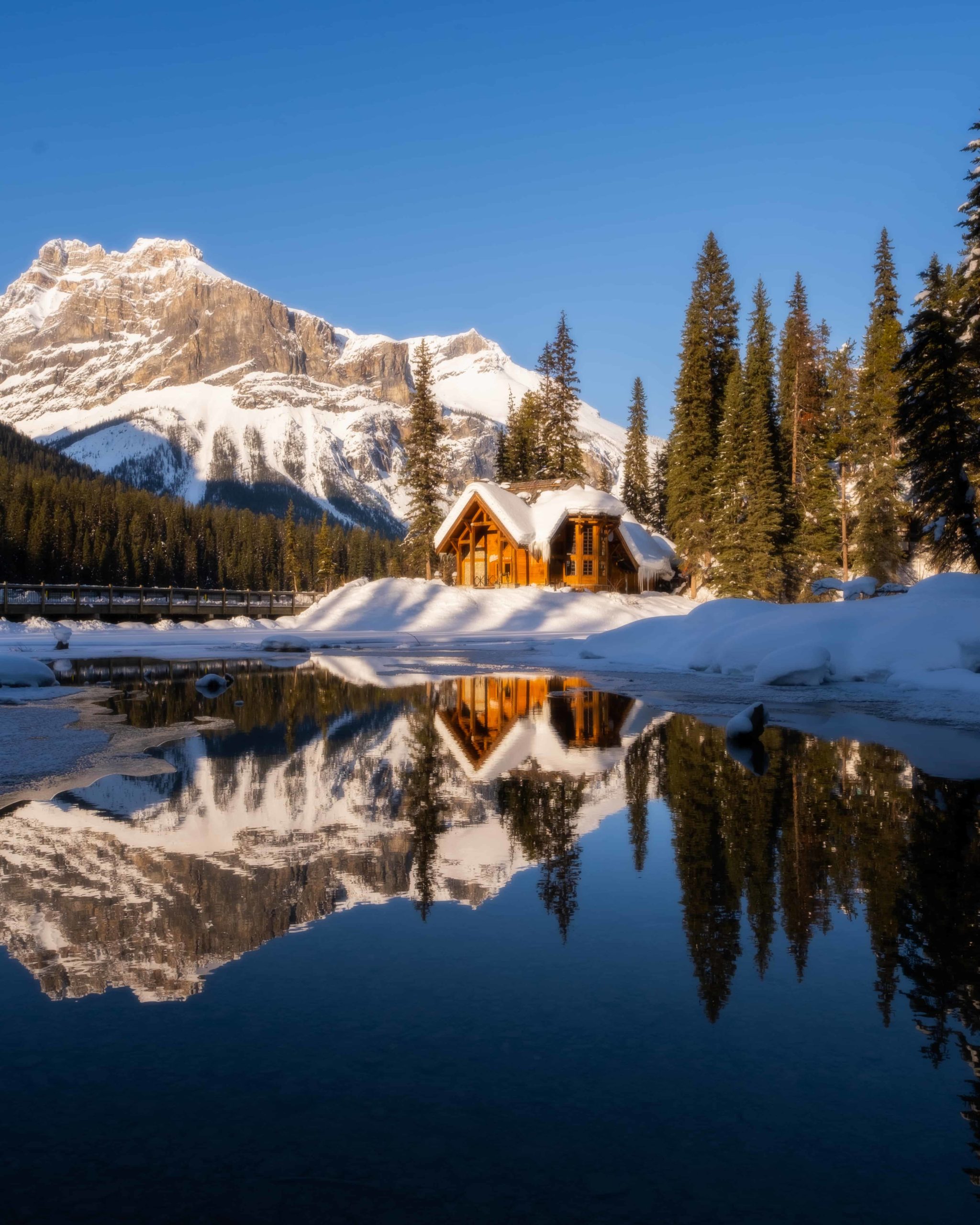 Emerald Lake is a stunning lake in Yoho National Park, and walking around the lake makes for a great family-friendly hike. Emerald Lake freezes over in the winter, and you won't see any of that dazzling emerald color.
However, the natural shape of the surrounding mountains and the lake's elevation creates a microclimate that encourages a heavy amount of snowfall in the winter. So a visit to the lake feels like stepping into a winter wonderland. You can take a leisurely stroll along the lake, snowshoe, or cross-country ski. Or book one of the cozy romantic cabins at the Emerald Lake Lodge.
---
Bow Lake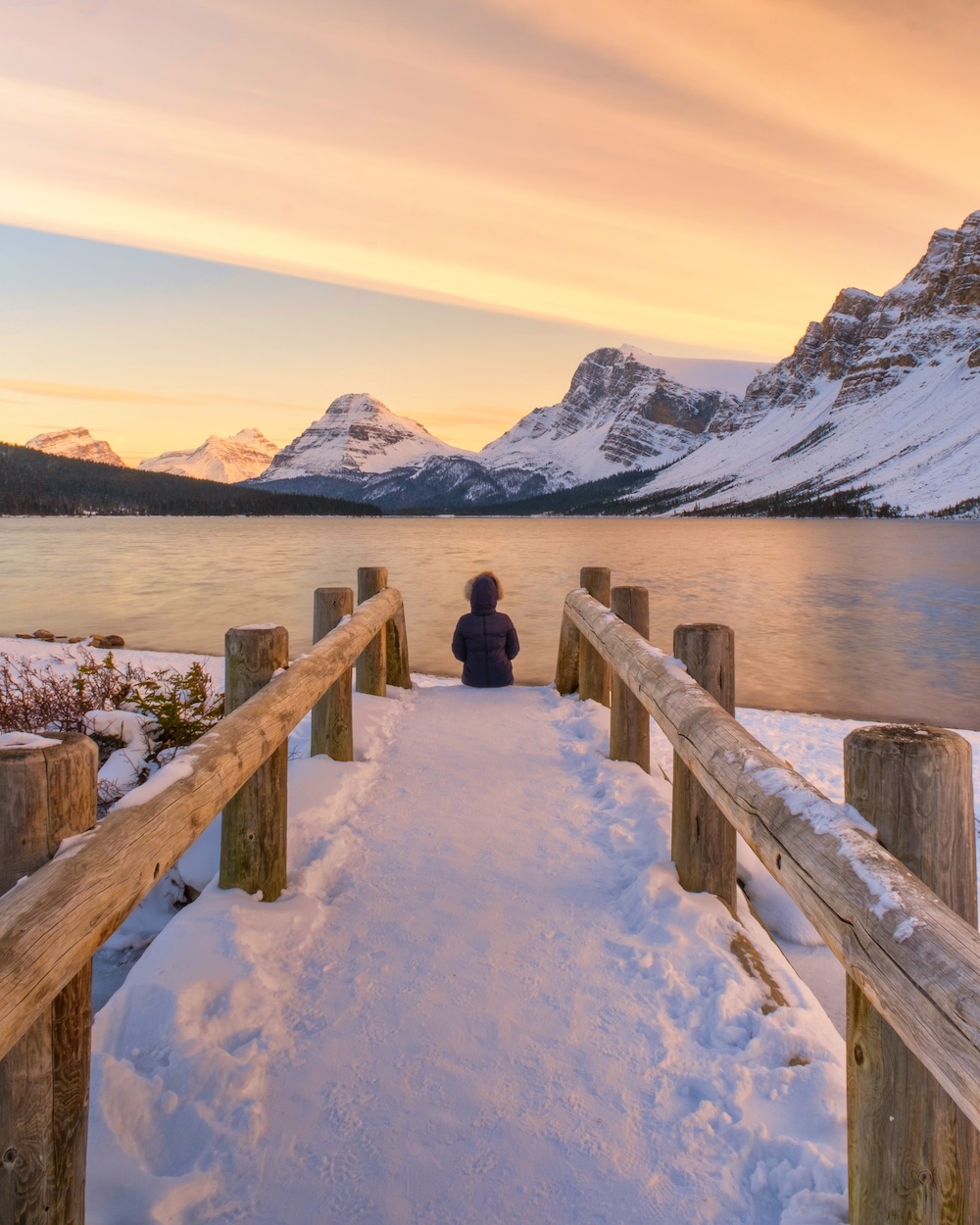 If you are up for a little drive, hop on the Icefields Parkway just past Lake Louise and drive to Bow Lake. The drive will take about 30 minutes, but you likely won't notice the time at all as you'll be too mesmerized by the view.
Bow Lake is one of the first main stops, and trust me, it's well worth the stop. In the winter, Bow Lake is a frozen paradise.
---
Peyto Lake
Just past Bow Lake is Peyto Lake, which is the third most visited lake in the area. Reaching the viewpoint takes about 10 minutes of walking on a well-maintained path. If you manage to catch Peyto Lake with fresh snowfall but before the lake has frozen over, consider yourself lucky!
---
Wait for the Train at Morant's Curve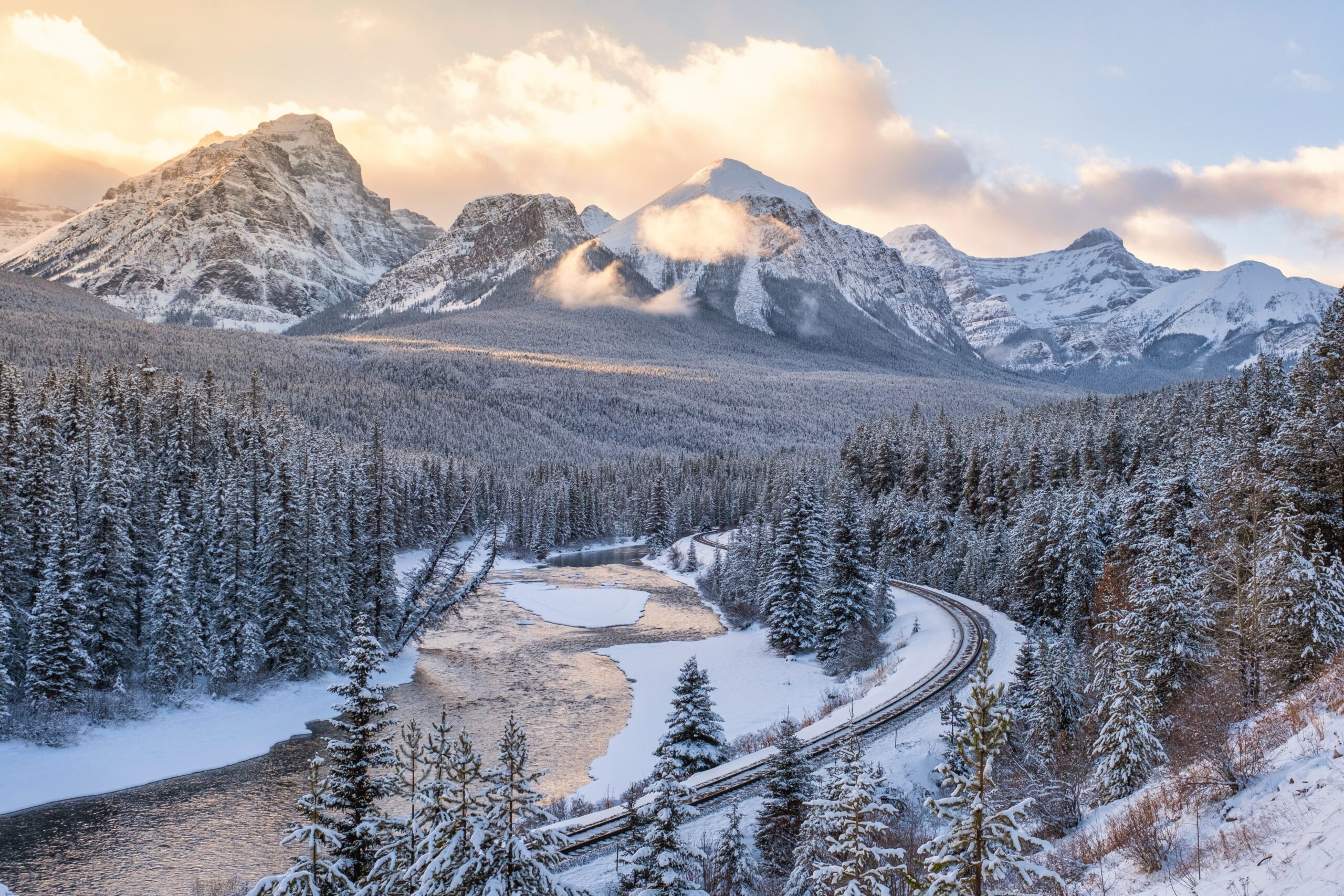 The Bow Valley Parkway is a scenic drive alternative to the Trans Canada that connects Lake Louise to Banff. There are some beautiful stops to make on the road, many that look even more magical in the winter.
However, the most popular is Morant's Curve. This is a dramatic bend along the Bow River where trains pass through the Canadian Rockies. As trains pass around the bend, they have a spectacular backdrop of the Lake Louise mountains and surrounding valley. Photographers flock here during the winter to try and catch that picturesque red Canadian Pacific Train in the snow.
The only issue is there is no train schedule, so if you want to see the view with a train, you could be waiting for a while. We've waited for over an hour in the cold before for the iconic train!
---
Things to Know About Visiting Lake Louise in the Winter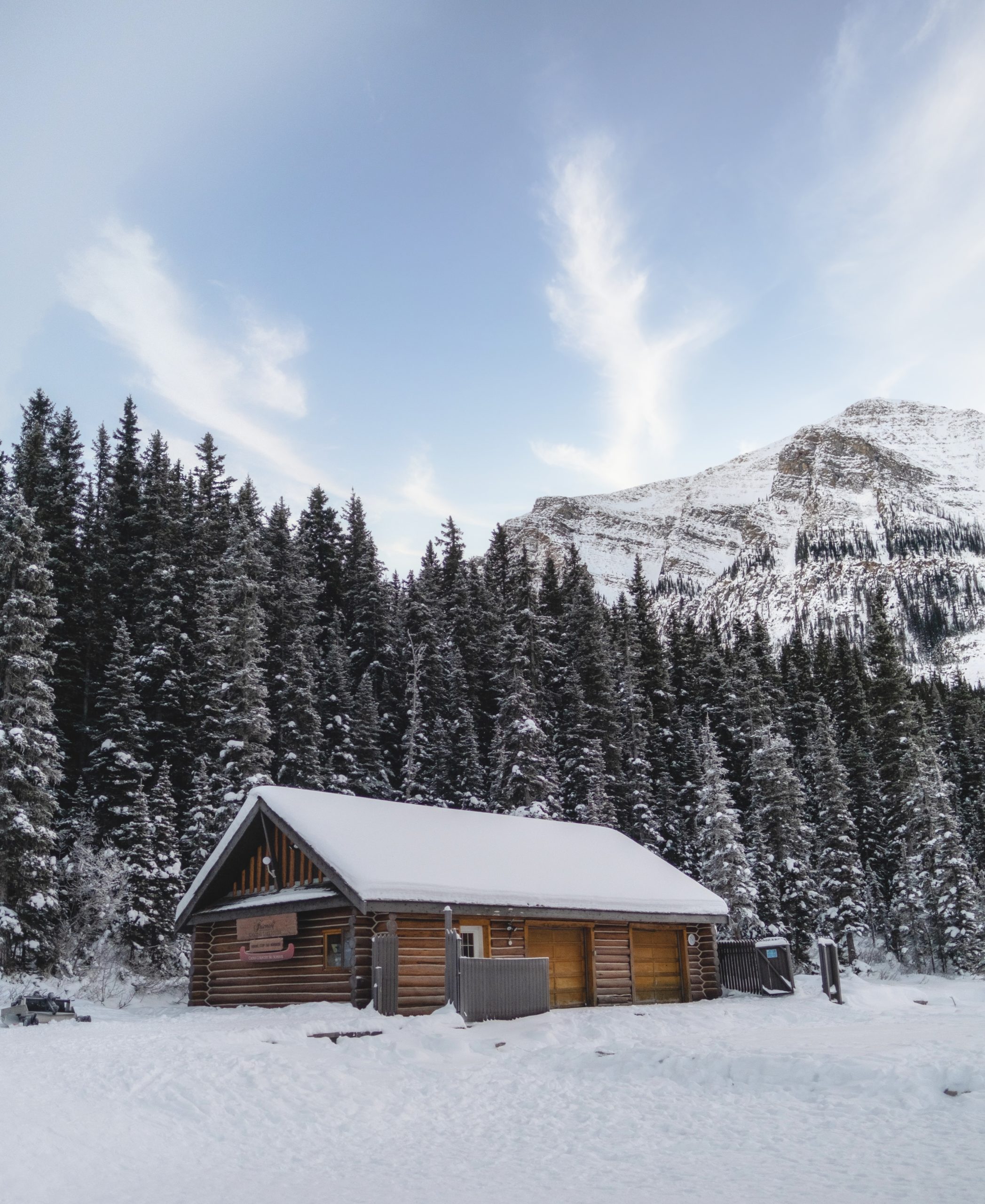 ---
Is Lake Louise Open All Winter?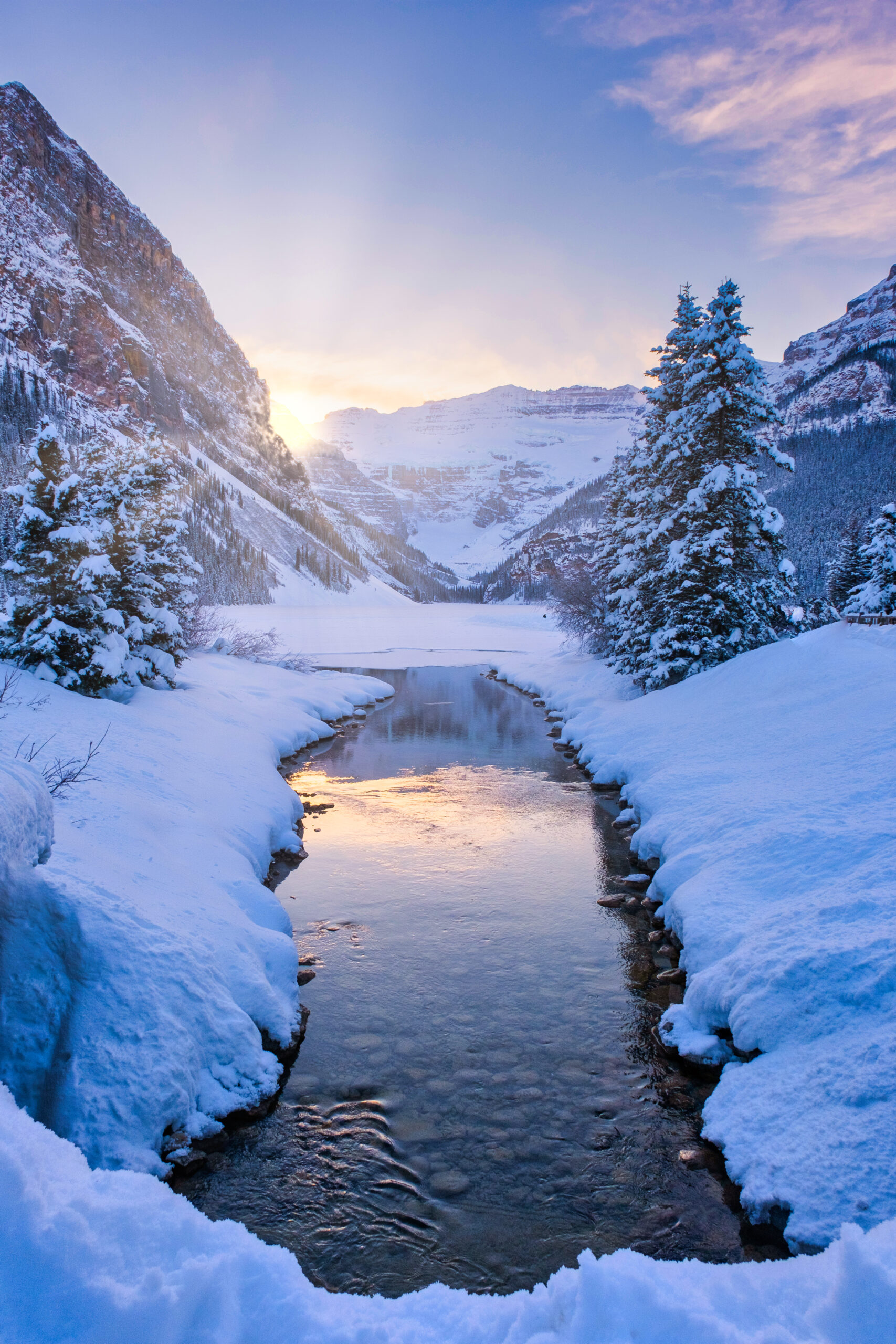 Lake Louise is open 365 days a year, with rare park closures excluded. Lake Louise in the winter month is frozen and covered in a heavy layer of snow. You won't see the brilliant blue colors of the summer months. It is still a gorgeous scene with impressive mountains and plenty of winter activities to enjoy.
---
Where Can You Park at Lake Louise in the Winter?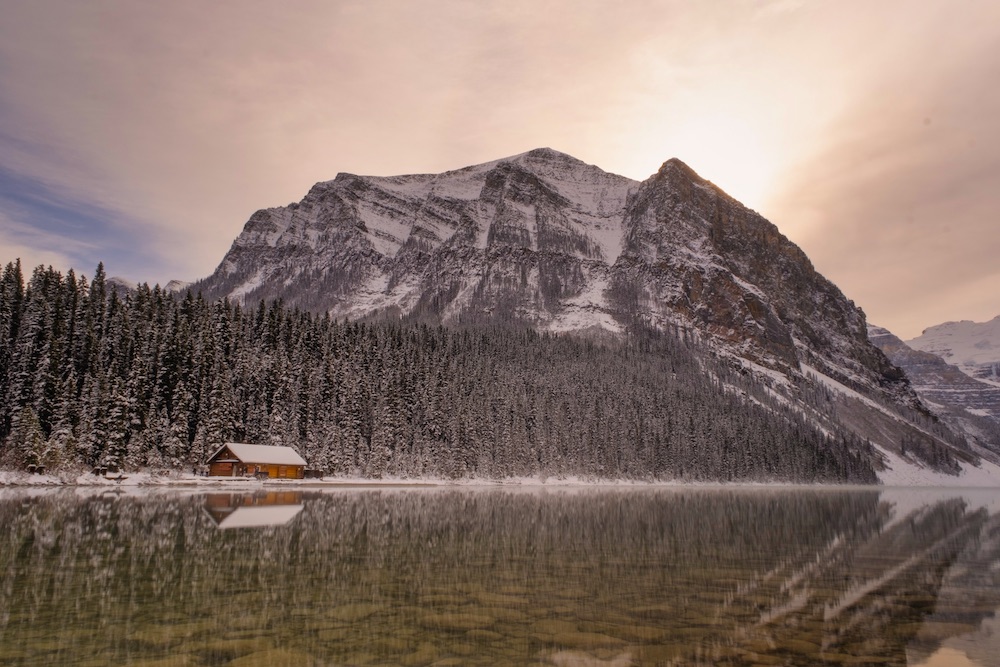 Unlike the summer months, the public parking at Lake Louise rarely fills up. We've visited the lake dozens of times in the winter and have never had a problem parking. That doesn't mean on a weekend around the New Year, you might not have some difficultly though, but still you'll be able to nab a spot.
---
Where to Stay at Lake Louise in the Winter?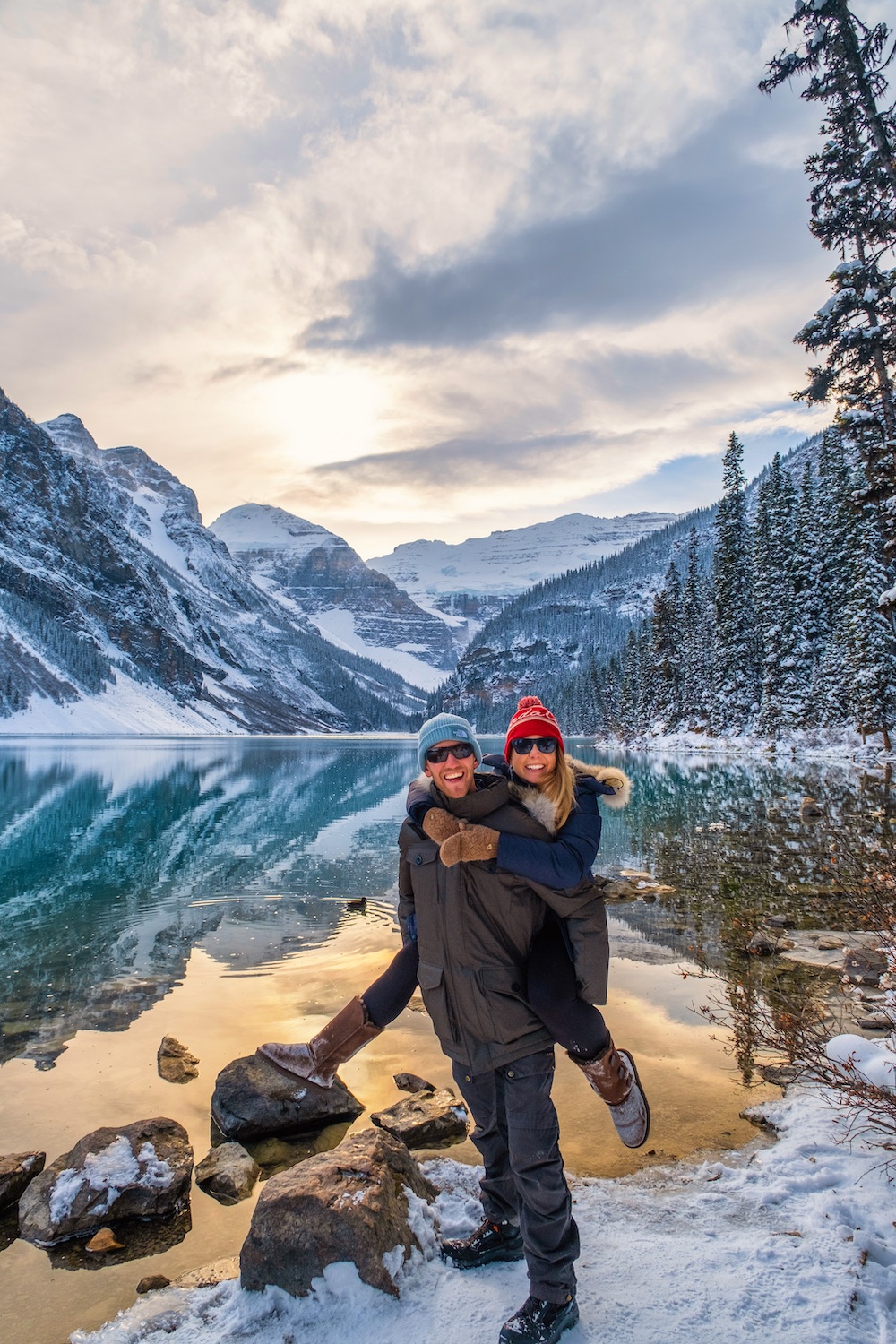 Paradise Lodge and Bungalows may be the best hotel near Lake Louise. While not directly on the lake like the Fairmont Chateau Lake Louise it is only a 500-meter walk from the lake. As it is not on the lake it's far quieter and relaxing in comparison to the constant onslaught of visitors come to the lake every day.
The Fairmont Chateau Lake Louise is another iconic long-standing resort in Banff National Park. If you're looking for luxury accommodation with plenty of amenities in a location surrounded by mountains and remote backcountry, this is the place for you. It's also a great spot for a romantic night out as there are some intimate Lake Louise restaurants here.
Baker Creek Mountain Resort is a laid-back escape offering comfortable lodge and log cabin accommodations. The grounds and lodge make for one of the most serene settings in Banff National Park as sits along the Bow Valley Parkway.
---
Can You Visit Moraine Lake in Winter?
The Moraine Lake Road closes between mid-October and the end of May due to avalanche risk. Visiting Moraine Lake in the winter is not possible to the average visitor. The only way to access Moraine Lake in the winter is via snowshoes or nordic skis, but the road is 14 km (one way) and crosses avalanche paths so you should not attempt to travel back to Moraine Lake in the winter unless you are prepared for winter travel and have proper avalanche safety knowledge.
---
What to Wear at Lake Louise in the Winter
It always feels about 5°C colder at Lake Louise than in Downtown Banff. Dress for winter here!
Outerwear
Snowpants
Hat, Gloves, Scarf
---
Hopefully, this helped you determine what things to do at Lake Louise in the winter.
If you have any other questions leave a comment or see our Canadian Rockies travel guide for more articles about photography spots, lakes, hikes, and everything else.
---
↓ Join the community ↓
The Banff Blog Facebook Group is your headquarters for the Canadian Rockies travel advice and information. Including hike info and off-season travel information. This is also a place where you can meet one another when you need adventure buddies.

Plan Your Trip to the Canadian Rockies