Few places in the world are as magical in the winter as the town of Canmore. Towering snow-capped peaks, frozen lakes, and warm cups of hot cocoa await all visitors to Canmore in the winter.
There are so many things to do in Canmore in winter that shouldn't be ignored. Just because it's cold out doesn't mean you can't get moving. Here are some of the best Canmore winter activities to do.
---
Best Things to do in Canmore in Winter
---
Go Ice Skating on the Town Pond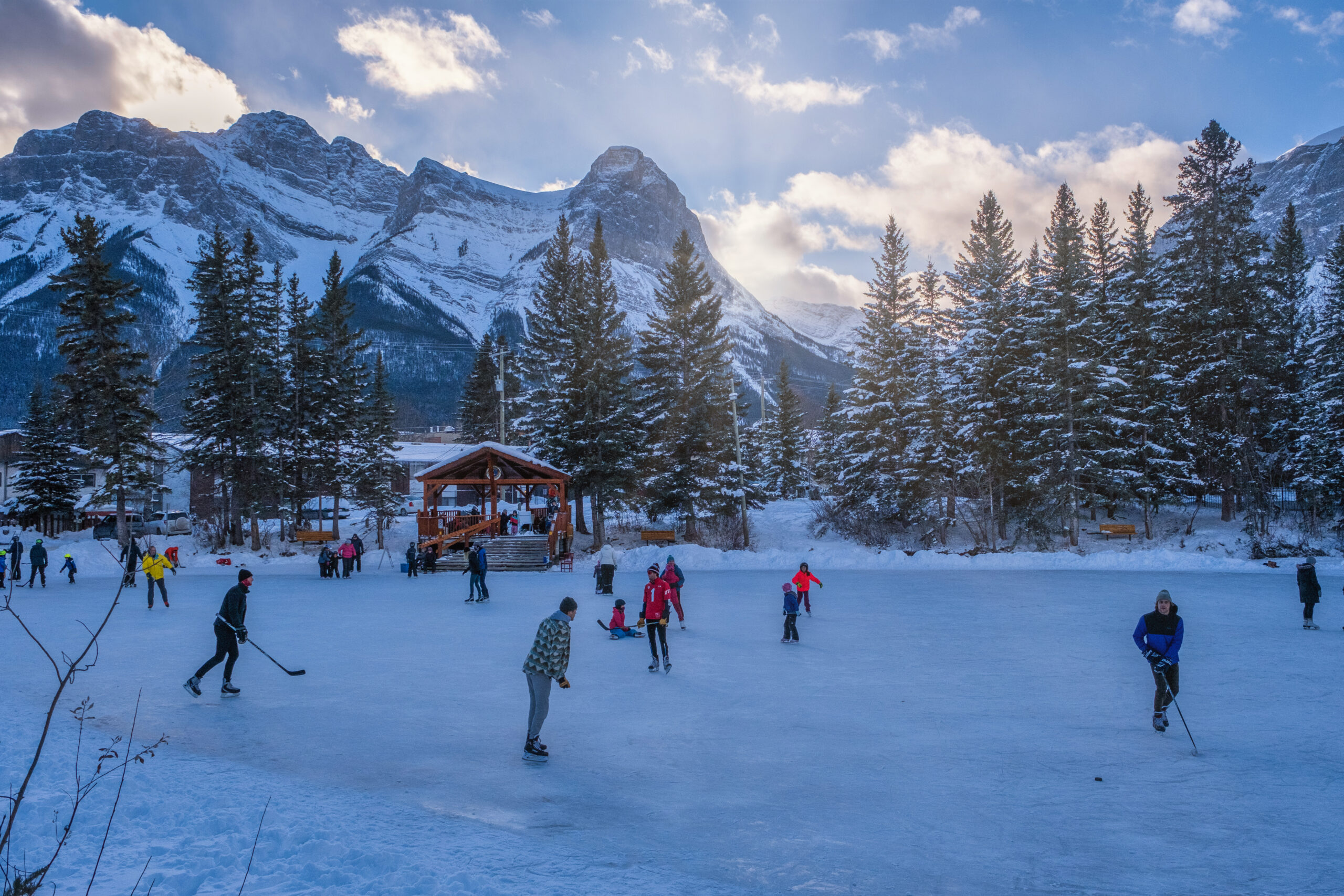 One of the best things to do in Canmore in the winter is ice skate on the well-maintained town pond. While you can ice skate on some frozen lakes in the Rockies, the town provides a safe alternative in downtown Canmore.
Because the town services the pond daily and resurfaces three to five times a week, you're almost guaranteed a reliable surface here.
Skating in Canmore is fun during the day, but also at night when it's all lit up from the nearby lights. The Town of Canmore overseas a few other ice rinks nearby. Those can be found here.
If you don't have your own skates, you have a few options; you can either rent some or purchase a used pair at the Community Thrift Store or Canadian Tire. If you plan on going ice skating in the Rockies at least a few times, this may be a good option.
I picked up my ice skates for $20 at the Canmore Crossway Community Thrift Store, and although they needed a good sharpening, they have lasted me on all my frozen lake adventures.
You can also rent ice skates in town at Gear Up and Sports Experts in town.
---
Ice Skate on Goat Pond or Spray Lakes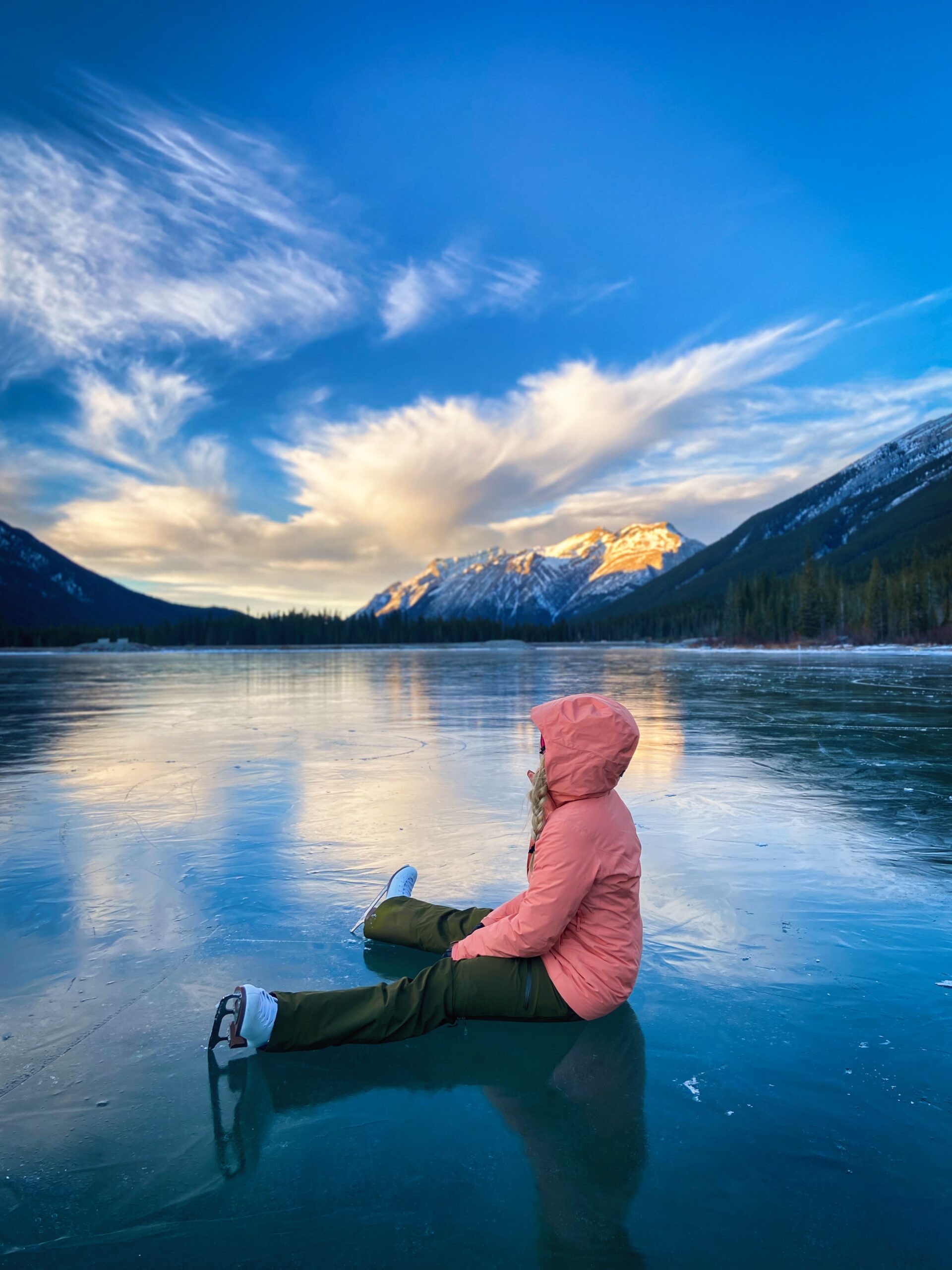 If you want to hit up a few of the best-frozen lakes to ice skate in the Canadian Rockies, you aren't far away in Canmore. My favorites to visit in the winter are Goat Pond on the Smith Dorrien, Spray Lakes right next to it, and Lac Des Arcs near Exshaw.
Though these lakes aren't great for ice skating all winter. The trick is to catch them at just the right time, usually in November, December, and early January.
That's when it's gotten cold enough for them to freeze over enough to allow safe skating (over 4 inches) and before the first significant snowfall that covers the lake. See our favorite places to ice skate in the Rockies here.
---
Hike Up Ha Ling Peak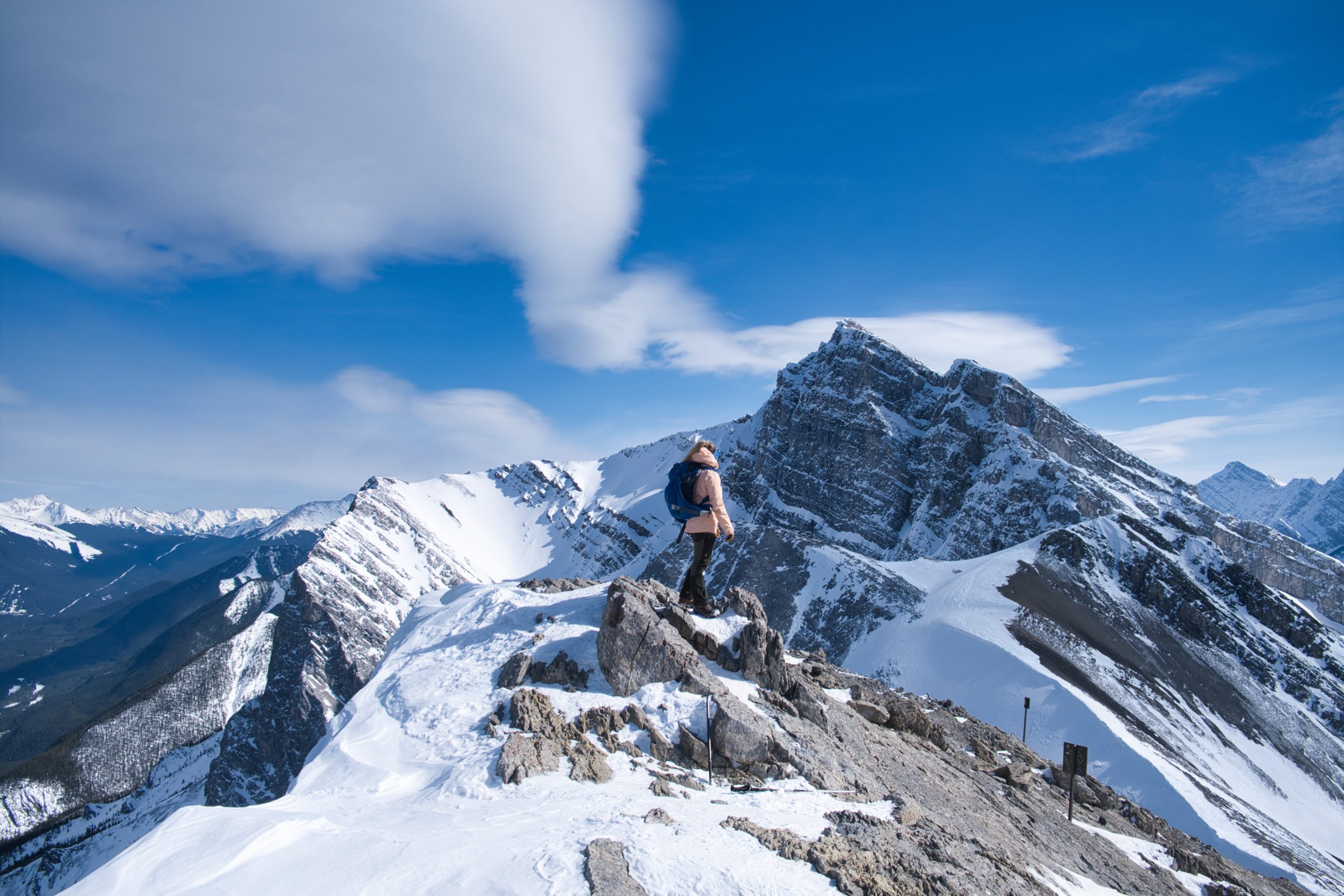 Ha Ling Peak is a Canmore staple as it sits high above the town and is a defining feature in the Rockies. It's fun to hike in the summer, but it's also possible to hike in the winter with the proper knowledge and gear.
Just make sure to pack for a winter hike with warm clothes, proper boots, microspikes, and poles. Check the avalanche forecast before you go, as there are a few avi paths you will cross.
If there is a storm and bad weather in the forecast, postpone until a sunny day. Although it's one of the more accessible and popular mountain summits in the Rockies, it's still a serious peak with consequences.
Note: The trail to Ha Ling is closed until further notice
---
Ski or Snowboard at Mt. Norquay or Nakiska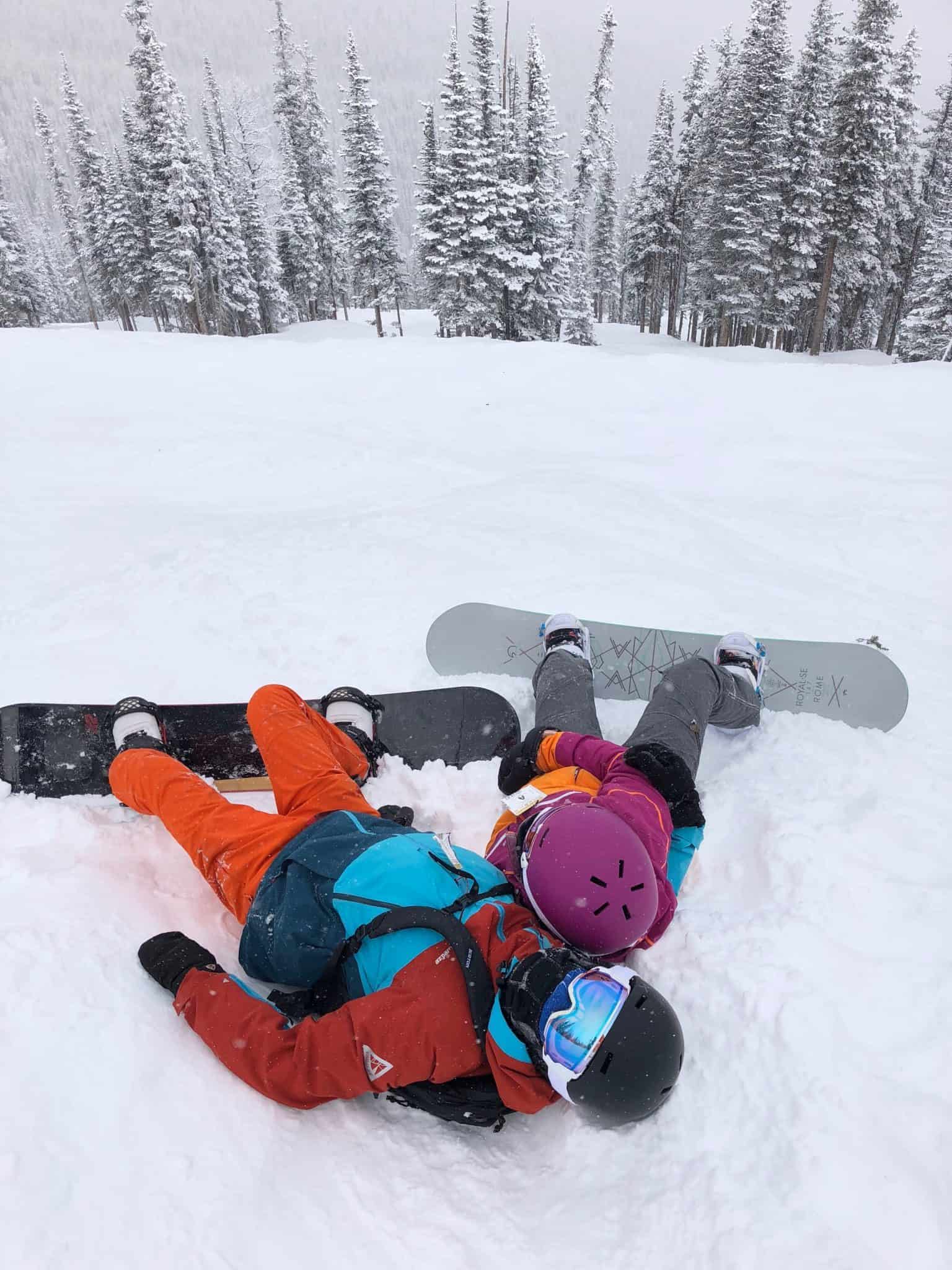 The closest ski resorts to Canmore are Mt. Norquay in Banff and Nakiska Ski Resort in Kananaskis. Both are great places to ski and offer fun for everyone.
Unlike Banff Sunshine and Lake Louise, Nakiska and Mt. Norquay are much more beginner-friendly and don't have the gnarly cliff drops that other resorts do.
However, they are great for cruising the groomers and enjoying the views. They are both family-friendly ski resorts for families or groups visiting the Canadian Rockies and not for die-hard powder hounds.
---
Walk Through Grotto Canyon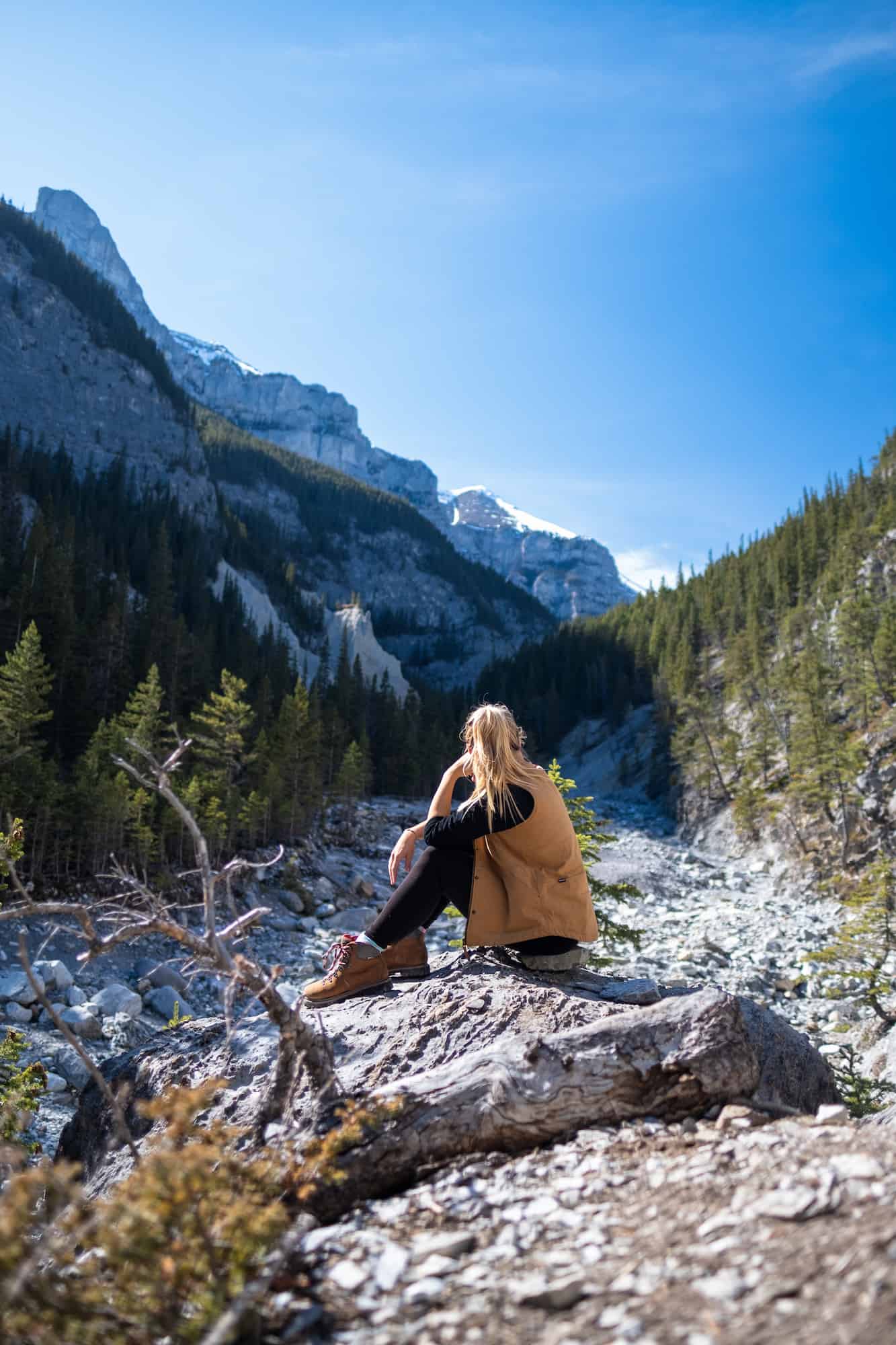 An easy hike in Canmore that's good year-round is Grotto Canyon. In the winter, this famous canyon with rock art is possible to walk along the frozen creek. You might also see some ice climbers back here.
---
Photograph the Three Sisters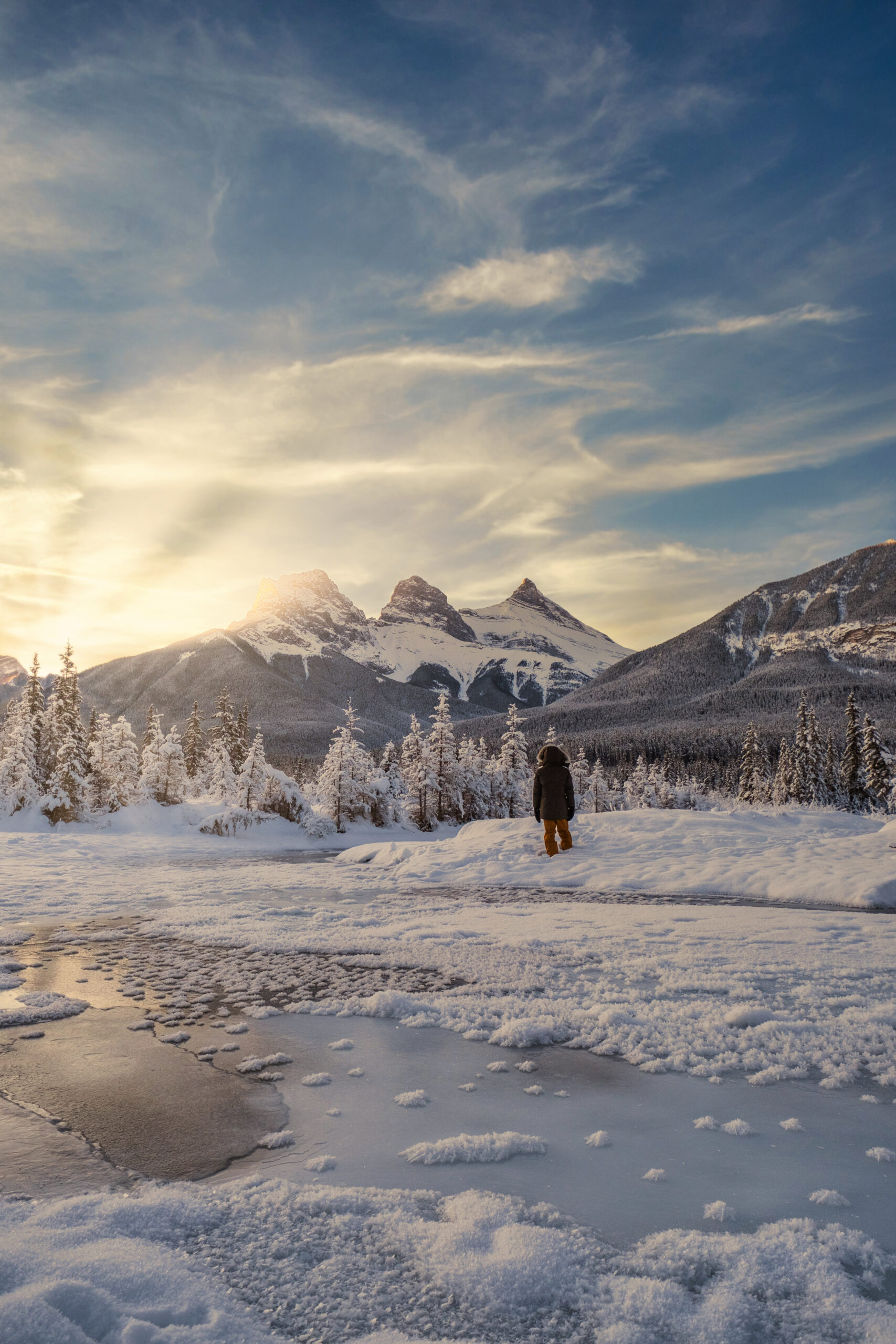 The Three Sisters are the most defining mountains in Canmore, and some of the most iconic in the Canadian Rockies, only behind Cascade Mountain and Mount Rundle.
Faith, Hope, and Charity, as they are called are the individual mountains that make up the Three Sisters Mountain. The Three Sisters are visible almost everywhere in Canmore.
At nearly 10,000 feet, they're hard to miss, and that's a good thing because experiencing these stalwart giants is one of the best things to do in Canmore, Alberta that you won't want to pass up.
You'll be able to get great views of them from the bridge in Downtown Canmore, or just about anywhere else in Canmore. However my favorite place to photograph the Three Sisters in the winter can be found here.
---
Walk Around Quarry Lake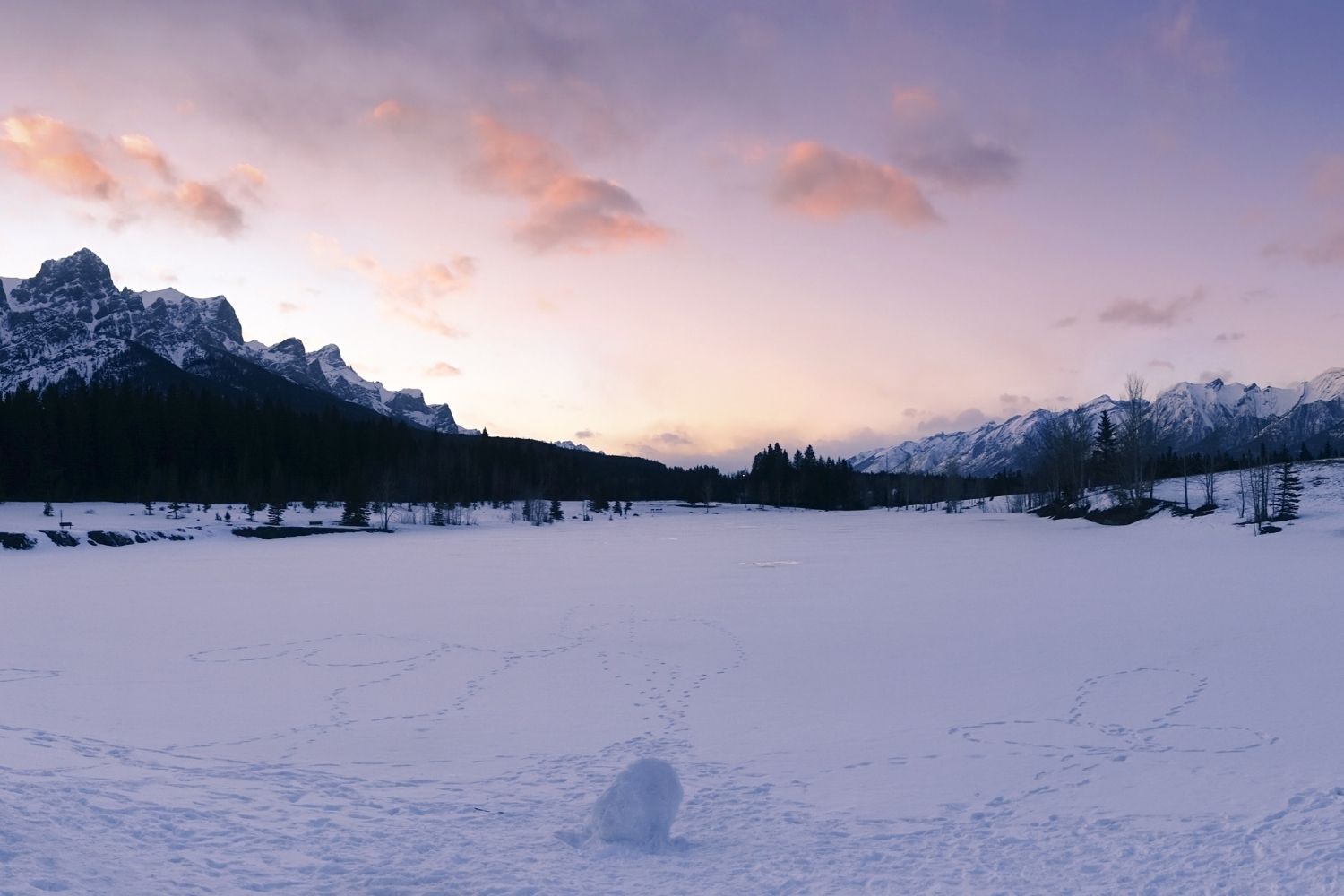 Quarry Lake is a lake in Canmore that locals visit daily to stretch their legs or take the dog for a walk (there is an off-leash park nearby). Walking around the lake is a leisurely thing to do in Canmore in the winter when you are just looking to spend some time in the great outdoors.
---
Nordic Ski at the Canmore Nordic Center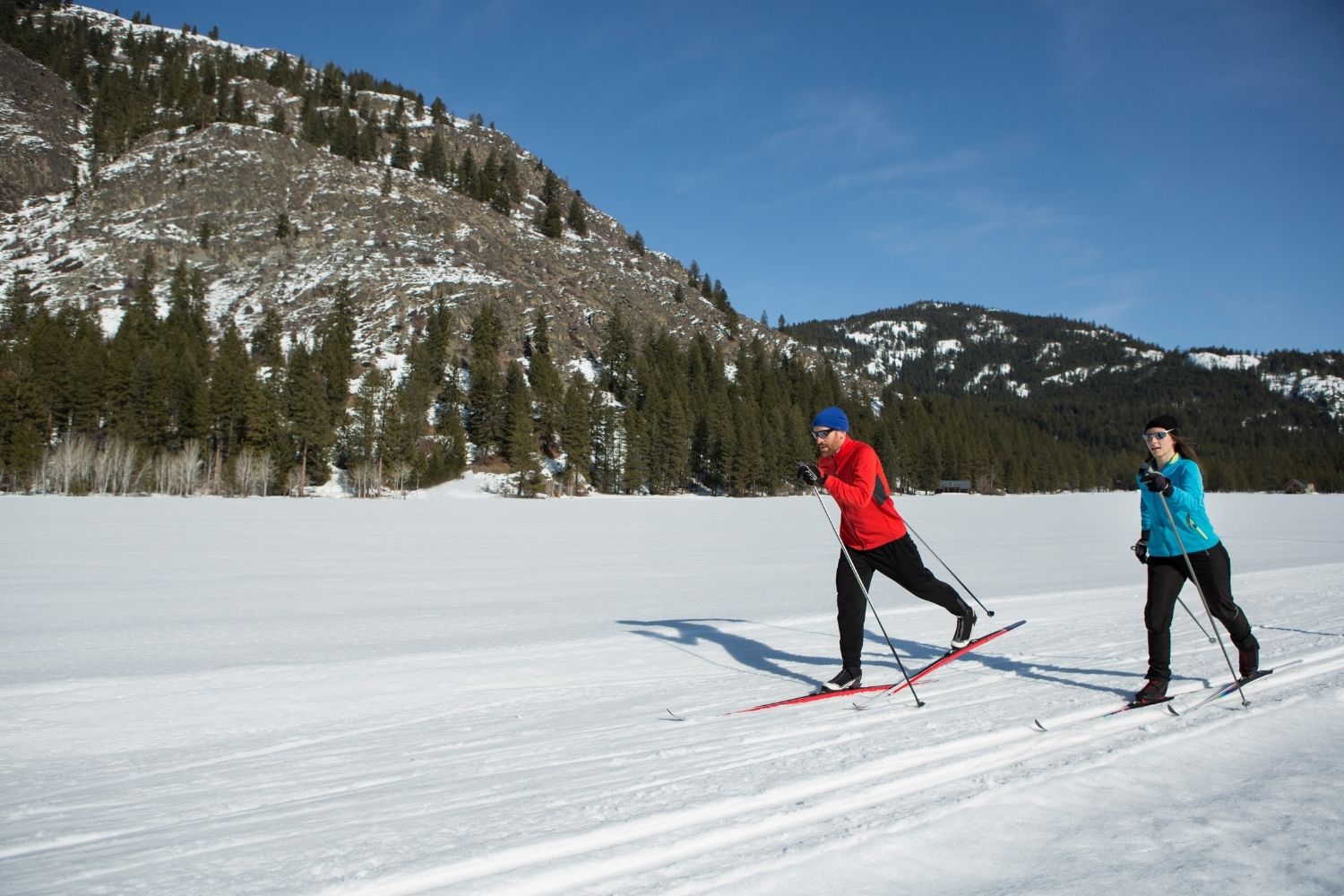 The Canmore Nordic Center is what put Canmore on the map for tourism. For the 1988 Calgary Winter Olympics, the center was constructed and brought in international visitors from around the world.
The center still operates today with trails for cross country skiing, mountain biking, and hiking. The trail system for cross country skiing is world-class ready to hold international events with 60km of trails and 6km that have lights for nighttime skiing. You can rent a pair of nordic skis and take to the trails here for a day among the giants.
A day pass for the Nordic Center is $15
---
Snowshoe to Chester Lake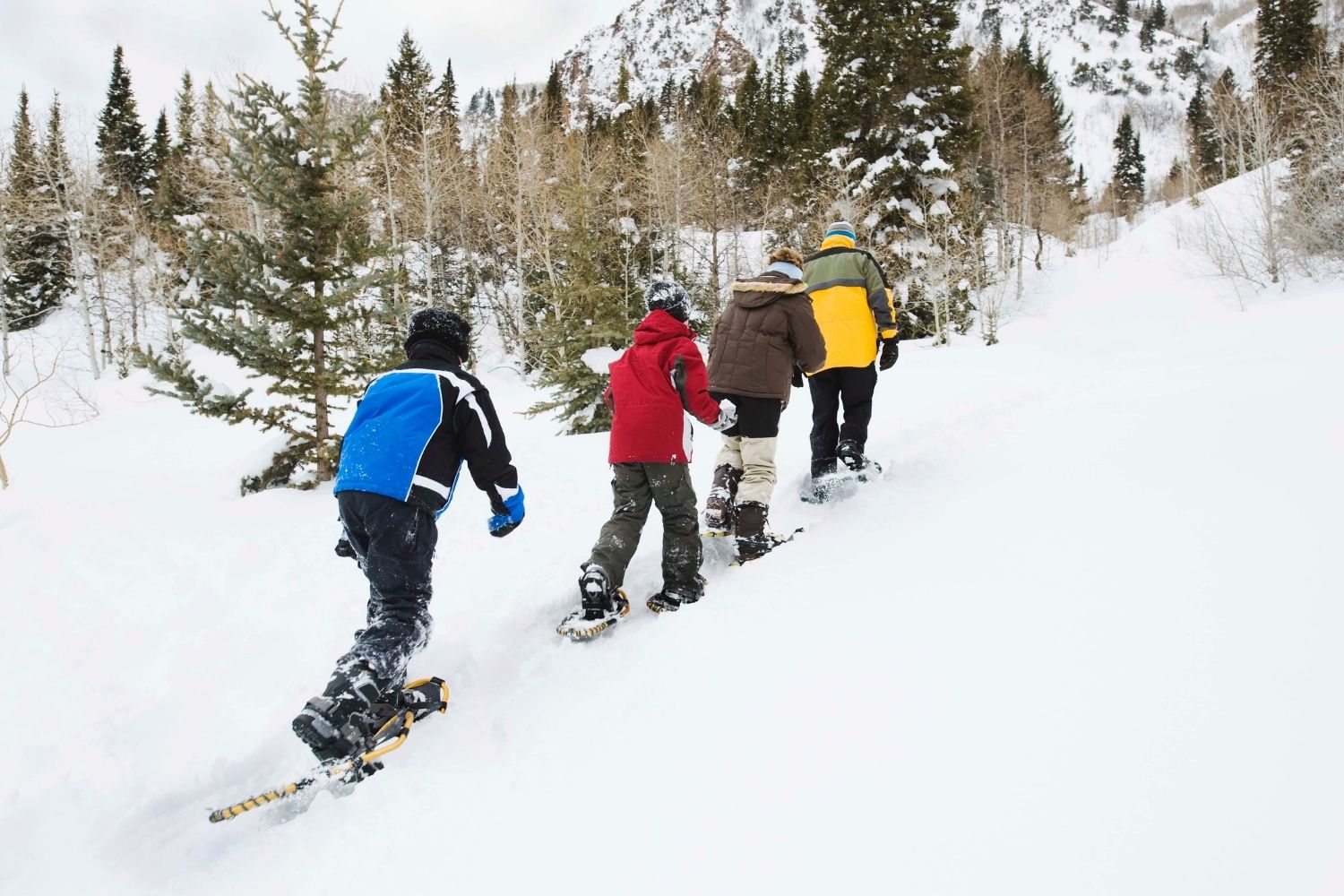 Chester Lake in Kananaskis Country Provincial Park is a fantastic snowshoe and very popular in the winter. It's a great snowshoe if you are new to the sport, as it's only a 424 meter gain and less than 10 km round trip.
Once you reach the lake, you'll have amazing views. You can rent a pair of snowshoes at Sports Expert, Gear Up, Outdoor Ski, or buy a pair at Canadian Tire.
---
Go on a Helicopter Tour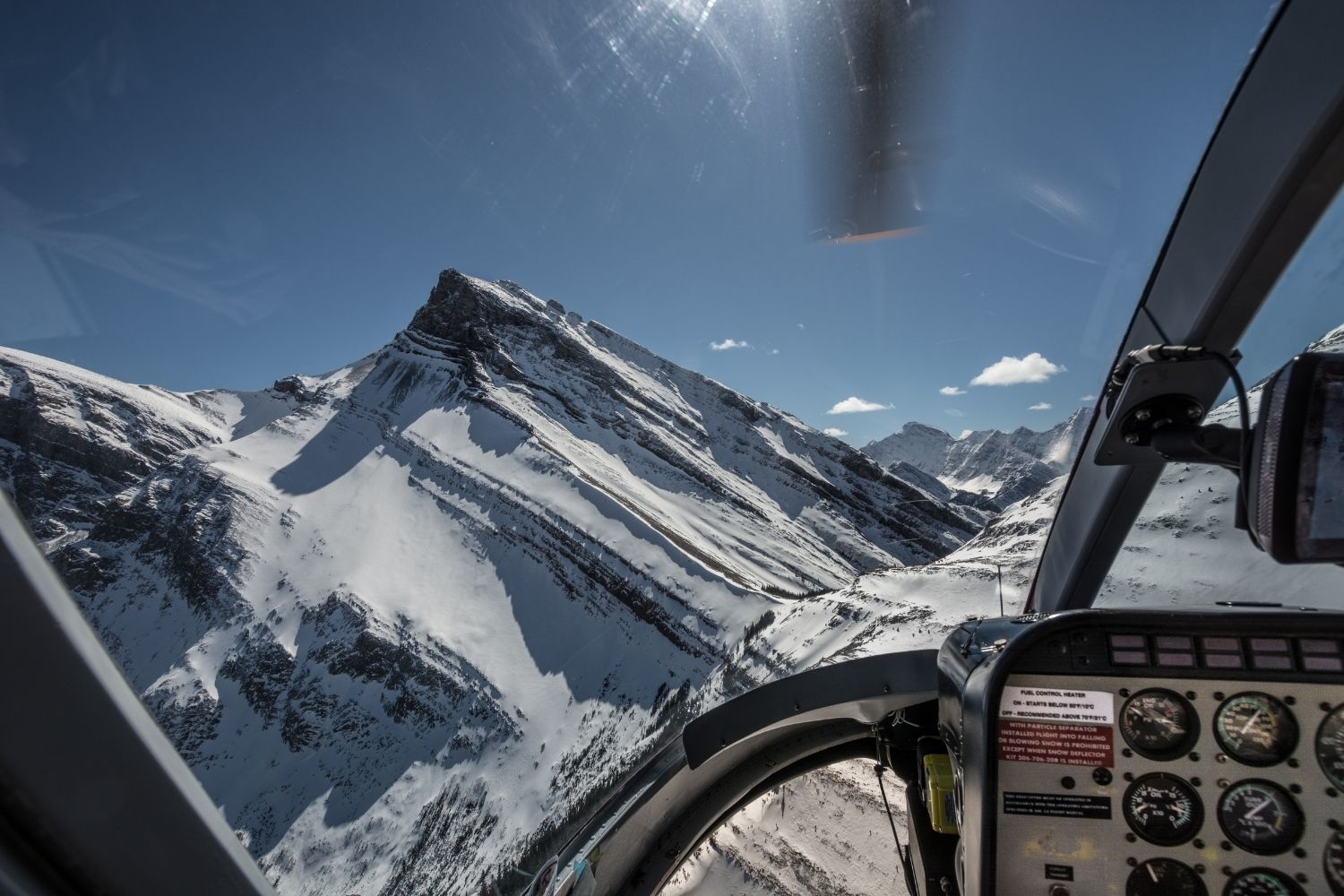 Can't hike up a mountain in the winter? No worries! Just take to the sky on an epic helicopter tour.
Alpine Helicopters is based in Canmore and offers helicopter tours that provide a spectacular bird's eye view of the surrounding mountains. While it's certainly not a cheap thing to do in Canmore in the winter, it is undoubtedly an unforgettable one. Tours begin at $150 per person and can reach as high as $600 for a 45-minute tour.
However, rates are lower in the winter and during off-season months like April, so make sure to check their site to find the best rate.
---
Go Dog Sledding With Howling Dog Tours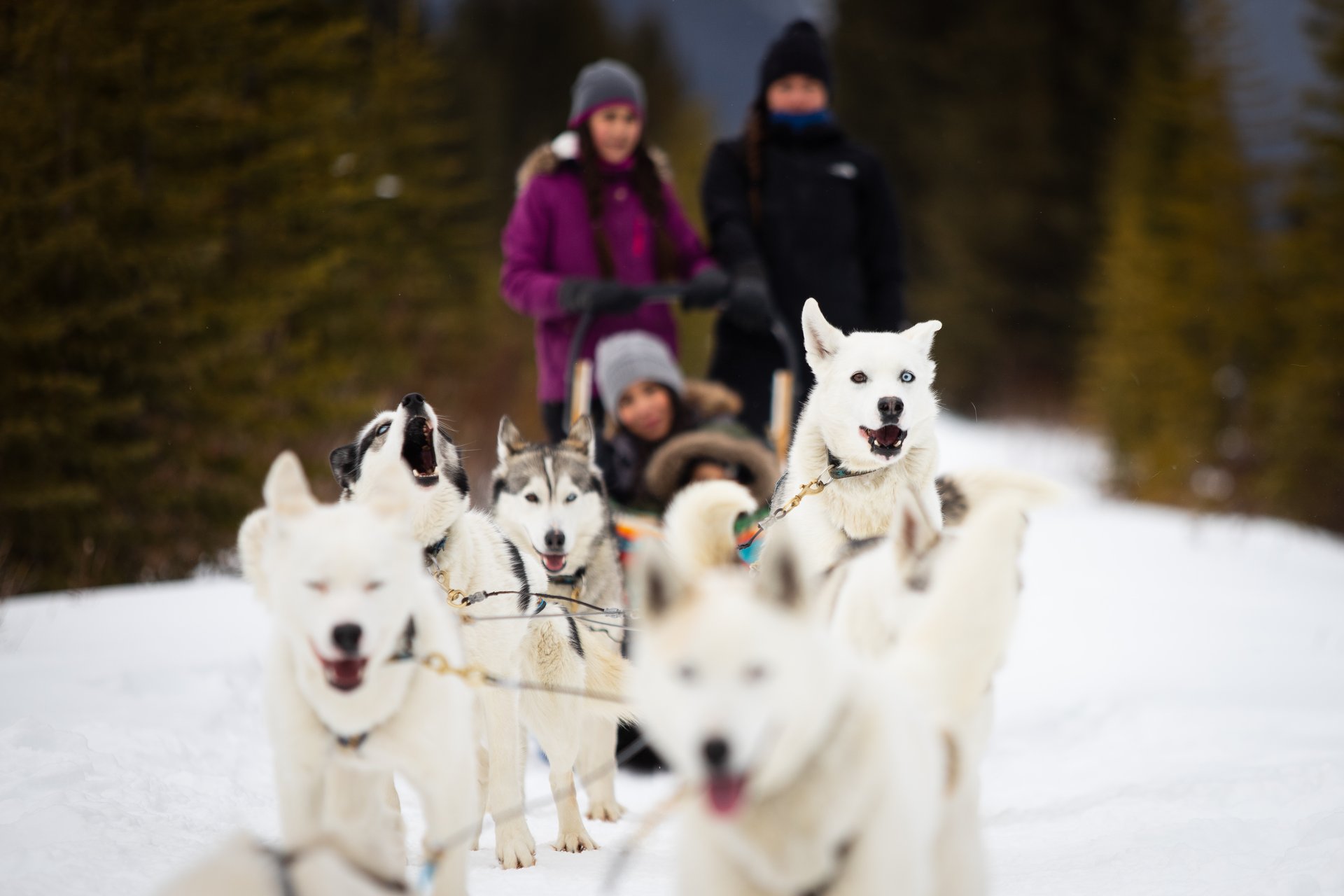 Dog sledding is a quintessential winter experience and will easily be a highlight of any winter vacation in the Canadian Rockies. Howling Dog Tours in Canmore offers the chance to enjoy this experience deep in Kananaskis.
HDT is a small family operation that has been in operation since 1995 and a great ethical company to go within the Bow Valley. Head over to their website for their contact details.
---
Hike to Grassi Lakes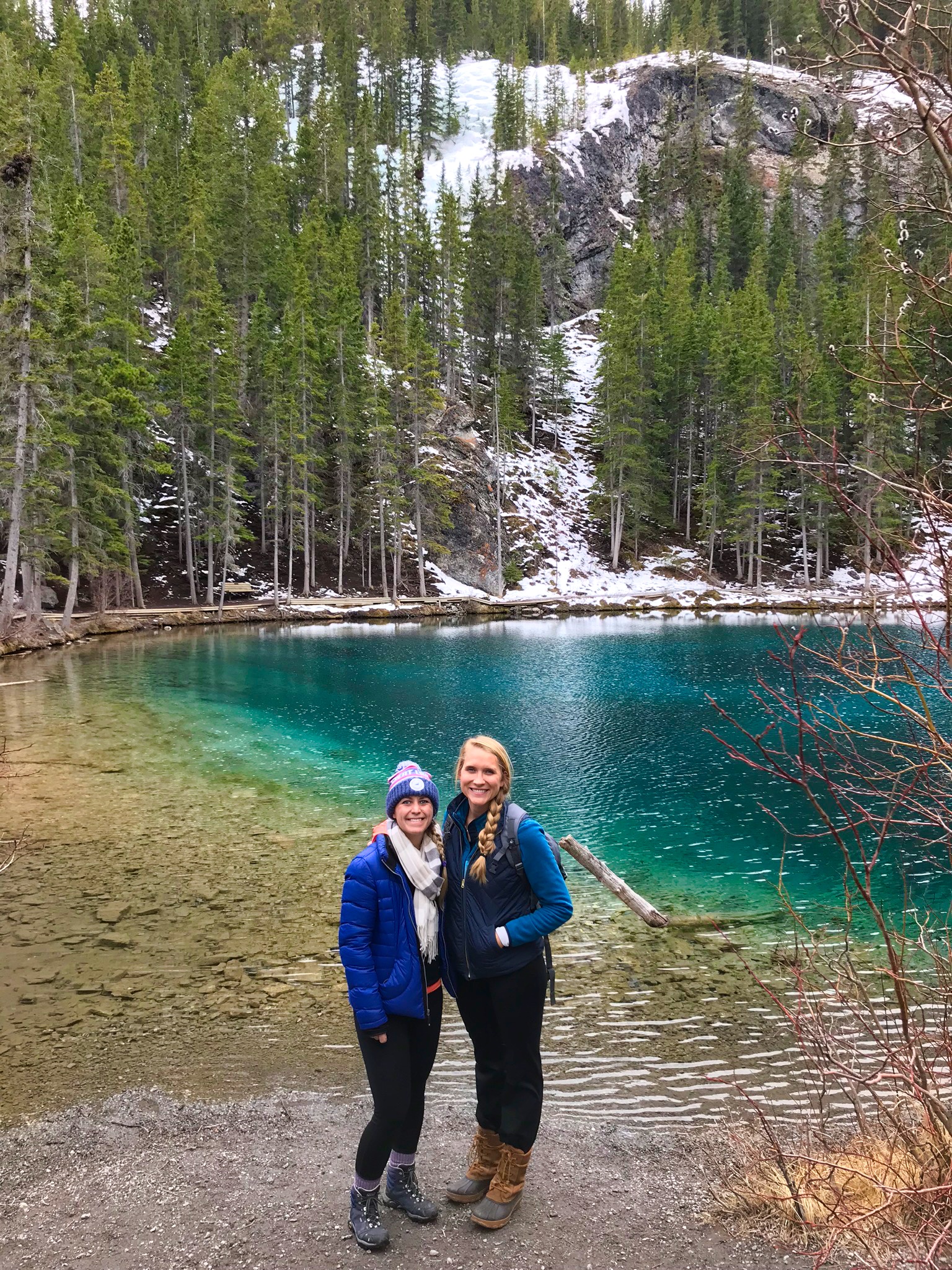 A rewarding and easy Canmore hike in the winter is Grassi Lakes. In the summer, Grassi Lakes is a busy one, but it's likely you won't see many people on the trail in the winter.
This hike is a highlight in the area as the well-trodden and wide trail is manageable for any skill level of hiker. The two sparkling lakes nestled below Ha Ling Peak and the East End of Mount Rundle (another famed hike— advanced level) are a wonderful sight to be seen by all visitors.
So what are Grassi Lakes? These are two sparkling teal alpine lakes. Many of the lakes in the Rockies freeze in the winter, but it's possible you can still see Grassi Lakes unfrozen and blue even in the winter!
Note: The trail to Grassi Lakes is closed until further notice
---
Go for a Fat Bike Ride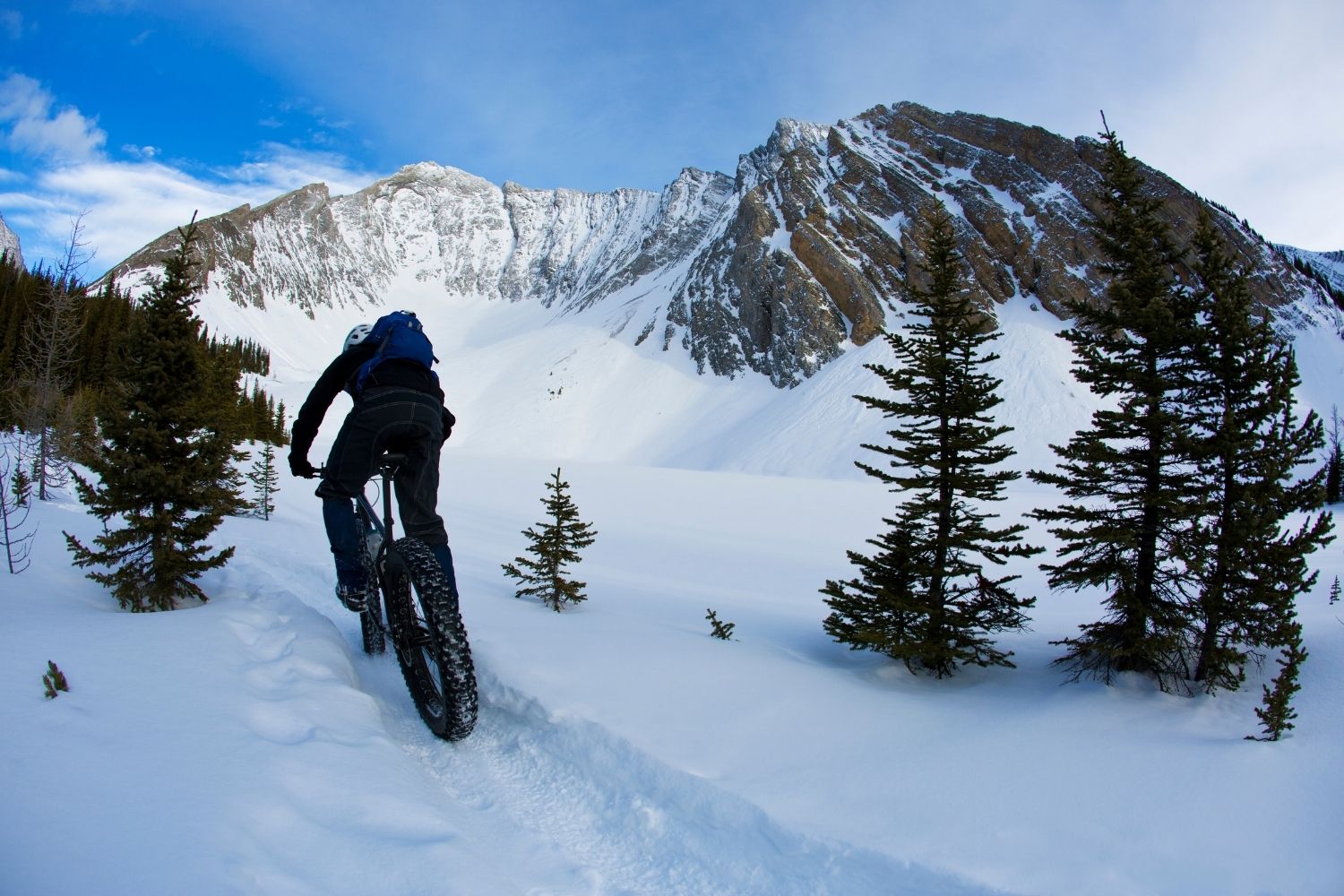 You don't have to give up on biking just because mountain biking season is over. There are some great fat bike trails around Canmore, including a few just around town.
Some of the best fat biking routes are:
Bow River Loop
Quarry Lake Recreation Area
Canmore Nordic Center
Cougar Creek / Horseshoe Loop (Moderate)
Highline Trail (Hard)
You can rent a fat bike at Rebound Cycle downtown, and they will provide you with all the information you need to take to the trails.
---
Walk the Policeman's Creek Boardwalk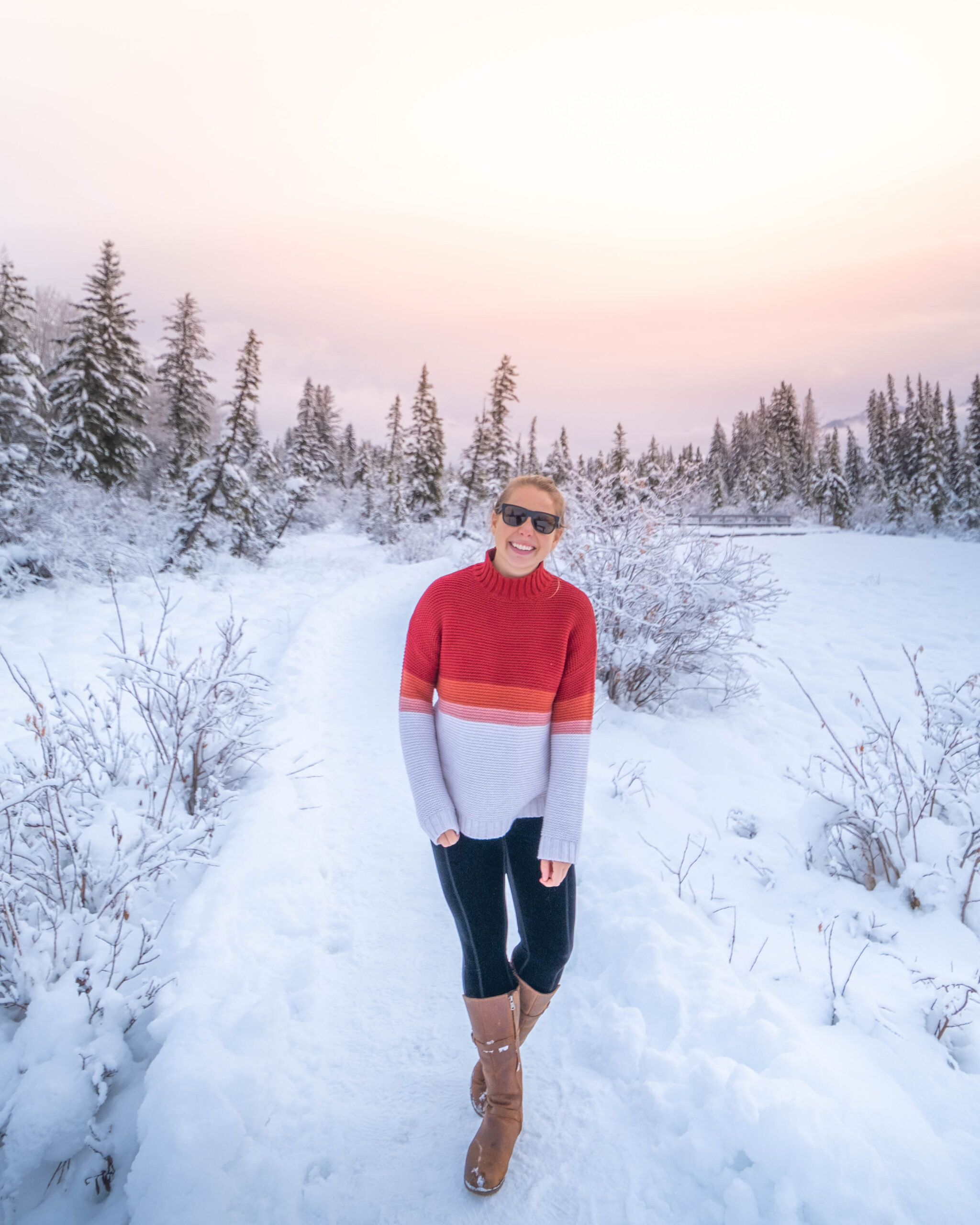 If you are staying at one of the best Canmore hotels downtown head out in the morning for a brisk walk on the Policeman's Creek Trail.
This is an easy walk on an elevated boardwalk that anyone of any age can enjoy. From Main Street down to Spring Creek only takes 10 minutes or so. When you reach the Malcolm Hotel head inside for a warm-up hot chocolate at Pulse Coffee Shop.
---
Try Ice Climbing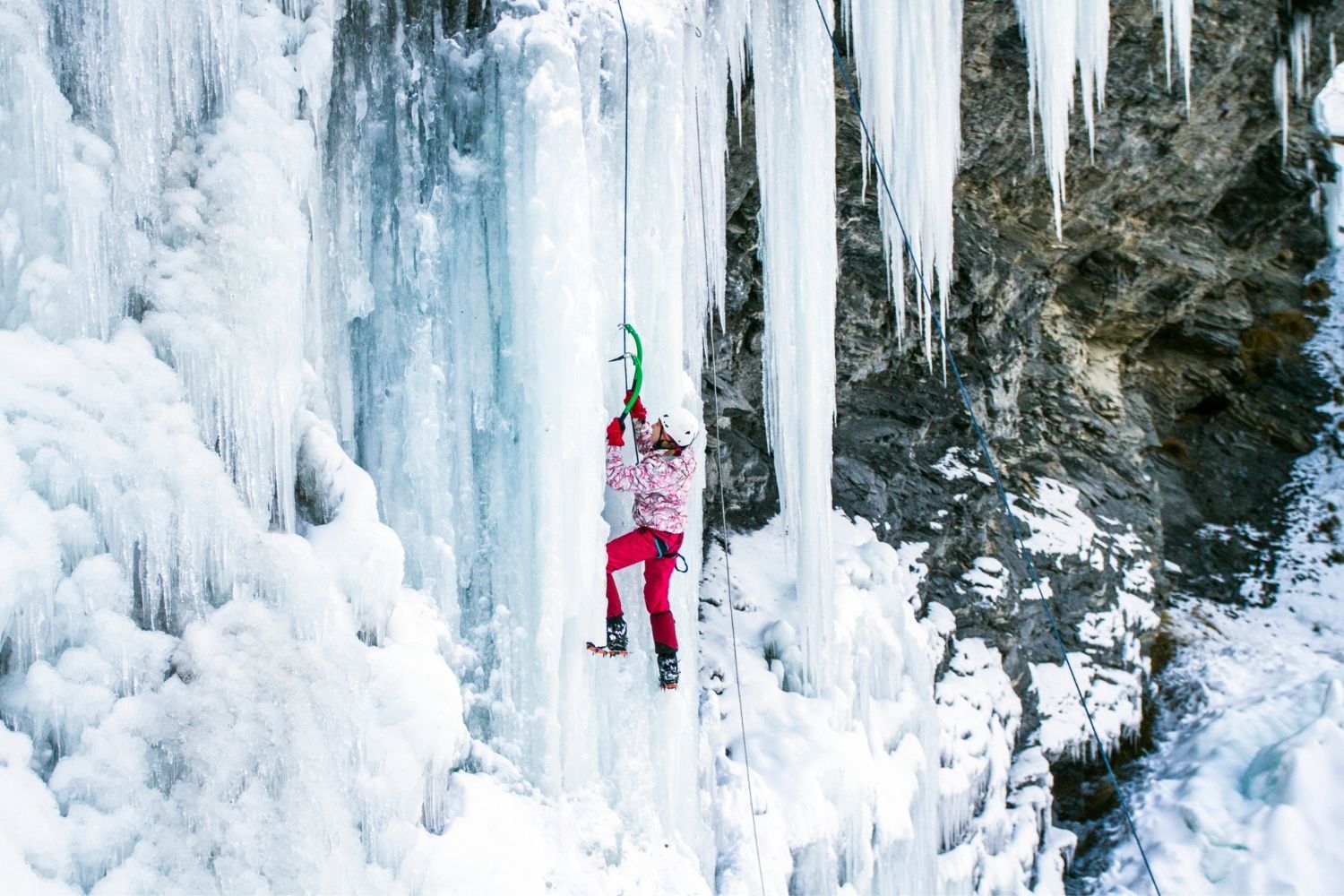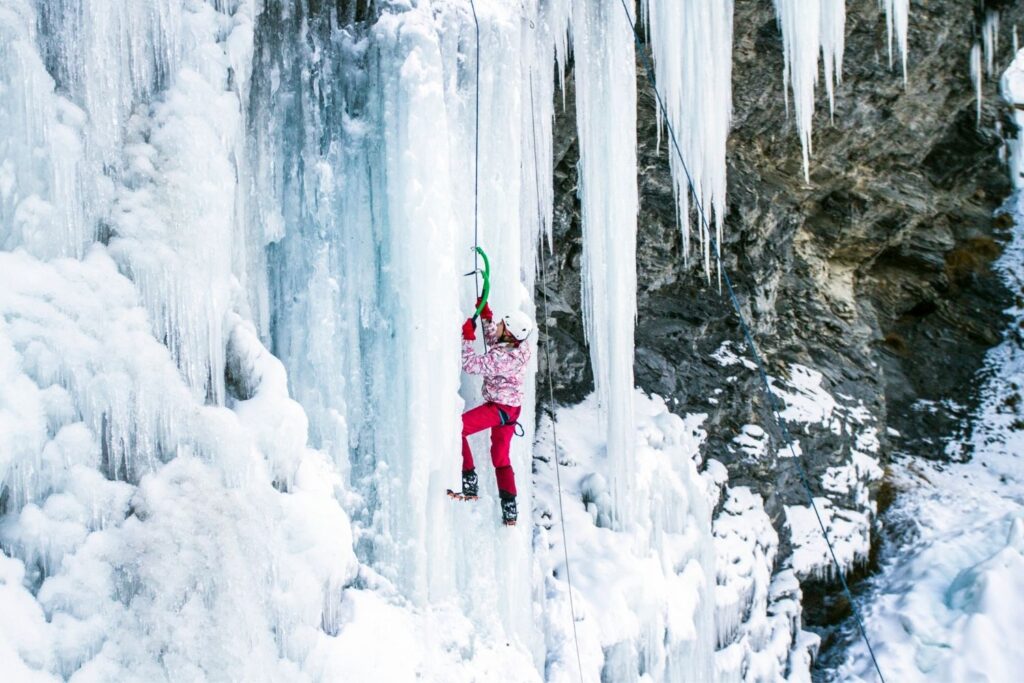 There are some fantastic ice climbing opportunities around Canmore. Many are mellow and great for beginner ice climbers. If you don't have any ice climbing experience, you should book a proper guided tour with Yamnuska Mountain Adventures. Some notable ice climbs around Canmore are:
Grotto Falls
Junkyards
Ghosto Coaster
Cascade Falls (Banff)
---
Warm Up in a Brewery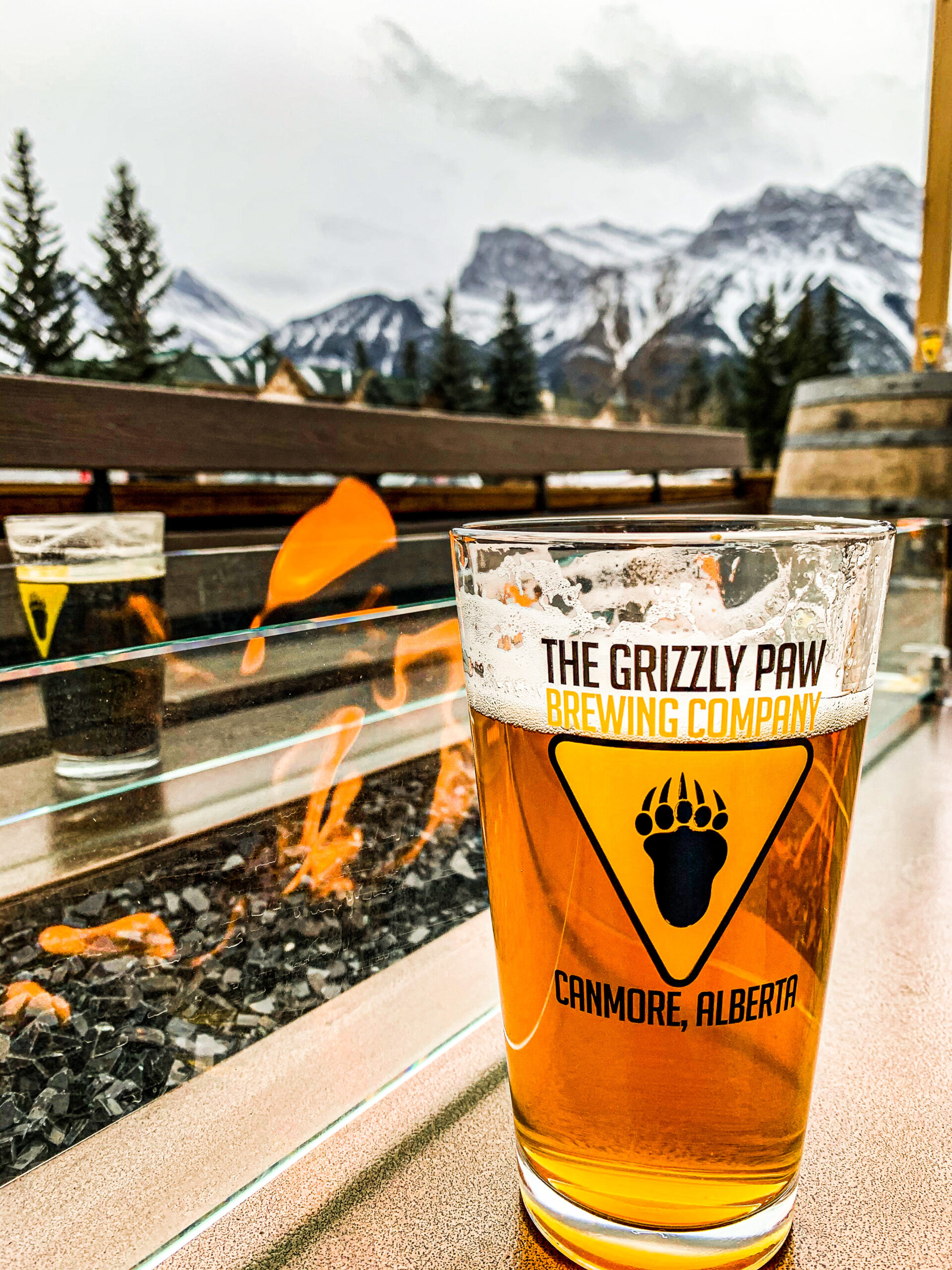 Canmore is home to some amazing breweries and distilleries. My two favorites are Grizzly Paw on Main Street and Sheepdog Brewing. During a Canmore winter a popular thing to do is sit by the outdoor fire at Grizzly Paw, or enjoy your brew inside with the heat.
---
Indoor Rock Climbing at Elevation Place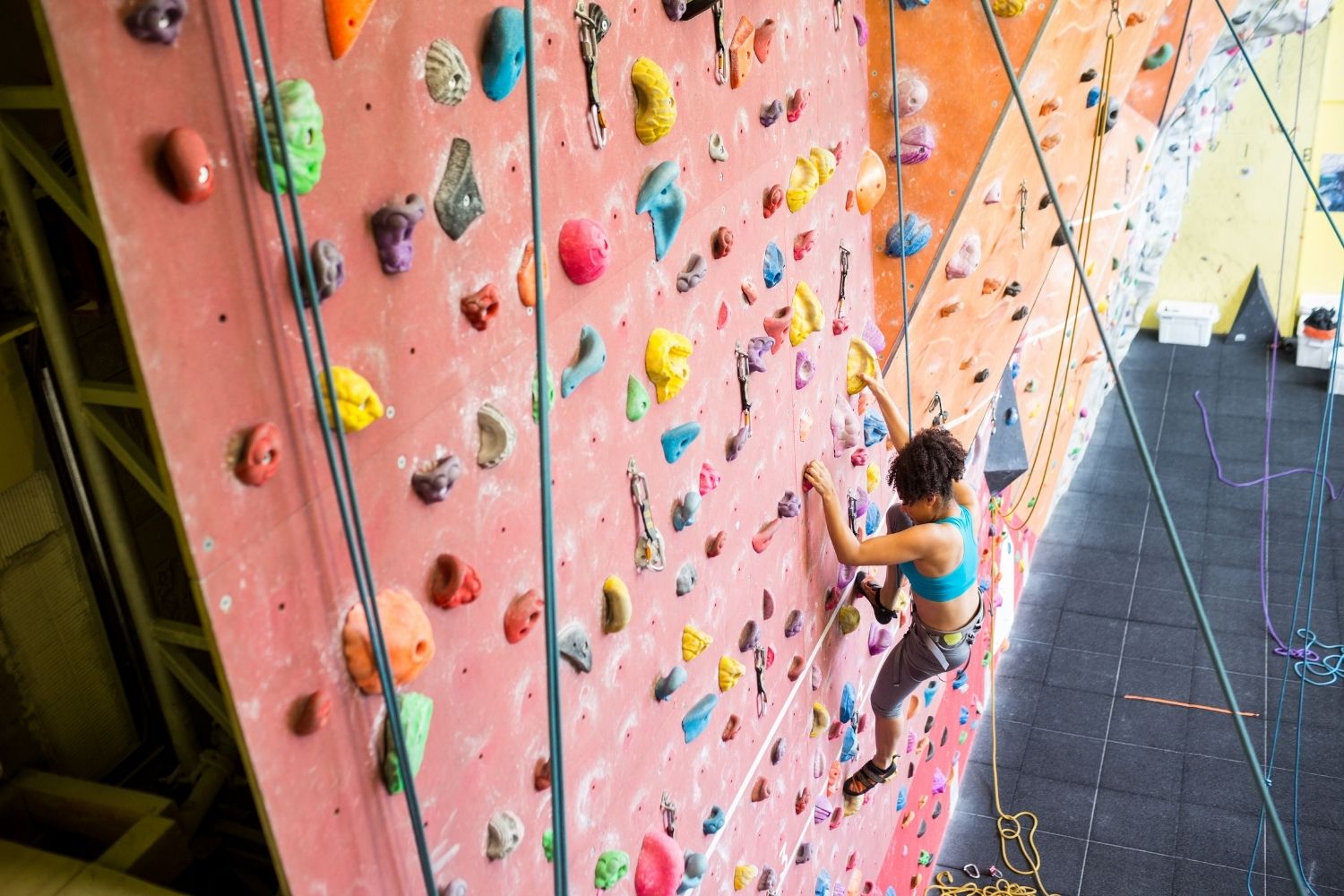 One of the best places to head on a cold Canmore winter day is indoors to Elevation Place. This is a great community center with a pool, waterslide, and library, but most locals head there for the indoor rock climbing wall.
There are climbing areas suitable for nearly every age and physical ability; lessons are available for those with little or no experience. You can rent gear at Elevation Place if you don't have any!
---
Canmore Christmas Artisan's Market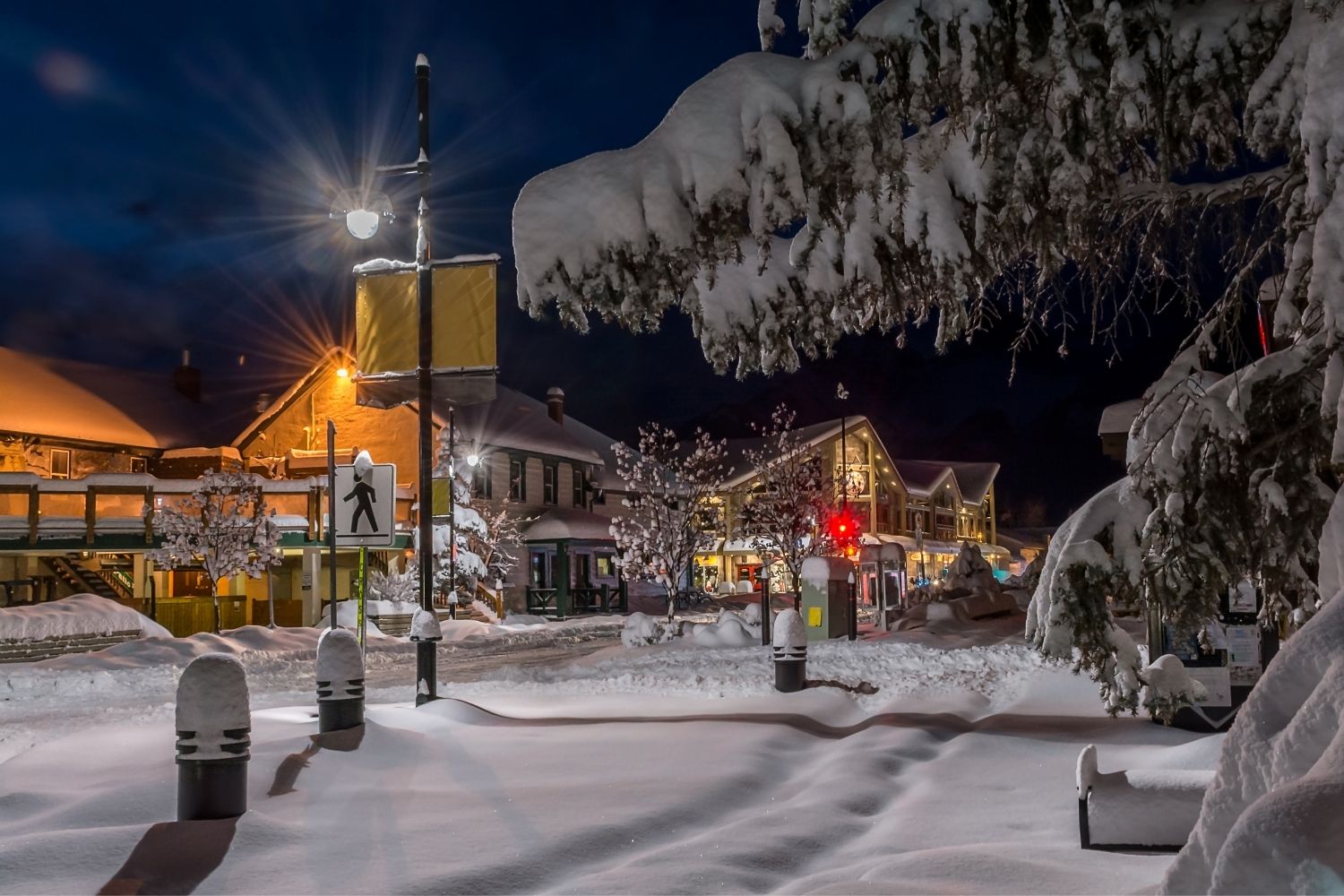 For over 20 years, Canmore has hosted the Christmas Artisan's Market, which features nearly 100 artists and artisans who specialize in clothes, paintings, and natural body products, to name just a few.
The market only runs on a few days out of the year, typically in late November, so make sure to check the website to see what days and times you can go. Plenty of food and drinks will be on hand, and the small admission fee benefits the Canmore Preschool Society.
The 2022 Canmore Christmas Artisans Market runs from  November 19 & 20, 2022 (10am to 4pm) at the Canmore Senior's Centre (600 9th Street) and Canmore Civic Centre (902 7th Avenue). Admission is $5.
---
Canmore Winter Carnival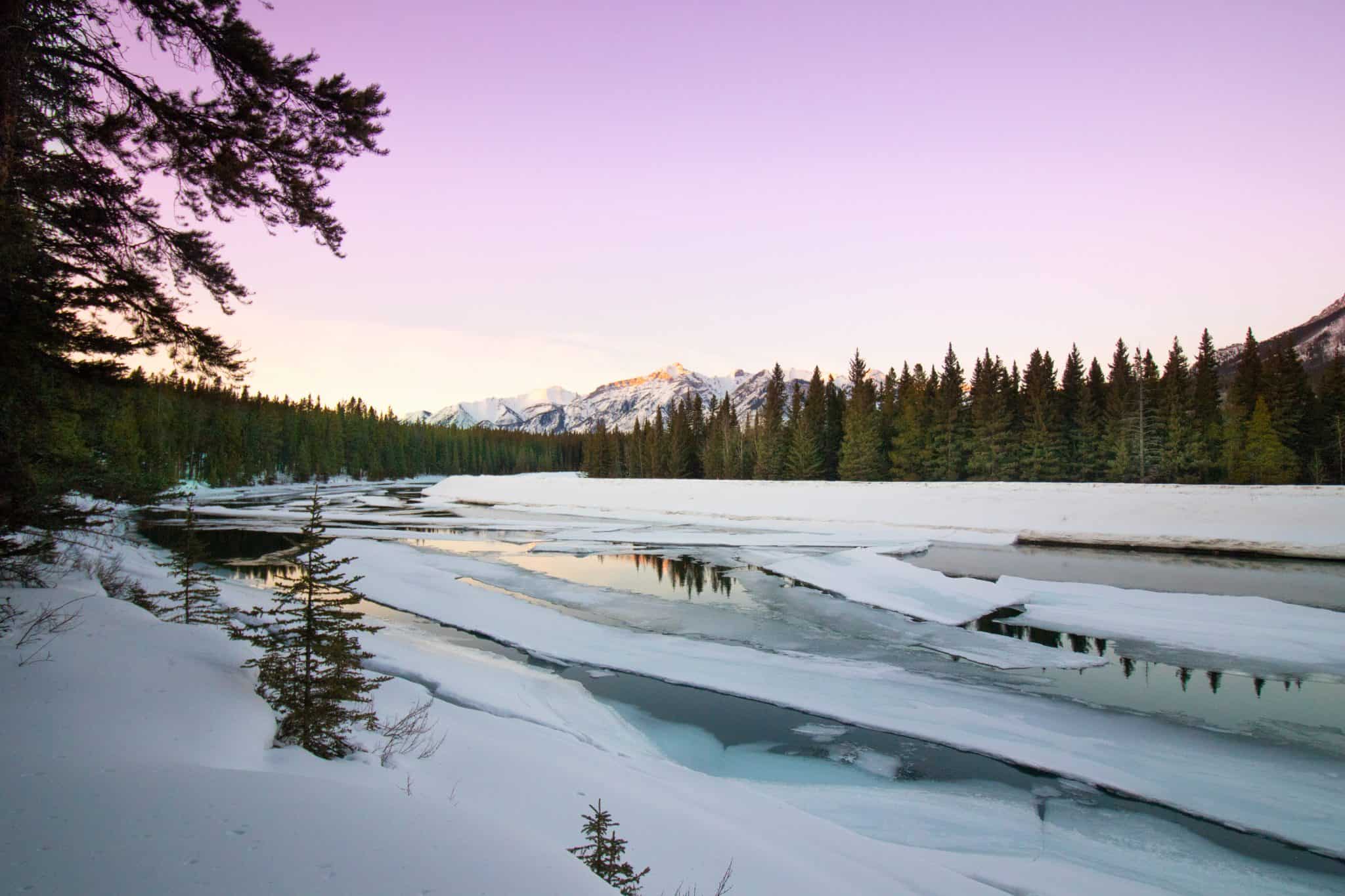 Every winter in Canmore, there's a winter carnival that takes place in the first two weeks of February to celebrate the coldest months. The carnival is a wonderful and quirky mix of events, games, races, and activities, all of which are somehow associated with winter.
There are lots of activities to participate in. If you're not in the mood, you can take a casual stroll, eat and drink to your heart's content, people watch, and take in events like hockey, ice carving, the lumberjack competition, and even the dog parade.
---
Venture Into Banff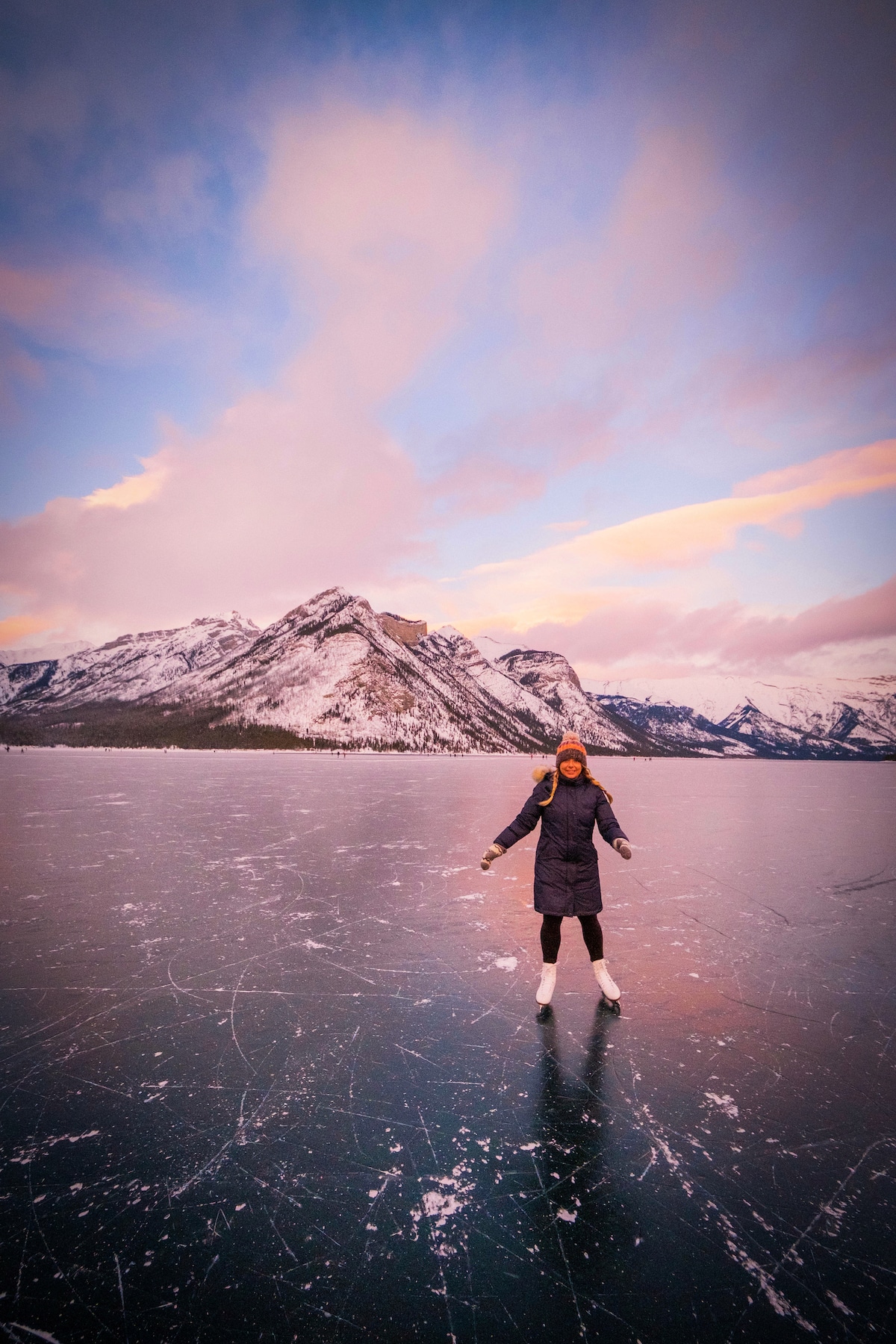 Seeing that you're in Canmore in winter you'll likely also be visiting Banff National Park, just a short drive away. There are many things to do in Banff in the winter, from wandering around downtown into The Spirit of Christmas store, to taking a horse drawn carriage around the town.
Some of my favorite places to head in Banff that are just a short drive away from Canmore are Lake Minnewanka, Two Jack Lake, and Vermilion Lakes.
---
Where to Eat in Canmore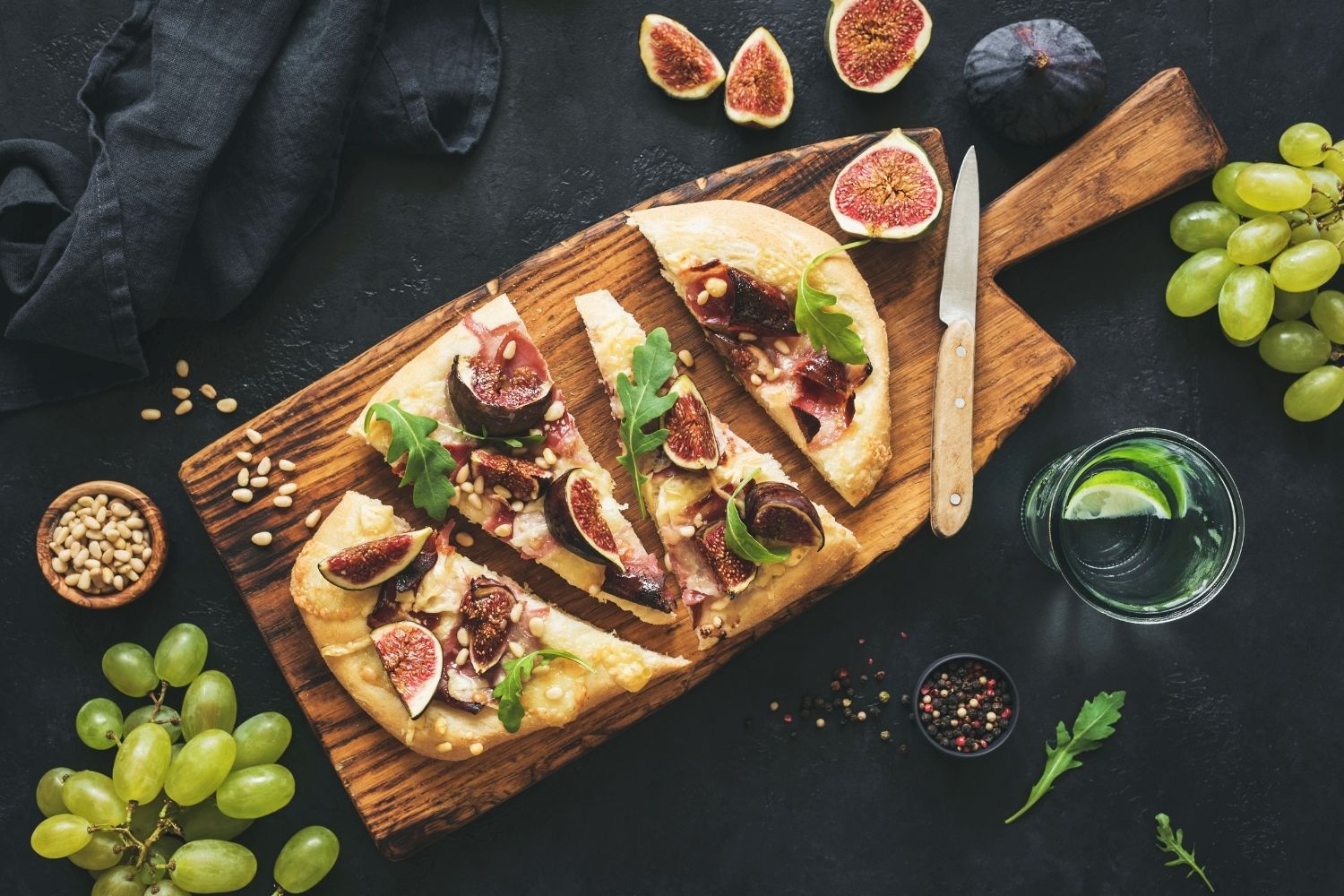 Communitea: For a quick and fresh bite to eat at lunch I typically turn to Communitea. They offer up delicious salads, breakfast bowls, and the best Pad Thai in the town.
Where the Buffalo Roam Saloon: Epic spot on Main Street for cocktails and a dinner out with friends.
Tavern 1883: Hands down Tavern 1883 does the best burgers in Canmore. It's a lively scene here, especially during the holidays.
---
Visiting Canmore vs. Banff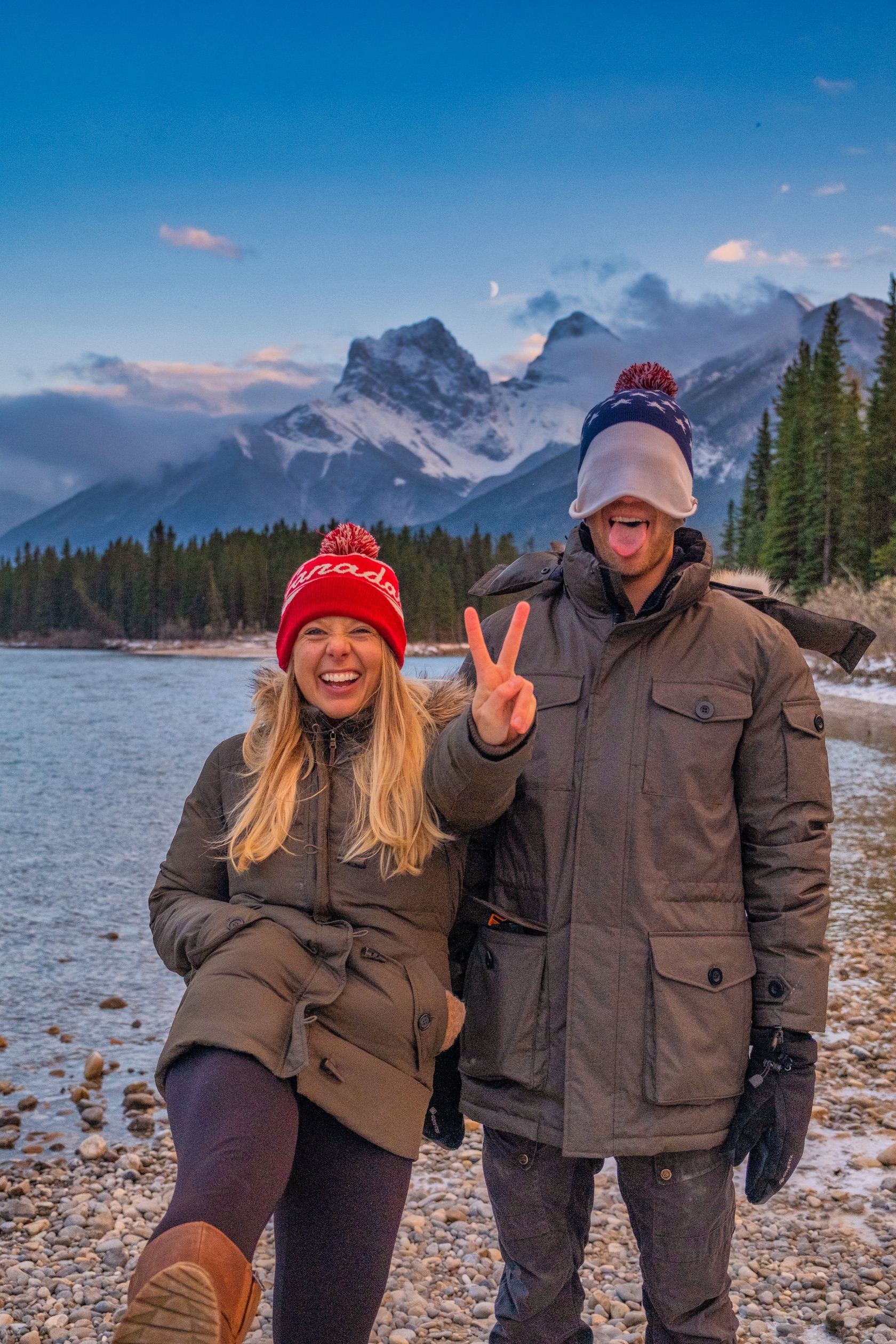 Canmore and Banff are both popular tourist towns but have very different vibes and things to offer. Canmore is a town of nearly 15,000, while Banff is around 8,000. Banff is located in Banff National Park and thus has more building and development regulations.
Banff Over Canmore
Banff is geared more towards tourism with more shops, hotels, activities, and sights. The town is surrounded by the National Park and provides amazing access to outdoor activities. Of course, all of this draws in a massive crowd, and there are several kitschy things like cheap souvenir shops, McDonald's, Ruby Tuesdays, Chilis, and cheesy candy shops.
There are also some great independent retailers, restaurants, and they have some big brand name outdoor shops hard to find like FjallRaven, Patagonia, The North Face, and Helly Hansen.
Canmore Over Banff
Canmore is a more liveable town with two large grocery stores, drugstore, Canadian Tire, and more independent retailers. Some also prefer the food scene in Canmore as it is geared towards locals and Calgarians, although that's not to say that Banff doesn't have some fabulous restaurants.
Downtown Canmore is popular on weekends, but it's much more manageable with far fewer crowds than Banff. If you want a low-key mountain town vibe, then Canmore is an excellent choice for you.
---
Where to Stay in Canmore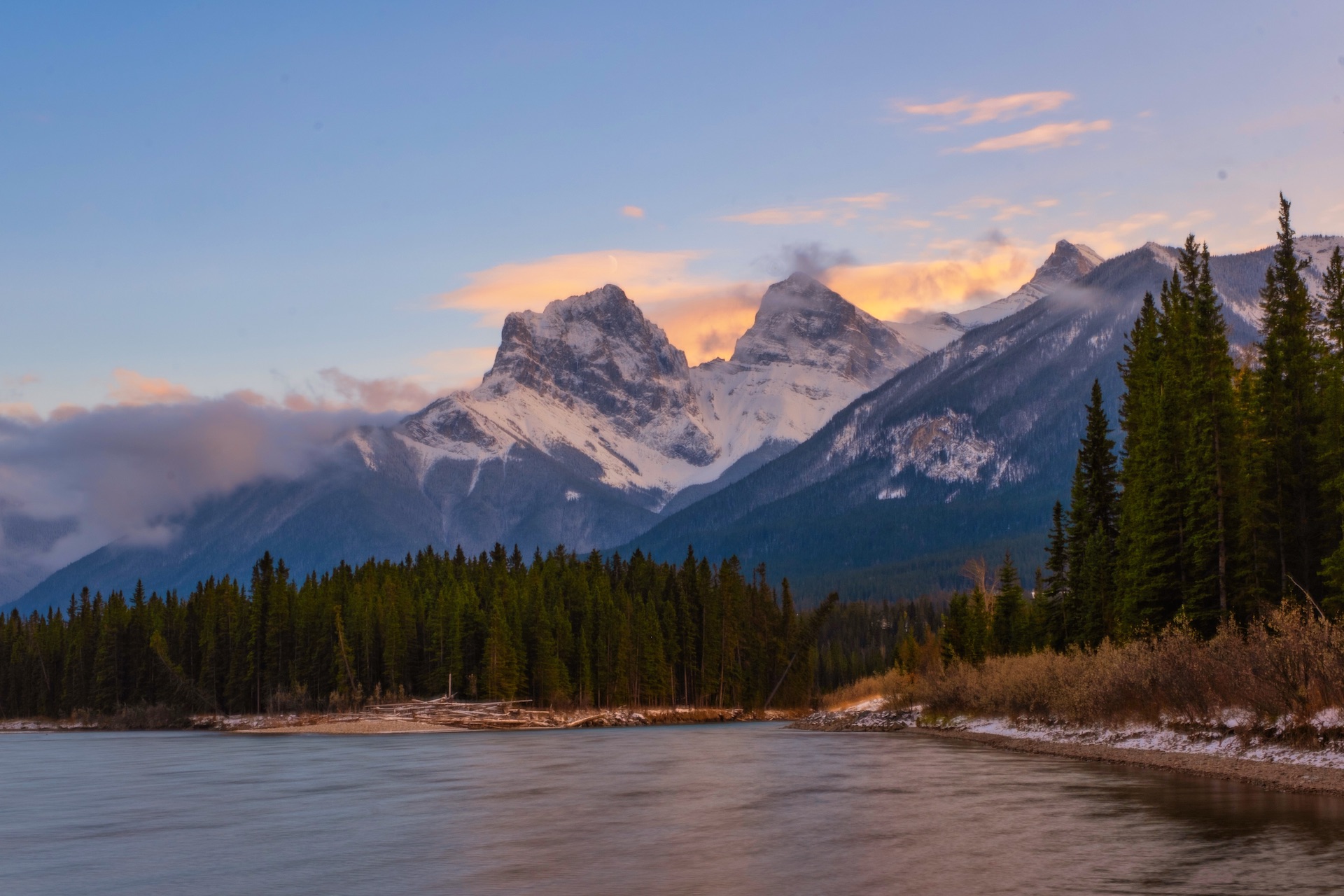 While you're enjoying all these things to do in Canmore in the winter, you'll need a great base to stay at. Here are a few of our favorites.
Basecamp Resorts: One of the best places to stay in Canmore is Basecamp Resorts in Downtown Canmore. There are multiple apartment styles to stay in, many can accommodate larger groups of people. Complete with a hot tub to be enjoyed in the winter or summer.
The Malcolm: The Malcolm Hotel is the nicest hotel in Canmore and sits right along Policemen's boardwalk just far enough away from the hustle of Downtown. It's a fantastic place to stay and have a unique experience in Canmore.
---
---
Plan Your Trip to the Canadian Rockies
↓ Join the community ↓
The Banff Blog Facebook Group is your headquarters for the Canadian Rockies' travel advice and information. Including hike info and off-season travel information. This is also where you can meet one another when you need adventure buddies.