Seeking out the best Canmore restaurants or wondering where you should eat in Canmore? We share our favorite spots in our little picturesque mountain town. While most mountain towns might struggle to supply visitors with a wide selection of restaurants, that is certainly not the case in Canmore.
You can find various cuisines, restaurants, price points, and places to eat in Canmore. A few of our absolute favorites are Rocket Pie for pizza, Ramen Arashi for affordable comfort food, and The for Sensory for views. No matter what, there's a place to dine for everyone. These Canmore restaurants are the perfect place to fill yourself up after a long day exploring the wild Canadian Rockies.
*Please make reservations at these Canmore restaurants when possible, especially during the summer and on weekends.
---
Must-Try Foods in Canmore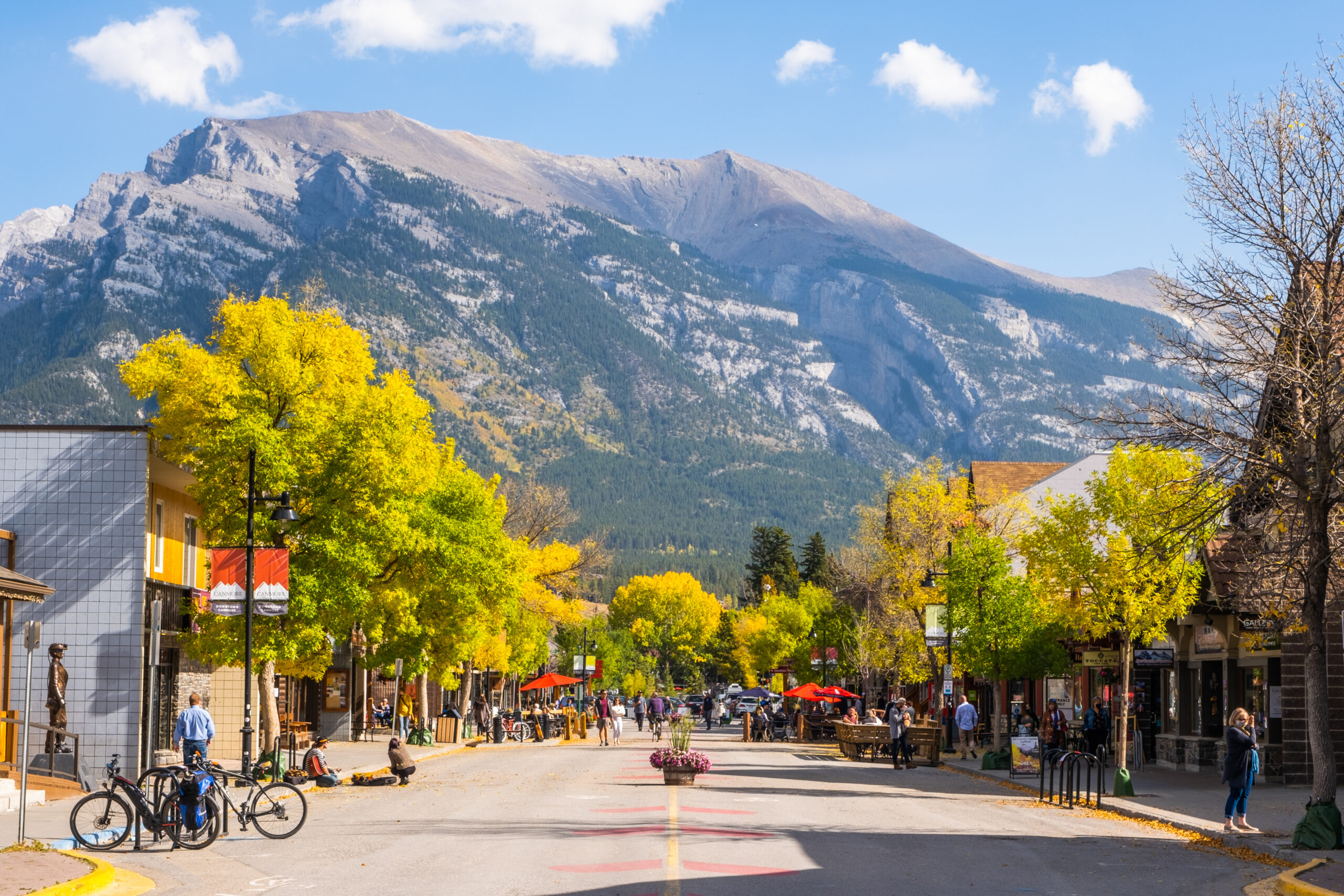 While it's tough to consider these items "local Canadian Rockies food" or uniquely Canadian, there are some classic staples to try while visiting. If you see these on the menu of any of the Canmore restaurants you visit, make sure to order!
Fondue: Many restaurants serve up this classic mountain dish originating from Switzerland. This is partly because of the Swiss influence on the Canadian Rockies. Besides being in Switzerland, there is nothing better than fondue in the Rockies.
Poutine: Along with maple syrup, there is possibly nothing more Canadian than poutine. It's the ultimate, savory late-night dish that's become ubiquitous in Canada.
Beavertail: A beavertail is right up there with poutine as a quintessential Canadian food item. It's not some beautiful culinary feat as it comes from a chain found throughout Canada. However, the crispy, spongey, and sweet fried "beavertails" are delicious. There is a Beavertail shop inside Rusticana on Main Street.
Alberta Beef: While steak is far from revolutionary, the beef industry and cowboys have long been a staple of Alberta.
Wild Game: With its rich ranching and exploration history, the concept of wild game is still prevalent in Alberta. Many Albertans enjoy elk and deer hunting when in season (not in the park), and you'll find a wide range of restaurants that serve wild game on the menu.
---
The Best Canmore Restaurants
---
The Sensory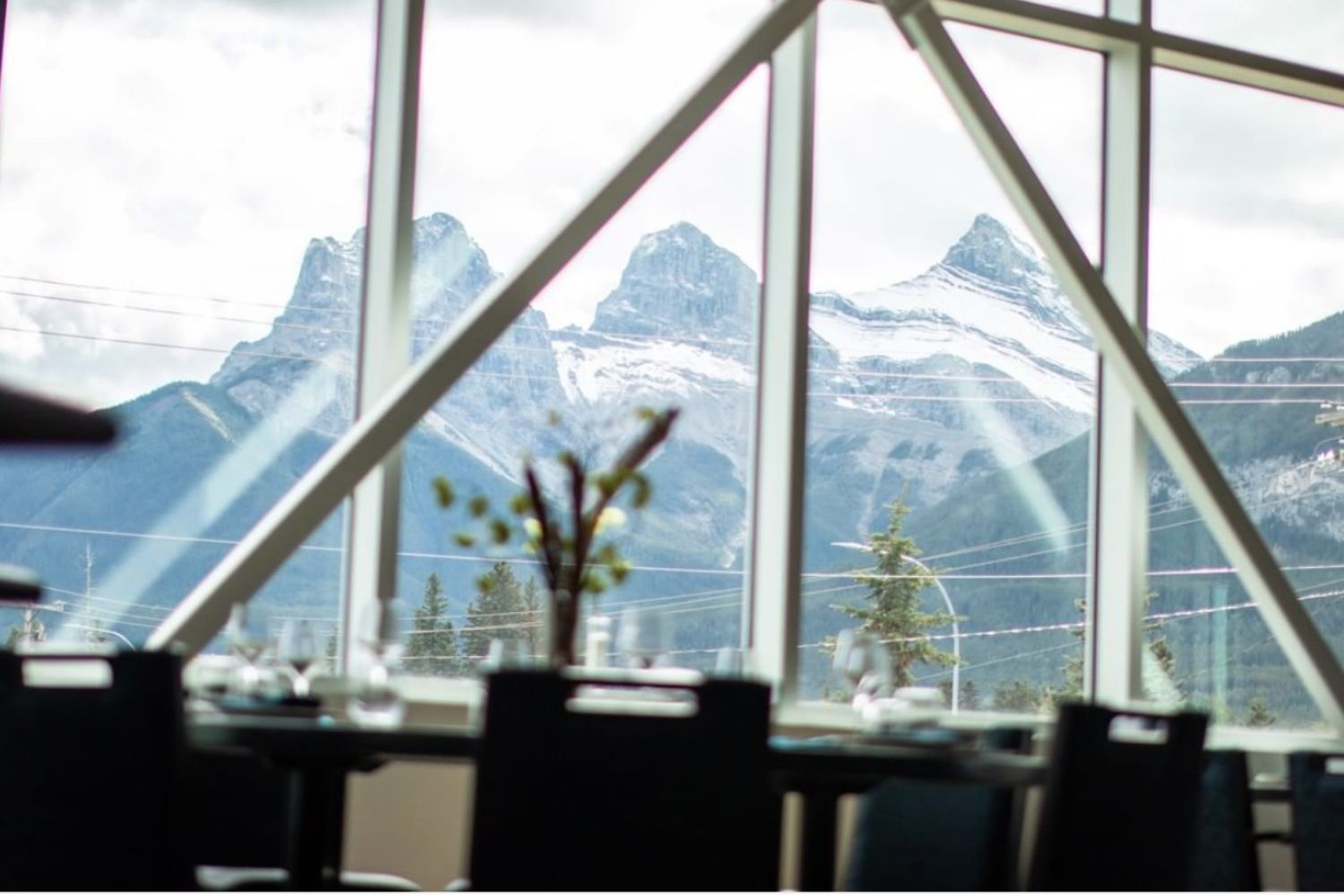 Cuisine: Modern American with Mountain Views
Price: $$$
Address: 101-300 Old Canmore Rd (GPS)
For fine dining in Canmore and one of the best Canmore restaurants, look no further than The Sensory. This is one of the best Canmore restaurants with a view! Great for group outings or date nights, The Sensory was shortlisted for one of Canada's Best New Restaurants.
Their menu is mountain-inspired, with items like Elk Osso Bucco and Beef Ribeye as mains. We recommend the Baked Goat Cheese and Mushroom Tartar for starters.
The Sensory has a decent wine selection (they even have wine flights!) and innovative cocktails. Perhaps what they are most well known for is that you can enjoy a refined dining atmosphere surrounded by all the gorgeous Alberta mountains.
They are only open in the evening, and reservations are highly recommended. So that you can take advantage of the views while you dine, we recommend booking an hour or so before the sun sets.
---
Crazyweed Bistro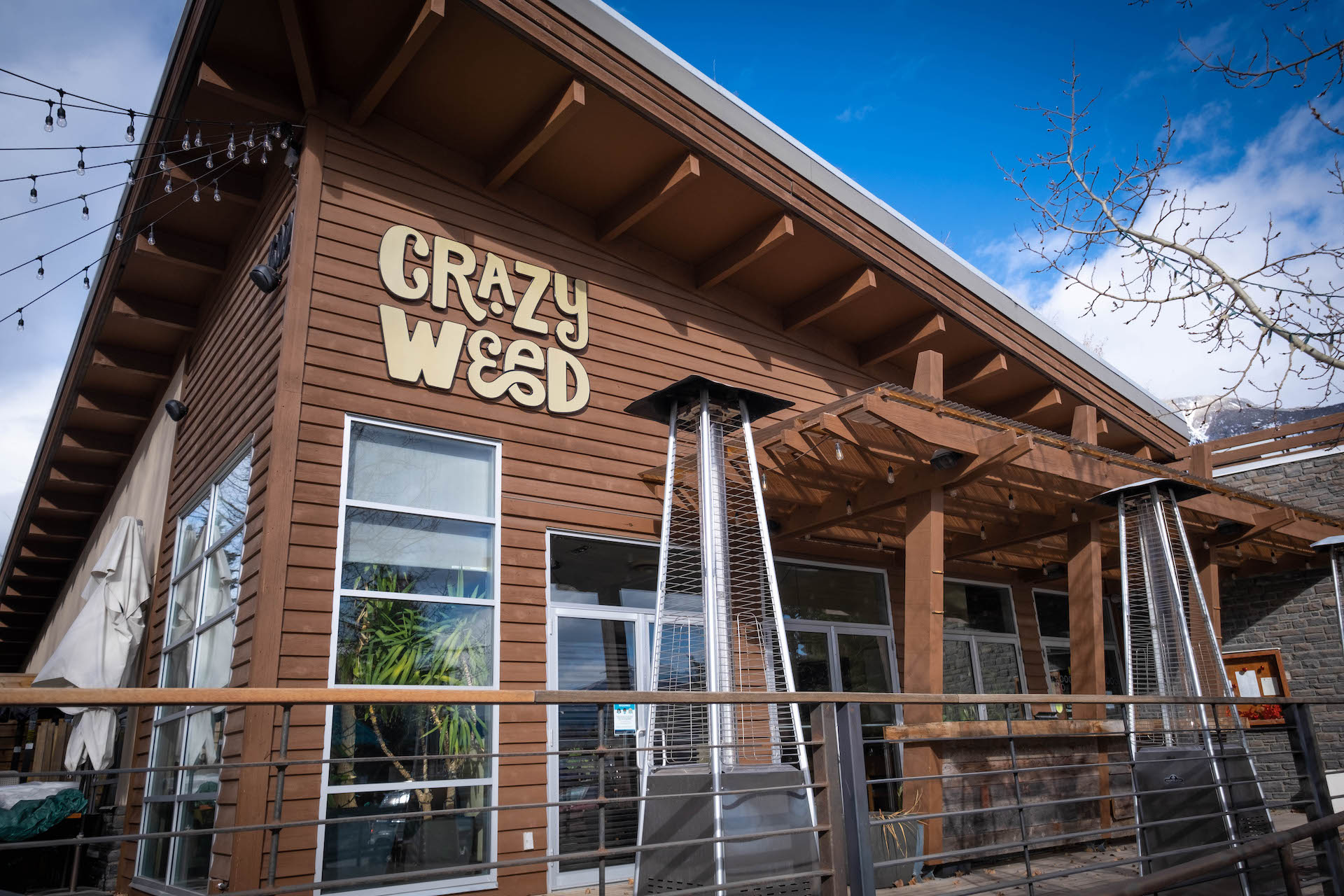 Cuisine: Healthy Fusion
Price: $$$
Address: 1600 Railway Ave (GPS)
Crazyweed has been a hit since it opened its doors in Canmore, and we find it one of the best places to eat in Canmore. It's a casual eatery with many dishes to choose from. The menu is eclectic, and it feels like the owners just picked out all their favorite dishes from around the world.
On the menu, you'll find poke bowls, gnocchi, Thai grilled chicken, labneh, chorizo con queso, Alberta steaks, pickle marinated fried chicken, and pan-seared arctic char. Your guess is as good as ours as to what category all of that falls into; let's just call it good food.
---
Wood Restaurant
Cuisine: Bar and Pub
Price: $$
Address: 838 8 St
The Wood makes this list of Canmore restaurants because of their laid-back atmosphere, unassuming food, and for having the best terrace in town.
If it's a beautiful day in Canmore, The Wood Patio is where you want to hang out. Located right at the corner of 8th Street and 8th Ave, views don't get much better than here, as it's one of the best Downtown Canmore restaurants.
It's a fantastic place to head with friends for a drink after a mountain bike ride or a hike at Grassi Lakes. Some of their best-sellers are Korean Fried Chicken Sandwich and Crispy Yam Fries!
---
Rhythm and Howl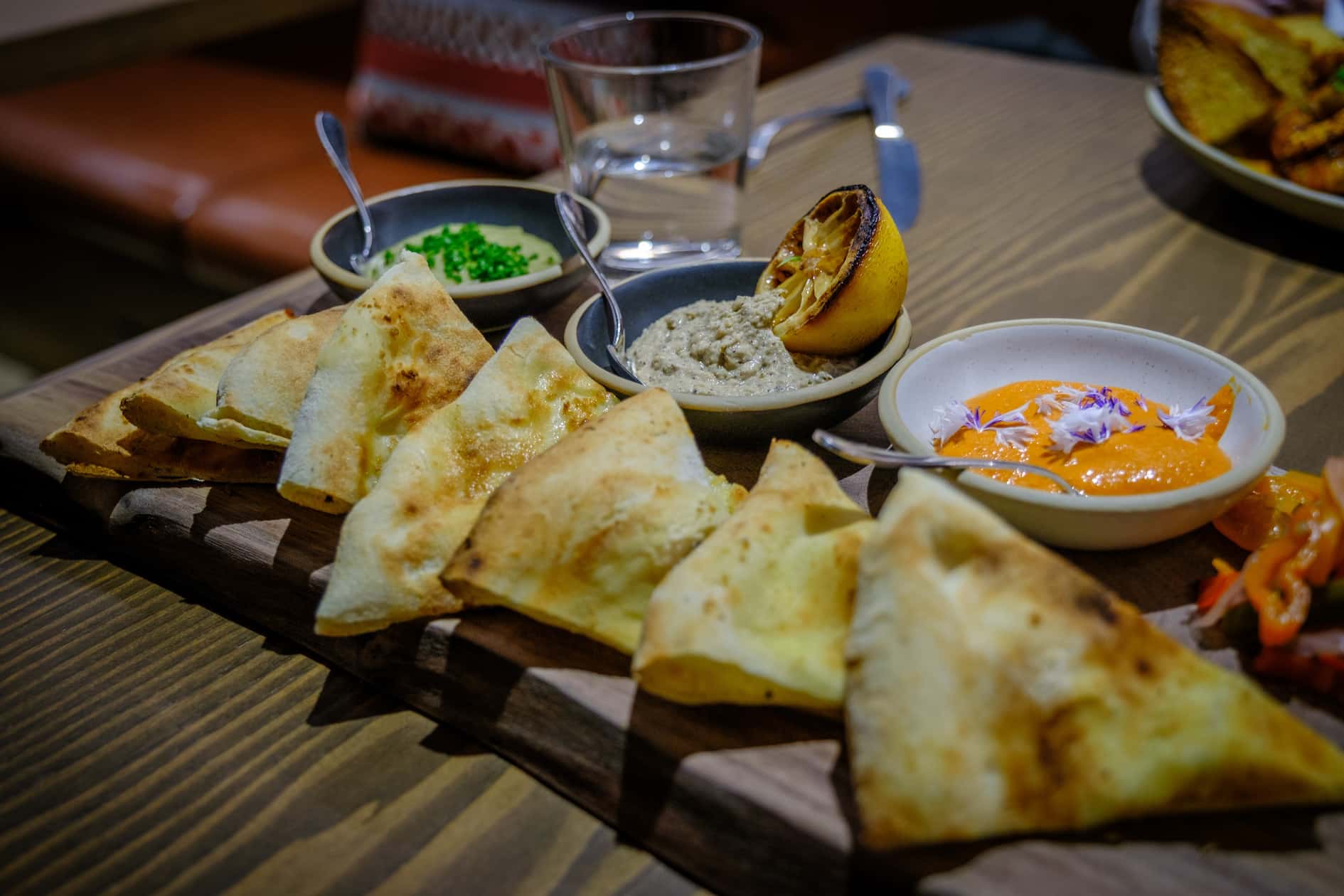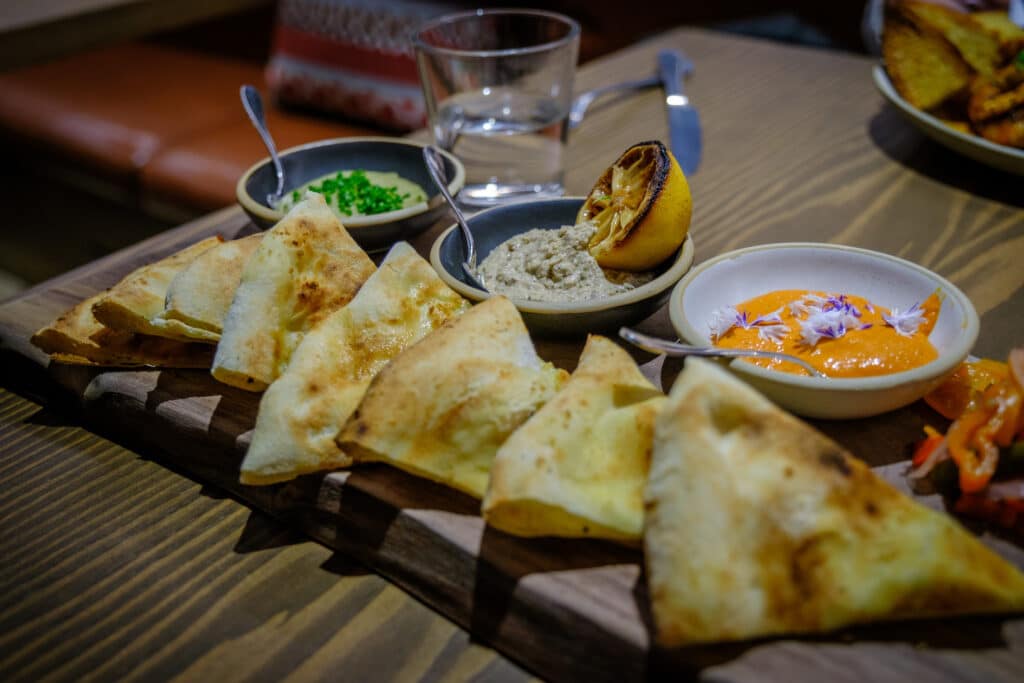 Cuisine: Upscale Canadian
Price: $$$
Address: 1 Silvertip Trail
Rhythm & Howl is Canmore's newest culinary destination, located just a short drive away from Downtown Canmore. It's ideal for those visiting the Rockies with a vehicle. Rhythm & Howl is a 90-seat upscale restaurant located in MTN House By Basecamp.
Here, you'll find a commitment to environmental harmony, as the restaurant embodies a farm-to-table ethos, exclusively showcasing the finest locally sourced, sustainable ingredients. Stand-out dishes include the Bison Surf and Turf, Hanger Steak, and Elk Carpaccio!
What we love most about Rhythm and Howl are their amazing everyday specials. Every day there is a 3-Course Lunch Special on offer for just $25. For those who just want a quick drink with friends, they offer an amazing daily happy hour special from 3pm – 6pm and 10pm – 11pm where you can get 50% all cocktails, beers, and wine!
---
Ankor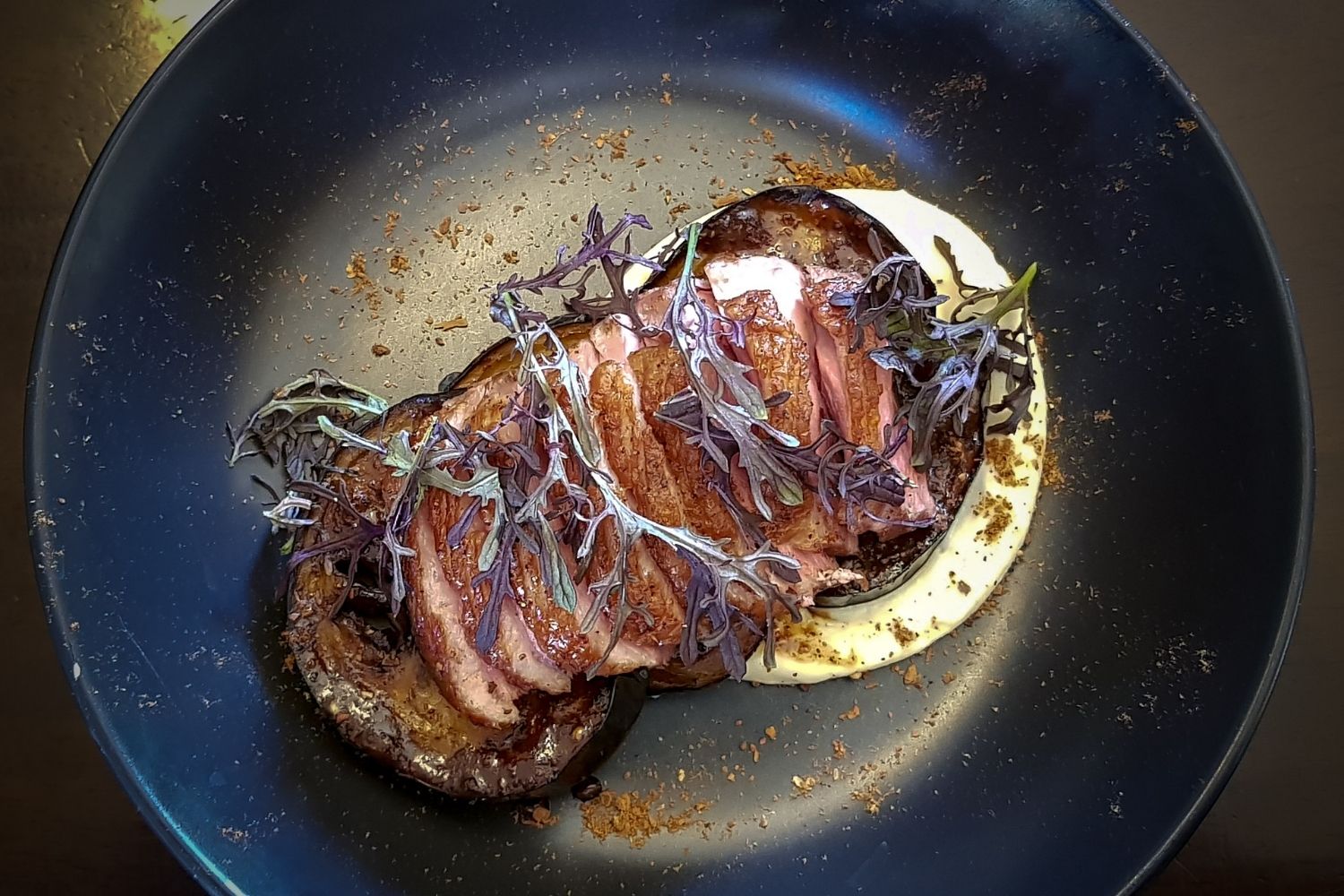 Cuisine: Upscale Modern
Price: $$$-$$$$
Address: 1430 2 Ave Unit 103
One of the top-rated Canmore restaurants is Ankor. This relatively new restaurant opened in the fall of 2020 and prides itself on showcasing a sustainable approach to contemporary Canadian cuisine.
The Chef/Owner will tantalize your senses in this modern fine dining atmosphere. With many visitors thinking they are at a Michelin-starred restaurant in Europe, you can't go wrong here.
Ankor always has a solid food presentation, a hip and inviting Canmore dining setting, and a menu sourced from local ingredients. We highly recommend trying the Dry Aged Duck Breast and beet appetizer, but their menu changes frequently.
---
Sauvage Restaurant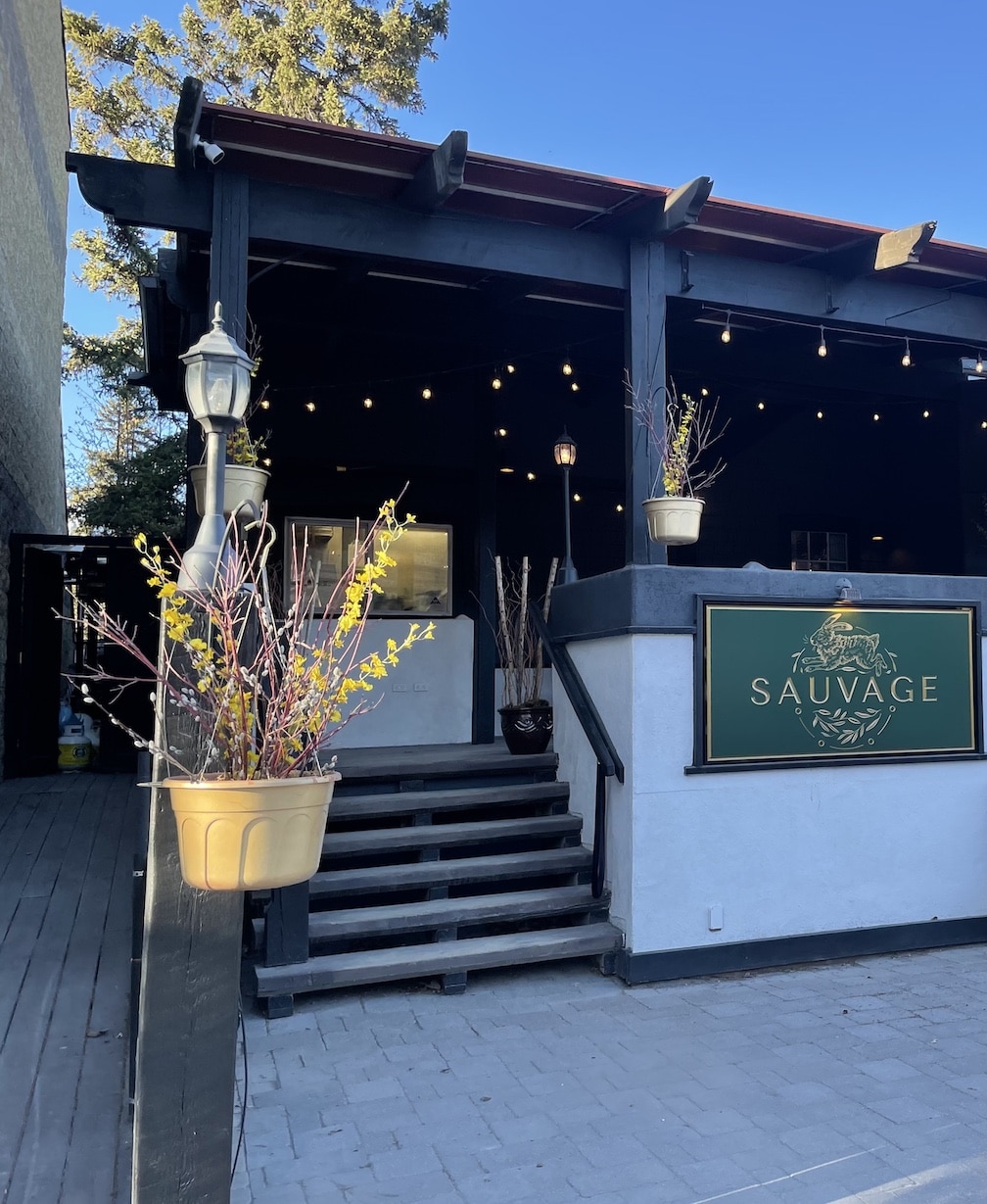 Cuisine: Foraged, local & seasonal sharing plates
Price: $$$
Address: 633 10 St
Said to be the most romantic restaurant in Canmore, perhaps all of Alberta is Sauvage. Sauvage is tucked off Main Street in Downtown Canmore, right next to the Paint Box Lodge.
Sauvage is best known for its Chefs' Tasting Menu. For $90, diners can indulge in a seven-course meal. Paired with a nice bottle of wine, it makes for a lovely evening out and where one should come if they are celebrating a honeymoon in the Rockies.
There are two main tasting menu offerings; The Hunter (meat embellished menu) and the Gatherer (plant-based menu.) Reservations are encouraged!
---
4296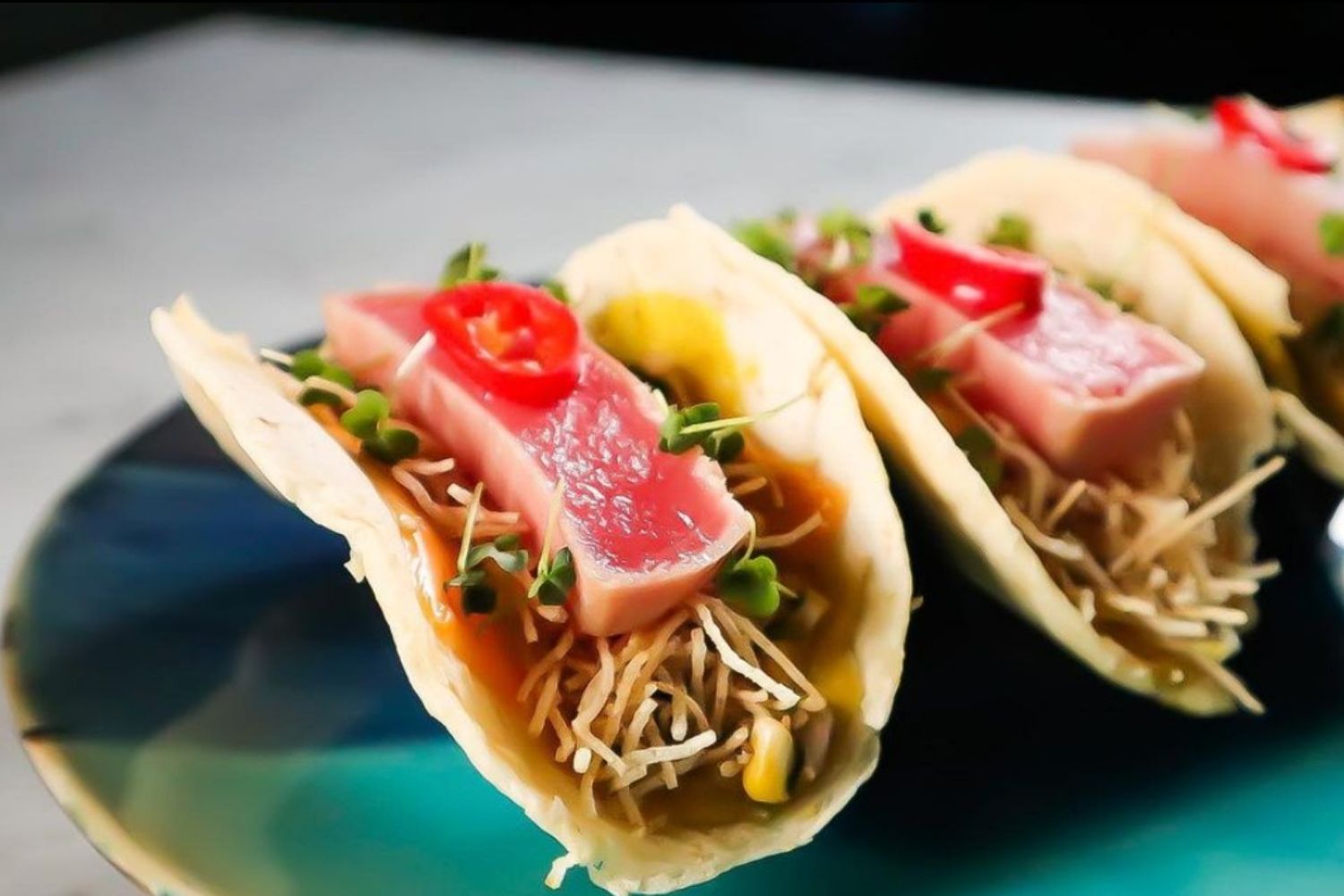 Cuisine: Global Pop Culture Cuisine
Price: $$$
Address: 626 8 St Unit 3
Call for Reservations (403-688-4296)
Just next to Grizzly Paw Brewing and Where the Buffalo Roam is this tucked away restaurant. 4296 is elevated dining great for a nice evening out. They serve up hip cuisine and cocktails you wish you could make yourself.
Not only is the food here insta worthy, but they have different sized dishes catering to you. Small, medium, and large plates are available, so you never have to worry about ordering too much (though you'll probably think you ordered too little once you tried this place!)
Some of my favorites are the Vietnamese TarTar, Waygu Flank, and the Beef Yakitori. Stay a little after dinner and find Bar Deja Vu, a speakeasy with an entrance hidden behind a trick mirrored door in the back of 4296.
Enter and you'll forget you are even in a Canadian mountain town and think you are in a hip NYC underground establishment. Go on and try to find it!
---
The Market Bistro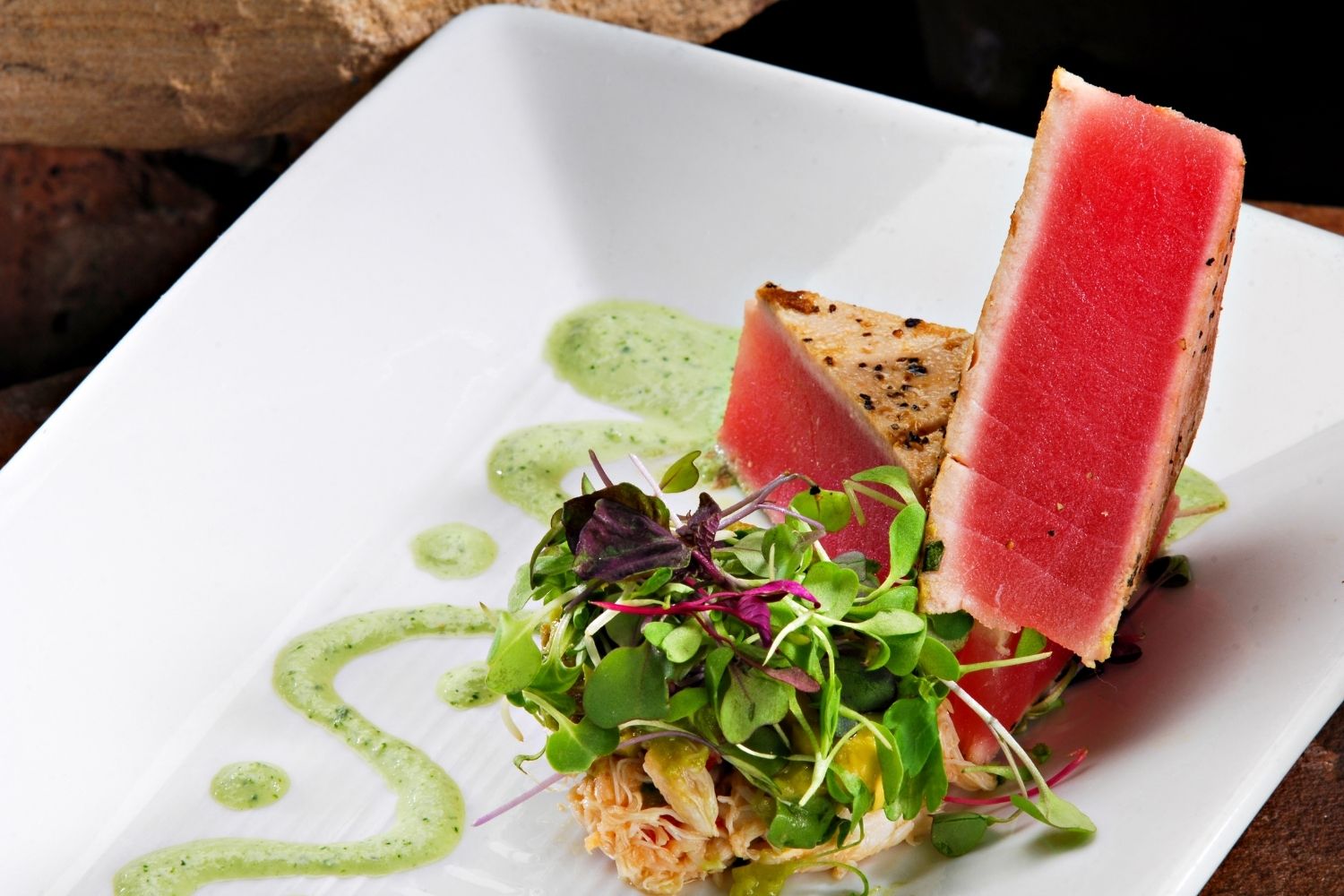 Cuisine: Family-Run French-inspired bistro
Price: $$-$$$
Address: 75 Dyrgas Gate #102
Visit our neighborhood stomping grounds! The Market Bistro is in the Three Sisters Neighborhood outside of the center of Canmore.
The owners are from Quebec and France and modeled the bistro after the popular restaurants found in France. You can also check out the wine store next store called Unwind for a great bottle.
---
Mumbai Local Modern Indian Cuisine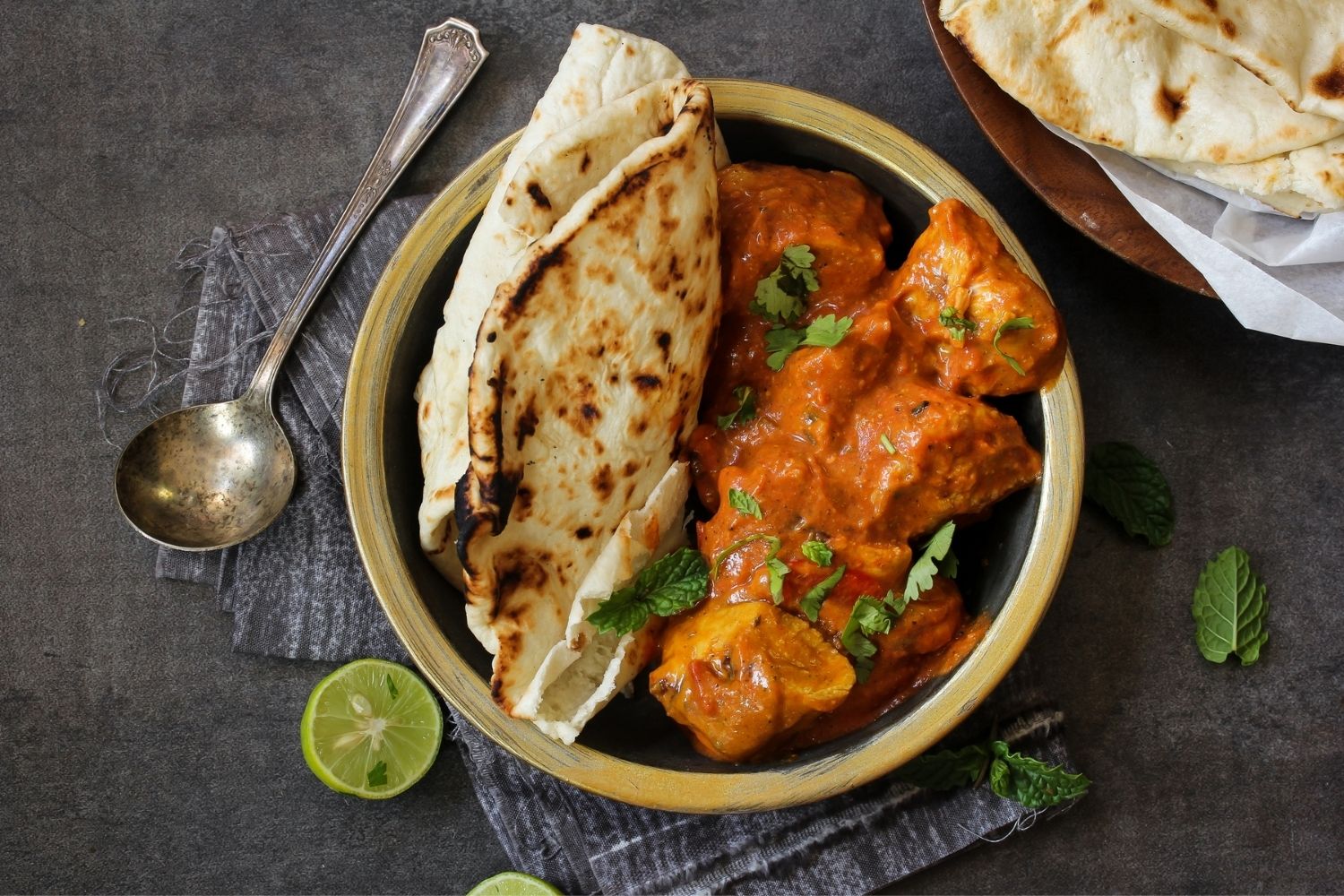 Cuisine: Modern Indian
Price: $$
Address: 101-837 8 St
Mumbai Local is a new Indian restaurant right on Main Street. You don't have to venture all the way to Calgary for delicious Indian food anymore. Mumbai Local does delicious Indian classic dishes with a twist.
The staff here are delightful and really know their stuff and are so happy to bring modern Indian food to this little mountain town. Try the Short Rib Dosa – the flavors are out of this world!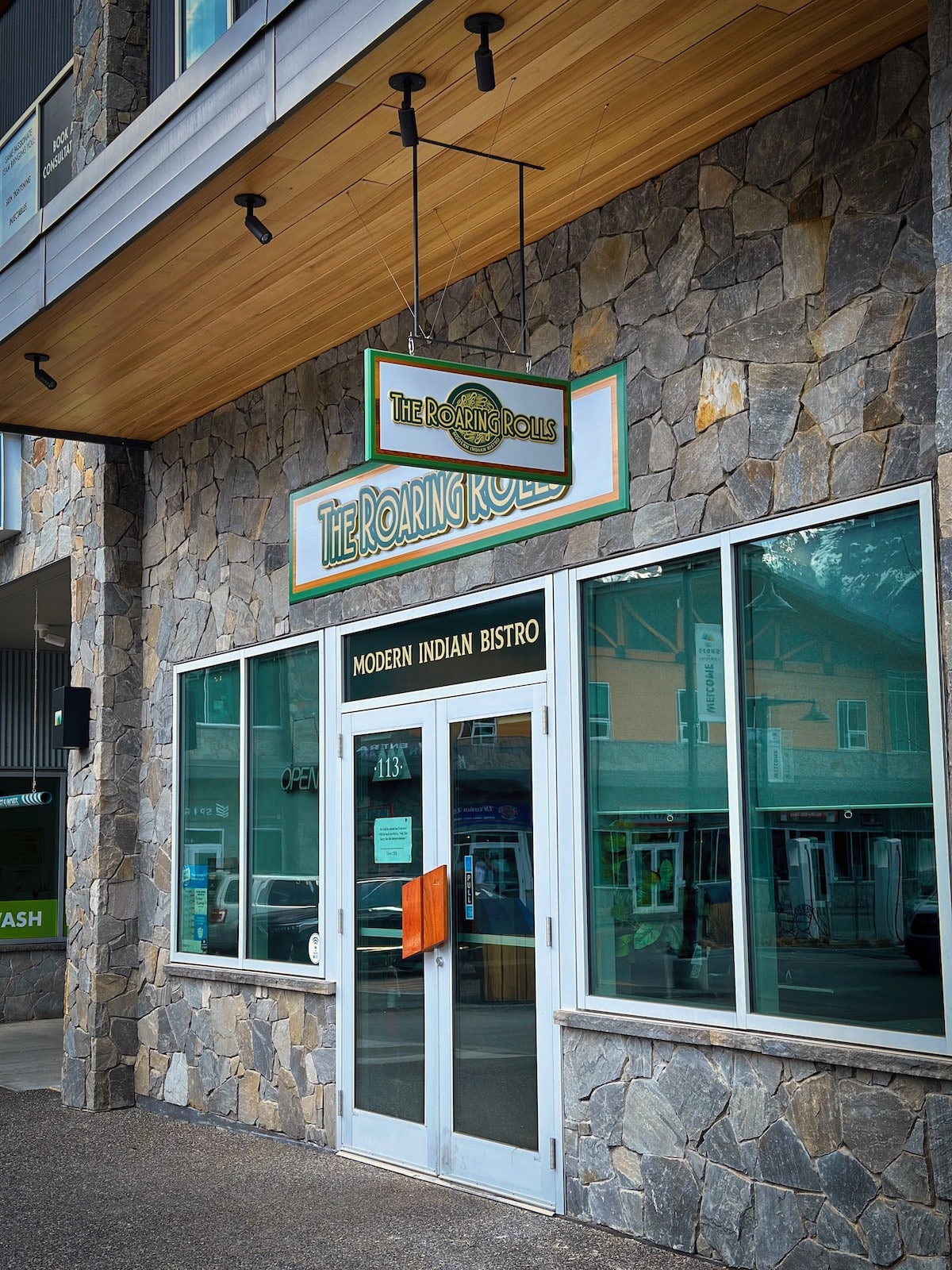 For a bit more modern Indian Cuisine, try The Roaring Rolls – their butter chicken is to die for!
---
Gaucho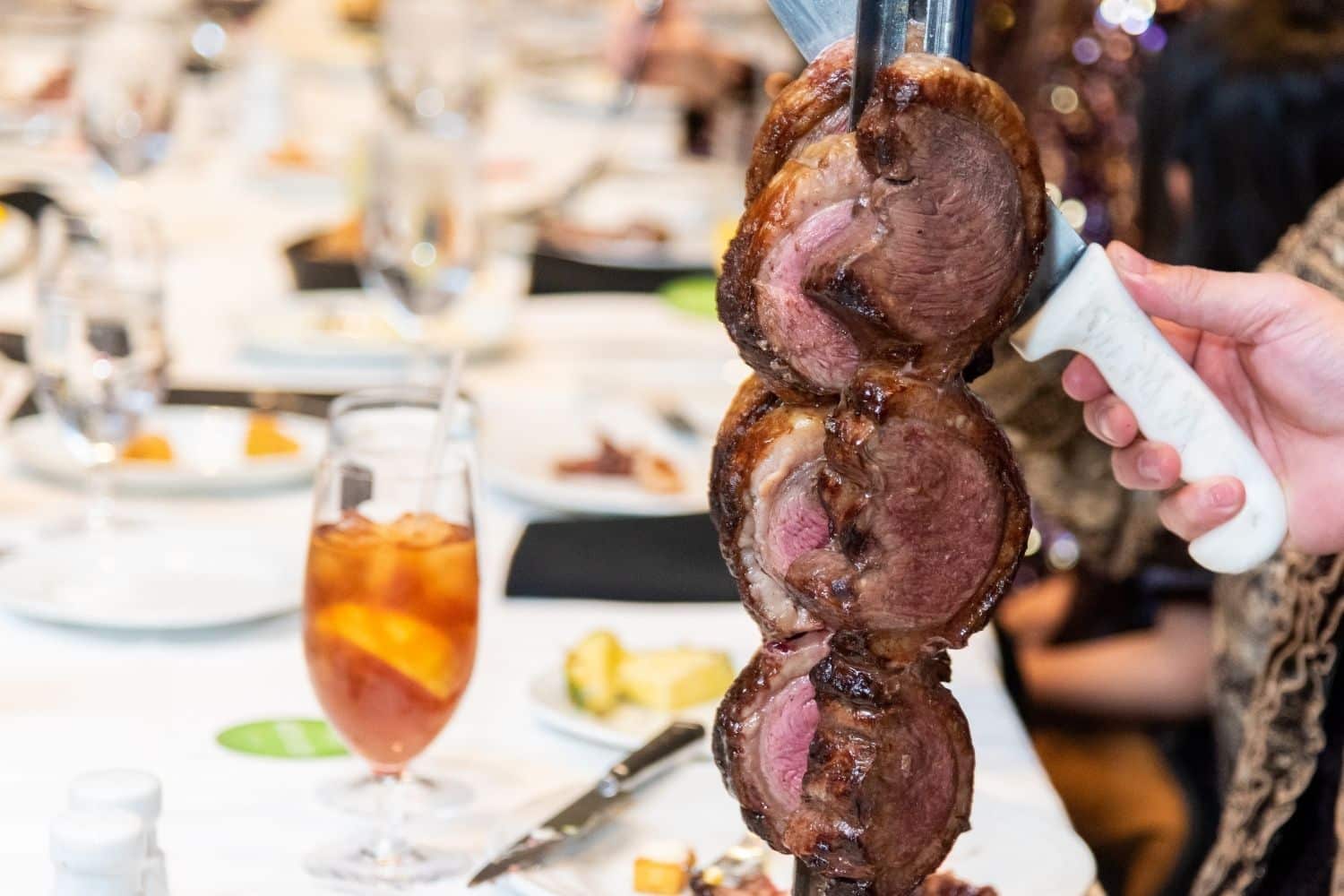 Cuisine: Brazilian Steakhouse
Price: $$$
Address: 629 8 St
Make reservations on website
It's hard to believe you can enjoy a fine Brazilian steakhouse in a small mountain town, but in Canmore, we have the amazing Gaucho Brazilian steakhouse.
In the middle of Main Street, you can have a special meal and be transported to Brazil. Watch this Canmore restaurant come alive with Brazilian traditions and some of the richest flavors.
The most common thing to order here is the Dinner Rodizio for $60. This is your entrance into the world of Brazilian bbq. Barbecue chefs will come around with massive Gaucho-style skewers, each with a tender selection of cuts like Picanha, Garlic Top Sirloin, Parmigiano Beef, Beef Ribs, Rosemary Pork, Honey Mustard Lamb, Barbecue Pineapple & Pão de Queijo.
There are too many to name! The meals all come with sides and a salad; it's a fantastic value in Canmore and best reserved for special occasions!
---
Ramen Arashi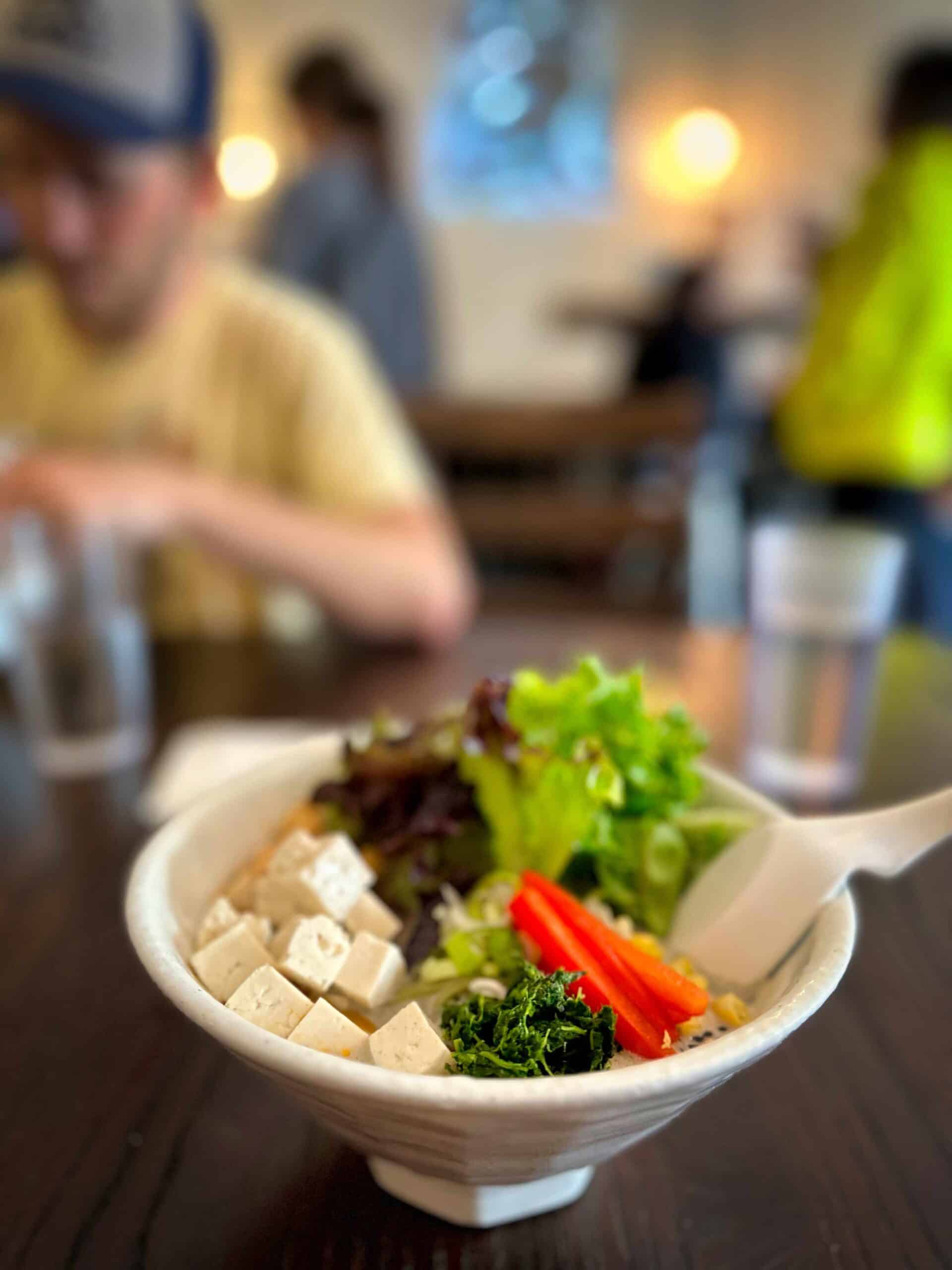 Cuisine: Japanese/Ramen
Price: $-$$
Address: 1000 7 Ave #105
First Come, First Serve
It took us a year of living in Canmore to realize we didn't need to fly all the way to Japan for authentic Japanese Ramen. Ramen Arashi is a fantastic spot where you can get huge bowls of ramen for under $15.
After a long day out hiking in the mountains, we always head here when we just want something quick, hot, and delicious. Our go-to is the Vege Tantan Men – the perfect cheap vegetarian meal in Canmore.
---
Thai House Restaurant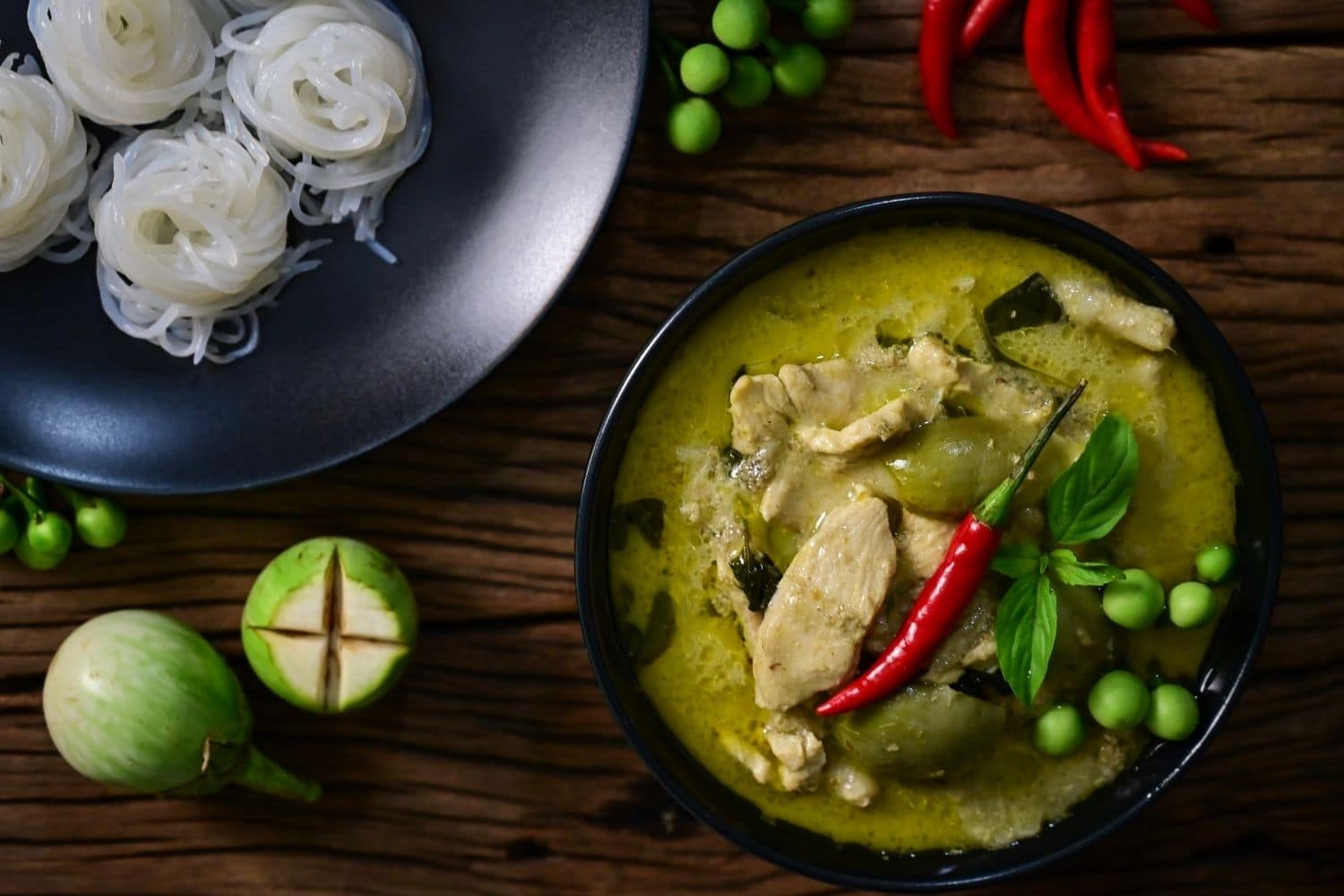 Cuisine: Thai
Price: $
Address: 1306 Bow Valley Trail #7A
For a long time, we craved good Thai food in Canmore and could never find it, leaving us to travel to Calgary. Then the small and unassuming Thai House Restaurant came to be!
Off the Bow Valley Trail, you can find Thai favorites like Pad Thai, Thai Ice Tea, and Green curry – All for an affordable price! This is one of the best Canmore restaurants for takeout, but there are a few seats inside in case you want to dine in.
---
Kain Tayo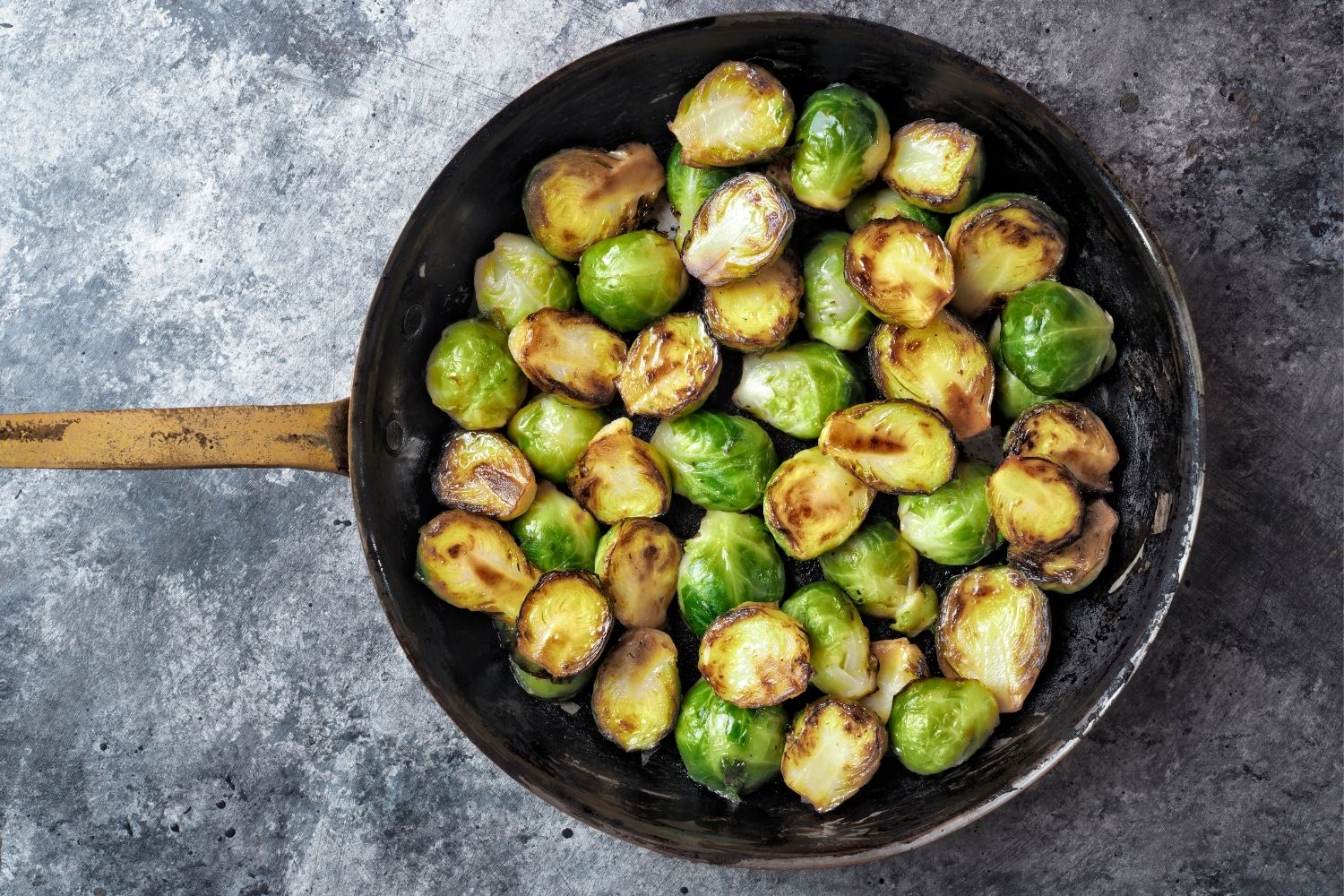 Cuisine: Asian Fusion
Price: $$$
Address: 725 9 St
Make Reservations (403-675-3345)
Kain Tayo means "Let's Eat!" in the Tagalog language. And that's exactly what you should do in Canmore's newest restaurant. This vibrant restaurant focuses on international street cuisine from places like Japan, The Philippines, and Bangladesh.
It's one of the most unique restaurants in Canmore and does a great job at creating inspiring and vibrant dishes.
They are open for lunch and dinner but also do a one-of-a-kind Sunday brunch!
---
Best Pubs and Bars in Canmore
---
Tavern 1883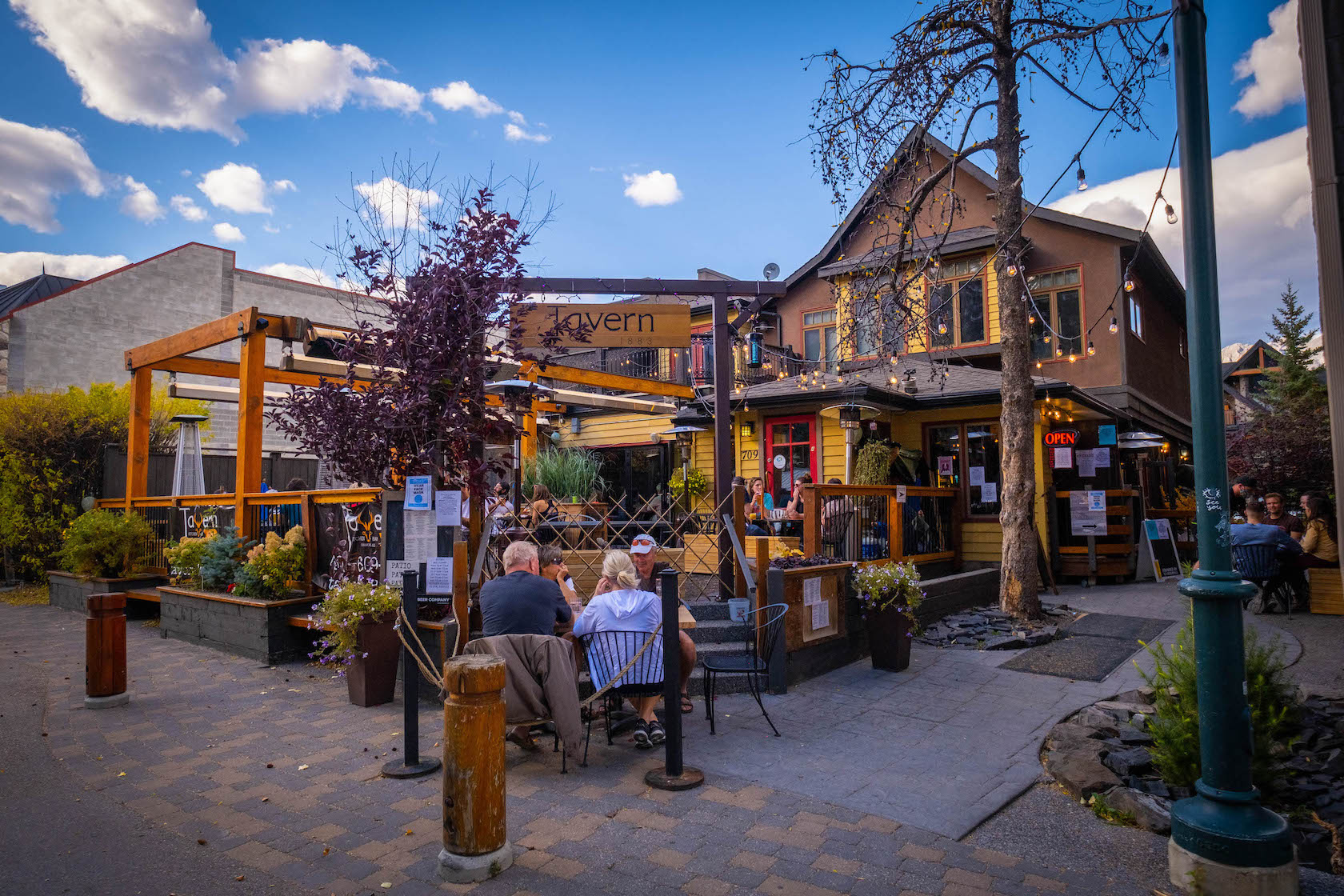 Cuisine: Bar Food
Price: $$
Address: 709 9 St
First Come, First Serve
Consider here when you are really stumped on where to eat in Canmore. This is one of our favorite restaurants in Canmore for its low-key atmosphere, delicious pub food, and rotating craft beers. While Grizzly Paw gets a lot of love from visitors, we love the range of beers from Alberta and BC you can find at Tavern 1883.
If you're looking for the best burger in Canmore and possibly all the Canadian Rockies, you can find it at Tavern 1883. They also host a ton of entertaining events such as a Jam Night, Trivia, and Bingo. Check out their social channels for the latest times and dates.
---
Where the Buffalo Roam Saloon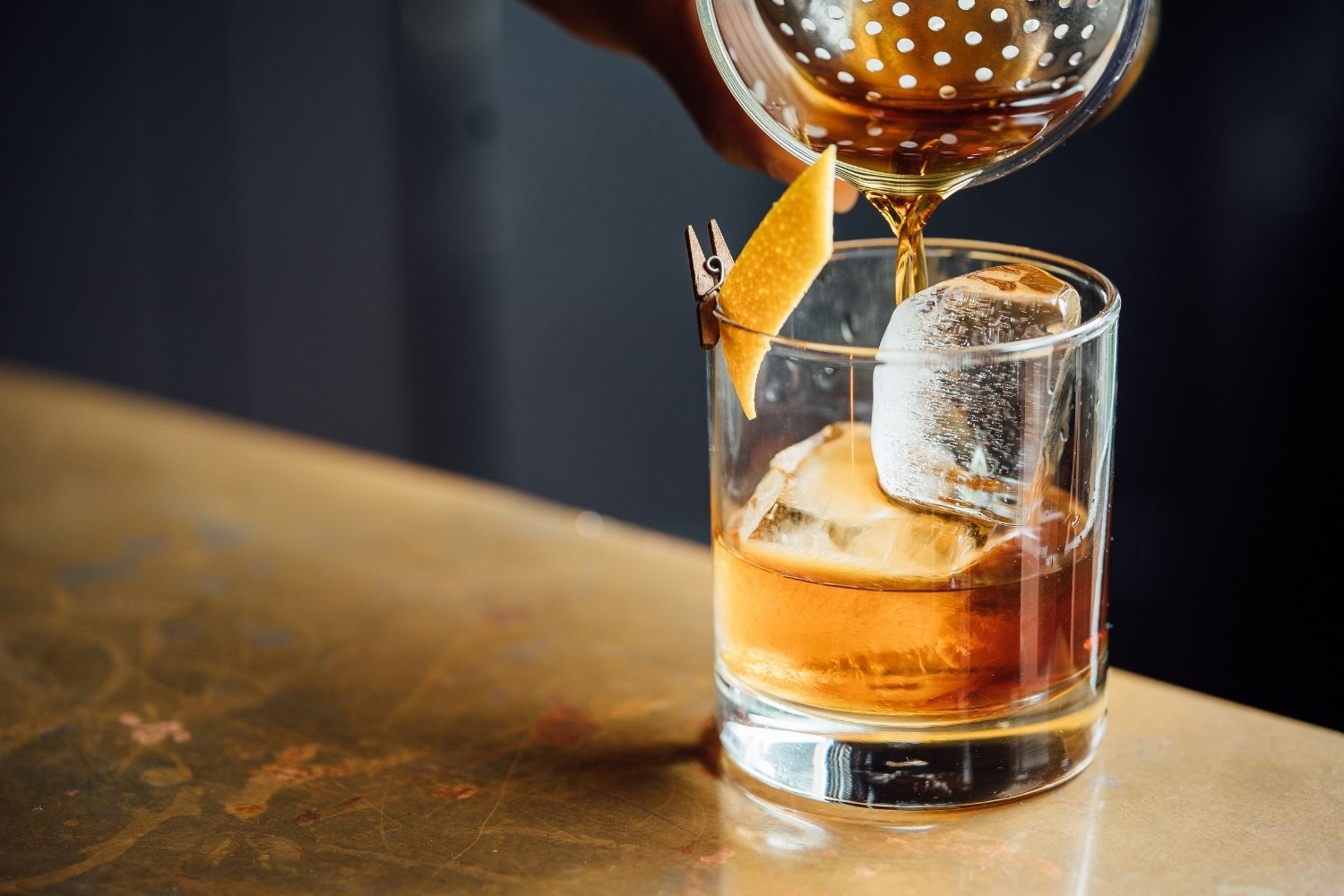 Cuisine: Cocktails and Upscale Bar Food
Price: $$-$$$
Address: 626 8 St #2
First Come, First Serve
I love Where the Buffalo Roam, and it's a fantastic bar and restaurant in Canmore. This saloon serves up the best craft cocktails in an intimate setting. Cocktails here are top-notch and inventive. Our favorites are the Thai One On and High Violet. Granted, it's tough to pick just one cocktail, so you just may need to sample multiple!
The Saloon also serves up some tasty food of modern bar bites. Expect to find dishes like gnocchi, short ribs, calamari, roasted veggies, duck wings, and burgers. It's perfect for a romantic meal or a lovely evening with friends.
They also serve a great Canmore brunch on Sundays from 10:00 a.m. to 2:00 p.m. A small outdoor patio is open year-round as they have some toasty heaters to keep you warm.
---
The Grizzly Paw Brewing Co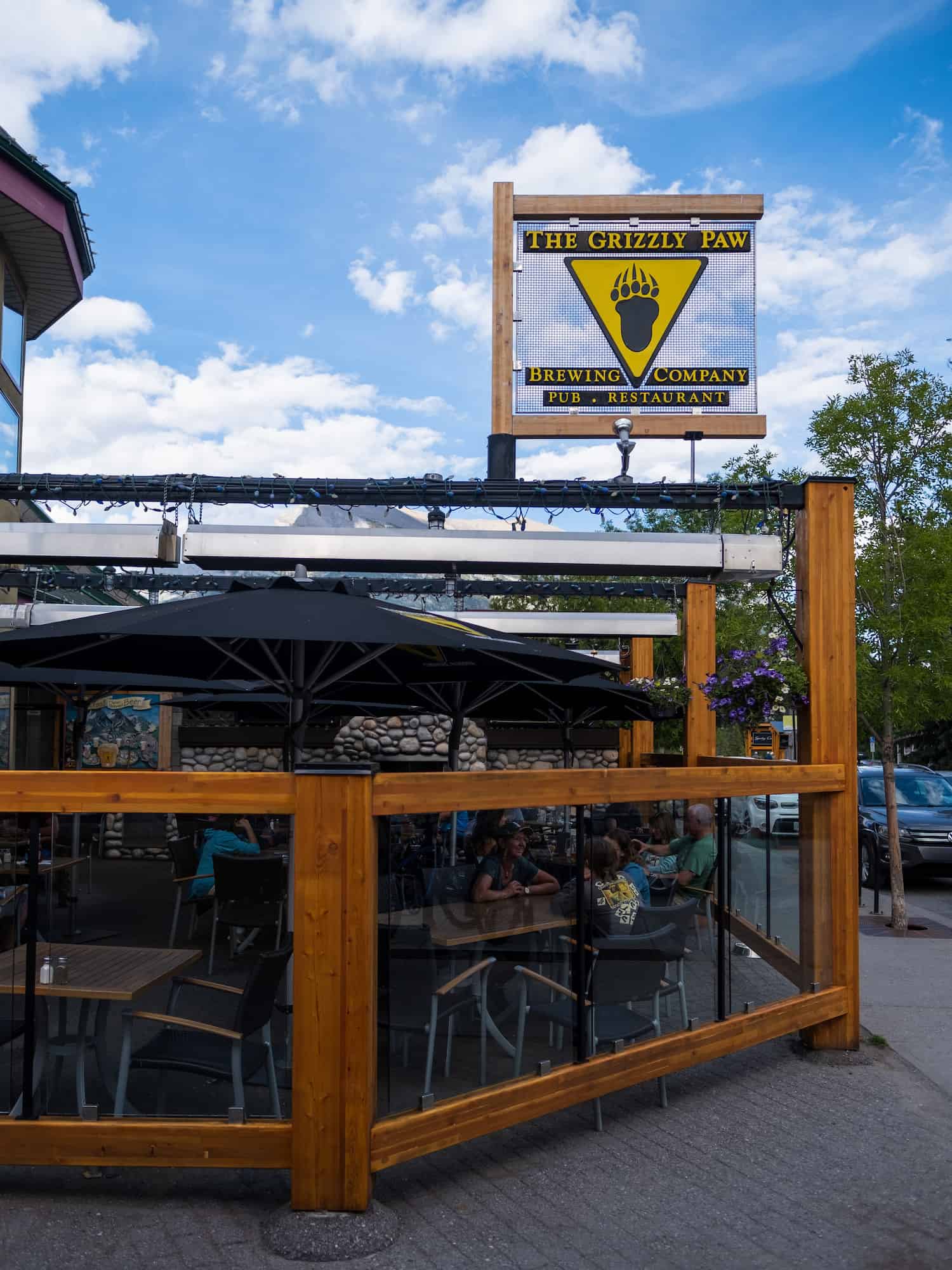 Cuisine: Brewery
Price: $$
Address: 622 8 St.
The largest craft brewer in town with outdoor seating, a large interior, and a separate brewery/tasting room. They offer some tasty brews and have large enough tables to handle groups of 10, so it's great to enjoy a beer with friends.
Try to score a seat outside on the patio to soak up the warm weather after a hike in Kananaskis Country in the summer. Vegetarians or health-conscious will have a tough time ordering food here, at least we do. That being said, they've got some decent pub classics like fish & chips, pizza, and chicken sandwiches.
---
Iron Goat Canmore Pub & Grill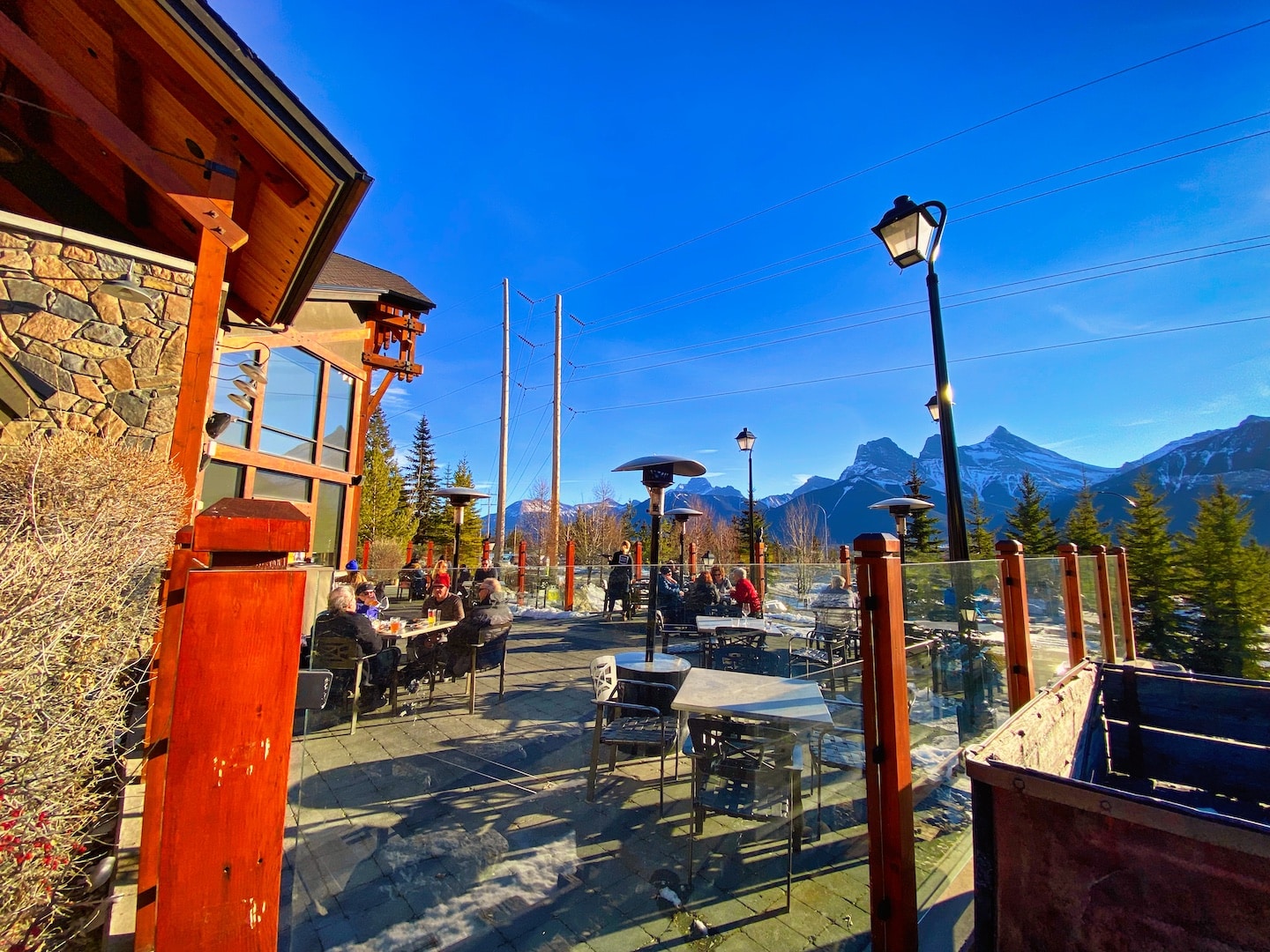 Cuisine: Pizza and Pub
Price: $$
Address: 703 Benchlands Trail
Another one of the best Canmore restaurants with a view. If you want to dine with Three Sisters views, then the Iron Goat will surely not disappoint, as this is a classic Canmore dining establishment and awesome Canmore pub. They serve up some decent Canadian mountain food with a stunning view of the Bow Valley from the outdoor patio. Fantastic for a post-mountain sport meal.
You'll find tasty food items like an Alberta game meatloaf, cornbread, or chipotle mango duck wings. It's a solid local hangout for an evening or lunch.
---
Best Lunch Restaurants in Canmore
---
Communitea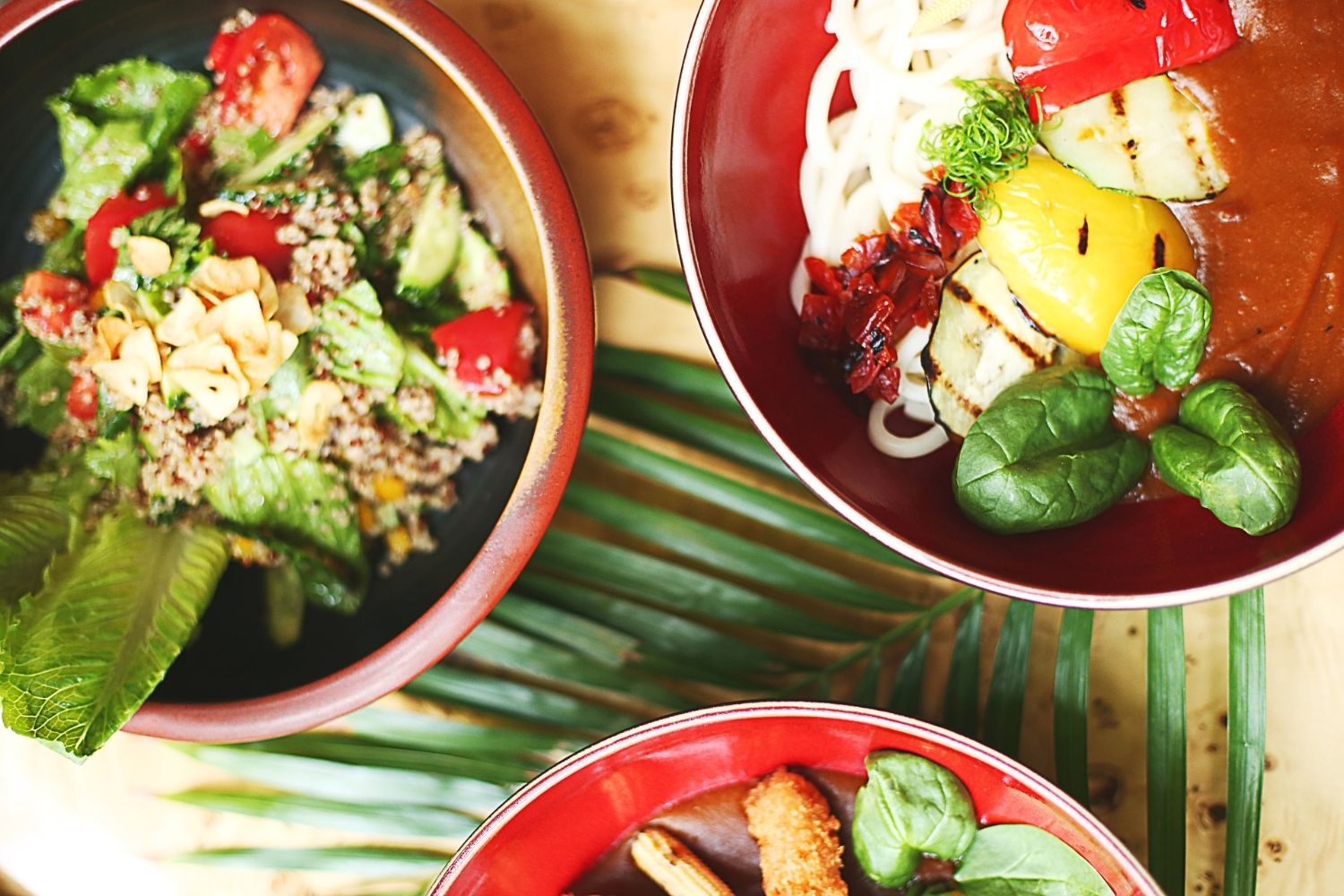 Cuisine: Cafe and Tea
Price: $-$$$
Address: 117-1001 6 Ave
This is definitely one of the best restaurants in Canmore. Communitea is an excellent option for health-conscious food in a modern cafe atmosphere. They're open for breakfast, lunch, and dinner, but I find the atmosphere and menu too relaxed for dinner. It's easily the most popular Canmore lunch spot in town, and we love the light, airy atmosphere.
They have a wide selection of health-conscious food that includes plenty of vegetarian and vegan options. Of course, given the name, they have a wide range of teas to sample! Our favorite meal is the Budha Bowl.
Coffee is on the menu, but it's from a push-button machine — better to go to Eclipse Coffee. Instead, opt for the tea specialties here.
---
Rocky Mountain Bagel Co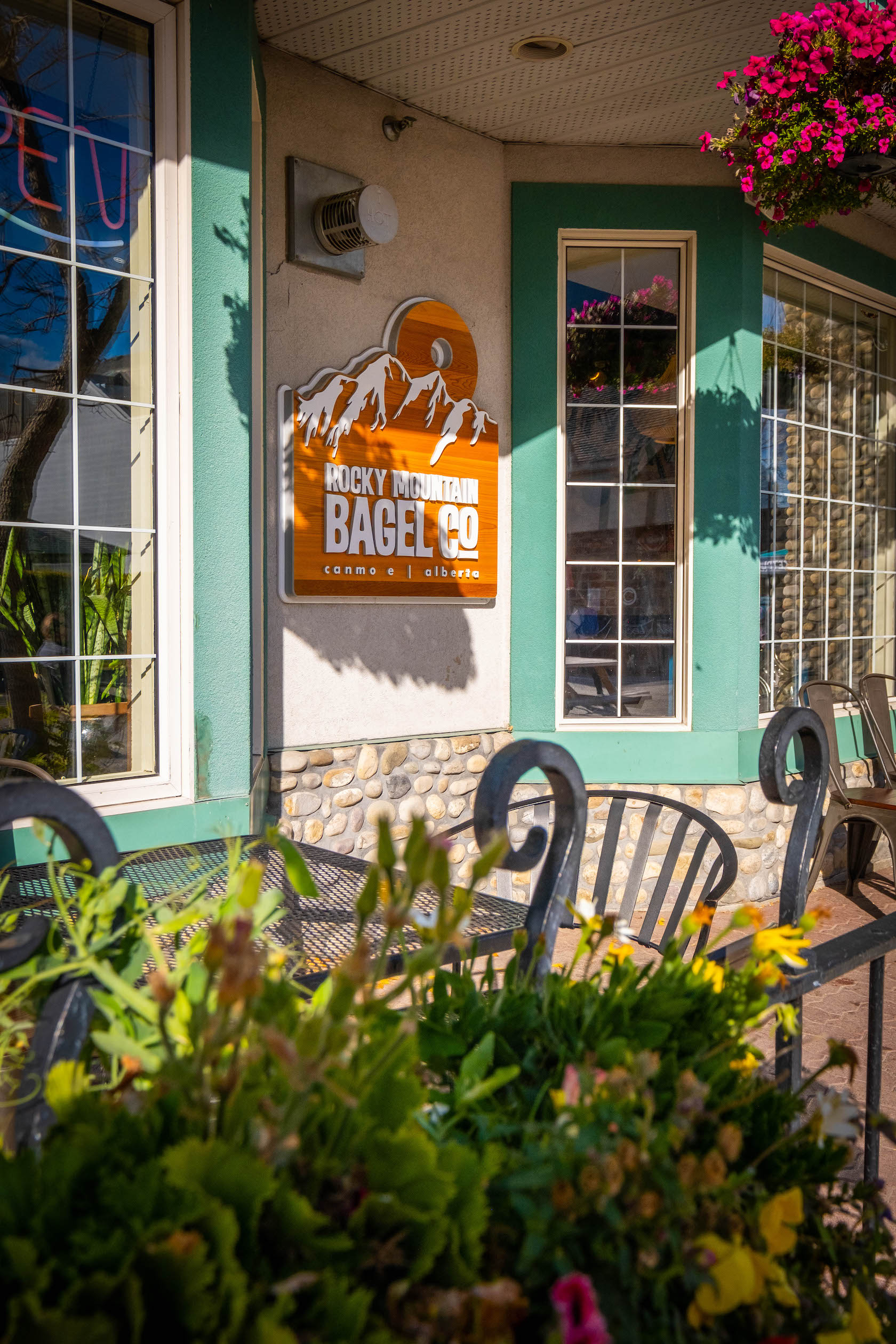 Cuisine: Bagels and Breakfast
Price: $
Address: 830 8 St #102
I love a good bagel, and there is no place better to start your mornings than the Rocky Mountain Bagel Co. They're an institution in town and now have two locations, including a massive new bakery.
Pick from their wide range of bagels for a mouth-watering sandwich, or opt for one of their homemade cream cheese spreads. This is mountain food done right! If you're in town for awhile you can grab their bag of a dozen bagels for a good deal.
---
Harvest Cafe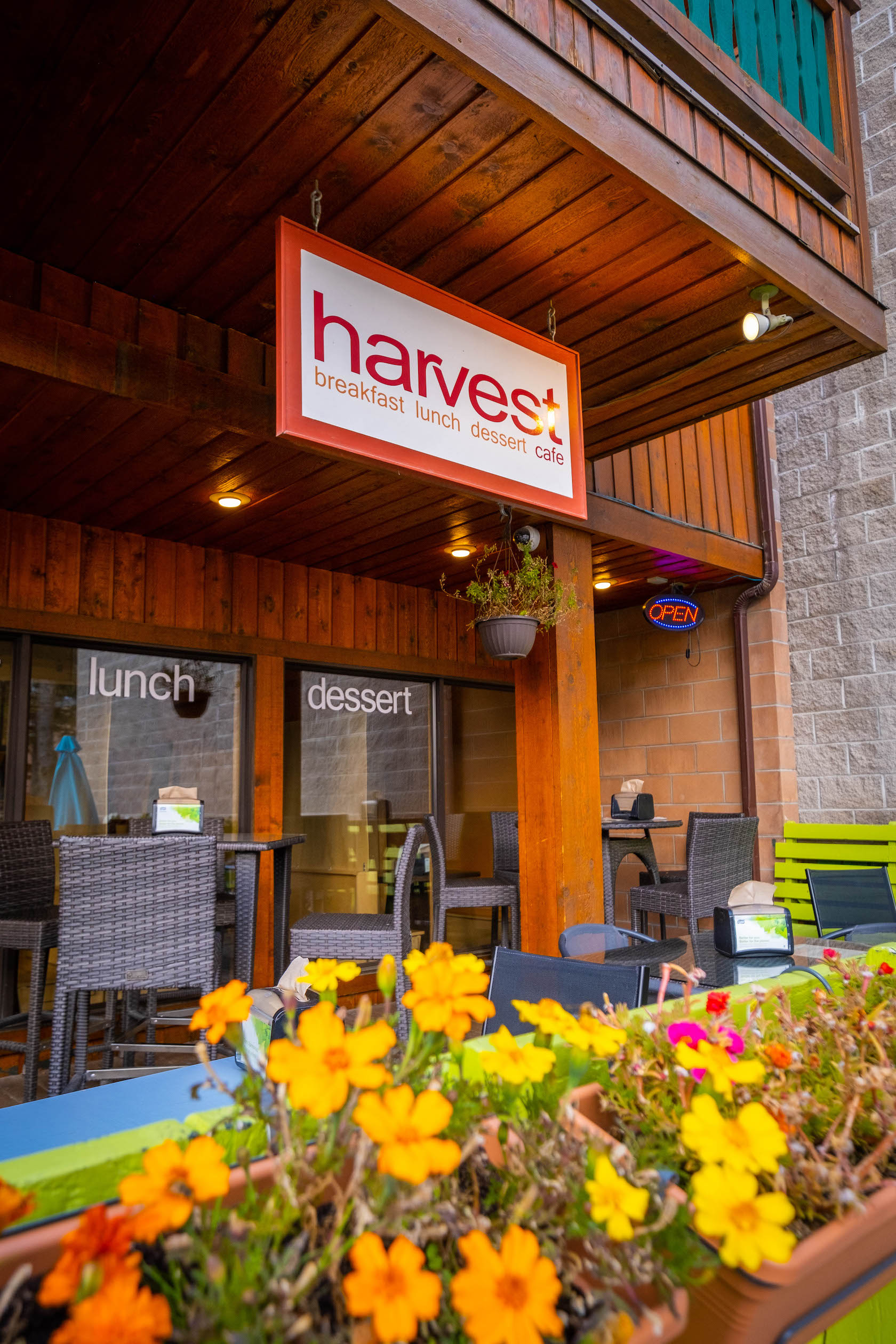 Cuisine: Breakfast and Lunch
Price: $-$$
Address: 718 10 St #2
Harvest Cafe is right across the Street from Basecamp Resorts and Communitea.
This is a locally owned and operated Canmore cafe that claims to have the best cinnamon buns on this side of the Rockies. They are delicious but only available on weekends! Beyond the cinnamon buns, Harvest has memorable baked goods made in-house, great soups, wraps, and paninis. They're well known for having Gluten-Free and Vegan options in the valley!
This is a breakfast/lunch joint as they close in the evening, so make sure to hit them up before venturing out on a Canmore walk.
---
Best Breakfast in Canmore
---
Le Fournil
Cuisine: Bakeries Creperie
Price: $-$$
Address: 101-1205 Bow Valley Trail
If you're looking for a lowkey restaurant in Canmore, try here. This french inspired bakery creates some beautiful pastries, bread, and desserts. If anyone loves a good croissant and coffee in the morning, this is a fantastic option.
Sit down for a nice coffee and danish or stop by and grab a mouth-watering dessert. Their hot chocolate is fantastic on a cold winter day!
---
Craigs' Way Station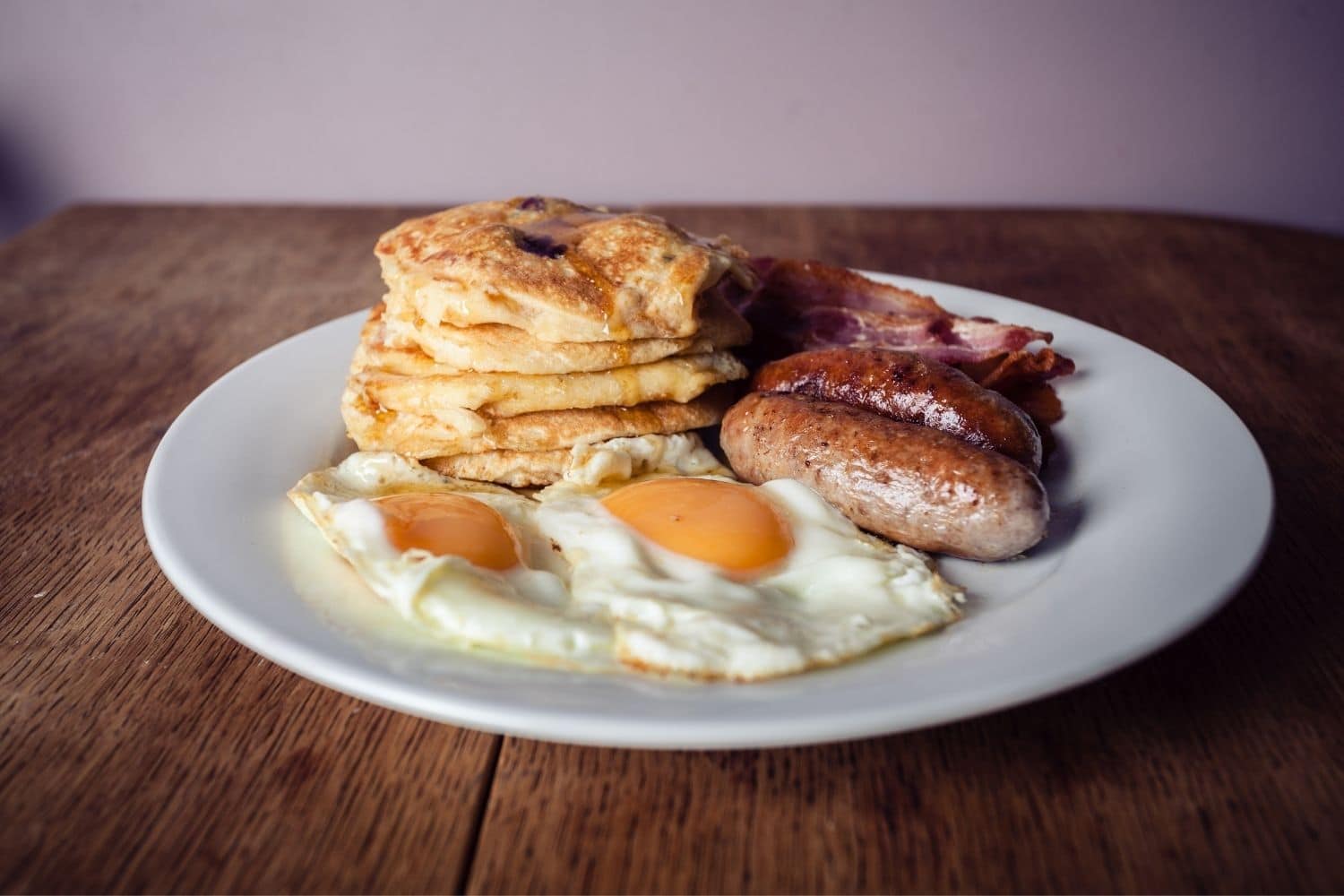 Cuisine: Breakfast/Diner
Price: $
Address: 1727 Mountain Ave
Right off, the TransCanada Craig's Way Station offers a classic diner-style breakfast at an affordable price. Many locals would consider it the best breakfast in town as an old-school family restaurant.
The menu provides a vast range of options: pancakes, eggs, benny, home fries, hash, or a classic fry-up. It's tough to beat Craigs ' Way Station if you want a classic spot for breakfast with no frills and great service.
---
Chez Francois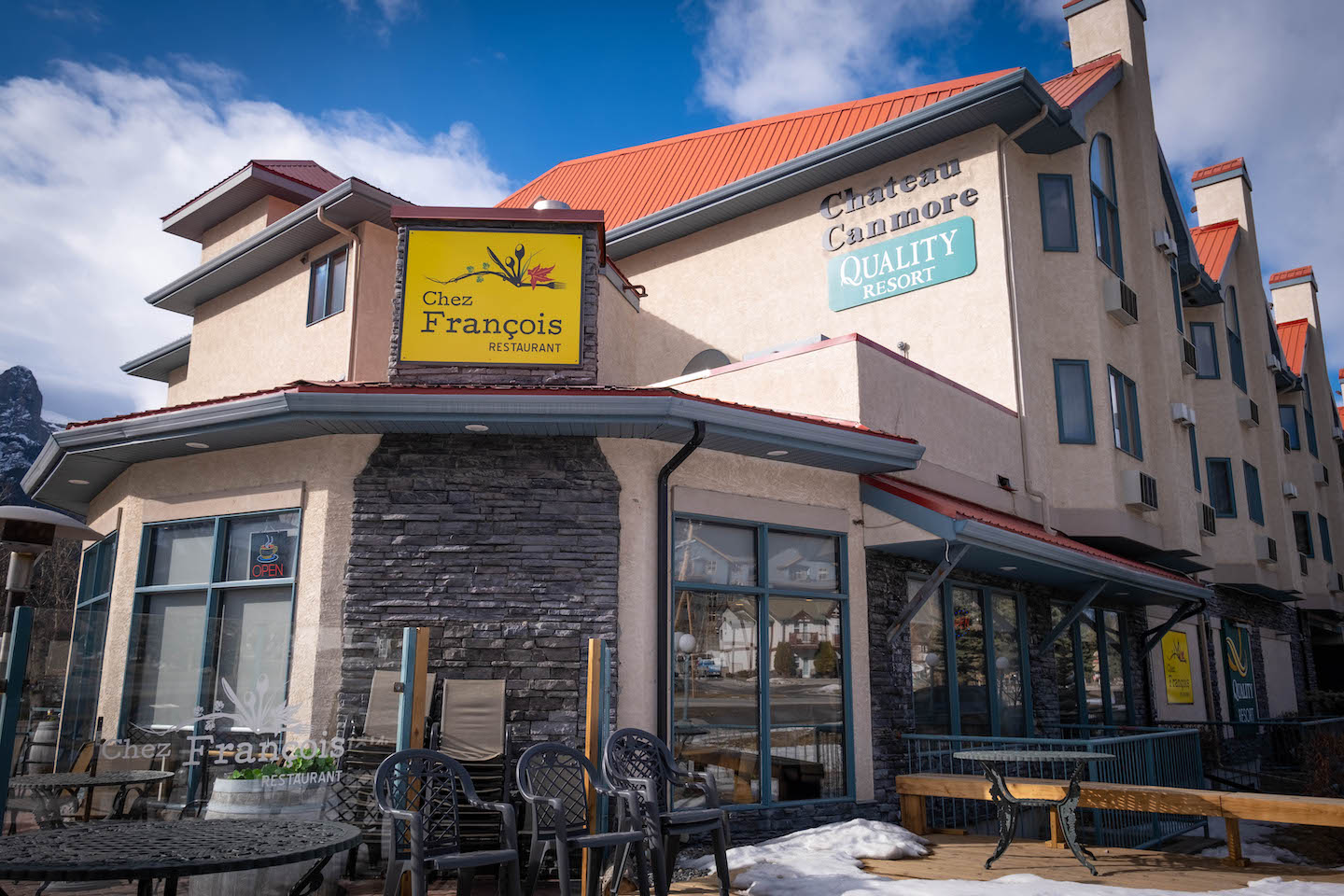 Cuisine: French Cuisine
Price: $$
Address: 1716 Bow Valley Trail
This French restaurant off the Bow Valley Trail is conveniently located next to many of the accommodation options in Canmore. We've only been twice to try out their eggs benedict, considered by many to be the best in town. I can't say they won me over as the best eggs benny in town, but damn good.
They have an extensive menu of omelets, smoothies, crepes, and even eggs benny poutine. If it's a nice summer day, they also have a small patio if you're lucky enough to snag a spot as it's a popular spot for brunch in Canmore.
---
Best Coffee Shops/Cafes in Canmore
---
Eclipse Coffee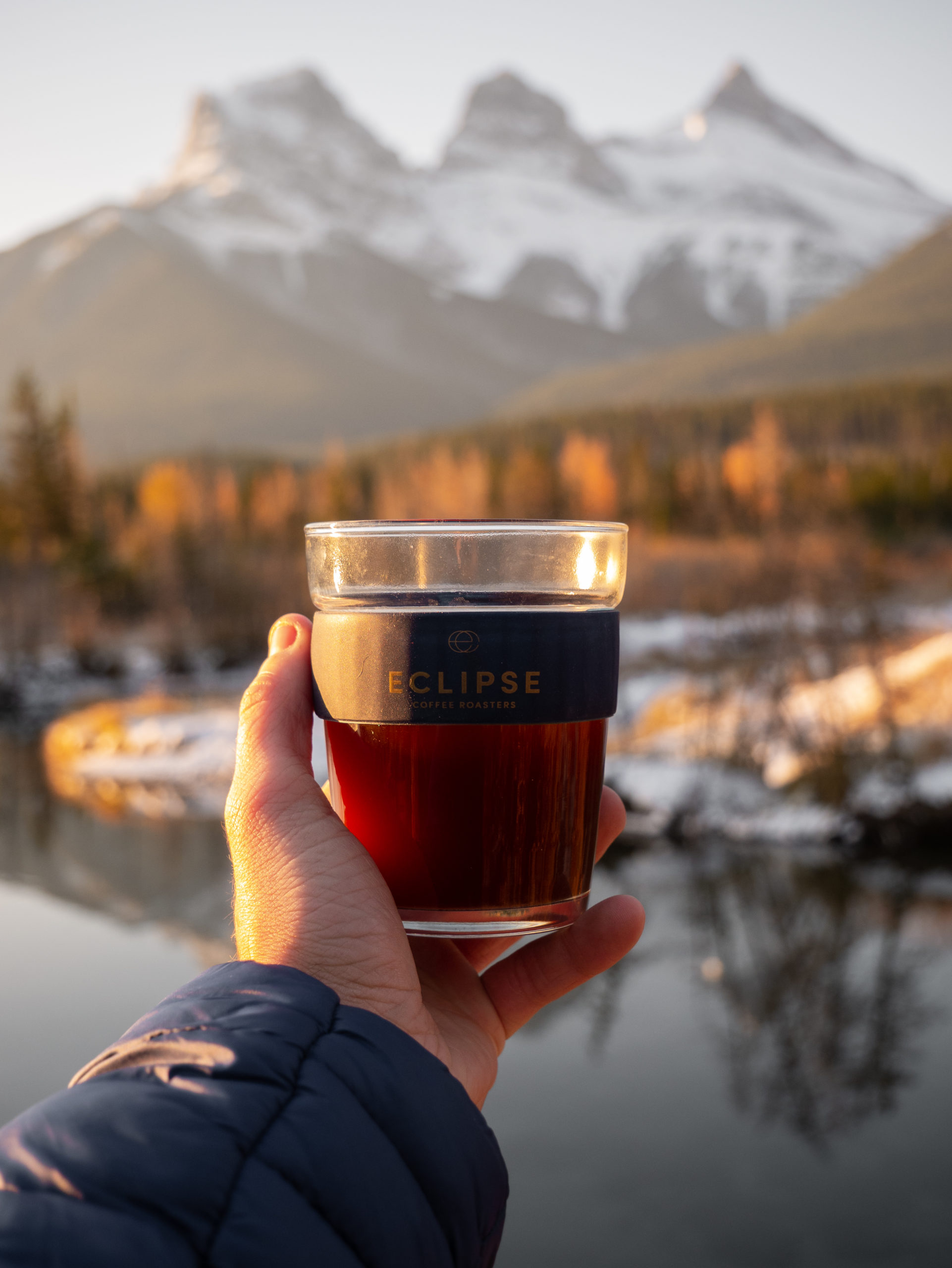 Cuisine: Coffee and Pastries
Price: $
Address: Multiple (817 8 St and 1516 Railway Ave)
Okay, it's not really a restaurant in Canmore and doesn't offer any Canmore food besides pastries, but Eclipse deserves mention! If you're looking for the best coffee in Canmore, then visit the Eclipse Coffee Roasters. They now have two locations, one downtown, and one on Railway Avenue near Safeway.
You can find artisan roasts made in-house or order a range of specialty coffees at the shop. Expect to see the usual ranging from a flat white to a latte and even an excellent pour-over for true coffee aficionados.
This is our favorite spot and where we like to pick our coffee roast for home. It's a great place to pick up a local roast for camping in Banff or a coffee before tackling a hike in the area.
---
JK Bakery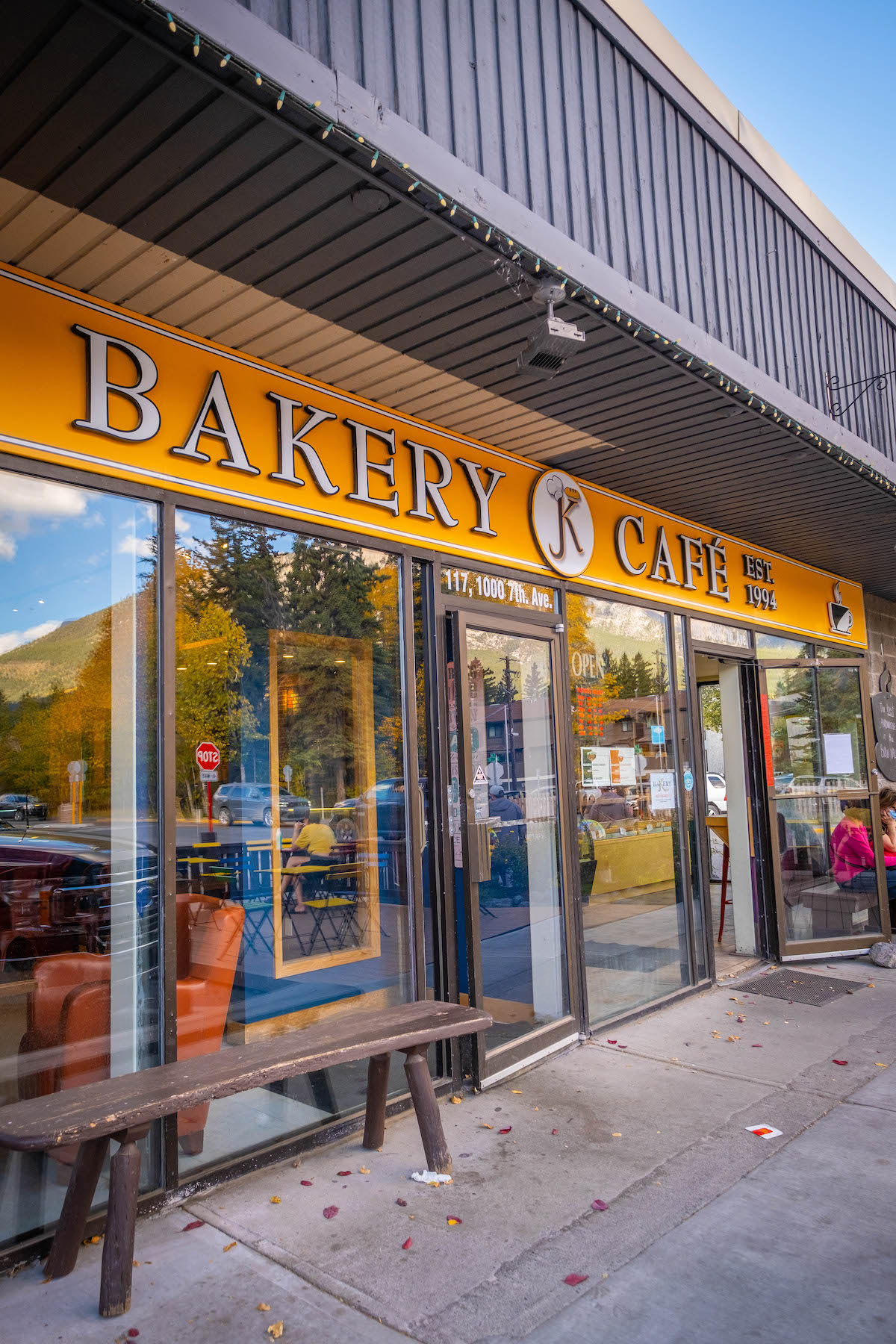 Cuisine: Bakery
Price: $
Address: 9570 76 Ave NW
Literally right next to Ramen Arashi is JK Bakery. This is where you can head in Canmore to get a special baked treat. They have pastries, cakes, and freshly baked bread and all the Canmore locals love heading here.
There is indoor seating, but I prefer to grab a coffee and pastry and sit outside on a nice summer day!
---
Best Pizza in Canmore
---
Red Rock Pizza Canmore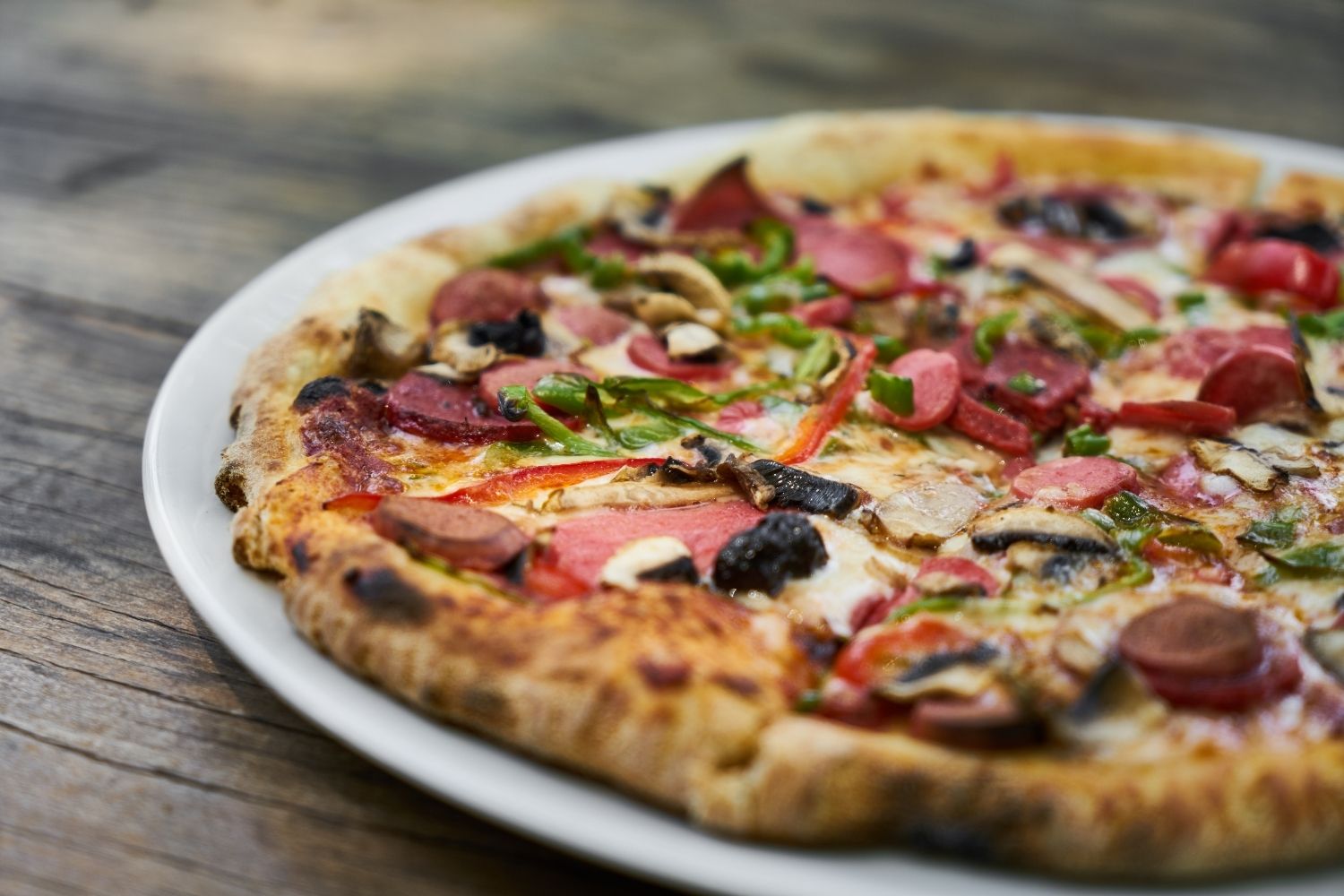 Cuisine: Pizza
Price: $$
Address: 9570 76 Ave NW
Red Rock serves up the best pizza in Canmore. It's a counter pizza spot with only a few tables, so it's a better option for take-away or delivery. You have a bunch of inventive topping combos on a thick style crust. It's not your classic
Grab one of their meal deals for the best value. Take a pizza to go and head out to one of the area's many picnic sites for pizza with a view, Lake Minnewanka.
Just don't expect Dominos pricing here, a large pizza will set you back $30 – but it is delicious!
---
Rocket Pie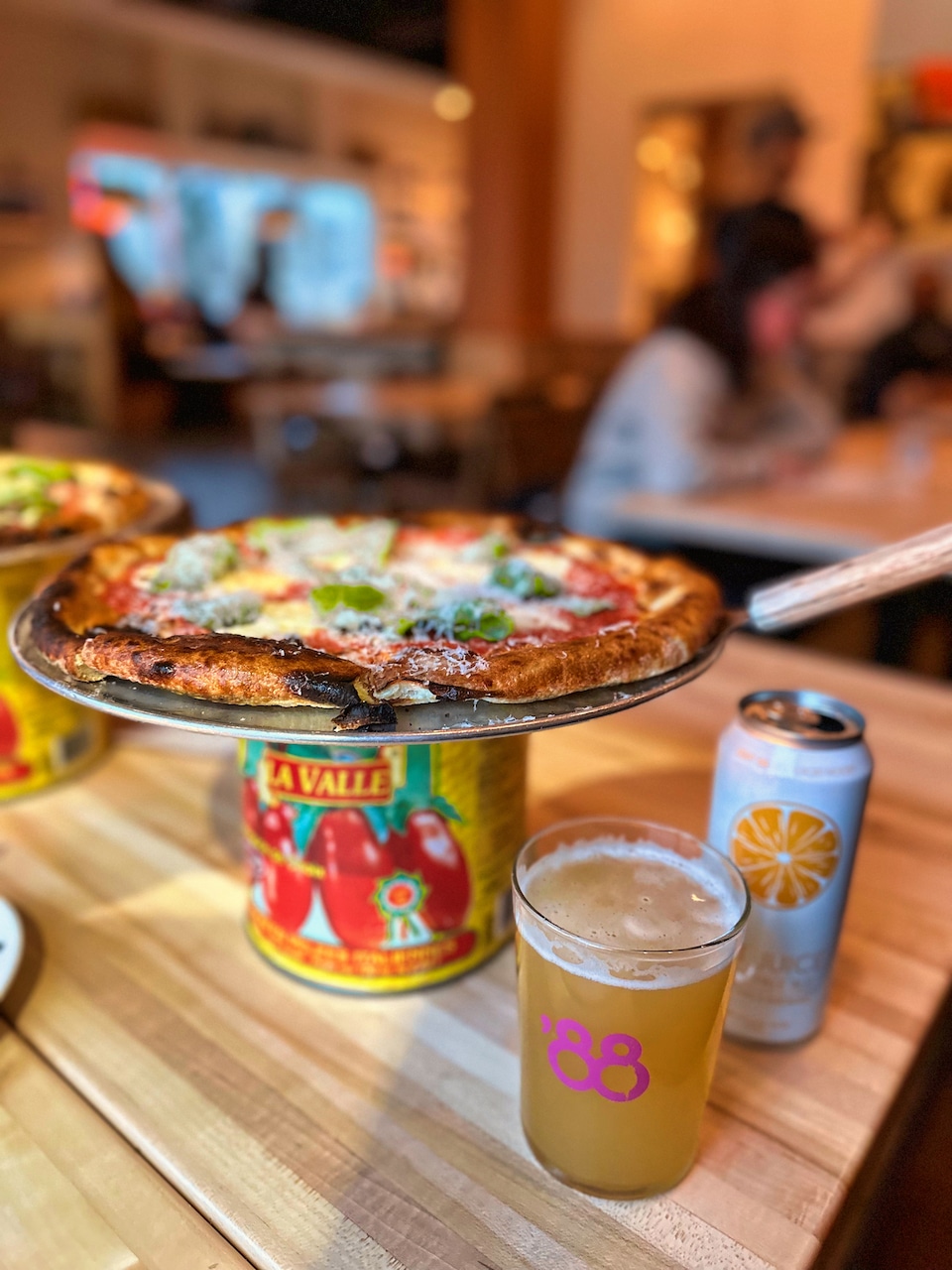 Cuisine: Pizza and Canmore Takeout
Price: $$
Address: 9570 76 Ave NW
Rocket Pie serves some excellent wood-fired pizzas. We were surprised when we got takeout here, and it felt like we had purchased a pizza from Naples! It's classic Italian-style pizza with a wonderful crust and delicious toppings. Prices are a little on the high side at about $20 for an individual pizza, but no one seems to mind once they taste that first bite.
We were more than happy with the pizza and will gladly return. The interior has a nice bar and lively atmosphere, so it's a good spot to try if you're looking for a hip night out with pizza.
---
Rocky Mountain Flatbread Co.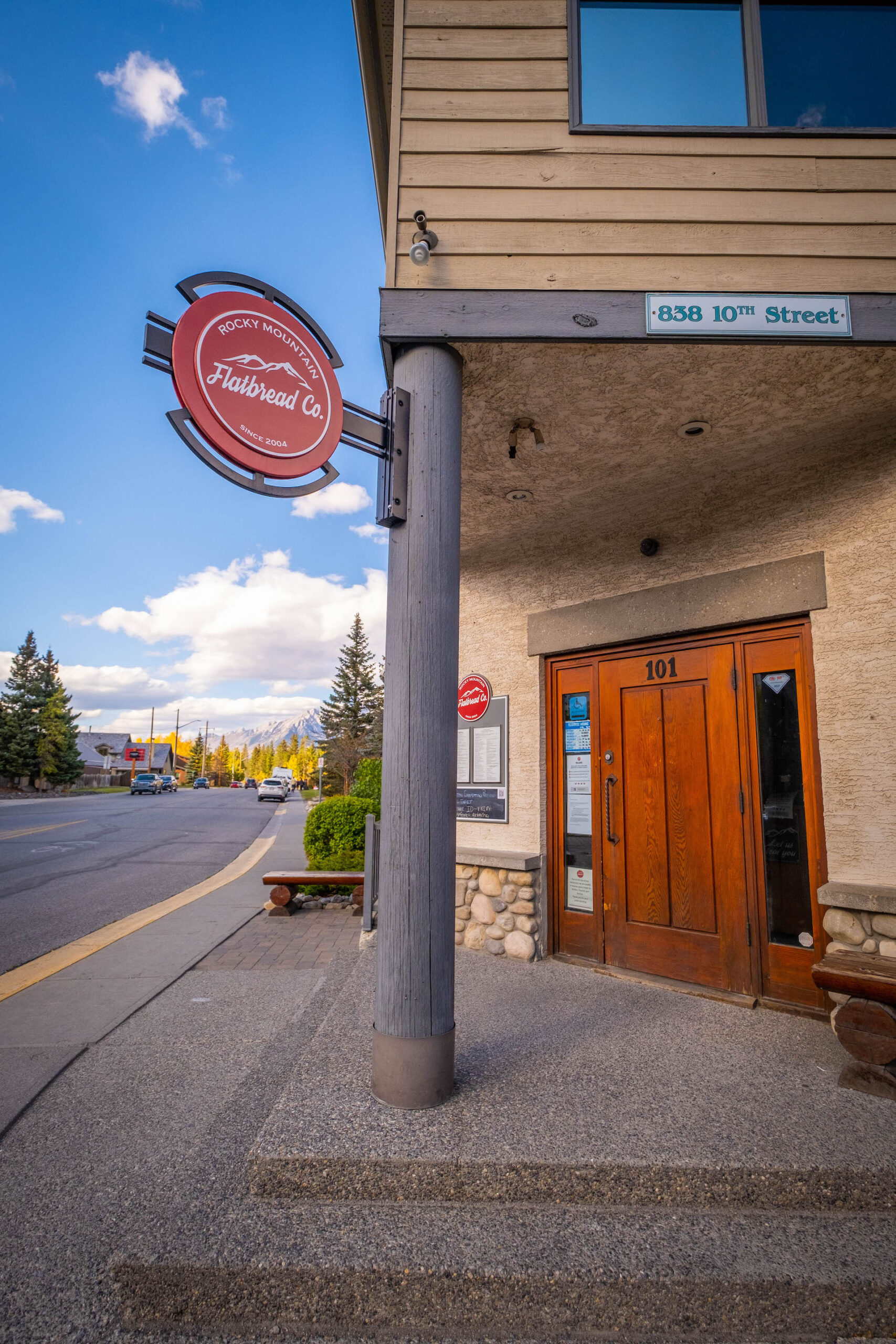 Cuisine: Pizza and Flatbreads
Price: $$
Address: 9570 76 Ave NW
This is one of the best Canmore family restaurants. Flatbread pizzas in an open-air restaurant with a wood-fired oven. Over the years, it's become an institution and expanded to six locations throughout Alberta and B.C. They use fresh ingredients that are often organic, like their house tomato sauce.
Pizza prices are $20-$30, so it's by no means the cheapest pizza joint in town, but you can order toppings like real mozzarella, goat cheese, kalamata olives, or free-range rosemary chicken. It makes for a nice night out with friends and family.
---
Best Breweries/Distilleries in Canmore
These options offer little in terms of food, but if you are looking for a great mountain brew with light snack options here are a few of our favorites.
---
Canmore Brewing Company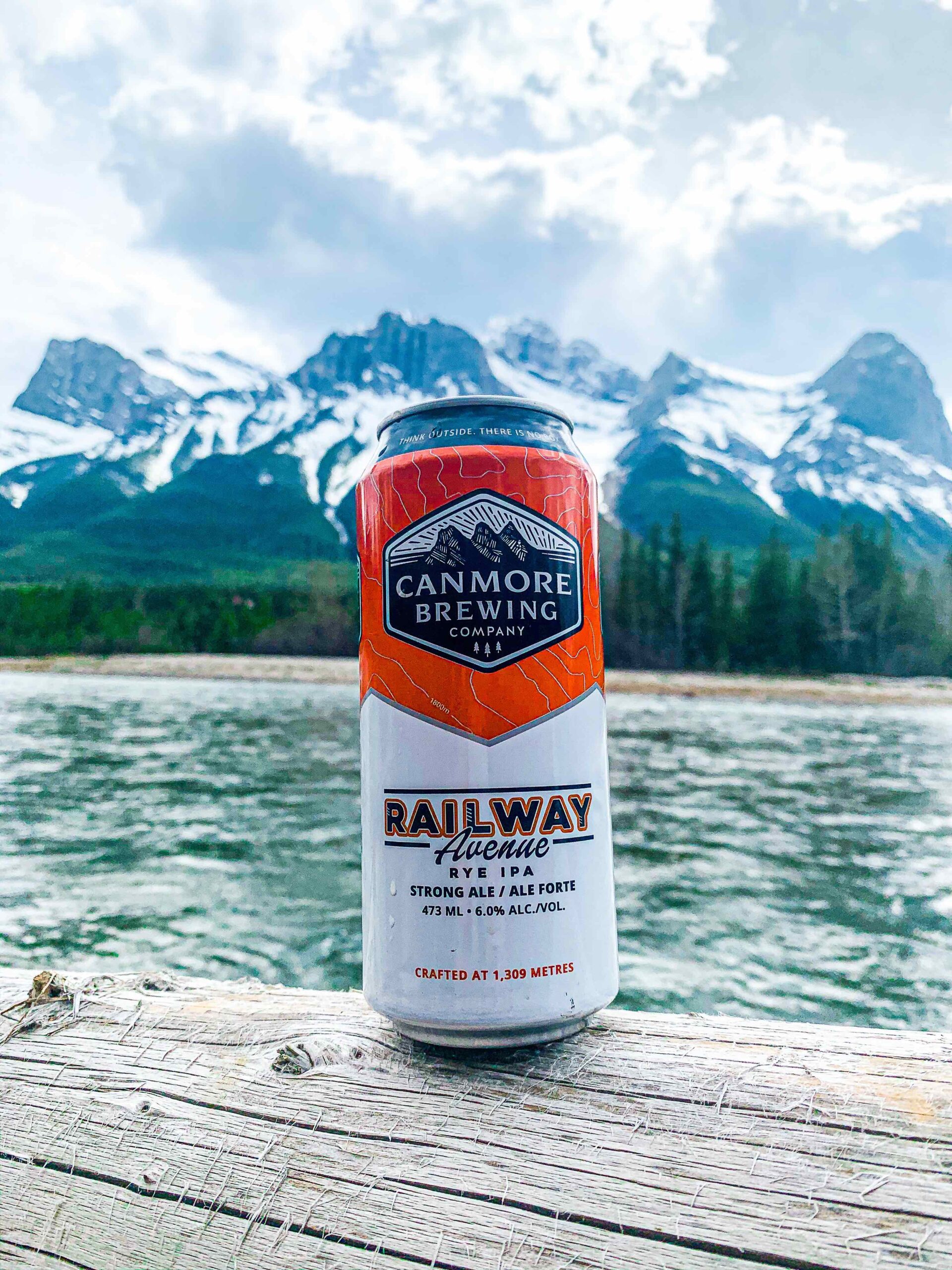 Cuisine: Brewery
Price: $
Address: 9570 76 Ave NW
The Canmore Brew Co. offers some of my favorite beers of the Canadian Rockies breweries, and always has a long list of fresh brews to choose from.
Canmore Brew Co. has an appealing tasting room and a fantastic patio, while they don't offer full meals they have a light snack menu from local eateries to pair with your drink. They typically have 5 beers and 1 cider on tap, and they are always creative in brewing their seasonal rotation.
If you are keen to learn more about this impressive local brewery, be sure to book a tour with them to check out the behind-the-scenes action. After you taste one of their drinks, you will be searching every liquor store for these popular Rocky Mountain pints.
---
Sheepdog Brewing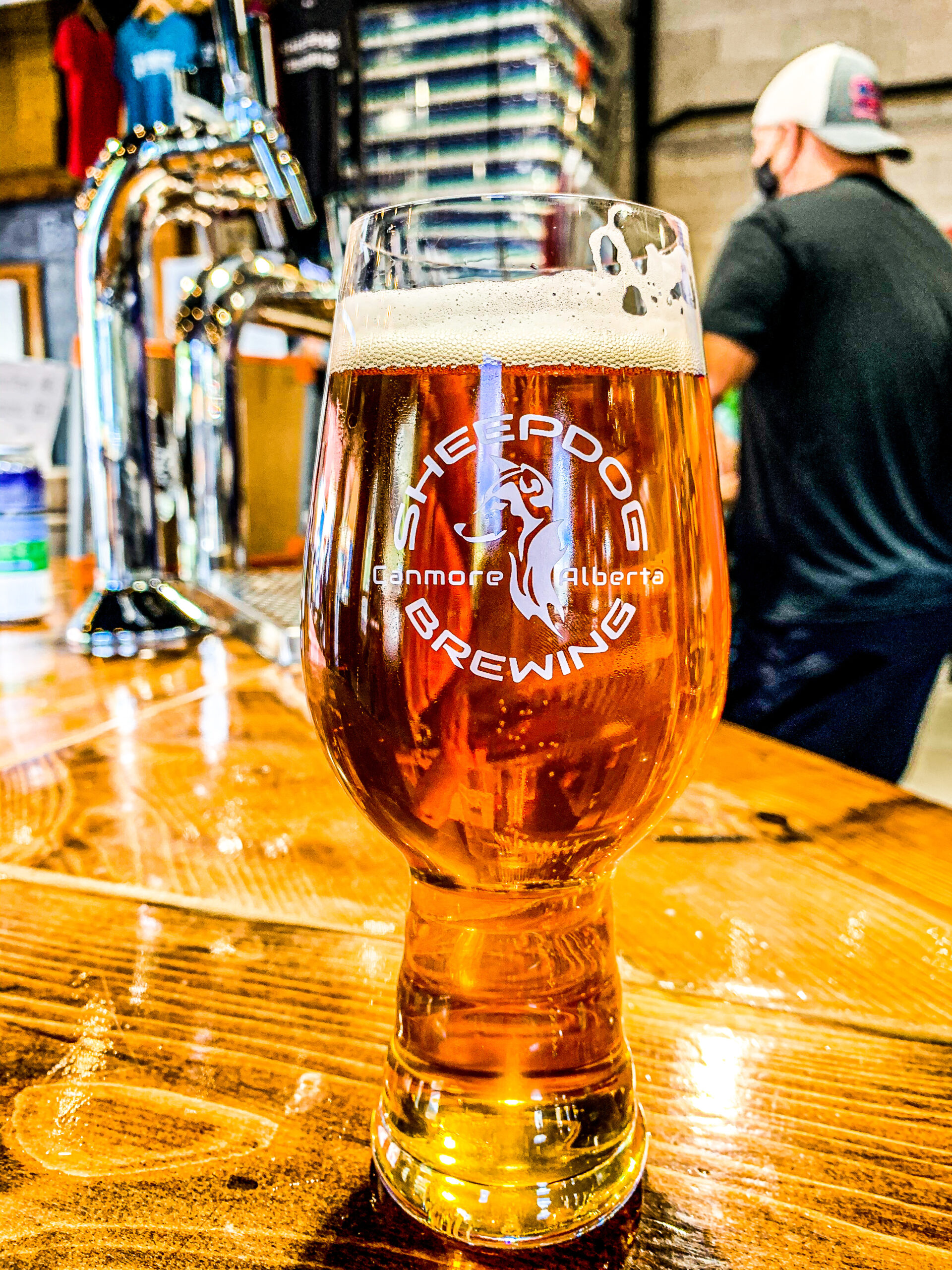 Cuisine: Brewery
Price: $
Address: 9570 76 Ave NW
Sheepdog Brewing is a hidden gem of Canmore, tucked away on the outskirts of the main town. If you want a taste of life as a Canmore local, simply make a visit to this epic craft brewery. While many visitors head to Grizzly Paw downtown, locals will head to Sheepdog after running up a mountain for the day.
The Sheepdog rocks an industrial-style interior, with the main floor taproom and upstairs seating area. In the warmer months, they open up the front wall of the taproom to connect the taproom to the parking lot patio.
Sheepdog Brewing always has a wide range of beers on tap, and they are constantly switching up their selection. It is always fun to visit their taproom and try something new. For food, they offer light snacks to pair with your pint.
With their food options being fairly limited, they also allow you to bring in or order any food you want! Why not combine your favorite take-out options with your favorite craft brewery?
---
Wild Life Distillery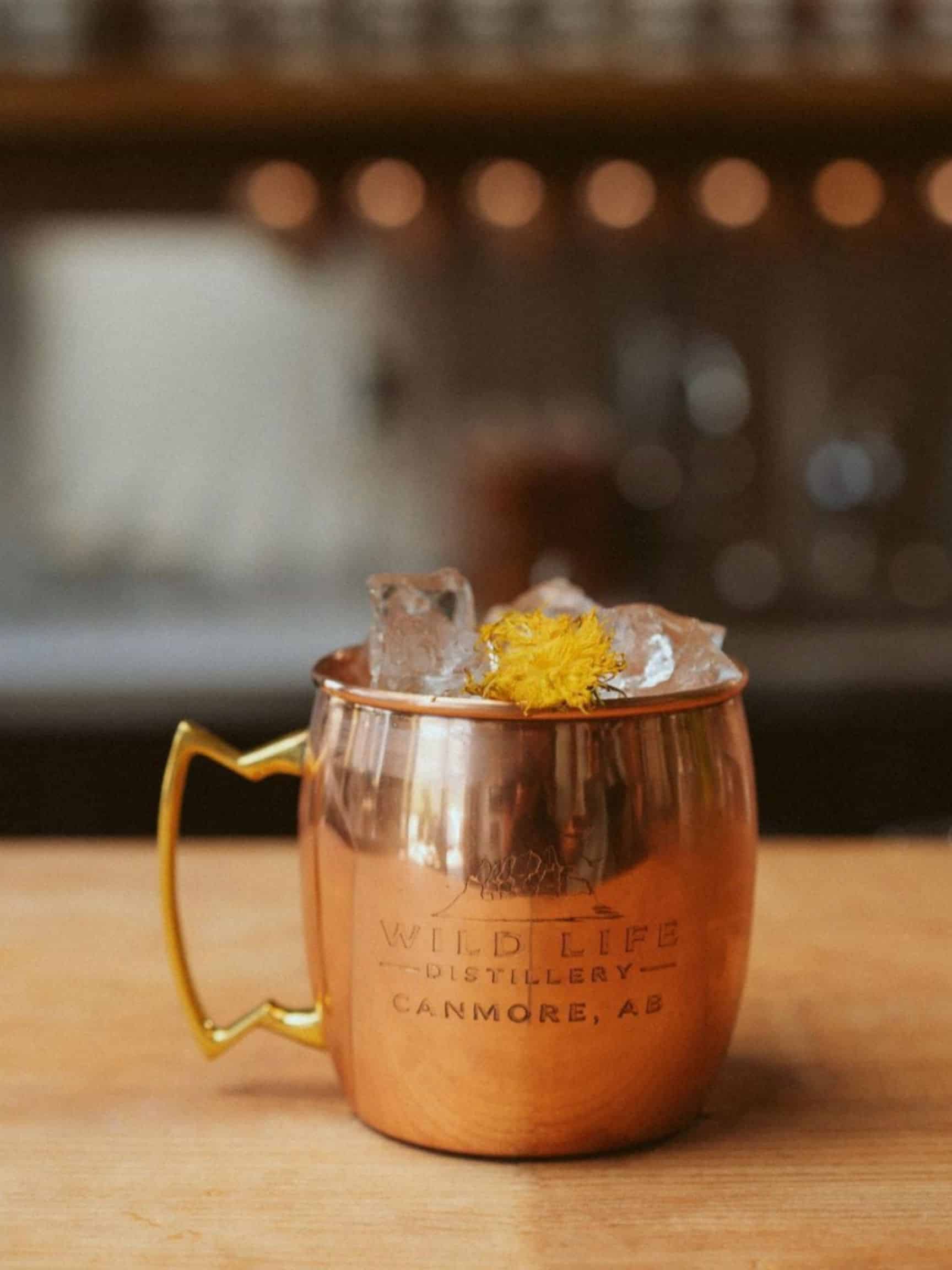 Cuisine: Distillery
Price: $$
Address: 9570 76 Ave NW
If craft gin is your thing, a visit to Wild Life Distillery in Canmore is a must. You can find these craft bottles of gin in the local liquor stores, but it's worth it to visit their location on Bow Meadows Crescent for tastings and tours.
It's here that you can tour the facilities, do some gin tastings, and try one of Wild Life's amazing craft cocktails. They rotate their specialty cocktails based on the season, but so far my favorite is the Take Flight!
---
Notable Canmore Bars and Pubs
The Drake Pub
Rose & Crown Restaurant & Pub
Tavern 1883
Where The Buffalo Roam Saloon
Deja Vu Speakeasy
Sheepdog Brewing
Notable Canmore Takeout
Ramen Arashi
The Roaring Rolls
Mii Sushi & bbq
Fine Dining Canmore
Gaucho Brazilian Barbecue
Stirling Grill and Lounge
The Sensory
Kananaskis Restaurants
Best Canmore Lunch
Communitea
Harvest
Crazyweed
Iron Goat Pub & Grill
Canmore Pizza
Rocket Pie
Red Rock Pizza Canmore
---
Hopefully, this dining guide helped you determine which of these Canmore restaurants is best for you!
If you have any other questions leave a comment or see our Canadian Rockies travel guide for more articles about photography spots, lakes, hikes, and everything else.
---
Things to Do in Canmore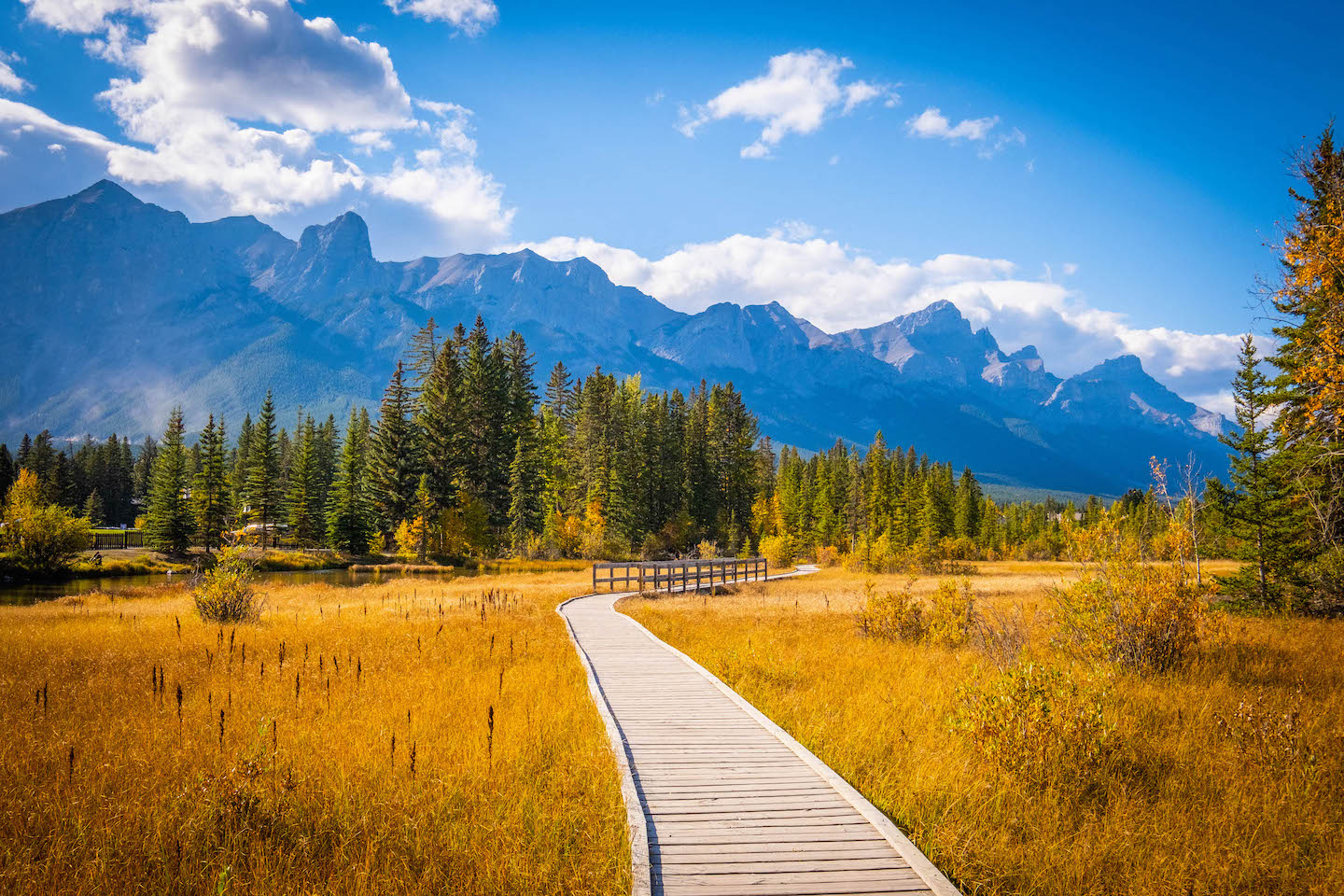 After eating at one of these Canmore restaurants, there are plenty of things to do nearby for everyone. From hiking up Ha Ling to strolling around Policemen's Creek boardwalk, it's hard to ever get bored. Trust us – we've tried, and it's impossible. See all the best things to do in Canmore in the winter here, or click the button below for all the summer activities.
---
Kananaskis Country Hikes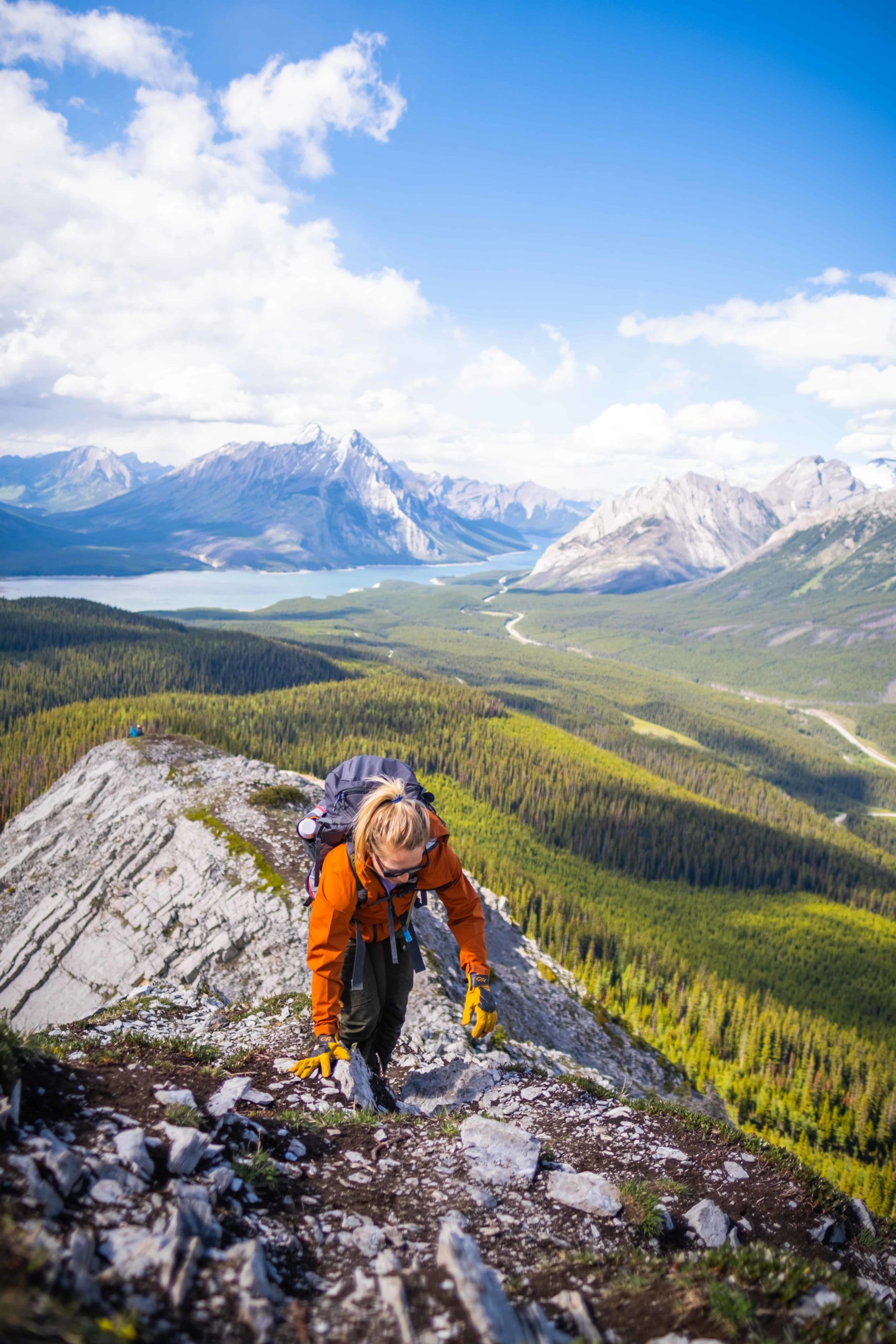 Before eating at the restaurants in Canmore, you'll probably want to work out an appetite! There are so many more great hikes in the Kananaskis Country Provincial Park, or you can check out some awesome Banff hikes. Both are home to some of our all-time favorite hikes and scrambles in the region. To learn more, we've got a post on our favorite hikes in Kananaskis Country.
---
Canmore Restaurants Map
---
Where to Stay in Canmore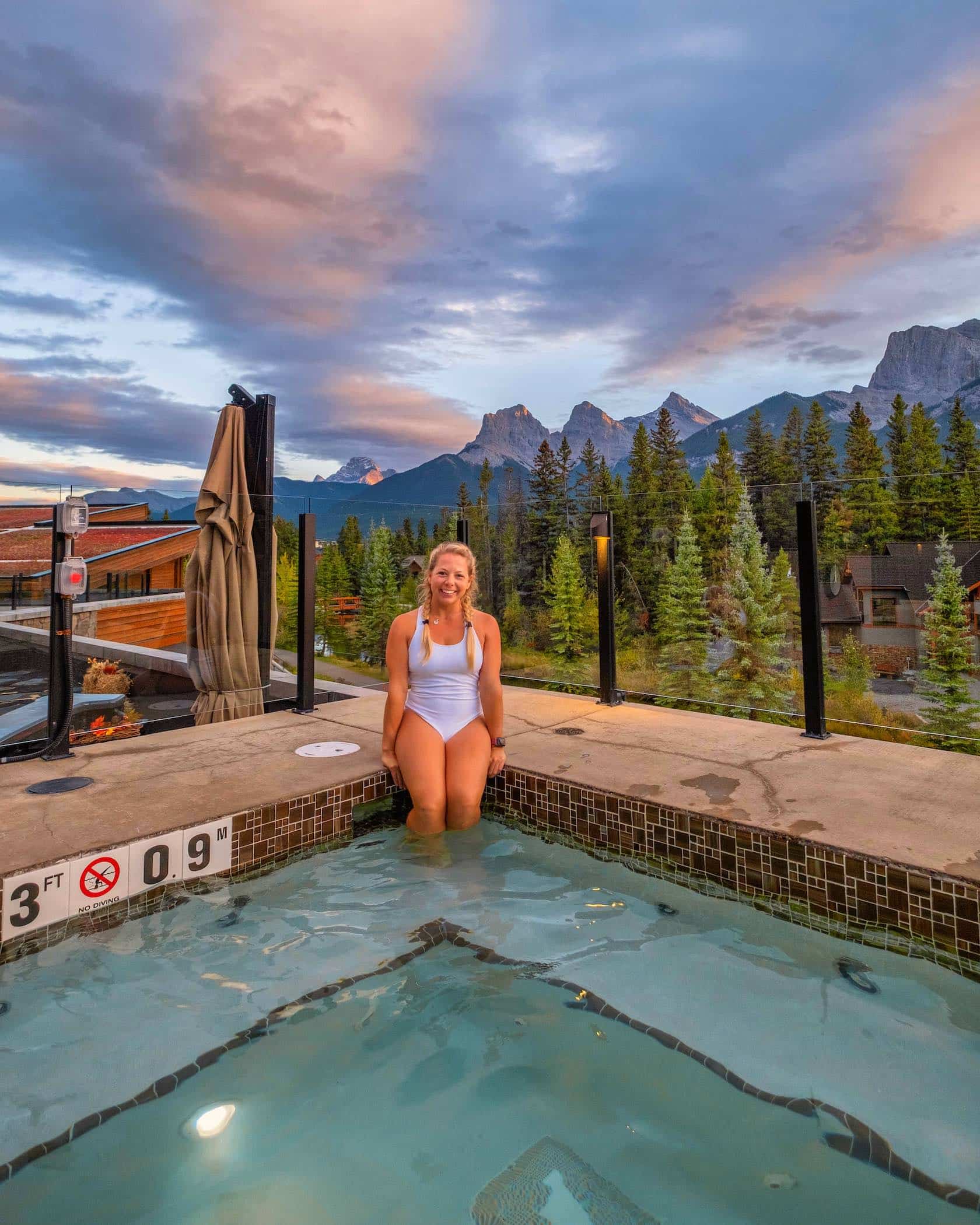 While you're enjoying all these things to do in Canmore you'll need a great base to stay at. Here are a few of our favorites.
Basecamp Resorts: One of the best places to stay in Canmore is Basecamp Resorts in Downtown Canmore. There are multiple apartment styles to stay in, many can accommodate larger groups of people. Complete with a hot tub to be enjoyed in the winter or summer.
The Malcolm: The Malcolm Hotel is the nicest hotel in Canmore and sits right along Policemen's boardwalk just far enough away from the hustle of Downtown. It's a fantastic place to stay and have a unique experience in Canmore.
Solara: Solara is a resort community that offers small apartments to visitors. It's well located right next to the Trans Canada and Downtown Canmore. Book here.
---
↓ Join the community ↓
The Banff Blog Facebook Group is your headquarters for the Canadian Rockies' travel advice and information. Including hike info and off-season travel information. You can also meet new adventure buddies.

---
Plan Your Trip to the Canadian Rockies