Seeking out the best restaurants in Canmore or wondering where you should eat in Canmore? We share our favorite spots in the picturesque mountain town. While most mountain towns might struggle to supply visitors with a wide selection of restaurants that is certainly not the case in Canmore.
You can find a wide range of cuisines, restaurants, price points, and places to eat in Canmore. It's the perfect place to fill yourself up after a long day out exploring the wild Canadian Rockies.
See Also:
---
Restaurants in Canmore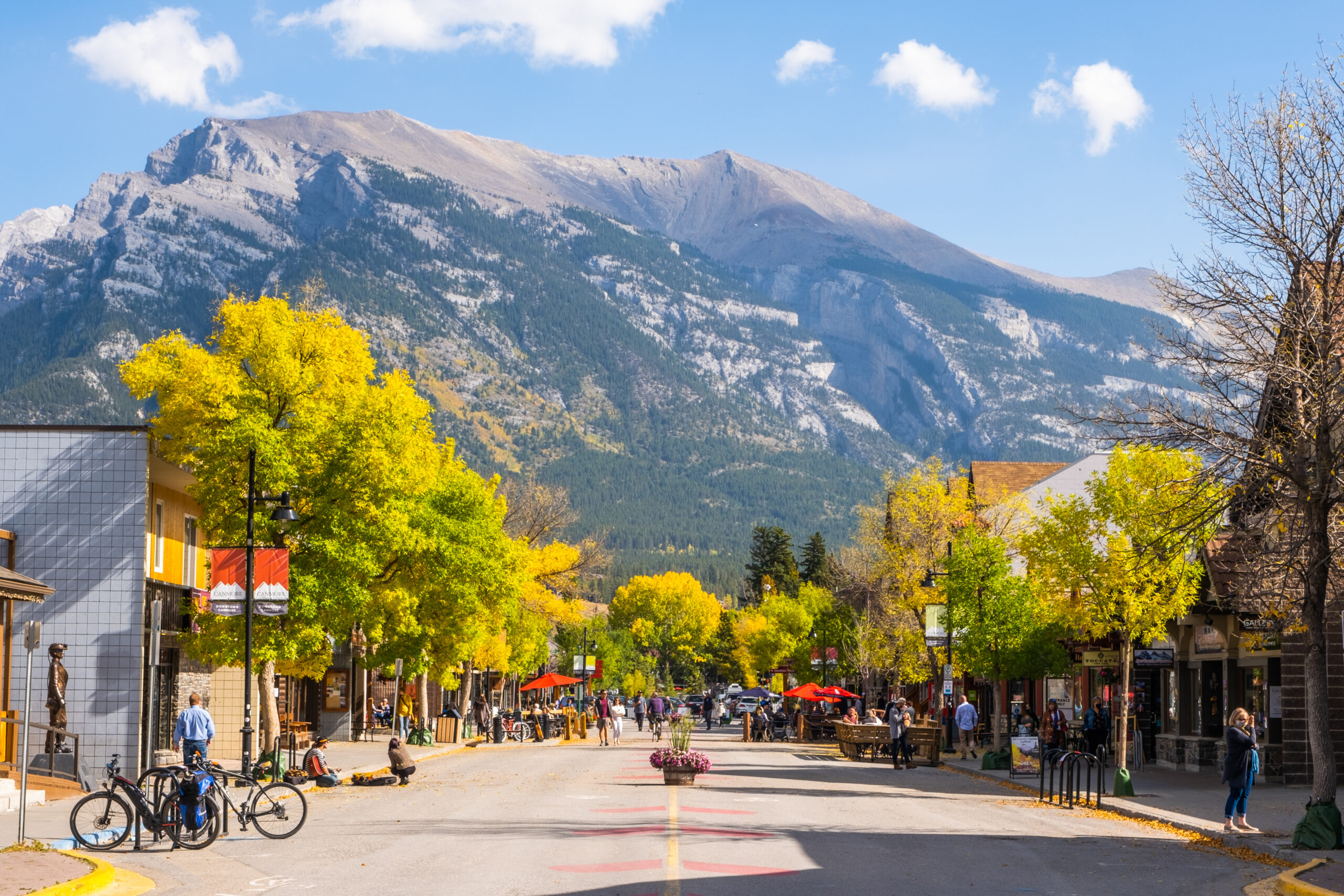 ---
Communitea
Communitea is a great option for health-conscious food in a modern cafe atmosphere. They're open for breakfast, lunch, and dinner, but find the atmosphere and menu too relaxed for dinner. It's easily the most popular lunch spot in town and the light airy feel.
They have a wide selection of health-conscious food that includes plenty of vegetarian and vegan options. Of course, given the name, they have a wide range of teas to sample! Our favorite meal is the Budha Bowl.
---
Tavern 1883
This is our favorite restaurant in Canmore for their low key atmosphere, delicious pub food, and rotating craft beers. While Grizzly Paw gets a lot of love from visitors we love the range of beers from Alberta and B.C. you can find at Tavern 1883.
If you're looking for the best burger in the Canadian Rockies you can find it at Tavern 1883. They also host a ton of entertaining events such as a Jam Night, Trivia, and Bingo. Check out their social channels for the latest times and dates.
---
Where the Buffalo Roam Saloon
This saloon serves up the best craft cocktails in an intimate setting. Cocktails here are top-notch and inventive our favorites are the Thai One On and High Violet. Granted it tough to pick just one cocktail so just may need to sample multiple!
The Saloon also serves up some tasty food of modern bar bites. Expect to find dishes like gnocchi, short ribs, calamari, roasted veggies, duck wings, and burgers. It's perfect for a romantic meal or a nice evening with friends. They also serve a great brunch on Sundays from 10:000 a.m. to 2:00 p.m.
---
The Grizzly Paw Brewing Co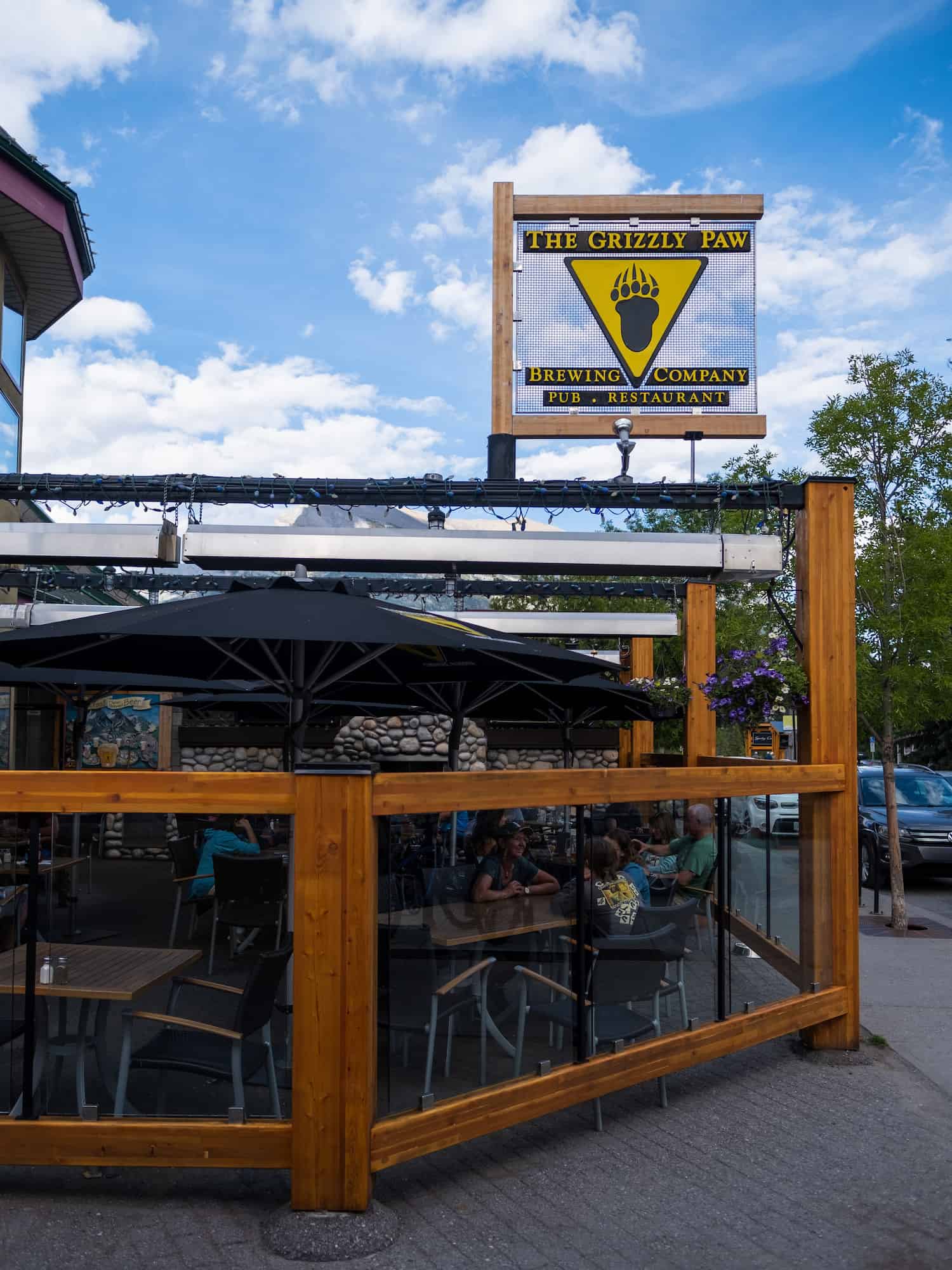 The largest craft brewer in town with outdoor seating, large interior, and a separate brewery/tasting room. They offer some tasty brews and have large enough tables to handle groups of 10 so it's great to enjoy a beer with friends.
In the summer try to score a seat outside on the patio to soak up the warm weather after a hike in Kananaskis Country. Vegetarians or health-conscious will have a tough time ordering food here, at least we do.
---
Le Fournil
This french inspired bakery creates some wonderful pastries, bread, and desserts. If anyone loves a good croissant and coffee in the morning this a fantastic option. Sit down for a nice coffee and danish or stop by and grab a mouth-watering dessert. Their hot chocolate is fantastic on a cold winter day!
---
Red Rock Pizza
Red Rock serves up the best pizza in town. It's a counter pizza spot with only a few tables so it's a better option for take-away or delivery. You have a bunch of inventive topping combos on a thick style crust.
Grab one of their meal deals for the best value. Take a pizza to go and head out to one of the areas many picnic sites for pizza with a view, Lake Minnewanka.
---
Eclipse Coffee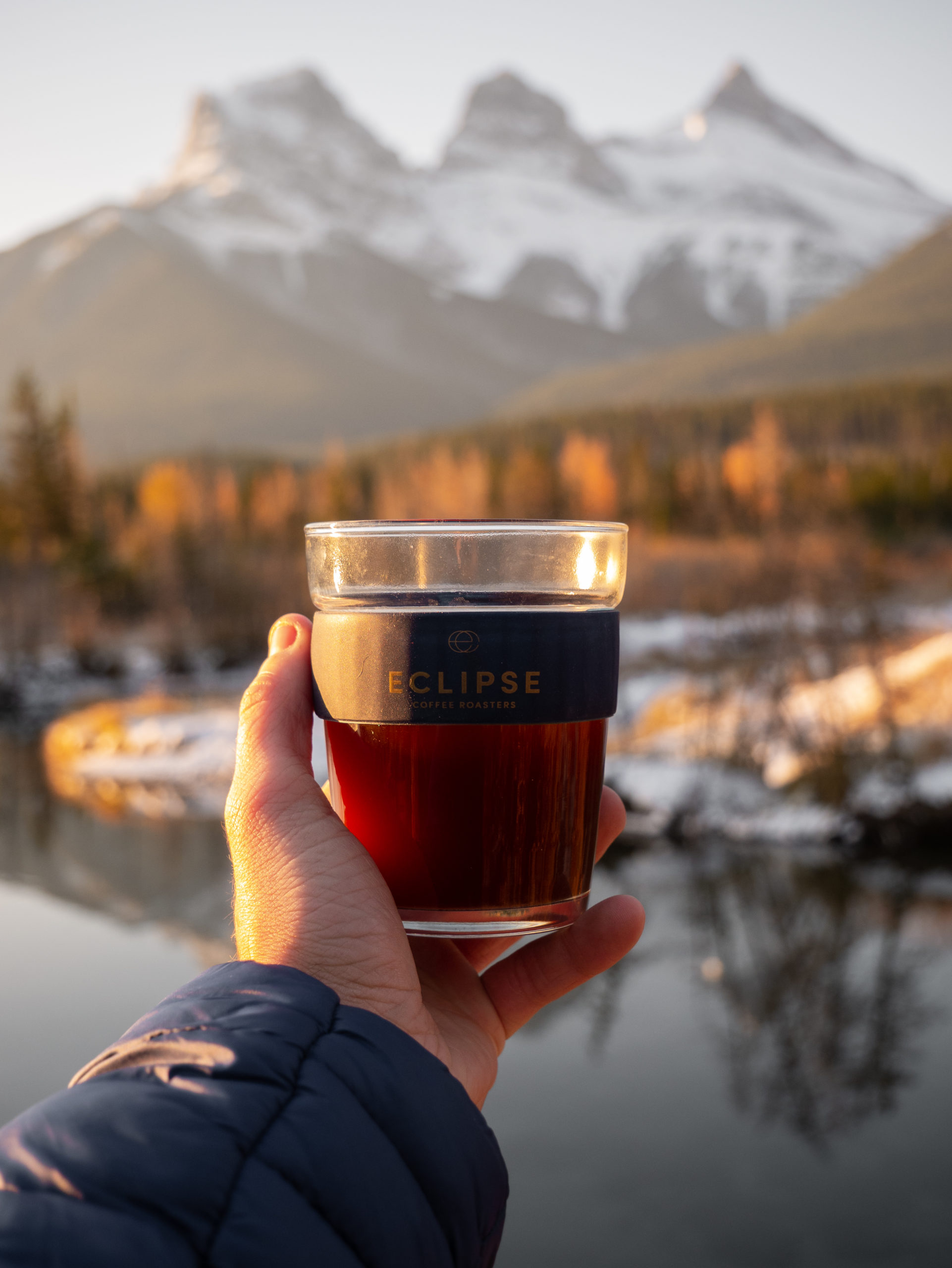 If you're looking for the best coffee in Canmore then make a visit to the Eclipse Coffee Roasters. They now have two locations one downtown and the original at the main intersection off Bow Valley Trail.
At the shop, you can find artisan roasts made in house or order a range of specialty coffees. Expect to find the usual ranging from a flat white to a latte and even a nice pour over for true coffee aficionados. This is our favorite spot and where we like to pick our coffee roast for home. It's a great place to pick up a local roast for camping in Banff or a coffee before tackling a hike in the area.
---
Iron Goat Pub & Grill
If you want to have a meal with a view then the Iron Goat will surely not disappoint. They serve up some delicious Canadian mountain food with a stunning view of the Bow Valley from the outdoor patio. You'll find tasty food items like an Alberta game meatloaf, cornbread, or chipotle mango duck wings. It's a great local hangout for some a great evening or lunch.
---
Rocky Mountain Flatbread Co.
Flatbread pizzas in an open-air restaurant with a wood-fired oven. It's become an institution over the years and expanded to six locations throughout Alberta and B.C.. They use fresh ingredients that are often organic like their house tomato sauce. Pizza prices are $20-$30 so it's by no means the cheapest pizza joint in town, but you can order toppings like real mozzarella, goat cheese, kalamata olives, or free-range rosemary chicken. It makes for a nice night out with friends and family.
---
Crazyweed Bistro
Crazyweed has been a hit since they opened their doors in Canmore. It's a casual eatery with a wide range of dishes to choose from. The menu is eclectic and feels a bit like the owners just picked out all of their favorite dishes from around the world as you'll find poke bowls, gnocchi, Thai grilled chicken, labneh, chorizo con queso, Alberta steaks, pickle marinated fried chicken, and pan-seared arctic char. Your guess is as good as ours as to what category all of that falls into, let's just call it good food.
---
Trough
This is the best restaurant in Canmore for fine dining or a romantic night. During the summer you'll need to make a reservation in advance as they have limited seating. The menu is small and changes seasonally so you'll need to check on their website to see the restaurant's latest inventive offerings. It's likely the best restaurant in Canmore and they have a wonderful wine selection to pair with their food.
---
The Market Bistro
Visit our neighborhood stomping grounds! The Market Bistro is in the Three Sisters Neighborhood outside of the center of Canmore. The owners are from Quebec and France and modeled the bistro after the popular restaurants found in France. You can also check out the wine store next store called Unwind for a great bottle.
---
514 Poutine
Along with maple syrup, this is possibly nothing more Canadian than poutine. It's the ultimate savory late-night dish that's become ubiquitous with Canada. The origins of the dish are up for debate, but it at least credited as a Quebecois dish. It consists of french fries, gravy, and cheese curds.
You'll find this dish all over Canada and it's most common in the bars, but 514 absolutely nails. Any place that picks to do just one thing usually nails it. They've also got some tasty burgers and hot dogs to go with that delicious poutine. It's the perfect post Quad accomplishment after burning thousands of calories in the mountains around Canmore.
---
Rocky Mountain Bagel Co
I love a good bagel and there is no place better to start your mornings than the Rocky Mountain Bagel Co. They're an institution in town and now have two locations including a massive new bakery. Pick from their wide range of bagels for a mouth-watering sandwich or opt for one of their homemade cream cheese spreads. This is mountain food done right!
---
Things to Do in Canmore
I'll let you in on a little secret, we have a small list of places we want to live in the world and Canmore, Alberta makes the list. The small resort town has changed from a mining town to a mecca for outdoor athletes because there are a plethora of things to do in Canmore. The town has one of the most gorgeous backyards and provides access to a spectacular part of the world.
---
Kananaskis Country Hikes
There are so many more great hikes in the Kananaskis Country Provincial Park or you can check out some awesome Banff hikes. Both are home to some of our all-time favorite hikes and scrambles in the region. To learn more, we've got a post on our favorite hikes in Kananaskis Country.