Start your day in the mountains with the perfect breakfast in Canmore. Make sure to fuel up before tackling the mountains and head to any of these restaurants or cafes in Canmore.
Of course, many will choose to dine at their hotel when a Canmore breakfast is included. However, not everyone wants a lackluster breakfast buffet that can be hit or miss. We share our favorite breakfast spots in Canmore for a hearty breakfast or delicious coffee!
---
Restaurants in Canmore for Breakfast
---
Georgetown Pub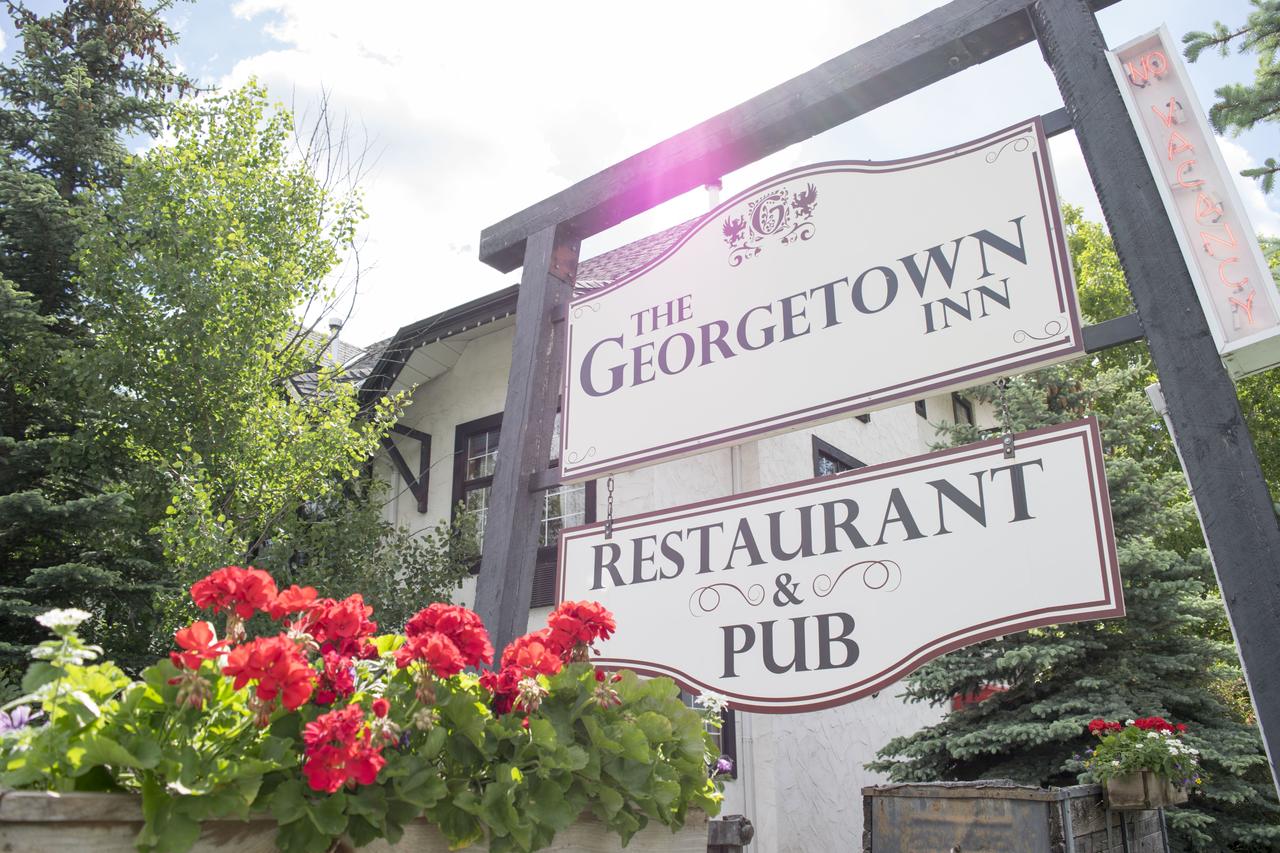 If you want a hearty breakfast in Canmore, head over to the Georgetown Pub for a full English breakfast. When you step inside, it feels like you've entered an English Pub in the mountains with lots of woodwork, a large bar, and mountain-inspired items like snowshoes on the wall. It's beautifully done and doesn't feel out of place on a blustery day in the mountains.
If you're not in the mood for baked beans for breakfast (they do serve a classic British fry up), they have a nice selection of other options like stuffed french toast, eggs benny, or a scotch egg. I particularly love their pancakes with berries and cream! It's certainly one of the most amazing breakfast places in Canmore.
---
Communitea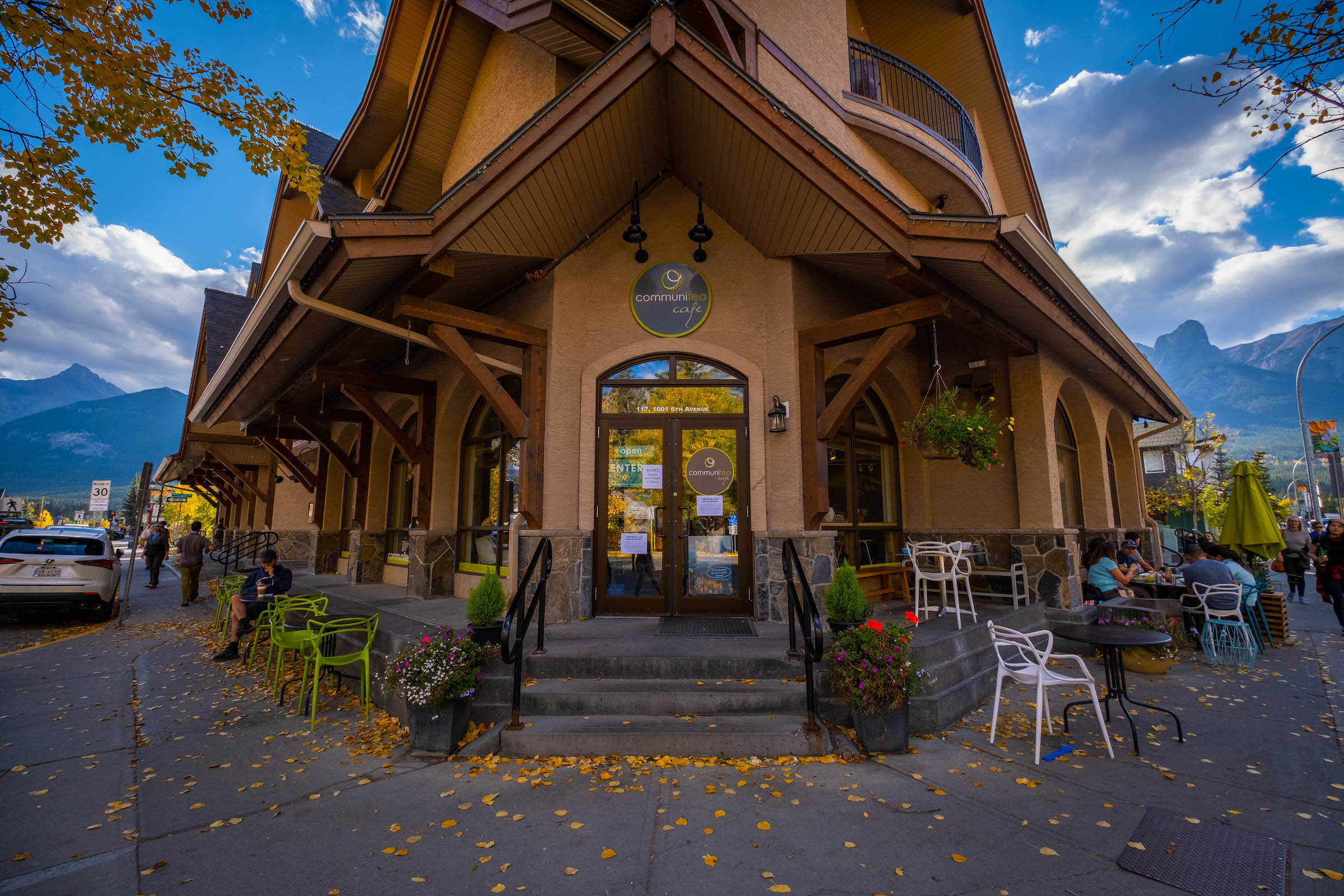 Communitea is a great option for health-conscious food in a modern cafe atmosphere. They dish up a fantastic Canmore brunch that is hard to complain about!
They're open for breakfast, lunch, and dinner but find the atmosphere and menu too relaxed for dinner. It's easily the most popular lunch spot in town and has a light, airy feel with white tile, wood accents, and large windows.
They have a wide selection of health-conscious food that includes plenty of vegetarian and vegan options. Of course, given the name, they have a wide range of teas to sample! Our favorite breakfast meal is the vegan breakfast bowl. If you enjoy your coffee in the morning, you might want to head elsewhere, though, as it's definitely tea-focused.
---
Craigs' Way Station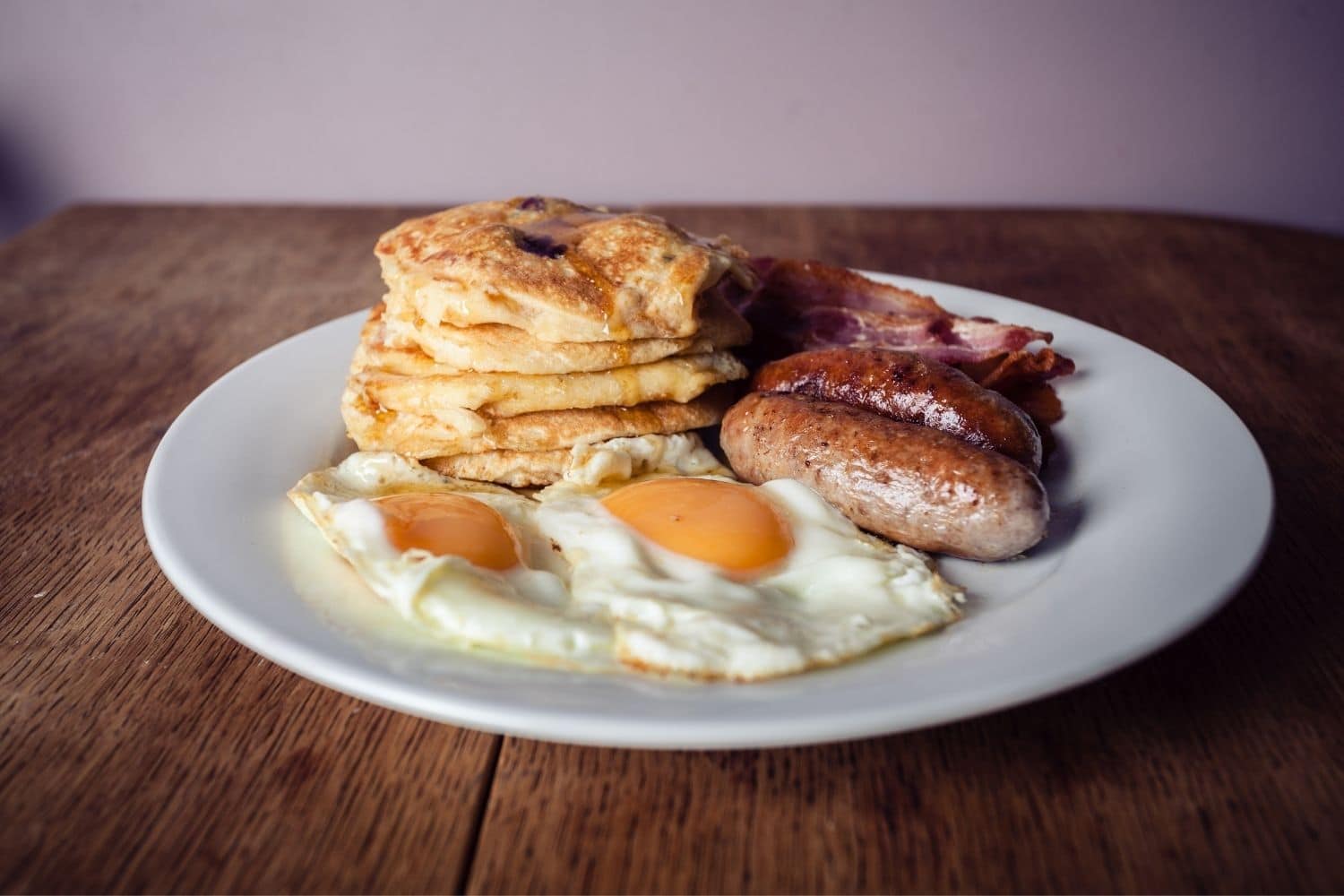 Right off, the TransCanada Craig's Way Station offers a classic diner-style breakfast at an affordable price. A lot of locals would consider it the best breakfast in town as an old-school family restaurant.
The menu provides a vast range of options: pancakes, eggs, benny, home fries, hash, or a classic fry-up. If you want a classic spot for breakfast with no frills and great service, it's tough to beat Craigs' Way Station.
---
Fergus & Bix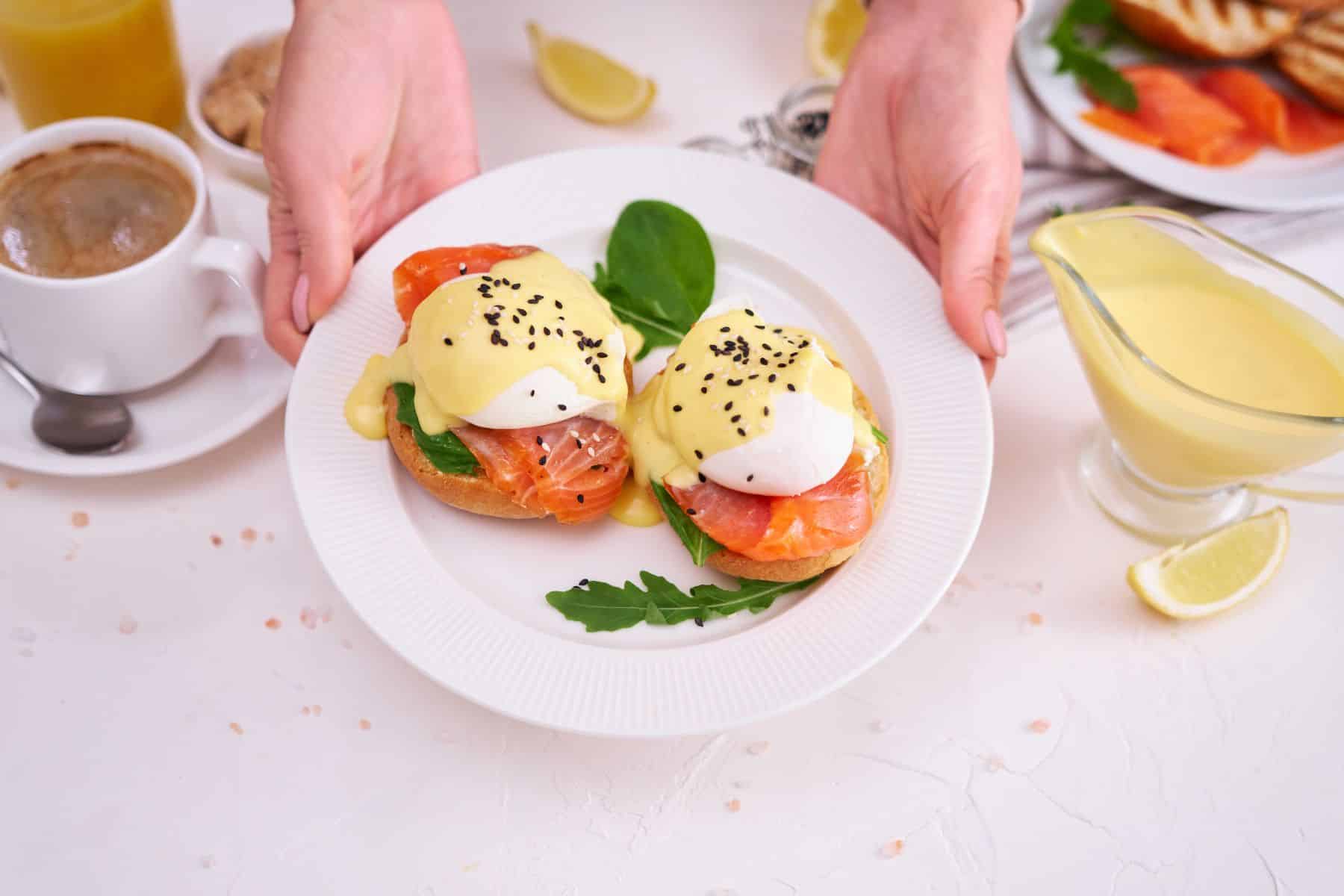 Already an established restaurant in Calgary, Fergus and Bix is a popular place to grab a beer. By combining all these elements with the freshest locally brewed beers, it becomes evident that they genuinely love their craft.
Though a place that is open late and has beer flowing, every Saturday, Sunday, & Holidays you can find them serving a special family friendly weekend brunch. With menu items like Dan's Perfect Breakfast Sandwich, cinnamon swirl French Toast, and varying types of Eggs Benny – you can't go wrong here!
---
Chez Francois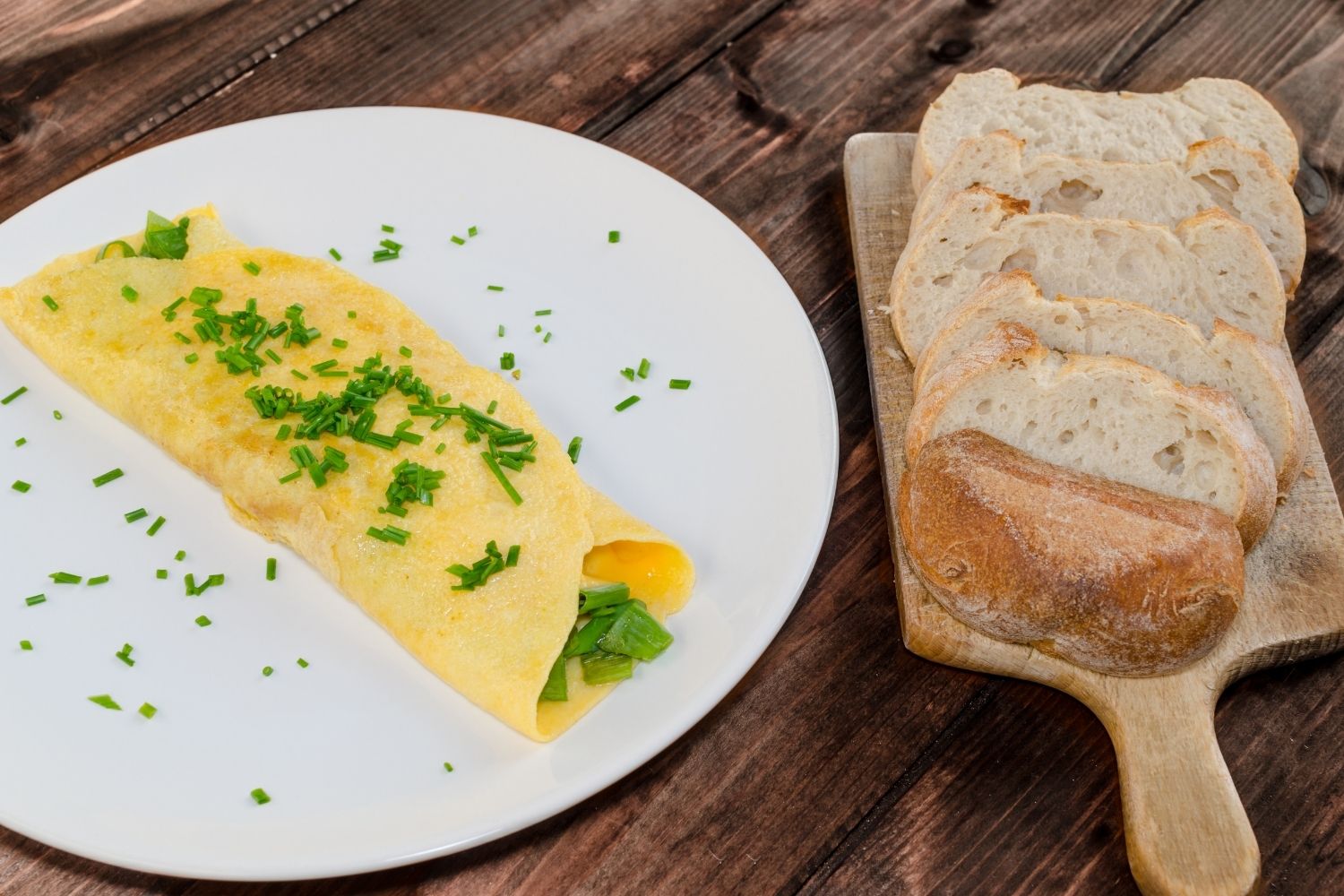 This French restaurant off the Bow Valley Trail is conveniently located next to many of the accommodation options in Canmore. We've only been twice to try out their eggs benedict considered by many to be the best in town. I can't say they won me over as the best eggs benny in town, but damn good.
They have an extensive menu of omelets, smoothies, crepes, and even eggs benny poutine. If it's a nice summer day, they also have a small patio if you're lucky enough to snag a spot as it's a popular spot for brunch in Canmore.
---
Harvest Cafe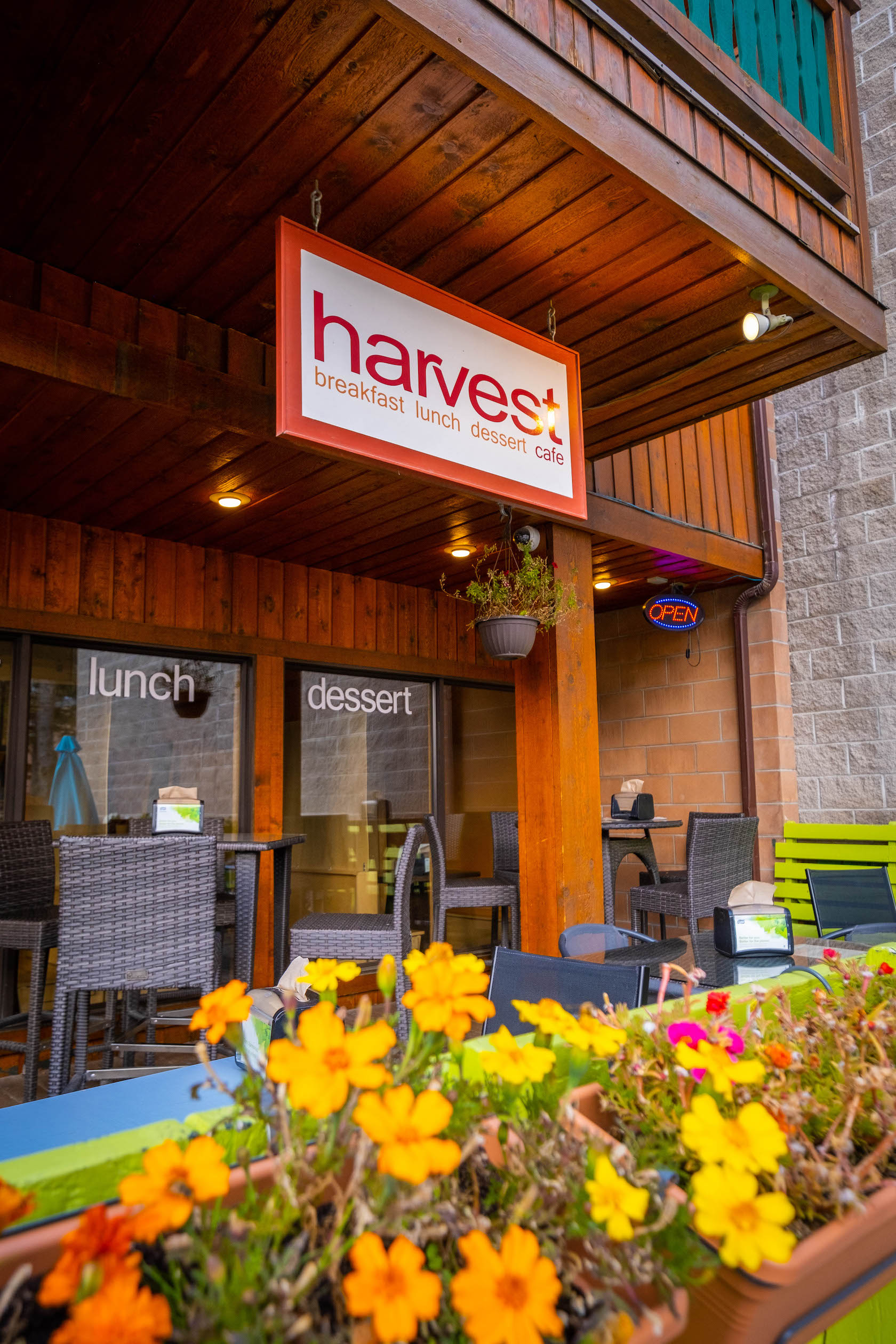 Harvest Cafe is right across the Street from Basecamp Resorts and Communitea.
This is a locally owned and operated Canmore cafe that claims to have the best cinnamon buns on this side of the Rockies. They are delicious but only available on weekends! Beyond the cinnamon buns, Harvest has memorable baked goods made in-house, great soups, wraps, and paninis. They're well known for having Gluten-Free and Vegan options in the valley!
This is a breakfast/lunch joint as they close in the evening, so make sure to hit them up before venturing out on a Canmore walk.
---
Cacao 70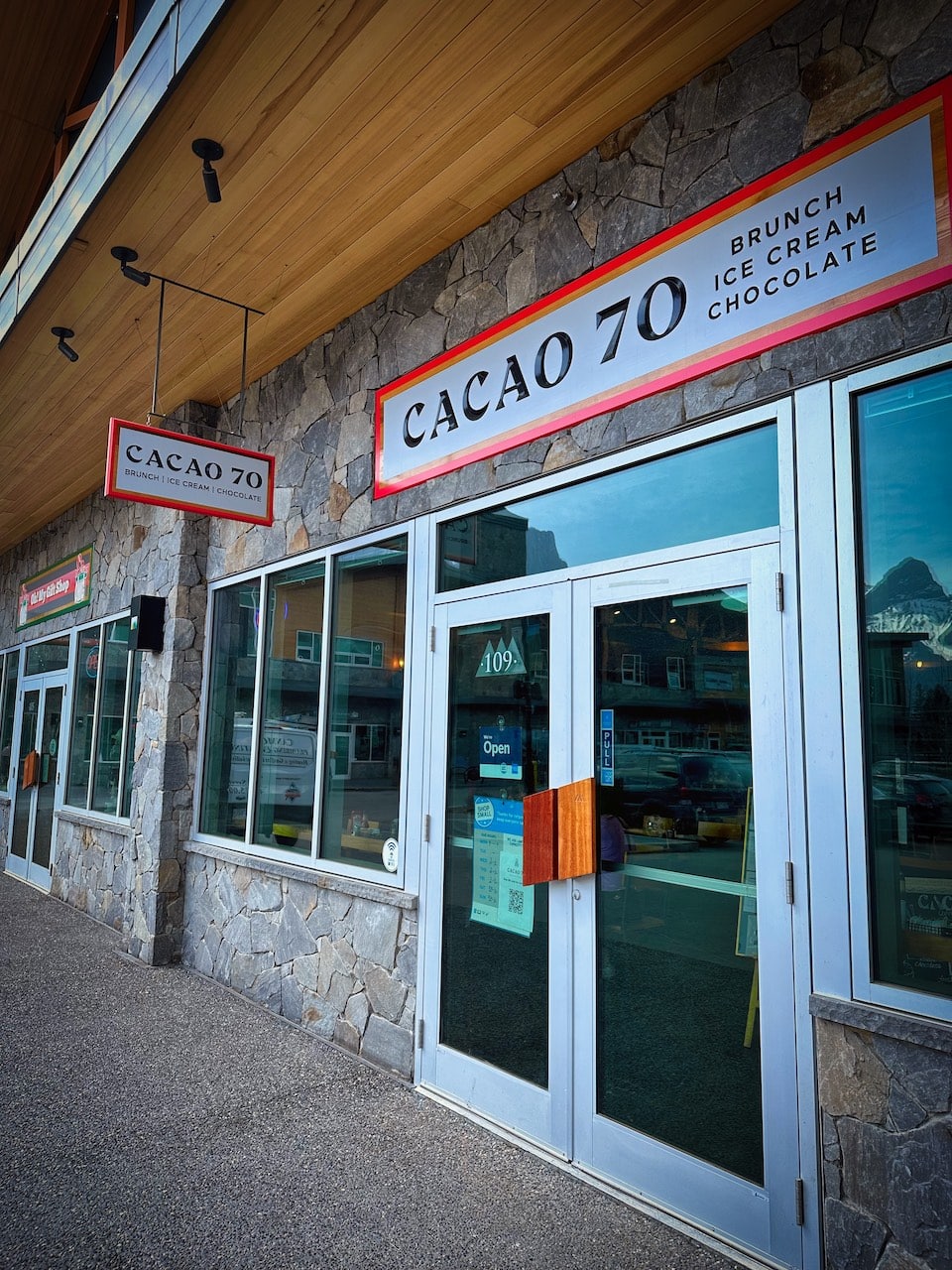 Are you a chocolate lover? You can't miss Cacoa 7 when searching for a sweet breakfast in Canmore. The team here has worked hard to source some of the best cocoa beans out there.
Head here for a chocolaty coffee, or a cocoa fruit cafe. Other star items are the sweet waffles made from scratch, or the ​Choco-Nut Waffle. If wanting a savory Canmore brunch item opt for their delicious outlaw chicken waffle or strawberry & goat cheese salad.
---
Iron Goat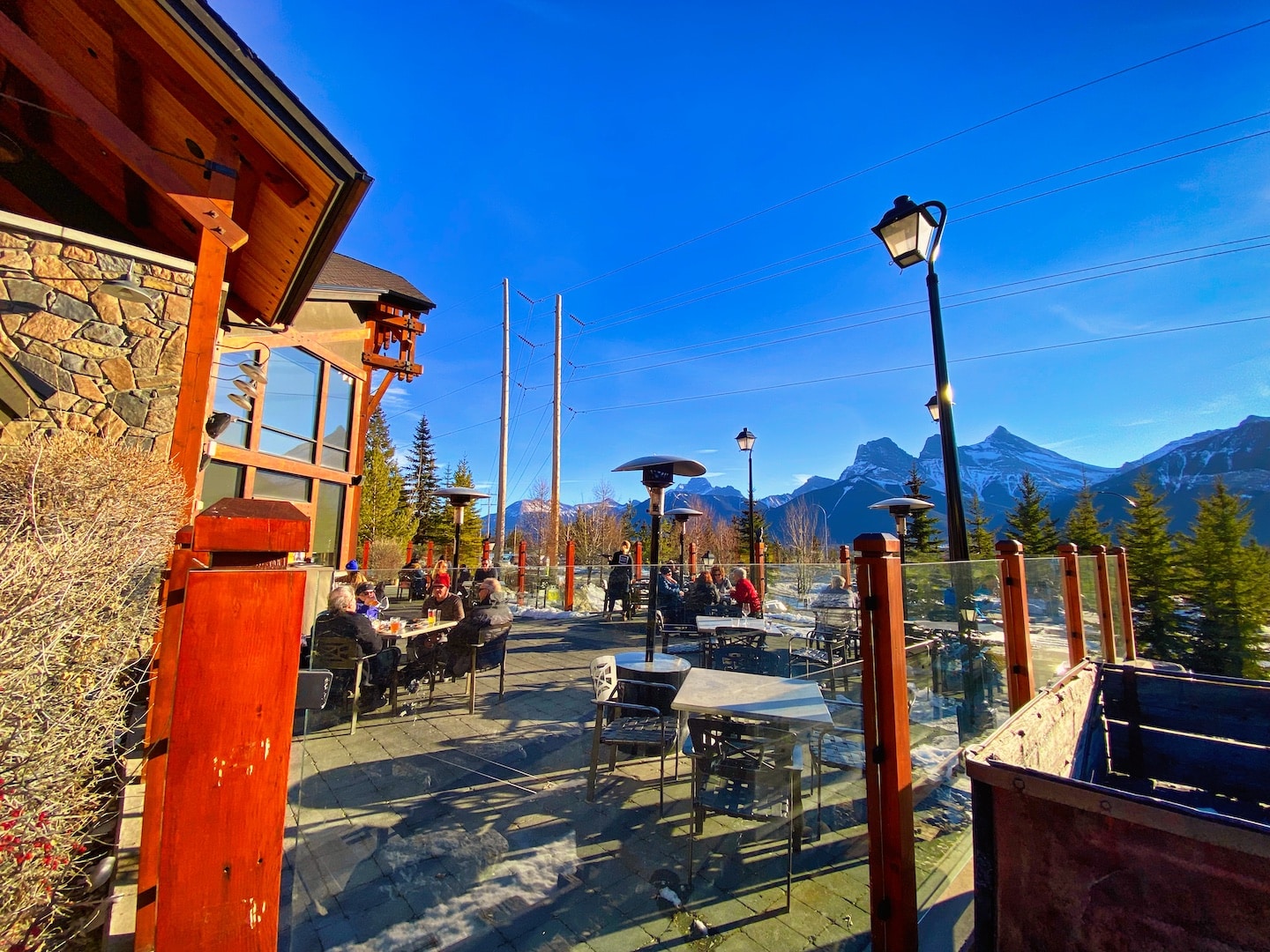 For a Canmore brunch with a Three Sisters view, the Iron Goat will not disappoint. While Iron Goat is mainly a pub with pub food, you can also come here for a great brunch or lunch under sunny skies on their patio!
---
Graze Canmore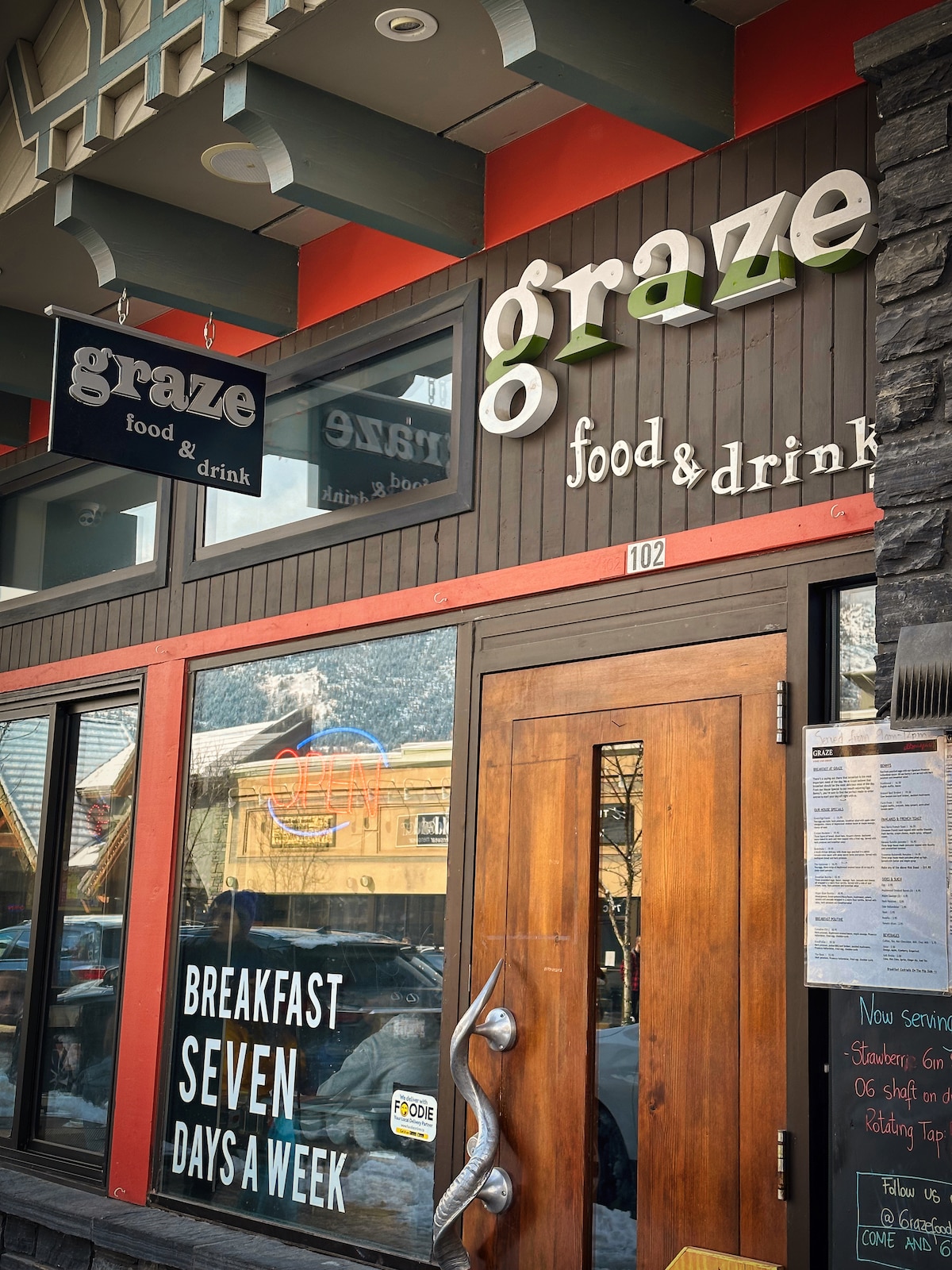 Located right on Main Street, Graze serves one of the most memorable Canmore breakfasts around.
Graze Food and Drink serves up scrumptious cuisine in a soul-rejuvenating environment. Indulge in their Eggs Benedict, breakfast poutine, or classic pancakes and waffles.
They cater to all preferences with diverse options like Vegetarian, Vegan & Gluten-Free dishes. In the summer one of the best things to do in Canmore is bring your furry friend to enjoy the outdoor patio!
---
Best Coffee Shops in Canmore
---
Eclipse Coffee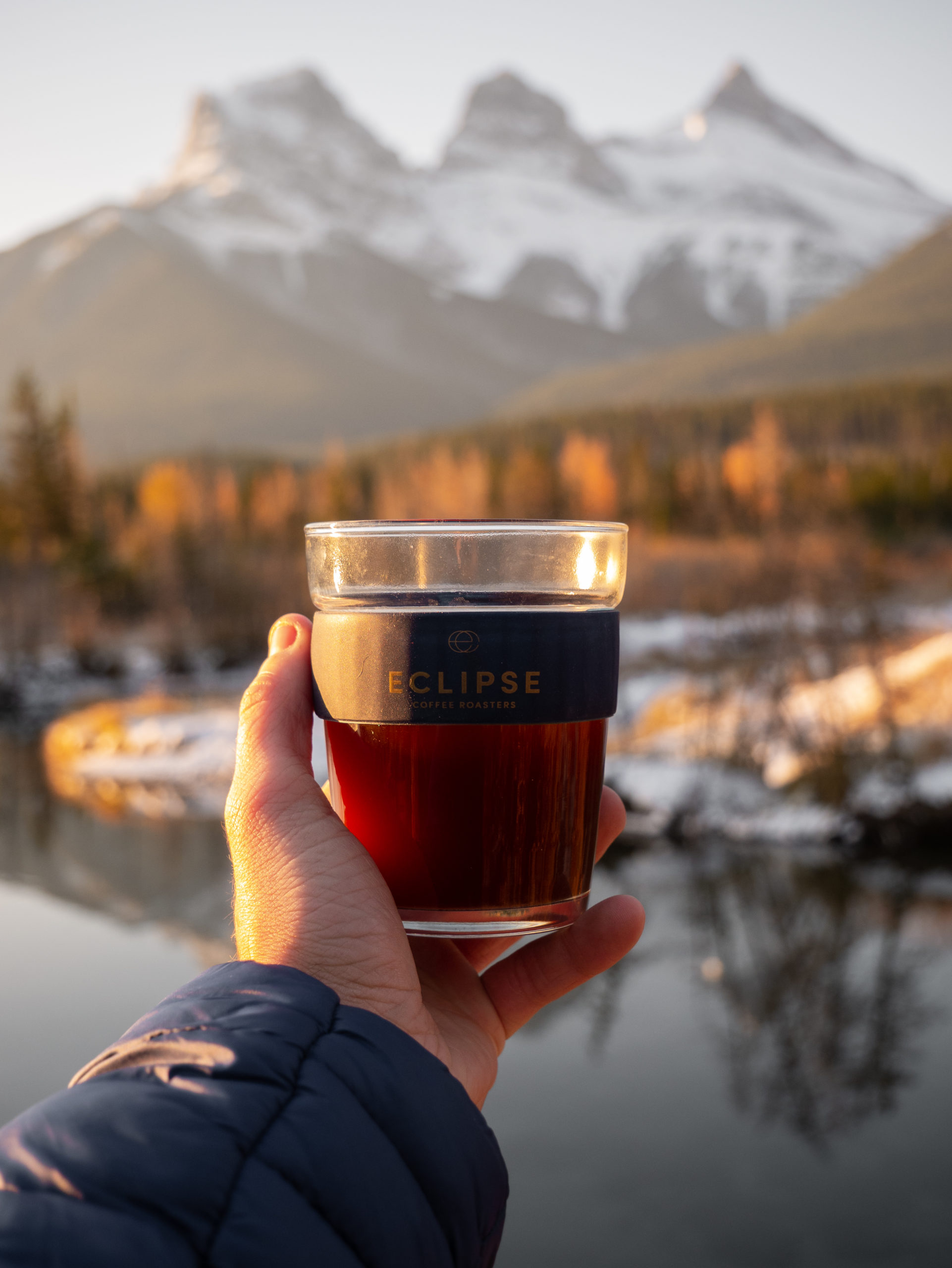 While it may not be the spot if you're looking for a wonderful breakfast in Canmore, it is the spot for beautiful coffee. At Eclipse, you will find artisan roasts made in-house with a wide range of specialty coffees.
Expect to find the usual espresso drinks ranging from a flat white to a latte and a nice pour-over for true coffee aficionados. This is our favorite spot and where we like to pick our coffee roast for home. There isn't a lot to eat, other than a few baked items.
*Eclipse has two locations, one downtown on 8th Street, and one on Railway Avenue near Safeway.
---
Beamer's Coffee Bar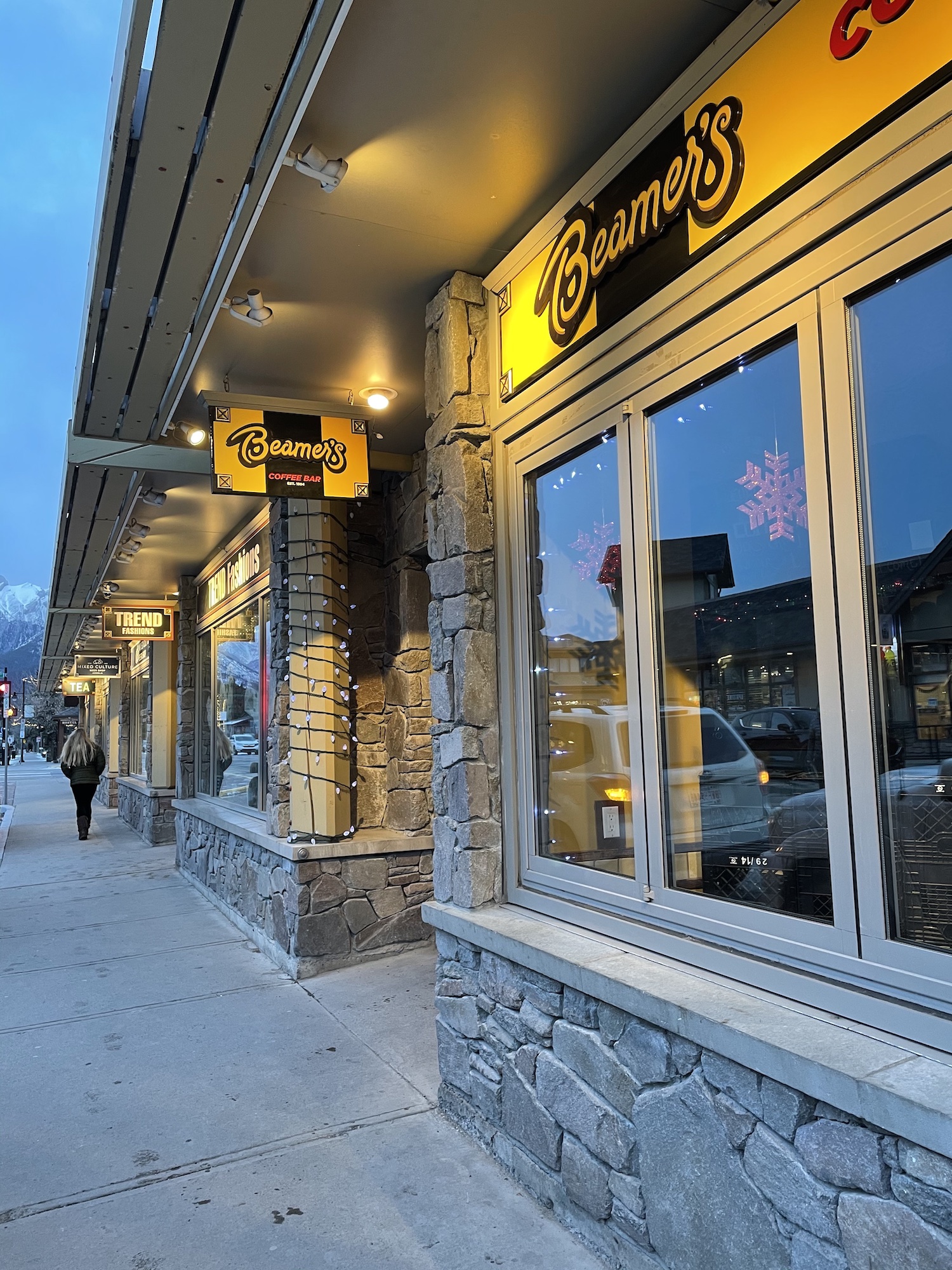 Beamer's has been a local establishment since 1994. They have some great drip coffee blends and delicious snacks for a quick morning. You can find all of the usual coffee drinks.
As far as coffee in Canmore goes, it's a close second to Eclipse Coffee. In particular, we suggest trying one of their delicious muffins. It's a toss-up between the two coffee shops as Beamer's has better food, but Eclipse wins for coffee.
---
Best Canmore Bakeries
---
Rocky Mountain Bagel Company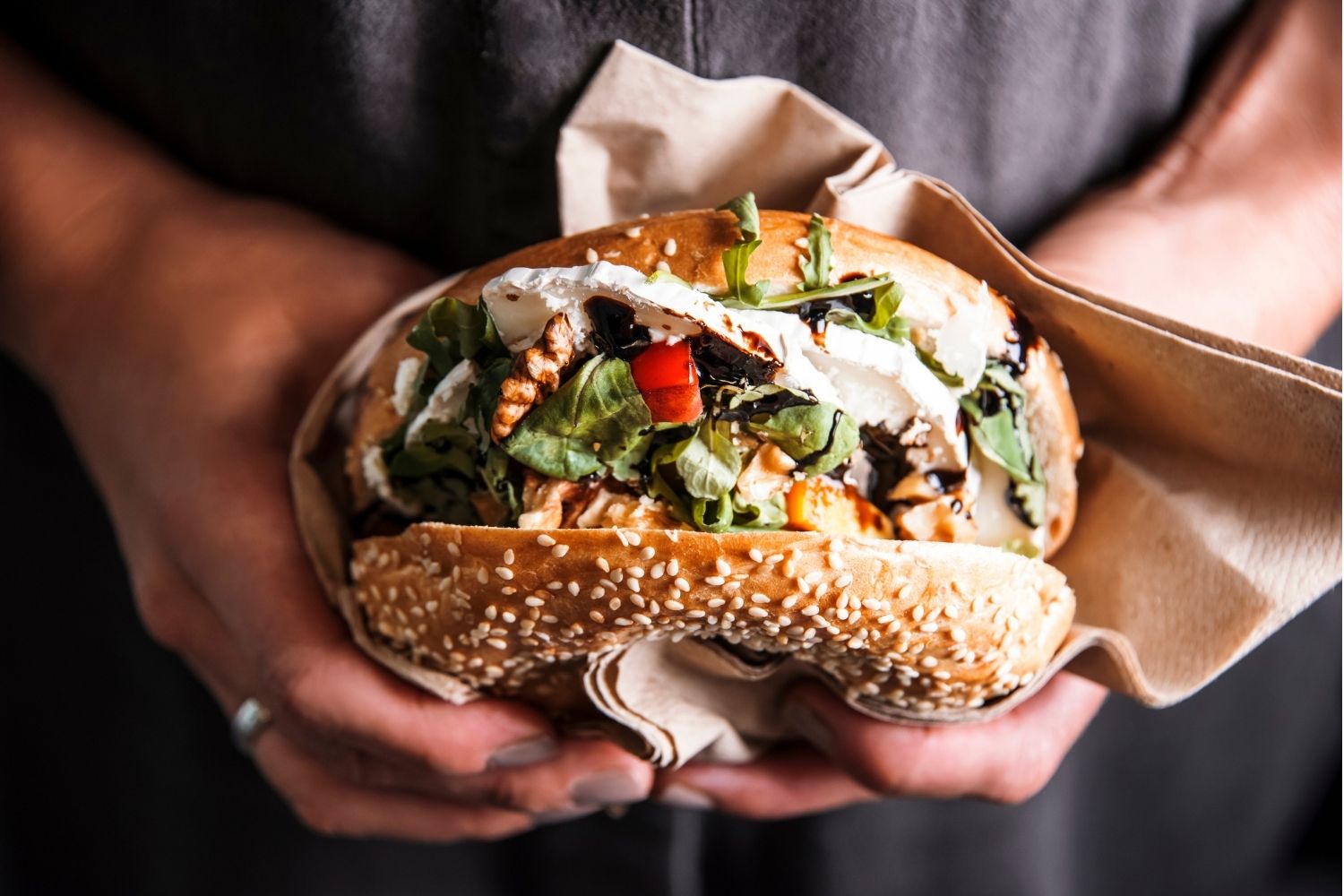 I love a good bagel, and there is no place better to start your mornings than the Rocky Mountain Bagel Co. This breakfast Canmore joint is an institution in town and now has two locations, including a massive new bakery.
Pick from their wide range of bagels for a mouth-watering sandwich, or opt for one of their homemade cream cheese spreads. I love their jalapeno cheddar and rosemary sea salt bagels.
You can grab a dozen bagels to prepare at home, and if you're looking to save a buck, buy a mixture of their day-old bagels for a big discount. Rocky Mountain bagel also offers takeaway breakfast in Canmore, so you can place an order online to save time!
---
J.K. Bakery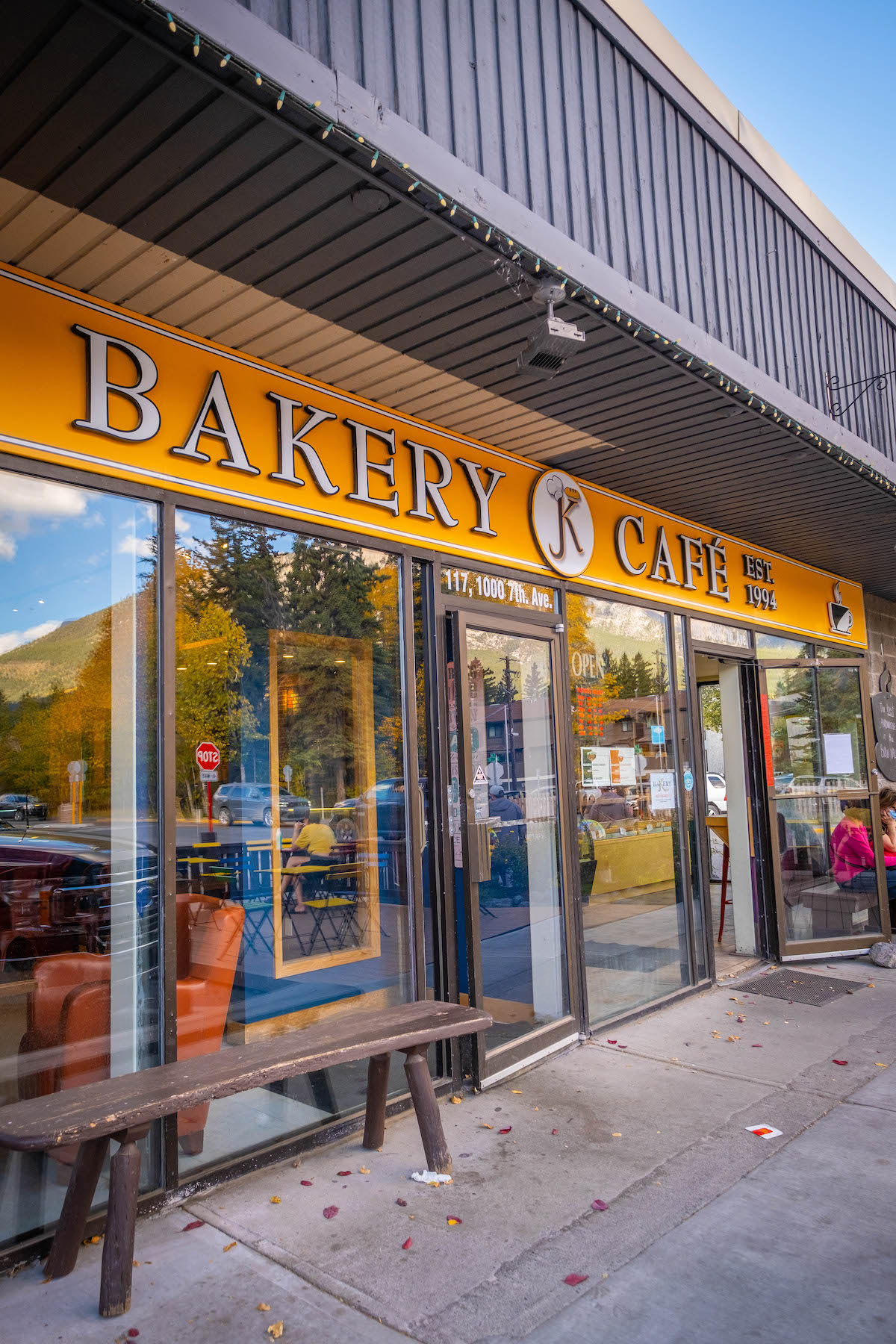 J.K. Bakery offers freshly baked goods every day with a wide selection of bread, sweets, wraps, sandwiches, and coffee. Pick from options like cinnamon buns, paninis, quiches, or even an apple strudel.
If we feel like the comfort of a bakery for breakfast or even a quick lunch J.K. Bakery is our go-to in downtown Canmore. Best of all, prices are pretty reasonable considering the quality.
We've picked up a number of their loaves of bread to make sandwiches for long days exploring the park. It's a heck of a lot better than the stuff you can buy at the grocery store.
---
Le Fournil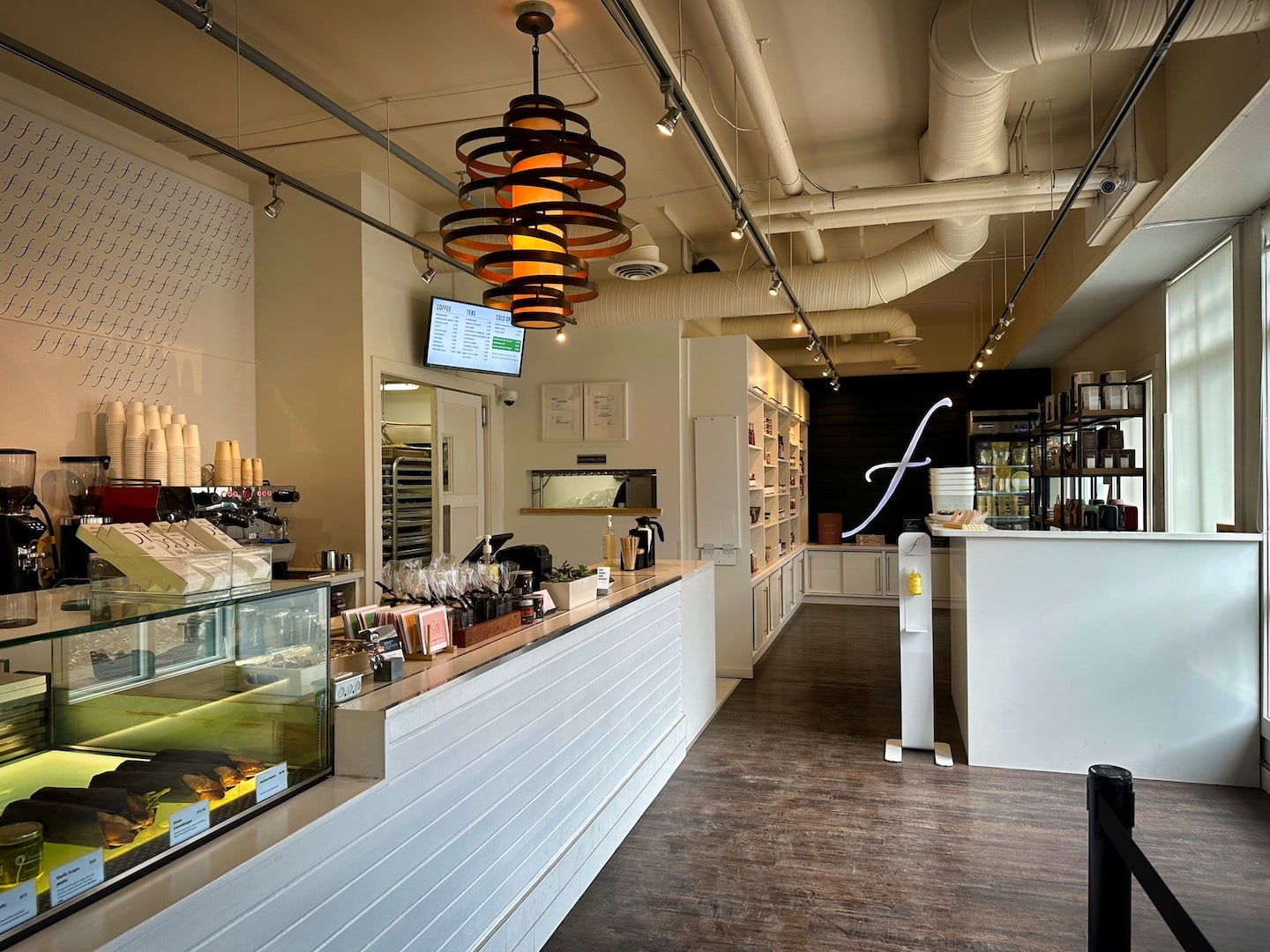 This french inspired bakery creates some wonderful pastries, bread, and desserts. If anyone loves a good croissant and coffee in the morning, this is a fantastic option.
Pastries are gorgeous here and look like little pieces of art. Stop by and grab a mouth-watering dessert or baguette. Their hot chocolate is fantastic on a cold winter day! As one would expect, prices are slightly higher for the pastries than J.K Bakery.
---
Best Breakfast Restaurants in Banff
---
Tooloulous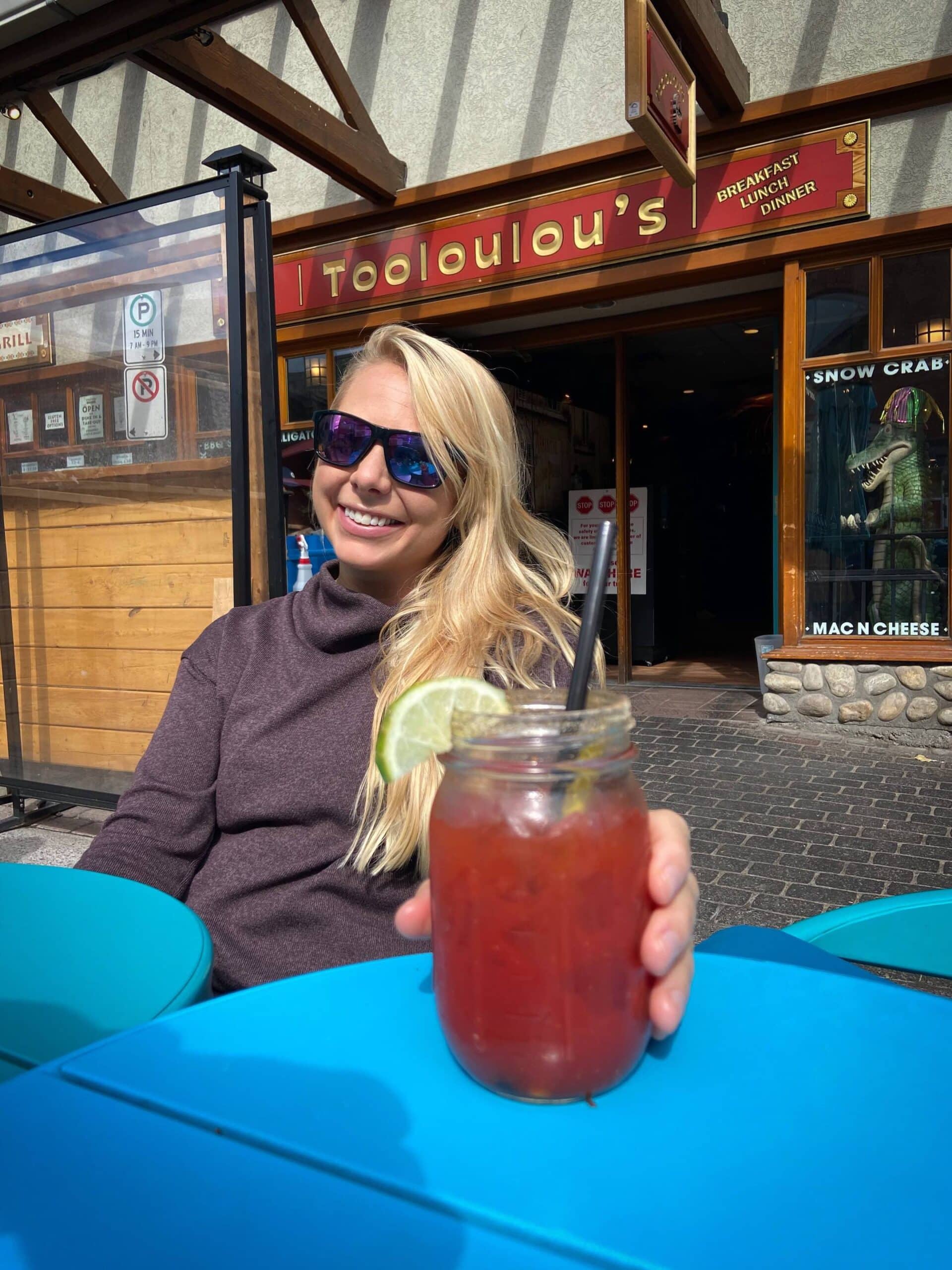 Not many expect to find cajun food in the Canadian Rockies, and the restaurant has an unassuming decor. However, Tooloulous has some solid cajun food on offer and serves up some of the best breakfast in Banff. The breakfast menu at Tooloulous is extensive, and you have a seemingly endless selection of tantalizing breakfast dishes.
Expect a hearty breakfast and big portions. They have everything from a multitude of topped waffles and french toast to eggs benedict and breakfast poutine. Personally, I have a hard time ever turning down french toast! They also serve cajun comfort food items and fusion like sweet and spicy breakfast potatoes or a jambalaya omelet.
Since I'm from the South, I always love some good comfort food, like tasty cornbread. Prices are pretty affordable too when you consider Banff can be pretty expensive for dining. This is my top suggestion for breakfast in Banff if it's not included in your accommodation.
---
Juniper Bistro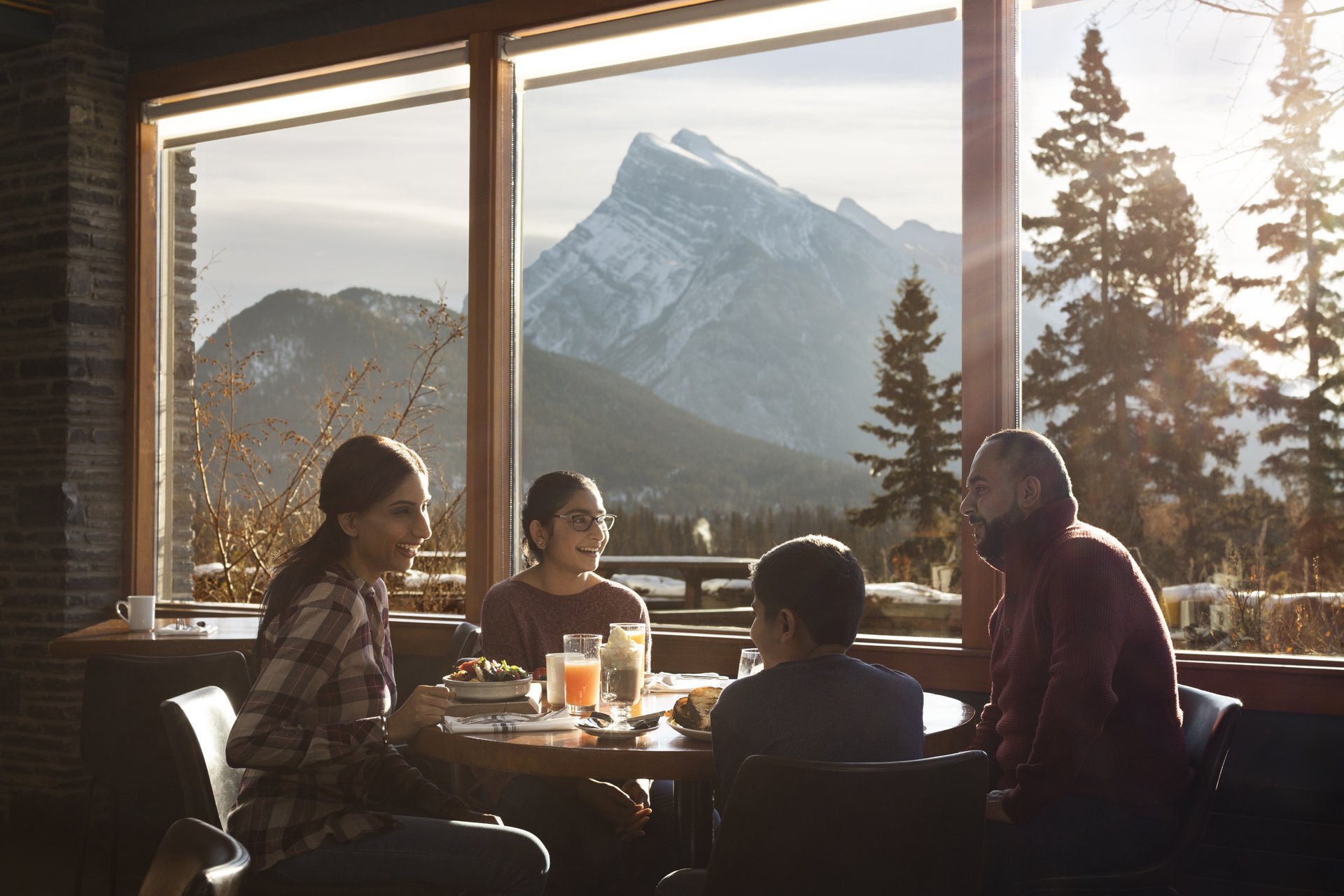 For amazing breakfast views and some delicious breakfast, head to the Juniper Bistro. The menu is not as extensive as some of the other options on this list, but it's more of a nice brunch spot for a special occasion.
You can find items on the menu like stuffed french toast, huevos rancheros, grilled avocado, and salmon eggs benedict. The restaurant and hotel are not located in the town center, but instead, it's across the TransCanada on the way to Mt Norquay. The views from the dining room though are surreal as you look out to Tunnel Mountain and Mount Rundle.
---
Plan Your Trip to the Canadian Rockies
↓ Join the community ↓
The Banff Blog Facebook Group is your headquarters for the Canadian Rockies' travel advice and information. Including hike info and off-season travel information. You can also meet new adventure buddies.