Moraine Lake is easily one of the most beautiful places in all of Canada. There is no image more iconic of the Canadian Rockies or Canada for that matter than Moraine Lake. It's on every visitor's bucket list, but when is the best time to visit Moraine Lake and what is the Moraine Lake weather like?
Moraine Lake is an alpine lake with a wild turquoise blue color fed by glacier melt and set with a backdrop of the Ten Peaks. This pristine piece of wilderness draws in millions of visitors a year and once graced Canada's twenty-dollar bill.
However, there are only a select few months out of the year that you can actually visit this iconic lake. And even then, it's not as easy to visit Moraine Lake as you may think. Let's dig into the best time to visit Moraine Lake!
Moraine Lake has new parking and shuttle restrictions, see more information about that here.
See Also:
---
When is the Best Time to Visit Moraine Lake?
---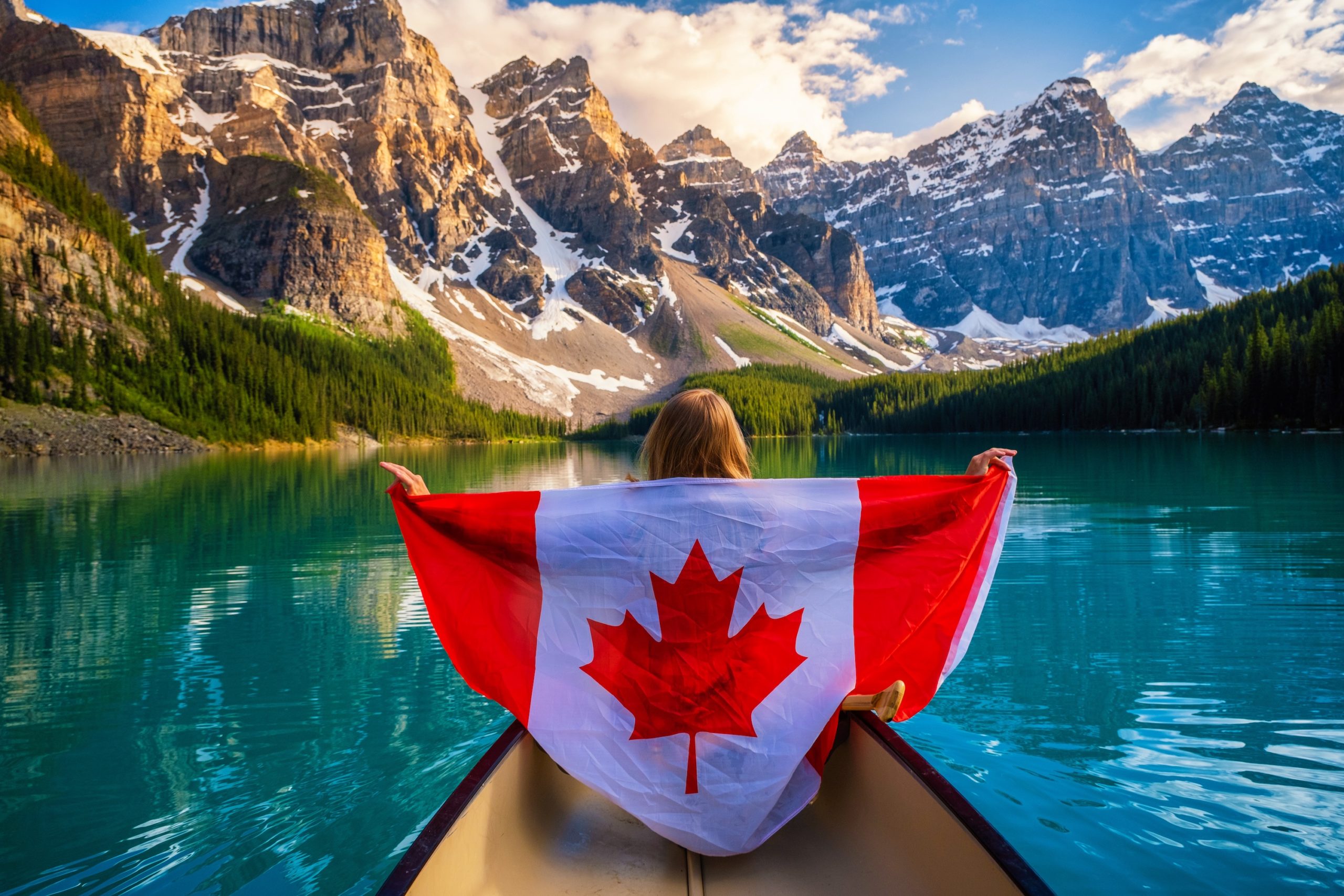 Typically I would break down the Moraine Lake weather month by month like I did when discussing the best time to visit Lake Louise. However, I don't have to do that for Moraine Lake because the access road to Moraine Lake is only open five months out of the year. From mid-October to late May/early June, the road to Lake Moraine is completely closed off.
Since Moraine Lake lies at a high elevation and is accessed by one small road, it is prone to high avalanche risk. This means for safety, the road is closed to all vehicles during the Banff winter months. It usually opens around late May and closes the Tuesday after Canadian Thanksgiving Holiday (the second Monday in October).
There are no set dates regarding the opening and closing of the road as it's entirely subject to the weather/snow conditions. When Parks Canada feels the route is safe, they will plow the road and open it to the public. However, you can expect this to happen around the first week of June and close around the second or third week of October.
Only a few people will get back there during the other months and are typically well versed in avalanche safety.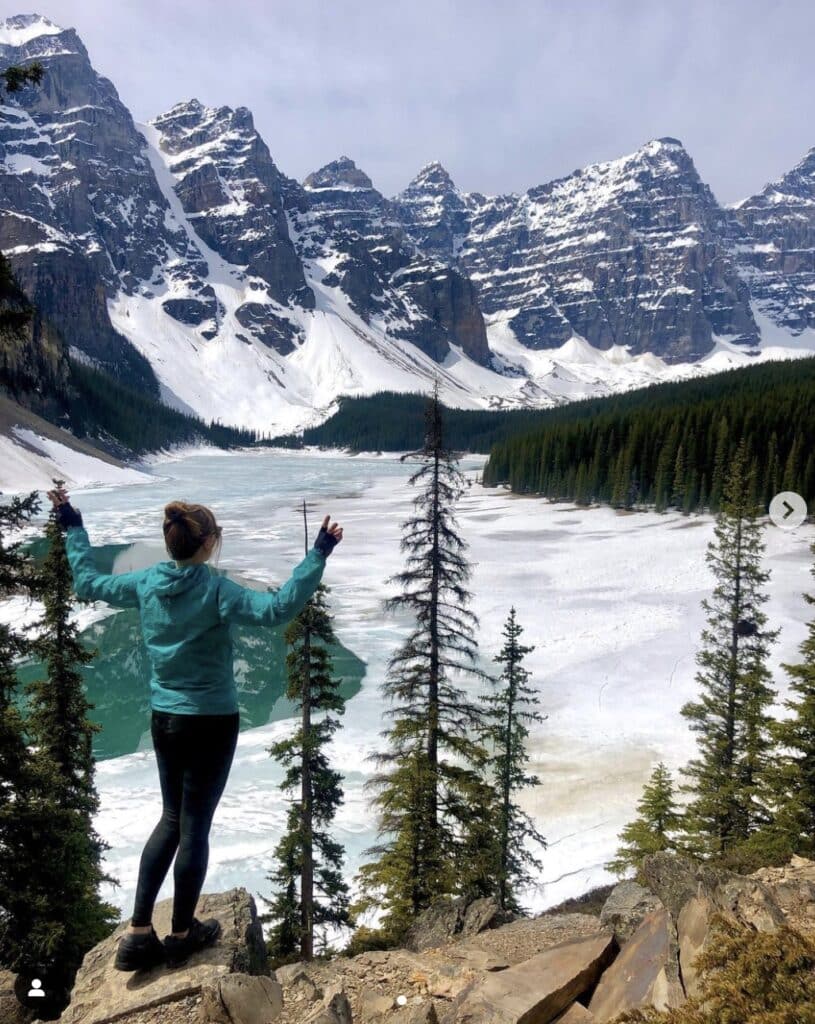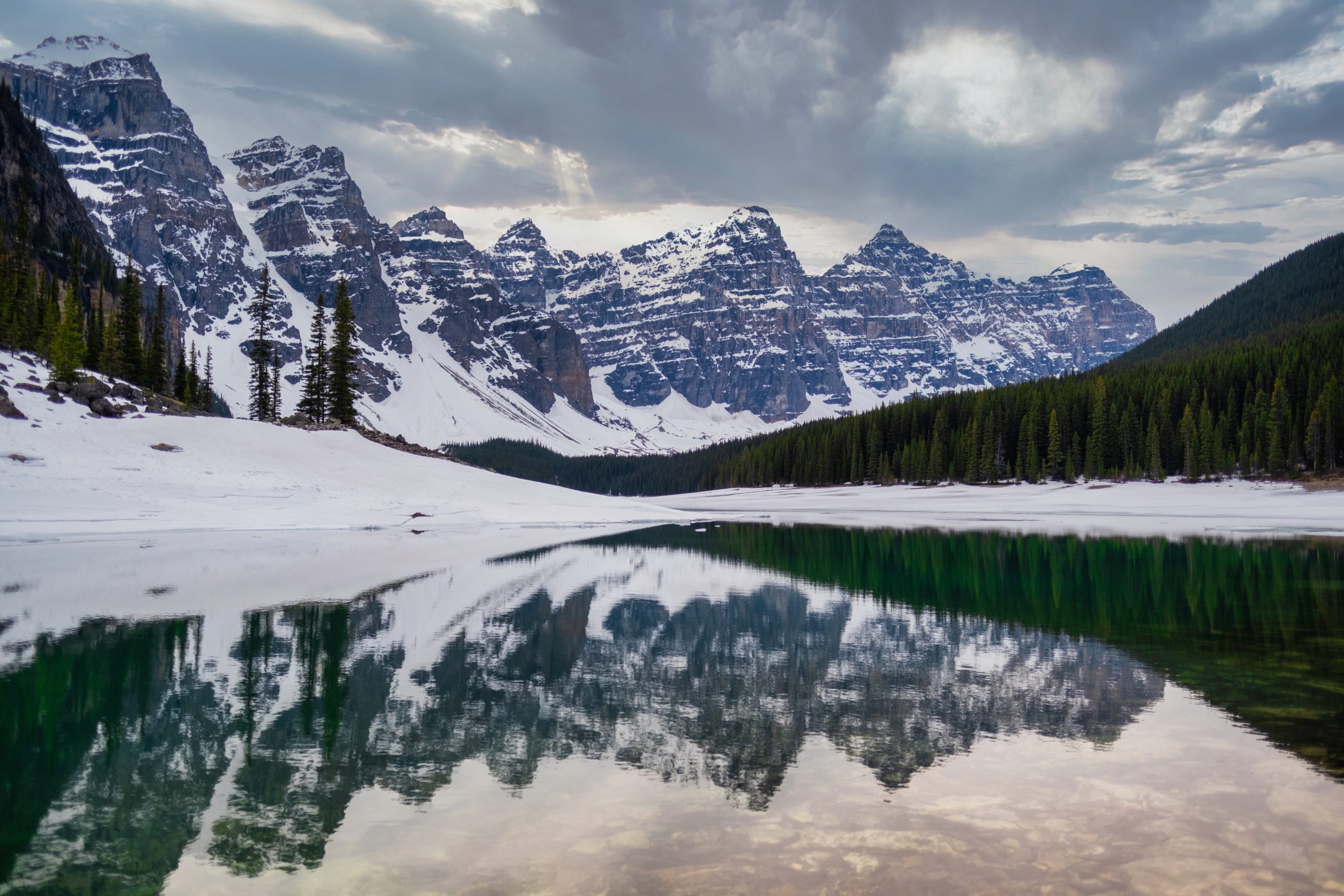 ---
Moraine Lake in June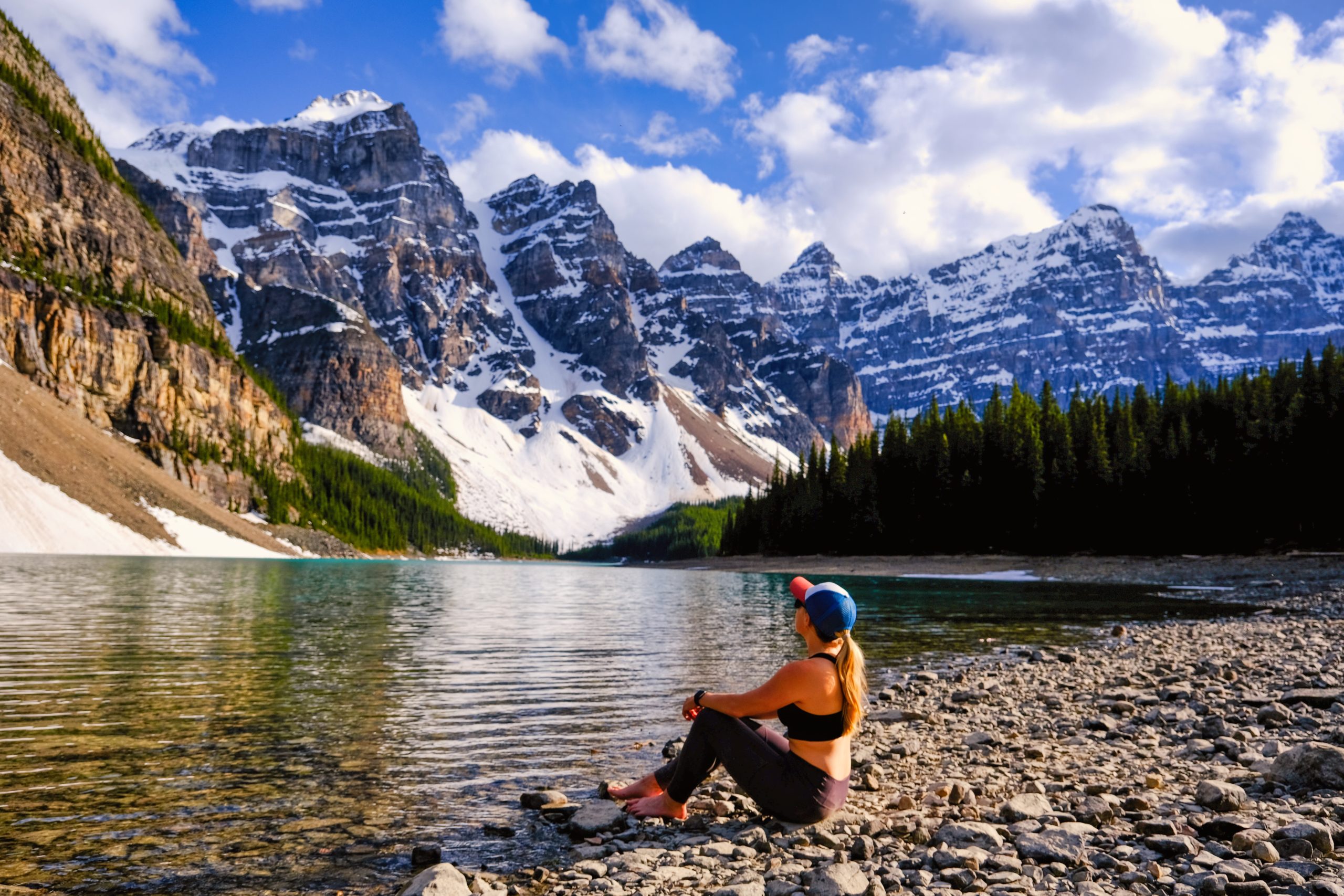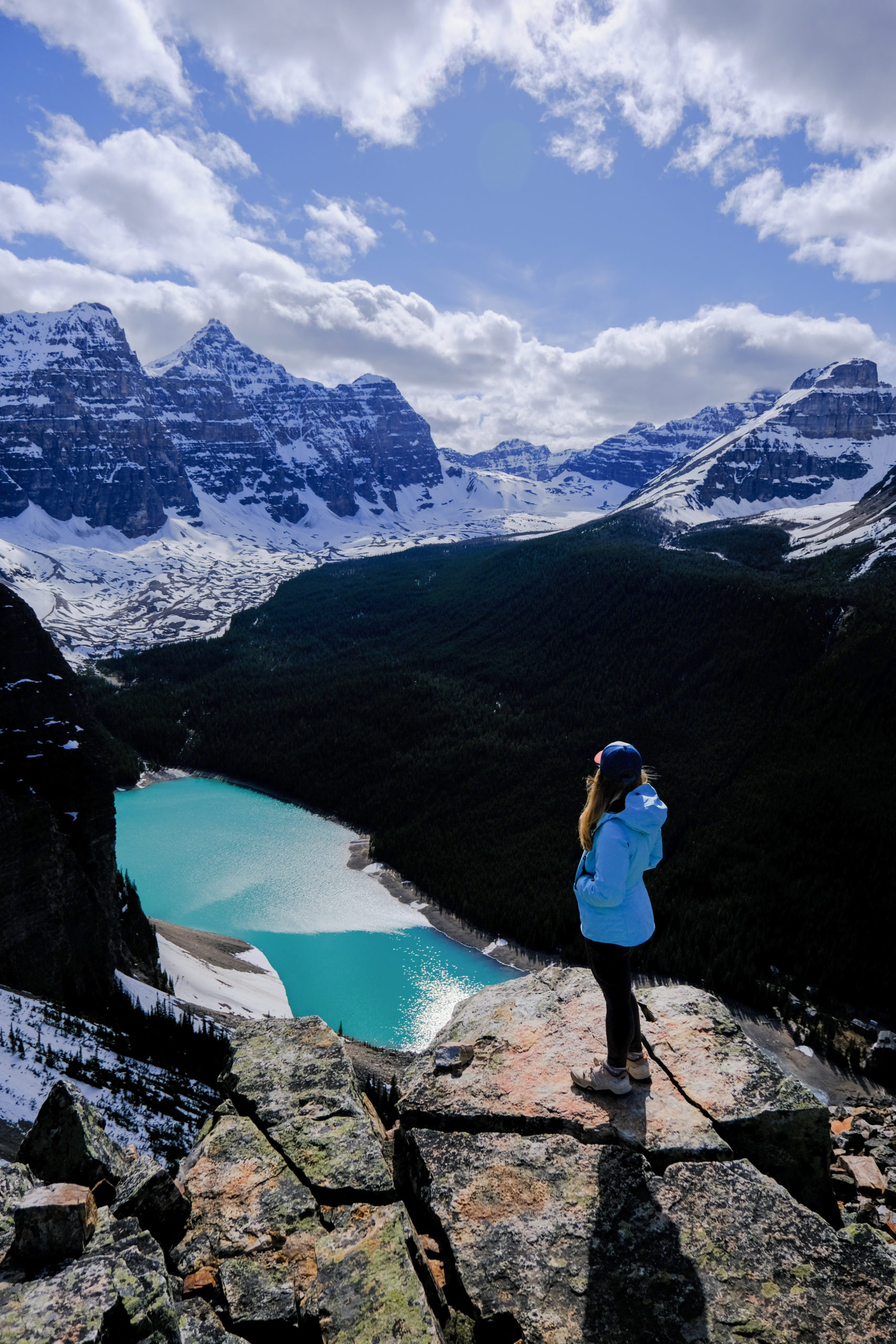 June is the first full month that Moraine Lake is accessible to visitors. This means that Parks Canada has cleared the road, and it is deemed safe to drive on. Moraine Lake has just melted in early June, and you may get there when the lake has not hit its full blue potential yet.
Moraine Lake is a glacier lake meaning it recedes in the winter. So when the snow melts in June, the lake begins to fill up again. This means you may arrive at Lake Moraine and find it less full than you are expecting.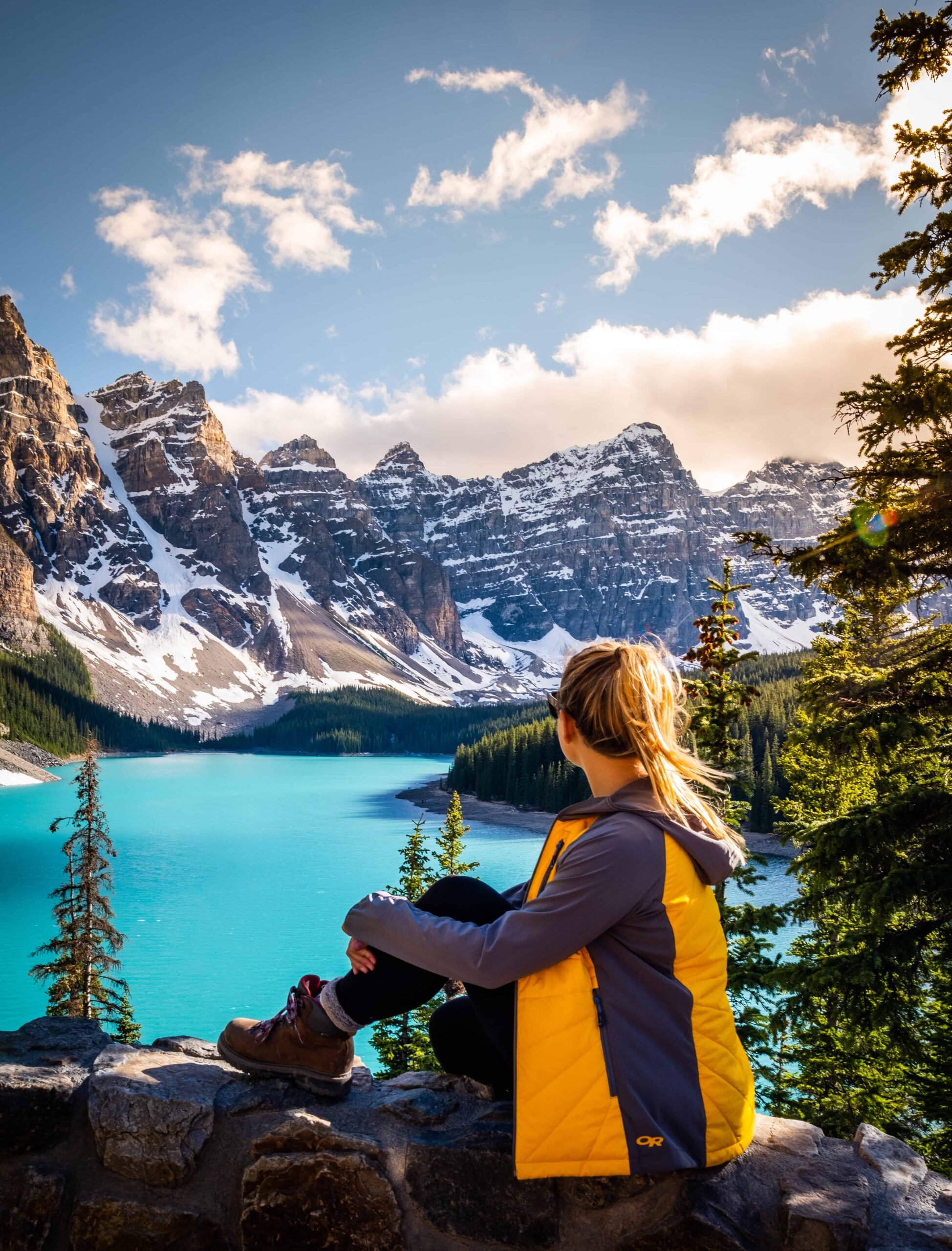 If it's been a long winter, you may even find ice on the lake in June, but don't worry, warmer temperatures are coming. By late June, Moraine Lake will be full and absolutely beautiful.
---
Moraine Lake in July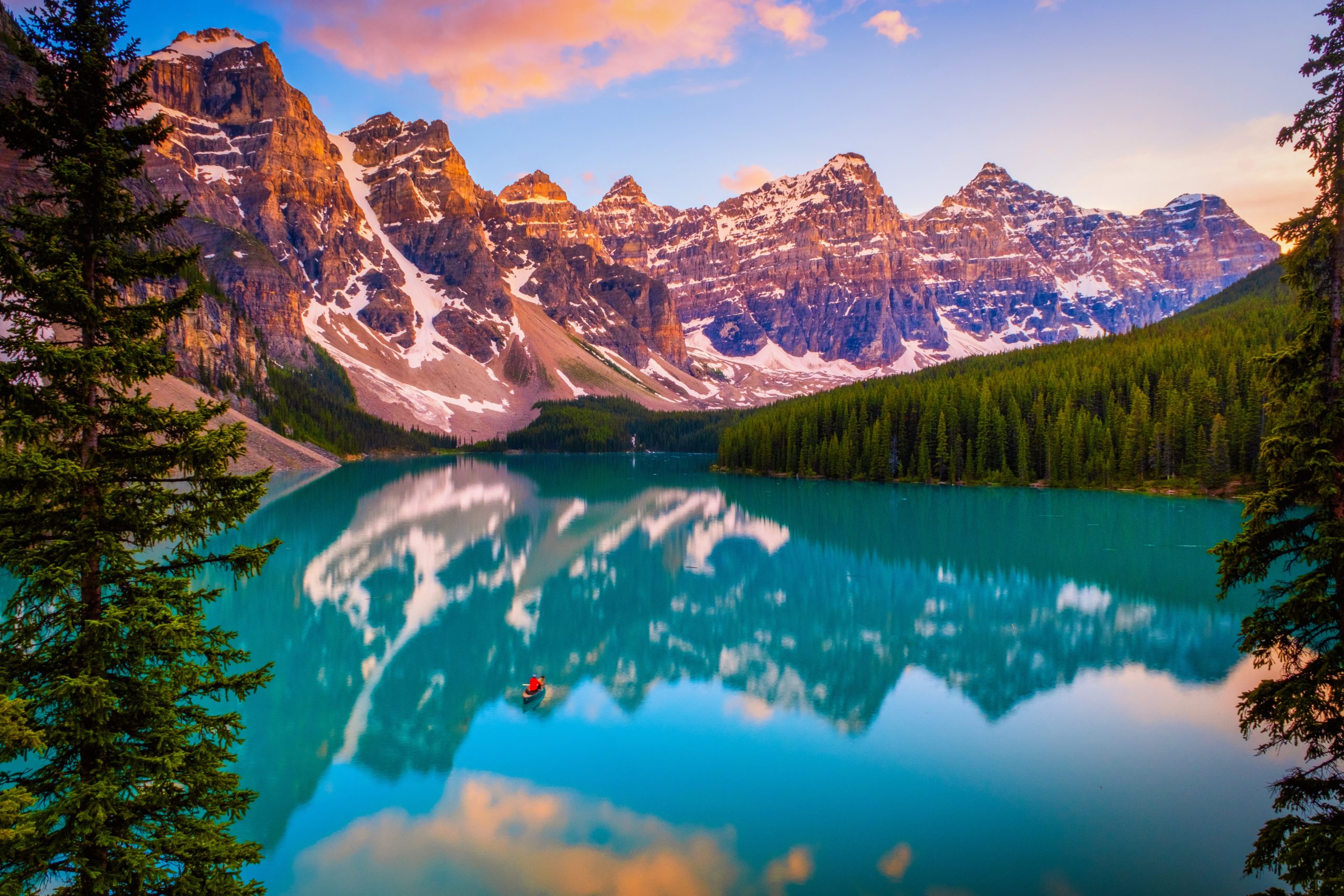 July is peak season in Banff and easily one of the best times to visit Moraine Lake. You can expect the lake to be melted by now, and scrambles like Tower of Babel are good to go. However, you'll need to wait a bit to attempt and get up to Sentinel Pass, Eiffel Peak, and Mt. Temple. The easiest Moraine Lake hike you can do right now is go up the Rockpile trail or walk around the Lake Moraine lakeshore.
By mid-July, Consolation Lakes should be thawed and are also a great easy trip out. July also means the crowds are insane, especially at Canada's most famous photo point.
You can expect Moraine Lake to be busy from 5:30am to 7pm at night. Still, July provides visitors with almost 17 hours of daylight, so there's plenty of time to enjoy all that Lake Moraine has to offer. It's a great time to take a canoe out on Moraine Lake.
---
Moraine Lake in August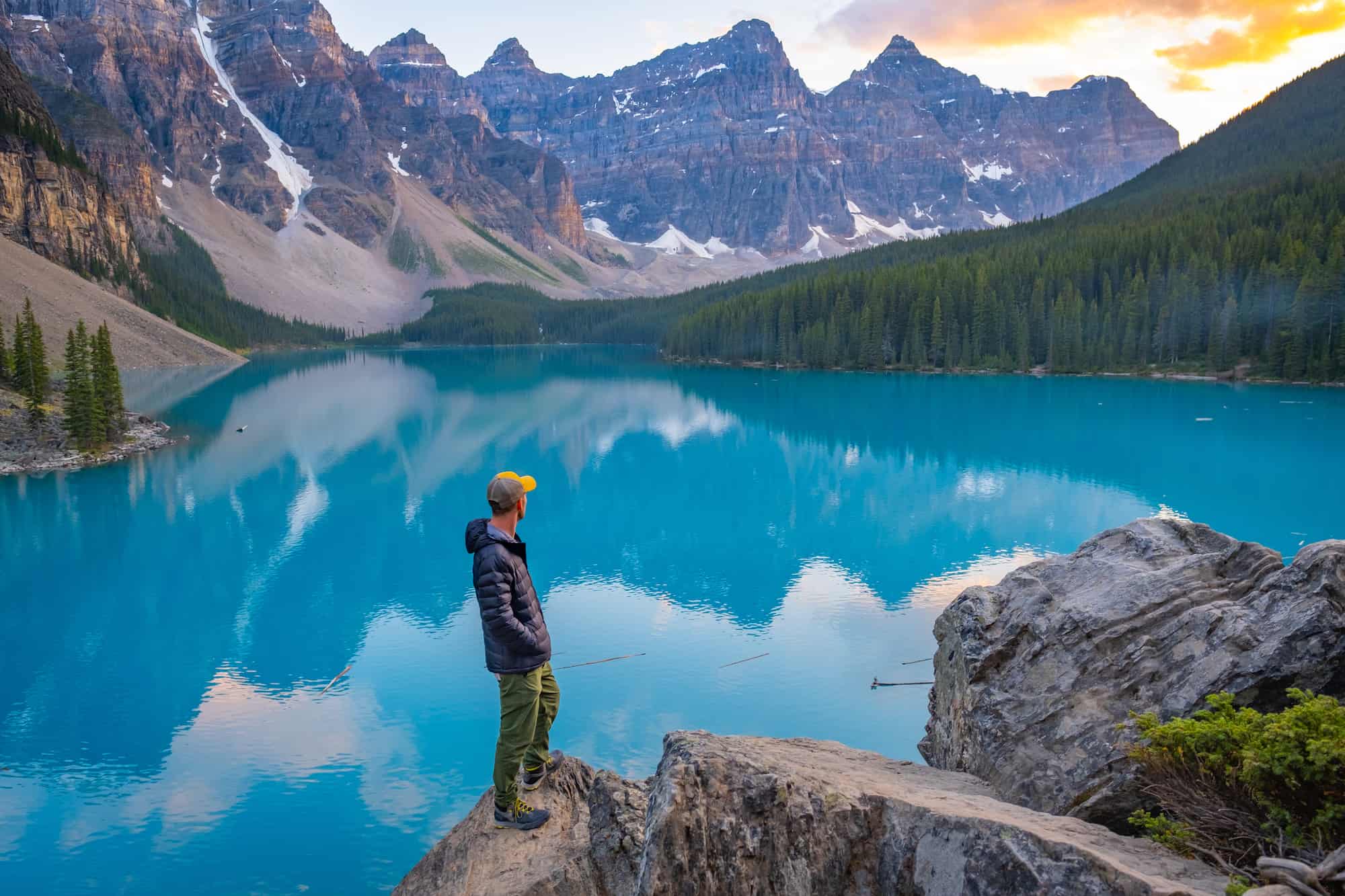 If you thought July was busy, it will not get much better in Banff in August. It's a busy time, even more than in July. By August, Moraine Lake is still thawed, and most of the hikes and scrambles are good to go. Late August is even a great time to summit Mount Temple. August, hands down, is the best time to visit Moraine Lake, and temperatures will be the best they will be all year.
Getting to Moraine Lake is still an issue in August, and you are pretty much looking at the same struggles you were in July. To avoid complication we recommend the Moraine Lake Shuttle operated by Parks Canada. This guarantees you get to Moraine Lake at a certain time, and takes all the stress out of parking yourself.
---
Moraine Lake in September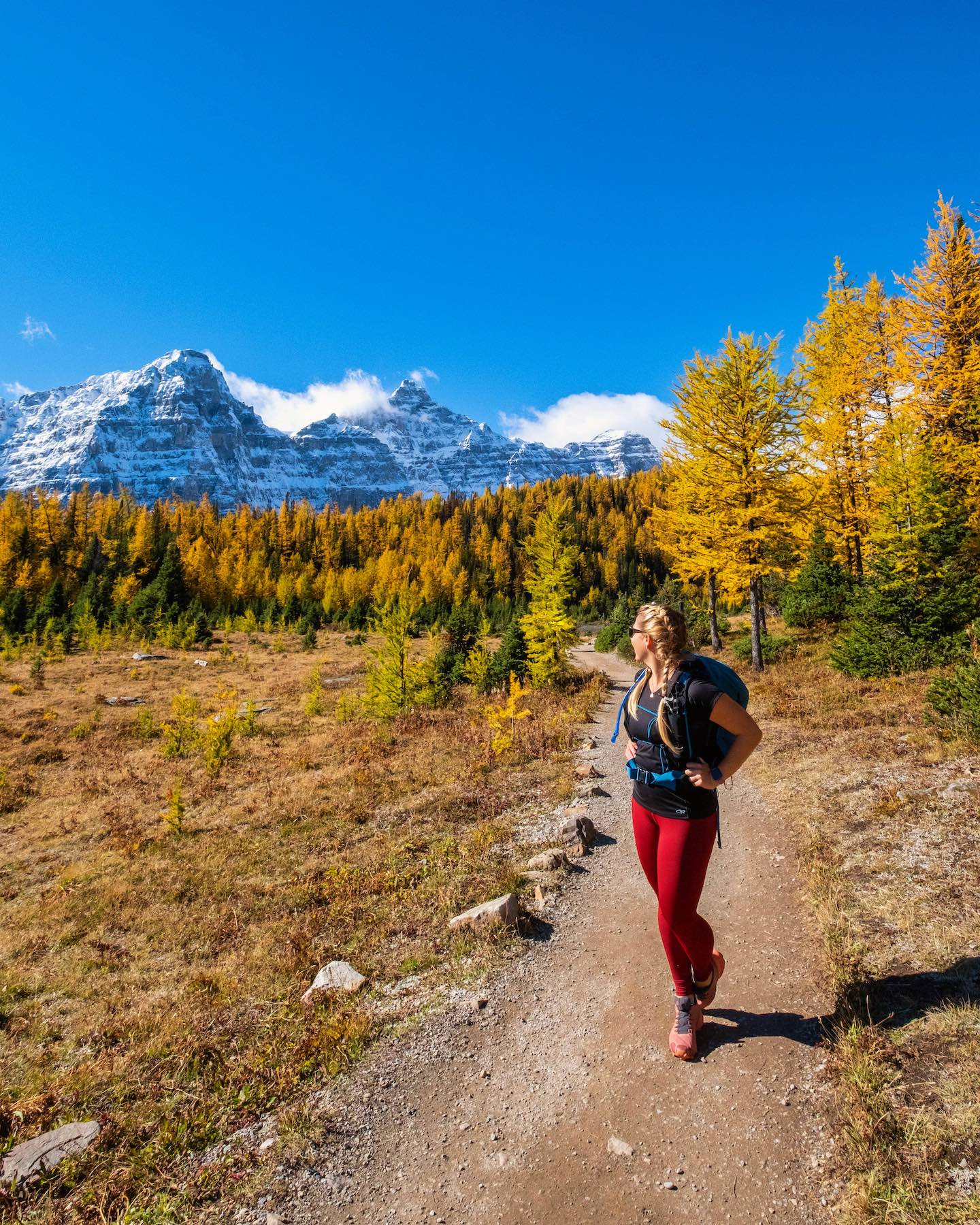 Do you know what September in Banff means? It's officially fall! While we don't have pretty Maple trees that turn colors, we do have larches. By mid to late September, you can expect the larches up around Moraine Lake to be absolutely stunning.
One of the most famous "larch march" hikes is Sentinel Pass. This is one of the most famous and busy hikes in Banff come larch season. From September 20th to October 7th or so you can expect lots of people to hike this way. To escape the crowds hike further and higher. Summits like Effiel Peak and Mount Temple are only attempted by serious scramblers, or you can hike the Paradise Valley Trail to Lake Annette.
By September, the summer crowds are dying down a tad bit in the park, but the autumn lovers also chase after the larch trees in Banff, so it's still busier than you would guess.
There are still plenty of outdoor activities to enjoy in September. Hiking is still in full swing. Weather can be changeable, so make sure you check the forecast before heading out on an adventure (and be prepared with waterproofs). The average temperature is around 18°C, but nights – as always – can feel quite cold.
---
Moraine Lake in October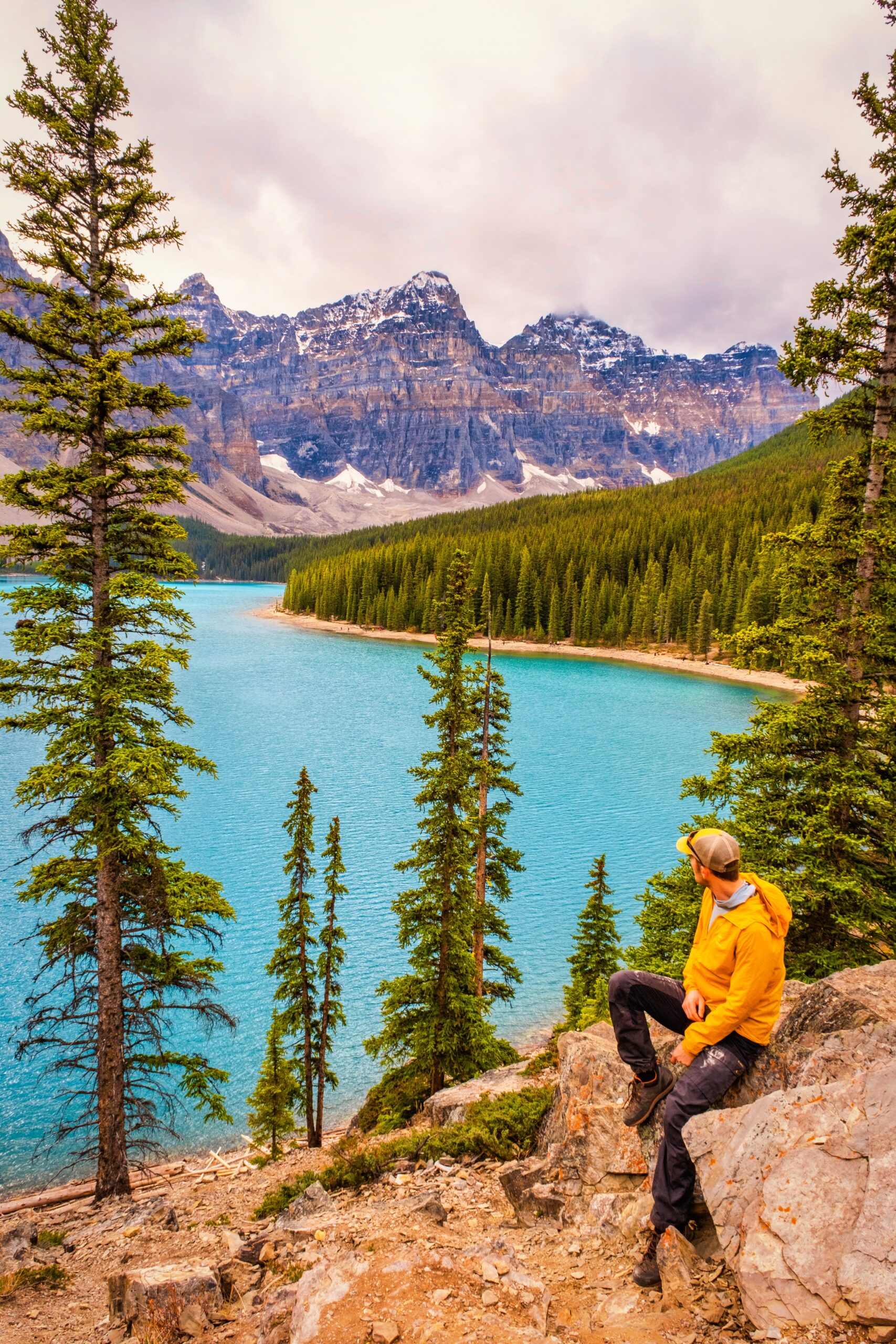 October is the last month you can visit Moraine Lake until next year. Visitors who wish to see the fabulous lake and ten peaks should plan to arrive somewhere before October 13th. Around mid-October, Moraine Lake access road will close for the season. Exact dates vary depending on the year and snowfall, but the past few years it has closed around Canadian Thanksgiving.
Expect Moraine Lake to be cold in October. You'll probably see some snow and ice, and the lake may not be as blue or full as you are expecting. Still, it's an awesome time to visit Lake Moraine – just dress warm!
---
So When Is the Moraine Lake Weather the BEST?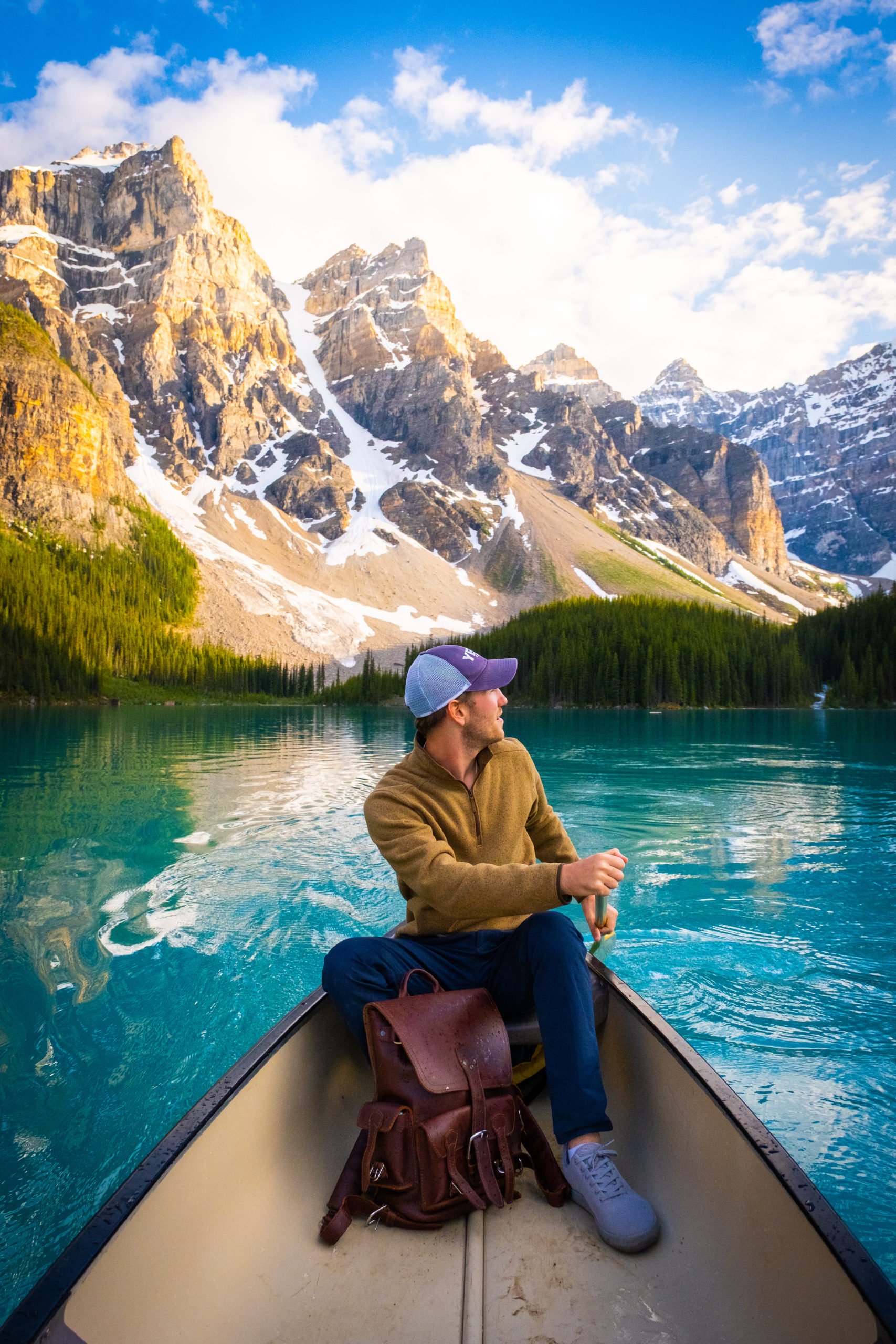 Unless you're an experienced adventurer with avalanche knowledge and snowshoes or skis, you can only visit Moraine Lake from late May to October. The road is closed for the rest of the year because it is snow-covered and crosses avi paths. If you want to cross country ski or snowshoe in the winter, that is an option. Since the lake sits at a high elevation, it remains frozen until late May. So any visit to see Moraine Lake in its prime should be planned for June to late September.
Since the lake is fed by Glacier melt, its water level and color change based on temperatures. The water level upon first melting remains low until the surrounding glaciers begin to melt in June. It's during this time Moraine Lake reaches its peak fill and beauty.
To ensure warmer weather, as it's never hot in the Rockies, and an excellent chance to witness the most vivid turquoise water visit Lake Moraine from late June to late August. That being said, the color never leaves, and you can witness the lake until early October when the road to the lake closes due to avalanche risk.
However, the lake recedes by then, and there may be snow, but in my opinion, the ten peaks are impressive when blanketed in a fresh layer of snow. Personally, my favorite times to visit Moraine Lake is at sunset in July and August.
---
How To Get to Moraine Lake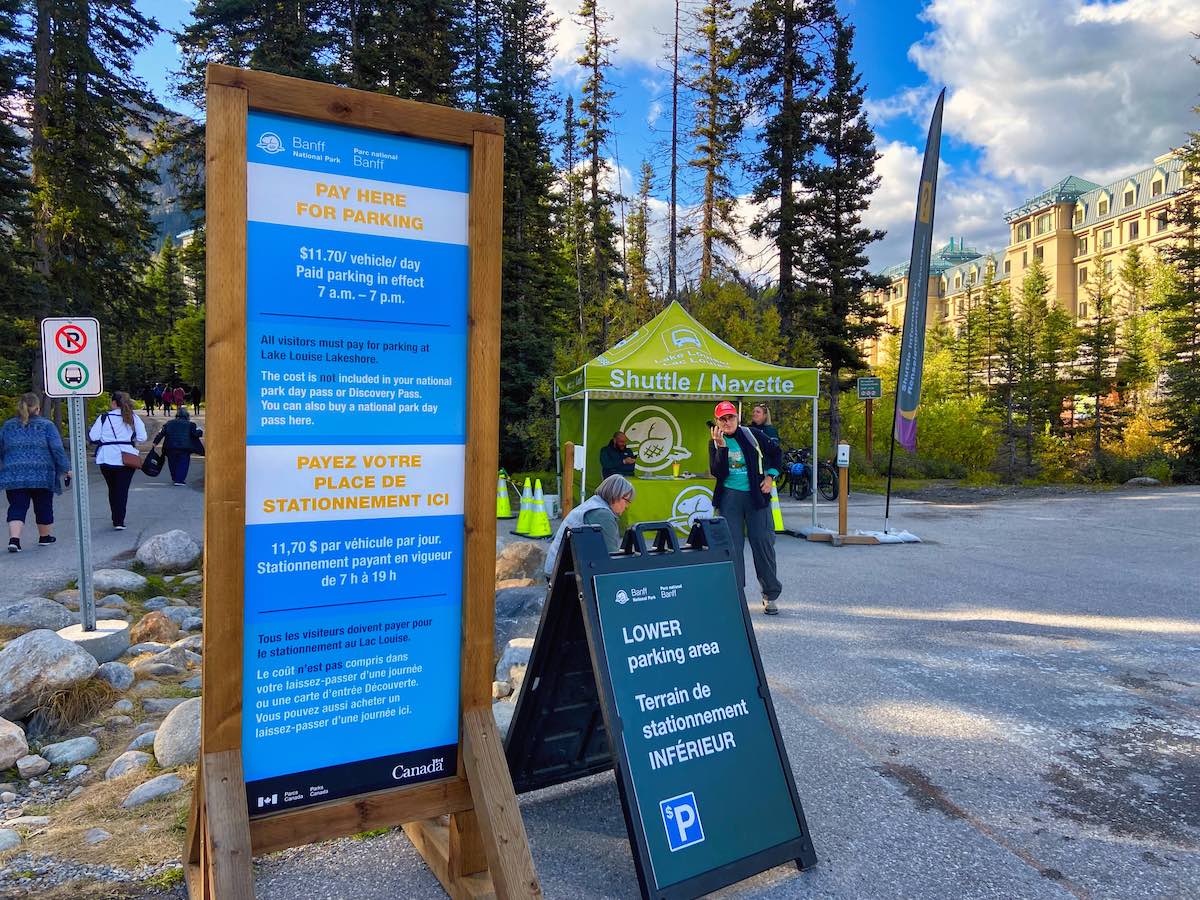 There is no more parking offered at Moraine Lake and accessing Moraine Lake is not as easy as rocking up, parking, and getting out of your car. Thankfully, you can still get there a variety of ways including the Parks Canada Shuttle, private tour company, Moraine Lake Bus Company, private taxi, or walk or bike in.
---
Canoeing at Moraine Lake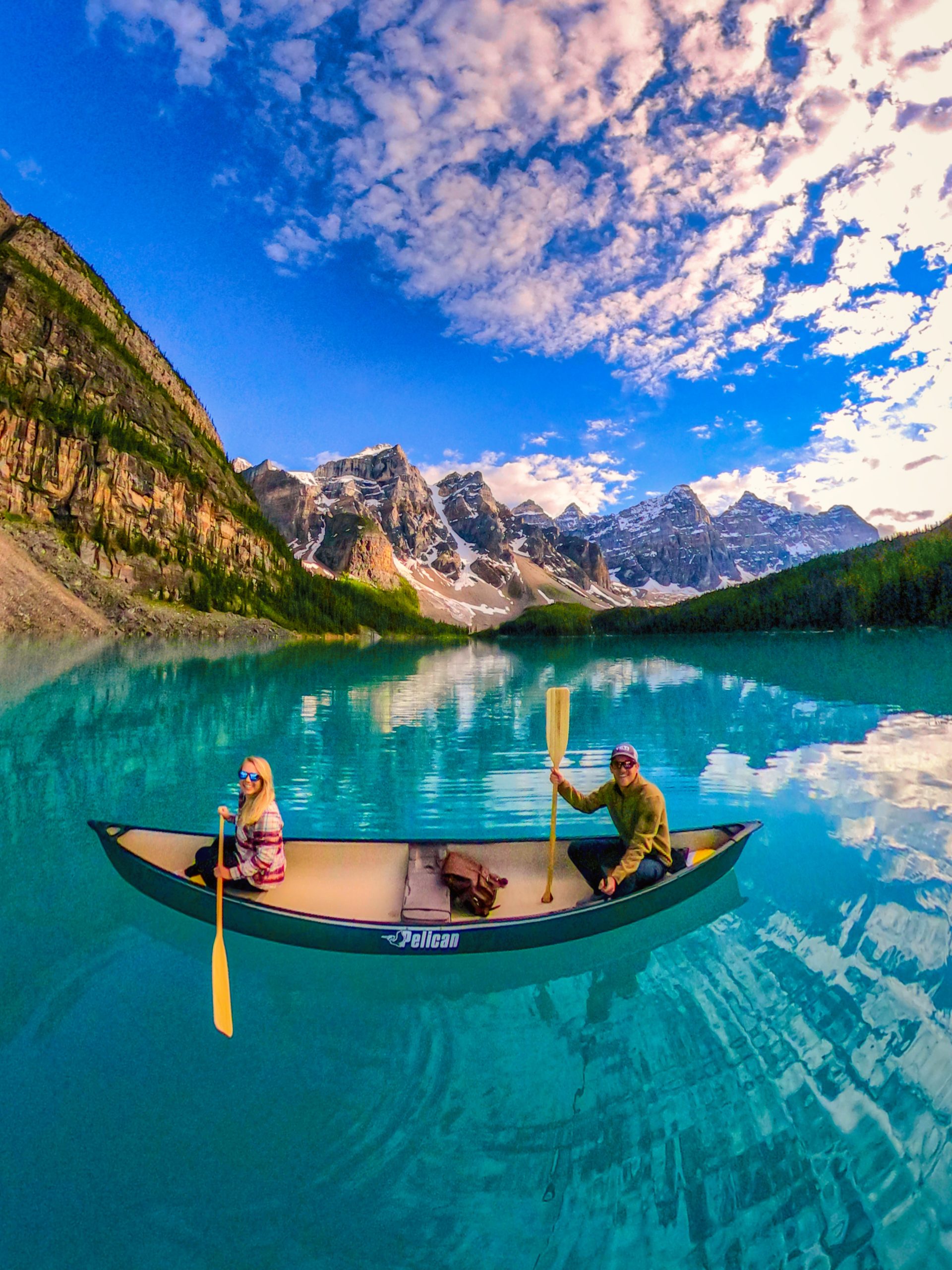 Beyond walking around Moraine Lake, canoeing is the most popular activity at Moraine Lake. It's an amazing experience to paddle across the alpine lake with the mountains towering high above. The dock is open from 9:30 am to 5 pm from mid-June to mid-September.
Canoe Rentals are run by the Moraine Lake Lodge, and rates start at $130 CAD an hour. The canoes include paddles, life jackets, and some basic instructions. Each canoe can accommodate two or three people. Reservations are not accepted, and the canoes operate on a first-come, first-served basis. Also, keep in mind that the dock is weather dependent and can shut down in inclement weather such as heavy snow, rain, or wind.
Can you Bring a Private Canoe, Kayak, or SUP to Moraine Lake?

Visitors can bring their own personal watercraft to any lakes or rivers within Banff National Park. The tricky part with Moraine Lake is getting your watercraft to Moraine Lake given the new restrictions, dragging it to the lakeshore, and launching from the lakeshore, but it can be done if you time it right!
All the photos in this post are with our personal canoe. You can get inflatable SUPs like us and pack them into the shuttle bus to Moraine.
---
Hiking Around Lake Moraine
There are some very popular hikes around Lake Moraine should you want to get more activity in! These are some recommended hikes around Lake Moraine. I've attempted to rank them in difficulty. You can find all the best Lake Moraine hikes summed up here as well.
---
Moraine Lake Shore Trail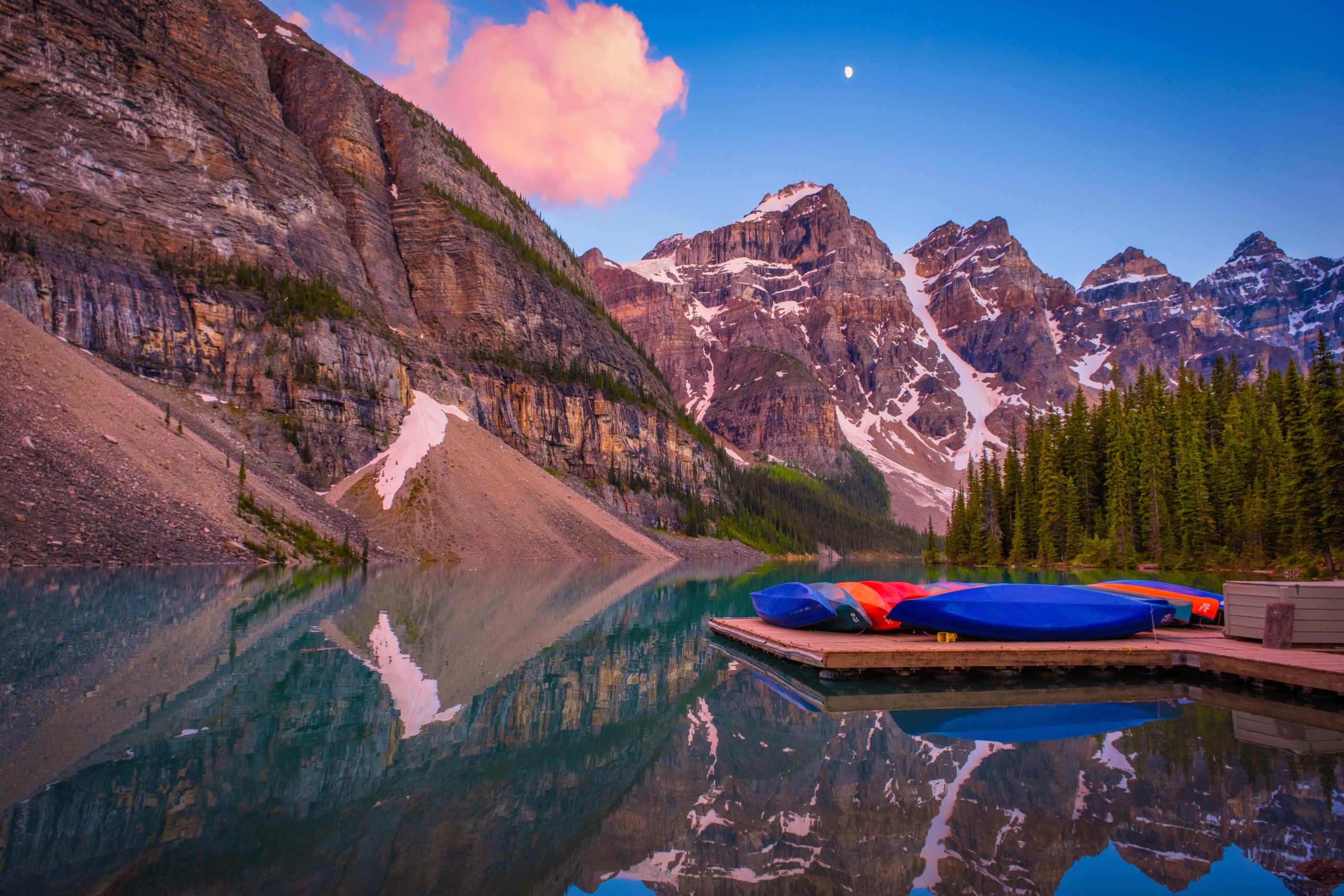 Trailhead: Begins at the canoe docks.
Distance: 2.9 kms
Elevation: 162 meters
Time: 45 to 60 minutes (return)
This is a flat trail from the Canoe docks that works its way along the lake's shoreline and back. It's a beautiful trail that moves in and out of the forest with great lake views and mountains.
You'll be shocked at how few visitors to Moraine Lake go just a little further hike along one of the most accessible trails in the area. At the end of the hike is a boardwalk near the waters flowing down from Wenkchemna Pass.
---
Consolation Lakes Trail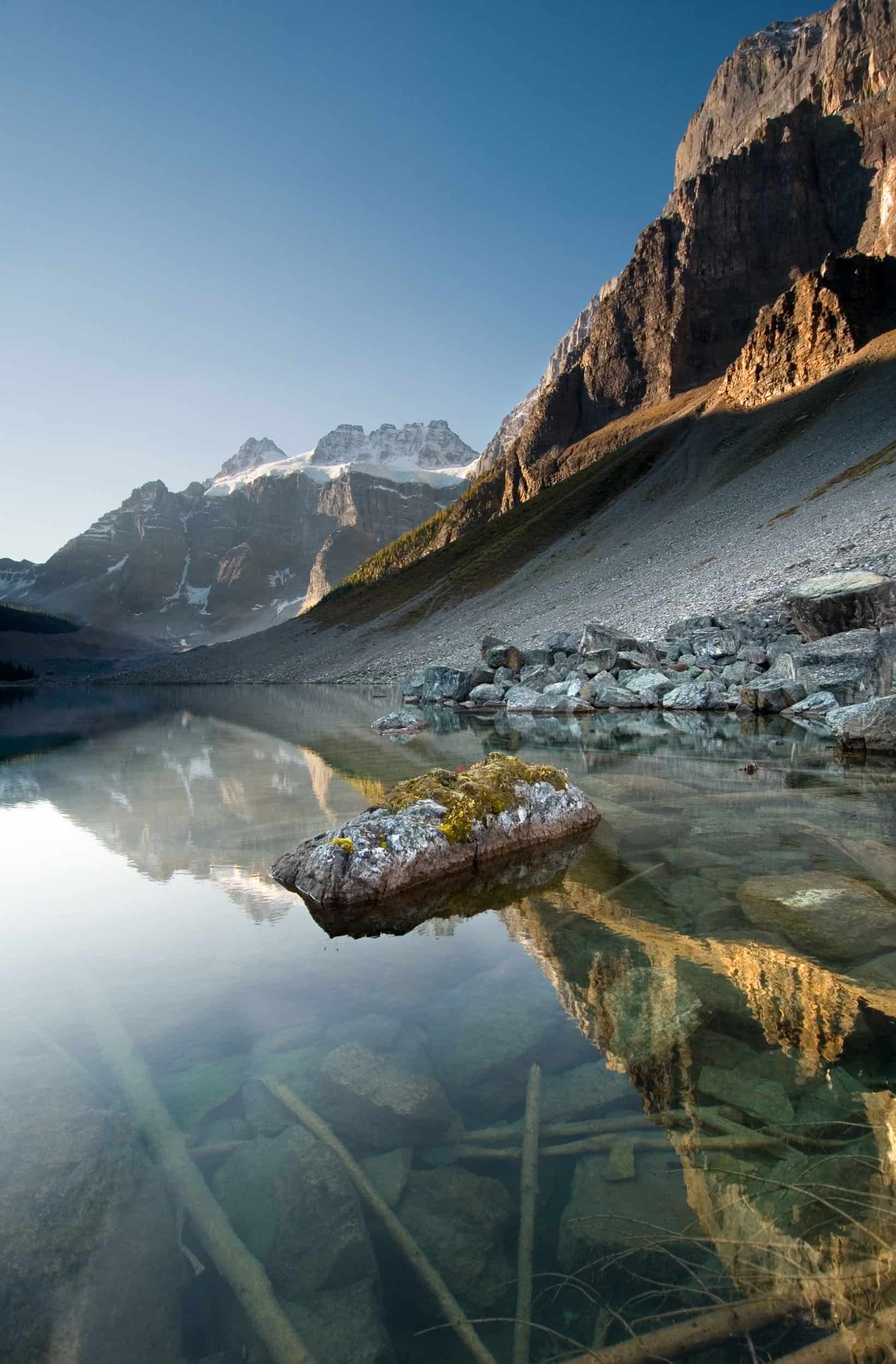 Trailhead: Begins from the Rockpile Trail
Distance: 5.8 km
Elevation: 255 meters
Time: 1.5 to 2 hours (return)
This is a family favorite as it can be paired with the Moraine Lake Rockpile, and it's pretty easy with a little elevation gain. It's an excellent step up from the Lakeshore Trail as the terrain is more difficult with greater elevation gain and a short section that crosses over a boulder field.
Along the hike, you get views of the scree slopes from the Tower of Babbel. The hike passes through the old-growth forest before arriving at an alpine field and wetlands with the consolation lakes at its end. From the lakes, you get tremendous views of the backside of the Ten Peaks, Mount Babbel, and Mount Fay, topped by glaciers.
---
Eiffel Lake Trail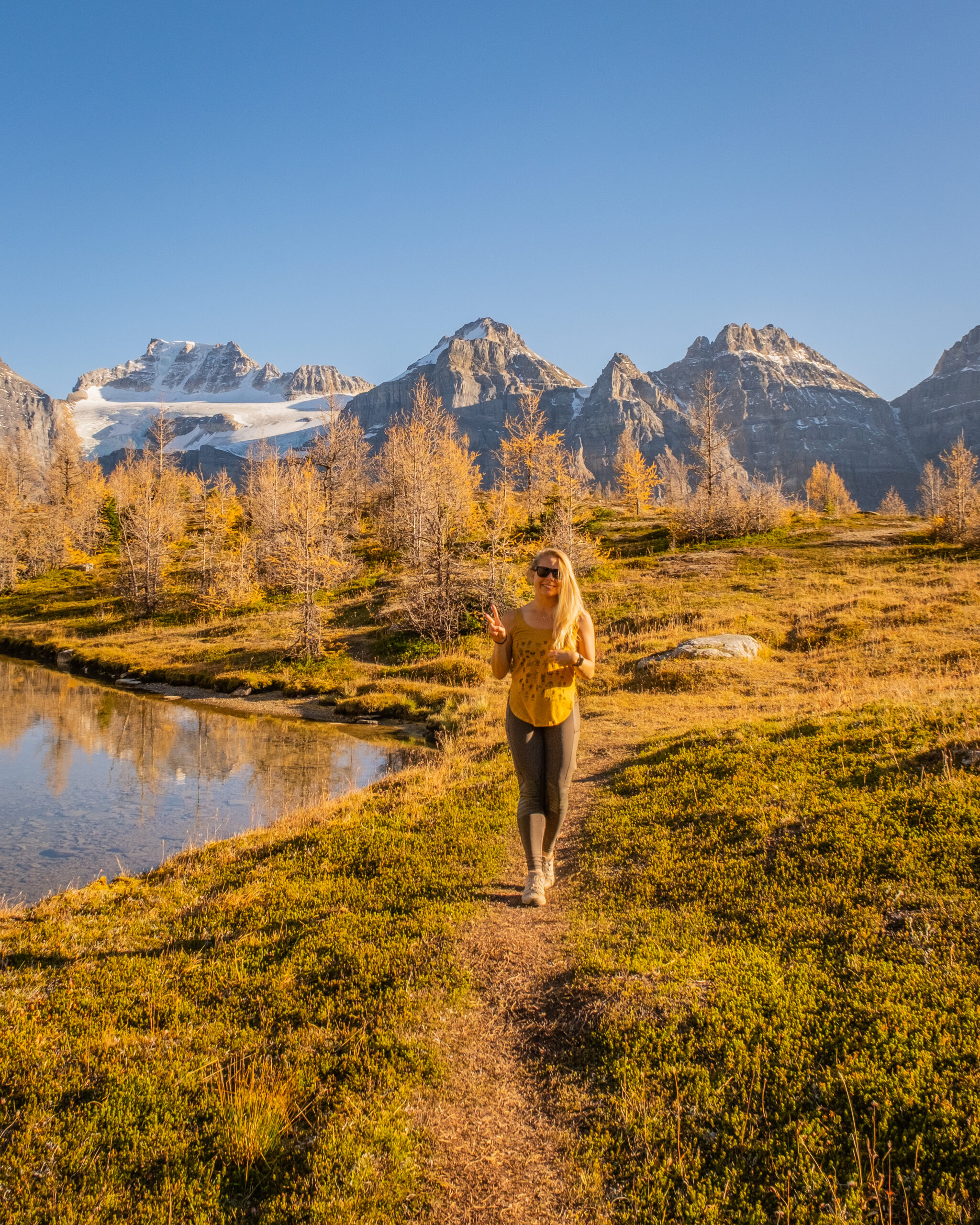 Trailhead: Begins at canoe docks
Distance: 11.7
Elevation: 570 meters
Time: 3 to 4 hours
Witness amazing views of the Valley of Ten Peaks as you climb to two mesmerizing glacial lakes on the Continental Divide. The trail from Moraine Lake is pretty easy to follow up to the fork for Eiffel Lake or Sentinel Pass.
The route up to the fork is pretty demanding as it climbs 350m at a relatively high grade for about 40 minutes. From the fork, you take the less-traveled path to the Eiffel Lakes. Past the lakes lies the Wenkchemna Pass Trail that passes through the mountains into Yoho National Park. The top of the pass provides stunning views of the Ten Peaks.
---
Sentinel Pass via Larch Valley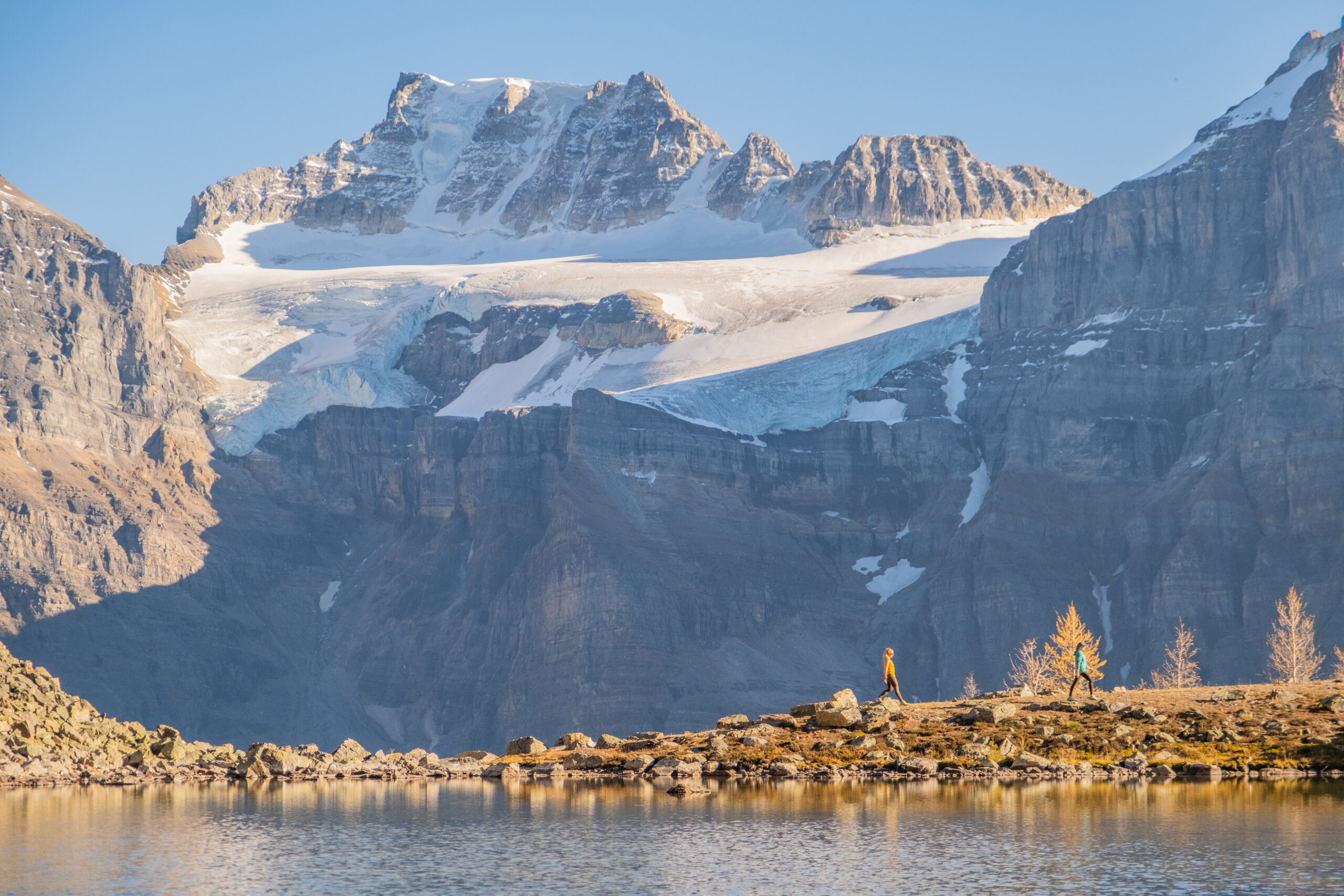 Trailhead: Begins at canoe docks
Distance: 10.9
Elevation: 792 meters
Time: 2.5 to 4 hours
This is the quintessential Canadian Rockies hike. It's fairly challenging, hugely popular, and offers some of Canada's most stunning natural scenery. The hike follows a similar route at the Eiffel Lakes hike but departs at the fork and up into the Larch Valley.
The pass is most well known and attracts hundreds of photographers and hikers during the larch season in late September. During this period, the valley trees turn to a bright golden color, and the mountains are topped with the first signs of the new season's snow. It's a soul-stirring scene that can easily be considered one of the best day hikes in the world.
---
Scrambles Around Lake Moraine
This is for experienced hikers and people who have spent their fair share of time in the outdoors. All of these hikes are easy to moderate scrambles but occur on very serious mountains with real hazards that can result in death. Every year tourists are evacuated by Search and Rescue on one if not all of these hikes/routes. If you plan to tackle any of these, please plan accordingly and be prepared for the elements — also wear a helmet.
---
Moraine Lake Lodge Accommodation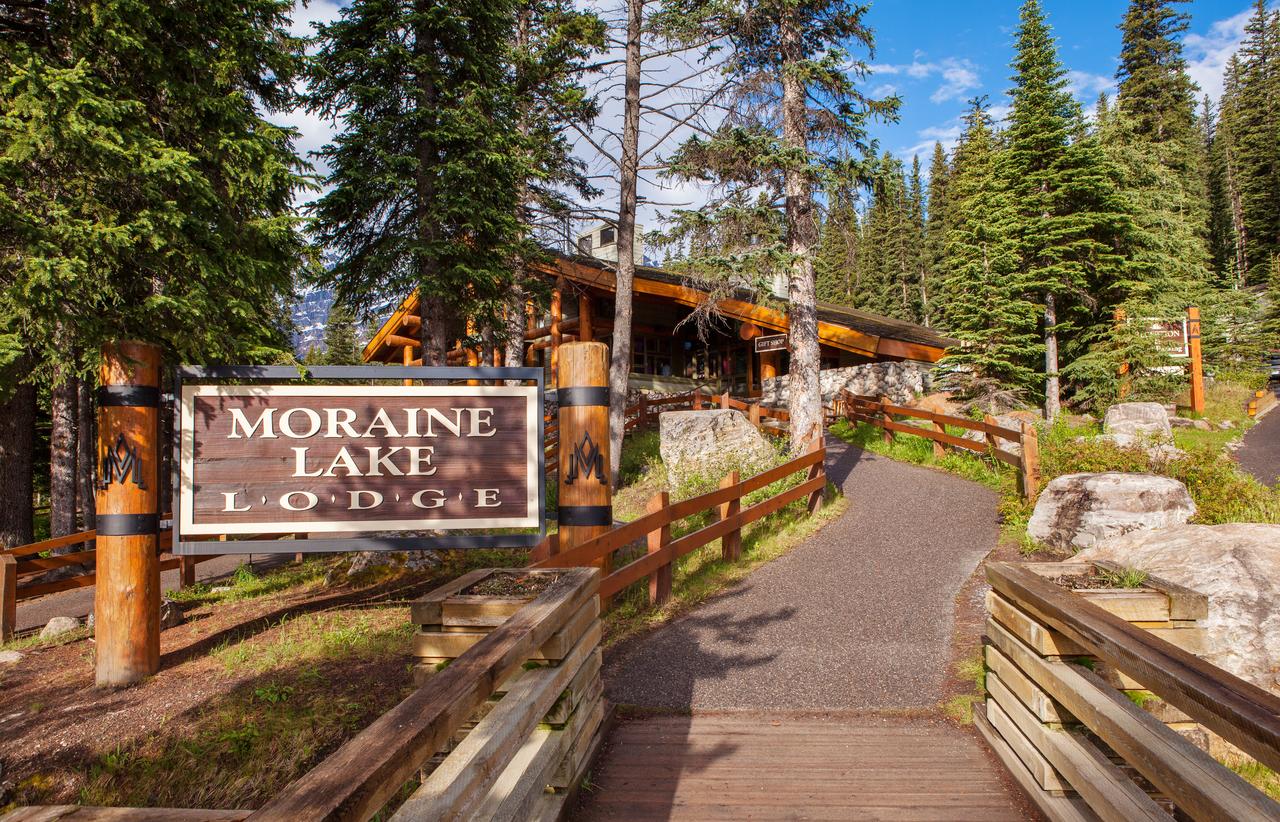 There is only one place to stay at Moraine Lake, and that is the aptly named Moraine Lake Lodge, and it's easily one of the best Lake Louise cabins. Staying at the lake allows you to take advantage of the lake at all times of the day, and they have a private parking lot.
All guests can drive to Moraine Lake and you're guaranteed a spot to park. Moraine Lake Lodge is open from early June to early October. At the lodge, you can find a cafe, restaurant, and gift shop.
---
Frequently Asked Moraine Lake Questions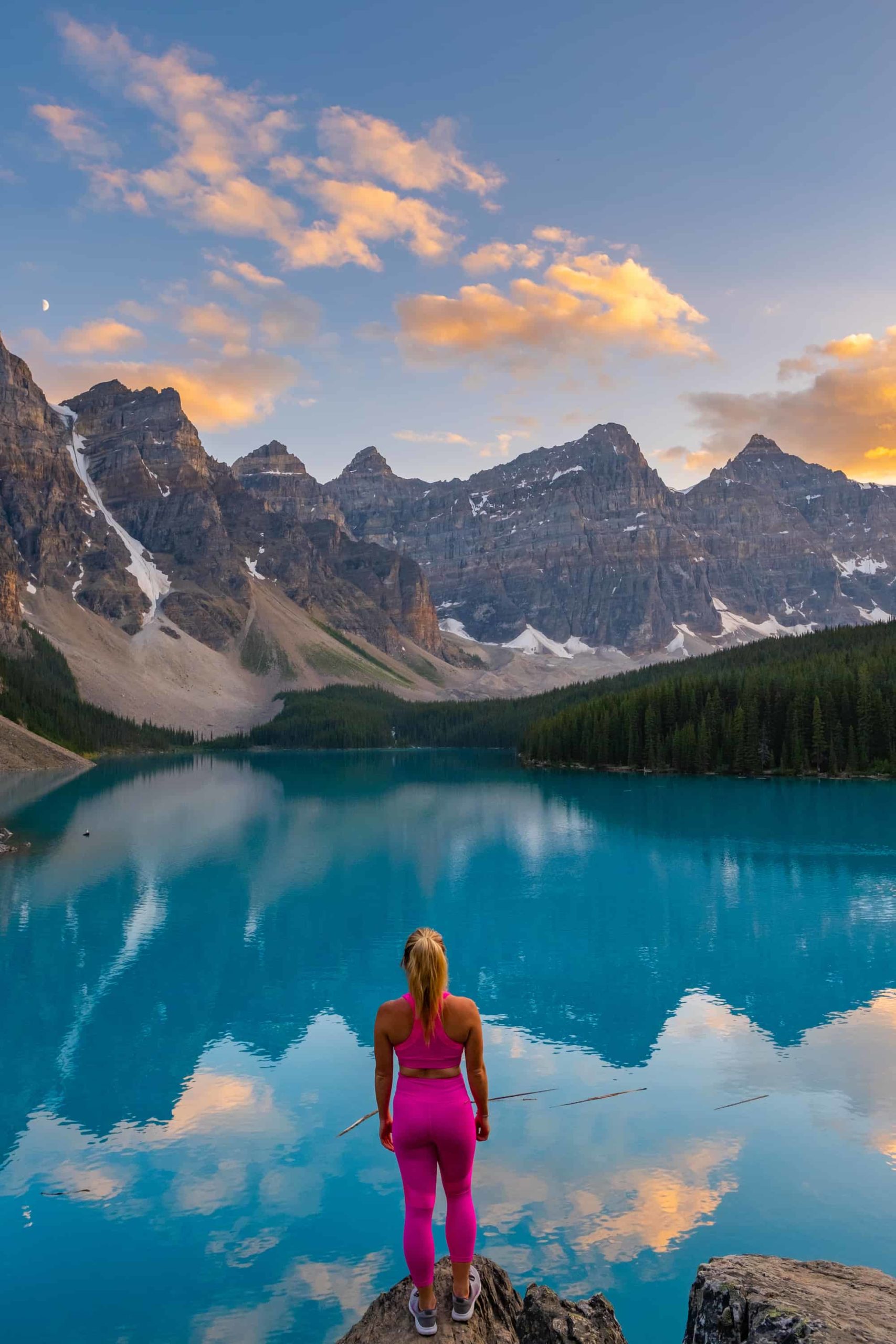 ---
What are the Moraine Lake Hours?
There are no set hours at Moraine Lake, but the shuttle bus only runs during select times, which you can find on the Parks Canada website.
---
When Does The Road To Moraine Lake Open And Close?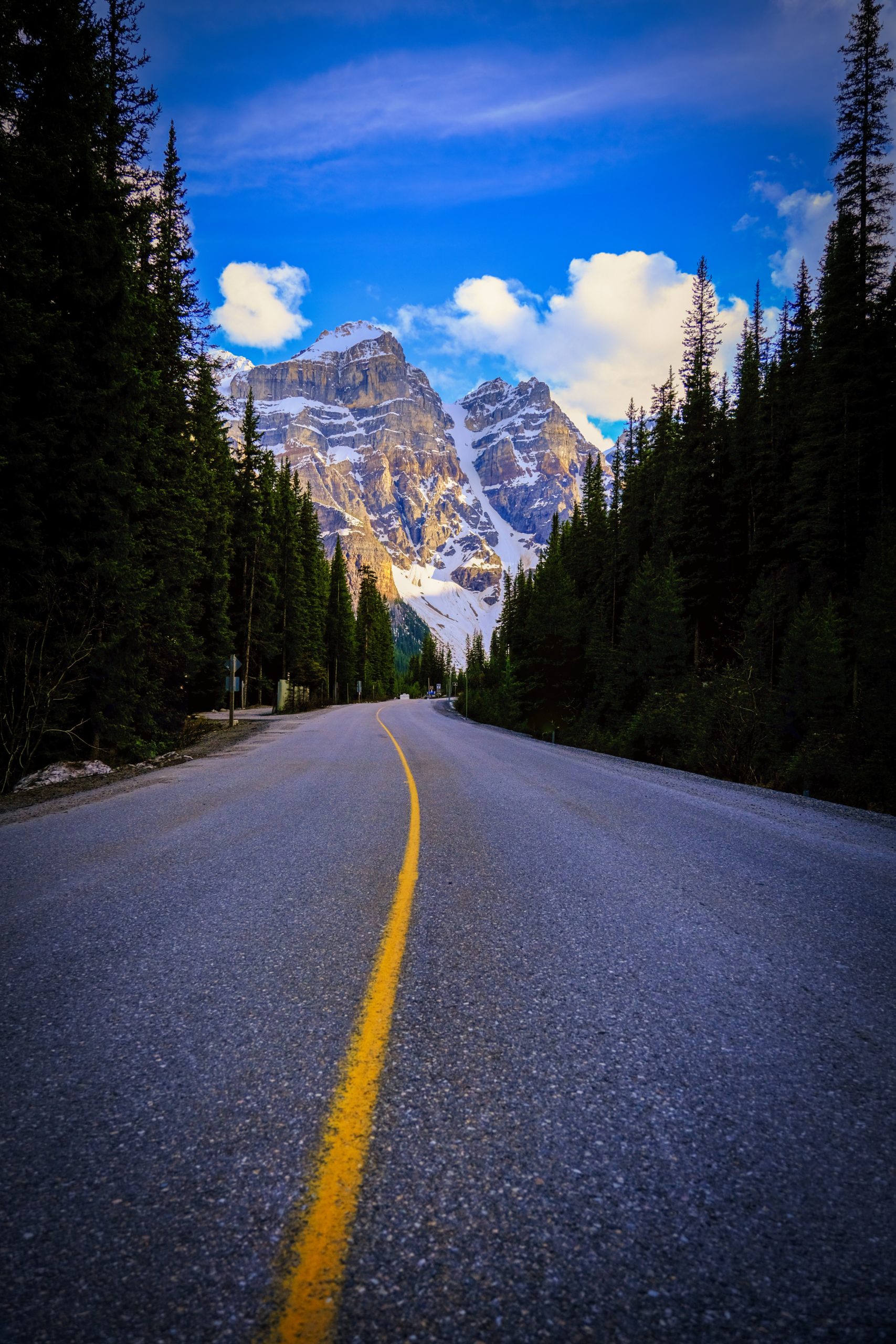 Since Moraine Lake lies at a high elevation and is accessed by one small road, it is prone to high avalanche risk. This means for safety, the road is closed to all vehicles during the winter months. It usually opens around late May and closes the Tuesday after Canadian Thanksgiving Holiday (the second Monday in October). Yes, Canada has its own Thanksgiving.
There are no set dates regarding the opening and closing of the road as it's entirely subject to the weather/snow conditions. When Parks Canada feels the route is safe, they will plow the road and open it to the public.
---
Is it Easy to Get Parking at Moraine Lake?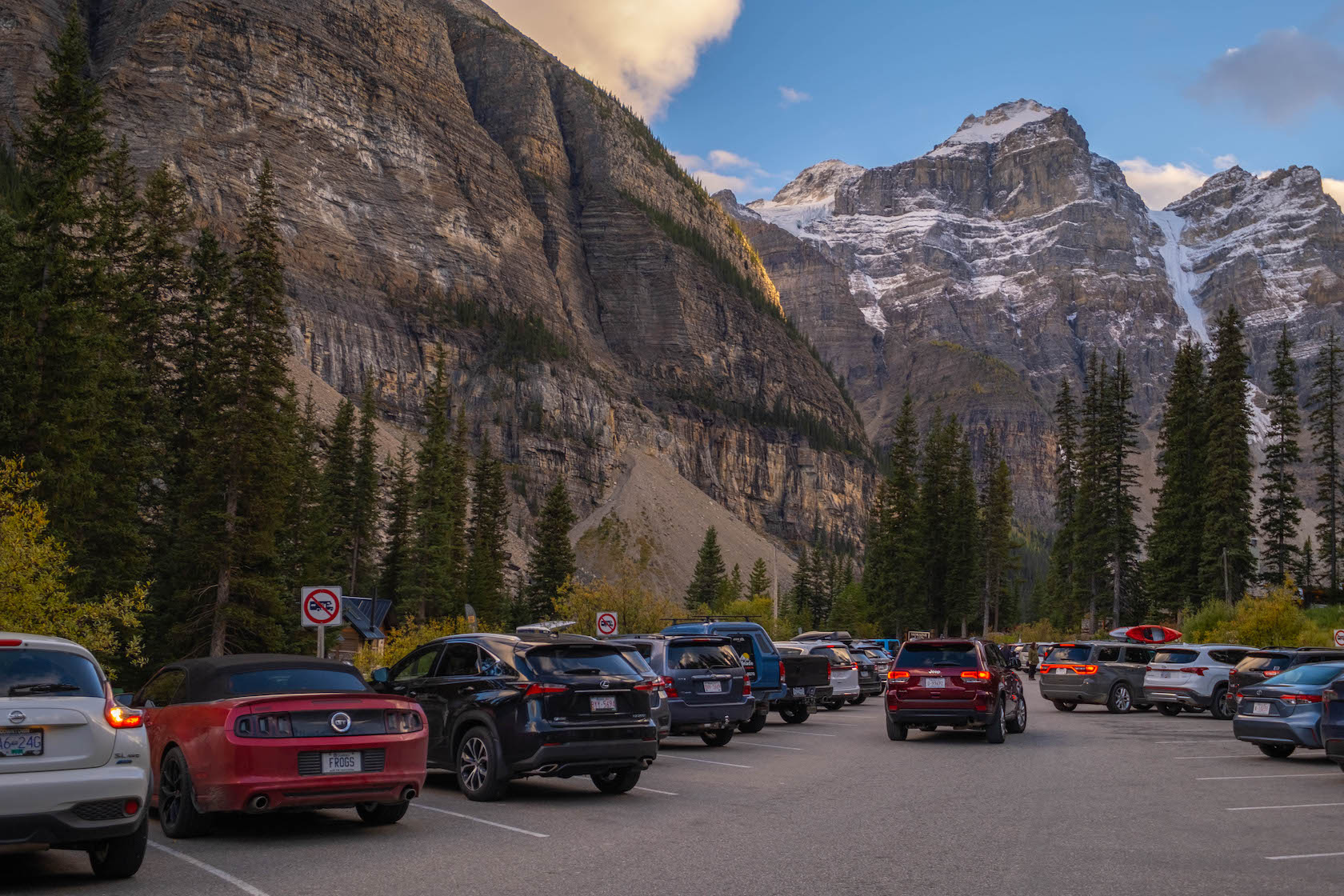 There are no more personal vehicles allowed at Moraine Lake, so parking is not a problem anymore.
---
Can you Bike to Moraine Lake?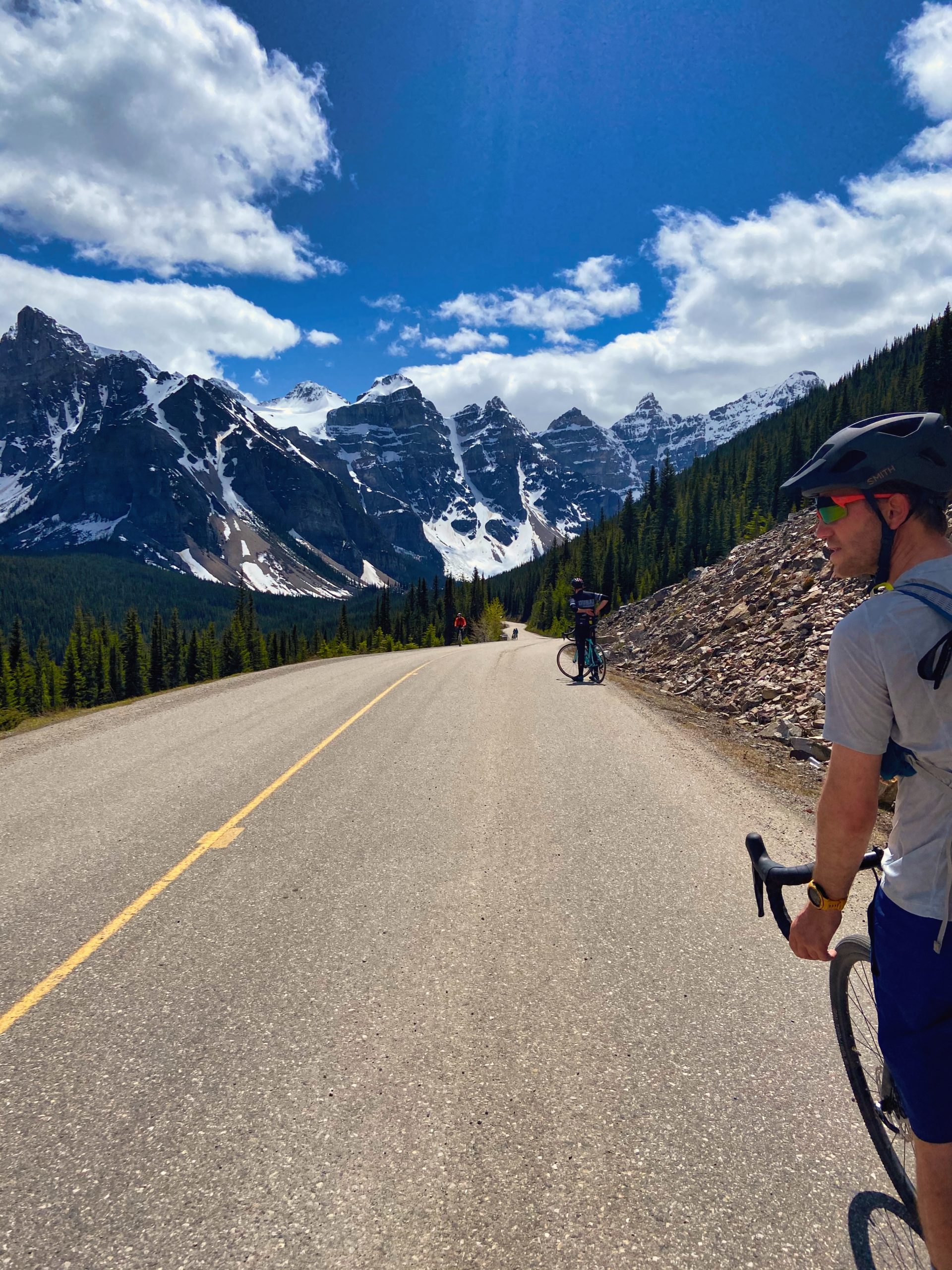 Yes, you can bike to Moraine Lake. However, we would not advise doing so unless you are a comfortable road biker due to the traffic on the narrow road. Moraine Lake access road is 14km all uphill, and takes me about 45 minutes on the road bike, and almost nearly an hour on a mountain bike. You could rent an e-bike for a super cruisy and fast ride up.
There is occasionally a time when the road is free of snow but closed to vehicles. During this time, it can be a great way to visit the lake if the avalanche conditions are safe. Not everyone knows when this time is, but we have a Facebook group dedicated to providing this information that you should join! If you are still unsure, it's best to call and check with Parks Canada in advance.
---
Can You Visit Moraine Lake and Lake Louise in the Same Day?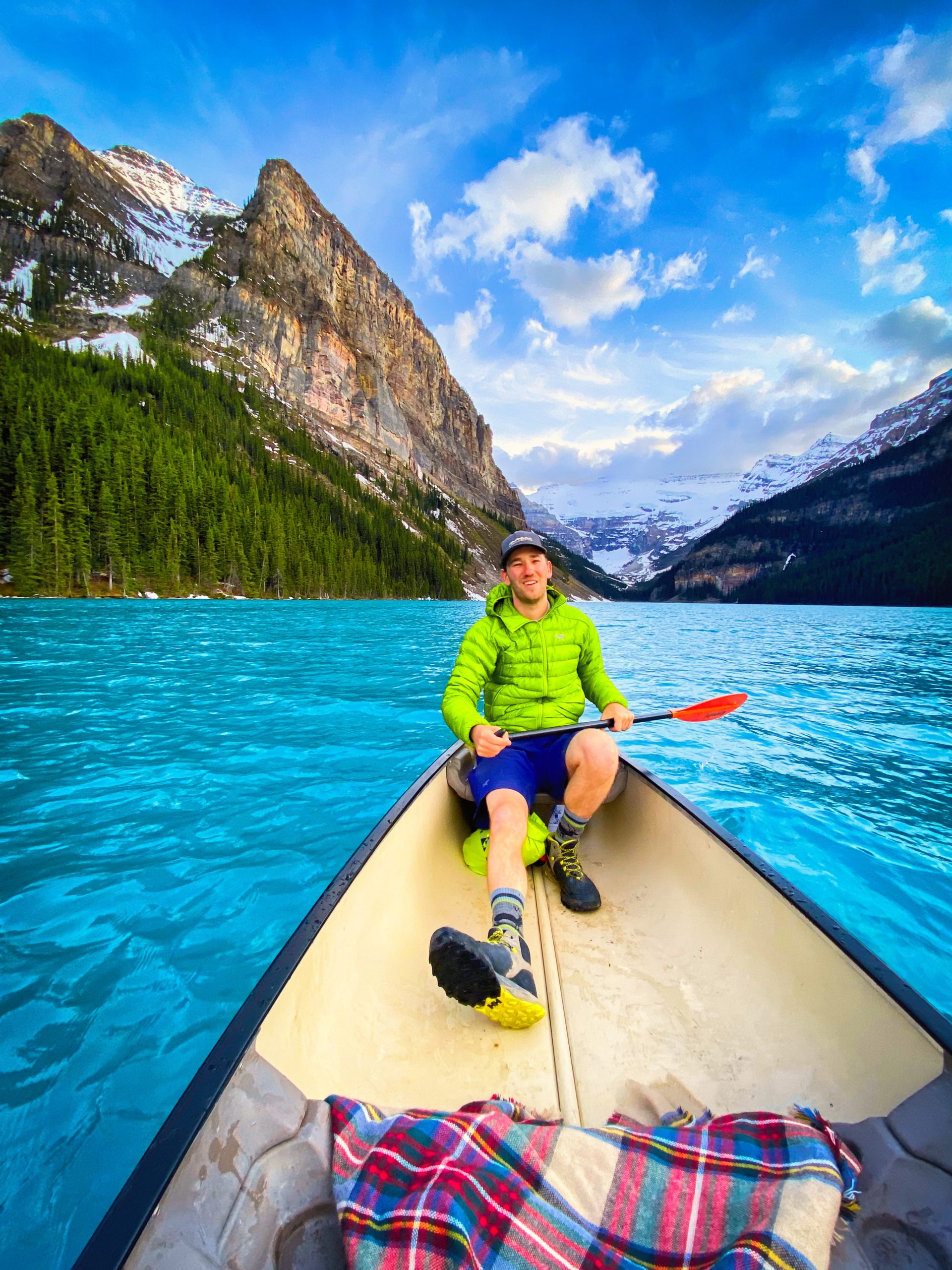 Visiting both lakes is easy, especially with the Lake Connector Shuttle. If you aren't planning any big hikes, you can easily see Moraine Lake in a few hours and then head down to Lake Louise and spend another few hours there.
Or you can try hiking up to Lake Agnes and the Beehives. You can see a full list of example Banff itineraries here.
---
Can you Visit Moraine Lake During the Winter?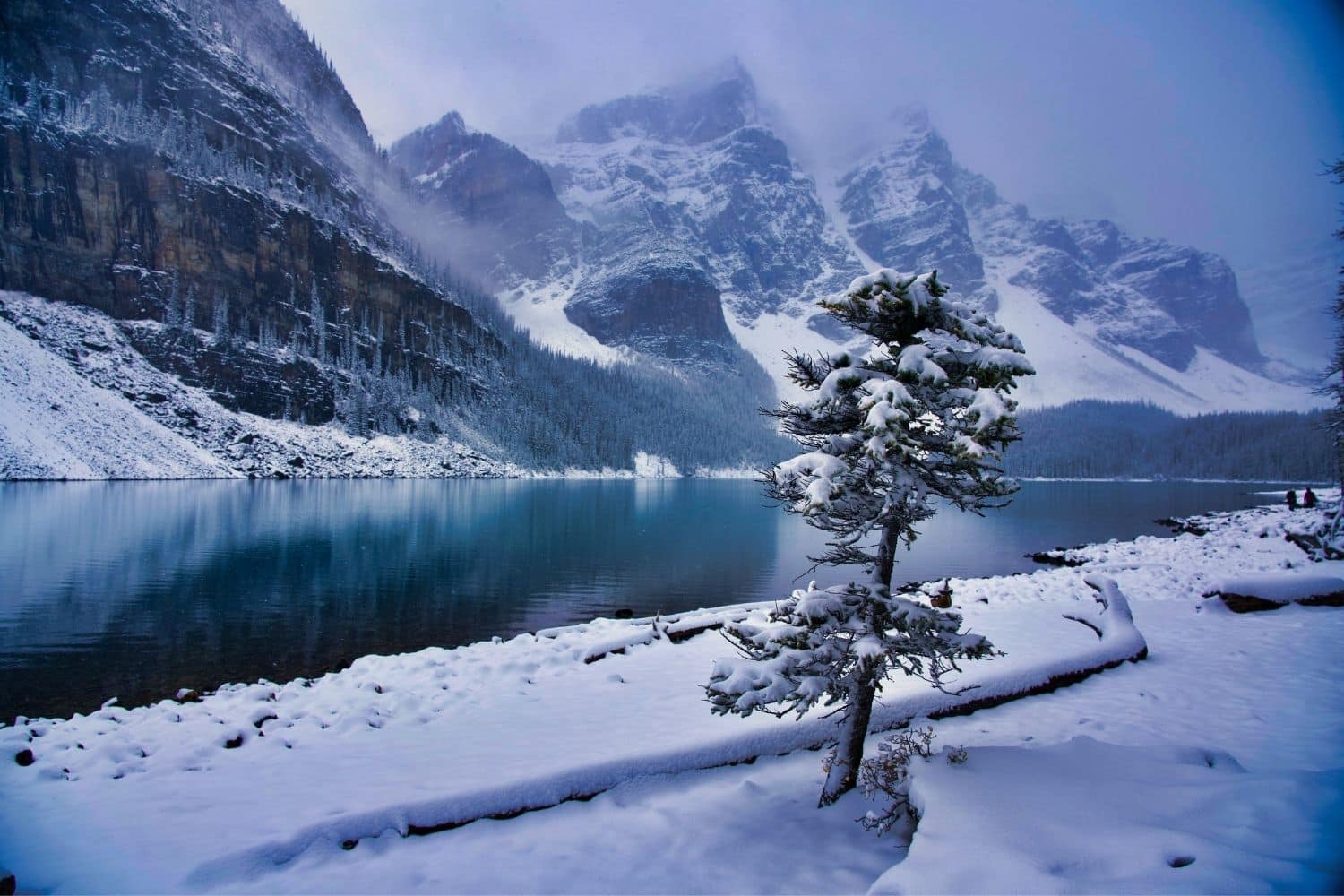 To put it simply, you can not visit Moraine Lake during the winter months, at least not to the average visitor that is. There are no vehicles permitted on the road during this time, and no tour operators are allowed to operate, so no sleigh rides, snowshoe, or dog sled tours will bring you to the lake. This is due to the avalanche risk on the road as it crosses avalanche paths.
In the winter months, several cross-country ski trails in the area, including one that utilizes the Moraine Lake Road. However, it stops short of the Lake when it approaches the first avalanche path.
You can see the Ten Peaks in the distance at its trail end. Occasionally experienced skiers do make the trek as they are equipped to travel in avalanche terrain. We do not recommend anyone travel in such terrain without proper training and equipment.
---
How Can I Escape the Crowds at Moraine Lake?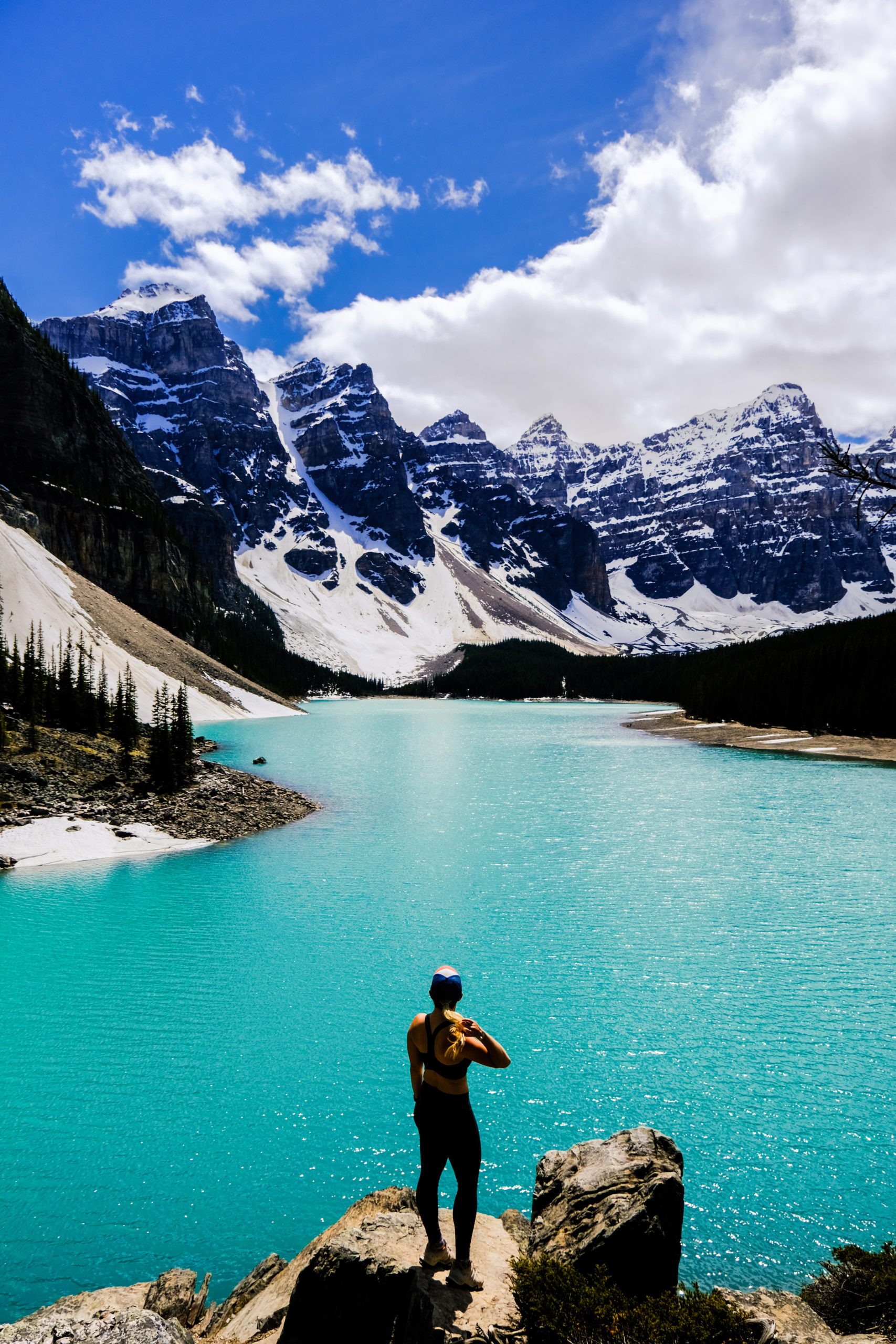 Even in the heat of summer, it's possible to have some alone time at Moraine Lake. Most visitors to Moraine Lake congregate at the rockpile and don't venture past that. To get away from that, walk the Lake Moraine Lakeshore trail, get out on a canoe, or try one of the hikes suggested above.
Your other option is to head to Lake Moraine for sunrise on the sunrise shuttle or in the shoulder season when crowds die down. It's also best to avoid holidays and weekends if possible.
---
When are the Holidays at Moraine Lake?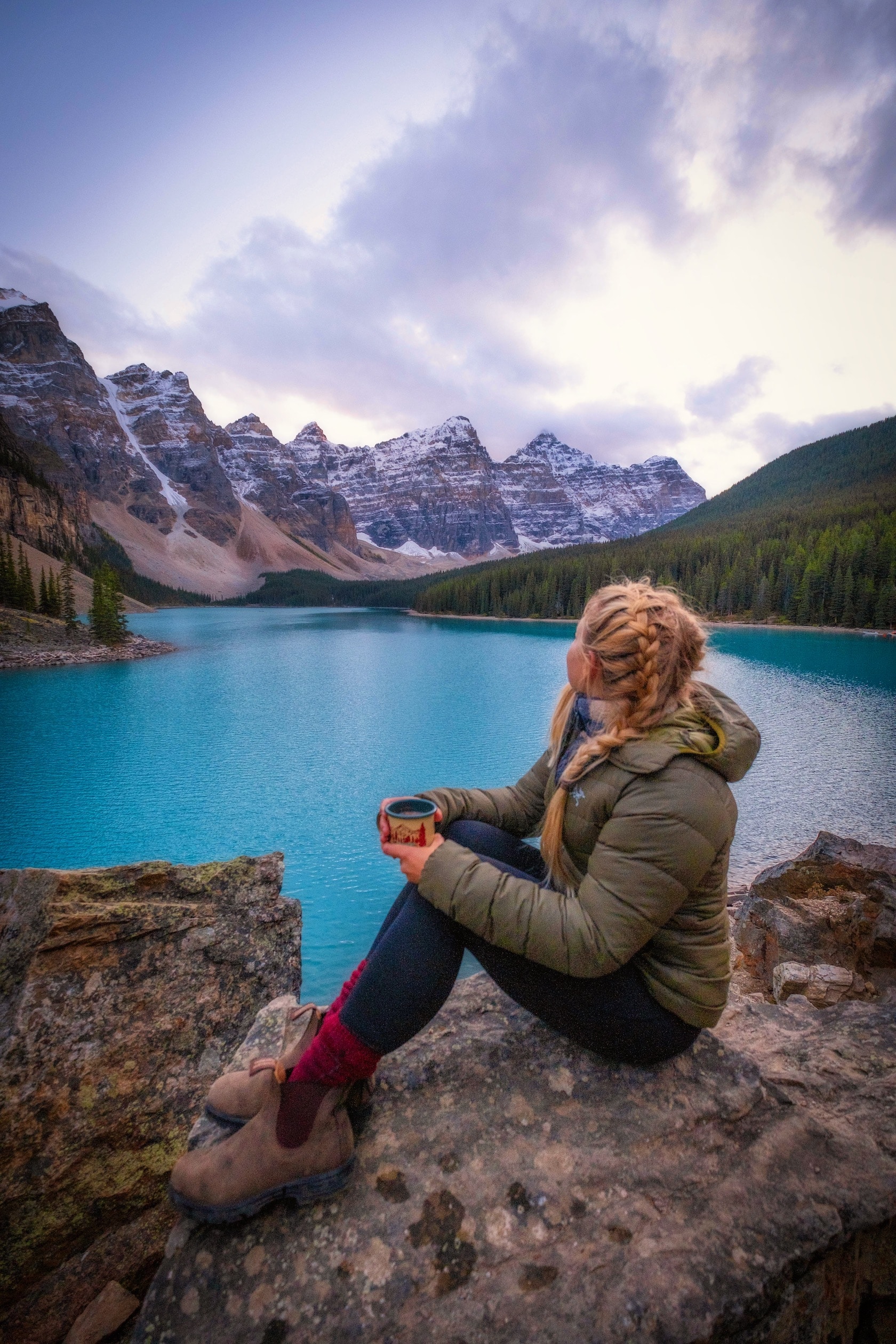 Lake Moraine is always busy in the summer, but you should take note of the following holidays as it's even busier.
Victoria Day Long Weekend (May Long Weekend) – Last Monday Preceding May 25
Canada Day – July 1st
Heritage Day Weekend – 1st Monday of August.
Labour Day Weekend – 1st Monday of September.
---
Moraine Lake Sunrise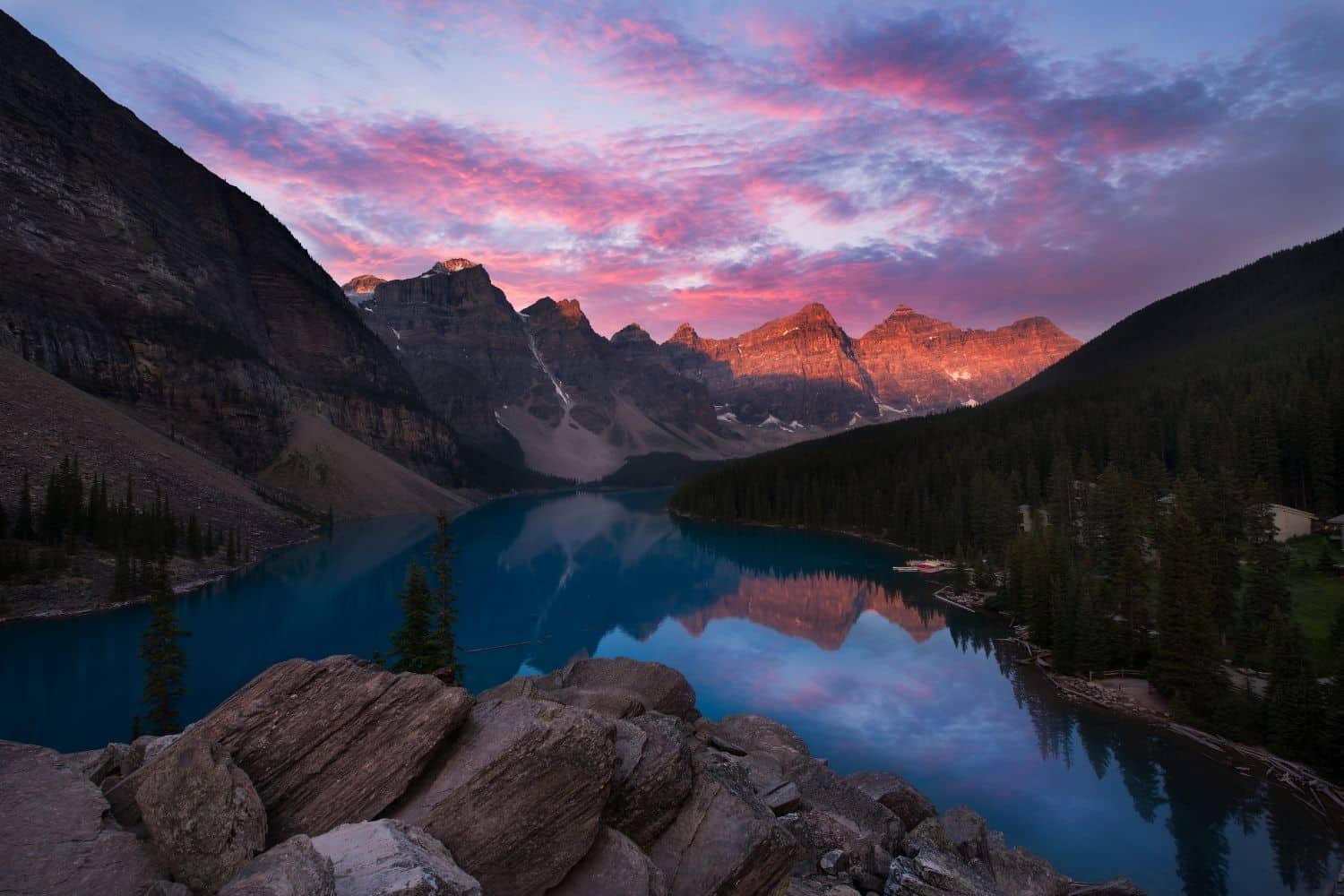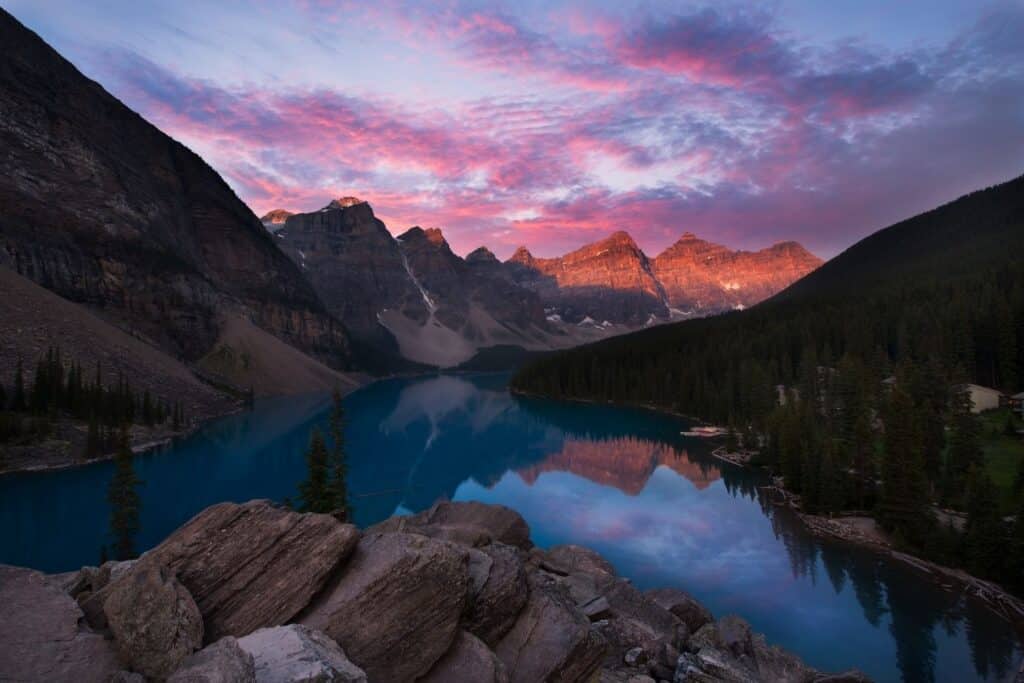 Moraine Lake Sunset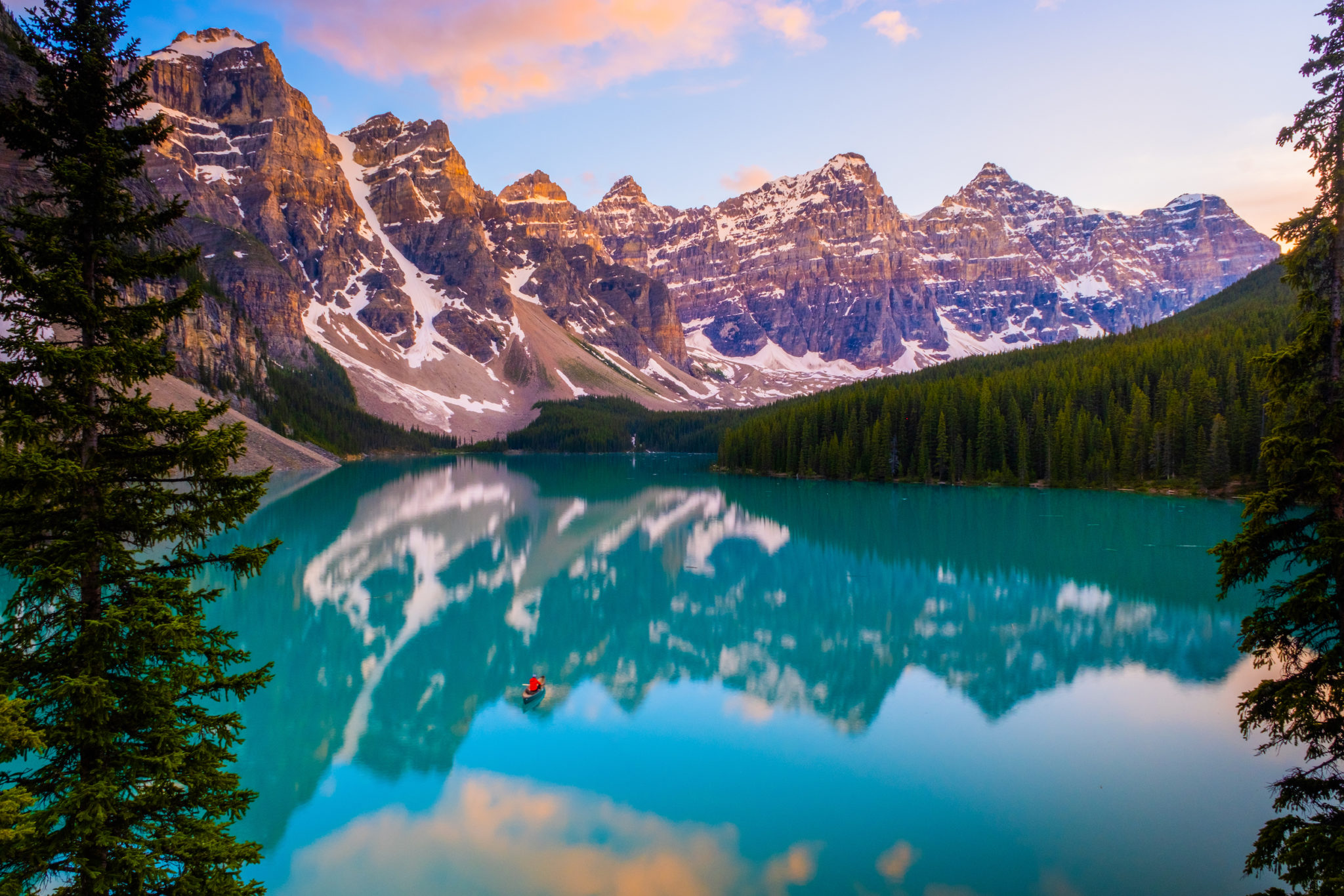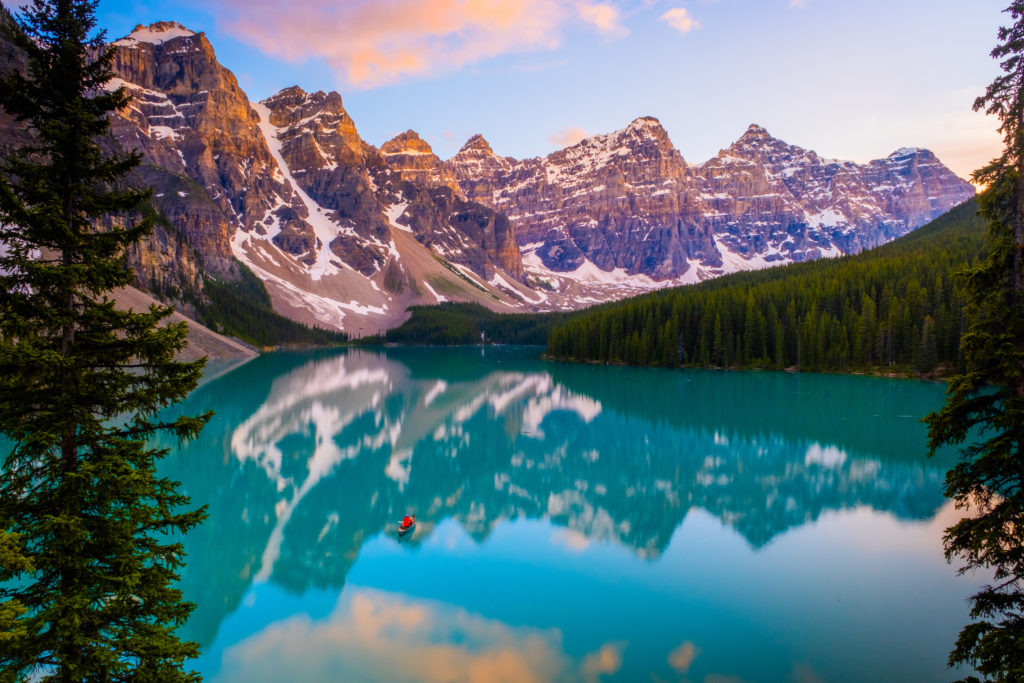 Both a Moraine Lake sunrise and a Moraine Lake sunset will not disappoint. However after getting up early and staying up late for both, I'm a firm believer that the skies are better in the morning.
If you are a photographer you will probably walk away with better photos getting to Moraine Lake for sunrise. That being said Moraine Lake will be busier in the morning than in the evening.
Update: Parks Canada has closed the road to personal vehicles. To catch Moraine Lake at sunrise is now not possible by driving the road. To see sunrise at Moraine Lake you'll need to book a stay at Moraine Lake Lodge, bike up the road before darn, book the Moraine Lake Bus Company Sunrise Shuttle, or book an early bird tour like this one, as tour operators have special access to run on Moraine Lake Rd. 
---
Hopefully, this helped you determine when to visit Moraine Lake.
If you have any other questions leave a comment or see our Canadian Rockies travel guide for more articles about photography spots, lakes, hikes, and everything else.
---
Plan Your Trip to the Canadian Rockies
↓ Join the community ↓
The Banff Blog Facebook Group is your headquarters for the Canadian Rockies' travel advice and information. Including hike info and off-season travel information. This is also where you can meet one another when you need adventure buddies.