Banff National Park is a popular destination for cross-country skiing. At almost all times you are guaranteed to have views, and plenty of snow!
It's important to note that cross-country skiing in Banff National Park can be weather dependent, and the trails may not always be in the best condition. Always check with Parks Canada before planning your outing!
---
Avalanche Awareness in the Canadian Rockies
Almost every Banff winter season, there is a loss of life in the Canadian Rockies due to avalanches. While this tragedy mostly befalls athletes in backcountry skiing, winter mountaineering, and ice climbing, nordic skiers can enter avalanche terrain (many times without even knowing it).
We strongly advise skiers to remain aware of where they go. Some of these cross country trails do cross or go near avalanche terrain and it is up to you to do your due diligence and research. You are responsible for your own safety in the park.
We have heard multiple stories of people witnessing inexperienced skiers stand directly in their avalanche runout zones without realizing it. Always be aware of your surroundings and the forecast.
Check Parks Canada, Avalanche.ca, and the Avalanche Bulletin for up to date details on trail conditions and the avalanche forecast.
Always bring a map on longer trails.
Pack emergency layers, we always have an extra layer in case we need to weather the cold.
Let someone know where you're heading in case of an emergency.
There are a lot of winter hazards to be aware of such as avalanches, disorientation, thin ice, hypothermia, and frostbite.
---
Banff Cross Country Skiing Trails
---
1. Pipestone Loop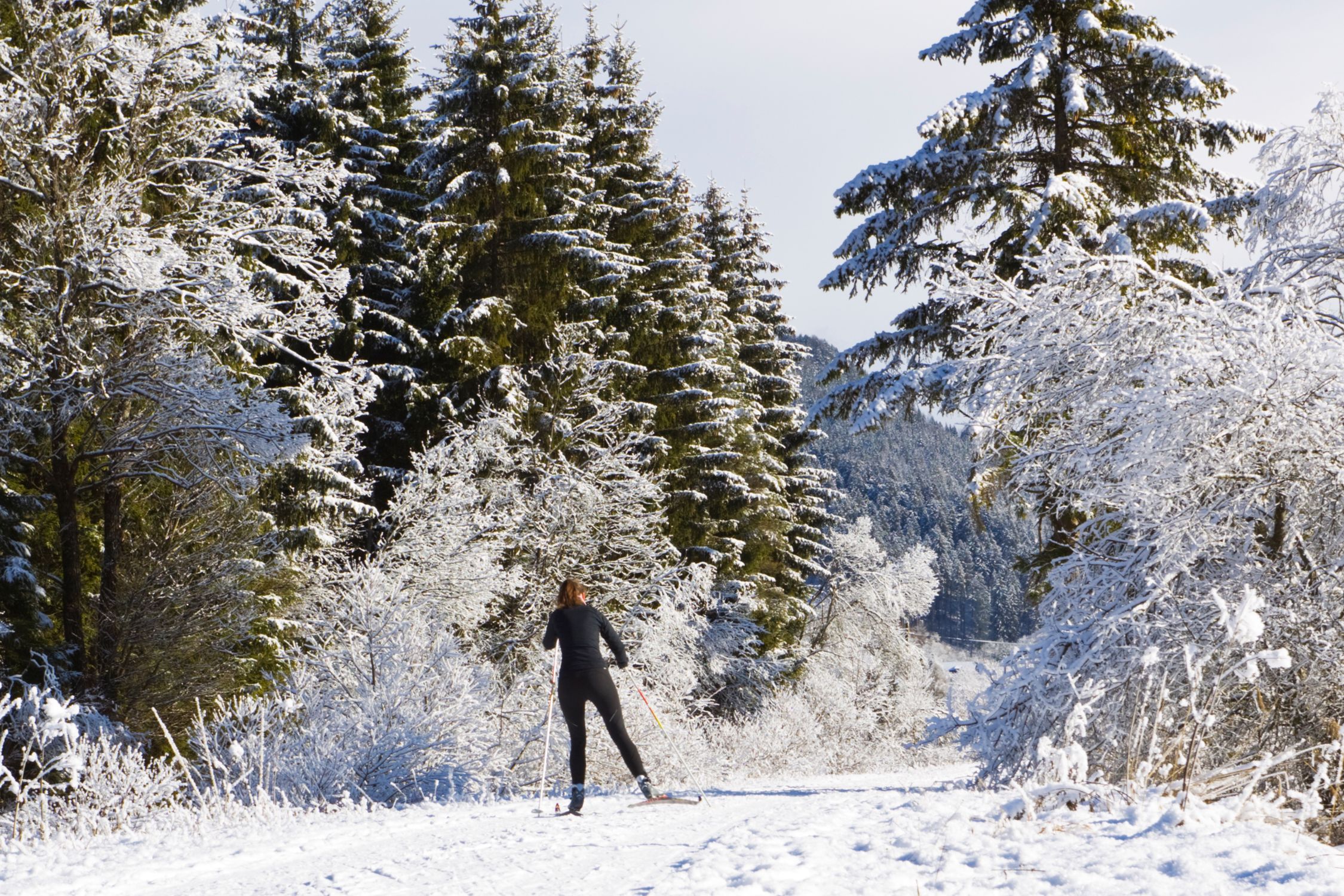 Difficulty: Moderate
Length: 13.3 km return
Elevation gain: 190 m loss
Trailhead: Pipestone trailhead parking
Notes: Single trackset
For more novice skiers looking for an easier trail to tackle, the Pipestone Loop is perfect! It's a little bit long at almost 14 km return but the snow is usually great, there are some amazing views along the way and you'll meet a few hills and turns to add some variety to your trek.
Just after the 2km, there's a beautiful side trail that you can take but if you're fairly new to the sport, you might want to keep on going on the Pipestone Loop. You'll witness some of the best views of Mount Temple on this trail when you reach Pipestone Pond.
The custom is to ski the Pipestone Loop counter-clockwise, making the most of the downhill flow sections.
---
2. Spray River Loop Trail
Difficulty: Easy
Length: 14 km loop
Elevation gain: 105 m
Trailhead: Spray River West Trailhead
Notes: Double trackset with skating lane and then single trackset
The Spray River Loop Trail is another great place to do some cross-country skiing in Banff National Park. This 14km, well-maintained trail does get busy at times but it's great for families, beginners and anyone who just wants to get outdoors and embark on an easy trek through a beautiful area with stunning views of Mount Rundle and Sulphur Mountain.
There are two entry points to this trail and they are the parking lot at the Banff Springs Hotel and Bow Falls.
---
3. Fairview Loop
Difficulty: Easy
Length: 4.6 km one way
Elevation gain: 60 m
Trailhead: Fairmont Chateau Lake Louise
Notes: Single trackset
The Fairview Loop is a scenic cross-country trail that, despite its incredible views and ease of use, is the least crowded of the trails in the area. The trail itself is fun, safe, easy and suitable for the whole family and because you're so high up, the snow tends to be in pristine condition.
Pass through forest areas with views of notable sights including Mount Fairview, Saddleback Mountain and Mount Temple. There are two main ways to access this trail. One way is to head to the main parking lot of the Chateau Lake Louise where you'll grab the #4 trail that connects to the #2 trail.
The second way to access it is from the lower parking lot of Lake Louise where you can take a trail that skips over the slight climb and descent skiers experience on the first trail.
---
4. Moraine Lake Road
Difficulty: Easy
Length: 15.6 km return
Elevation gain: 250 m loss
Trailhead: Great Divide Trailhead
Notes: Double trackset with skating lane
Moaine Lake is a beautiful Banff lake that is one of the most popular destinations in the park during summer. The road is off limits to vehicles from October to June, but it is possible to Nordic ski on it. If you happen to be there during the winter, the best way to explore it is with a trip along Moraine Lake Road on cross-country skis.  
This round trip is about 16km and the trail is groomed. This road is the main road that leads to the lake in summer but since it's closed in winter, there won't be many people around. Although much of the trail is uphill, it doesn't feel that way as you make your way through the trees and beautiful landscape (and the down is super cruisy!).
Along the way, turn around to catch views of Lake Louise Ski Resort behind you, the Bow Valley and Ten Peaks ahead of you. If you want to experience Moraine Lake up close and personal, you must pack avalanche gear and have avalanche knowledge because the groomed section of the trail eventually ends at the viewpoint and you must pass through an avalanche-prone area to reach the frozen lake. This is not recommended for beginners.
---
5. Cascade Valley
Difficulty: Easy
Length: 6.3 km one way to Cascade River Bridge or 15.1m one way to Stoney Creek
Elevation gain: 250 m or 435 m
Trailhead: Lake Minnewanka Day-use area parking lot
Note: Double trackset with skating lane to Cascade River Bridge and then single track set for the rest of the trail to Stoney Creek
If you're looking to challenge yourself on the cross-country ski trails of Banff National Park, Cascade Valley is sure to work every muscle in your body! This is a long ski so it's best to start this difficult trail early in the day.
It passes through a pretty forest leading to an area known as the gateway to the backcountry. The leg of the trail that takes you to the Cascade Bridge has some nice views, but it's when you actually start crossing the bridge that you'll see some of the best views.
Many skiers call it a day at this point and head back the way they came but if you really want to get a full day out of it, keep going for another 8km or so to reach Stoney Bridge. You won't see that many skiers on this leg of the journey because most aren't brave enough to keep going but trust me, the views and the experience are worth it
Skiiers will also find a Parks Canada Wardens Cabin at Stoney Creek, which is an ideal place to have a packed lunch!
---
6. The Great Divide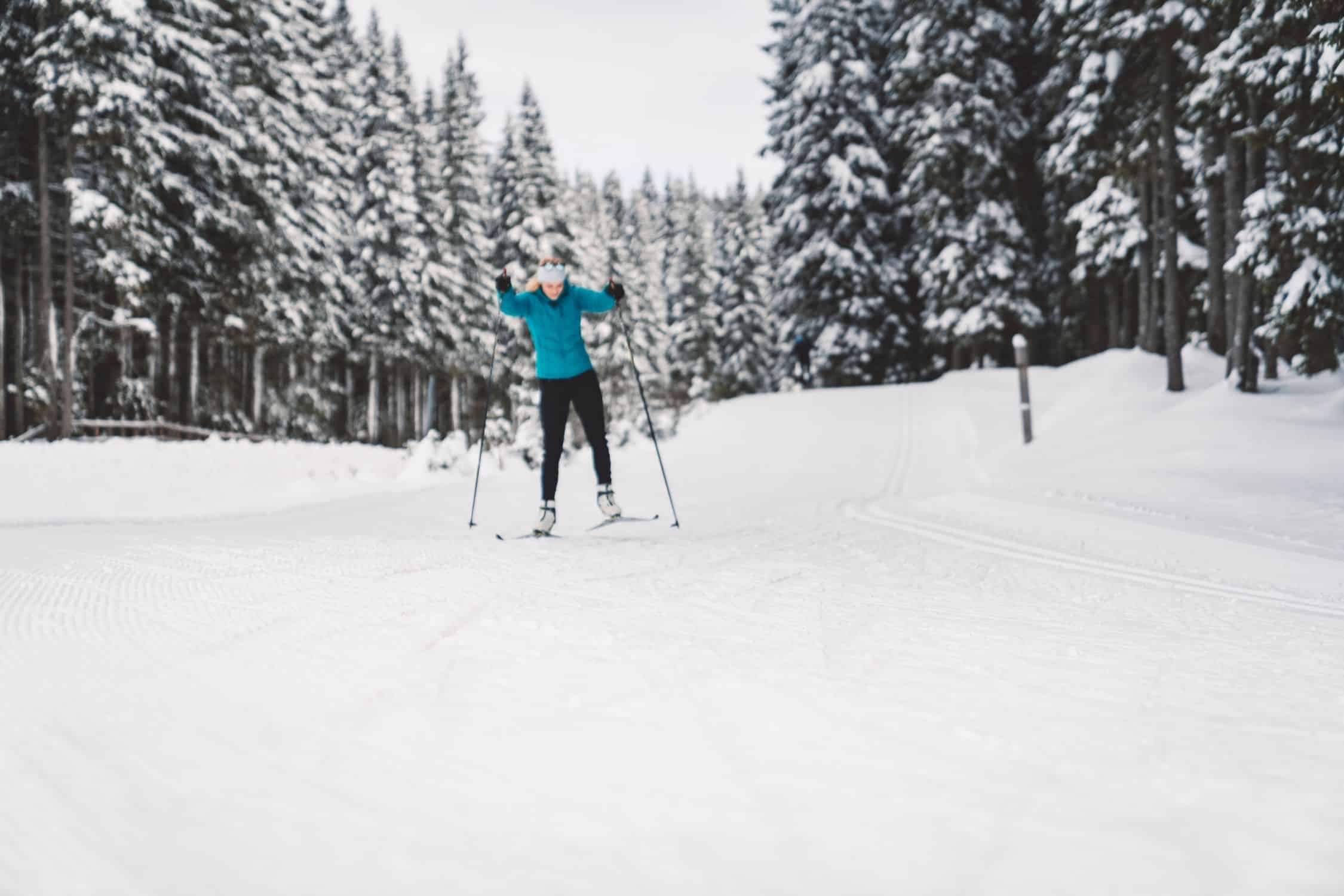 Difficulty: Easy
Length: 20 km return
Elevation gain: 60 m loss
Trailhead: Great Divide Trailhead
Notes: Double trackset with skating lane
Located near Lake Louise in Banff National Park, The Great Divide is a 20 km well-maintained cross-country skiing trail great for skiers of all levels because the trail is mostly wide and flat with minimal elevation loss.
This trail was once a highway that passed through the mountains but since it closed, it has been a popular ski area connecting Lake Louise to the Lake O Hara trailhead.
The Great Divide name comes from crossing the Continental Divide from Alberta into Yoho National Park in British Columbia.
For most of the journey, you're surrounded by trees and mountain peaks and eventually, you reach a picnic area and the end of road to Lake O'Hara.
---
7. Tunnel Mountain
Difficulty: Easy
Length: 8 km all loops
Elevation gain: flat trail
Trailhead: Tunnel Mountain Trailer Court Campground entrance
Note: Single trackset with double in some sections
If you're very new to cross-country skiing and would like to learn the sport, the best place to do this in Banff National Park is Tunnel Mountain. This area is actually a campground that's closed in the winter and several trails start here and meander through the fairly flat and easy terrain of the area.
You'll also get to see some fantastic views of Mount Rundle. There are 8km of trails and there's no risk of avalanches so it's perfect for all levels. If you are looking for a night activity this is the only place in the Banff and Lake Louise area to go for a lit up cross country ski experience. Lights are just bright enough to guide you, which means you can easily enjoy stargazing above on clear nights.
---
8. Boom Lake
Difficulty: Easy to Moderate
Length: 10.2 km round trip
Elevation gain: 175 m
Trailhead: Boom Lake trailhead
Note: There is Class II avalanche terrain along the lake, make sure to carry avalanche gear with you.
The first 5km of this trail are a breeze. Enjoy a scenic cross-country skiing journey through a forest to a beautiful alpine lake where you can take a little detour to see some frozen waterfalls. From Boom Lake, you can turn around or keep going the full 10km.
Some seasoned skiers venture across the lake but be aware that this can be dangerous after heavy snowfalls. Whether you stick to the trail or head out onto the lake, one thing is certain and that's that you'll find some peace and quiet away from the crowds!
---
9. Chateau to Village on Tramline and Bow River Trail
Difficulty: Moderate
Length: 17.4km
Elevation gain: 360 m elevation gain
Trailhead: Lake Louise
Note: Double trackset
The Chateau to Village on Tramline and Bow River Trail is a more difficult trail that'll take you along 17km of moderate snow and terrain conditions. It's a combination of two trails, but if you're not up to doing the whole thing, you can do one or the other.
Explore the banks of the beautiful Bow River and see stunning views of mountain peaks and valleys. This trail doesn't tend to get as crowded as some of the other trails in the area so it makes for a peaceful outing in nature.
---
10. Redearth Creek to Shadow Lake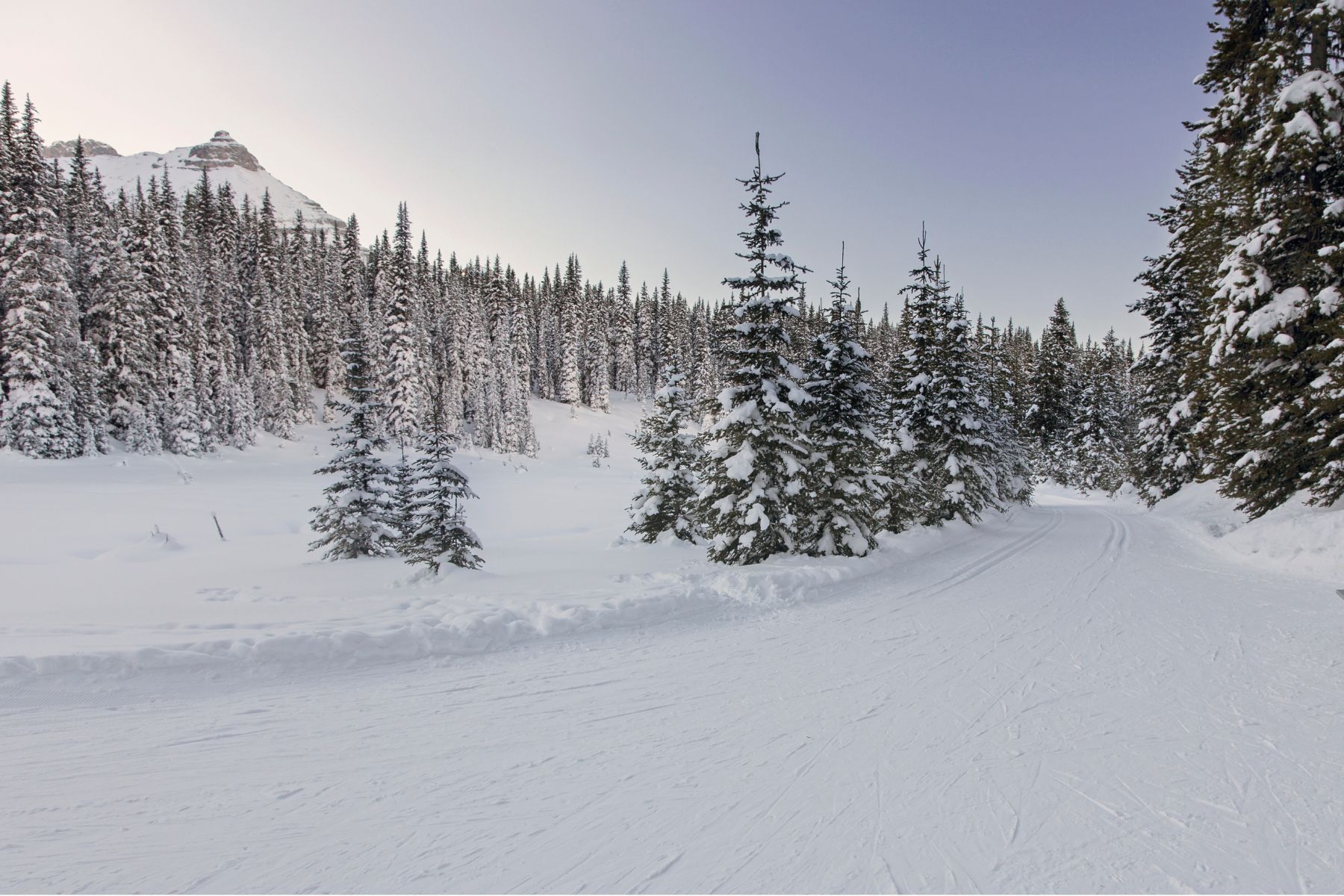 Difficulty: Hard
Length: 10.5 km one way
Elevation gain: 400+ m
Trailhead: Redearth Creek trailhead
The cross-country ski trail from Redearth Creek to Shadow Lake is quite long at over 20km but it's well worth it for the scenery and the chance to get out in the great outdoors.
Of course, the best is saved for last because you have to hike the whole trail to see the best part, which is beautiful Shadow Lake! This wide trail passes through forest and beneath towering mountains.
Be sure to start this one early in the day if you don't want to be skiing at night. Then again, maybe you want to be skiing at night with headlamps. There's nothing quite like the stillness of a remote forest in the dead of winter after the sun goes down. Now that's peace and quiet!
**Avalanche hazard from the trailhead, two avalanche paths cross the trail at kilometers 3.3 and 4.4. Between kilometers 6.3 and 8, avalanche paths from Copper Mountain exist above the trail. Do not stop in these areas.
---
Banff Cross Country Skiing Trail Etiquette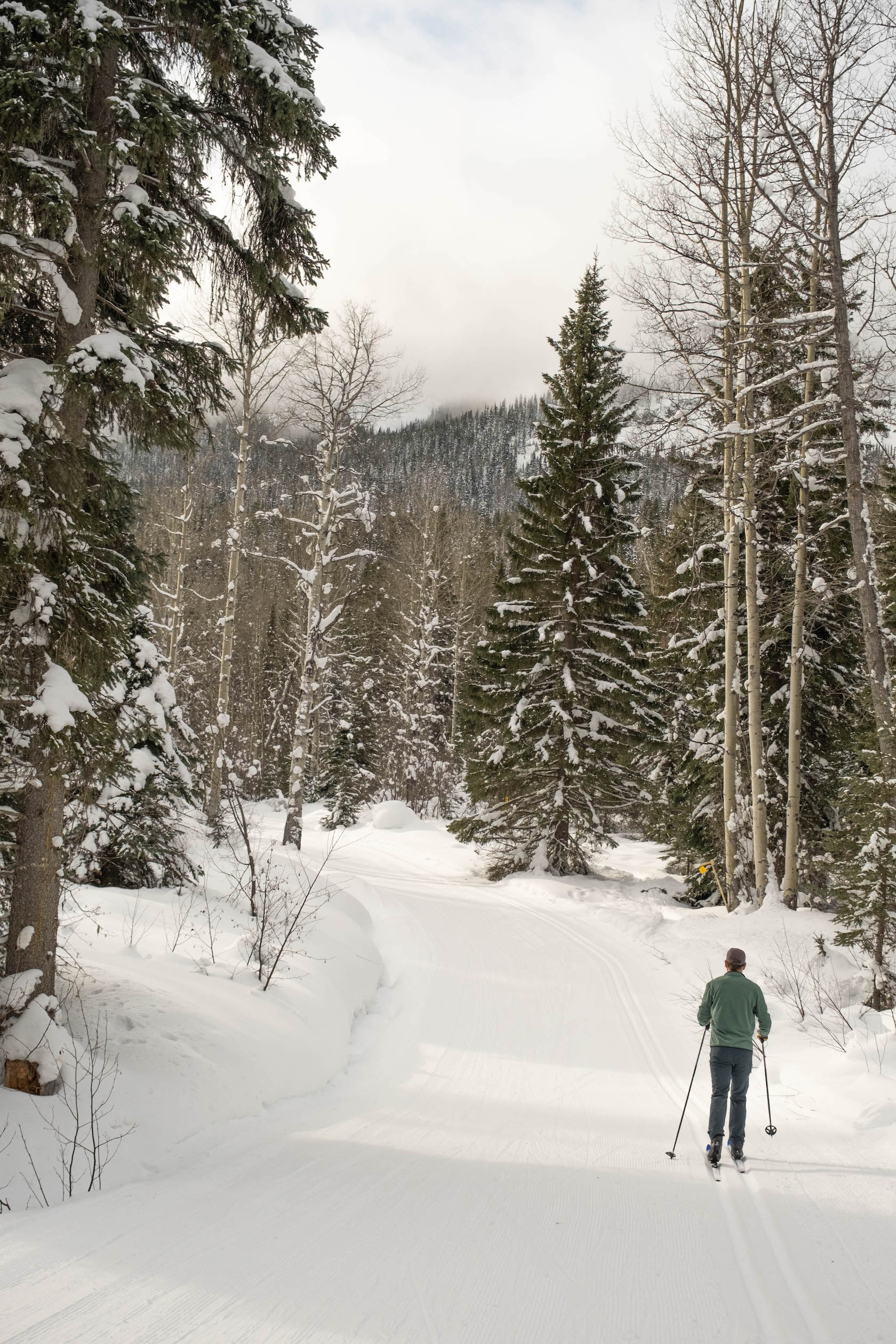 All trails are shared in Banff, meaning you can see people winter hiking, fat biking, or snowshoeing. However there are a few trail guidance and etiquette "rules."
The track set portion of the trail is for classic skiing only. The flat, groomed lane is for other users. Please do not walk on the ski tracks.
When climbing, please yield the right of way to descending skiers and fat bikers.
If you take a fall, move off the track and out of others' way.
Keep to the side if you take a beak.
Pets are not allowed on certain trails so pay attention to signs. Dogs must be leashed at all times.

---
When to Go Cross Country Skiing in Banff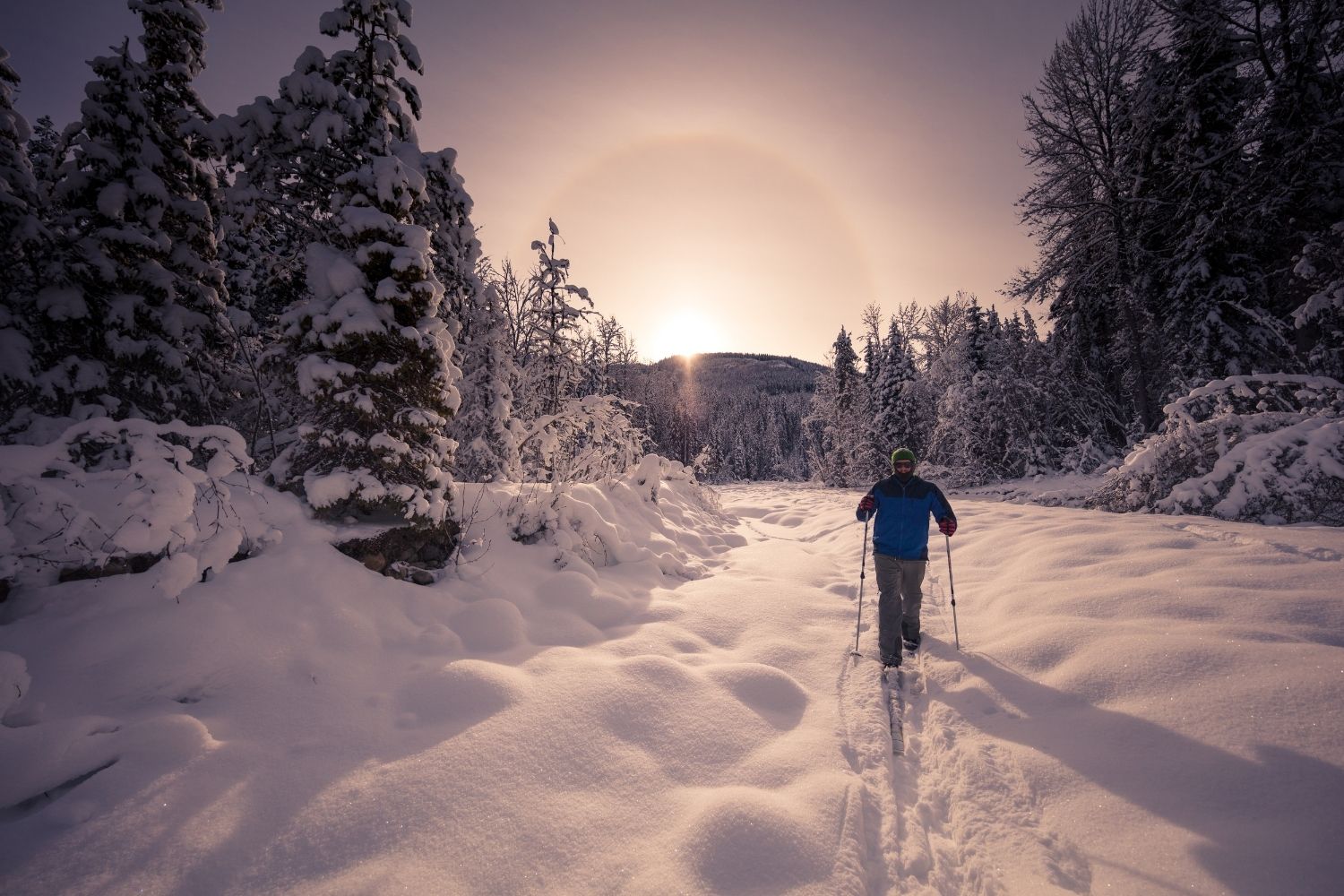 Cross country skiing in Banff ramps up in November, with the season running well into April and even May depending on the season!
---
Wildlife in the Winter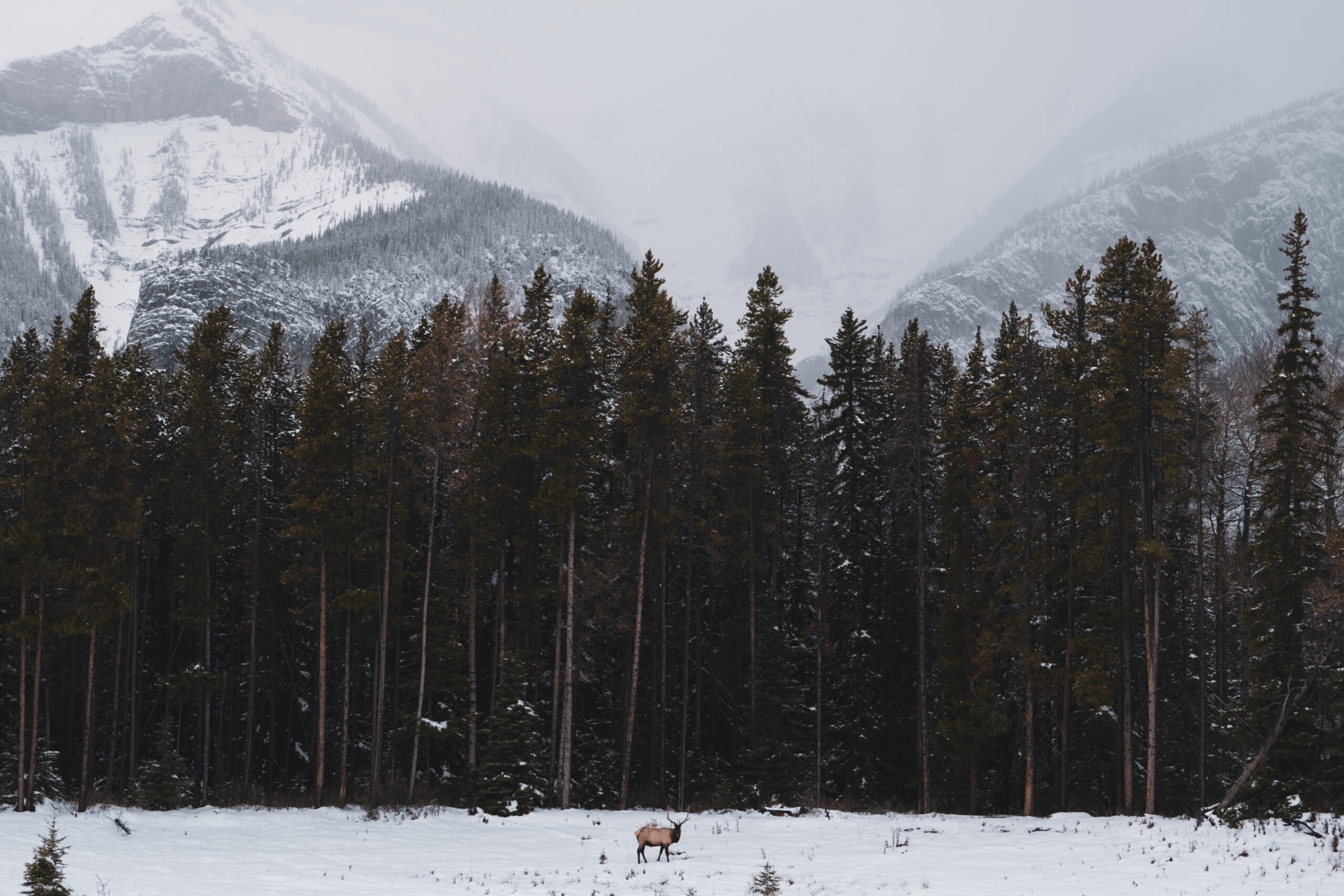 Although bears are denning during the winter, they can awaken at any time for short periods. I still like to have bear spray on me while hiking in the winter.
Cougars, wolves and other wildlife remain active throughout the year. Keep your eye out for foxes, elk, deer, and owls as well!
If you see wildlife, do not approach. Give them lots of space, and don't make them change their course. The general rule is if you make wildlife change their course or move you are too close.
---
Packing for Winter Activities in Banff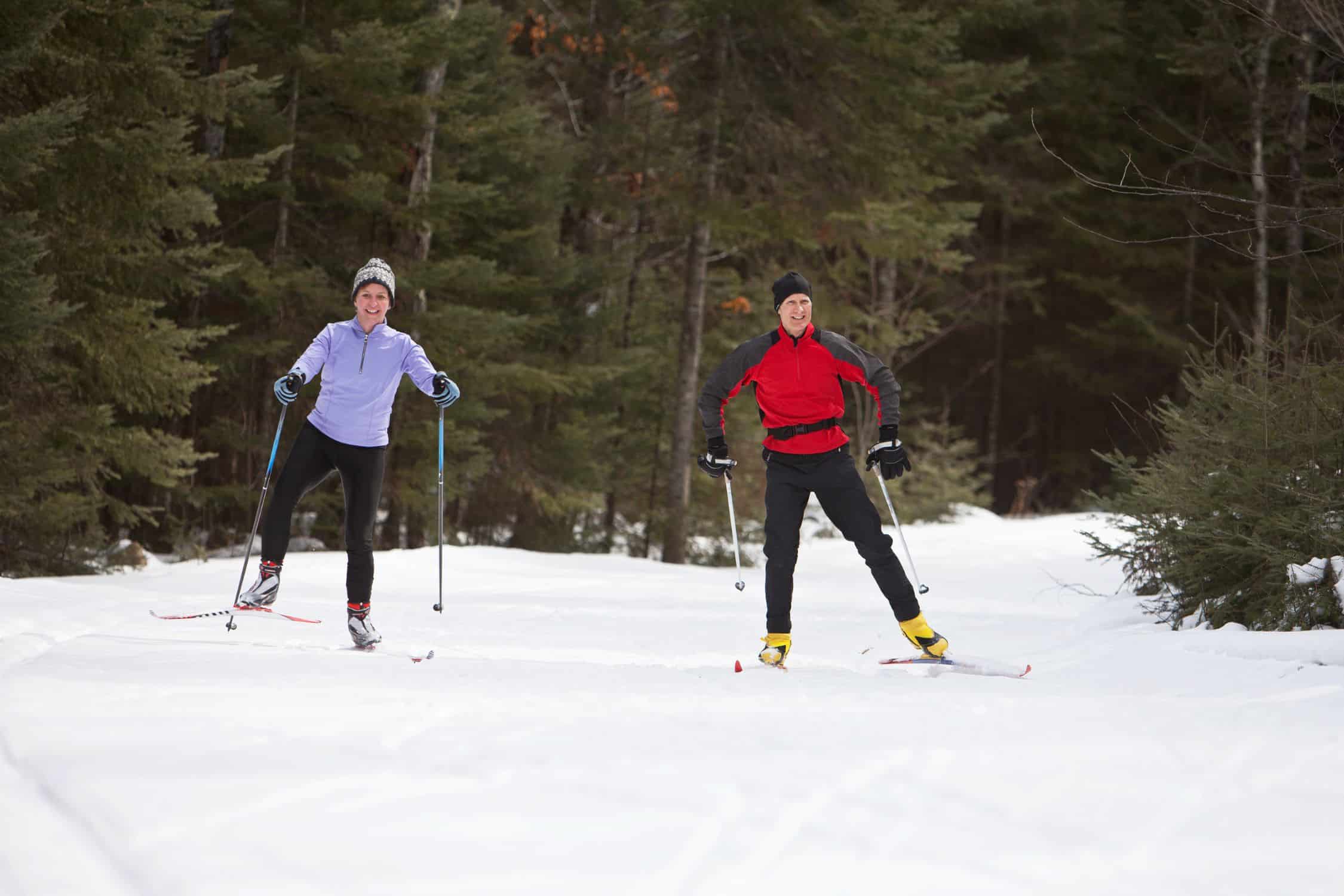 Pack for winter in Banff when preparing for your XC ski. We dress in layers when heading out in the mountains. Here is a general list of what you should bring:
Snacks and protein bars
Bear Spray
Hiking Poles
First aid kit
Emergency blanket
Sunscreen and sunglasses
Headlamp
Hand warmers
Hat, mittens, and neck warmer
Cell phone and Garmin In Reach
Banff Winter Packing List: What to Pack for Canada in Winter
---
Where to Rent Skis in Banff
There are a few areas in Banff, Canmore, and Lake Louise to rent XC skis. If you think you will be skiing a lot, it may be worth buying a pair at Canadian Tire in Canmore.
Lake Louise Rentals
Alpine Social Rentals
Fairmont Chateau Lake Louise
Plan Your Trip to the Canadian Rockies