If you plan on visiting Banff in April, be prepared for a bit of snow, sunshine, and a lot of in-between. Banff in April is unpredictable, but I can guarantee there will be snow on the ground, and it will likely be colder than you anticipate.
So, what is the weather like in Banff National Park in April? What should you pack for your trip, and what are some things to do in Banff in April? We have you covered!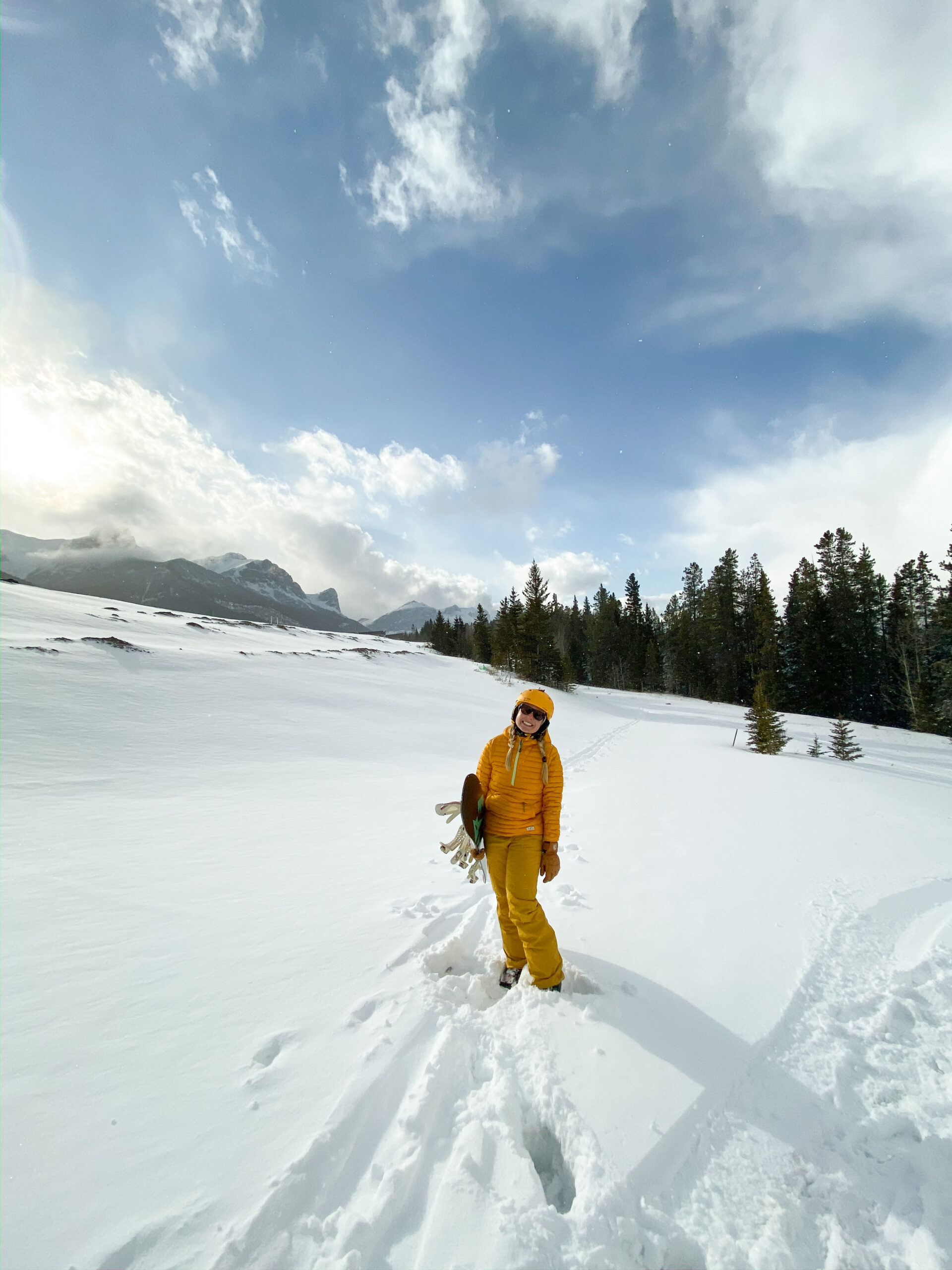 ---
Things to Know Before Visiting Banff in April
---
What's the Weather Like in Banff in April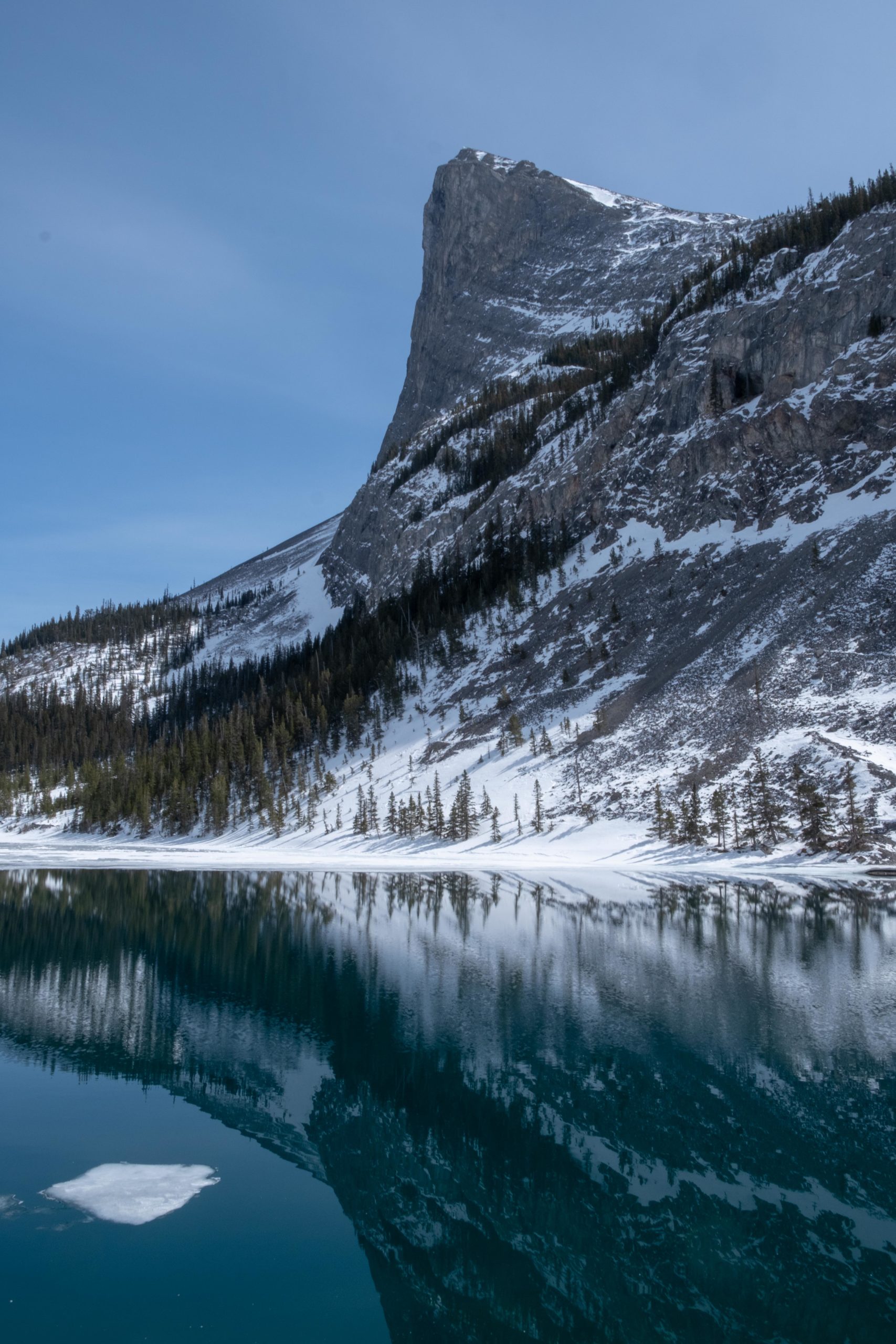 Spring is starting to show up in Banff in April. The cool temperatures of winter are almost all but gone, with the average temperature being 11°C, but there is still plenty of snow on the ground. You may have some warm days, but don't let a warm day in April fool you – winter is not over yet. Be warned; cold snaps of 6°C or lower are still pretty standard… and nights are still below freezing.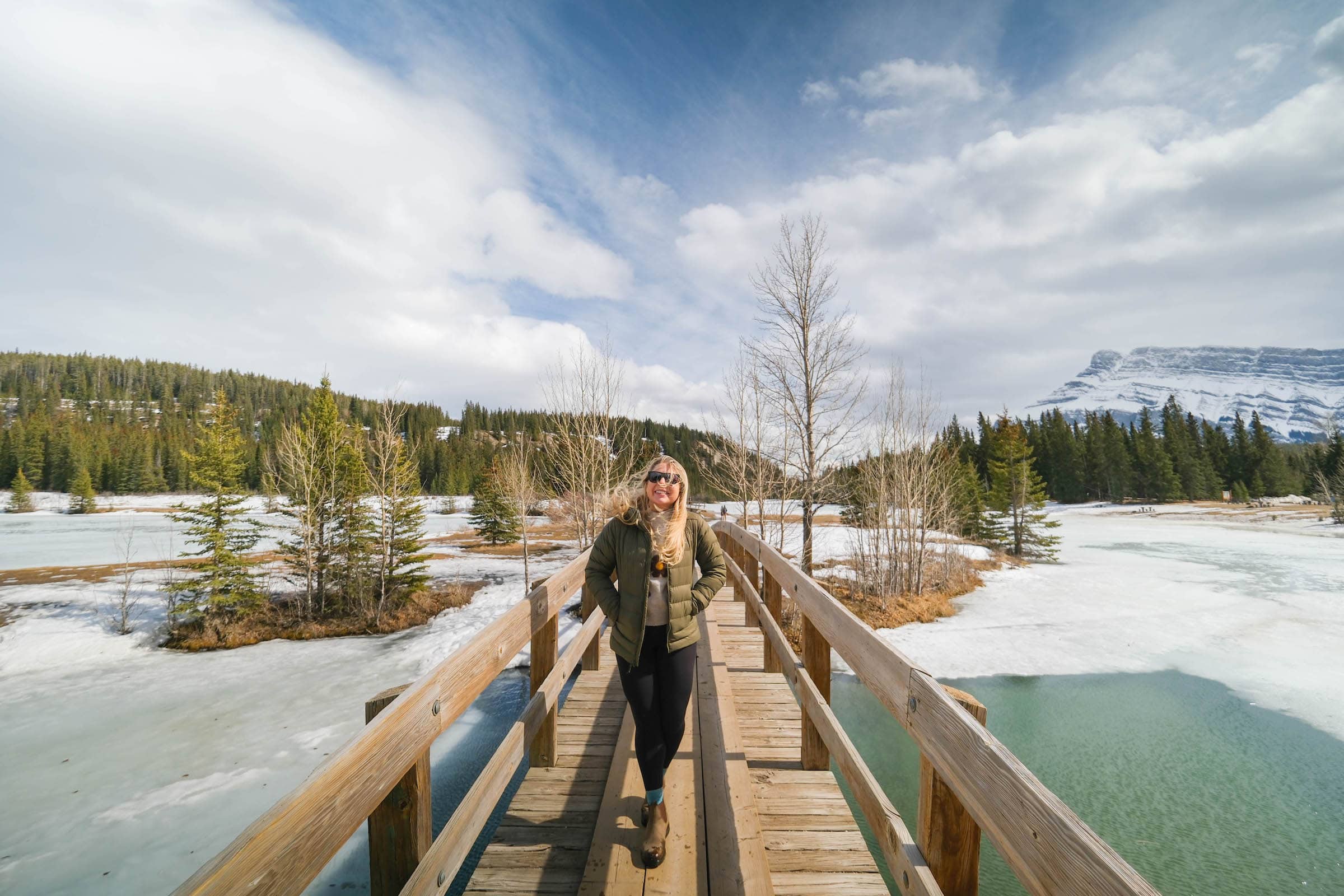 By the end of the month, it's getting warmer, and you may even get lucky enough to enjoy clear roads for a bike ride. You'll be switching out your Canada Goose down jacket for a packable down jacket, but make no mistake, you'll still need that jacket, a hat, and gloves! With the longer days, every day, you can sense spring is just around the corner.
Banff Average April Temps: Daytime 8°C High / Overnight -4°C
Lake Louise Average April Temps: Daytime 3°C / Overnight -6°C
---
Is There Snow in Banff in April?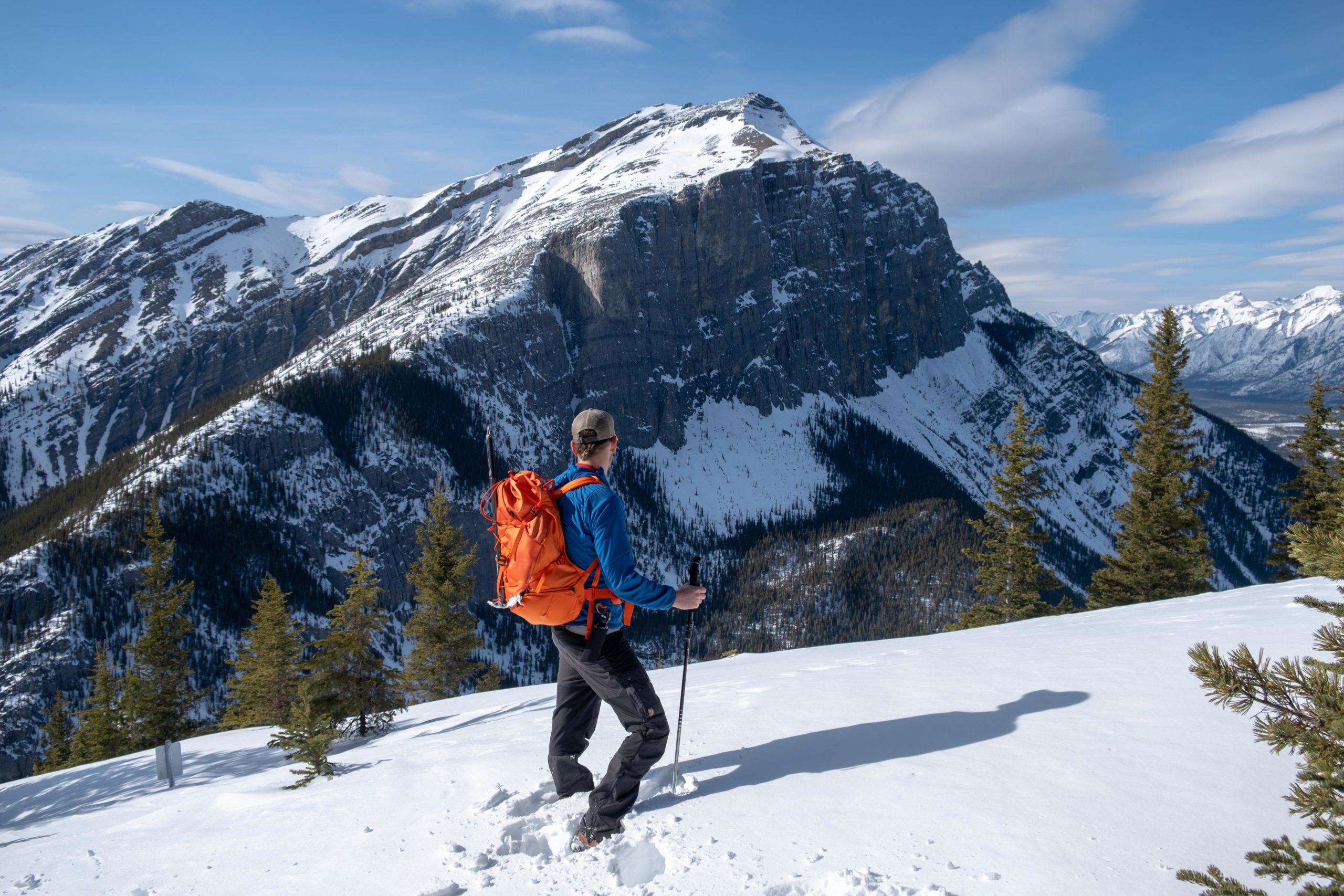 There is still plenty of snow in Banff in April. Though in lower elevations, like in the Town of Banff and Canmore, it is melting and you'll start to see plenty of dirt and grass, complemented by dust. However, up in the alpine, there will be plenty of snow and snow falling.
That means April is still a good time to visit Banff if you like snowboarding and skiing since there's still a lot of snow around – we even get the occasional powder day! This time of year, it's pretty popular for off-piste tracks and backcountry skiing as the spring brings stability to the snowpack.
Just make sure you know the avalanche risks; the warmer temperatures bring variable conditions that change throughout the day. In April 2019, three world-class alpinists lost their lives to an avalanche in Banff National Park. Make sure you check any conditions before heading out in the backcountry.
The good news about visiting Banff in April is that it is very much still the shoulder season, and you won't find many tourists lingering around. April is the time to mingle with locals and enjoy the quiet streets and lower hotel prices.
---
What to Pack for Banff in April?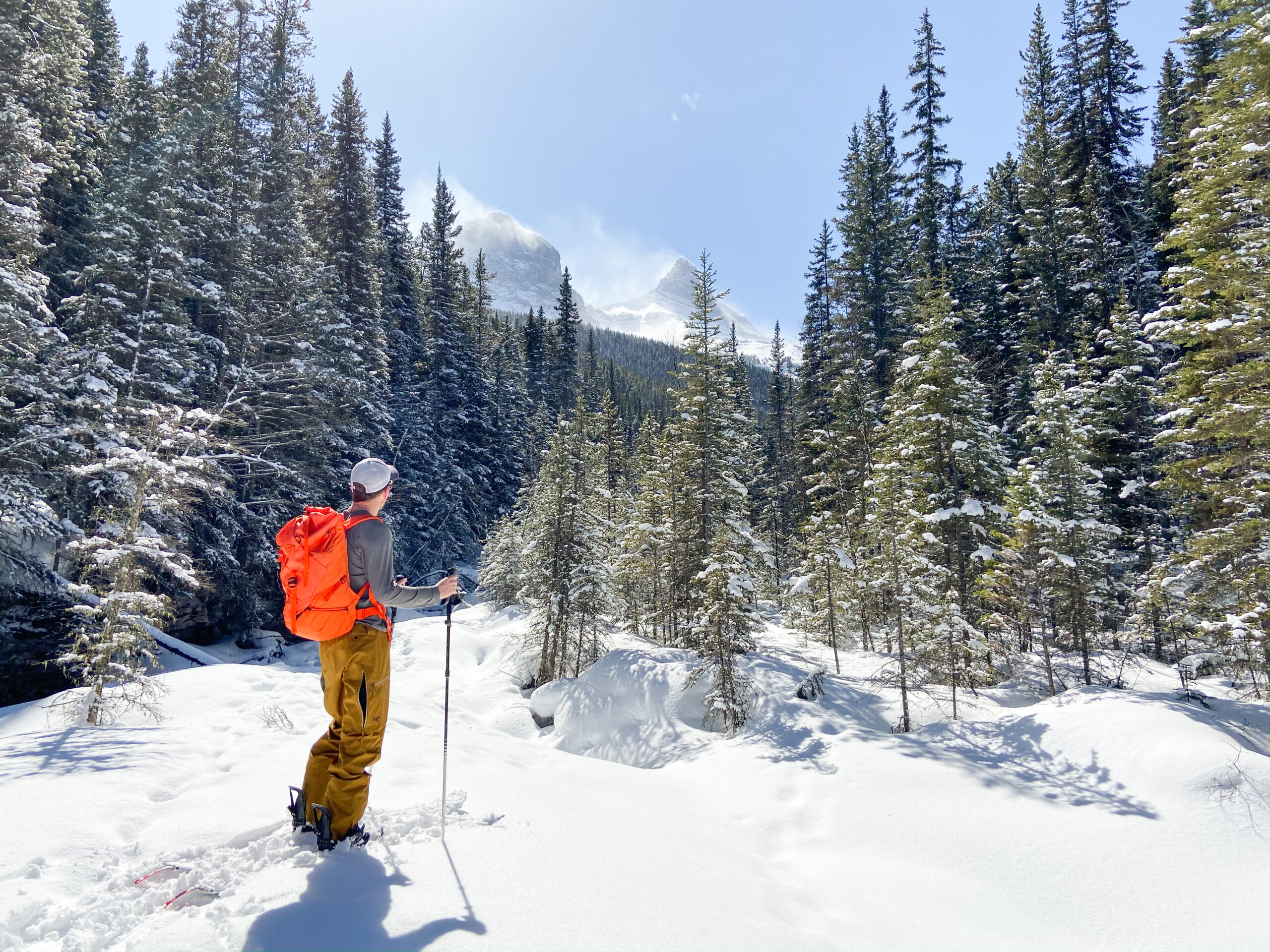 As mentioned, April marks a shoulder season in Banff. While it may be spring down south, it's still pretty wintery in the Canadian Rockies in April. You'll need to pack a range of clothes, but the most important thing you'll need is a jacket and boots.
There's no point in bothering with shorts, sandals, and T-shirts – you won't be needing them in Banff in April. It will be mostly winter conditions, with the occasional beautiful warm day – perfect for a bike ride around town.
Here's a basic list to go off. The left column is for general winter packing and the right is if partaking in snow sports
Winter Down Jacket
Sweaters
Flannel
Casual Pants
1 x Top Base Layer
1 x Bottom Base Layer
2-3 x Wool Sports Bra
2-3 x Wool Ski Socks
Mittens
Hat
Winter Boots
1 x Mid-Layer Jacket
1 x Shell Jacket
1 x Shell Pants
1 x Insulated Jacket*
1 x Snow Pants*
1 x Mitts or Gloves
1 x Balaclava
1 x Buff Headwear
1 x Helmet* (if skiing or snowboarding)
---
Can You Visit Lake Louise in April?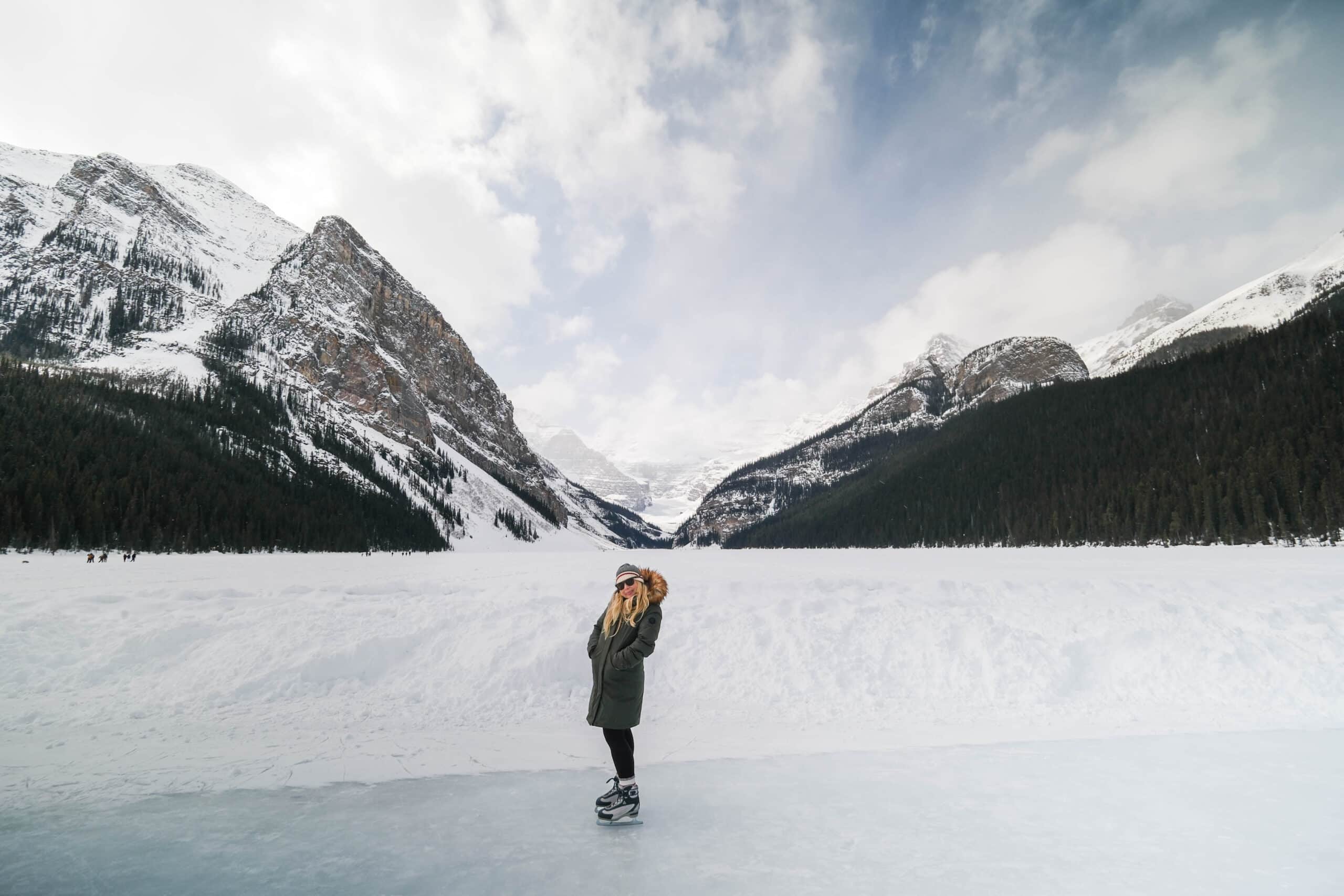 The weather in April in Banff is still very much wintery, especially in higher up elevation places like Lake Louise. That being said, Spring is starting to show up, especially towards the end of the month the snow is starting to become slushy and spring-like now.
Lake Louise will still be a sheet of ice, covered by a thick layer of snow. You can still walk on the frozen Lake Louise – and April will be your last month to ice skate on the lake.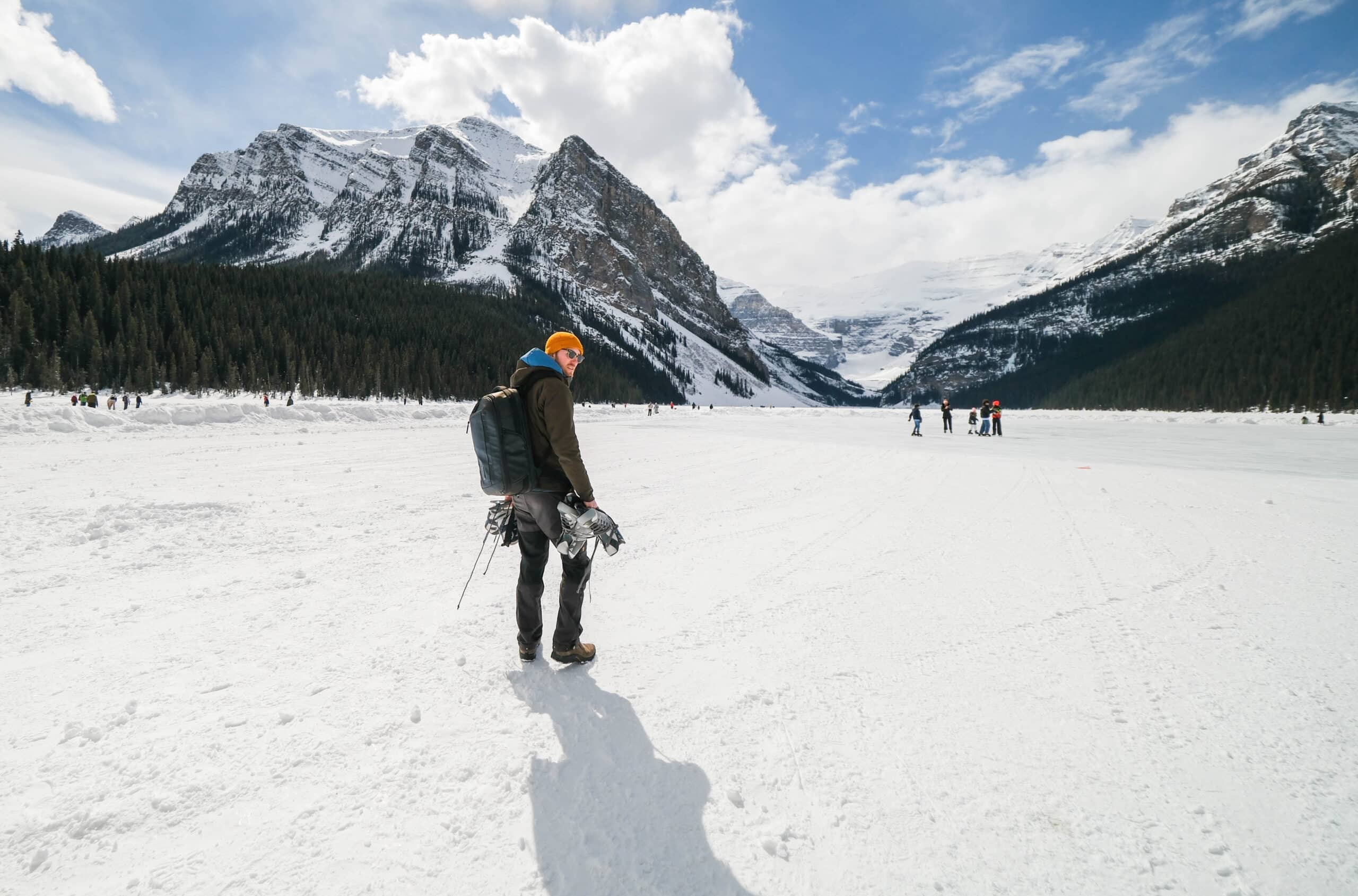 In your heart and mind, you may expect the weather to be warm in April, you have to remember you're in the Canadian Rockies. So don't come expecting Lake Louise to be thawed and have that beautiful blue color.
It's 100% going to be frozen with snow. Any high elevation hikes around Lake Louise are not possible at this time as avalanche risk is high. Though you can still hike to the Fairmont Lookout for epic views of the lake and Fairmont.
---
Can You See Moraine Lake in April?
It is not possible to visit Lake Moraine in April. Every year the Moraine Lake access road closes in October due to high avalanche risk and stays closed until the end of May/Early June depending on conditions. Biking in is not possible unless you have a fat bike and know avalanche conditions, the road will most certainly be snow-ridden.
---
Things to do in Banff in April
---
Ski/Snowboard Big Mountain Terrain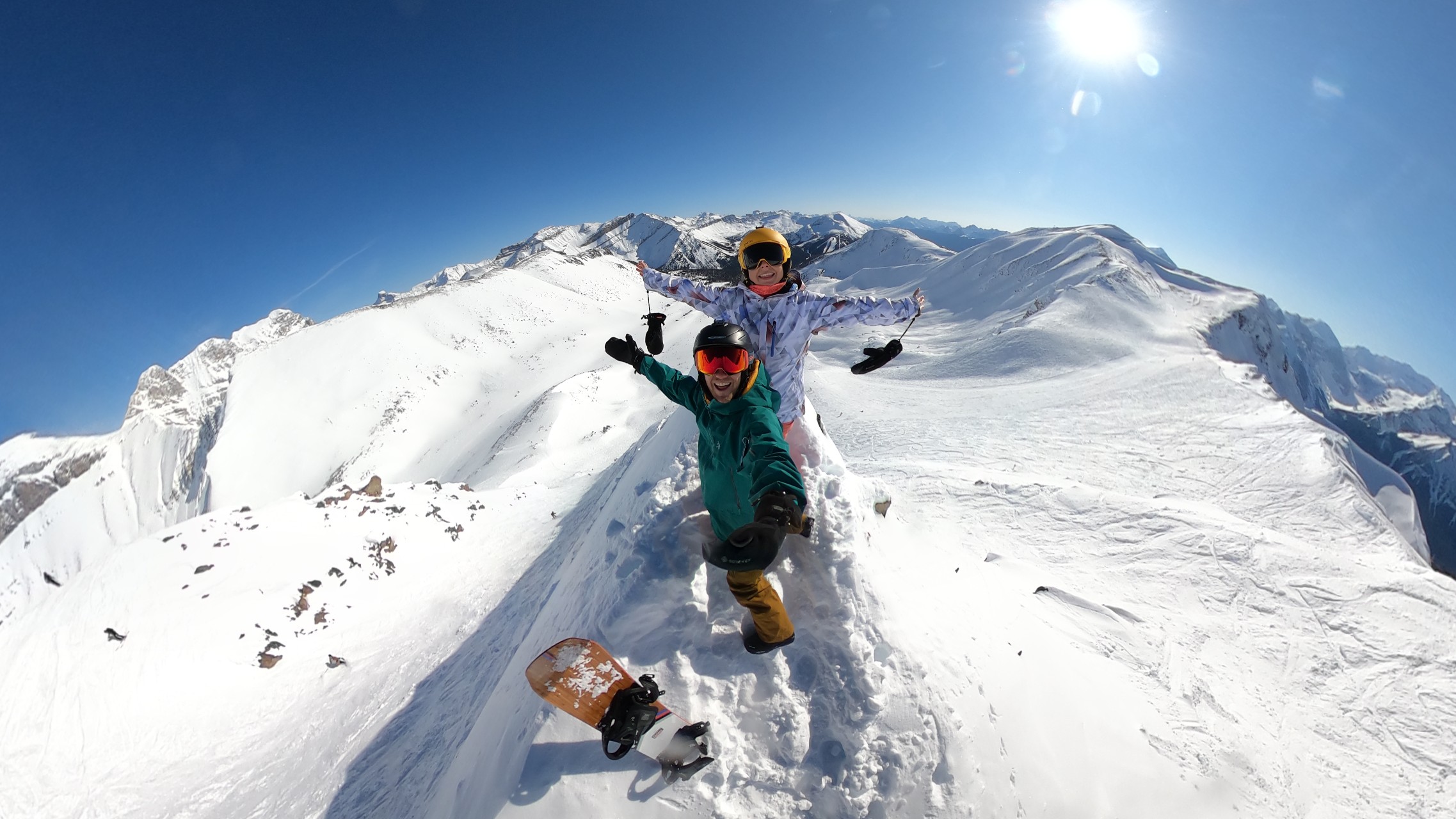 Snowboarding at all of the SkiBig3 resorts was our primary reason for heading to Banff in the winter. SkiBig3 is a collection of three mountain resorts, all within Banff National Park. You have Lake Louise, Banff Sunshine, and Mt. Norquay which are all fantastic and unique ski resorts.
Skiing or snowboarding is one of the best things to do in Banff in the winter. Winter lasts pretty long here too, and these resorts have some of the longest seasons in North America. Come April you'll have a few powder days, and plenty of spring riding. You may even get a few very warm days where you are riding in just a sweatshirt!
---
Hike Tunnel Mountain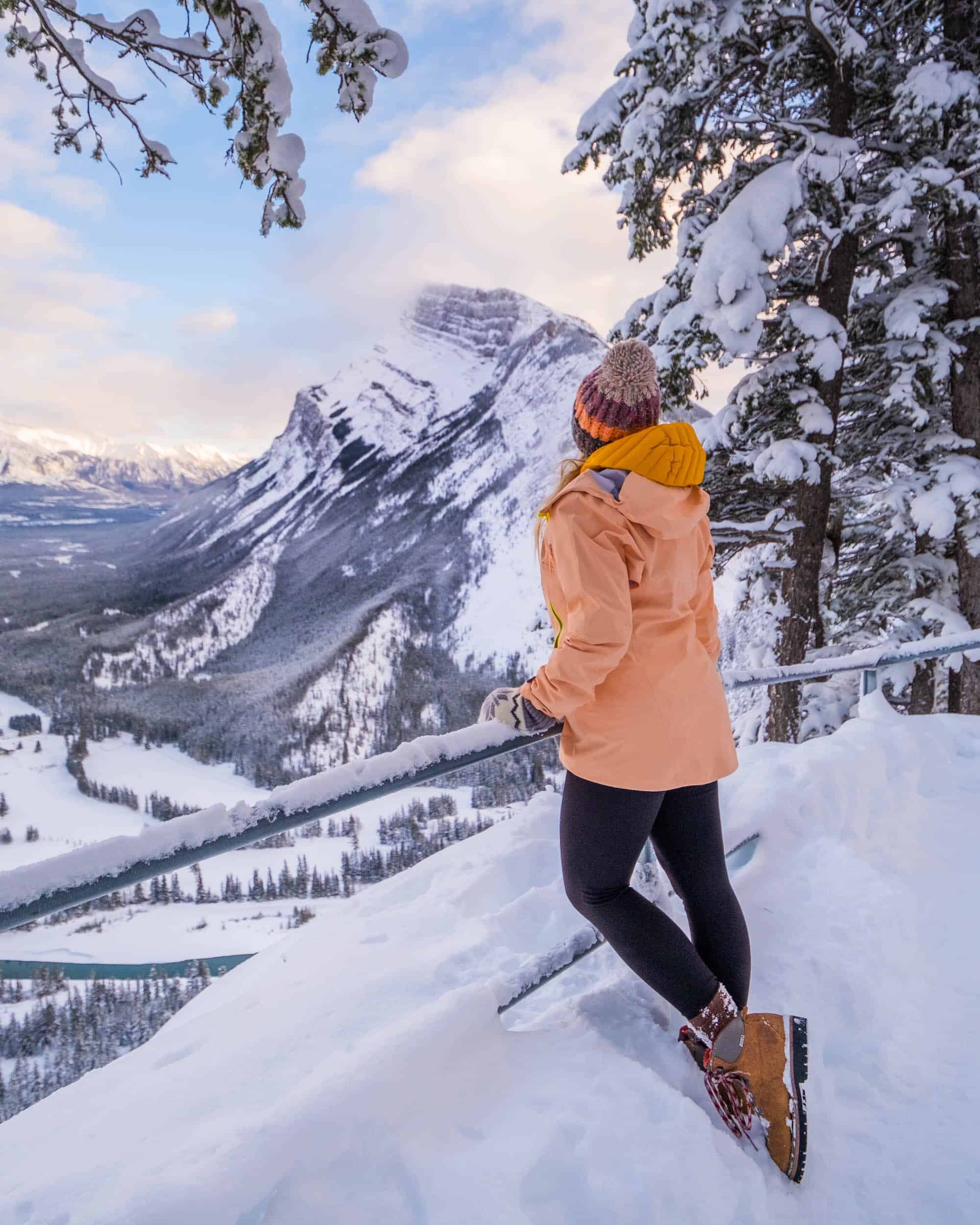 Tunnel Mountain is right in the heart of Banff. It's beloved by locals for its accessibility and you can hike it year-round. It may be one of the smallest mountains in Banff National Park, but it still offers tremendous views of the surrounding valleys and Mount Rundle.
The hike moves slowly up the mountain through a number of switchbacks and offers various viewpoints out into the Bow and Spray Valleys. It's great for sunrise or sunset and it rarely disappoints.
It's ready to go year-round, including in April! The best part is it's only a 4.5 km round trip hike and shouldn't take more than one hour up. It's one of the easiest winter hikes you can do with only 266 meters of elevation gain.
**In April, animals are emerging from hibernation and seeking the easiest route to food, potentially intersecting with your hiking path. Familiarize yourself with bear safety protocols before embarking on hikes. We recommend carry bear spray all year round. Did you know bears aren't true hibernators and can awaken at any time?
---
Hike Sulphur Mountain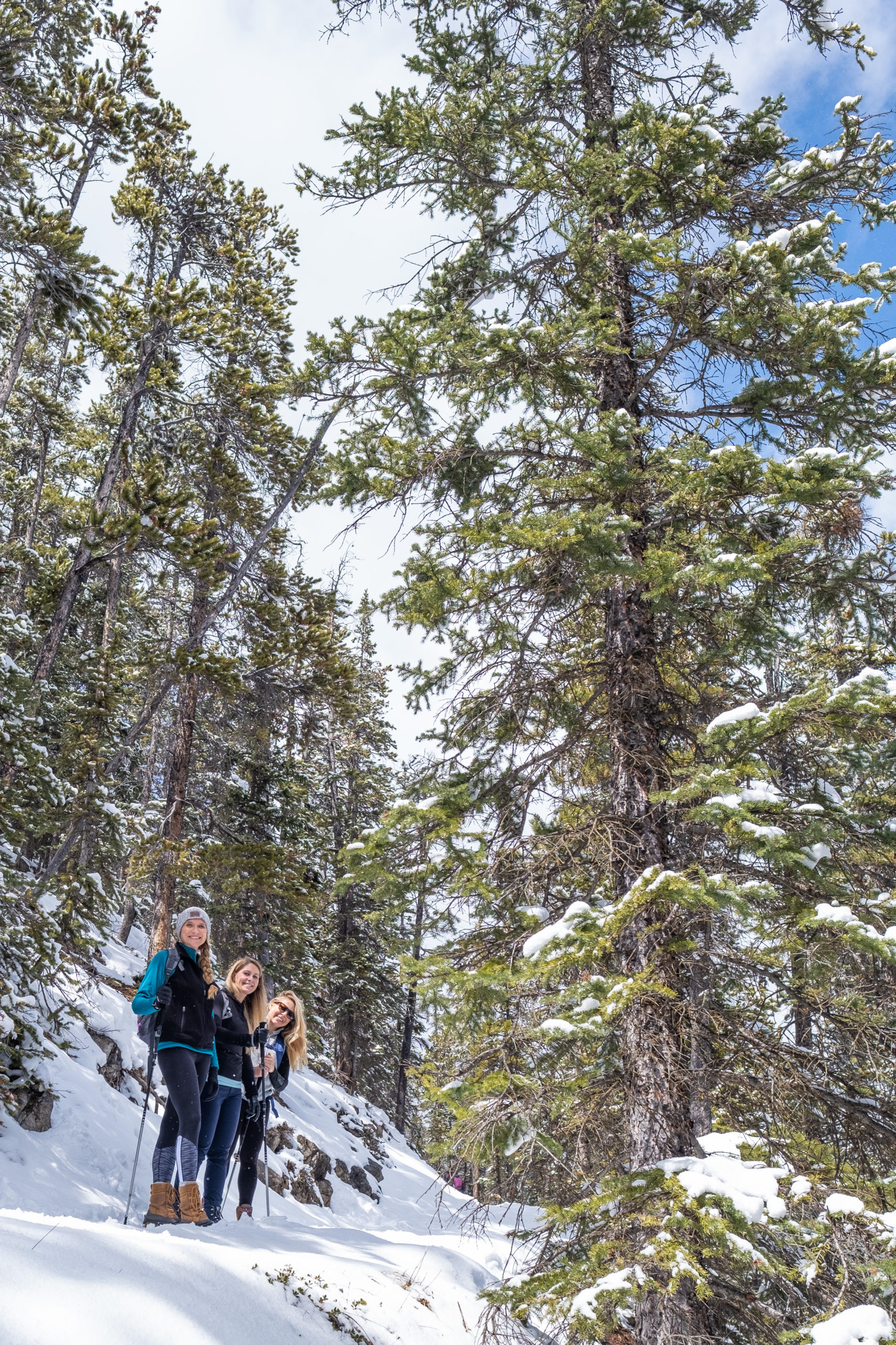 Still wondering what to do in Banff in April? How about you climb a mountain! What? Just because it's winter you think you can't climb a mountain? Sulphur Mountain is easily one of the most popular hikes in Banff National Park. It's a beautiful hike up that provides visitors with astonishing views over the Bow Valley.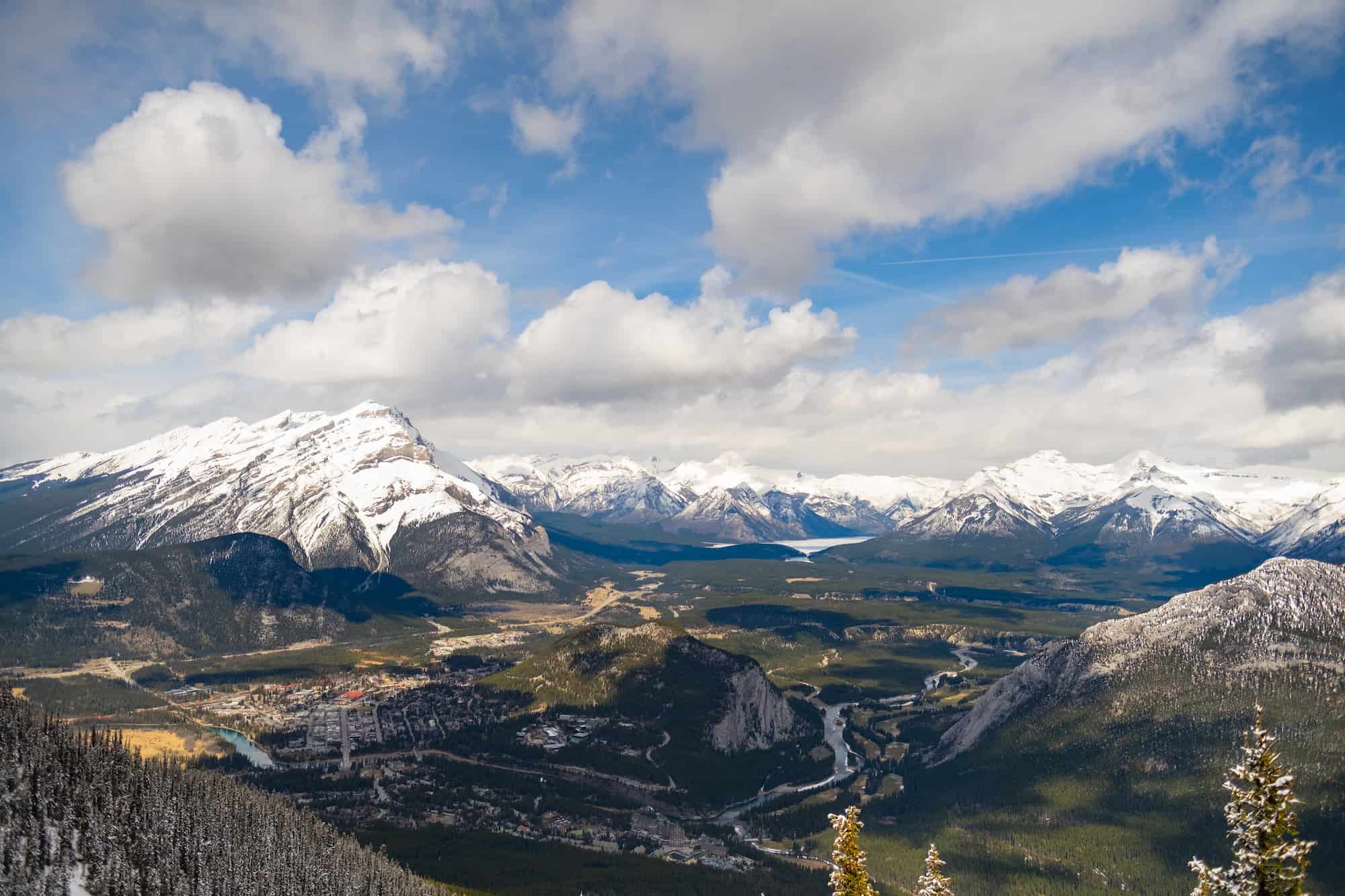 Due to its proximity to Banff town, and the fact that you can take the Banff Gondola up to the peak instead of sweating it out on the trail means that Sulphur mountain becomes very busy – but not in April.
With a pair of crampons and some hiking poles, you'll be able to tackle the trail up in no time. You can read all about hiking Sulphur Mountain here.
---
Banff Gondola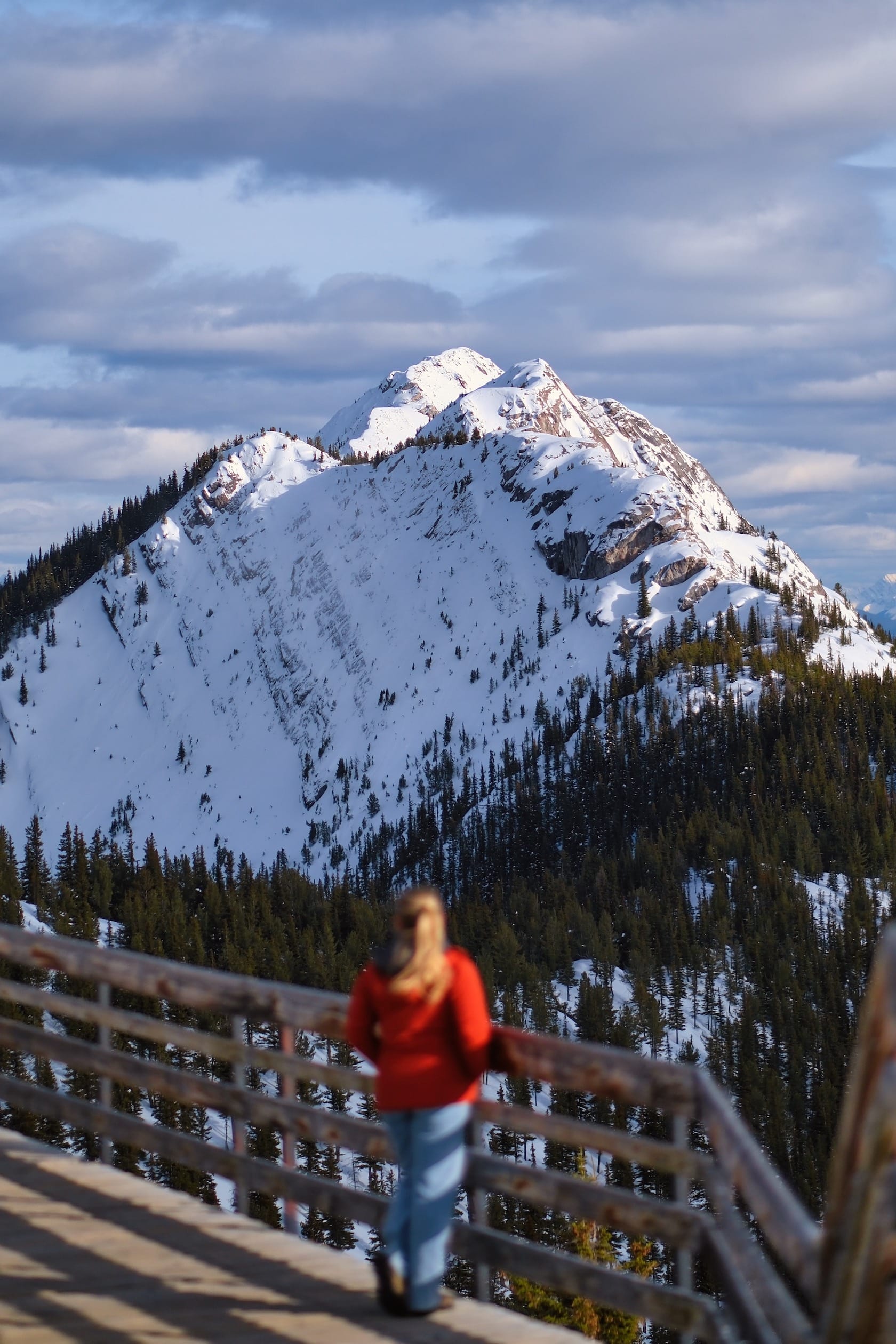 If you don't feel like hiking up Sulphur Mountain, you can still get to the top another way. The Banff Gondola gets you to the top of the mountain in just eight minutes and climbs to 2281 meters (7486 ft) above sea level. You climb 698 meters very quickly!
Once at the top, you'll have panoramic views of the Bow Valley and down towards the town of Banff. It's one of my favorite views of Cascade Mountain.
There's a coffee shop up here, as well as Sky Bistro, one of the best restaurants in Banff! You can safely and easily walk around the well planked wooden platforms and duck inside when cold!
---
Cross Country Ski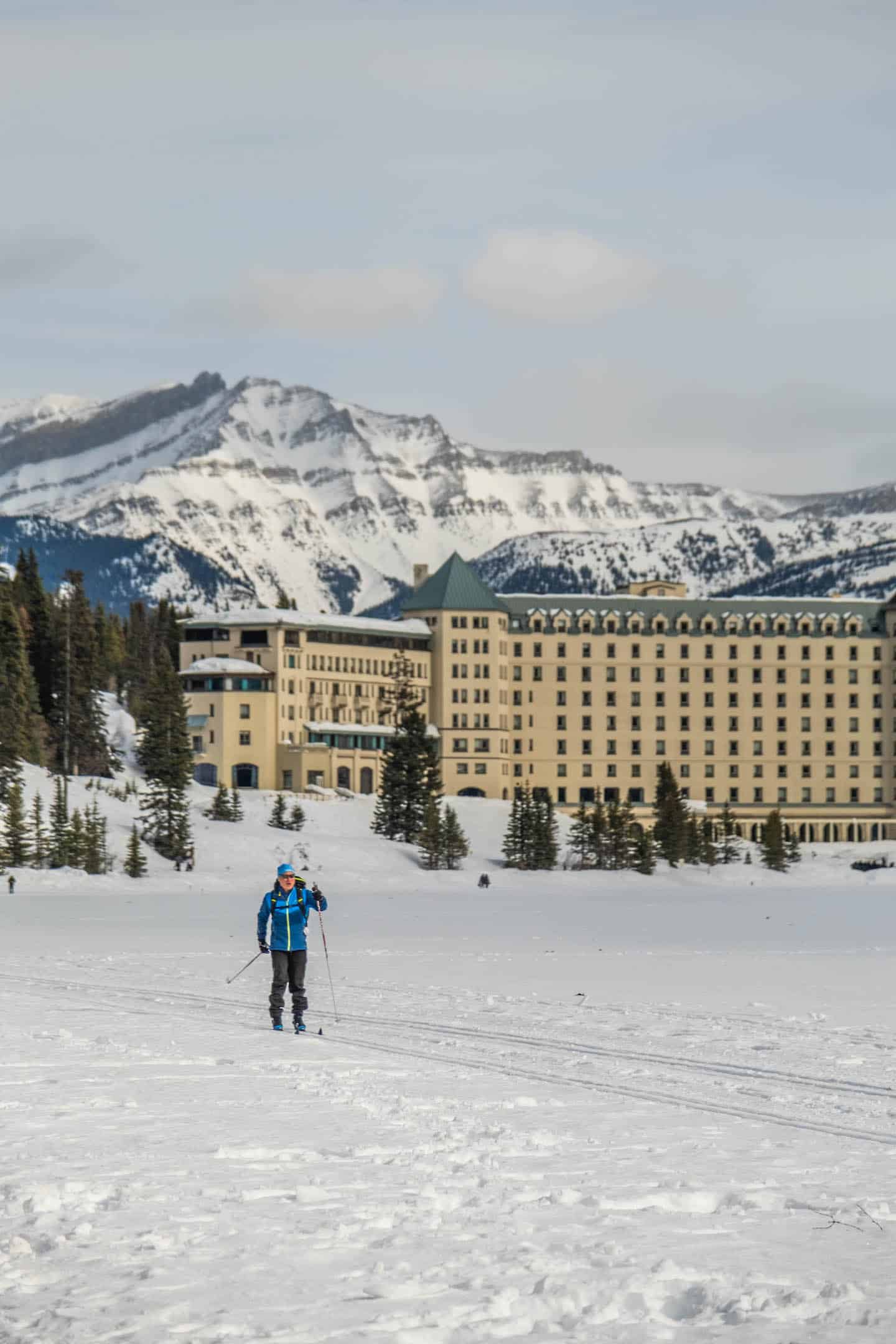 April is a great time to cross country ski in Banff. You'll find plenty of people out enjoying this activity in the winter. It's a low impact sport that gets your heart racing and allows you to slide across the snow.
There is one thing you can't argue against is the pristine wilderness beauty nordic skiers will find themselves, especially in Banff.
Cross country skiing is a serious hobby here and you'll find plenty of people getting out there and stretching their legs. The Nordic Center near Canmore is a popular place to go cross country skiing. But there are plenty of other trails to enjoy.
The photo above is at Taylor Lake, but Moraine Lake Road, Spray River West Trail, Great Divide Trail, or Castle Junction are all good options.
10 Best Banff Cross Country Skiing Trails
---
Enjoy the Town of Banff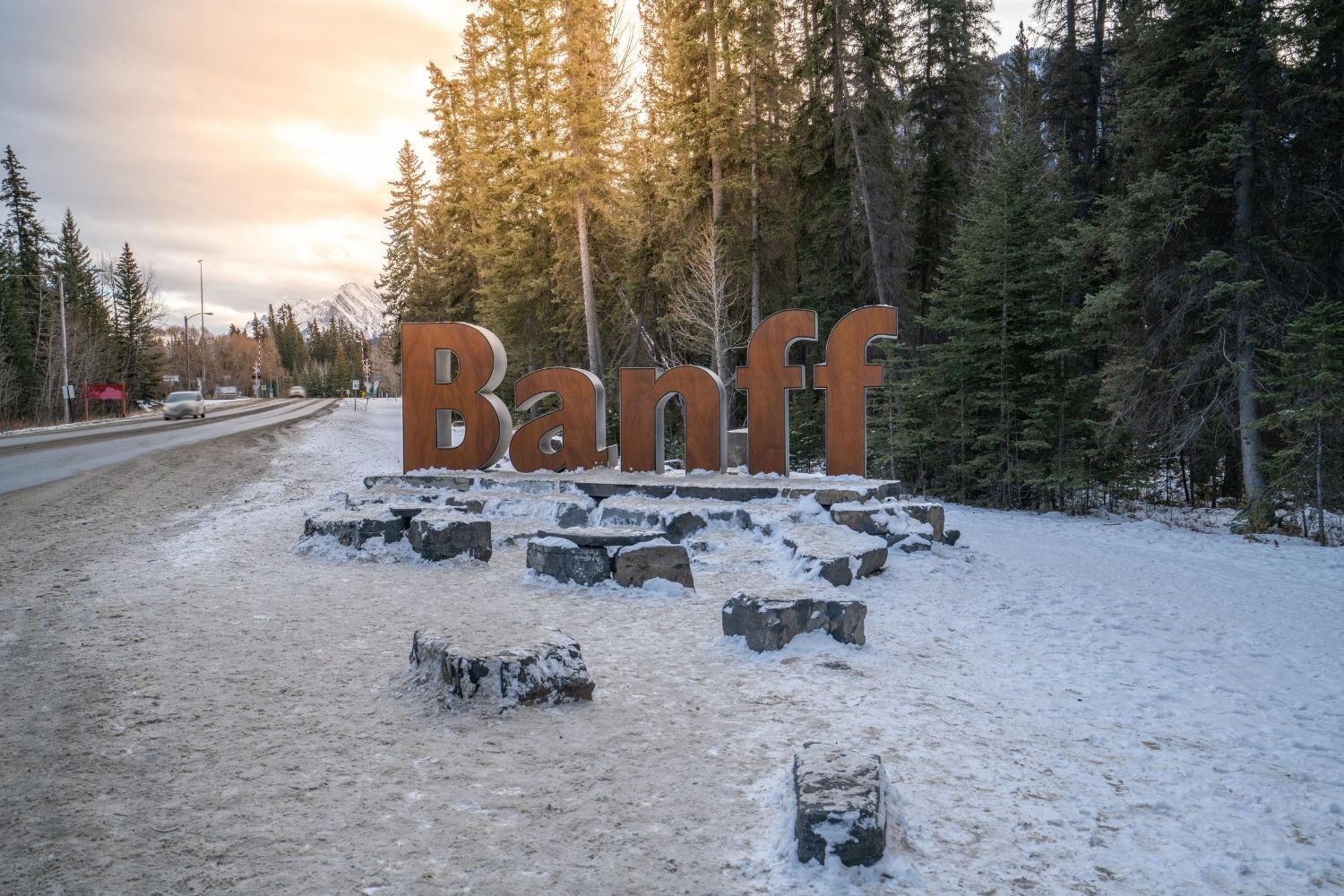 Banff Ave is usually slammed from June to September and even in December around the Christmas season. But guess what? Not in April!
April in Downtown Banff is pure bliss and is the perfect time to enjoy the town's beauty and some of the best Banff eats!
---
Yamnuska Wolfdog Sanctuary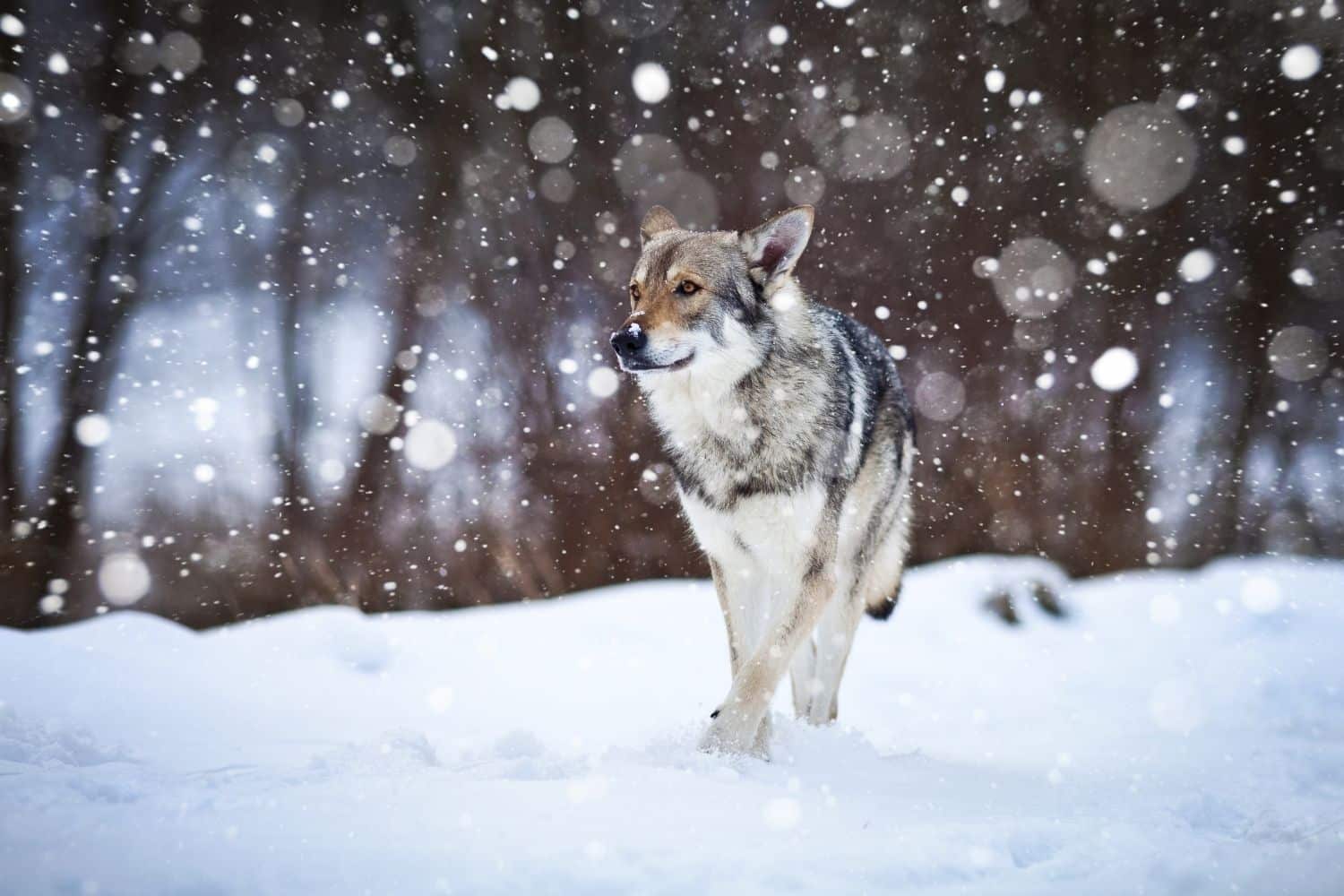 A fun thing to do in Banff in April with the kids is visit the Wolfdog Sanctuary in Cochrane. The Yamnuska Wolfdog Sanctuary, home to more than 35 wonderous wolfdogs, sits in the foothills of the Canadian Rocky Mountains.
This sanctuary allows you to learn about and observe these beautiful wolfdogs and even interact with them by sharing treats and pats.
If you've ever wanted to learn more about these impressive creatures a visit here is a must – and not one you can have in many places in the world!
---
Catch Sunset at Vermilion Lakes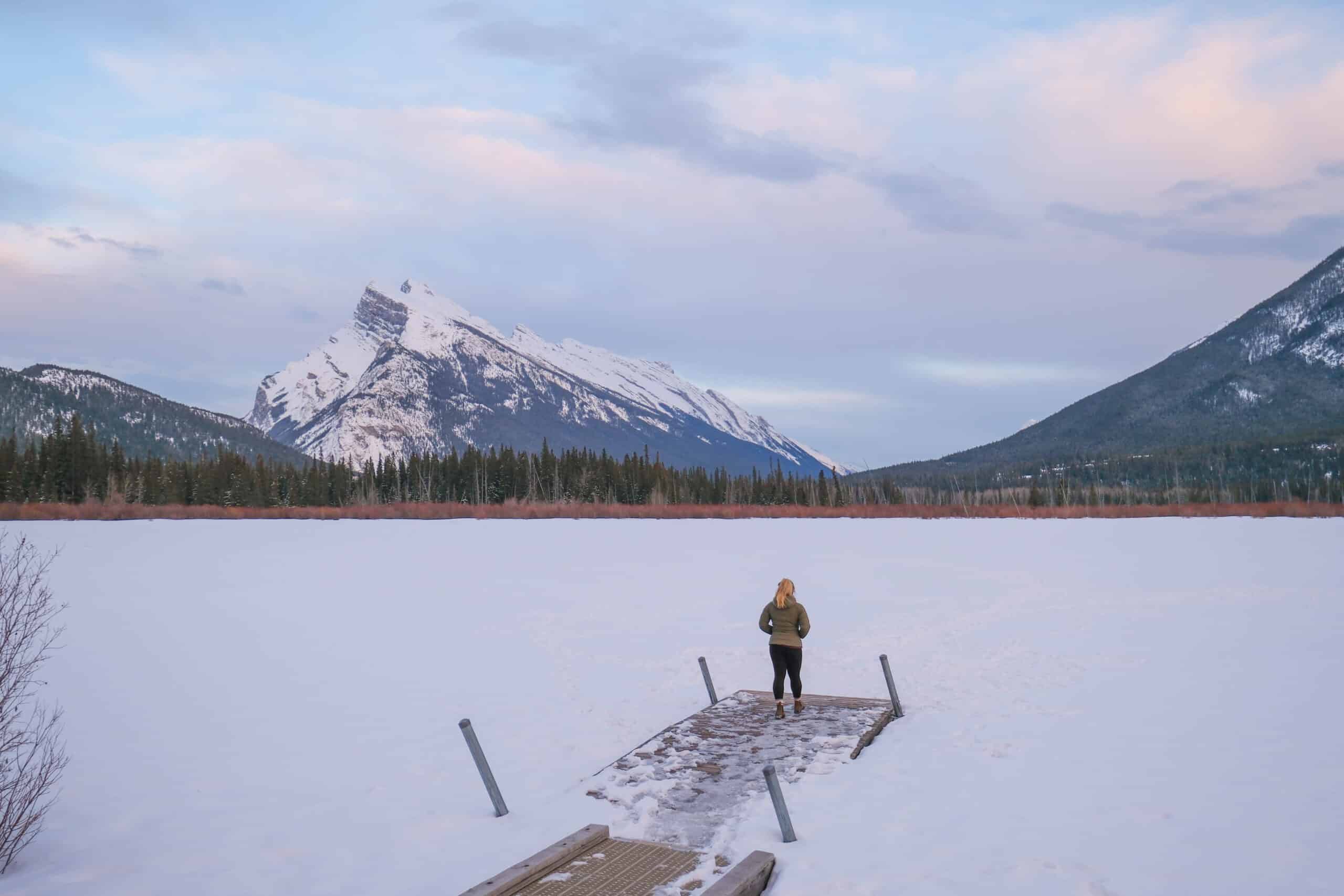 Vermilion Lakes are the closest lakes to the Town of Banff and a super popular Alberta lake to head for sunrise and sunset, even in the winter. If you are visiting Banff, you literally cannot miss this lake as you can see it right from the TransCanada. Add it to your Banff itinerary in April, it's a quick and easy stop that should not be missed.
---
Go for a Bike Ride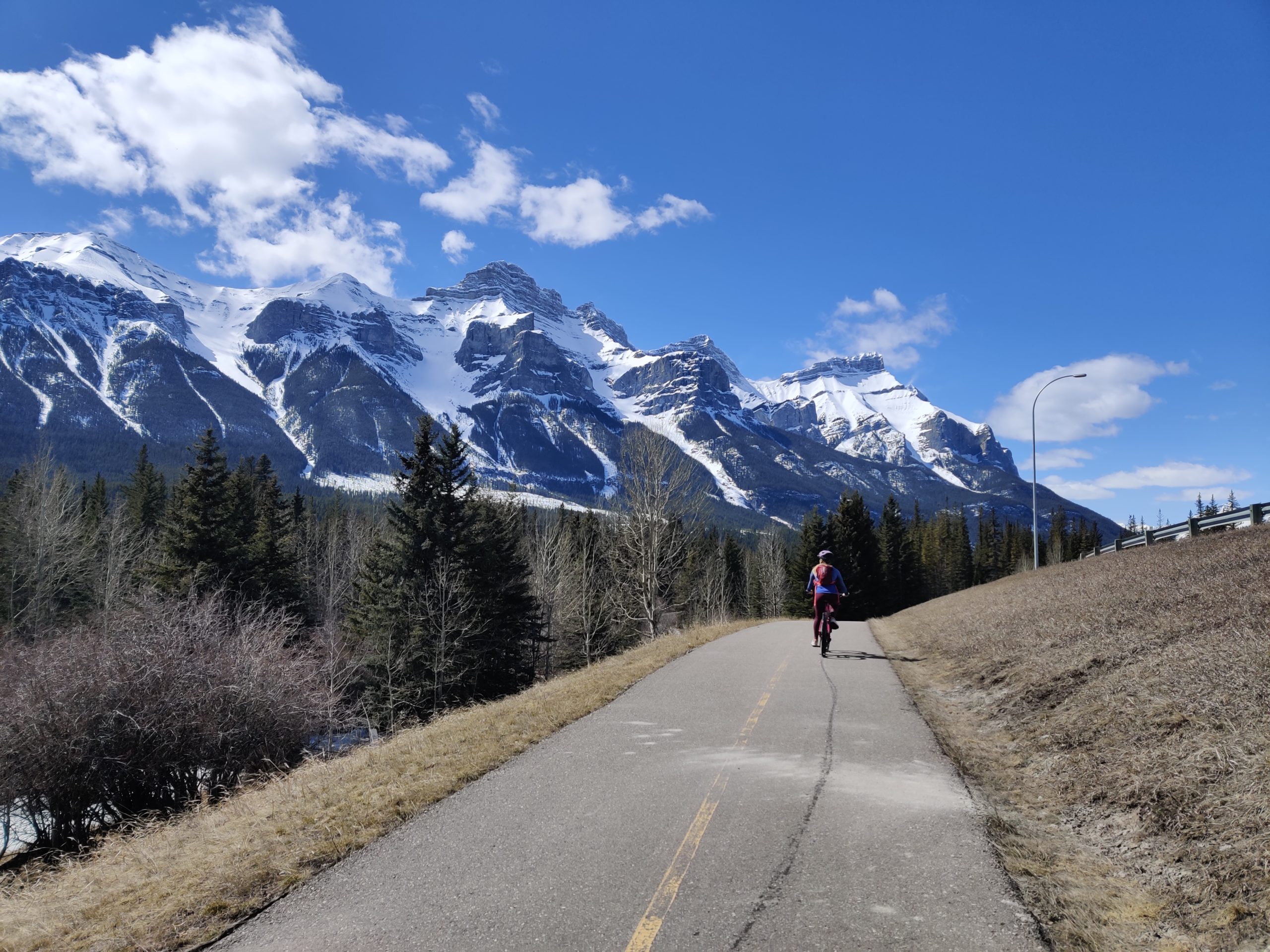 April is a mixed weather for biking. Clear, dry roads all depend on the snowpack and temperatures that year. That being said, I've often been able to hop on the road bike towards the very last week of April, and even parts of the Legacy Trail (a paved multi use path that connects Canmore to Banff) are clear in the end of the month.
It was around April 20th last year that I was able to ride all the way from Canmore to Banff on the Legacy Trail!
---
Johnston Canyon Hike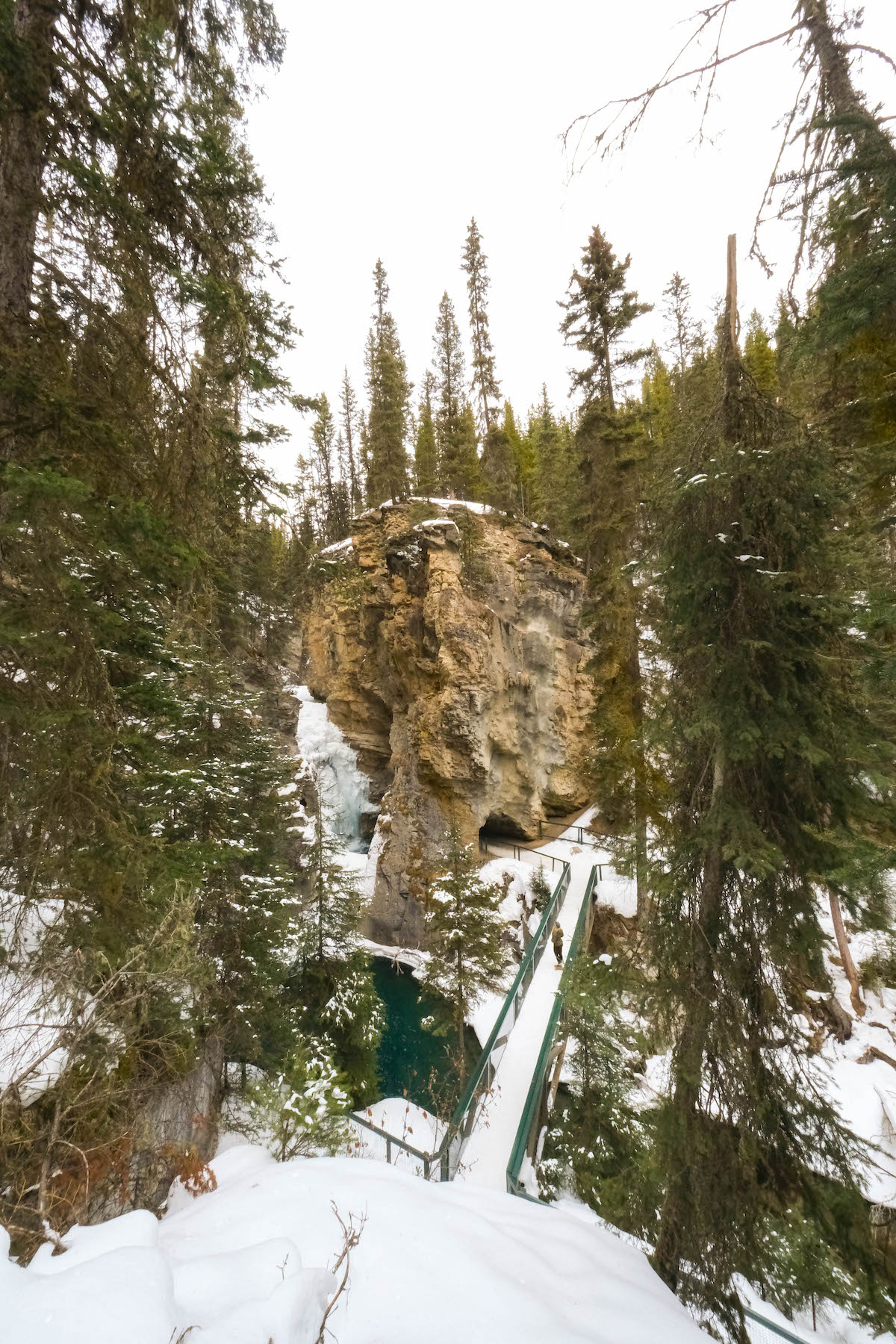 Johnston Canyon is a great year round destination in Banff. Throughout most of April, you can expect snow, ice, and frozen waterfalls.
The trail is well maintained, and is a great safe and easy hike. Though in the winter, you'll want grippy boots or microspikes to venture around here – the trail gets super icy!
---
Hike Ha Ling Peak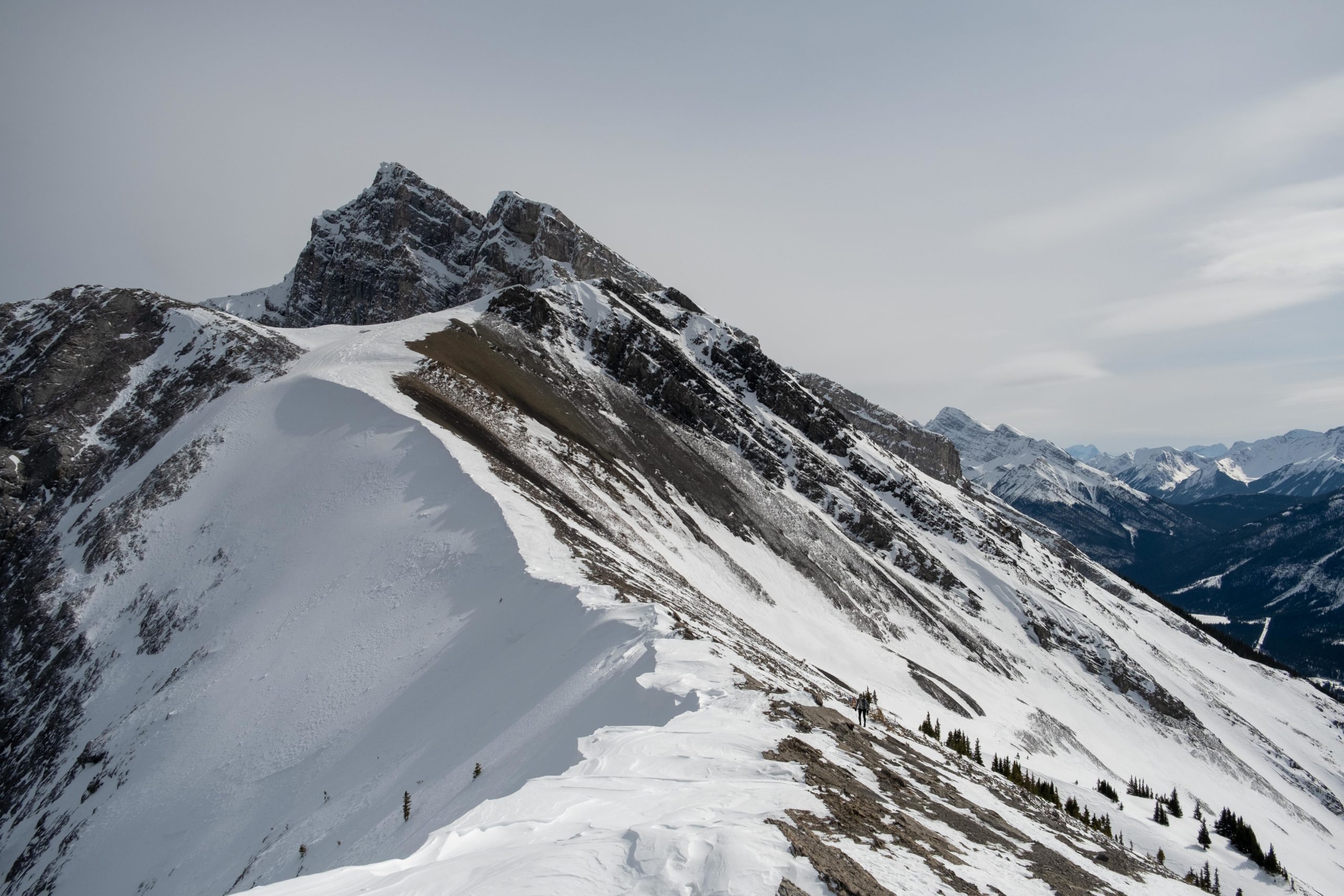 If you want to bag a mountain summit in April, Ha Ling near Canmore is a great option. This is an 8km trail that climbs 804 meters. It's often a great hike I recommend to beginners who want to summit a mountain in the Rockies, though in April, you'll experience winter conditions on Ha Ling and need to be prepared for the elements.
That means proper hiking shoes, a warm jacket, hat, and layers. Hiking poles and microspikes in April are super helpful. Be aware of your surroundings, as there is one avalanche path that could slide under warm conditions.
It's best reserved for people with experience hiking in the mountains. Nevertheless, it's a fantastic April objective.
---
Walk to Bow Falls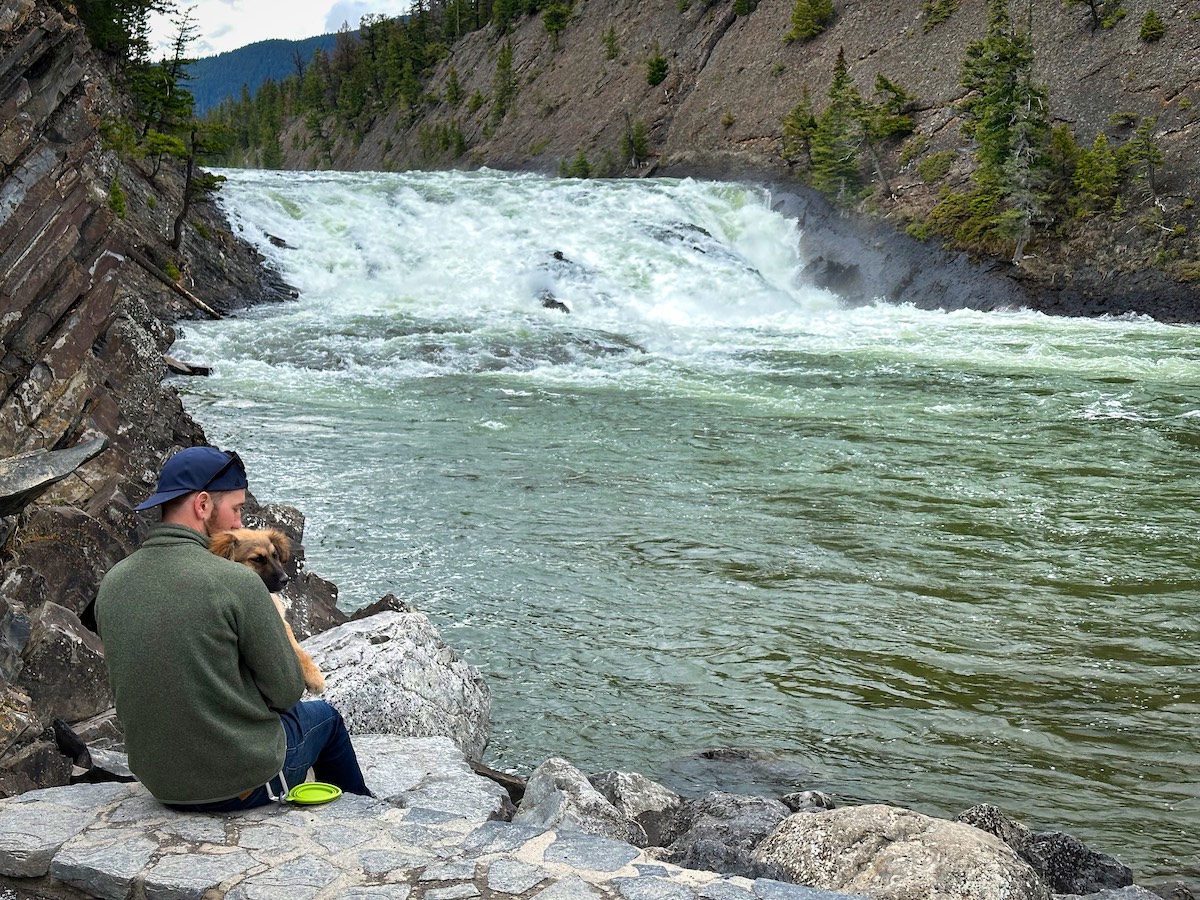 Bow Falls is a pretty waterfall just a short walk away from downtown Banff. It's not the most impressive waterfall in the Rockies, but it's great for those looking for a quick sight to behold.
There is also a short trail around the area to take in the surroundings. A short drive away is Surprise Corner, a beautiful place that gives the best views of the Banff Springs Hotel.
Ultimate Guide to Visiting Bow Falls in Banff
---
Hike to Grassi Lakes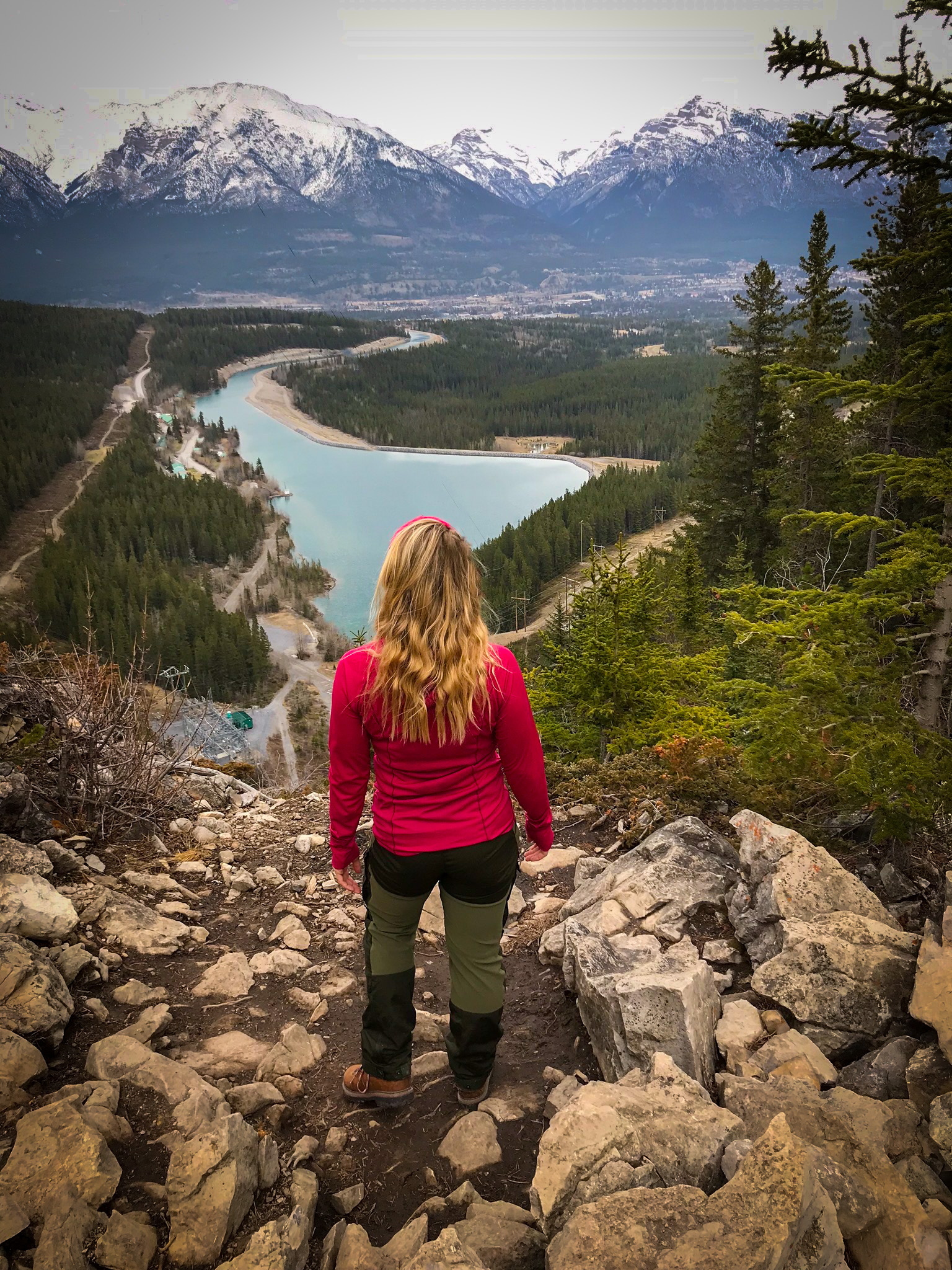 Grassi Lakes is an easy hike suitable for all near Canmore. The hike to these bright blue lakes is just 4.3 km round trip and only climbs 200 meters. It should take 1-2 hours of your time to see these magnificent lakes. They are great to see all year round!
---
Grotto Canyon Hike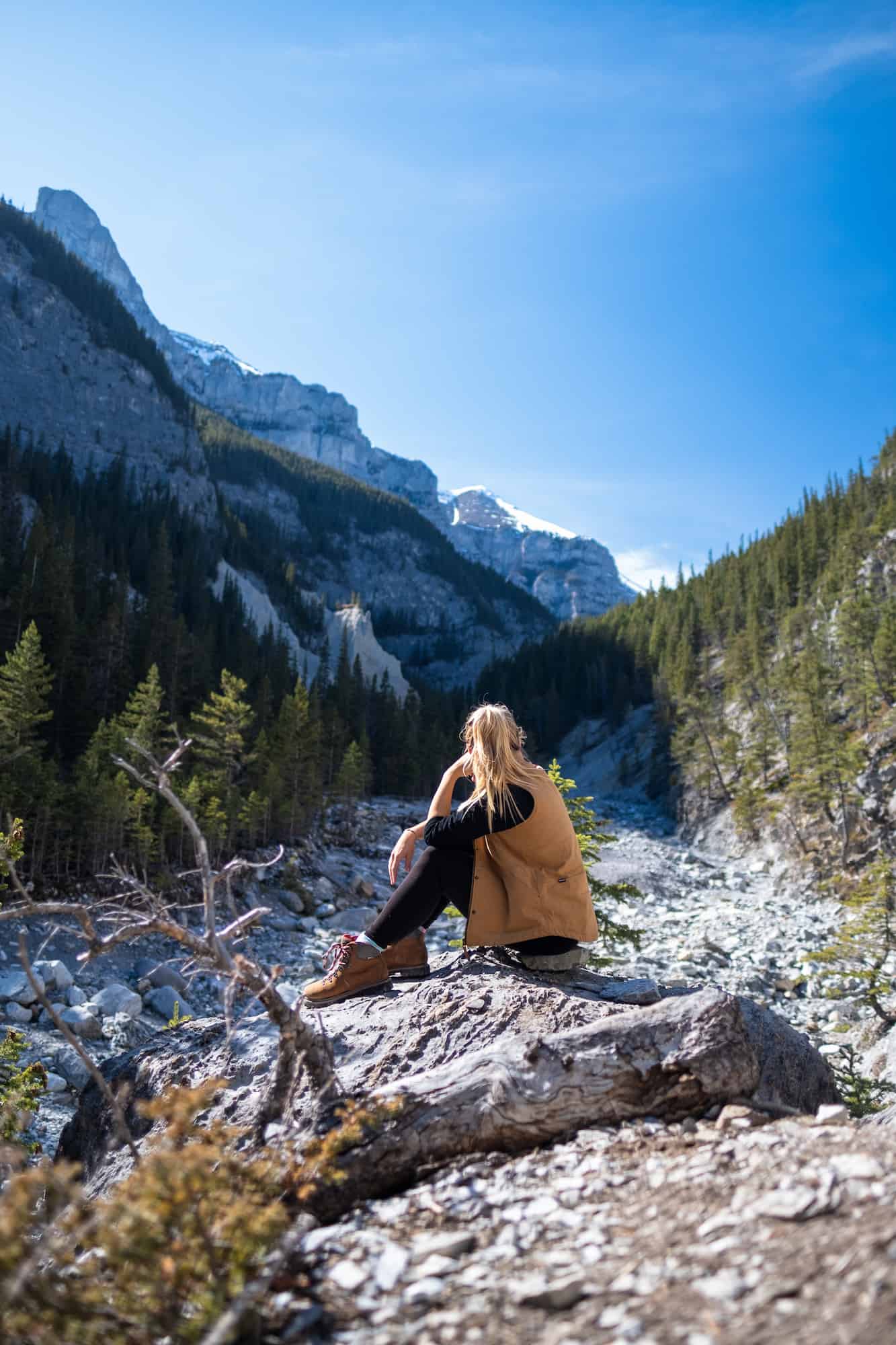 Another easy Canmore hike that's good year-round is Grotto Canyon. Even in the winter, this famous canyon with rock art is possible to walk along the frozen creek.
In April, the surroundings are melting, and you may even see some rock climbers enjoying the end of winter. At only 4km in length, you can check this one off the list in an hour or two.
---
Is April a Good Time to Visit Banff?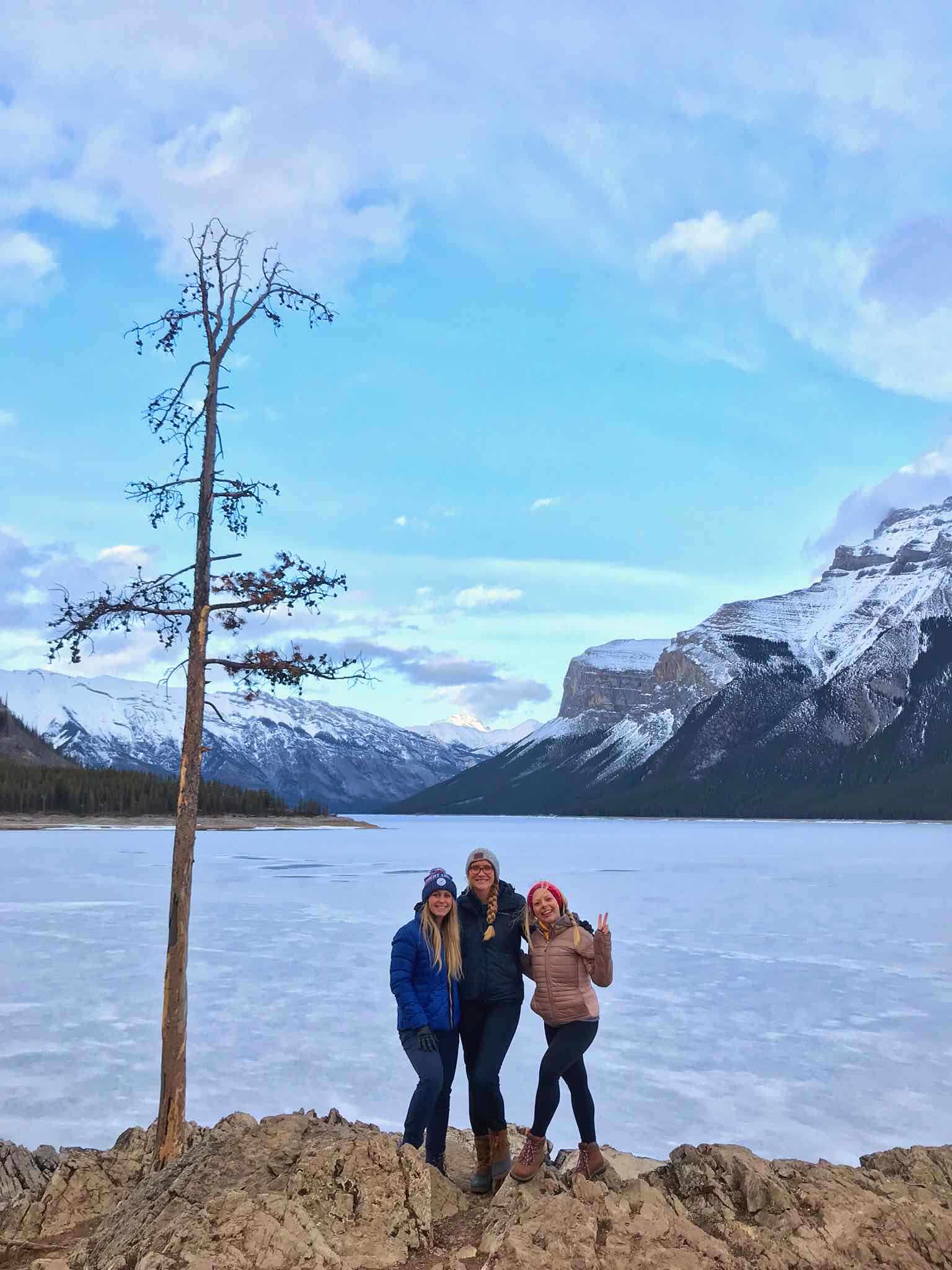 I'm not going to lie, April is not my favorite time in Banff. Though thanks to the cold temperatures and snowfall, it's still a fun time to go skiing and snowboarding, meaning it's not like some dreary winter places in the world.
Just because I say it's not my favorite time to visit Banff, doesn't mean it's a bad time to see the Rockies. The Canadian Rockies are never ugly, and to see them at all is truly magnificent.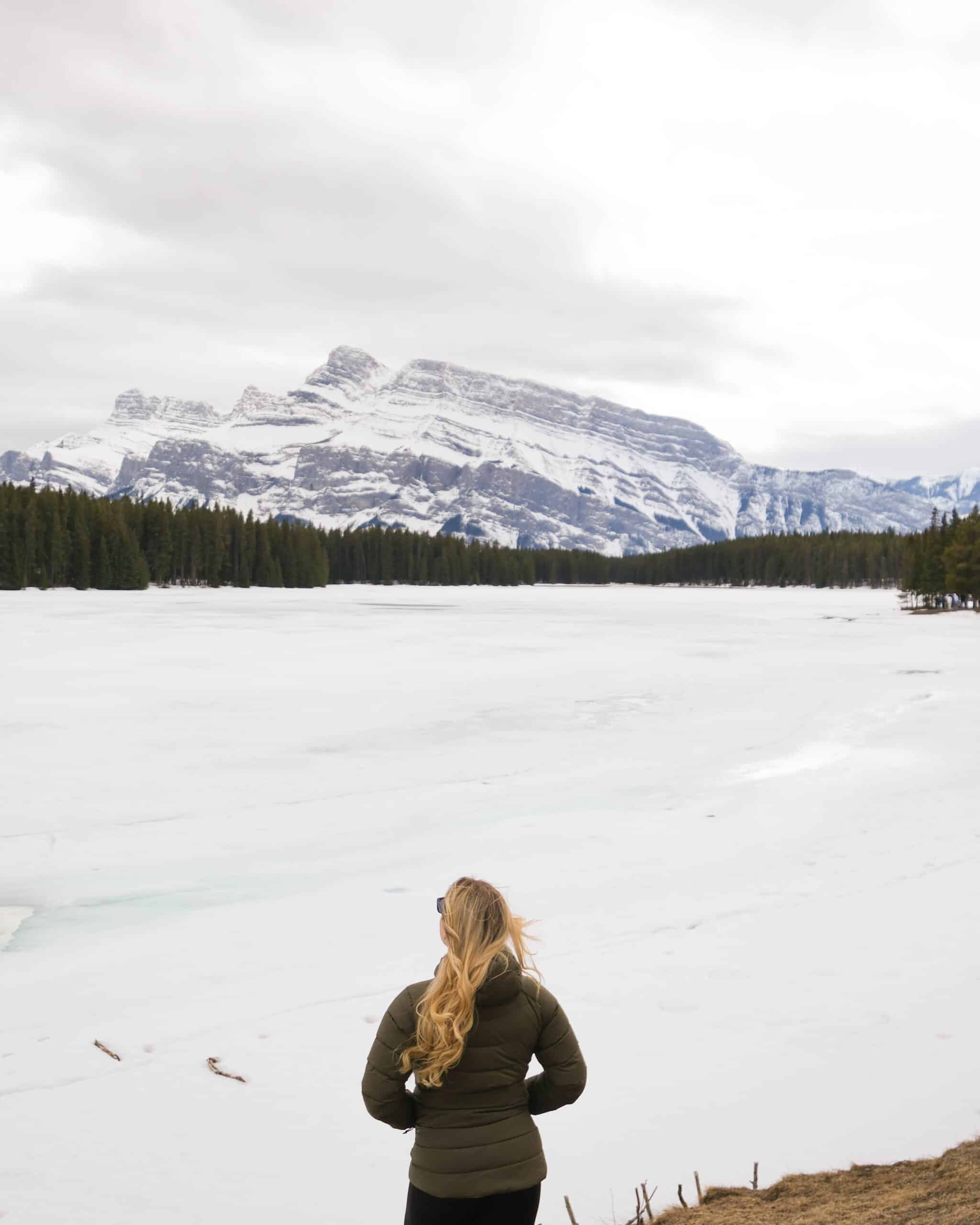 If you don't mind snow, some cold temperatures, and overall unpredictable weather, you'll enjoy Banff in April. If you like skiing and snowboarding or backcountry skiing, you'll love the Canadian Rockies during this time! You might even get a few powder days!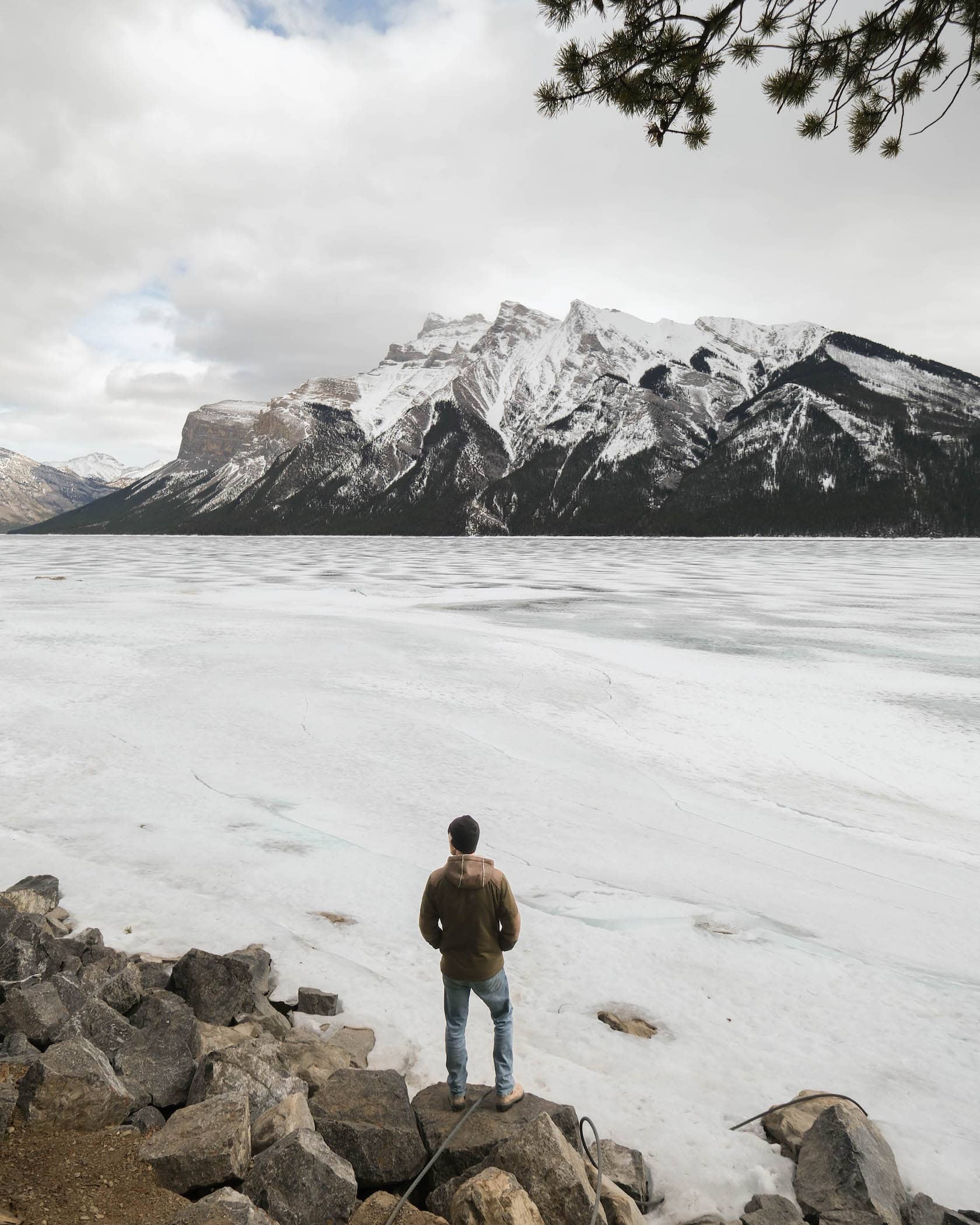 While you can't complete any big hikes or scrambles in April, there are still some incredible sights to see. If you were hoping to see the beautiful glacier lakes in their brilliant blue and turquoise color, you'll want to postpone your trip until June or later as all the lakes are still frozen.
That being said, April is the offseason, and you'll be treated to lower prices and low crowds!
---
Pros and Cons of Visiting Banff in April
Pros
Cheap prices on accommodation and car rentals
Deals at restaurants to be had
Few crowds
Skiing is still in full swing
You'll still get a few blissful sunny days
Beautiful snow-capped peaks.
Ice skating on Lake Louise!
Winter hiking!
The start of biking season.
Cons
Unpredictable and changeable weather.
It's still very cold – pack a jacket and all the winter garb.
Frozen lakes
Moraine Lake Road is still closed.
Winter hiking only
Winter driving still
Summer attractions like the Jasper Skywalk and Athabasca Glacier Experience are not open until May.
---
Where to Stay in Banff in April
For a small mountain town, Banff has a plethora of accommodation options. Some of our favorites are: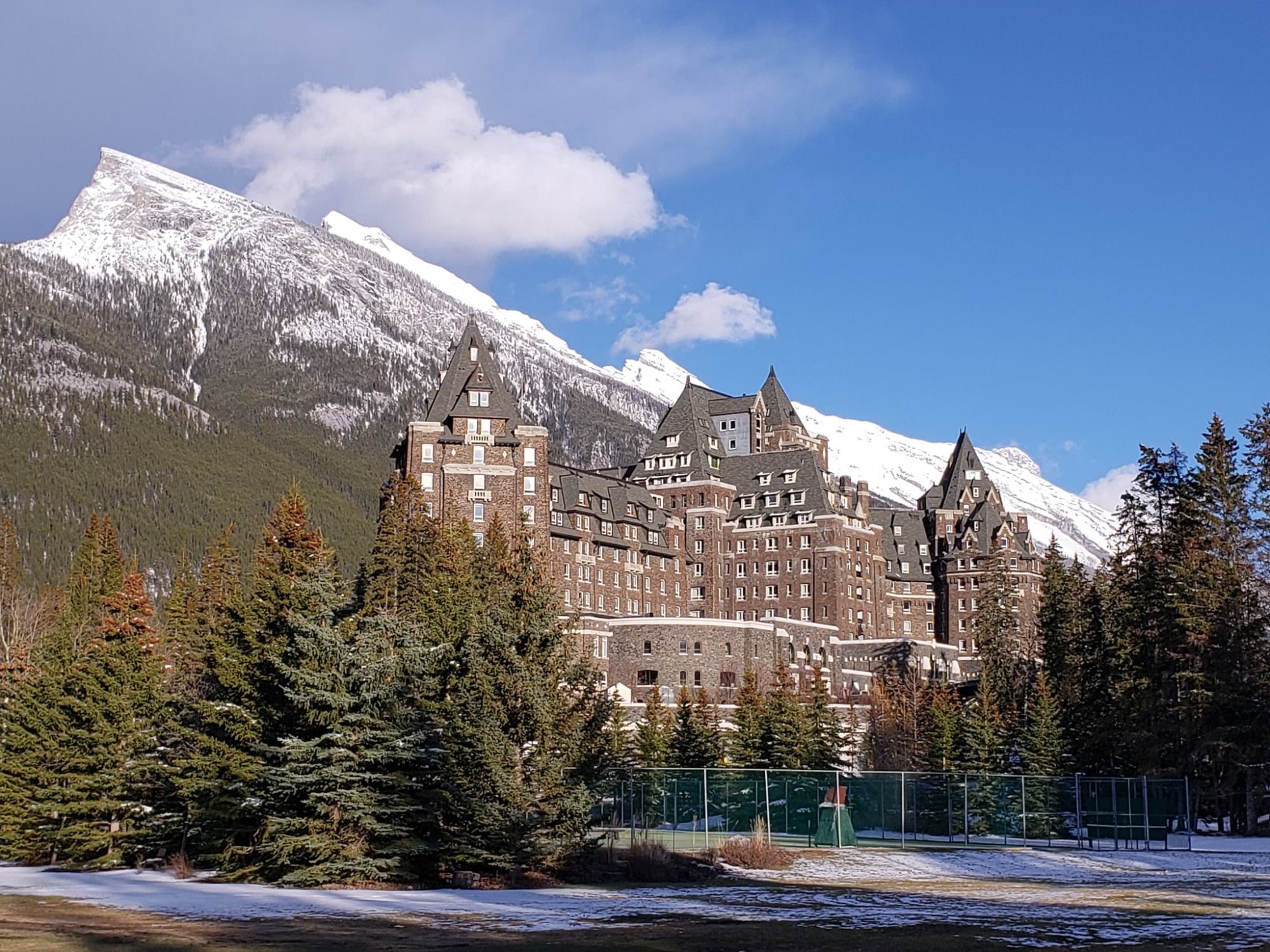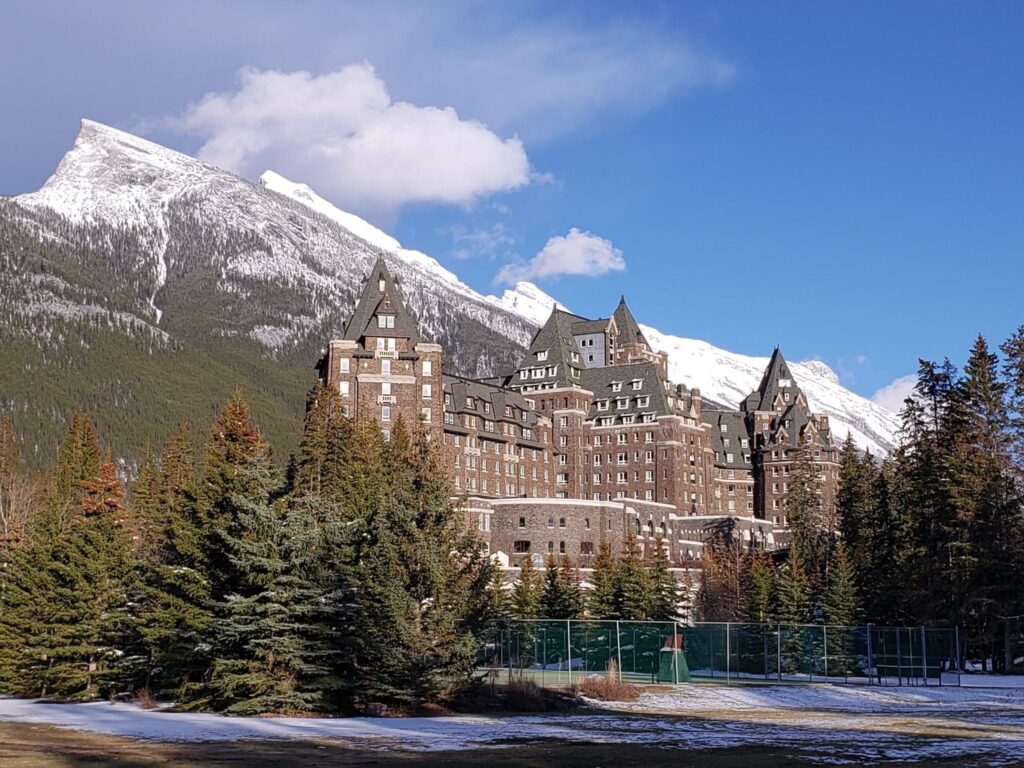 The most luxurious place to stay in Banff. Definitely a splurge, but worthwhile if you are celebrating a special occasion.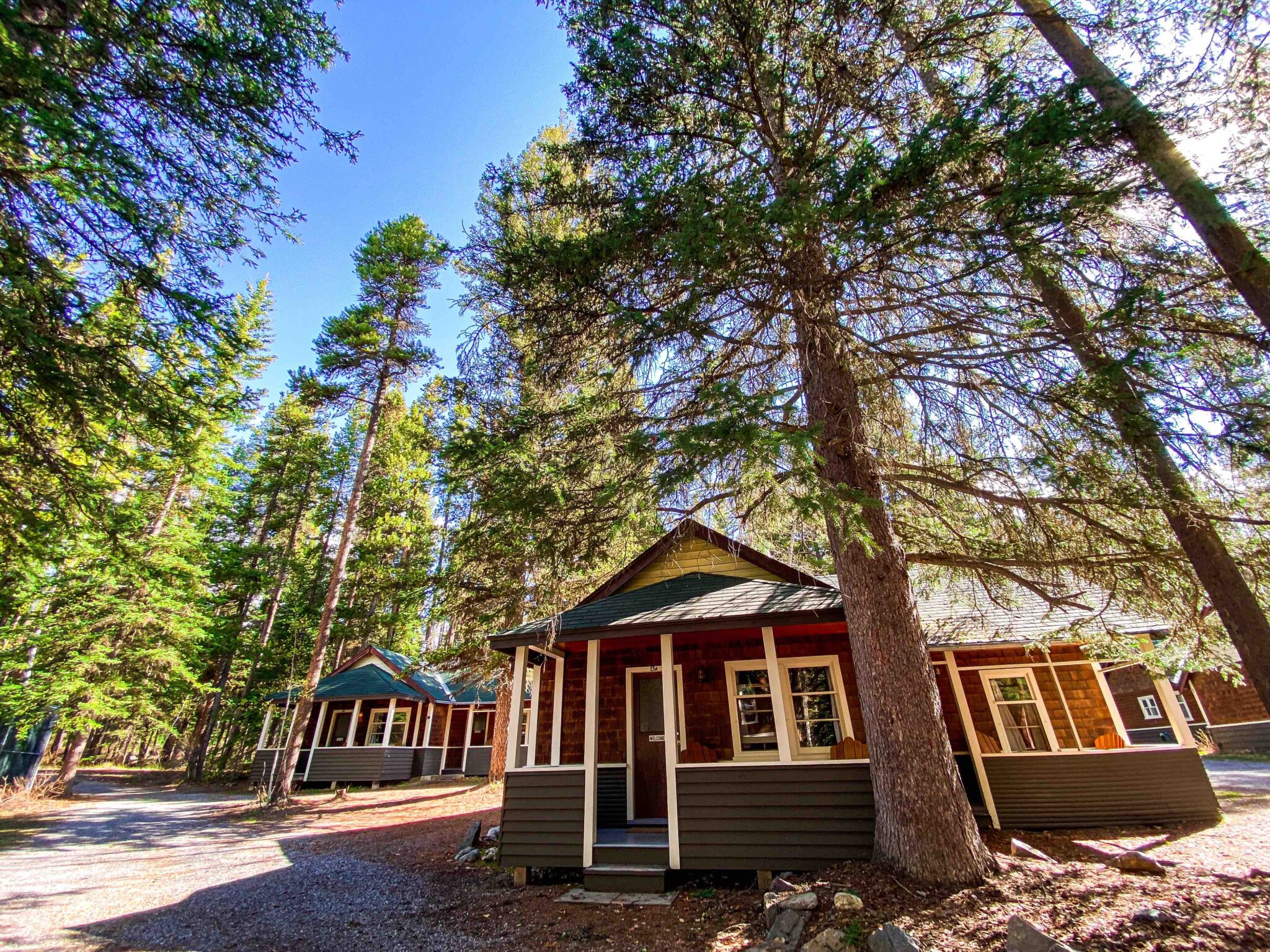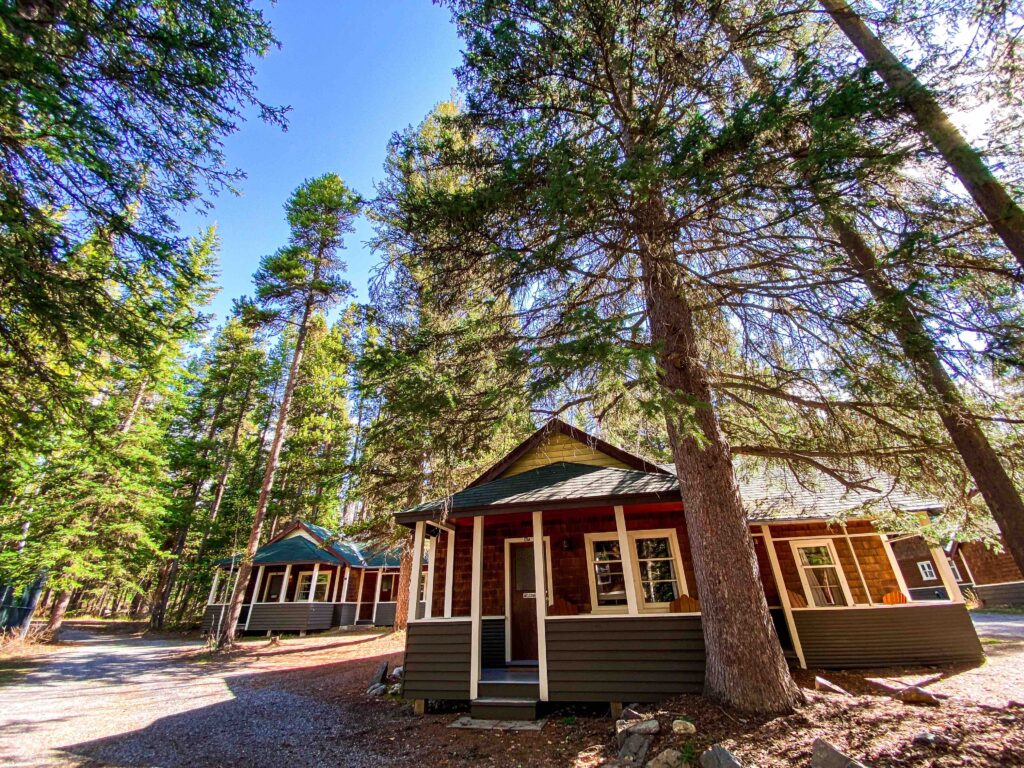 Cabins at the base of Johnston Canyon! These are a fantastic getaway for a few nights that will have you away from the noise of Downtown Banff.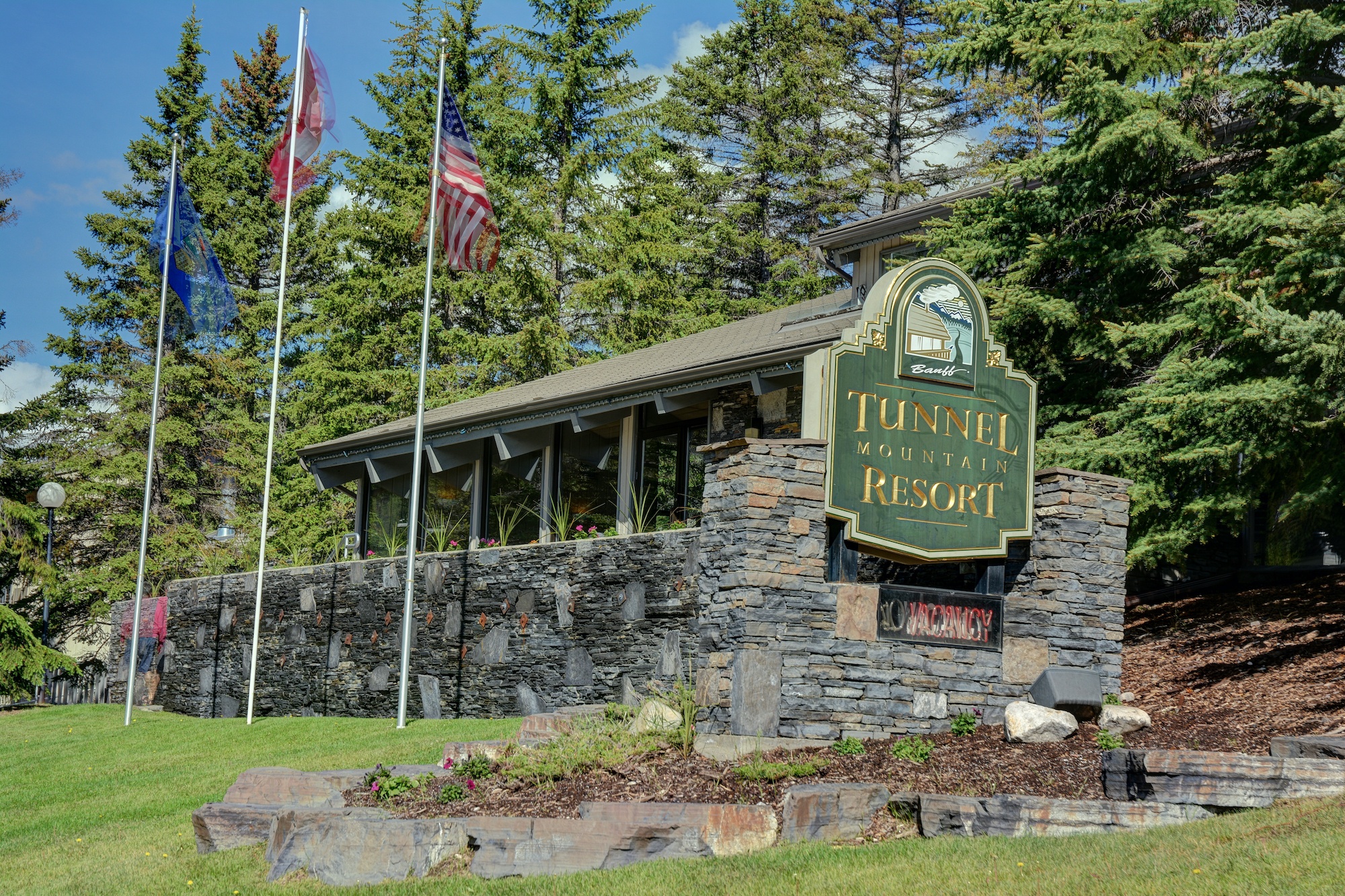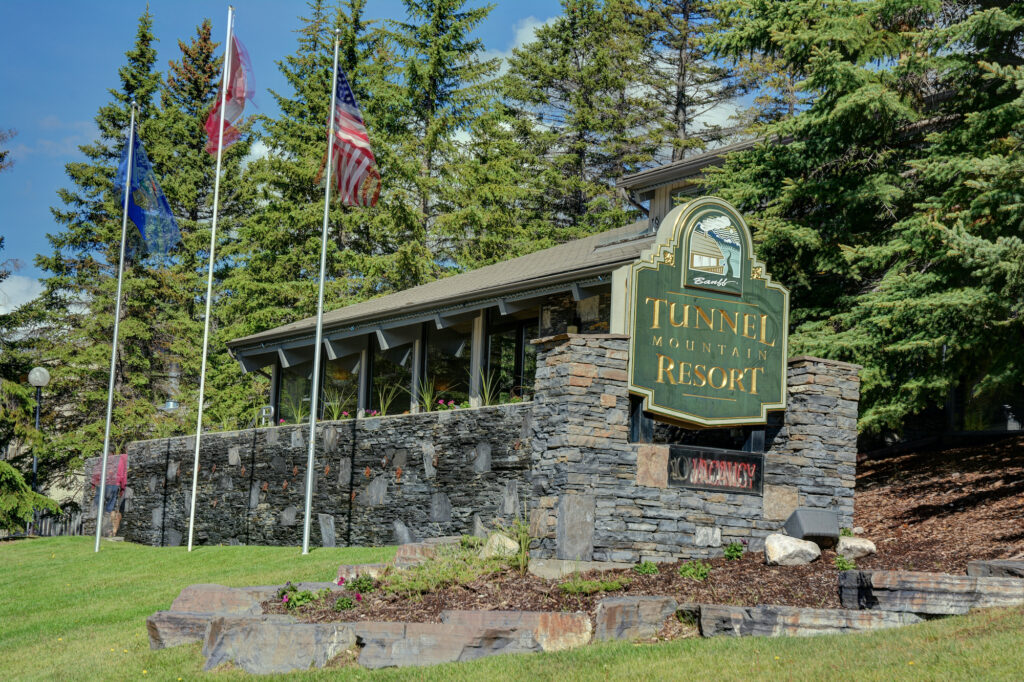 A no frills, but super comfortable place to stay in Banff. It's not on Banff Avenue, but a short drive, bike ride or walk away. Very quiet!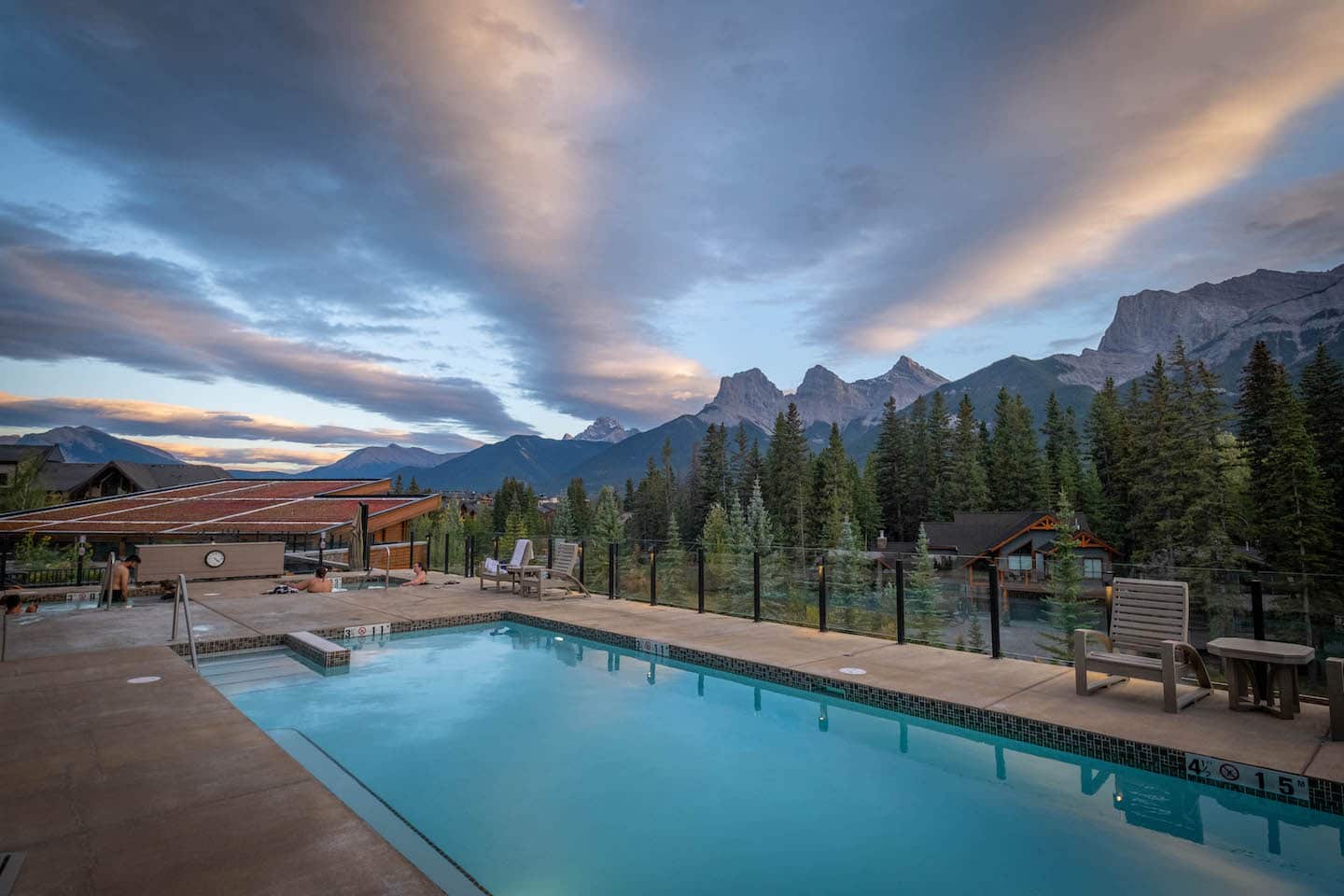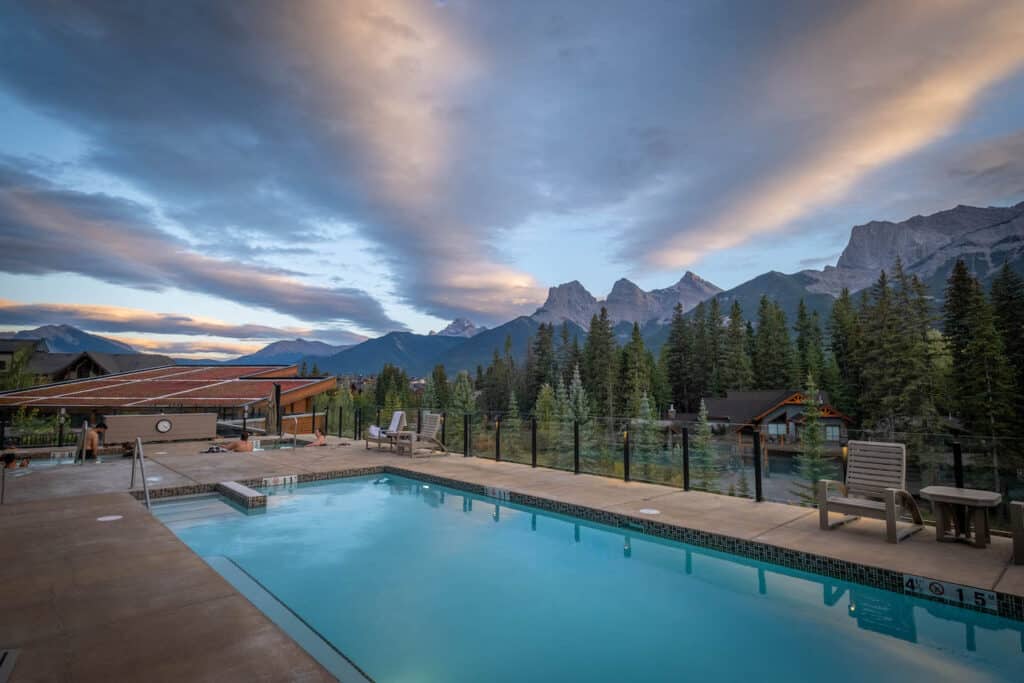 ---
---
↓ Join the community ↓
The Banff Blog Facebook Group is your headquarters for the Canadian Rockies' travel advice and information. Including hike info and off-season travel information. You can also meet new adventure buddies.

Plan Your Trip to the Canadian Rockies