Planning a trip to Banff and need a helpful Banff itinerary? Then you are in for a trip of a lifetime, because Banff National Park is truly one of the most spectacular places in the entire world. The first time we visited Banff, we knew it was something special. It was so special that we decided to move to Alberta a few years ago and haven't looked back.
If you're planning to visit Banff for one, two, three days, or longer than a week, you're still going to need to have a general plan so you can see as much as you would like in your time here. No matter how many days you have here, it still won't be enough to uncover the beauty of this place, but you'll at least get to the highlights.
Here is the best Banff itinerary, including things to do, Banff travel tips, a packing list, car rental tips, and the best time to visit Banff.
(Psst for a Banff winter itinerary, make sure to scroll to the bottom of this post)
---
Banff Itinerary – 1 Day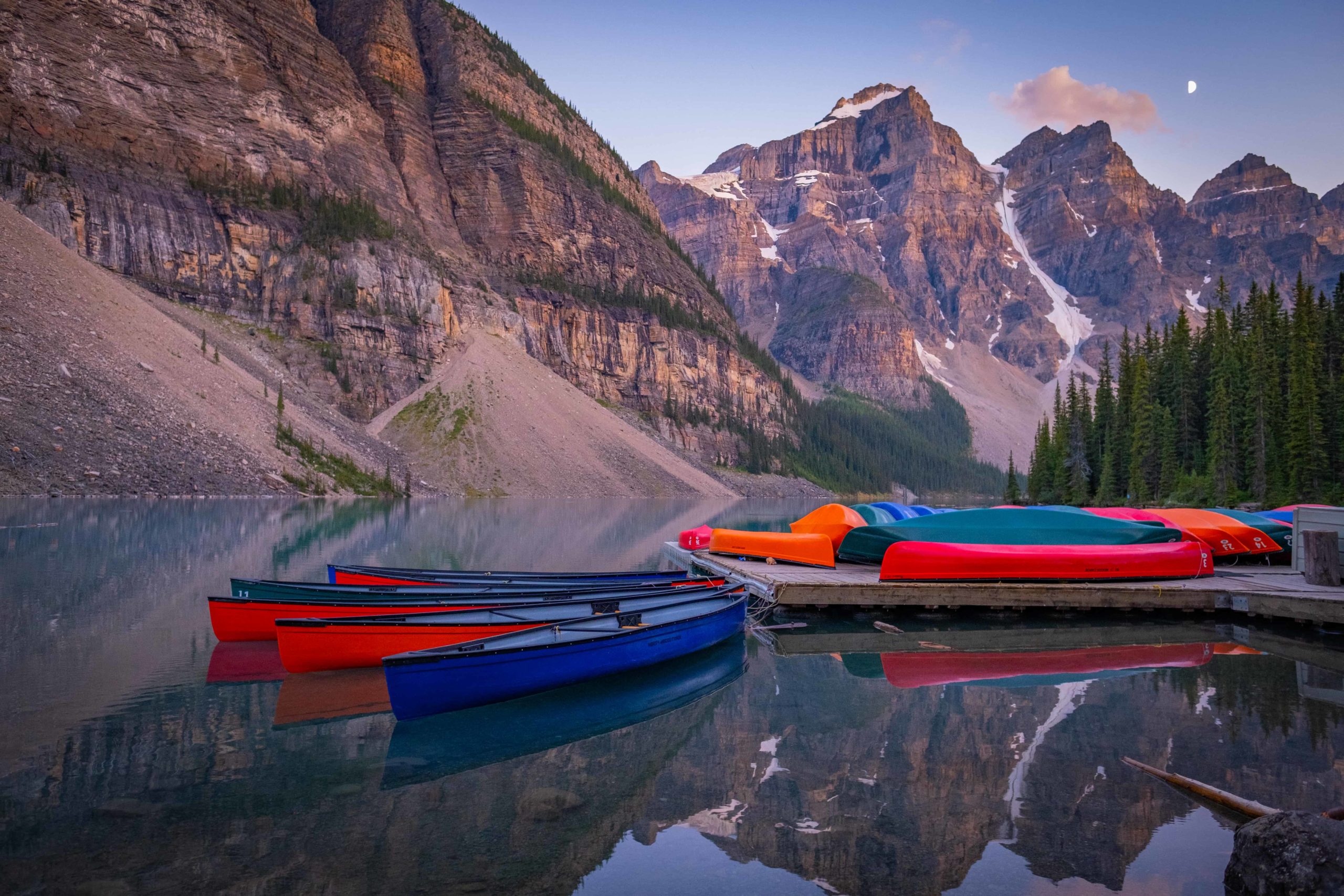 Welcome to Banff National Park, one of the most beautiful places in the world! I know you're on vacation, and you probably want to sleep a bit, but trust me, it's worth it to get up and make the most out of your time in Banff because there is a lot to see and do! Let's get into day one on your Banff itinerary.
Morning at Moraine Lake
Canoe on Lake Louise
Hike Around Lake Louise
Dinner at The Fairmont
---
Spend the Morning At Moraine Lake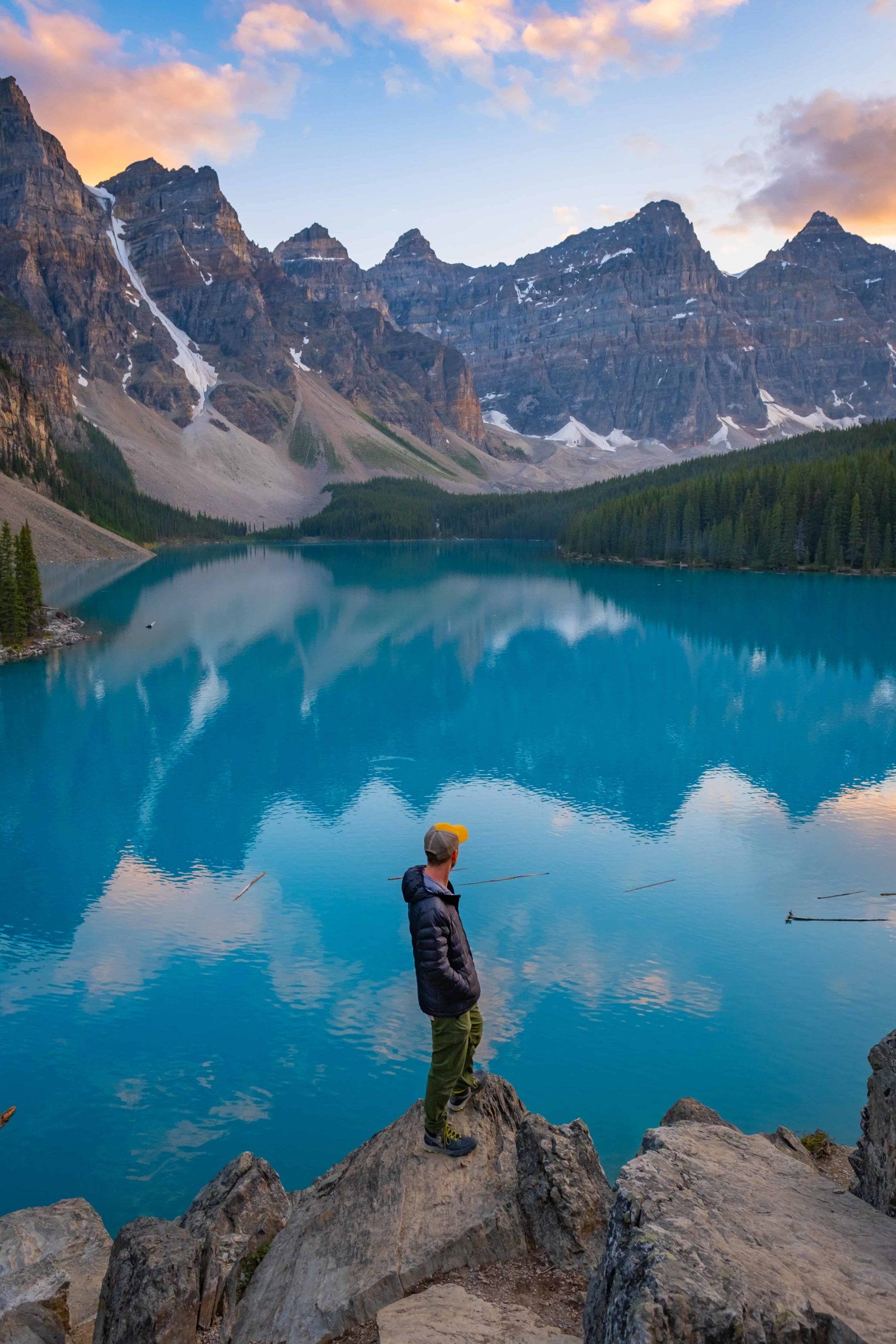 Moraine Lake is the most popular thing to do in Banff and arguably the most famous sight to see in Canada. This iconic lake is a picturesque picture of Canada (seriously, just Google image "Canada" and see what comes up). With the ten peaks rising high over the glacier waters, Moraine Lake is certainly a Banff attraction to see.
Moraine Lake is about an hour's drive away from the Town of Banff and only twenty minutes further than Lake Louise. With its popularity and millions of Instagram location tags, you used to have to arrive well before 6 am to grab a parking spot between June and September.
However, as of 2023, Parks Canada has restricted personal vehicles at Moraine Lake. So now the only way to get to Moraine Lake is with the Park & Ride Shuttle, staying at the Moraine Lake Lodge, Roam Transit Bus, or Private tour/shuttle like the Moraine Lake Bus Company or Radventures Earlybird, a disabled tag, or to bike/hike in.
We think this is a great choice, as Moraine Lake was, quite frankly, loved to death. Members of our private Facebook group have noted that they were getting to Moraine Lake as early as 3-4am in 2022 to ensure a spot, every year it seemed to be that you had to get to Moraine Lake earlier and earlier, and it was all becoming a bit too much.
We break down exactly how to get to Moraine Lake in our 2023 update.
No matter how you get to Moraine Lake we recommend enjoying the scenery, but also making time to enjoy a Moraine Lake hike, or go canoeing in paradise.
Just note that if you think you're going to make your visit to Moraine Lake quiet and easier by visiting in the off-season, you may want to think again. Moraine Lake Road closes between (approximately) October 10 to June 1st. The road gets covered in snow, and the avalanche risk is high.
---
More Guides to Visiting Moraine Lake
---
Canoe On Lake Louise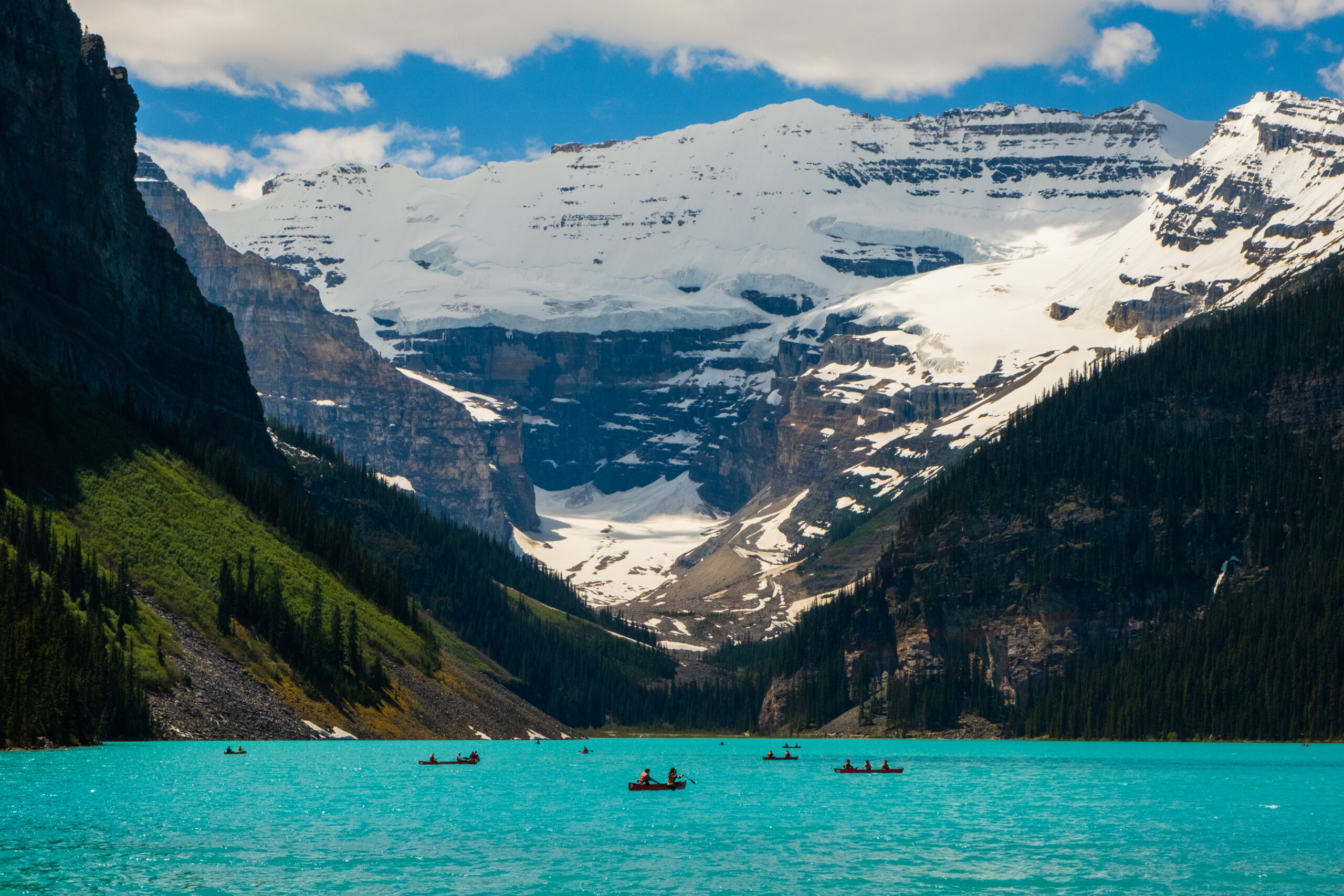 Lake Louise is the other iconic lake that millions from around the world flock to Banff to see, it should be on everyone's Banff itinerary. It is certainly a highlight of any trip to Canada.
Lake Louise, while not AS scenic as Moraine Lake, is still pretty darn mesmerizing. If you're already visiting Moraine Lake for the day, you might as well get to Lake Louise too as it's just a short drive away and is easily connected via the Lake Connector Shuttle.
Lake Louise is another glacier-fed lake that sparkles bright turquoise blue under the sun. The mountains rising up around it provide the perfect backdrop to any photo.
The lake is frozen solid from late October to early June, but you can take a canoe out and enjoy the fresh air in the summer. Canoes are available to rent by half the half-hour from the Fairmont.
More Guides to Visiting Lake Louise
---
Stay in Lake Louise!
Wondering where the best place to stay in Lake Louise is? There are multiple hotels and cabins in the Lake Louise area, but we have our favorites that we recommend to readers!
Fairmont Chateau: The only hotel on Lake Louise. It's the most luxurious, but also the most expensive place to stay in the park. If you want primo access to Lake Louise, you'll have to splurge and spend a night here.
Paradise Lodge: Just a walk away from Lake Louise, these are charming Lake Louise cabins that you can't help but love. They are cheaper than the Fairmont, but are still very close to Lake Louise.
Baker Creek Mountain Resort: Now these cabins are not that close to Lake Louise, they are about a 15 minute drive from Lake Louise on the Bow Valley Parkway. However, if you are seeking seclusion and the feeling of being in the Canadian wilderness this is your place.
---
Hike Around Lake Louise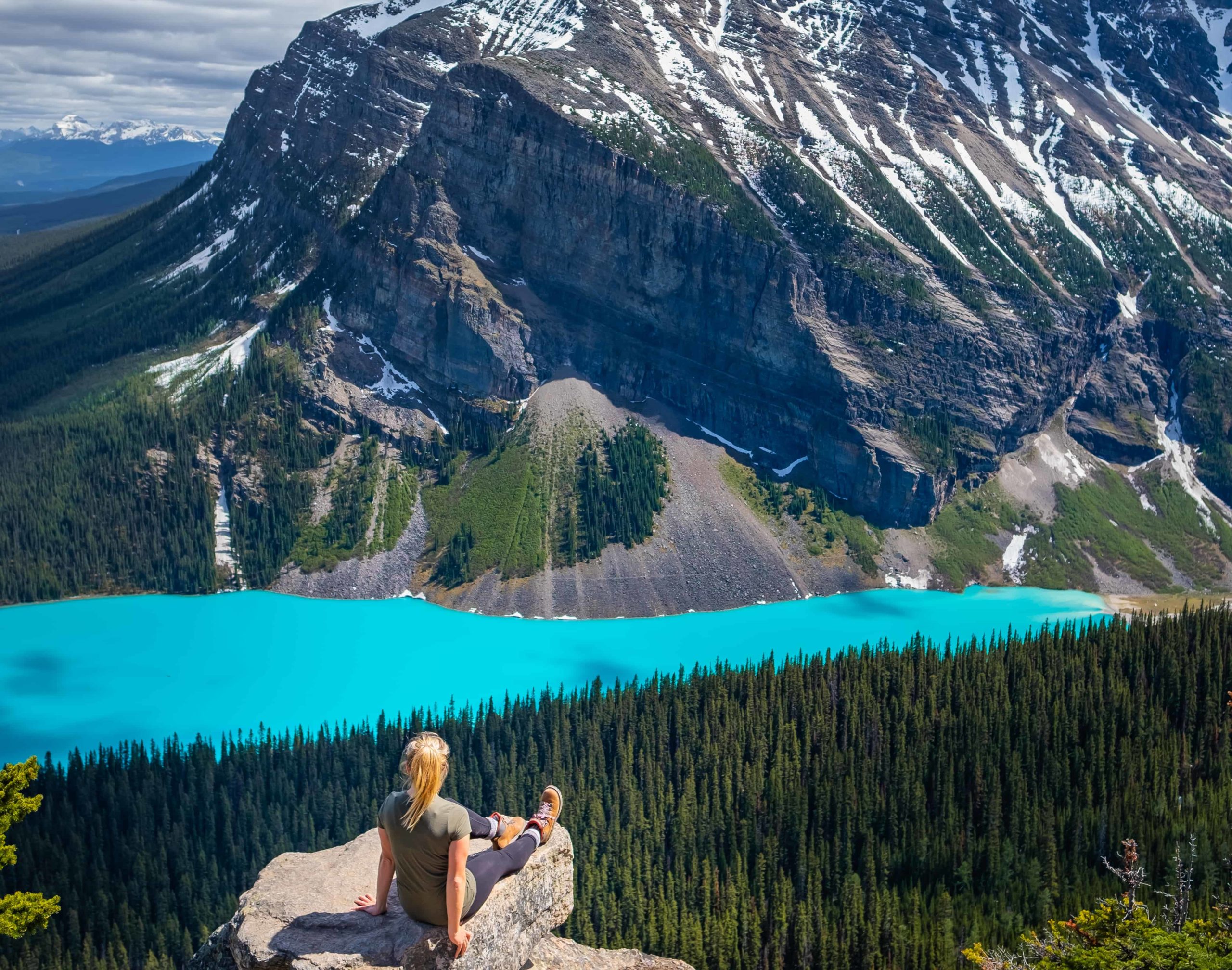 If you want to go for a hike while visiting Lake Louise (and I highly suggest you do), numerous hikes range in difficulty leaving right from Lake Louise.
The most popular and easiest hike is to the Lake Agnes Tea House. This is an easy hike that can be done in under two hours and is an iconic thing to do in Banff. However, be warned, its ease makes it a busy one! To escape the crowds (and get better views), keep climbing to the Big or Little Beehive.
Another longer option is Devil's Thumb, but this should be attempted by seasoned hikers. There are also other hikes like the Fairview Lookout, Plain of Six Glaciers, and Mount St. Piran.
---
Dinner and Stay at Fairmont Chateau Lake Louise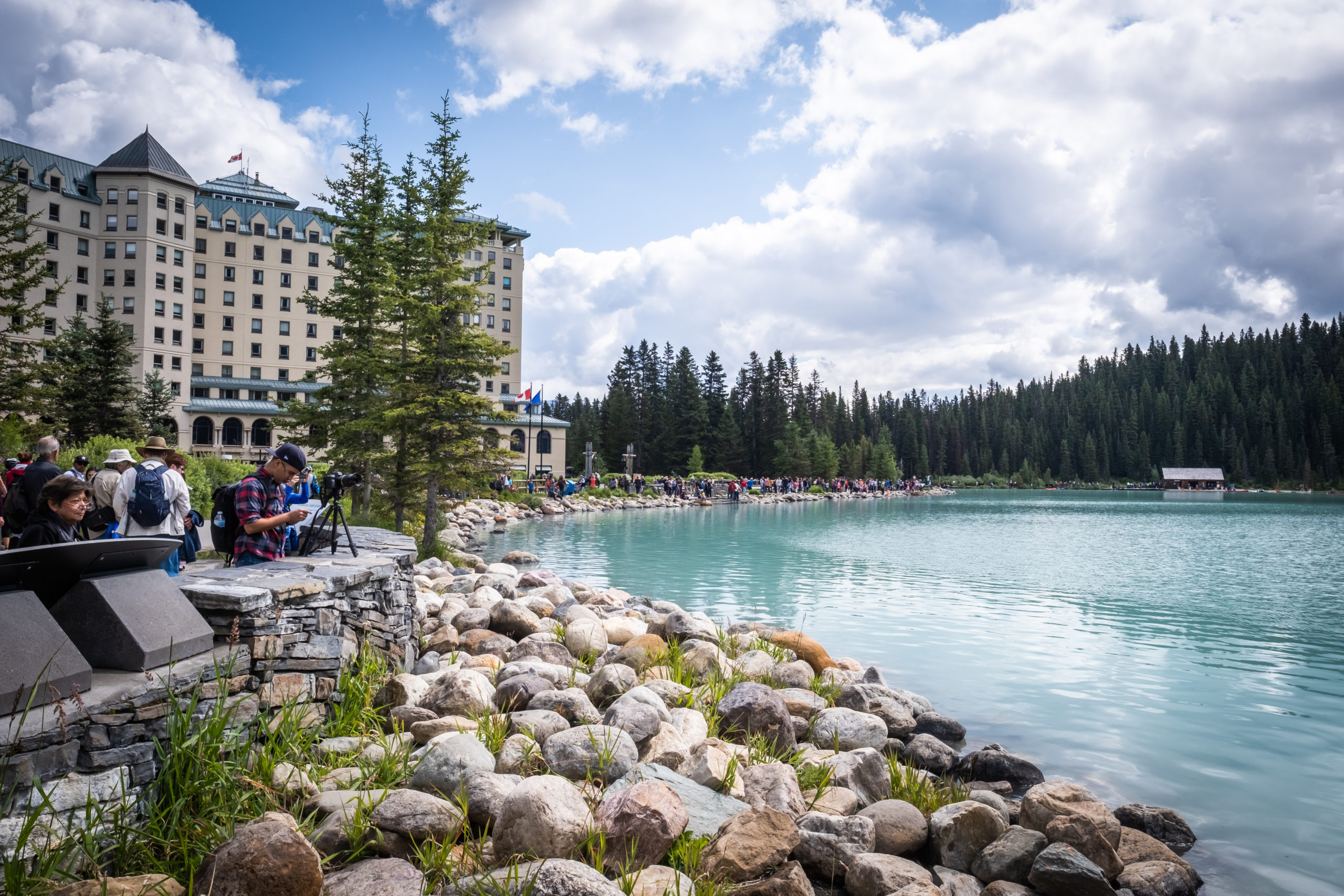 The Fairmont Chateau Lake Louise is the most iconic hotel in Banff National Park. It's easily one of the best places to stay in all of Alberta and overlooks the beautiful Lake. If you book early enough and score yourself a room here in the summer, enjoy it!
After your day enjoying Moraine Lake and Lake Louise, you can now relax and have dinner at the Chateau and enjoy a night in the Fairmont. Ensure to take advantage of the location and catch the stars at night around the Lake without the daytime crowds!
Reservations are highly recommended for any Lake Louise restaurant at the Chateau.
Book a Stay at the Fairmont Chateau Lake Louise
---
Banff Itinerary – 2 Days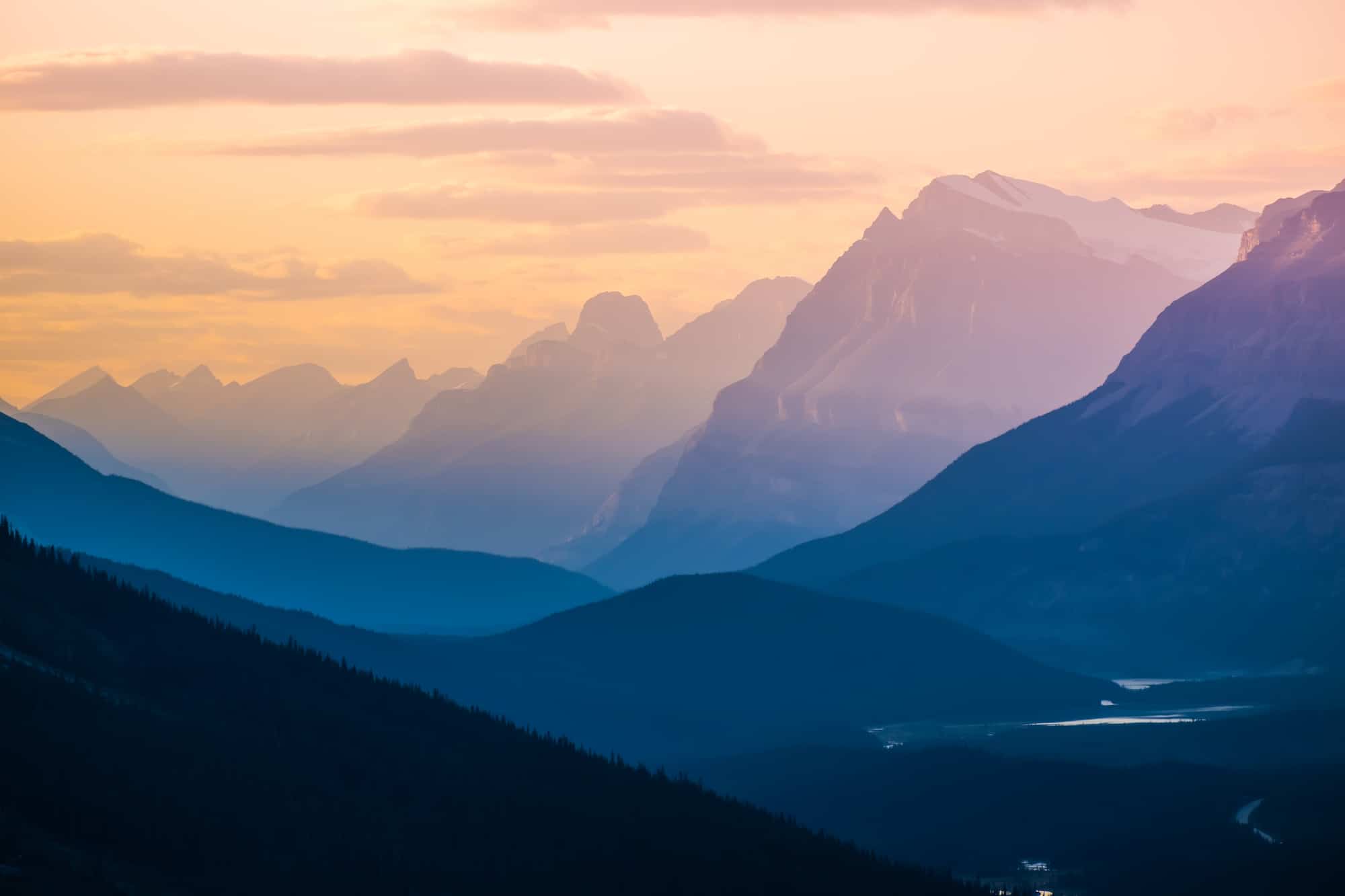 Stand Up Paddleboard on Bow Lake
Take in the Views at Peyto Lake
Have Lunch at Athabasca Glacier
Drive on to Jasper
---
Drive the Icefields Parkway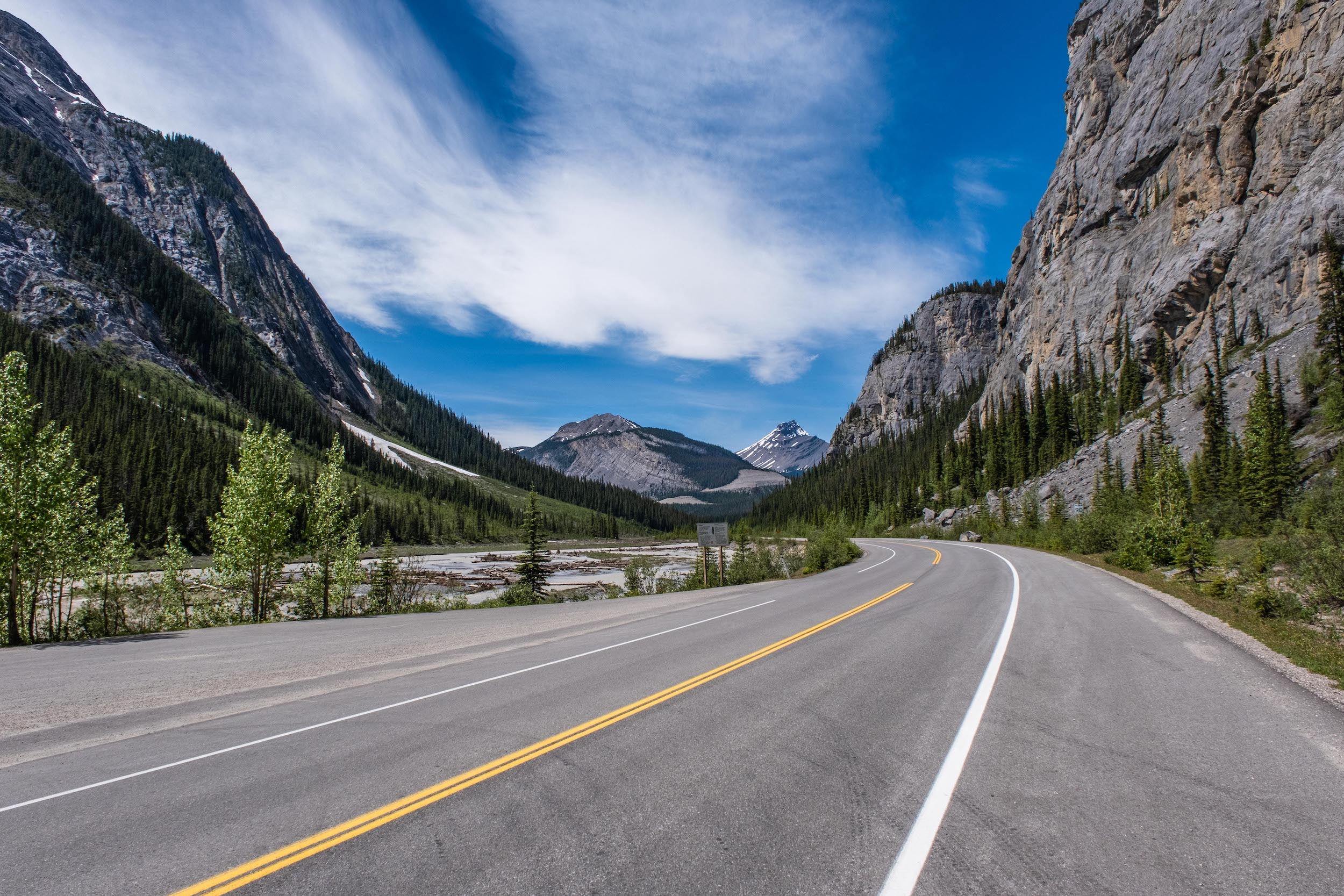 Wake up at Lake Louise, enjoy a coffee with views and head out for a road trip on the Icefields Parkway. The Icefields Parkway is one of the most beautiful road trips you can take in the entire world.
The Icefields Parkway (Highway 93 North) connects Lake Louise with Jasper in Jasper National Park. The drive itself is stunning, but there are so many pull-offs along the way. Bow Lake, Peyto Lake, and Herbert Lake are just to name a few. Make sure to hit these places.
22 BEAUTIFUL Stops on the Icefields Parkway: Ultimate Guide
---
Swing By Bow Lake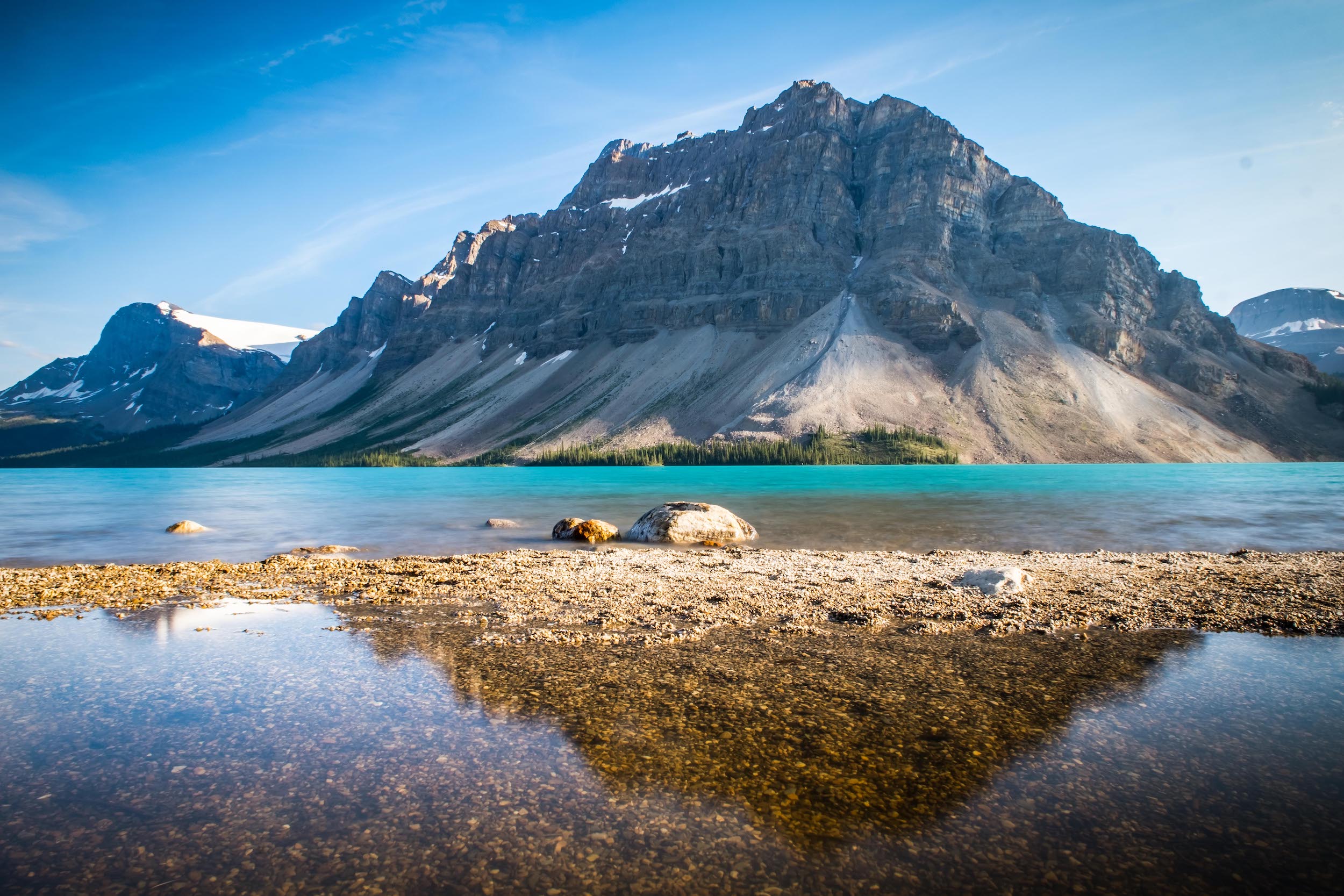 You can't miss Bow Lake on your way up the Icefields Parkway. It's a huge lake, and you'll see many people stopped here admiring the view.
This is one of the best places to enjoy the water if you have a stand-up paddleboard, canoe, or kayak. Note that there is no where to rent these watercrafts, so you'll either have to have your own or rent one for your trip to Banff if you have a rental car. Radventures offers daily stand up paddleboard rentals. Or if you think you would like to paddle on all the lakes in the Rockies on your trip, we recommend buying a stand up paddleboard.
There are also some phenomenal hikes and scrambles around Bow Lake, like The Onion or Mount Jimmy Simpson (big day out hikes!)
---
Take in the Views at Peyto Lake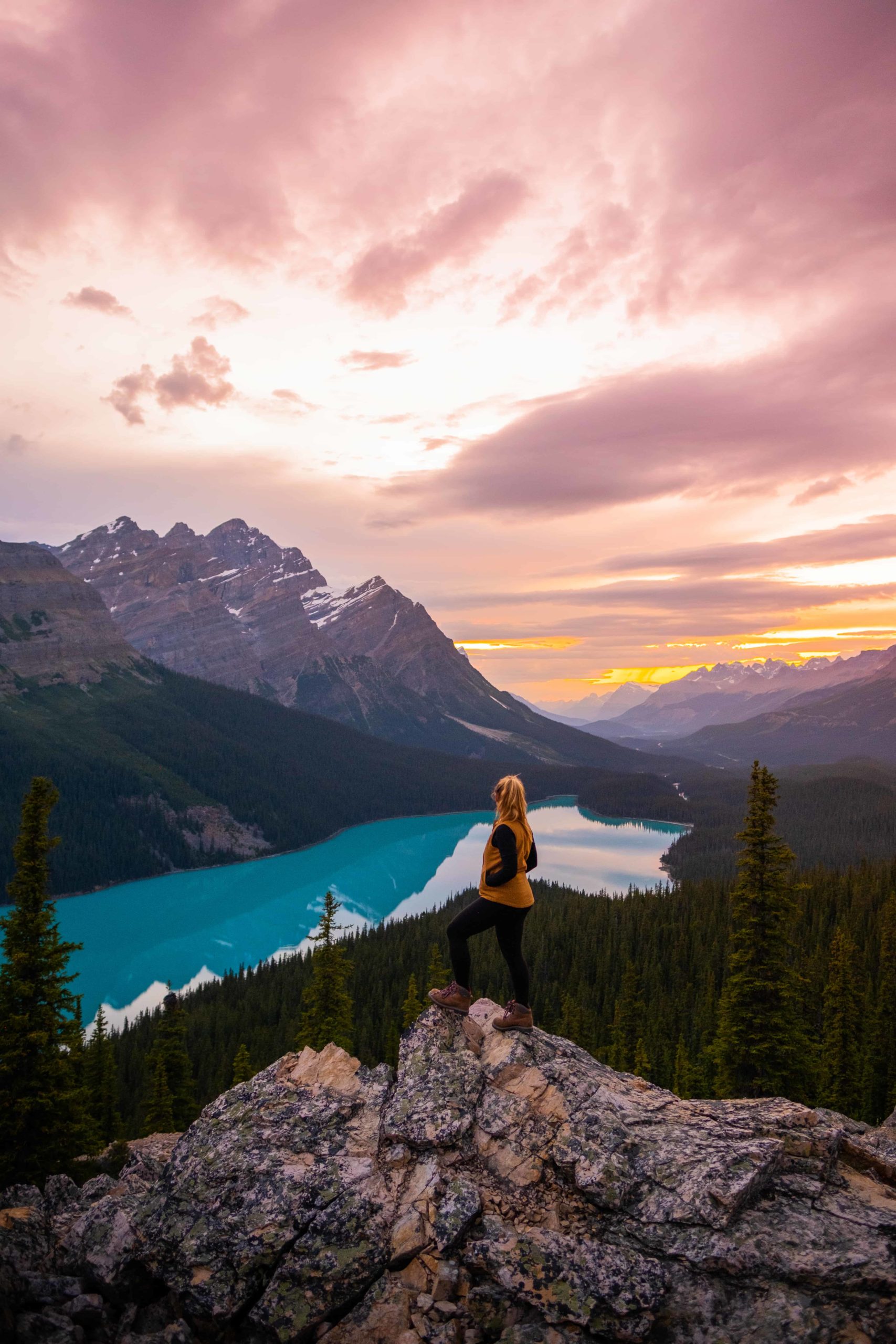 Peyto Lake (PEE-toh) is a glacier-fed lake in Banff National Park. This is probably the third most popular lake to visit in Banff, after Louise and Moraine. The reason is its unique shape and absolutely mind-blowingly blue water.
Peyto Lake is easily accessible from the Icefields Parkway. To get a great view, all you have to do is park and hike up an easy 10-minute path to the viewpoint.
It's the perfect place to come and enjoy the stellar Banff National Park views in both winter and summer.
Peyto Lake is just past Bow Lake on your left hand side when driving from Lake Louise to Jasper. It's a busy stop, so if you want to avoid the crowds we recommend getting an early start before 8am in the summer.
---
Have Lunch at Athabasca Glacier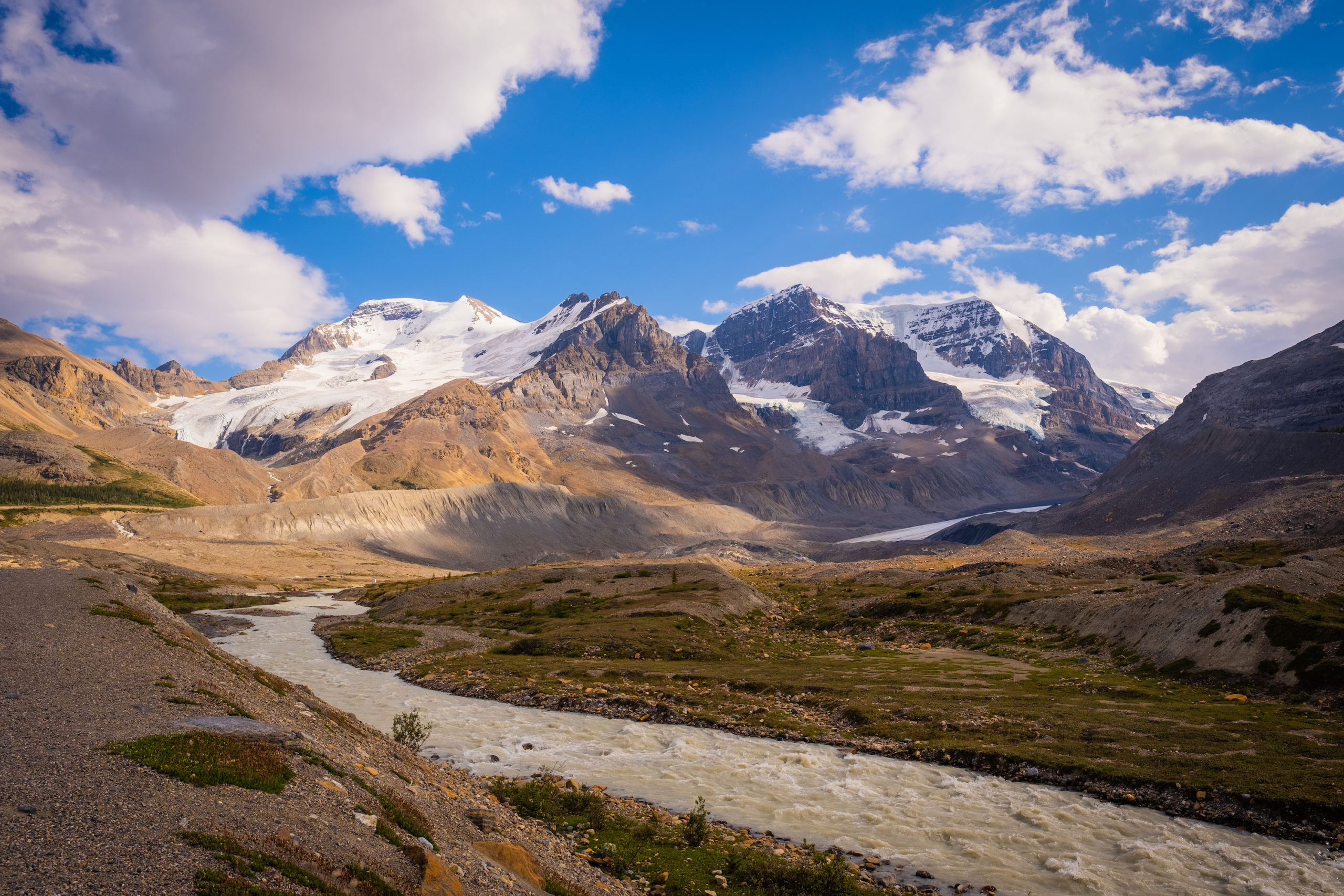 As you continue driving the Icefields Parkway you'll take in all the incredible views ahead of you. There are plenty of sights, but I won't list them all here as I encourage you to check out our step by step guide to the Icefields Parkway so you can determine where you want to stop.
Around the 130 km mark (from Lake Louise) you'll get to the Columbia Icefield Glacier Discovery Centre. It's here you can step inside, use the restrooms, have lunch, and embark on an excursions.
Athabasca Glacier is a popular place to stop along the Icefields Parkway. You can see Mount Athabasca here and even walk on Athabasca Glacier or enjoy the Ice Explorer vehicle experience if that interests you!
*Book ice explorer tickets here
---
Columbia Icefield Skywalk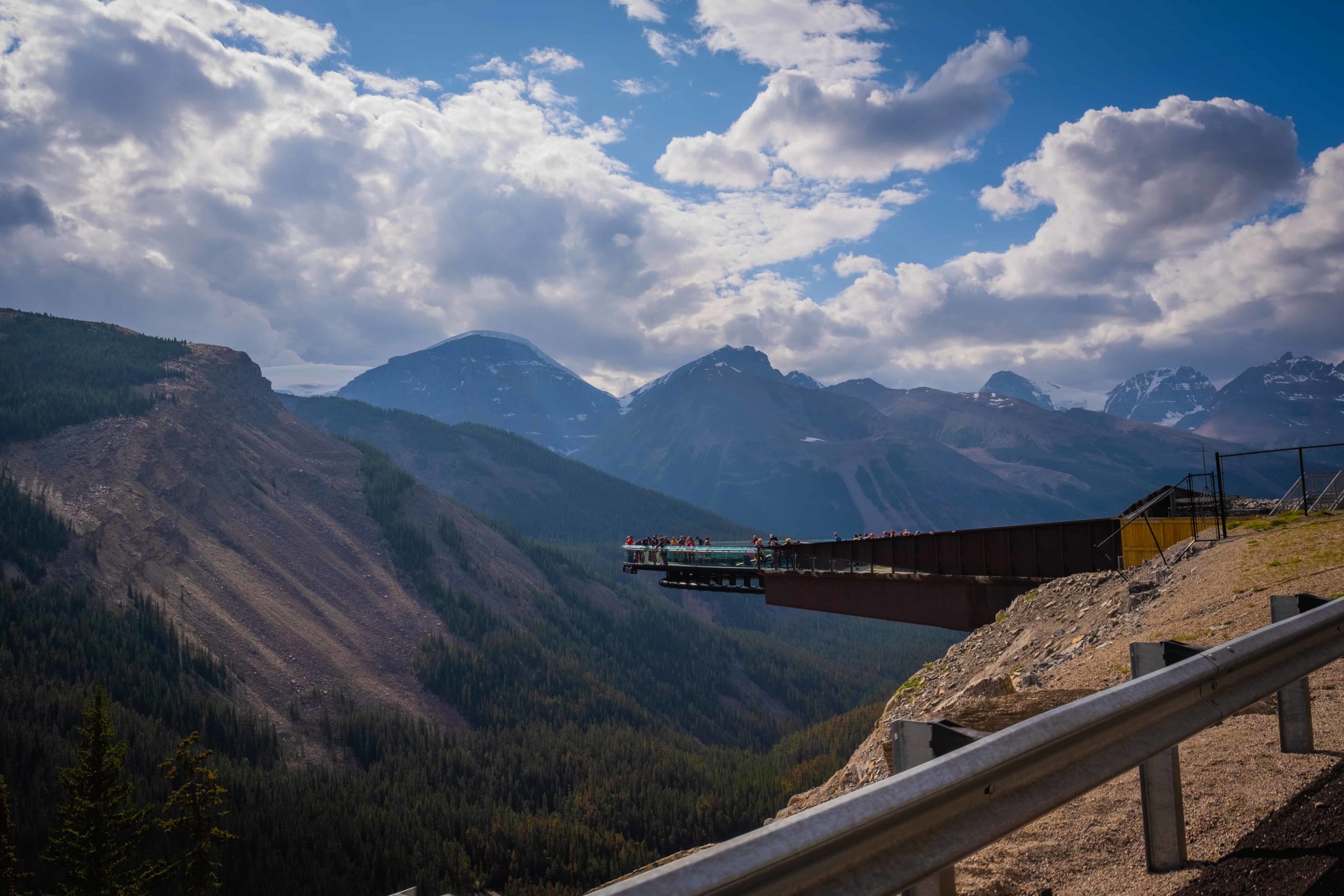 If you're already at Athabasca Glacier, you may as well continue a couple of kilometers down the road to the Glacier Skywalk. Here you can step out on a cliff edge walk, see the glaciers around you, and have views of the Sunwapta Valley.
The Columbia Icefield Skywalk has views of wildlife, waterfalls, and fossils. It's a fun, family-friendly thing to do in Banff. However, in my opinion, you can get the same experience by going on a beautiful hike in Banff National Park for free.
If you're an avid outdoor person and hiker, the Skywalk can feel like a lame way to waste $35. However if you have never experienced walking on glass descending down to a valley floor, it may be an exhilarating experience.
*Note that you must pre purchase tickets for this experience. There is no parking along the Icefields Parkway, and you must park at the Discovery Center, check in there, and be shuttled to the Skywalk.
---
Continue to Jasper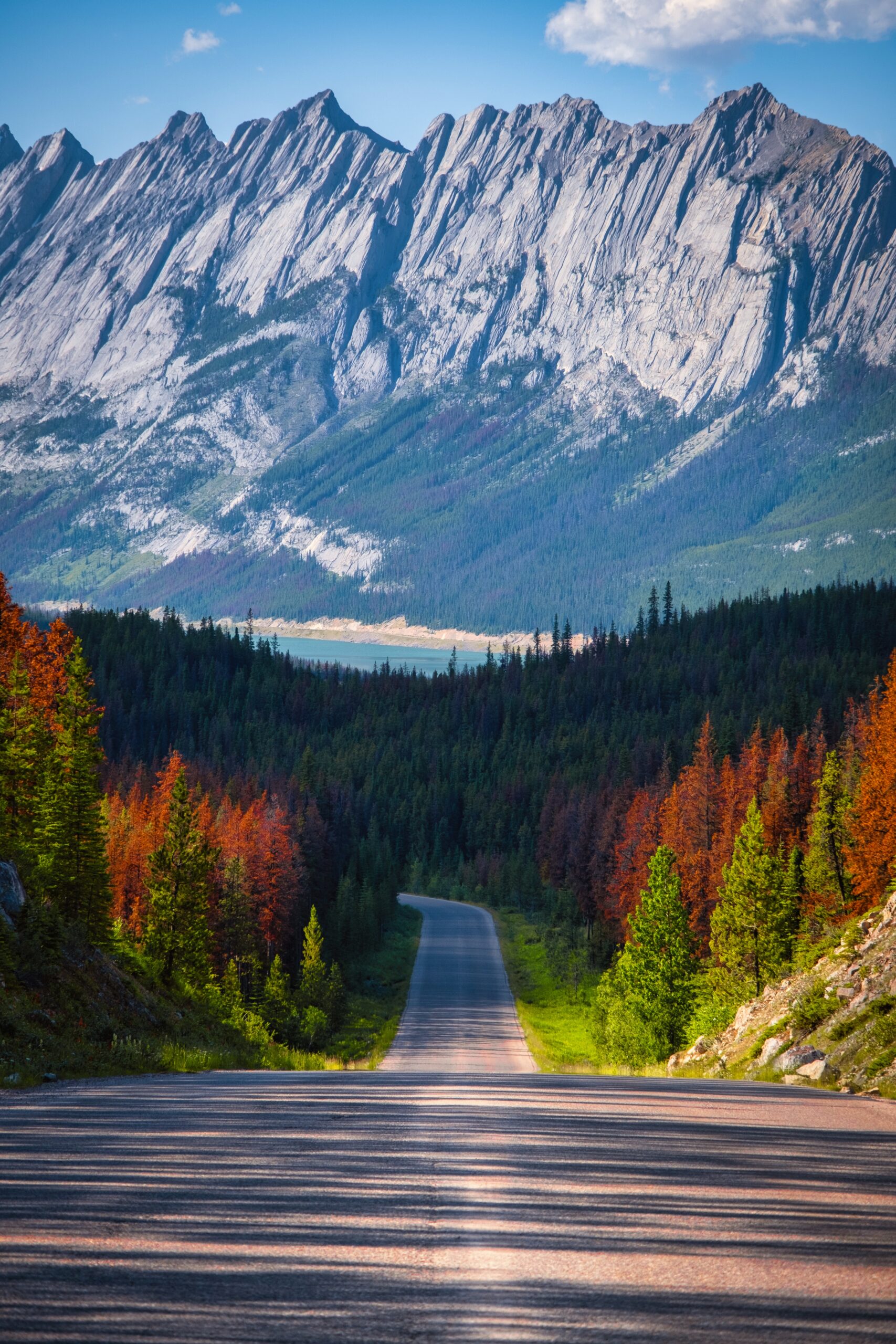 After Athabasca, you have the option to stay the night on the Icefields Parkway at the Glacier View Lodge, or you can push on to Jasper. As you leave you'll exit Banff National Park and enter Jasper National Park.
The views continue, though, and the drive is just as stunning. A few of the best stops ahead of you include Tangle Creek Falls, Athabasca Falls, and Sunwapta Falls! After visiting continue on to Jasper Town and relax here for the night.
Scared you might miss a stop on the Icefields Parkway? We have you covered! 
---
Banff Itinerary – 3 Days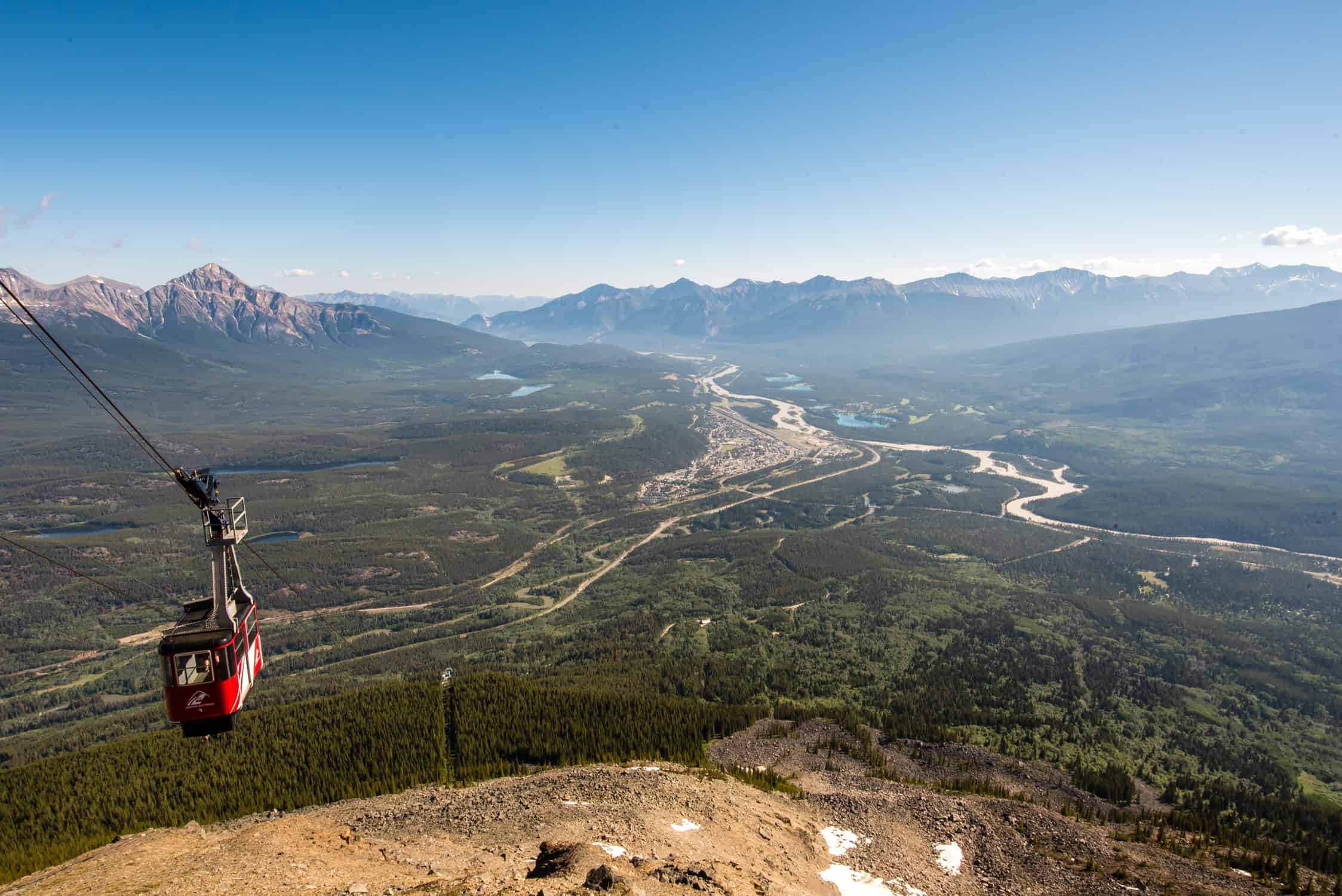 Explore Downtown Jasper
Jasper SkyTram
Maligne Canyon
Spirit Island
Athabasca Falls
---
Jasper Town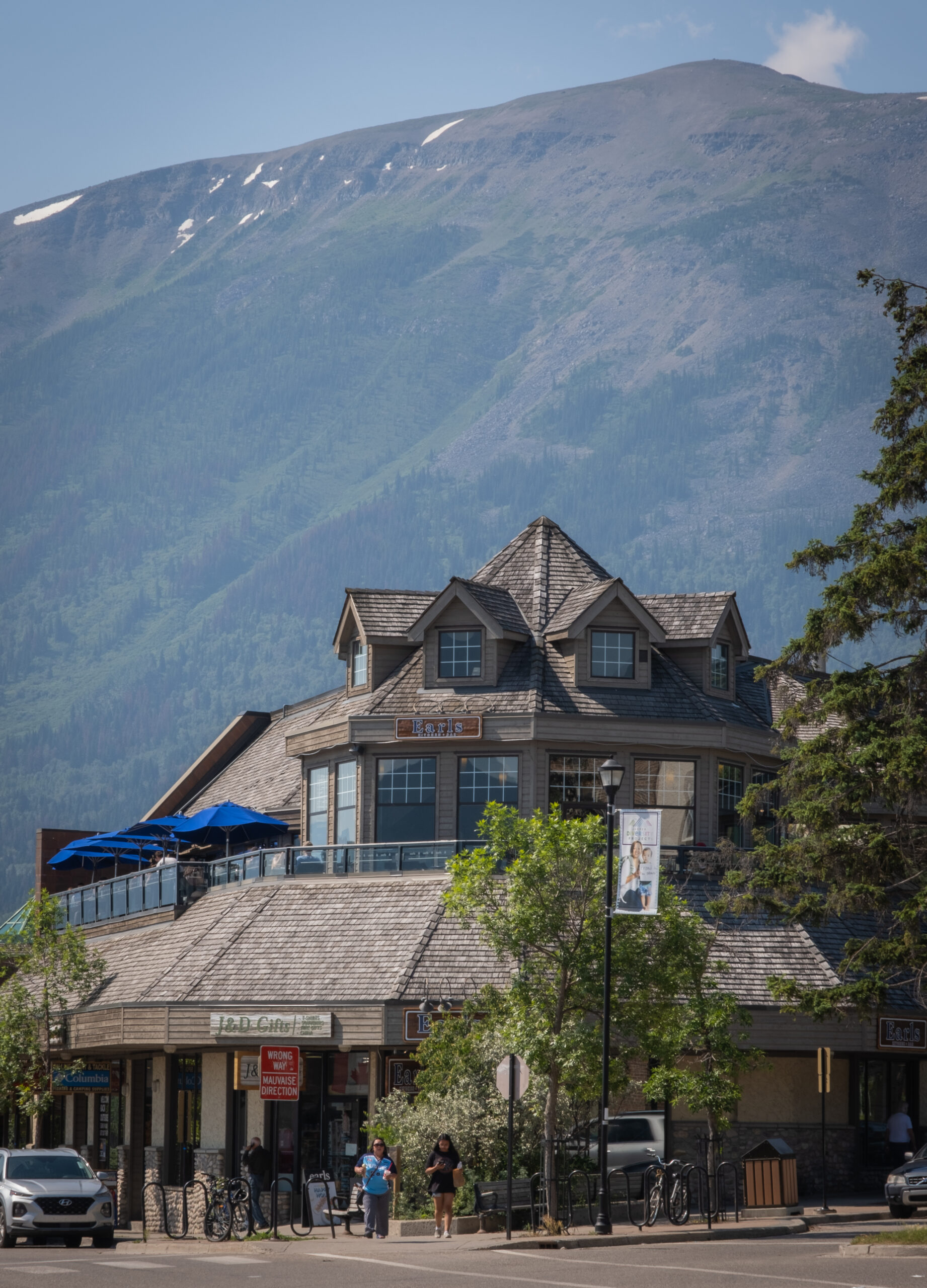 Wake up in downtown Jasper after staying at a cute Jasper cabin and have a coffee and baked treat at Bear's Paw Bakery or have a delicious breakfast in Jasper at Sunhouse Cafe. Take a stroll around town and enjoy the fresh mountain air.
---
Maligne Canyon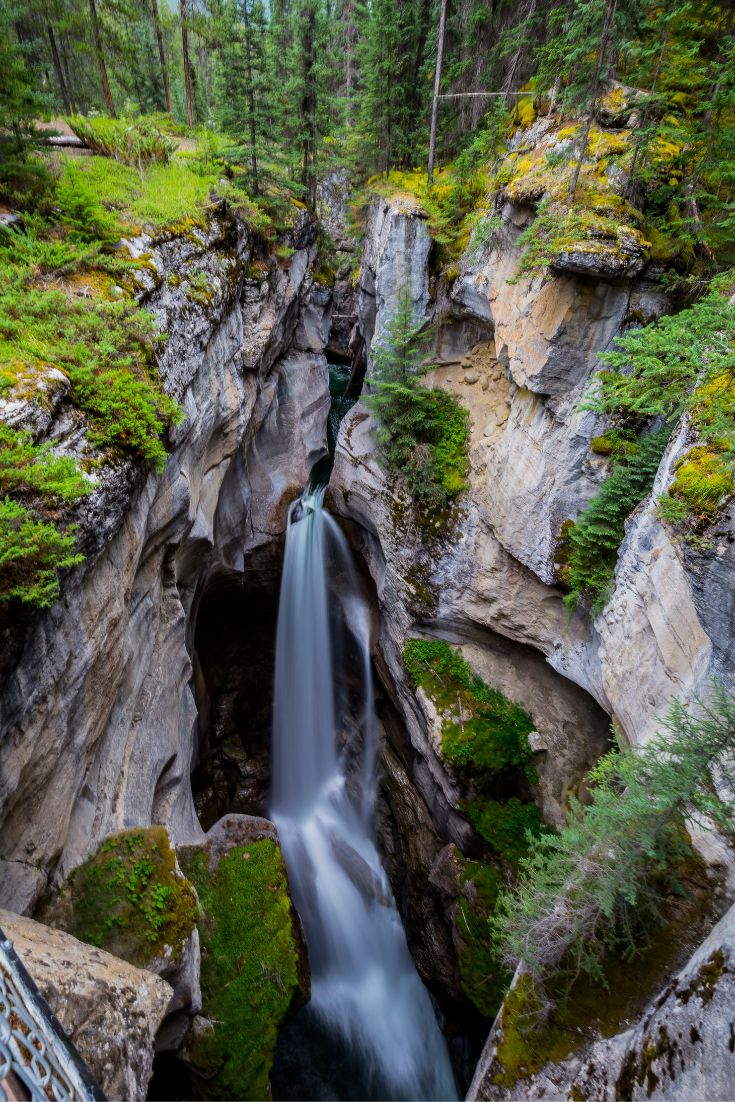 Maligne Canyon is another one of the things to do in Jasper that will keep you occupied and fulfilled, regardless of the season you visit. Carved slowly out of limestone over the years by the rushing waters within, the deep canyon walls reach nearly 200 feet in places, making it one of the most dramatic sights in Jasper National Park.
Though it freezes solid in winter, it provides recreation for brave ice climbers; there are guided tours of the area's frozen waterfalls and ice caves.
When the ice thaws in late spring and summer, the canyon area is a hot hiking spot due to its natural beauty and the sheer number of amazing and unique geological features you'll find. Guided tours are available, but you can also visit on your own, though visiting in the winter without a guide isn't recommended for those not equipped for Canadian winters, as you'll need special cleated or spiked boots to walk on the ice safely.
---
Maligne Lake and Spirit Island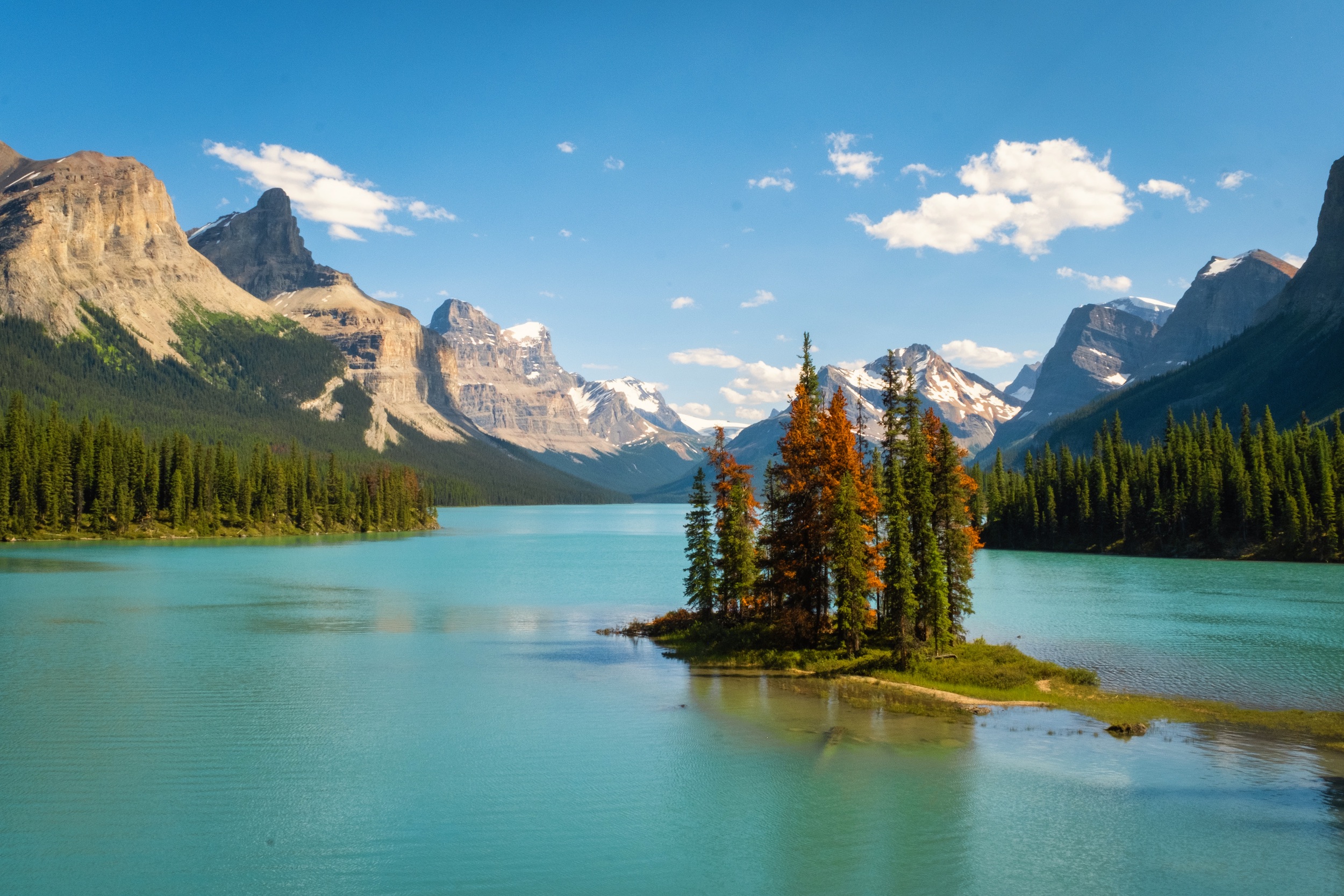 A great place to visit in Jasper is Spirit Island in Maligne Lake. As you may have guessed by its name, Spirit Island is a serene and revered place, especially to the area's indigenous people. Due to its sacredness, the island is off-limits, but boat tours are available, which will take you close enough to appreciate its splendor.
For those who need a little more exertion and adventure to view the island by kayak or canoe, this option is only for the physically fit because the roundtrip is difficult to complete in a day.
There are campsites nearby where you can book an overnight spot, breaking the trip into a day and a half and giving you a wonderful night in the wilderness.
---
Jasper SkyTram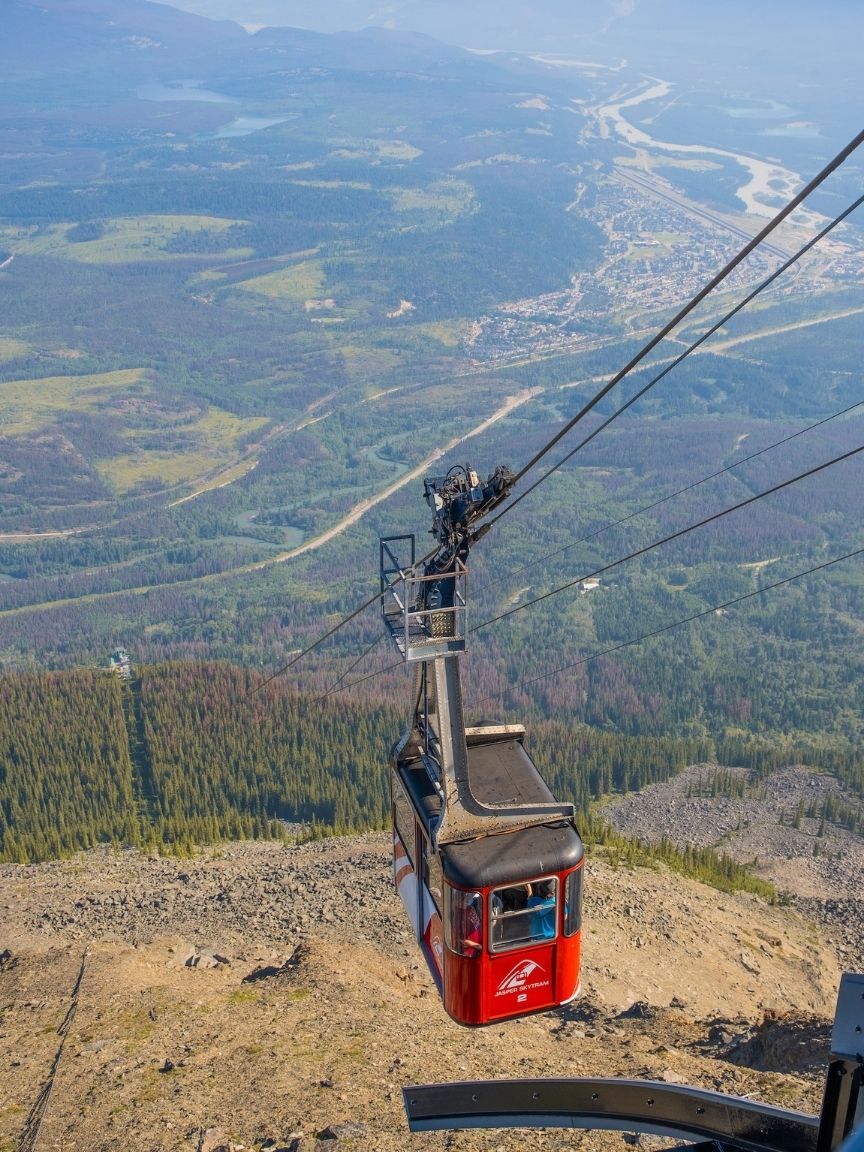 Going up the Jasper SkyTram is one of the best things to do in Jasper. It's here you can enjoy unparalleled views. On a clear day you can even see Mount Robson in the distance.
Once you load onto the Jasper Gondola you'll begin the thrilling ride up to the Summit Station at 2,263 meters (7,425 ft) in elevation. The two trams are cozy and hold around 20-24 people for the under 10-minute ride to the top.
On the way up the views become expansive as you leave the tree line and enter the alpine. Once at the top you can enjoy a hike to the summit of Whistlers Peak!
Book tickets for the Jasper SkyTram
---
Athabasca Falls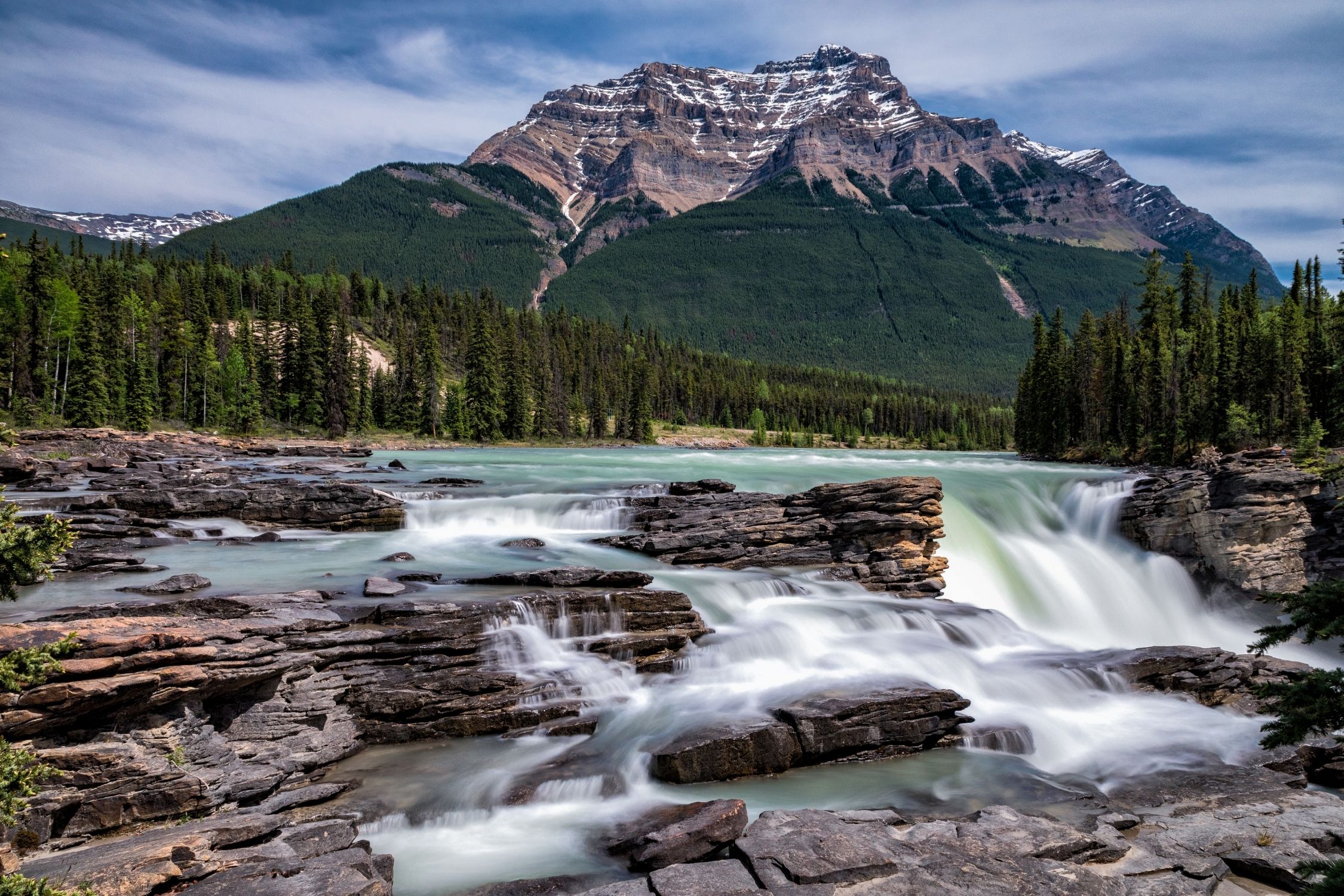 A great thing to do in Jasper is to check out Athabasca Falls. You could have seen this on your drive between Banff and Jasper, but if you missed it don't worry as it's located just 20 miles south of Jasper town.
With a drop of about 75 feet – Athabasca Falls isn't a giant by waterfall standards, but that doesn't mean it isn't dramatic and majestic in its own right.
The volume of water that rushes over the edge is very high, making the upper Athabasca River positively roar – especially during the height of the thaw in late spring. Like so many other visitor sites in the area, it's conveniently located in Jasper National Park, which will make filling up your day with enough scenery to satisfy even the most finicky nature lover pretty easy.
There are ample hiking trails to get you to viewing areas, allowing you to ogle the river and fall in all its glory. Don't try to get closer to take a good picture; the ground and rocks are treacherous and slippery, and a fall into the frigid water and rocky canyon wouldn't end well.
---
Option: Stay Longer in Jasper, or Drive Back to Banff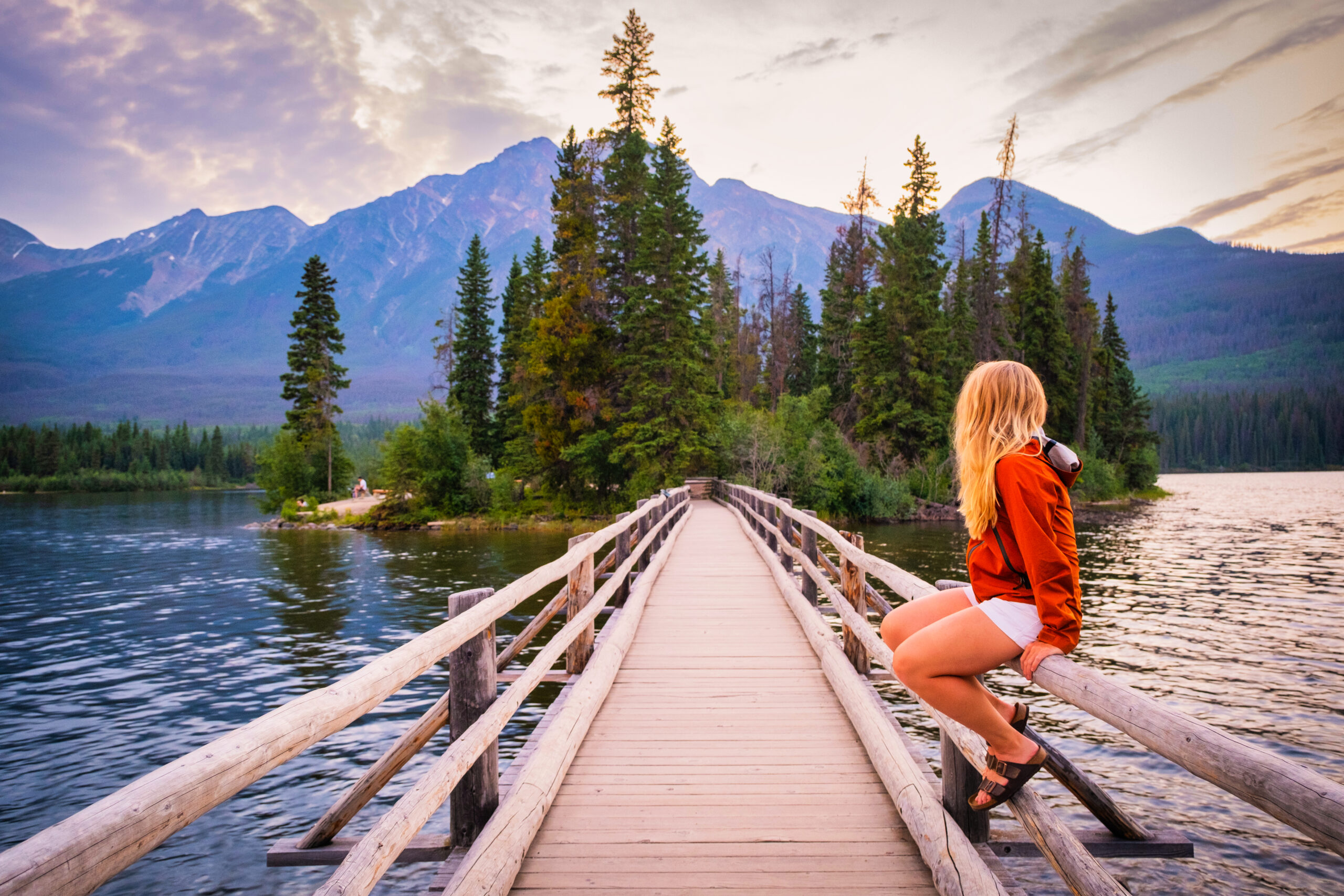 We recommend staying at least three days in Jasper, as there is so much to do and we crammed a lot into the day above. Some even prefer Jasper over Banff!
With more time in Jasper, you can enjoy a canoe on Pyramid Lake, hike the Valley of Five Lakes Trail, or have lunch on Lac Beauvert. However if you are short on time you can drive back to Banff either in the evening, or in the morning!
As mentioned, this is an itinerary to give you ideas and not set in stone. The ultimate itinerary depends on your timeline.
If you can give more time to Jasper National Park, here are some ideas of activities to keep you entertained.
---
Overnight in the Town of Banff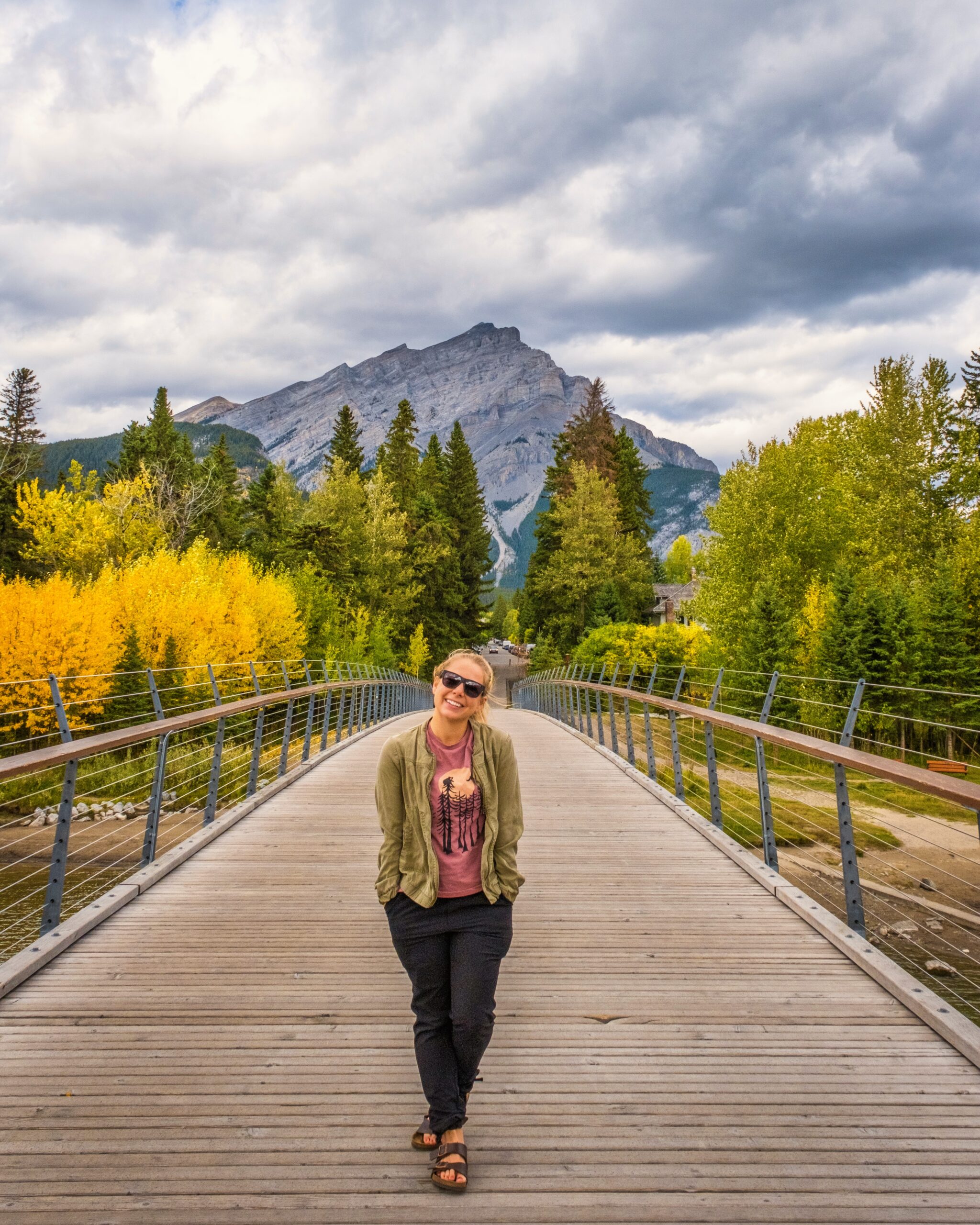 After your full day in Jasper, it's time to head back to Banff , although if you have one extra day, I would consider spending at least another day in Jasper as there are plenty of other things to do in Jasper.
---
Banff Itinerary – 4 Days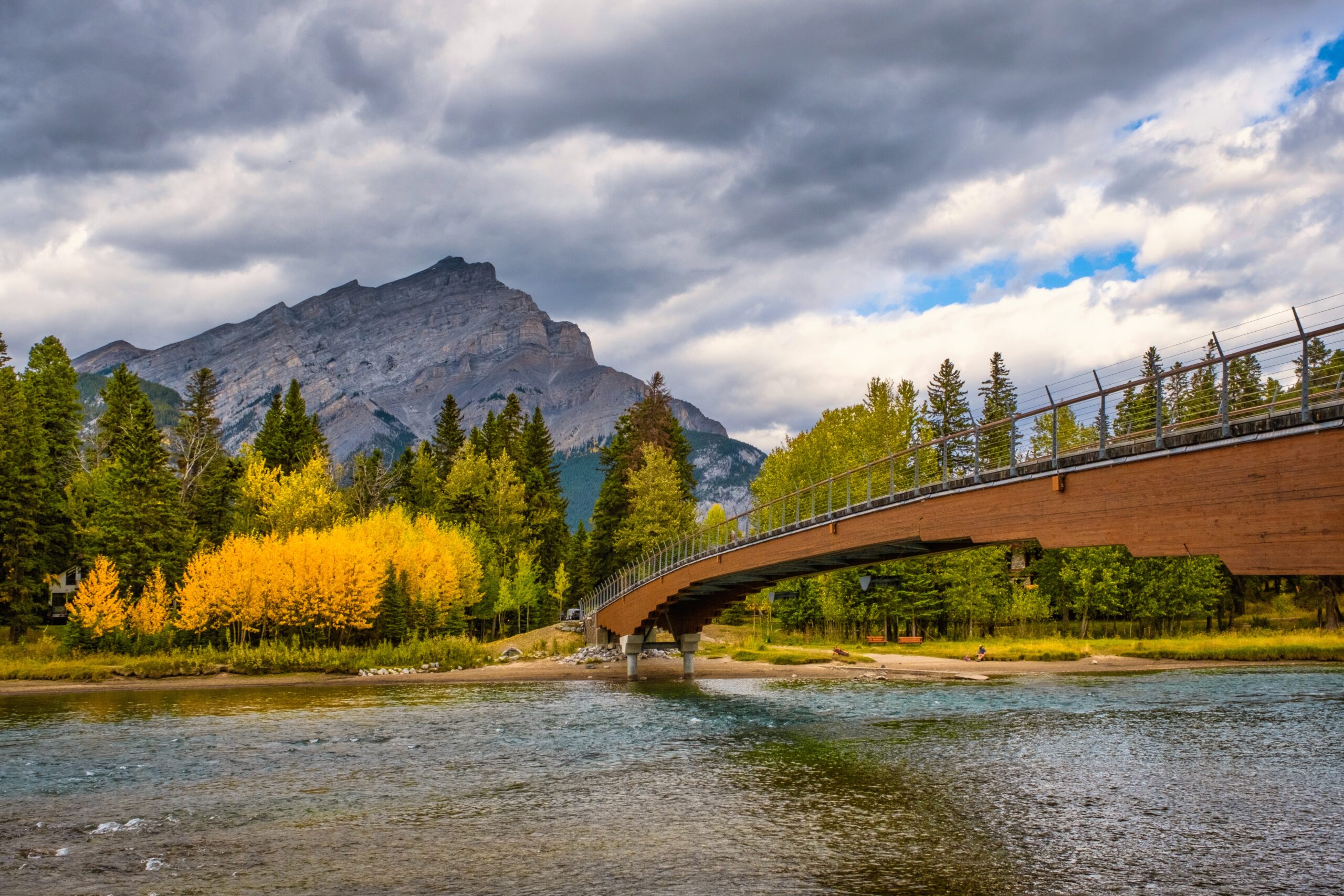 Sunrise on Tunnel Mountain
Walk Around Downtown Banff
Check Out Bow Falls
Hike or take the Banff Gondola up Sulphur Mountain
---
Catch Sunrise on Tunnel Mountain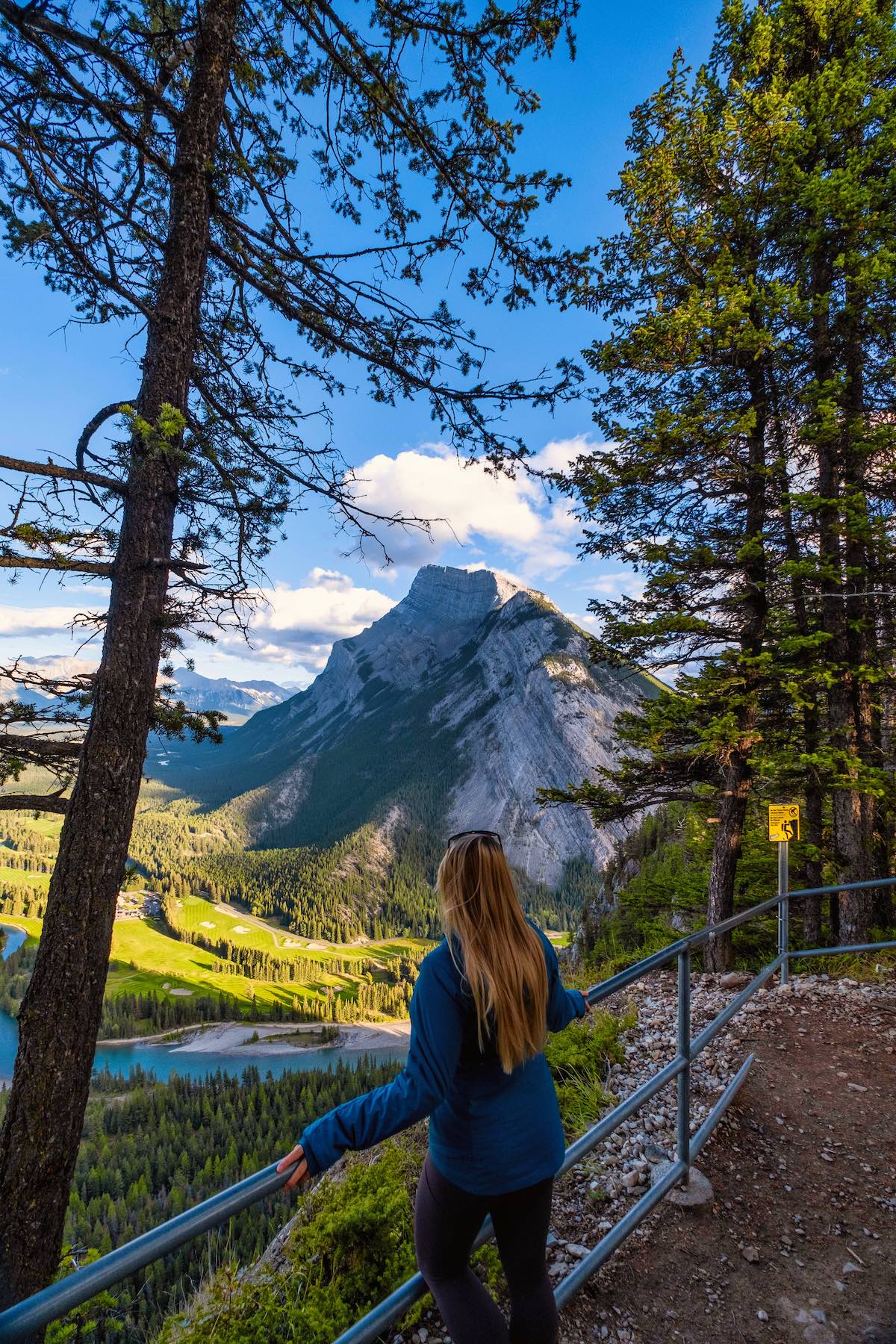 Tunnel Mountain is right in the heart of Banff. It's beloved by locals for its accessibility, and you can hike it year-round. It may be one of the smallest mountains in Banff National Park, but it still offers tremendous views of the surrounding valleys and Mount Rundle, especially at sunrise.
The hike moves slowly up the mountain through several switchbacks and offers various viewpoints out into the Bow and Spray Valleys. It's a great Banff hike for sunrise or sunset, and it rarely disappoints.
The best part is it's only 4.5 km round trip and shouldn't take more than one hour up. It's also one of the easiest winter hikes you can do with only 266 meters of elevation gain.
---
Stroll Down Banff Ave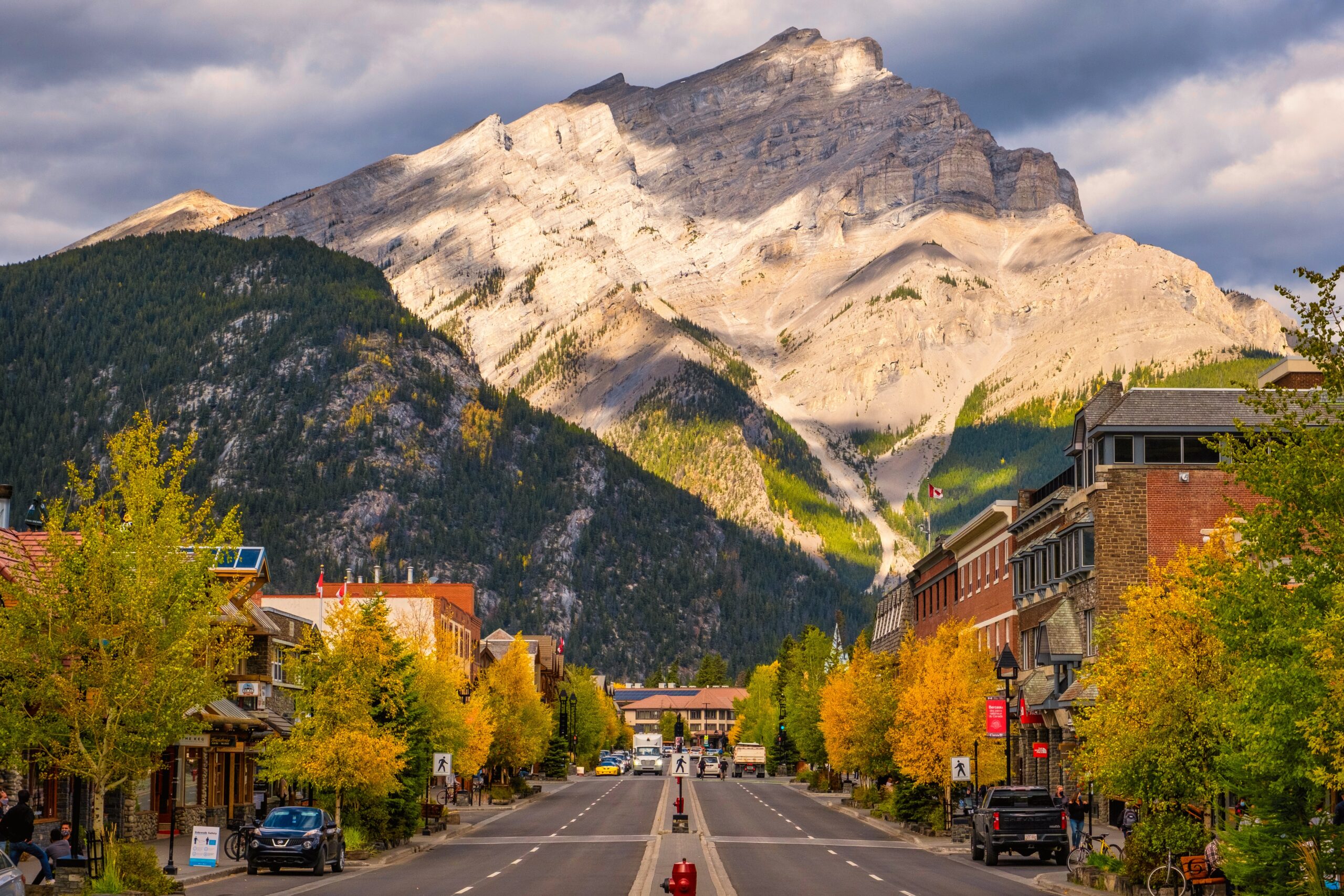 It's hard to believe there is a town in the center of one of the most beautiful national parks on earth, but there is, and walking around Banff is a must for any visitor.
There are plenty of shops, cafes, and restaurants to enjoy in Banff, and the entire time you have unreal views of Cascade Mountain. But really, I just love strolling and admiring the mountain views from down low.
During Banff in the Summer, Banff Avenue closes a large portion of the road to vehicles. It's pedestrian and cyclist only, so you can fully take advantage of strolling these streets. In case you're wondering, there are plenty of Banff patios to enjoy a beer under the sun during this time!
---
Check Out Bow Falls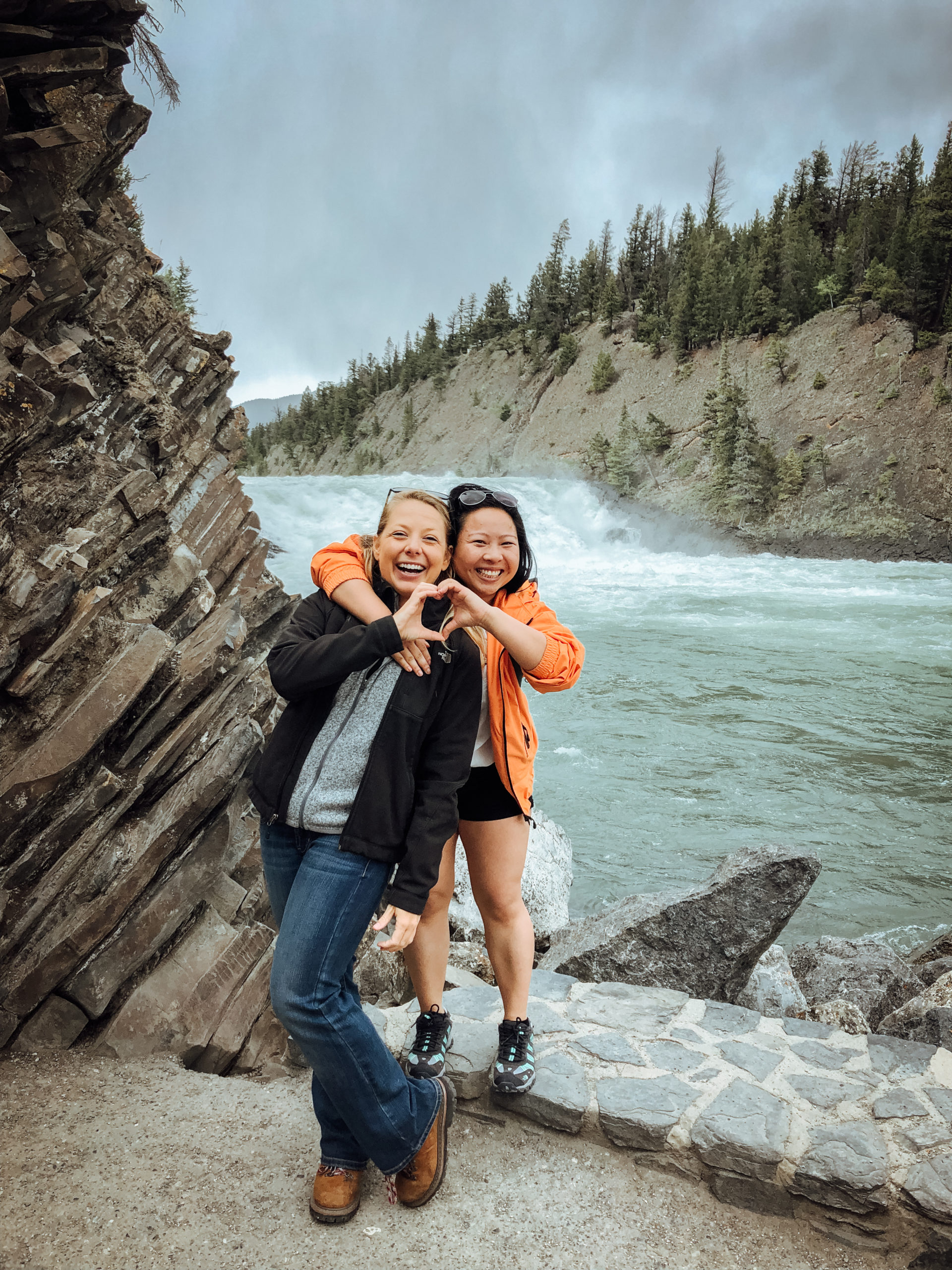 Bow Falls are a must-see Banff waterfall. They are only a short walk away from the town and take you into magnificent nature. From May to November they are typically free flowing, however if visiting in the winter it's a completely different sight.
Depending on when you see them in the winter, Bow Falls may be frozen, but we've been lucky and seen the beauty of the half in ice and half water – a splendid experience! There are nice walkways and viewpoints for visitors so they can view safely.
Ultimate Guide to Visiting Bow Falls in Banff (Viewpoint Information)
---
Sunset on Sulphur Mountain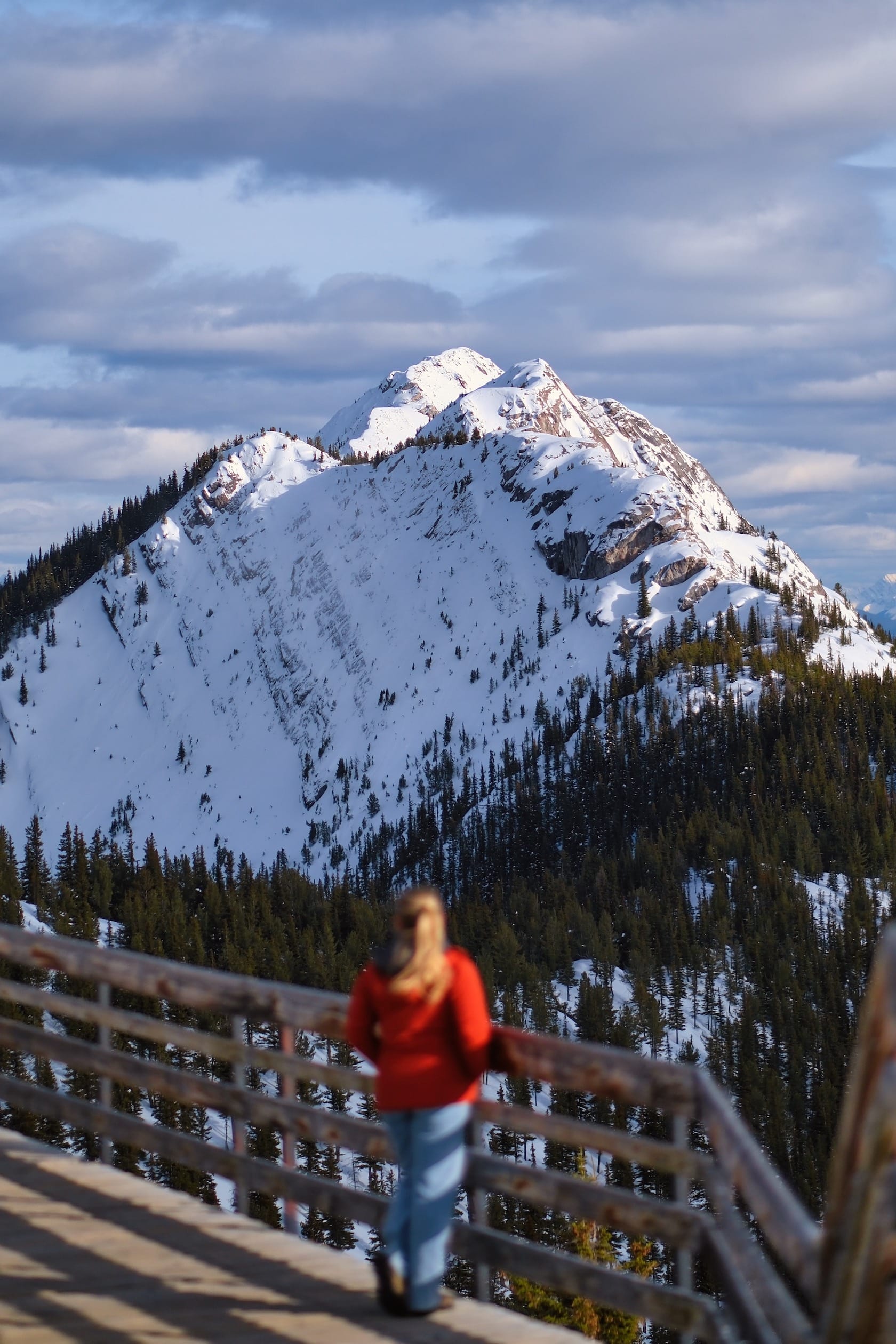 One of the best places to catch the sunset in Banff is from the top of Sulphur Mountain. The Banff Gondola runs all day to take visitors up and down, making it the easiest mountaintop to catch the sunset in Banff.
If you're up for some activity, it's also possible to hike up Sulphur Mountain, save some money, and get your legs moving. Sulphur mountain peak can be reached in under two hours through a path of easy but relentless switchbacks.
Purchase Banff Gondola Tour Tickets
---
Banff Itinerary – 5 Days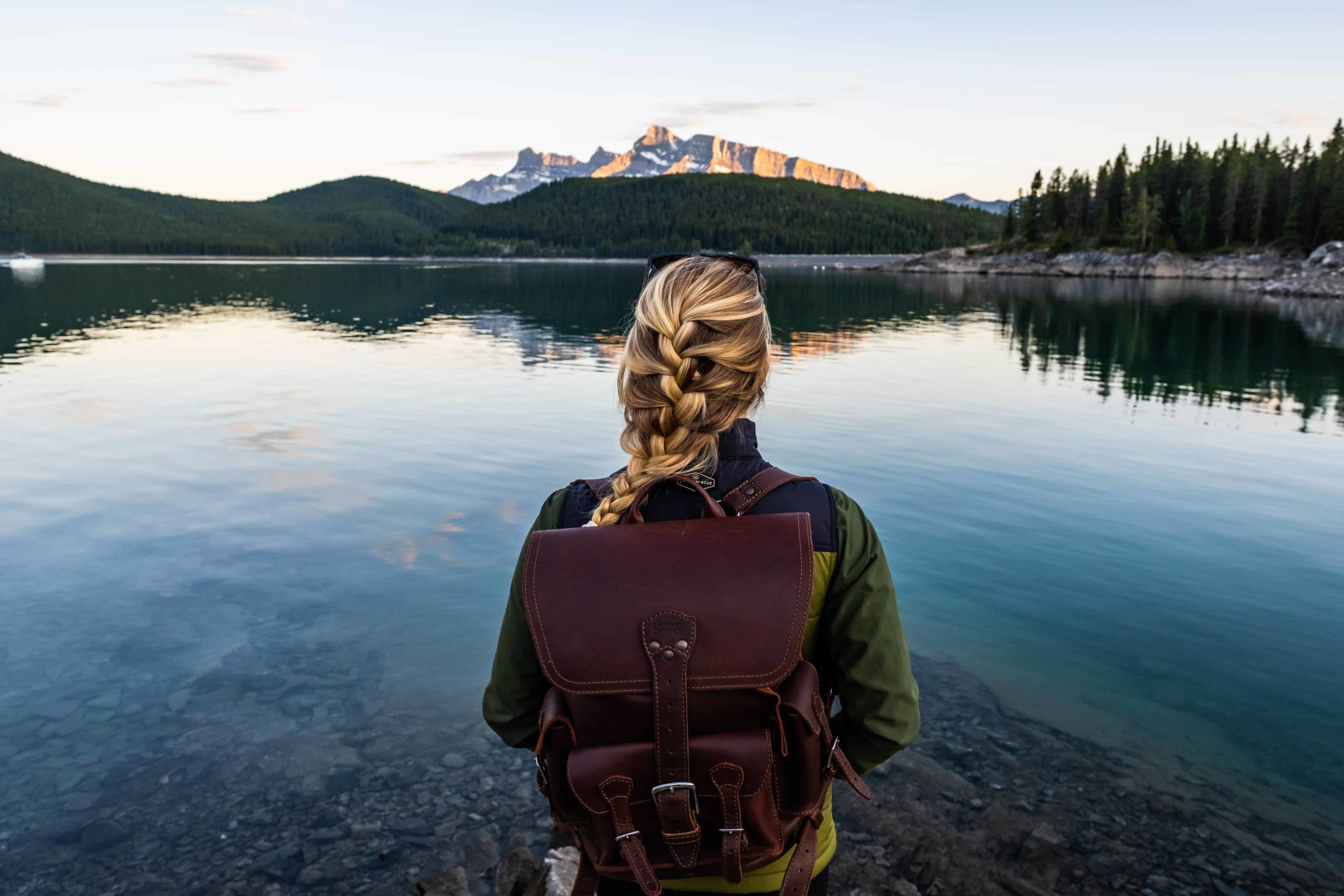 Sunrise on Vermilion Lakes
Stand Up Paddleboard on Two Jack Lake
Mt. Norquay Via Ferrata
Scenic Cruise Around Lake Minnewanka
Dinner and Drinks in Banff
---
Sunrise on Vermilion Lakes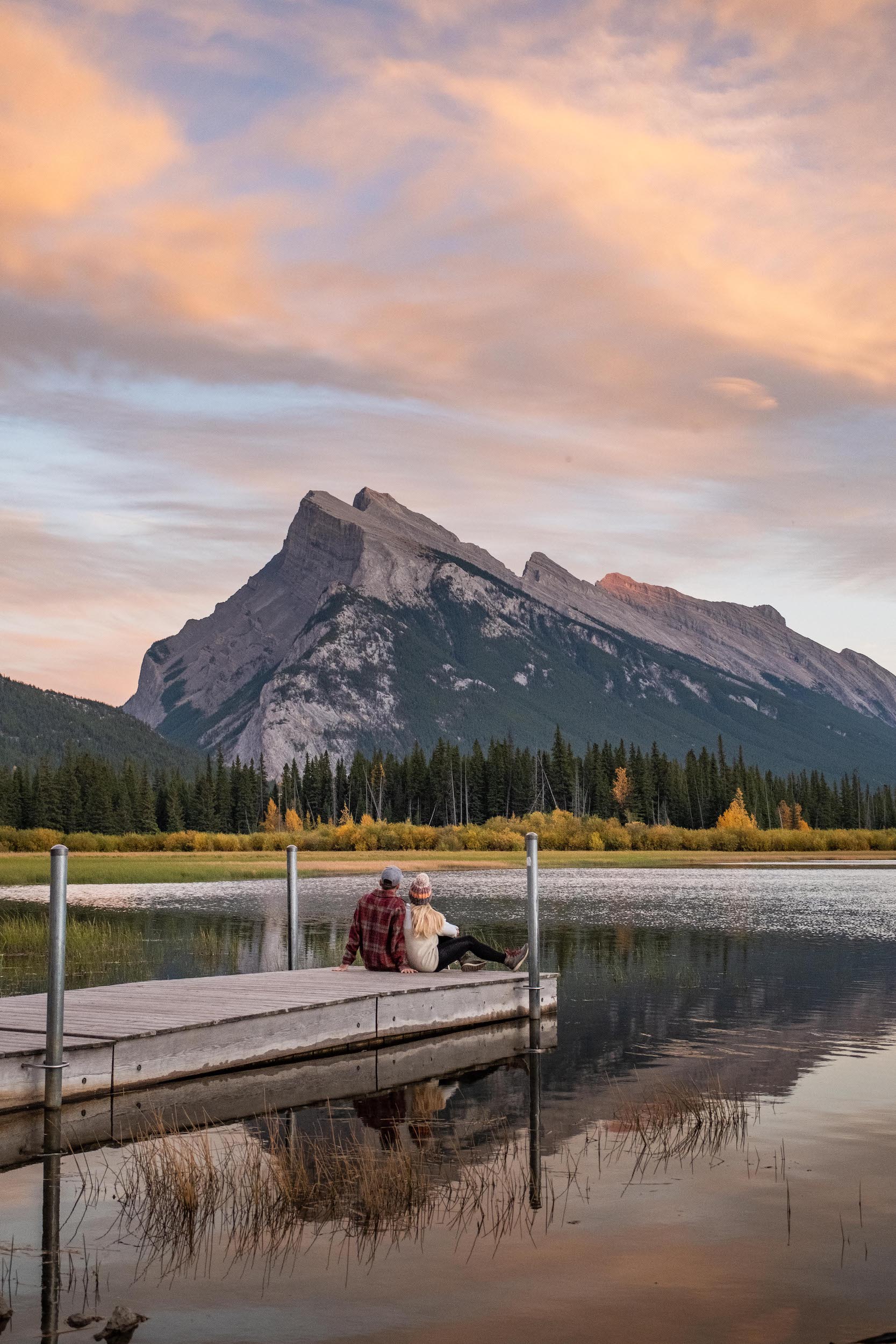 A great Banff summer and winter excursion are Vermilion Lakes. Vermilion Lakes is one of my favorite places to go to Banff for both sunrise and sunset. Mount Rundle, arguably the most famous mountain in the whole park, towers over the lake, creating an epic backdrop any time of the year.
It's the perfect place to come early morning and enjoy your coffee before a great breakfast in Banff or travel to sunset with a few beers.
You can also take a canoe, kayak, or paddleboards out here and enjoy the water as the lakes are pretty calm and a great place for a chill ride – even for beginners!
---
Stand Up Paddleboard on Two Jack Lake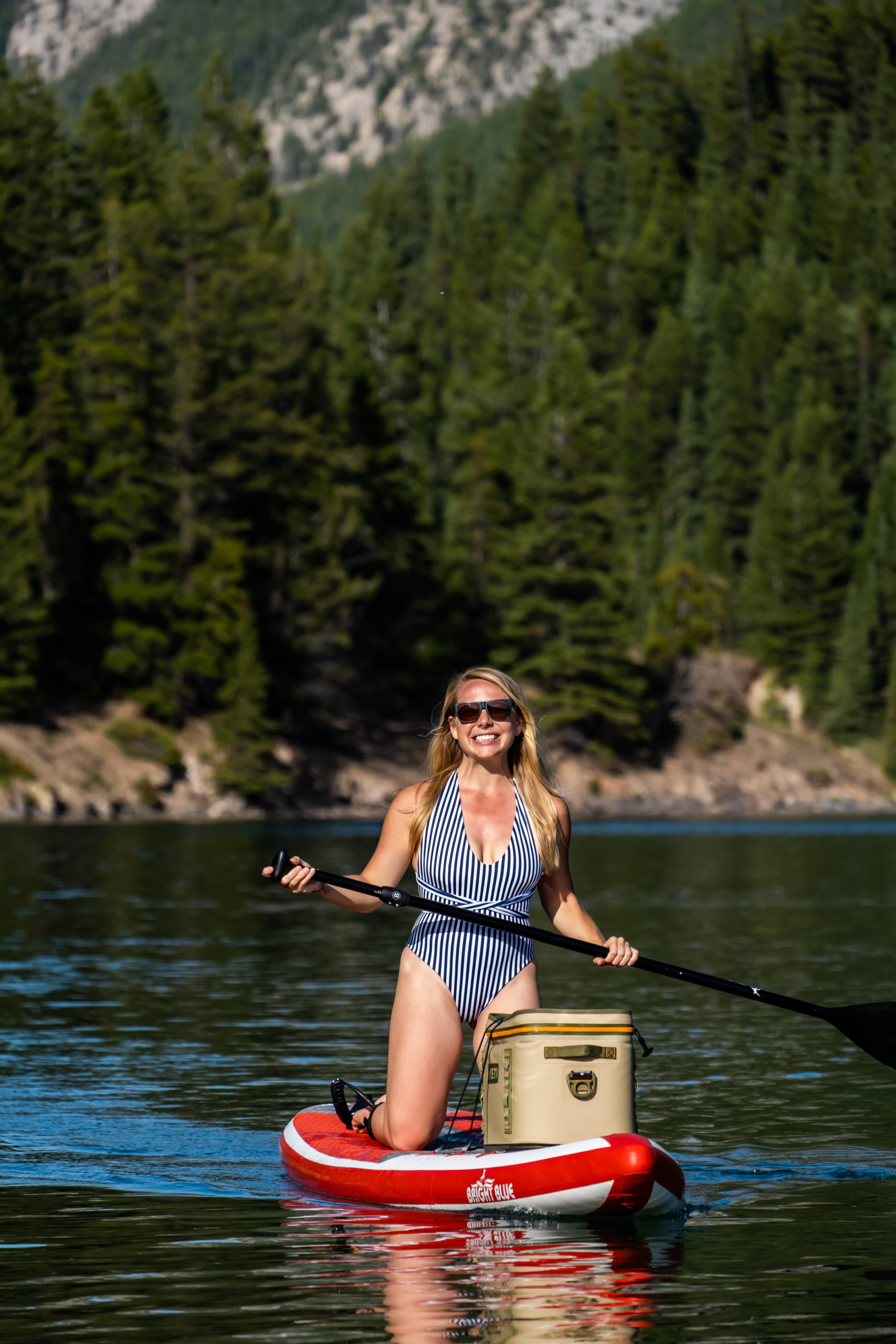 Just a ten-minute drive away from Vermilion Lakes is Two Jack Lake. It's another fantastic lake with Mount Rundle Views. Two Jack is one of the most photographed lakes in the Canadian Rockies due to its proximity to Banff.
In the summer, it's a popular spot to come with a stand-up paddleboard or kayak. It's perfect for an afternoon picnic to take in the views.
---
Scenic Cruise Around Lake Minnewanka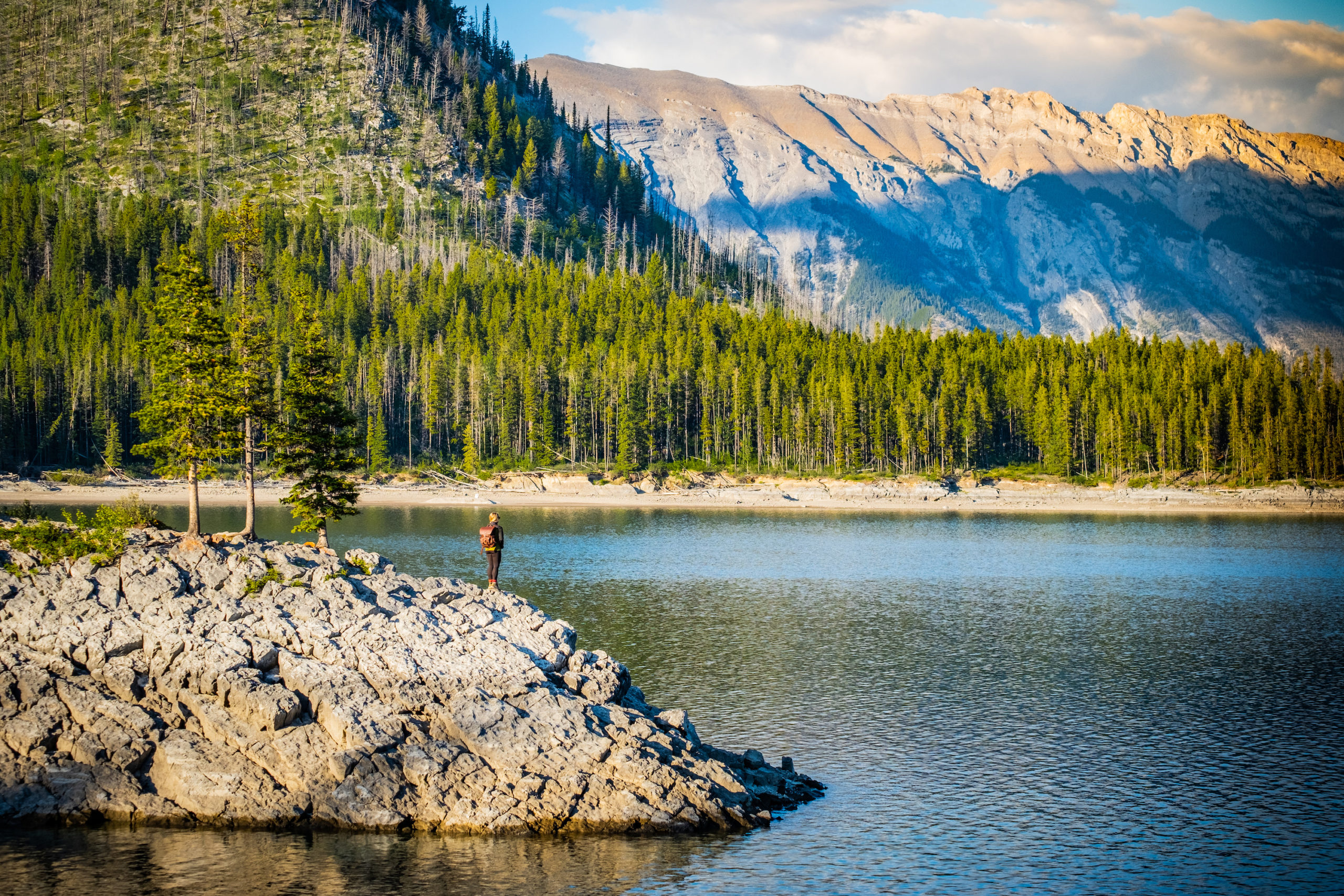 One of the top things to do in Banff National Park is enjoy Lake Minnewanka. Lake Minnewanka is a glacial lake that is close to Two Jack Lake. This lake is 21 km long and 142 meters deep.
In the summer, it's a busy place to hike and go canoeing on, and in the winter, it's a sight to behold.
Mount Inglismaldie and Mount Aylmer towering over Lake Minnewanka are seriously impressive all year round. Oh yea, and there's also a Canadian resort ghost town under the lake, and there are scenic cruises around Lake Minnewanka on offer in the summer.
 Book a Lake Minnewanka Cruise!
---
Mt. Norquay Via Ferrata

If you're a beginner hiker but want to see what hiking in the Rockies is all about, I highly suggest the Mt. Norquay Via Ferrata. This is an assisted climbing experience up Mount Norquay.
There are four different routes that vary in length and difficulty. Perfect for any visitor in Banff with many different options for families too.
Our Most Recommended Banff Tours
---
Dinner and Drinks in Banff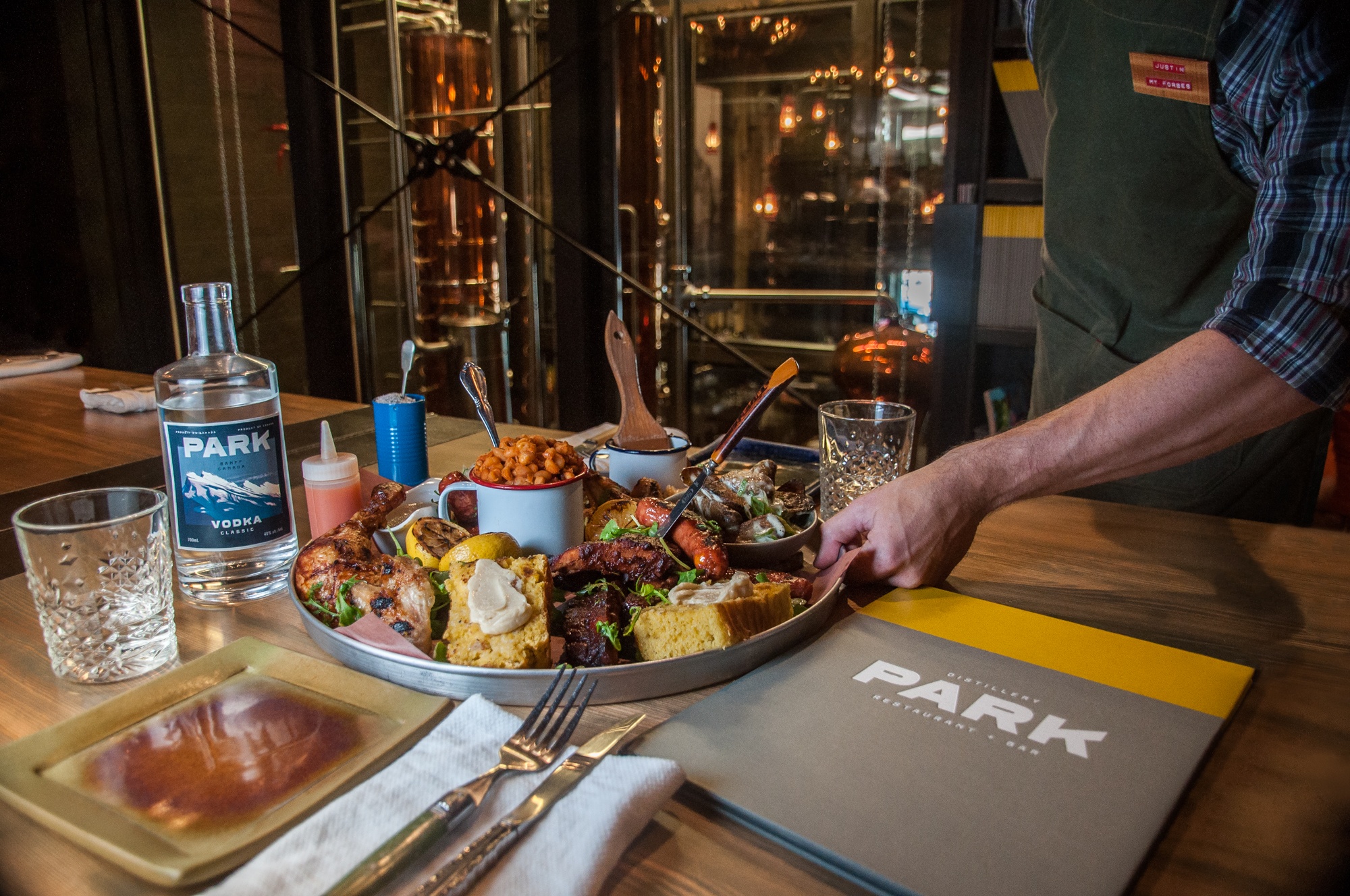 The sun has set over Banff National Park. It's time to refuel for the day at one of Banff's many places to eat. A few of our favorites are:
See Also:
The Bison
Our favorite restaurant in Banff with a great atmosphere and high-quality farm-to-table food. They have a seasonal menu and won several national awards in Canada for exceptional service.
Three Bears Brewery
Our favorite spot in Banff for pizza and beer!
Whitebark Cafe
Hip coffee shop serving delicious coffee in Banff and freshly baked treats. It's the perfect post-ski pick me up if you're not into the apres-ski scene!
Park Distillery
Check out the only distillery in a national park in North America. It's super cool inside, with large tables perfect to finish off a winter day in Banff with friends or family.
Nourish Bistro
This healthy cafe is the perfect lunch spot in town with reasonably priced lunch combos and coffee.
Banff Sushi
We love sushi, and we love a good deal, so Banff Sushi is a slam dunk for us. The novelty of the sushi train was definitely appreciated and brought us back to Japan as we nabbed tantalizing bites of sushi off the Canadian train engine. If you like sushi, this may be one of the best deals in Banff.
Bear Street Tavern
Winter activities often mean you're burning plenty of calories, so if you're looking for a laid-back atmosphere and some tasty grub, head to this tavern to replenish.
---
Banff/Canmore Itinerary – 6 Days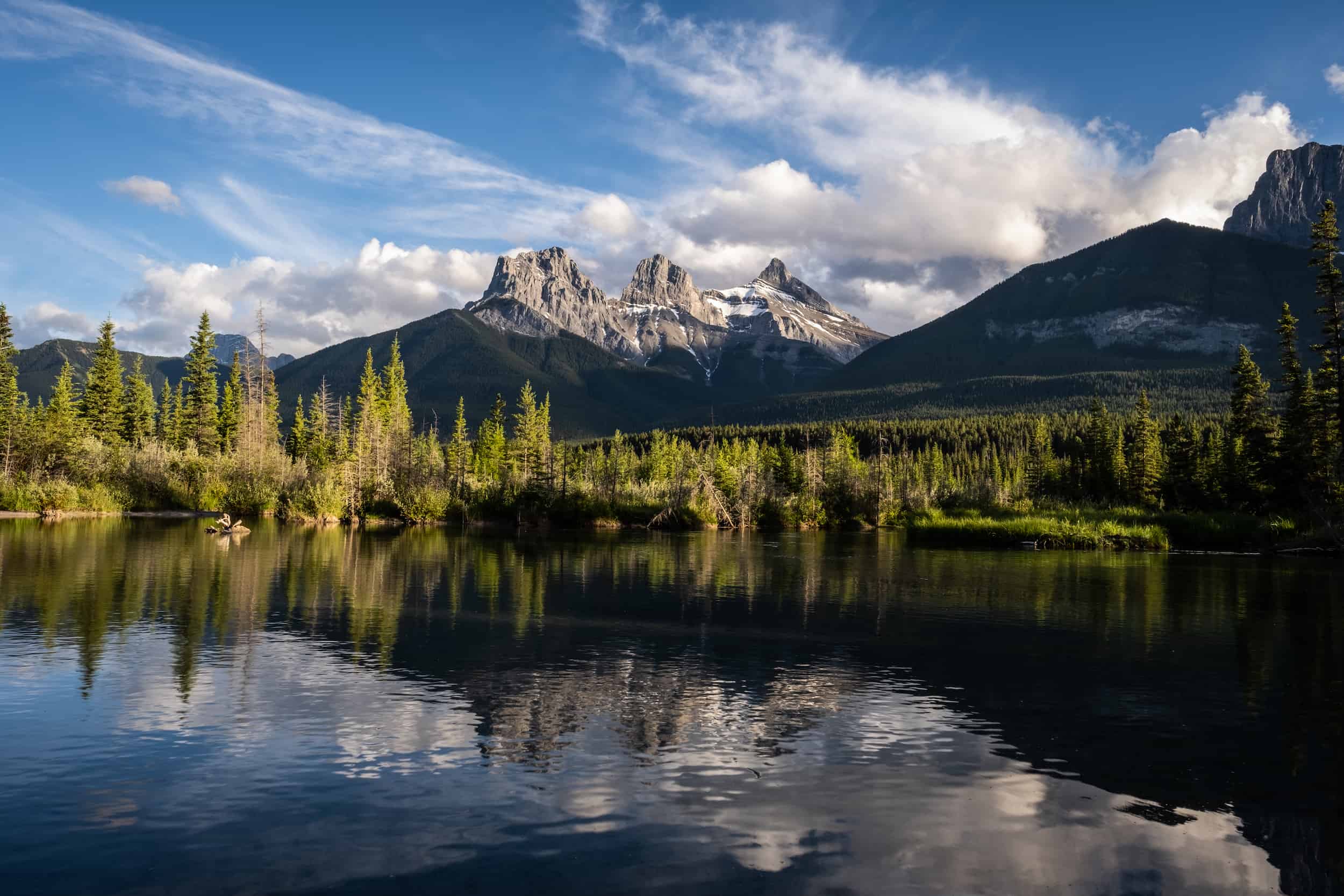 Today is the day to head to the town right next to Banff – Canmore. I personally love Canmore more than Banff (and not just because I live here), but because it feels less like a tourist destination and a place where real day-to-day operations happen.
Sunrise on East End of Rundle
Hike to Grassi Lakes
Explore Downtown Canmore
Walk Around Policemen's Boardwalk
Sunset Paddle Around The Reservoir
Banff vs Canmore • Which Town is Better For Your Vacation?
---
Sunrise on the EEOR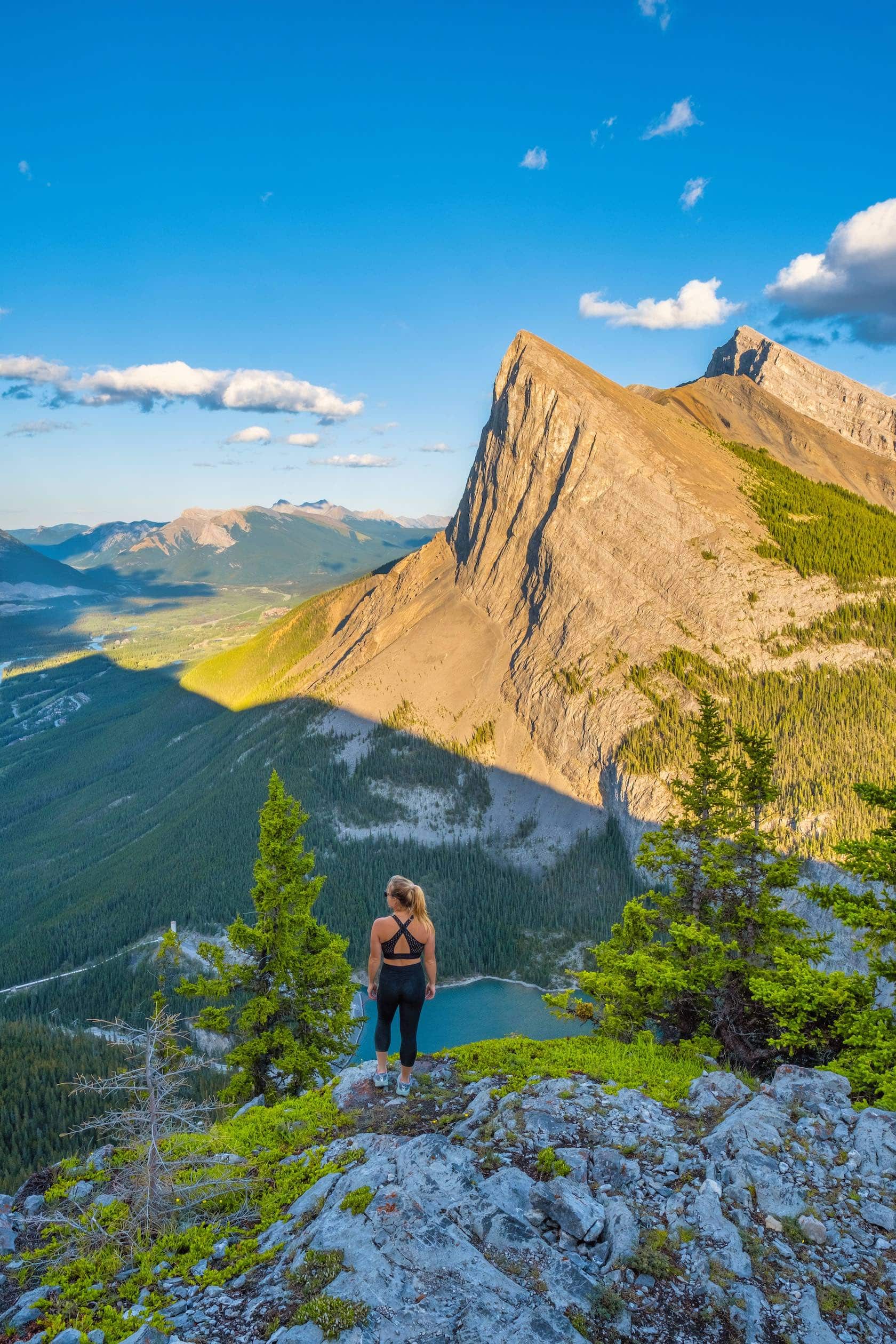 East End of Rundle (EEOR) is one of the most popular hikes in Canmore. It's a beautiful hike up that offers visitors astonishing views over Canmore, the Bow Valley, and Ha Ling Peak.
Although, just because East End of Rundle (or EEOR, or "Eeyore" as locals like to call it) is close to town doesn't mean it's an easy climb up to the summit.
EEOR trail is a 5.8 kilometer out and back trail. It's certainly a steep and strenuous uphill battle for almost the entire hike. There are hardly any flat parts, and the climb starts right from the car park. There is moderate exposure and some scrambling required, but nothing too scary or difficult for the average to the advanced hiker.
We are reasonably fast hikers and completed the trail in four hours with a 45-minute summit beer stop at the top and about 15 extra minutes for sunset photos. If we were really moving with no long stops, we could have done EEOR in under three hours.
The average hiker will probably be able to summit in two hours and descend in 1.5 hours. If you are slower, five hours round trip is probably a safe time to estimate. If you can get up there for sunrise, you'll be rewarded with beautiful views over Ha Ling.
Not feeling EEOR? Similar hikes nearby are Ha Ling, Rimwall Summit, Reads Tower, and Windtower
22 Fun Canmore Hikes and Trails from Easy to Hard
---
Hike to Grassi Lakes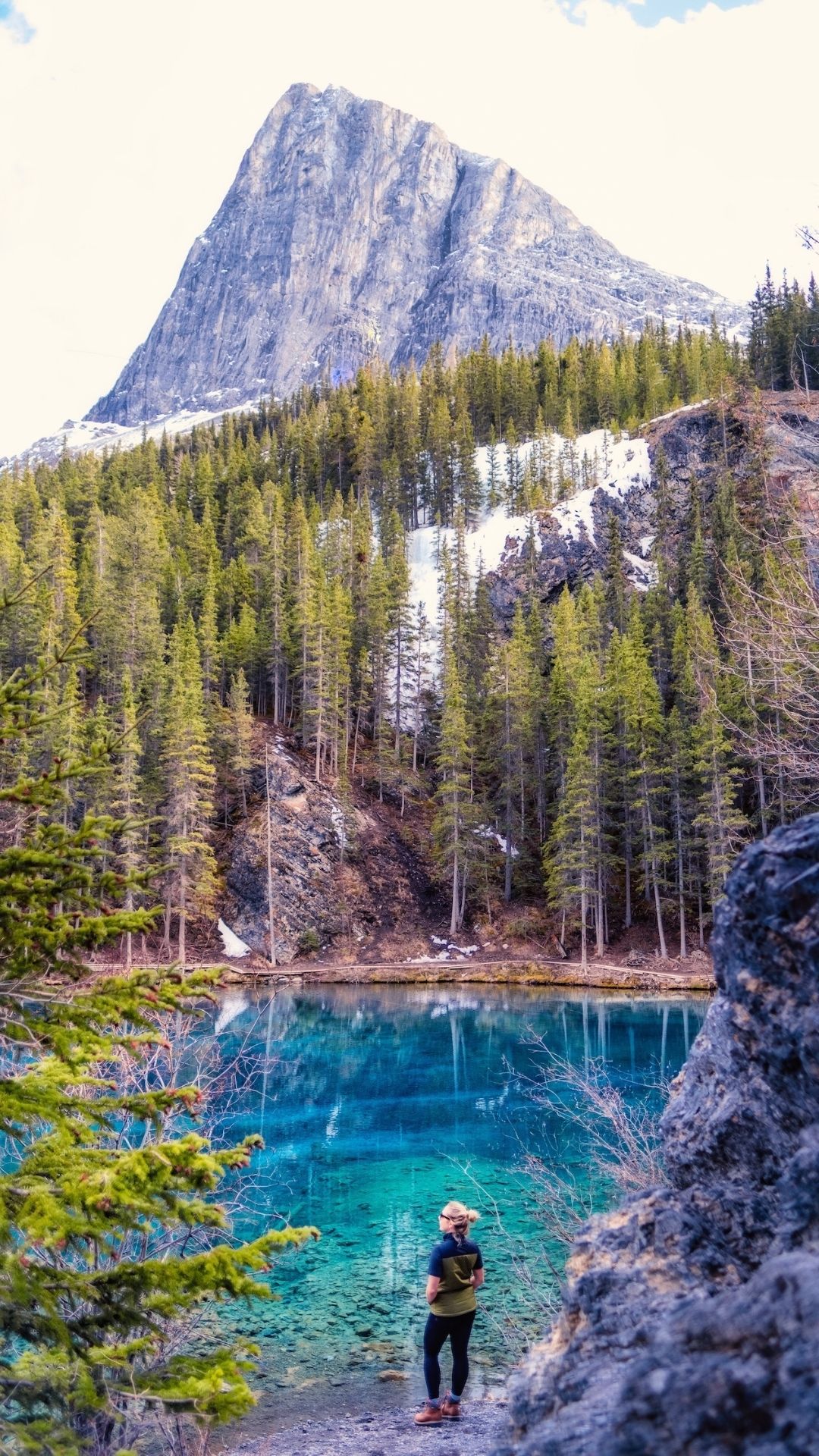 With water clear and mesmerizingly blue, Grassi Lakes is remarkable and easy to reach on a short hike. Though there are other trails in the area, these are clearly marked, and great for all ages making them one of the best things to do in Canmore.
About five kilometers south of town, the lakes are easy to get to, and you may want to consider packing a few some food for a picnic, as it's one of the most picturesque places around Canmore. Stunning views of a nearby waterfall and the town of Canmore below present plenty of photo opportunities, so grab your favorite travel camera.
Grassi Lakes is easy enough for just about anyone to complete. I would feel comfortable bringing older parents or healthy grandparents on this short hike.
---
Explore Downtown Canmore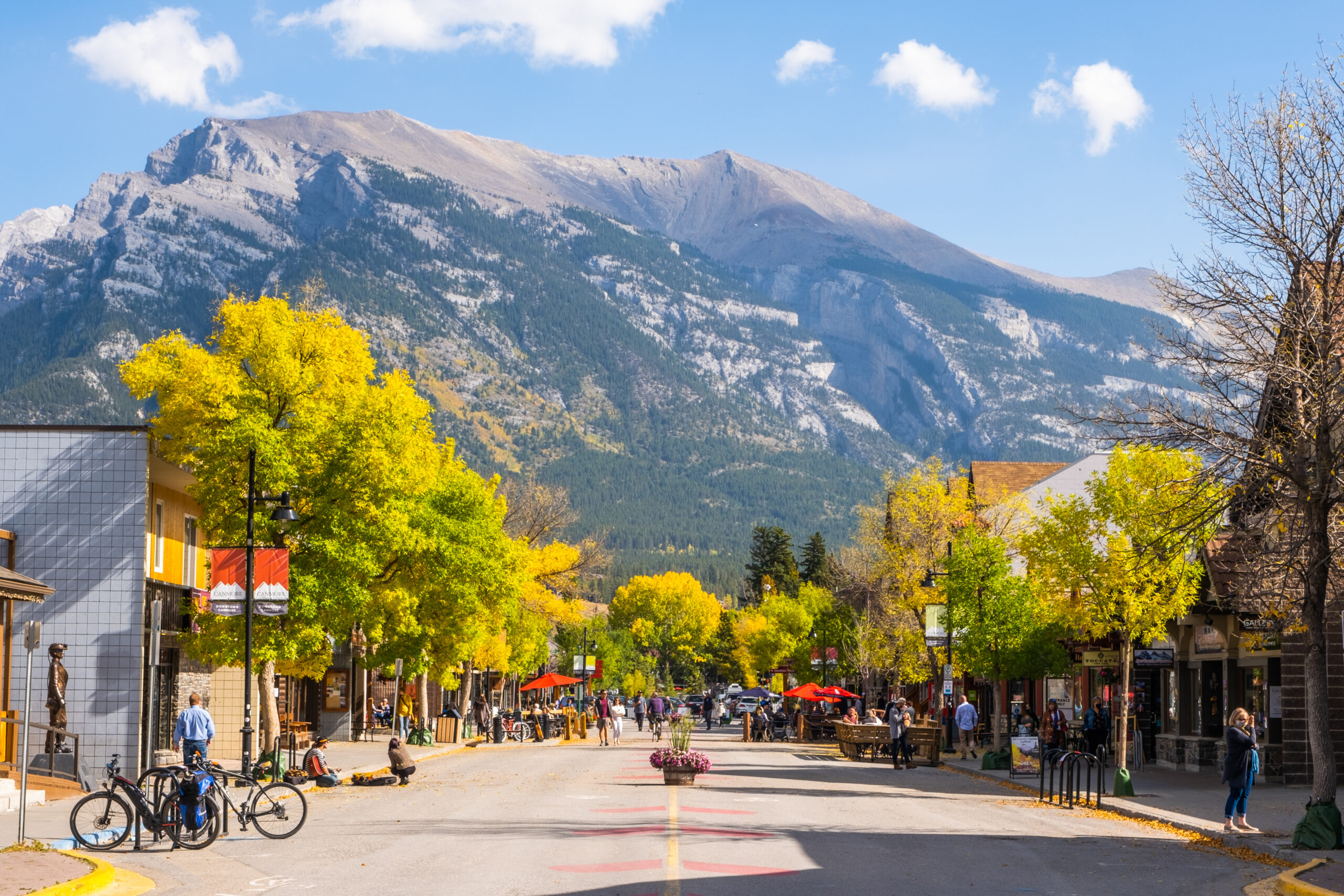 For lunch, head downtown to one of Canmore's many restaurants. I love sitting outside at The Tavern or Communitea as they have fun patios in the summer. They have great food and awesome drink specials. Though if you're really looking for a good patio experience in Canmore, The Wood has the best views in Canmore.
Grizzly Paw Brewery and Pub is another popular option as it's right on Main Street, but it's more expensive and not as good of food, in my opinion. There are also plenty of shops and cafes to check out downtown. We always love running into Stonewaters for home inspo ideas!
---
Walk the Policemen Creek Boardwalk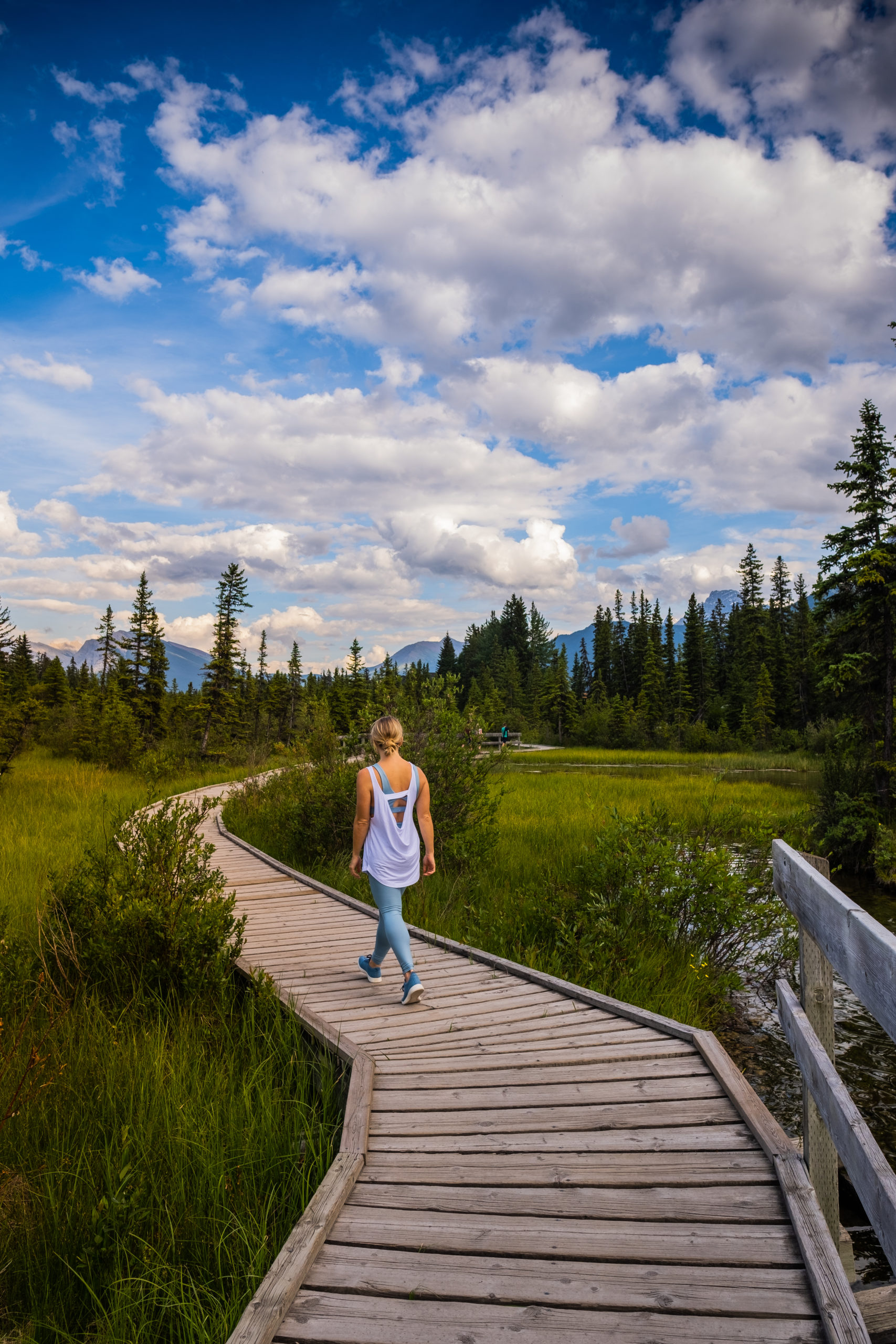 If you want to spend a quiet morning or afternoon strolling through nature, head to the boardwalk. The elevated walkway presents year-round opportunities without a need for waders, boots, or snowshoes. It's accessible from downtown, and the trailhead is near the intersection of Main Street and Spring Creek Drive.
The four-kilometer Canmore trail is well marked, easy to follow, and will bring you right back to your starting point, so you won't have to drop bread crumbs or call for an embarrassing helicopter rescue.
The boardwalk's pleasant mix of town and country is the best of both worlds, and you'll think you're much farther away from civilization than you really are. Don't miss the Giant Head Statue near The Drake at the beginning or end of you walk!
---
Sunset Paddle Around The Rundle Forebay Reservoir (Canmore Res)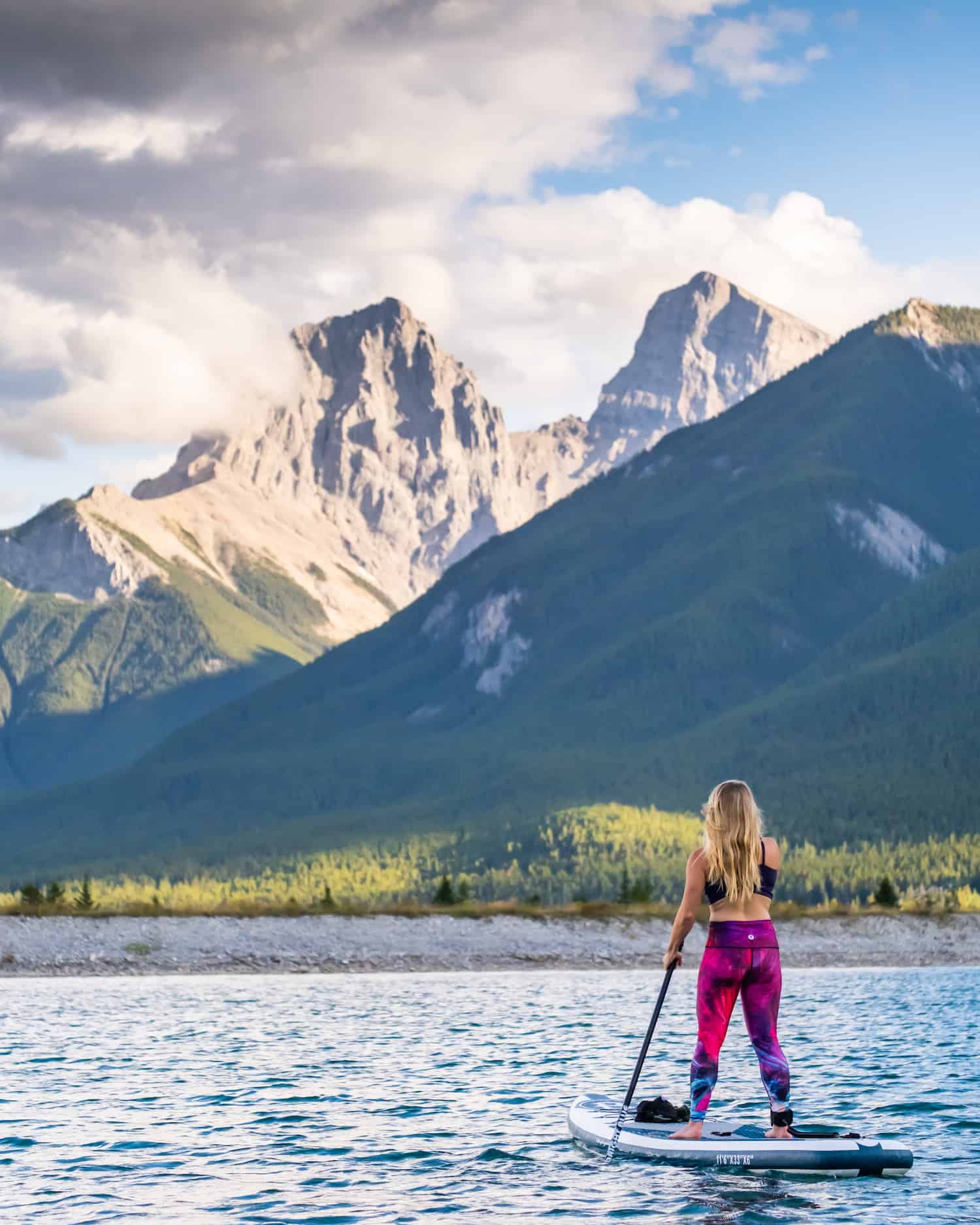 The Rundle Forebay Reservoir, or "Canmore Res," is a local place to head in the evening and take a swim, paddleboard, or kayak and watch the sun go down. It's a quiet place to relax in nature and is perfect for a picnic dinner (just make sure to clean up after yourself! We don't like picking up others' trash in this pristine environment.
---
Banff Area Itinerary – 7 Days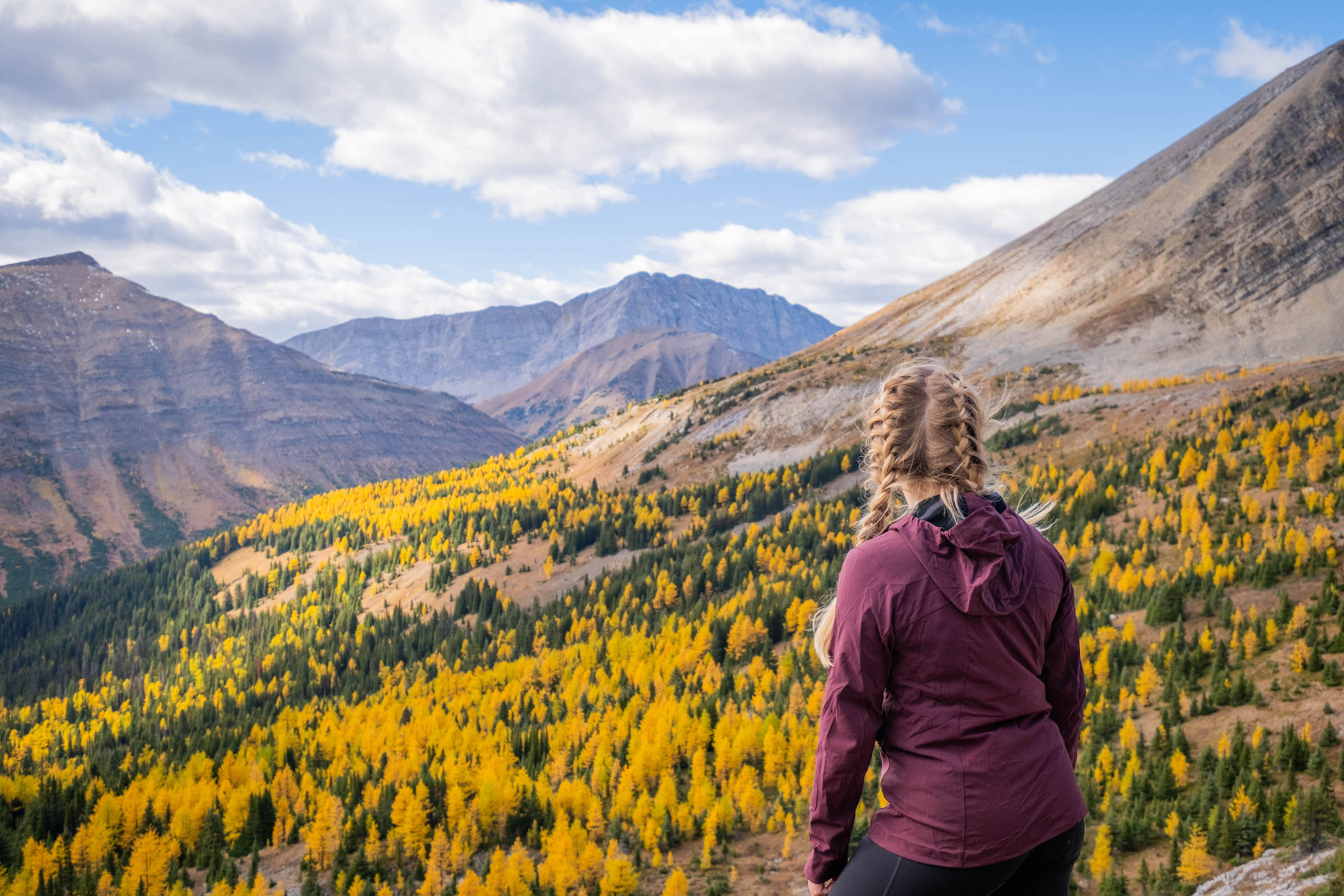 If you happen to have extra time in this area, then you are doing Banff the right way. Find more information on extra things to do below.
Sunset Picnic on the Smith Dorrien
---
Hike in Kananaskis Country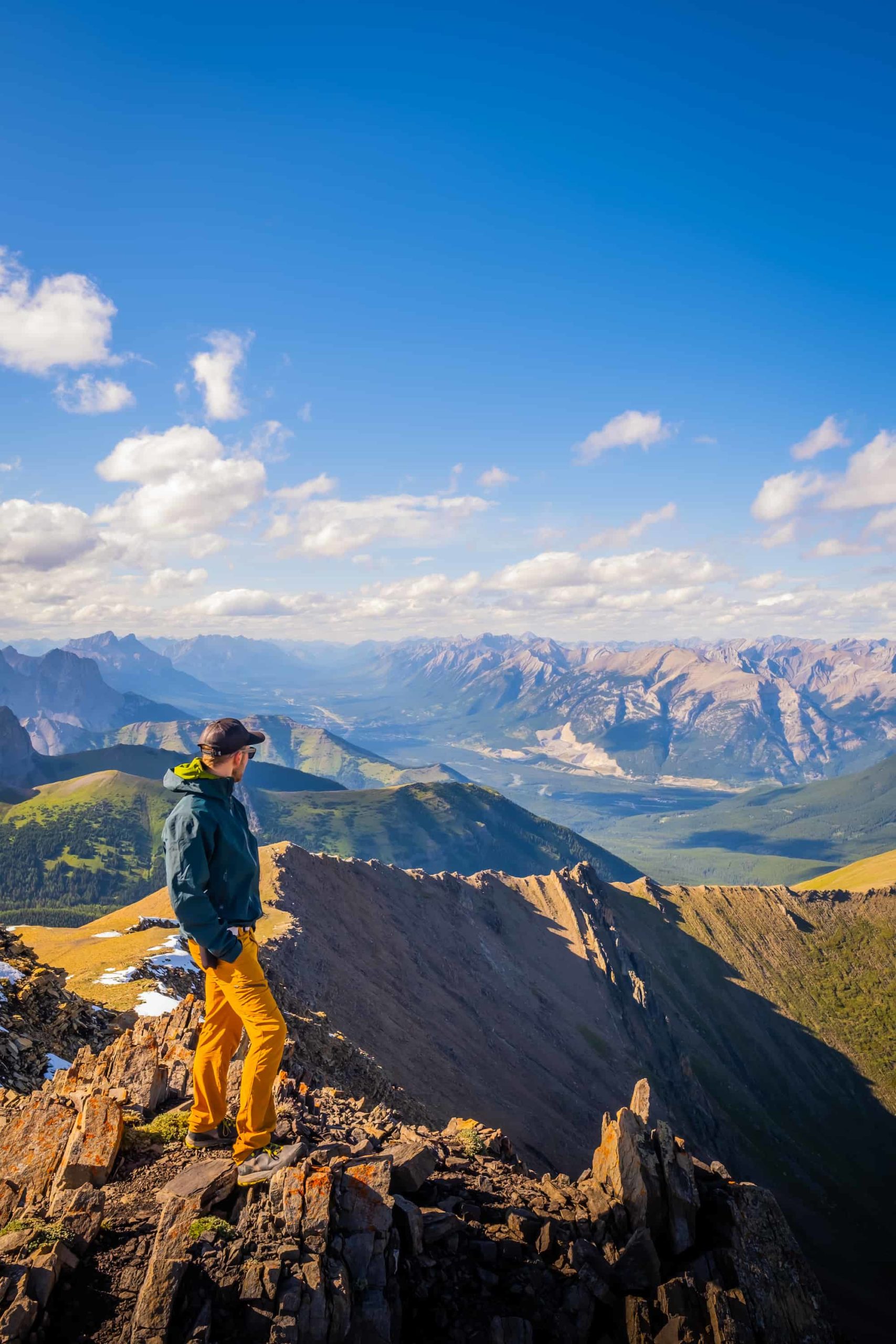 Kananaskis is another Alberta Park that is just as beautiful as Banff. Located closer to Calgary, it's a quieter area to enjoy, usually filled with more Albertans than foreigners. There are some amazing lakes to enjoy and fantastic hiking opportunities here. Keep in mind you need a Kananaskis Conservation Pass to enjoy Kananaskis, this is in addition to the Parks Canada Pass you need to visit Banff.
21 Beautiful Kananaskis Hikes To Tackle This Summer
---
Head to Yoho National Park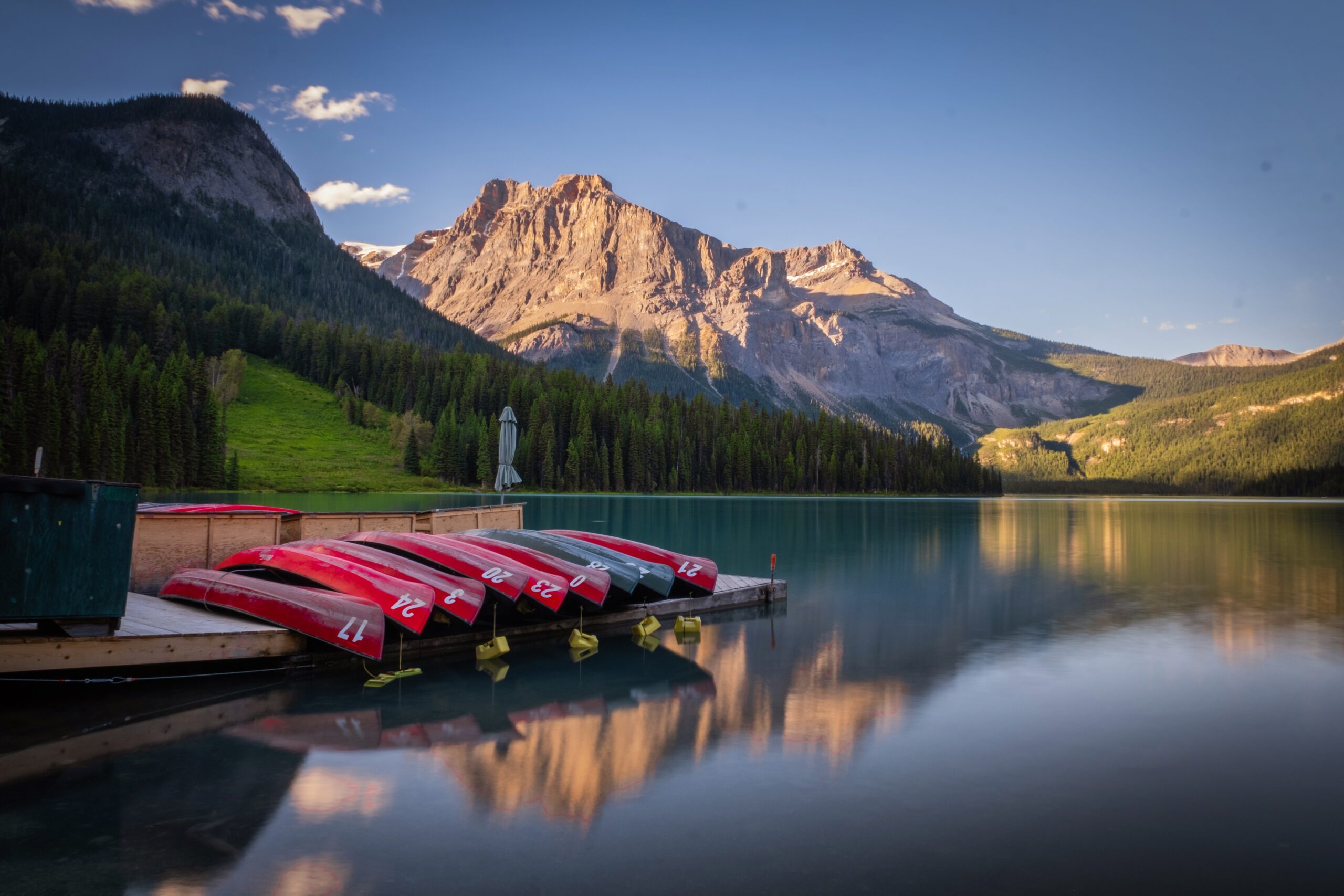 Yoho National Park is just past Lake Louise and close to Golden, BC. There are some fantastic sightseeing opportunities, as well as beautiful lakes and awesome hikes.
The most famous sight in Yoho is Emerald Lake, which most visitors want to see while in the park. If you have the time and capacity, we highly recommend adding a day to explore Yoho National Park. Some of the best things to do in Yoho are:
14 Breathtaking Things to do in Yoho National Park, B.C.
---
Sunset Picnic on the Smith Dorrien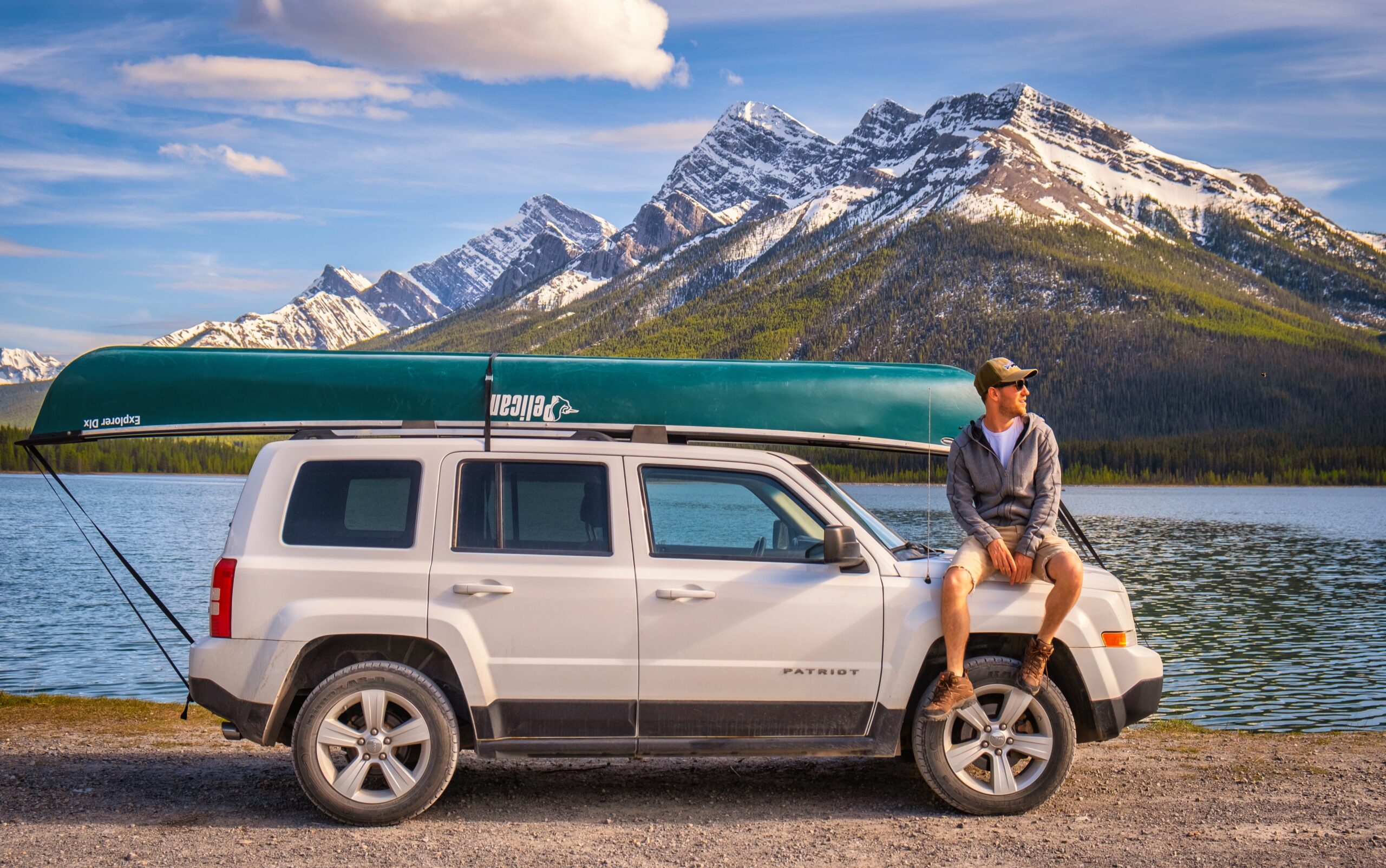 The dirt road that leads up past Grassi Lakes and the Canmore Nordic Center is Smith Dorrien Trail. It's an unpaved road that is open year-round, avalanche conditions withstanding. As you make your way up the pass between Mount Lawrence Grassi and Rundle, you'll find some impressive views.
Once through the pass, you'll enter Kananaskis Country, an Alberta Provincial Park. Along the drive, you pass some superb lakes and impressive mountain vistas.
Keep your eyes peeled as you'll likely spot some wildlife too; we've seen just about everything, such as bears, moose, elk, deer, goats, bighorn sheep, and coyotes.
---
Banff Winter Itinerary – 1 Day
Sunrise Skate on Lake Louise
Ski at Lake Louise
Hot Chocolate Bar and Dinner at the Fairmont
---
Sunrise Skate on Lake Louise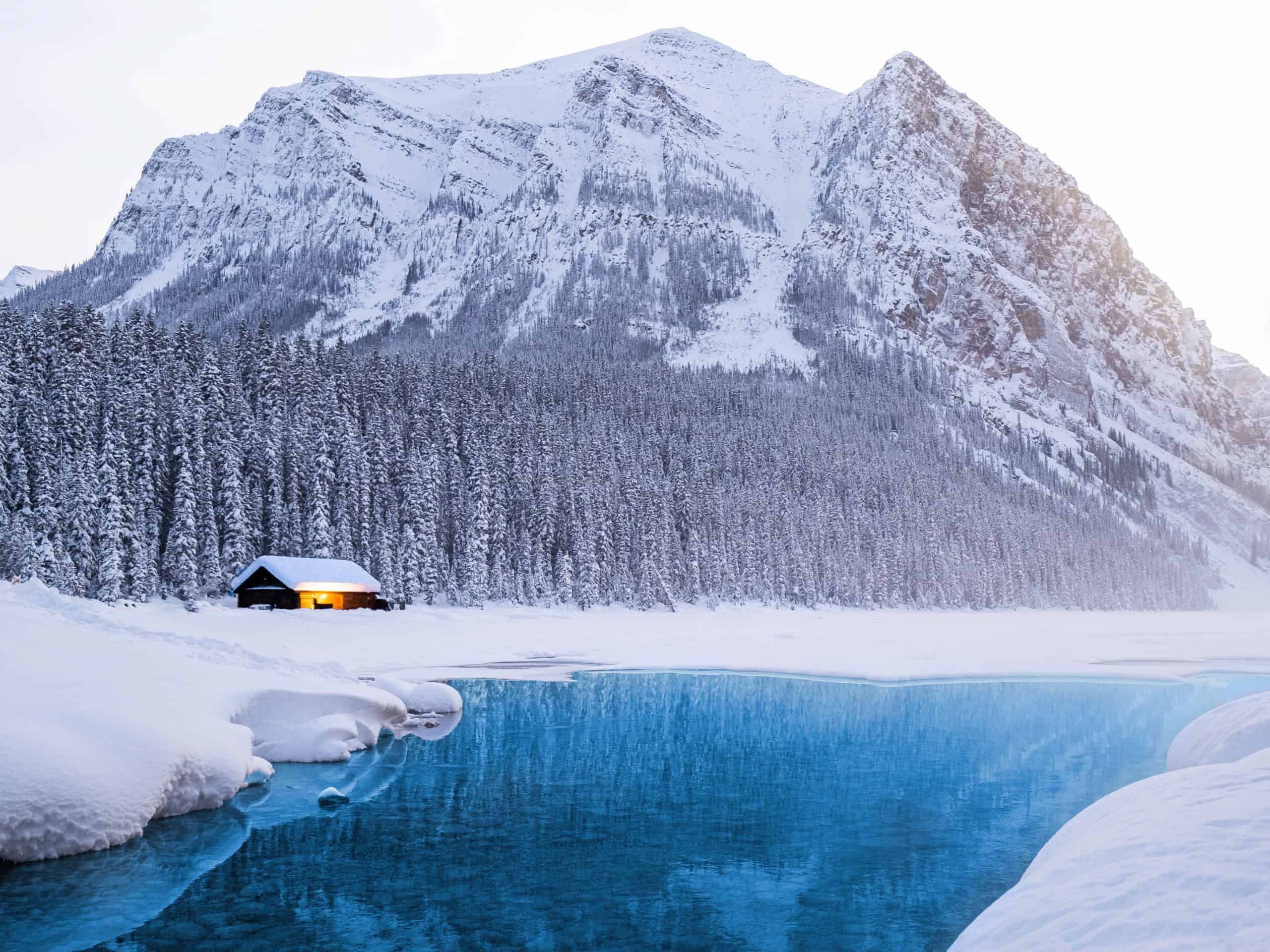 You'll be hard-pressed to find a more scenic ice rink than Lake Louise. Every year the lake freezes over, and the Chateau Lake Louise marks out multiple ice rinks made for families, figure skating, and hockey. Nothing screams you're in Canada than playing hockey on a frozen lake. There are several places around that offer ice skates for rent, including Chateau Lake Louise.
If you're not much of a skater, don't worry – Lake Louise freezes completely over every winter, providing you the opportunity to walk and explore the area.
---
Ski at Lake Louise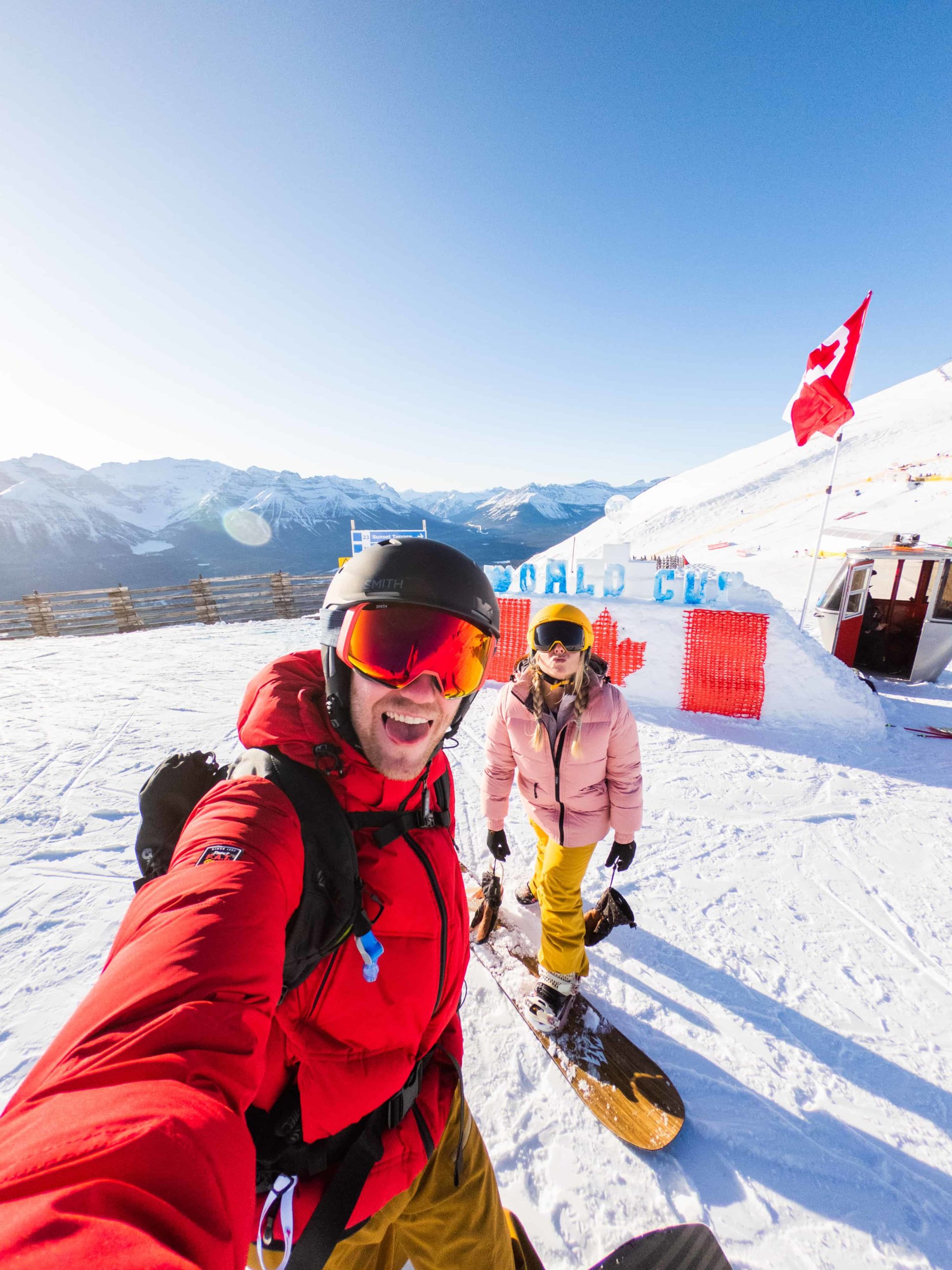 There is arguably no ski resort in the world with a better view than Lake Louise Ski Resort. In between runs screaming down groomers or tackling a bowl Banff National Park provides you some fresh air and stunning landscapes.
We've visited resorts worldwide, and the views from Lake Louise are hands down some of the best in the world. In our opinion, Lake Louise beats out Banff Sunshine and Mt Norquay by leaps and bounds.
It also happens to be one of the largest ski resorts in North America, with 4,200 acres covering four mountain faces. The terrain varies between beautiful groomers, challenging steeps, and expert-level chutes. The longest run here stretches for nearly five miles so start working out your leg muscles now.
We love Lake Louise so much that we have bought season passes for two years in a row. They have a very long season, challenging terrain, and in general, it's MUCH quieter than Banff Sunshine. Also, as snowboarders, we find that Banff Sunshine has too many flat cat tracks.
Best Runs at Lake Louise
Beginner

Jerry's Jungle
Lookout
Wiwaxy
Pika

Intermediate

Juniper/Juniper Jungle
Grizzly Gully
Boomerang
Advanced

Eagle Flight
Lipalian Chutes
Upper Boomerang
Hour Glass
Ptarmigan Chutes
Brown Shirt

Expert

Brown Shirt First
Boundary Bowl
Vertical Cornice
Swedes
---
Hot Chocolate Bar and Dinner at the Fairmont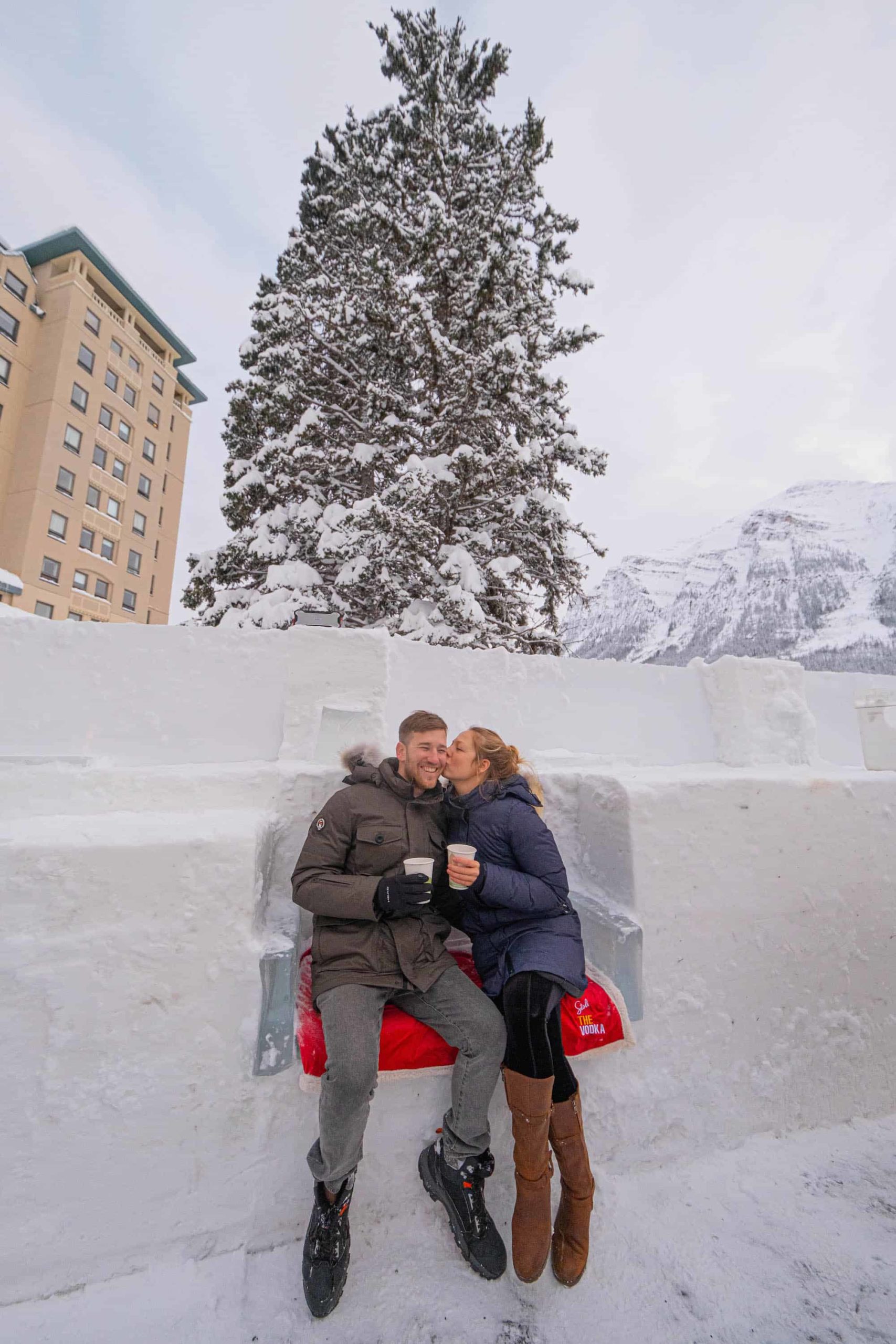 During weekends at Lake Louise, you can enjoy a mulled wine at the Banff Ice Bar! The Ice Bar is open from around December 20th to mid-April, but it's especially magical around Christmas in Banff. They dish up all kinds of hot chocolate goodness and even have special treats for the kids.
Oh, yea, and 20 blocks of ice, each weighing 300 lbs, were used to make this bar, so it's truly a special place to visit in Banff in the winter.
---
Banff Winter Itinerary – 2 Days
Sunrise on Vermilion Lakes
Johnston Canyon Ice Walk
Catch Sunset at Two Jack Lake
---
Sunrise on Vermilion Lakes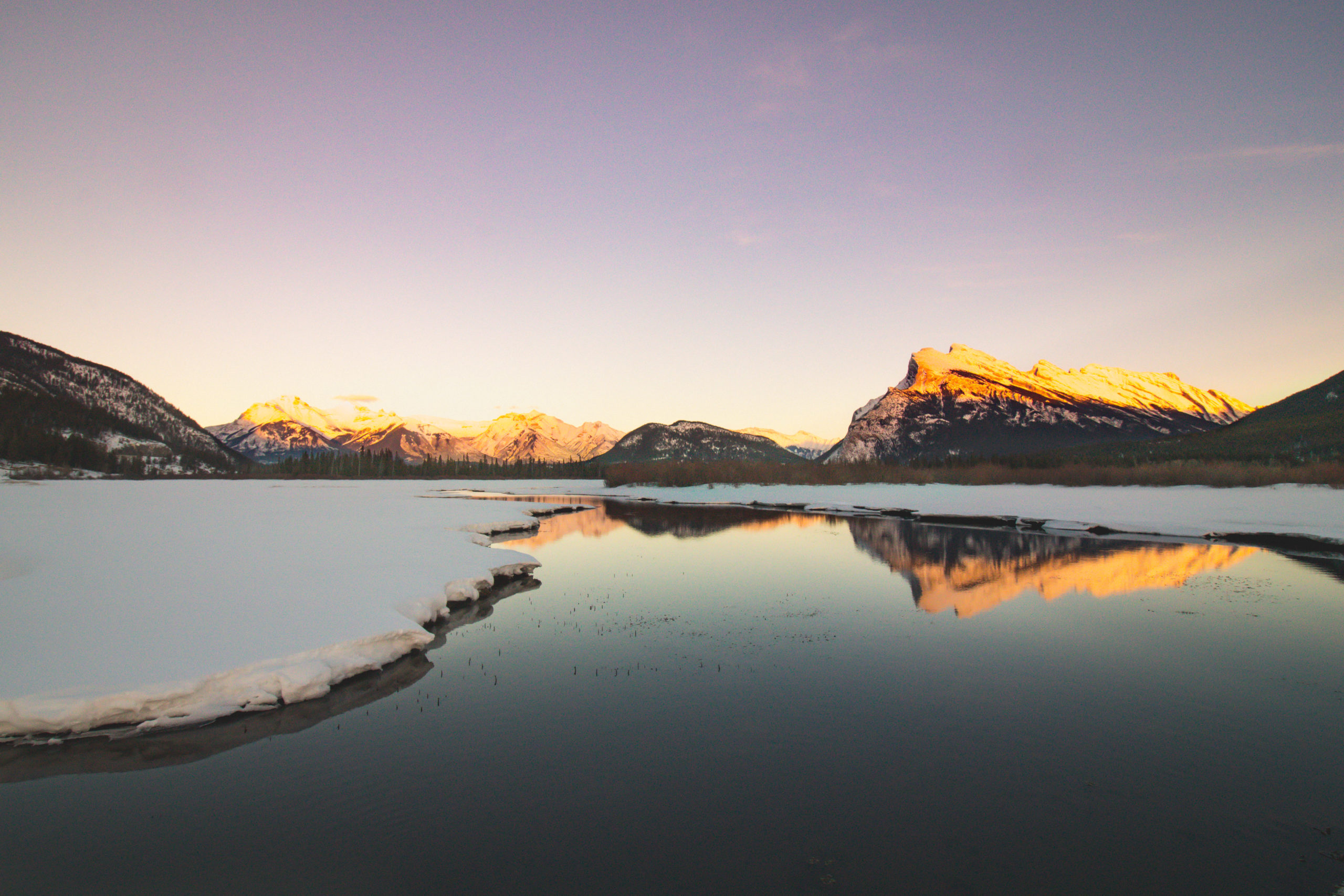 This is essentially the same thing as mentioned above, just in the winter. Sunrise at Vermilion Lakes is wonderful any time of the year; just in the winter, you get to sleep in a bit more!
---
Johnston Canyon Ice Walk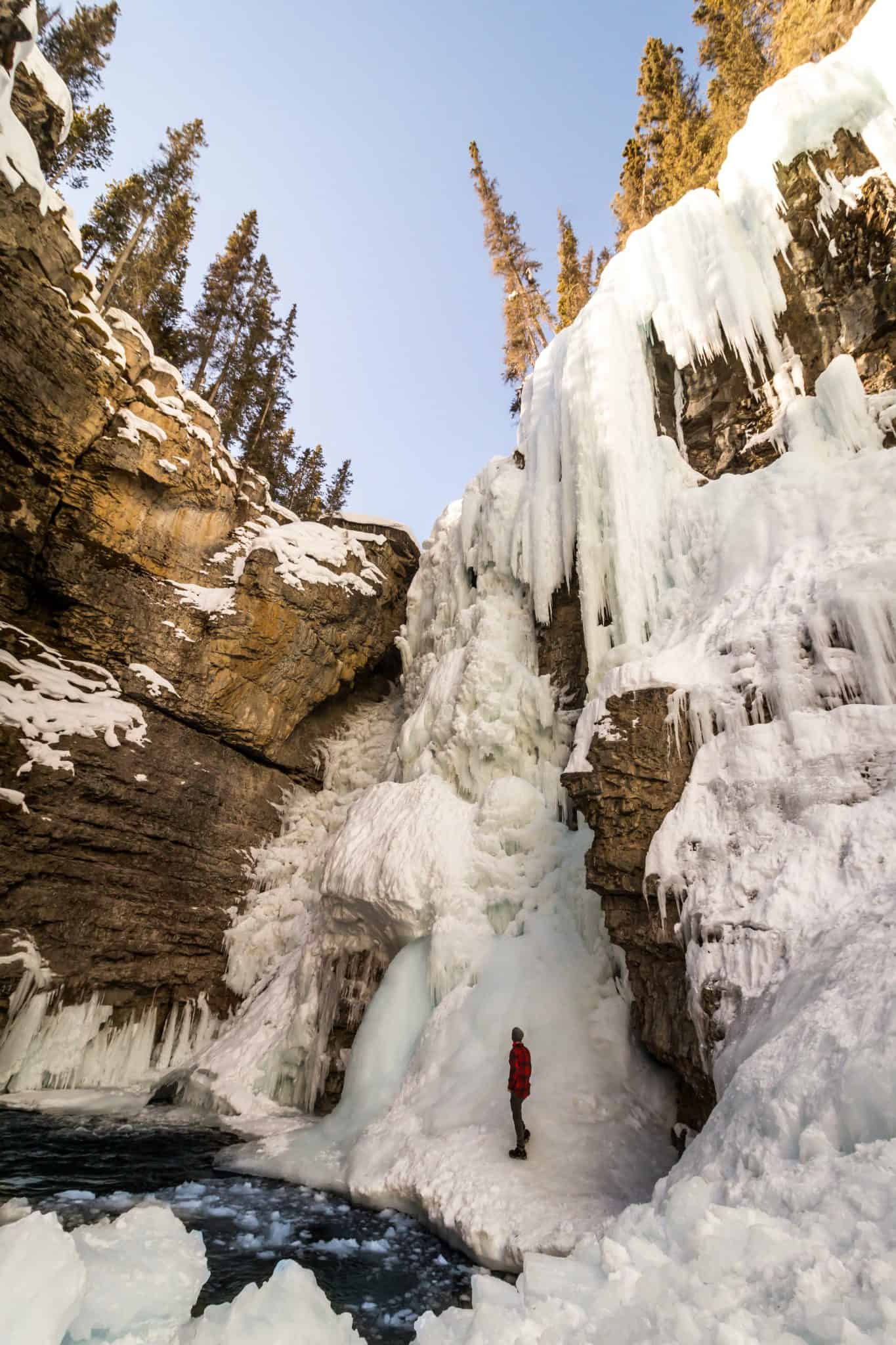 The Johnston Canyon walk is the best thing you can do in Banff in the winter for free. Have you ever stood on a frozen waterfall before? Neither had we until the Johnston Canyon hike. Due to the region's elevation and the sub-zero temperatures of winter, the waterfalls of Johnston Canyon freeze in time. It's a pretty surreal experience and completely accessible for all.
As a tip, we suggest picking up some microspikes in town. Although the trail is well managed, it can get icy, and it's better to slip everywhere on the trail – ours were very handy!
Once you reach the end of the trail and the most impressive frozen fall, you'll probably find some ice climbers. If you're feeling adventurous, book an ice climbing tour yourself!
Book a Johnston Canyon Winter Explorer Tour 
---
Catch Sunset at Two Jack Lake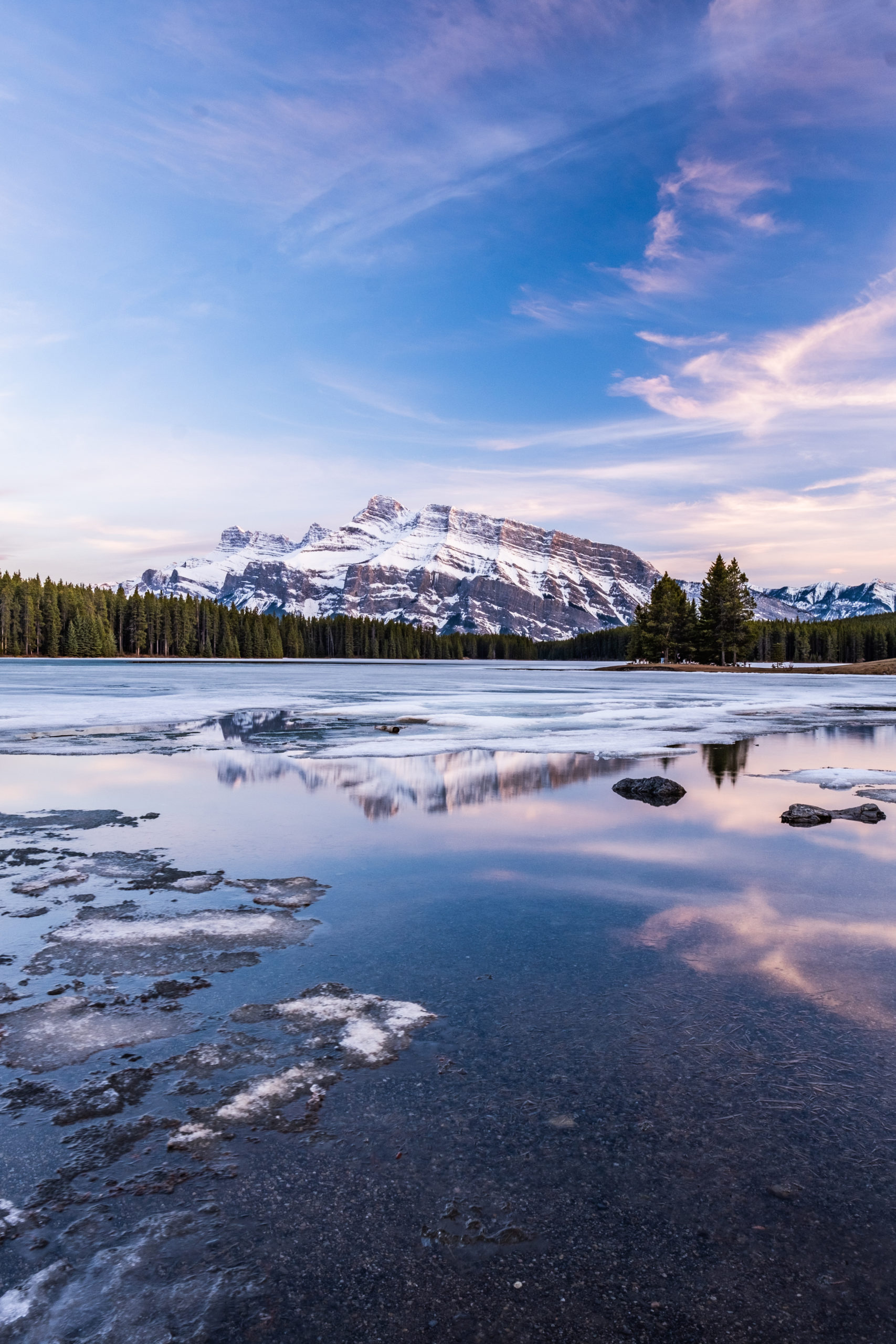 While you can't take a kayak out on Two Jack in the winter, you can get amazing Mount Rundle views with gorgeous winter colors. Sometime in December, the lake freezes over enough to ice skate on. If you hit it when it freezes but before a big snowstorm, you'll enjoy skating in a stunning setting.
Where to Go Ice Skating in Banff and Canmore
---
Banff Winter Itinerary – 3 Days
This is essentially the same items like Tunnel Mountain, Banff Town, and Sulphur Mountain as the summer itinerary above. They are all fun things to do in Banff in the winter.
Sunrise Hike on Tunnel Mountain
Explore Banff Town
Soak in the Banff Hot Springs
Sunset on Sulphur Mountain
---
Soak in the Banff Hot Springs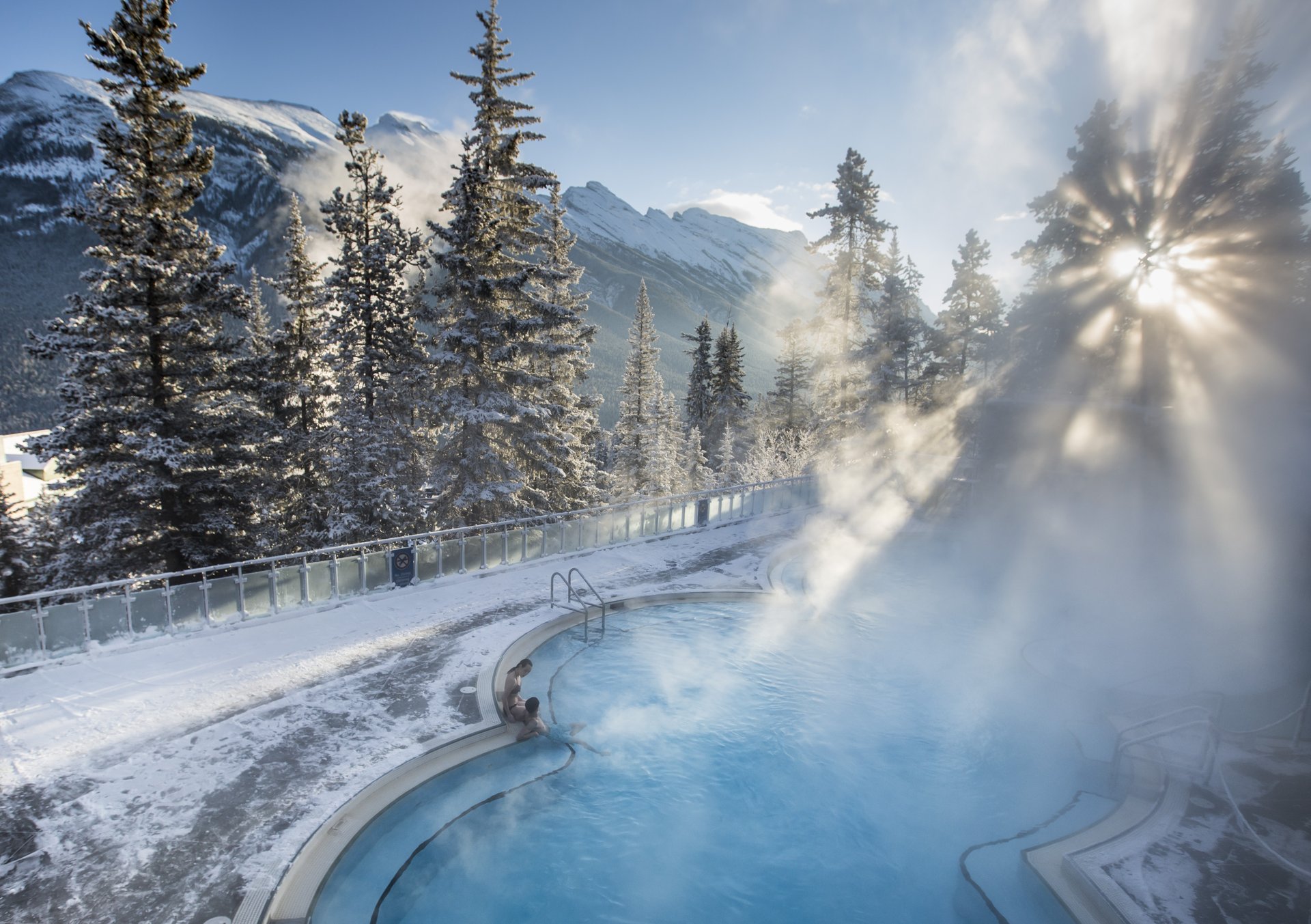 Enjoying hot water in the cool air is one of the top Banff winter activities to enjoy. Don't let the frigid Canadian temperatures detract you because there are plenty of ways to warm up around Banff.
Just outside of the Town of Banff lies the Banff Upper Hot Springs. These hot springs make for one of the best places to relax those stiff muscles after a ski day. Just be warned afternoons can draw a crowd, so head there in the morning for a more quiet experience.
---
Banff Winter Itinerary – 4 Days
---
Icefields Parkway Drive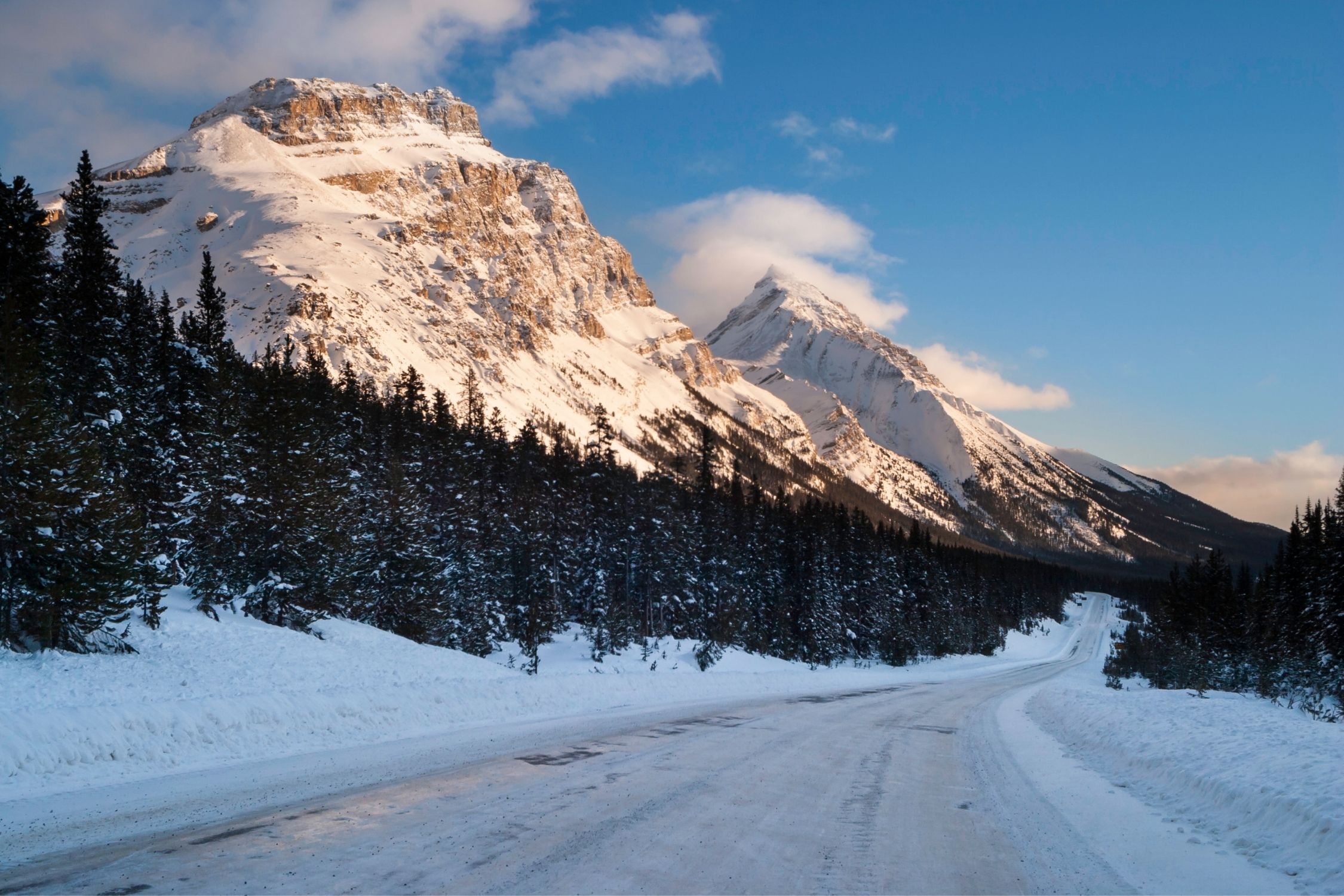 Yes – this beautiful drive is still open in the winter. You just have to take extra precautions as road conditions can be very poor and dangerous in Canada. Winter tires are a must for driving this road in the winter.
The plus side is that the mountains will be covered in fresh snow, and the lakes are frozen. It's like the inside of a snowglobe!
Our Favorite Tours and Excursions in Banff
---
Helpful Banff Travel Tips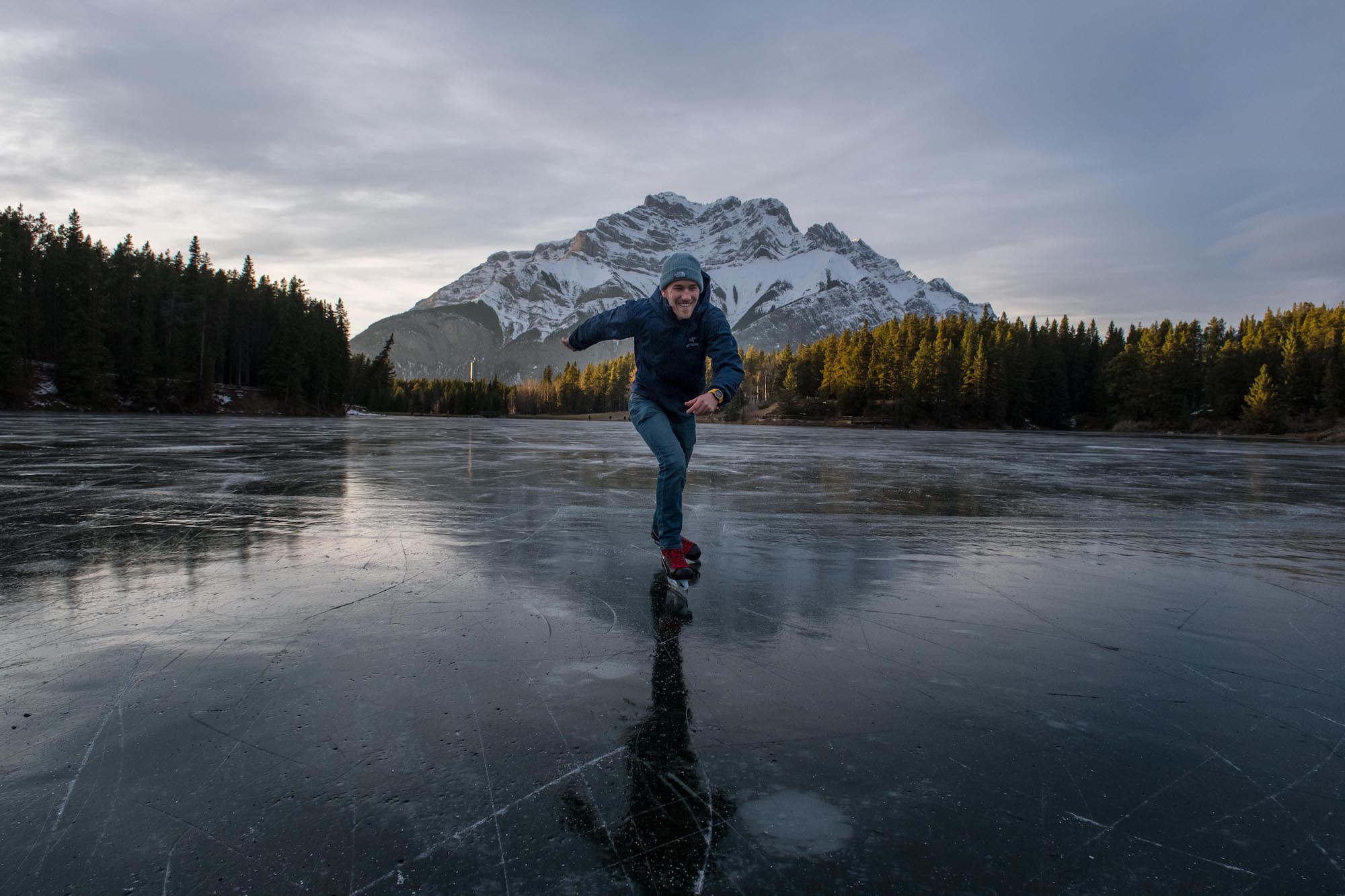 ---
When is the Best Time to Visit Banff?
---
High season (June-August, December-February)
Banff National Park has a high season for winter enthusiasts and those after that perfect North American summer getaway. The first is much quieter than its summer counterpart, but around the holidays, prices rise, and crowds flock to Banff. Those after a ski vacation should visit Banff in February, and ski runs become busier. During these two winter times, you'll find higher accommodation prices.
However, that's nothing compared to summertime in Banff. Numbers balloon between June and August, and while I would love to say that because of this, it's not a good time to visit, I would be lying.
July and August bring about the best weather in the park. Long days and sunshine await you during the summer. The wildflowers are in full bloom, and it's a great time for anyone looking for a summer adventure. However, the crowds can be insane, especially Downtown and at Lake Louise, Peyto Lake, and Lake Moraine.
---
Shoulder Season (May, September-October)
The shoulder season months are still a wonderful time to visit Banff National Park. May is still winter, and there is still snow on the ground. The glacier lakes will be frozen, but the summer crowds have not appeared, making it a great time to visit Banff.
If chasing the fall and seeing the yellow larches are your thing, you'll want to visit for Banff in the fall in September and October. After Labor Day, the crowds start to fizzle out as the kiddies return to school and summer vacations are over. However, larch season, which starts around the third week of September brings plenty of people in. Hiking is still great as the winter gods haven't dumped snow yet.
---
Low Season (November, March, April)
These are generally cold, cloudy, and what some may call "miserable" months. Unless, of course, you like the winter, snowboarding and skiing, ice skating, cross country skiing, snowshoeing, and all that other fun stuff!
This is a great time to visit Banff if you're a winter person. Low numbers of tourists, low prices, and plenty of snow!
---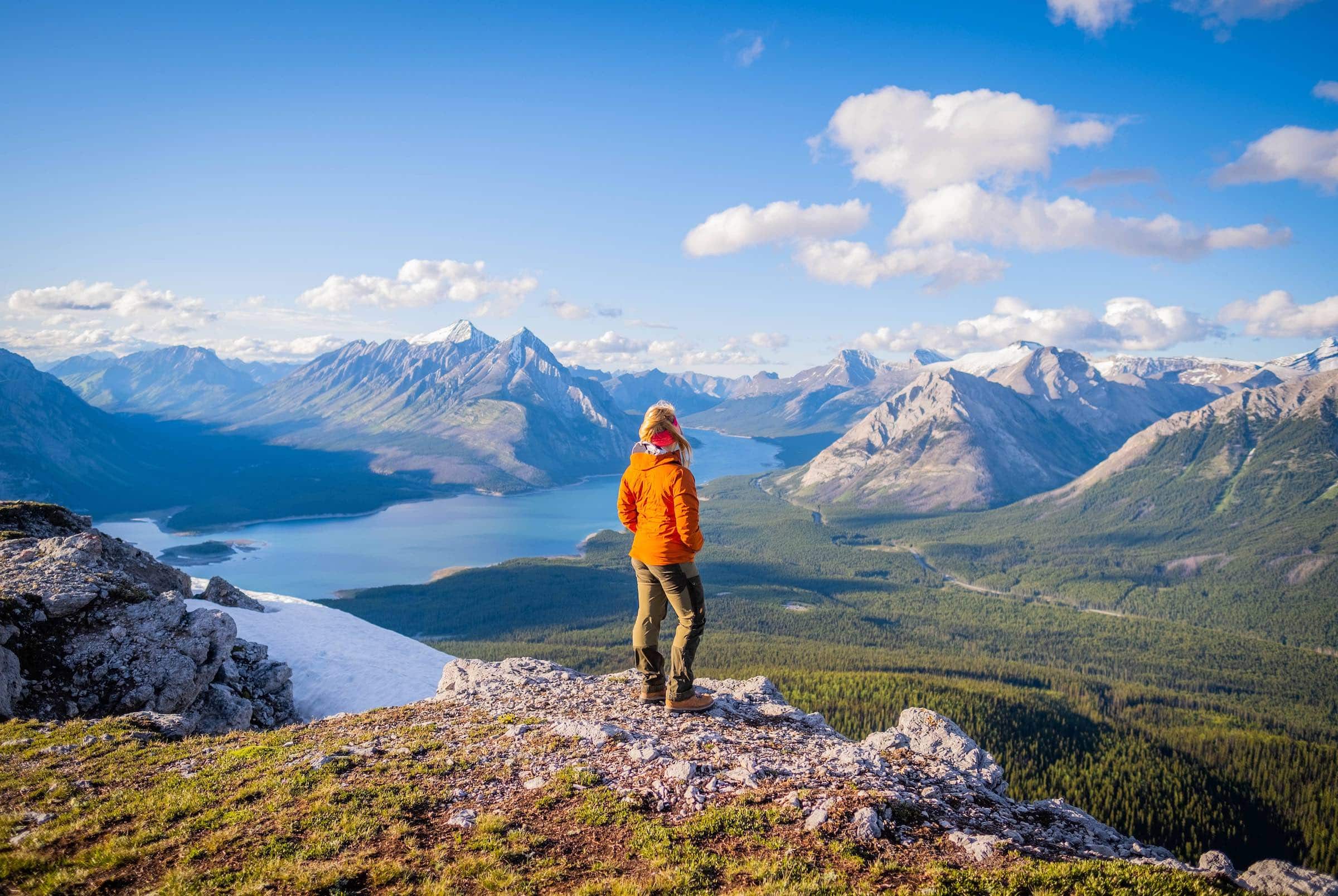 If you plan to do any hiking (including the hikes mentioned on this list), download AllTrails first. Alltrails gives you the latest review of a hike, as well as all the logistical information you may need. If you pay for AllTrails Pro, you'll also be able to download offline trail maps to your phone. We use AllTrails for most hikes and although it's far from perfect, it does give you some ideas about the trail with recent hiker reviews.
---
Consider Renting a Car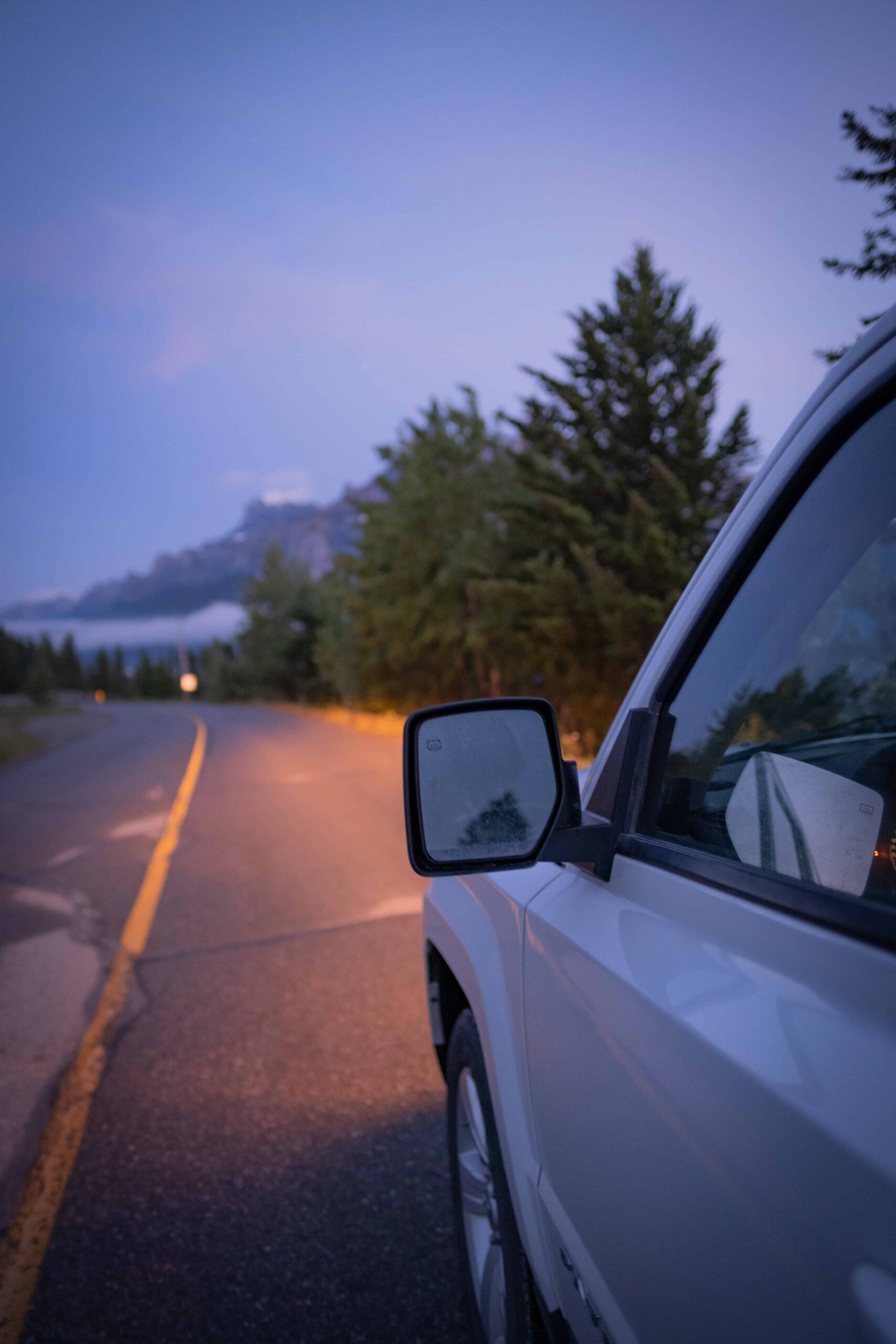 Being in North America, your options for transport are limited. Most visitors to Banff will rent a car in Calgary as this is the easiest way to get around. Renting a car in Canada ensures that you can get to where you want to go on your own schedule.
Depending on your travel season, car rentals in Calgary can be quite affordable. During the shoulder season and off season you can often get great deals on rental cars if you book far enough in advance.
In the winter, it's best to get a car with winter tires, so make sure to check with your car rental agency. If you do decide to drive from Alberta into BC, these winter tires are mandatory! You can see road conditions here, which are super helpful between November and late April.
Check Rental Car Prices Here
Other Transport Options
You may not feel comfortable driving in Canada, and that's okay! There are other options to get to and from Banff and around the town. However, they are limited, so keep that in mind.
To get from YYC to Banff, the Banff Airporter is a good option and costs $146 (CAD) round trip.
Once in Banff, there is the Roam bus system to get around town. It also runs to popular sites like Lake Louise and easily gets you to Lake Louise Ski Resort and Banff Sunshine Ski Resort.
If you're booking a private or group tour, most tour operators offer pick up and drop off at your hotel in Banff!
---
Dress for the Mountains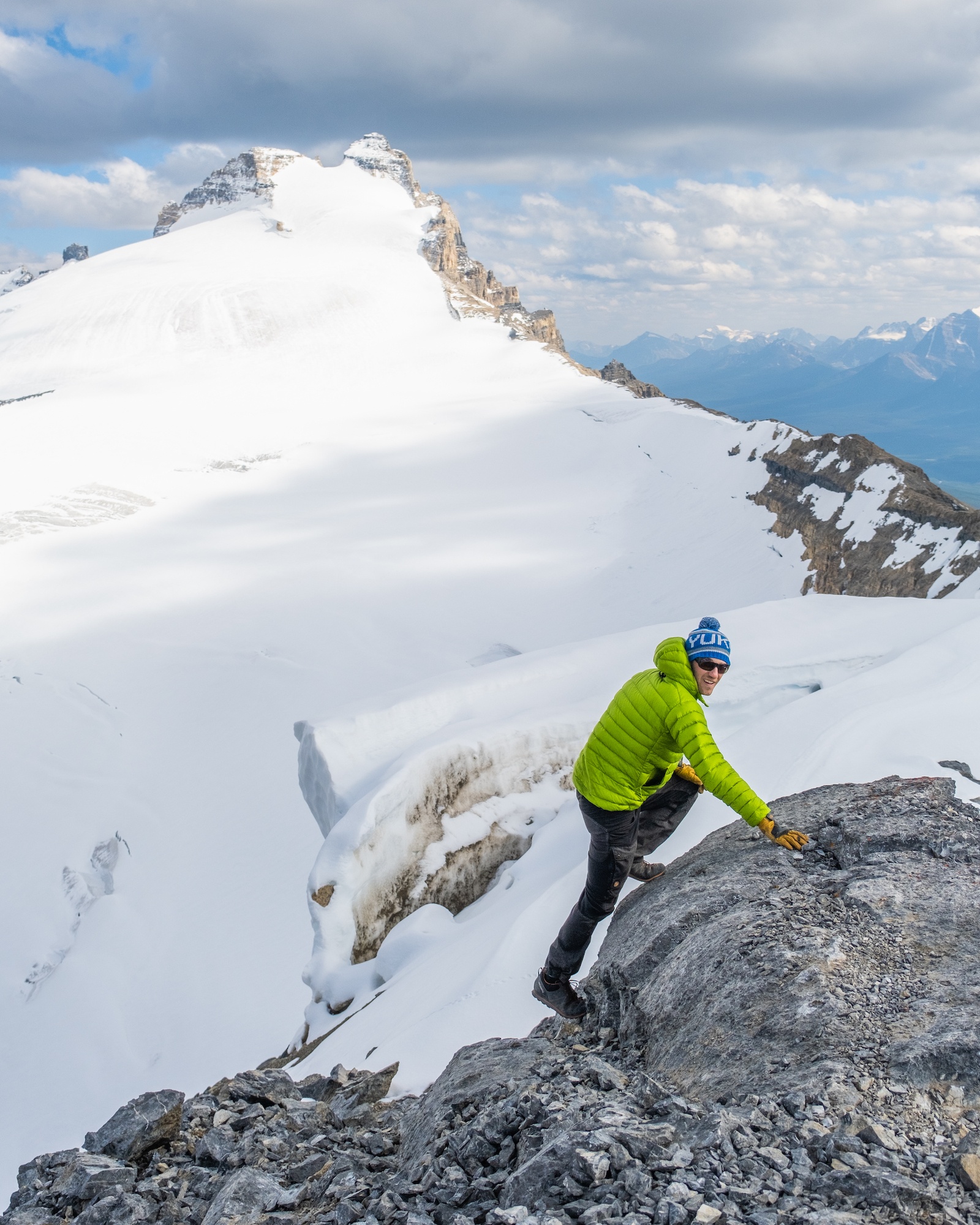 If I had a dollar for every time I saw a visitor wearing poor mountain clothes, I would have, like, $500. Come to Banff dressed for mountain weather. Here's my ultimate Banff packing list, but in short, that means packable down jackets and hats even in the summer.
The weather here can change at a moment's notice, and you don't want to be underdressed. It's essential to pack layers and HIKING BOOTS. Yes, hiking boots or hiking shoes. If you plan to go hiking while visiting Banff, please do not show up in Converse shoes. In the winter, microspikes are also glorious on hikes and are a pretty inexpensive investment.
---
This Banff Itinerary is Just a Starter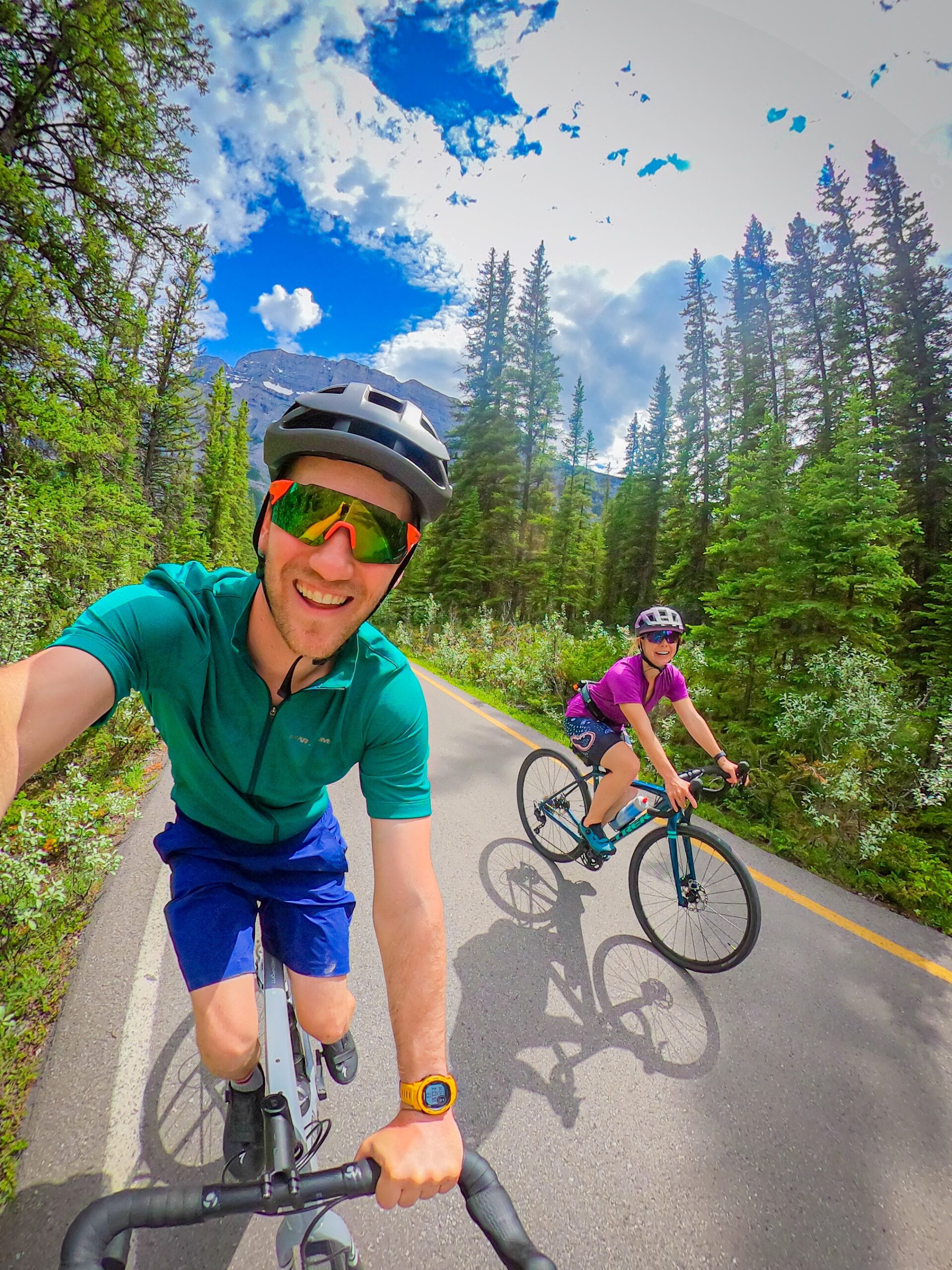 This Banff itinerary by no means covers everything you can do in Banff. Heck, we have been exploring these mountains for years and always find new activities to get up to!
That being said this entire website is packed with things you can do in the region so we encourage you to click around to get more ideas! Some popular items not mentioned but definitely worth doing (or returning for another trip) are:
---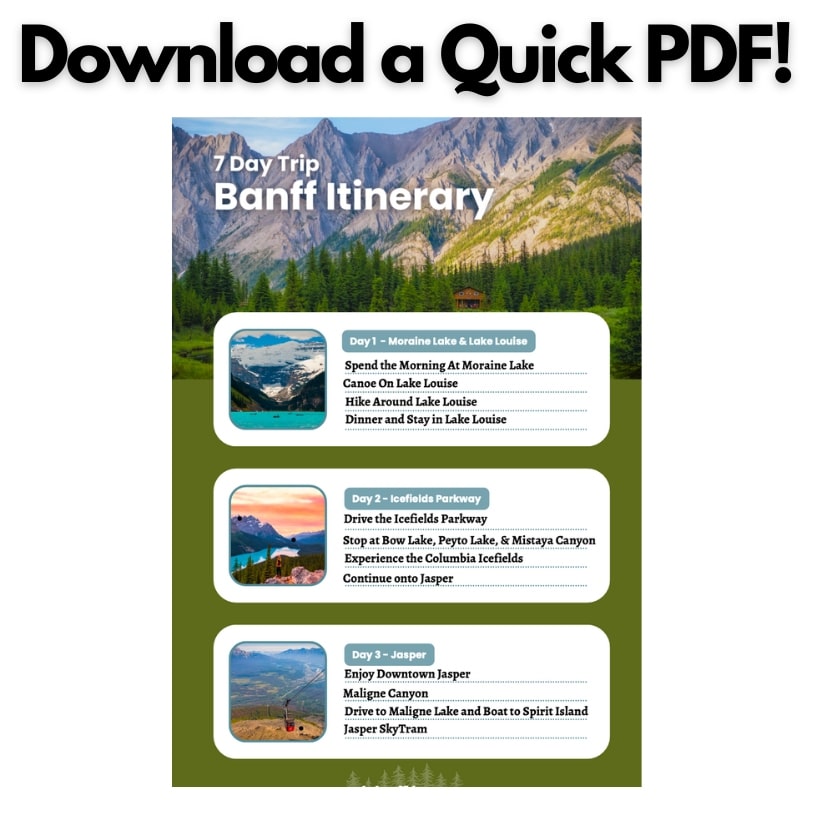 ---
Get a National Park Pass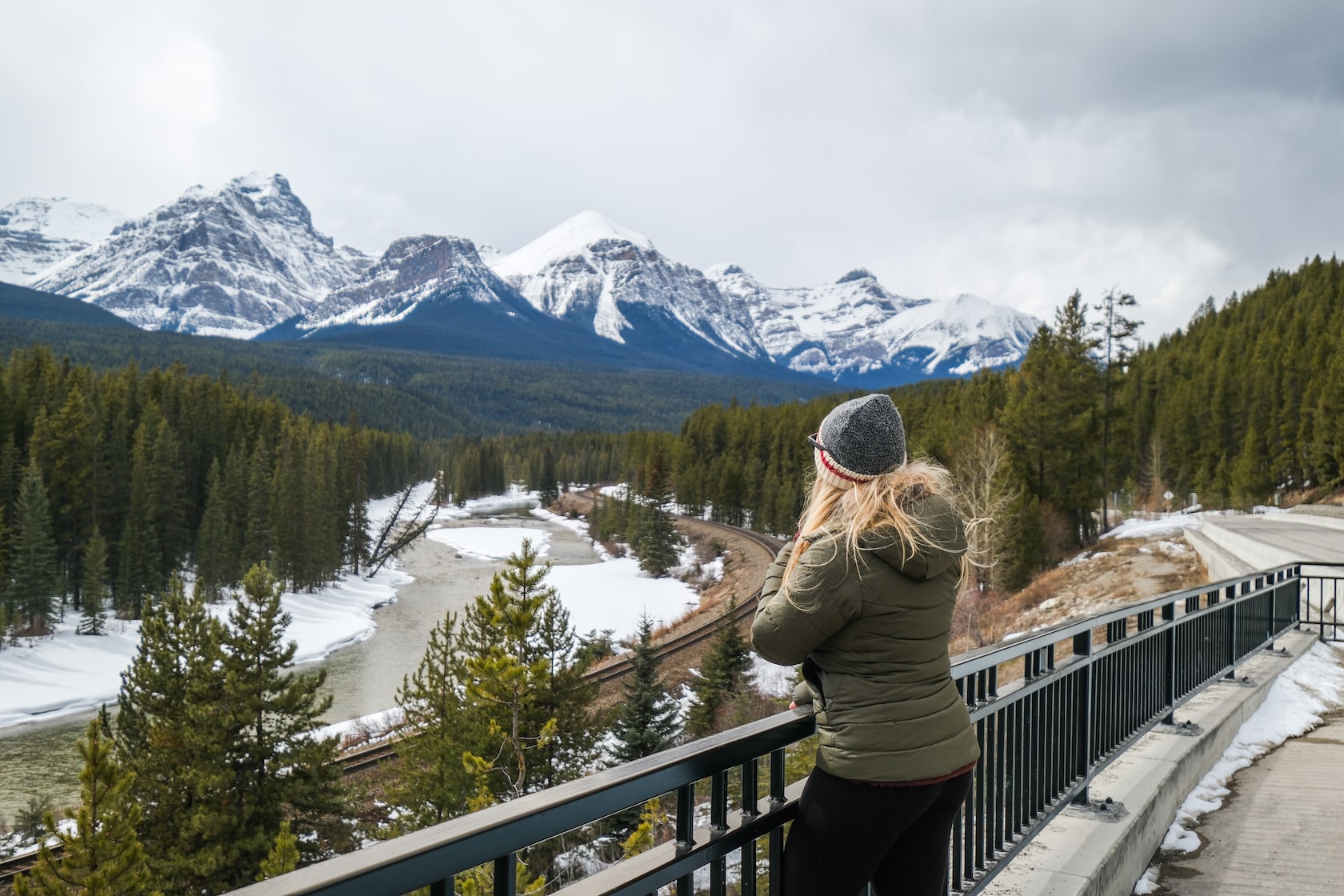 All visitors to Banff National Park need a Parks Canada pass to recreate. The Parks Canada pass covers all national parks in Canada. This includes Jasper, Yoho, Glacier, and Kootenay National Park. Note that the Parks Canada Pass does not cover recreation in Kananaskis Provincial Park.
Daily Admission Fees Are As Follows
| Type | Price |
| --- | --- |
| Adult 18+ | $10.50 |
| Senior 65+ | $9.00 |
| Youth | Free |
| Family* | $21.00 |
*Family includes up to seven people in the same car
Discovery Pass Fees (Annual Pass)
| Type | Price |
| --- | --- |
| Adult 18+ | $72.25 |
| Senior 65+ | $61.75 |
| Youth | Free |
| Family* | $145.25 |
*Family includes up to seven people in the same car
ULTIMATE Guide To Purchasing A Banff Park Pass (Parks Canada Pass)
---
Our Favorite Banff Hotels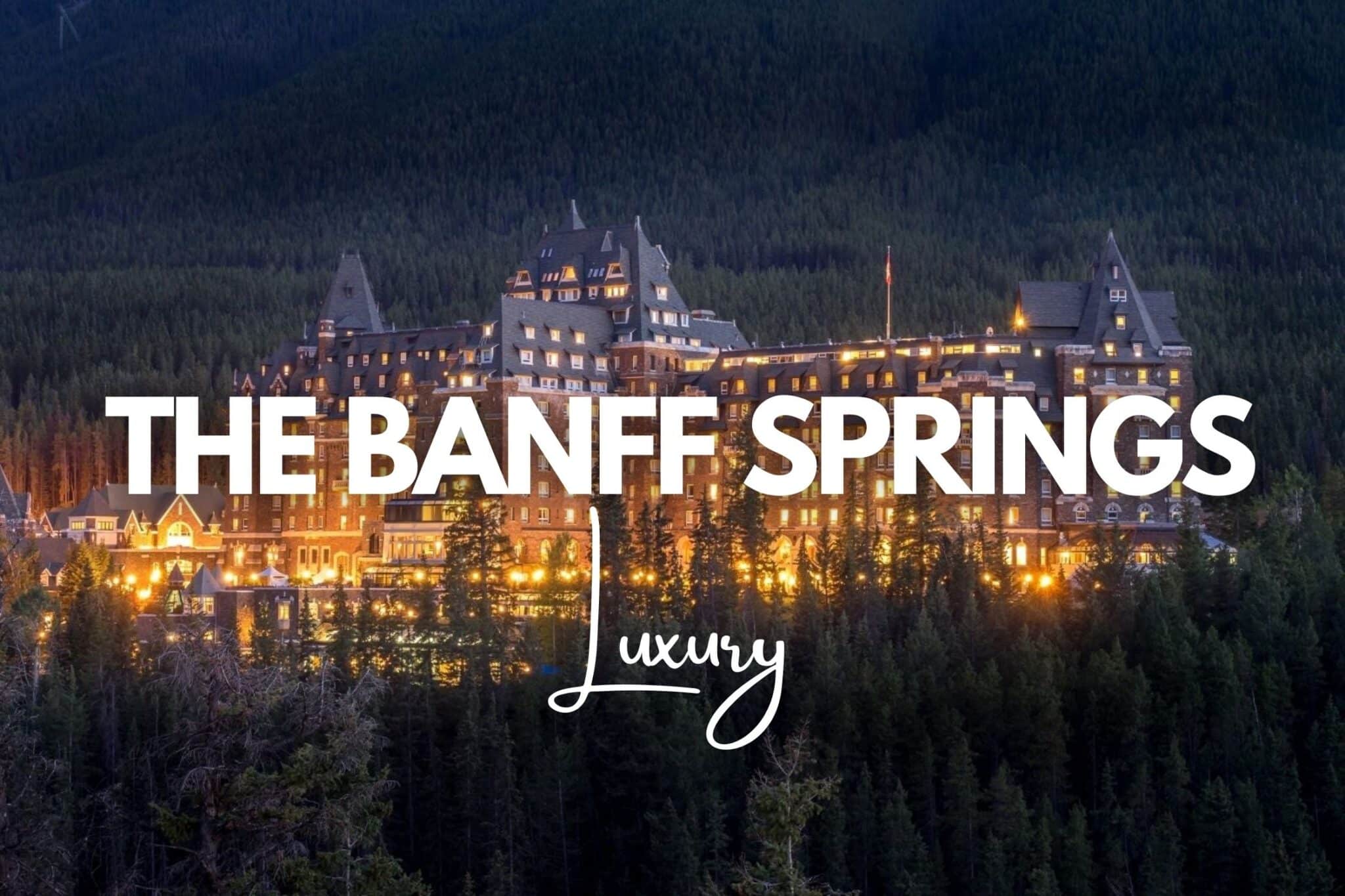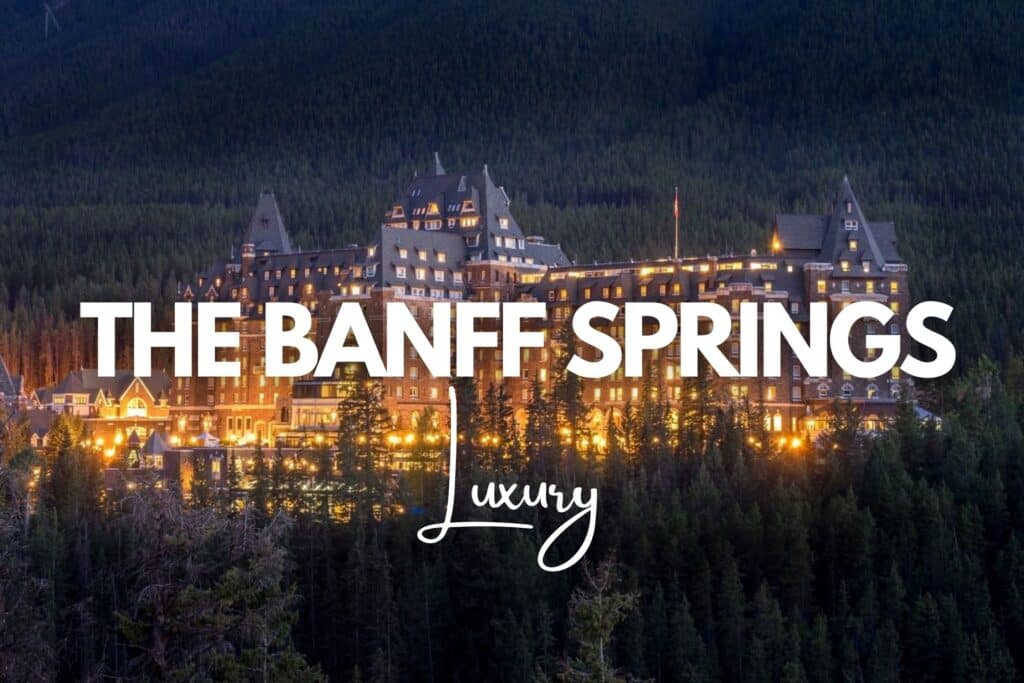 Luxury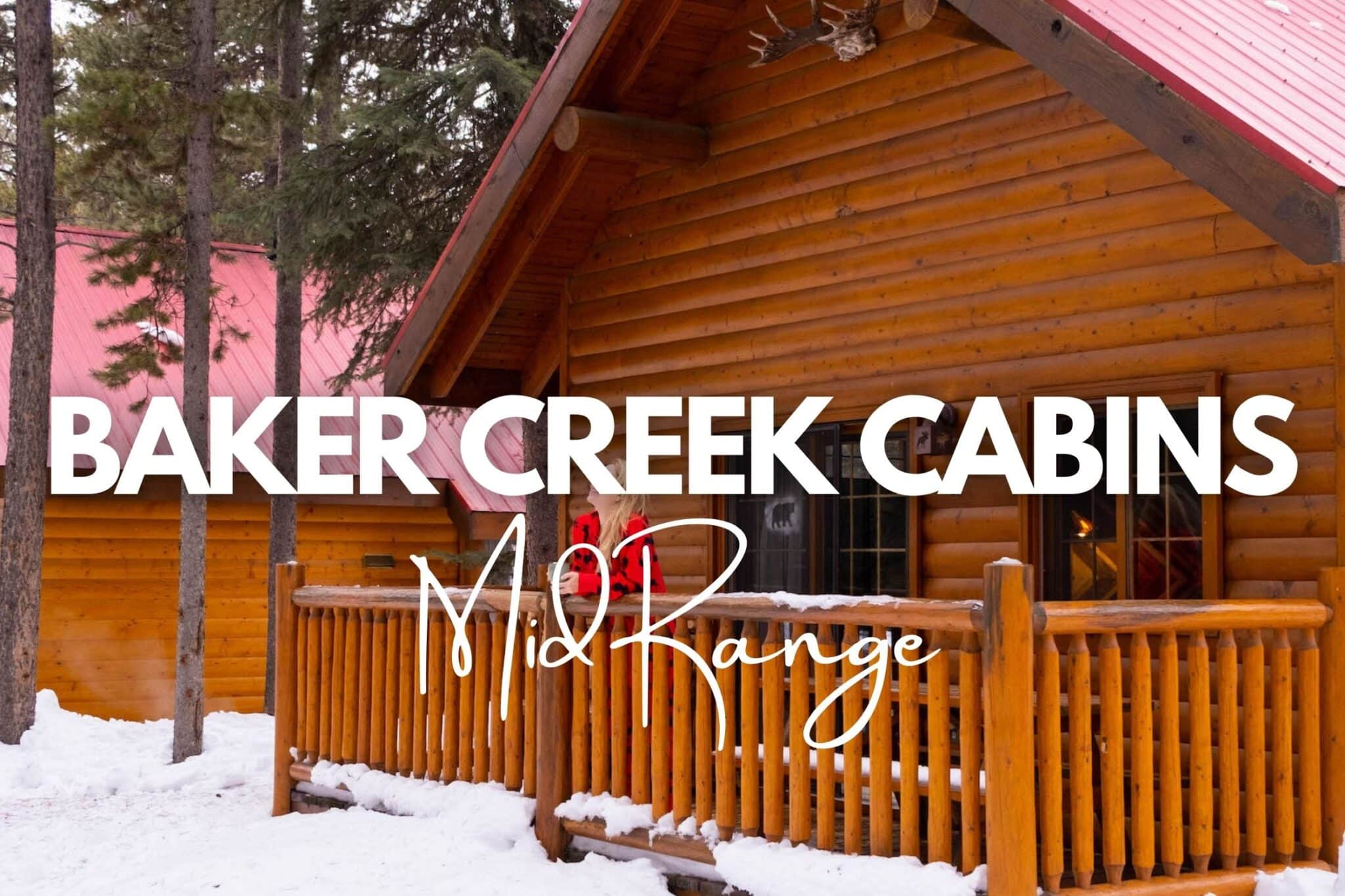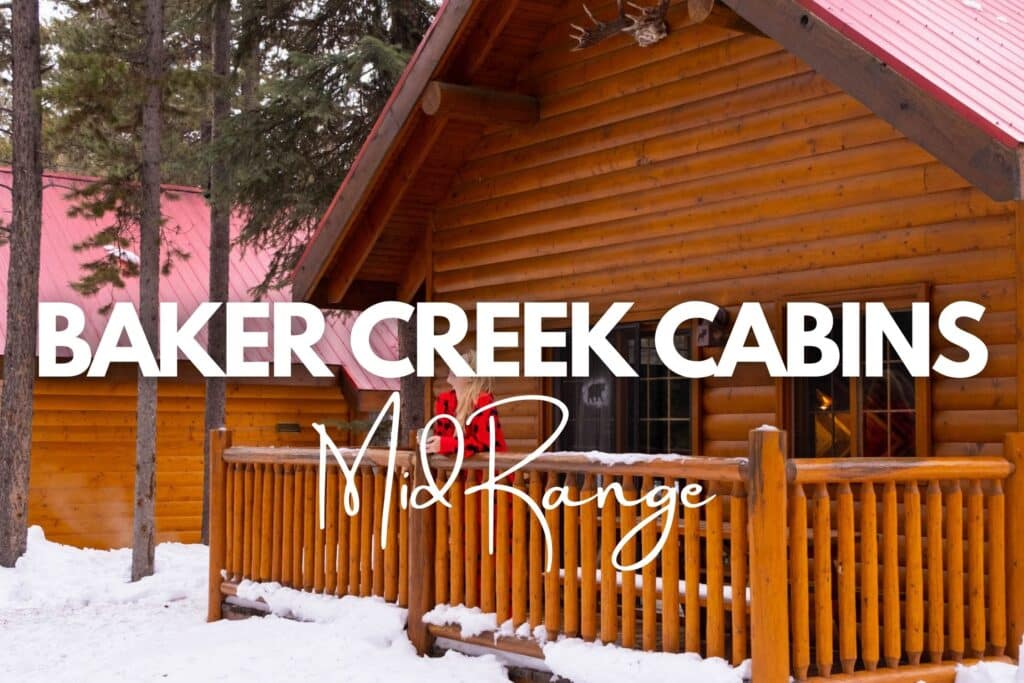 Mid Range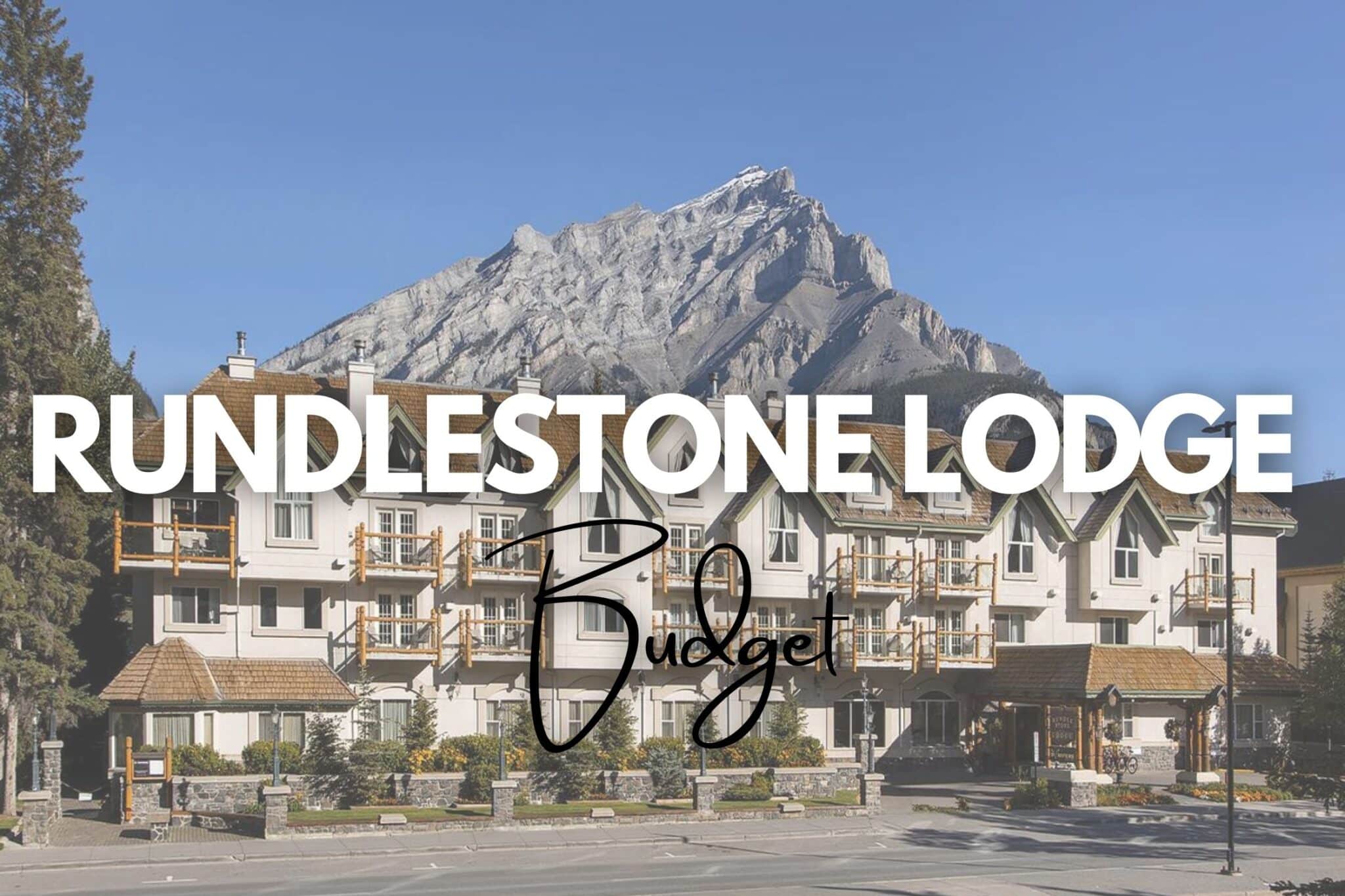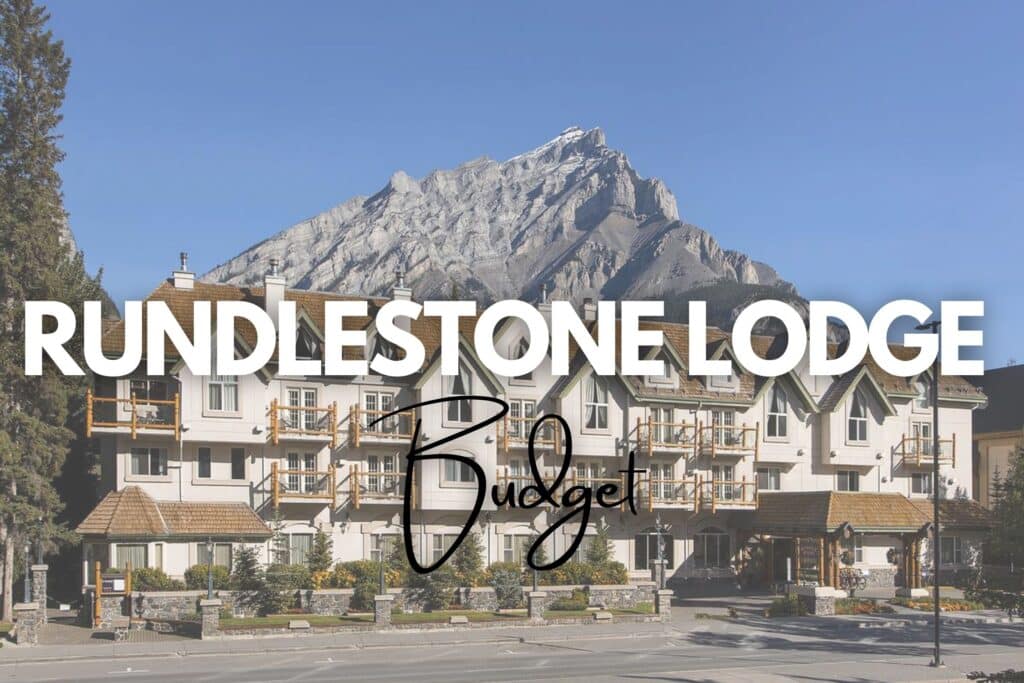 Budget
---
---
This is by no means all you can do in the Canadian Rockies but it is a Banff itinerary guide to help you get started with planning your own customized trip.
If you have any other questions leave a comment or see our Canadian Rockies travel guide for more articles about photography spots, lakes, hikes, and everything else.
---
↓ Join the community ↓
The Banff Blog Facebook Group is your headquarters for the Canadian Rockies' travel advice and information. Including hike info and off-season travel information. This is also where you can meet one another when you need adventure buddies. 

Plan Your Trip to the Canadian Rockies