The Icefields Parkway, also known as Hwy 93, connects Lake Louise to Jasper via a gorgeous drive. It's easily one of the best road trips you can take in the entire world, and draws visitors from across the globe to take in its stunning scenery.
I have not encountered a road as breathtaking as the Icefields Parkway and love any opportunity we get to drive between Jasper and Lake Louise – it just never gets old!
Before embarking on this journey, it's important to note that the drive from Lake Louise to Jasper (or Jasper to Lake Louise) is on no ordinary road and there are plenty of stops that you should be aware of along the way!
If you are driving from Lake Louise to Jasper, consider buying the Gypsy Guide Narrative Tour!
---
Is the Icefields Parkway the Only Way to Get From Lake Louise to Jasper?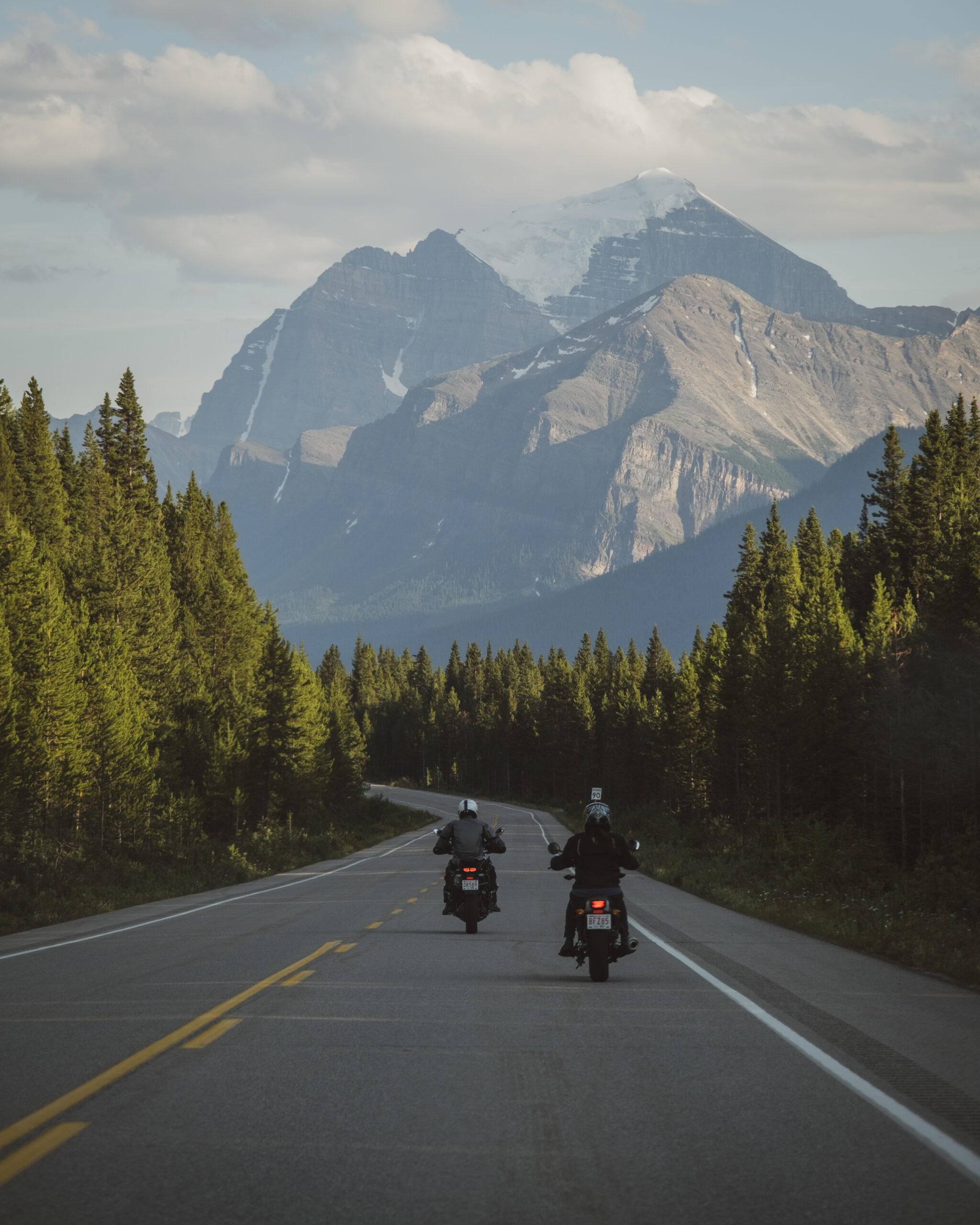 In short, the Icefields Parkway is the only way to quickly get between Lake Louise and Jasper. There is no flight option or airport in Banff, Lake Louise, or Jasper.
If you want to take a long way around, it's possible to drive from Lake Louise to Golden, onto Kamloops, and then hop onto Highway 5 to Valemount and Jasper. Or, if you are already in Calgary, you can drive from Calgary to Edmonton to Jasper.
Both of these drives would be significantly longer and less scenic, and as a tourist, there is no need to drive these routes.
---
Can You Drive from Lake Louise to Jasper in the Winter?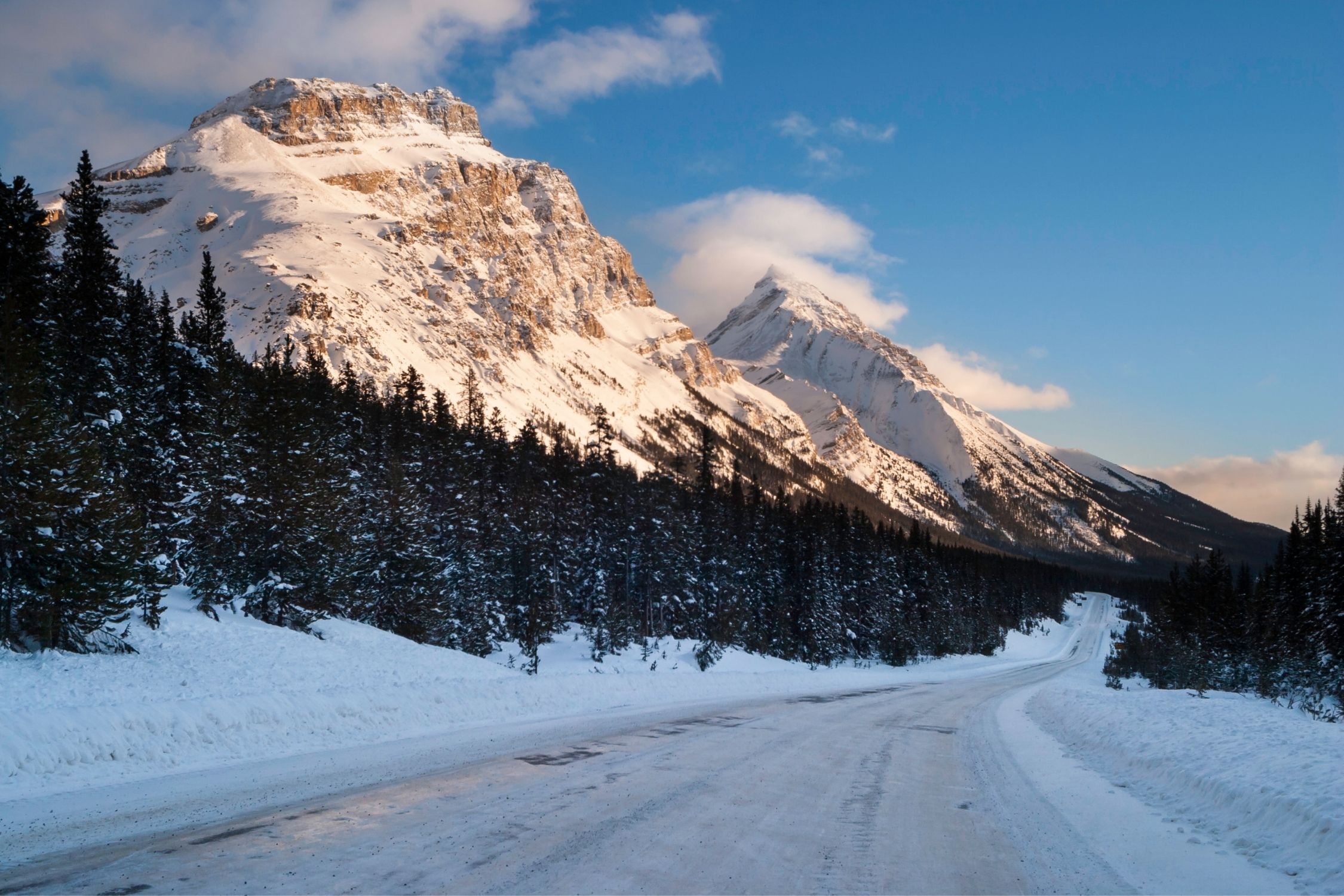 Highway 93N (the road connecting Jasper to Lake Louise) is open in the winter, except for severe snowstorms when Parks Canada closes the road.
Although it is open, I strongly recommend avoiding it during winter unless you have experience driving in snowy conditions and have researched the current winter conditions.
If there has been heavy snowfall recently, it's essential to check the road conditions and ensure that your vehicle is a sturdy 4×4 at the very least. Winter tires are mandatory on the Icefields Parkway from November 1st to April 1st. Equipping your vehicle with winter tires and an emergency kit is advisable, especially if you're driving in Alberta during winter. Just because you rented a car in Calgary in the winter does not mean the car comes with winter tires. Winter conditions can last from late October/early November to April; even September can bring snow to the Rockies.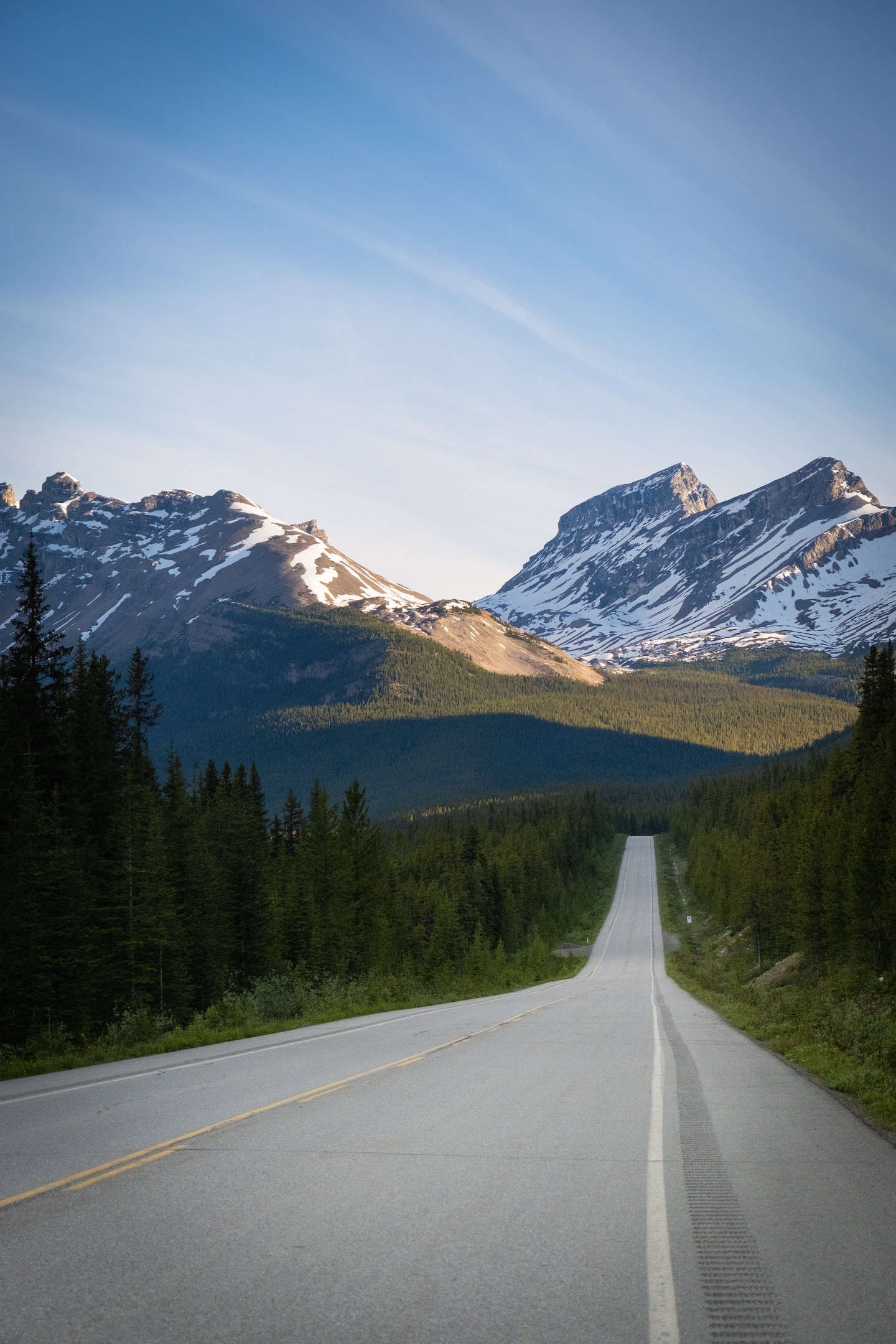 It's important to note that the Icefields Parkway is not plowed to the same extent as other roads in Alberta and is typically not salted. There's no cell phone reception in the area, and winter temperatures in Alberta can drop drastically. Being stranded without proper preparation could be a matter of life and death. Since winter traffic is low compared to summer, it could take a while for a passerby to come to your aid. I may seem like I'm being dramatic, but I'm just trying to prepare you for the worst in case it happens.
If you decide to tackle this as a winter drive, it's essential to note that the only gas station, the Saskatchewan River Crossing, is closed during winter. Meaning it's necessary to start your journey on the Icefields Parkway with a full gas tank. Additionally, no services are available on the Icefields Parkway during winter, so it's essential to pack enough snacks!
Below are the best stops on the Lake Louise to Jasper drive. They are going in order as from Lake Louise to Jasper, but can be reversed to fit a Jasper to Lake Louise drive if starting from Jasper.
---
Best Stops on the Lake Louise to Jasper Drive
---
Herbert Lake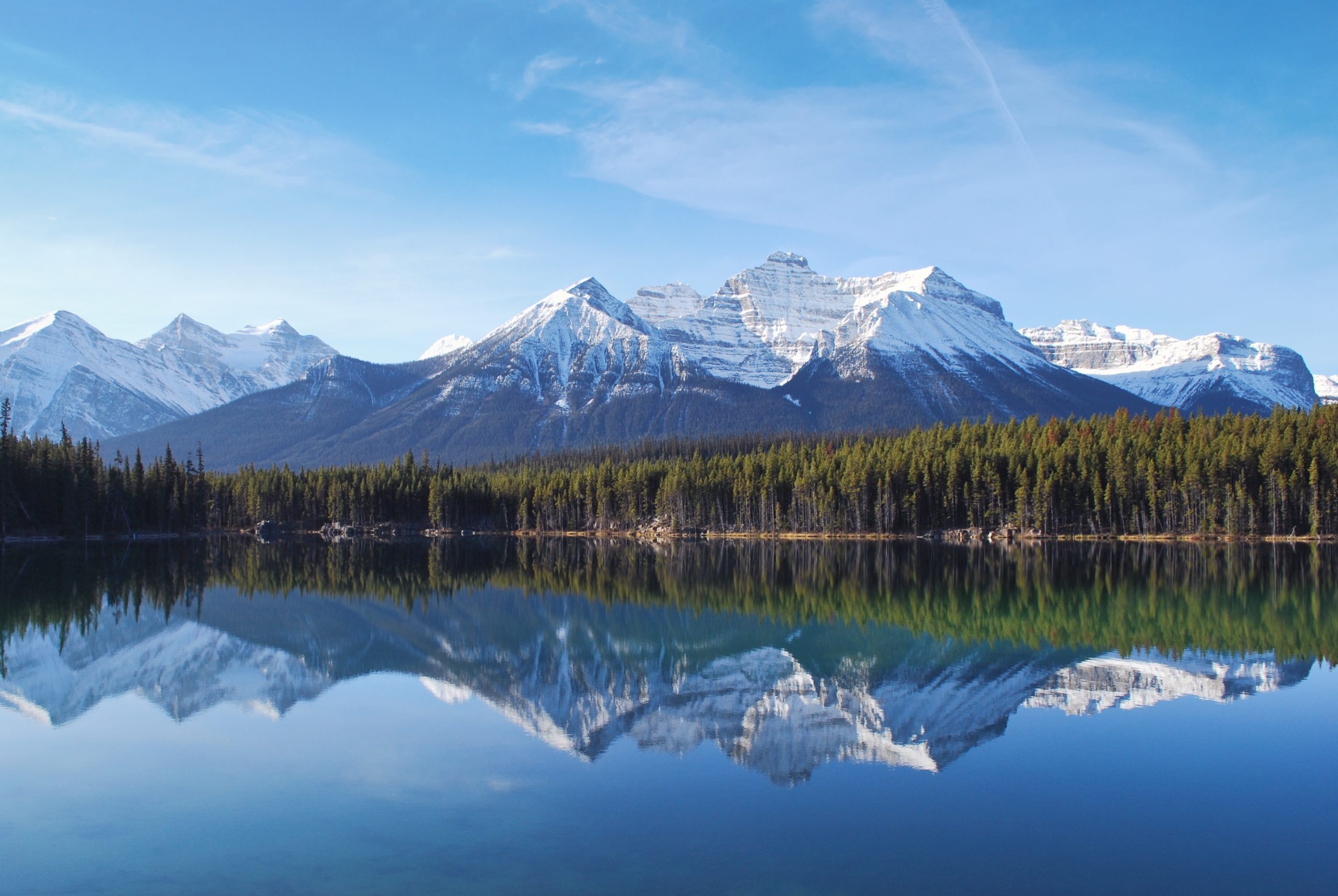 Herbert lake is a small Banff lake just off the Icefields Parkway, not long after you pass the park gates leaving the TransCanada highway. It's just 7km away from Lake Louise on the left-hand side of the road. Still, many people skip right by Herbert Lake in a rush to get to Jasper. Its location and the fact that it's not considered a highlight in Banff means the lake remains quiet throughout the summer.
However, Herbert Lake is gorgeous and has some phenomenal mountain views from its waters. A picnic area right along the lake shores makes putting a SUP or kayak in the water easy.
While paddling around, keep an eye out as there is a diving board here; if you're brave enough to dip in the frigid waters, make sure you pick a warm day in the summer.
---
Hector Lake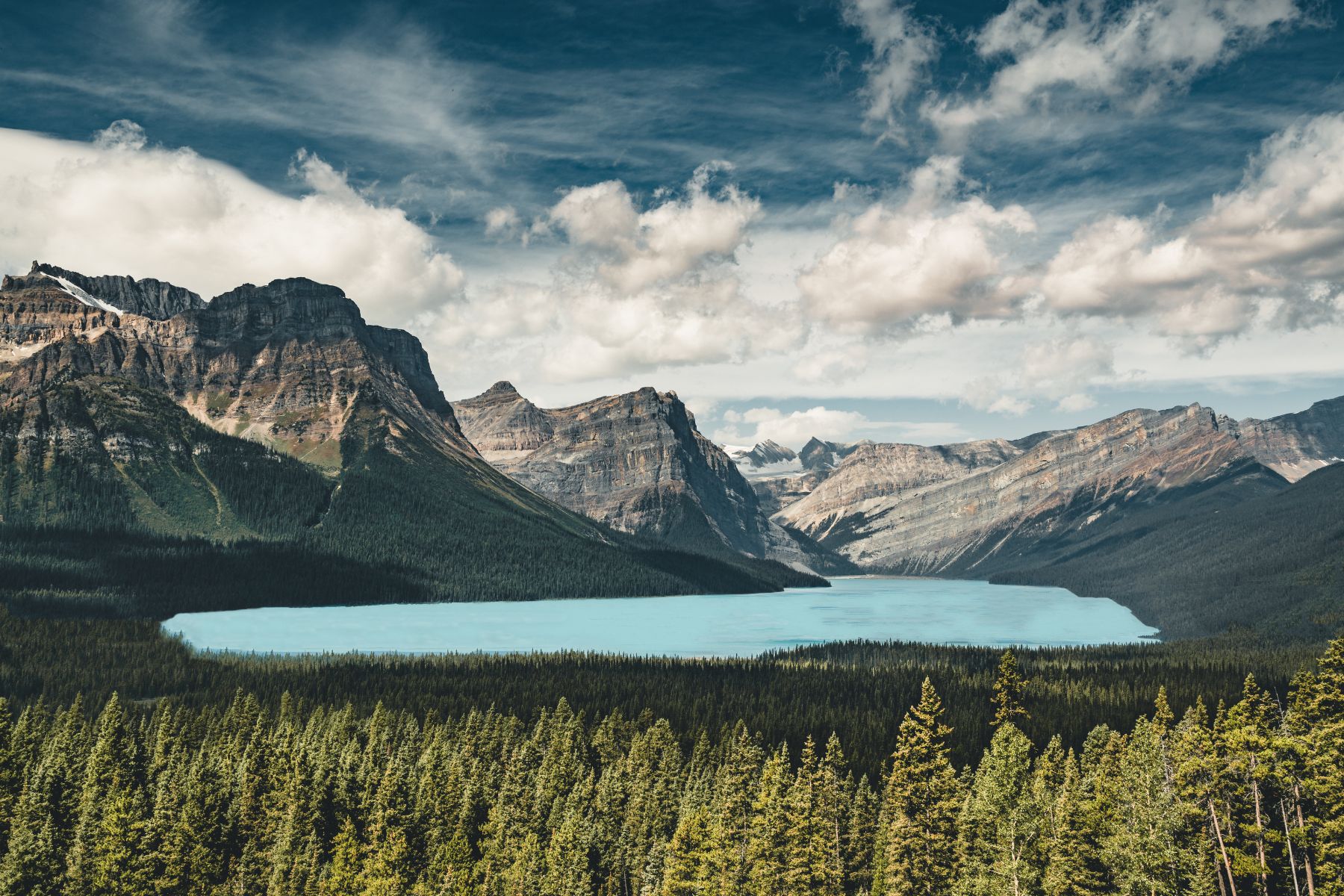 Hector Lake is one of the best lakes in Banff and is an excellent option if you are looking for a short hike to enjoy on the way from Lake Louise to Jasper. Hector Lake doesn't get visited as much as many other lakes on the Icefields Parkway simply because you have to hike 2.2 km (one way) to reach it.
This deters many people, but in fact, it's very short and well worth it to see this glacial-fed lake. If you don't want to hike to it, there's a pullover viewpoint with partially obstructed views. Hector Lake is straightforward to miss if you're not paying attention to the lookout or the trail access, and people always drive past it.
---
Bow Lake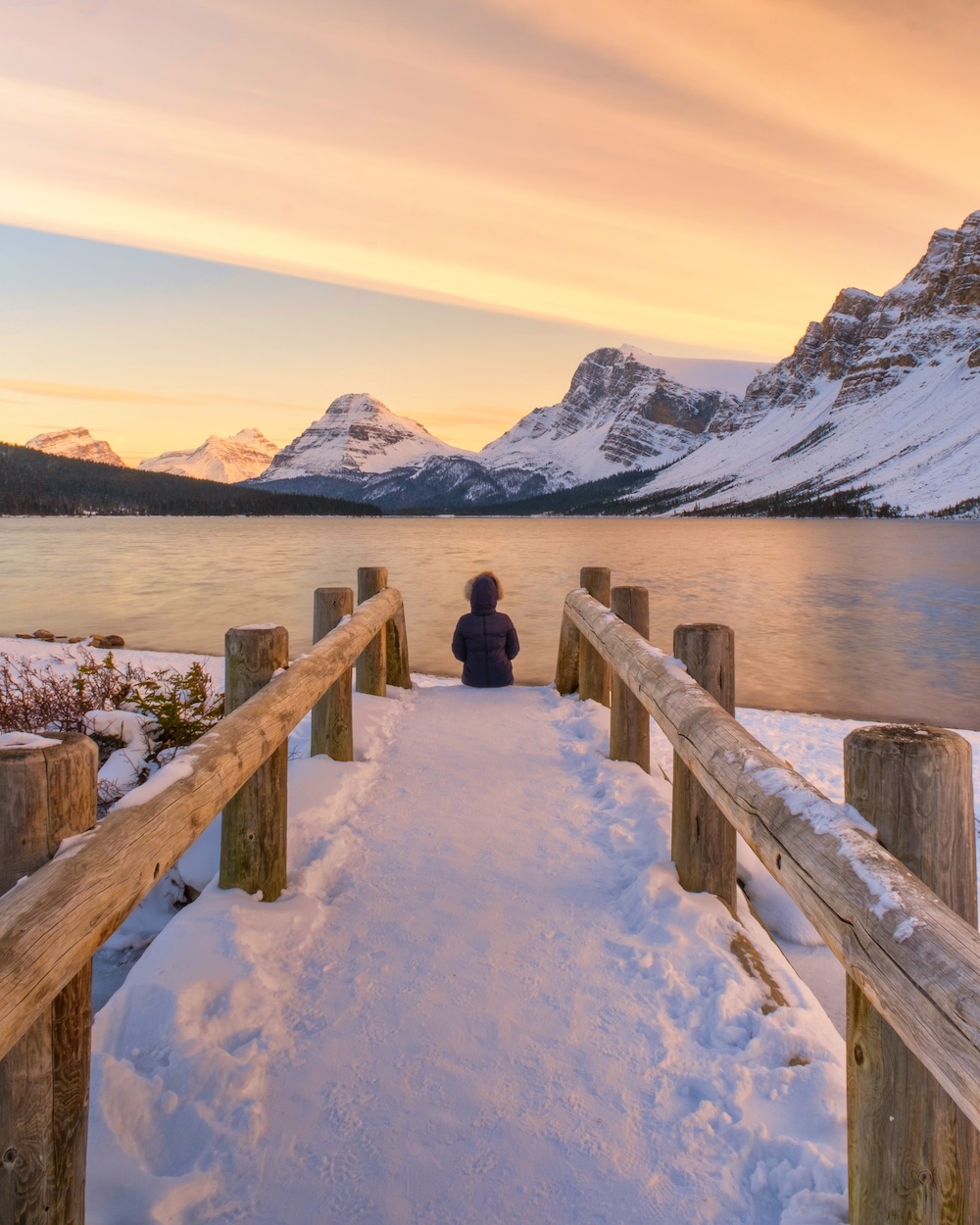 Bow Lake is another stunner that's a brilliant aquamarine color on a summer day. You'll pass about 30 minutes after you leave Lake Louise, and you can't miss it on your left hand side. The scale of Bow Lake is impressive as it's one of the largest in the park and provides fantastic views of Crowfoot Peak.
Although you haven't made it far on your drive yet, Bow Lake is an excellent place for a picnic, canoe (bring your own), or hiking to incredible Bow Glacier Falls, one of our favorite waterfalls in Alberta.
From the shore, you have terrific views of the Bow Glacier that feeds the lake in the summer months and is the source of the Bow River. That same river is a notable feature throughout much of the park moving through Banff, Canmore, and onto Calgary and beyond before ending in Southern Alberta as it joins the Saskatchewan River.
If you hit Bow Lake in the winter, it will indeed be frozen, but you can still walk out onto the small bridge there – just a short walk from the parking area.
---
Optional Hike: Bow Glacier Falls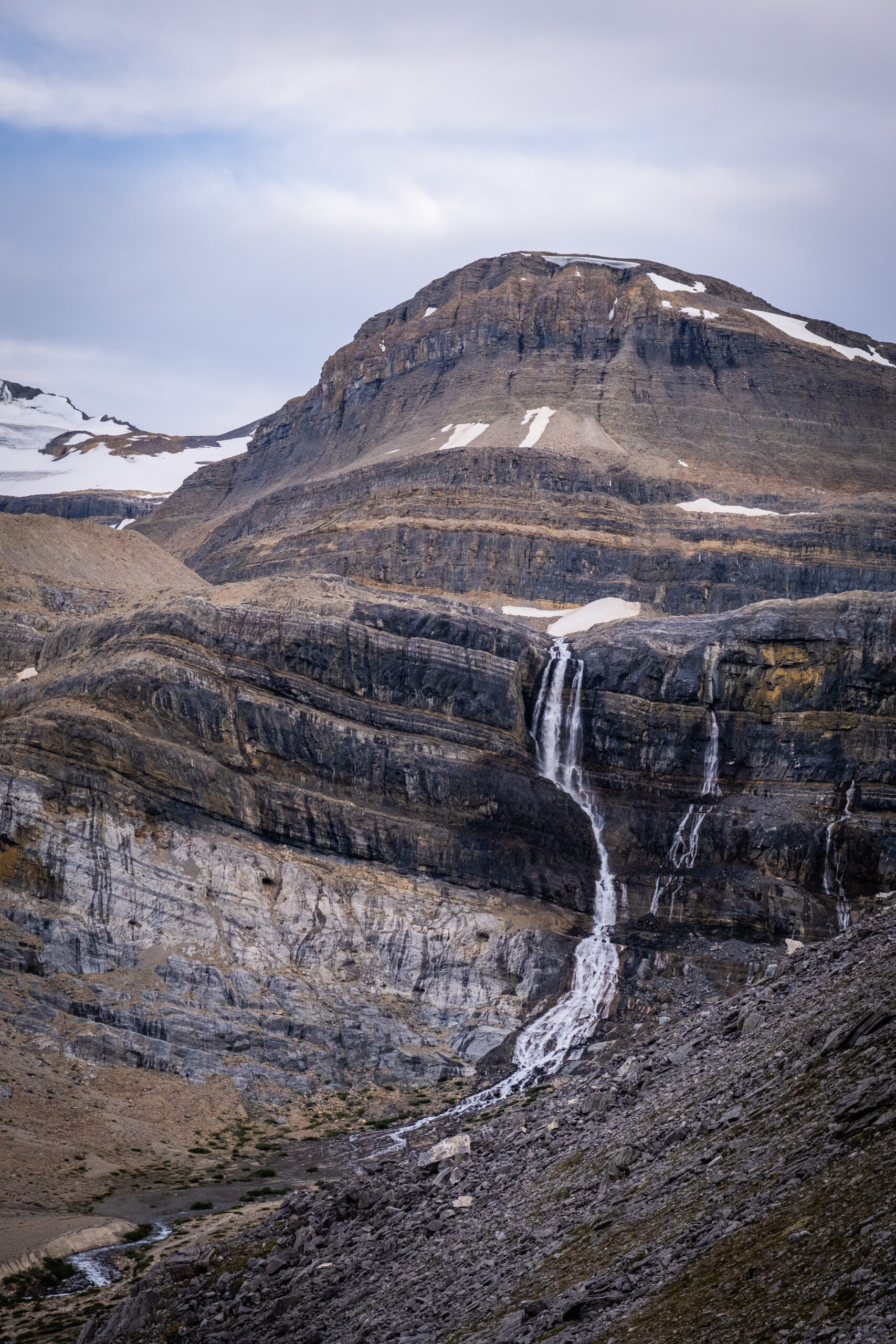 If you've ever wondered about the water source of Bow Lake in Banff, the answer is just a short hike away. The water originates from the Bow Glacier and Wapta Icefield. It tumbles down Bow Glacier Falls before emptying into Bow Lake and continuing down the Bow River, through Banff and Canmore, and onto Calgary – wow, that is a lot of "Bows" in one paragraph!
To get a closer look at Bow Glacier Falls, take the relatively easy hike past the Num-Ti-Jah Lodge on the right side of Bow Lake. Follow the trail around the lake, ascend the stairs, and pass through a meadow. This hike is an enjoyable activity during the summer and provides an excellent opportunity for drivers on Icefield Parkway to stretch their legs.
Although some websites suggest that Bow Glacier Falls can be viewed from Bow Lake, the falls are located quite far away, and the view is obstructed. It is highly recommended to undertake the hike, which typically takes 2-4 hours and covers a distance of 8.7 km, with an elevation gain of 266 meters.
---
Peyto Lake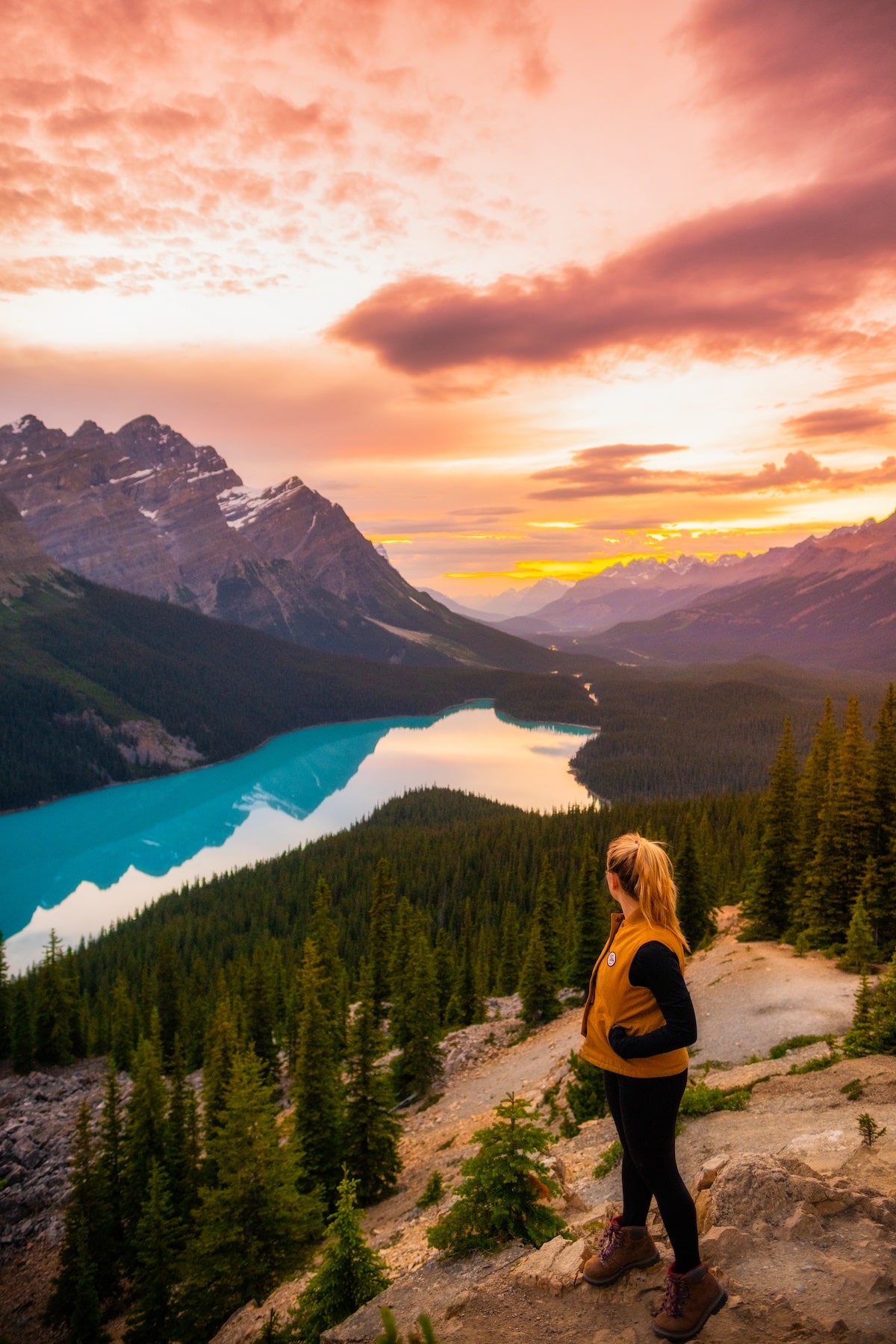 Peyto Lake is another glacier-fed lake in Banff. Peyto Lake is likely the third most famous lake in Banff, mainly due to its distinctive shape of a fox, strikingly blue water, and the easily accessible scenic overlook near the parking area.
To make the experience even more inclusive, there is a dedicated section accessible for people with disabilities, providing everyone with the opportunity to take in the breathtaking view.
---
Waterfowl Lakes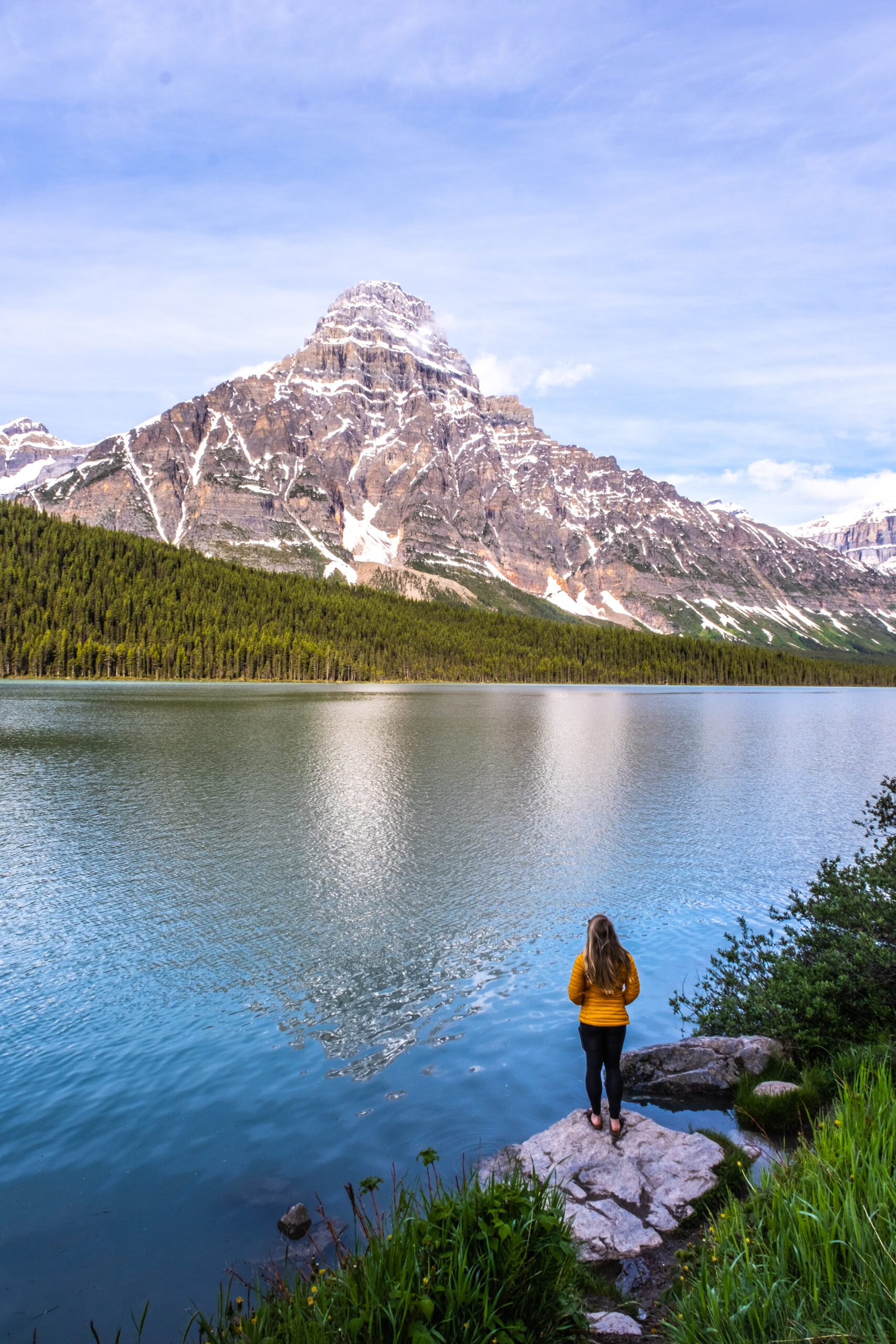 The Waterfowl Lakes, which comprise two serene bodies of water within the park, attract far fewer visitors than other Banff highlights. Nevertheless, they are still among Alberta's most beautiful lakes. Both glacial in origin, these lakes exhibit the iconic blue color that appears particularly vibrant on sunny days.
Although you can stop at the Saskatchewan River Crossing not much further, we always prefer to stop at Waterfowl Lakes for a picnic. There are picnic benches here as a campground is nearby.
---
Optional Hike: Chephren Lake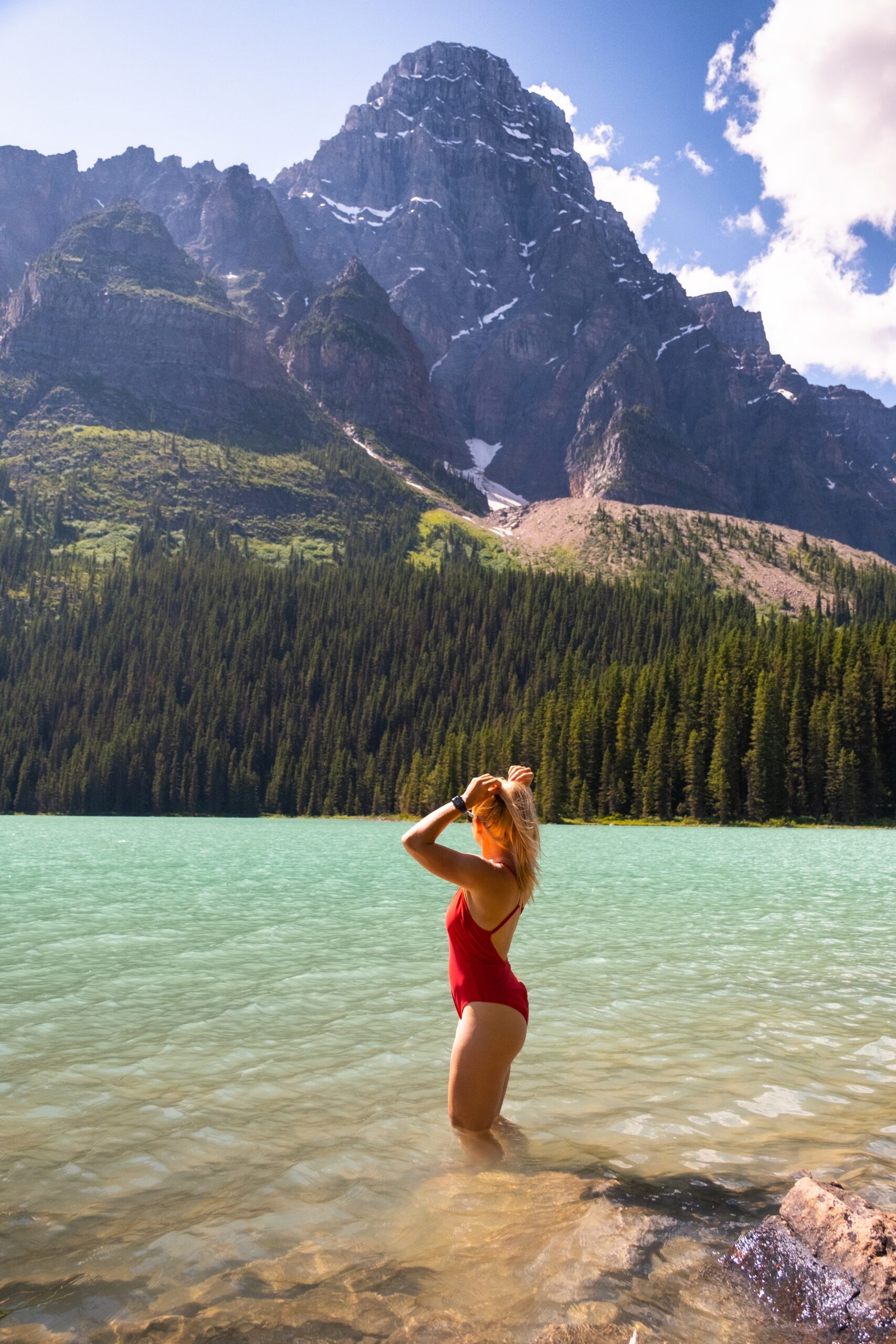 Located at the base of Mount Chephren, Chephren Lake is a lake that requires a short hike to reach. If you are at Waterfowl Lakes and want a bit of movement, you can start your trek to Chephren Lake here.
If you decide to make the journey, you'll be well rewarded, as very few visitors to the park make it back this way. It's not commonly listed as one of the best things to do in Banff, and many people miss this stunner.
Chephren Lake makes for a straightforward couple-hour adventure with a 7.7 km (return) hike with an elevation gain of 241 meters. Once you reach the lake, you'll be in for a surprise. Here you'll find a bright blue lake without the crowds at Lake Louise. We recommend allowing at least 2-3 hours to enjoy this hike and take in the beauty of Chephren Lake.
---
Mistaya Canyon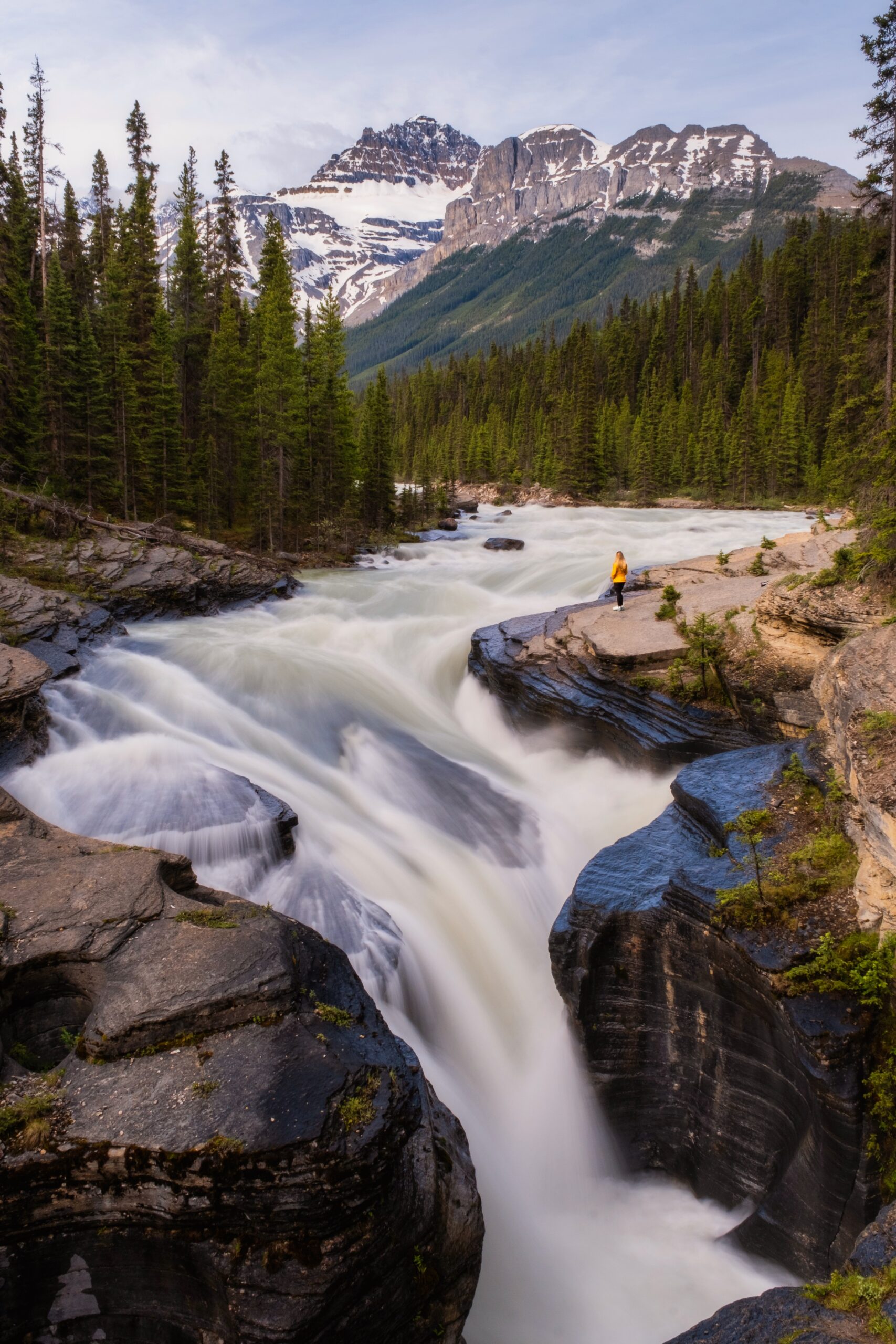 Mistaya Canyon is a well-liked destination on the Icefields Parkway and a popular stop from Lake Louise to Jasper.
A quick half-kilometer hike down an easy trail will take you to a well-maintained fenced bridge where you can take in the breathtaking sight of the powerful water churning through the rocks beneath your feet. Formed by the Mistaya River, tourists are typically in awe of this unique picture with the area's curvy canyon walls.
If you visit during peak summer, parking at the pullout area on the west side of the Parkway is limited, so it can get crowded during the peak summer months.
---
Detour Option: Abraham Lake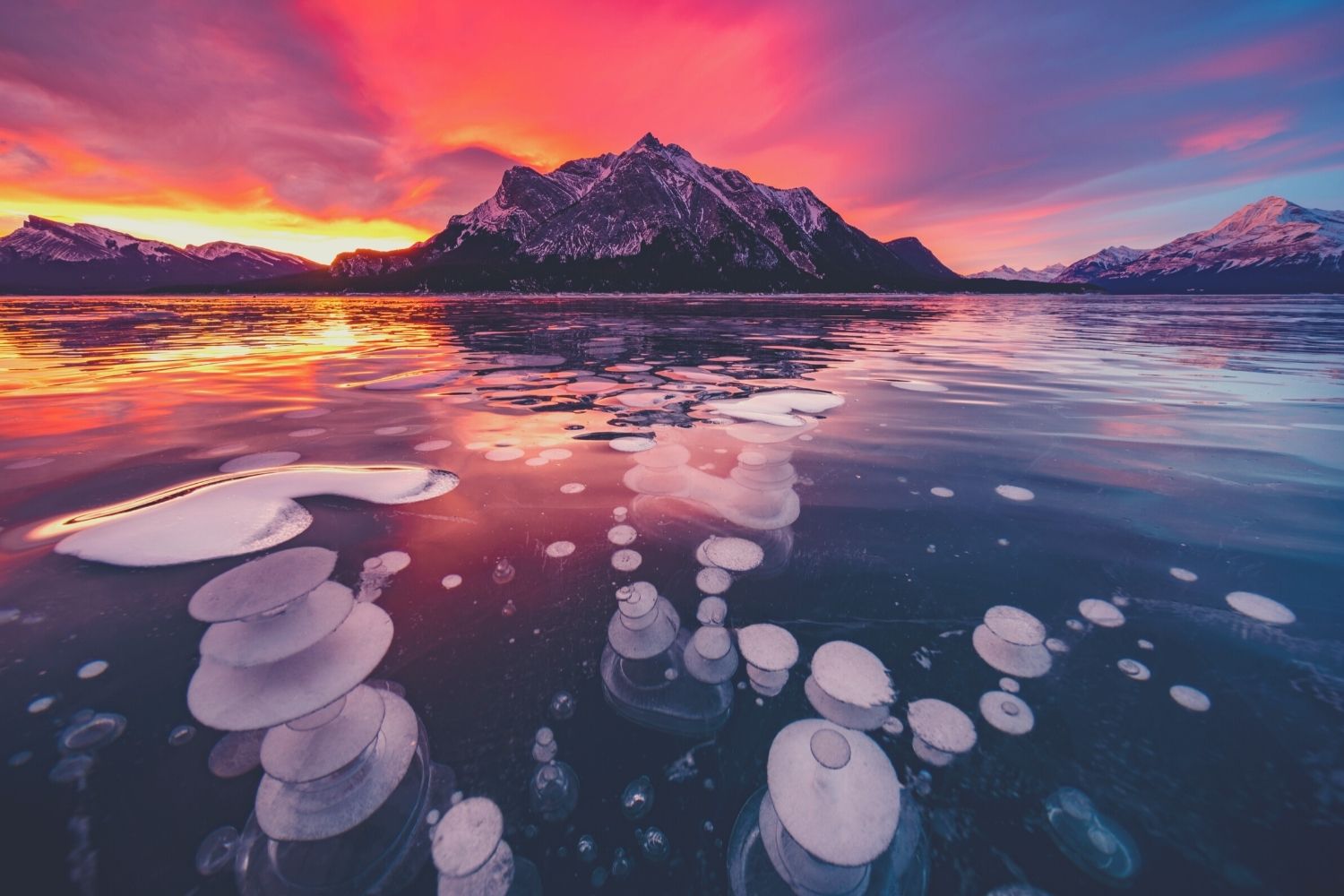 Abraham Lake is familiar to many, even if they have never been. That's because during the winter, this man-made lake in David Thompson Country is famous for its abundant methane ice bubbles trapped in the crystal-clear ice. Viral photos of the ice bubbles pop up all over Instagram and social media. If you have ever seen these photos and are wondering where they are, it's likely Abraham Lake. (Though this ice bubble phenomenon happens on other lakes in Banff and around the world)
The lake is not just a great winter spot, though; it's beautiful to head to in the summer and enjoy hiking, kayaking, and camping on Abraham Lake.
You'll need to get off the Icefields Parkway to reach Abraham Lake. When you get to Saskatchewan River Crossing, about halfway between Lake Louise and Jasper, you can take a right onto David Thompson Highway. You'll drive about 30 km before reaching Preachers Point, a popular place to enjoy Abraham Lake.
---
Optional Hike: Parker Ridge Hike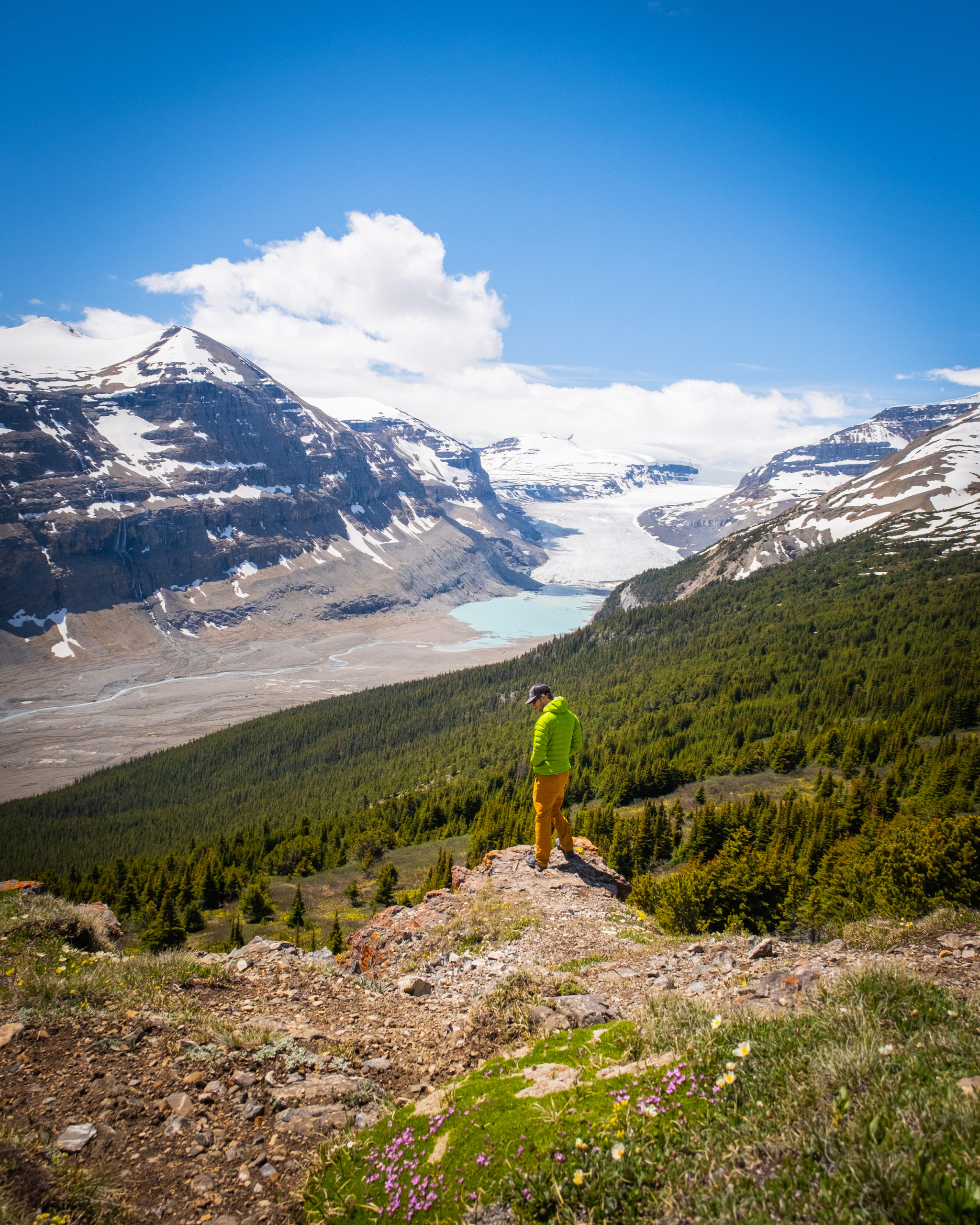 Parker Ridge is one of the best hikes along the Icefields Parkway, and if you have an extra 2-3 hours to spare when driving between Lake Louise and Jasper, we highly recommend stopping for this hike.
Although I wasn't sure what to expect at the start of the hike, the gradual 2.5 km incline to the ridge proved to be easy and well-marked, with no technical or scrambling involved. This makes it an excellent walk for people of all ages and skill levels, from young couples to families with children and dogs.
Despite its ease, the view from the ridge is absolutely spectacular, with stunning vistas of the impressive Saskatchewan Glacier and a beautiful blue glacier lake. We were so taken with the view that we spent 30 minutes taking photos and basking in the sunshine.
However, it does get quite windy at the top, so be sure to bring a jacket to stay warm. Trust me, the fantastic views make the hike well worth the effort!
How to Hike Parker Ridge Trail On the Icefields Parkway
---
Optional Stay: Glacier View Lodge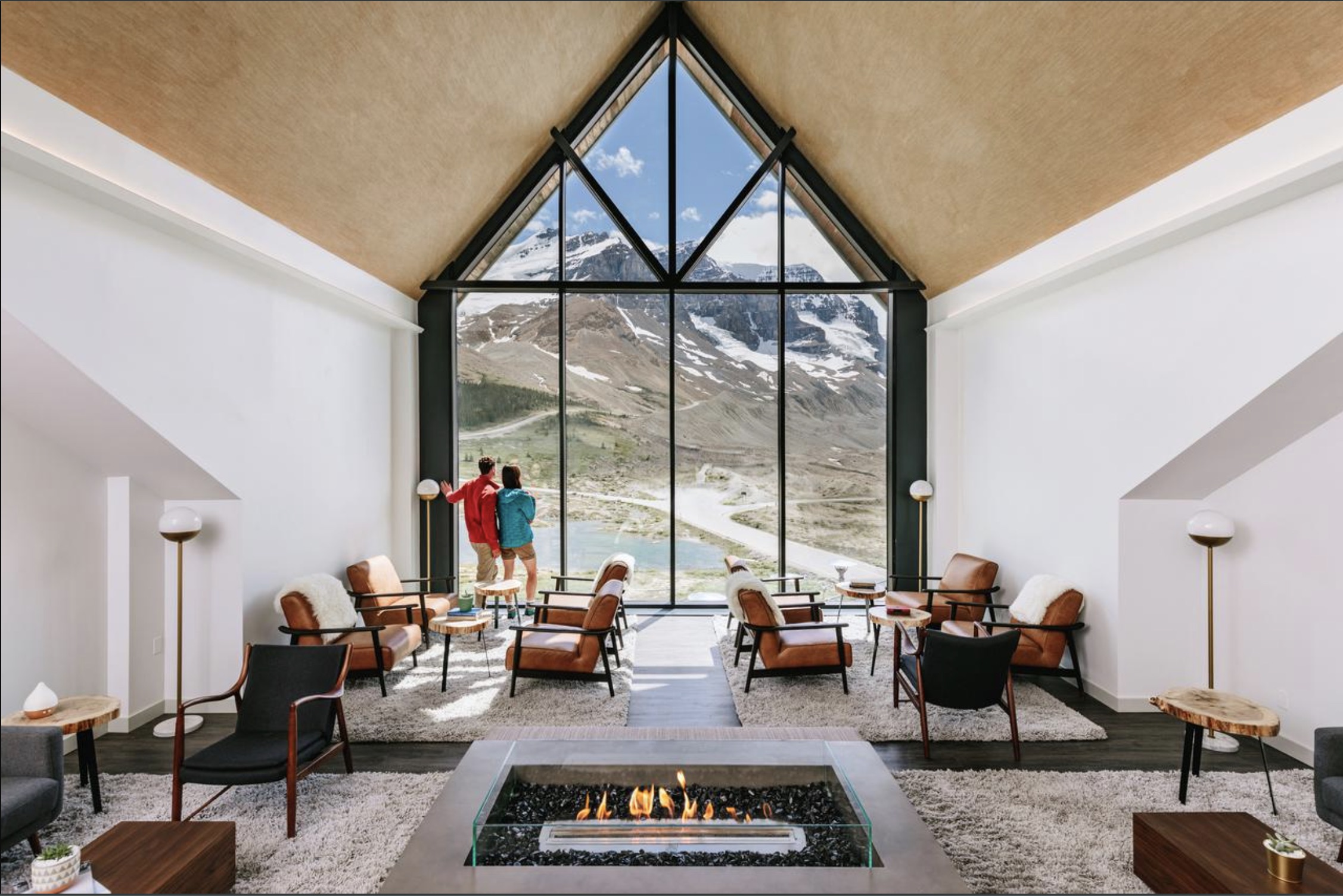 Only open in the summer, and one of the finest accommodations on the Icefields Parkway is the Glacier View Lodge. Located at the Columbia Icefields Center within Jasper National Park, this hotel is among the few lodging options available between Lake Louise and Jasper.
If waking up to breathtaking views of Athabasca Glacier is on your wishlist, the Glacier View Lodge is an ideal pick, despite being far from Jasper and Downtown Banff. Before booking your stay, review its location on our map below, as it's pretty removed from anything.
Book a Stay!
---
Optional Paid Activities
Athabasca Glacier Adventure Tour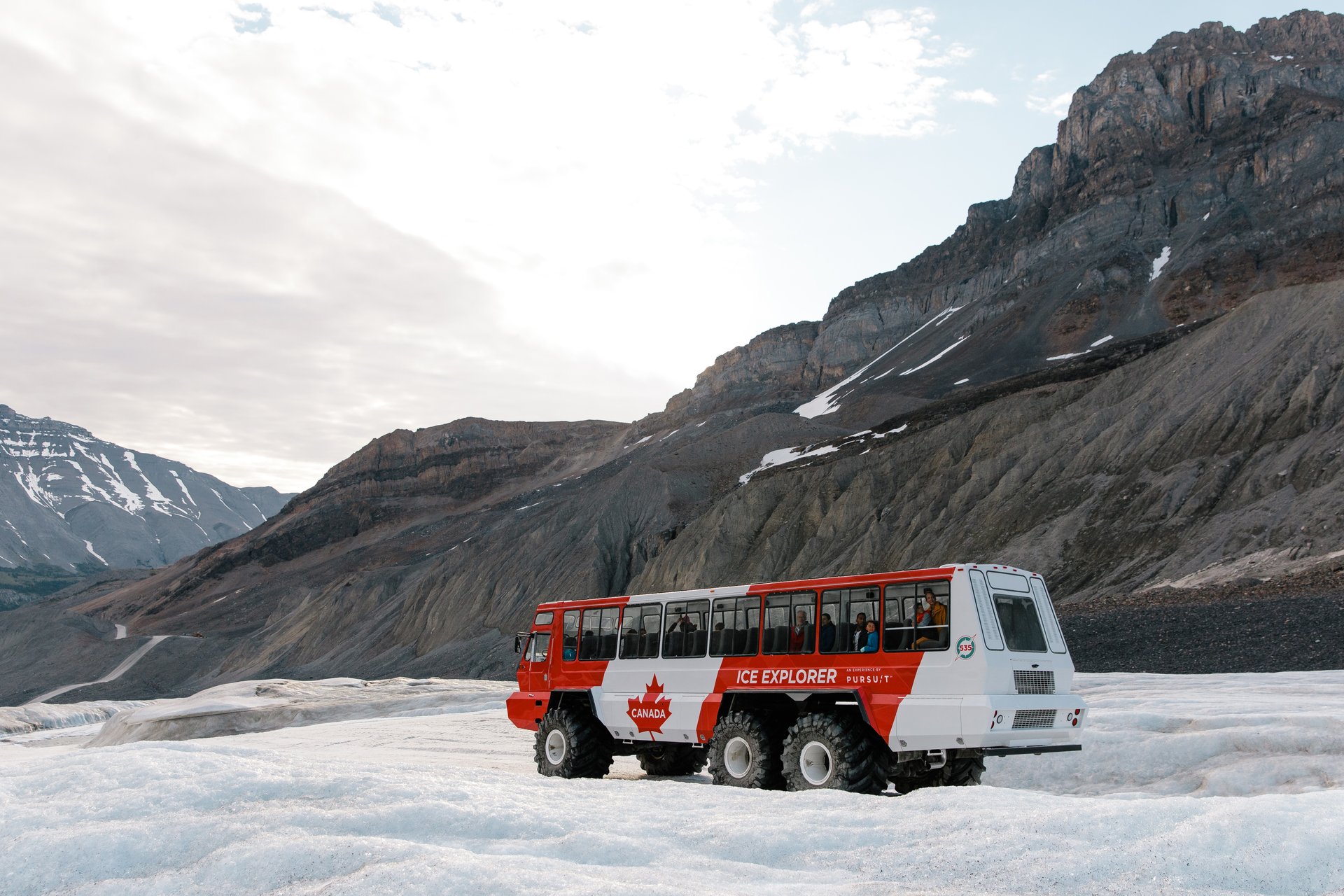 The Athabasca Glacier is an enormous protrusion of ice that forms part of the vast Columbia Icefield. It is regarded as one of the most accessible glaciers in North America, and the Athabasca Glacier Adventure Tour provides a unique opportunity for visitors to marvel at this remarkable natural wonder up close.
For many visitors, the Columbia Icefields Discovery Center is the entryway to this extraordinary attraction, with its interactive exhibits and tours at the meeting point of Jasper and Banff. At the Columbia Icefields Discovery Center, you can book a time that takes you to the foot of the glacier and lets you walk right onto it.
Jasper Skywalk
The Glacier Skywalk allows visitors to venture onto a cliff-edge walk and admire the surrounding glaciers while taking in stunning views of the Sunwapta Valley.
While the Columbia Icefield Skywalk offers a glimpse of wildlife, waterfalls, and fossils, it's a tourist activity suitable for families and those who may not want to hike much in the Rockies. You can enjoy a similar experience for free by taking a beautiful hike in Banff or Jasper National Park.
It's important to note that you cannot simply stop by the Jasper Skywalk and start the experience there. Instead, you must reserve tickets at the Glacier Discovery Center, where you can park and take a bus to reach the Skywalk.
---
Tangle Creek Falls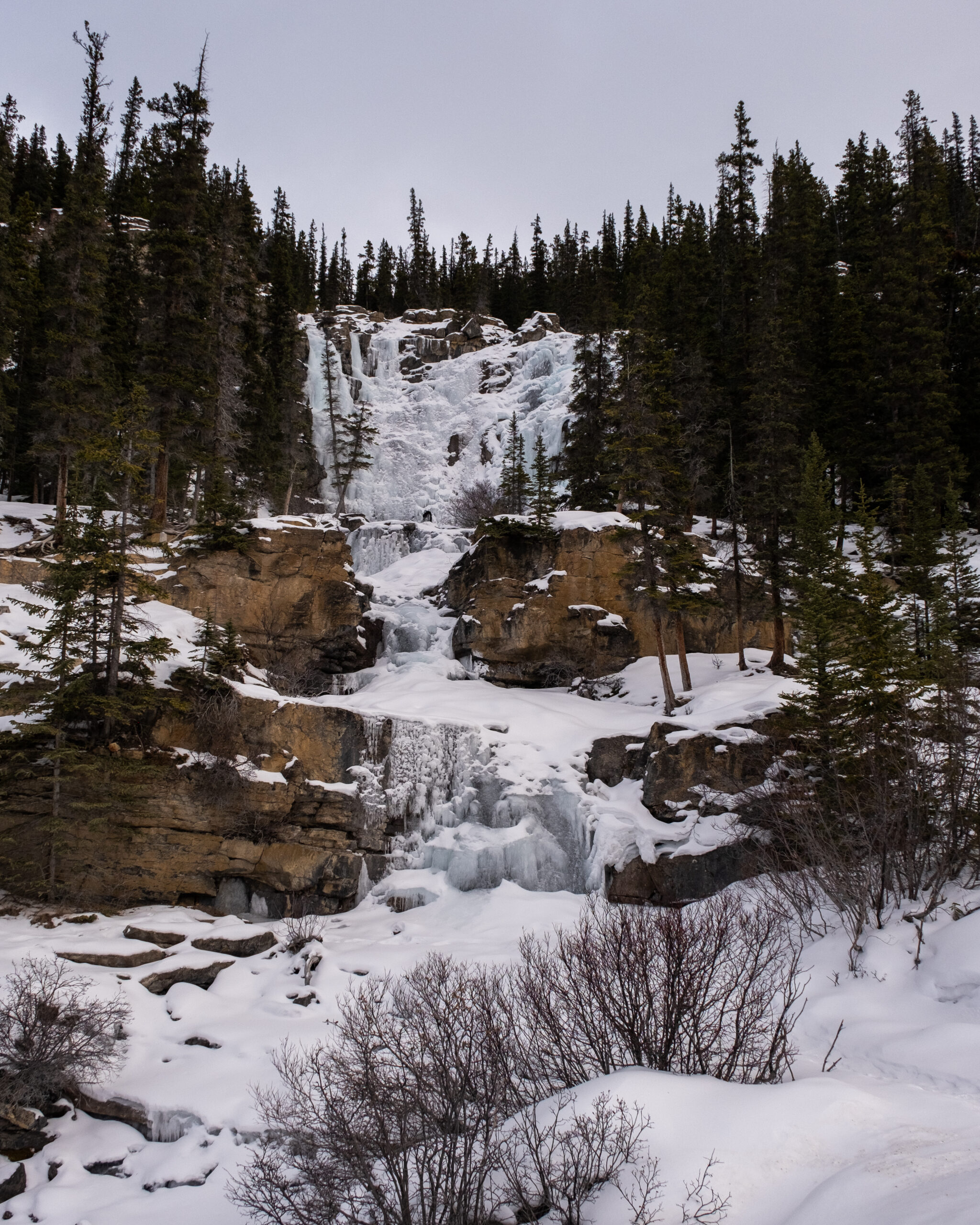 Just after you pass the Skywalk, a small parking area will be on your left, and you'll see a waterfall on the right-hand side. Usually, a few people leave their cars here to view Tangle Creek Falls.
It may not be the most awe-inspiring waterfall on the Icefields Parkway, but it's worth a quick stop to admire it on your drive between Lake Louise and Jasper!
---
Sunwapta Falls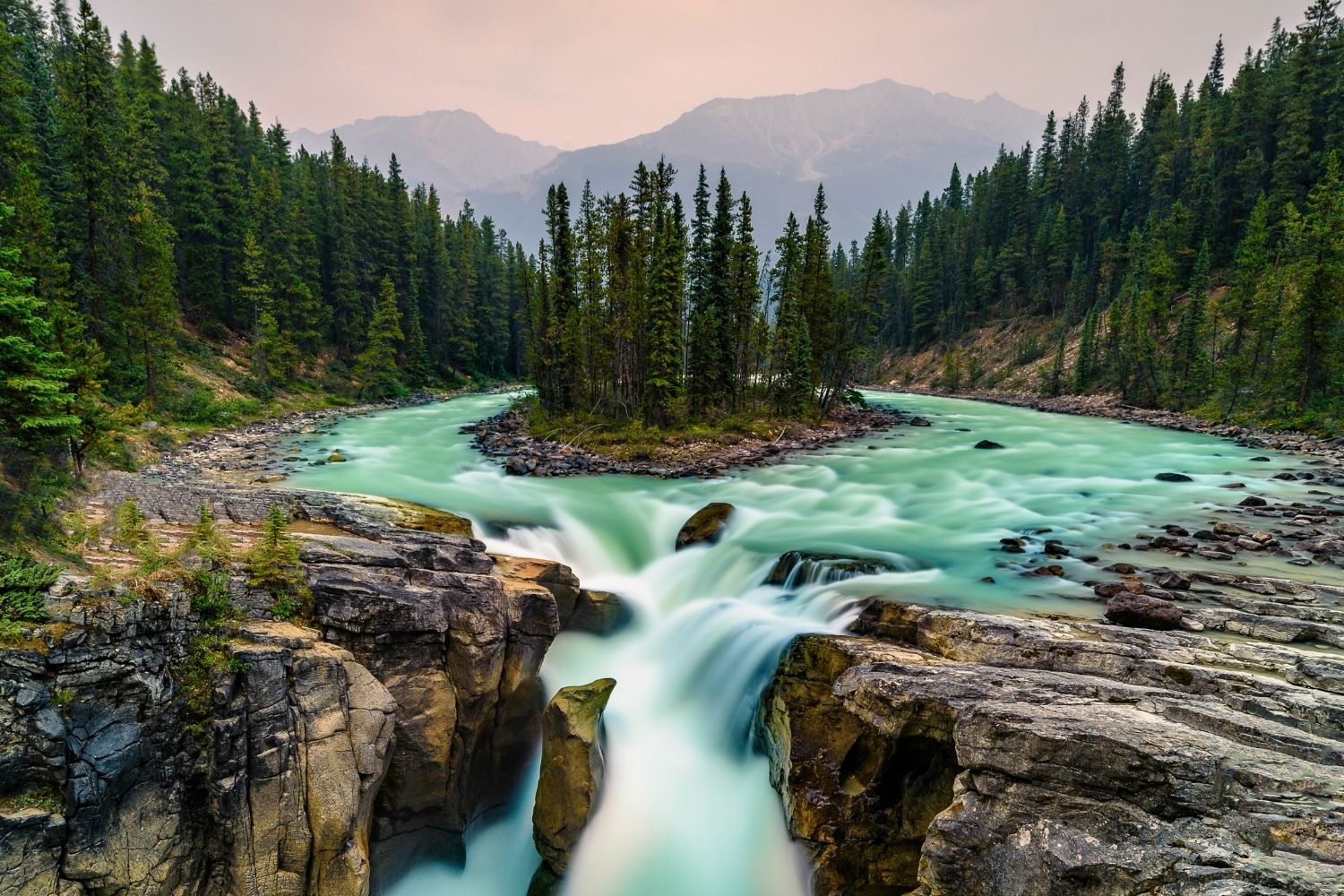 Sunwapta Falls is a must-visit destination on the Icefields Parkway that is easily accessible for all. It comprises upper and lower falls that are fed by the Athabasca Glacier.
While the upper falls are more crowded, the lower falls are still accessible via a 1.3 km hike and are worth the trek for an exceptional experience. The upper and lower falls are breathtaking and can be visited year-round in summer or winter.
---
Athabasca Falls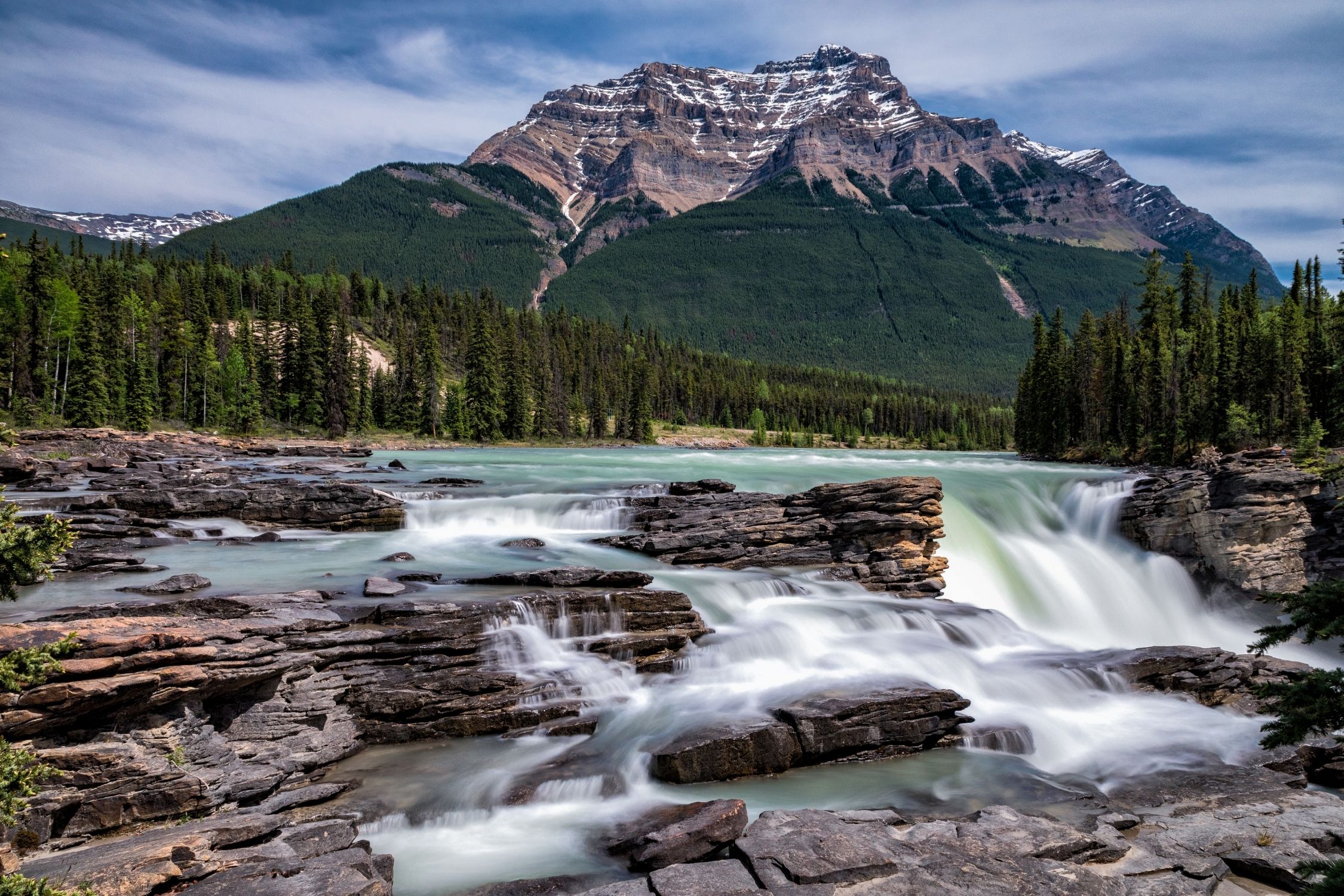 Athabasca Falls, located about 20 miles south of Jasper town, is a must-see attraction in Jasper National Park and one of your last significant stops on the drive between Lake Louise and Jasper. Despite not being a giant waterfall, its dramatic and majestic beauty makes it a popular destination for visitors.
The waterfall drops about 75 feet and is fed by the Athabasca Glacier. The volume of water that rushes over the edge is very high, making the upper Athabasca River roar, especially during the height of the thaw during the late spring months.
Plenty of hiking trails leading to viewing areas offer breathtaking views of the river and falls. However, it is crucial not to get too close to take a good picture, as the ground and rocks can be treacherous and slippery. Falling into the frigid water and rocky canyon would not end well.
---
Horseshoe Lake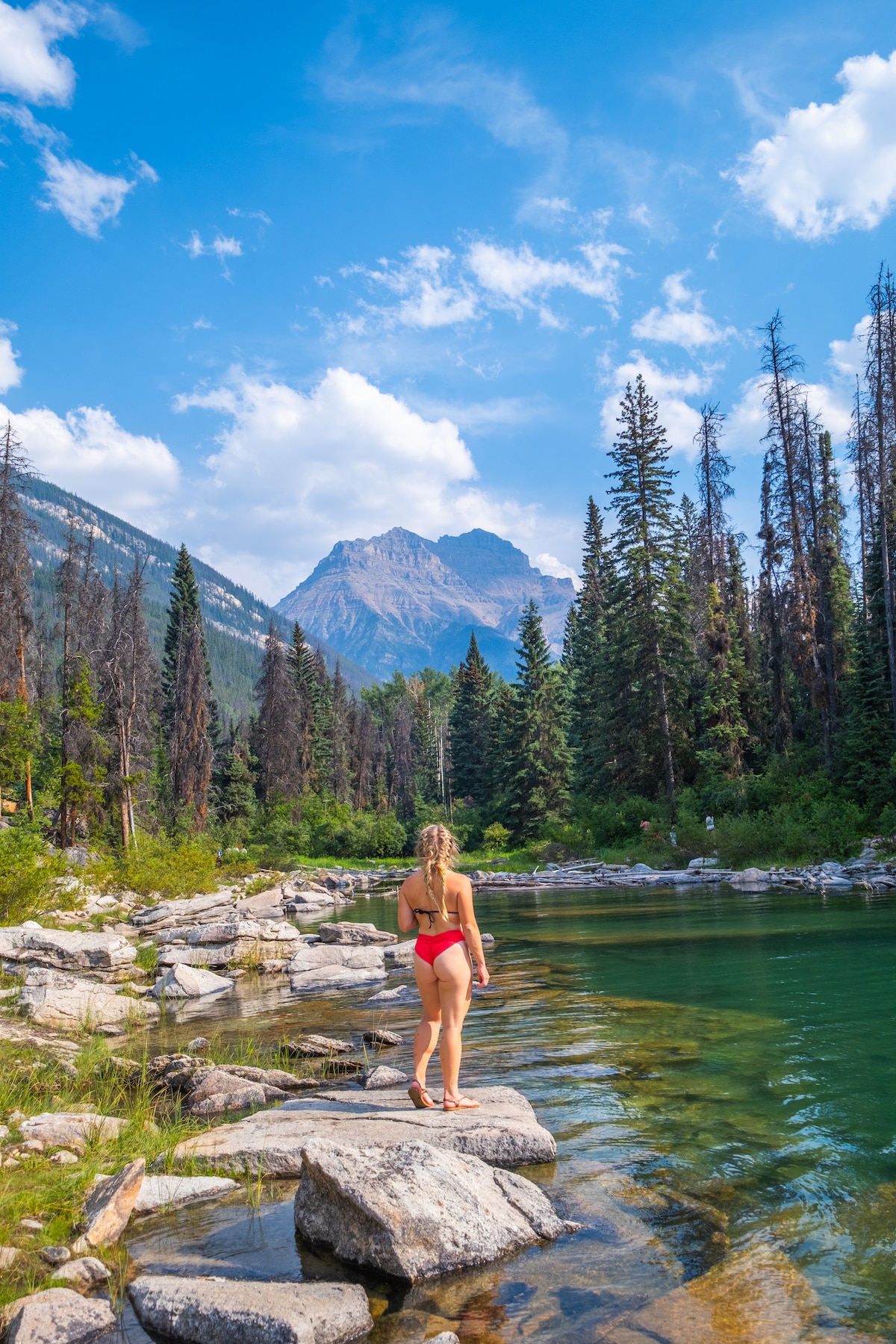 Horseshoe Lake is just a short drive past Athabasca Falls along the Icefields Parkway, but a beautiful stop when driving from Lake Louise to Jasper. It's a wonderful local lake that many visitors are unaware of, but it's well worth stopping! The lake is massive and forms none other than a horseshoe shape, and enclosed by cliffs where you can jump into the frigid Canadian waters.
There are numerous jump points, with the highest height rumored to reach 80 feet. Always make sure to check your landing and make sure it's safe before jumping!
Besides cliff jumping you can enjoy a paddle on this beautiful lake in the summer.
---
Optional Hike: Valley of Five Lakes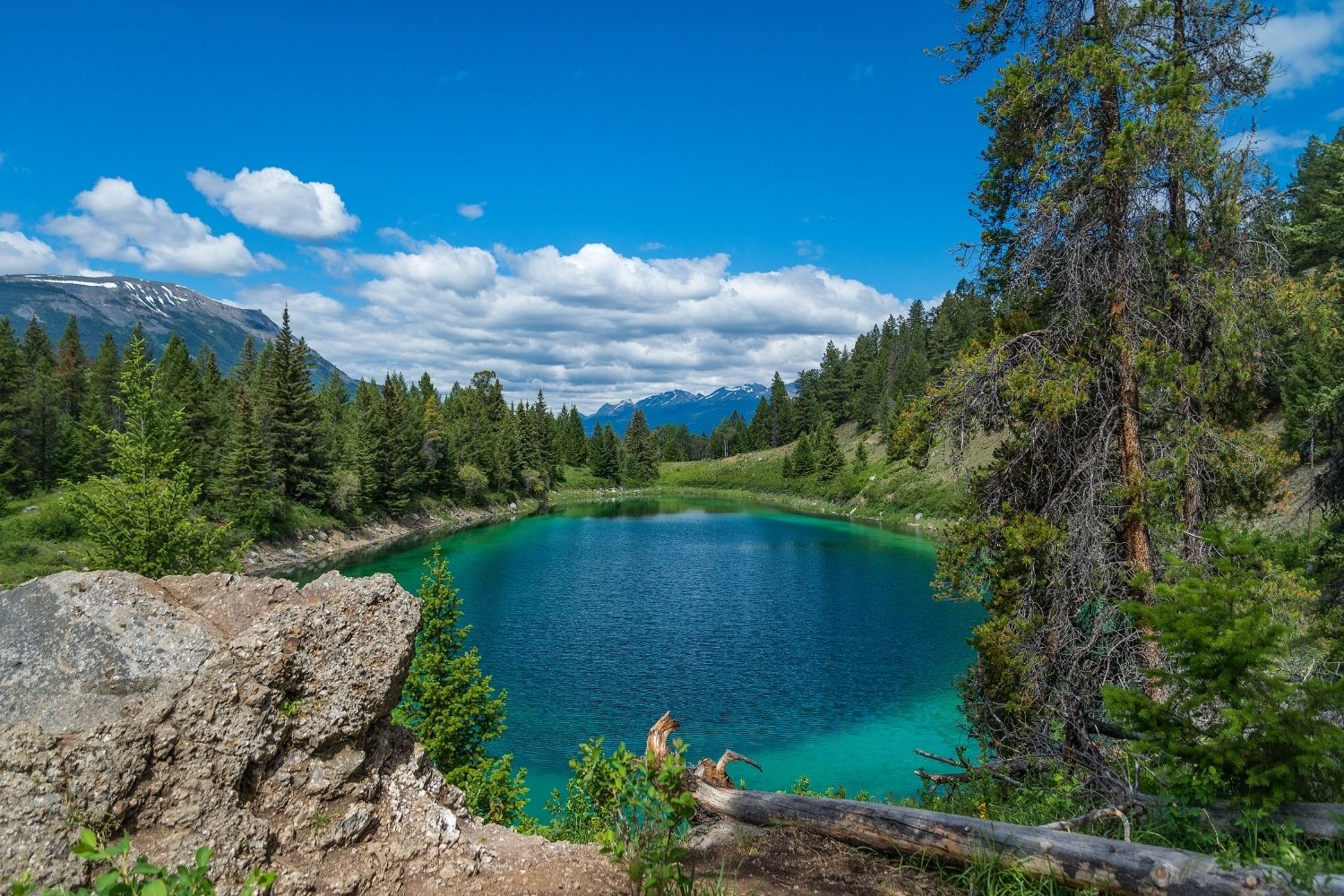 Located just before reaching Downtown Jasper along Highway 93, the Valley of Five Lakes is one of Jasper's most popular and classic hikes. The well-developed and relatively flat trail features, you guessed it, five stunning lakes with varying shades of blue and green. This offers hikers a picturesque experience that is both easy and enjoyable.
It's the perfect hike for families who want the views without much elevation gain!
---
Jasper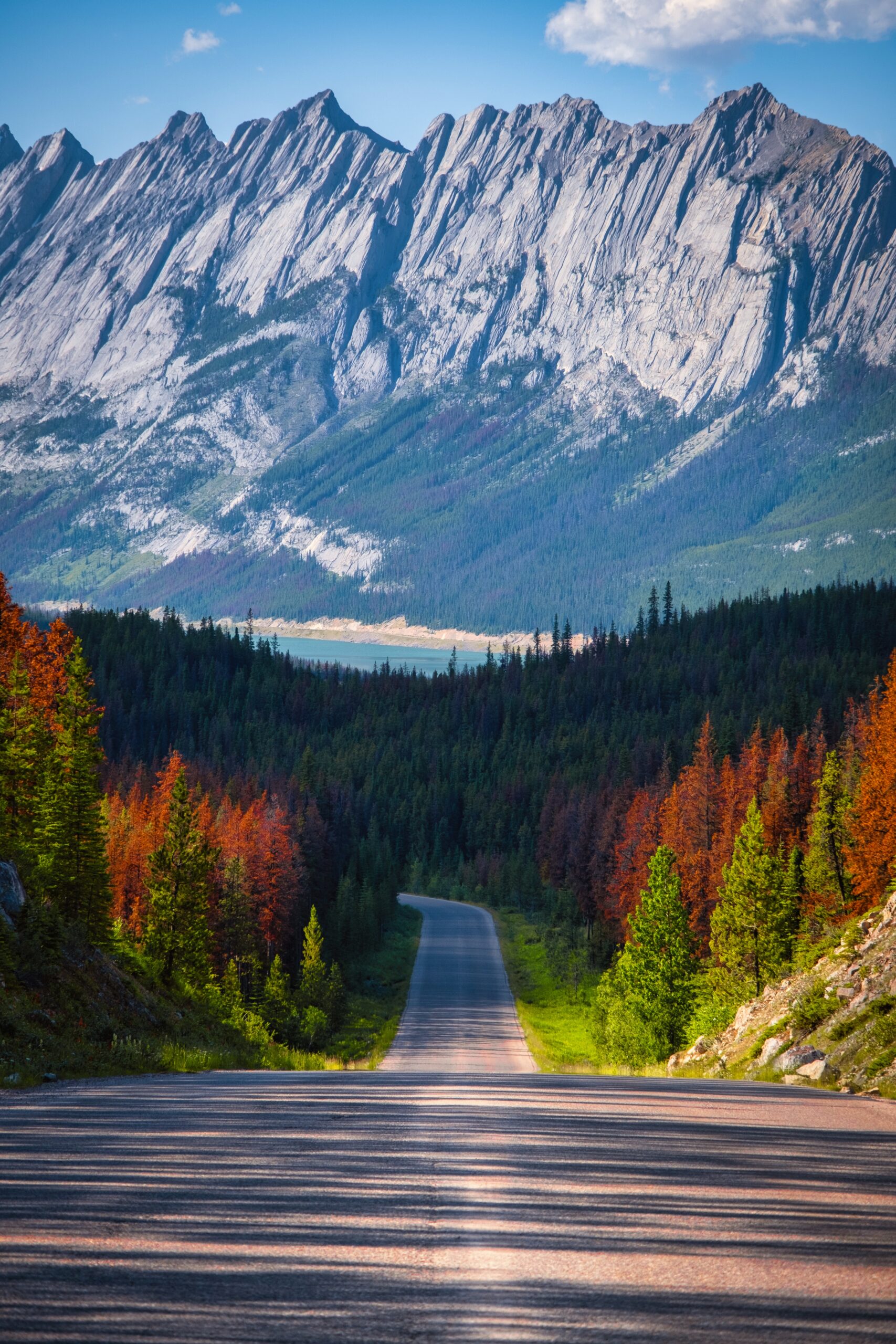 Woohoo! You have made it to Jasper, where we recommend you spend a few days. Some of the best things to do are drive Maligne Lake Road where you'll pass Medicine Lake and enjoy Maligne Lake.
In the summer, you can also take a boat cruise out to Spirit Island! Other fun things to do are walk around Maligne Canyon, enjoy the views from the Jasper Skytram, and canoe on Pyramid Lake all before having a meal at a fantastic Jasper Restaurant!
56 AWESOME Things To Do in Jasper 
---
Lake Louise to Jasper FAQ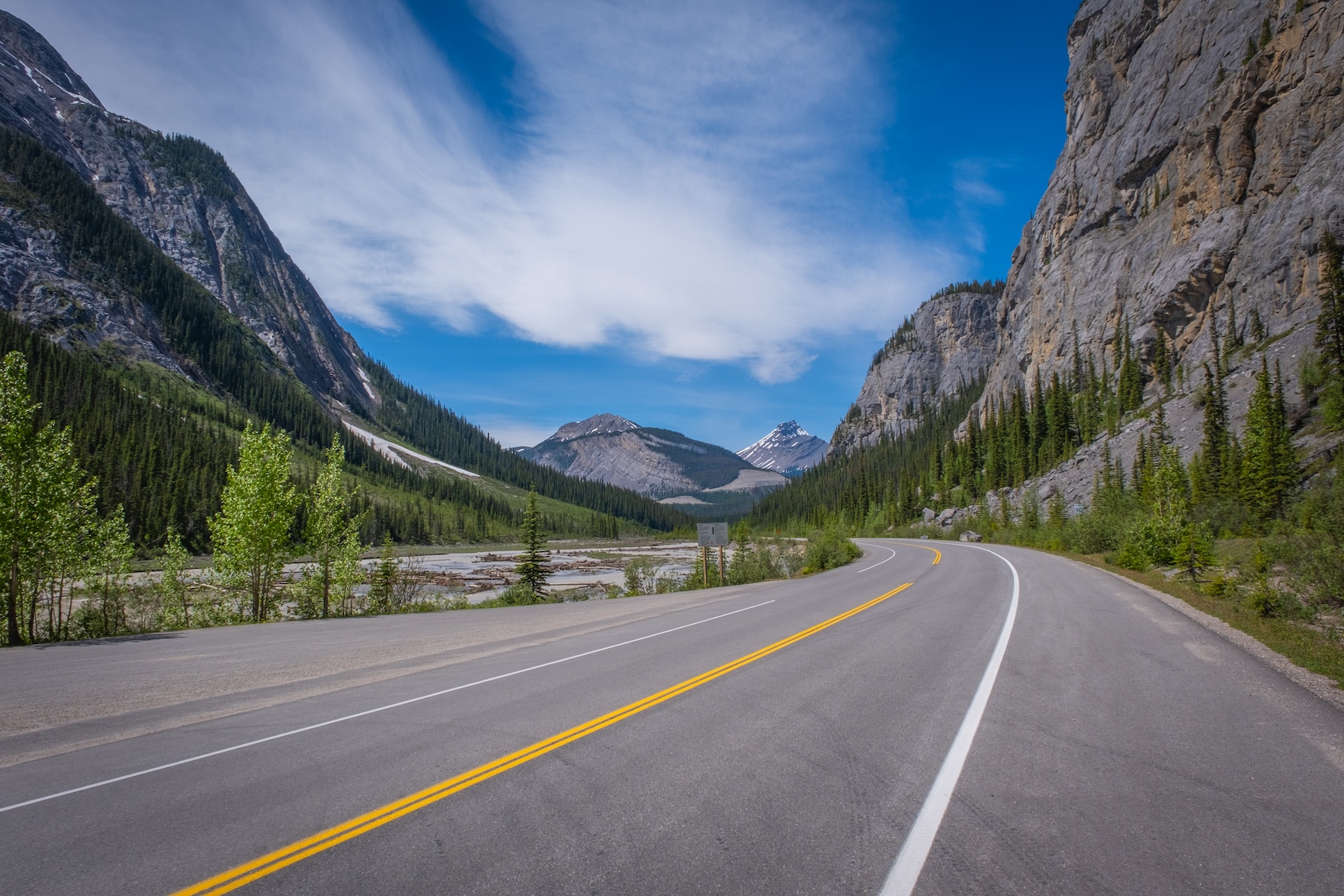 Where Can I fill up?
To properly prepare for a drive along the Icefields Parkway, it's important to note the limited number of gas stations available. If you're traveling from Lake Louise, it's recommended to fill up at the village before entering the Parkway, where a convenient Petro Canada station offers snacks.
If you're driving from Jasper to Lake Louise, fill up in town beforehand. Saskatchewan River Crossing, located at the turn-off for Nordegg, is your only option for refueling while en route, but fuel and snacks prices are higher than average.
It's important to note that the Saskatchewan River Crossing is closed during winter months, leaving no other opportunities for refueling along the Icefields Parkway.
Is There a Bus from Lake Louise to Jasper?
If you don't feel like driving the Parkway or would rather ride as a passenger to watch out the window, tour operators can guide you from Jasper to Banff or vice versa. Brewster Express, SunDog Tours, and Discover Banff Tours run bus services.
Is There a Tour I Can Take?
Is There a Train From Lake Louise to Jasper?
There is no train connecting Lake Louise to Jasper.
Can I Ride a Motorbike?
You can ride a motorcycle on the Icefields Parkway. You can also bike it if you have a road bike and love long bike trips! You can book a motorcycle tour if you don't have a motorbike!
Do I Need a Parks Canada Pass?
A Parks Canada Pass is necessary to drive between Lake Louise and Jasper. You likely already have a pass if you have been in Banff for a few days. If not, you can purchase one right after leaving Lake Louise at the park gates (before Herbert Lake).
A Parks Canada Discovery Pass, which gets you entrance to all Parks Canada destinations for a year, is only $145.25 for a family. Day passes are $10.50 per person, so depending on how many days you are staying in Canada, you may want to consider the Discover Pass.
You will also need a Parks Canada pass for visiting Jasper and Banff, so depending on how long your Banff itinerary is, it's likely worth it to buy the Discovery Pass.
ULTIMATE Guide To Purchasing A Banff Park Pass (Parks Canada Pass)
Is There Wildlife Along the Drive?
There are bears, mountain goats, sheep, elk, coyotes, and everything in between. You may see one of these majestic creatures while driving if you get lucky. If you do, don't get out of the car, and give the animal its space. Don't create traffic. Slow down and keep driving; please don't stop for a long time or chase the animal for a photo.
Is There Cell Coverage?
Cell phone coverage is limited. If you're traveling from Lake Louise, you will likely lose signal after passing Herbert Lake, while if you're driving from Jasper, you can expect to have a signal until just after the Valley of the Lakes Trailhead.
There are a few spots along the Parkway where you can use your phone for calls and emails if necessary, but you need to stop and pull over to make those happen.
The Saskatchewan River Crossing and Columbia Icefields Center usually have a signal, but it's important to note that communications are turned off during the winter months.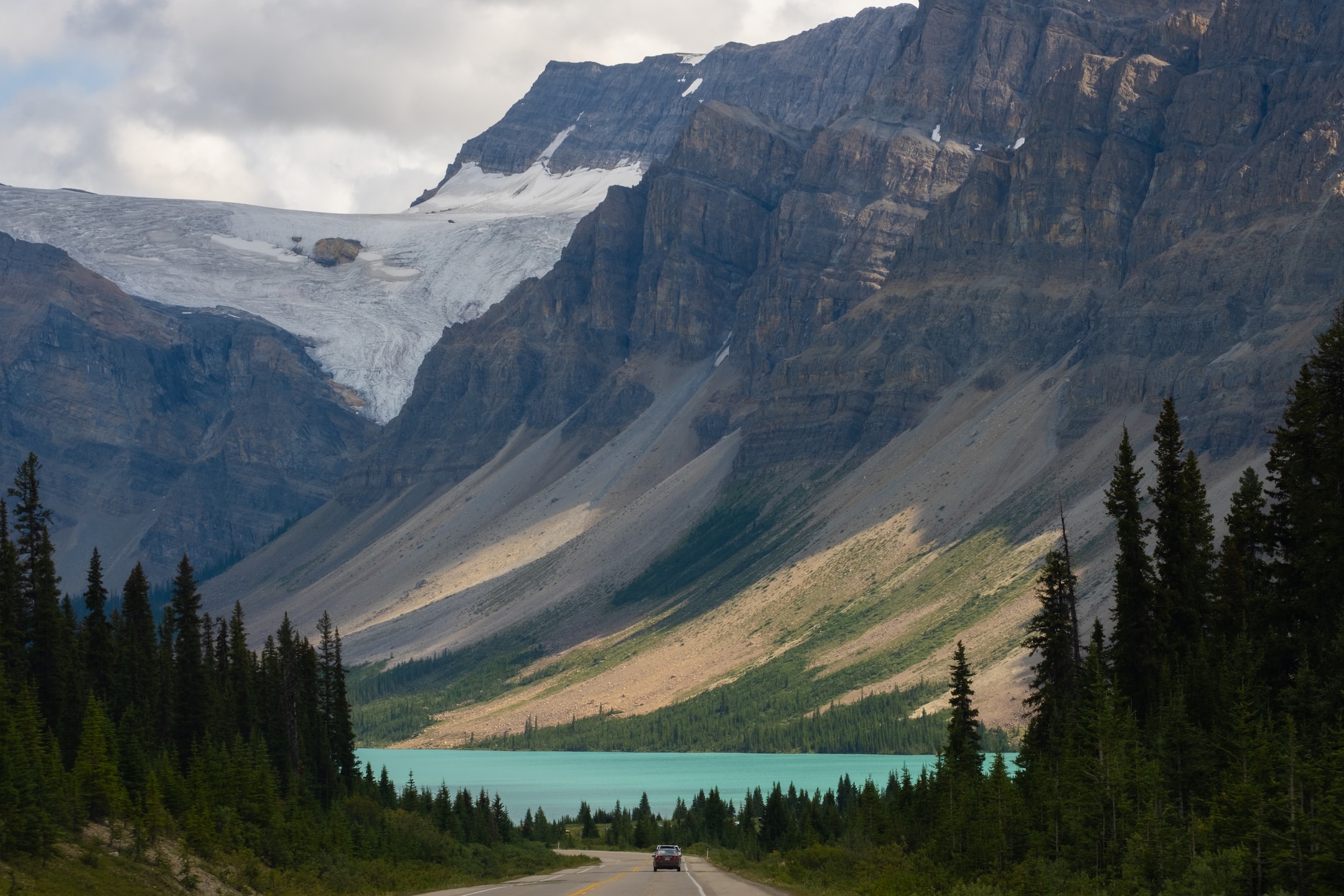 How Long Does it Take to Drive From Lake Louise to Jasper
If you drove the route straight without stops, it would take three hours. However, considering you are looking at an article about the best stops between Lake Louise and Jasper, I'm guessing you want to stop and enjoy. I would plan for the Lake Louise to Jasper drive to take you the entire day, especially if you enjoy all these epic stops.
Is Jasper or Banff Better?
This tricky question cannot be answered in just a sentence. So we recommend you read our entire article breaking down the pros and cons of each.
What is the Total Distance?
From Lake Louise village to Downtown Jasper the route is 233 km
How Many Days Do I need in Banff and Jasper?
I would suggest at least spending seven days in the Canadian Rockies, though you will 100% leave wanting more. If you have the time and budget, consider a two-week trip to the area. This will give you ample time to explore Banff, Canmore, Jasper, Yoho, and more! However, we have lived here for years and still feel we have a lifetime of exploring left to do in the Rockies.
What is the Speed Limit?
The speed limit on the Icefields Parkway is 90 kilometers per hour in most areas. Though keep in mind this is the limit – and not a target. In the winter, it's best to drive slower than this to avoid potential accidents.
In the summer, it's still best to drive slower than this, not only because of wildlife on the road, but to allow you to take it all in at a slower pace.
---
Must Visit Stops from Jasper to Lake Louise Map
---
Plan Your Trip to the Canadian Rockies