Abraham Lake is a stunning lake in Alberta that expels the classic Rocky Mountain blue color in the summer and infamous ice bubbles in the winter. Countless visitors venture to the lake in the winter to enjoy the famous frozen bubbles, but camping at Abraham Lake is the best way to enjoy its beauty in the summer months.
Abraham Lake offers some of the best random camping in the Canadian Rockies. The campsites sit right at the bright-blue waterfront, with mountain views as far as the eye can see. Camping at Abraham Lake offers beautiful views and endless adventure opportunities, even in a central location!
Abraham Lake is 30 minutes off the Icefields Parkway, between Banff and Jasper National Park. This beautiful camping destination is easy to visit during any Rocky Mountain visit and is a great pitstop during your trek from Banff to Jasper.
---
About Abraham Lake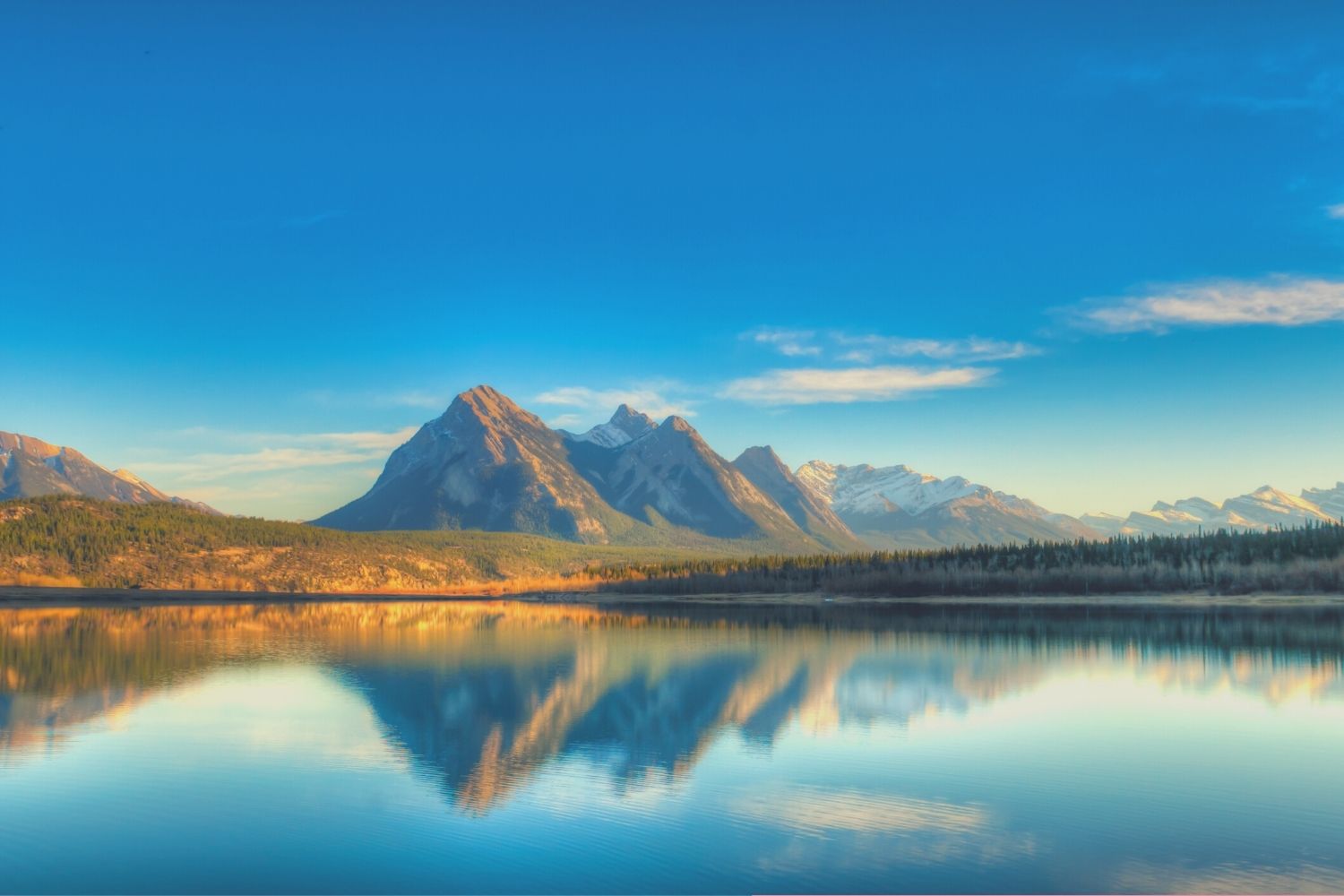 Abraham Lake is Alberta's largest man-made reservoir, covering an area of 54 square kilometers and in the Bighorn Backcountry, also known as David Thompson Country. This area of public land encompasses over 5,000 square kilometers (1.2 million acres) of land.
Abraham Lake is known for its blue color, similar to other Rocky Mountain lakes, and was formed in 1972 when the Bighorn Dam was built.
The David Thompson Highway (Highway 11) runs through the area and offers many random camping areas along the lake and nearby campgrounds. Abraham Lake is well known in winter for being the "mountain bubble lake" for its famous methane bubbles that form in the winter.
In the summer, Abraham Lake is one of the most beautiful recreation sites for hiking, camping, climbing, kayaking, and so much more.
---
Abraham Lake Camping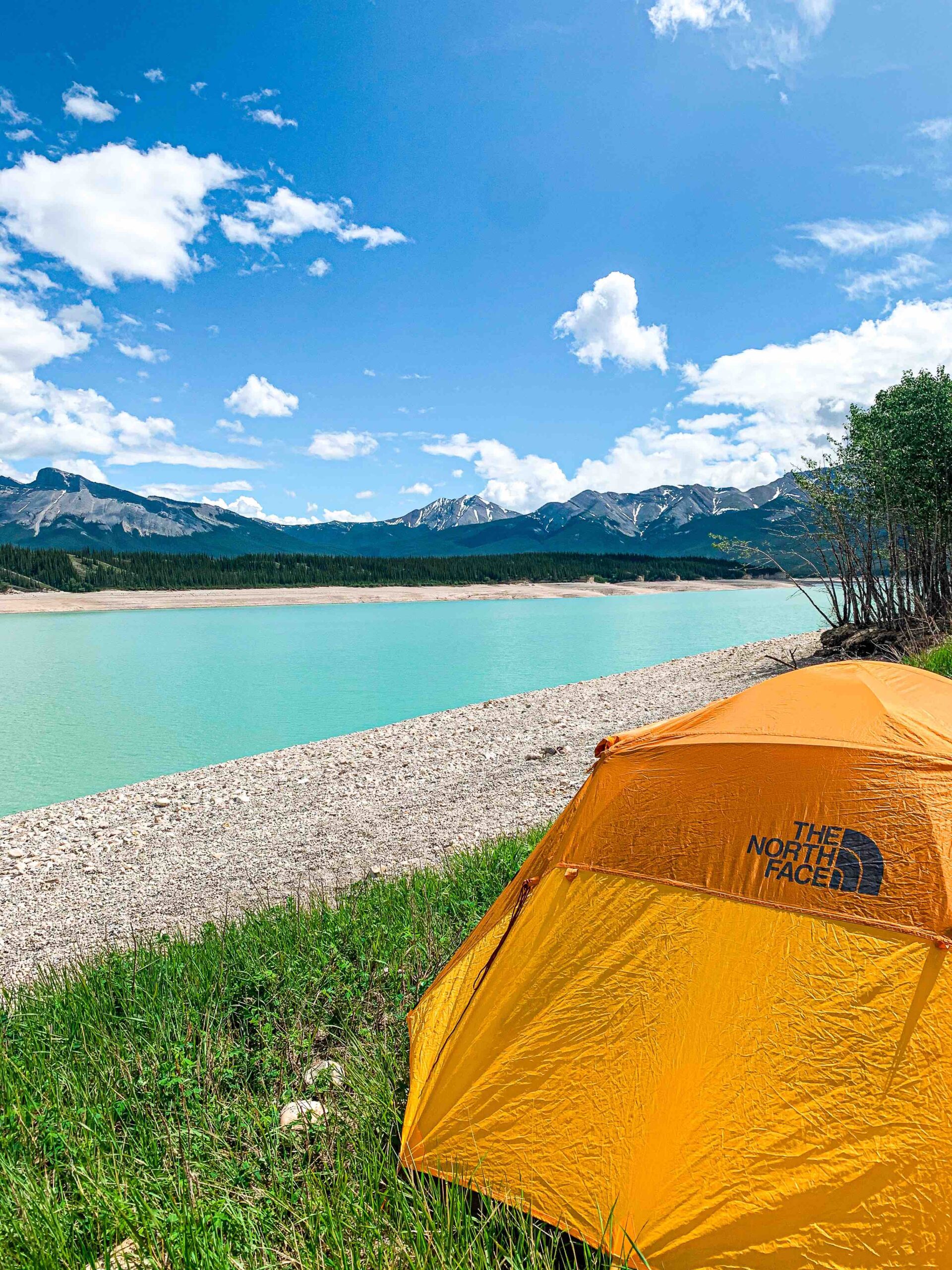 ---
Key Facts
Location: Abraham Lake, Clearwater County AB
Camping Type: Random Camping, Car Camping
Reservation Type: First-Come First-Served
Fee: a Public Lands Camping Pass is required
Amenities: None
---
Getting to Abraham Lake
Abraham Lake is about two hours from the town of Banff, nearly marking the halfway point between Banff National Park and Jasper National Park.
If visiting the lake from Banff, you will be driving the Icefields Parkway for most of the drive. I recommend giving yourself extra time for this drive, as the glacier views and turquoise lakes are worth stopping for.
Driving from Banff to Abraham Lake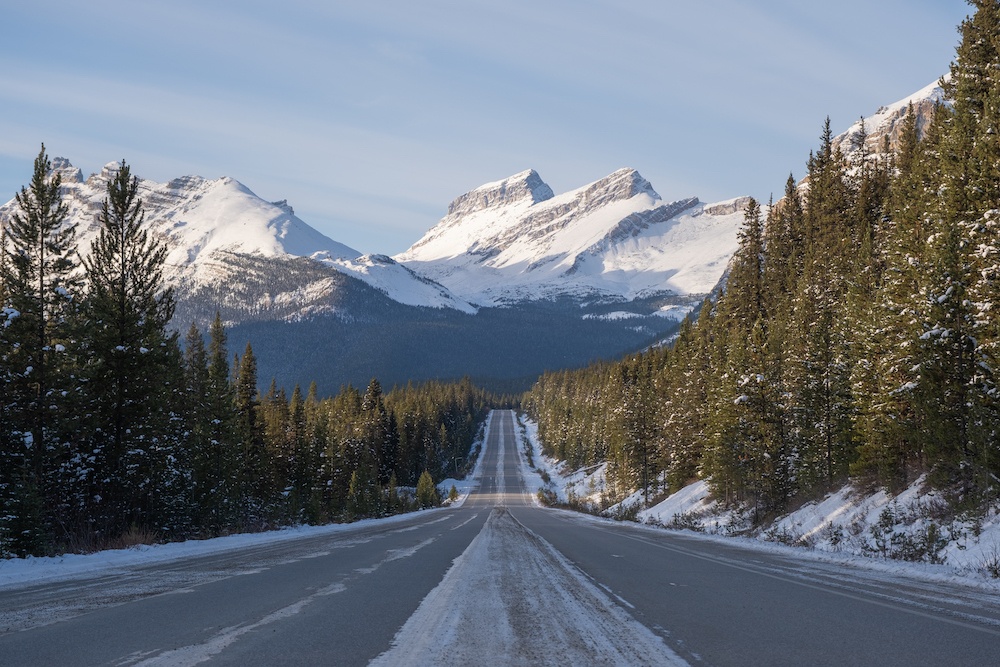 As you leave the town of Banff, follow the Trans-Canada Highway 1 until you reach the exit for Lake Louise (a 40-minute drive or so). From here, you will exit the Trans-Canada highway and start your drive along the Icefields Parkway, which is easily one of the most scenic routes in Canada! This road offers views of over 100 glaciers, cascading waterfalls, and countless turquoise lakes.
The Icefields Parkway is where you will spend most of this 2-hour drive, with the Saskatchewan River Crossing marking your turning point. At the Crossing, you will find a gas station and a gift shop with great souvenirs and snacks to help you finish the drive (not open in the winter).
This is the last source of any amenities, gas, or other supplies you may have forgotten, so be sure to do a final checklist before continuing to the campground. If you miss these items here, your next option is the hamlet of Nordegg.
Once at the crossing, you'll turn off the Parkway and onto the David Thompson Highway, which you will follow until you reach the lake after about 32 km. It is off this highway that you will find various waterfront campsites!
Driving from Jasper to Abraham Lake: 2 hr 23 min (202.2 km) via AB-93 S (Icefields Parkway) Turn left onto AB-11 E.
Driving from Edmonton to Abraham Lake: 3 hr 35 min (339.6 km) via Hwy 2 S (towards Red Deer) and AB-11 W
Driving from Red Deer to Abraham Lake: 2 hours (211.1 km) via AB-11 W
---
Spotting the Abraham Lake Campsites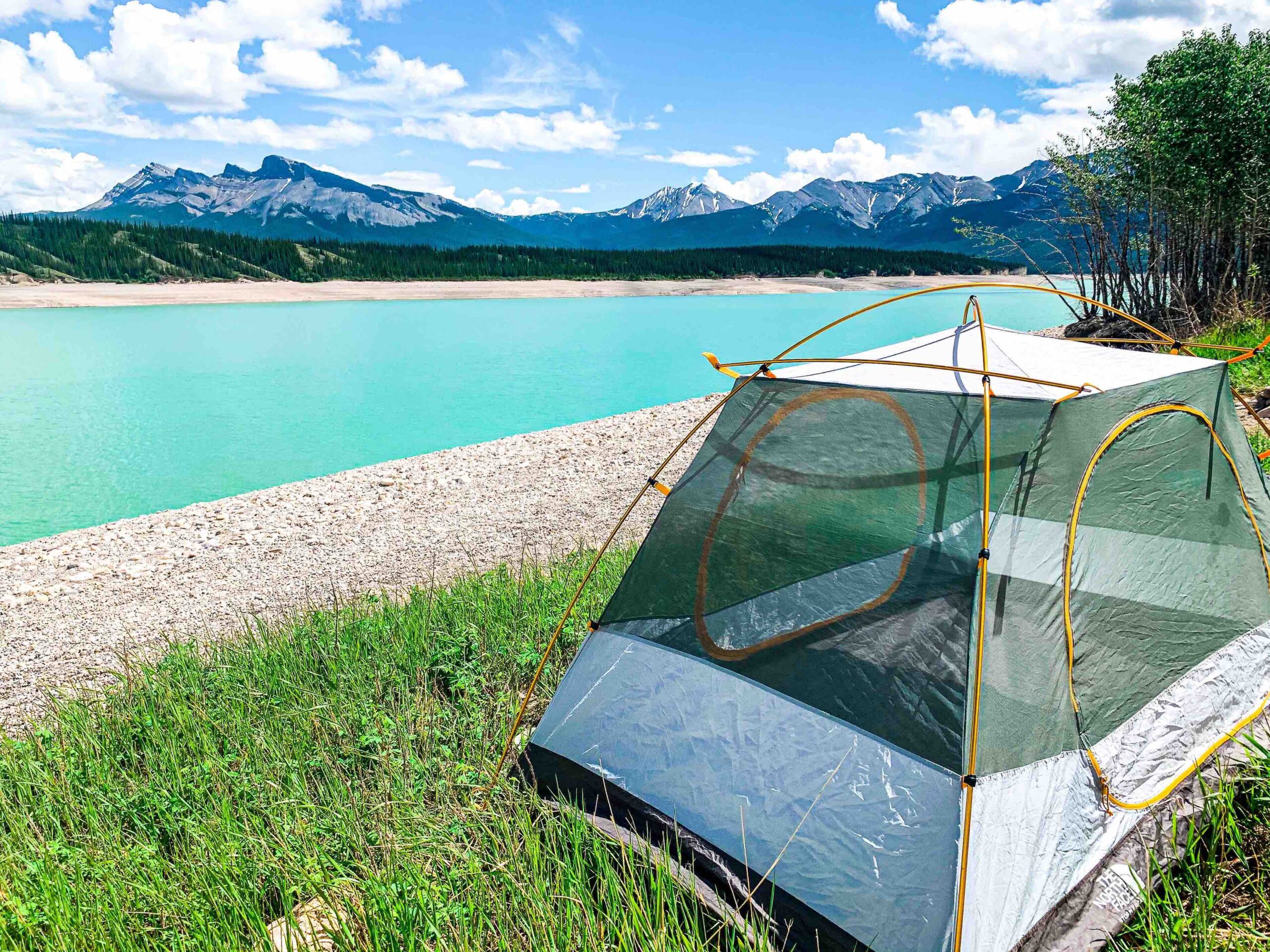 There are countless campsites off of the David Thompson Highway, along both Abraham Lake and the North Saskatchewan River (the river that feeds into the lake). Finding the campgrounds at Abraham Lake is quite an adventure in itself.
Considering they are "Random Campsites," most campsites do not have any signs or park gates to point you in the right direction. Instead, you need to keep a keen eye out for roadside trails and be willing to go off-roading.
One popular camping area is well signed: The Preachers Point Recreation Area. This is the easiest campground to get to, and the access road is easy to navigate. This is the only camping area with signage, so it can be tough to score a site at this popular spot – if you are looking for somewhere quiet and more isolated, test your luck at finding an unsigned camping area.
You can find front-country campsites all along Abraham Lake and part of the Saskatchewan River leading up to the lake. The best tactic in finding the campsites is to keep an eye out for dirt roads and access points along the tree line.
---
Finding a Camp Site at Abraham Lake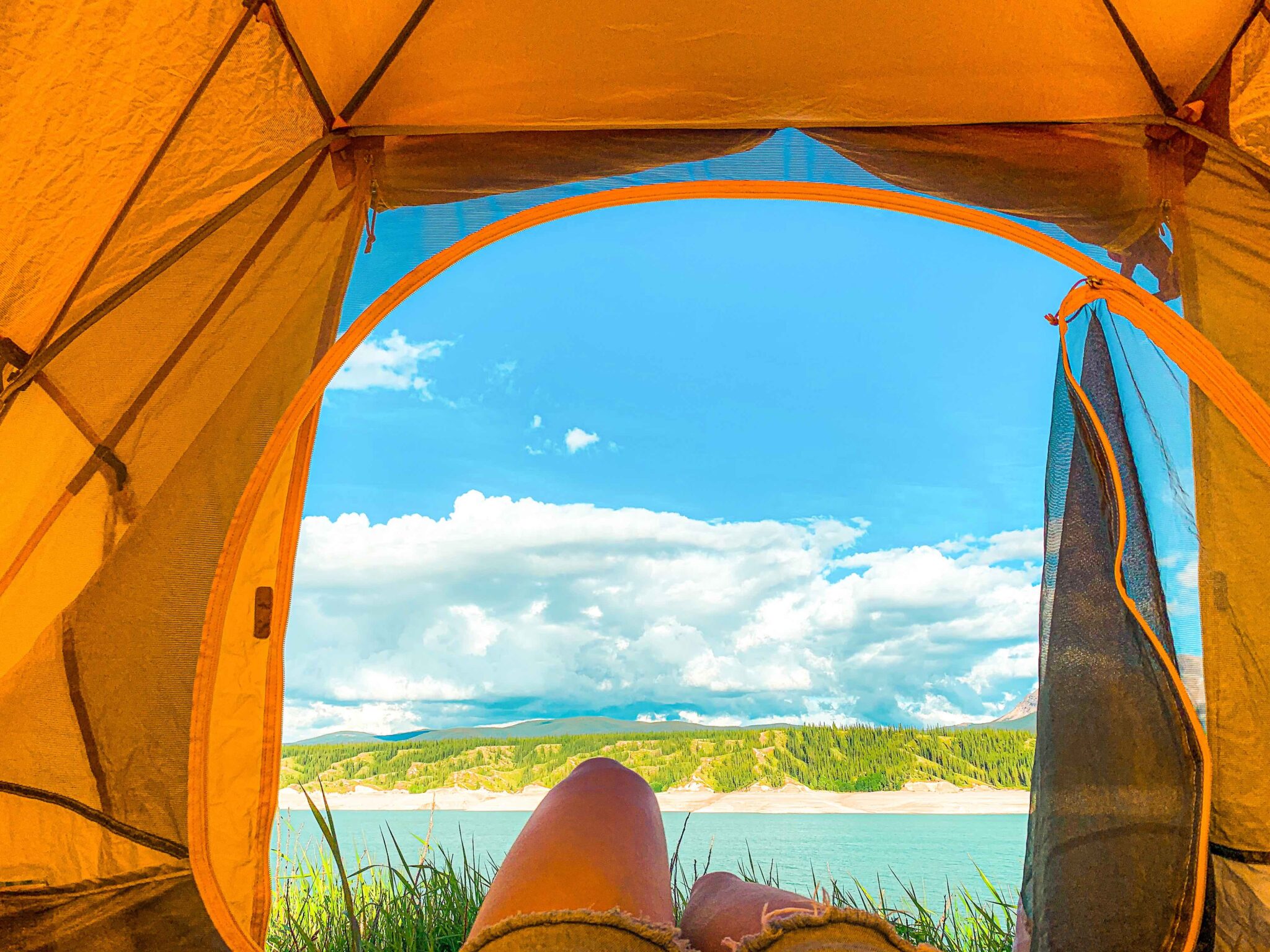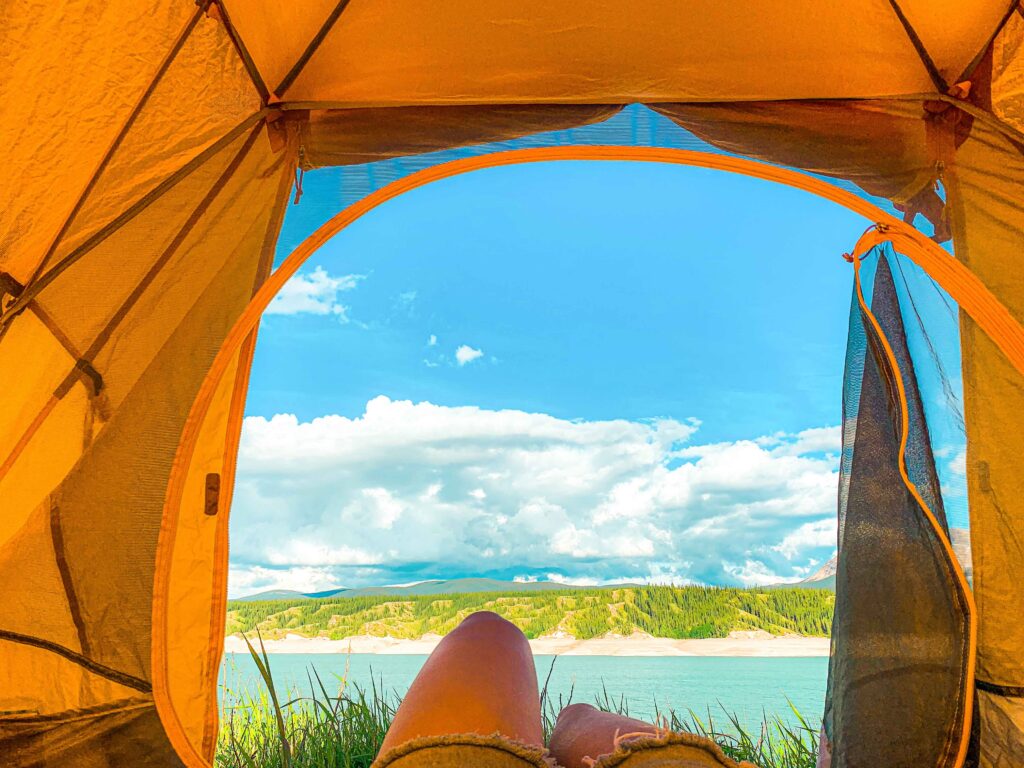 As mentioned earlier, the campsites around Abraham Lake are endless. Though these beautiful campgrounds don't need a reservation, getting to them still requires some patience and a little determination. Be sure to give yourself plenty of time to find a campsite so that you don't feel rushed in choosing one.
Follow the David Thompson Highway until you are close to the lake – about 25 minutes (32 km) past the Saskatchewan River Crossing to find a campsite. Once you're close, begin looking for dirt paths entering the trees on the right side of the road. The paths leading to campsites will be fairly well defined, leading you off the highway and into the trees.
We drove along the highway until we saw a well-defined dirt path entering the trees, then pulled off to check it out. Airing on the side of caution, we explored the path on foot before aimlessly hauling our vehicle down an unknown dirt road. We found a long row of campsites and some fellow campers as we approached the waterfront!
It took a couple tries to find a path that led to an available, worthwhile campsite at Abraham Lake, but once we found one, it was worth our efforts!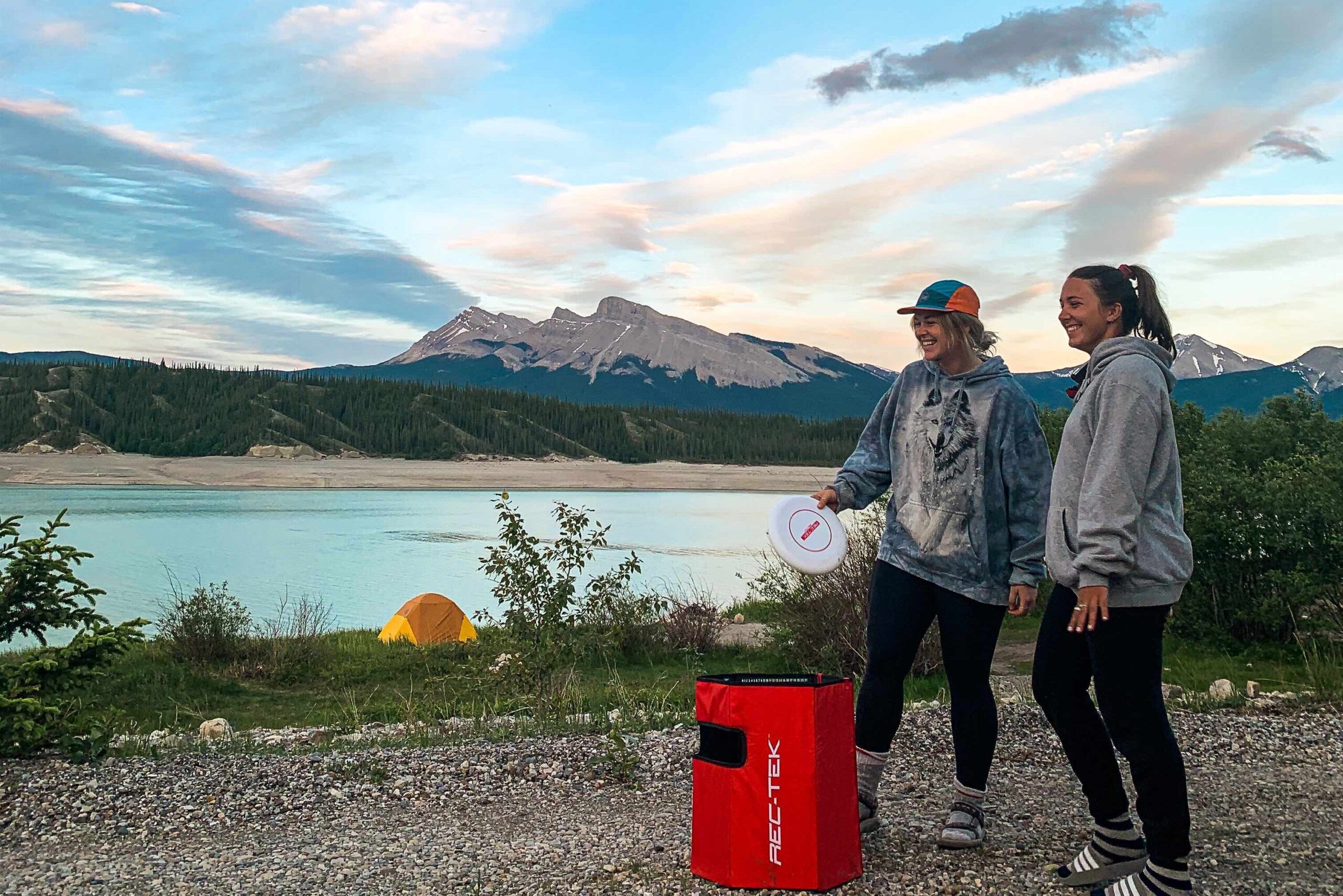 I recommend exploring a couple paths before settling on a campsite – each campsite we explored was even more beautiful than the last. The closer you get to the lake, the more attractive the views become. We chose campsites that were still on the river, as we found these to be less busy than sites along the lake, but close enough to the lake that the river was high and wide, and the views were beautiful!
The access roads leading to the campsites can be rough, with potholes, fallen branches, and other challenges of an unmaintained path. Having a four-wheel drive vehicle helps, but it's not necessary. By traveling slowly and cautiously, you shouldn't have a problem making it to the waterfront.
---
Fees For Camping at Abraham Lake
Unlike many campsites in Banff and Jasper, camping at Abraham Lake does not require a reservation and is considered "random camping." Random camping is a commonly used name for no-service or limited-service camping outside established campgrounds.
A Public Lands Camping Pass is required to random camp on public land along the Eastern Slopes of the Rocky Mountains, this includes the area around Abraham Lake. The fee is $20 for a 3-day pass or $30 for an annual pass. These fees are per person for campers over 18 years old. This fee goes towards improvements in the David Thompson corridor.
*There is also a $3.25 system-processing fee plus GST per transaction. A one-time Wildlife Identification Number (WIN) purchase is required to access the system ($8, but with a $2 discount if purchased online).
---
Know Before You Go Abraham Lake Camping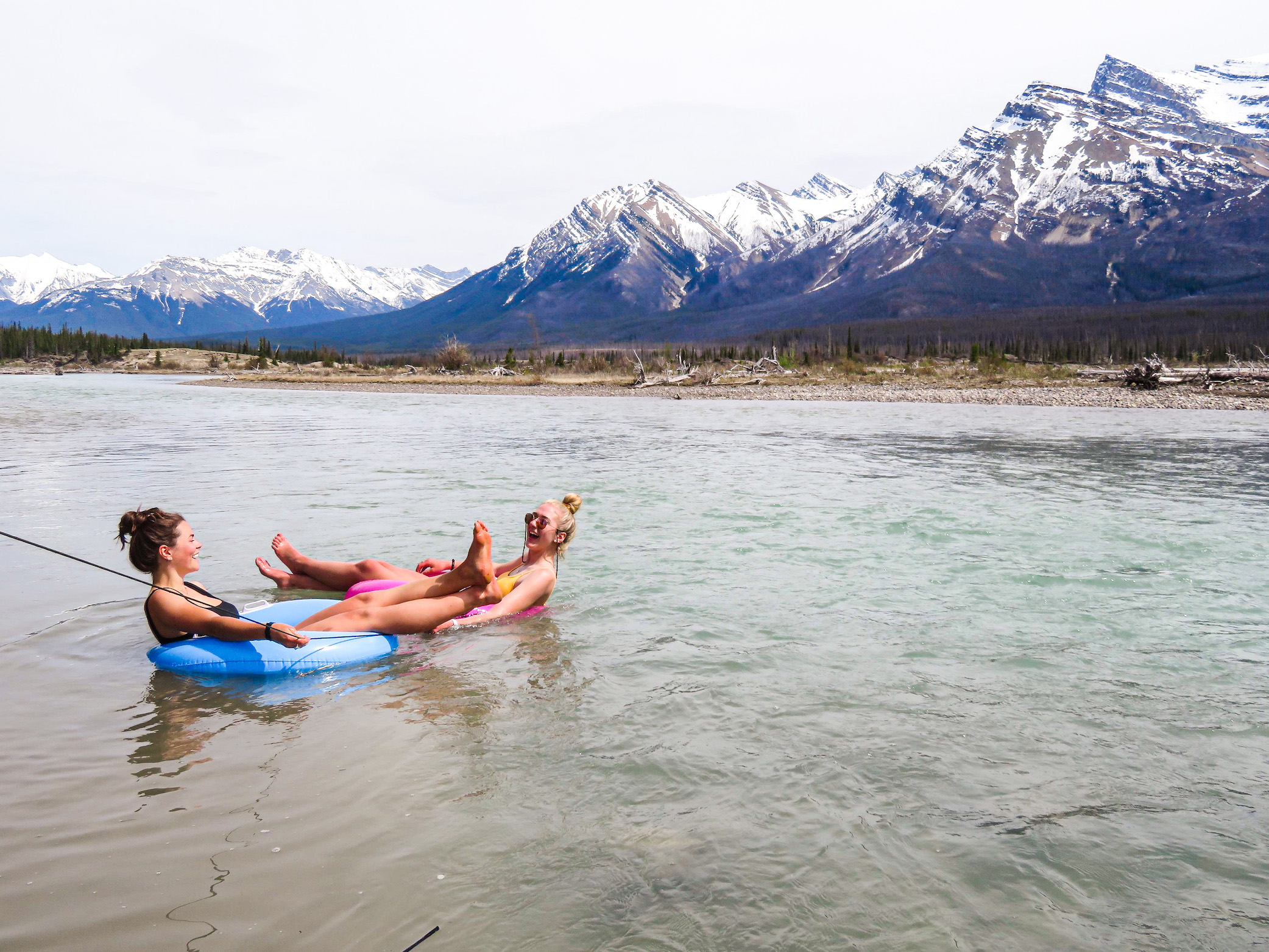 Random Camping has a lot of perks. Abraham Lake camping has been one of my favorite car-camping campsites to date, but there are a few things you should keep in mind before venturing to this random camping site:
There are no utilities at the campsites: considering this is a random camping area, there are no utilities for use when camping at Abraham Lake. The Preacher's Point Recreation Area has a couple drop toilets, and a few sites along the lake have fire rings, but that is about it. There are no picnic tables, and it is unlikely that your campsite will have a toilet nearby, so plan accordingly and bring toilet paper (but remember to pack it out).
No cell phone service: When driving to Abraham Lake from Banff, we lost cell phone service well before reaching the lake – cell phone service cuts out just after getting on the Icefields Parkway. If coming from Jasper, you won't have service once you leave the town. There is no cell phone service at the lake, and no service until you get to Nordegg. If you are doing any hiking around Abraham Lake, consider getting a Garmin InReach.
You cannot reserve these campsites: The campsites at Abraham Lake run on a first-come, first-served basis. There is no way to reserve a campsite in advance. There are tons of campsites around the lake and on the river leading up to the lake, so you shouldn't have an issue finding an available one – you just may need to explore the area for a while before finding an available campsite worth setting up at.
Abraham Lake and the North Saskatchewan River are glacial fed – The beauty of this bright blue lake and river is jaw-dropping, but the water is also freezing cold! We visited in the middle of the summer and braved some glacial swims while being cautious of the ice-cold water.
Abraham Lake is home to bears and other wildlife: Bears and other wildlife love to roam this quiet highway and resourceful riverbed. While driving and camping, always be bear aware!
---
Remember to Leave No Trace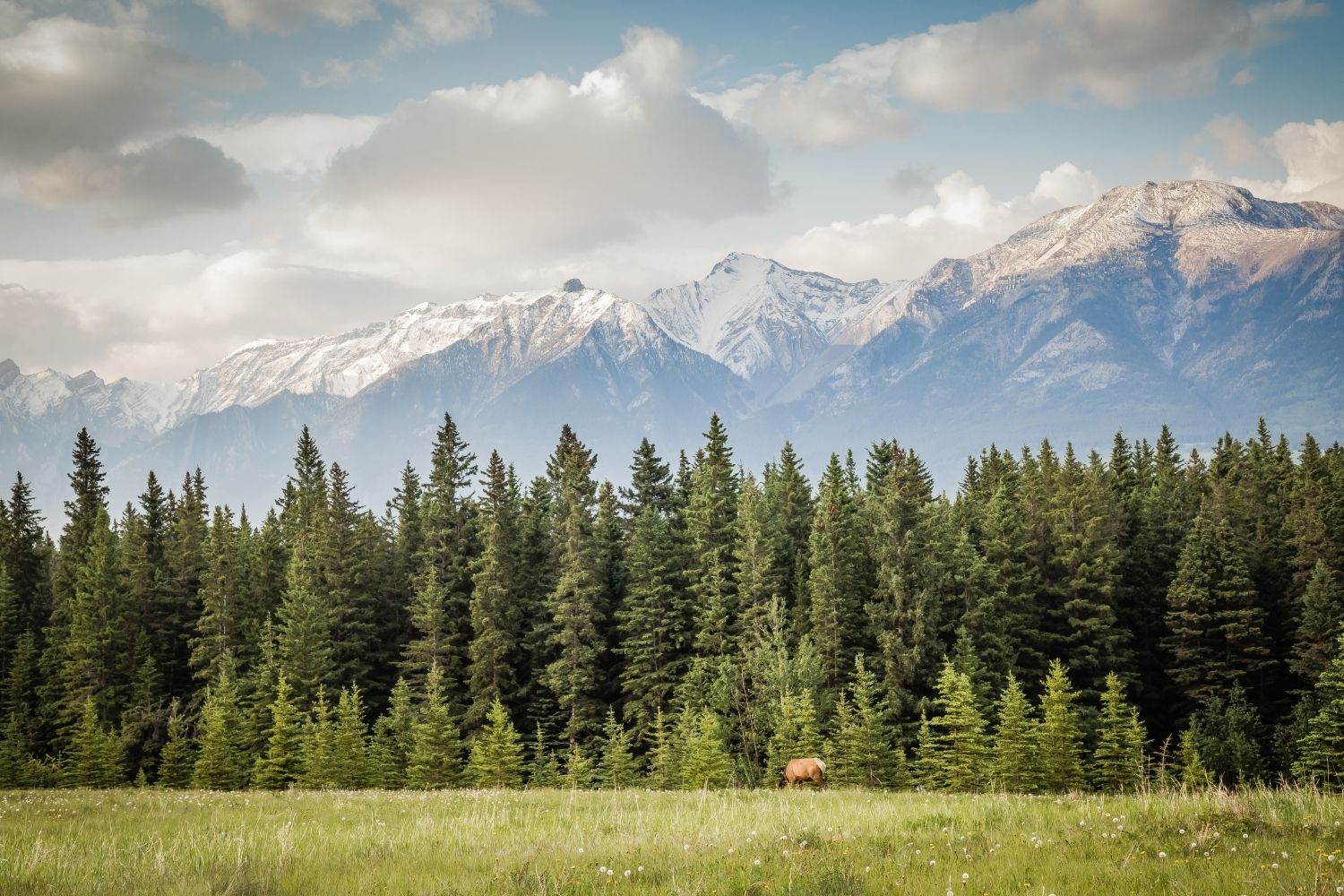 Of course, you should always leave no trace whenever out in the pristine wilderness; however, you should be extra mindful here at Abraham lake.
Since camping at Abraham Lake is all random, there are no trash bins to discard your waste. Pack everything out that you bring in, including human waste. It's a special place in the world that we must protect for future generations.
---
Campgrounds to Stay in Around Abraham Lake
---
---
Things To Do Near Abraham Lake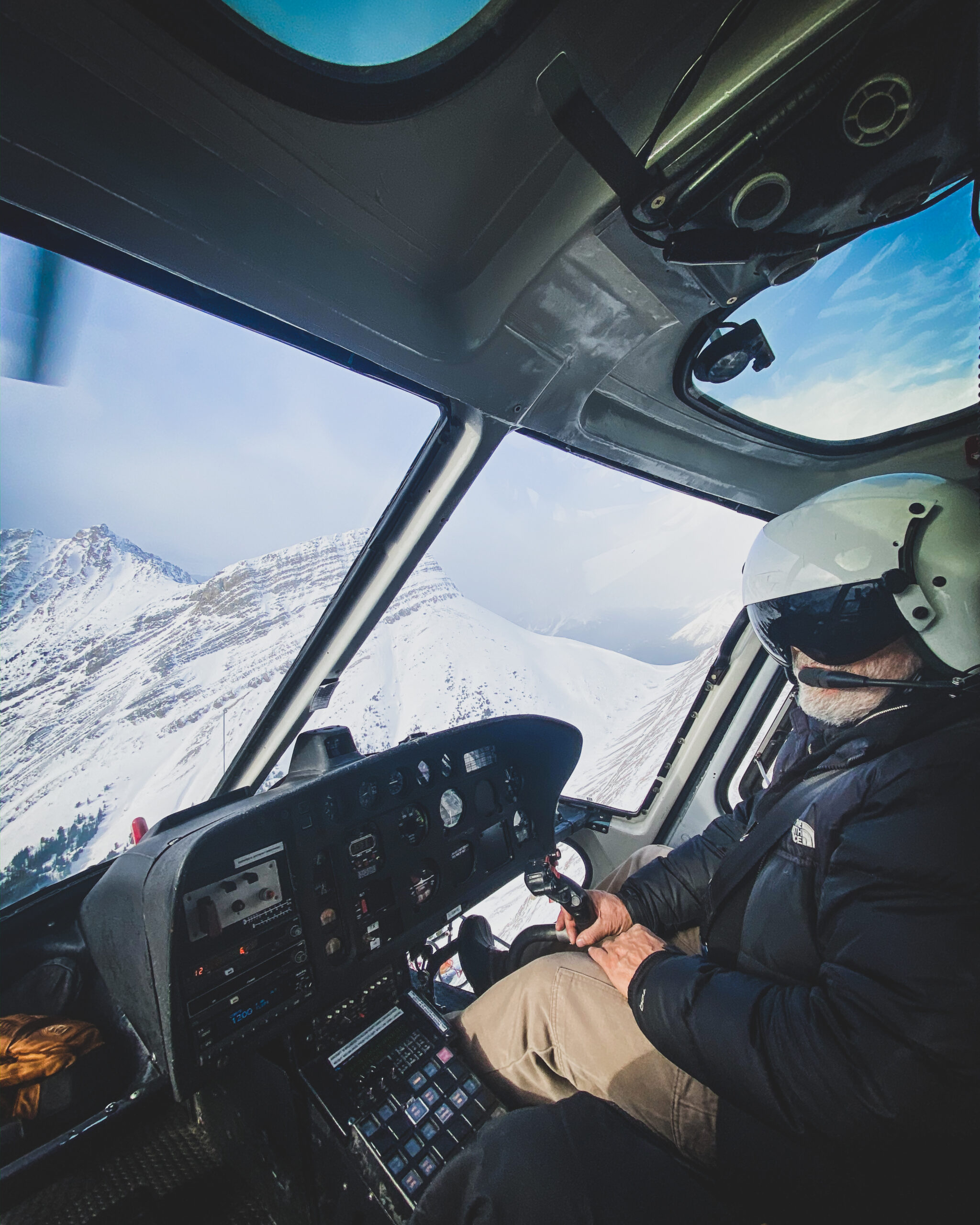 If you are eager to explore Banff National Park, Jasper National Park, and everything in between, camping at Abraham Lake makes for a great overnight pitstop! I definitely recommend camping here if you're in the middle of a Banff to Jasper road trip.
This beautiful Abraham Lake sits amidst some of the best sight-seeing and National Park hotspots in Alberta:
---
More Camping Tips in the Canadian Rockies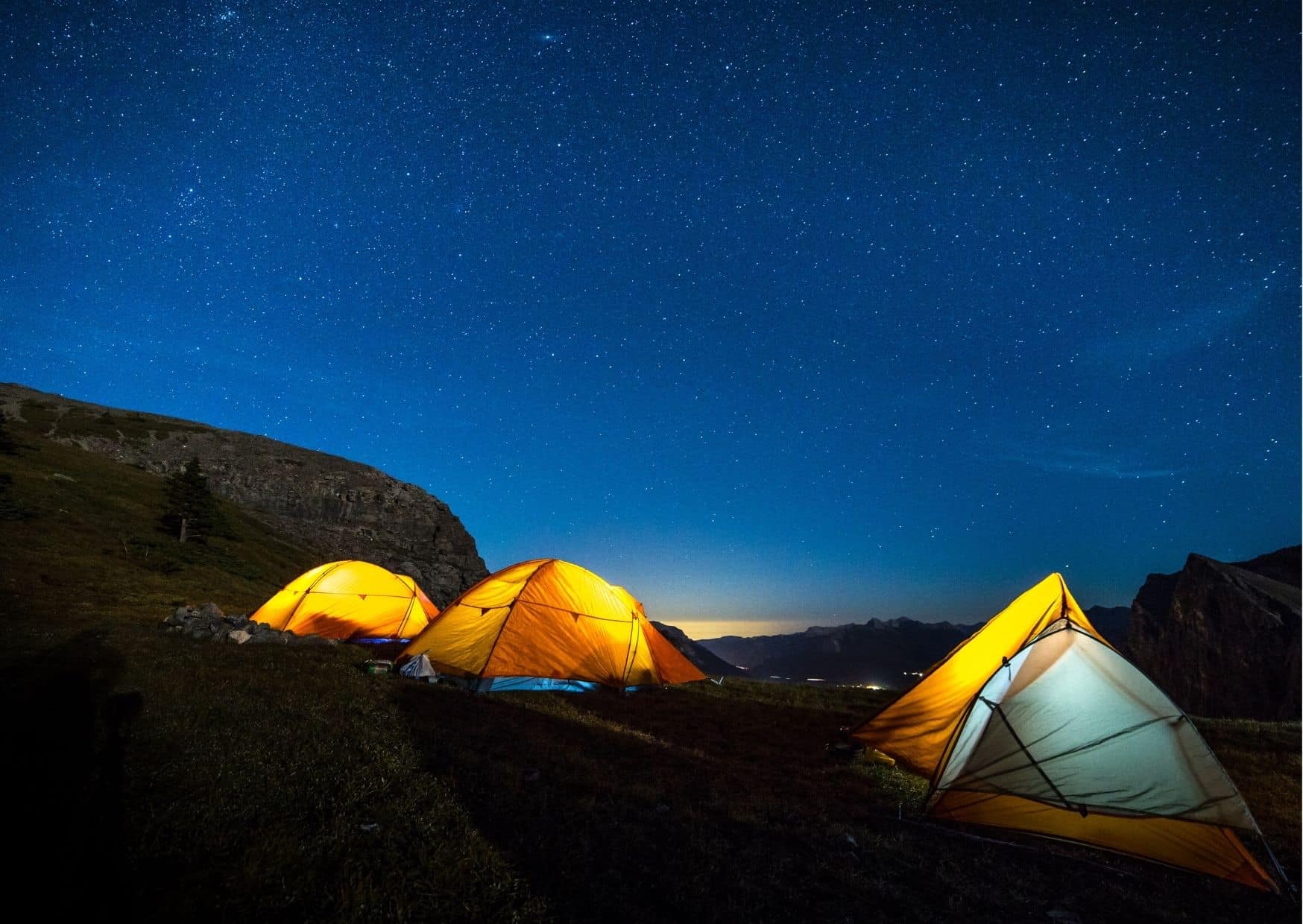 ---
Plan Your Trip to the Canadian Rockies
---
↓ Join the community ↓
The Banff Blog Facebook Group is your headquarters for the Canadian Rockies' travel advice and information. Including hike info and off-season travel information. This is also where you can meet one another when you need adventure buddies.