There are so many things to do in Nelson, BC, for any first-timer to the area. Every time we visit the charming town of Nelson, we instantly fall in love all over again. This beautiful Canadian city is situated right in the rugged Selkirk Mountains on the shores of Kootenay Lake.
Known as "The Queen City" because of its 350 restored heritage buildings from the silver rush days, Nelson packs a lot of punch for any visitor and is one of the best places to visit in BC.
There's plenty to do here for any outdoor lover, but it also has somewhat of an old-time feel that will make just walking around town enjoyable. If you're wondering what to do in Nelson, keep reading!
---
Where is Nelson, BC?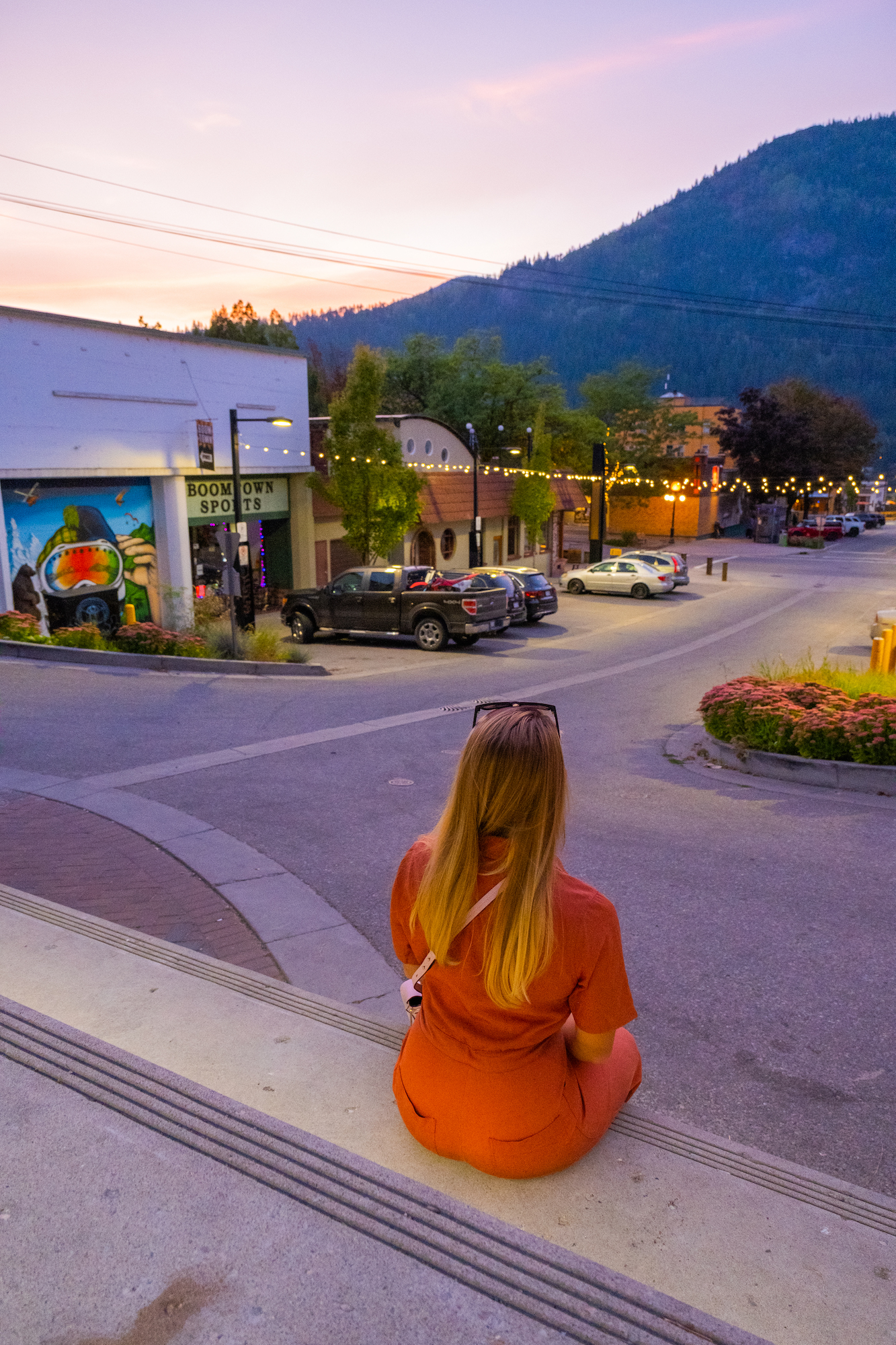 Before we dig into the best things to do in Nelson, let's establish the location. Nelson is a small city of 10,000 located in the Selkirk Mountain, on the West Arm of Kootenay Lake, and one of the best places to visit in BC.
Nelson, along with Castlegar and Trail is one of the main cities in the area. You can see its location on a map. It's a popular place to head in the summer, especially for mountain bikers. In the winter, diehard ski enthusiasts flock to Nelson to ski powder at Whitewater Resort.
If you are doing an epic Western Canada road trip. Nelson is 3 hours from Spokane, a 4 hour drive from Kelowna, 6 hours from Kamloops, and 8 hours from Vancouver.
---
The Best Things To Do In Nelson, BC
---
Pulpit Rock Hike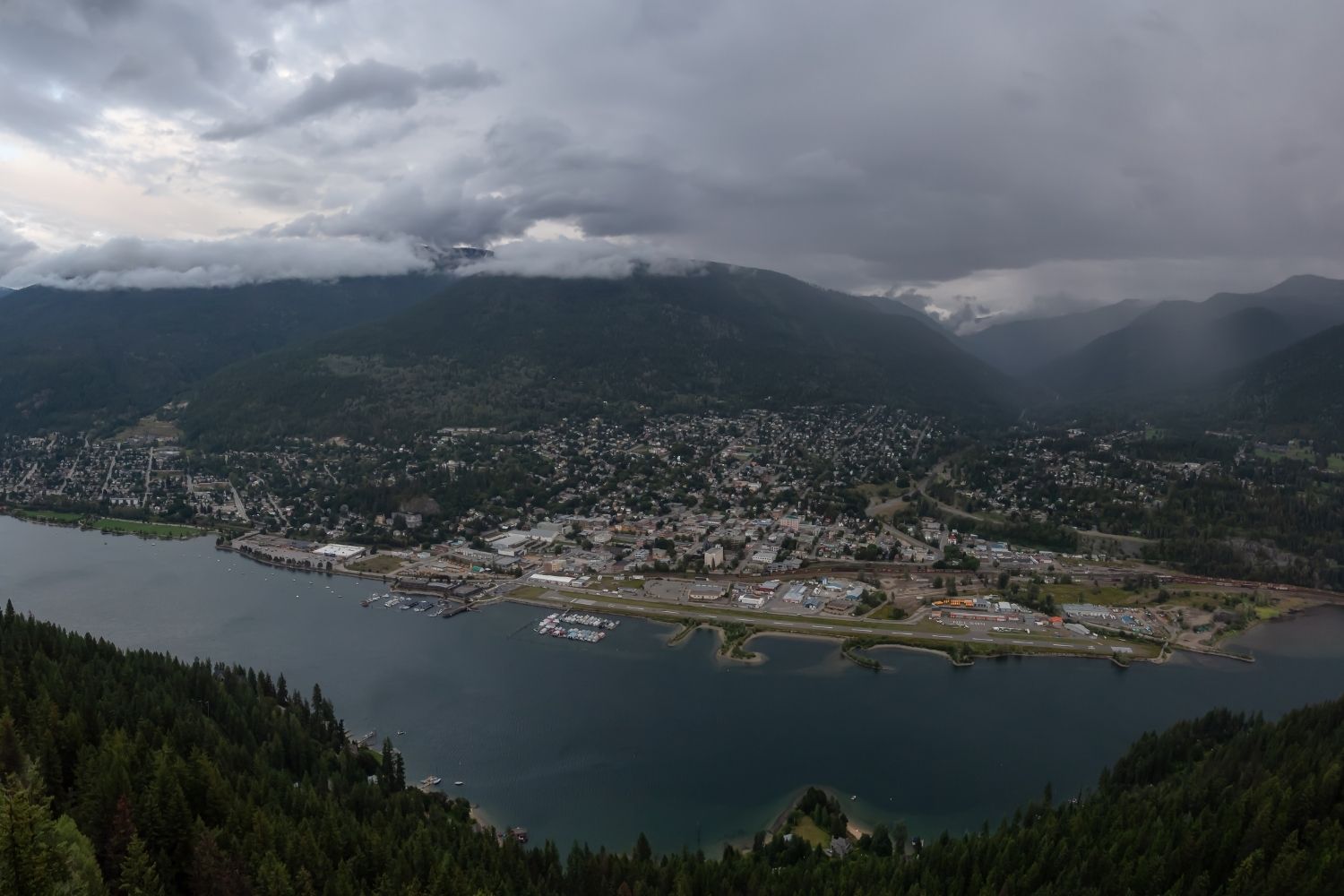 One of the first things you should do when you get to Nelson is a hike up to Pulpit Rock. Hiking up to Pulpit Rock is something almost every local and tourist has done in Nelson. This is a short hike that is a great thing to do in Nelson for a few hours.
This is a 3.5 km round trip hike that will require you to gain 325 meters but will provide the most epic views over all of Nelson. Seriously, if it's a sunny day out, you shouldn't miss this adventure.
---
Stroll and Shop on Baker Street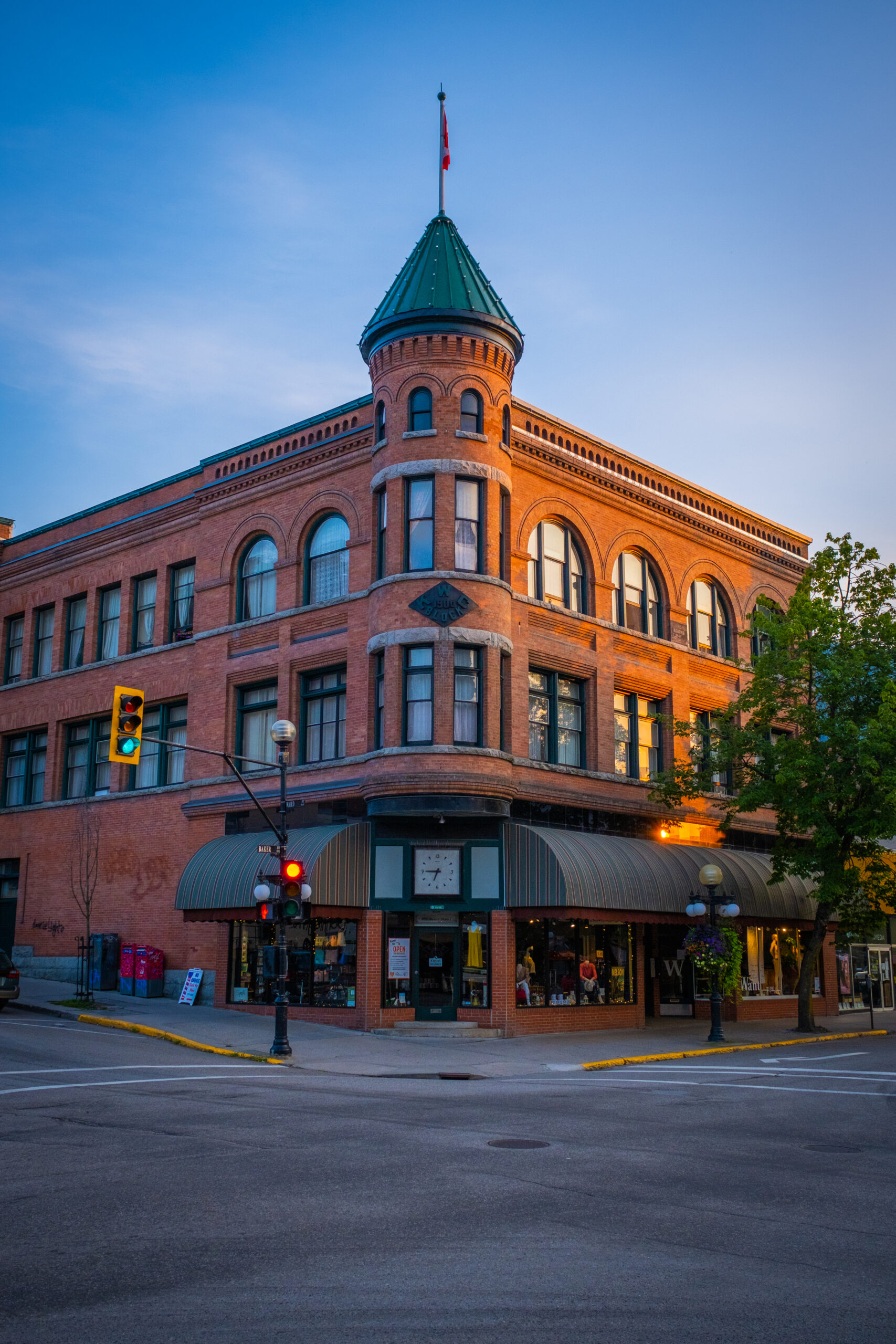 Baker Street is the main street in downtown Nelson and where you'll find most of the local shops, cafes, and restaurants.
For a small city in the mountains, there are actually quite a few businesses on this street. You can easily spend a few hours strolling around, dipping into shops.
---
Drive the Selkirk Loop
One of the best things to do in Nelson in the summer and autumn is to drive the international Selkirk Loop. This is a stunning drive that will take you through both Canada and the United States.
Explore the Selkirk Mountain Range for 3-8 days. Take your time and enjoy the views of the area. Some of the highlights are Sandpoint, ID, and Newport, WA. You can start the drive in Nelson. See the full route here.
---
Ski Whitewater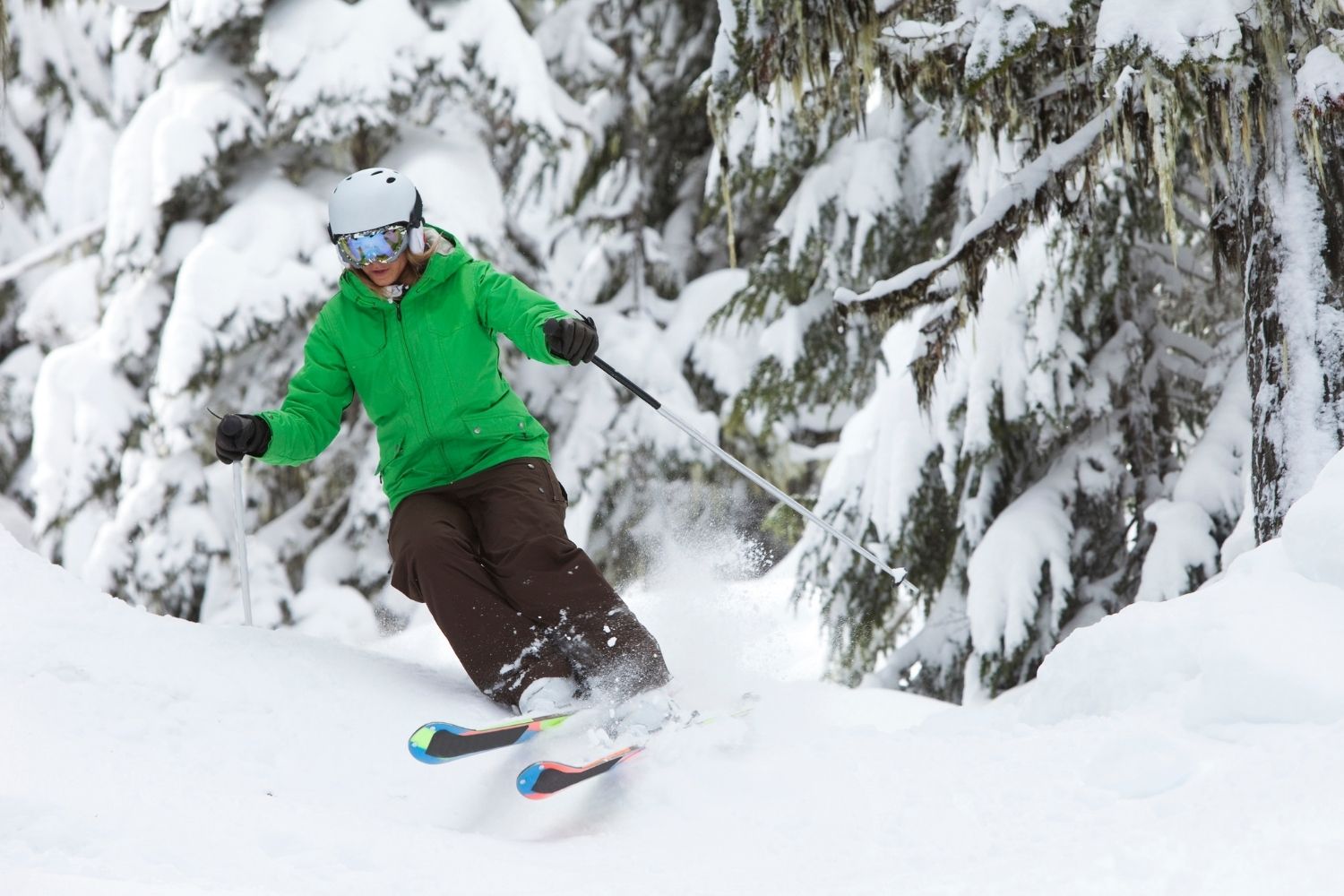 Whitewater Ski Resort is one of the best ski resorts in Canada. Whitewater is just outside of Nelson, and skiing here is like taking a step back into time. It's a simple and retro ski resort far from the maddening crowds of big resorts like Whistler.
While it may sound like some hippie ski hill, it may shock you to know that Whitewater receives 12 meters of snowfall annually. So chances are, if you are spending a few days in Nelson in the winter, you'll hit at least one epic powder day. With so much powder and tree skiing, heading here is easily one of the best things to do in Nelson in the winter.
---
Ainsworth Hot Springs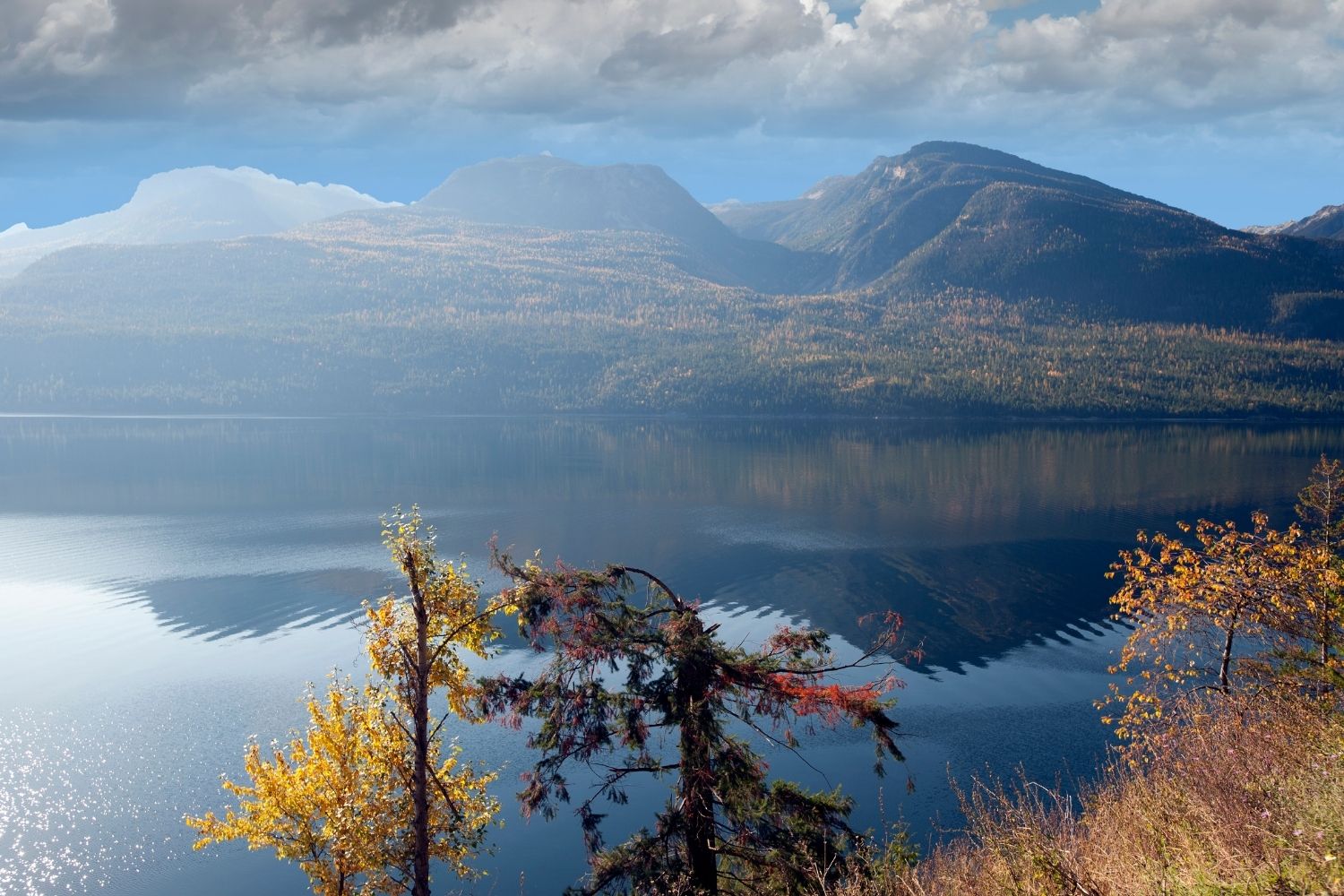 Ainsworth Hot Springs is a historic village on Kootenay Lake in British Columbia. It's best known for its resort, which is less than one hour away from Nelson. People come here all the time on day trips to soak in the hot springs. You could easily spend the afternoon here enjoying the resort and spa. There's even a cave you can enjoy!
These springs have been used by the Ktunaxa people for their restorative properties. The water flows from the nearby Cody Caves and has many minerals.
If you want to stay more than a day, it's possible to stay overnight at the resort and eat at the Ktunaxa Grill.
---
Go Mountain Biking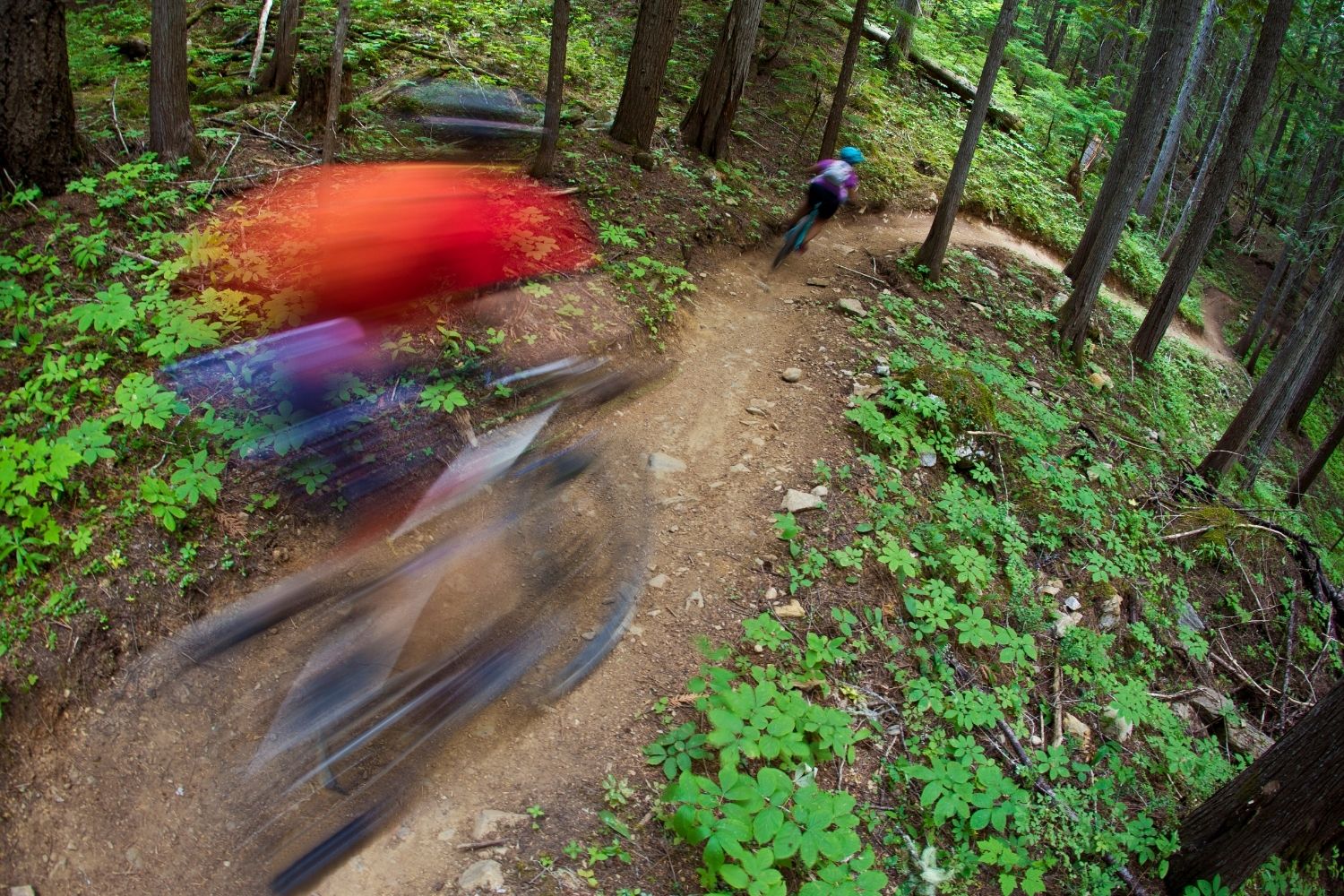 British Columbia, in general, is known around Canada and around the world for its epic bike riding. And some of the best mountain biking in British Columbia can be found in Nelson. Seriously the mountain biking here is no joke.
And what may be a black trail in other communities is actually a blue here. These mountain biking trails are intense!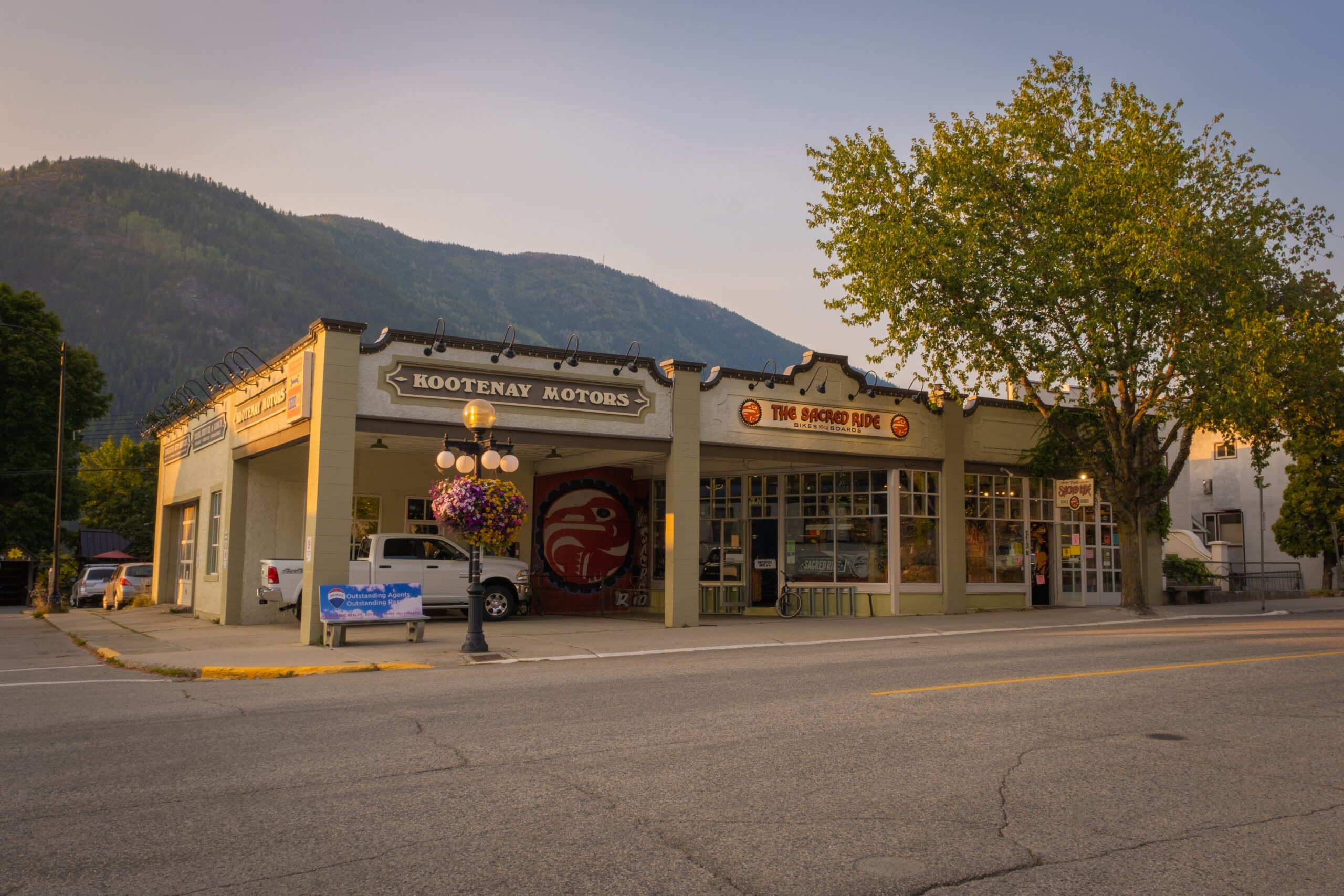 Nelson maintains the trails in eight different areas. Some of the best biking can be found in Kokanee Glacier Provincial Park and Balfour. Stop into Valhalla Pure or Sacred Ride in town to get a trail map.
---
Raft Down Class 4 Rapids on the Salmo River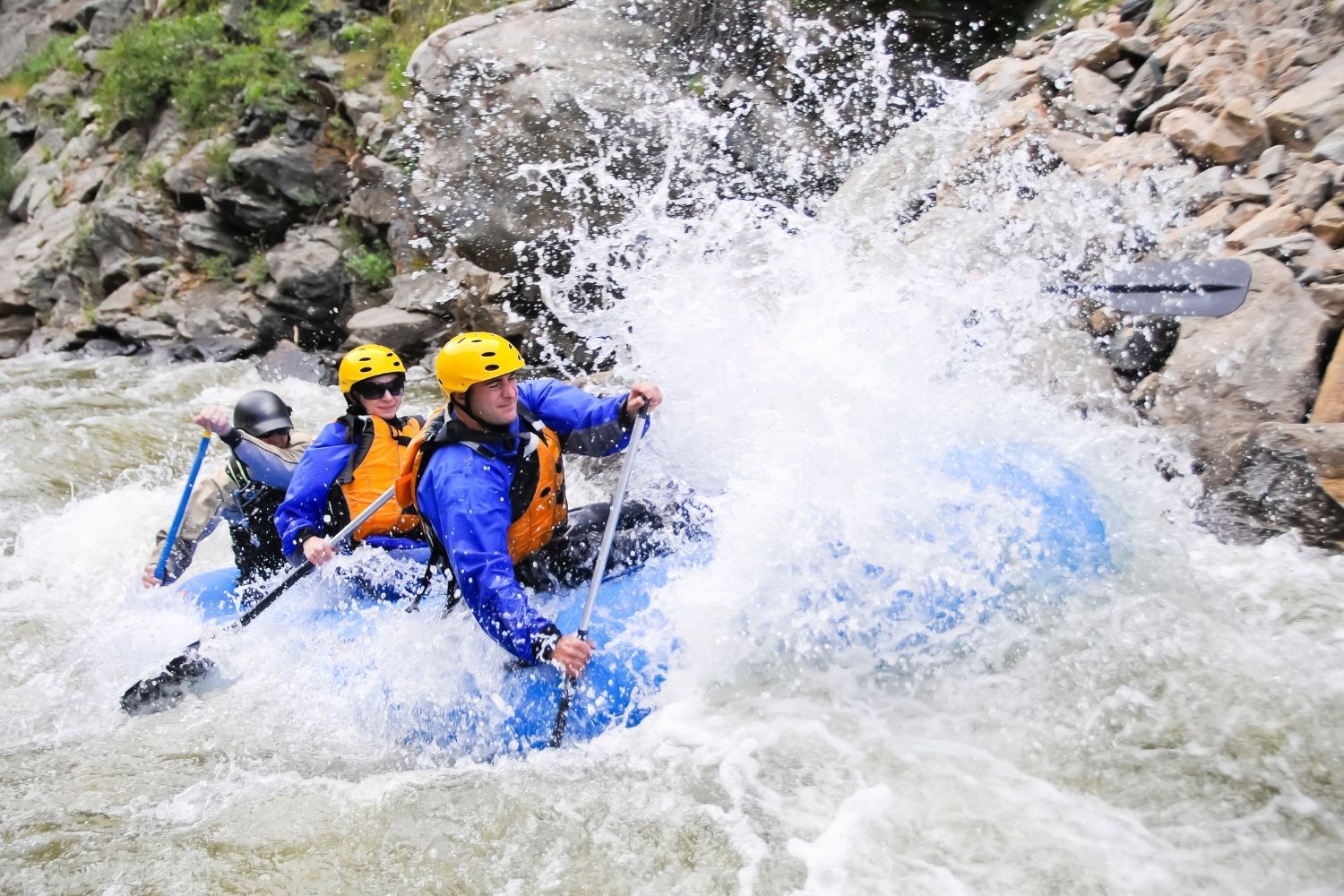 For the hardcore adventures, one of the best things to do in Nelson, BC, is whitewater raft down the Slocan River. See all the different tours here.
---
Enjoy the Food Scene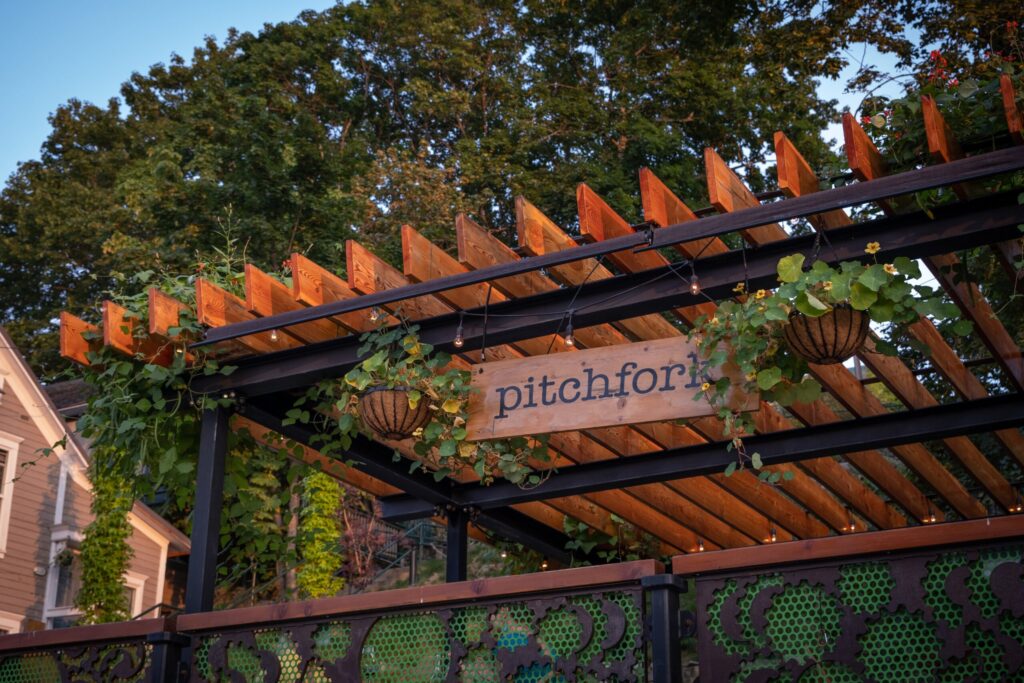 The food scene in Nelson is surprisingly impressive. It's quite different from nearby Rossland, Trail, Castlegar, or even Revelstoke, a few hours away in that it actually offers some delicious and hip restaurants.
From coffee shops like Empire Coffee and Oso Negro coffee to fantastic dinner spots like Pitchfork, there is something here for everyone.
A few of my favorite places to enjoy in Nelson are Tamil Kitchen, Pitchfork, and Cantina Del Centro. For drinks and beer, don't be afraid to try Backroads Brewing Company.
---
Stand Up Paddleboard on Kootenay Lake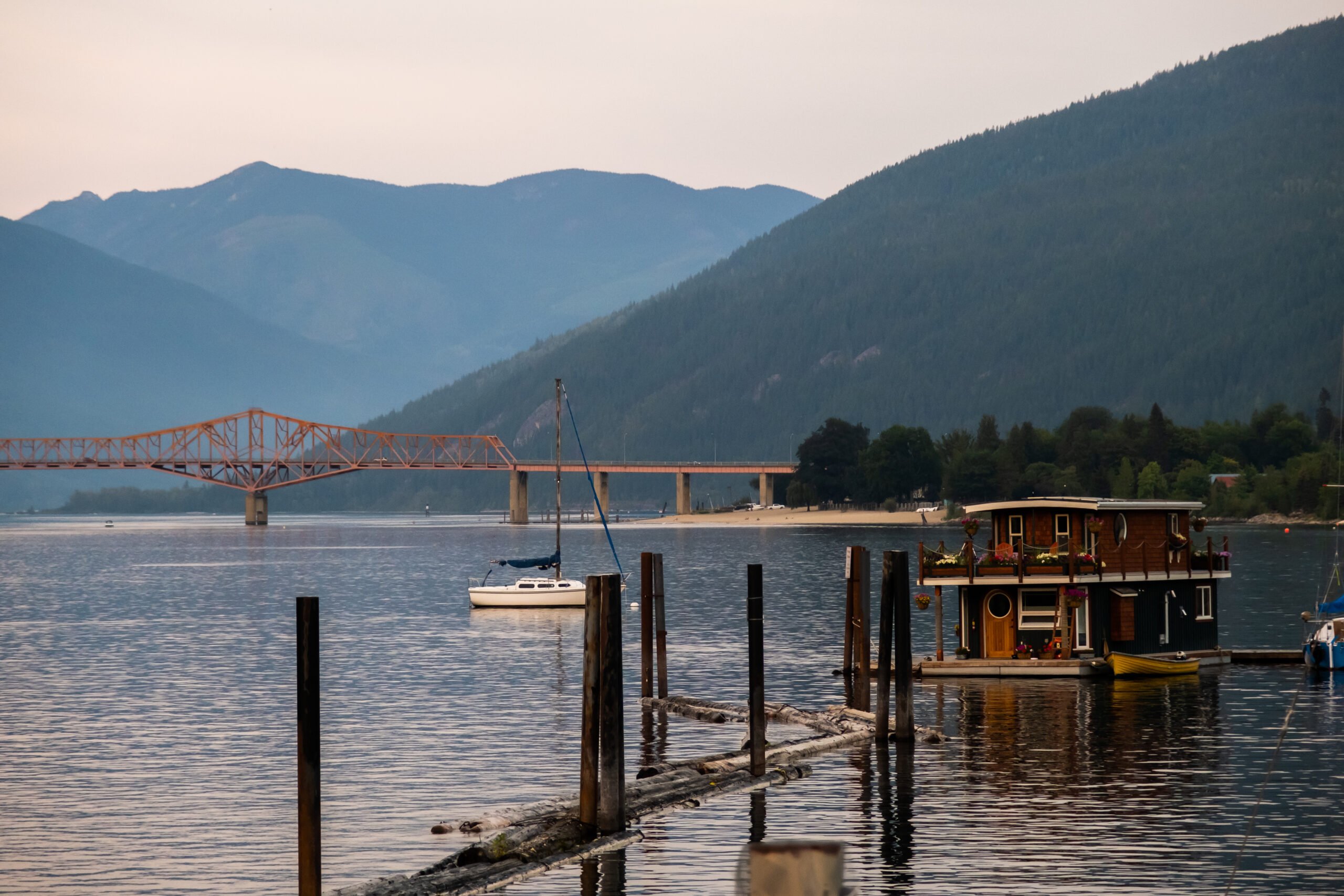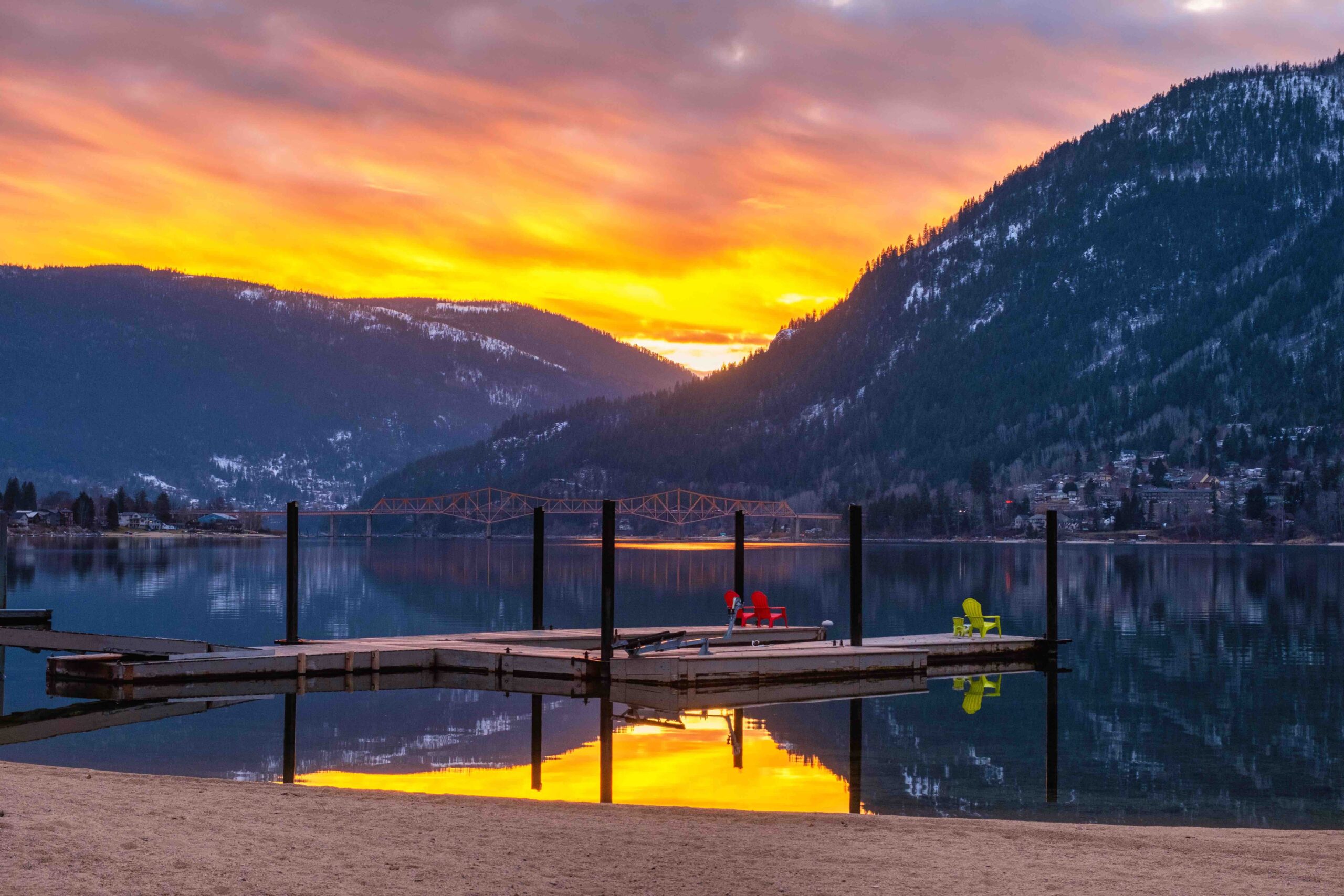 There's arguably no better thing to do in Nelson in the summer than enjoy Kootenay Lake, one of the best lakes in BC. Enjoy your time on a stand-up paddleboard or soak in the sun from a canoe or even a motorboat. This lake is lively in the summer, especially on a summer day. You'll forget you're even in Canada and think you are down south!
---
Sunbathe Under the Big Bridge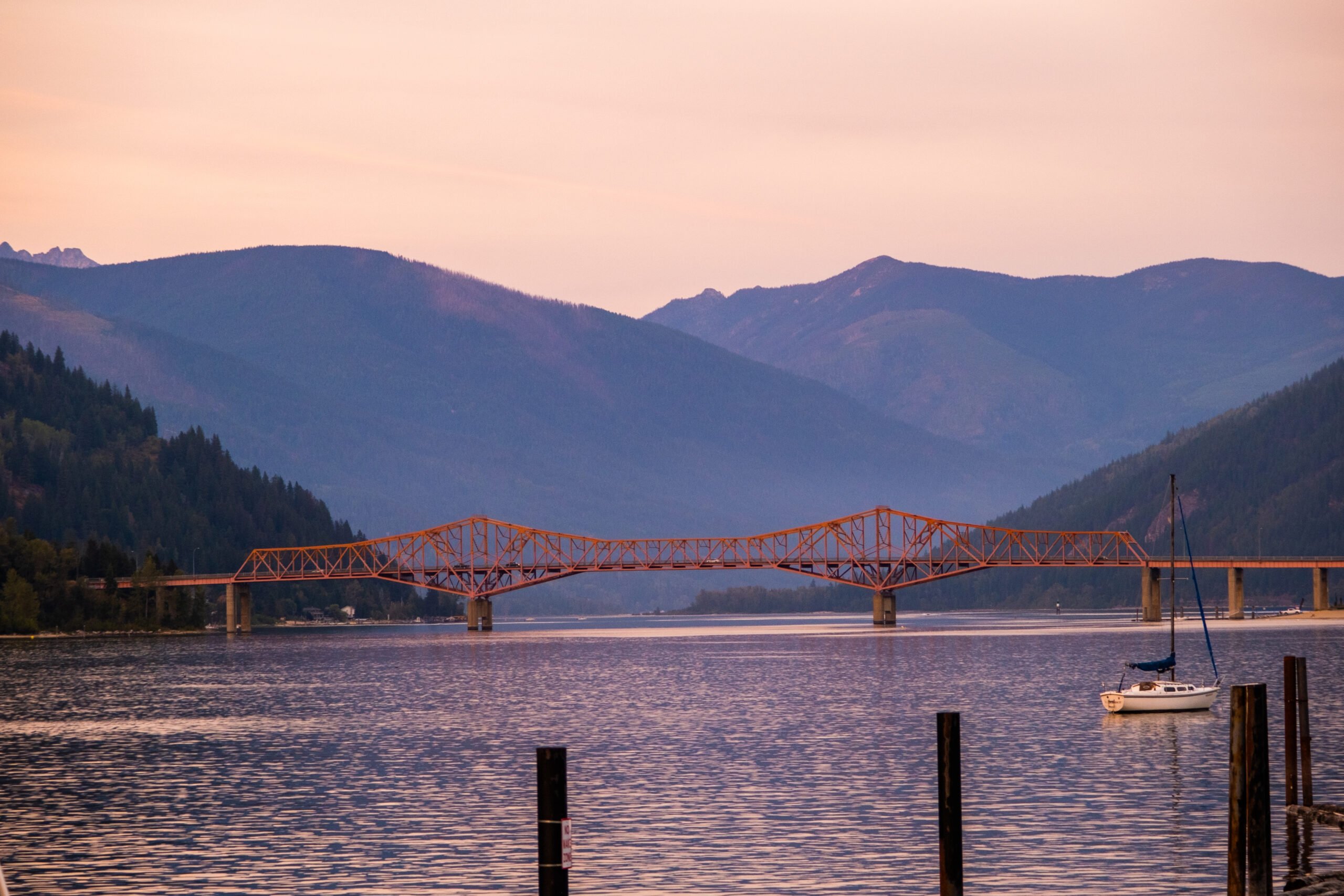 There's a big orange bridge in Nelson. It's a symbol of the town, and you literally can't miss it. Right under the bridge is a public beach that is nice to relax in the summer. There's easy water access from here if you have floaties or just want to wade near the shore.
The Rotary Lakeside Park is fantastic for a stroll or just to hand around the many Canadian Geese in the winter.
---
Day Trip to Kaslo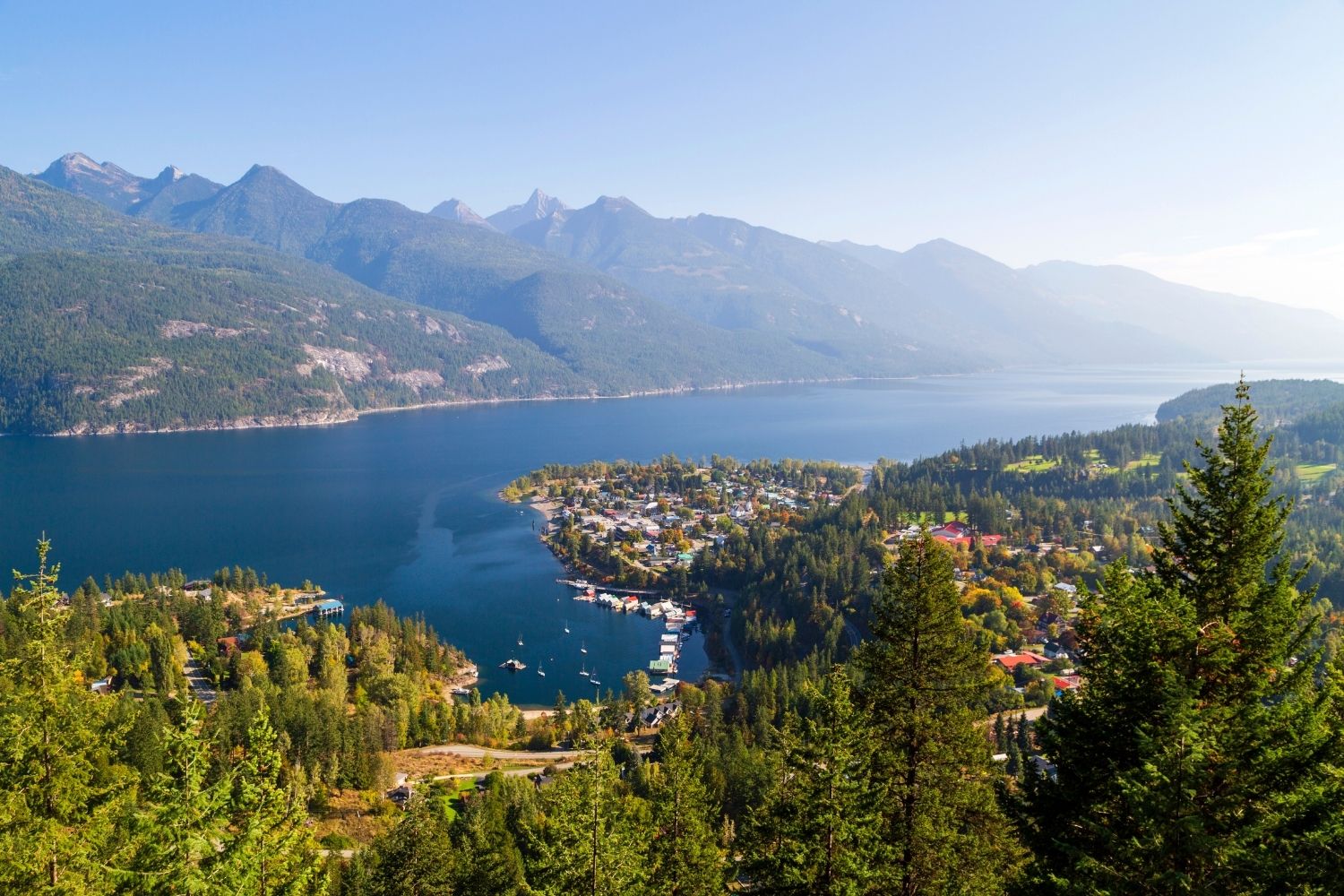 Another excellent day trip to take from Nelson is to the village of Kaslo. It's just an hour away from Nelson is a historic mining town well worth a morning out. Once a town that prospered off silver, now it sits as a charming tourist town along the Kootenay Lake.
The population is tiny, and the town may get sleepy at night, but there's a fun atmosphere here during the day. Head to the beach for a paddle, or just wander around town. There's a charming art gallery in town. If you want to wander around a bit more, you should definitely check out the SS Moyie, a National Historic Site in Canada.
Before you leave, stop at Fletcher Falls, just 10 minutes away. It's a beautiful sight to see!
---
Visit Kokanee Creek Provincial Park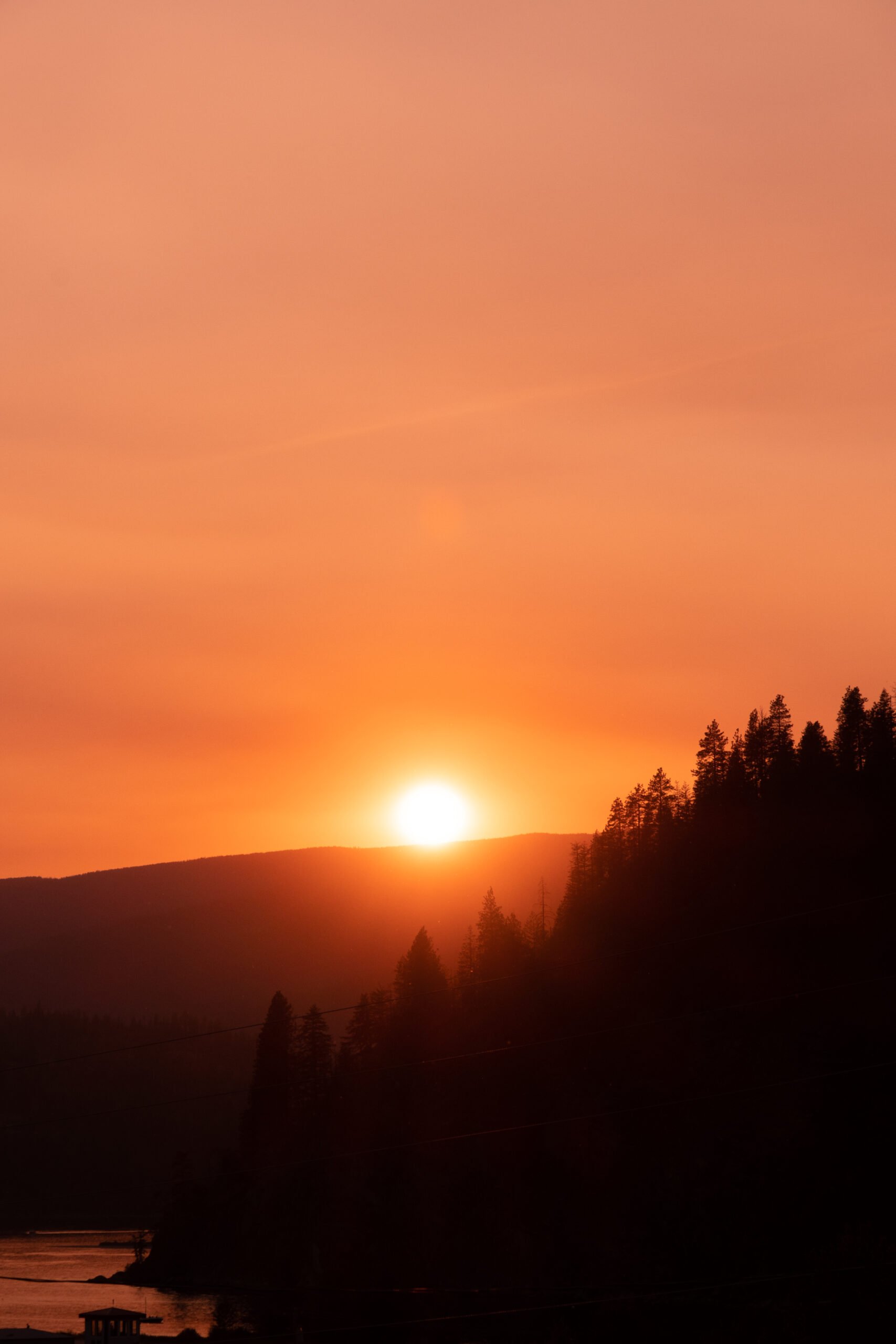 Kokane Creek Provincial Park is a beautiful place to head near Nelson on a sunny day. Anyone visiting the West Kootenays should think about stopping into the park for a hike.
There is 9.5 km of easy hiking and walking trails within the park ranging in difficulty. There's also excellent wildlife viewing at the end of Canyon Trail near Kokanee Creek.
The park also offers plenty of beach access for a fun day on the water. So grab the beach essentials, the floaties, and enjoy some fun in the sun.
---
Where to Stay in Nelson, BC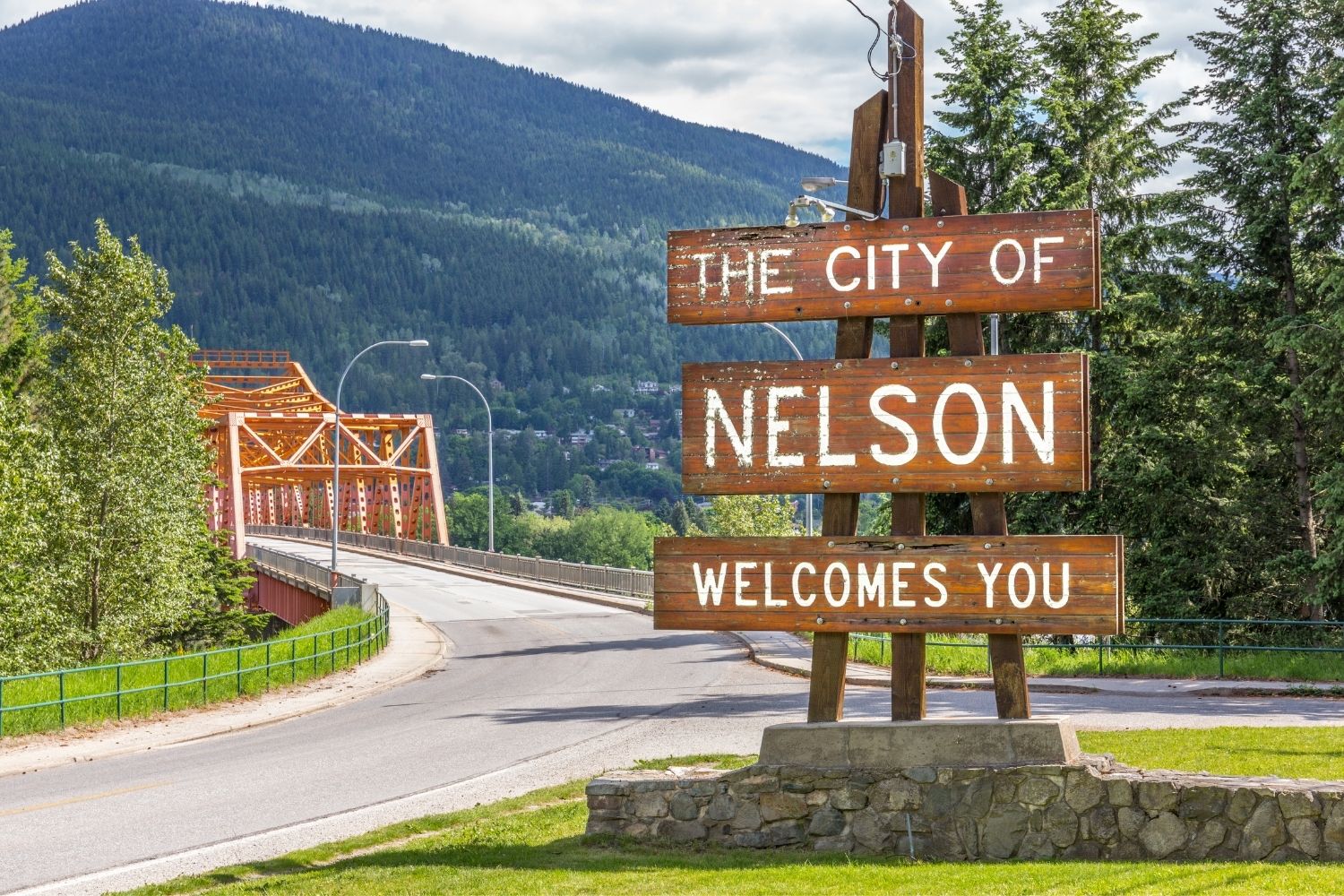 From Airbnbs to hotels, there are actually a plethora of places to stay in Nelson. Each time we've visited Nelson, we've stayed at a few different places and have enjoyed all of them!
Savoy Hotel: This is a small boutique hotel right in downtown Nelson at Baker Street. From Savoy Hotel, you can walk anywhere in downtown Nelson. The hotel itself is charming and small, but the rooms are immaculate and comfortable with big TVs, fast WiFi, and amazing showers. There's even a hot tub on the rooftop to enjoy! See Prices Here.
Prestige Lakeside Resort: This is easily the best place to stay in Nelson. It sits right on Kootenay Lake, so guests can enjoy peace and tranquility while staying here. You can stay right on the lake but still be steps away from the downtown area (Nelson is pretty small). If you want to enjoy a full-service hotel on the water, this place is for you. See Prices Here.
---
The Best Places to Eat in Nelson
Pitchfork Eatery: A romantic farmer-owned restaurant in Nelson, BC. They serve up dishes from local ingredients that are in season and locally produced.
Cantina Del Centro: As you may have guessed from the name, this is a hip Mexican restaurant downtown, Nelson. Come here when you're in the mood for burritos, tacos, and of course, margaritas!
Jackson's Hole & Grill: One of Nelson's most well-rated restaurants with stellar seating and a beautiful interior setting. You can come here on a date or with friends and family and never be disappointed. They have just about everything you could want on the menu.
Kootenay Tamil Kitchen: A great takeaway spot if you are in the mood for Southern Indian cuisine. Be careful – it's spicy!
---
↓ Join the community ↓
The Banff Blog Facebook Group is your headquarters for the Canadian Rockies' travel advice and information. Including hike info and off-season travel information. You can also meet new adventure buddies.