Set within a natural wonderland just north of Vancouver, British Columbia, in the majestic Coast Mountains lies Whistler, a resort town known as the world's best skiing and snowboarding spot. However, this alpine adventure town has so much more to offer in any season and there are plenty of things to do in Whistler during both the summer and winter!
Discover the scenic surroundings through a myriad of manners, visit charming cultural Whistler attractions, or simply enjoy a relaxing respite. Below are the best things to do in Whistler.
In this Whistler Travel Guide We'll Cover
Where is Whistler
Best Things to do in Whistler
Where to Stay in Whistler
Best Time to Visit Whistler
How to Get to Whistler
How to Get Around Whistler
The Best Things to do in Whistler Map
---
Where is Whistler?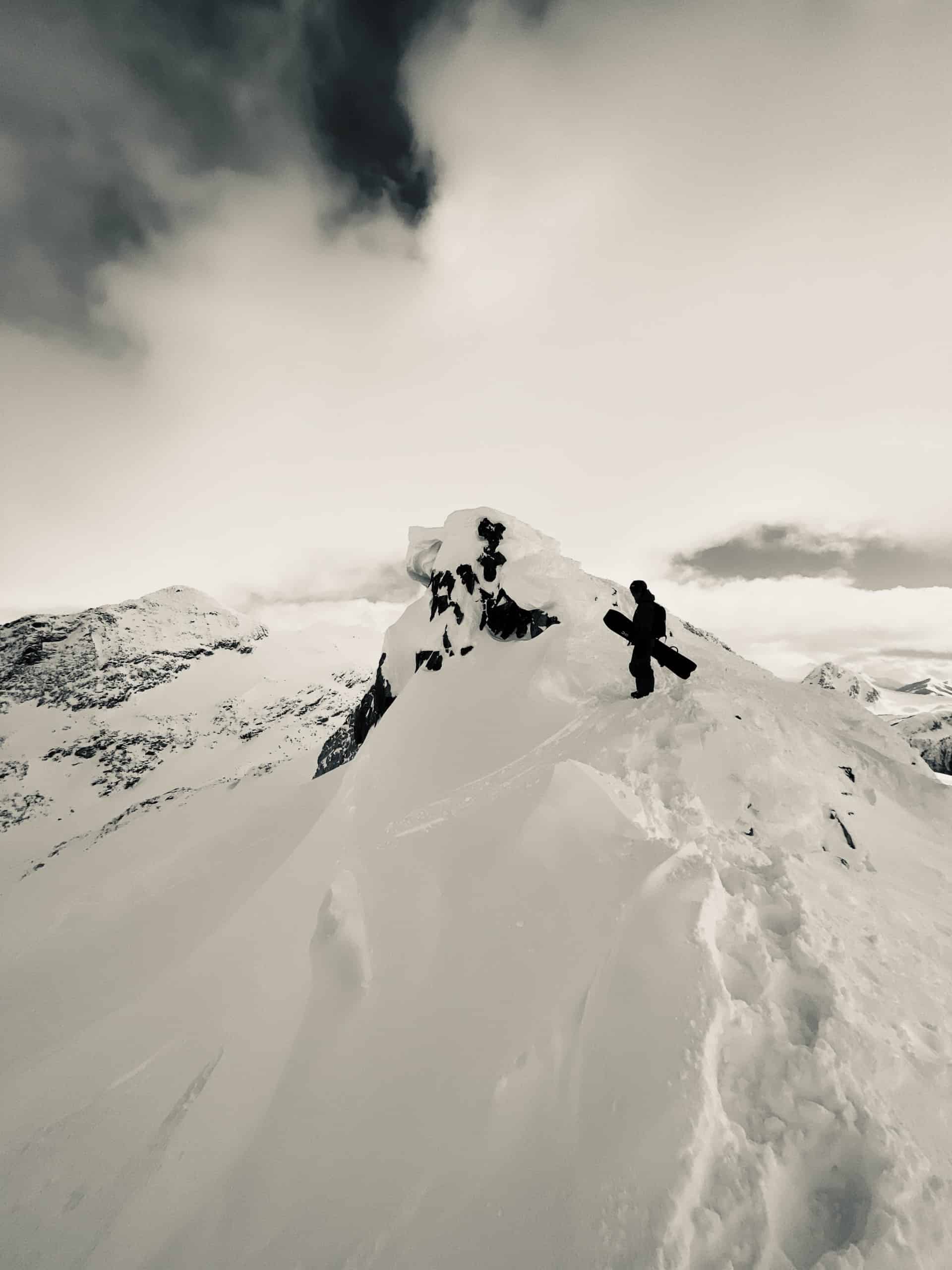 Whistler is a small ski town in British Columbia and is considered one of Canada's best places to visit. It is less than a two-hour drive away from Vancouver via the Sea to Sky Highway. It's well known around the world for being a top ski destination, and it is the largest ski area in all of North America.
While it's immensely popular for domestic and international travelers in the winter, it is also a premier adventure destination in the summer. Many Canada road trippers like to include Whistler on their epic Western Canada road trip when driving between destinations like Calgary and Vancouver.
Before it became a world-famous ski resort, Whistler was a simple logging town until a group of Canadian investors realized its potential as a winter destination in the 1960s. Whistler Mountain was initially named "London Mountain," but that was changed to "Whistler Mountain" after the high-pitched whistling marmots in the area.
In the 1980s, another corporation opened a second ski resort on Blackcomb Mountain, and in the late 90s, the mountains merged to create "Whistler Mountain Ski Corporation." Today Whistler Blackcomb is owned by Vail Resorts.
Epic Stops to Make on a Vancouver to Calgary Drive (or Calgary to Vancouver)
---
The Best Things to do in Whistler
---
Ski/Snowboard at North America's Largest Resort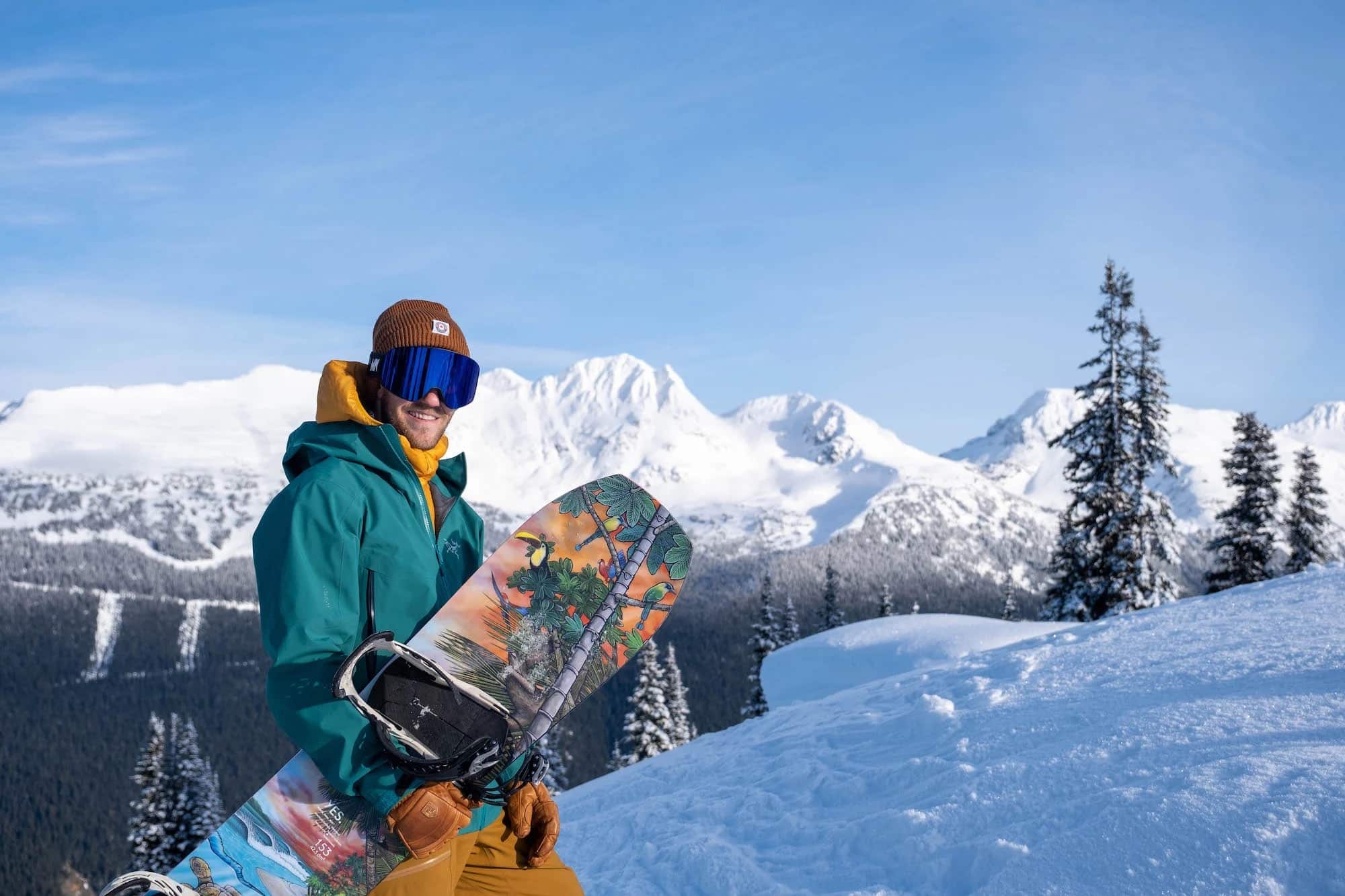 Whistler Blackcomb is consistently ranked as the Number one ski resort in North America. We were dubious of this as we've been to many fantastic ski resorts in Canada and US, but we know why Whistler tops every list.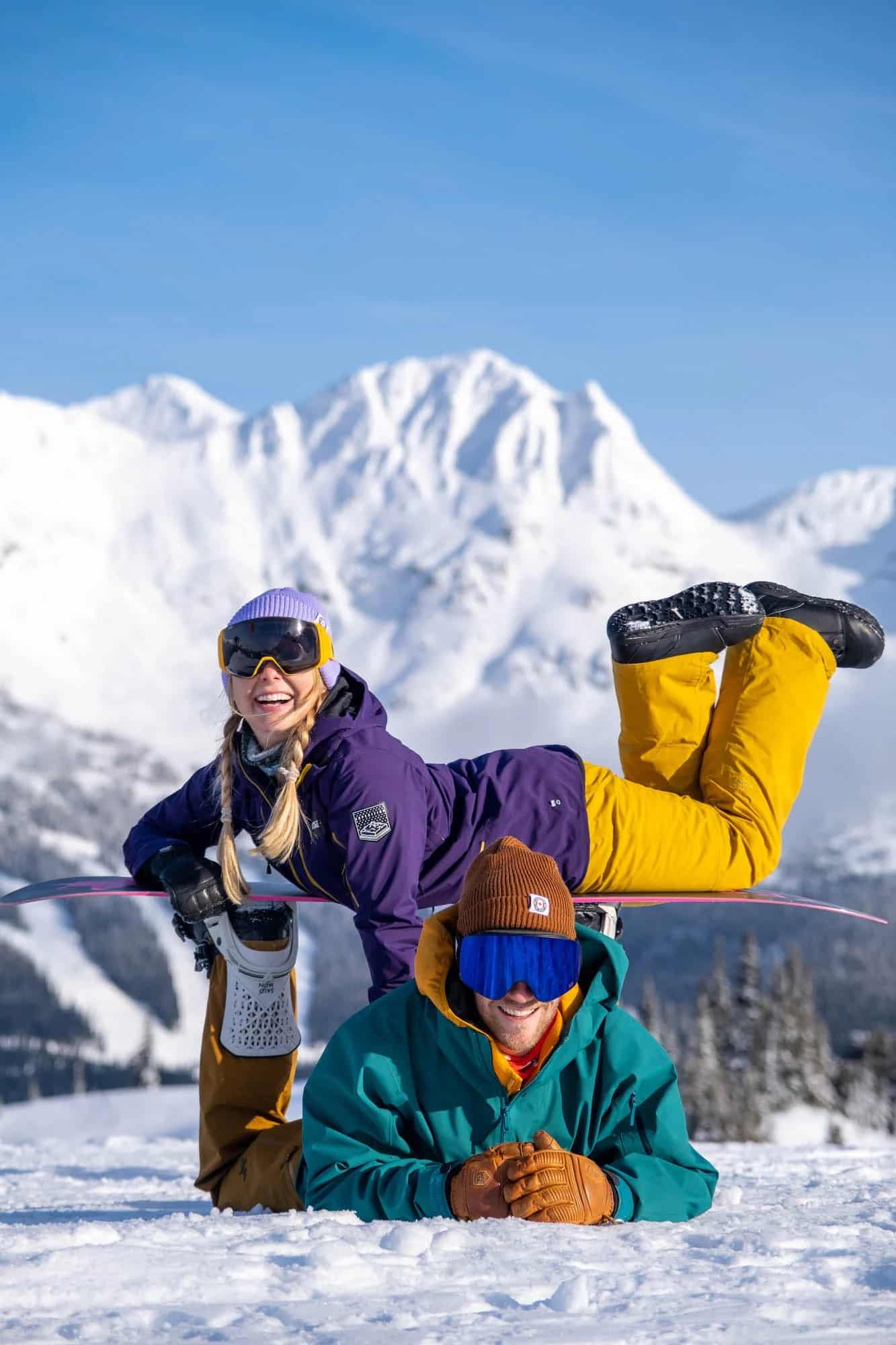 With 8100 acres of skiable terrain spread across two mountains, Whistler offers a huge variety. Think steep and deep. Chutes, bowls, glades, and superb high alpine terrain. Some of it was downright scary, but epic. That being said, there is terrain for every ability to keep everyone entertained.
Lifts here are top-notch, compared to North American ski resorts, that is (we aren't quite up to par with European ski resorts yet). Whistler also receives over 11 meters of snowfall annually so chances are you'll get at least one day of fresh snow when you visit, though some seasons it goes through some serious droughts.
That being said, Whistler has some downfalls. Whistler is known for being extremely busy, and it is. Some of the worst lines we've ever seen have been at Whistler, even on a mid-Tuesday in early December. Whistler is also very expensive to visit during the winter.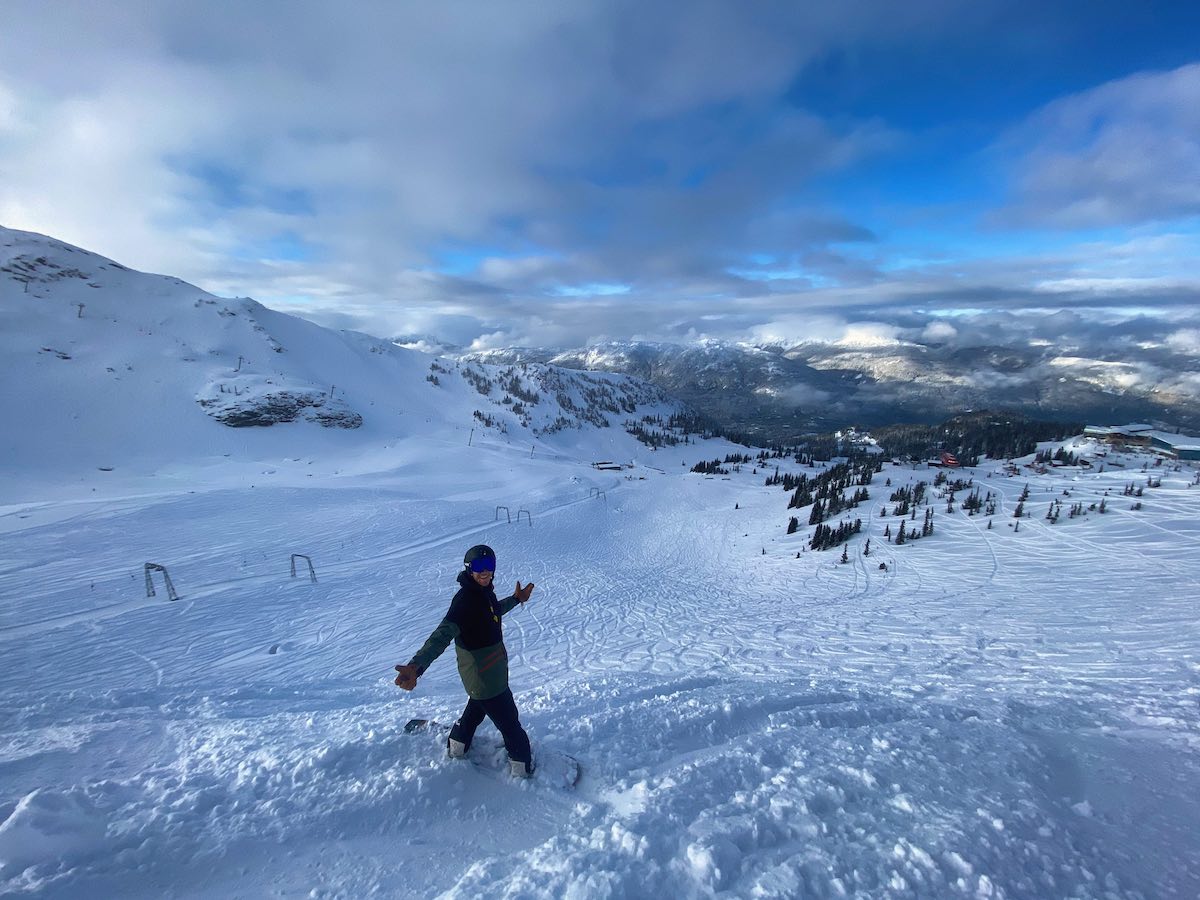 Everything from accommodation to groceries is higher than you would find elsewhere. Lastly, although the snow falls in abundance here, it's heavy wet BC coastal snow, so you may find your legs getting more tired than usual on a powder day.
All that being said, skiing here is one of the best things to do in Whistler in the winter, and even if you are a beginner, you should still give it a try!
---
Find the Blackcomb Glacier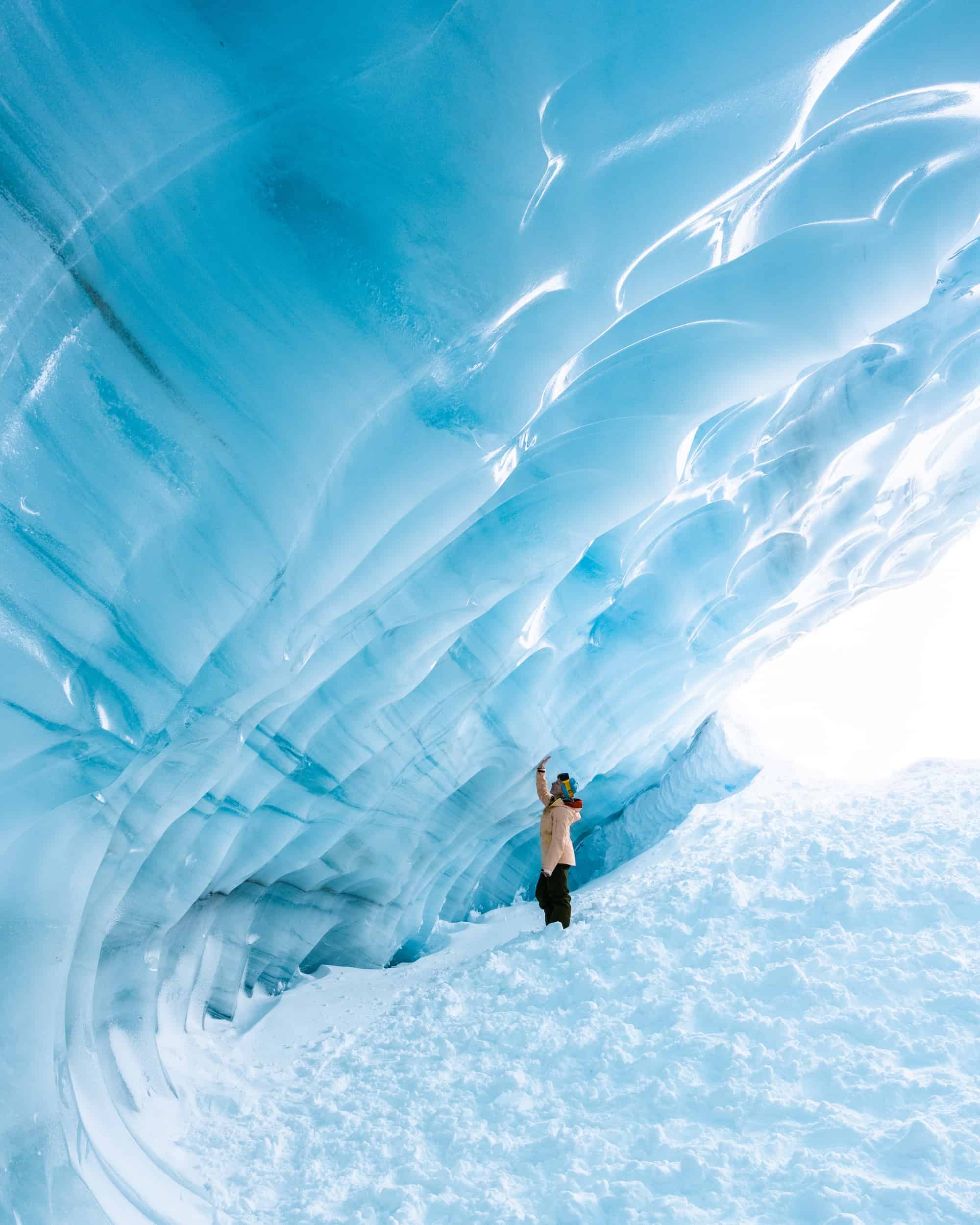 While you are skiing or snowboarding on Blackcomb you may as well keep your eyes out for a hidden ice cave – it's pretty impressive!
---
Fire and Ice Show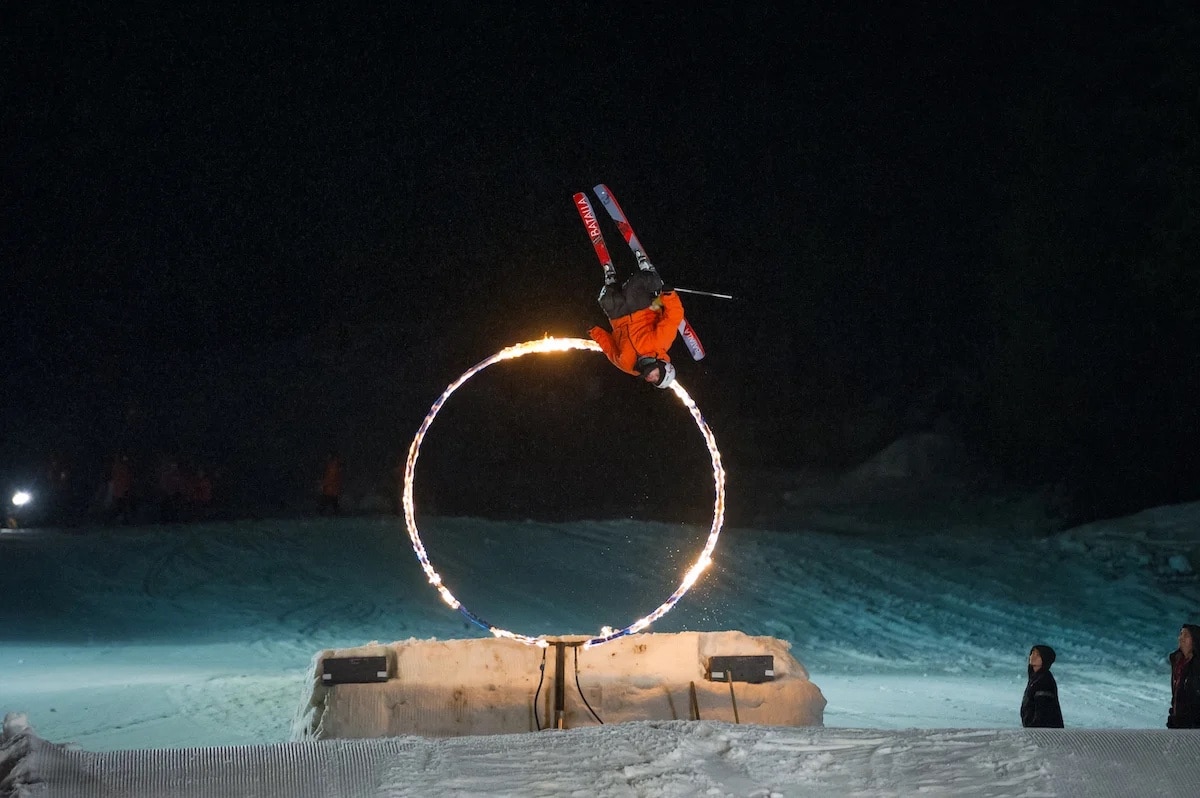 During the winter season, the Fire and Ice Show is an iconic and impressive sight to behold and one of the best free things to do in Whistler. It happens every week, so everyone has a chance to see it with their own eyes.
It's located in the Skier's Plaza and is a legendary display of elements and ability as talented skiers complete death-defying stunts, jumping and flipping through blazing rings of fire. It's an evening full of entertainment, with DJs, fireworks, and fire spinners.
---
Vallea Lumina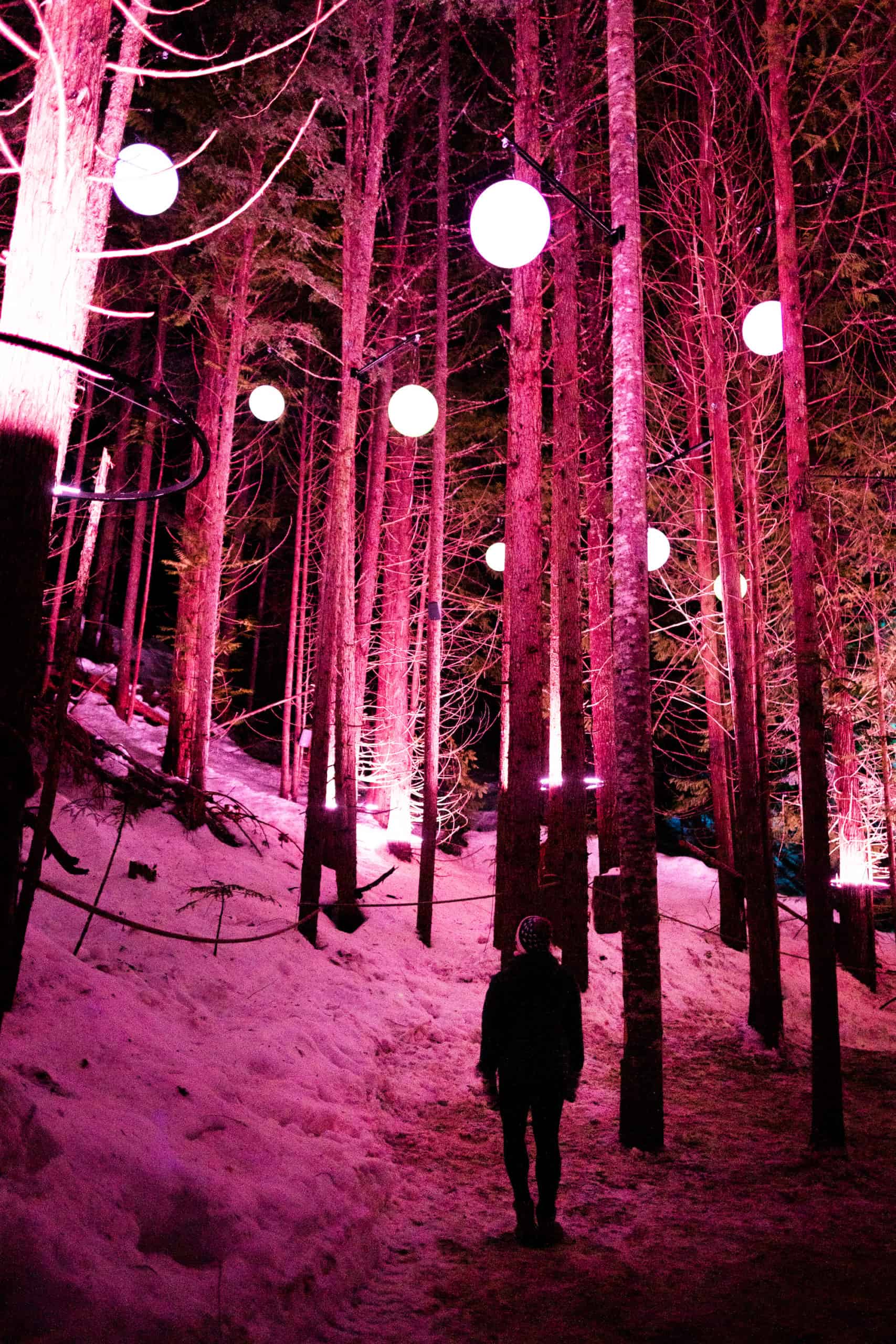 For a little bit of magic, venture out to the Vallea Lumina. It's an enchanting multimedia night walk and one of the best things to do in Whistler in both the summer and winter. An immersive spectacle to be sure, it's set in the wondrous wilderness of Cougar Mountain.
The entire trail is a little under a mile and mostly flat, so it's easy to navigate, but be sure to leave yourself plenty of time for photo ops and gazing in awe at ethereal and otherworldly installations. Tickets range from $25-$30, depending on the season.
---
Audain Art Museum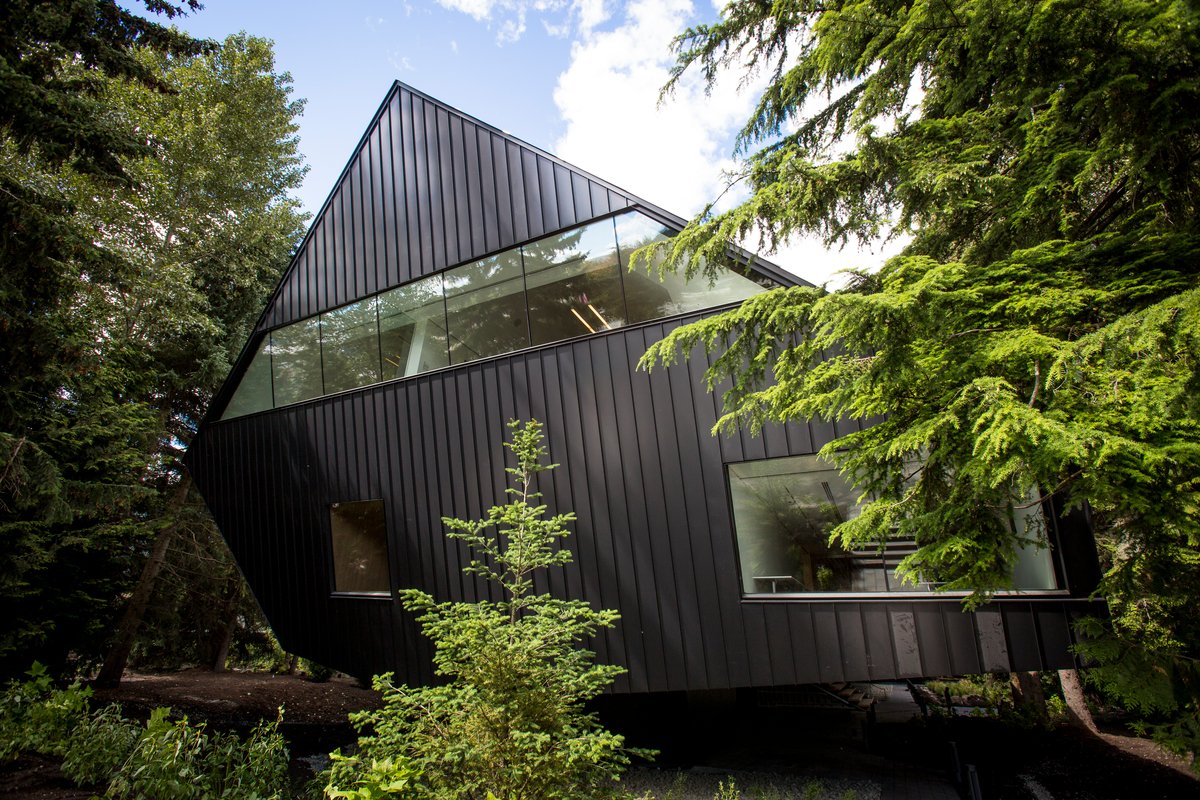 A cultural hotspot in the village of Whistler, Audain Art Museum offers a permanent collection and temporary exhibits of historical and contemporary art. Artworks from British Columbia are highlighted, and there are three rotating exhibitions on display at any given time from leading institutions around the world.
Installations span from the late 18th century to the modern-day in a wide range of mediums.
---
Apres Ski in the Village or Creekside
Whistler Village / Best Things to do in Whistler
After skiing and snowboarding all day one of the best things to do is enjoy a few drinks with friends. The Longhorn Saloon and Blacks Pubs are two of the most popular places to head in Whistler Village after a day out. On a nice day, you'll be hard-pressed to find a seat.
While if you head down to Creekside, it's best to hang out at Dusty's with a pitcher of beer.
---
Go Snowshoeing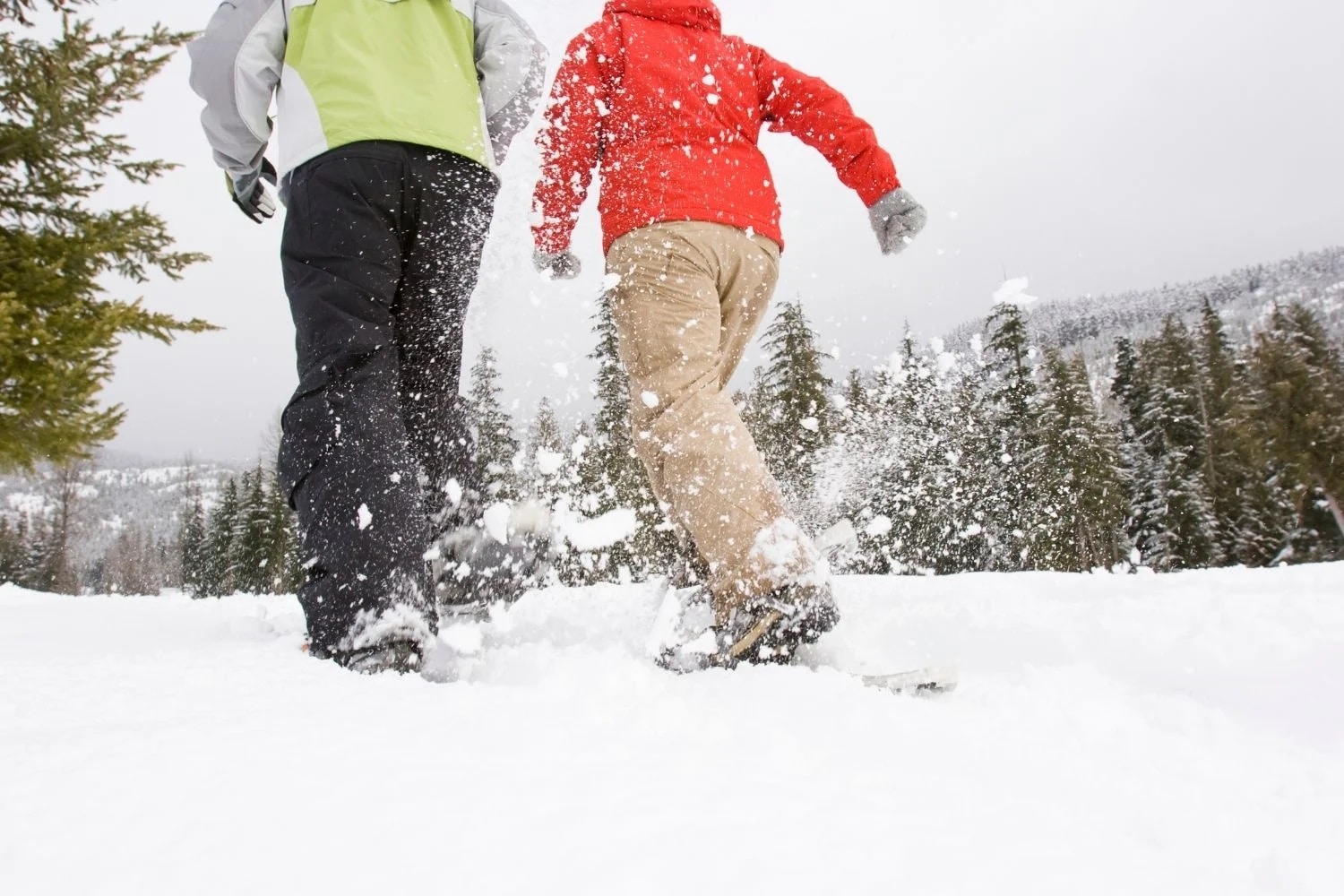 One of the most fun and easy ways to experience the natural landscape of Whistler is to try snowshoeing! It's a unique and traditional mode of transportation in a climate such as this that doesn't require any special skills.
This makes it accessible to most folks with little to no learning curve involved. Follow forest trails covered with snow-capped pine trees, and keep your eyes out for spotting local wildlife of the area as well. Take a tour or adventure out self-guided.
There's an abundance of trails to try in Whistler, including Sea to Sky, Cheakamus, Rainbow Falls, Real Life, the Whistler Train Wreck, and Nature Trails.
---
Stroll Around the Whistler Olympic Plaza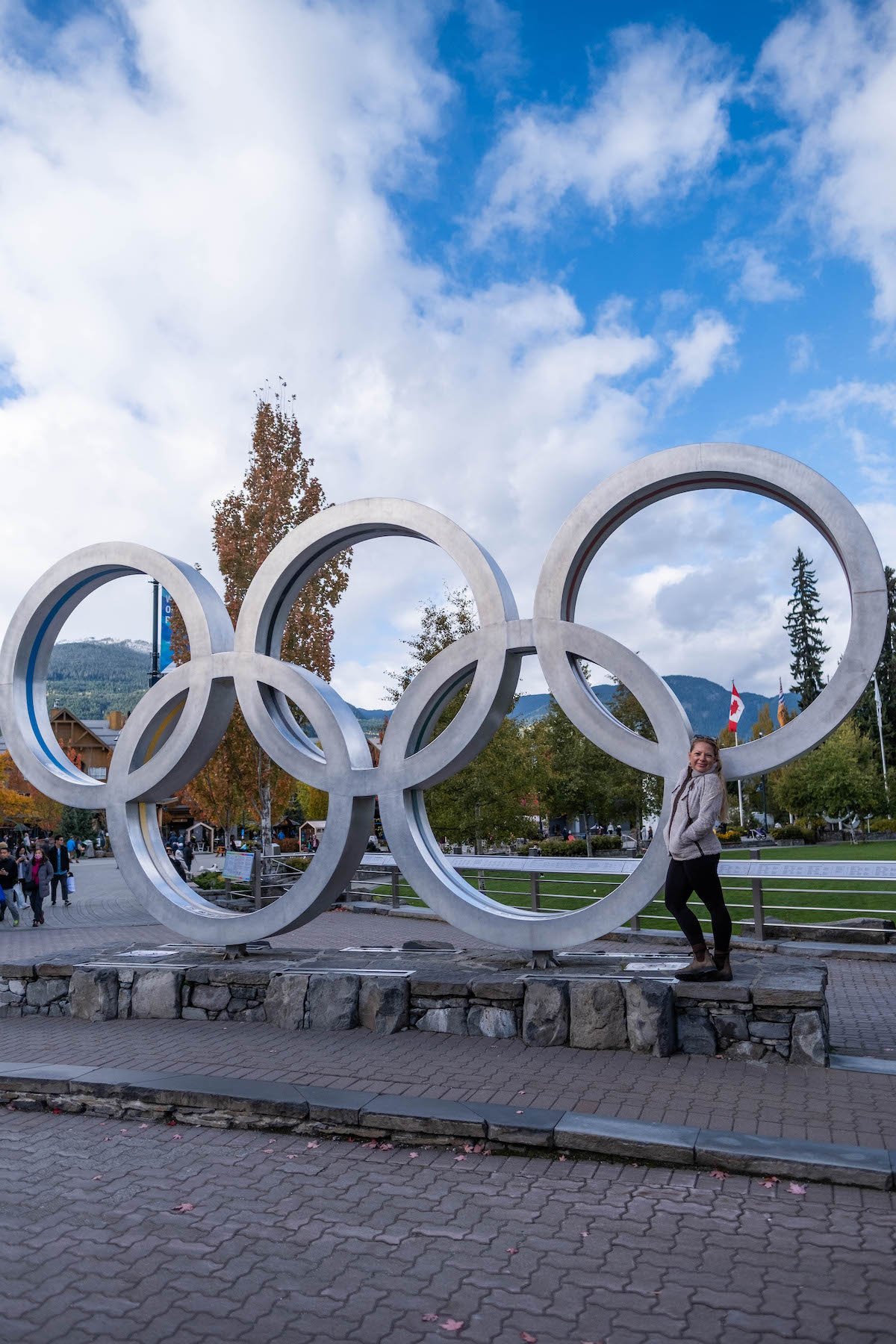 Set in the stunning Callaghan Valley is the site of the 2010 Olympic and Paralympic Winter Games, Whistler Olympic Plaza. A special ice skating rink opens here every winter and is such a fun time for everyone, especially when you bring hot chocolate into the mix.
It's a favorite pastime of locals and tourists alike on the mountain, and it's surrounded by thousands of twinkling lights plus towering mountaintops. Many gather here for a fantastic outdoor concert series in the summer months, featuring talented performers of all different genres.
---
Stroll the Whistler Village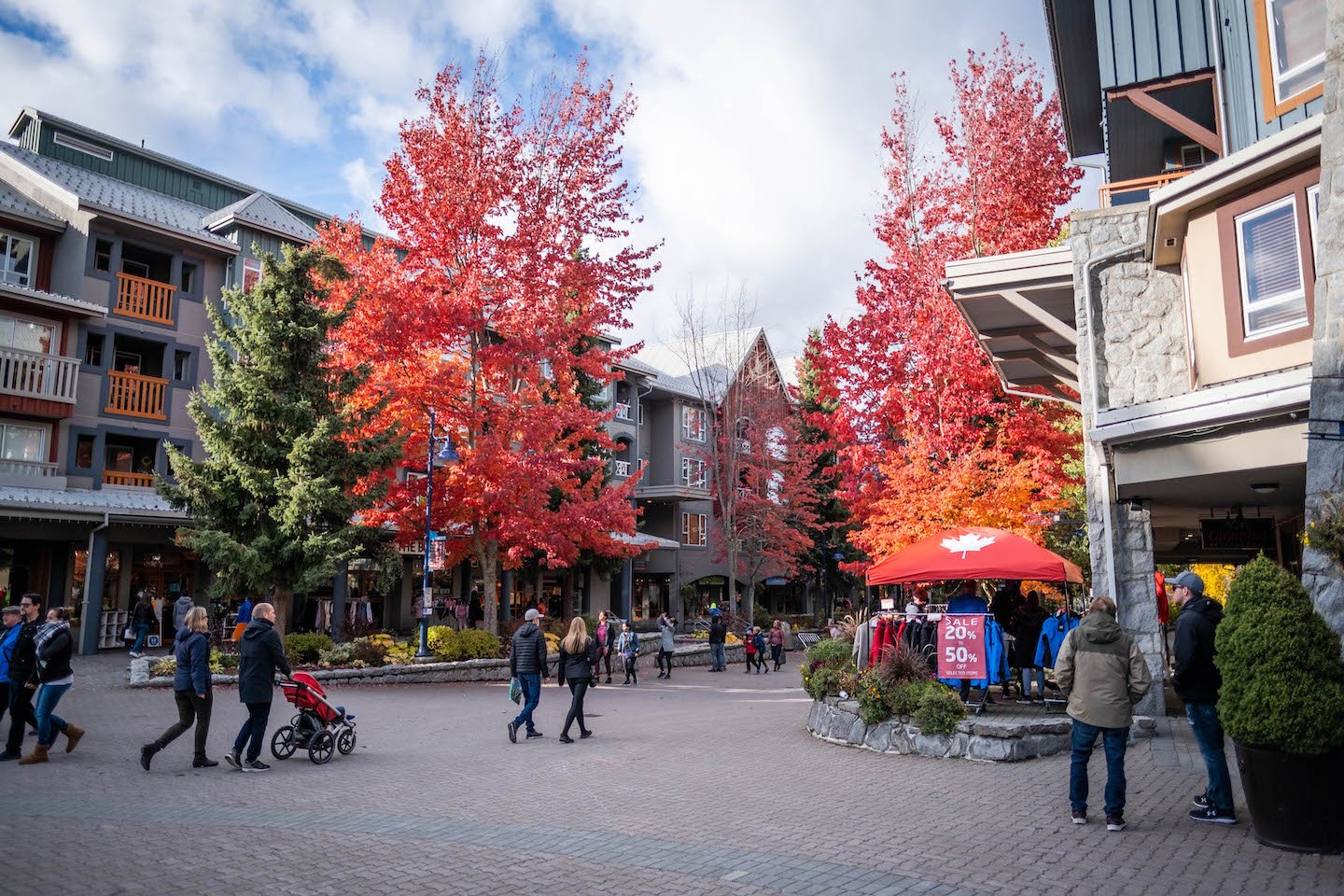 After you take your photo at the Olympic rings, the best thing to do is take a walk around Whistler Village! There are plenty of shops to wander into, places to eat at, and pubs to grab a drink at.
Whistler is a surprisingly great spot to enjoy some retail therapy and shop until you drop. Whether searching for that perfect souvenir or stocking up on your favorite specialty wares, it's a lovely day out in the charming village streets full of adorable storefronts. Armchair Books is a legendary local haunt, with an impressive selection of good reads.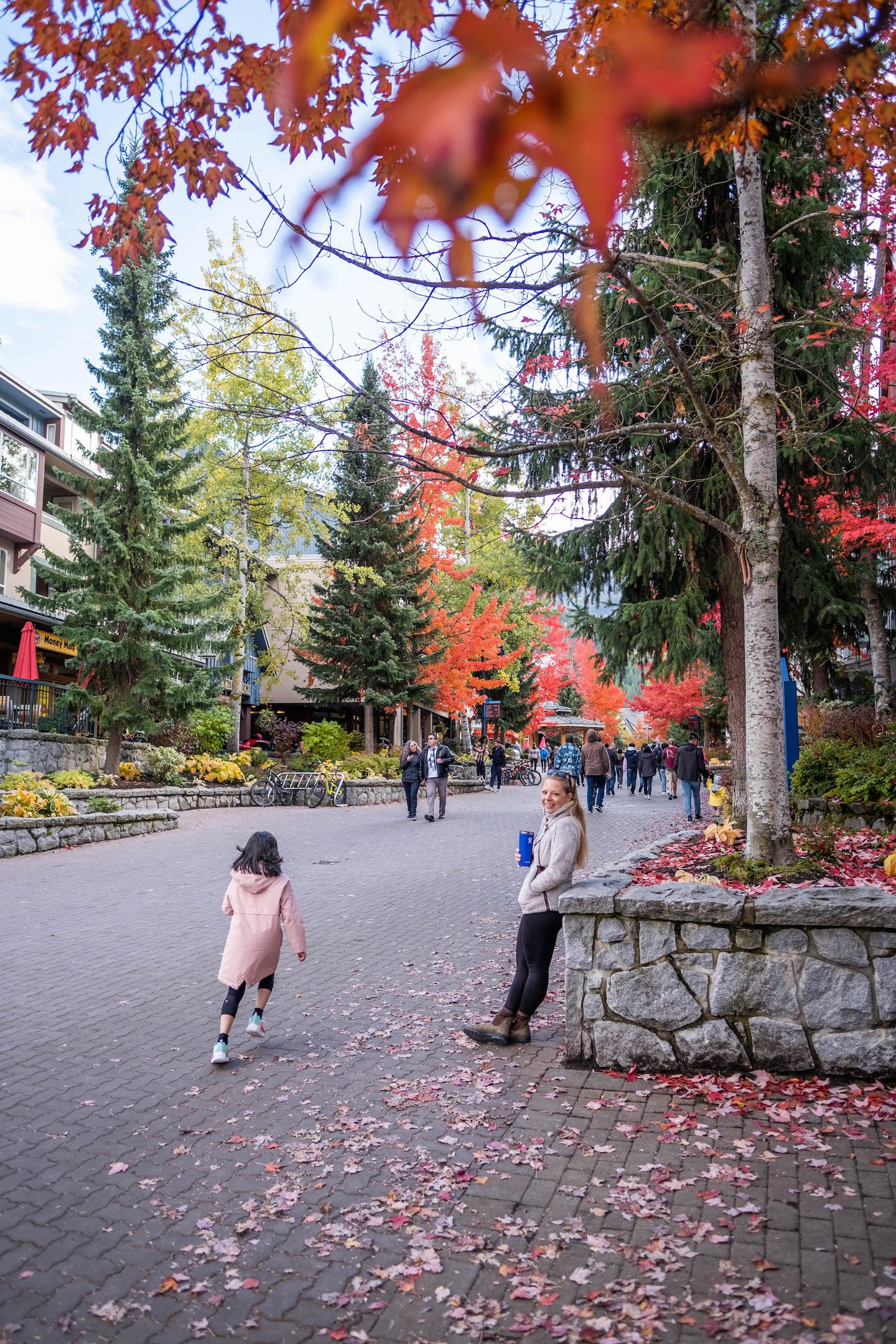 Everything from fine art to fashion to sports equipment is readily available. 3 Singing Birds, Portobello Market, Nook of the North, and Ruby Tuesday are all perfectly curated spaces to check out as well.
---
Ice Skate in the Village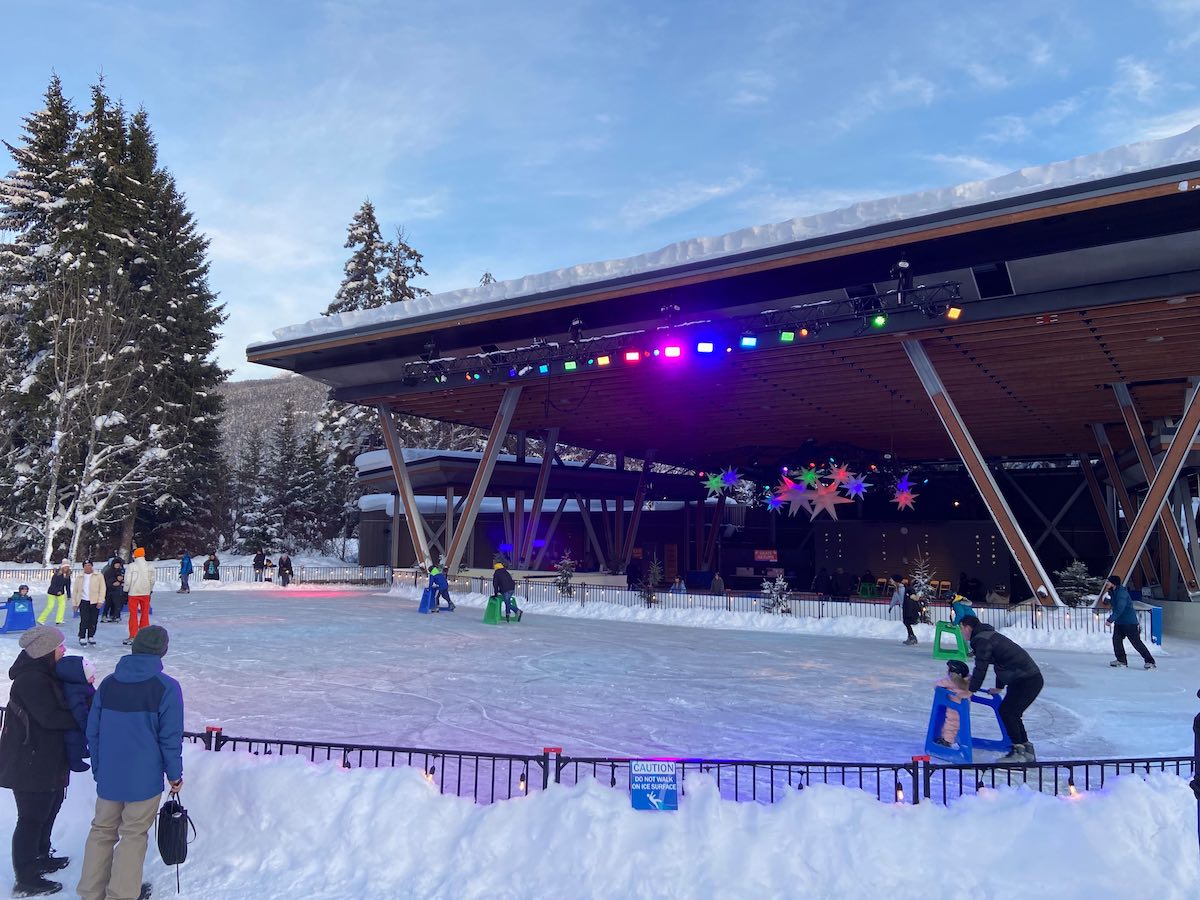 One of the best things to do in Whistler with kids in the winter is rent a pair of ice skates and go ice skating on the small rink in the Whistler Olympic Plaza. It's especially festive around the holiday season when the whole village is lit up in pinks, orange, green, and red lights.
---
See the Village Lights Around Christmas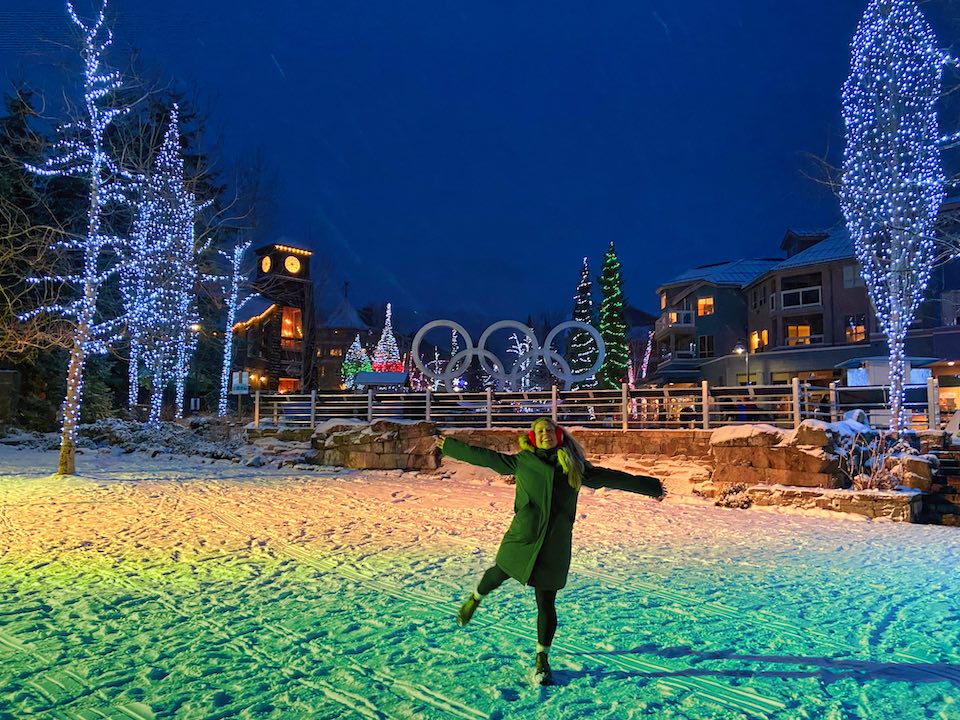 The charming village of Whistler is a must-visit in the area. It boasts a strict no-car rule, meaning it's a veritable pedestrian paradise for wandering. The streets are enchanting, all lit up with twinkling lights adorning every tree and building and reflecting in the snow-covered paths. Especially during the holidays, it's genuinely a festive feat of extravagance.
---
Bobsleigh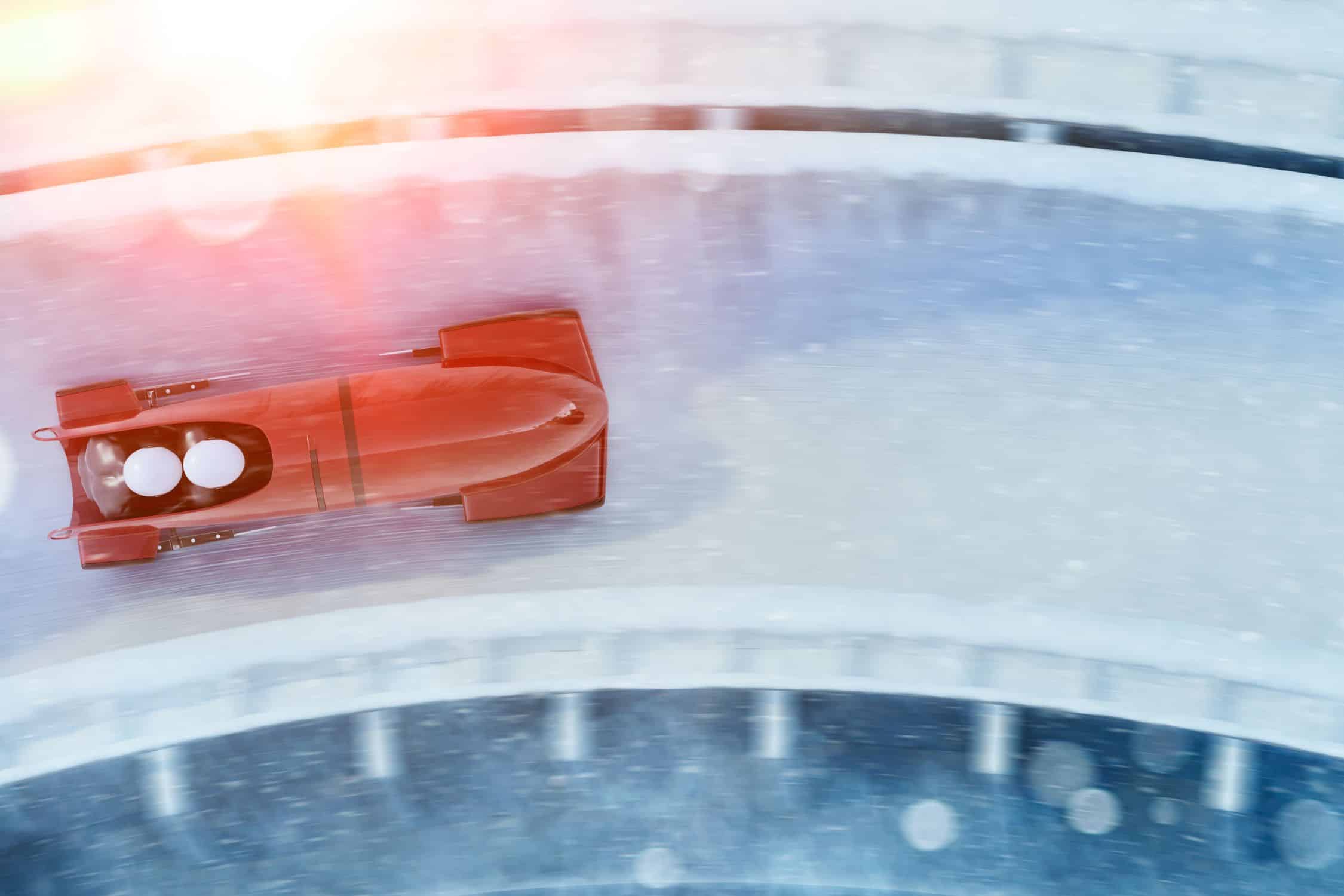 The world's fastest ice track was built in Whistler for the 2010 Olympics and remains for all to try at the non-profit Whistler Sliding Centre, though it's still an active training and competition site. It's a one-of-a-kind thrill ride, as you fly down at unbelievable speeds, either as a passenger or a solo skeleton rider.
No experience is required, though there is an orientation and a trained pilot takes care of all the steering, quite a relief at 80 miles per hour. It's available in any season but is certainly not for the faint of heart. Even if you're not a daredevil, it's fun to visit the impressive center on a tour or self-guided tour.
---
Go Ziplining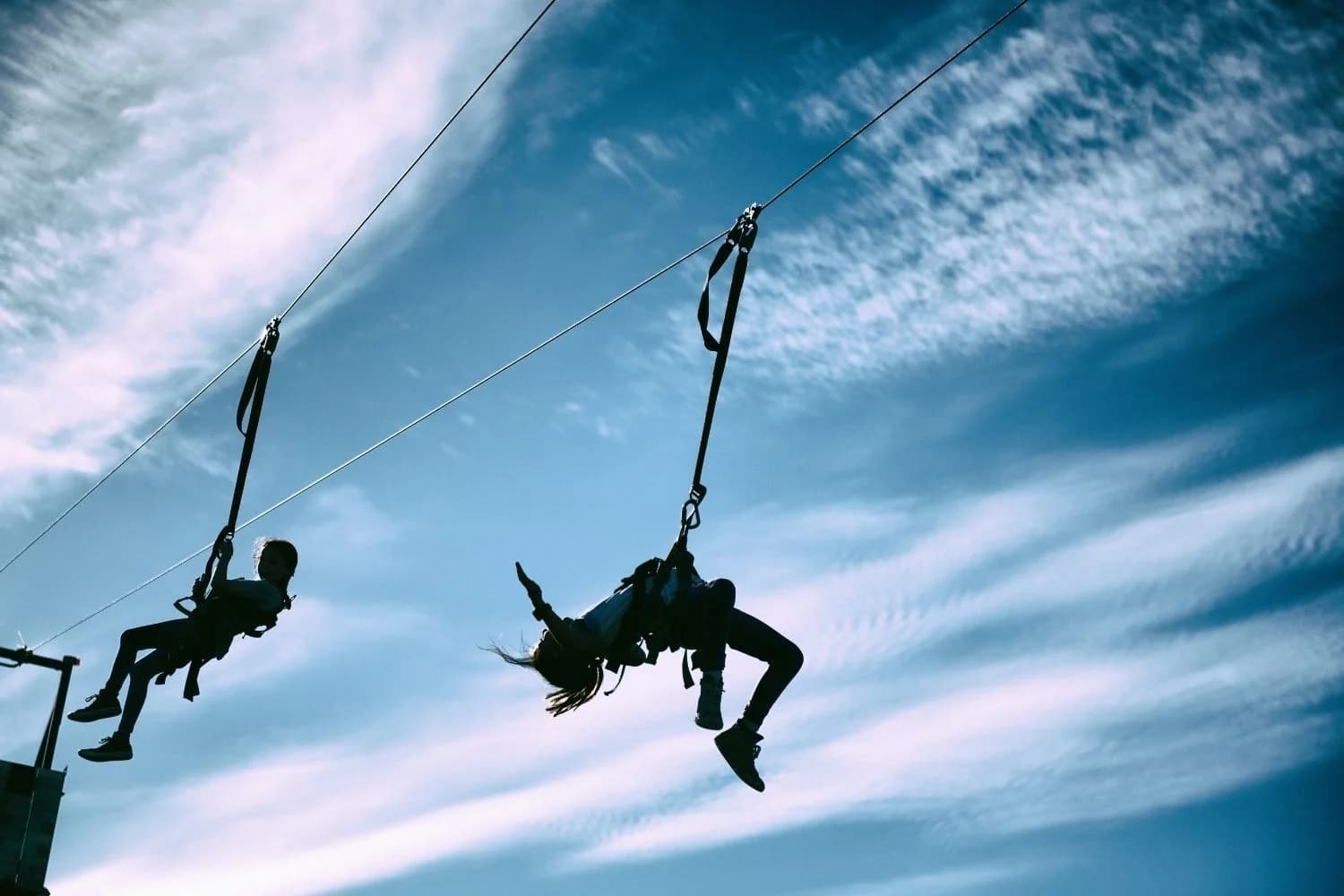 Soaring through old-growth forest up among the mountaintops is a spectacular way to soak up the scenery of Whistler. Tours teach about the ecology and history of the area as well. It's an exhilarating outdoor adventure, and there are even two outfitters to choose from here.
Ziptrek Ecotours is the original and has 11 courses to complete and it's super convenient as you can begin and end right from the village. Superfly Ziplines have the longest and highest around, really committing to that unparalleled feeling of flying.
---
Bike, Walk, or Run the Valley Trail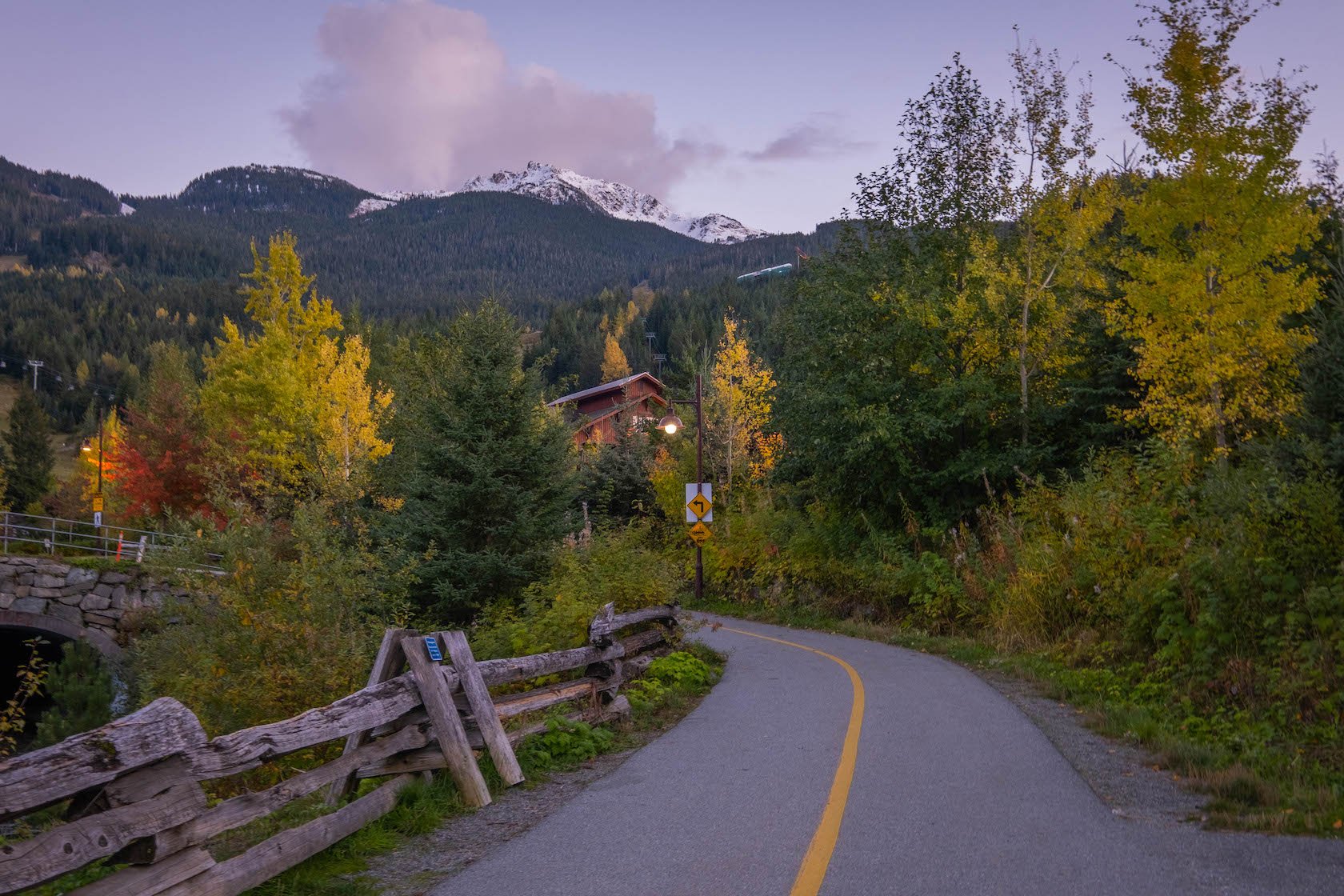 The Whistler Valley Trail is a paved car-free trail that connects many of Whistler's neighborhoods, viewpoints, and lakes. It has over 45 km of trail that locals and visitors use daily for running, walking, cycling, rollerblading, and dog walking.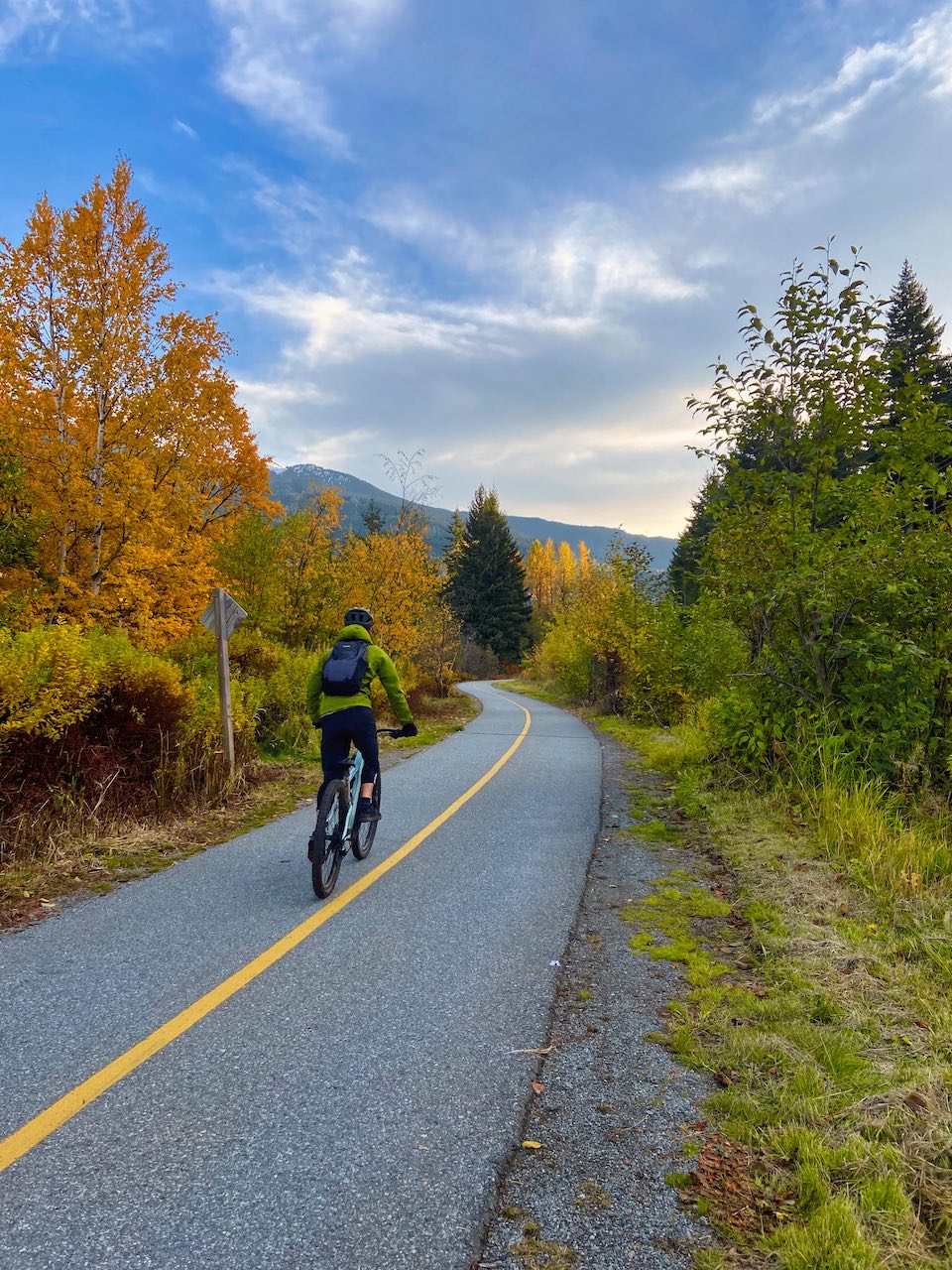 It's accessible year-round and getting out on it is a run way to see what Whistler has to offer. My favorite thing to do on a nice day is get a bike to ride through the forest. Much of the trail is quite far from the Sea to Sky and noise pollution and is extremely well signed. Get the map here.
---
Go Bungee Jumping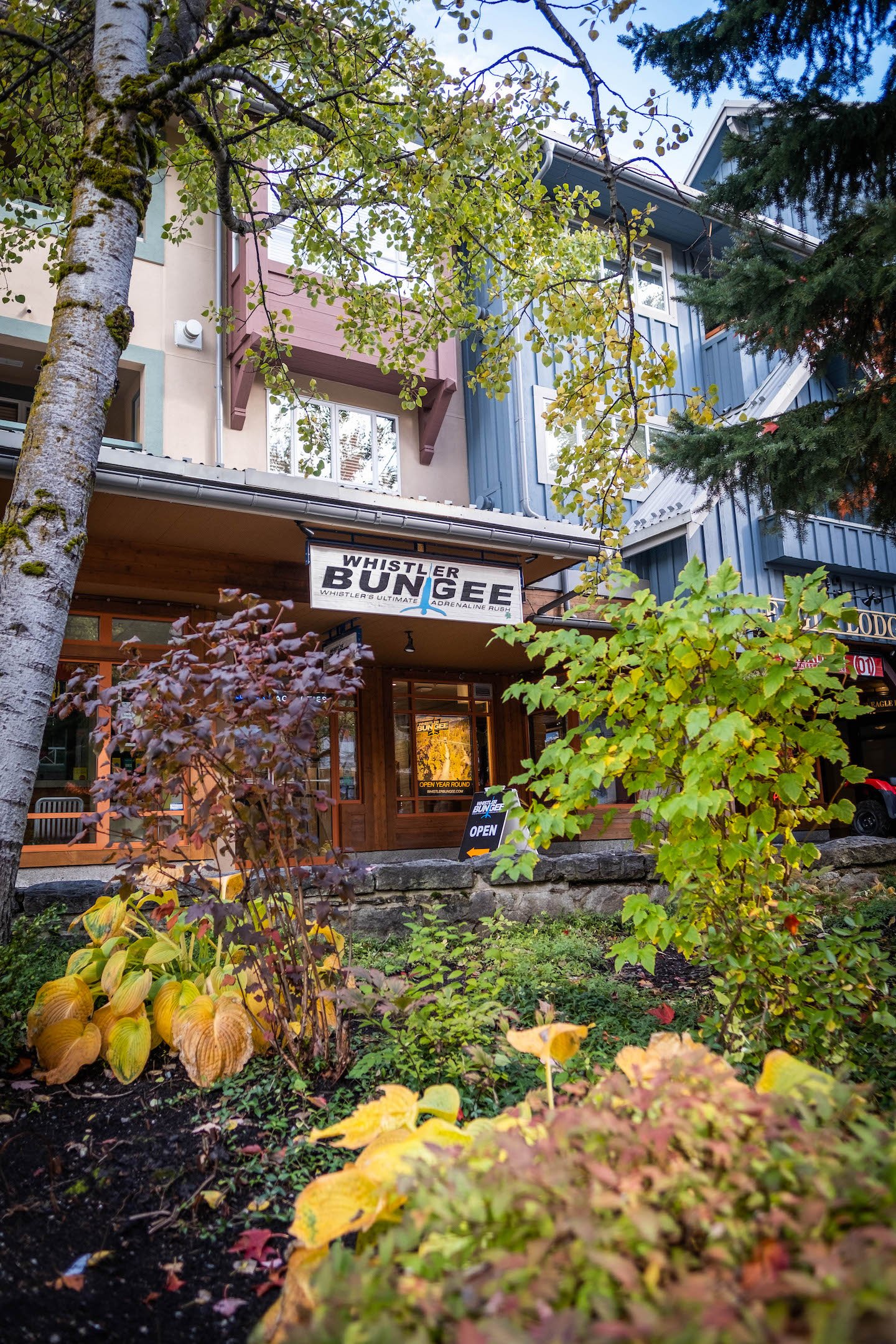 If bungee jumping happens to be on your bucket list, Whistler Bungee is the place to make your daredevil dreams come true. There's nothing quite like the rush of leaping off a bridge high above a glacial river. It's the highest year-round spot to do it in all of British Columbia, and it's set fairly close to the village surrounded by rugged forest and cliffs.
The jumps are done in tandem with an expert, which helps to ease the impending fears followed by certain exhilaration.
---
Go Tubing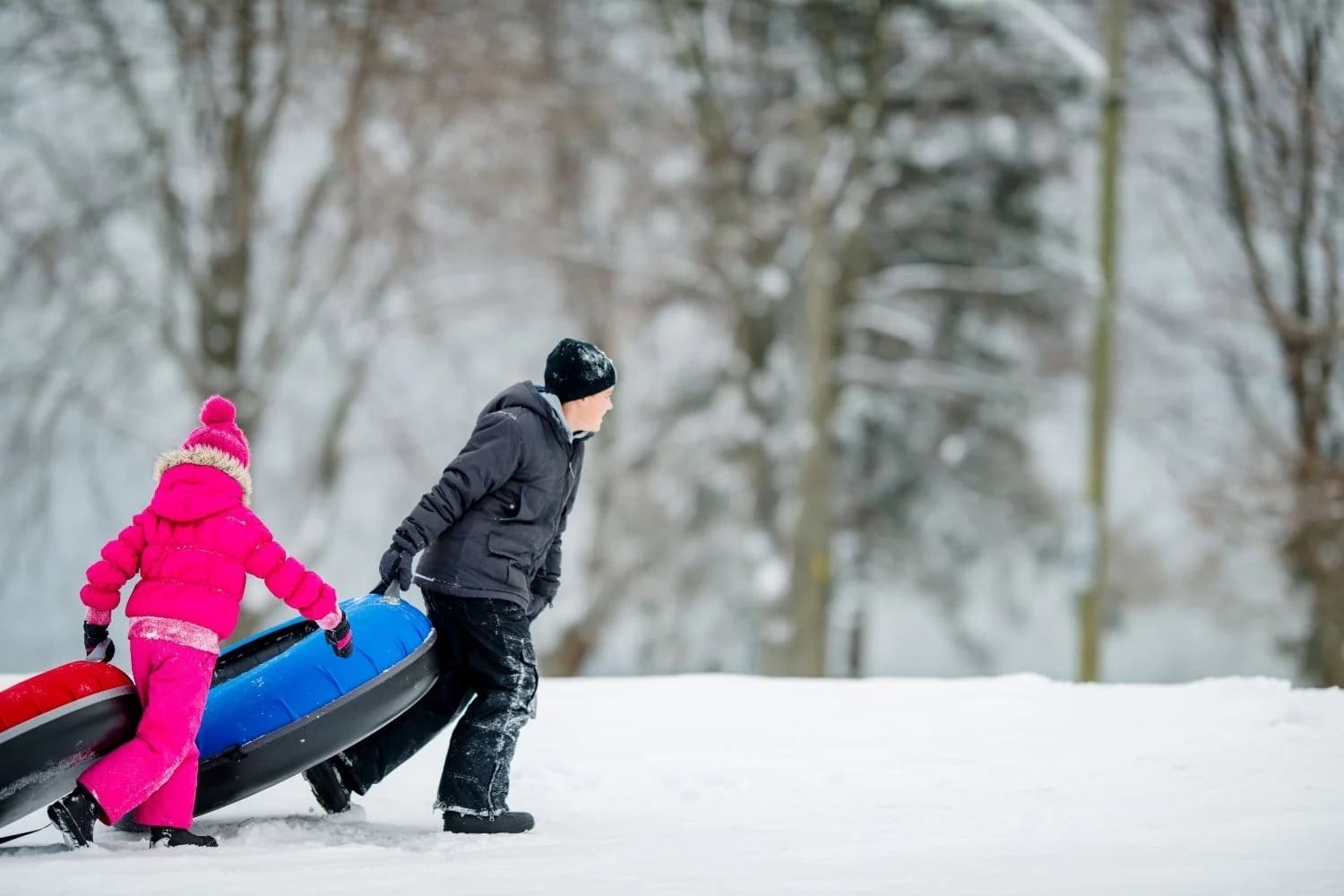 The Tube Park guarantees a good time in the winter landscape of Whistler. Whether you call it sledding or tobogganing, this fun activity is made that much better with the addition of the magic carpet, a mechanism that takes you all the way uphill.
There are multiple lanes and over 1,000 feet of snowy hill to fly down. You can even try sliding under the lights in the evening.
---
Whistler Museum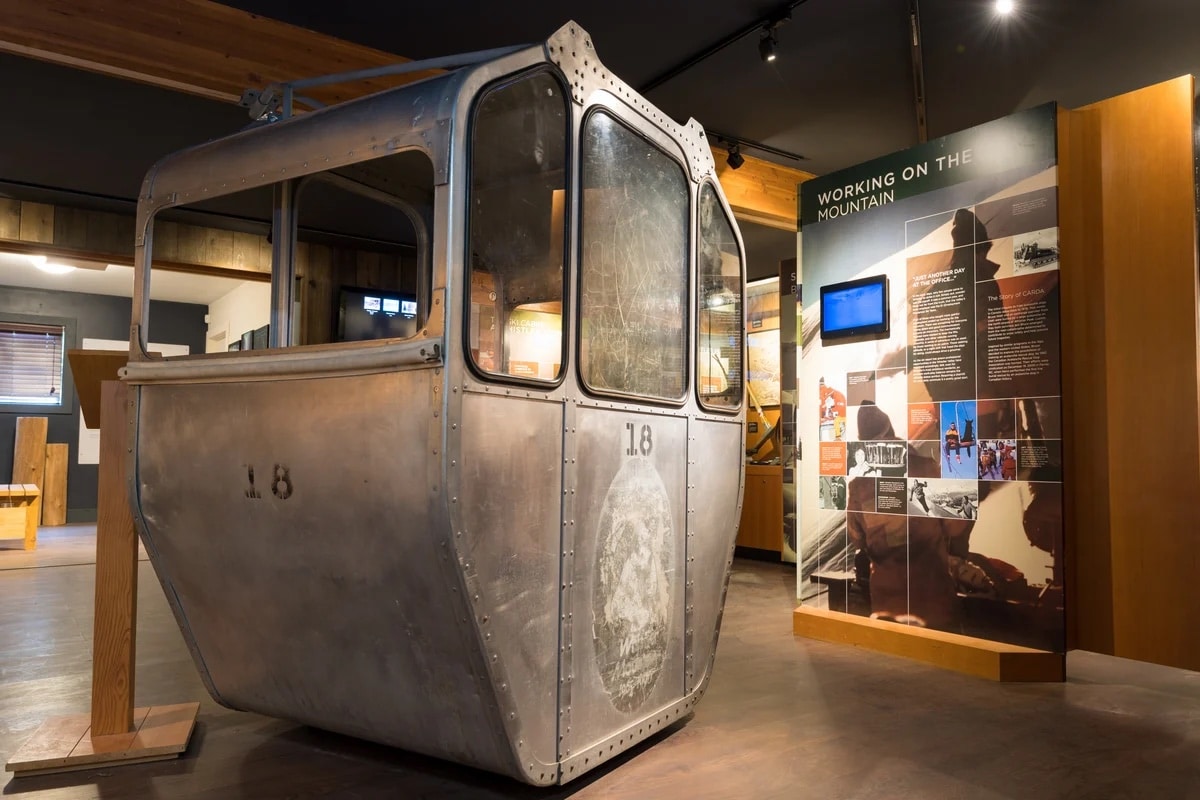 Whistler has a rich history and a unique culture, and the best place to learn all about it is at the Whistler Museum. It's located at the heart of the town, and there are a wide array of exhibits year-round.
It takes you on a journey to discover how the resort and the sport of skiing have developed over the course of many years through educational artifacts, photographs, accurate replicas, and multimedia presentations.
---
Relax at Scandinave Spa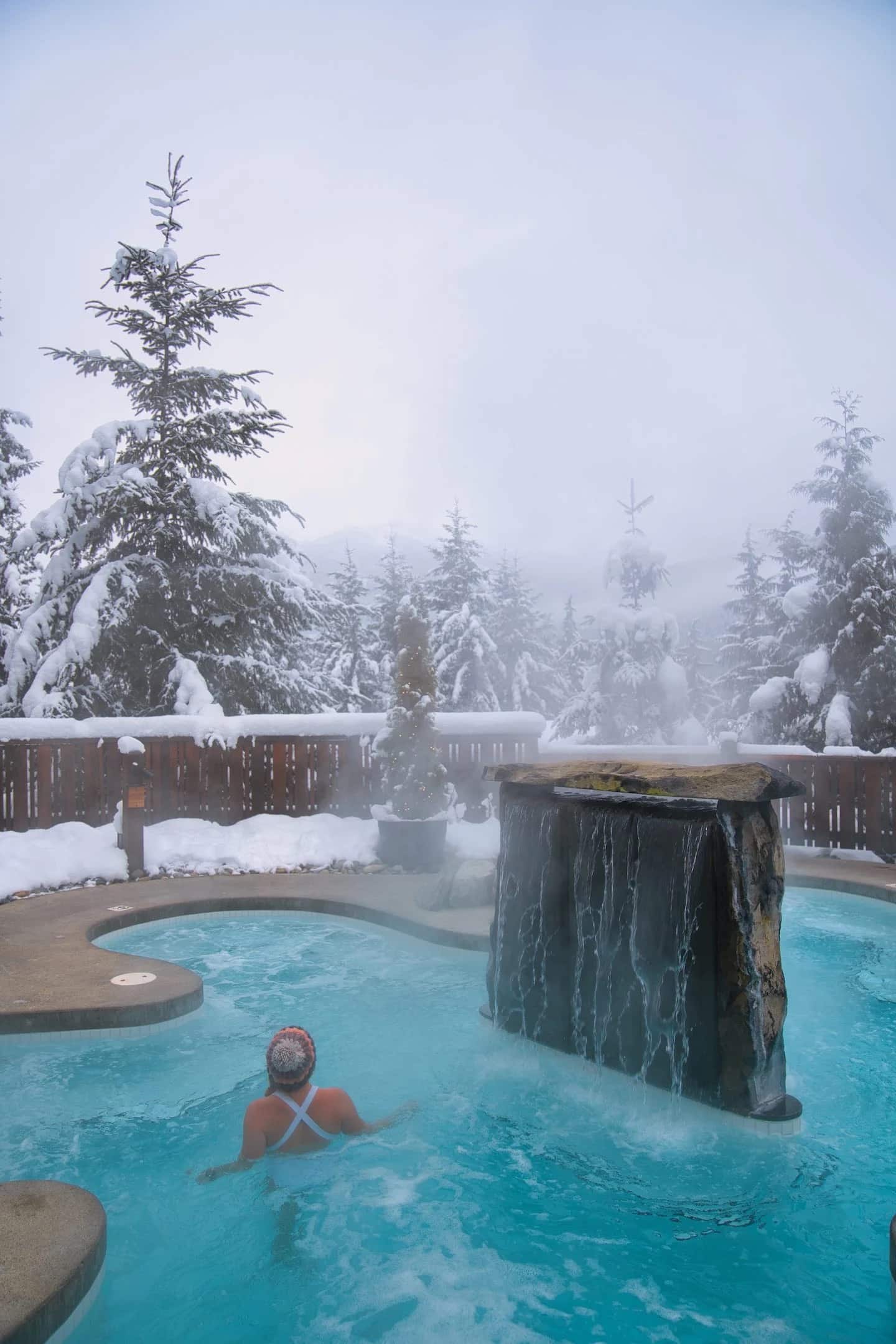 For a true relaxation retreat, we can't recommend Scandinave Spa enough. These Scandinavian baths are set in a peaceful and quiet environment.
Throughout the outdoor oasis are various thermal pools, saunas, and steam rooms on the edge of Lost Lake Park's spruce and cedar forest. It's the perfect place to head on a day out skiing as it's especially l lovely when the whole area is covered in snow.
Access to the baths starts at $120. This spa is silent and there is no technology allowed inside. For guaranteed access during busy periods, it's best to book in advance.
---
Escape!
Escape! Whistler is an engaging real-life gaming experience. You work as a team to solve puzzles and clues to overcome creative obstacles and escape a given scenario.
The setup is elaborate, making for an immersive way to play, and there are six different themed rooms to choose from, including a rabbit hole, an underwater lair, and a pirate ship.
---
Squamish Lil'wat Cultural Center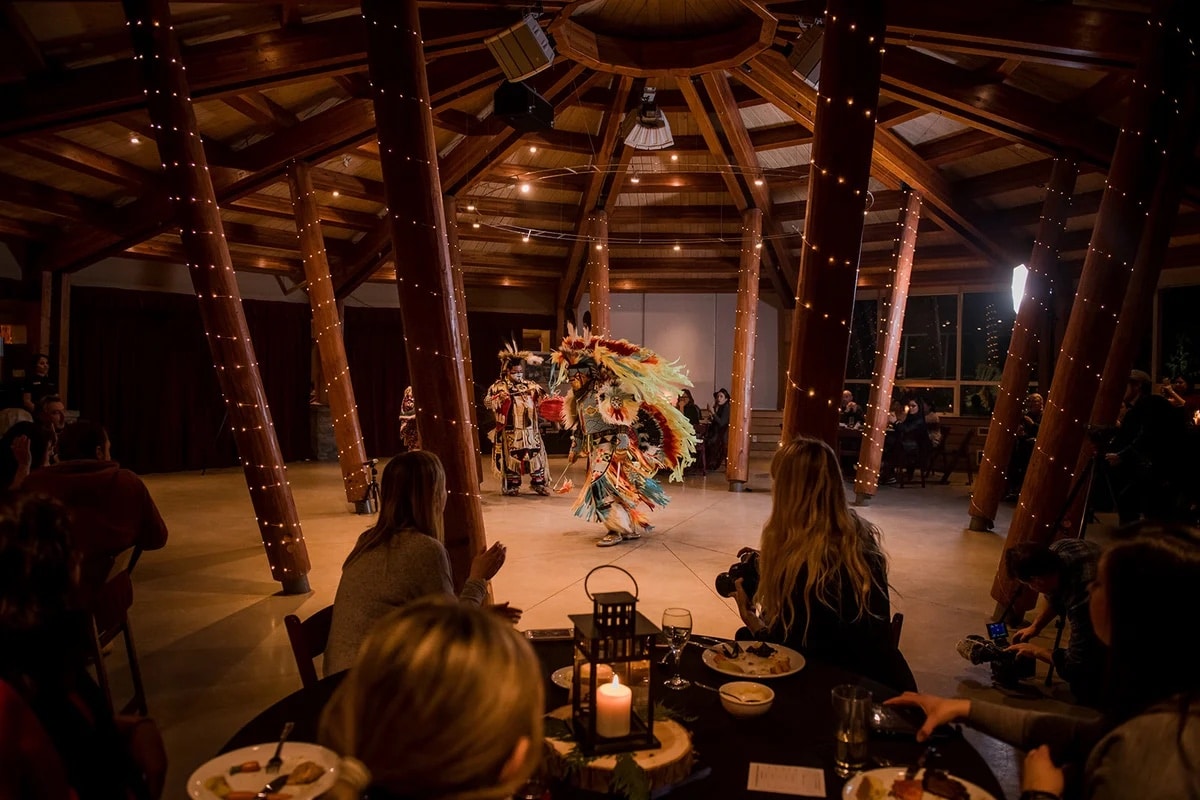 This is the first center of its kind in all of Canada, a space to share and celebrate the traditional culture of both the Squamish Nation and the Lil'wat Nation. The Squamish Lil'Wat Cultural Center is set on the shared territories of the two unique nations, and even the facade itself embodies the spirit of their partnership.
There's an hourly guided tour where cultural ambassadors take you through the exhibits and lend their intricate knowledge. They also host many engaging events here, from bracelet making to song and dance performances to dinner feasts.
---
Enjoy the Whistler Festivals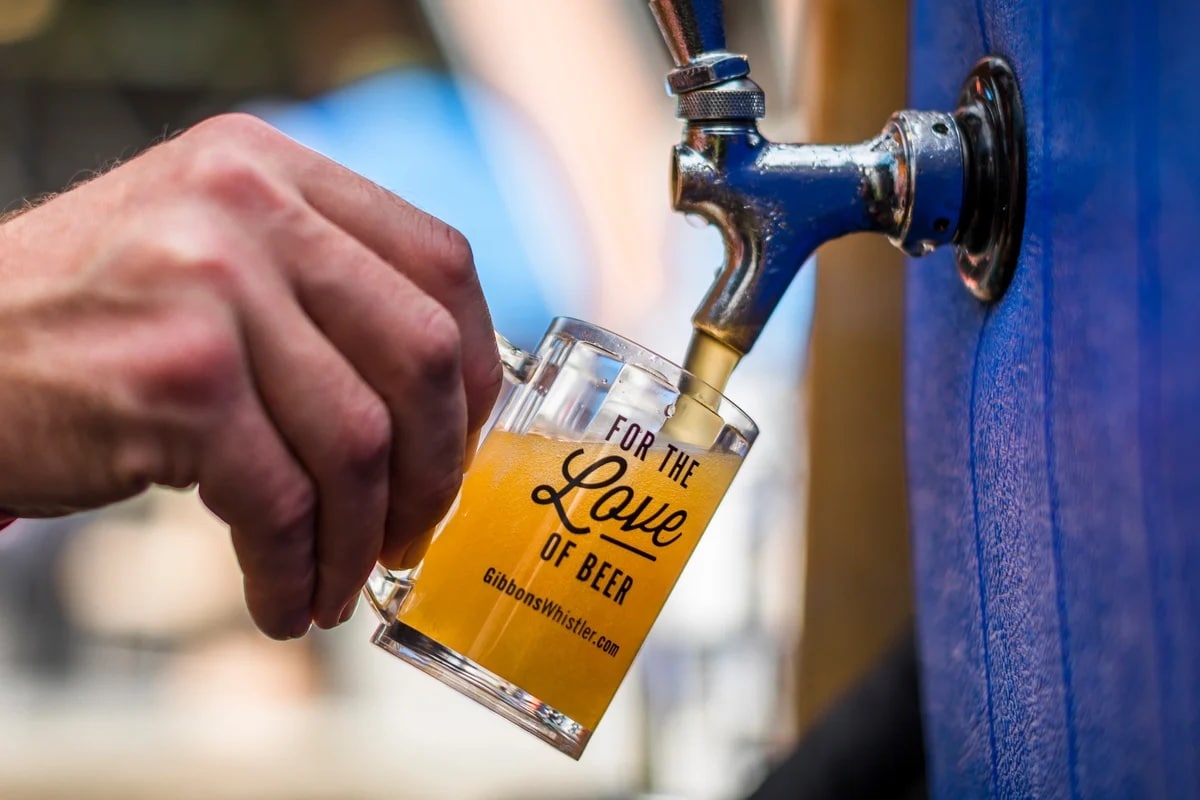 Whistler is famous for hosting an abundance of signature events and festivities throughout the year. The seemingly nonstop lineup includes Whistler Writers Festival, Whistler Film Festival, Whistler Children's Festival, World Ski and Snowboard Festival, Whistler Pride, the Great Outdoors Festival, Whistler Village Beer Festival, Cornucopia Whistler, and many many more.
It feels like there's always something happening here, so be sure to check their calendar while in town.
---
The Point Artist-Run Centre
Set on the far side of Alta Lake, this spot is a favorite of all culture connoisseurs and art appreciators in the know. It's a hub for many community events, including live music, theatrical performances, art workshops, and writers retreats.
It's a historic fishing lodge that has been turned into a haven for artists in the area and from all over the world. They strive to incubate excellence through education, creating affordable workspaces, and facilitating collaborative projects. See all the details here.
---
Have a Spa Day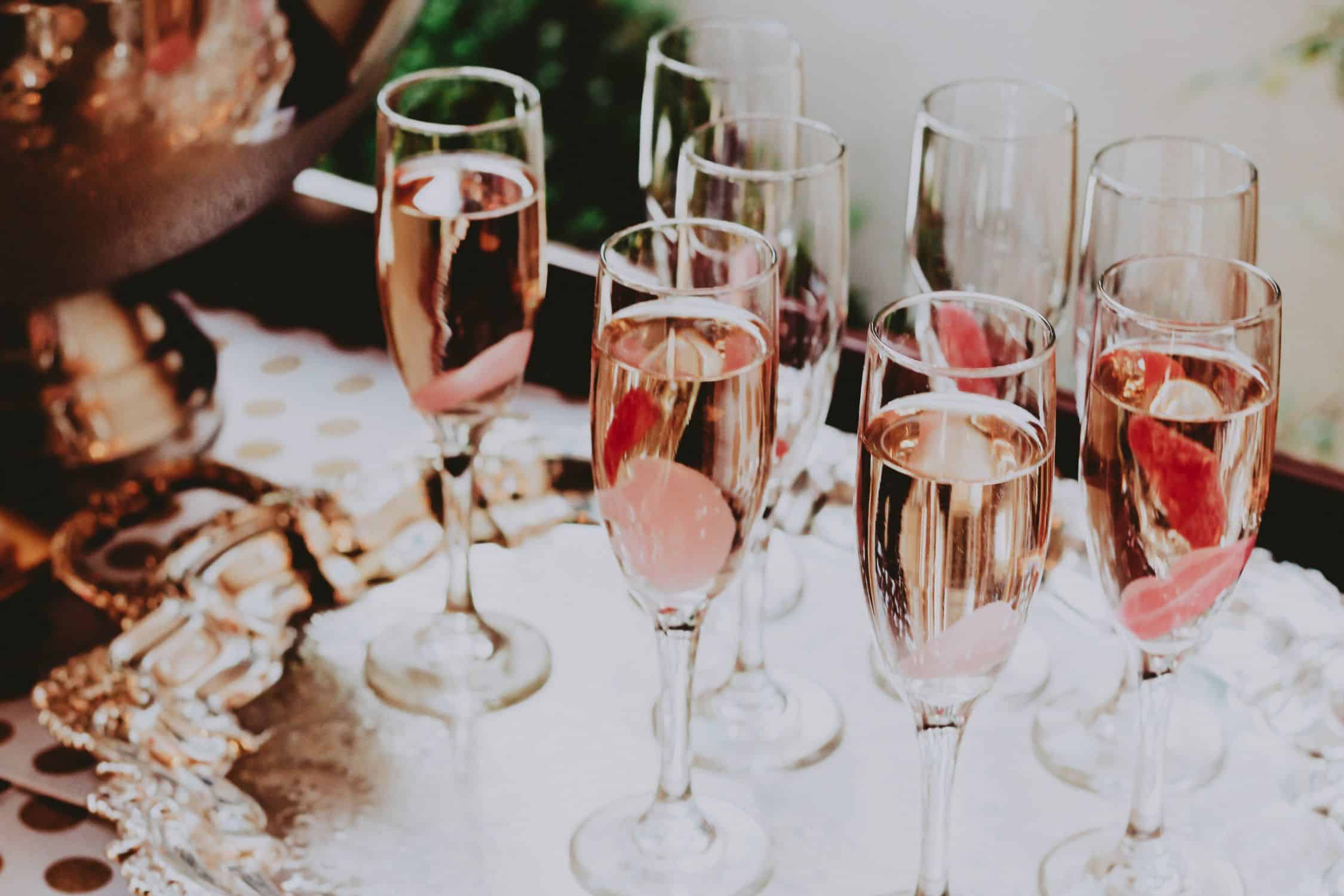 Whistler is a place where ultimate pampering and restorative relaxation are right at your fingertips. The hardest part is picking just which spa package to indulge in, but the truth is you really can't go wrong.
While the Scandinave Spa is probably the most popular, with state-of-the-art offerings unlike anywhere else, including a full Nordic style hydrotherapy experience there are other options available.
The Vida Spa, the Spa at Nita Lake Lodge, the Loft Salon and Spa, Whistler Day Spa, Glacier Day Spa, and Aviva Wellness Massage Spa all provide an area to rest and relax.
---
Whistler Farmers Market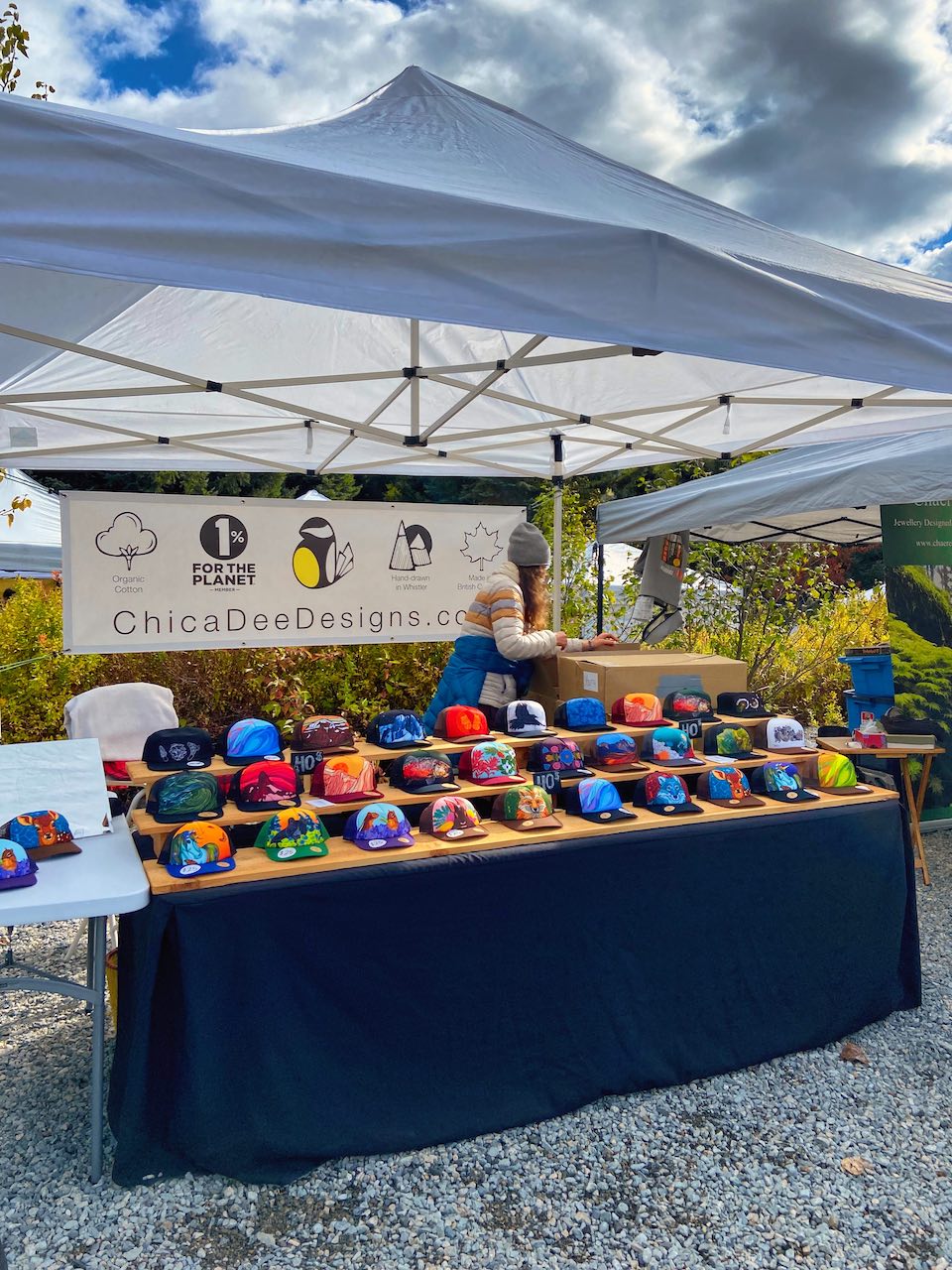 Throughout the warmer season, Whistler hosts a charming outdoor farmer's market every Sunday. Rotating vendors come to sell an array of local and gourmet goodies, such as fresh produce, artisan fares, boozy beverages, arts and crafts, and much more.
There's always plenty of entertainment aside from browsing the endless booths as well, including roller-disco, axe throwing, live music, and quaint cafes. It's a delightful way to wander the day away in Whistler.
---
Enjoy the Many Whistler Lakes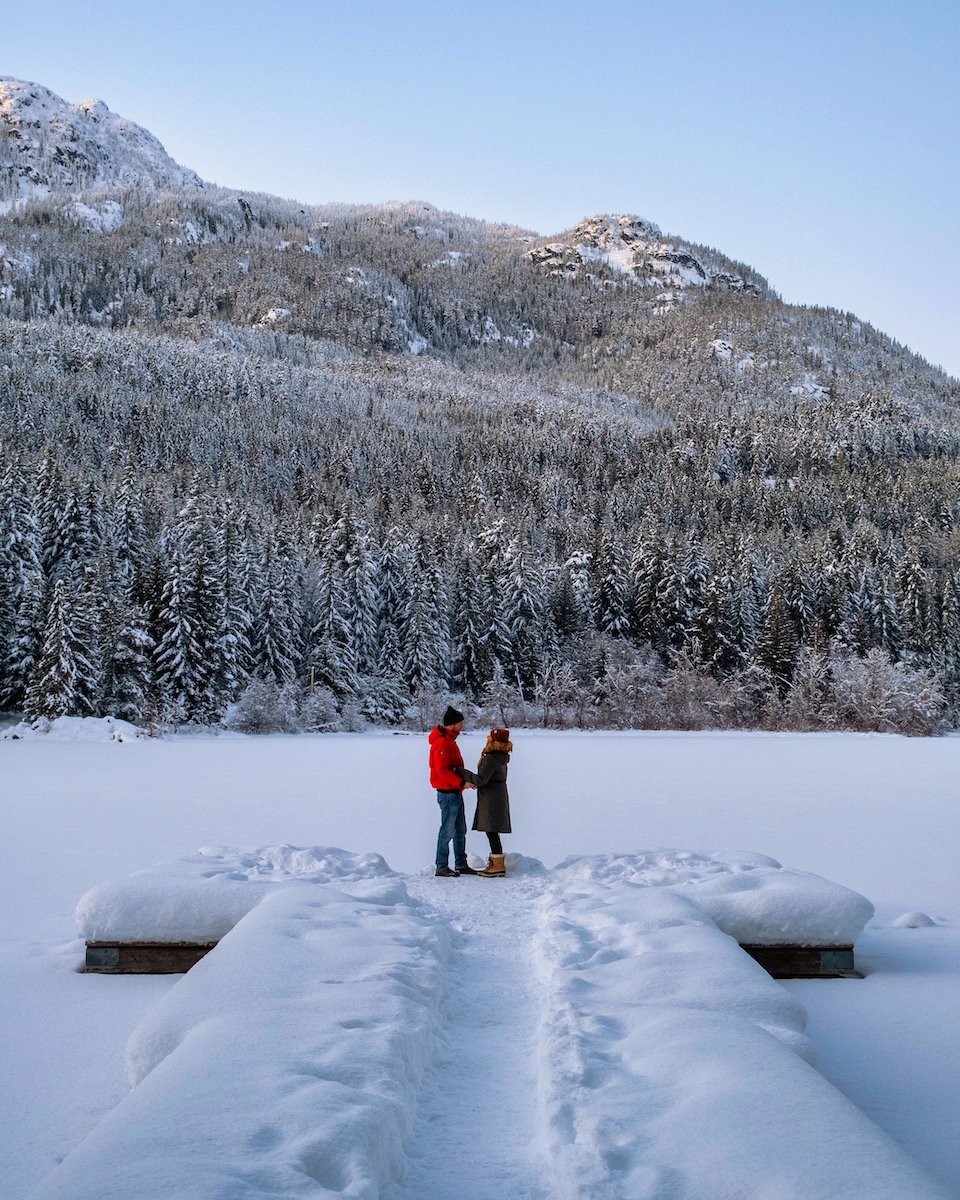 Whistler has an abundance of clear, shimmering mountain lakes to explore. In the summertime, there are breathtaking hikes, beautiful beaches, and lovely wooden docks that stretch out over the cool waters. There are a total of five in the valley; Alta Lake, Alpha Lake, Nita Lake, Lost Lake, Green Lake. Let's dig into each of these BC lakes.
Nita Lake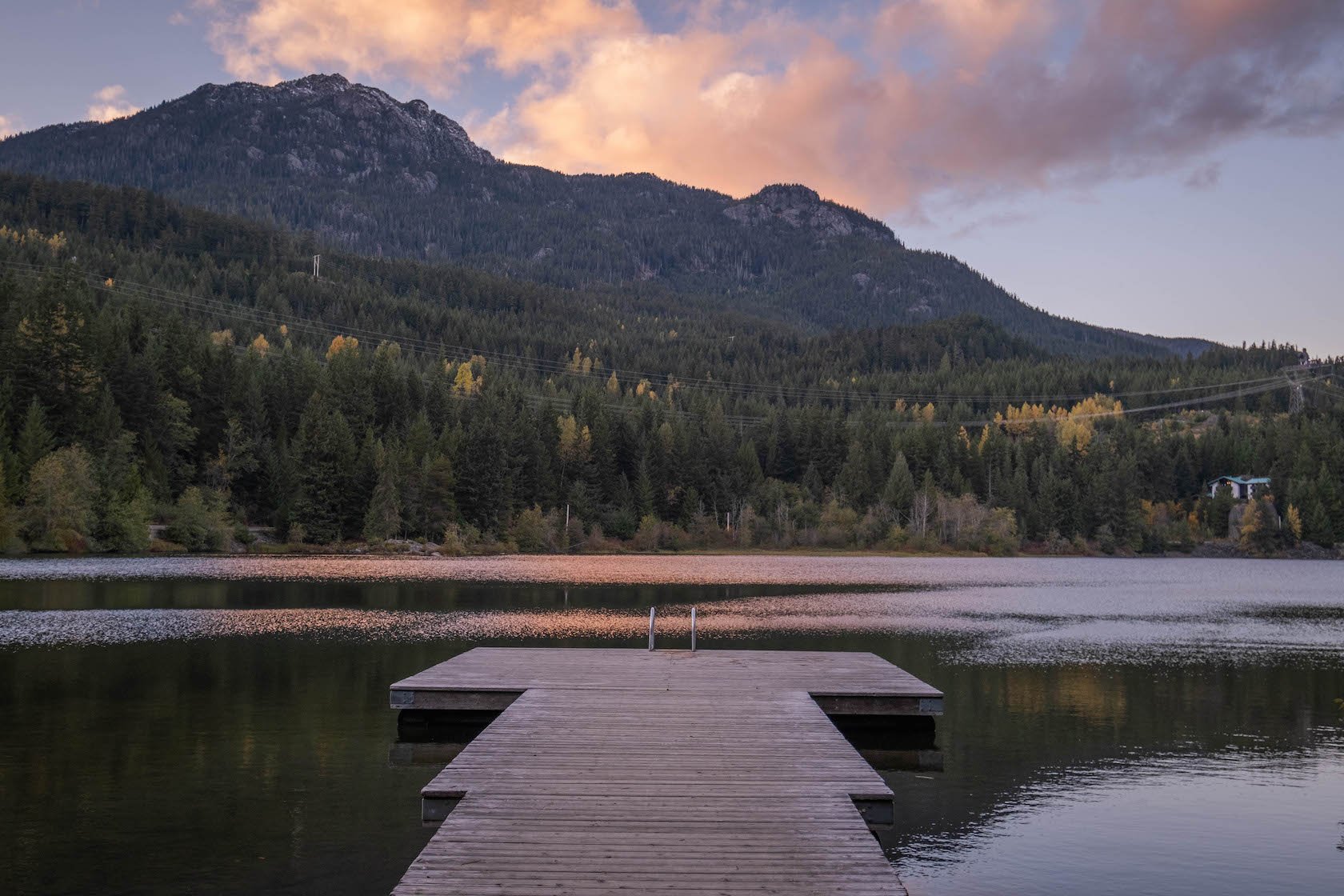 Nita Lake is the closest lake to the Creekside Gondola and one of our favorite lakes in BC. It's a stunning lake with open views. We particularly love heading to Nita Lake Lodge and enjoying their dock.
Lost Lake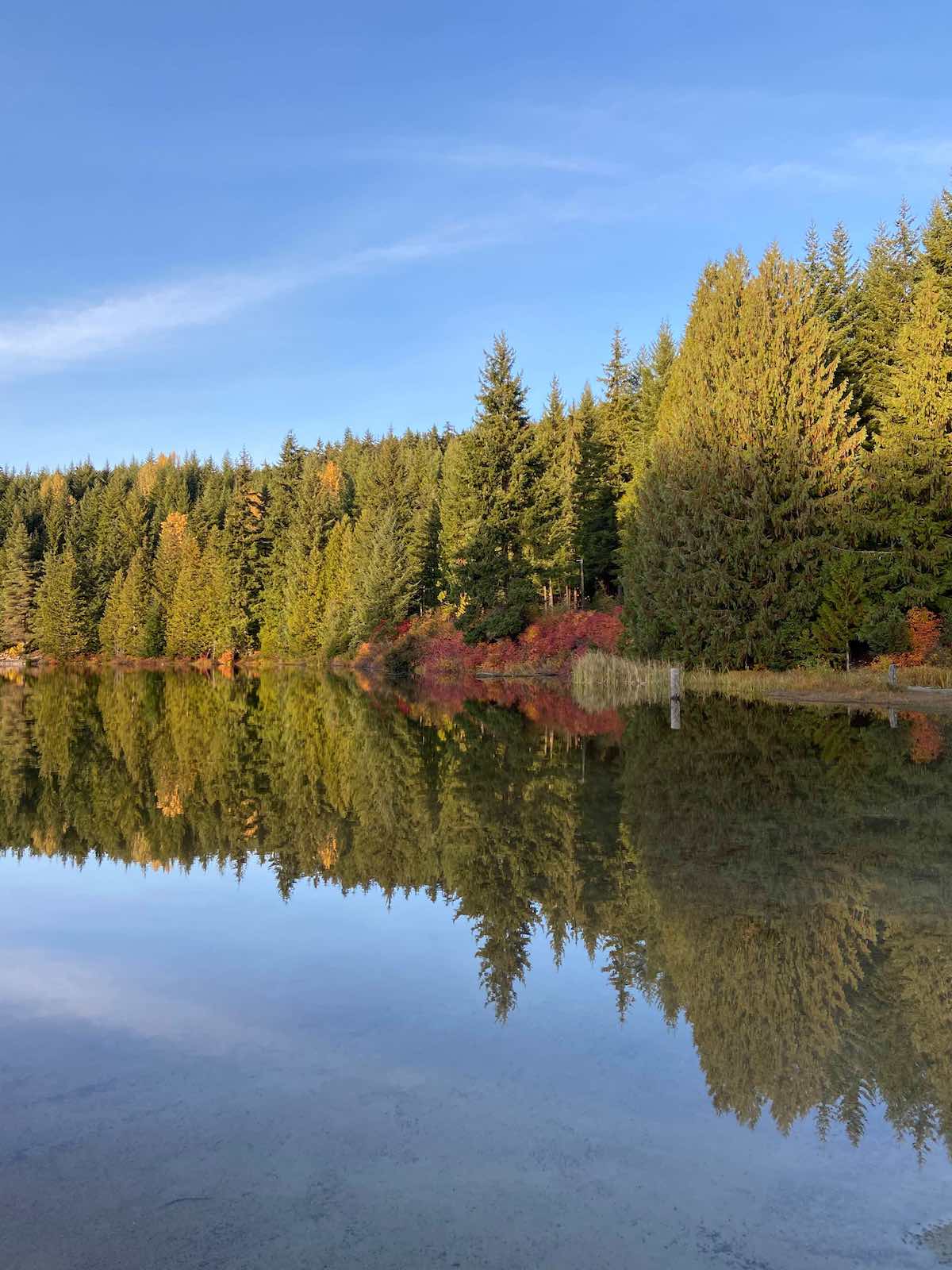 Lost Lake is located near the village and has plenty of things to do around in. In the summer, it's a fantastic place to paddle. There's also a trail around the entire lake for running and walking. In the winter, Lost Lake is a fabulous place to cross country ski. There are also cross-country biking trails at Lost Lake for all levels (very beginner-friendly).
Alpha Lake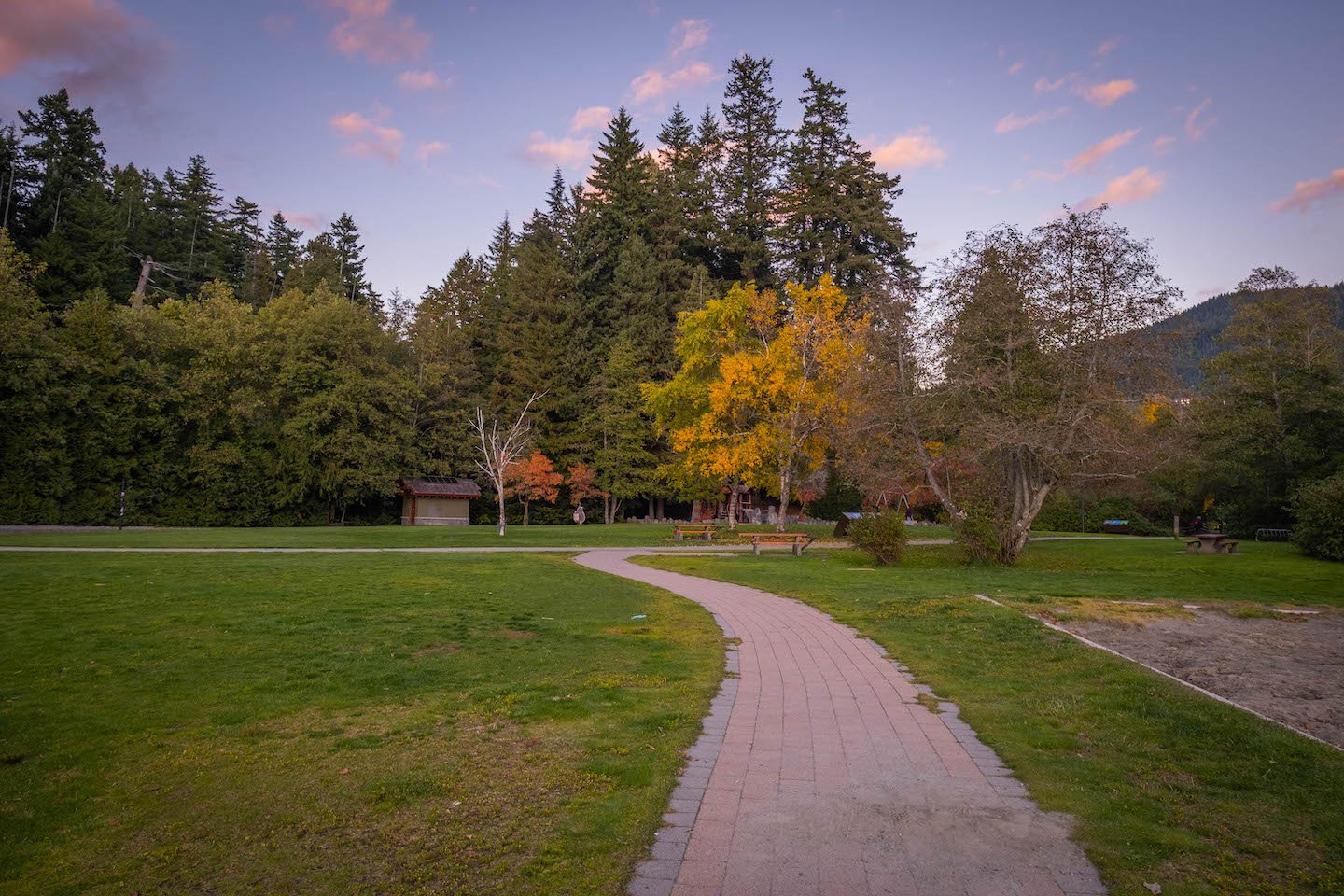 Alpha Lake is near Nita Lake and is an excellent place to take the dogs for a walk and enjoy the area with children.
Alta Lake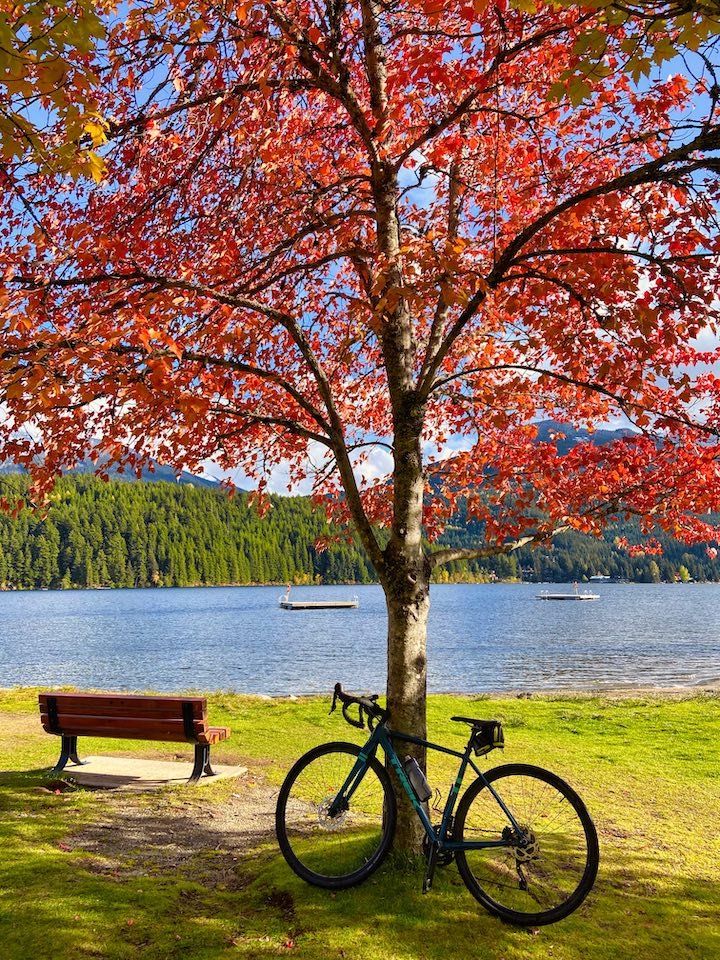 Alta Lake is a popular Lake in Whistler as it surrounds Rainbow Park. Here you can paddle and kayak in the summer and ice skate in the winter. I particularly love Alta Lake as you get great views of both Blackcomb and Whistler mountain here.
Green Lake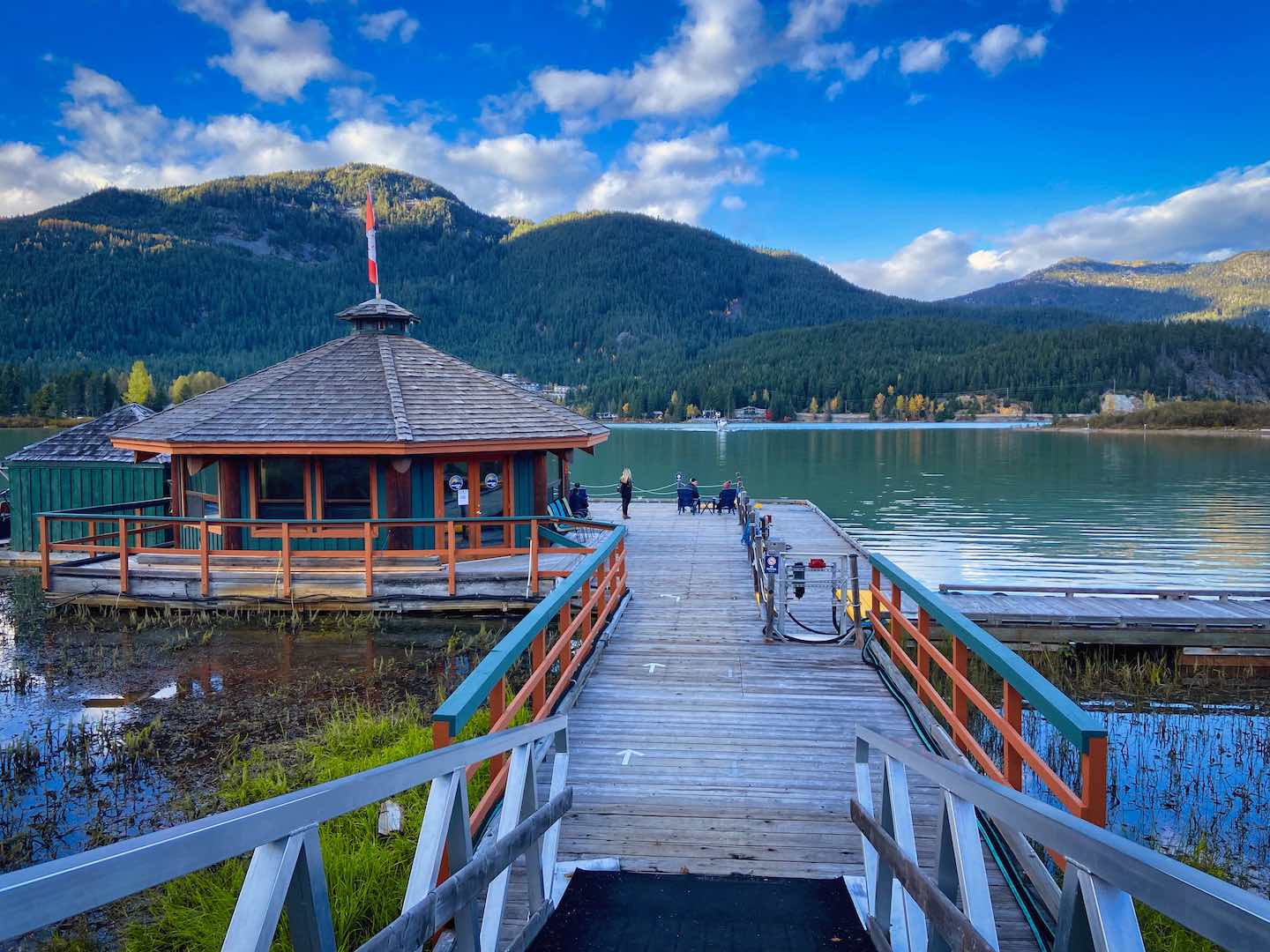 Green Lake is the largest and most northerly lake in Whistler. It's where you'll find plenty of million-dollar houses on the shores and has a stunning vivid turquoise color in the summer.
---
Hike to Wedgemount Lake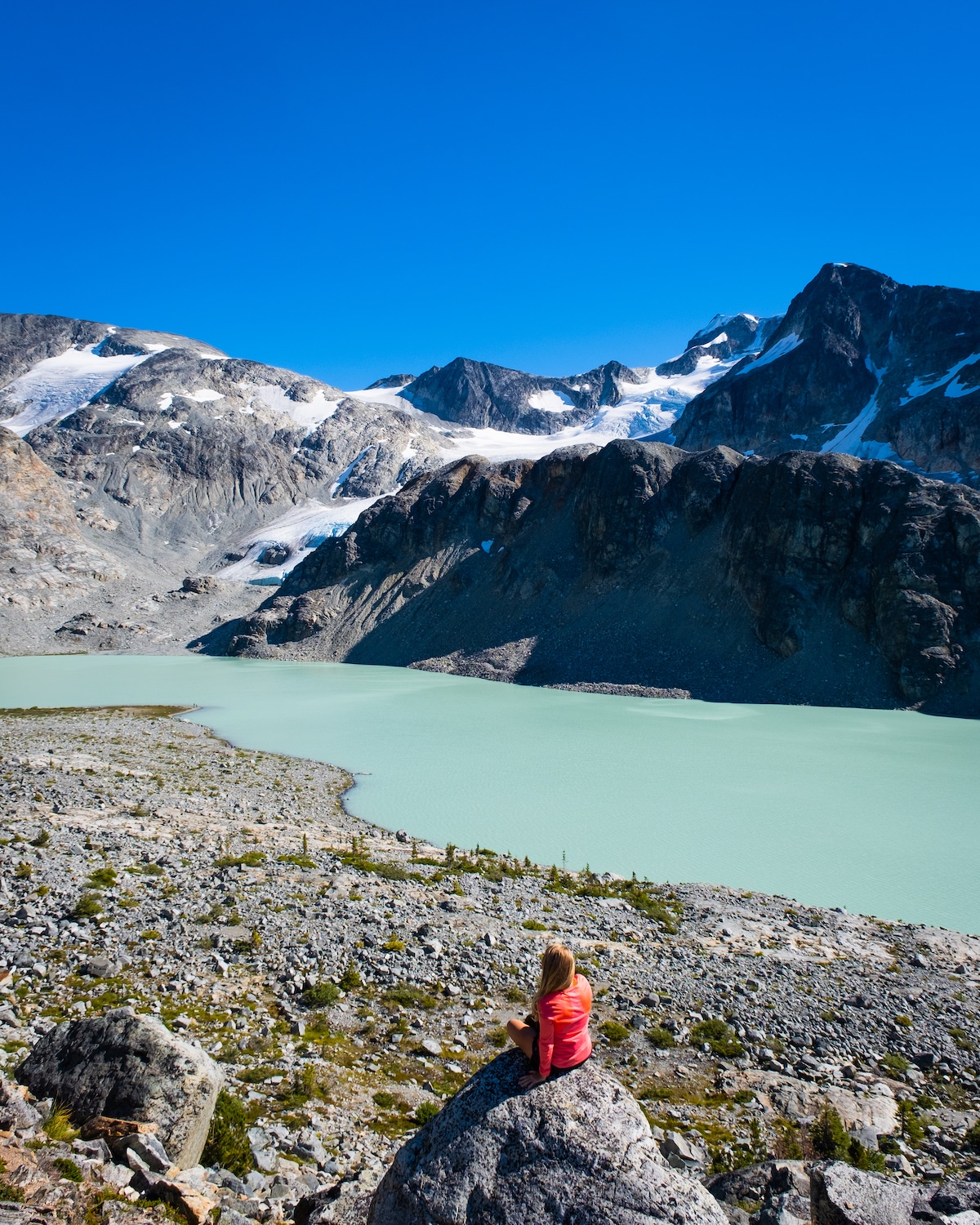 One of the best things to do in Whistler in the summer months is hike high to Wedgemount Lake in Garibaldi Provincial Park. You'll gain over 1100 meters in 6 km (12km round trip) to get there, but I promise you it's well worth the hike.
The hike up is very steep and challenging at times. However, it never gets boring with bridges, forests, waterfalls, and a bit of scrambling. The trail's finale is Wedgemount Lake, which sits perfectly under Rethel Mountain, providing picturesque views. There are platforms set up for backcountry campers, though the hike can quickly be done in a day.
---
Hike to Joffre Lakes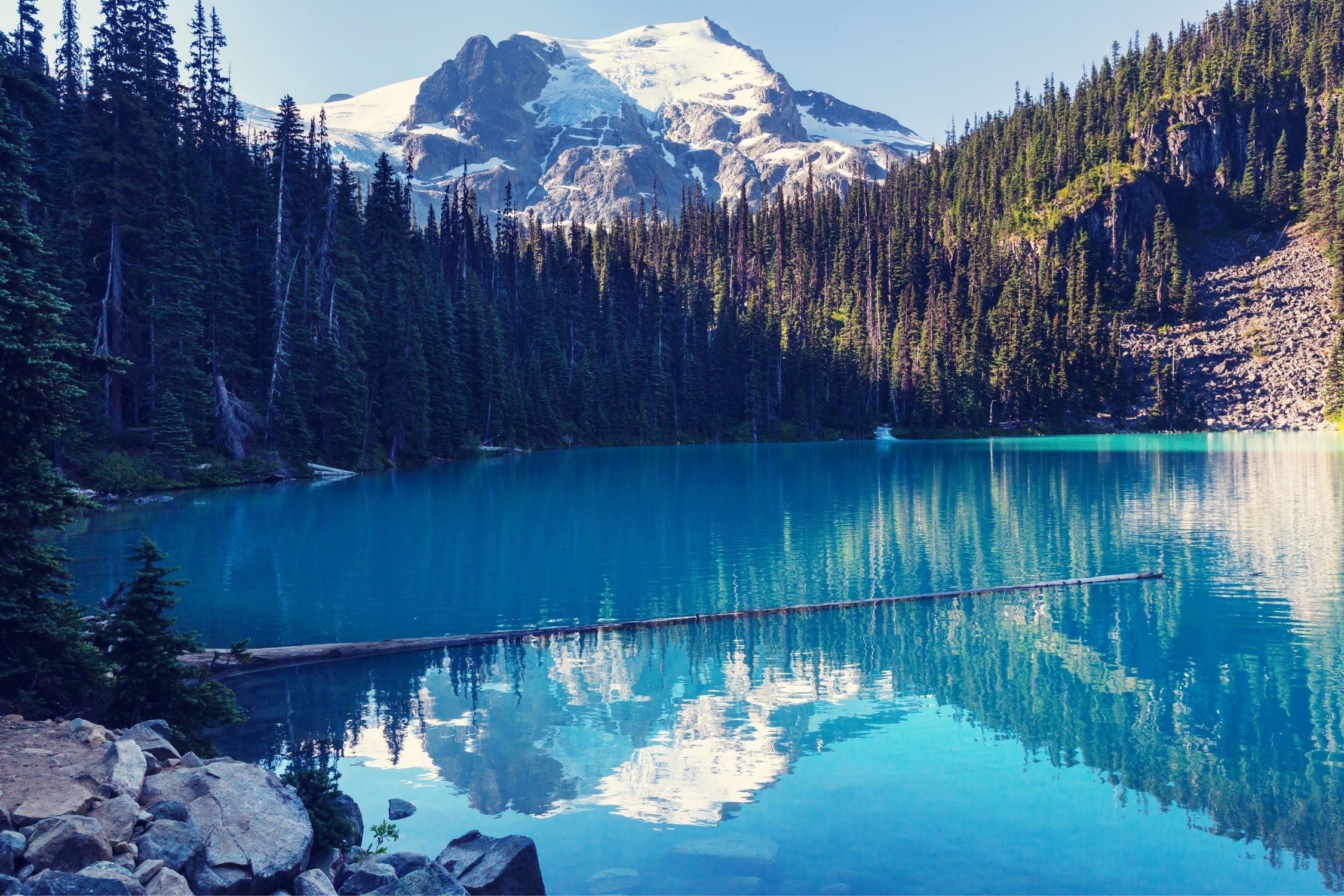 A short drive past Pemberton on Duffey Lake Road is the stunning Joffre Lakes Provincial Park, which is one of the most beautiful places in all of British Columbia.
The hike to Lower, Middle, and Upper Joffre Lakes is 10km with less than 400 meters of gain. The highlight is seeing the bright blue lakes shimmer under the glaciers.
---
See the Coast Mountains From Above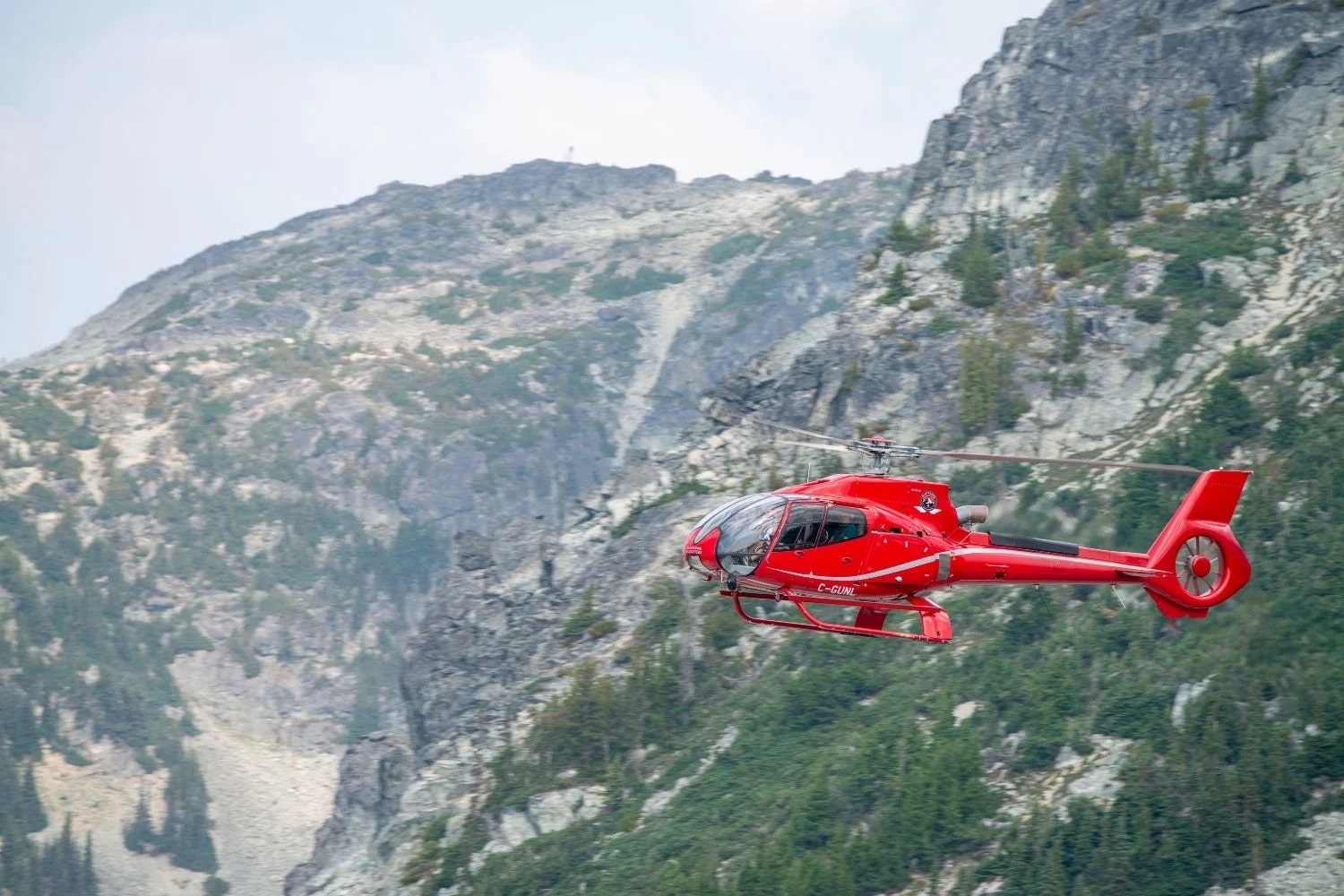 What better way to sightsee in Whistler than from a bird's eye view up in the clouds? There are a couple of ways to do this, and a common one is by helicopter. One of the best things about this is the pace, allowing you to slow down and soak it all up and being able to reach the remote terrains of the Coast Mountains otherwise unseen with ease.
Alternatively, try a floatplane that sails over rugged peaks, gorgeous glaciers, and lush alpine forests, either vibrantly verdant or blanketed in crisp white snow, depending on the season. It's also a great way to connect to Victoria or Vancouver from Whistler.
---
Go Fishing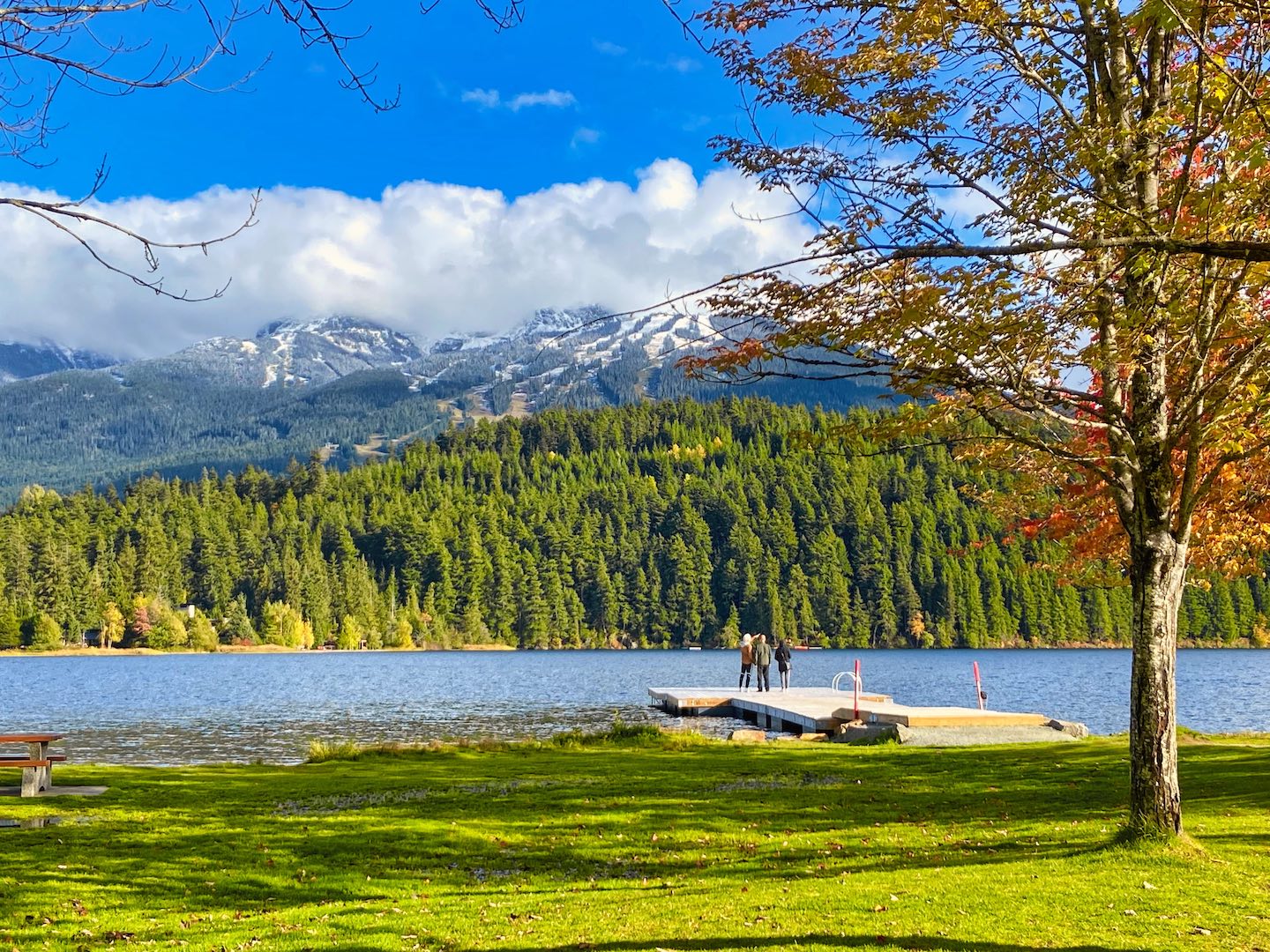 Whether you're a novice angler or a seasoned pro, there are some amazing opportunities to cast a reel in Whistler. From local rivers to remote lakes to secluded fishing holes, you can find all kinds of stunning spots to fly fish or spin cast all year round.
Rainbow trout, char, and salmon are the coveted catches in the area. It's best to do a guided tour for pro tips, equipment, and locations.
---
Paddle on the Lakes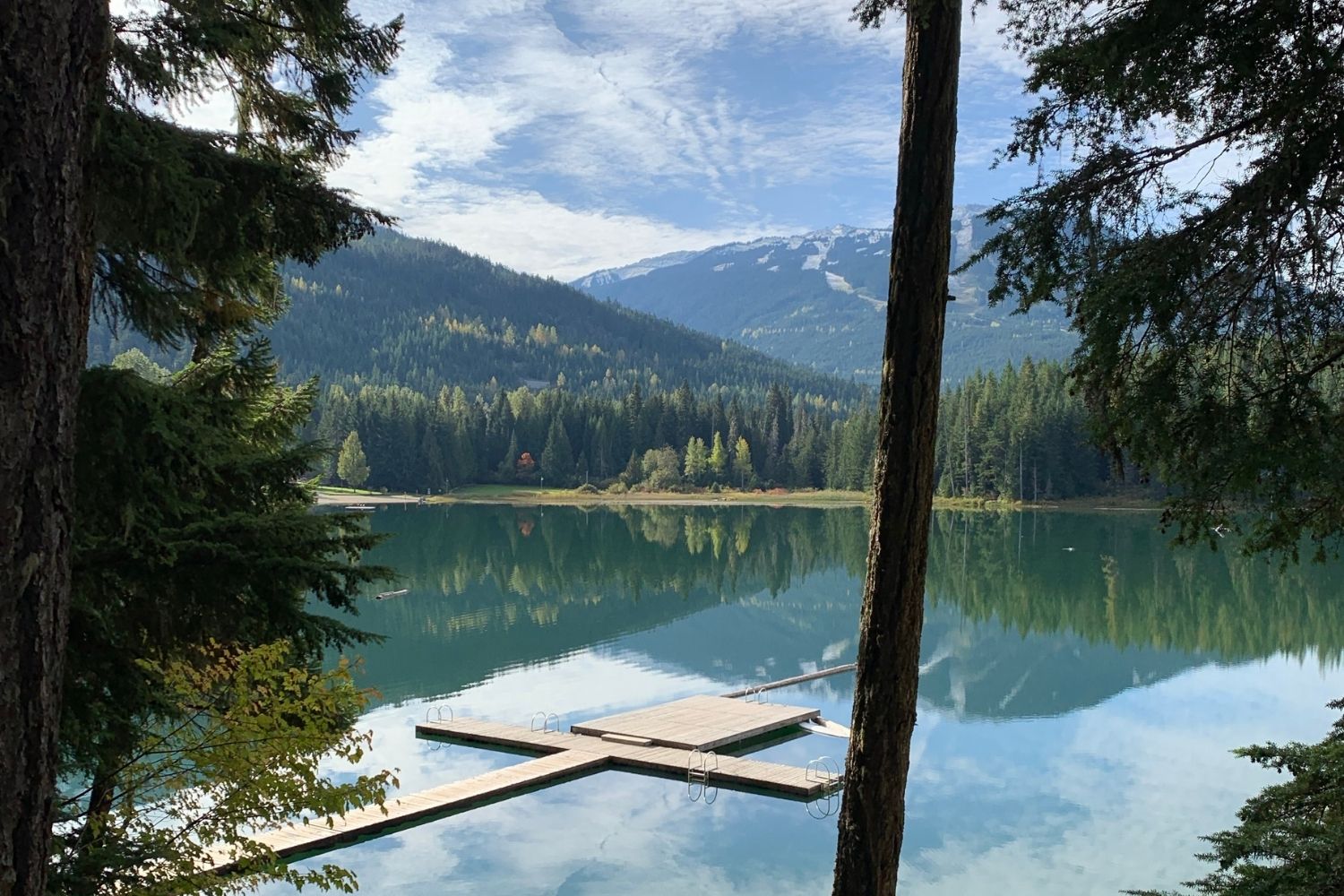 With so much open water around Whistler, paddling is the perfect way to get out on clear, cool surfaces. It's super easy to rent a canoe, kayak, or stand-up paddleboard here with outfitters like Whistler Eco Tours.
The waters can range from calm to rough, so you can choose the type of adventure you're looking for, either guided or solo. Exploring the unique ecosystems of the lush landscape has never been more fun. You can even try a thrilling whitewater raft down the River of Golden Dreams.
---
Ride the Peak 2 Peak Gondola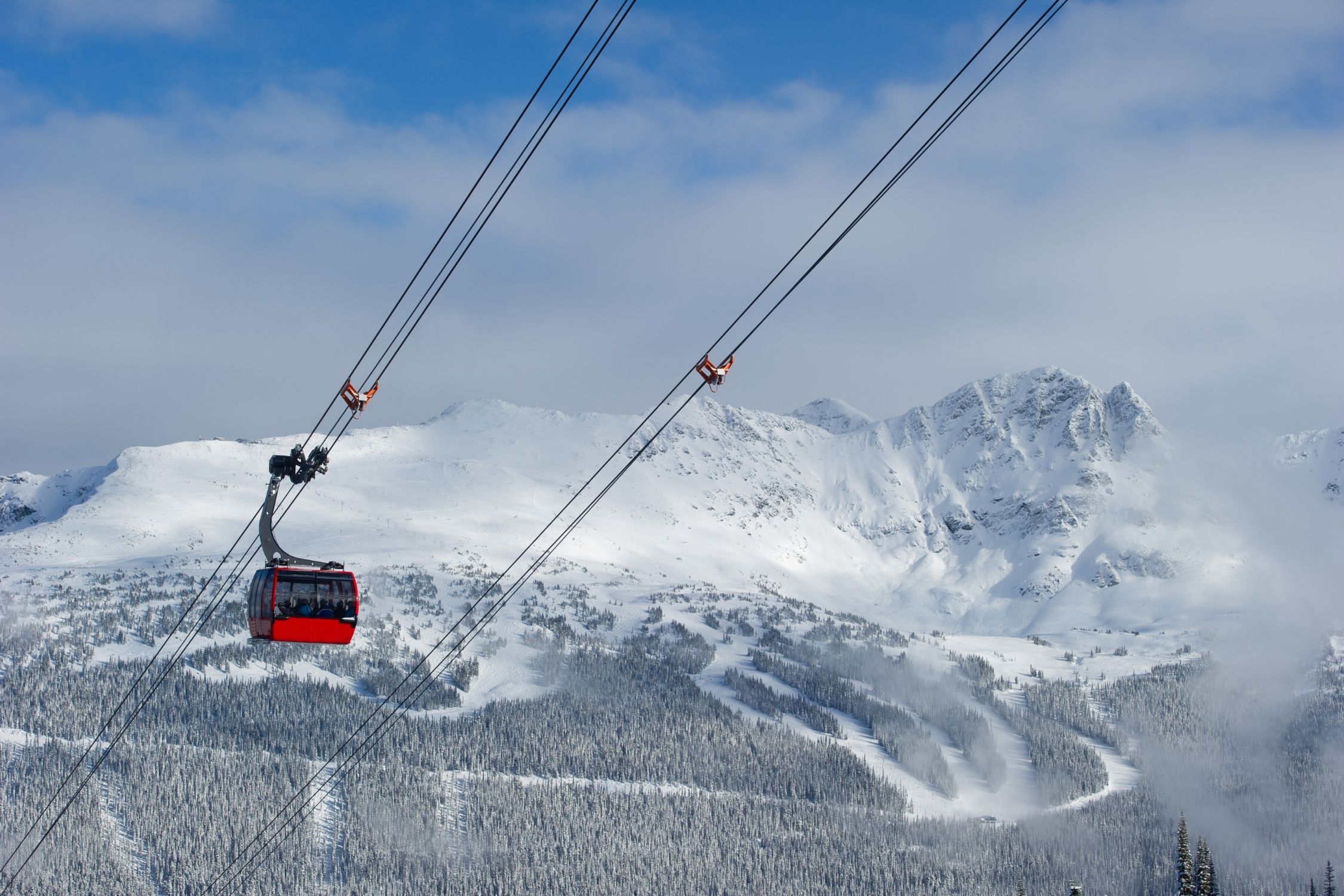 The Peak 2 Peak Gondola is an unparalleled 360 viewing experience of the mountainous landscape in Whistler. Icy lakes, glaciers, and cliffs are all around, and the glass bottom of the gondola allows for the perfect vantage point for every picturesque panorama.
It offers access to both Whistler and Blackcomb peaks, rising 1,430 feet above the valley floor. It broke records for the longest, continuous lift system and highest gondola of its kind in the world. Eight miles end to end, it's a must in any season.
Of course, if you are already skiing at Whistler, you're likely going to ride this when going between Whistler and Blackcomb Mountain, but you can still ride the gondola in the summer too!
---
Walk Or Bike at the Train Wreck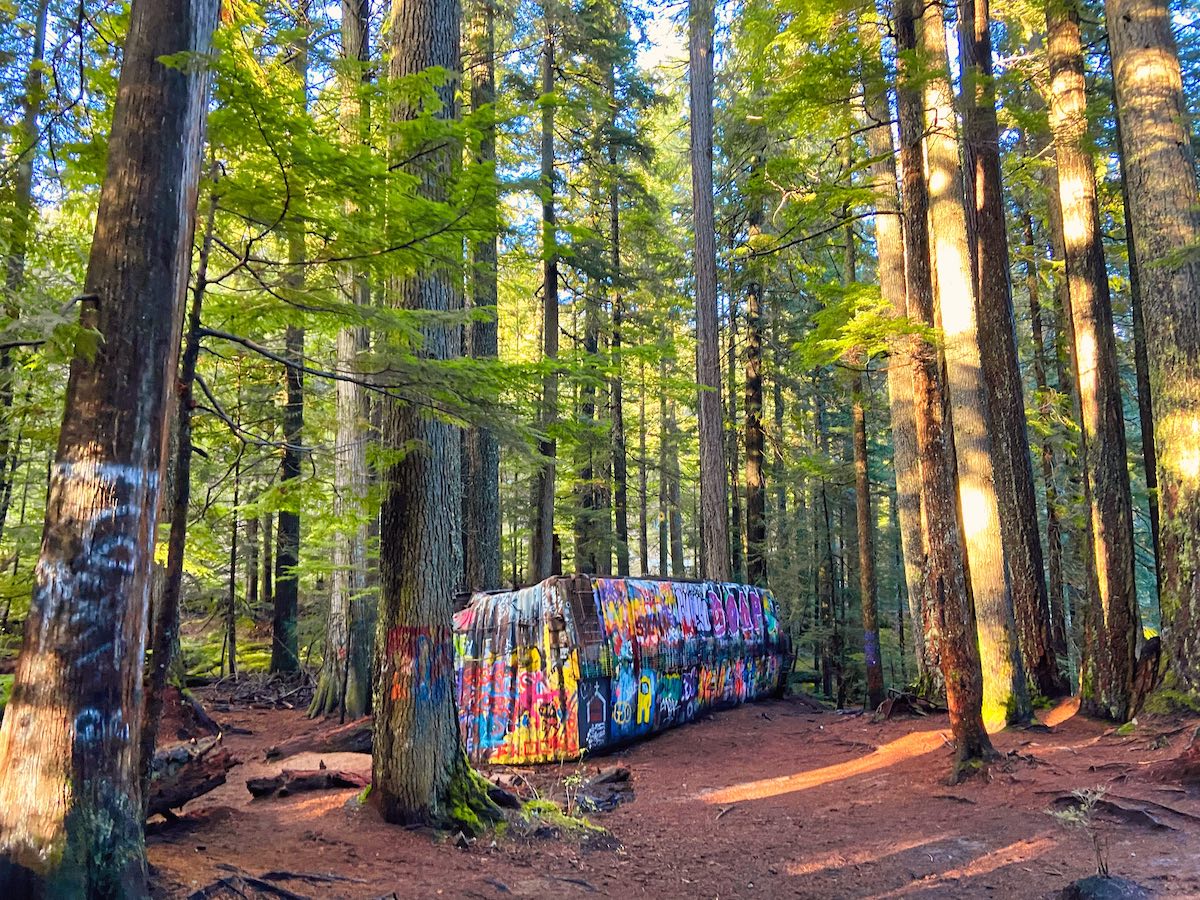 One of the more unique spots to check out in Whistler is the Train Wreck site.
When a train derailed in 1956, no one probably thought that this would become an area of exploration and wonder half a century later. Deep in the forest, you'll find a handful of derailed railway boxcars scattered amongst the forest. At first, you may feel like you are in a horror movie, but after romping around a little you'll find it's more like a free public art gallery.
Graffiti artists, photographers, trail runners, and bikers have long loved the site. There are numerous biking trails in this area, and the hike to the ste is a short and easy one.
---
Climbing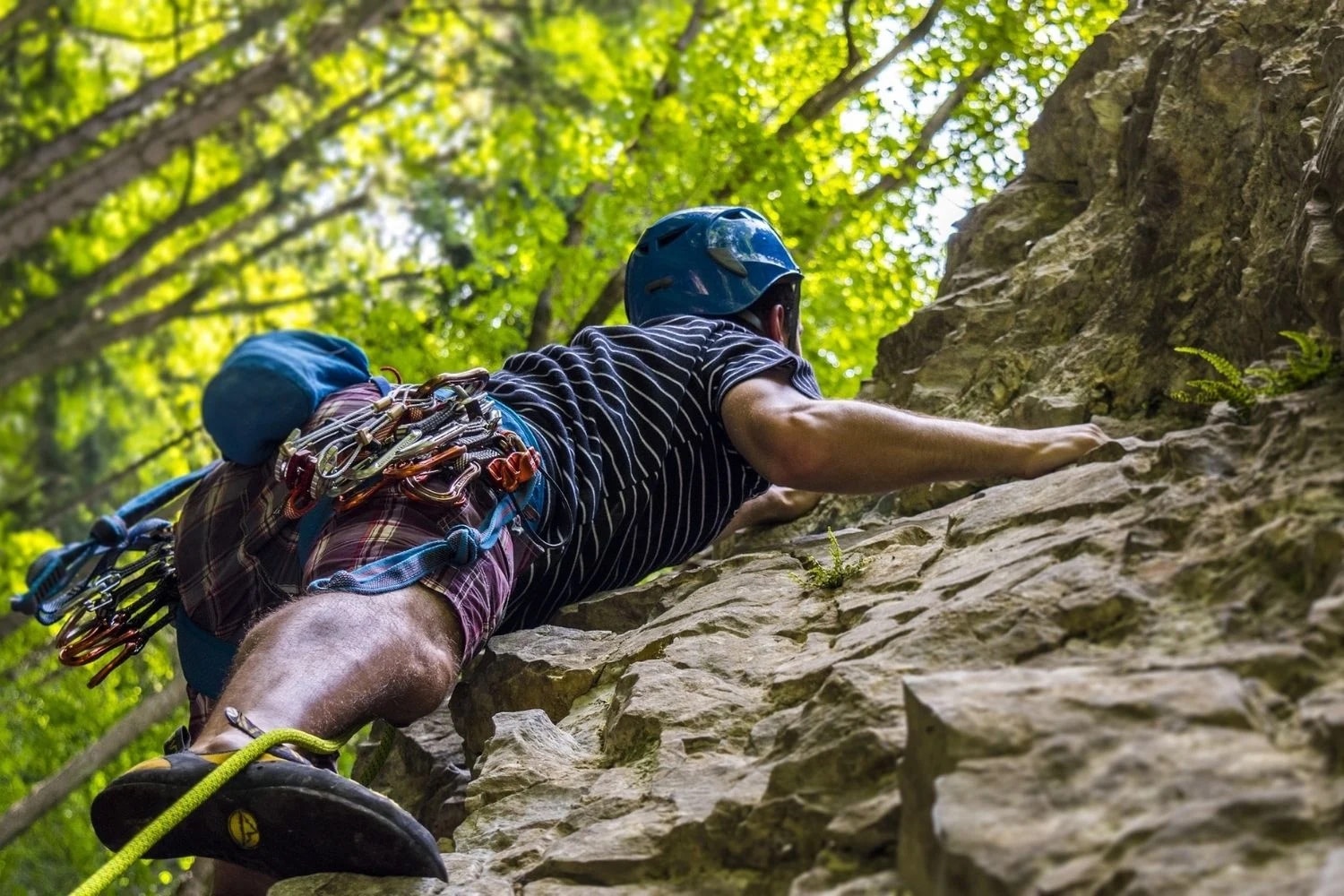 When in the land of extreme sports, it's a great time to try your hand at climbing! There are indoor and outdoor opportunities, so it's available all year-round.
Experts are ready to guide you through the steps, or if you're experienced, you can take to climbing fantastical ice formations of the Via Ferrata on Whistler Mountain all on your own.
---
Head Out On Two Wheels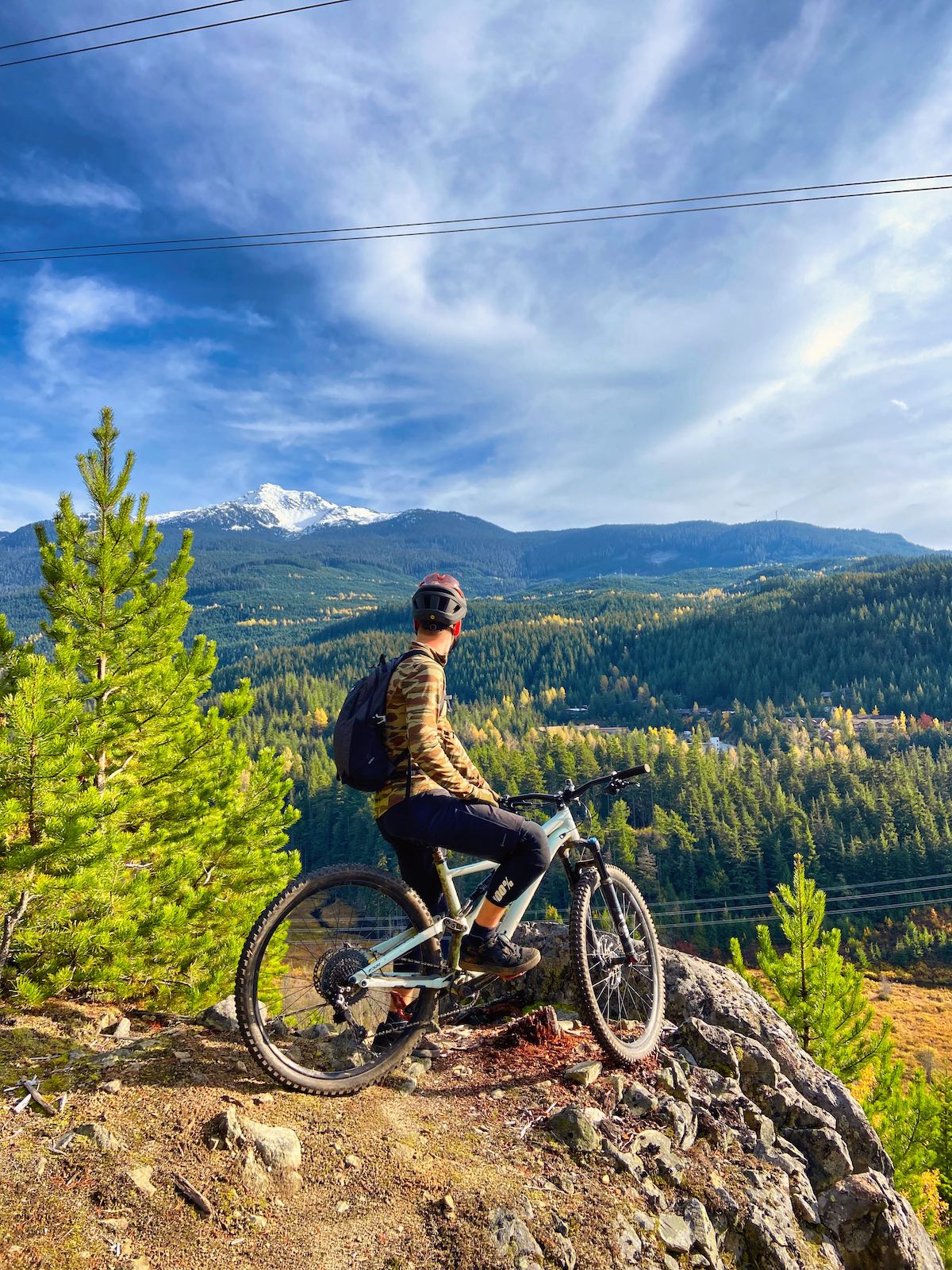 Whistler made its name in ski, but in the last decade, it's been mountain biking, making waves internationally. One could easily argue that Whistler is the best place in the world for mountain biking. It is the most extensive downhill bike park in the world.
They set the precedence, and the rest of the world is just playing catch-up. Trail builds in Whistler are brilliant with technical descents, huge jump lines, unique features, and buttery smooth flow trails. There are many bike shops in the village with some dream-worthy bike rentals.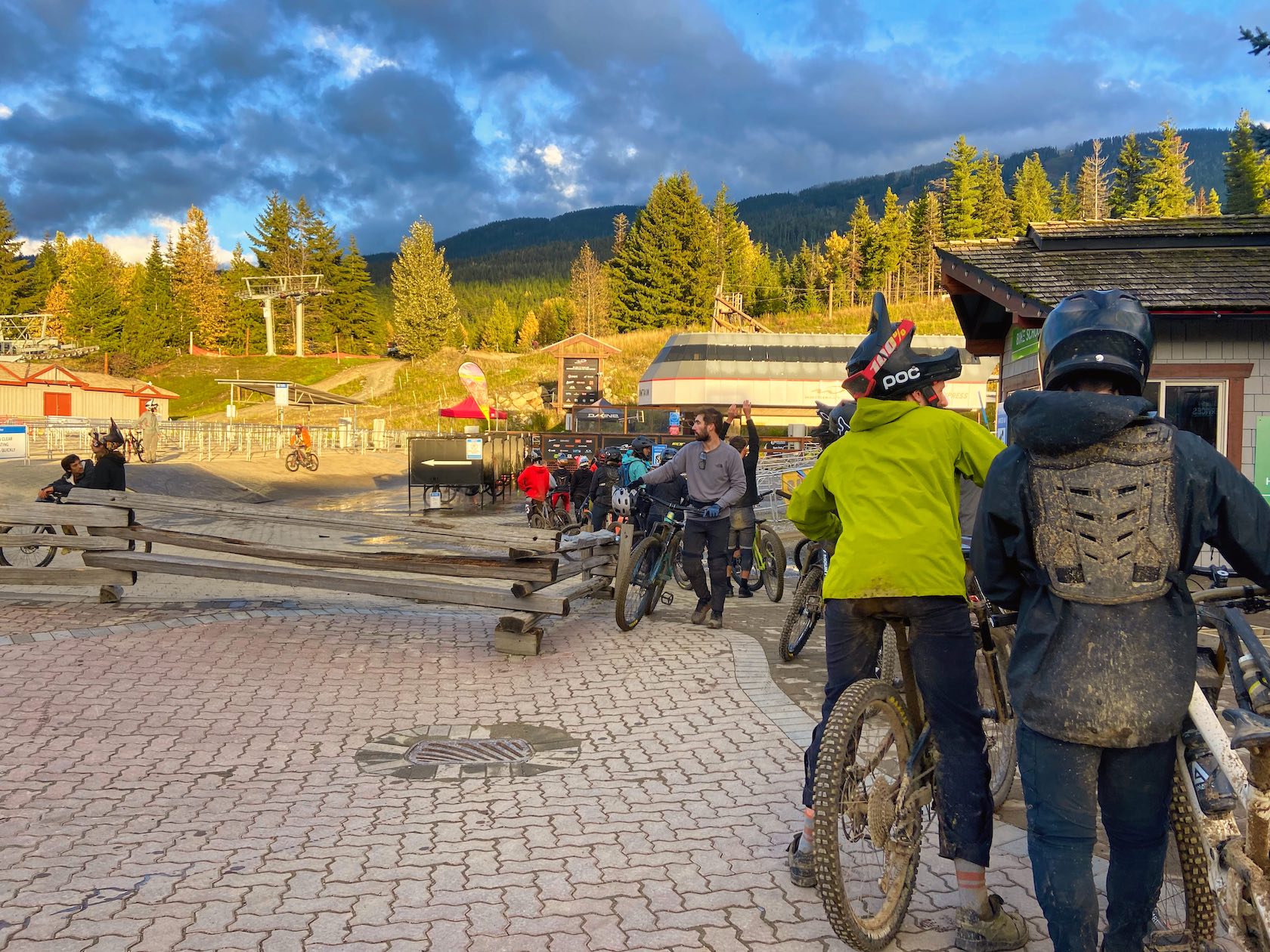 It doesn't stop at the bike park either as there is an extensive network of trails that spread out from the village. The network here offers some lung-busting climbs and burly technical challenges.
I love a classic trail ride and have ridden almost everything around the village. The classic rides around Whistler would be Comfortably Numb, Lord of The Squirrels, Dirty Beasts, Danimal North, Duncan's (It's Business Time), Kashmir, and Dark Crystal. Check out TrailForks to guide yourself around the Whistler.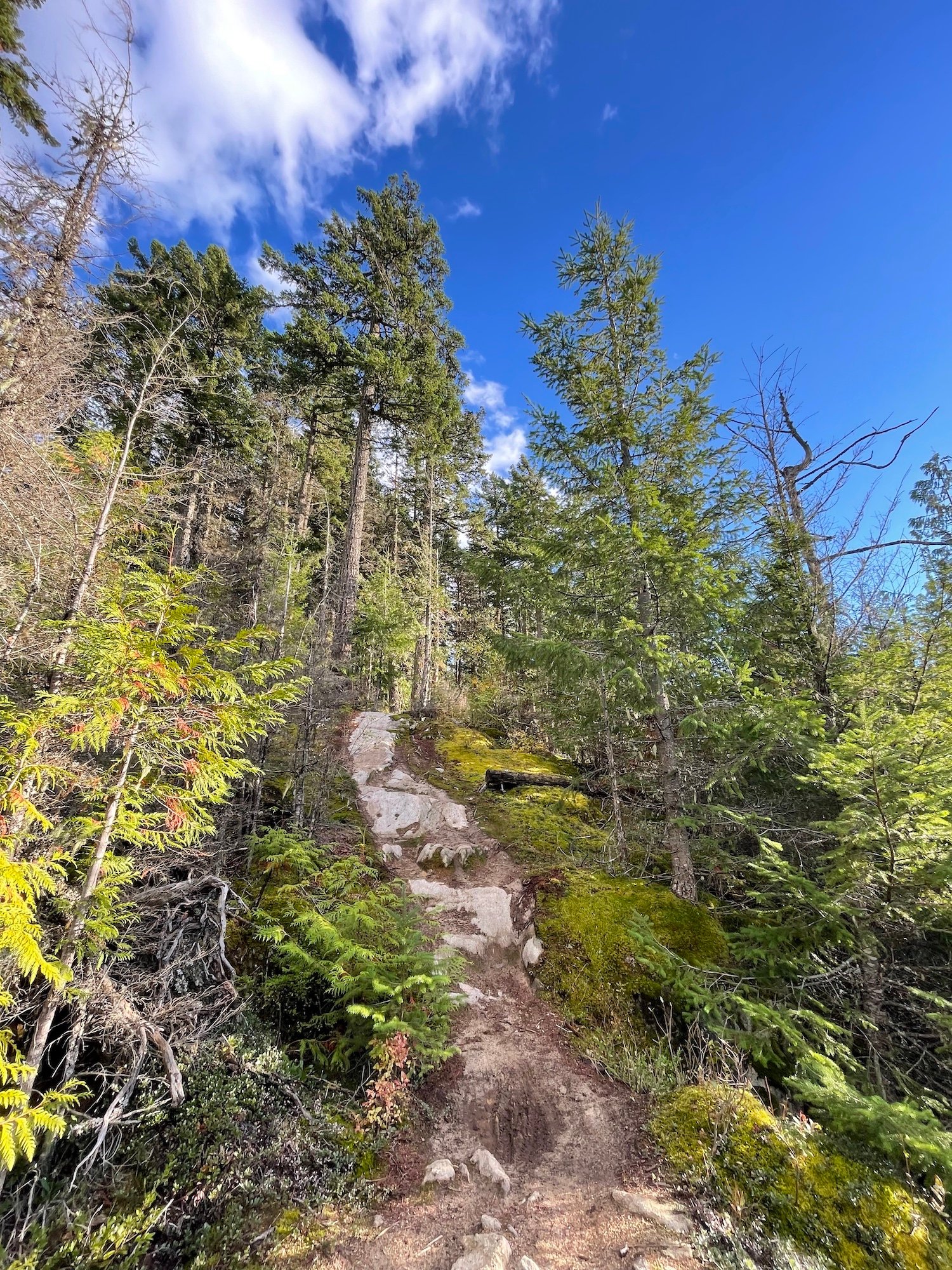 There's such a fantastic variety of cycling options for all skill levels and preferences. Even if you're after a leisurely ride you can try some gentle cross-country trails that offer a bit of challenge around Lost Lake Park.
Recreational trails make for an easy and leisurely ride, e-bike rentals are excellent for exploring long routes and tough terrain with a bit less effort, mountain biking brings rugged and beautiful rides that can be both exhilarating and relaxing, and road cycling offers steep ascents, fast descents, and gentle journeys. It's best to try it in the autumn season for both weather and path conditions.
---
Dine at one of the Best Whistler Restaurants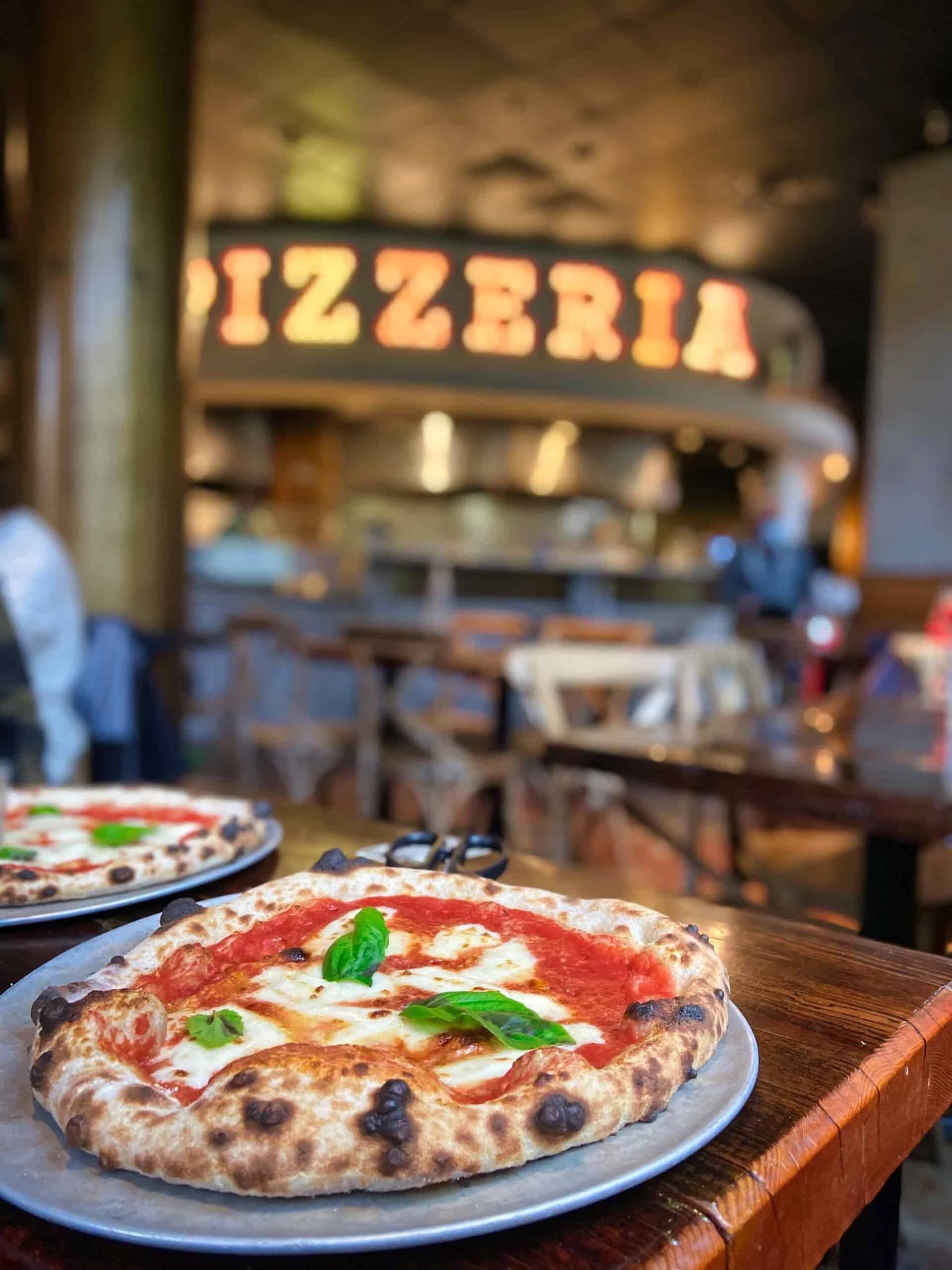 As one of Canada's premiere ski resort, you can bet your bottom dollar there are some amazing restaurants here. On any given night, you'll be able to get whatever kind of cuisine you fancy. The Rimrock Cafe provides a stellar meal in an unassuming restaurant, while Araxi has locally-sourced Pacific Northwest plates.
Pizza Antico has a fabulous Happy Hour special in the winter for their wood-fired margaritas and Ed's Bred will make you wish you had paid attention to baking in high school. Whatever you crave, you can find it in Whistler.
---
Visit Brandywine Falls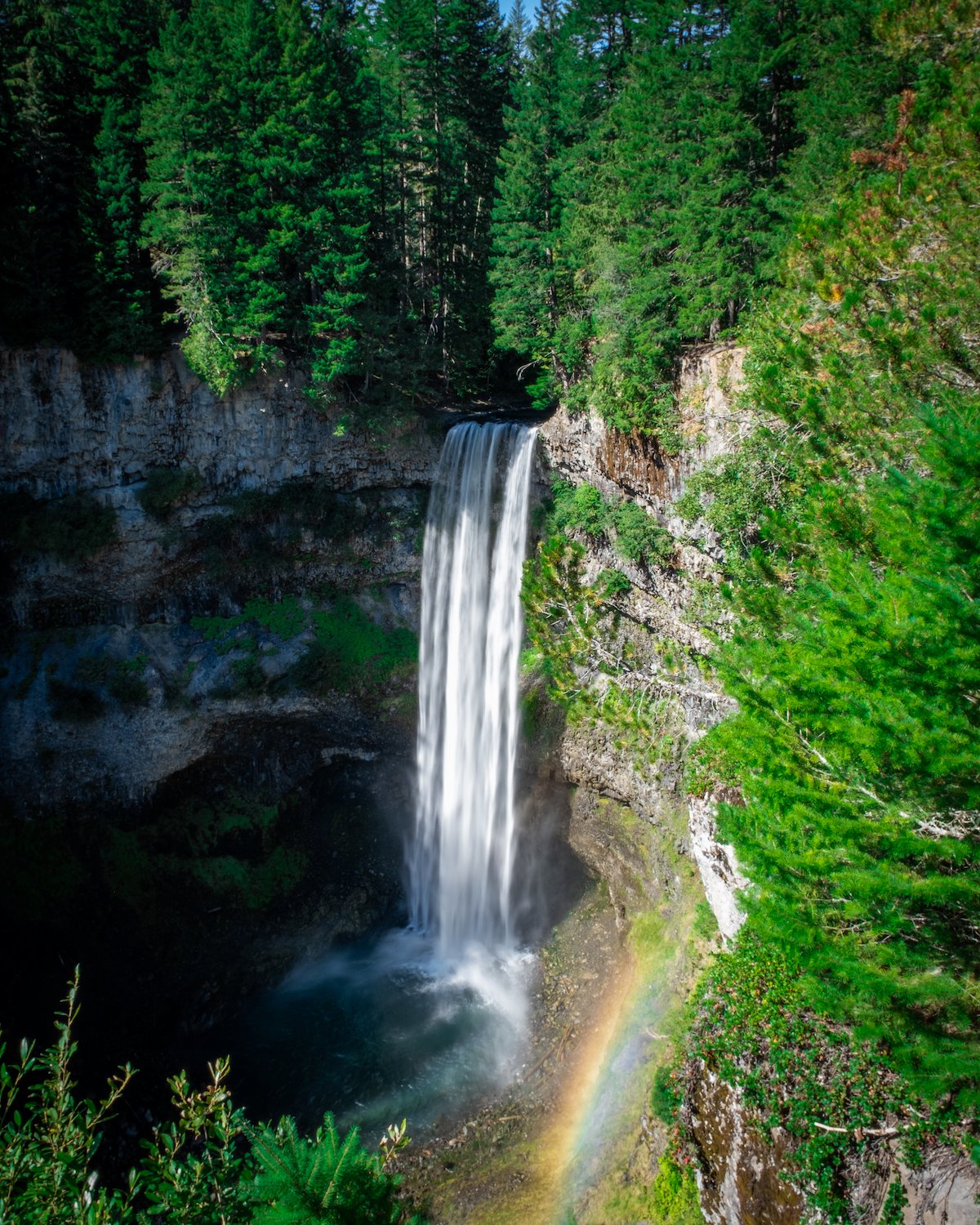 Brandywine Falls is a spectacular 70-meter BC waterfall a short drive away from Whistler on the Sea to Sky Highway! Brandywine is the perfect place for a lunch break, a short hike to stretch the legs before hitting the road for a short drive to Squamish.
---
Day Trip to Squamish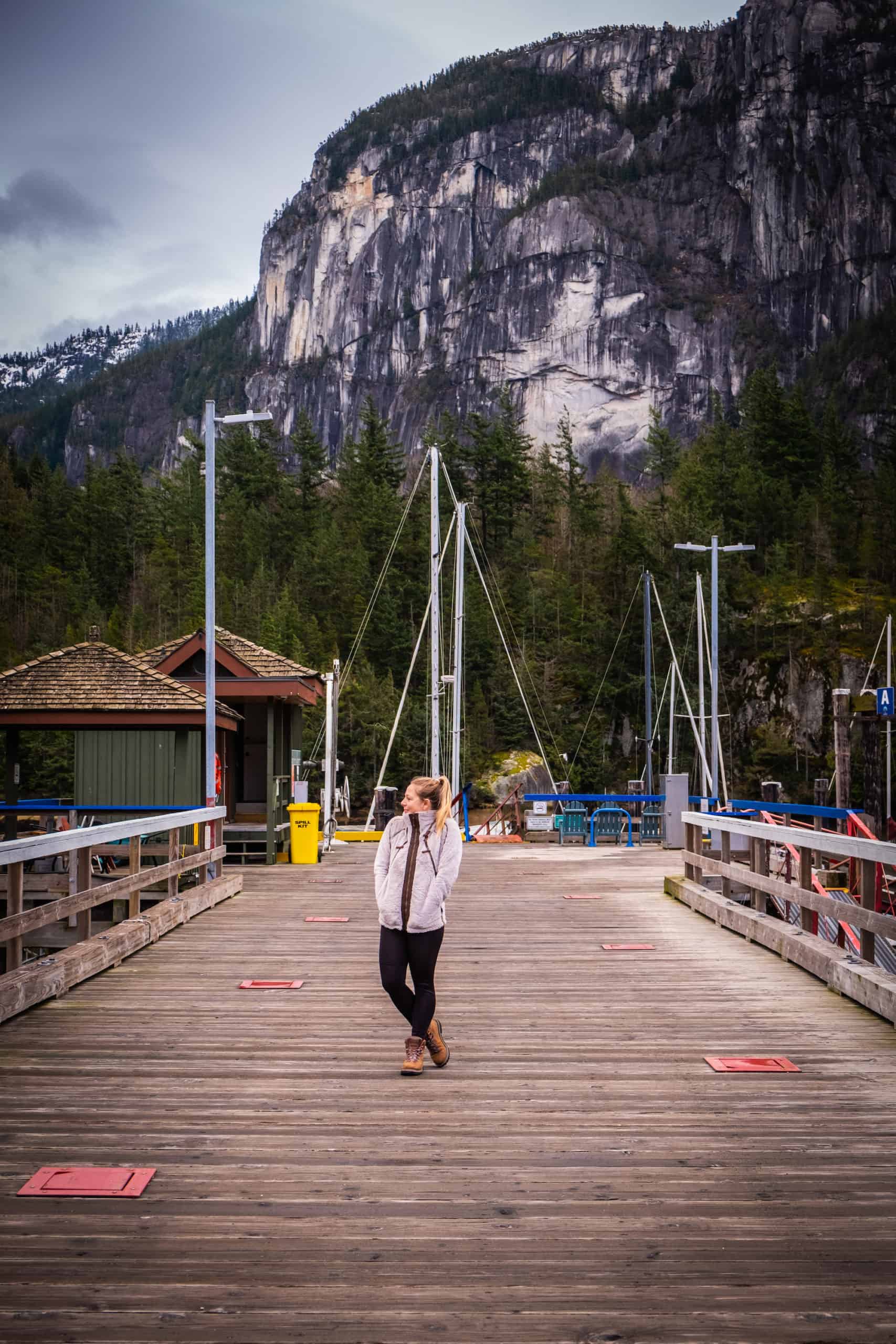 Squamish, BC is one of the best places to visit in Canada, and at just 45 minutes away from Whistler, it's a fantastic day trip. Nestled between the sea and the mountains, Squamish offers something for everyone.
Whether it's mountain biking, rock climbing, or taking in the views of the Howe Sound, you'll love this coastal town. When we visit Squamish, we particularly love having a beer at Howe Sound Inn & Brewing before setting sail on the water; there are also some really cozy Airbnbs in Squamish!
---
Day Trip to Pemberton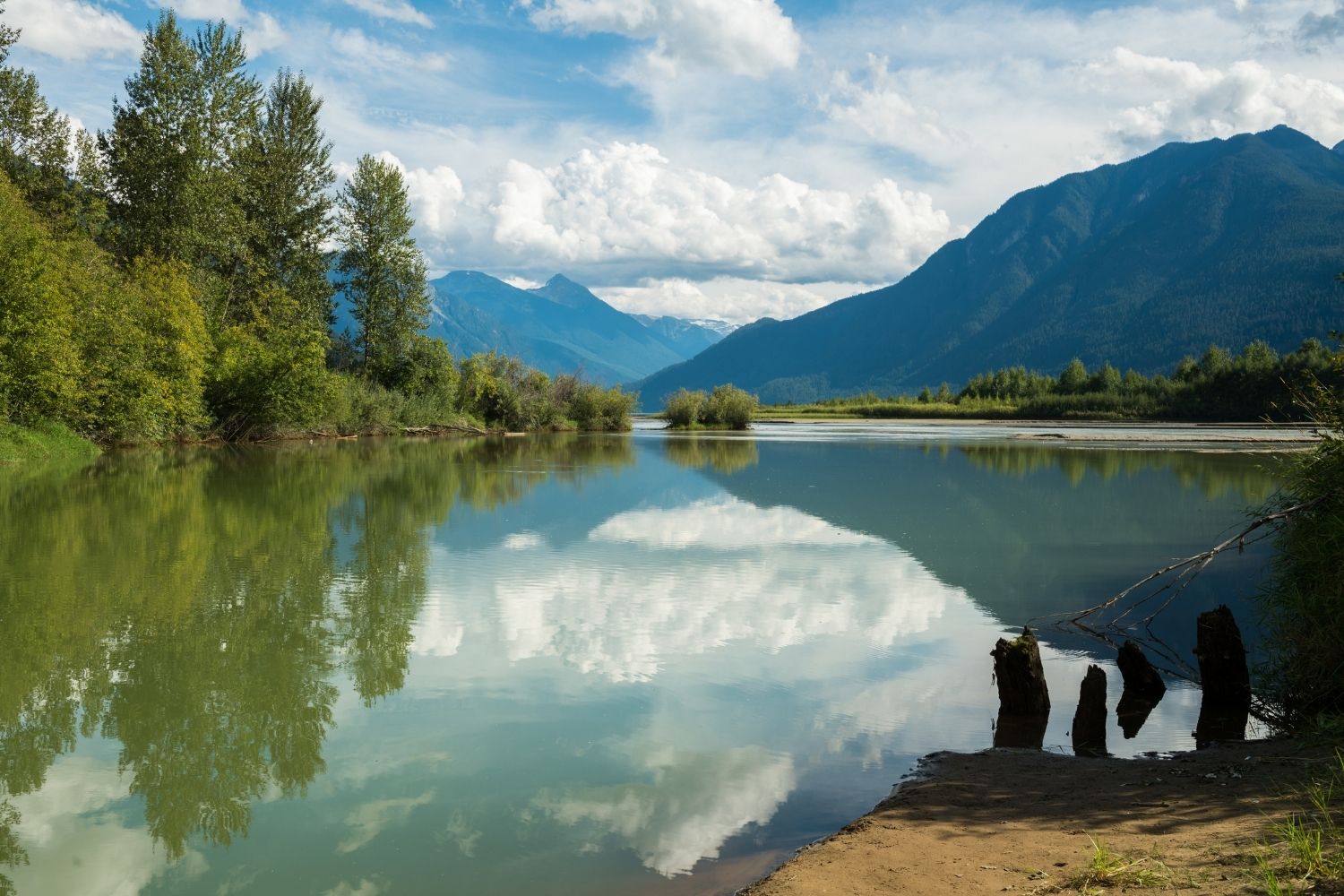 Pemberton is in the opposite direction of Squamish, further north of Whistler.
The main village of Pemberton is located at the based of Mt Currie, and has astonishing views any visitor will love. Some fun things to do there are to visit North Arm Farm or go horseback riding through the valley with Copper Cayuse Outfitters.
---
Have a Beer at a Brewery
Whistler isn't just fancy restaurants! You can get a great craft beer at many of the breweries around town. Two of my favorites are Whistler Brewing Company and Coast Mountain Brewing, both of which are part of the BC Ale Trail.
---
Try Axe Throwing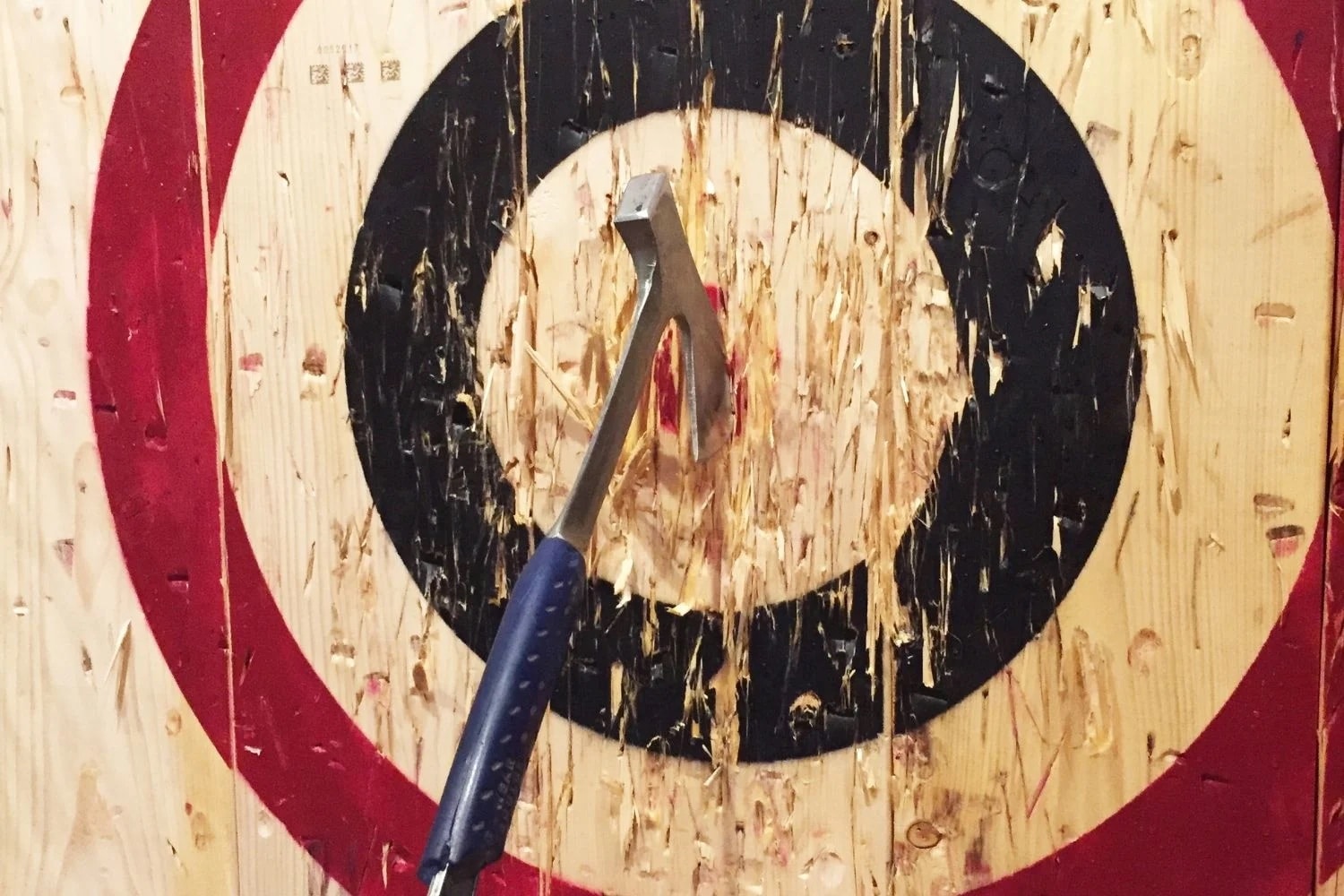 Close to Coast Mountain Brewing is Forged Axe Throwing! So if it's a rainy day, grab a group of friends and stay dry inside, competing against each other. A one-hour session is $38 per person. Don't forget your closed-toed shoes (for obvious reasons).
---
Where to Stay in Whistler
My two favorite places to stay in Whistler are Nita Lake Lodge and the Fairmont.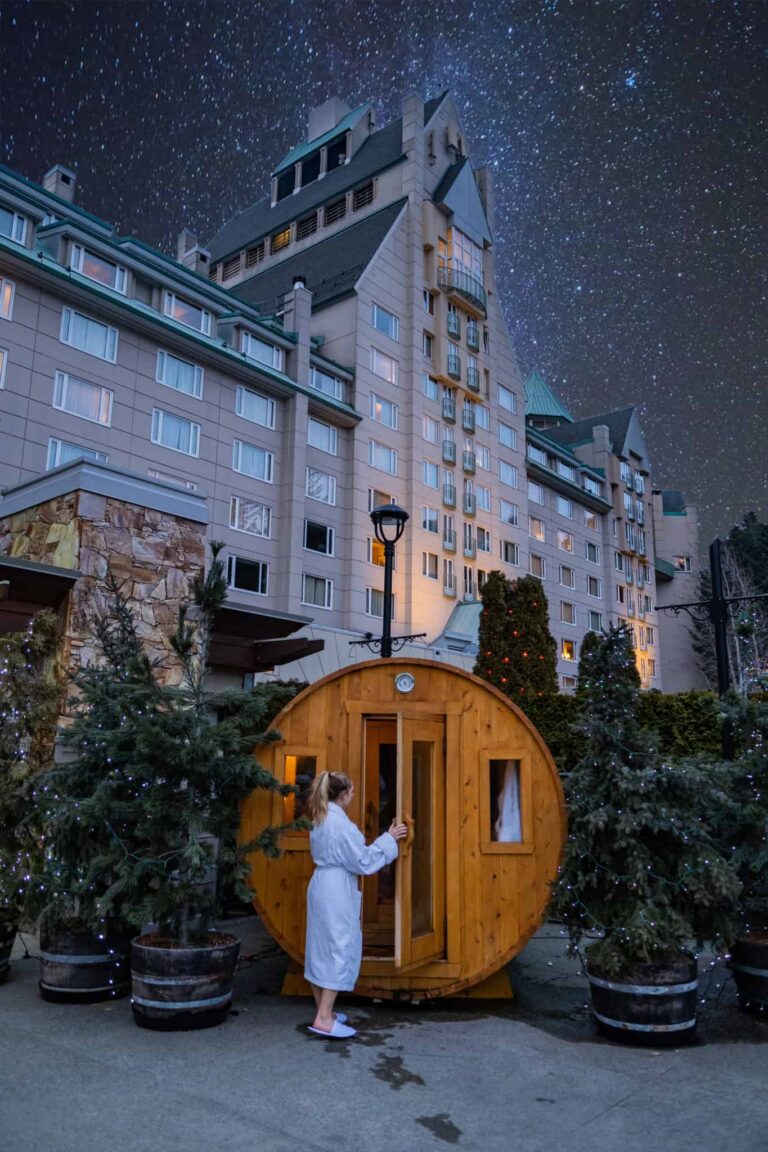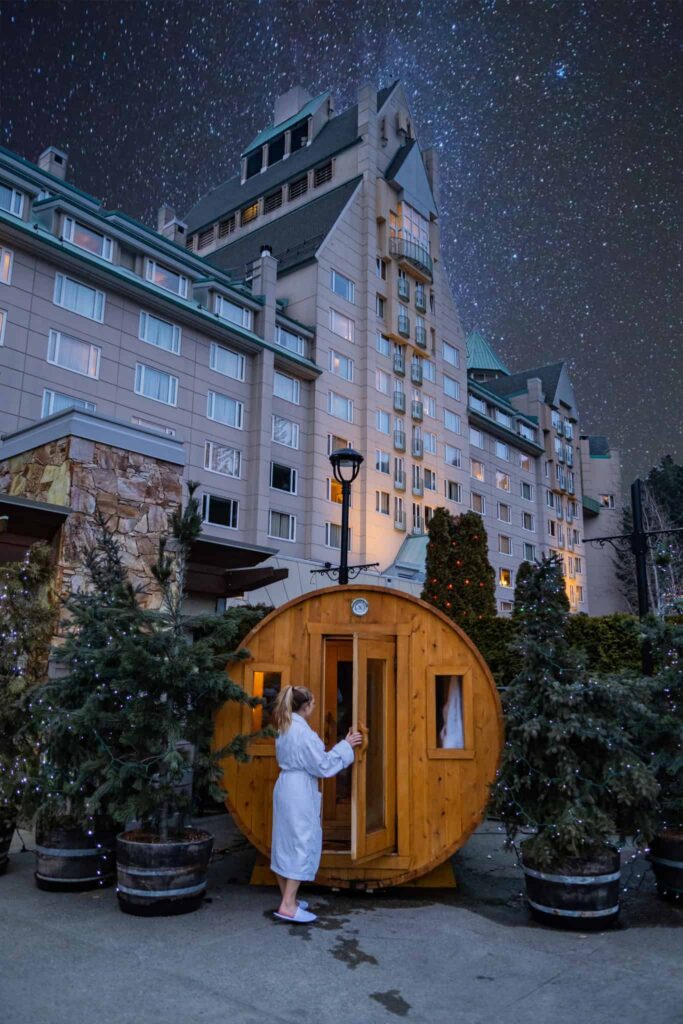 Fairmont Whistler
The Fairmont is nestled at the base of Blackcomb Mountain and is the most beautiful ski-in/ski-out accommodation you can score. It's luxurious on the inside and out and offers unparalleled guest service.
There are tons of amenities here including a huge fitness center, outdoor spa with a full service bar, apres-ski lounge, and yoga studio. The Fairmont has underground parking for guests and valet if you want that as well. Once you park in Whistler, you likely won't need your car again until you leave as there is so much to do, see, and eat in Whistler Village.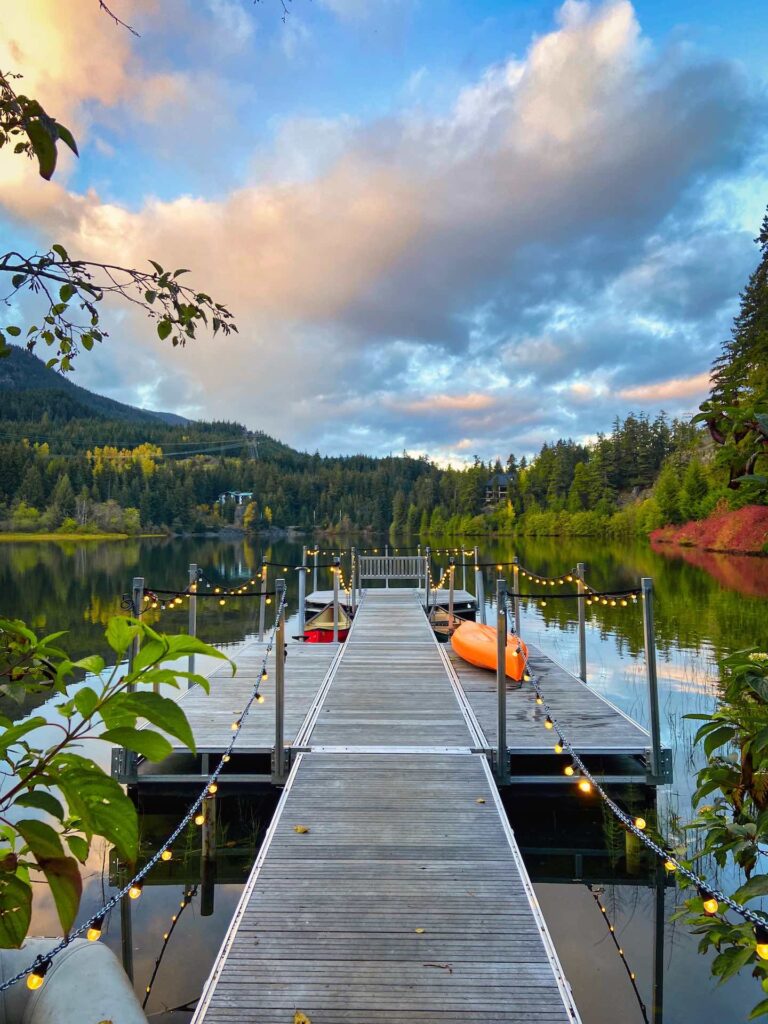 Nita Lake Lodge
Nita Lake Lodge is perched perfectly on Nita Lake near the Whistler Creekside Gondola. It's easily one of the nicest places to stay in Whistler and provides guests with a comfortable stay in a surreal location!
---
When is the Best Time to Visit Whistler?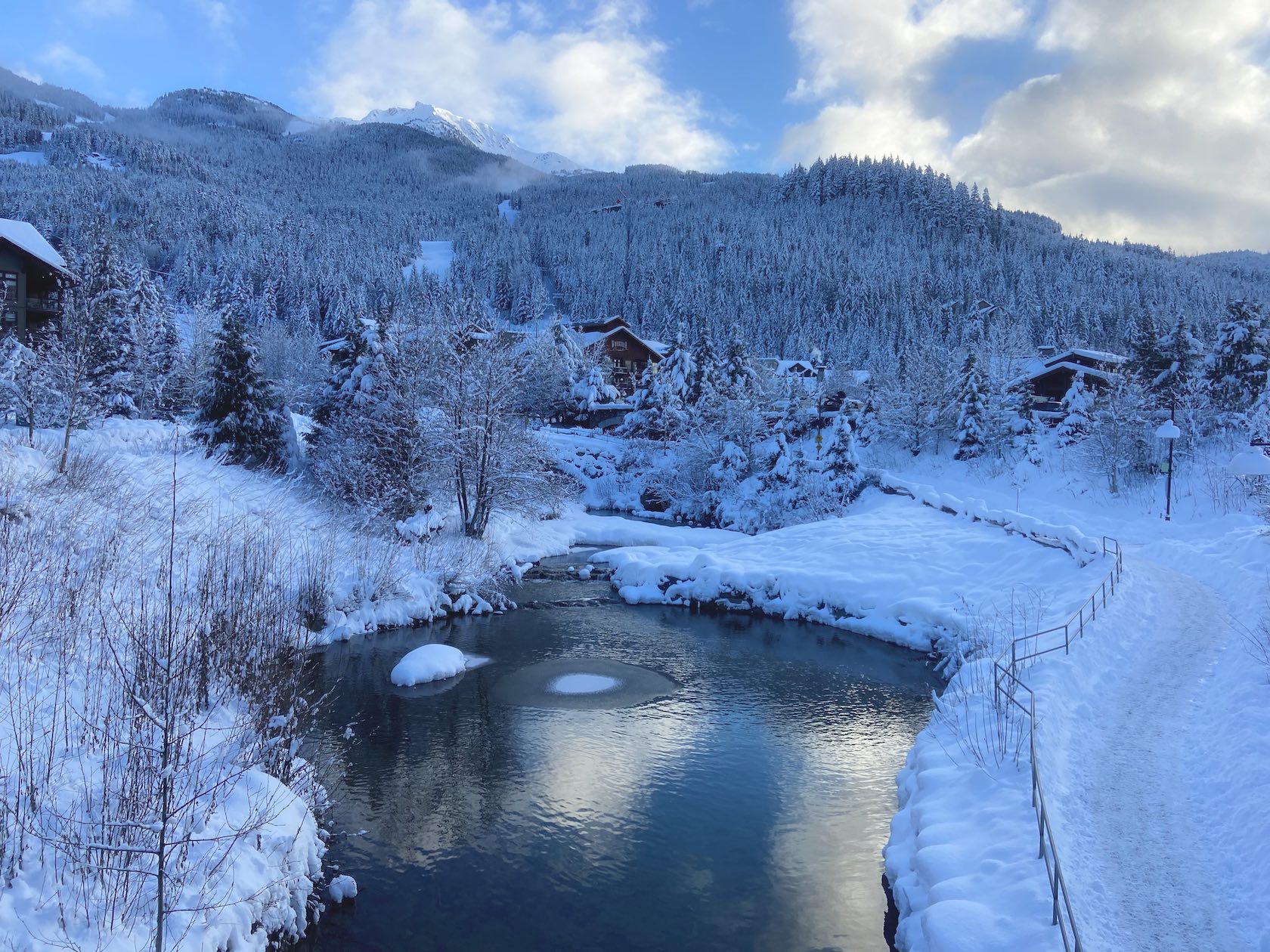 There are two activities that keep the Whistler scene really spinning. Obviously, between December and May, Whistler Blackcomb keeps visitors flocking in to ski powder on both mountains.
The best time to visit Whistler in the winter is between December and March, though the holidays and Family Week keeps Whistler incredibly busy and expensive around these times.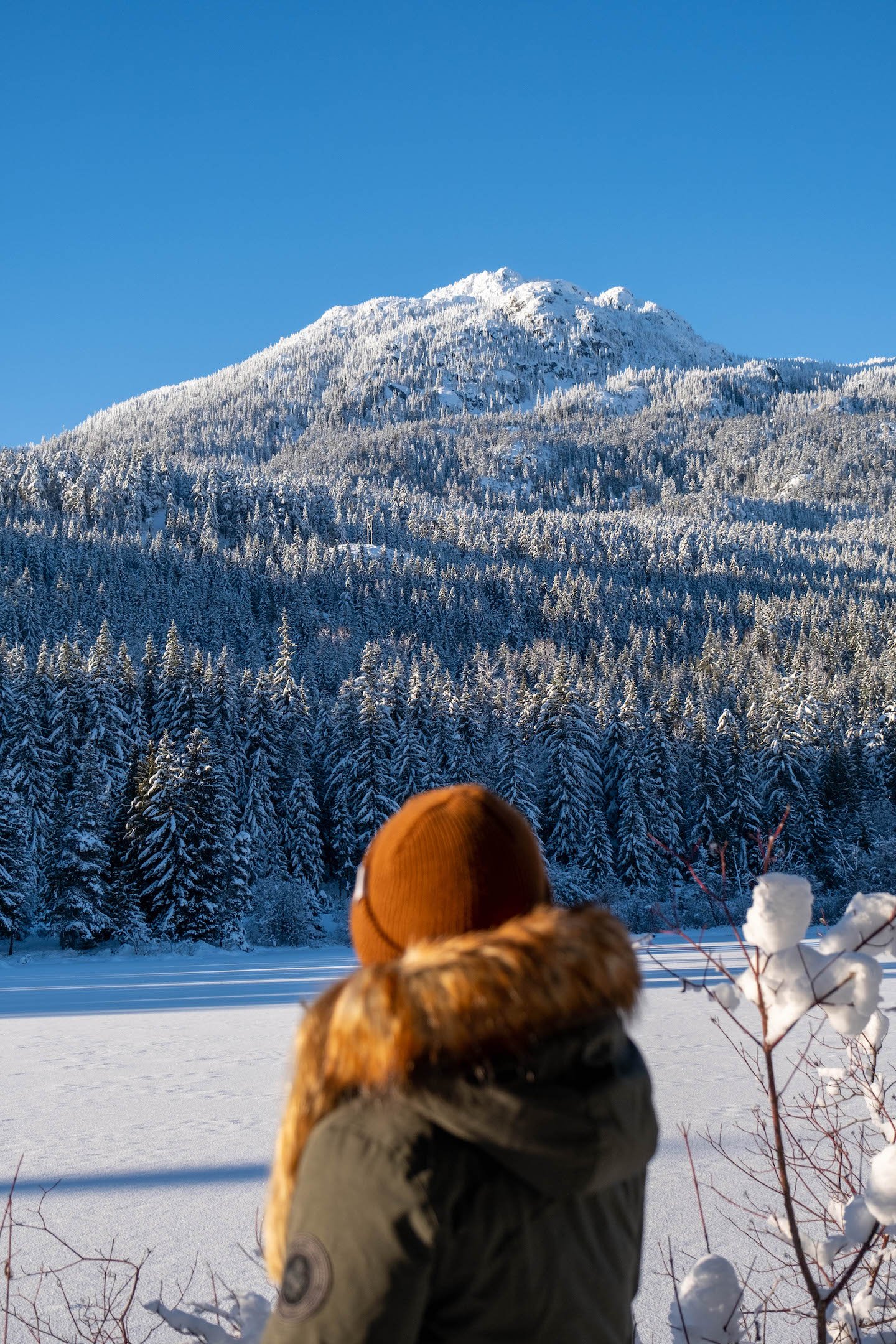 In the summer and early fall the Whistler Mountain Bike Park keeps biking enthusiasts pedaling all season long. The summer and winter are by far the best times to visit. While spring and fall are Whistler's low seasons.
If there is one time I would recommend not visiting Whistler, it is mid October and November; we made the mistake of spending these months here and saw torrential rain 5-6 days of the week! It was an unusual year for sure, but Whistler is always prone to plenty of rain at lower elevation.
Whistler's two high seasons generally offer the best weather. However, this is the Pacific Northwest with rainforest all around the village, so the weather is never guaranteed.
---
How to Get to Whistler
Whistler's closest airport is Vancouver International Airport. It is about a two-hour drive from Vancouver on the Sea to Sky Highway to get to Whistler.
You can rent a car in Vancouver to get to Whistler, but check the prices first as once you get to Whistler, it's unlikely you'll need a car, and parking in this small town may present an issue. Everything in the Whistler Village is walkable or connected by bus.
Under British Columbia law, from October 1 to March 31, winter tires are required on most provincial highways (including Highway 99 north of Squamish). There are several private bus companies that connect Vancouver to Whistler. EpicRides and YVR Skylynx connect YVR to Whistler for a $55 round trip ticket.
---
How to Get Around Whistler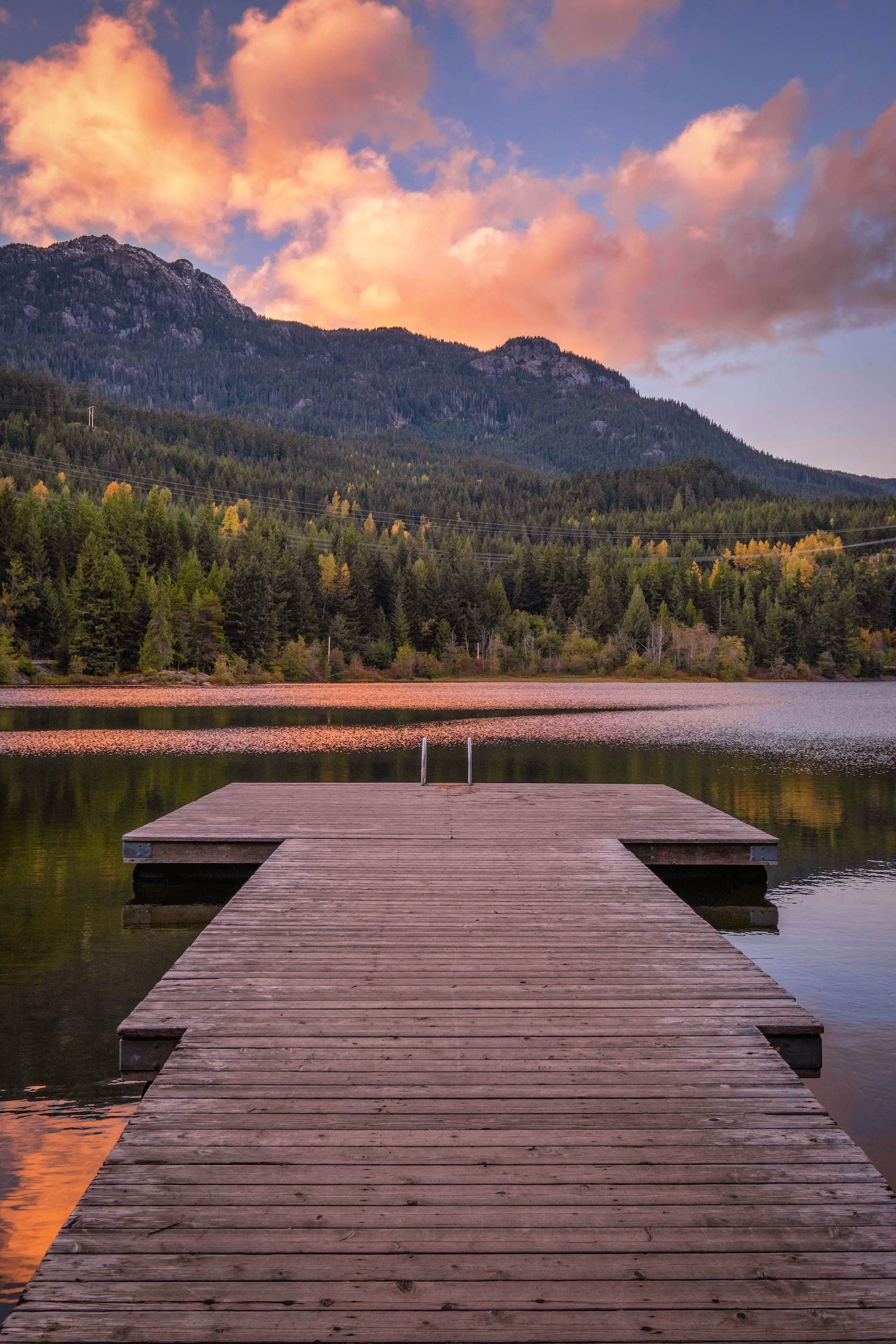 If you stay at a hotel in Whistler Village, everything is extremely walkable, including all grocery stores, restaurants, and bars. If you stay in Creekside, you can easily walk to the lifts and the Creekside Market.
Whistler has an extensive bus network. The BC Transit – Whistler Transit runs regularly from 5:30am-3:30 am year-round. You can also bike almost everywhere in Whistler via the Valley Trail. For those without a car seeking alternative options there are two main cab services in town – Whistler Taxi and Whistler Resort Cabs.
---
The Best Things to do in Whistler Map