Mount Assiniboine is an icon of the Canadian Rockies, and the journey to stand at its base is a worthwhile adventure. It is one of the finest backcountry trips in BC and the Canadian Rockies due to the resplendent landscape surrounding Mount Assiniboine. The provincial park is a place of reverence where wildflowers bloom, bears roam, and mountains reach far into the sky.
The breathtaking mountain is often called "The Matterhorn of the Rockies," and it's easy to understand why it received the name. The mountain is emblematic of a perfect mountain peak standing tall in the shape of a pyramid. Mount Assiniboine Provincial Park and the surrounding mountains have drawn visitors to bask in its serene landscape for over a century.
No roads lead into this provincial park, so visitors must hike, take a horse, or fly in via a chartered helicopter. Here's how to get out on a Mount Assiniboine hike.
---
Mount Assiniboine Provincial Park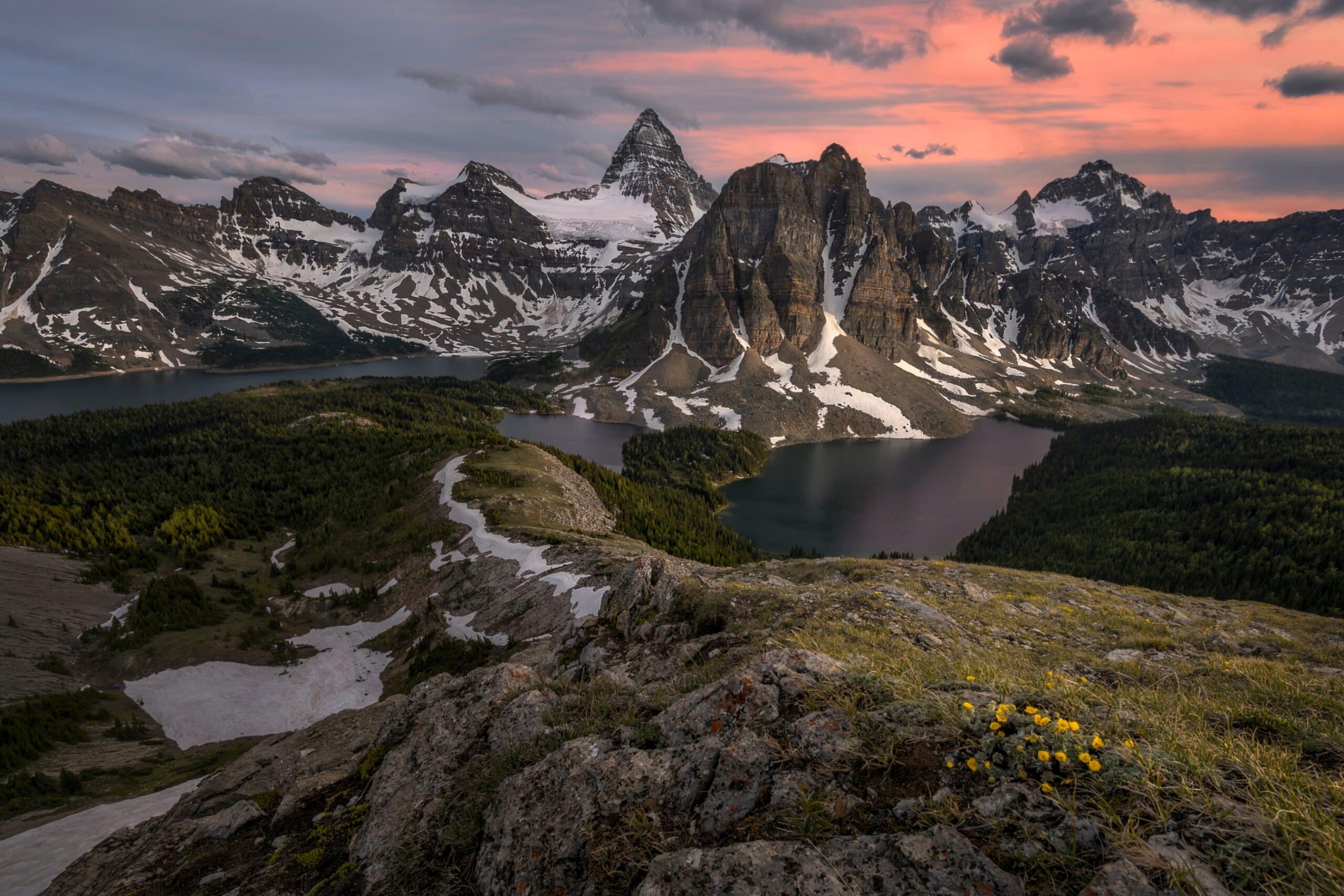 Mount Assiniboine sits on the Great Divide and the Alberta and British Columbia border. At 3,618 meters, it is the highest peak in the Southern Continental Ranges of the Canadian Rockies and rises 1,525 m (5,003 ft) above Lake Magog. It is 48km southwest of the town of Banff.
The provincial park was established in 1928 and listed as a UNESCO World Heritage Site in 1990 for its significant natural beauty. It is flanked by Banff and Kootenay National Parks. At 39,050 ha, it's a small pocket of wilderness compared to its neighboring parks.
---
How To Visit Mount Assiniboine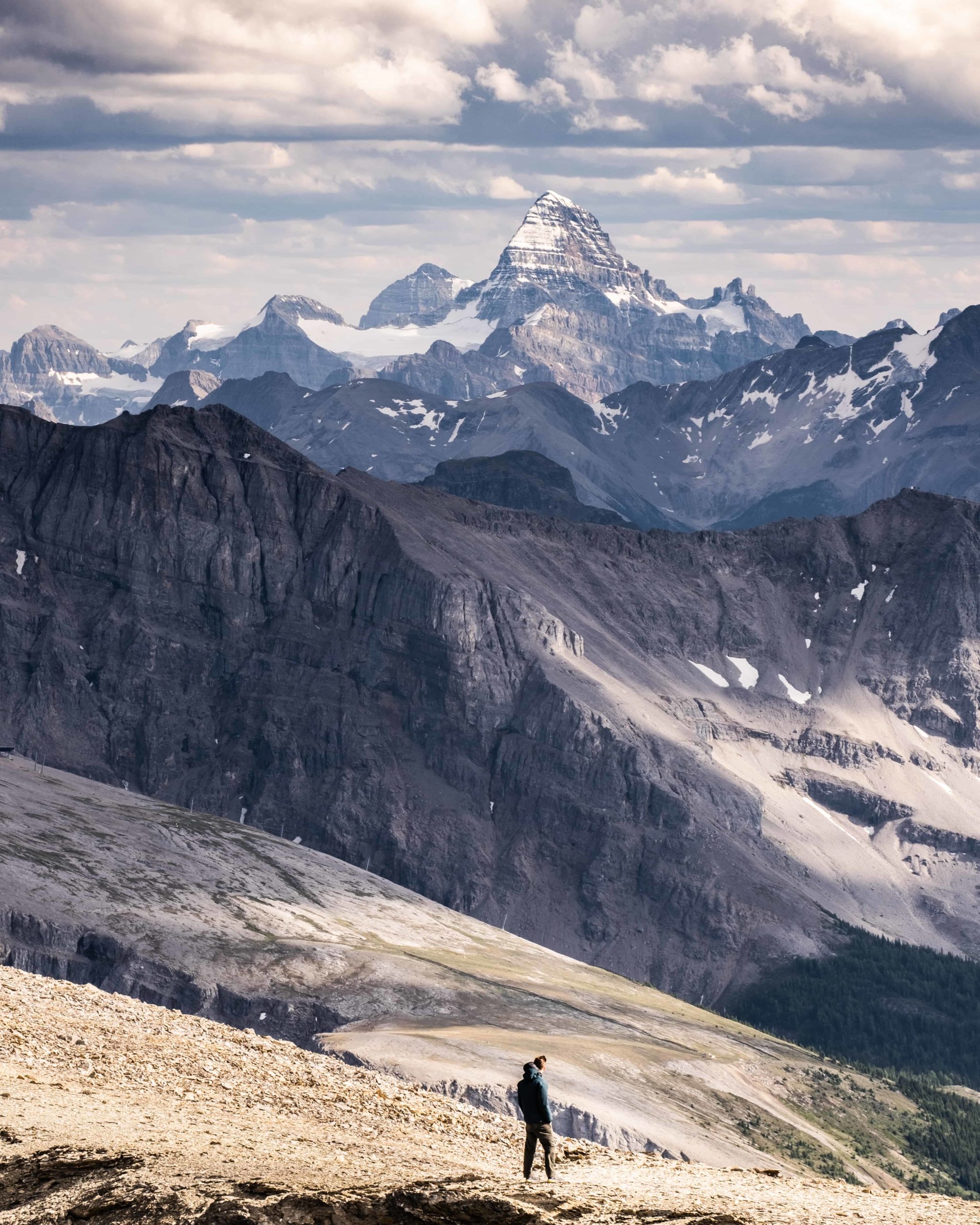 There are two ways to reach Assiniboine Provincial Park in the summer. As there are no roads into the park, visitors must reach the park via a helicopter flight or by hiking. A popular option is to combine the two, flying in with a heavy pack and hiking out.
The closest parking lot is 25 km, and no day-trip flights are permitted, so almost all visitors will spend the night in the park. This requires a campsite, hut, or lodge reservation, which can be tough to secure. However, due to its remote location and limited reservations, human impact in the area is minimal. It's well worth the effort required to reach the resplendent park.
---
Helicopter to Mount Assiniboine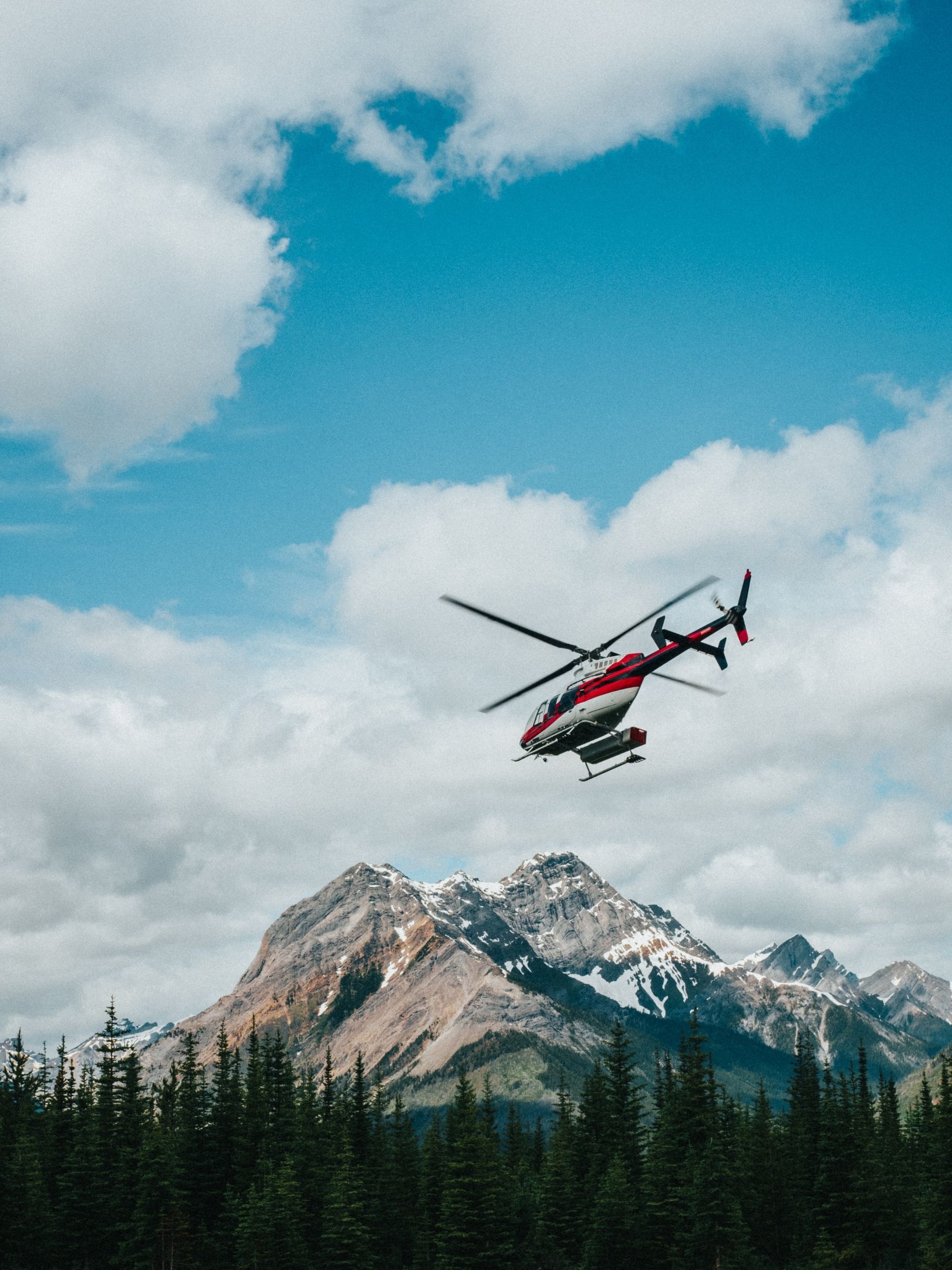 There are two locations where you can book your helicopter to Mount Assiniboine. Visitors can book a flight from Canmore or the Mount Shark Helipad in Kananaskis Country, just past Mount Engadine Lodge. The flight from Canmore is more expensive, but it is far more convenient if you plan to fly in and out. There is only one flight a day from Canmore, so limited spots are available; book as soon as possible.
The Mount Shark Helipad is a 50-minute bumpy drive down the gravel Smith Dorrien Highway. However, if you plan to hike and fly, you'll want to park at the Mount Shark Helipad near the trailhead. Regardless of your choice of flight, you are allowed to bring 40 lbs or 18kg of luggage per passenger. Flights are booked on a one-way basis, so you'll need to double the price if you plan to fly in and out.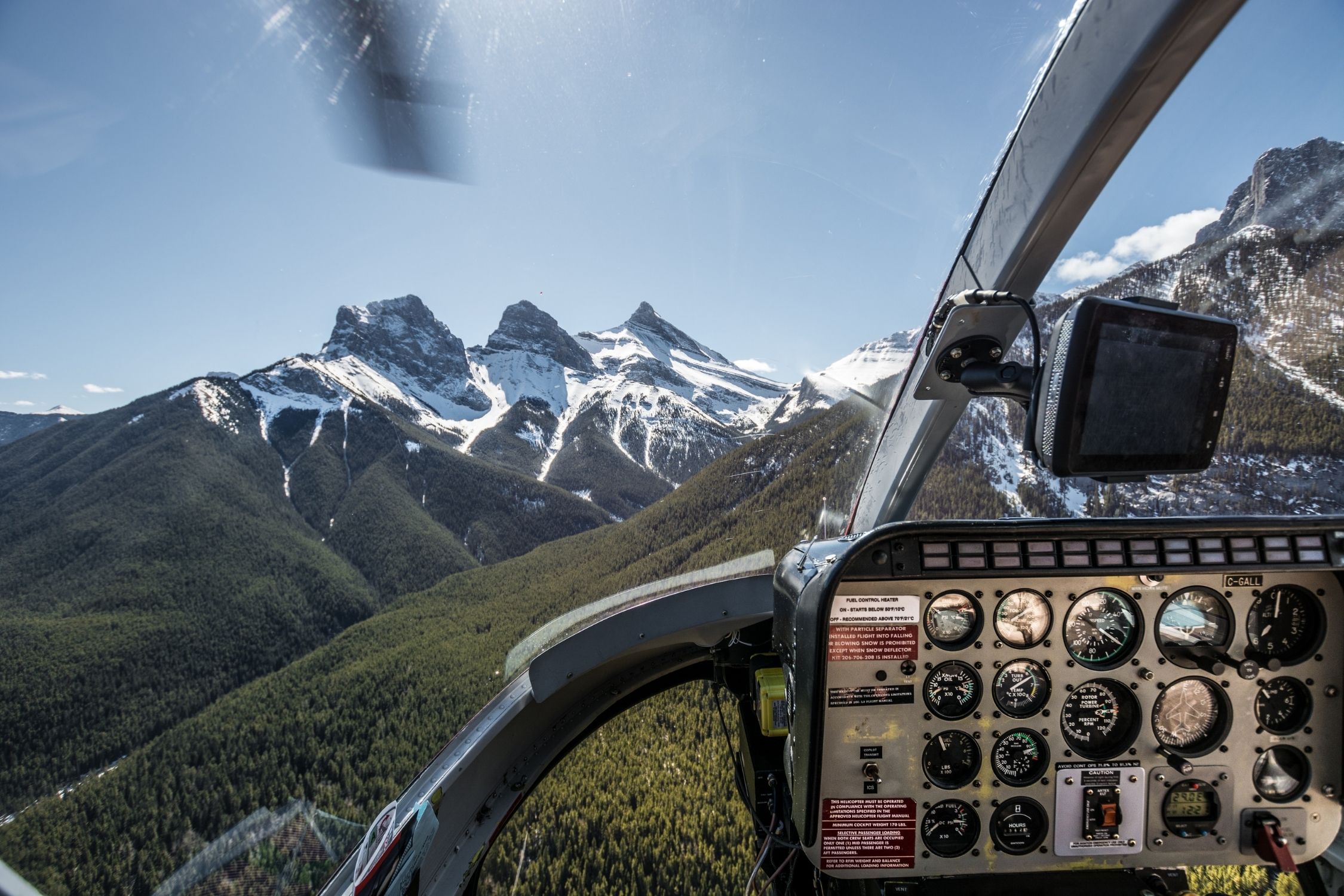 The 8-minute flight from Mount Shark Helipad offers passengers incredible views. Most specifically, it has a great view over Marvel Lake or Spray Lakes. We'd recommend the helicopter's left side on the way in and right on the way out, as the view of Marvel Lake is astounding.
Alpine Helicopters in Canmore operates the flight service into Mount Assiniboine. However, flights must be booked through the Mount Assiniboine Lodge. You may not book a flight without a reservation at the lodge, hut, or campsite. Call the lodge to book flights or check availability, and they will assist with the reservation process.
Flight Prices to Mount Assiniboine Provincial Park
Helicopter flight reservations for campers can be made online once a reservation is secure. A reservation number must be provided at the time of booking. Any bookings without a valid camping confirmation number will be canceled and charged a $50 cancellation fee.
Mount Shark flight: $205 per person per one-way flight + 5% tax
Canmore flight: $235 per person, per one-way flight + 5% tax (one flight only, so limited seats available)
Flying gear only: $5 per pound per one-way flight (includes tax).
Excess baggage fee: $5 per pound per one-way flight (includes tax).
*All guests hiking or flying in from Mount Shark who wish to leave a car at the heliport or trailhead must purchase a Kananaskis Conservation Pass*
---
The Mount Assiniboine Hike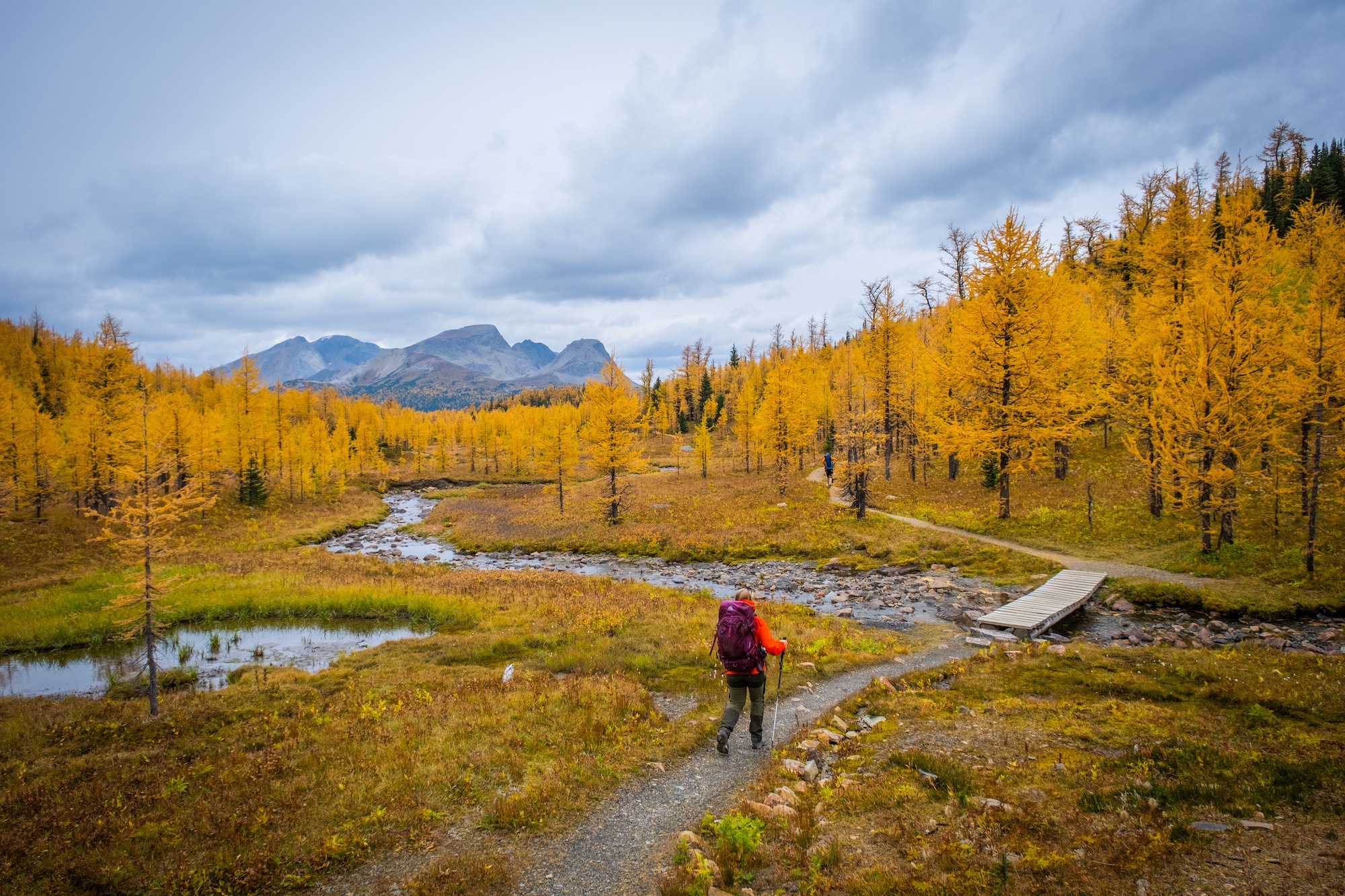 If you prefer a more economical, environmentally friendly, or tranquil route, you'll want to hike into the park. It's a gorgeous way to reach the park, and we'd hate to miss out on the hike. Hikers can choose from two hiking routes to reach the park. One route begins at Sunshine Village in Banff and the other at the Mt Shark Trailhead in Kananaskis Country.
The route from Sunshine Village is around 30km, but that varies as the scenic gondola can save you a few kilometers. While the route from the Mt Shark Trailhead is around 25km. The route from Sunshine Village gains less elevation and is considered the easiest hike to reach Mount Assiniboine.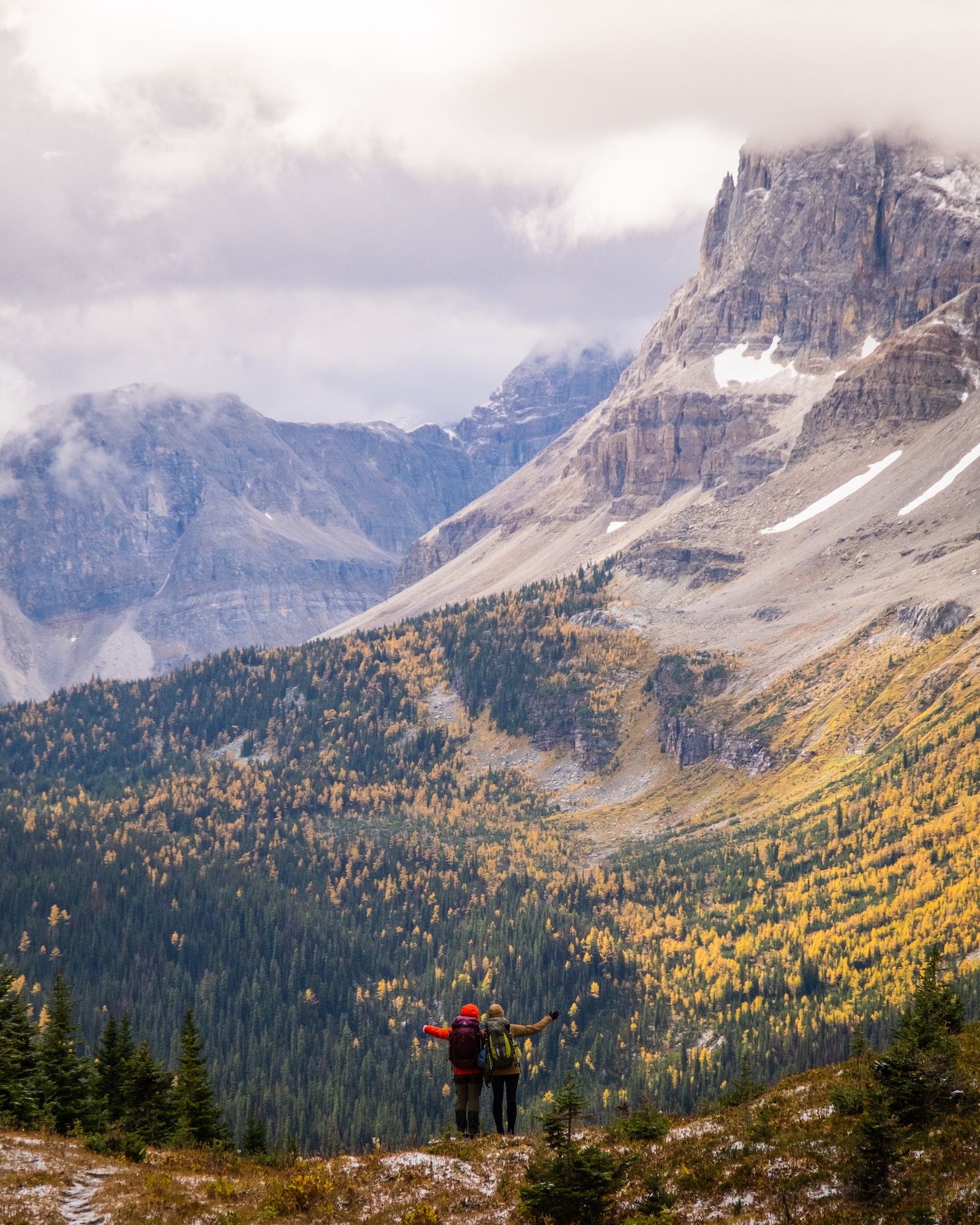 As they're both similar in length, one doesn't necessarily outweigh the other. A popular multi-day route combines the two by arriving via the Sunshine Village route and departing at the Mt Shark Trailhead. This requires two vehicles or alternative plans as it is a point-to-point hike. Some hikers hitchhike back to Canmore from the Smith Dorrien Highway.
Both routes have several options to camp along the way and break the hike up rather than completing the journey in one day. However, hiking in and out in one day with strong legs is very much possible.
---
Sunshine Village To Mount Assiniboine Hike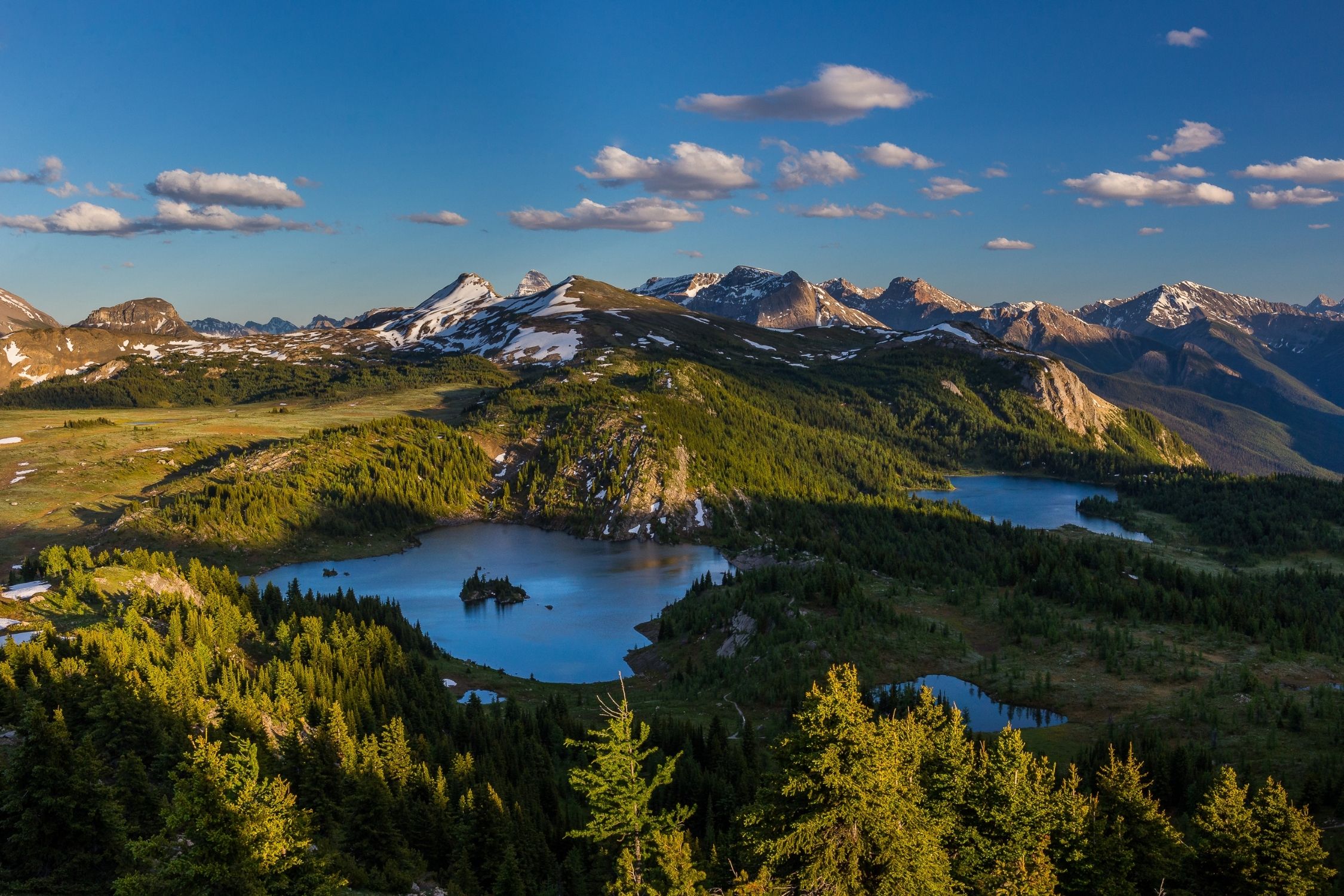 | Length | Duration | Elevation | Trailhead |
| --- | --- | --- | --- |
| 30 km (18.7 miles) | 1-2 days (9 hours hiking) | 400 meters (1,312) | Sunshine Village Ski Resort |
The route from Sunshine Village is technically easier but covers a further distance. At the start of the trailhead, hikers have two options: take the scenic gondola to Sunshine Meadows or hike the access road, which will add 6.5 km and 500 meters of elevation gain to the hike.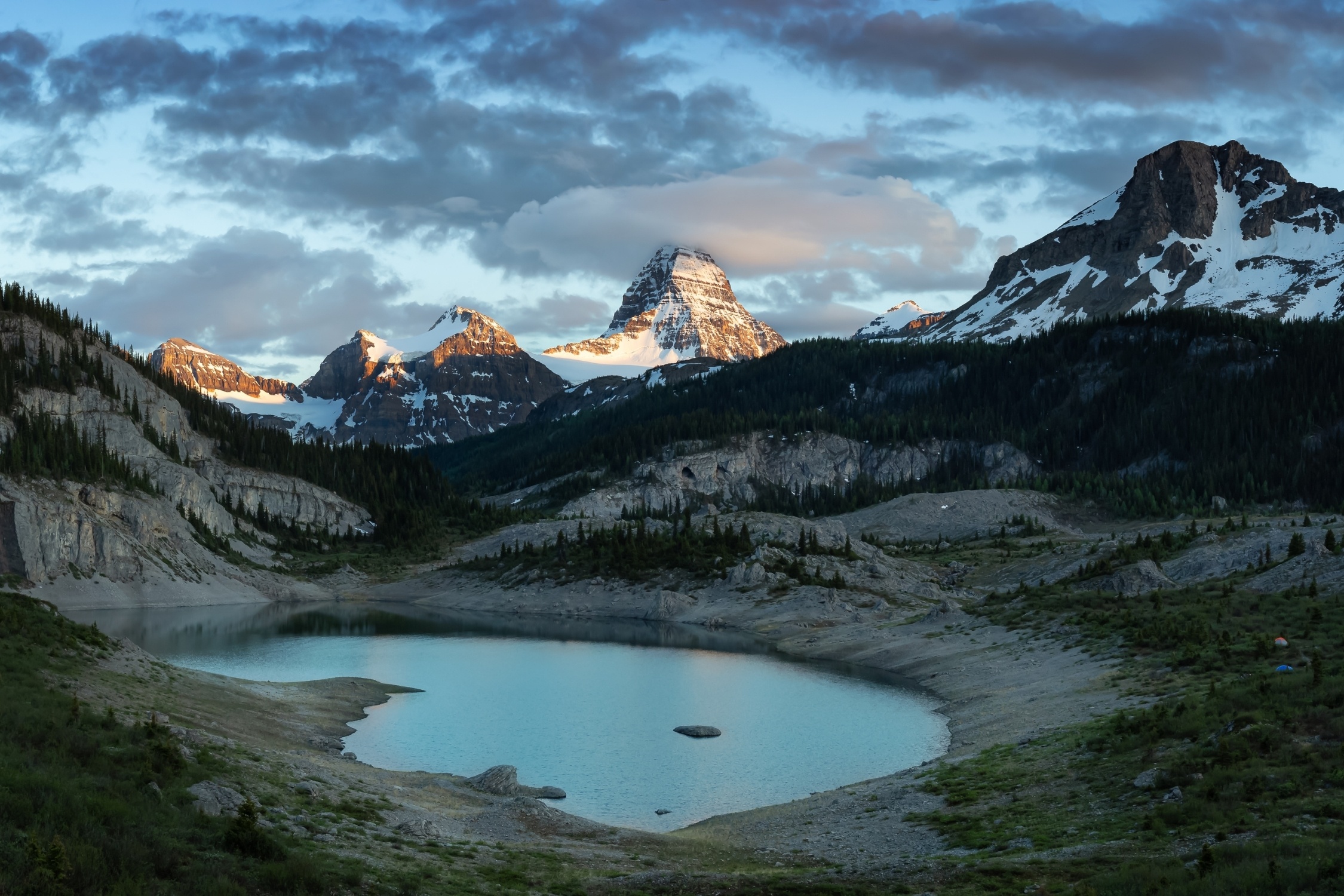 The gondola costs around $40 CAD but makes it possible to hike into Assiniboine in one big day. That said, most hikers will spend the night at Porcupine Creek or Magog Lake. The route from Sunshine is longer than from Mt Shark; however, it's far less strenuous and more scenic early on in the hike.
Sunshine Village Route To Assiniboine Map
Campsites Enroute
Porcupine Campground — 13 km — no reservations required
Og Lake — 22 km — reservations required
---
Mt. Shark Trail To Mount Assiniboine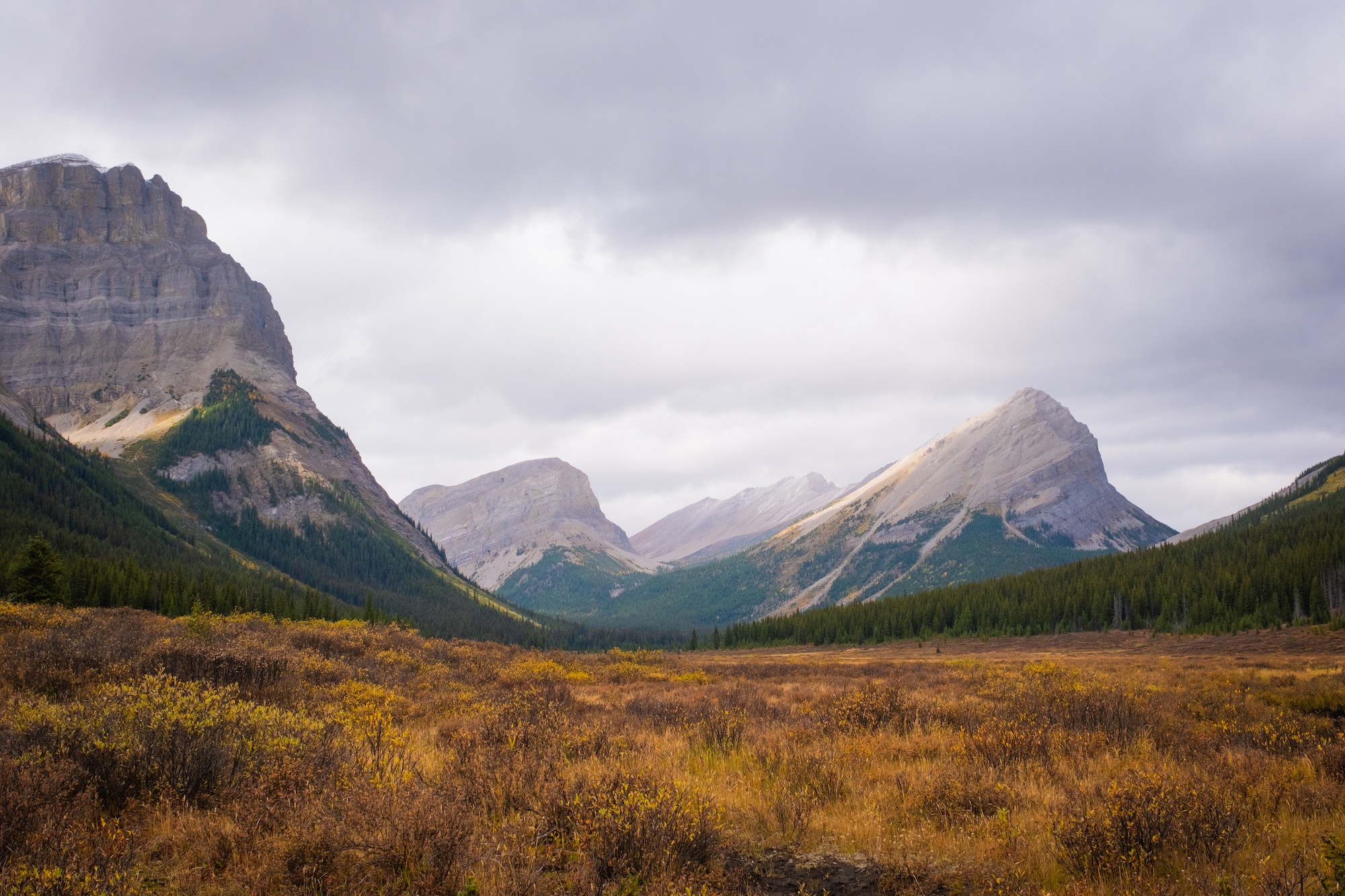 The Mount Shark Trailhead and the parking lot area are 40km south of Canmore down the Smith Dorrien Highway. It's a gravel road that can be dusty and corrugated, so it's tough on cars, but even a small one is capable. The large parking lot offers plenty of space to accommodate all hikers.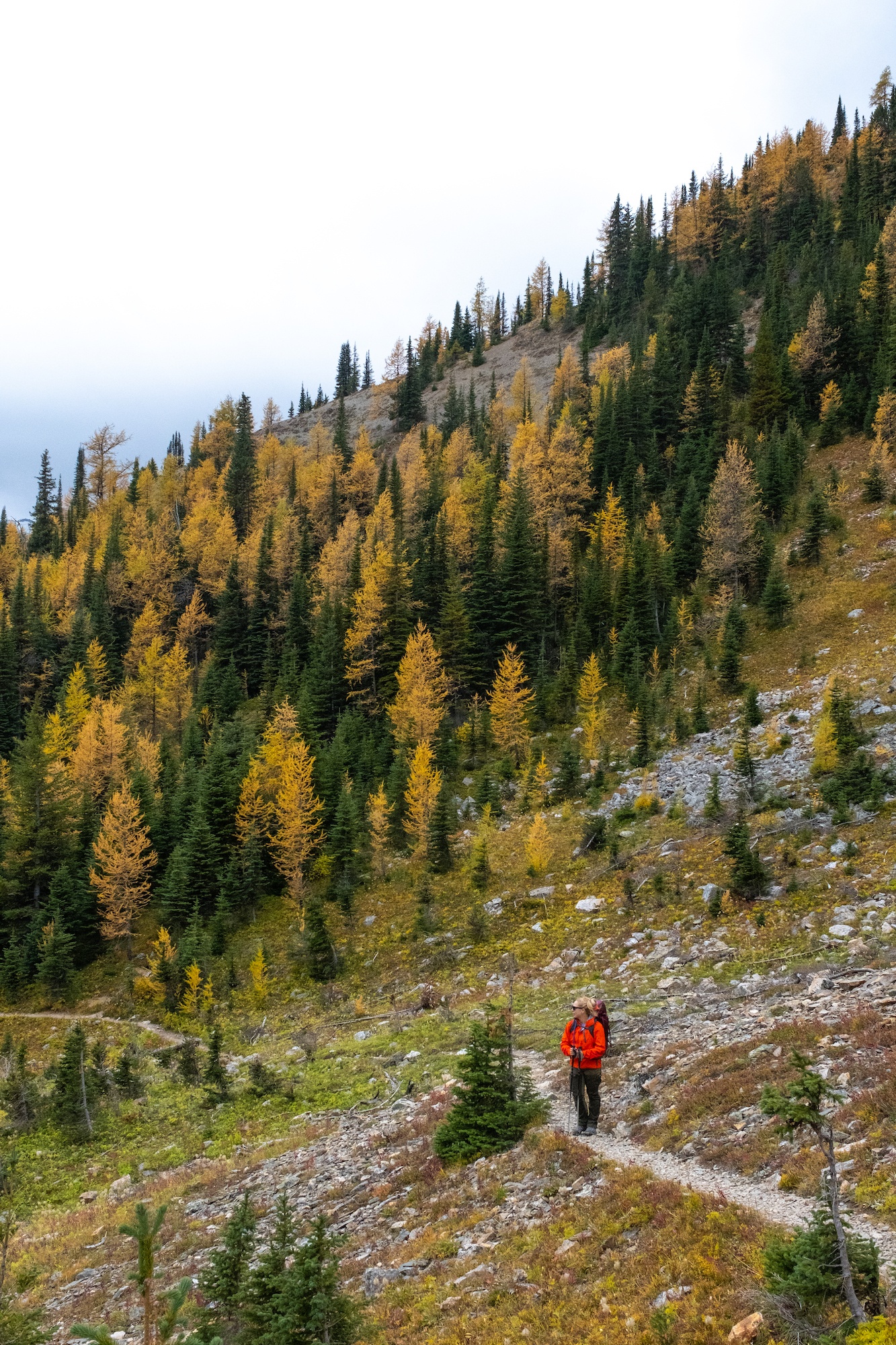 Two routes lead to Assiniboine from the Mt Shark Parking Lot, beginning along the same trail. The first section of the trail remains the same for both routes and follows an old road that leads to the Bryant Creek Warden Cabin and Campsite.
It's wide and easy, so you cover the distance fairly fast on the way in. If you plan to camp on the first day, you can choose from Big Springs Campground (BR9) at 9.6 km, Marvel Lake Campground (BR13) at 13 km, and McBrides Camp (BR14).
Hikers and those who camp at one of the campsites along the route can choose between two routes from the Bryant Creek Shelter. The two options are Wonder Pass and Assiniboine Pass.
Campsites Enroute
Marvel Lake — 13 km — no reservations required
McBrides Camp — no reservations required
Big Springs — 9.6 km — no reservations required
---
Mount Shark To Mount Assiniboine Via Assiniboine Pass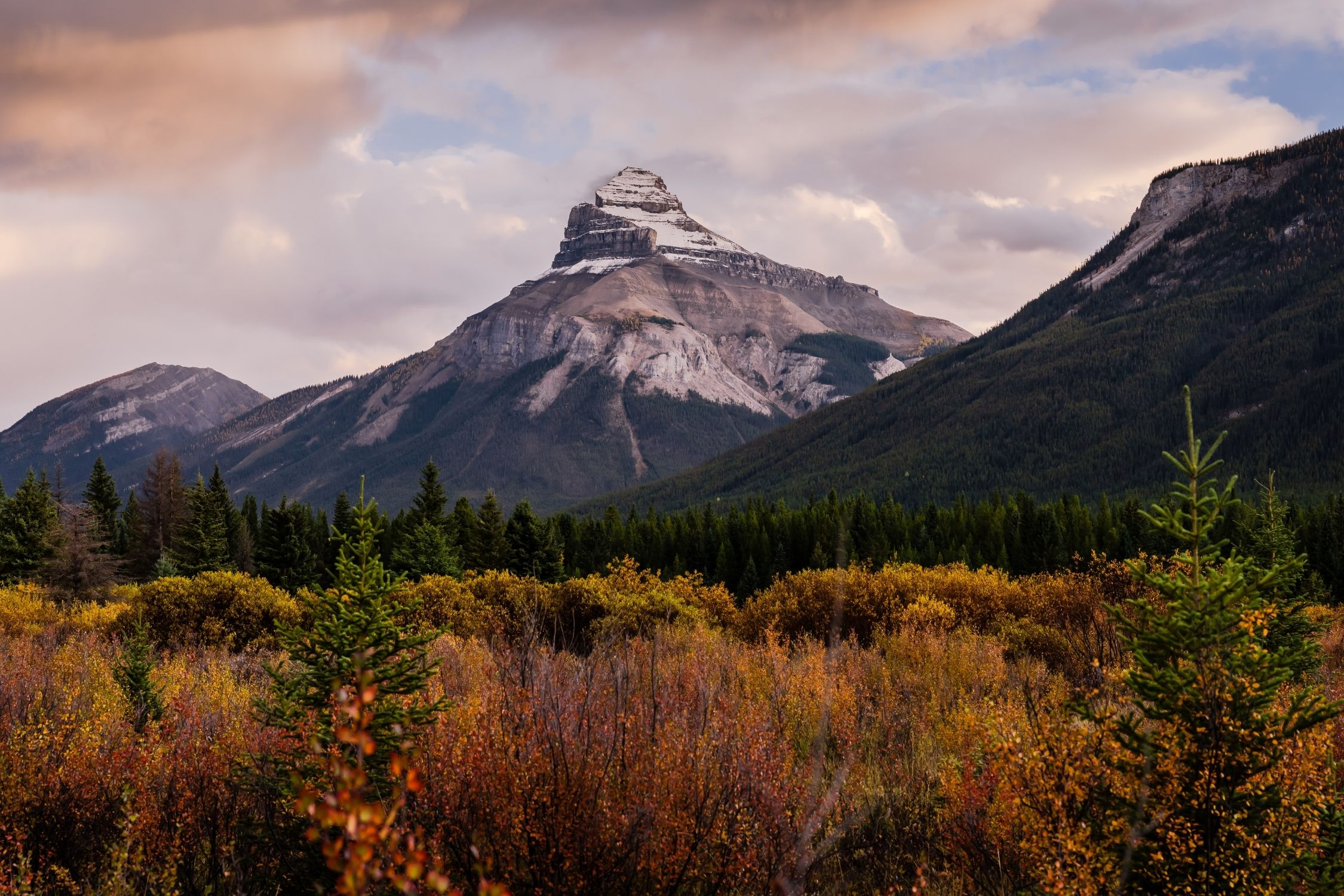 | Length | Duration | Elevation | Trailhead |
| --- | --- | --- | --- |
| 25.6 km | 6-7 hours | 812 meters | Mt Shark Trailhead |
This is the most popular route to the Assiniboine, as it is the easiest. However, it is far less scenic than the other two hiking trails. From the last campsite, the trail continues Northwest until the ascent begins, which is a short and steep climb to bring you over Assiniboine Pass.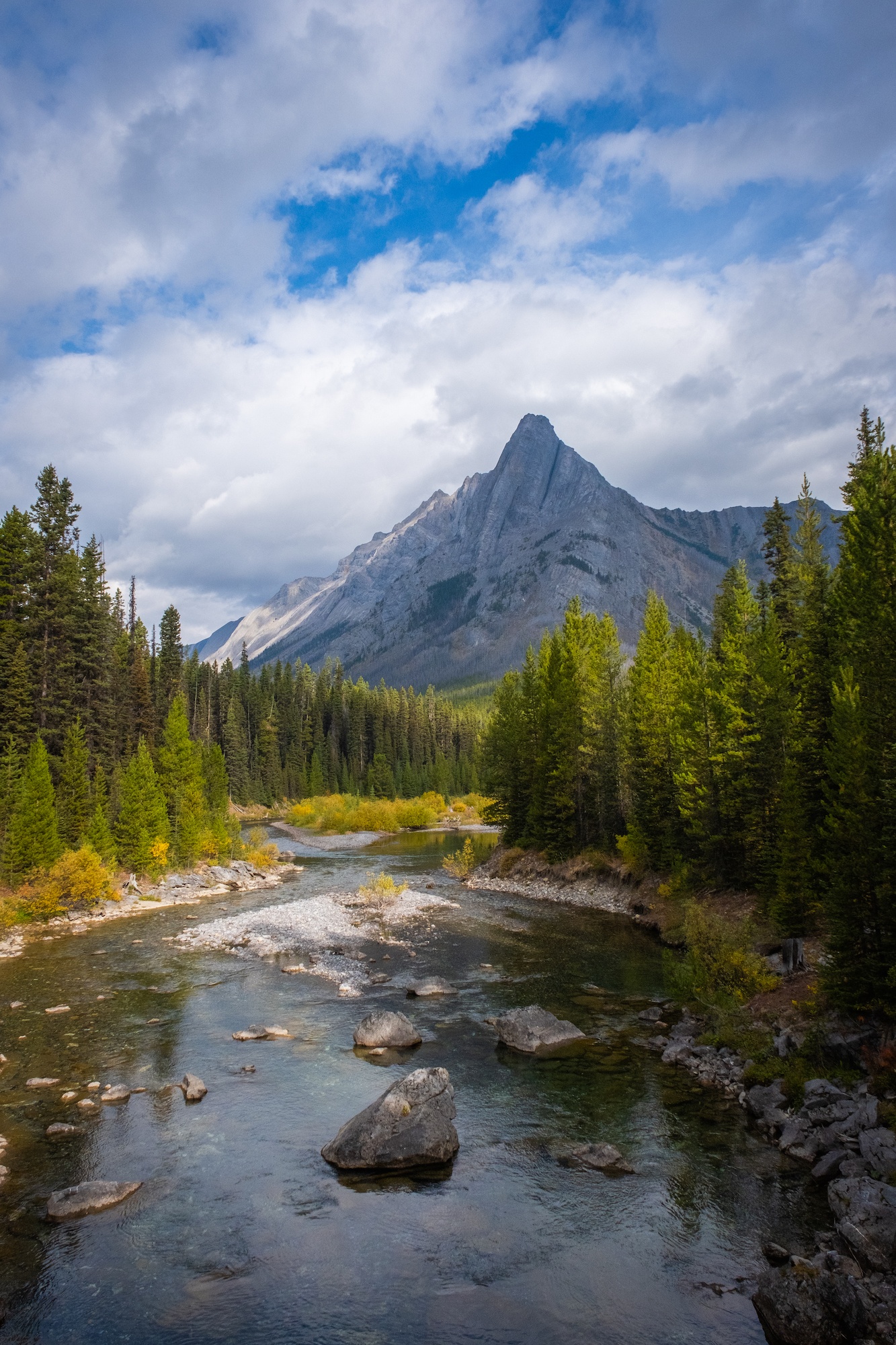 The route is closed to hikers from August to September as it is prime grizzly habitat. However, hikers can still take the horse trail, a small single track in the woods. It should also be noted that the route follows the same approach as the helicopters and is subject to noise overhead.
Assiniboine Pass Route Map
---
Mt Shark To Mount Assiniboine Via Wonder Pass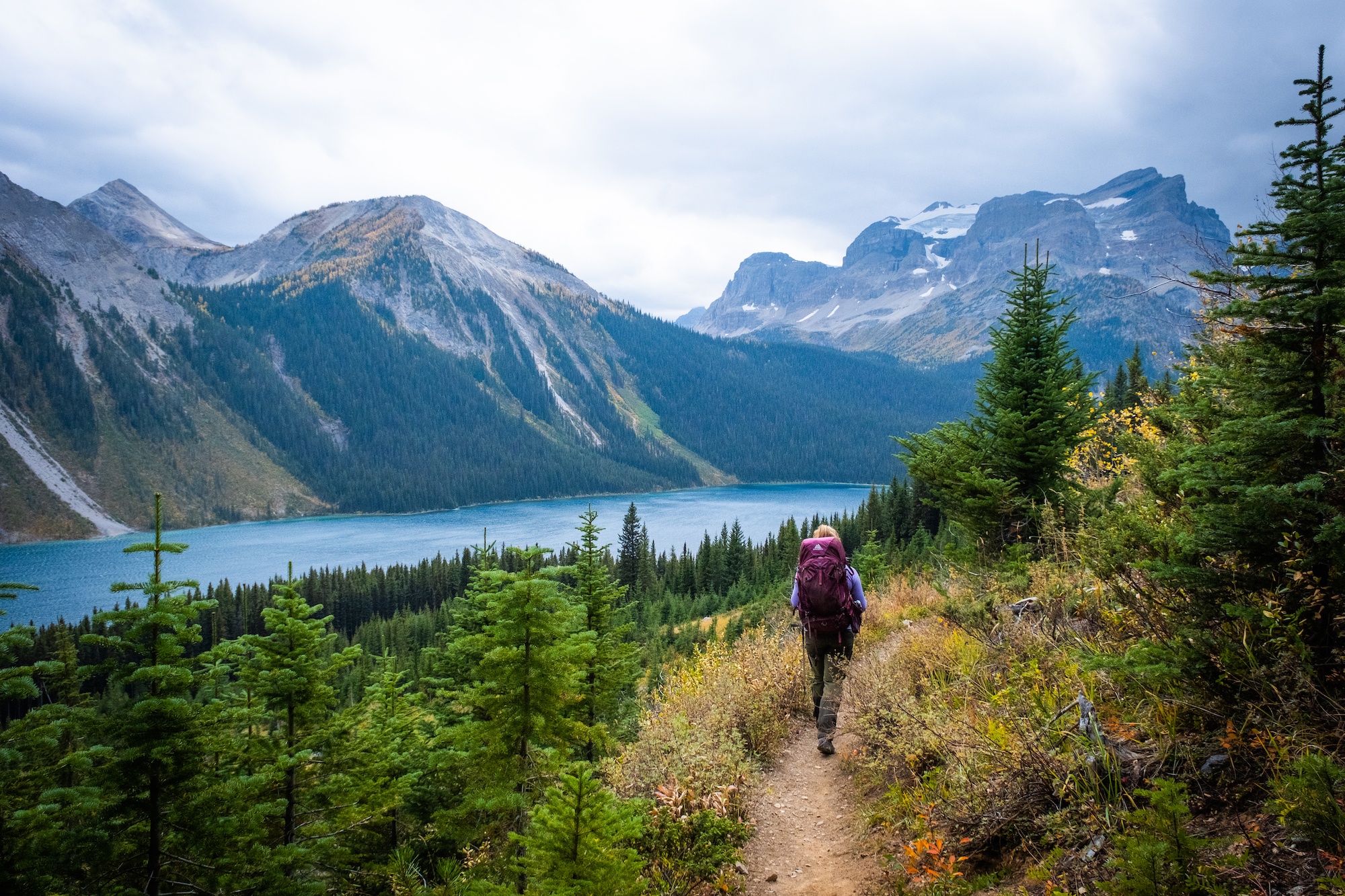 | Length | Duration | Elevation | Trailhead |
| --- | --- | --- | --- |
| 26.8 | 7-8 hours | 985 meters | Mt Shark Trailhead |
Wonder Pass is the most scenic route to and from Mount Assiniboine Provincial Park. It is also the most direct route to the Naiset Huts or Assiniboine Lodge. The trail branches off from the Bryant Creek Warden's Hut or can be reached from the trail to the Marvel Lake Campground.
From the campground or Warden Cabin, the trail moves along the West side of Marvel Lake, slowly gaining elevation. Views along the way open up with views over Marvel Lake and the spectacular valley.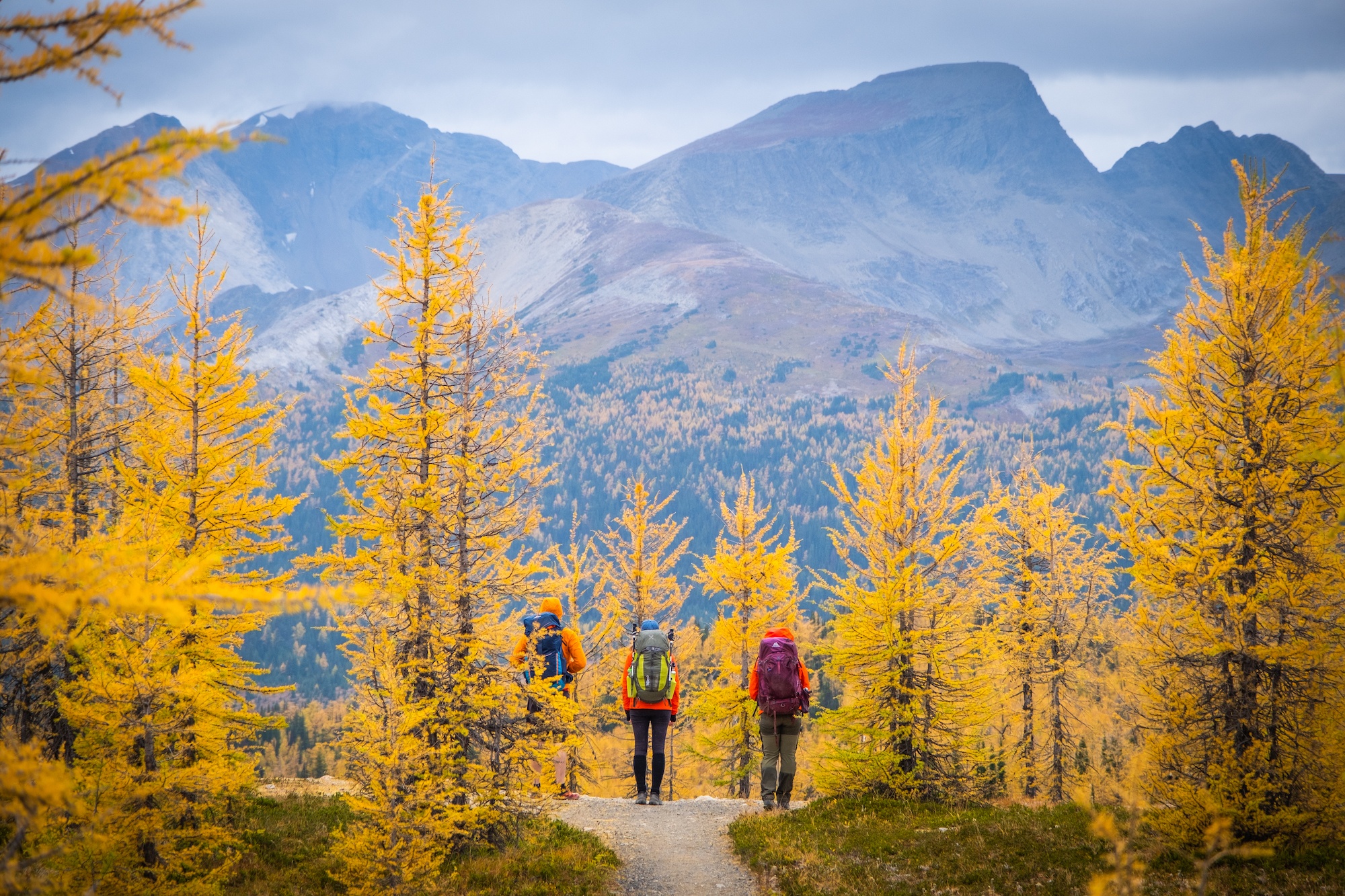 The climb up the pass is steep and moves through a series of switchbacks. It's not a technical climb, and the trail is in decent condition, but it is a serious workout for an hour, especially with a heavy backpack.
Once at the top of the pass, views open up the park and move through a valley of larches down to the Naiset Huts, Assiniboine Lodge, and Og Lake. The pass is a highlight in the park and makes for a great day hike or exit from the core region. That said, it's a big one-day hike as you gain around 1,000 meters of elevation and 27 km to the campground.
Wonder Pass Route Map
---
The Most Scenic Route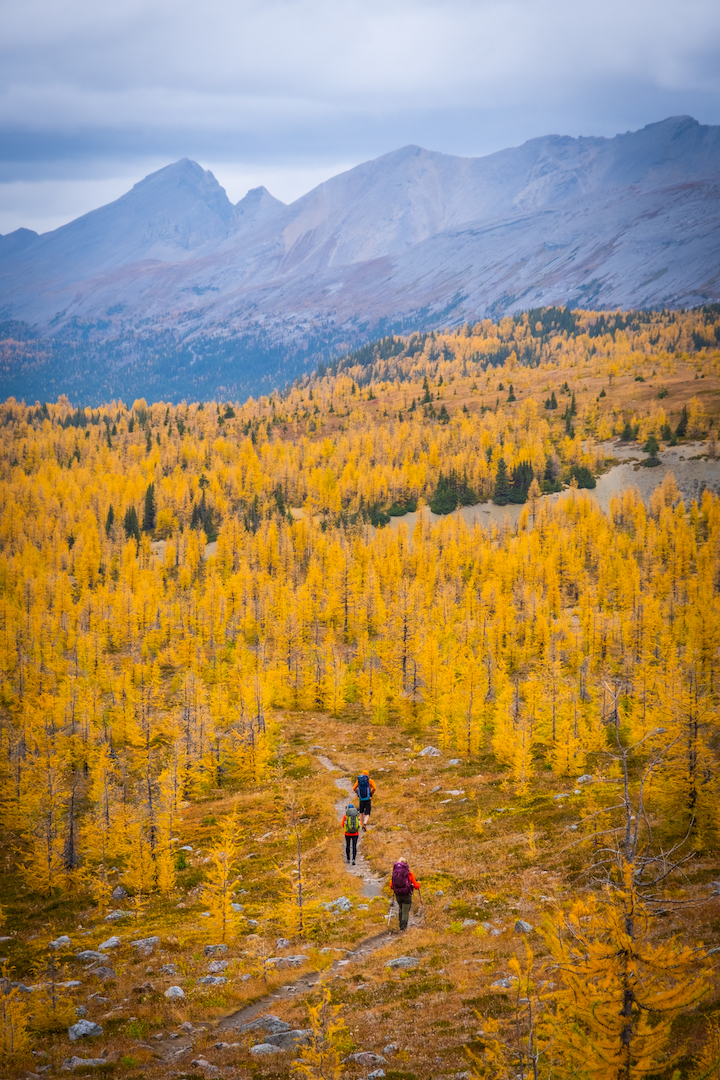 The most scenic route in Mount Assiniboine Provincial Park is a point-to-point thru-hike from Sunshine Village to the Mt Shark trailhead (or vice versa). This route uses the approach from Sunshine Village as it is more scenic than Bryant Creek and Assiniboine Pass.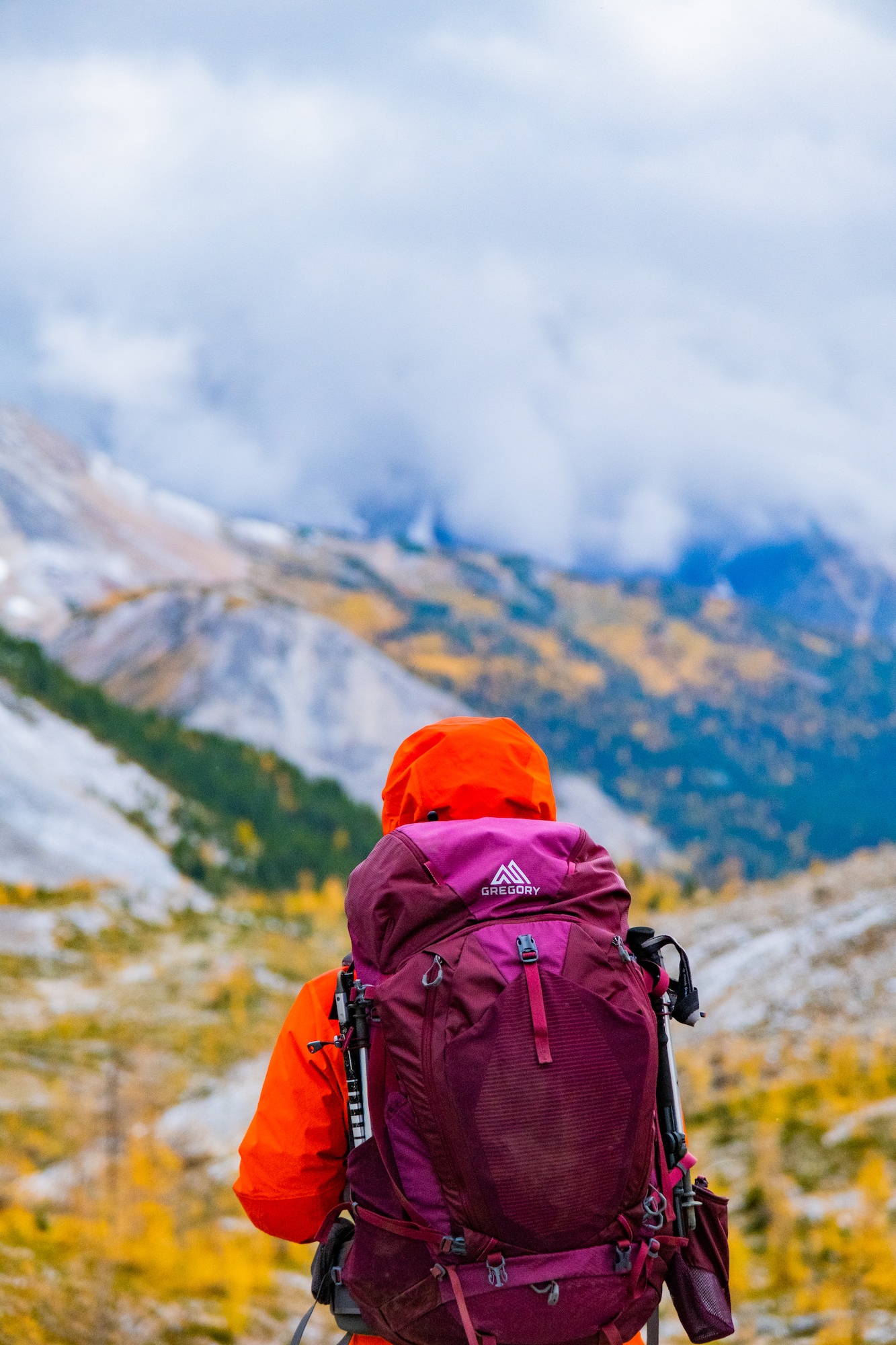 Departure from the Assiniboine goes over Wonder Pass and reconnects with the Bryant Creek trailhead to exit at Mt Shark. Hikers can catch a shuttle to Sunshine Village from Banff and book a hiker shuttle service through White Mountain Adventures. This route covers around 53 km in the distance.
Mount Assiniboine Thru Hike Route Map
---
Trail Run to Mount Assiniboine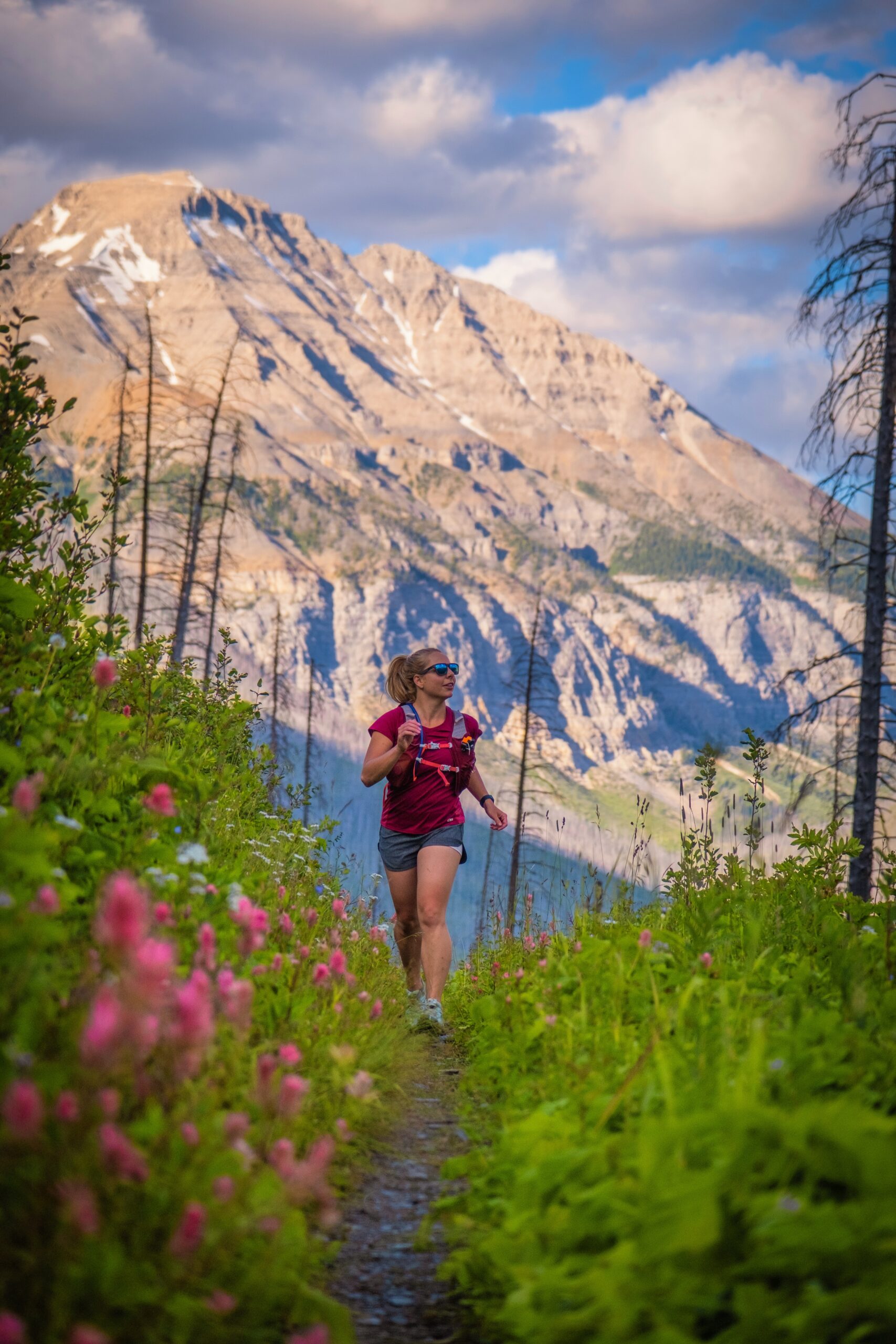 This is not something I recommend to the inexperienced by any means. In fact, it's mostly reserved for locals or those with experience in the park and can cover large distances with elevation in one day. While I didn't manage to scratch the runoff list this year, I have every intention next year — we will update our route when we determine it.
However, the large problem with trail running is that a well-timed run places you in the park's core area in the middle of the day. This means the golden hours of early morning or sunrise will be lost. So, the best option would be to experience a backcountry trip and a trail run if that's your cup of tea. Spending the night at the foot of Mount Assiniboine is an amazing experience.
---
Where To Stay In Mount Assiniboine
---
Camping In Mount Assiniboine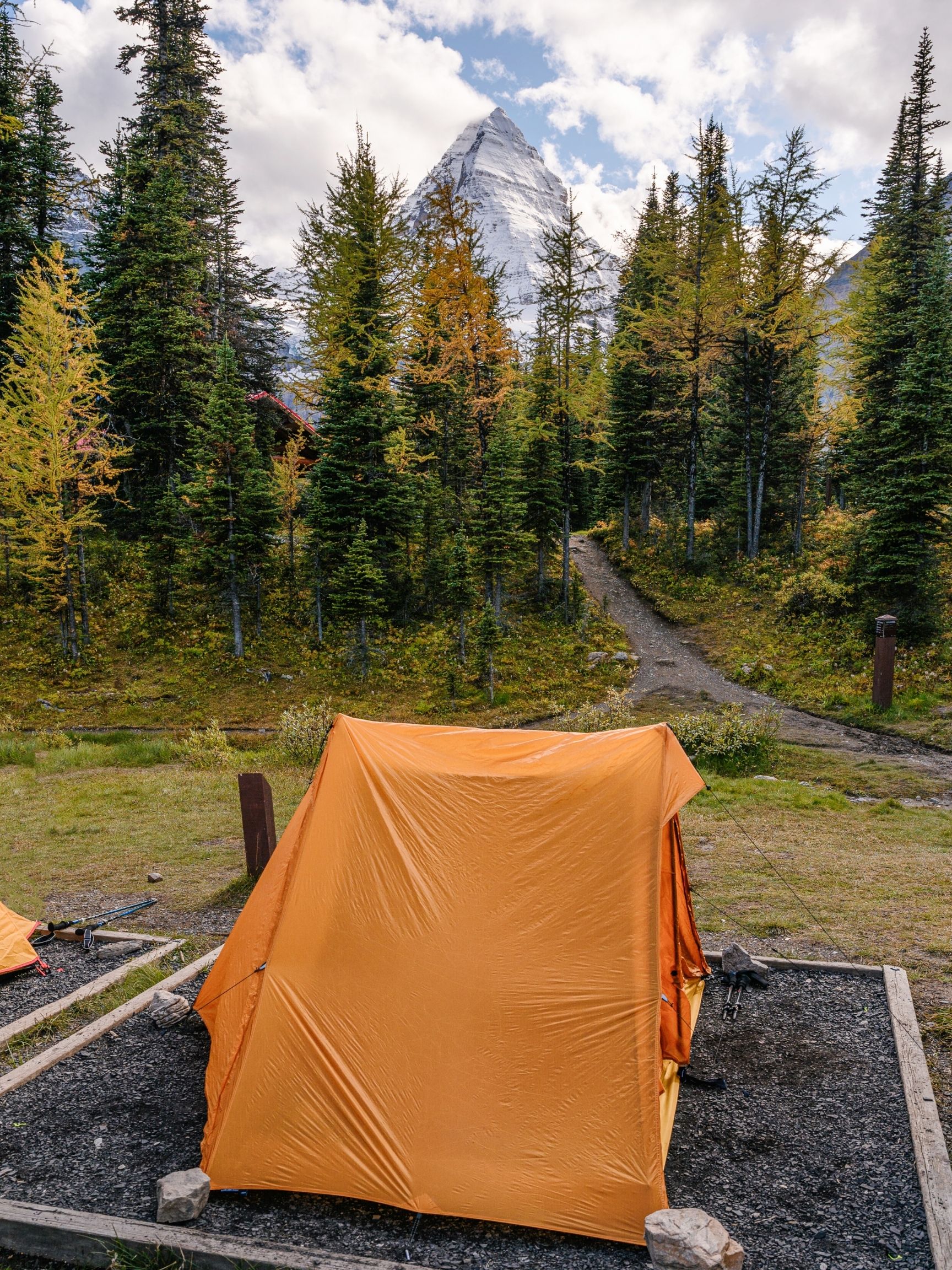 Magog Lake is the one campsite in the core area of Assiniboine Provincial Park. It is the most popular option to spend the night as it is the most abundant. Reservations here cost $10 per camper per night, plus the online booking fee, but they require booking well in advance as they sell out every season. Book campsites on the BC Parks camp reservation website or via phone (1-800-689-9025).
Reservations are available up to 4 months in advance. I would recommend booking as soon as you can as they go fast! There are approximately 85 wilderness, walk-in campsites in Assiniboine Provincial Park. These sites are in high demand and sell out most nights in the summer.
Although not in the core area, Og Lake is in Assiniboine Provincial Park and will require reservations if you plan to enter via the Sunshine Village route. Reservations are required during peak season (June 26 – September 30) for all overnight stays in the core area of Mount Assiniboine Provincial Park (Og Lake and Lake Magog campgrounds).
It could also be an alternative if you fail to secure a reservation in the core area but it will require an easy day hike in and out. All campsites have bear bins, a water source, and a long drop toilet.
Campsites / Booking Info
Porcupine Creek — first-come-first-serve
Og Lake — reservation required via BC Parks
Lake Magog — reservation required via BC Parks
Marvel Lake — reservation required via Parks Canada
McBrides Camp — reservation required via Parks Canada
Big Springs — first-come-first-serve
Surprise Creek Cabin and Campground, Mitchell Meadows Campground, Mitchell River Cabin, and Police Meadows Cabin – First-Come, First-Serve
O'Brien Meadows Campground – call the Assiniboine Lodge Reservations Office to book (403-678-2883)
*Bring a copy of your online reservation for proof of payment, as Park Custodians will check the documentation.
---
Naiset Huts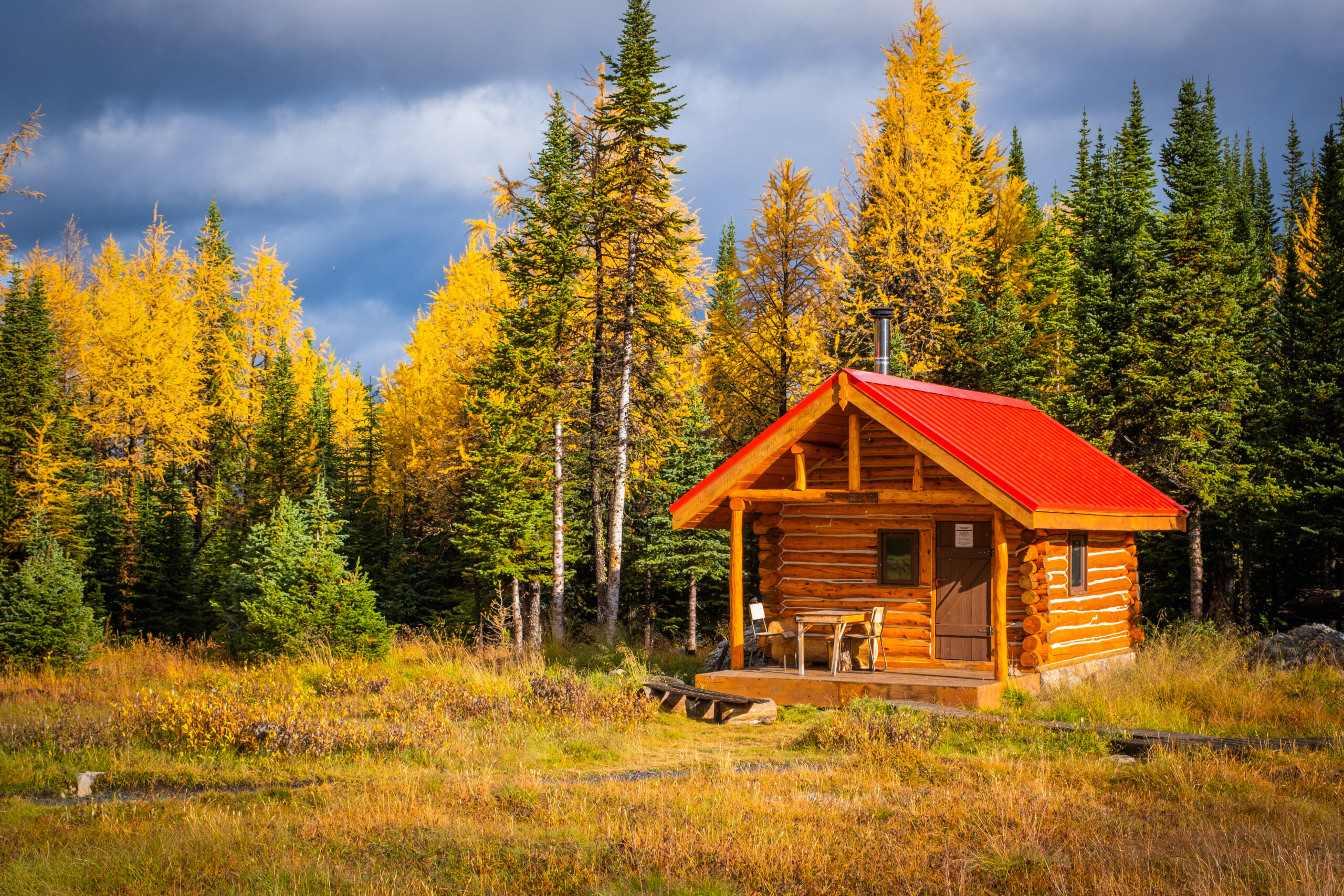 Five Naiset Huts were built nearly a century ago in 1925, by A.O. Wheeler, the Alpine Club of Canada founder. The huts lie near the lodge and the park ranger cabin just below Wonder Pass. Each hut is a single-room wood cabin that varies in size from 3 to 8 beds and contains a wood-burning fireplace.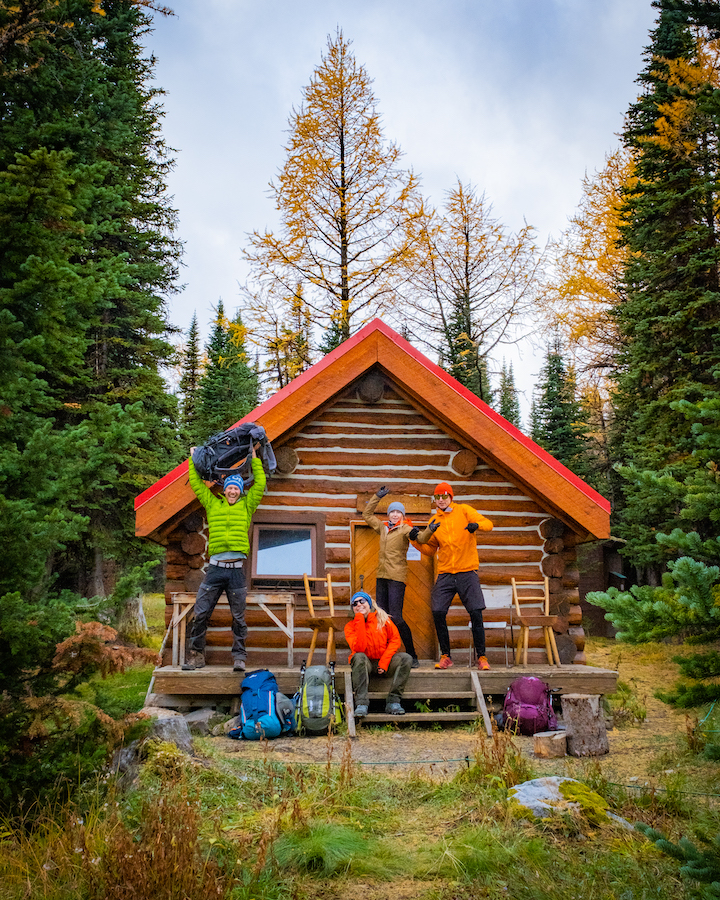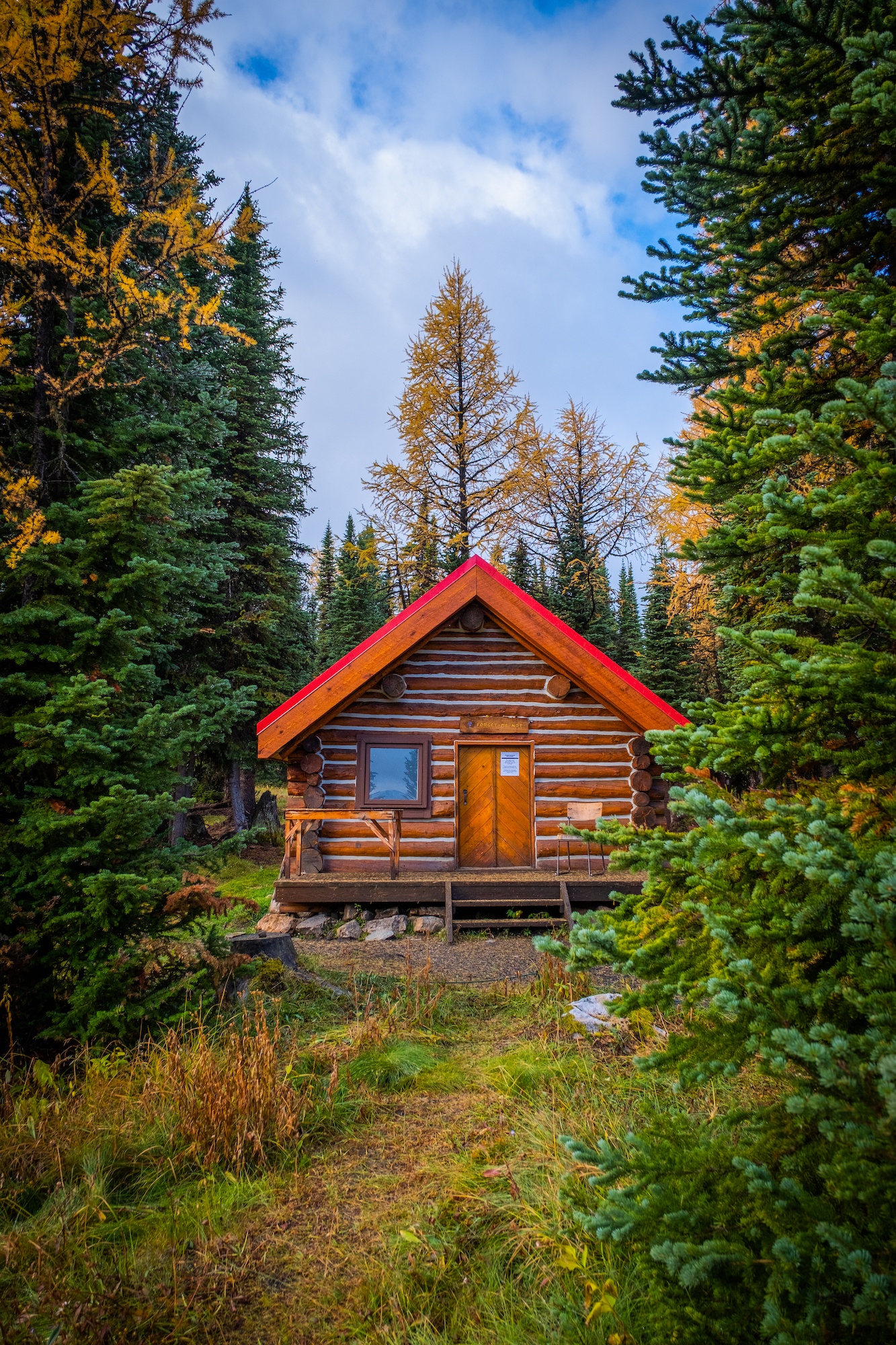 Next to the hut is the new Wonder Lodge Cooking Shelter, a communal space with tables, cookware, and burners. Huts must now be booked out in full. The huts are now only available via a full booking. Huts range in size from 5, 6, or 8 beds, so the per night cost is $150, $180, or $240, depending on the hut available.
Reservations are required in advance and sell out every night in the summer and winter. Reservations can be made via phone or email with the Assiniboine Lodge. (+1 403-678-2883), we suggest calling when reservations are available. They'll also periodically post cancellations and openings on their website throughout the season.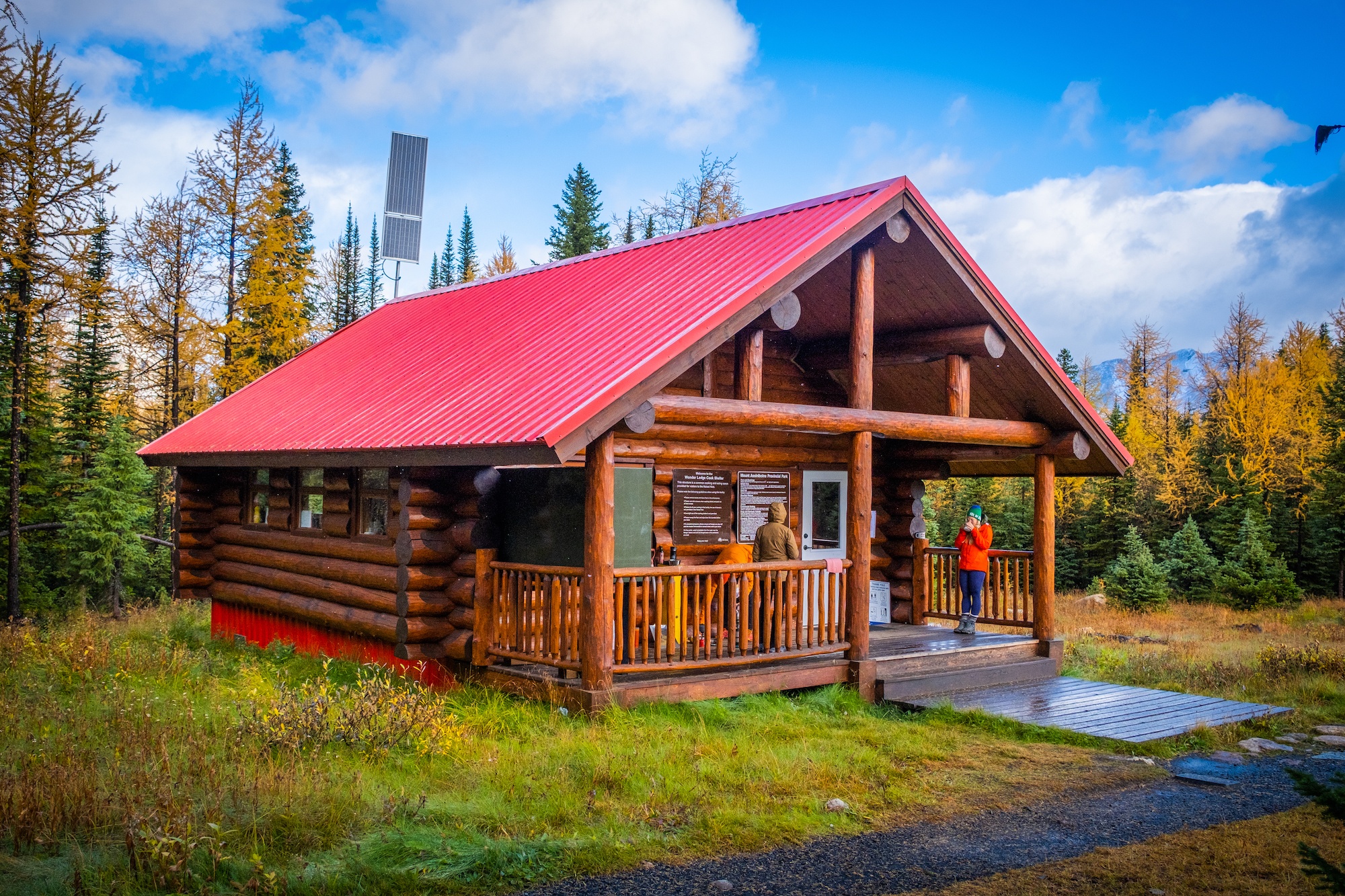 With all of the downsides of COVID, we did get one silver lining. Many were forced to cancel their reservations, and BC Parks required visitors to book the huts out privately, so we secured the Forget-Me-Not hut with a bit of luck. To have one of the huts to ourselves in mid-September, with a bunk bed and cozy wood stove as snow fell at night.
You must book a stay that matches the helicopter schedule, even if you plan to hike in and/or out. The helicopter operates on Sundays, Wednesdays, and Fridays (Monday instead of Sunday on long weekends).
---
Assiniboine Lodge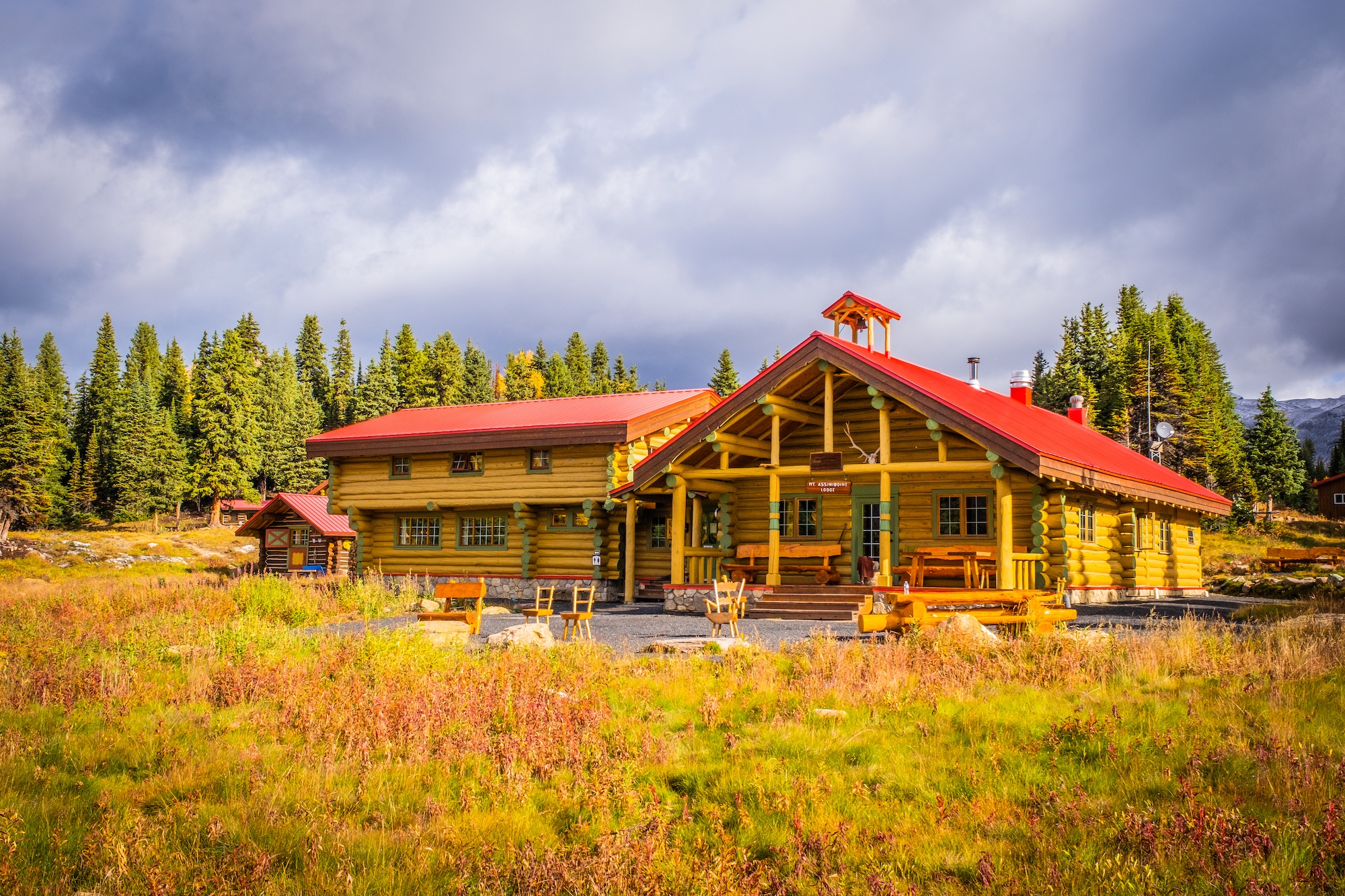 The Assiniboine Lodge far exceeds the price of the other two options and is far more luxurious than camping. It's surely a once-in-a-lifetime trip as the lodge's location is superb, with views of Lake Magog and Mount Assiniboine.
Room rates vary between $395 to $5800 CAD per person and vary based on the room type – cabin or room in the lodge. Helicopter flights are not included.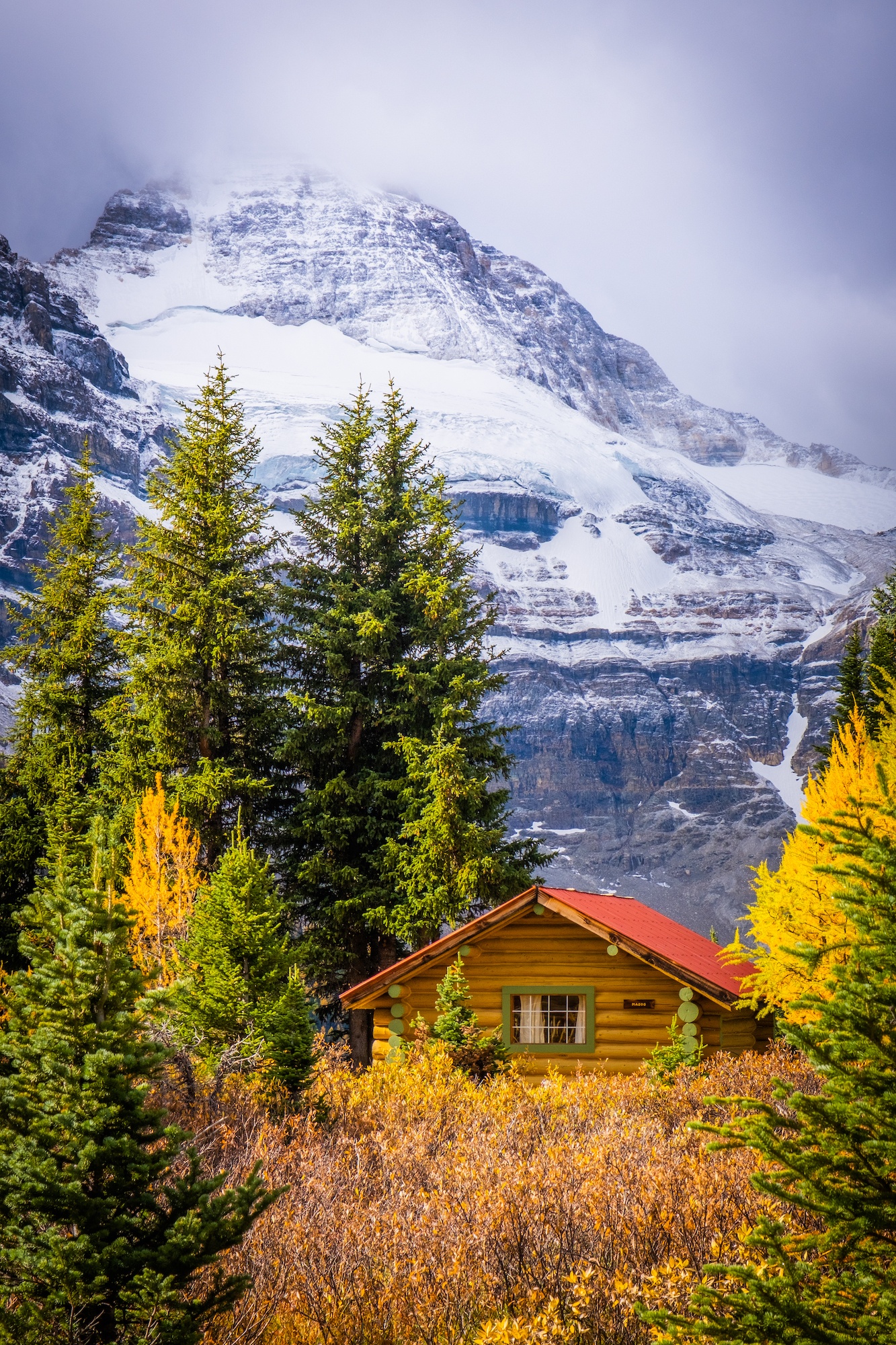 All meals are included, and they have hot showers, a flush toilet, and a sauna! It's just as good as it can get in a remote wilderness setting. Despite the high cost, reservations book out almost a year in advance and can be made through the lodge office. It's a dream stay for nearly anyone lucky enough to secure a reservation.
---
Best Mount Assiniboine Hikes and Viewpoints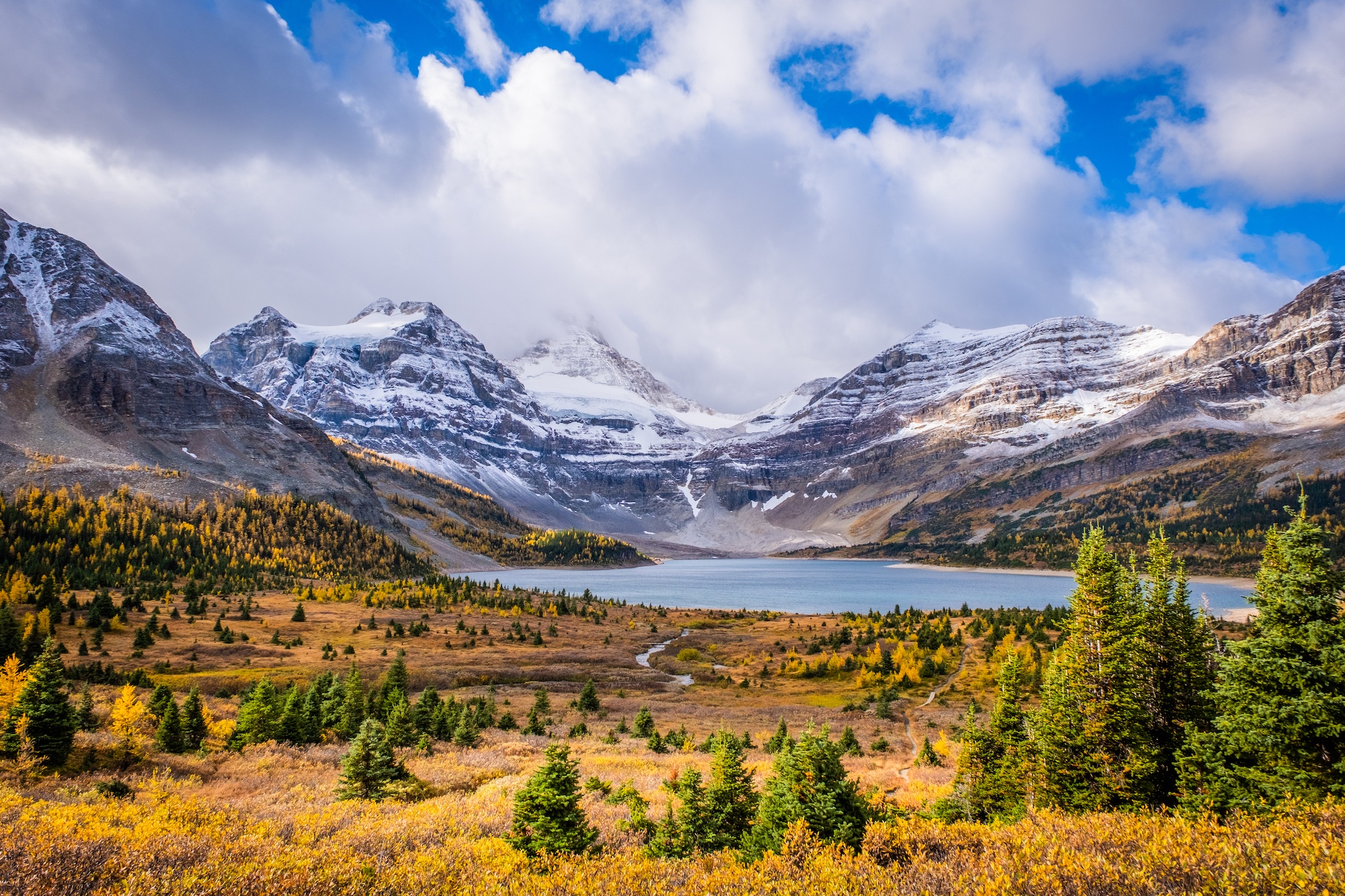 You don't hike into the park just to leave because the area is wonderful for photography and hiking. Trails in Mount Assiniboine Provincial Park are well-marked and easy enough to follow.
---
The Nub/Nublet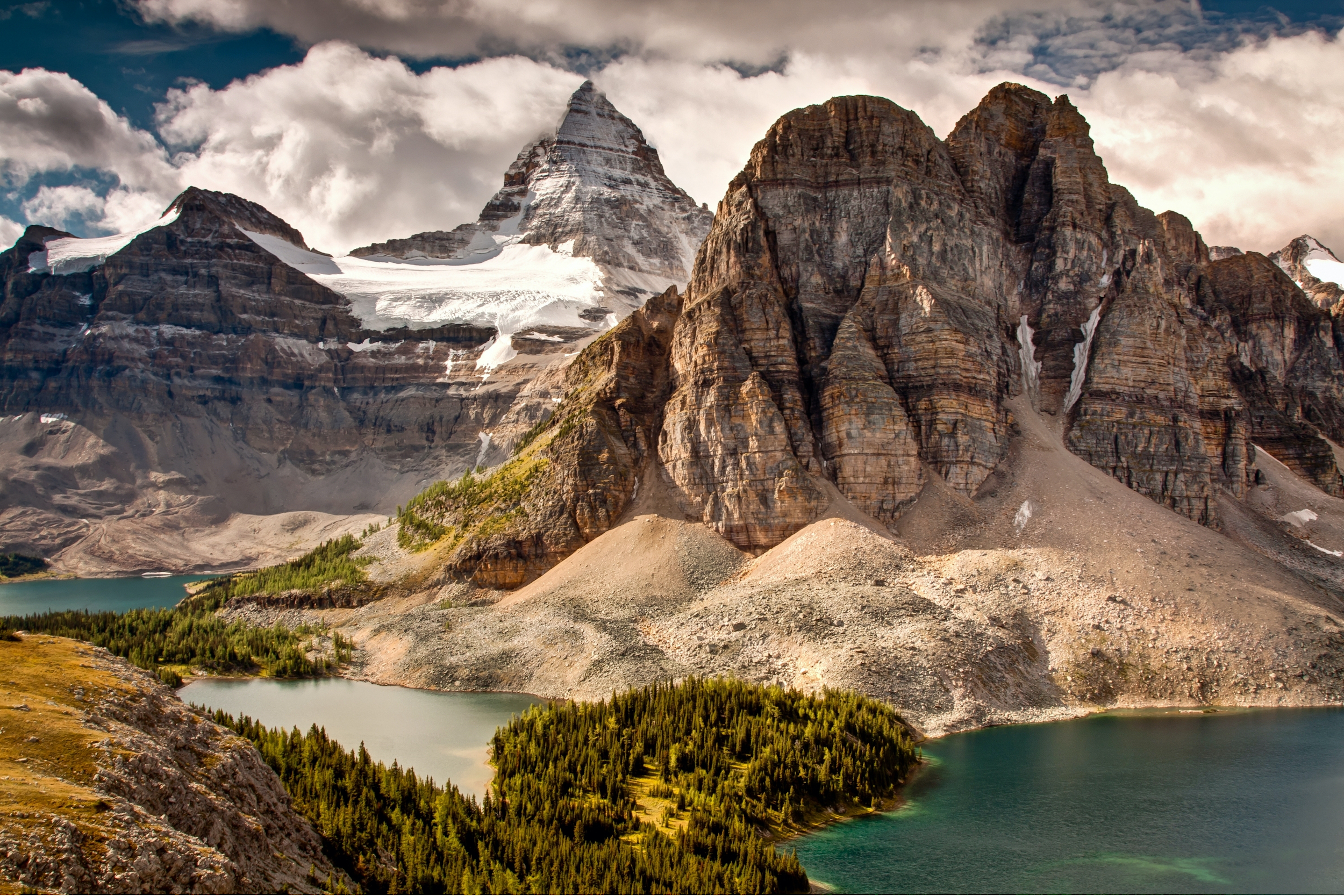 The view from the Niblet is one of the most iconic landscapes in the Canadian Rockies. From the rocky outcropping, hikers view Cerulean Lake, Sunburst Lake, Lake Magog, Sunburst Mountain, and Mount Assiniboine. It was also featured in "The Edge," with Alec Baldwin and Anthony Hopkins. (Definitely worth a watch!)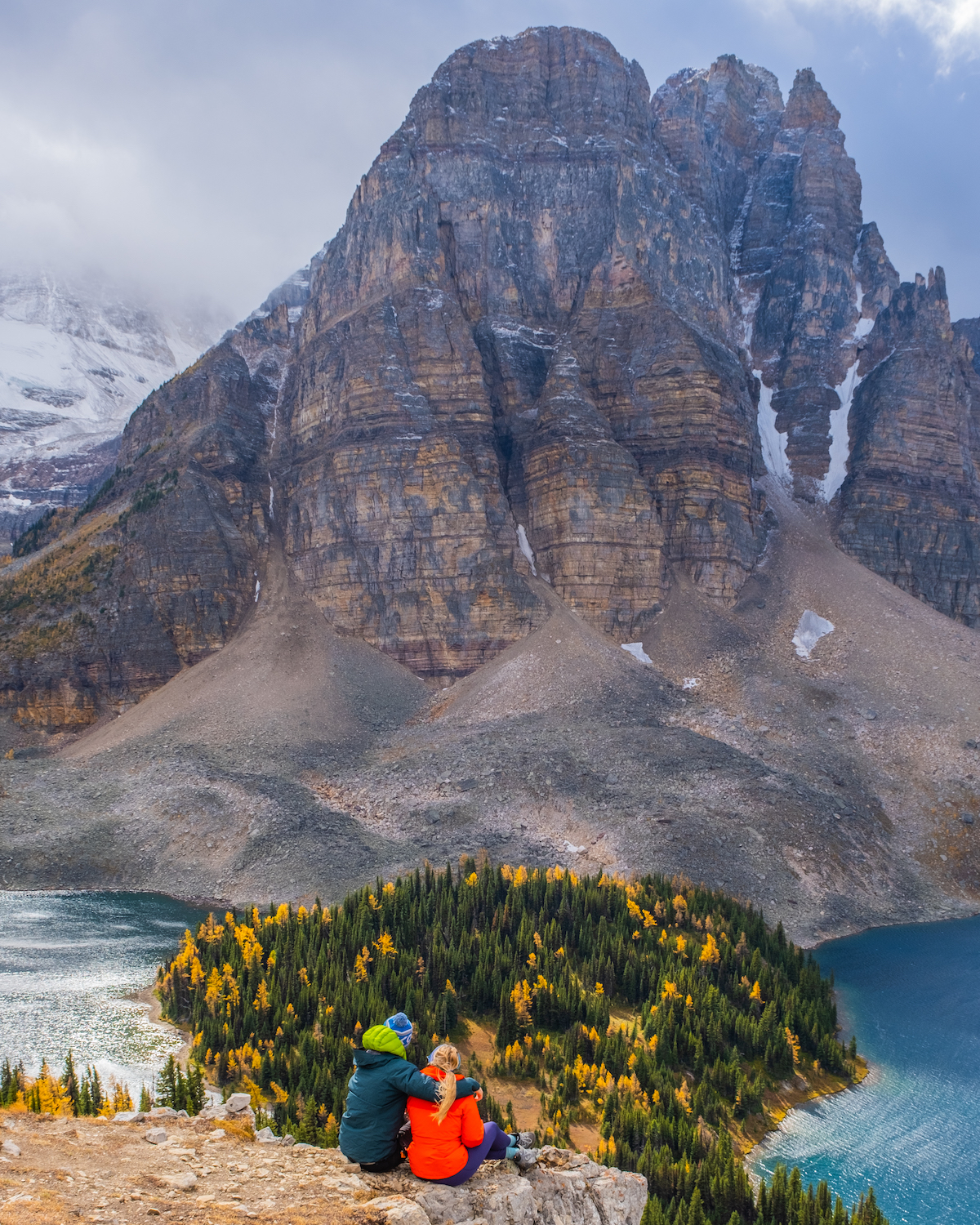 It's an easy hike and takes around two hours round trip. The hike can be made a loop as there are two trails to the viewpoint, one from Cerulean Lake and the other from the lodge.
We recommend hiking to Cerulean Lake, up to the Nublet, and back to the lodge. From the Nublet, hikers can continue along the ridge to the summit of Nub Peak. The hike up to Nub Peak from the lodge is 9.2 km and gains 615 meters of elevation.
---
Wonder Pass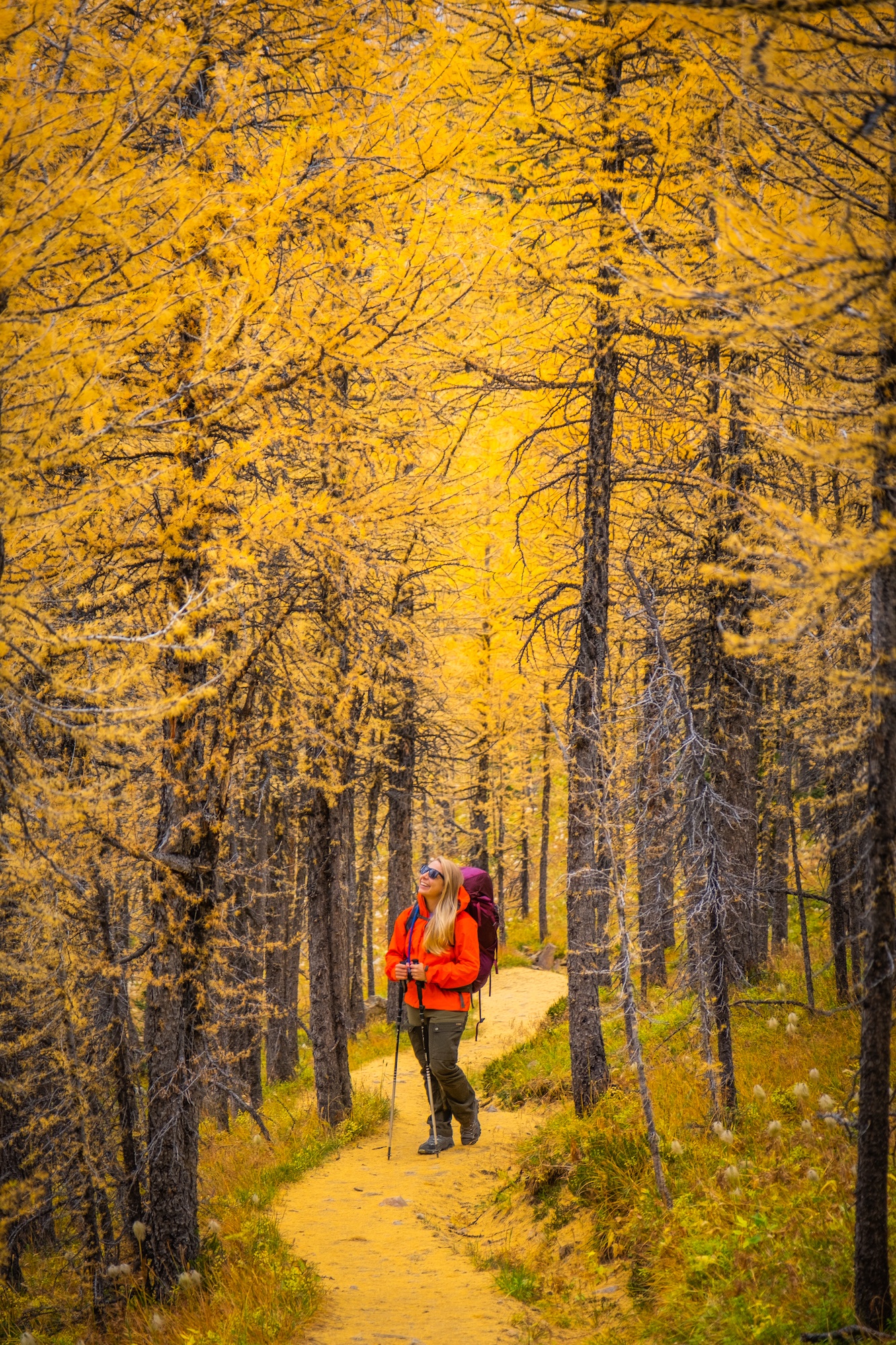 If you do not plan to hike in or out through Wonder Pass, hike up to the top of the pass. The trail up to the pass is surrounded by larch trees, so it can not miss if it's September. We timed it perfectly and got lucky with the amazing larch trees in their peak golden color.
---
Lake Magog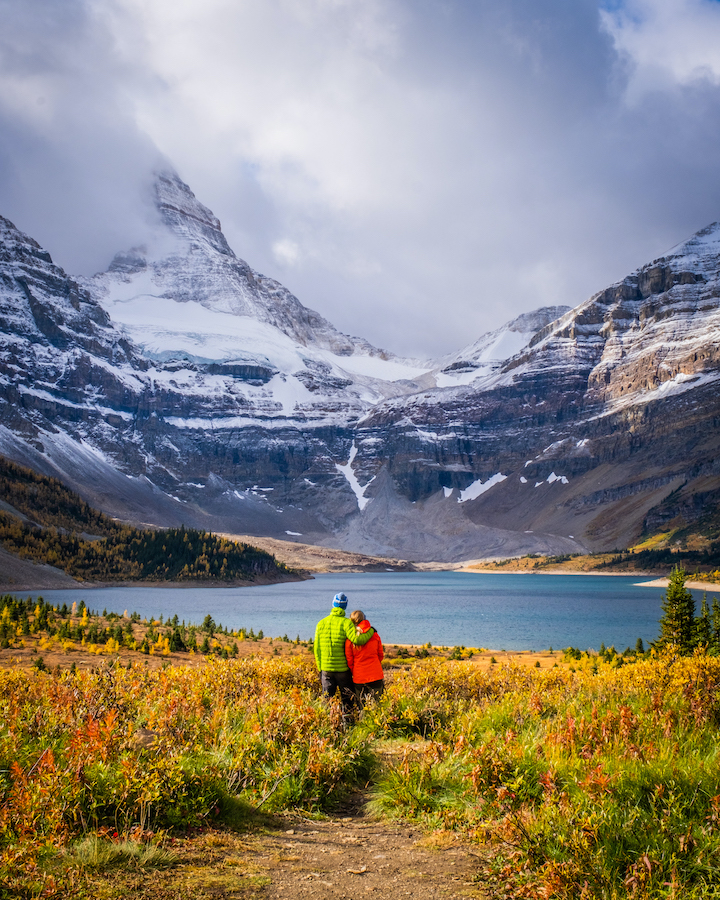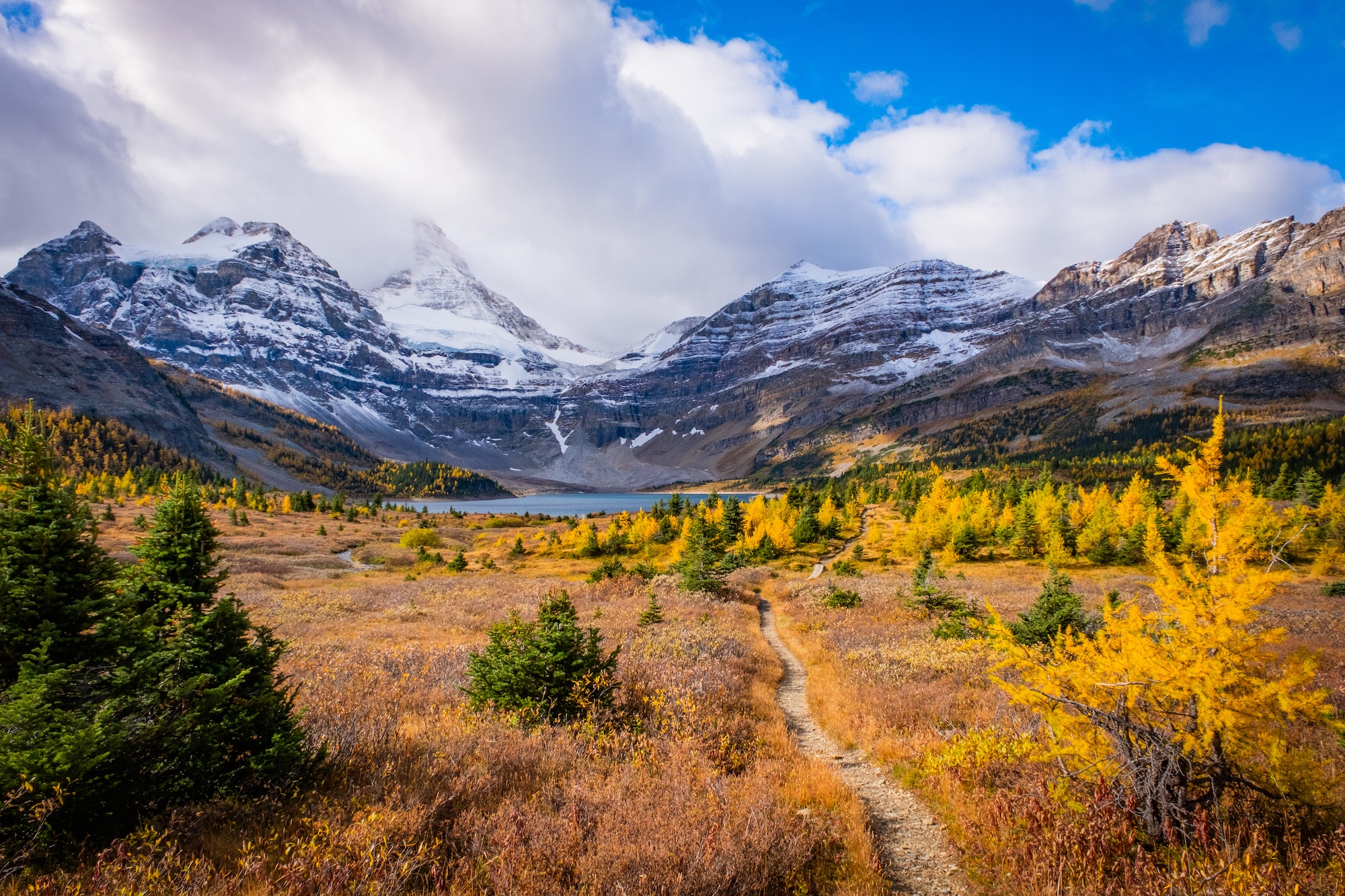 Just in front of the Assiniboine Lodge is the incredible view over Lake Magog, one of the most beautiful lakes in BC. You literally cannot miss it when you are back here.
---
Sunburst Lake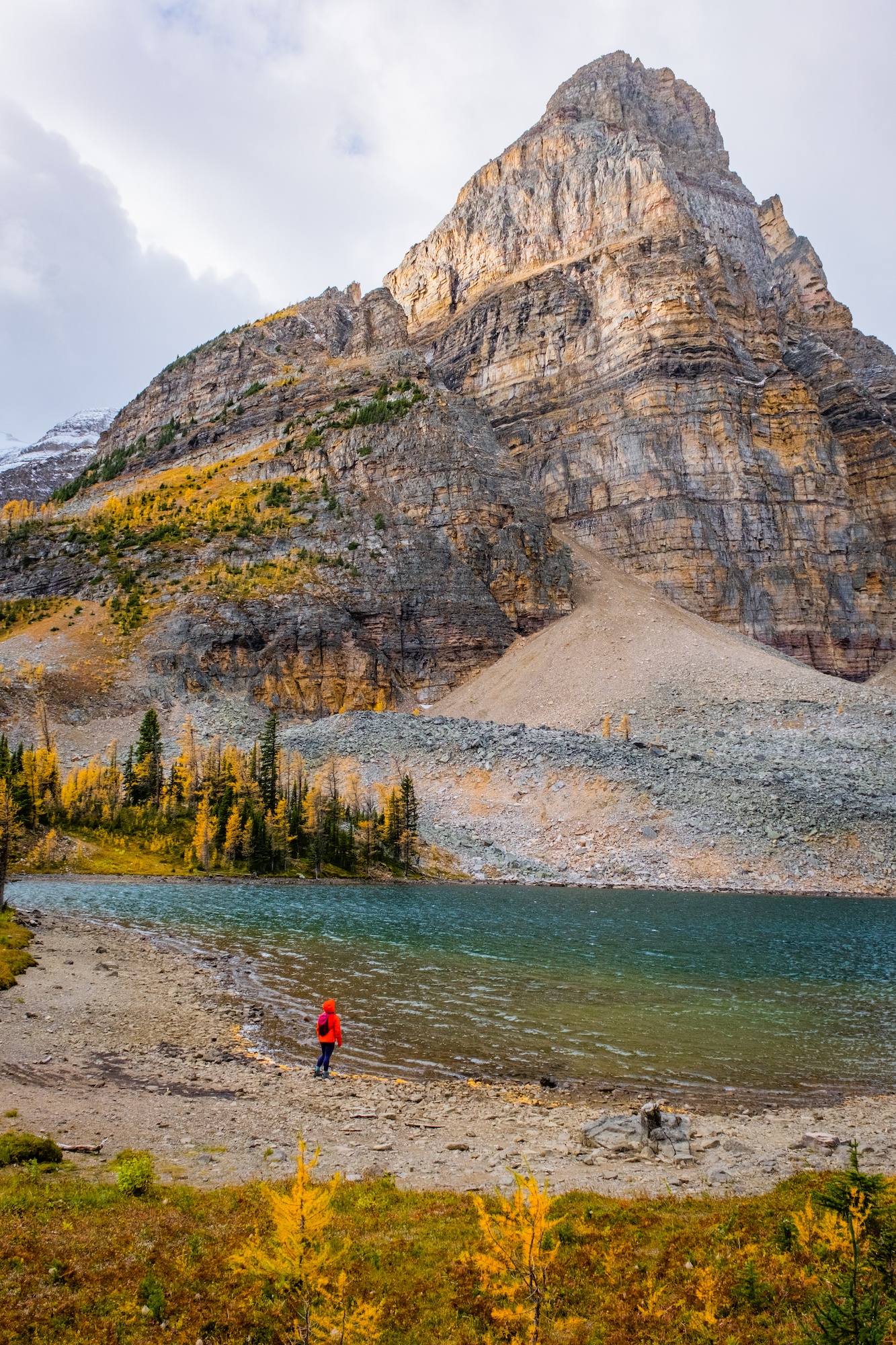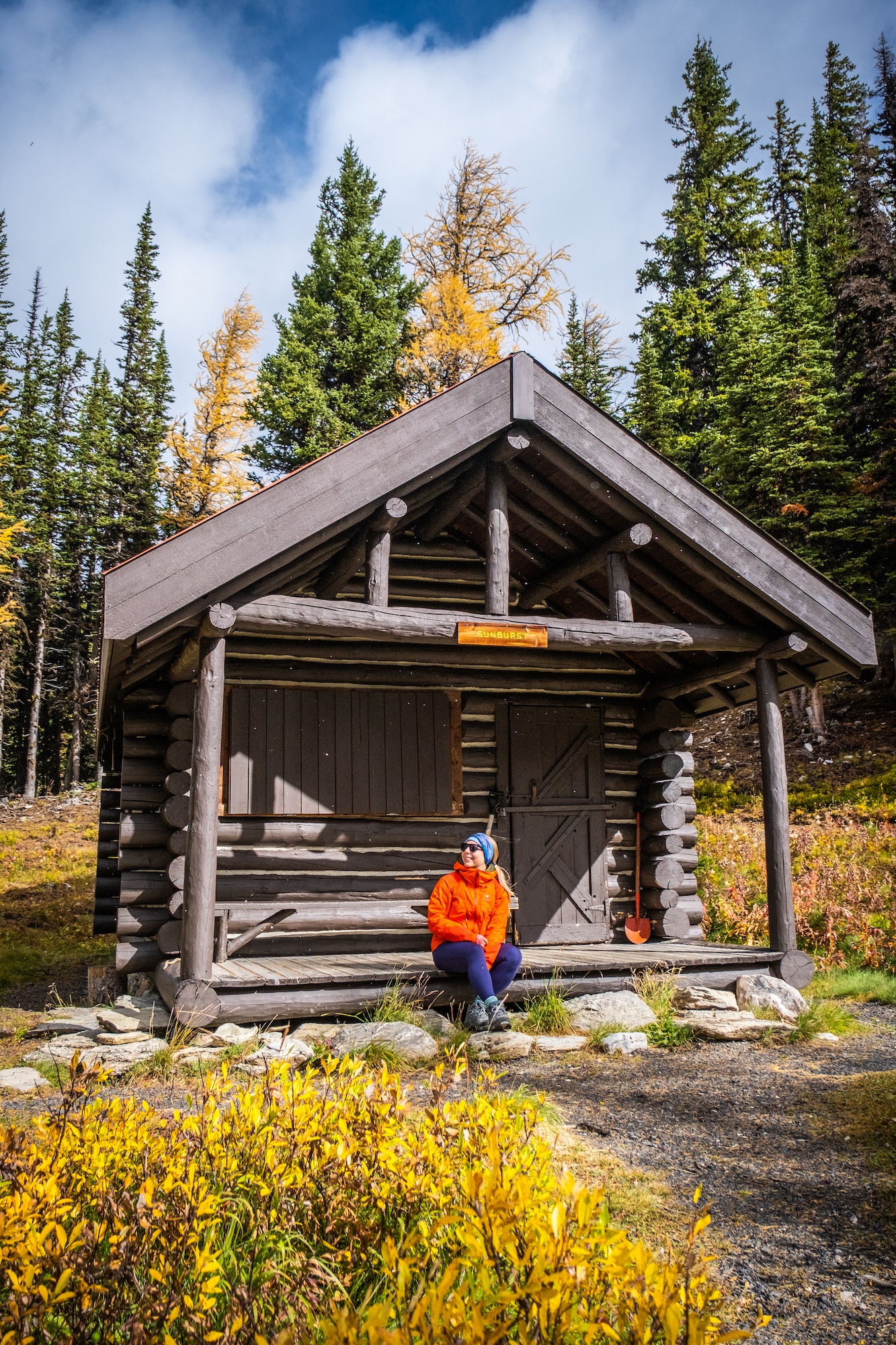 Sunburst Lake sits below Sunburst Peak and is a 15-minute walk from the campsite. It's worth it to hike there multiple times on your trip.
---
Cerulean Lake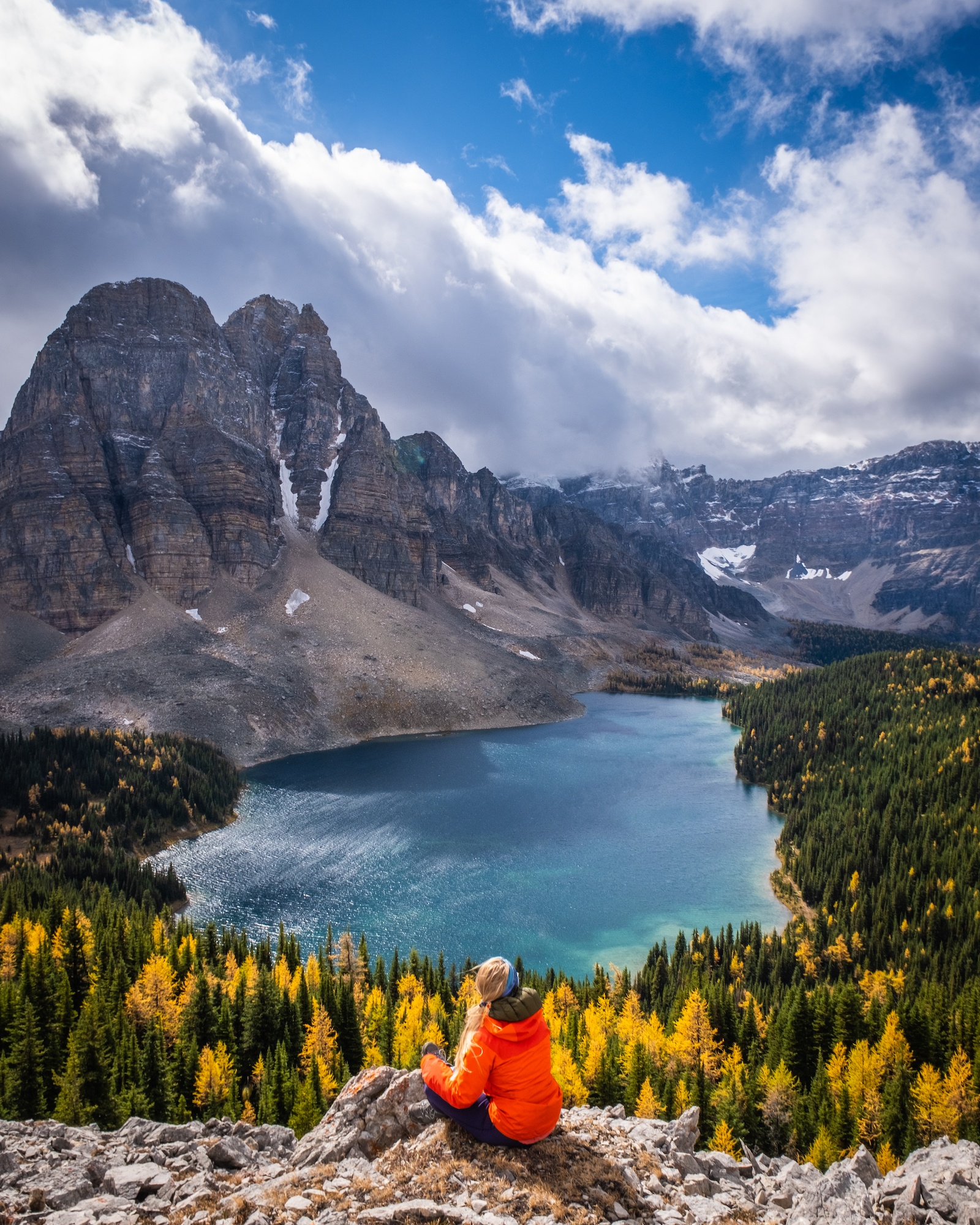 Cerulean Lake sits right next to Sunburst Lake and is a gorgeous lake with wonderful views out to the rock wall of Sunburst Peak.
---
Wonder Peak & The Towers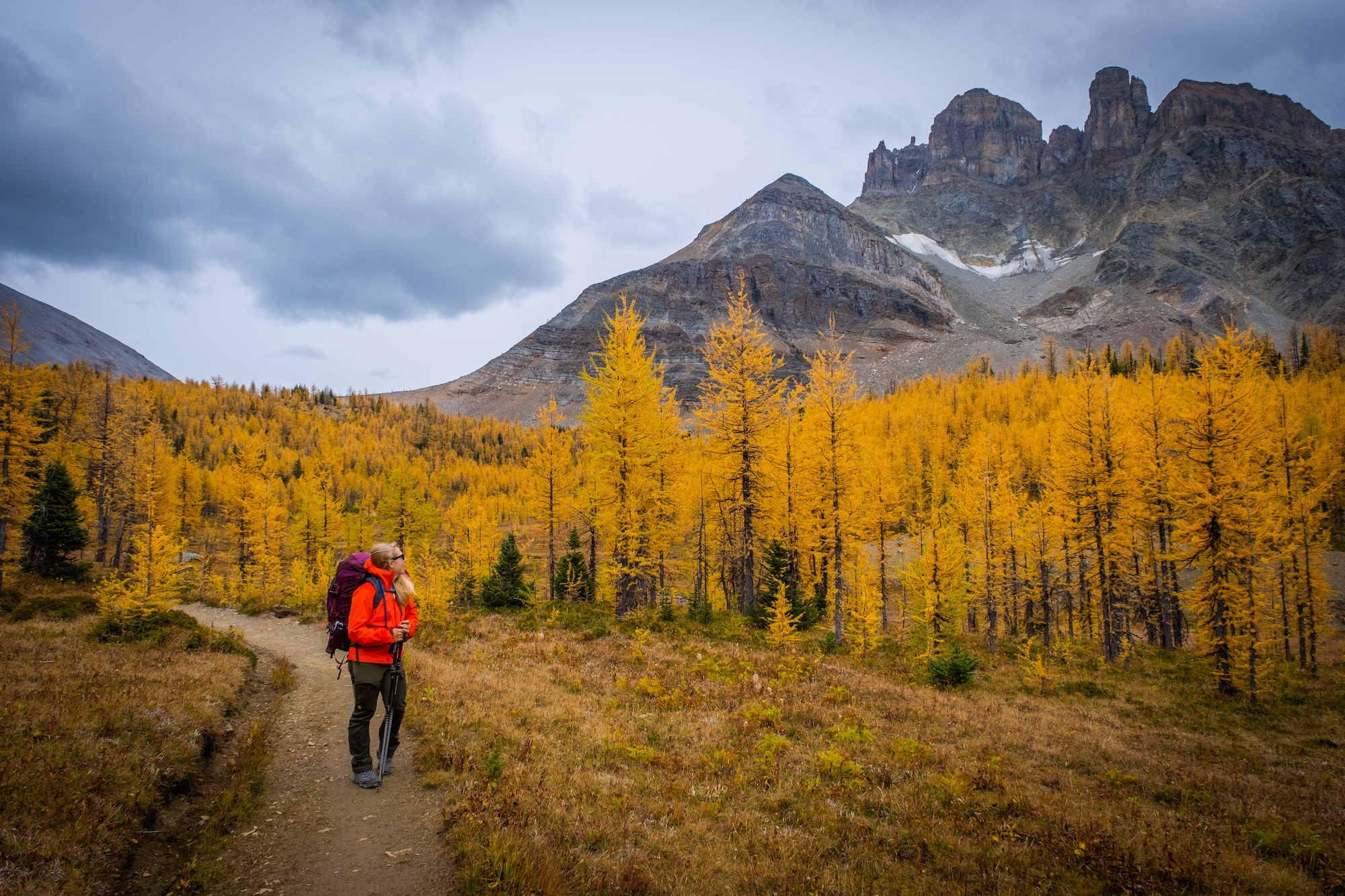 There are two popular options for scramblers in Mount Assiniboine Provincial Park. They are Wonder Peak and the Towers. Both are east of the park and offer fantastic views of Marvel Lake, Mount Assiniboine, and the core park area.
---
Tips To Visit Mount Assiniboine Provincial Park
---
Reservations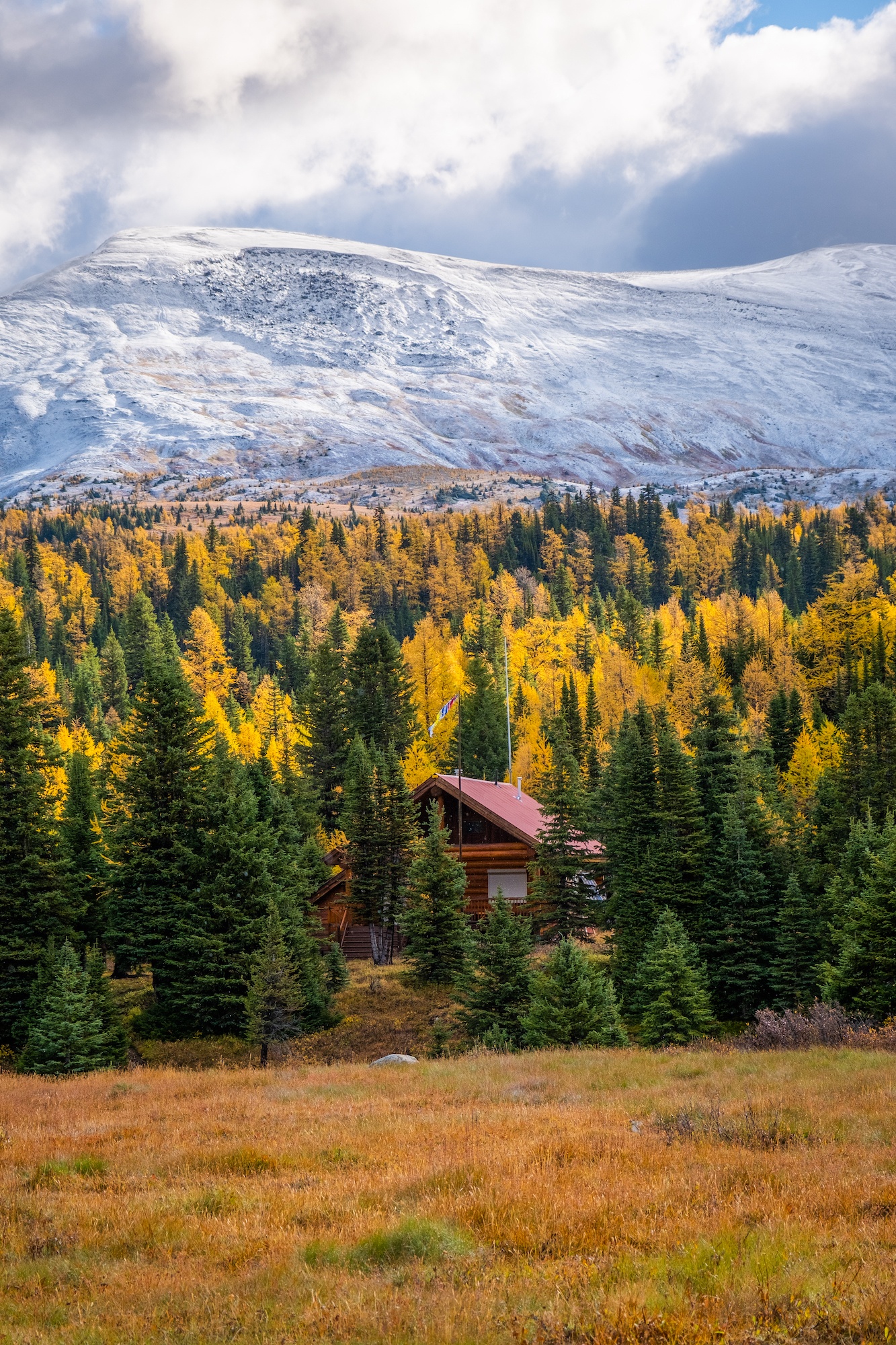 It's best to book reservations as far in advance as possible, as they will and do sell out fast. Whether you plan to camp or stay in the huts or lodge doesn't matter. There are a limited number of spots between these, which is great because it limits numbers in the park but makes scoring a reservation difficult. You can find more information on the BC Parks or Assiniboine Lodge websites.
---
Gear We Recommend for Hiking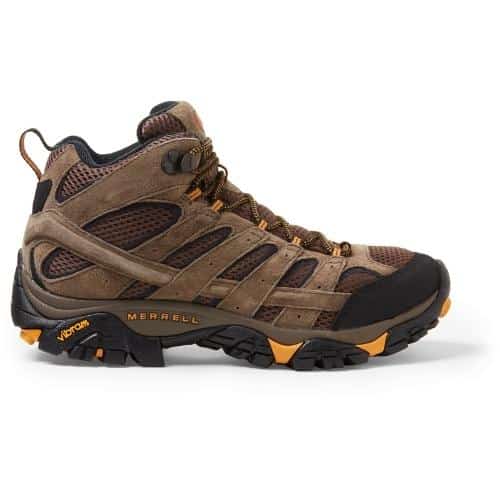 The one boot we universally recommend is the Merrel Moab III. We've tried a lot of boots, but in terms of value and comfort, they can't be beaten.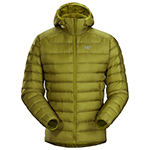 Arc'teryx Cerium is our pick for the best down jacket. It's incredibly light, and we bring it on almost every hike in the Rockies.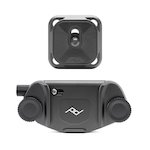 This nifty clip from Peak Design secures a camera to my backpack strap for easy reach. No more digging in the backpack!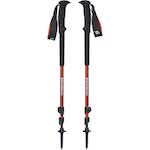 A pair of durable and lightweight hiking poles are a great asset on the hiking trail. We'll always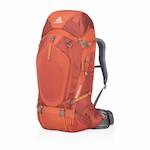 We both use the Gregory Baltoro/Deva as our multi-day backpack. It's an exceptional pack that carries weight beautifully.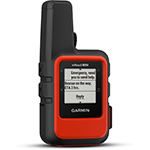 There is not much cell service in the Canadian Rockies. In case of emergencies, we carry an emergency beacon with GPS.
---
Weather in the Canadian Rockies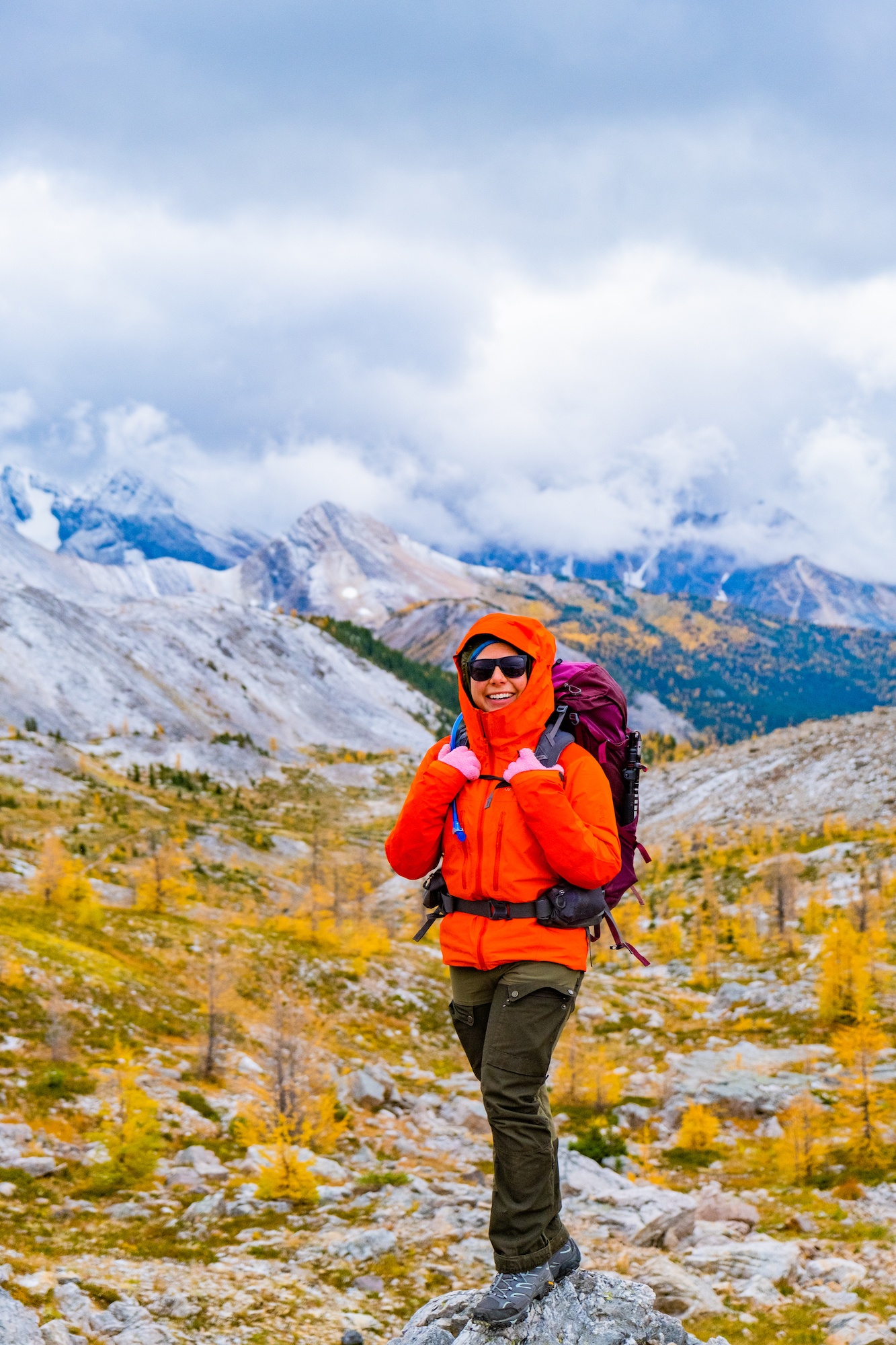 We see it snow every month of the year in Banff, so always be prepared for cold, inclement weather. Be prepared for cold weather if you plan to visit in June or September.
No matter the forecast, I suggest coming prepared for snow, rain, sleet, sun, wind, and any combination. On our first day, it poured in the evening, then shifted to snow at night as temperatures cooled.
Or course, you should still be prepared for heat and sun exposure because hiking with a pack is laborious. Our best advice is to pack proper layers, a tarp, proper sleeping bag, and do not forget your rainfly if camping!
What To Wear Hiking in The Canadian Rockies
---
Helicopters
Maybe we're turning into crusty old mountain people, but we're not big fans of helicopters flying into the park. On the days that they do fly, it's very noisy during the middle of the day as the helicopters carry soon-to-be hikers in and out of the park.
Perhaps the best option would be to limit the flight to lodge guests only. Due to this, it may be worth considering a different backcountry trip if you prefer a more natural setting, such as the Berg Lake Trail, Lake O'Hara, or something even more remote. If you plan to take a helicopter, whether camping, in the huts, or at the lodge should look at the helicopter flight days and plan your trip accordingly.
Helicopter flight reservations for summer campers may be made online once the campground reservation has been secured. When booking, you will be asked to provide your campground reservation confirmation number and body weight. Luggage is limited to 40 pounds of efficiently packed luggage per person per flight (winter guests are also allowed one pair of skis & poles). An excess bag fee of $5.00 per pound/flight should you go overweight.
---
Set Realistic Goals in Mount Assiniboine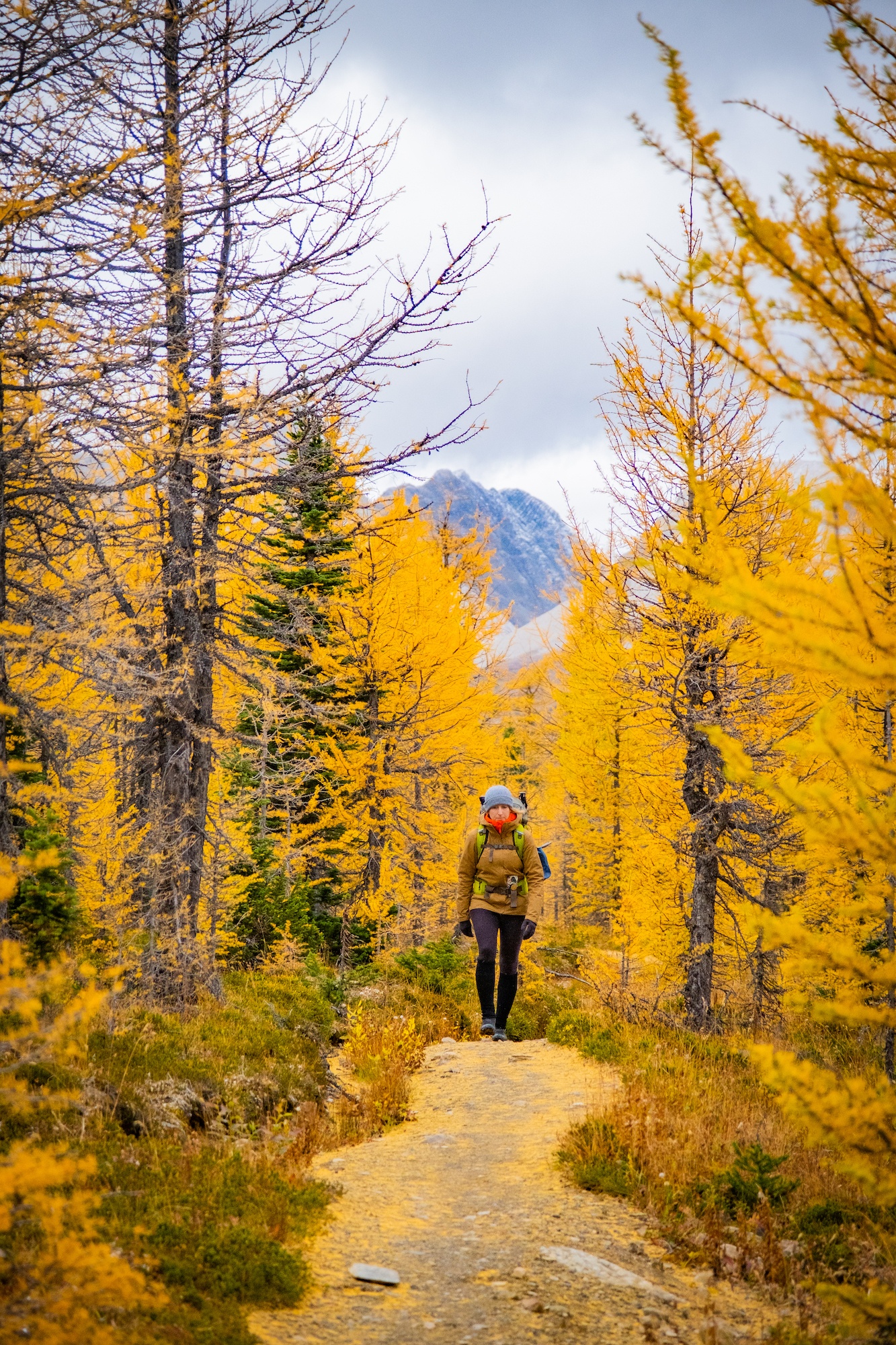 It's best to manage expectations and plans realistically. If you haven't done a lot of hiking with a backpack or hiking in general, I would not plan on hiking the trail in or out in one day.
The earlier they start, the better. I'd rather arrive at the campsite and spend the evening or afternoon relaxing than arrive in the dark and attempt to set up a tent or check into my accommodation.
28 Helpful Tips for Hiking in the Canadian Rockies for New Hikers
---
Don't Overpack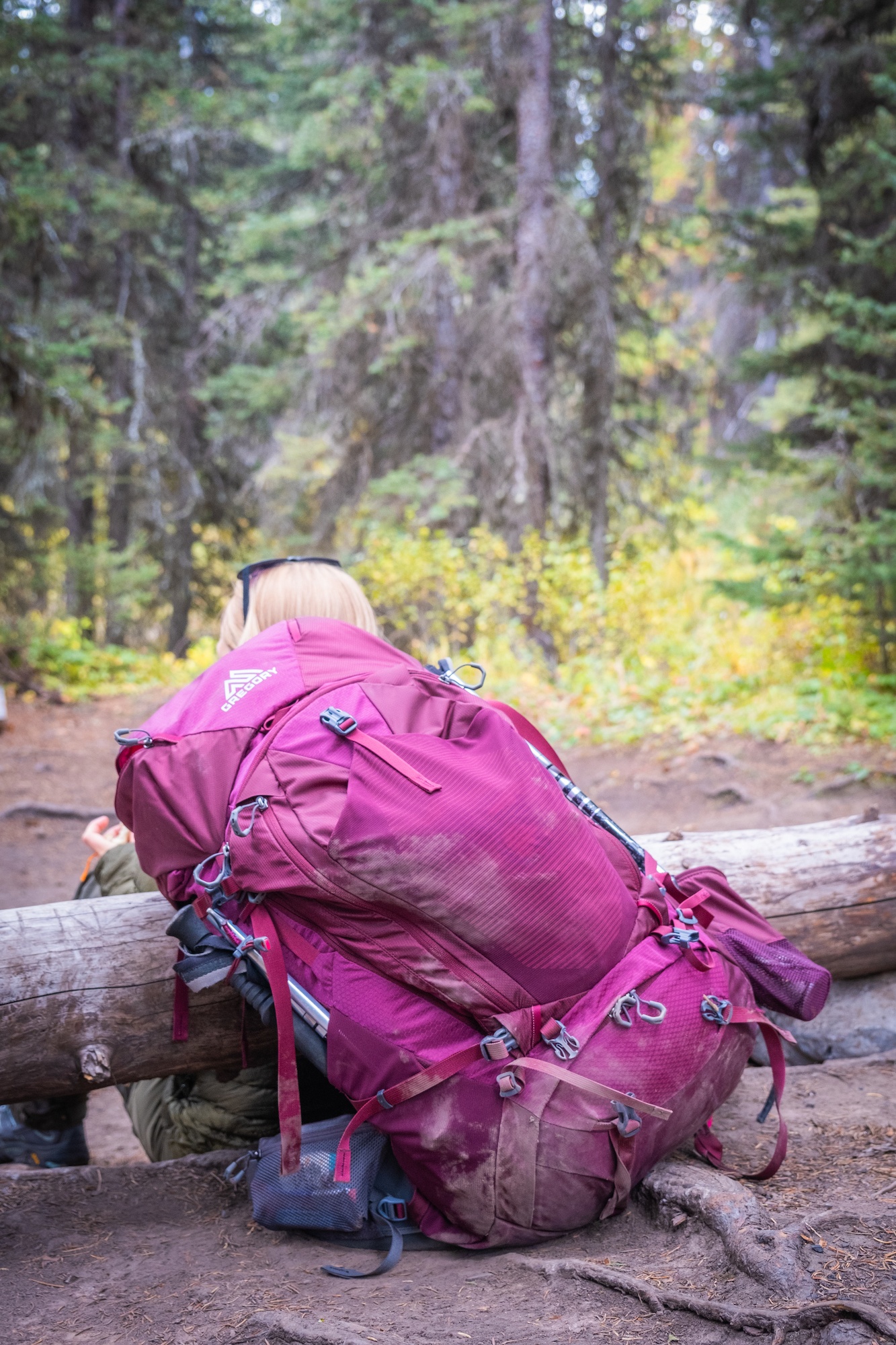 Packing right doesn't mean overpacking your backpack. You'll have to carry everything up a mountain, so keeping your weight down is important.
Pack what you think you will need and any extra items that may come in handy in an emergency. (Things like a pocket knife, first aid kit, extra energy bar, and emergency blanket).
Banff Packing List – Covering Winter and Summer
---
Wildlife in Mount Assiniboine Provincial Park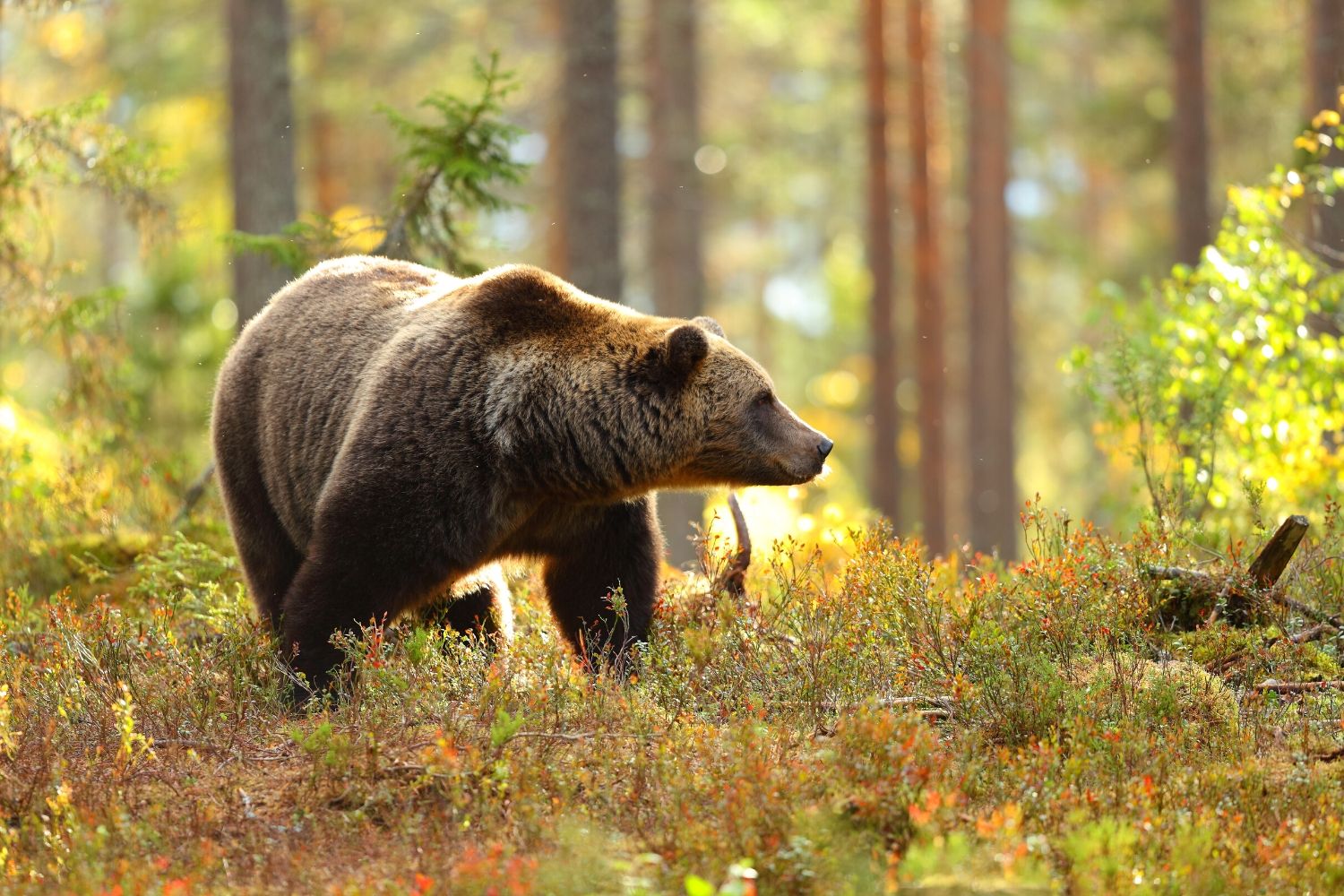 Wildlife encounters are not something only newer hikers have to deal with. Everyone should be prepared to encounter wildlife in the Canadian Rockies, which is true at Mt Assiniboine. One should never go out without bear spray. And each person in the group should have their own bear spray, don't rely on one bear spray for multiple people.
12 Bear Safety Tips • How To Hike In Bear Country
---
Where Can I Get a Trail Map
For multi-day backcountry tips like Mount Assiniboine, we recommend getting a good old fashioned paper map and studying it. There's a lot back here to explore! Gem Trek has reliable ones!
---
↓ Join the community ↓
The Banff Blog Facebook Group is your headquarters for the Canadian Rockies' travel advice and information. Including hike info and off-season travel information. You can also meet new adventure buddies.