If it's your first time hiking in Banff, the trail can be intimidating. The Canadian Rockies are gorgeous, but they are also tall, steep, and dangerous.
To help ease you into hiking in Banff, Kananaskis, Waterton, and Jasper, we put together this list of our top hiking tips for hiking in the Canadian Rockies!
---
Beginner Tips for Hiking in Banff
---
Choose The Right Trail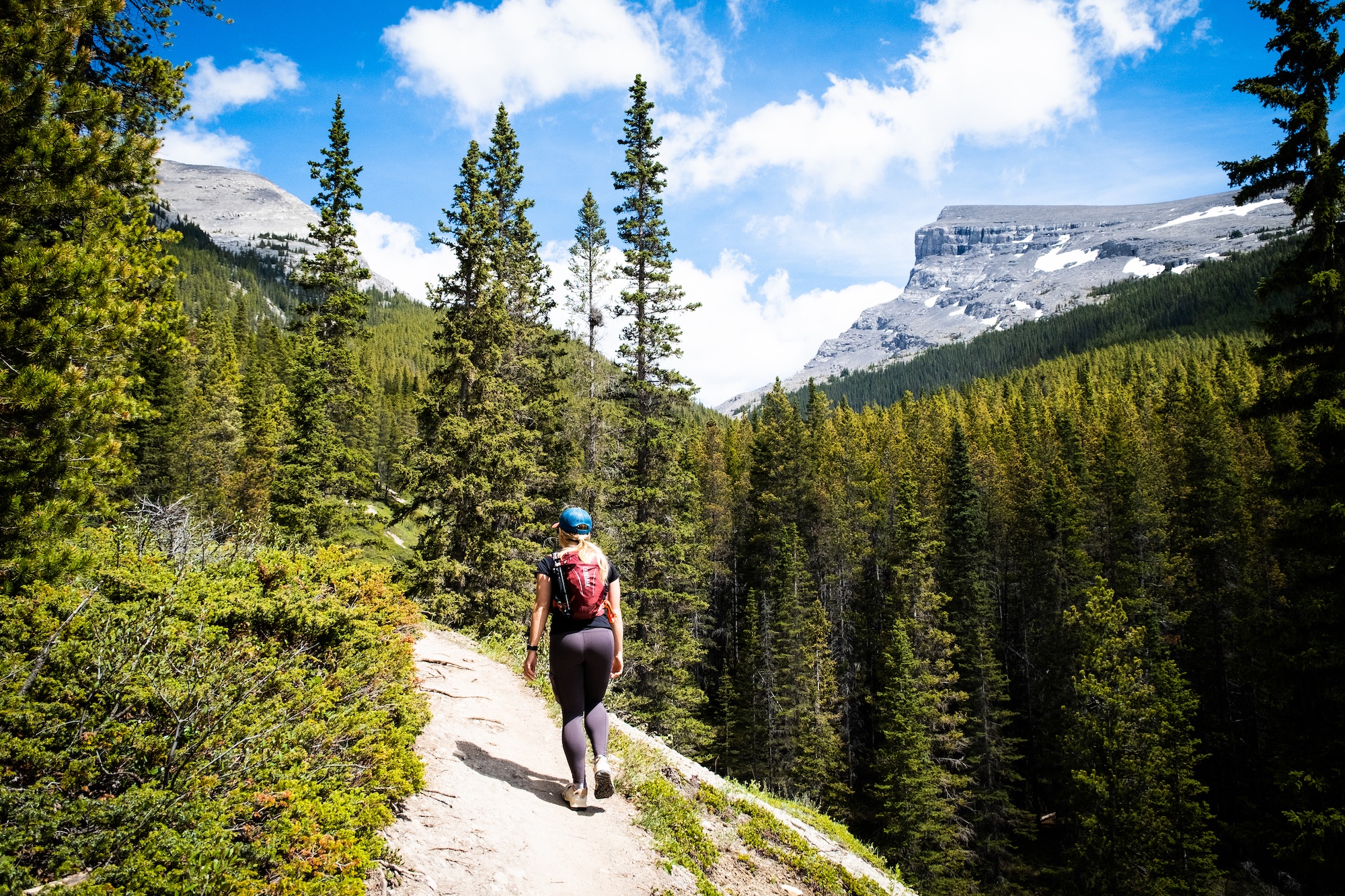 The first thing any new hiker needs to do is choose the best Banff hiking trail for them and their abilities. That means paying attention to things like distance, elevation, average time, logistics, routing, and taking into account their physical fitness ability. Remember that everyone hikes at different paces and abilities so what works for your friend may not work for you.
Distance: Look up the hike you want to do on AllTrails, (blogs – wink wink) and local guidebooks and take note of the length and decide if you have it in you to go 5km, 10km, 15 km, etc.
Elevation: It's not only distance you have to look at but elevation. See what the elevation gain is on AllTrails and hiking guidebooks to determine how much incline you can handle for the day. Some of the hikes here are short in km, but have crazy elevation gain, so make sure you're looking at that.
Time: Read reviews and see what the average person is completing the hike in to determine how much time it will take you. I like to also ask Facebook groups or read helpful blogs (like this one!) to decide on average time.
Weather: I'll go into this more later, but make sure to check the weather before heading out. It will significantly affect your movement.
Fitness Ability: Are you physically fit, or do you usually move a little slower? Take into account your fitness when picking out a Banff hiking trail.
Logistics: Is the trailhead hard to find? Do you have to drive hours to reach it? Will you have to bushwack to get to a path? Will you be out of service the entire time? These are all things to consider when picking a hiking trail in Banff.
---
Study The Route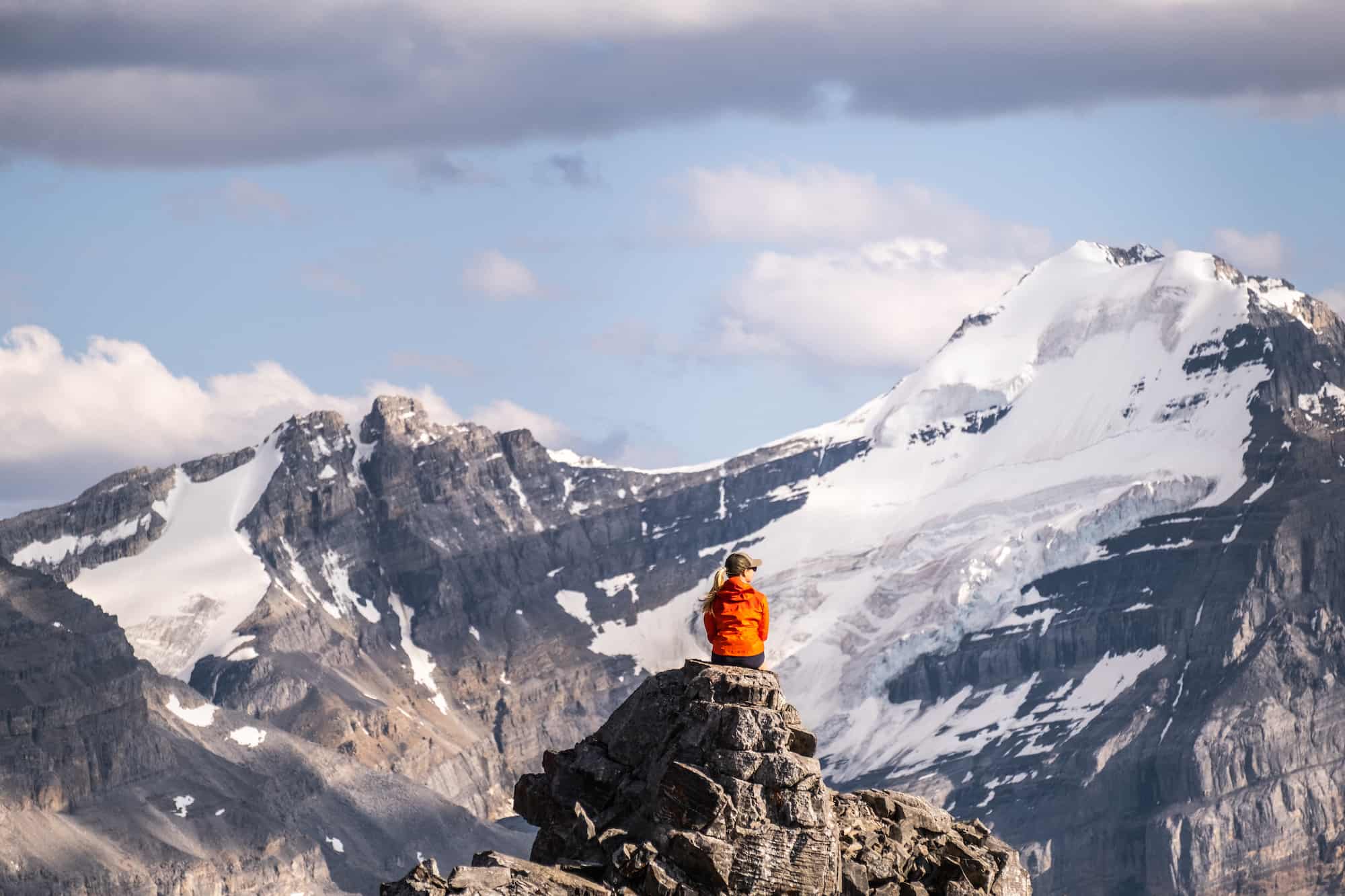 AllTrails is my favorite app to use when planning out my hike. I suggest downloading it and paying for a subscription so you can download their topography maps right to your phone and can access them offline.
It's by no means perfect, it's an app so I have my critiques. However AllTrails provides a lot of the info you'll need on most hikes in the area. Including helpful details like the start of the trailhead, elevation, elevation gain, average time, and distance.
I also love reading reviews for critical things I need to know. It's one tool in our arsenal to determine our route. However, I do not recommend the app as your only tool as the routes and details have often been off in our experience. Its greatest strength is user-submitted reviews that provide insight into trail conditions.
If you prefer to use a guidebook you can use Alan Kane's scramble books or a Canadian Rockies trail guide book. I'd also recommend a paper map of the region to better understand the geography/topography of your route.
Over the years I've become obsessed with identifying the names of peaks and valleys (Peak Finder is great for this) — the result means you could drop me in many areas of the park and I could navigate with little to no tools.
---
Plan Your Route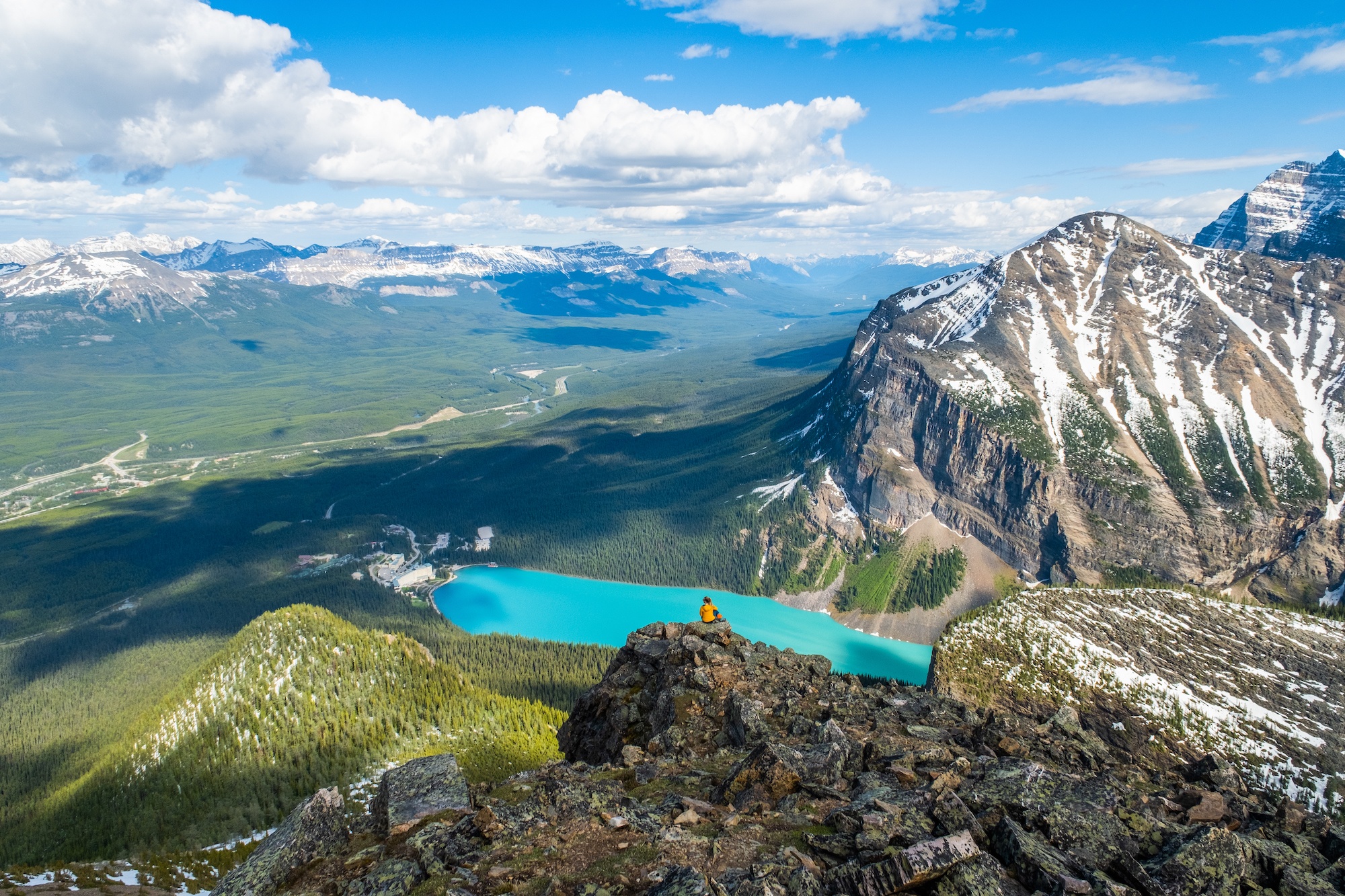 After you've picked out your trail it's time to plan your hiking trip. For me, this means picking a day when the weather will be nice, packing what I think I will need for the duration and scale of the hike, and hopefully finding a few buddies to tag along!
---
Hiking Gear We Recommend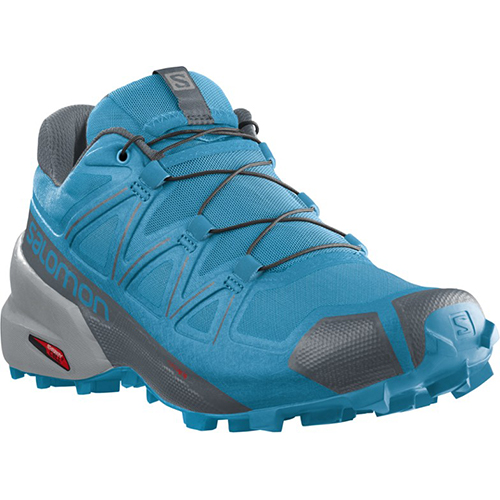 The vast majority of hikes and easy scrambles in the Rockies, you'll find us in our trusty Salomon Speedcross.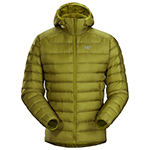 Arc'teryx Cerium is our pick for the best down jacket. It's incredibly light, and we bring it on almost every hike in the Rockies.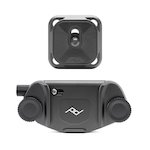 This nifty clip from Peak Design secures a camera to my backpack strap for easy reach. No more digging in the backpack!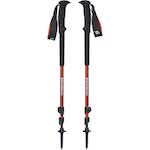 A pair of durable and lightweight hiking poles are a great asset on the hiking trail.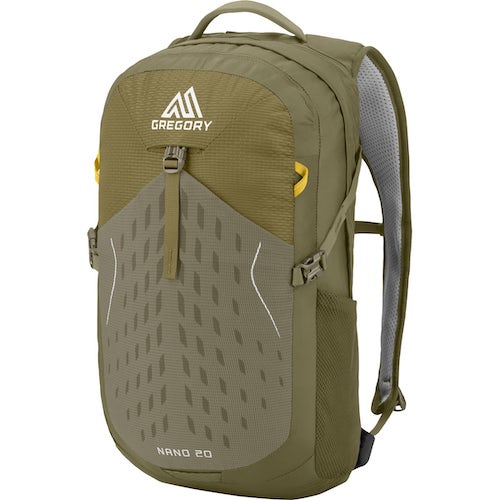 20L feels like the ideal size for quick hikes and scrambles. We love the Nano from Gregory with a hydration reservoir.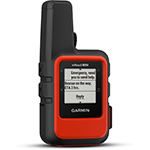 There is not much cell service in the Canadian Rockies. In case of emergencies, we carry an emergency beacon with GPS.
---
Check the Weather
Any hiker, especially a newbie, needs to pay attention to the weather. If there's one thing I've learned from living in the Canadian Rockies it's to always be prepared for anything and everything. We've gotten snowed on in the middle of July before, and I was happy I had layers and a down jacket to keep me warm. It's always down jacket season in the Rockies.
If you're nervous about your first hike in Banff, pick a day when the weather looks like it's going to have optimal sunshine. And if you wake up and the weatherman was wrong and it's pouring rain, don't hesitate to change your plans. Thunderstorms and lightning, while you're on top of a mountain, are things that don't mix well.
Also – it's best to stop relying on the Apple Weather app to plan your days, it's often unreliable in the mountains. Windy is one of our favorite websites to plan our hikes around.
---
Tell Someone Your Plan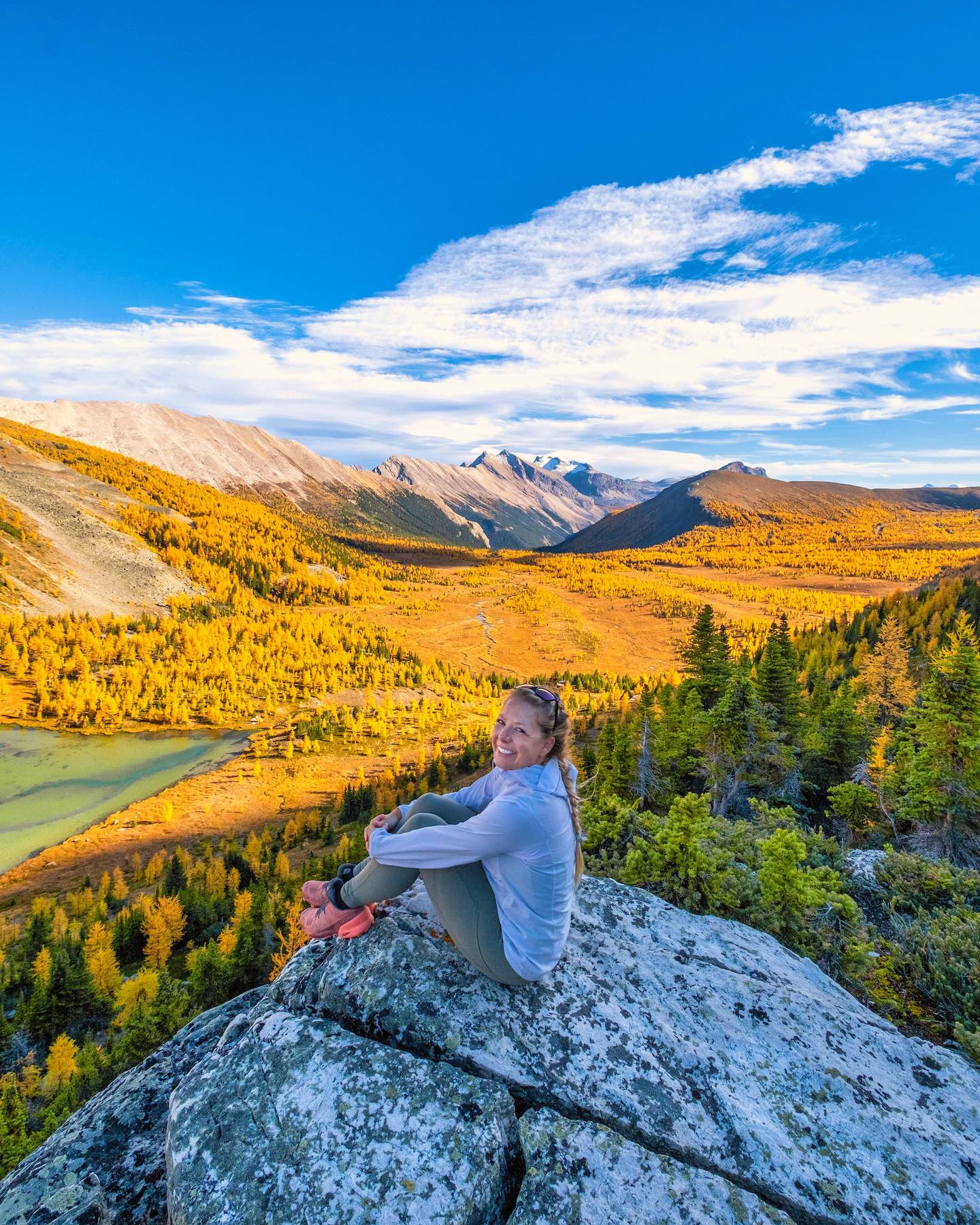 This is especially true if you are a new hiker that is going on a solo hike. You need to tell someone the hike you are setting out for, your start time, and the intended return time.
That way if something goes wrong and you don't make it back they can call Search and Rescue. It can even be a good idea to post to your Facebook or Instagram Stories before you set out letting your close followers know your intention.
---
Set Realistic Goals When Hiking in Banff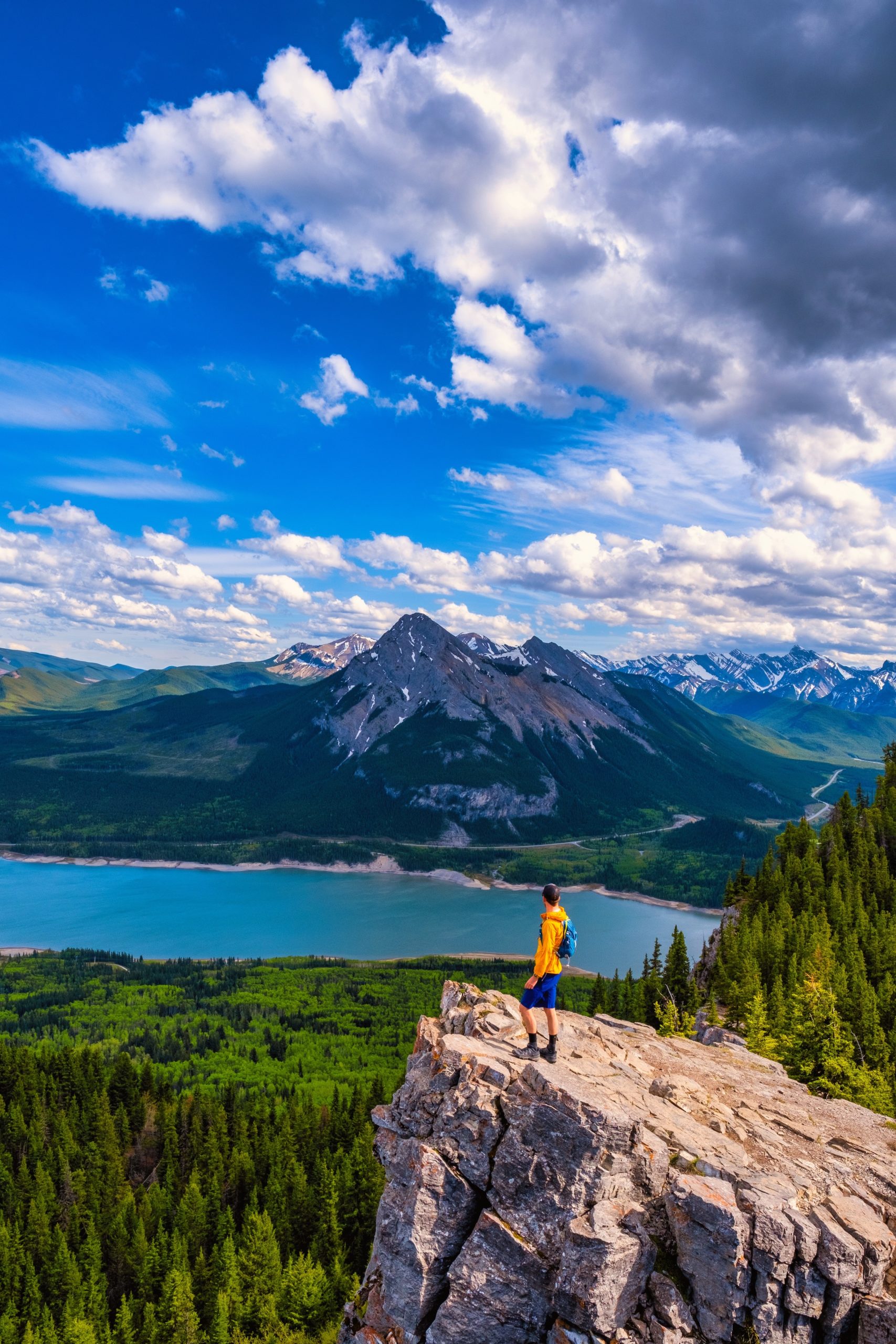 While bagging three peaks in one day or hiking 30 km may seem like a great idea, it's not always attainable. One of my top beginner hiking tips is to set realistic goals and expectations.
Disasters can happen when people set their expectations too high and feel the need to keep pushing themselves when they should have turned around.
---
Pack Right When Hiking in Banff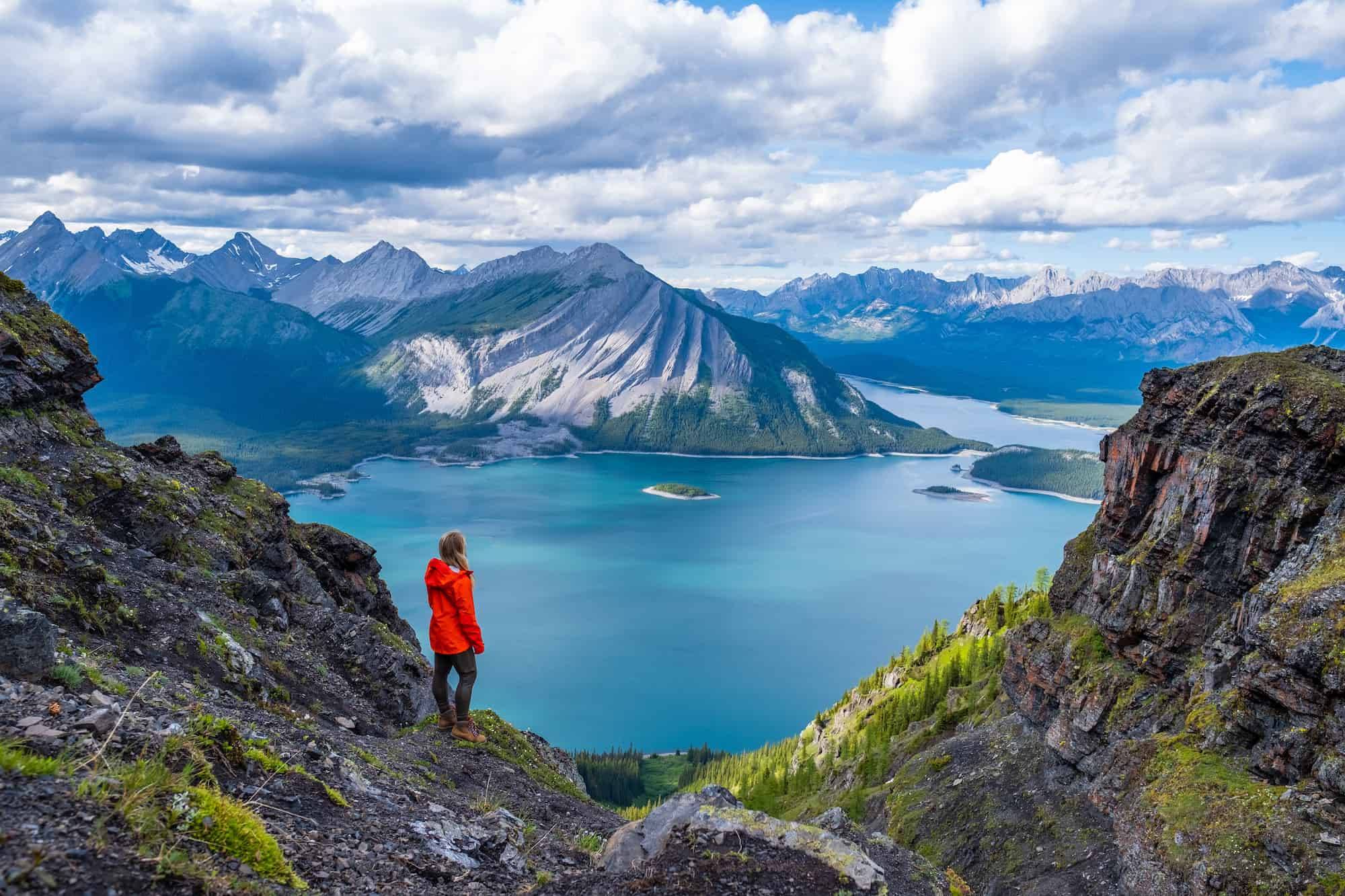 Packing right for your first hiking trip in the Rockies is key. In Alberta, this means layers and layers. When I am out on a day hike I always pack a down jacket and rain jacket with me, no matter what.
Then depending on the hike, I may bring items like gaiters for snow, microspikes, hiking poles, extra socks, gloves, a buff, or a hat. You can see my full list of Banff hiking essentials here.
---
Don't Overpack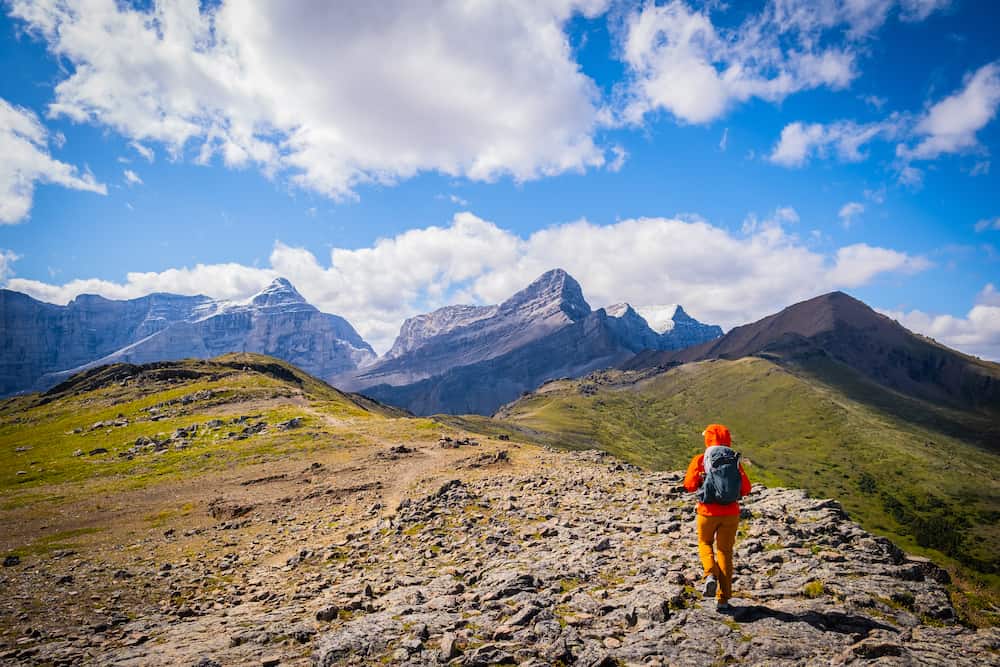 Packing right doesn't mean overpacking your backpack. You'll have to carry everything on your back up a mountain so keeping your weight down is important.
Pack what you think you will need and any extra items that may come in handy if there's an emergency. (Things like a pocket knife, first aid kit, extra energy bar, emergency blanket, and a Garmin In Reach).
---
Get a Pack that Fits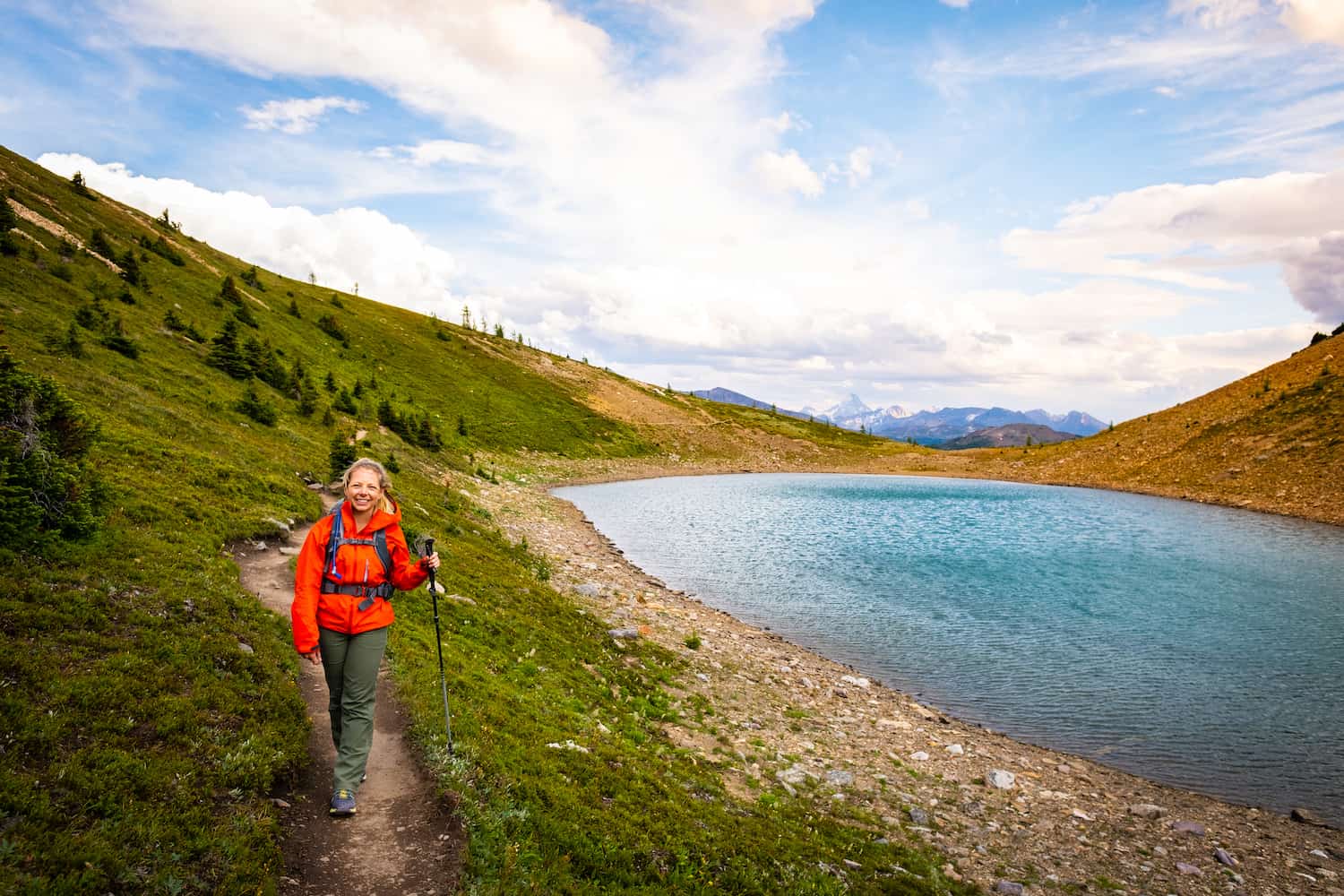 It's important to pick a day pack, and a hiking backpack if going on a backcountry trip that fits your frame and will hold all that you want to carry with you on your hike.
Remember that men and women have very different frames and they make different backpacks for each. If possible go into the store to try on a few and find what you like before making a purchase.
---
Consider an inReach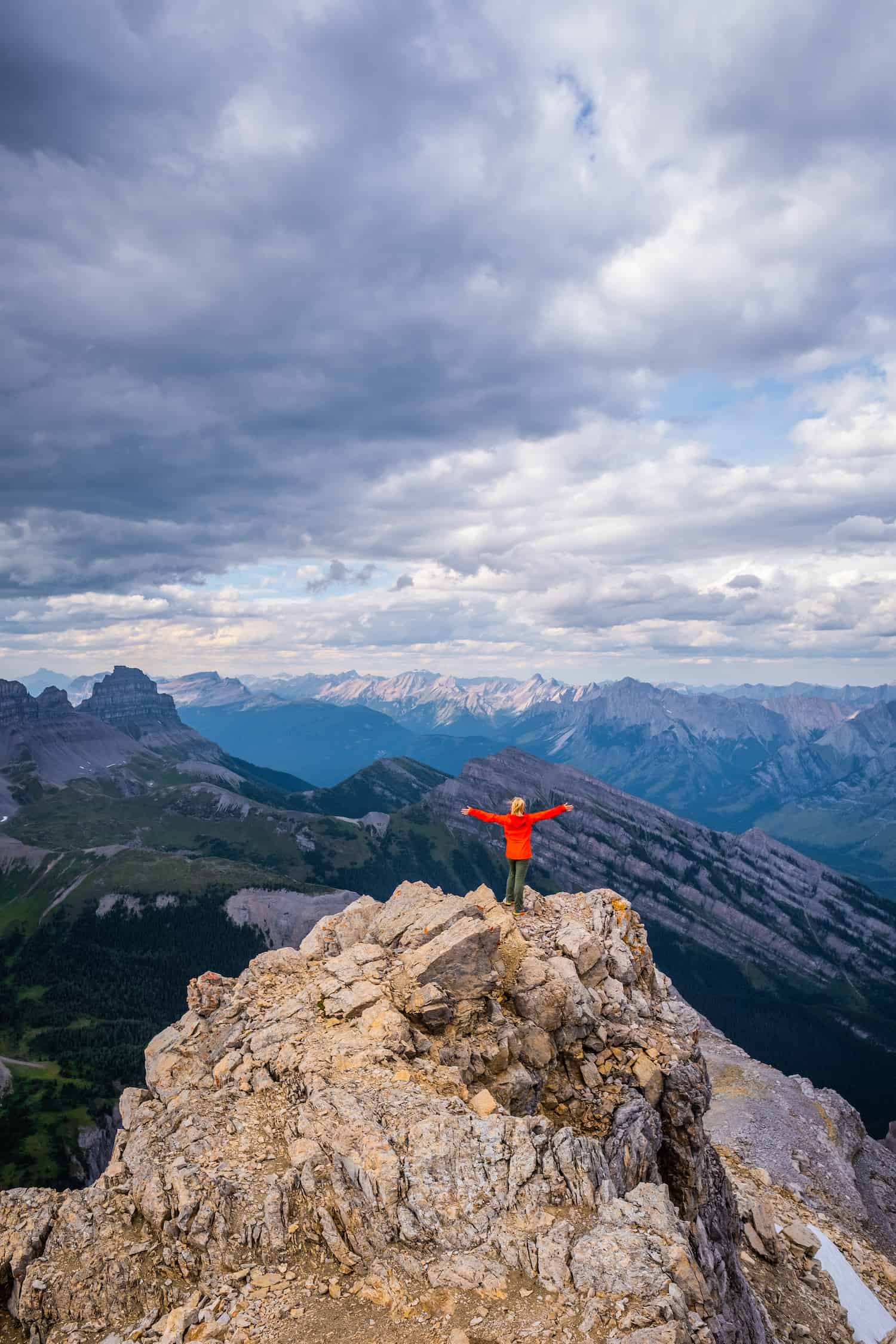 Our first year hiking in the Rockies was thankfully disaster-free. However, we were out of cell phone reception 90% of the time and I was always worried that if something went wrong I would not be able to call Search and Rescue. I didn't want this fear anymore so we went ahead and invested in an In-Reach. The Garmin inReach allows for us to have a GPS for navigation which keeps us safely on the trail. It's the ultimate backpacking essential.
Then should the worst ever happen we have an emergency button through Inreach that notifies Search and Rescue should we ping the satellite.
It's a lifesaving device, that also does nifty features like sending short messages and even allowing for friends and family to track your whereabouts when you're on the trail. It's expensive, but I can't put a price on peace of mind and my life since I do a lot of hiking in the Rockies. (Psst – an InReach is also a great gift for hikers)
---
Pack the Appropriate Amount of Food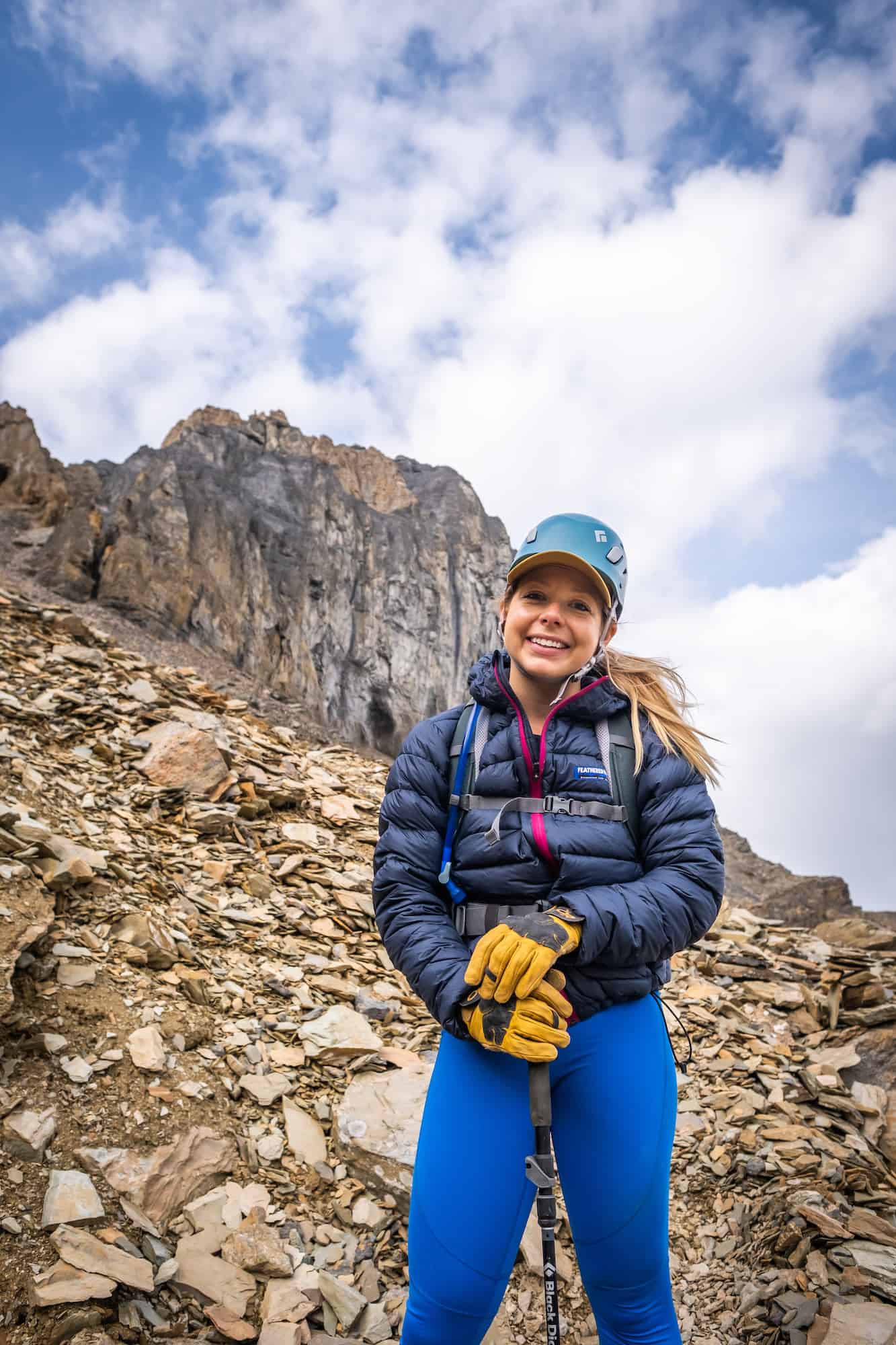 Determine how long you'll be hiking and pack the appropriate amount of snacks to give you energy. Plus extra, should things not go as planned. On almost any hike I do I have an energy bar, homemade energy balls, dried fruit, and some candy.
For lunch, I typically pack a sandwich and a few other odds and ends too. Remember you'll burn more energy than usual as you're hiking and you'll likely be hungrier than normal on your hike.
You can hike in bear country with your lunch and snacks. Bears are not like boogeymen ready to pounce on you at the smell of food. However, don't leave your pack unattended with food in it, this is when animals will try to get in and it can attract unwanted furry attention.
---
Get Good Hiking Boots/Shoes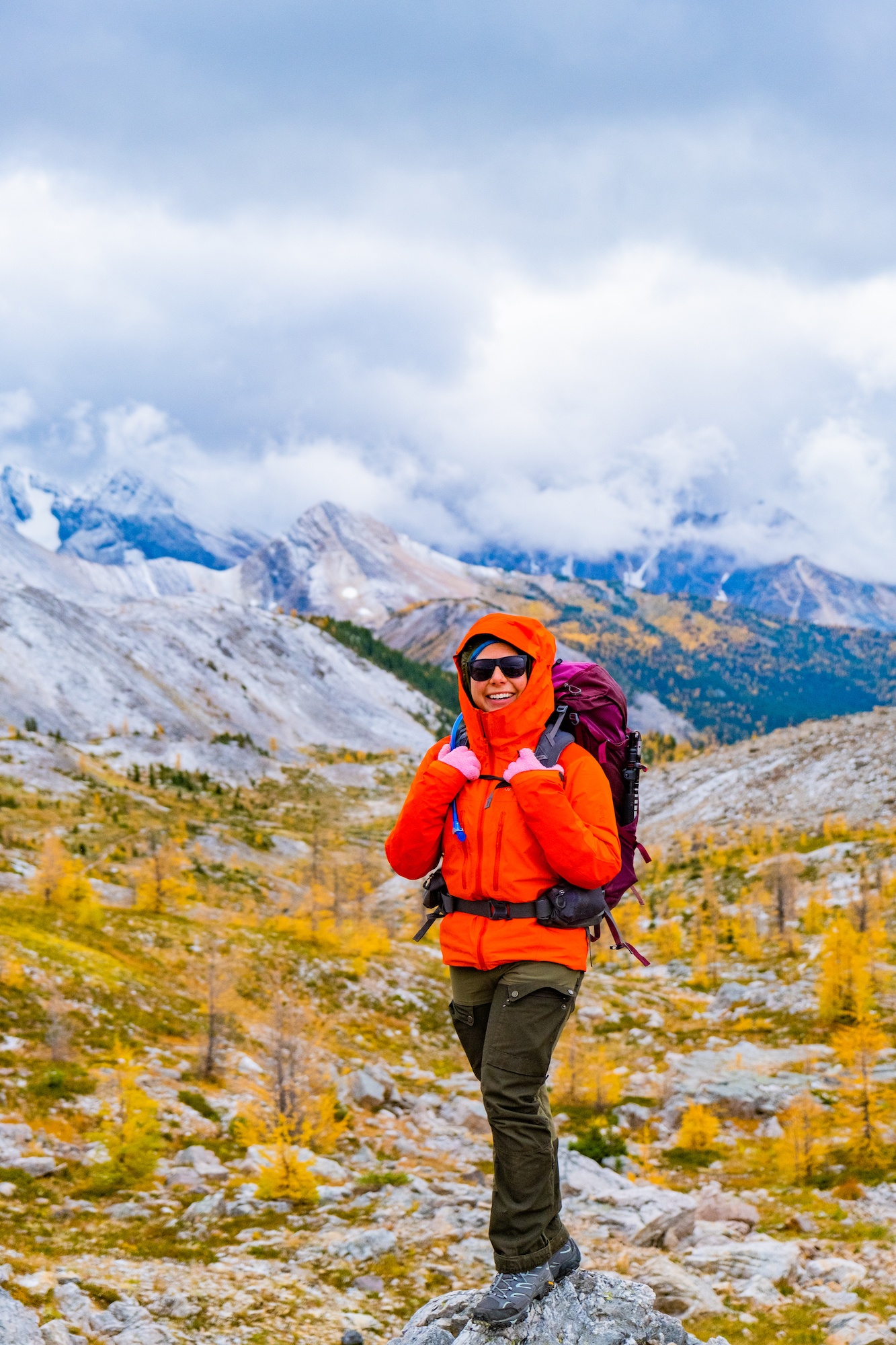 Make sure you have good hiking shoes or boots for your hike. It's one of the most important pieces of hiking gear you have. Once your feet get tired and uncomfortable, the rest of you goes quickly.
Go to the store and try on a few pairs of solid hiking boots for you and pay attention to the fit and comfort of them. We do most of our hikes in Salomon Speedcross trail runners as they are light and allow us to move quickly on our hikes. If I am doing a multi day backcountry trip I will hike with Merrell Moab hiking boots.
---
Invest Later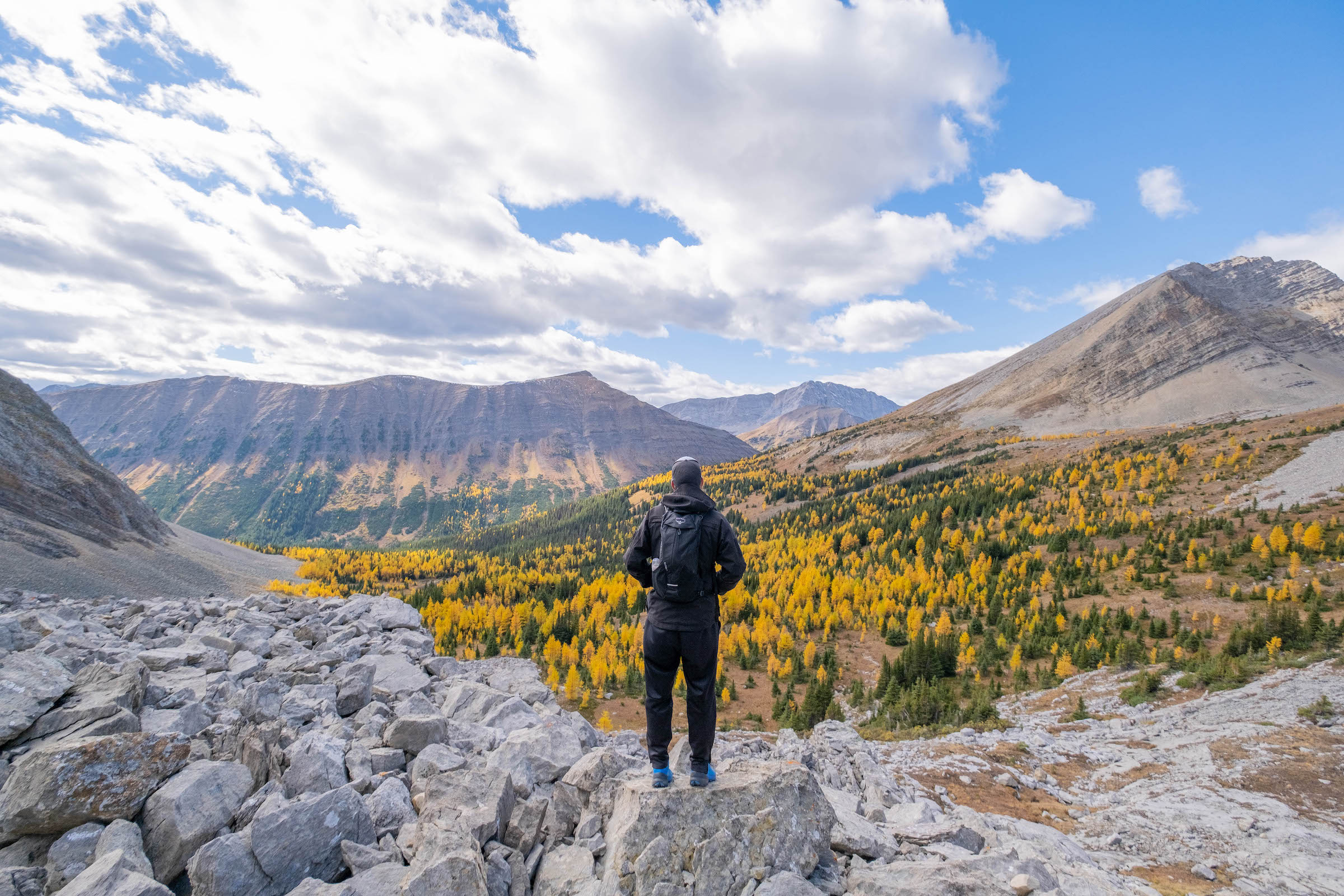 I know I mentioned getting a good pair of hiking shoes and a good backpack before, but other than a few of the hiking staples wait on investing more money into gear. Hiking gear can get very expensive very quickly, so it's best to figure out if you actually enjoy hiking and plan on doing it frequently before committing thousands of dollars to it.
After you go on a few hikes and find out you want to spend your entire summer outside, then invest in the awesome socks, mid-layers, jackets, hiking poles, and more!
---
Avoid Hiking in Banff Alone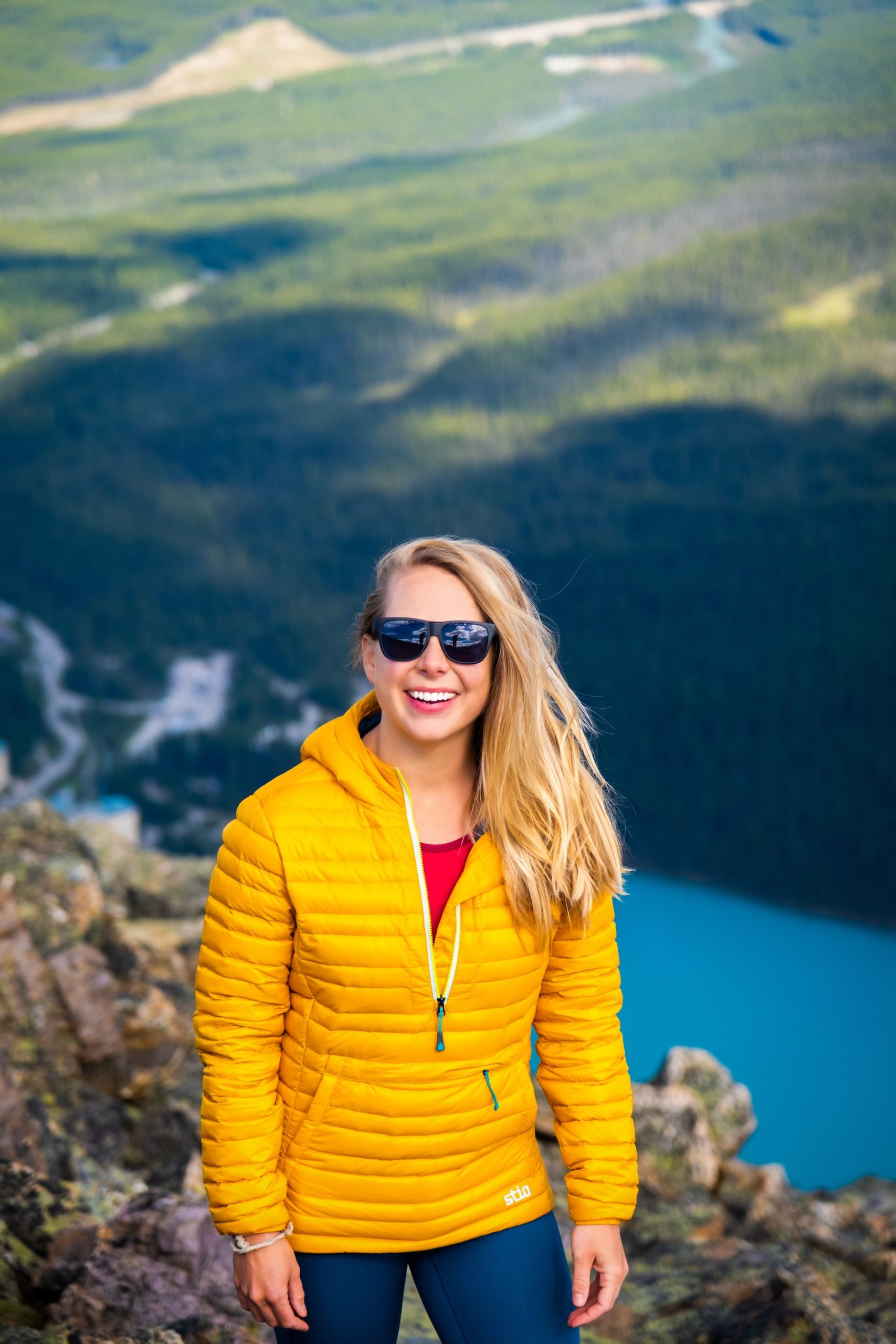 Hiking solo should be avoided by all hikers, not just new ones. But obviously, this isn't always possible, people's schedules don't always line up and you can't wait on someone else to get into the great outdoors.
For your first few hikes, I recommend finding a friend or chatting in local groups to see if you can meet up with people. If it's absolutely not going to happen stick to easier, well-marked, and well-trafficked trails until you get more comfortable being the Canadian Rockies alone.
---
Start Early When Hiking in Banff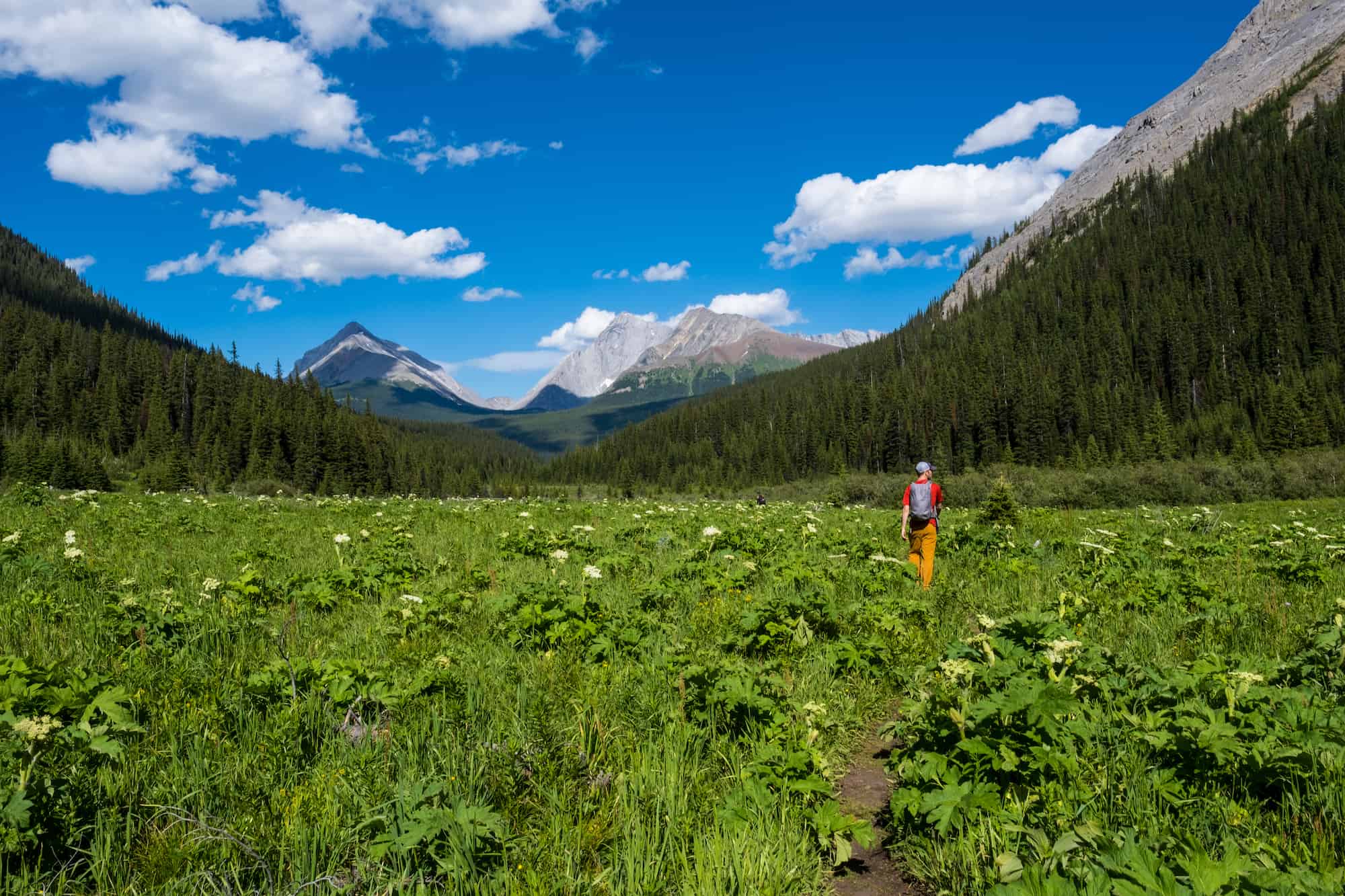 Now we're getting into the actual day of Banff hiking. Yay! It's best to start early so you don't risk hiking too late and coming off a mountain in the dark. Thankfully, the sun rises around 5am and sets around 10pm in the summertime so you have plenty of time to explore.
Before you start out on any Banff hike make sure you have enough time to complete the entire hike before dusk unless your intention is to hike in the evening. In this case, make sure you have a headlamp in your pack and use caution.
---
Don't Start Off Too Fast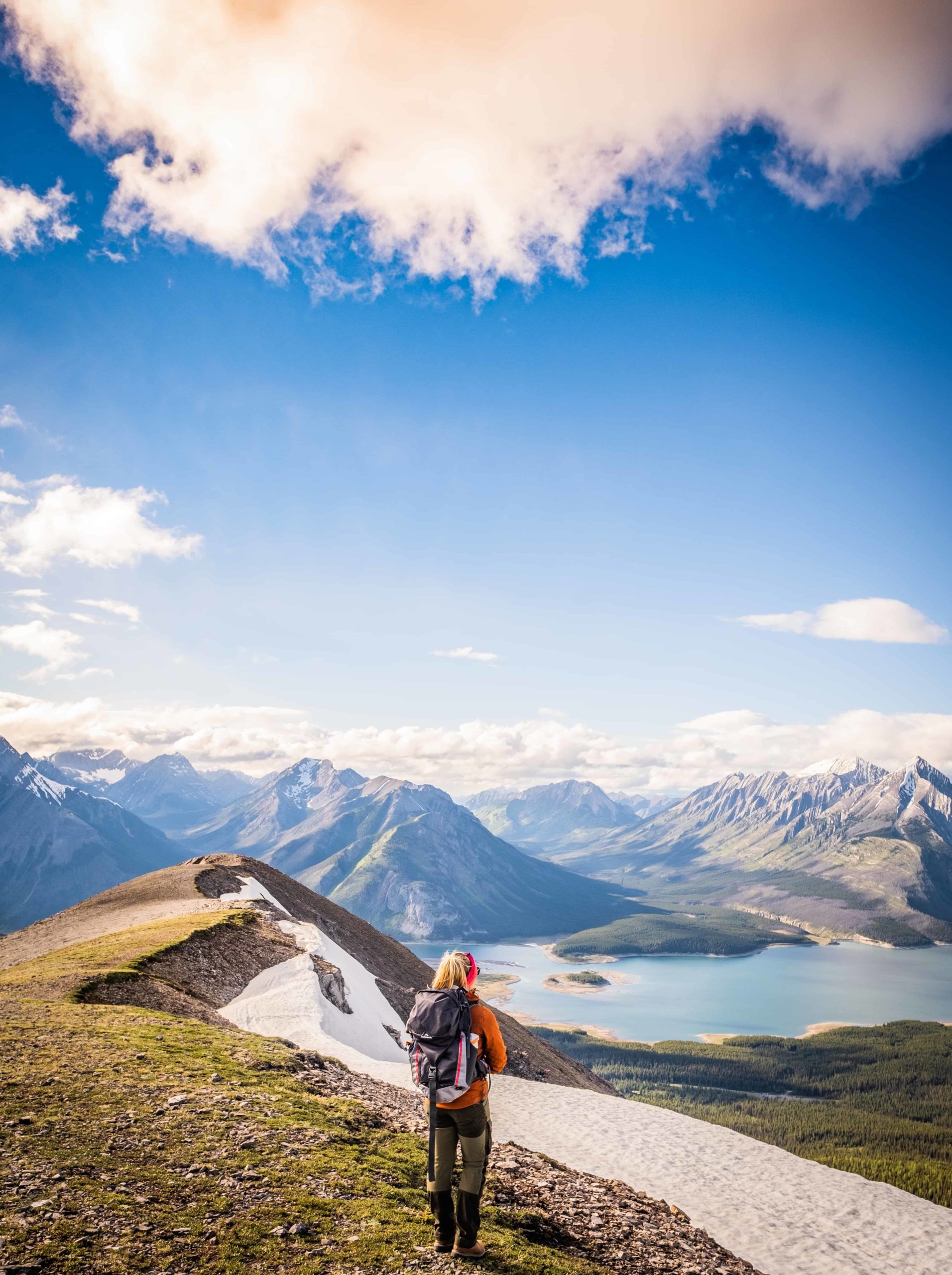 A big mistake many newer hikers make is starting on the trail at a fast pace. Remember to pace yourself, especially around the Canadian Rockies where the hardest and steepest part (the crux) of the hike often comes after a couple of hours into the hike when you are near the summit.
---
Pack Bear Spray (and Make Noise)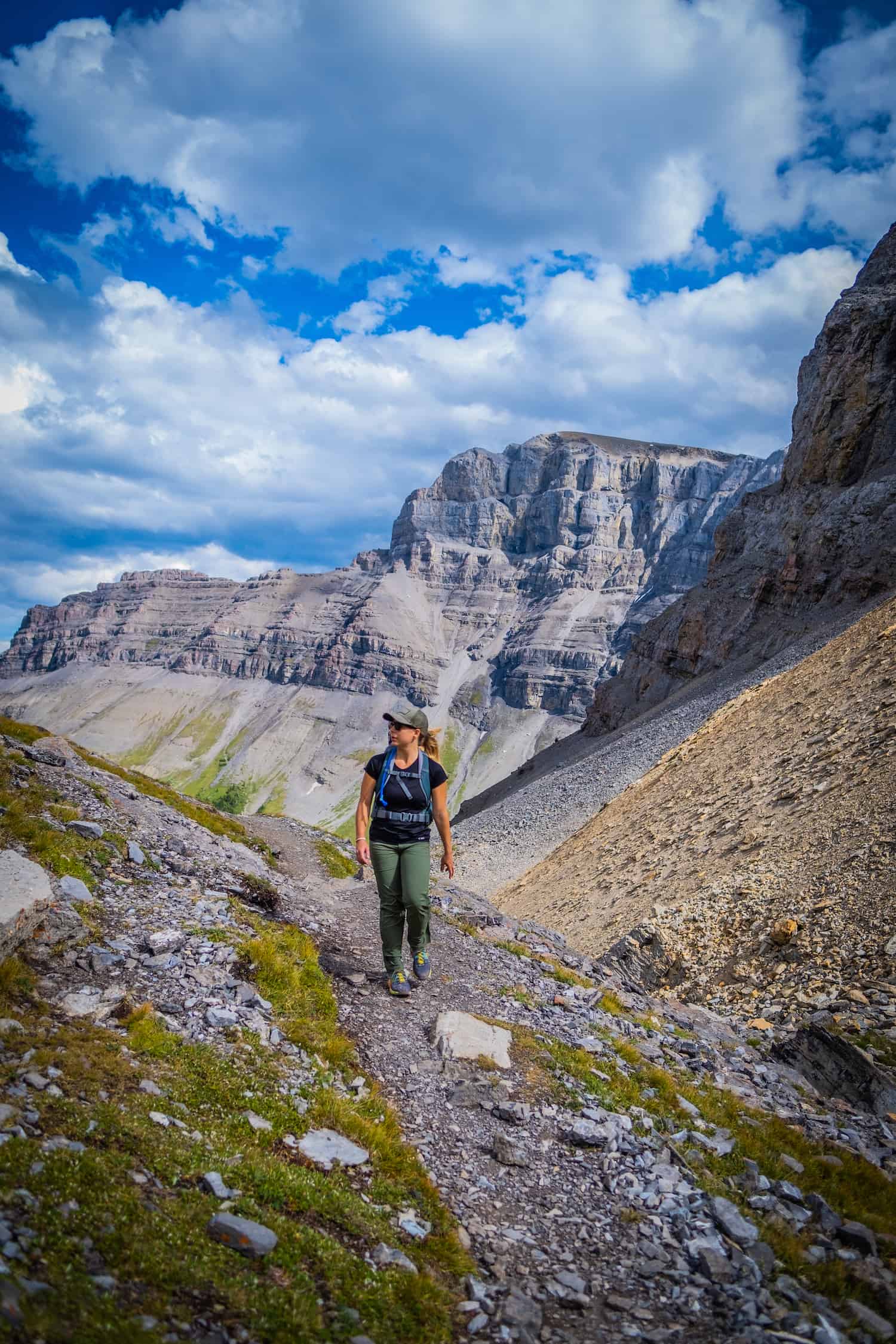 You shouldn't go on any hike in the Canadian Rockies without bear spray. There are plenty of grizzly and black bears living in Western Canada and while your chance of coming across one of the trails is relatively small it does happen. No, a bell is not going to save you and neither is a boom box should this happen.
Your only line of defense against a bear in the woods is bear spray. Which is essentially pepper spray for bears. You can pick up bear spray at all outdoor shops in Canmore or Banff for around $50. I like Atmosphere in Banff and Valhalla in Canmore.
(PS) Remember bear spray doesn't do any good if it's at the bottom of your backpack. A bear isn't going to wait on you to dig through your stuff and pull it out in the wild just for you to spray it. Keep it accessible.
---
Don't Forget Sunscreen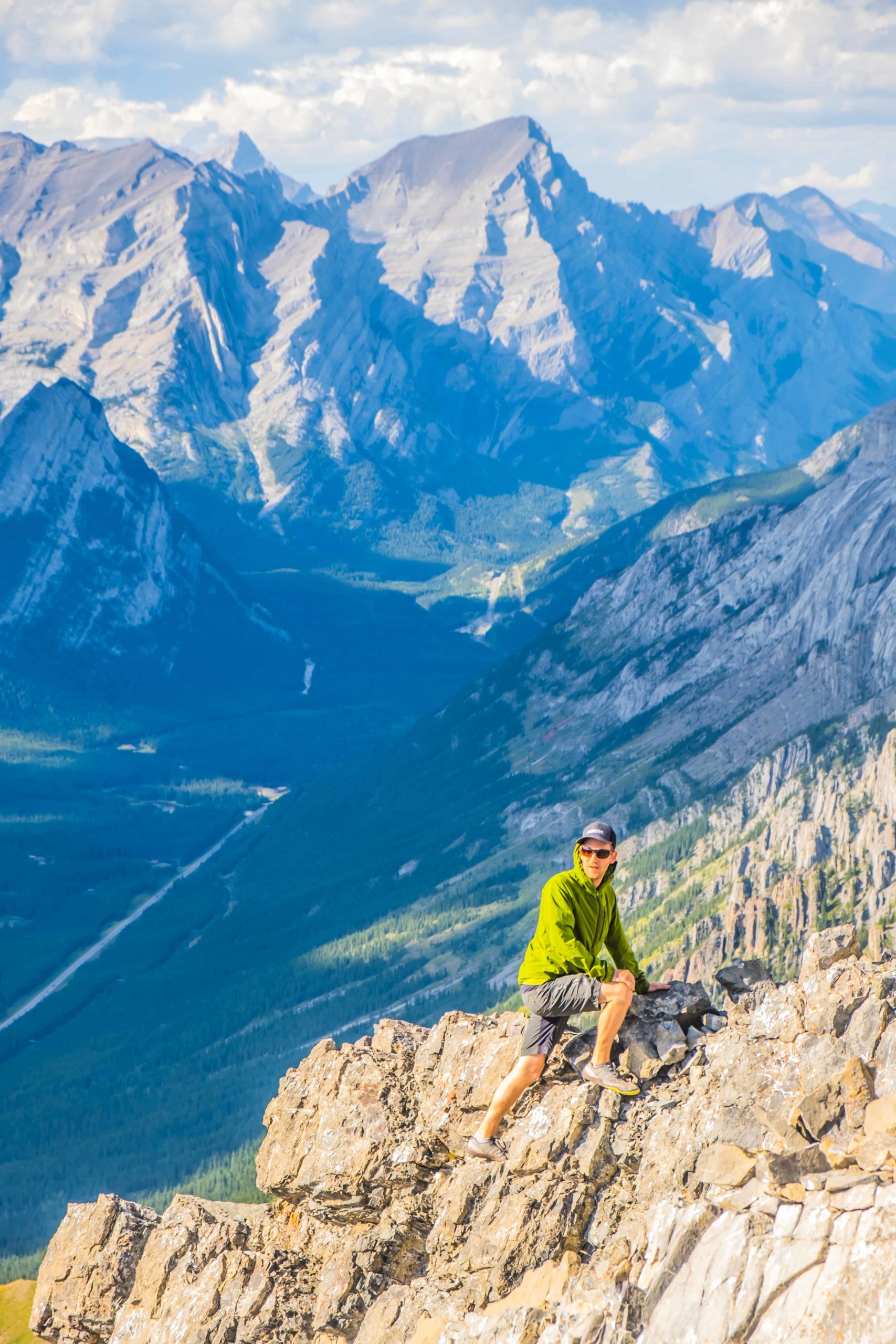 Just because it doesn't feel hot in Canada does not mean the sun is not shining. Remember to put on your sunscreen on your arms, legs, face, and neck before setting out. And don't forget behind the ears! It often gets overlooked.
---
Stretch and Prepare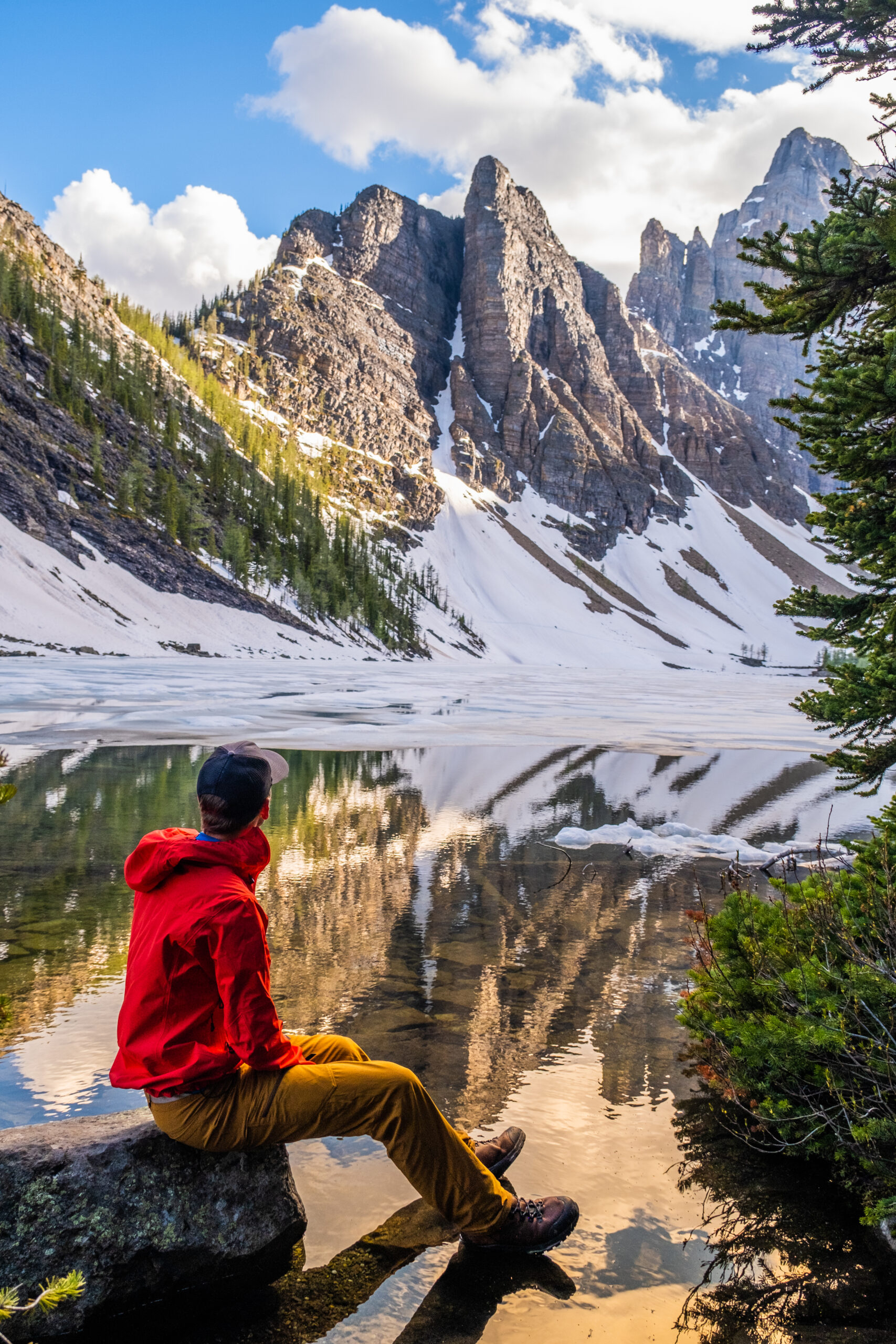 Before you start your Banff hike take some time to stretch out your quads, calves, and other muscles you'll be working them hard soon!
---
Don't Shortcut Switchback Trails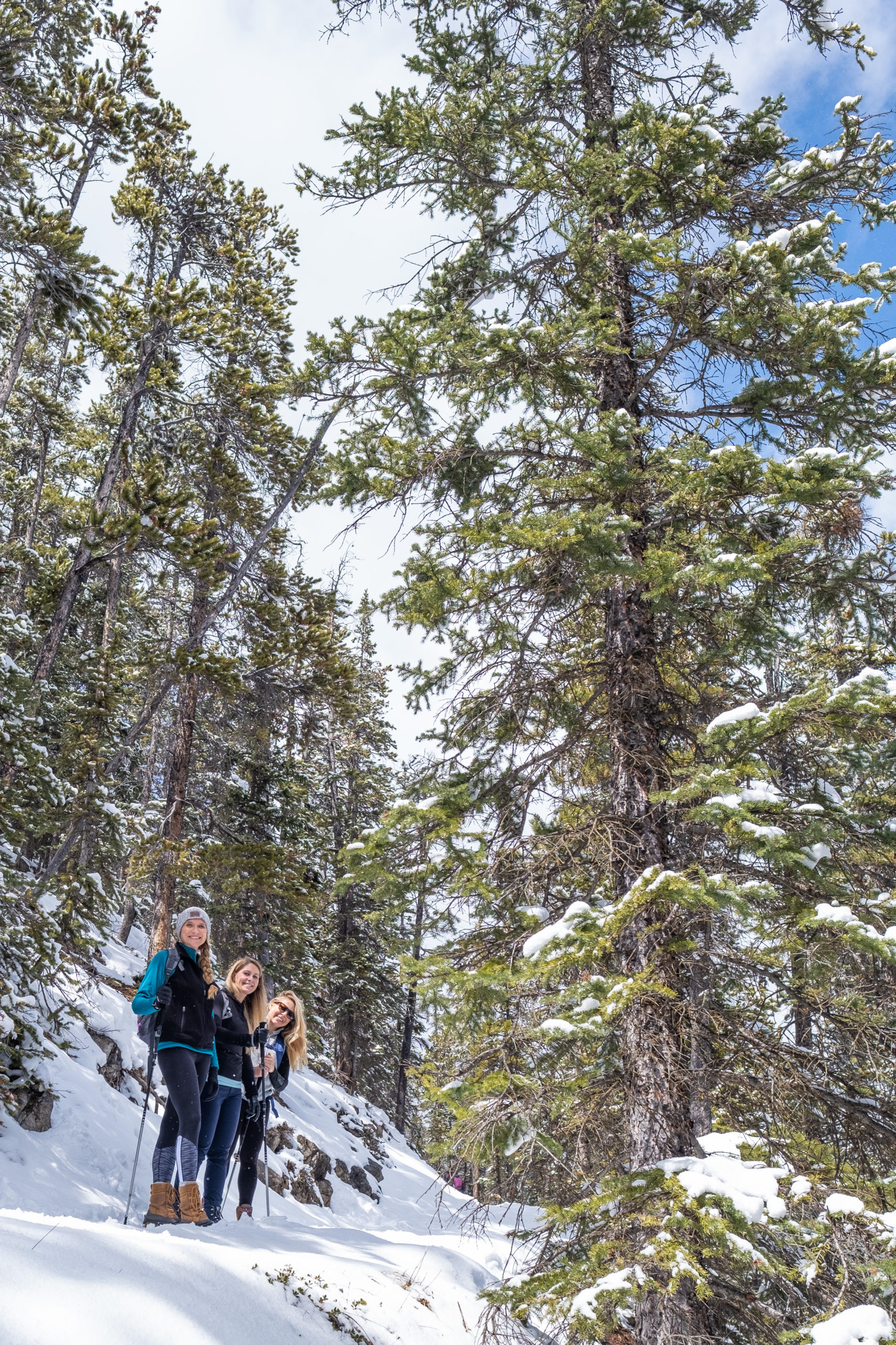 When you're on a well-marked switchback trail, don't cut them. It's something I see quite often from newer hikers and should be avoided.
Switchback trails, especially maintained ones were made like that for a reason. Not only can it be potentially unsafe to cut them, but it also can cause damage to the ecosystem off the trail leading to future erosion. Please stay on the trail.
---
Don't Feed the Wildlife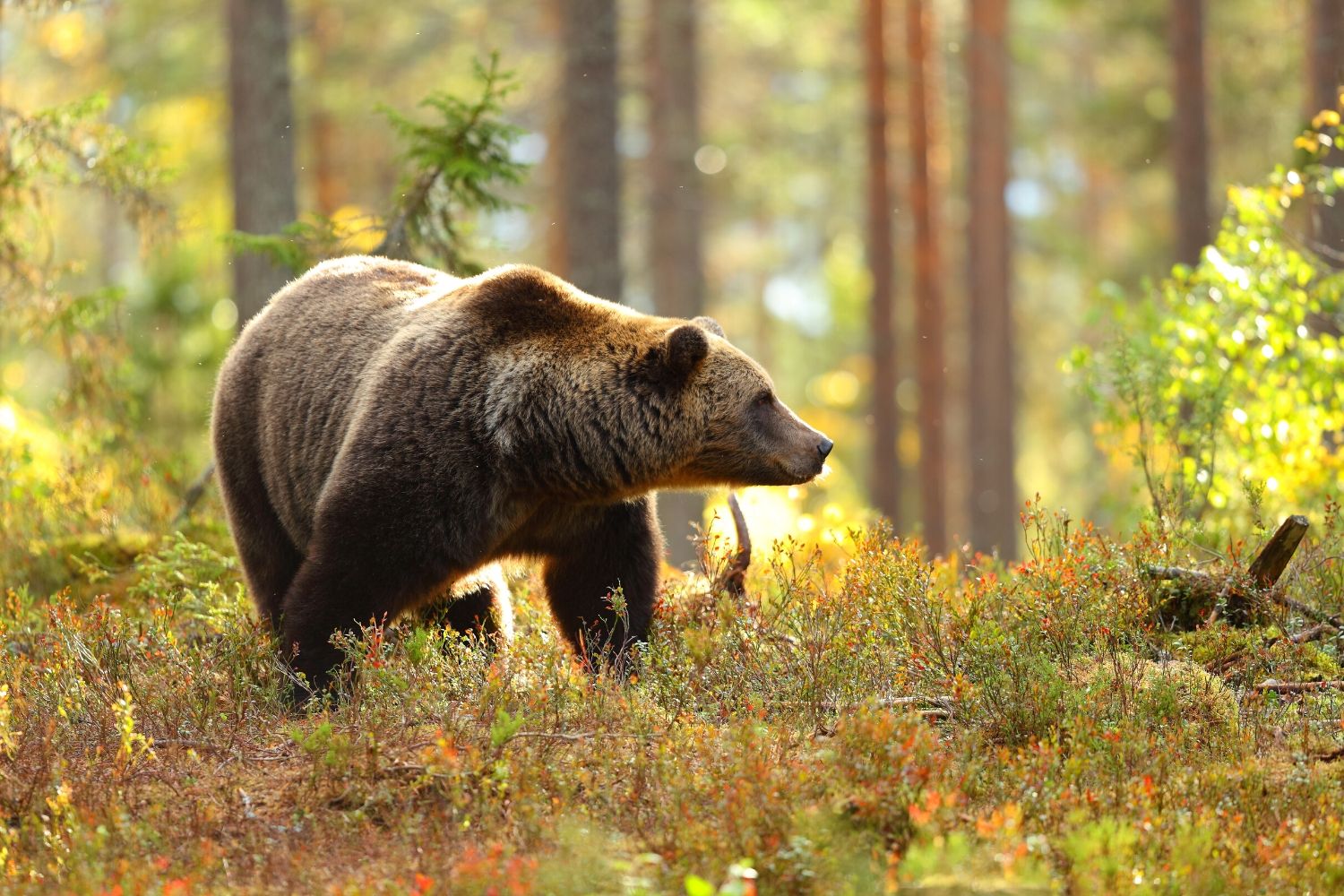 Do not feed the wildlife anywhere in the Canadian Rockies. Don't feed the chipmunks, don't feed the squirrels, don't feed the elk, don't feed the birds, and for the love of God don't feed a bear.
Not only is human food obviously not part of an animal's diet, but feeding them actually puts them in danger. When park visitors feed animals, intentionally or not, it brings them closer to populated spots and can cause human-wildlife interactions, which typically turns out much worse for the animal.
---
Leave No Trace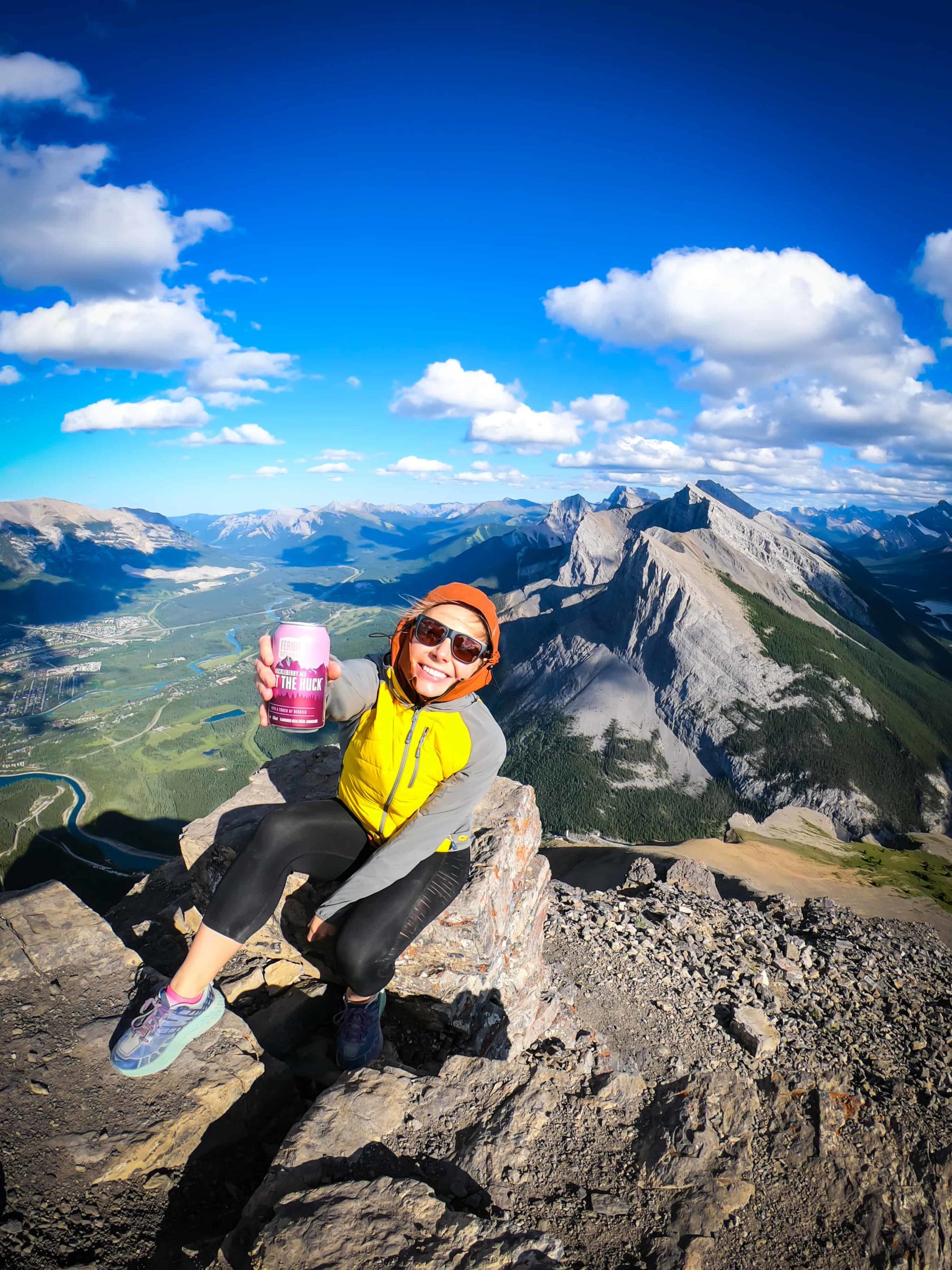 On that note, I need to say to always practice Leave No Trace principles. Always leave the wild the same or better than you found it. Clean up after yourself, pick up your trash, pick up other people's trash, don't disturb the wildlife, don't build pointless rock cairns, don't paint rocks and leave them in the wilderness, and don't pick the flowers in Banff! A big no-no.
---
Stay on the Trail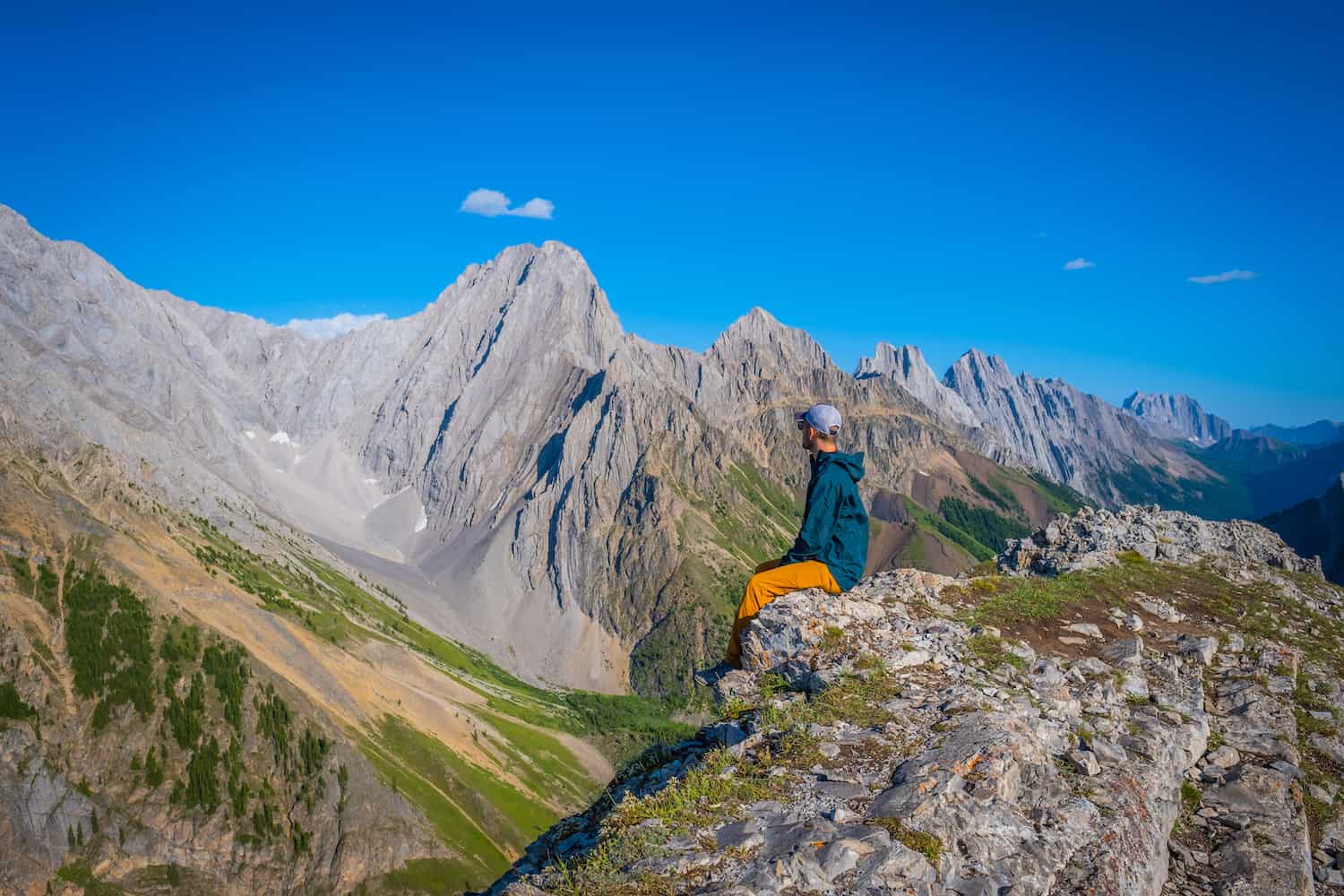 The best way to not get lost in the wilderness is to stay on the trail. This can be tough if you are really off the grid, but most beginner hikes around Banff are well marked enough to keep you on the right course.
---
Respect Everyone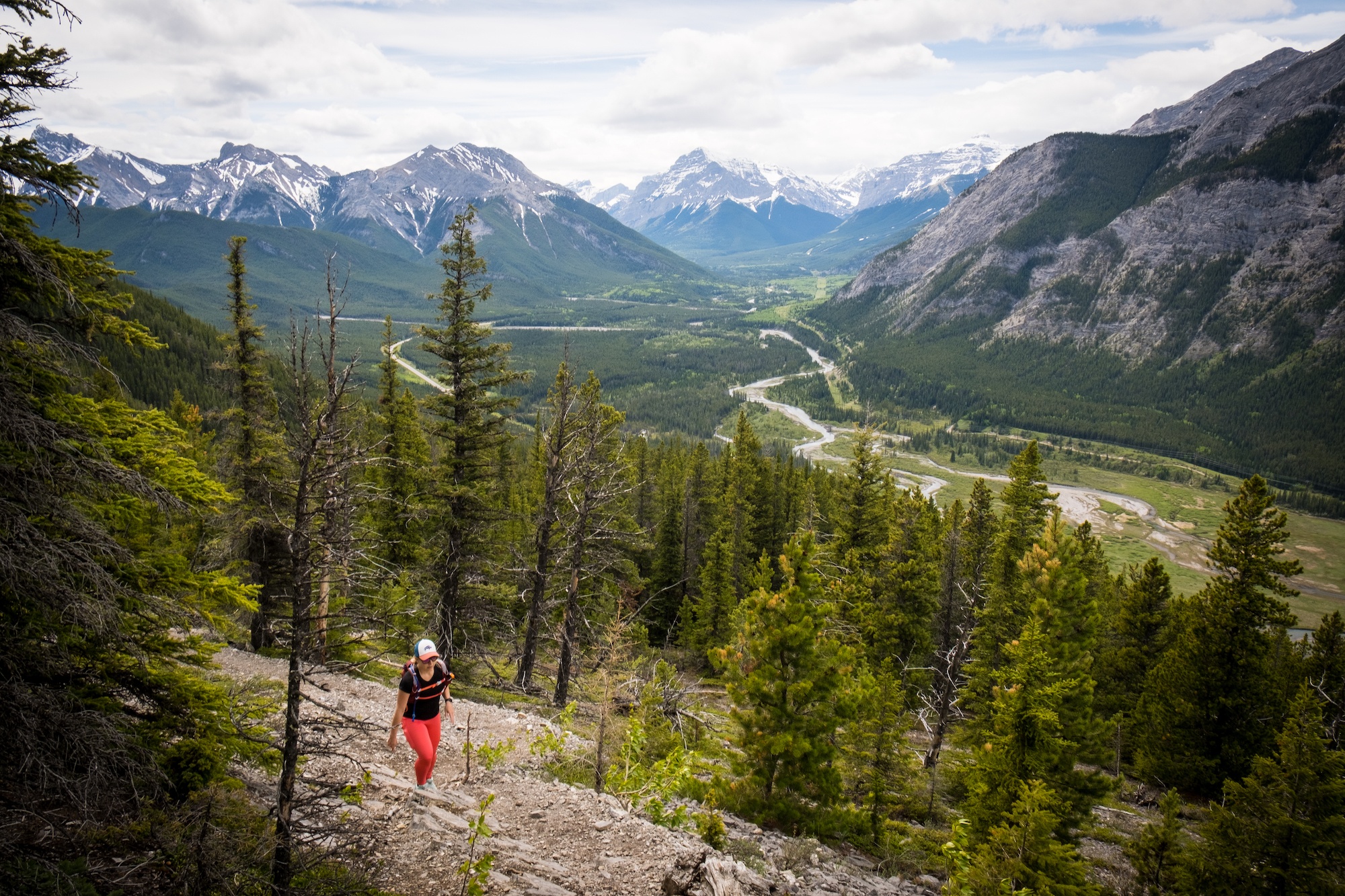 Always respect other hikers when on the trail. Give people their space, say hello to passerbyers, let faster hikers pass you, and don't blast loud music on the trail.
Remember that proper hiking etiquette is to let the ascenders pass you as you descend. Uphill hikers have the hiker right away. That means if you are coming down off the mountain and encounter hikers climbing up on a narrow trail, move to the side and let them pass.
---
Stay Hydrated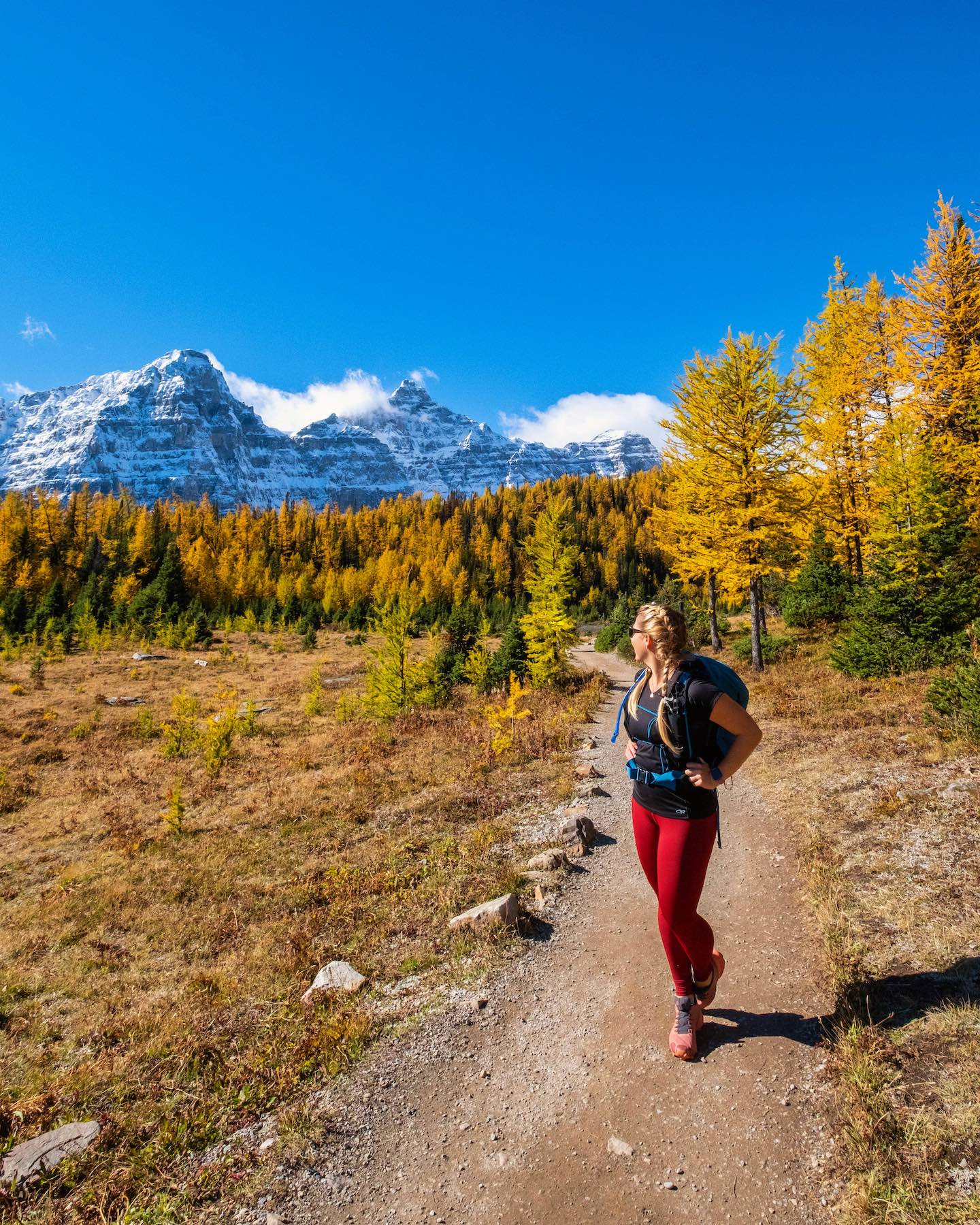 It's important to bring enough water with you on your hike. I typically start with 2 Liters and will adjust accordingly to my objective and anticipated hiking time, but I drink like a camel when I hike.
You can pack your water in a water bottle or bladder. I personally love hiking with a bladder so that my water is always accessible without having to slow down and stop for water breaks with a water bottle.
---
Know Your Limits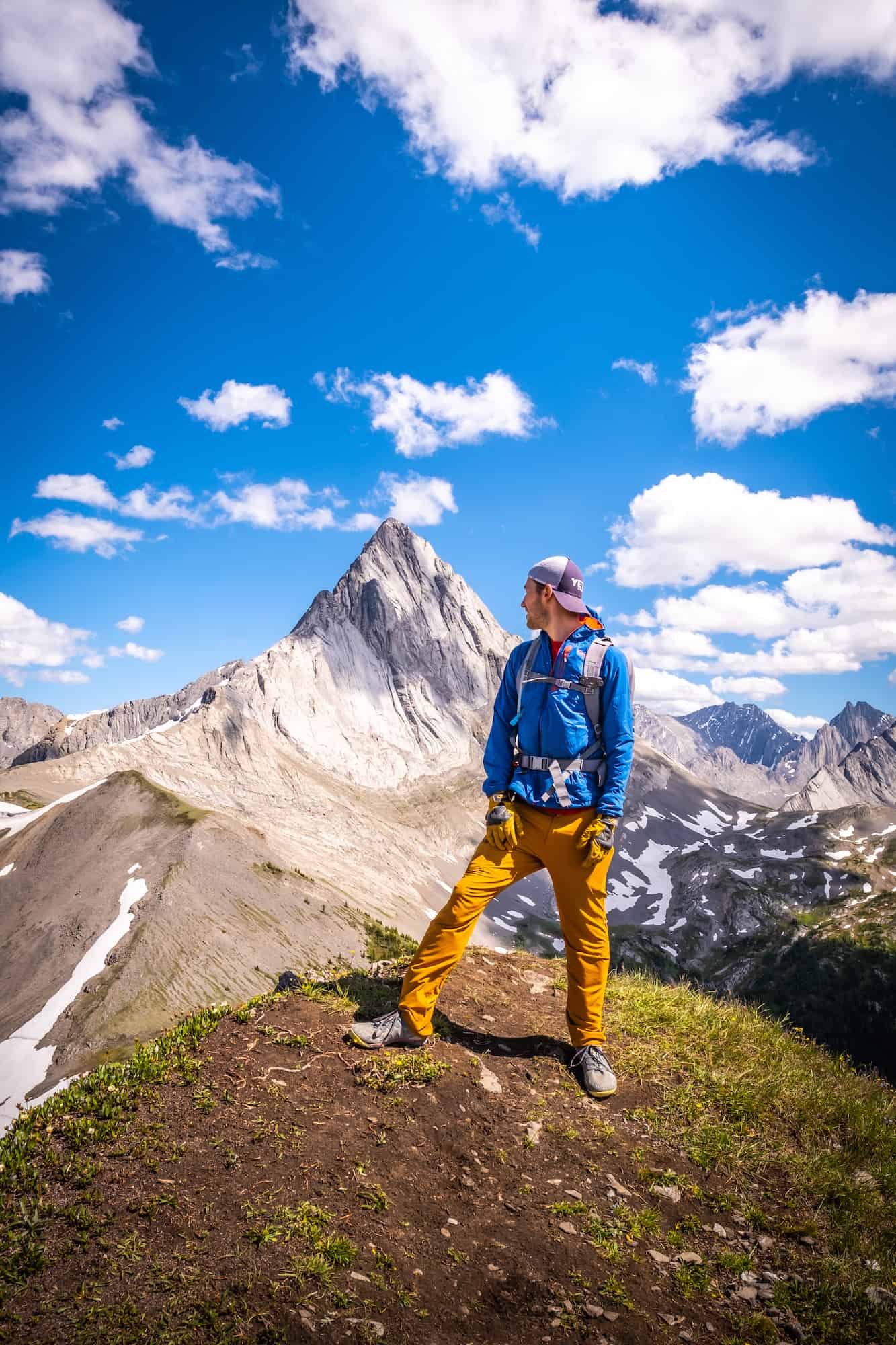 Lastly, know your limits when you hike in Banff and stick to your objective. You don't get any rewards for pushing yourself further than your body can handle on the trail. Don't summit one mountain and think you can for another if you physically can't. The mountains here will humble you – truly.
One of my favorite mountain quotes is by Hermann Buhl. As he says "The mountains have a way of dealing with overconfidence." Don't let your ego get in the way of your safety.
---
It's Natural to Have Fears of Hiking in Banff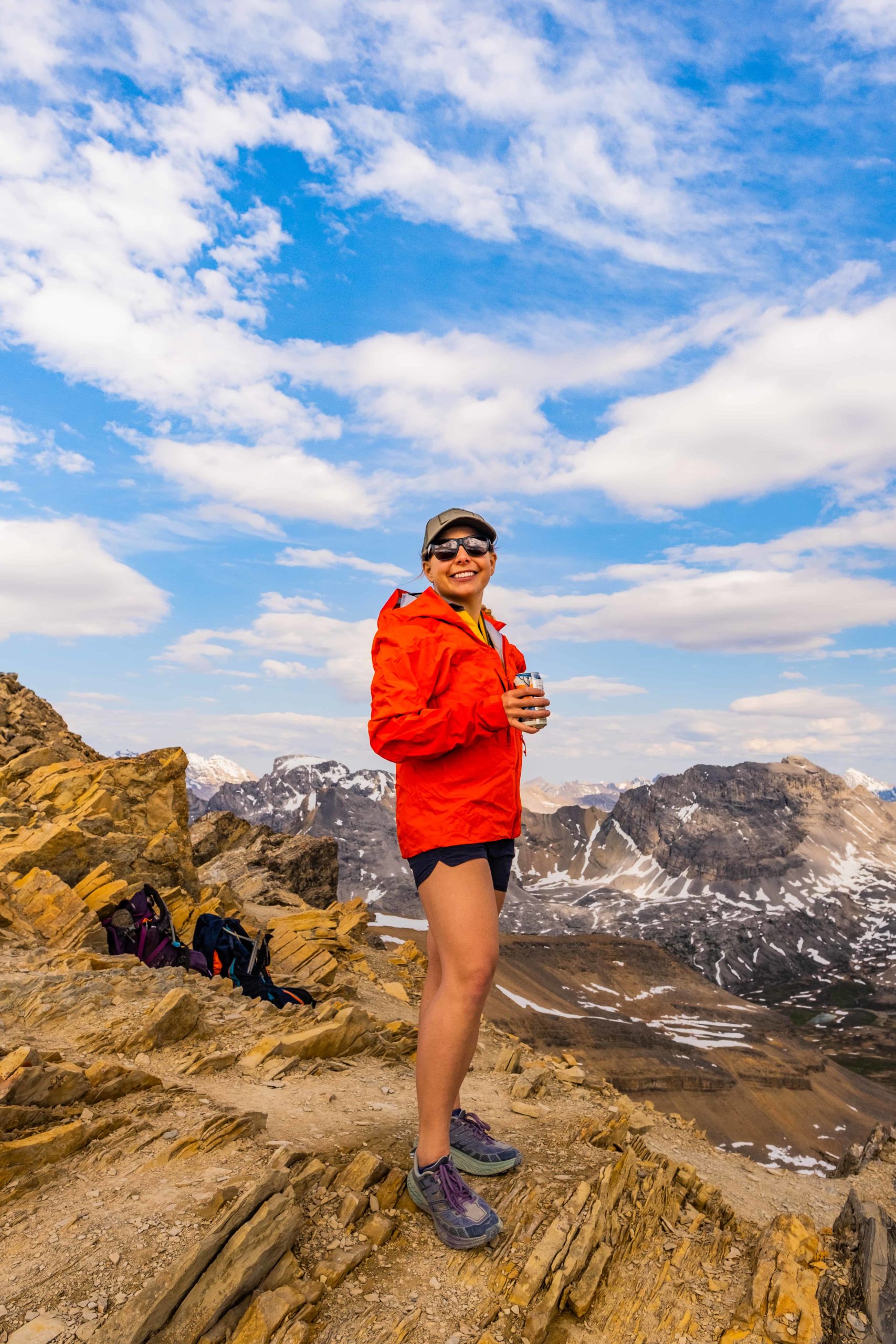 It's okay to be intimidated your first time hiking, especially in Banff where the mountains are so high and right in your face. Nature can throw a lot at you whether it's wildlife, weather, elevation, and then there are your own personal fears like getting lost and mental and physical ability.
One of my top pieces of advice is to keep a good attitude and don't let one bad experience scare you. Don't let an overactive brain and negative thinking hinder you. Remember, if something ever doesn't feel right, it's okay to turn around!
---
Wildlife Encounters in Banff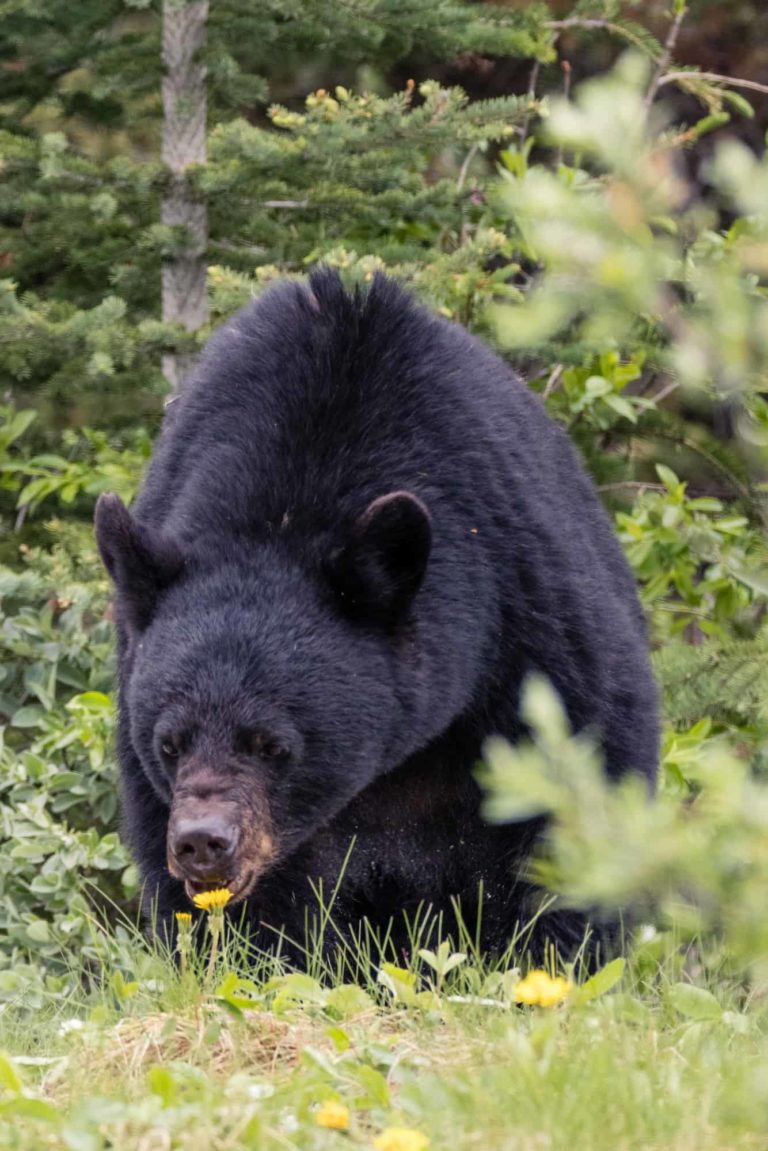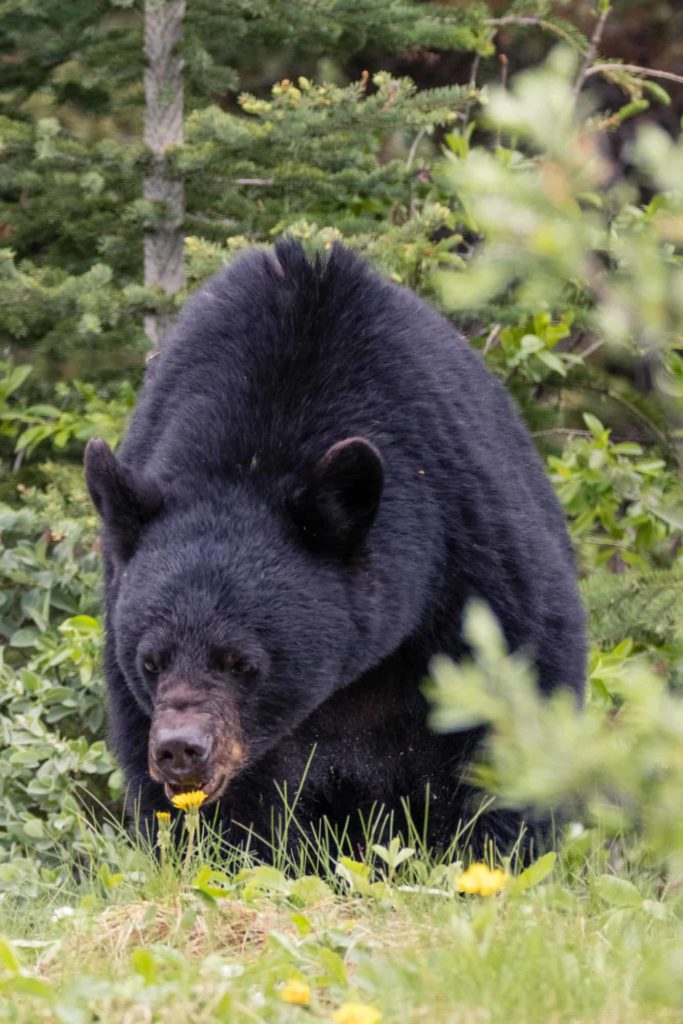 Wildlife encounters are not something only newer hikers have to deal with. Everyone should be prepared to encounter wildlife in Banff. One should never go out without bear spray.
And each person in the group should have their own bear spray, don't rely on one bear spray for multiple people. Other hiking tips to help you with wildlife encounters are to:
Try not to hike alone. Having just one other person to talk to and make noise with will deter animals.
Stick to popular hiking times like peak summer on a weekend if you are alone. Popular Banff trails rarely have wildlife on them.
I don't like music blasters, but if you are alone listening to a podcast while hiking will create the ambiance of a group. Don't use headphones, then you can't hear what is going on around you.
Be on the lookout for fresh animal tracks and droppings.
Most wildlife wants to avoid humans, keep that in mind.
If you come across a bear don't run. Remain calm and let the bear know you are there by talking and backing away slowly. In the very rare case, the bear chargers utilize your bear spray.
Your bear spray should always be accessible and able to be reached within 2 seconds. Having bear spray at the bottom of your pack is pretty much the same as not having it at all.
Let Parks Canada know of any rare sightings like wolves, bears, or cougars.
If you're hiking with a dog keep it leashed. This is for the pets safety and the wildlife. Also, it's against bylaw to have your dogs off-leash in the Bow Valley.
12 Bear Safety Tips • How To Hike In Bear Country
↓ Join the community ↓
The Banff Blog Facebook Group is your headquarters for the Canadian Rockies' travel advice and information. Including hike info and off-season travel information. You can also meet new adventure buddies.

Plan Your Trip to the Canadian Rockies