If you have ever been curious about what lies beyond Lake Louise, look no further than the Plain of Six Glaciers hike. If you embark on this Lake Louise hike, you will be rewarded with a unique view of Lake Louise itself with the added bonus of not having to pack a lunch – the trail brings you to the iconic Plain of Six Glaciers Teahouse.
This moderate hike is a great way to spend a summer day in the Canadian Rockies, and is one of the best things to do in Lake Louise. Let's dig in to how you can tackle the Plain of Six Glaciers yourself!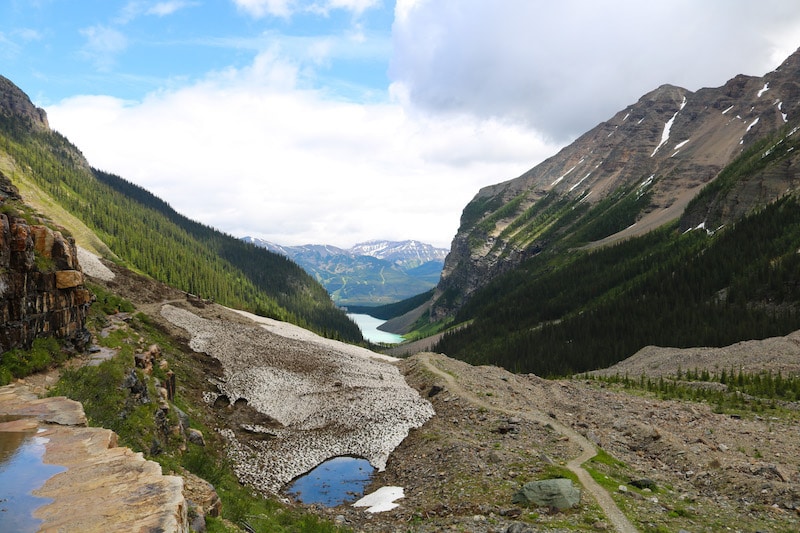 ---
Key Points for Hiking The Plain of Six Glaciers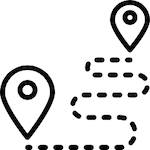 Length
13.8 km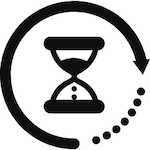 Duration
3 – 5 hours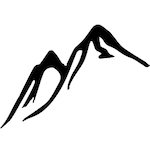 Elevation
487 meters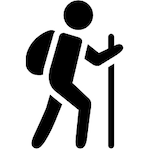 Difficulty
Moderate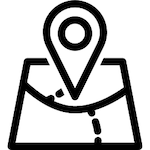 Trailhead
Lake Louise
The Plain of Six Glaciers is one of my favorite hikes in the Lake Louise area. You can also combine this hike with the Lake Agnes Teahouse or Big Beehive via the Highline Trail if you are planning for a full-day Rockies adventure.
---
Preparing For Your Hike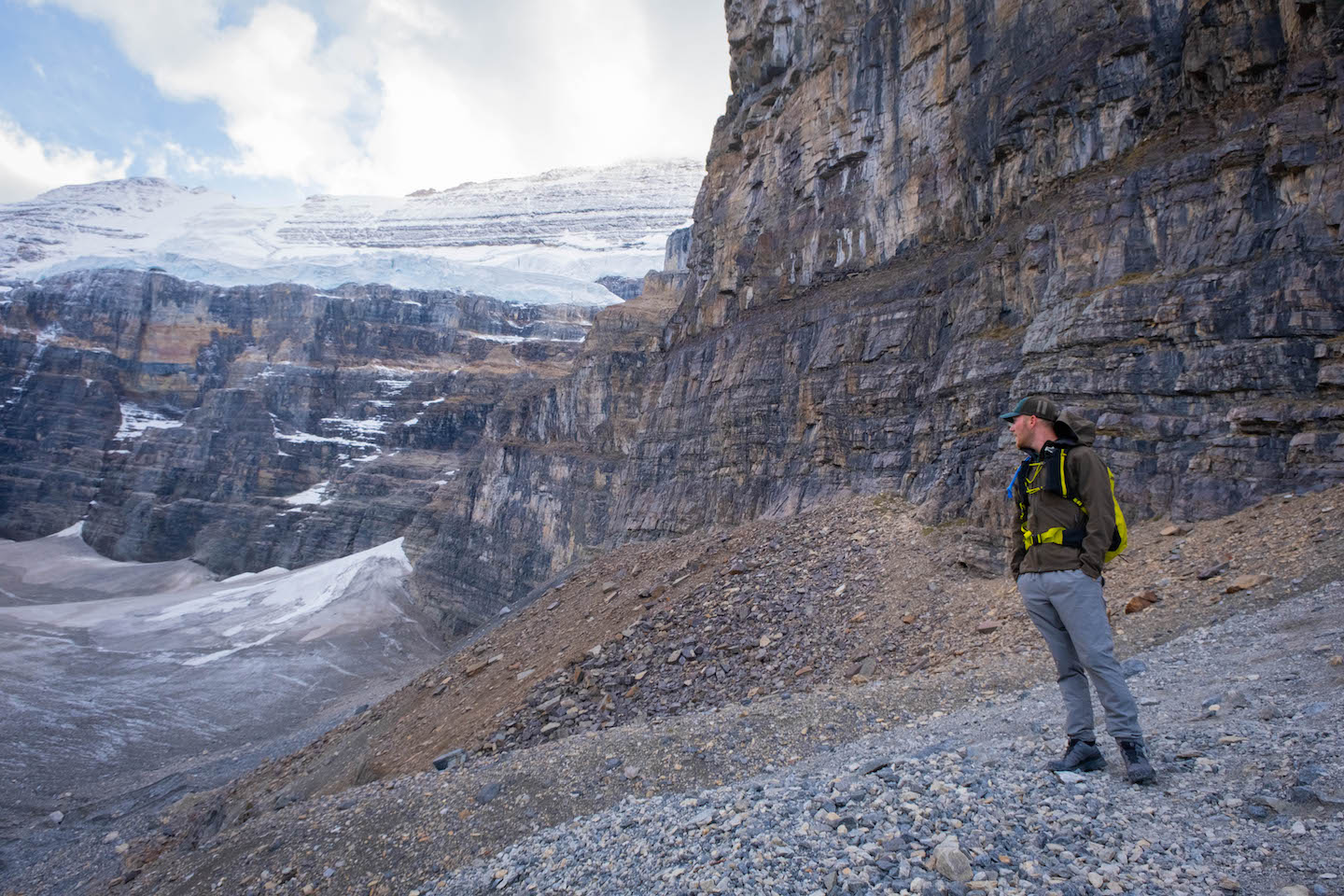 When planning for any hike in Banff National Park, you will want to make sure that you are well prepared with plenty of water, snacks, and appropriate clothing and footwear.
Even the warmest summer day might require multiple clothing options including pants and water/windproof jackets. The weather can change drastically throughout the day, particularly at higher elevations.
For the Plain of Six Glaciers hike, I recommend sturdy hiking boots or shoes, a hat, and clothing layers varying from a t-shirt and shorts to long pants and a jacket.
When completing this hike on a beautiful July day, I started in a tank top and ended up needing my down jacket at the final viewpoint! There is also not much shade on this hike, so I was happy that I brought along a hat, sunglasses, and sunscreen, for sun protection.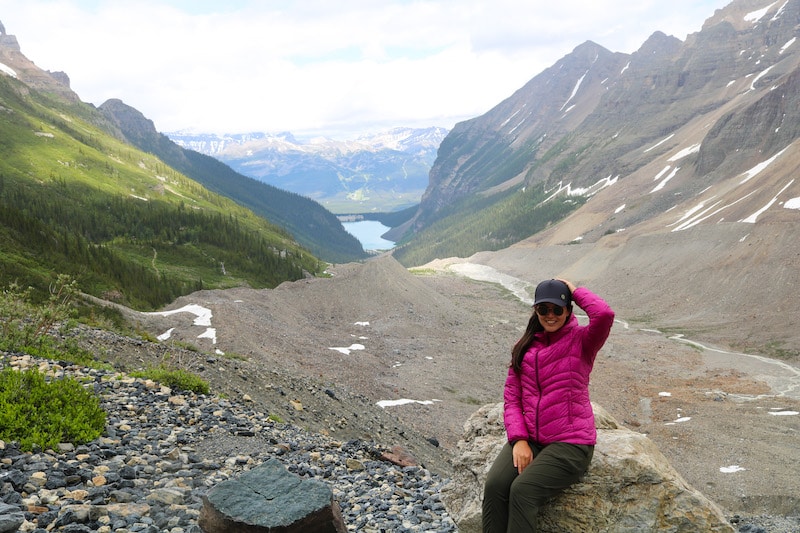 As always, you want to make sure that you bring enough water and snacks for a day in the mountains. Even though you have the fresh teahouse treats to look forward to, I find that I appreciate the option of having a snack along the way.
Bear spray is another essential item for hiking in Banff National Park – you can purchase this at any outdoor gear shop in Banff. Packing bug spray may also save you from any pesky mosquito bites. Being prepared with these items will allow you to feel safe and worry-free on your hike!
12 Bear Safety Tips • How To Hike In Bear Country
---
How to Get Here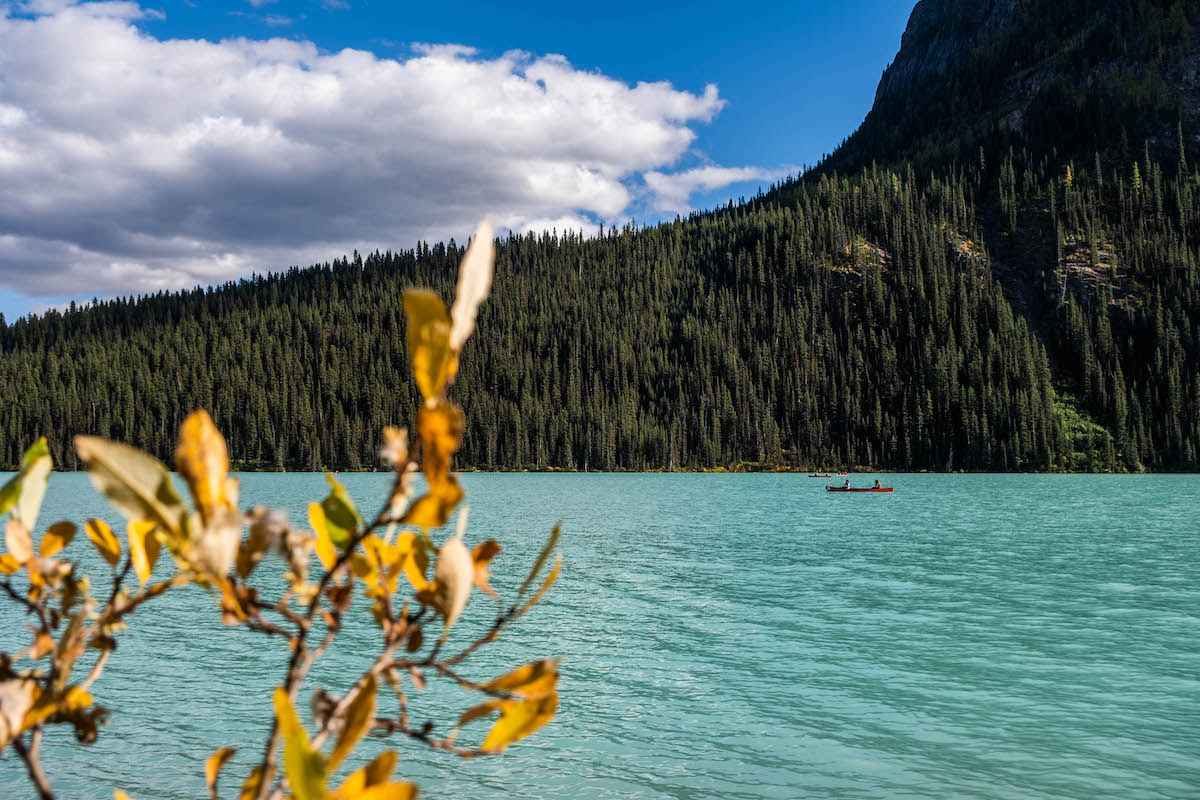 To access the trailhead, you will need to start at Lake Louise. Parking at Lake Louise can be difficult, and there is now a $12.25 CAD daily charge for parking in the summer months. It can be next to impossible to find parking on the weekends, and summer weekdays, as the parking lot is often full before 8:00 am.
Using the Parks Canada Park & Ride shuttle is a great option, and it saves the hassle of parking. However, you must book this shuttle in advance. If reservations for the shuttle are sold out, additional spots are released at 8:00 am MDT two days prior to departure day.
Any visit to Canada's national parks, including Banff National Park, requires that visitors purchase a park pass. Park passes can be purchased at the East Entrance to Banff National Park, the Banff Visitor Centre, or online via the Parks Canada website prior to your trip.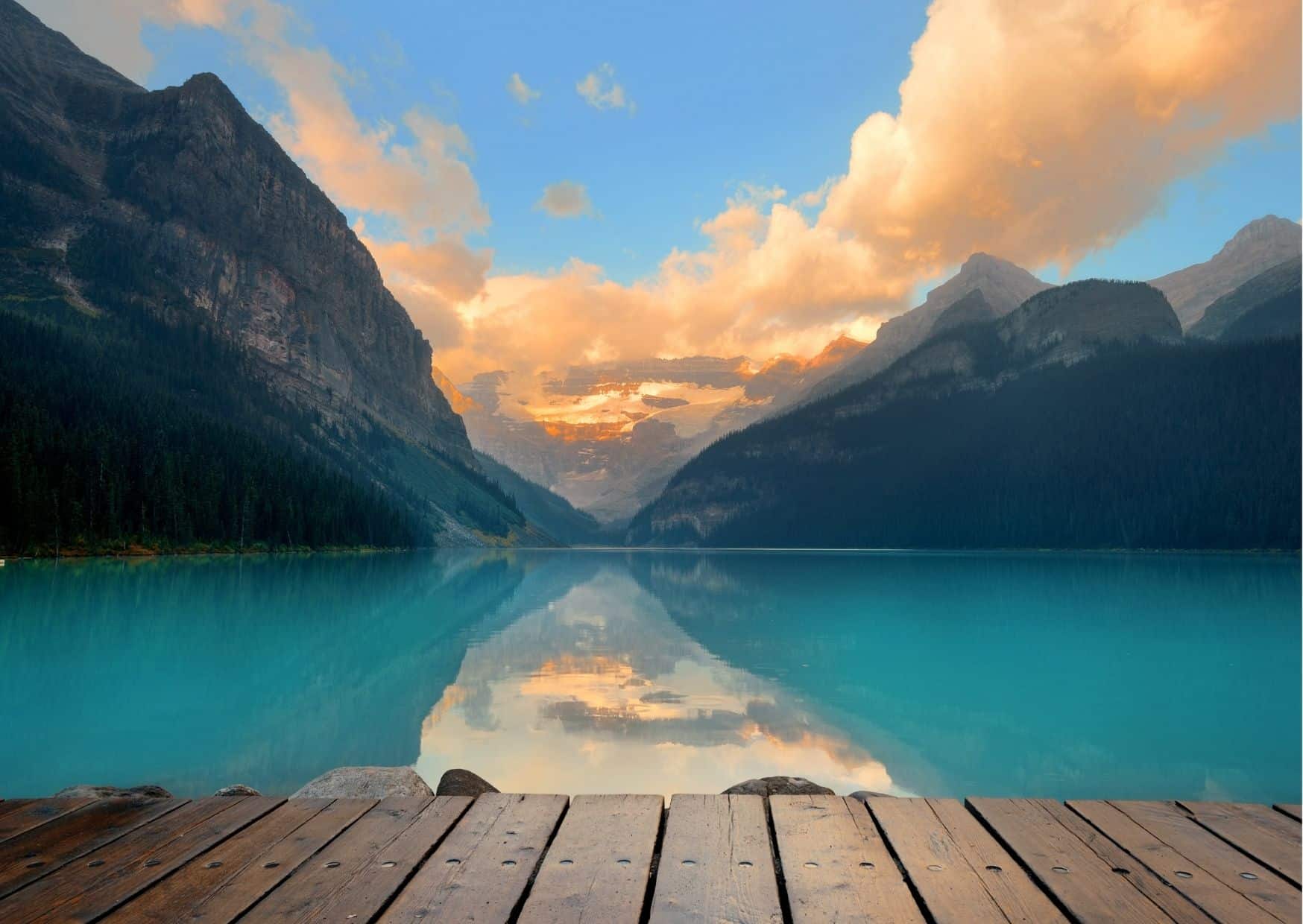 Once you have arrived at Lake Louise, take the paved path to the right of the lake and follow the signs for the Plain of Six Glaciers. The Lake Louise Lakeshore is an easy trail with beautiful views of Lake Louise and the Fairmont Chateau Lake Louise hotel along the way. There is no elevation gain on the 2 km walk and it is a nice warm-up for what's to come once you get to the Plain of Six Glaciers trail.
---
Beyond Lake Louise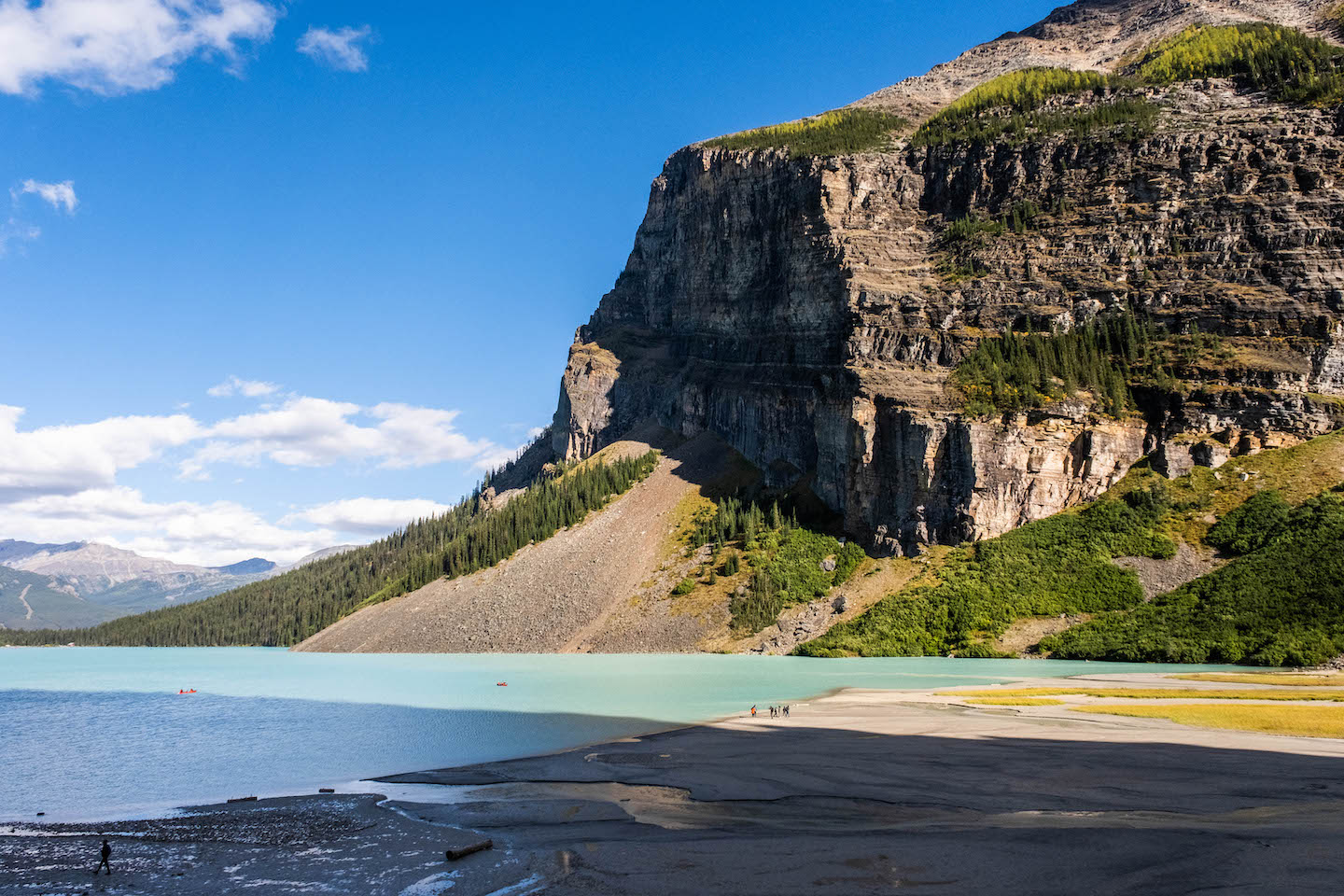 You will officially begin the Plain of Six Glaciers hike once you reach the end of the Lake Louise Lakeshore trail. This trail is best enjoyed in the summer months, as the area poses an avalanche risk in the winter. The trail does not officially "close" ever, it's up to hikers to check the trail conditions before setting out on any hike, and be aware of their surroundings. In general, we recommend hiking the Plain of Sixx Glaciers between June and early October.
Near the trailhead's beginning, you might be able to view rock climbers as you make your way along the wooden boardwalk. The trail then follows a steady incline through lightly forested areas with sections of wildflowers.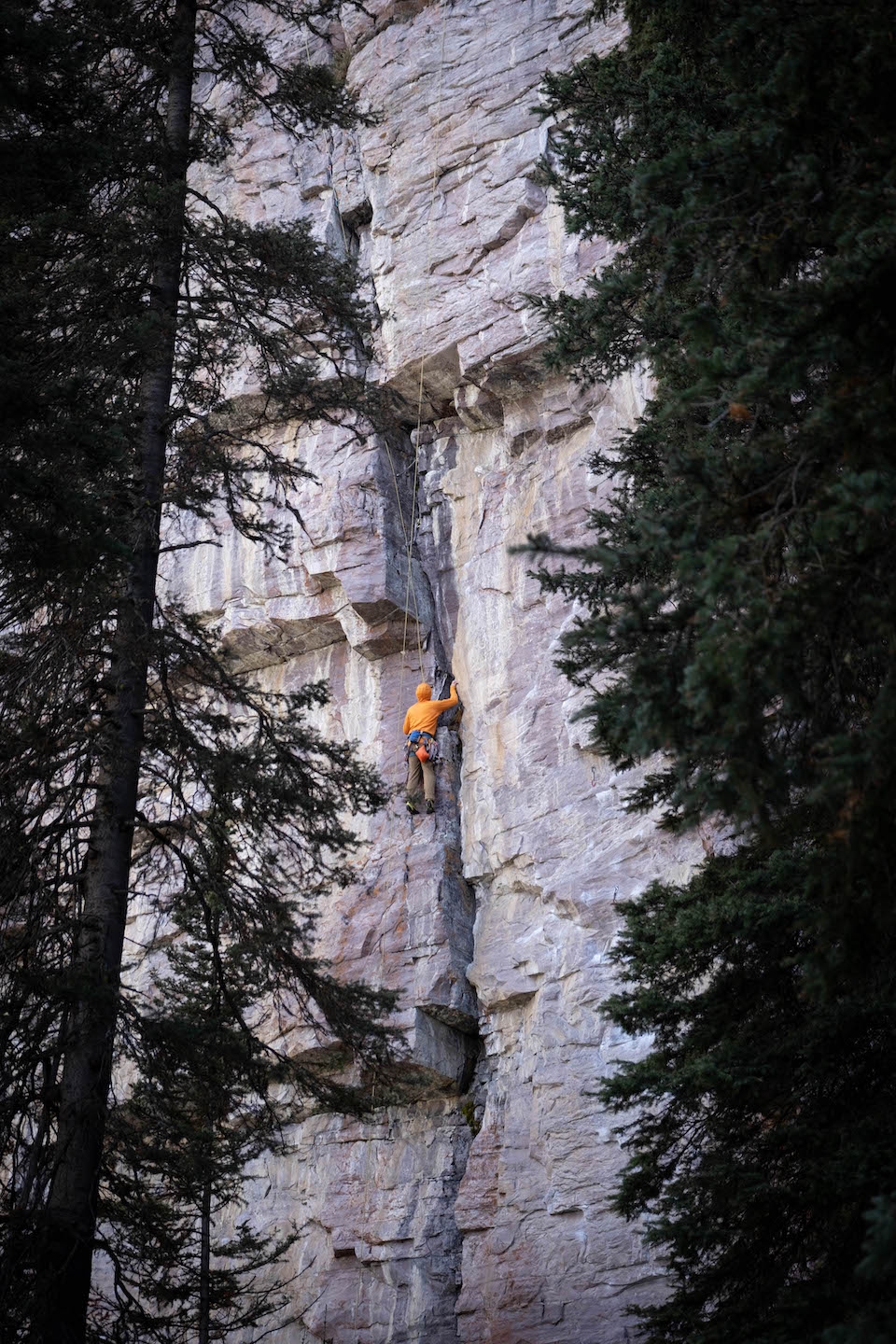 It is well maintained and easy to follow, so you're free to enjoy the views and fresh mountain air. Note that the trail can also be accessed by horses, so watch your step!
As you get closer to the teahouse, you will cross a rock ledge with a steep drop to your left. The path is wide with plenty of room to cross, but those who are afraid of heights may wish to cross this section quickly and carefully. We encountered some water in this section, making it slippery.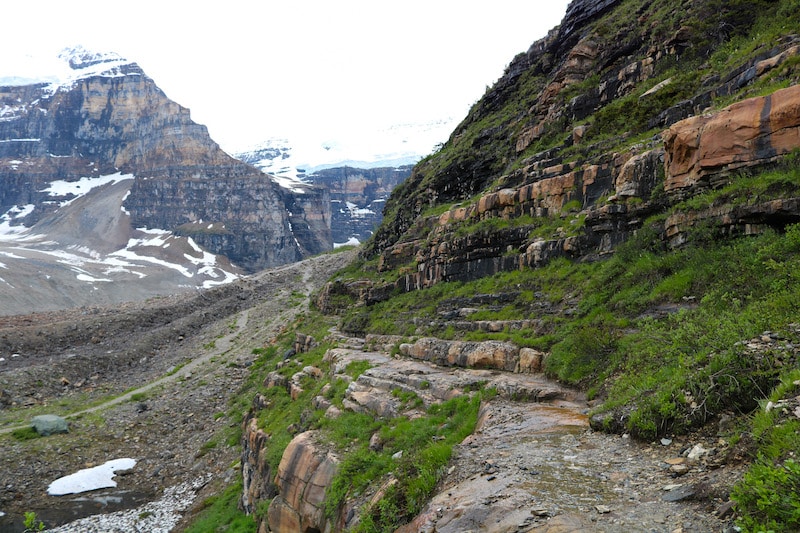 Even in the summer months, you may also encounter snow on small portions of the trail as you gain in elevation. If you're like me, you may be tempted to glance back to see if you can catch a glimpse of Lake Louise as you make your way along the trail.
---
The Plain of Six Glaciers Teahouse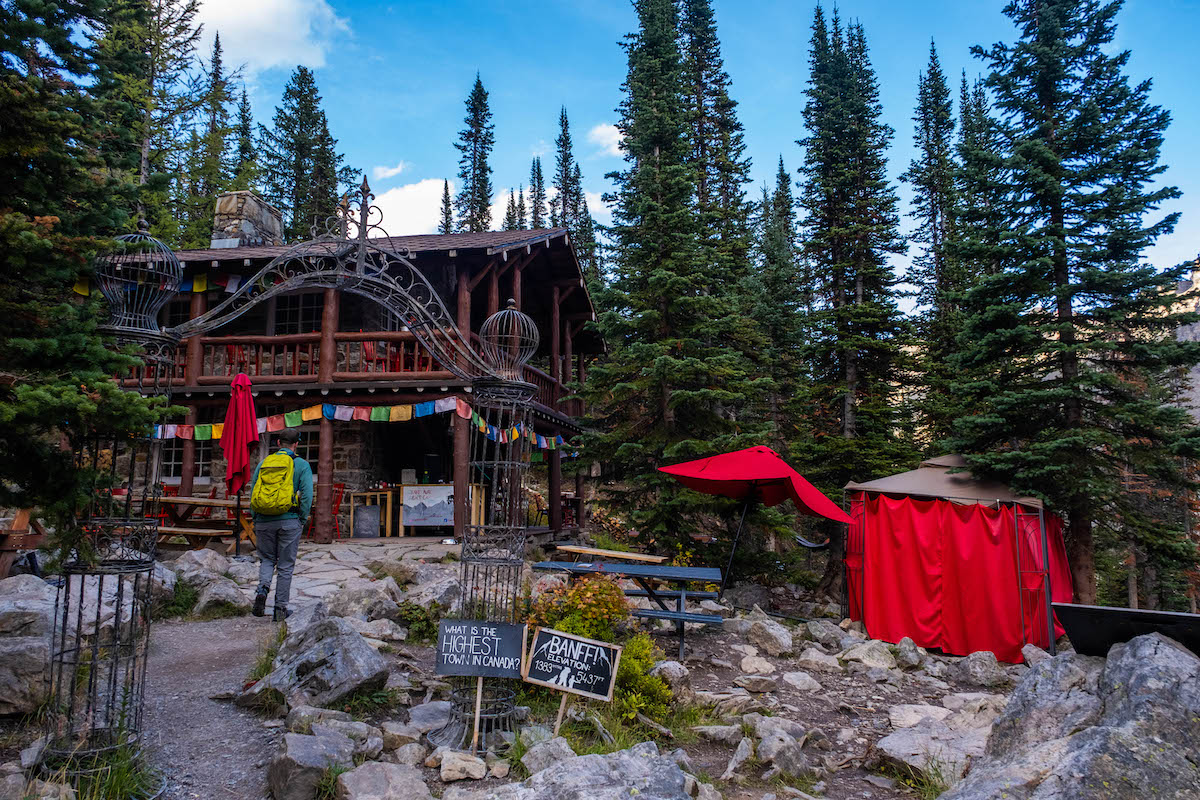 Approximately 5.5 km from the shore of Lake Louise, you will come to the Plain of Six Glaciers Teahouse. Here you can purchase light lunch options, baked goods, and tea. The historic teahouse was built in 1927 by the Canadian Pacific Railway and has been privately owned and operated by the same family since 1959.
The rustic and charming teahouse has been preserved in its original form, with no electricity. All of the food and beverages here are prepared on propane stoves and the supplies need to be carried in by the staff.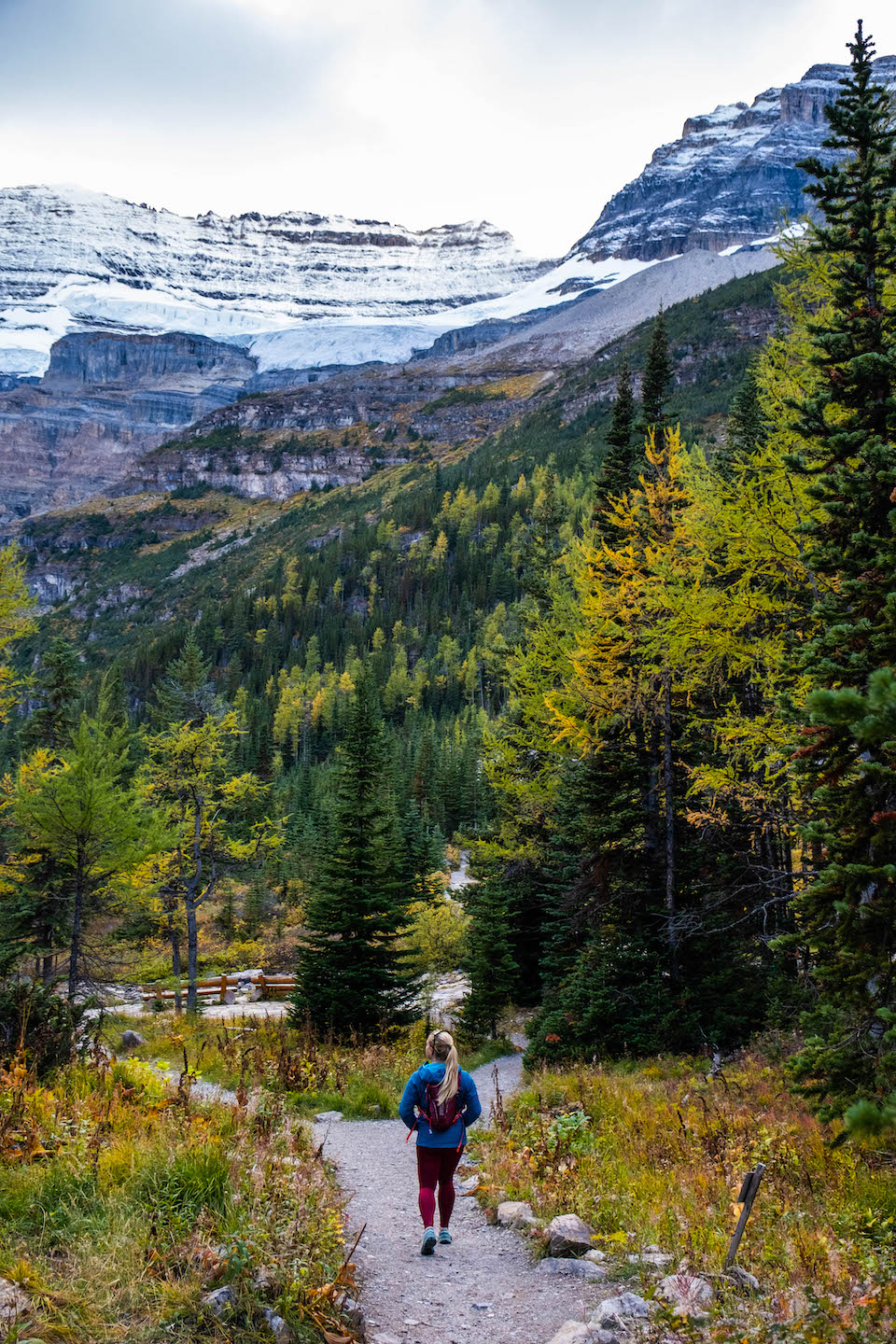 We ate delicious chili here and chocolate cake and enjoyed a bit of a break before continuing on our hike to get a closer view of the glaciers.
The Plain of Six Glaciers Teahouse typically opens up in late Spring and will stay open until the larch needles fall in early October. You will likely find that the Plain of Six Glaciers Teahouse is less busy than the very popular Lake Agnes Teahouse, making it an excellent alternative to hiking up to Lake Agnes.
Note that cash is the preferred method of payment at the teahouse. You can also use a credit card for an additional fee of $4.00 CAD. The surrounding area is well maintained with plenty of seating options.
---
Continuing Past the Teahouse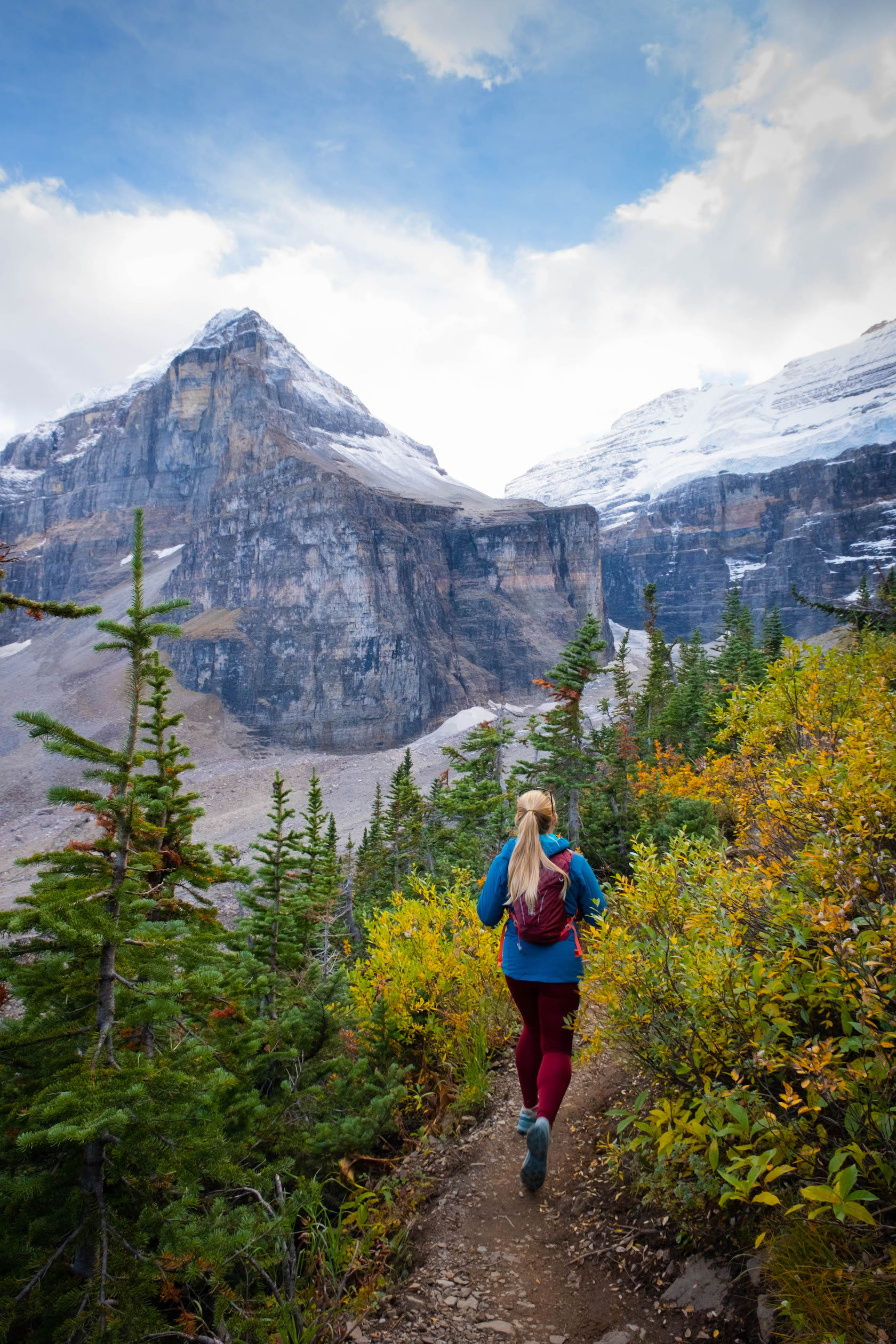 After reaching the teahouse, the hike continues approximately 1 km to a stunning plain of, you guessed it, six glaciers for which the trail and its teahouse are named. You will cross the moraine debris left behind by advancing glaciers, particularly the Victoria Glacier that feeds Lake Louise.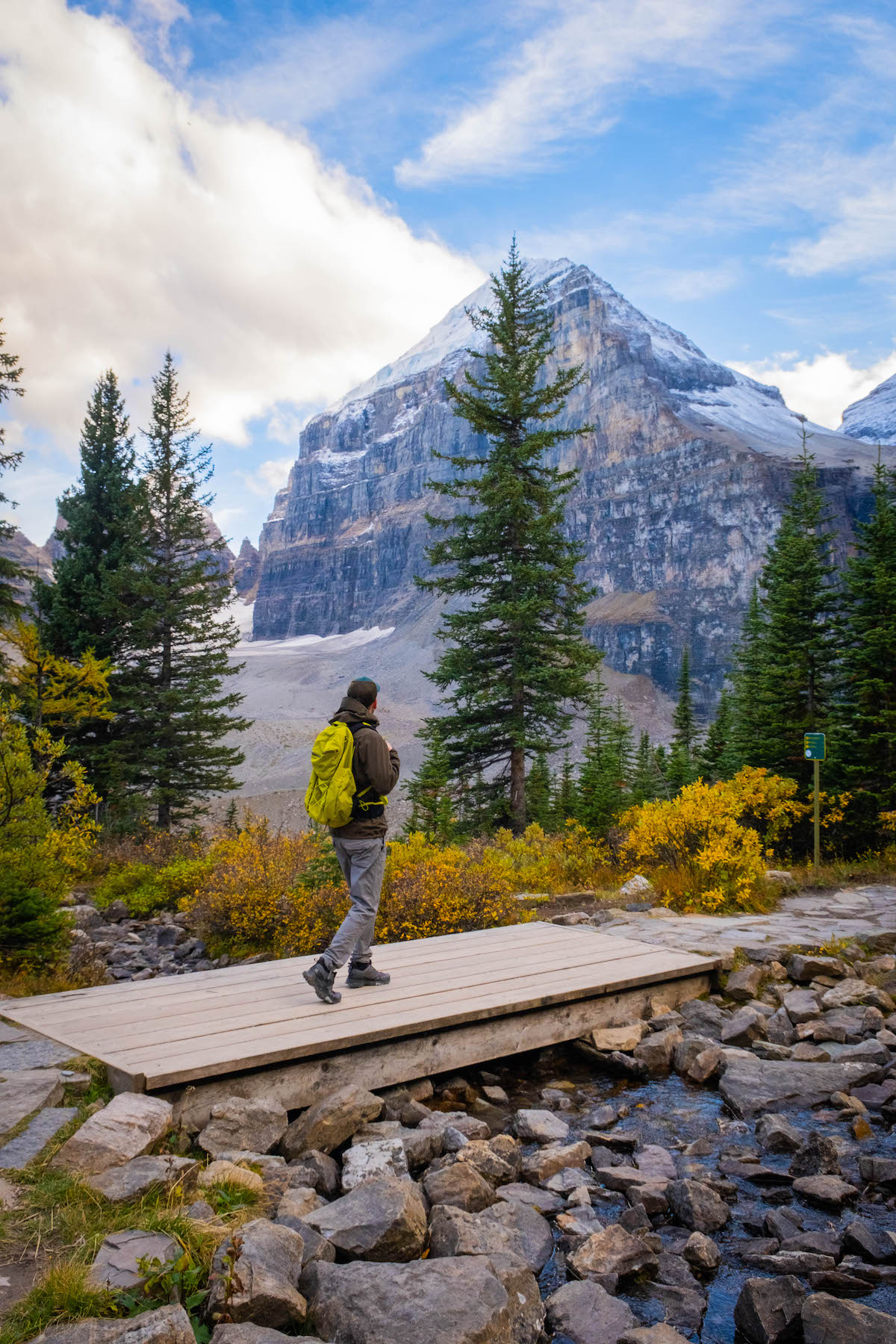 The trail becomes significantly steeper here and is not maintained past the teahouse. You will find more loose rock on the trail and it can get chilly and windy, but the extra distance is worth it!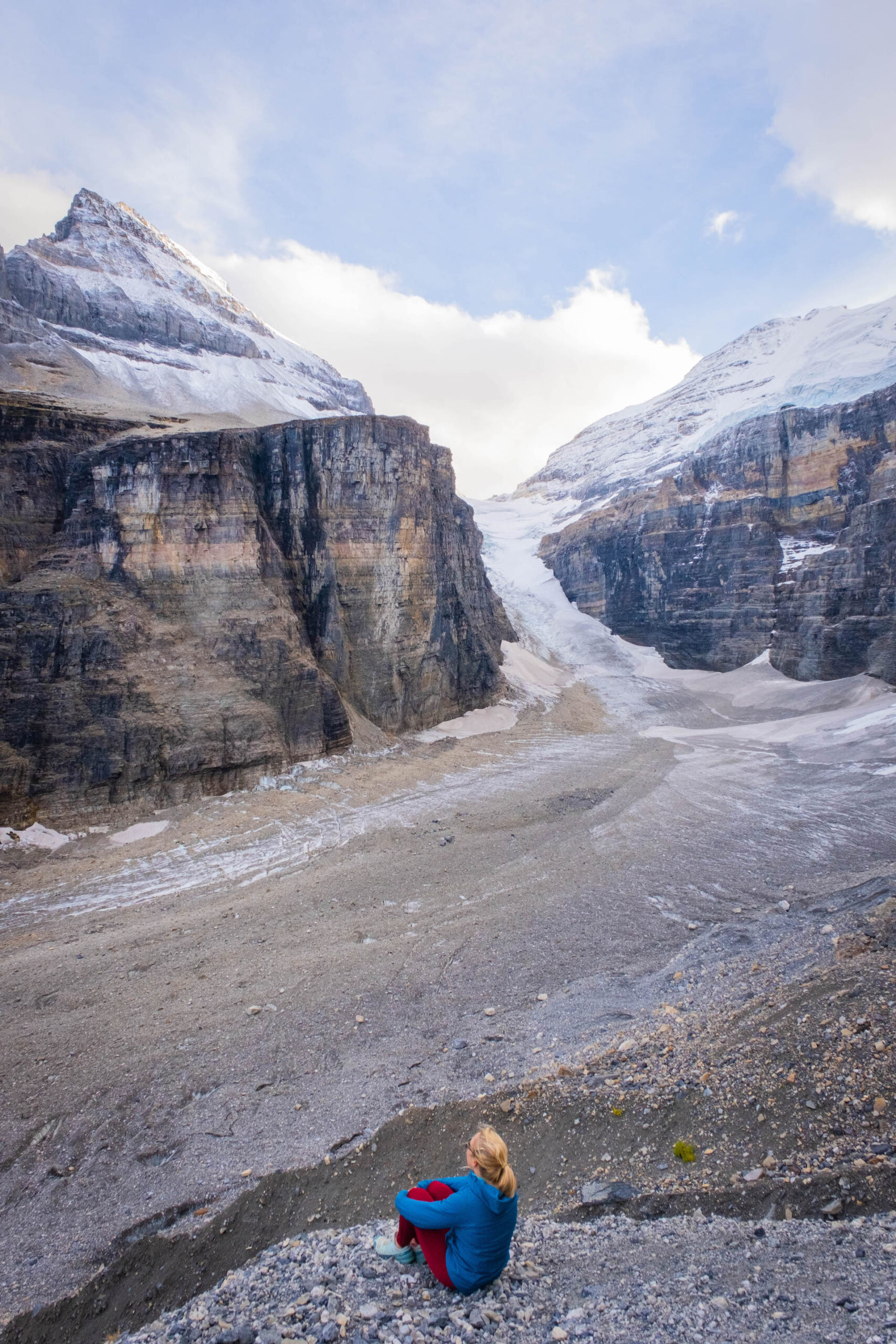 Hikers are rewarded with amazing views of what is now the seemingly small Lake Louise in the distance. You might take some time to rest here and take in the panoramic views of mountains and the glaciers whose waters give Lake Louise its gorgeous color.
As this is an out-and-back trail, it's time to head back the way you came. You will find that the way back is easier than the first half, as it is nearly all downhill. On the return journey, you can see Lake Louise in front of you as you finish the second half of this hike.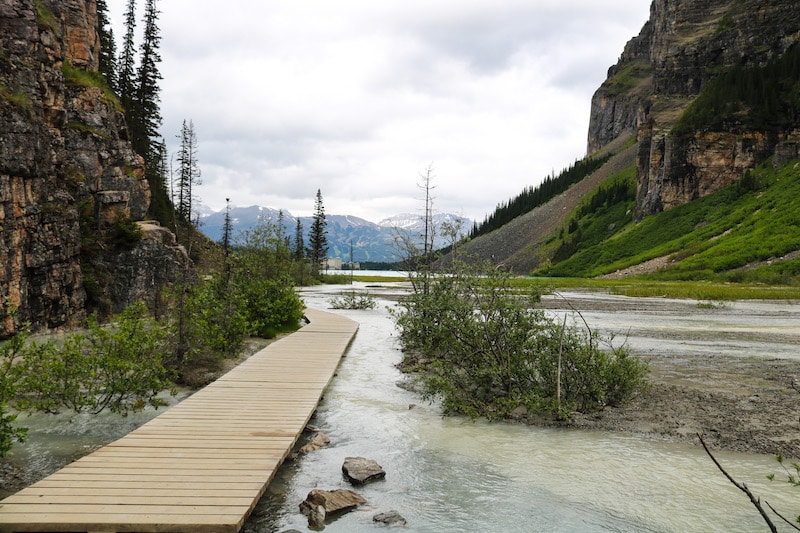 Upon our return to the Lake Louise lakeshore, I marveled at how deceptively close the glaciers appeared behind the lake. After numerous visits to Lake Louise, my curiosity about what lies beyond the lake was finally satisfied.
---
How Difficult is the Plain of Six Glaciers hike?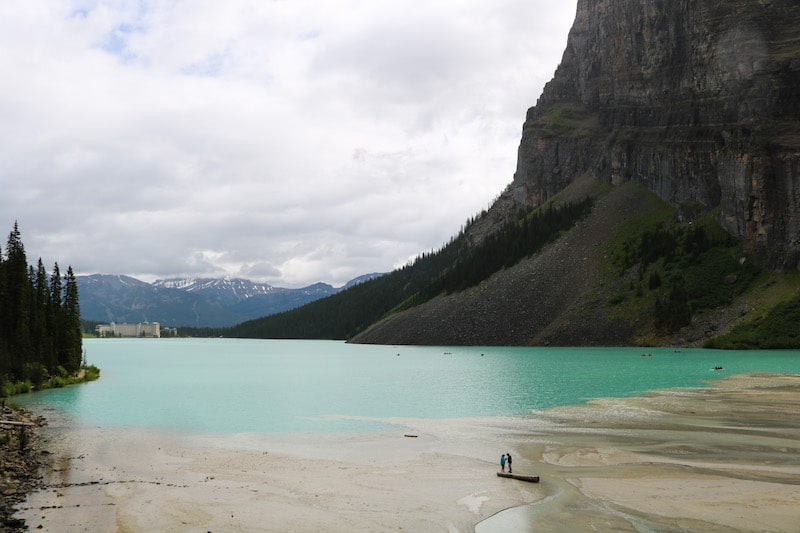 I would rate this hike as moderate due to the distance. The first 2 km along the Lake Louise Lakeshore are easy, and beyond that the trail follows a steady but gradual elevation gain.
The most difficult part is reaching the viewpoint beyond the Plain of Six Glaciers Teahouse. The trail becomes steeper and more uneven here. However, no technical skills or special equipment are required to complete this hike and no scrambling involved. If you have a reasonable level of fitness, this hike should be manageable for you.
---
How Busy is the Plain of Six Glaciers Hike?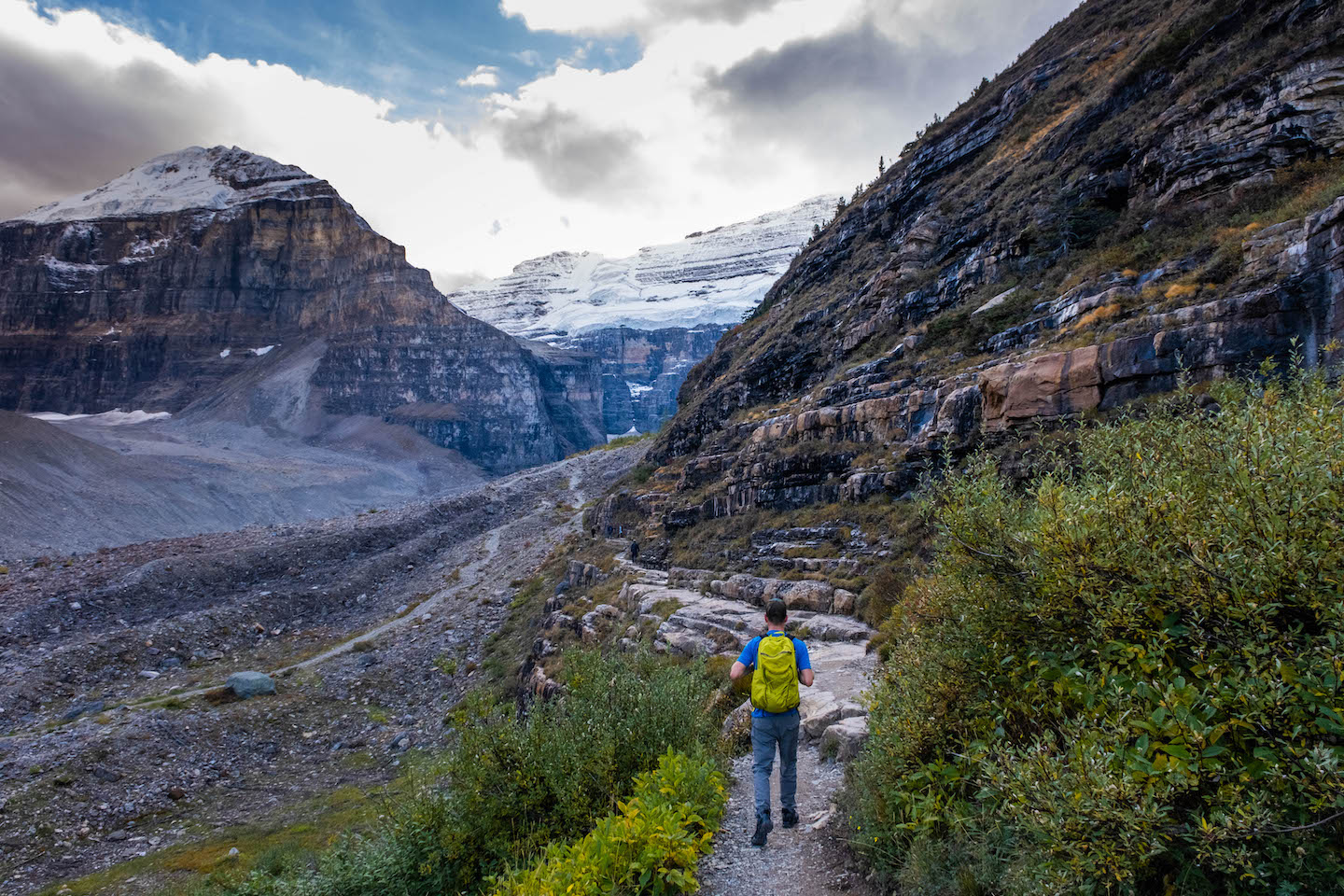 In general, the Lake Louise area can get extremely busy during the summer months and the Plain of Six Glaciers is a popular trail, though it's length will deter many visitors. You might find that the trail is less busy during the week, with peak crowds on weekends. I have found the Plain of Six Glaciers to be less busy than the very popular Lake Agnes Tea House trail.
If you're looking to beat the crowds, you could try hiking this trail very early in the morning or later in the day. When starting later in the day, remember to keep in mind an appropriate turn-around time so that you are not hiking in the dark.
---
Should I Bring Dogs or Kids on the Plain of Six Glaciers Hike?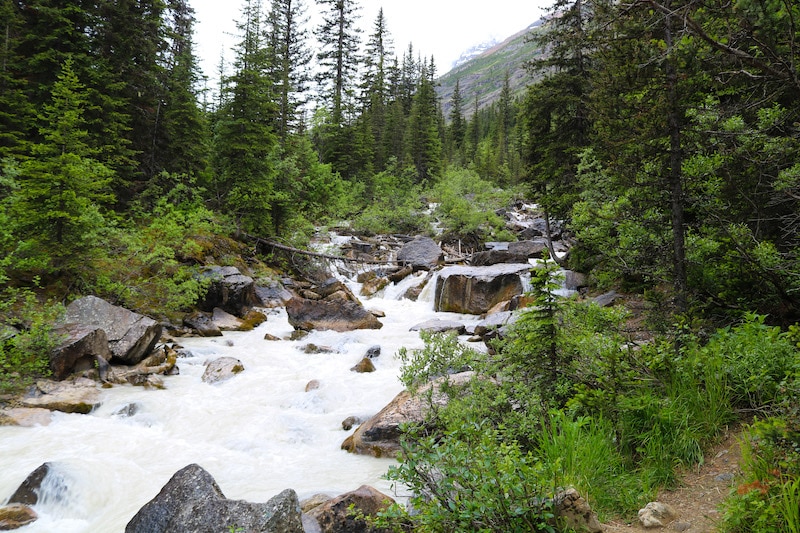 While I did not bring along a dog or kids myself, I think that this trail could be suitable for both. As long as your child and/or dog could manage the distance of the trail, the trail conditions and elevation gain would be appropriate for older children and dogs who have experience with hiking.
Remember that dogs must always be on a leash while in the national park for the safety of fellow hikers and wildlife. The trail is not suitable for strollers.
---
How Long Does it Take to Hike the Plain of Six Glaciers Trail?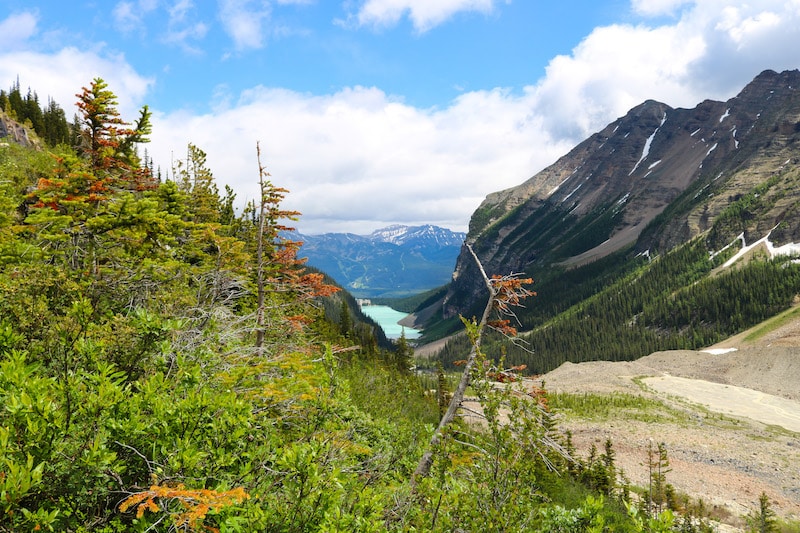 All Trails lists this hike as taking approximately four and a half hours to complete. Of course, this depends on your general level of fitness, hiking experience, and the amount of breaks that you take. Most hikers will want to plan for some time at the teahouse, as well as stopping for photo opportunities along the way.
I would plan for between 4 and 5 hours to complete this hike.
---
Plain of Six Glaciers Extension Options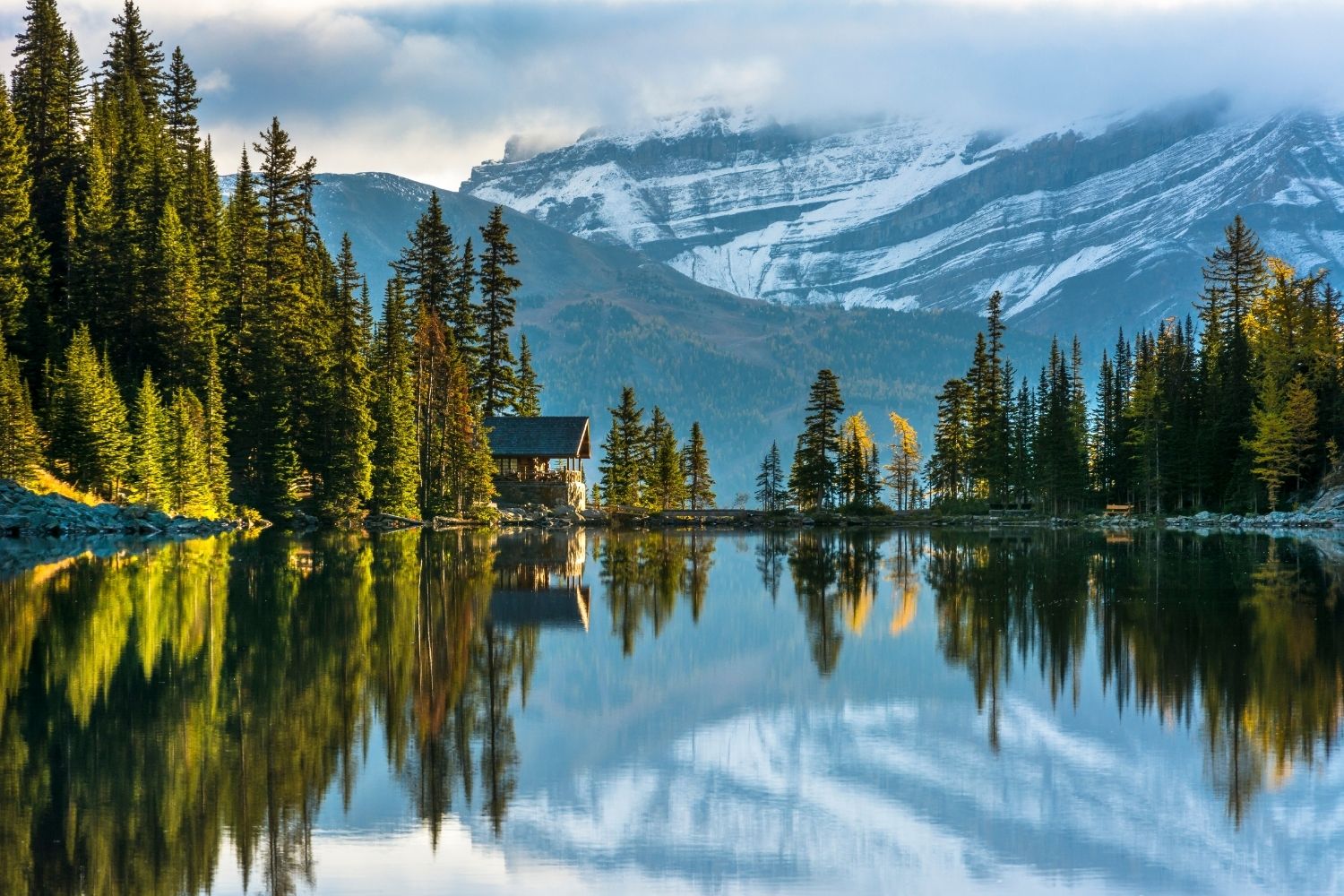 If you hope to visit both the Plain of Six Glaciers Teahouse and the Lake Agnes Tea House, you might consider combining the two hikes and checking both locations off the list in one day.
This would be a full-day adventure, and I would recommend setting out early in the morning if you were planning to complete this entire loop in one day.
In this case, I would start by hiking to the Lake Agnes Tea House first, followed by Big Beehive, and then following the Highline Trail to connect to the Plain of Six Glaciers trail. If you are a strong hiker, we recommend tacking on the Little Beehive hike as well, as it's not much further from the Lake Agnes Tea House. You would then use the Lake Louise Lakeshore trail on the return journey.
---
Hikes in the Lake Louise area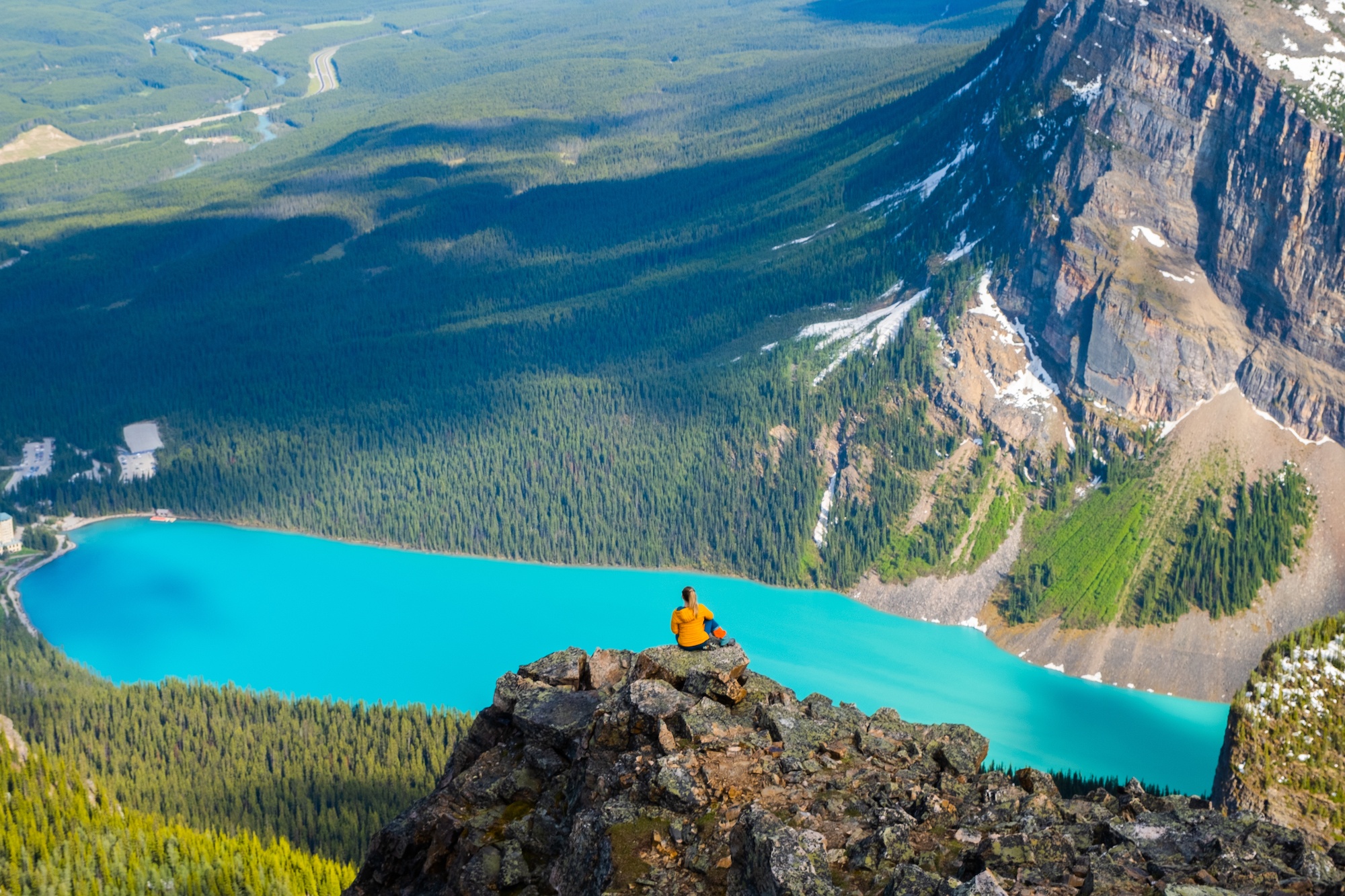 If you are interested in exploring more hikes in the area, there are a number of options for hikes near Lake Louise. No matter which hike you choose, you're guaranteed to experience epic views of what is arguably one of the most beautiful locations in Canada.
Easier hikes include Fairview Lookout and Mirror Lake. Those hikers up for a more difficult challenge may enjoy Mount Saint Piran, Mount Fairview, or Devil's Thumb. Most likely you'll find that there are more hiking options than you have time for while staying in the area as there are many around Lake Louise and Moraine Lake.
You can find a list of Lake Louise trails ranked from Easy to Hard here. While some of these hikes can be enjoyed year-round, the summer months are the best time to view Lake Louise in all of its turquoise glory.
---
I hope that this Plain of Six Glaciers guide has helped you to plan your trip. If you are hoping for a rewarding hike complete with a historic teahouse and views of the iconic Lake Louise, the Plain of Six Glaciers is highly recommended. You will not be disappointed!
Plan Your Trip to the Canadian Rockies