It's hard to get anything better than Banff in the summer. The temperature is perfect, the sun is shining, and the famous glacial-fed blue lakes are sparkling.
People flock from all over the world to see the Canadian Rockies in the summer months. June through September is a busy time in the park, but there's a good reason for it, as all adventure activities are on offer.
After spending a few summers in this stunning part of the world, here are my favorite summer activities in Banff.
---
How to Enjoy Banff in the Summer
---
Stroll Downtown Banff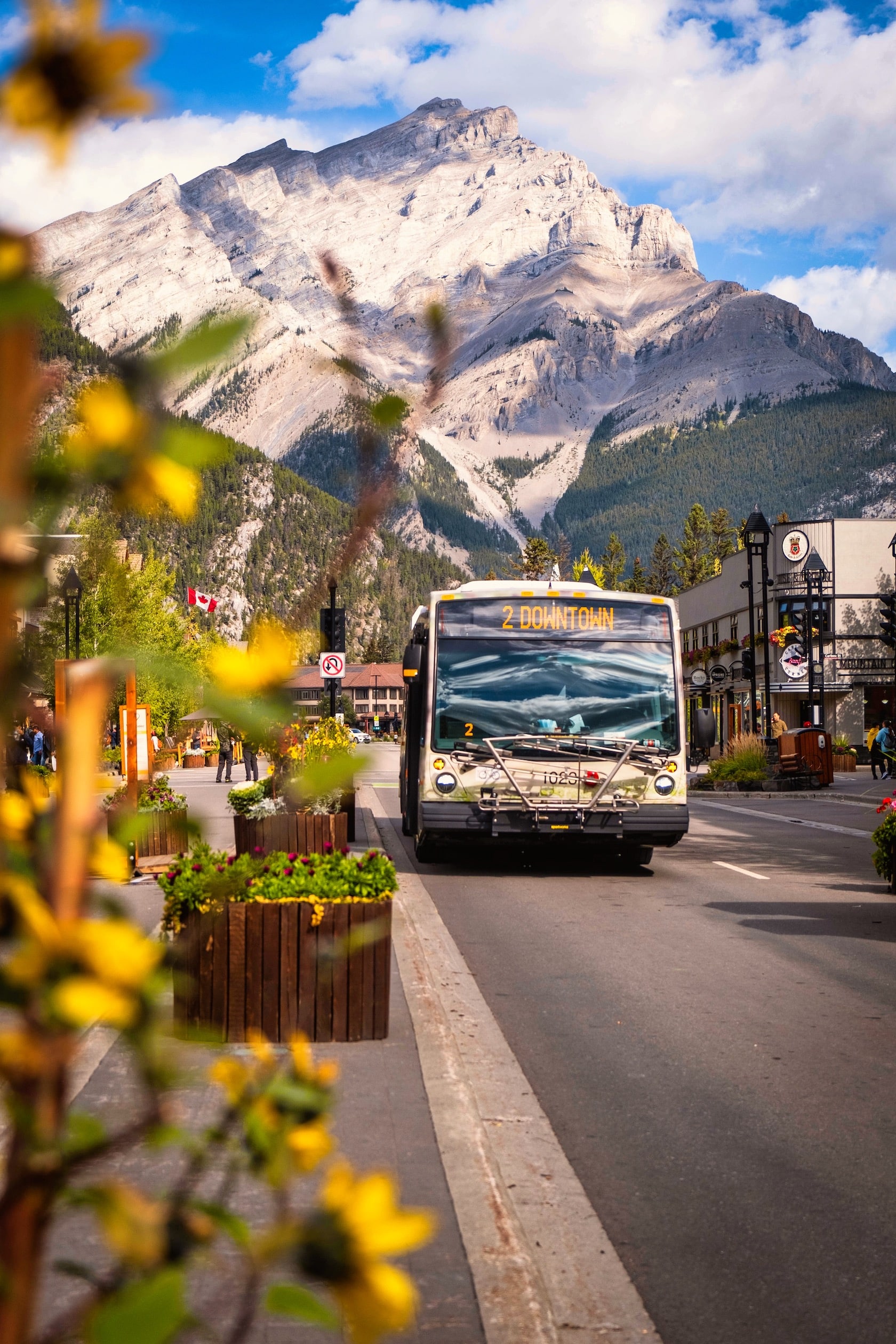 If you're visiting Banff, and especially if you are staying on Banff Ave you will without a doubt go for a stroll on Banff Avenue. You could easily spend half a day here relaxing under the summer sun!
What is there to do in Downtown Banff? Plenty! If you want a day of shopping, cappuccinos, and breweries, stay in the Banff downtown area and venture right out from your hotel – no driving involved.
Banff Ave has plenty of restaurants, cafes, boutique shops, and cheesy souvenir stores to entertain all.
During the summer season the Town of Banff closes its main street to vehicles in the downtown core between Wolf and Buffalo streets, and the adjacent sections of Caribou Street. Between May 19 to October 13th, this section of Banff Avenue will be exclusive to pedestrians, cyclists and skateboarders! It's one of our favorite things that came out of the pandemic that stuck around.
The vehicle restriction means that restaurants have full patios spilling out into the street. People everywhere are getting their legs moving and enjoying walking spaced out on the street and not bumper-to-bumper on the sidewalks!
---
Enjoy Lake Minnewanka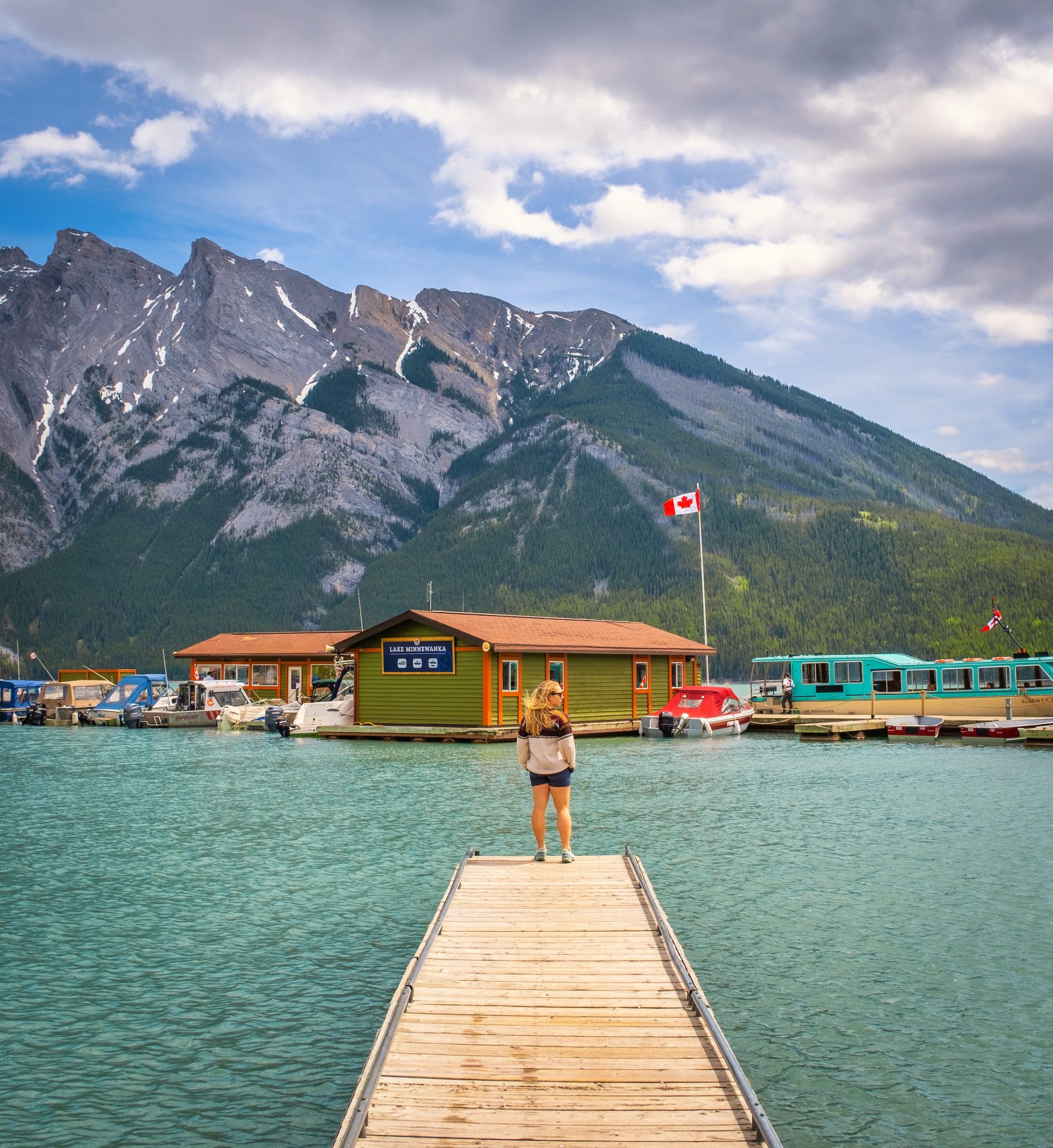 So what is there to do in Banff National Park in the summer? First up, is to visit Lake Minnewanka. One of the top things to do in Banff National Park is to stroll along or take a boat ride on Lake Minnewanka. Lake Minnewanka is one of the largest lakes in Canada that is just a ten-minute drive away from the town of Banff.
This man-made lake is 21 km long and 142 meters deep and helps power Banff with hydroelectric power. In the summer it's a busy place to hike, picnic, canoe on, or even rent a motorboat. You can also hop on the popular boat cruises that take you to the lake's start, called the Devil's Gap.
The mountains towering over Lake Minnewanka are seriously impressive all year round. Oh yea, and there's also a Canadian resort ghost town under the lake. (Psst, a great easy hike in the area is called the C-Level Cirque and gives amazing views over Minnewanka for low effort).
---
Beer Voyage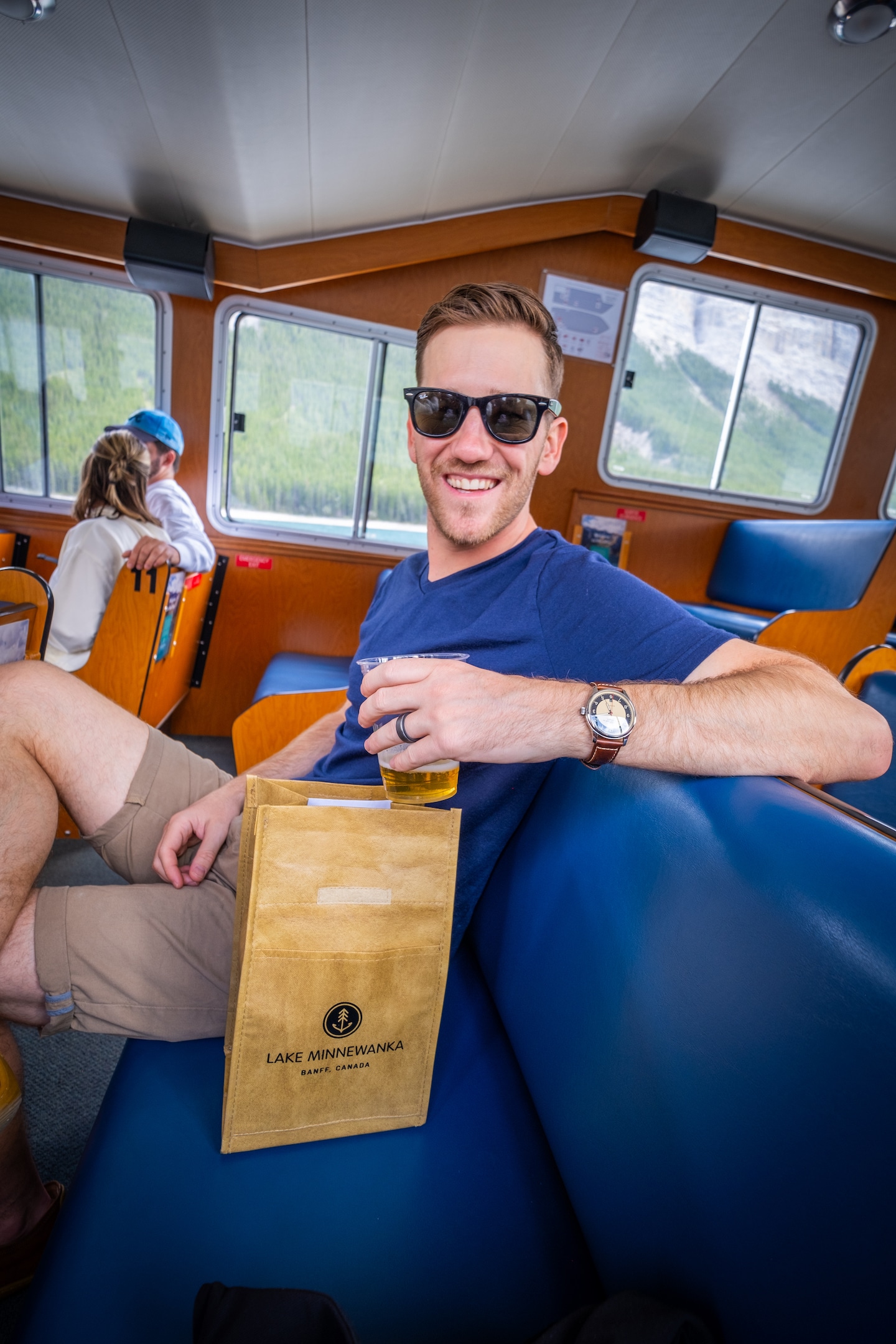 Speaking of Lake Minnewanka, why not enjoy the scenery with a cold beer? Beer lovers can enjoy the Lake Minnewanka Beer Voyage Cruise in the summer.
This 90-minute cruise runs daily at 5pm and allows guests to enjoy local craft brews while taking in the views. It's the perfect après adventure cruise for those 18 and up!
---
Stand Up Paddleboard on Two Jack Lake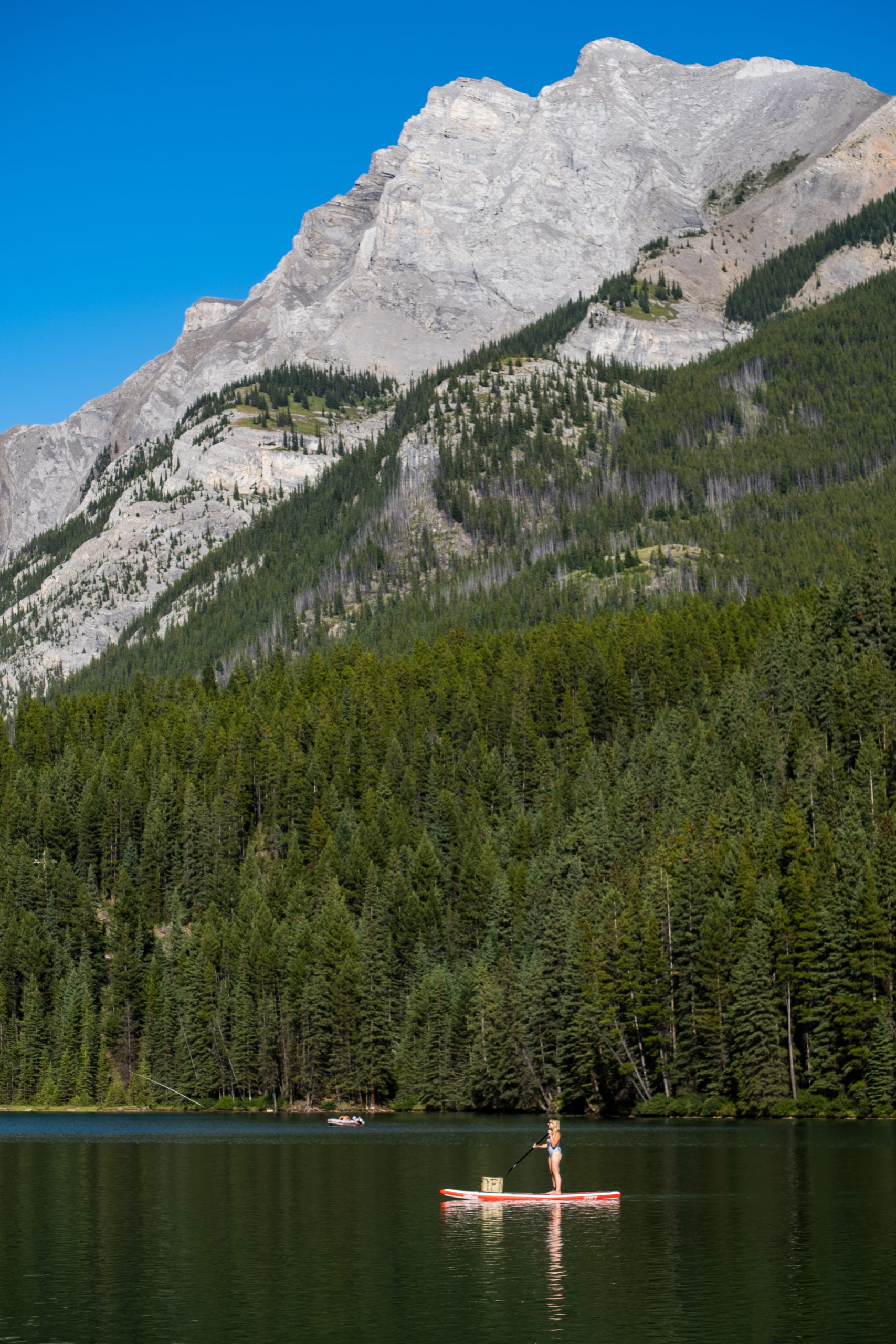 Just a five-minute drive away from Lake Minnewanka is Two Jack Lake. It's another fantastic lake with stunner Mount Rundle Views. Two Jack is one of the most photographed lakes in the Canadian Rockies, due to its proximity to Downtown Banff.
It's also my favorite spot to take the stand up paddleboard out on during a Banff summer. It has scenic views and isn't as wind-affected as nearby Minnewanka.
---
Go For a Bike Ride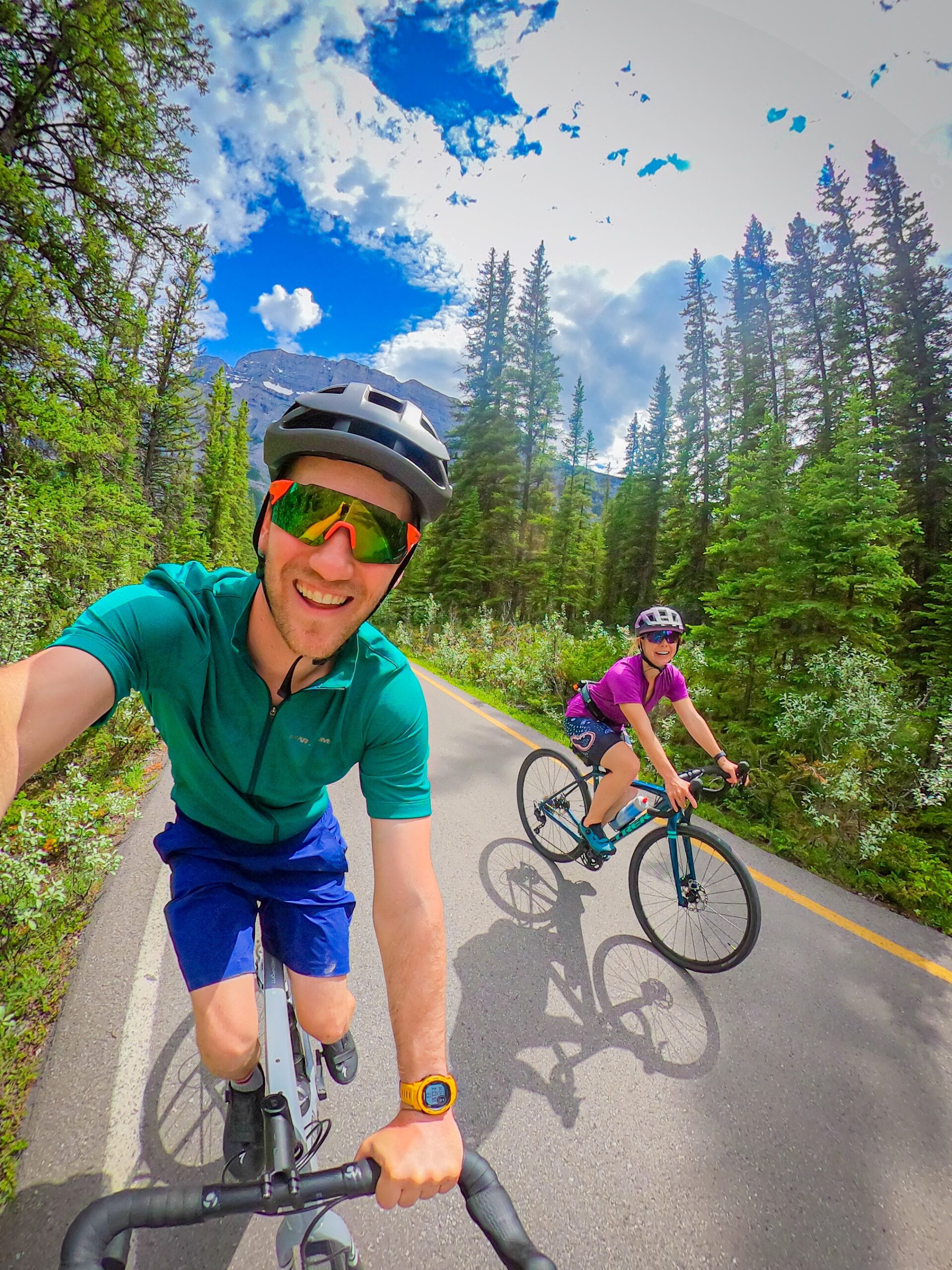 If there is a style of biking you enjoy you'll find an abundance of scenic places to get on a bike in Banff in the summer. It doesn't matter your skill level either as there truly is everything in the area. Head up the Bow Valley Parkway to Lake Louise on a road bike for one of the best rides of your life.
Seriously it's an amazing paved road that is great for cyclists. During the summer Banff runs an awesome "Bike to Beer" Trail. Ride the 58 km on the Bow Valley Parkway any day this summer, between Banff and the Summer Gondola in Lake Louise via the Bow Valley Parkway! Once finished show your Strava or Garmin activity to the staff at Banded Peak Base Camp for a free beer and Parkway to Pint t-shirt.
If all of that sounds too much hop on the Legacy Trail (multi use trail connecting Canmore to Banff) and ride to Canmore for some beers at the Grizzly Paw Brewery. Or just rent some simple cruisers or an e-bike and enjoy the scenery around Banff town, like Bow Falls or Vermilion Lakes.
If you want to mountain bike in Banff there are a few okay mountain bike trails, Look up Star Wars and Top Notch on Trailforks for an idea of what they are like. Though if you are a decent mountain biker I would suggest heading to the Canmore Nordic Center for a much better trail network. If you don't have your own bike with you, you can rent one at Banff Cycle on Bear Street.
35 Best Canmore and Banff Bike Trails
---
Banff Farmer's Market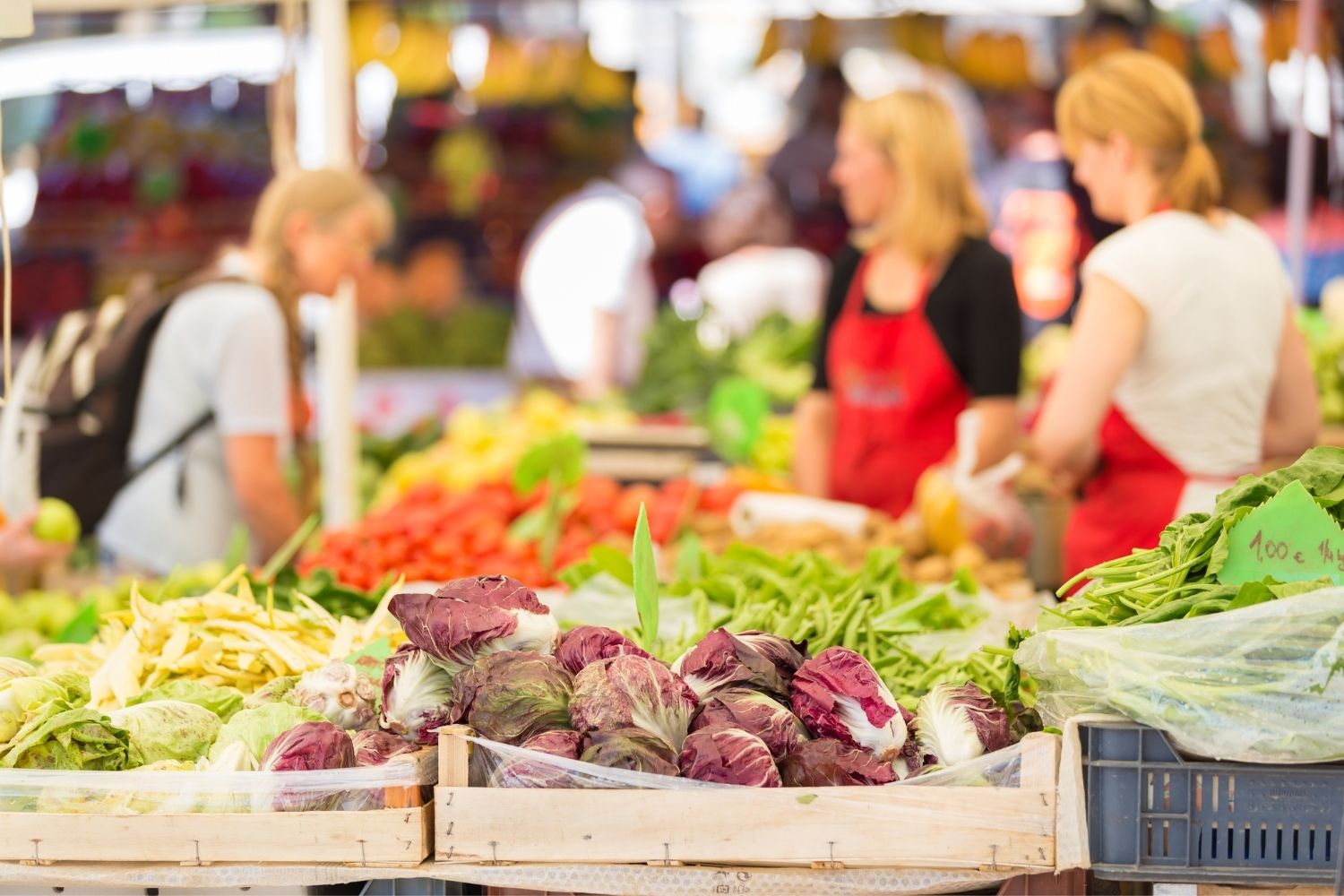 Every summer until October 6th the Banff Farmers Market runs May 24 to October 4, 2023 on Wednesdays from 10-6. It's a fantastic place to stop by and pick up some fresh fruits, vegetables, food trucks, jewelry and anything else you could want from local vendors. The Farmer's Market happens in Banff Central Park at 110 Bear Street.
---
Enjoy a Gondola Experience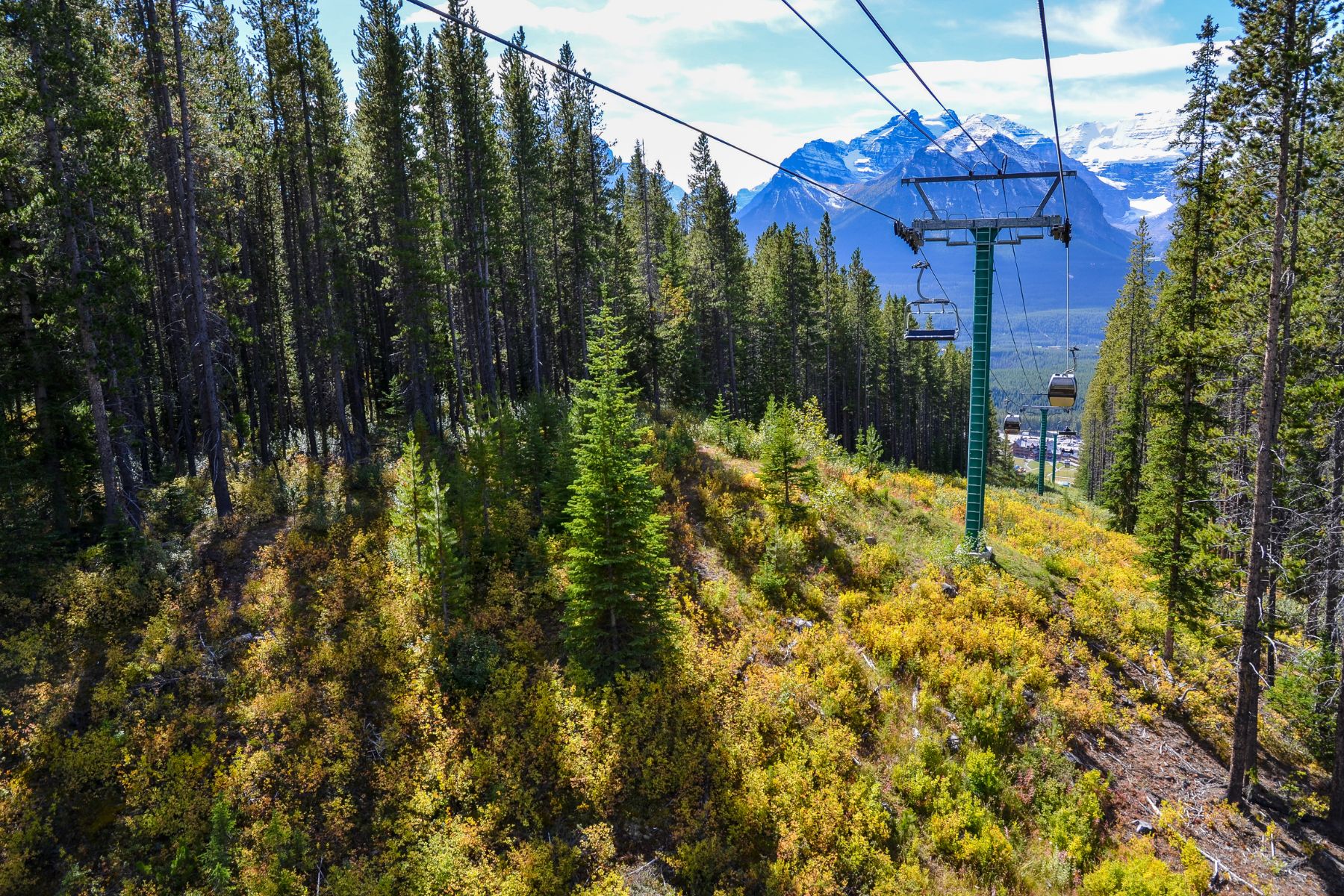 There are multiple Banff gondolas to enjoy in the summertime. There is the Lake Louise Gondola, which provides stunning views over Lake Louise and Victoria Glacier.
Then you have the Banff Gondola, which is easily the most popular gondola and one of the top things to do in Banff. Crowds here are high in the summer, but there are plenty of facilities on top of Sulphur Mountain. Included an incredible boardwalk you can walk around and soak up the views out towards Cascade Mountain and down to the Town of Banff.
Lastly there is the Sunshine Gondola, the Sunshine Village Gondola is Banff National Park's largest gondola, holding up to an impressive 8 people per cabin and is a fun thing to do if you plan on hiking Sunshine Meadows.
Ultimate Banff Gondola Comparison Guide: Which is Best?
---
Mount Norquay Chairlift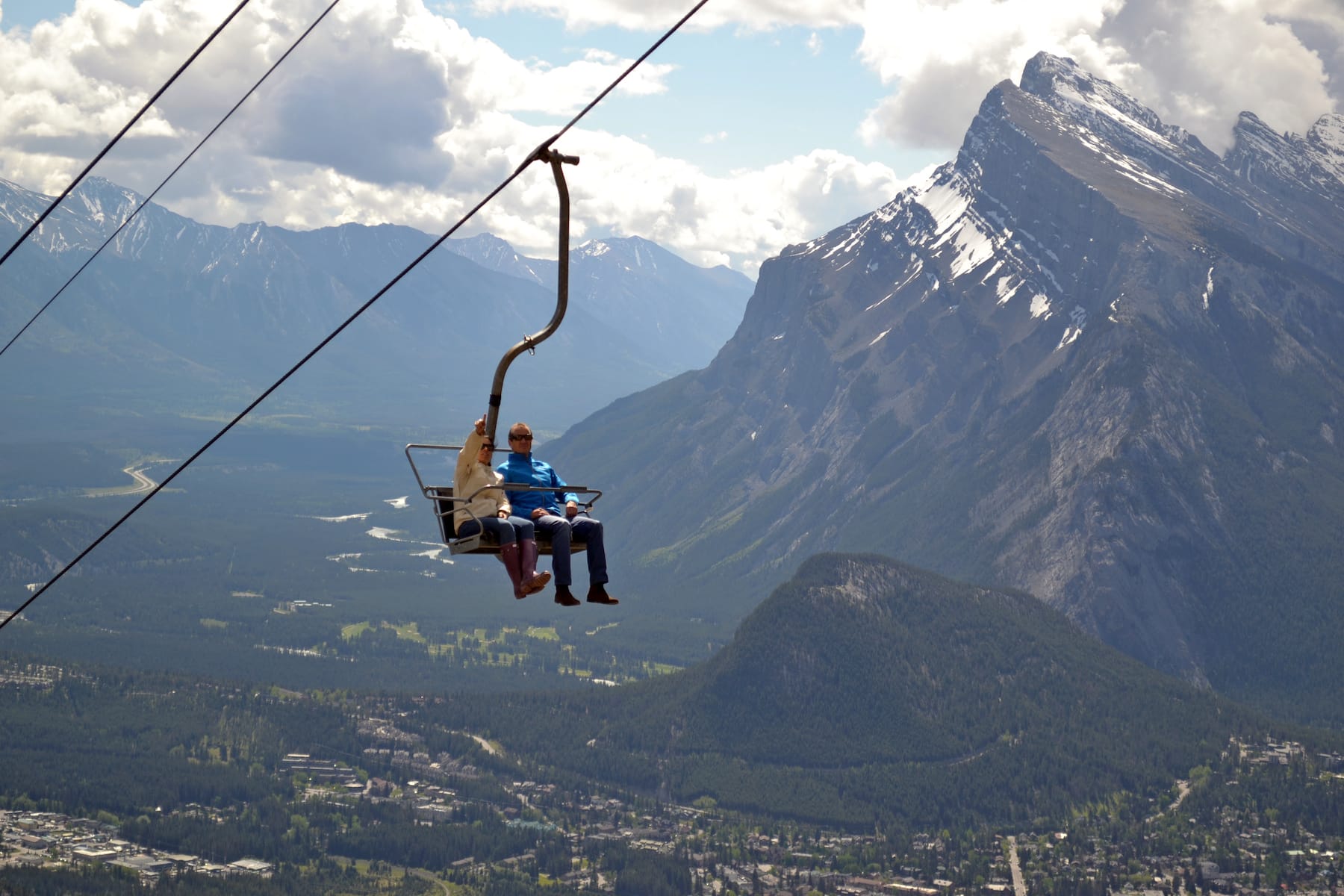 While it may not be as popular as some of Banff's other attractions, we believe that the Mt. Norquay chairlift is a hidden gem that should not be overlooked.
Unlike many of the tourist hotspots in Banff that can be crowded and expensive, this chairlift experience offers a unique and affordable way to take in the stunning scenery.
Soak up the unparalleled views of the mountains and valleys as you glide up the chairlift, soaring 7000 feet up. Look behind you for the best views of Mount Rundle, and try to make out the Town of Banff below!
---
Have a Meal With a View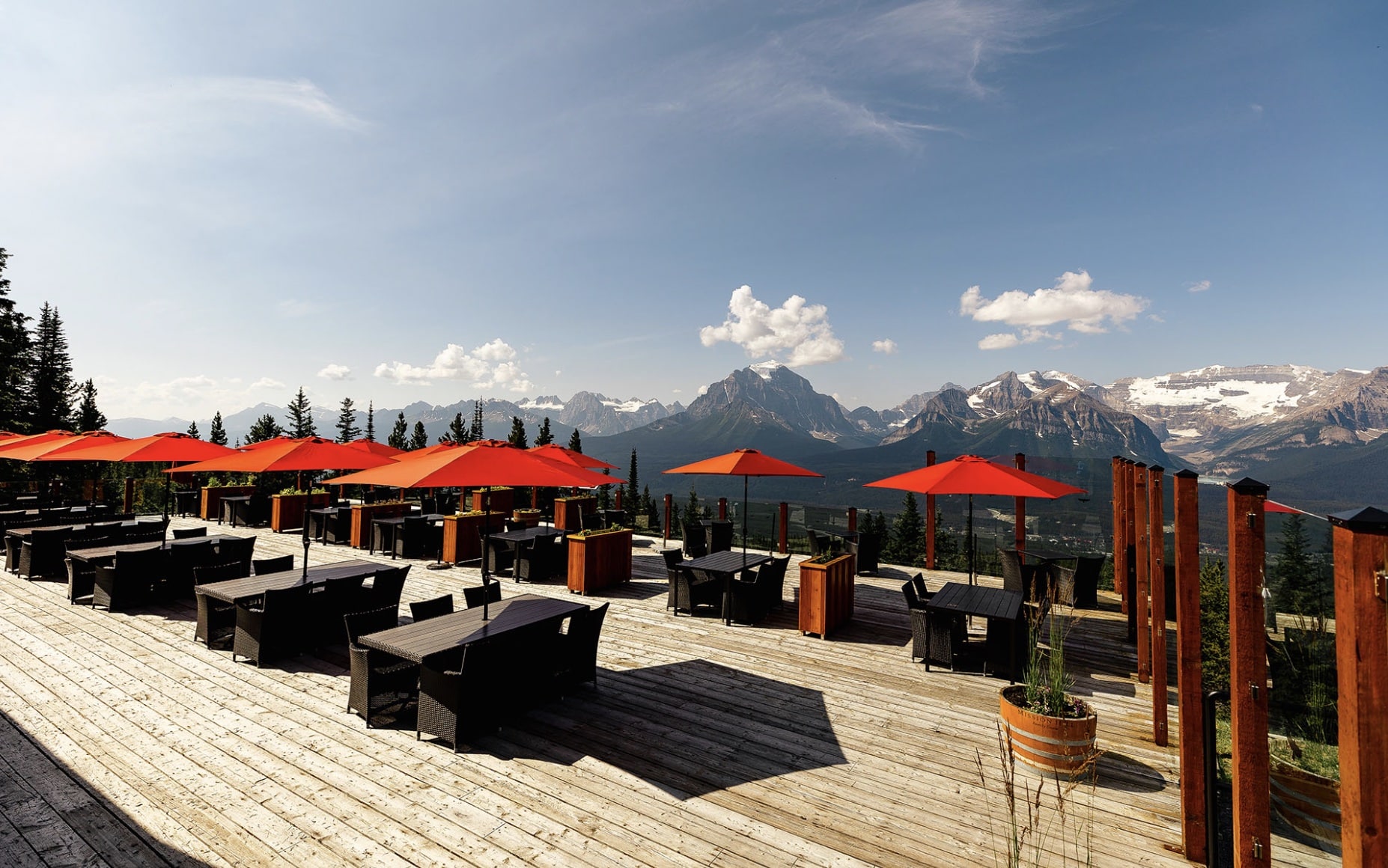 There are plenty of restaurants in Banff with a view, and for a special day or night out we recommend trying one while you're on your vacation.
A few of our favorites are the Sky Bistro (reservations needed and books up well in advance), Whitehorn Bistro, and the Cliffhouse Bistro. We break down all the best restaurants in Banff with a view here.
---
Hike Healy Pass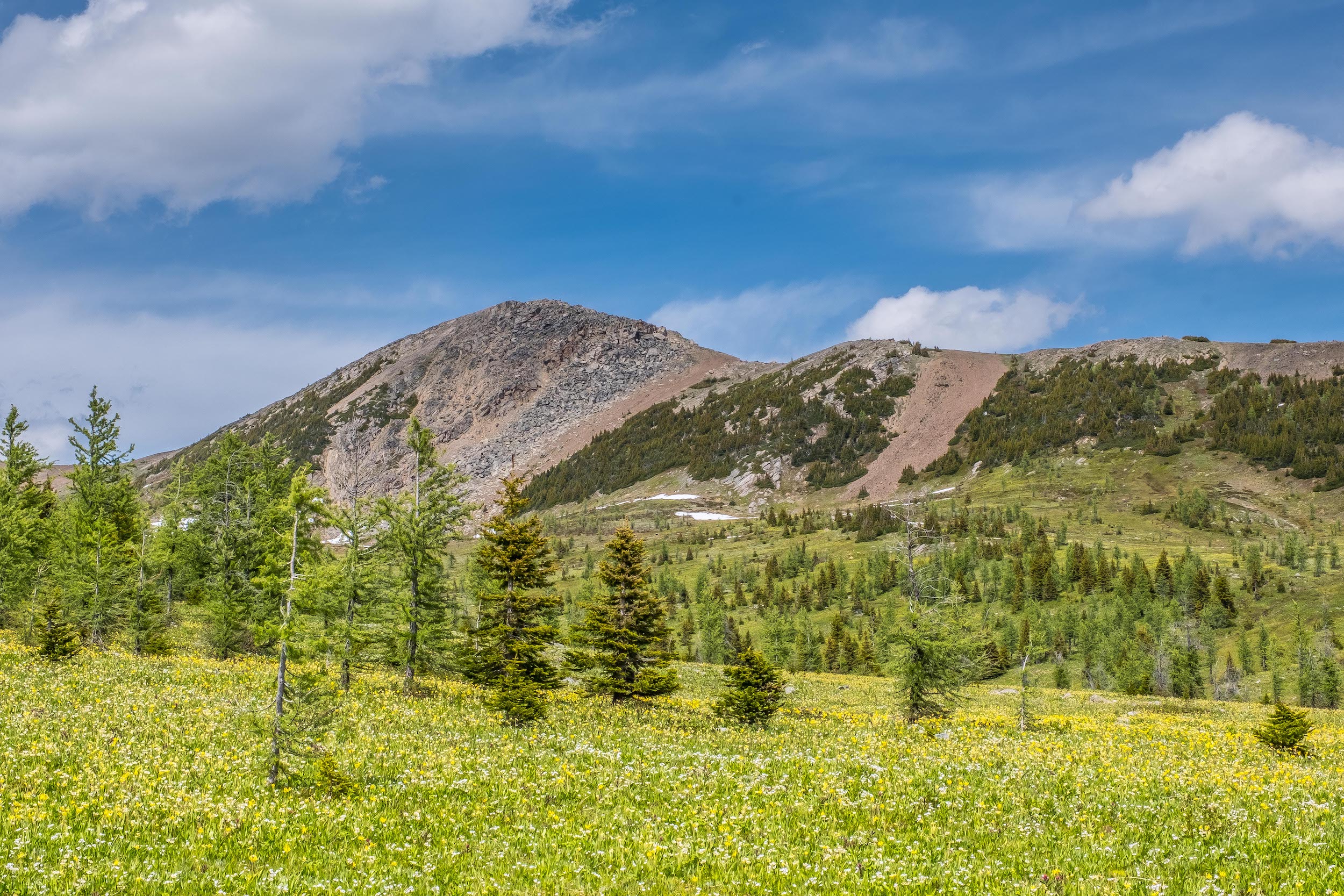 One of the finest hikes in the Banff National Park is Healy Pass. The hike starting point is a short drive from the town of Banff and climbs a gradual pass until unveiling a pristine alpine meadow. It's a relatively easy hike with not much elevation gain that spans many km – ultimately a great day out and where you can get all your wildflower feels in.
The meadow is resplendent for hiking and famed for wildflowers in the summer and is well worth a hike. There are quite a few storybook vistas in the park, but Healy Pass rivals the best of them. You can read all about the Healy Pass hike here.
---
Eat The Castle Food Tour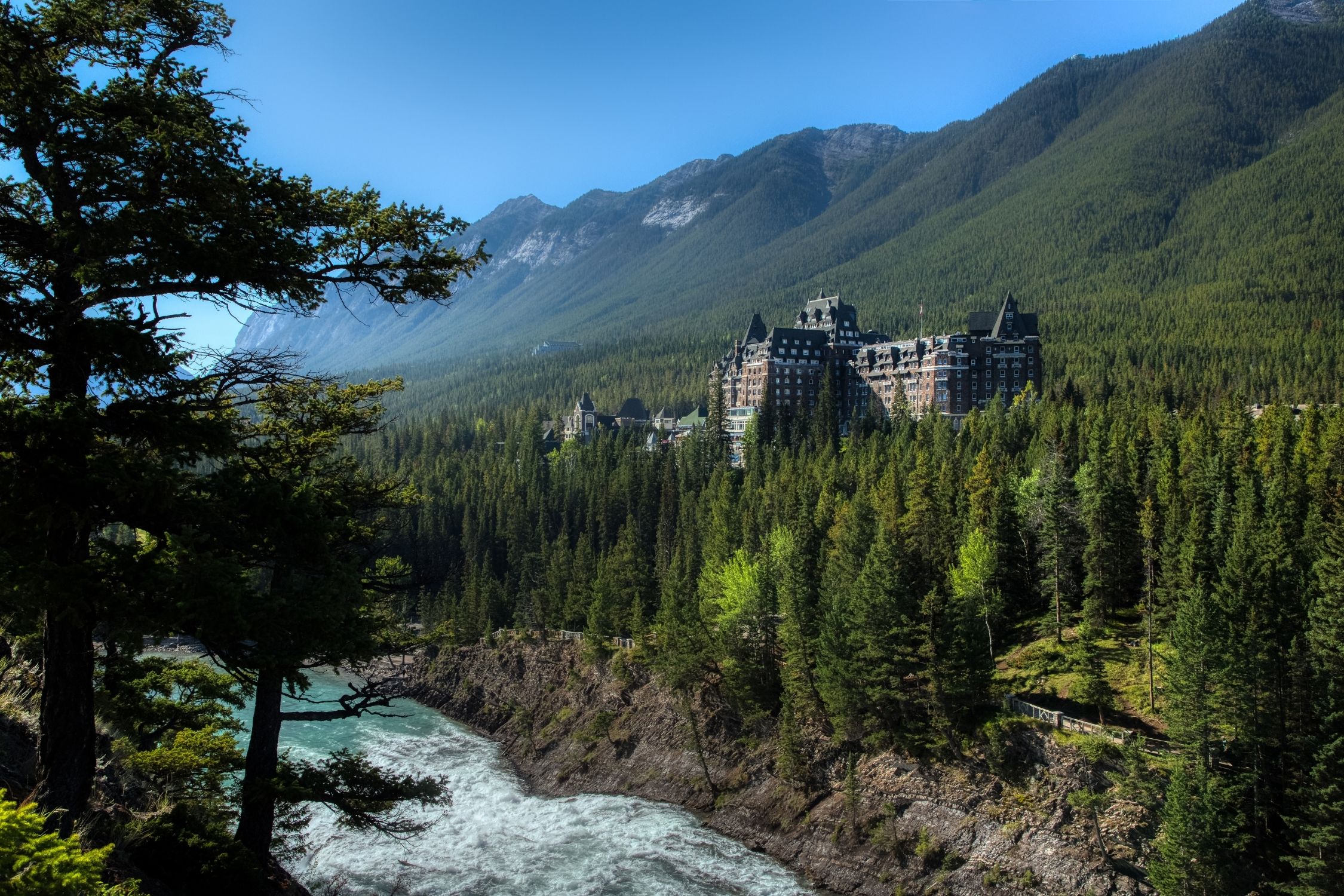 If you're wanting a bit of an indoor time and are a historian/foodie then embark on a culinary journey and explore the magnificent Fairmont Banff Springs Hotel with a small-group tasting tour. With four locations within the sprawling complex to visit, indulge in "fork and knife" tastings and beverage pairings at the Vermillion Room and 1888 Chop House.
Gain insights into the hotel's history, art, and architecture from your knowledgeable guide as you explore the national historic site. This personalized experience offers a unique opportunity to discover Banff's culinary delights while learning about this iconic hotel's rich heritage. This is a new experience, but we expect it to be a hit this summer in Banff!
Check Availability for the Eat the Castle Tour
---
Walk the Art in Nature Trail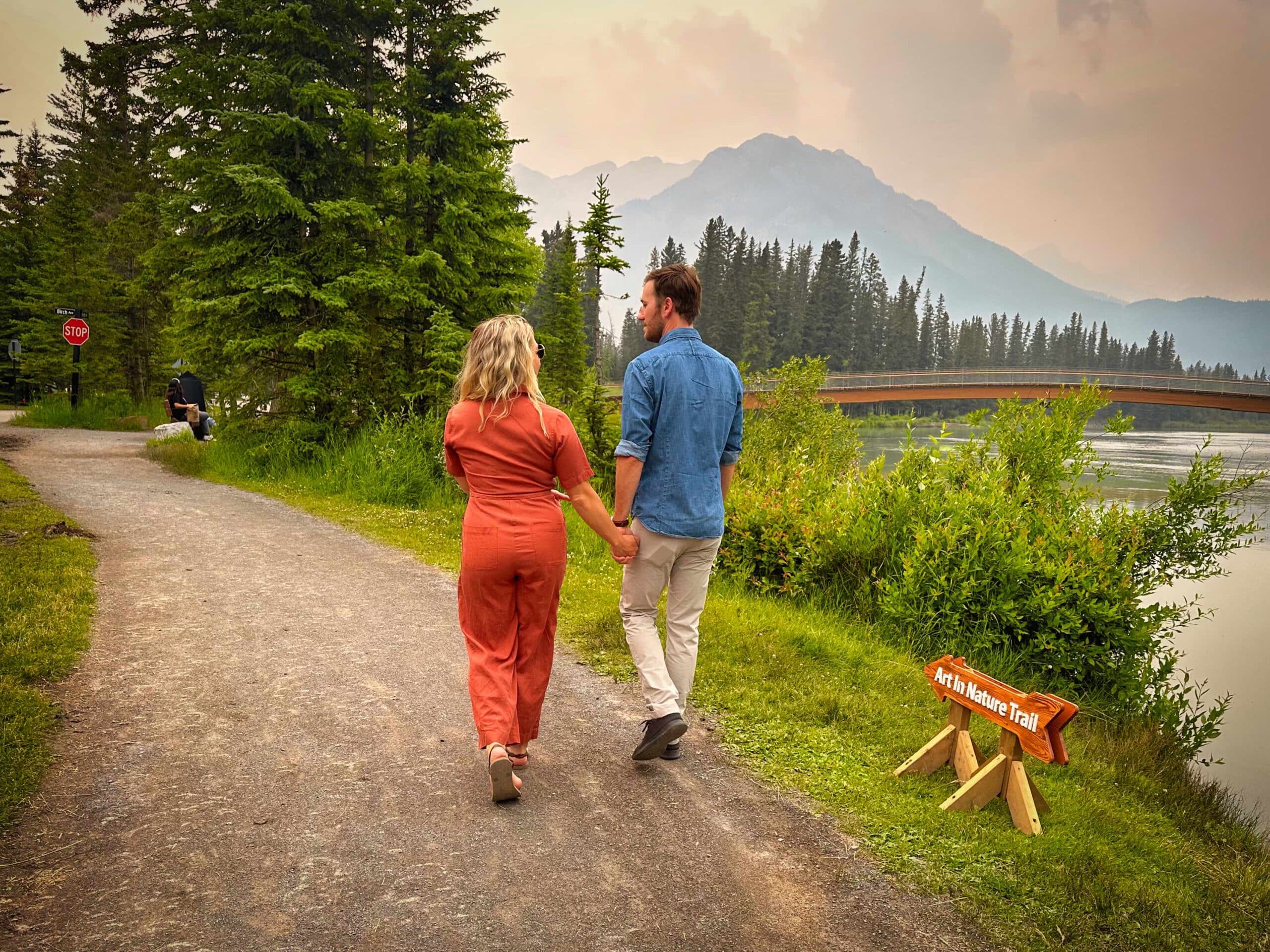 The Art in Nature Trail is a unique art installation right near the heart of Banff and along the Nancy Pauw Bridge. The Art in Nature Trail meanders along the Bow River's banks, inviting admirers of the Rockies to discover creativity from a fresh vantage point. From July to September, you'll see 30 art installations along a walking trail.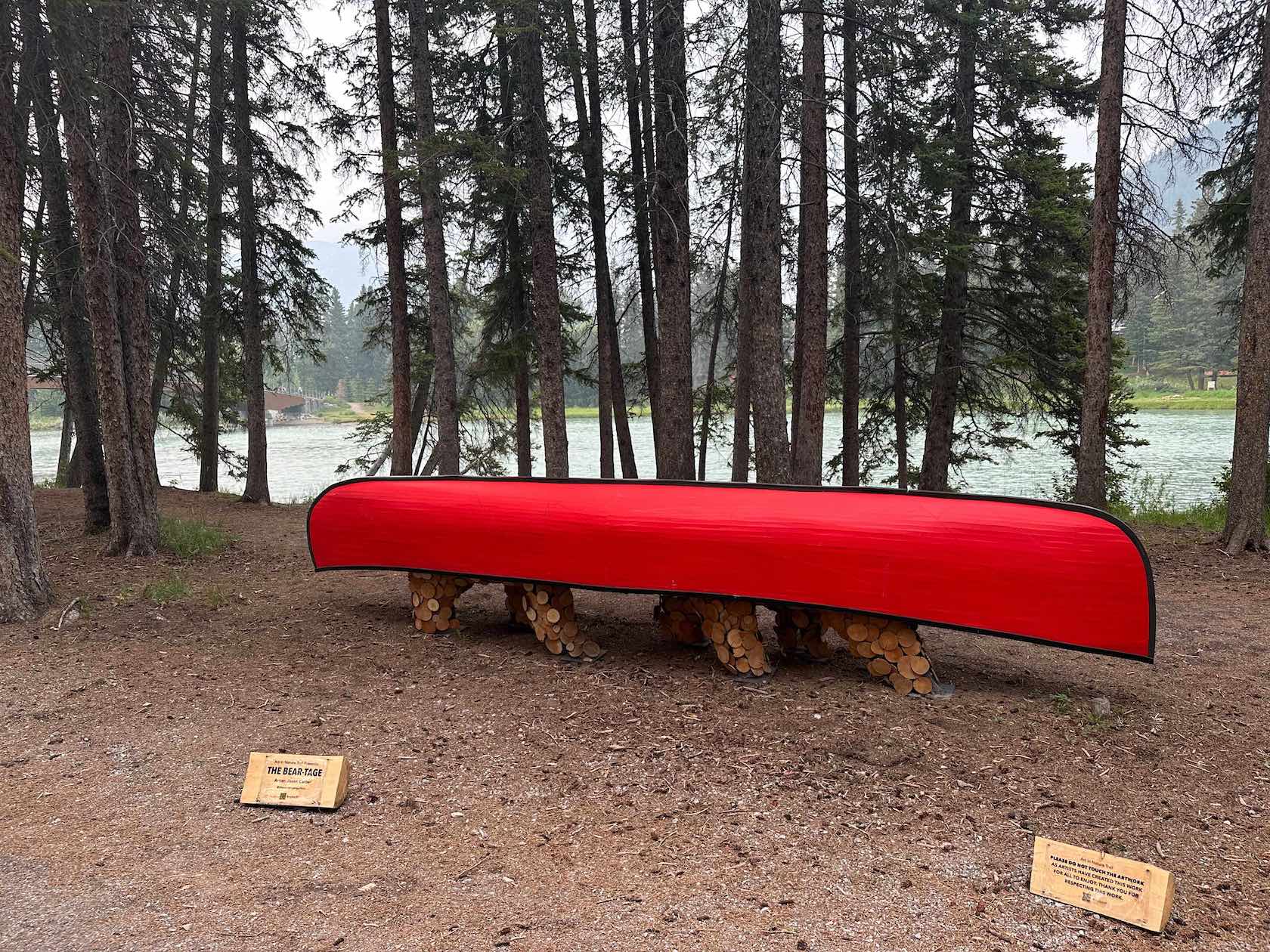 Each of the installations has been created by regional artists. This is a fun free thing to do in Banff in the summer for the entire family.
---
Go Deep in the Backcountry on Horseback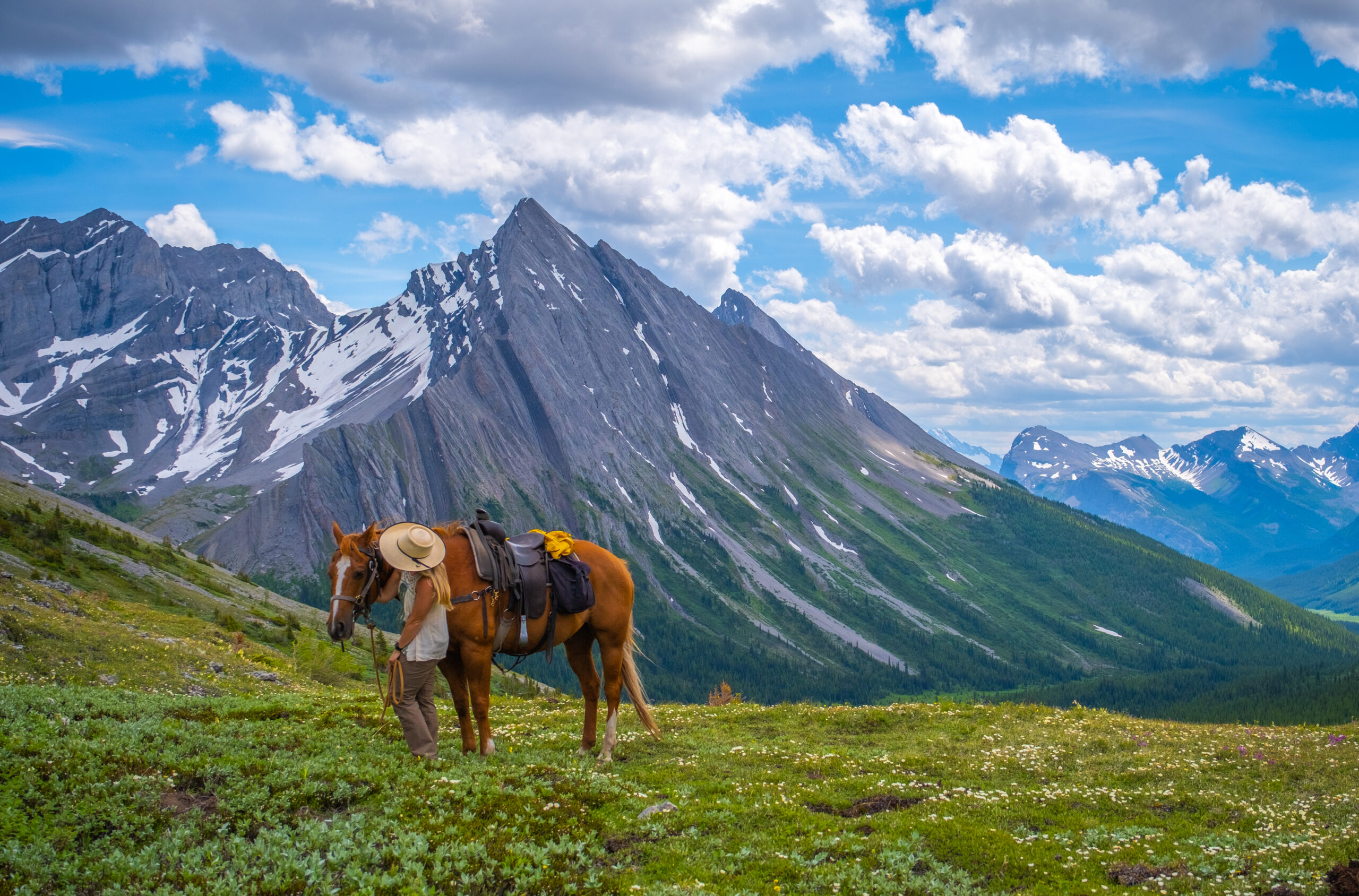 One of the best things to do in Banff in the summer is to hop on a horseback and get deep into Banff National Park. It's a huge park that very few people really get out in, most stick to the main sites. But having a horse will help you get far back into some unknown passes.
Banff Trail Riders is a local company that can take visitors deep into the backcountry via horseback in the summer. It's one of those bucket list experiences I would recommend to anyone that truly wants to live out those old western dreams.
We spent a week in the backcountry with Banff Trail Riders and it was marvelous. Read all about horseback riding in Banff.
---
Canoe on Vermilion Lakes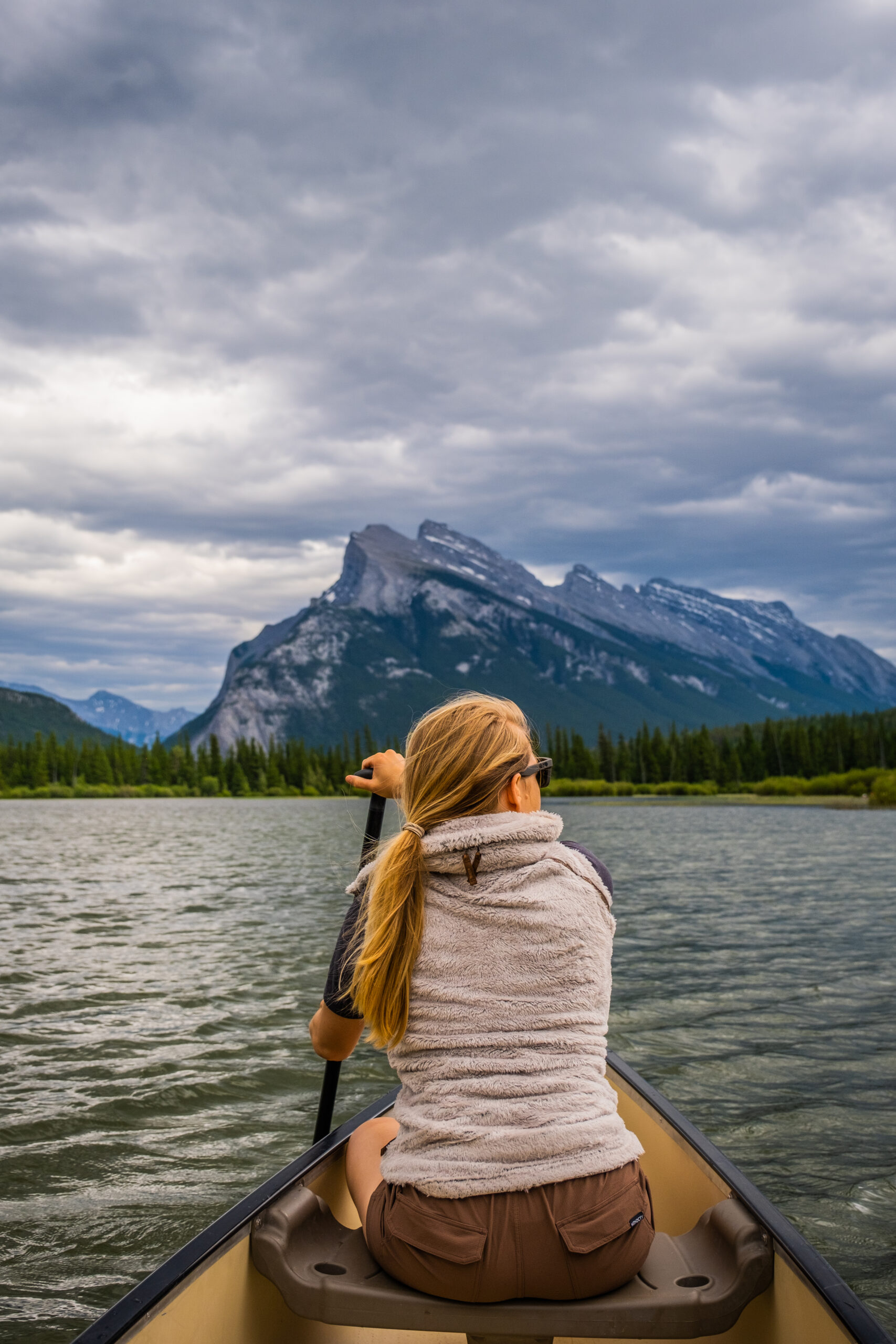 There are plenty of lakes to canoe on in Banff National Park. The closest one to town is Vermilion Lakes which sits right below beautiful Mount Rundle and is so fun to canoe on.
There are always some curious ducks and geese on the water, and if you're lucky, you might even spot a beaver. It's a pretty shallow spot to canoe, making it great for beginners who want to canoe in Banff in the summer. Check out Banff Canoe Club for rentals!
---
Big Canoe Tour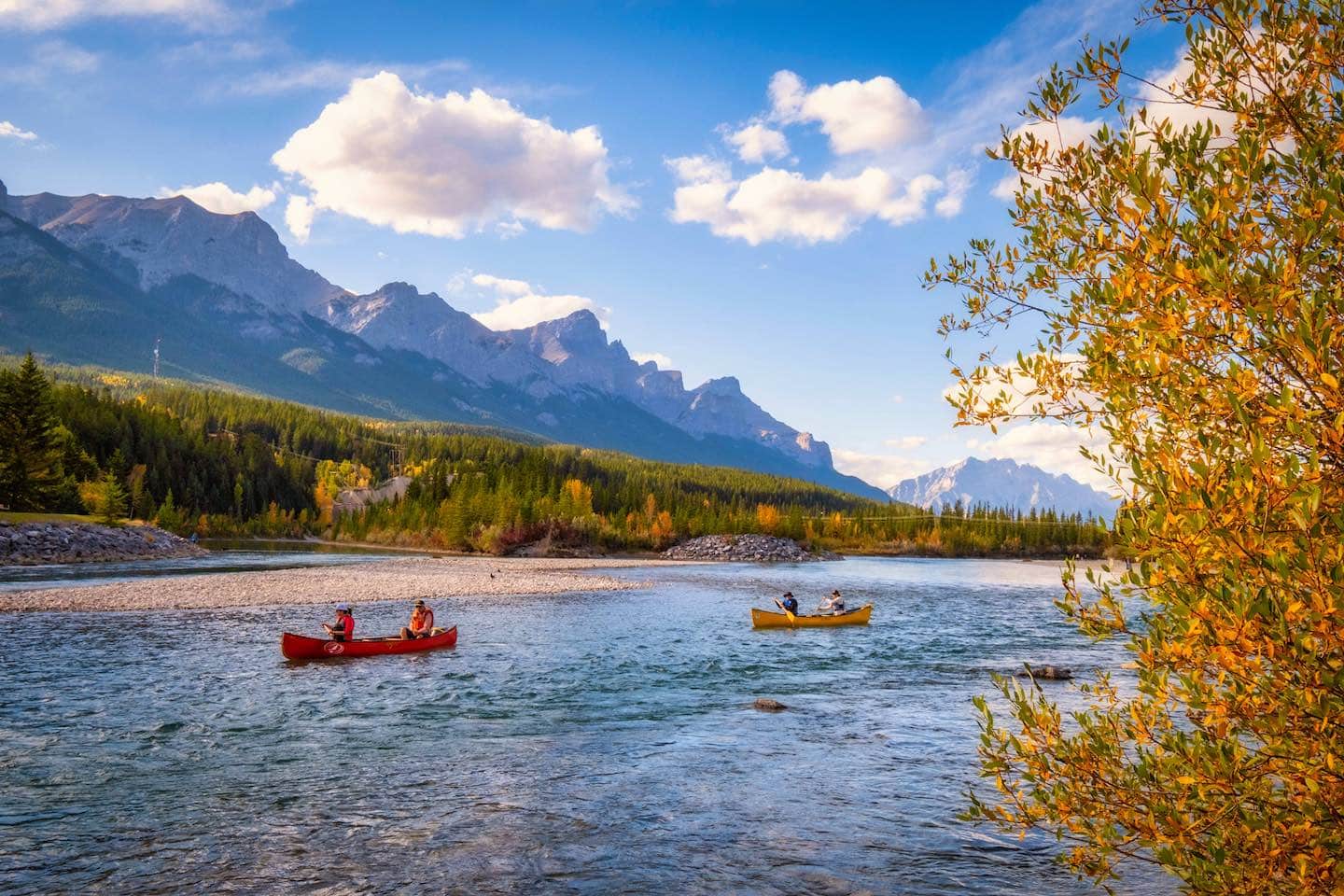 Banff Canoe Club runs "Big River Tours" on the Bow River during the summer. Immerse yourself in the tranquility of the Bow River and soak in the breathtaking surroundings on a Big Canoe Tour.
As you paddle upstream, their expert guides will regale you with fascinating tales of the past, enlightening insights into the history of canoeing, and captivating local trivia. Whether you're a seasoned paddler or a first-timer, every tour comes equipped with life jackets, paddles, and comprehensive instructions on how to paddle as a team.
---
Visit Bankhead Ghost Town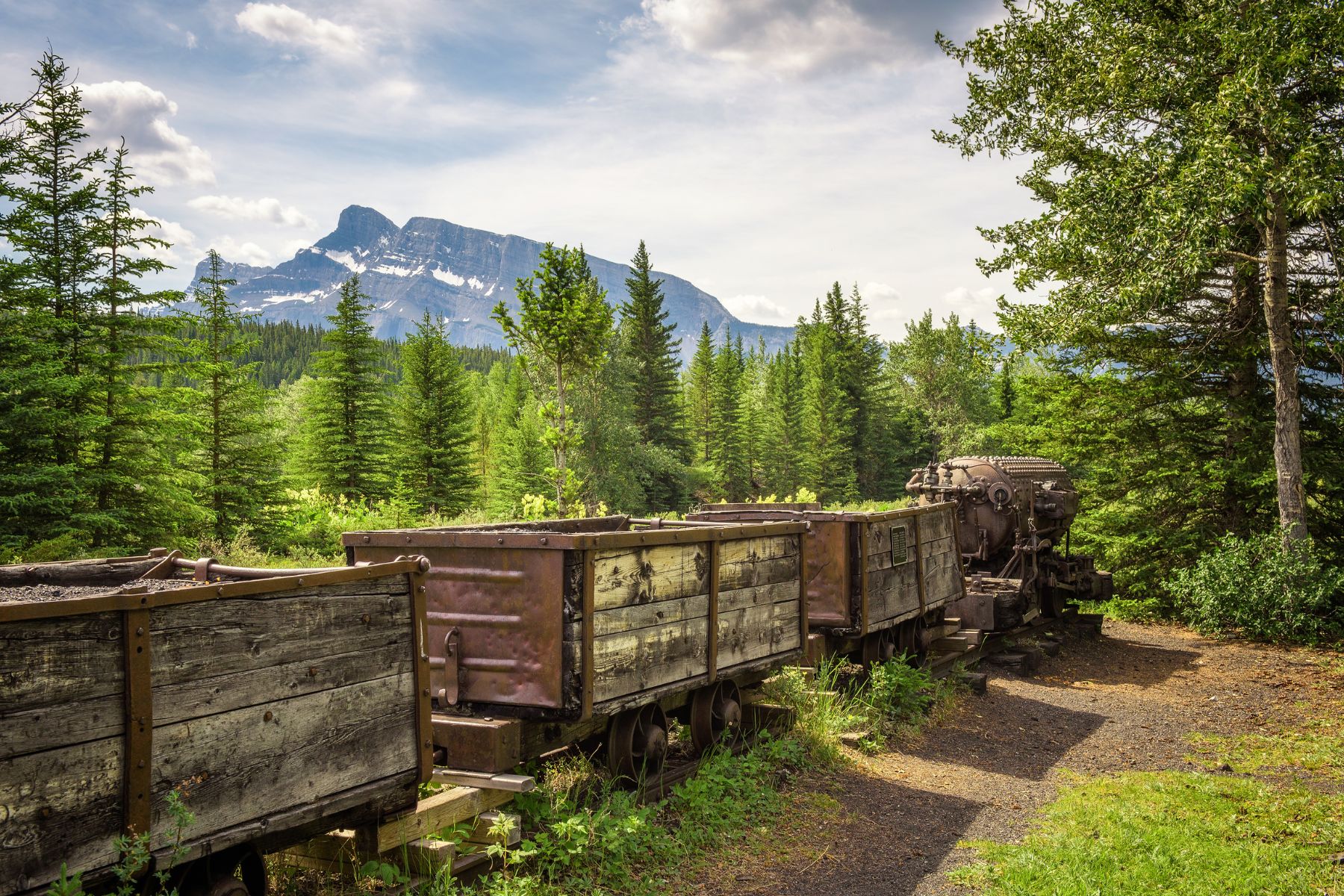 Bankhead is a tiny coal mining town that thrived in Banff National Park in the early 1900s. The town's coal mine was situated under Cascade Mountain, which harbored superior-quality anthracite coal reserves.
Pacific Coal Company, a Canadian Pacific Railway subsidiary, was responsible for operating the Bankhead coal mine, as the railway required the coal to power its steam engines. In 1903, the mine commenced operations and contributed significantly to the local economy.
The Pacific Coal Company owned and constructed all buildings in Bankhead, which were then rented to residents. Eventually, in 1926, several structures were relocated to nearby Banff and Canmore.
The Lower Bankhead area is off of Lake Minnewanka Loop Road and now features an interpretive trail with signs that highlight key buildings and provide interesting facts about the area. Visitors can easily identify the remaining structures, as well as explore the foundations of buildings that are still visible. It's one of the best things to do in Banff with kids if you're looking for a bit of history in the area you're visiting.
---
Go Hiking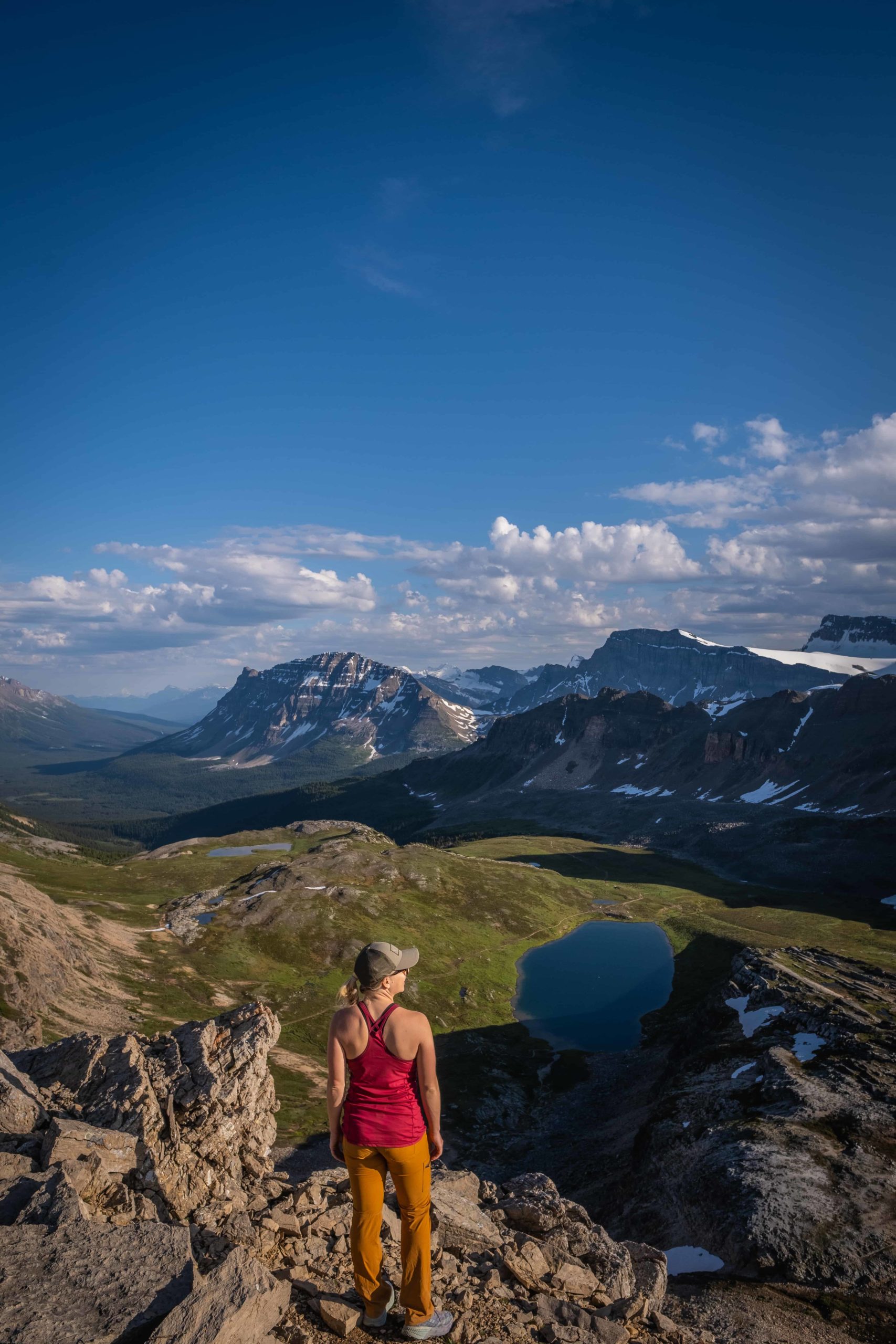 One of the best things to do in Banff in the summer is to go hiking. Seriously you cannot visit the Canadian Rockies and not go hiking at least once, I personally think it's the best place to hike in the world.
Almost every hike gives you amazing views of something gorgeous be it mountains, lakes, or beautiful valleys. You can see some of my favorite Banff hikes here.
Some great hikes to enjoy in Banff:
---
Try Scrambling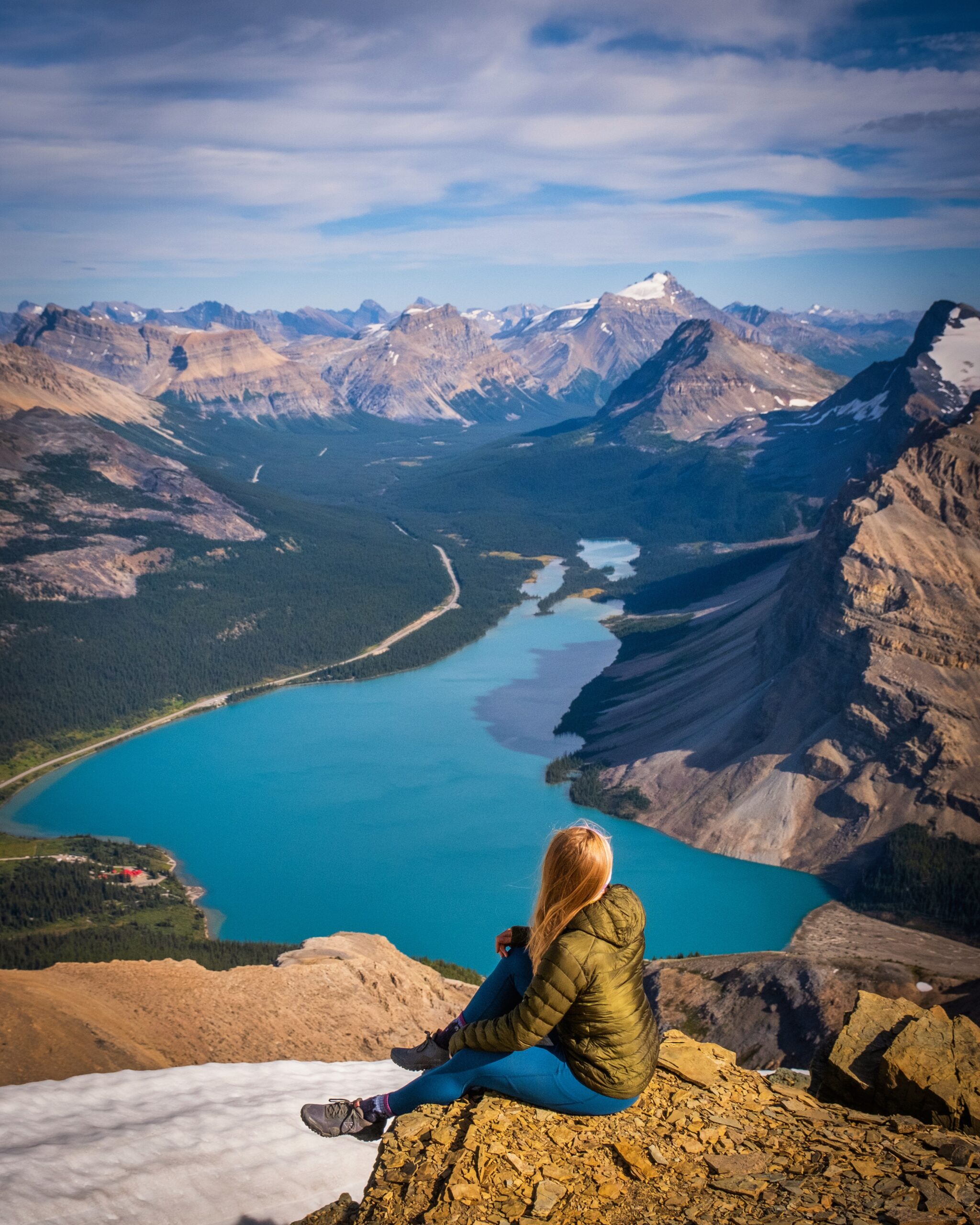 If you are a good hiker and want to try something more challenging try your hand at scrambling. Scrambling is a walk up steep terrain involving the use of one's hands.
Three points of contact with your body are needed to classify a hike as a scramble. I love scrambling as it's more challenging than hiking, and it's typically required to access some of the big peaks in the Rockies.
It's a very popular sport in Banff, but it should not be confused with hiking. Some scrambles are dangerous, and you should have proper experience with harder hikes and maybe even some beginner scrambling. August is the best time to scramble as most of the snow has melted off the mountain peaks.
Some of my favorite scrambles in the Canadian Rockies are Jimmy Simpson, The Onion, EEOR, and Mist Mountain.
---
Go for a Dip in a Glacier Fed Lake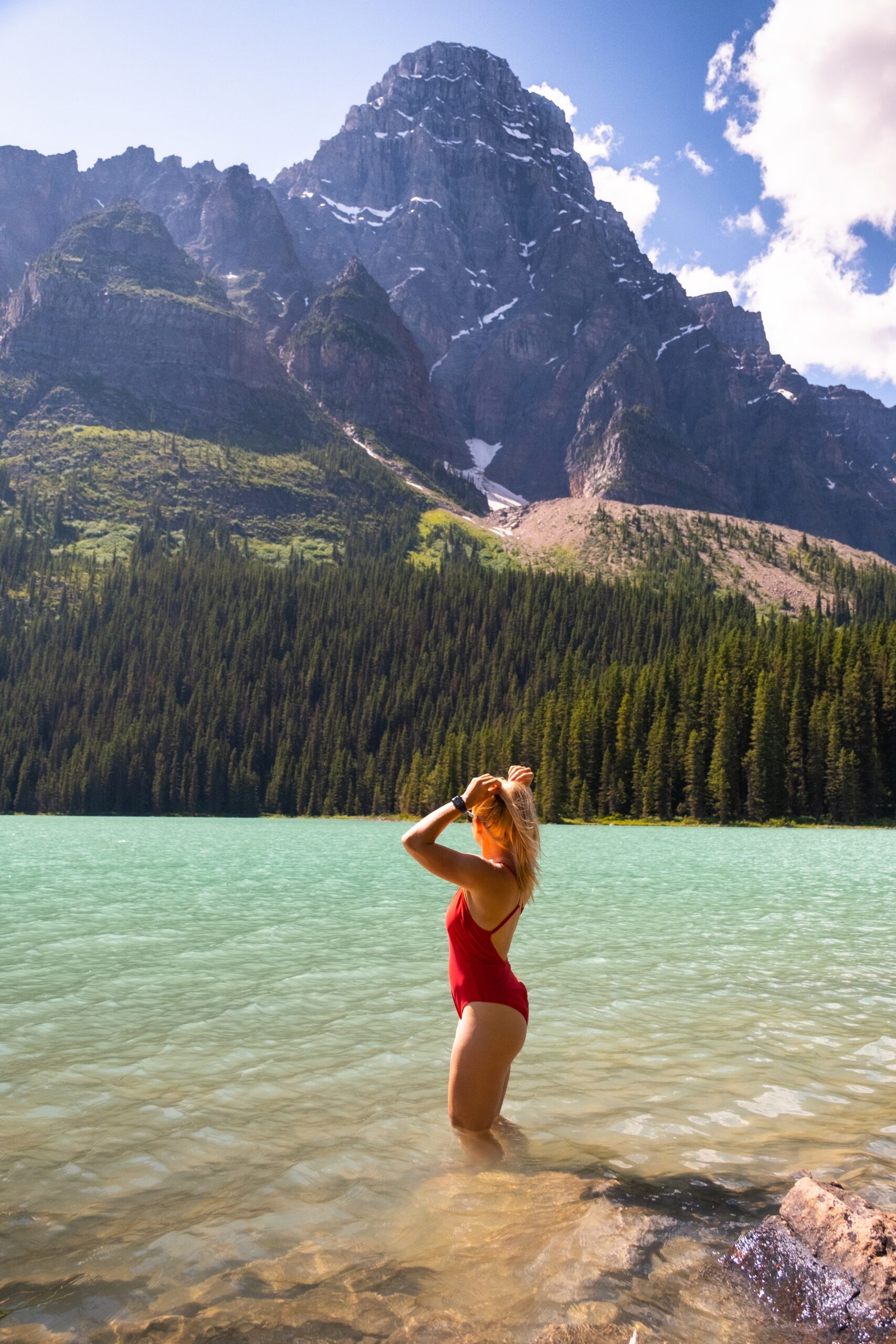 If you're gonna go for a swim in one of the Canadian Rockies lakes, Banff in the summer is the time to do it. I particularly like August as it's the warmest month, and getting in the water will take your breath away slightly less than it would other months.
But it's still the Canadian Rockies and submerging yourself in the water is still incredibly cold as the water temperature is around 5°C. I wouldn't plan to spend too long in the water or go for a long swim.
---
Have a BBQ at Cascade Ponds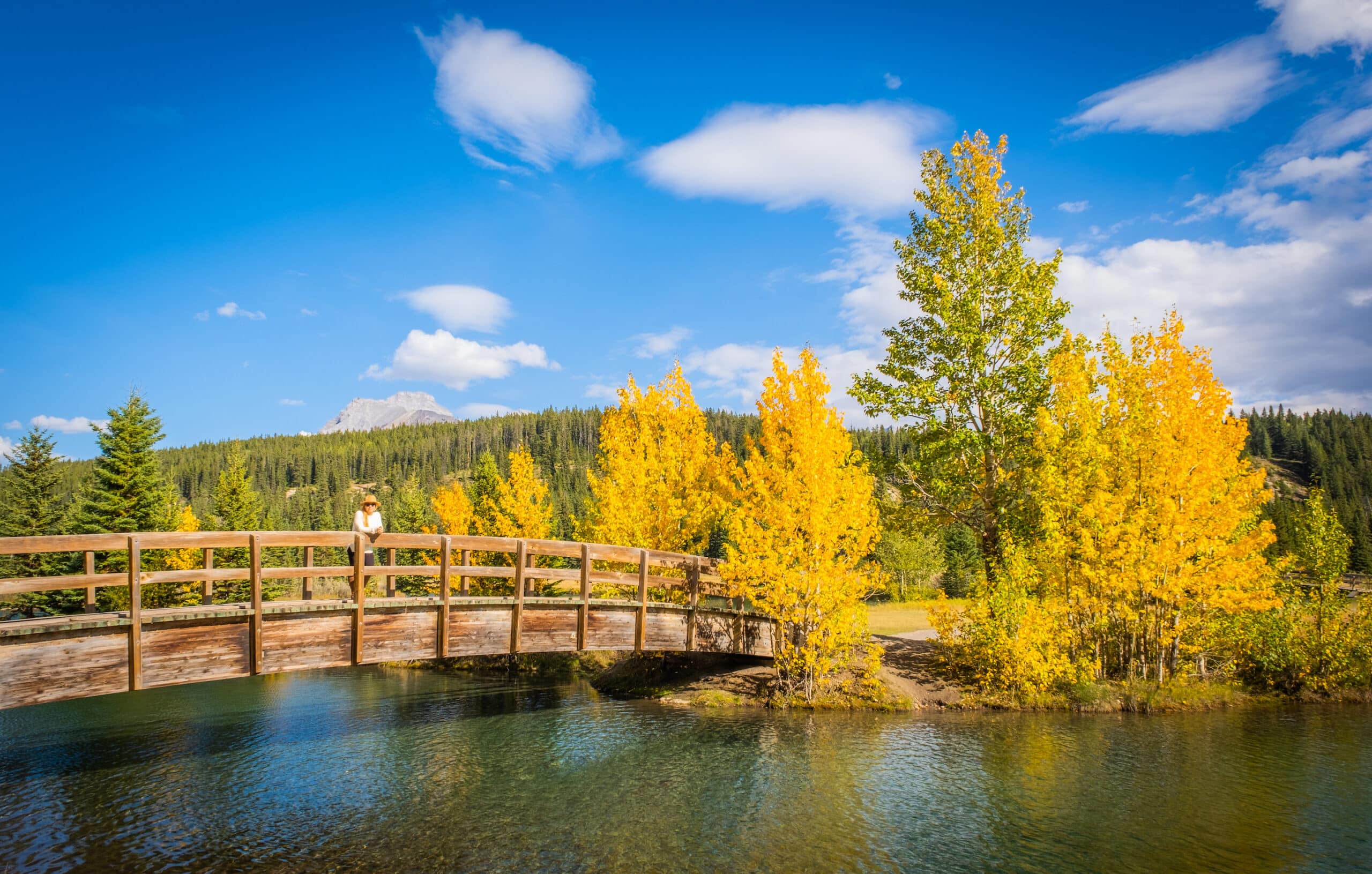 Cascade Ponds is a quiet area right off the Trans Canada that has plenty of picnic benches and bbq pits to enjoy on a nice summer day. It's the perfect place to head to with friends and family with some burgers and beer and enjoy the surroundings with food and company.
If you're going to have a bbq please remember to pick up after yourself. There are plenty of bear safe trash cans around for you to discard of trash.
---
Mt Norquay Via Ferratta

Want to get into the mountains and try scrambling as I mentioned above, but have the safety of harnesses and a mountain guide? Mt. Norquay's Via Ferrata is the perfect thing to do in the summer for those looking for a real adventure in the Canadian Rockies.
This is an assisted climbing experience up Mount Norquay. Four different routes vary in length and difficulty. Perfect for any visitor in Banff with many different options for families too.
---
Explore Johnston Canyon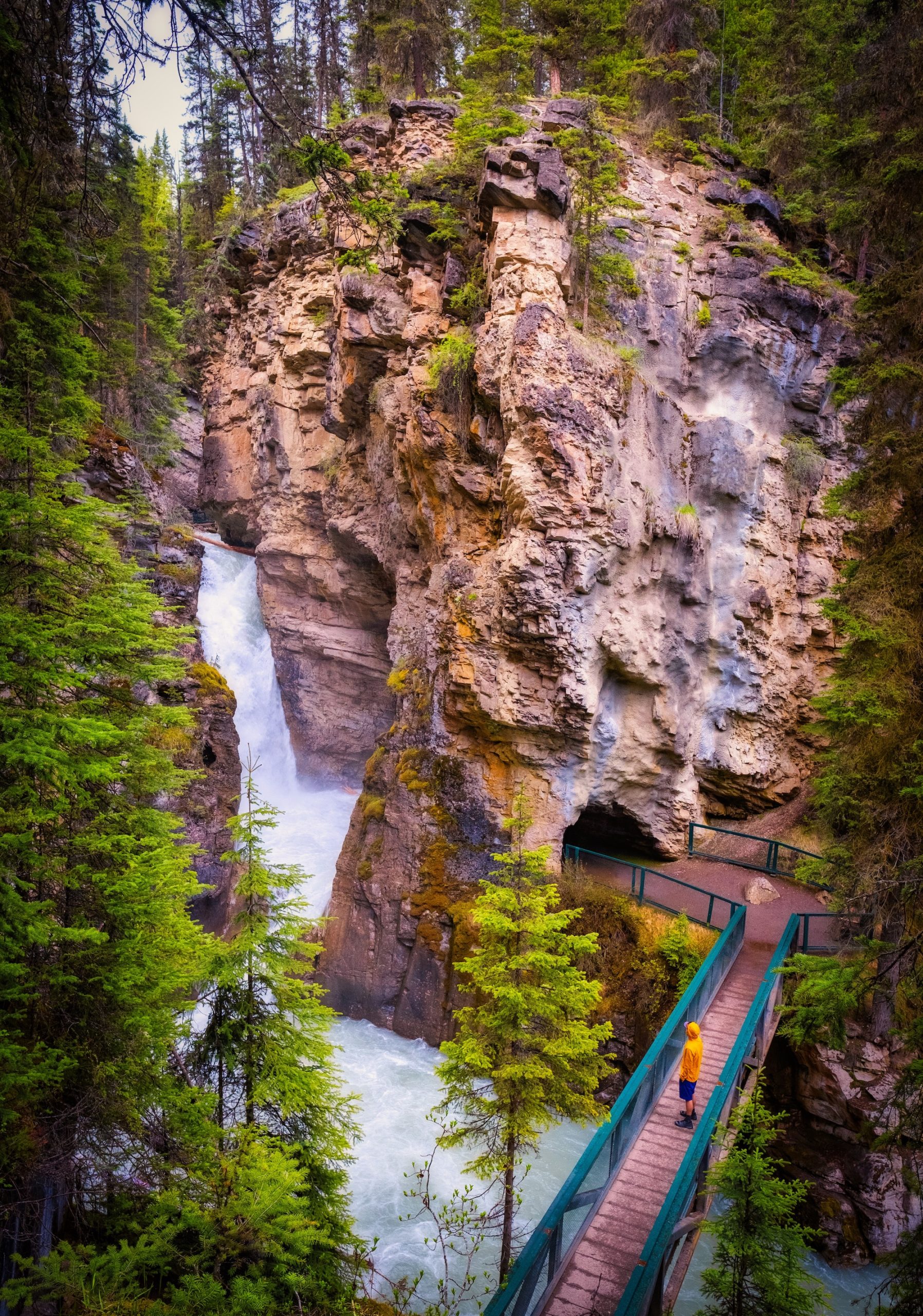 Johnston Canyon is one of the top attractions in Banff year-round and can attract a crowd. We love the hike in the winter due to the summer crowds, but there is good reason to visit in the summer.
A summer hike is visceral as the roaring water reverberates through the canyon and into your chest. As a hiker, you get up close and personal with the canyon thanks to a series of suspended walkways. Along the way, hikers catch scenic glimpses of the mountains, multiple waterfalls, and a chance to spot wildlife.
The waterfalls in the canyon are roaring come July as the snow melts high in the surrounding mountains. No matter the season it's an easy hike in Banff along a well-maintained trail suitable for all ages. For an extended hike, continue on to the Ink Pots.
More Information On The Hike
---
Bike and Hike!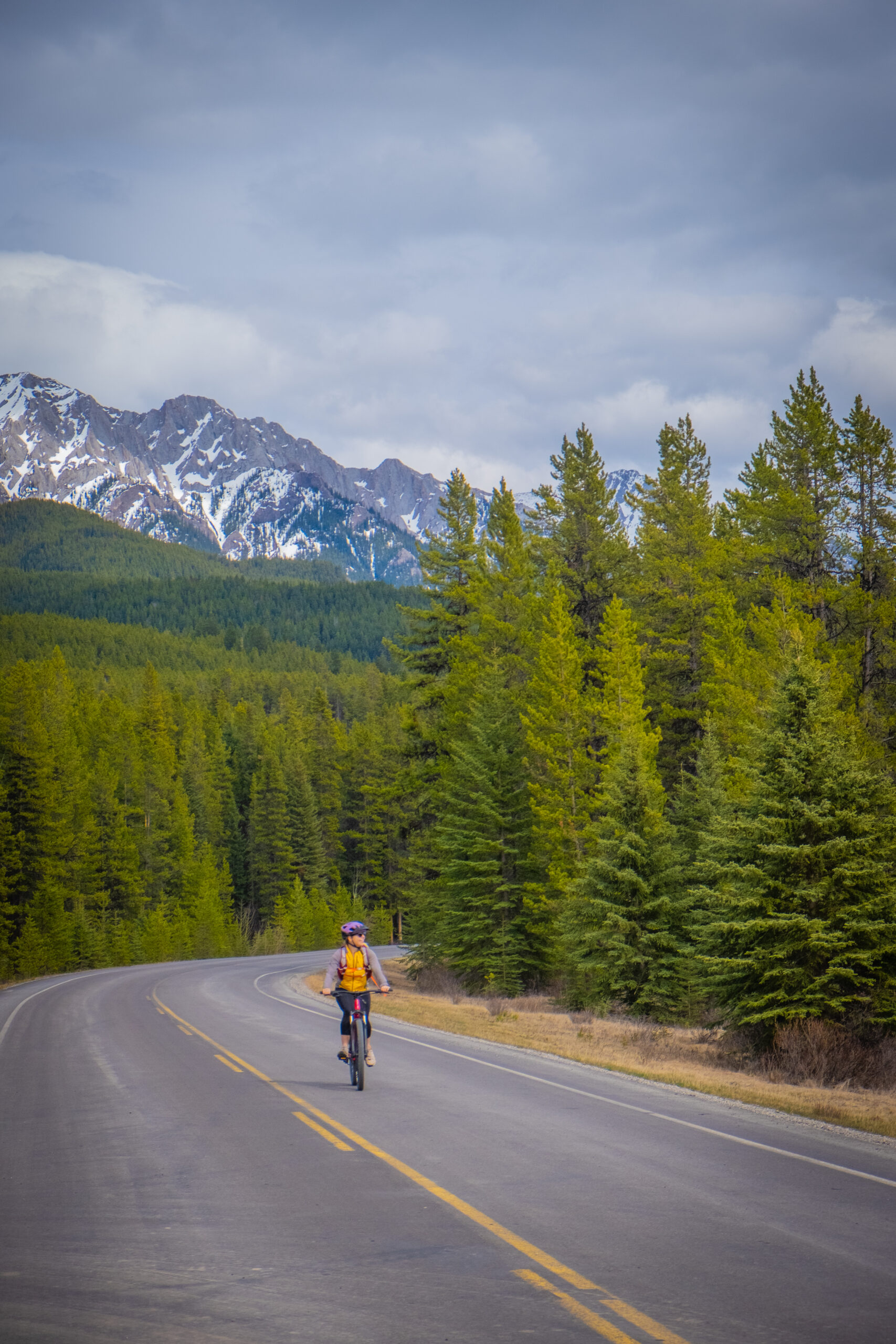 Ride a bike past Vermilion Lakes and on the Bow Valley Parkway via ebike on a guided tour. The bike portion ends at Johnston Canyon, where bikers will start their hike along Johnston Canyon.
Once you're done exploring the lower and upper falls at Johnston Canyon, you don't have to worry about riding back to Banff, as there's a convenient shuttle waiting to transport you back!
---
Go to Moraine Lake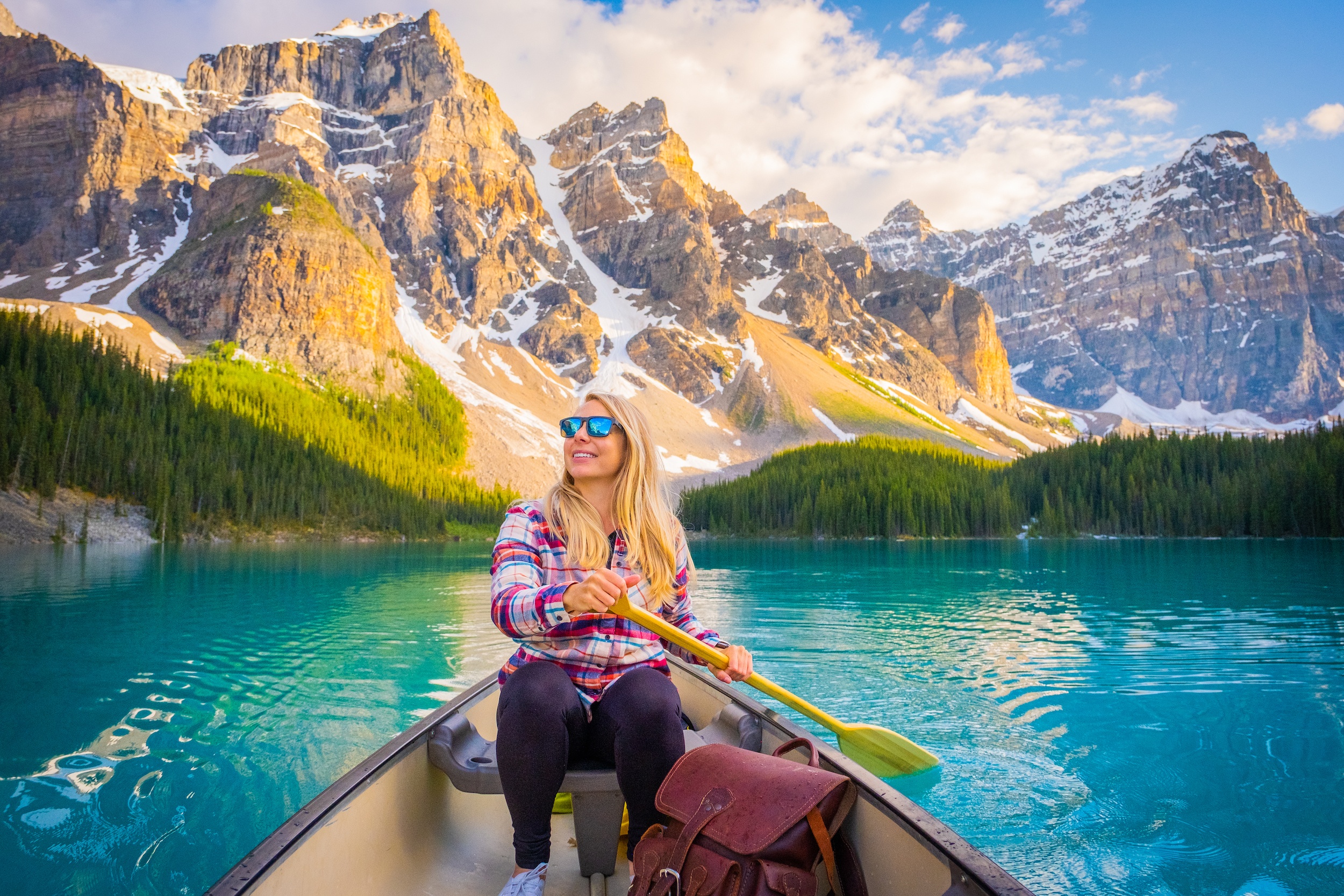 Moraine Lake is the most popular thing to do in Banff, and arguably the most popular sight to see in all of Canada, perhaps only behind Niagara Falls. This iconic lake is the picturesque picture of Canada (seriously, just Google image "Canada" and see what comes up). With the ten peaks rising high over the glacier waters Lake Moraine is certainly a Banff attraction to see.
Moraine Lake is about an hour's drive away from Banff town, and only twenty minutes further than Lake Louise. With its rising popularity and millions of Instagram location tags you used to have to arrive well before 6 am to grab a parking spot between June and September.
Though all that has changed and personal vehicles are no longer allowed to travel to Moraine Lake. We break down exactly how to get to Moraine Lake here.
Once you get to Moraine Lake, head up the Rockpile Trail for unreal views or rent a canoe from Moraine Lake Lodge and take to the water! If you want to do a bit of hiking, we touch on that below.
---
Hike Around Moraine Lake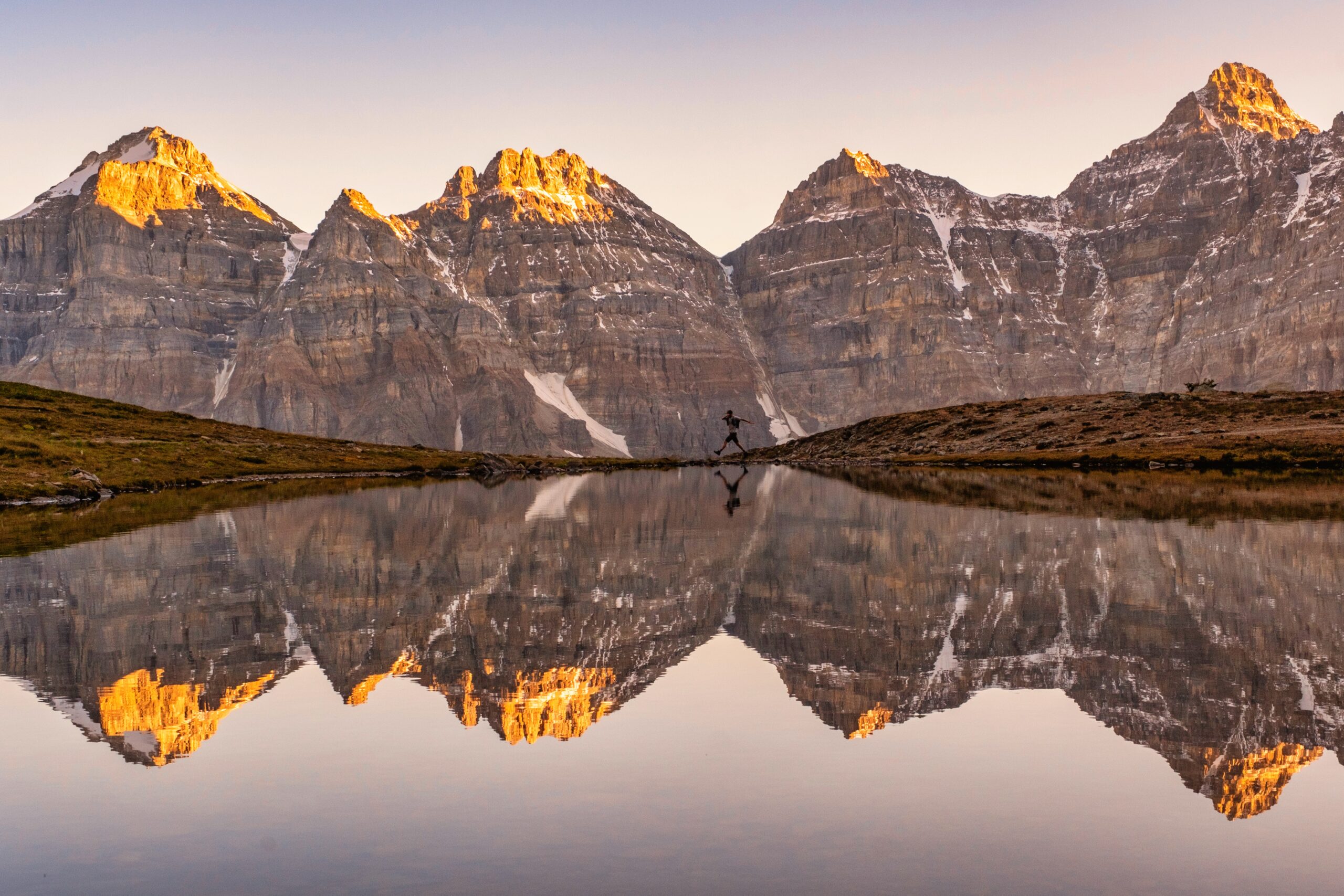 I'd say 90% of the people that head to Moraine Lake stay for an hour or so, take photos, and leave. But there is so much more to do at Moraine Lake than this. If you want an easy activity you can rent a canoe, but the more adventurous should consider a few of the hikes around Moraine Lake.
The easiest one is the Consolation Lakes. This follows the path up the Lake Moraine Rockpile and into the valley. This hike is only 6km roundtrip and has a 60m elevation gain.
However, the classic hike is Sentinel Pass, a 12 km moderate hike (732m elevation) that guarantees tremendous views (pictured above). The Tower of Babel scramble and Eiffel Peak hike are much harder and should be reserved for experienced hikers, but they provide epic views over Moraine Lake.
---
Drive the Icefields Parkway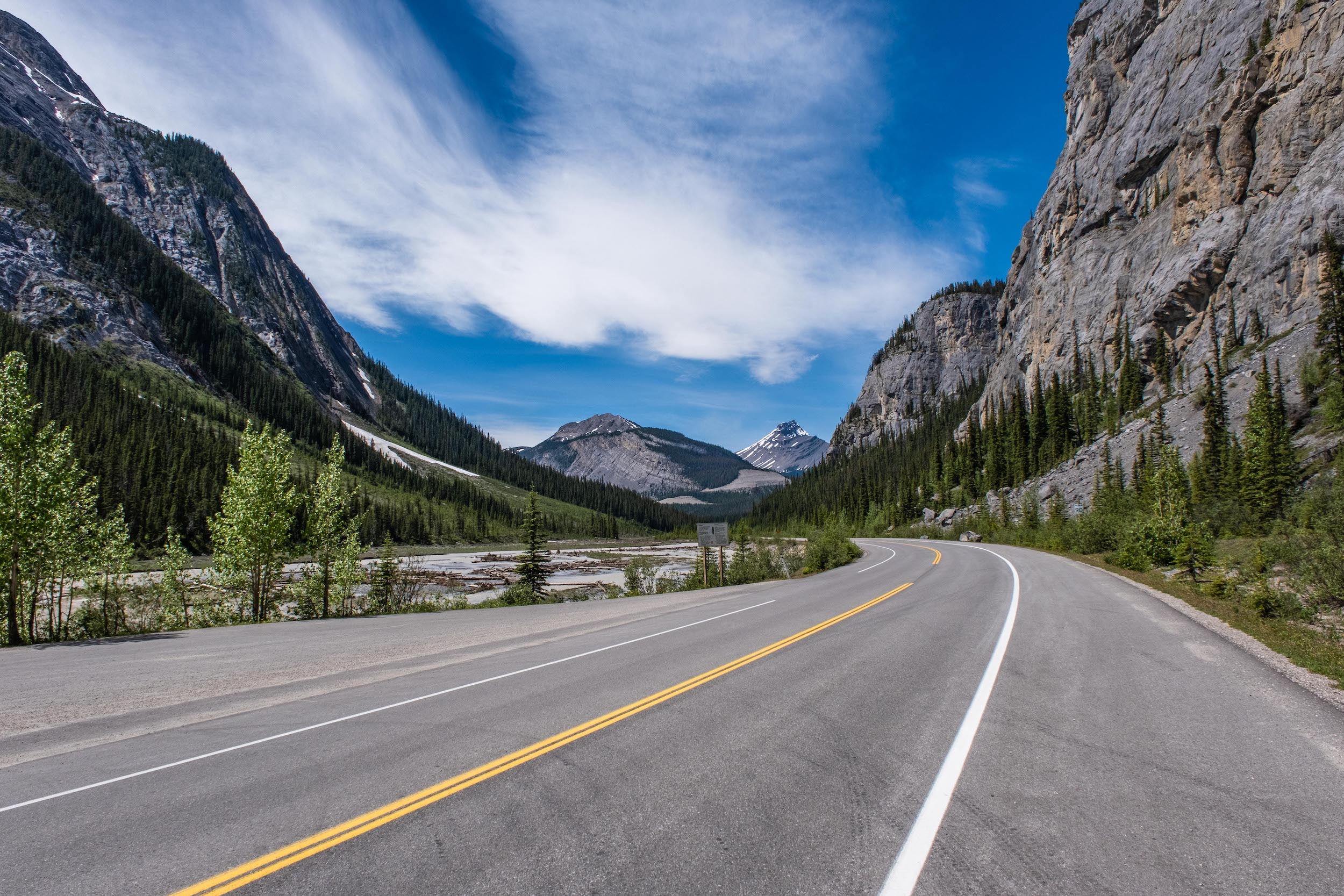 The Icefields Parkway is one of the most beautiful road trips you can take in the entire world. The Icefields Parkway (Highway 93 North) connects Lake Louise with Jasper in Jasper National Park.
The drive itself is stunning, but there are so many pull-offs along the way. Bow Lake, Peyto Lake, Herbert Lake, Hector Lake, Sunwapta Falls, and Athabasca Glacier are just to name a few (but here are all of the amazing stops).
To make the most of driving the Icefields Parkway, I would start early (6 am) and allocate at least two days. And yes this includes Banff in the summer when we have well over 15 hours of daylight.
---
Athabasca Glacier Tour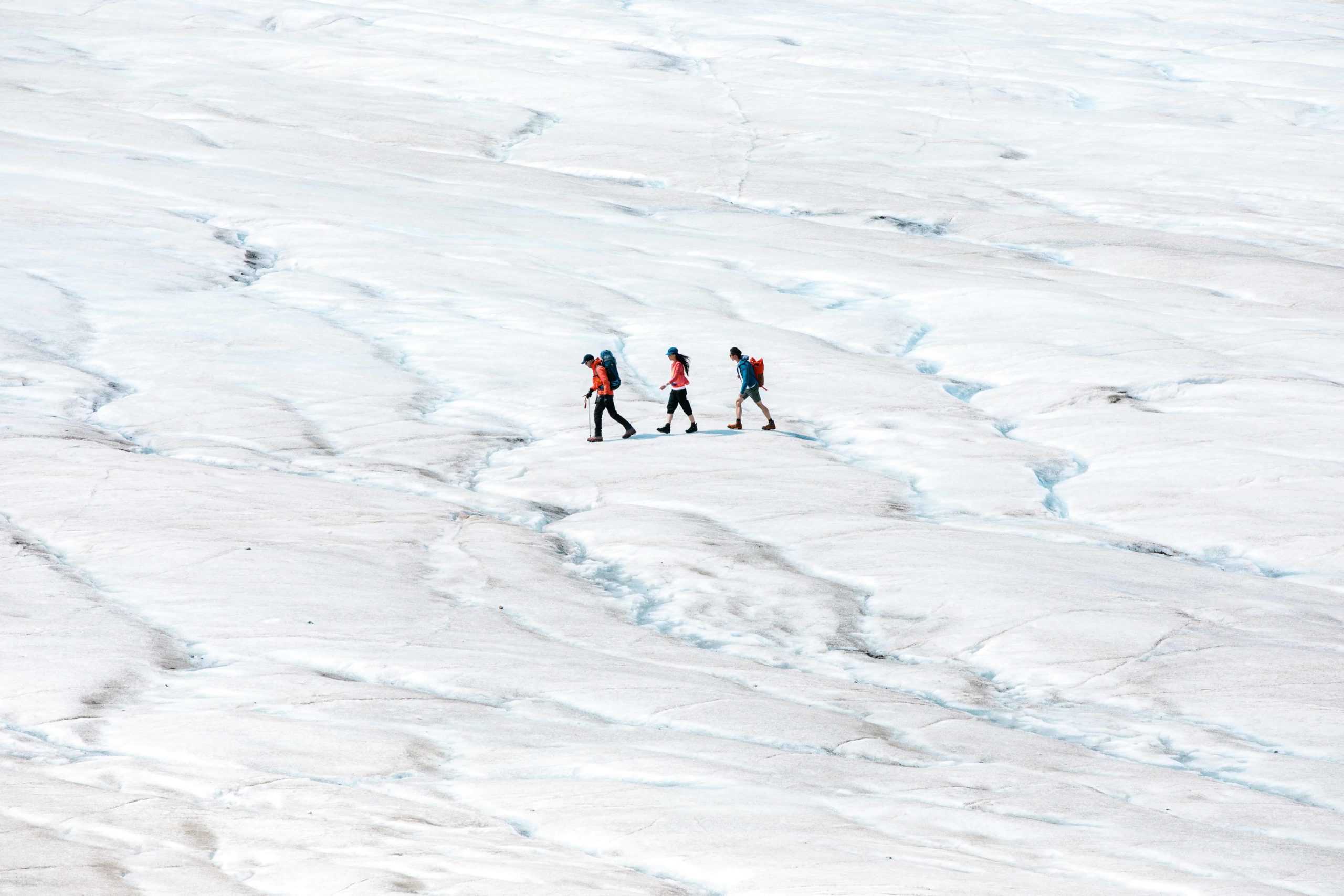 Get up close to a Glacier with the Ice Explorer at the Columbia Icefield Discover Center. It's here you can get some history around the beautiful Athabasca Glacier and experience the fun without much physical effort.
The glacier experience is on the border of Banff and Jasper, and is best done when driving between Banff and Jasper on the Icefields Parkway. Once here you take these massive vehicles with wheels taller than a person onto the center of the Athabasca Glacier.
There are also ice walk experiences you can book! Everything you need to know is noted here!
Athabasca Glacier Tours To Book
---
Climb Mount Athabasca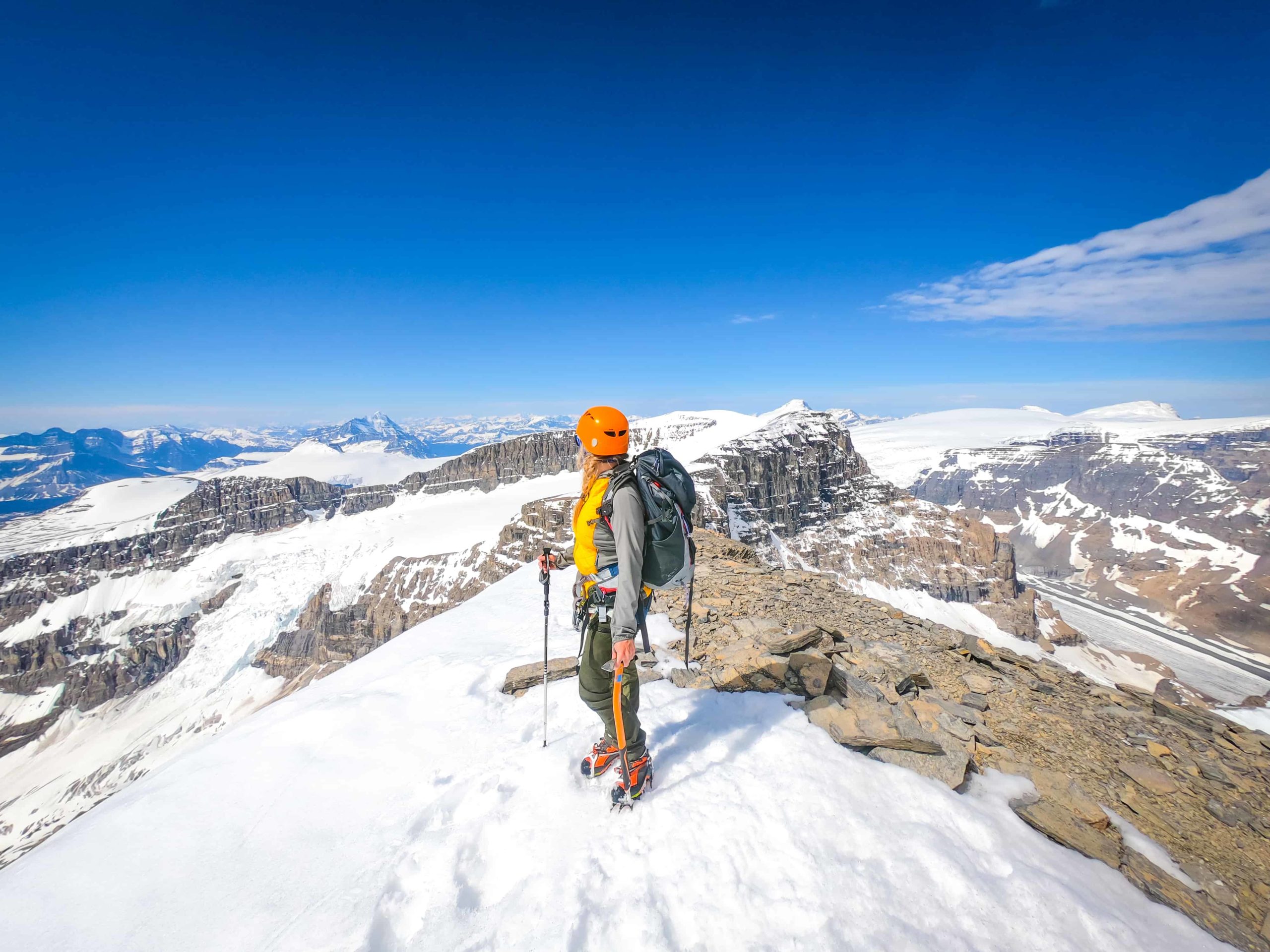 If you have plenty of time in the Canadian Rockies and really want an extreme experience you can summit Mount Athabasca. Mount Athabasca looms over one of the most popular attractions on the famed Icefields Parkway, but only a few get to see the view from the top.
To reach the summit requires a long hike to a technical glacier crossing and then up an exposed face or couloir. The views are breathtaking in more ways than one. You can spot countless glaciers, icefields, and many of Alberta's highest peaks from the top.
The peak is one of many in the Canadian Rockies, famous for reaching an altitude of 11,000 feet. Many climbers in the Rockies have the lifetime goal of summiting all 54 (58) of the peaks, and they are considered classic mountaineering objectives. At 11,453 feet in elevation with a massive glacier and convenient location, Athabasca proves to be a tremendous first "11,000er."
You cannot attempt this on your own without mountaineering and glacier travel experience; it is a serious mountain. We did a three-day mountaineering course with Yamnuska and summited on the third day – the experience was epic. This is probably not for everyone, but definitely one of the more adventurous things to do in Banff in the summer.
---
Jasper Skywalk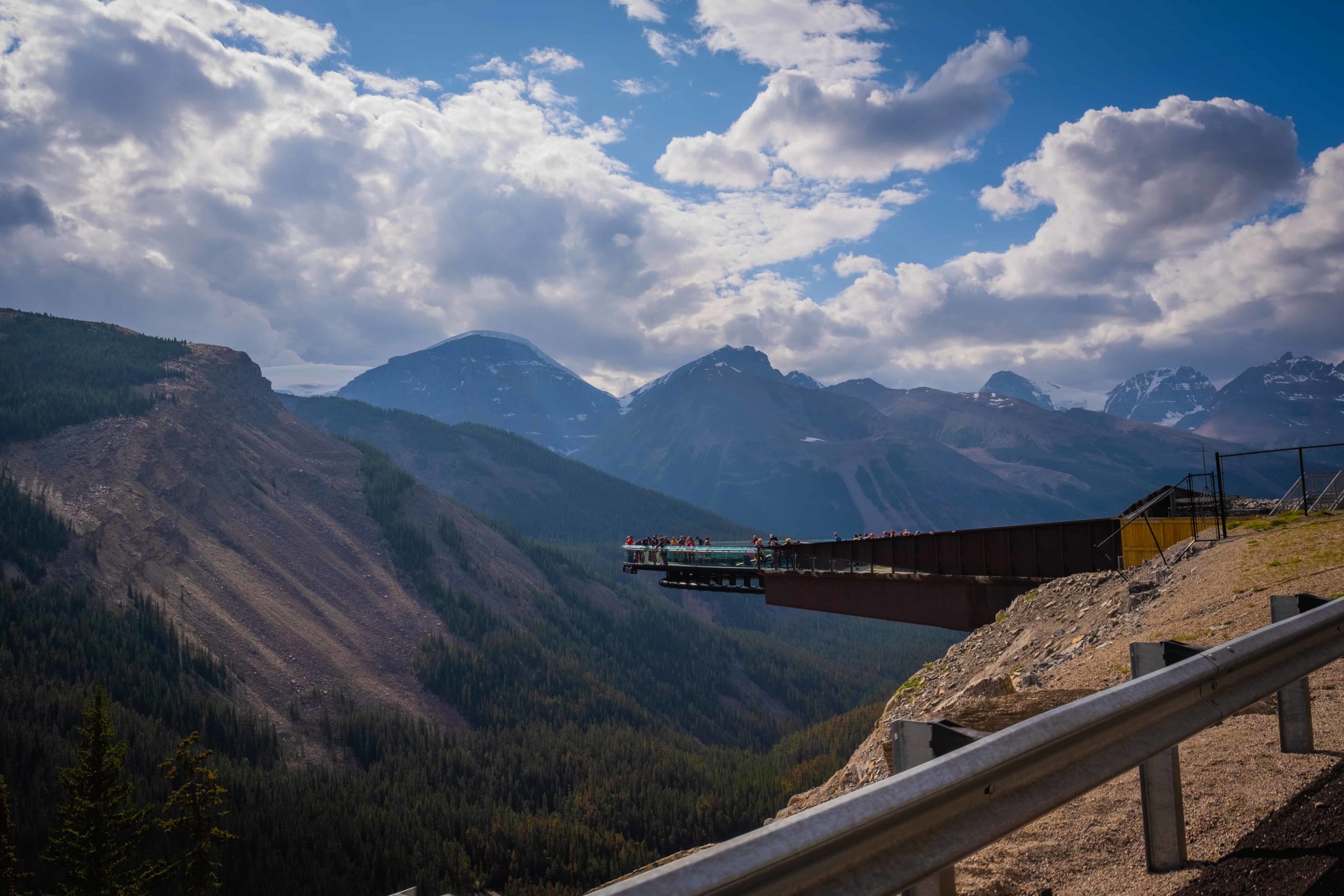 If you're already visiting Athabasca Glacier, consider adding the Glacier Skywalk, located just a couple of kilometers away to your itinerary. Although this skywalk is technically in Jasper, it's just a few kilometers past the Banff/Jasper border.
This cliff-edge walk offers stunning views of the surrounding glaciers and the Sunwapta Valley. Additionally, the Columbia Icefield Skywalk features views of wildlife, waterfalls, and fossils, making it a great family-friendly activity.
Book the Columbia Icefield Skywalk
---
Soak in the Views at Bow Lake and Hike to Bow Glacier Galls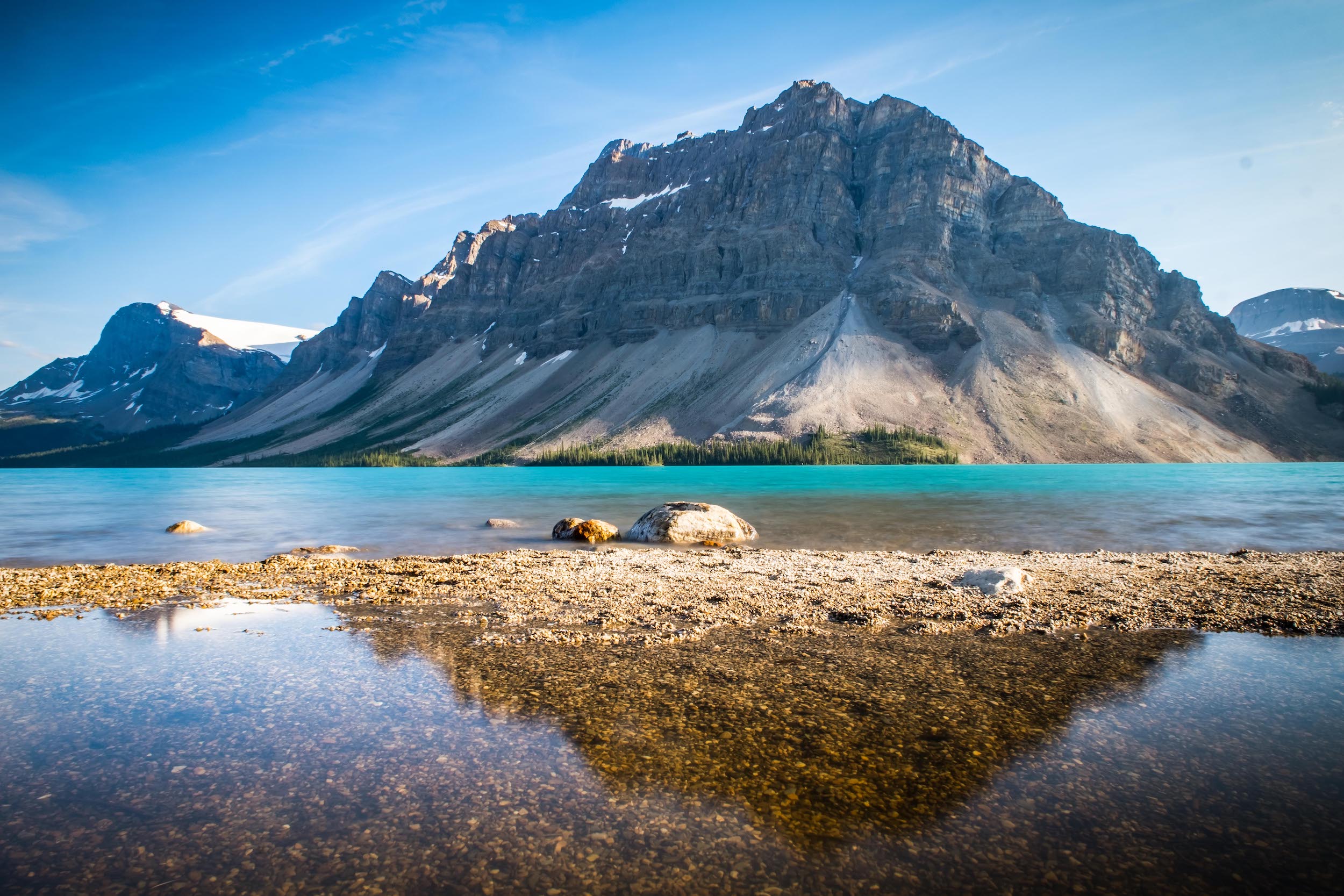 Bow Lake is another stunner that's a brilliant aquamarine color on a summer day. The scale of the lake is impressive as it's one of the largest in the park and the giant mountains that surround the lake humble visitors with scale.
It makes a great place for a nice picnic, canoe, or you can hike to wonderful Bow Glacier Falls, one of our favorites in Banff.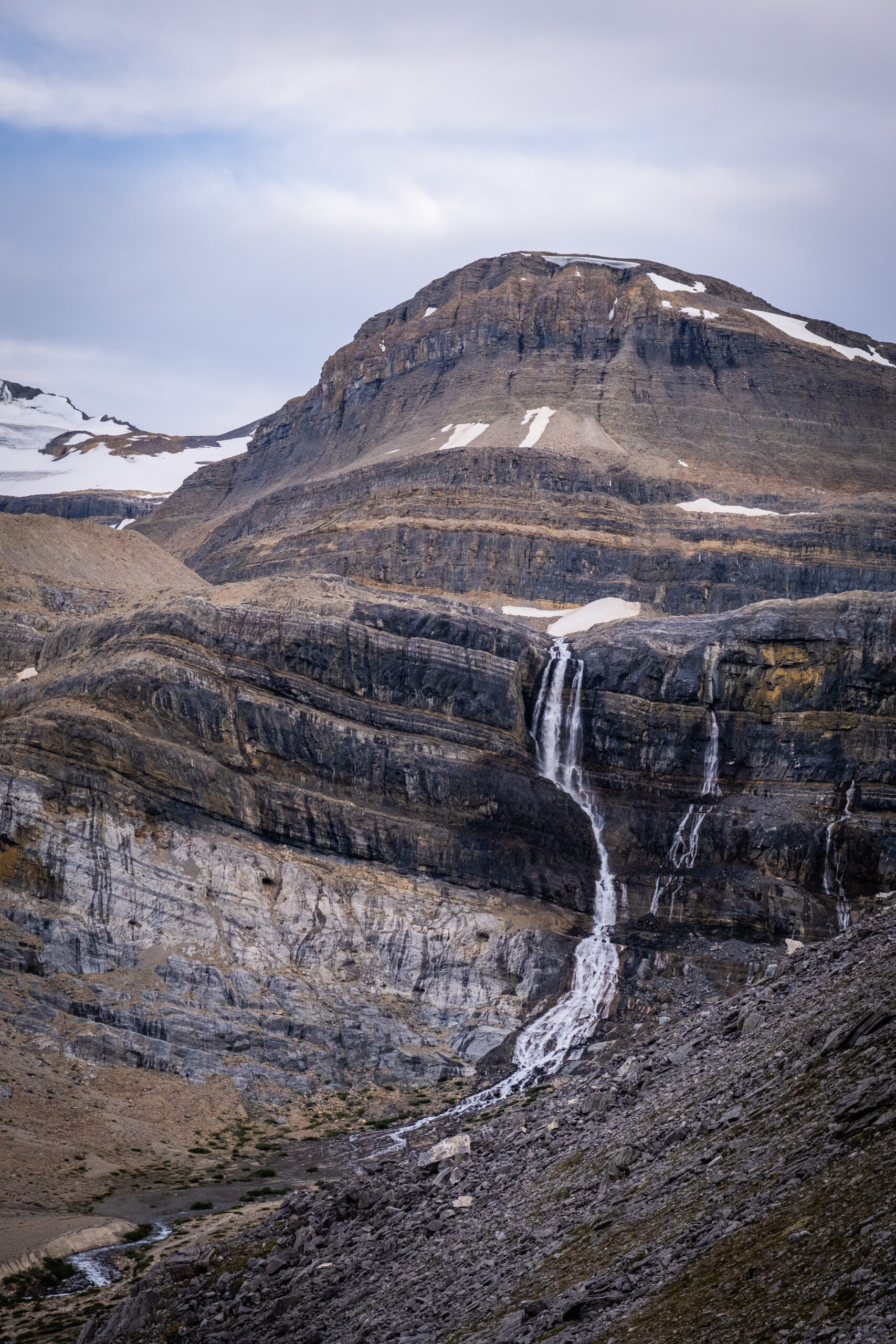 If you have time I highly suggest hiking to Bow Glacier Falls behind the lake. Then you get up close to the falls that fall from the Wapta Icefield and feed Bow Lake.
---
Take a Dip in Johnson Lake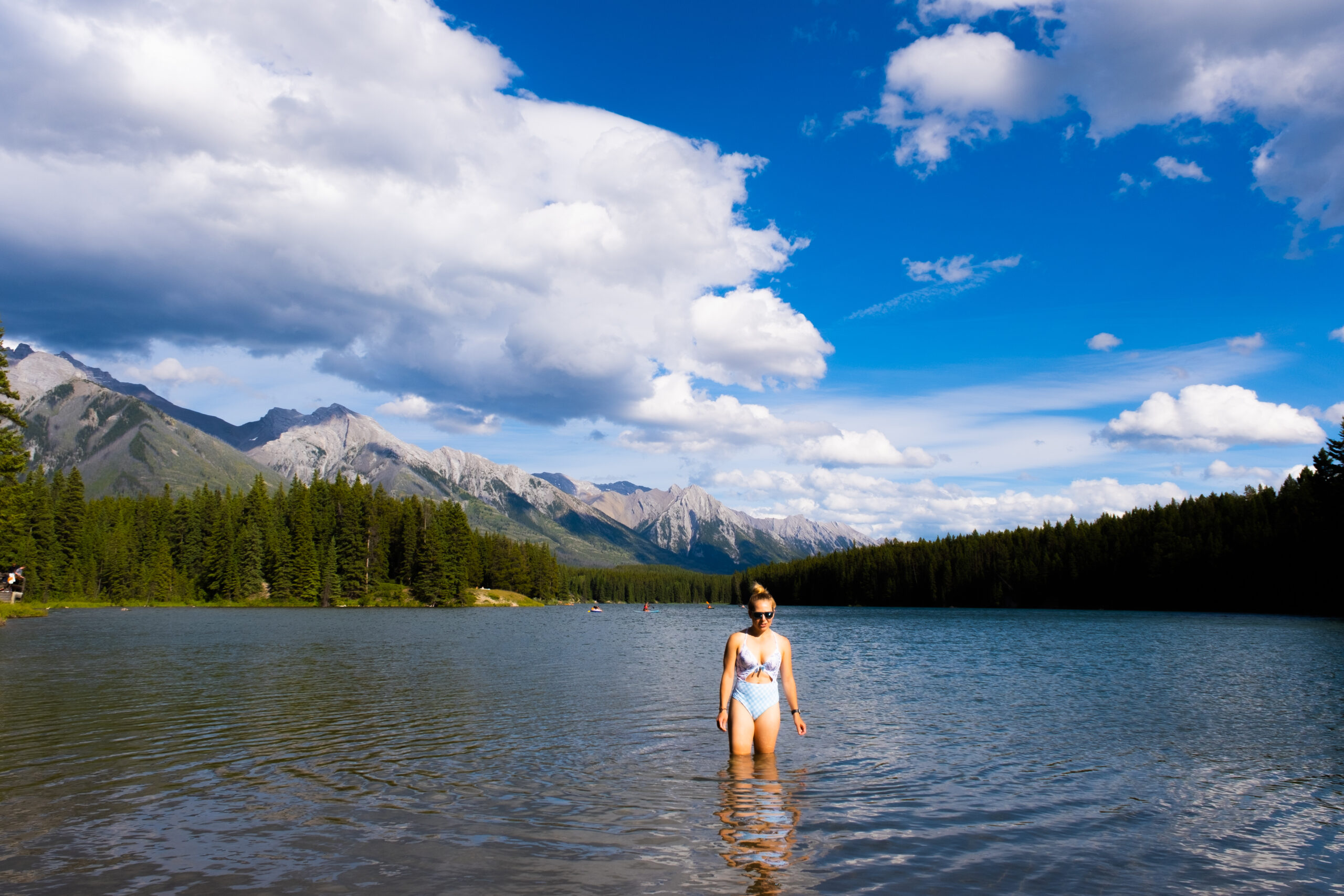 Johnson Lake is one of our favorite lakes in Banff because it's often overlooked by the more popular Two Jack Lake and Lake Minnewanka. Take a nice stroll around Johnson Lake and enjoy the mountain scenery.
Or alternatively, Johnson Lake is one of the best lakes in Banff to take a dip in. It's warmer and not super wind affected like so many other lakes in the Canadian Rockies. Plus there is a hidden rope swing on this lake!
26 Best Banff Lakes You Have To Visit
---
Enjoy a Beer at a Banff Brewery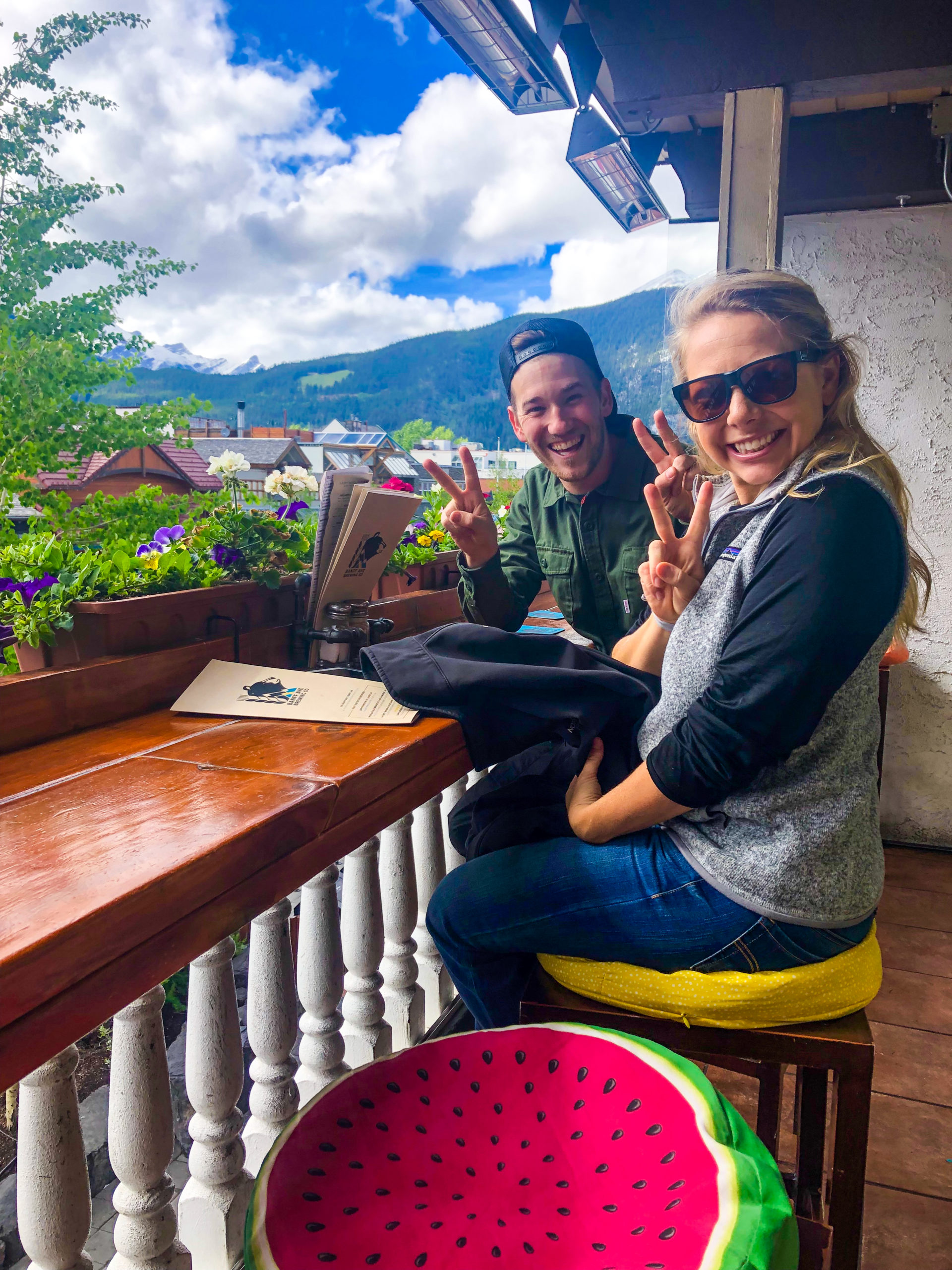 One of the best things to do in Banff in the summer is head to Banff Ave Brewery for a drink. This Banff brewery was opened by the same crew who opened the Jasper Brewing Co (Canada's first National Park Brewery) after great success.
Located on Banff Avenue this two-story restaurant and bar serve up delicious food and great beer. It's well worth a stop for anyone visiting Banff. Try to get a seat outside in the summer and watch life go by! Warning, the deck space is pretty limited so you're lucky if you snag a seat on the weekend.
If you are looking for other great breweries, check out Three Bears Brewery on Bear Street or Grizzly Paw in Canmore.
---
Head to the Waldhaus Restaurant & Pub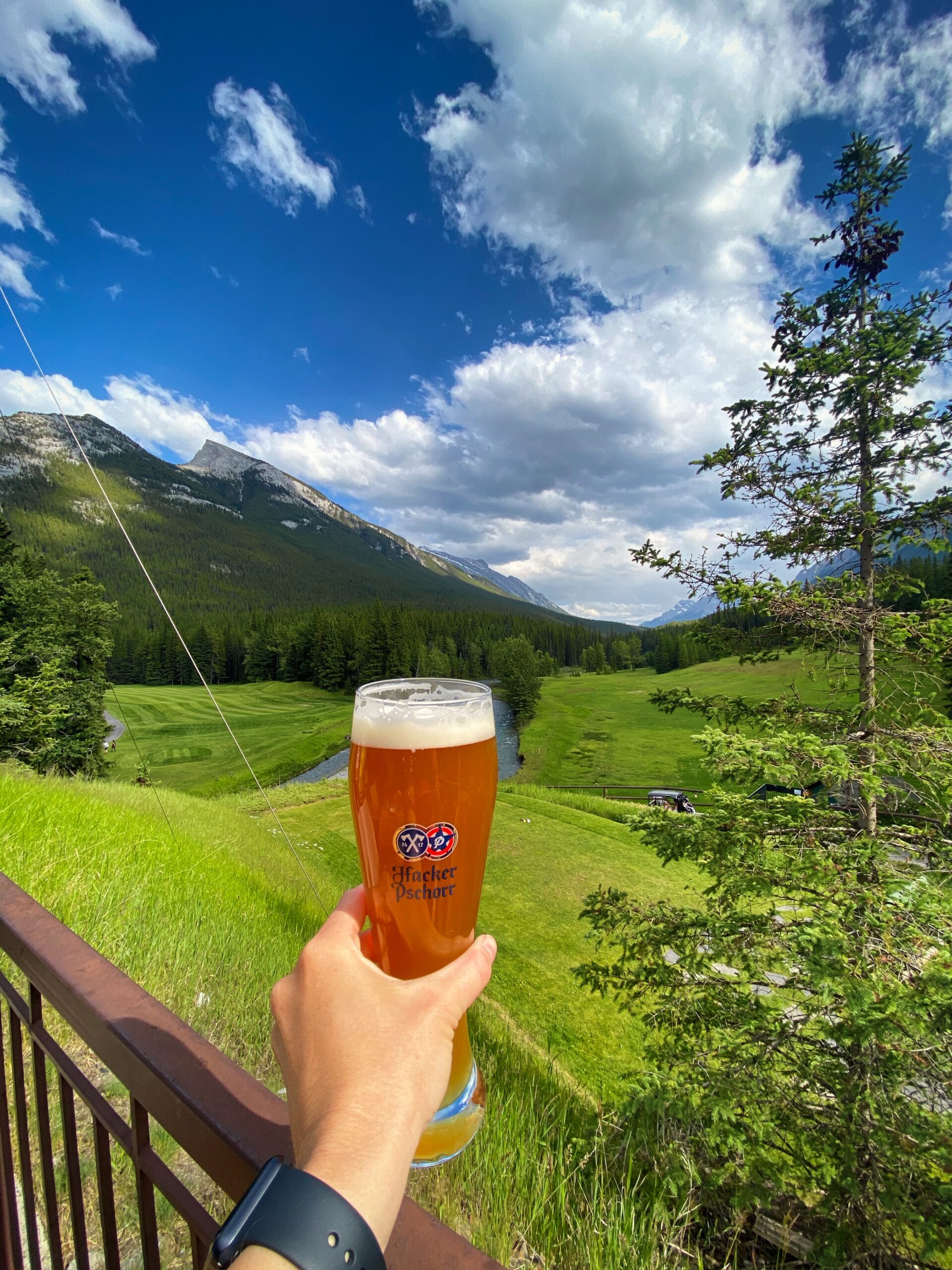 Another one of our favorite places to have a beer in Banff in the summer is the Waldhaus Pub near the Banff Springs Hotel. I love coming here when the weather is nice and grab a beer, pretzel, and watch golfers tee off under the mountains.
11 Amazing Banff Patios to Enjoy this Summer
---
Have a Picnic!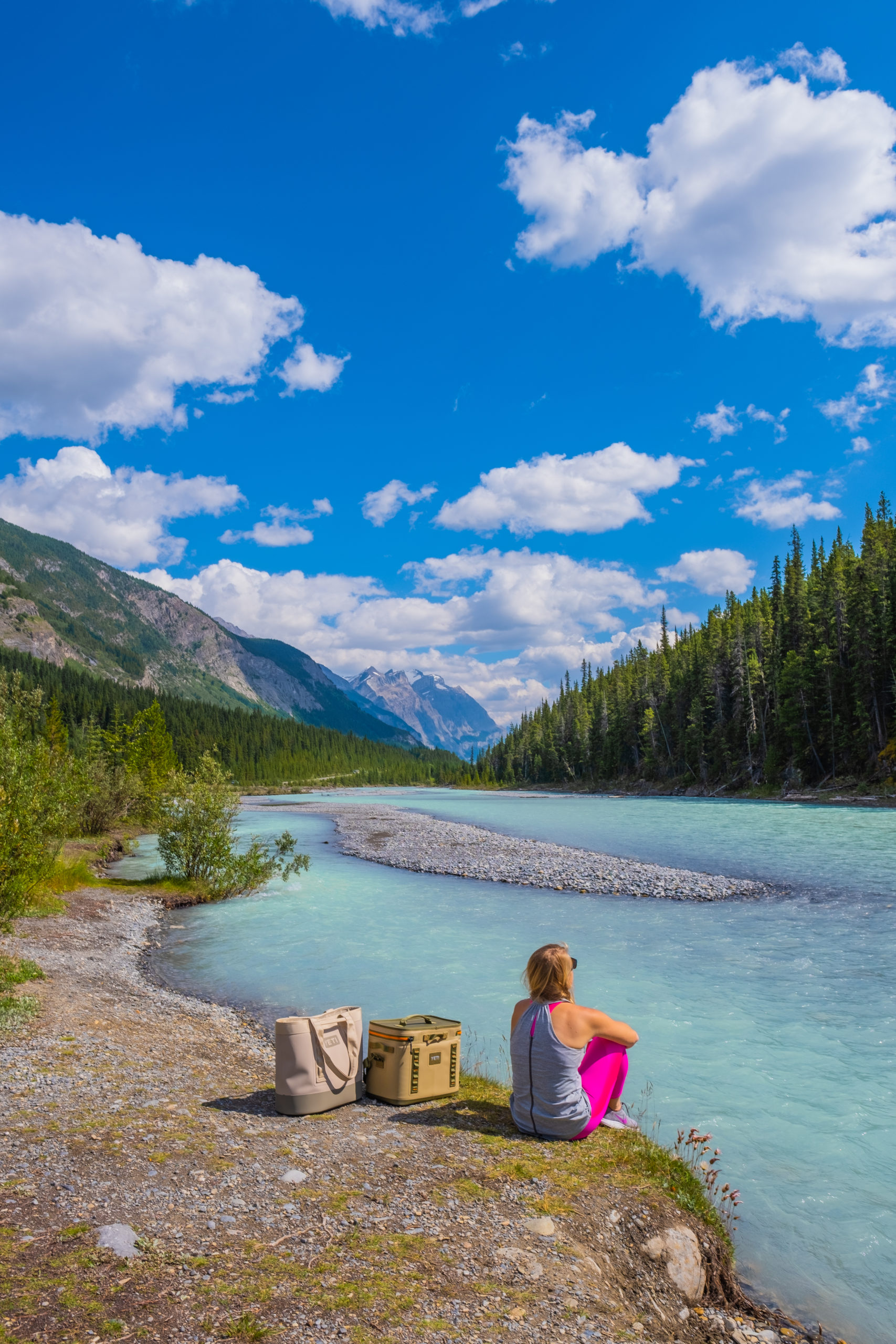 A holiday to Banff is not a cheap one. Banff is a tourist town with higher prices than many other places in Canada. If you go out to eat for every meal, you'll put a bit of a dent in your wallet. I recommend grabbing some bread and cheese and a cooler and enjoy a picnic lunch (just remember to leave no trace).
There are so many lakes and rivers to pull off by in the summer and enjoy a meal in the mountains. If you want to save money on your food try Save On Foods or Safeway in Canmore, where prices are lower than in Banff.
How to Visit Banff on a Budget
---
Go Camping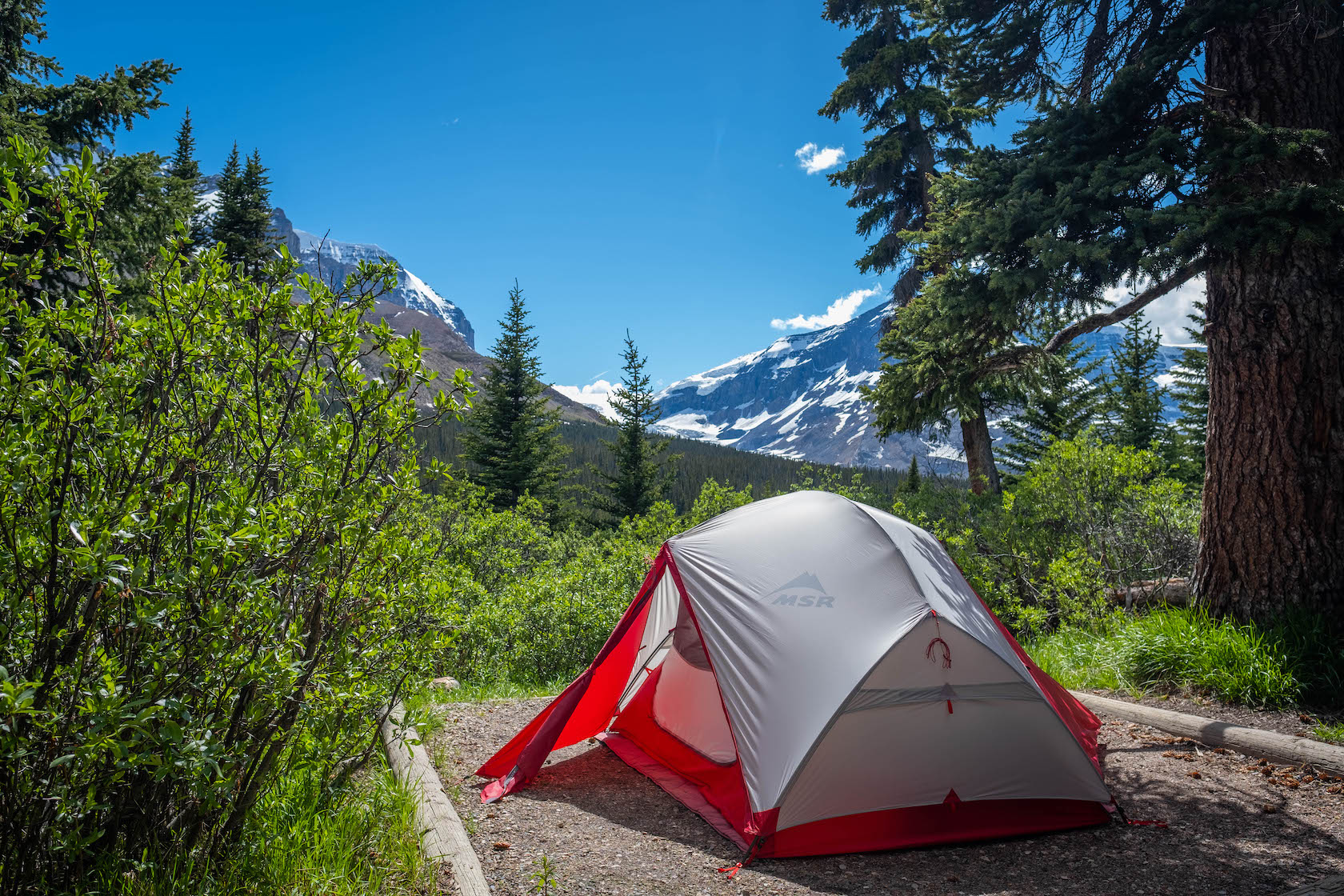 You don't have to stay at a hotel when you visit Banff in the summer! There are plenty of backcountry and frontcountry camping options if you want to spend all your time in the sweet, sweet outdoors!
A few of the most popular campgrounds are Two Jack Lake Campground and Tunnel Mountain Campground. But there are many around Banff, Canmore, Jasper, and Kananaskis.
Banff Camping Tips to Know + Best Banff Campgrounds (for 2022)
---
Open Top Touring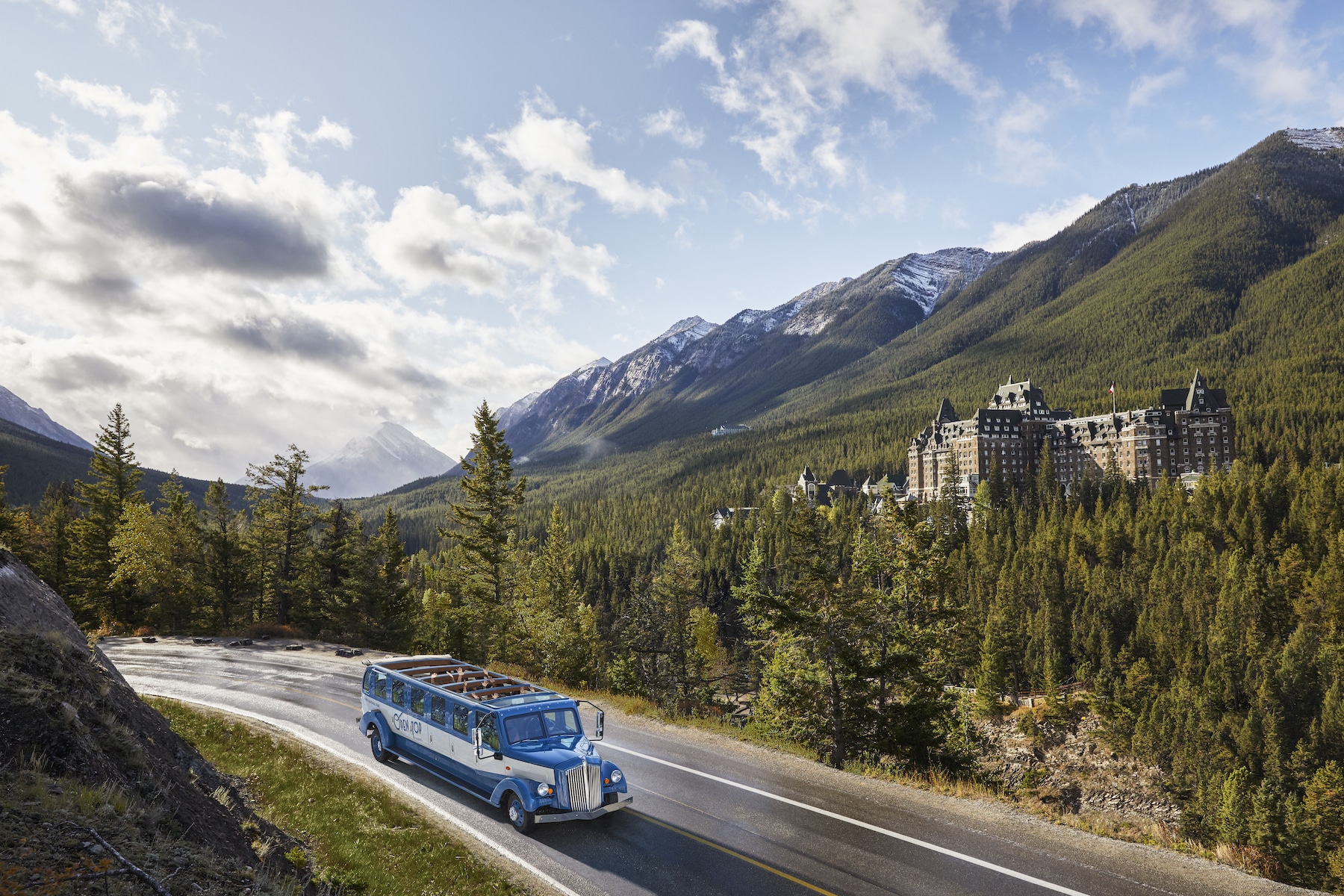 One of the newest experiences in Banff is taking a vintage tour! Pursuit Collection is now booking their Open Top Touring tour which allows visitors to roam the streets of Banff in style. A 1930s vintage automobile takes visitors to sights like Surprise Corner, Vermilion Viewpoint, Tunnel Mountain and Mount Norquay Viewpoint.
The vehicle is open glass and has a great canvas top roof so you get to enjoy the views with storyteller guides in period costume the whole time, telling stories from 1938 to today. It's great for small groups and wedding parties!
Banff Open Top Tours Honest Review
---
Climb Cascade Mountain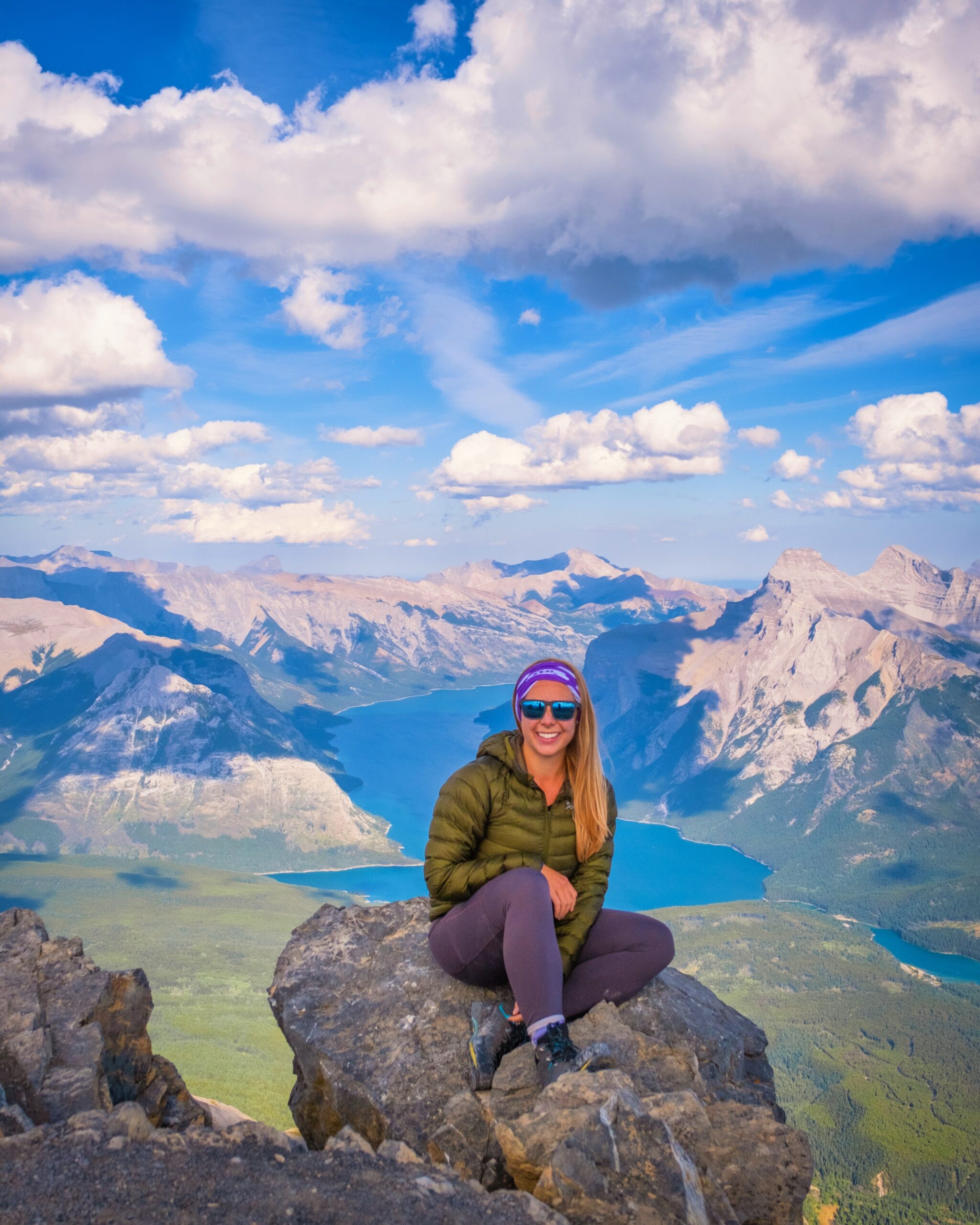 Cascade Mountain towers over the town of Banff and has been on every postcard of Banff National Park for years. It's beautiful to look at, but you don't just have to stop there!
Did you know you can actually climb Cascade Mountain? It will require work and a long 20km day with a lot of elevation gain, but the rewards are fantastic views over Lake Minnewanka and the glory of saying you summited Cascade!
It's not the most exciting hike you can do in Banff, but it is easily accessible from the town if you don't want to venture far. Plan a full day for Cascade Mountain and pack appropriately, this is a serious mountain and should not be taken lightly.
---
Canoe on Lake Louise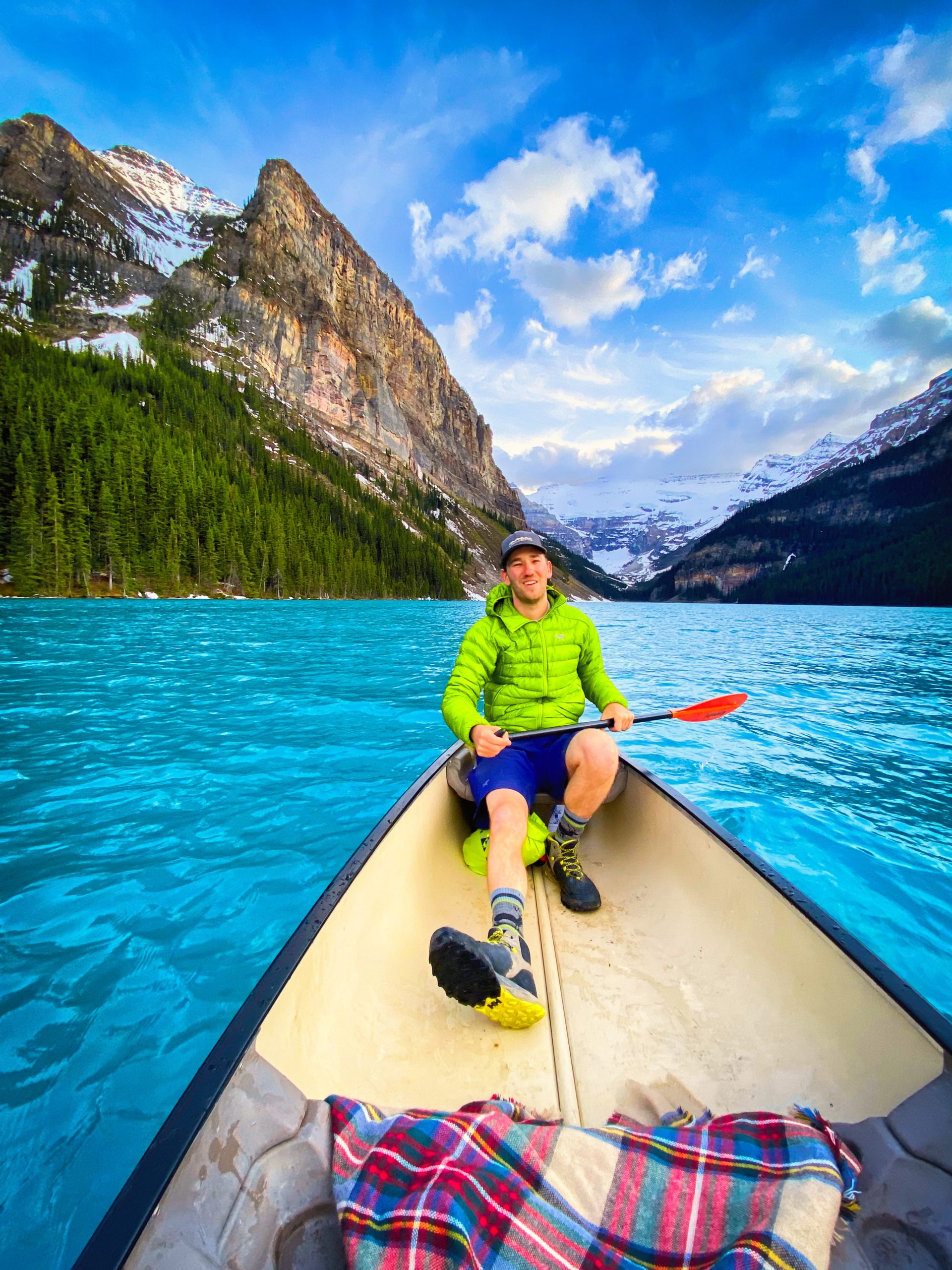 Lake Louise is the other iconic lake that millions from around the world flock to Banff to see. It is certainly a highlight of any trip to Canada. Lake Louise, while not AS scenic as Moraine Lake is still pretty darn mesmerizing.
Lake Louise is a glacier-fed lake that sparkles bright turquoise blue under the sun. The mountains of Banff rise up around it and provide the perfect backdrop to any photo.
Lake Louise is frozen solid from late October to early June, but during Lake Louise in the summer you can take a canoe out and enjoy the fresh air. If you're brave you can jump in for a few seconds!
Lake Louise Canoe Rental: 6 Tips You Need to Know
---
Afternoon Tea at the Fairmont Chateau Lake Louise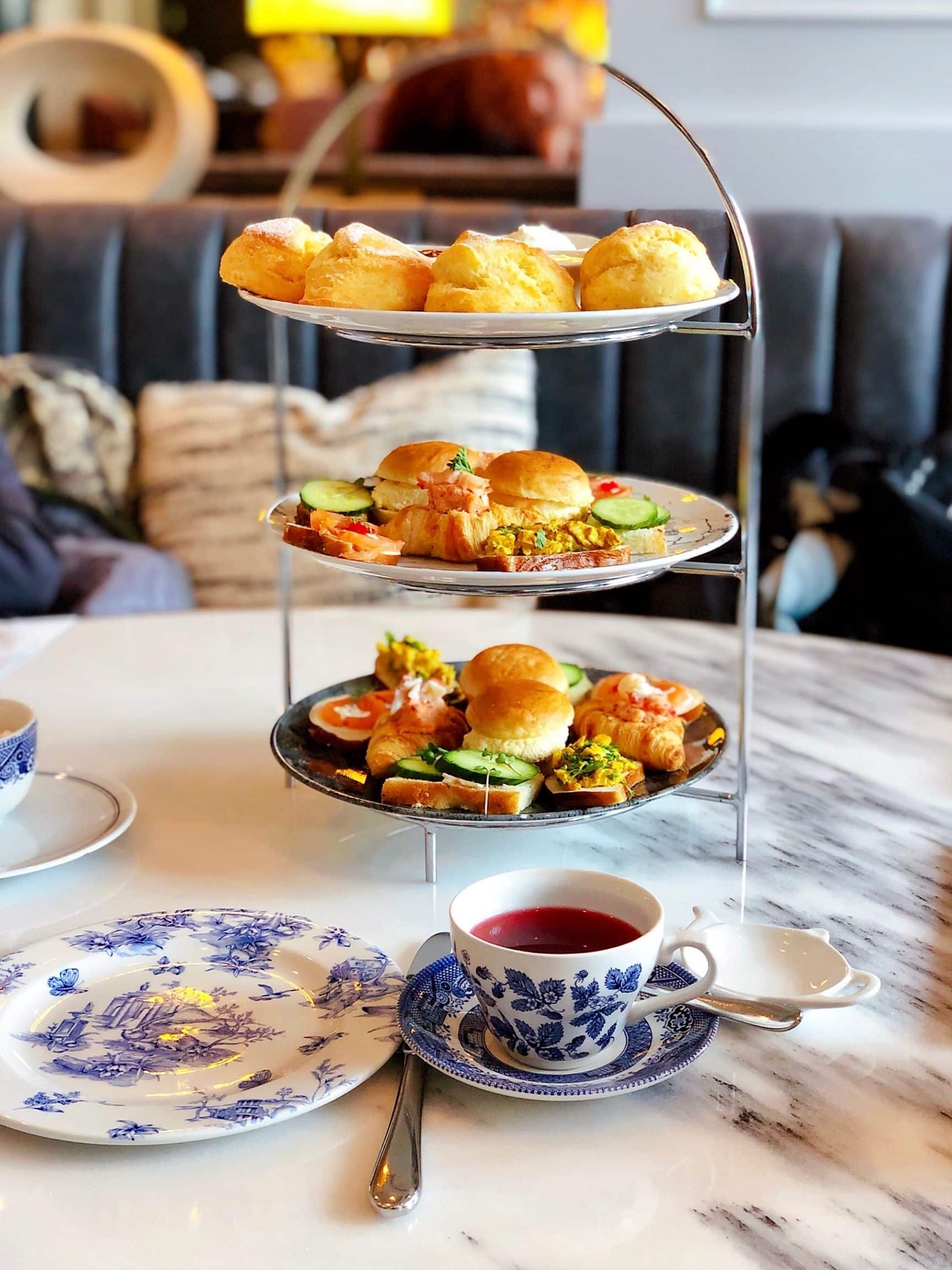 From 12:00 PM – 2:30 PM daily* in the Fairview Restaurant at the iconic Fairmont Chateau Lake Louise you can indulge in the time-honored tradition of Afternoon Tea and savor a delectable assortment of pastries, tea sandwiches, and delightful desserts.
Sit back and take in the stunning views of Lake Louise through the floor-to-ceiling windows as you enjoy your treats. With breathtaking views of Lake Louise and Victoria Glacier, I can't think of a better place to have this elegant experience.
Whether you're a registered hotel guest or a day visitor, you can now make a reservation for Afternoon Tea at the hotel. To secure your spot, simply make a reservation online.
---
Lake Agnes Teahouse Trek
The Lake Agnes Teahouse trek is a popular thing to do in Banff for visitors to Lake Louise. This is an easy hike above Lake Louise that is suitable for all visitors to Banff. When you reach the top of the 7.6 kilometers (round trip) heavily trafficked out and back trail you'll find a teahouse and stunning Lake Agnes.
This is an easy hike that can be done in under an hour and is an iconic thing to do in Banff. However, be warned it is a busy one in Banff in the summer. To escape the crowds (and get better views) keep climbing to the Little Beehive, Big Beehive, Mt. St. Piran, or Devils Thumb.
If you're an experienced scrambler you can keep going past to summit Mount Niblock (moderate scramble) or Mount Whyte (difficult exposed scramble!).
---
Beehive Circuit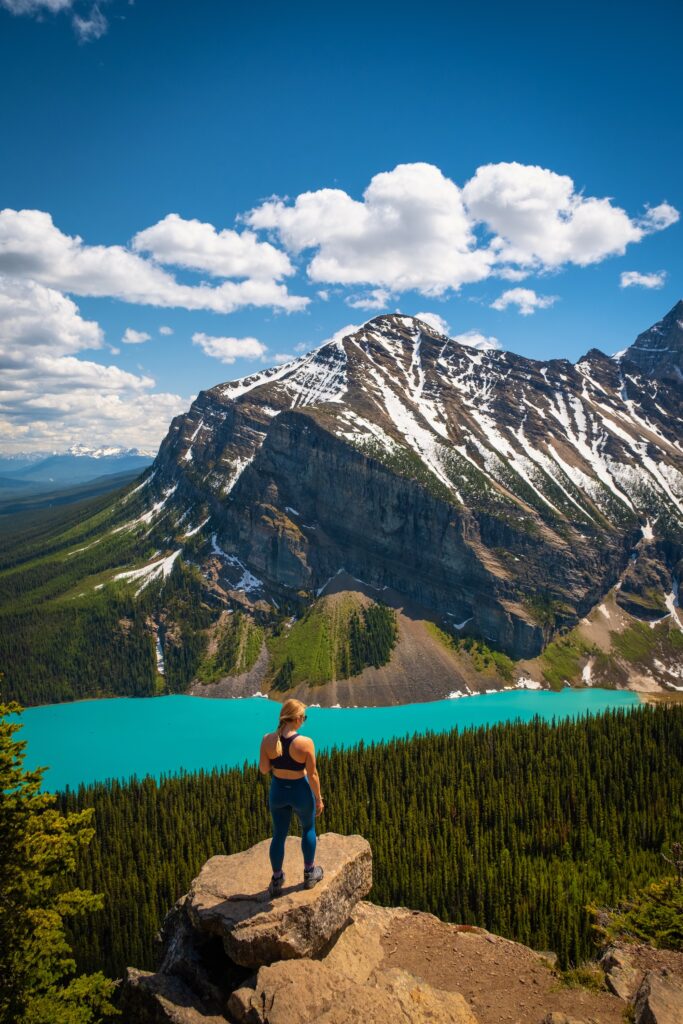 One of my favorite hikes in Banff involves two epic viewpoints. The Beehive Circuit refers to the Little Beehive and Big Beehive in the Lake Louise area, near the Lake Agnes Teahouse.
So if you are already considering hiking to Lake Agnes, consider adding these two hikes to your day. Both are moderate hikes that provide a different viewpoint over Lake Louise.
The Little Beehive hike is 9km in distance with 535 meters of elevation gain (from Lake Louise trailhead, not Lake Agnes), while the Big Beehive is slightly more difficult. To hike the Big Beehive will involve hiking 10.3 km and 647 meters of gain.
Little Beehive Hike & Big Beehive Hike – Trail Guide to the Epic Beehive Circuit
---
Plain of Six Glaciers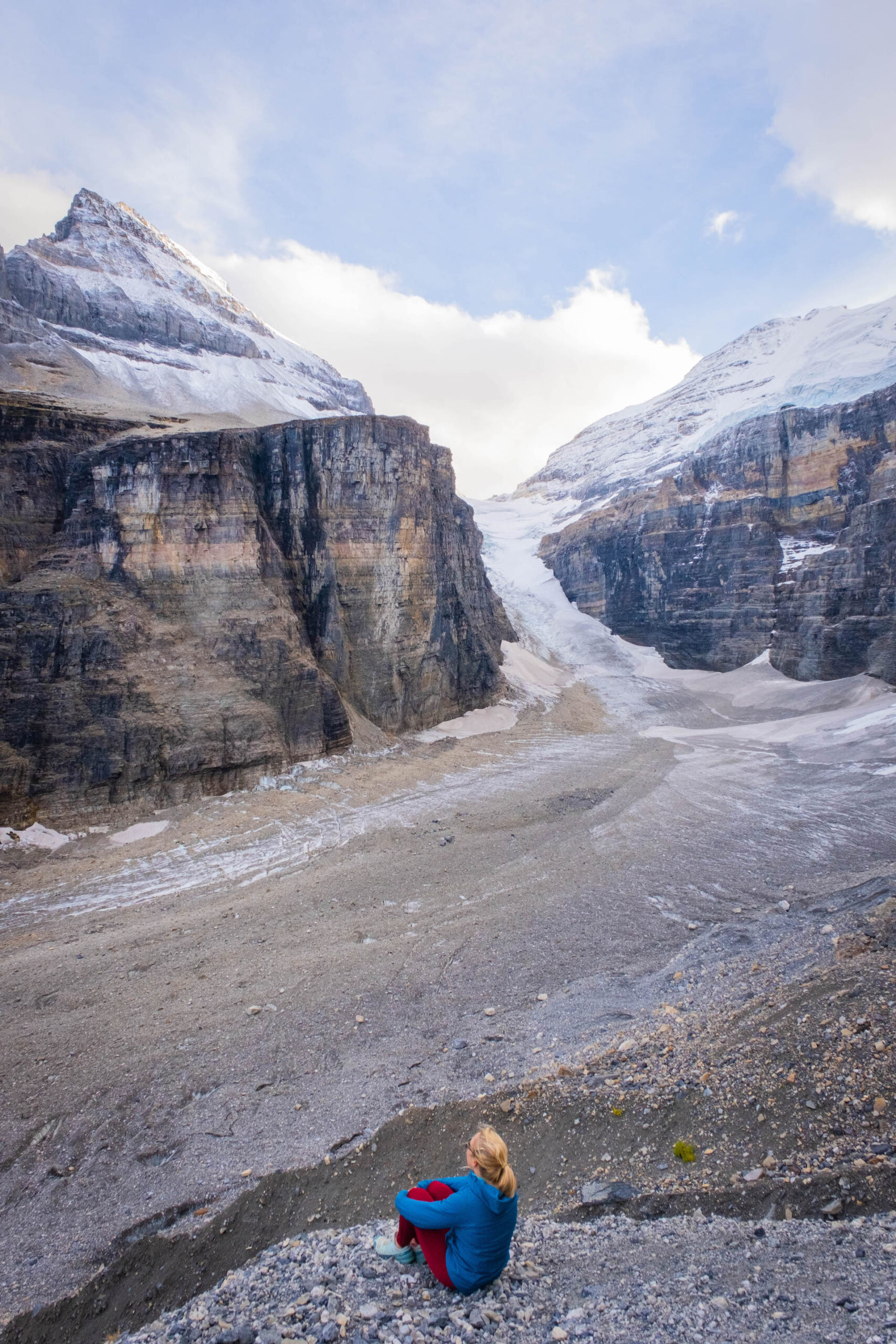 The Plain of Six Glaciers hike is one of the most incredible Lake Louise hikes and is beloved by everyone that tackles it. The trail starts out strong with a walk along Lake Louise Lakeshore and finishes in an open plain of glaciers.
If you are already hiking the Lakeshore trail, you can consider adding this to your day. However, it's almost 14km and has nearly 500 meters of elevation gain, so make sure you are prepared for a longer hike.
The good news is there's a great rest stop in the form of a tea house. The historic Plain of Six Glaciers teahouse is there to reward hikers with a cup of tea or a fresh-baked goodie before the continue on to the end of the trail.
At one point, this massive valley was the convergence of six glaciers that have all since retreated due to warming temperatures. All that is left now is the monstrous debris field that will leave hikers in all of their earth-shaping capability. It's also possible to combine this hike with the Lake Agnes / Big Beehive hike for an incredible day in the mountains.
Plain of Six Glaciers Hike: All You NEED To Know
---
Wait for the Train at Morant's Curve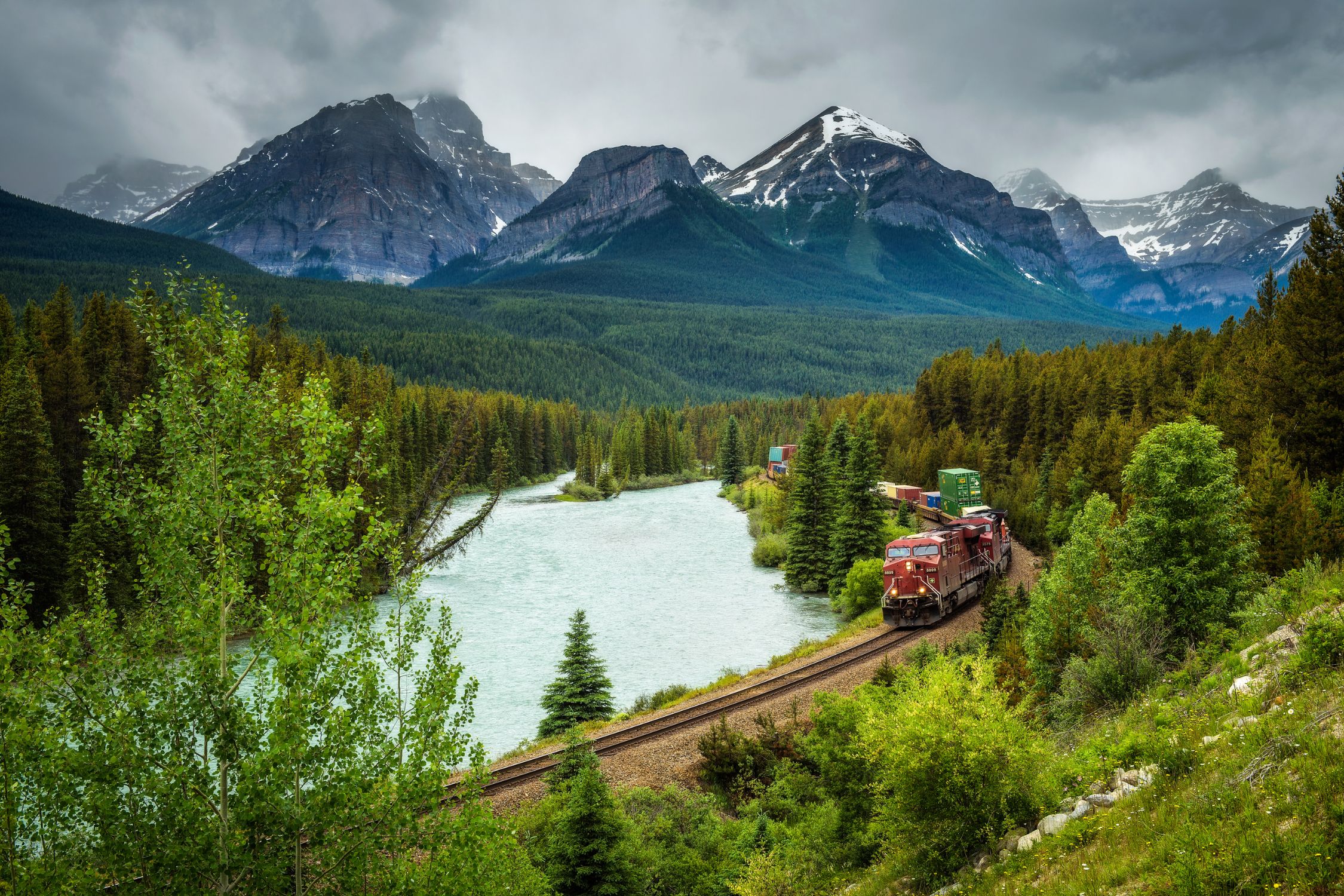 Morant's Curve is a scenic viewpoint near Lake Louise of a dramatic bend along the Bow River where trains pass through the Canadian Rockies. If you've been researching your Canadian Rockies trip for awhile, you've likely seen photos! As trains pass around the bend, they have a spectacular backdrop of Mount Temple and Mount Fairview.
The famed photo spot is along the Bow Valley Parkway and is famous for photographers.
Photographers must plan their time here strategically, and to catch a shot of a train heading west in the morning light is sure to be a winner. However, anyone can appreciate the spectacular view, so it's well worth a stop for anyone driving along the parkway, even if you don't plan on waiting for a train.
If you are trying to time your visit with a train passing, you may want to give up. There is no set train schedule, and seeing one while you visit Morant's Curve is complete happenstance. They pass by every 1-2 hours, so you can possibly catch one if you are patient.
How To Visit and Photograph Morant's Curve in Banff
---
Canoe on Emerald Lake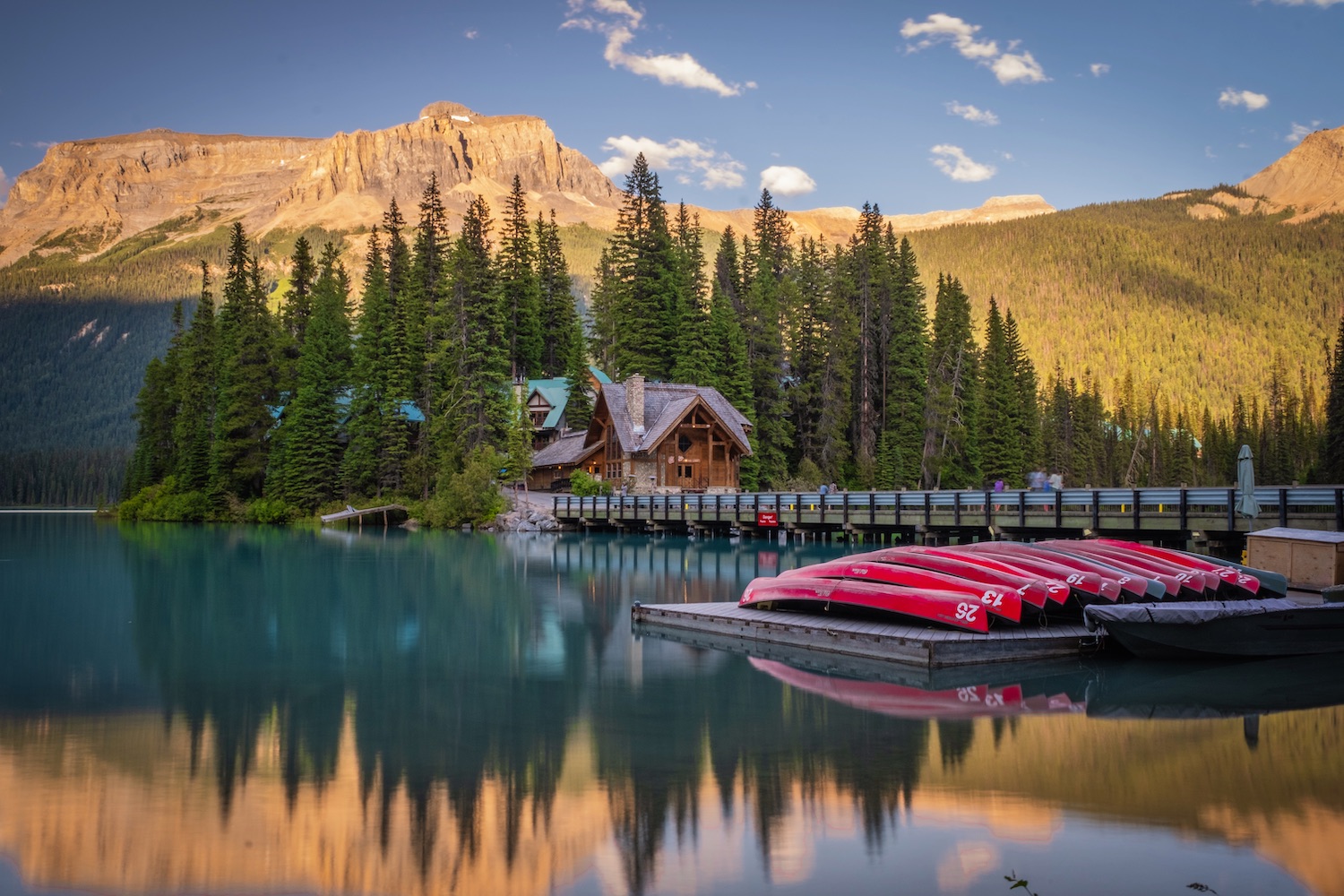 The Canadian Rockies have many canoe options, but the most famous and iconic places are at Moraine Lake, Lake Louise, and Emerald Lake. Now, Emerald Lake is located in neighboring Yoho National Park and not Banff. However it's under an hours drive from Lake Louise, so we recommend everyone venture to the stunning lake if they have time.
Once at Emerald Lake, you can loop around the lakeshore, have lunch at Cilantro Cafe, and get out on the water. Emerald Lake is one of my favorite places to paddle in the Rockies! It's more affordable to rent a canoe here than at other lakes, and sees fewer crowds.
You can rent a canoe from the boathouse, or bring your own personal watercraft.
Emerald Lake Canoe Rental: Everything You NEED to Know 
Keep in mind, to prevent the spread of Aquatic invasive species visitors must now fill out a Self Certification Permit with Parks Canada for any nonmotorized watercraft entering the water. This includes kayaks, canoes, and paddleboards. The Self Certification Permits and full rules can be found online.
---
Explore More of Yoho National Park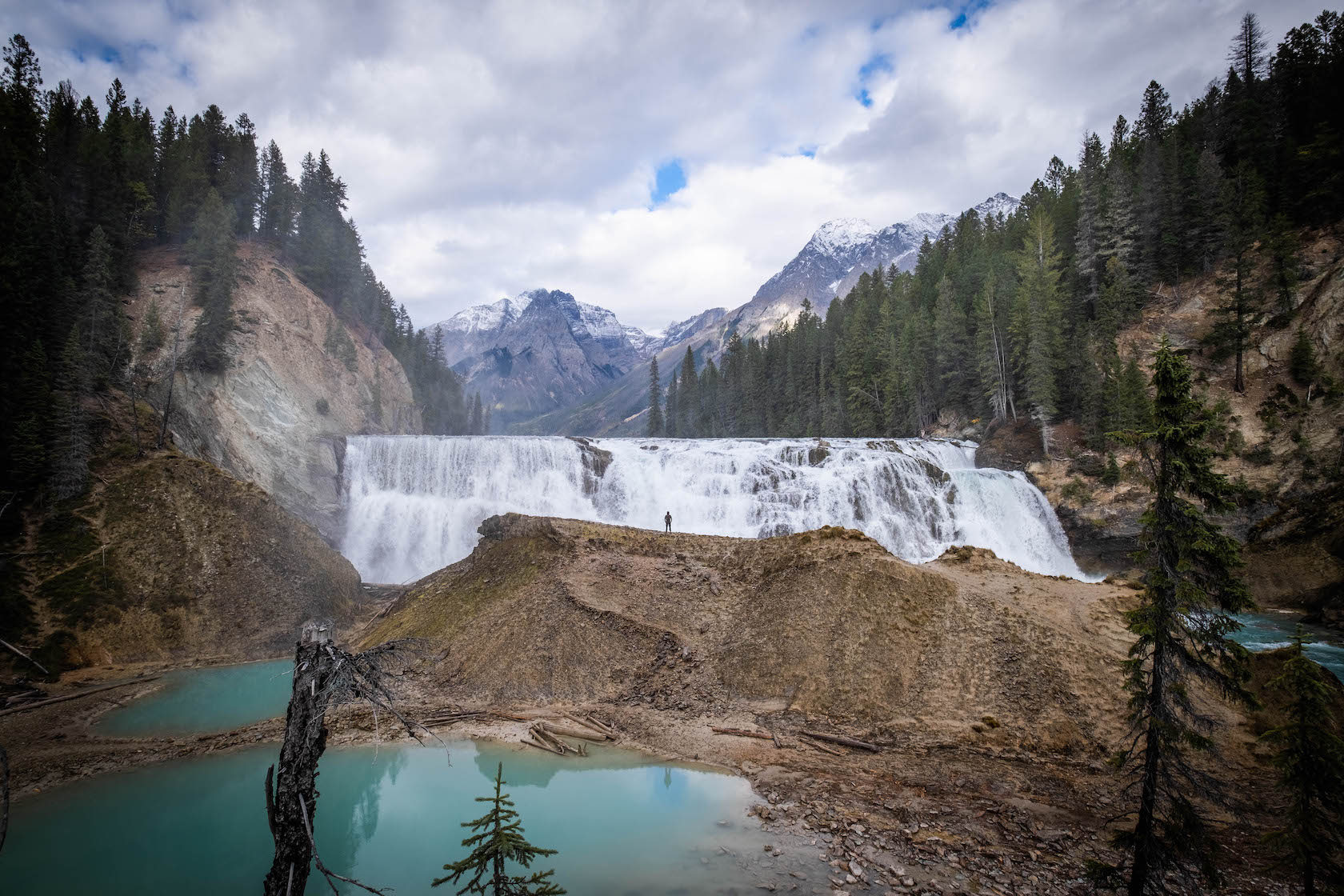 Now that you're in Yoho, you might as well make the most of it! There's plenty to do and see in Yoho, depending on your time. For starters, we recommend everyone see Tak Falls, one of the tallest waterfalls in Canada and easily accessible.
Tak Falls is only accessible during the summer months as the road leading up to it, the Yoho Valley Road, closes in the winter. While you're at Tak Falls you can go on one of our favorite Yoho hikes to Laughing Falls (keep venturing to Twin Falls).
Another great hike nearby is the Iceline Trail, which gets you up close and personal with glaciers.
Beyond that we recommend hiking to Wapta Falls, or enjoy a leisurely afternoon at Sherbrooke Lake.
---
Venture into Kootenay National Park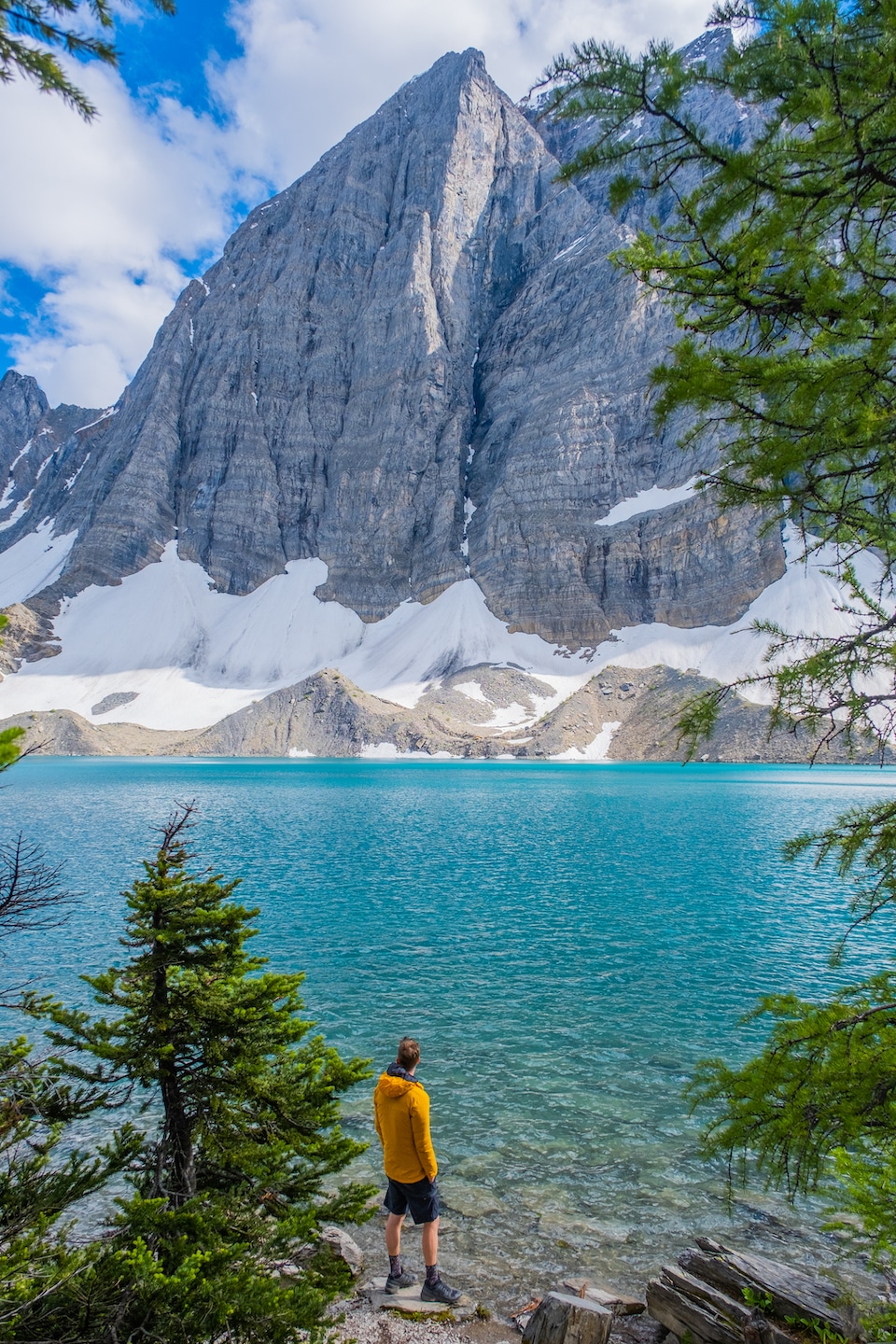 Nestled in British Columbia, Kootenay National Park spans over 1,406 square kilometers of breathtaking natural scenery and shares a border with Banff National Park.
Many travelers may not even realize they have entered a new park when driving along the Banff-Windermere Highway, so I wanted to include it on this list of things to do in Banff in the summer!
To fully appreciate the park's splendor, take a leisurely drive down Hwy 93S that connects Banff to Radium Hot Springs, and plan a day of scenic stops. At every turn, be mesmerized by panoramic mountain vistas, crystal-clear lakes, and lush Douglas Fir trees.
Hiking enthusiasts can rejoice as there are plenty of trails for all skill levels to explore. One of the best family friendly things to do in the park is walk along Marble Canyon. Another easy hike is the hike to the colorful Paint Pots!
If you are really looking for a big day out you will not be disappointed with beautiful Floe Lake. You'll have to hike 10km to reach the lake with just about 1000 meters of elevation gain, so this is a full-day trip involving 20km+ of hiking, or an overnight stay at one of the coveted campsites (hard to secure in the summer season). However the reward is enjoying one of the pristine lakes in the area, without all the crowds!
---
Stroll Through the Cascade Gardens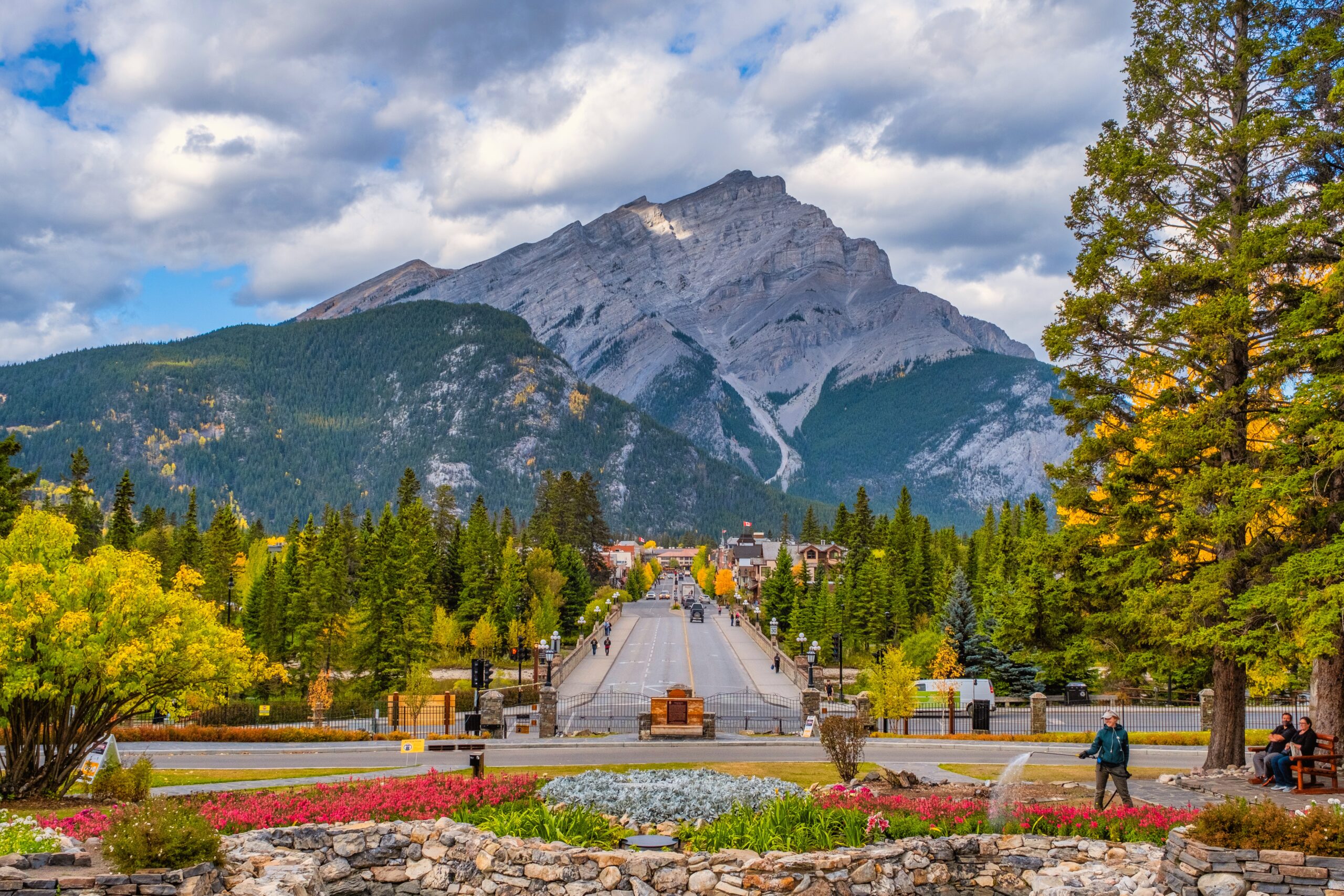 If you're strolling around Downtown Banff in the summer you can't miss a stop at Cascade Gardens. It's located behind Park Canada's building right at the end of Banff Ave. From the garden, you get great views of Mount Rundle and Cascade. This should go without saying, but don't pick the flowers, please.
---
Head to Peyto Lake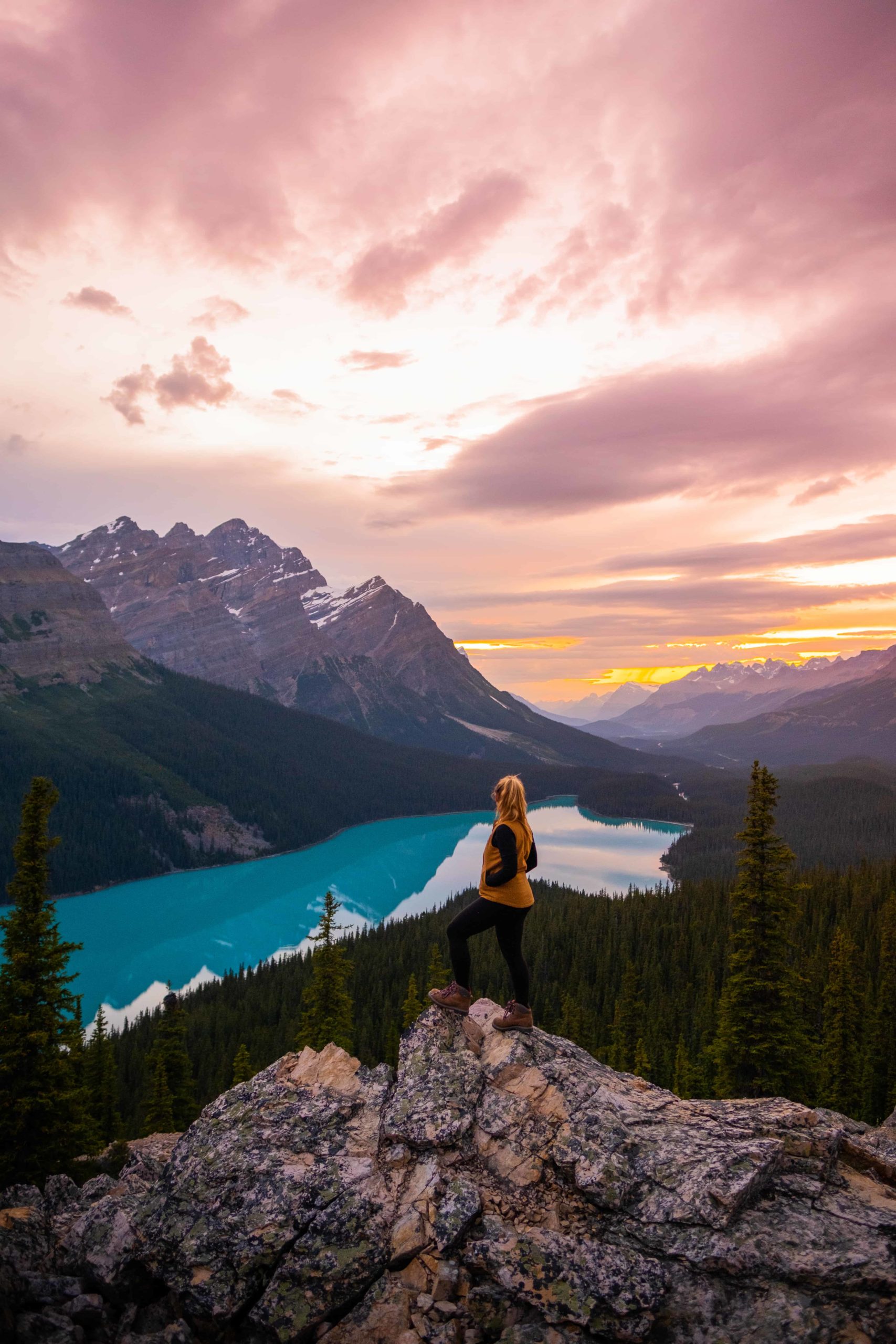 Peyto Lake (PEE-toh) is yet another glacier-fed lake in Banff National Park. This is probably the third most popular lake to visit in Banff, after Louise and Moraine. The reason is its unique shape that resembles a fox and absolutely mind-blowingly blue water.
Peyto Lake is easily accessible from the Icefields Parkway. To get a great view all you have to do is to park and hike up a simple 10-minute path to the viewpoint.
---
Canyoning at Heart Creek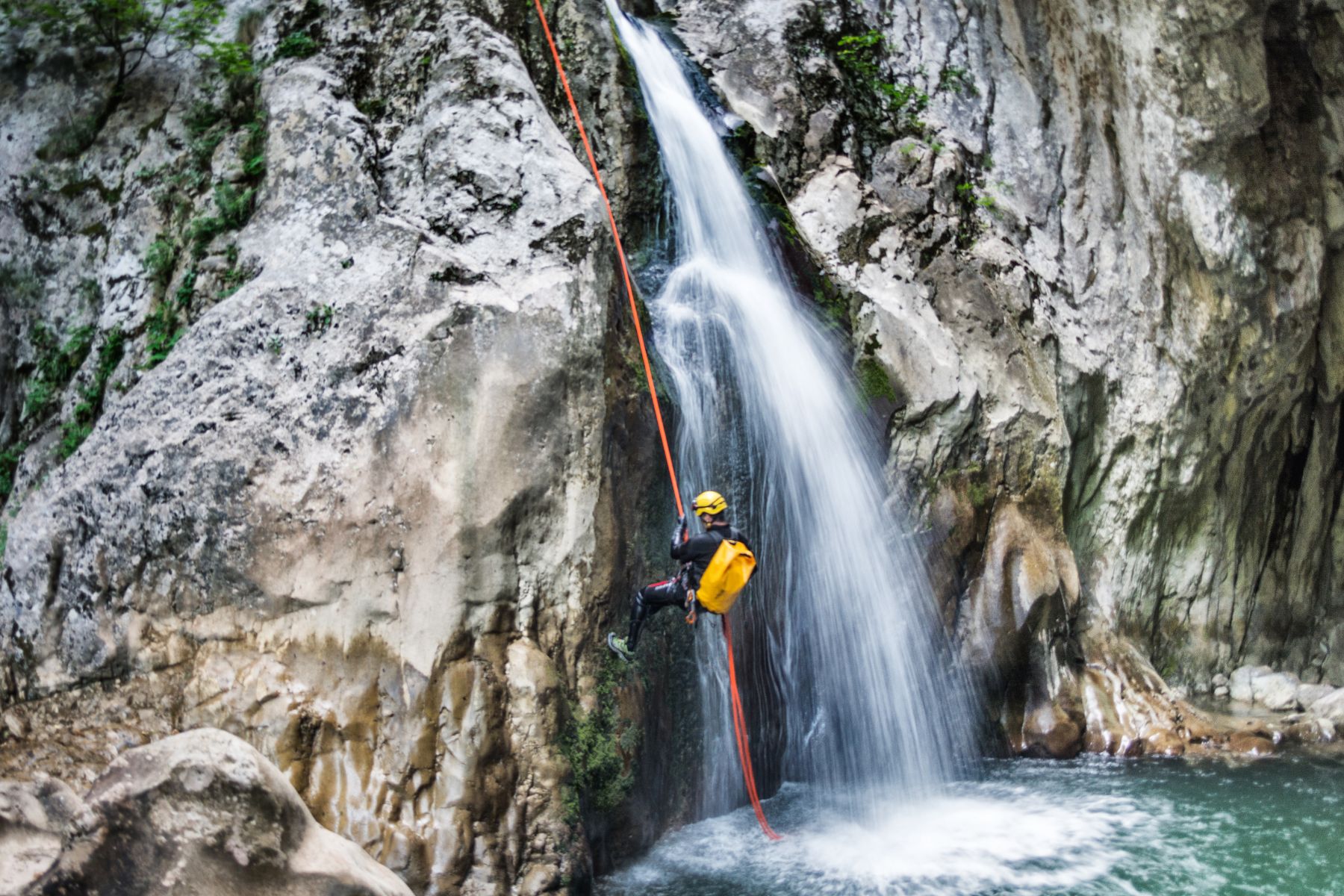 Have you heard of Canyoning before? Canyoning, also known as canyoneering, is an outdoor adventure activity that involves traveling through canyons using a variety of techniques including hiking, scrambling, climbing, rappelling, and swimming
If this sounds like something you want to try Heart Creek Canyon just outside of Canmore is a great place to start. It offers incredible scenery, and the canyoning experience features an easy approach where you can safely try rappeling with rope before you even begin the experience!
There are a total of five rappels, interspersed with some scrambling and hiking, but all suitable for beginners. There are introductory short rappels that allow you to ease into rappelling and increase in length as you progress down the canyon. Your adventure finale is rappeling an exciting 60 foot wet waterfall rappel and slide.
Book the Heart Creek Canyoning Tour
---
Banff in Summer FAQ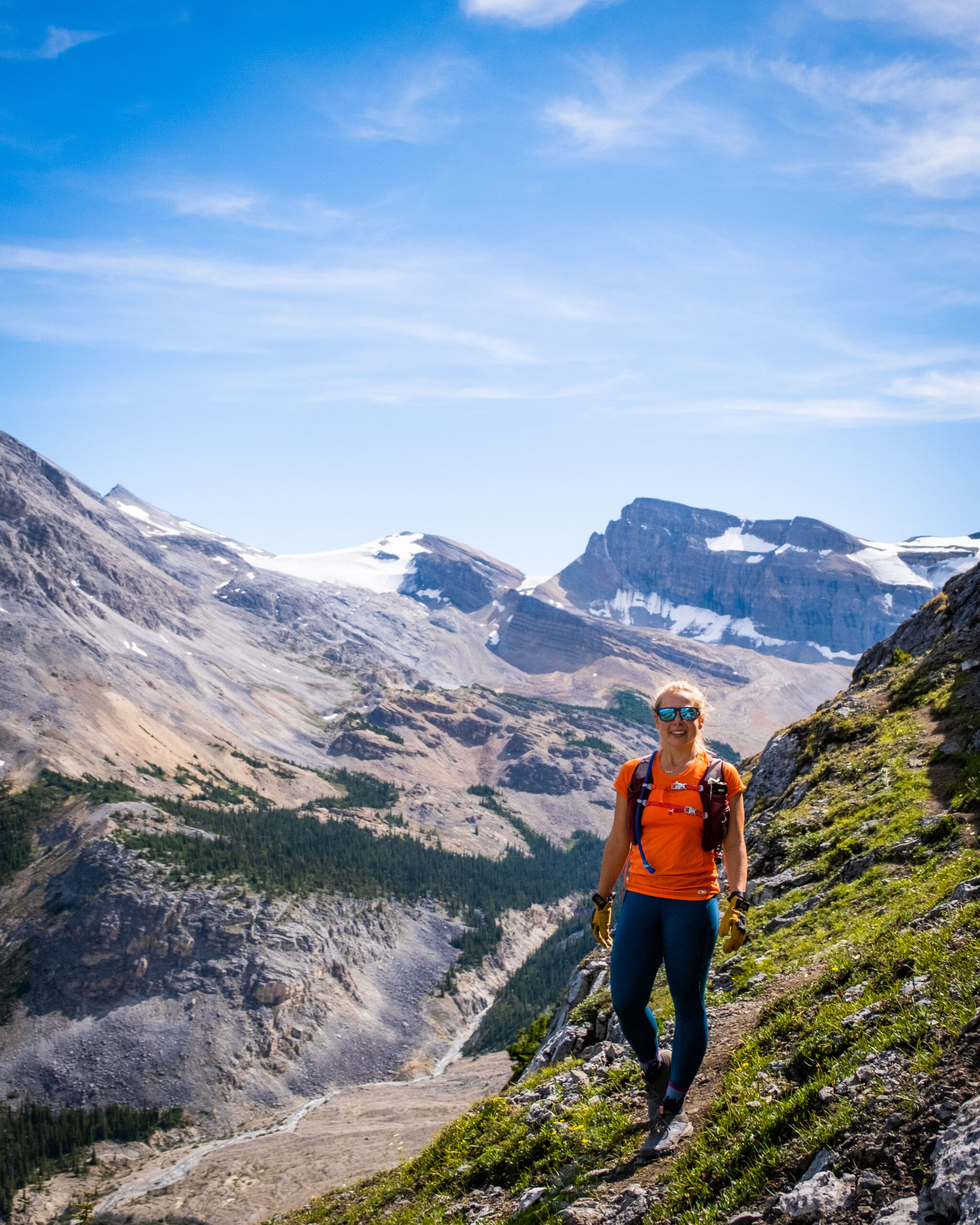 Is Banff Crowded in Summer?
Yes, Banff is very busy during the summer months – there's no sugarcoating it.
---
Which Banff Summer Months Are the Busiest?
The park starts to get pretty busy around May Long Weekend, which falls around the third week of May. After that, Banff crowds pick up steadily through June and then by July and August, pretty much every day is a busy on throughout the parks highlights. The park stays pretty busy until around Labor Day (in the US) in September. It also picks up again come larch season the third week in September.
---
How Warm is Banff in the Summer?
The weather during a Banff summer is pretty pleasant. The average highs throughout July and August are between 20-25º C (70º F), with lows around 7-10º C (45º F). That being said, there's usually an Alberta heat wave every summer that lasts for a few days. This is when temps rise past 30ºC – yikes! Not many people, businesses, or hotels have AC. So if you are someone that can't sleep without air conditioning, best to book a Banff hotel that advertises having it.
---
What is the Best Month to go to Banff?
The best month to visit Banff all depends on what you are looking for. We personally think there's nothing better than being in the Rockies in July and August. We break down ever month in the Rockies here!
---
Is Banff in the Summer Expensive?
I'm not going to sugarcoat this one either, the summertime is the most expensive time to visit the Canadian Rockies. July and August are when you'll find some hotel rooms go for over $750 a night! Don't worry there are some ways to visit Banff on a budget.
---
How to Avoid Crowds in Banff in the Summer?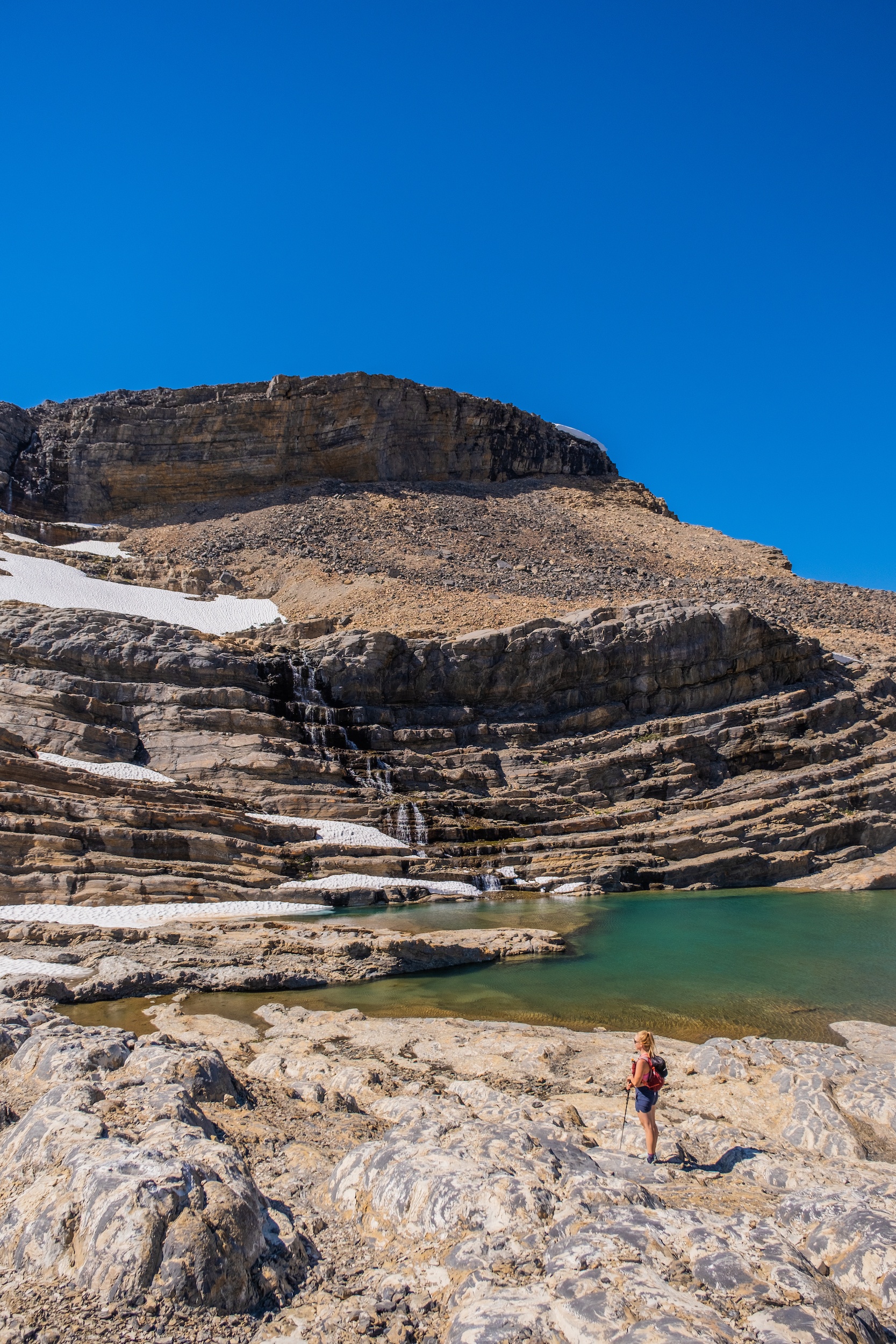 Avoiding the crowds in Banff in the summer is actually easier than you would think. Banff is huge, the second largest park in Canada to be exact. Which means you just have to get off the beaten path a little bit to avoid the crowds.
That means staying away from extremely popular places like Moraine Lake, Johnston Canyon, Lake Louise, Sulphur Mountain, and Peyto Lake. Instead, opt for hiking in Banff. The more difficult the hike, the fewer people you'll see. Read our guide on how to hike in Banff safely and our favorite hikes in Banff.
If you want to enjoy a day at the lake, head to some of the less popular ones like Waterfowl Lakes or Chephren Lake. They take a little more work to get to, but you'll be rewarded with fewer people around.
This is by no means all the things you can get up to Banff in the summer. For our full Banff attractions guide see here!
---
The Best Places to Stay in Banff in Summer
---
Do You Need a Parks Pass to Visit Banff in the Summer?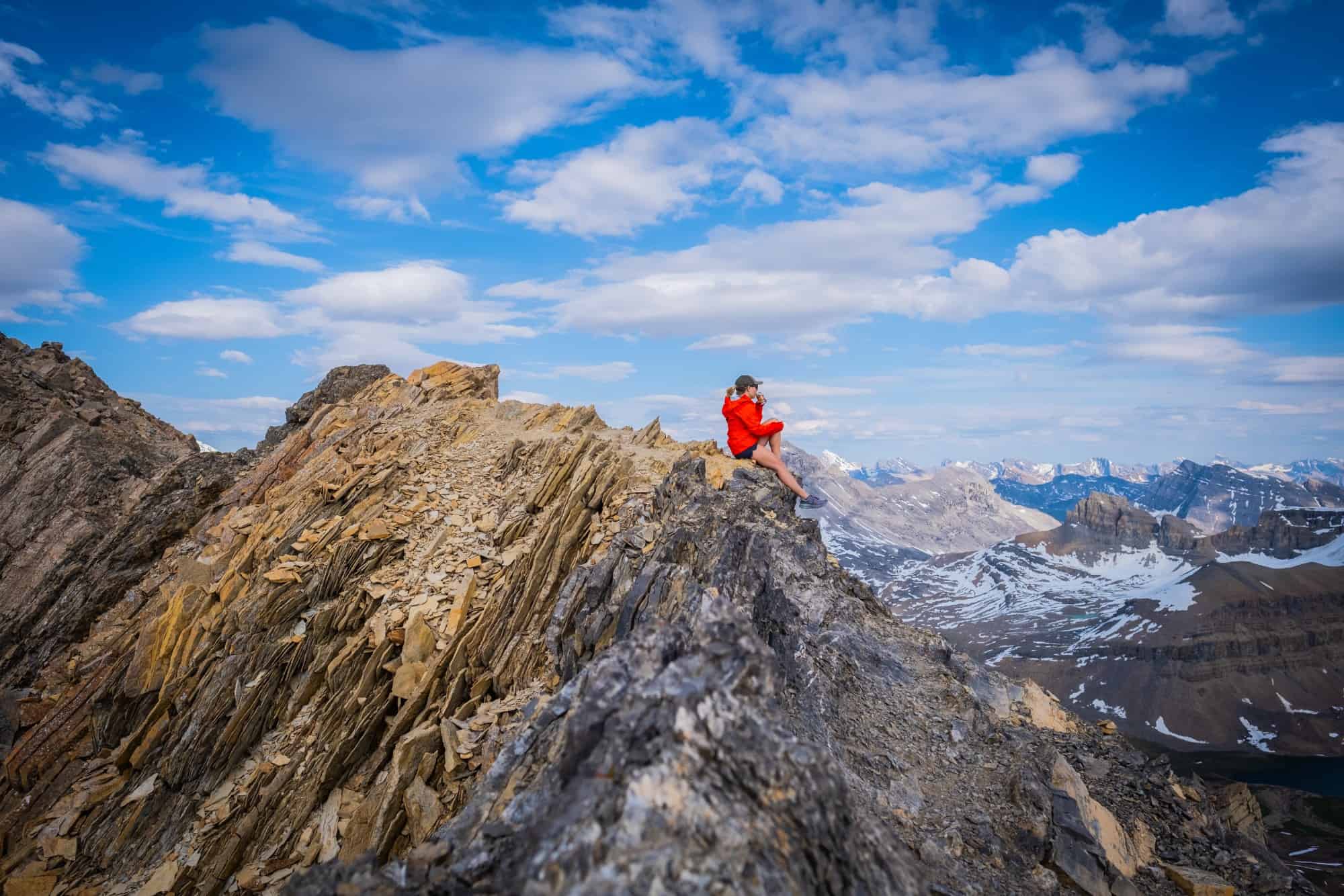 All visitors to Banff National Park need a Parks Canada pass to recreate. The Parks Canada pass covers all national parks in Canada. This includes Jasper, Yoho, Glacier, and Kootenay National Park. Note that the Parks Canada Pass does not cover recreation in Kananaskis Provincial Park.
Daily Admission Fees Are As Follows
| Type | Price |
| --- | --- |
| Adult 18+ | $10.50 |
| Senior 65+ | $9.00 |
| Youth | Free |
| Family* | $21.00 |
*Family includes up to seven people in the same car
Discovery Pass Fees (Annual Pass)
| Type | Price |
| --- | --- |
| Adult 18+ | $72.25 |
| Senior 65+ | $61.75 |
| Youth | Free |
| Family* | $145.25 |
*Family includes up to seven people in the same car
ULTIMATE Guide To Purchasing A Banff Park Pass (Parks Canada Pass)
---
This is by no means all you can do in Banff in the summer but this should help you get started with planning your trip.
If you have any other questions leave a comment or see our Canadian Rockies travel guide for more articles about photography spots, lakes, hikes, and everything else.
---
↓ Join the community ↓
The Banff Blog Facebook Group is your headquarters for the Canadian Rockies' travel advice and information. Including hike info and off-season travel information. You can also meet new adventure buddies.