Getting from Canmore to Banff is extremely simple, and you can connect the two mountain towns in a few different ways. Canmore and Banff are two of the most popular places in Alberta, so it makes sense that you want to see both during your trip to the Canadian Rockies.
Whether you're staying in Canmore or Banff, do not worry; you can rest assured seeing the other town will be seamless.
---
How Long Does it Take to Get From Canmore to Banff?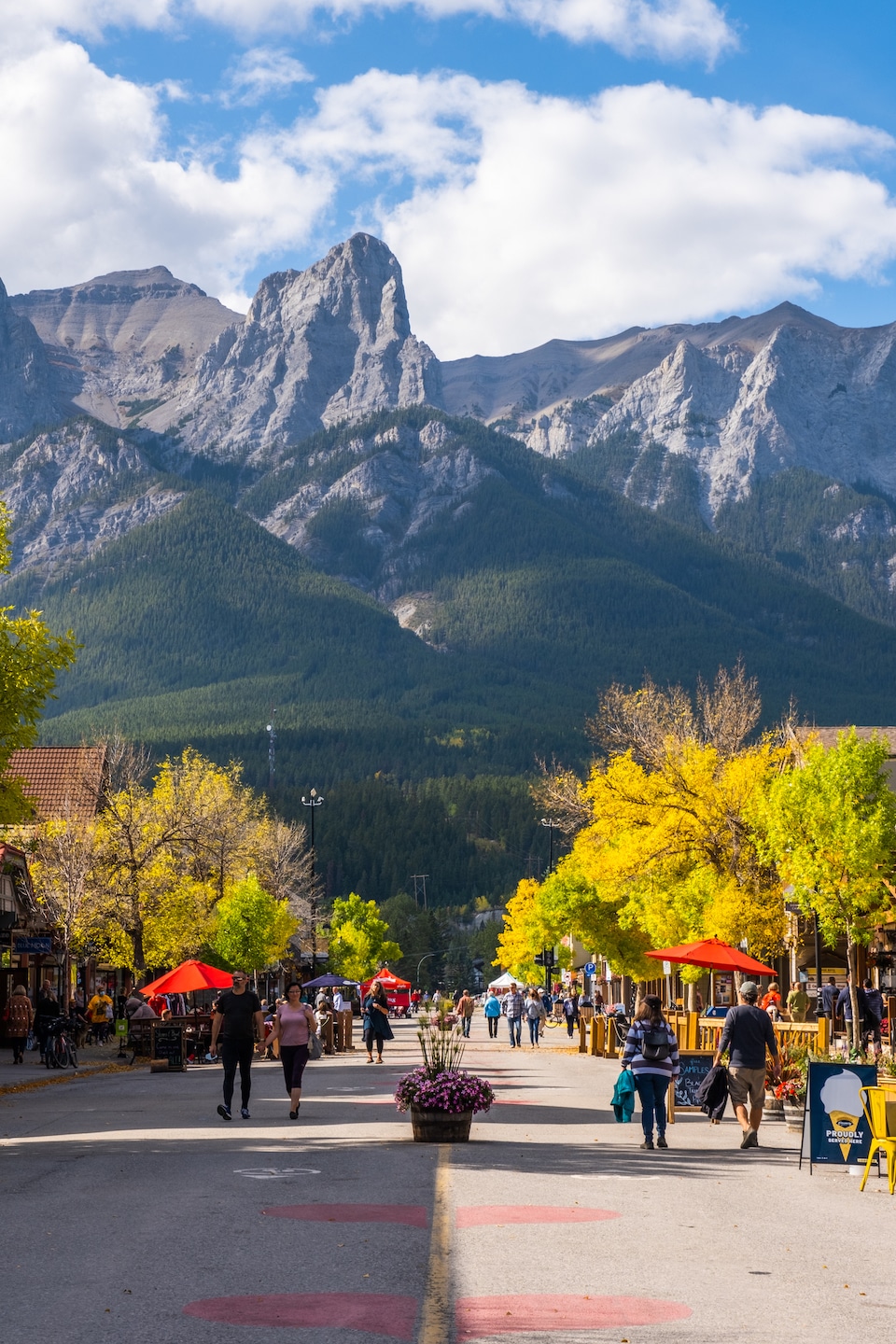 The distance between Downtown Canmore and Downtown Banff is 24.4 km via the Trans-Canada Hwy/AB-1 W. It takes about 20 minutes to drive from Canmore to Banff, depending on traffic conditions.
You'll pass the Banff Park East Gate when driving between Canmore and Banff. If you already have a Parks Canada pass, you can stick to the right-hand lanes and keep going. If you have yet to purchase your park pass, stop at one of the booths to buy your pass. You can pay for your pass with cash or a credit card.
Exits for Banff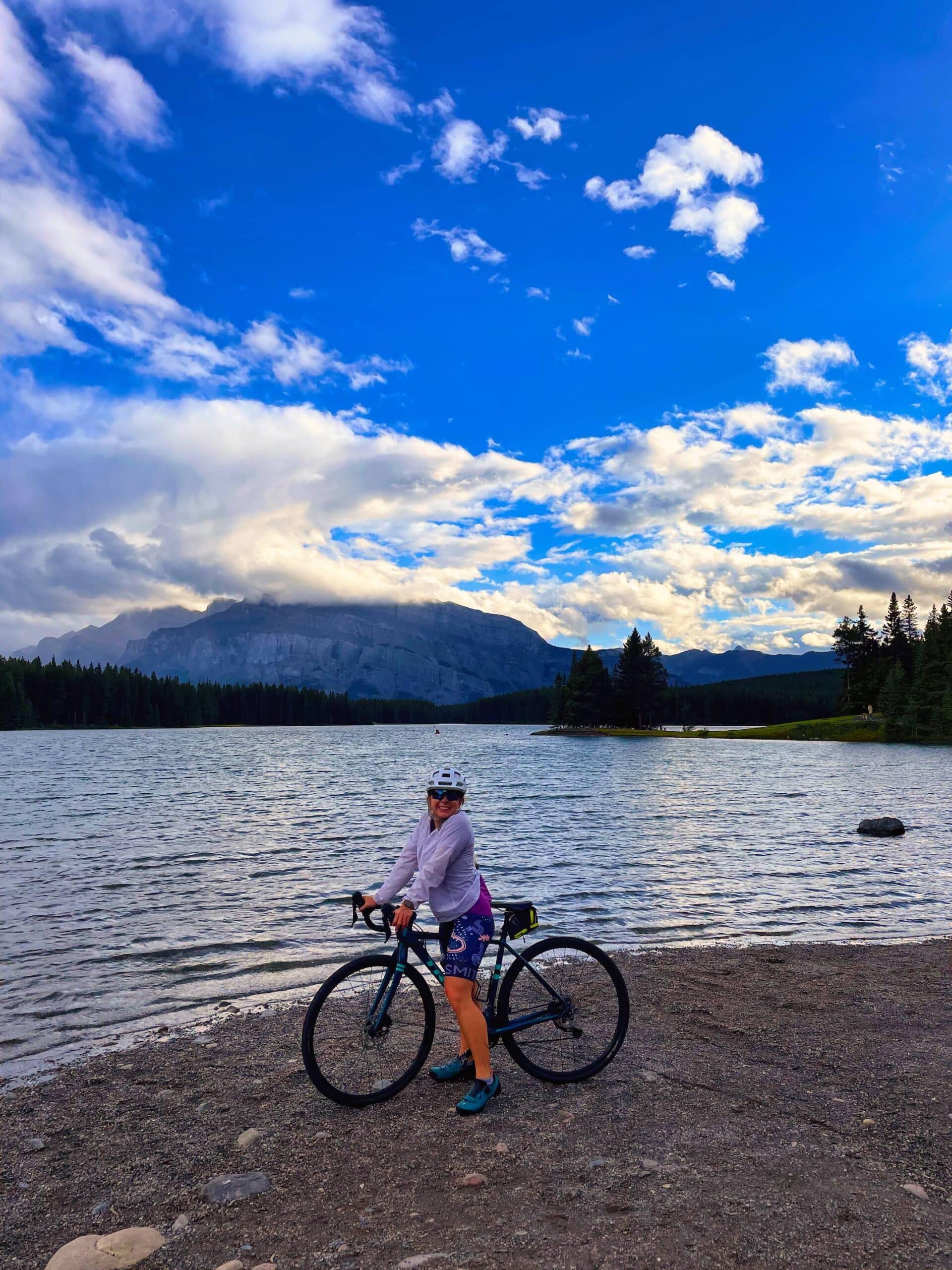 There are two exits for Banff. The first is on your right-hand side when driving from Canmore and is the Banff Avenue exit, and it happens right before you pass Cascade Mountain with Cascade Ponds on your right. This exit will bring you right into Banff Ave if you take a left off of it, and if you take a right, it will bring you to the Lake Minnewanka Scenic Drive (so exit here if you want to see Cascade Ponds, Lake Minnewanka, and Two Jack Lake).
The second exit is the Mt. Norquay Road Exit on your right-hand side. If you get off here, you are closer to Mt. Norquay Scenic Drive (on your right) or turn left towards Banff. This will allow you to stop at Vermilion Lakes or the famous Banff Sign on your way into Banff. This option does not bring you down Banff Avenue but instead skirts the town, and you can easily turn onto Banff Ave.
If you are only coming to Banff and not staying in a hotel in Banff, the second exit may be best for you as it brings you closer to the train station, where it's easier to park.
---
How to Get From Canmore to Banff?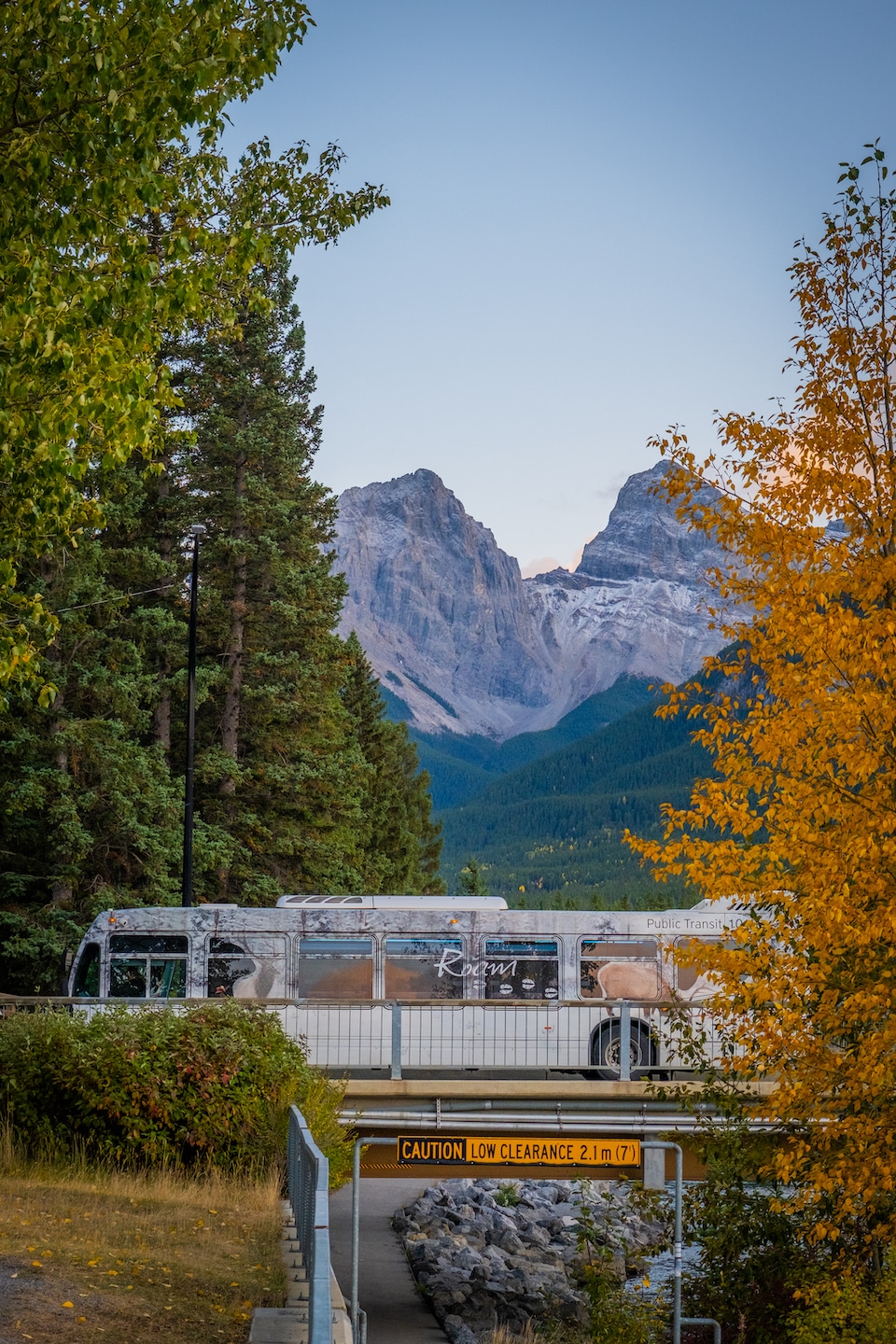 You have a few options for traveling between Canmore and Banff.
Canmore to Banff: By Car
The most popular and easiest way to get from Canmore to Banff is by car. You'll need your own vehicle, or a rental car, which we recommend getting in Calgary.
When driving to Banff, make sure you have your Parks Canada Pass. You will need it to enjoy all the best things to do in Banff! You can get your Parks Pass online or at the Parks Booths, which you'll come up upon before entering the park. There is no benefit to buying ahead besides saving a little bit of time if there is a line.
Display your Parks Canada Pass around your mirror or on your dashboard, depending on what type of pass you bought (day pass vs. yearly).
ULTIMATE Guide To Purchasing A Banff Park Pass (Parks Canada Pass)
Canmore to Banff: By Bike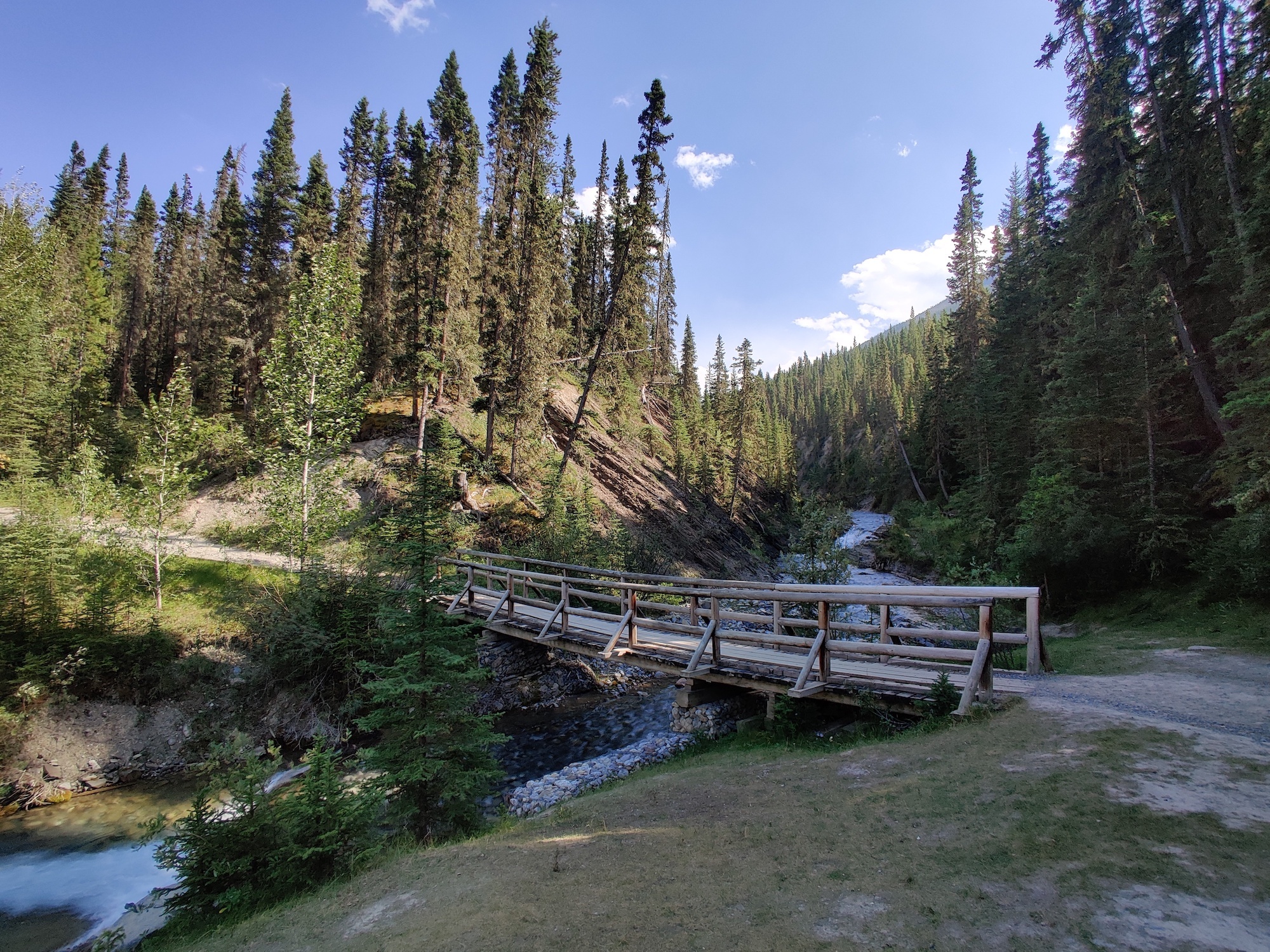 My favorite way to travel from Canmore to Banff is by bike. There are two main ways to get between Banff and Canmore via bike. Though one is much more popular than the other.
The first and most popular is the Legacy Trail. The Legacy Trail is a 26.8 km paved pathway that runs from the Bow Valley Parkway to the Travel Alberta Visitor Information Center in Canmore.
Most of the Legacy Trail runs alongside Trans Canada and is a unique multi-use rec pathway that bikers love come mid-April when the snow melts. There are rest stops, picnic areas along the way, and some epic spots to take in the views.
Depending on pace, the ride from Canmore to Banff on the Legacy Trail can take anywhere between 1-3 hours one way. We love to ride the Legacy Trail from Canmore to Banff on a nice summer day and sometimes connect it with the Lake Minnewanka Loop, finished with a beer at a Banff Brewery, to truly make for an epic day.
The other biking option is the Goat Creek Trail, best reserved for mountain bikes. The Goat Creek Trail starts at the Goat Creek Parking Lot near the EEOR Trailhead and ends at the Spray River West Trailhead, approximately 150 meters from the Banff Springs Hotel. The trail is best completed starting from Canmore, so you go downhill most of the time. If you begin in Banff, you'll ride almost all uphill, biking against the traffic flow.
The trail is nearly 18 km in the backcountry, but it's a pretty easy and family-friendly. The path is not paved but is well-graded. Once you get to Banff, you can enjoy the town before hopping on the Legacy Trail or bus it back to Canmore.
*For intermediate to experienced mountain bikers, there is an option to hop on the Rundle Riverside Trail from the Goat Creek Trail. This is not beginner friendly.
If you don't have your own bike to ride the Legacy Trail or Goat Creek Trail you can rent one from Rebound Cycle in Canmore.
Canmore to Banff: By Bus
It's possible to get to Banff on the Roam Transit bus by taking Route 3. The bus starts running early in the morning and runs well into the night, making multiple stops in Banff and Canmore. You can see the schedule here.
The bus costs $6 one way, or you can purchase a $15-day pass. You can also buy a $25 Super Pass from Canmore to Banff to Lake Louise.
Canmore to Banff: By Taxi
If you don't have a car or bike or want to take the bus, you can get from Canmore to Banff via taxi. However, this is the most expensive option. You can expect a cab ride between the two towns to cost anywhere from $50-$80 (one way). We recommend Three Sisters Taxi.
Canmore to Banff: Rideshare or Hitchhike
Another option to get to Banff is to check PopARide, which offers rideshare services. However, because the distance is so short, it's not the most popular route for those looking for a rideshare.
The last option is to hitchhike if you feel comfortable. Hitchhiking is semi popular in the Rockies, and you may see a few people holding up a sign or two, trying to get somewhere. Hitchhiking is always at your own risk, though finding someone traveling between Banff and Canmore is generally straightforward.
---
Do You Need a Parks Pass to Visit Canmore?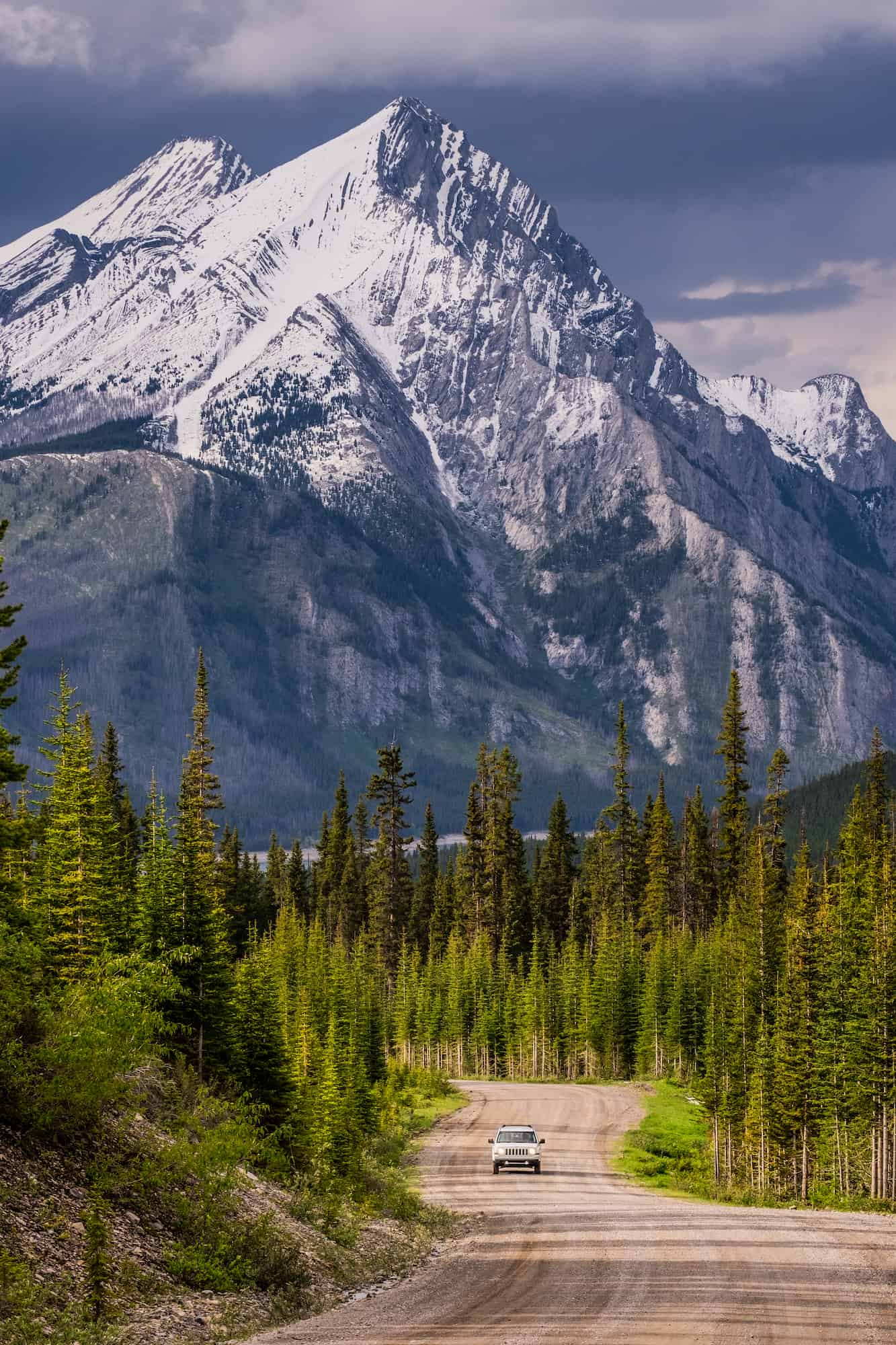 A Parks Pass is not necessary to visit Canmore. However, if you travel into Kananaskis, which includes Ha Ling Peak and EEOR, or if you are driving the Smith Dorrien Road, you will need a Kananaskis Conservation Pass.
---
Do You Need a Parks Pass for Visiting Banff?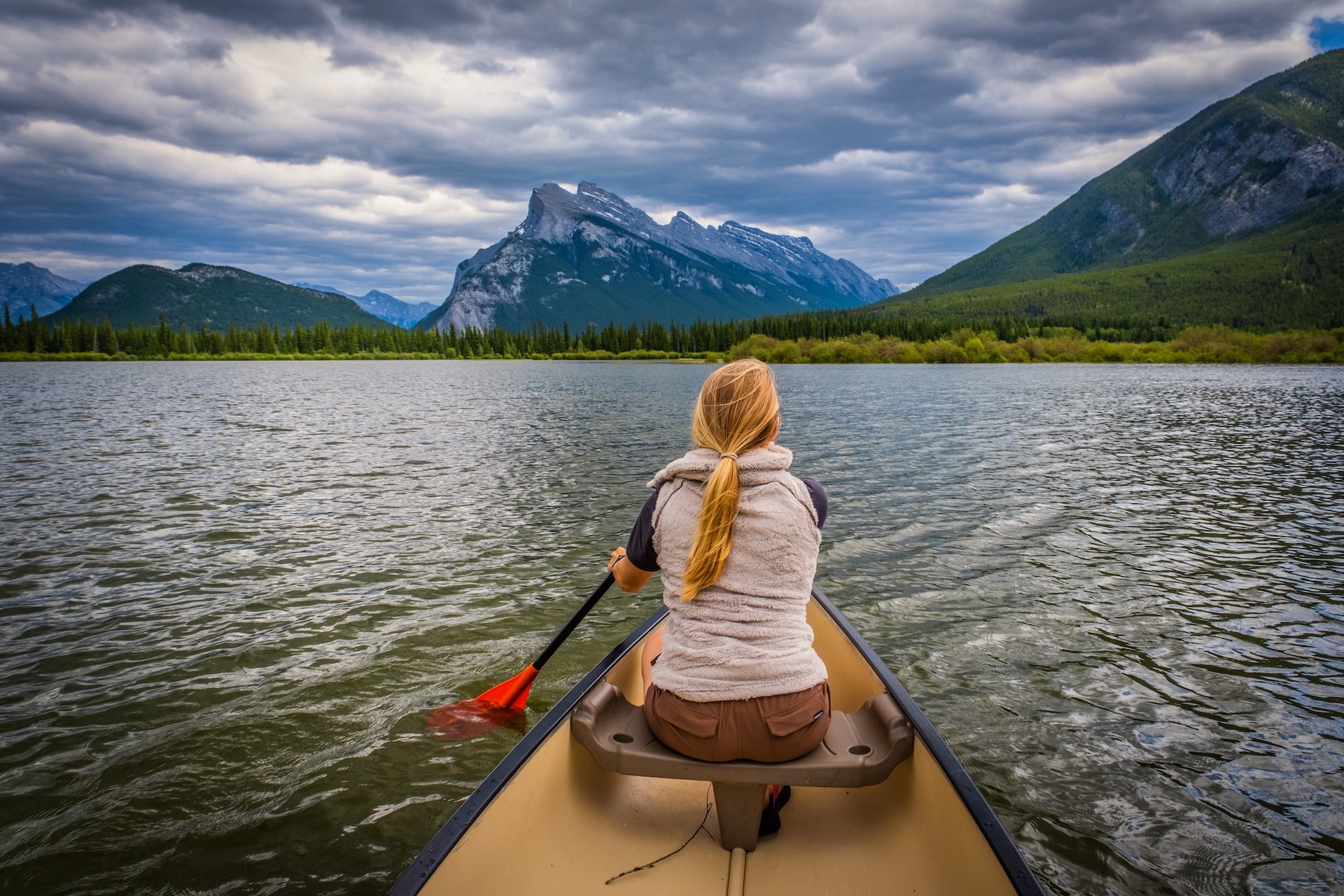 Anyone visiting Banff National Park needs a Parks Canada Pass. Depending on how many days you plan on visiting, it may be worth getting a Discovery Pass. Even if you plan to bike into Banff, you still need a Parks Canada Day Pass.
Daily Admission Fees
| Type | Price |
| --- | --- |
| Adult 18+ | $10.50 |
| Senior 65+ | $9.00 |
| Youth | Free |
| Family* | $21.00 |
*Family includes up to seven people in the same car
Discovery Pass Fees (Annual Pass)
| Type | Price |
| --- | --- |
| Adult 18+ | $72.25 |
| Senior 65+ | $61.75 |
| Youth | Free |
| Family* | $145.25 |
*Family includes up to seven people in the same car
---
Should You Stay in Banff or Canmore?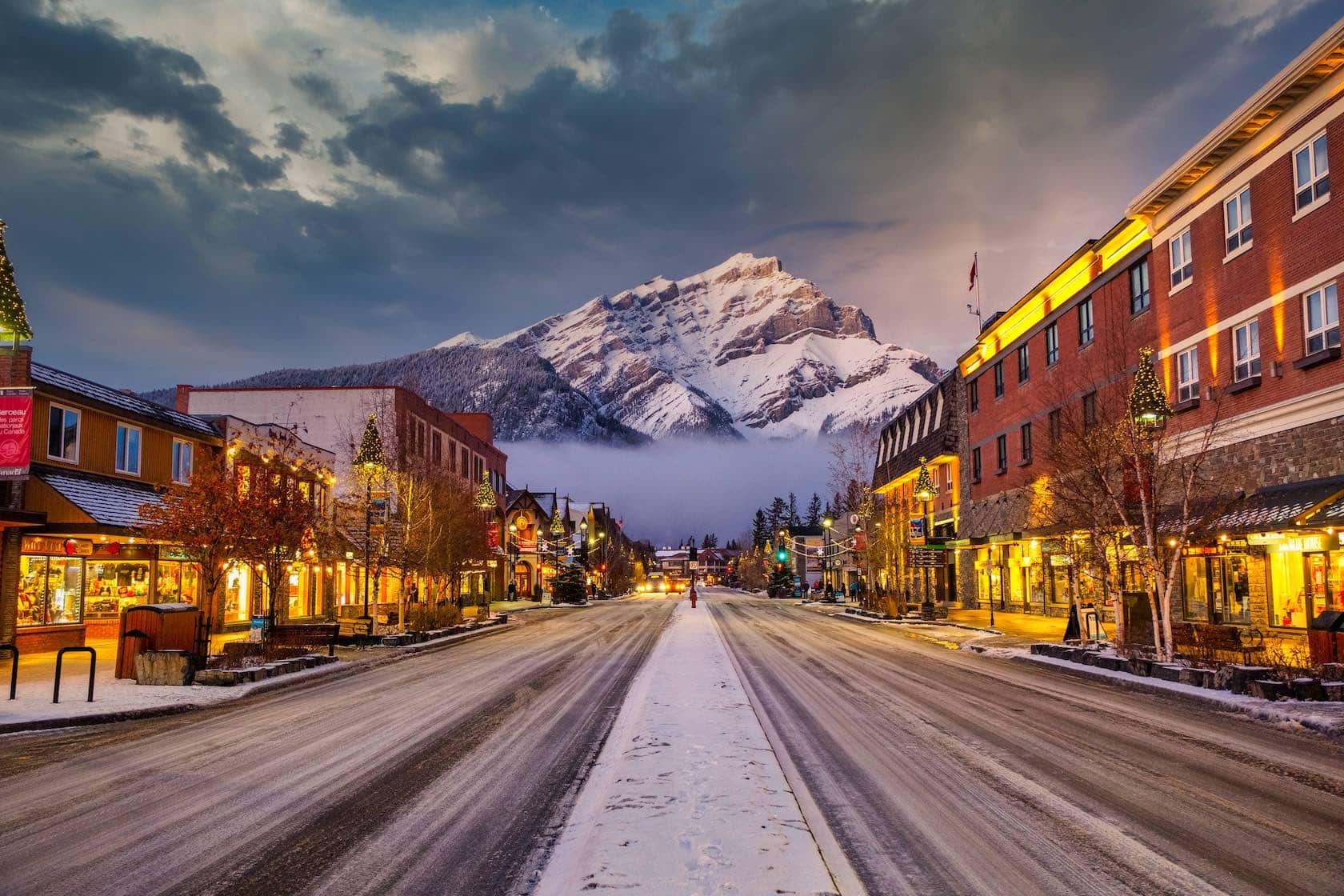 We get this question all the time. Is Banff or Canmore the better place to stay on your vacation? It is all up to you and what you want from your holiday. We break down the pros and cons of each town here.
Plan Your Trip to the Canadian Rockies