If you're wondering where to stay in Banff I have good news! Choosing the best hotel in Banff and area to stay for you and your family is much easier than choosing proper accommodation in a large city.
Although Banff National Park is one of the largest parks in Canada the area to stay in the park are quite limited. So much of Banff is protected meaning most of the accommodation options are in the Town of Banff. Outside of that, there are a few interesting hubs that we will narrow down.
Most visitors to Banff will likely end up staying somewhere in the Town of Banff, and perhaps venturing out of town for a few nights to stay at Lake Louise or along the Bow Valley Parkway.
In the summer and winter, there is so much to explore around the park before making your way back to your hotel for either a quiet night amongst the trees enjoying a campfire, or enjoying a night on Banff Ave.
Unlike other similar articles we won't be discussing Calgary or Invermere as an option for where to stay in Banff, because quite frankly, those destinations are quite far from the town and will alter your vacation to the beautiful Canadian Rockies.
Where to Stay in Banff? Quick Answer
Where is the Most Luxurious Place to Stay in Banff? Fairmont Banff Springs is certainly the most luxurious place to stay in the entire park. It's absolutely magical in both the winter and summer, although I'm partial to winter and Christmas time when they have "Christmas at the Castle."
Where is the Best Mid Range Place to Stay in Banff? Mount Royal Hotel provides excellent comfortable and modern rooms right on the main crosswalk of Banff.
Where to Stay in Banff With Air Conditioning? Moose Hotel & Suites Air Conditioning is not common in the Rockies as it's always pretty cool at night. If AC is must consider the Moose Hotel.
Where is the Most Unique Place to Stay in Banff? Baker Creek Mountain Resort is a romantic location on the Bow Valley Parkway. If you want to feel like you're lost in a traditional log cabin this place is for you.
Where Can I Stay on a Lake in Banff? Fairmont Chateau Lake Louise There is truly no more iconic in Banff than here. If staying on a lake front property is must at least one night here is ideal.
Where is the Best Pet Friendly Place to Stay in Banff? The Rimrock Resort A higher end property that treats pets (and humans) like kings and queens.
Where to Stay in Banff as a Family? The Hidden Ridge Resort If you want an entire apartment in Banff perfect for large groups and families consider here.
---
Where to Stay in Banff
---
Town of Banff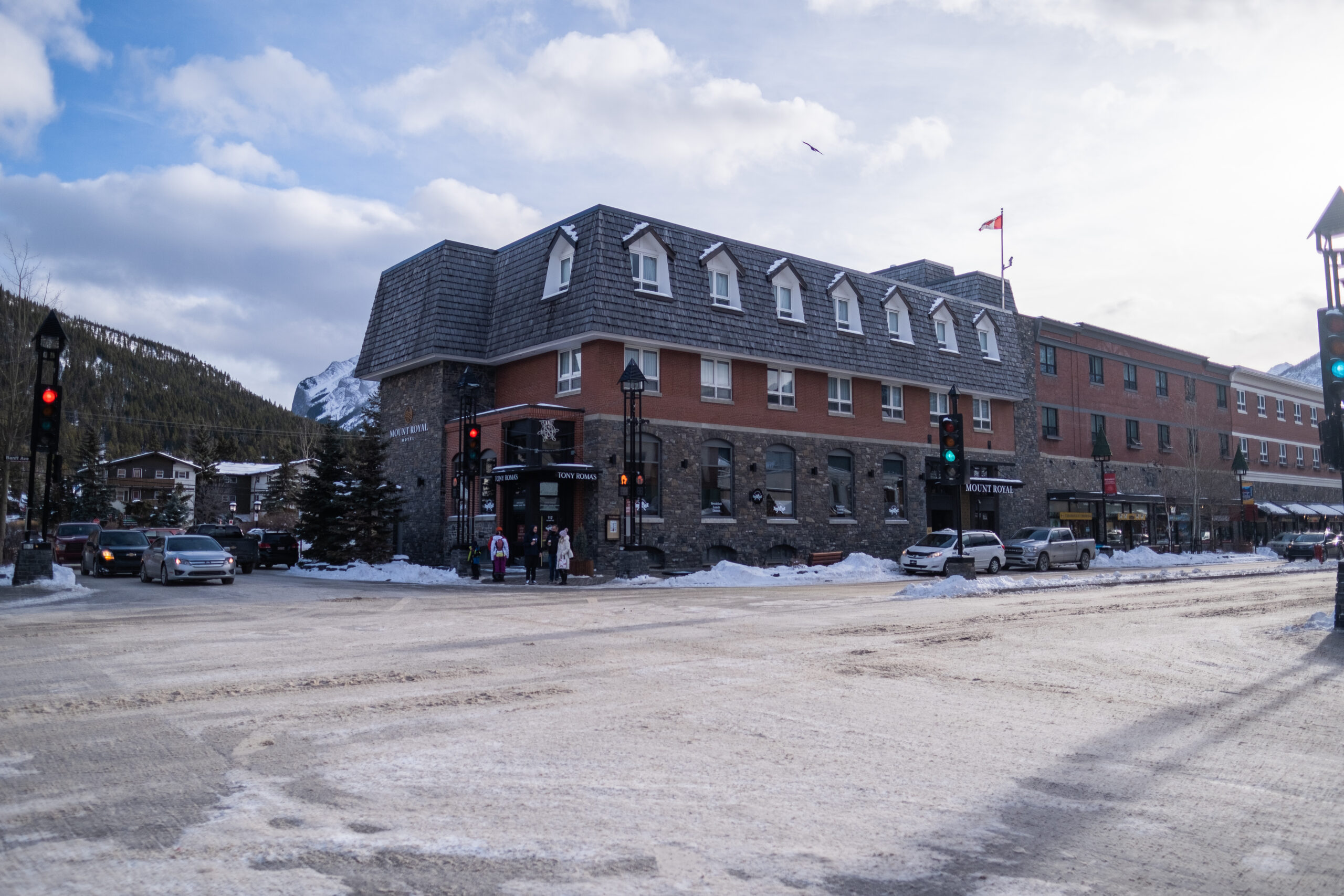 Your first main option when looking at where to stay in Banff is the actual town of Banff. The Town of Banff is located about 125.8 km west of Calgary. If driving from Calgary you'll pass the Town of Canmore, and pass the Parks Canada gates. After driving past pull-offs like Johnson Lake and Two Jack Lake you'll quickly come up to the Town of Banff.
There are two exits off the Trans-Canada which will take you to Banff Ave. Banff Ave is the main street in Banff and is where most of the hotel and accommodation options are located in Banff.
Staying on Banff Ave certainly has its perks. The ability to walk right out from your Banff hotel and enjoy the lively Banff Ave in summer or winter is amazing. The whole town of Banff is completely walkable, and if staying downtown you won't need your car at all to explore the town.
You'll have everything you need for a great vacation in Banff just steps away. The best Banff restaurants, Banff cafes, and some fun attractions are close by. I love the Mount Royal for the mid range hotel option, as well as the Banff Caribou Lodge!
There are a few Downtown Banff hotels not located right on Banff Ave, but they are only a few streets back. For this, you will likely pay a lower rate than staying right on Banff Ave.
Where to Stay in Downtown Banff
---
Outskirts of Town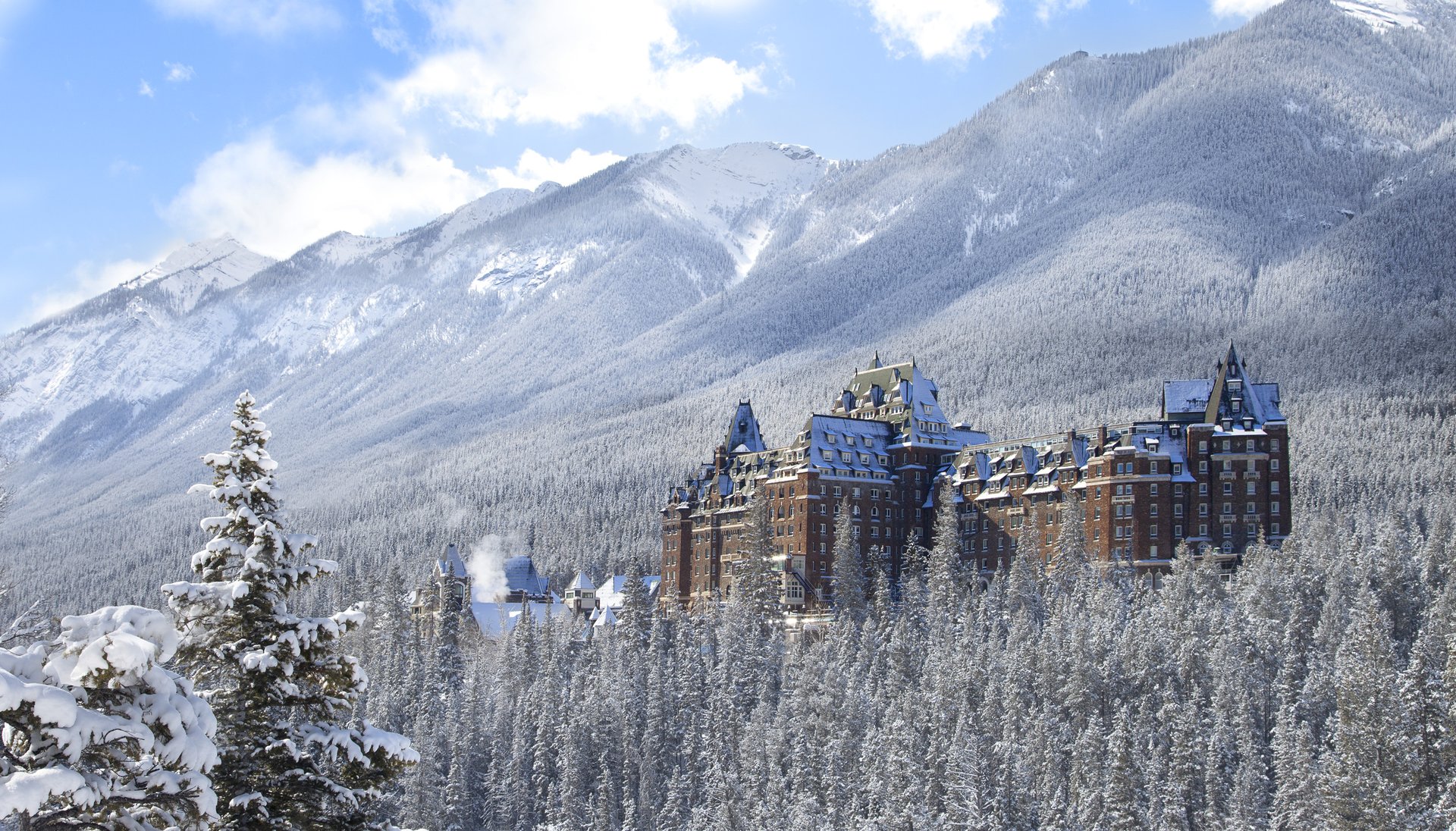 There are a few Banff hotels that are located on the outskirts of town. Most are still completely walkable to Banff Ave, it just may take a bit longer. Staying on the outskirts of town means you'll have more privacy and a little less noise on a lively Saturday night. Though it's not to worry, nowhere in Banff is like a large city at night, and noise is never much of an issue.
The most notable hotel that is located on the outskirts of town is the famous Banff Springs Hotel (aka the Castle). Which upon viewing you can see why its location in the trees and away from downtown is perfect for it.
There is also the Juniper Hotel which has a convenient location near Mount Norquay. The Juniper Hotel is not near Downtown Banff as it is across the Trans Canada. It's about a 25-minute walk to Banff Ave, or they offer a free shuttle.
Where to Stay on the Outskirts of Banff Ave
---
Sulphur Mountain Area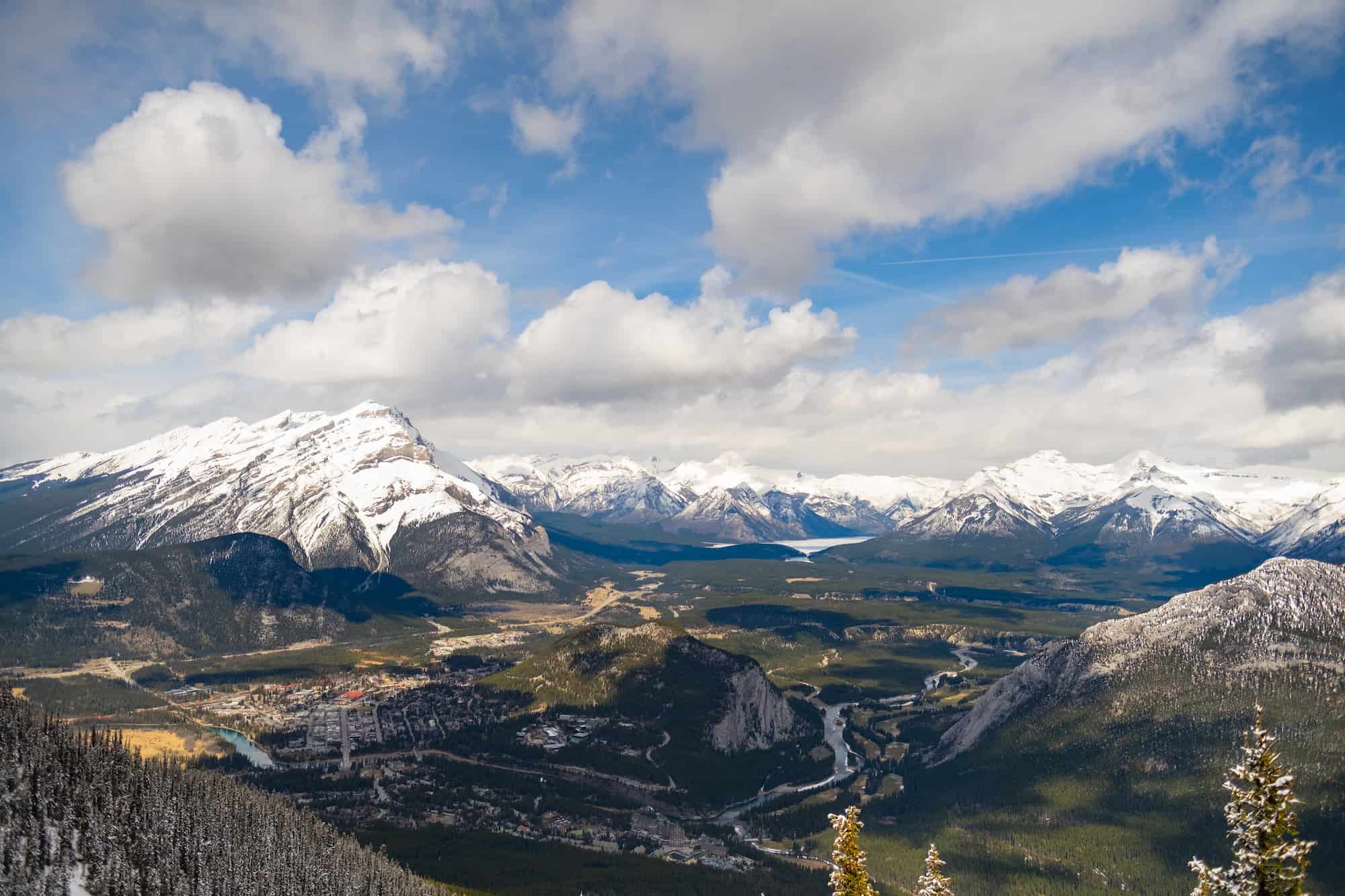 Sulphur Mountain is near Downtown Banff, but is across the Bow River Bridge and up a long steep road. While you can walk to Banff Ave from Sulphur Mountain, it may be easier to take a car. Sulphur Mountain is the sight of the Banff Gondola, as well as the Banff Hot Springs, two of the best things to do in Banff.
There is really only one Banff hotel near Sulphur Mountain, and that is the Rimrock Resort, which is easily one of the nicest hotels in the park. It's a great option if you want easy access to the Town of Banff, but want to stay a little bit away from the hustle and bustle. It's family and pet friendly, and provides more affordable rates than the Banff Springs.
Where to Stay Near Sulphur Mountain?
---
Tunnel Mountain Area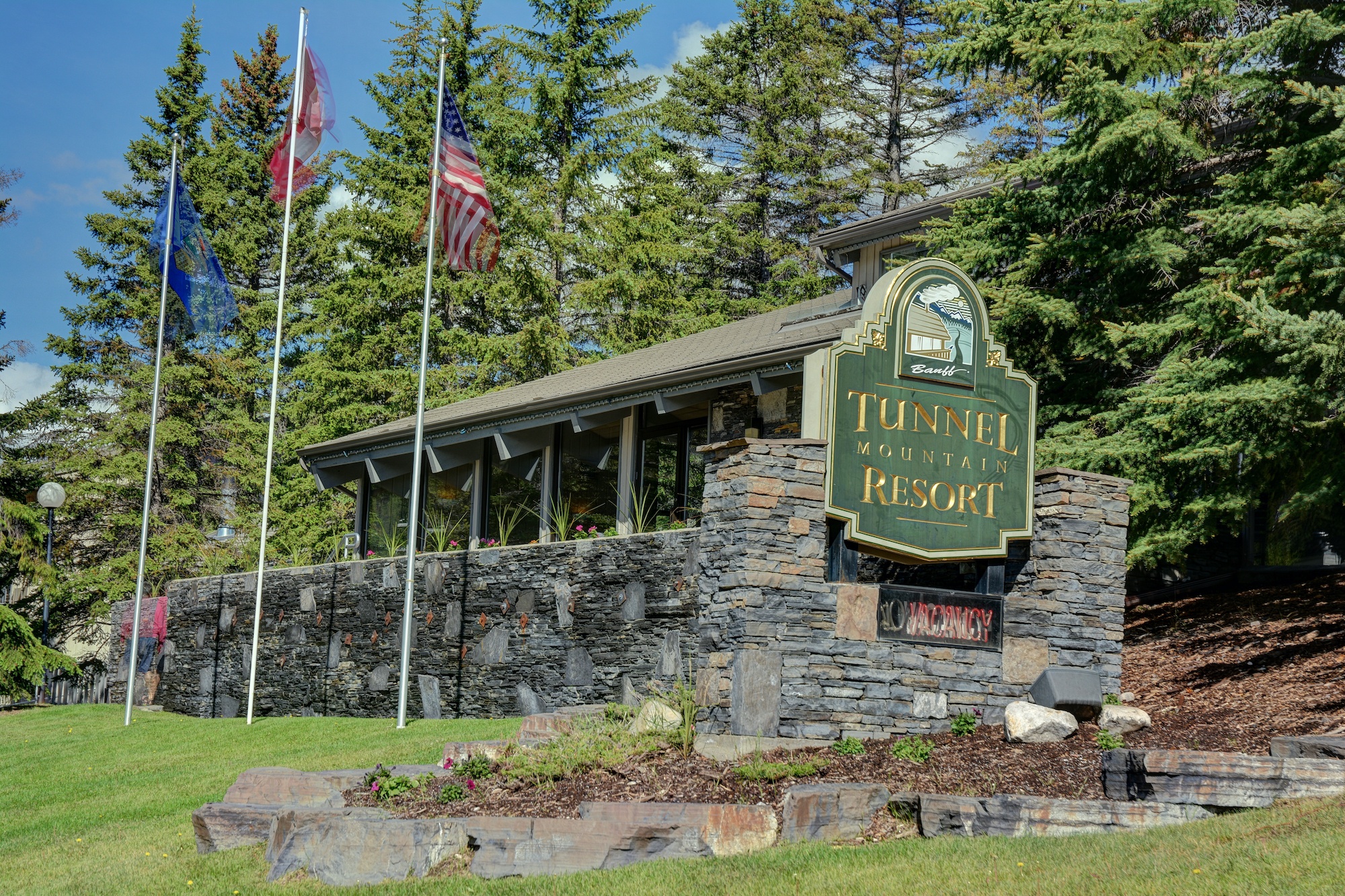 Tunnel Mountain is a small mountain right near the town of Banff. It's a popular hike in the summer and winter and is well known for its ease and accessibility. There are a few accommodation options in the Tunnel Mountain area. All provide fantastic access to the Banff Golf Course as well as mountain bike trails in Banff, and of course Tunnel Mountain.
Staying near Tunnel Mountain is a great alternative to Banff Ave. Like most other places it's still very possible to walk to Banff Ave in a short amount of time.
Up here you can find a few resort communities like the Hidden Ridge Resort, as well as one of the only hostels in Banff, the HI Banff Alpine Centre.
Where to Stay Near Tunnel Mountain?
---
Ski In/Ski Out in Banff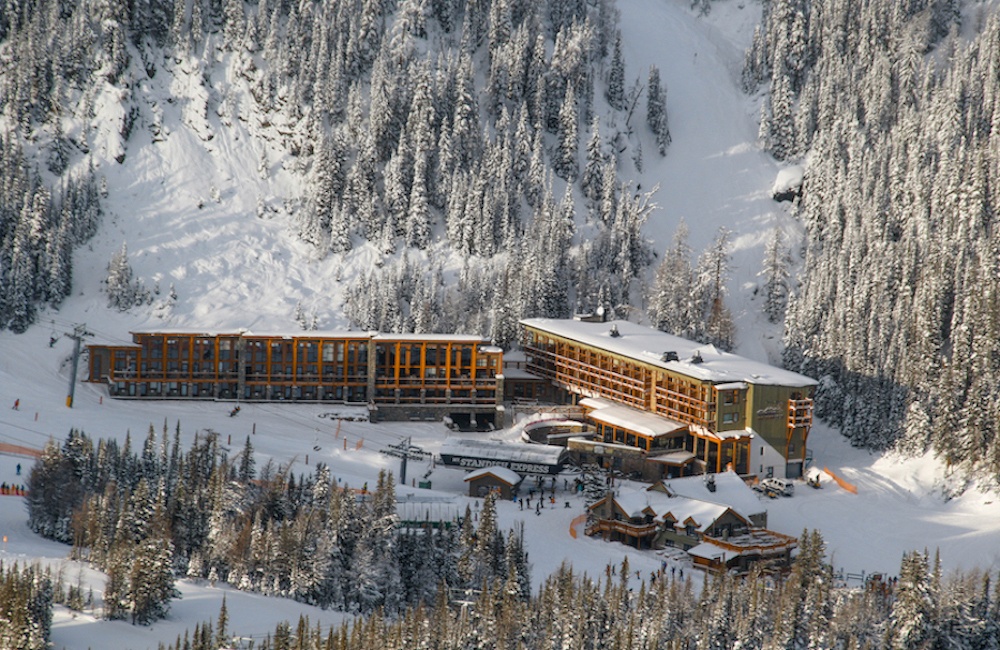 There are three ski resorts in Banff. Lake Louise Ski Resort, Banff Sunshine, and Mt. Norquay. The only ski-in/ski-out hotel in Banff is located at Banff Sunshine. The Sunshine Mountain Lodge is a luxurious Banff hotel located at the top of the Sunshine Gondola.
Powderhounds can sleep in slumber here and look forward to getting first tracks on a Banff winter morning.
The Only Ski In/Ski Out in Banff
Sunshine Village Mountain Lodge
---
Lake Louise Area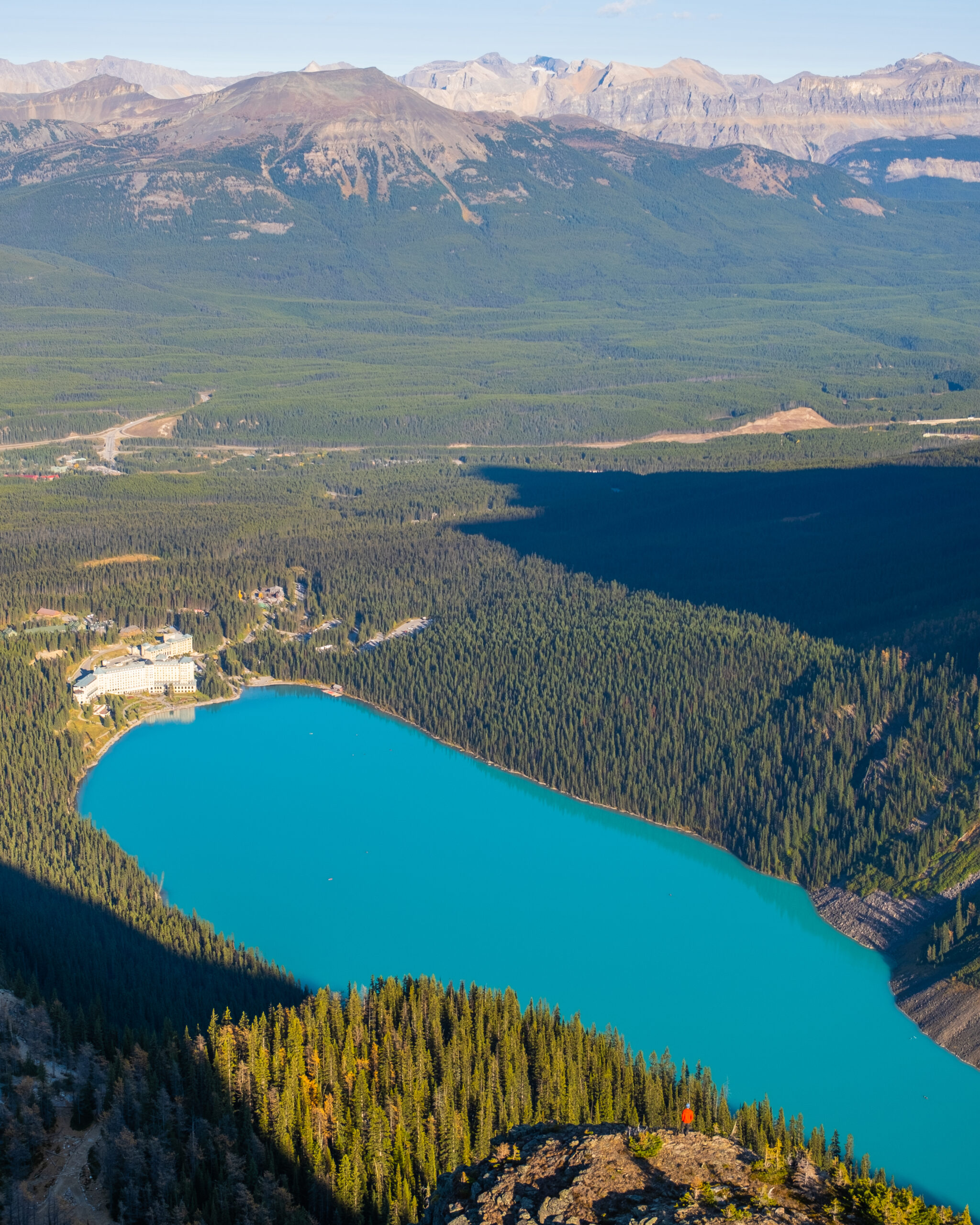 Lake Louise itself is one of the most iconic places to visit in not just Banff, but all of Canada. It's a beautiful sight to see and visitors come from all over the world to see the bright blue colors of Lake Louise.
Located about 40 minutes away from the Town of Banff, Lake Louise is an excellent place to stay. There aren't a plethora of hotel options here and there is only one hotel option that is actually on Lake Louise herself.
The Fairmont Chateau Lake Louise is another iconic Fairmont property actually on Lake Louise. However to book a stay here expect to pay top dollar for location, especially peak summer when the rates can go as high as $800-$1000 a night.
There are a few other hotels near Lake Louise on Lake Louise road that offer close access to the lake, but at a fraction of the cost of the Fairmont. The Paradise Lodge and Bungalows as well as the Lake Louise Inn are good options.
Where to Stay in Lake Louise?
The Fairmont Chateau Lake Louise
---
Lake Moraine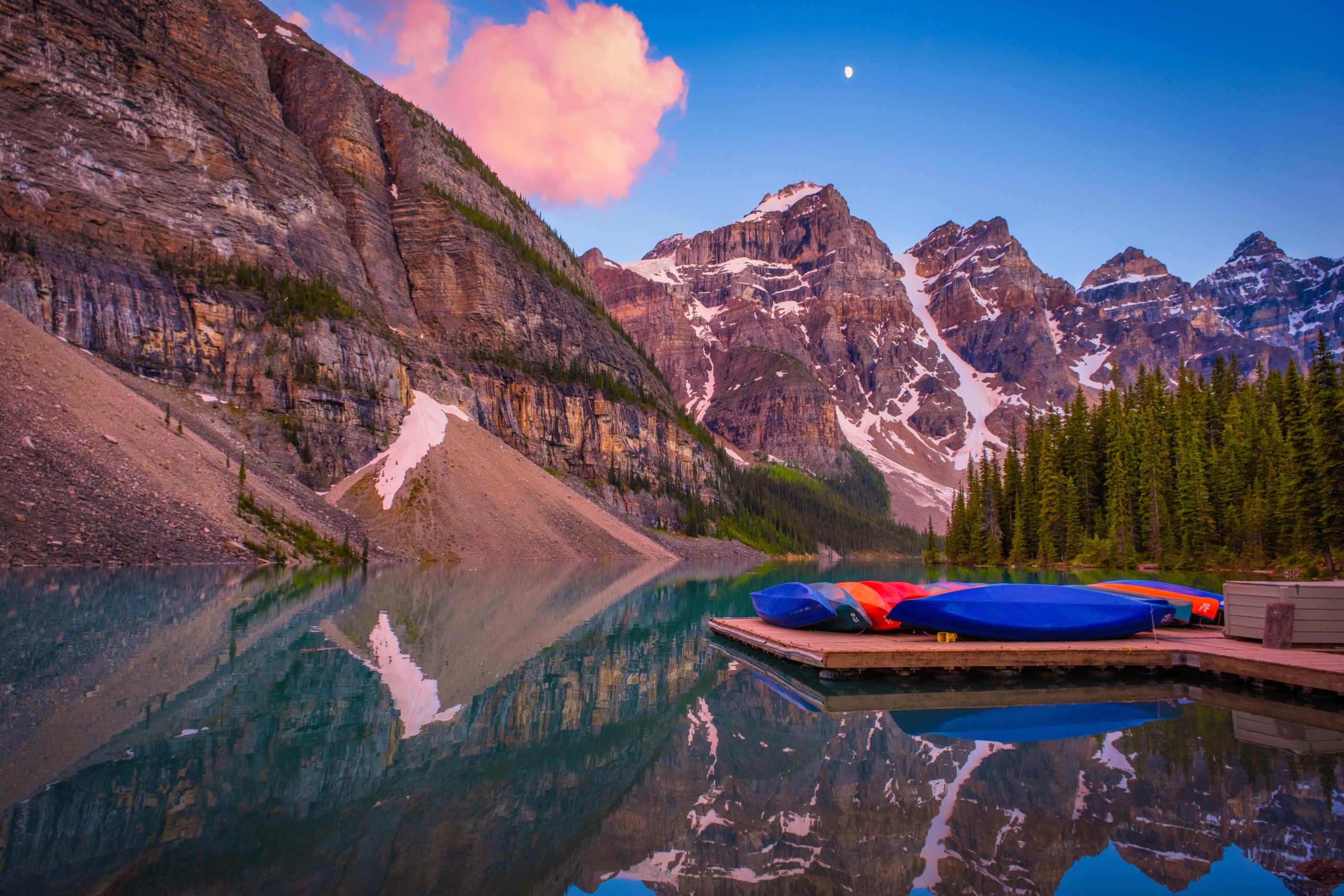 There is only one place to stay at the famous Lake Moraine and books up fast. The Moraine Lake Lodge is only open from June to October (when Parks Canada opens and closes access to Moraine Lake).
It's not a huge place, meaning if you want to stay at Lake Moraine herself and be one of the first people to see it every morning and last to say goodnight to the lake it's best to book as soon as you can.
Where to Stay at Moraine Lake?
---
Bow Valley Parkway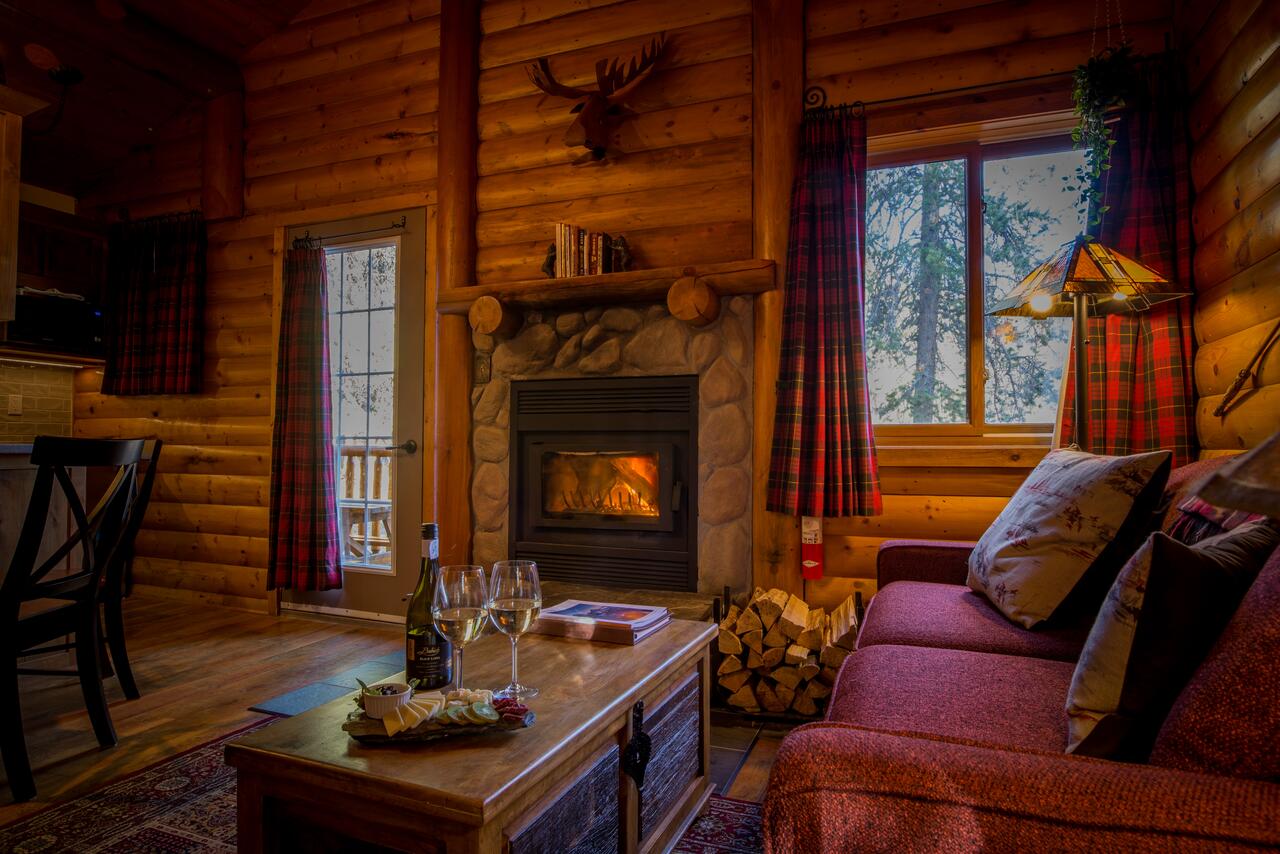 The Bow Valley Parkway, or the "1A" is the scenic alternative to the TransCanada. The Bow Valley Parkway runs from Banff to Lake Louise and provides many sightseeing opportunities in the winter and summer.
There are a handful of places to stay along the parkway, including the Castle Mountain Chalets, Johnston Canyon Lodge & Bungalows, and Baker Creek Resort.
All of these places are desirable places to stay in the town of Banff and provide unique experiences to enjoy in Banff.
Where to Stay on the Bow Valley Parkway?
---
Banff Backcountry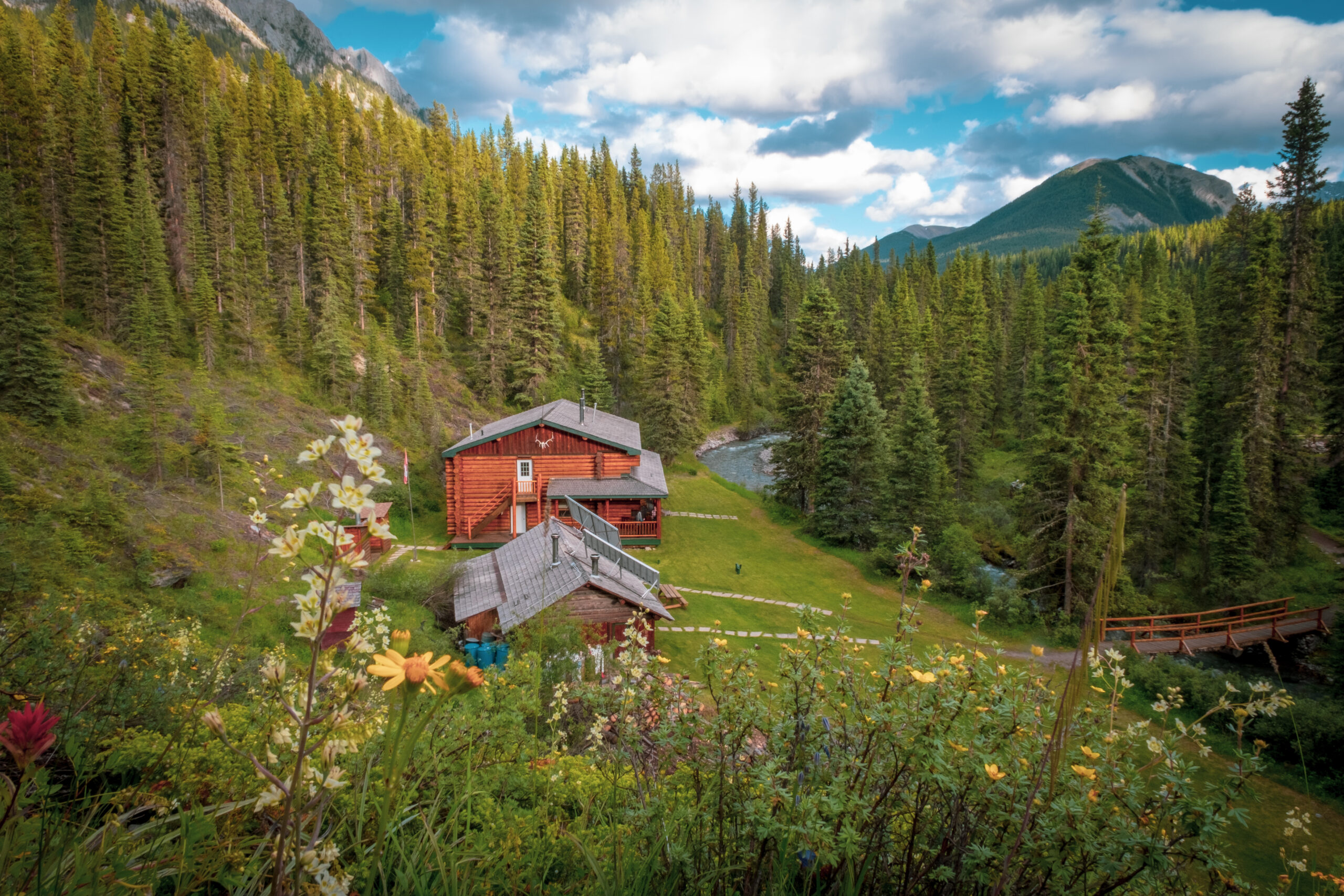 Last on my list of Where to Stay in Banff are epic places in the Banff backcountry. There aren't a ton of accommodation options in the Banff backcountry that aren't camping.
However we like the vibe of the Banff cabins you can get. Deep in the mountains and nestled away from everyday life are places like Sundance Lodge, Halfway Lodge, and Skoki Lodge. All require a trek to get to, but if you're up for an adventure it's sure to be one of the best times of your life!
Where to Stay in the Banff Backcountry?
Halfway Lodge (Only accessible via horseback)
---
Alternatives to Staying in Banff National Park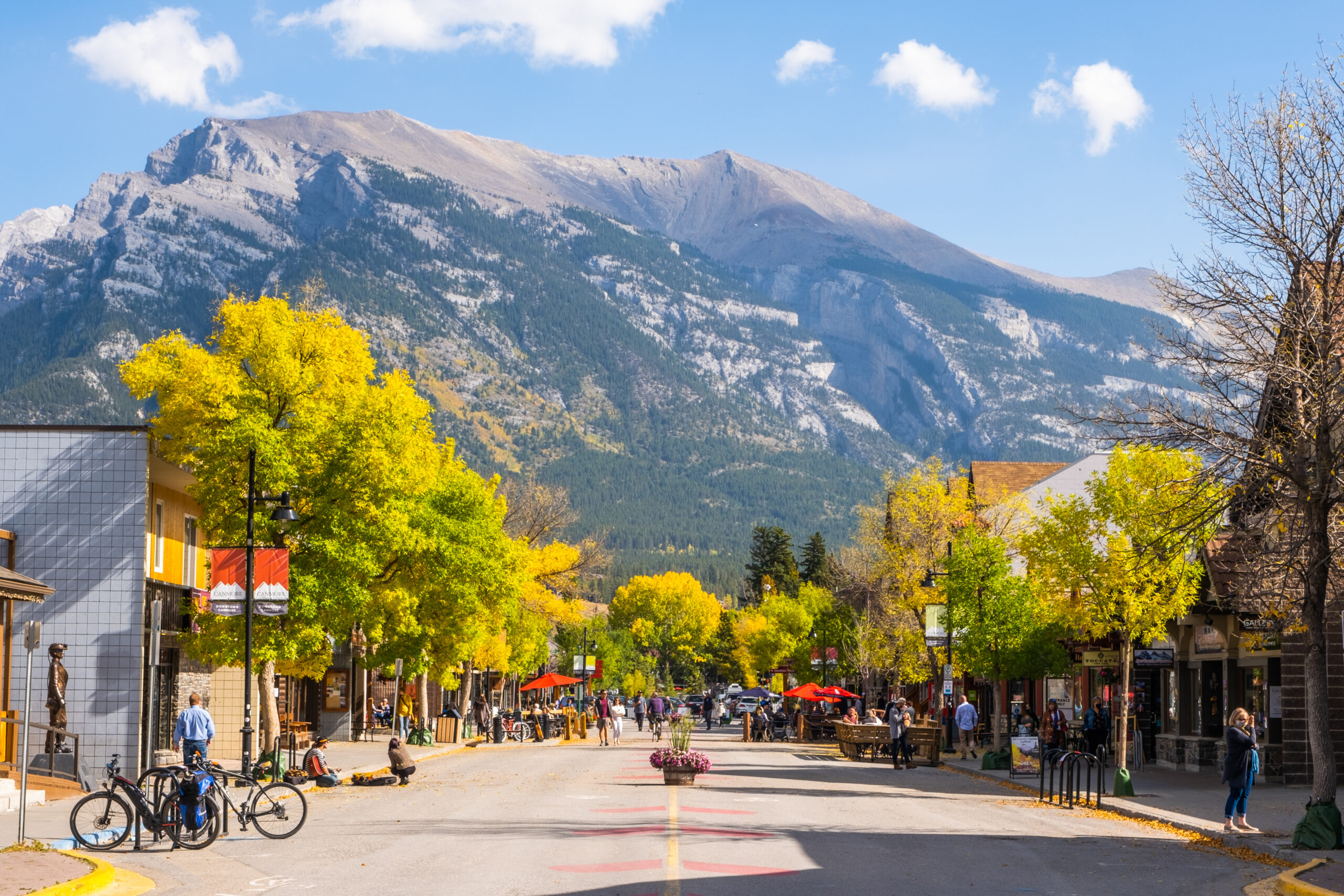 If you don't mind staying outside of Banff there are a few options on the table for you. Fortunately, most of these destinations are more affordable than staying in Banff.
Canmore: Canmore is the town right next to Banff National Park. It's located closer to Calgary and Kananaskis. In my opinion, it's just as beautiful as the town of Banff if not prettier, but you are further away from the major sights like Lake Louise and Moraine Lake. Canmore has a great downtown and restaurant scene and there are new accommodation options popping up all over town. See the best places to stay in Canmore.
Golden: Golden is about an hour's drive from Lake Louise and is a great option if you plan on hanging out more in Yoho National Park, seeing Emerald Lake, and hiking the Iceline Trail. It's a cute little town and provides extremely close access to the Kicking Horse Ski Resort.
Cochrane: Cochrane is not located in the mountains, but it's not far from Kananaskis Country and it's only a 40-minute drive to Canmore and 15 minutes further to Banff. Because of its location at the "foothills of the Rockies," it's extremely affordable! However, we wouldn't recommend it to most visitors.