Takakkaw Falls is the most stunning waterfall to see in the Canadian Rockies, and one of the most beautiful waterfalls in all of BC. In fact, it's actually the second highest waterfall in all of Canada!
It's well worth a stop for any visitor to the Rockies, especially if you are already nearby at Emerald Lake or Lake Louise in Banff.
Seeing Takakkaw Falls is one of the best things to do in Yoho National Park, we'll break down why you should visit, how to hike in the area, how to get to the waterfall, where to camp, and everything you need to know to have an enjoyable day there.
---
Why Should You Visit Takakkaw Falls?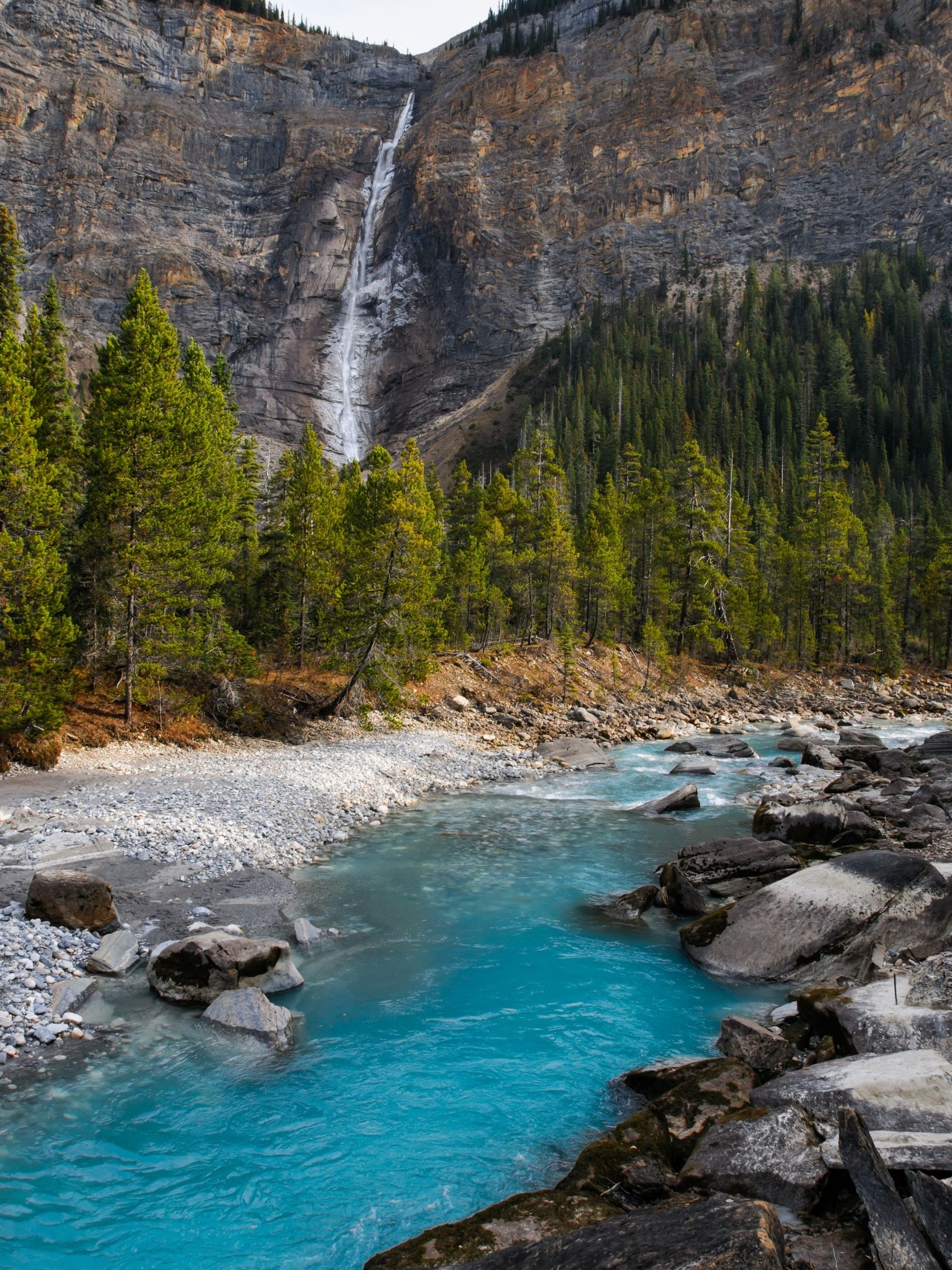 There are many reasons you should make the trip to Takakkaw Falls (or "Tak" falls as locals call it). For one it's the second-highest waterfall in Canada at 373 meters. There are two drops with the main drop being a whopping 254 meters high.
Takakkaw Falls is also extremely accessible and almost any visitor to the Rockies should be able to see it. There is a parking area and a well-maintained path which will get you up close to the falls.
Takakkaw Falls is conveniently located right near the small Town of Field. It's less than an hour away from the town of Golden, and less than 30 minutes from Lake Louise. You'll be able to reach Tak Falls in just about an hour from Downtown Banff.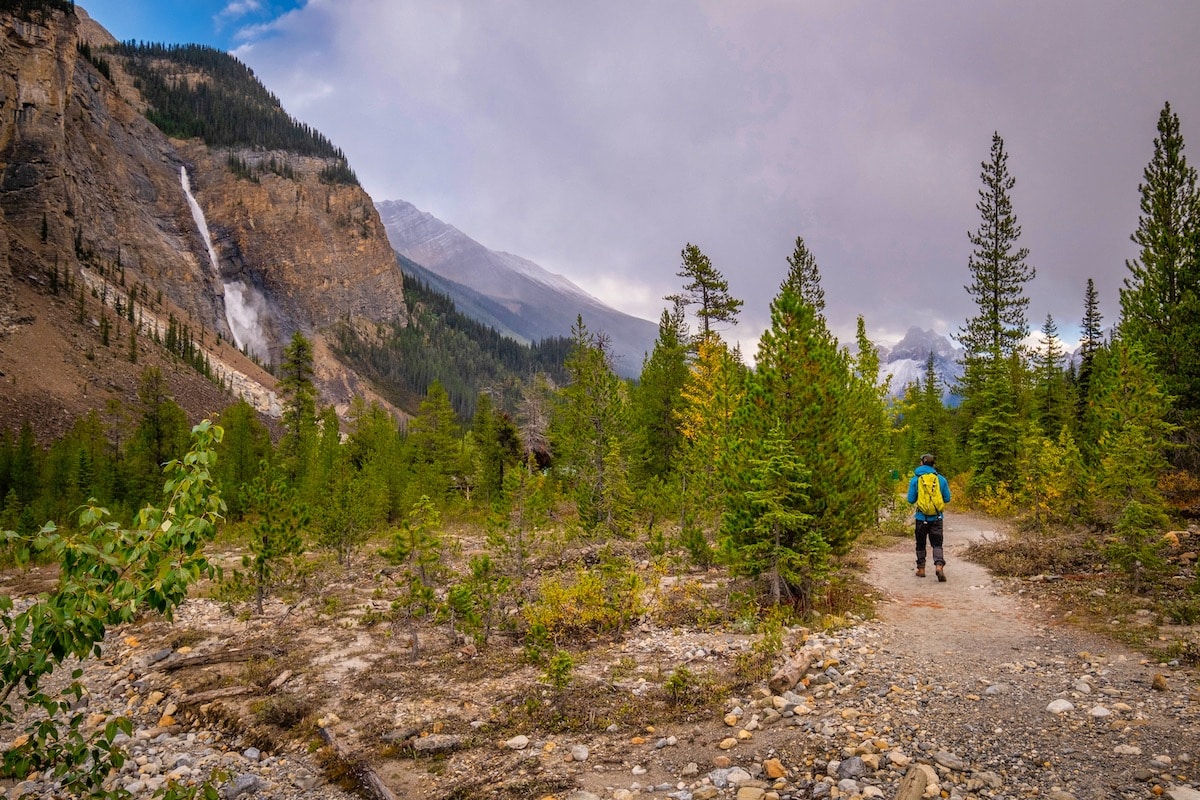 Yoho National Park is on the traditional territory of the Ktunaxa, Blackfoot, and Cree First Nations. The word Yoho comes from the Cree expression for "awe and wonder", and this stunning park sure does live up to its name. The word "Takakkaw" translates to "wonderful" in the Cree language, and there is good reason for that!
---
Takakkaw Falls Hike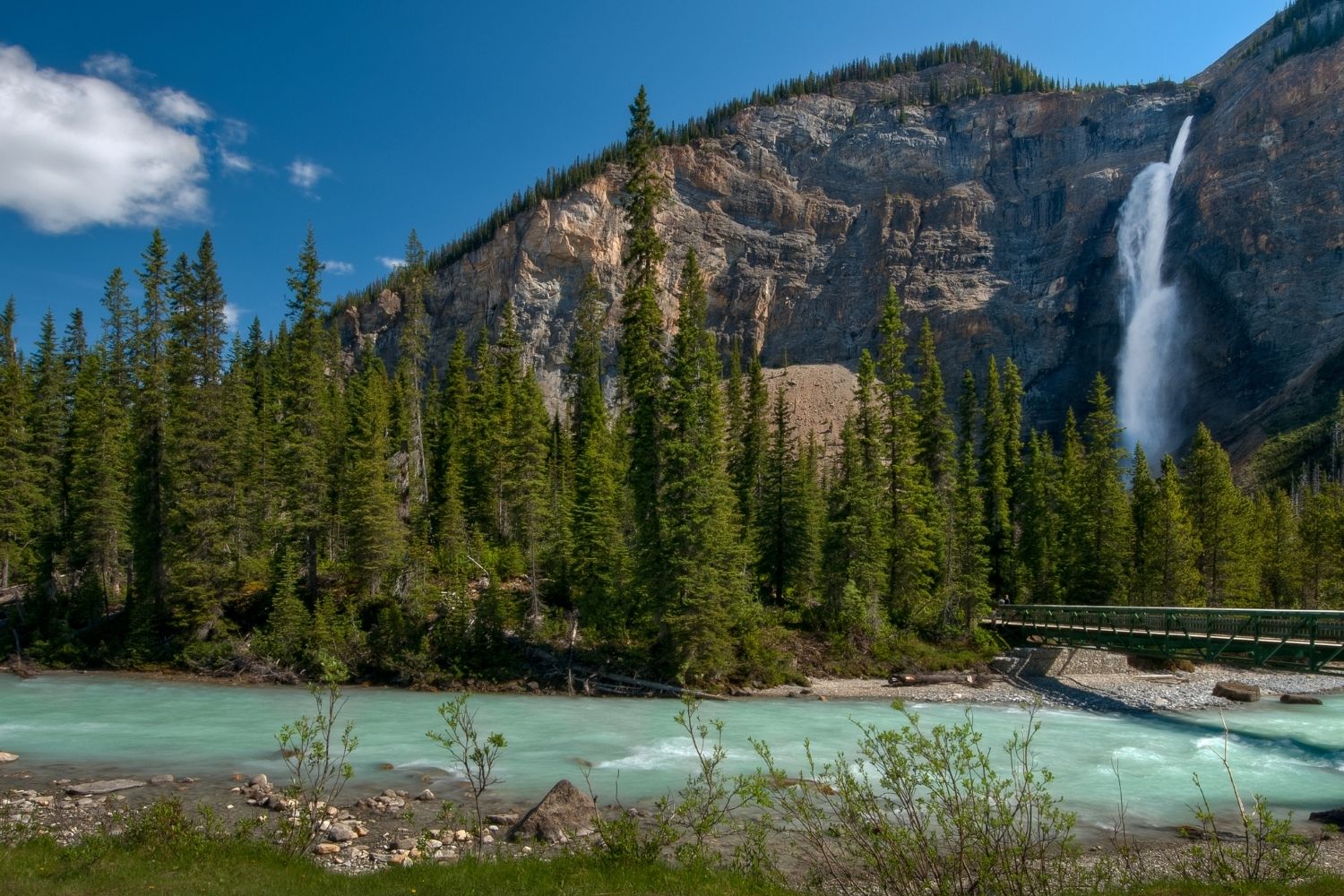 Length: 1.4 km
Duration: 30 minutes
Elevation Gain: 36 meters
Difficulty: Easy
Best Time To Go: June
Parking: Takakkaw Falls Parking Lot
Although you can technically see Takakkaw Falls from the parking lot, the best views are from the hike. Don't worry – it's a short and easy hike that will lead you right up to the magnificent falls.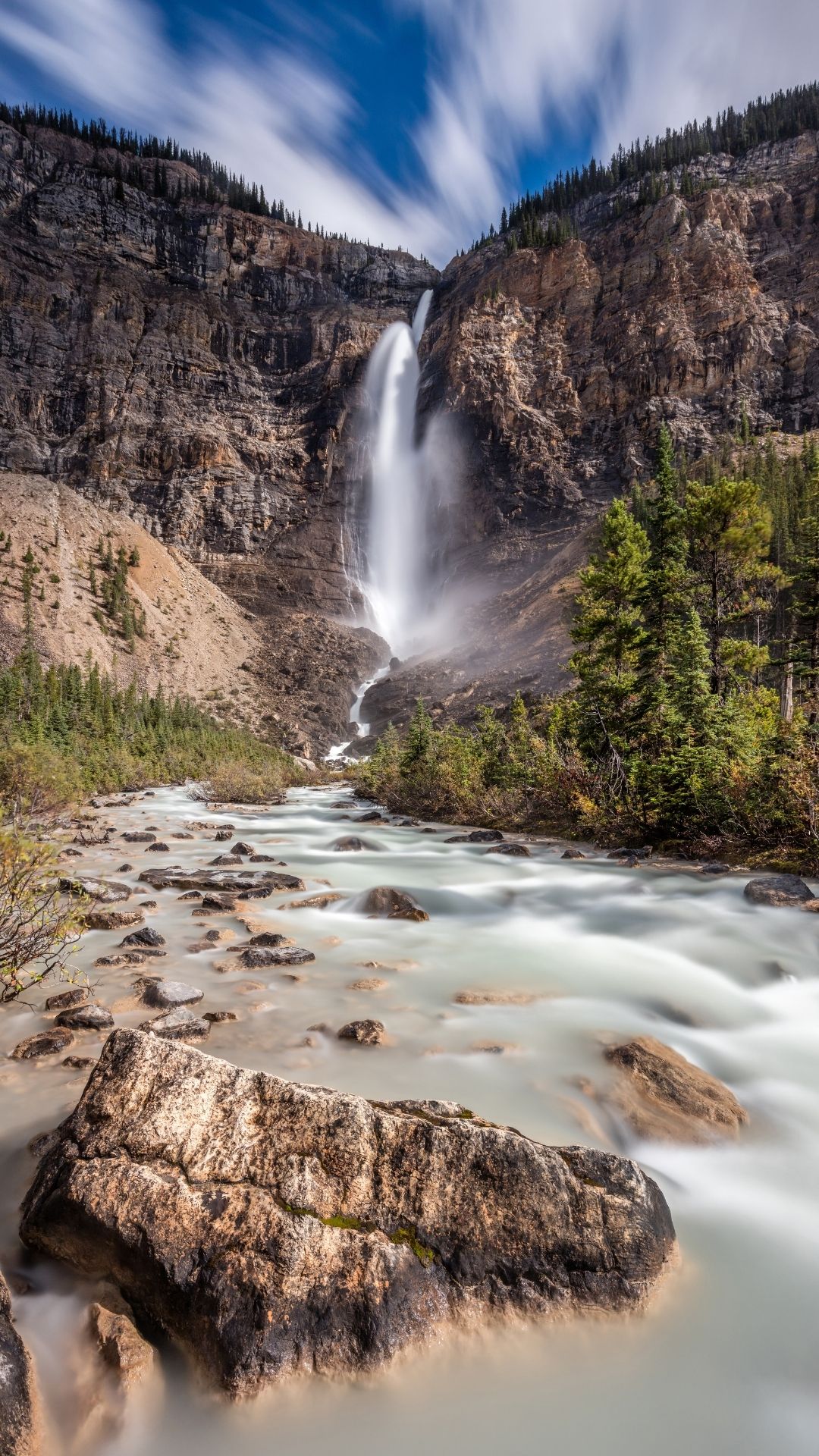 As far as Canadian Rockies hikes go, Takakkaw Falls is not demanding at all. If you want something short and sweet it's a good one, however, if you are looking for a longer day out consider the Iceline Trail or scramble up Paget Peak.
To get to Takakkaw Falls is just a 1.4 km round trip hike and only 36 meters of elevation gain on a well-maintained path. As you cross over the bridge you'll really start to feel the power of the falls, and depending on the time of year you visit you may start to get wet. I would suggest bringing a rain jacket with you! The hike is kid, pet, wheelchair, and stroller-friendly!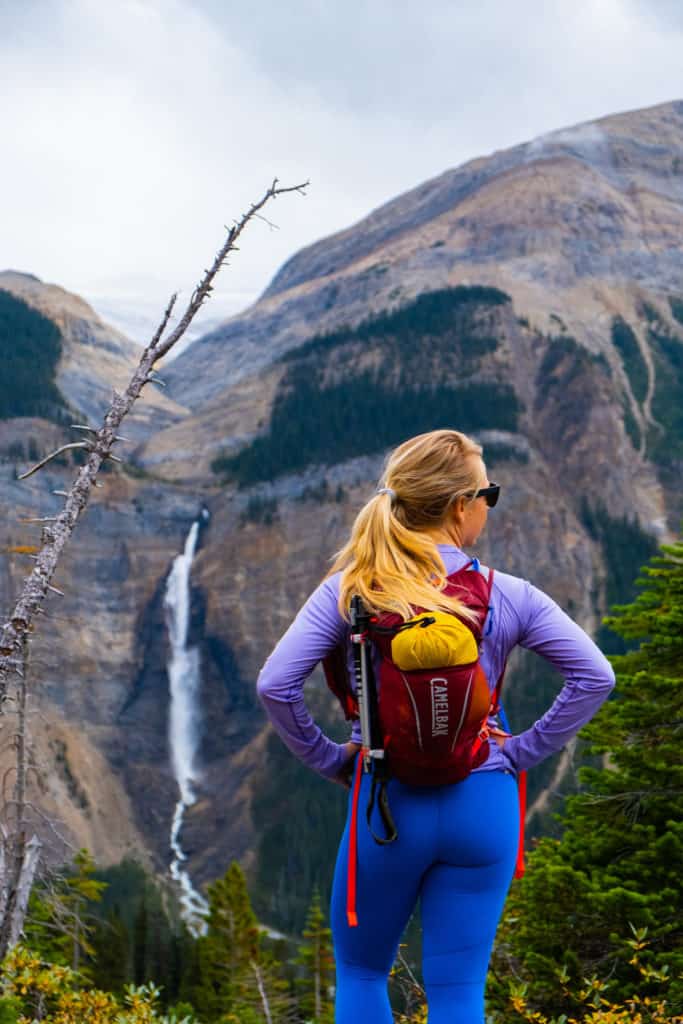 It's important to note that from this hike you'll get views of Tak Falls from below, to get a better vantage point you should definitely consider hiking up the Iceline Trial at least a little ways.
---
How to Get to Takakkaw Falls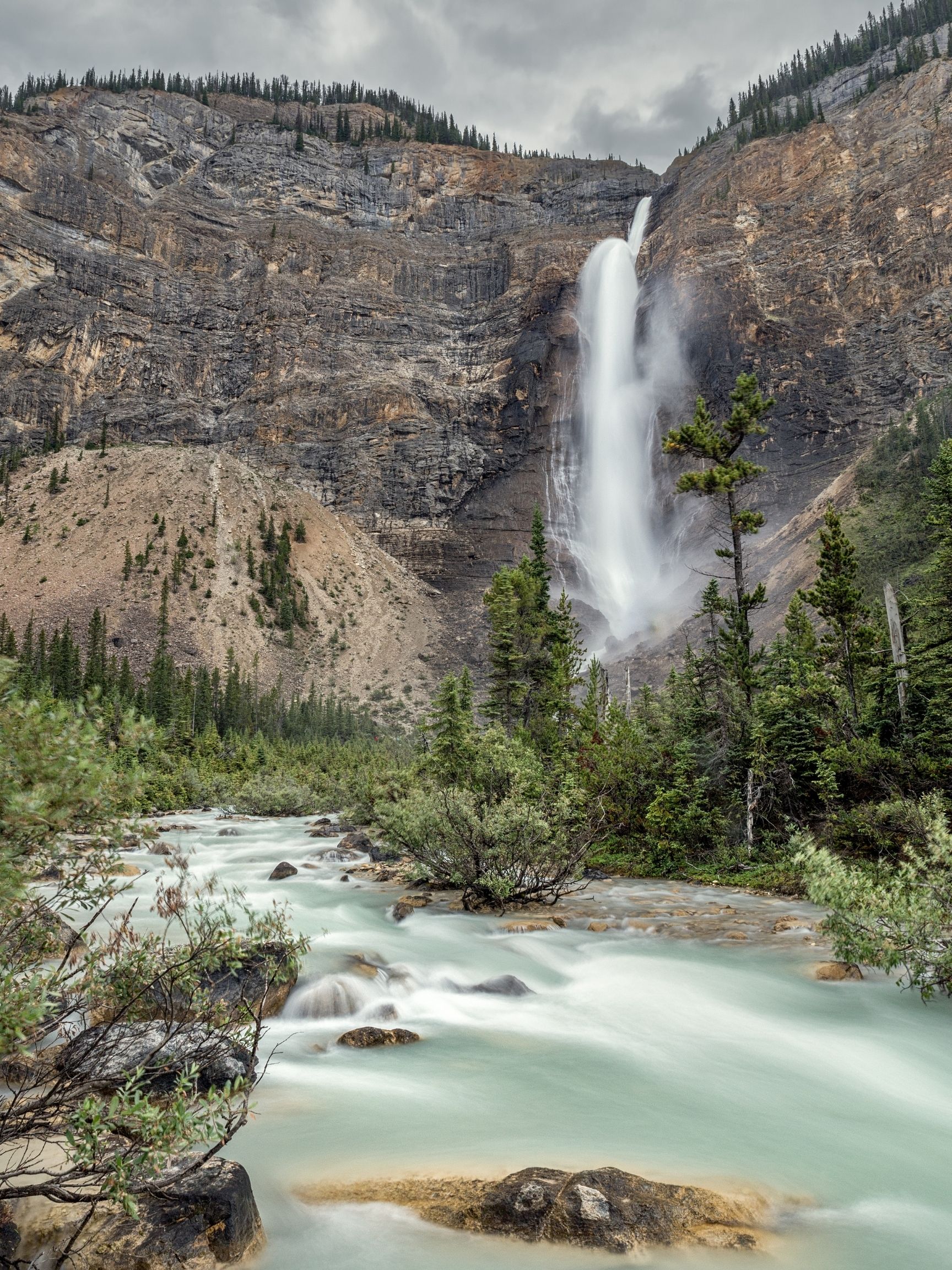 Takakkaw Falls is less than 20 minutes from the Town of Field, and less than one hour from Golden. It's also nearby to Lake Louise Village.
To access Takakkaw Falls you'll need to travel down the Yoho Valley Road, which connects via the Trans Canada. The parking lot for Takakkaw Falls is at the end of the Yoho Valley Road, which you'll drive on for 15 km from the Trans Canada pull off. The road is narrow, long, and winding but it sure is beautiful.
The Yoho Valley Road is located 5 km east of Field, and is only open seasonally from late June until mid-October, weather permitting. Meaning this is your only time to access Takakkaw Falls.
---
Camping at Takakkaw Falls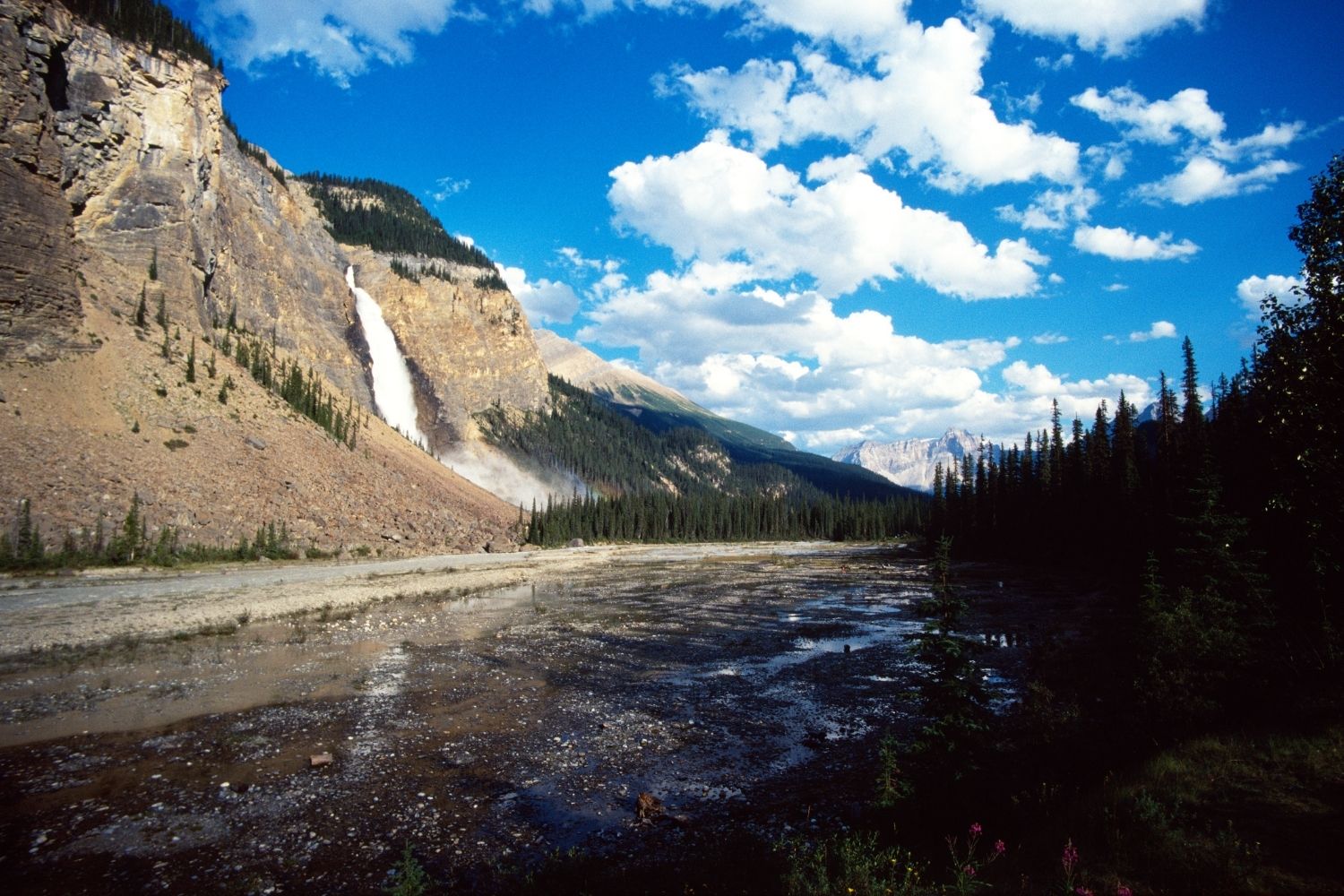 If you're tent camping opt for the campsite at Takakkaw Falls which operates on a first-come-first-serve basis walk-in campsite.
You'll have to make a short walk into the campsite, but they have a number of carts that can carry your camp gear. Although it's first come first serve, it's a busy campsite, so be prepared to not get a camping site peak summer – especially on weekends.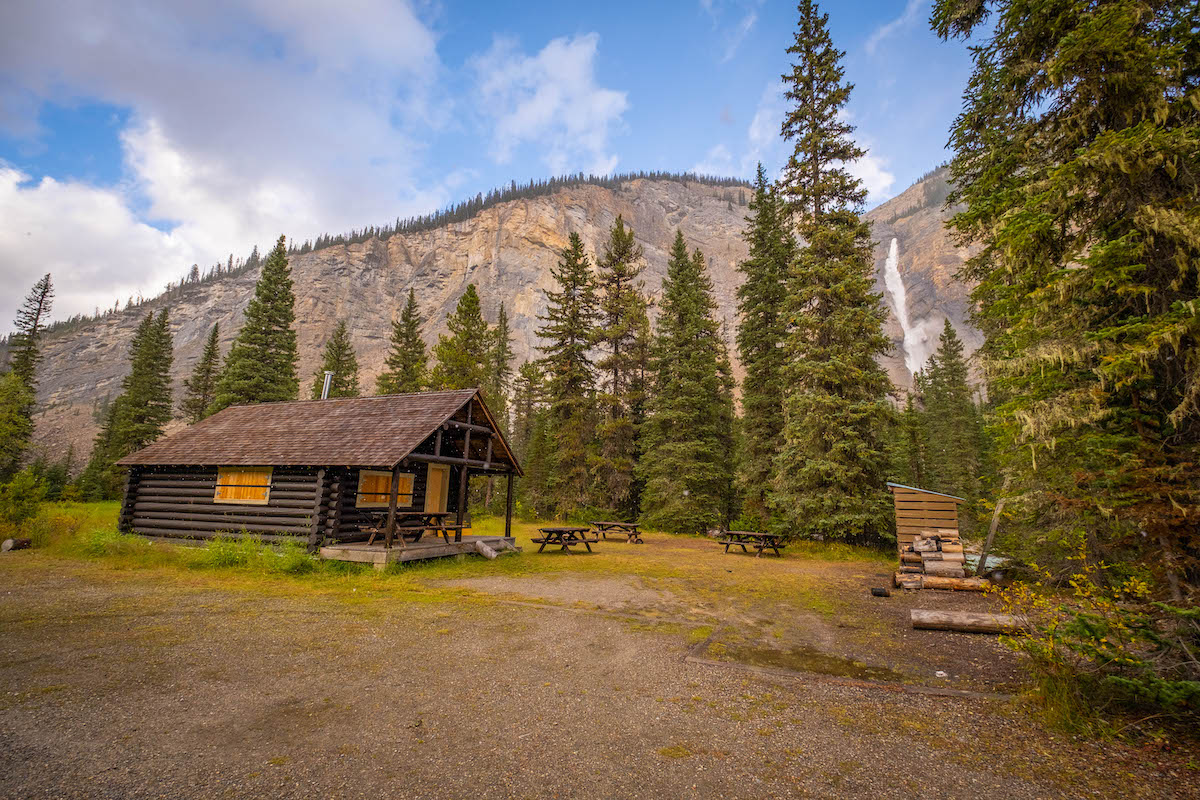 Not far from the Takakkaw Falls campsite is the backcountry campsite at Laughing Falls which could be a good option if you're looking for a wilderness campsite without too much work to reach.
However you will have to hike with your gear about 125 meters up over the course of 4km to reach the campsite. Not too far for backcountry camping!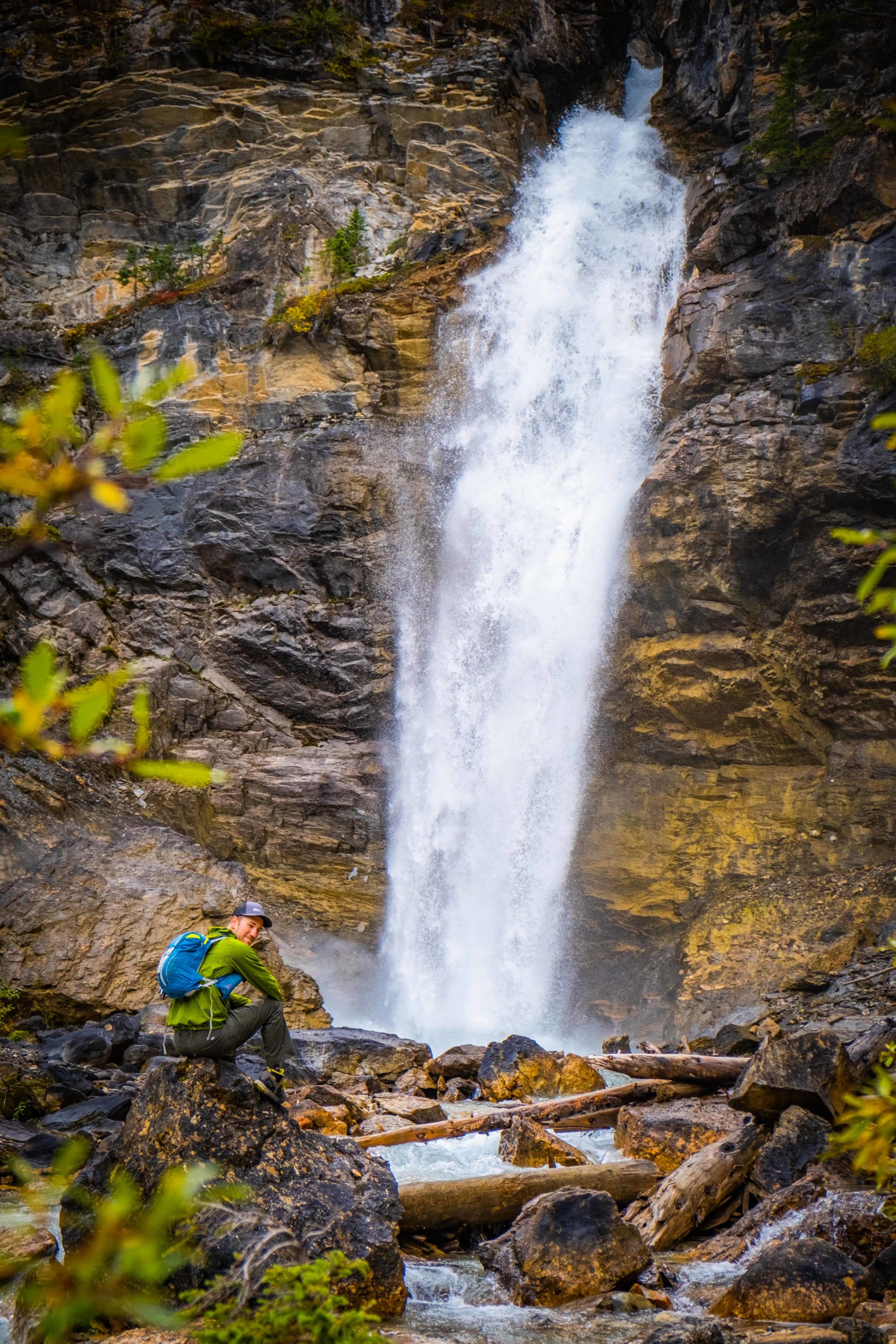 From Takakkaw Falls, you can hike over the Yoho Pass to Emerald Lake arriving at the lake on foot, but plan your return to camp. See more Yoho campsites here.
---
When is the Best Time to Visit Takakkaw Falls?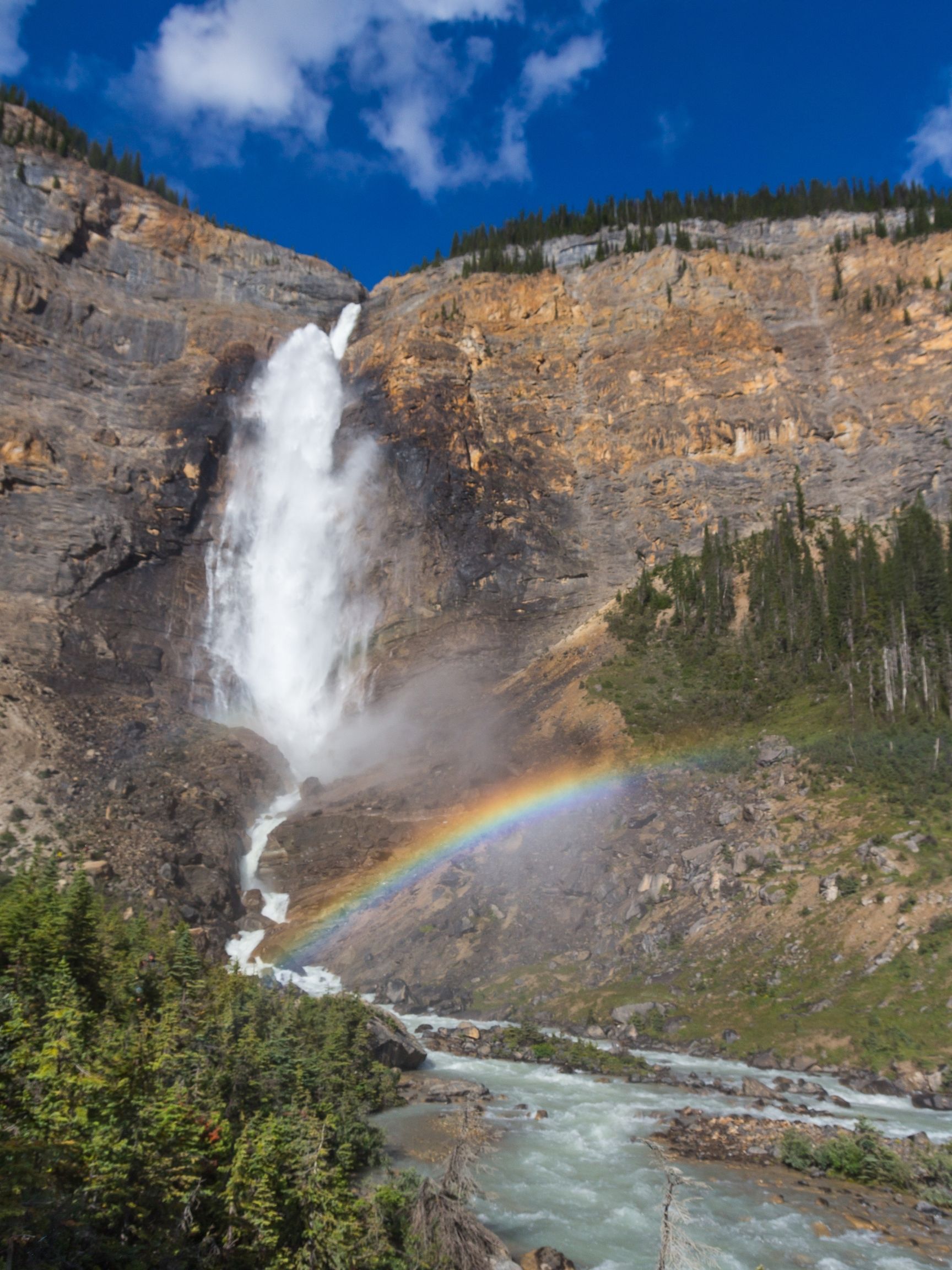 Takakkaw Falls are fed by the meltwater of the Daly Glacier, which is all part of the Waputik Icefield. The best time to visit Takakkaw Falls is in June, when the glacial melt is roaring from the warmer weather that June sees in the Rockies.
This is the case for most of the waterfalls in the Rockies. As the snow melts, the waterfall volumes are high.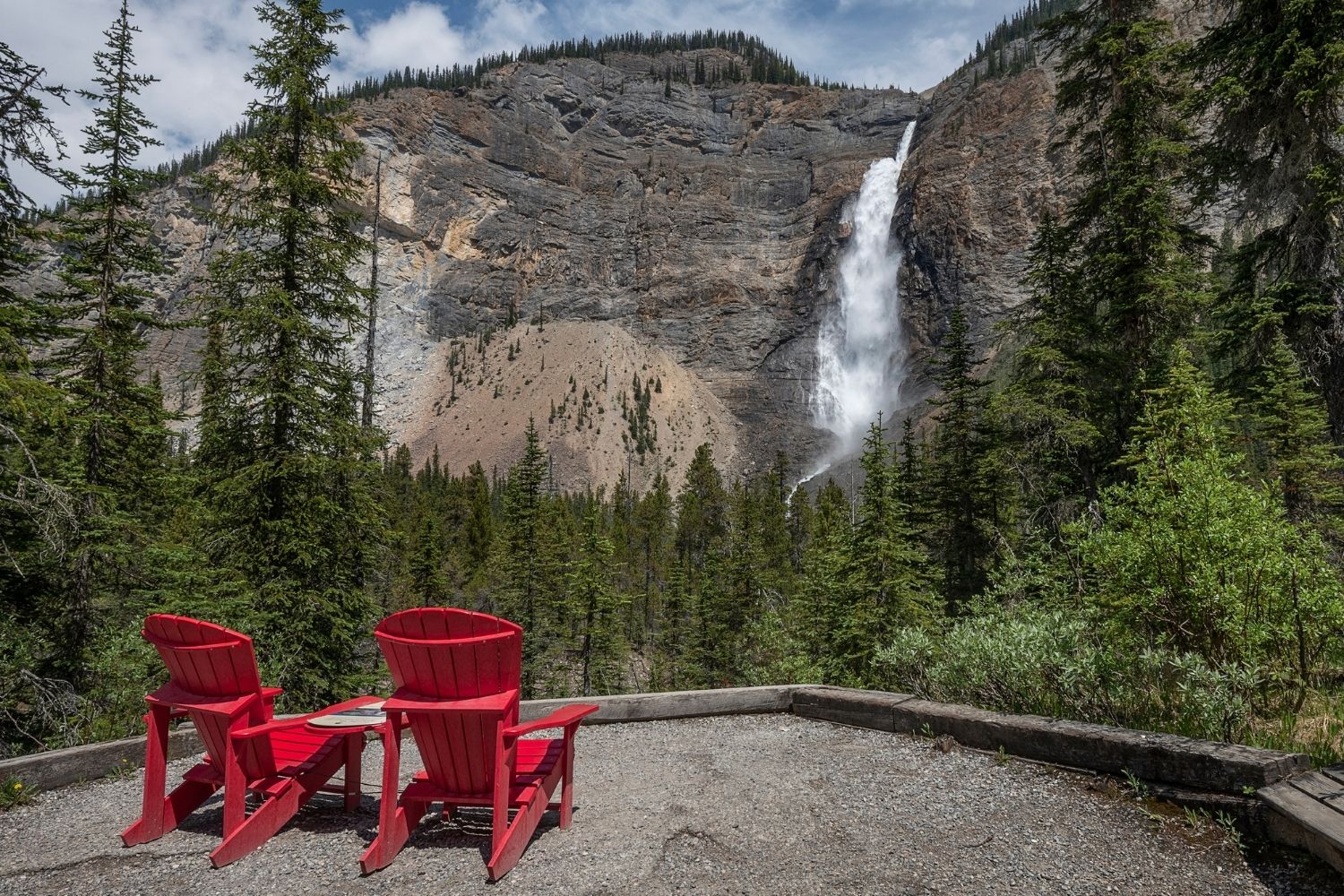 However, if you visit Takakkaw Falls in October, all that's left will be a trickle of water until next summer rolls around. Parks Canada closes The Yoho Valley Road sometime in October, typically around the 12th, and this is closed until mid to late June. Dates are subject to change and you will not be able to access Takakkaw Falls unless you are on snowshoes or nordic skis.
Even then you will need proper avalanche gear during this time. I would not recommend visiting Takakkaw Falls to the average visitor during the winter.
You can stay up to date on when exactly the Yoho Valley Road will open here.
---
How Long is the Yoho Valley Road?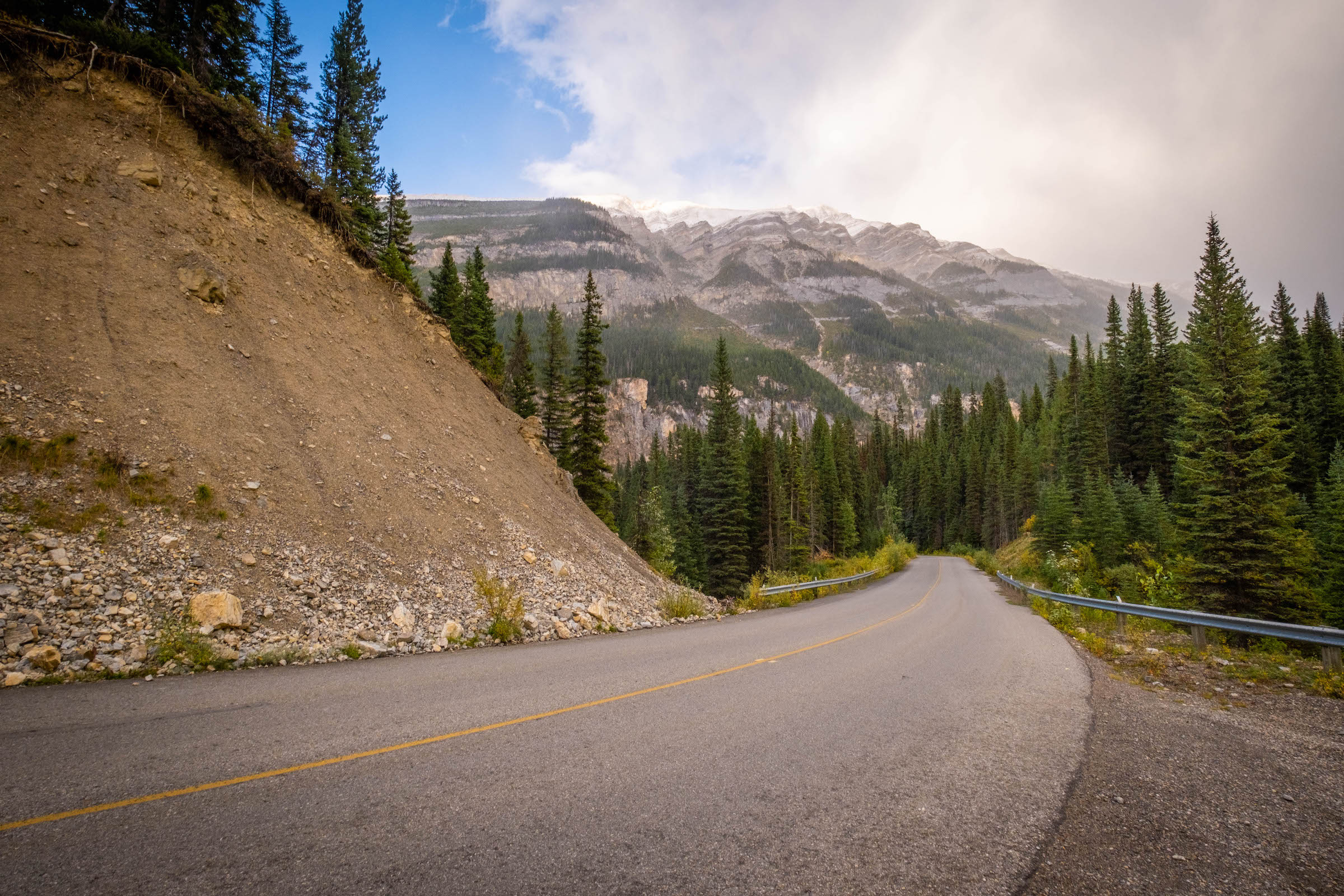 The Yoho Valley Road is almost 14 km in length and will take about 25 minutes to drive. It's a stunning road that will have you passing through beautiful valleys, glaciers, waterfalls, and rivers. If you are visiting Yoho National Park we recommended driving this road in its entirety.
---
Are Dogs Allowed in Takakkaw Falls?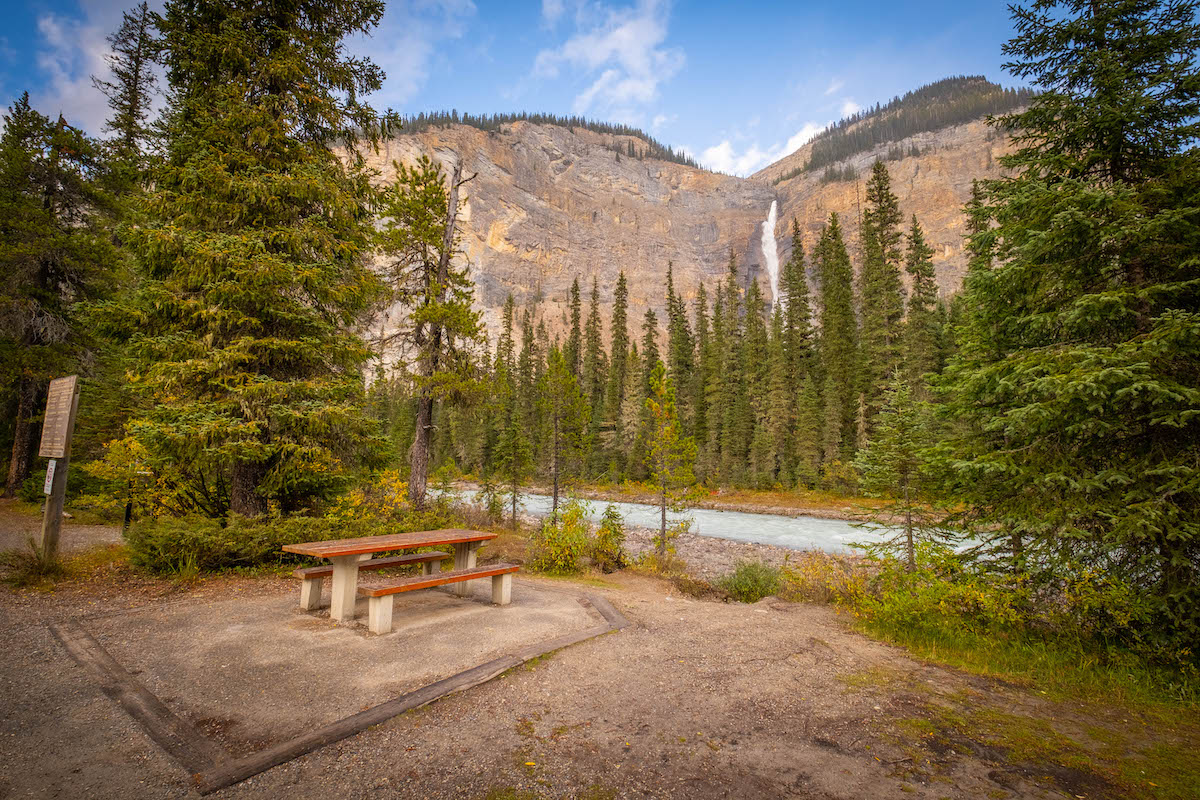 Dogs are allowed at Takakkaw Falls but must be kept on a leash at all times.
---
Is Takakkaw Falls Open in the Winter?
The Yoho Valley Road gives access to Takakkaw Falls and is closed in the winter. In the winter the only way to access Takakkaw Falls is by cross country skiing in the winter. This is avalanche terrain so you'll need proper avalanche training and gear to see Tak Falls in the winter.
---
Do I Need a Parks Pass to Visit Takakkaw Falls?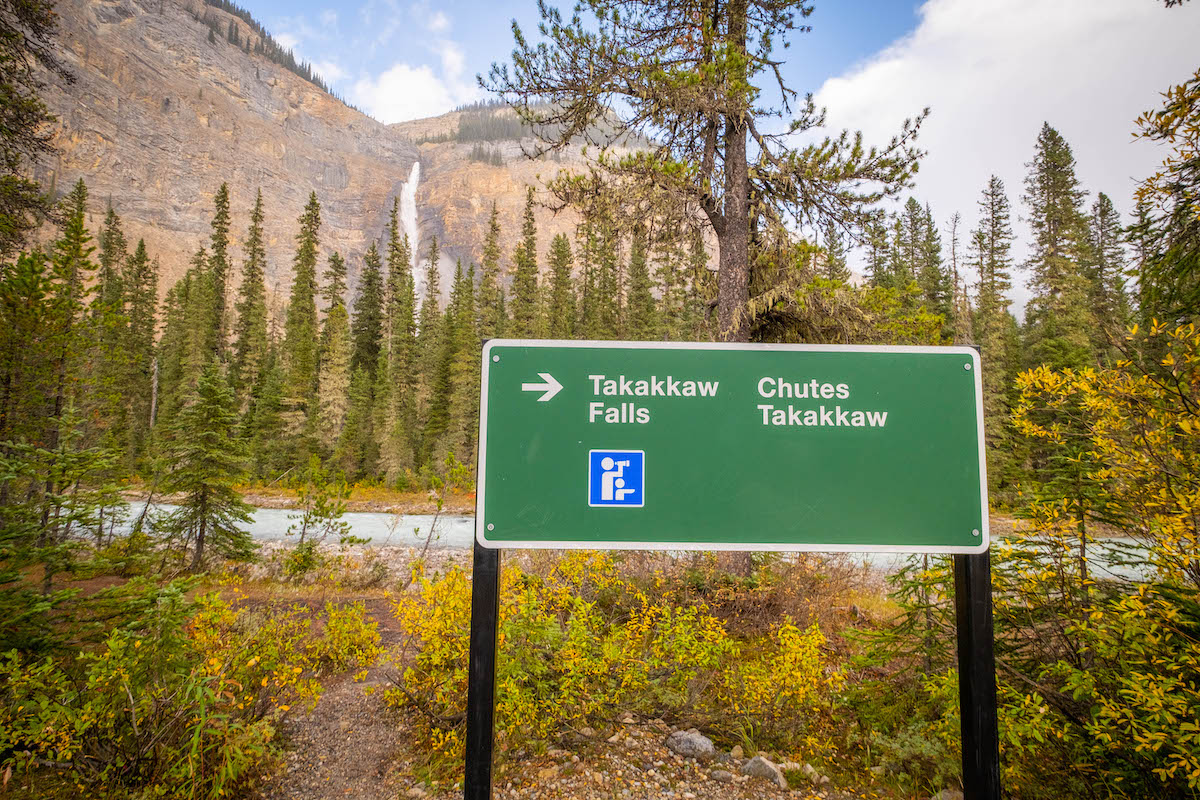 You need a National Parks Pass to visit Yoho National Park. You can purchase a Parks Canada pass at any park gate. Yes, Parks Canada employees do check, and you can get a ticket if you don't have one. You'll hit a Parks Canada gate right after Canmore along the Trans-Canada Highway if coming from Calgary before entering Banff. Parks Canada pass prices are as follows:
Adult: $10.50
Senior: $9.00
Youth (up to 17): Free
Family/group of 7 people: $21.00
Day passes expire at 4 pm the following day.
Or you can buy them from Parks Canada in advance online. If you're staying in the Rockies for more than a few days, I highly recommend a Discovery Pass. A Parks Canada Discovery Pass, which gets you entrance to all Parks Canada destinations for the year, is only $145.25 for a family.
Again, day passes are $10.50 per person, so depending on how many days you are staying and if you have plans to go elsewhere like Banff, Waterton, or Jasper, you may want to consider the Discover Pass. Discovery Pass fees are as follows:
Adult: $72.25
Senior: $61.75
Family: $145.25
---
Things to do Near Takakkaw Falls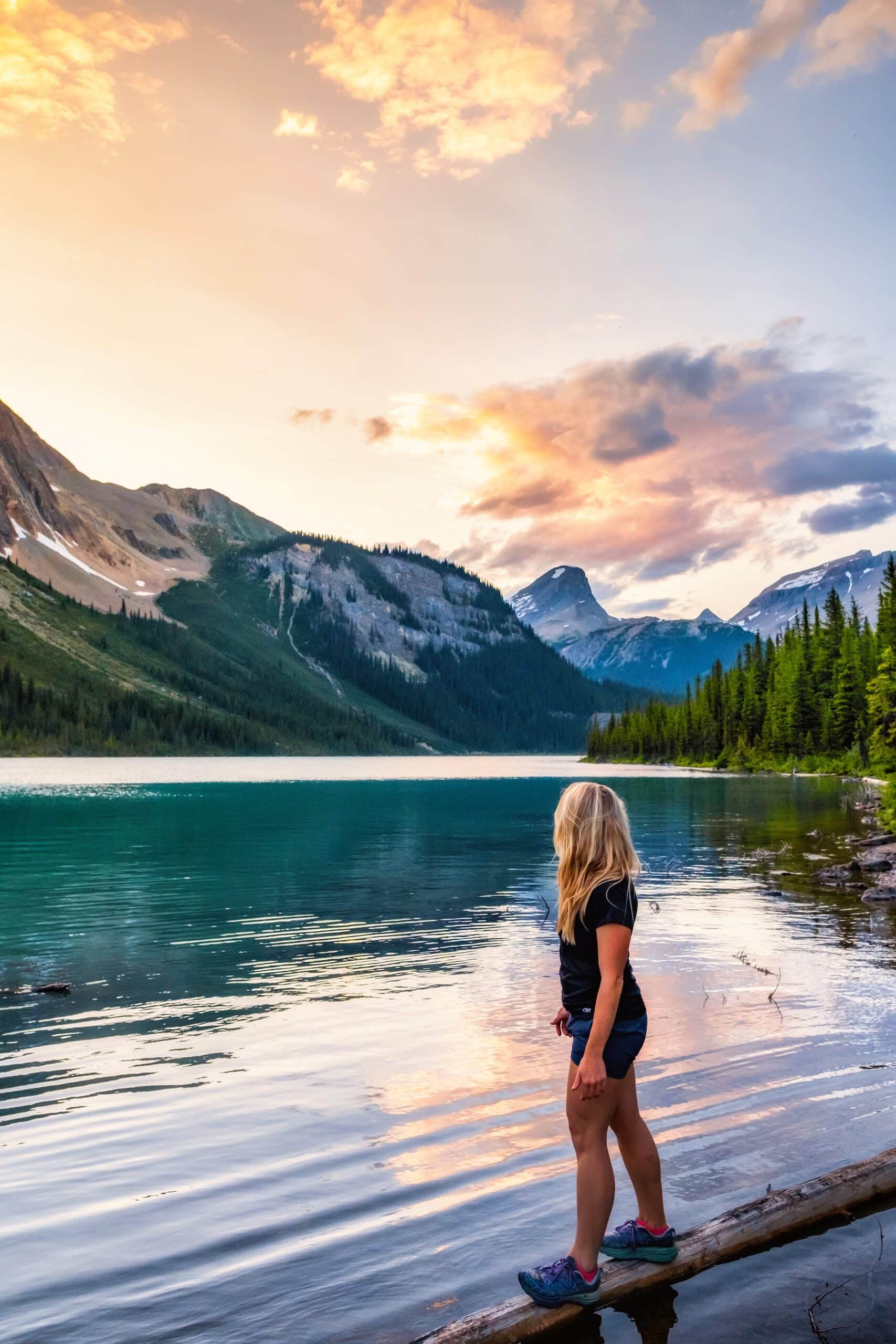 Emerald Lake: Emerald Lake is one of the most beautiful lakes to visit in Canada. Its turquoise blue color draws in visitors from around the world. Don't forget to snap a photo of the Emerald Lake Lodge.
Natural Bridge: On your way to Emerald Lake make sure to stop at the Natural Bridge. This is exactly what it sounds like – a natural bridge made out of rock that was cut by the Kicking Horse River
Spiral Tunnels: Popular stop along the Trans Canada that showcases brilliant Canadian engineering.
Check Out the Town of Field: The town of Field is a small one, but it's well worth a stop to take a look around and enjoy a snack at.
Hike the Iceline Trail: The Iceline Trail is one of the best day hikes in the Rockies. It's a long trail that will take you past endless glacial lakes. Read the full guide here.
Hike to Sherbrooke Lake: A lesser-known about lake in Yoho that is just as blue as Lake Louise!
Hike to Laughing Falls: The hike to Laughing Falls is a short and easy one. Just under 8 km round trip from Tak Falls is this awesome waterfall. A great little day hike.
Hike to Twin Falls: If you want to keep hiking you can continue onto to Twin Falls from Laughing Falls. These are two largh waterflows right next to eachother, hence the name "Twin Falls." Continue 6.5 km from Laughing Falls to reach Twin Falls.
14 Breathtaking Things to do in Yoho National Park, B.C.
---
The Best Places to Stay Around Tak Falls
---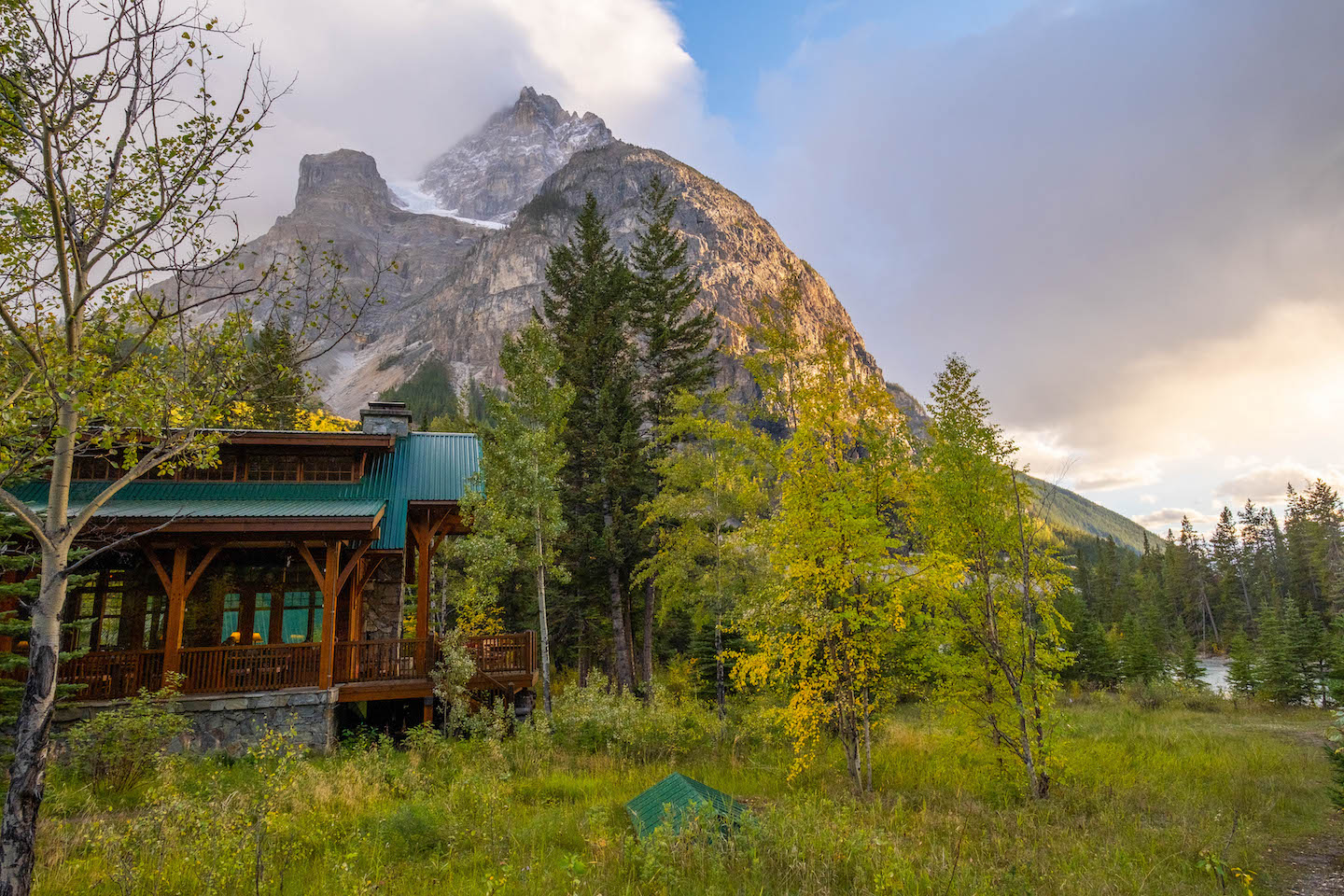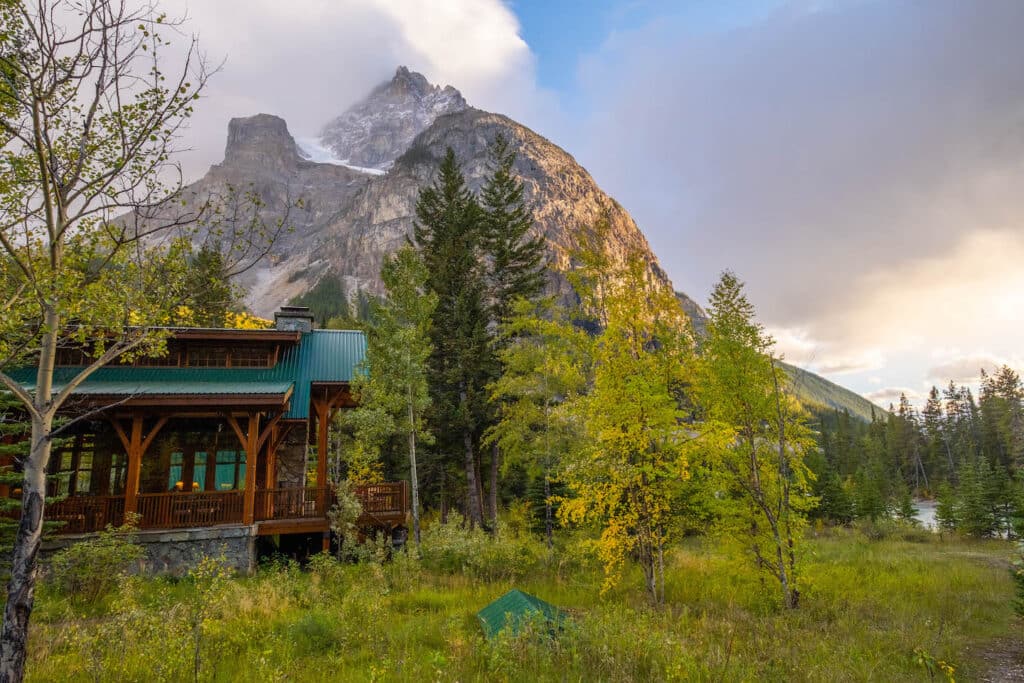 Cathedral Lake Lodge
This is a luxury mountain lodge near Takakkaw Falls. It books up fast in the summer, as many visitors and locals alike are dying to stay here. Easy to see why when it's so beautiful and unique.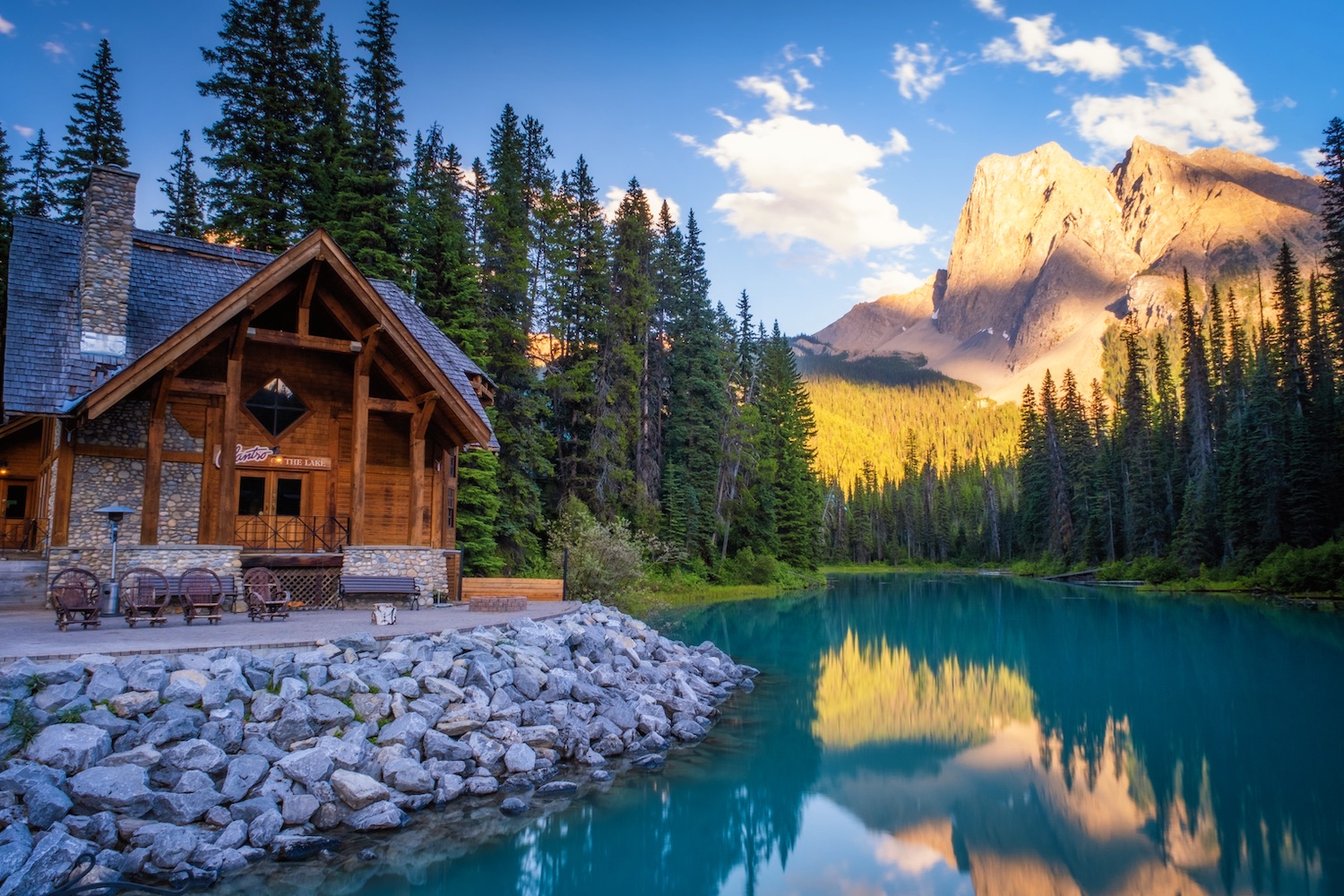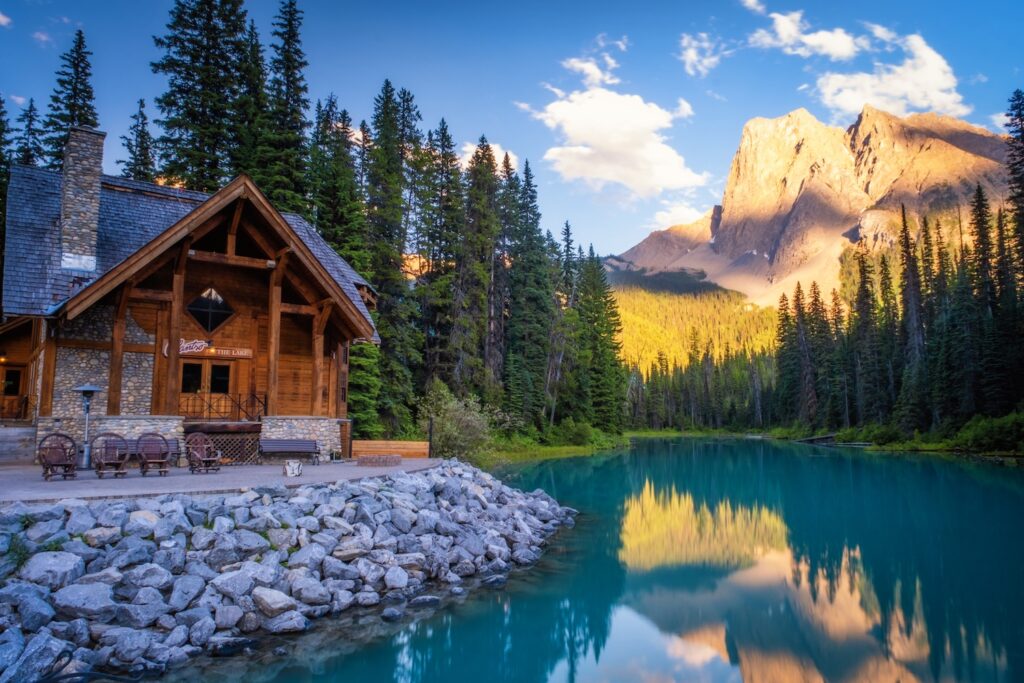 Emerald Lake Lodge
Not far from Takakkaw Falls is Emerald Lake Lodge. This is the only place to stay on Emerald Lake and has people traveling from around the world to stay a night!
---
---
Plan Your Trip to the Canadian Rockies
↓ Join the community ↓
The Banff Blog Facebook Group is your headquarters for the Canadian Rockies' travel advice and information. Including hike info and off-season travel information. You can also meet new adventure buddies.