There are a plethora of things to do in Lake Louise. After taking in the spectacular scene go for a hike, climb, ski, or canoe in Banff National Park.
Lake Louise is an image that will last with you for a lifetime. It's hard to find a more majestic and awe-inspiring place in the world than Lake Louise
See Also:
---
Things to do in Lake Louise
---
Experience the Magic of Lake Louise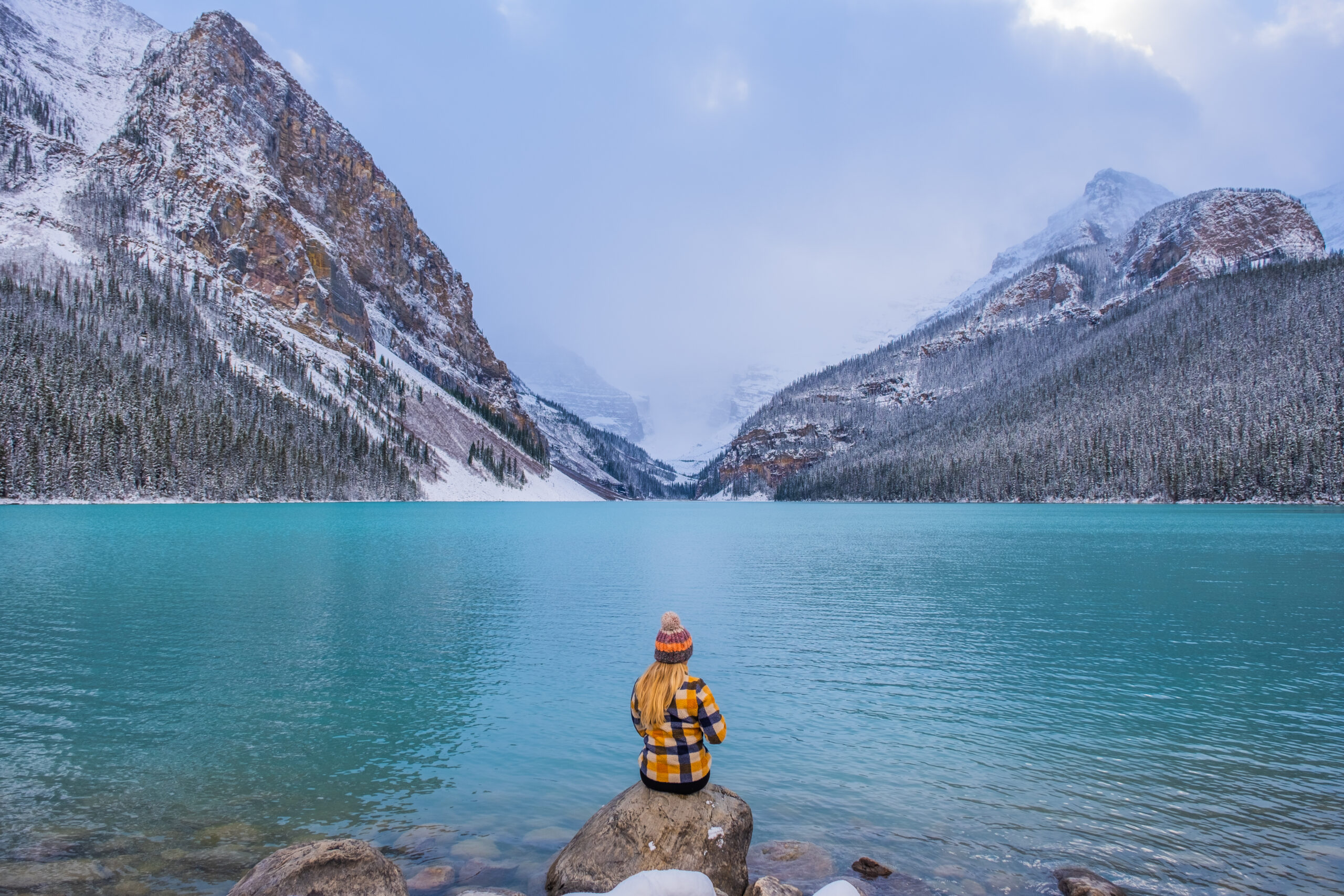 Lake Louise has been drawing in visitors to the Canadian Rockies for over a century. The alpine lake in Banff National Park is a wild turquoise blue color fed by glacier melt and set by a backdrop of Mount Vicotria and a hanging glacier. This pristine piece of wilderness draws in millions of visitors a year.
It is a stunning sight and the magic of the natural beauty is not lost any one. Despite visiting Lake Louise many times it still takes our breath away, maybe this because it's only unfrozen for four-five months out of the year.
---
Canoe at Lake Louise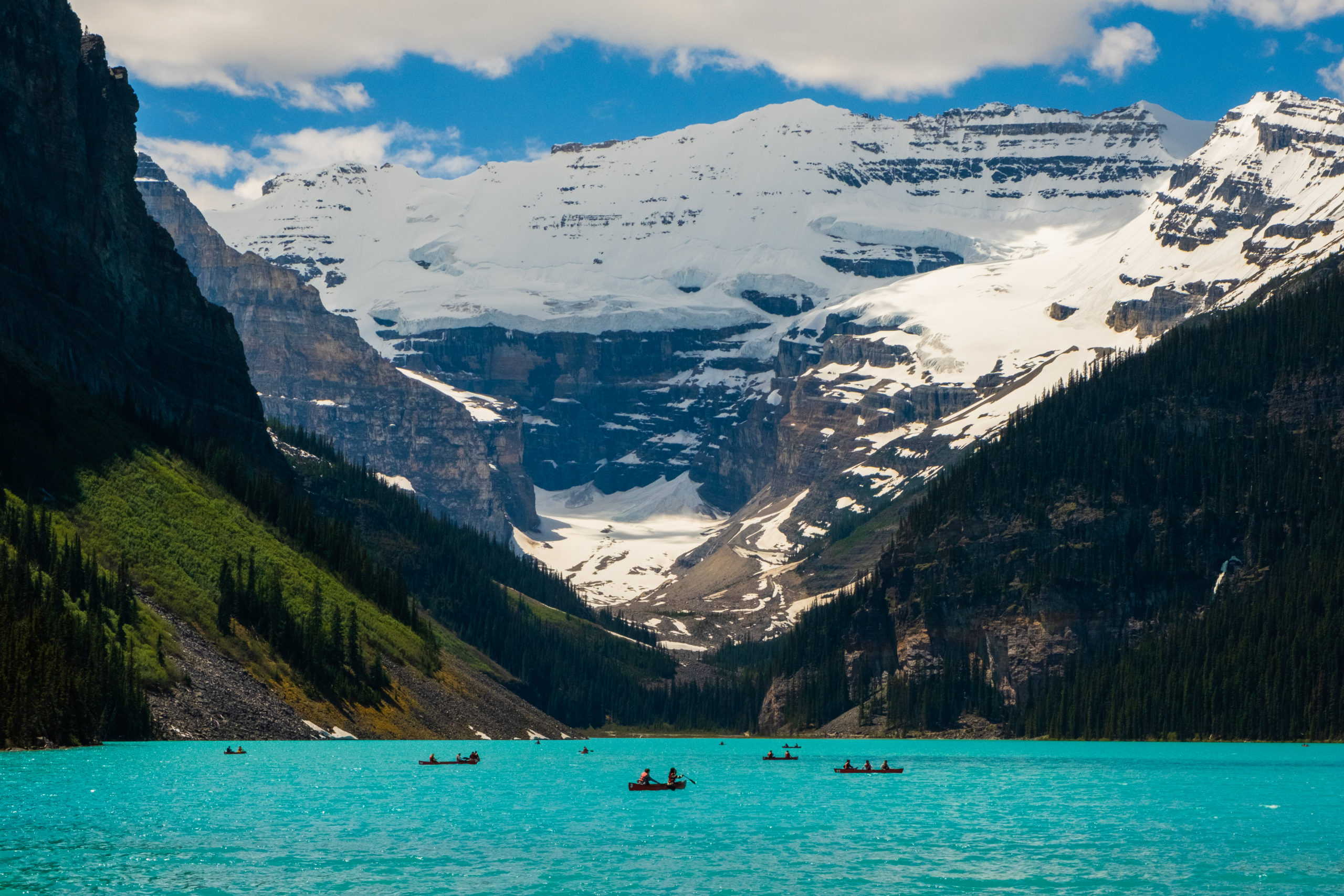 For many canoeing on Lake Louise is a highlight of their trip to Banff National Park. There is likely no place more quintessential to rent a canoe in Banff than Lake Louise. It's one of the most spectacular scenes in the world. It's tough to find a more spectacular scene to paddle through as you look out to Mount Victoria and the hanging Victoria glacier.
No need for fancy edits on your photographs the water in Lake Louise like Moraine Lake is truly that radiant turquoise blue. While we don't all bring a canoe with us to Banff you can pick up canoe rentals at the Lake Louise boathouse. If you do own a canoe you'll have to arrive very early in the morning to secure parking close enough to carry the canoe. This is one of the things you can do at Lake Louise that you'll likely never forget.
---
Hike From Lake Louise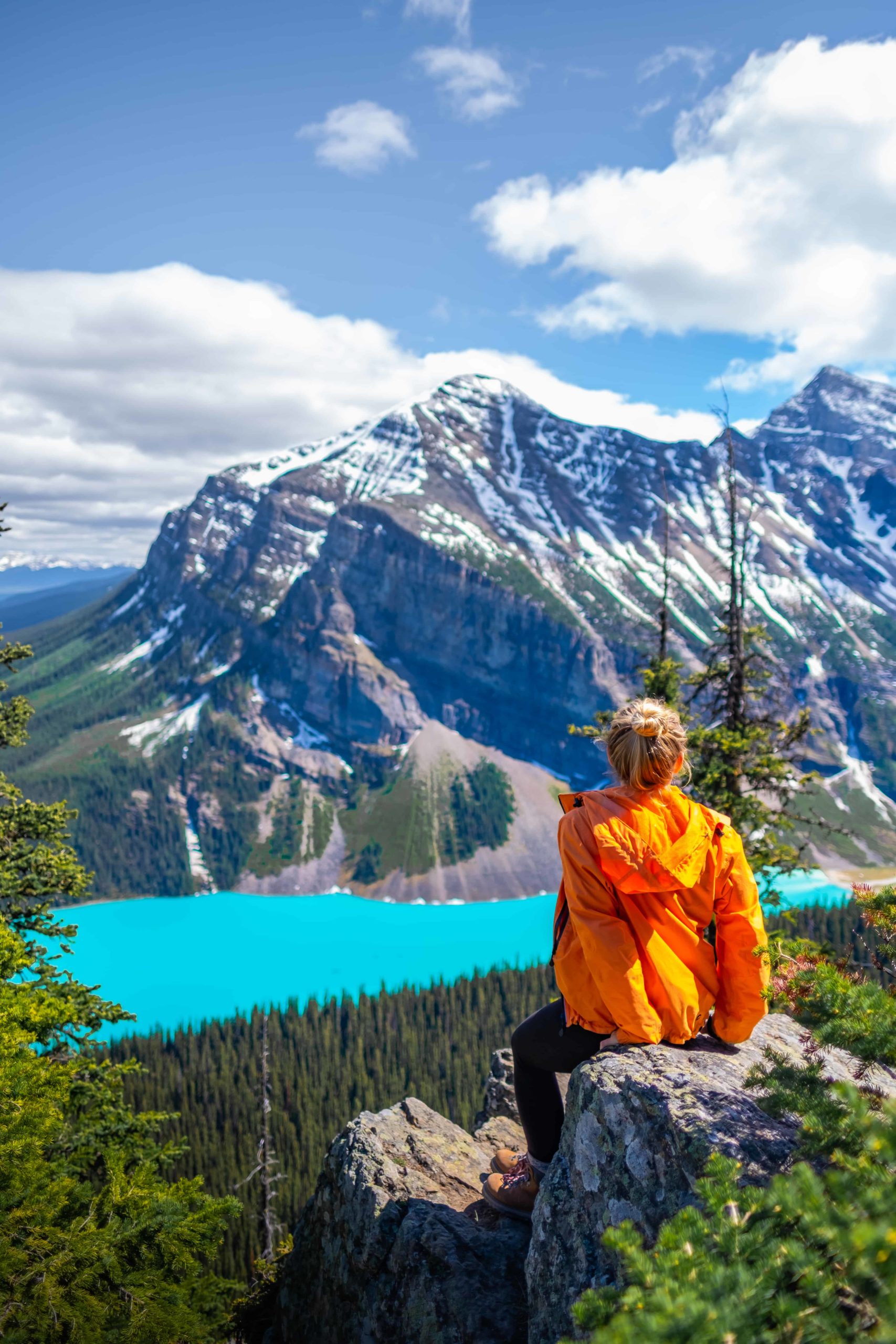 Lake Louise is an extraordinary piece of wilderness and presents an abundance of options for hikes. It's tough to find a bad hike here whether that's to a mountain summit, picturesque alpine lake, glacier field, or historic teahouse. At the center of all these hikes is Lake Louise as it shines a dazzling blue and serves as a centerpiece to the Banff National Park.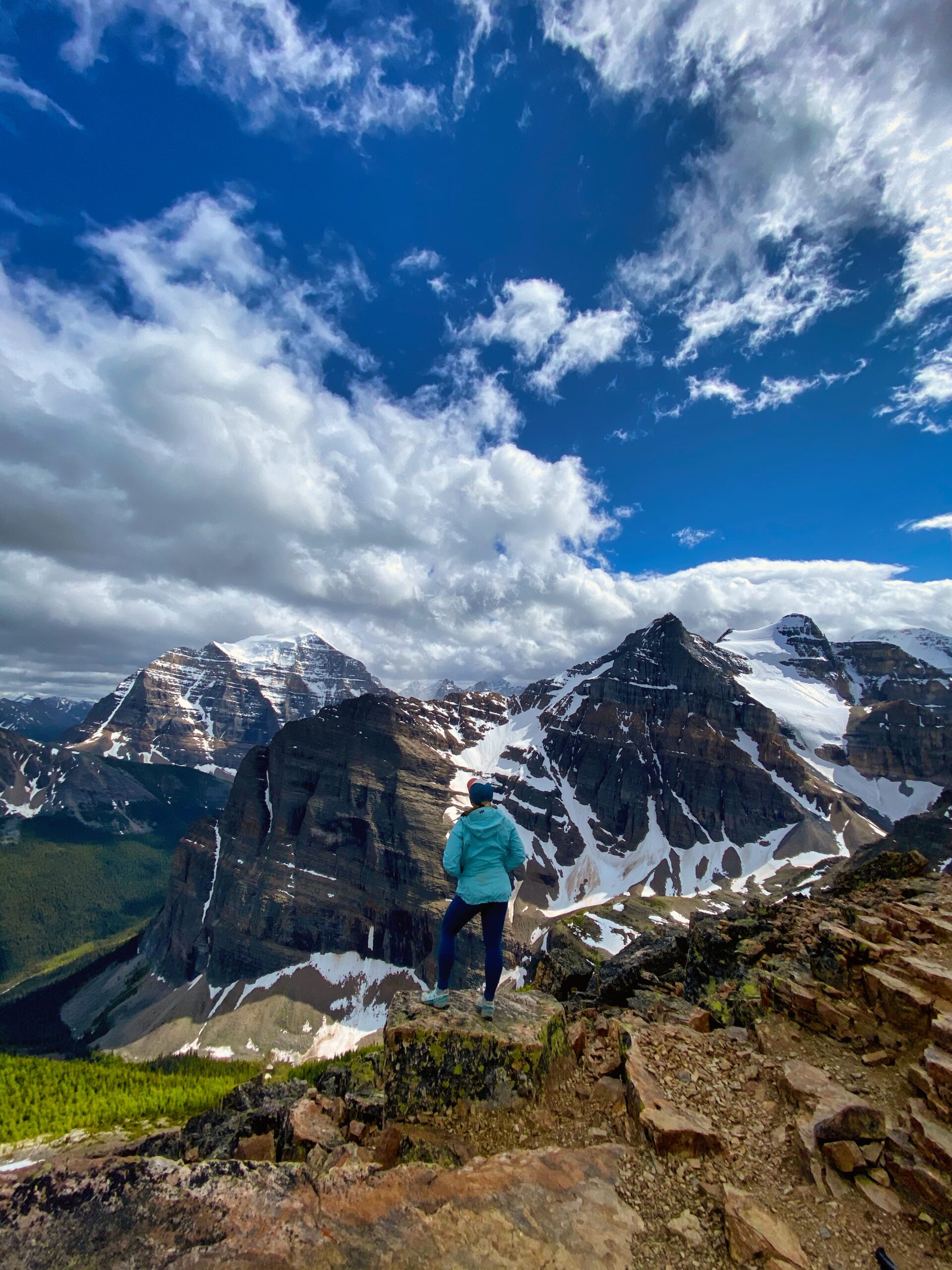 All of these hikes start from Lake Louise and are certain to have stunning views of the stunning turquoise lake, surrounding mountains, and awe-inspiring glaciers. Any hiker who gets the opportunity to hike around Banff National Park and Lake Louise should consider themself very fortunate.
What's also great about more of these trails is there ability to be combined, for example, we hiked Lake Agnes, Mount Niblock, Whyte, Big Beehive, and Devil's Thumb in one day. Or another great option would be to hike the Big Beehive to the Plain of Six Glaciers for an awesome day in the mountains.
---
Horseback Ride on Scenic Trails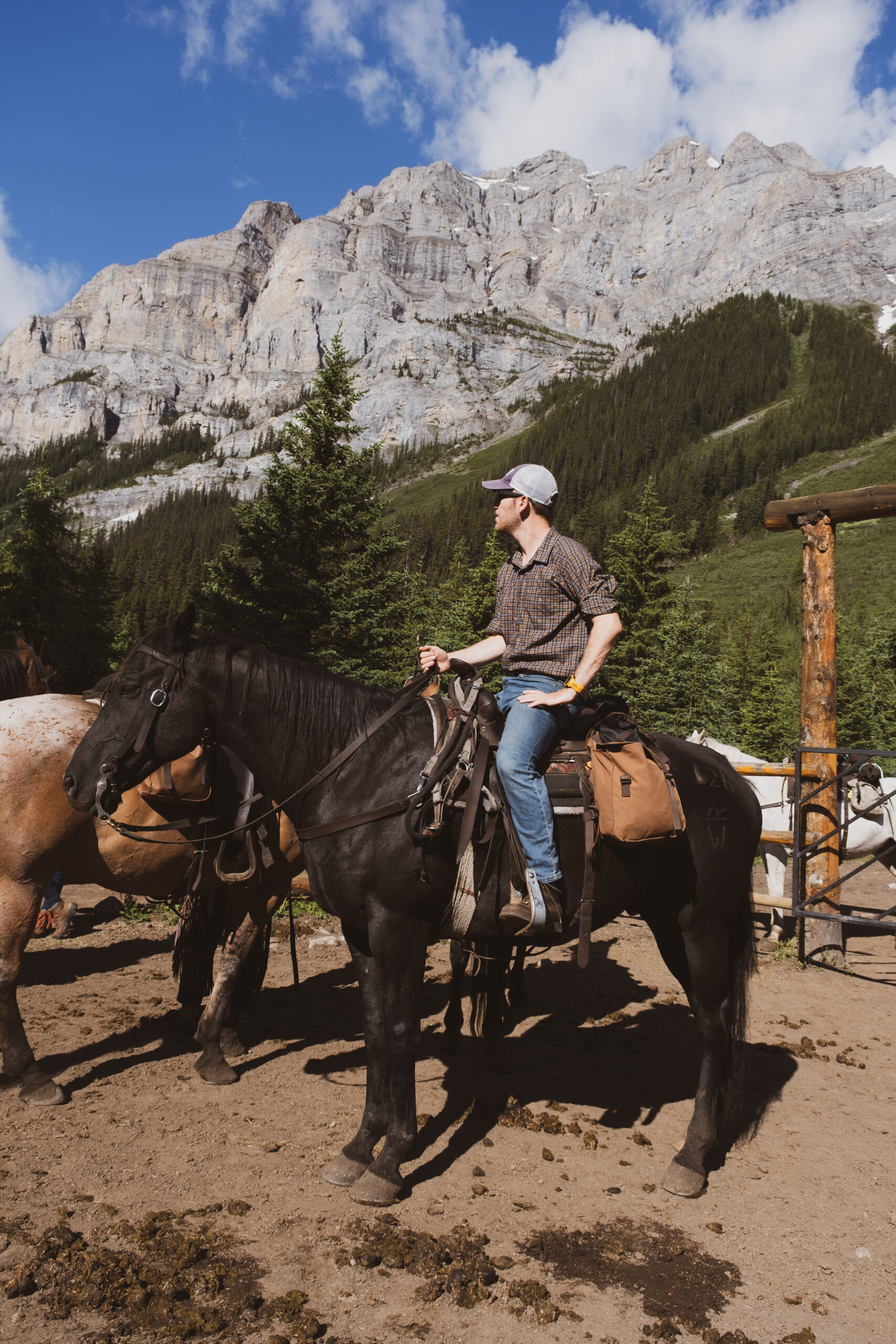 Take a scenic horseback ride from Lake Louise and explore some of the fantastic trails from horseback. You have a nice range of rides to choose from that range from a two-hour ride all the way to a 7-hour full day ride.
Horseback riding has been a new hobby we've picked up in the last year after spending some time on a horseback safari and Dude Ranch. It's a great experience and we encourage anyone who's curious about riding to give it a try. To learn more check out the Brewster Adventures website, they also host an awesome BB
For more experienced riders try heading to Kananaskis Country or Golden where you can travel with operators who have advanced level rides where you can reach a lope or canter.
---
Scramble to a Mountain Summit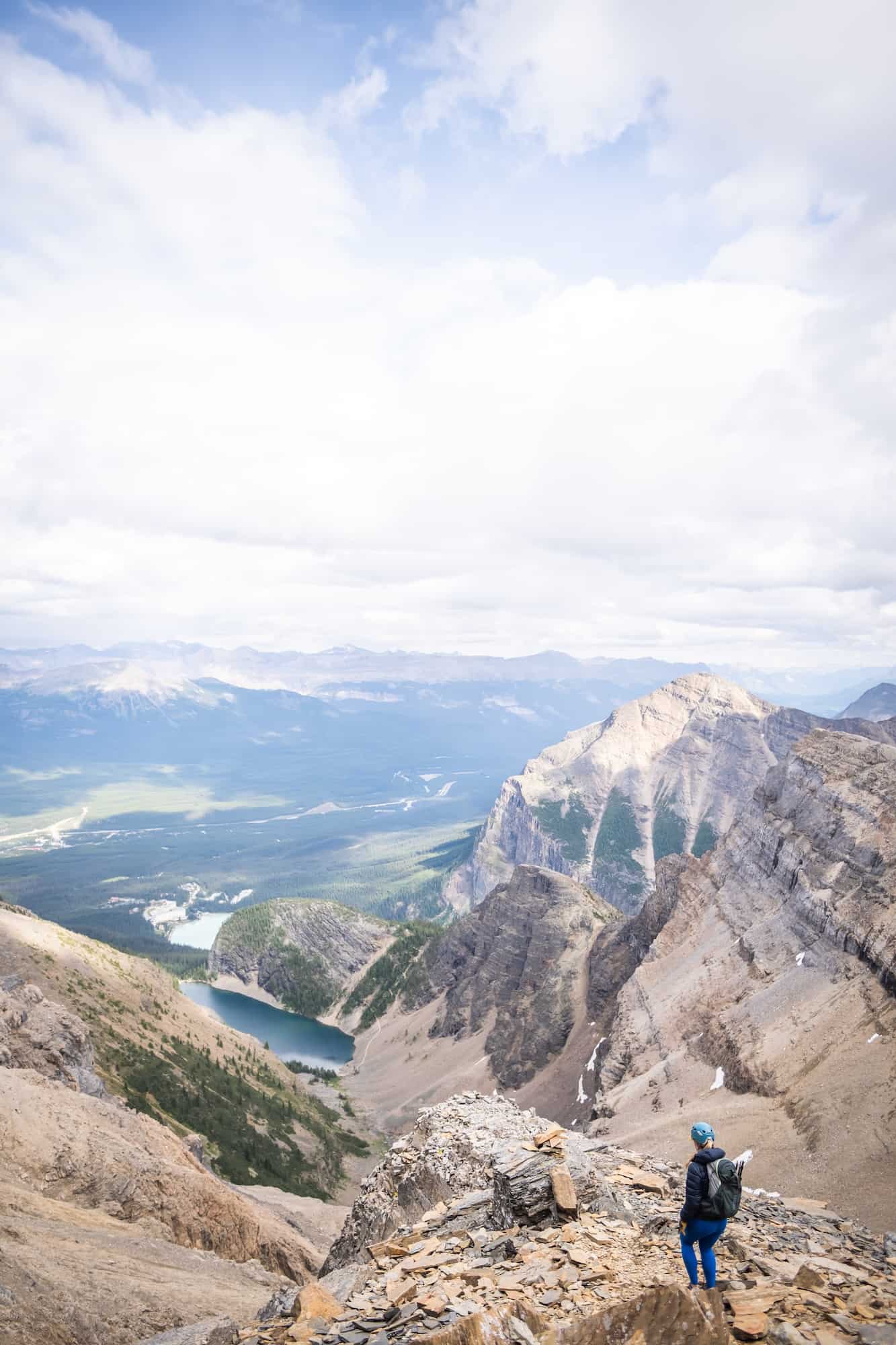 If you're looking for what's our favorite things to do at Lake Louise climbing up to a mountain summit is our jam. There are a number of great mountains you can summit around Lake Louise without technical climbing. This moves into the realm of what is called alpine scrambling which is somewhere in between rock climbing and hiking.
The use of hands is typically required and possibly exposure to serious injury or death. Not all of these are challenging and fall more along with the likes of hiking. Of course, there is the physical feat, but if you want to say you've summited a mountain in the Canadian Rockies try for Mt. Saint Piran or Fairview Mountain. A good introduction to scrambling for experienced hikers would be Devil's Thumb. I do recommend a helmet if you try as it is common for other hikers to knock loose rock down the steep trail.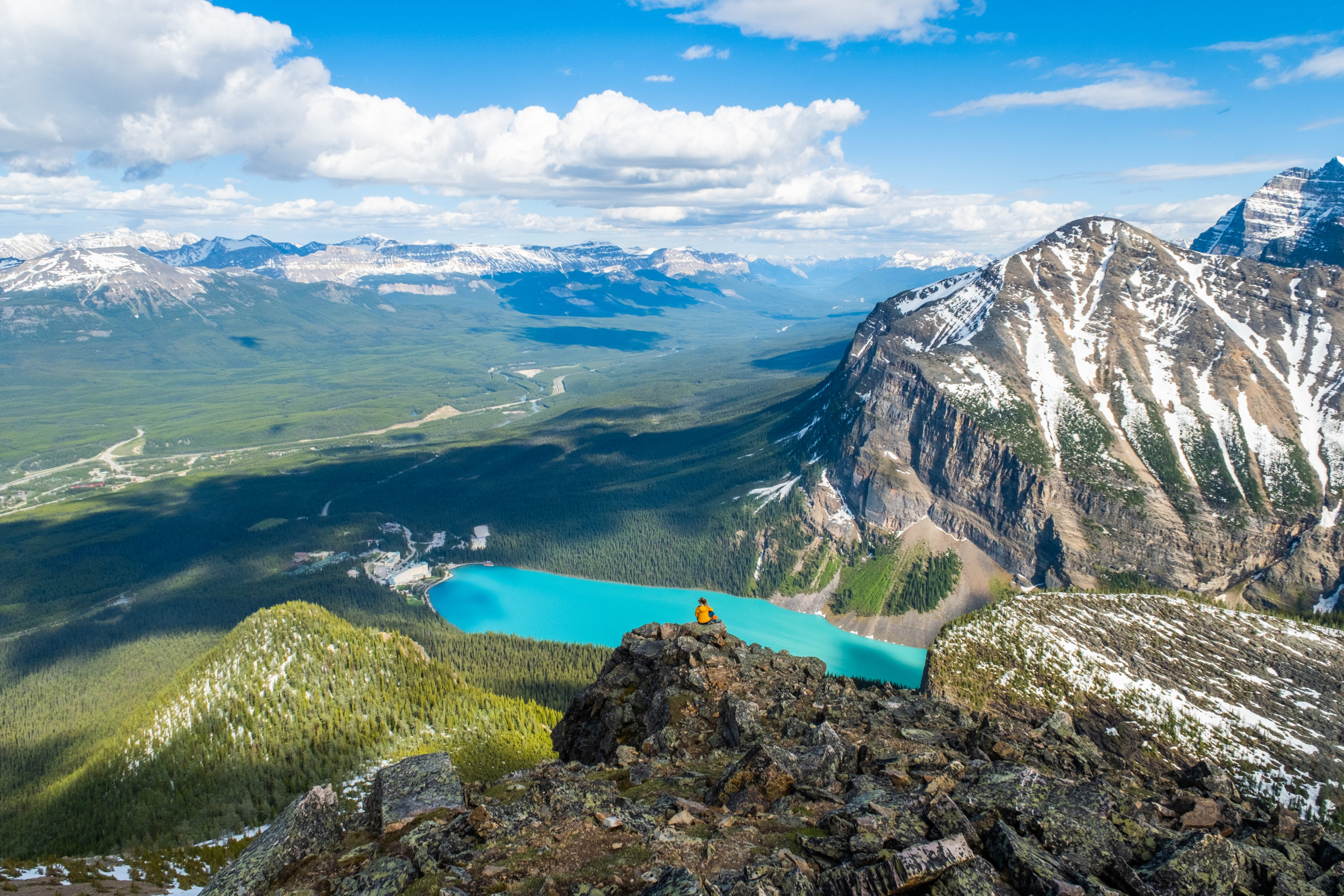 Of course, not everyone is a beginner! For more experienced scramblers try to summit Mount Niblock a tough scramble or Mt Whyte one of the hardest scrambles in the Rockies that borders on rock climbing without a rope. Neither of these are a place to test your skills and present the real risk of death.
Lake Louise also presents some challenging mountaineering goals such as Mt. Lefroy or Mt. Victoria. classics in the Canadian Rockies. To learn more about mountaineering or hire a guide there are great companies based in Canmore and Banff. We took a mountaineering course with Yamnuska Mountain Adventures.
---
Enjoy Alpine Views From the Lake Louise Gondola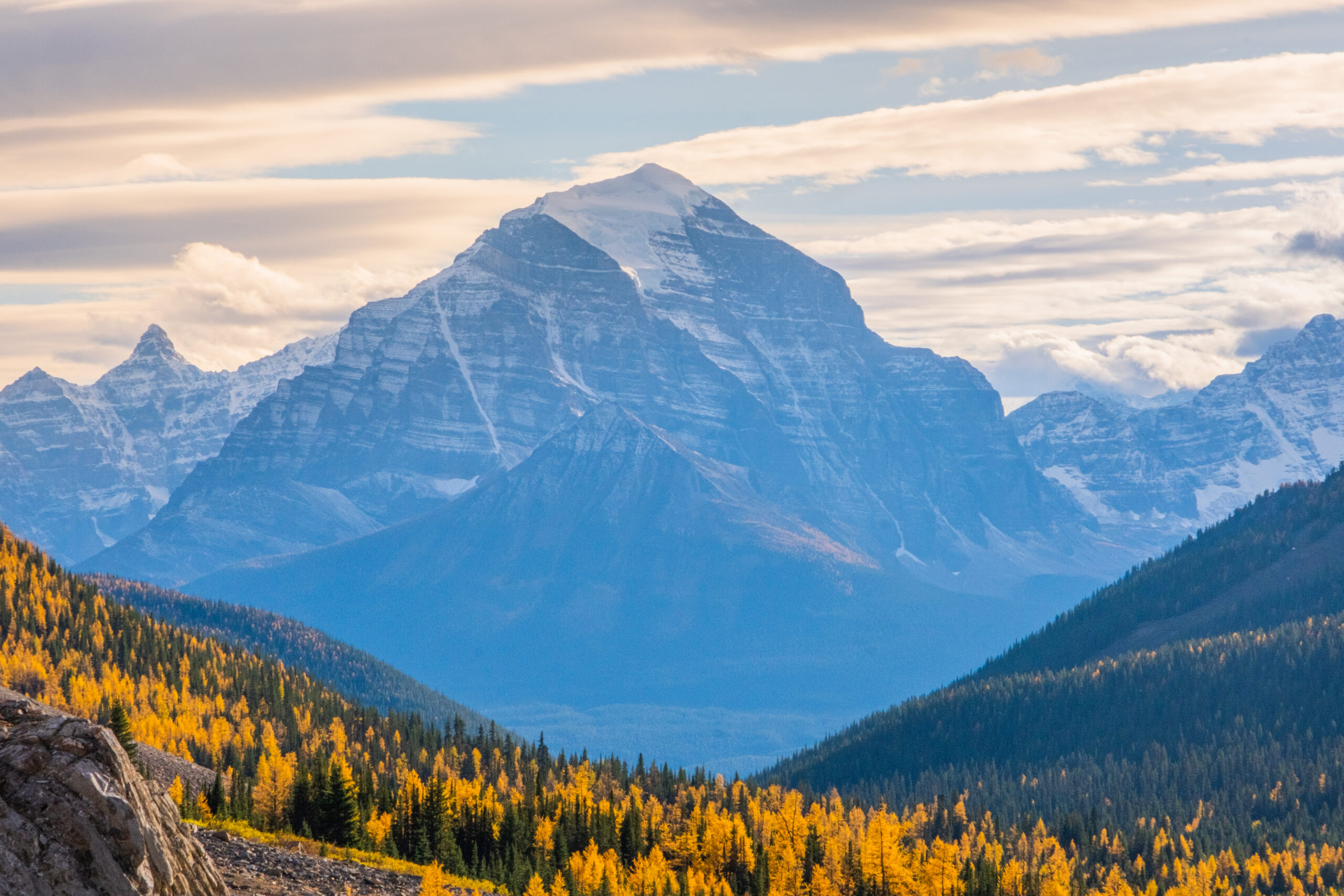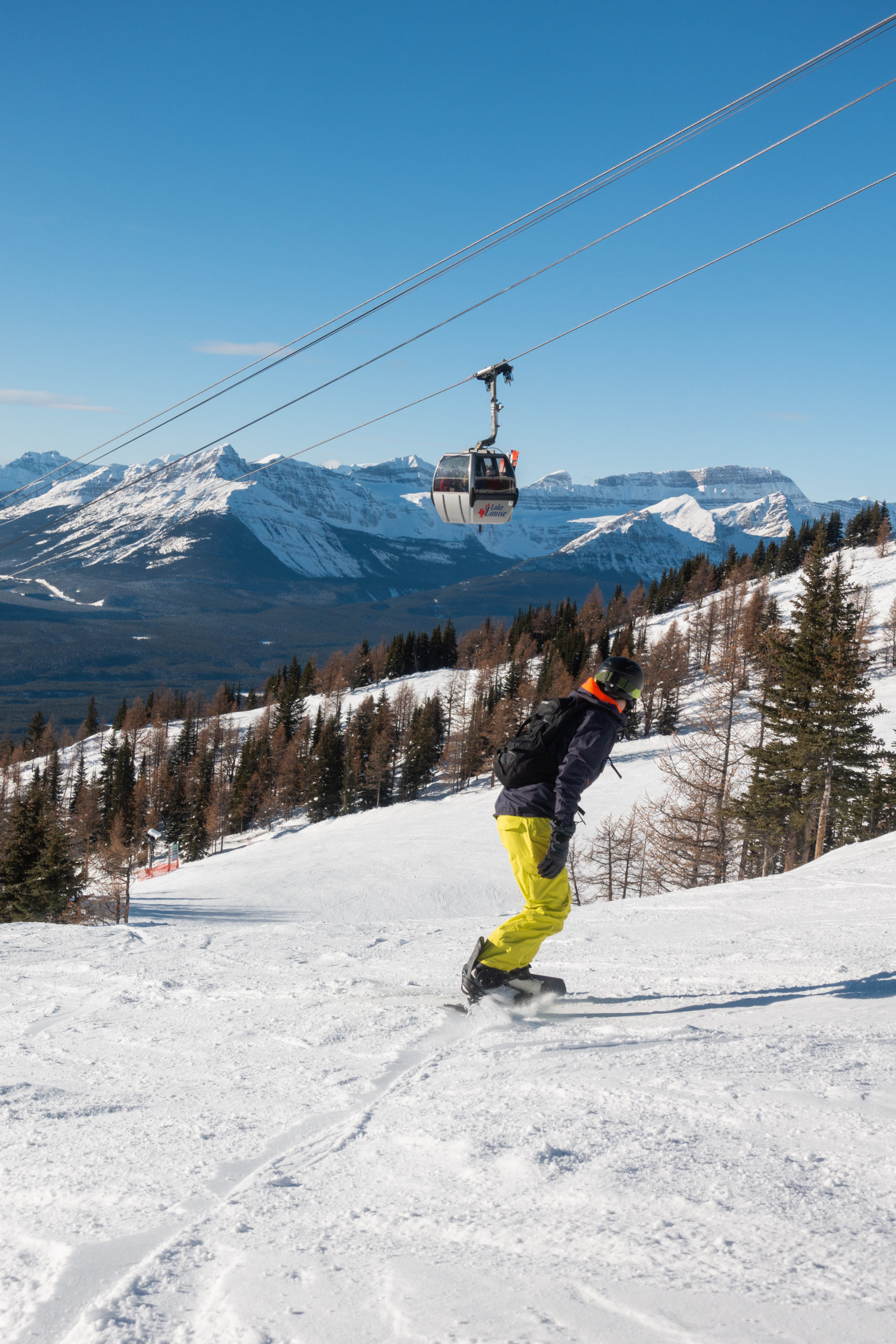 One of the best things to do in Lake Louise is head up the gondola. The Lake Louise Gondola operates almost all year round. When summer rolls around and all the snow melts the Lake Louise ski resort transitions to summer operations. During this time they take visitors up there chairs and cable cars for some wonderful mountain views without all the leg work.
From there you can explore the mountain on your own, grab a bite to eat at the Whitehorn Restaurant with sublime views, or hop on one of their guided hikes to learn more about the flora and fauna of Banff National Park. This is a great way for families to safely get the hiking experience and views around Lake Louise.
There is also a good chance you spot a bear, they frequently spot bears along the grassy ski slopes. Last year visitors got a real treat as a mama grizzly bear bedded down underneath the gondola and nursed her young cubs.
---
Indulge in Afternoon Tea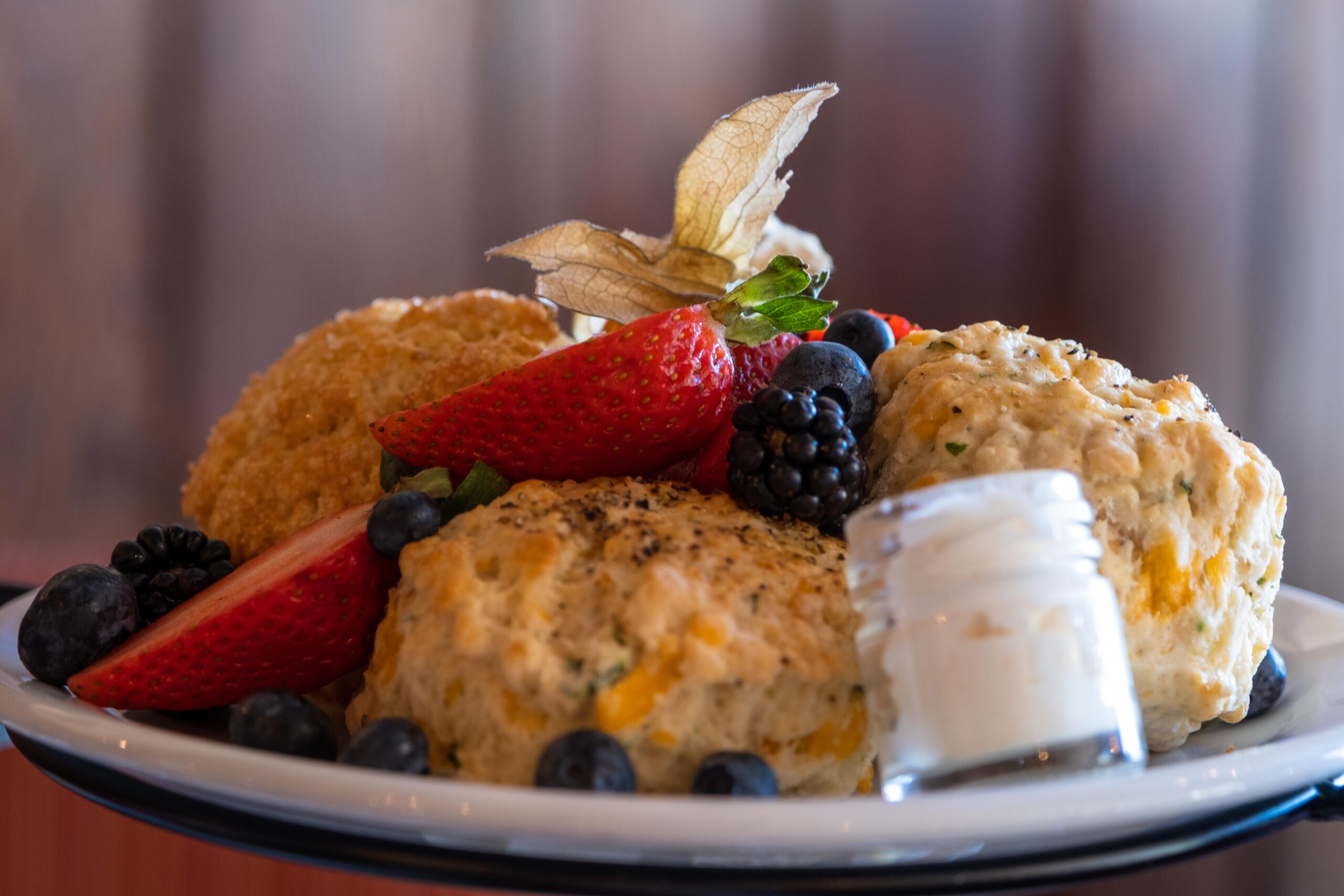 While afternoon tea is not something most of us regularly indulge it's hard not to at the Fairmont Chateau Lake Louise. If you're looking for something romantic in Lake Louise this is a great option. Take your choice between 35 teas, prosecco, or champagne to go alongside your tower of sweets, scones, and finger sandwiches.
You'll need to make a reservation beforehand at the Louise Lounge and as would be expected it's a pretty luxurious experience. If you're lucky enough try to score a table by the window for an extraordinary view. Afternoon Tea at the Fairmont Chateau Lake Louise costs $60 per person, $70 for prosecco, and $80 for champagne. It's the priciest afternoon tea in the area so the value is pretty poor as should be expected at the Fairmont Chateau Lake Louise
---
Hike To Skoki Lodge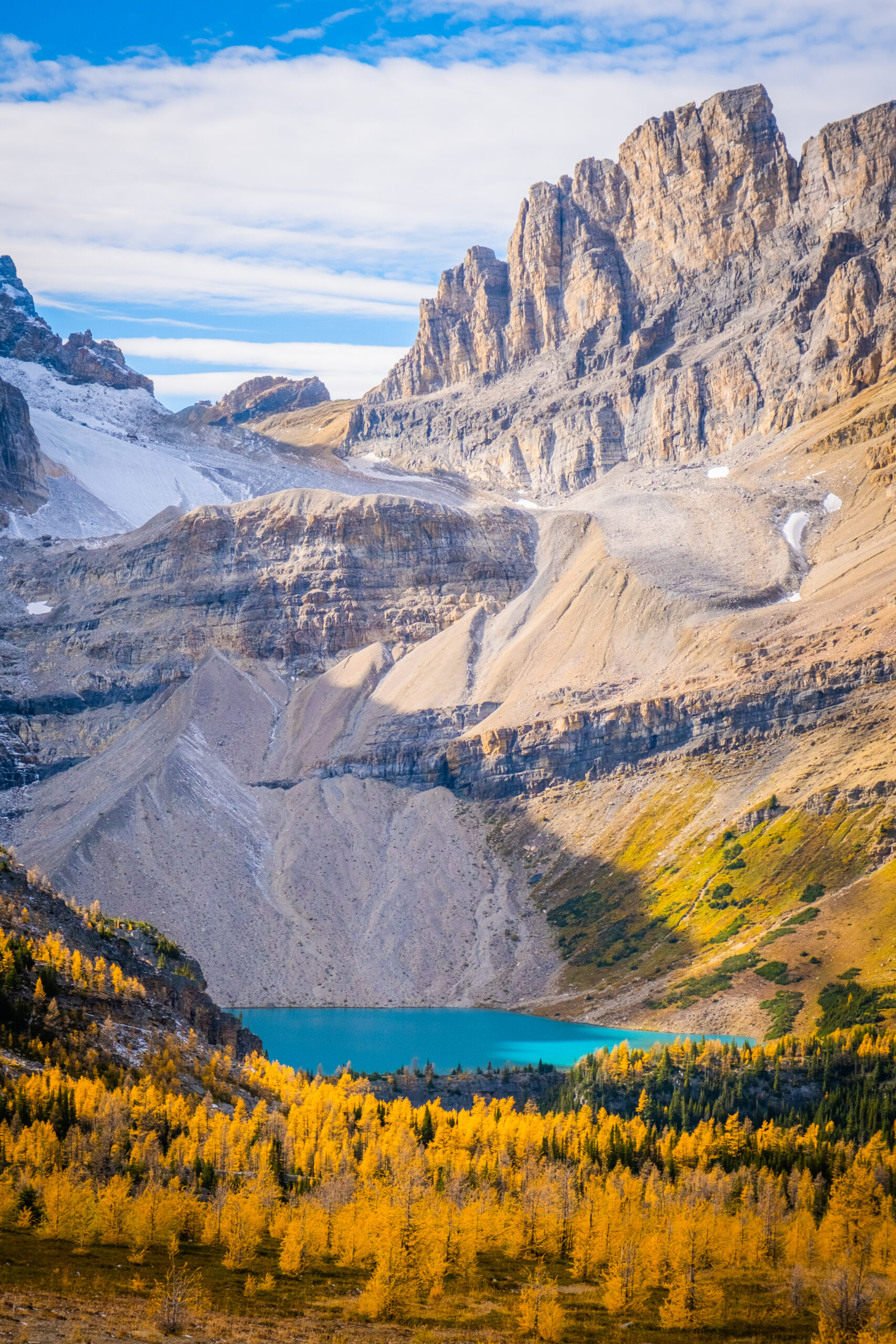 The historic Skoki Lodge is a lodge located in the backcountry of Banff National Park. The lodge can only be reached by hiking or skiing in 11km from the Lake Louise Ski Resort. It's one of the first backcountry ski lodges in North America as it dates back to 1930. In the winter activities include ski touring, cross country skiing, and telemark skiing.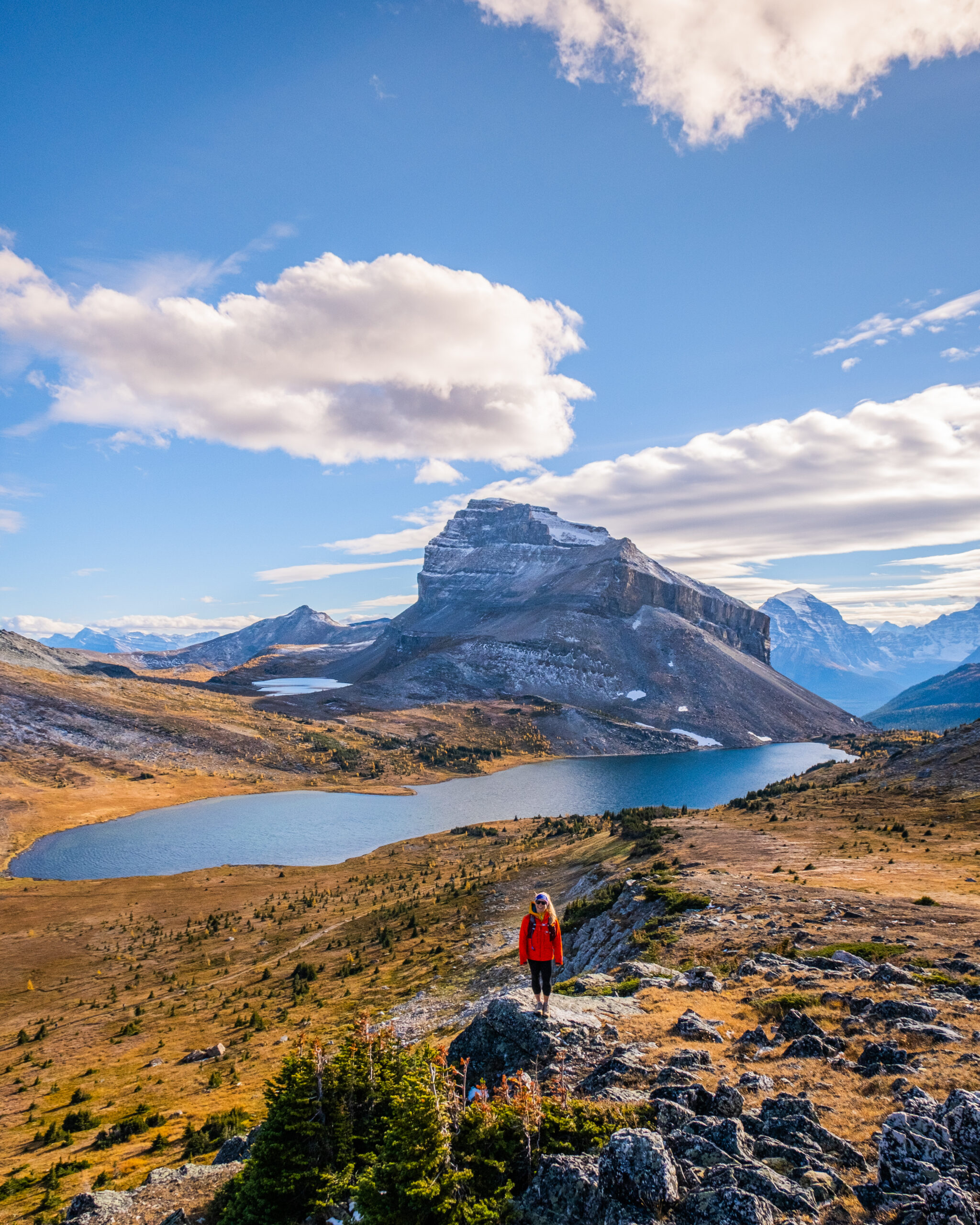 During the summer months, you can hike, climb, fish, or go horseback riding. It's well known as one of the best backcountry lodges in the world and nights are in high demand. Even if you can't score a night in the lodge you can still make the gorgeous hike out to the lodge and back.
---
Visit a Mountain Teahouse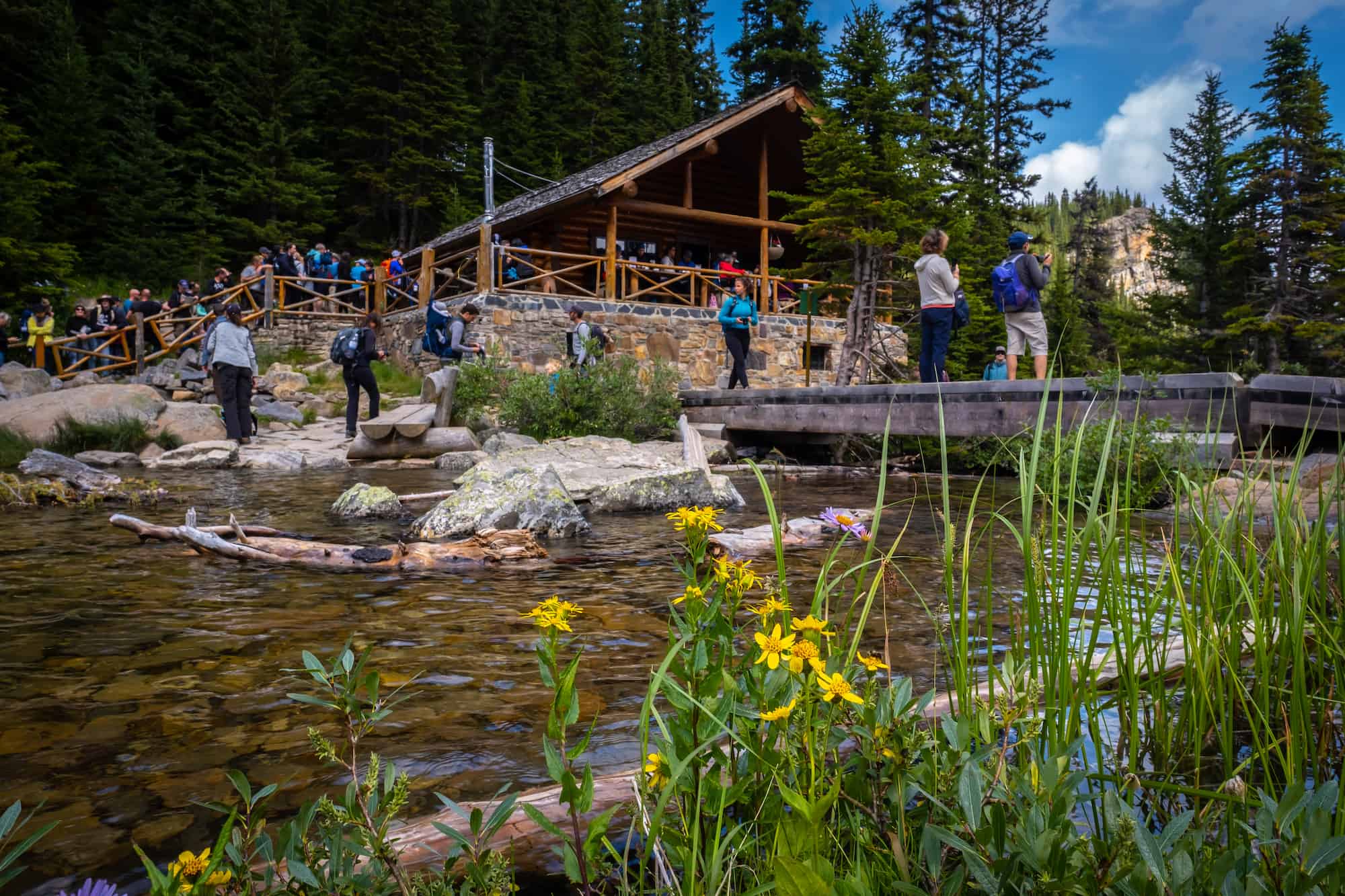 The Lake Agnes Teahouse hike is a popular thing to do in Lake Louise. It's also one of the most iconic and popular hikes in all of Banff National Park and has been enjoyed by visitors for well over a century. It ends at the Lake Agnes Teahouse which has been serving visitors since 1905 when it first opened. A rustic old cabin that sits along the banks of Lake Agnes and over a rushing waterfall.
Its popularity is perhaps its only downfall as the teahouse can attract a crowd in the summer months with a line out the door. Never the less it is a classic and ends at the lovely Lake Agnes the perfect spot for lunch. This is an easy to moderate hike above Lake Louise that is suitable for all visitors to Banff.
This is an easy hike that can be done in under two hours and is an iconic thing to do in Banff. However, be warned it is a busy one! To escape the crowds (and get better views) keep climbing to the Big or Little Beehive.
---
Drive The Bow Valley Parkway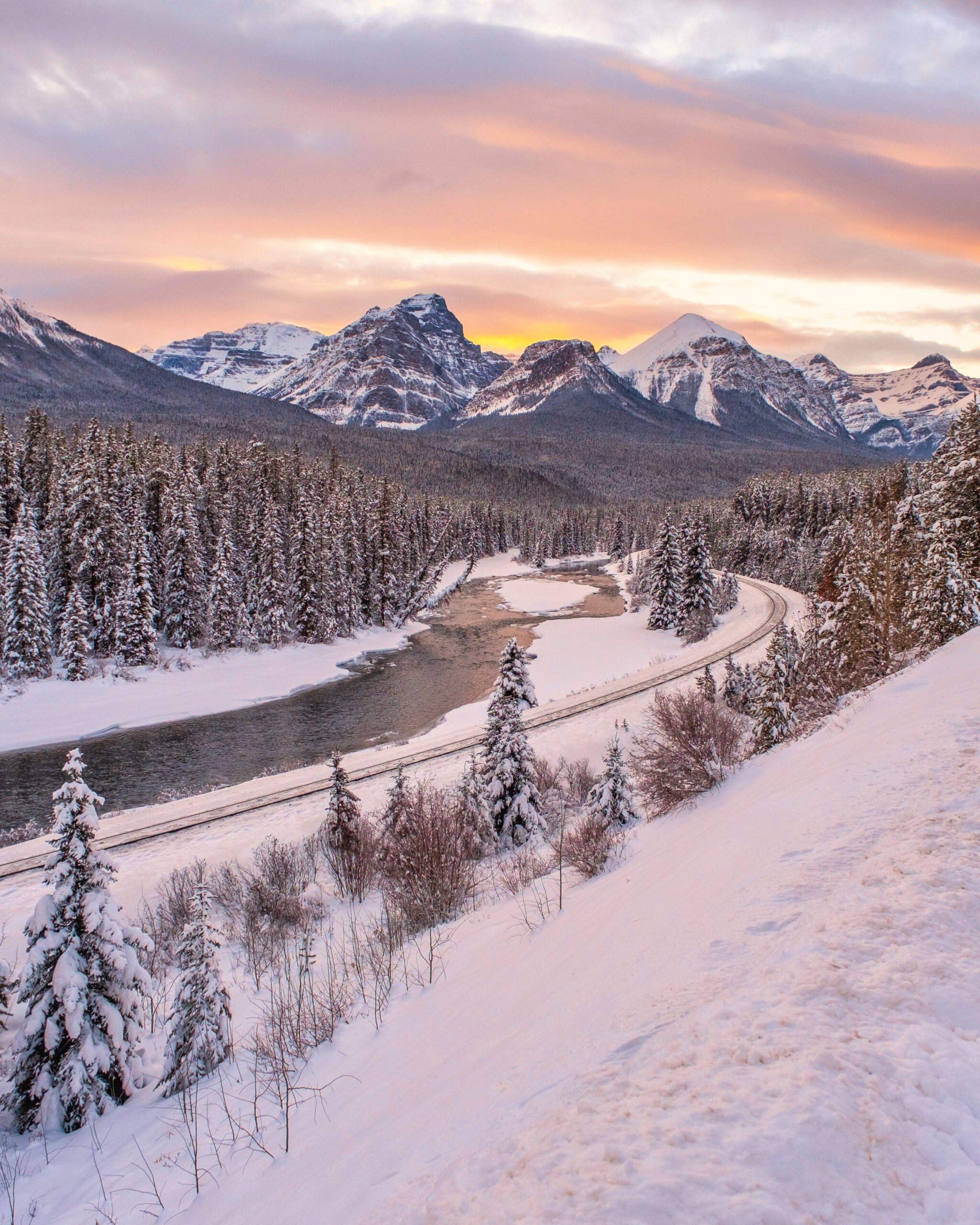 Take one of the most scenic drives from Lake Louise to the town of Banff via the Bow Valley Parkway. While it's far faster to take the four-lane highway to town the Bow Valley Parkway takes a much more relaxed pace.
The road winds through the valley with a number of scenic viewpoints, picnic areas, and attractions such as Johnston Canyon. It's a gorgeous drive that is popular with cyclists and provides a good chance to spot wildlife.
---
Take in the Views at Moraine Lake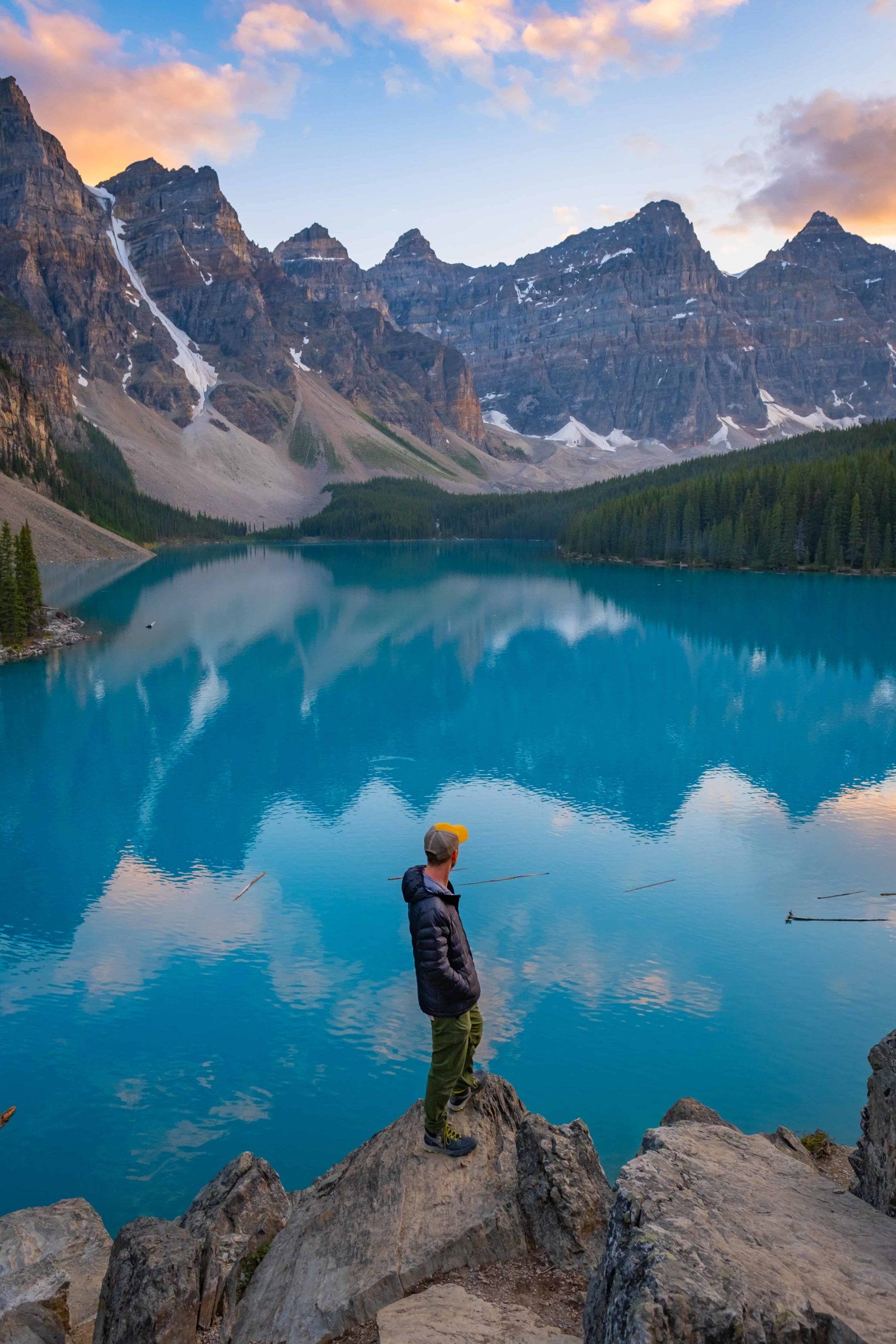 There is no image more iconic of the Canadian Rockies or Canada for that matter than Moraine Lake. The alpine lake is a wild turquoise blue fed by glacier melt and set with a backdrop of the Ten Peaks. This pristine piece of wilderness draws in millions of visitors a year and once graced Canada's twenty-dollar bill.
It's hard to find a more majestic and awe-inspiring place in the world than Moraine Lake. After taking in the spectacular scene go for a hike, climb, ski, or canoe in Banff National Park. Moraine Lake is an image that will last with you for a lifetime. It's one of the top things to do in Lake Louise as the village is the only way you can access the 11 km lake road.
---
Kayak or SUP on Lake Louise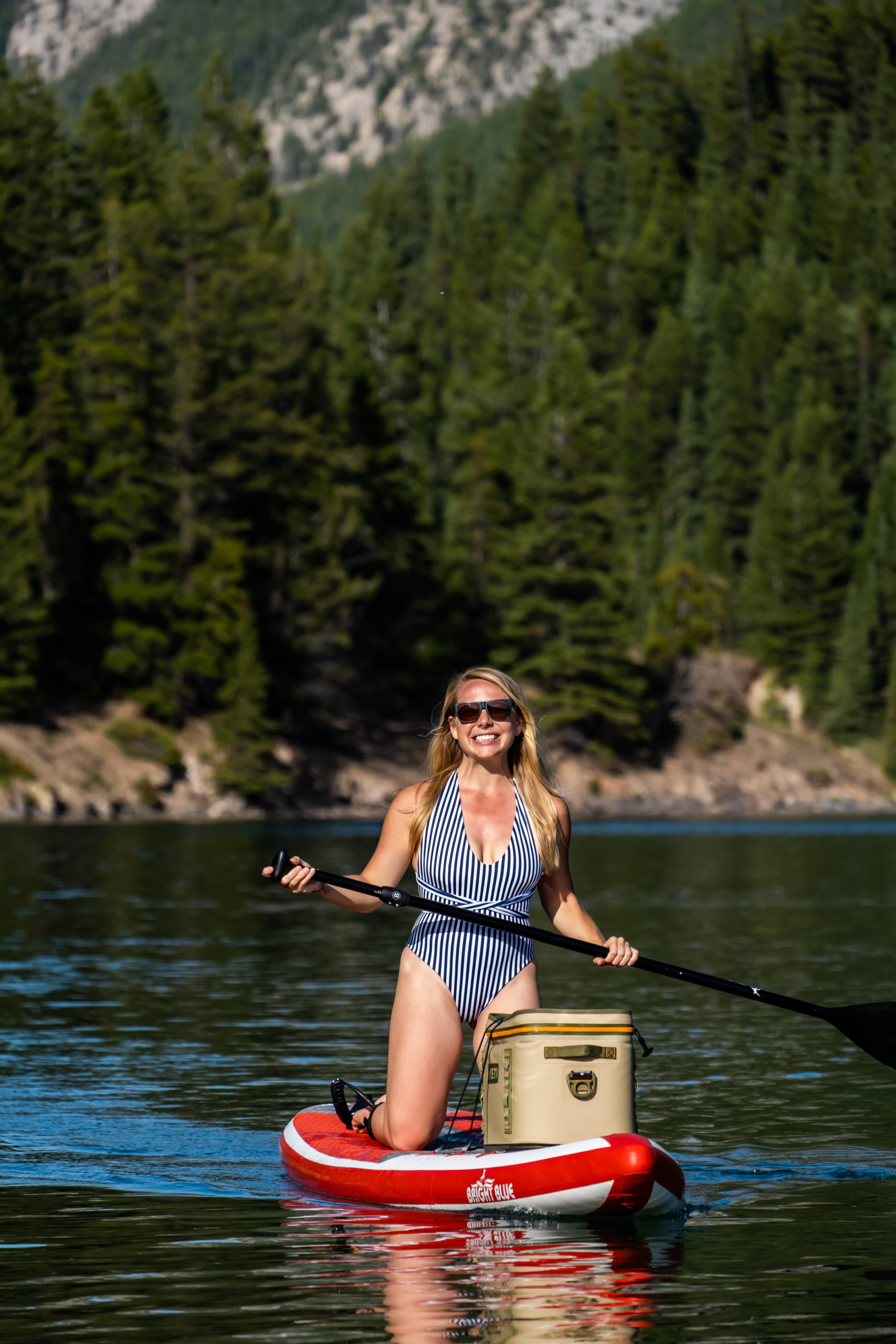 You can only rent kayaks or SUP in the towns of Banff oat Canmore so if you'd like to Kayak or SUP you'll need to bring your own or pick one up from one of those rental locations. A stand-up paddleboard is the easier choice as you can get inflatable rentals that will fit in a rental car.
However, you'll still need to secure parking at Lake Louise to do so which is not easy in the summer months. If you are lucky enough to kayak or SUP on Lake Louise you're in for a wonderful experience.
---
Check out Nearby Emerald Lake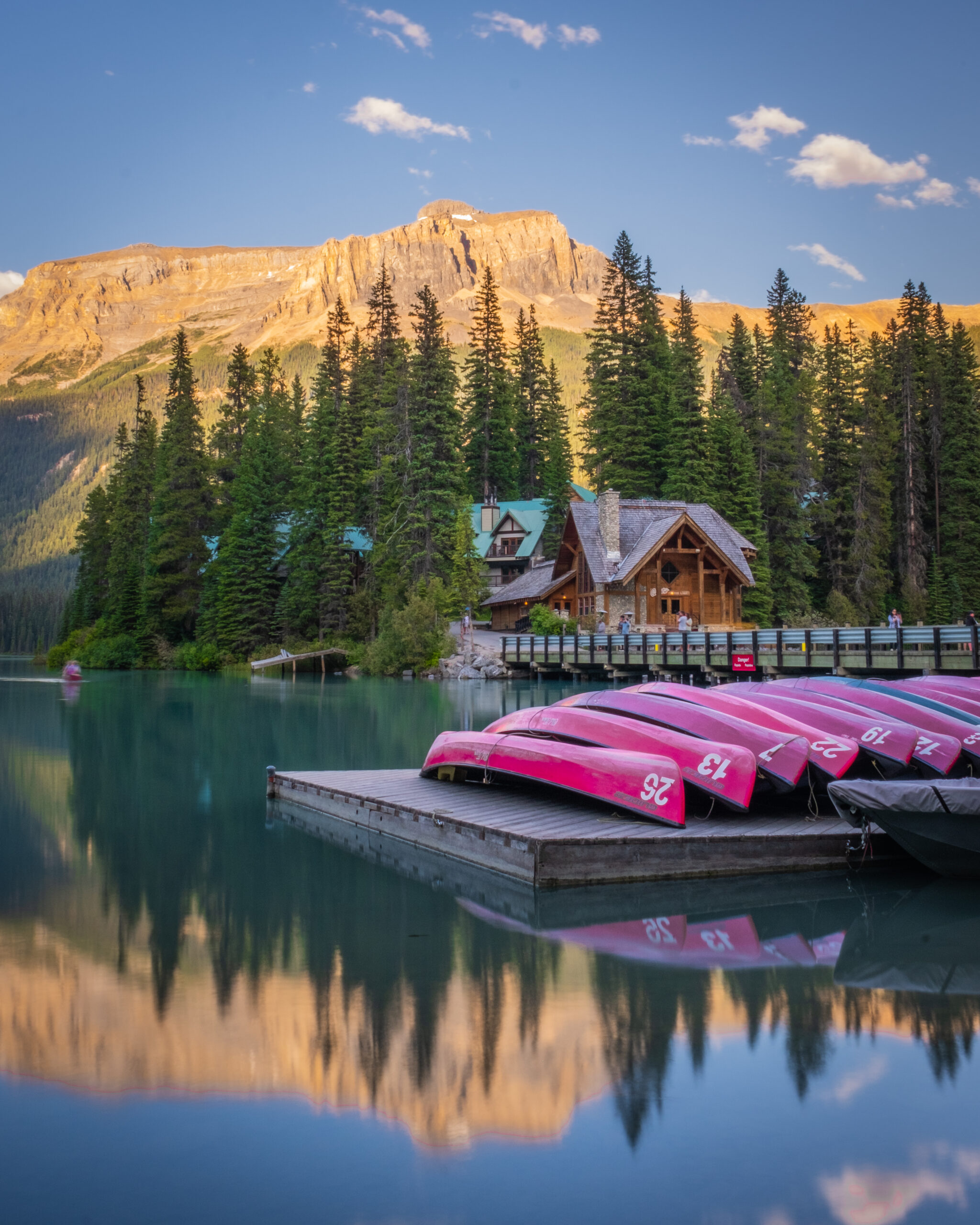 Emerald Lake is a stunning lake in the Yoho and makes for a great family-friendly hike. It's the largest lake in Yoho National Park and when you see the color of the water it's easy to see where the lake received its name. The sparkling emerald color lake is a stunning sight and one of the premier attractions in Yoho National Park.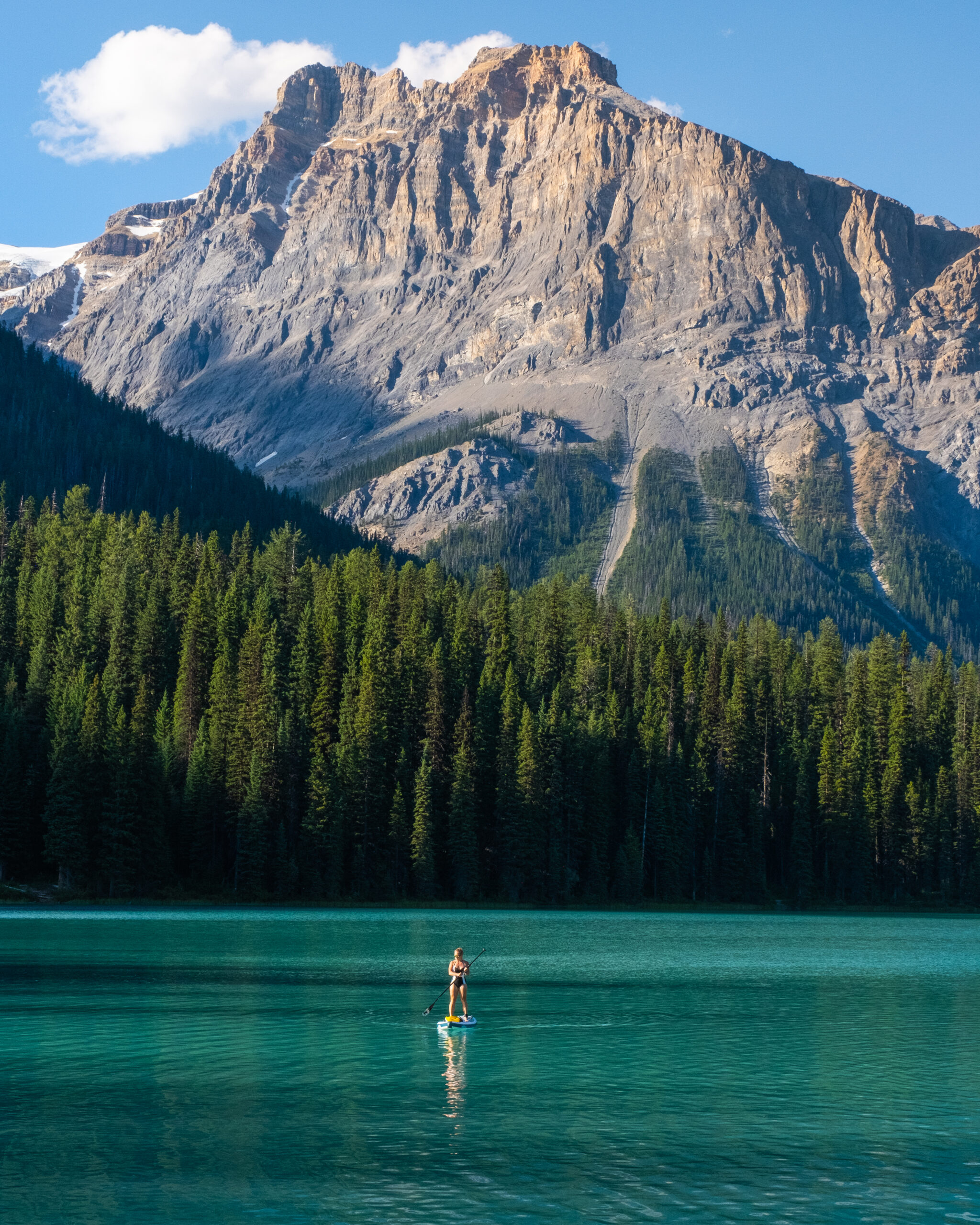 A walk around the lake is fantastic as you view the lake from different angles with a background of various mountains. The trail follows along the lakeshore and moves in and out of the forest.
---
Ice Skate or Play Hockey on Lake Louise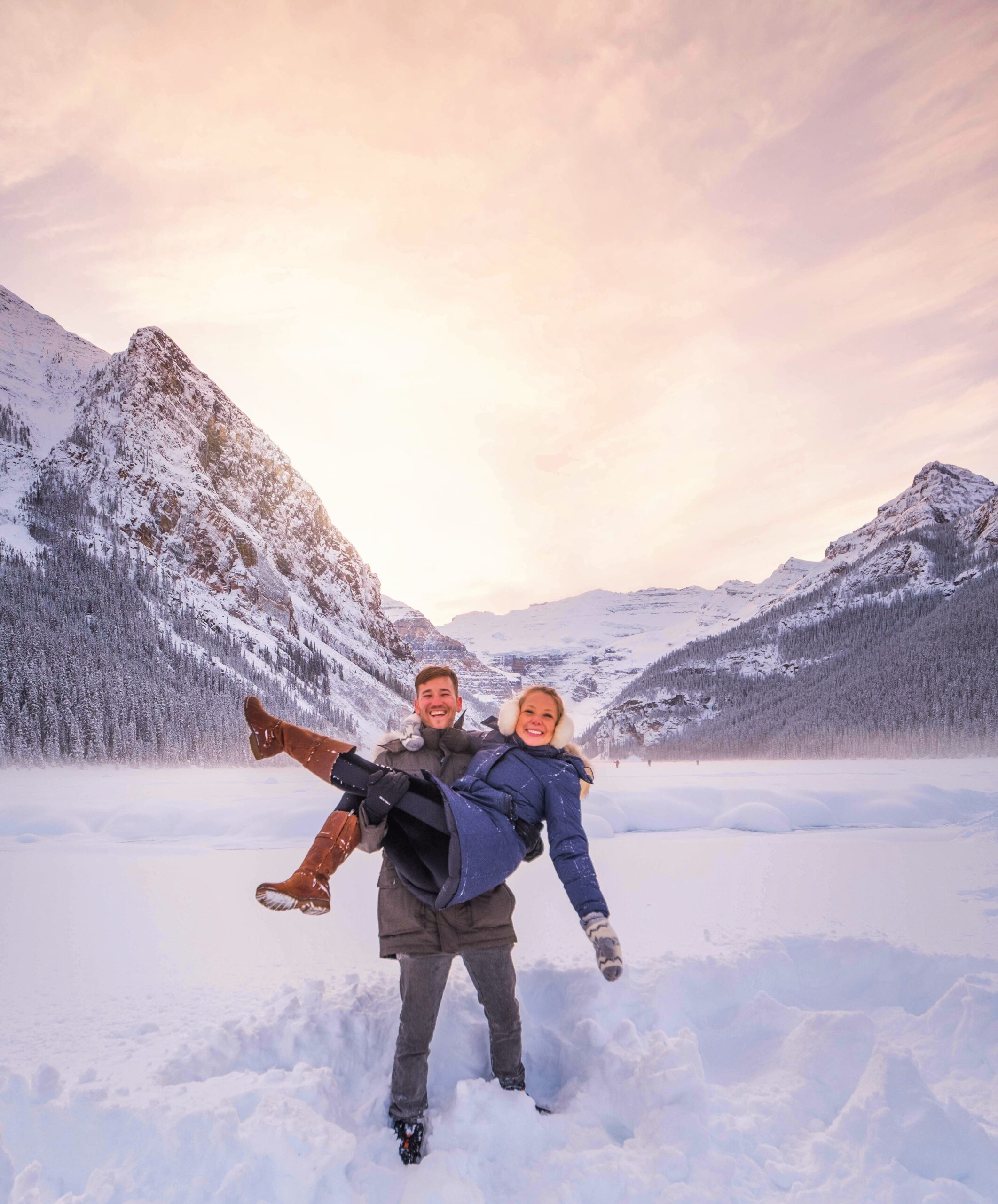 One of the best things to do in Lake Louise in the winter is enjoy the frozen lake. There is no place to ice skate in Banff more iconic or scenic than the famous Lake Louise. Not much of a surprise, but it's regularly been considered one of the world's best ice skating rinks. It's also tremendous as the frozen lake is maintained by the Fairmont Chateau Lake Louise. The lake is regularly cleared of snow and resurfaced so visitors can enjoy ice skating during the winter despite conditions on other natural lakes.
Lake Louise every few winters can freeze very early before a significant snowfall and the result is a blue glass lake. It's an absolutely stunning natural occurrence and can happen in November, but don't count on seeing the lake this way as November is generally the worst month to visit Banff. The lake freezing like this has also only happened five times in the last 30 years. I say this only to manage expectations as the surface will likely be a frosted white, but the views are stunning the none the less!
---
Snowshoe Around Lake Louise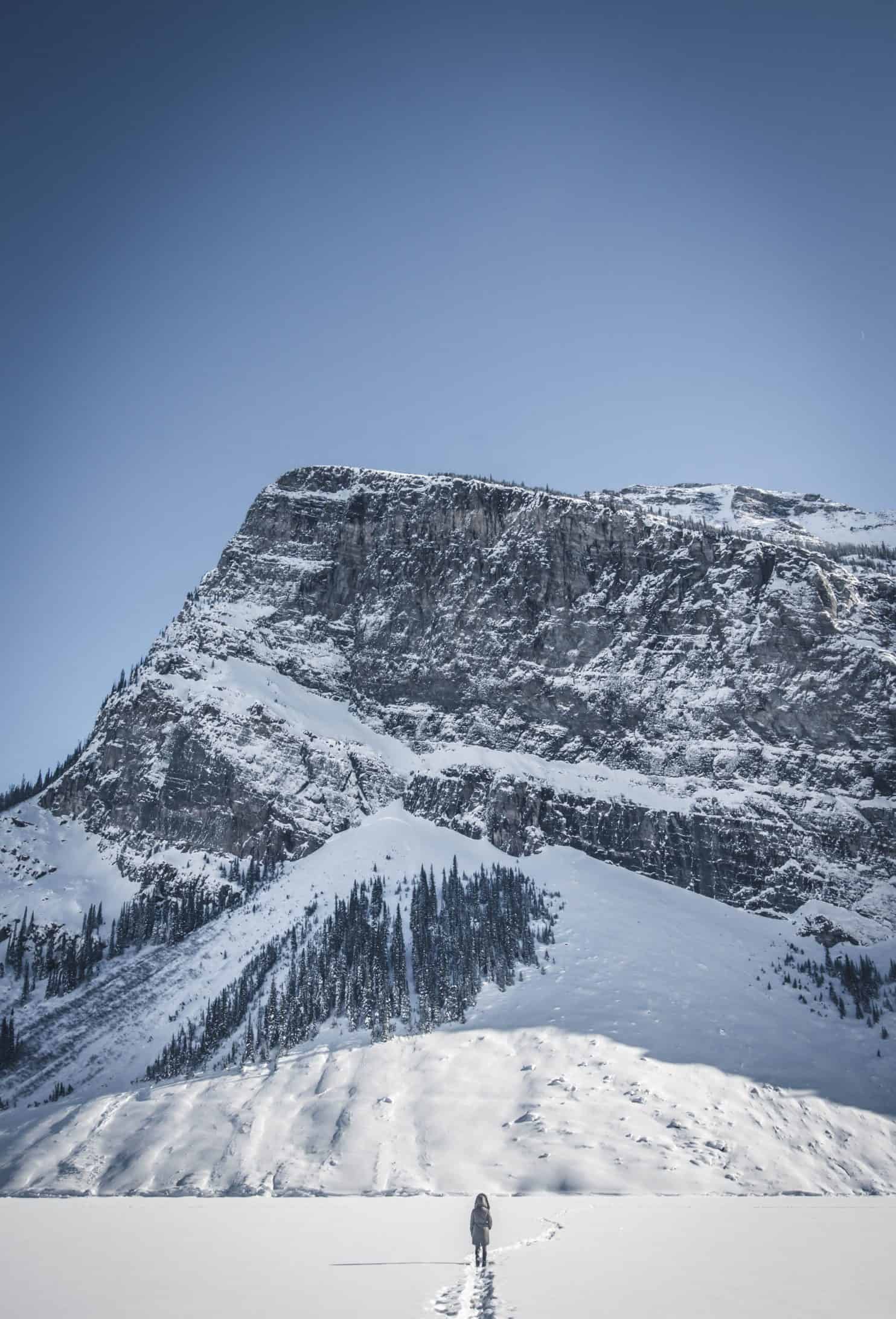 Lake Louise is a great place for a snowshoe tour. You'll be hard-pressed to find a more scenic location in the world for a snowshoe than Lake Louise. Every year as the lake freezes over it is blanketed in a heavy layer of snow. Take advantage of the winter trails along the lakeside or hire a local guide.
The most popular snowshoe is along the Northern side of Lake Louise, but you can also head up to Mirror Lake or over to Paradise Creek. You can grab rentals at Wilson Sports in the village or you can book a tour with Great Divide Nature Interpretation.
---
Ski at Lake Louise Ski Resort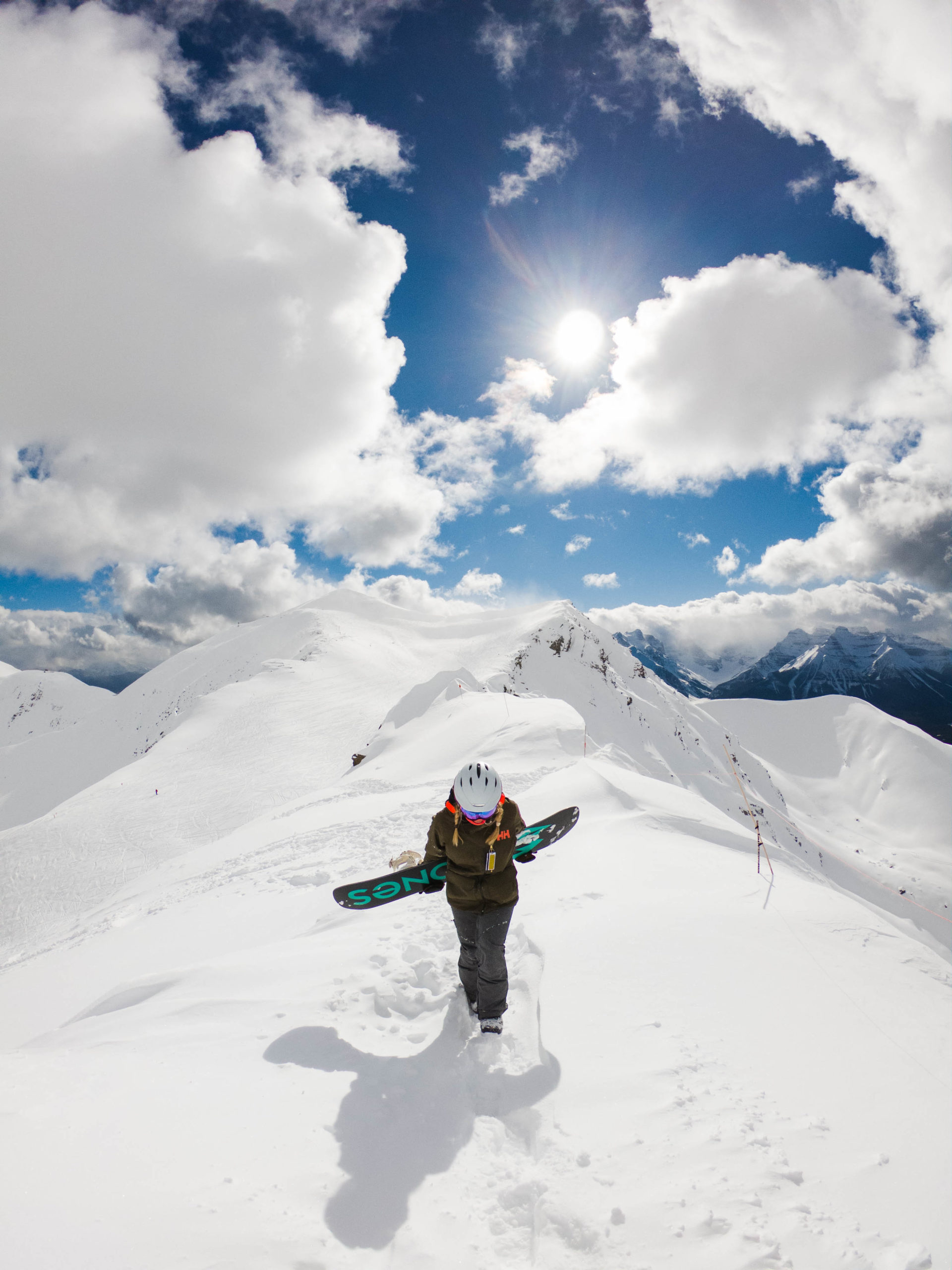 There is arguably no ski resort in the world with a better view than the Lake Louise Ski Resort. Located in Canada's oldest and first national park the resort has ample supply of natural scenery.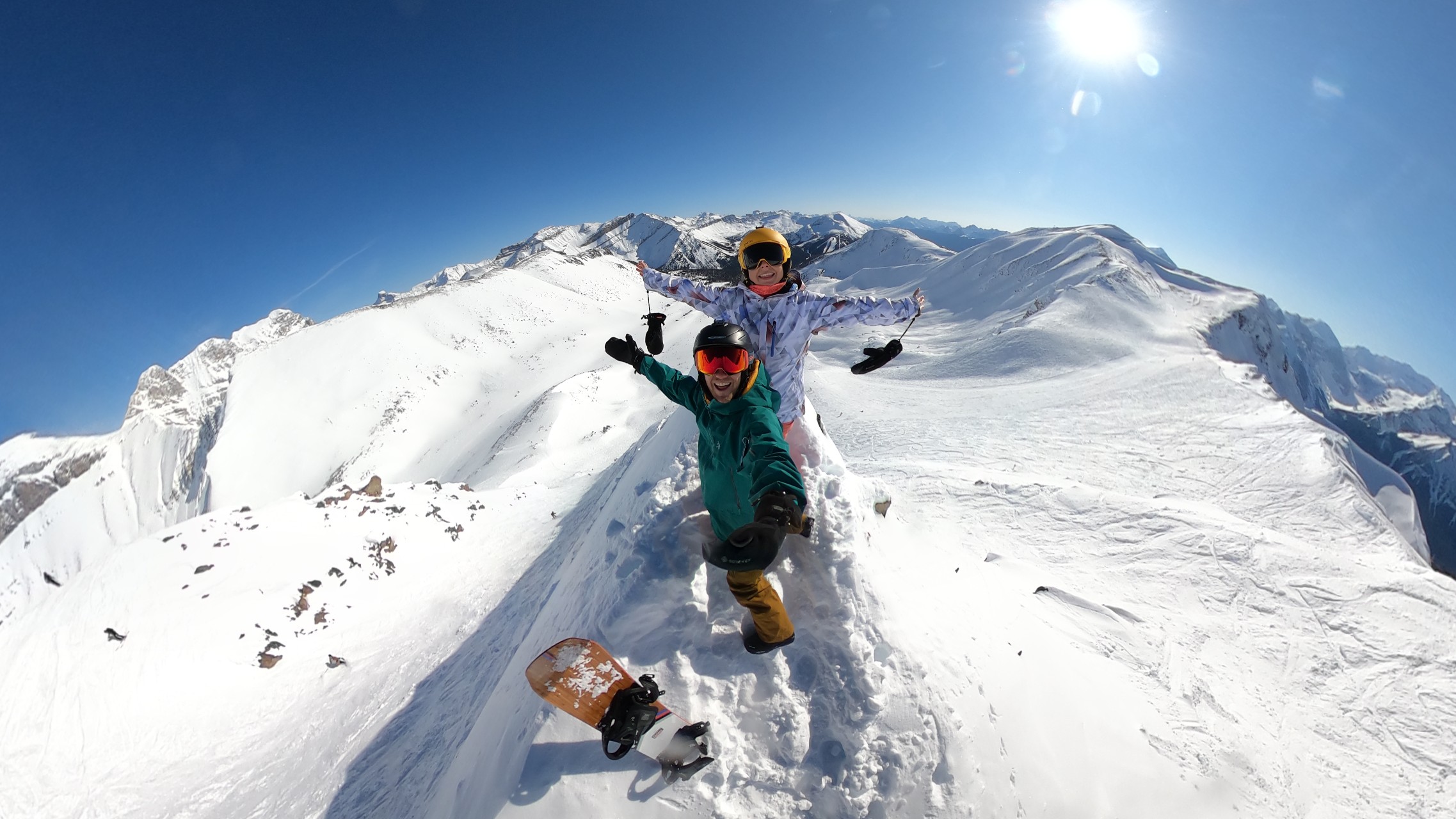 In between runs screaming down groomers, tackling a bowl, or defying death in a steep chute Banff National Park provides you some fresh air and stunning landscapes. There is something for everyone here with terrain that will thrill even expert skiers.
---
Mush On a Dog Sled Team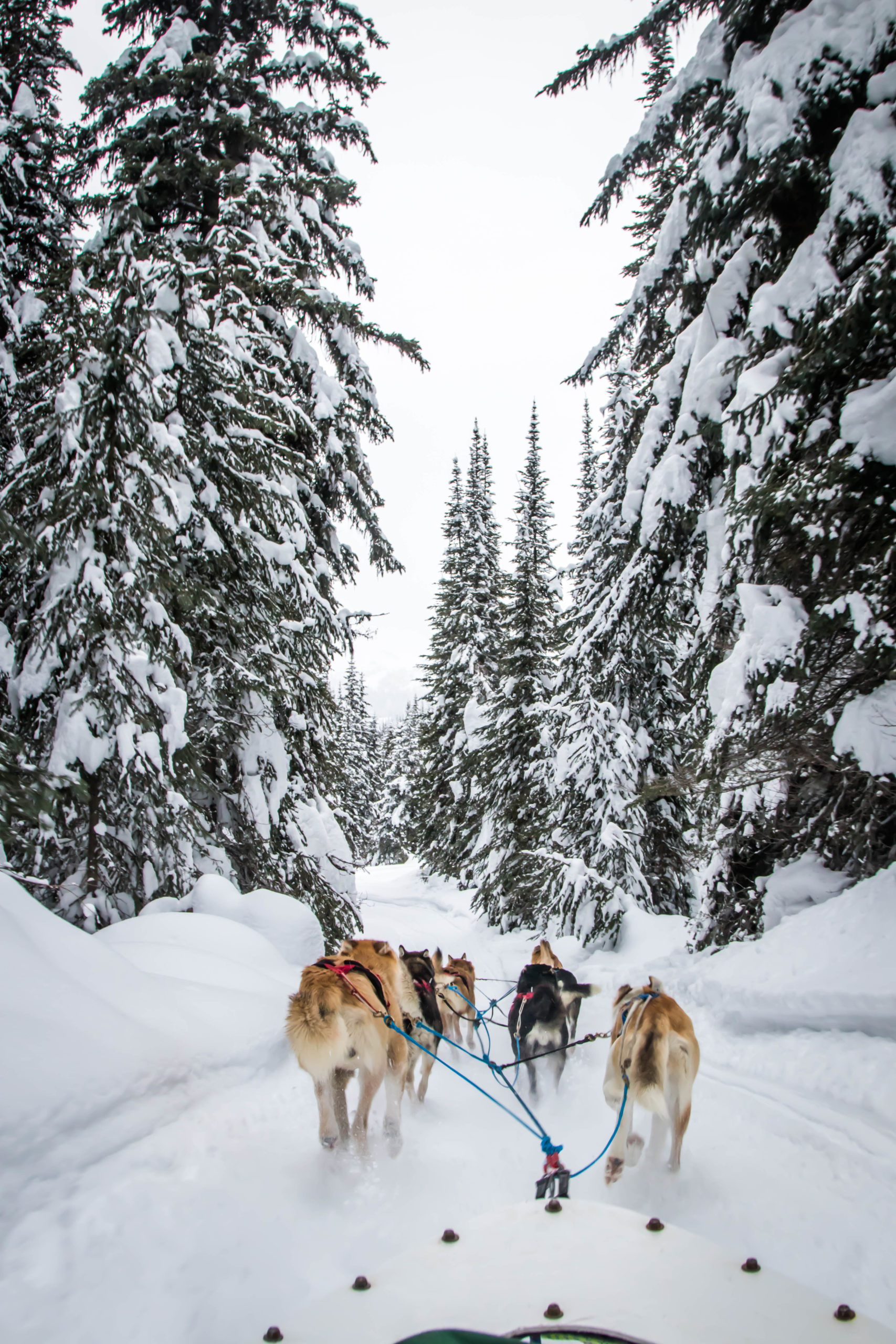 Discover Banff Tours runs dog sledding adventures at Lake Louise and in Canmore. We've done this four separate times and it's always an amazing experience. What I particularly love is how quiet the ride is with only the sound of the dog teams steps against the snow.
---
Take an Authentic Horse Sleigh Ride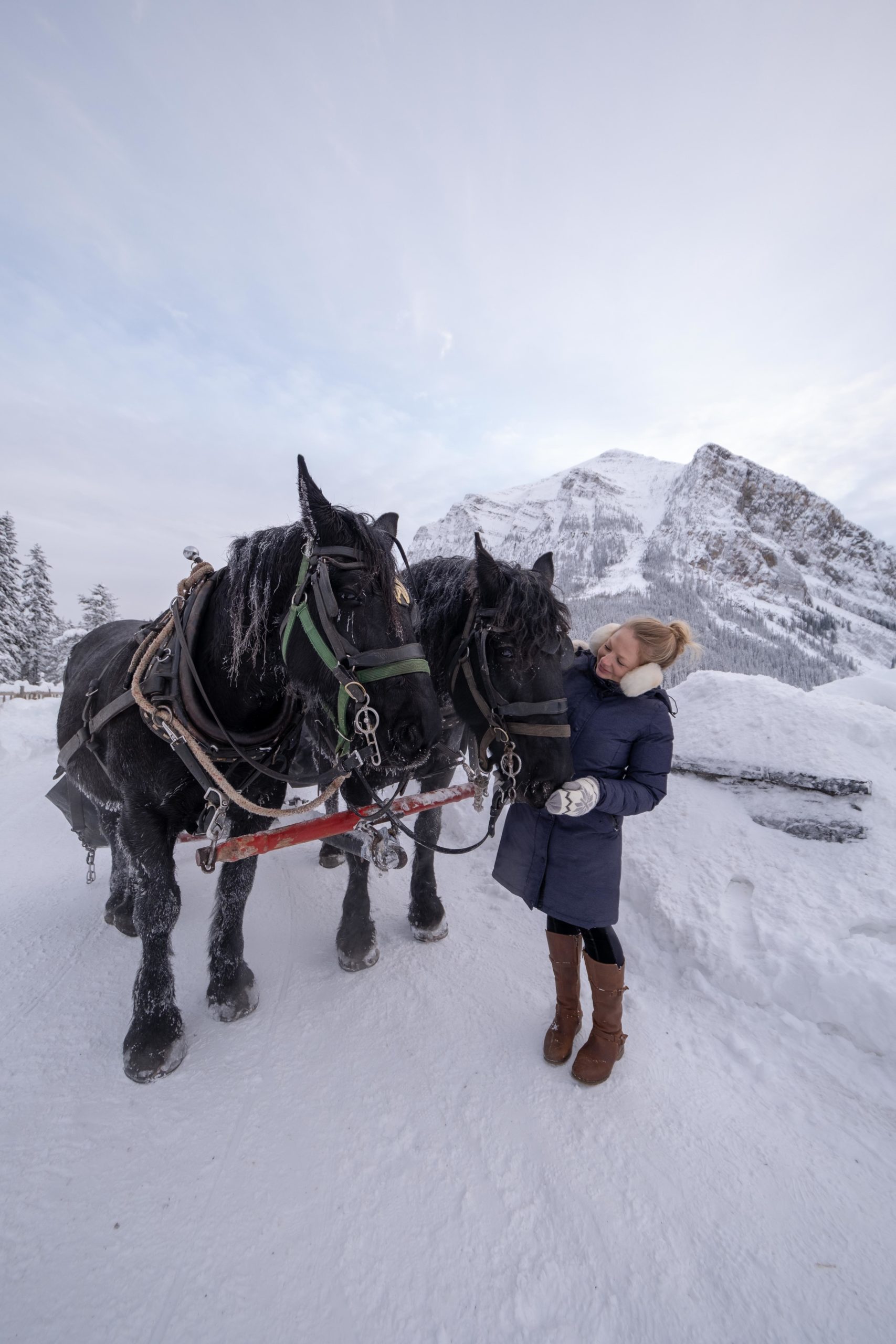 In the winter time you might not be able to take to the trails on horseback, but you can ride on a horse drawn sleigh. There aren't many places you can still ride on a real sleigh through a winter wonderland. The ride is about an hour long and moves along the lakeside trail to end of the Lake
The sleigh starts around mid-December in time for Christmas in Banff and runs until mid April, but this all depends on the weather. Lake Louise largely sits in the shade during the winter months and it's typically well below freezing so come prepared and dress warm.
---
Tackle the Trail on Cross Country Skis
Parks Canada manages several cross country or nordic ski trails for you to take in the views from a pair of skis. Trails are rated by difficulty so even if you're a beginner you can find a trail appropriate for your skillset. Two of the most popular trails are the Moraine Lake road trail and the Great Divide Trail.
You can find rentals in Lake Louise, Banff, or Canmore. Of course, if you're passionate about cross country skiing you'll have to head to Canmore and check out the Nordic Ski Center.
---
Cheer on The World's Fastest Skiers at the Ski World Cup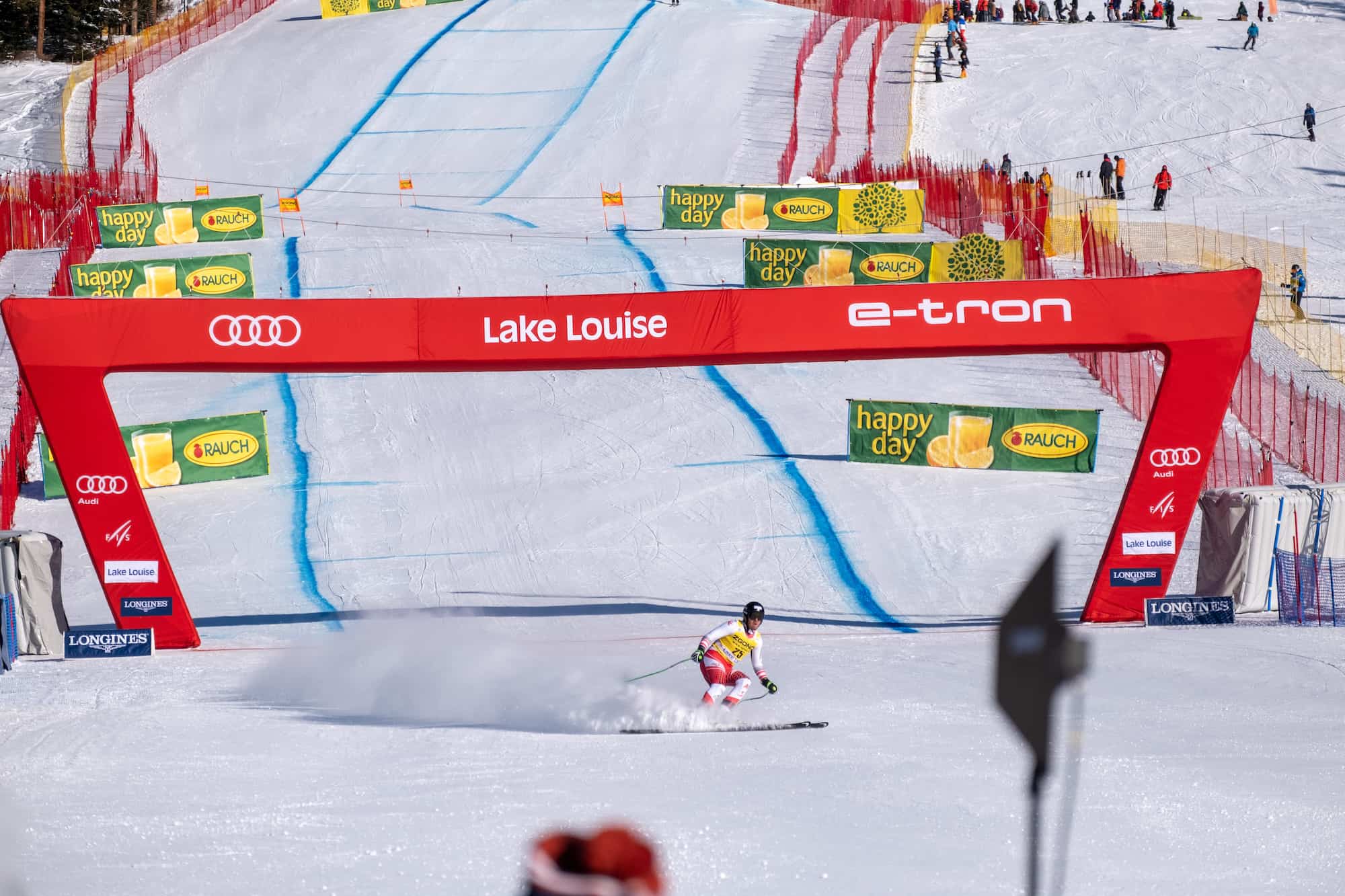 There's no better way to kick off winter in the Canadian Rockies than attending the Audi FIS Ski World Cup at Lake Louise. Every year a small army of visitors, volunteers, media, and world-famous athletes descend on the tiny resort town with big mountain terrain.
It's the start of the World Cup speed circuit where the fastest skiers in the world compete to be crowned champ as they travel around the world. You'll also enjoy some of the best skiing in North America in November.
---
Experience the Ice Magic Festival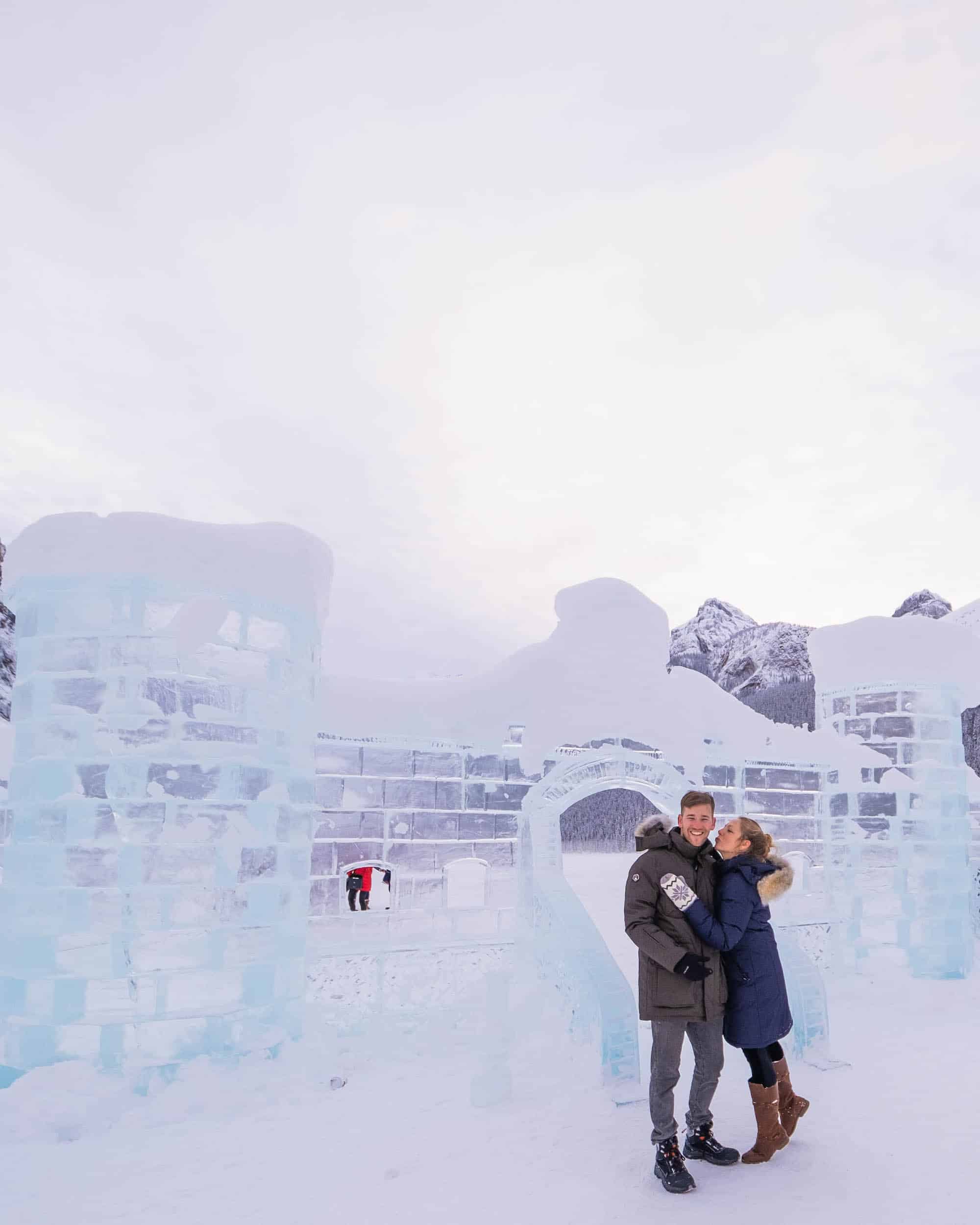 For 12 days around January 15 – 26 (check dates first though), there is a very special event at Lake Louise. The Ice Magic event is what winter in Canada is all about. This is where ice comes alive and serves as a form of art and architectural design. During this time you can watch artists from around the world carve different frozen figures.
It's free to visit the ice carving events between Monday – Friday and on the weekends before 10 a.m. or after 5:30 p.m. During peak times on the weekend an admission fee is charged.
If you can't make the dates of the actual Ice Magic events don't worry, the carvings will be on display throughout February.
Travel Planning Resources
Packing Guide — Check out our Banff packing list to help pack your bags and ensure you don't leave anything at home.
↓ Join the community ↓
The Banff Blog Facebook Group is your headquarters for the Canadian Rockies travel advice and information. Including hike info and off-season travel information. This is also a place where you can meet one another when you're in need of adventure buddies.