You can't get much better than Banff at Christmas time. Come December, the holiday festivities are in full swing, the snow is falling, and the feeling of Christmas is in the air!
While you can stay at any Banff hotel on your holiday and have a fantastic time, some properties just do Christmas so well you'll feel like you are on the set of a Christmas movie. Here are our top recommendations for where to stay in Banff during the holidays.
---
The Best Banff Christmas Hotels!
---
Christmas in Banff Springs Hotel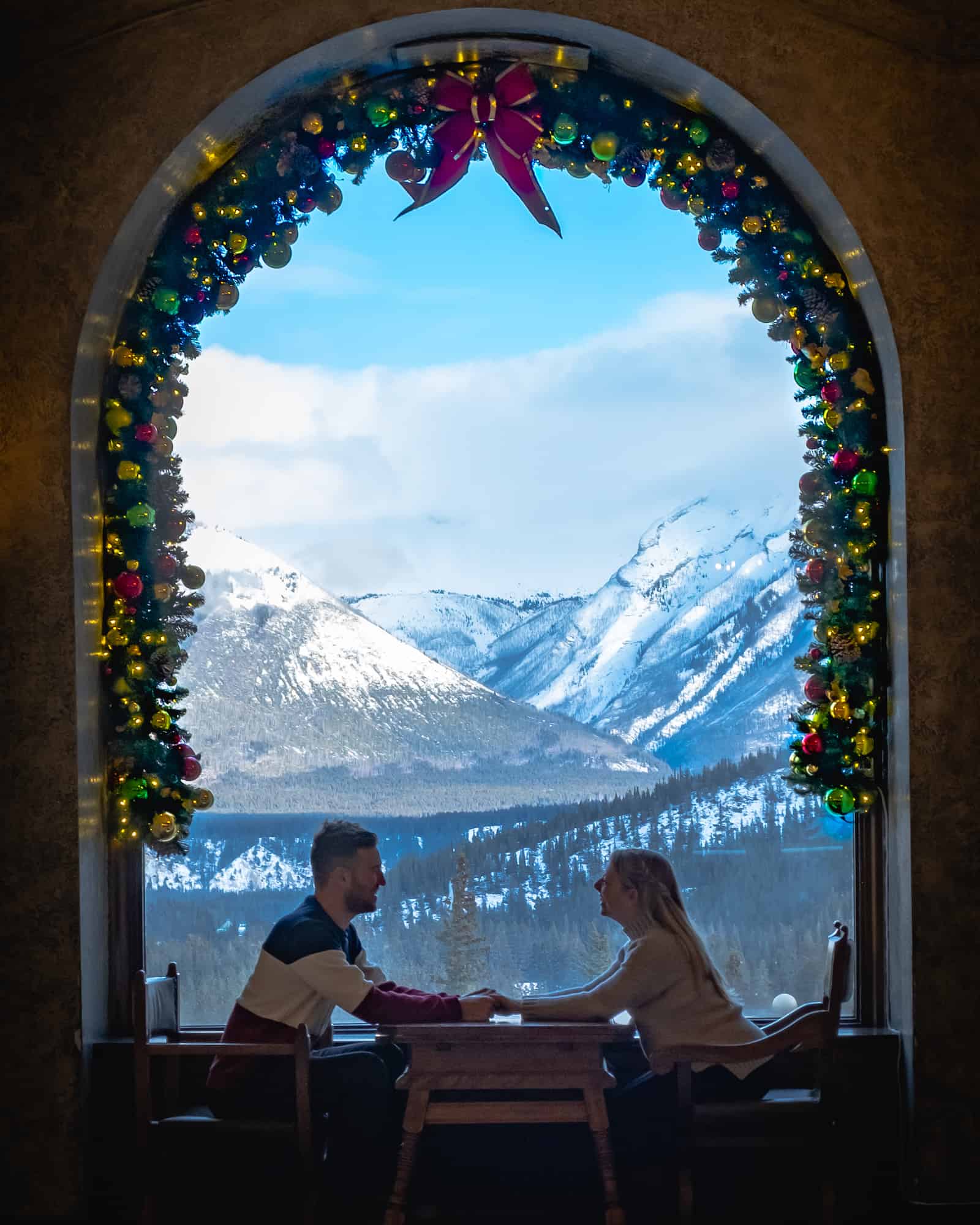 If you are looking for the most iconic place to spend Christmas, not just in Banff but quite possibly the entire world, then a stay at the Fairmont Banff Springs, aka The Castle, is a must.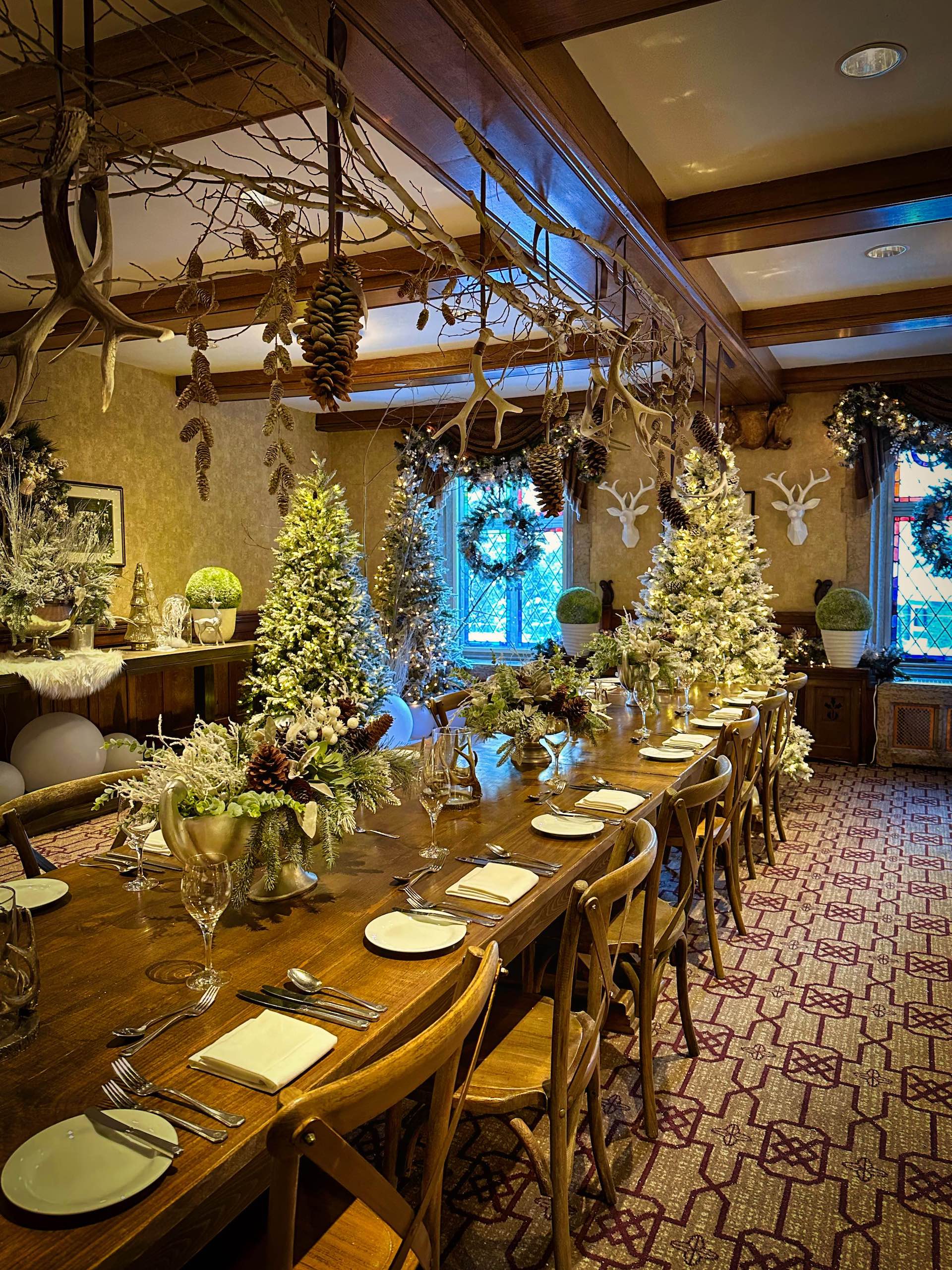 The hotel is always fantastic to stay at, but the whole property turns into something straight out of a Hallmark movie during the holidays. The staff here go to great lengths to decorate the property like a classy North Pole. They call this time "Christmas at the Castle," which runs from Late November to January.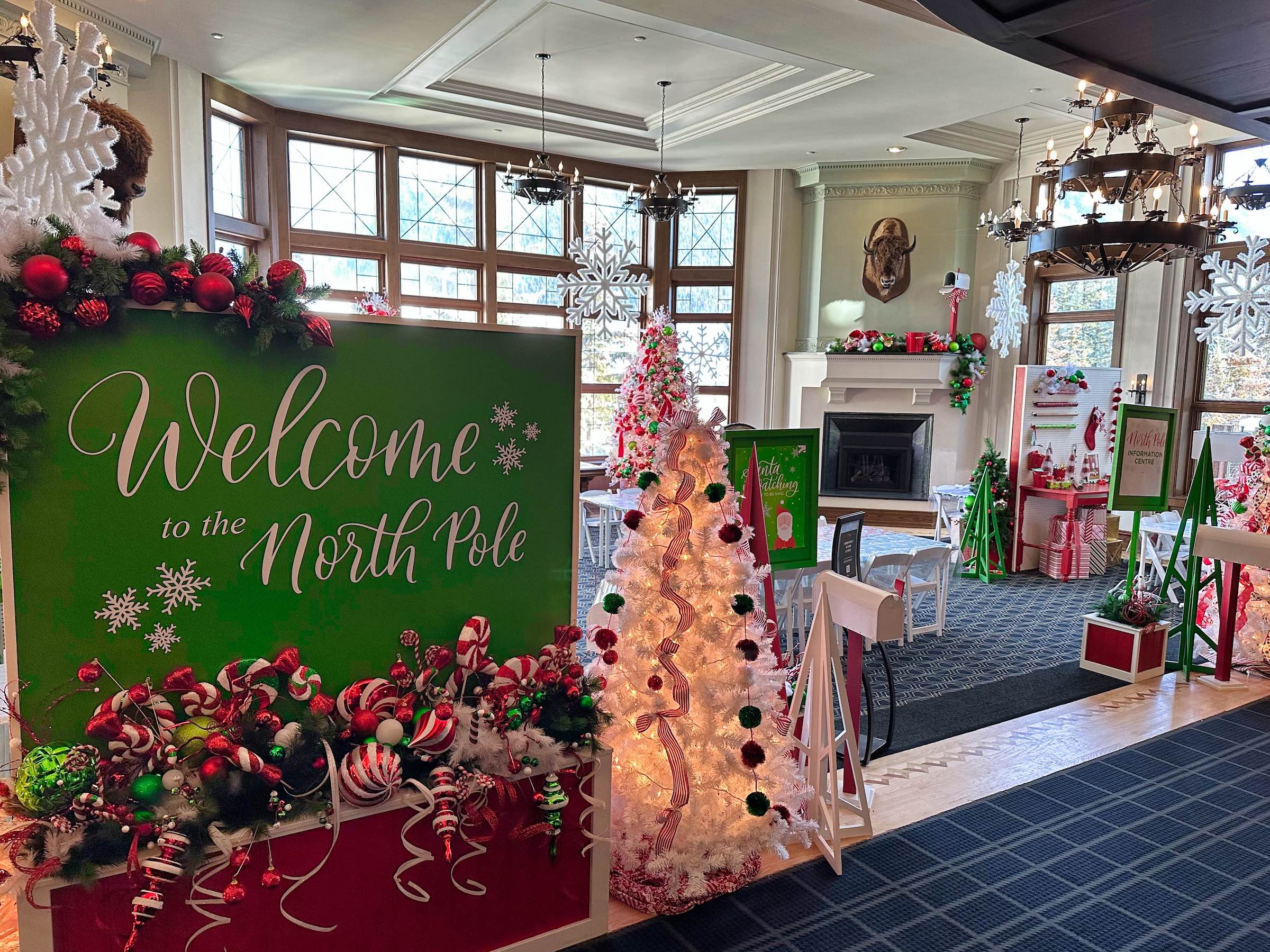 Christmas at the Castle is a well-known time in Banff when the entire hotel puts on different holiday events. If you fancy seeing A Christmas Carol or taking the kids to "The North Pole," where they can enjoy activities like gingerbread house decorating, a stay here is for you.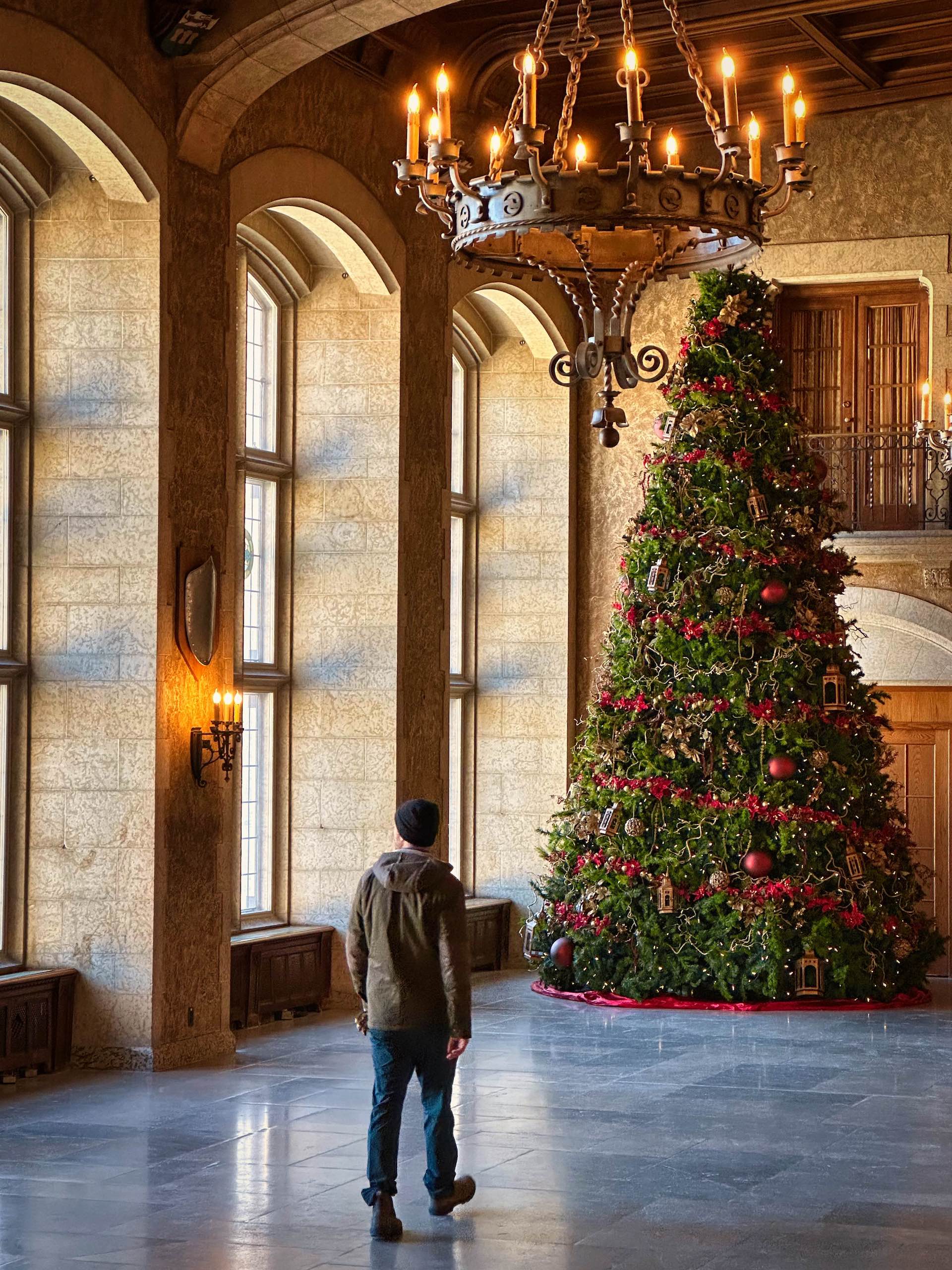 They also have private campfire pits set up, an ice skating rink, and have many holiday artists and bands venture through to perform throughout the winter.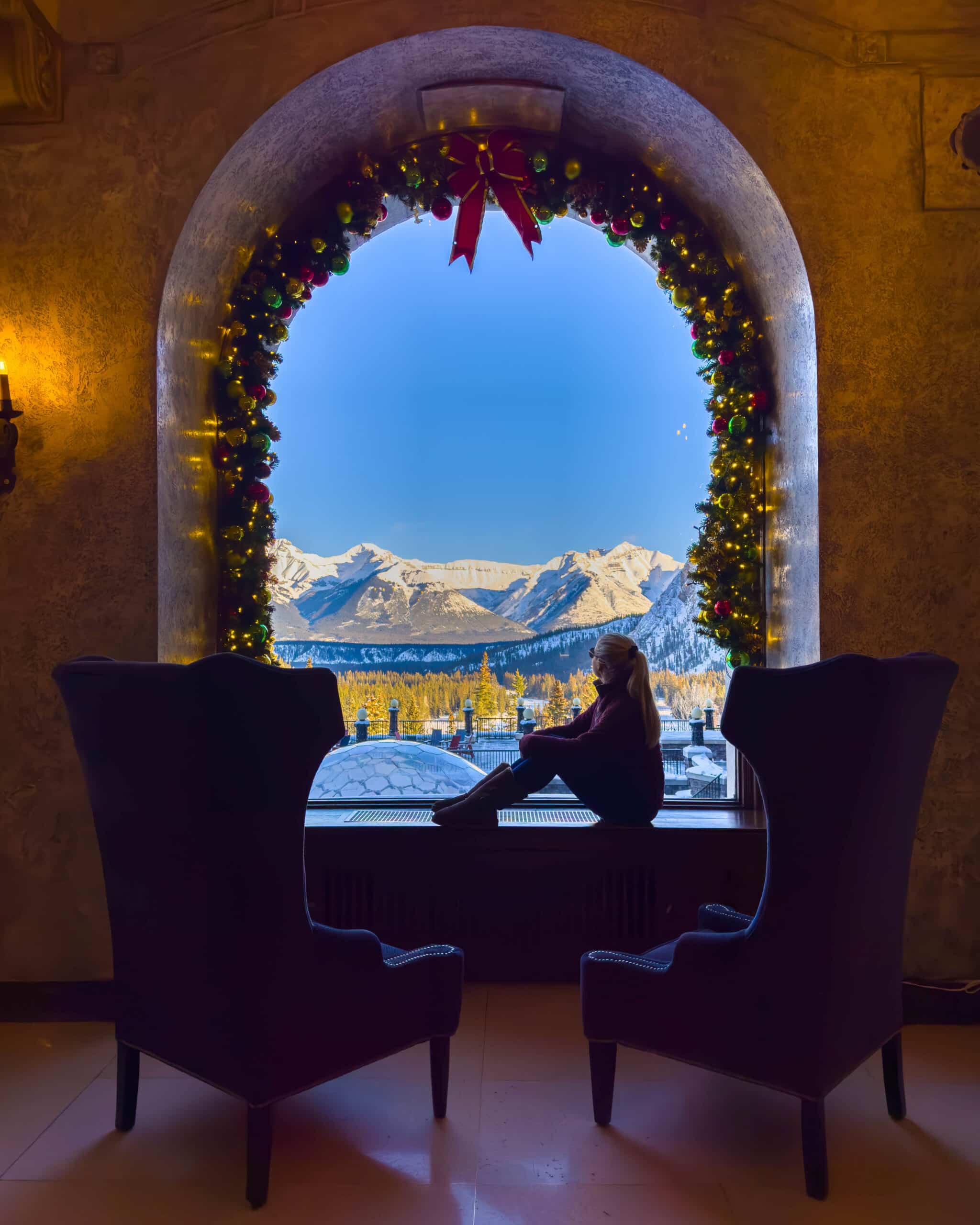 Couples can enjoy a romantic time here during the holidays and have an intimate meal out in their 360° Dome or in Santa's Dining Room​! If you decide to stay through the New Year, you can enjoy a fun party at The Vermillion Room Party, complimentary for in-house guests.
While Banff Springs is one of the most expensive places to stay in all Canadian Rockies, you won't regret your time here. It's undoubtedly splurge-worthy!
You can book a Christmas at the Castle package that runs between Friday, December 16, 2022 and Monday, January 2, 2023. The package includes luxury accommodation, in-room decorated Christmas Tree, and complimentary self parking.
---
Mount Royal Hotel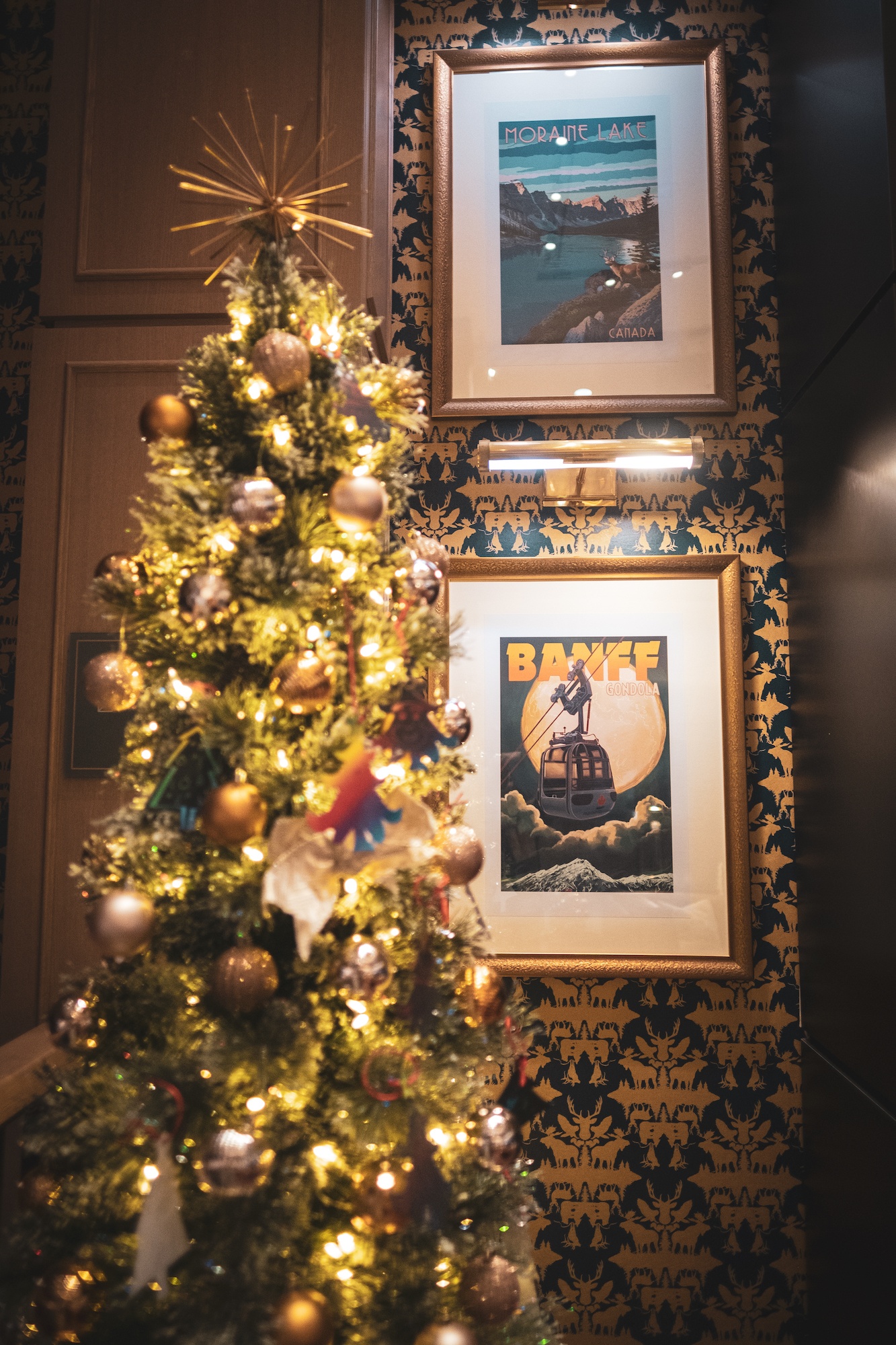 If you want a great hotel to spend Christmas on Banff Avenue, you cannot go wrong with Mount Royal. Situated on the main intersection of Banff Avenue, across the street from the Starbucks on the corner and some of the best Banff restaurants, Mount Royal is in the perfect location.
The Mount Royal Hotel is a historic hotel that dates back to 1908. However it's been recently updated, and the interior is stunning. The historic building has a beautiful exterior that likely appears in thousands of photographs down Banff Ave of Cascade Mountain. While the building may date back over one hundred years, the rooms certainly do not!
The entire hotel has undergone a recent renovation, and rooms are modern, clean, and comfortable. Beds are luxurious and the perfect way to recharge after a day tackling the mountains. Inside the rooms are a large flat-screen TV, desk, mini-fridge, toiletries, and high-speed internet. During Christmas in Banff, the interior is decorated to make you feel warm and fuzzy and is connected right to Tony Romas, so you don't have to venture far for a festive meal out.
---
The Rimrock Resort Hotel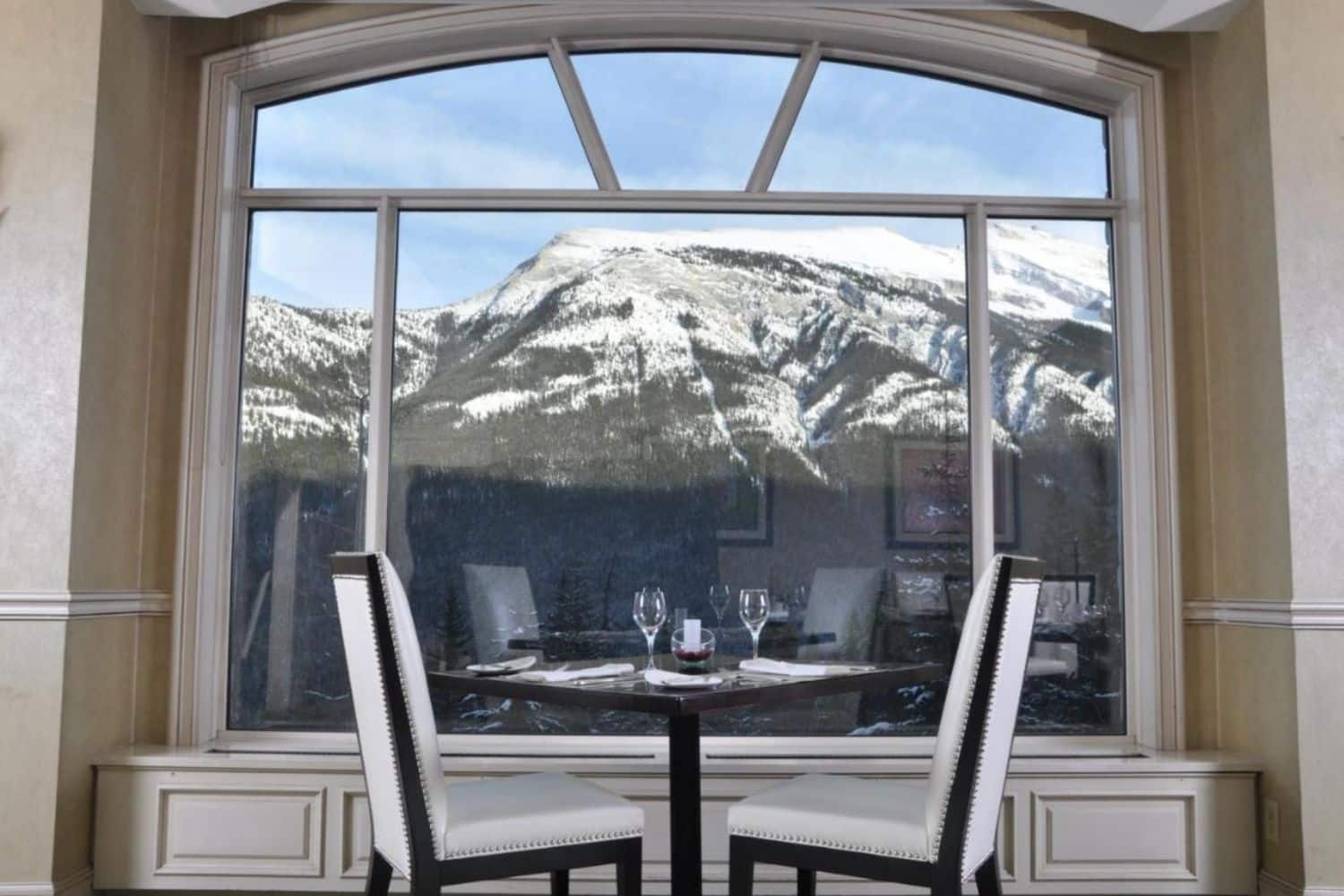 While the Banff Springs Hotel is the most well-known hotel in Banff, the Rimrock Resort gives it a run for its money. The Rimrock is one of the only luxury hotels in the park, and during the holidays, they really go all out on decorating. You won't forget it's the holiday season when staying here!
Its interior decor, massive lobby, floor-to-ceiling windows, fantastic views, and excellent service make the hotel stand out. Facilities at the resort include two restaurants, an indoor heated pool, hot tub, steam room, sauna, and fitness studio.
One of the restaurants, Eden, has the prestigious 5 Diamond Award and serves some of the most OK food in Western Canada. The hotel is just a short drive or walk away from Downtown Banff and provides exceptionally close access to the Banff Gondola and Banff Hot Springs.
If you are traveling to Banff in December with your furry friend, the hotel has an excellent pet friendly policy! Rooms are prepared with a dog bed, bowls, poop bags, and freshly baked dog biscuits ready for their canine guests. Plus, the hotel's location on the outskirts of town means there are excellent walking trails for dogs.
Beyond being luxurious and pet-friendly, the Rimrock has great holiday events scheduled. The Rimrock courtyard is a fantastic place to bring the kids ice skating before warming up by the firepit with more. They also have Santa's Workshop Display and family-friendly movies playing between Christmas Eve and New Year! They host their own festivities for guests and have holiday dining options at all of their restaurants on Christmas Eve, Christmas Day, and New Year's Eve!
---
Baker Creek Mountain Resort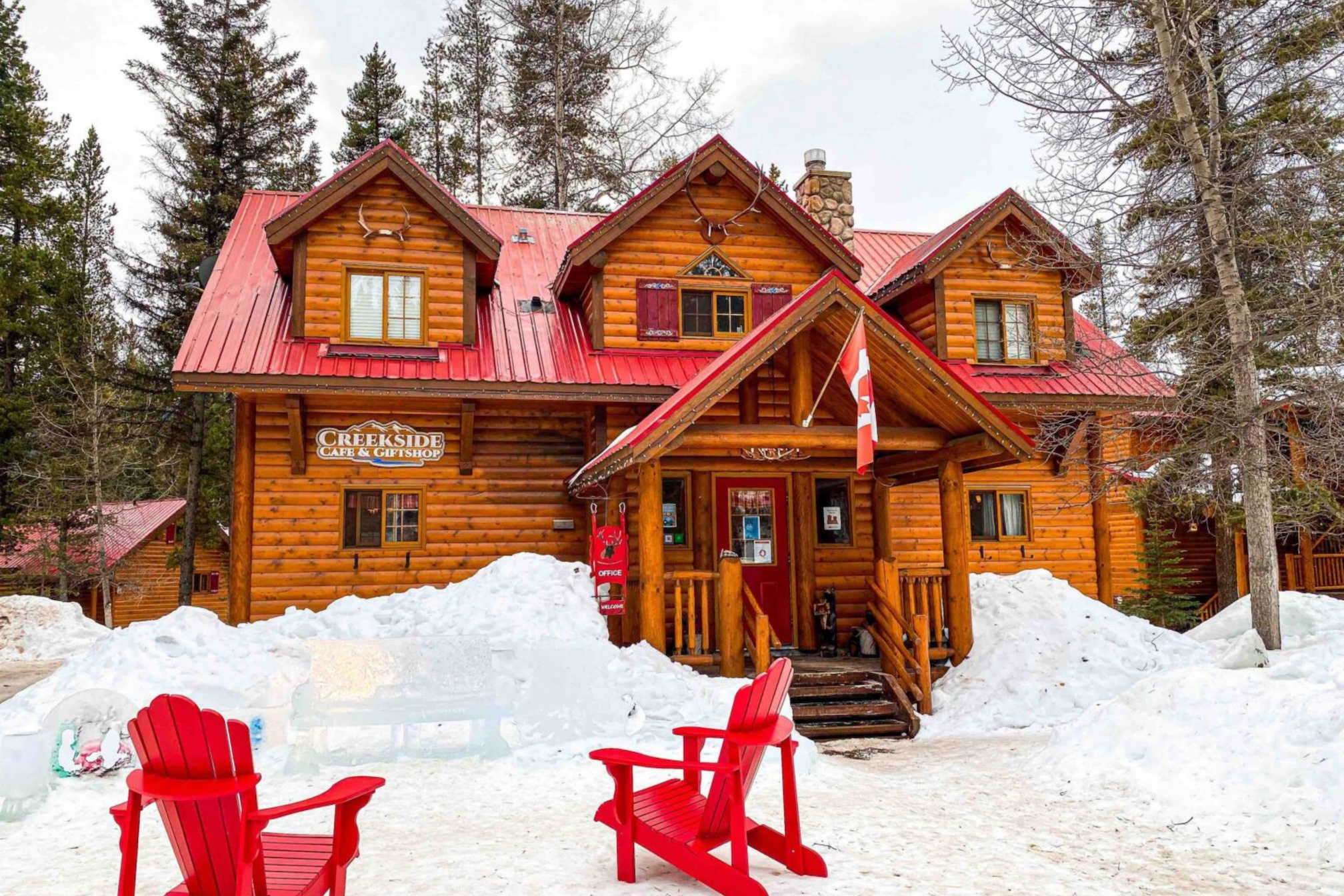 If you're seeking something a few steps beyond hotel or resort and prefer to be in a Banff cabin for the holidays, you should consider booking the Baker Creek Mountain Resort.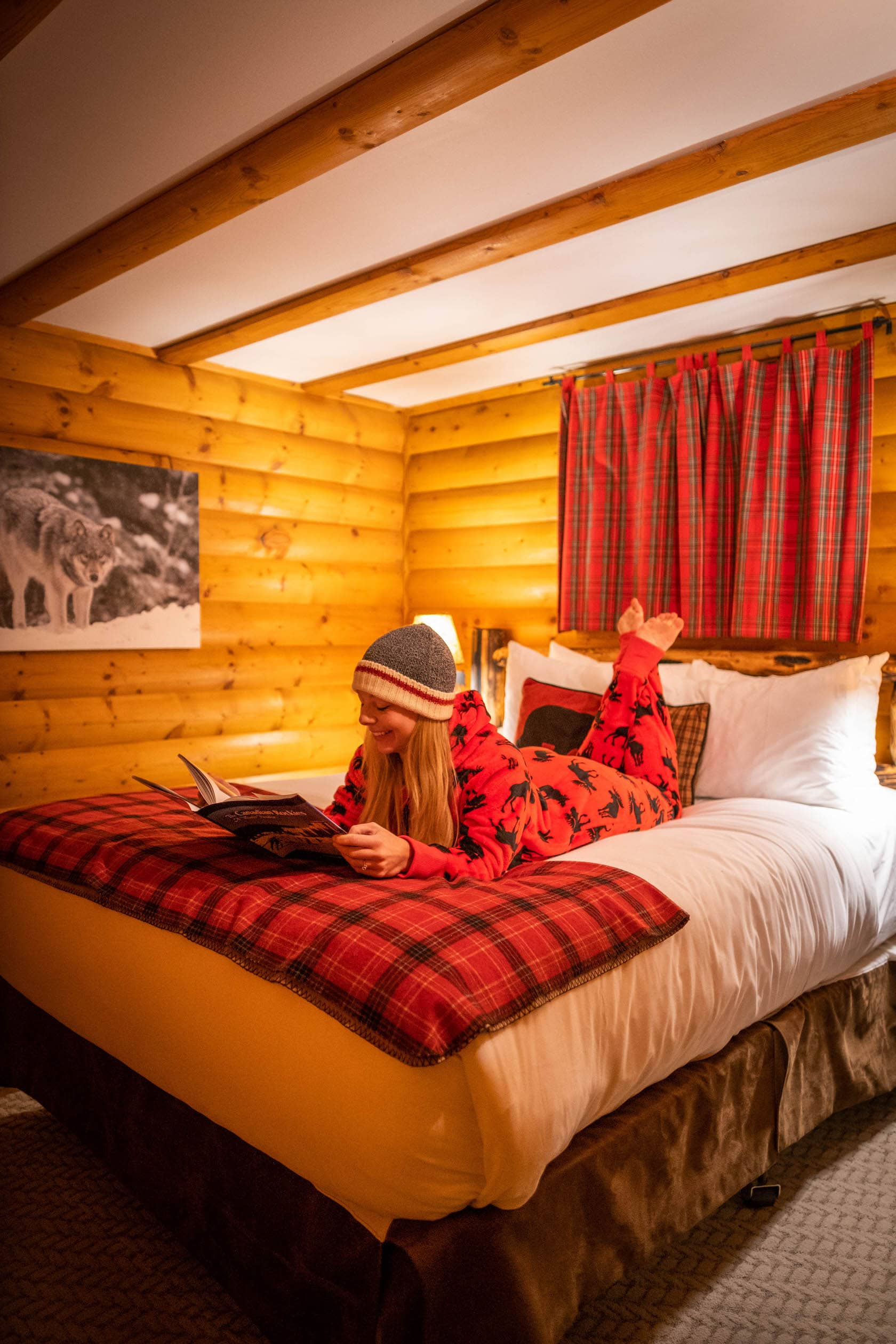 Baker Creek Mountain Resort is a laid-back escape offering comfortable lodge and log cabin accommodations near Lake Louise. It's best for those that don't mind being removed from Downtown Banff and prefer a quieter time in the park.
At Baker Creek, you can enjoy a roaring fire under the night sky with access to outdoor fire pits. Retreat to your cozy room or log cabin, most of which are equipped with a wood-burning stove and kitchenette. Baker Creek Bistro serves genuine Canadian dishes and local craft beer that you can enjoy inside or on the patio. They have an ice skating rink set up during the winter, perfect for families with kids or couples looking for a bit of skate.
---
Fairmont Chateau Lake Louise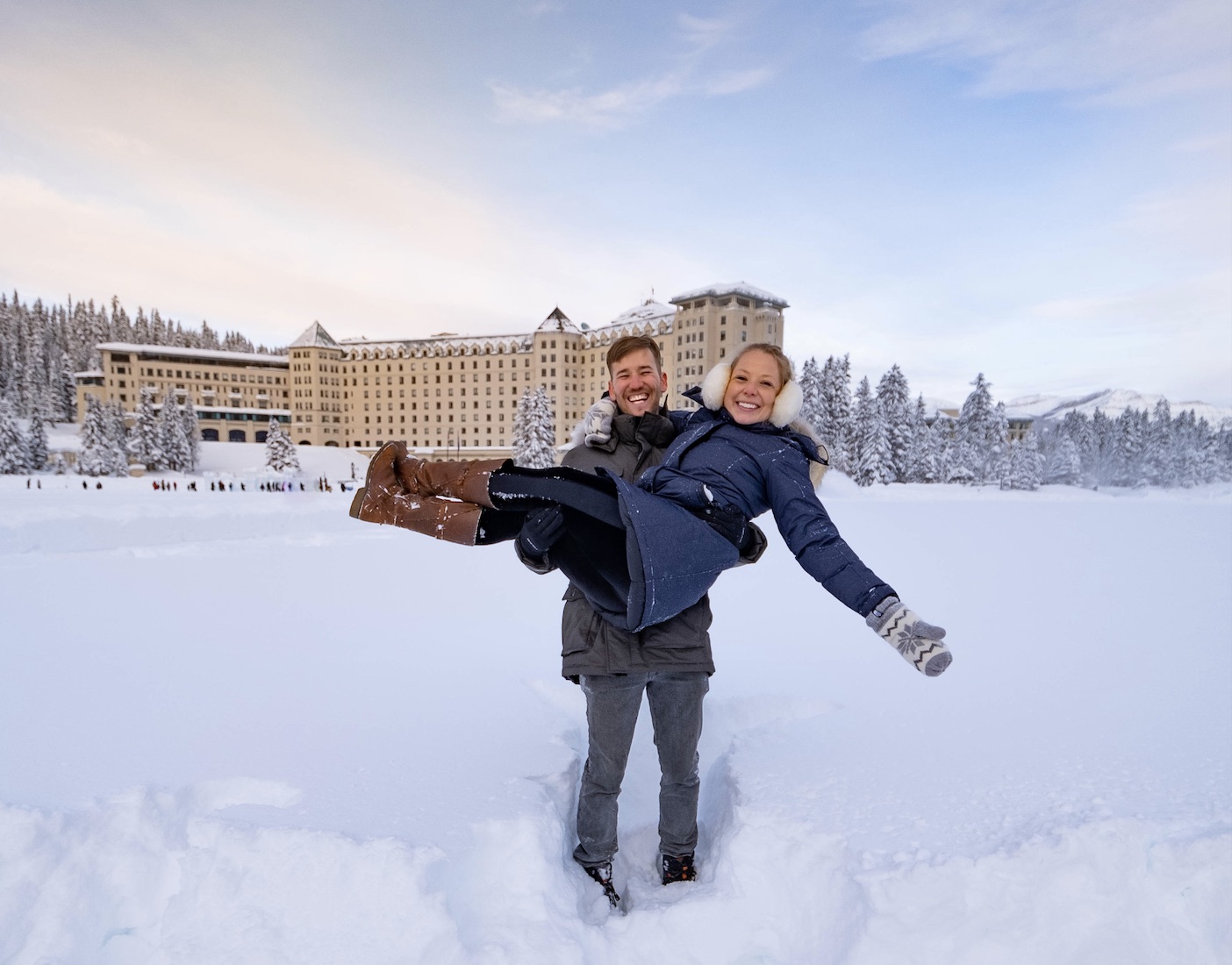 Along with the Banff Springs Hotel, The Fairmont Chateau Lake Louise is another iconic, historical, and expensive hotel to stay for Christmas. If you're looking for luxury accommodation with luxury amenities in a pristine location for the holidays and don't mind the high price tag, then a stay at the Chateau will be memorable.
What makes the Fairmont Chateau Lake Louise stand out from every other hotel in the park is its location overlooking Lake Louise. During the winter in Lake Louise, the Fairmont really goes above and beyond with a maintained ice skating rink, ice bar, firepits, and plenty of festive cheer. Hotel guests and non-guests are free to enjoy these amenities. Inside the Chateau has a few fantastic Lake Louise restaurants to try. Walliser Stube is the most romantic place to warm up with fondue, and the Mount Fairview Dining Room has stellar views.
During the holidays, the whole resort is decorated like the inside of a snowglobe which is sure to impress all visitors.
---
Christmas Hotels Near Banff
---
Mount Engadine in Kananaskis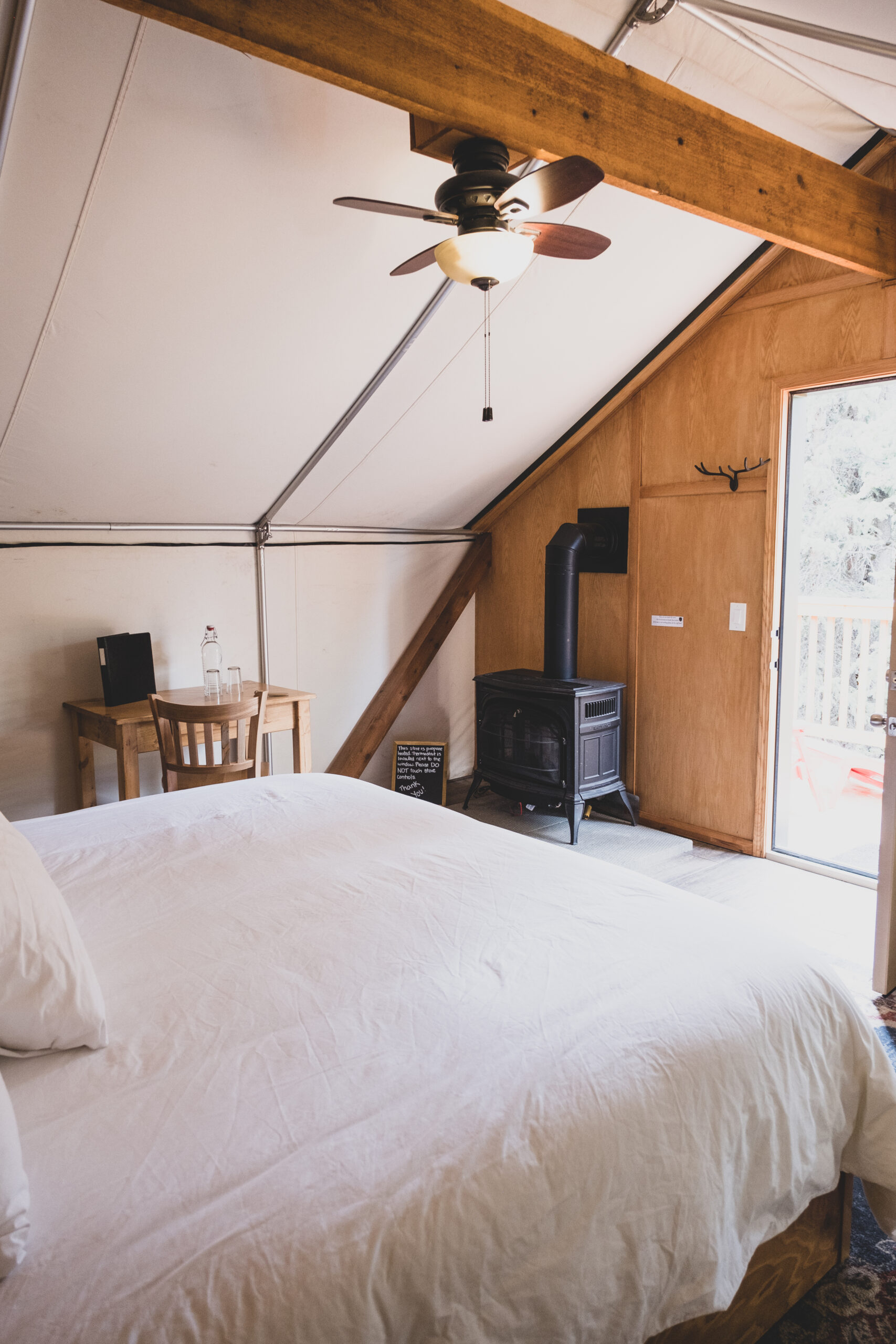 Mount Engadine is not in Banff National Park, but it's one of the most unique places to stay in the Canadian Rockies, so I had to mention it as a beautiful place to stay for Christmas. Set in the heart of the Spray Valley near popular snowshoes like Burstall Pass and Chester Lake, everyone that stays at Mount Engadine loves the whole vibe.
There are four main styles of lodging you can book at Mount Engadine Lodge. Starting with lodge rooms connected to the main lodge. There are also wood cabins, a yurt, and glamping tents. We stayed in their newer glamping tents that felt like a home away from home.
Don't worry – they have a gas fireplace to warm up in! Guests here can enjoy a fully inclusive experience with the lodge cooking up delicious eats. On Christmas, they have a beautiful spread – complete with fantastic views out to Commonwealth Peak.
---
Emerald Lake Lodge in Yoho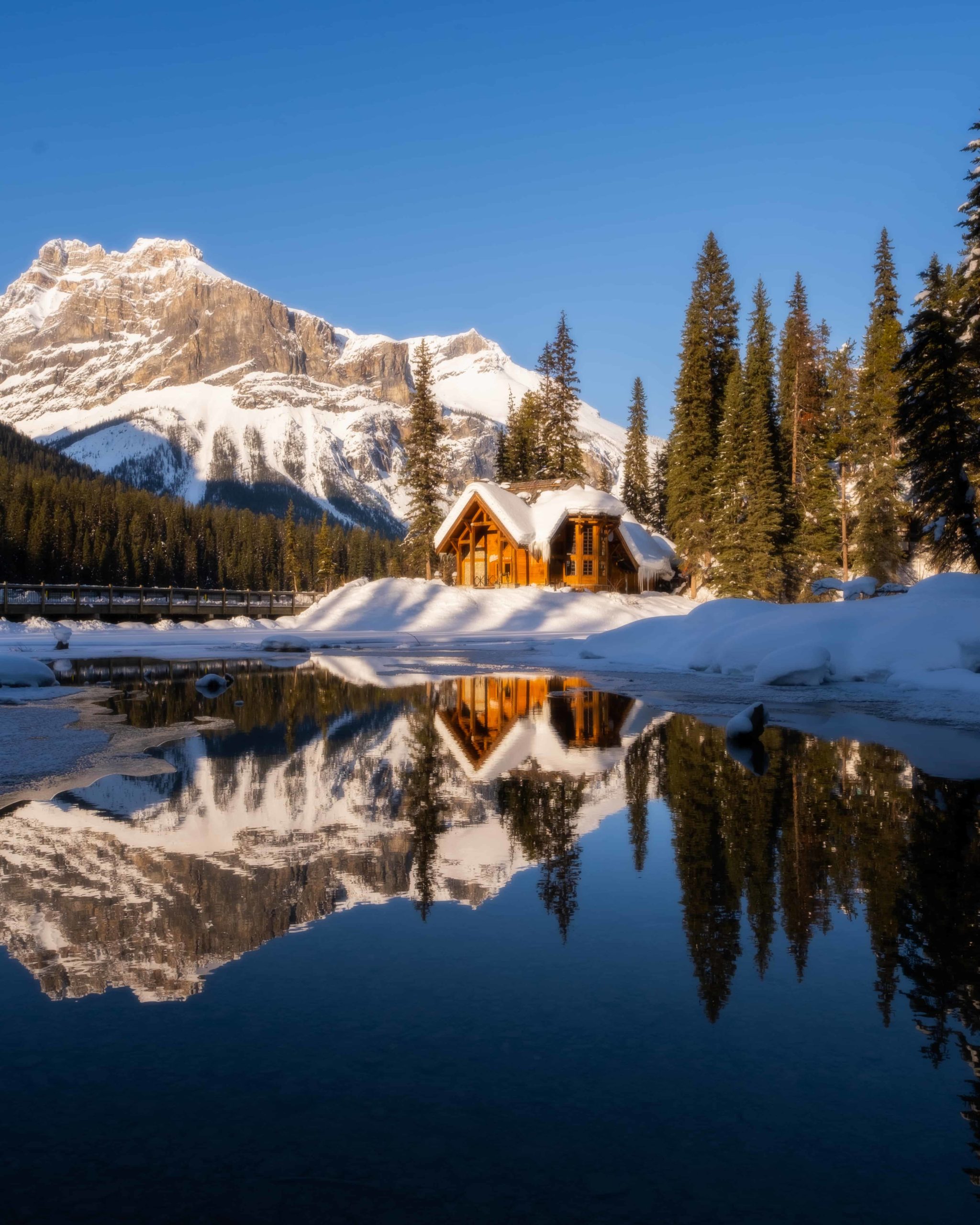 Emerald Lake Lodge in Yoho National Park is one of the most dream-worthy places to stay in the Canadian Rockies. Whether you know it or not, you've likely seen famous photos of a small cabin surrounded by canoes, an "emerald lake," and a distinctly shaped mountain behind it. This would be Emerald Lake, one of the most photographed sights in the Canadian Rockies and somewhere that is almost too beautiful to be real.
Most visitors to the Yoho stop by Emerald Lake and hang around for an hour or so, but to really get the complete immersion, I highly recommend staying overnight. The only place you can stay overnight at Emerald Lake is the Emerald Lake Lodge. A scenic, cozy, and comfortable lodge that offers guests tranquility and seclusion. It's one of the best places to stay in the Canadian Rockies.
---
Malcolm Hotel in Canmore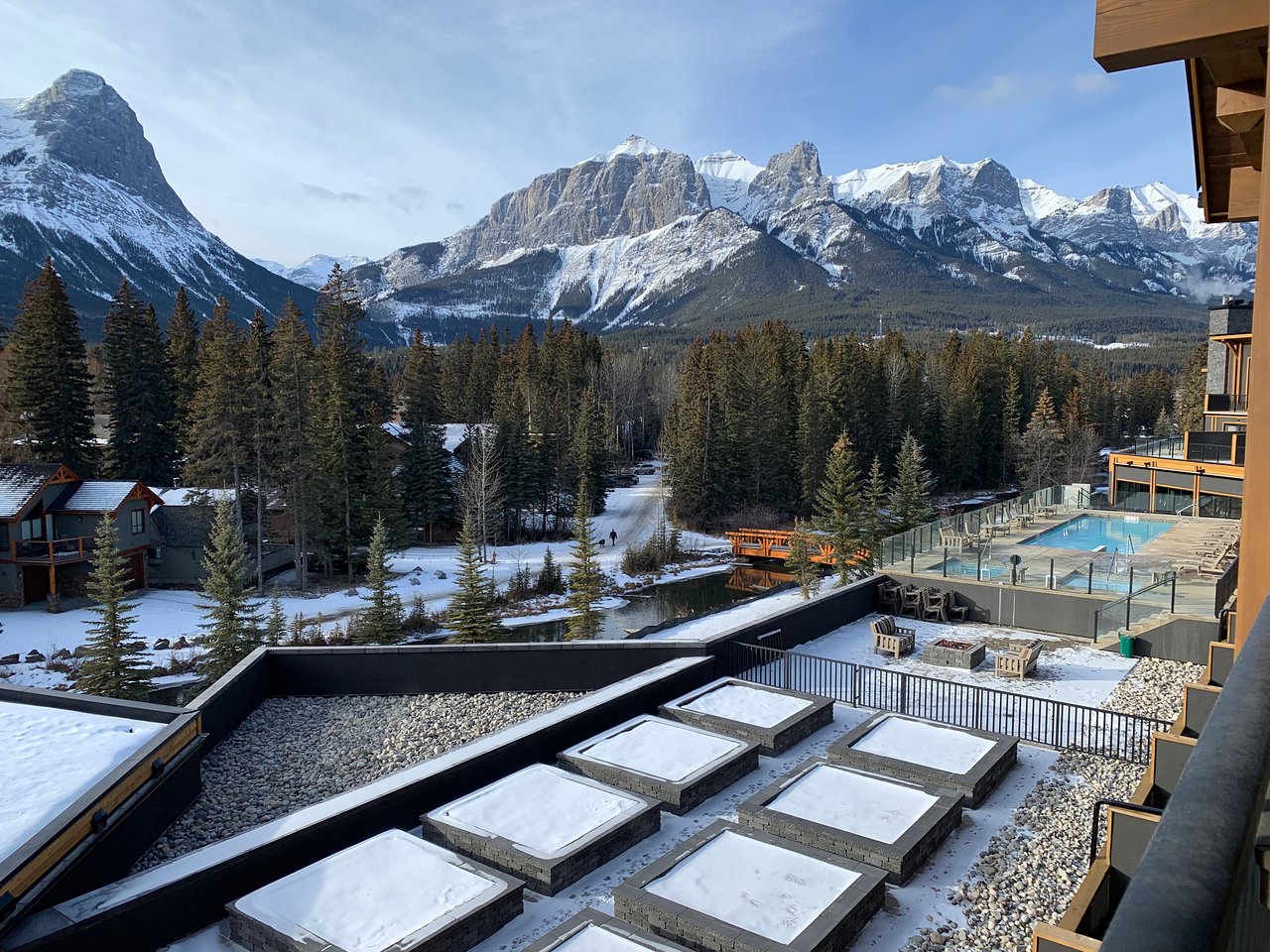 Canmore is a great option for Christmas fun! My favorite Canmore hotel is the Malcolm Hotel, just a 5-minute walk from Main Street. This is the most luxurious place to stay in Canmore, and during Christmastime, they have a giant Christmas tree to welcome all visitors.
The Malcolm is attached to The Stirling Grille, which offers a holiday Christmas dinner! On top of having a great meal, you can always partake in their Candycane Lane and Gingerbread Alley events.
My favorite part of staying at The Malcolm is enjoying the outdoor heated pool, which overlooks the Three Sisters. It's the ideal place to soak with your friends and family after opening up Christmas gifts!
---
Hopefully, this helped you determine what hotel to stay at during your Christmas in Banff.
If you have any other questions leave a comment or see our Canadian Rockies travel guide for more articles about photography spots, lakes, hikes, and everything else.
---
↓ Join the community ↓
The Banff Blog Facebook Group is your headquarters for the Canadian Rockies' travel advice and information. Including hike info and off-season travel information. This is also where you can meet one another when you need adventure buddies. 

Plan Your Trip to the Canadian Rockies