Looking for the best pet friendly hotels in Banff? There are actually some great places to stay in Banff for a small town in the middle of a national park. So if you're wondering where to stay in Banff National Park with your doggos, we have you covered.
Banff has a lot to offer visitors, flanked by dramatic mountains and surrounded by no shortage of things to do. All of these Banff hotels will ensure you have a great vacation with your dog.
---
Click on the hotel name or the Booking.com links to check the latest rates. For the best rates on your hotel reservation, we recommend booking 6-8 months in advance.
---
The Best Pet Friendly Hotels in Banff
---
Moose Hotel & Suites
The 4-star Moose Hotel is situated only minutes from the center of Banff, so you can easily walk into town and enjoy the services and attractions available. This Banff hotel's pet-friendly policies means you don't have to leave furry friends at home.
This charming hotel has an indoor pool, two rooftop hot pools, a fitness room, and a sauna. The on-site Pacini Italian Restaurant serves gourmet cuisine with a cozy ambiance. Meadow Spa offers massages and various body treatments in a relaxing environment with mountain views.
---
The Dorothy Motel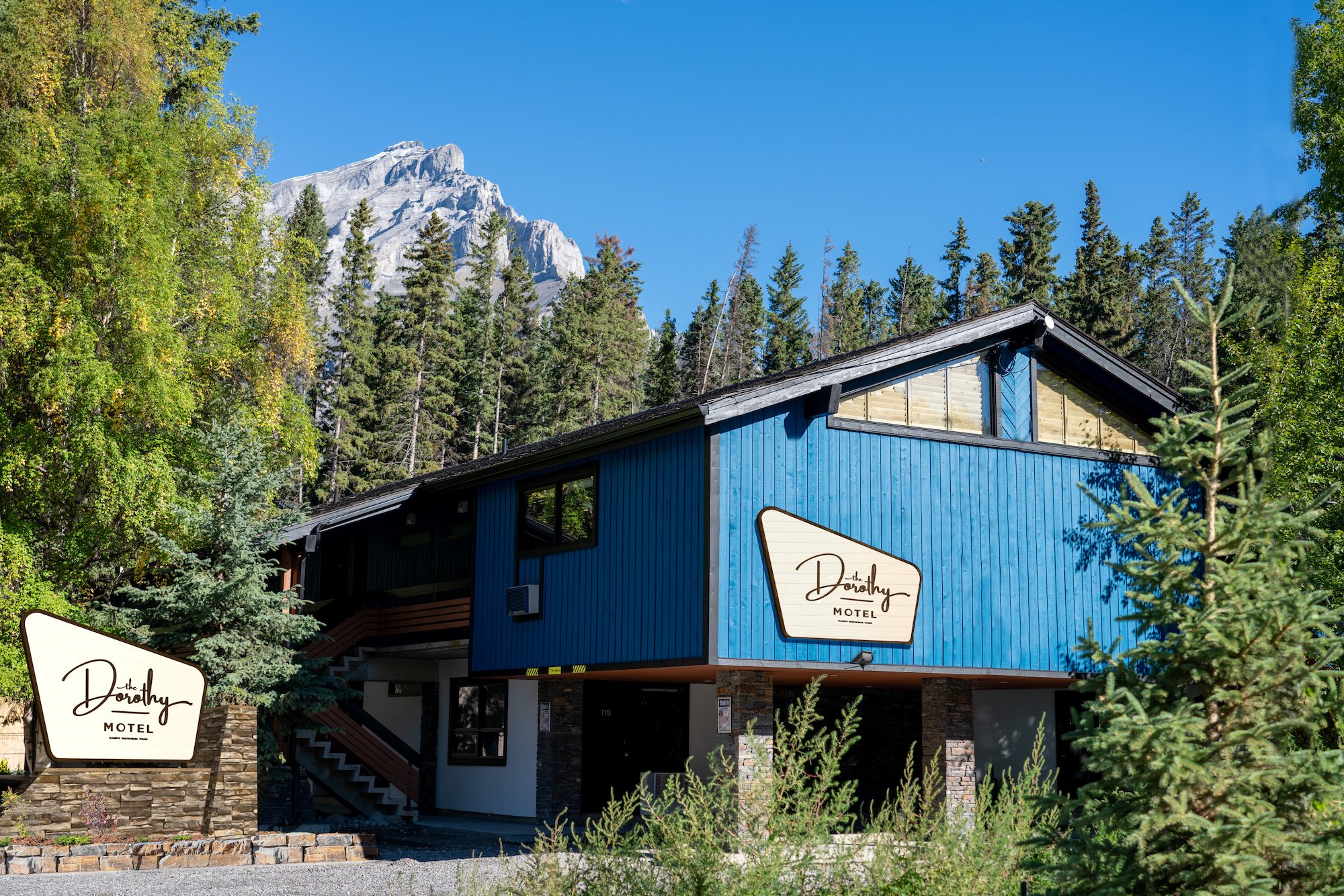 The Dorothy Motel is a newly launched and renovated motel just outside of downtown Banff. It's a boutique motel with simple rooms that are well set up to meet travelers' needs. Pets are welcome at the hotel as they are provided a bed, food and water bowls, a take-home toy, and tasty treats.
The location backs right up to the forest, so it's quiet and makes for a convenient location to walk the dog. Beds are super comfortable, and modern appliances are included in this brand new hotel. Room options on offer are two queen beds or a single king bed, and each room includes a mini-fridge, microwave, and coffee/tea maker. Fantastic value with this motel!
---
The Rimrock Resort Hotel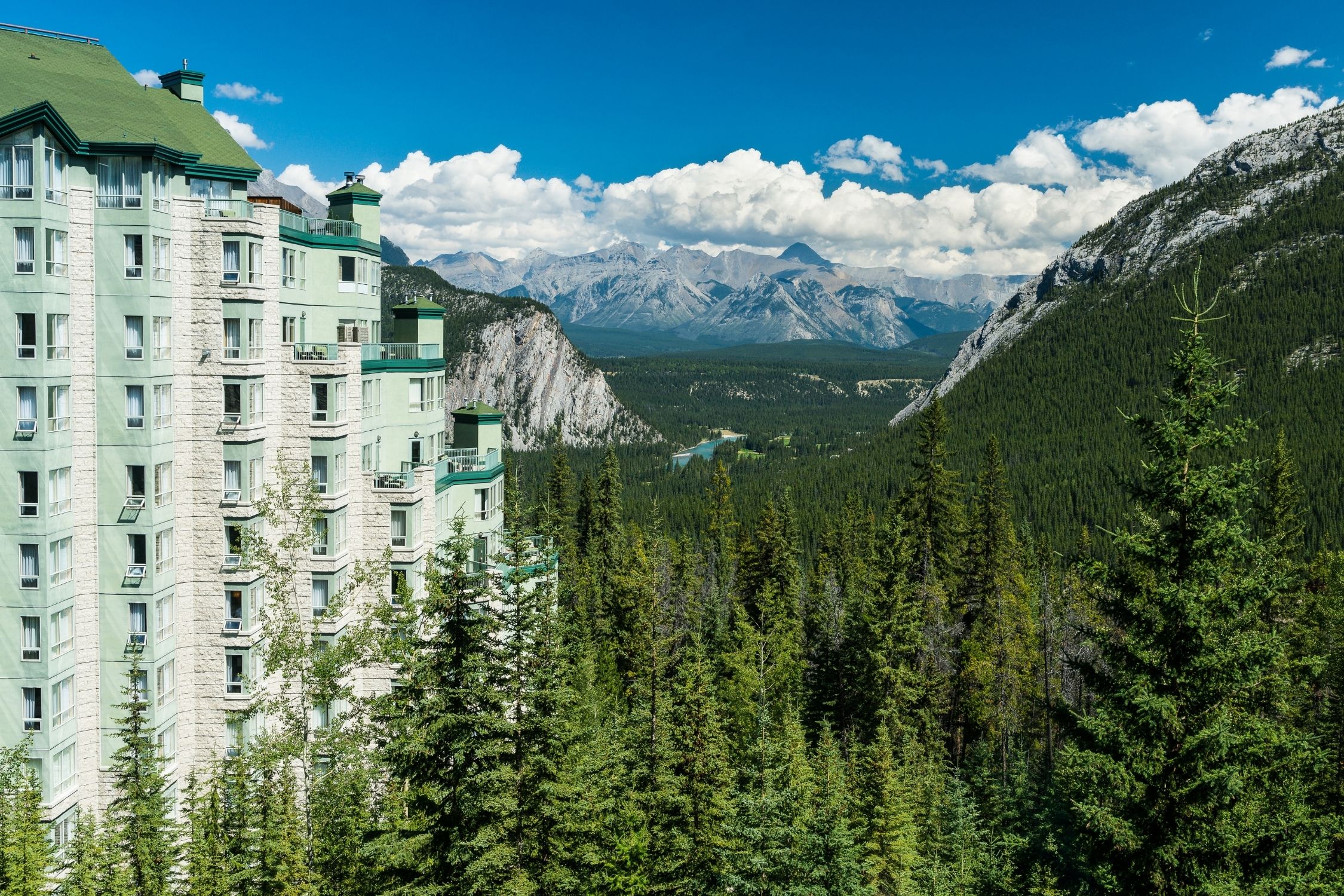 The Rimrock Resort Hotel is one of the best luxury hotels in Banff. Its interior decor, massive lobby, floor-to-ceiling windows, fantastic views, and wonderful service make the hotel stand out. Facilities at the resort include two restaurants, an indoor heated pool, hot tub, steam room, sauna, and fitness studio.
One of the restaurants, Eden, has the prestigious 5 Diamond Award and serves some of the finest food in Western Canada, and is one of the best places to eat in Banff.
The hotel policy is very pet-friendly. Rooms are prepared with a dog bed, bowls, poop bags, and freshly baked dog biscuits ready for their canine guests. Plus the hotel's location on the outskirts of town means there are nice walking trails for dogs. It's the little touches that can make your vacation so much more enjoyable with your pooch.
---
Banff Rocky Mountain Resort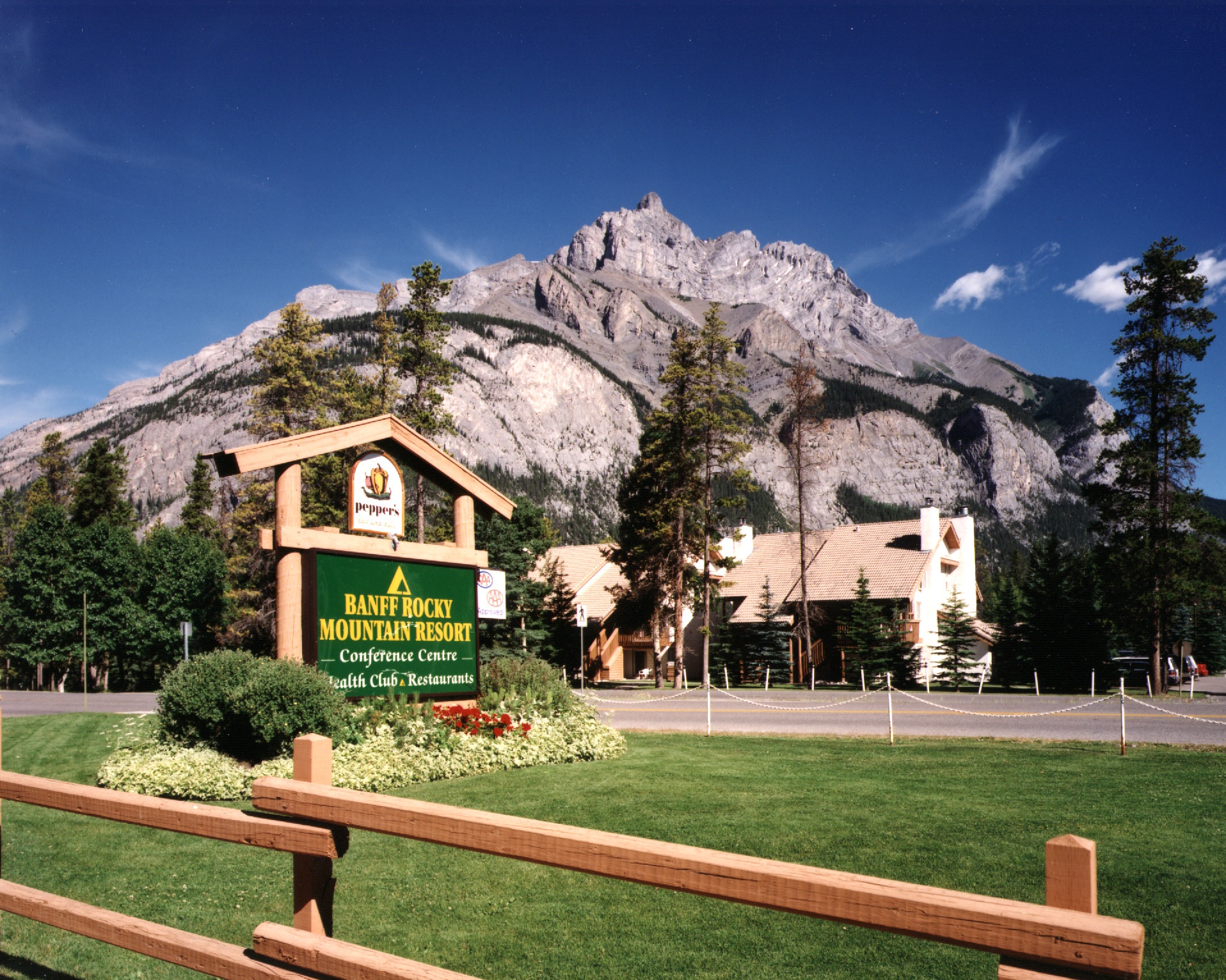 This three-star Banff hotel is pet-friendly and offers self-catering accommodation. The Banff Rocky Mountain Resort is a great option for families as many of the room options are two-bedroom suites with full kitchens. Facilities at the resort include an indoor pool, outdoor hot tubs, sauna, gym, coin-operated laundry facilities, ski storage, and bike rentals.
Its location is several kilometers outside of town near the Tunnel Mountain Campground, so it's best for guests who plan to cook most meals and don't mind being away from the action on Banff Avenue. However, the grounds and surrounding trails will make dog walks easier than hotels in the town center.
---
Fox Hotel & Suites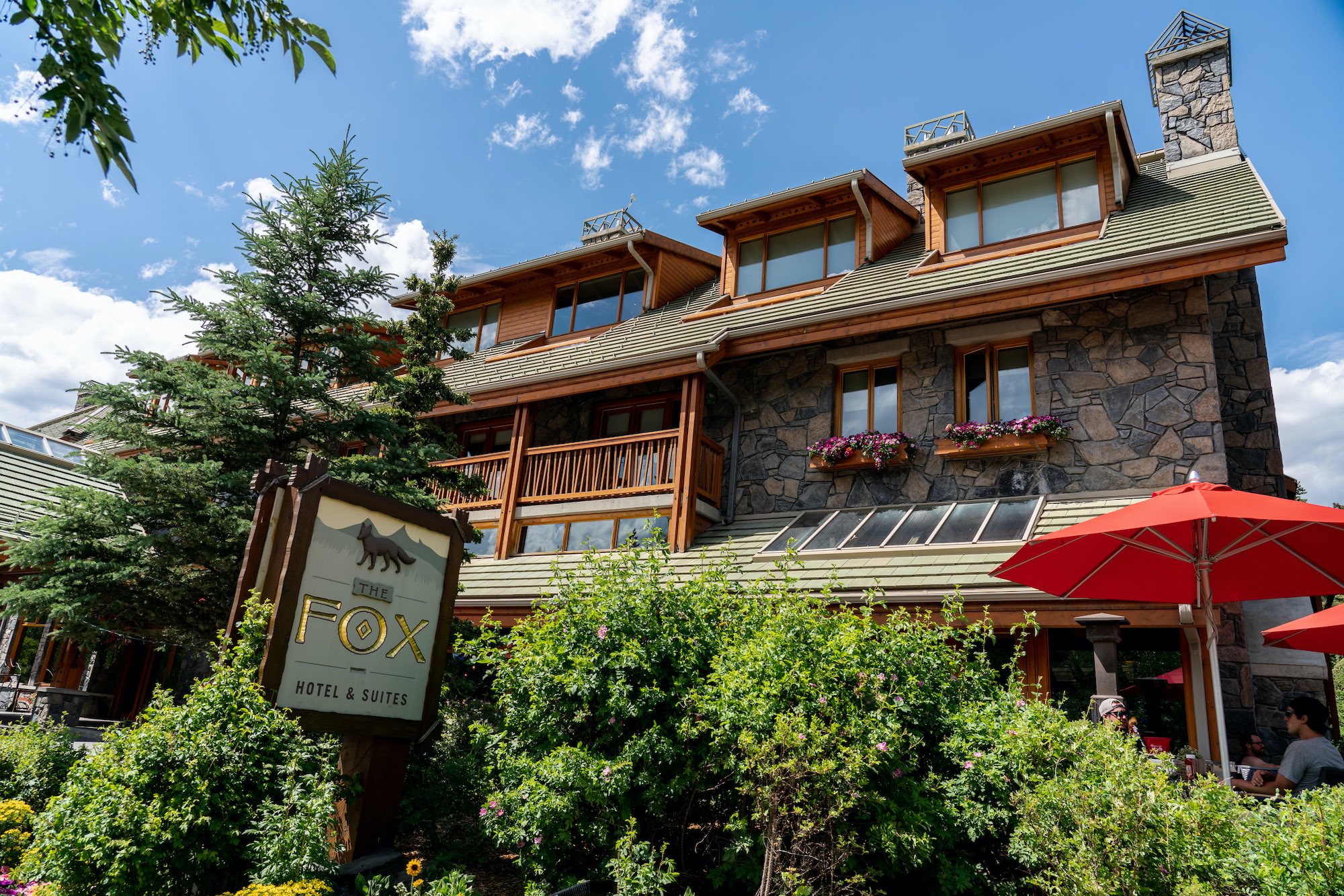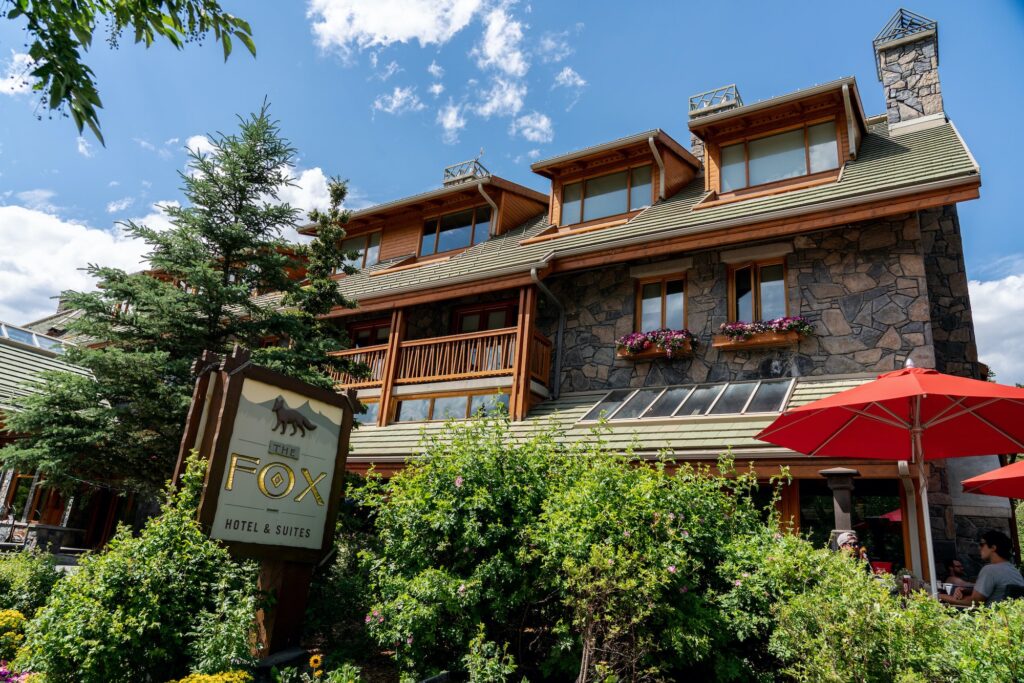 The Fox Hotel & Suites is conveniently located on the edge of downtown Banff. In the lobby, a large wood-burning fireplace feels welcoming and matches the lodge's mountain decor. It's a nice value that includes breakfast in the mornings. Facilities at the hotel include a Cave and Basin themed pool/sauna, fitness room, Chili's Bar and Grill, and bike rentals.
Guests can choose from hotel rooms or one/two bedrooms suites. Each room features comfortable bedding, WiFi, flat-screen TVs, in-room safes, ironing board, and coffee/tea station. The suites feature a small kitchenette and air conditioning. Pets are welcome at the Fox Hotel &. Suites.
---
Fairmont Banff Springs Hotel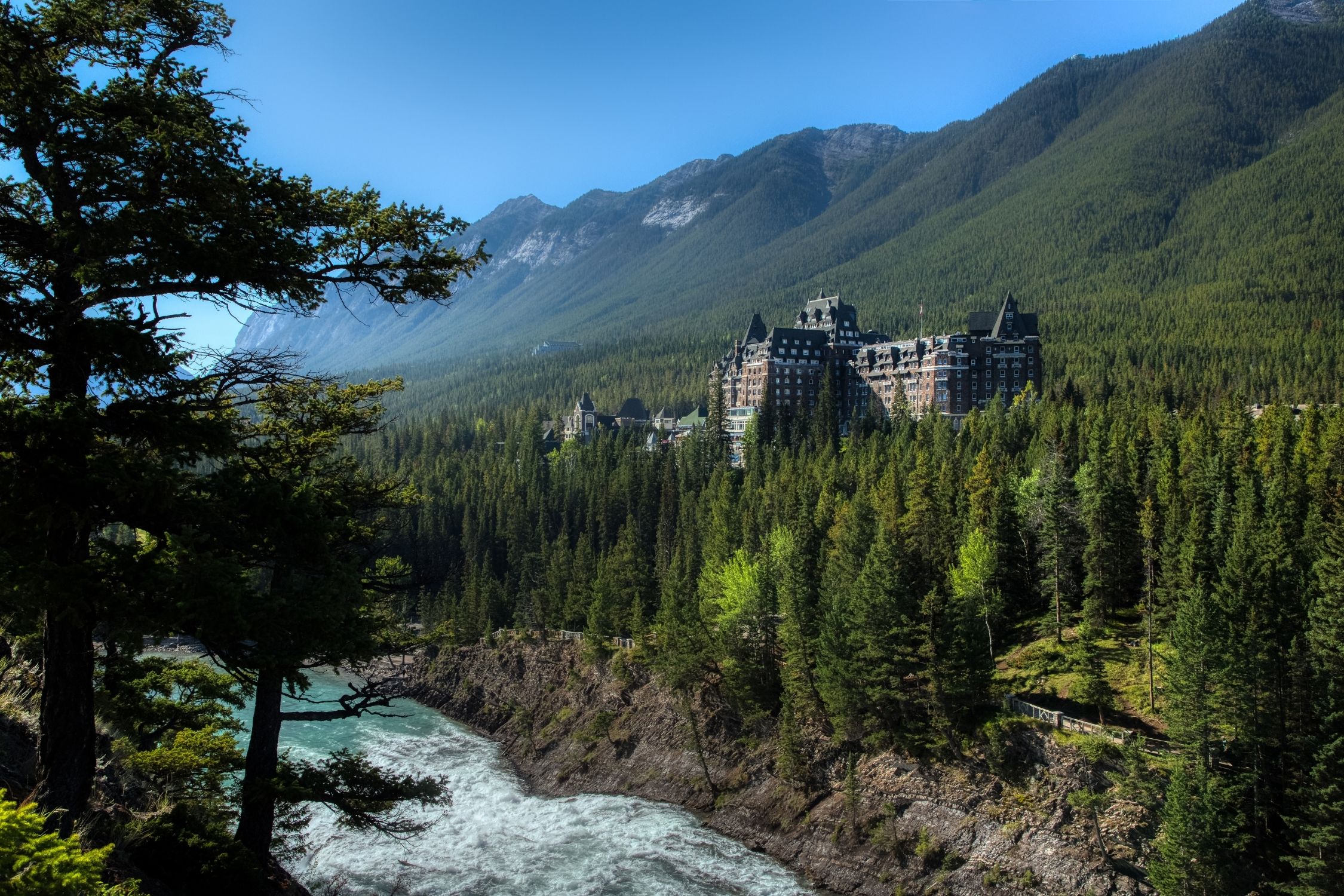 None of the luxury hotels in Banff National Park are more iconic than the long-standing Fairmont Banff Springs Hotel. When you glimpse this grand landmark for the first time, you'll see why it's known as The Castle of the Rockies. The hotel has seen guests from all over the world for more than 100 years.
Most important is their great pet-friendly policies. The Fairmont Banff Springs has Bear, a canine ambassador who is there to greet guests and other furry friends at the concierge or around the hotel grounds. The only downside it's the most expensive pet-friendly hotel in Banff.
---
Canalta Lodge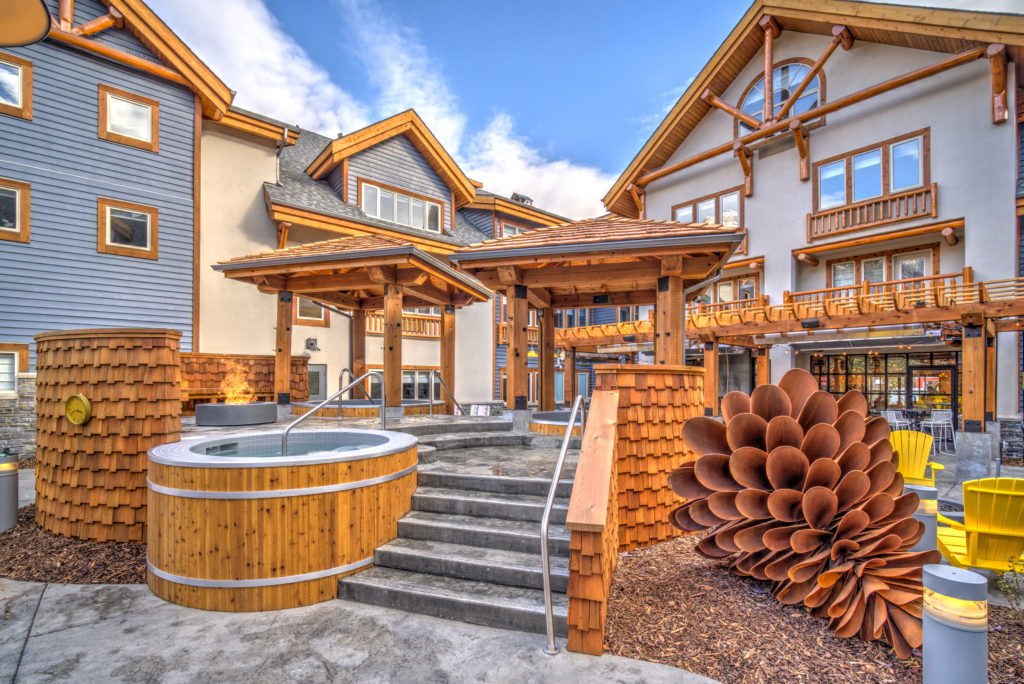 The Canalta Lodge is on the outskirts of downtown Banff and features renovated mountain modern rooms. Start each day with a complimentary buffet breakfast followed by a rejuvenating dip in the glacier plunge tub before setting off into the great outdoors to enjoy whatever it is you like to do in the wilderness.
The dog friendly hotel in Banff contains a number of suites, but pets are only permitted in the standard hotel rooms.
Return each evening to relax in the outdoor sauna or hot tubs, or kick back in front of the cozy fireplace. Also enjoy access to a gym, coffee shop, ski lockers, and bike rental service. Each modern room offers many amenities, including complimentary WiFi, HDTV, refrigerator, coffeemaker, microwave, and private bathroom.
---
Tunnel Mountain Resort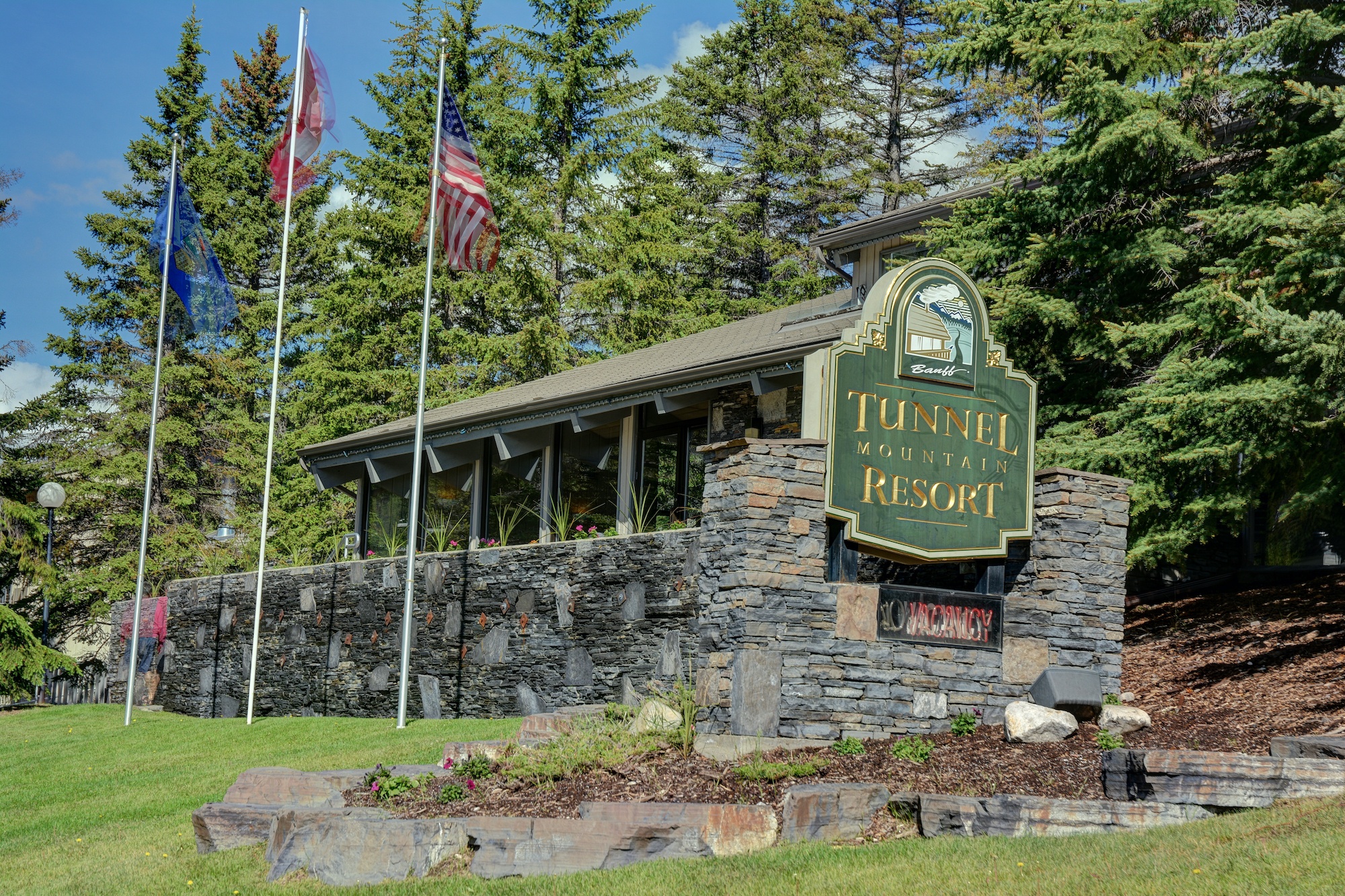 Tunnel Mountain Resort is another great option for those seeking self-catering accommodations as all options include at least a kitchenette. The location sits just above downtown Banff on Tunnel Mountain a very quiet neighborhood. Since the hotel is pet-friendly the location makes for easy dog walks away from Downtown Banff. A walk into town is two kilometers, but the hotel does supply a complimentary public bus pass.
All of the rooms include a balcony and the suites include a fireplace for a particularly good value. Facilities at the hotel include an indoor pool, grills, swing set, complimentary firewood, Banff Roam bus passes, laundry facilities, sauna, fitness room, and bike rentals.
---
Hidden Ridge Resort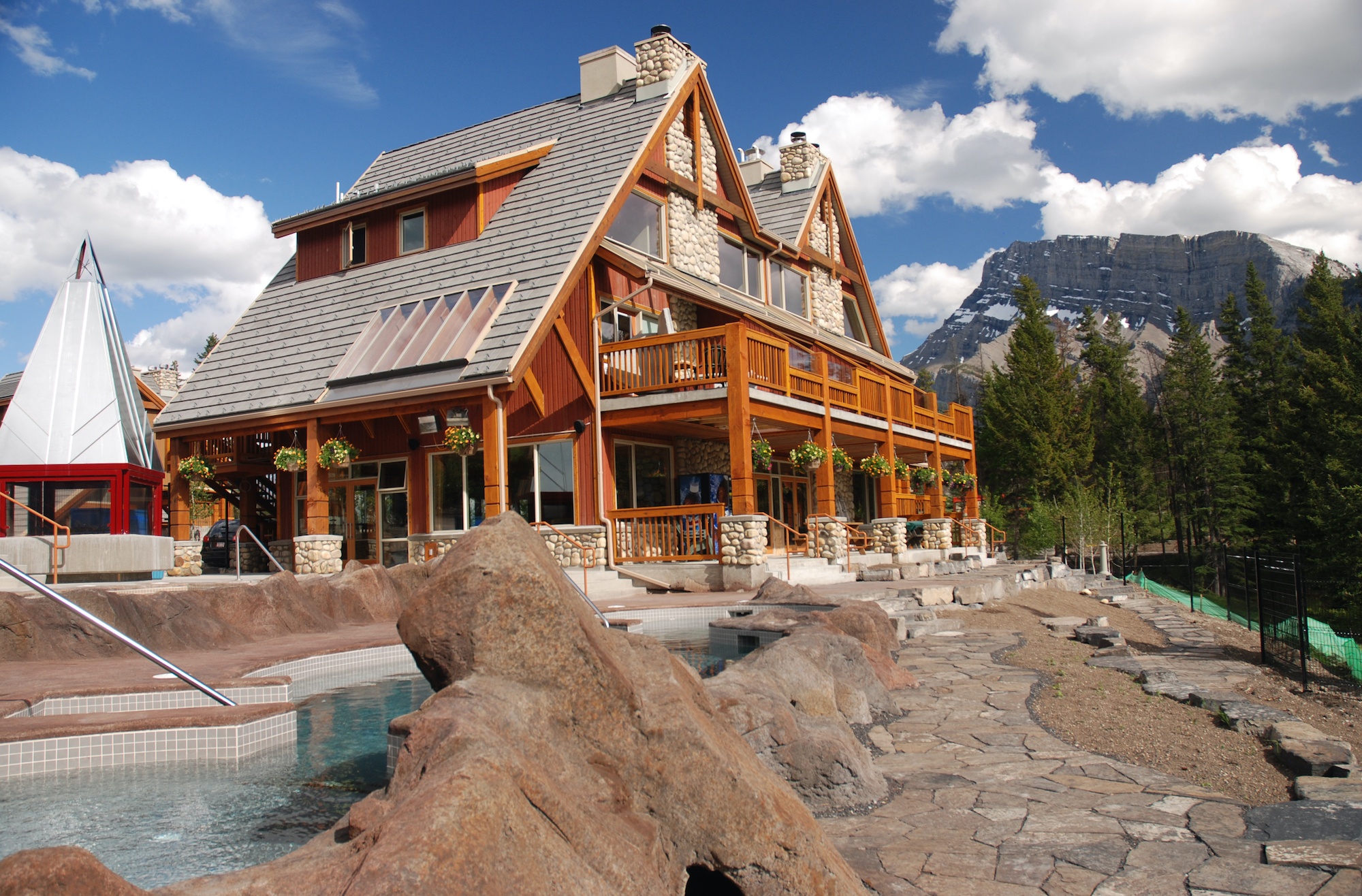 Each apartment-style room at the Hidden Ridge Resort includes a full kitchen, dining area wood burning fireplace, and balcony. It's easy to see the appeal of this pet-friendly accommodation. Rooms are well equipped, but it is possible to hear noisy neighbors, and the beds could use an upgrade.
The location is next to the Tunnel Mountain Campground II and you can walk to town via trails in around 20 minutes. It's a five-minute drive to town or guests can utilize the free shuttle. Facilities at the lodge include outdoor hot tubs with great views and outdoor barbecue grills. Hidden Ridge Resort offers a good value for families traveling with a pet who needs more space.
---
Banff Ptarmigan Inn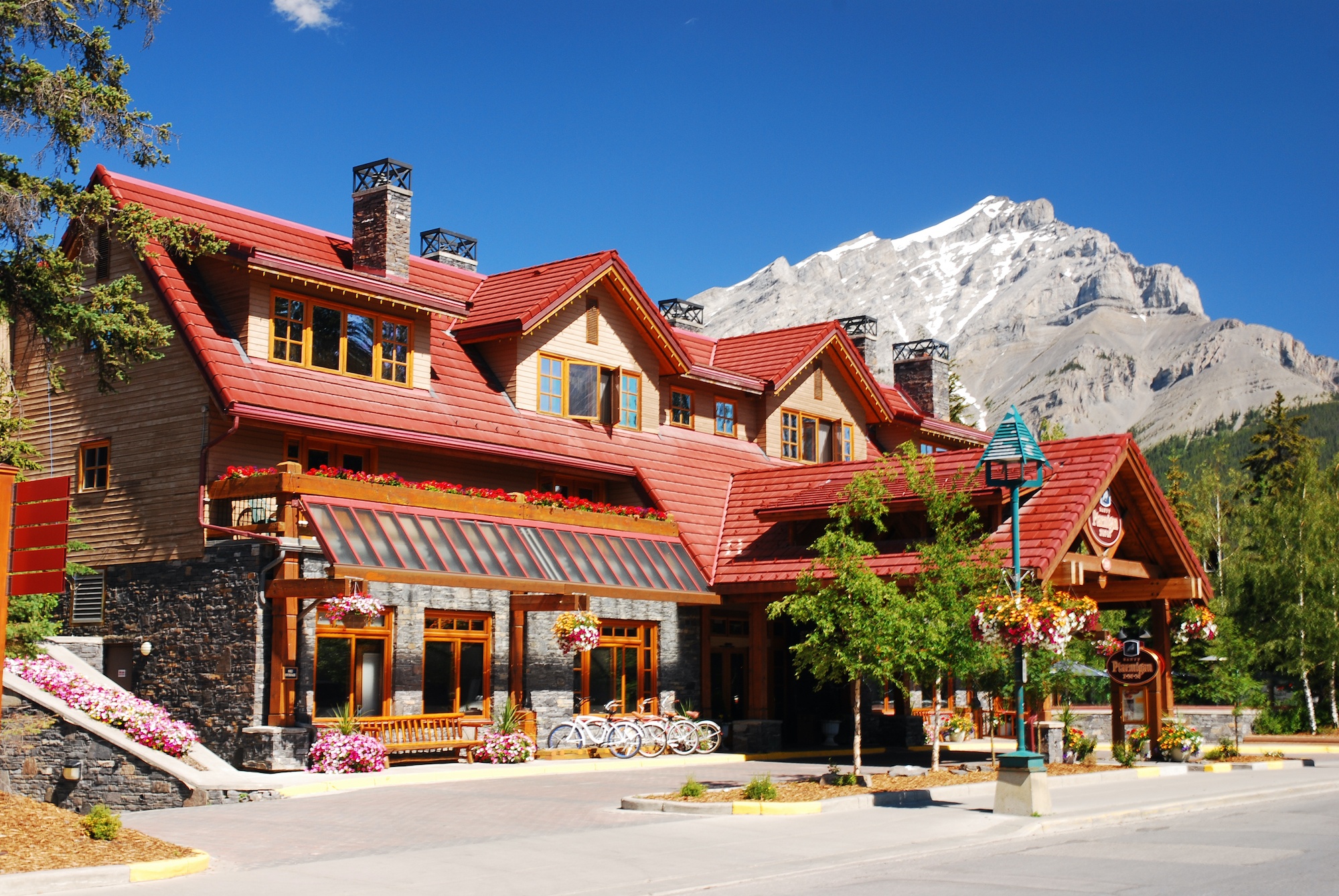 The Banff Ptarmigan Inn is a traditional hotel in downtown Banff with mountain decor and underground parking. Rooms are clean, cozy, and comfortable with service from some great staff. The hotel is pet-friendly, but it's probably best for smaller dogs since units are not suites and its location is downtown.
Included in the room rate is a delicious breakfast and a Banff Roam bus pass. The facilities at the hotel include hot tubs, sauna, and steam room. Overall it's a great option in downtown Banff with decent value.
---
Lake Louise Inn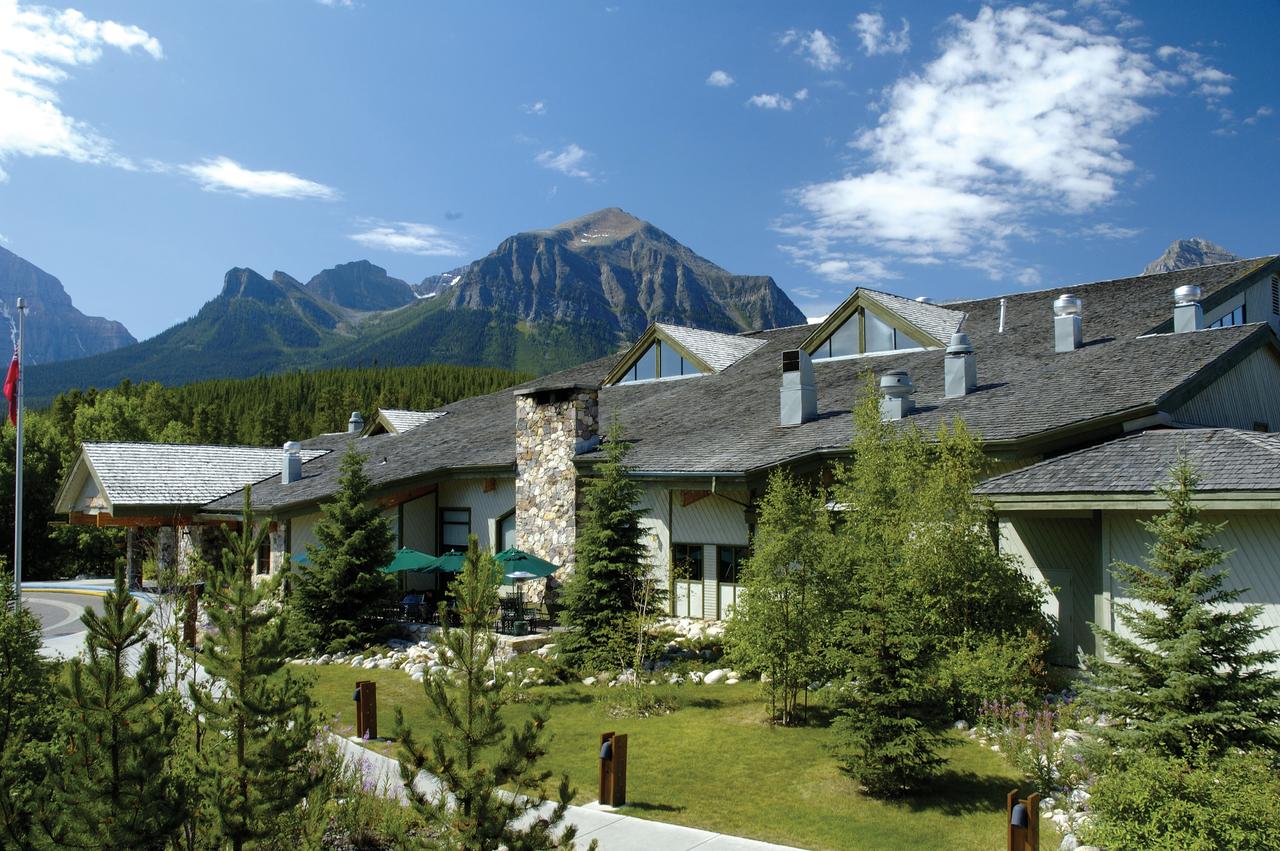 The Lake Louise Inn is one of the best hotels at Lake Louise that is pet friendly. All dog friendly stays must be pre-approved before your stay, so remember to mention you are bringing a dog when booking a room. There are many dog friendly room options at Lake Louise Inn such as the Standard Rooms, Deluxe Rooms, Junior Suites, and most condos!
While the Lake Louise Inn is not located actually at Lake Louise it is still great for staying near the Lake Louise Village. The Lake Louise Inn has an onsite restaurant, pool, and free shuttle to the ski resort in the winter. However keep in mind they do not allow dogs to roam free in the rooms without their owner and when you away you should kennel your dog to avoid damages and disturbances.
---
Fairmont Lake Louise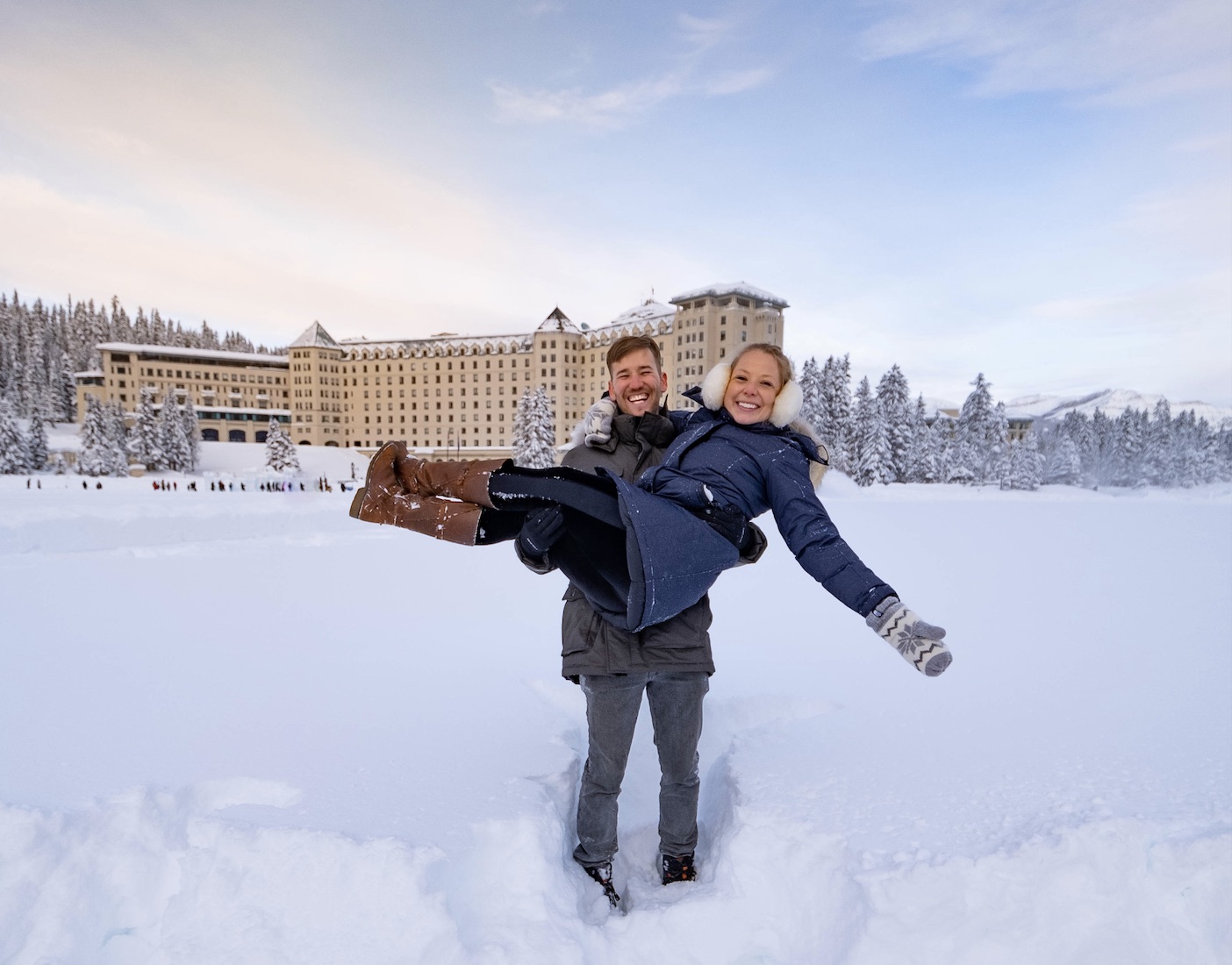 The famous Chateau does accept pets and is one of the only pet friendly hotels at Lake Louise. However a charge of $85.00 per room, per night plus taxes applies making it quite an expensive option.
Though if you have your heart set on staying at the only hotel on Lake Louise with your pet, this is your option. The Fairmont is an exclusive hotel in Banff, with a fantastic location, great Lake Louise restaurants, and fantastic access to hiking around Lake Louise and Moraine Lake.
---
Things to Keep in Mind Before Booking Your Pet Friendly Banff Hotel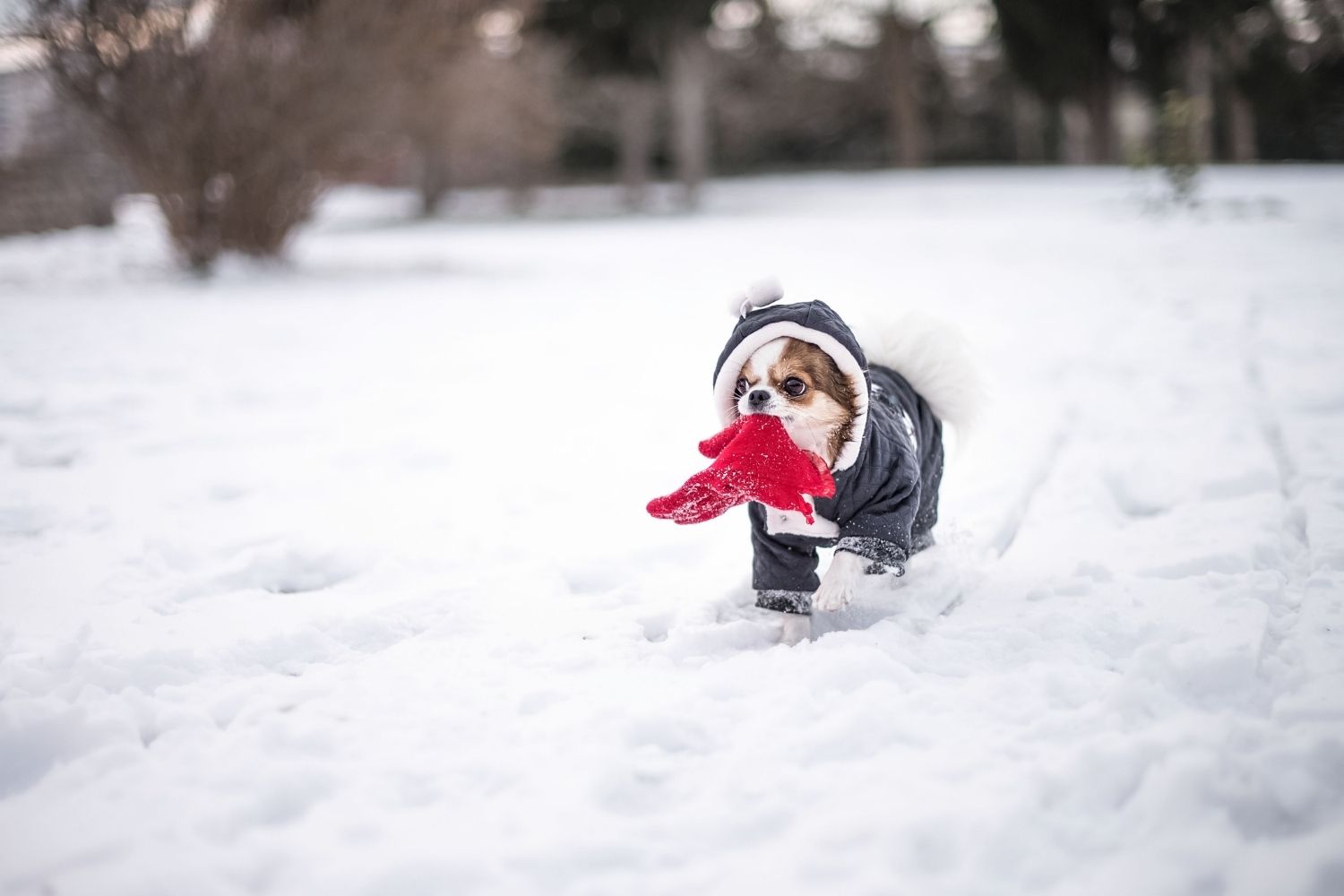 Plan Your Trip to the Canadian Rockies
---
↓ Join the community ↓
The Banff Blog Facebook Group is your headquarters for the Canadian Rockies' travel advice and information. Including hike info and off-season travel information. You can also meet new adventure buddies.