The Cave and Basin National Historic Site is an icon in Banff National Park. It is located near downtown Banff and is easily walkable if you don't have access to a vehicle. Its beginnings date back to 1883 and it is one of the most cost-friendly activities in this area. For those reasons, you do not want to miss out on this attraction!
We have visited the Cave and Basin on multiple occasions and have never run out of things to read, learn and see. We hold this site near and dear to our hearts, as it is the foundation upon which Banff National Park was built.
Whether you're a local that wants to deepen your knowledge on the beautiful area that you live in or a visitor that is excited to learn more about Banff's rich history, the Cave and Basin Museum will not disappoint!
---
About Cave and Basin's Rich Local History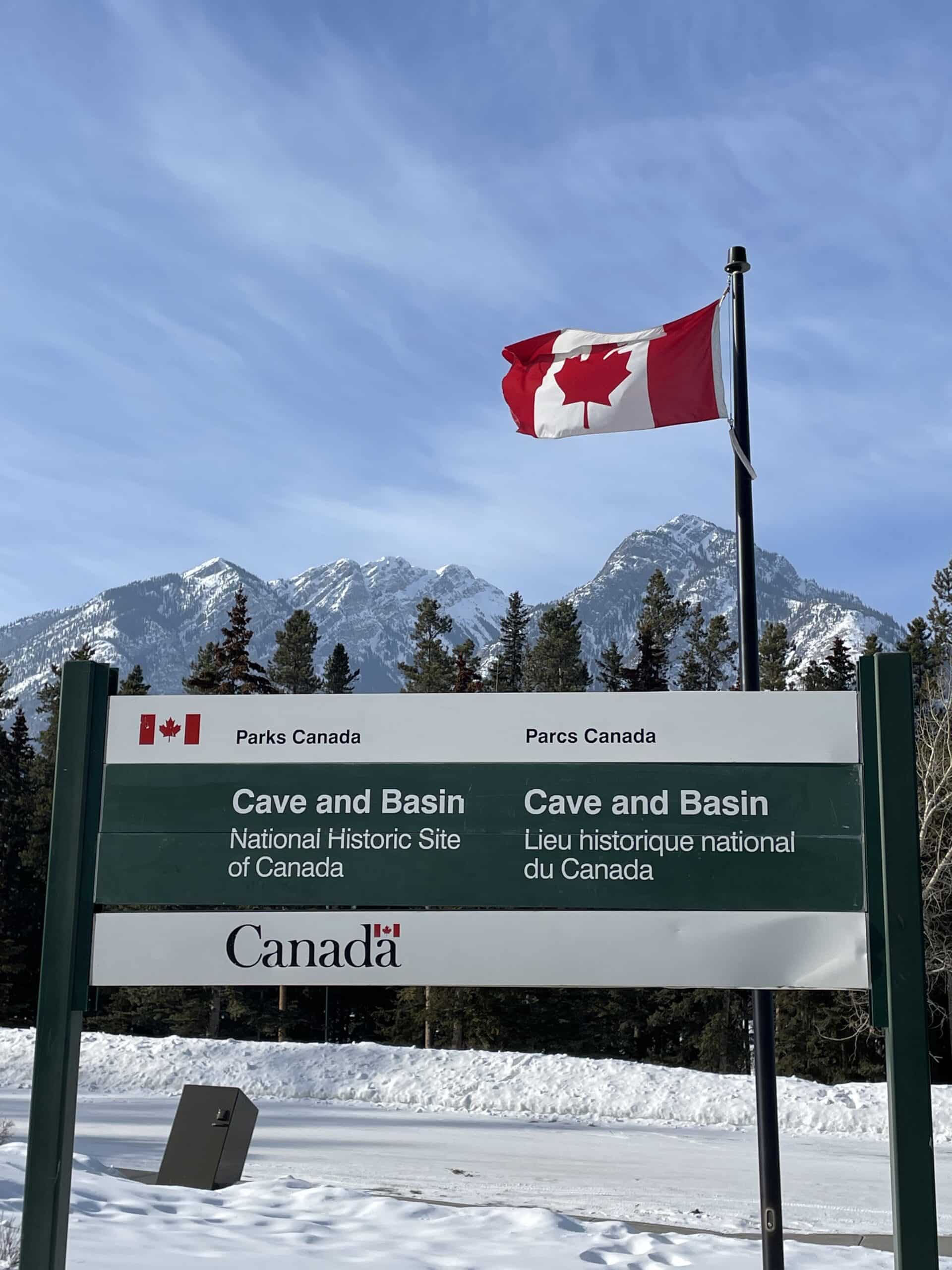 The Cave and Basin is a natural hot spring that was known to First Nations people for over 10,000 years. It was "discovered " in 1883 by William McCardell, Tom McCardell and Frank McCabe, three Canadian Pacific Railway workers.
It was the first of many natural hot springs discovered in the area, and it led to the creation of Banff National Park in 1885, ultimately becoming Canada's first national park.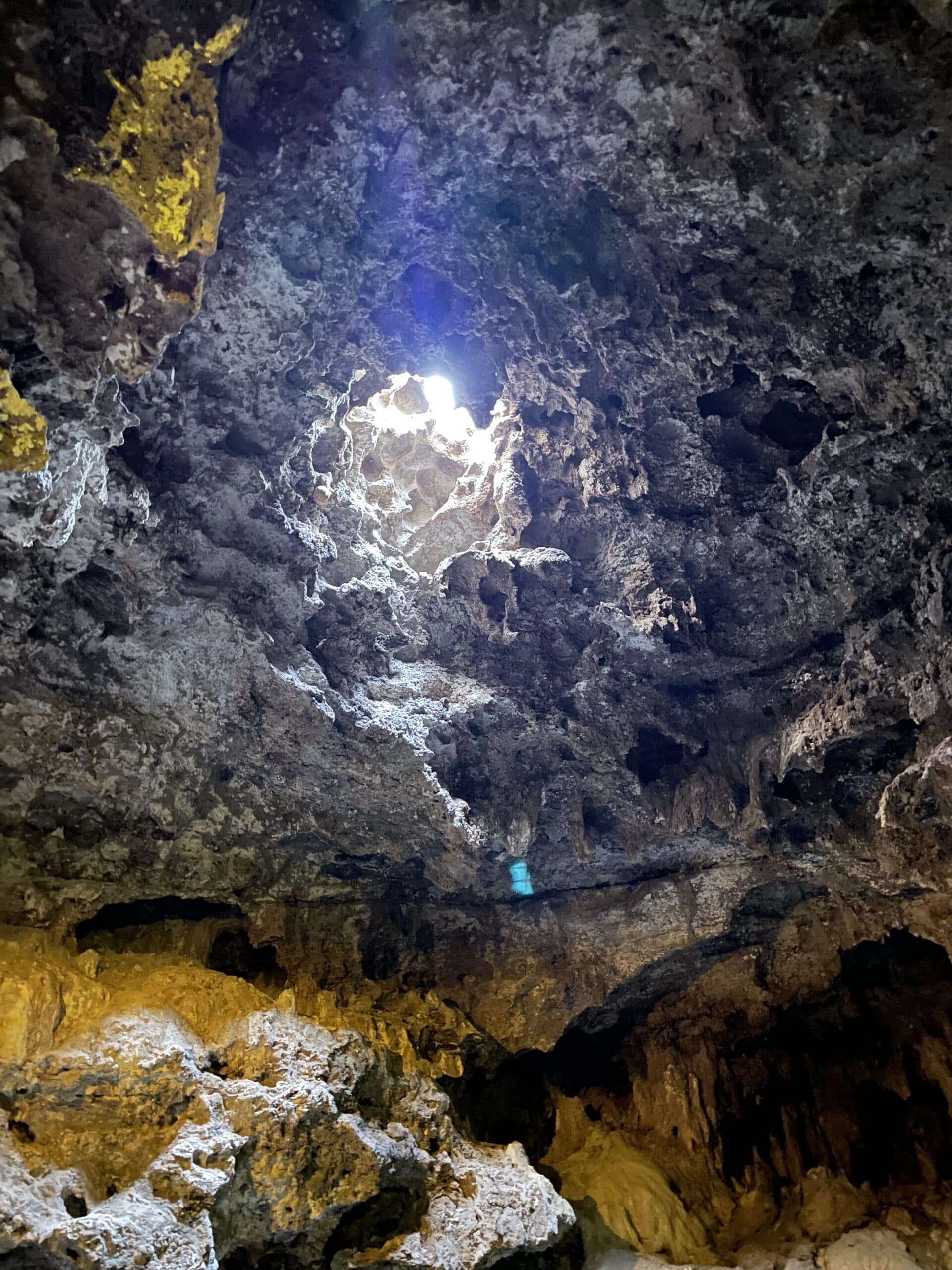 The Cave and Basin is located on the edge of Sulphur Mountain. In its beginnings, it quickly became popular because of its hot spring. Four years after it was discovered, this natural hot spring became a spot where visitors could enjoy taking a dip.
The hot spring was eventually closed for bathing. This is due to the fact that it was being overused and the Banff Springs snail (unique to this area) needed to be protected.
In 2023, you are still able to view the natural hot spring, as well as various tours, movies and exhibits during your visit to the Cave and Basin.
---
Things to do at Cave and Basin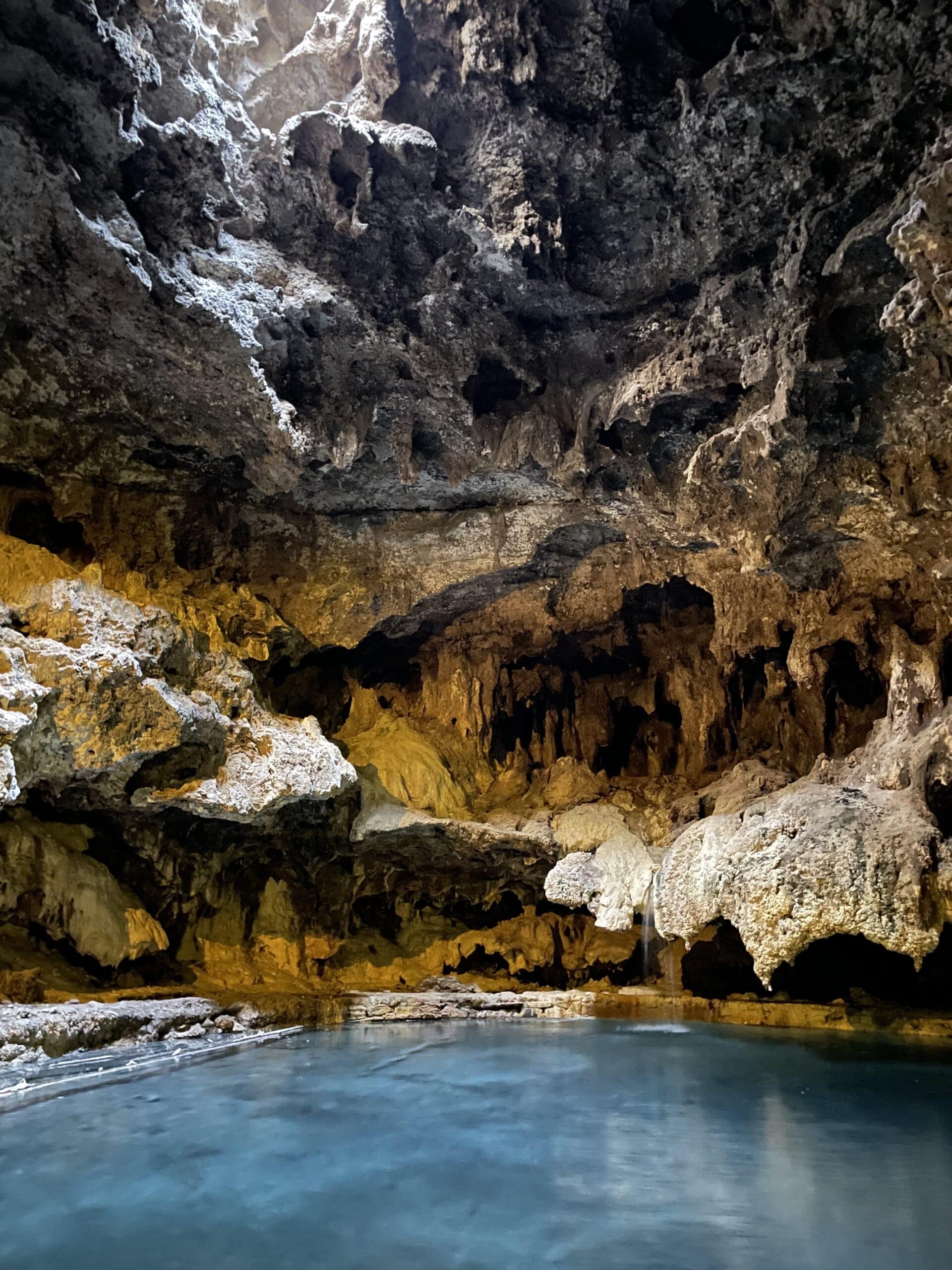 The Cave and Basin hold a large amount of importance in Banff's heritage. It can be enjoyed by both tourists and locals in order to gain knowledge about such an important part of Banff National Park's beginning stages. It is in a lovely quiet part of Banff and is surrounded by some of Banff's most iconic mountains.
There are countless things to learn and do while visiting Cave and Basin. It is suited for all ages and doesn't require any previous knowledge. You could plan to attend various scheduled events, or show up whenever your heart desires, in true vacay fashion. If it's a rainy day in Banff, heading to this museum is a great option.
Pick up a self-guided map at the front desk to make the most of your experience. The map is offered both in English and French.
Here are some of the top things to do during your visit:
Exhibits
Tours
Movies
Discovery Hall
Observation decks
Outdoor changing activities
Walking Trails
Picnic tables
---
There's an Exhibit for Everyone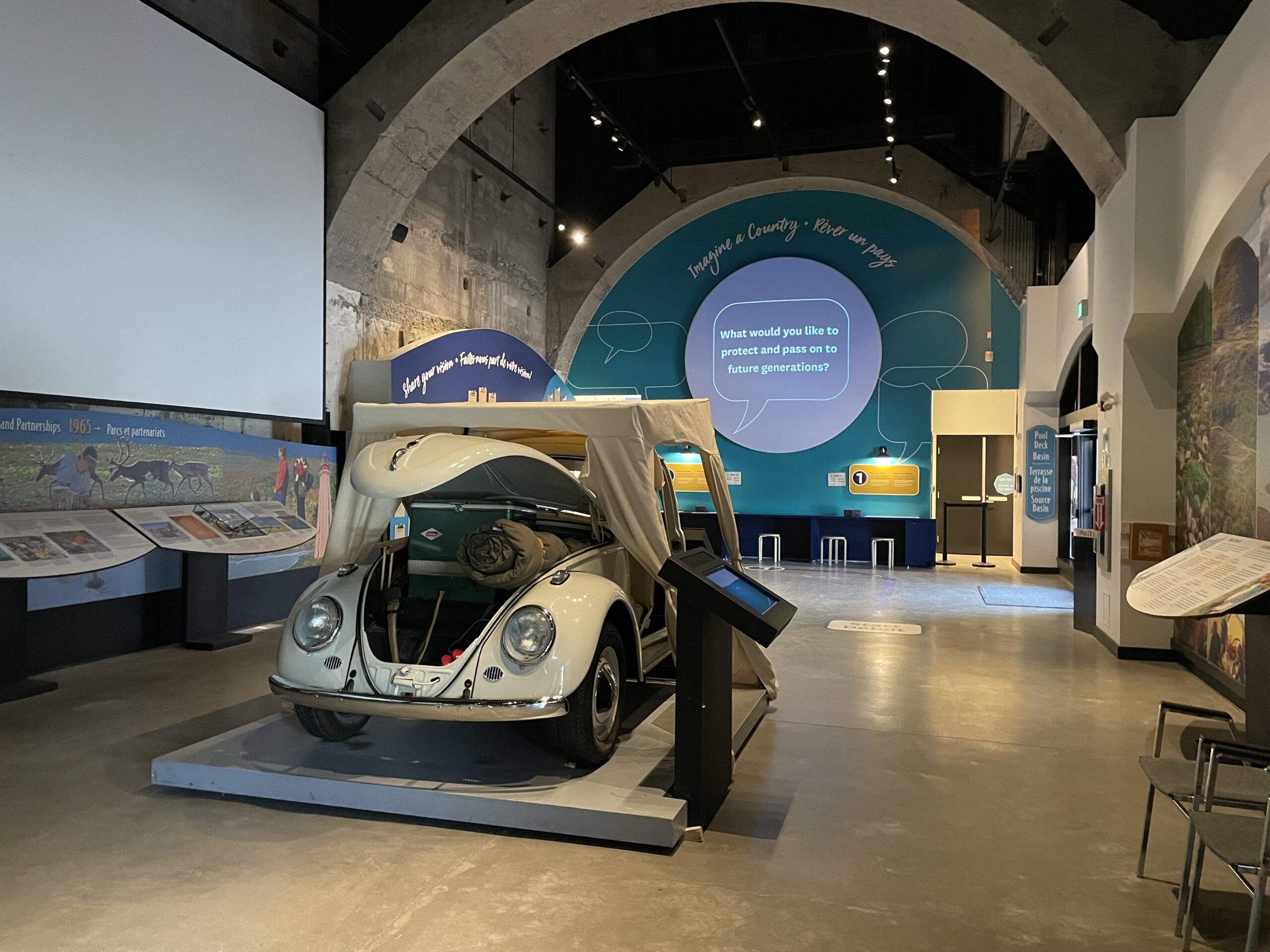 There are many exhibits that are displayed at the Cave and Basin National Historic Site. The exhibits change over time, in order to stay relevant and offer up as much much variety in information as possible. Here are some of the exhibits that are being shown at the moment.
Imagine a Country
In this exhibit, you are invited to brainstorm what an ideal country would look like to you. This thought-provoking exhibit pushes you to think about conservation and what it means for future generations.
What's even cooler? If you aren't able to make it to Banff National Park during the timeframe of this exhibit, you can participate in it from home!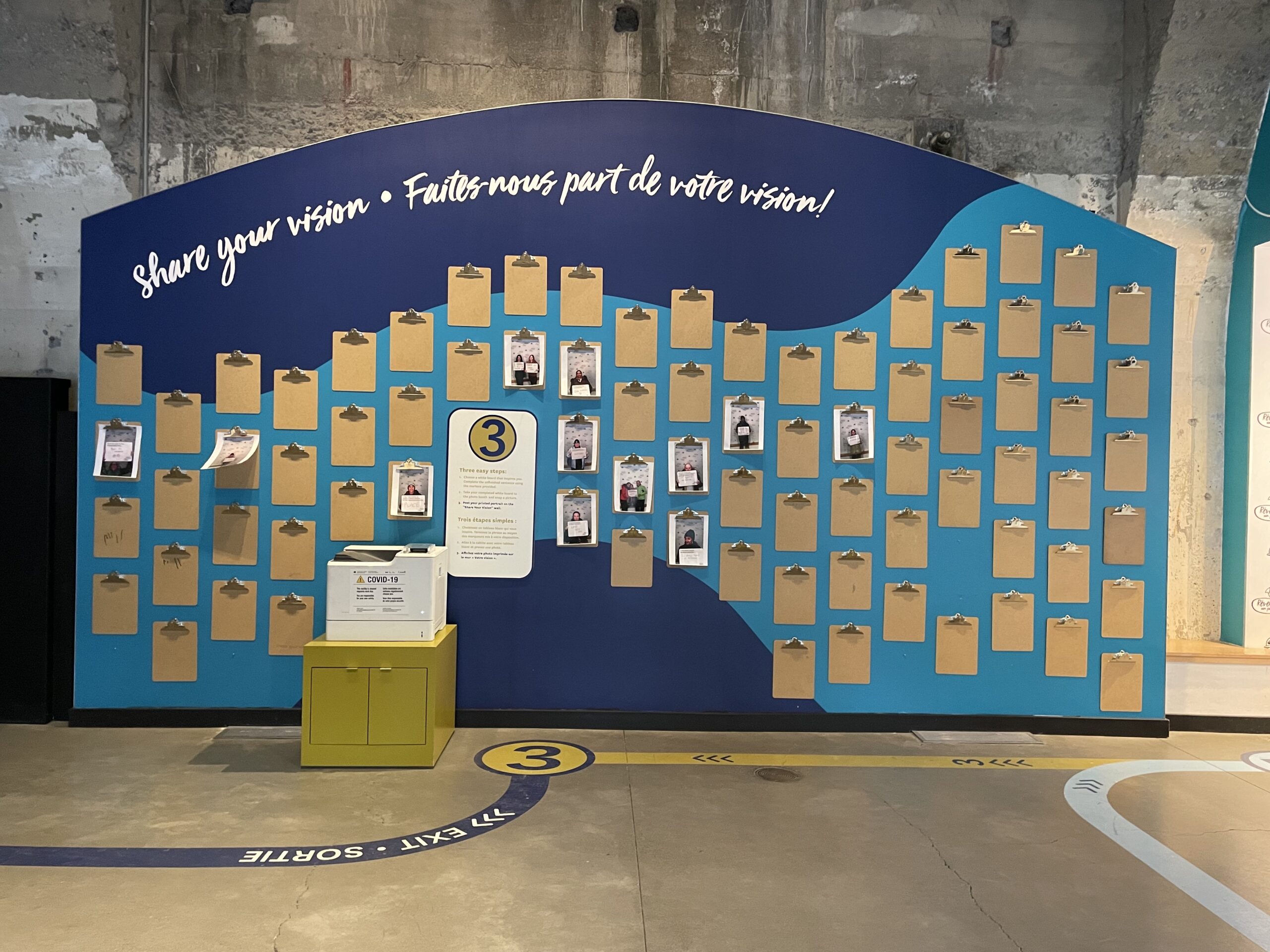 First World War Internment Exhibit
This exhibit was made to increase awareness of Canada's First World War internment operations. These internment operations were enforced from 1914 to 1920. This 1,000 sq. ft. exhibit has interactive touch-screens, mixed media and two-dimensional displays to provide an option for all types of learners.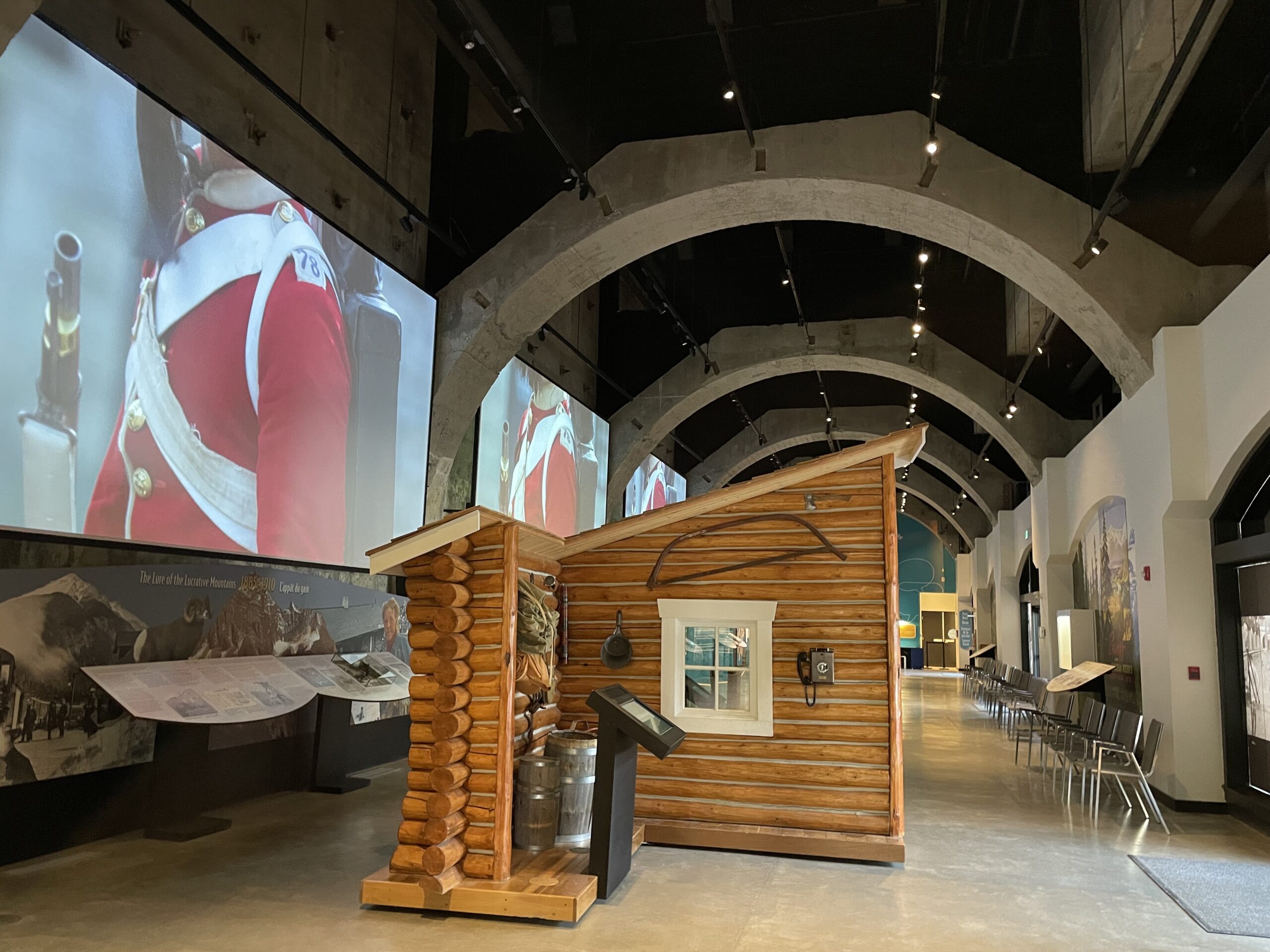 Seeing as this exhibit is adjacent to the Cave and Basin, it is free with your Banff Park Pass!
---
Interesting and Diverse Tours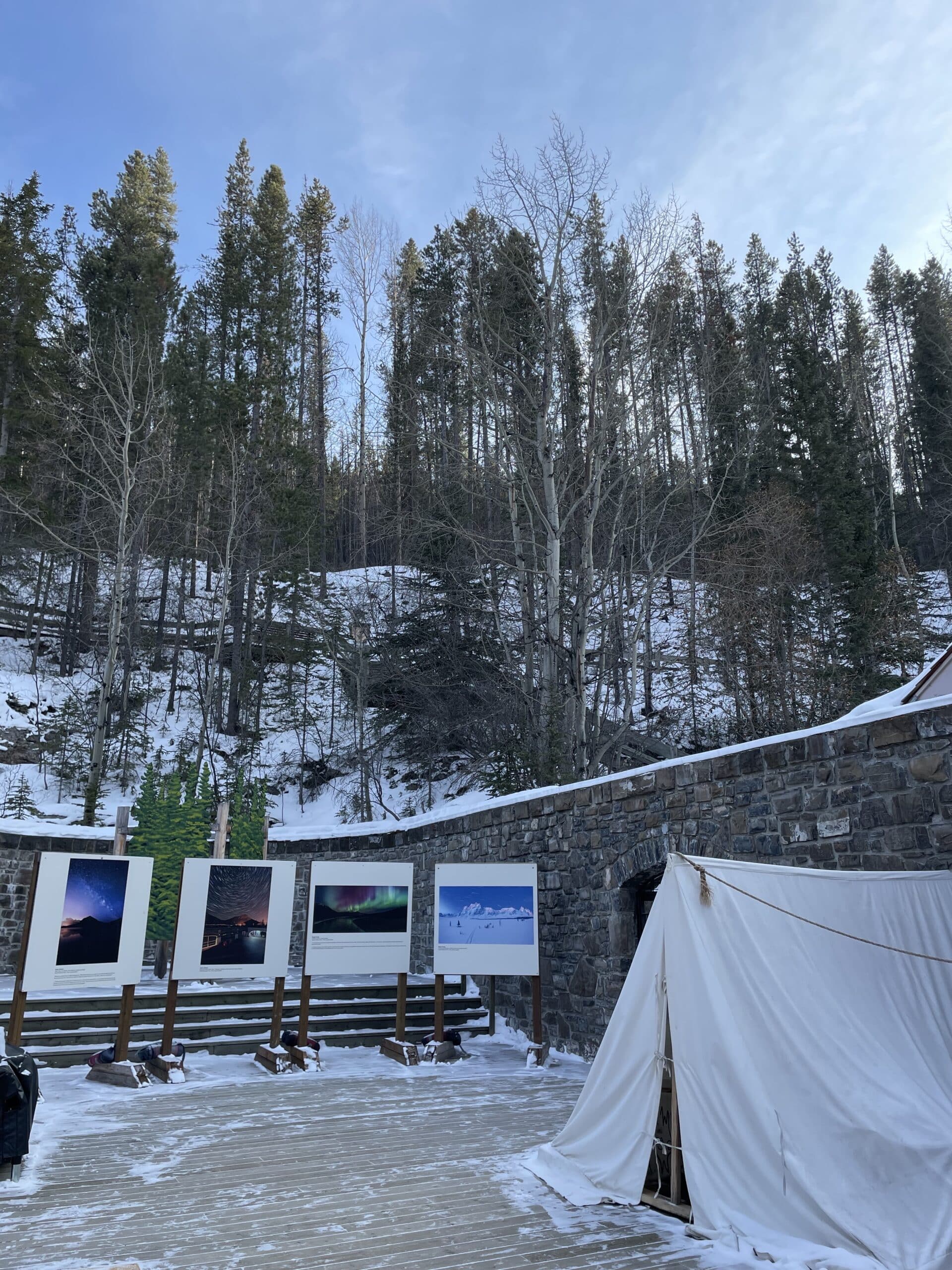 One thing not to be missed is the tours offered on-site. Join Parks Canada interpreters for one tour, or be a part of all four. These tours are a great way to extend your trip to Cave and Basin.
Cave and Basics Tour
A quick introduction to the highlights of the Cave and Basin
Tour of the 1914 Bathing Pavilion and its many hidden wonders
30-minute indoor/ outdoor tour
Meet at South Belvedere
Time: 1:30pm
Discovery Tour
Learn why the Cave and Basin is the birthplace of national parks in Canada
Returning May 2023
45 minutes / accessible options
Meet at flagpole
Time: Unknown
Billy's Railway Camp
Go back in time to meet one of the historic railway workers
Learn about the exploration at Cave and Basin that led to the establishment of the first national park in Canada in 1885
Returning May 2023
Time: Unknown
Hope Springs Internal
Learn about Banff's mineral hot springs, their "healing waters", and the science behind the hype that drove early medical tourism in Banff National Park
Meet at Basin
Daily Drop-in Times: Enquire at admission.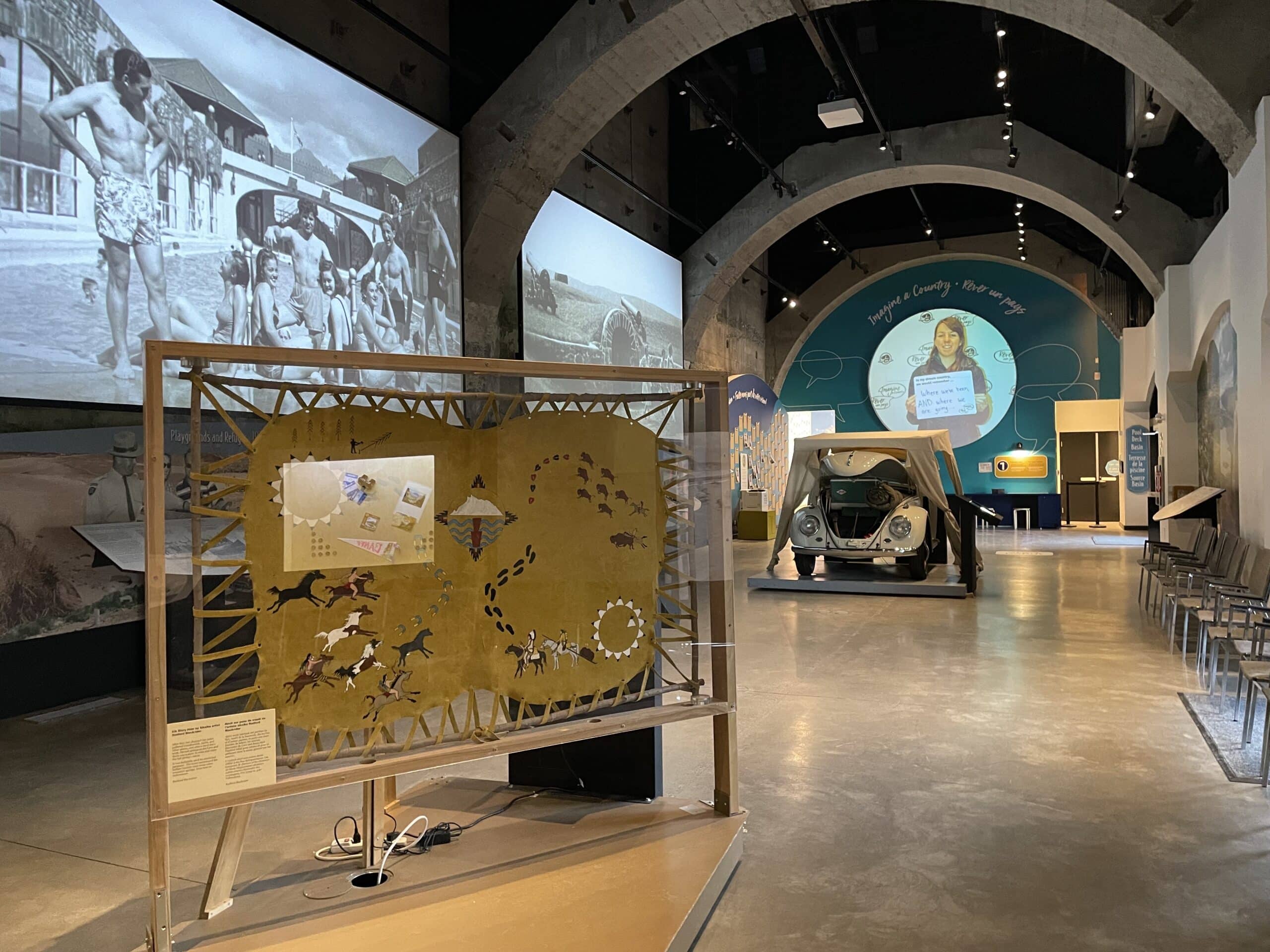 ---
Movies Galore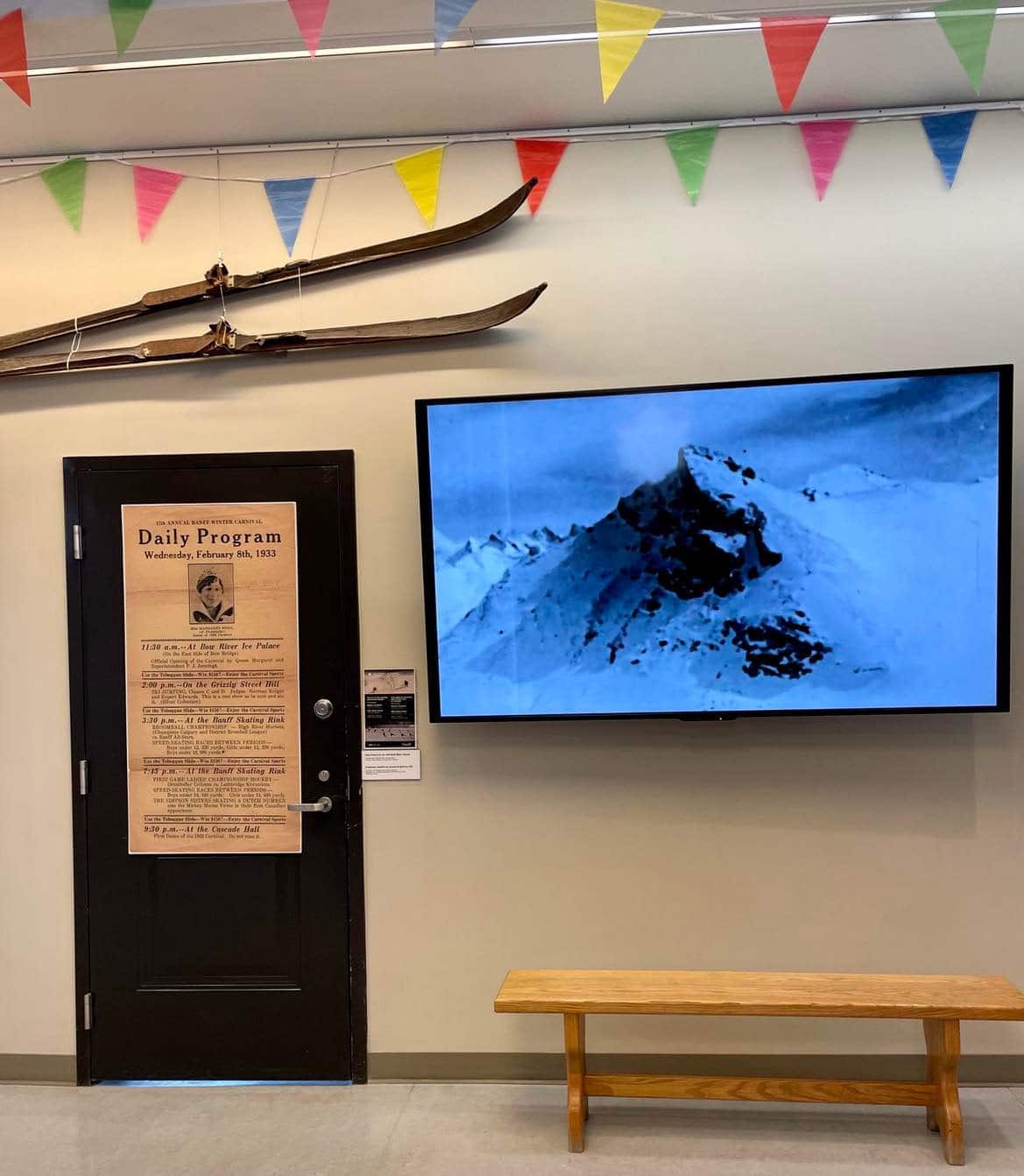 Another great activity to enjoy during your visit to Cave and Basin National Historic Site is to watch one of their movies. These informative movies are short, making it a great addition to your experience and meaning that if you missed the start of the movie, you won't need to wait long to catch the next one.
Personally, we love popping in to see the movies as they are a fun and easy way to learn in a relaxing atmosphere.
4-Screen HD Movie
Description – National and cultural treasures Parks Canada administered places across Canada.
Location & Length – Story Hall / 11 minutes
Get an up-close look at the endangered Banff Springs Snail
Description – Get an up-close look at the endangered Banff Springs Snail
Location & Length – Basin / 10 minutes
Wellspring: A Journey of Water
Description – Cave and Basin National Historic Site, using only images and sound.
Location & Length – Galletly Building, 2nd floor Theater / 11 minutes
Story Stations
Description – The story of natural and cultural treasures administered by Parks Canada from 1885 to today.
Location & Length – Story Hall / 10 different cartoons, 2 mins each
---
Wait, There's More?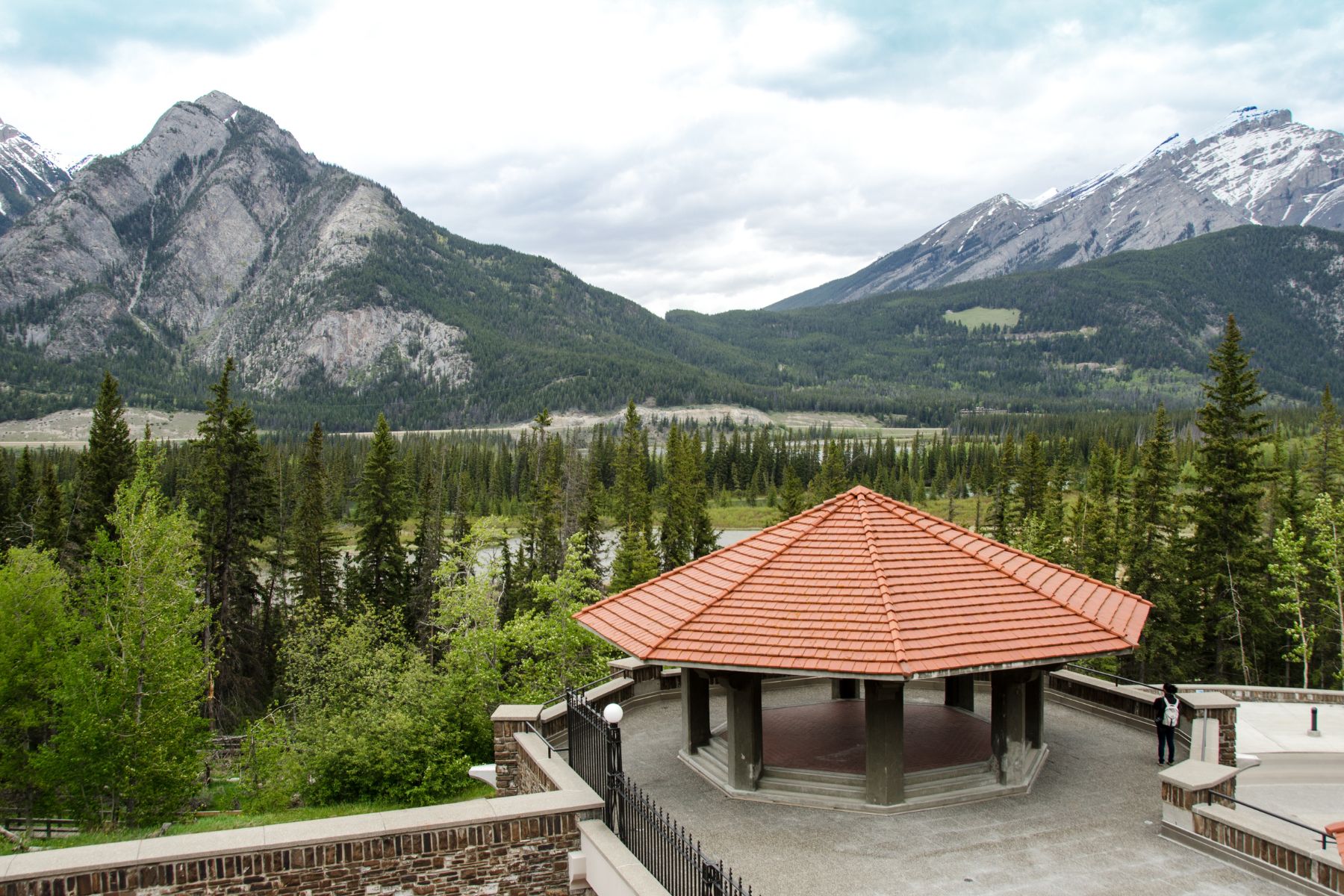 If the awesome activities mentioned above weren't enough, rest assured- there are even more options at Cave and Basin.
This site has evolving activities and displays both indoors as well as outdoors, a Discovery Hall packed with history, observation decks, a variety of books to look through and more.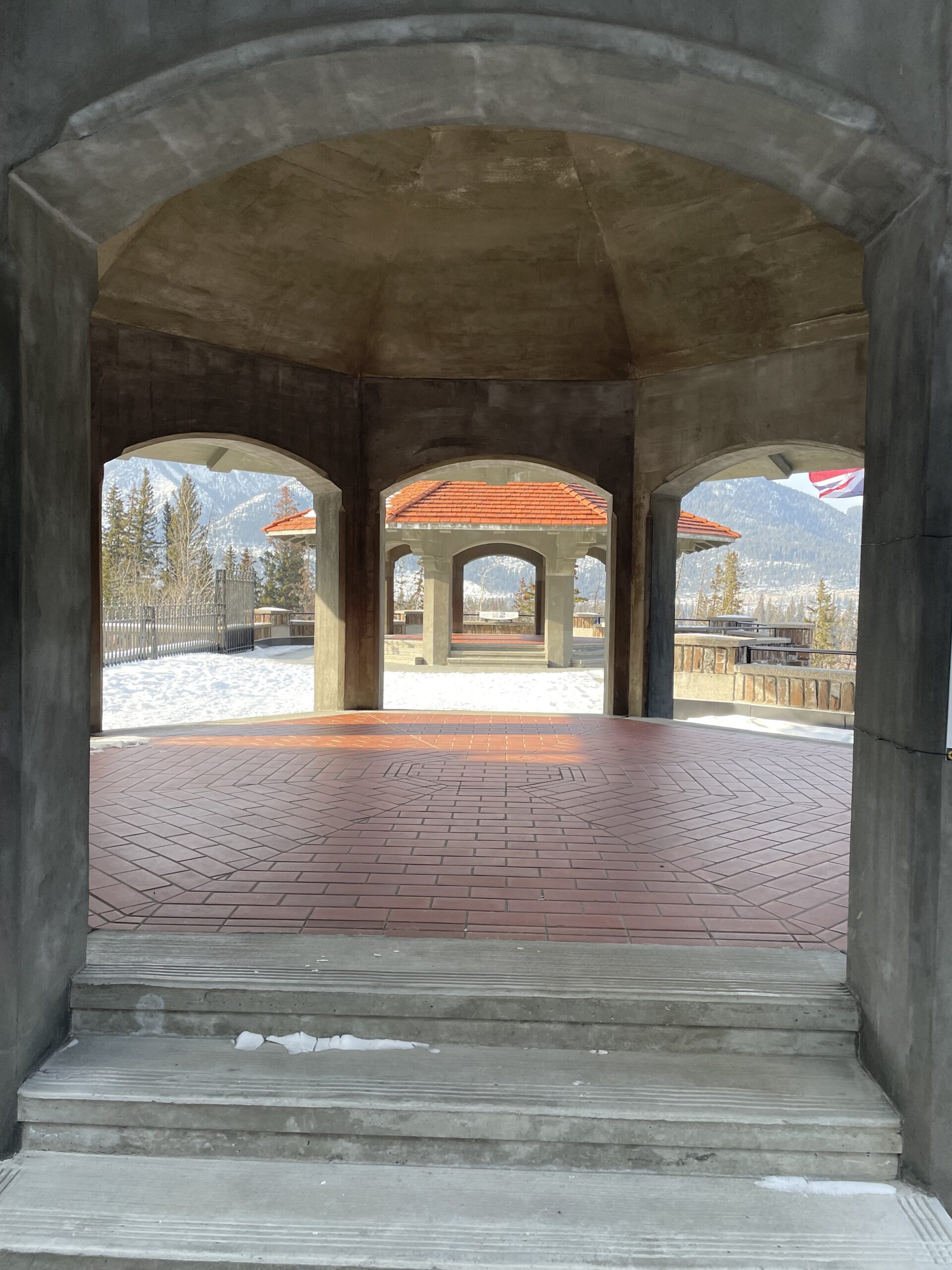 ---
What to Know About Location and Transportation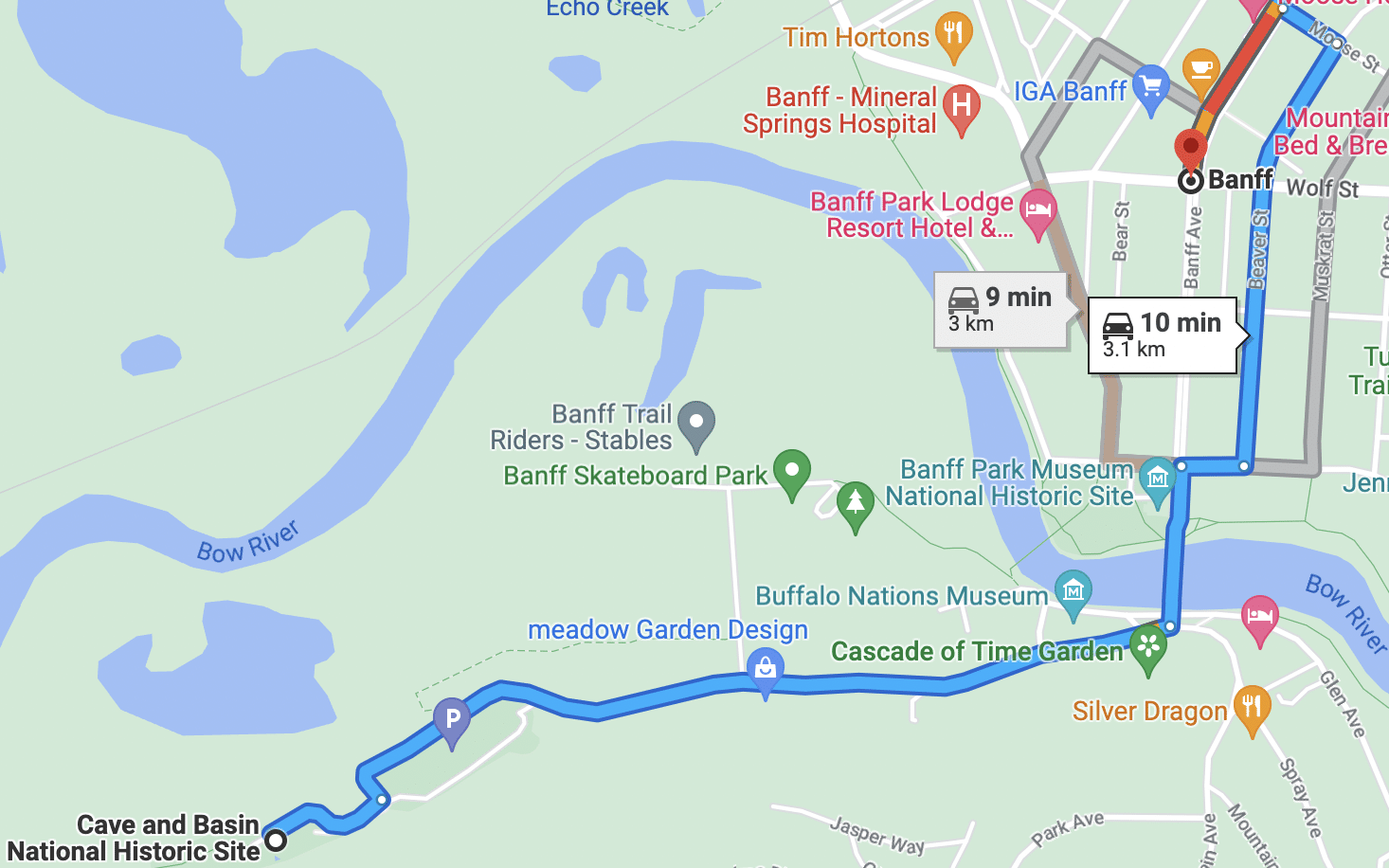 The Cave and Basin National Historic Site is located at 311 Cave Ave,
Banff, Alberta, T1L 1K2. There are different ways to get to Cave and Basin, based on your preferences. Personally, we love to walk there and enjoy the beauty that this area has to offer along the way!
It is approximately a 9-minute drive from Downtown Banff (3.1 km). If you do not have a car with you on your trip, you could consider renting a car in Banff. Rentals aren't always easy to come by, so we recommend booking one in advance during the summer season.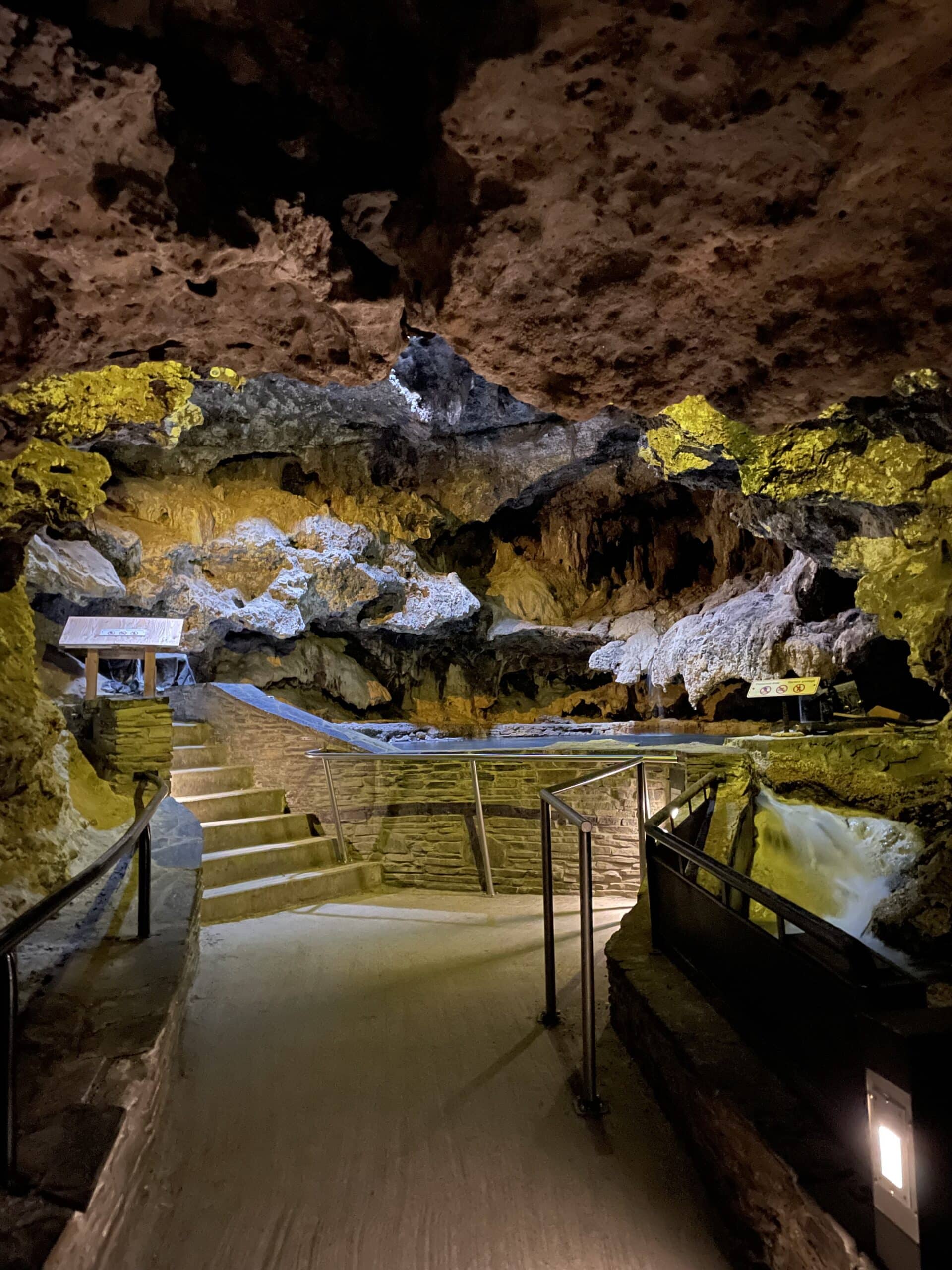 Another fun option would be a bike rental. This would make for a beautiful ride over the Nancy Pauw Pedestrian Bridge, crossing through the Banff Recreation Grounds and breathing in the fresh air amongst the foliage on your way. Consider packing a picnic to enjoy at the Banff Recreation Grounds in one of their many picnic enclosures!
As we mentioned, our favorite way to get to the Cave and Basin is to walk from downtown Banff. It is a bit of a lengthy walk (27 minutes), so be sure to bear that in mind and schedule it into your Banff itinerary! We recommend packing water, dressing in layers (the weather changes surprisingly quick in Banff) and bringing your bear spray to be bear-safe!
Starting back up in May of 2023, route 4 on the Roam Bus will also be a transportation option to the Cave and Basin. In our experience, the bus has always been clean, not overcrowded and has very friendly and helpful drivers. This is a low-cost and eco-friendly option. We recommend checking it out for any other adventures you're adding to your itinerary during your time here!
---
Cave and Basin Admission Fee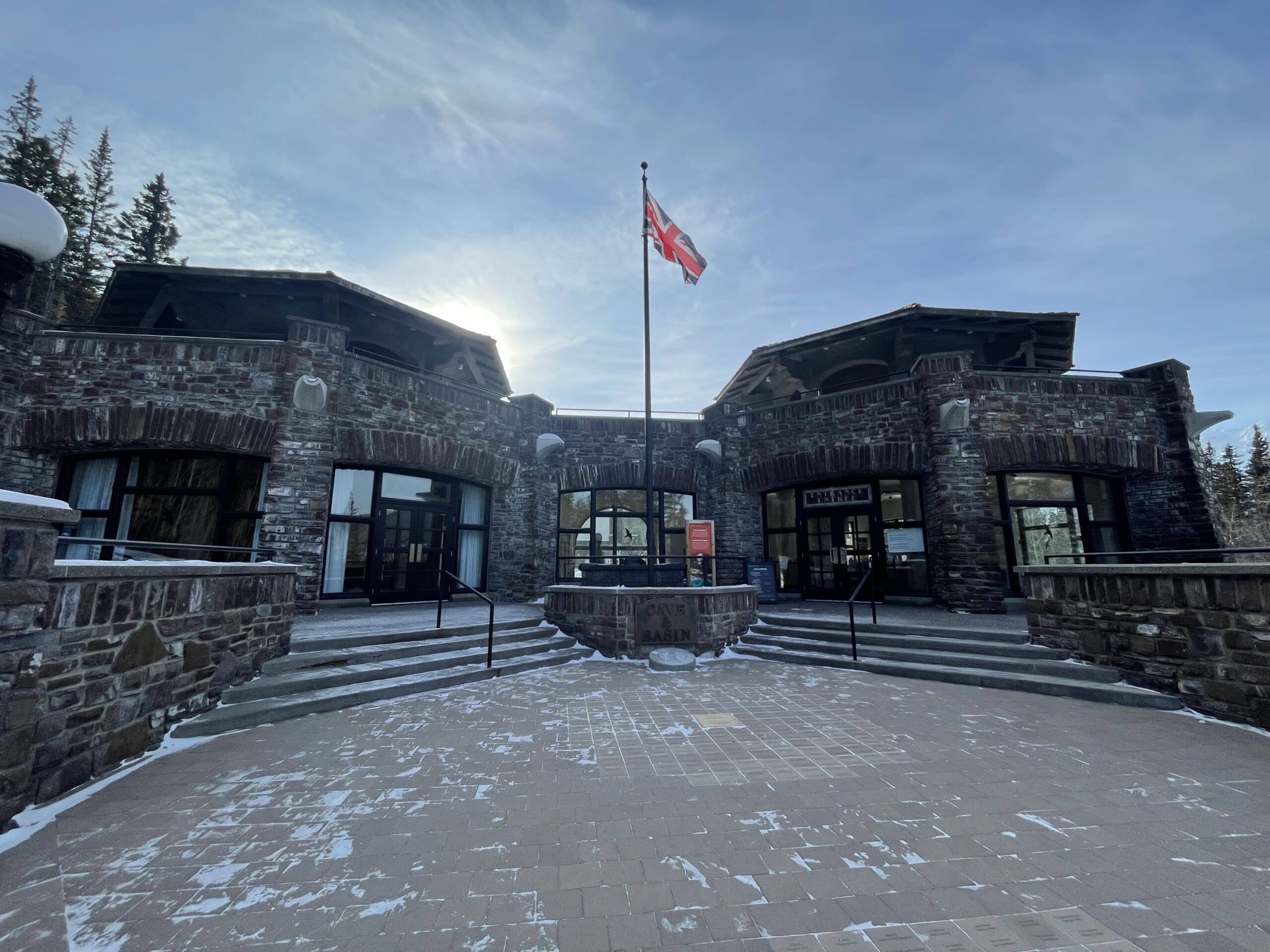 Visiting the Cave and Basin National Historic Site is one of the best budget-friendly activities to do in Banff. The entry fees are super reasonably priced and it can be just as enjoyable as a family activity as it can be as a solo traveler.
One thing to bear in mind is that the Cave and Basin experience isn't a super long one. We recommend planning to spend between 1-2 hours onsite before hitting up one of the nearby trails mentioned below or enjoying a picnic that you've packed. Don't forget: Don't leave behind anything that will attract wildlife!
Adult (18-64 years of age): $8.50
Senior (65 years of age and up): $7.50
Youth (0-17 years of age): Free
Family/ Group (up to seven people arriving in a single vehicle in a national park): $7.00
There are also options to purchase a combined entry with the Banff Upper Hot Springs. Don't forget, this site is part of the Discovery Park Pass, which includes unlimited admission to over 80 destinations. So if you have a Parks Canada Discovery Pass, admission is free.
---
Hours of Operation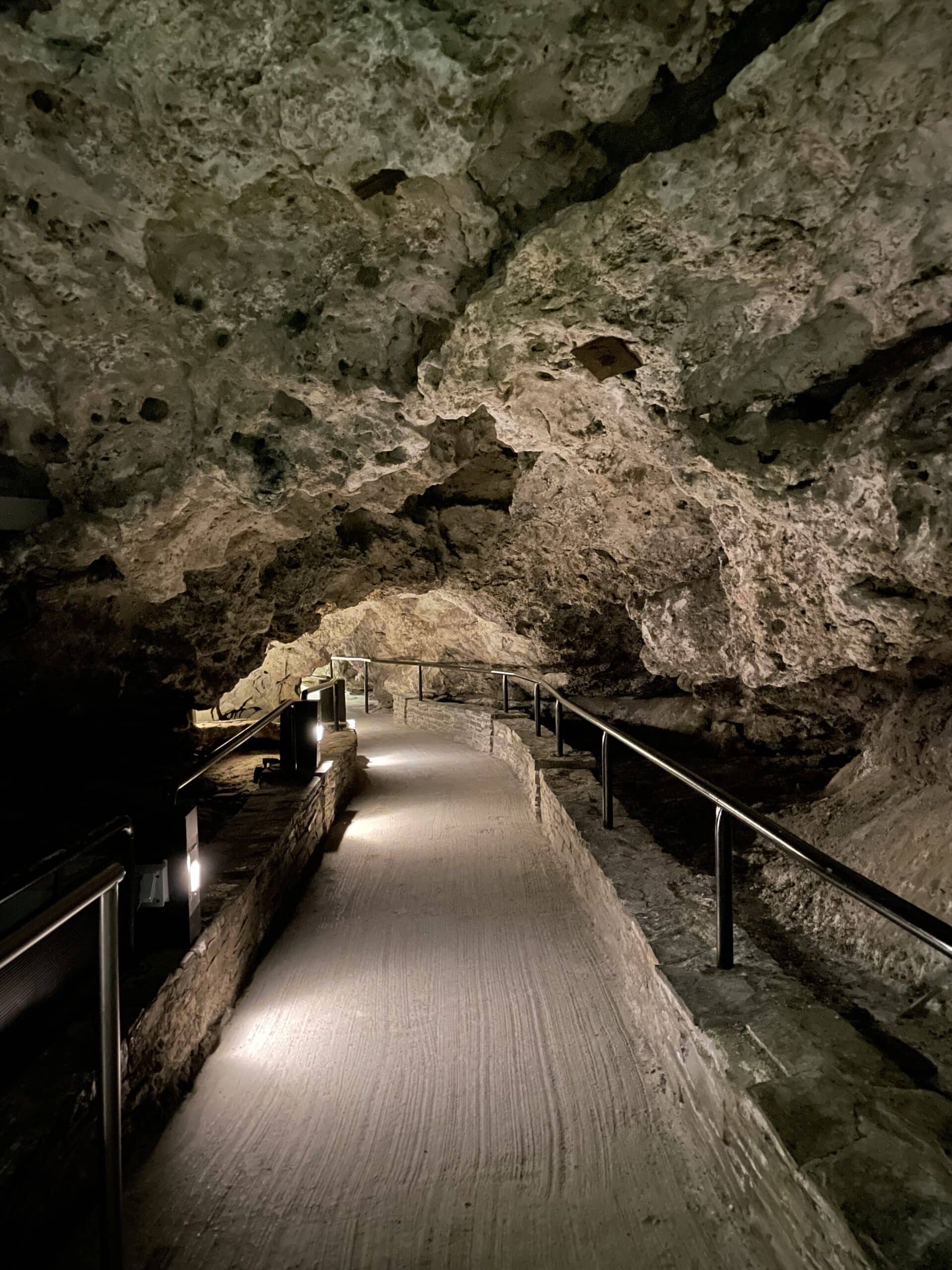 The hours of operation vary, based on the time of the year. That said, we love this spot as it is open year-round! The only exception is Christmas day.
| | |
| --- | --- |
| Date | Hours |
| May 15 – October 15 | Open daily: 9:30 a.m.-5 p.m. |
| October 16 – May 14 | Wednesday to Sunday/ Holiday Mondays: 11 a.m.-5 p.m. |
| December 25 | Closed |
---
Parking at Cave and Basin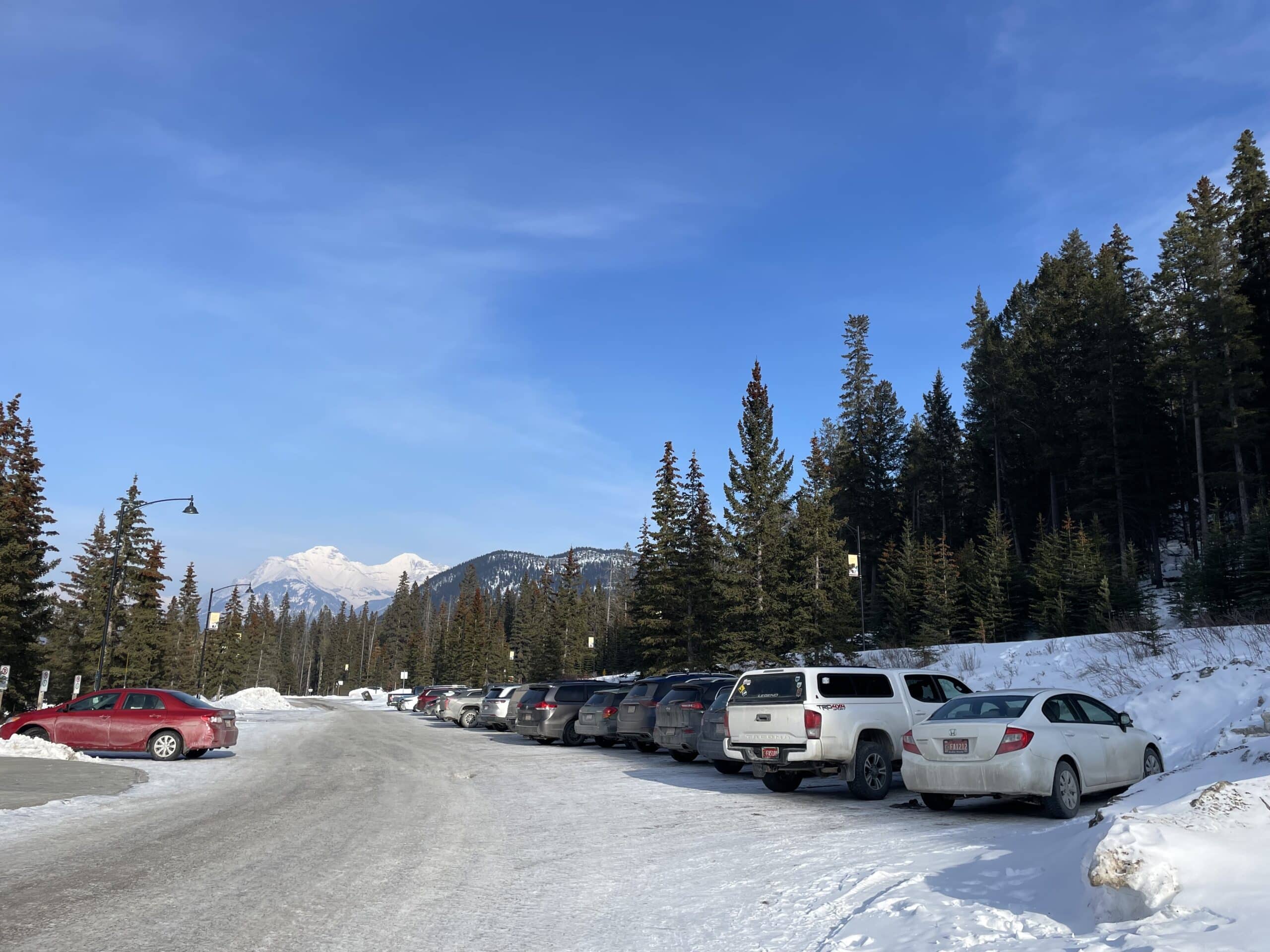 From our experience, we have never had an issue with parking. That said, the parking lot fills up faster in the summer months. The parking lot is well-maintained and is just steps from the entrance to the building. Seeing as this site is slightly removed from any other Banff attractions, the parking lot is very telling of what to expect in terms of crowds when you get inside.
There are accessible parking spots available as well as charging stations.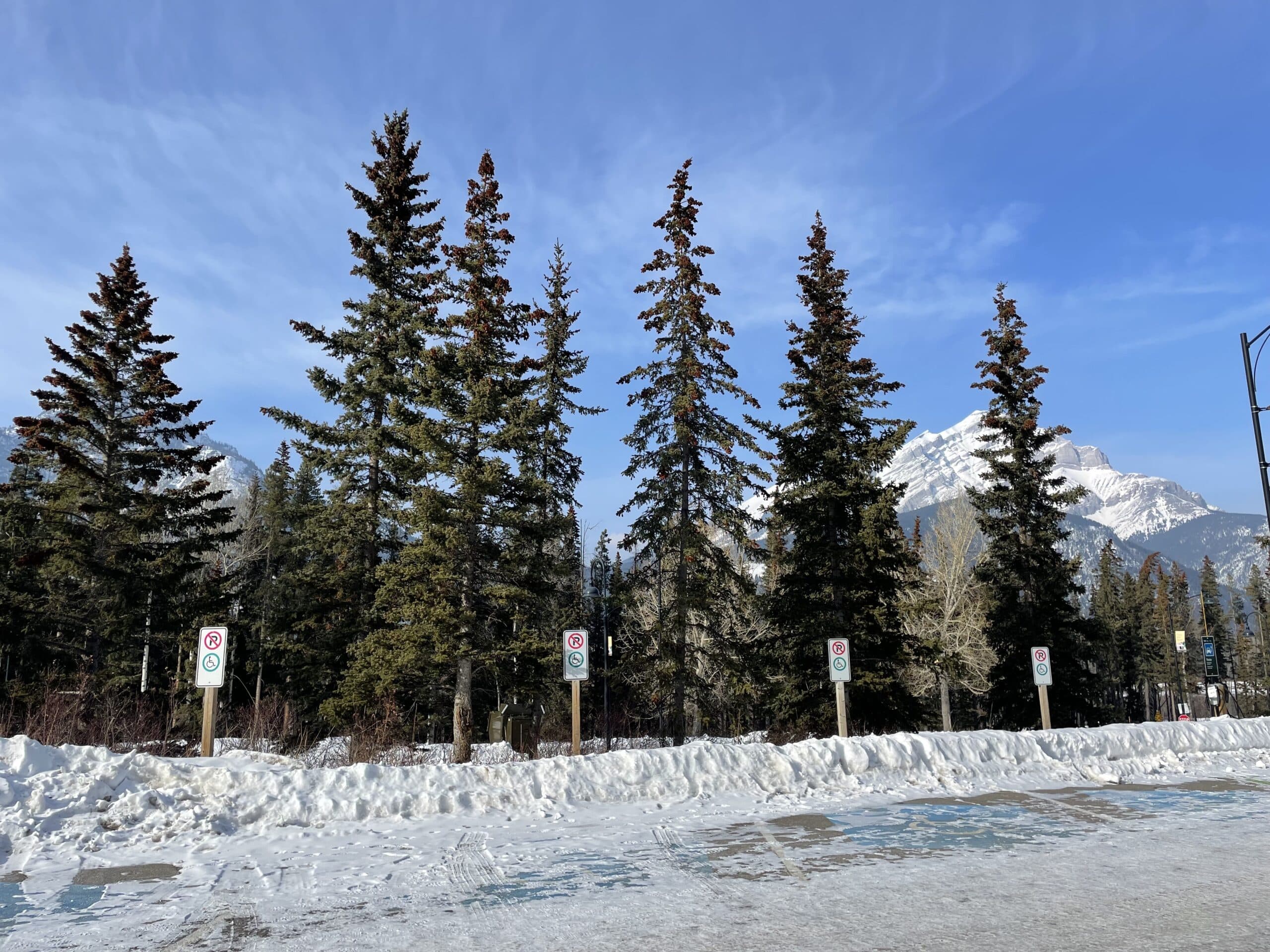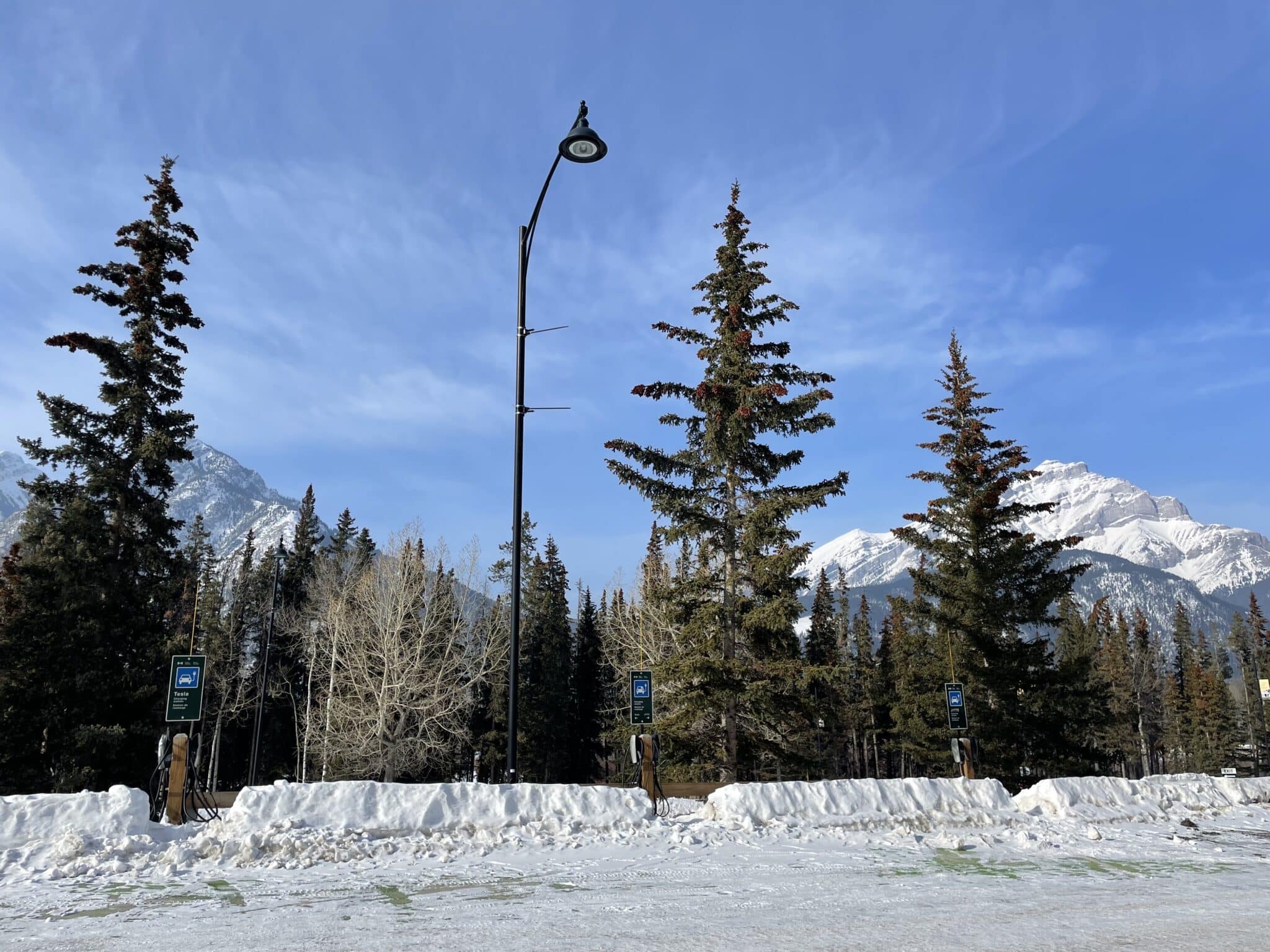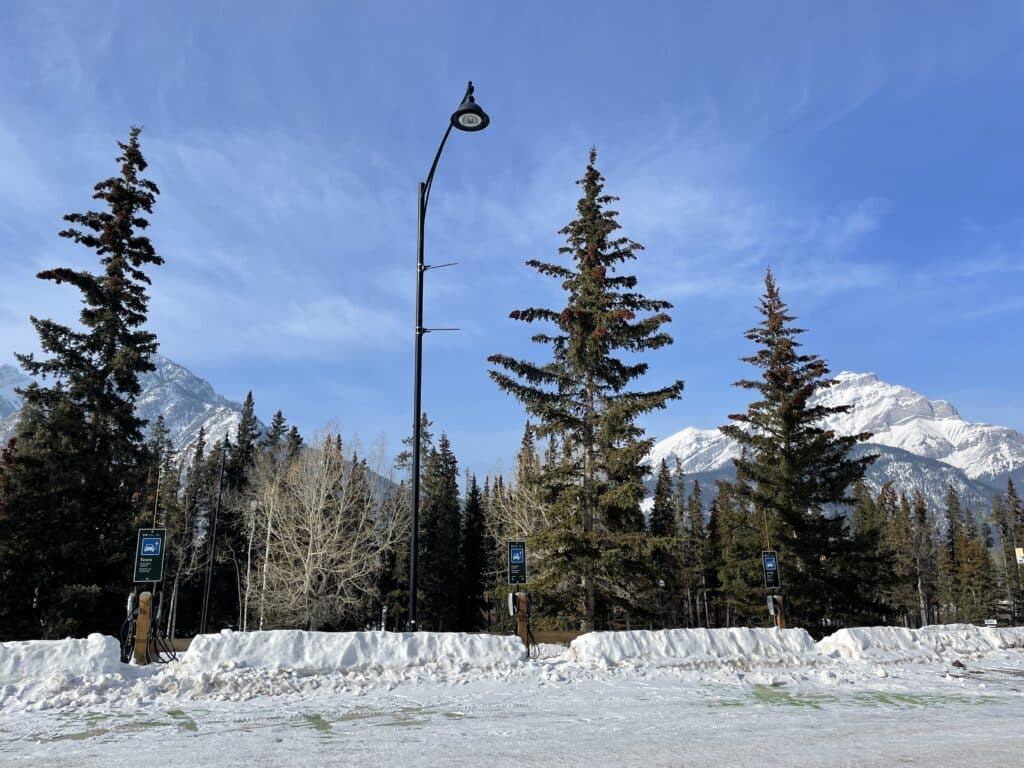 Parking is included in your admission fee.
Fun fact: Do you notice a rotten egg smell as you walk up to the front entrance? That is because of the sulphur-bearing minerals being broken down. 
---
What is the Best Time to Visit the Cave and Basin?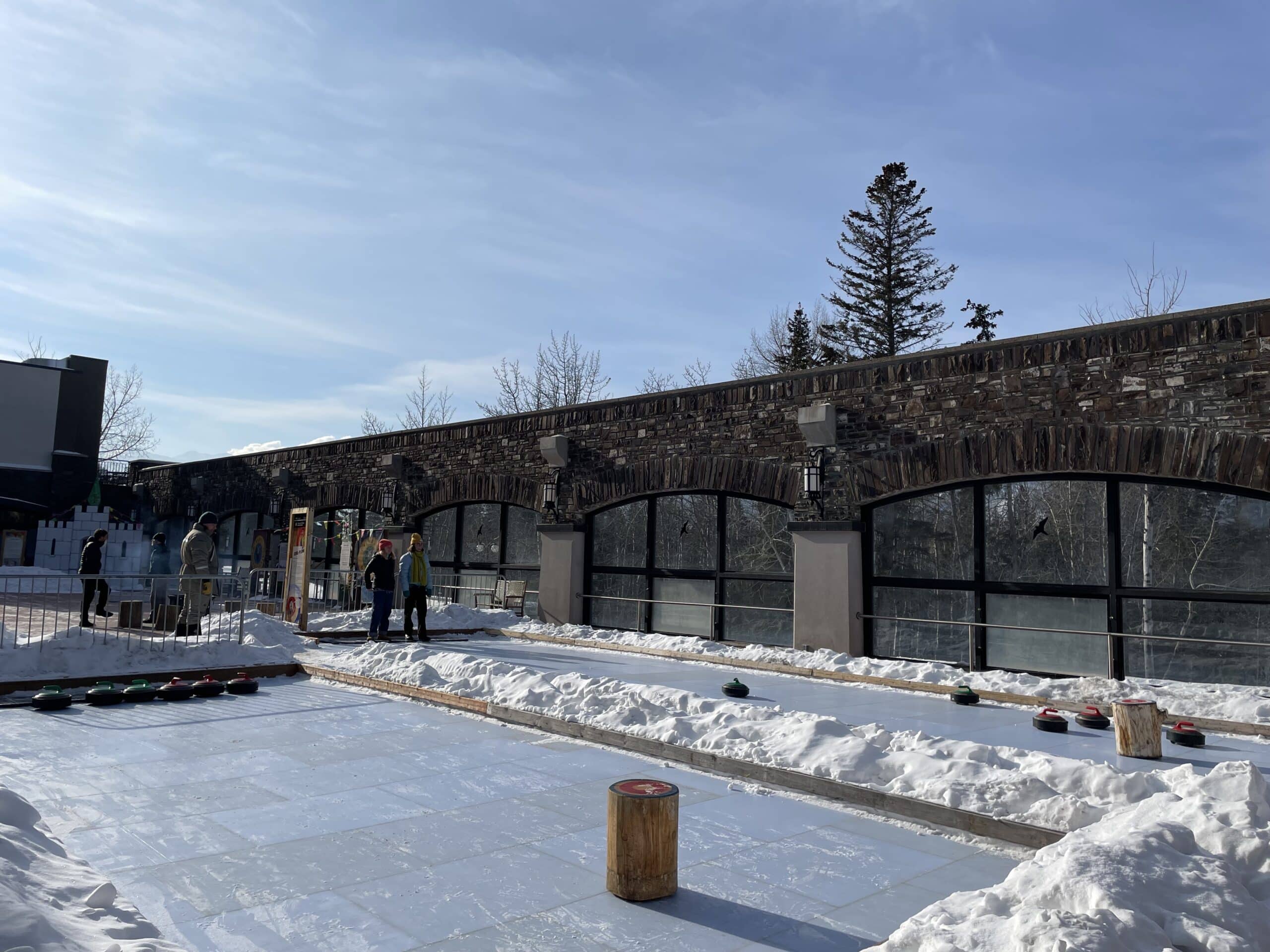 Seeing as the Cave and Basin National Historic Site is open year-round, there is no bad time to visit. That said, expect this location to be significantly busier in the summer months. In fact, the number of visitors in Banff National Park more than doubles from winter to summer months.
We enjoy visiting the Cave and Basin during the shoulder season (spring and fall). Since it is open year-round, we like to save this activity for the months between the ski and camping seasons.
Seeing as this is an indoor/outdoor experience, we recommend visiting on a fair weather day and dressing for the weather!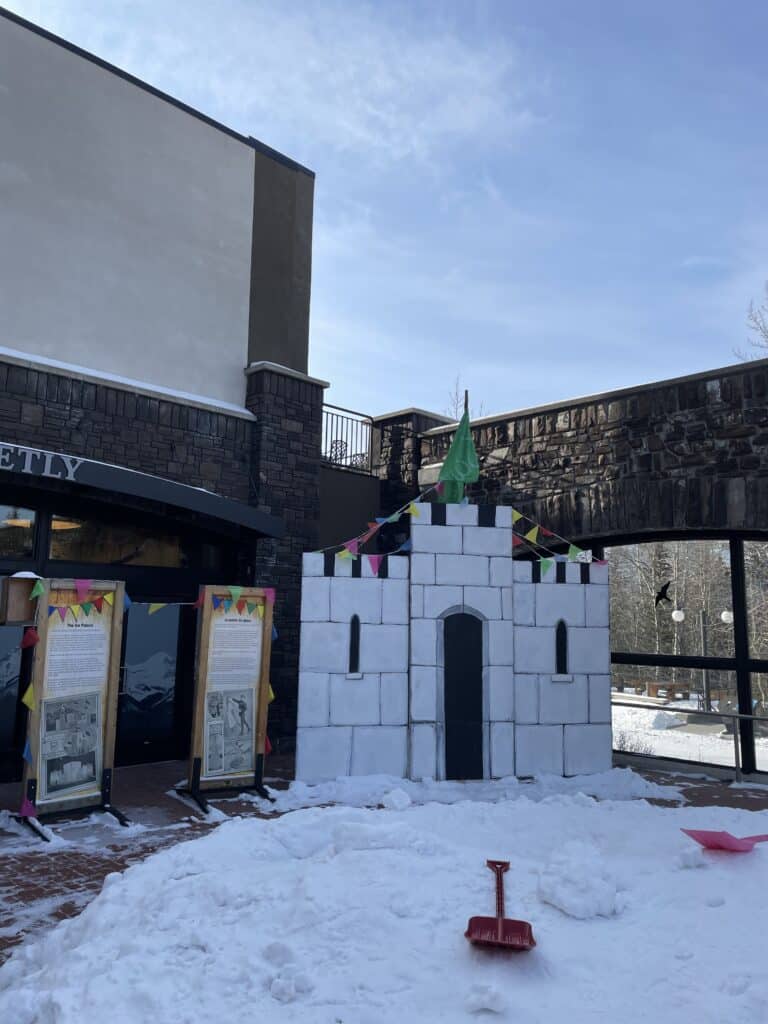 ---
A Guide to Nearby Walking Trails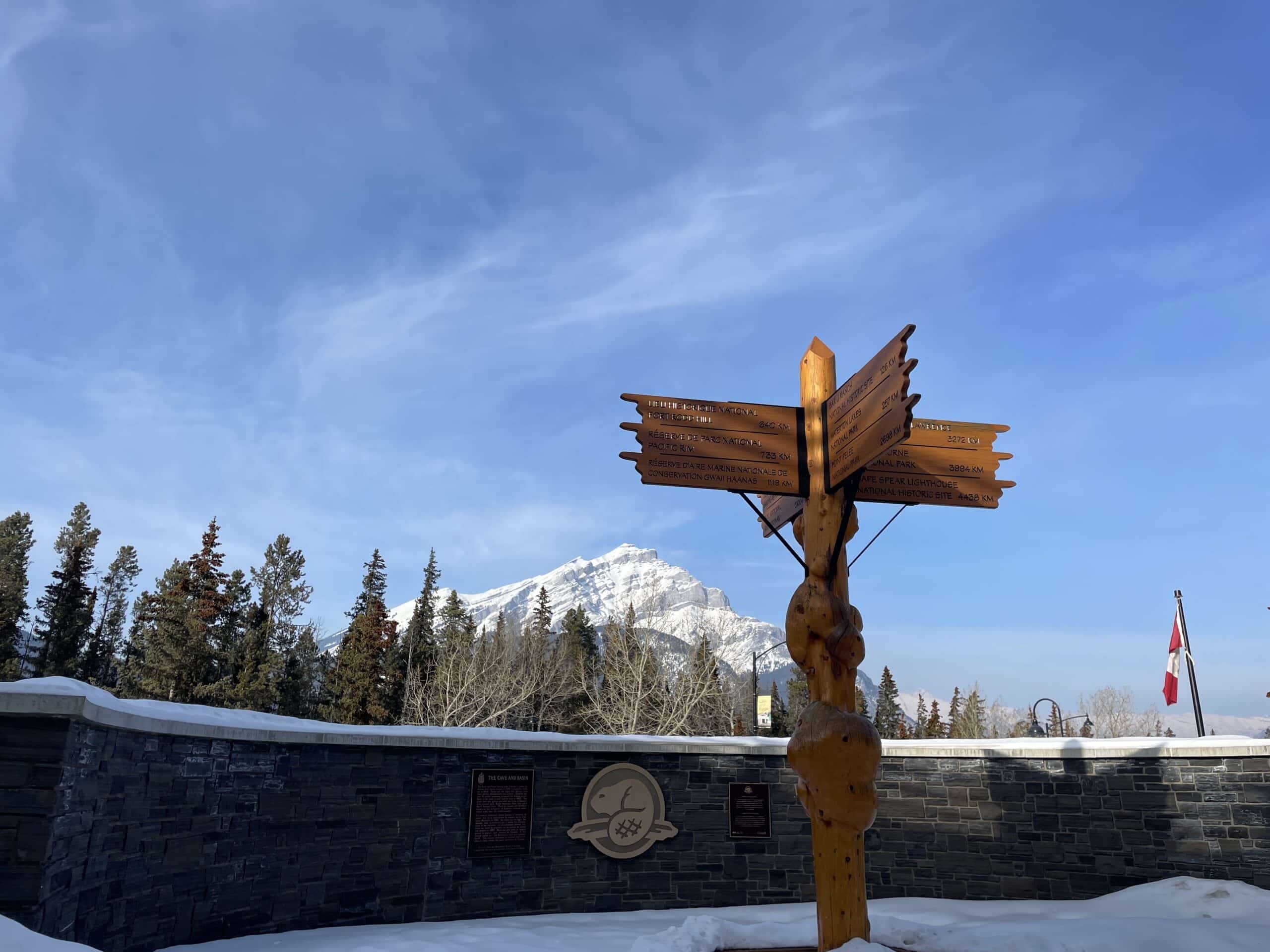 Once you have finished enjoying your time at this historical site, consider enjoying one of the many nearby walking trails. These trails range in level of difficulty and length, giving you quite a few options to choose from.
Cave and Basin Trail – Upper Boardwalk
Length: 0.4km boardwalk
Elevation gain: Minimal
Walking time: 15 minutes
On this walk, you will get to see the cave vent and the location of the former Hotel. In addition, you can spot two smaller springs bubbling from the mountainside and the pools filled with pink bacteria, white and green algae, small fish, and insects.
Cave and Basin Trail – Lower Boardwalk
Length: 0.5km boardwalk
Elevation gain: Minimal
Walking time: 20 minutes
The Lower Boardwalk, located below the building, will allow you to learn more about the natural history of its surroundings. You may even spot some fish and birds that live in the wetlands below.
Marsh Loop Trail
Length: 2.8 km loop
Elevation gain: Minimal
Walking time: 1-hour round trip
Trailhead: Cave and Basin National Historic Site
This loop encircles the wetland filled with water from hot springs flowing out of the lower slopes of Sulphur Mountain.
Sundance Trail/ Sundance Canyon
Length: 3.7 km one way from trailhead plus 1.6 km moderate loop
Elevation gain: 155 m, elevation loss 60 m
Walking time: 3-hour round trip
Trailhead: Cave and Basin National Historic Site
This trailhead can be easily found by following the paved path that wraps behind the Cave and Basin main building.
The Sundance Trail/ Canyon is by far our favorite option out of these four trails and is a great family friendly Banff hike. From our experience, it has never been overcrowded and has stunning views of the Rockies along the way. This trail has been super enjoyable both in the heat of the summer months and the snowy winter months.
What we like most about it is that you can turn around at any time and still feel satisfied with your adventure. Once on this trail, if you choose to go to the end, you will be greeted by the beautiful Sundance Canyon, which is definitely picture worthy!
Don't forget to pack water, wear comfortable shoes/ boots, dress in layers and bring your bear spray.
ULTIMATE Banff Packing List (Covering Winter and Summer)
---
Is the Cave and Basin Worth Visiting?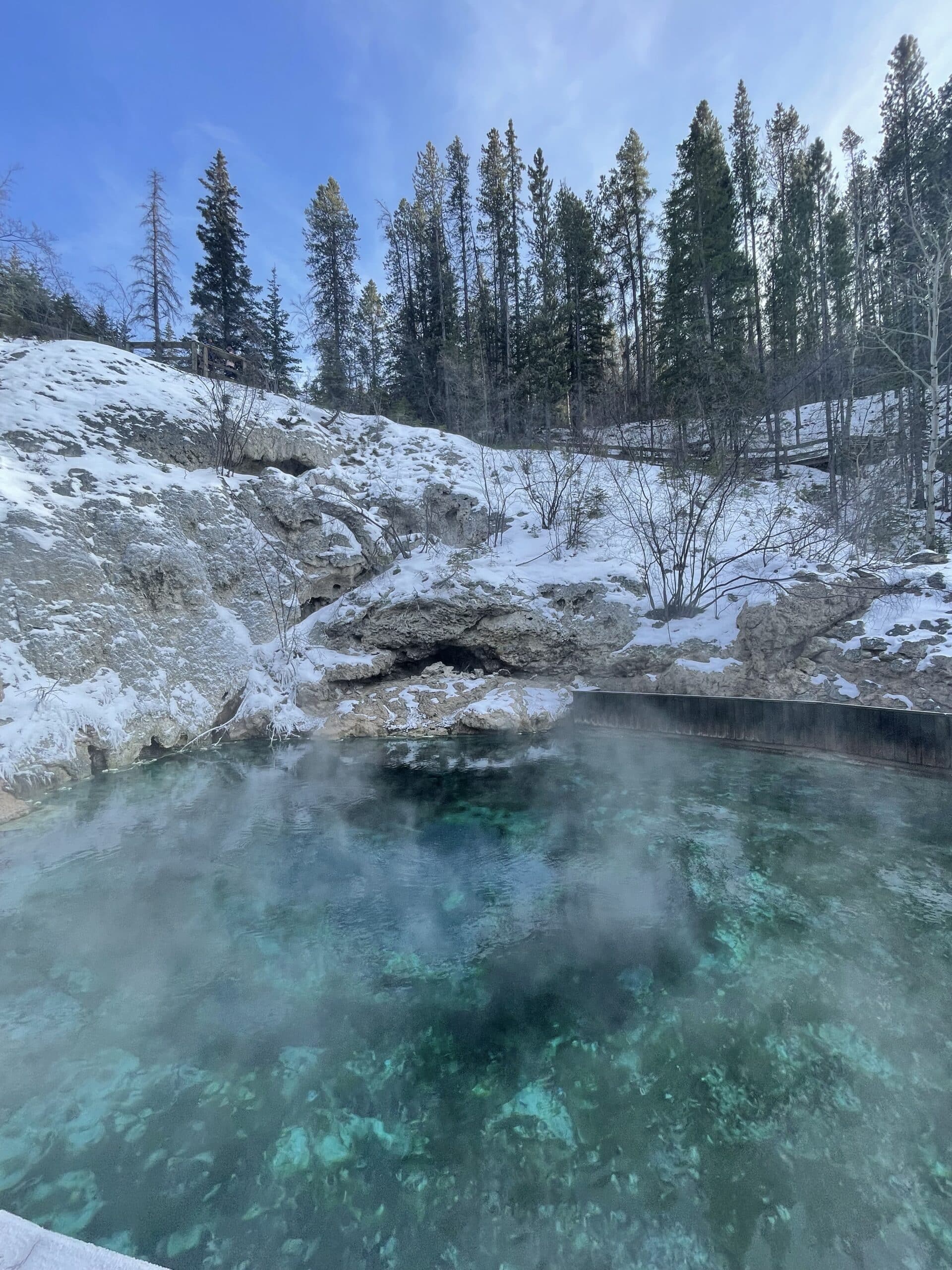 The Cave and Basin National Historic Site is a great thing to do while in Banff. It is close to downtown and doesn't take up too much of your day. It plays such an important part of not only the national park system but of Canada's rich history. It allows visitors to learn through different exhibits, sites and interactive displays.
Considering how inexpensive the experience is, interesting, and history-rich we recommend you visit once on your trip. It can easily be combined with a visit to Bow Falls, Cascade Gardens, and the Banff Gondola for one epic day around Downtown Banff.
Whether you are interested in history, geology, or just enjoying the beauty of the great outdoors, the Cave and Basin is definitely worth a visit.
Plan Your Trip to the Canadian Rockies