Parks Canada will be launching reservations for the 2023 visitor season starting on Thursday, March 22, 2023 at 8 am MT. Launch dates vary by location; find specific launch dates and times here.
Camping in Banff National Park is a splendid and affordable way to explore the Canadian Rockies. When Banff camping, you have access to some of the best trails and endless amounts of natural beauty from the campgrounds spread throughout the park.
Life bursts throughout the park as the snow begins to melt in the summer. Expect frequent wildlife sightings, an explosion of wildflowers, comfortable temperatures, turquoise lakes, and many jaw-dropping hikes to choose from in Banff.
Camping in the park is perhaps the best way to experience all of this, and it is far less expensive than the hotels that fill up in the summer. However, camping in Banff requires planning as the park is far from a secret, and the choice campsites book out months in advance.
In this post, we share our Banff camping tips, favorite campsites to reserve, and what to do for a last-minute camping trip in Banff.
---
What You Need to Know About Banff Camping
---
Banff Camping Types
---
Frontcountry Camping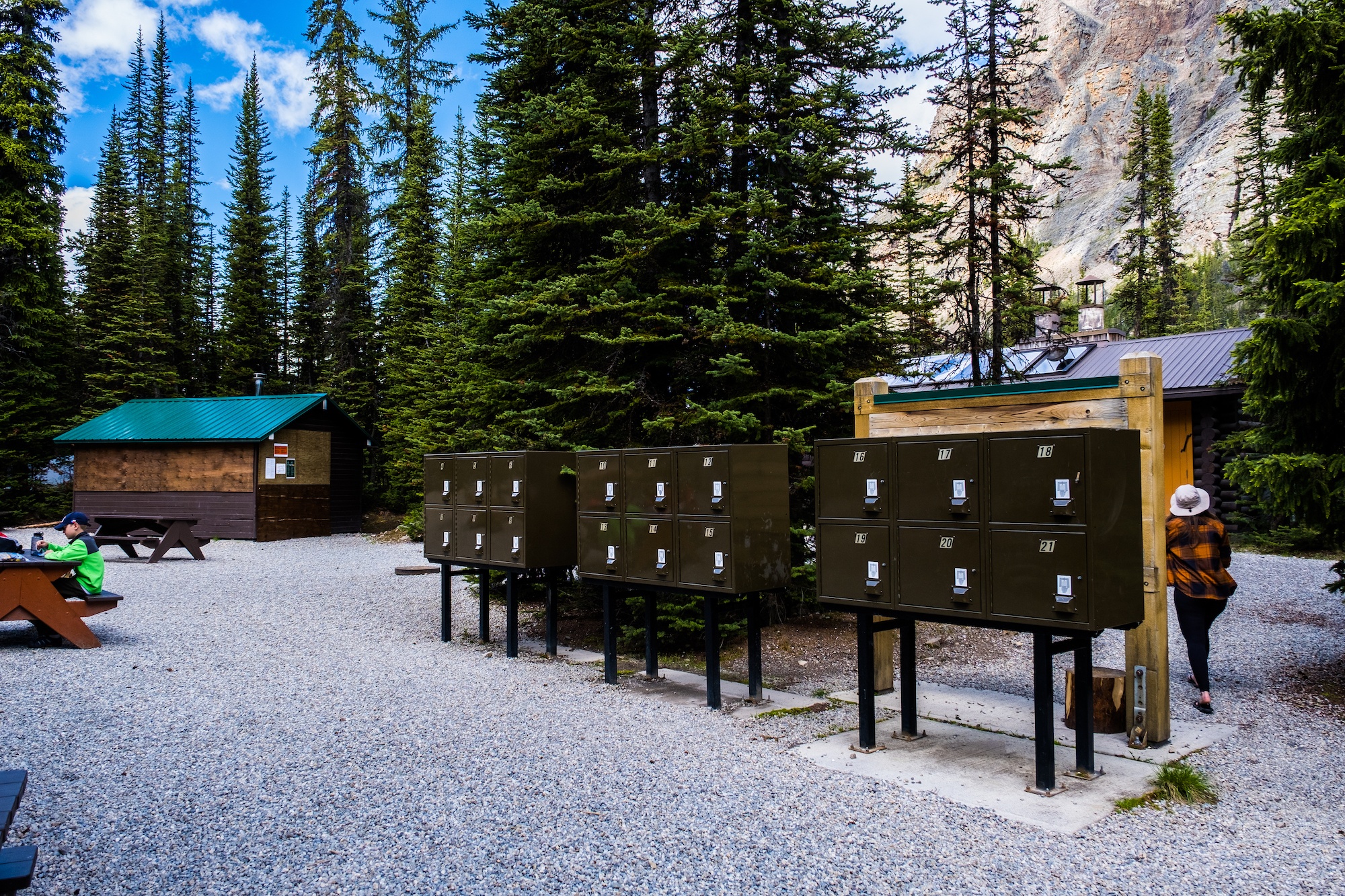 This is the most common campground in Banff and where most people will want to spend their time. These are campsites that you can access via a car or short walk. This includes campgrounds strictly for tents and those that can accommodate RVs and camper-vans. Many of the campsites have facilities that include toilets, kitchen areas, or showers.
Several Banff campgrounds offer fully-equipped campsites with all you could need or oTENTiks that are large A-frame tents on a raised wood platform. Quite a few of these campsites also operate on a first-come-first-serve basis, so it's possible to make a last-minute plan to camp in the park.
---
Backcountry Banff Camping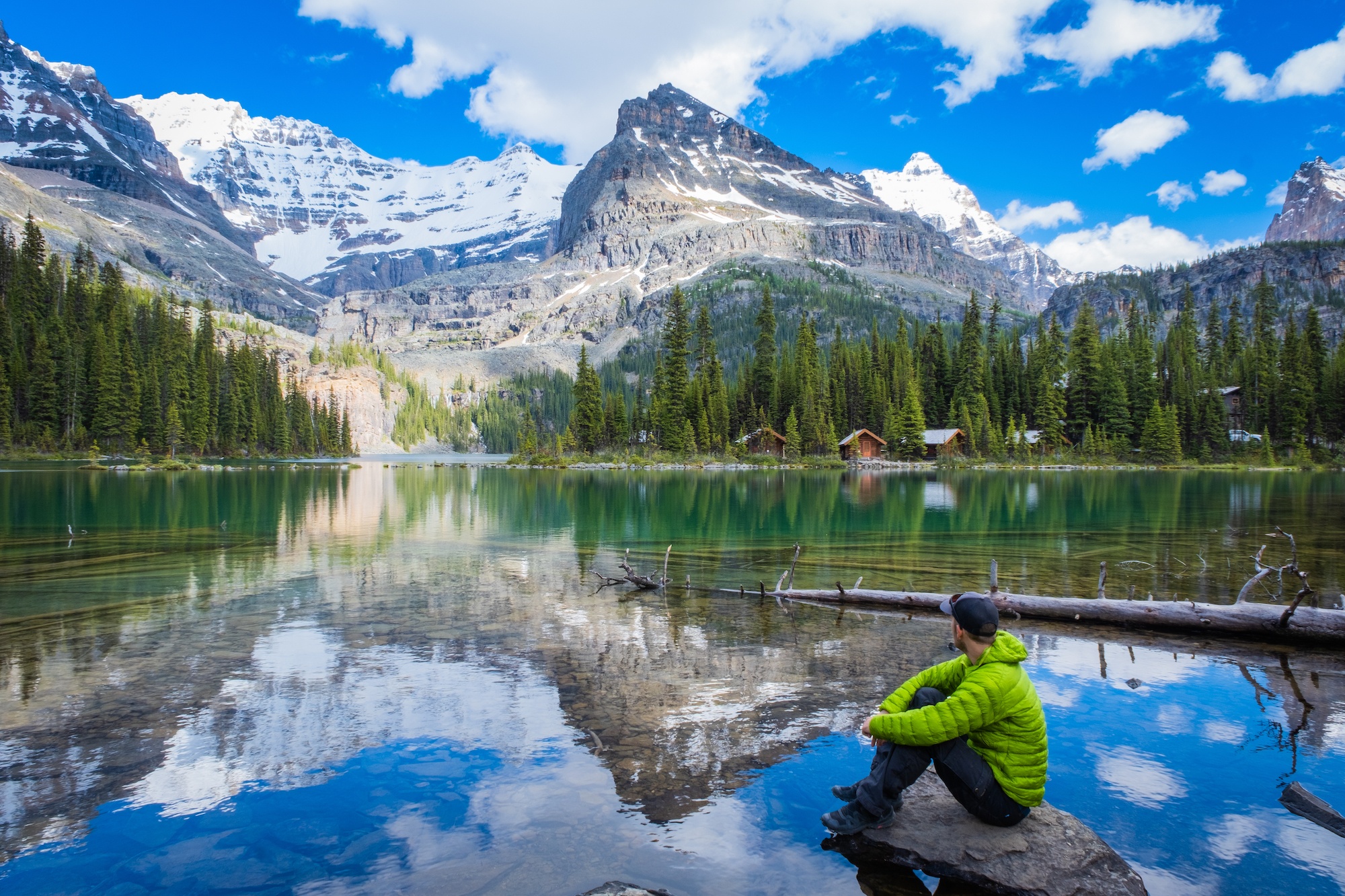 There are many Banff campgrounds in the Canadian Rockies that require you to hike in to the location or take a helicopter. Some of the best hikes in Banff and the Canadian Rockies take place from these campgrounds, so reservations go very fast.
If you want to spend time in these spectacular locations, it will require some work and advance planning to score a reservation. While there is a mix of popular backcountry hikes around the Rockies, the most well-known backcountry trips take place in the parks such as Assiniboine Provincial Park, Yoho National Park, Kootenay National Park, and Mount Robson Provincial Park.
The popular campsites require reservations and do not operate on a first-come-first-serve basis.
Many of these trips require advanced planning as campsites book out far in advance, but if you're open to taking the road less traveled, you can still find many backcountry campsites that remain relatively unused. Most backcountry campsites in Banff National Park have kitchen shelters, drop toilets, potable water, fire pits, bear bins, and level tent pads.
---
Random Banff Camping
This is the least common type of Banff camping, and we'd generally advise it for people who have already spent time in Banff and looking for new areas to explore. Random camping areas are far from the most popular trails and sights of Banff.
They're also deep in the backcountry, where you're more likely to encounter wildlife and will be far away from a cell signal or help. Parks Canada does allow random camping in the most remote regions of the park. You can't just pull off to the side of the road, walk just off a popular trail, or camp near the campground in Banff.
You are also permitted to bivy for a number of climbing and mountaineering objectives in the park. Random camping in Banff still requires you to have a backcountry permit and register with Parks Canada, the region you will plan to camp.
Guidelines for random camping in Banff require you to camp at least 5.0 km. from a trailhead or campground, 50m from any trail, and 70m from a water source. Fires are not allowed. The majority of random camping is permitted in the eastern region of the park.
---
Banff Campground Basics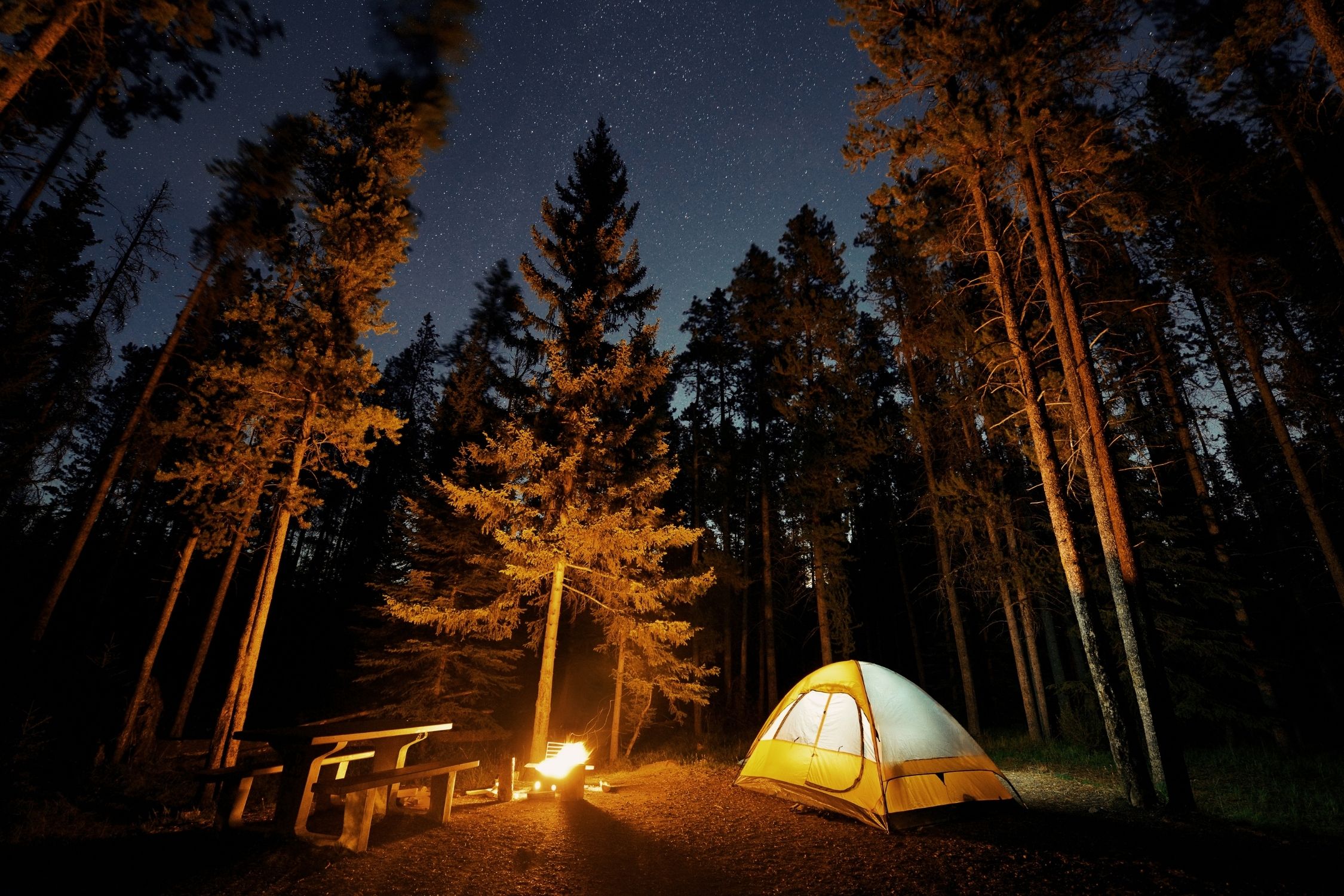 If you wish to camp in any National Park, you will need the following.
A National Park Pass: We buy ours annually as locals, but if you plan to visit for an extended period of time it makes for far more sense to buy the annual pass rather than the daily.
A Camping Permit: Some campgrounds require advanced reservations that can be made via phone or online. Other campsites are a first-come, first-serve basis where you register and retrieve your permit at the site. (Make sure to carry enough cash if you opt for the latter.) Even if you have plans for random camping that still requires a permit.
A Fire Permit: A number of campsites have individual pits and allow for campfires. They cost $9.25 per site per night so bring enough cash to pay for the permit at the campsite.
To Reserve Campsites in Banff, you should check the Parks Canada Reservation site when they open up reservations. A note that the popular ones go fast especially in July and August, and you'll want to have a plan when booking.
---
The Best Banff Campgrounds
Most visitors will have the greatest enjoyment with the front country Banff campgrounds. This is not a comprehensive overview of every campsite in Banff, and we suggest you visit Parks Canada for an overview. It's also the best way to reserve a campsite which you should do unless this is a last-minute trip.
---
Tunnel Mountain Campgrounds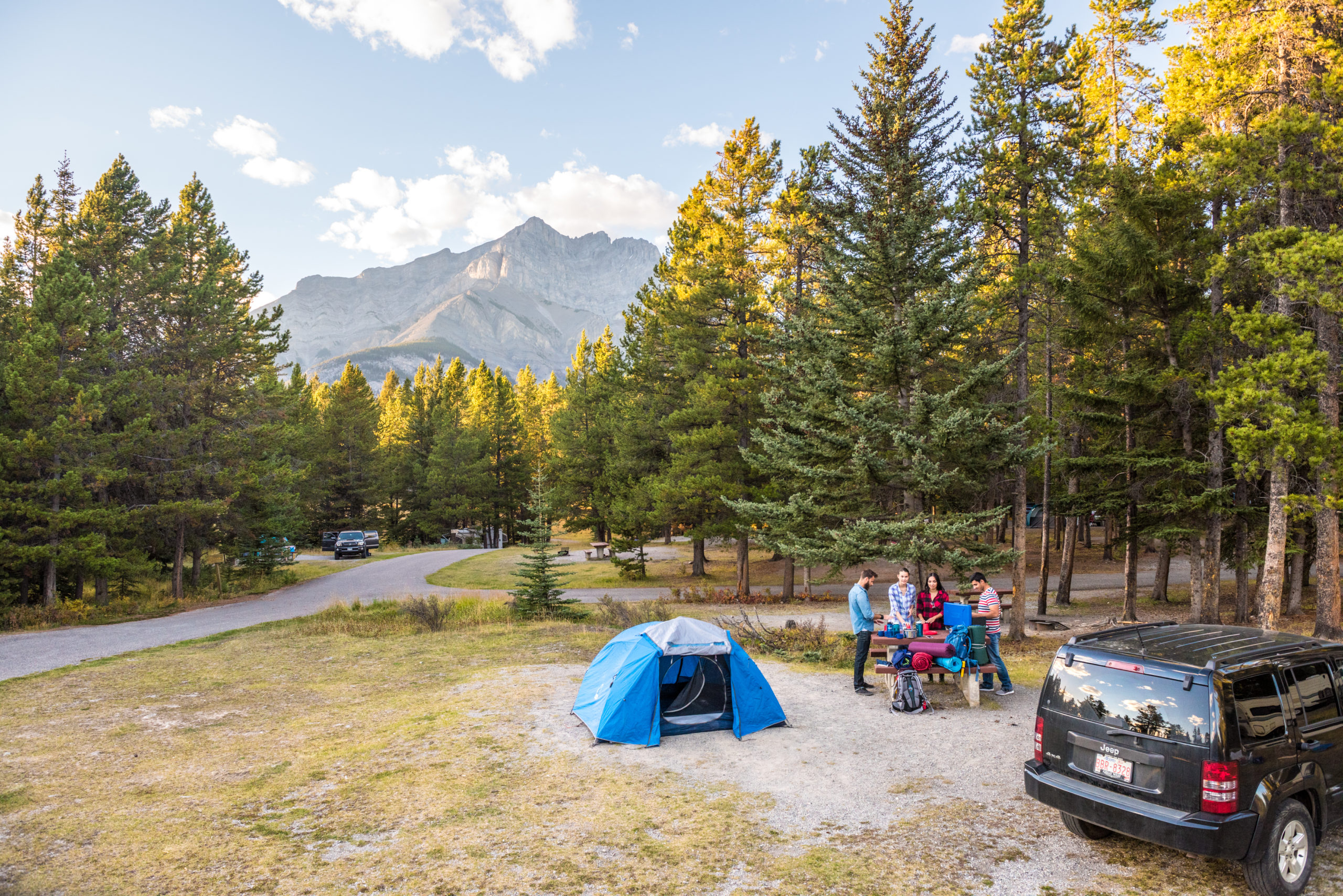 This is a series of Banff campgrounds located at the base of Tunnel Mountain. If you want convenient access to the town of Banff, nice facilities, and a beautiful campsite. Just because the campground is just outside of town does not detract from its natural beauty or opportunity to spot wildlife.
In fact, the campground is famous as visitors spot elk, bears, and occasionally the Bow Valley wolf pack every year. Nature is quite literally at the doorstep in Banff; because of this, it vitally important that campers practice proper wildlife awareness.
There are three separate campgrounds of Tunnel Mountain Campground I, II, and III that are all adjacent to one another. These are the best facilities for camping in Banff, and the Tunnel Mountain Campgrounds are the only campsites that offer electricity hookups. Most importantly, they also have hot showers, which are a pretty sweet deal and not found at all the campgrounds in the park.
The Tunnel Mountain Campgrounds have over 700 sites, so it can feel at times like you're in a parking lot. Tunnel Mountain Campground III or the Trailer Campground is the least attractive as it is designed for large motorcoaches and RVs. So if you're camping in a tent or van, it's better to opt for other campgrounds or possibly Two Jack Lake. A big plus to this campground is the free shuttle bus to town that Parks Canada operates.
Operating dates:

Tunnel Mtn. Village I

: May 12 to October 3
Tunnel Mtn. Village II: Year Round

Reservation: Required
Amenities: Hot showers, flush toilet, outdoor theatre, sanitation dump, hookups, disabled access, fire pits, food lockers, potable water, sheltered camp kitchens
Fees:

Tunnel Mountain: Water, sewer, and electrical $40.75
Tunnel Mountain: Unserviced with washroom building having toilets and showers $29.25
Tunnel Mountain: Electrical $34.50

Number of sites: 1,148 mixed sites
---
Two Jack Lake Campground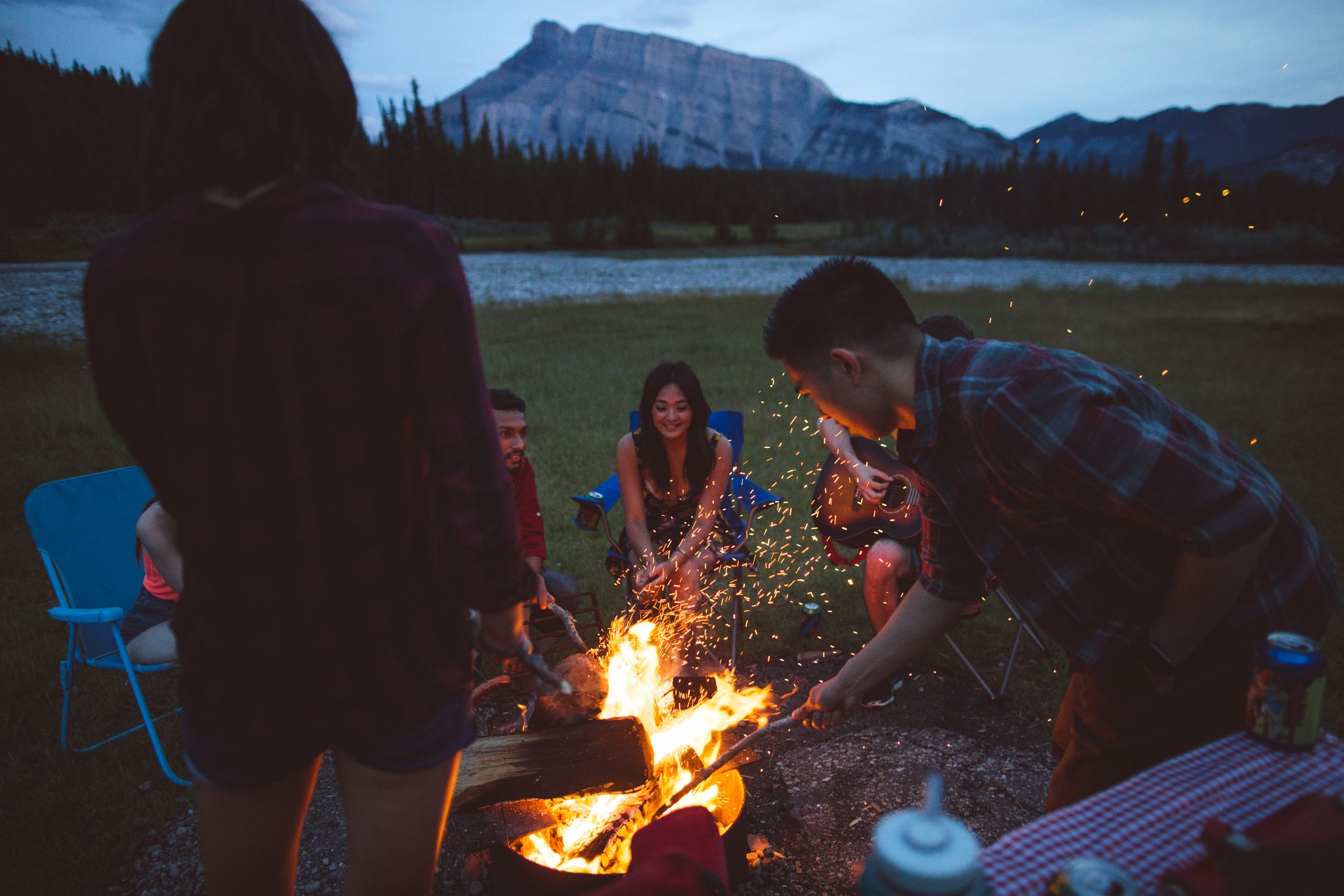 Two Jack Lake Campgrounds are the next closest campgrounds to Banff town. These campgrounds have a more natural feel to them, and the sites are well spread out. Two campgrounds are located here, the more desirable Two Jack Lakeside Campground and the Two Jack Campground Main.
The Lakeside Campground is smaller, has hot showers, and includes several choice campsites located on the banks of Two Jack Lake. You'll have to be pretty lucky to score a reservation at those sites though, try as soon as reservations open.
However, the whole area is really wonderful as Two Jack Lake is gorgeous and nearby Lake Minnewanka is good for fishing, water sports, and hiking. The Two Jack Lakeside campground also has several equipped campsites for $70 a night and includes everything you could need for camping.
These equipped campsites have a 6 person tent, 6 sleeping pads, stove, propane, and a lantern. Visitors only need to bring a sleeping bag, food, and hiking clothes.
Two Jack Lake is one of our favorite spots for sunset, a relaxed walk, or for stand-up paddleboarding in Banff. If you get a chance to camp in Banff here, consider yourself lucky.
Operating dates:

Two Jack Main: June 23 to September 6
Two Jack Lakeside: May 12 to October 3

Reservation: Required
Amenities: Hot showers, flush toilet, sanitation dump, disabled access, fire pits, food lockers, potable water, sheltered camp kitchens
Fees:

Two Jack Main Equipped Campsites: $74.75
Two Jack Main: $23.00
Two Jack Lakeside: $29.25

Number of sites: 455 mixed sites between Two Jack Lakeside and Two Jack Main
---
Johnston Canyon Campground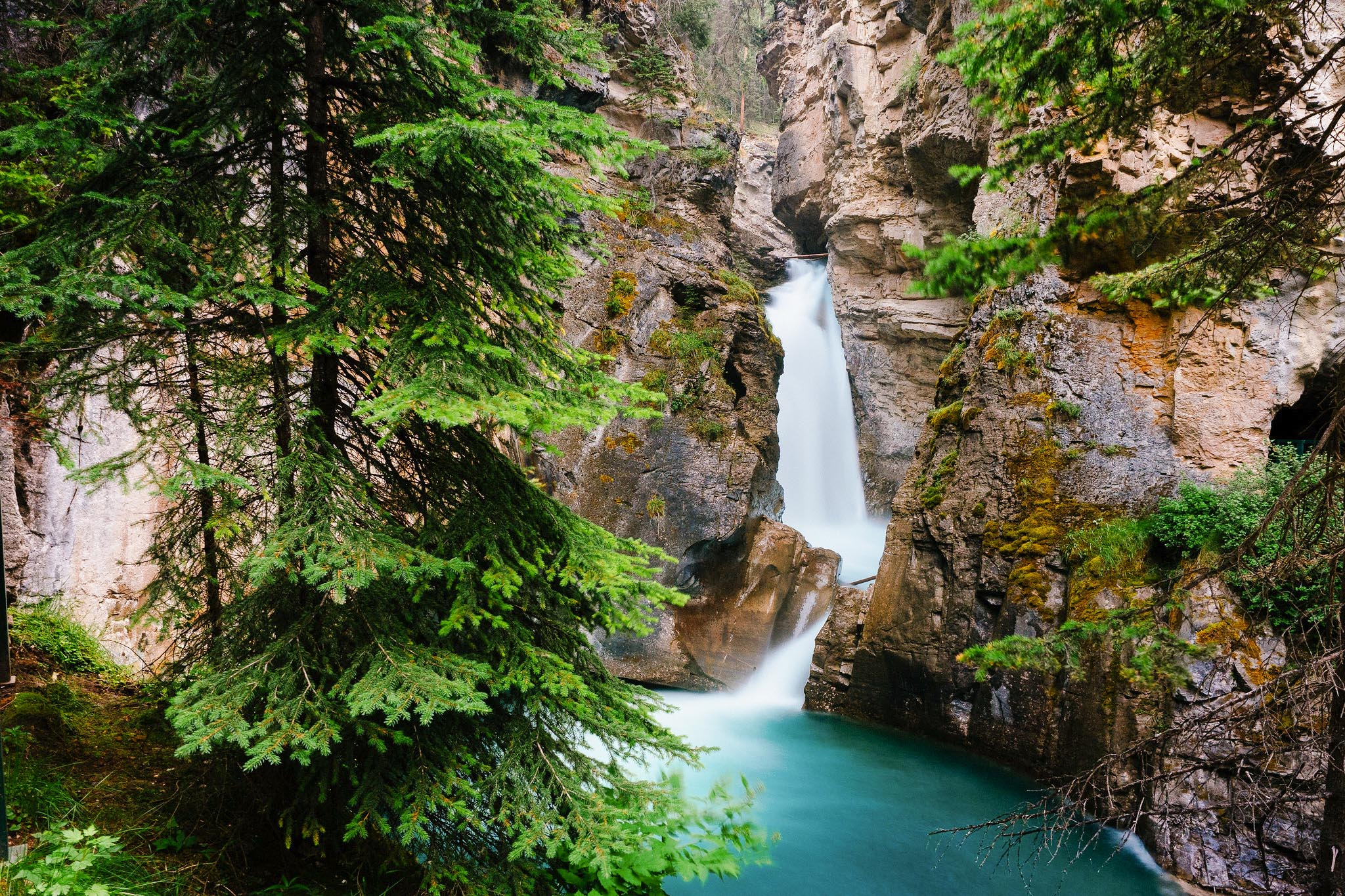 Just off the Bow Valley Parkway and half an hour outside of the town of Banff, the Johnston Canyon Campground is located at one of the most popular hikes in Banff. We love the Johnston Canyon Campground for a quiet location that's in a great location along the Bow Valley Parkway.
The campsite also has some great facilities with showers, flush toilets, and fire pits that include firewood with your fire permit. There are three prime campsites right along Johnston Creek if you want to fall asleep to the sounds of rushing water. If you do camp here, take advantage of the location and go for an early morning hike through Johnston Canyon.
Operating dates: May 26 to September 26
Reservations: Required
Amenities: Hot showers, flush toilet, sanitation dump, disabled access, fire pits, food lockers, potable water, sheltered camp kitchens
Fees: $29.25
Number of sites: 132
---
Castle Mountain Campground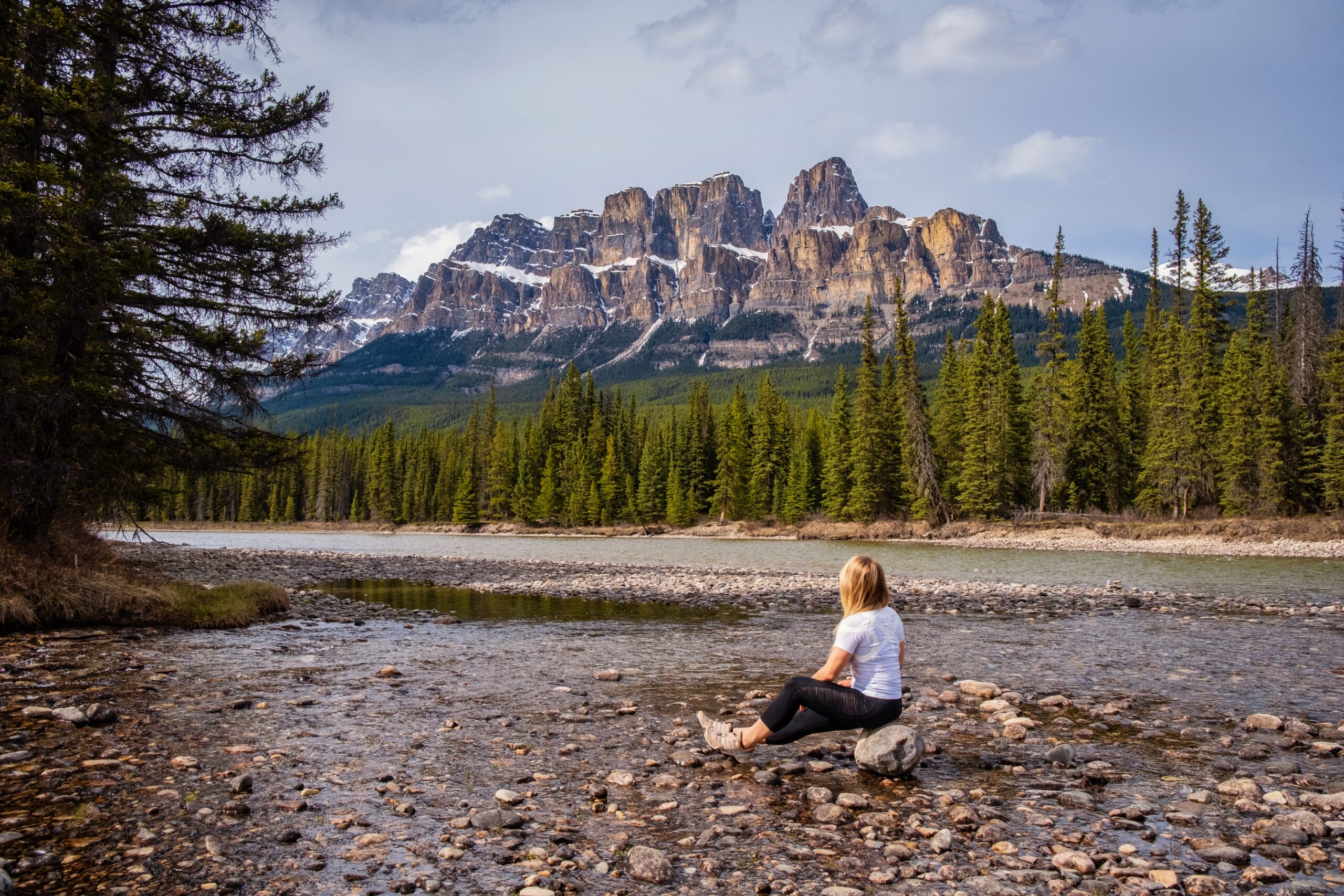 Castle Mountain Campground is a great campground located between Johnston Canyon and Lake Louise along the Bow Valley Parkway. It's 34 km from Banff and 28 km from Lake Louise. The campsite operates on a first-come, first-serve basis, and there are only 43 sights available.
I love this campground as it's right next to Castle Mountain and the Bow River, one of Banff's quieter spots. It's possible to enjoy a picnic along the Bow River with stunning Castle Mountain views without anyone else around.
If you need something, you are not too far from Castle Mountain Chalets, one of the best places to stay in Banff. I would recommend bringing a bike on your camping trip so you can bike the Bow Valley Parkway on your trip. Want to venture out on a hike? Rockbound Lake under Castle mountain is a great one!
Operating dates: TBD (Closed until further notice)
Reservations: First Come First Serve
Amenities: Flush toilet, hot and cold water, food lockers for walk-in campers, potable water, cooking shelter
Fees: $23 / $9.25 Firepit
Number of sites: 43
---
Lake Louise Campground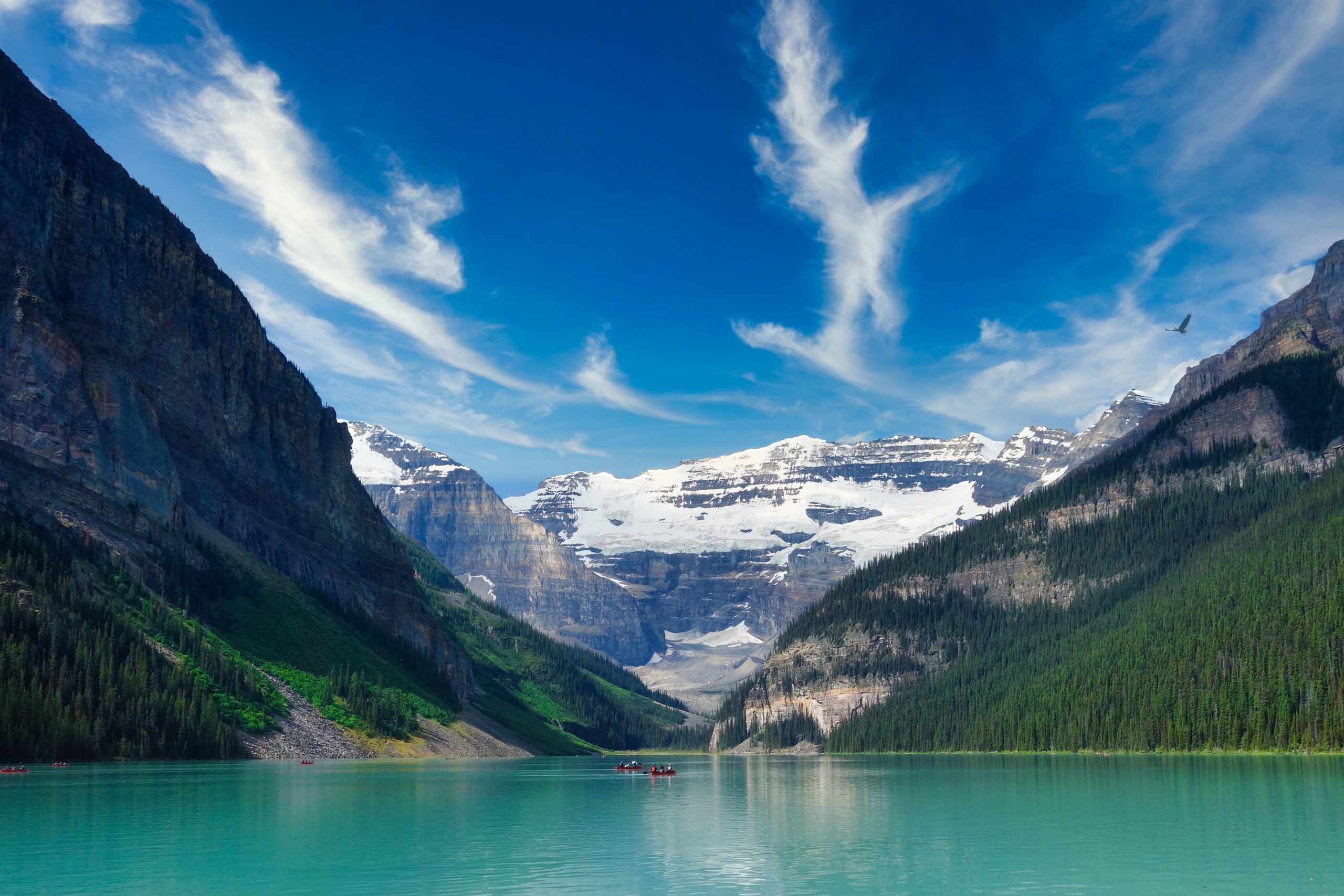 Lake Louise is the crown jewel of the Canadian Rockies, and it's been drawing in visitors to these mountains for over a century. There is some tremendous hiking around Lake Louise and you can easily entertain yourself in the area for several days. For true Lake Louise camping, this is your only campground.
The campsite is separated into two sections one for the tent campers and the other a hard-sided campers area. The tented area has a fence around to keep the bears out and protect visitors. You have great facilities here as well, with hot showers, flush toilets, and fire pits.
Lake Louise is by all accounts a breathtaking scene, but visiting the lake can be a pain to secure parking. The overflow parking even requires reservations now! If you secure a campsite at the Lake Louise Campground, you're able to take advantage of a free shuttle that runs from the campground to the village, Lake Louise, and Moraine Lake. This is probably the greatest advantage of camping at Lake Louise.
Operating dates:

Lake Louise Hard-sided: Year Round
Lake Louise Soft-sided: May 30 to September 27

Reservations: Required
Amenities: Hot showers, flush toilet, sanitation dump, disabled access, fire pits, food lockers, potable water, sheltered camp kitchens
Fees:

Lake Louise – Unserviced with washroom building having toilets and showers $29.25
Lake Louise – Electrical $34.50
Lake Louise – Overflow $11.5

Number of sites: 206 tents & 189 trailers
---
Waterfowl Lakes Campground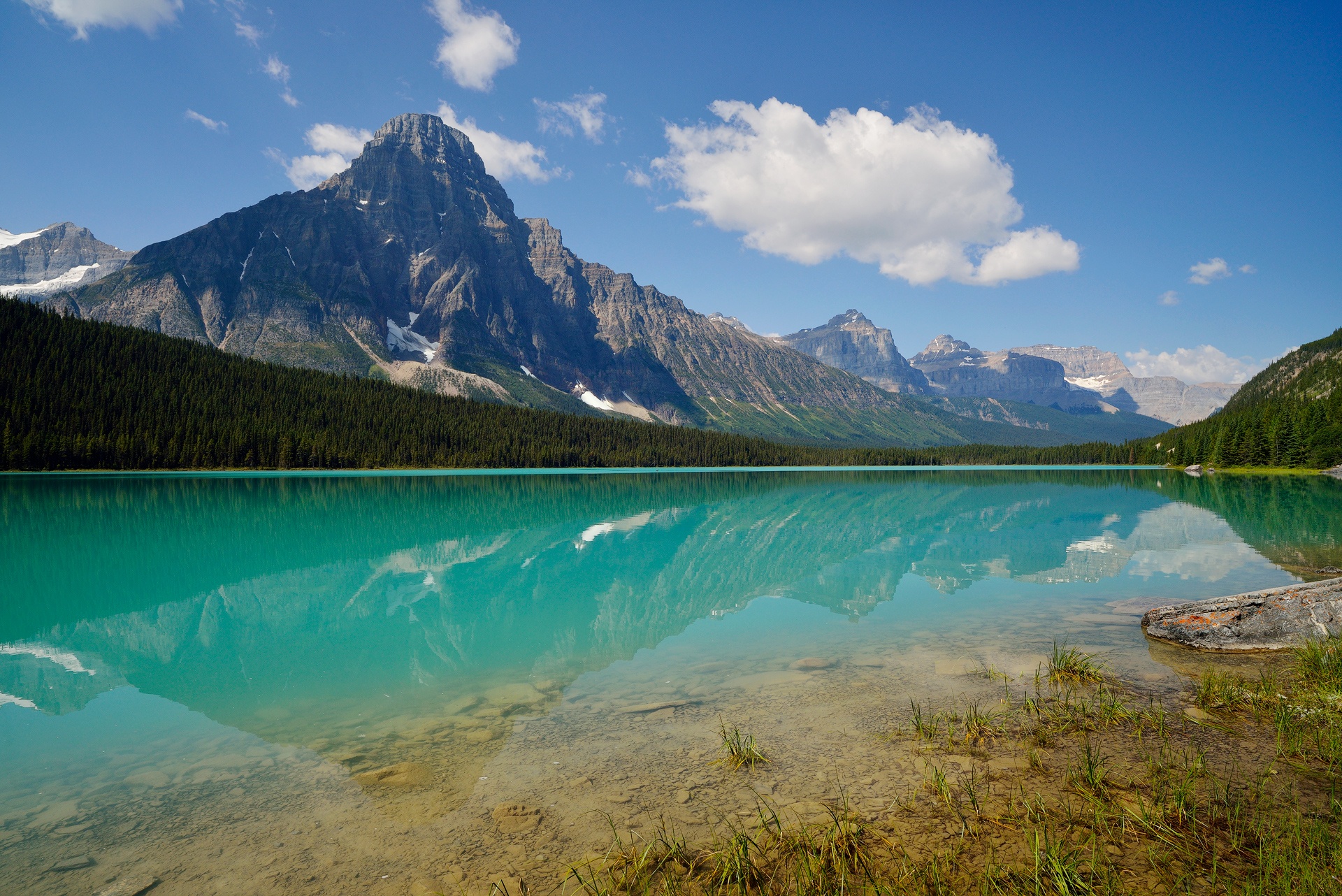 The Waterfowl Lakes are two relaxed lakes in the park that are a bit of a hidden gem, in our opinion. The two lakes are glacial and have the classic blue color that radiates on a sunny day. Its location right off the Icefields Parkway provides amazing access to some of the greatest aspects of Banff National Park.
However, as a first-come-first-serve campsite, this place is not so much a secret in the summer months. For scenery, we think this is one of the best campsites in Banff, even if they lack showers. However, there are heated bathrooms with flush toilets, a pretty nice luxury in our opinion. If you're staying here, make sure to hike to Chephren Lake nearby!
Operating dates:

June 23 to September 11

Reservation: First-come-first-serve
Amenities: Flush toilet, sani dump, disabled access, fire pits, food lockers, potable water, sheltered camp kitchens
Fees: $23.00 / $9.25 fire permit
Number of sites: 116
---
Mosquito Creek Campground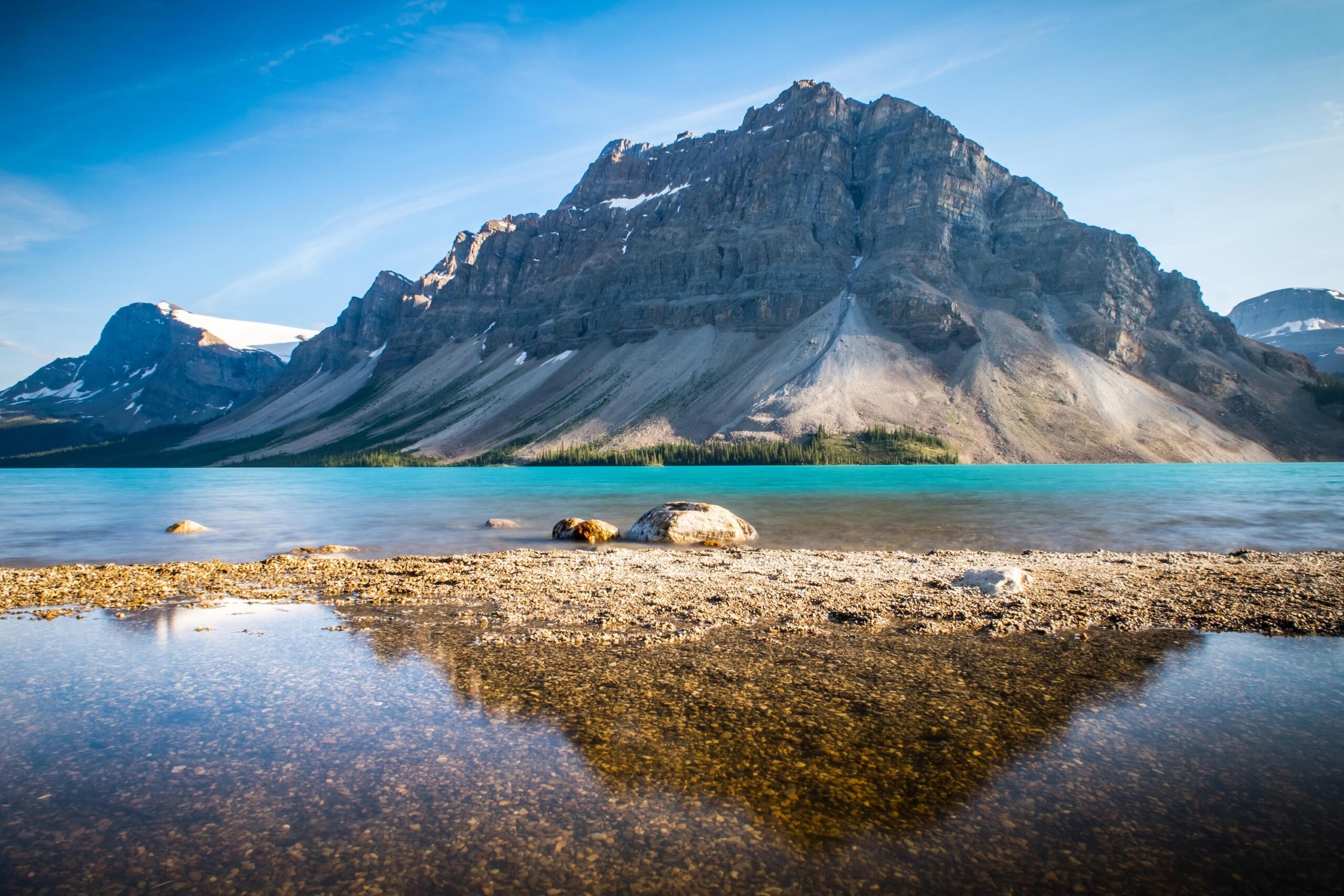 Mosquito Creek Campground is one of the best Banff campsites along the Icefields Parkway. If the name "Mosquito Creek" scares you don't worry, the nasty bugs here aren't any worse than anywhere else in Banff. That being said, you should definitely have some bug spray on you in the summer.
This is an affordable campground that often doesn't get too busy in the summer months. It's a great base if you're going to explore sights on the Icefields Parkway. Or if you're heading to Bow Lake and hiking awesome trails like The Onion or Mount Jimmy Simpson.
Operating dates: June 9 to October 10
Reservation: First-come-first-serve
Amenities: Solar treated potable water, greywater sinks are available, one picnic shelter, dry toilet, food lockers
Fees: $18.75 / $9.25 fire permit
Number of sites: 32
---
Columbia Icefield Campground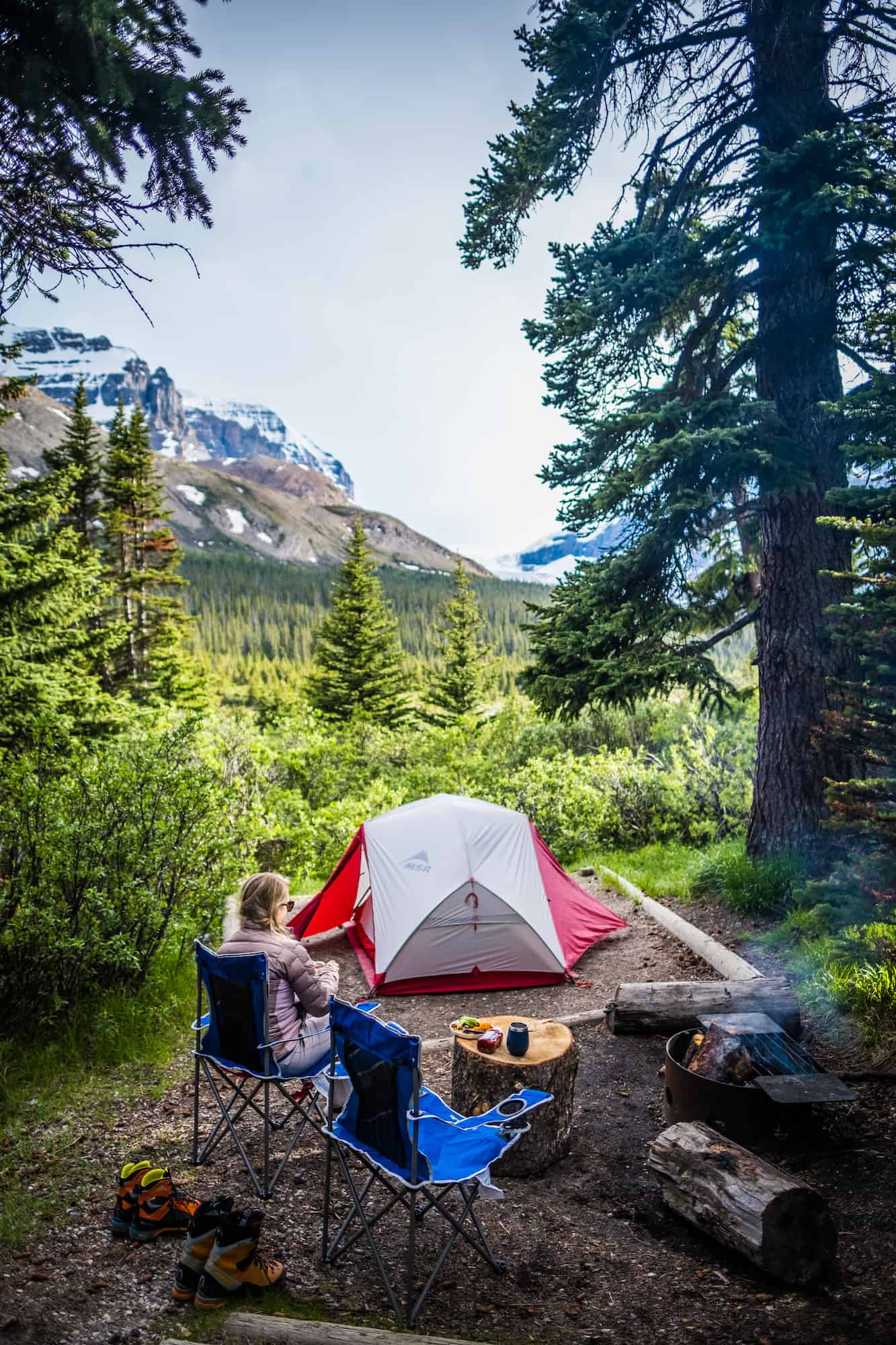 This is probably one of the most difficult campsites to score in the peak summer months. It operates on a first-come-first-serve basis, and it's very small. There is not much for facilities here, but the views if you're lucky enough to score one of the eight choice sites, are unreal. This site is limited to tents only, but a small van might be able to pull off a camp here.
From the site, you look out onto the Athabasca Glacier. We got super lucky with this spot by showing up at 8:00 in the morning and catching someone who was on their way out. We spent three nights at this campsite while we climbed the surrounding mountains, including Mt Athabasca.
It is technically just out of Banff and is actually located in Jasper National Park. For more information on camping in Jasper, you'll have to read our other post.
Operating dates:

June 15 to TBA

Reservation: First-come-first-serve
Amenities: Camp kitchen, fire pits, dry toilets
Fees: Unserviced, with fire pit: $26.00
Number of sites: 33
---
Banff Camping and Campgrounds Map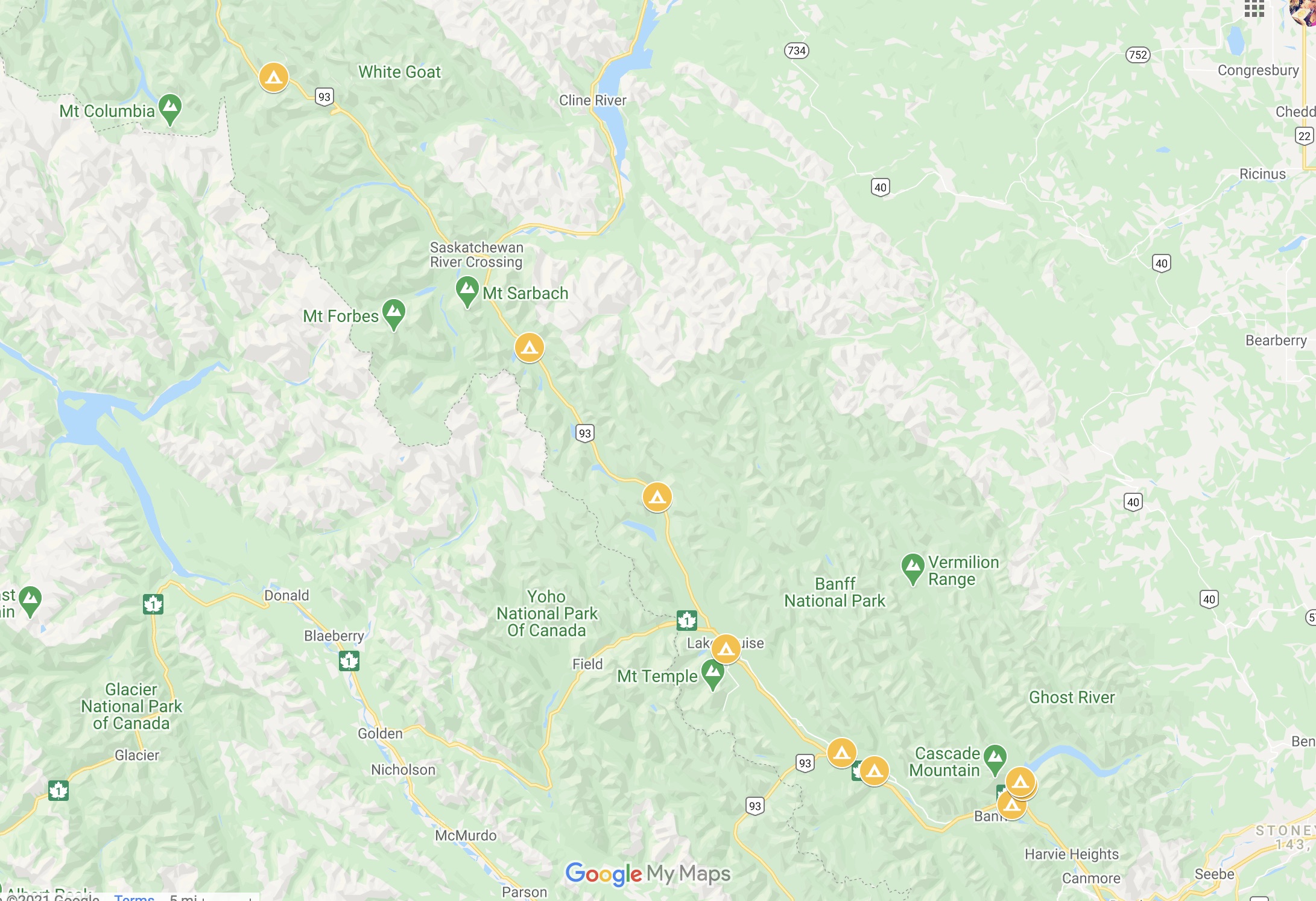 ---
Tips For Camping in Banff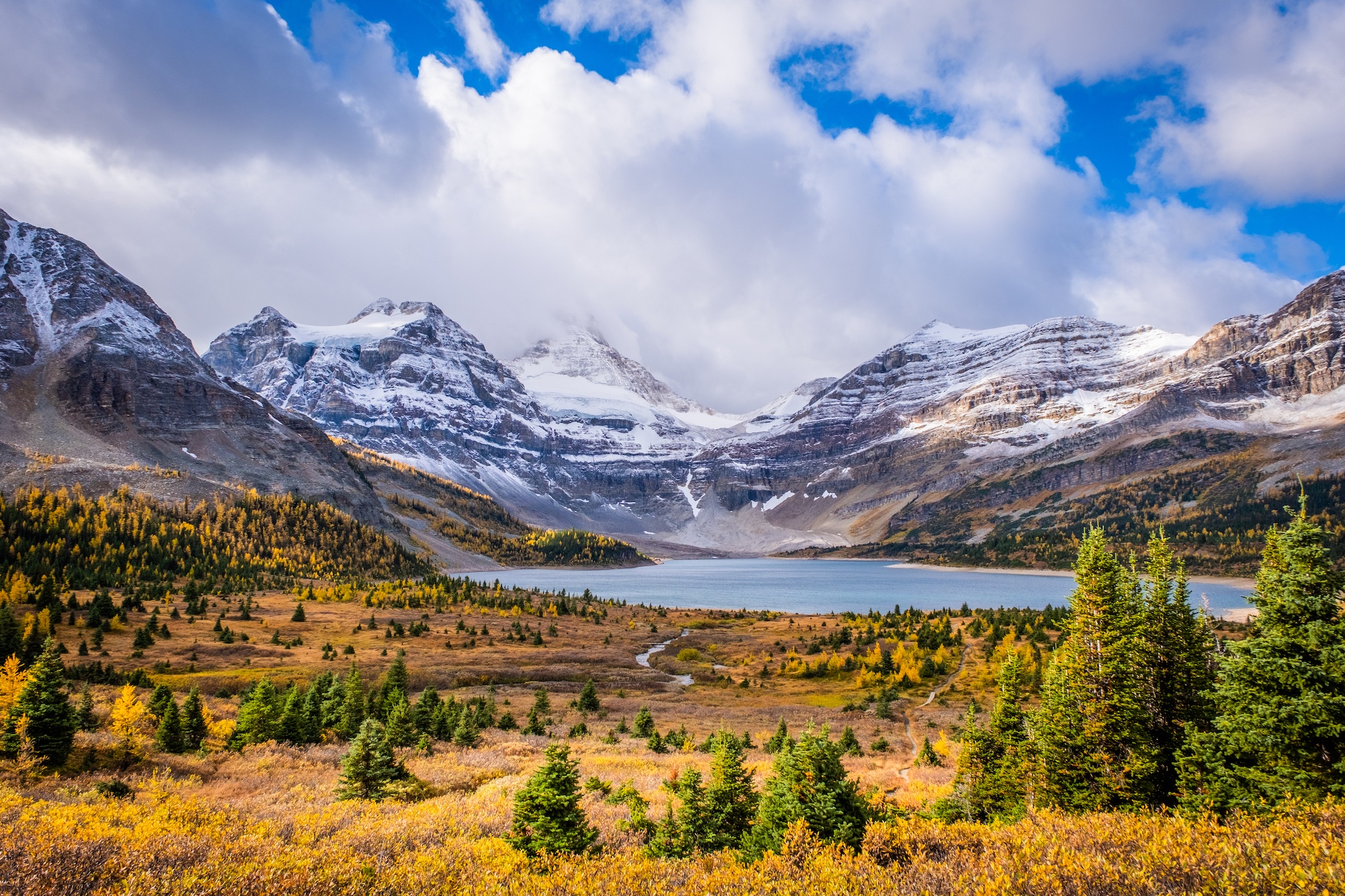 Be wildlife aware at all times. Please be cognizant of food around your campsite. Make use of the bear-proof boxes in camp or store your food in your car. Do not leave your food unattended at any time. Food conditioning kills wildlife!
There is no free camping in National Parks. You are required to stay in designated sites or have a permit for every night. Please do not try to stealth camp. Rangers actively patrol and can write tickets for illegal camping or force you to move. There are hefty fines for those that break the rules in the park.
To grab the first-come-first-serve campsites you'll need to arrive early in the morning and hope to catch someone on their way out. Even still there is often a line of cars waiting to grab a spot so you'll have to be pretty lucky. If you do get one set up camp for a few days and explore the area.
---
Backcountry Camping in Banff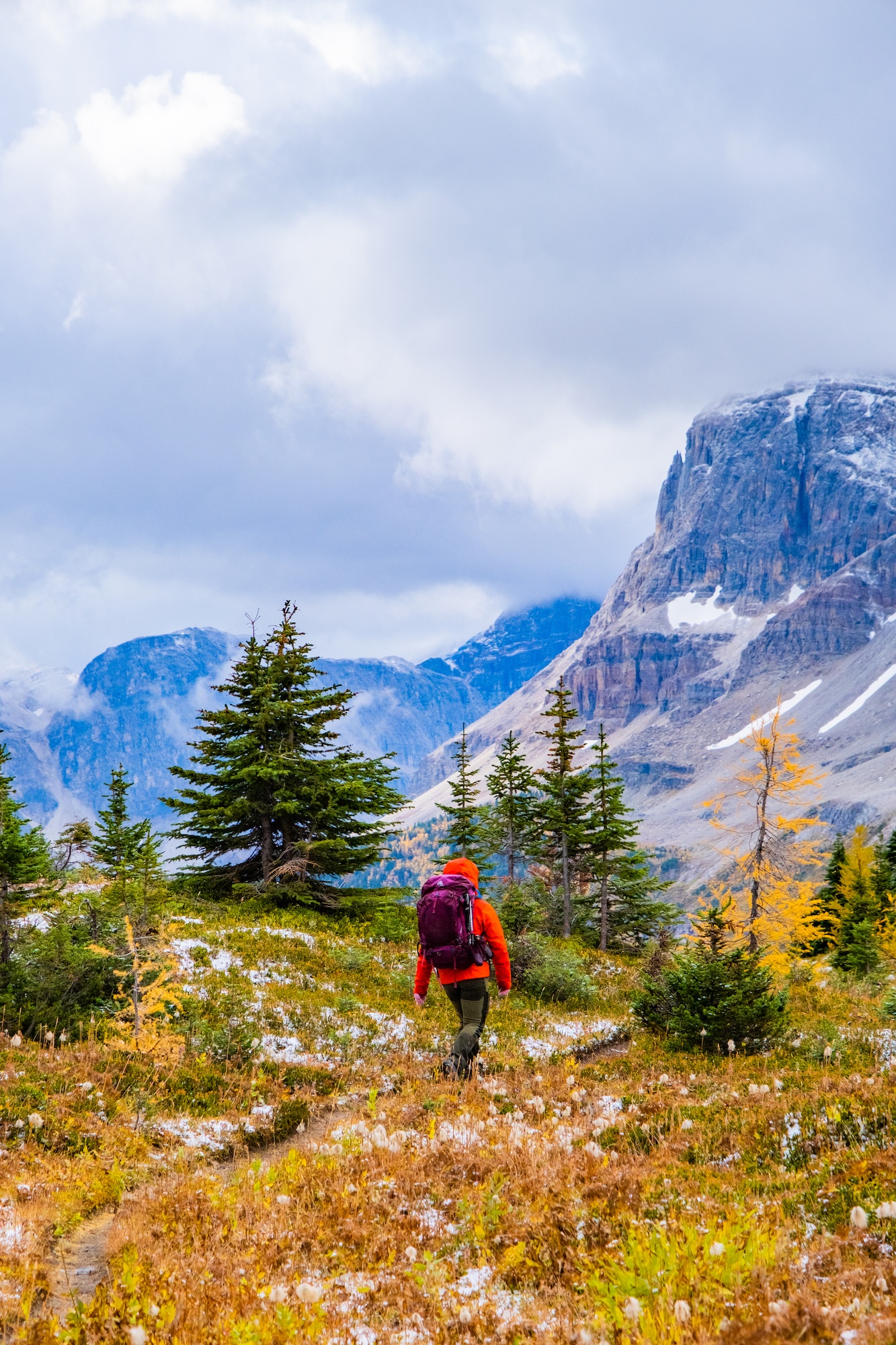 Some of the greatest journeys in Banff and most splendid scenes take place in the backcountry. These are multiday hikes that usually require a long hike in to reach the campsite. To spend a night in Banff's backcountry, you are required to hold a permit per person per night which costs $11.50 for online reservations or $13.50 for telephone reservations.
Group size is limited to no more than 10 people, and you can only spend three nights in one campsite before being required to move on. There are a limited number of permits and campsites, so you'll want to reserve your permit well in advance.
Reserve your backcountry permit online 24/7 at: reservation.pc.gc.ca or by calling: 1-877-RESERVE (1-877-737-3783)
Famous Backcountry Trips Around Banff
Rockwall Trail
Tonquin Valley
---
Hopefully, this helped you determine which Banff campground is best for you.
If you have any other questions leave a comment or see our Canadian Rockies travel guide for more articles about photography spots, lakes, hikes, and everything else.
---
Plan Your Trip to the Canadian Rockies
↓ Join the community ↓
The Banff Blog Facebook Group is your headquarters for the Canadian Rockies' travel advice and information. Including hike info and off-season travel information. This is also where you can meet one another when you need adventure buddies.