We've compiled a list of some of the best Airbnbs in Jasper. Most are in the Town of Jasper, but a few are just outside the park. Jasper National Park is one of the most beautiful places in all of Alberta. It's a dreamy outdoor destination in Canada and a great place to visit in the Canadian Rockies.
There are so many great things to do in Jasper, but in between these activities, you'll need somewhere great to stay. Jasper is a small town, but that doesn't mean it doesn't have some cool Airbnbs there.
Jasper has strict Airbnb laws. Parks Canada does not allow Jasper residents to rent entire homes to tourists. This means that almost any Airbnb you'll find is a basement apartment or some sort of add-on to a residential home. Because of these zoning laws, you won't find your own home or apartment to rent in Jasper.
I've listed two full home Airbnb rentals that are just outside of Jasper so that you can rent an entire place if you would like.
See Also:
---
But First, Why Should You Stay in an Airbnb in Jasper?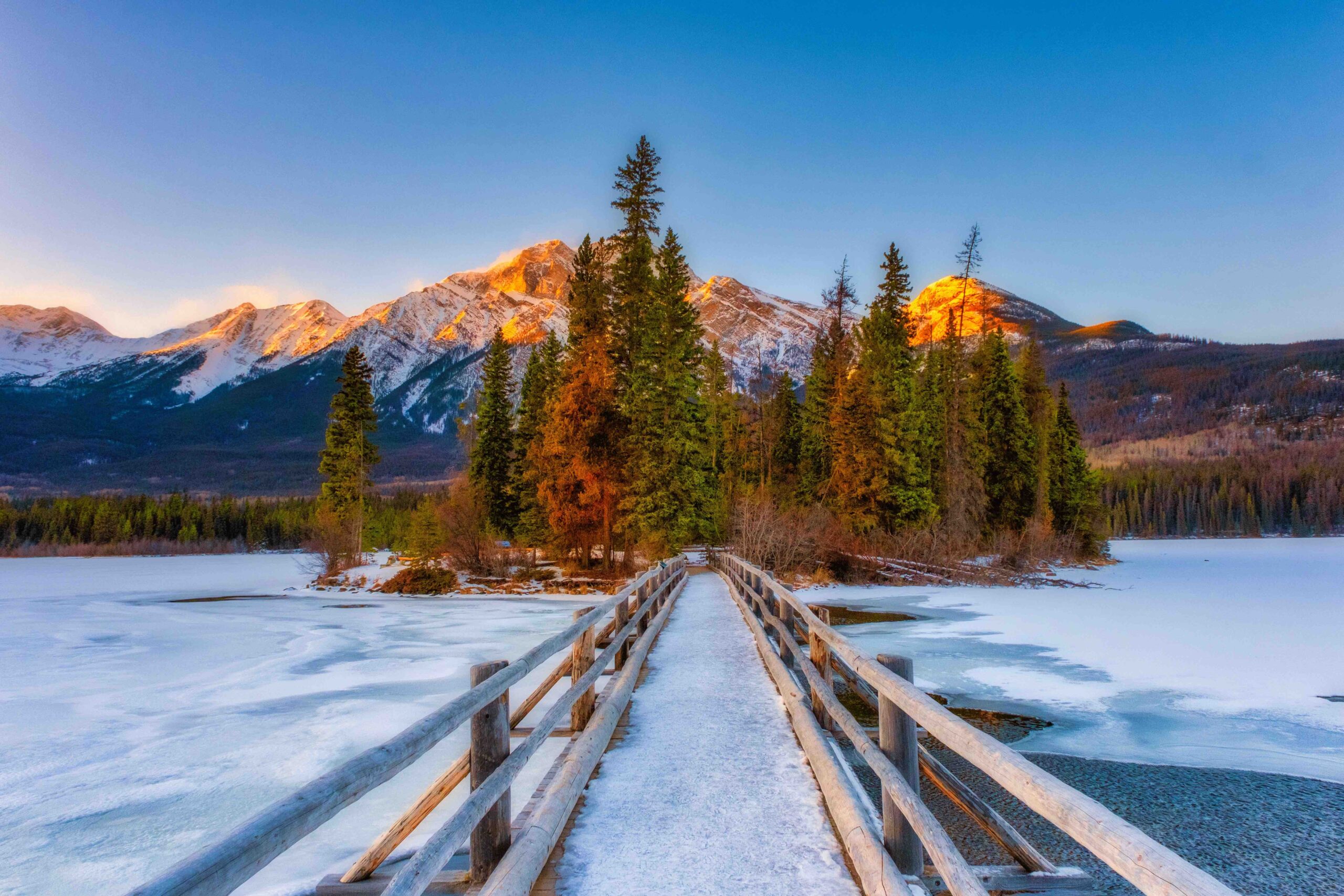 ---
Unique Stays: Don't get me wrong. I love the Jasper hotels, but staying in a Jasper Airbnb gives you the chance to find a more unique property. We do our hardest to show you the best townhouses, lofts, cottages, and cabins. Not just standard hotel rooms so that your stay is extra special.
Stay Local: By staying with a local host you are choosing local businesses. This is not only great for them, but it gives you the chance to get the lowdown on the best things to do, where to eat, etc. No one knows best besides a local.
Affordable: Airbnbs range in price and can be found all over the town not just in one area (like a downtown area). You can stay in local neighborhoods which typically means cheaper.
Flexibility: What I love about Airbnbs is that you can choose places that are fit for not just two people, but four, six, and so on making them great for families and even more cost-effective.
Privacy: Most Airbnbs now let you check-in and check out without any human interaction if you don't want to. Keypads, lockboxes, and door codes make this all possible.
---
The Best Jasper Airbnbs
**Please note that Airbnb has abruptly discontinued its partnership with bloggers and online publishers. As a result, many of these properties are linked to Jasper VRBOs and other Jasper rental sites like Booking.com, which are great alternatives with lower service fees for guests.
---
Deluxe Three Bedroom Log Home with Mountain Views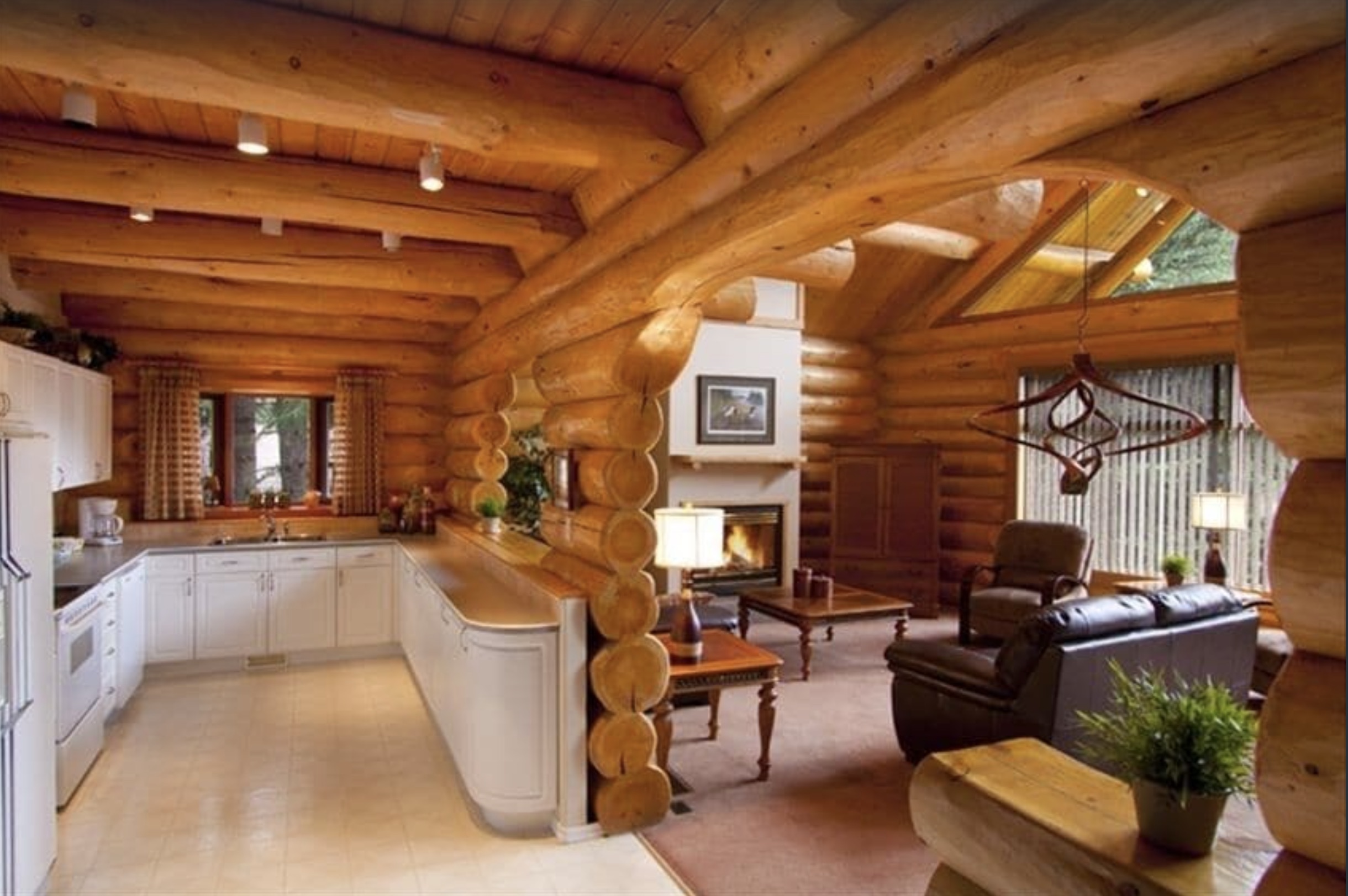 Location: Near Miette Hot Springs
Superhost: Yes
Price: $1000+
Guests: 8
Beds: 3
This beautiful log cabin is highly rated and run by a Superhost. This cozy log cabin style home is just a 5-minute walk to most of Jasper's downtown businesses. It has three bedrooms and is fit for up to eight guests.
I particularly love the mountain vibes going on in this Jasper Airbnb and think it makes for a perfect winter getaway in the Canadian Rockies for large groups.
---
Living Room Apartment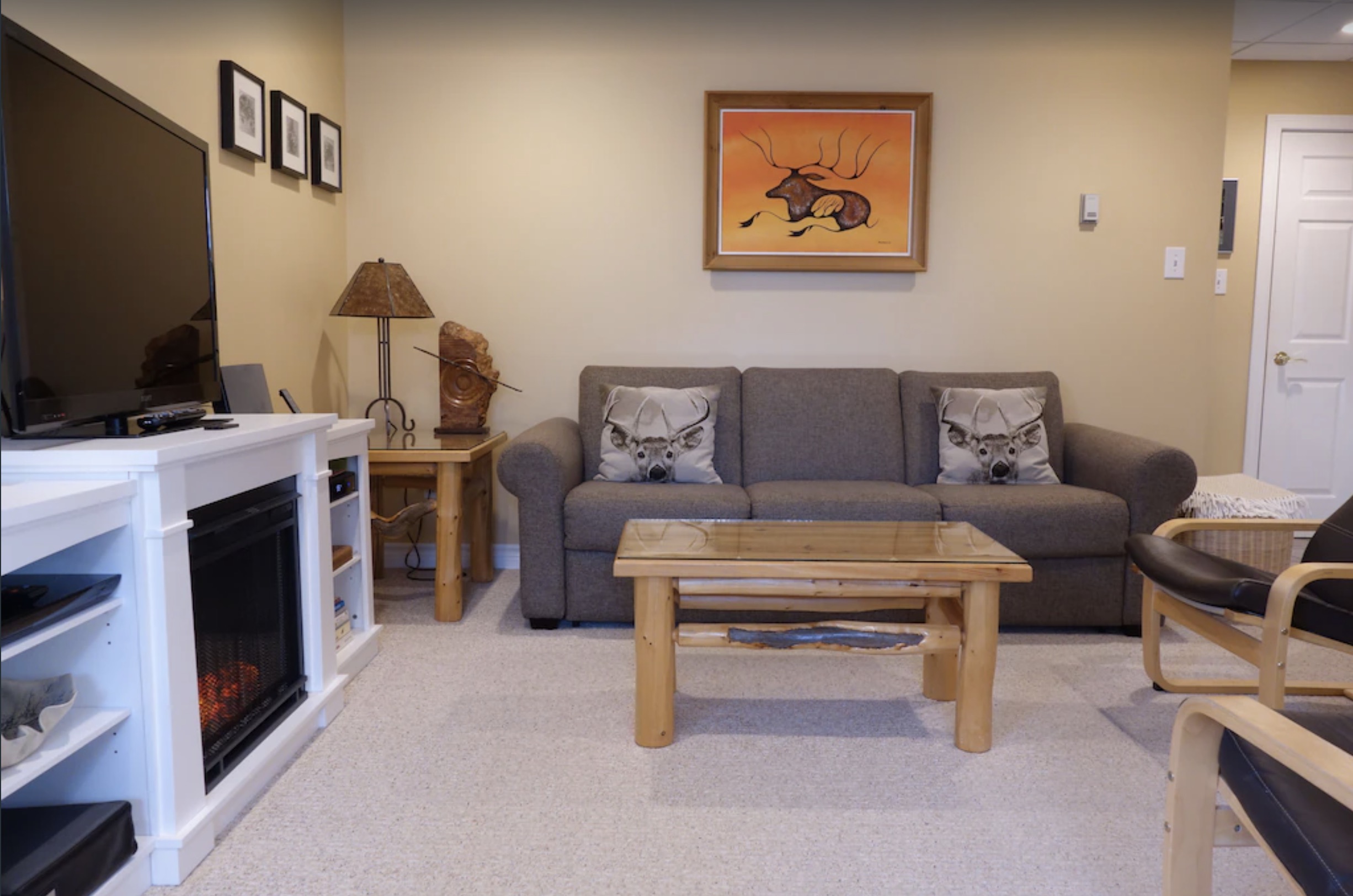 Location: Old Town Jasper
Superhost: Yes
Price: $300+
Guests: 4
Beds: 2
This is seriously one of the most beautiful Airbnbs in Jasper. Set up for four guests in two bedrooms this Jasper Airbnb has all you need to be comfortable. It's a basement Airbnb that is uniquely decorated with modern amenities and even has a full outdoor seating patio area with a grill to bbq!
It's located right in the heart of Old Town Jasper, and is within walking distance to all the Jasper restaurants and bars you'll definitely want to hit up.
What I particularly love about this Jasper Airbnb is just how stylish it is while still being completely cozy. The Airbnb is set up with Netflix, fast Wifi, and even extra bear spray that you may need while hiking in the Canadian Rockies.
---
Footprints In The Rockies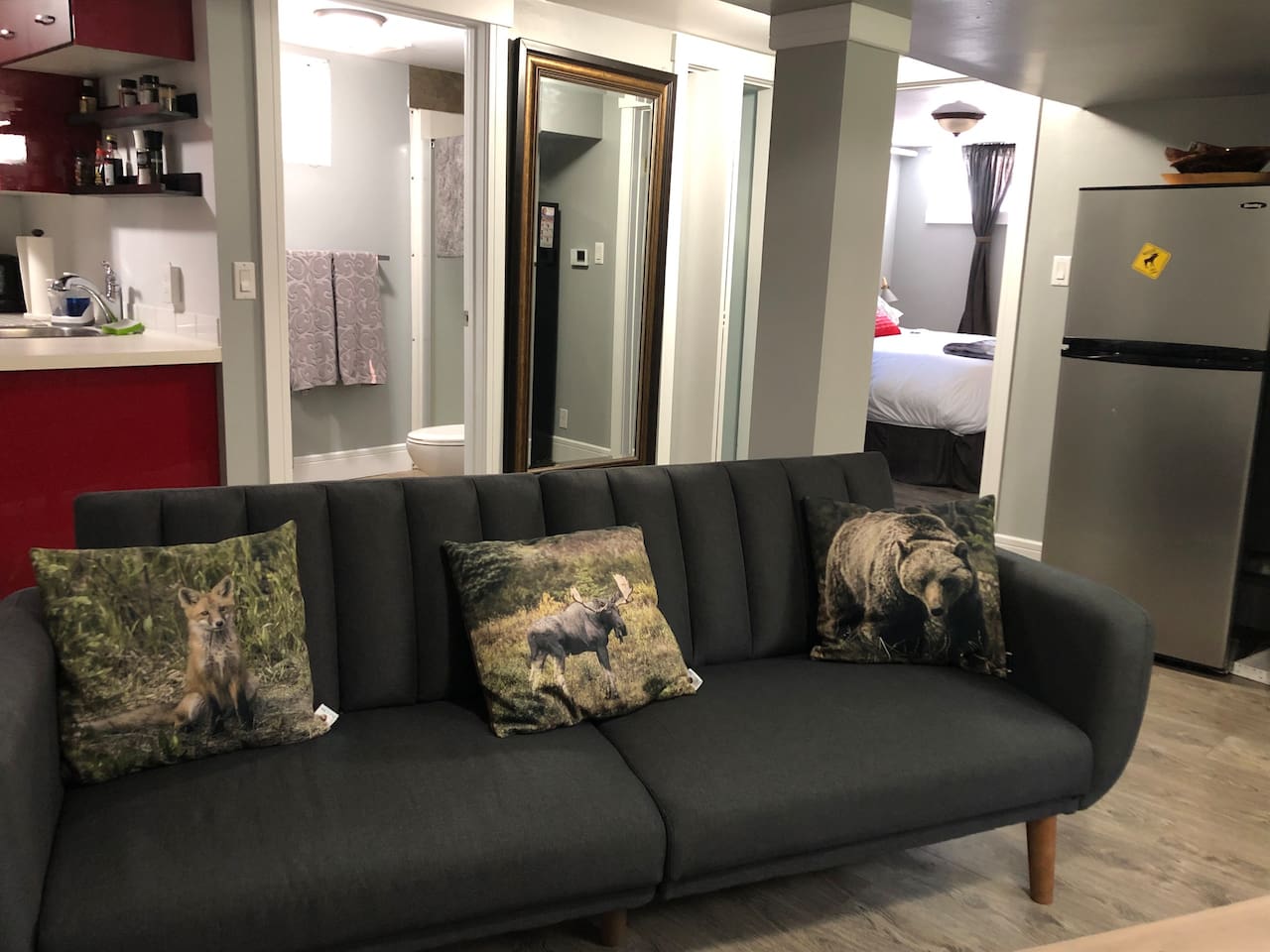 Location: Walkable from Downtown Jasper
Superhost: No
Price: $150+
Guests: 4
Beds: 1 +sofa
Another basement apartment in Jasper that is comfortable and cozy. This Jasper Airbnb is situated for two guests with one bedroom in it. There is also a small kitchen and living area with a fireplace. We loved staying here as it was comfortable and pretty close to Connaught Drive (the main street in Jasper).
There's a back deck patio for guests to use in the summer! And it's just a short walk away to the famous Bear Paw Bakery, which is where you can get breakfast in Jasper or a few baked goodies.
---
Luxury Guest Suite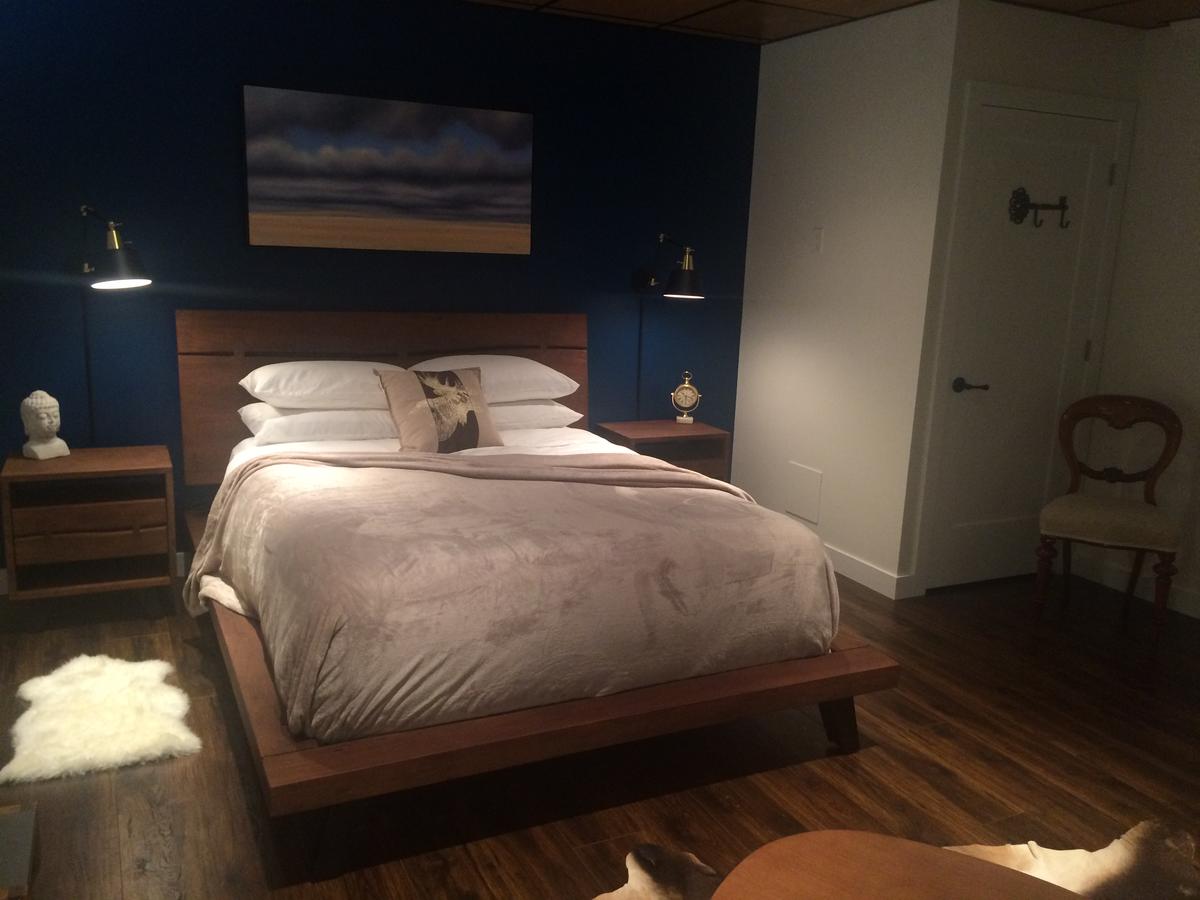 Location: Walkable from Downtown Jasper
Superhost: Yes
Price: $300+
Guests: 3
Beds: 2
This is one of the newest Jasper Airbnbs you will find. Run by Superhosts this suite is perfect for a romantic time in Jasper. It sleeps up to two people and is definitely the most luxurious and upscale suite in Jasper.
With a comfortable bed, large soaking tub, fireplace, sauna, and heated marble floors you honestly can't go wrong with this place.
It's one minute away from all the best bars, restaurants, and cafes in Jasper. What I love the most is that this Airbnb is run by a born local who knows all the ins and outs of visiting Jasper!
---
Luxury Tent/Yurt!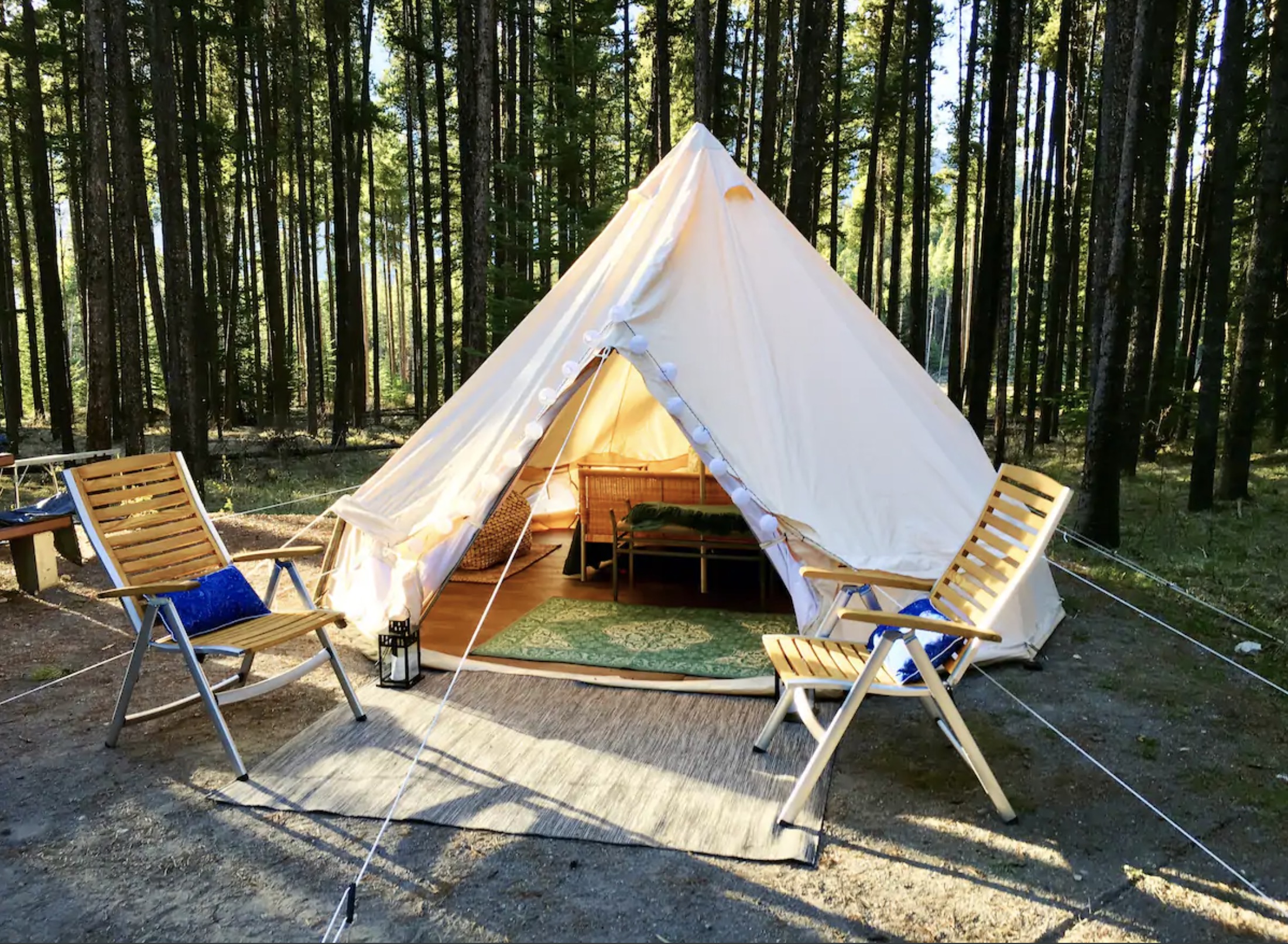 Location: Campsites Around Jasper
Superhost: No
Price: $150+
Guests: 2
Beds: 1
If you want to book a totally unique accommodation experience in Jasper this Jasper Airbnb is for you! Camping in Jasper has never been made easier. Book this, and let the hosts handle the permits and camp set up for you.
Not only will they handle everything for you, but you get to sleep in a real bed while everyone else is on their sleeping pads and sleeping bags. Included in your booking are your campsite reservation fees, fire permit, and campsite. You'll also have full access to a cooking kit! This Jasper Airbnb experience is only available in the summer.
---
Executive Mountain Jasper Chalet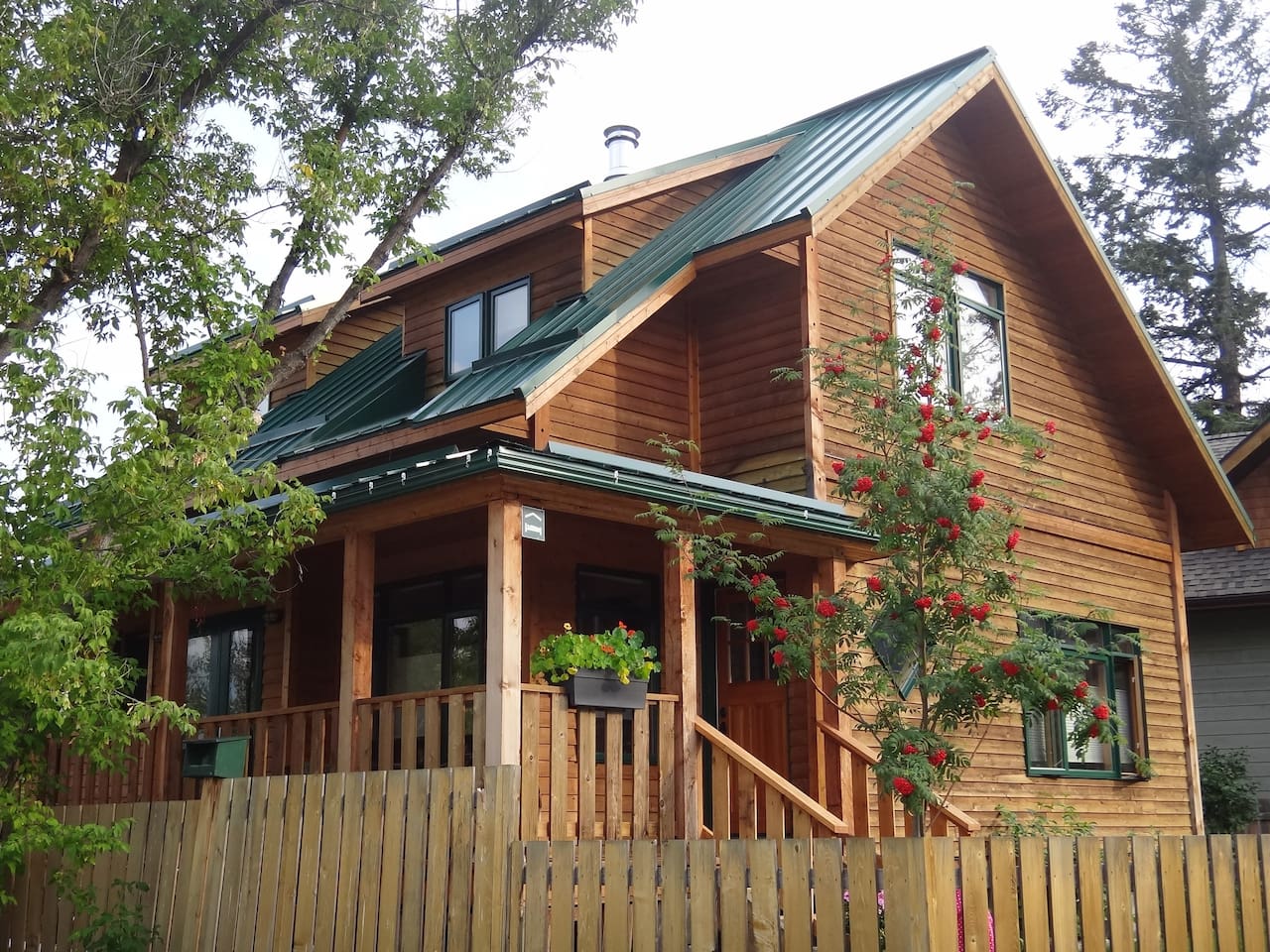 Location: On Jasper National Park outskirts
Superhost: Yes
Price: $800+
Guests: 8
Beds: 4
This executive chalet is best for larger groups as it can accompany up to 8 guests across 3 bedrooms. It's on the edge of Jasper National Park and is a private space to enjoy in the winter or summer.
This three bedroom fully home has beautiufl vaulter ceilings and a gas fireplace. It offers three separate patios all with mountain views. The main bedroom is on the top floor while the other two bedrooms are on the main floor, creating a great space separator if you are traveling with children.
This extravagant home provides a full kitchen, gas barbecue, and washer/dryer.
---
Bear Cub Lodging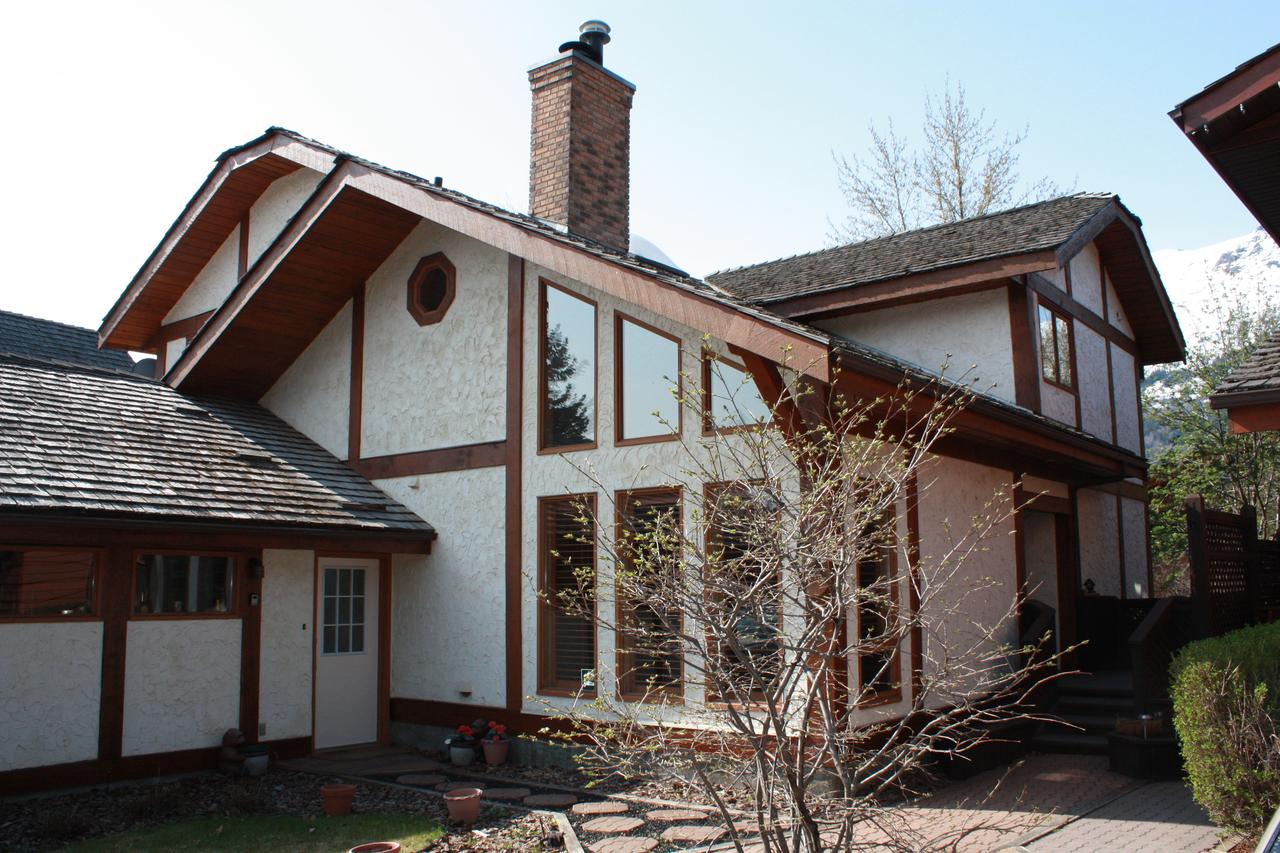 Location: Walkable from Downtown Jasper
Superhost: Yes
Price: $200+
Guests: 2
Beds: 1
This is a great studio Jasper Airbnb perfect for a couple or two friends. Like most of the other Airbnbs on this list, this one is located in a heritage home near Downtown Jasper and close to the attractions like the Jasper Skytram and just off the Icefields Parkway.
Though it's in a heritage home the suite is brand new and even has a new sauna for guests to enjoy after a cold day out in the Canadian Rockies.
There are many amenities you get with this Jasper Airbnb. Like bicycles for guests to use, and a Smart TV with Netflix and Crave. The suite has in-floor heating, which is needed after a long day of skiing at Marmot Basin. This Airbnb has a private entrance for your convenience as well.
---
Spectacular Mountain Home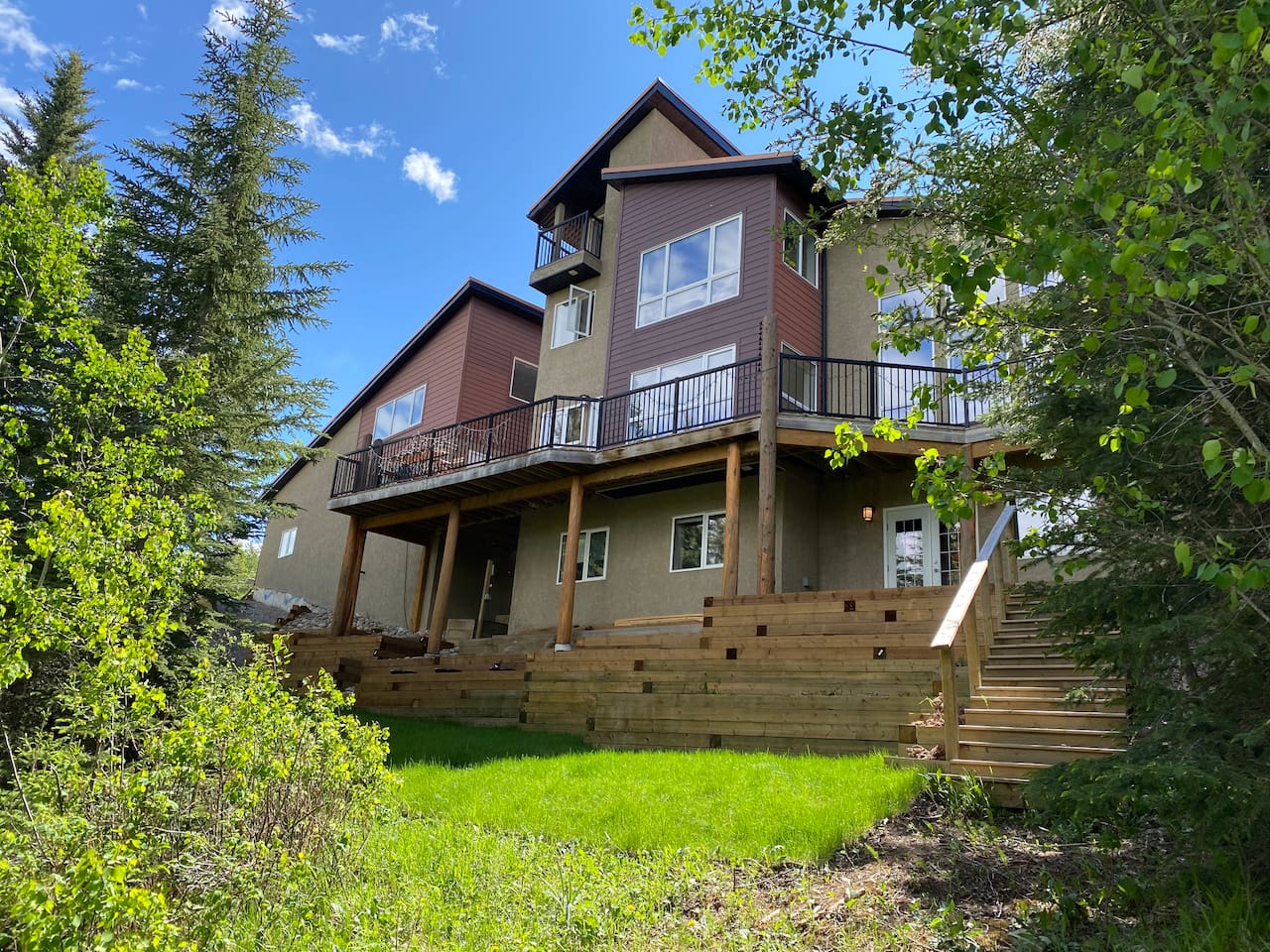 Location: Hinton
Superhost: Yes
Price: $500+
Guests: 8
Beds: 5
This is one of the only Airbnbs on this list that isn't in a basement and is an entire house. That's because it's located in Hinton, the town next door to Jasper. It is about 50 minutes away from Downtown Jasper, but you get much better value by moving further away. While it's far from Downtown Jasper, It's still close to the park entrance. Even Miette Hot Springs is fairly close by!
This home is great for big parties as it can accommodate 8 people. It's 3000 square feet on 2 acres of land making it the largest space you can rent in the area. This house is comfortable and ideal for families wanting to spend time together in the mountains. The hosts provide a fire pit, movies, WiFi, and games!
Guest Review: "Amazing house! Trip was to visit Jasper, but I wish we could've stayed longer to have some days to stay around the house. Didn't get a chance to use the fire pit, games, and movies available. Would definitely recommend it!"
---
Jasper East Mountain Home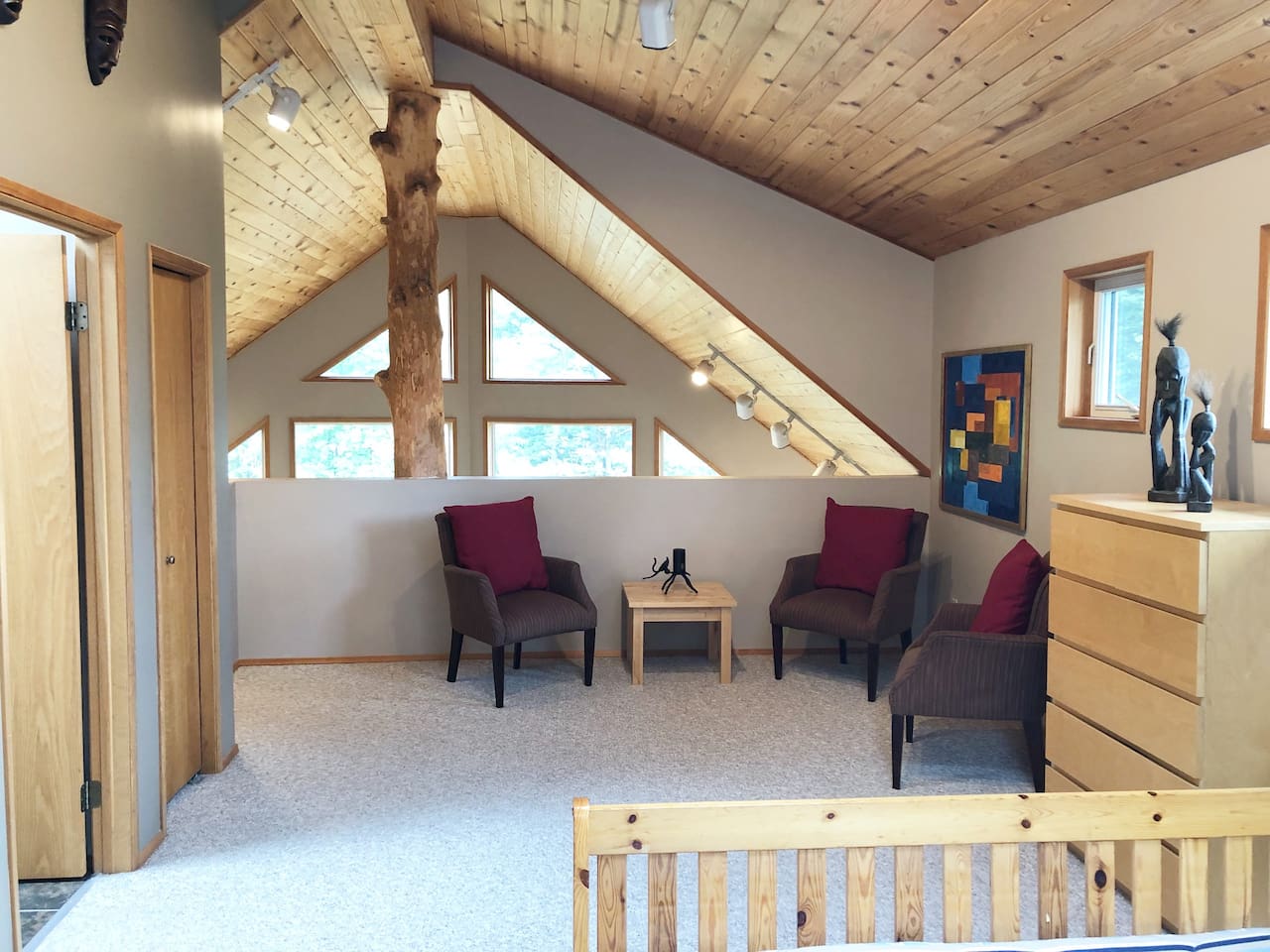 Location: Jasper East
Superhost: Yes
Price: $700+
Guests: 6
Beds: 3
This is a 3 bedroom house set up for 6 people. You get the entire chalet, unlike most of the other Jasper Airbnbs on this list. This home is just outside the park, just 4 km to the Jasper National Park gate and a 35-minute drive to Downtown Jasper. It's in a community called, Folding Mountain Village right next to the Folding Mountain Brewery and Restaurant.
It's a nice and modern home, that is a treat to stay at while in Jasper. It's actually the closest mountain house you can get while visiting Jasper due to the zoning laws mentioned at the beginning.
---
Roche Bonhomme Rustic Suite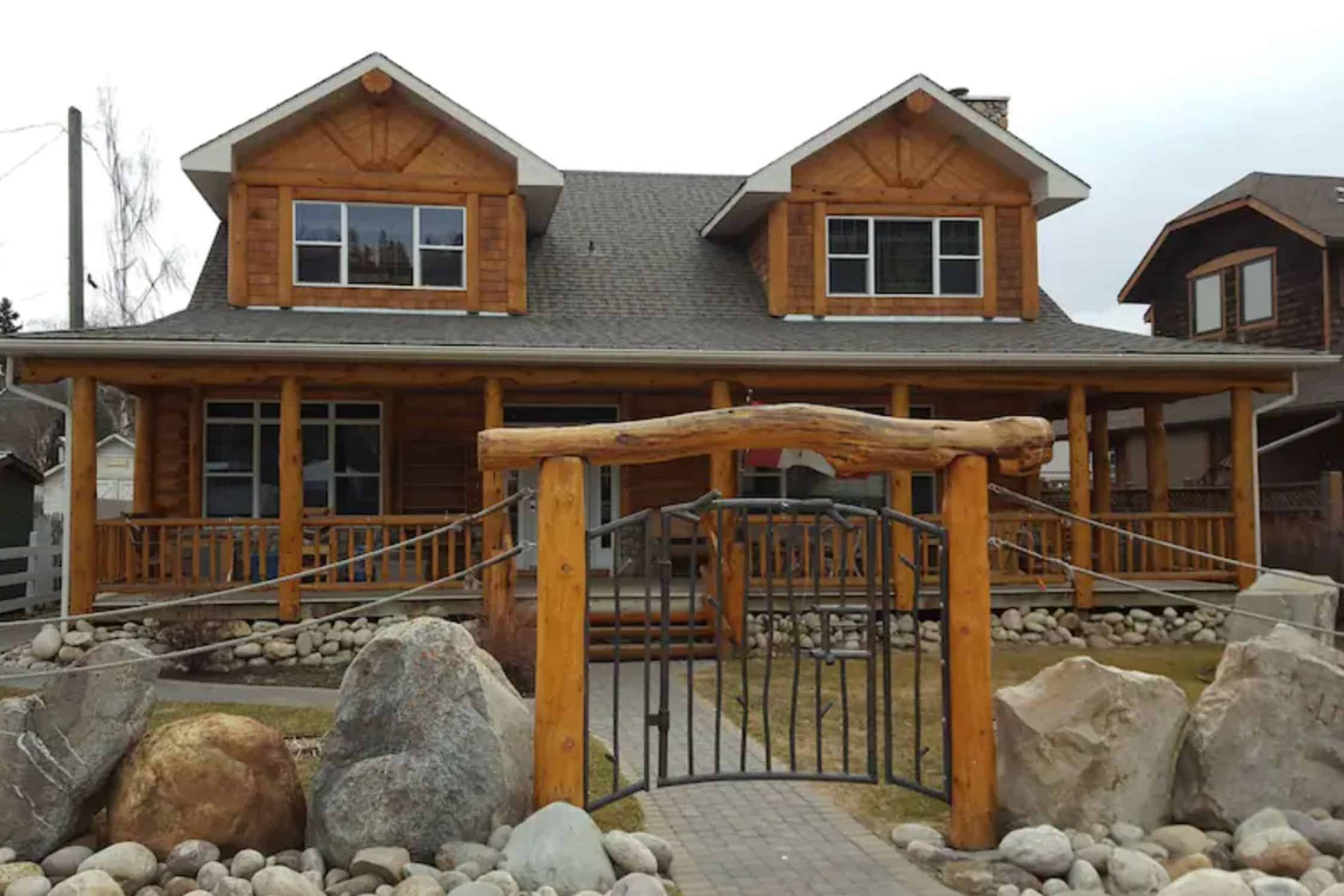 Location: Downtown Jasper
Superhost: Yes
Price: $300+
Guests: 4
Beds: 2
This lower level walkout Jasper Airbnb is one of the cutest and most well decorated on this list. It's been recently renovated and has two separate sleeping areas, TWO bathrooms, a full kitchen (a rarity with lower-level units in Jasper), and a steam shower.
I love this Airbnb because it has near-perfect reviews and can comfortably accommodate a family. There's also an outdoor seating area with a bbq to enjoy on those warm Canadian Rockies nights. The quiet location is minutes from the Pyramid Lake trails.
---
B&B on Balsam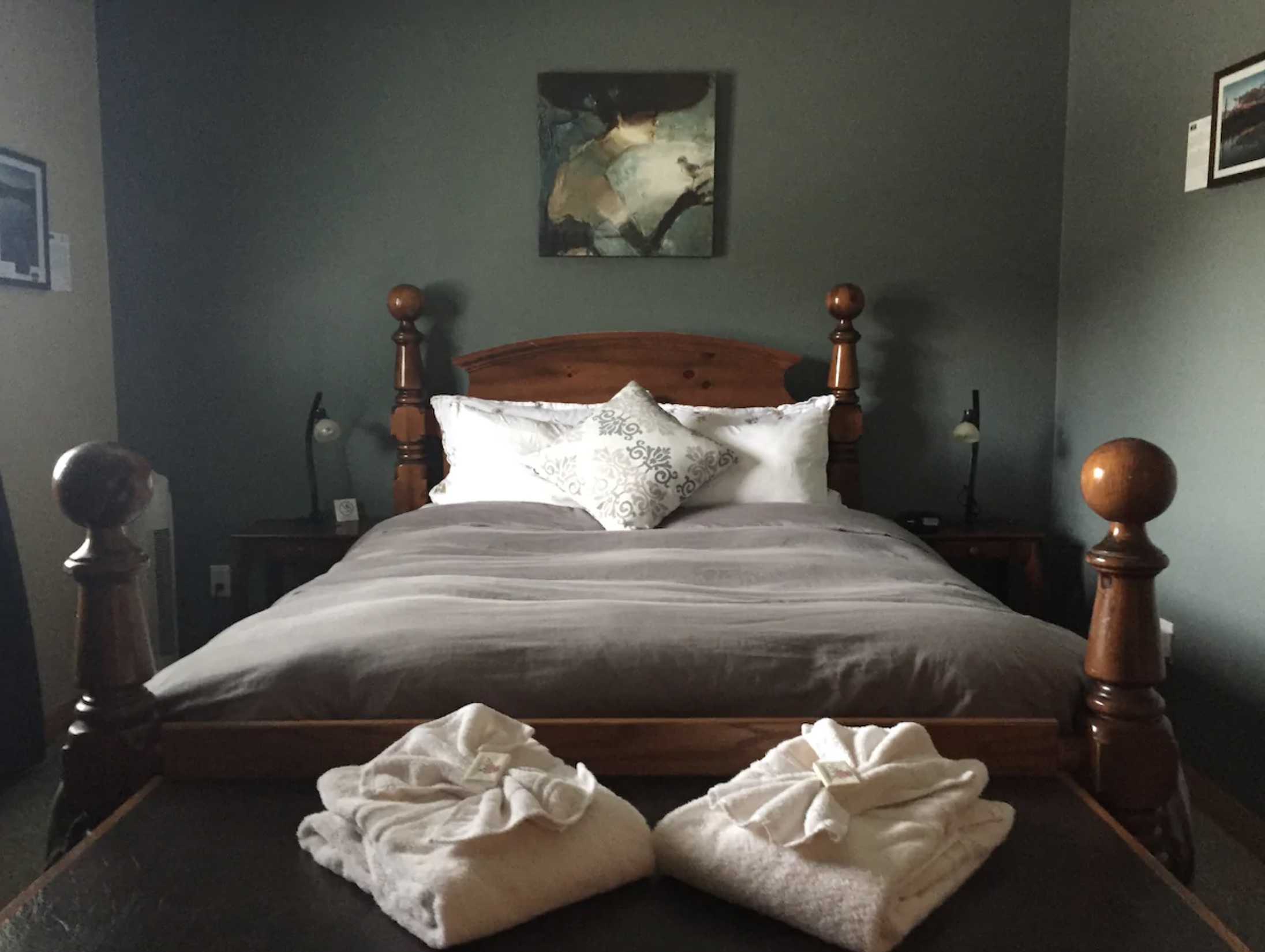 Location: Downtown Jasper
Superhost: Yes
Price: $150+
Guests: 4
Beds: 1 + sofa
This is another great Jasper Airbnb to book! It's a guest suite with a private entrance so no contact has to be had with the hosts. The hosts are Superhosts and have absolutely excellent reviews.
This is a great place to book if you want mountain views, a queen bed, and a separate seating area. There's not a full kitchen at this Jasper Airbnb but you can expect a fridge, kettle, microwave, and coffee/tea.
If you want to walk straight to dinner in downtown Jasper this is the place for you to stay! Other guests note how clean the unit is and how thoughtful the touches were from the hosts who provide things like robes and superb communication. The Olive restaurant is nearby and is one of the best restaurants in Jasper – so make sure to book a table for a nice night out!
---
Bird's Hollow Private Guest Suite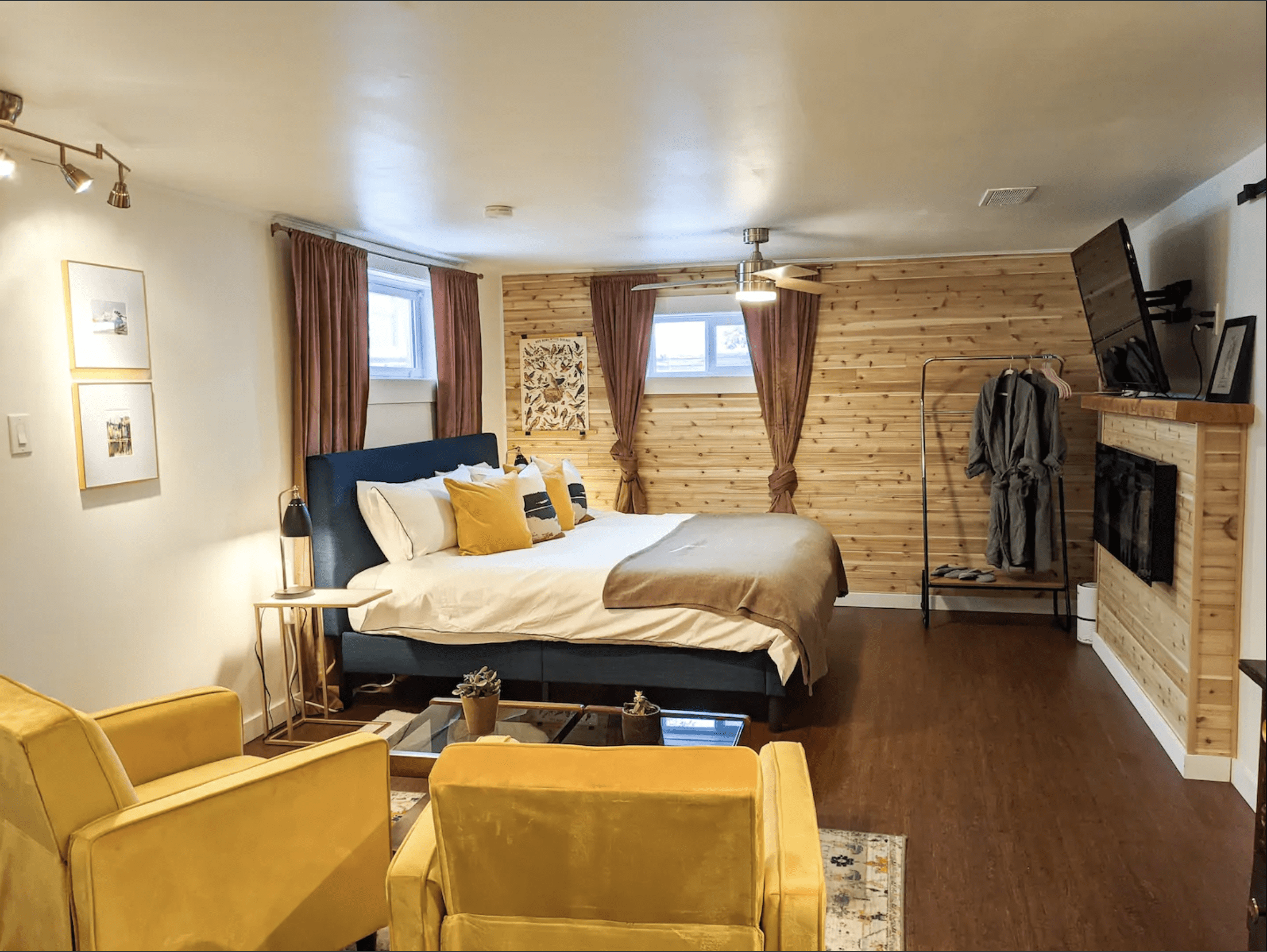 Location: Downtown Jasper
Superhost: No
Price: $100+
Guests: 2
Beds: 1
The Bird's Hollow Suite is easily one of the nicest guest suites in Jasper. It's super cozy, super modern, and super comfortable. This is a newly updated basement suite that is 450 sq ft (quite big for a Jasper Airbnb), the King size bed is comfortable for any couple and sits beside a fireplace. So if you're visiting Jasper in the winter you know you'll be staying toasty.
The TV comes with a Chromecast so you can stream all the movies you want after a day out hiking or seeing one of the best lakes in Jasper. If you want to save money and eat in there's a small kitchenette provided.
Although this is yet another Jasper Airbnb attached to a home you have private access via the back door. There's free parking provided and you'll be able to easily walk to downtown Jasper in no time.
---
Maligne Suite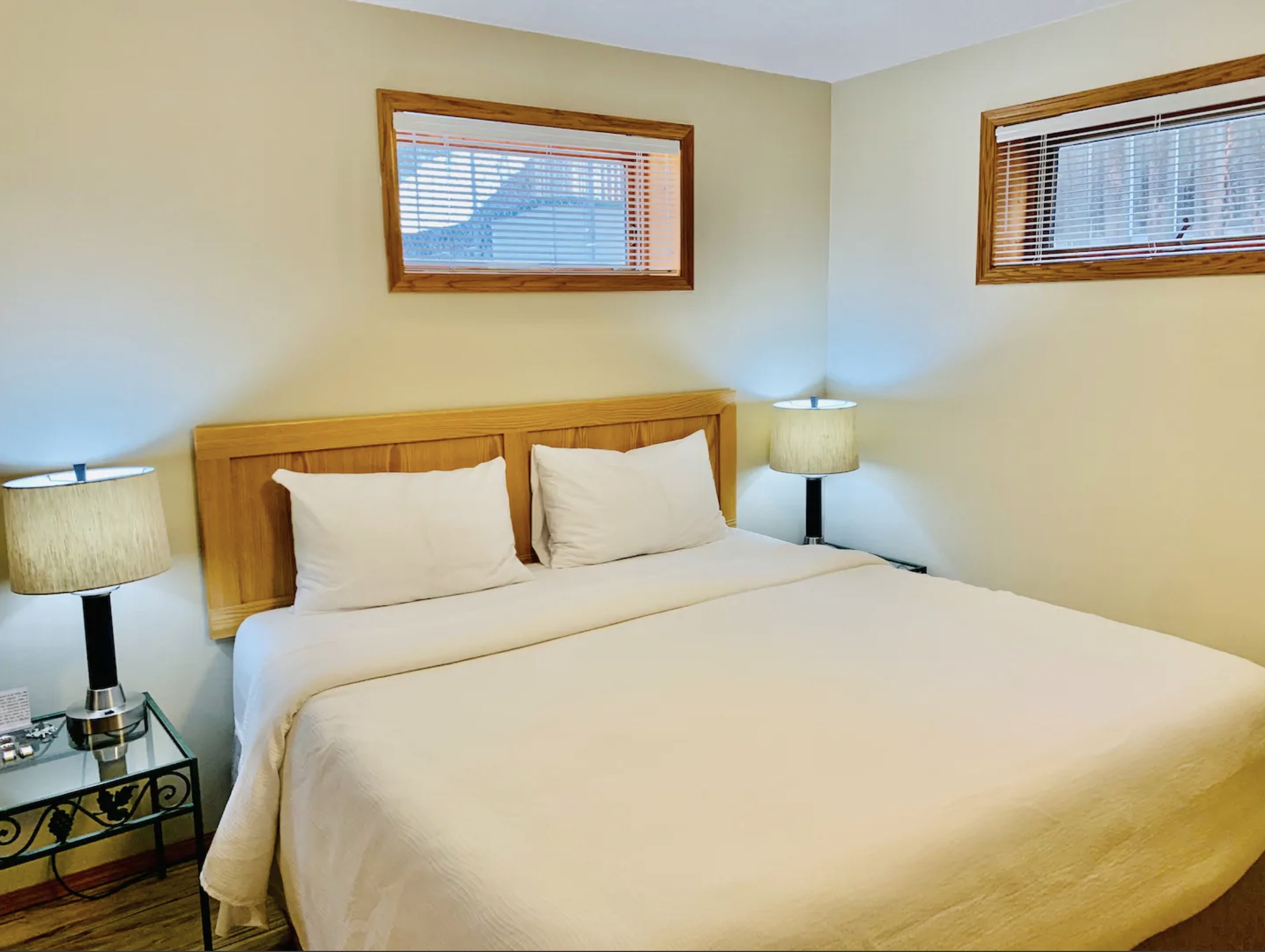 Location: Downtown Jasper
Superhost: No
Price: $75+
Guests: 2
Beds: 1
The Maligne Suite is another awesome Airbnb in Jasper! With a comfortable king size bed you're sure to get an awesome nights sleep here. There are also two spacious chairs to relax in and an electric fireplace after a day out in the winter in Jasper.
This suite is in the lower level of the owner's home, with private entry via the side of the home. You can get in and out always with a coded lock.
This Airbnb in Jasper is special as it offers free townie bikes to explore downtown Jasper with.
---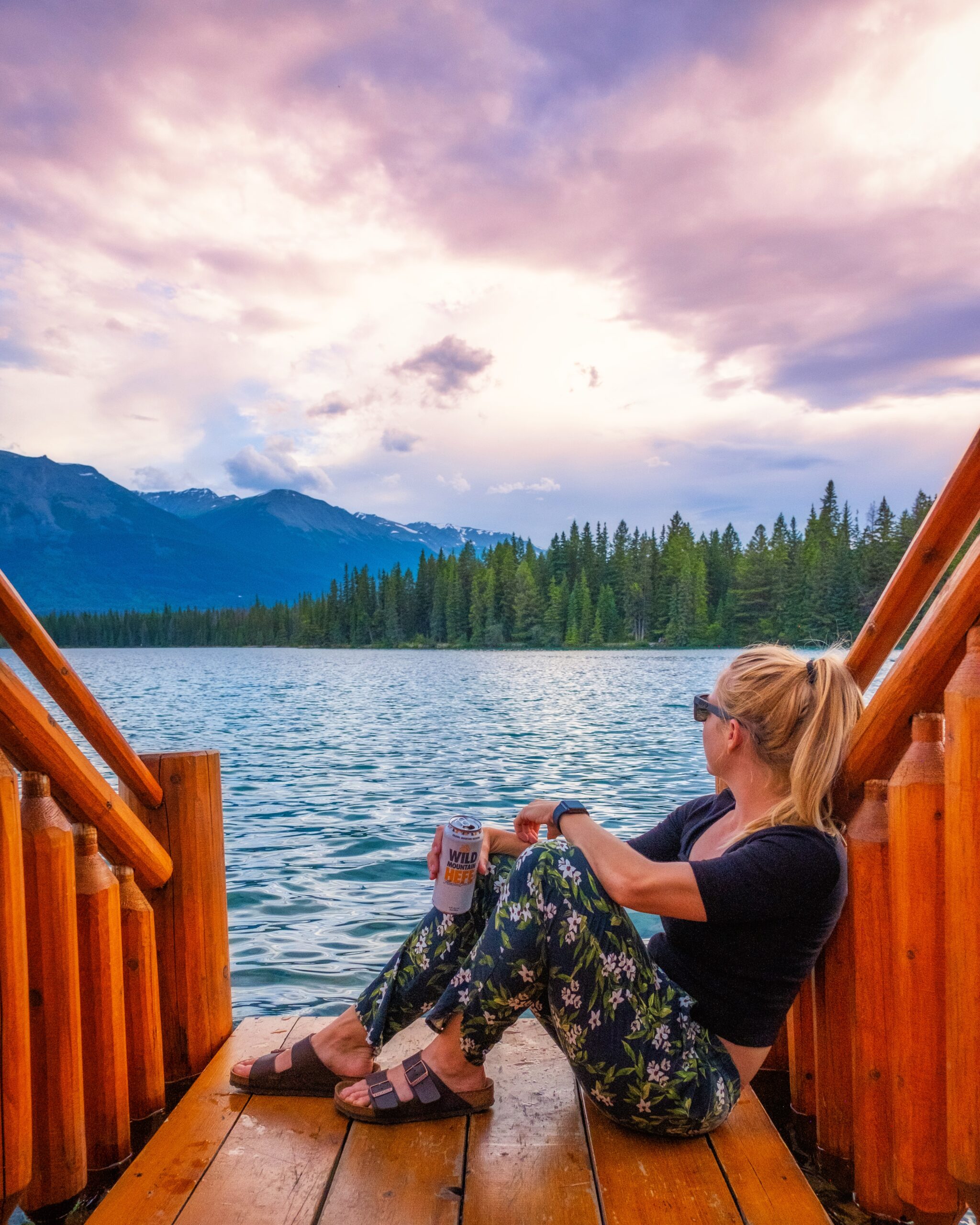 If an Airbnb in Jasper isn't Your Style, Make Sure to Read Our Other Accommodation Articles
---
The Best Things to do in Jasper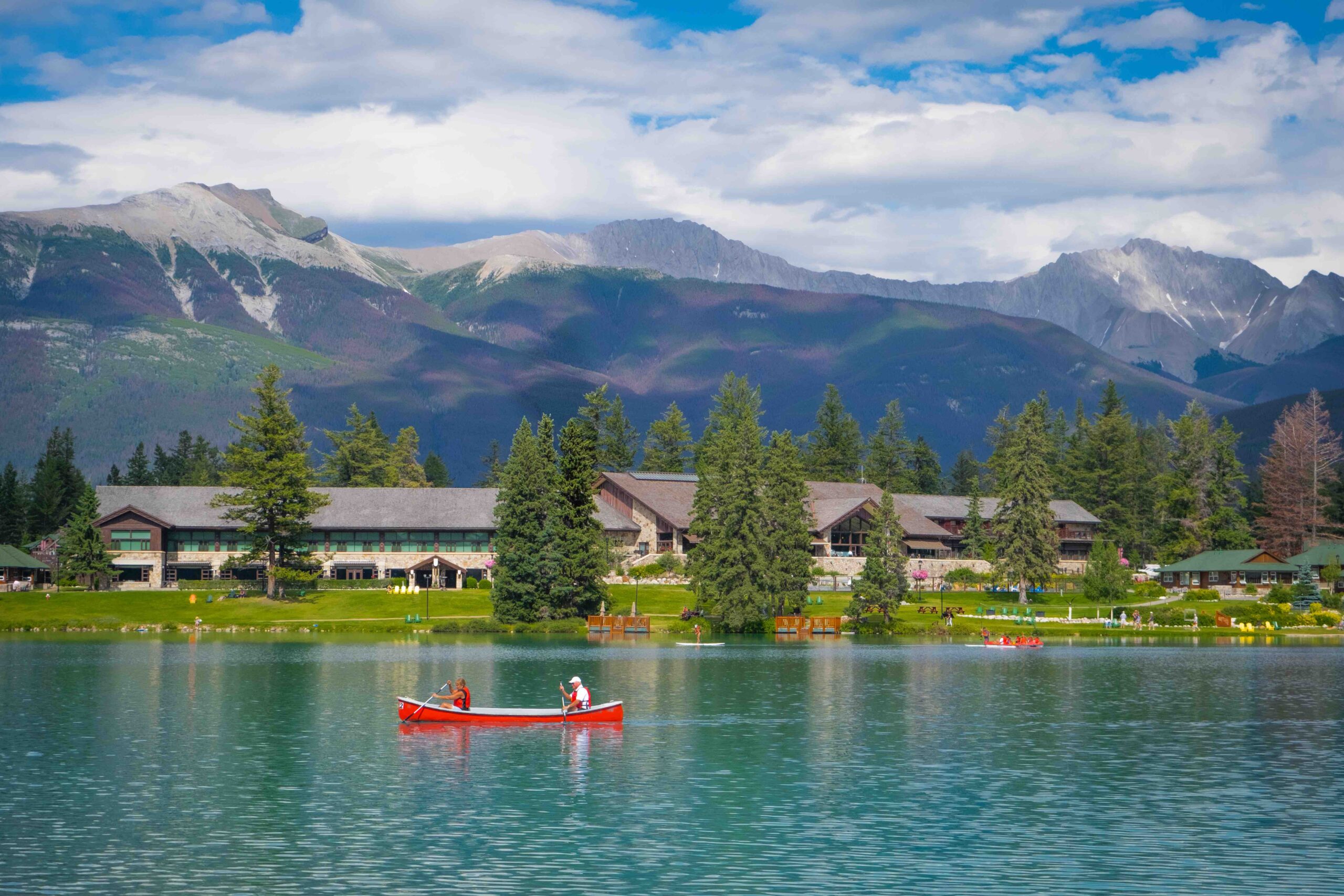 Whether you are visiting in the winter or summer there are plenty of things to do in Jasper. We recommend:
Paddling on Pyramid Lake
Driving Maligne Lake Rd
Walking Maligne Canyon
56 AWESOME Things To Do in Jasper (2022 Travel Guide)
---
↓ Join the community ↓
The Banff Blog Facebook Group is your headquarters for the Canadian Rockies' travel advice and information. Including hike info and off-season travel information. You can also meet new adventure buddies.

Plan Your Trip to the Canadian Rockies