Jasper National Park is one of the most beautiful places to visit in Canada. Like its southern sister, Banff, there are many things to do in Jasper in the winter.
If you love the snow, cold, and mountains you'll absolutely love Jasper National Park in the winter. From wild ice skating on one of the beautiful lakes to skiing at Marmot Basin, there are plenty of winter activities in JAsper for everyone to enjoy!
See Also:
---
Best Things to do in Jasper in the Winter
---
Sunwapta Falls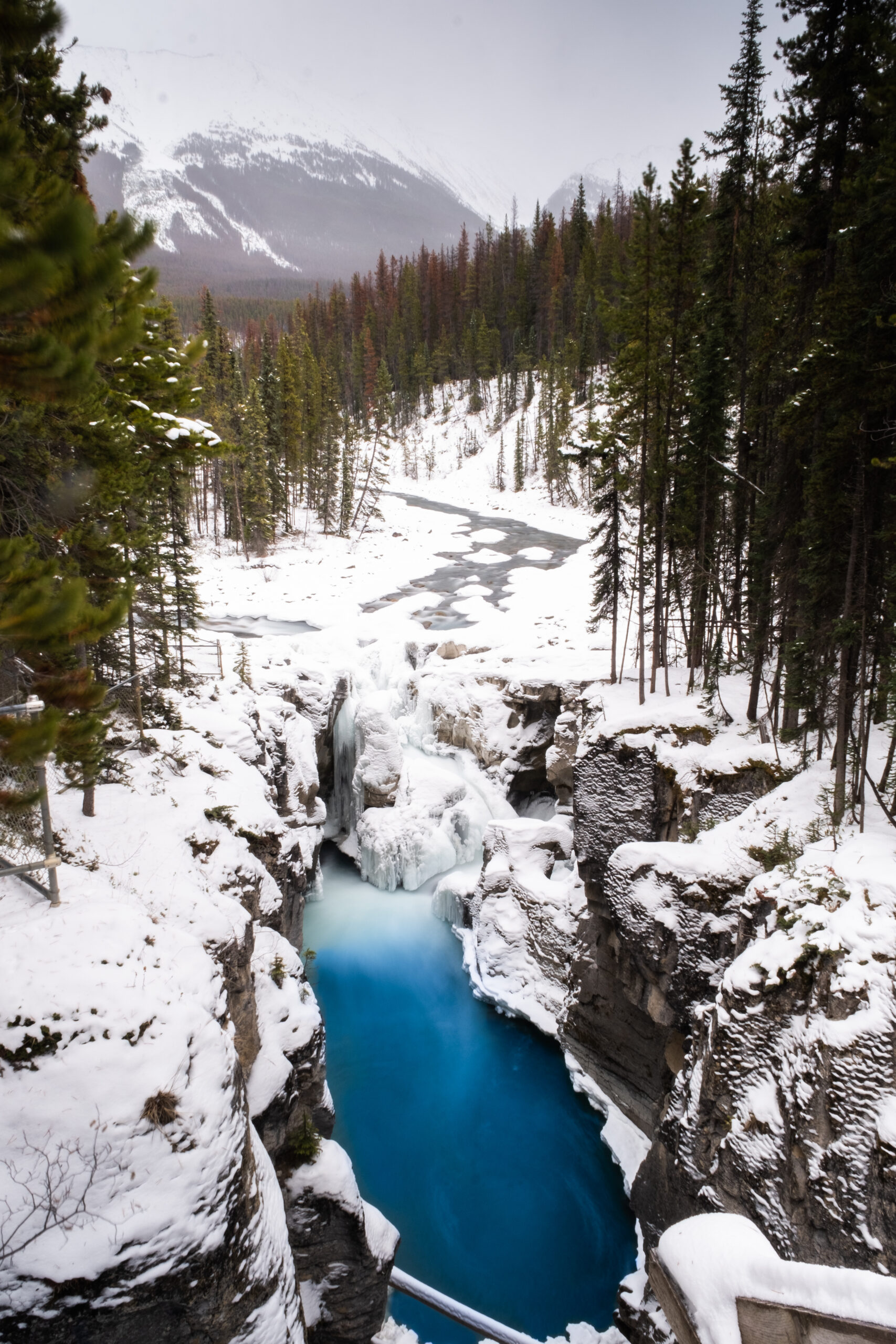 Located inside Jasper National Park, you can reach Sunwapta Falls by an access road leading from the Icefields Parkway. They are a stunning sight to see especially when they are blanketed in snow.
No matter when you go, you'll be impressed by the falls which drop over 60 feet. Of the two falls, the upper one is the more easily accessible of the two.
It's best to stop here when you're driving from Banff to Jasper or vice versa as it's along the beautiful Icefields Parkway.
---
Maligne Canyon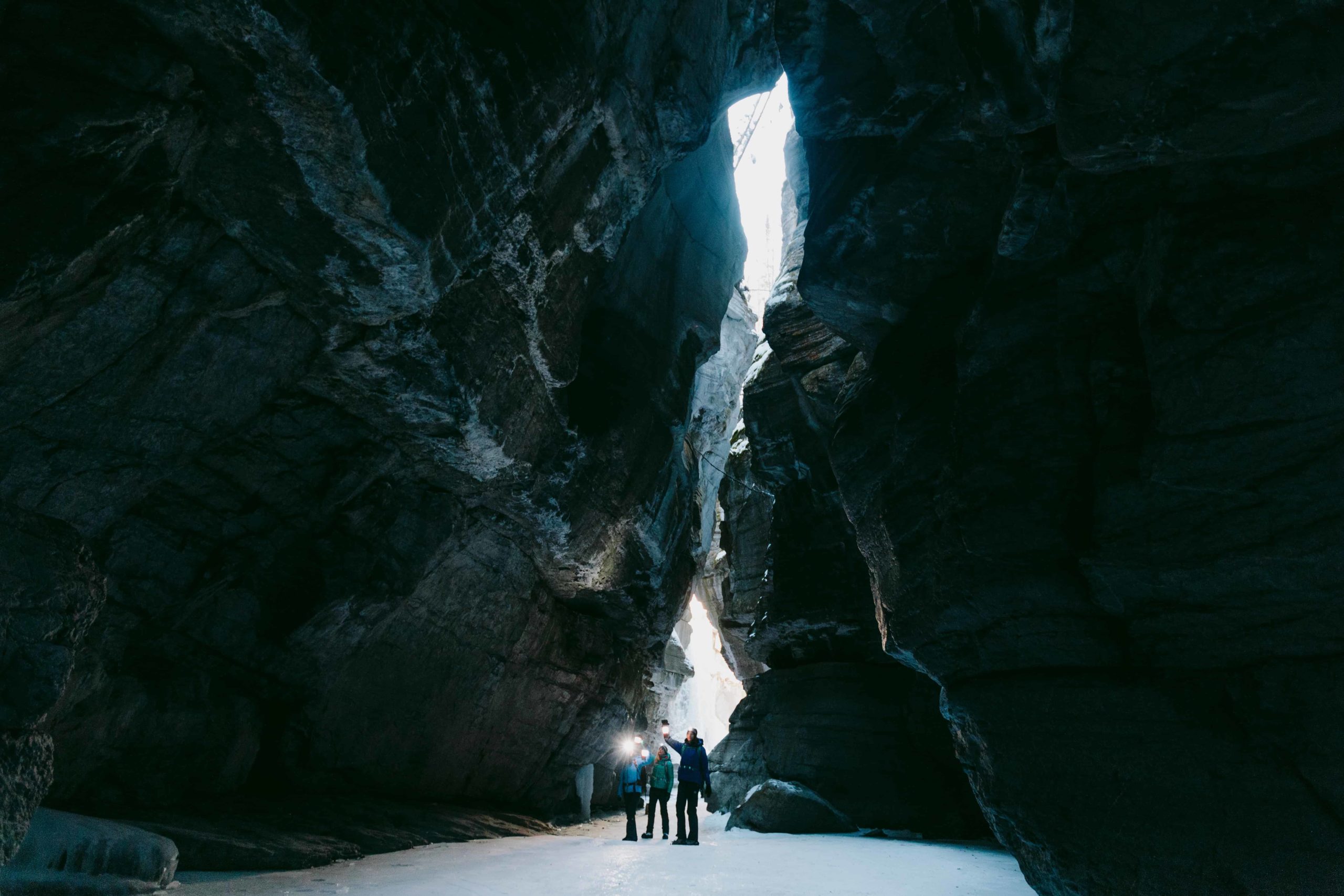 Maligne Canyon is another one of the things to do in Jasper that will keep you occupied and fulfilled, especially in Jasper in the winter. Carved slowly out of limestone over the years by the rushing waters within, the deep canyon walls reach nearly 200 feet in places, making it one of the most dramatic sights in Jasper National Park.
During the summer you'll be able to see the canyon from above as the water roars through it, but in the winter it freezes solid and provides recreation for brave ice climbers; there are guided tours of the area's frozen waterfalls and ice caves too. It's one of the best things you can do in Jasper in the winter!
---
Athabasca Falls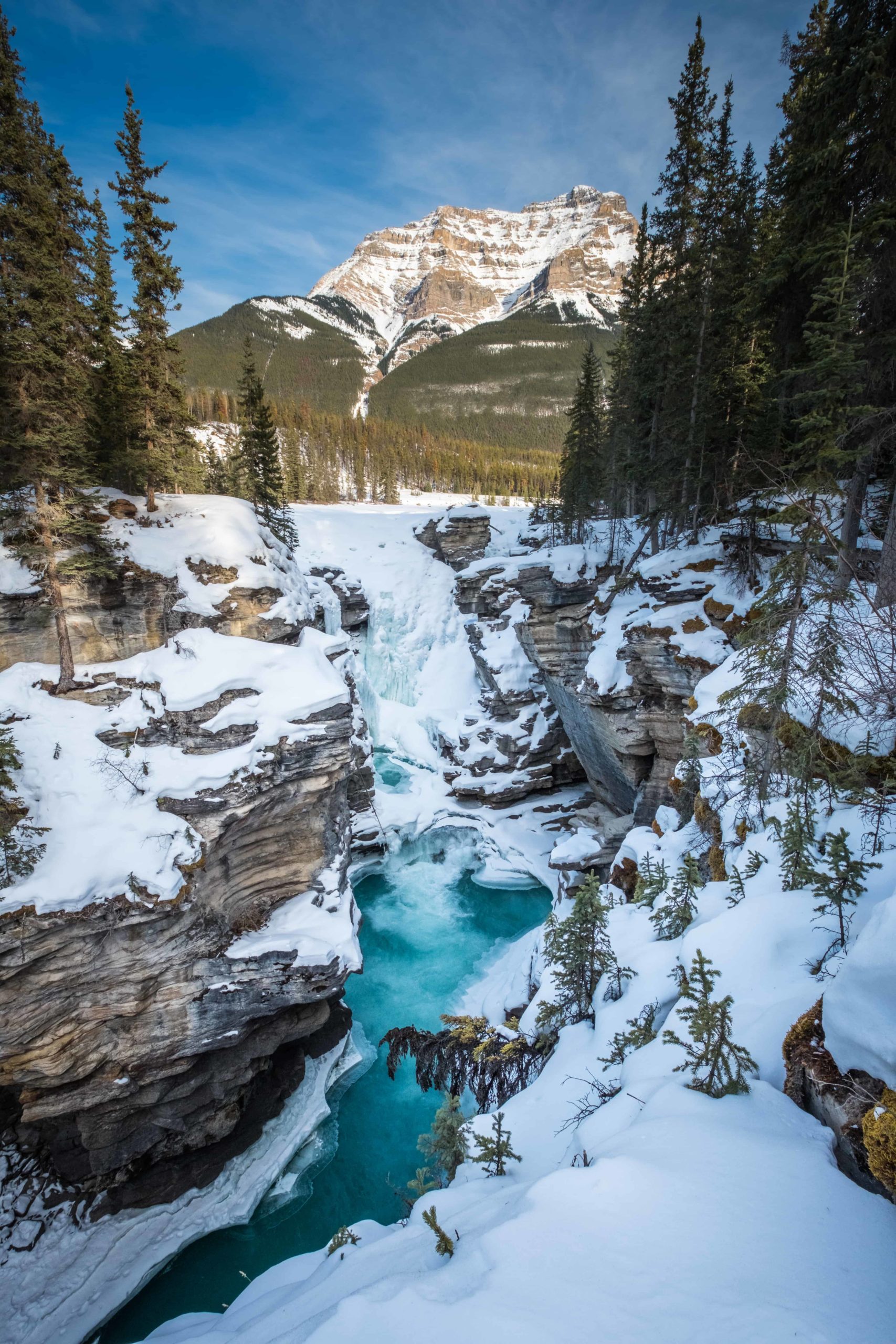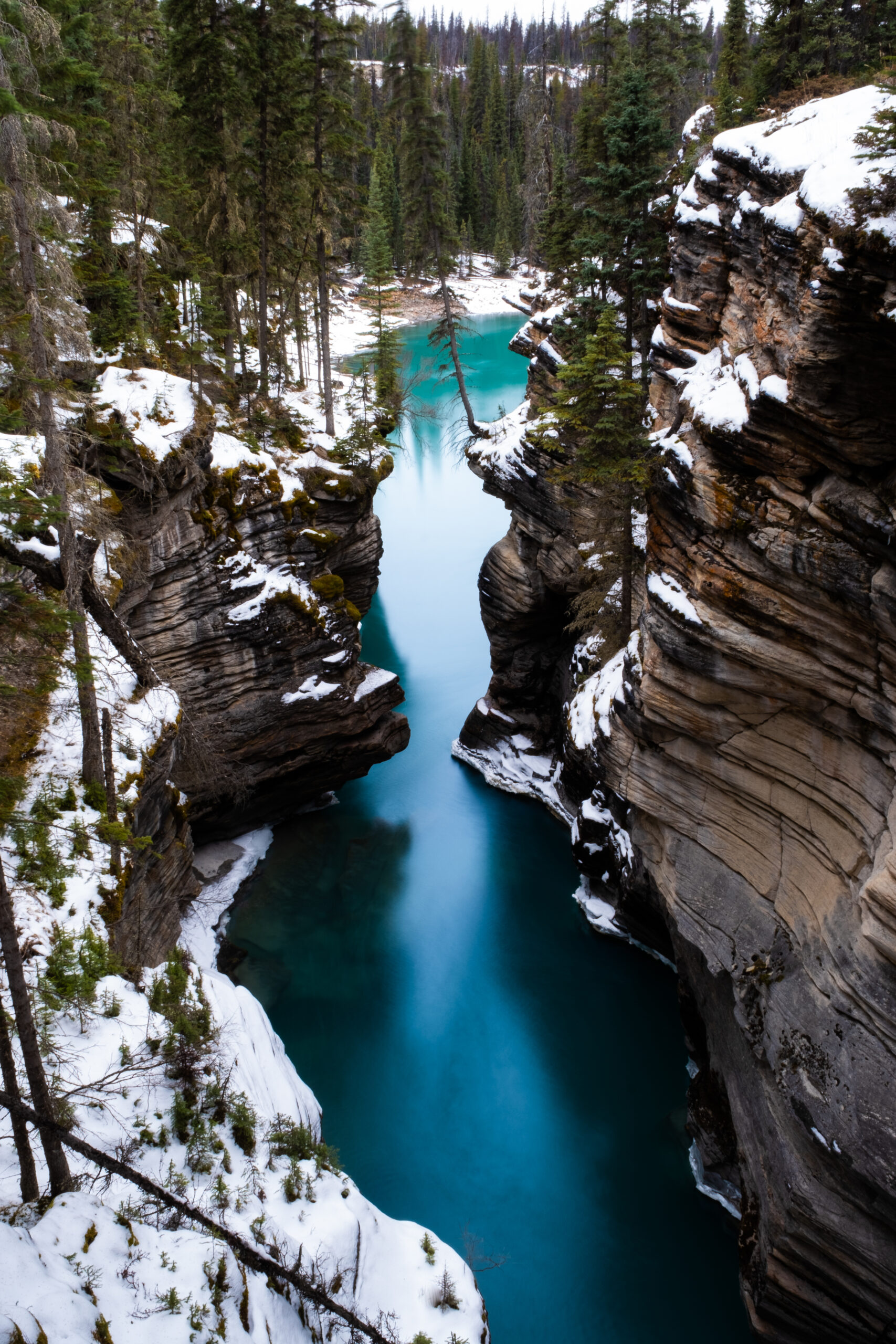 A great thing to do in Jasper in the winter is to check out Athabasca Falls. Located about 20 miles south of Jasper town – with a drop of about 75 feet – Athabasca Falls isn't a giant by waterfall standards, but that doesn't mean it isn't dramatic and majestic in its own right. The volume of water that rushes over the edge is very high, making the sight in the winter extra magical as the cascading water turns to ice.
Make sure to check out Lower Athabasca Falls too, which many people miss. There are ample hiking trails to get you to viewing areas which will allow you to ogle the river and falls in all their glory. Don't try to get closer to take a good picture, as many people do. A fall could result in serious injury or worse.
---
Drive Maligne Road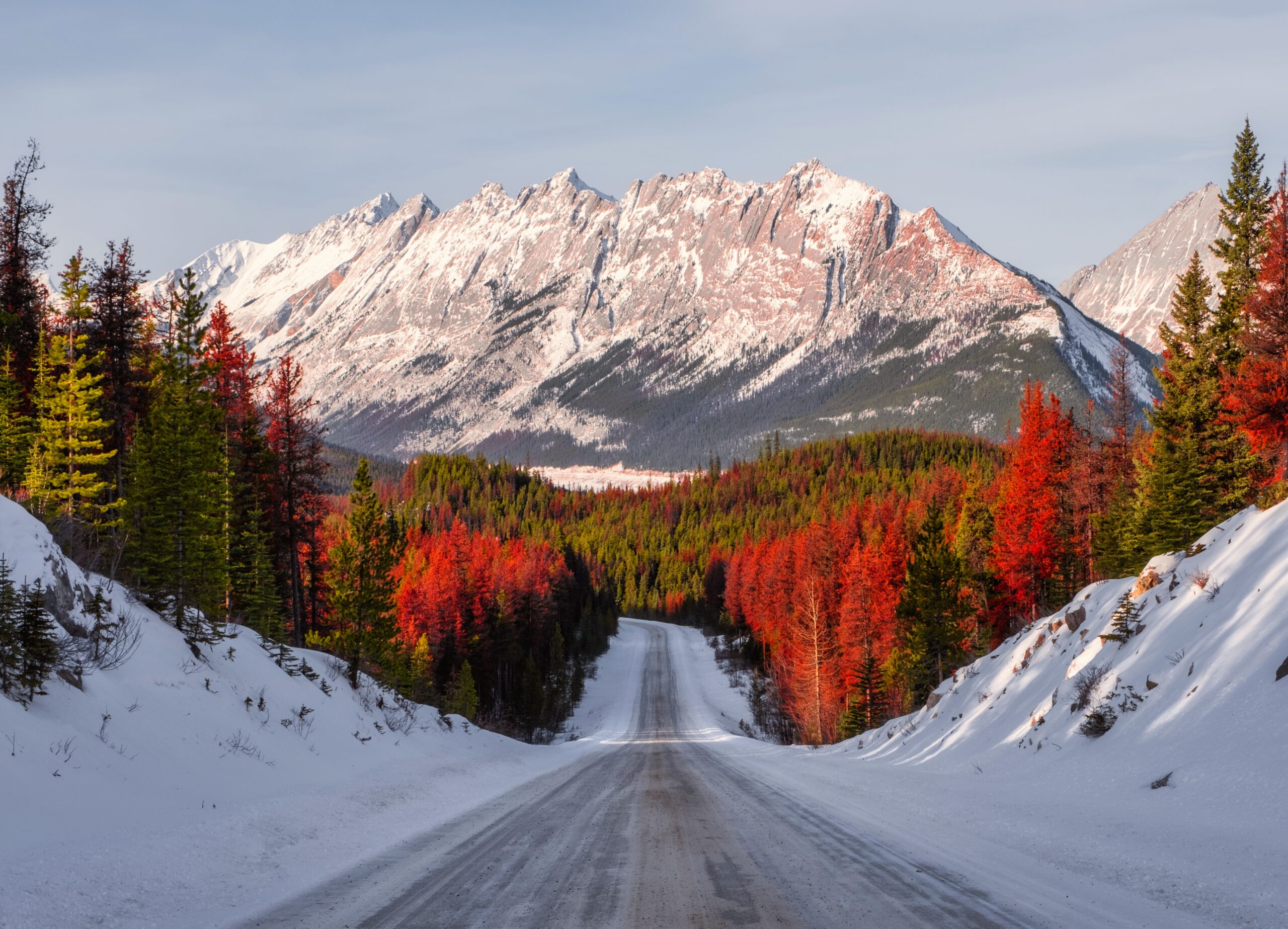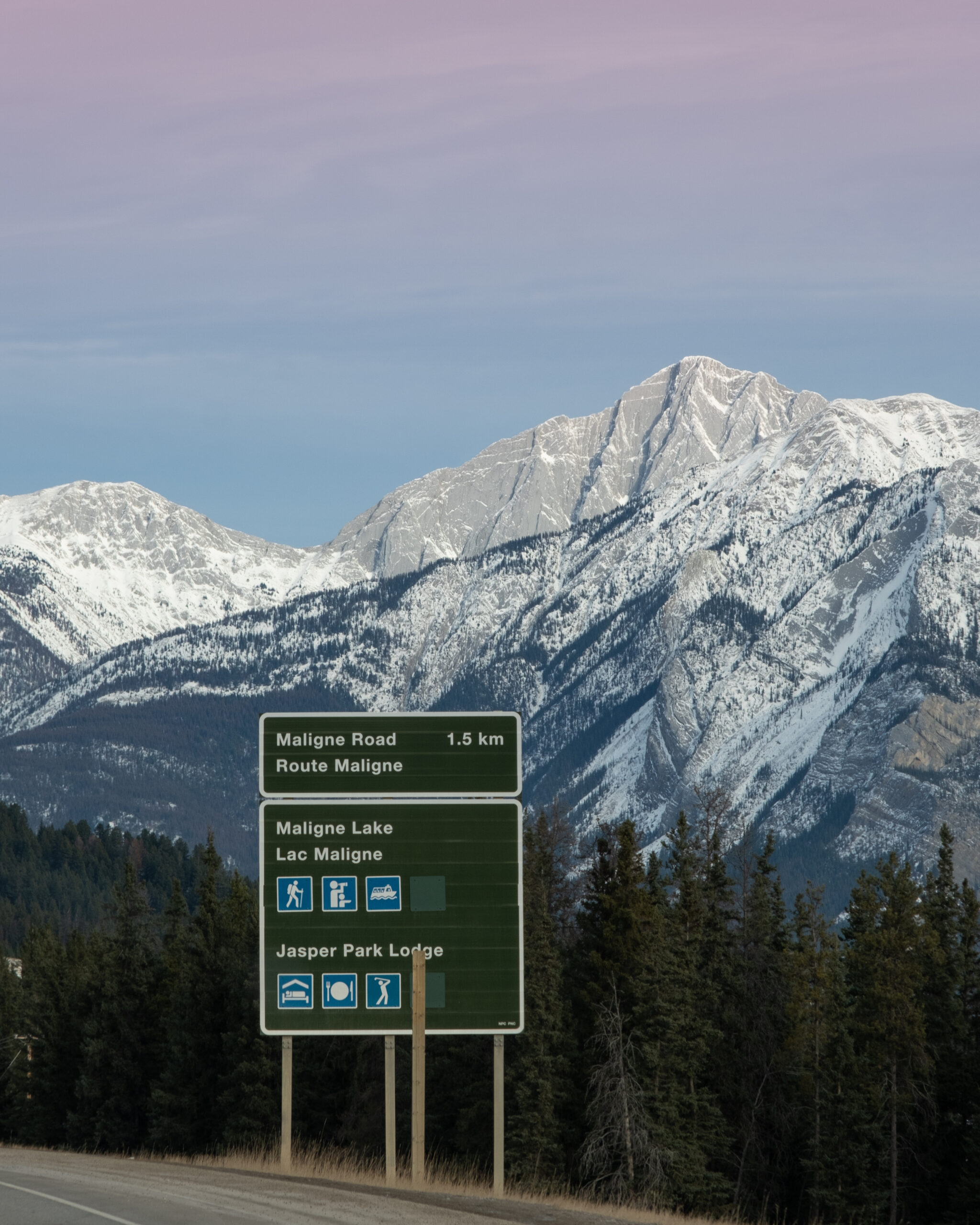 One of my favorite things to do in Jasper in the winter is drive Maligne Lake Road. It's one of the most beautiful drives in the park and will have you saying wow att every turn. Along this road are plenty of stop-offs including Medicine Lake and of course Maligne Lake.
The area around the road is also home to plenty of wildlife and your chances of spotting a moose or bighorn sheep are pretty great. We saw four moose in just one hour on the road!
---
Medicine Lake
Medicine Lake is a fantastic thing to see in Jasper, especially in the winter. Located about 12 miles southeast of the town of Jasper is this fantastic lake. Though technically part of the Maligne River, to the untrained eye it looks like a lake, especially when it swells with water from the big thaw, which takes place in late spring and summer. And if you visit Jasper in the summer you wouldn't know that in the winter it disappears.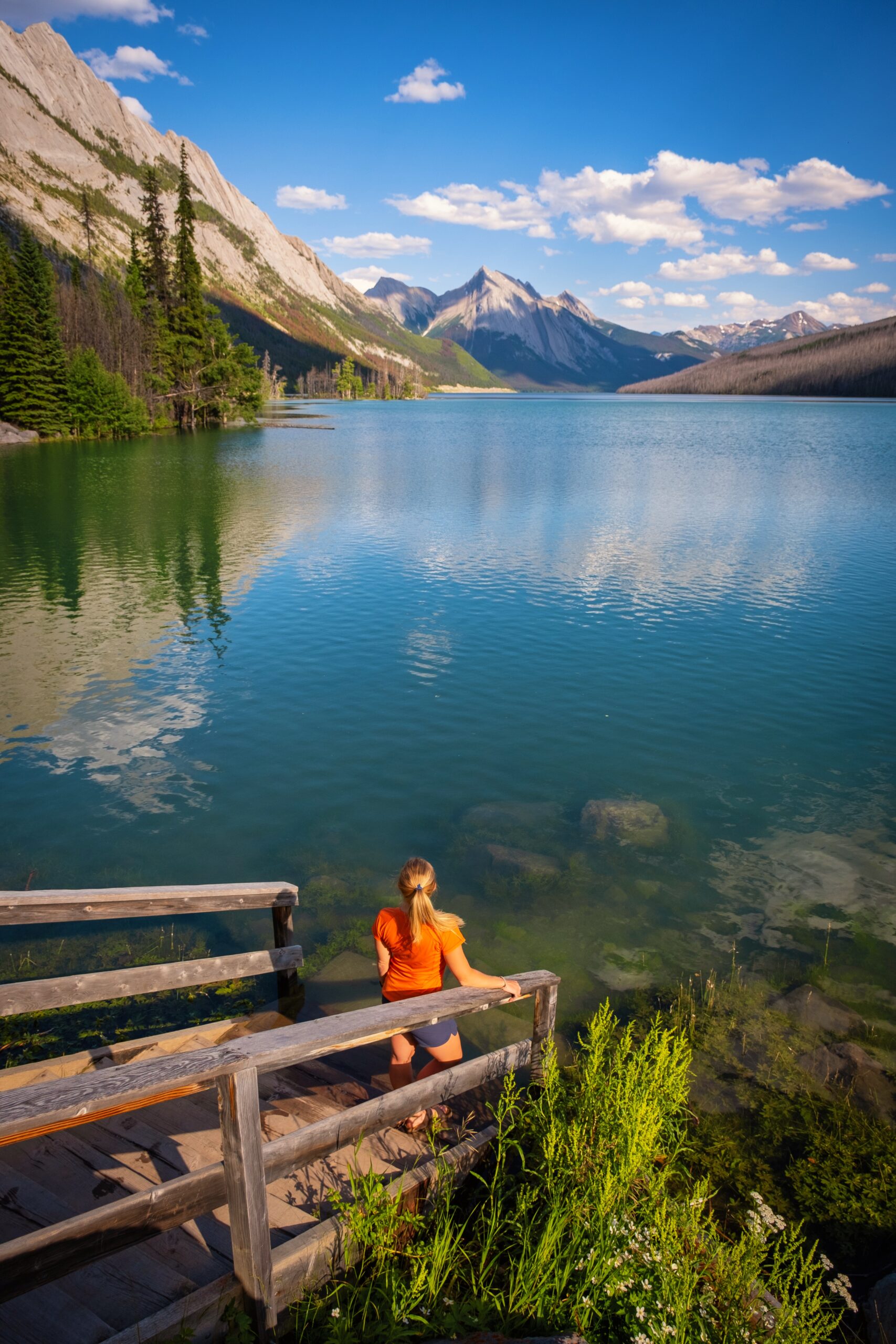 In fact, Medicine Lake is actually called the "disappearing lake" as the water drains out through sinkholes in the bottom, traveling through a cave system and resurfacing downstream. We couldn't believe it when we saw it either! But it's truly a unique phenomenon.
---
Check Out Maligne Lake
Maligne Lake is a glacial lake that is just a 45-minute drive from the town of Jasper. It is one of the most serene lakes in all of the Canadian Rockies and prized for astounding natural splendor. It's well worth a visit for anyone visiting the Canadian Rockies, and is a must stop if you're in Jasper for a few days.
In the summer you can canoe, paddleboard, kayak, or even take a motorboat out on it, but in the winter it's a winter wonderland to behold. When the lake is completely frozen through you can snowshoe on it!
---
Ski at Marmot Basin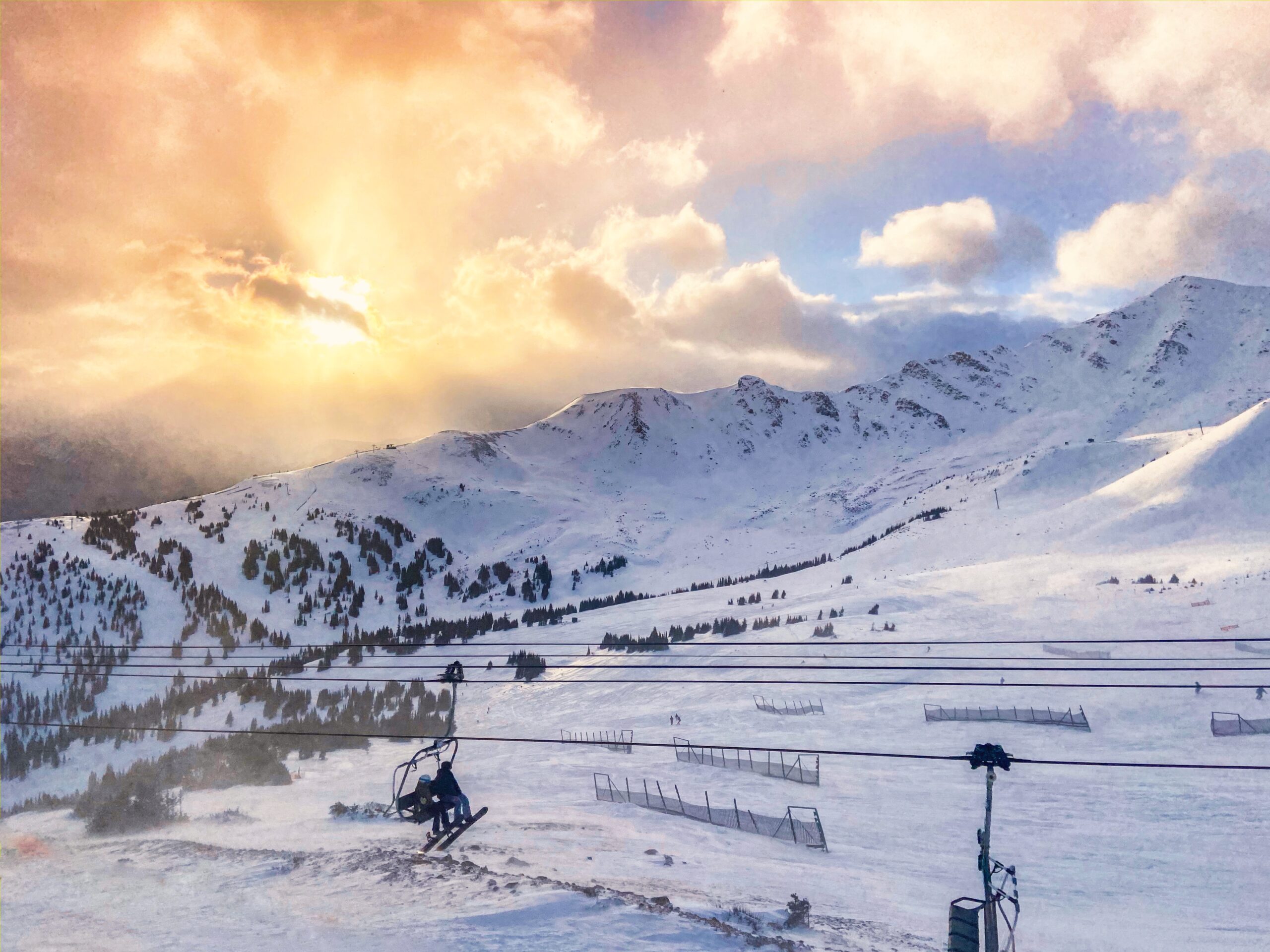 One of the best things to do in Jasper in the winter is ski at Marmot Basin! Marmot Basin is an alpine ski area less than 30 minutes drive away from Jasper. With 91 named runs on four mountain faces and 3,000 vertical feet of drop it's definitely one of the best ski resorts in all of Western Canada!
If you get lucky and hit Marmot Basin on a powder day mid-week it may become your favorite ski resort! The views are also to die for from the top of the chairlifts. Keep an eye out for Pyramid Mountain which can be seen on a clear day!
---
Pyramid Lake and Island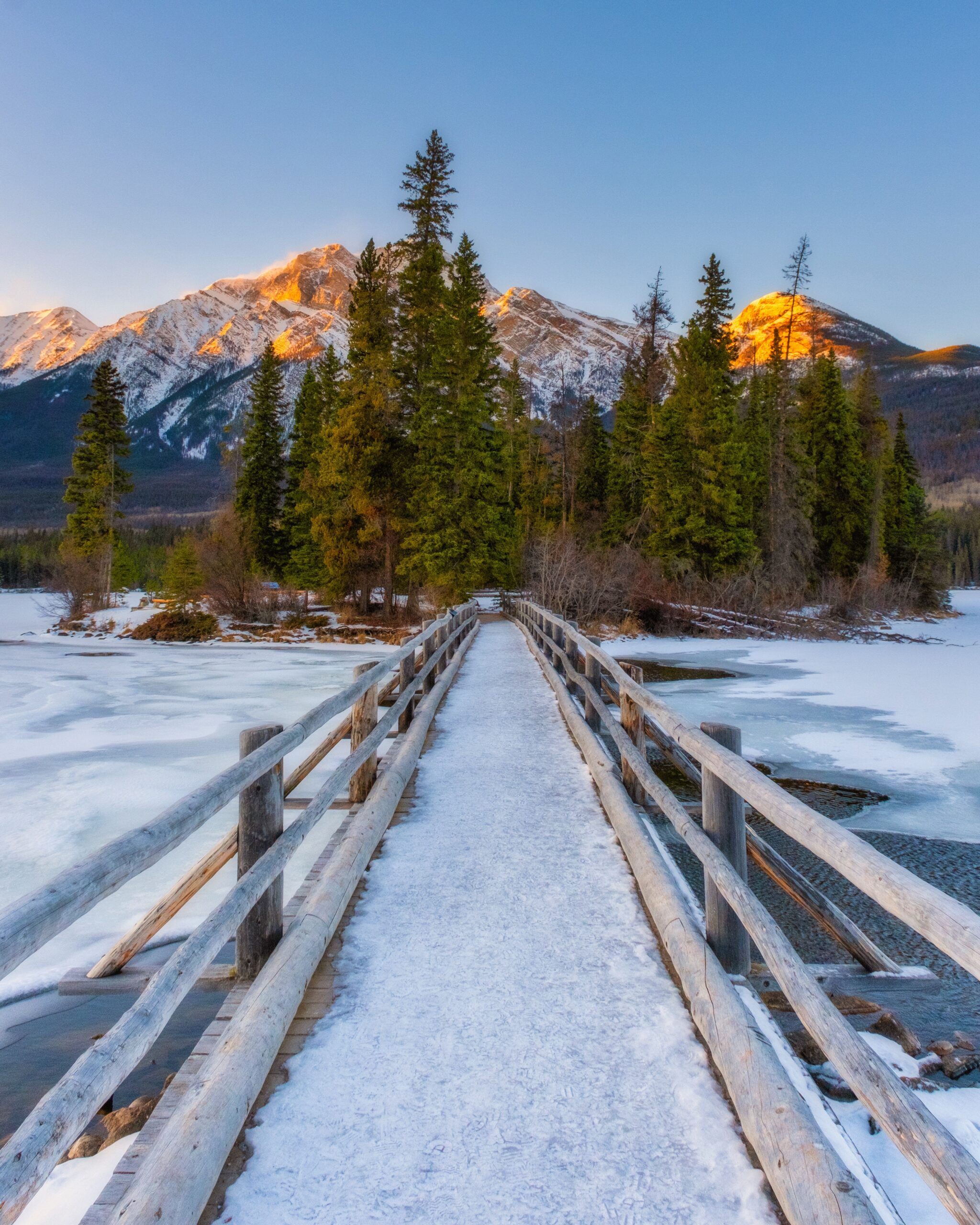 Heading to Pyramid Lake is another fantastic thing to do in Jasper in the winter. Pyramid Lake is close to the town of Jasper and is another great lake to enjoy. In the winter it's one of the best lakes to ice skate and snowshoe on. And during the holidays the Pyramid Lake Lodge even runs sleigh rides around it.
Don't miss Pyramid Island either, it's a small island with a bridge to it. Try and catch it at sunrise or sunset for a wicked view.
---
Snowshoe on Lake Patricia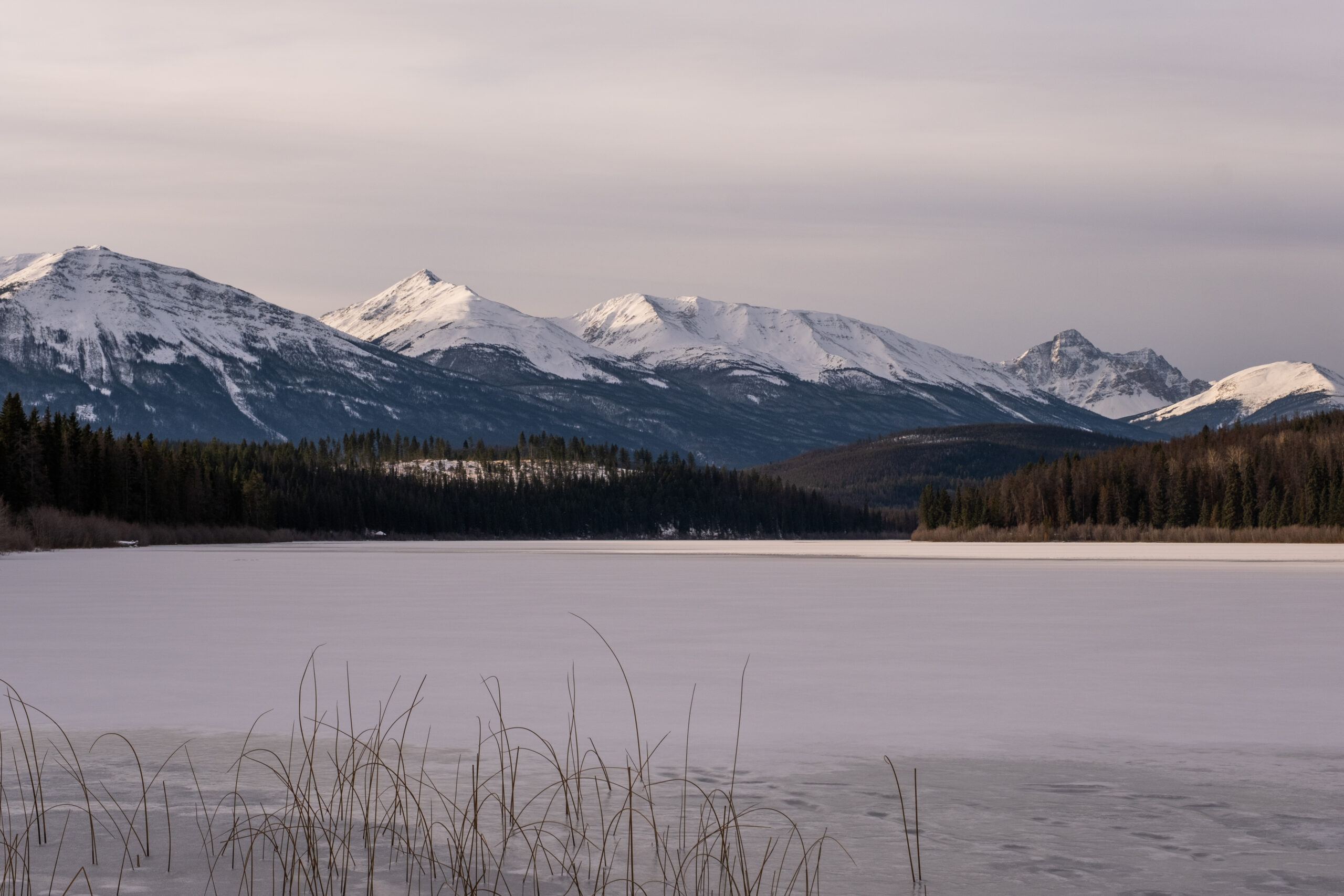 Yup another lake on this list of things to do in Jasper in the winter! Patricia Lake is a local favorite and is one is right next to Pyramid Lake. Come here to enjoy the backdrop of Pyramid mountain, go for an ice skate, or enjoy the fire pits around the lake. One of the perfect things to do in Jasper in the winter is to build a fire at the pits and enjoy a hot chocolate.
---
Enjoy Downtown Jasper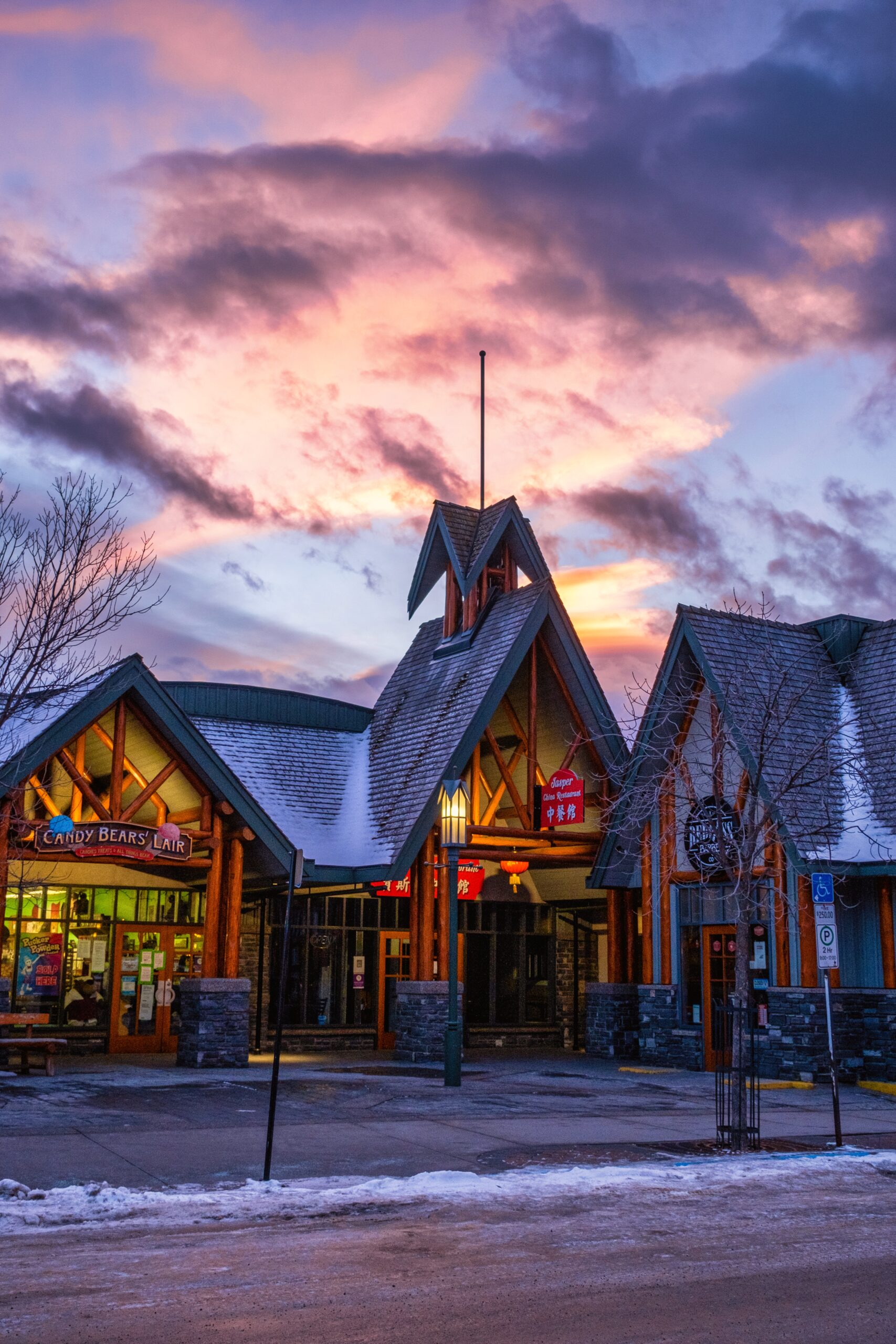 Honestly one of my favorite things to do in Jasper in the winter is just walk around town. The town of Jasper is charming and small, even smaller than nearby Banff!
There are plenty of restaurants, shops, and coffee shops to venture in and out of. I love the vibe of the town. Even in the middle of summer, you won't find the crowds that you find here in Banff or even Canmore. It's a nice recluse from the crowds while maintaining that mountain town charm.
---
Go on a Jasper Food Tour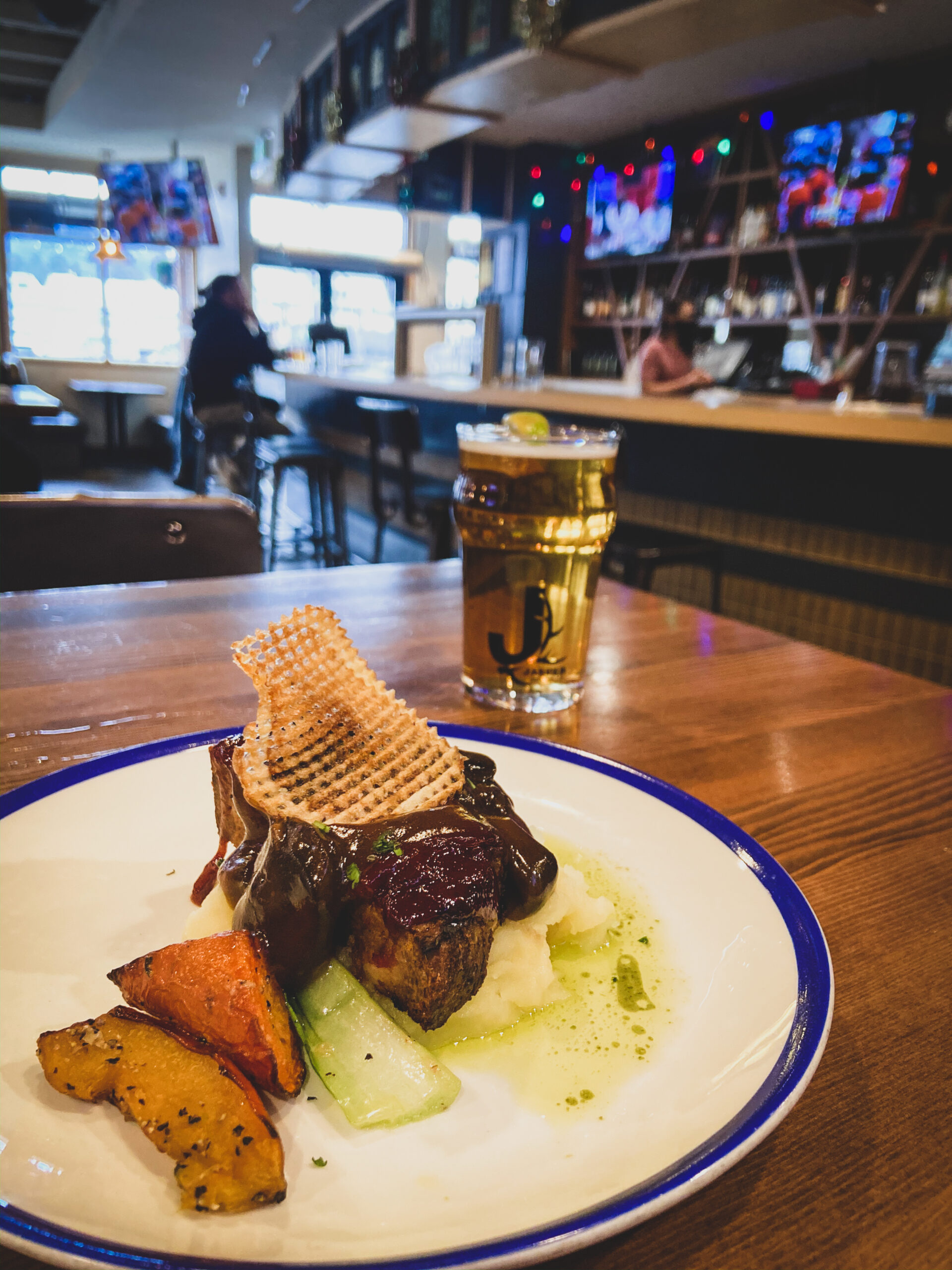 In the winter one of the best things to do in Jasper is cozy up at one of the many restaurants and bars in town. You could venture into them all on your own, but I would highly recommend joining Estelle with Jasper Food Tours instead. You'll have a much more local experience complete with a walking history tour of Jasper as well.
I love doing food tours as you can get a sampling of a lot of different Jasper restaurants in just a few short hours instead of having dinner at just one. The samplings with Jasper Food Tours are all paired with beer, wine, or a cocktail to make it even more fun. Come hungry – there is a lot of food on this one!
---
Take a Helicopter Flight With Rockies Heli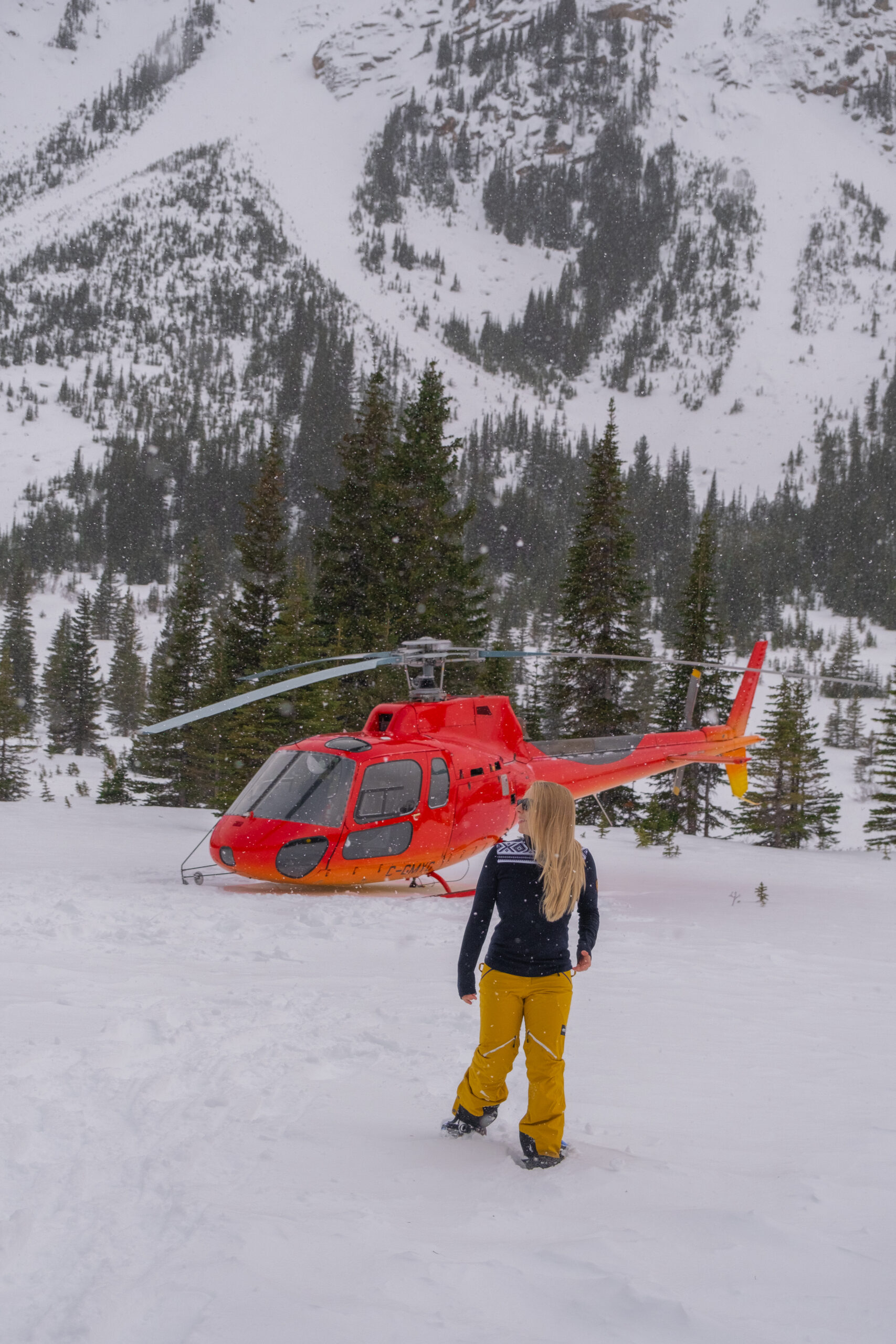 One of the very best things you can do in the Canadian Rockies in both the winter and summer is enjoy a helicopter ride over the majestic mountains. Rockies Heli operates in David Thompson Country, right next to Abraham Lake off the Icefields Parkway.
We enjoyed a fantastic tour getting a birds-eye view of glaciers, rivers, lakes, canyons, and even waterfalls before landing on top of a mountain and snowshoeing to the top to enjoy hot cocoa.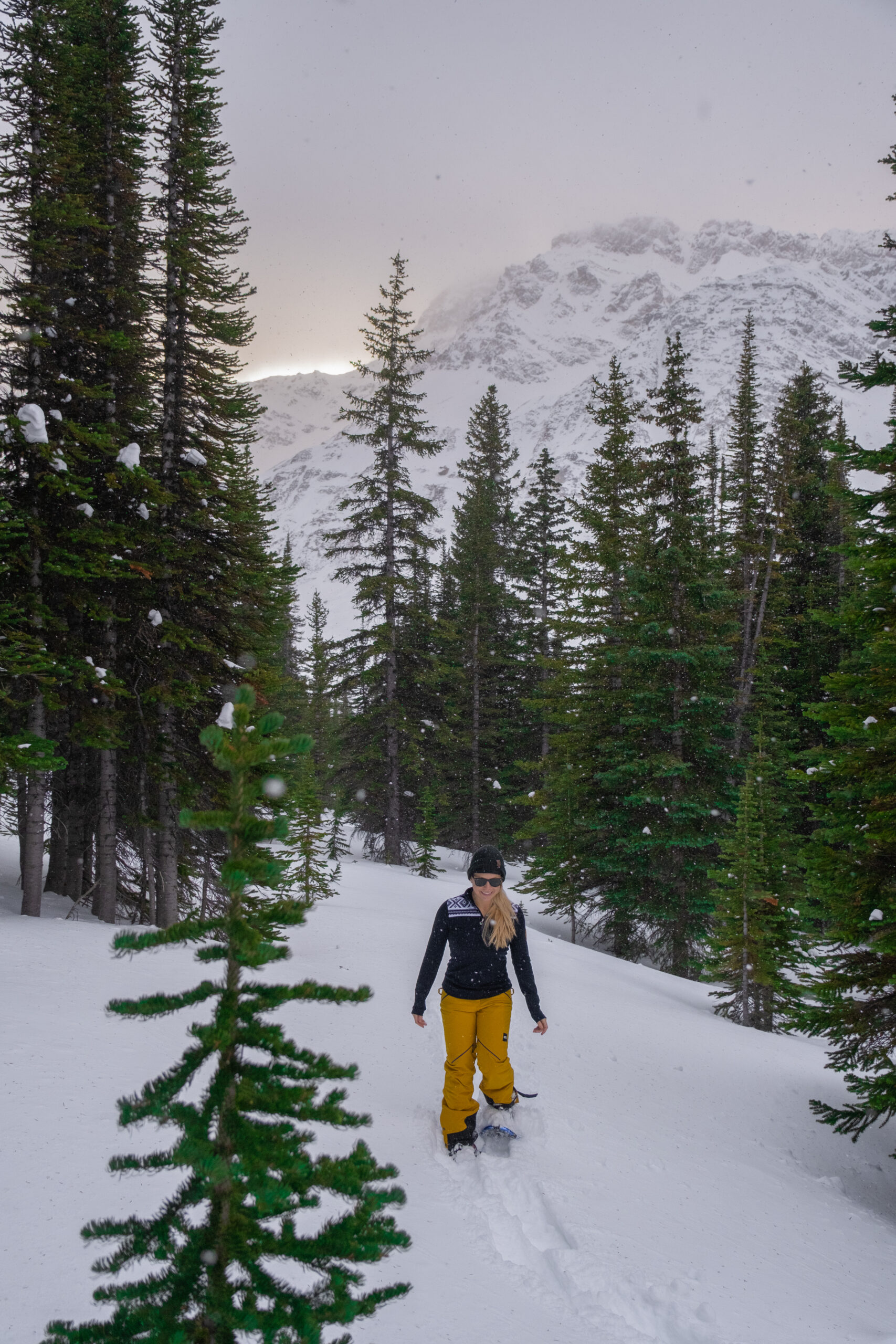 If you've never taken a heli tour in the mountains let me tell you it's truly a unique experience and you get views never before seen. We scramble to the top of mountain summits quite often and the views from a helicopter can't even compare. Rockies Heli offers many different tours that can fit within many budgets, take a look at their site here!
---
Skate on Abraham Lake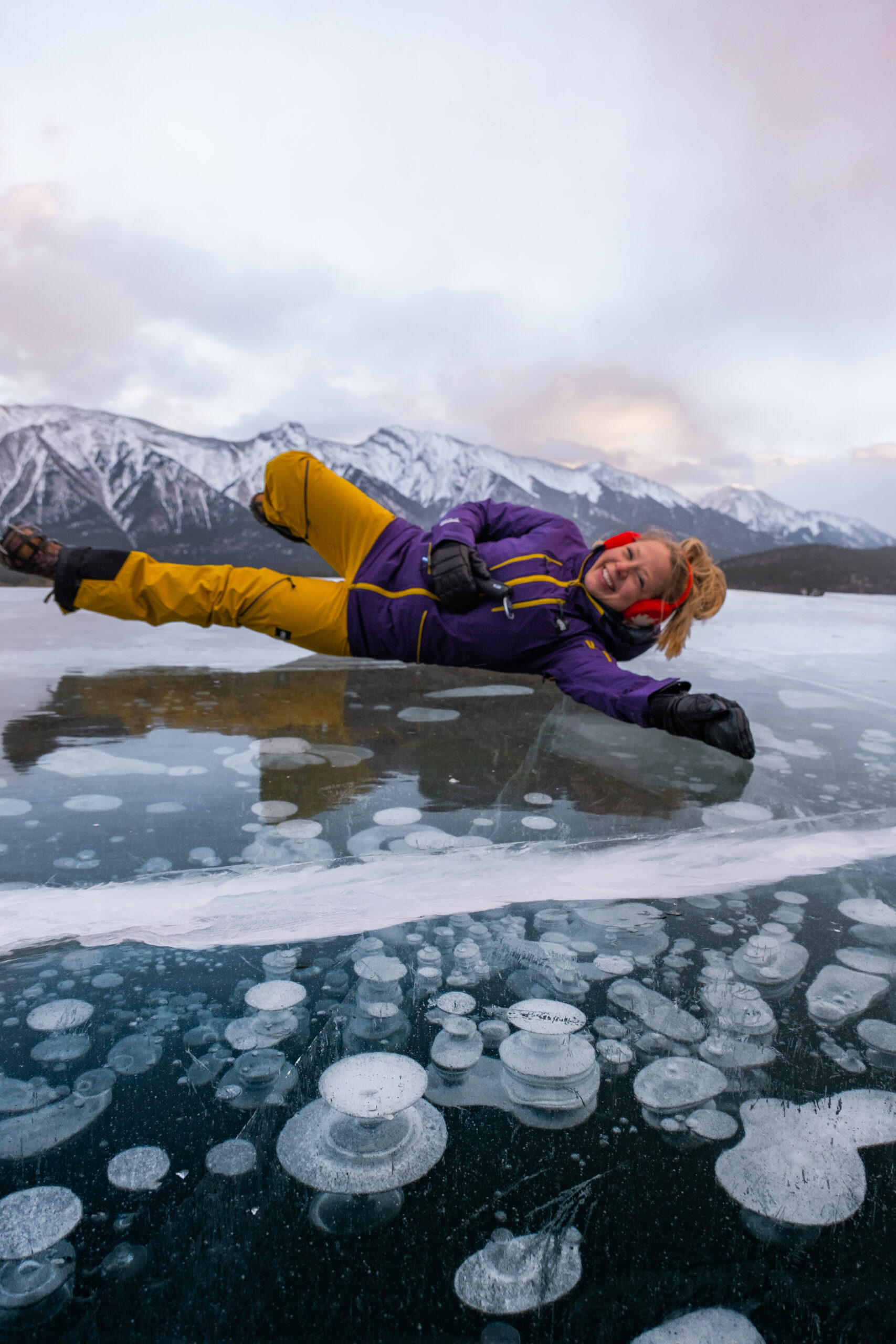 No, Abraham Lake is not in Jasper National Park, but it's not far from it in David Thompson Country. It's one of the most famous spots in all of Canada to see the famous methane ice bubbles so it definitely deserves to be mentioned here as it's a great stop off as you drive the Icefields Parkway between Jasper and Banff. If you have ever wanted to skate on ice bubbles head here around January.
Large white bubbles are created in lakes when water-dwelling bacteria feed on decaying organic matter which expels methane gas. When the water freezes, the methane bubbles get trapped in the ice and create these amazing phenomena.
This area is extremely windy, meaning doesn't cover the ice like all the other bodies of water on this list. So there's typically a very large window of time to skate on the ice bubbles here.
Pursuit Adventures also runs ice bubble tours for those that want to learn more!
---
Play Ice Hockey on a Frozen Lake
It wouldn't be a Canadian Rockies winter without a little ice skating and hockey. I would highly recommend renting a pair of skates and enjoy the beautiful wild ice setting. The best lakes to skate on in Jasper are Pyramid Lake and Patricia Lake.
---
Have a Beer at Jasper Brewing Company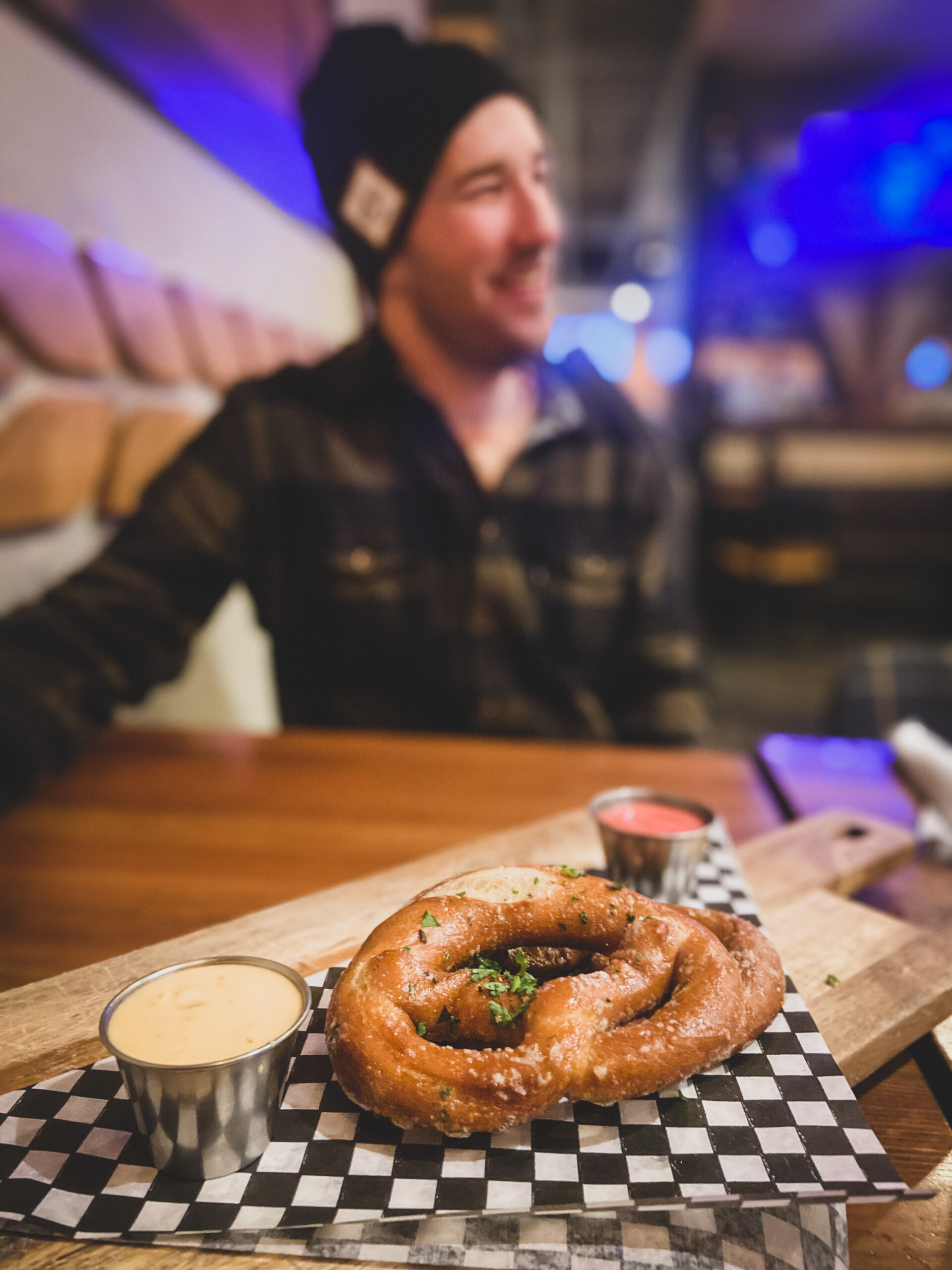 Hands down, our favorite place to eat when in Jasper is the Jasper Brewing Company. Jasper Brewing Company was the first National Park Brewery in Canada. It opened in 2005, and after they are responsible for opening Banff Ave Brewing in Downtown Banff.
Three of the founders here are born and raised Jasper locals and created the brewery space in Jasper as a great community hub. Their beers are delicious, but I love their food! Everything here has been delicious. I highly recommend trying their Halloumi Bowl!
---
Jasper Planetarium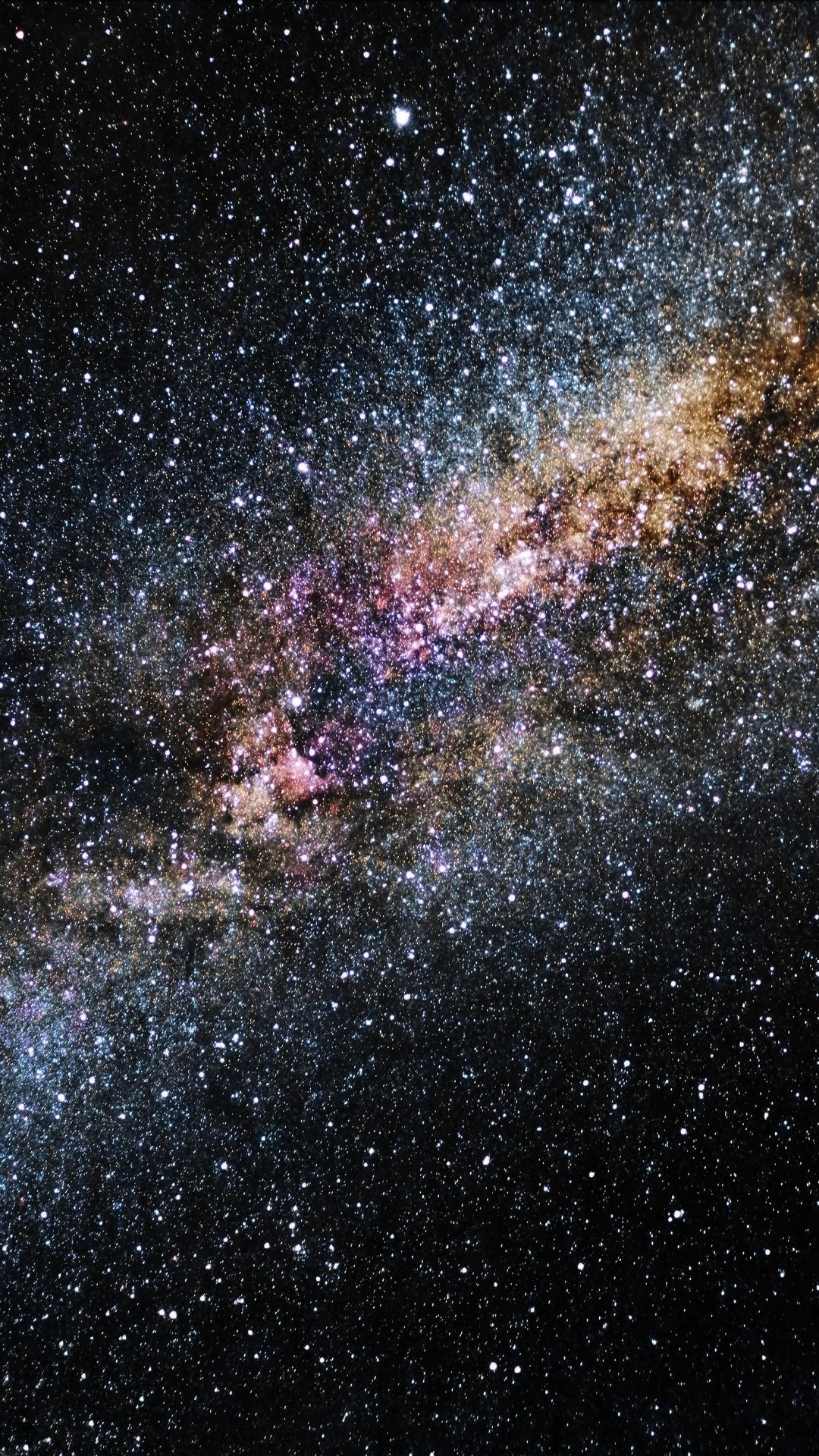 Due to its remoteness and overall lack of development, Jasper boasts amazing views of the stars, galaxies, and constellations that are often difficult to see in more urban areas. If you're an amateur stargazer or just prefer comfortable reclining seats to craning your neck or laying on the cold ground, then the Jasper Planetarium is one of the best things to do in Jasper in the winter that you won't want to miss.
Located in Jasper National Park at the Fairmont Jasper Park Lodge, the planetarium's trained guides will lead you on a virtual tour of the galaxy and explain a few of those mysteries of modern science, like the aurora borealis – or northern lights. Boasting one of the largest telescopes in North America, after the planetarium show, you'll get to peer through its massive lenses and gaze into impossibly distant worlds.
---
Where to Stay in Jasper
---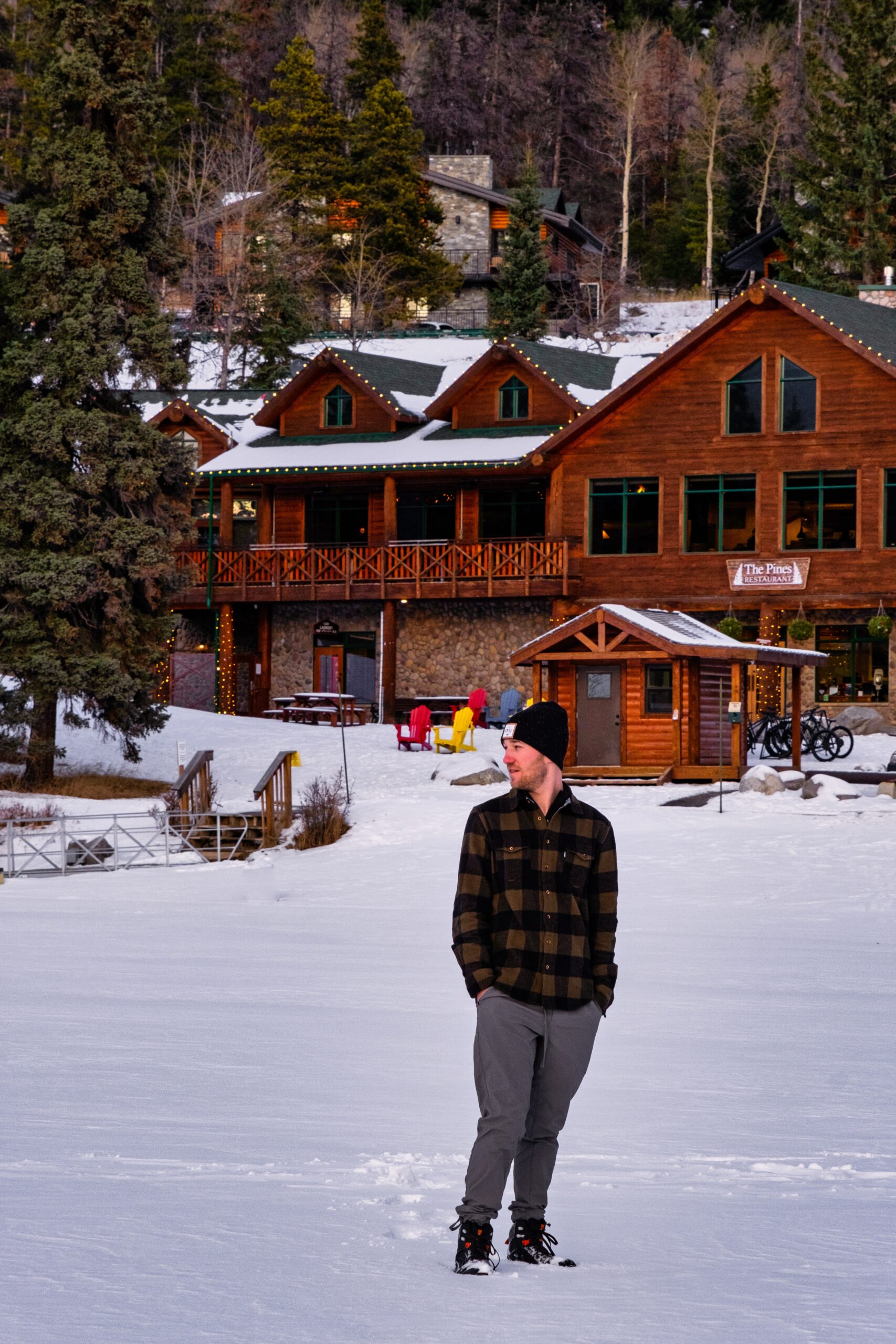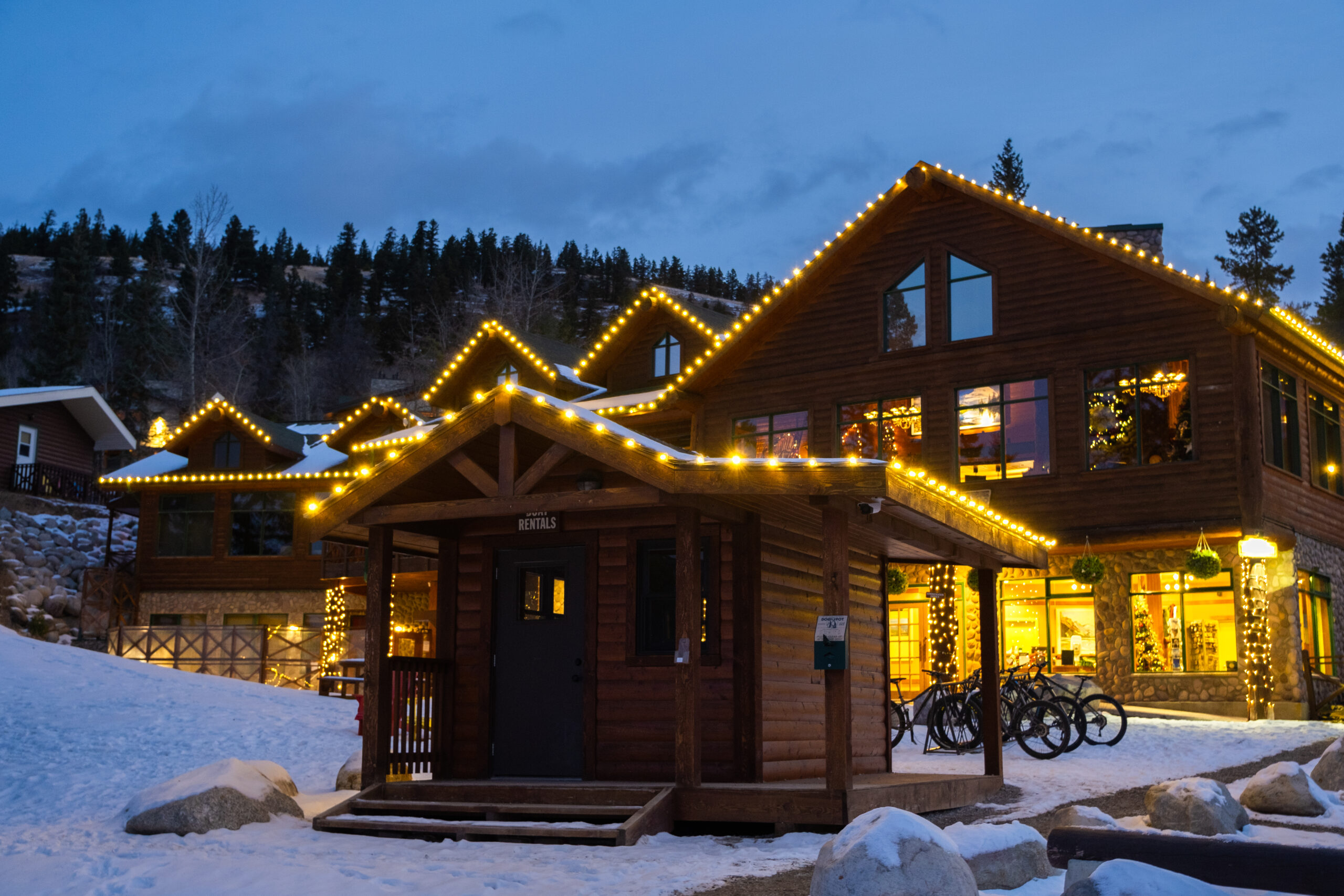 Pyramid Lake Resort is an amazing property in Jasper that cannot be beaten. Sitting right on Pyramid Lake its location in the park is amazing. Away from Downtown Jasper, so you can enjoy nature, but still only a few minutes drive away so you can easily enjoy towns amenities.
These are chalet-style Alpine rooms with 62 guest rooms in total and all come with a cozy fireplace. I highly suggest booking a room with views over Pyrmiad Lake if possible. There's a fantastic hot tub as well to enjoy after a long winter day out in the mountains. The resort is just 6 km from the townsite, but obviously right next to Pyramid Lake and Pyramid Island.
Address — 6 Km North On, Pyramid Lake Rd (GPS)
---
The Best Places to Eat in Jasper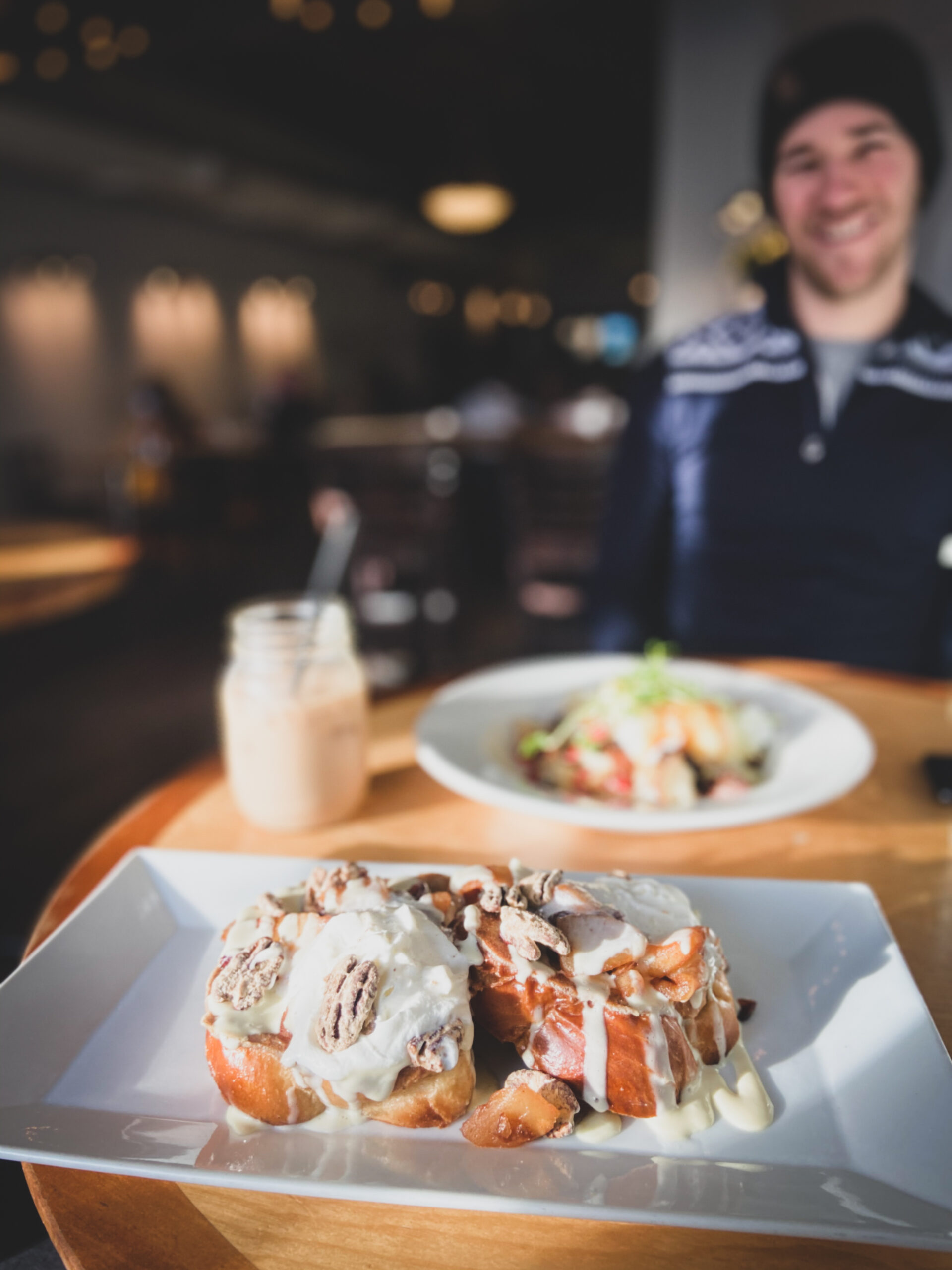 For Breakfast in Jasper Try These Restaurants:
Coco's Cafe: They've got all of the classics of a relaxed cafe such as bagels, oatmeal cinnamon waffles, breakfast burritos, breakfast bowls, and huevos rancheros.
Harvest: Harvest Food & Drink serves breakfast, brunch, lunch, dinner. It's one of the newer restaurants in Jasper with a healthy menu.
Bear's Paw Bakery: Bear's Paw Bakery is an institution in Jasper and just about every visitor to Jasper should pay the bakery a visit in the morning.
Sunhouse Cafe: The bright and airy cafe with modern decor serves some mouth-watering coffee and food.
For Dinner in Jasper Try These Restaurants: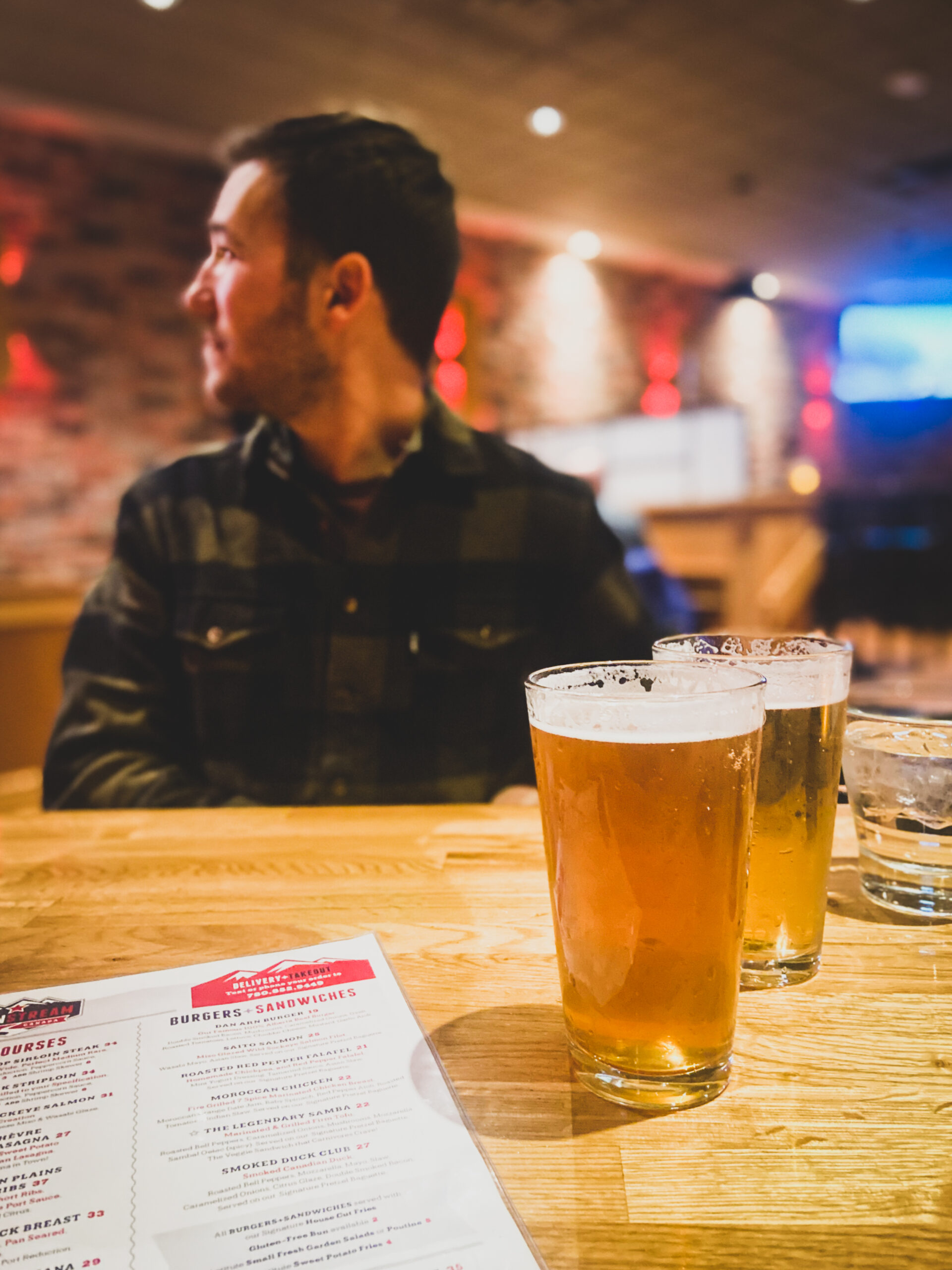 Jasper Brewing Company: As mentioned before they have fantastic craft beers and dinners that pair well with those beers.
Downstream: A downstairs bar with varying sandwiches, steaks, and chicken meals on the menu.
The Raven: A small and intimate bistro perfect for special dinners from around the world.
The Dead Dog: Fun and quirky bar and a locals favorite bar.