There isn't a better place to ski than the ski resorts in Canada. Many other international destinations receive praise, but for us, the incredible terrain, excellent service, beautiful nature, and lack of crowds make these Canadian ski resorts stand out.
There may not be many bars and restaurants on the slopes here, as the best ski resorts in Canada are about one thing; skiing and snowboarding. As veterans of Western Canada, we share insights into our favorite ski resorts in Canada. It may be a hotly contested subject about the best ski resort, but you can't go wrong with any of these Canada ski resorts. These are our favorites, all of which we have personally snowboarded at.
---
Skiing In Canada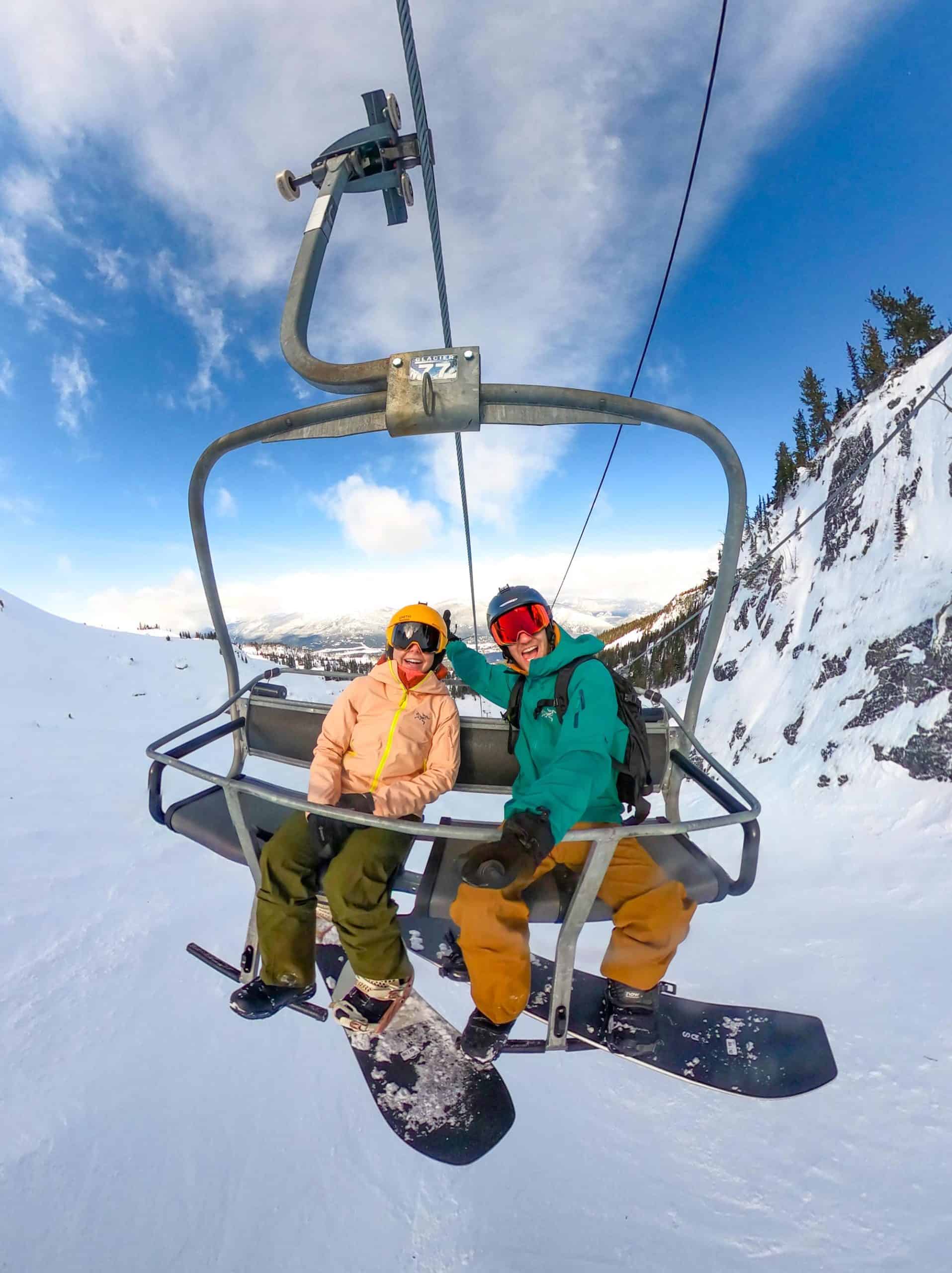 There is no denying that Canada has an abundance of snow and big mountains perfect for skiing. From charming mountain towns across the country, skiers and snowboarders can enjoy quiet runs in nature.
Add to the fact that Canadian ski resorts come in at a fraction of the price compared to Switzerland or Colorado, and you have a wonderful country to ski or snowboard.
There is a wide variety of terrain, and if there is a particular type of ski you love, there is likely a resort in Canada that is the perfect fit. You can find everything from big open bowls, freshly groomed runs, tree skiing, bottomless powder, and stomach-turning chutes and drops.
Canada is our favorite place in the world to snowboard. If you're looking to plan your next ski vacation, then check out some of these fabulous resorts. We've been to about every notable resort in Canada and will keep this list updated with the best Canadian ski resorts to visit every winter.
---
The Best Ski Resorts In Canada
---
Lake Louise Ski Resort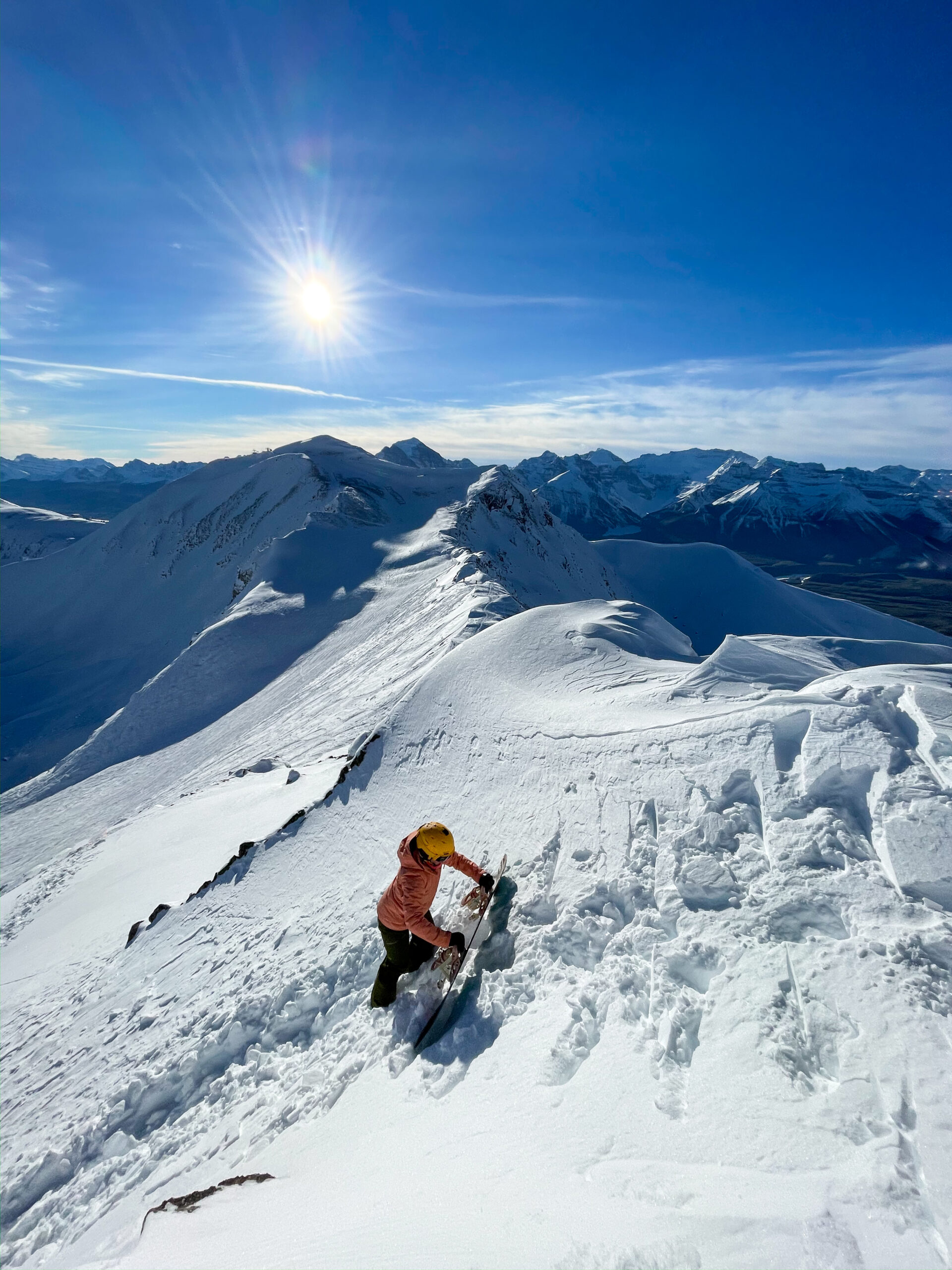 Resort Overview
Season: November — May
Closest Airport: Calgary International Airport (YYC)
Avg Ticket: $119 – $154 CAD
Average Annual Snowfall: 179″
Vertical: 3251′
Total Lifts: 11
Ski Area: 4,200 ac.
Highlights
Lake Louise, Breathtaking Scenery, Long Runs, Resort Town (Banff), Variety of Terrain, Chutes, Bowls, Wildlife, Ski Touring, Long Runs, Reliable Snow, Lack of Crowds (Weekdays), Ikon Pass (7 days to SkiBig3), Beginner Terrain, Groomed Runs, Good Lifts, Decent Park
Negatives
Lacks On Mountain Accommodation, Expensive, Crowded Weekends, Cold Weather, Less Snow Than Nearby Mountains,
Lake Louise is one of Canada's most well-known ski resorts, thanks to its location in Banff National Park. It's one of the most gorgeous Canada ski resorts where the quality of the ski is only surpassed by its stunning natural location. Lake Louise Ski Resort is one of North America's largest ski resorts, with 4,200 acres covering four mountain faces.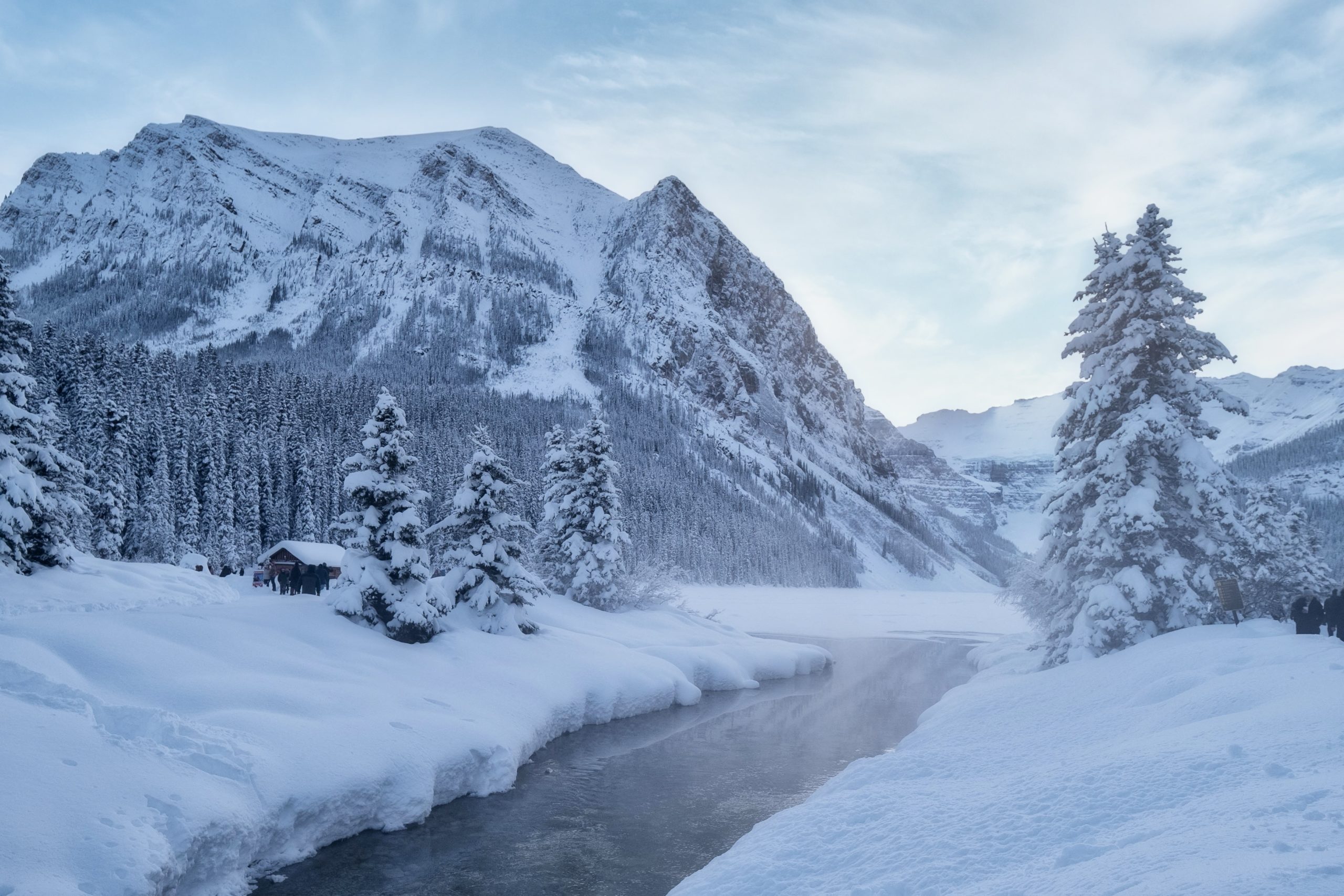 The terrain varies between beautiful groomers, challenging steeps, and expert-level chutes. Every skill level will find something enjoyable at Lake Louise, and it's a manageable mountain to navigate after a bit of orientation. Experts love the extreme terrain, while intermediates and beginners love the long-groomed runs.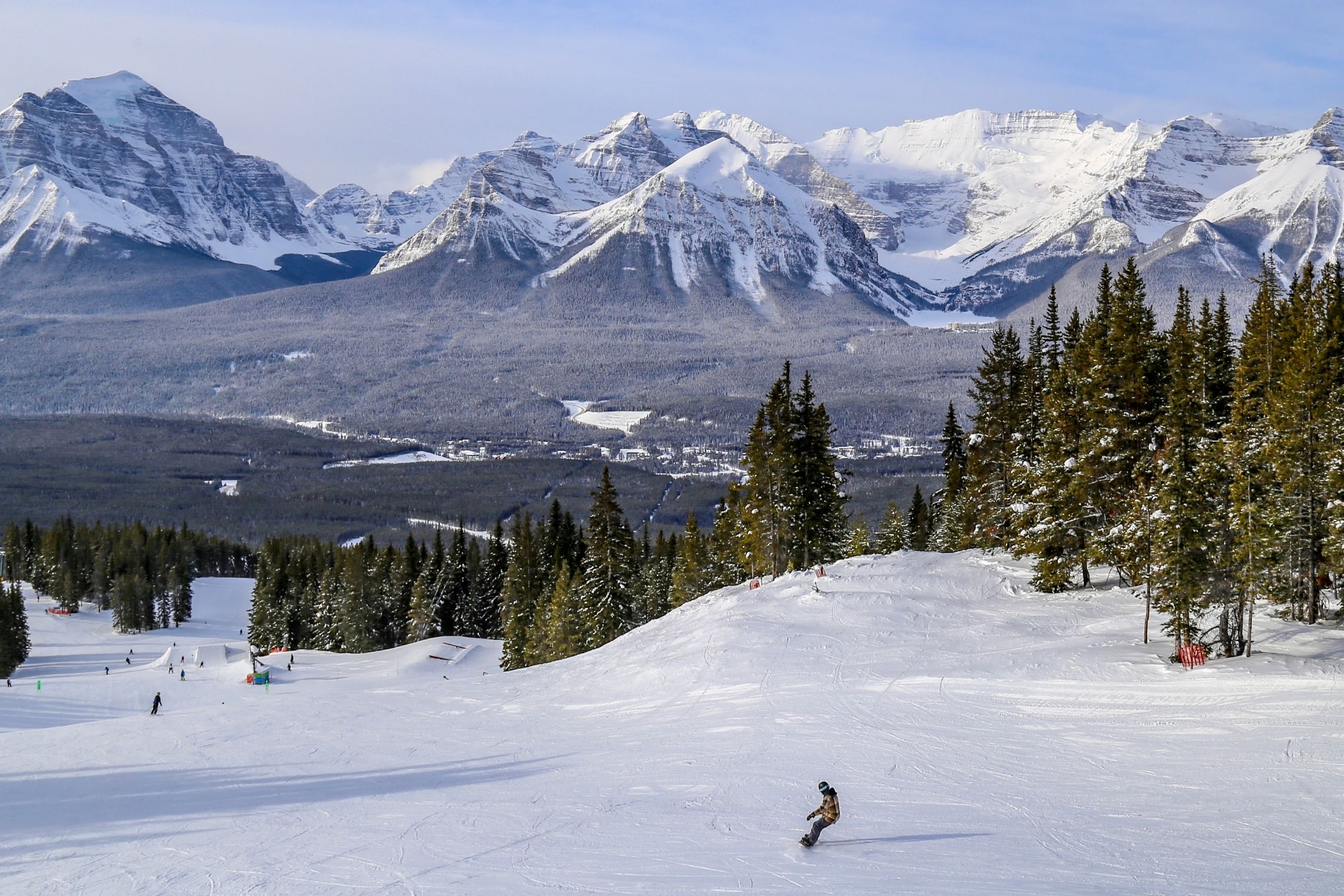 The cold climate ensures Lake Louise has one of the longest seasons in Canada, from November to May! While it is no powder mecca, the average snowfall is around 500 centimeters. The snow that does manage to fall on the mountain is of the best quality, as the dry air and cold climates make for great snow.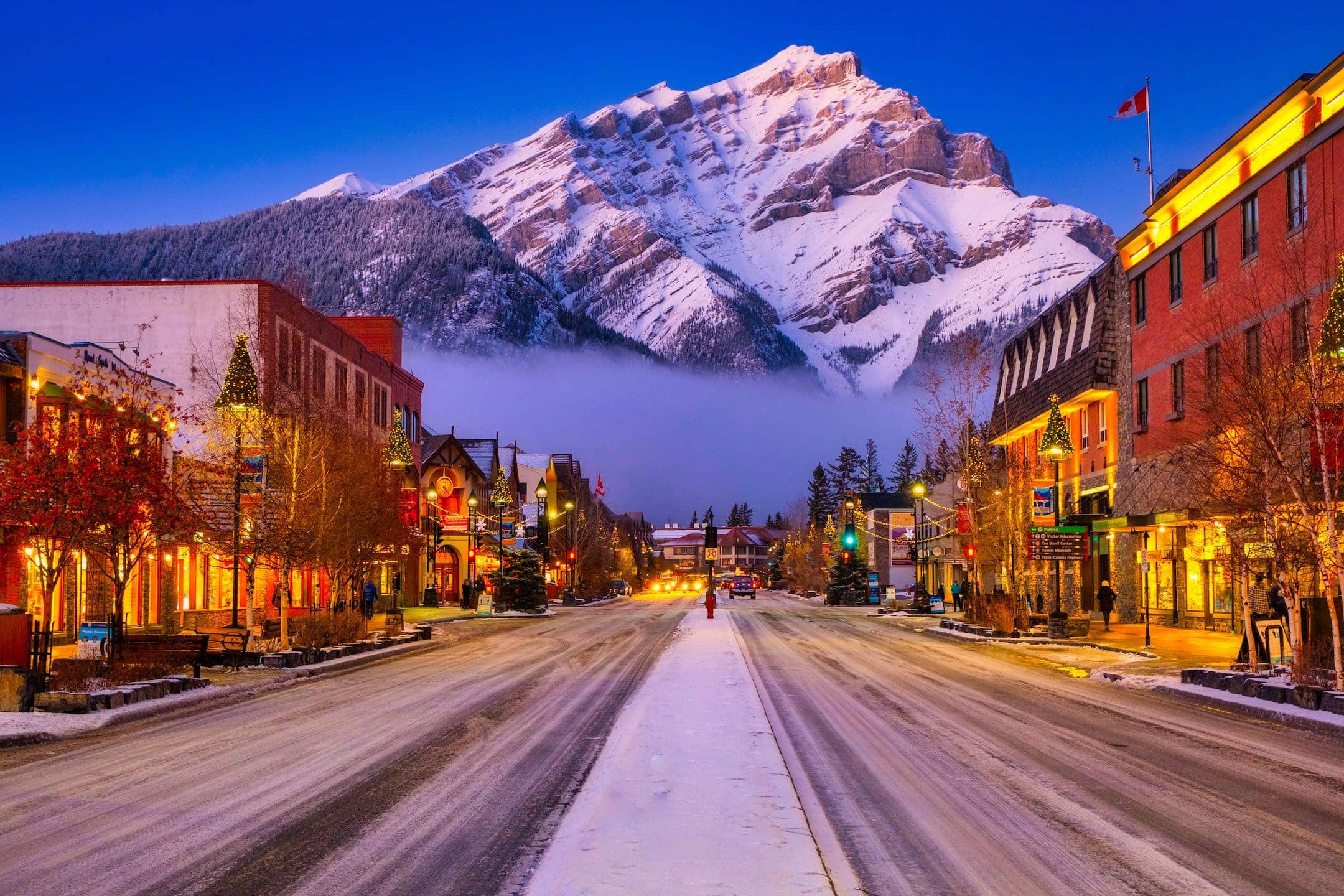 Lake Louise has one significant downside, which comes with the cost and lack of accommodation. Since it's in a national park, there are no hotels on the mountain and only a handful in Lake Louise village. Most visitors will plan a trip to Lake Louise with a stay in nearby Banff, a 40-minute drive away.
Banff has an ample amount to offer visitors as one of the best resort towns in Canada. There are three ski resorts in Banff Mt. Norquay, Banff Sunshine Village, and Lake Louise, known as SkiBig3.
Learn More About Lake Louise
---
Whistler Blackcomb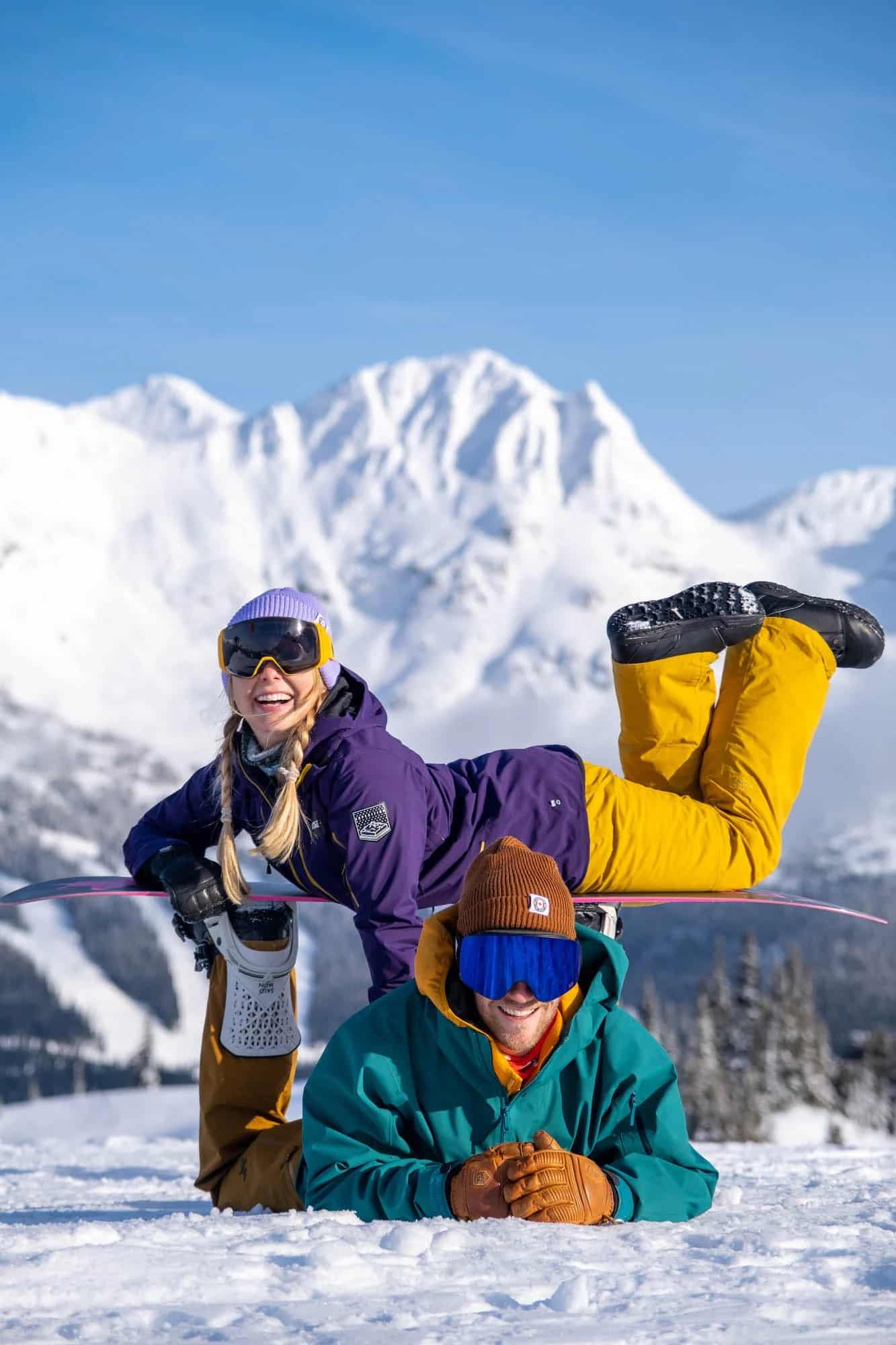 Resort Overview
Season: Late November — Mid May
Closest Airport: Vancouver Intl. Airport (YVR)
Avg Ticket: $160 – $229 (CAD)
Average Annual Snowfall: 449″
Vertical: 5279′
Total Lifts: 23
Ski Area: 8171 ac.
Highlights
Advanced Terrain, Best Lift Infrastructure, Large Village, Huge Resort, Lots of accommodation, Excellent Terrain Parks, Off Mountain Activities, Excellent Resort Town, Apres Ski, Spas, Luxury Hotels, Restaurants, Annual Snowfall
Negatives
Incredibly Crowded, Mountain Gets Tracked Out Fast, BC Coastal Weather, Expensive, Mixed Snow Quality, No Half Pipe
Whistler Blackcomb is the most famous ski resort in Canada and North America. It's a mega-resort that receives a vast annual snowfall over insane terrain and a full-service resort at the base. It's not much of a surprise that it is considered one of the best ski resorts in the world.
Whistler is two hours from Vancouver along the Sea To Sky Highway. Its fame and excellent facilities bring in two million guests a year. This is also its most significant negative, as crowds and lines can be brutal. This is especially true on powder days when locals come out in force and compete for the best lines.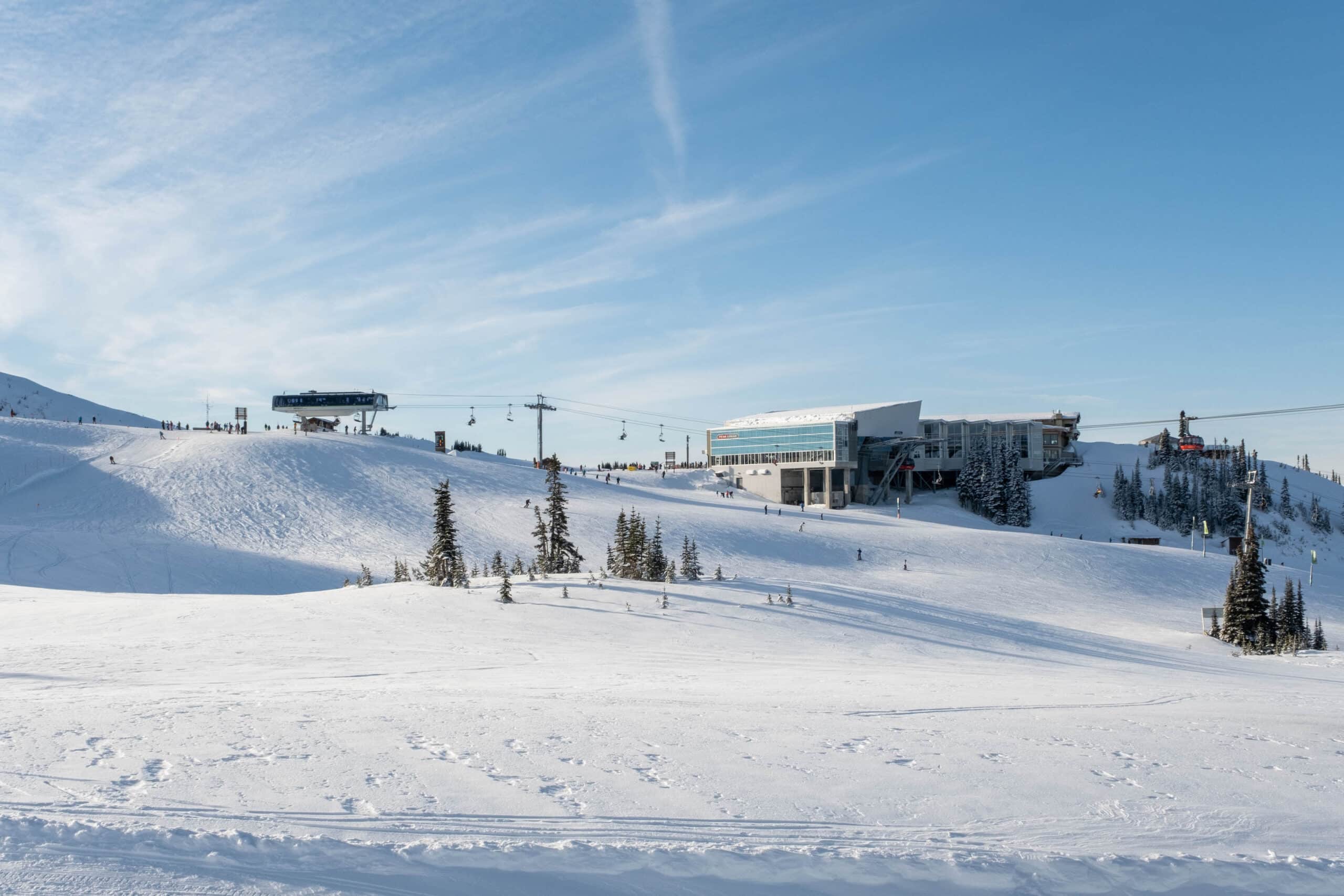 Those locals include pros and experts because of the excellent terrain. The two mountains are so big and have so much variety that it would take years to explore all they offer. The quality of the runs, parks, and expert terrain is impressive. There is something for everyone, and even the experts rave about Whistler Blackcomb.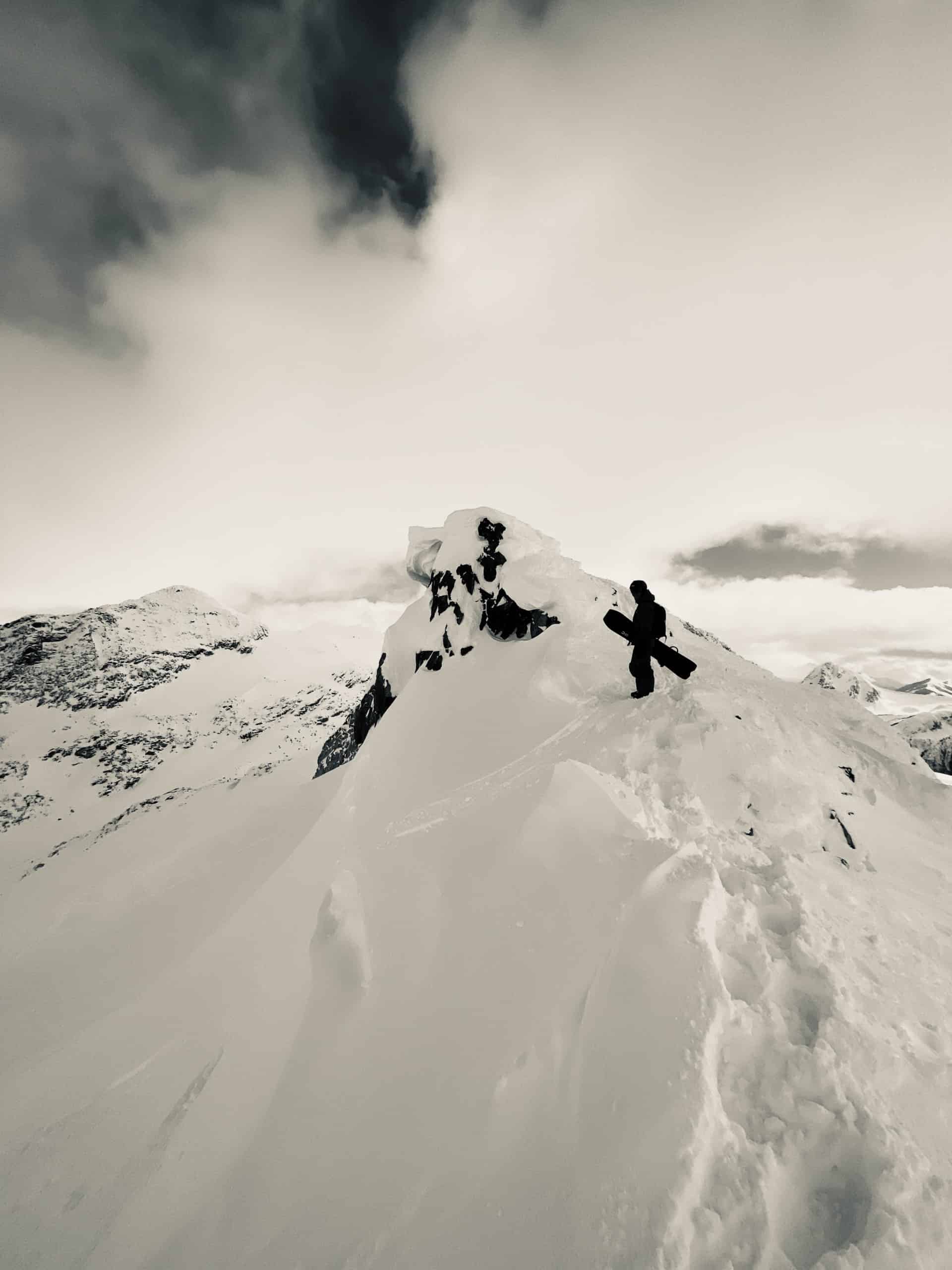 When you're off the mountain, the village has everything visitors could desire. It has many accommodation options, the apres-ski scene is vibrant, spas are abundant, activities are not limited to skiing, and there is no shortage of shops and Whistler restaurants. Of course, all of this comes with a very high price tag.
---
Revelstoke Mountain Resort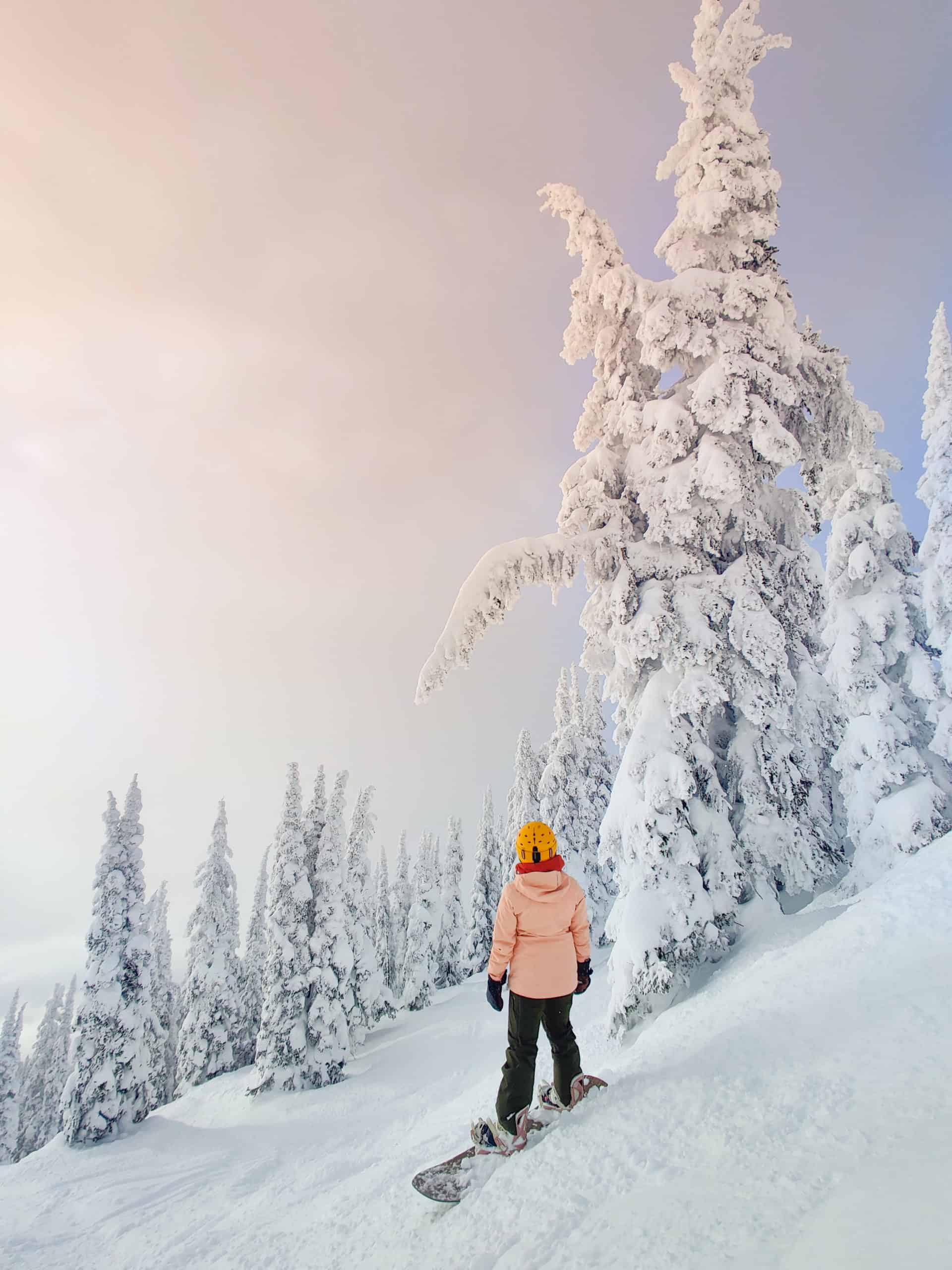 Resort Overview
Season: December — Mid-April
Closest Airport: Kelowna Airport (YLW)
Avg Ticket: $108 – $131
Average Annual Snowfall: 414″
Vertical: 5620′
Total Lifts: 6
Ski Area: 3121 ac
Highlights
Epic Powder, Open Terrain, Excellent Tree Skiing, Vertical, Lacks Crowds, Best Skiing In Canada, Ski Touring, Heli Skiing, Cat Skiing,
Negatives
Advanced & Expert, Not Full-Service Resort, Lift Infrastructure, Town Is Isolated,
At a place like Revelstoke, it's common to see someone tear down the mountain and huck a backflip off a cat track under the Stoke Chair. The skiers and boarders on this mountain can rip. Over the years, Revelstoke has become a mecca for die-hard skiers and boarders.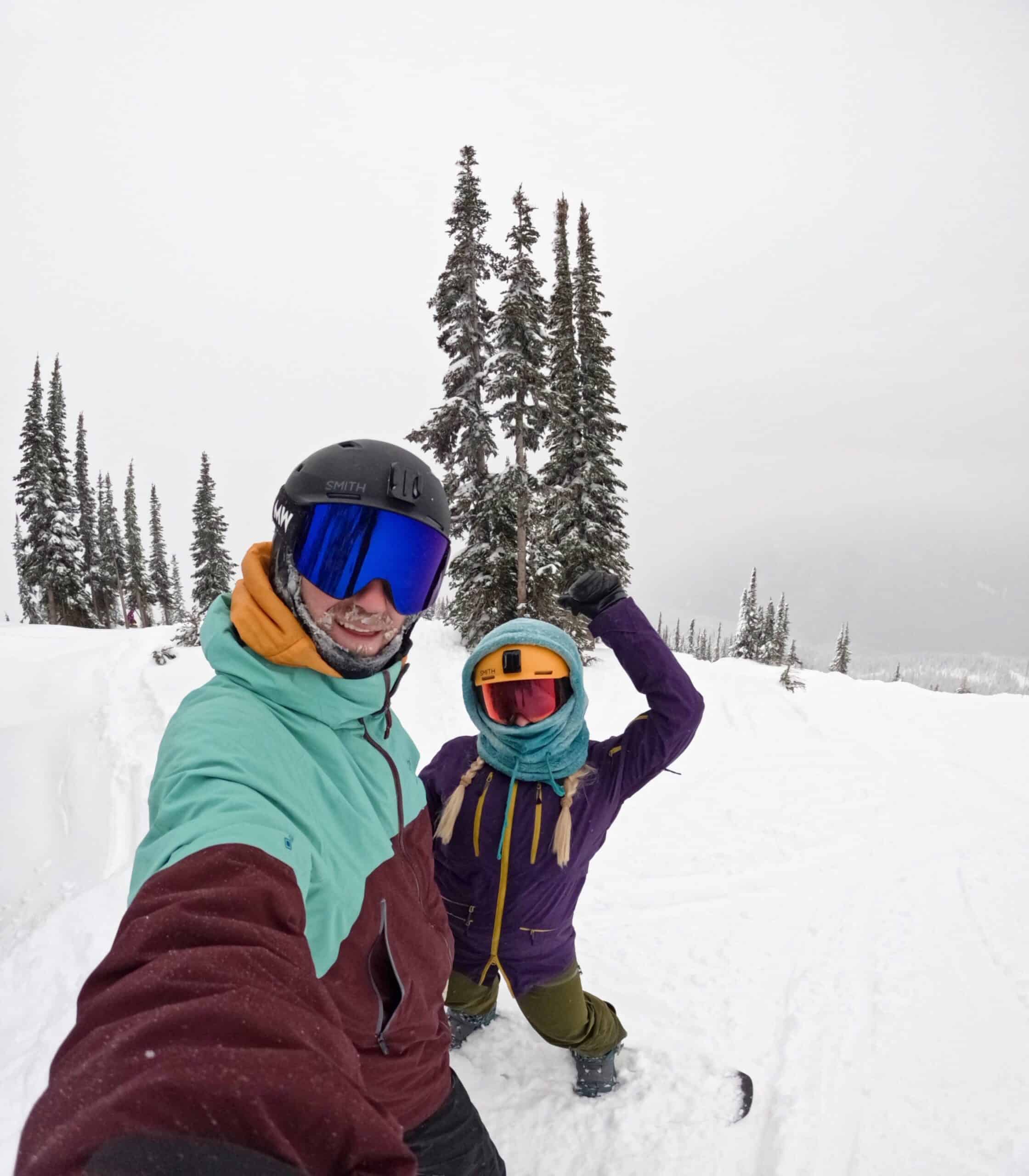 Many heli-ski operations call the Revelstoke home, the mountain receives enormous amounts of snow, and the backcountry ski routes are the stuff of legends. If you've watched a ski movie in the last decade, there's definitely been a segment that included some shots from Revelstoke.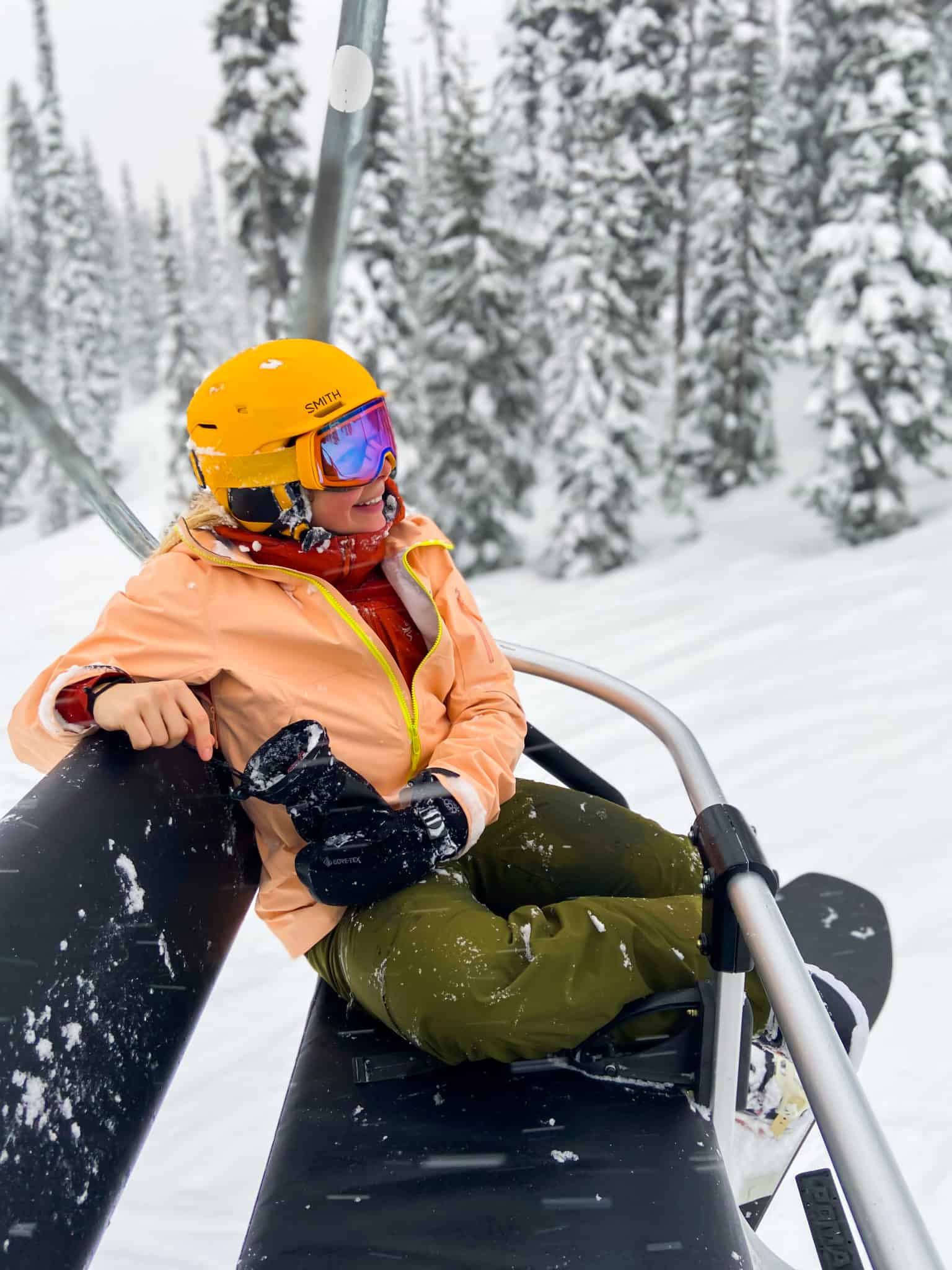 This Canadian ski resort has a reputation that proceeds itself for outstanding freeride terrain, tree skiing, and legendary powder. We spent an entire season there, and never ever got bored. To this day it remains are favorite ski resort in the world.
To top it all off, Revelstoke gets over 12 meters of fresh powder a year. Chances are exemplary visitors will have an epic powder day on a trip to the resort.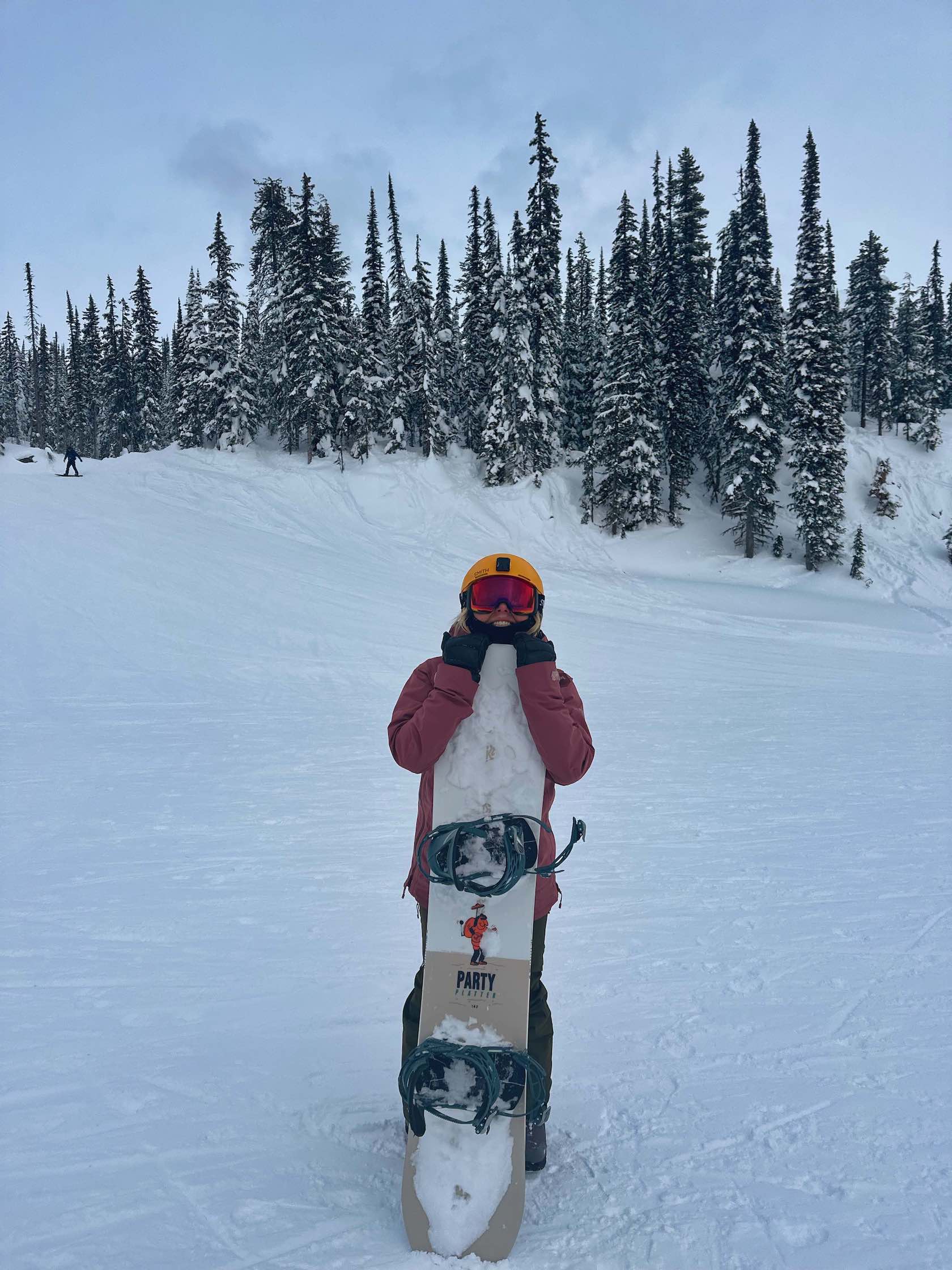 Revelstoke does have one big downside, it's not a good resort. The terrain is primarily ungroomed and steep, and it's not ideal for beginners or intermediate riders, and most of it's "green" runs are essentially just cat tracks. The highest vertical in North America is a technicality, as the ski at the bottom of the mountain is often garbage.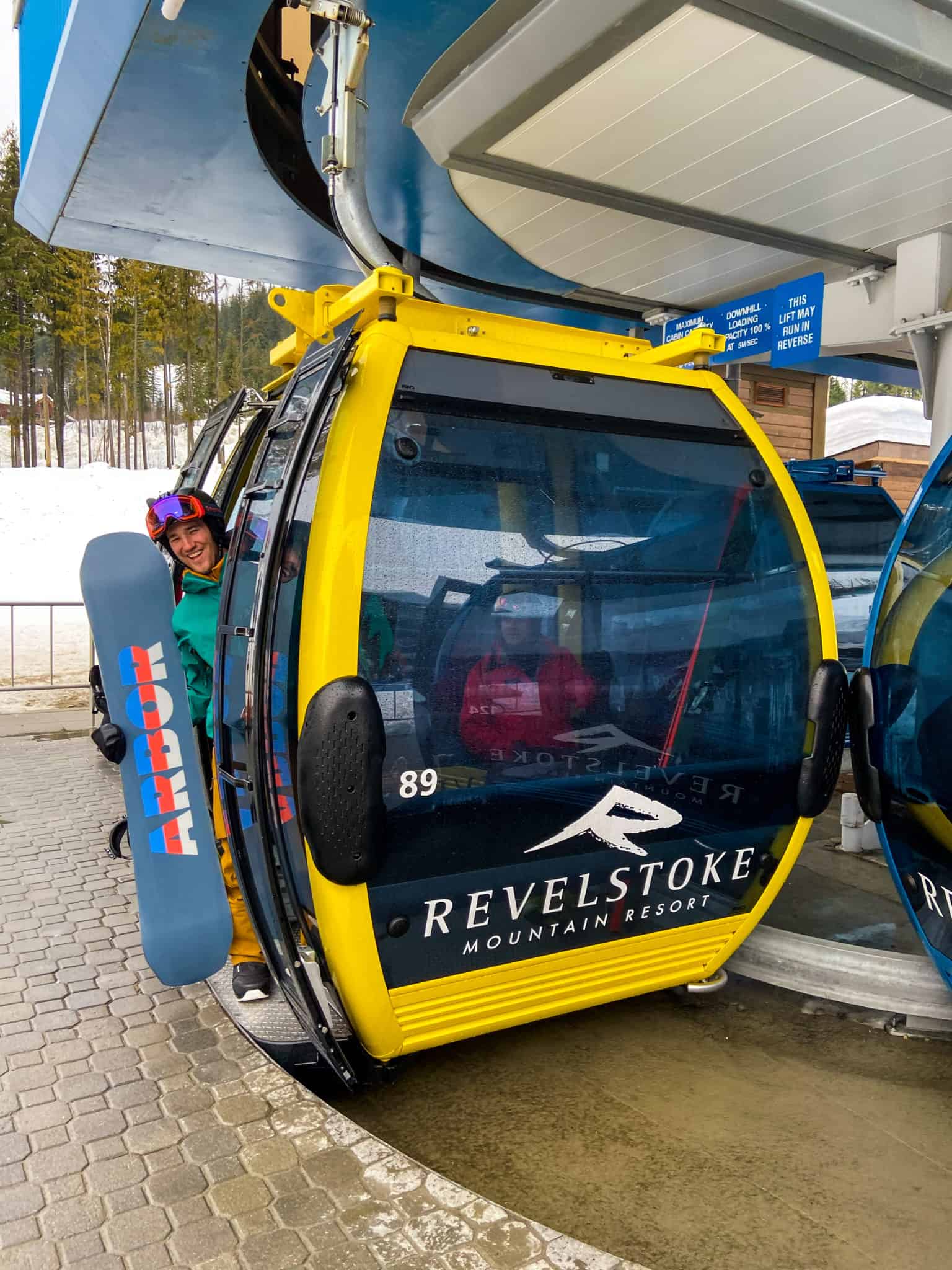 Revelstoke also lacks resort infrastructure that would complete a holiday package. Revelstoke town is far from the prettiest Canadian ski town, and while there are a handful of hotels, cabins, and restaurants, it still leaves a lot to be desired. To us, that's why we love Revy, but to those looking for a full ski vacation that you can get in the Alps or in Aspen, Revy will feel disappointing.
It's not a complete holiday package for the family but a destination for experts and advanced riders to check off the list.
Learn More About Revelstoke
---
Mont Tremblant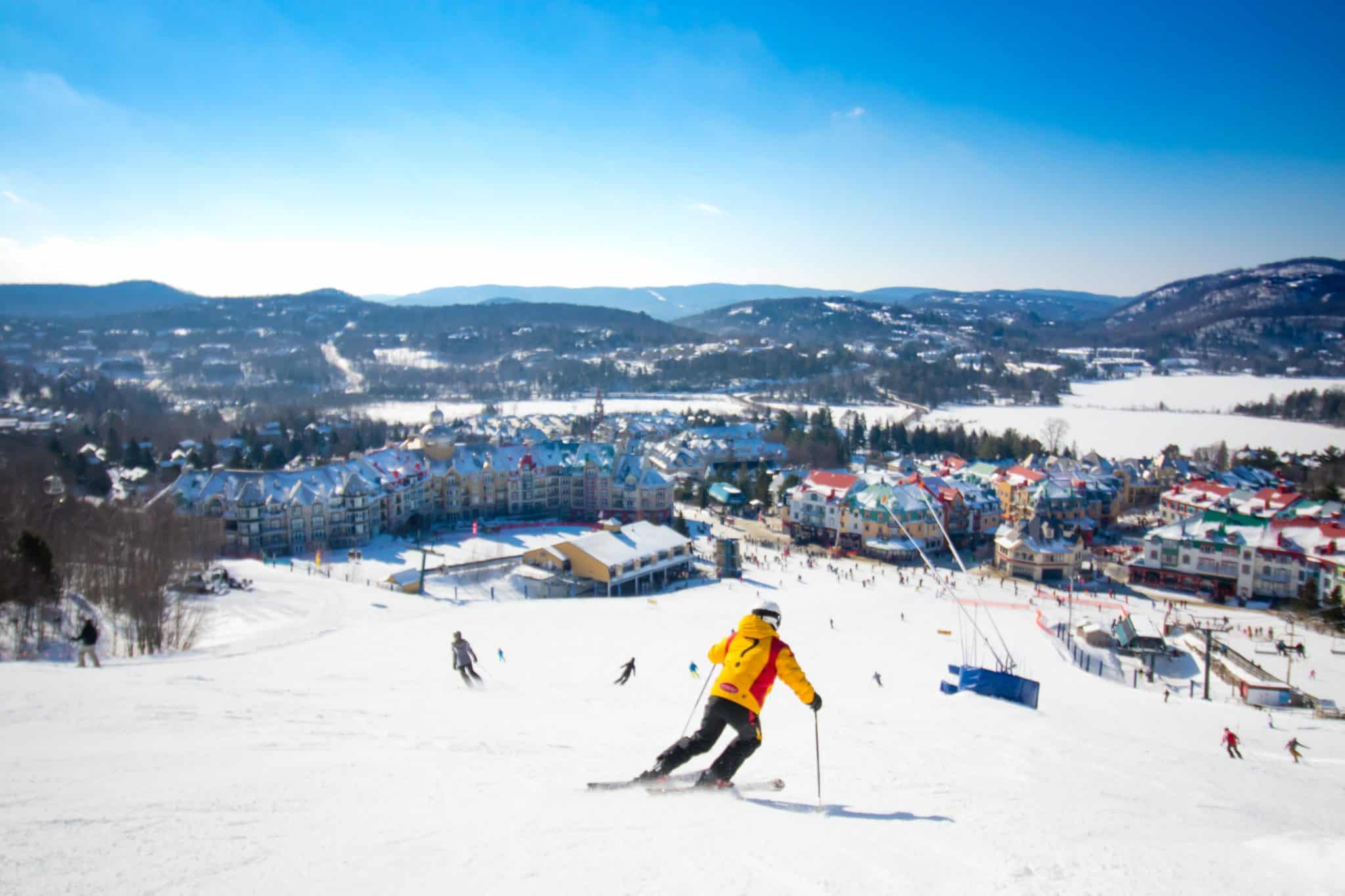 Resort Overview
Season: Late November — Mid April
Closest Airport: Montréal-Pierre Elliott Trudeau International Airport (YHU)
Avg Ticket: $89 – $145
Average Annual Snowfall: 178″
Vertical: 2116′
Total Lifts: 14
Ski Area: 754 ac
Highlights
Family Friendly, Best in Eastern Canada, Charming Village, Variety Of Activities, Accessible to Montreal, Affordable, Decently Long Runs, Snow Making Abilities, Quebecois Culture, Gladed Tree Runs
Negatives
East Coast Skiing, Crowds On Weekends/Holidays,
Mont Tremblant is an excellent Canada ski resort, especially considering its location on the East Coast. While the annual snowfall and terrain won't blow away expert skiers, it has plenty to offer the vast majority. They have a picturesque ski village, excellent facilities, and a respectable amount of vertical.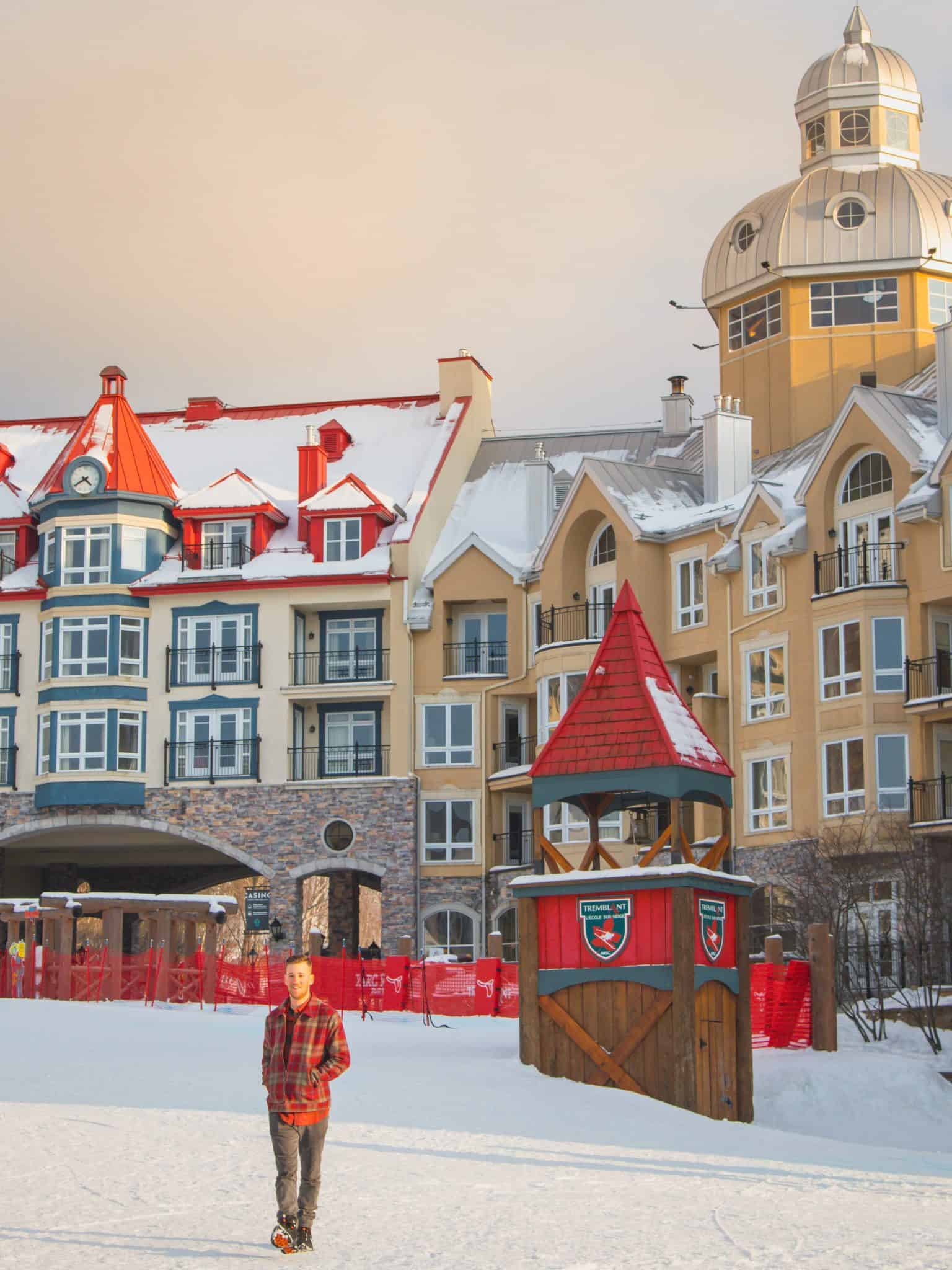 The summit offers breathtaking views over the Laurentians of rolling hills. The resort's pistes spread out from the summit, and there are many possibilities for all ski and snowboard abilities. Mont Tremblant has a decent park, a few steep runs, glades, and plenty of beginner terrain.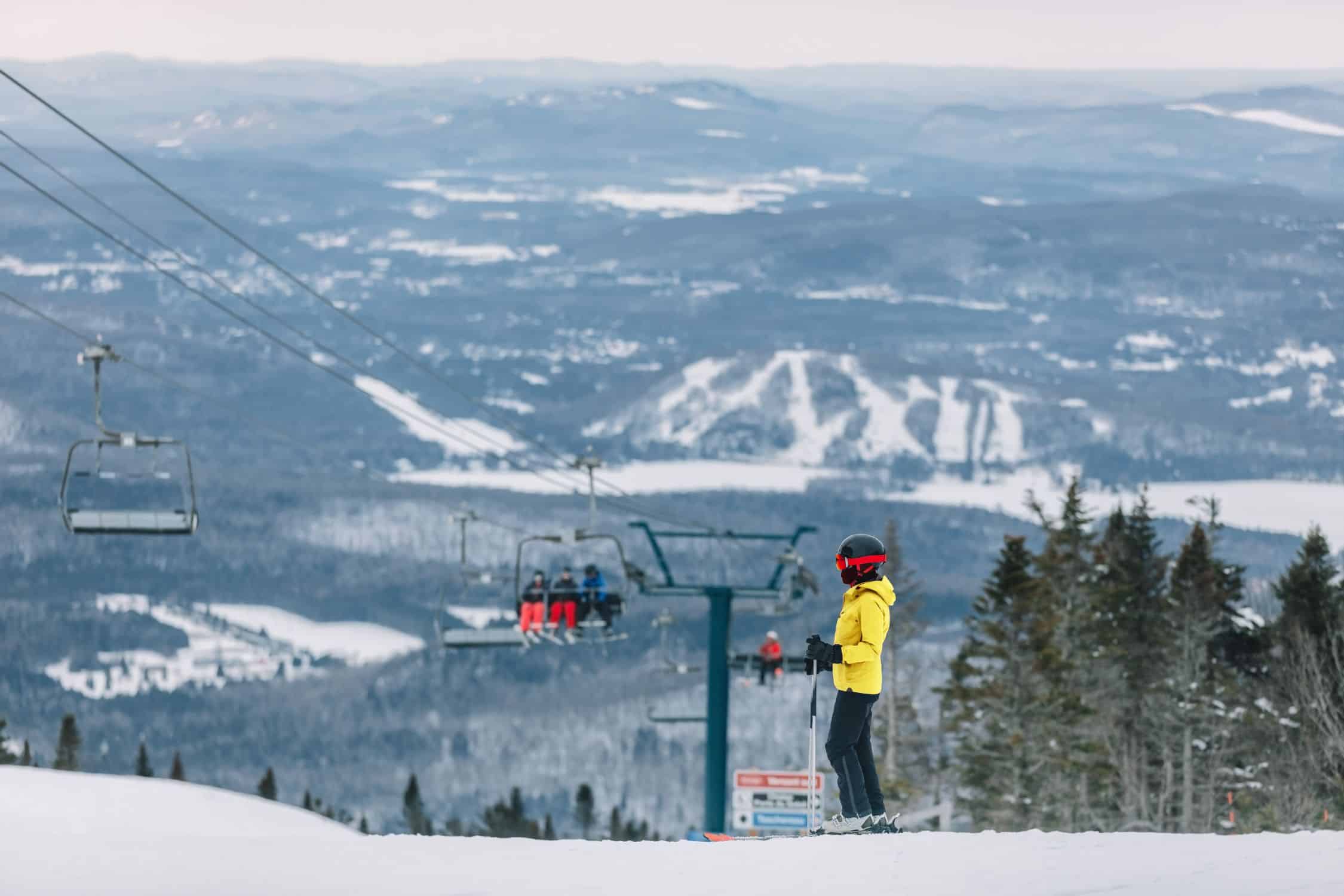 It's a sizeable resort with 96 beginner, intermediate, and advanced runs. Mont Tremblant's incredible snowmaking and grooming abilities are considered some of the best in North America. So it shouldn't be a surprise that it's considered one of the best ski resorts on the East Coast.
Above all else, Mont-Tremblant offers exceptional Quebec charm in a sea of maple trees. People are just darn friendly here, and the resort offers the best holiday on the East Coast. There are many family-friendly winter activities to enjoy in the area and plenty of maple syrup to go around!
Learn More About Mont Tremblant
---
Banff Sunshine Village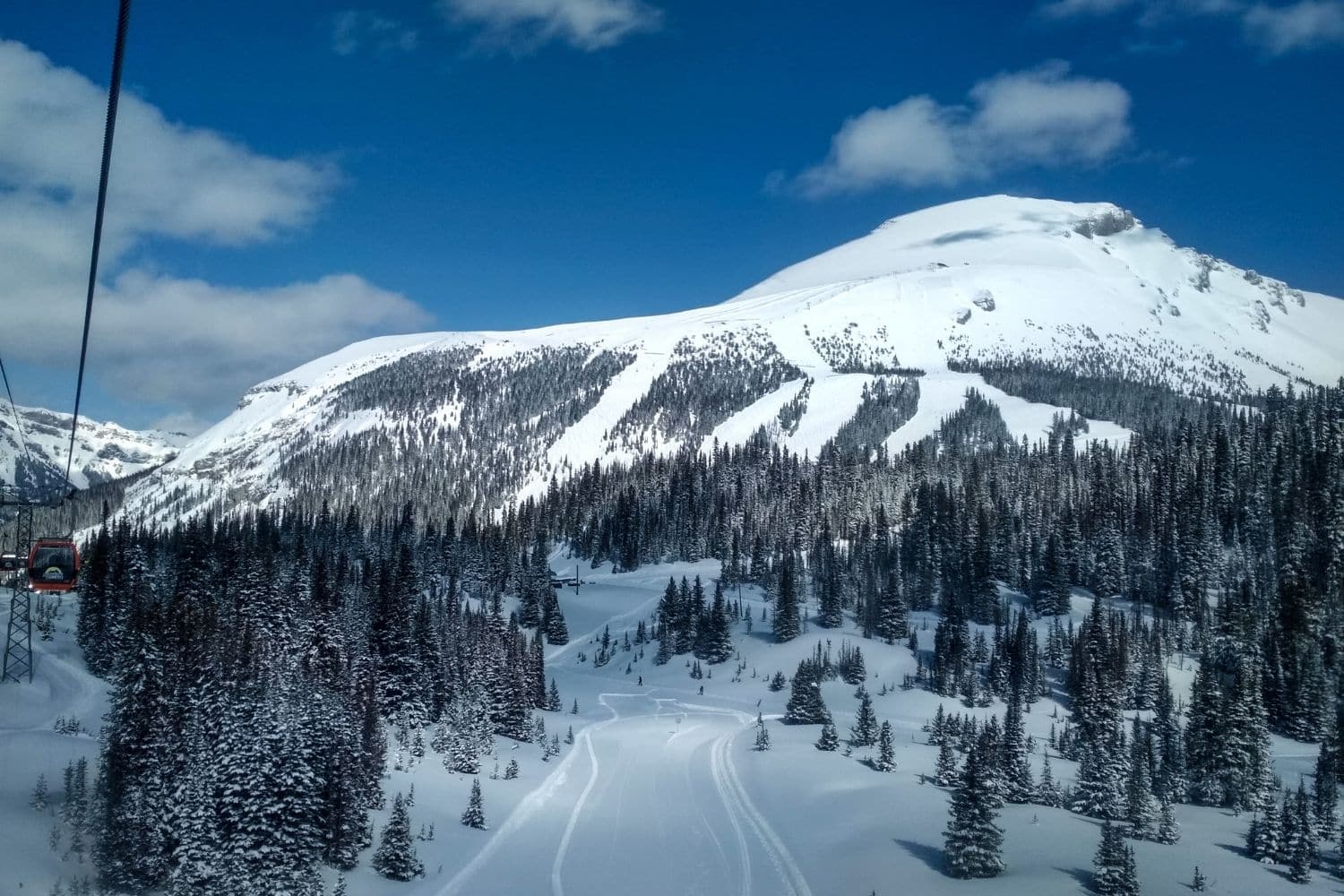 Season: November — Late May
Closest Airport: Calgary International Airport (YYC)
Avg Ticket: $119 – $154 CAD
Average Annual Snowfall: 360″
Vertical: 3510′
Total Lifts: 11
Ski Area: 3358 ac
Highlights
Resort Town (Banff), Variety of Terrain, Chutes, Bowls, Ski Touring, Long Runs, Reliable Snow, Lack of Crowds (Weekdays), Ikon Pass (7 days to SkiBig3), Beginner Terrain, Groomed Runs, Good Lifts, Great Park, Good Snow, Long Season
Negatives
Short Runs, Flat Light, One Isolated On Mountain Lodge, Flat Spots, Cold Weather
Banff Sunshine is a mountain that offers something to everyone, from professionals to beginners. You can easily find yourself smack dab in freeride terrain that would be considered out-of-bounds in other resorts or cruising down a mellow green to the Trappers Pub. Jagged peaks loom high above alpine trees, and the views of untouched alpine are unparalleled.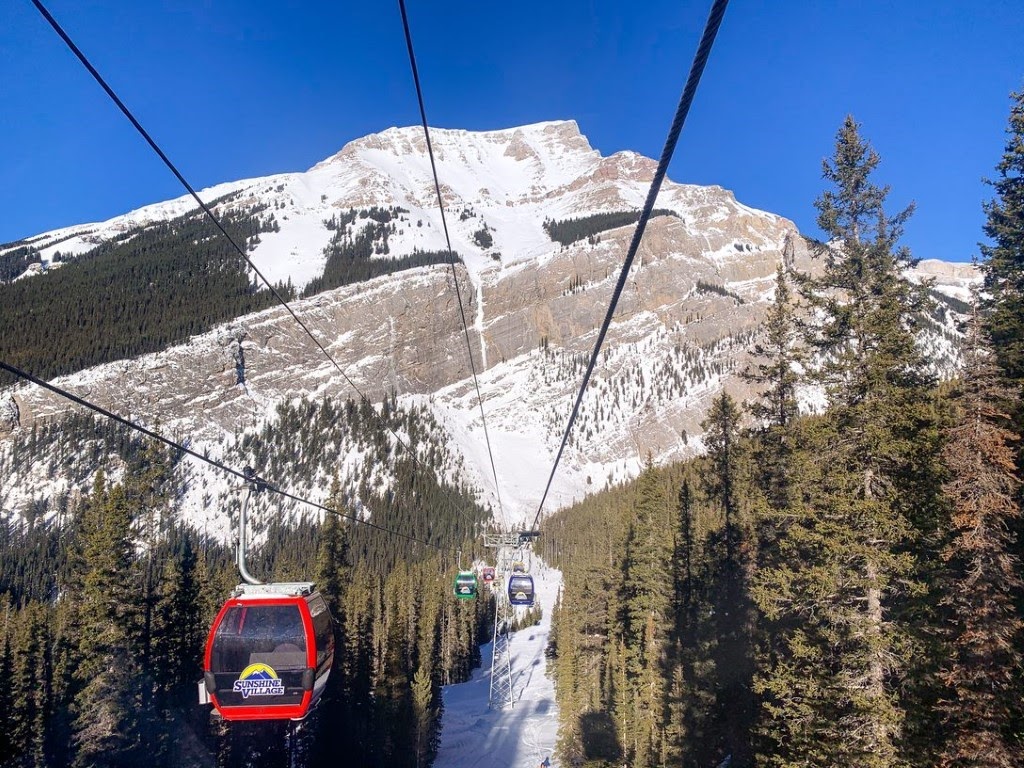 When you first arrive in the parking lot, the mountain does not look like much, as the base is simply a gondola station and one restaurant. To reach the actual resort base, guests must take a 15-minute gondola that delivers them into a sprawling resort that looks like it belongs in the Alps, not North America.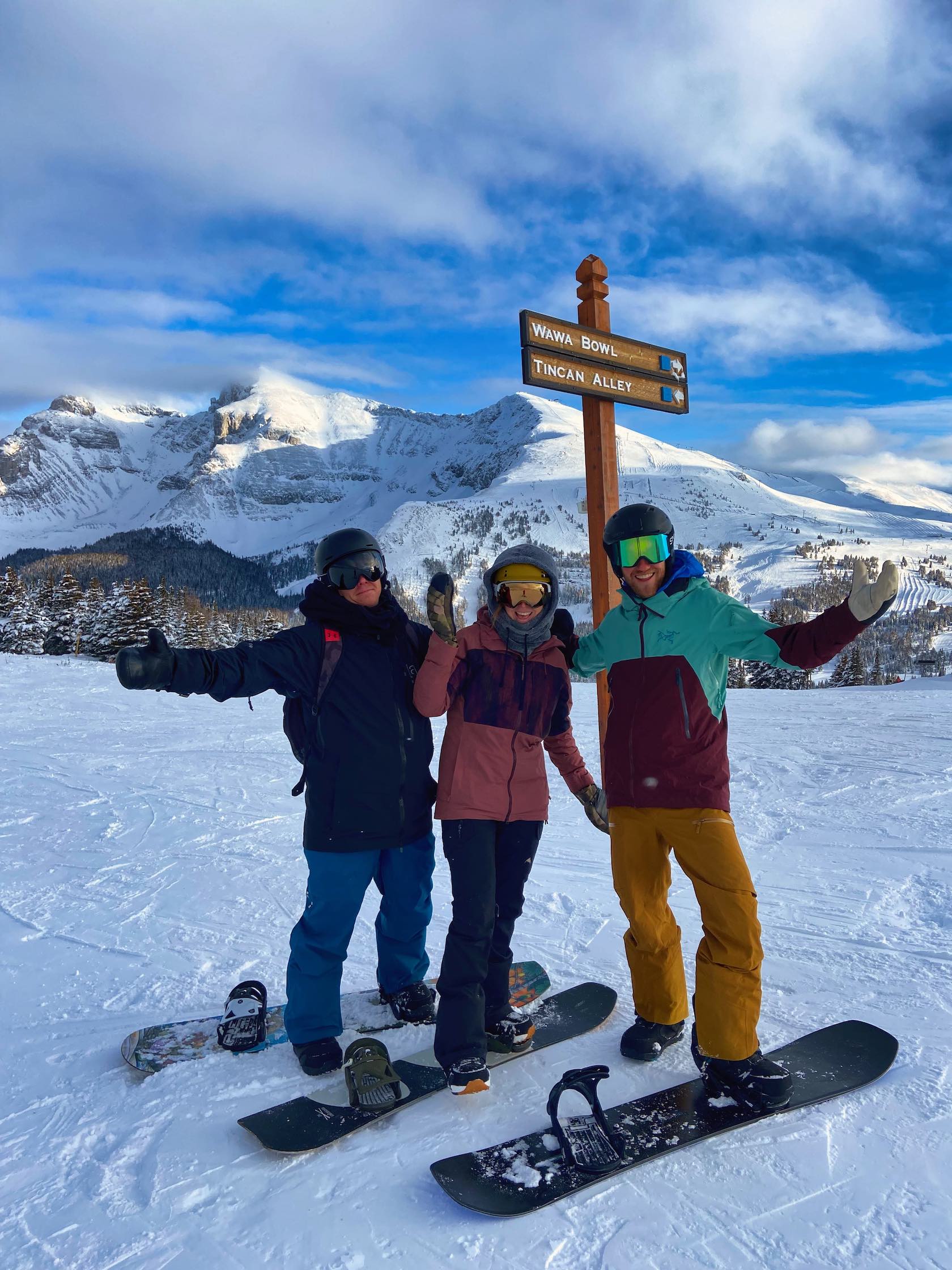 Sunshine Village has a central resort center with several restaurants, shops, and a hotel. It serves as an excellent meeting point for groups of varying riding abilities. From the center, several lifts go out to the mountains and ridges in the area.
Since the resort base is high in elevation, most runs are relatively short. There is a ton of variety in the terrain and something for every level of skier.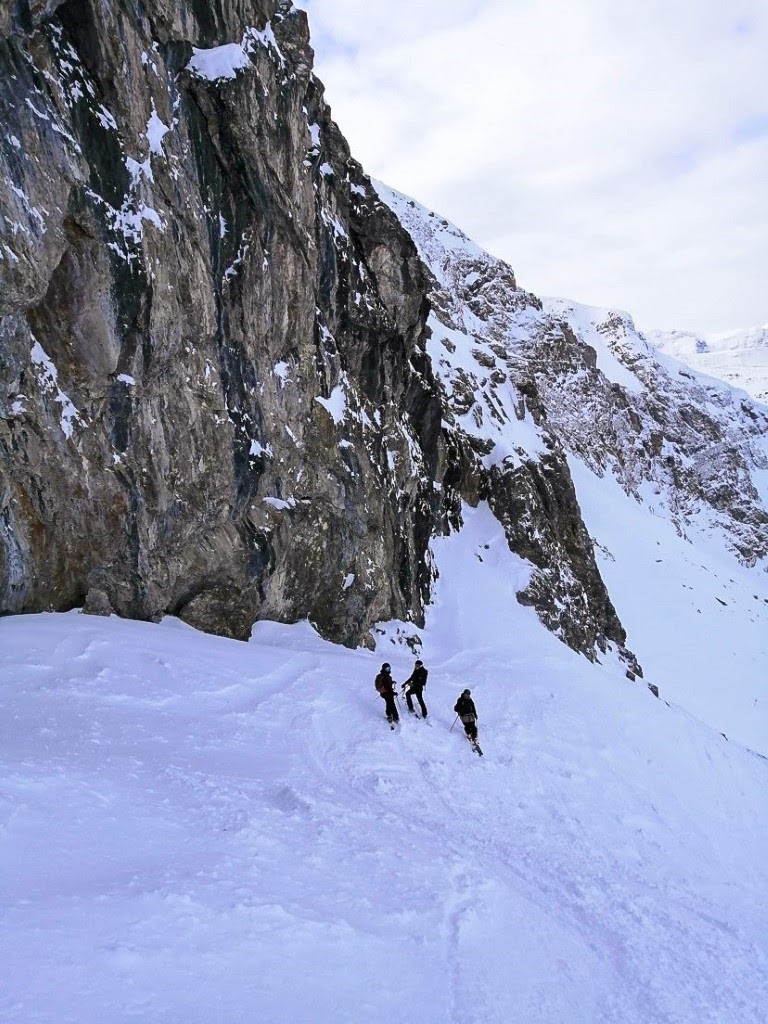 Don't let the expert terrain detract you from visiting the resort, as it also has a plethora of groomed beginner and intermediate runs. The resort has something for everyone, and the base area makes for a perfect central point to meet after skiing the surrounding peaks.
The downside to Banff Sunshine Village is the shorter runs, various flat sections connecting the mountain, and the weather. As the resort sits in the alpine, there are a lot of days with very flat light and cloud coverage. It can be bone-chillingly cold on a frigid day when the wind blows.
Similar to Lake Louise, Sunshine Village lacks on-mountain accommodation. However, they are 20 minutes closer to the town of Banff and have one mountain lodge that makes for an extraordinary experience. The resort claims the "best snow in Canada," and it's true the cold temperatures in the Banff National Park preserve the snow well, but it can get icy and windswept.
Learn more About Sunshine Village
---
Sun Peaks Resort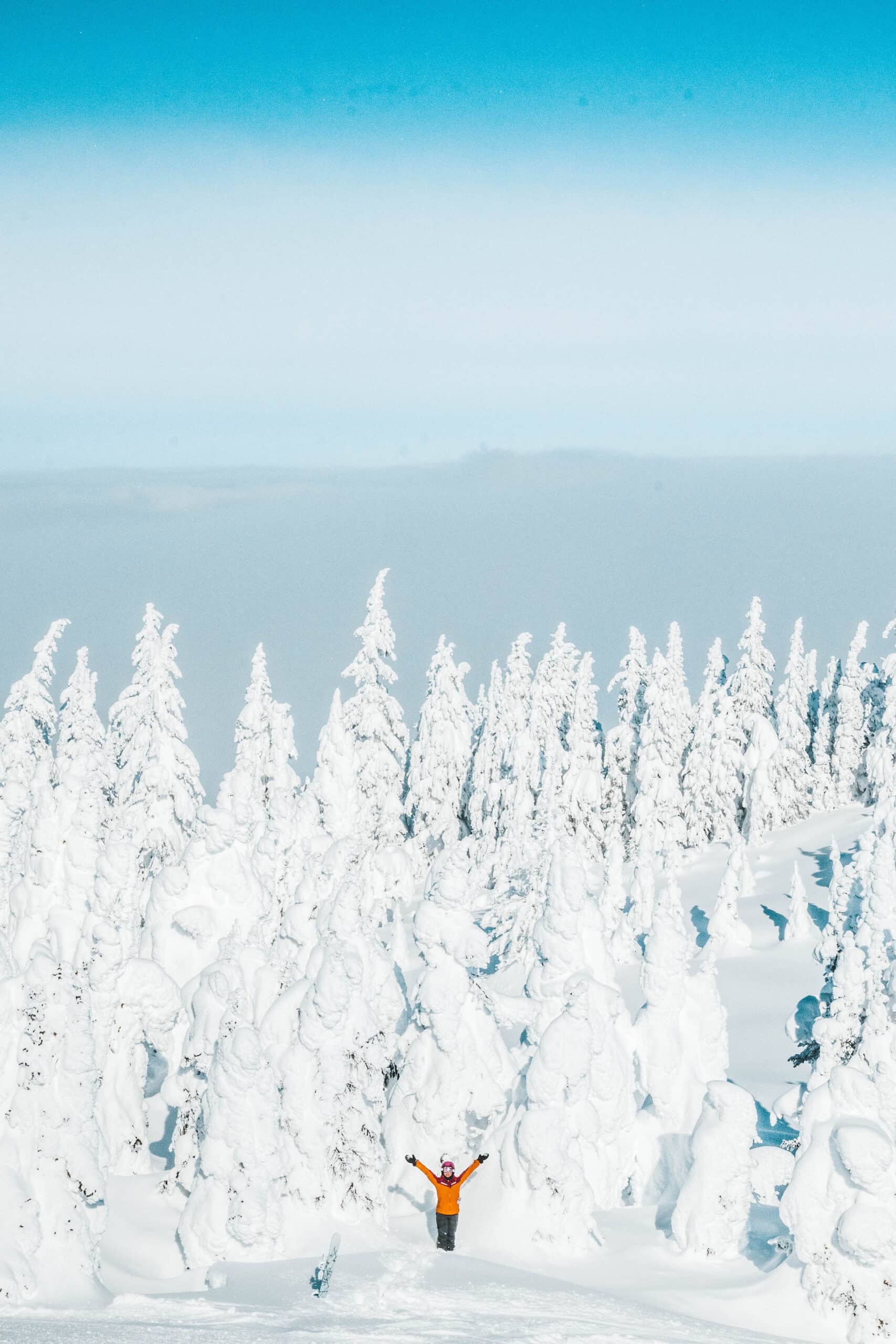 Season: Mid-November — Mid-April
Closest Airport: Kamloops (YKA) or Vancouver (YVR)
Avg Ticket: $88 – $149 CAD
Average Annual Snowfall: 237″
Vertical: 2894′
Total Lifts: 13
Ski Area: 4270 ac
Highlights
Beginner Friendly, Decent For Advanced Riders, Good Resort Village, Three Mountains, Terrain Park, Glade Runs, Lacks Crowds, Cross-Country Skiing
Negatives
Lacks Expert Terrain, Less Snow Than Other B.C. Ski Resorts
Sun Peaks is a favorite ski resort of many Canadian Families as the resort is good at everything. It has a charming village with variety, good service, great value, and decent ski that is easy to navigate. As one of the best places to visit in BC it also has some great activities such as dog sledding, cross country skiing, and snow-shoeing.
The ski resort trails are well laid out and easy to navigate, with almost all runs leading back to the base village. It makes for easy navigation and nearly impossible to get lost, especially compared to resorts like Whistler Blackcomb, Revelstoke, or Lake Louise.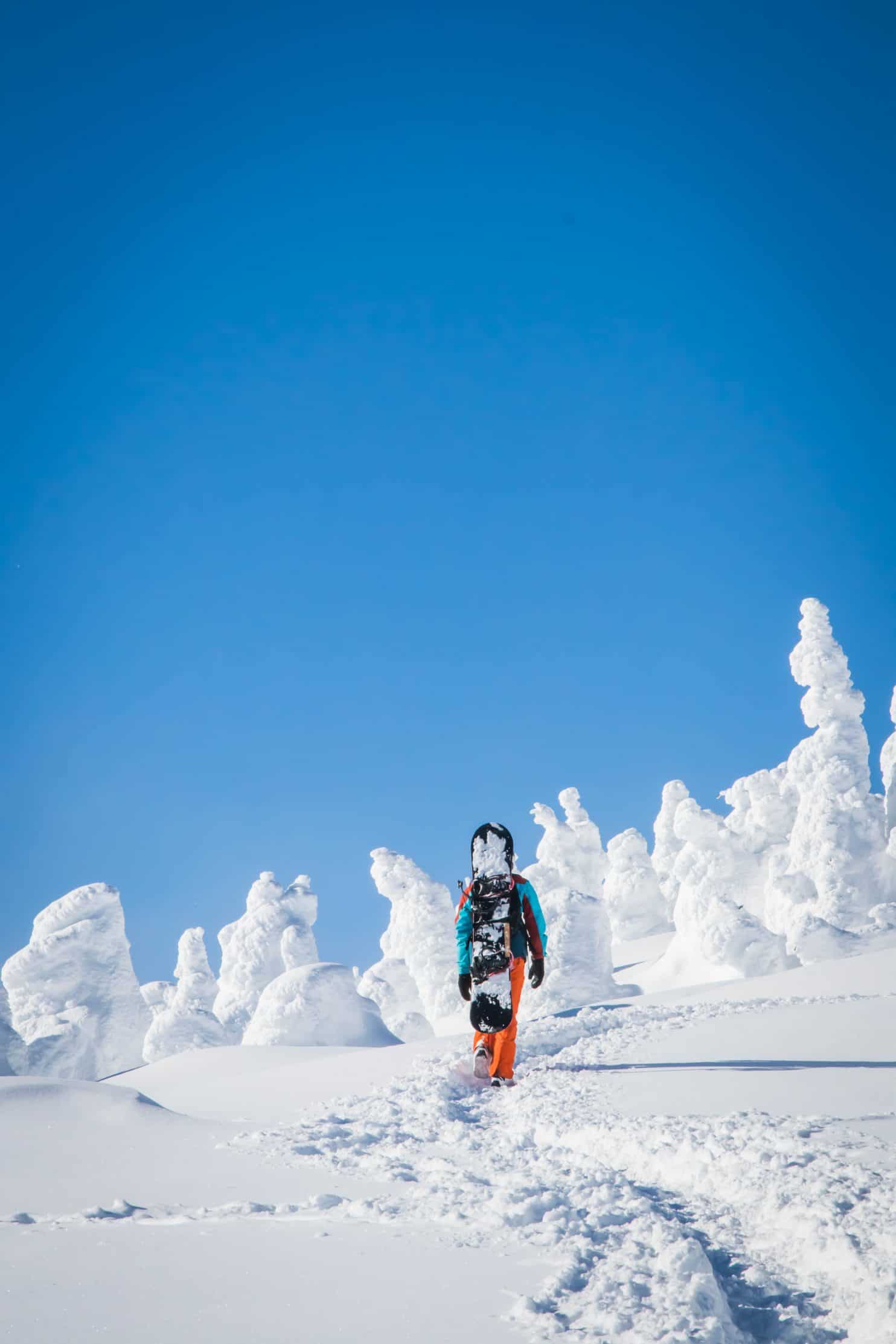 The resort doesn't serve as a mecca for ski bums, but that doesn't mean the ski runs aren't notable. Several challenging pistes, bowls, glades, and an excellent terrain park with plenty to offer expert and advanced ability levels. It's a great resort for groups of various ability levels.
It's a friendly full-service ski resort and the second largest in Canada, smaller than the monstrous Whistler-Blackcomb, but great for families and those looking for a full-on ski vacation. Sun Peaks also has some of the best snow ghost trees in Canada!
Learn More About Sun Peaks
---
Kicking Horse Mountain Resort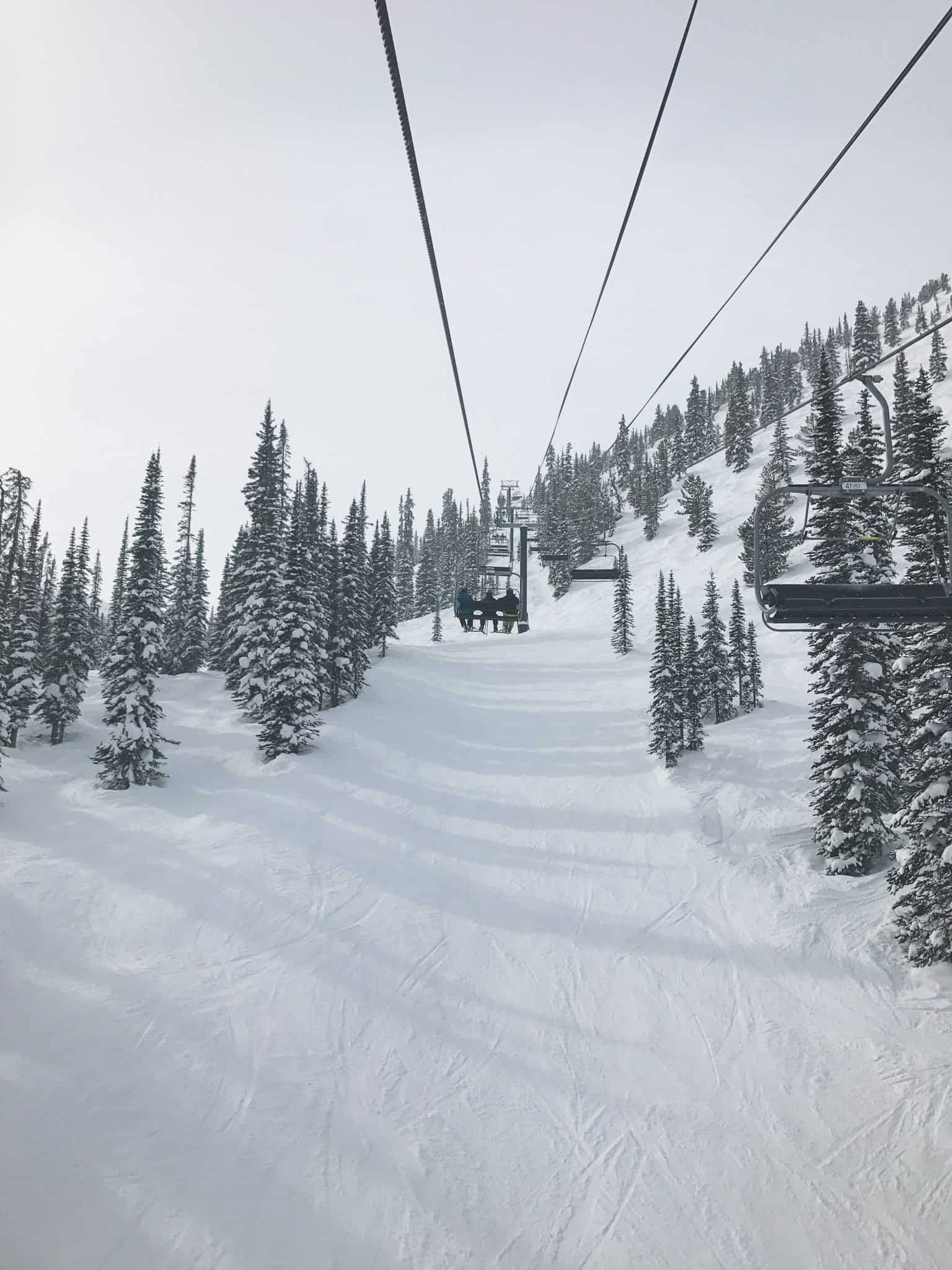 Season: Mid-December — Mid-April
Closest Airport: Calgary International Airport (YYC)
Avg Ticket: $123 – $143 CAD
Average Annual Snowfall: 288″
Vertical: 4134′
Total Lifts: 5
Ski Area: 2800 ac
Highlights
Champagne Powder, Alpine Terrain, Technical Runs, Expert's Mountain, Free Ride World Tour, Vertical, Lacks Crowds, Small Town Feel
Negatives
Lift Infrastructure, Requires Long Traverses, Ski To Bottom After Many Runs
British Columbia is well known for its legendary ski resorts, and Kicking Horse consistently makes the list of best ski resorts in Canada. The Kicking Horse Ski Area was only heli-skiing for years, but with the addition of a massive gondola, a world of terrain opened up to everyone.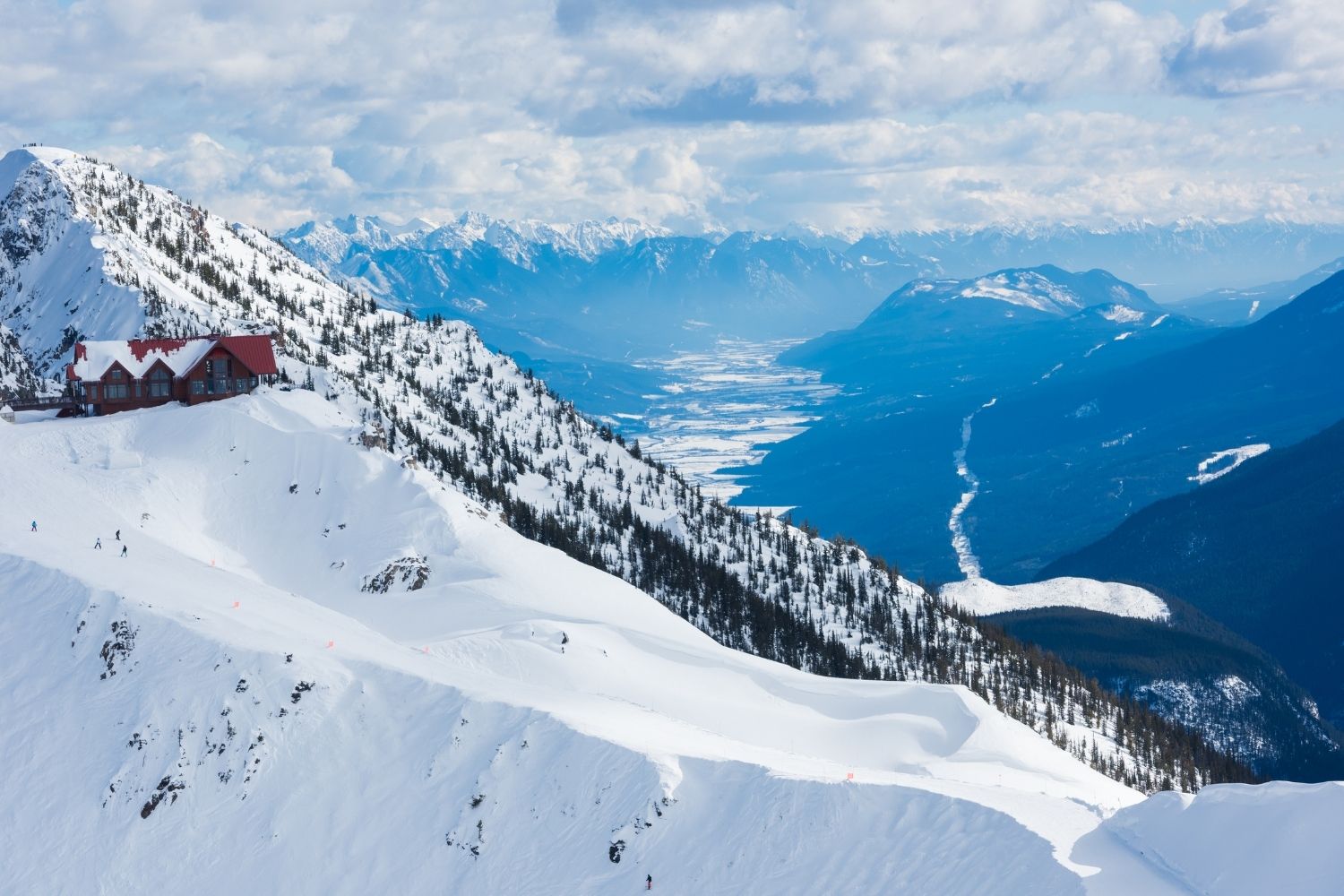 This Canada ski resort is no beginner's mountain with crazy double black diamond chutes and bowls. Over half the runs on the mountain are either rated as black or double black, and it's well known for being an advanced and expert rider's mountain. You'll want to look for another resort if you're a beginner.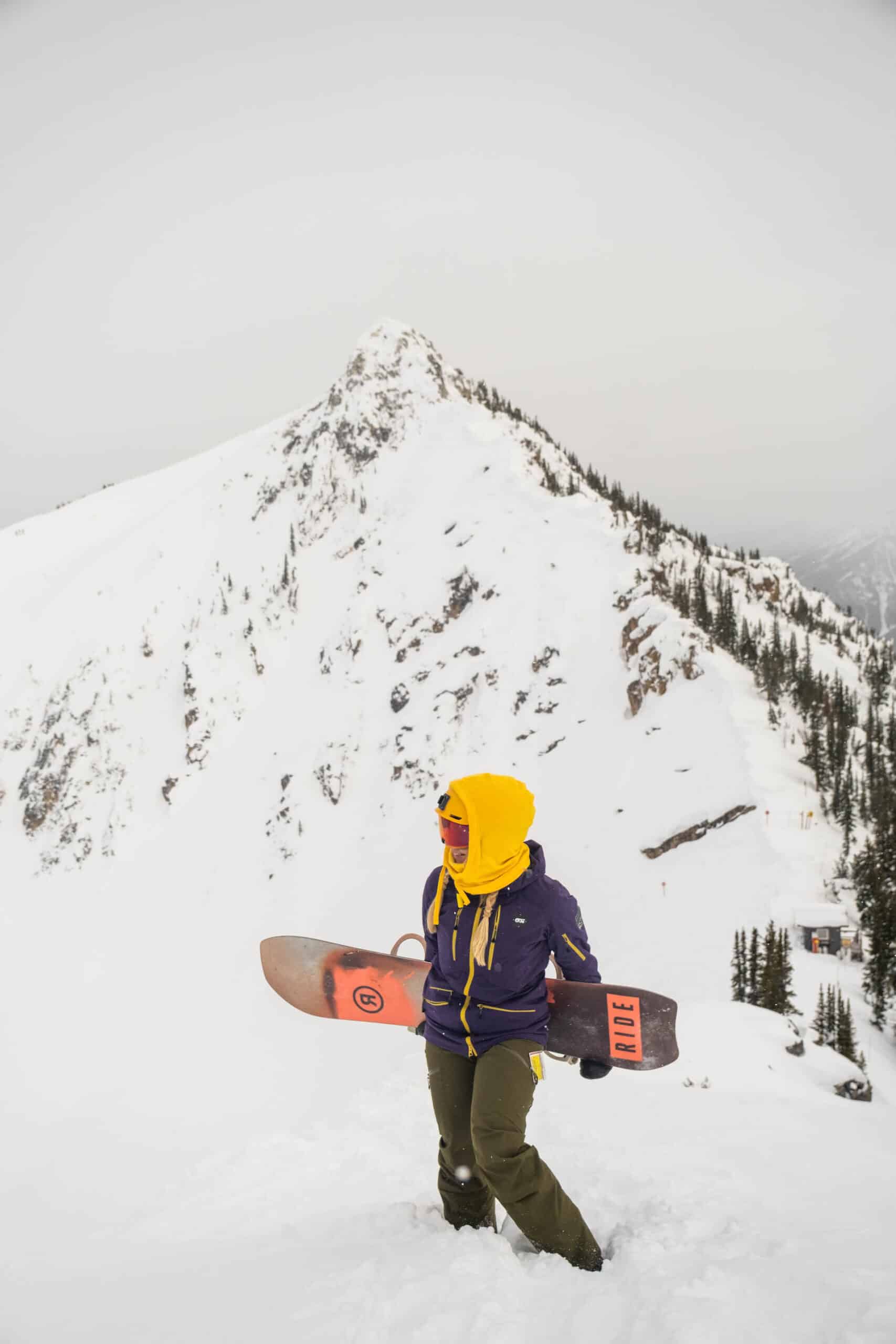 What makes the mountain even better is its location on the Powder Highway, known for getting epic snow dumps and being the "Champagne Powder Capital of Canada.
The big downside to Kicking Horse? There's one gondola and just a few chairlifts to access a huge area of terrain. What this means is on powder days there's often a long line, and your ability to do laps and laps on end is limited. Instead you'll tucker yourself out riding top to bottom of the resort to get back to the gondy at the base.
Beyond that, we also love the town of Golden, which sits below the mountain, and there are some great restaurants in Golden to eat at after a day out on the mountain. If you get the chance, check out Whitetooth Brewing, as it's one of our favorite breweries in the area.
---
Whitewater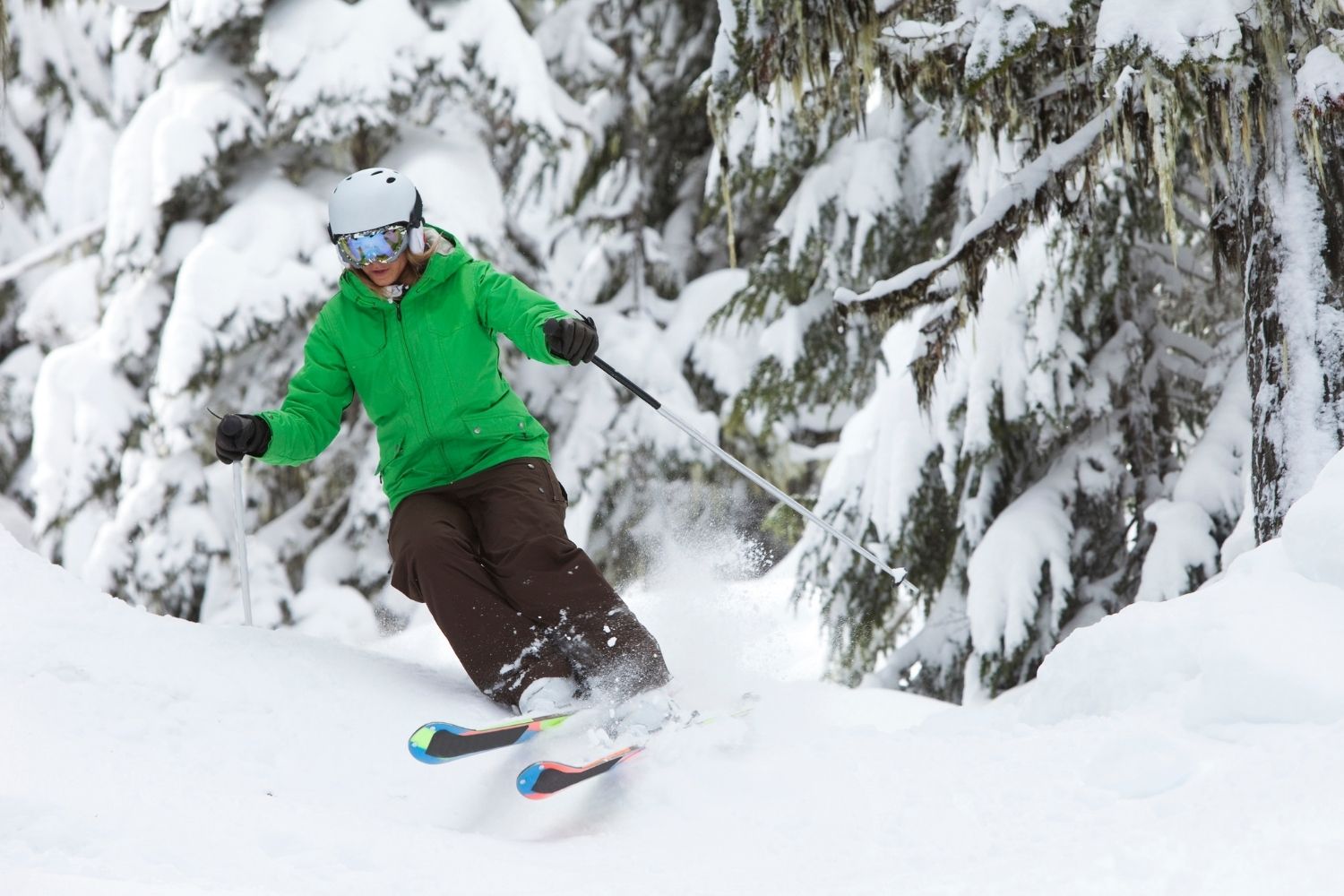 Season: Mid-December — Early April
Closest Airport: Spokane International Airport
Avg Ticket: $88 – $125
Average Annual Snowfall: 473″
Vertical: 2044′
Total Lifts: 4
Ski Area: 2367 ac
Highlights
POWDER, Town Of Nelson, Epic Tree Skiing, Lacks Crowds, Old-School, Ski Touring Options, Inexpensive,
Negatives
Low Elevation, Isolated, Old Lifts, Small Terrain Size, No On-Mountain Accommodation
Just an hour away from Rossland is Whitewater Ski Resort near Nelson. Whitewater is similar to Red Resort in that it is small, quiet, and gets tons of powder. When you go to Whitewater, it's like stepping back in time. The lifts are old-school, guests are primarily locals, and facilities are limited.
However, that's all a part of its charm, as you'll be grinning ear-to-ear from the face shots. It feels like a resort that belongs in Japan rather than North America. Averaging 12 meters of snow annually, Whitewater is a favorite Canadian Ski Resort. Tree skiing is excellent here, and the locals are known to rip. This makes sense with how much skiing you can do with no lift lines.
Whitewater isn't as big as neighboring Red Mountain or Revelstoke and offers less terrain. But what it lacks is the terrain it makes up for in snowfall. The best part is the town Nelson is a fantastic ski town known for its laid-back culture. Nelson has plenty of restaurants, bars, and excellent shops.
---
Fernie Alpine Resort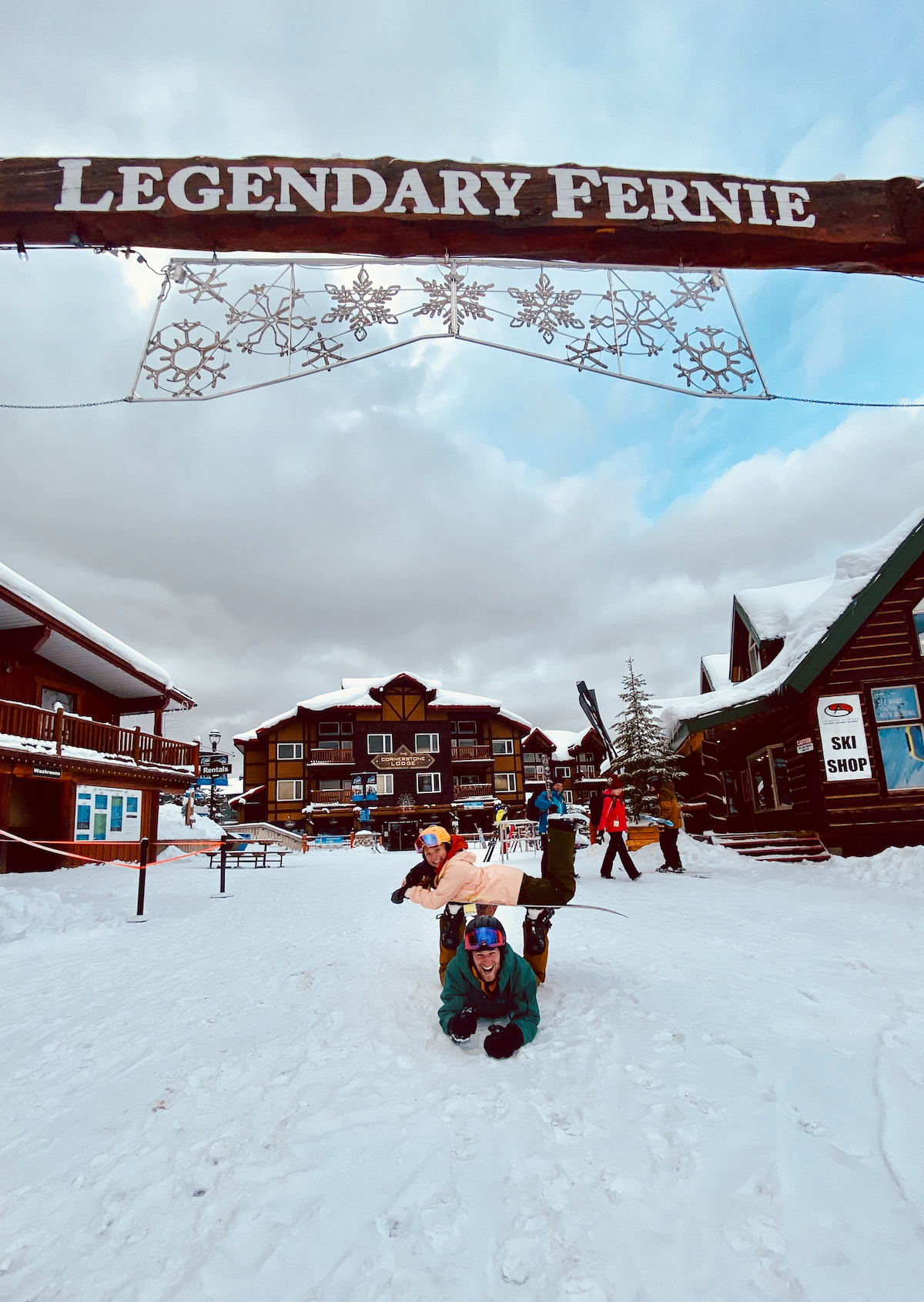 Season: Mid-December — Mid-April
Closest Airport: Calgary International Airport (YYC)
Avg Ticket: $123 – $143 CAD
Average Annual Snowfall: 444″
Vertical:

3550′
Total Lifts: 10
Ski Area: 2504 ac
Highlights
Powder, Alpine Terrain, Abundant Snowfall, Small Town Charm, Experts Mountain, Long runs, Tree Skiing, "Steep And Deep"
Negatives
Lots Of Rain or Snow, Crappy Lifts, Top Lift Never Opens, Lacks Terrain Park
Fernie has been named one of the best ski towns globally by countless sites and magazines, including National Geographic. It's historically a mining town and voted the "Best Little Town in B.C." for a good reason. Fernie is one of our favorite spots in all of Canada.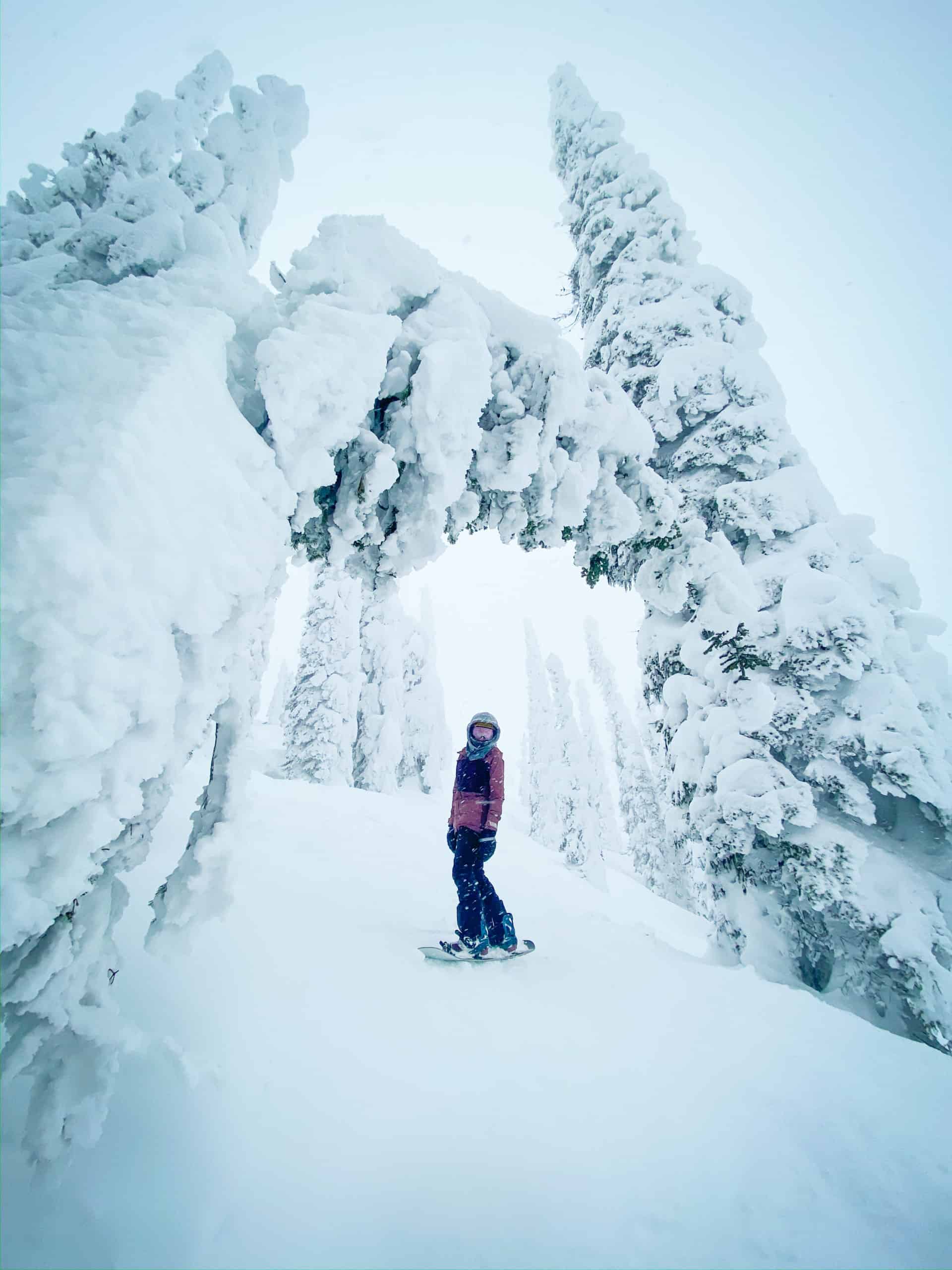 This resort in the Canadian Rockies is known for drowning in piles of snow. They see an average of nearly 9m of snow or about 29 ft a year. It's spread over 2,504 acres, including five large bowls, ridges, and meadows. Exploring all the mountain has to offer would take a season at least, with countless options for new lines.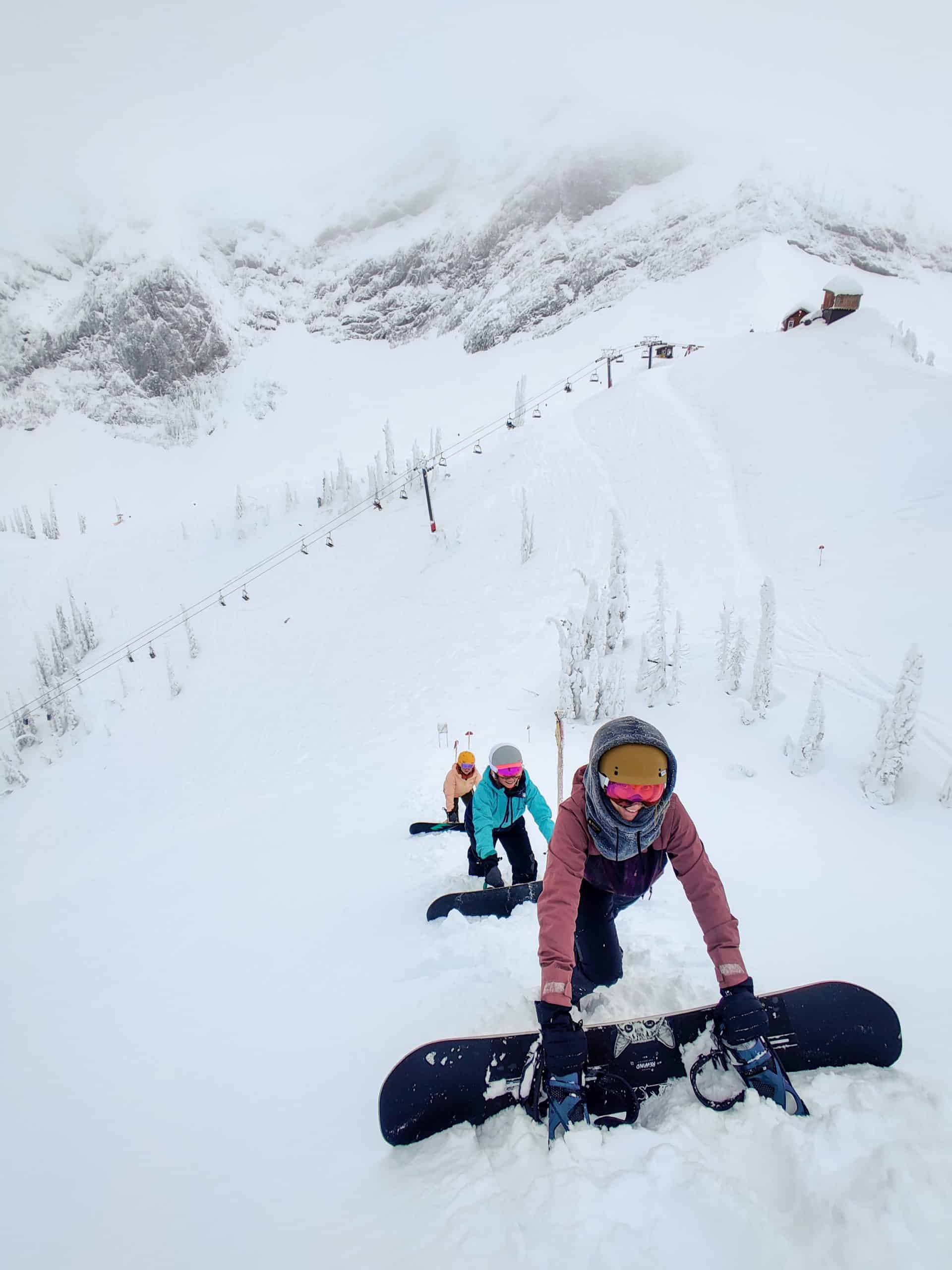 Located in the British Columbia Rockies, Fernie Alpine Resort is the ski destination that powder lovers dream of and is another expert mountain. There is an endless adventure on this mountain, with 2,504 acres of terrain spread over five spectacular open alpine bowls, ridges, and glades. The one saying you'll hear a lot in Fernie is "steep and deep."
The weather in Fernie is very fickle, and it has a relatively short season compared to other resorts in the area. We've been ridden across puddles of water and worn trash bags to stop the old lifts from dripping oil on our Gore-Tex jackets. This is because the resort sits in a "rainforest" with heavy amounts of precipitation, either heavy rain or heavy snow.
---
RED Mountain Resort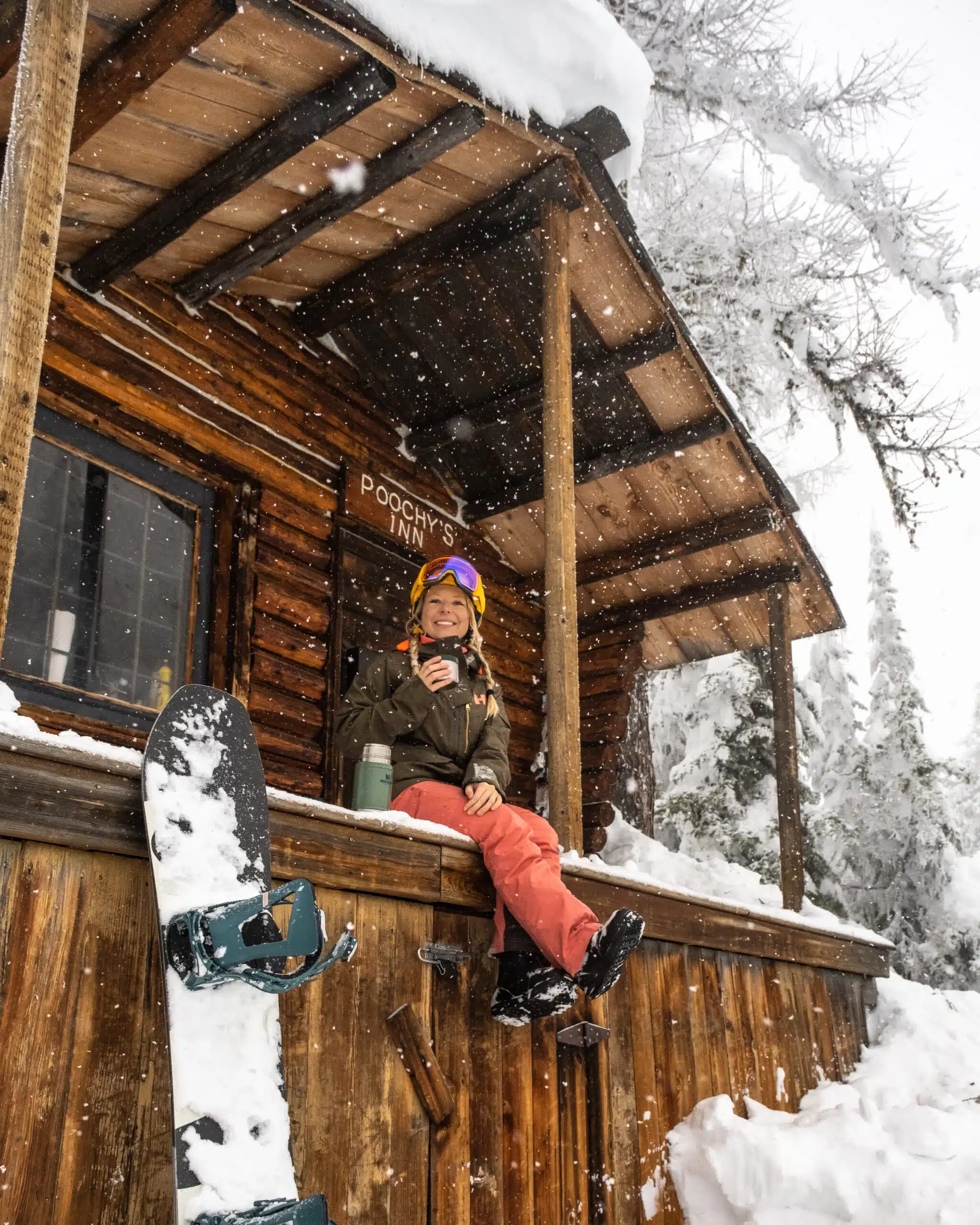 Season: Mid-December — Early April
Closest Airport: Spokane International Airport (GEG)
Avg Ticket: $115
Average Annual Snowfall: 300″
Vertical: 2920′
Total Lifts: 8
Ski Area: 3850 ac
Highlights
Abundant Snowfall, Crowds Rare, Charming Ski Town, Expert & Advanced Terrain, Long Runs, Tree Skiing,
Negatives
Fickle Weather, Slow Lifts, Remote Location
We had heard fantastic things about Red Mountain in Rossland, so we were excited to finally check it off the list this year. Red Mountain is on the Powder Highway and is known around B.C. for getting more than 750 cm of snow per season! When the snow comes, it's known for deep powder days.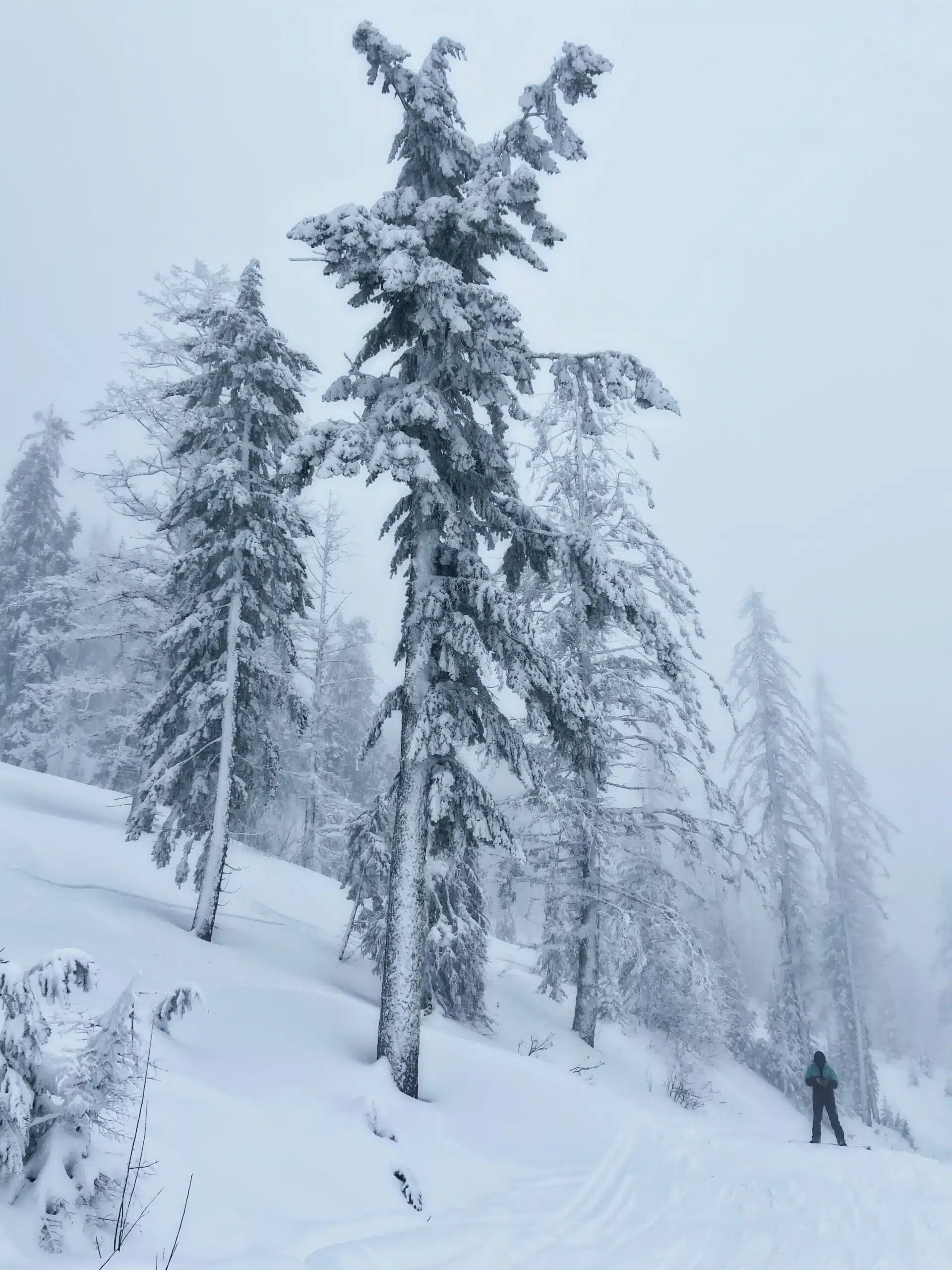 Red Resort is a pretty sleepy ski resort in Canada, and Rossland is a charming little town. However, the ski at Red Mountain is impressive, with 3,850 acres of skiable terrain spread across three mountains, Red is placed towards the top of our favorite Canada ski resorts.
Red Mountain is the easiest to ski but has some steep tree skiing. Granite has fantastic steep terrain that will entertain advanced and expert-level skiers.
Grey Mountain is the newest edition to Red Resort has excellent groomed runs and steep powder drops. There is a lot to keep expert skiers and boarders entertained here, and to be honest, there's not a ton of beginner/intermediate terrain.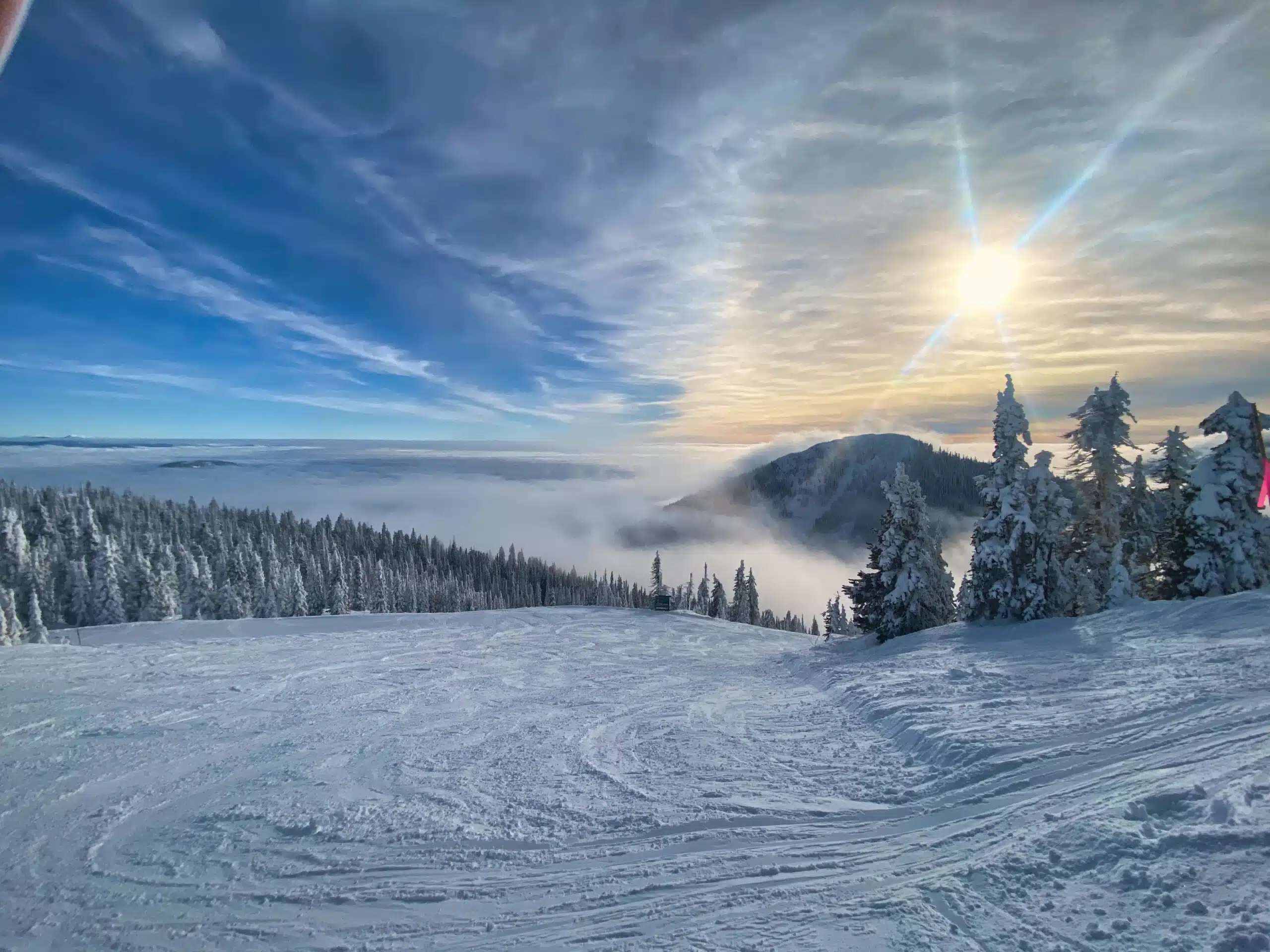 Red Mountain is known for its tree skiing, and there is lots of it. Red typically gets quite a lot of powder, though expect it to be heavy B.C. coastal snow much of the time. It also has a long history as one of the oldest ski hills in North America, dating back to the creation of the Red Mountain Ski Club in the first decade of the 1900s!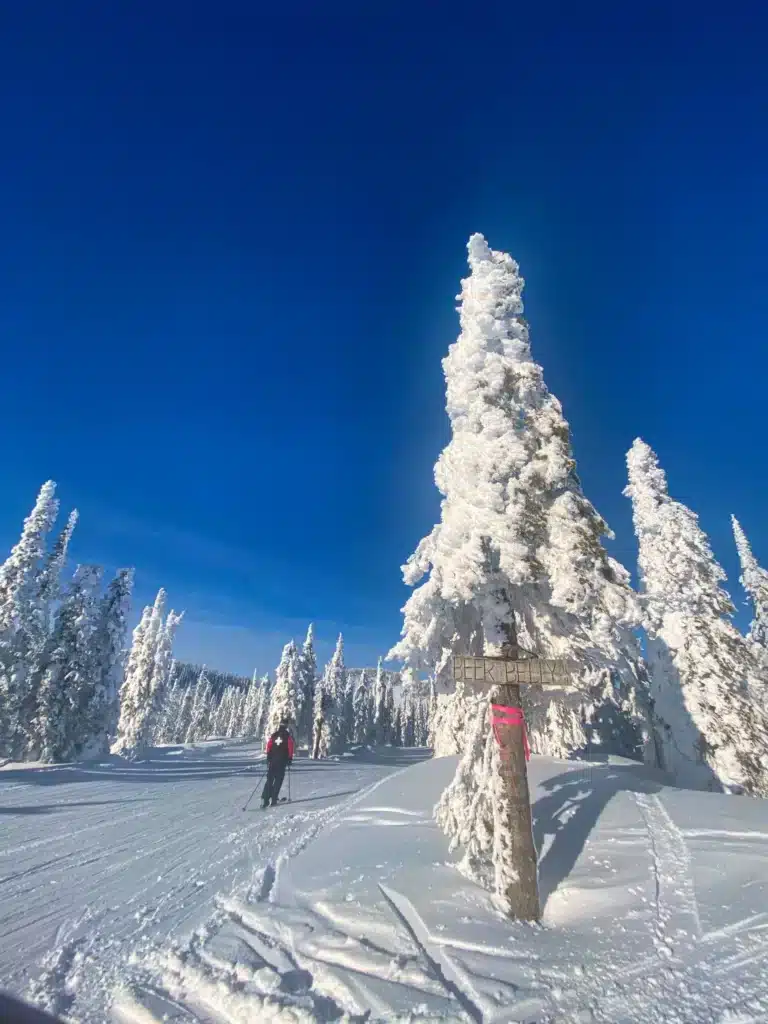 Their lifts need some serious upgrading. They are painfully slow, especially the Motherload chair, which gets you up Granite Mountain and to all the best terrain. That means on an epic day, you won't be able to lap the mountain as much as you might want, but the slow chairs keep the powder lasting longer.
Since Red Resort is somewhat unheard of and in the middle of nowhere, there are hardly any crowds at Red. It's a local's mountain, and even on a powder day, you'll have a run all to yourself.
---
Silver Star Ski Resort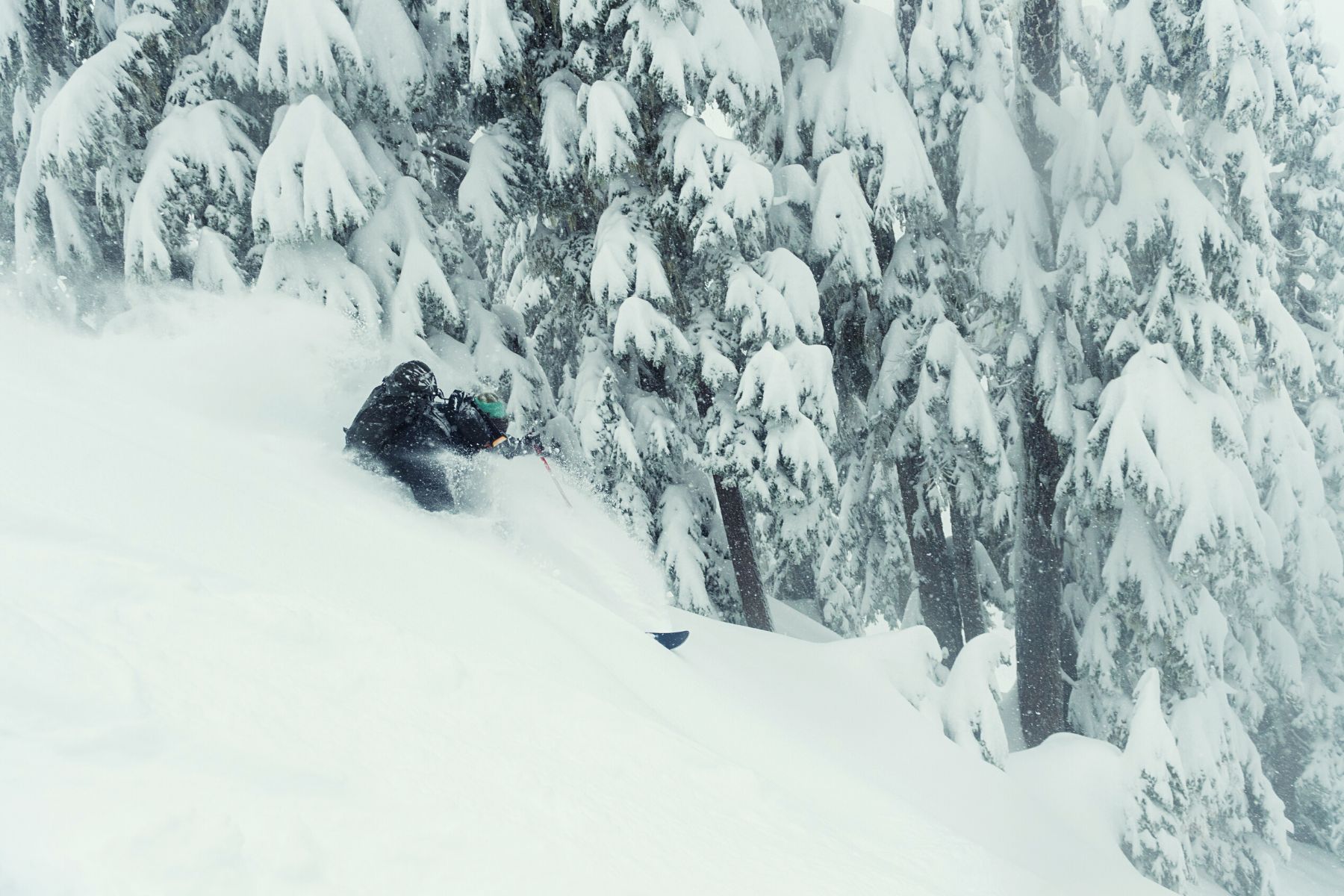 Season: December — Early April
Closest Airport: Kelowna International Airport (YLW)
Avg Ticket: $119 – $159
Average Annual Snowfall: 276″
Vertical: 2493′
Total Lifts: 11
Ski Area: 3282 ac
Highlights
Family Friendly Resort, Nice Base Village, Ski-In Ski-Out Accommodation, Good Value, Great Village With Cross Country Skiing, Good Service

Negatives
Little Limited For Advanced Riders
Silver Star near Kelowna is a hit with families similar to Sun Peaks – it's good for everything. It's a family-friendly resort that feels approachable but offers invigorating skiing that even experienced skiers will enjoy. It may not be the spot to huck it off a cliff, but it's perfect for ripping down some groomers with friends and family.
The resort village is cute, with colorful buildings and an excellent selection of restaurants, shops, and accommodation options. It's a manufactured resort, but it's a great vibe, and with all of the activities, it's easy to see why so many love Silver Star Resort.
---
Panorama Mountain Resort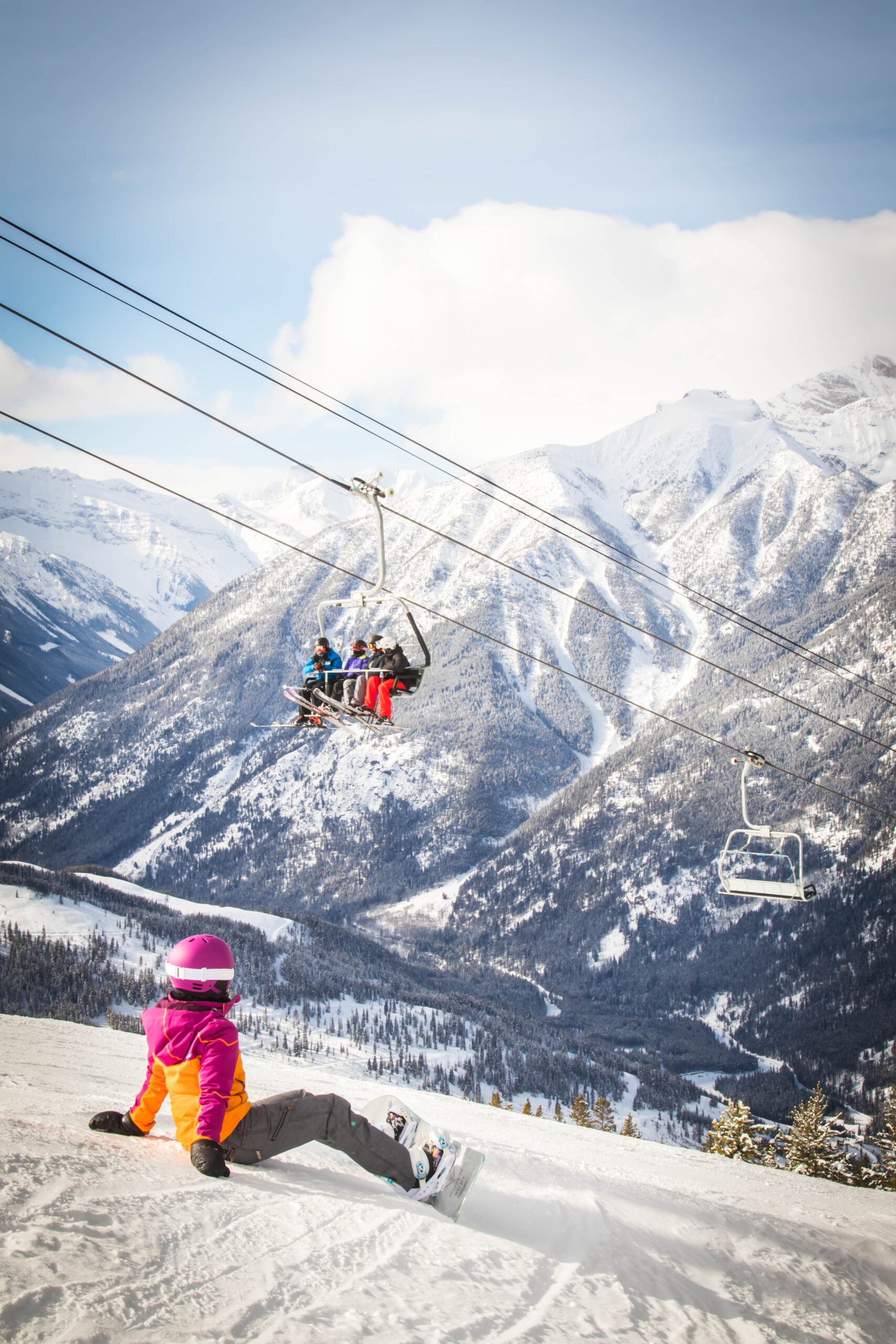 Season: December — Mid-April
Closest Airport: Calgary International Airport (YYC)
Avg Ticket: $120 – $150
Average Annual Snowfall: 205″
Vertical: 4265′
Total Lifts: 10
Ski Area: 2975 ac
Highlights
Modern Amenities, Freeride Terrain, Decent Park, Resort Amenities, Variety Of Runs, Night Skiing, Day Heli Skiing
Negatives
Fickle Weather, Poor Location For Snow,
Panorama is a hidden secret in the Purcell Mountain range on the Powder Highway. Many opt for other full-service resorts in Canada and the U.S. When it comes to ski holidays, people think in the hive mind – as they all flock to the same resorts. That means ski resorts in Colorado, California, and Vermont can become insanely busy and overpriced.
Panorama is a quiet mountain tucked away in the Purcells with excellent terrain and an impressive vertical drop. It's a modern resort with decent lift infrastructure and an excellent selection of holiday rentals at the base. However, there isn't much else as it's a very quiet resort, which means short lift lines.
It's a great family resort with beautifully groomed runs ranging from beginner to intermediate. Advanced skiers will largely be confined to mogul runs unless they're ready for big ski terrain. A respectable terrain park will also keep many entertained.
As Panorama Resort operates on a former heli-ski area, they have some extreme terrain, such as the Extreme Dream Zone, a long ridge with alpine and steep tree skiing. There is also the Tayton Bowl which can be accessed by snowcat when the conditions are good.
We find none of the headaches of a busy resort at Panorama near Invermere and Radium Hot Springs. The Canadian ski resort boasts an impressive 4,000 feet of vertical, so your legs will be burning by the time you reach the bottom of the lift, but there are plenty of beautiful places to stop off and enjoy the view along the way down.
---
Powder King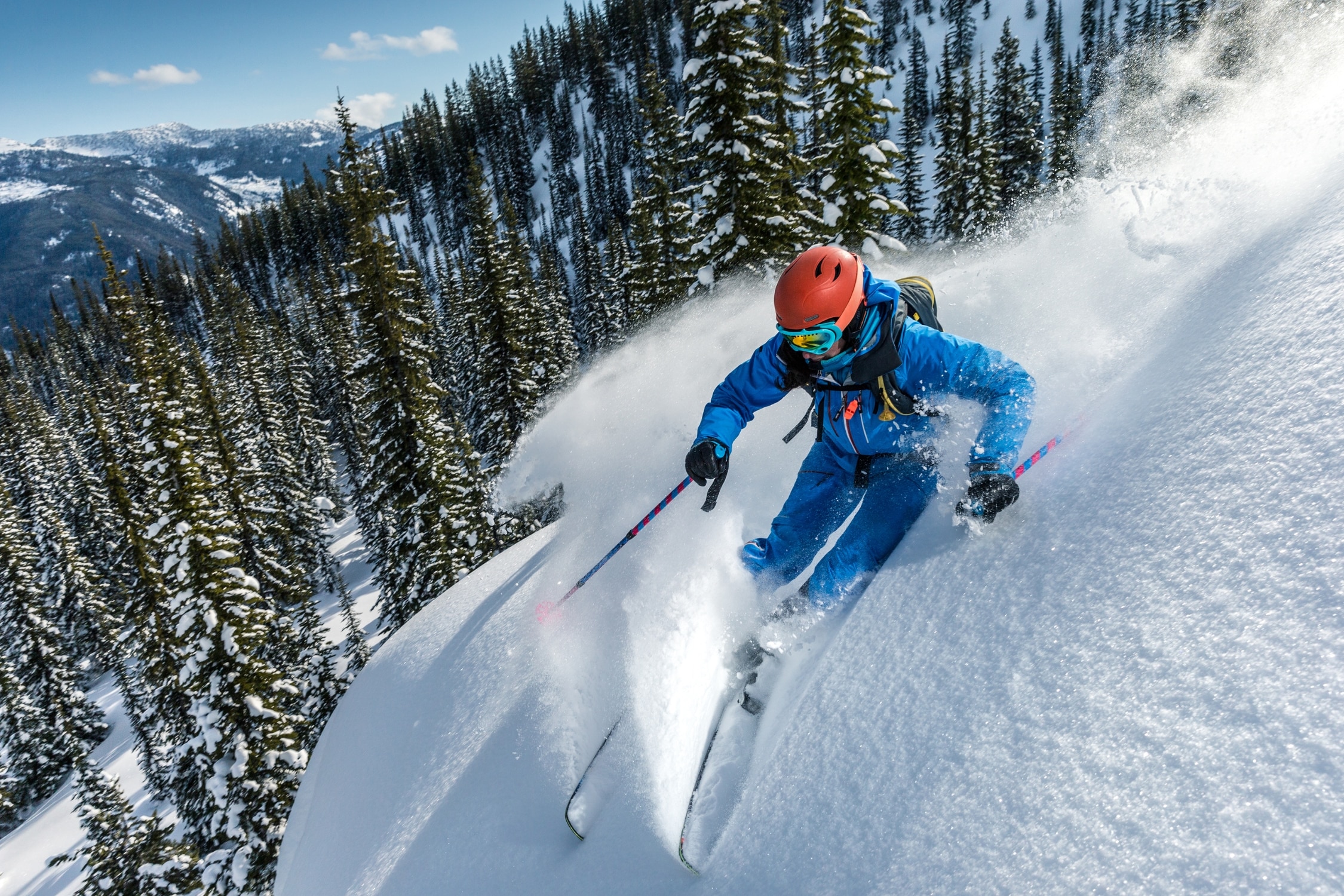 Season: December — Mid-April
Closest Airport: Calgary International Airport (YYC)
Avg Ticket: $98
Average Annual Snowfall: 492″!!!
Vertical: 1902′
Total Lifts: 3
Ski Area: 925 acres
Highlights
Ridiculous Amounts Of Snow, Never Crowded, Tree Skiing, Friendly "Local's" Resort, Old-School Vibes
Negatives
Not Much Of A Resort, Super Isolated, Lacks Steep Terrain, One Chairlift, Open Weekends
If you're after powder, you can't beat the aptly named Powder King. The resort in the middle of nowhere B.C. receives the most snow of any ski resort in Canada. It's tough to consider Powder King a resort as it has very limited facilities and only one chairlift.
However, with 492″ of snow a season, you'll want to break out a snorkel to get through the deep tree skiing here. Due to its remote location, okay terrain, and limited facilities, there is not much in terms of crowds. It's not hard to understand why, as it only appeals to a select die-hard powder hound who's already skied other B.C. ski resorts.
Skiers and riders often need to traverse for various runs because there is only one slow chairlift. As you go back and forth across the mountain to reach new runs, this can be arduous. Of course, the good news is that you'll get plenty of fresh powder runs.
---
Castle Mountain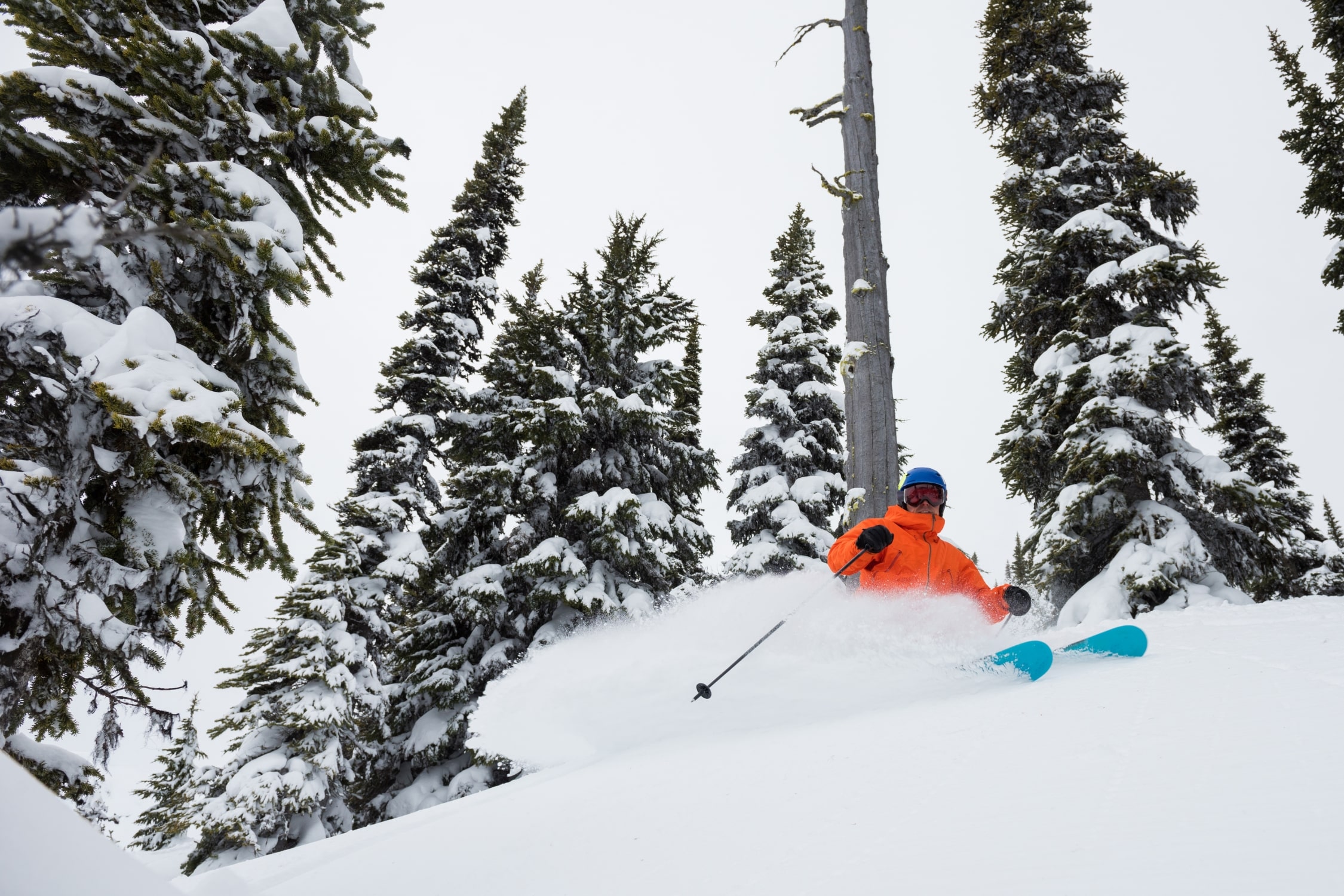 Season: November — Early April
Closest Airport: Calgary International Airport (YYC)
Avg Ticket: $95 – $120
Average Annual Snowfall: 355″
Vertical: 2831′
Total Lifts: 6
Ski Area: 3592 ac
Highlights
Expert Terrain, Long Runs, Great Value, Decent Snowfall, Not Crowded, "Hidden" Gem,
Negatives
Three Main Lifts, Slow Lifts, Lacks Facilities
Castle Mountain is considered a hidden gem amongst Alberta locals and a favorite with Calgarians. While most will head to Banff for Lake Louise and Sunshine, those in the know will head to Castle Mountain. It's a decent-sized resort with 79 trails, 8 bowls, and 3,592 acres of skiable terrain.
However, much of the terrain is only accessible with the resort's in-bounds cat-skiing operation. The runs also skew towards advanced and expert levels, making it a little limited for beginners and intermediates. This is especially true if the notorious winds pick up and stop the top lift.
The resort has excellent terrain variety with long runs, tree skiing, chutes, cliff bands, and a park. It's a balanced mountain, even if it skews toward the more advanced rider. Castle Mountain is an incredible gem as it has decent snow, a variety of terrain, and quality service.
---
Marmot Basin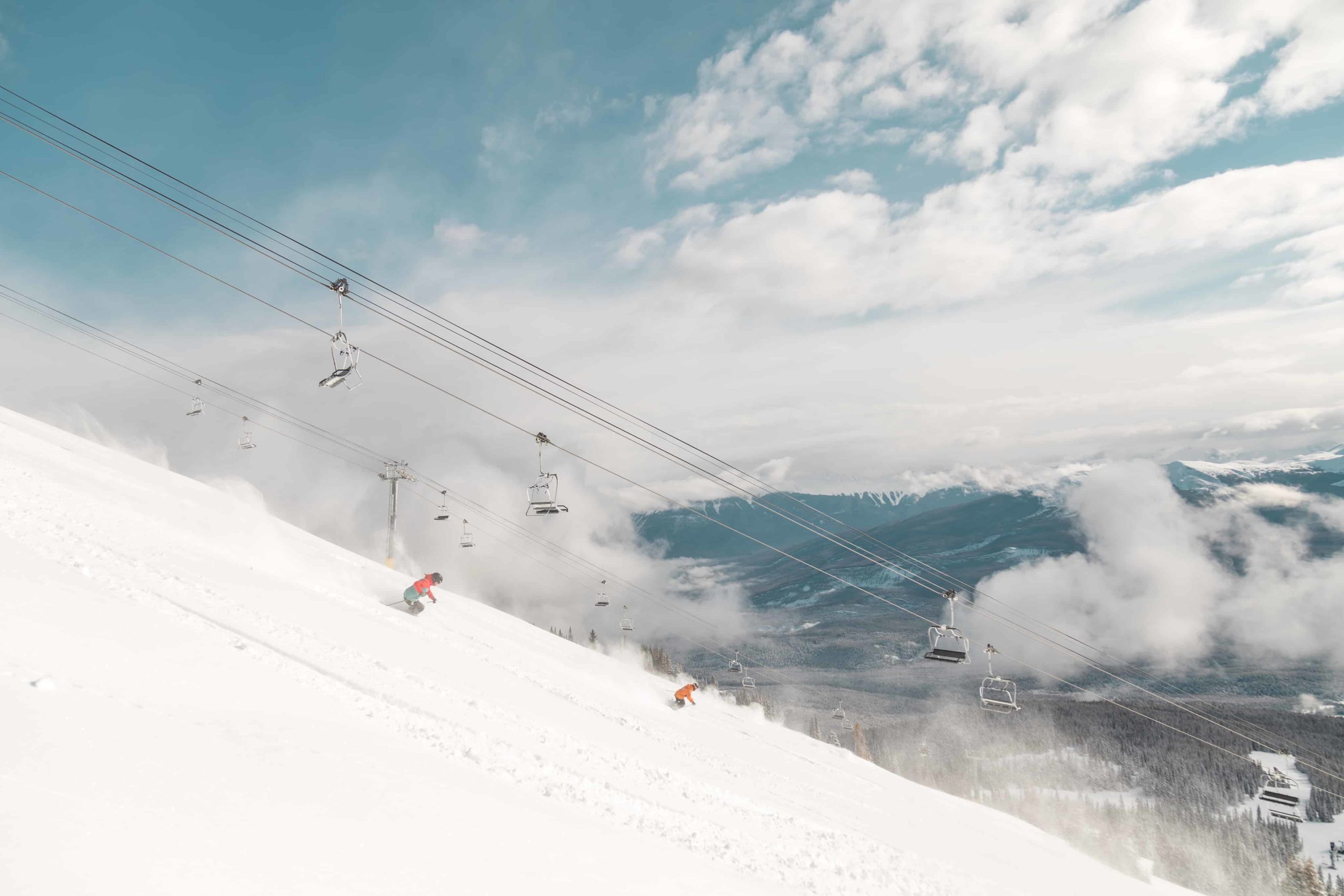 Season: Mid-November — Early May
Closest Airport: Edmonton International Airport (YEG)
Avg Ticket: $125
Average Annual Snowfall: 174″
Vertical: 3002′
Total Lifts: 7
Ski Area: 1720 ac
Highlights
Quiet Compared to Other Canadian Rockies Resorts, Family friendly, Fantastic Mountain Town, Activities, Stunning Landscapes, Wildlife, Jasper National Park
Negatives
No On Mountain Accommodation, Lacks Snowfall, Not Great For As Ski Destination, A Little Small
Marmot Basin is a beautiful resort in Jasper National Park in the Canadian Rockies. Compared to the Banff resorts, it is far quieter. The ski resort is less than a 30-minute drive away from the town of Jasper. Which has to be one of the best mountain towns in Canada.
The resort isn't huge at 1,720 acres, but in that skiable terrain, it packs a lot of punch and amazing views of Jasper National Park. However, it still has 91 named runs on four mountain faces and 3,000 vertical feet of drop. Compared to resorts out East, it would be substantial.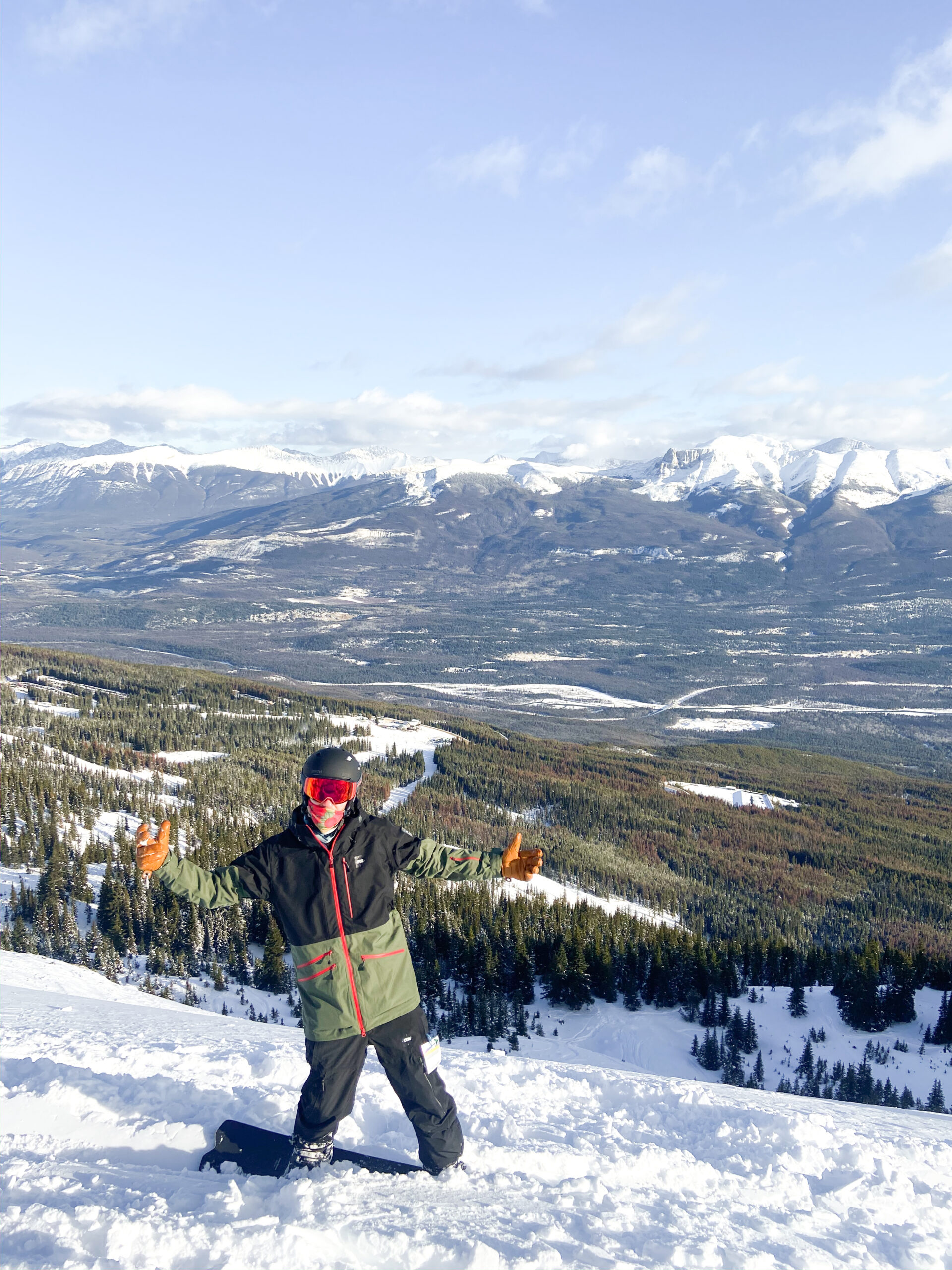 Marmot Basin has a vertical drop of 914 meters, with most of the resort above the treeline. There's some good off-piste riding for advanced riders, and if you get lucky and hit this Canada ski resort on a powder day mid-week, you'll be doing powder turns all day. There's something for everyone here with alpine bowls, tight tree runs, glades, moguls, and of course, groomers. There are even a few cliff features for expert riders.
The only downside is Marmot Basin doesn't get that much powder, with an average of fewer than 5 meters in a season. Still, the quality is excellent, and like other resorts in the Rockies, the snow sticks around thanks to the cold temperatures. As the snowfall is a little limited and the resort is not huge, it's better suited as an addition to a trip to the Rockies or Jasper National Park.
---
Kimberley Alpine Resort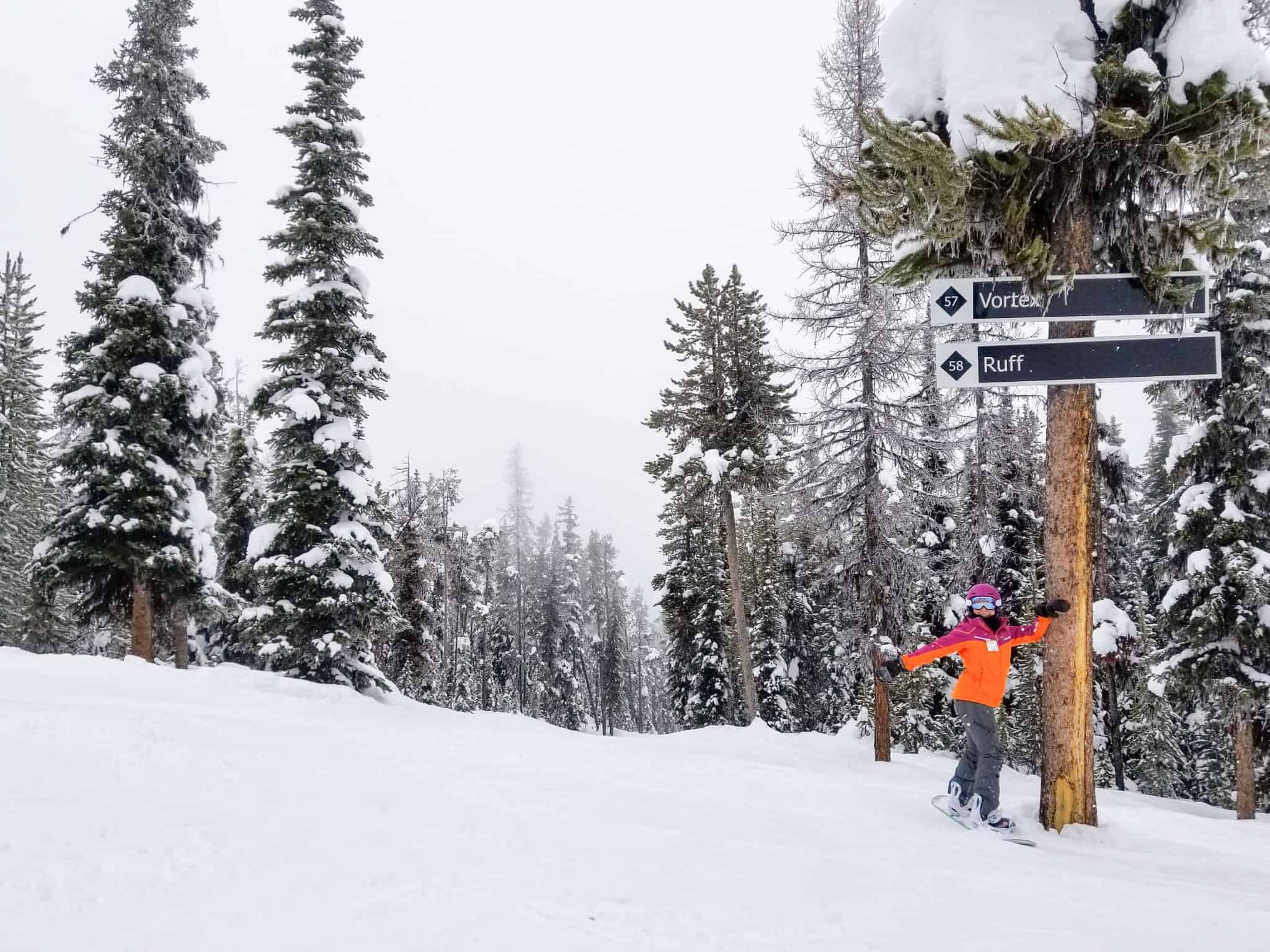 Season: Mid-December — Early-April
Closest Airport: Calgary International Airport (YYC)
Avg Ticket: $89 – $120
Average Annual Snowfall: 150″
Vertical: 2464′
Total Lifts: 5
Ski Area: 1,800 ac.
Highlights
Family-Friendly, Night Skiing, Quiet, Some Decent Advanced Terrain, Tree Skiing, Easy To Navigate, Small Town Charm
Negatives
No Alpine, No Expert Terrain, Lacks Snowfall, Only Has Rail Park
Here's one you won't find on many best Canada ski resorts list, but we promise this little resorts has a lot going for it! Kimberley is a great little resort because it is unassuming. Unlike Fernie, Kicking Horse, or Panorama, there are no massive bowls, famed double blacks, or white knuckle glades to scare your ski pants off. Instead, it is a magical, simple, and quiet mountain perfect for ripping a groomer or letting your kids have fun without fearing they'll fall off a cliff.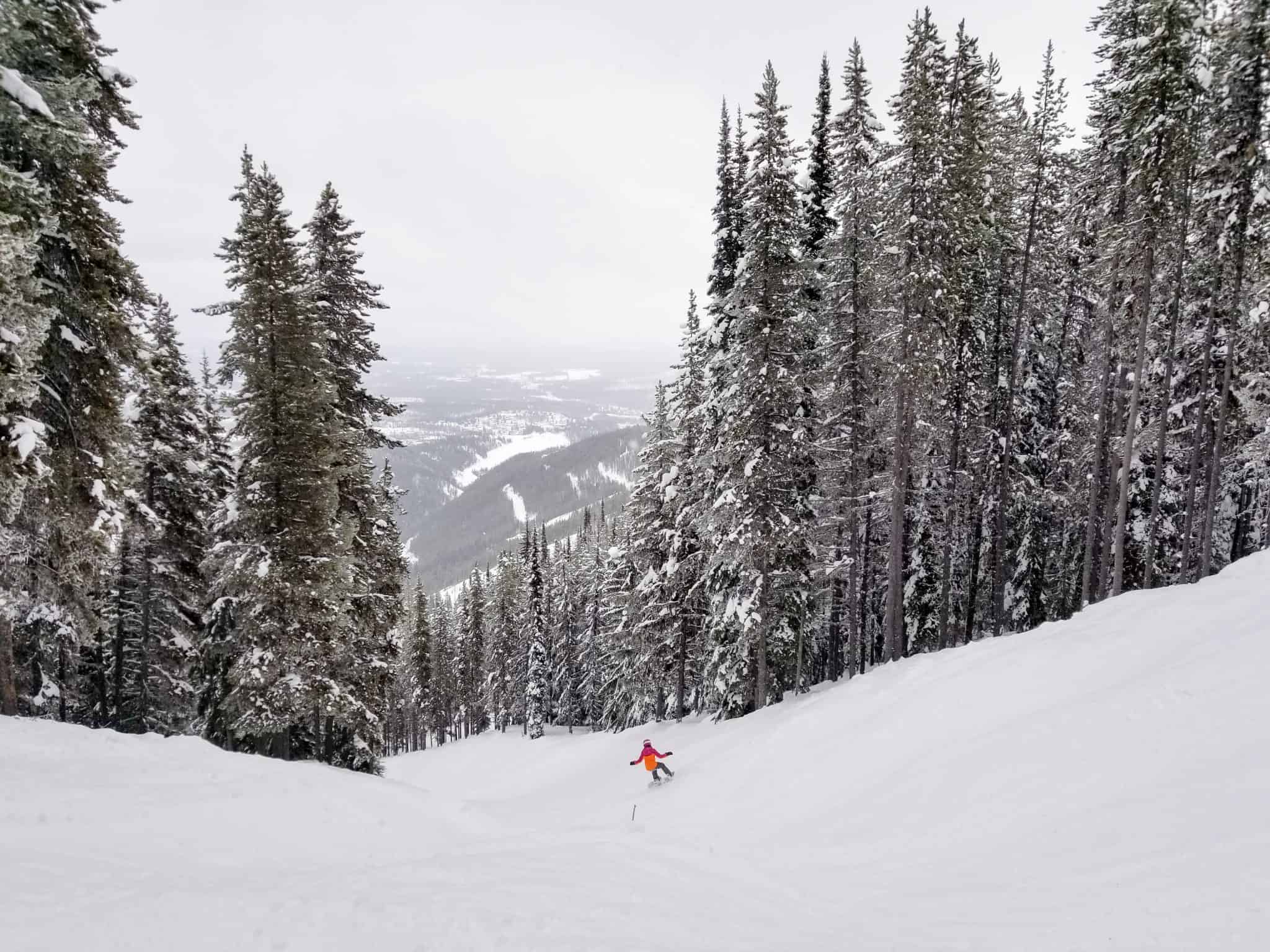 If you like gladed runs, you'll love Kimberley. The tree-lined runs off the Black Forest are a real treat. It was arguably our quietest time on pistes as we never saw another skier or snowboarder in our path. If you're looking for our favorite run on the mountain, it would be Vortex. It's a tree-lined run in the Black Forest area with a natural half-pipe perfect for snowboarders and skiers.
---
Nakiska Ski Area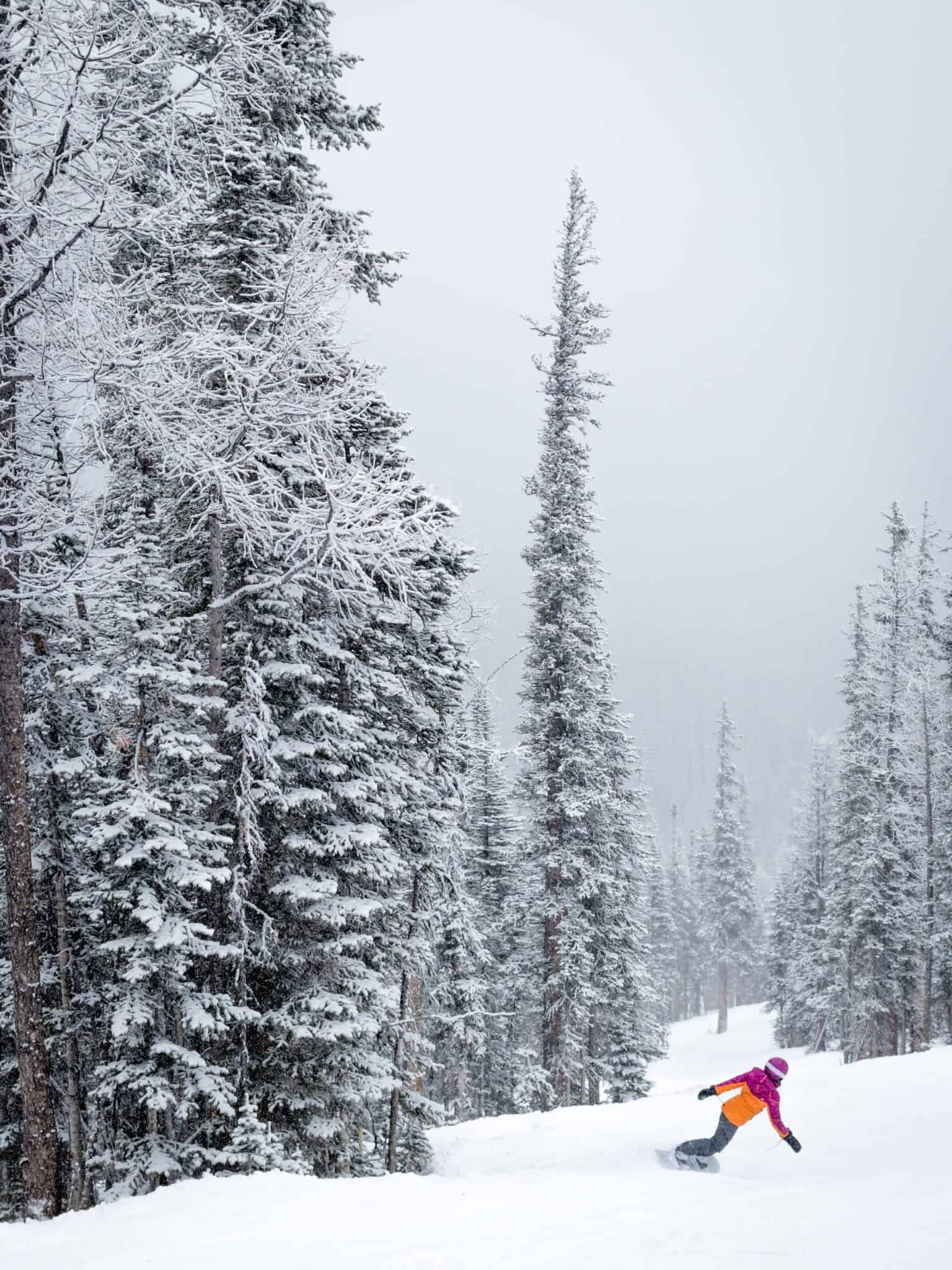 Season: Late November — Late April
Closest Airport: Calgary International Airport (YYC)
Avg Ticket: $88 – $110
Average Annual Snowfall: 99″
Vertical: 2411′
Total Lifts: 6
Ski Area: 1021 ac.
Highlights
Proximity to Calgary, Fun gladed area, Quiet During Week, Family Orientated, Long Season, Cheap, Ski School, Good Grooming
Negatives
Weekend Crowds, Poor Snowfall, Small Terrain, Lacks Park,
Nakiska Ski Area was our first introduction to the Canadian Rockies before moving here, and we are happy we made the stop. Many people skip over Nakiska for its more significant and intimidating counterparts of Lake Louise and Banff Sunshine.
While the surrounding region of Kananaskis may not be as world-renowned as Banff, it is stunning and has less tourism. To get to Nakiska, you will most likely start in Calgary, only an hour's drive away.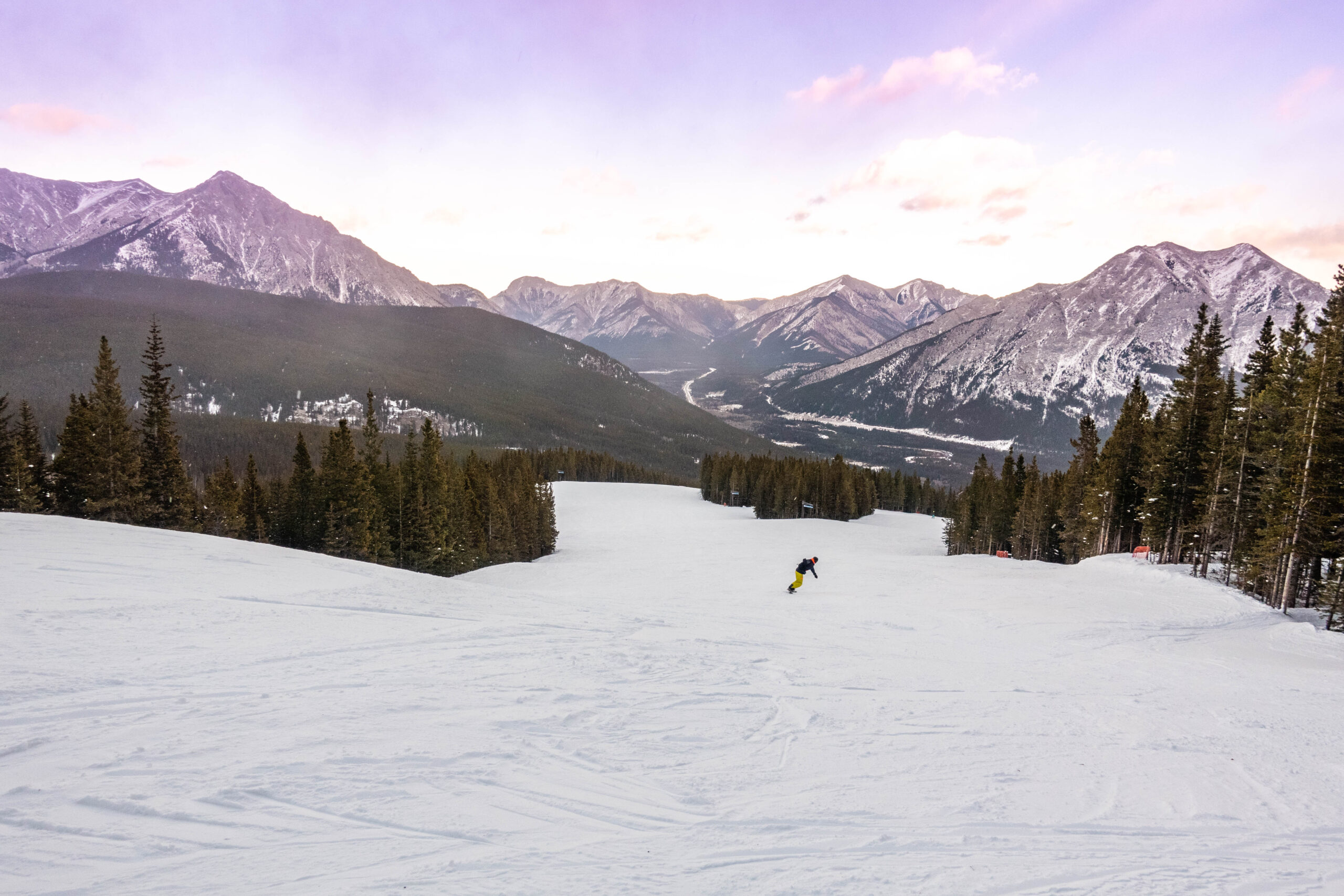 The drive into Kananaskis Country instantly makes you feel small, as the Canadian Rockies make you forget you were just in a city. Nakiska Ski Area was built for the 1988 Winter Olympics in Calgary. It's not a massive resort and is well known to be the local's mountain for Calgary residents.
There really isn't anything all that impressive about the resort, but they have some excellent groomed runs that are empty mid-week. It's not uncommon to get a scene like the one above on a regular Tuesday. Nearby the resort is a fantastic Kananaskis Hotel, the Kananaskis Mountain Lodge, which also is home to the Nordic Spa.
---
Mt Norquay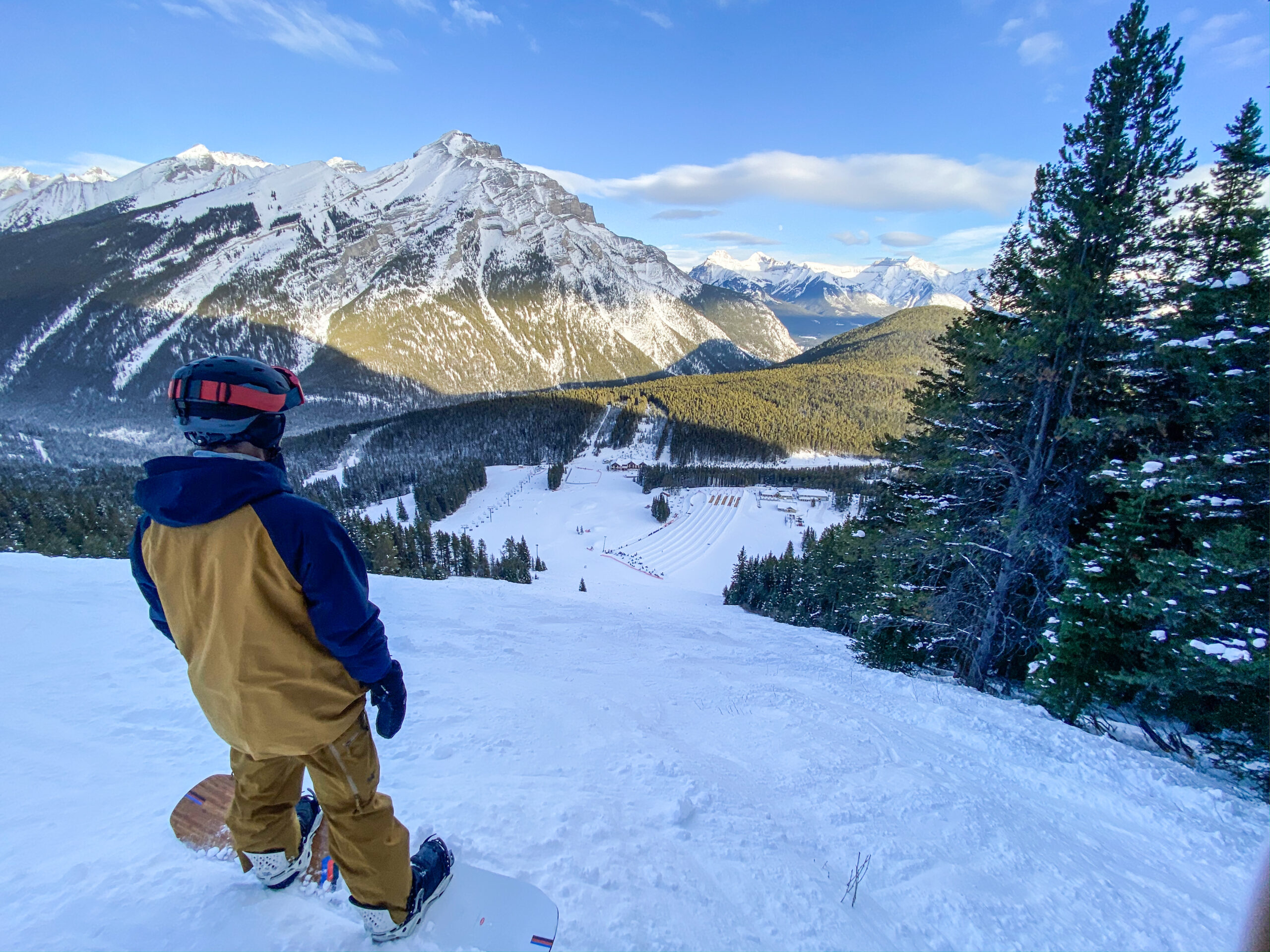 Season: Early November — Late April
Closest Airport: Calgary International Airport (YYC)
Avg Ticket: $88 – $129
Average Annual Snowfall: 119″
Vertical: 1650′
Total Lifts: 6
Ski Area: 190 ac
Highlights
Beginner Friendly, Proximity To Banff, Rail Park, Night Skiing, Tube Park, Cheap Lift Tickets, Uncrowded
Negatives
Crappy Conditions, Most Steep Runs Are Just Firm Moguls, Small Terrain
Mt Norquay is the most digestible of resorts here and the least imposing for beginners/intermediates. It's only a 10-minute drive from the town of Banff, making it a great option to get some quick runs. Banff. However, it's also referred to as the very ugly cousin of Lake Louise and Sunshine. While it's a member of "SkiBig3," it's not so big, and the ski is sub-par for Western Canada.
The resort has been operating since 1926 and offers several activities, including snowboarding and skiing. It's also the only mountain that offers night skiing in the area and is relatively small compared to the other resorts of SkiBig3.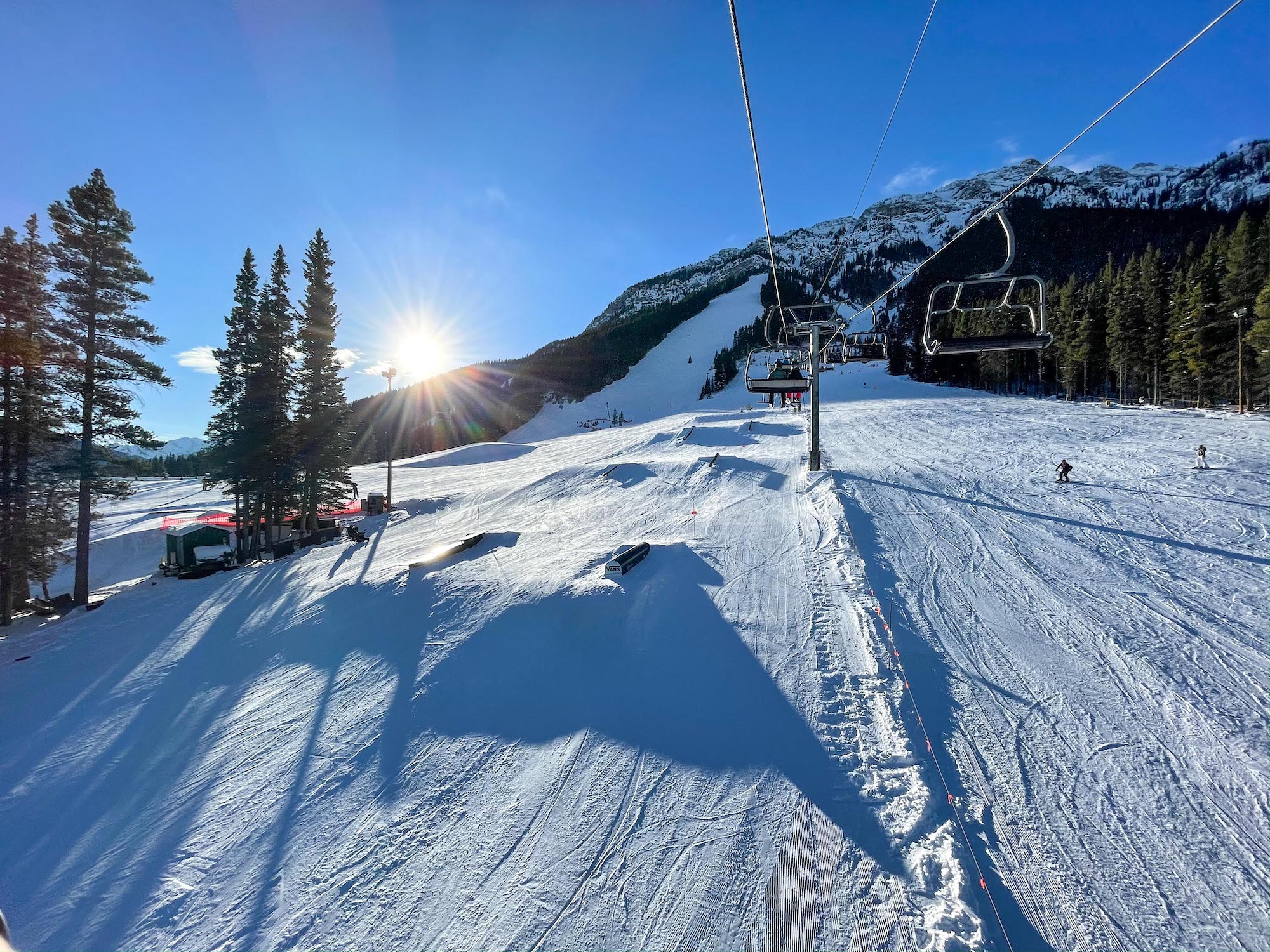 Its shortcomings lie in the lack of snowfall and the resort's orientation, which leads to poor snow conditions. If you plan to ski at Mt. Norquay, come expecting ice and hard-packed snow. The steepest runs also develop massive moguls that can get pretty firm — no fun on a snowboard.
Of course, if you're used to skiing on the East Coast, Mt. Norquay can seem pretty impressive. There are some steep black runs and excellent groomers. They also have a pretty sweet little rail park, suitable for a nighttime park sesh. Norquay also has fantastic views over Banff, the Bow Valley, and Mt. Rundle.
On a powder day, the resort is super close to town, and you won't compete against powder-hungry locals who head to Lake Louise and Sunshine Village—of course, you'll miss out on the vastly superior resorts.
---
When is the Best Time to Ski in Canada?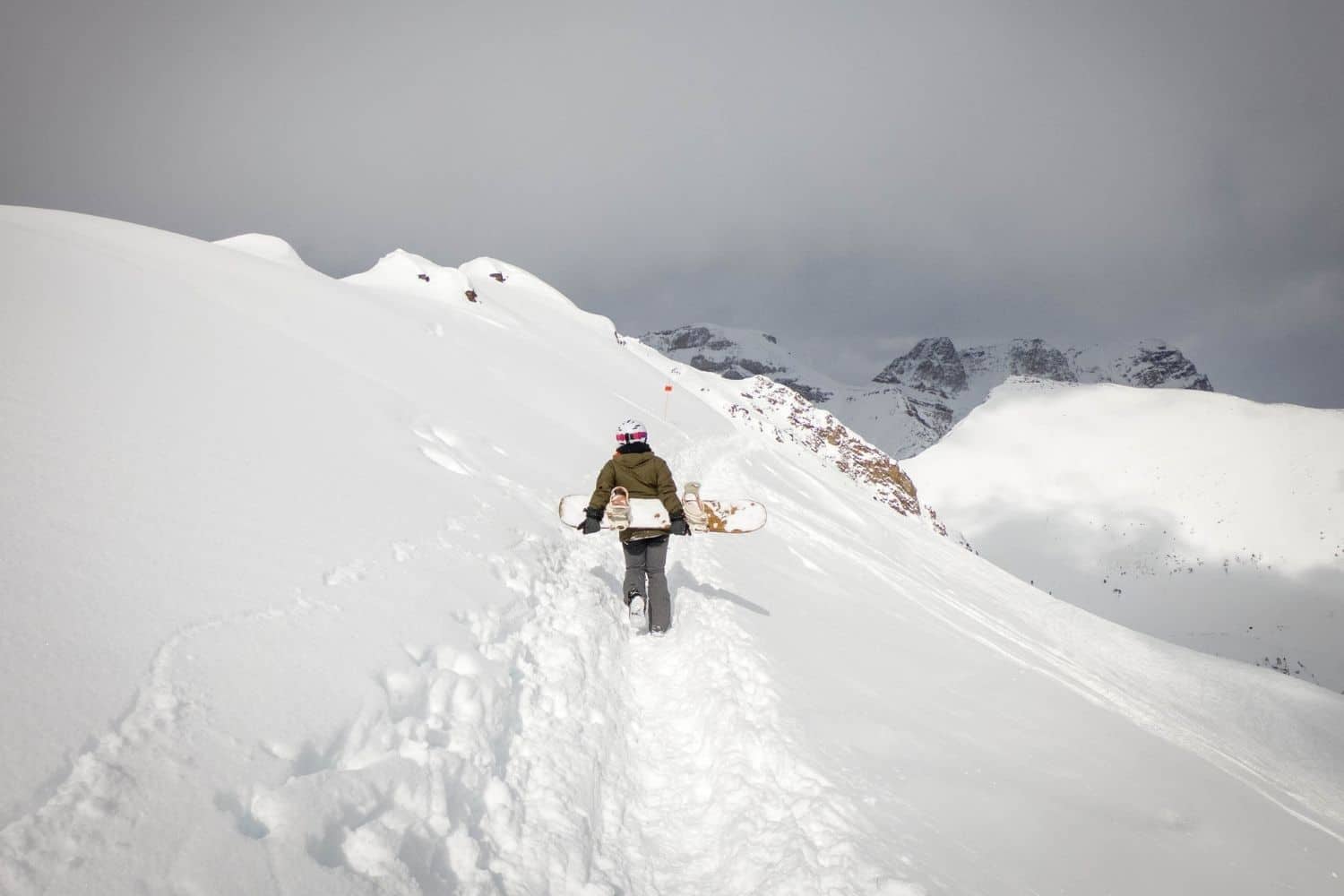 I recommend visiting these Canada ski resorts between January and March for the best conditions. You'll have epic powder days in January, but it can also be brutally cold this month.
If you can wait until April, prices will be lower at most Canadian ski resorts. Banff Sunshine and Lake Louise sometimes operate until June! See the best times to visit Canada here!
---
What is the Best Way to Get to the Ski Resorts in Canada?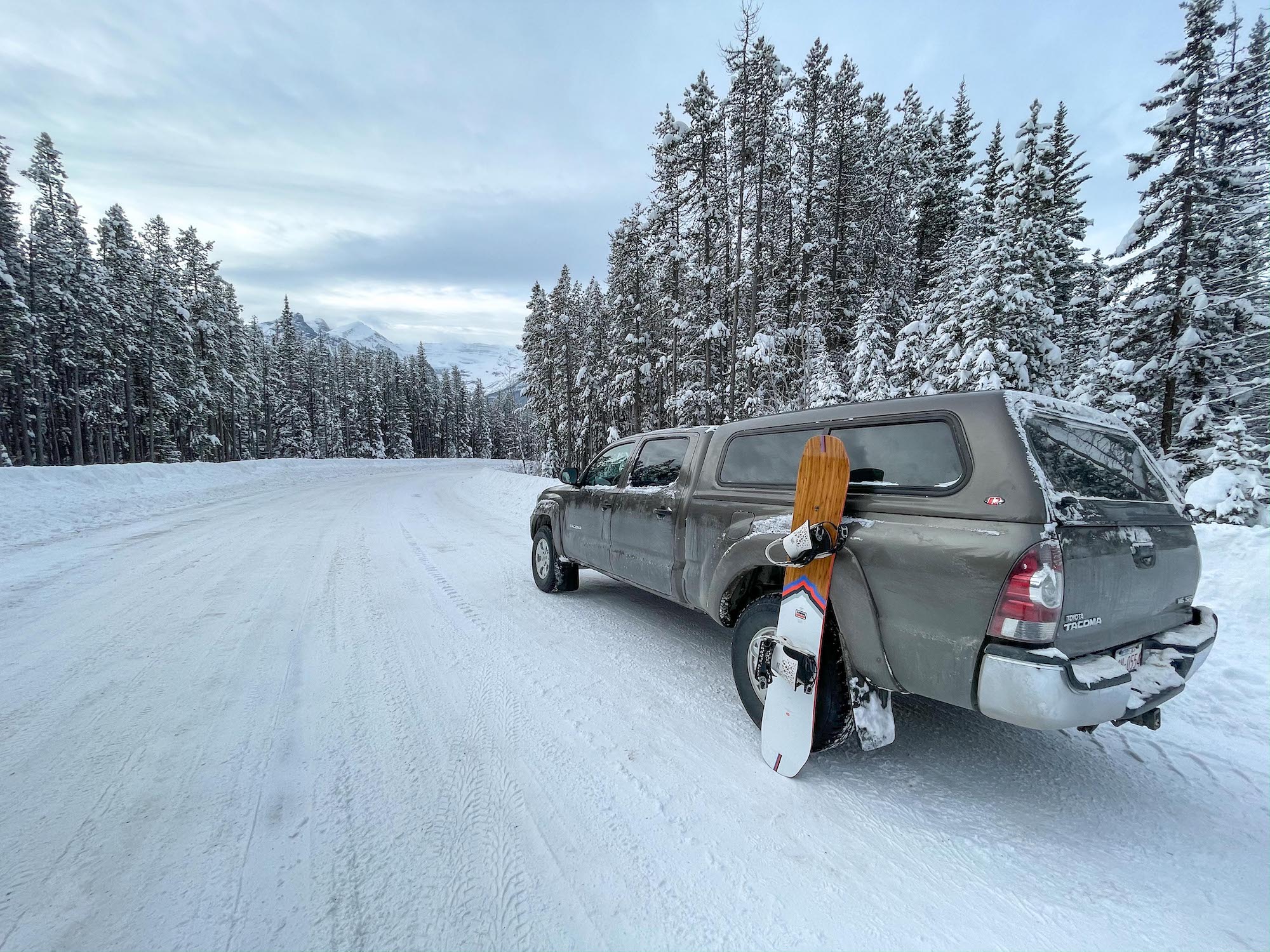 Like the United States, the most efficient and best way to get around Canada is by car. If you are an American citizen residing near the border, perhaps you can take a road trip from the States.
---
↓ Join the community ↓
The Banff Blog Facebook Group is your headquarters for the Canadian Rockies' travel advice and information. Including hike info and off-season travel information. This is also where you can meet one another when you need adventure buddies. 

Plan Your Trip to the Canadian Rockies