Most people know that one of the best things to do in Banff in winter is ski and snowboard at Lake Louise, Banff Sunshine, or Mt. Norquay.
However, not everyone is a skier. Thankfully, Banff caters to every type of visitor and some of the best things to do don't involve skiing. Other popular Banff winter attractions include enjoying the Banff Gondola, ice skating on frozen lakes, tubing, tacking a winter hike, or dog sledding!
---
Best Things to do in Banff in Winter (Non-Skier Edition)
---
Ice Skate on Lake Louise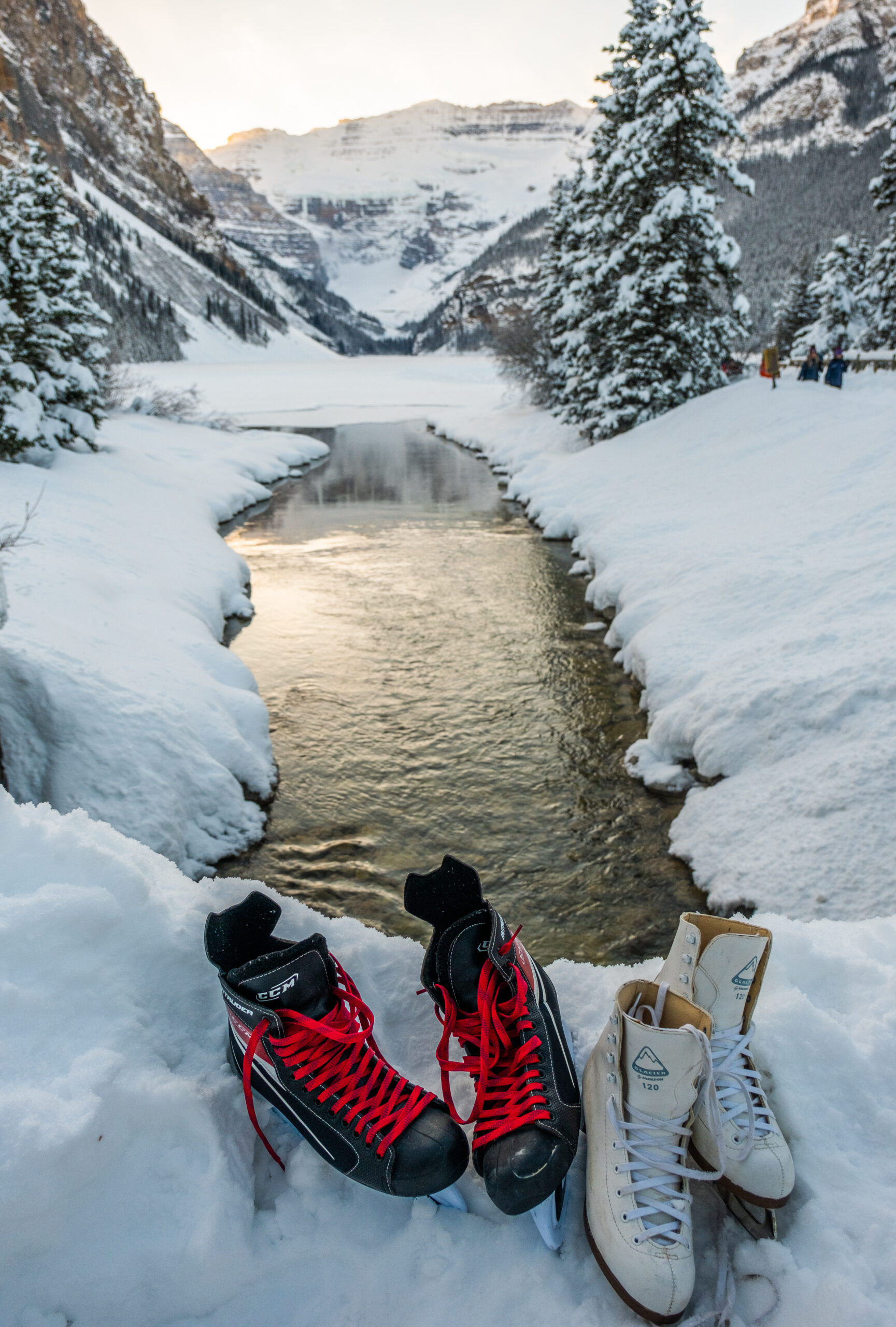 There's really no more iconic ice-skating area in the world than at Lake Louise. Heading to Lake Louise in the winter is one of the best things to do in Banff in winter.
The Fairmont Chateau Lake Louise clears and maintains the "rink" so that visitors can enjoy ice skating here all winter long. Don't forget to check out the ice castles too!
---
Hike Up Tunnel Mountain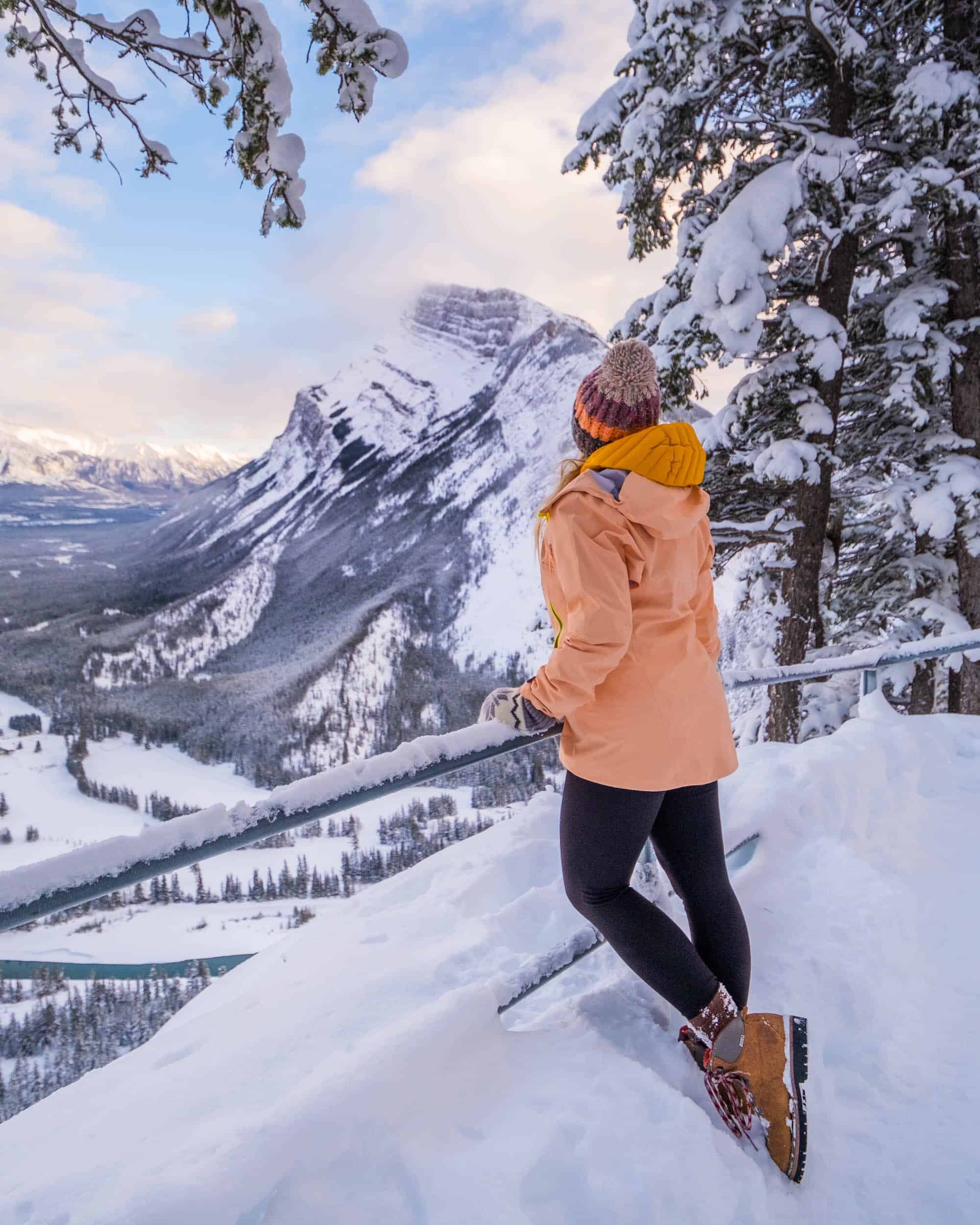 The hike up Tunnel Mountain is a short and cruisy one that you can do right while staying at a hotel in Downtown Banff. The hike up to the summit will take less than an hour and provides excellent views over the Bow Valley, Downtown Banff, and Mount Rundle.
Tunnel Mountain is a fun trail in the winter as it's not too steep and we've never experienced it too icy either. Meaning you won't need microspikes or poles to tackle this hike in Banff in winter, though having those items never hurts!
11 Beautiful Banff Winter Hikes
---
Wild Skate on Lake Minnewanka, Two Jack Lake, Johnson Lake and Beyond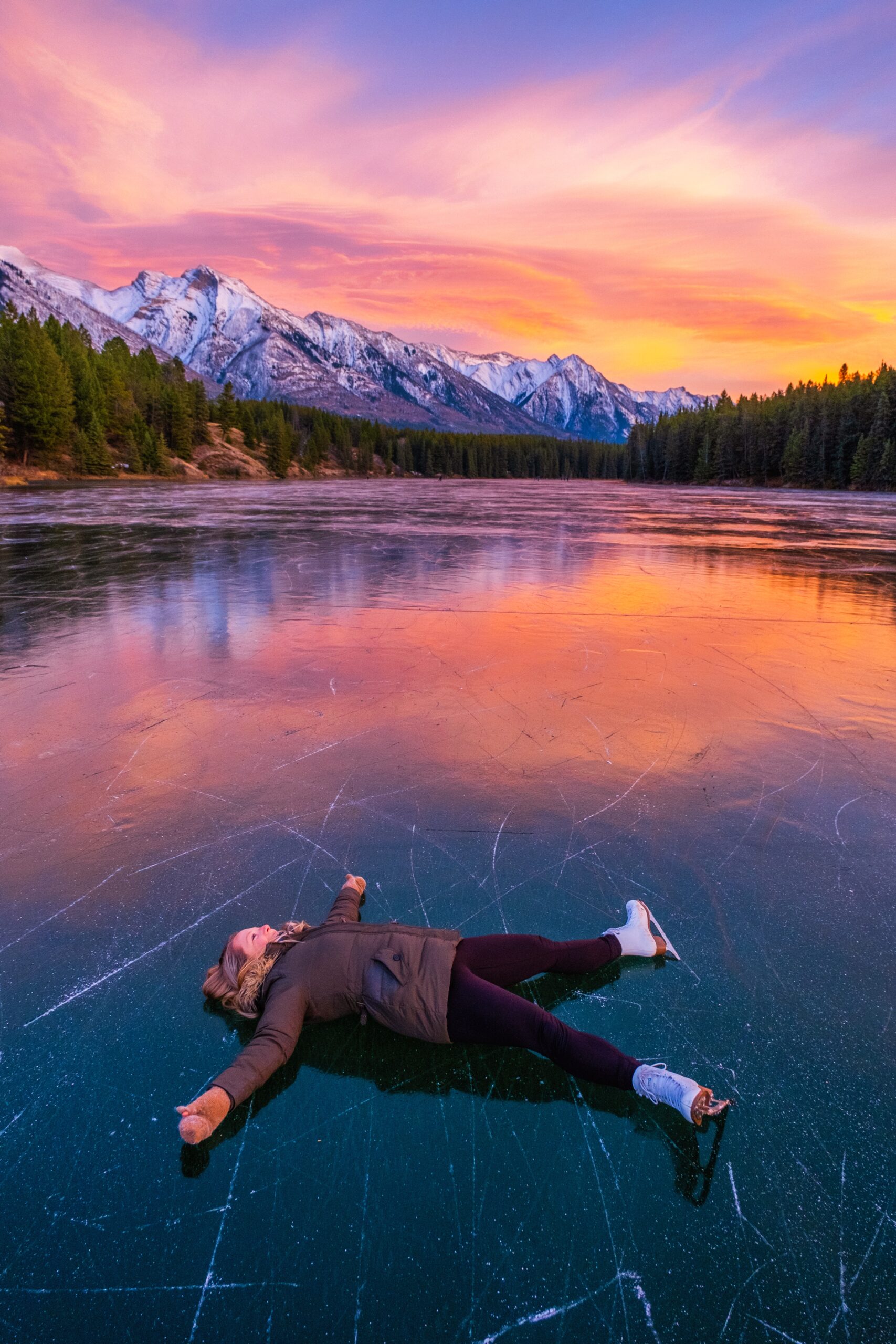 If you hit Banff just right, it's possible to ice skate on one of the many lakes. My favorite is Johnson Lake, but there are so many amazing ones.
The key is to hit the lake right after it freezes, but right before the next snowfall for the smoothest skate. Typically this happens throughout November and December, but it all depends on the year.
---
Hit Up the Mt Norquay Tube Park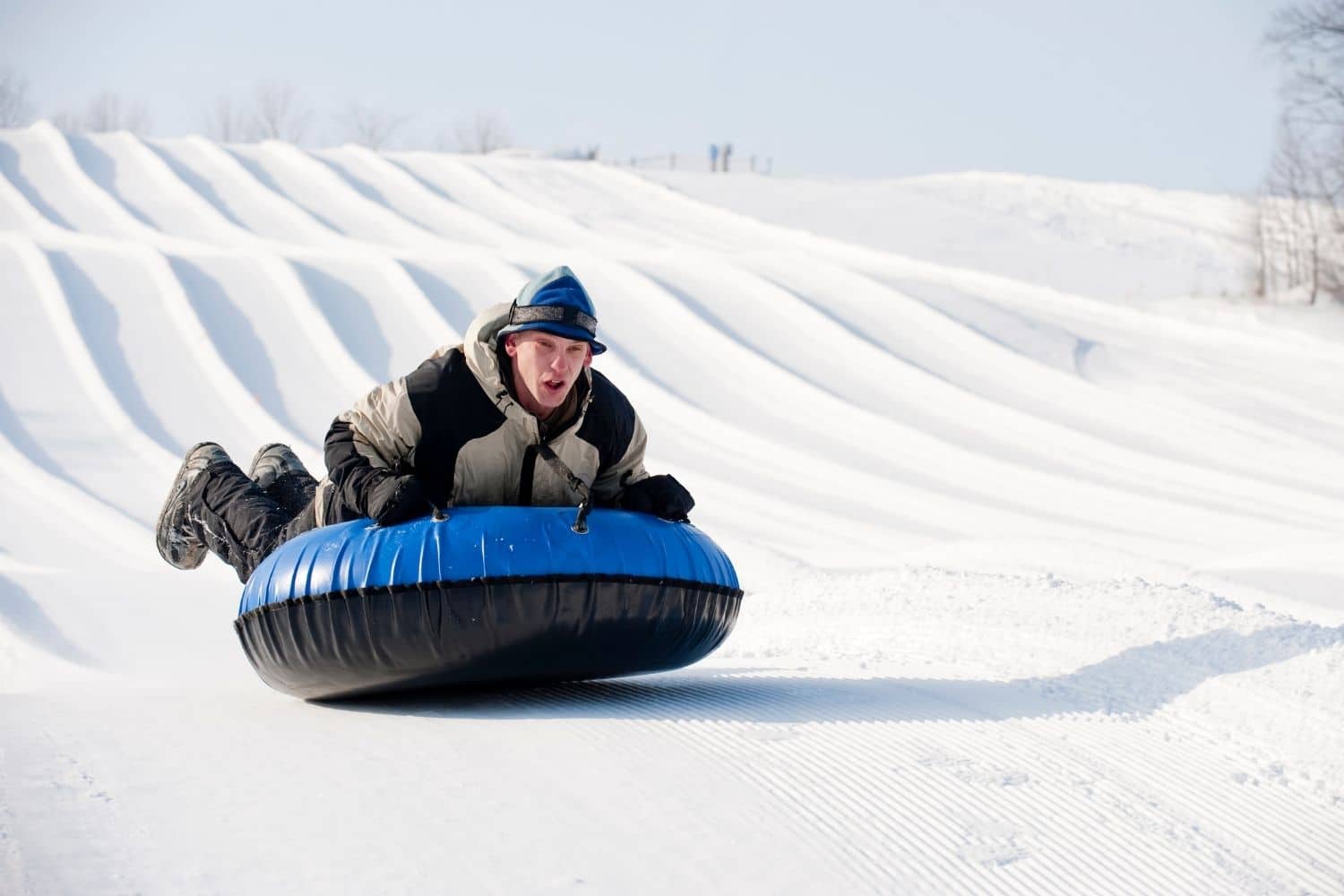 If you're not much a skier, don't worry, Mt. Norquay puts together an epic tube park every winter for families to go screaming down the hill. It's one of the most thrilling things to do in Banff in the winter.
---
Catch the Northern Lights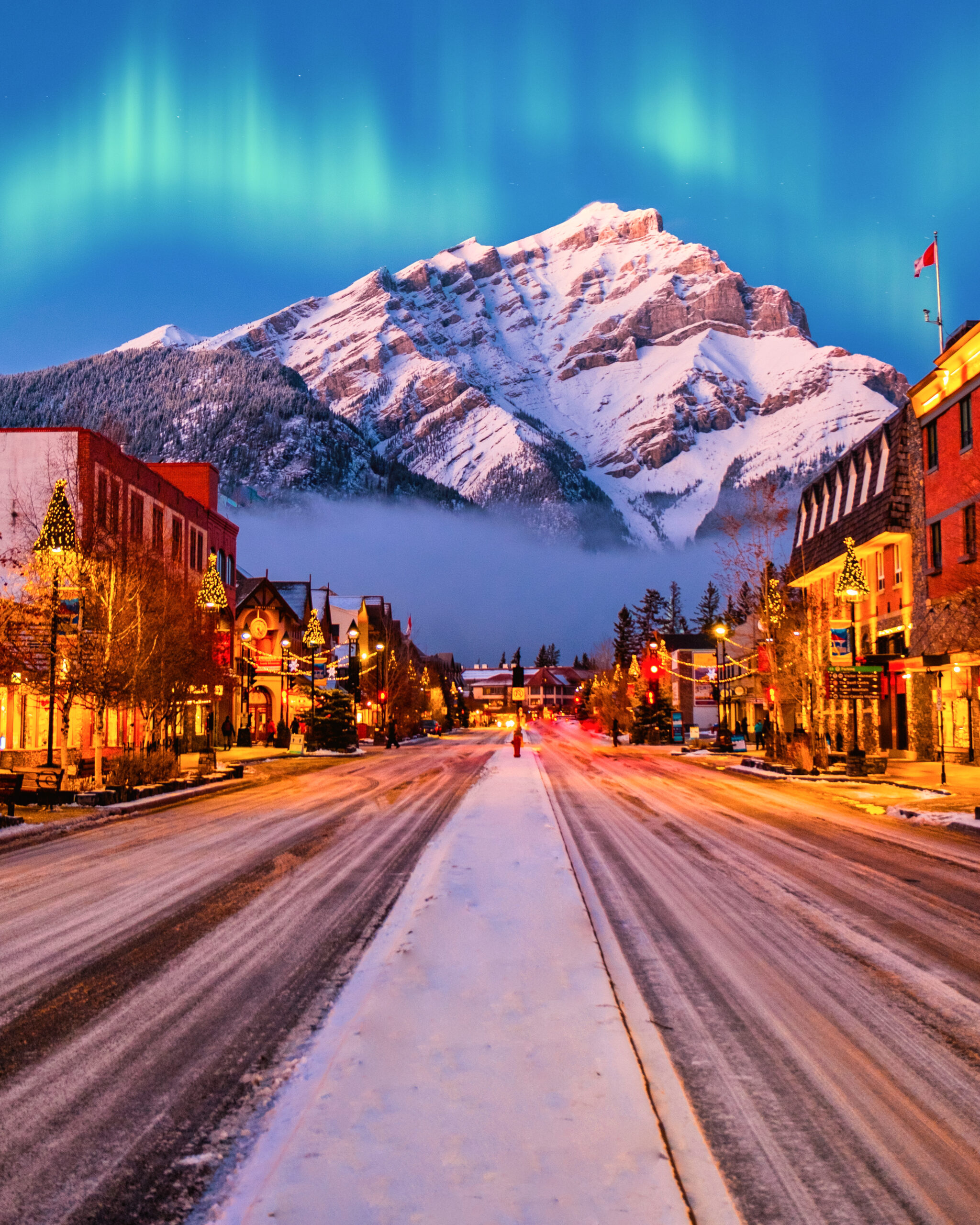 If you're lucky, and I mean really lucky, you may catch the Aurora while visiting Banff. It's rare, and I wouldn't plan on seeing the northern lights while visiting as it only happens a few times per year.
But if the sky is clear and the aurora forecast looks promising it's best to make your way to a really dark area of the park and keep your eyes open. The darkest days are in December, but it's possible to see the Northern Lights well into April and May.
How To See The Northern Lights in Banff
---
Go on a Helicopter Tour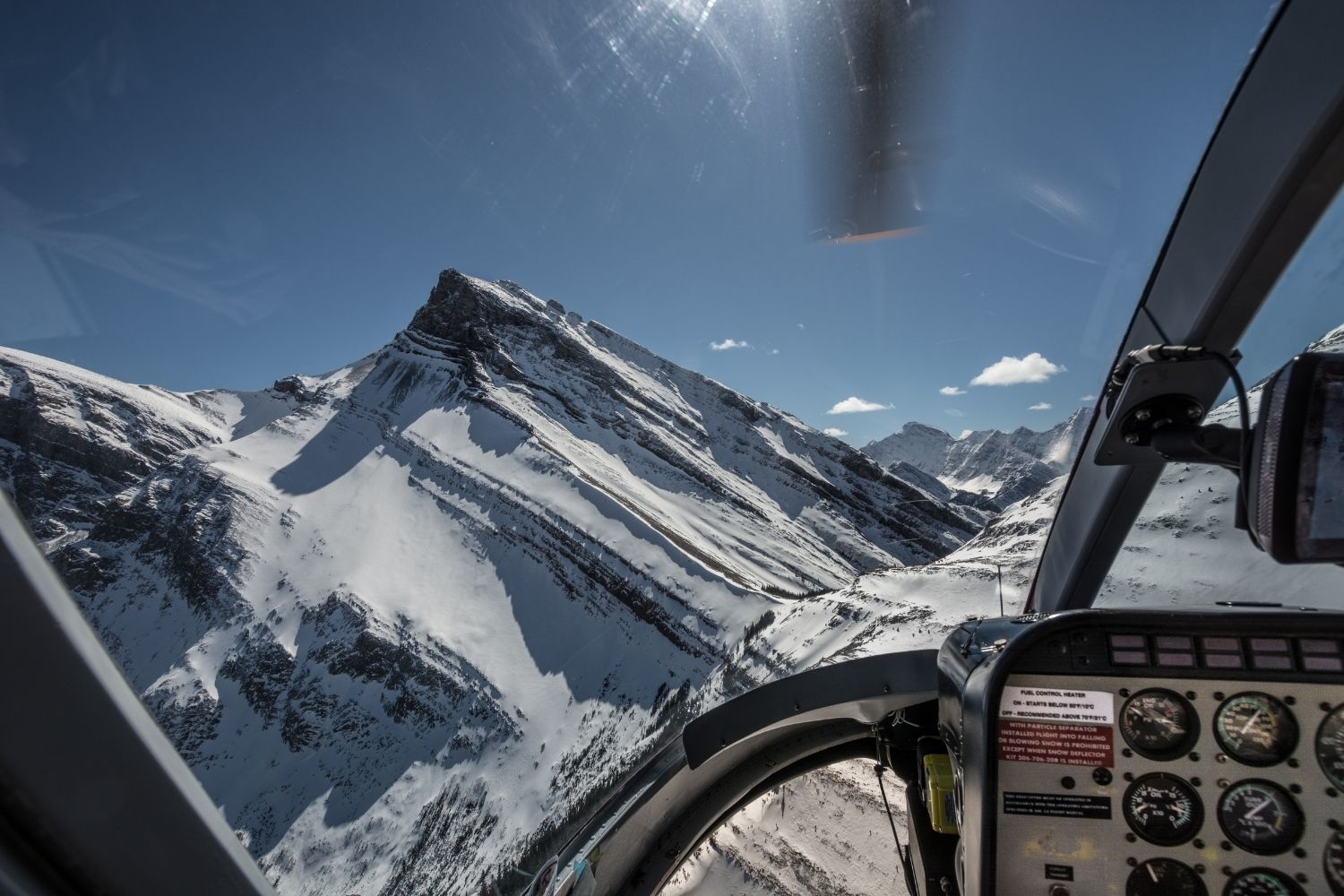 When wondering what to do in Banff in winter consider heading to the town next door.
Alpine Helicopters is based in Canmore and offers helicopter tours that provide a spectacular bird's eye view of the surrounding mountains. While it's certainly not a cheap thing to do in Canmore in the winter it is undoubtedly an unforgettable one. Tours begin at $150 per person and can reach as high as $600 for a 45-minute tour.
However, rates are lower in the winter and during off season months like April, so make sure to check their site to find the best rate.
20 Canmore Winter Activities You'll Love!
---
Go Dog Sledding With Howling Dog Tours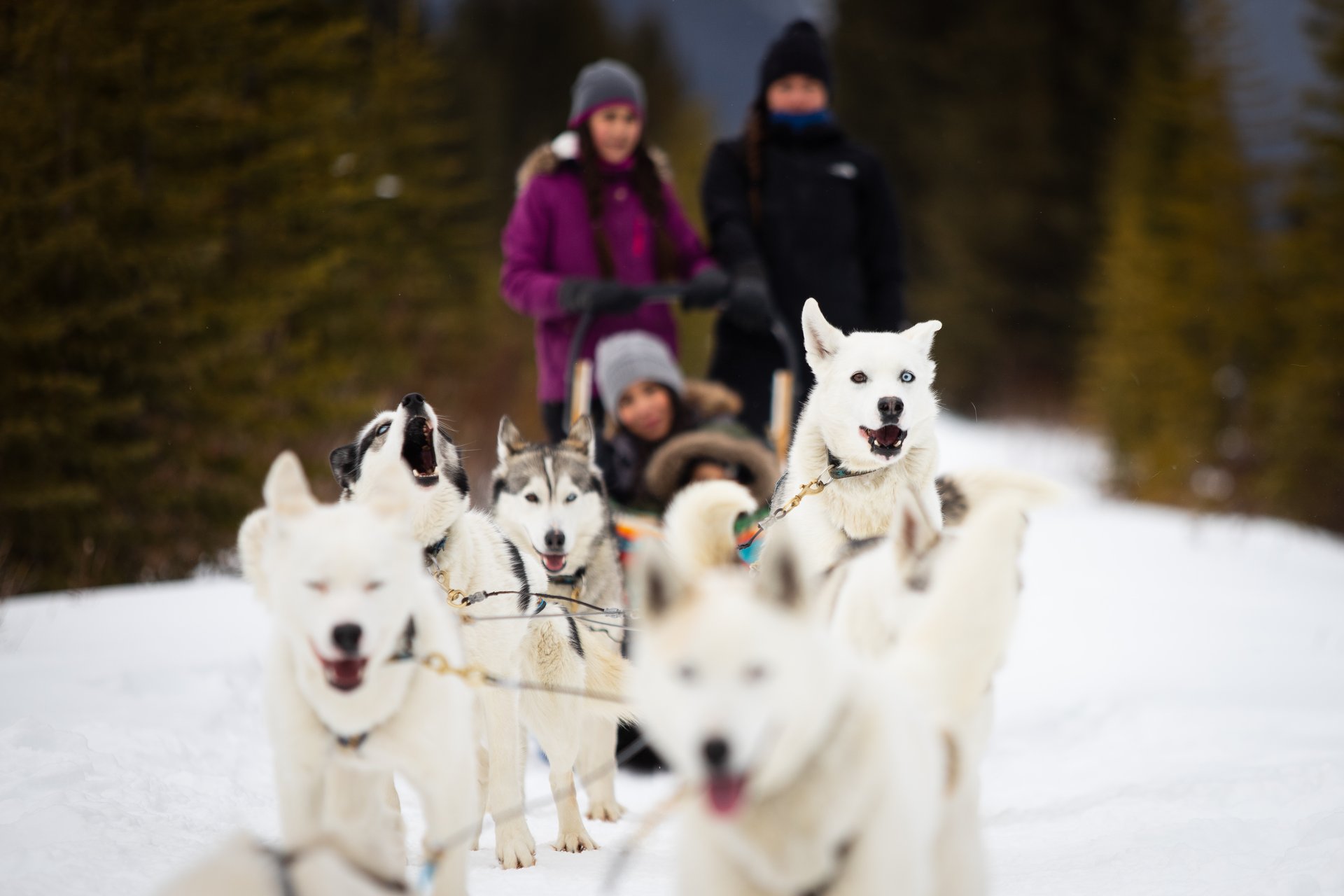 Dog sledding is one of those quintessential Banff winter tours and will easily be a highlight of any winter vacation in the Canadian Rockies. There are a few dog sledding operations in Lake Louise and Canmore, but Howling Dog Tours in Canmore is our favorite as they offer the chance to enjoy this experience deep in Kananaskis.
HDT is a small family operation that has been in operation since 1995 and is a great ethical company within the Bow Valley. Head over to their website for their contact details.
---
Snowshoe Up to Taylor Lake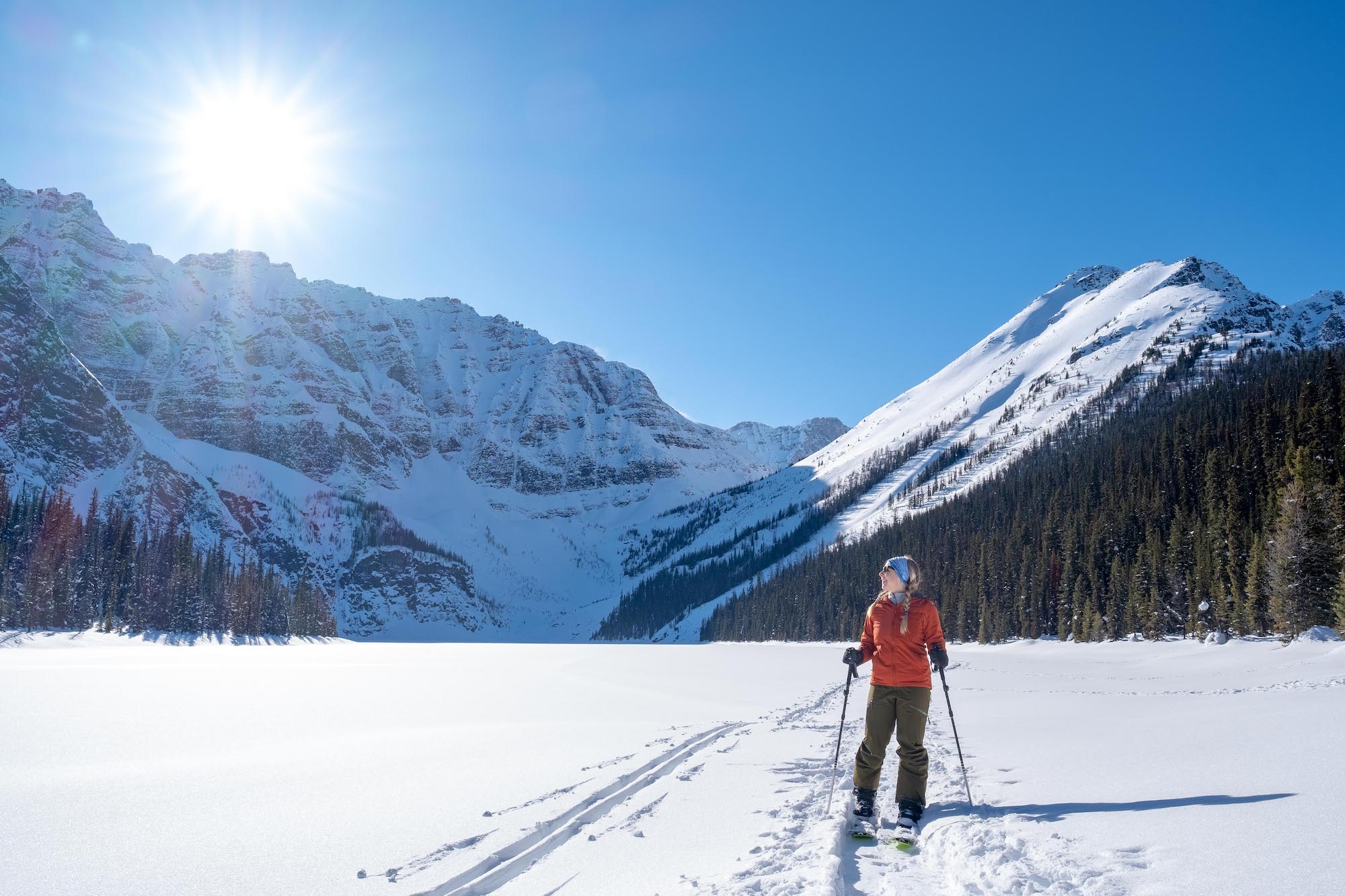 In Banff in winter, a fun thing to do is grab a pair of snowshoes and take them to the trails. A challenging but fun one is Taylor Lake!
If heading into avi terrain, you must be equipped with a beacon, probe, and shovel and check the Avalanche Canada forecast. You can find some easy snowshoe trails here.
---
Drive the Icefields Parkway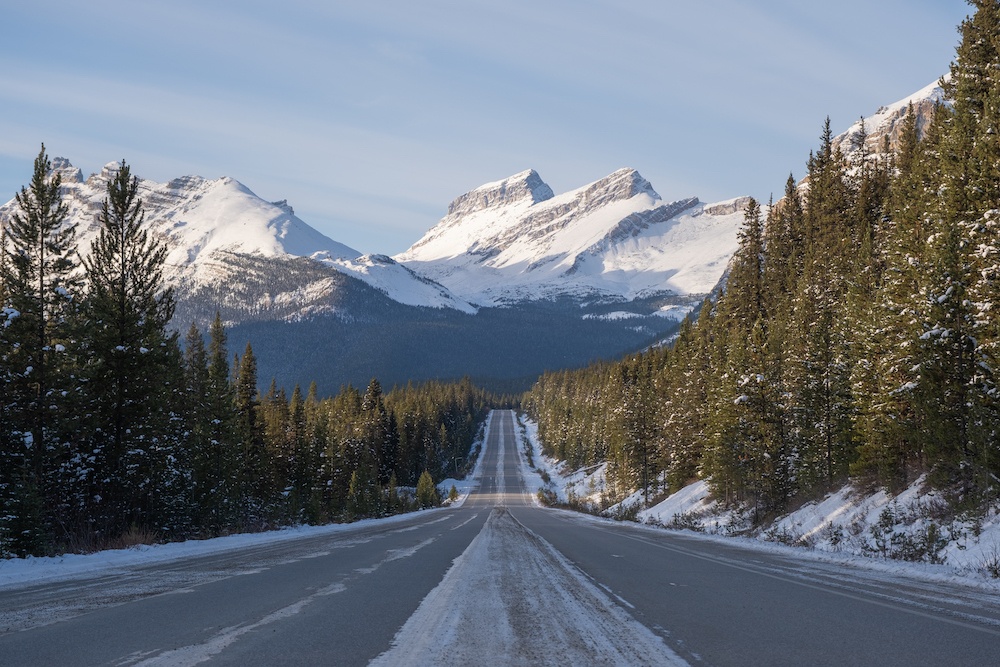 Driving the Icefields Parkway is one of the best things to do in Banff in the summer, but the road is open in the winter too. It's such a different experience compared to the summer, and I think it is even more stunning seeing the peaks covered with snow.
You'll need winter tires and should have experience driving in the winter. Make sure to check road conditions on 5.11 Alberta before venturing out. If there's been heavy snowfall or a winter storm is brewing, it's best to avoid driving the Icefields Parkway as it is infrequently plowed and prone to accidents and spinoffs. There is no cell service and no fuel or facilities along the Parkway in the winter.
---
See the Lakes Before they Freeze, but when the mountains are snow-capped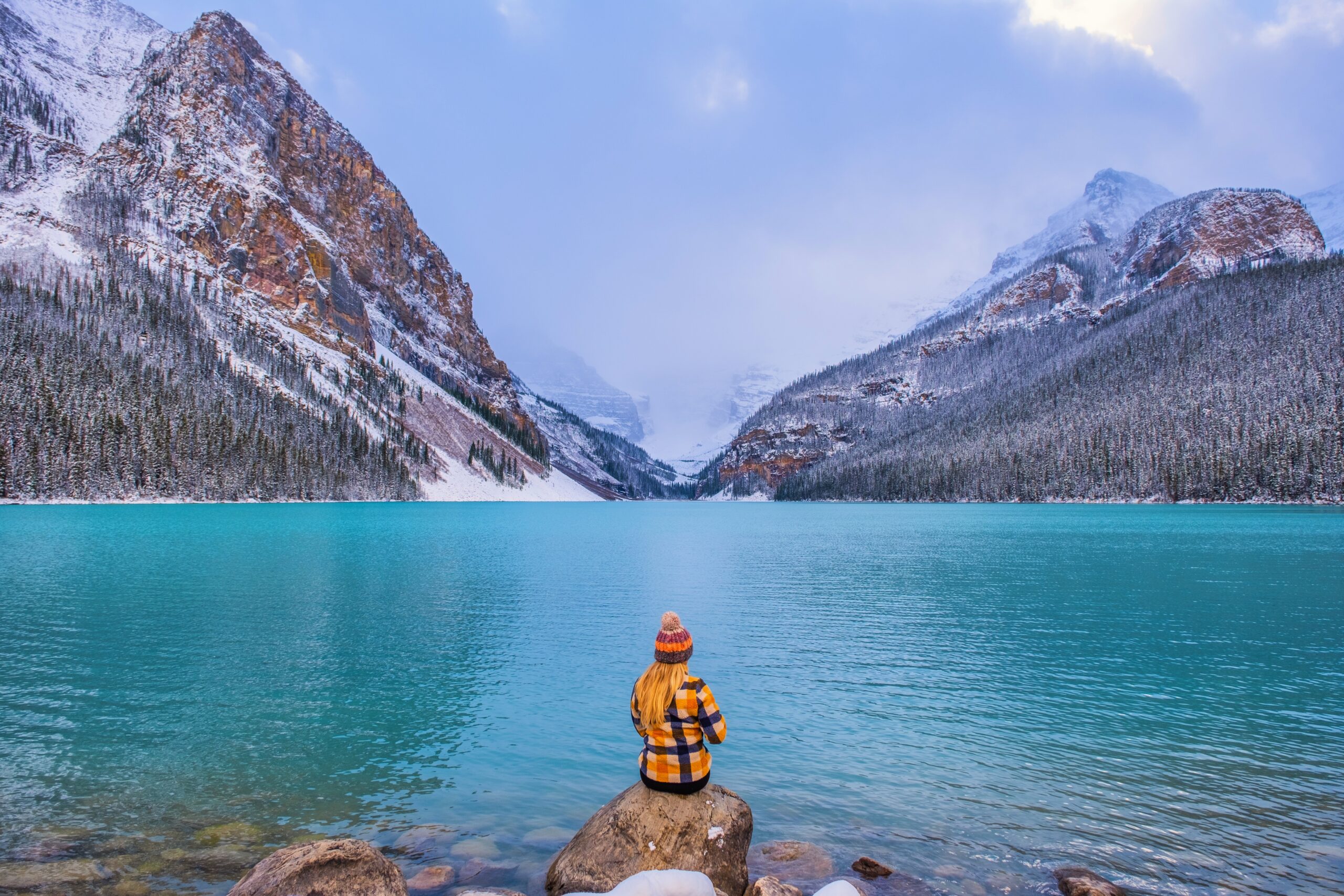 There's a particular time in Banff, typically around late October, when the lakes have yet to freeze, but the snow has started to fall, surrounding the peaks and the rest of the area. It's a short period, but it's magical to experience such a scene.
---
Wildlife Spotting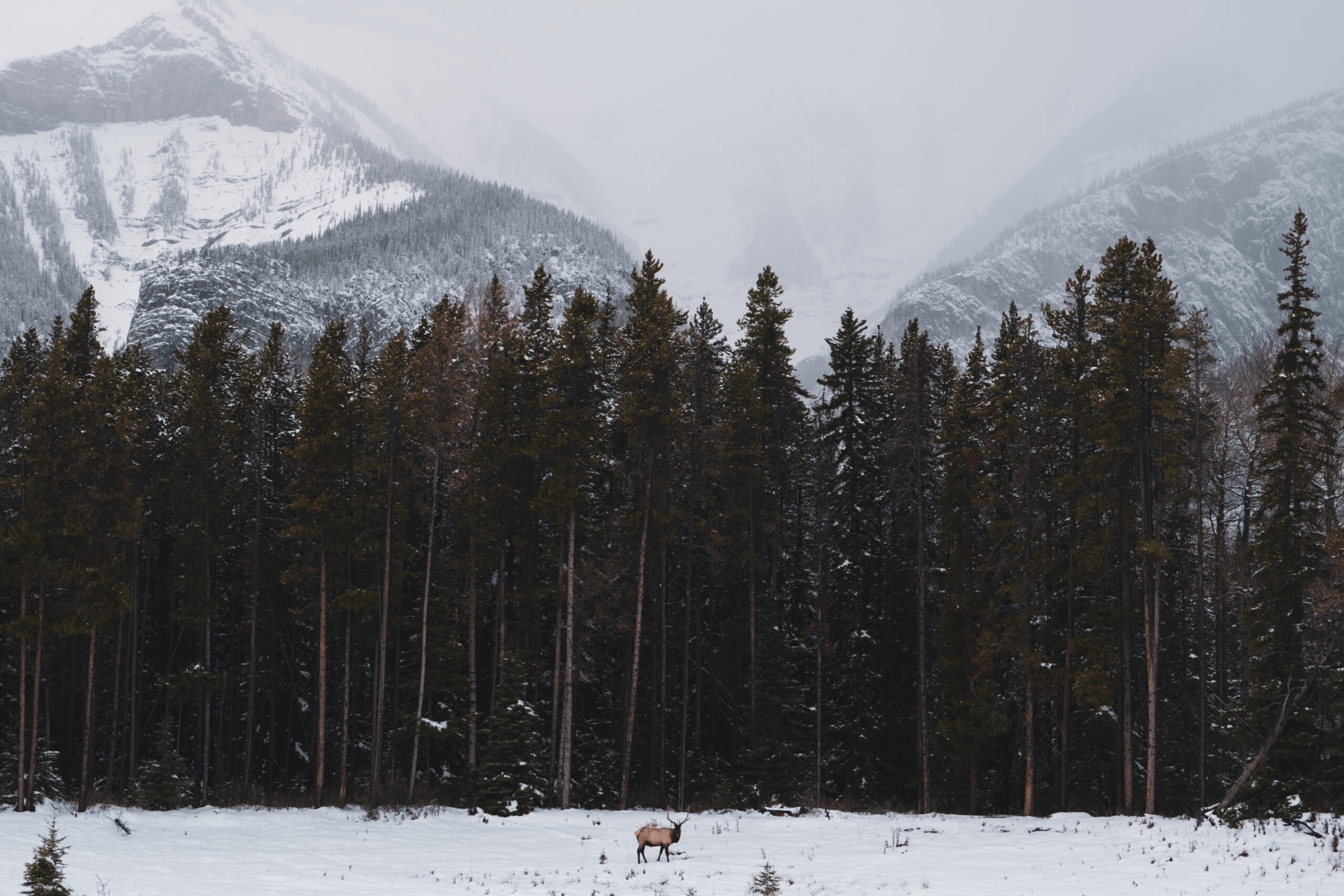 This one shouldn't be too hard when visiting and is one of the best things to do in Banff in winter. Elk are roaming around the town everywhere.
They are the park's best residents and a reminder of who runs the beautiful landscape. They often roam in large herds, so if you see one, you'll likely soon see 50 more.
Please stay at a safe distance away from the elk; they are wild and can get aggressive if you get too close. The general rule of thumb is that if you make an animal move or reroute, you are way too close.
---
Drive the Bow Valley Parkway
The Bow Valley Parkway, or 1A, is a beautiful winter drive that connects Banff to Lake Louise, especially just after a fresh snowfall when the trees are absolutely covered in white.
The road is much quieter in the winter and makes me fall in love with the drive even more. Some of the best stops are Morant's Curve, Johnston Canyon, and Storm Mountain Lookout!
---
Snowshoe Back to Sundance Lodge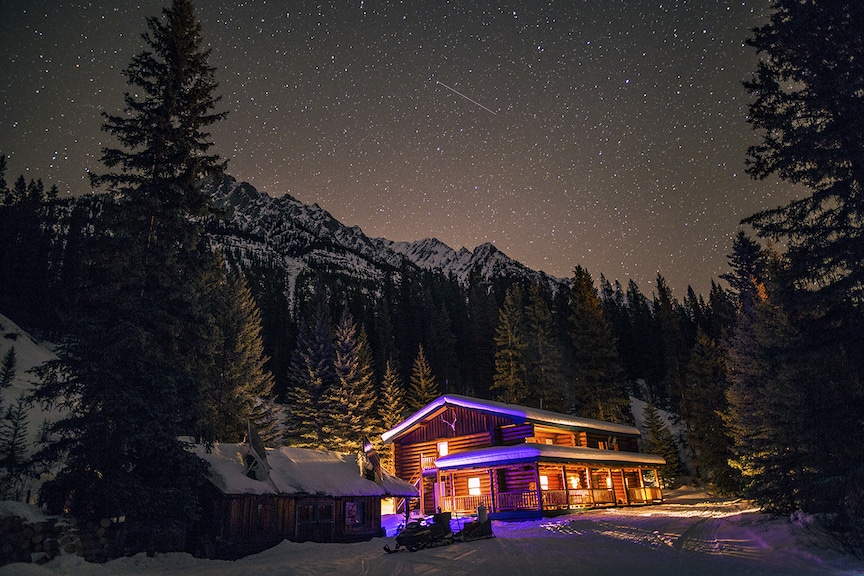 Sundance Lodge is a beautiful cabin in Banff managed by Discover Banff Tours. In the winter, it's possible to snowshoe back to the lodge and stay overnight!
Which is the perfect adventure to have in Banff as a non-skier. Once back at the lodge, the excellent staff will treat you to a delicious meal in a traditional log cabin.
---
Enjoy a Mountaintop Christmas from the Top of Sulphur Mountain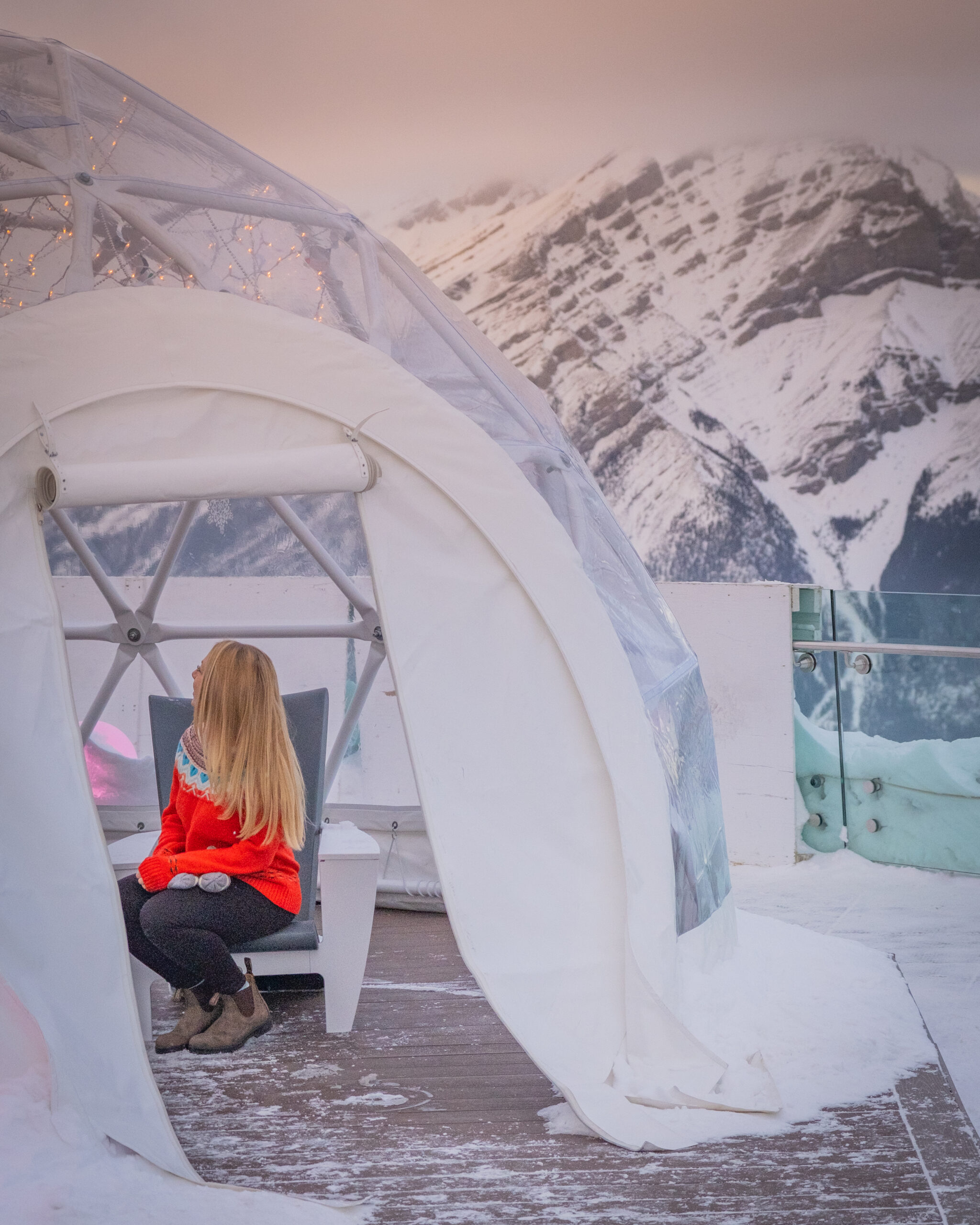 If you're spending the holidays in Banff, you are fortunate. The town hosts plenty of fun events to make the season magical.
One of my favorite events is the Mountaintop Christmas on top of Sulphur Mountain. Santa, cookies, and even adult Christmas cocktails await you!
---
Catch the Train at Morant's Curve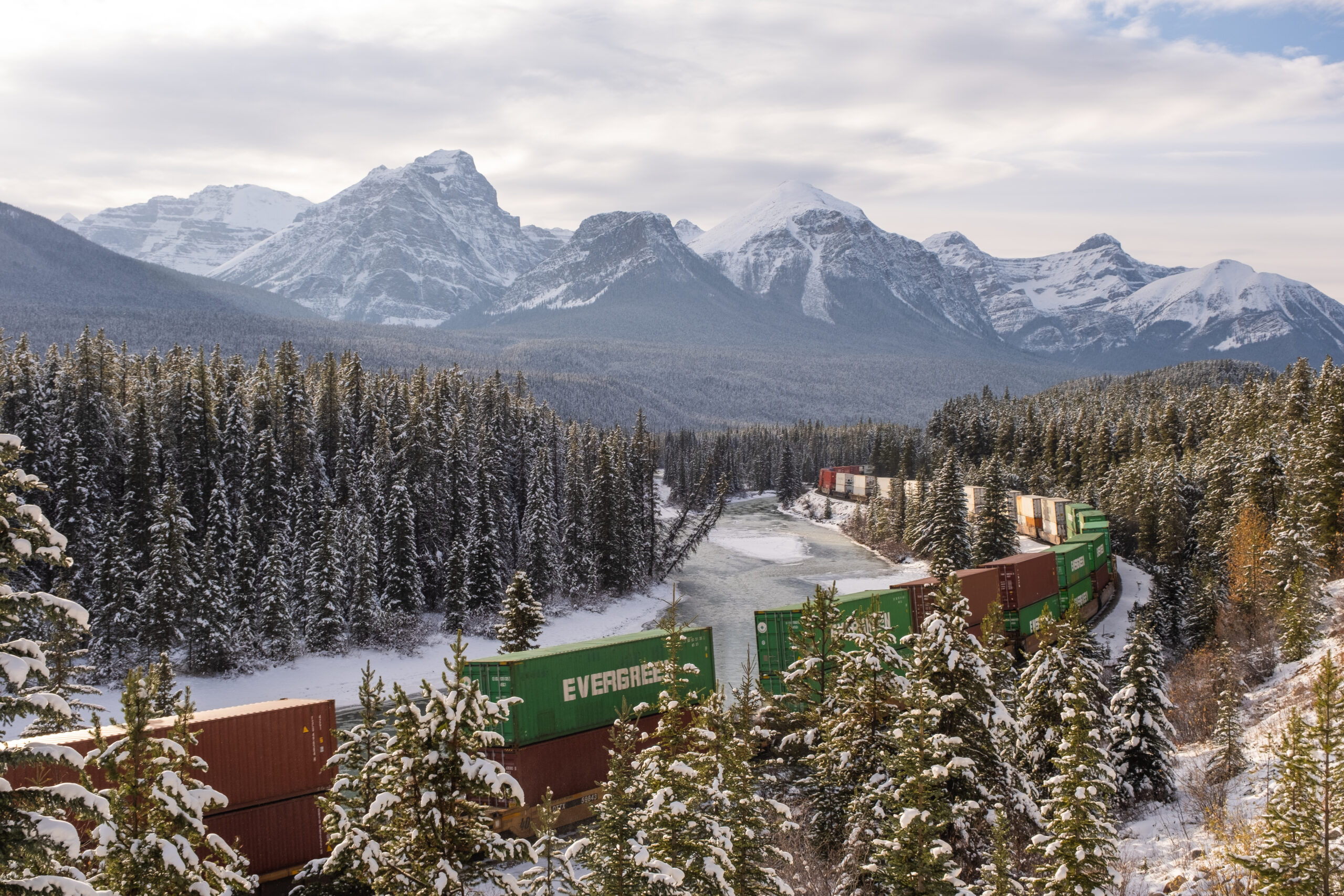 Morant's Curve is one of the best photography spots in Banff. It's a scenic overlook along the Bow Valley Parkway. The train tracks run right beneath it, and if you are patient and are there at the right time, you may even catch the train for the perfect photograph.
How To Visit and Photograph Morant's Curve in Banff
---
Catch the Stellar Winter Sunsets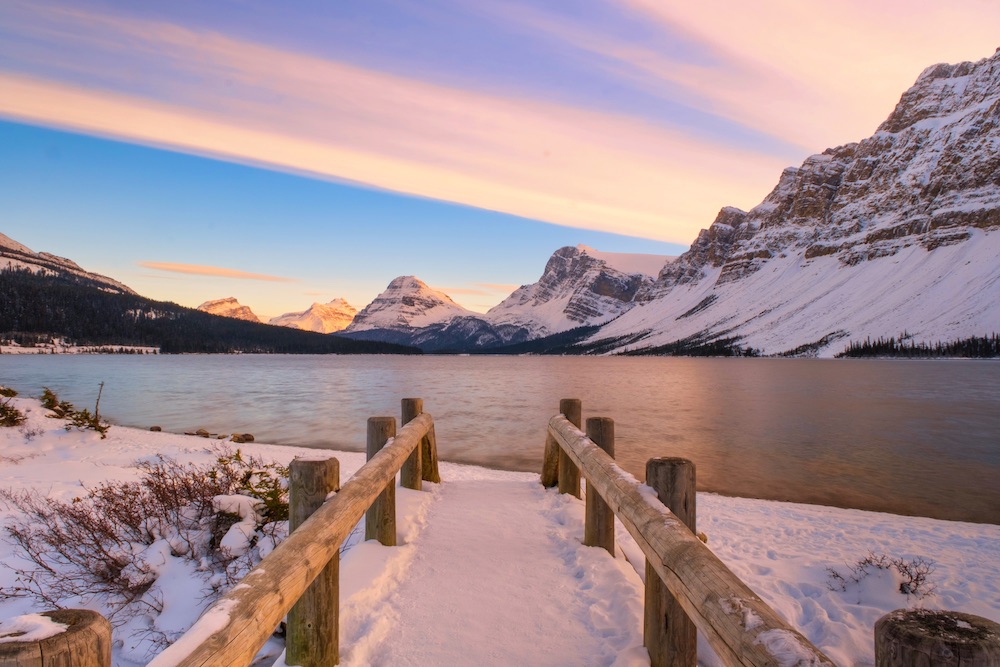 Because the mountains are so tall and abundant, it can be hard to get great sunsets in Banff. However, in the winter you can get some outstanding ones. Keep an eye on the clouds; if you see funicular clouds during the day, you know for sure you have a fantastic sunset coming.
---
See the Ice Sculptures at Lake Louise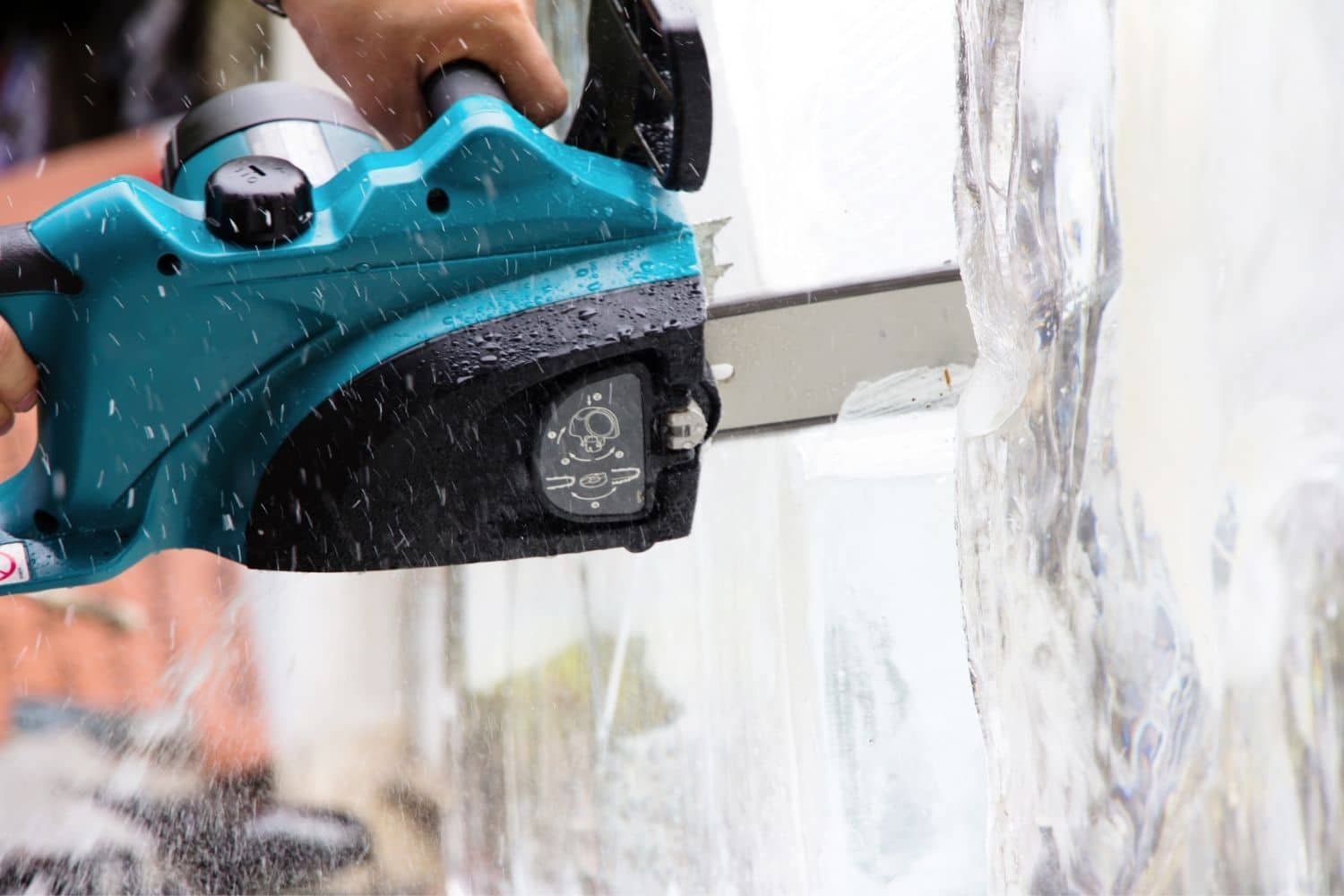 For a few select days (Jan 26-28 & Feb 2-4, 2024, 6pm – 9pm), there is an exceptional event at Lake Louise. The Ice Magic event is what winter in Canada is all about, and it's been postponed for a few years now, so 2024 will be a banger! This is where ice comes alive and serves as a form of art and architectural design. During this time, you can watch artists from around the world carve different frozen figures.
While it used to be free to visit the ice carving events and wander around between Monday – Friday and on the weekends before 10 a.m. or after 5:30 p.m. You'll now need tickets to join in the fun, these are available for purchase starting December 12, 2023. Tickets allow public viewing from 6 pm to 9 pm every weekend. The main events will go down like this:
January 26 – 27: Witness skilled artisans create breathtaking ice sculptures during the 2024 Ice Magic Competition.
January 28: Attend the Award Ceremony to discover the champions of the 2024 Ice Magic Competition and savor a captivating live carving demonstration.
February 2 – 4: Appreciate the completed ice sculptures and experience live carving demonstrations.
The Ice Magic 2024 experience starts at the Lake Louise Ski Resort, where a complimentary shuttle will take you to the event. Ticket prices are $14 for adults, $9 for seniors, and $7 for children. Lake Louise Ski Resort Guests, Banff Hotel Guests, Lake Louise Area Hotel Guests, Fairmont Chateau Lake Louise Guests either receive complimentary or discounted tickets. Contact your hotel for more information.
---
Enjoy Christmas at the Castle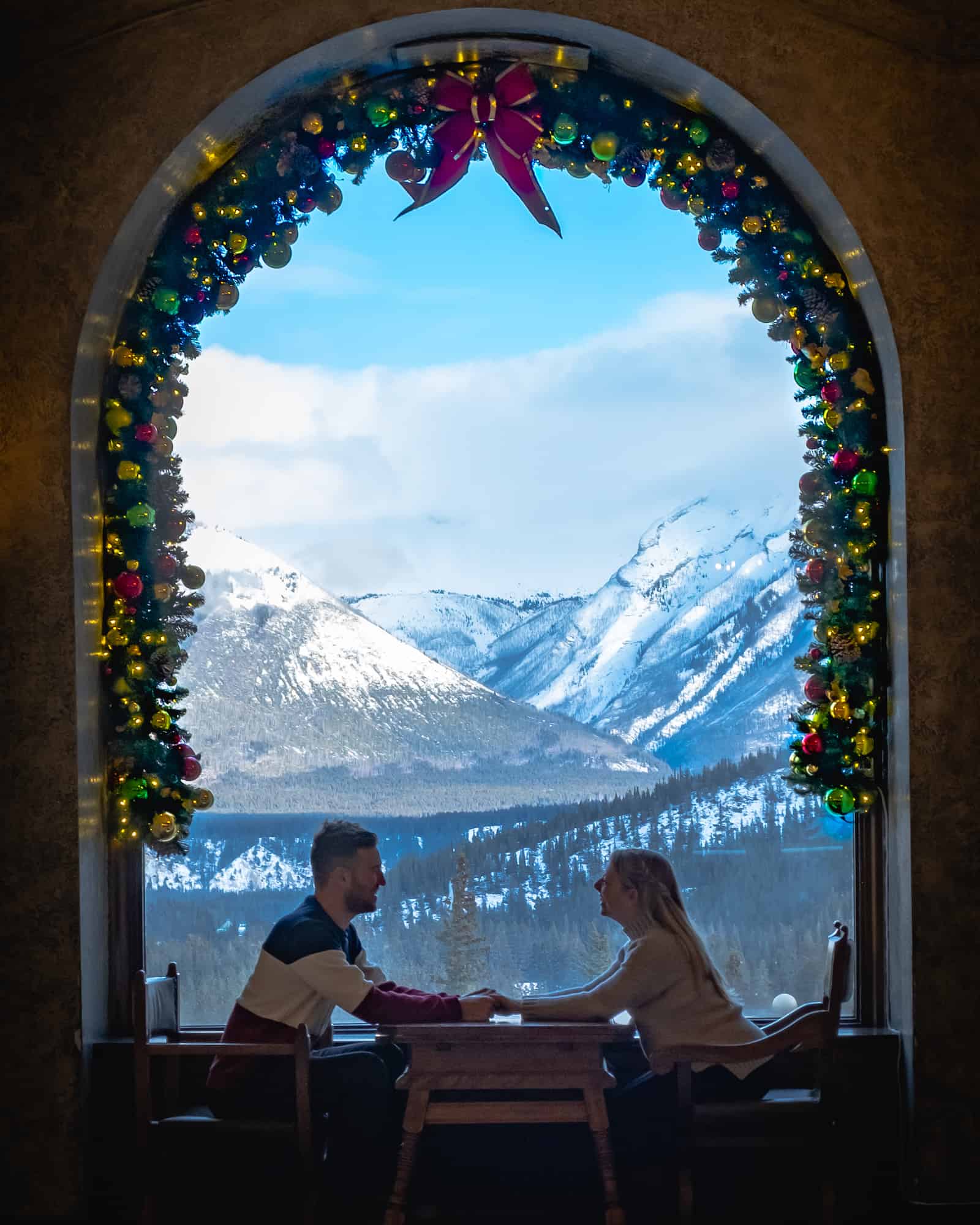 During the Christmas season, the Banff Springs Hotel decorates the whole castle into a Christmas wonderland.
Nonguests can go in and take a look around, but it's better if you book a night or two in this iconic Banff hotel to enjoy a meal, ice skate, and hot chocolate by the fire.
35 Magical Ways to Spend a Christmas in Banff
---
Take a Sleigh Ride Down Banff Ave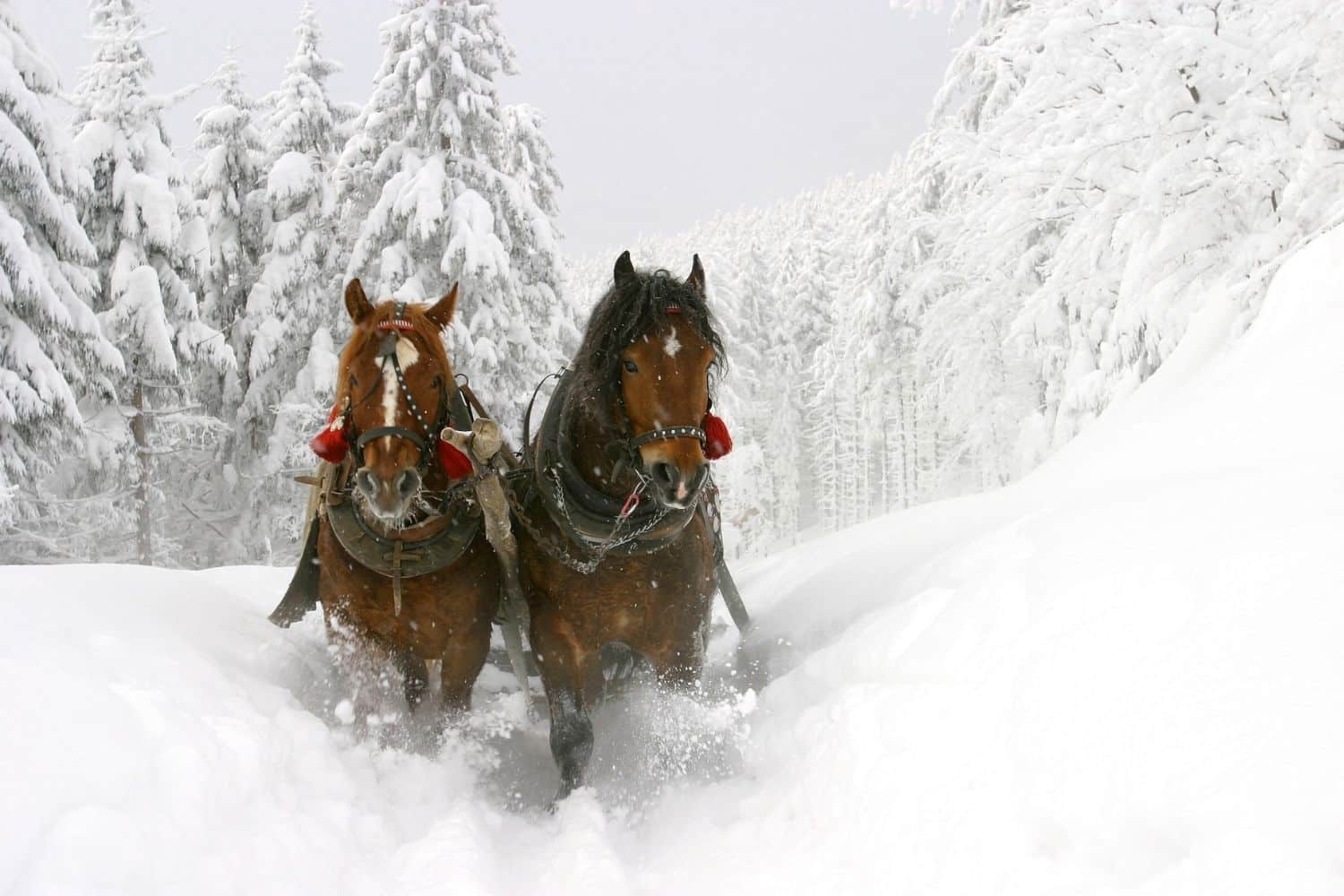 I don't think there's a more magical place in the world to take a horse-drawn carriage ride than in Banff. Specifically downtown Banff, down Banff Ave during the holidays under the lights!
---
Enjoy the Fire at Lake Louise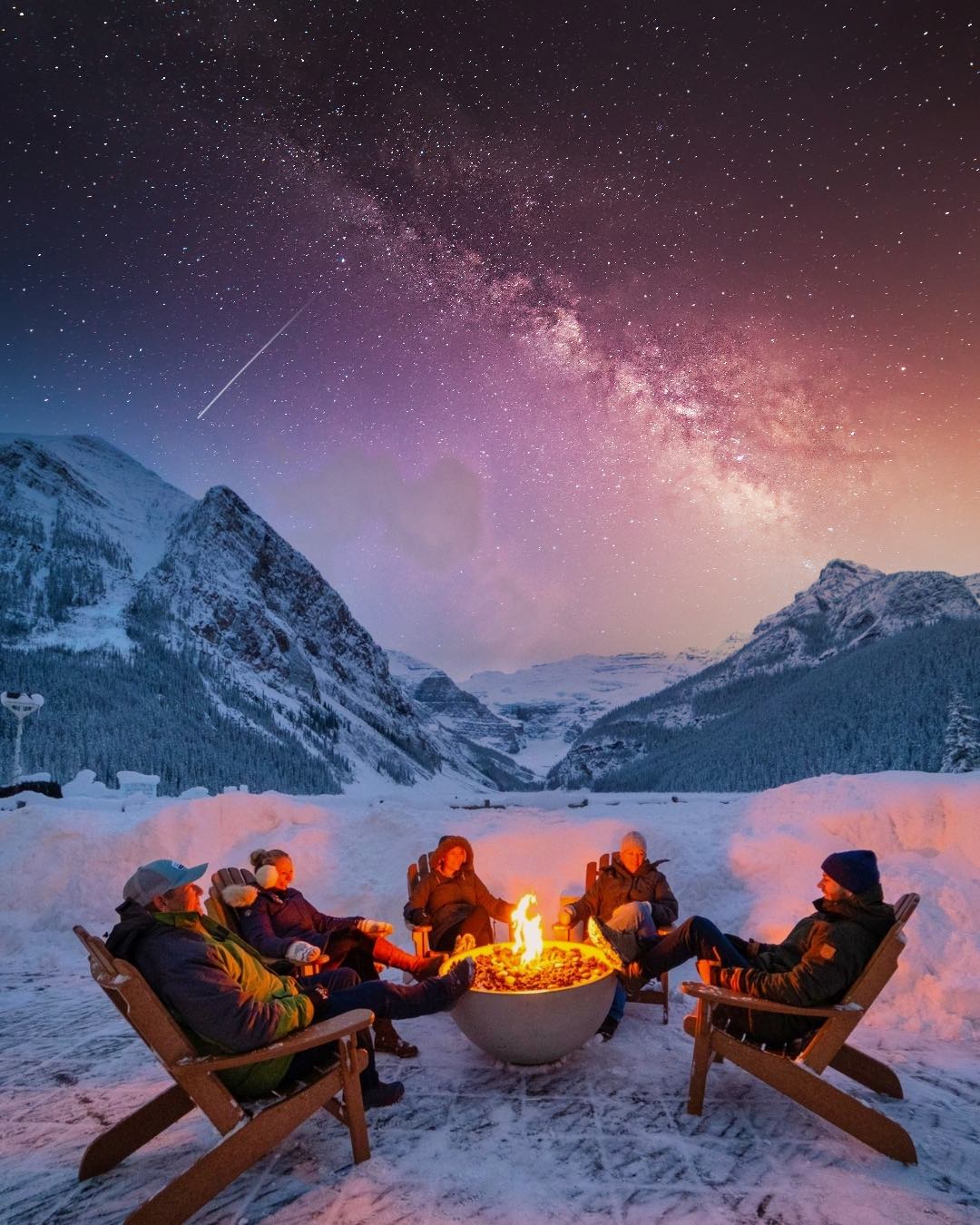 Head to Lake Louise in the winter to enjoy a perfect fire under the stars. You can dip inside the Chateau for some hot chocolate if you get cold, go ice skating when you are feeling active, or just enjoy the atmosphere of the stunning area.
---
Enjoy a Hot Chocolate from Wild Bark Cafe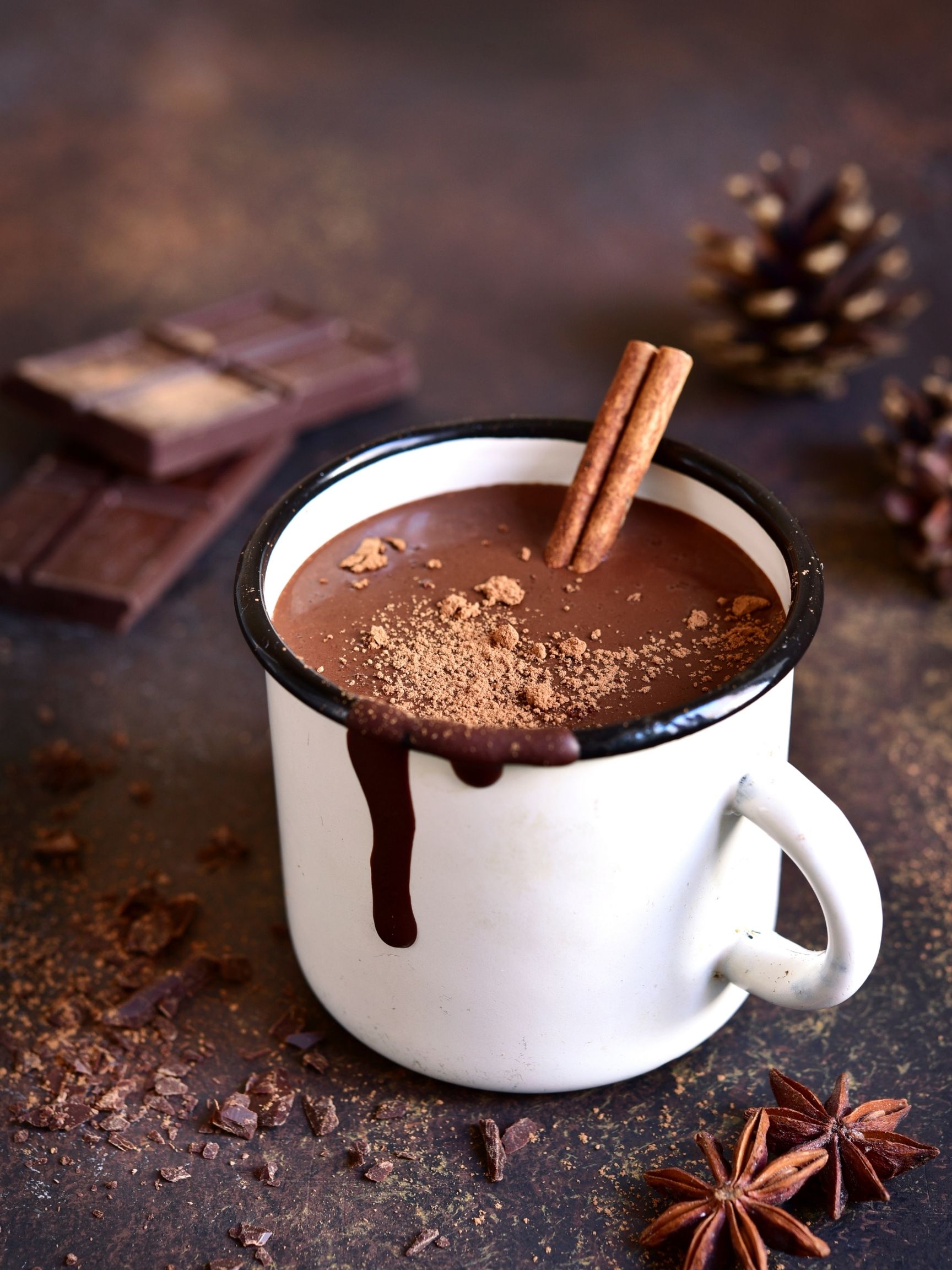 There's really nothing better to do during winter in Banff than drink a hot chocolate. There's even a "hot chocolate trail" in Banff where you can drink some of the best hot cocoas in the Rockies. My favorite is at Wild Bark Cafe!
---
Where to Stay in Banff in Winter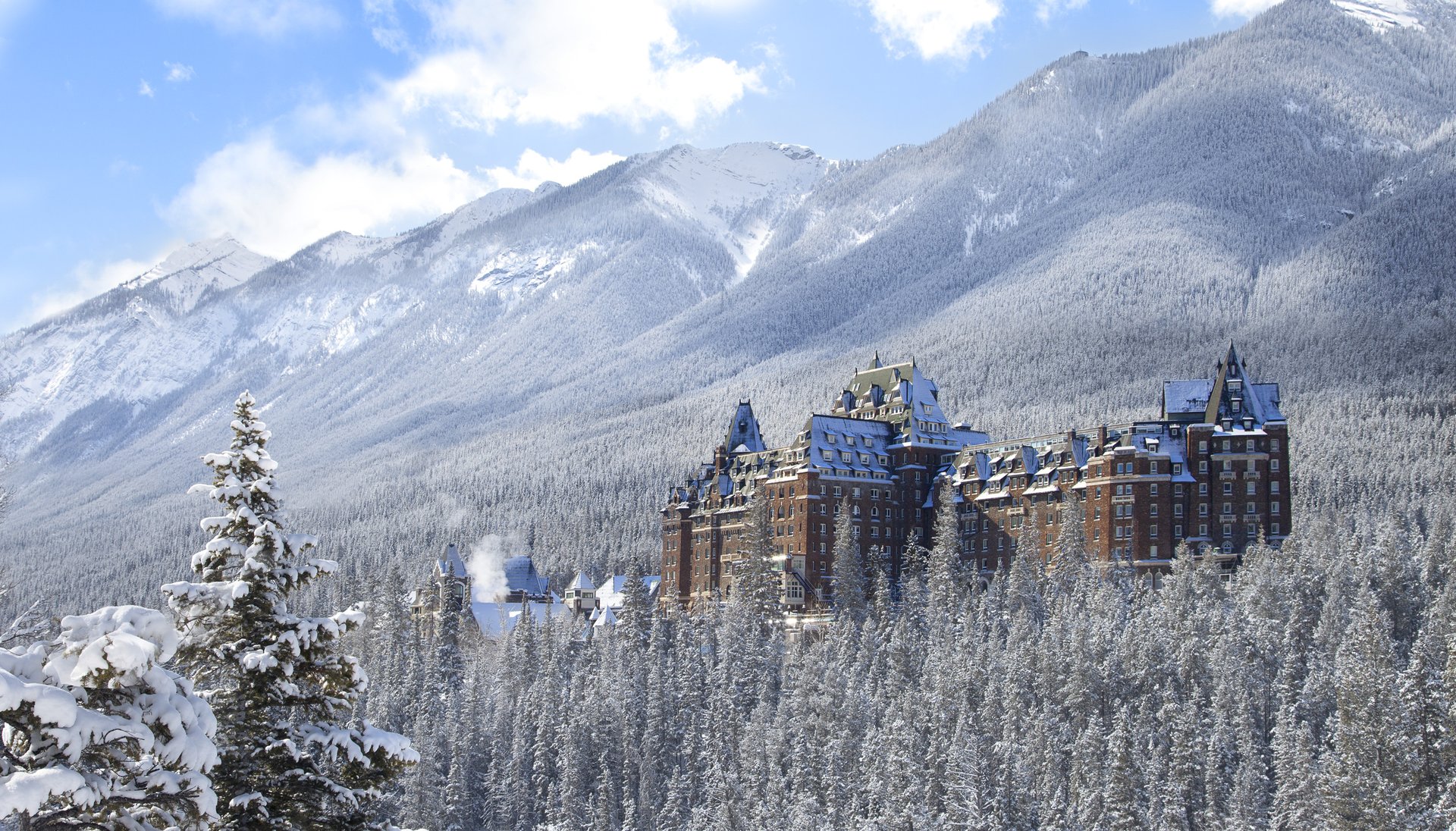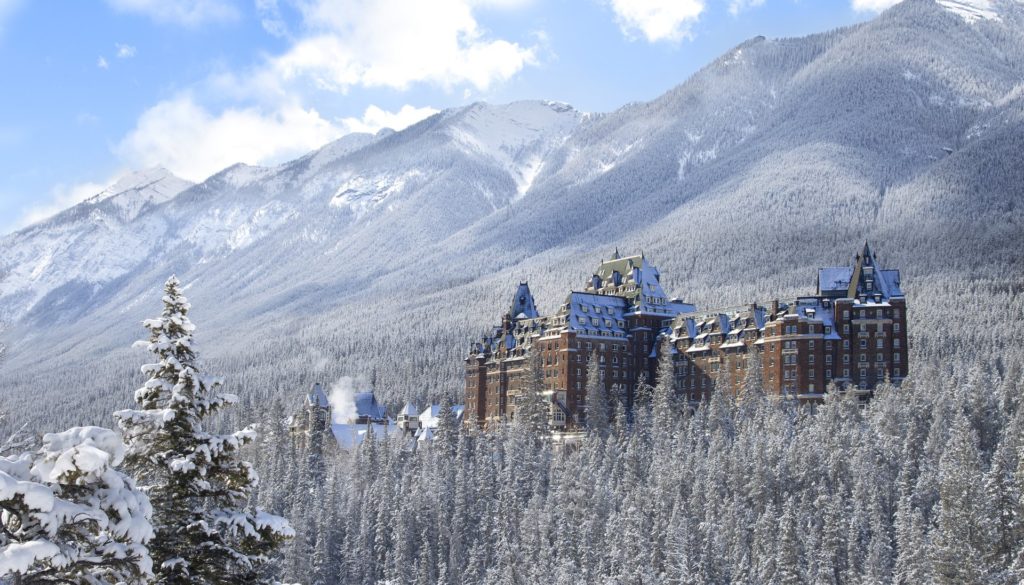 Banff Springs Hotel
The best place to stay in Banff in the winter is the castle itself, especially around Christmas. Not only do they host all the best Christmas events, but they are located close to Downtown Banff. It's one of those places in Banff you won't forget – great for special occasions.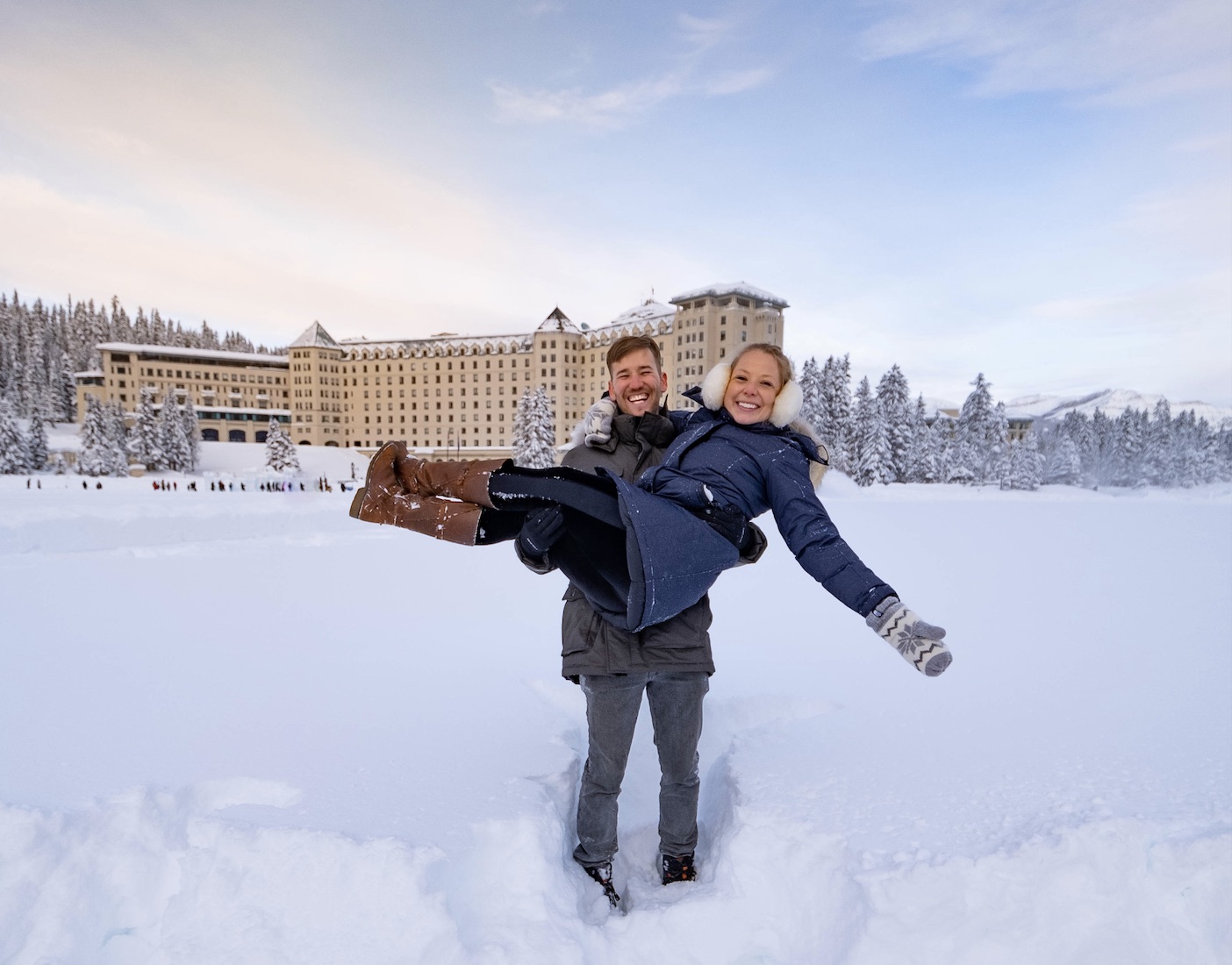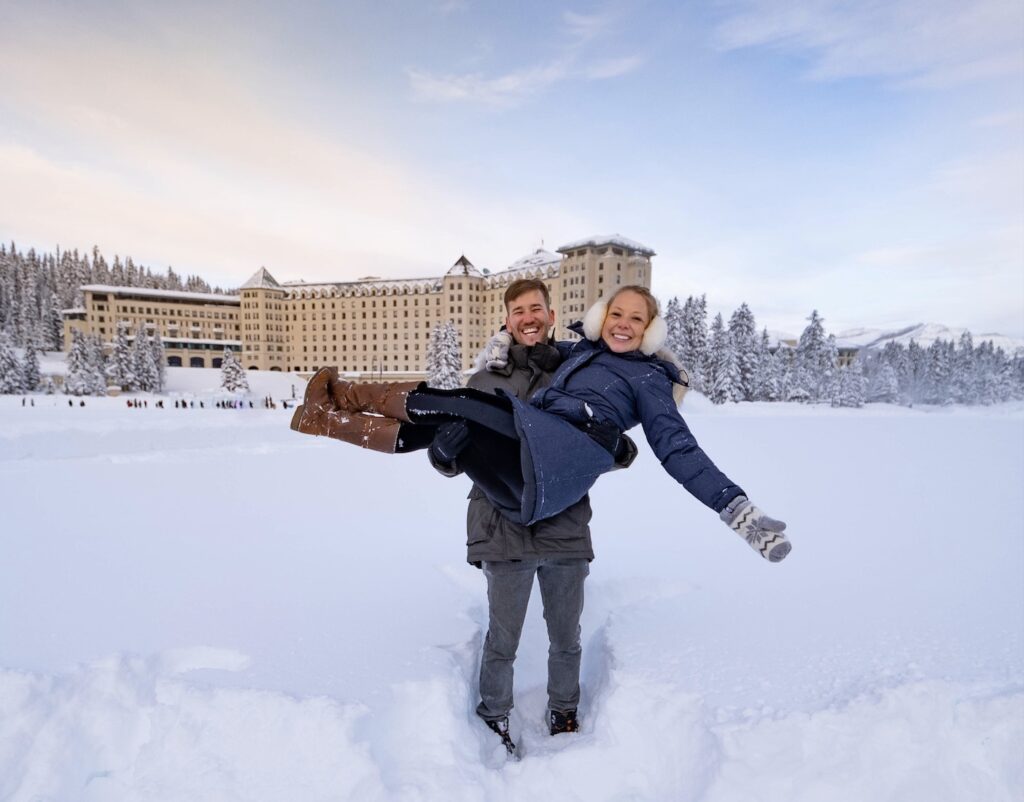 Fairmont Chateau Lake Louise
If you want to stay at Lake Louise and enjoy all the holiday experiences I mentioned above, then the best place to stay is the Chateau. Although this is one of the most expensive places to stay in Banff so save it for one of those once-in-a-lifetime experiences.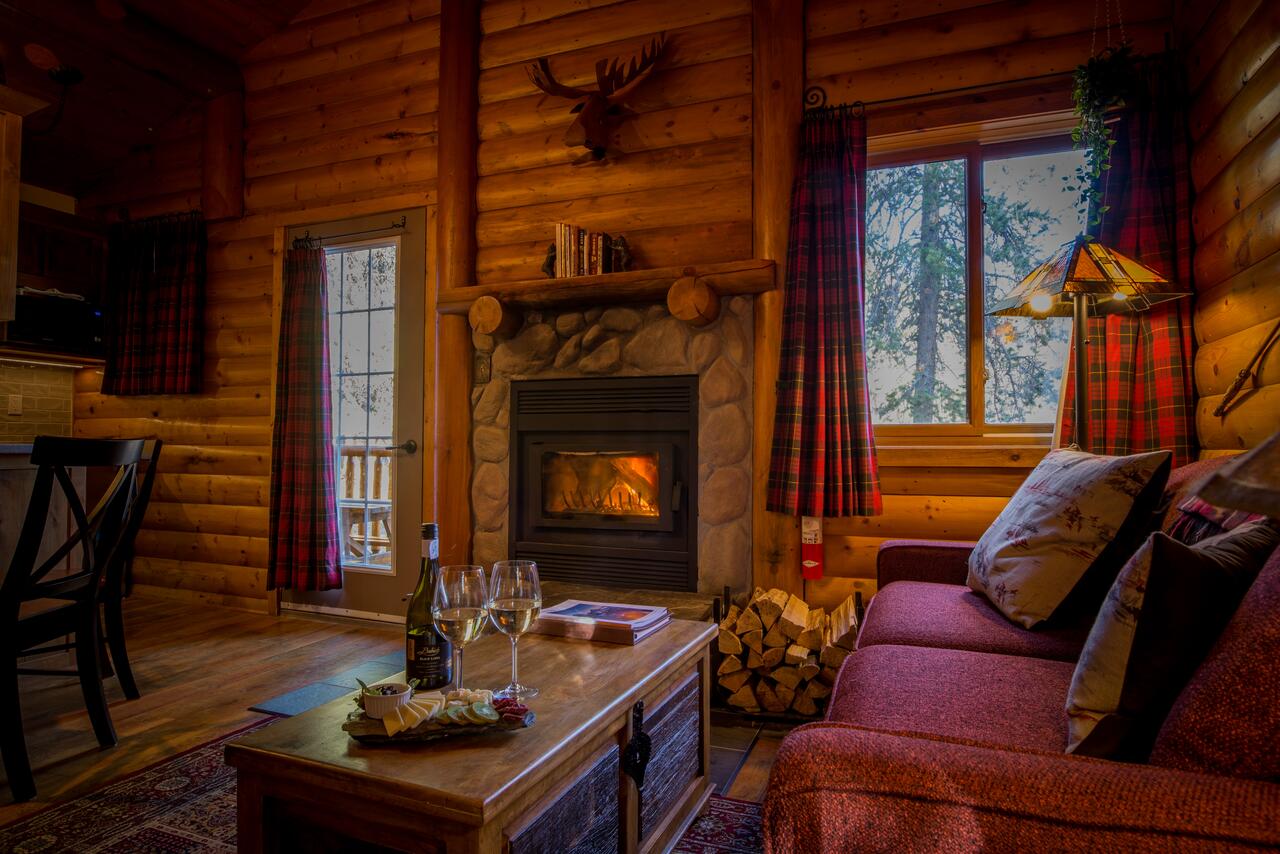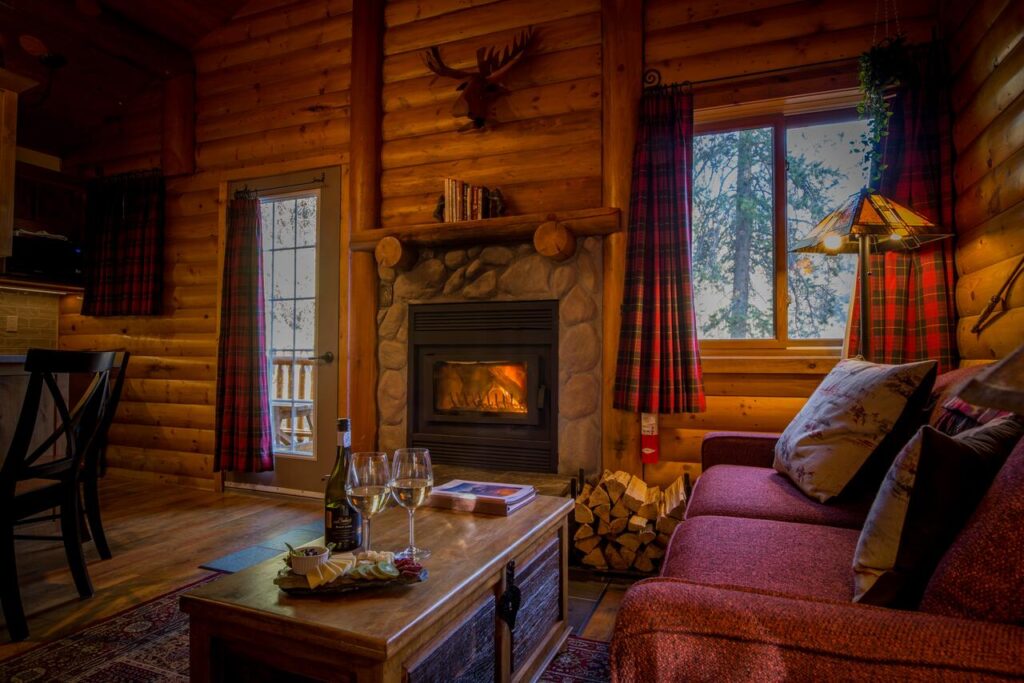 Baker Creek Mountain Resort
In the winter, one of the coziest places to stay is a Banff cabin. Baker Creek Mountain Resort offers some of the best cabins you can enjoy. Stay in a log cabin with friends and family and enjoy playing board games by the fire every night after getting home from an adventure.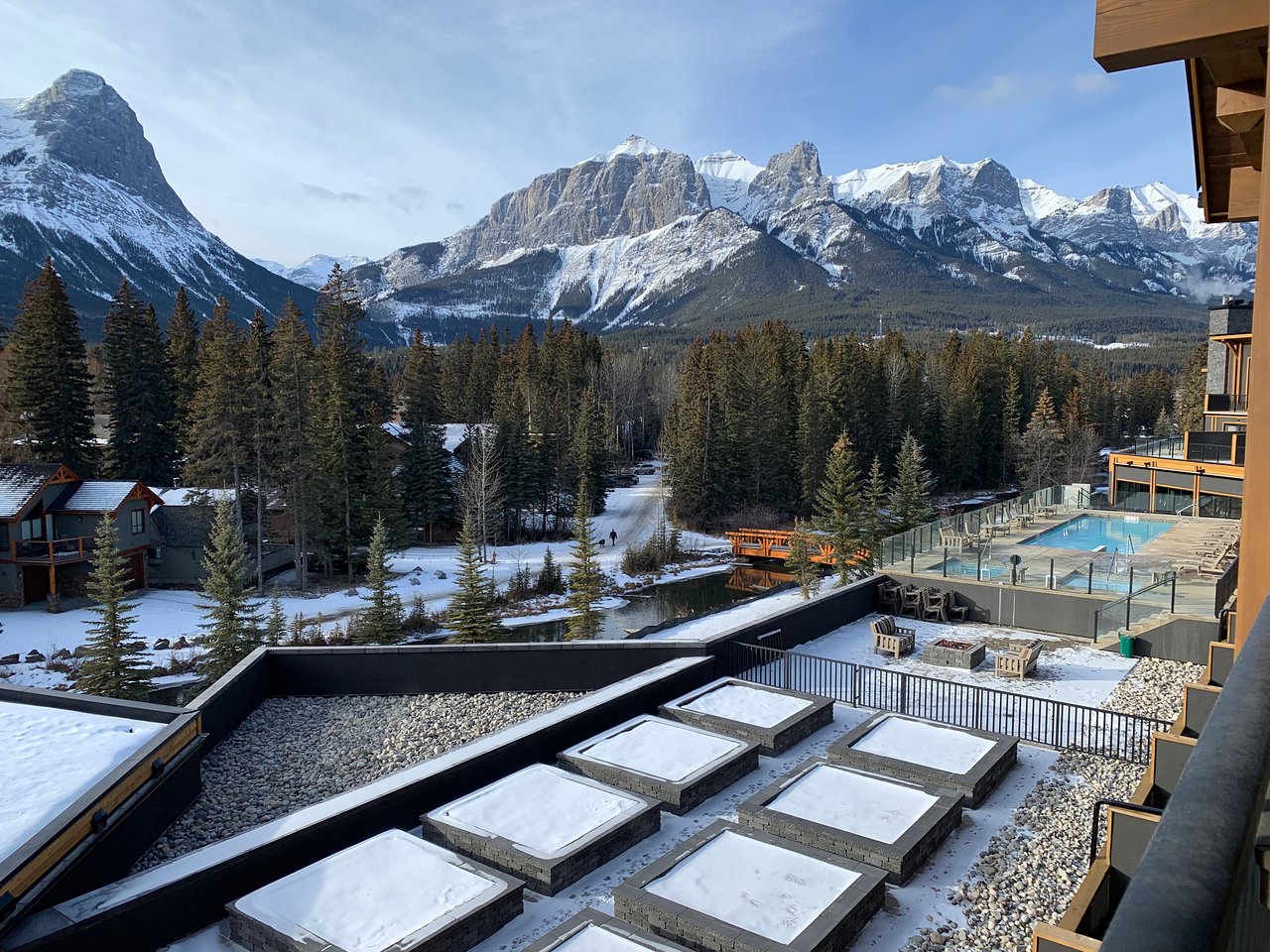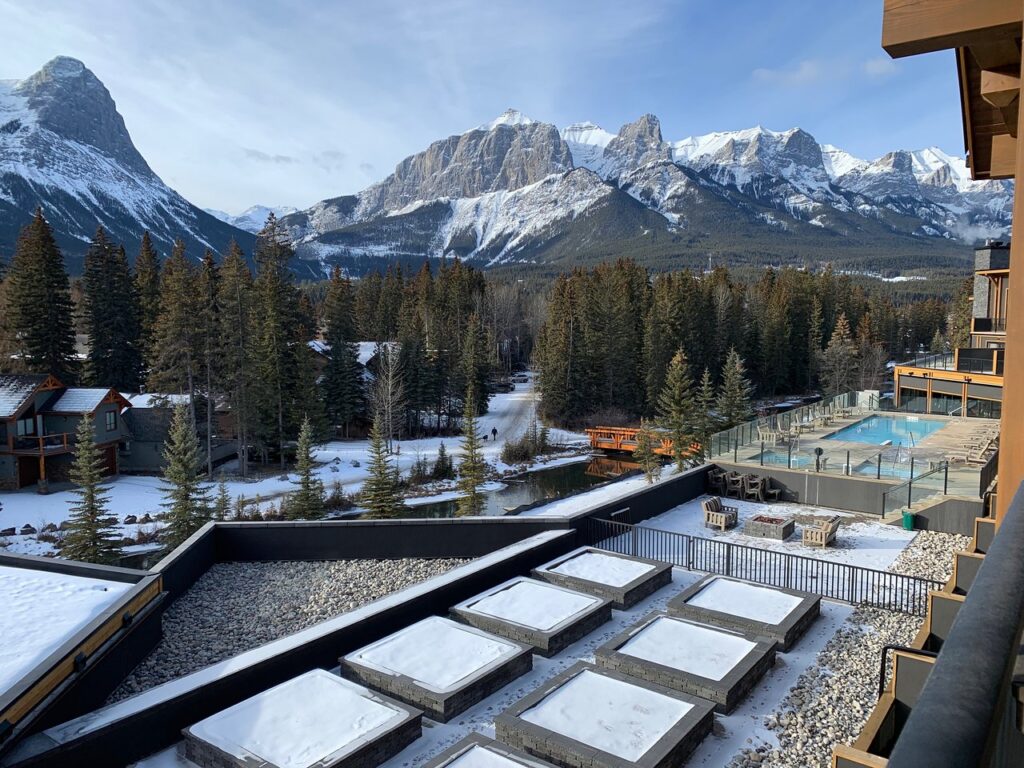 The Malcolm in Canmore
If you choose to stay in Canmore over Banff The Malcolm is easily one of the best hotels in town. They have a heated pool and outdoor hot tubs in the winter with fantastic views out towards the Three Sisters.
Budget Friendly Places to Stay in Banff
In November and early December before the holidays, you can score some excellent shoulder season rates on accommodation in Banff. However as the month goes on and we get closer and closer to Christmas, hotel prices will creep up, and then they will go back down in March.
It's best to book a hotel in Banff well in advance for the holidays. Nevertheless, there are still some great budget-friendly accommodations in the Rockies. Those are:
---
Hopefully, this helped you determine if what to do in Banff in the winter if you don't want to ski or snowboard at the SkiBig3 Resorts!
If you have any other questions leave a comment or see our Canadian Rockies travel guide for more articles about photography spots, lakes, hikes, and everything else.
---
↓ Join the community ↓
The Banff Blog Facebook Group is your headquarters for the Canadian Rockies' travel advice and information. Including hike info and off-season travel information. You can also meet new adventure buddies.

Plan Your Trip to the Canadian Rockies