The Canadian Rockies can turn into a full winter wonderland from as early as October. You read that right; winter typically starts in October and lasts well into late April/early May.
Just because there is snow on the ground doesn't mean hiking season has ended. There are some fantastic Banff winter hikes to enjoy, and getting out on one is one of Banff's best things to do. We're breaking down a few of our favorites that can be done all winter.
Most of these Banff winter hikes are easy and accessible, perfect for anyone to get out and enjoy. The higher you go, typically above the treeline, the more complex the terrain gets, often putting you into avalanche territory. We've veered from mentioning any super difficult hike or anything with complex terrain.
Hiking in the winter can be hazardous, especially if you are new to the Rockies. Rest assured, knowing these Banff winter hikes are well-trafficked and all on the safer side!
---
Easy Banff Winter Hikes
---
Marsh Loop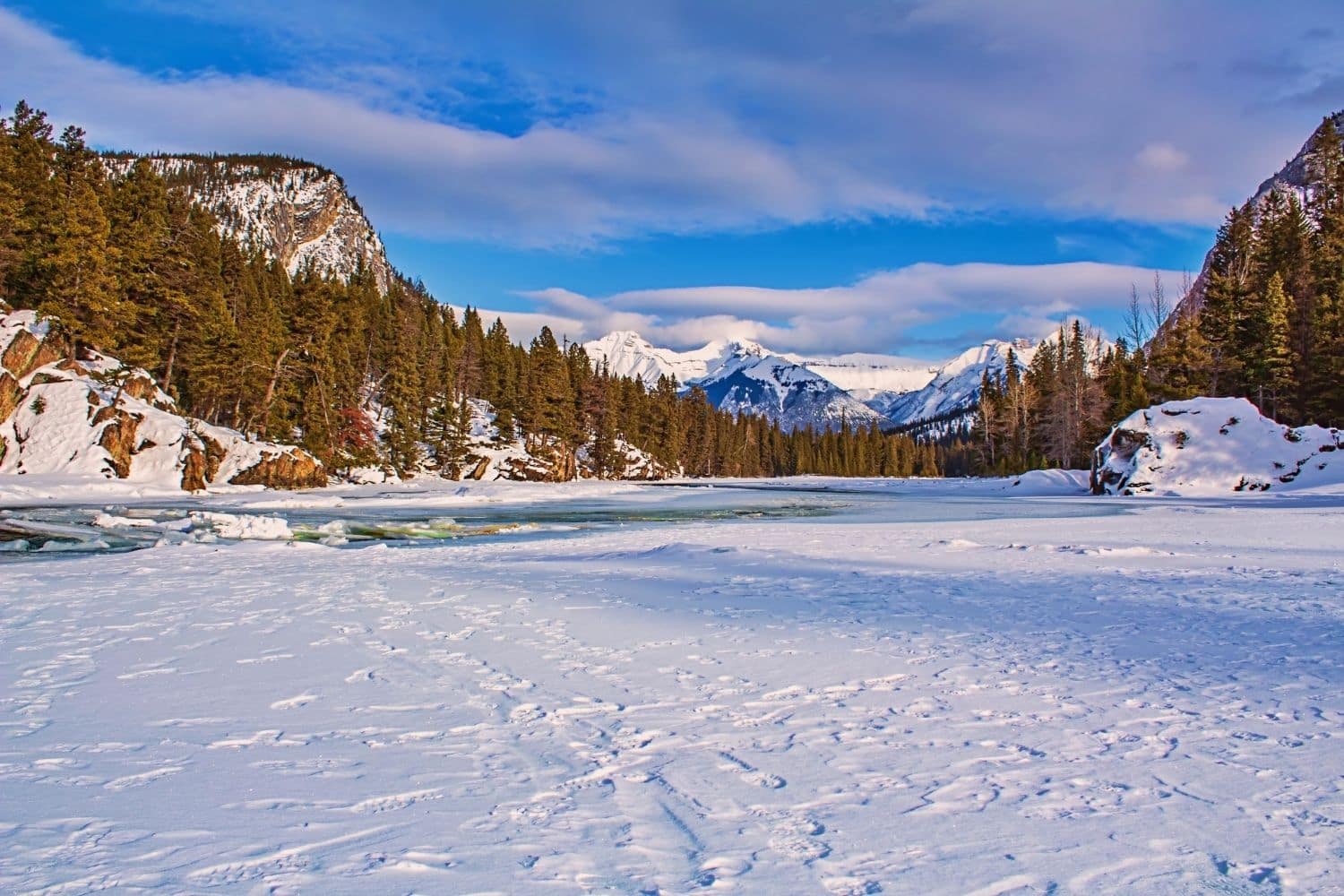 This is a fantastic low-key walk in Banff that is great for those that want to hike on marked walkways and observe nature along the Bow River. Along the walkway, you'll find informative plaques about the local fauna and birdlife.
You'll get great views of the Sundance Range and Cascade Mountain ahead. It's a great Banff winter hike for young children and those with limited mobility.
---
Fenland Trail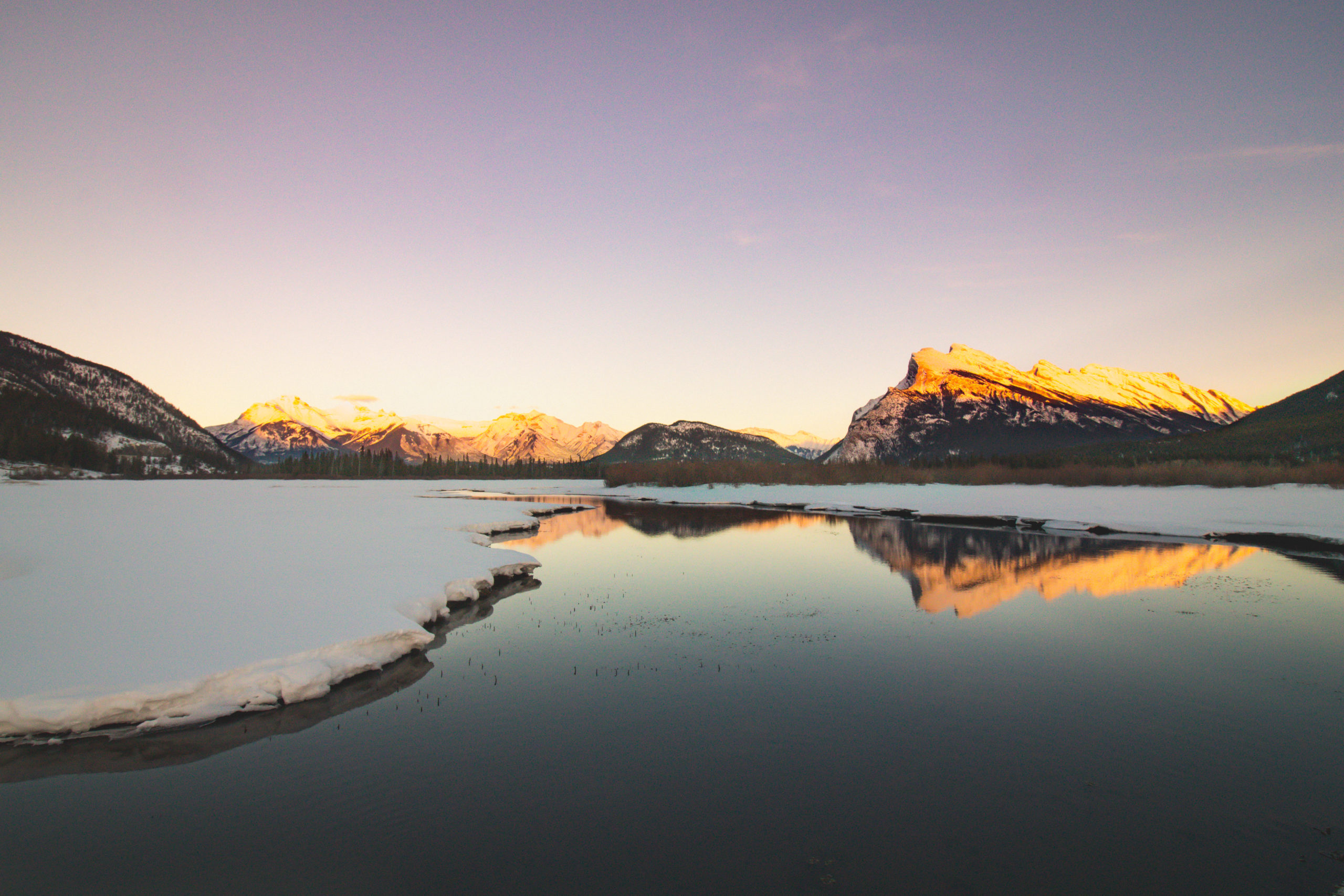 Trailhead: Fenland Trail parking lot
Distance: 2.1 km loop
Elevation: 55 meters
Time: 30 minutes
The Fenland Trail is one of the most leisurely hikes in the area and makes for a quick way to stretch the legs with the possibility of seeing elk here! The trailhead begins along Mount Norquay road, right before the Banff Monument sign. From here, the walk is pretty straightforward along a flat looped trail through the forest.
This trail is well forested, so it's not the best Banff winter hiking trail for views. However you may get lucky and see some small mammals. For a slightly longer hike, we recommend heading out to take in the views of Mount Rundle from the Vermilion Lakes viewpoint on Vermilion Lakes Drive.
This trail can get particularly icy and microspikes are recommended!
---
Tunnel Mountain Hoodoos Trail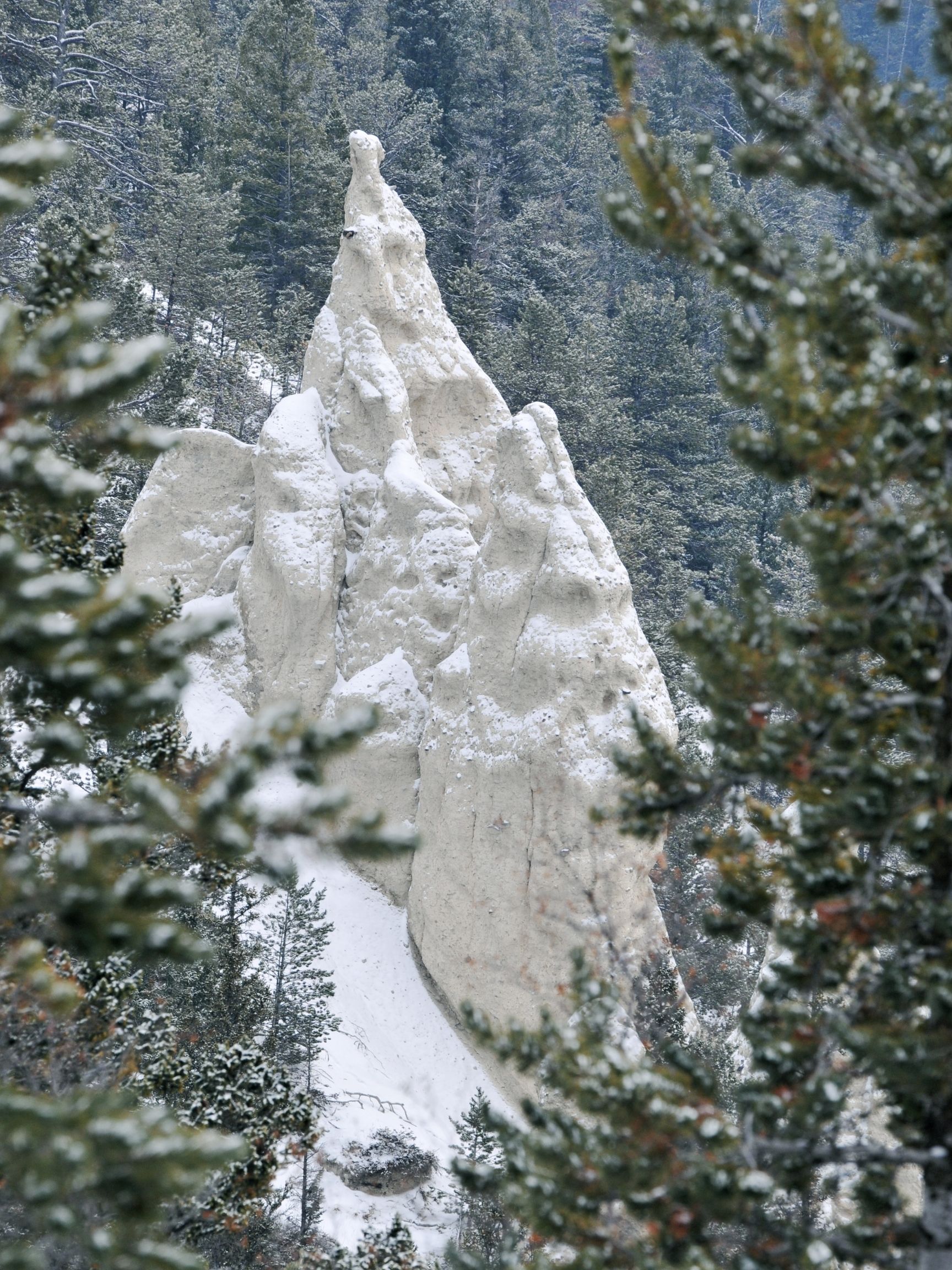 Trailhead: Douglas Fir Resort Parking Lot
Distance: 5.8 km
Elevation: 250 meters
Time: 2 hours
Head out on the Hoodoos trail to see Banff's excellent geological features. This trail provides impressive viewpoints over the Bow Valley, Tunnel Mountain, and Mount Rundle, but what you are really on this trail for are the hoodoos. You don't have to put too much effort into seeing these spires of eroded rock!
You can also start this hike from the Surprise Corner viewpoint for a slightly longer walk. Leaving from Surprise Corner is the more popular way to hike to the hoodoos.
---
Lake Louise Lakeshore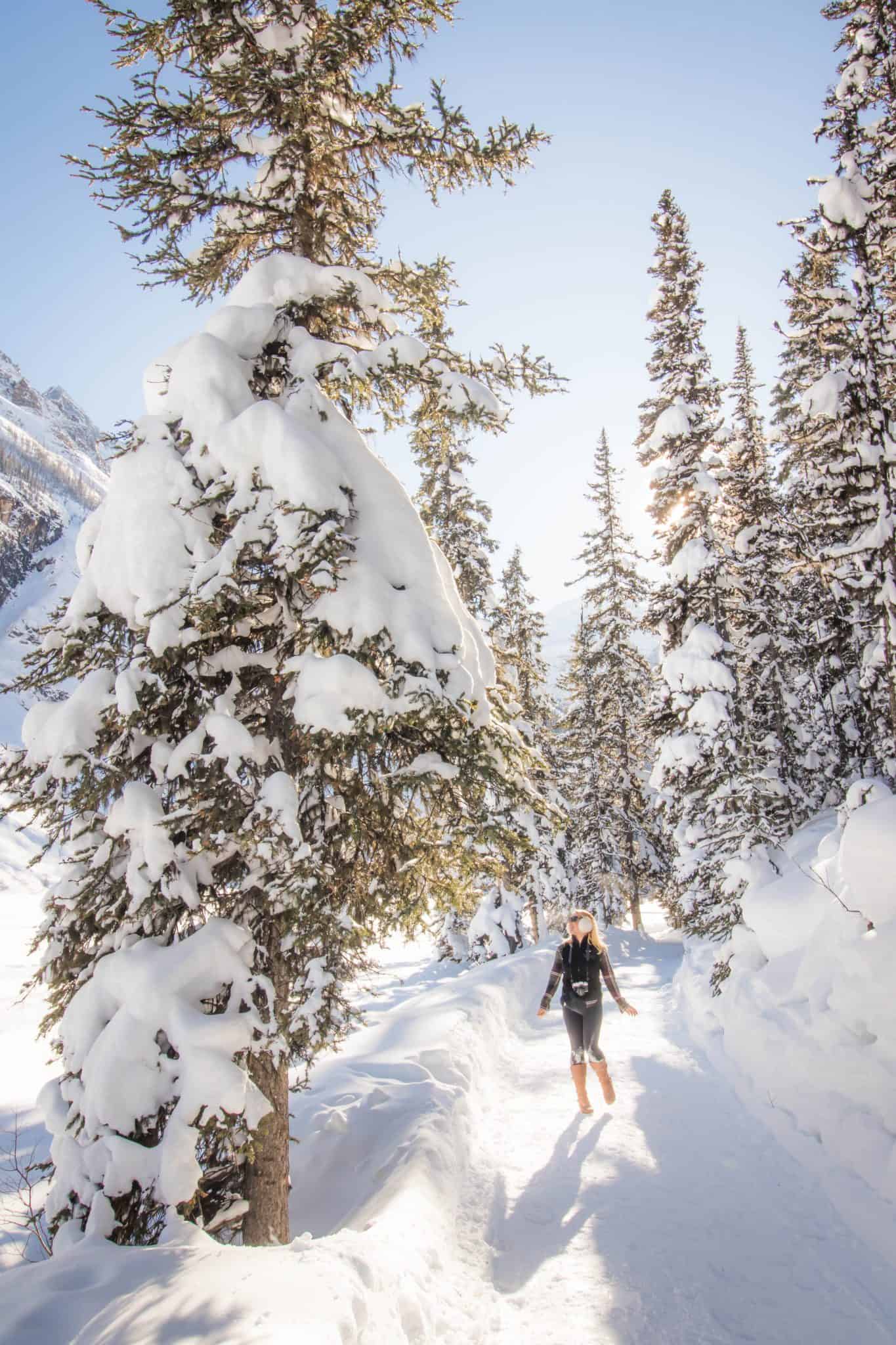 Trailhead: Lake Louise
Distance: 2 km loop
Elevation: minimal
Time: 1 hour
One of the most mellow things you can do in Lake Louise in winter is walk around the Lake Louise lakeshore. Most visitors to Lake Louise don't actually venture past the Chateau, but you can get some great views by walking around the path that skirts Lake Louise. I love walking the path in the winter, as it truly feels like walking in a winter wonderland.
When you get to the end of the lake you'll get views of Lake Louise falls, and possibly see the ice climbers in action. You'll see some trails towards the Plain of Six Glaciers Teahouse, but in the winter, this trail falls into Class II avalanche territory, and you should not continue without avalanche training and gear (beacon, probe, and shovel).
The Lake Louise Lakeshore is one of the best Banff winter hikes and is well worn, so there's no need for snowshoes, and I've never encountered it to be icy either!
---
Fairview Lookout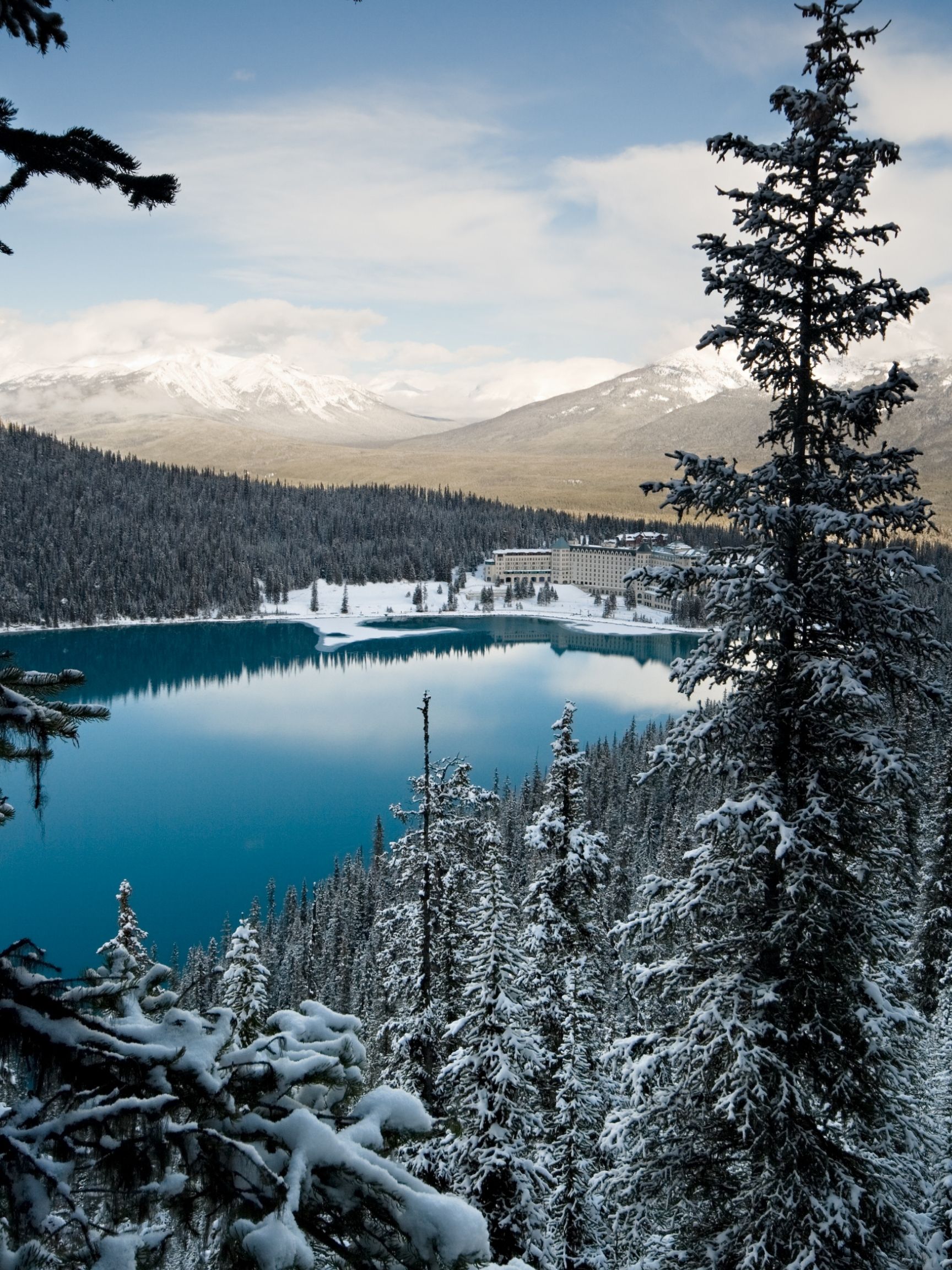 Trailhead: Lake Louise
Distance: 2.4 km
Elevation: 165 meters
Time: 1 hour
The Fairview Lookout trail is a short, sweet Lake Louise hike that provides great views over Lake Louise from elevation. It's a great option if you want to escape the crowds at the Lake Louise lakeshore and want to get a fantastic view over a winter wonderland.
The hike's highlight is an excellent platform that also provides views back out to the impressive and historic Chateau Lake Louise Hotel. Don't expect the view on the way up as it's all forested, but the lookout platform from the top is a lovely view worth the effort.
---
Johnson Lake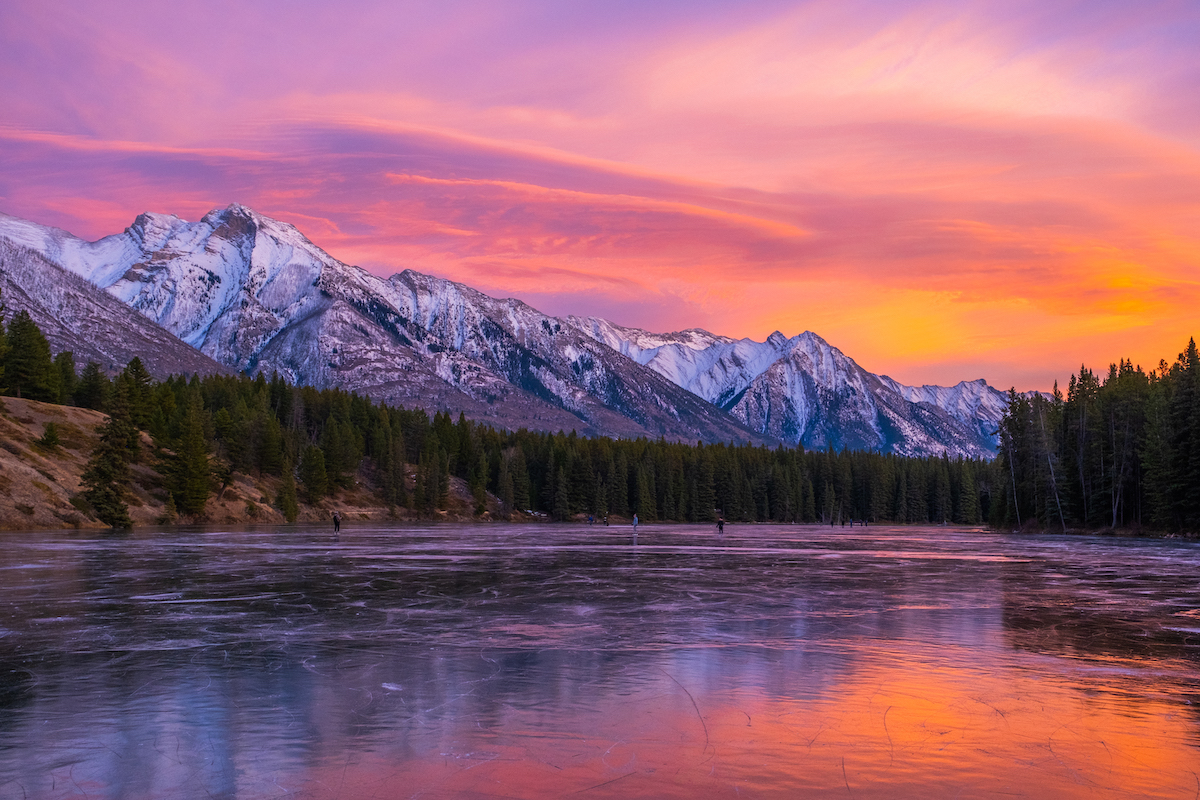 Trailhead: Johnson Lake Parking
Distance: 3.1 km
Elevation: 60 meters
Time: 1 hour
Take a nice stroll around Johnson Lake and enjoy the mountain scenery. It's a straightforward walk with an even elevation and makes for a great evening or morning walk as it's not too far from Banff town.
The trail works its way through the forest and offers some astounding views out over the lake back to Cascade Mountain looming high above. The lake is tranquil and a great place to ice skating in Banff when the lake freezes over.
---
Moderate Banff Winter Hikes
---
Johnston Canyon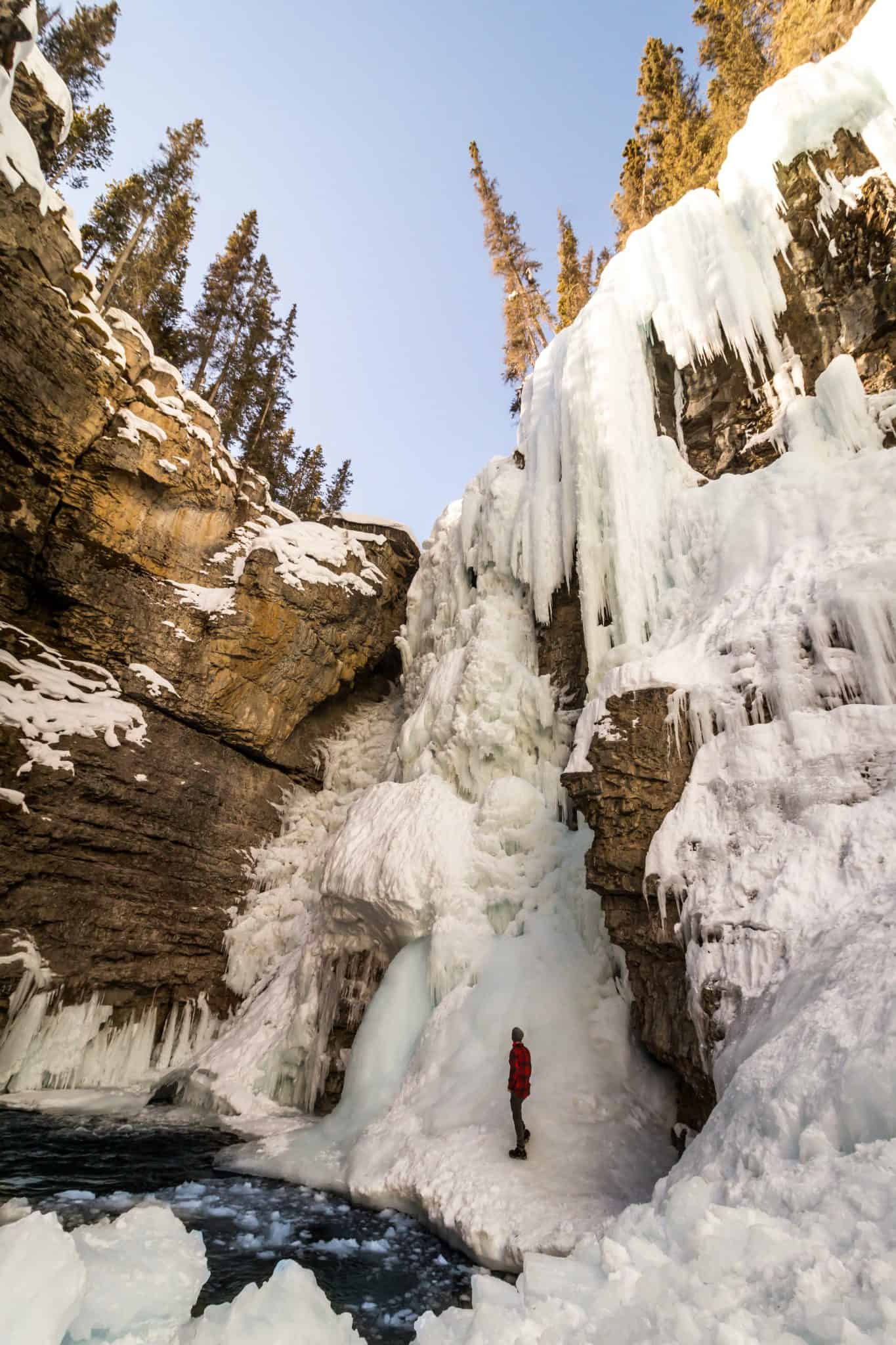 Length: 11.7 km
Duration: 2-4 hours
Elevation Gain: 608 meters
Parking: Jonhston Canyon Parking Lot
The Johnston Canyon walk is the best thing you can do in Banff in the winter. Even though it's one of the busiest trails in Banff, it's truly magical. During the winter, the area sees significantly less tourism than in the summer, but it's still popular, so you'll want to try and visit on weekdays in the morning if possible.
If you want to see a frozen waterfall before you'll want to hike to the end of the Johnston Canyon trail to see the upper and lower falls. If you're lucky, you may get to see some ice climbers in action here! The Johnston Canyon Trail follows a well-maintained pathway with a gradual elevation gain. Though it's incredibly icy in the winter and microspikes are recommended for this one.
If you time your visit right and hike to Johnston Canyon after a fresh snowfall, you'll be in for a real treat. After you are finished with your hike, make sure to stop by the Johnston Canyon Lodge for hot cocoa!
---
Tunnel Mountain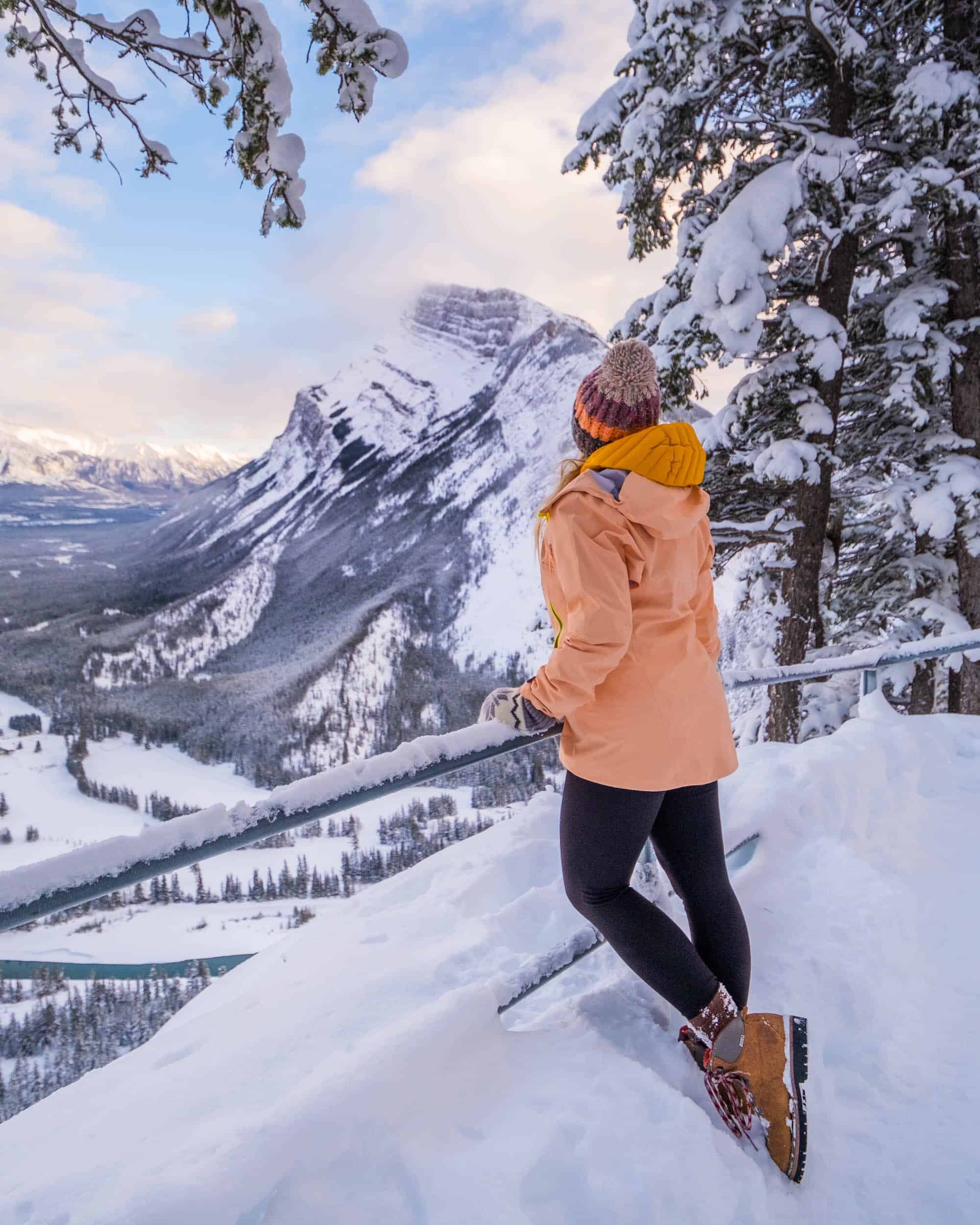 Length: 4.5 km.
Duration: 1 hour+
Elevation Gain: 266 meters
Parking: Three official parking lots or Banff Town Center.
Tunnel Mountain is one of the best Banff winter hikes because it's right in the heart of Banff. It's beloved by locals for its accessibility, and you can snowshoe or easily hike to its peak in the winter. It may be one of the smallest mountains in Banff National Park, but it still offers tremendous views of Mount Rundle and the surrounding valley.
This Banff winter hike moves slowly up the mountain through several switchbacks and offers various viewpoints out into the Bow and Spray Valleys. It's great for sunrise or sunset and never disappoints. Most days, it's possible to hike the path without snowshoes as it only takes a day or two after a fresh snowfall for a well-trodden trail to get packed.
Continue on to the end of the trail to see the Town of Banff below. Along the way, make sure to keep your eyes open for views of the Banff Springs Hotel.
---
Mirror Lake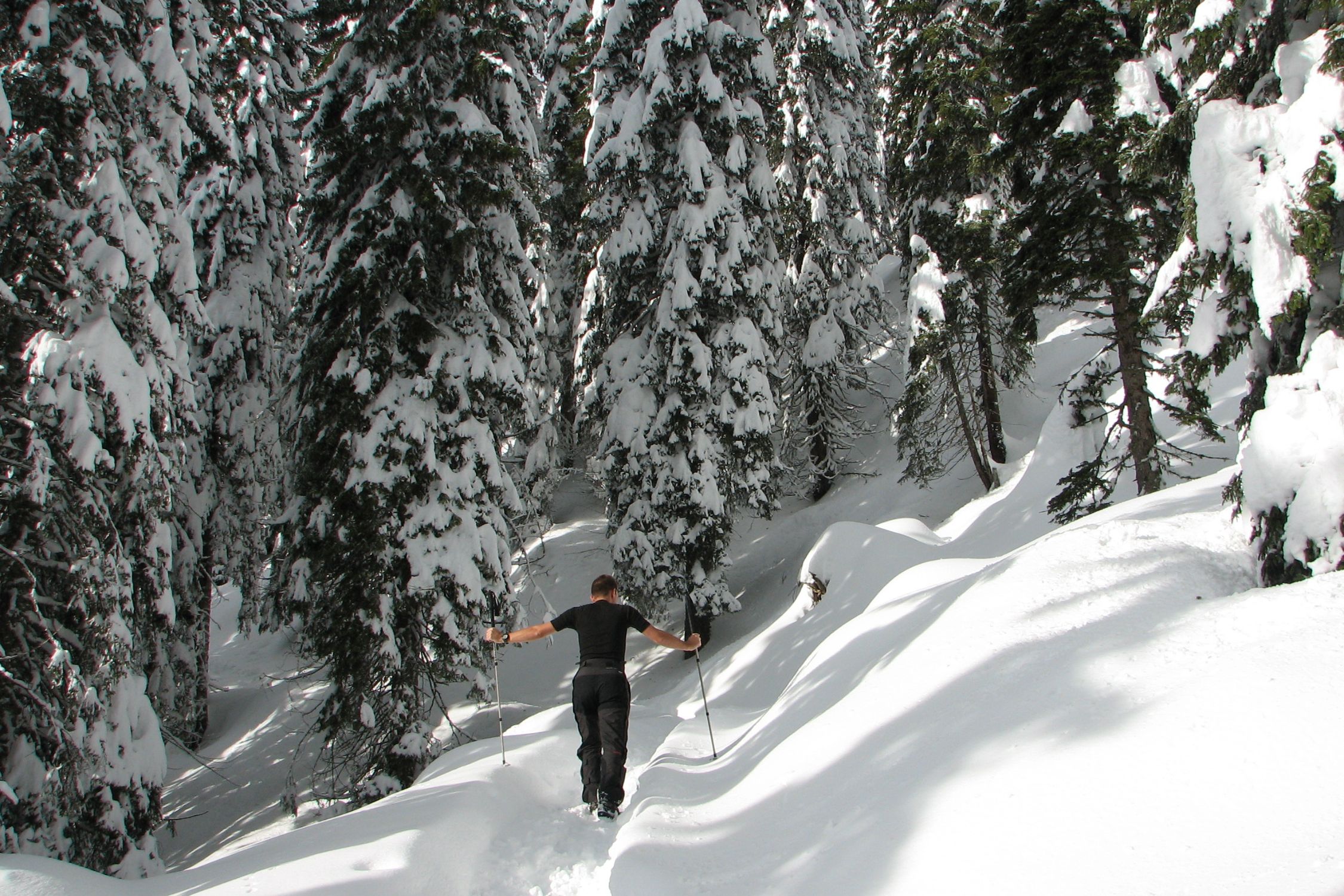 Length: 9 km.
Duration: 3-4 hours
Elevation Gain: 433 meters
Parking: Lake Louise
A fantastic and short hike is up to Mirror Lake from Lake Louise. In the summer this trail to Mirror Lake is incredibly popular as it is the trail that also leads to Lake Agnes. Though in the winter, very few venture up to it.
Reaching Mirror Lake will involve hiking a distance of 6 km and over 400 meters. Once you reach Mirror Lake, enjoy a packed lunch with views of the Big Beehive right ahead of you! You can either make this an out and back hike, or continue on the snowshoe route for a full loop.
We don't suggest continuing onward to Lake Agnes unless you have proper avalanche training and gear.
---
Sulphur Mountain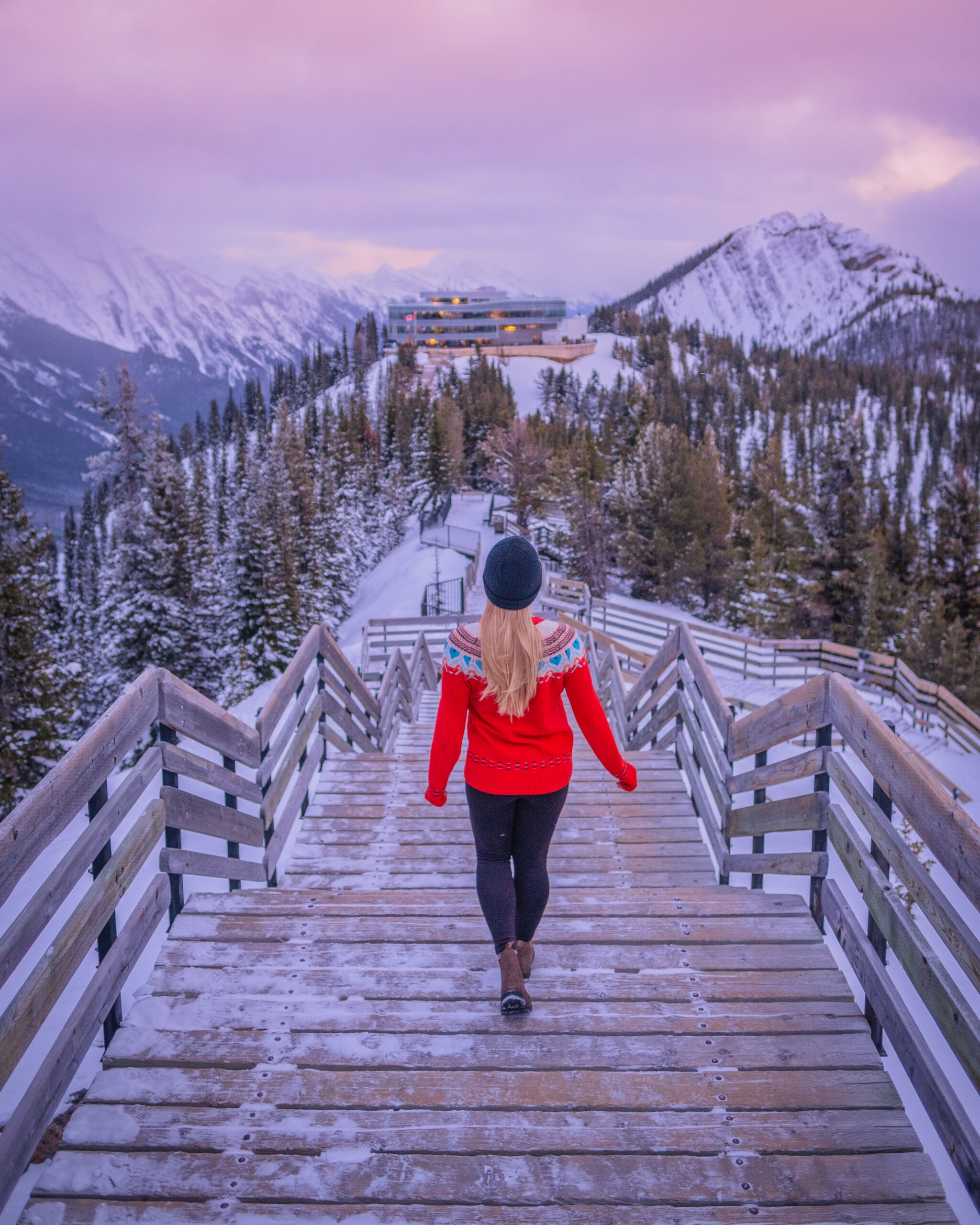 Length: 10.1 km
Duration: 2 – 4 hours
Elevation Gain: 744 meters
Parking: Banff Gondola / Hot Springs
Sulphur Mountain is easily one of the most popular hikes in Banff National Park. It's a beautiful hike up that provides visitors with astonishing views over the Bow Valley and Spray Valley.
The trail leaves from the Banff Gondola or Banff Hot Springs parking lots and follows a series of switchbacks up Sulphur Mountain until reaching the Gondola Station. Follow the boardwalk along the ridge to the peak and stunning views out across the valley and Cascade mountain.
Although you can easily hike up here, many people love to get their snowshoes out to enjoy the winter scene.
Due to its proximity to Banff town, and the fact that you can take the Banff Gondola up to the peak instead of sweating it out on the trail means that Sulphur mountain becomes very busy, particularly the peak on weekends.
---
Advanced Winter Hikes in Banff
---
Taylor Lake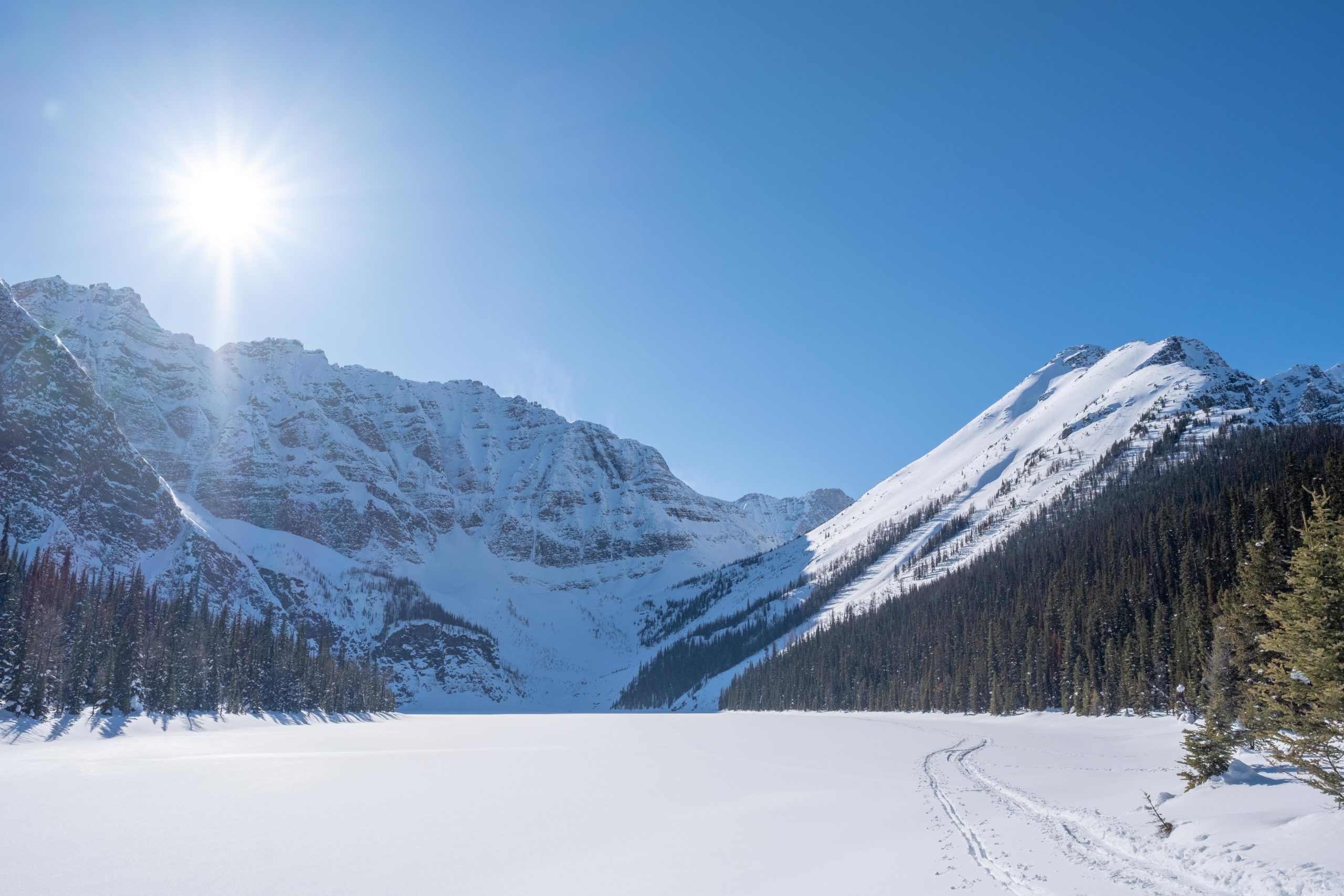 Length: 14 km
Duration: 5-7 hours
Elevation Gain: 924 meters
Parking: Taylor Lake Lot
This is one of the more audacious Banff hikes you can tackle as it is 7 km one way and climbs nearly 1,000 meters in elevation. The lake sits at the base of Mt Bell and opens up to some spectacular views. It's a really serene place and a fantastic day out in the mountains of Banff for active visitors who come to Banff in the winter.
Continue on the trail and enjoy the nearby Panorama Meadows as the widely spaced trees and piles of snow feel like another world. The one downside to this hike is that the vast majority takes place in the forest so there isn't much for views until the end. It's a great payoff when you reach Taylor Lake though!
Trail conditions can be pretty mixed. Some days it's possible to hike all the way to Taylor Lake; other days it'd be near impossible to reach without snowshoes. We recommend snowshoes as it's best not to posthole (make deep footsteps) as skiers don't appreciate a ruined trail. Also, it allows you to explore the meadow or walk on the lake. The surrounding slopes are avalanche terrain, so you do not want to be near the runout.
Speaking of skiers, Taylor Lake is very popular for backcountry ski and snowboard, and you will see tracks from those touring going up Panorama Peak and through the meadows.
Don't follow their tracks uphill in these areas as they enter avalanche terrain, and you should have avalanche training and gear (beacon, probe, and shovel).
As you make your way up or down the trail, keep an eye/ear out for descending skiers as they can move fast down the trail.
---
Hiking in Banff Winter Safety
---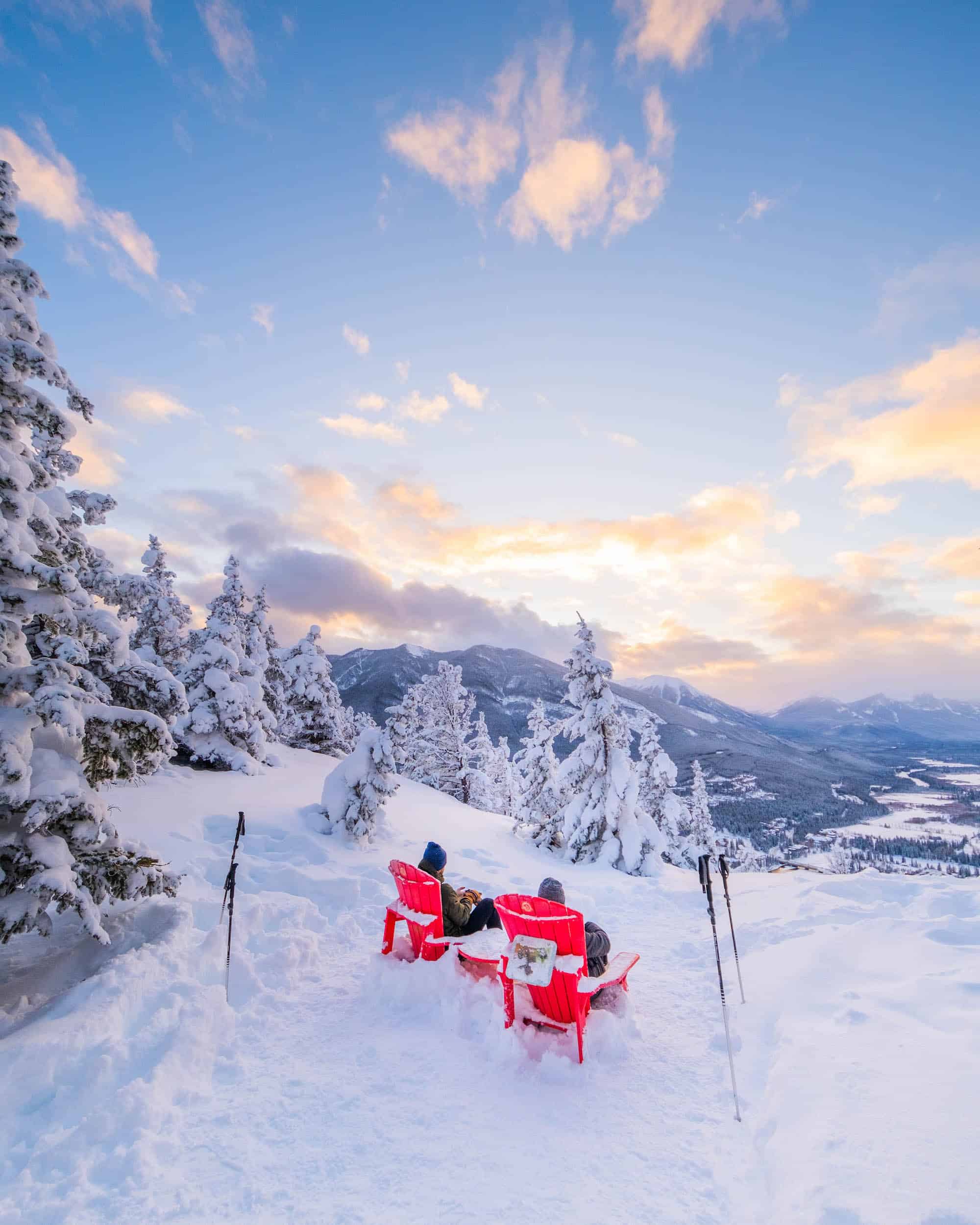 You are responsible for your own safety while winter hiking in Banff. Hiking in the winter and spending time in the wilderness can have serious consequences so always remain prepared.
Check Parks Canada or Avalanche.ca for up to date details on trail conditions and the avalanche forecast.
Be aware of the terrain you are hiking into and only venture into avalanche terrain if you have had avalanche training and gear. Learn the basics from Avalanche Canada, but if you want to do extensive winter hiking in complex terrain it's best to take a AST1 course. The trails noted in this article are not in avalanche terrain, unless you venture past the main destination (like Taylor Lake).
Don't forget the bear spray. Just because there's snow on the ground doesn't mean the bears are tucked in sleeping for the winter. Bears can awaken at any time.
Keep in mind that days are short in the winter, especially in December. It's best to start earlier in the day rather than later so you have ample time to complete you hike.
When trails are icy a pair of poles and microspikes will come in handy. They are a great investment and I keep them in my backpack during any hike in the winter.
Pack emergency layers, we always have an extra layer in case we need to weather the cold. It's also best to pack extra snacks and a emergency blanket should the worst happen.
Let someone know where you're heading in case of an emergency.
There are a lot of winter hazards to be aware of such as avalanches, disorientation, thin ice, hypothermia, and frostbite. It's freezing in Alberta, especially at night.
Most of the hikes mentioned on this list have cell phone service, but some don't, a Garmin Inreach is a valuable asset if you plan to hike a lot.
---
What to Wear for Banff Winter Hiking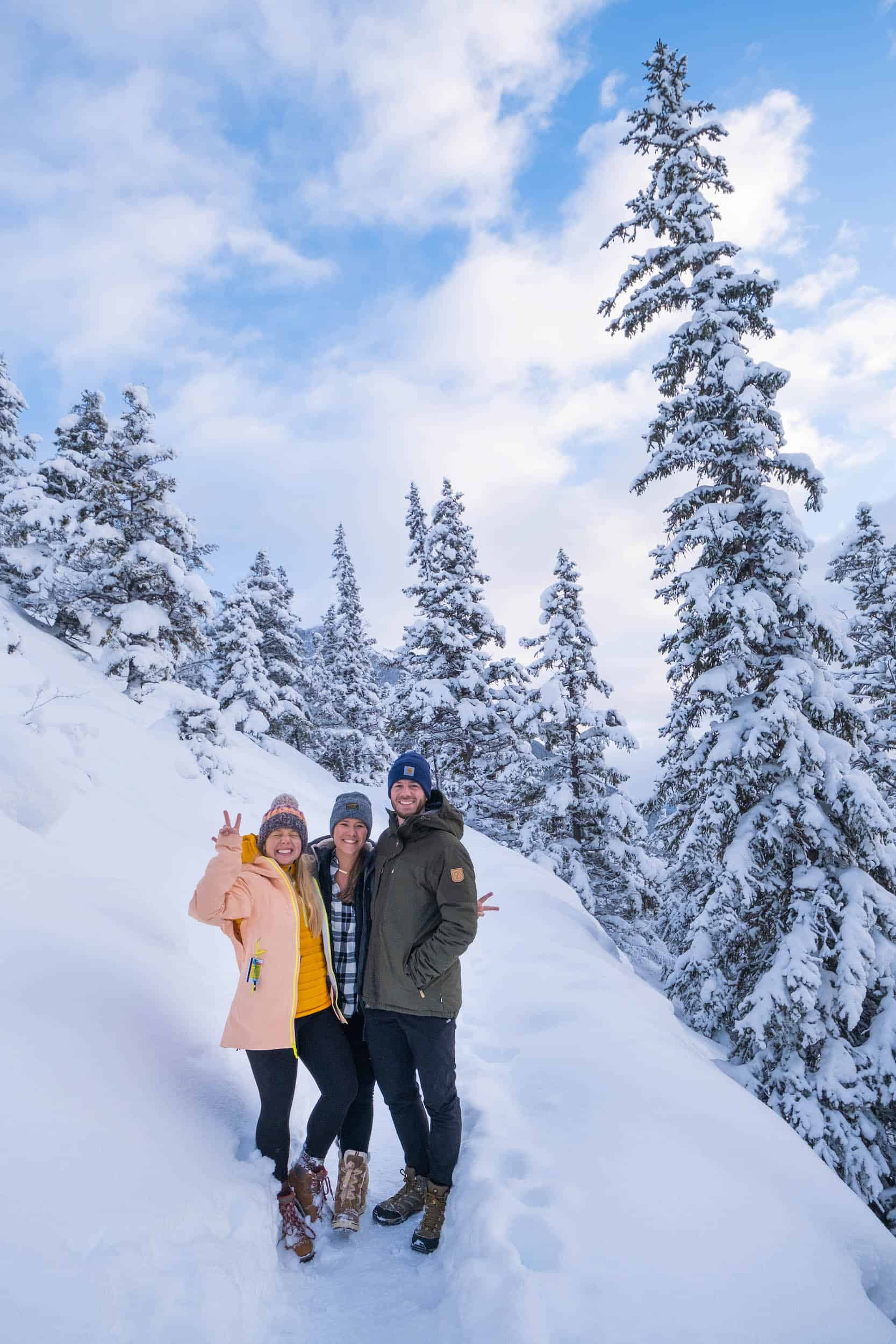 Pack for winter in Banff when preparing for your hike. We dress in layers when heading out in the mountains. Here is a general list of what you should bring:
Snacks and protein bars
Bear Spray
First aid kit
Emergency blanket
Sunscreen and sunglasses
Headlamp
Hand warmers
Hat, mittens, and neck warmer
Lined tights/leggings/shell pants
Goretex hiking boots
Cell phone and Garmin In Reach
---
Wildlife Awareness in Banff in Winter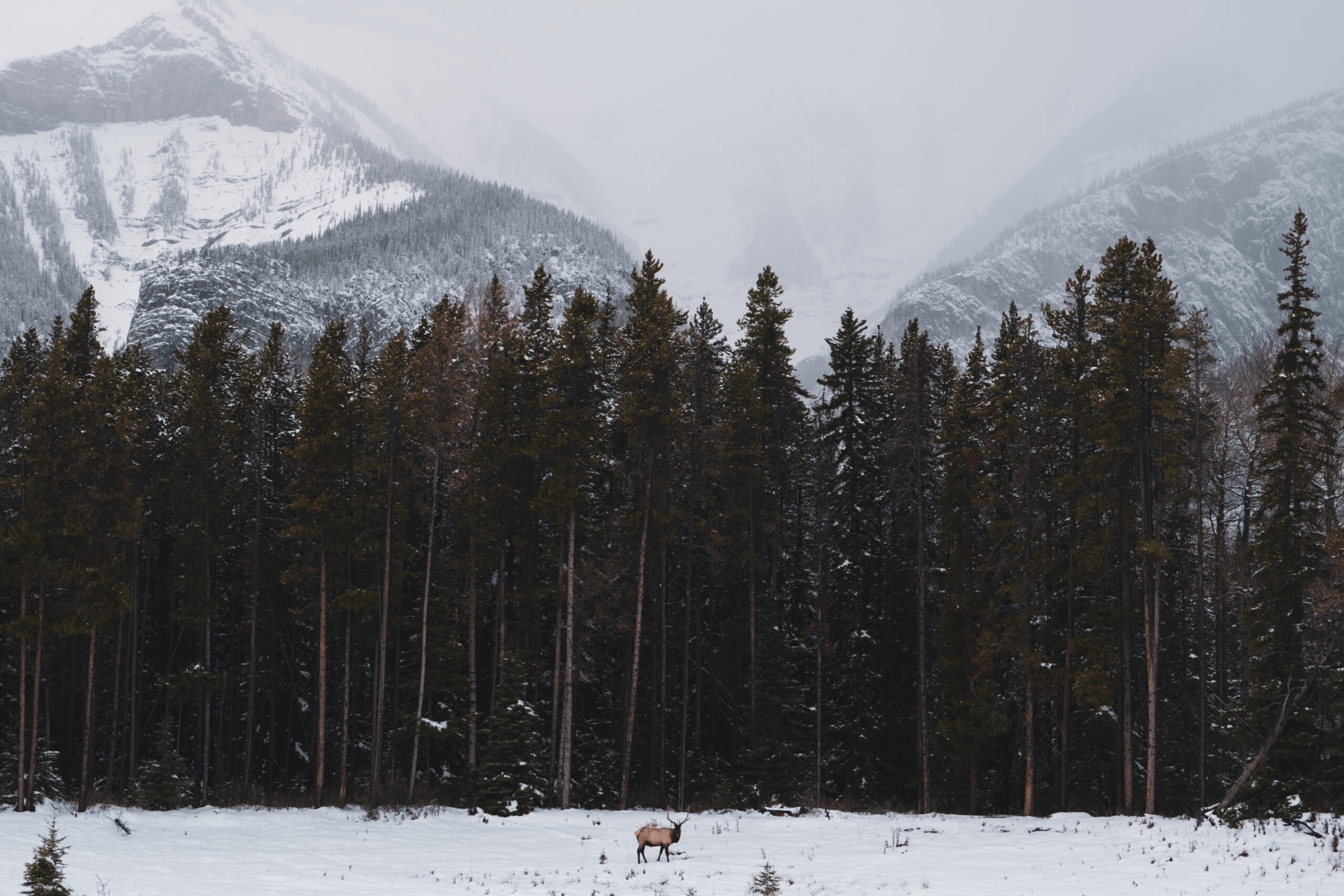 Although it's winter, I still like to have bear spray on me while hiking in the winter. They can awaken at any time. Cougars, coyotes, wolves, and moose stay active throughout the year. Keep your eye out for foxes, elk, deer, and owls as well!
If you see wildlife, do not approach it. Give them lots of space and don't make them change their course.
---
Where to Rent Microspikes in Banff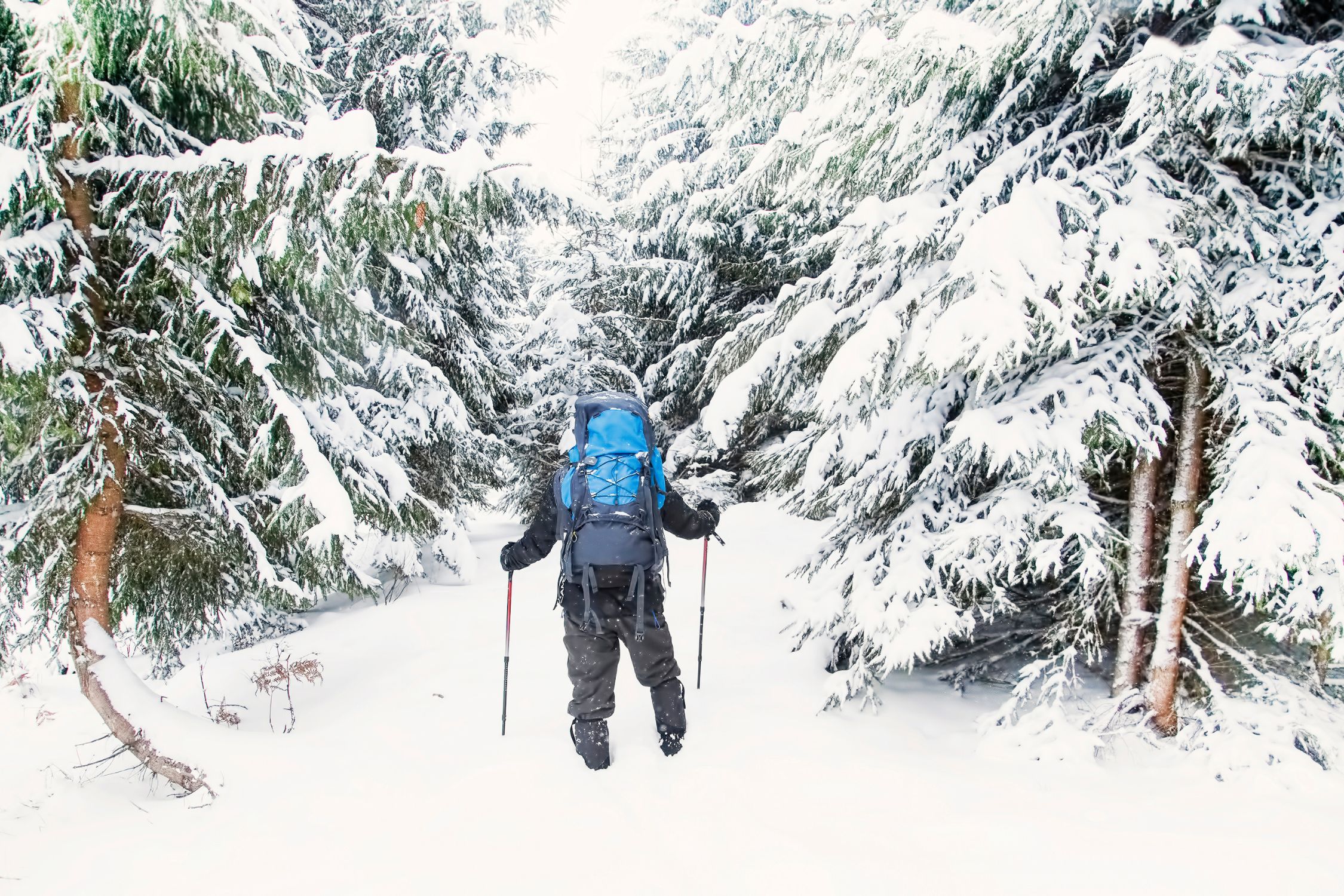 There are a few areas in Banff, Canmore, and Lake Louise to rent microspikes which come in handy hiking in the winter. If you think you will be hiking a lot, it's worth it to buy a pair at Canadian Tire in Canmore or beforehand online on Amazon. They are inexpensive and will last you years.
Banff Rentals
Banff Adventures
Chateau Mountain Sports
---
Hopefully, this helped you determine what Banff winter hikes to complete.
If you have any other questions leave a comment or see our Canadian Rockies travel guide for more articles about photography spots, lakes, hikes, and everything else.
---
Plan Your Trip to the Canadian Rockies
---
↓ Join the community ↓
The Banff Blog Facebook Group is your headquarters for the Canadian Rockies' travel advice and information. Including hike info and off-season travel information. This is also where you can meet one another when you need adventure buddies.