Peyto Lake is one of the most famous lakes in Banff National Park. It's a turquoise blue glacier-fed lake 40 km north of Lake Louise and a popular stop on the famous Icefields Parkway. The brilliant display of blue is fed by the Peyto Glacier high above the lake and part of the Wapta Icefield.
The viewpoint is one of the most spectacular in all of Banff National Park and a super popular spot for photographers. Peyto Lake, in our opinion, competes for beauty with Moraine Lake without as many visitors. There is little mystery as the lake's viewpoint is a must for things to do in Banff.
---
All You Need to Know About Visiting Peyto Lake
---
Can You Visit Peyto Lake?
The Government of Canada has invested $2.9 million CDN to support infrastructure work at Peyto Lake. This money went to adding more parking to help with congestion, replacing old restrooms, adding new signage, and expanding the viewing platform.
After almost two years of closure, the Peyto Lake parking lot, walking path, Bow Summit, and viewpoint are now open! So if you have had Peyto Lake on your bucket list, you can finally go and see it!
When you visit you can expect an improved viewpoint, regarded trail, 126 regular parking spots and 11 RV spaces, and a year round restroom (previously drop toilets). Many of these improvements went to preserving and safeguarding the ecology around Peyto Lake.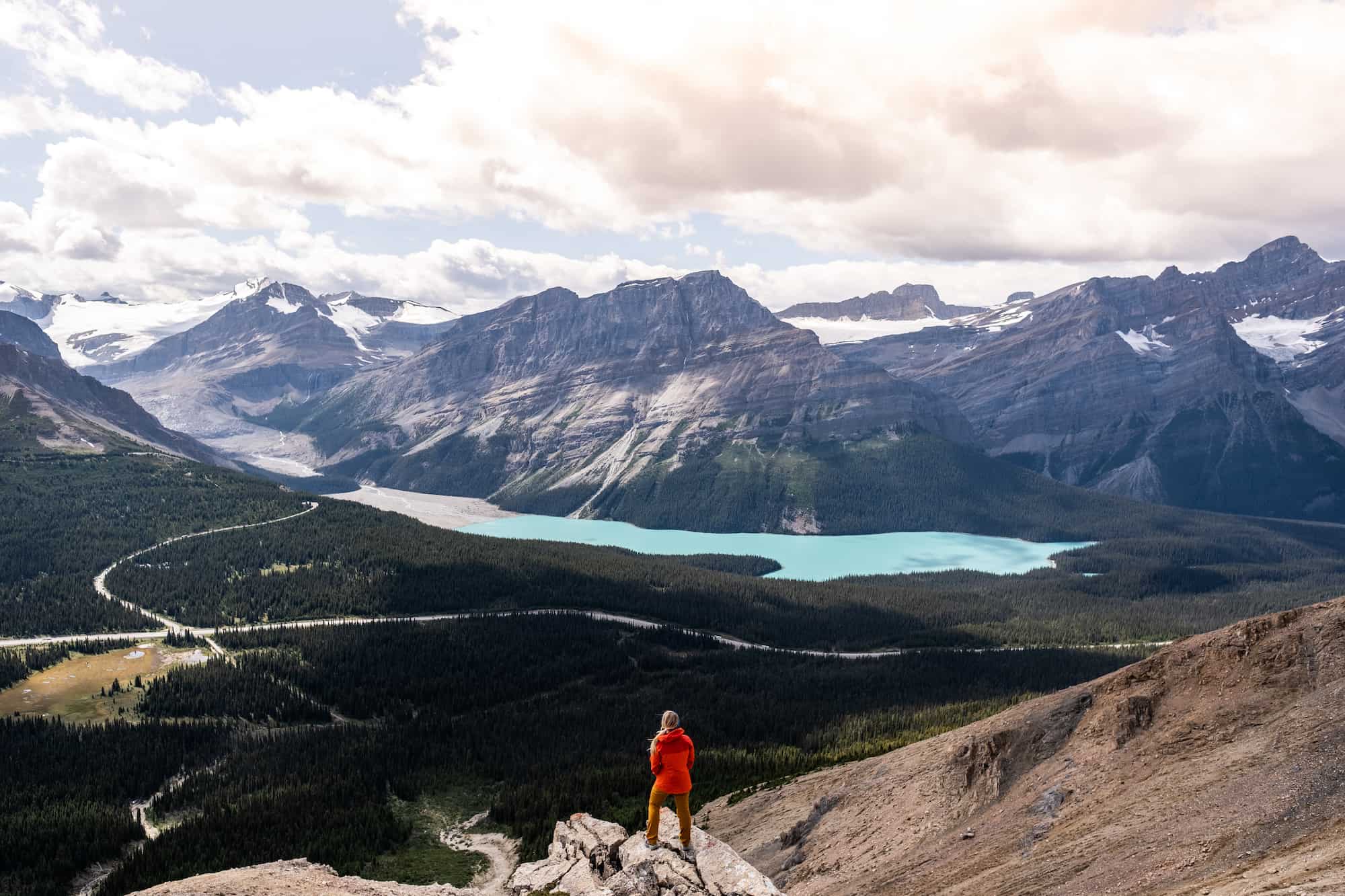 ---
Why is Peyto Lake Blue?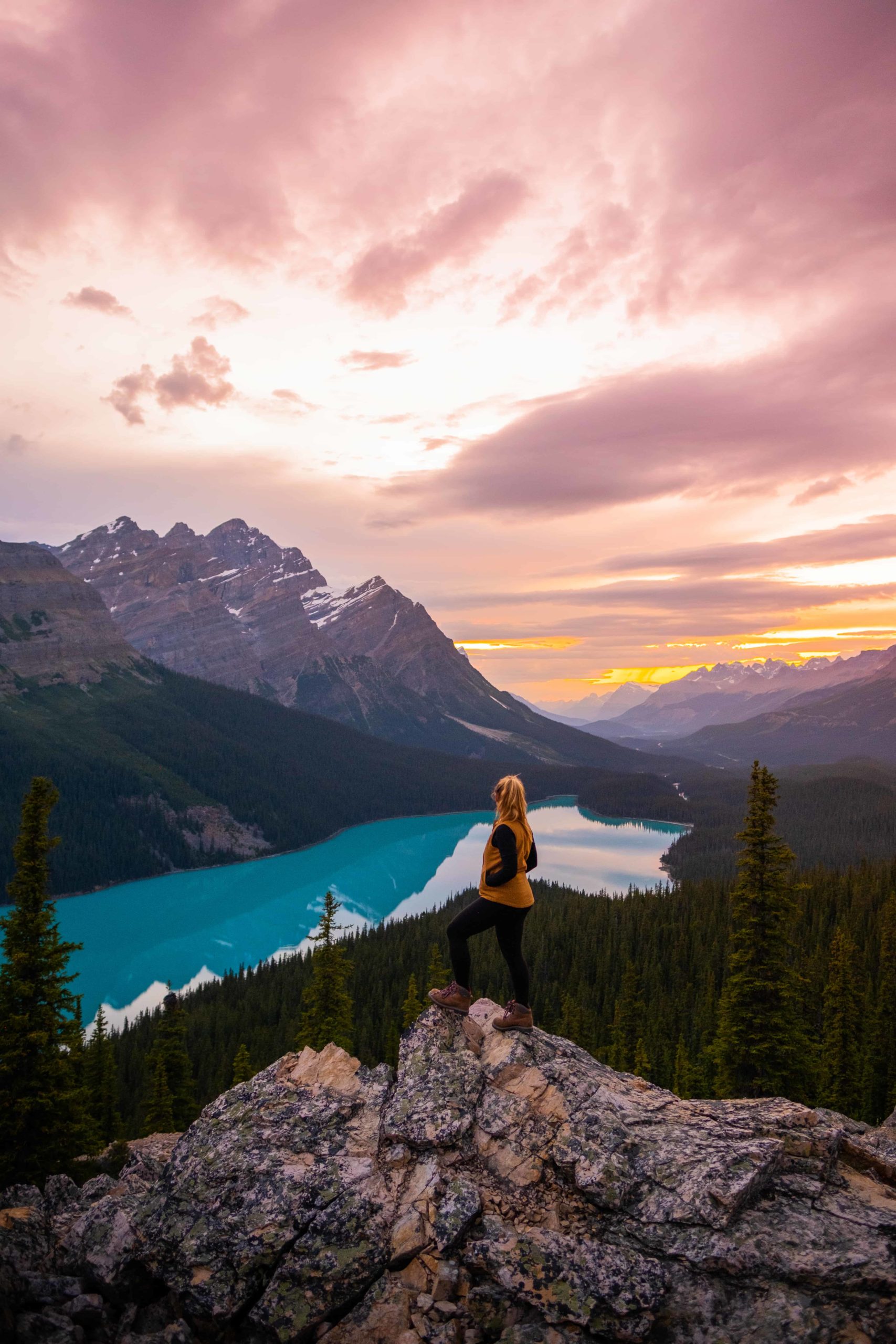 Similar to many other glacier-fed lakes in Banff National Park, Peyto Lake is a brilliant blue during the summer months. This is a natural phenomenon found in many glacier lakes as the glaciers grind rock down into the rock flour, carried downstream into the lake. This rock flour then refracts the light and gives off a vivid blue or teal color.
It's a breathtaking sight to see, and there are several blue lakes around Banff National Park, such as Moraine Lake, Lake Louise, Emerald Lake, Sherbrooke Lake (Yoho), Bow Lake, and Hector Lake, all accessible to most visitors.
---
The Details of Peyto Lake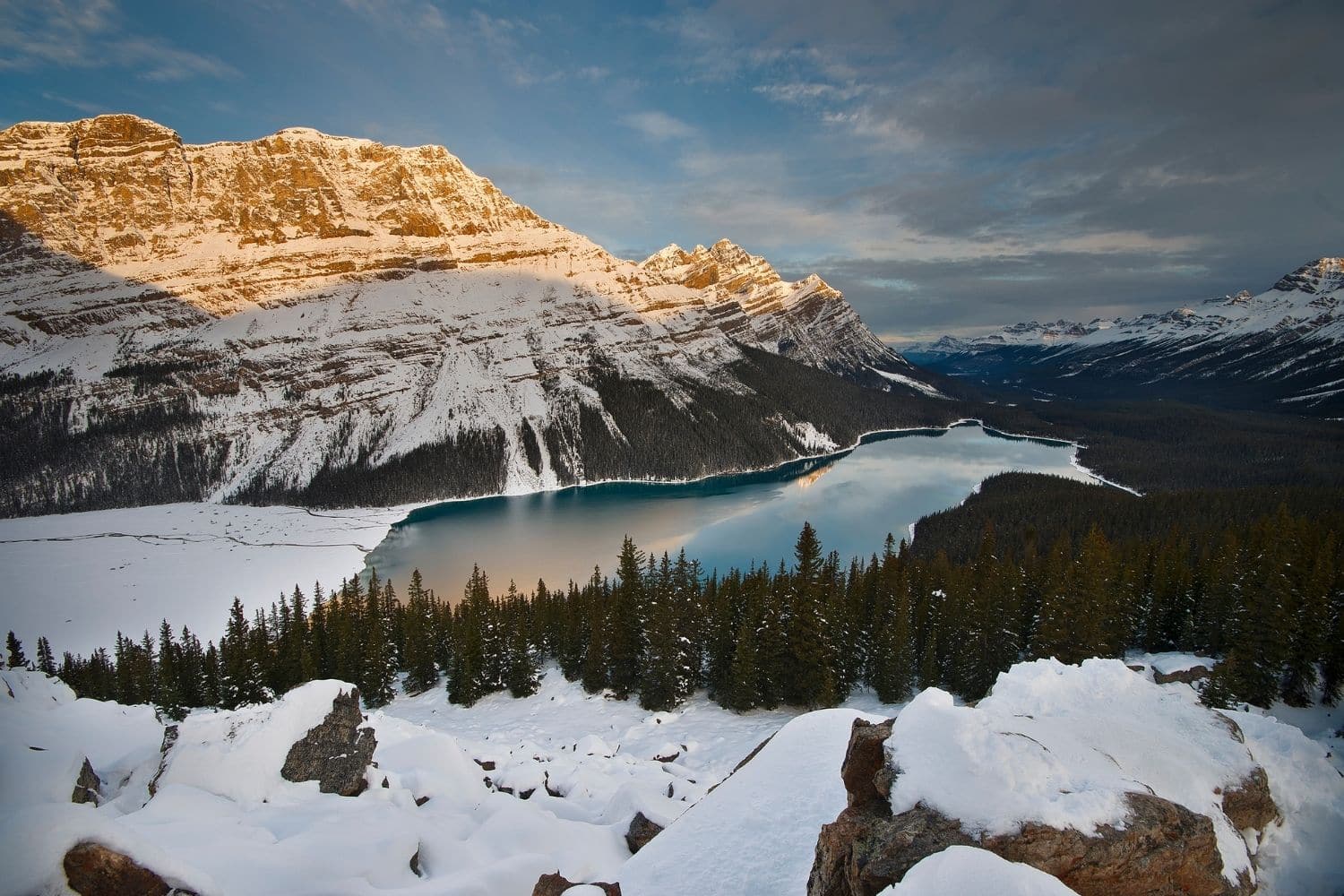 Peyto Lake is named after Bill Peyto, an early guide in the park back in the early 1900s. Peyto Lake sits at 1880m in elevation in the Candian Rockies. It's fed by the Peyto glacier and has a max depth of around 90m.
After the glacier waters flow out of Peyto Lake, they create the Mistaya River before merging into the North Saskatchewan River at Saskatchewan River Crossing. If you're wondering how to pronounce the name, it is pea-toe, but don't worry if you still say and hear pay-toe; it's how many people still say it!
---
Directions to Peyto Lake Lookout And Bow Summit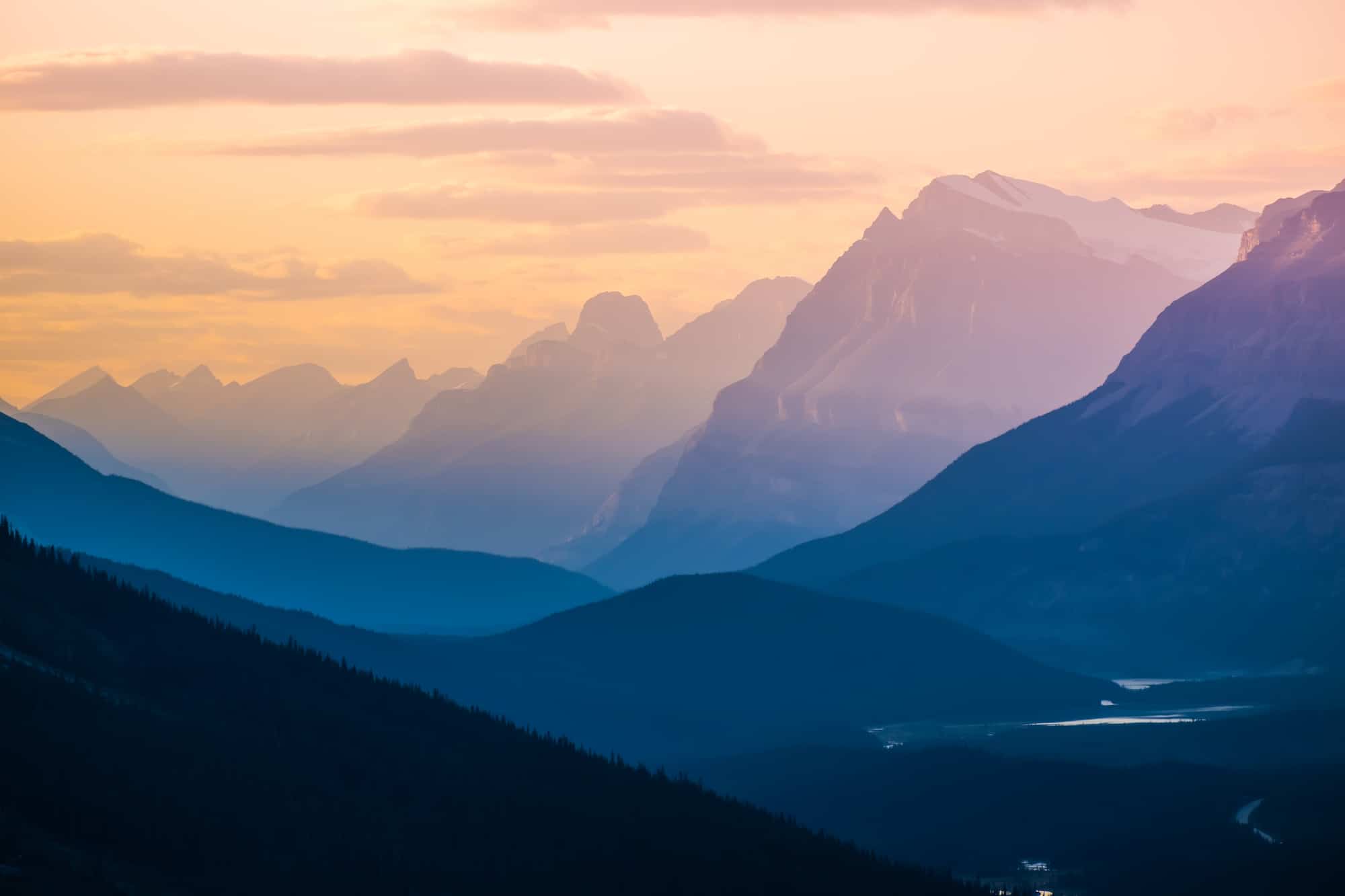 Peyto Lake is located off the Icefields Parkway or 93N. The highway begins just off the Trans-Canada Highway #1, a few minutes West of Lake Louise. From there, it's another 40km to the Bow Summit and Peyto Lake Lookout parking lot.
Watch for signs off the Icefields Parkway, and the turn-off will be on your left coming from the Trans-Canada or Right from Jasper.
The walk to the viewpoint begins from the far end of the parking lot to the West. There you will find an information sign and washroom facility. The hike up to the Peyto Lake Lookout takes around 10 or so minutes uphill. For elderly or disabled visitors, this is an upper parking lot that follows the signs for buses and handicapped parking (not typically accessible in winter). There is also a drop-off point to eliminate the walk.
Everything You Need to Know About the Icefields Parkway 
---
How to Get to Peyto Lake
There aren't many tours that include Peyto Lake, and there is no public transport to Peyto Lake. To reach this stunning Banff lake, you'll likely want a rental car for your trip.
Tours that stop at Peyto Lake
---
How To Avoid the Crowds at Peyto Lake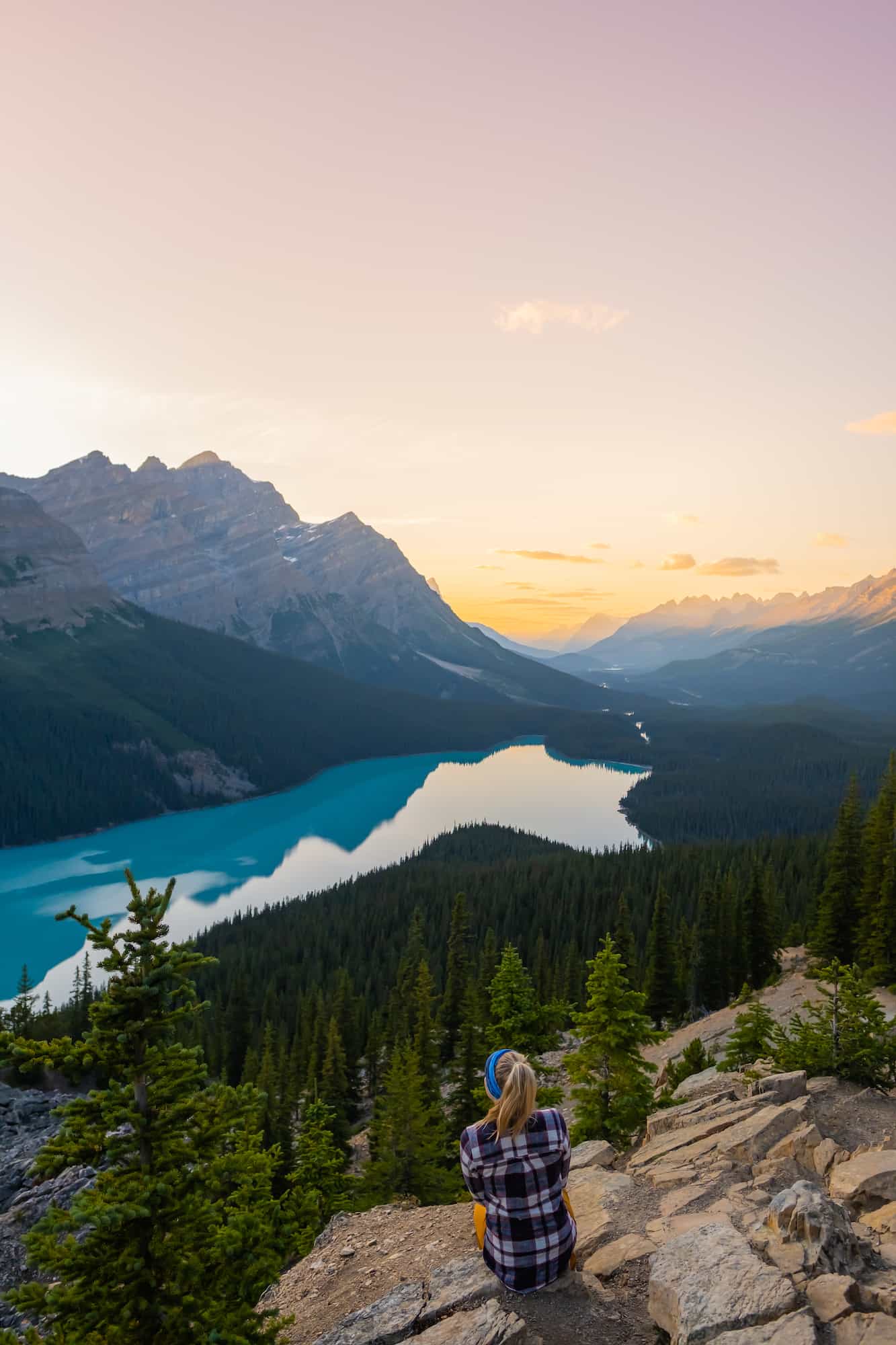 Midsummer, the viewing platform that overlooks the lake gets very, very busy. Peyto Lake is the third most visited lake in Banff, after Moraine Lake and Lake Louise.
You should be prepared to share Peyto Lake with hordes of tourists from bus tours and just about every other visitor to the park. The crowding does make it difficult to take in the views. However the new renovations from Parks Canada should help alleviate these issues.
Before reaching the viewpoint, several braided trails cut through the trees to the right. Walk down this hill until you reach the opening with unobscured views. This is likely where you've seen the majority of photos from the lake. It's prevalent on Instagram. The terrain here is pretty hazardous with lots of drops and loose rock so mind your step.
The alternative is to follow the trail past the first viewpoint to the second viewpoint. There is no official platform here but a large clearing higher in elevation that offers tremendous views with a fraction of the visitors.
As always, a great way to avoid crowds is to arrive in the early morning or evening. Even in midsummer, we've managed to catch the sunset at the viewpoint by ourselves, granted that's typically at 10:00 p.m. The later into the shoulder season you go the fewer crowds you will see. Visit in mid November and you may be the only one at Peyto Lake!
You can also hike down to Peyto Lake, which will take you between 30-60 minutes and dip your toes in and hike back up. Almost no one does this, so you're sure to have Peyto Lake almost all to yourself. However there is no set trail, so you'd be bushwhacking the entire way – certainly not ideal or recommended.
---
Alternative Viewpoints of Peyto Lake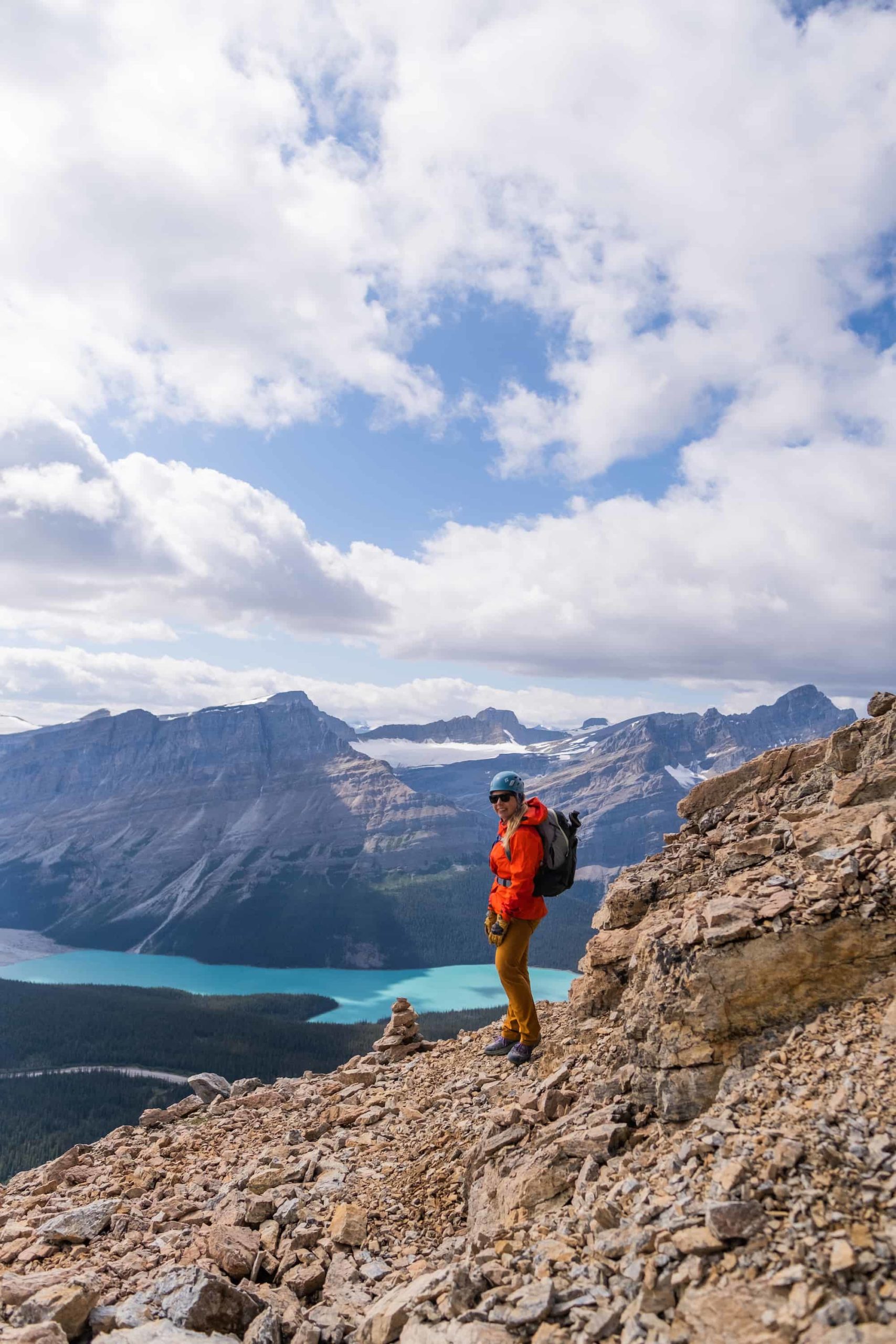 Hiking past the Peyto Lake Observation point is recommended to get different views of the beautiful lake. Bow Summit is popular hike in the summer. In the winter, park visitors can still snowshoe or ski tour above the viewpoint for the classic vantage point.
However, be mindful of the terrain nearby at Bow Summit as it is in avalanche terrain and winter visitors strongly encouraged to have avalanche training and proper equipment (beacon, probe, and shovel).
Another view we love is from Observation Peak. This is a scramble that starts on the other side of the Icefields Parkway. It's a moderate scramble that climbs 1,100 meters (3,600 ft) in 4km, a pretty taxing endeavor but well worth the climb if you have experience scrambling in the Rockies.
Experienced hikers/scramblers can make an afternoon or morning out of the scramble and it offers some of the best views in all of Banff National Park. It involves a steep slope with scree so sturdy hiking boots and adequate equipment are necessary.
Other great vantage points can be seen from Bow Summit, Caldon Peak, and Peyto Glacier.
You can also visit the lake's shoreline, but the real magic of Peyto Lake is from a distance, with the whole landscape in view.
---
Can You Hike Down to Peyto Lake?
You can hike down to Peyto Lake, though it's on a steep loose path down. Doesn't sound so bad going down, but getting back up to the viewpoint and your car will likely have you huffing and puffing.
We don't recommend hiking down to Peyto Lake unless you are looking for a way to fill your time, as the view is far better from above. Once you are down at Peyto Lake you can take a dip, or just enjoy the views before hiking back up.
---
Can You Swim in Peyto Lake?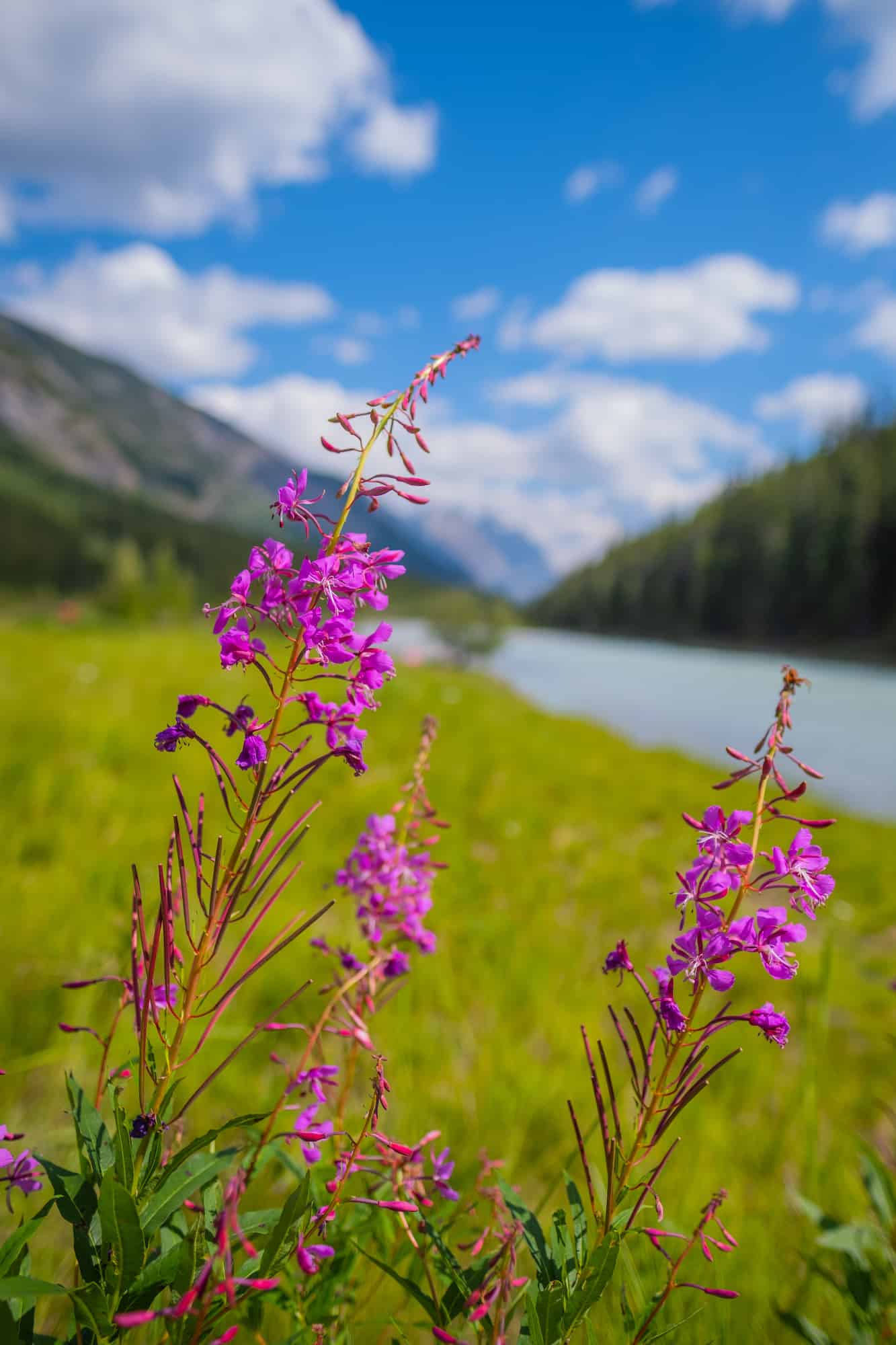 You can swim in any of the Canadian Rockies lakes, but the question is, do you really want to? Peyto Lake is a glacial-fed lake meaning it is just above freezing. It rarely gets above 5C. That means you're likely only going to stay in for a few minutes at most – even in the heat of summer!
It's a great experience and fun to say you have done it, but I guarantee you you won't be staying in the water for long!
---
When is the Best Time To Visit Peyto Lake?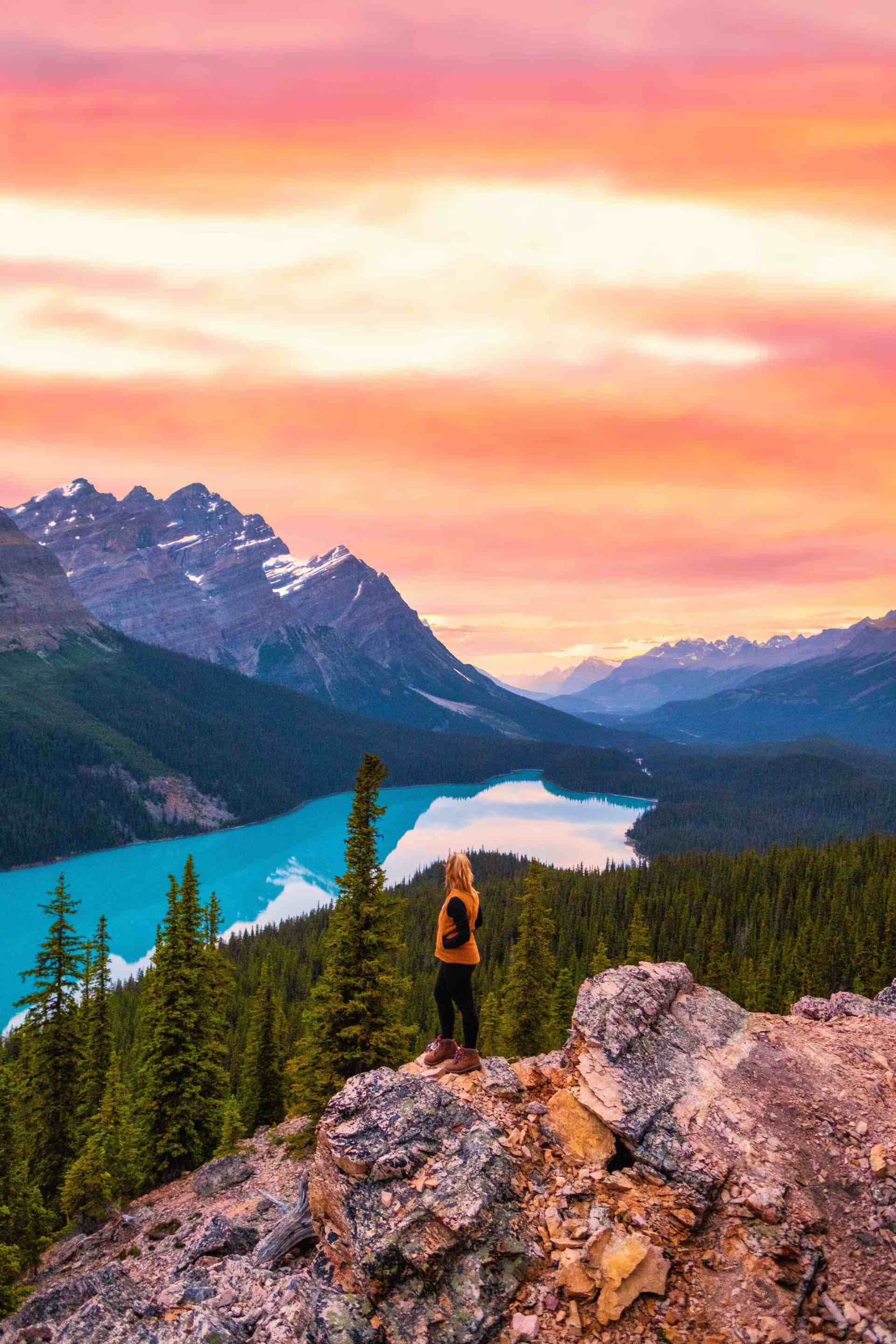 The best time to visit Peyto Lake is from June to September. The Peyto Lake Lookout is open year-round, unlike Moraine Lake, and is most popular to visit in the summer.
Spring arrives around May/June and is a tremendous time as the lake melts, and you can witness tons of wildflowers. In summer, the lake remains full, blue as ever, and is always a great visit.
In the Fall, late September to October, there are almost no larch trees around Peyto Lake, so fall colors are not present. However if you manage to get to Peyto Lake after the first major snowfall in late October, but before the lake freezes you're in for a true treat!
---
Can You Visit Peyto Lake in Winter?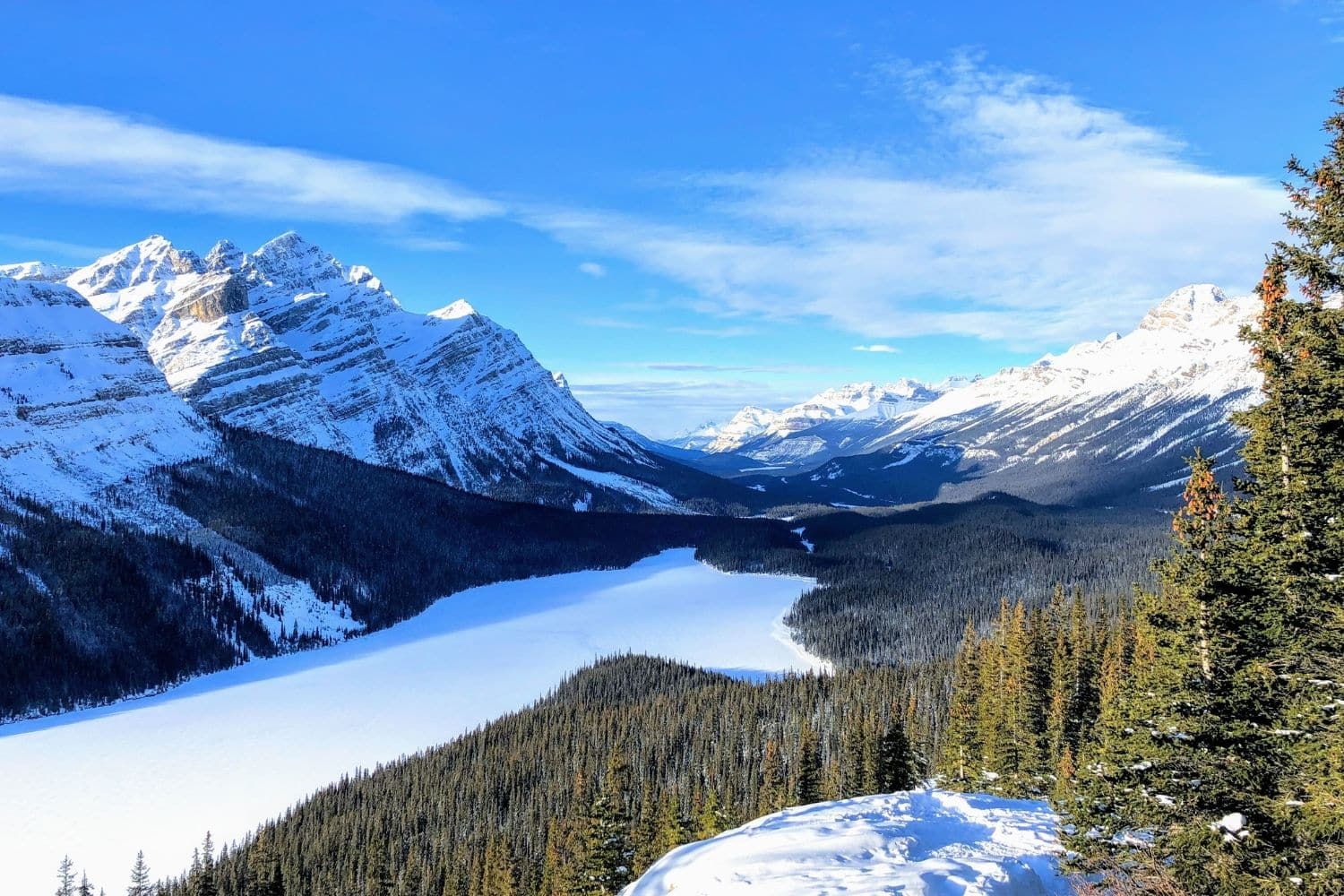 You can still access the Peyto Lake viewpoint in the winter, and it's well worth the short hike and peak if some snowshoers or skiers have cleared a trail through the snow.
It's best not to go further than the viewpoint in the winter unless you are prepared with avalanche gear and knowledge. Wintertime access is limited to the more adventurous and experience on skis or split boards.
In the winter, Peyto Lake will also be frozen and covered in snow, so you can not witness the gorgeous blue.
---
Things To Do at Peyto Lake
---
Photography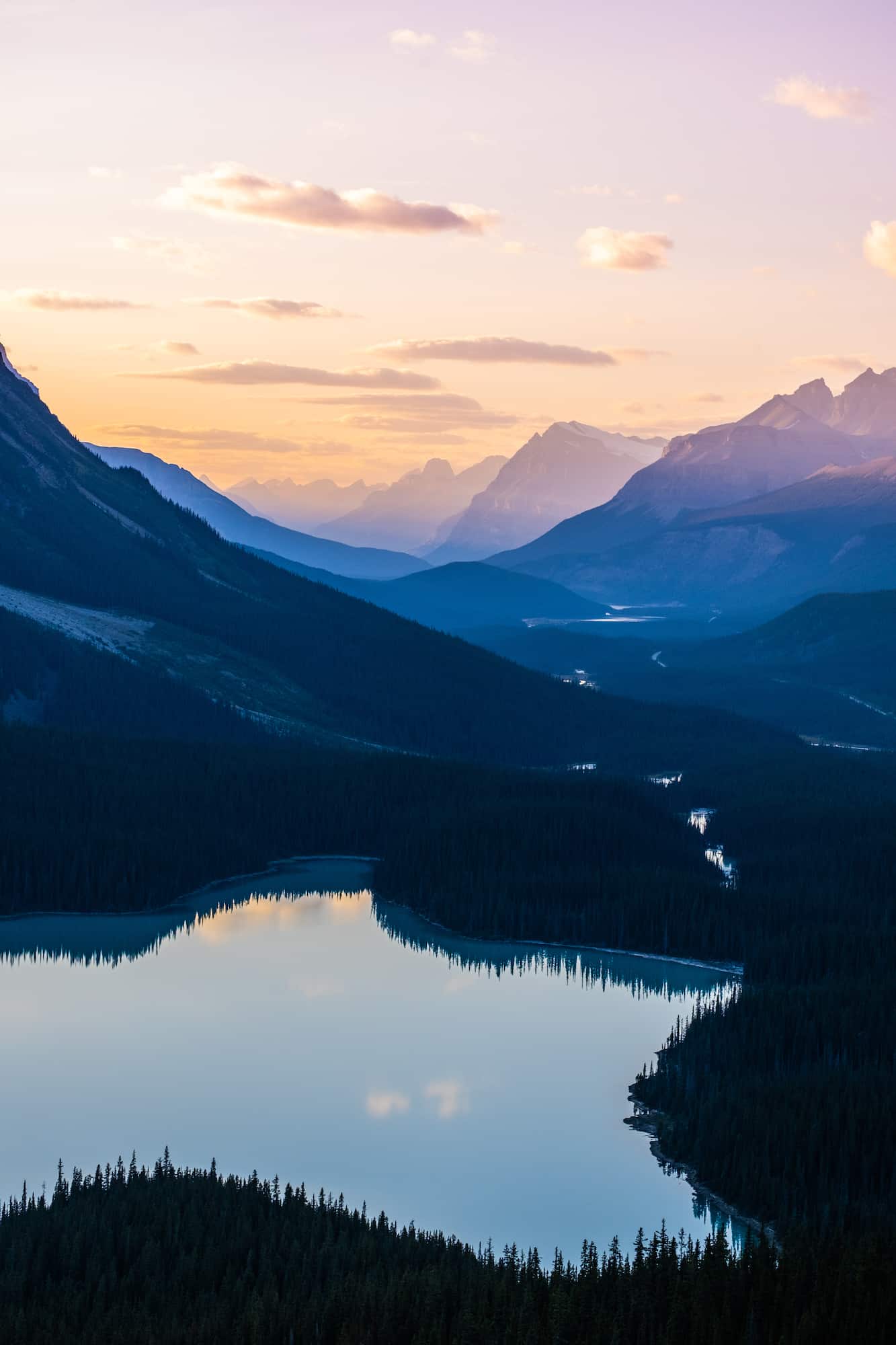 With the dramatic rock wall face of Caldron Peak, expansive views of the valley, snow-topped mountains, and the vivid blue Peyto Lake, it's one of the most popular stops for photographers to Banff National Park. The classic shot goes past the viewpoint platform and stands atop a rock looking out to the valley below.
It's a stunning scene. We think early morning light is best if you're a photographer planning out your photographs. However, if you're lucky, you will get a pop of color around sunset.
The Best Banff Photography & Picture Spots (and How to Get To Them)
---
Hike Around Peyto Lake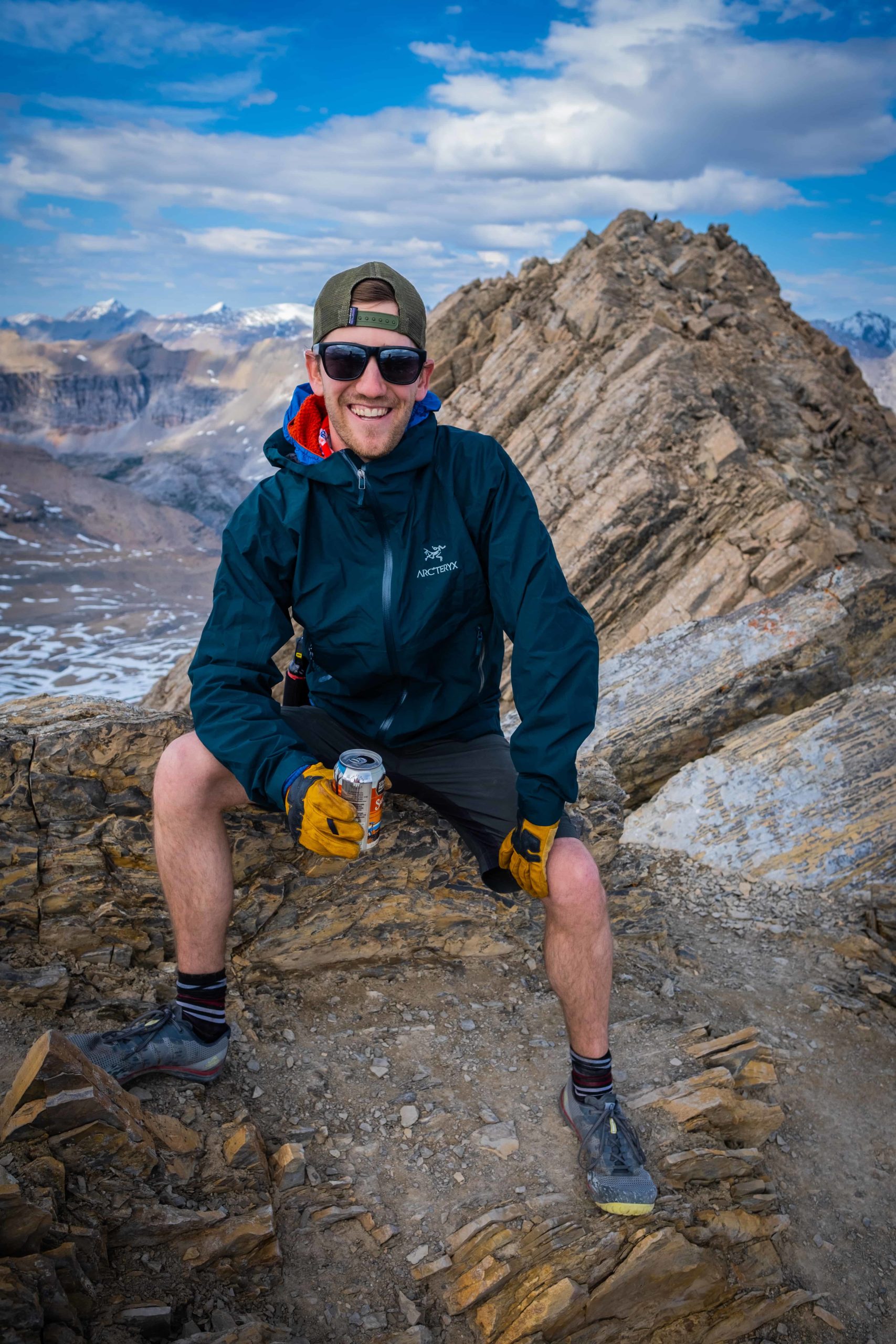 There are several tremendous hikes around Peyto Lake. We'll get more into the hikes further on in the post. The parking lot also provides access to the ACC hut Peyto hut for backcountry and mountaineering trips.
---
Fish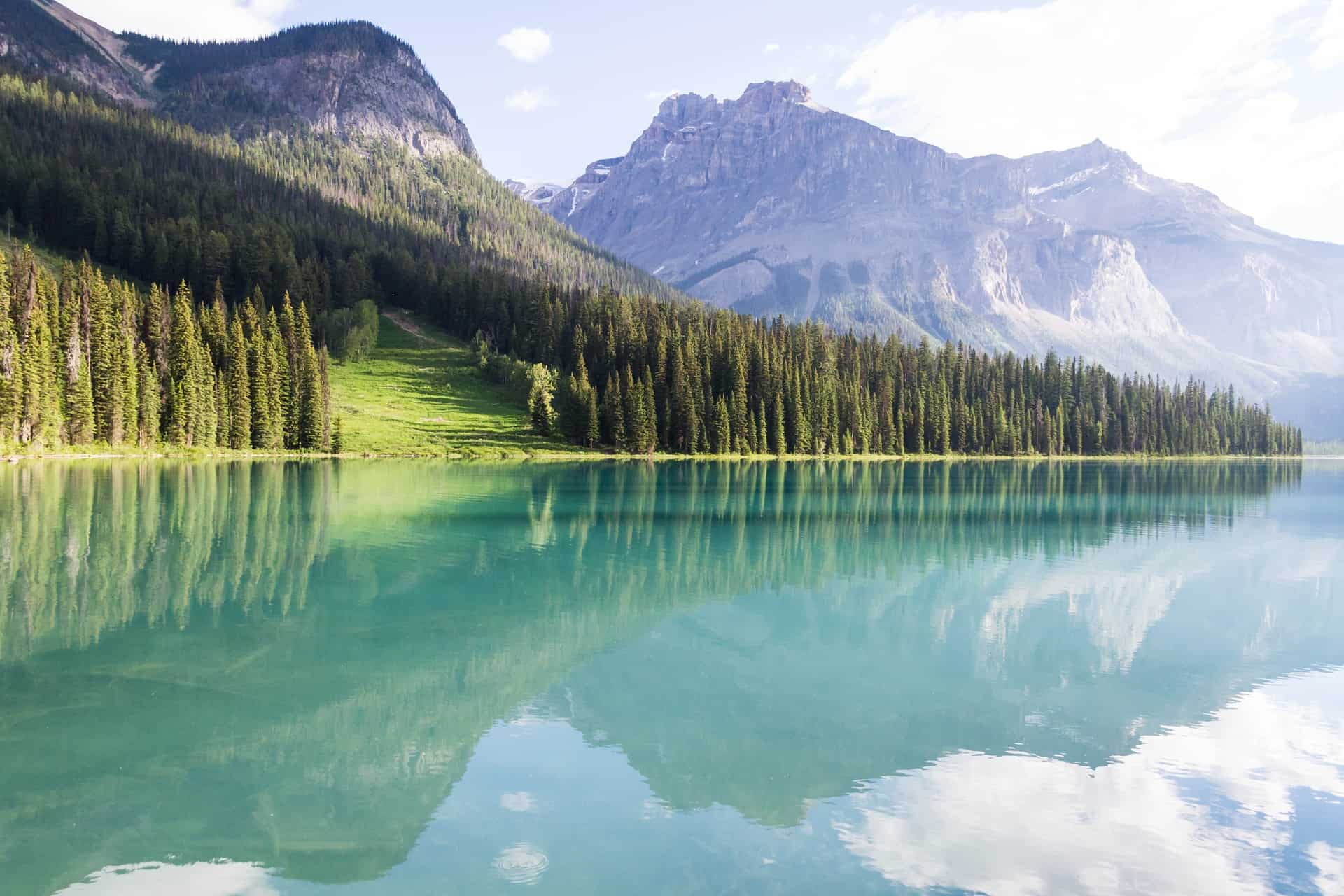 You are permitted to fish in almost all water bodies in Banff National Park, including Peyto Lake. The lake is stunning, so for anglers who want to spend some time with a great view, you can fish in Peyto Lake. It requires a permit and license. Fishing here is open from July 1st to October 31st and is catch & release only.
---
Ski/Snowboard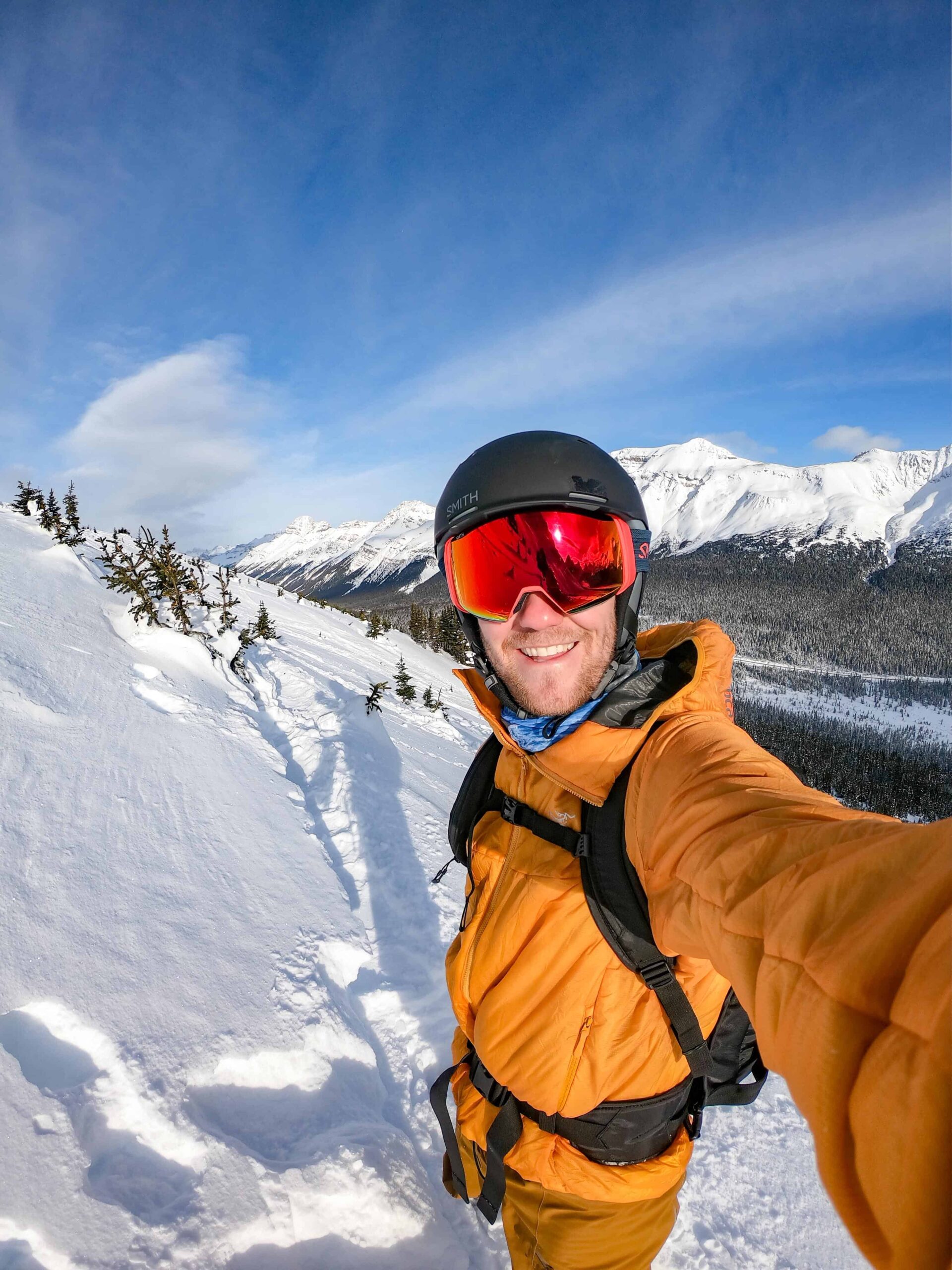 For experienced skiers and snowboarders with backcountry knowledge, you can ski at Peyto Lake. There are two popular ski tour routes Bow Summit and Observation Peak.
---
Camping Around Peyto Lake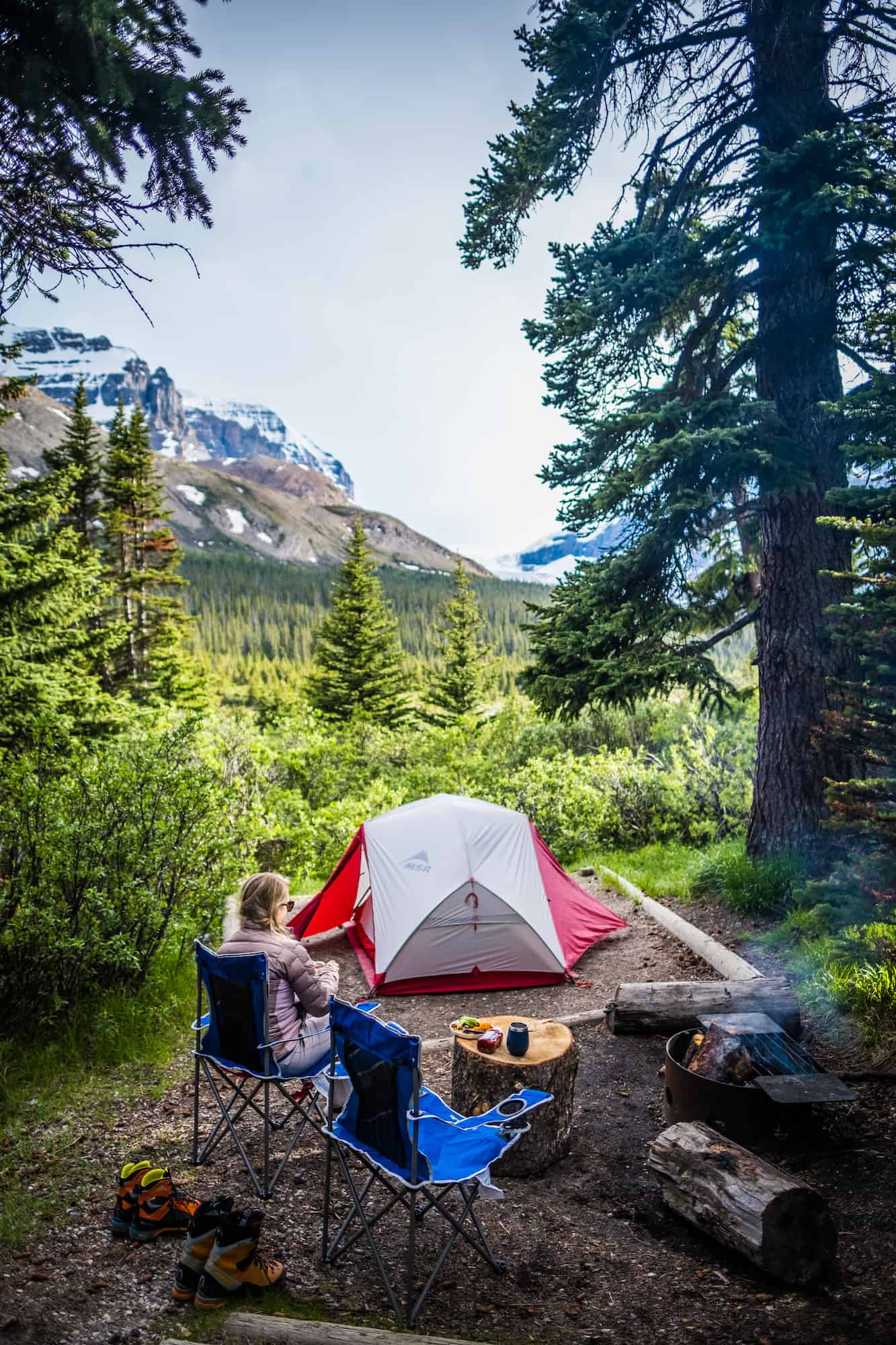 You can not camp at Peyto Lake, but there are several campsites nearby. Campsites in Banff National Park vary between first-come, first-serve, and reservation-based. They vary in price from 15-30 CAD a night. To have a fire requires a wood-burning permit available at certain campsites.
Waterfowl Lakes Campground
This is the largest campsite in the area, and it's situated between the two beautiful Waterfowl lakes. It has 116 campsites and operates on a first-come, first-serve basis. They have flush toilets, a luxury, and supply firewood if you buy the permit ($8 a day)—a great campsite.
Mosquito Creek Campground
This is the closest campsite to Peyto lake and offers great views of the Bow River. It's great for those who want to pitch a tent as several walk-in sites provide privacy. There are only long drop toilets here and no showers. However, there is a communal eating and cooking hall, food lockers, and solar treated potable water. Ignore the name. There are no more mosquitos here than anywhere else.
---
Where Can You Stay Around Peyto Lake?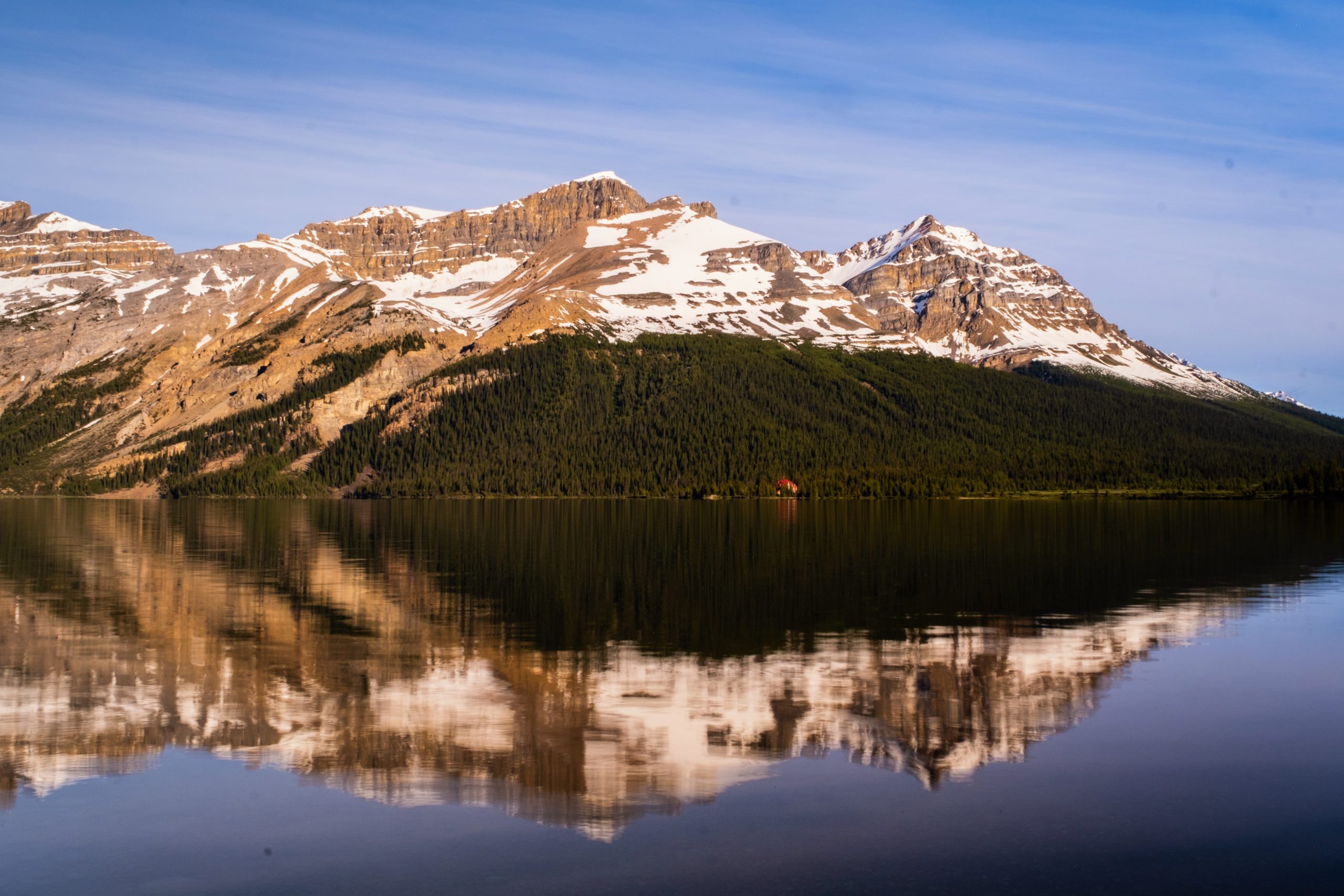 If you do not feel like camping, there is one lodge only six minutes away, Num-Ti-Jah Lodge at Bow Lake, though it is currently closed for renovations. Do not expect something tremendous from the historic lodge, but it is set in a gorgeous location on Bow Lake.
The closest lodges and hotels of note are located in Lake Louise. Of course, there is the grand and historic Chateau Lake Louise, formerly owned by the Canadian Railway. Of course, the massive hotel is far from rustic or the feeling of nature.
If you plan to travel here in the summer, be sure to book early as it is trendy. Or travel farther and stay in the towns of Banff and Canmore.
---
Hikes Around Peyto Lake
---
Peyto Lake Panorama Overlook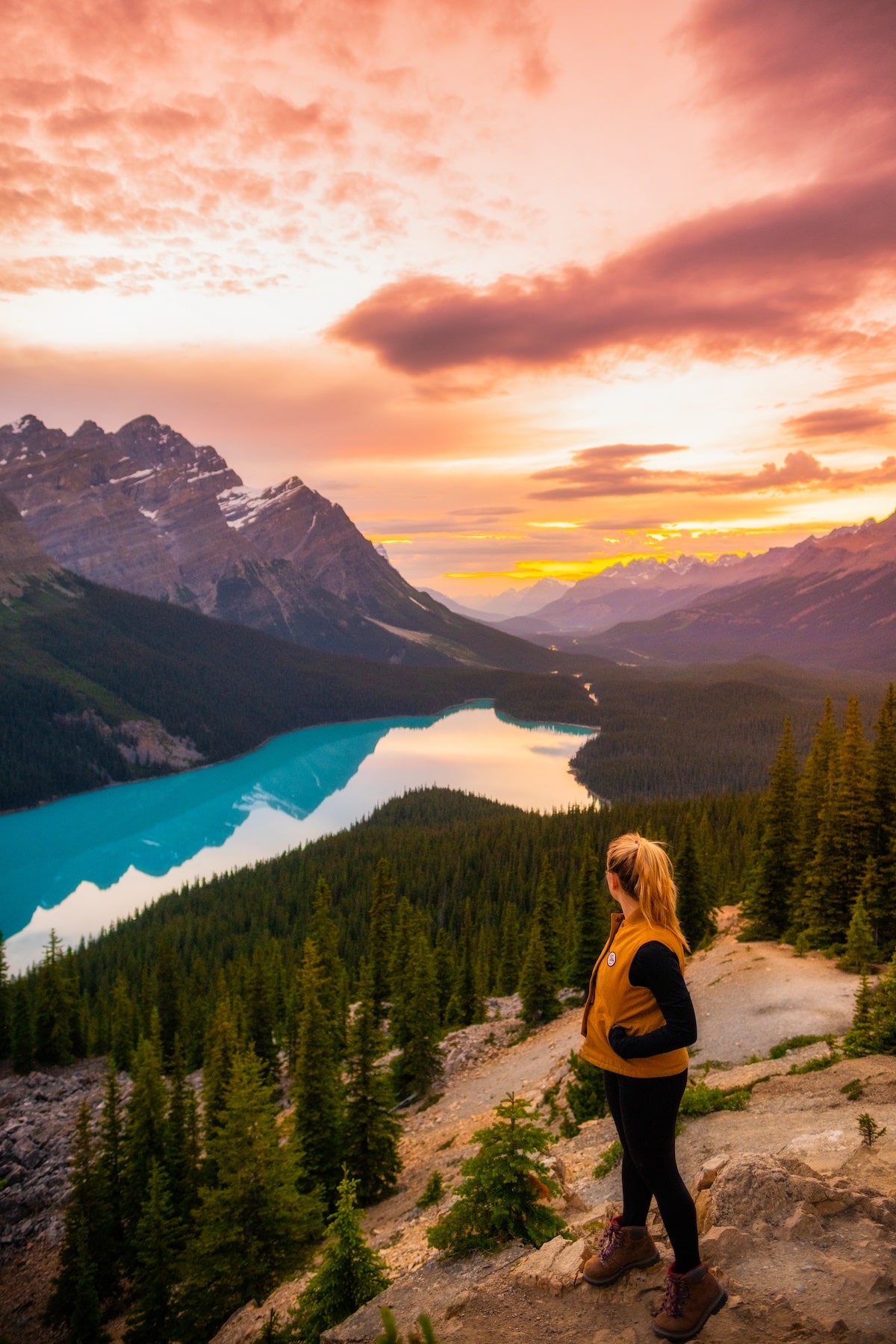 This is a great hike that is accessible for any skill level. It involves walking to the first viewpoint and then continues past the viewpoint to an overlook that sits on Bow Ridge. The elevation gain past the first viewpoint is only about 50m and worth the little effort as it provides better views out to the Peyto Glacier, the source of Peyto Lake.
Trailhead: Peyto Lake Lower Parking Lot
Distance: 2.7 km
Elevation: 84 meters
Time: 45 – 60 minutes (depends on how long you enjoy the view)
---
Bow Summit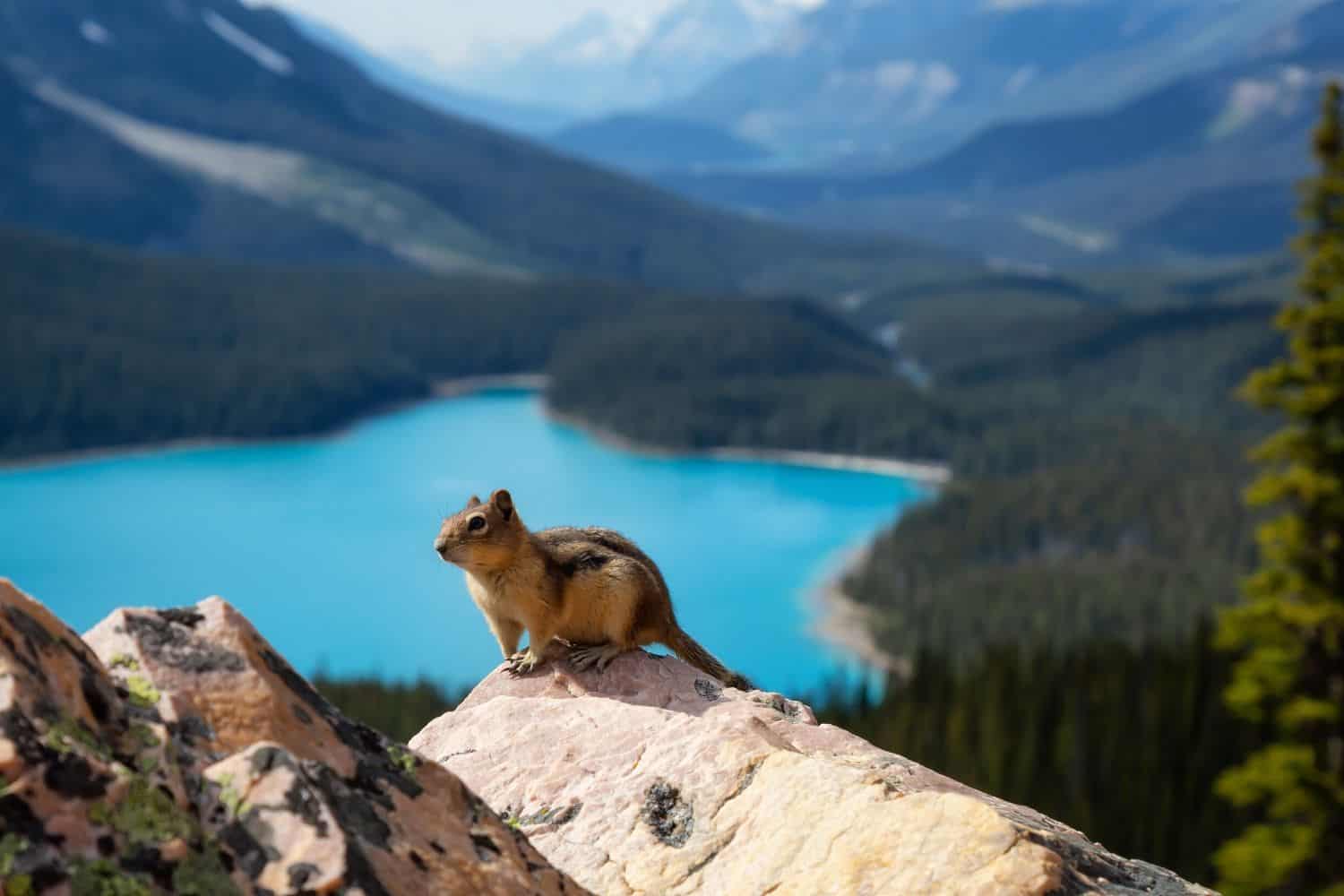 This is a hike past the first two viewpoints over Peyto Lake and crosses the ridge until you reach a view out to Bow Lake down below. It's a decent hike if you're looking to stretch your legs and enjoy nature with a little bit of a workout as there is some elevation gain. That being said, for the effort, we prefer other hikes in Banff National Park.
Trailhead: Peyto Lake Lower Parking Lot
Distance: 6.6 km
Elevation: 313 meters
Time: 2 hours
---
Observation Peak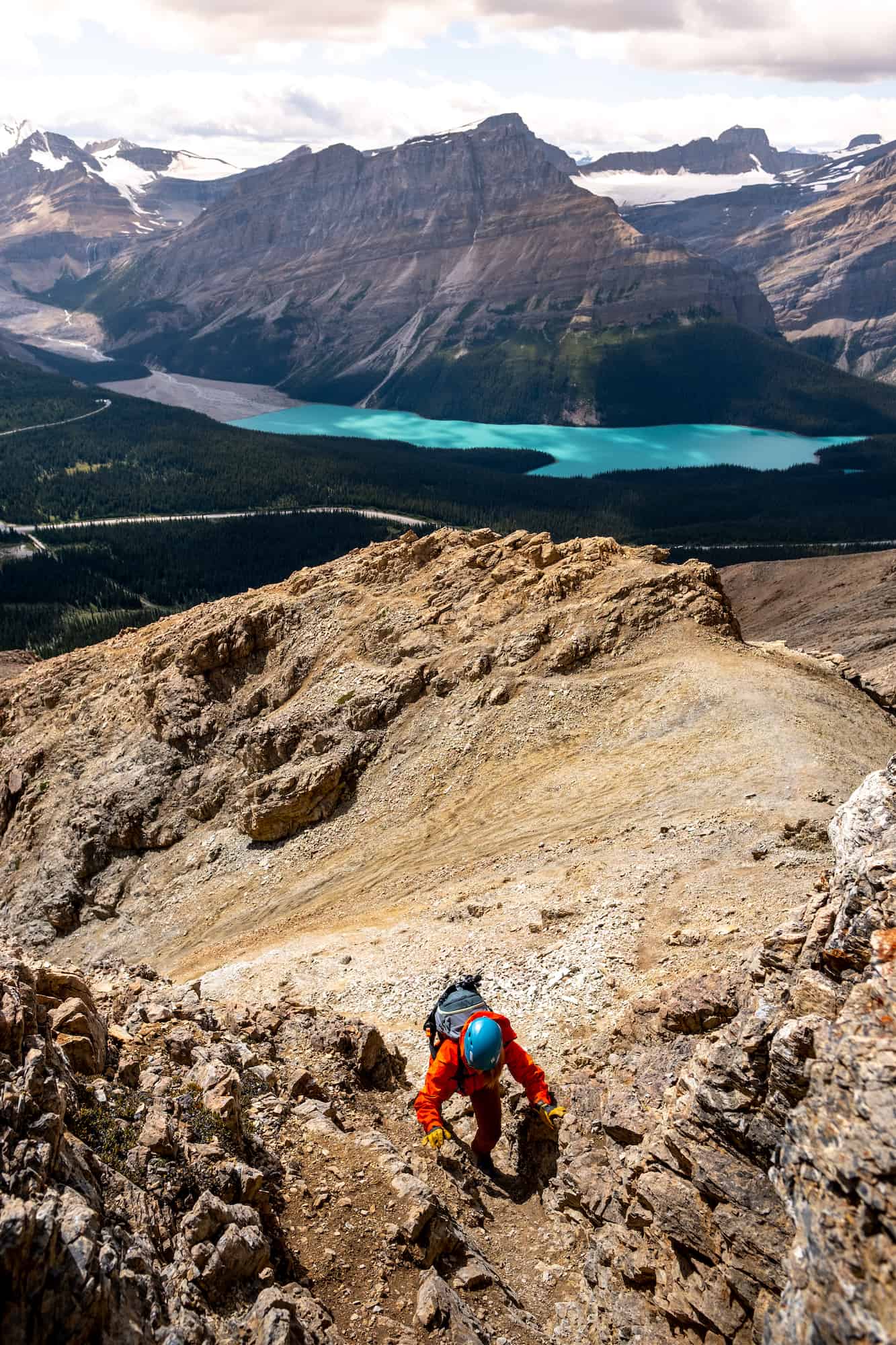 Observation Peak is one of the best short scrambles/hikes in Banff National Park. Its name dates back to 1899 from Charles Noyes, who noted the incredible view from the peak of Peyto Lake and the surrounding mountains. This scramble follows up one of two gullies before moving onto a ridge that crosses two rock bands and scree on the way to the false summit.
It's mostly a grind-up, but two sections present more of a challenge than a hike and require some mild use of hands. You can see one of the most difficult sections in the photo above. This is for the experienced only!
Trailhead: Access road across from Bow Summit turn off
Distance: 8 km
Elevation: 1,101 meters
Time: 4 -6+ hours
---
Caldron Peak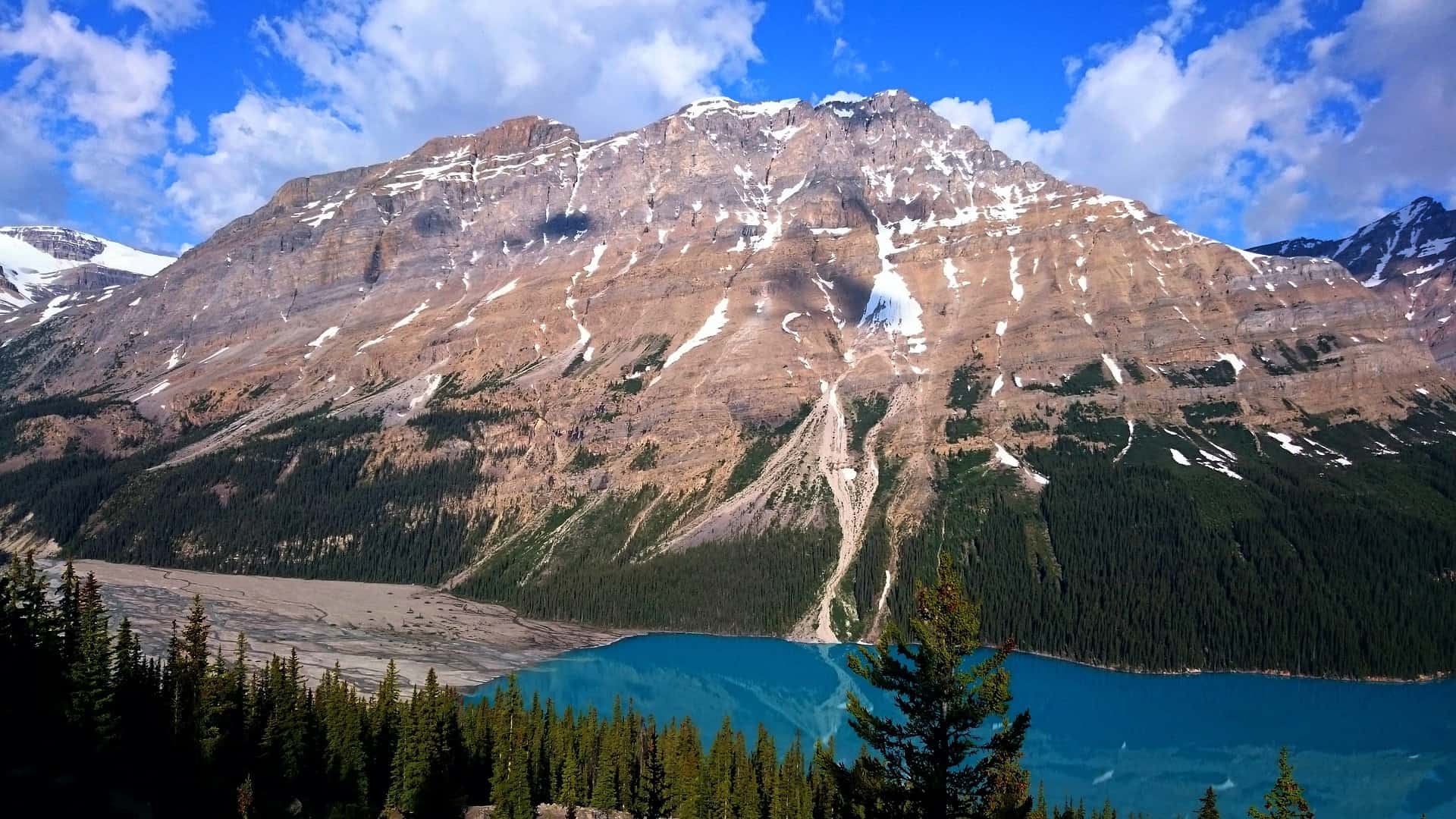 Caldron Peak is a full-day hike that is challenging physically and technical as it requires crossing Peyto Creek, route finding, and some scrambling that is mild exposure. It's a gorgeous day out in the mountains, but it is better left to experienced hikers/scramblers who are prepared for the demands of long days out in the mountains.
The hike is incredibly rewarding, with stunning views of the Peyto Glacier, waterfalls, Caldron Lake, and a dizzying view from the top of Caldron Peak. One of the best day trips to be had for serious hikers/adventurers in Banff National Park. Just be prepared for some hard work. You're going to have to earn this one.
Trailhead: Peyto Lake Lower Parking Lot
Distance: 20.3
Elevation: 1,624 meters
Time: 8 – 10+ hours
---
Holidays to Be Aware of in Alberta
Peyto Lake is always busy in the summer, but you should note the following holidays as it's even busier.
Victoria Day Long Weekend (May Long Weekend) – Last Monday Preceding May 25
Canada Day – July 1st
Heritage Day Weekend – 1st Monday of August.
Labour Day Weekend – 1st Monday of September.
---
Do You Need A Parks Pass to Visit Peyto Lake?
All visitors to Banff National Park need a Parks Canada pass to recreate and this includes at Peyto Lake.
Daily Admission Fees Are As Follows
| Type | Price |
| --- | --- |
| Adult 18+ | $10.50 |
| Senior 65+ | $9.00 |
| Youth | Free |
| Family* | $21.00 |
*Family includes up to seven people in the same car
Discovery Pass Fees (Annual Pass)
| Type | Price |
| --- | --- |
| Adult 18+ | $72.25 |
| Senior 65+ | $61.75 |
| Youth | Free |
| Family* | $145.25 |
*Family includes up to seven people in the same car
ULTIMATE Guide To Purchasing A Banff Park Pass (Parks Canada Pass)
---
Facilities at Peyto Lake
If you venture to Peyto Lake expecting facilities like at Lake Louise you'll be disappointed. There are limited facilities at Peyto Lake, including drop toilets, RV Parking, and trash cans (please pick up after yourself!).
---
Tips For for Visiting Peyto Lake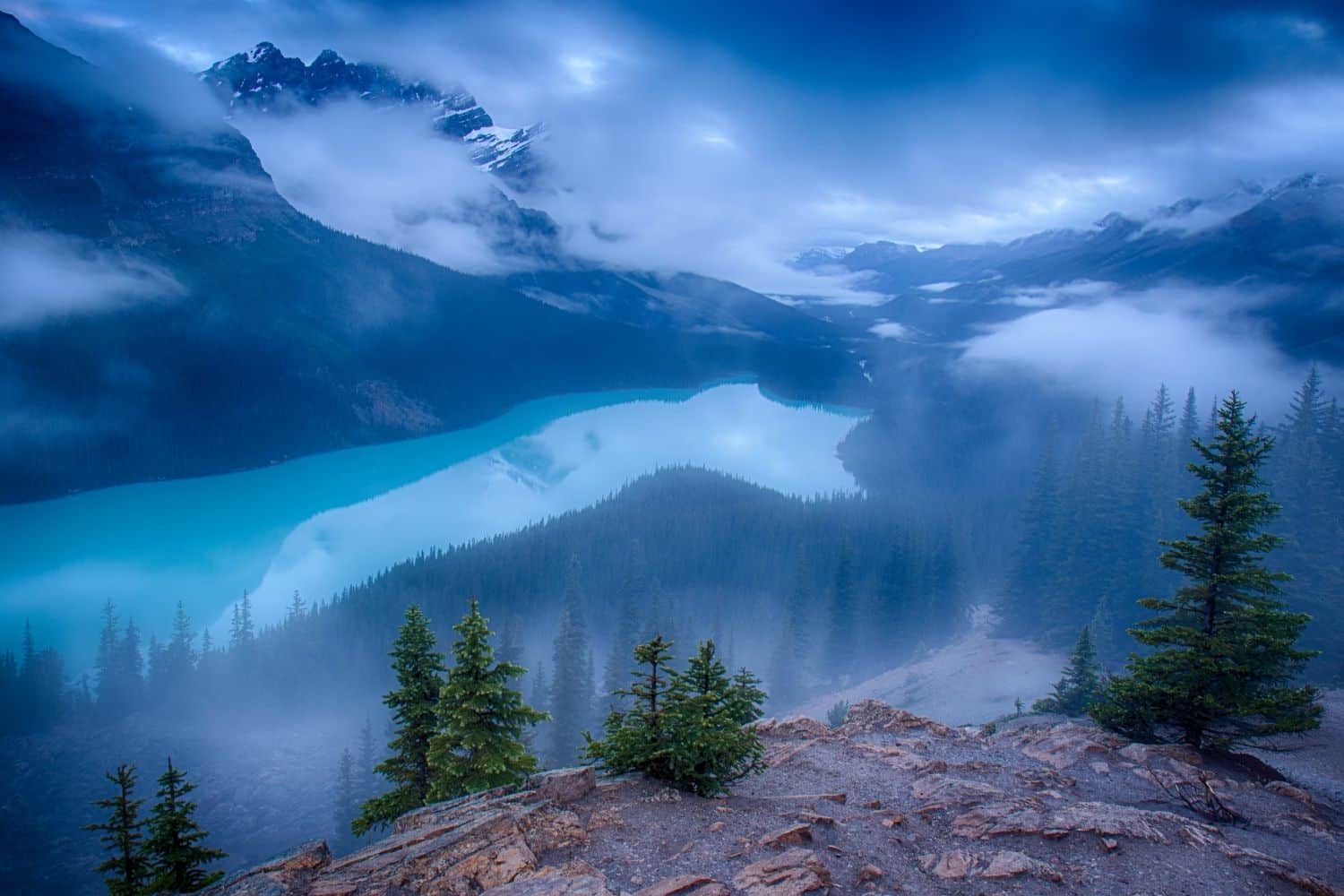 Arrive early to avoid the crowds. Grab a thermos and enjoy the stunning views in the fresh morning air and some coffee.
Always make sure to bring appropriate clothing. It's cold year-round, and the mountain peaks often see temperatures below zero even in August.
Watch out for bugs and mosquitos as they can come out in hordes during the peak of summer.
It's worth venturing just a little past the overlook to escape the crowds, even if you do not plan to hike.
If you have plans to hike in the area, bring a GPS or download a map to your phone as there is no signage.
There is no cell phone signal at Peyto Lake. The next closes point for good cell phone coverage is at Lake Louise.
---
What Other Banff Attractions Are Around Peyto Lake
Peyto Lake is just off the famous Icefields Parkway, so there are plenty of other beautiful places nearby. To name a few are:
Hector Lake
Waterfowl Lakes
Mistaya Canyon
---
Hopefully, this helped you determine how to spend your time at Peyto Lake!
If you have any other questions leave a comment or see our Canadian Rockies travel guide for more articles about photography spots, lakes, hikes, and everything else.
---
Plan Your Trip to the Canadian Rockies
↓ Join the community ↓
The Banff Blog Facebook Group is your headquarters for the Canadian Rockies' travel advice and information. Including hike info and off-season travel information. This is also where you can meet one another when you need adventure buddies.