Looking for the best Lake Louise hotels and accommodation? The lake is known around the world for its renowned beauty and each year millions visit the lakeshore. It's hard to find a more majestic and awe-inspiring place in the world than Lake Louise.
After taking in the spectacular scene go for a hike, climb, ski, or canoe in Banff National Park and enjoy the views. Lake Louise is an image that will last with you for a lifetime. There aren't a plethora of hotels in Lake Louise, but we wanted to review each one to make your trip to the Canadian Rockies easier to plan.
---
Click on the hotel name or the Booking.com links to check the latest rates. For the best rates on your hotel reservation, we recommend booking 6-8 months in advance.
---
See Also:
---
The Best Lake Louise Hotels
---
Paradise Lodge and Bungalows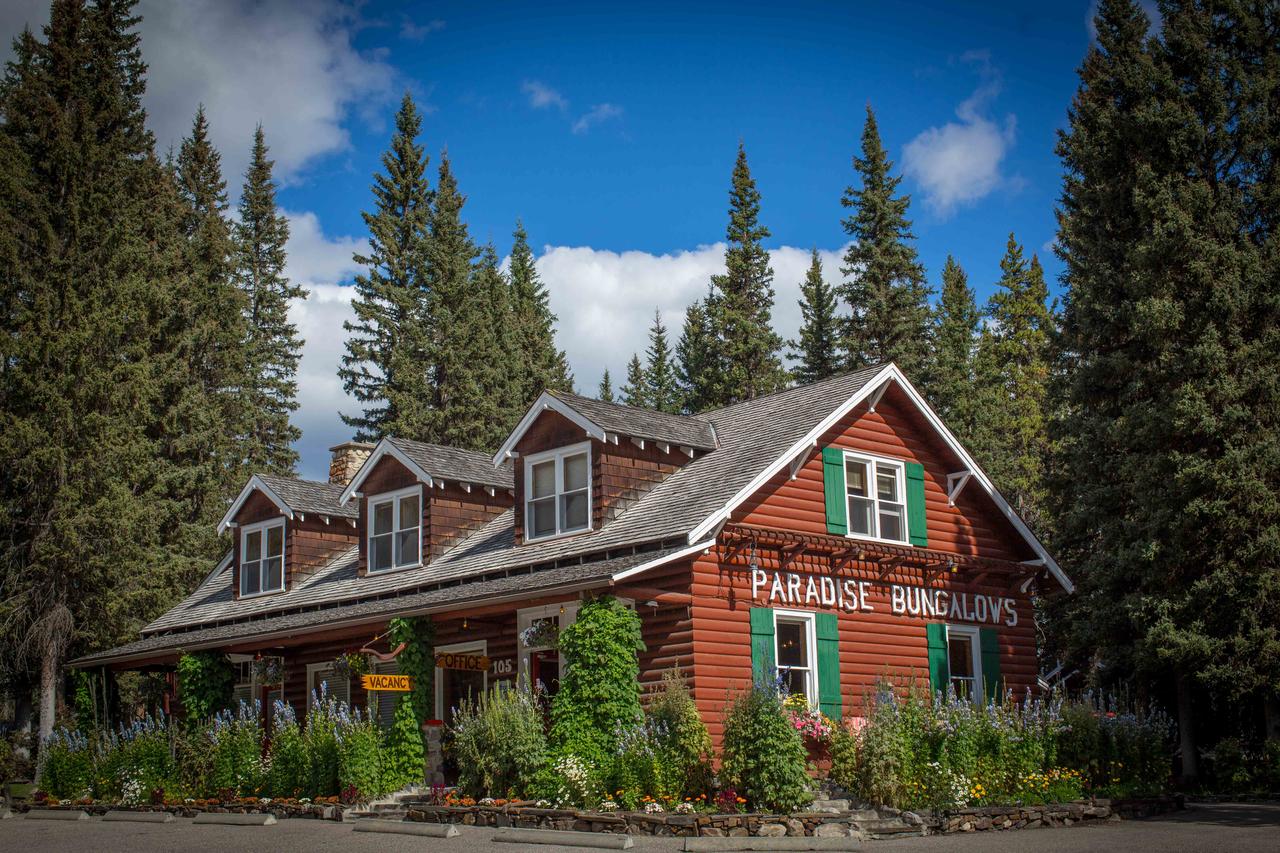 Paradise Lodge and Bungalows may be the best hotel near Lake Louise. While not directly on the lake like the Fairmont Chateau Lake Louise it is only a 500-meter walk from the lake, and is a fantastic Lake Louise accommodation option. As it is not on the lake it's far quieter and more relaxing in comparison to the constant onslaught of visitors come to the lake every day.
Rooms, cabins, and apartments here have character and offer a comfortable stay with kitchens in a number of suites. A nice mixture of cute cabins and lodge buildings are spread across lovely grounds. The main lodge building features a large stone fireplace and cozy seating. Many rooms have some magnificent views from private balconies perfect for a morning coffee.
---
Baker Creek Mountain Resort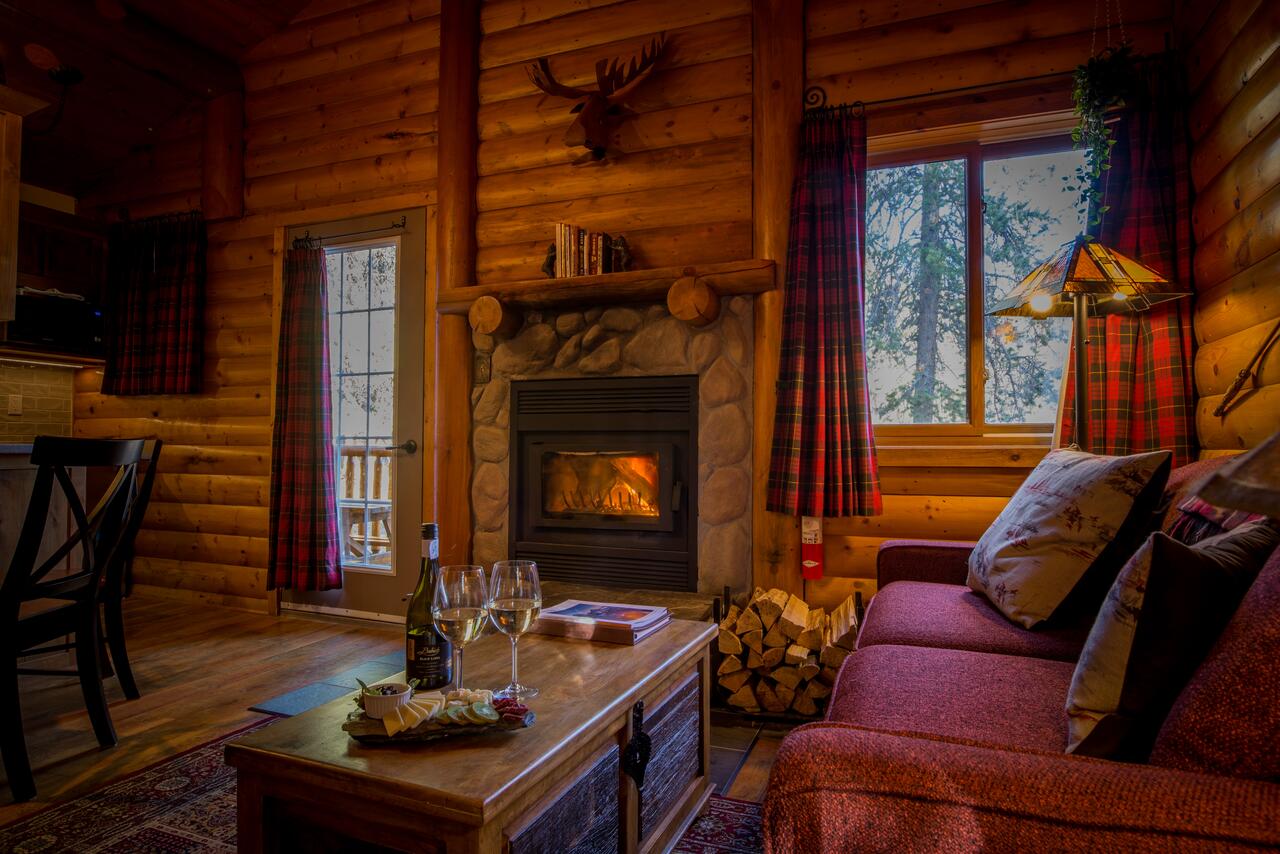 If you're seeking accommodation in a location further away from the hustle and bustle of Banff and close to the natural beauty of Lake Louise, Baker Creek Mountain Resort is a laid-back escape offering comfortable lodge and log cabin accommodations. The grounds and lodge make for one of the most serene settings in Banff National Park as sits along the Bow Valley Parkway.
You'll get a true Canadian backcountry experience surrounded by stunning mountain scenery and vast wilderness. Enjoy a roaring fire under the night sky with access to outdoor fire pits. Retreat to your cozy room or log cabin, most of which are equipped with a wood-burning stove and kitchenette. Baker Creek Bistro serves genuine Canadian dishes and local craft beer that you can enjoy inside or on the patio.
An amazing stay for families looking to disconnect or couple looking to kindle some romance. Easily one of the best options for a stay in all of Banff National Park.
---
The Post Hotel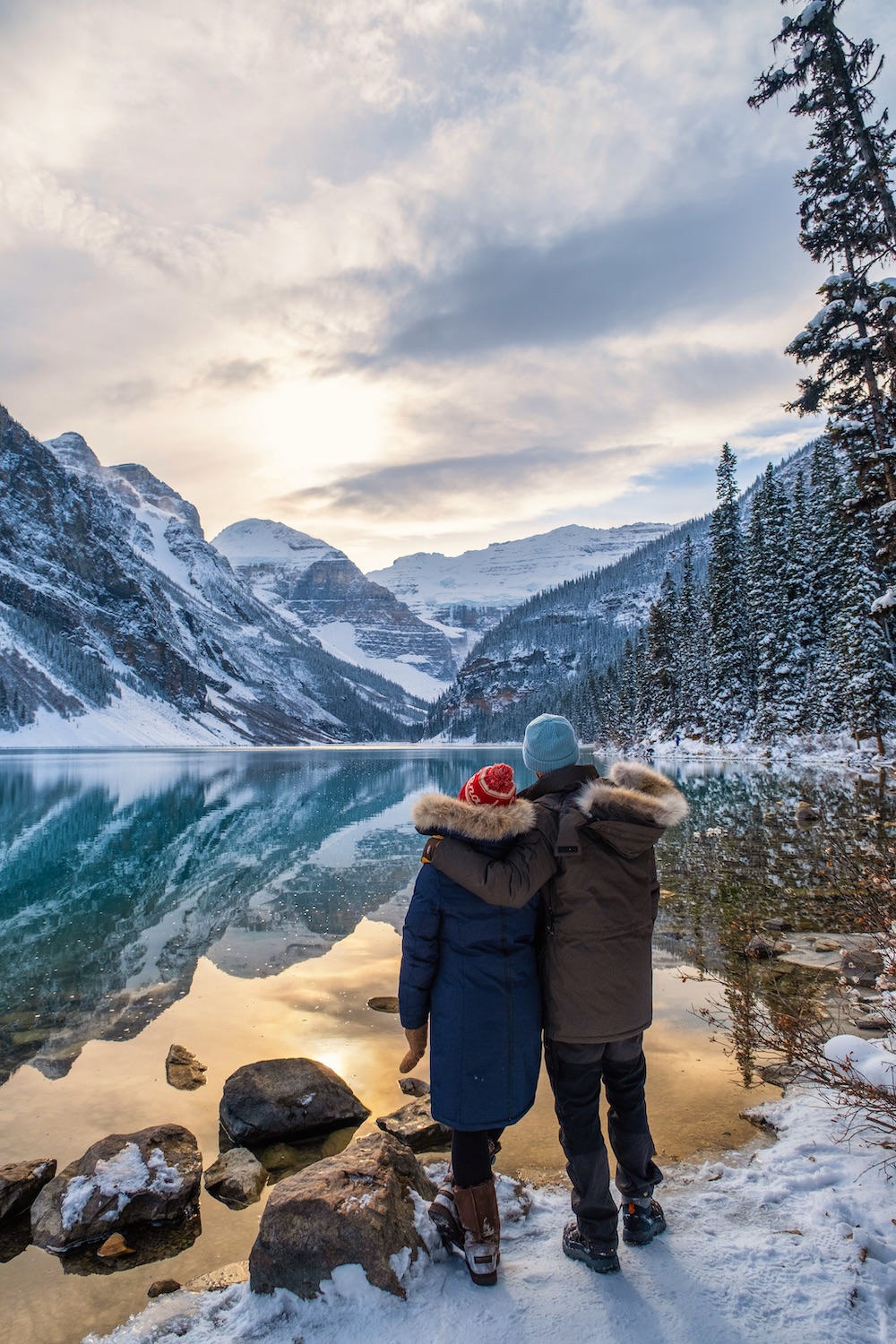 Situated on the Bow River the 4-star Post Hotel Lake Louise has been faithfully serving guests since the 1940s. Guests can expect wonderful service in an ideal setting. The lodge features plenty of woodwork, classic mountain decor, a massive wine cellar, a fireside lounge, a library, and a full-service spa.
It's regarded as one of Canada's finest luxury hotels and the dining experience here is well celebrated. It's without a doubt one of the best Lake Louise hotels on this list. Rooms here can feel a little dated at times, but it's an effort to keep with the original aesthetic charm of the ski lodge hotel. The hotel is a member of Relais & Châteaux an association of individually owned hotels known for its high-quality level of service.
---
Fairmont Chateau Lake Louise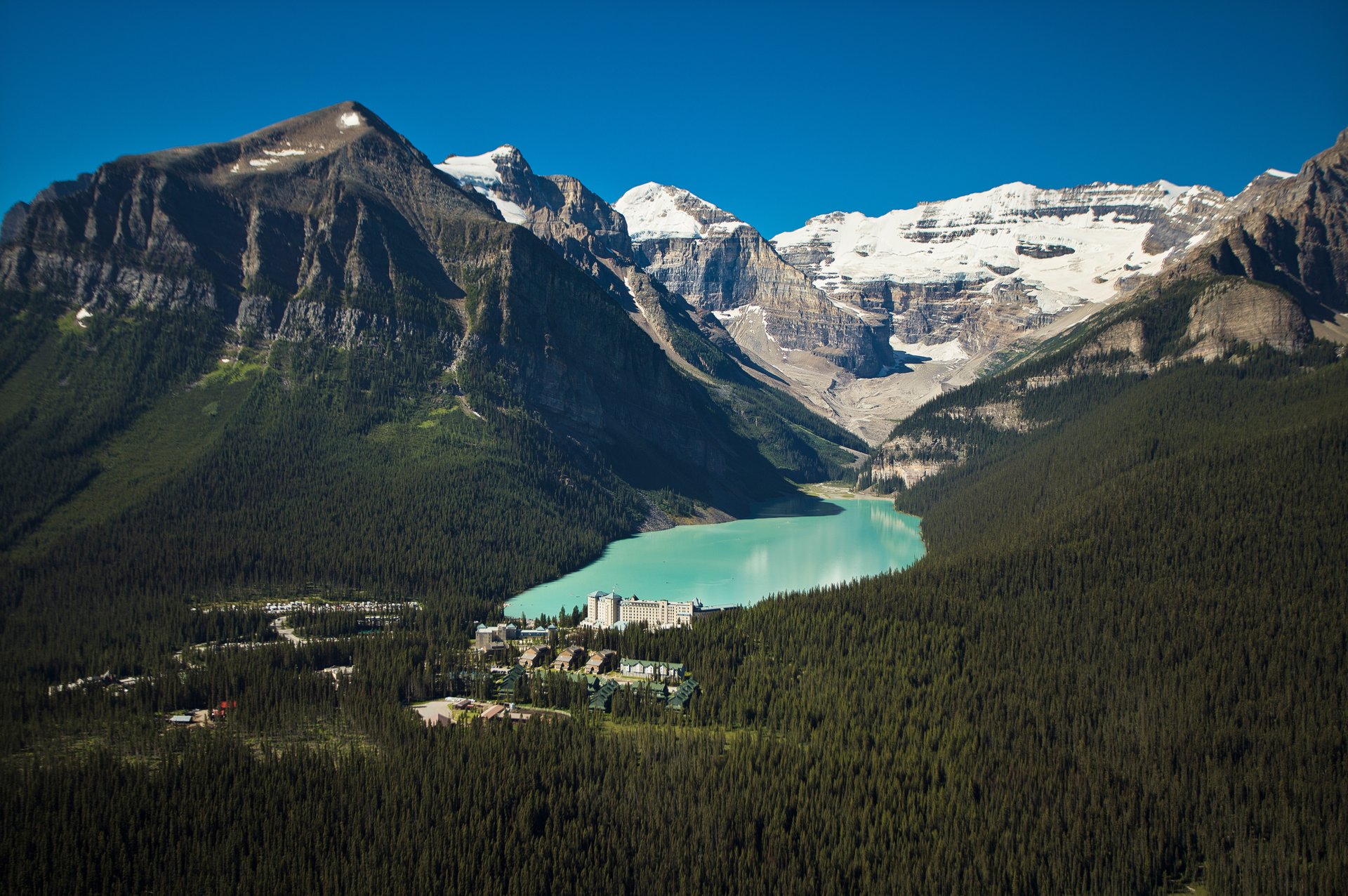 The Fairmont Chateau Lake Louise is another iconic long-standing resort in Banff National Park. If you're looking for luxury accommodation with plenty of amenities in a location surrounded by mountains and remote backcountry, this is the place for you.
Although be forewarned this is easily the most expensive place to stay in Banff. Prices at times feel downright excessive and it likely fetches some of the highest room rates in all of Canada. You're paying for location here because the rooms are nothing to write home about and the service is lacking for the price point. Easy to understand why when the hotel has 530 rooms.
That being said this stately resort overlooks the stunning Lake Louise and it is an icon of the Fairmont Brand, the province of Alberta, and of all of Canada honestly. On-site amenities include an indoor pool, hot tub, steam room, and fitness area with a stretching room. The resort spa offers many services, including massages, body scrubs, and facials.
Various activities are also available on-site and nearby, including guided mountain tours, skiing, hiking, canoeing, sleigh rides, snowshoeing, skating, and dog sledding. Lakeview Lounge, Walliser Stube, Poppy Brasserie, and Fairview Bar and Restaurant are some of the eateries available, offering a variety of dining experiences. See the full review here. If you stay at this Lake Louise hotel you'll have easy access to all the best Lake Louise hikes like the Lake Agnes Teahouse Trek, the Beehive Circuit, and Devil's Thumb.
---
HI Lake Louise Alpine Center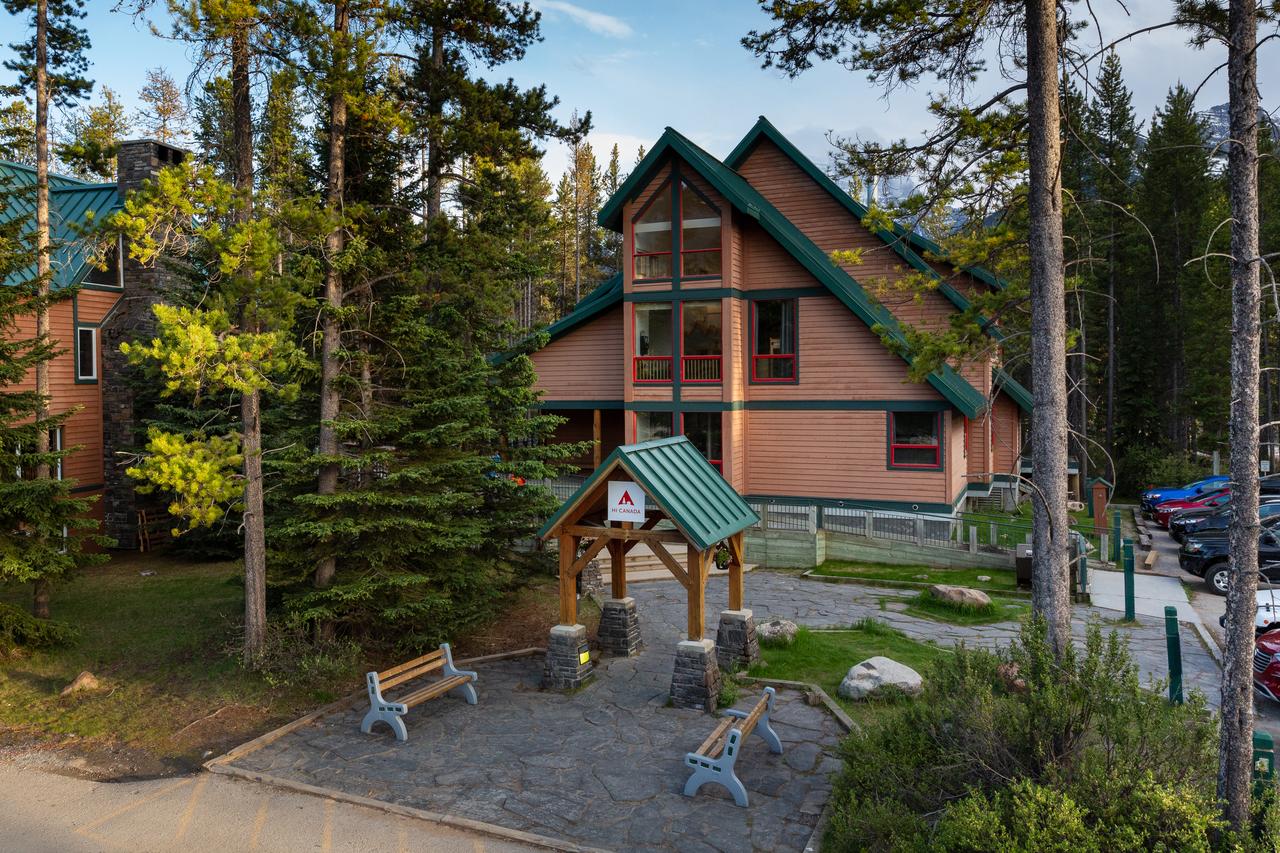 The HI Lake Louise Alpine Center is a classic mountain hostel that provides access to some tremendous ski, climb, hike, and mountaineering objectives. It's a hostel with a mixture of dorm and private accommodation options. The hostel features an onsite cafe and two large communal kitchens.
Amenities on-site include an indoor pool, hot tub, fitness area, lounge with fireplace, library, and outdoor fireplace. The location is in Lake Louise village, a couple minutes' drive to Lake Louise and the Lake Louise Ski Resort. There is not much in terms of frills here, but it's clean and has plenty to offer for a comfortable stay.
---
Moraine Lake Lodge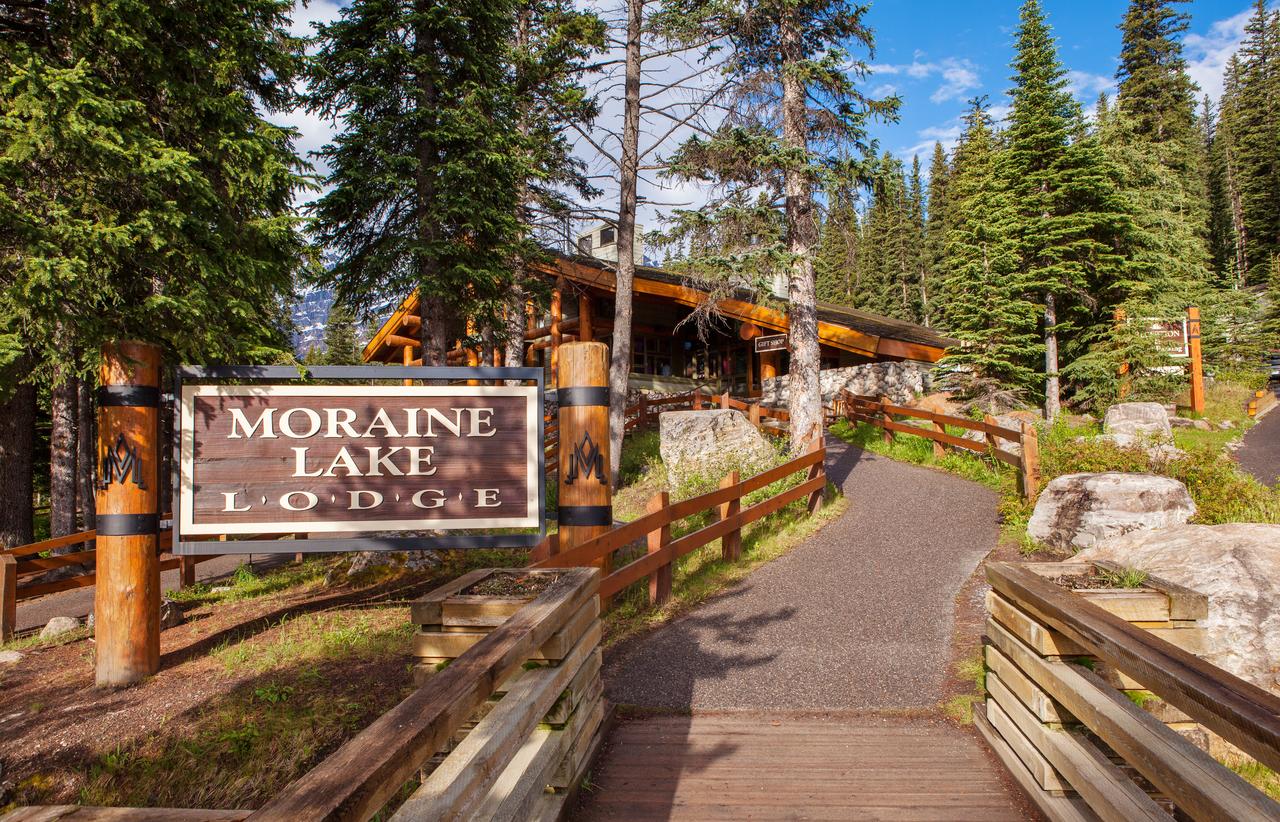 Moraine Lake Lodge may be set in the most scenic setting for a lodge in the entire world on the shores of Moraine Lake. It's an incredible location for a lodge that delivers high levels of service. Rooms are a series of cabins that are spread across grounds set along the Lake.
Inside each room is tasteful mountain decor such as pinewood beds and a wood fireplace. Coffee and tea inside stations in the room are particularly nice for mornings on private balconies that offer mountain and lake views. Included in room rates is tea time, breakfast, dinner, wine, and activities such as canoeing and hiking. The free canoe rental at Moraine Lake is a particularly nice perk as it costs $120 an hour for non-guests.
Of course, for the level of service, quality of accommodation, including food, and free activities the hotel regularly sells out. This means that room rates can be very high in peak summer months. Those summer months are the only operating months as the road to Moraine Lake closes in October.
---
Lake Louise Inn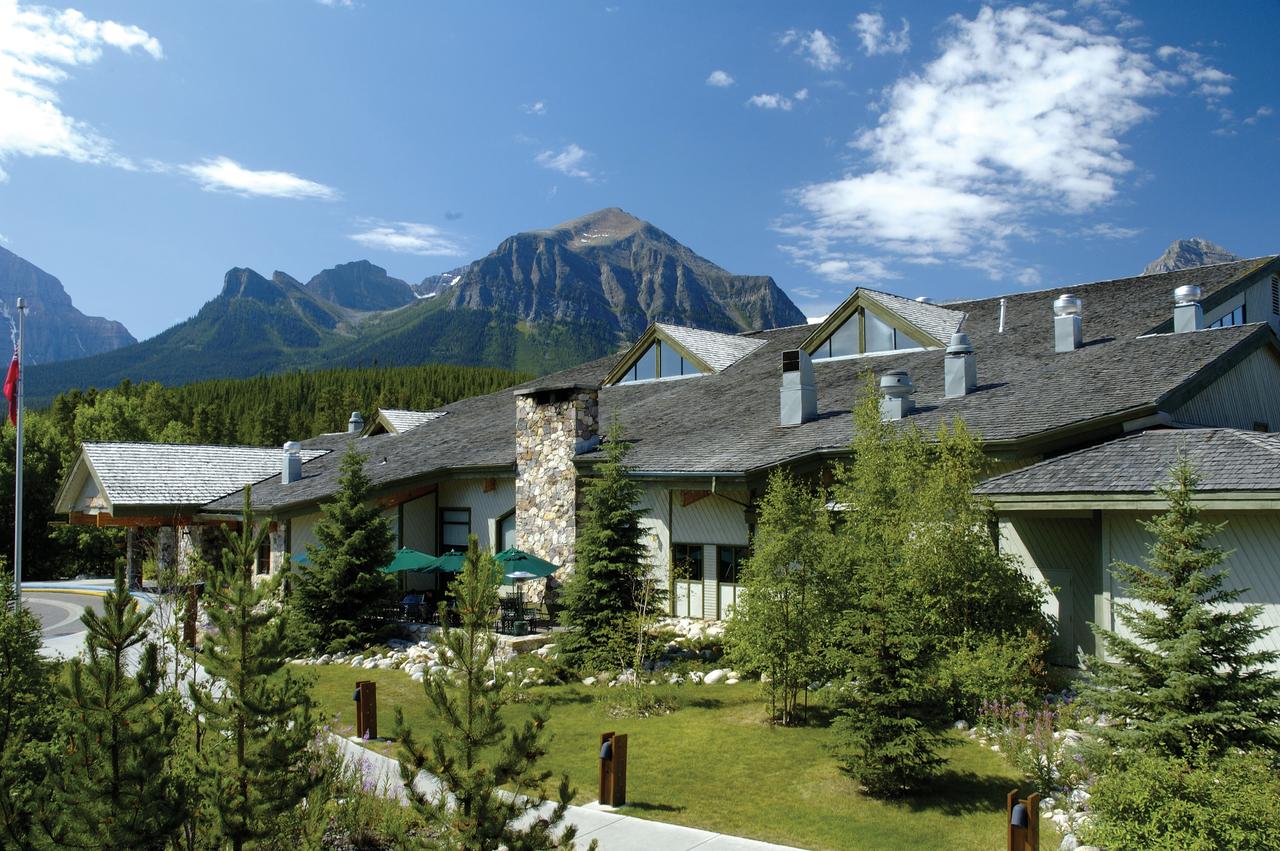 The Lake Louise Inn offers some of the best value for a traditional hotel in Lake Louise. It's located in the Lake Louise village and features an onsite restaurant, pool, fitness center, outdoor grills, and free shuttle to the ski resort in the winter.
A number of recently renovated rooms are a particular highlight with fireplaces in the rooms. However, the majority of rooms are fairly basic and are absent things like a mini-fridge. The standard rooms are a bit cramped at that too, but it's also one of the more affordable options for hotels in Lake Louise.
---
Mountaineer Lodge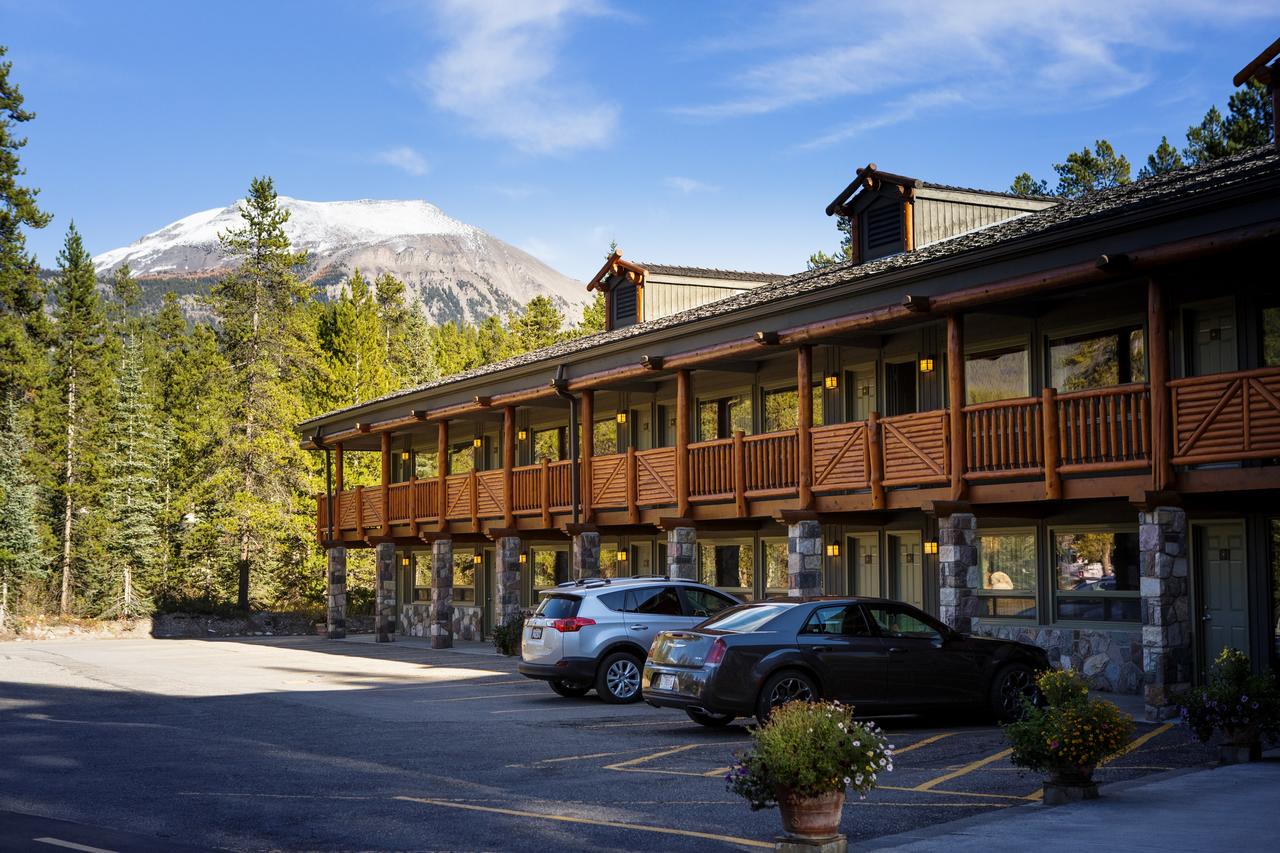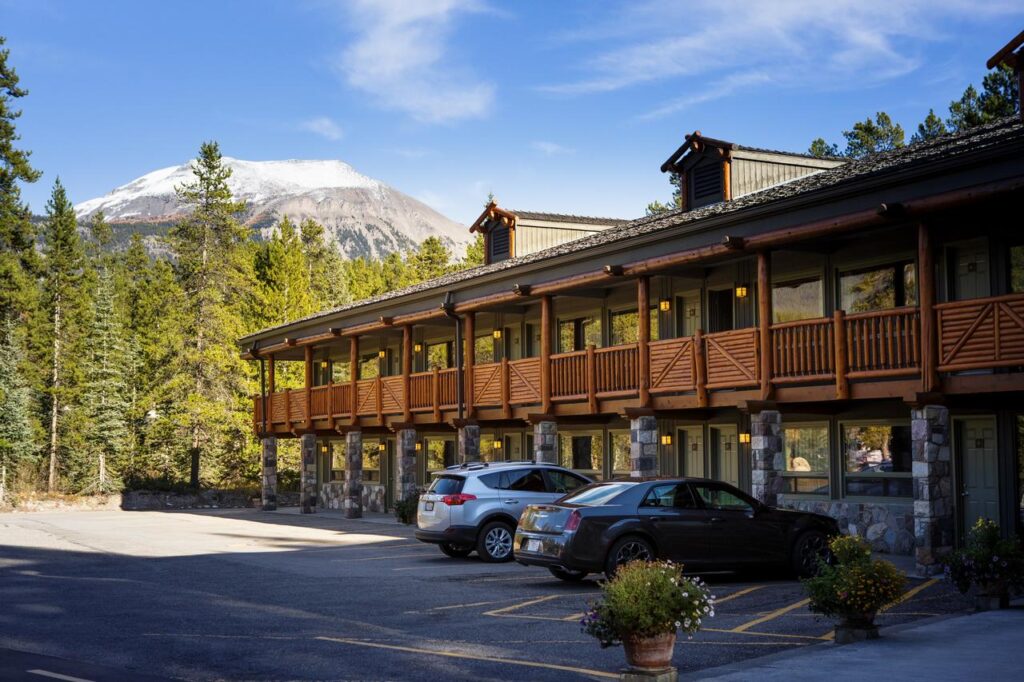 Situated in Lake Louise Village the Mountaineer Lodge provides convenient access to the Lake and ski resort. Included in the room rate is a complimentary continental breakfast buffet, WiFi, and parking. There are a variety of rooms available that includes standard rooms with king/queen, or rooms with two queen beds.
A couple of suites are well suited for families as they have enough room to sleep six. All of the hotel rooms include a mini-fridge, microwave, coffee/tea station, toiletries, and flat-screen TV. Facilities at the lodge include a hot tub, steam room, coin-operated laundry facilities, ski storage, and a ski shuttle. There nothing exceptional here, but it's enough to ensure a comfortable stay in Lake Louise Village.
Hope this list of Lake Louise hotels helped make your trip to Lake Louise easy to plan!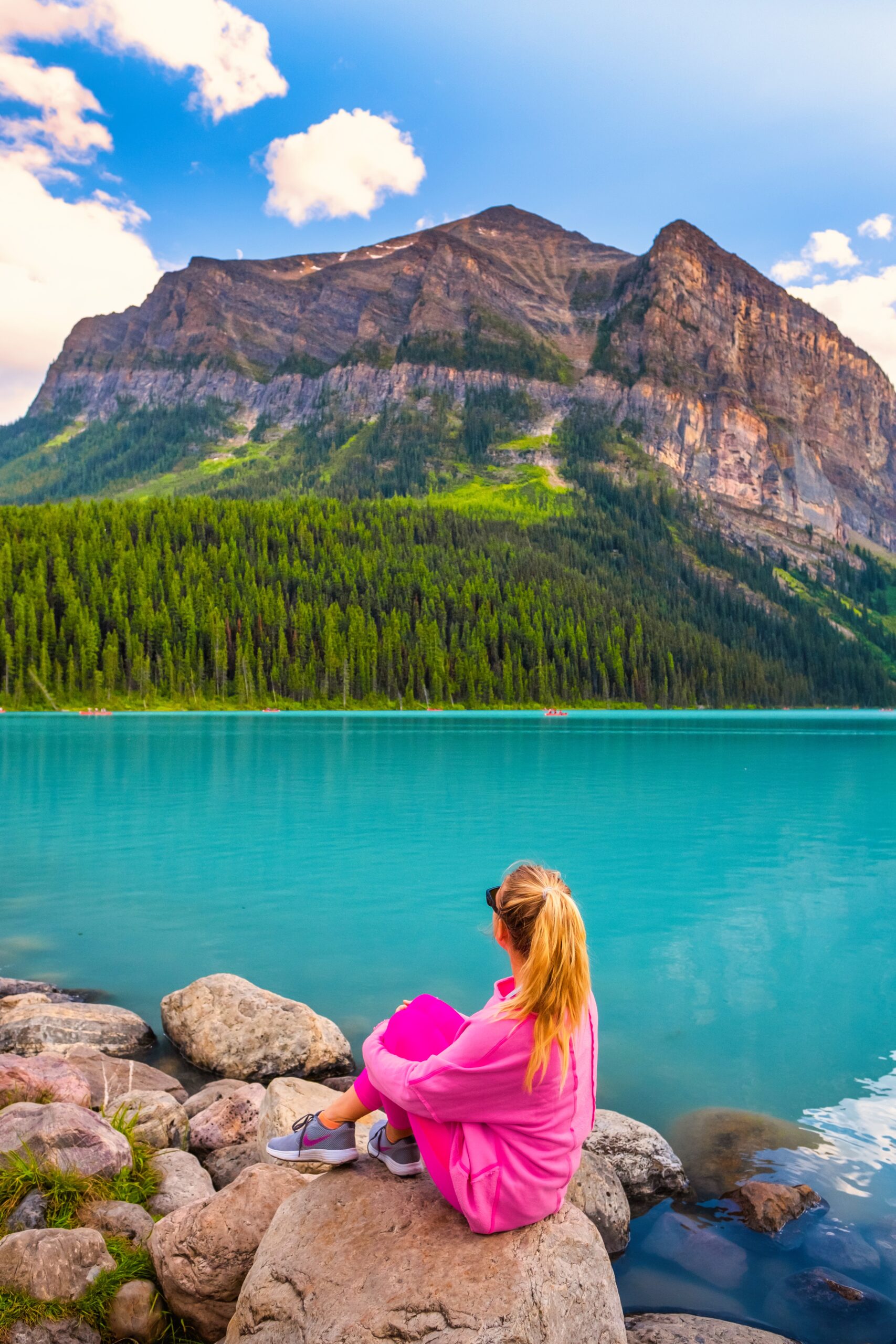 ↓ Join the community ↓
The Banff Blog Facebook Group is your headquarters for the Canadian Rockies travel advice and information. Including hike info and off-season travel information. This is also a place where you can meet one another when you need adventure buddies.