Looking for the best Lake Louise hikes? We share the most popular hikes around the lake and share all of the details in this guide to experience the best hikes around Lake Louise. If you want to add some more hikes to your list, check out our list of the best Banff hikes.
These hikes start from Lake Louise and are certain to have stunning views of the stunning turquoise lake, surrounding mountains, and awe-inspiring glaciers. Any hiker who gets the opportunity to hike around Banff National Park and Lake Louise should consider themself very fortunate.
What's also great about these trails is their ability to be combined; for example, we hiked Lake Agnes, Mount Niblock, Whyte, Big Beehive, and Devil's Thumb in one day. Or another great option would be to hike the Big Beehive to the Plain of Six Glaciers for an awesome day in the mountains. We'll do our best to note the Lake Louise hikes that are best combined.
See Also:
---
The Best Lake Louise Hikes
---
Fairview Lookout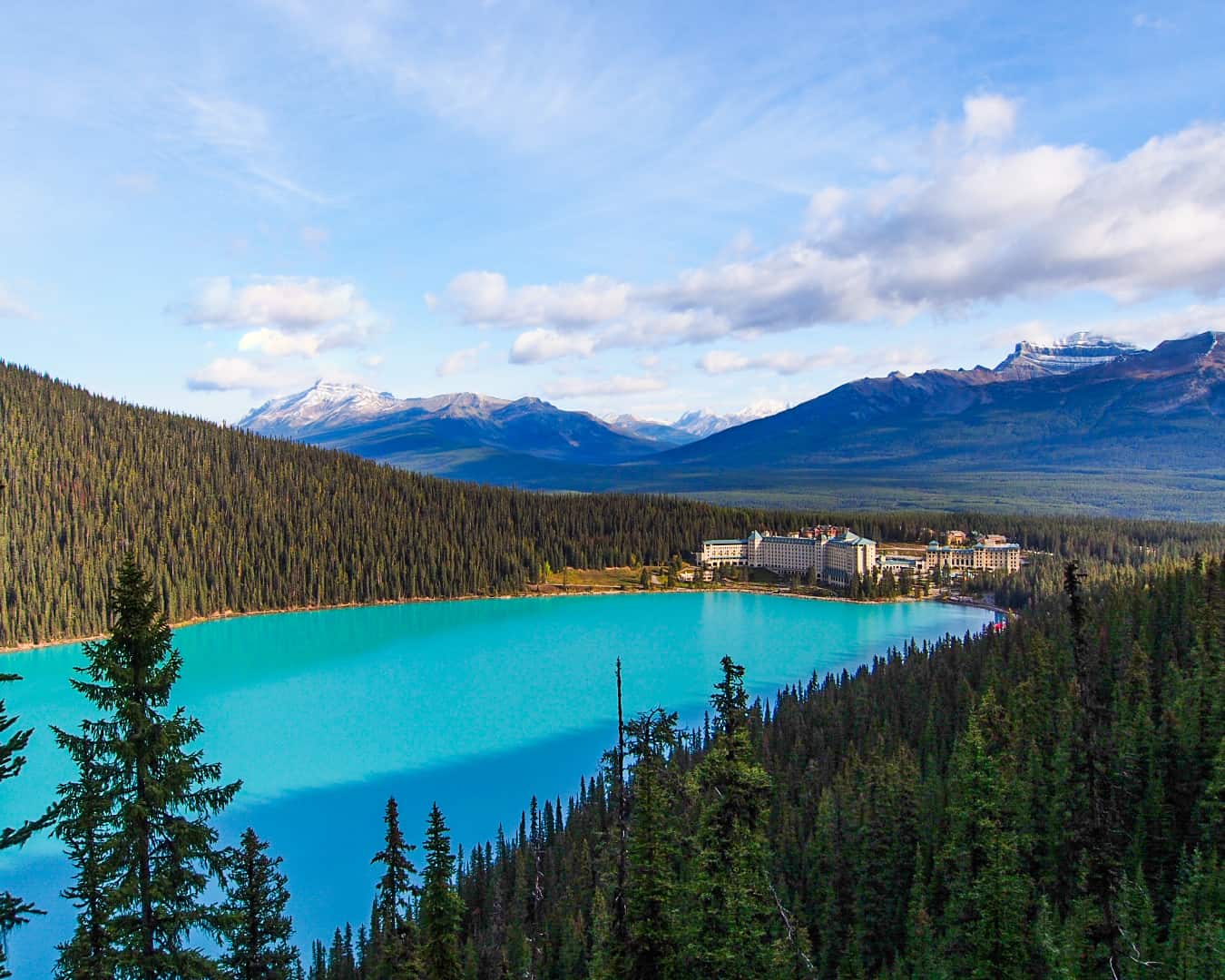 The Fairview Lookout trail is a short, sweet hike that provides great views over Lake Louise from some elevation. It's quieter and less strenuous than the classic Lake Agnes Teahouse hike below, so it's a good option if you're not up the elevation gain required for Lake Anges or just want a quick jaunt in the area.
A nice platform also provides views back out to the impressive and historic Chateau Lake Louise Hotel. Don't expect the view on the way up as it's forested, but the lookout platform from the top is a lovely view worth the effort.
Length: 2.4 km
Duration: > 1 hour to 1 hour
Elevation Gain: 165 meters
Difficulty: Easy/Moderate
Best Time To Go: June – October
Can Combine With: Mount Fairview Summit
---
Lake Agnes Teahouse
The Lake Agnes Teahouse hike is a popular thing to do in Banff for visitors to Lake Louise. It's also one of the most iconic and popular hikes in all of Banff National Park and has been enjoyed by visitors for well over a century. It ends at the Lake Agnes Teahouse, which has been serving visitors since 1905, when it first opened. A rustic old cabin that sits along the banks of Lake Agnes and over a rushing waterfall.
Its popularity is perhaps its only downfall as the teahouse can attract a crowd in the summer months with a line out the door. Never the less it is a classic and ends at the lovely Lake Agnes, the perfect spot for lunch. This is an easy to moderate hike above Lake Louise that is suitable for all visitors to Banff.
This is an easy hike that can be done in under two hours and is an iconic thing to do in Banff. However, be warned it is a busy one! To escape the crowds (and get better views), keep climbing to the Big or Little Beehive.
Length: 7.6 km
Duration: 2 – 3 hours
Elevation Gain: 433 meters
Difficulty: Easy/Moderate
Best Time To Go: All Year, Summer Months Best
Can Combine With: Little Beehive and Big Hive
---
The Plain of Six Glaciers
This is one of the most incredible Lake Louise hikes that starts out strong with a walk along Lake Louise and finishes in an open plain of glaciers. To sweeten the deal, the historic Plain of Six Glaciers teahouse is there to reward hikers with a cup of tea or a fresh-baked goodie. It's a stunner of a hike with a whole bunch of rewards vs. effort.
At one point, this massive valley was the convergence of six glaciers that have all since retreated due to warming temperatures. All that is left now is the monstrous debris field that will leave hikers in all of their earth-shaping capability. It's also possible to combine this hike with the Lake Agnes / Big Beehive hike for an incredible day in the mountains.
Length: 13.8 km
Duration: 3 – 5 hours
Elevation Gain: 587 meters
Difficulty: Moderate
Best Time To Go: June – October
Can Combine With: Lake Agnes Teahouse
---
The Little Beehive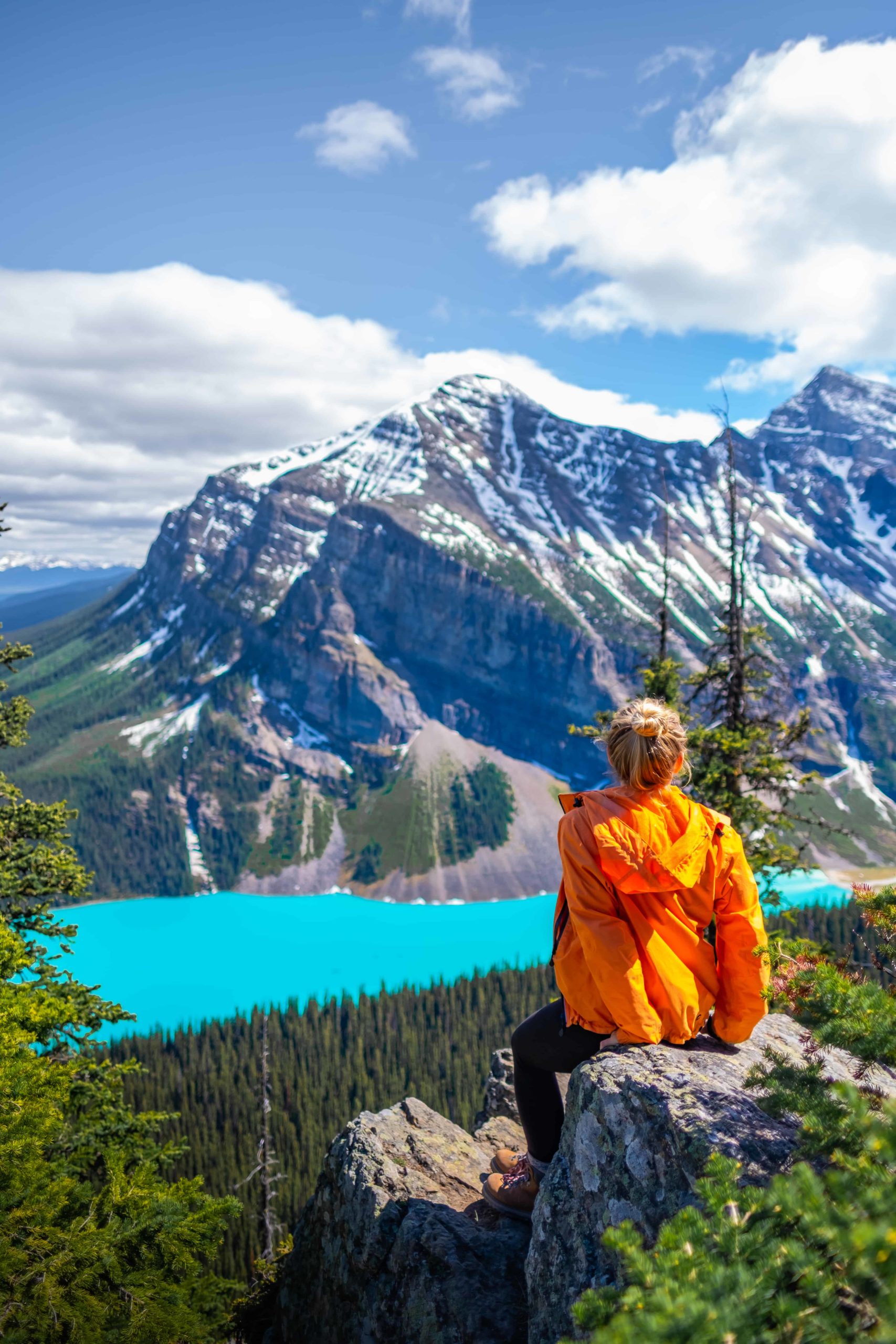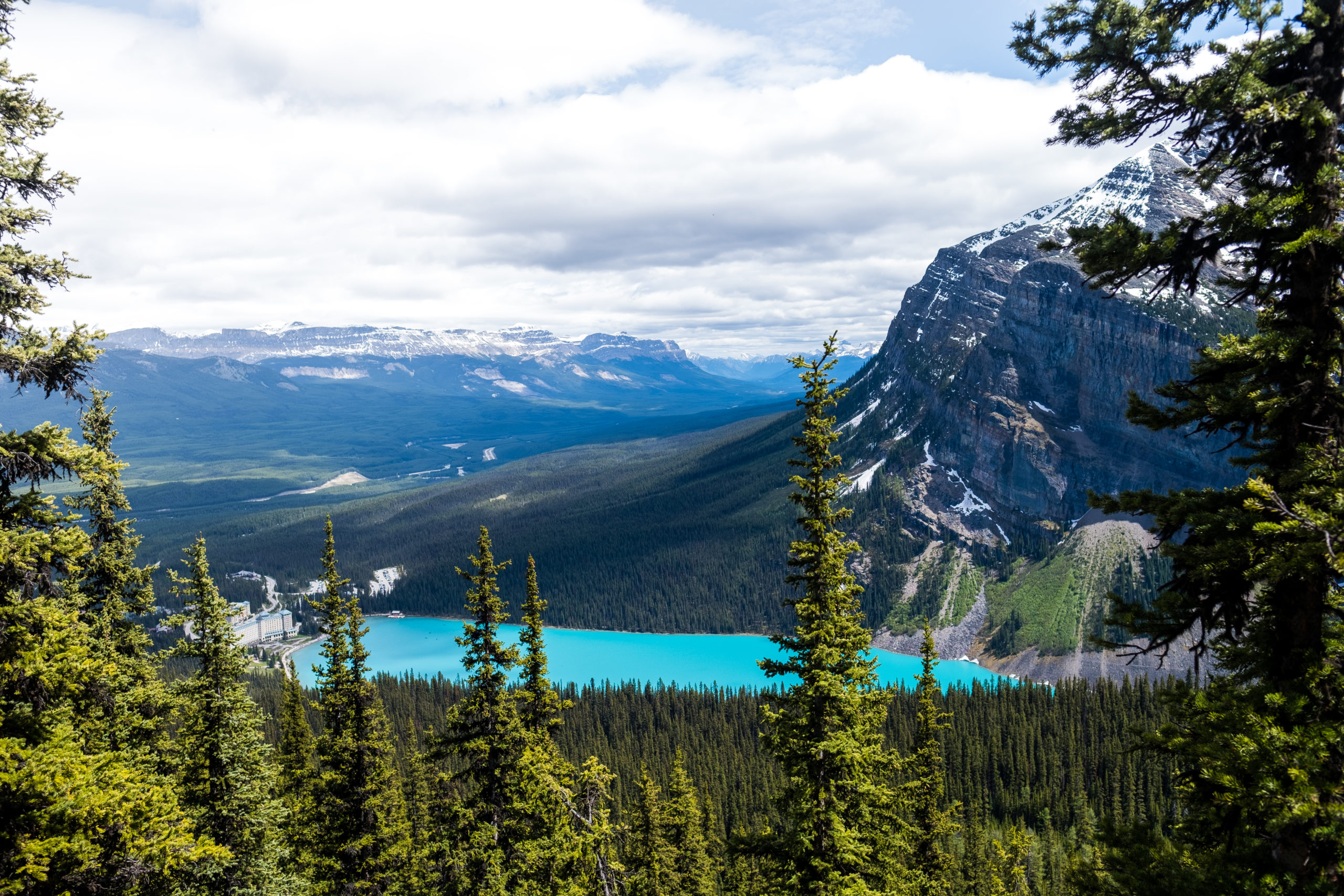 From Lake Agnes, you have two popular additions to continue your hike and gain some of the best views of Lake Louise from above. The Little Beehive, despite its name, is not much smaller than the Big Beehive, so I wouldn't base the two hikes on difficulty. That being said, the Little Beehive is slightly easier.
The real difference lies in how busy and the view from these two hikes. The Little Beehive sees fewer hikers and offers views over Lake Louise along with Mount Fairview. It's also possible to see the Lake Louise Ski Resort in the distance. It's a really nice hike, and I'd recommend it for anyone with the energy to escape the crowds at the Lake Agnes Teahouse.
Length: 9.0 km
Duration: 2 – 4 hours
Elevation Gain: 535 meters
Difficulty: Moderate
Best Time To Go: June – October
Can Combine With: Lake Agnes Teahouse, Big Beehive, Mount St Piran
---
The Big Beehive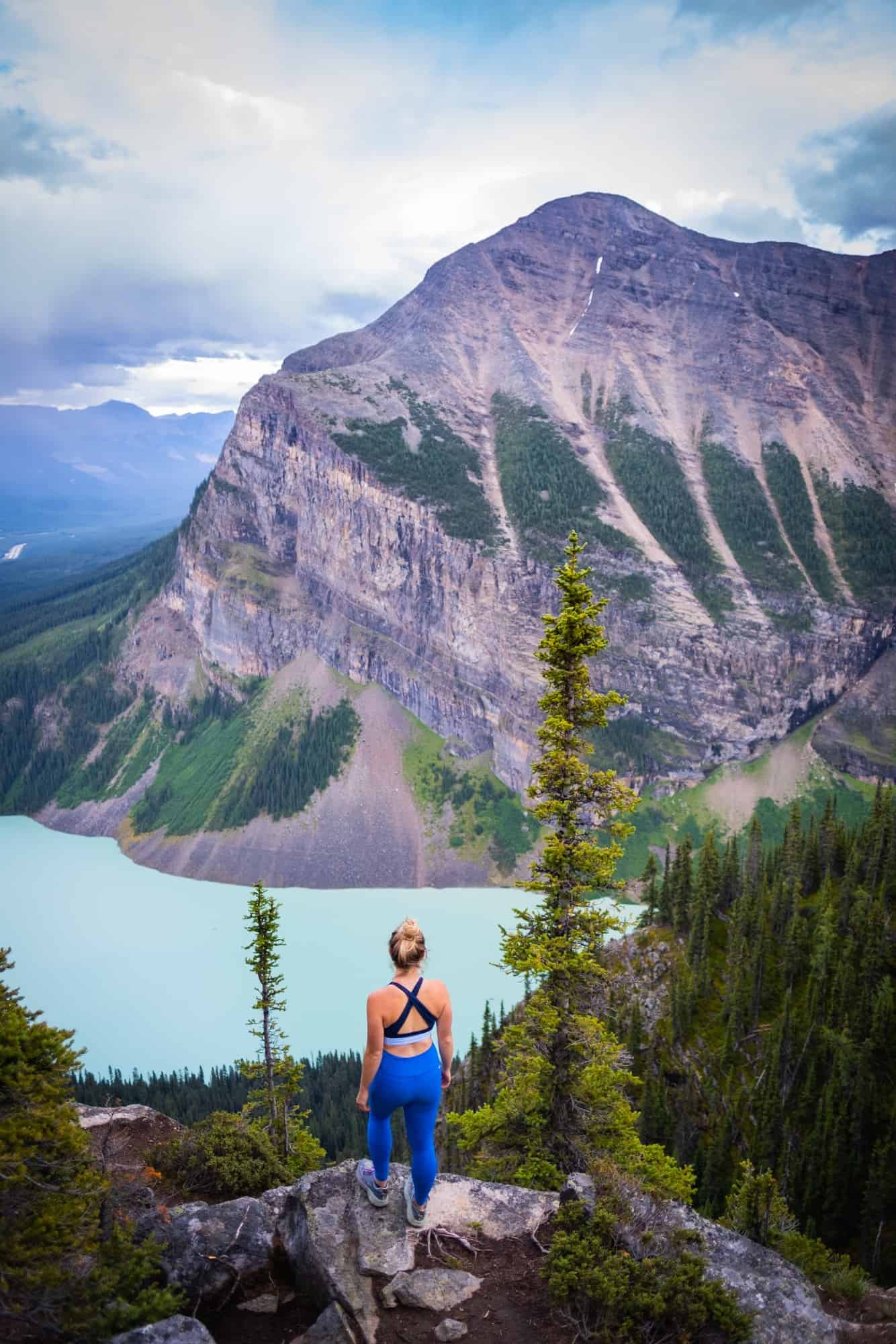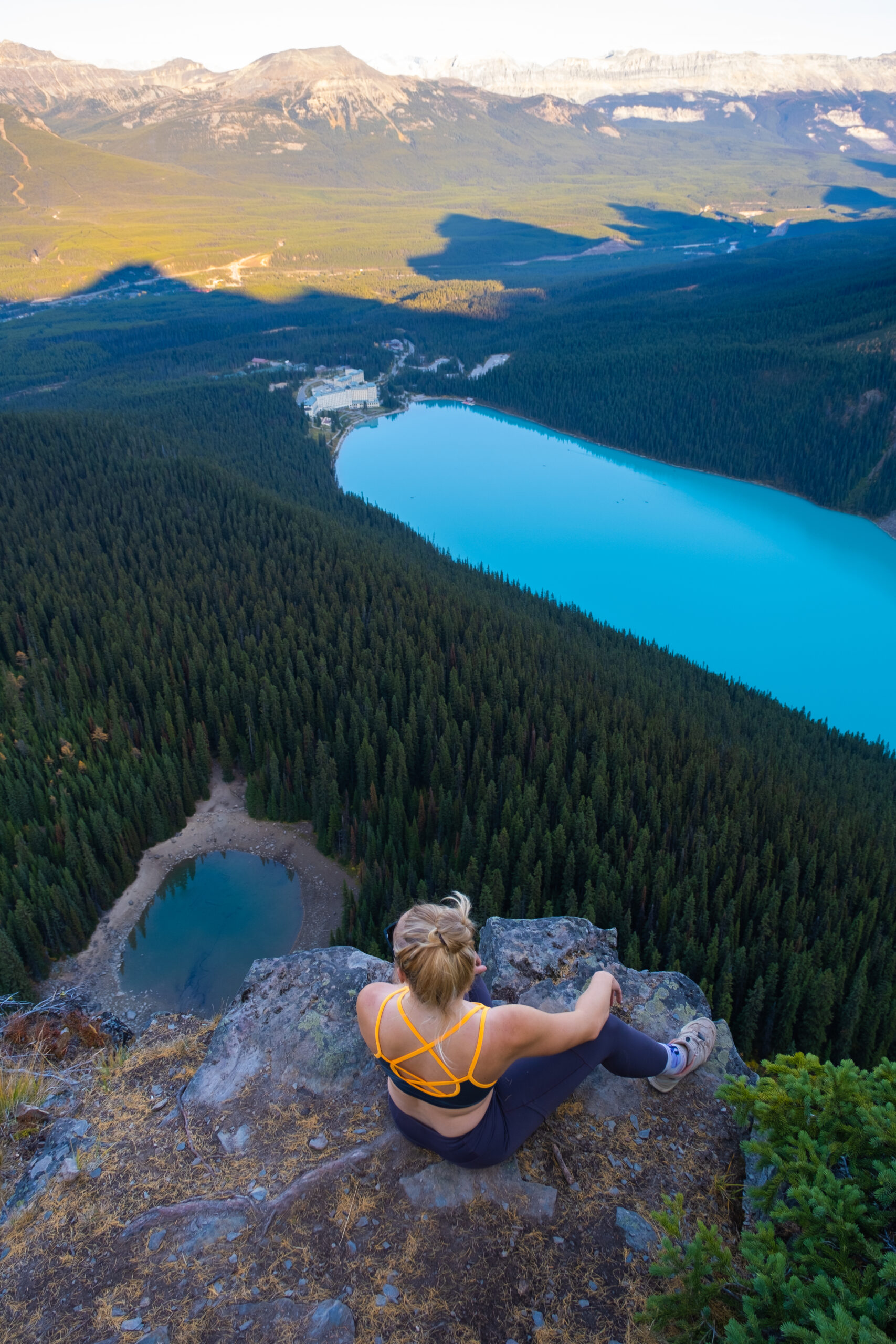 The Big Beehive is a classic addition to the Lake Agnes Teahouse trek and well worth the effort, much like The Little Beehive. The trail to the Big Beehive extends past Lake Agnes and then climbs a ridge through a series of switchbacks to reach the top of the Big Beehive.
From there, you have amazing views over Lake Louise as it's closer to the Lake than the Little Beehive. If you find the right spot, it's possible to see Lake Louise and Mirror Lake at the same time.
It's also the most popular photo spot of Lake Louise for social media, similar to the rocks as Peyto Lake. Regardless of the famous photos, it's a fantastic Lake Louise hiking trail that we've been up to countless times and are never disappointed.
Length: 10.3 km
Duration: 2 – 4 hours
Elevation Gain: 647 meters
Difficulty: Moderate
Best Time To Go: June – October
Can Combine With: Lake Agnes Teahouse, Little Beehive, Devil's Thumb
---
The Beehive Circuit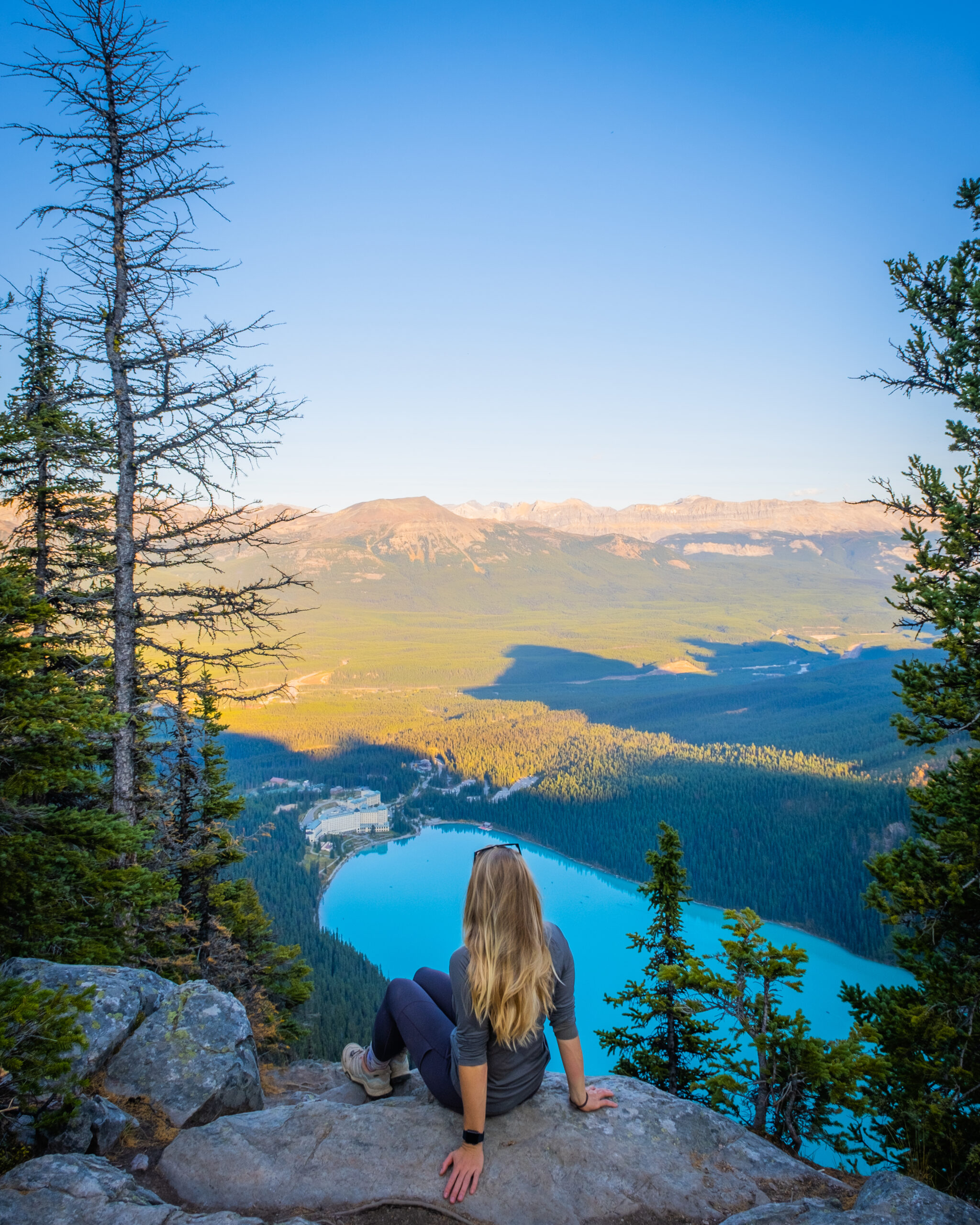 The Big Beehive and Little Beehive are two of the most popular hikes in all of Banff National Park. While the busy trails often feel far from being in the wilderness, the surreal views more than make up for anything that you can say negative about the hike. The greater "Beehive Circuit" makes for a tremendous day out for beginner to intermediate hikers with spectacular views and a solid challenge.
These Lake Louise hikes are popular. For the best chance of getting some alone time on them, it's best to go early morning or around sunset and hike out in the dark (bring a headlamp!)
Length: 14 km
Duration: 4 – 7 hours
Elevation Gain: 1,032
Difficulty: Moderate
Best Time To Go: Summer (June – September)
Can Combine With: Mount Saint Piran, Devil's Thumb
---
Mount Saint Piran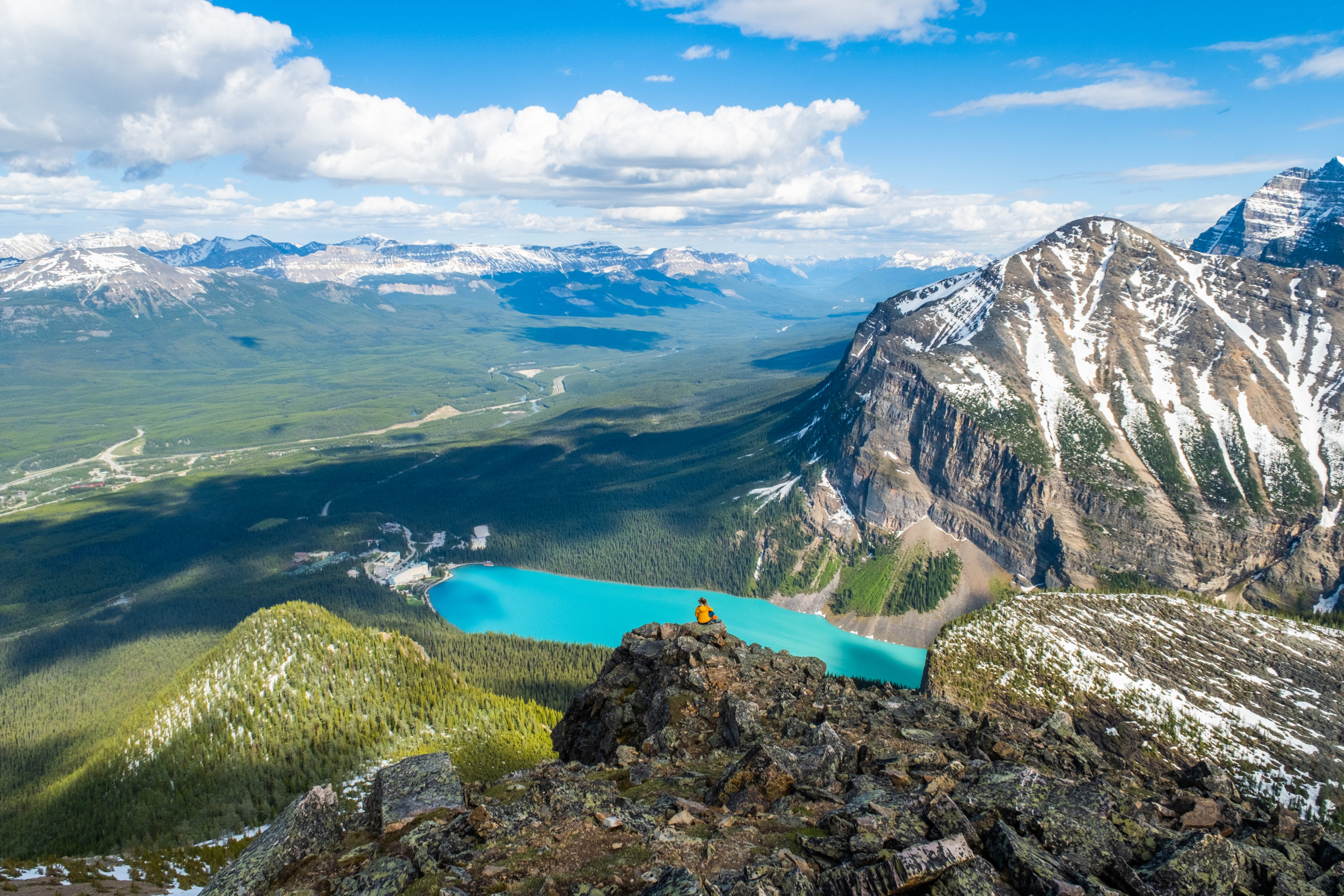 If you want to continue on even further past Lake Agnes and the Little Beehive, head for the summit of Mount Saint Piran. The trail follows along the Little Beehive trail until it veers off 400m from the summit of the Little Beehive. You follow a signed path through the thinning forest until you reach the alpine out of the tree line.
From there, it's a beaten path or cairns through rock fields and scree. It's not a technical challenge, but it does require some solid physical stamina. Once you reach its summit, though, you're rewarded with some stellar views over the area as you can see the Waputik Icefield to the North. It's a sharp departure from the busy throngs of crowds down at Lake Louise as only a few complete the hike. You also get to claim you summited another peak in the Canadian Rockies.
Length: 12.2 km
Duration: 3 – 6 hours
Elevation Gain: 918 meters
Difficulty: Difficult
Best Time To Go: June – October
Can Combine With: Lake Agnes Teahouse, Little Beehive
---
Mount Fairview & Saddleback Pass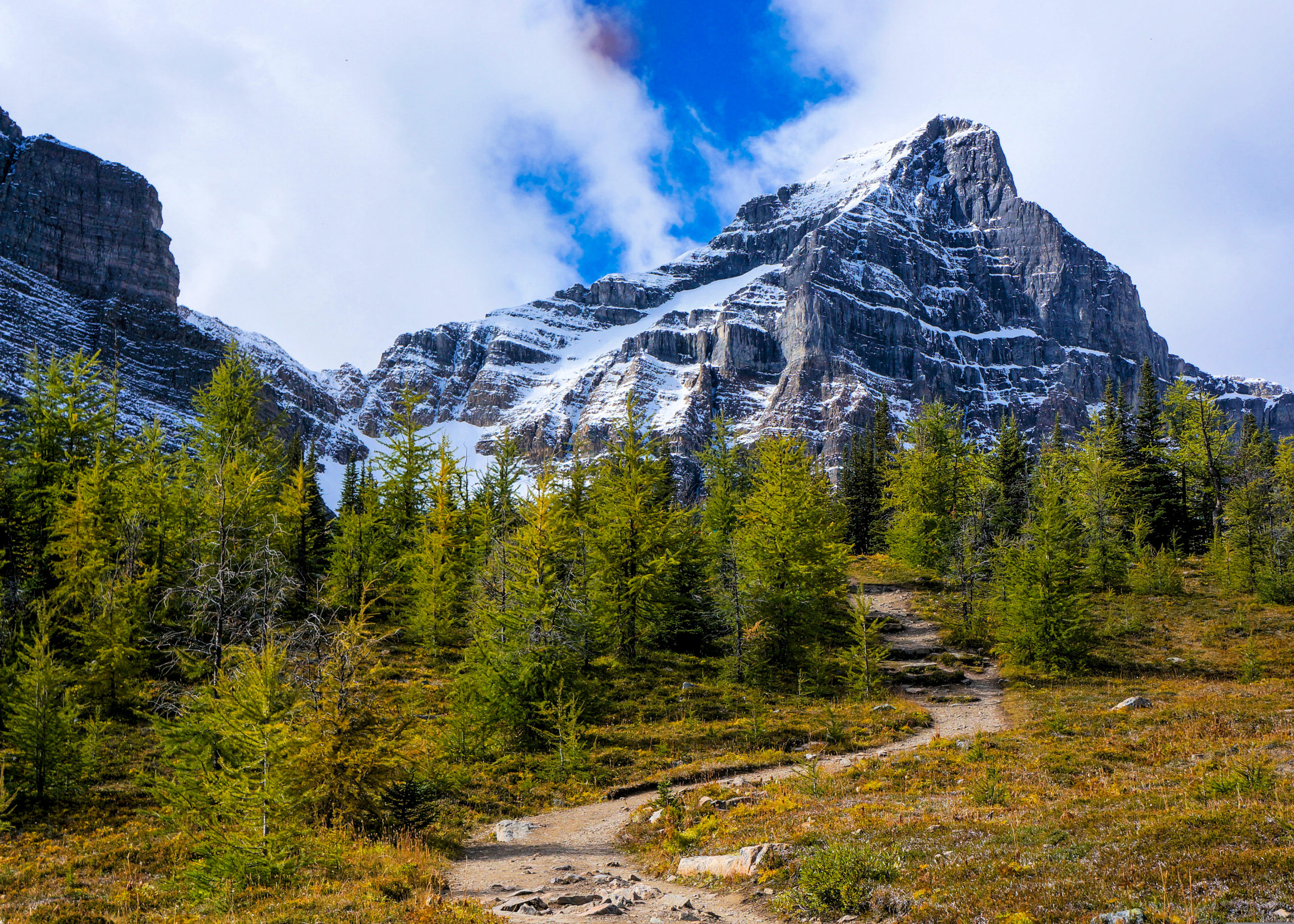 This is a really great day out in the mountains for active hikers and a real gem in the Lake Louise area. You're guaranteed stunning views on a quiet trail. The trail leaves from Lake Louise and heads up to Paradise Valley, onto Saddleback Pass, before the summit of Fairview Mountain.
You'll be surrounded by staggering peaks, larch trees, gain a high mountain pass, and summit a mountain that rewards you with stunning views of Lake Louise down below. Altogether, it's one of the best Lake Louise hikes.
This hike is also a tremendous one in the larch season as the valley is full of larch trees. A great alternative, although still busy, to the famous Sentinel Pass hike. Plus, the mountain is photographed by almost every visitor to Lake Louise, which makes it a nice one to cross off the list, and say "I climbed that."
Although Fairview summit looks tall, I didn't find it too difficult. Anyone with decent fitness and adequately prepared with some snacks/lunch, water, and proper clothing should be able to summit Fairview. It gets cold on the mountain summits all year round. When we summited in July, it was freezing at elevation.
We're pretty fast hikers, and we summited Mount Fairview and back in under three hours. The last push to the summit was the hardest as it's very steep and rocky – this is where poles come in handy. Compared to the Beehive Hikes and Mount Saint Piran, Fairview was my least favorite. Mainly because I didn't get a full view over Lake Louise. However, you do get to see Mount Temple! All in all, it's still a stunning hike!
Length: 9.2 km
Duration: 3 – 6 hours
Elevation Gain: 1012 meters.
Difficulty: Difficult
Best Time To Go: June – October (Late September for Larch Season)
Can Combine With: Fairview Lookout
---
Lake Louise Scrambles
---
The Devil's Thumb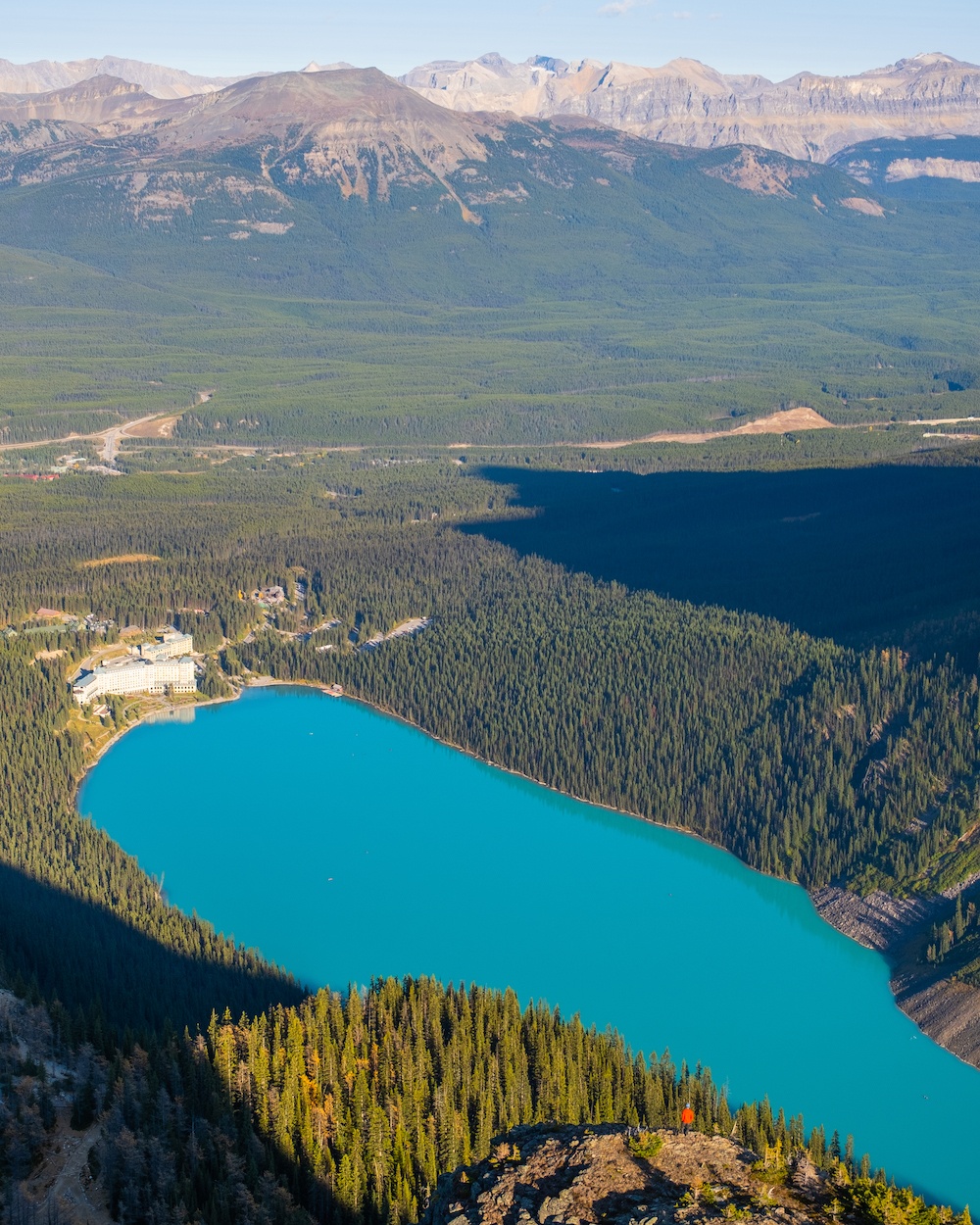 While physically, it's not much harder than the Big Beehive, The Devil's Thumb is classified as a scramble. Albeit a straightforward one and a great place to start for the adventurous to test their skills. From the Big Beehive hike, this departs from the trail on the way to the overlook and heads along the ridge and then up a gully to the top of Devil's Thumb. It's a great choice for the adventurous looking for something more out of their Lake Louise hikes.
The gully up to the top of Devil's Thumb can be busy, steep, and contain loose rock. For this reason, we recommend wearing a helmet. You never know if an inexperienced hiker above you will launch a rock down the gully – hikers have been hurt here from this! It's also why we would recommend an early morning approach or late afternoon when it's quieter.
Length: 11.9 km
Duration: 3 – 6 hours
Elevation Gain: 1,012 meters
Difficulty: Difficult / Easy Scramble
Best Time To Go: June – September
Can Combine With: Lake Agnes Teahouse, Beehive Circuit
---
Mount Niblock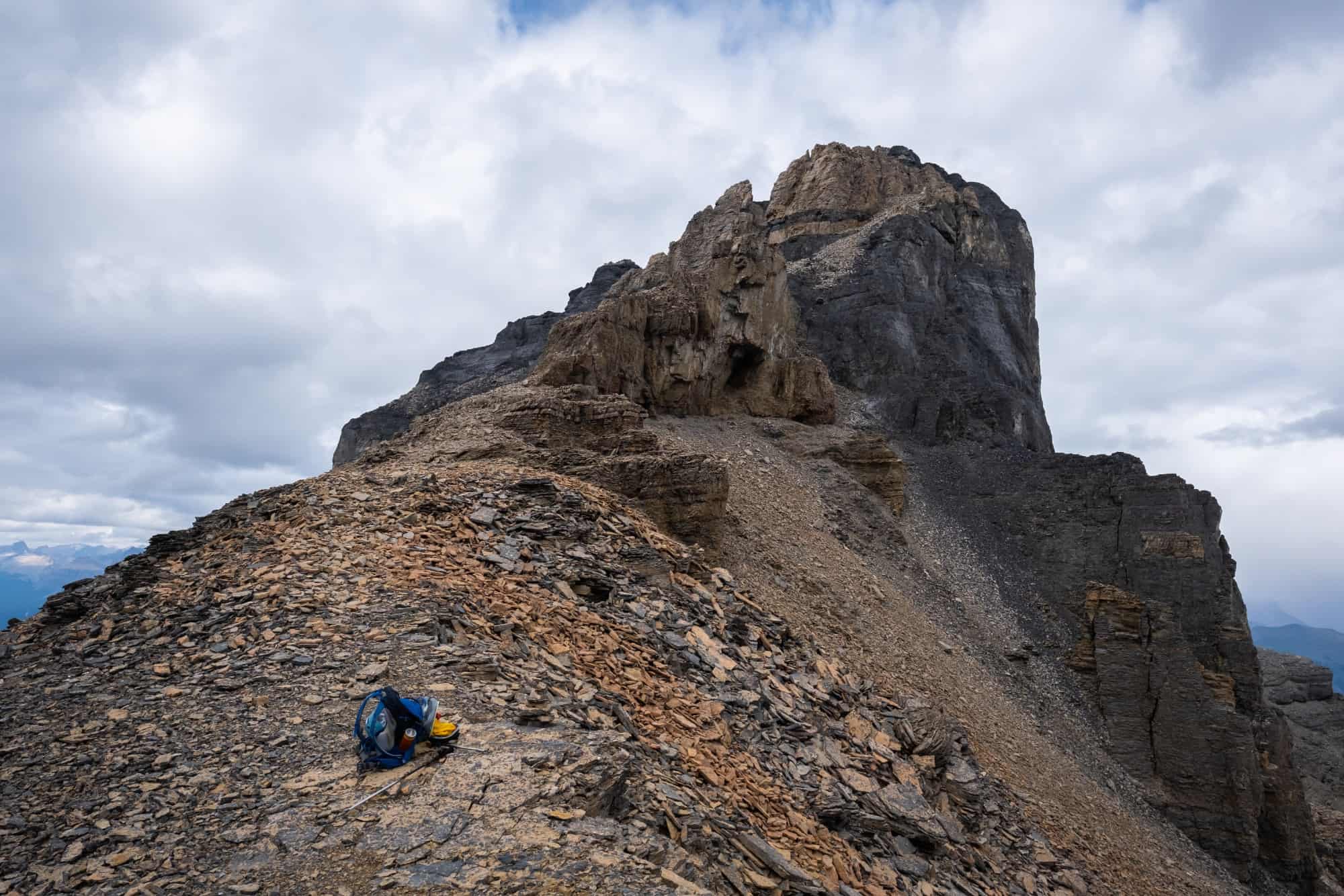 This, along with Mount Whyte below, are questionable Lake Louise "hikes." Never the less for experienced hikers or scramblers, they are tremendous options in the area as you're guaranteed to escape crowds, the views are phenomenal, and it's also a nice challenge. It's also wild as the hike dwarfs the others in the area and provides phenomenal views over the surrounding peaks.
When we made our scramble up the gully to summit the peaks, there was only one group on the route that day, despite a packed Lake Louise in the summer. You also have the option of Mount Whyte, but due to its difficulty, I am not listing it in this post as a hike for obvious safety reasons. Anyone attempting its summit likely knows the area already.
If you do plan for this scramble, please approach it with respect. There is some real exposure on Mount Niblock, and Mount Whyte is very exposed. Exposure means if you fall, let go, or slip, you'll likely be seriously maimed or die. This also means carrying the right equipment, including appropriate outerwear, boots, water, food, hiking poles, GPS, and a helmet.
Length: 16.4 km
Duration: 6 – 10 hours
Elevation Gain: 1,522 meters
Difficulty: Moderate – Difficult Scramble
Best Time To Go: June – October
Can Combine With: Lake Agnes Teahouse, Mount Whyte (serious scramble)
---
Other Banff National Park Hikes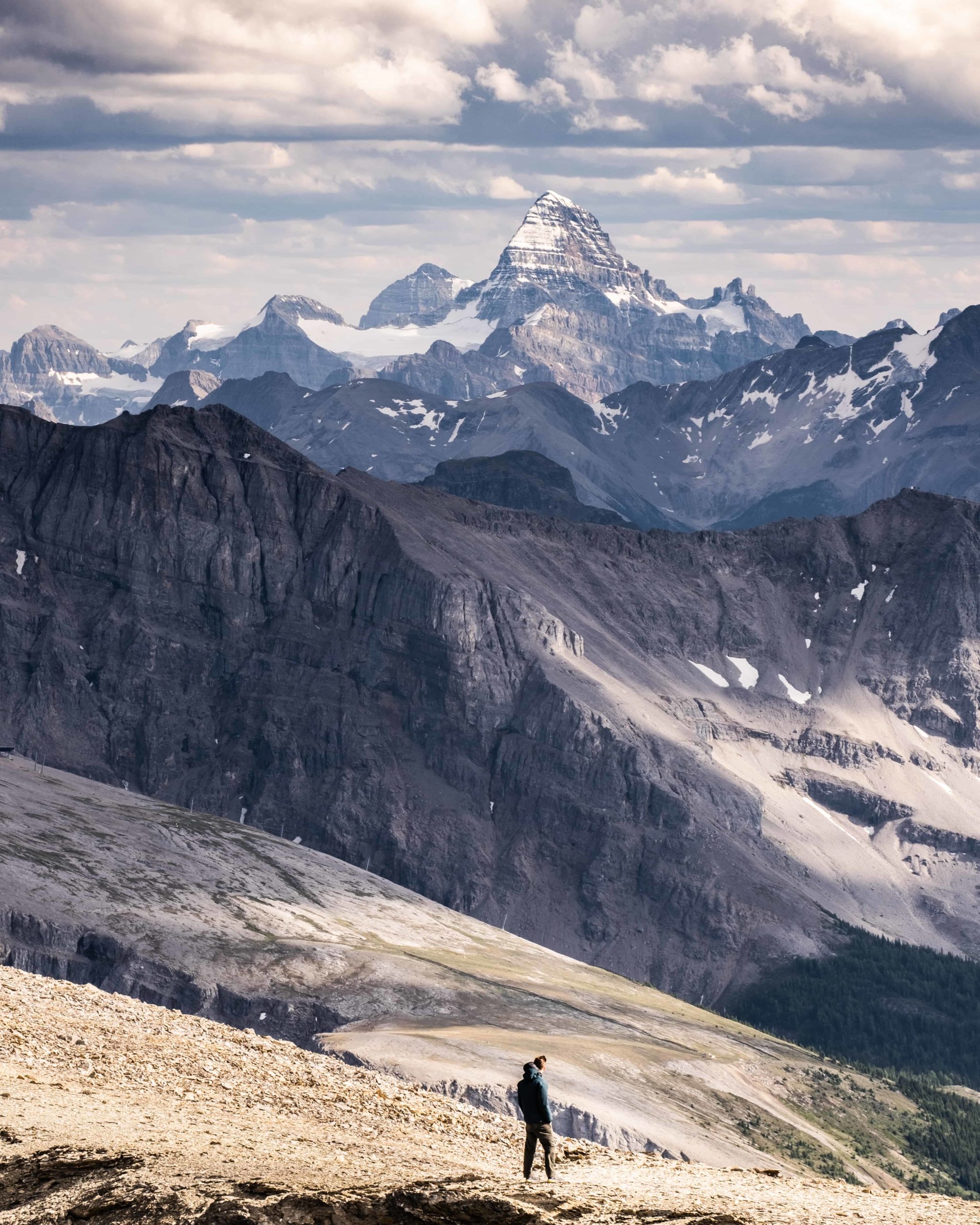 Of course, there are so many more hikes in Banff and tons of exploring. Looking for the best Banff hikes? We rank our favorite hikes around the park and share all of the details in this guide to experience the best in the park. You'll find on these hikes in Banff high alpine passes lined with wildflowers, jagged peaks topped by glaciers, and a healthy dose of turquoise blue lakes.
---
Advice on Hikes Around Lake Louise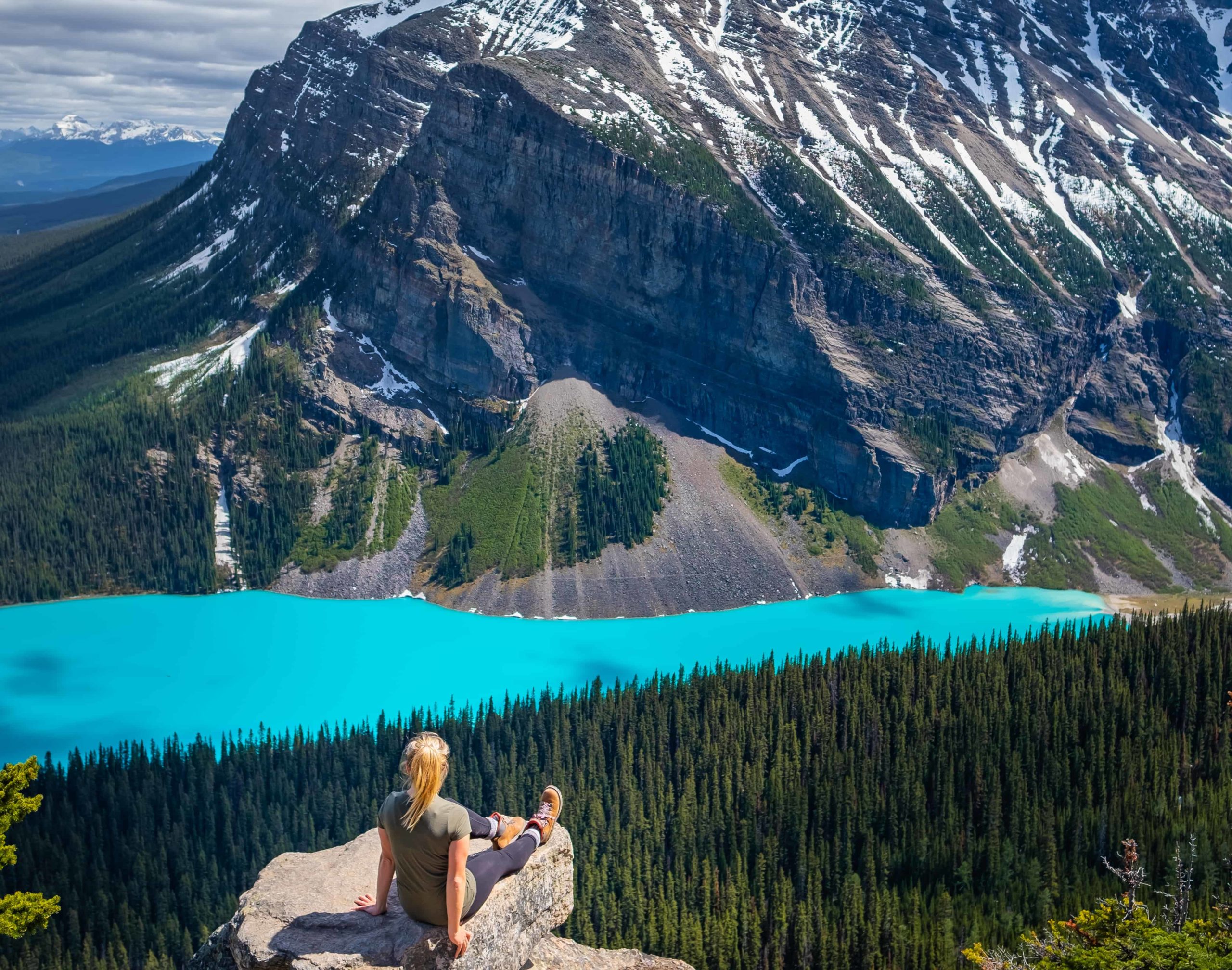 If this is your first time hiking in the Rockies take a conservative approach. Pick an adequate hike for your fitness, plan for plenty of time, pack water and food, and don't be afraid to turn around. If you want to learn more about what to wear hiking we have a great post.
For long hikes, set a turn around time at the departure. Any time we set out for an objective I determine a time at which we need to turn around in order to arrive at the parking lot or campsite by dark. I would recommend not hiking in the dark as it's easy to get lost and it's not fun in bear country.
Always carry bear spray if you plan to hike in the park. We carry ours in the neighborhood and bears have been known to stroll through town and busy parking lots. Always practice wildlife awareness when you're on a trail, and please give animals space.
In regards to times keep in mind your mountain fitness as it's much different than the gym. The low end of the times in this post is a constant fast pace uphill with little to no breaks and a brisk pace downhill. Most hikers should plan for a middle of the road time with the estimated duration.
Although there is cell service around all of these Lake Louise hikes, a Garmin In Reach can save your life if you do a lot of hiking in the Canadian Rockies.
Alltrails is our favorite app to have on a hike. It shows the correct trail way, elevation, and other hiker reviews. We paid the subscription fee so that we could download all the data we need to our phones. Best $2.50 (per month) ever spent!
28 Helpful Tips for Hiking in Banff for New Hikers
---
What to Wear On a Hike?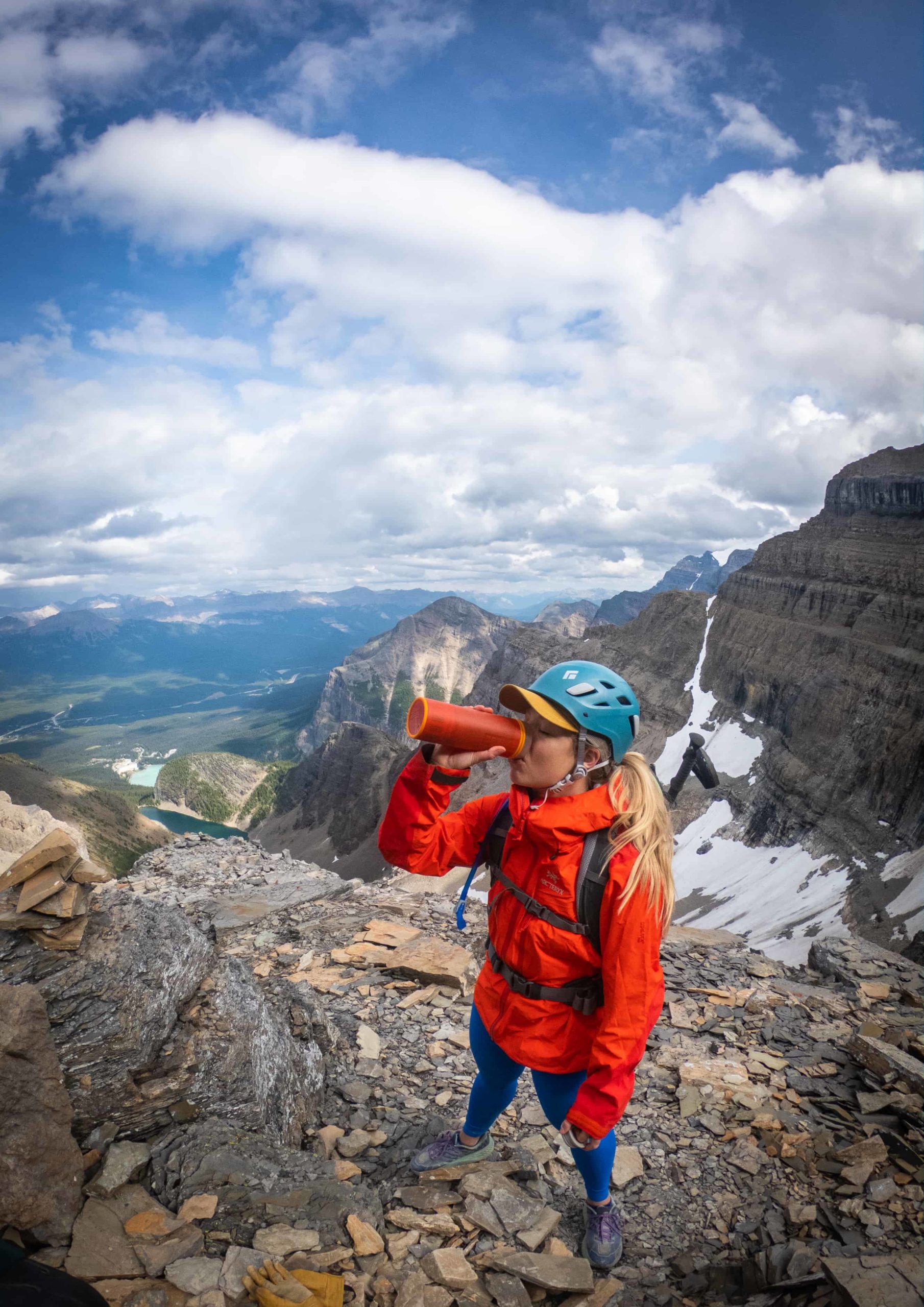 The most basic principle of what to wear hiking is layering. Anyone that has spent time in the wilderness or mountains can speak to the fact your temperature can fluctuate a lot on a hike. You can easily start off cool at the mountain base and get hot as soon as you begin moving.
↓ Join the community ↓
The Banff Blog Facebook Group is your headquarters for the Canadian Rockies travel advice and information. Including hike info and off-season travel information. This is also a place where you can meet one another when you need adventure buddies.