Mount St. Piran is an excellent hike that begins at Lake Louise. If you're seeking to escape the crowds on trails down below. It's been our goal to check off all of the mountains in the Lake Louise region of Banff, so we knew we'd have to cross Mount St. Piran off our list.
It's a gorgeous hike in Banff National Park that provides enthralling views of Lake Louise and a sweeping expanse of nature. Its lack of popularity and more challenging terrain ensures a more quiet trail experience. That being said, it's my vote for the best hike to escape crowds around Lake Louise.
---
Mount St. Piran Hike
---
Key Stats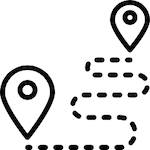 Length
12.2 km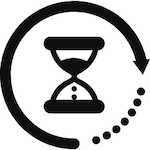 Duration
3 – 6 hours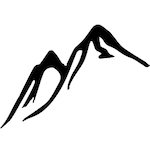 Elevation
918 meters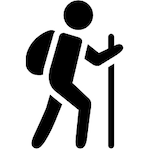 Difficulty
Easy Scramble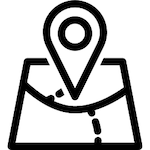 Trailhead
Lake Louise
---
Route Desciption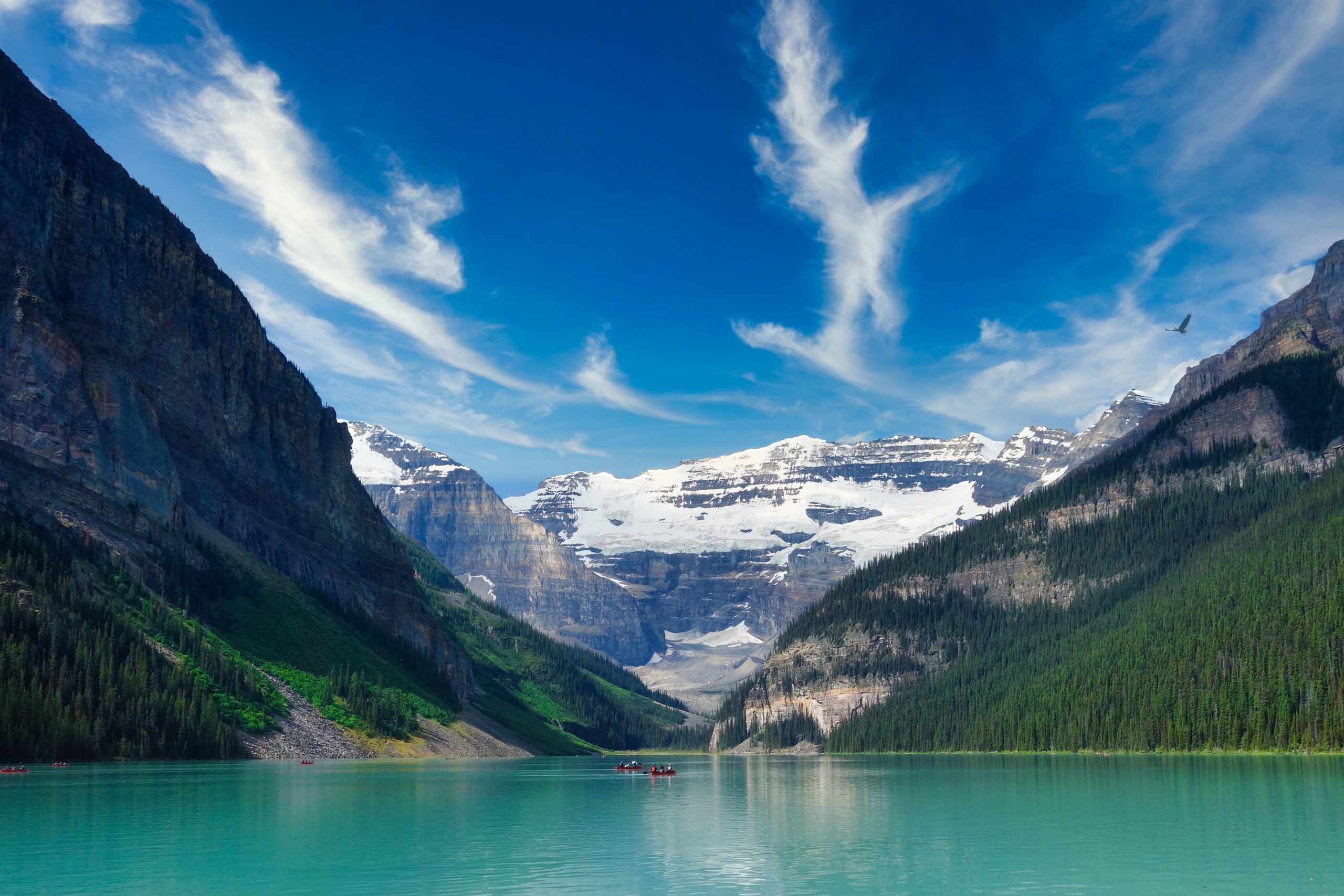 The route up to Mount Saint Piran falls between a scramble and hike. It's a good early season objective once the snow melts off the avalanche slopes as there is no exposure to be found on the route. Since the route begins at Lake Louise, one of the hardest parts of the day is to secure parking in the morning.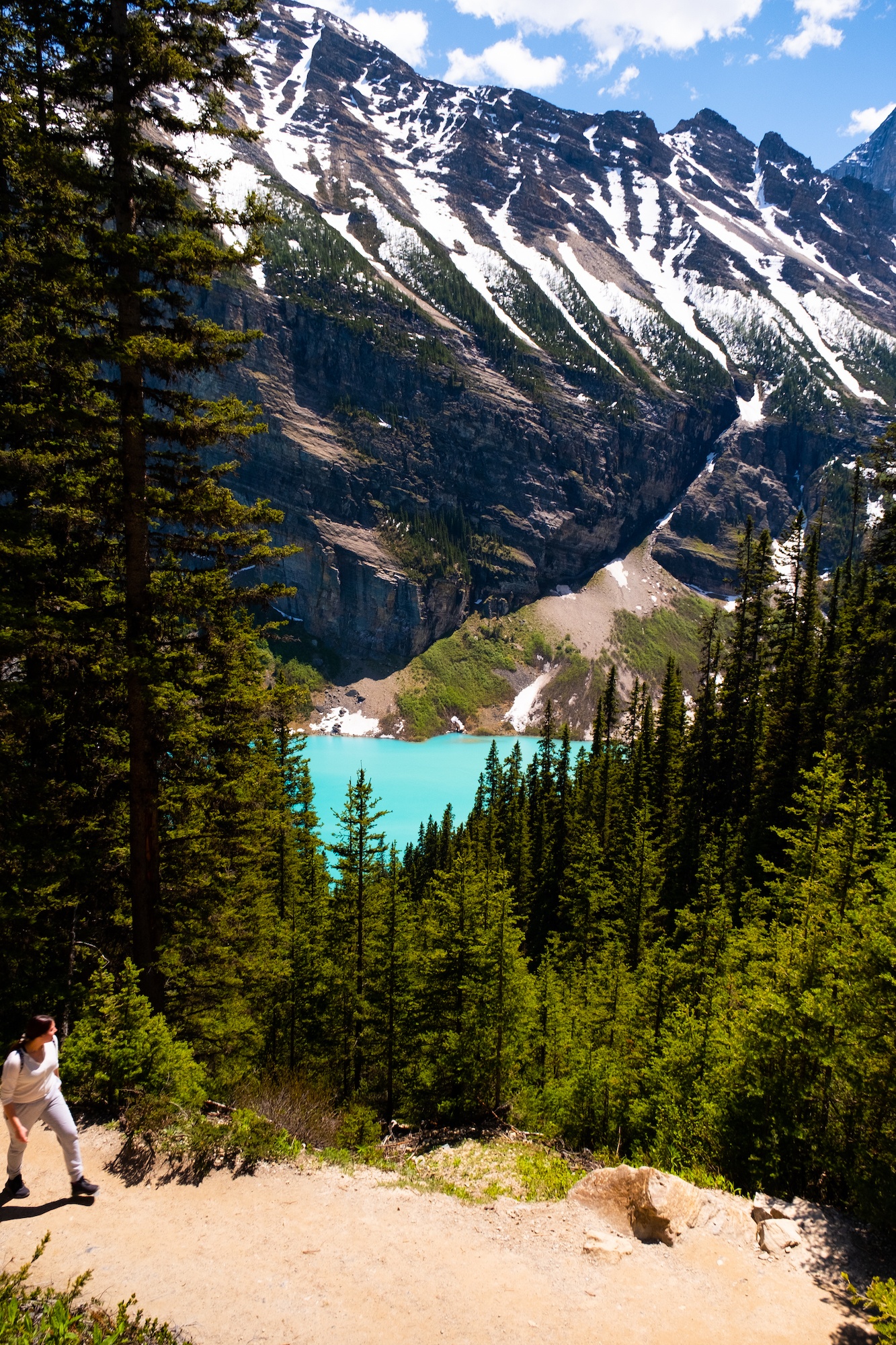 The trail follows the route up to Lake Agnes from the lake, which moves to the right side of the lake. Once near the forest line, a sign indicates the trail to Lake Agnes, and the journey uphill begins. It's easily one of the most popular hikes in Banff, so there will be a steady stream of wheezing tourists. This means fast to average-paced hikers will have to pass a lot of hikers.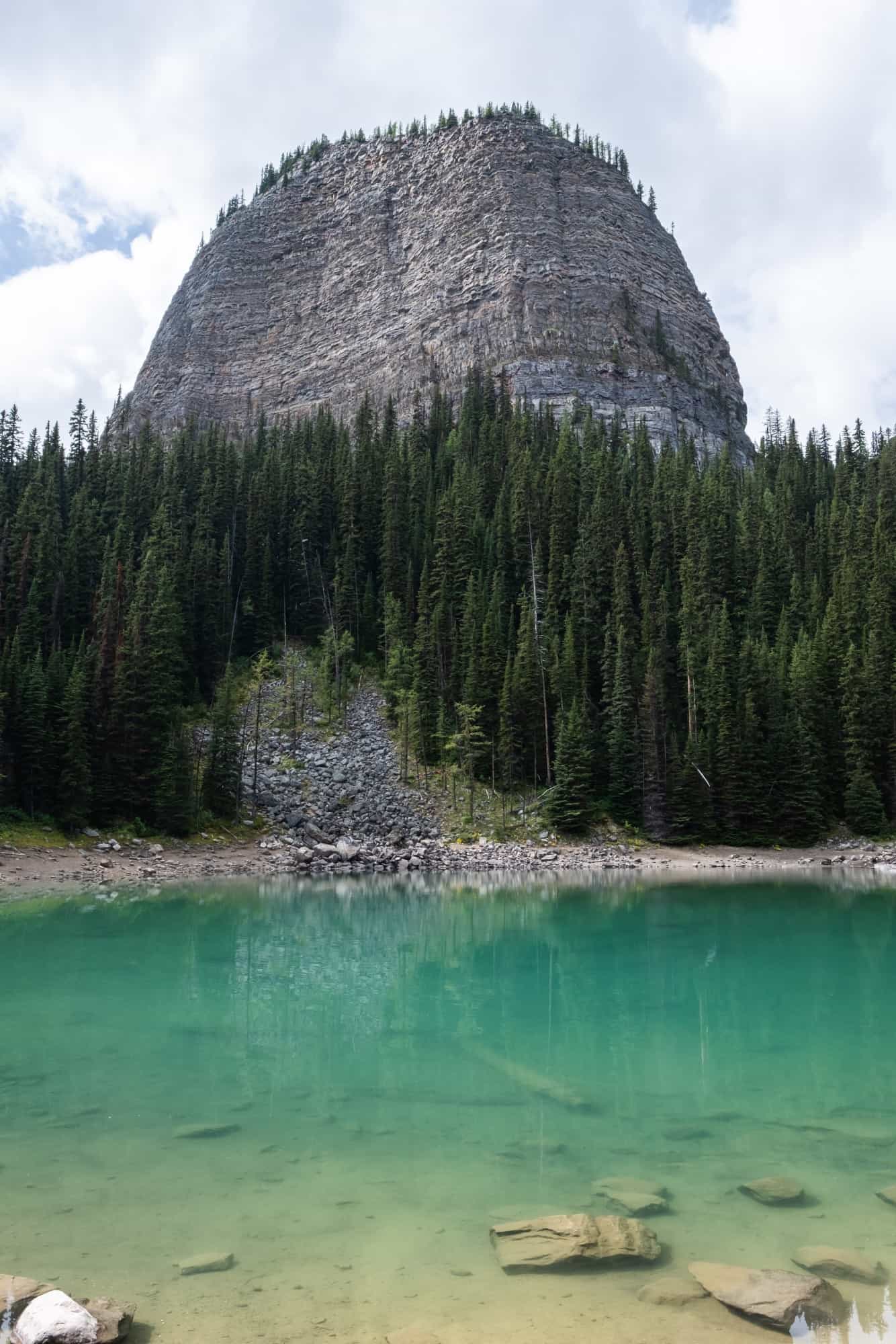 The trail is largely through the forest and has a steady uphill climb with one or two large switchbacks. Along the path up to Lake Agnes, you'll catch a glimpse of Lake Louise before arriving at Mirror Lake. Mirror Lake comes in at 2.7km in the distance, having gained 275 meters of elevation. It's a nice little lake. From the lake, it's evident how the Big Beehive received its name.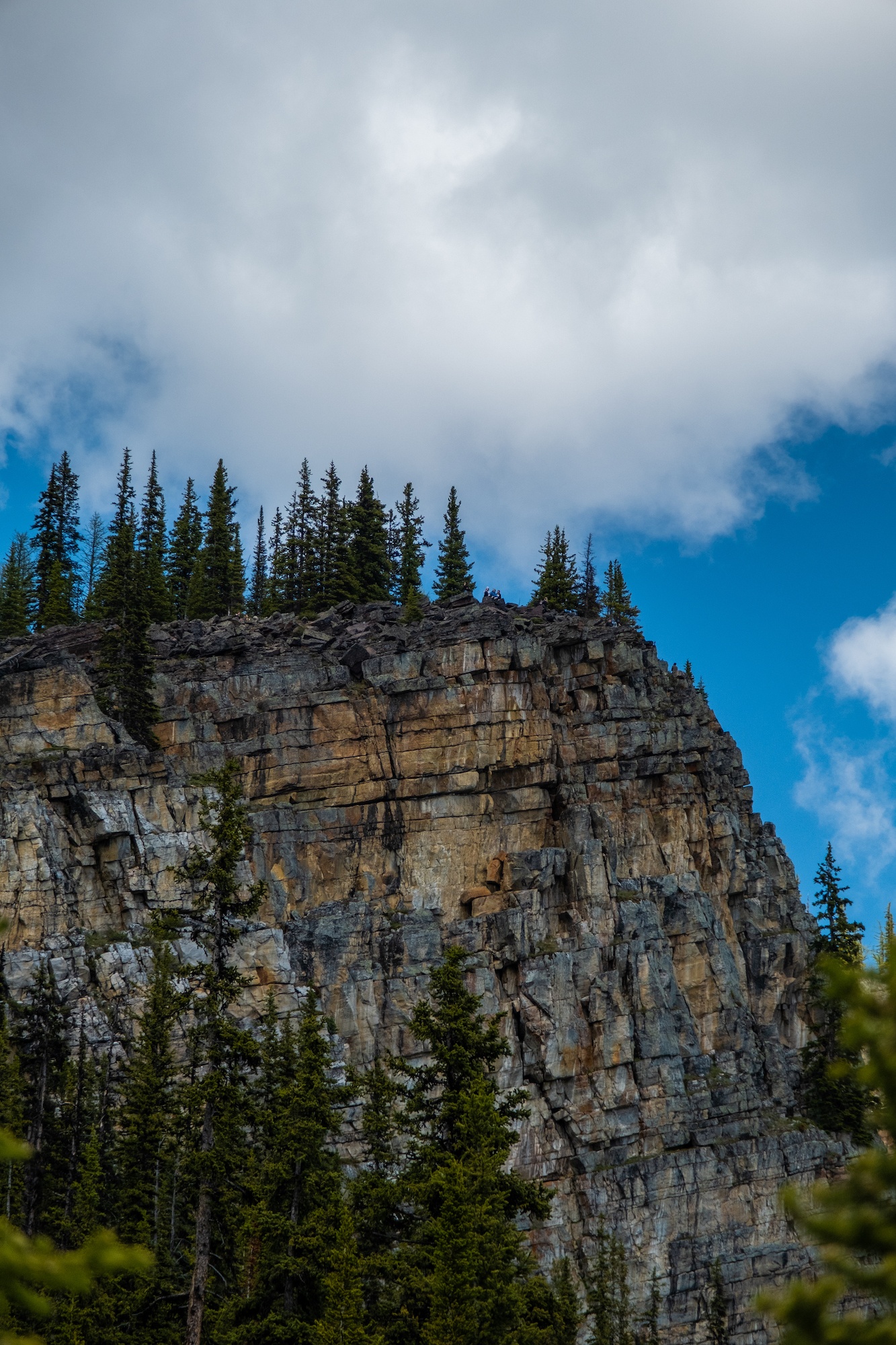 From Mirror Lake, the trail moves to the right, following signs to Lake Agnes and the Beehive hikes. The trail continues to climb through a series of switchbacks where the occasional opening of the forest allows views of the soaring peaks that surround it. You have two options from Mirror Lake up to Lake Agnes, but the trail to the right is more scenic with a waterfall and provides access to the route up Mount St. Piran.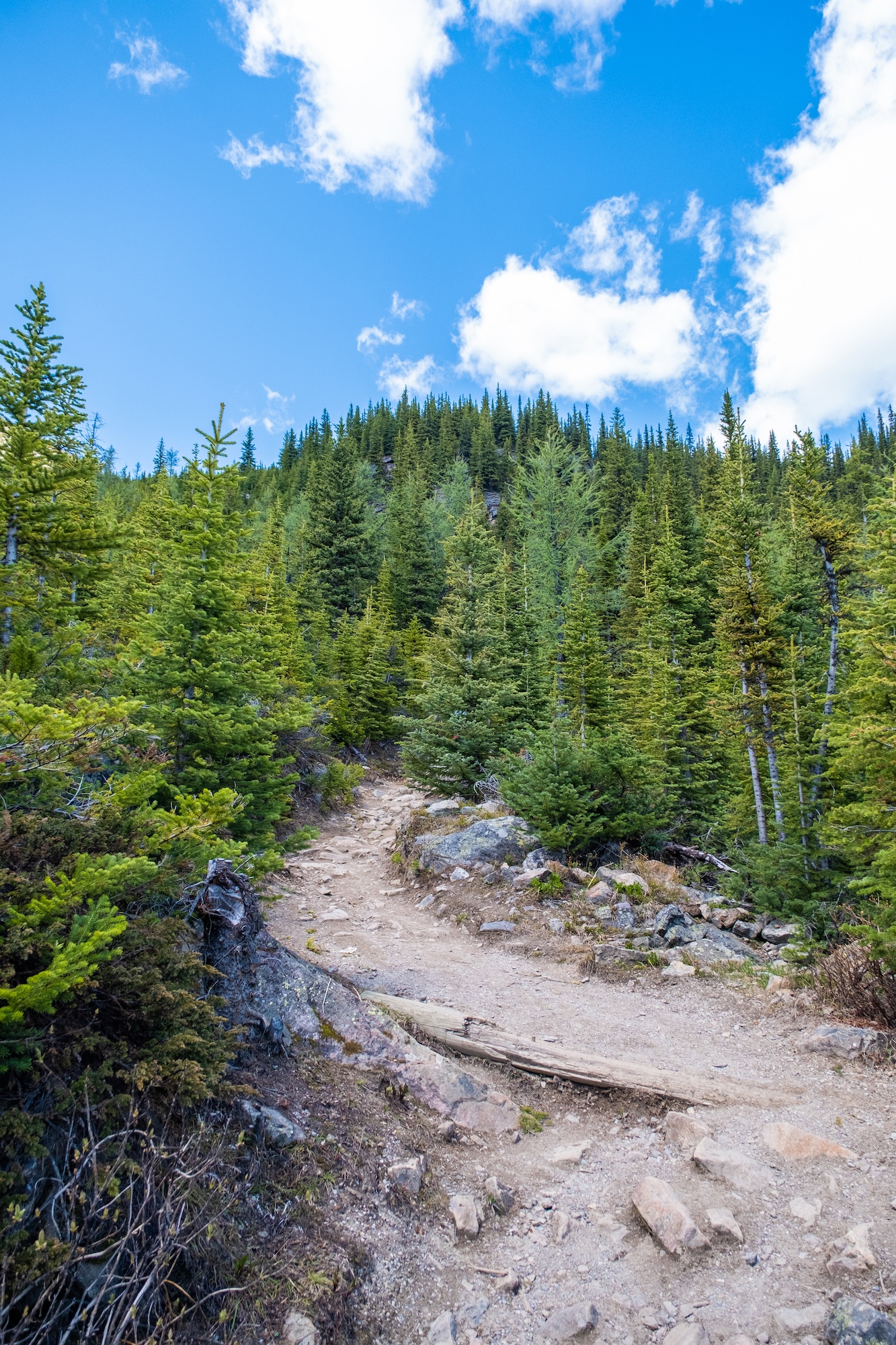 Mirror Lake has two options: either hike up to Lake Agnes first with a stop at the tea house or take the detour direct towards the Little Beehive. If you're up in the morning, it may make for a nice stop to grab a coffee or tea at the lake before it's packed around 10:00 a.m. From Lake Agnes, the trail up to the Little Beehive is well worn.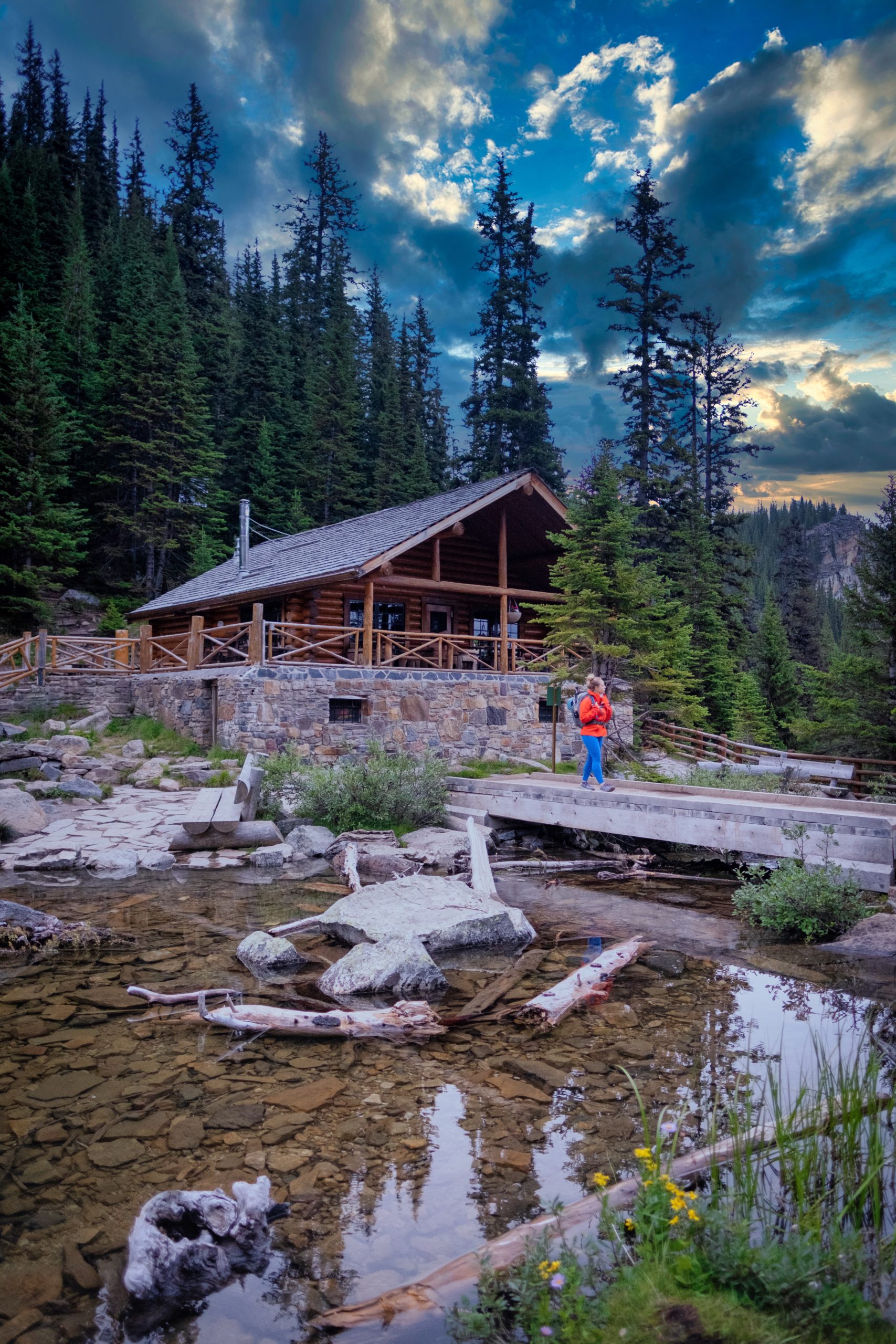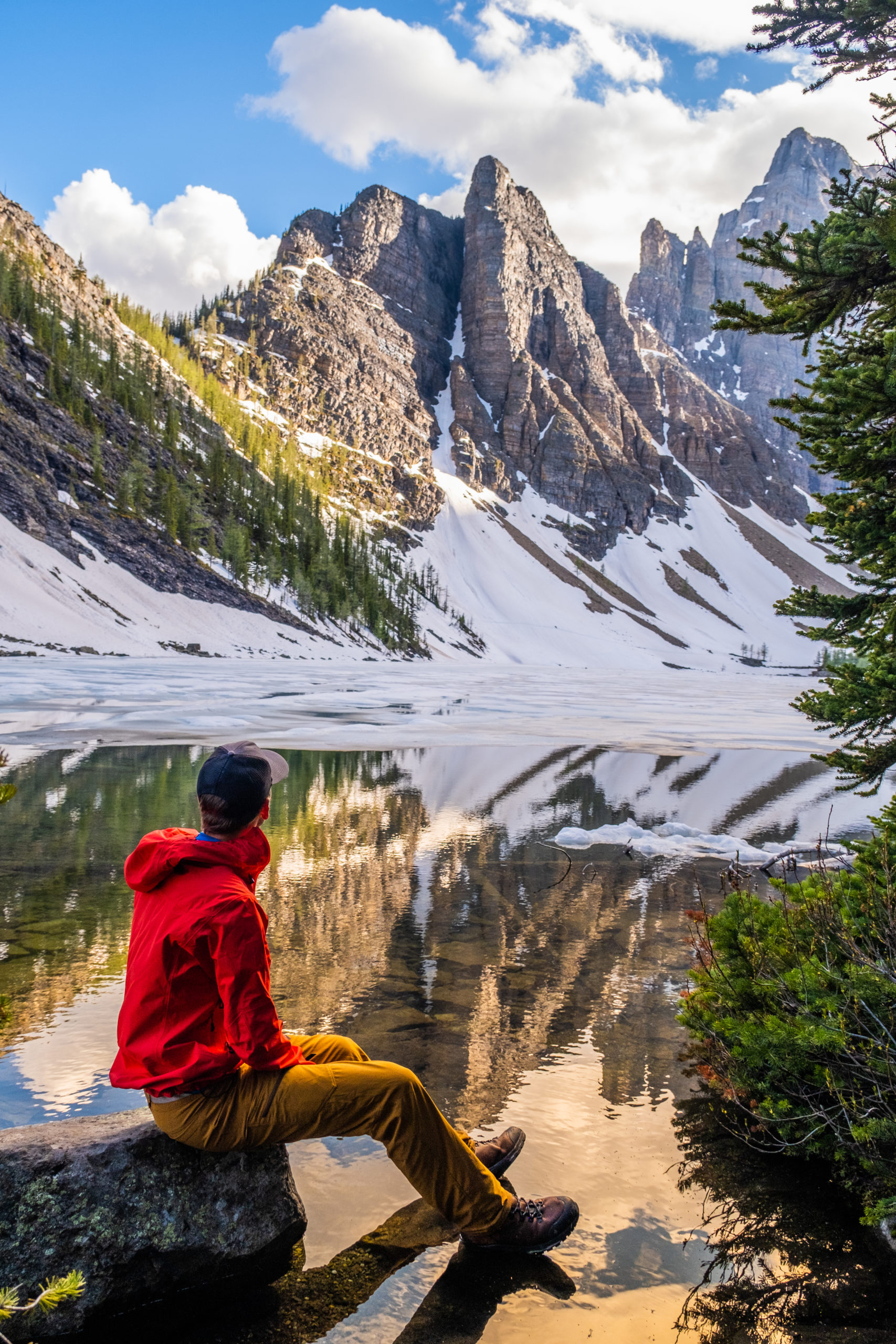 Around 500 meters from the lake is a faint trail through the woods up Mount St. Piran. It's marked by a Parks Canada sign. However, there is no official trail or markings from here, so it's best to check with the GPS if you have one. The faint trail moves through the trees before it reaches a large rocky slope.
An endless set of switchbacks leading up to the summit on steep terrain. We made the climb early in the season, so the switchbacks were covered in a layer of snow, so the climb up was up scree and rock slope to the side.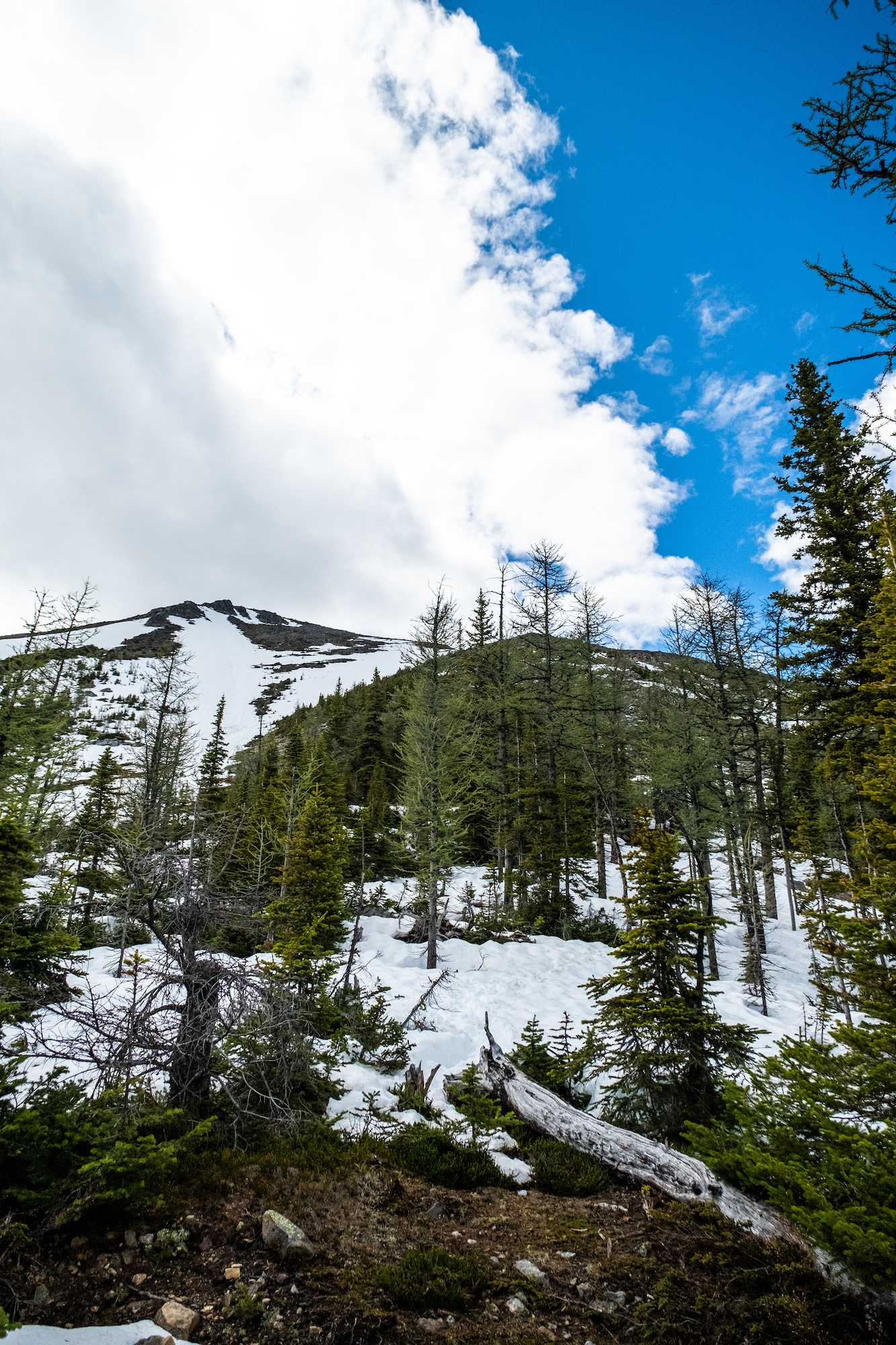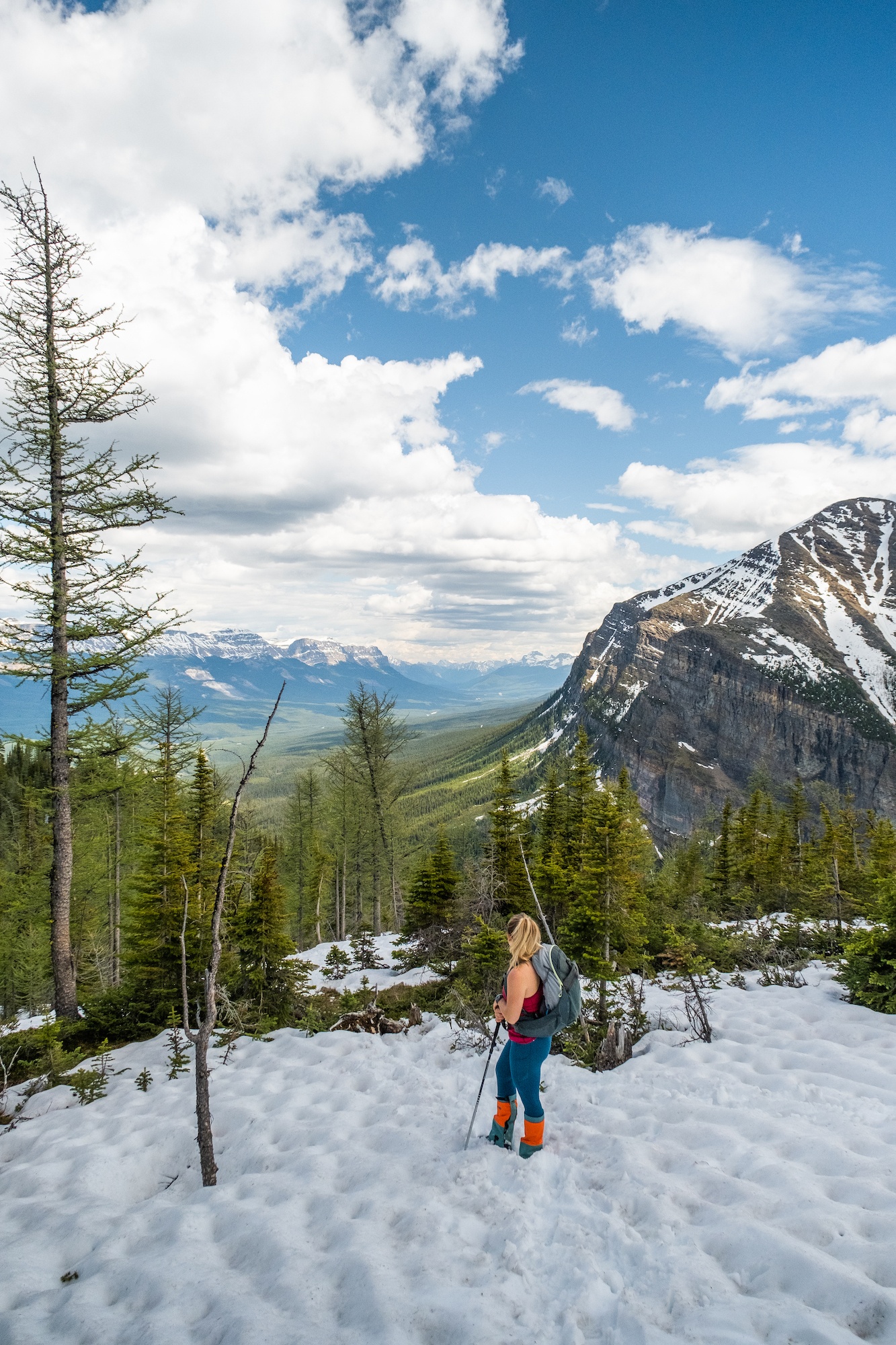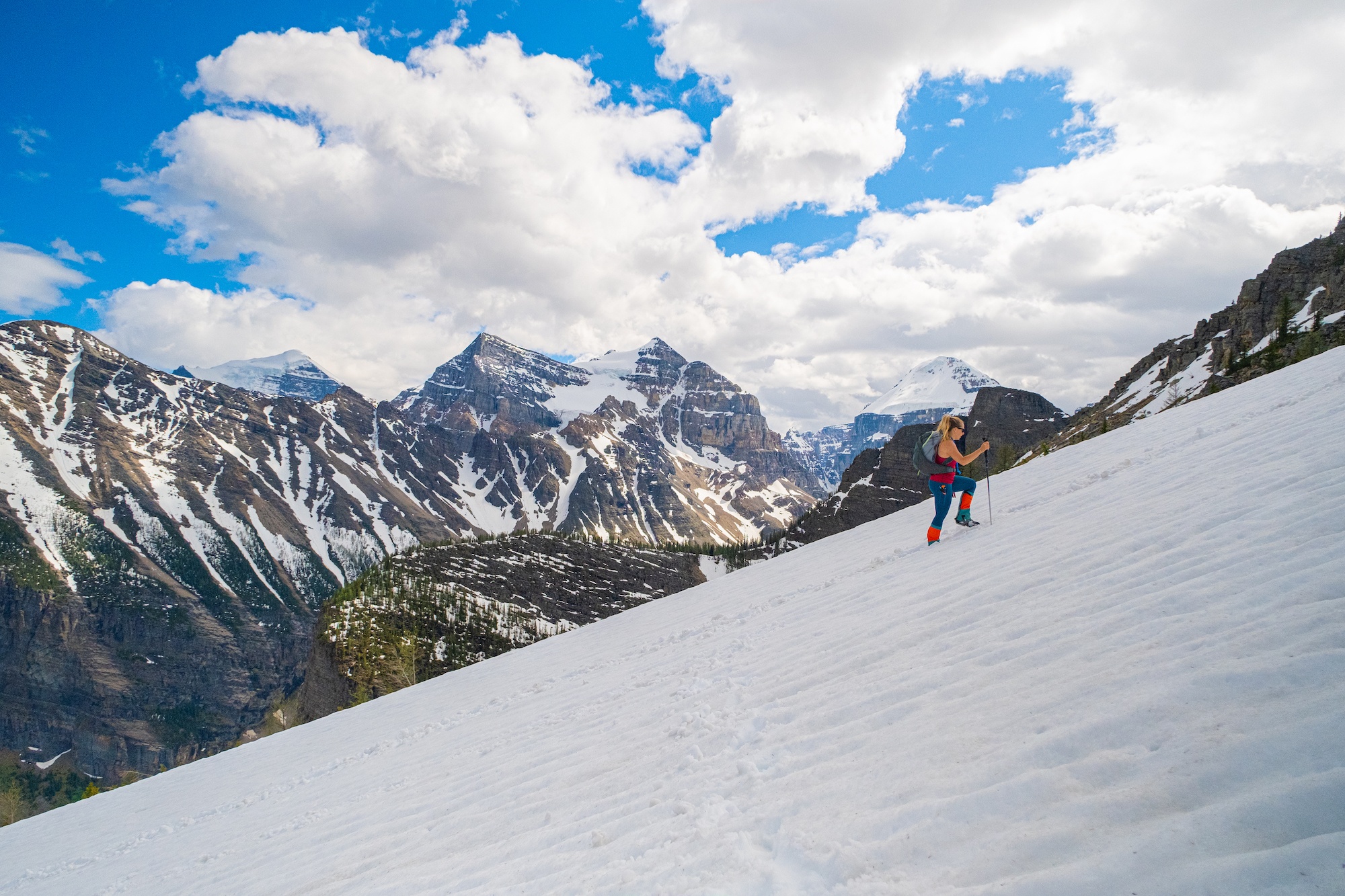 The slope eventually gains a small saddle that leads to the true summit of Mount St. Piran. Views from the saddle on the opposing end of the summit are extraordinary of the valley down below and Lake Louise. The traverse and saddle to the summit involved a mild scramble with a few very steep meters.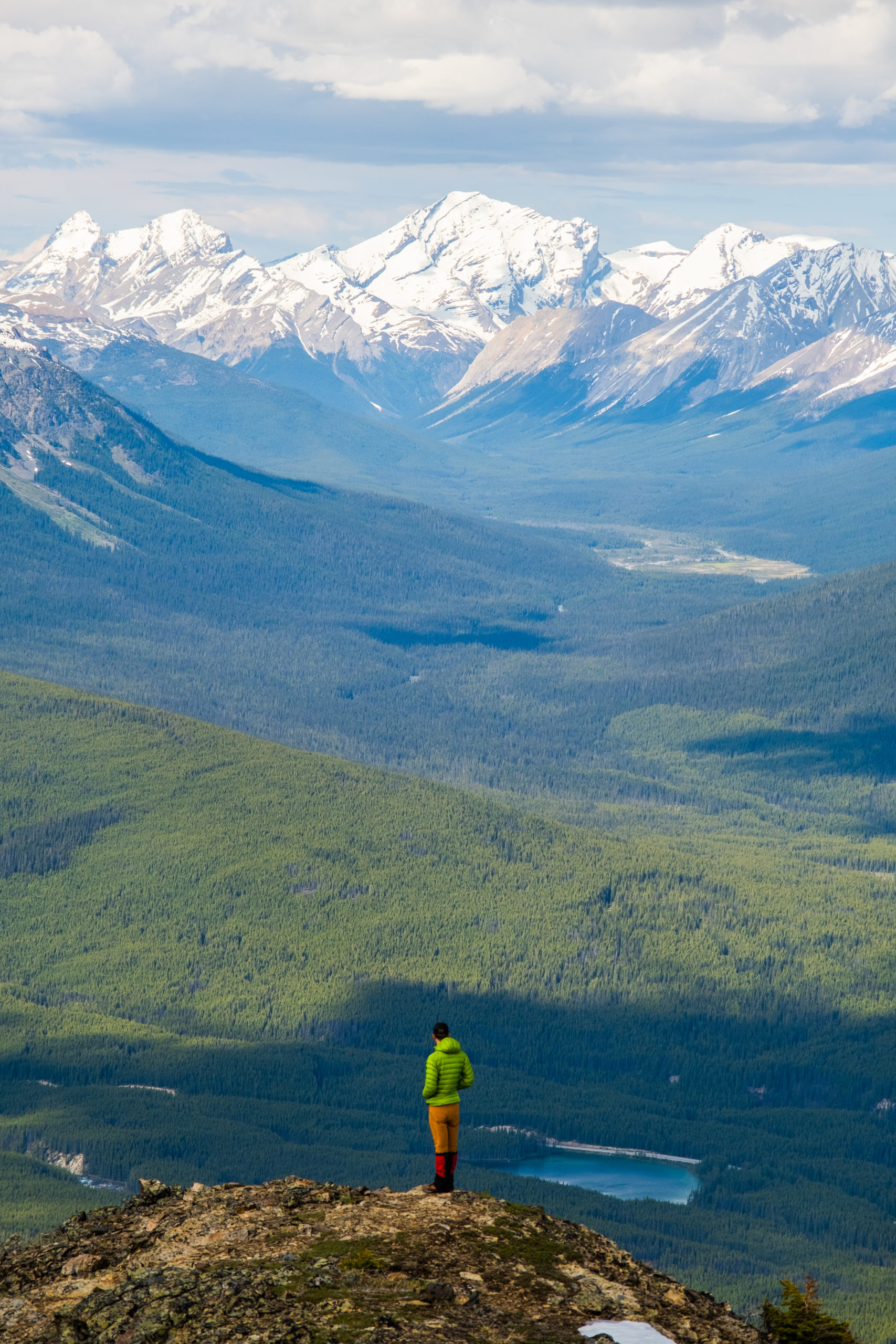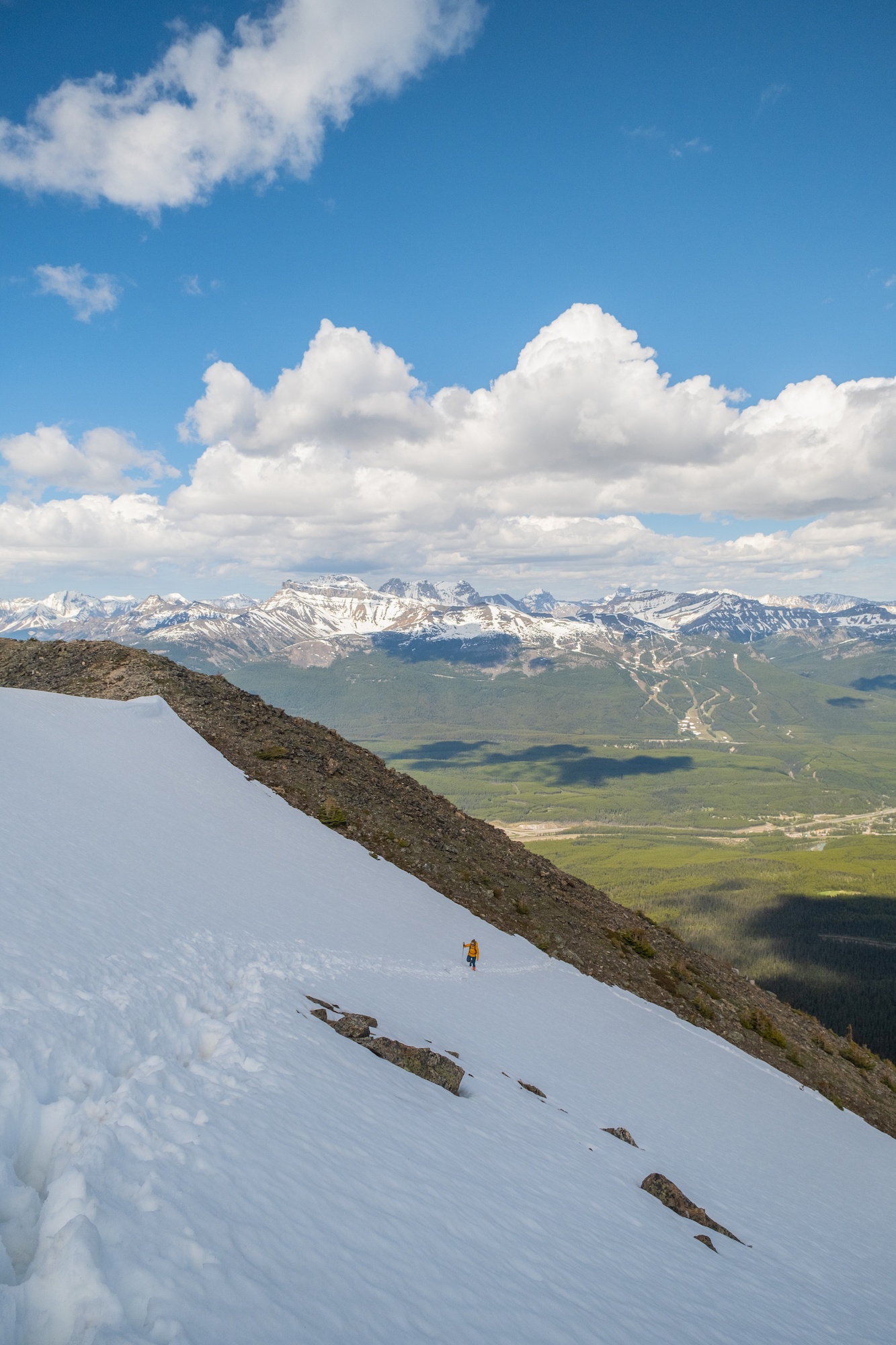 Once on the summit, there are several windbreaks on top of slabs. View from the true summit is lacking as it's a flat summit, but you can find amazing views in various directions with some exploration. For the descent, there are two options, return the same direction or make a circuit by descending down to Lake Agnes on the opposite side of the approach.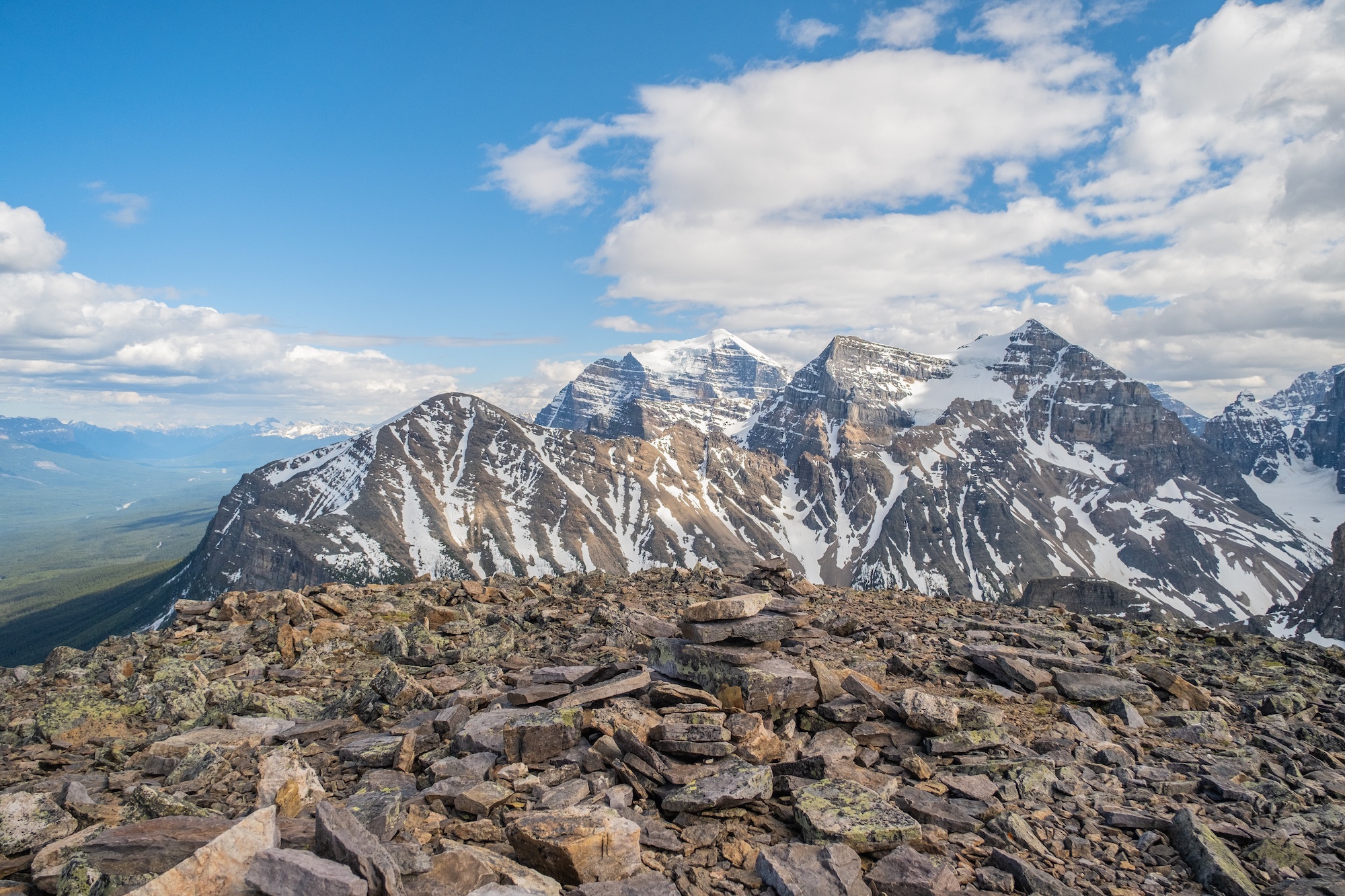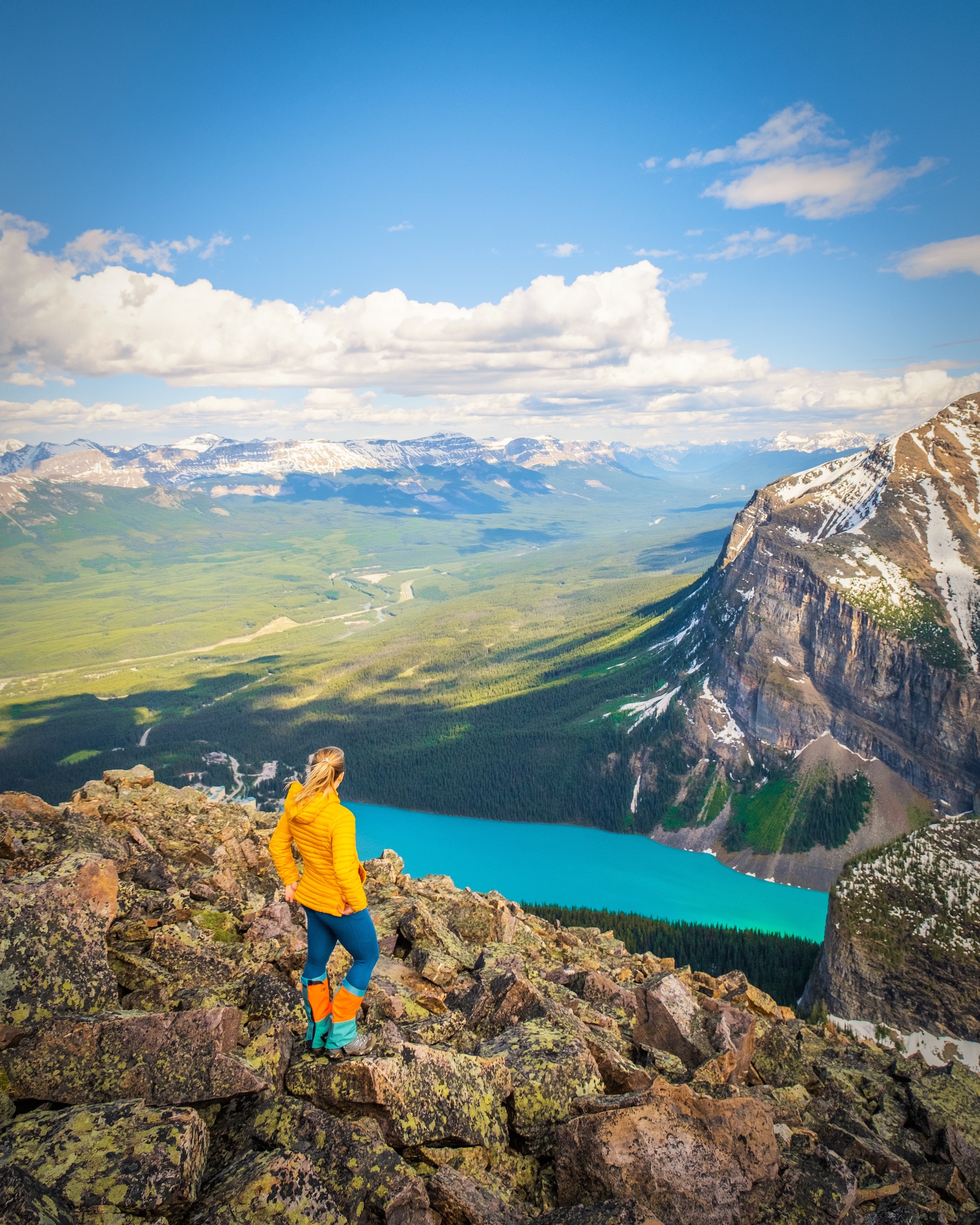 The circuit route is well known for being steep with no trail to follow. It's certainly a more daunting scramble, so it's better left to the more experienced. With high snow levels in the early season, we did not descend this route as the Northwest-facing slope held more ice and snow.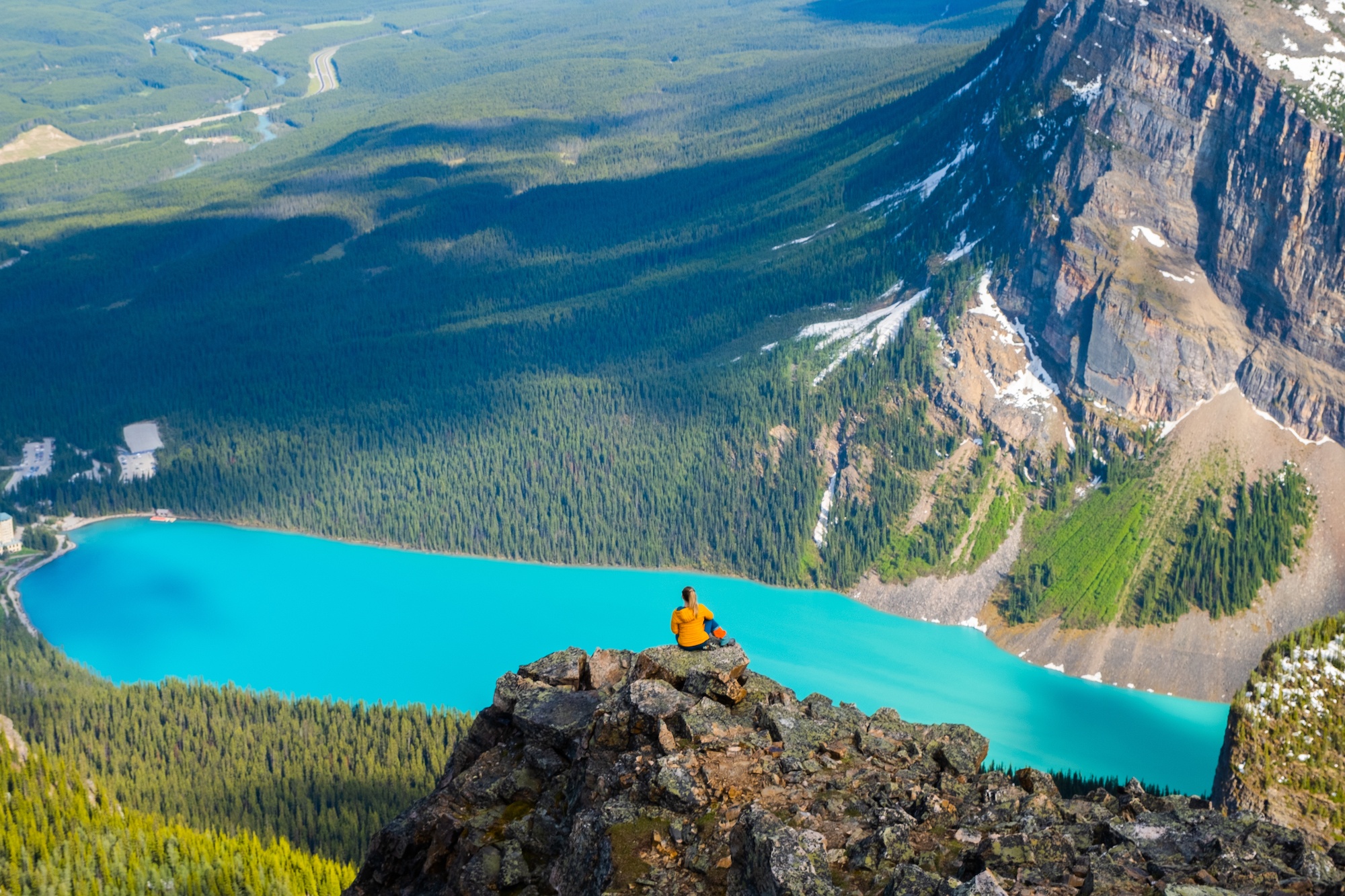 ---
Tips for Mount St. Piran Hike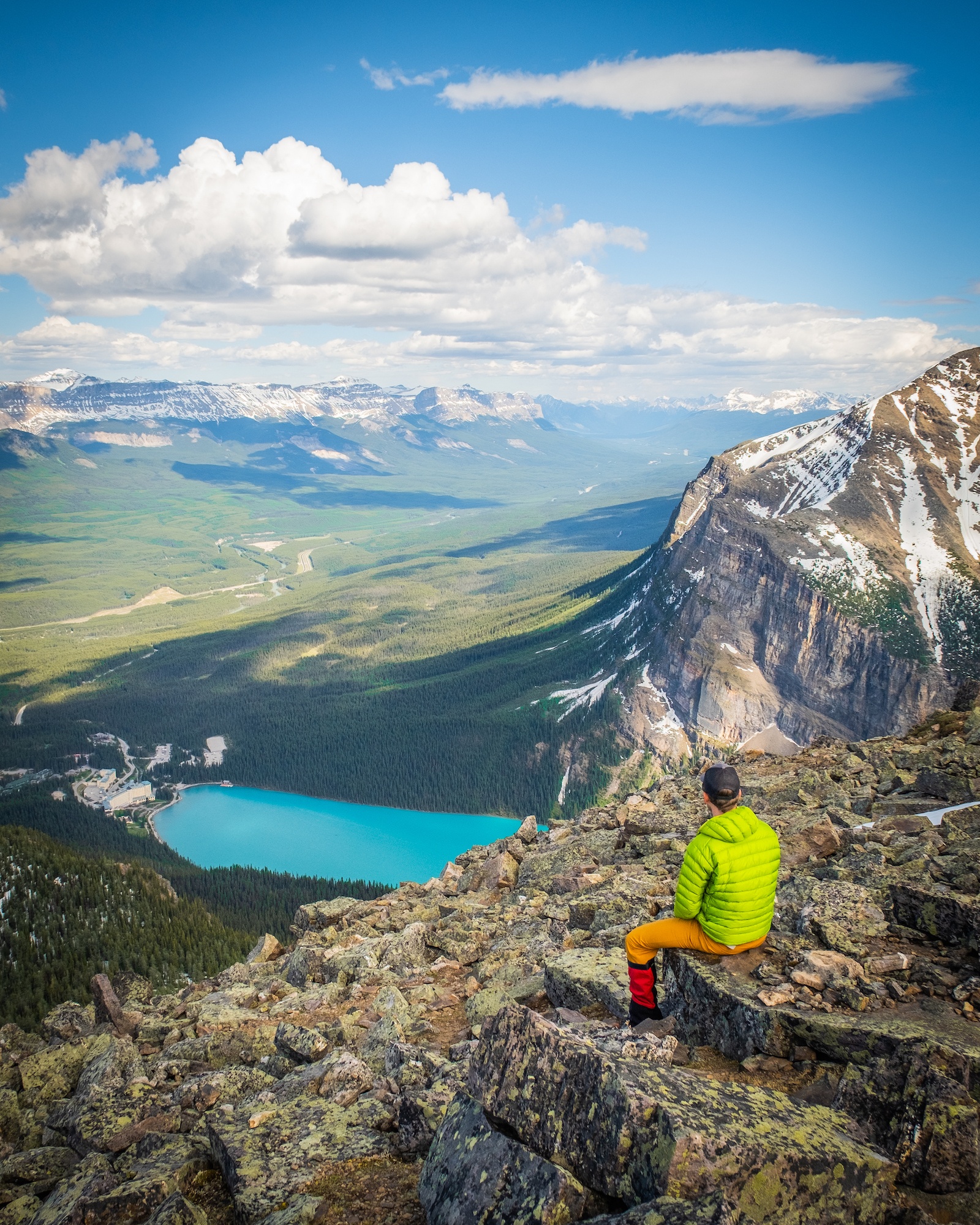 ---
Gear We Recommend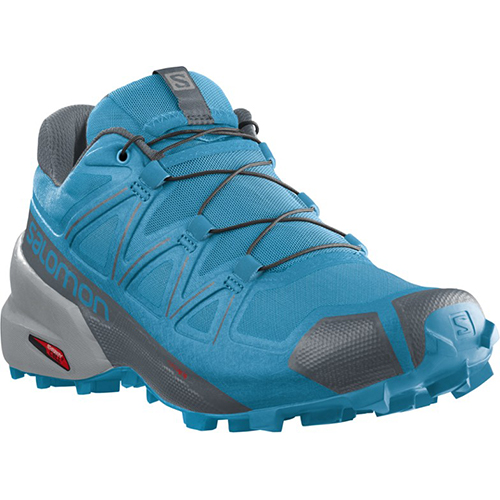 The vast majority of hikes and easy scrambles in the Rockies, you'll find us in our trusty Salomon Speedcross.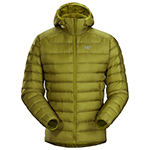 Arc'teryx Cerium is our pick for the best down jacket. It's incredibly light, and we bring it on almost every hike in the Rockies.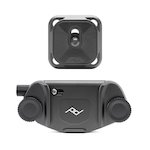 This nifty clip from Peak Design secures a camera to my backpack strap for easy reach. No more digging in the backpack!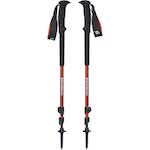 A pair of durable and lightweight hiking poles are a great asset on the hiking trail.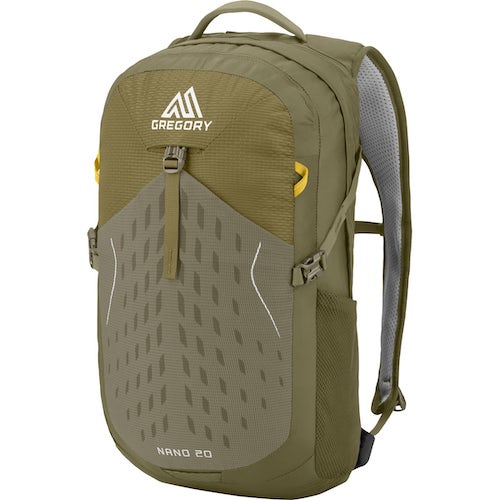 20L feels like the ideal size for quick hikes and scrambles. We love the Nano from Gregory with a hydration reservoir.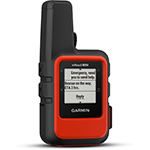 There is not much cell service in the Canadian Rockies. In case of emergencies, we carry an emergency beacon with GPS.
---
Average Duration
The average time for most hikers and scramblers is three to six hours. Thanks to its close proximity to Lake Louise, you always have a phone signal, and trails in the area are well worn.
---
Difficulty
Mount St. Piran would be a tough objective for inexperienced hikers as there is a fair amount of elevation gain on a steep slope. However, it's a straightforward scramble. With its close proximity to Lake Louise, I'd recommend this as a great introduction to scrambling or a longer hike around the lake. If you've scrambled Devil's Thumb, I found Mount St. Piran to be slightly easier.
---
Trailhead
The trailhead begins at Lake Louise, so the most difficult objective is to secure parking.
---
When is the Best Season to Hike Mount St. Piran
Due to low elevation, the season for Mount St. Piran is longer than many bigger mountain objectives in the area. That being said, it does have a huge avalanche path on the approach. Snowpack should be low before an attempt on the mountain. Generally, the season for Mount St. Piran goes from late June to late September.
---
Is Mount St. Piran Kid Friendly
This would be best for teenagers as it's very rough terrain with a lot of elevation gain, but if it's your first time hiking with children, consider just doing the Beehive circuit. Mount St. Piran is not what I consider a family-friendly hike.
---
Is Mount St. Piran Dog Friendly?
With some footpads to protect a large dog's feet from sharp rock, the mountain is definitely dog-friendly.
---
Wildlife Awareness On Mount St. Piran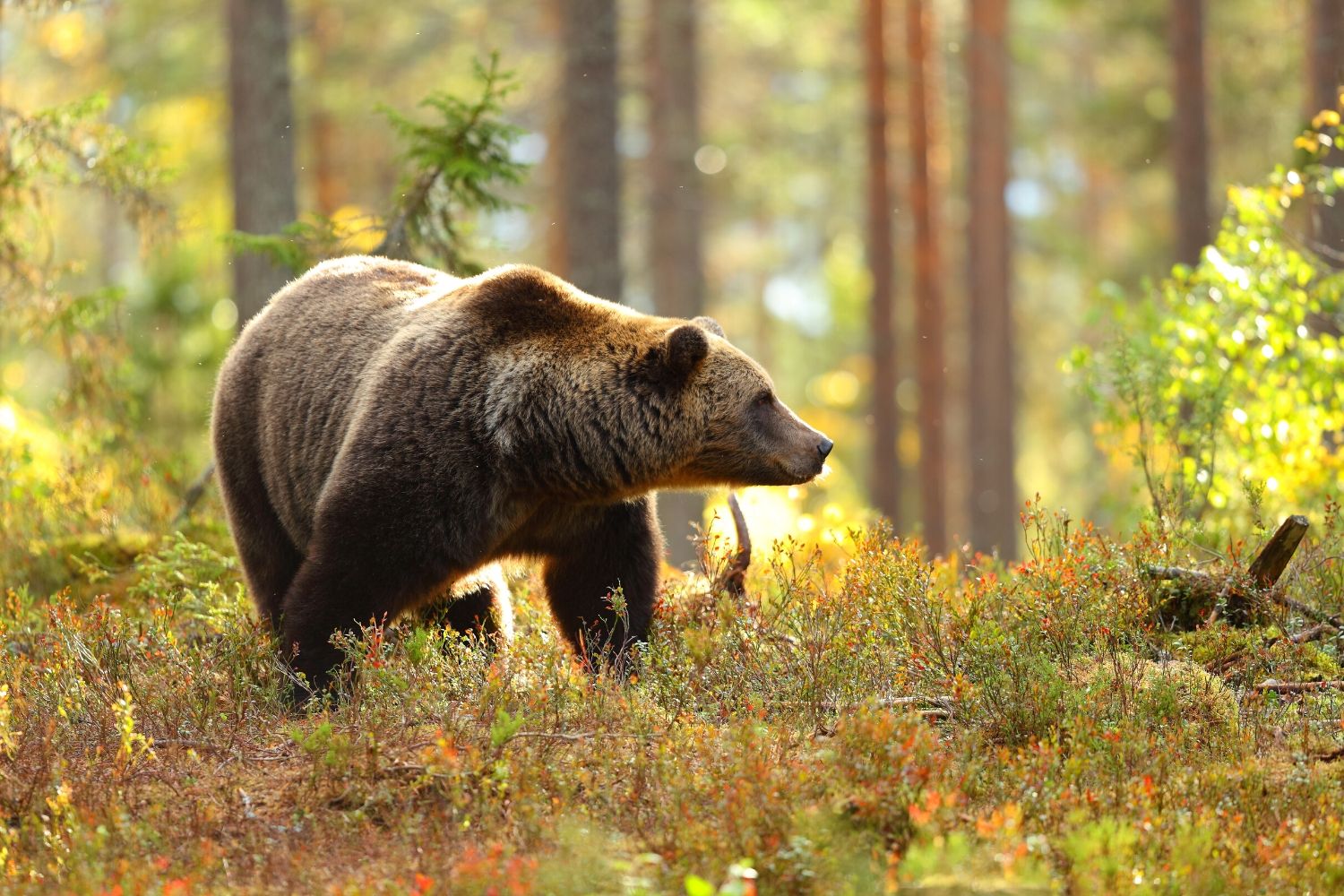 If you're on any hikes in the area, you should practice good wildlife awareness. There are frequent sightings of black bears, grizzly bears, moose, coyotes, and cougars in the region. They all present a threat to humans, and we should reduce our impact on their natural lives.
Before any hike in Banff National Park or Kananaskis Country, you should pack bear spray, check the park websites for wildlife information (Parks Canada and AB Park), and then check again for notices at the trailhead.
When you're on the trail, make noise by banging hiking poles, talking, whistling, clapping, or singing. This is particularly important around blind bends and corners, although there aren't many on the Parker Ridge Trail. It's also a busy trail, so you generally don't need to make too much noise, but always be bear aware.
This means staying alert, traveling in a group, minding children and pets, and finally carrying bear spray and knowing how to use it. If you've come to the park without bear spray, Valhalla Pure Outfitters in town sells spray and holders with employees who will demonstrate how to use them properly.
---
What To Wear on the Mount St. Piran Hike
As always in the Canadian Rockies, the most basic principle of what to wear hiking is layering. Anyone that has spent time in the wilderness or mountains can speak to the fact your temperature can fluctuate a lot on a hike. So the goal of clothing is to help regulate your body temperature, element protection, and moisture management.
Temperature management is best done through a layering system. If you want to learn more about what to pack for a day hike or what to wear on a hike you can see ours.
---
↓ Join the community ↓
The Banff Blog Facebook Group is your headquarters for the Canadian Rockies' travel advice and information. Including hike info and off-season travel information. This is also where you can meet one another when you need adventure buddies.