We have received many questions about a Banff Park Pass and Parks Canada passes, and in this post, we hope to answer any questions you may have. To put it simply, all visitors to the National Parks of Canada must have either a Canada National Park Day Pass, or an annual pass known as the Discovery Pass. This goes for any national park in Canada, but in this article we will focus mainly on the regional Canadian National Parks.
The parks in the Canadian Rockies are Banff National Park, Kootenay National Park, Yoho National Park, Waterton National Park and Jasper National Park. There is no official "Banff Park Pass" but day passes for the parks of the Canadian Rockies or a Parks Canada annual pass (which works in all National Parks in Canada – including Glacier National Park and Mount Revelstoke National Park near Revelstoke).
It's a pretty simple topic, but many questions come up, and we hope to answer them all.
---
Do I Need A Banff Park Pass?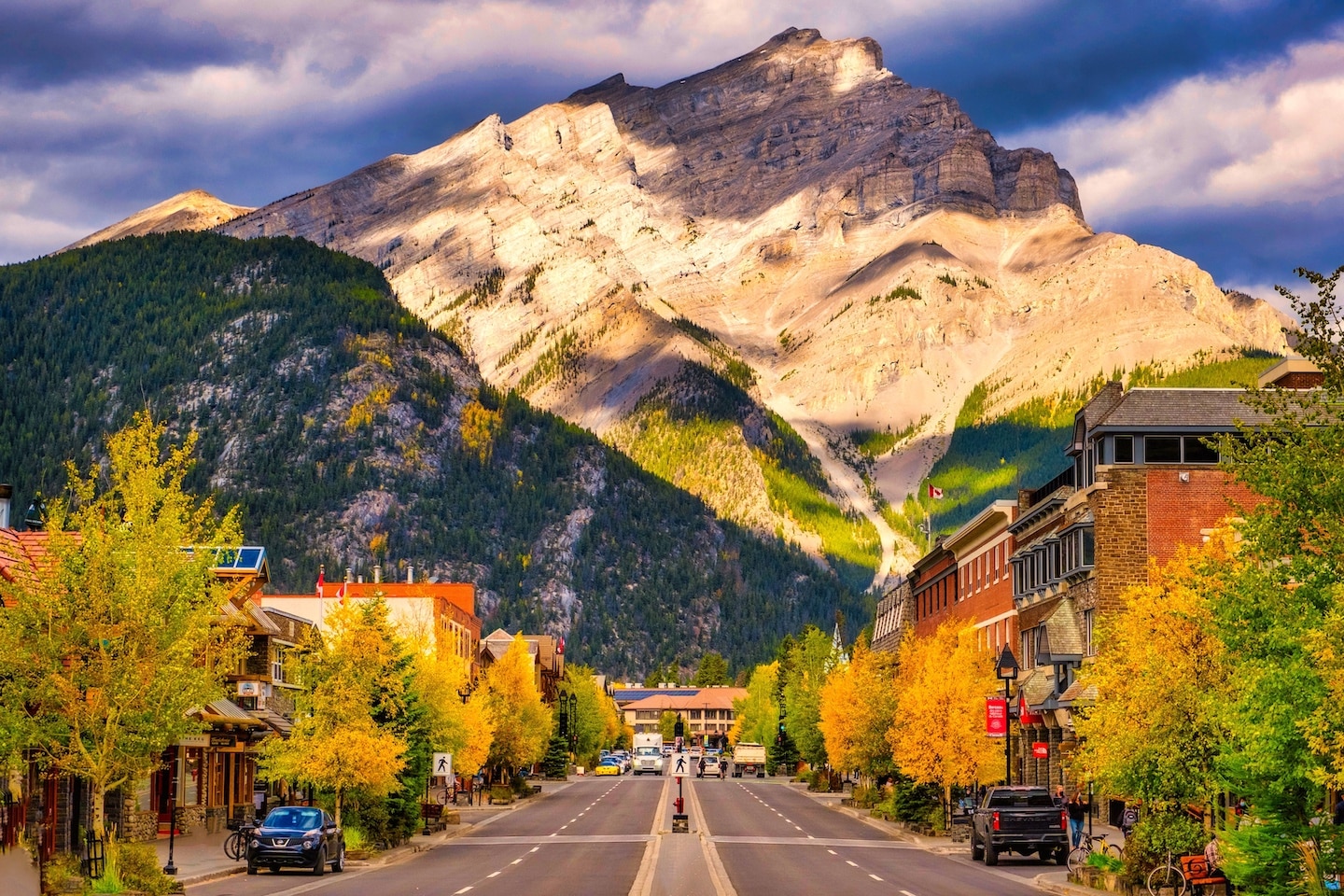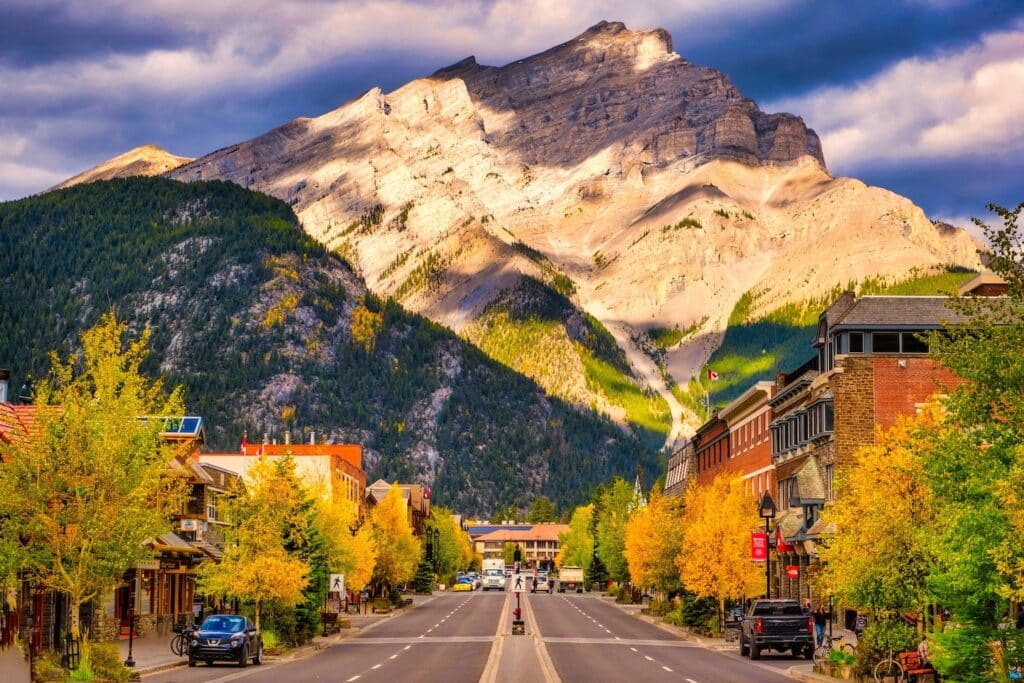 All visitors to Banff National Park and the surrounding parks must have a parks pass, no matter the transportation. That means even if you walk into the park from Calgary, you still need a parks pass.
There is no sole "Banff Park Pass." There is daily admission and an annual pass to the National Parks of Canada. Every visitor to Banff must purchase what is known as a Canada National Park Pass, which includes all the national parks in Canada.
The parks in the Rockies are Banff National Park, Kootenay National Park, Yoho National Park, Jasper National Park, and Waterton National Park. Note that Kananaskis Country is not included in the Canadian National Parks system and is instead a provincial park.
If you have plans to visit a park with a tour operator, check with them to see if they have your pass. The towns of Banff, Field, Waterton and Jasper are within a park, so even visitors to the towns must have a valid pass. Please purchase your pass and help support the park system that you intend to enjoy.
You do not need a pass if you are only driving through Banff National Park via the TransCanada or Jasper National Park via the Yellowhead Highway.
However, if you'd like to stop at any of the scenic locations or hiking trails, you need to have a pass. The scenic drives of the Icefields Parkway (93) and Bow Valley Parkway (1A) require a pass.
---
Where Can I Purchase A Canada National Park Pass?
You have two options to purchase your Canada National Park Pass. The first option is to buy the pass on the Parks Canada website or on the Banff Lake Louise Tourism Board website. The online price does not save you any money, and you must pay for shipping.
Shipping is relatively affordable and varies by country ($4.00 – $6.50). Please allow for at least two weeks with standard shipping. This can save you a bit of time at the gate of Banff National Park, as there is often a line in the summer months. Though, we should mention the time you will save is minimal. At most, the longest we've ever seen a line is 20 or so minutes (on a summer weekend day).
The second option is to purchase a pass at a park gate to one of the national parks or at the visitor centers in Banff, Lake Louise, Field, and Jasper. It's a quick process, and the pass is registered to your vehicle's license plate or your name. However, there is often a long line of cars at the East Gate of Banff National Park on summer weekends.
You can not purchase a Parks Canada pass at all gates. The gates you can buy a pass are the East Gate of Banff National Park, Waterton National Park Gate, Icefields Parkway Gates, and the Jasper East Gate, and a few others that are mentioned below. If you are driving from Vancouver to Banff from the West, you will not pass a gate to purchase a pass, but can stop at the Visitor Centre in Field.
Purchase A Park Pass Online
---
Where to Buy a Parks Pass In Person
National Park Gates
| | | | |
| --- | --- | --- | --- |
| Westbound | Banff East Park Gate | David Thompson Gate | Jasper East Park Gate |
| Eastbound | Kootenay West Gate: Banff-Windermere Highway (#93S) | Jasper West Gate: Yellowhead Highway (#16) | |
| North or Southbound | Niblock Gate in Banff National Park (open in summer) | Icefields Parkway Gate | |
National Park Visitor Centers
| | | | |
| --- | --- | --- | --- |
| Banff | Jasper | Yoho | Kootenay |
| Banff National Park Visitor Centre (Banff, Alberta) | Jasper National Park Visitor Centre (Jasper, Alberta) | Yoho National Park Visitor Centre (Field, British Columbia: May to Sept.) And Tourism BC visitor Centre in Golden | Kootenay National Park Visitor Centre (Radium, British Columbia: May to Sept.) |
| Lake Louise Visitor Centre (Lake Louise, Alberta) | Parks Canada Administration Building (Jasper, Alberta) | | |
| | Icefields Centre (Columbia Icefields: mid Apr. to mid Oct.) | | |
---
Banff Park Pass Options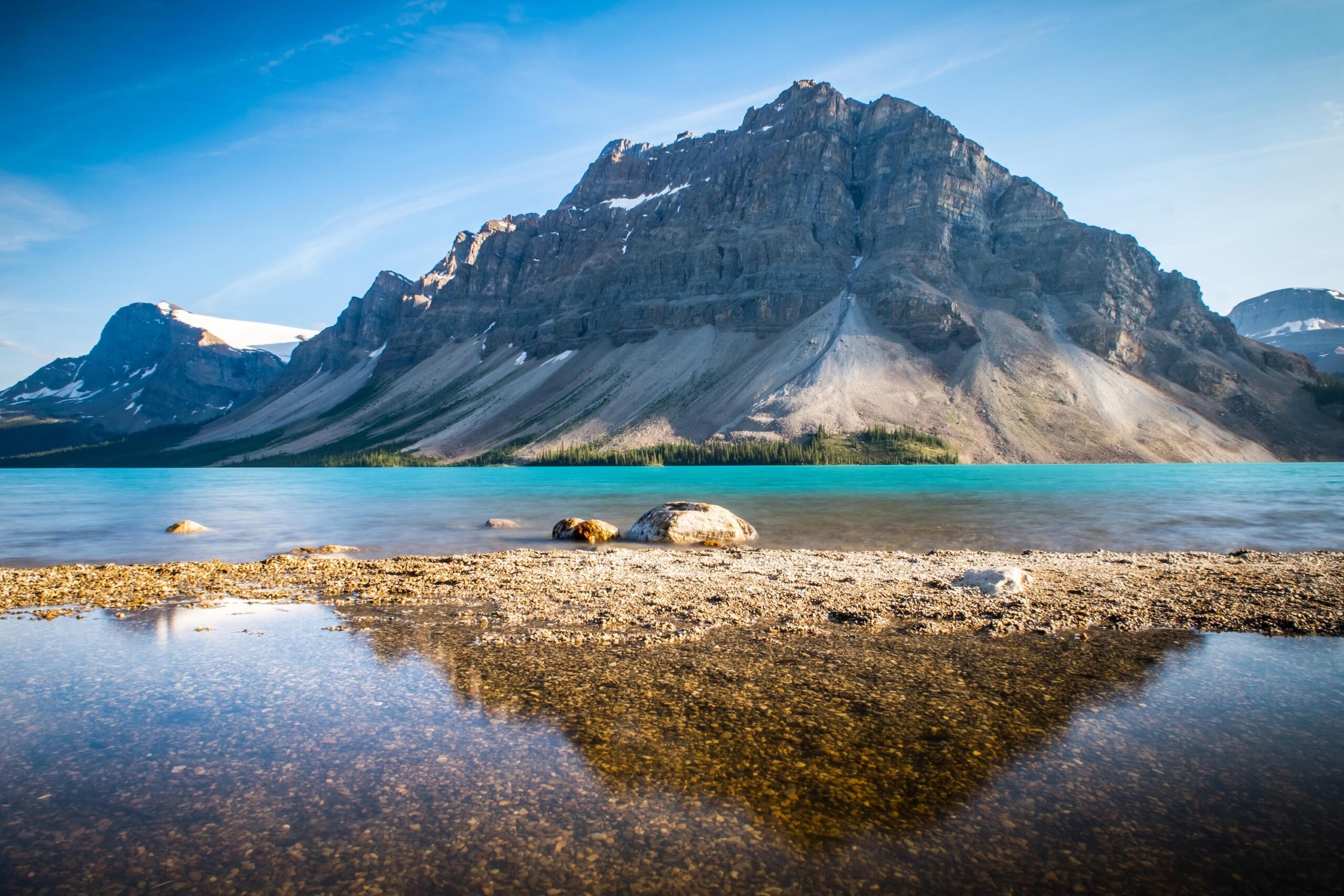 Visitors can choose fees based on a daily or annual structure. If you plan to spend seven days or more in the parks, it is cheaper to buy the annual pass. A daily pass covers the day of purchase and can be bought as an individual or family. You'll have to do the math and see which is the best option for you.
The Banff Lake Louise Tourism Board has a super helpful tool that calculates which pass you should buy, based off the number of days you will be in the park. Find that here.
The annual pass is known as the Discovery Pass and is great value. It provides access to all the National Parks of Canada and many National Sites. There is no annual pass to specific parks, such as just a Jasper Park Pass or Banff park pass.
---
What's Included In My Canada National Park Pass?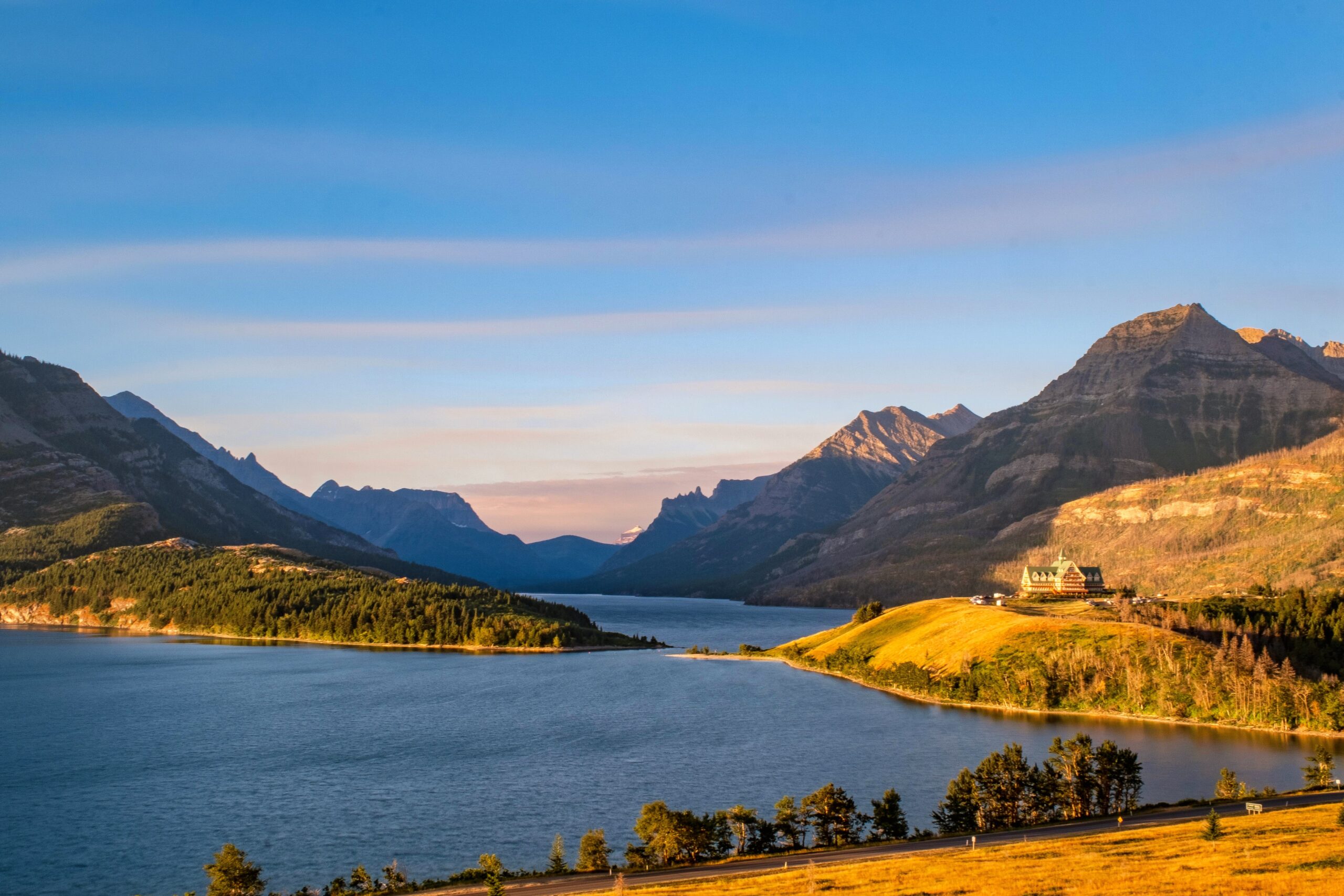 Discovery Pass
The Discovery Pass includes admission to all the national parks, historic sites, and marine conservation areas run by Parks Canada for a year. It all depends on the length of your stay, but we recommend most groups staying over 5 days purchase a Discovery Pass.
Day Pass
A day pass is regional and for those visiting the Rockies. It includes entry into the mountain national parks, they are Banff, Jasper, Yoho, Kootenay, Waterton, Elk Island, Revelstoke, and Glacier National Park. Be careful not to confuse Glacier National Park in British Columbia with the U.S. National Park in Montana.
Most notable is a day pass does not include entry to national historical sites such as Cave & Basin in Banff, but a Discovery Pass does.
---
Parks Canada Pass Prices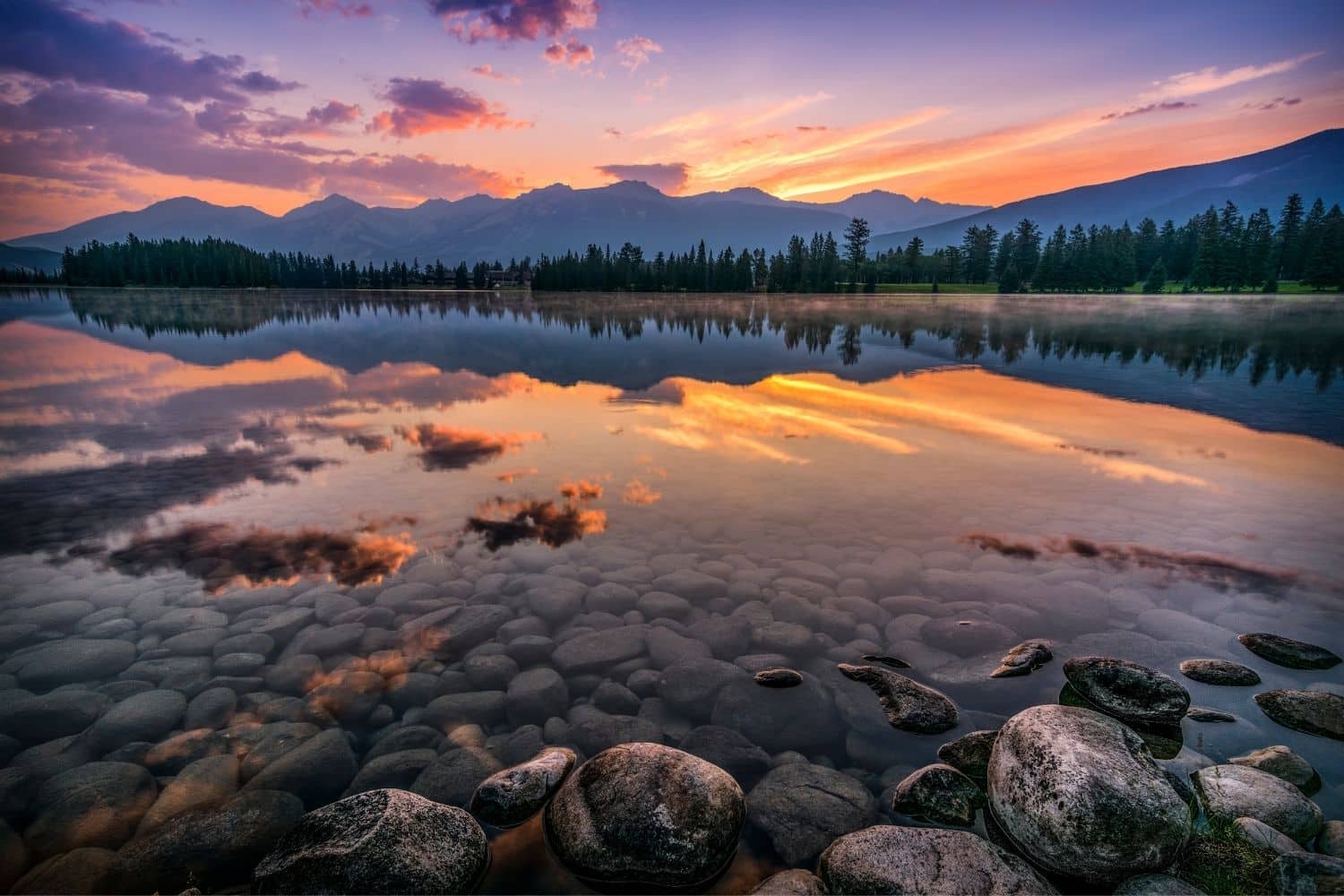 You can see the price structure of fees below.
Daily Admission Fees
| Type | Price |
| --- | --- |
| Adult 18+ | $10.50 |
| Senior 65+ | $9.00 |
| Youth | Free |
| Family* | $21.00 |
*Family includes up to seven people in the same car
Discovery Pass Fees (Annual Pass valid for 12 months since the date of purchase)
| Type | Price |
| --- | --- |
| Adult 18+ | $72.25 |
| Senior 65+ | $61.75 |
| Youth | Free |
| Family* | $145.25 |
*Family includes up to seven people in the same car.
---
What Does My Park Pass Cover?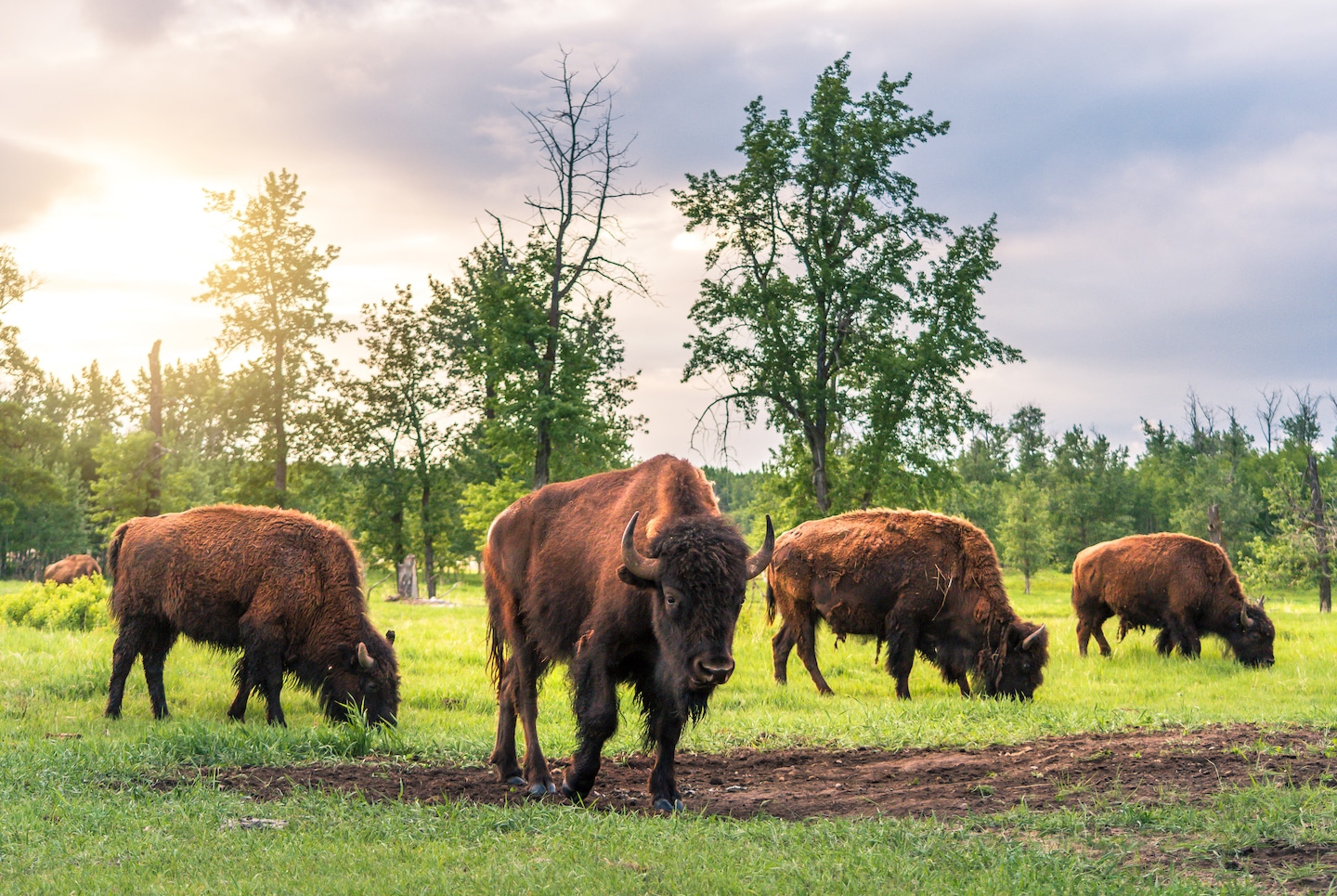 A day pass or the Discovery Annual Pass covers areas managed by Parks Canada. As a result, it does not cover any fees associated with municipal or provincial parks.
A popular example would be Kananaskis Country which borders Banff National Park. You need the Kananaskis Conservation Pass for Kananaskis Country and the Bow Valley Corridor. This also is needed for many hikes around Canmore, but not the Town of Canmore itself.
It should also be noted that it does not cover other fees associated with the park system. Fees that are not included are camping/accommodation, fire permits, guided tours, Banff attractions, Canadian Rockies Hot Springs, backcountry permits, and special events.
---
FAQ Around Park Passes To Banff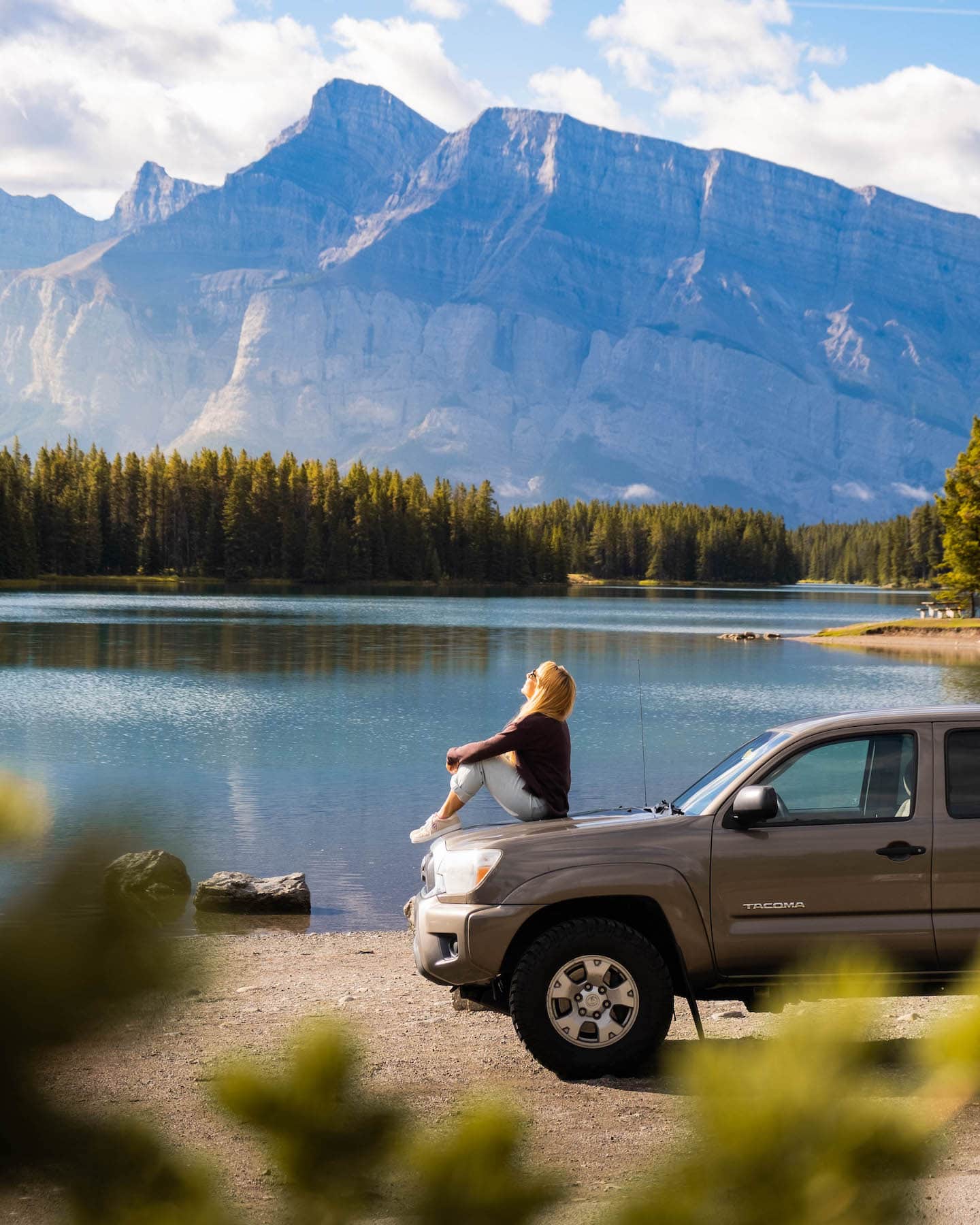 Can I Enter Banff Without A Pass?
Yes, you can enter the park without a pass, but you are required to have one for recreation. Essentially this means that if you are driving straight through on the Trans Canada without stopping (except for fuel), you are free to do so without a Parks Pass. If you stop in Downtown Banff or do any sightseeing in the park you need a Parks Pass.
If you are arriving late at night or with public transit, Parks Canada understands it may take you until the next day to purchase a pass.
In general, we find the park wardens to be forgiving and will understand various circumstances. However, this does not allow you to take advantage of leniency. If you're caught at a trailhead without a park's pass do not expect them to be so forgiving, they can issue fines and warnings as they see fit.
It's very common for them to ticket cars at popular ski resorts and trailheads without a park pass on display.
---
How Long Does A Canada National Park Pass Last?
A day pass covers the day of purchase until the next day at 4:00 p.m. This is notable if you are leaving Banff and do not want to purchase another day for the morning/afternoon of your departure.
---
I'm Driving From The West – Where Can I Purchase My Pass?
If you're coming from Vancouver to Calgary, Vancouver to Banff, or elsewhere on the west coast of Canada to the Canadian Rockies, you will not pass a gate to purchase your park pass. You can purchase your pass online in advance, or purchase one at any of the visitor centers we mentioned when you reach them.
If you would like to purchase in person, you can stop at Mount Revelstoke National Park or in the town of Golden at the BC Welcome Center. The next options would be Lake Louise, or Field and the Kootenay Gate in the summer months.
---
Does Everyone In My Group Need A Parks Pass?
Yes, everyone needs to be under a valid park pass. A family pass can cover up to seven people in the same vehicle. Youth under the age of 18 do not have any entry fees to any of the Canadian National Parks.
---
Does Parks Canada Check Pass Holders?
Yes most notably, they check at gates onto the Icefields Parkway and set up road blocks on several popular roads in the summer and winter. They also make frequent checks at trailheads and around Downtown Banff to ensure all vehicles are displaying a pass on their dashboard.
---
Does My Pass Cover Provincial Parks?
No your pass does not cover the provincial parks that border the national parks. Kananaskis Country, Mount Robson, and Mount Assiniboine are provincial parks that are managed by Alberta and B.C. park systems.
Alberta Parks are free except for Kananaskis Country, which requires its own pass. B.C. Parks are free to enter, but many such as Mount Robson require a day reservation.
---
What Other Reservations Do I Need?
Within the Parks Canada system, you need to book advance reservations for many popular things such as Banff campsites and the shuttles to Moraine Lake and Lake Louise.
Paid parking is in effect at Lake Louise and is not included in your Banff Parks Pass.
---
I Purchased My Parks Pass Online But Did Not Receive It In Time. Can I Enter?
If you did not receive your park pass in the mail before your trip, save the receipt or email confirmation. You can present the receipt for one month from the date of purchase as a valid pass.
---
Do I Need A Park Pass To Drive The TransCanada?
You do not need a Parks Canada pass just to drive through Banff and Yoho National Park via the TransCanada.
---
Can You Buy a Day Pass for Several Days at Once?
Yes you can buy a day pass for 2, 3, 4 days – etc. Do the math and see if it is worth it for you to buy a Discover Pass. A Discovery Pass is valid for one year and gets you access to all National Parks in Canada.
---
Do You Need A Banff Park Pass To Visit Lake Louise Or Moraine Lake?
Yes, anyone who intends to recreate or stop at any scenic viewpoints in the National Parks of Canada needs a pass.
---
Are There Any Discounts?
The only discount we know of is available to CAA or AMA members. You can find the details to the discount here.
---
Can You Purchase a Discovery Pass Without Providing a Car Registering Number?
When purchasing a Discovery Pass online, you don't have to note your license plate number.
---
Is My Banff Parks Pass Transferable?
The pass is not transferable once it has been used. The pass holder must be present when using the pass. Only one person must sign the pass for a Family/Group Pass. You may not sell your pass once you leave the park. Please support the park you are recreating in and follow these rules.
---
My Airbnb Has provided me with a Parks Pass during my stay, is this allowed?
Airbnb hosts in the Bow Valley have been including Parks Passes to guests as part of an incentive to get guests to book with them. This is not allowed and is discouraged. Parks Passes are non transferrable. I know it's tempting, but please consider purchasing your own Parks Pass for the National Park you are recreating in. Banff National Park entry and service fees help support visitor services and facilities.
Discovery passes must be signed by the pass holder to be valid and are non-refundable; not transferable and rendered void if resold.
---
The costs between the day pass and the Discovery annual pass is the same, what should I buy?
Consider that if you plan to visit the Cave & Basin museum, entry is only included with the Discovery Pass. Also consider that if you have plans to visit Canada again, and want to venture into a national park, the Discovery Pass is good for an entire year. If the prices between a Parks Canada day pass and Discovery Pass are the same or a small difference, I would 100% purchase the Discovery Pass.
---
I have my pass, do I still have to pass through the Banff Park Gates?
If driving from Canmore to Banff, you'll pass the East Gate Buildings & Booths. If you have your pass already you can stick to the right hand lanes and continue with the flow of traffic. Only those without a Parks Pass need to stop at the gates to purchase theirs. Don't worry, there are signs!
---
When Do Park Buildings Open?
Park Gates and Visitor Center hours vary by season, it's best to check here.
---
Where Do Park Pass Fees Go?
The proceeds obtained from Park Passes are dedicated to supporting the upkeep of the most frequently used locations and services by national and international visitors, such as scenic parkways, day-use areas, trails, public safety, education, and information services. All revenue remains within the location where it was collected.
---
Where to Get a Parks Canada Pass
To recap, you can purchase a Parks Canada Pass online, either on the Parks Canada website, or Banff Lake Louise website.
In person you can purchase parks passes at National park gates and visitor information centres. It's also been said you can buy them at Cabela's Canada and MEC (Mountain Equipment Company), but we have not verified this ourselves.
---
What Do We Recommend Doing?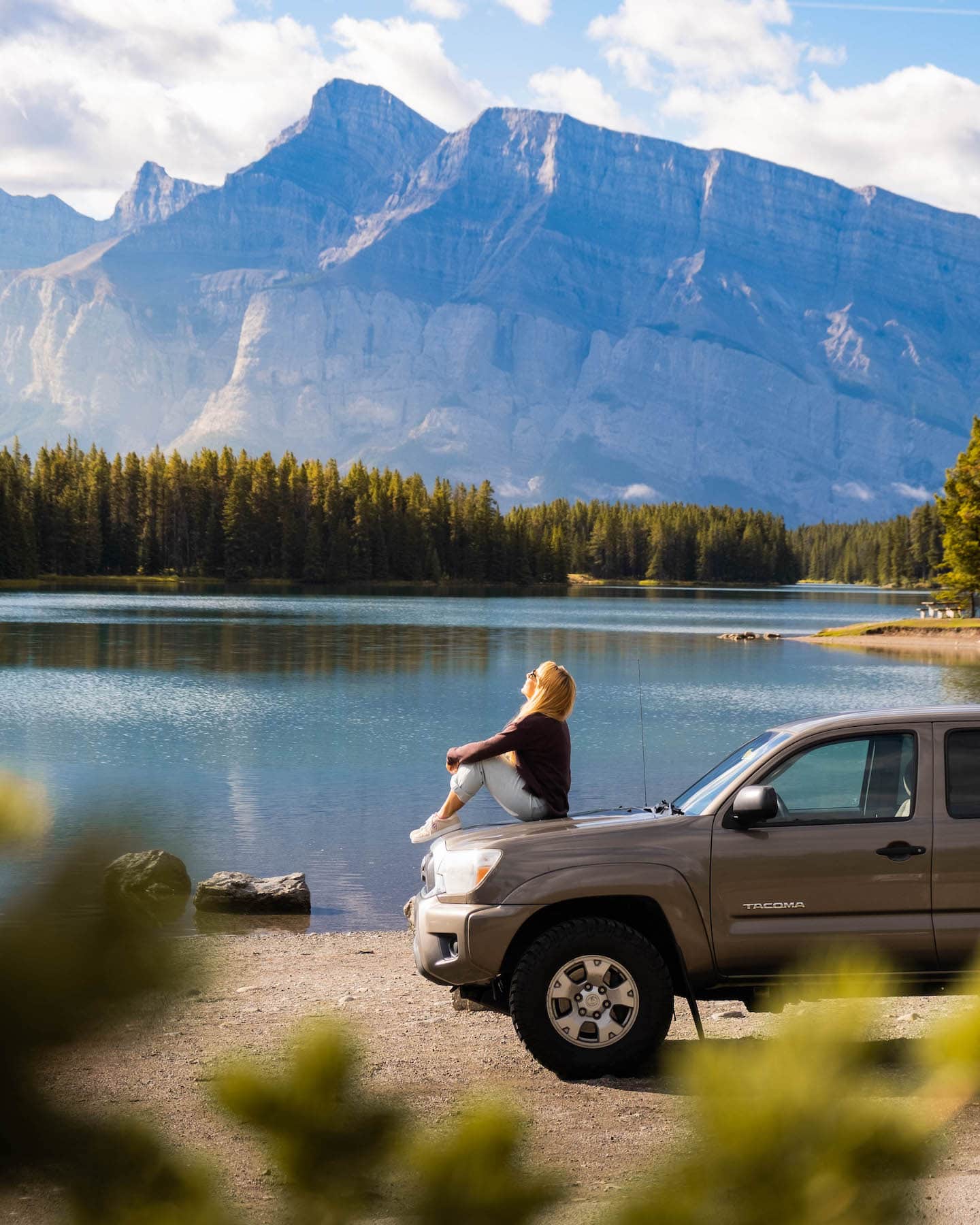 If your trip is less than a month out, it's best to purchase your day pass or annual pass at the park gates or visitor centers mentioned.
There is often a line to purchase on beautiful summer days, but it should never take more than 20 minutes, as Parks Canada does a great job keeping the line moving.
Plan Your Trip to the Canadian Rockies
↓ Join the community ↓
The Banff Blog Facebook Group is your headquarters for the Canadian Rockies' travel advice and information. Including hike info and off-season travel information. This is also where you can meet one another when you need adventure buddies.