Unlike many drives in the world, the drive from Vancouver to Banff (or Banff to Vancouver drive) is a beautiful one. There are plenty of stunning stops to make between the drive that can turn the journey into one of the best mountain road trips of your life!
---
Vancouver to Banff Drive FAQ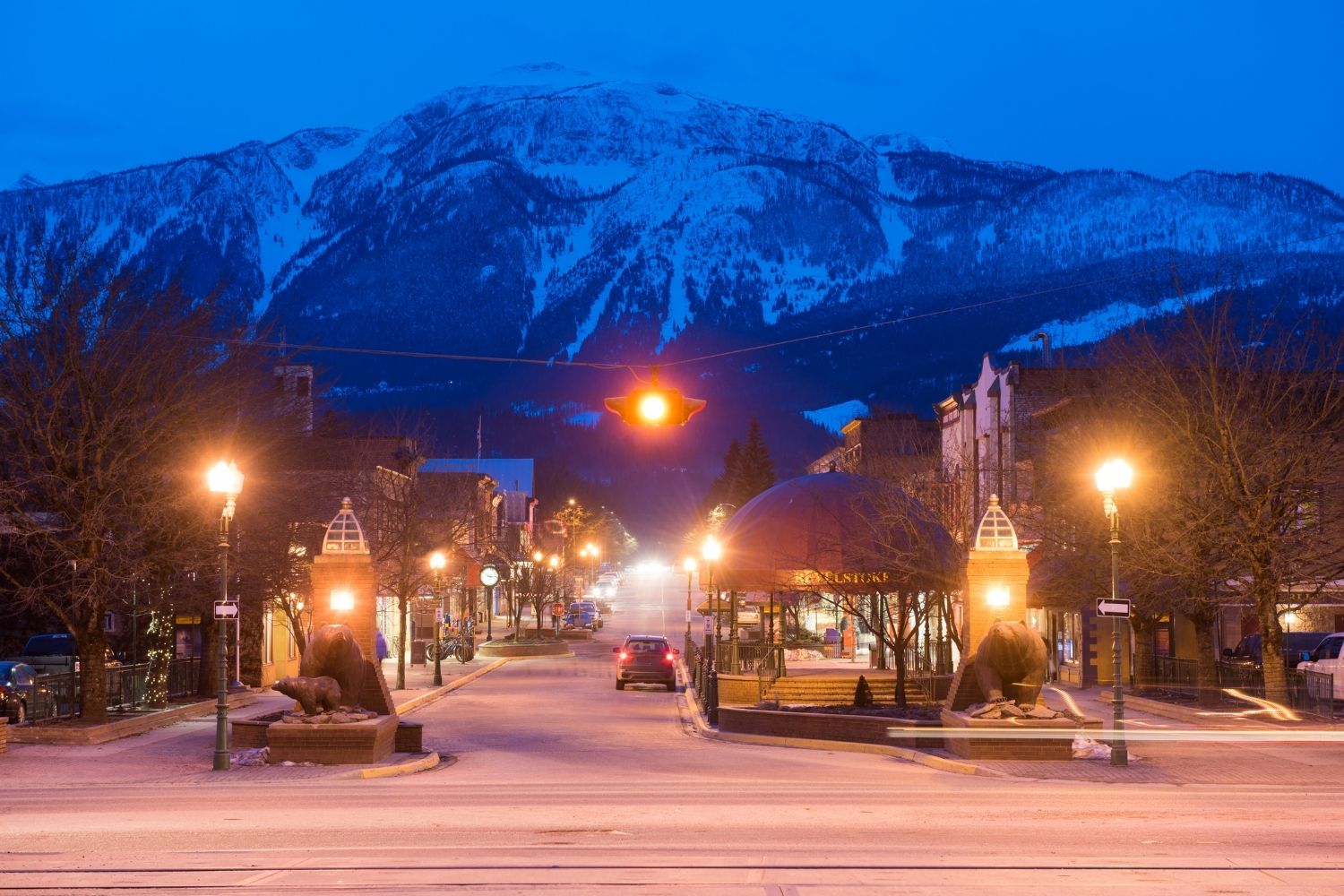 How Far is the Vancouver to Banff Drive?
It all depends on which route you take, but in general expect the drive to be about 850 km and take anywhere from 9.5 (very fast/few stops) to 14 hours, or even longer if you really take your time!
Can You Do the Vancouver to Banff Drive in One Day?
Yes, you can drive from Vancouver to Banff in one very long day, though to make it in one day you won't be stopping at any of these locations mentioned unless it is just for lunch or a coffee. The drive from Vancouver to Banff is a long one and we recommend breaking it up into multiple days so you can really make the most out of it.
Can You Drive from Vancouver to Banff in the Winter?
When driving in Western Canada during winter, it's important to exercise extra caution, especially on treacherous routes like Highway 99 over Duffy Lake Road and Rogers Pass (Revelstoke to Golden). Even with winter tires, driving in a winter storm can be extremely challenging, so if caught in one, it's best to pull over and seek accommodation for the night.
It's worth noting we have done the Vancouver to Banff drive multiple times in the winter, and every single time, the drive takes longer than expected because there are frequent road closures, delays, and accidents in the mountains.
From October 1 to April 30, winter tires or chains are mandatory on most British Columbia routes, as well as a few in Alberta. It's essential to stay updated on driving conditions in Alberta via 5.11 Alberta and British Columbia via Drive BC.
---
Renting a Car in Canada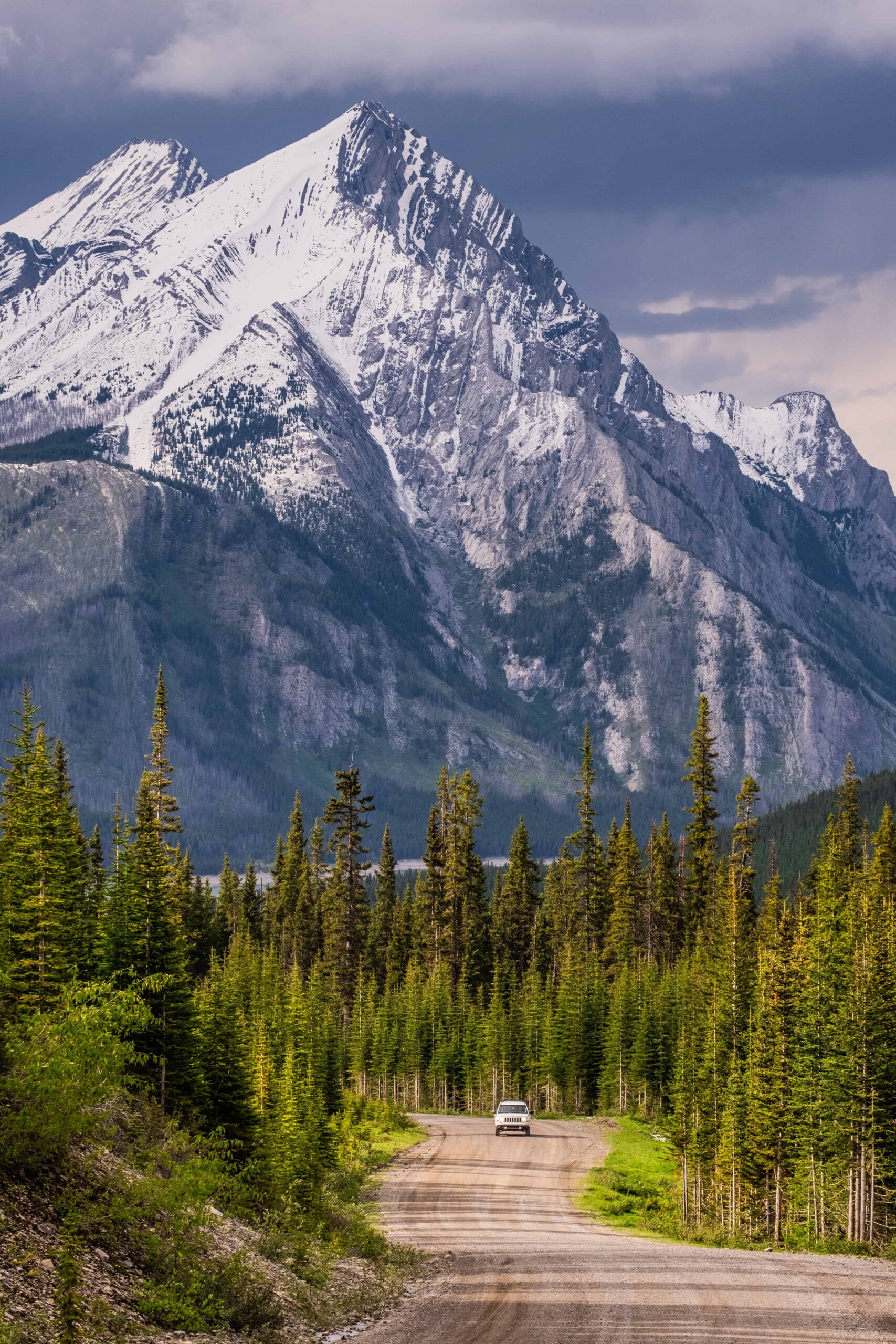 If you don't have your own car, it's best to rent a car in Vancouver or Calgary. You can rent one at Vancouver International Airport (YVR), Calgary International Airport (YYC), or Downtown Vancouver and Downtown Calgary. You can either rent a one way or do a return trip. One way rentals often cost more. There are a few locations to rent a car in Downtown Banff, but they are usually more expensive than in the cities.
Rates tend to get a bit cheaper once you get away from the airport and into the city. We like to use Discover Car Hire and RentalCars.com to find the best deals. See our best rental car tips before renting!
---
The Best Ways to Travel Between Vancouver and Calgary
By Car: The best way to travel between Vancouver and Banff is by car. This will allow you to take as much time as you need between the route, and stop when you feel like it. You can rent a car in Vancouver and drop it off in Calgary, often for a fee. This can also be done vice versa.
By Bus: Rider Express will take visitors between Vancouver and Banff by bus. The trip takes 15 hours and costs $161 one way.
By Train: There is no direct train between Vancouver and Banff, however the Rocky Mountaineer runs scenic rail journeys between Vancouver and Jasper and Vancouver and Lake Louise. Not a cheap journey, but the views make it worth it. You can also look at Via Rail, which has two trains weekly running from Vancouver to Jasper.
By Air: Of course the easiest and quickest option between Banff and Vancouver is by air. The closest airport to Banff is YYC. WestJet and AirCanada both run frequent routes between Calgary and Vancouver. I'm talking like one flight every 1-2 hours frequent. You can often find tickets for $100-200.
---
Vancouver to Banff Routes
---
Fastest Route
The fastest route is to take the Trans Canada (Highway 1) from Vancouver, get on the 5 at Hope and go up through Merritt before getting back on Highway 1 in Kamloops. This is not only the quickest way, but also the easiest with the best roads. However I do find this route to be one of the most uneventful.
Most Scenic Route
In our opinion, the most scenic route is to head up to Whistler from Vancouver, and take Highway 99 through Pemberton and Cache Creek. This will take you over the Duffy Lake Road, which is a scenic route, but beware, it is subject to avalanches, and landslides, and is overall not the easiest road to drive, especially at night in the winter. We've been caught a few times on it in a snowstorm and can tell you it is a scary experience. Since this is the most scenic route, this is going to be the route we focus on in this article.
Alternative Scenic Route
Another scenic route is to travel Highway 1 out of Vancouver and get on Highway 3 in Hope, BC. This route will take you through the Okanagan and towns like Vernon and Kelowna, before eventually connecting you with Revelstoke.
Jasper Route
It takes 9 hours to get to Jasper from Vancouver on Highway 5 via Tête Jaune Cache, so if you have Jasper and Banff on your Banff itinerary, this is a great option. Head to Jasper first, and then when you are ready to go to Banff take the Icefields Parkway south to Banff.
Kootenay Route
Once you get to Golden, it's possible to stay off the Trans Canada and continue on to Radium Hot Springs, where you can hop on the Banff Windermere Highway (HWY93) and drive to Banff through Kootenay National Park. There are plenty of beautiful stops in Kootenay to enjoy.
Longest Route (Adventure option)
If you have time on your hands and want to explore some really cool towns you can take Highway 1 from Vancouver, hop on Highway 3 near hope, and essentially drive along the border passing towns like Rossland, detour to Nelson, Fernie, and Waterton National Park. This route will take over 16 hours of driving straight through so it's the less traveled option, but a great one if you want to pass some of Canada's best mountain towns. (We take this route in the winter when we are looking to ski at Canada's best ski resorts like Red Mountain, Whitewater, and Fernie).
We recommend studying a map to determine which route is best for you!
---
Important Things to Note
Watch out for wildlife on the roads when driving from Vancouver to Banff. This includes bears, deer, elk, and moose. They are present, especially during the summer months. If you see wildlife on the road please respect its space.
Cell Service is intermittent on much of this drive. Notably between Pemberton to Lillooet, Salmon Arm to Revelstoke, Revelstoke to Golden, and Golden to Lake Louise.
Many routes will get you from Banff to Vancouver. We recommend you study a map to see which would be best for you to take and which detours may be worth your time. We are going to focus on our recommended scenic route (Whistler, Pemberton, and the Duffy Route) for this article.

---
Vancouver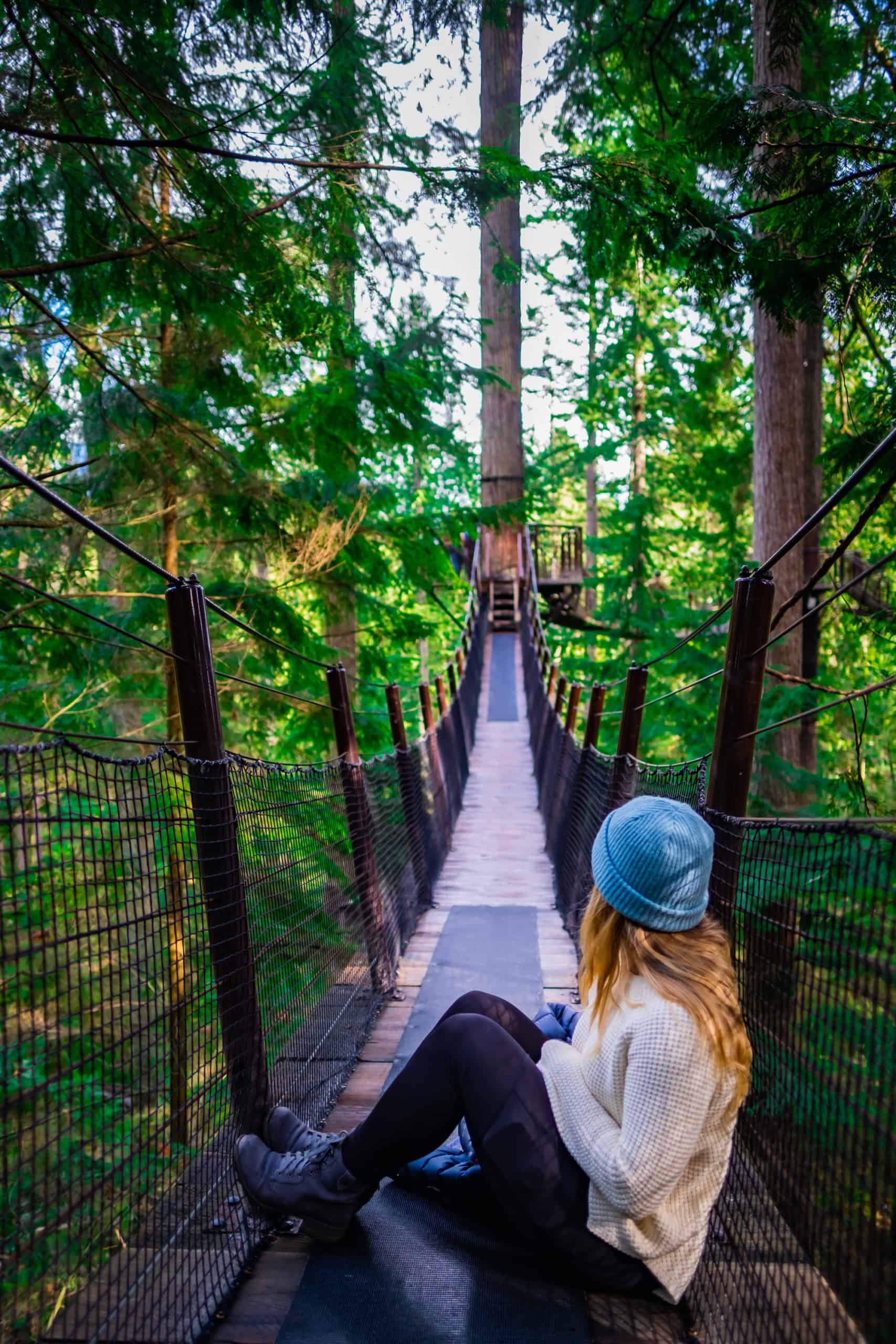 Although you can reverse the stops when driving from Banff to Vancouver, we'll begin this journey in Vancouver. This city is an ideal starting point for an exciting adventure in Western Canada, and its international airport, YVR, offers numerous domestic and international flight options.
If you choose to arrive at YVR, we strongly suggest taking a day to explore Vancouver. Despite being a bustling metropolis, Vancouver boasts an array of one-of-a-kind attractions and experiences.
Our favorite things to do in Vancouver are enjoy Capilano Suspension Bridge, Bike Around Stanley Park, stroll Lynn Canyon Park, and of course eat sushi (in our opinion Vancouver has the best sushi outside of Japan!)
30 BEST Things To Do In Vancouver
---
Shannon Falls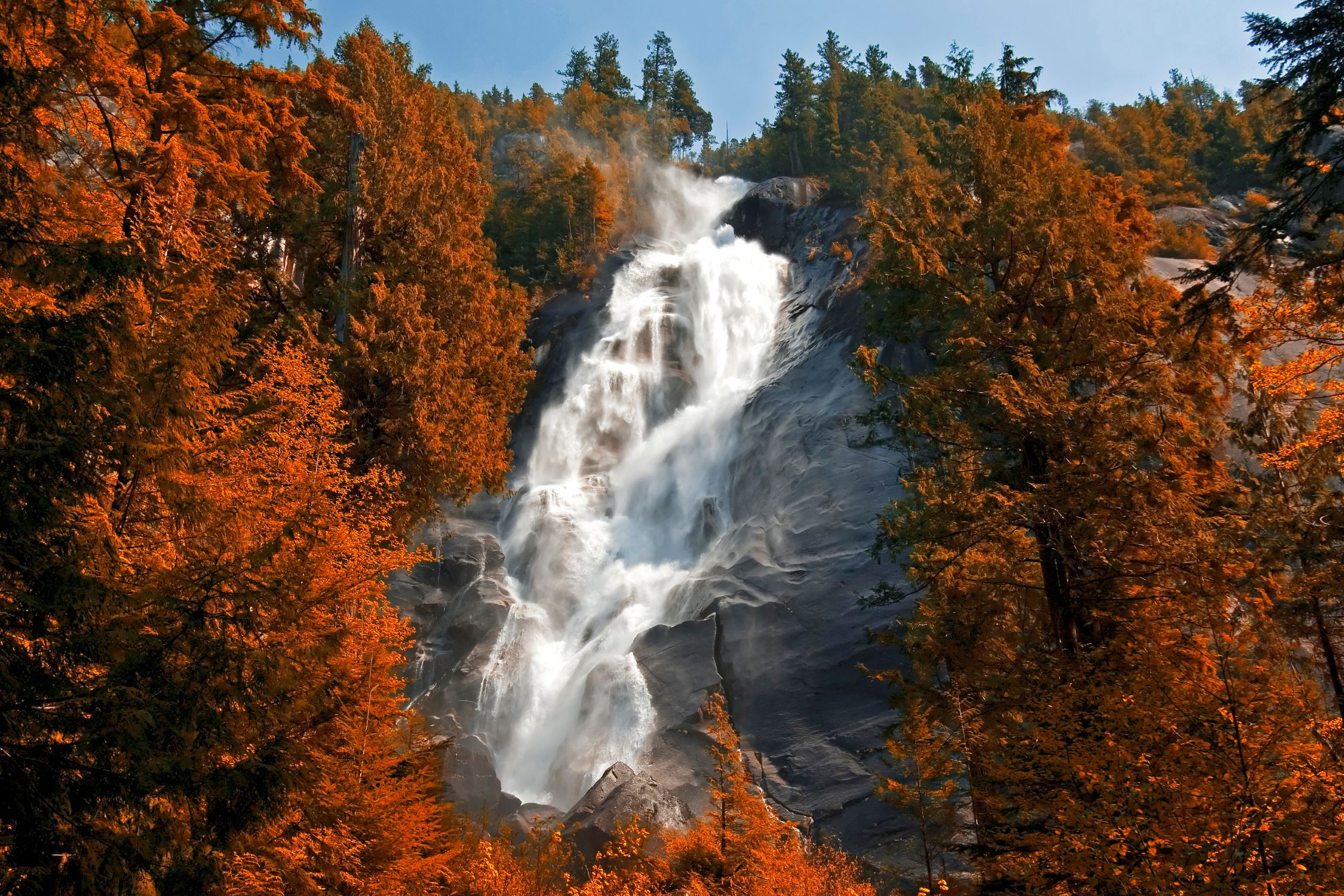 Shannon Falls Provincial Park is just 58 kilometers north of Vancouver and 2 kilometers south of Squamish along the Sea to Sky Highway. It is home to the third largest waterfall in BC, Shannon Falls, and you can stop and see it at just a quick stop off the highway.
The Shannon Falls viewpoint is a favorite activity among visitors, offering a glimpse of the magnificent waterfall, just a brief hike away from the parking area. If you have time, you can also opt for a quick one-hour (round trip) walk to the base of the falls.
---
Squamish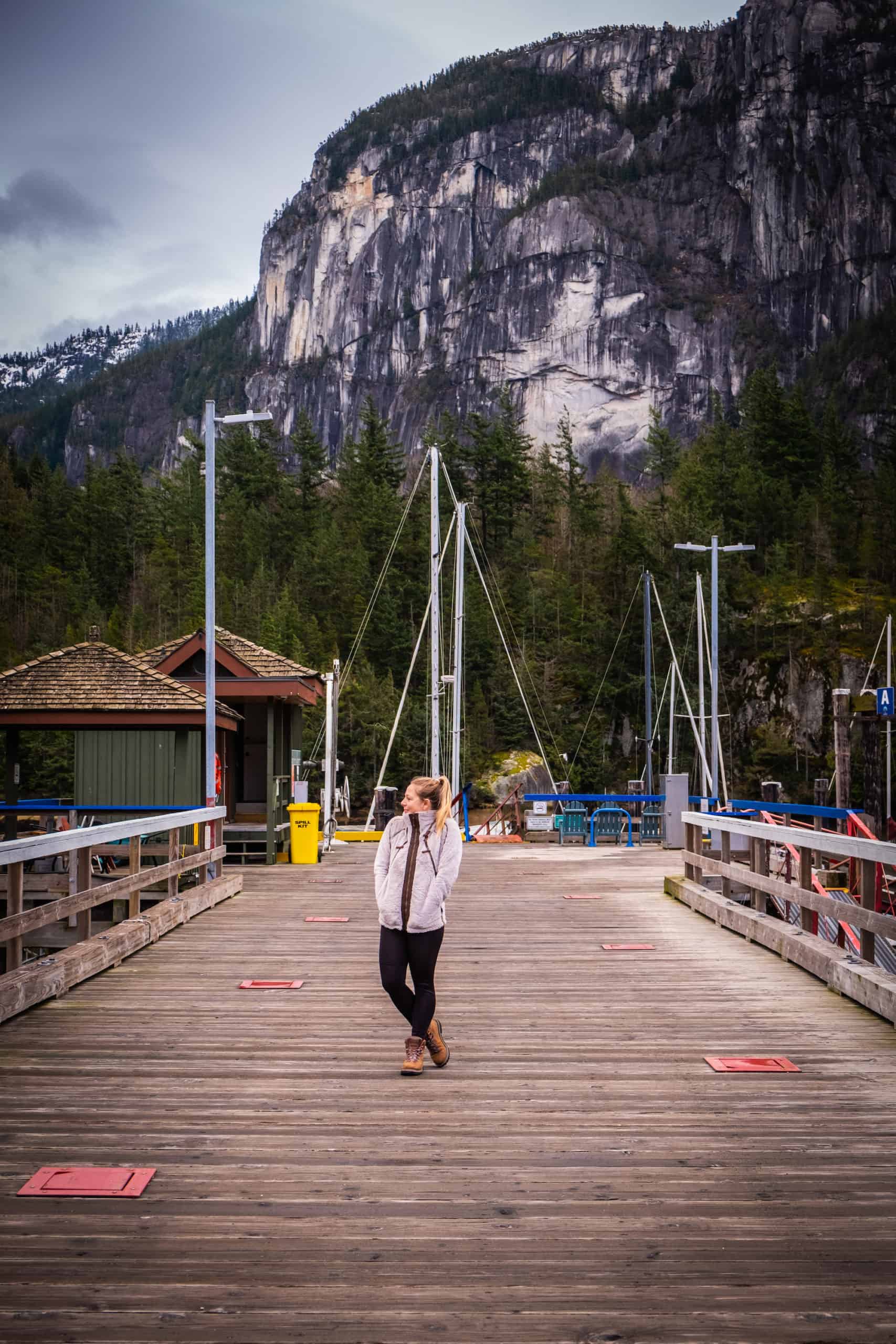 As you drive along the breathtaking Sea to Sky Highway, just after Shannon Falls, you'll arrive in the large town of Squamish. Nestled at the northern edge of the Howe Sound, surrounded by mountains and coastline, this is an excellent place to stop for hiking, biking, and climbing adventures. The famous Stawamus Chief granite monolith looms over the city, impossible to miss and cherished by locals.
For adventure enthusiasts, Squamish is a veritable outdoor paradise, boasting world-class climbing, mountain biking, and numerous hiking trails. It's likely that if you stop for lunch here, there's a pro athlete nearby.
If you're looking for great places to eat and drink, check out the Howe Sound Brewing Company – our favorite.
---
Garibaldi Lake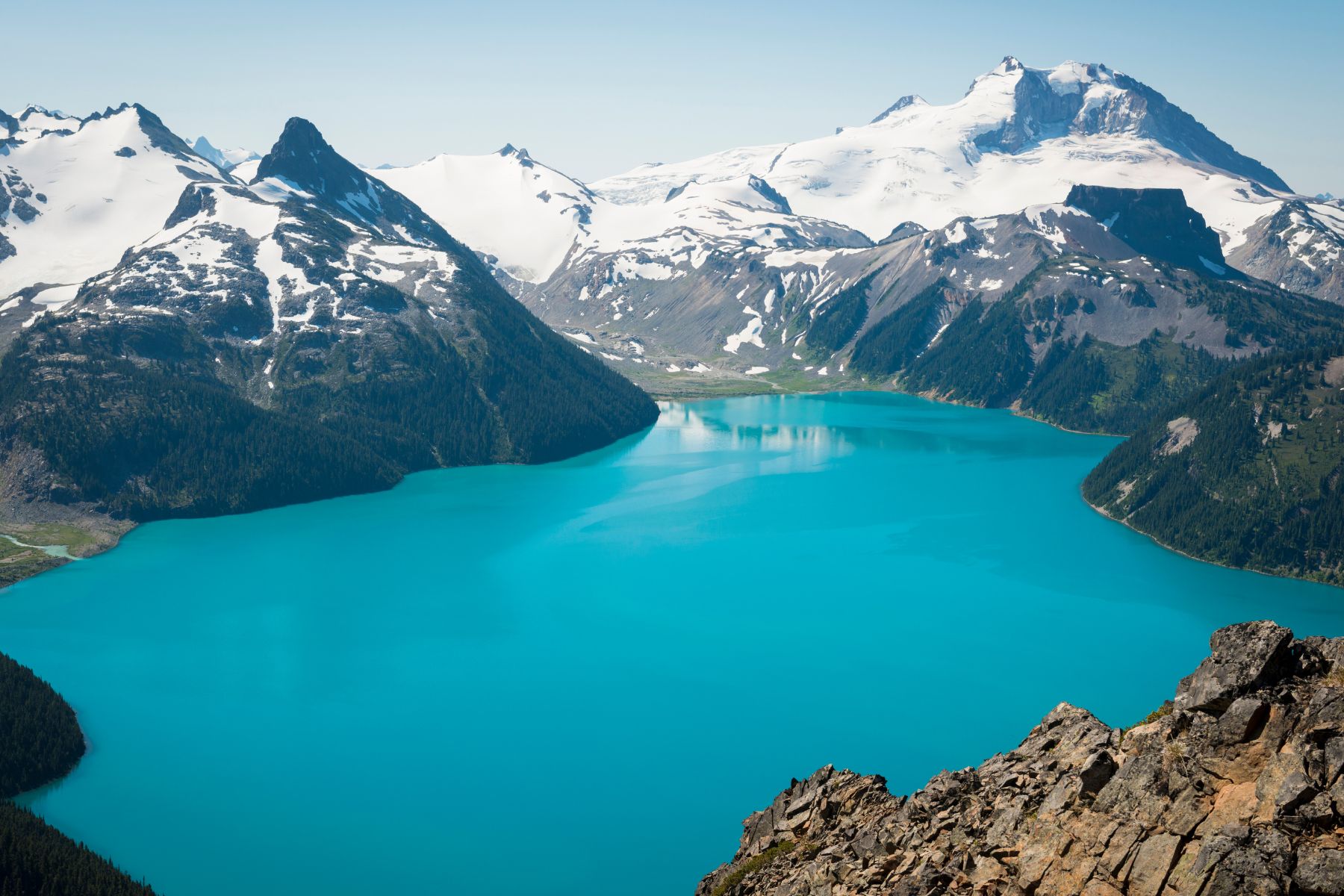 Continuing on the Sea to Sky Highway, you'll quickly come across Garibaldi Provincial Park. The park is renowned for its breathtaking natural beauty and turquoise glacial waters. If you are basing yourself nearby and have a day to spare, the hike up the steep nine-kilometer trail (one way) can be challenging, but the stunning scenery is well worth the effort.
If you plan to visit Garibaldi Lake, obtain a day-use pass from BC Parks to help manage foot traffic and prevent overcrowding. This is one of the most popular hiking spots in the area, and as a result, BC Parks implements day-use passes.
Campsites are available near the lake if you are up for a backcountry adventure. Remember that the water is frigidly cold, so swimming may not be for everyone.
---
Whistler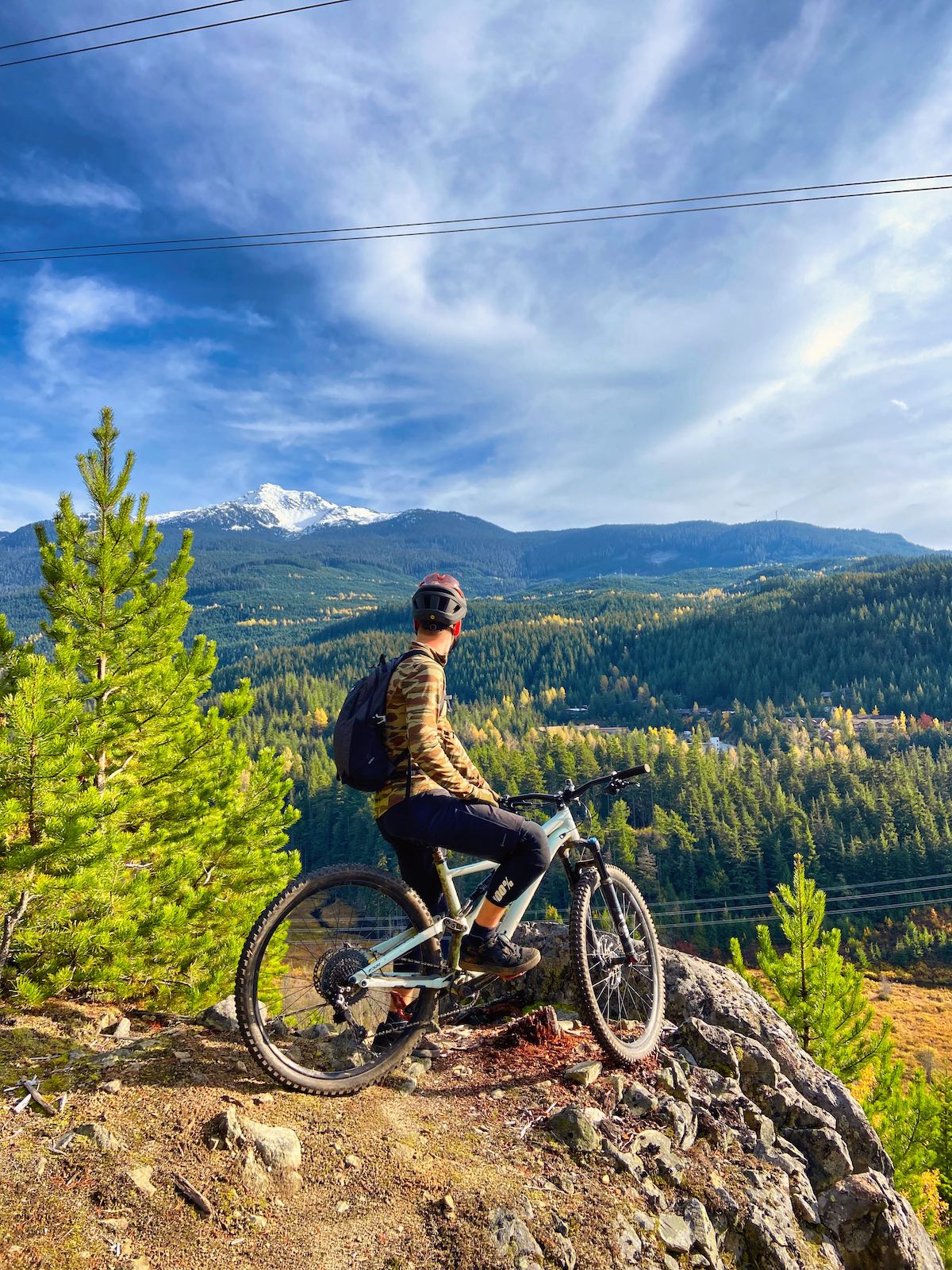 Considered one of Canada's must-visit ski destinations, Whistler is a charming ski town located in British Columbia, less than two hours drive from Vancouver via the scenic Sea to Sky Highway. Whistler is renowned worldwide for being one of the top ski destinations and boasts the largest ski area in North America.
While it's a popular winter destination for domestic and international travelers, it's also a premier adventure spot in the summer. Whistler is a favorite among Canadian road trippers exploring Western Canada, especially those who love mountain biking and hiking.
We consider a Whistler a must-stop on any Vancouver to Banff road trip.
45 BEST Things to Do In Whistler (Winter & Summer Guide)
---
Pemberton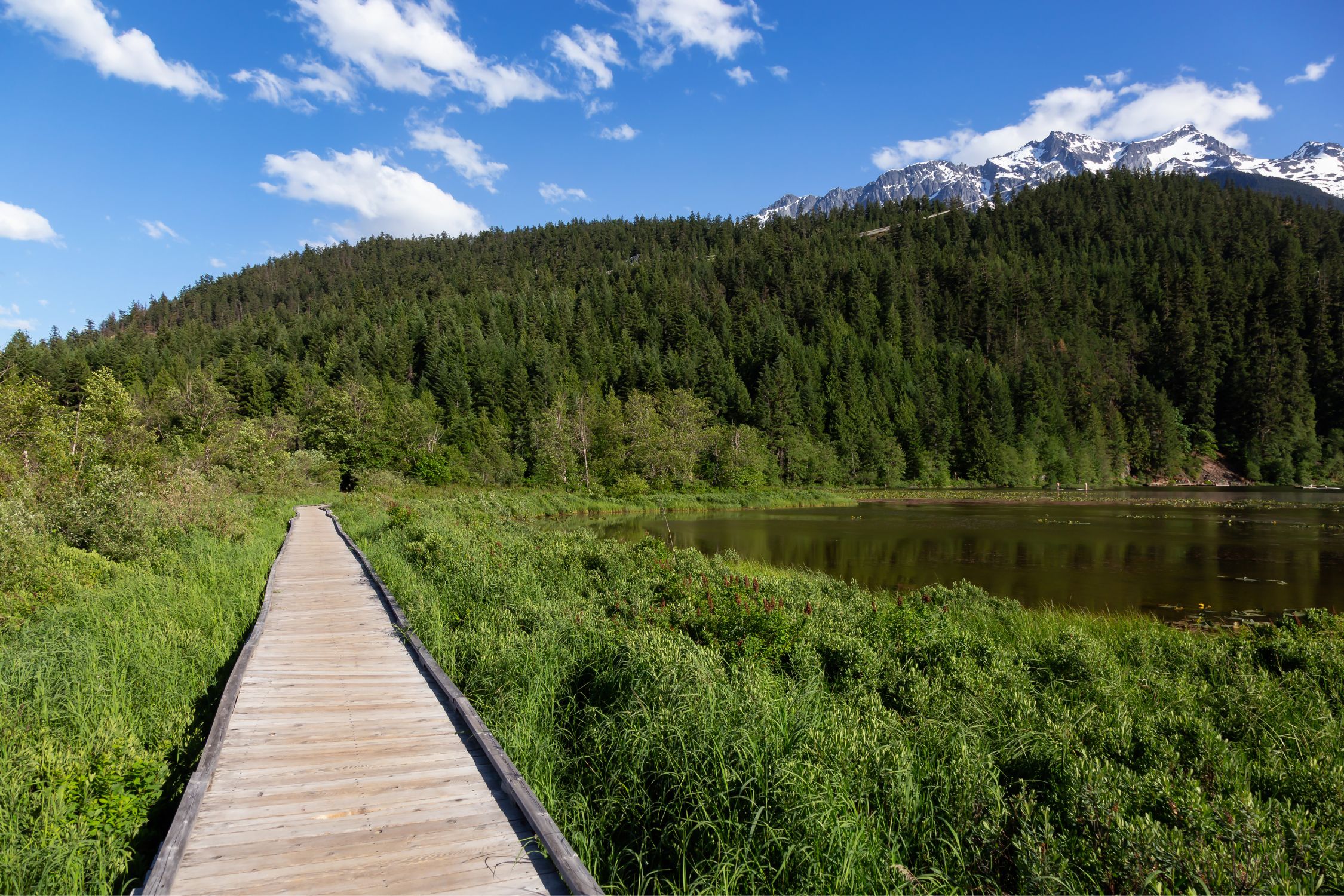 A mere 45 minutes beyond Whistler lies the quaint mountain town of Pemberton. Positioned at the base of Mt. Currie, the town's primary village boasts breathtaking views that will captivate any visitor.
Despite its size, Pemberton still offers a range of shops, dining establishments, and walking trails to explore. Popular activities include visiting North Arm Farm or riding a horseback ride through the valley with Copper Cayuse Outfitters.
If accommodation and prices are too high in Whistler, Pemberton is a great alternative, as plenty of BC cabins offer lower rates than their southern neighbor.
---
Joffre Lakes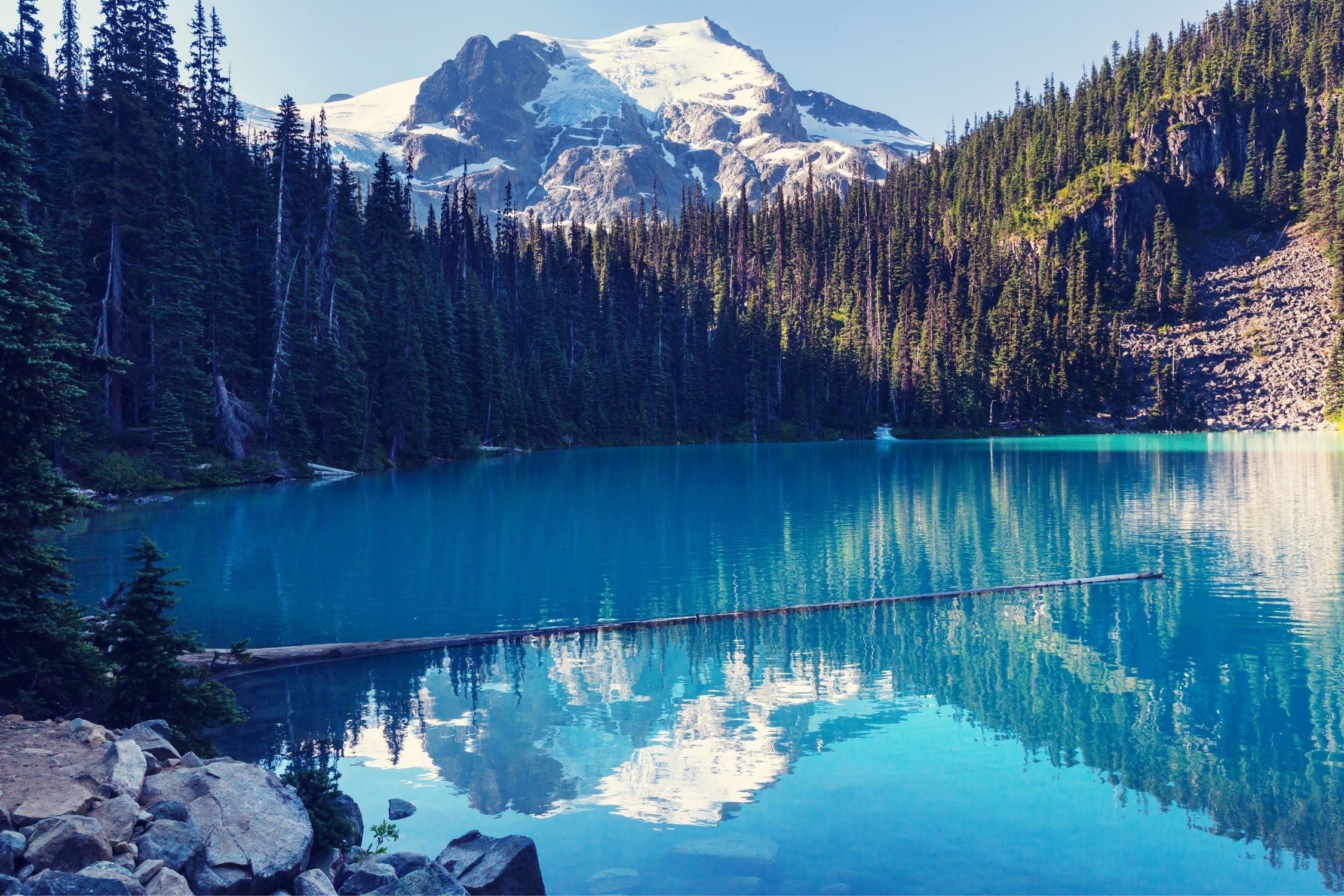 Joffre Lakes Provincial Park, located just past Pemberton on Duffey Lake Road, is undoubtedly one of the most gorgeous lakes in British Columbia. Trust me when I say that the hike to Joffre Lakes is absolutely worth it, and your road trip time should be carved out to experience the beauty here.
The 10km hike to Lower, Middle, and Upper Joffre Lakes has a minimal elevation gain of fewer than 400 meters, which is minimal for the area!
The reward for completing this hike is a dazzling blue lake that shimmers under the surrounding glaciers. The best time to visit Joffre Lakes is June to October, which is best for summer road trips.
---
Duffy Lake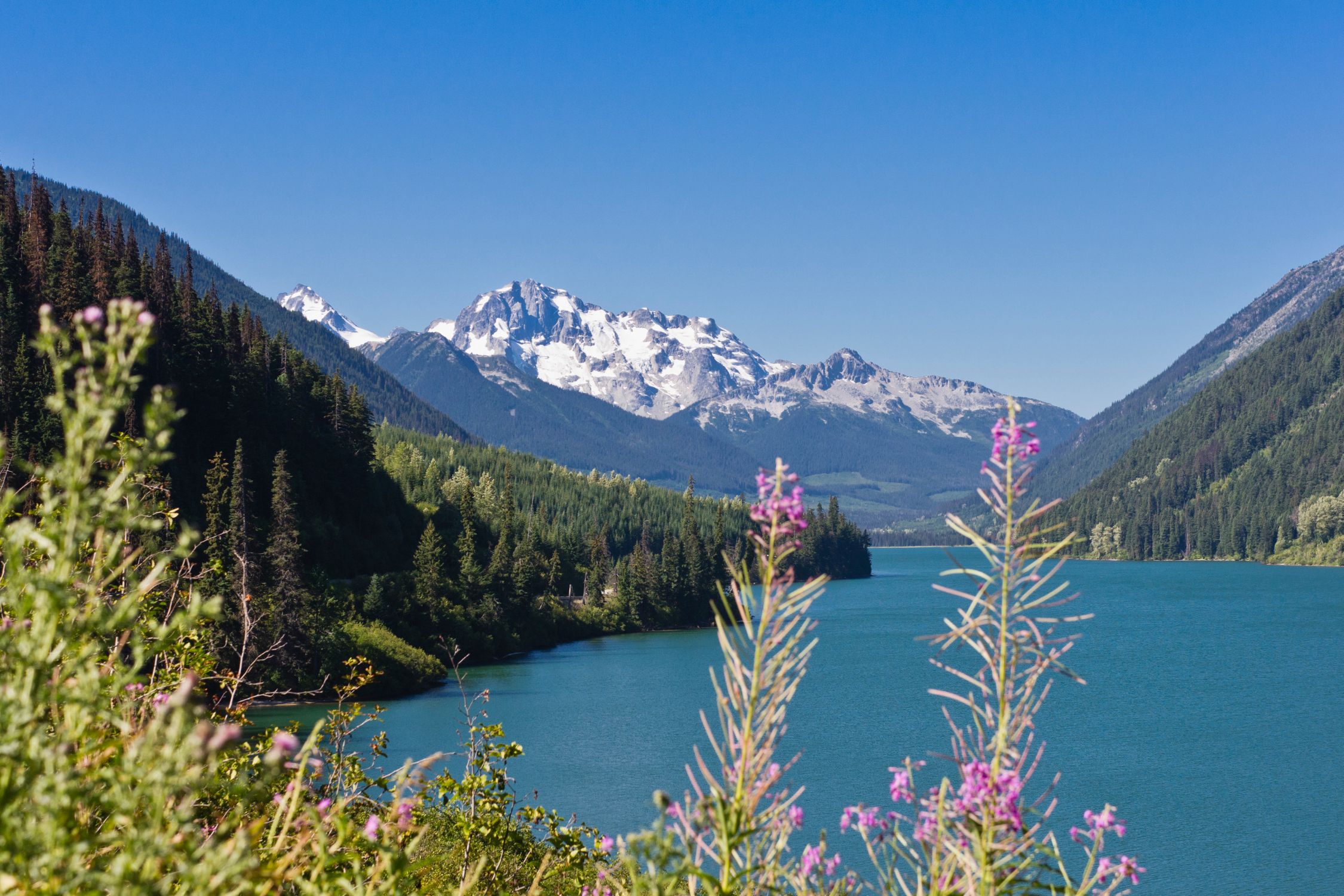 As you venture beyond Joffre Lakes Provincial Park and proceed down Duffy Lake Road to the Canadian Rockies, you will arrive at Duffy Lake. At this destination, an awe-inspiring viewpoint awaits, offering breathtaking views that are simply unforgettable.
Take advantage of the picturesque setting and enjoy a picnic before embarking on the journey to Lillooet.
---
Kamloops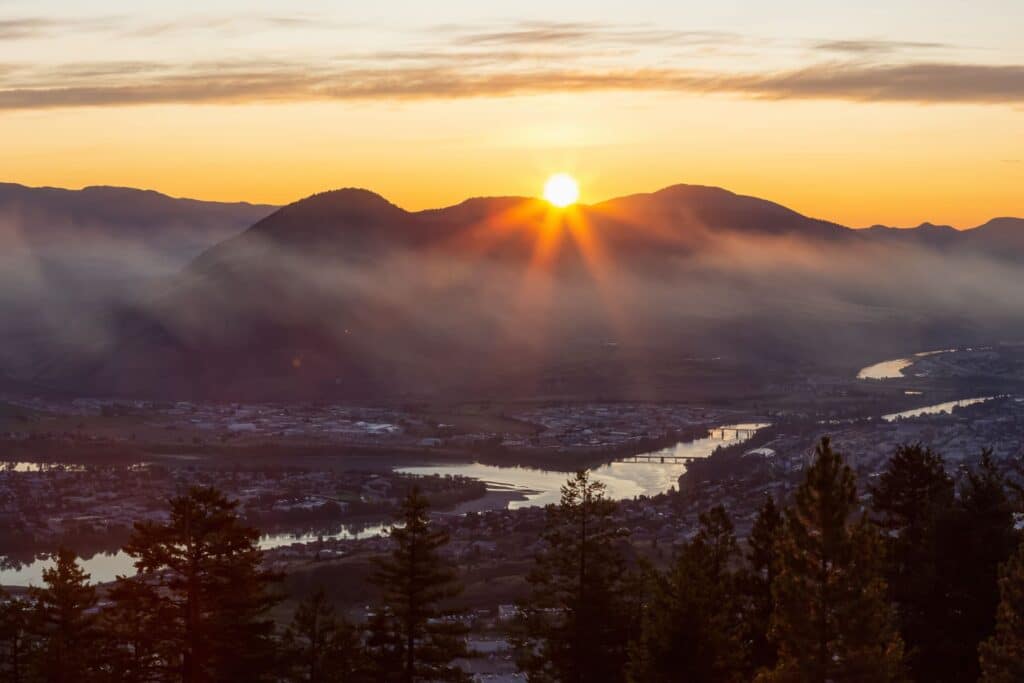 Kamloops is one of the larger cities in BC. It is the meeting point of the North and South Thompson rivers. Towards the city's east, one can find the British Columbia Wildlife Park, where cougars and bears can be spotted.
To the northeast lies Sun Peaks Resort, which boasts hiking trails, a bike park, and multiple ski runs. If you are driving in the winter, it's certainly worth a stop for skiing in a beautiful resort town.
I particularly wouldn't say Kamloops is a must-visit on your Vancouver to Banff trip, but it's a great place to regroup and enjoy a good restaurant or rest your head for the night.
---
Sun Peaks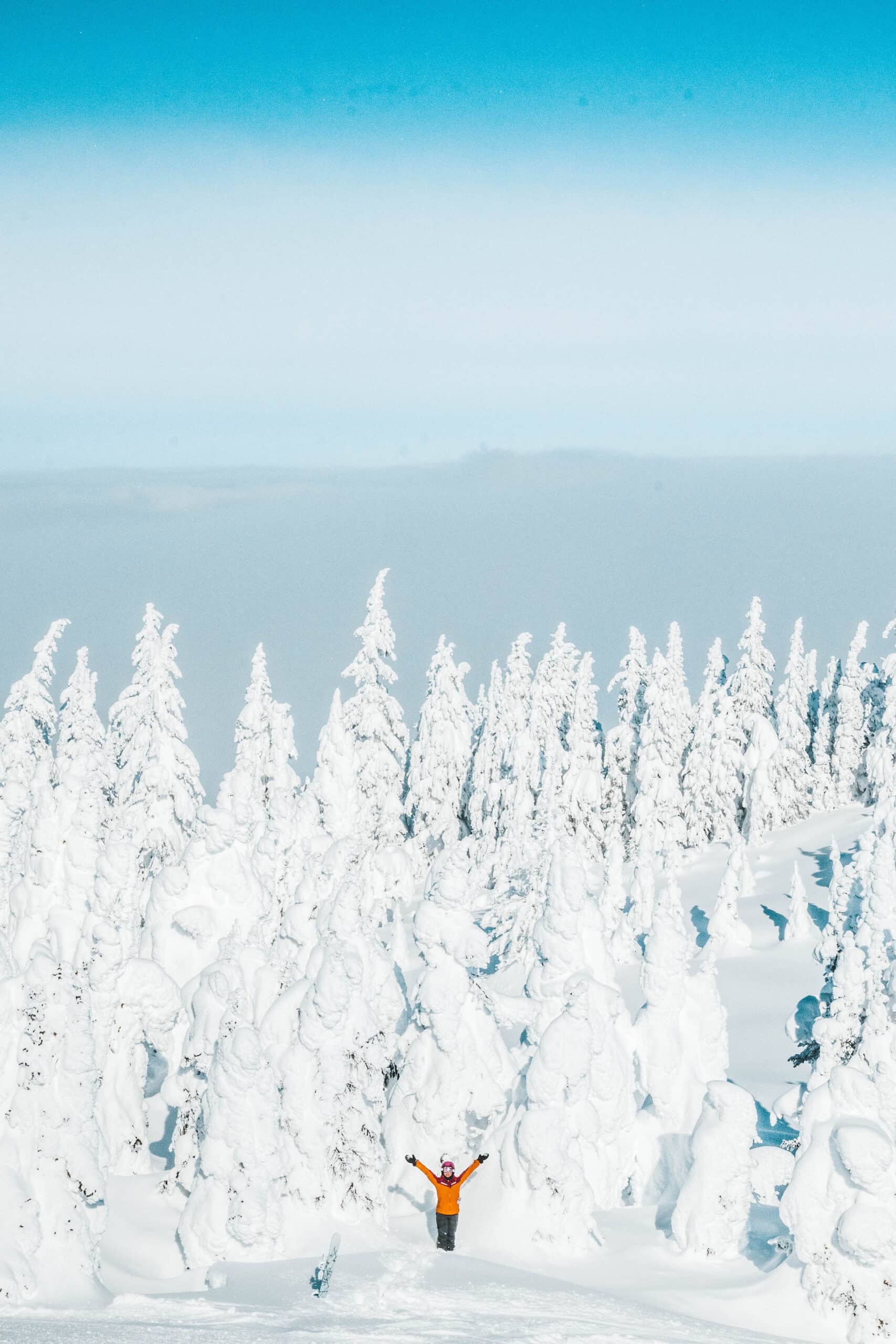 This is a destination to head to if you are driving from Vancouver to Calgary or Calgary to Vancouver in the winter. Sun Peaks is an alpine ski resort located 56 km northeast of Kamloops.
Unlike many ski resorts in Canada, where the mountain is a bit in the middle of nowhere with few amenities, Sun Peaks is a fully serviced ski resort that is great for families looking for an entire ski vacation with restaurants and plenty of things to do. They have multiple peaks with terrain for everyone. My favorite aspect of Sun Peaks is tree skiing!
---
Vancouver to Banff – Hwy 97 Option
---
Hope Slide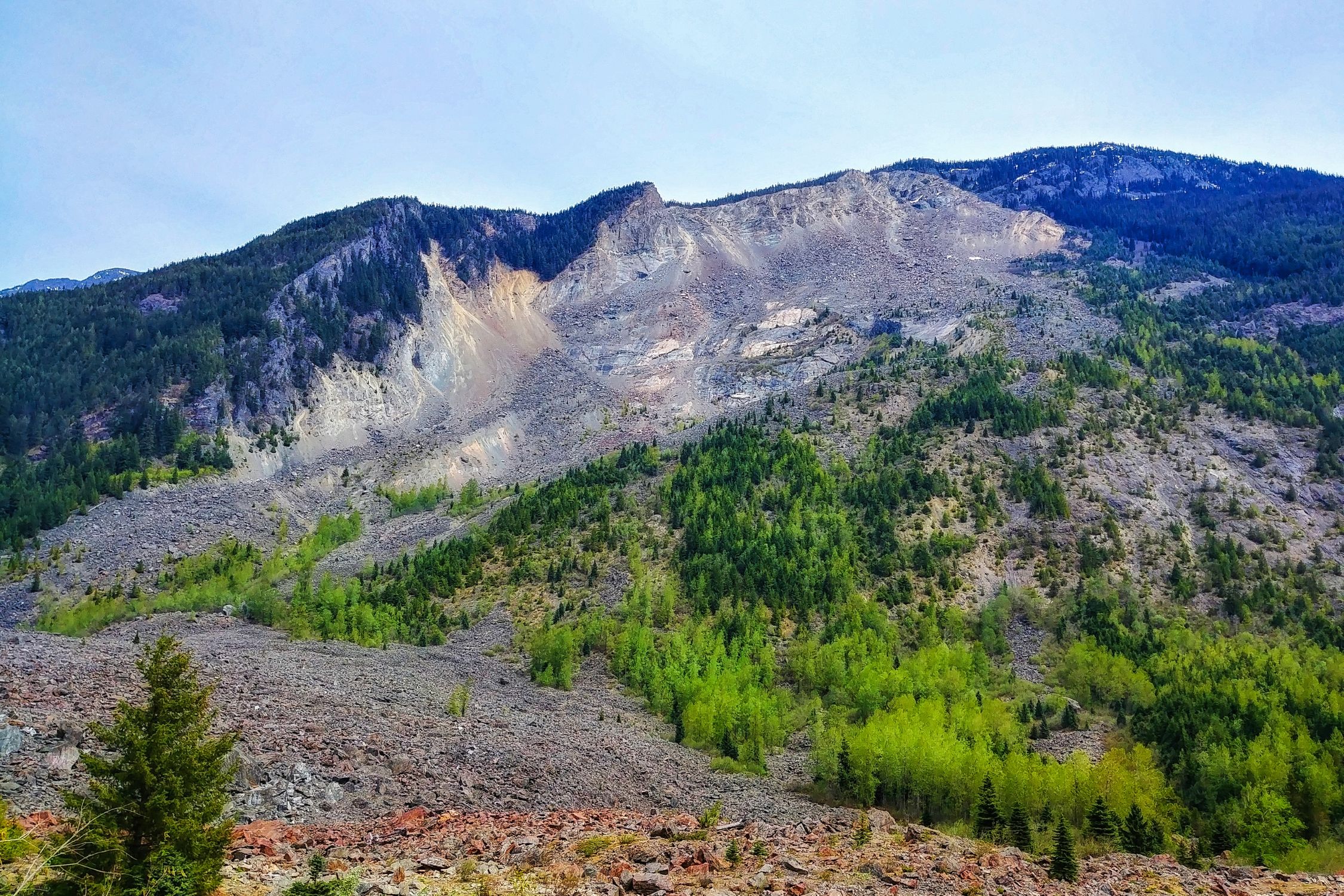 Just outside of Hope, BC is the site of Canada's second-largest recorded landslide. In 1965 a landslide occurred near Hope; it is estimated that 47 million cubic meters of rock fell. Now the area is known as Hope Slide and can be viewed easily by visitors.
---
Kelowna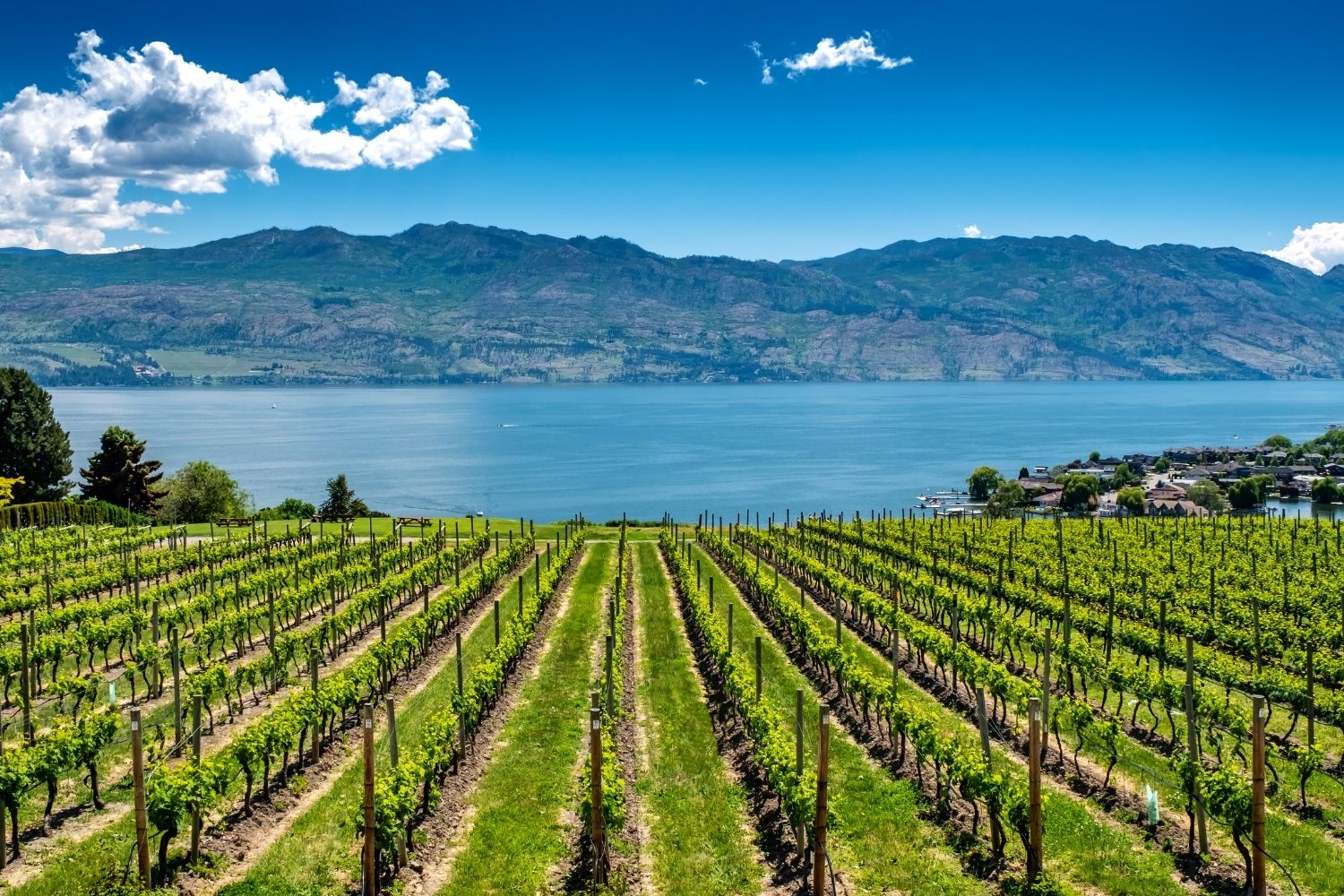 Kelowna is a popular destination in the summer for those wanting to explore the Okanagan Valley. This is Canada's famed wine region, and people will travel from around the country to sit in the sun and sip up the local wine on the shores of Lake Okanagan.
You can also find some of the best produce in Canada here, and farmer's markets are severe in the summer and fall.
If you are driving during the winter and skiing or snowboarding, plan a day or two to enjoy the slopes at Big White Ski Resort.
---
Vernon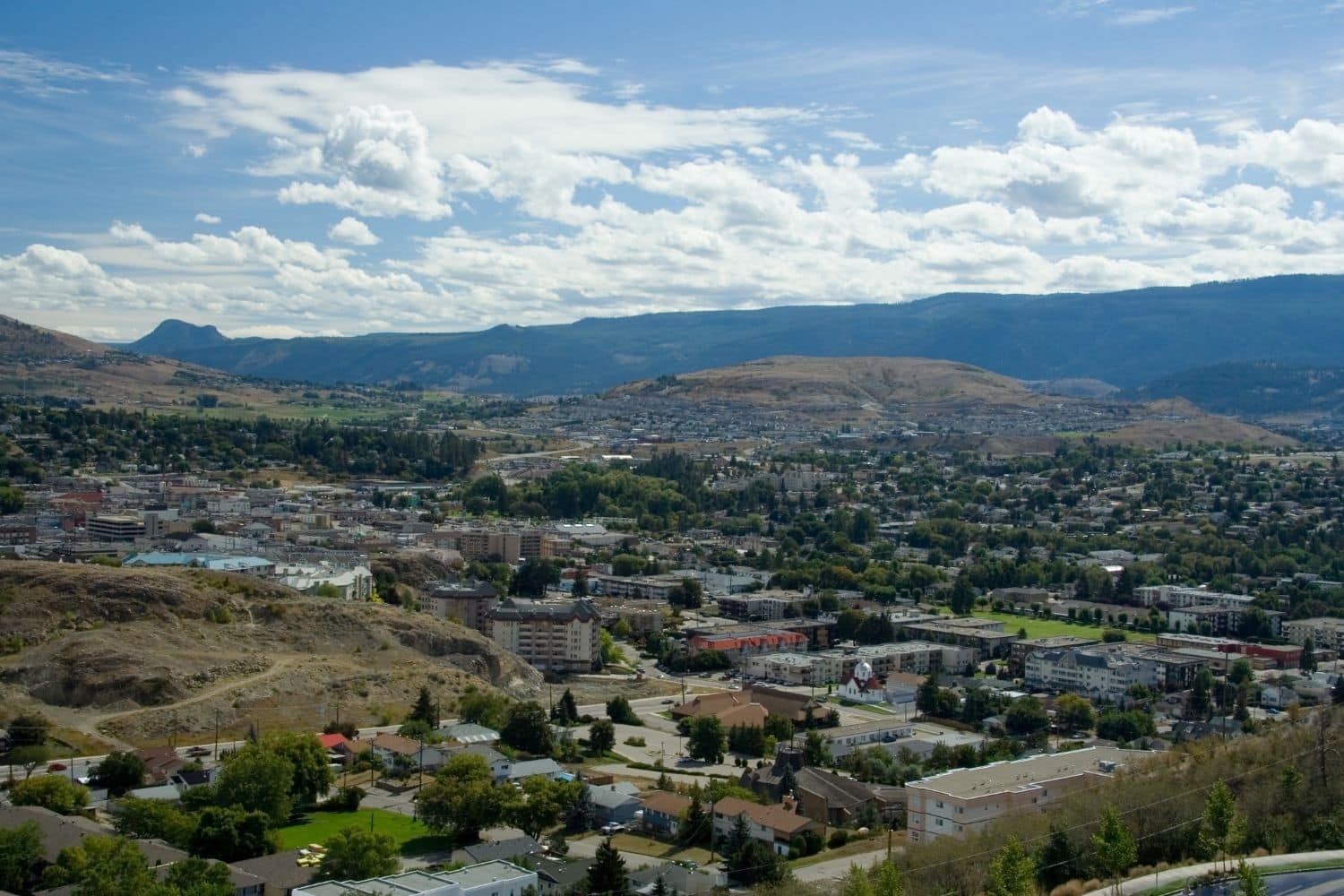 Less than an hour from Kelowna is the city of Vernon. Here you can enjoy more of the fresh BC goodness. In the summer, some of the best things to do are bask in the sun at Kalamalka Beach, stroll the historic main street, or buy fresh local fruit at Davidson Orchards.
---
Vancouver to Banff (Back on Highway 1)
---
Revelstoke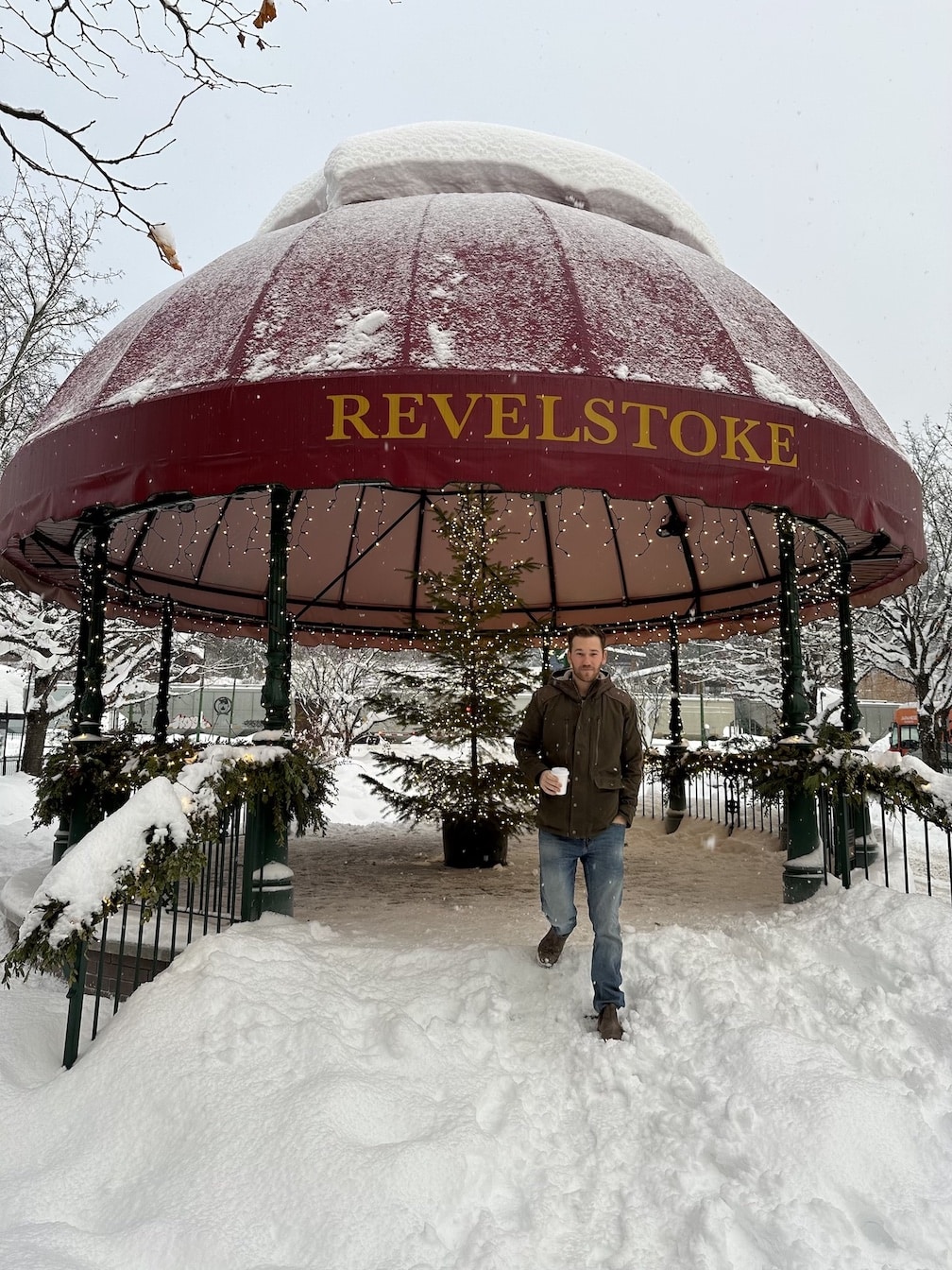 Let me introduce you to Revelstoke, one of the best stops when driving between Vancouver and Banff. This charming town, nestled near the Selkirk Mountains and Glacier National Park, is among our top picks for must-visit destinations in all of Canada, particularly if you road tripping in the winter and love skiing and snowboarding.
Despite being a relatively unknown mountain town in the past, Revelstoke has gained global recognition for its outstanding powder, which attracts winter sports enthusiasts year after year. Because it is situated off Trans Canada and near Rogers Pass, it is not as bustling as other Canadian mountain towns such as Whistler. Still, it has plenty to offer visitors in both summer and winter.
For those traveling from Vancouver to Banff in the summer, some of the best activities include paddling on Arrow Lakes, mountain biking, or riding on The Pipe Mountain Coaster. In the winter, skiing and sledding are the primary draws, as the resort receives quite a bit of snow without the crowds of Whistler. Revelstoke is one of our favorite towns in Canada and a must-stop on this road trip.
31 BEST Things To Do In Revelstoke, British Columbia
---
Glacier National Park
Glacier National Park is a stunning national park that Banff, Yoho, and Kootenay National Park often overlook.
During the summer, this park offers fantastic hiking opportunities, while in the winter, it provides thrilling backcountry skiing opportunities for those experienced in avalanche territory.
The Great Glacier Trail, Asulkan Valley Trail, and Abbott Ridge Trail are among my favorite hikes, with the latter being perfect for those who want to spend a whole day on the trail.
---
Golden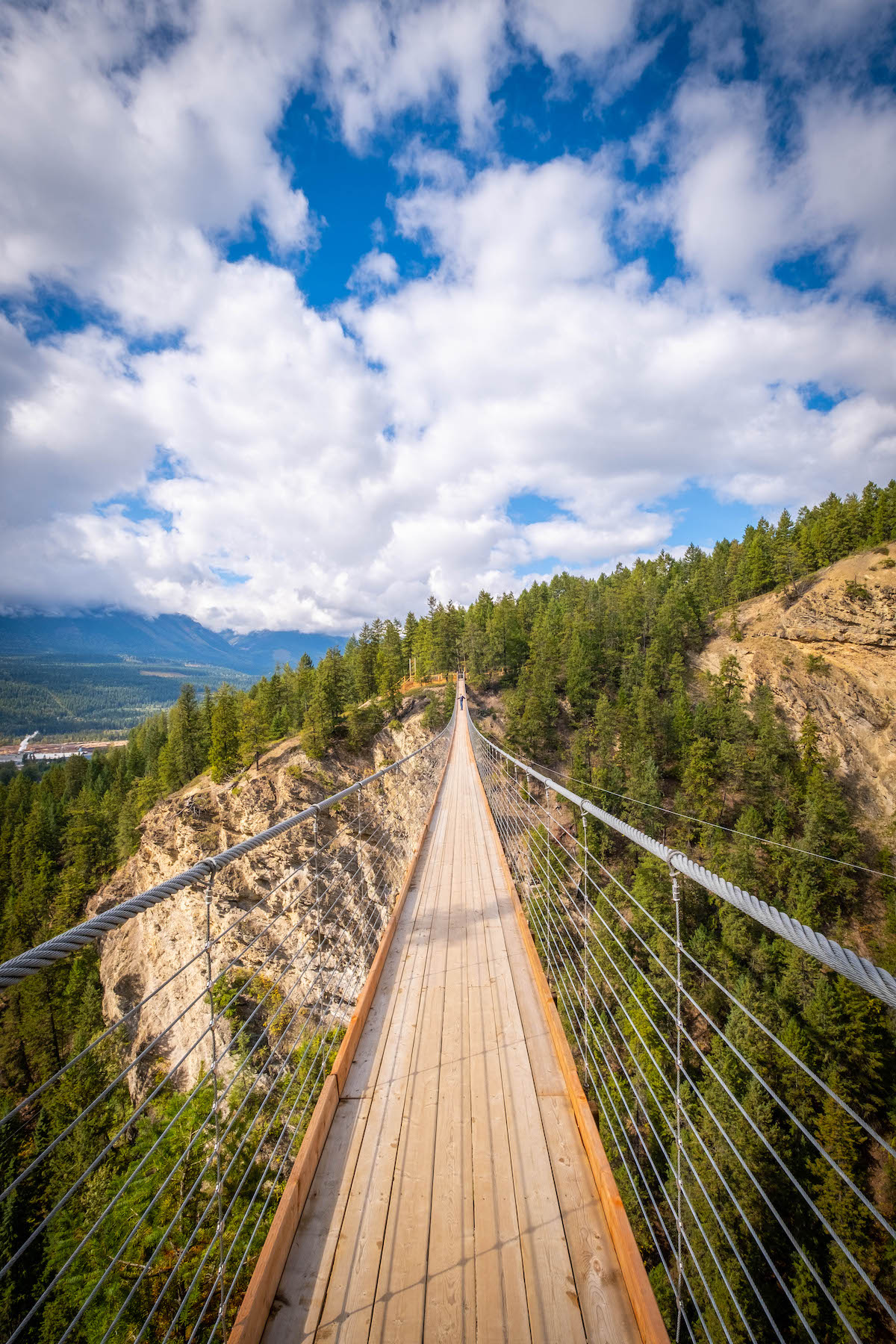 As you continue on the Trans Canada highway, you will reach the town of Golden – one of the best mountain towns for accessing Glacier National Park, Yoho National Park, and even Banff.
Nestled between the Purcell and the Rocky Mountains and built around the Columbia and Kicking Horse rivers, Golden offers numerous hiking opportunities in the summer. Some of our favorite summer activities include the hike to Gorman Lake, walk the Golden Skybridge, horseback riding in the Blaeberry, or white water rafting on the Kicking Horse River. Unlike Banff, you can enjoy many things here that you can't get inside a National Park.
Things like snowmobiling or riding quads are things you can want here. On top of that, Kicking Horse Mountain Resort offers downhill mountain biking in the summer, while in the winter, it becomes a great place to ski.
Unlike Banff and Canmore, Golden has a laid-back mountain town vibe without the overwhelming crowds of tourists and offers a more budget option to those Alberta mountain towns.
35 BEST Things to do in Golden, BC
---
Wapta Falls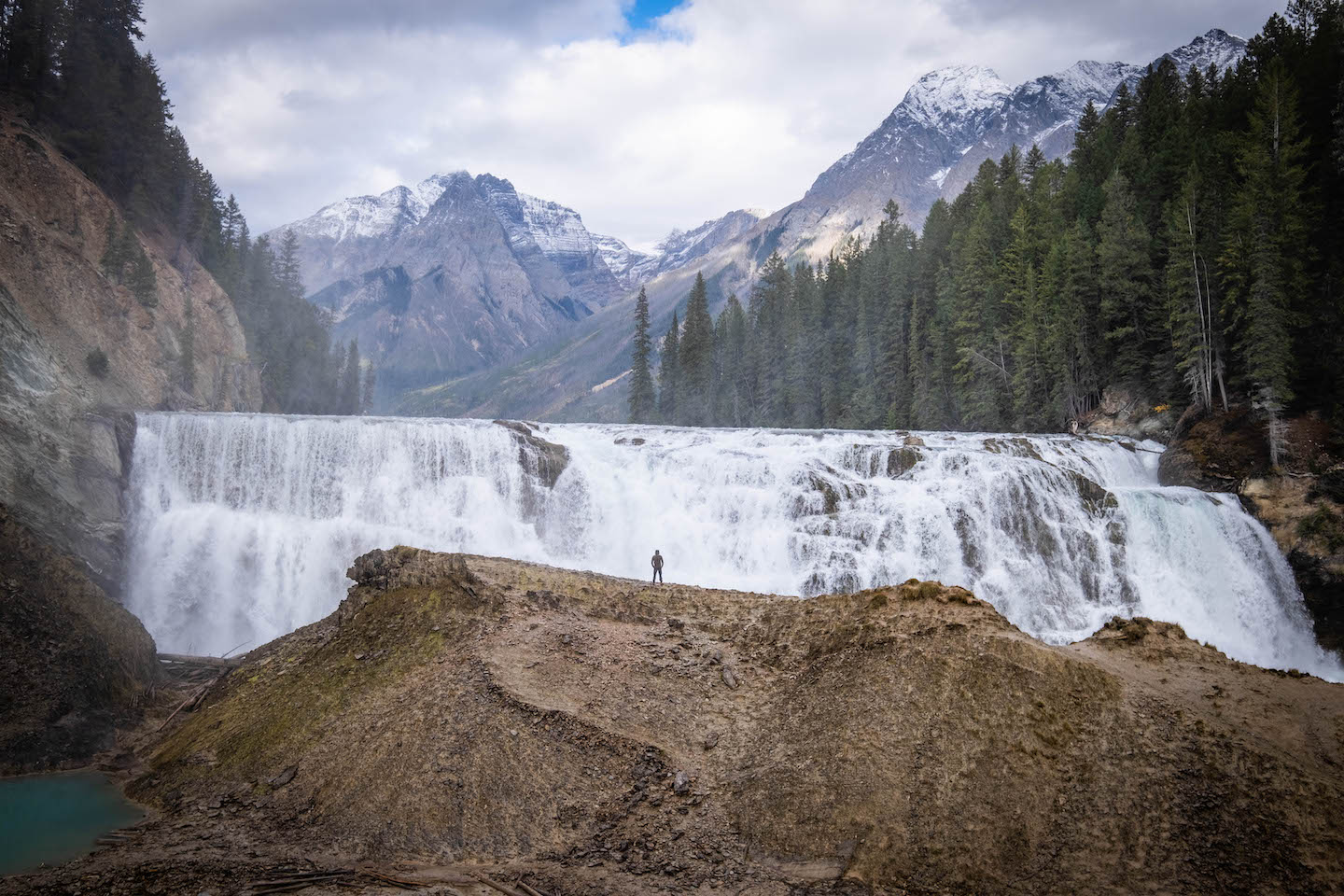 Wapta Falls, located in Yoho National Park, is a spectacular natural wonder and a must-see waterfall in the Canadian Rockies. Standing at 18 meters, its actual size is genuinely revealed as it spans a significant width of 107 meters.
While the summer months draw many hikers to Wapta Falls, I find it even more mesmerizing during the winter season. The scenery becomes awe-inspiring as the water freezes and transforms into a magnificent ice-covered masterpiece, and the surrounding peaks are draped in snow.
To reach Wapta Falls, drive 34.0 km down the Trans-Canada Hwy. Once parked, you can enjoy a short 5km round-trip hike to see this magnificent sight.
13 Best Yoho National Park Hikes
---
Emerald Lake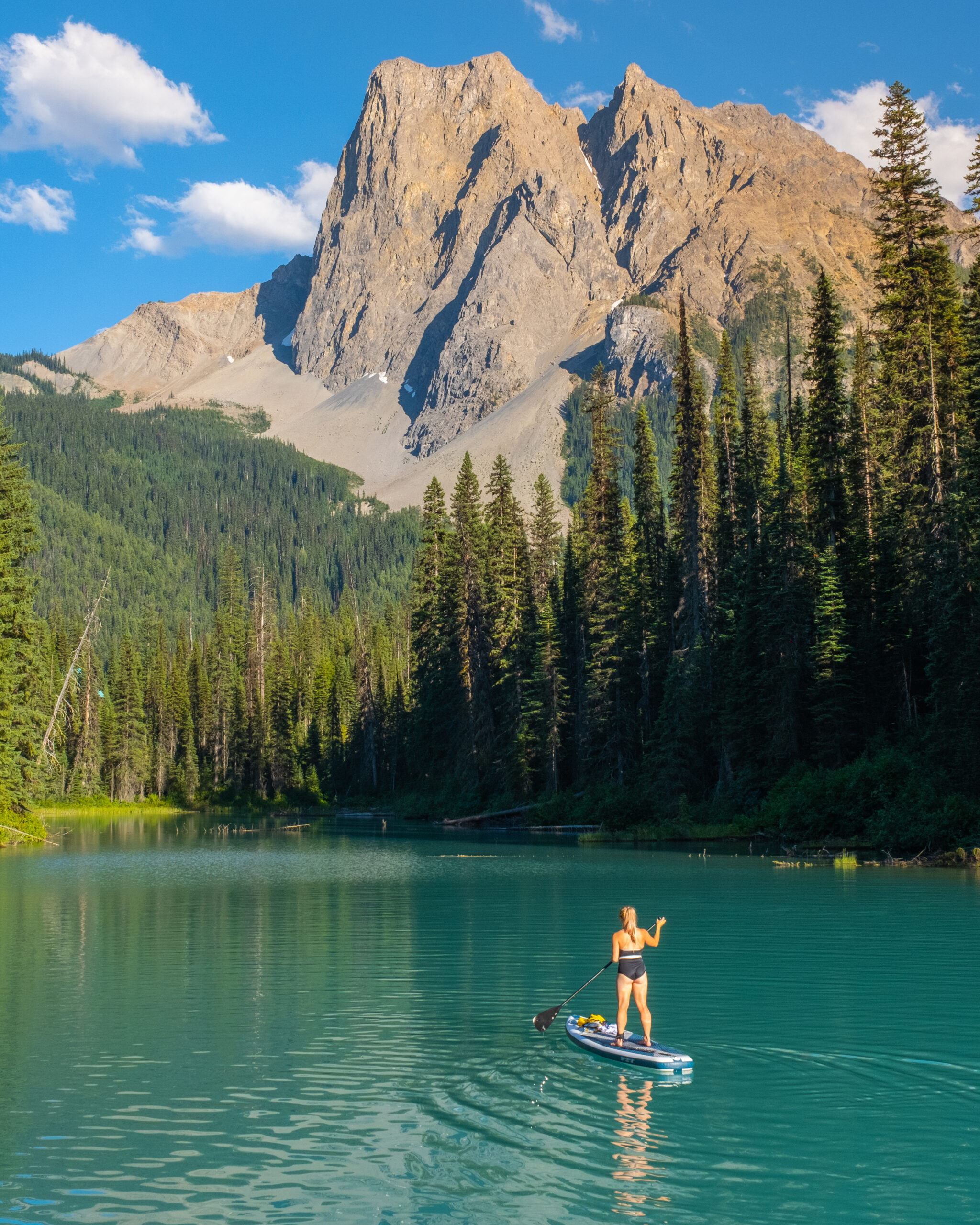 When traveling between Vancouver and Banff, visiting Emerald Lake is a must. This stunning body of water is considered one of the most breathtaking lakes in the Canadian Rockies. It holds a special place in our hearts as it's where we got engaged, though I believe anyone will have their breath taken away the first time they see its Emerald color.
Upon arrival at Emerald Lake, the first thing that captures your attention is its color. As its name suggests, the lake sparkles in a brilliant emerald shade, resulting from the glacial waters refracting light.
The lake is encircled by towering peaks on all sides, making for a truly awe-inspiring sight. While there are many activities to partake in at Emerald Lake, taking a leisurely stroll around its perimeter, paddling on its glassy surface, or savoring a cup of coffee at the Cilantro restaurant while taking in the panoramic views are among the best options.
14 BREATHTAKING Things to do in Yoho National Park, B.C.
---
Tak Falls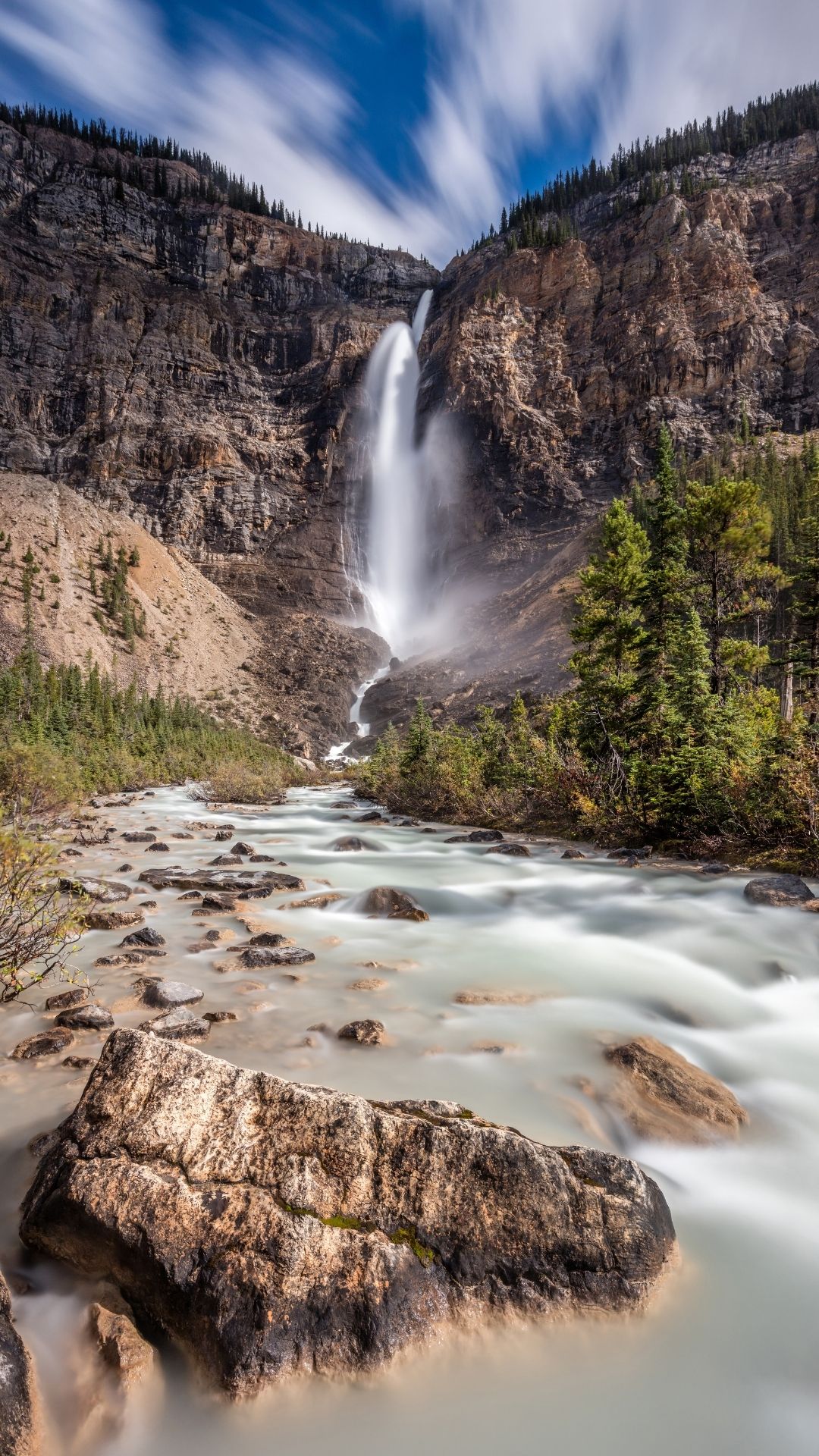 Located near Emerald Lake near the quaint town of Field, Takakkaw Falls is an easily accessible attraction. It's less than an hour's drive from Golden and less than 30 minutes away from Lake Louise, making it one of the top things to see while visiting Yoho National Park.
Towering at the height of 373 meters, Takakkaw Falls is Canada's second-tallest waterfall. It features two drops, with the main drop standing 254 meters high. One of the unique features of this waterfall is that it's easily accessible and doesn't require any hiking, a rare find in the Rockies.
Nearby: How to Hike the Stunning Iceline Trail in Yoho
---
Lake Louise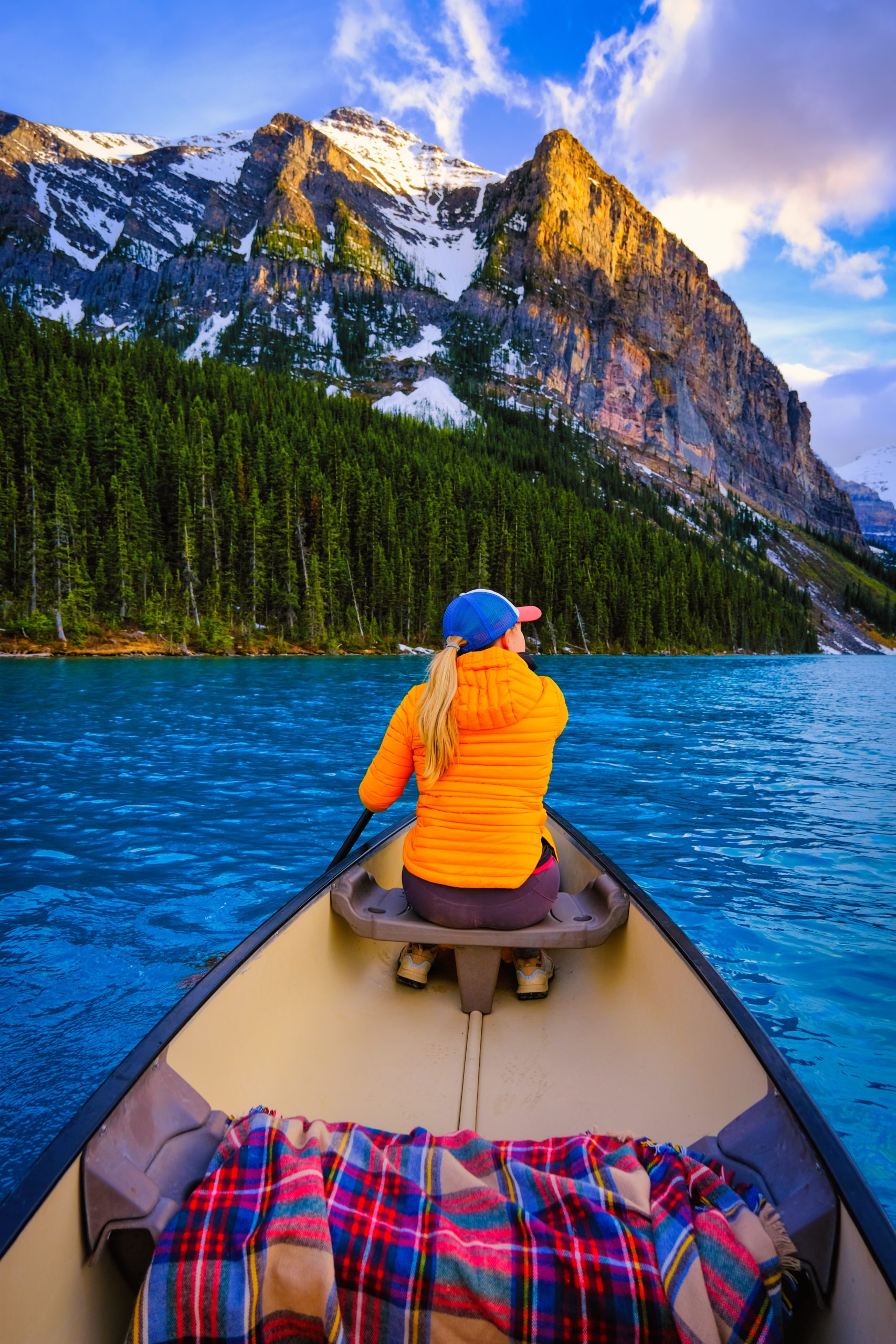 For more than a century, Lake Louise has been a magnet for tourists in the Canadian Rockies, and chances are, if you are coming to Banff, you already have Lake Louise on your bucket list.
This alpine lake boasts a striking turquoise hue derived from glacier melt and is framed by the imposing Mount Victoria and a hanging glacier.
Finding a place more magnificent and breathtaking than Lake Louise worldwide is challenging. Once you've taken in the stunning scenery, you can embark on hiking, climbing, skiing, or canoeing adventures in the vicinity. The image of Lake Louise will stay with you for a lifetime.
There is plenty to do in the Lake Louise area, and you can even jump on the Icefields Parkway from here for another epic road trip. If you want to stay in Lake Louise over Banff, this may be a good option. While Lake Louise doesn't have as many accommodation options as Banff, there are some incredibly scenic cabins and hotels to enjoy here.
30 AWESOME Things To Do at Lake Louise in Summer 
---
Moraine Lake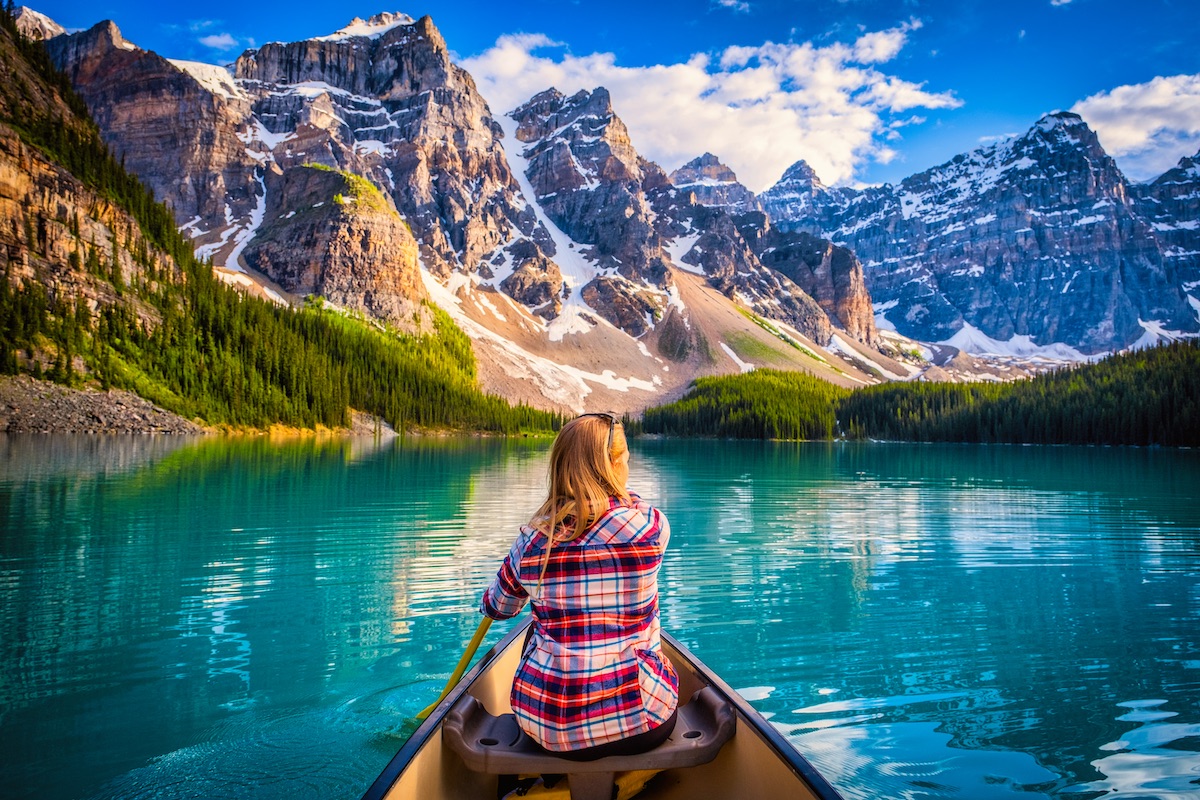 Chances are, if you're in Banff, Moraine Lake is also on your Banff wishlist. The alpine lake boasts a vibrant turquoise blue hue that originates from glacier melt and is backed by the stunning Ten Peaks. This unspoiled natural wonder attracts millions of visitors annually and was once featured on the twenty-dollar bill of Canada.
Getting to Moraine Lake is now simple by booking the Park and Ride Shuttle. Once there, there are plenty of hikes to enjoy. Or you can take a paddle on the bright blue lake. Those with a heftier budget can stay at Moraine Lake Lodge, the only place to stay on Moraine Lake and one of the most iconic cabins in all of Banff.
---
Hop on the Bow Valley Parkway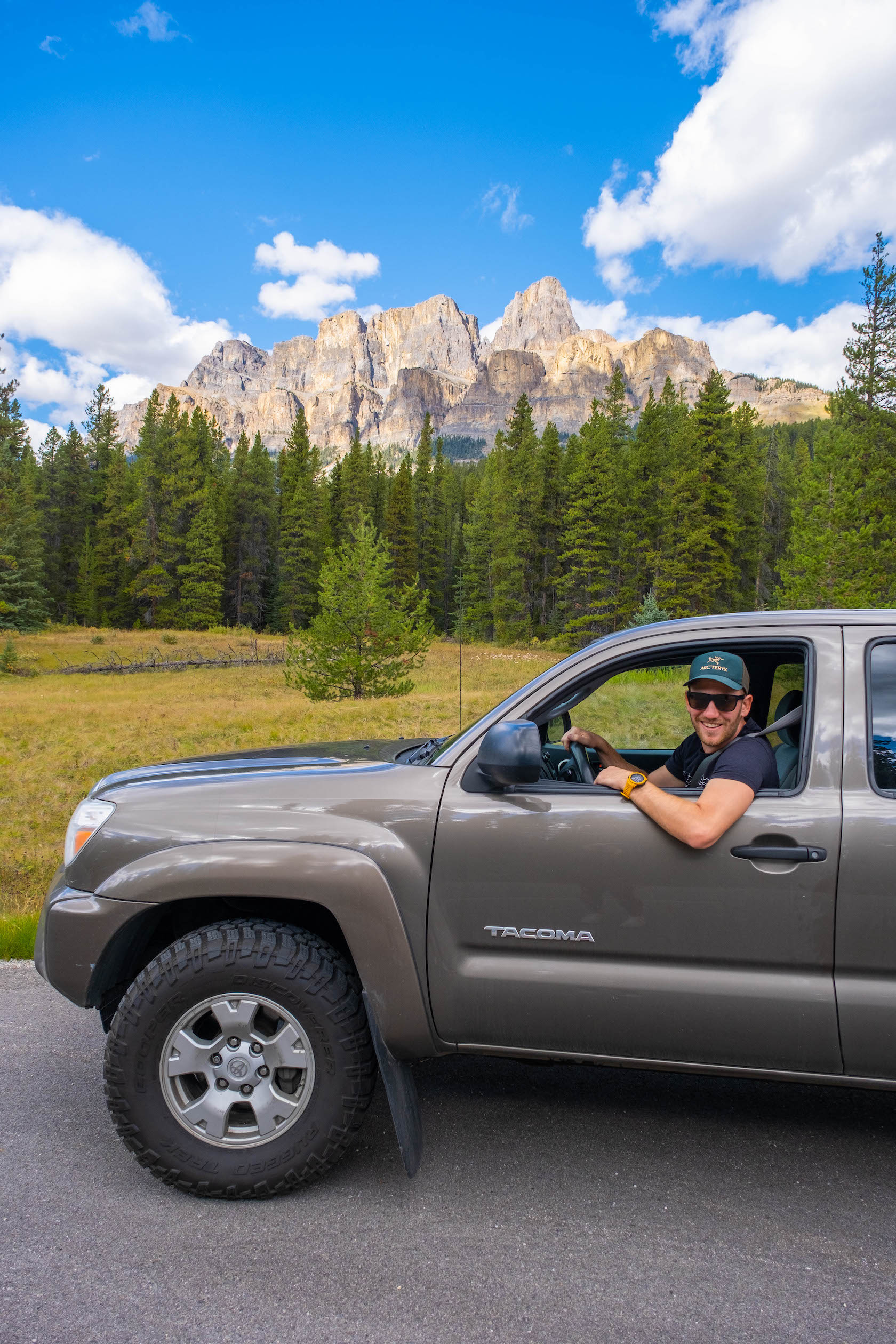 Every visitor to Banff National Park should experience driving on the Bow Valley Parkway (also known as the 1A) at least once. Before Trans Canada, this was the original road linking Banff and Lake Louise in the early 1900s.
Today, it is primarily a road for sightseeing and outdoor activities, offering a slower and more scenic alternative to the Trans-Canada. Although it's slower than the highway, the Bow Valley Parkway affords visitors ample time to step out of their vehicles and admire the stunning views.
Apart from being one of the most scenic drives in Alberta (second only to the Icefields Parkway), the Bow Valley Parkway is also one of the best spots for biking in Banff National Park, and during certain times every summer, the road shuts down to vehicles, allowing cyclists to take over. There are plenty of stops to enjoy on the Bow Valley Parkway, so grab some picnic food at the Lake Louise village and prepare for an incredible drive.
BEST Bow Valley Parkway Cabins and Accommodation Options
---
Morant's Curve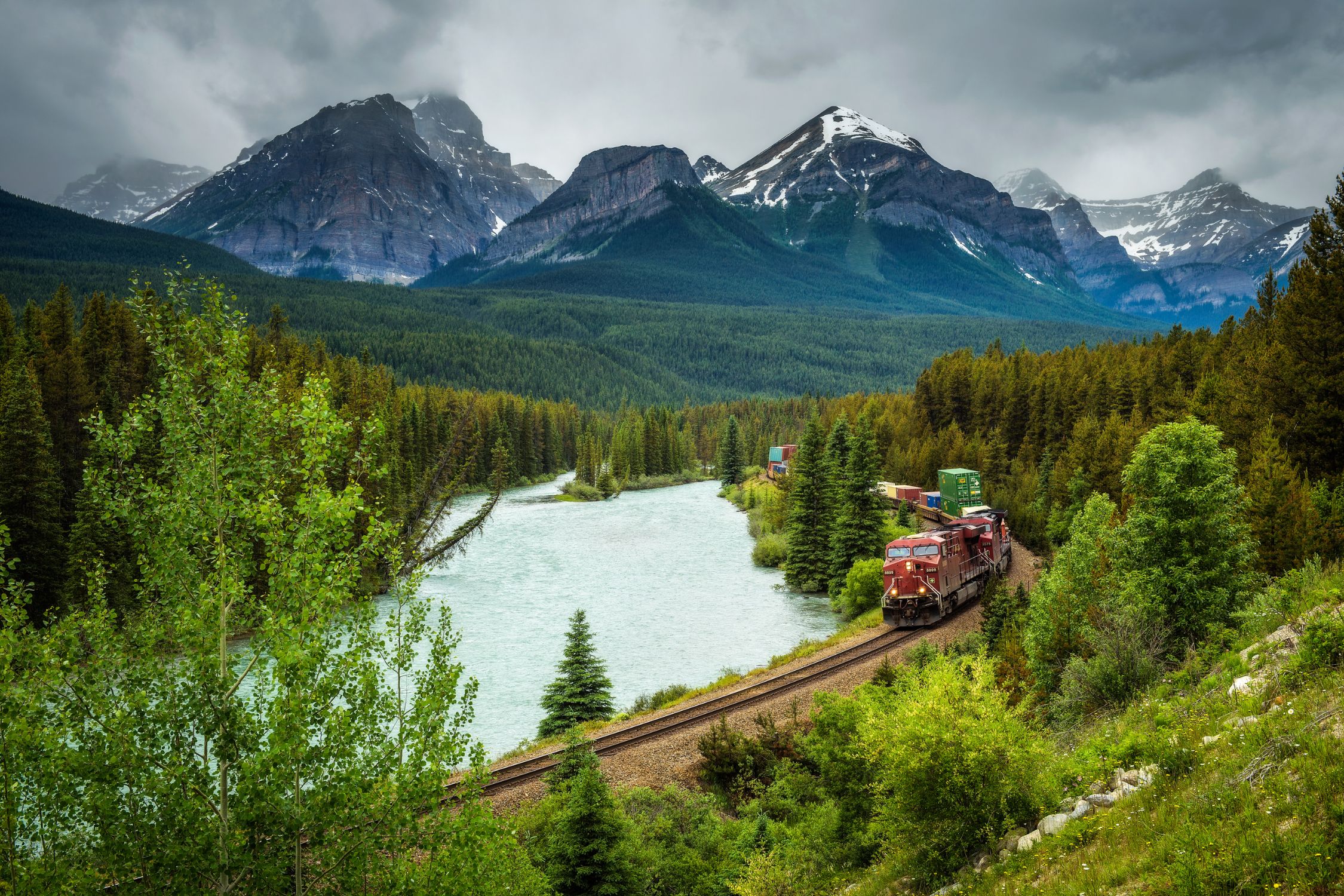 Located just off the Bow Valley Parkway, this famed photography spot presents awe-inspiring vistas of the encompassing mountains. While Mount Fairview dominates the background, numerous other peaks, including Mount St. Piran, Niblock, Whyte, Saddle, Sheol, and Haddo Peak, are also visible.
Photographers frequently schedule their visits at Morant's Curve to capture the perfect moment of a westbound train passing through the region during the morning light. Though there is no train schedule, trying to time this right is all luck of the draw!
Nonetheless, the stunning scenery is not limited to photography enthusiasts and is a must-visit destination for anyone traveling along the parkway.
---
Johnston Canyon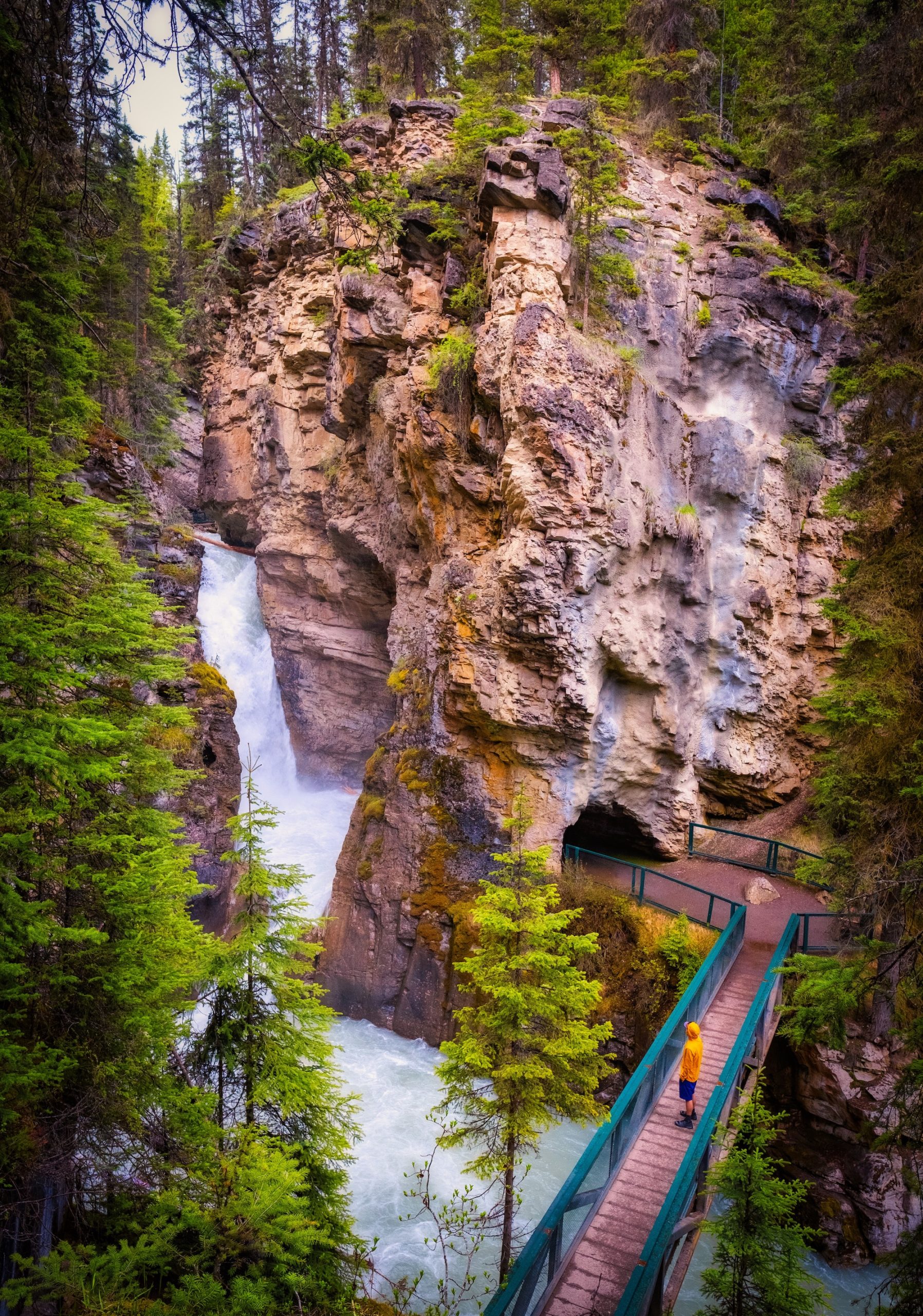 Johnston Canyon, without a doubt, is the most prominent and recognizable stop along the Bow Valley Parkway. For many, it's a must-visit highlight of their Banff trip. The trail is well-maintained, making it an easy hike for the entire family to enjoy. Moreover, it's a great place to visit in both winter and summer.
During winter, the falls freeze, creating an enchanting sight. Conversely, early summer is the perfect time to witness the falls in their full glory, with snow melting off the nearby mountains and causing them to roar.
Being a popular destination, Johnston Canyon can get crowded at times. However, facilities are available to cater to visitors, including a gift shop, restaurant, cafe, and Johnston Canyon Cabins & Bungalows for those looking to stay overnight. To learn more about hiking Johnston Canyon, check out the link provided.
---
Vermilion Lakes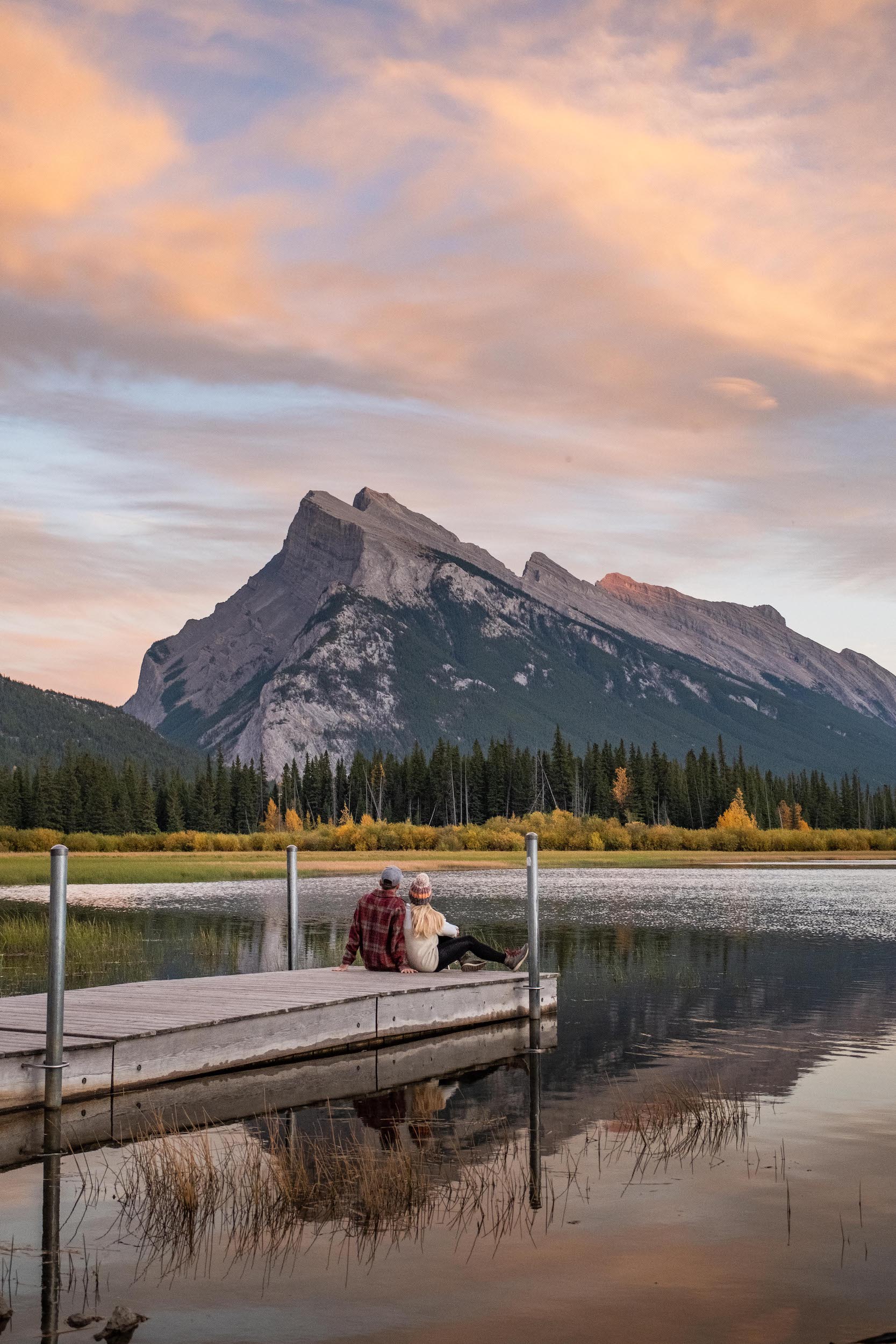 You have almost made it to Banff Avenue, the heart and soul of Downtown Banff. Once you hop off the Bow Valley Parkway, you'll be close to Vermilion Lakes, one of the best photography spots in Banff.
During the golden hours, photographers flock to the Banff lakes to capture the sublime landscape and sun hitting Mount Rundle just right.
---
Downtown Banff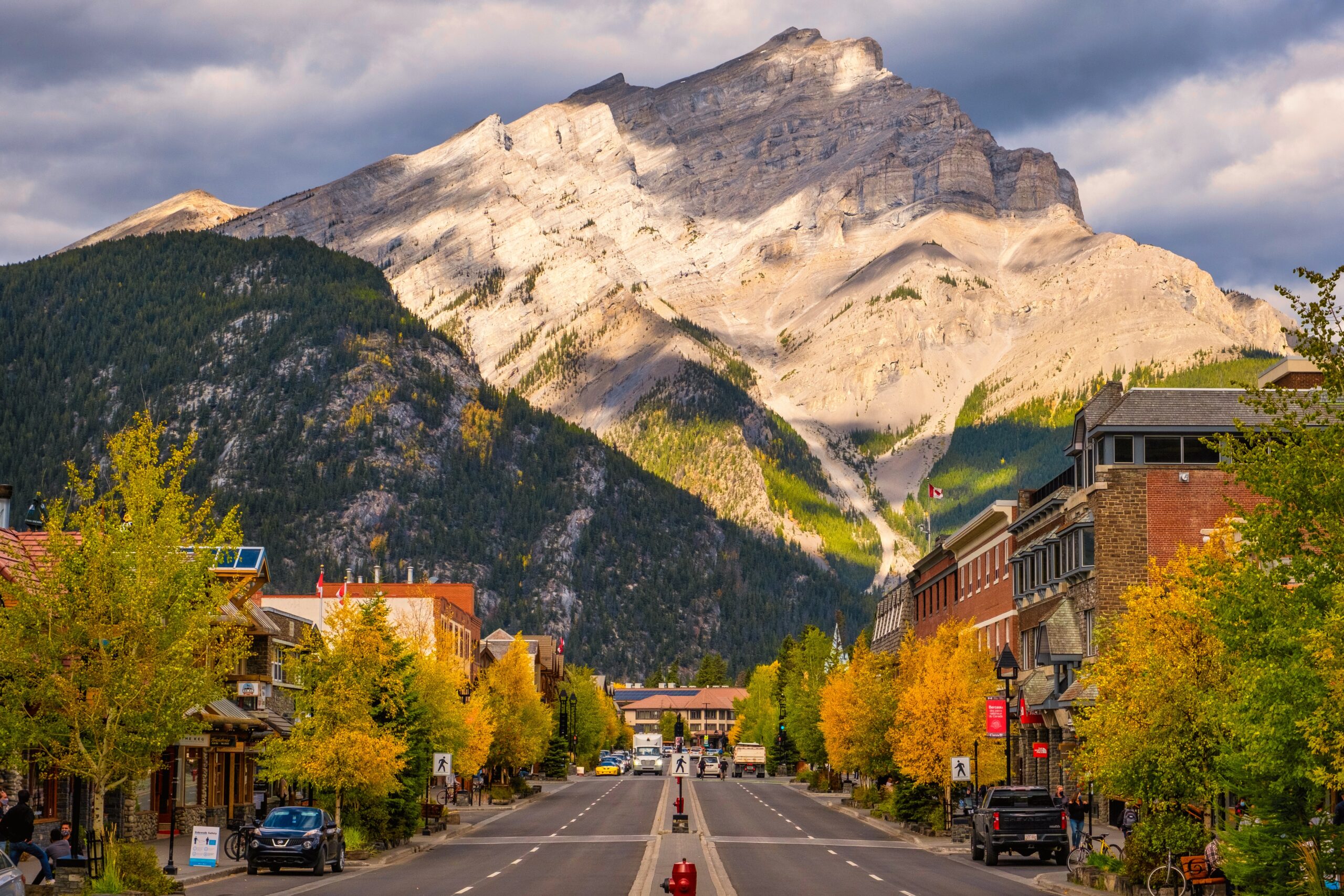 You have made it to Downtown Banff. This is where most of the Banff restaurants, accommodations, and attractions are located. Downtown Banff is a fabulous place to base yourself for the remainder of your trip.
There are plenty of things to do in Banff, including taking the Banff Gondola up Sulphur Mountain, hiking Tunnel Mountain, enjoy Bow Falls – oh the list never ends – so we created a whole blog post for you.
Nearby you can also enjoy Two Jack Lake, have a bbq at Cascade Ponds, or take a Lake Minnewanka Scenic Cruise.
---
Calgary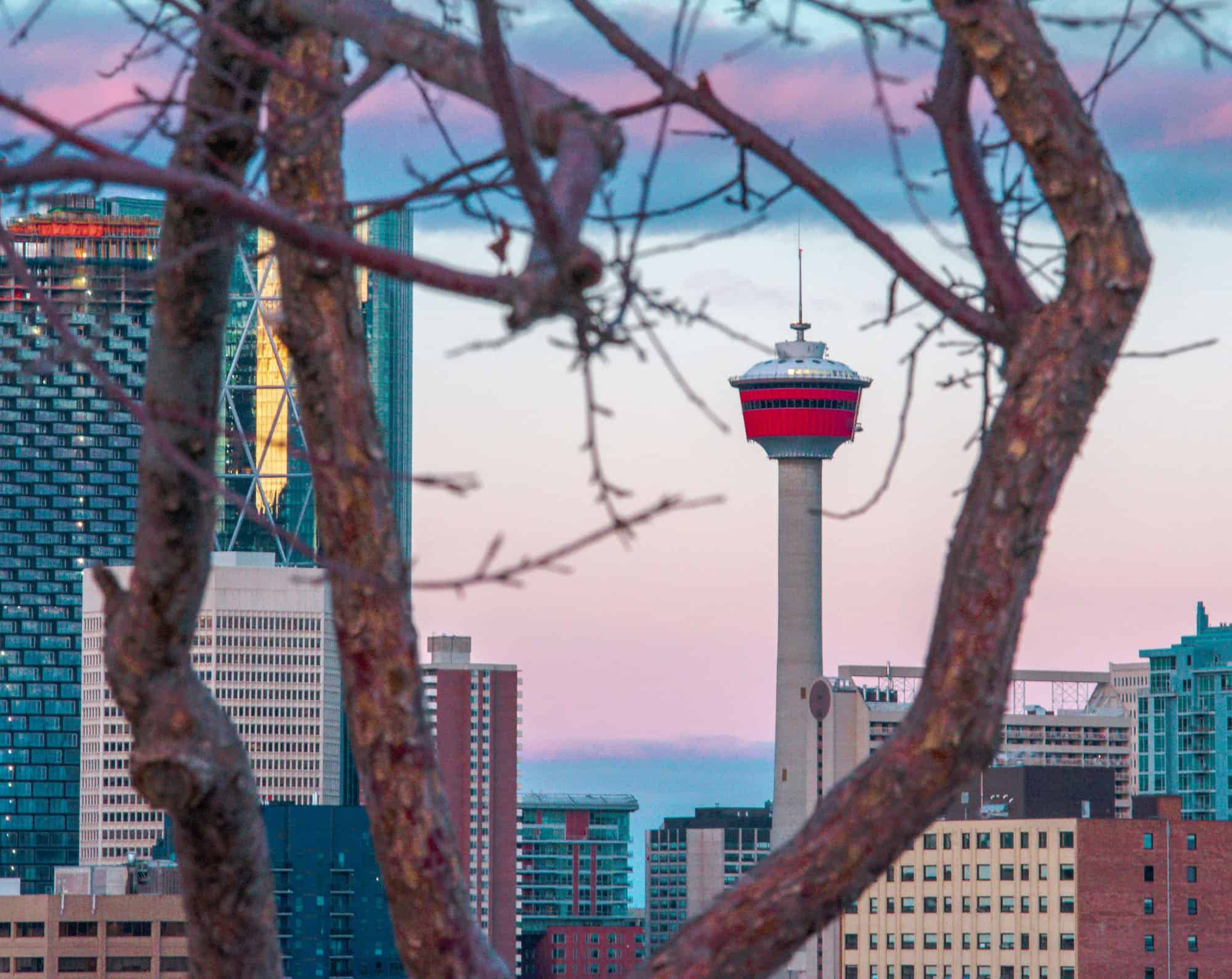 Although this article is about stops from Vancouver to Banff, I'm mentioning Calgary as you will likely have to fly out somewhere. Unless you are planning to drive back to Vancouver, flying out of Calgary International Airport is your best option. There is no airport in Banff.
From enjoying the Calgary restaurants, the Calgary Stampede in the summer, or taking in the views at the Calgary Tower, there are plenty of things to do in Calgary.
25+ Best Things To Do in Calgary
---
---
Hopefully, this helped you determine the best sights to see between Vancouver and Banff.
If you have any other questions leave a comment or see our Canadian Rockies travel guide for more articles about photography spots, lakes, hikes, and everything else.
---
↓ Join the community ↓
The Banff Blog Facebook Group is your headquarters for the Canadian Rockies' travel advice and information. Including hike info and off-season travel information. This is also where you can meet one another when you need adventure buddies. 

Plan Your Trip to the Canadian Rockies