If you're planning a Calgary to Jasper road trip, you are in for a treat. You'll get a bit of everything on this trip. From quick lakeside stops and beautiful hikes, to shopping adventures in the Town of Banff, it's a journey perfect for all types of travelers.
The drive is over 400 km, and while you could depart Calgary and hightail it for Jasper, we highly recommend against it. There are so many gems ground on a Calgary to Jasper, or Jasper to Calgary drive, that you'll want to see.
We'll run over a few of our favorite stops, though we are sure you'll find more that will make this journey unique to you and your trip. While this journey starts in Calgary, the itinerary and trip can easily be reversed to make a Jasper to Calgary drive, if that is where you are beginning.
---
The Best Stops on a Calgary to Jasper Road Trip
---
Calgary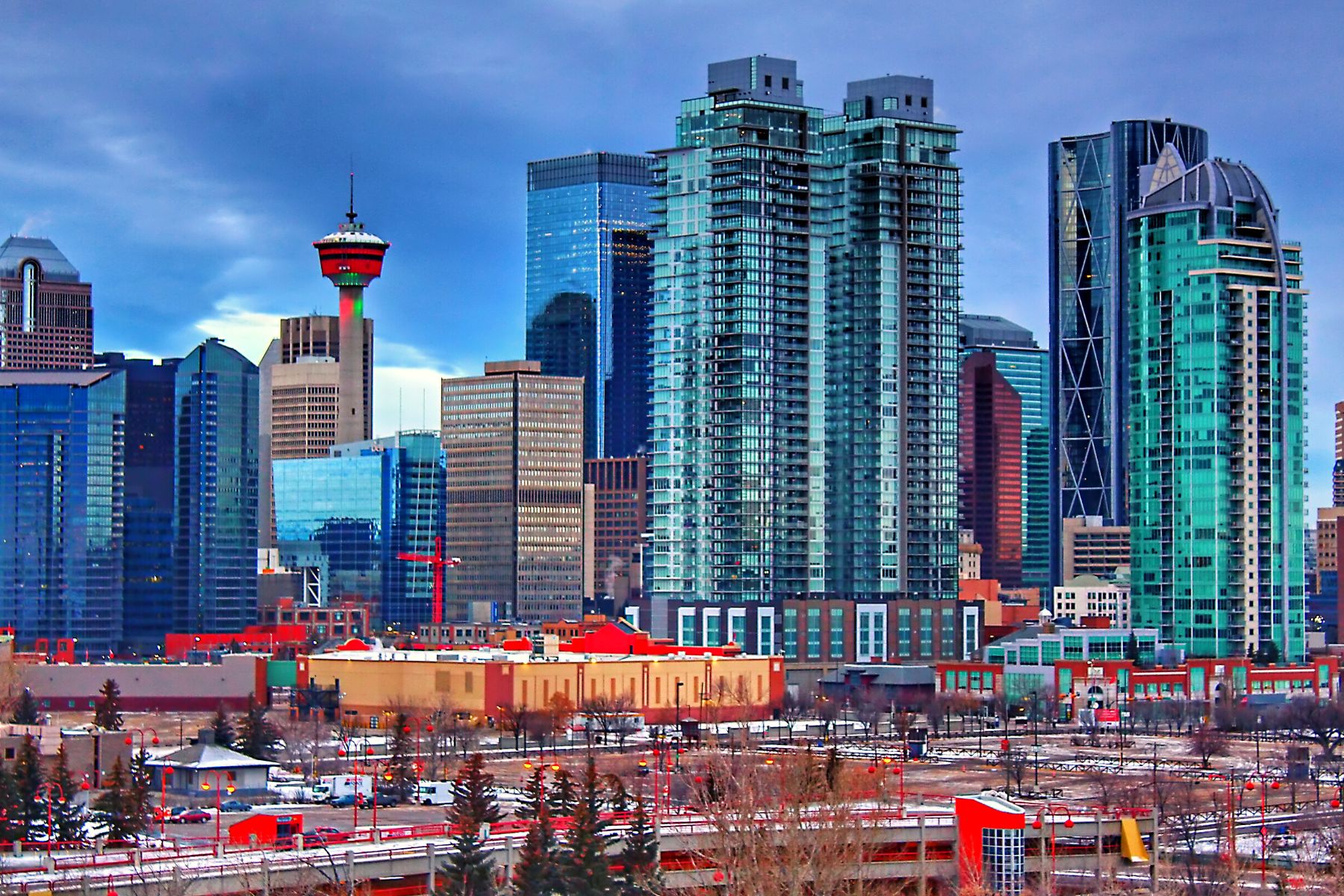 Once known mainly for cowboys and oil, Calgary has evolved over the years into a hub of innovation with many activities, shops, breweries, museums, and restaurants. While the Canadian Rockies remain Alberta's biggest tourist draw, Calgary is a destination that should not be overlooked. As Canada's fourth-largest metropolitan area, it offers plenty for visitors to explore, regardless of the season.
Located just 80 kilometers east of the Rockies, Calgary provides easy access to Banff and Canmore, making it an ideal base for exploration. If you're flying into Calgary and have an extra day to spare, it's worth exploring the city for the day!
Some of the best things to do include having lunch at the Calgary Tower, exploring Studio Bell, or taking a Pedal Pub Tour in the summer. If you happen to be visiting during the Calgary Stampede in July, you can't miss the experience!
25+ Best Things To Do in Calgary
---
WinSport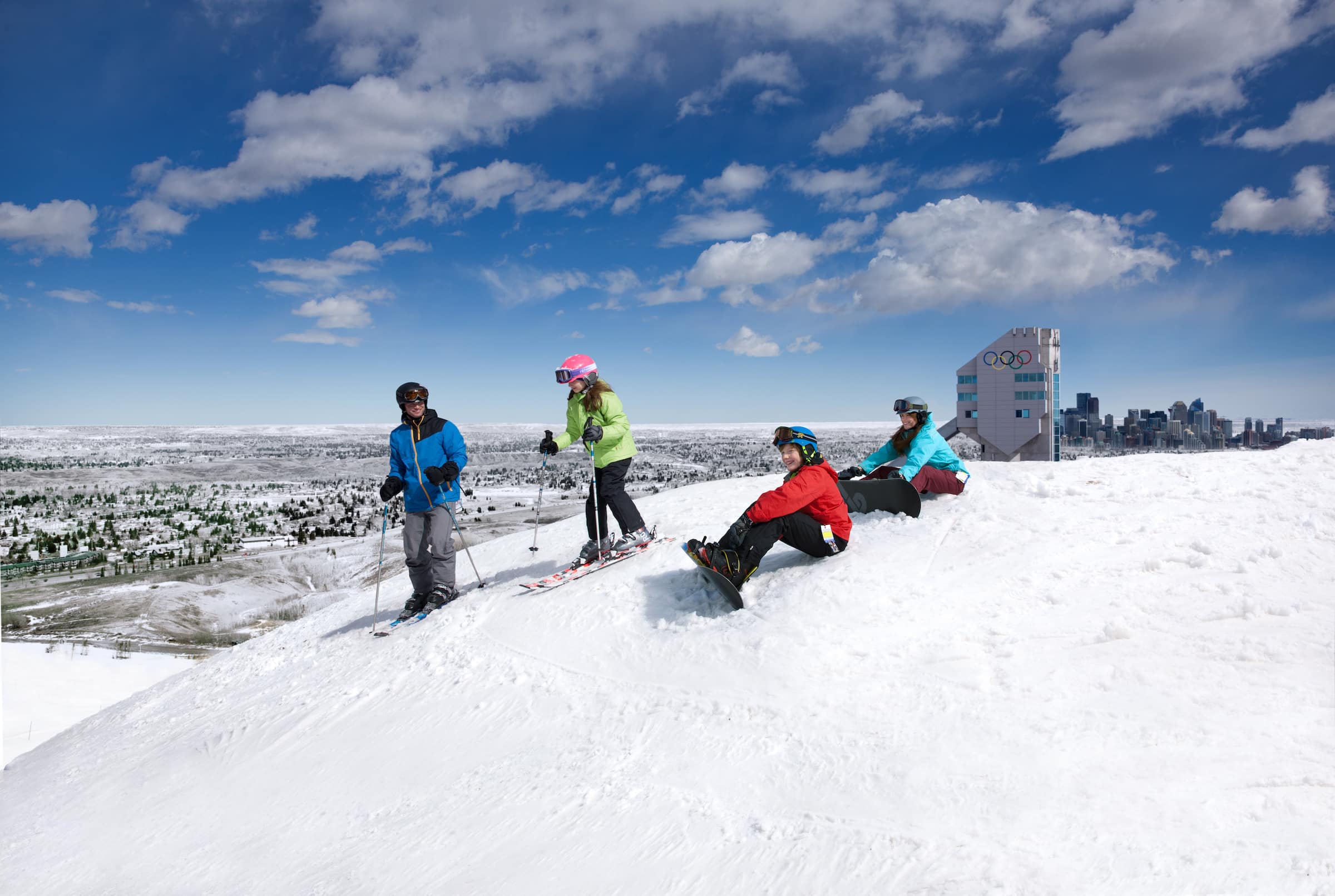 If you're looking for a winter activity just outside of Calgary, on the way north, skiing at WinSport is a must-do. You don't need to journey to the Rockies to hit the slopes, as WinSport is conveniently located and was a host of the 1988 Winter Olympics. While it may not be as vast or scenic as ski resorts in Banff, WinSport still offers impressive park and night skiing.
WinSport also offers affordable lessons at their ski school for those new to skiing or snowboarding, and lift tickets here are much cheaper than at SkiBig3 Resorts or Nakiska. It's an excellent option for beginners who want to learn without feeling overwhelmed or without breaking the bank.
But skiing isn't the only thing to do at WinSport. The facility also boasts a hockey rink and tube park, and during the summer months, visitors can enjoy zip lining, mini-golf, and mountain biking. Additionally, their indoor venue hosts a variety of events throughout the year.
---
Yamnuska Wolfdog Sanctuary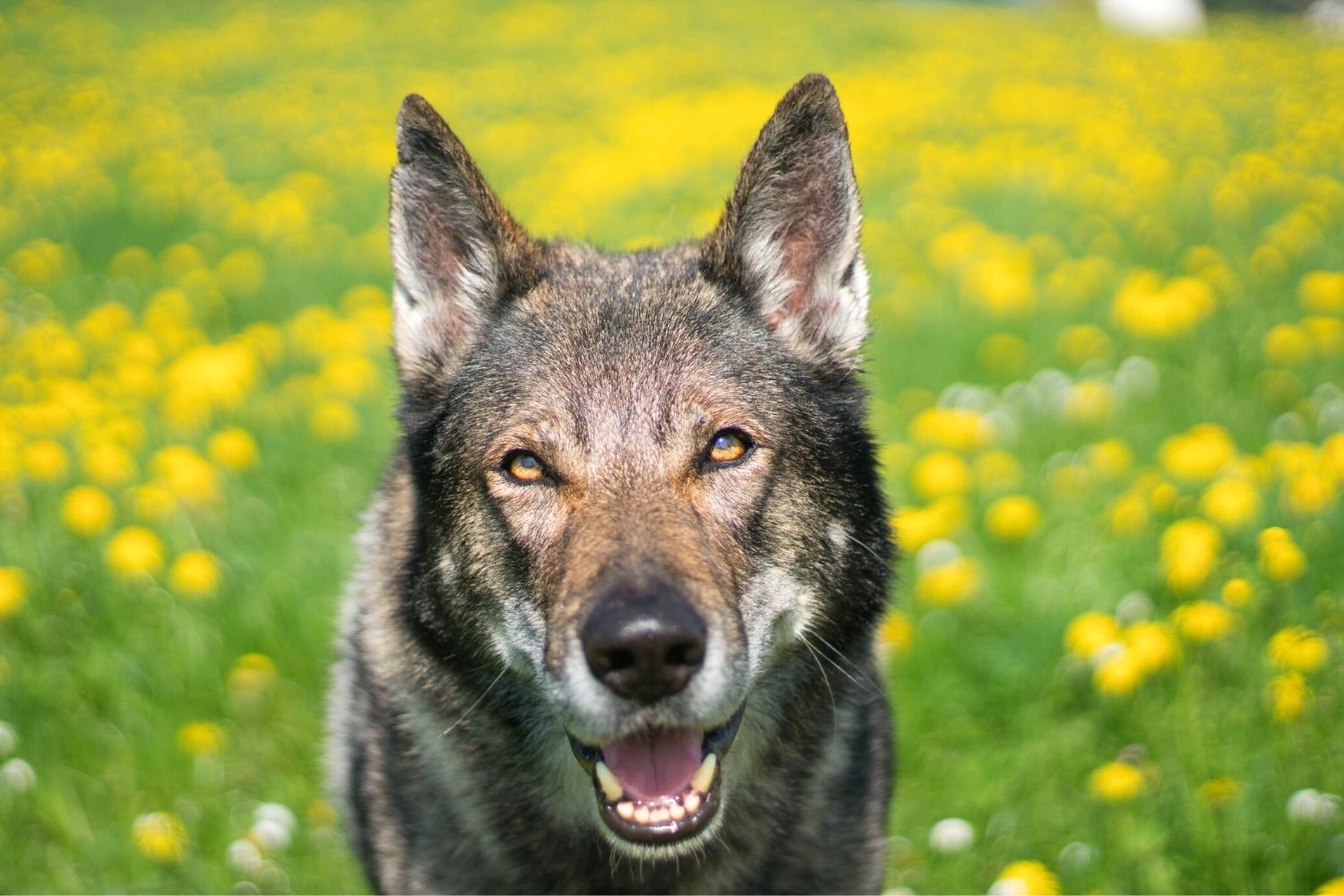 Yamnuska Wolfdog Sanctuary is home to over 35 magnificent wolfdogs nestled at the foothills of the Canadian Rocky Mountains in the city of Cochrane.
Visitors can observe and learn about these beautiful creatures at the sanctuary and even interact with them by sharing treats and giving them a friendly pat.
But the Yamnuska Wolfdog Sanctuary isn't just a safe haven for displaced wolfdogs. It also strives to raise awareness and educate people about these majestic pups.
Guests can take a sanctuary walk or an interactive tour to discover all there is to know about wolfdogs in Canada while enjoying impressive dog tricks and making furry friends along the way! If you're an animal lover, this is one of the best things to do when driving from Calgary to Jasper.
Should You Visit the Yamnuska Wolfdog Sanctuary in Cochrane?
---
Barrier Lake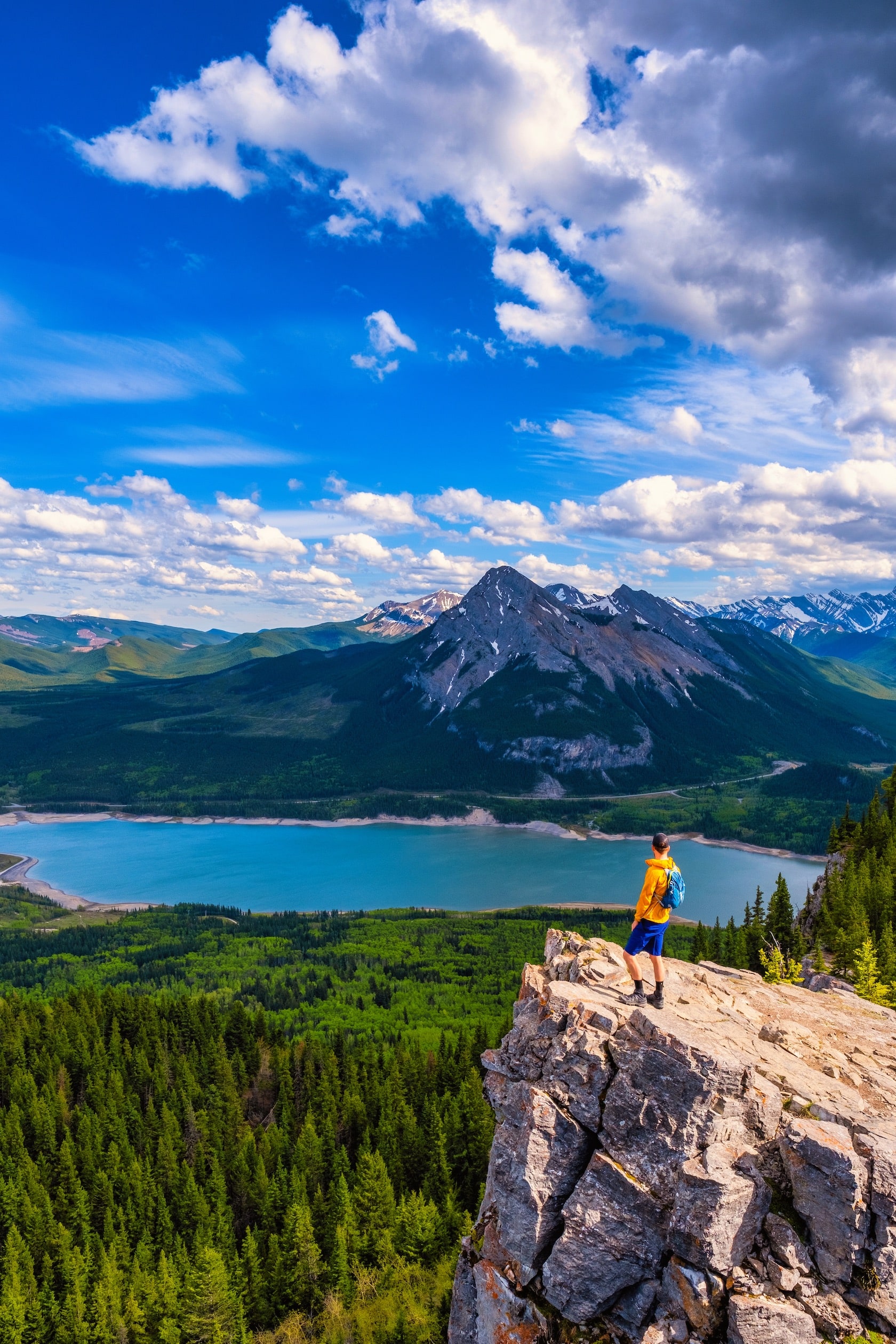 When driving on Trans Canada from Calgary to Jasper, take the exit for HWY40 and venture into Kananaskis. After about 20 minutes, you'll come across Barrier Lake on your right-hand side. This is one of the most beautiful lakes in Kananaskis, and you don't have to venture too far into the park to see it.
Once at Barrier Lake, visitors can either relax on the shores of Barrier Lake or embark on a moderate hike to the Prairie View lookout point. Those seeking a more challenging adventure can opt to head up Jewell Pass via the Prairie View trail or continue their walk up to Yates Mountain to take in the breathtaking views from the Barrier Lake Fire Lookout.
---
Kananaskis Country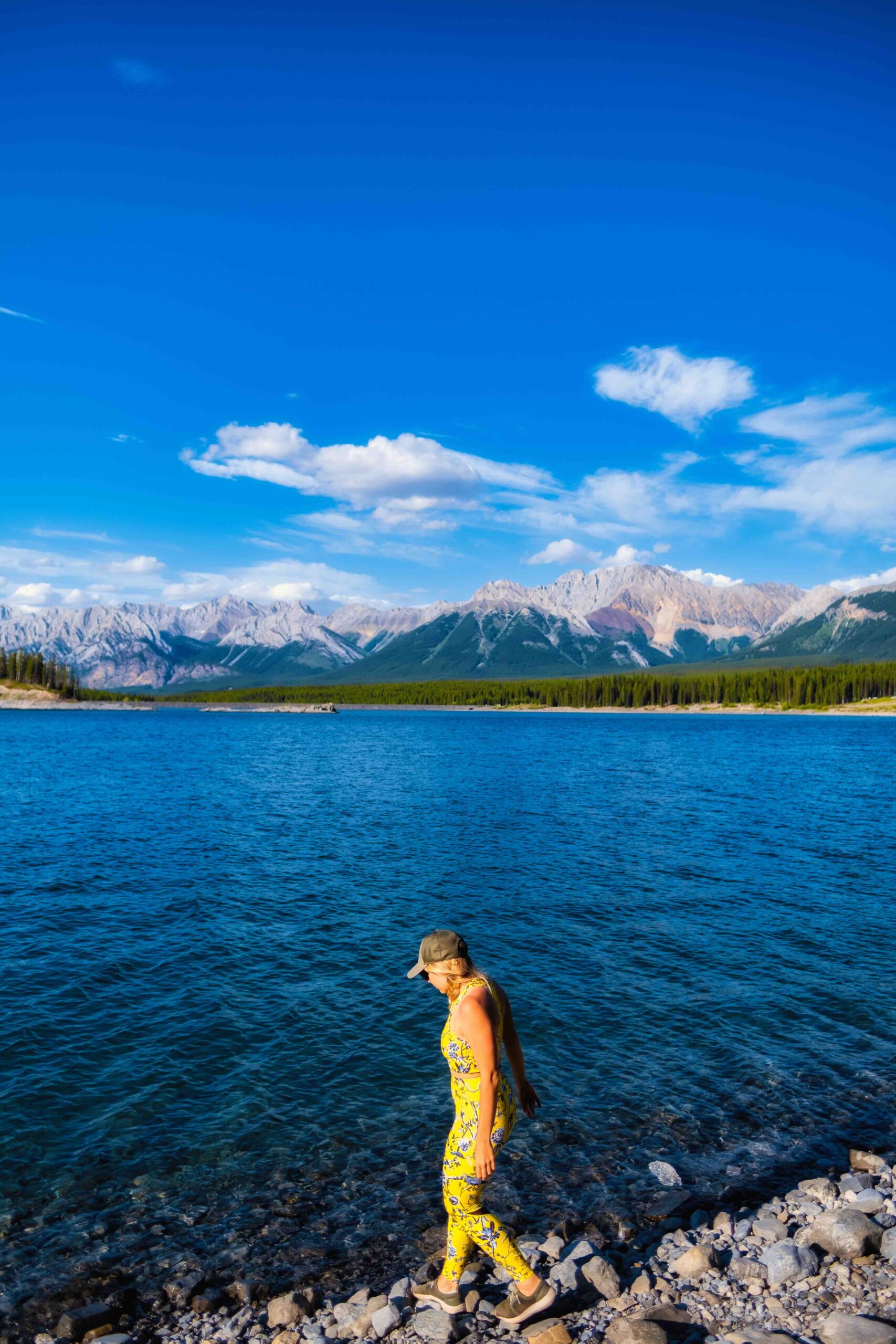 Kananaskis is a provincial park that's often overshadowed by Banff. However, there are plenty of amazing things to do in Kananaskis, and we highly recommend that visitors spend at least a day there. We promise falling in love with this beautiful park won't take long. If you don't have that long, we at least recommend driving a bit down Highway 40 and just taking in the epic views.
Kananaskis is where countless movies have been shot, so see if you can recognize some peaks appearing in The Revenant, Inception, and The Edge.
Beyond the views, there are plenty of Kananaskis hikes to enjoy. Head out to Kananaskis Lakes with a picnic basket and some inflatable stand-up paddleboards, or soak in the pools at the Kananaskis Nordic Spa.
---
Lac Des Arcs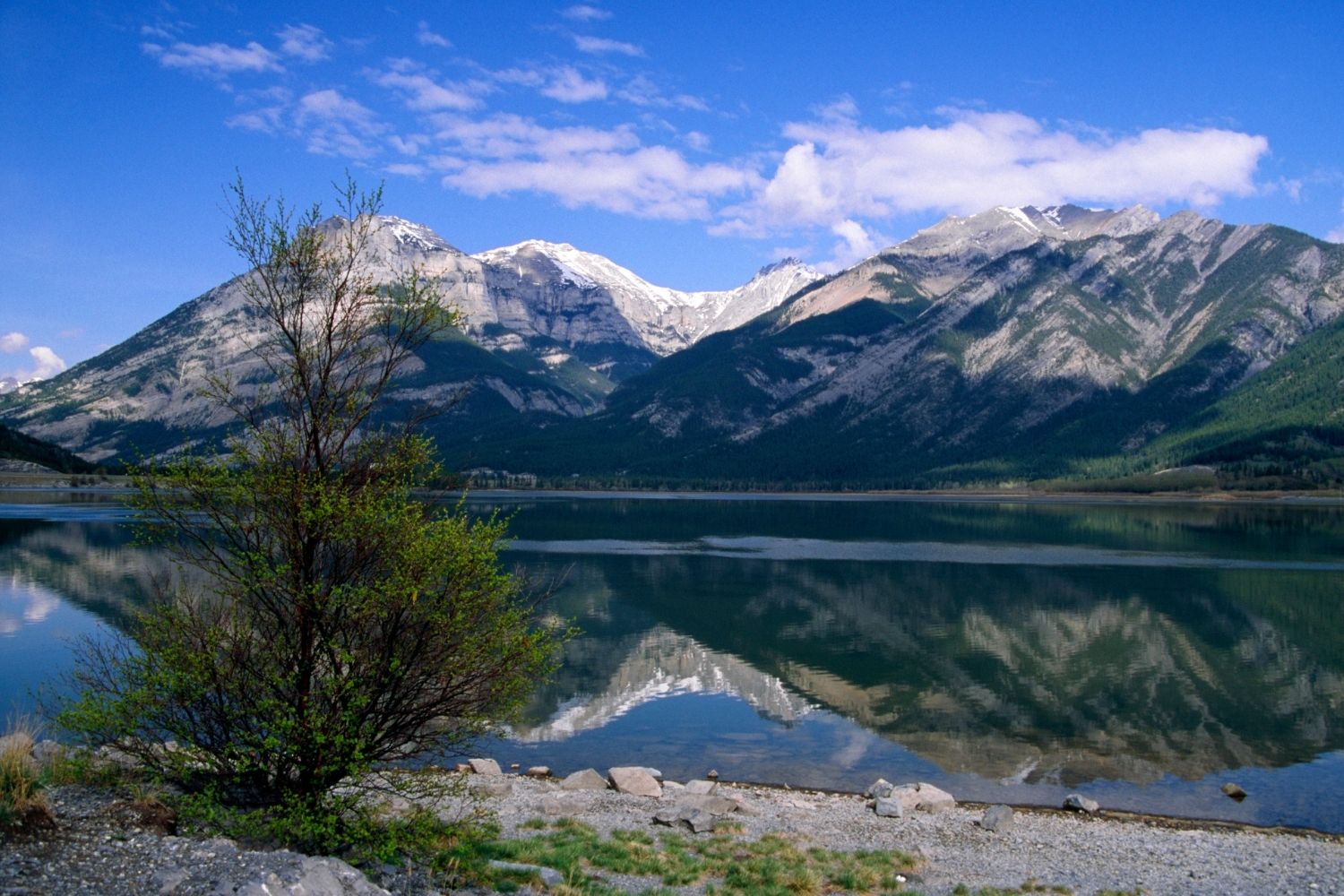 Lac des Arcs is categorized as a hamlet within the Municipal District of Bighorn No. 8. Positioned on the south side of the Bow River, it can be found directly across from the Hamlet of Exshaw. You'll see it on your right-hand side as you are driving from Calgary to Jasper, and there are a few pull-off points so you can pull over and enjoy the view.
Lac Des Arcs is far from the prettiest lake in the Rockies, mainly due to the LaFarge cement plant that will undoubtedly, appear in all your photos. Regardless, it's still a nice spot to stop, although it's typically highly windy. In the winter, Lac Des Arcs is one of the best places to enjoy a wild ice skate!
---
Canmore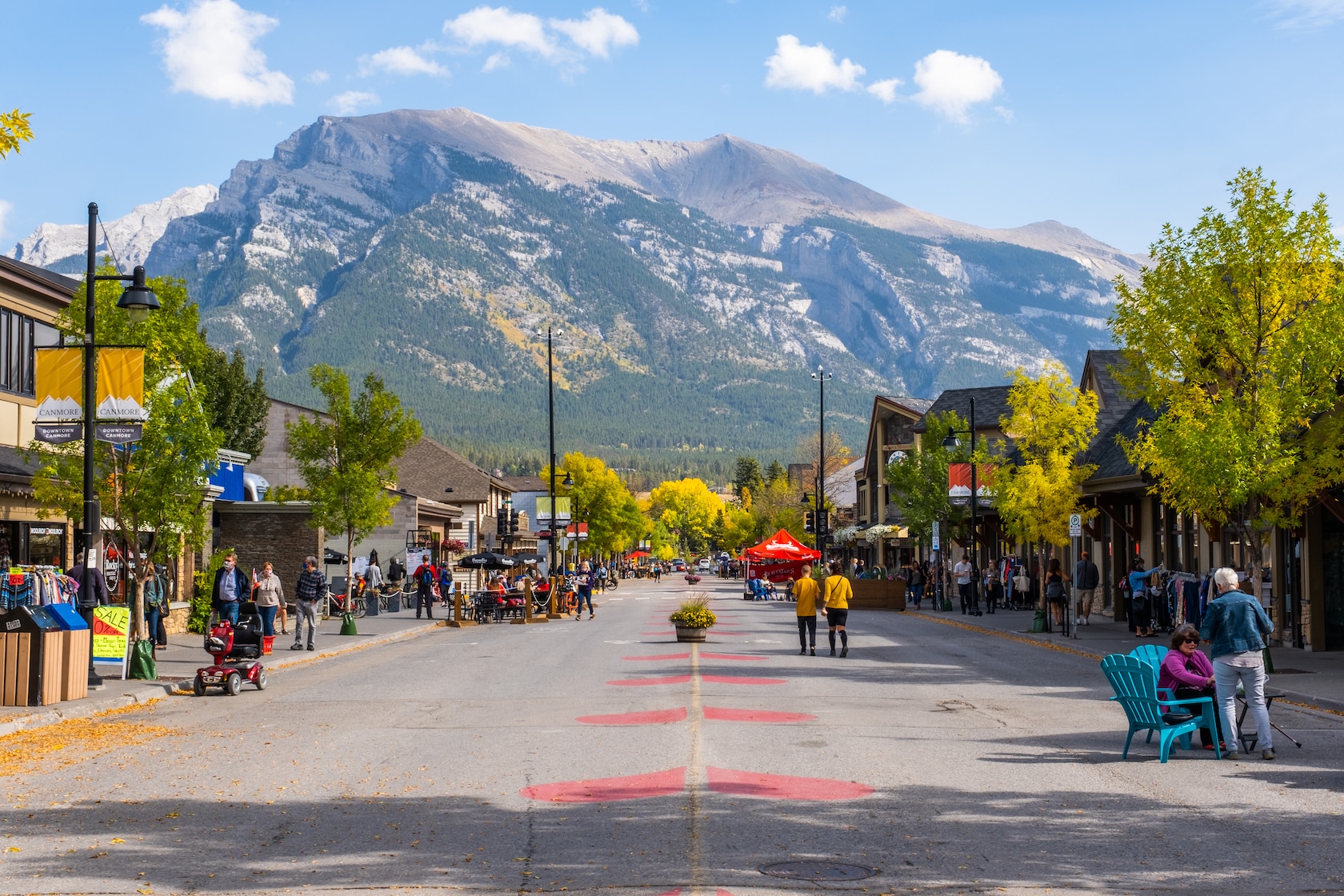 Canmore, located in the heart of the Canadian Rockies, is a haven for outdoor enthusiasts and is likely already on your Canadian Rockies bucket list.
Canmore offers many activities that cater to all interests, ensuring that boredom is never an issue. There are so many hikes, lakes, and things to do in Canmore, so we recommend spending a few days here to enjoy yourself fully.
Unlike Downtown Banff, which attracts millions of tourists each year and has lost some of its humble charms, Canmore has still managed to maintain a little bit of its down-to-earth atmosphere. While visiting, grab a coffee at Eclipse Coffee on Main Street, admire the views of Faith, Hope, and Charity, the individual mountains that make up the Three Sisters Mountains, or SUP on the Canmore Reservoir!
22 Fun Canmore Hikes and Trails from Easy to Hard
---
Lake Minnewanka Loop Drive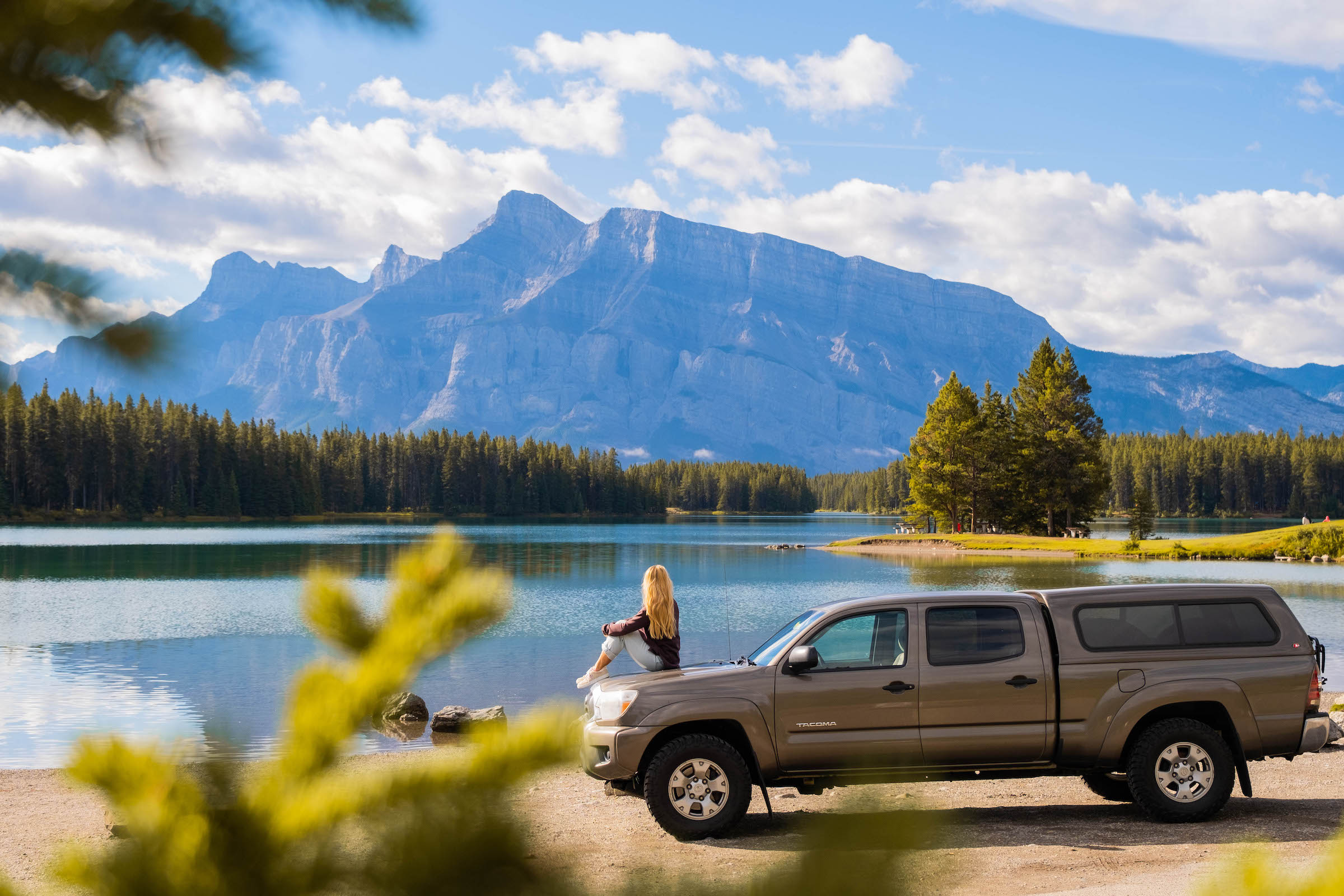 When driving from Canmore to Banff, you'll see a turn-off for Lake Minnewanka/Cascade Ponds on your right-hand side. Get off and enjoy the Lake Minnewanka Scenic Dr. This loop drive will take you past Cascade Ponds, where you can have a nice picnic; Johnson Lake, where there is a lovely and easy loop hike; Two Jack Lake, and the impressive Lake Minnewanka.
Each body of water provides different views and won't disappoint. You can even rent a canoe, kayak, or motorboat in the summer. If you don't want to pilot your watercraft, book a Lake Minnewanka Scenic Cruise.
---
Downtown Banff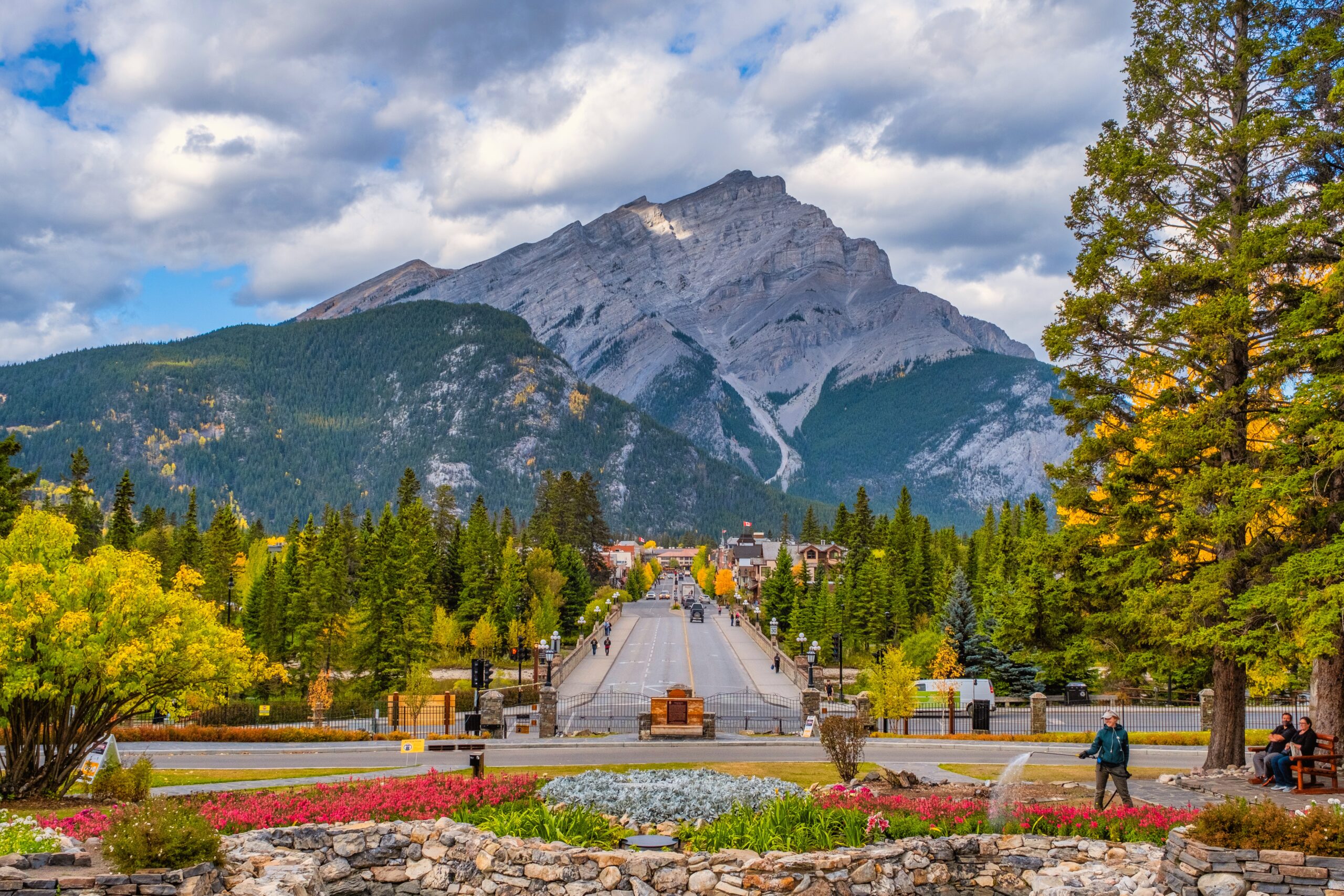 I'm guessing that Downtown Banff will be on your hit list when driving from Calgary to Jasper. Although you'll technically be in Banff National Park for a large portion of this road trip, Downtown Banff offers quite a bit for visitors that don't want to venture too far from civilization.
Head to Banff to stroll Banff Avenue, walk into the many shops, smell the flowers at Cascade Gardens, dine at the many restaurants, or go up the Banff Gondola. Some of the tops recommended Banff activities are:
Bow Falls: Bow Falls is a beautiful waterfall just a short walk from Banff Avenue. Head here in both the summer and winter for magnificent views.
Surprise Corner: A great "surprise" viewpoint with the most picturesque views of the beautiful Banff Springs Hotel. It looks straight out of a fairytale.
Banff Gondola: Take the Banff Gondola up Sulphur Mountain, where you enjoy walking the boardwalk and getting views over the Town of Banff and Cascade Mountain. You can also hike up the Sulphur Mountain Trail to save money and get active.
Hike Tunnel Mountain: A short and sweet hike up Tunnel Mountain will get you moving and provide views of Mount Rundle and the Bow Valley. This hike takes less than an hour and is one of the most accessible mountains to hike in Banff.
Wondering where to stay? Here are our top recommended Banff Hotels 
---
Vermilion Lakes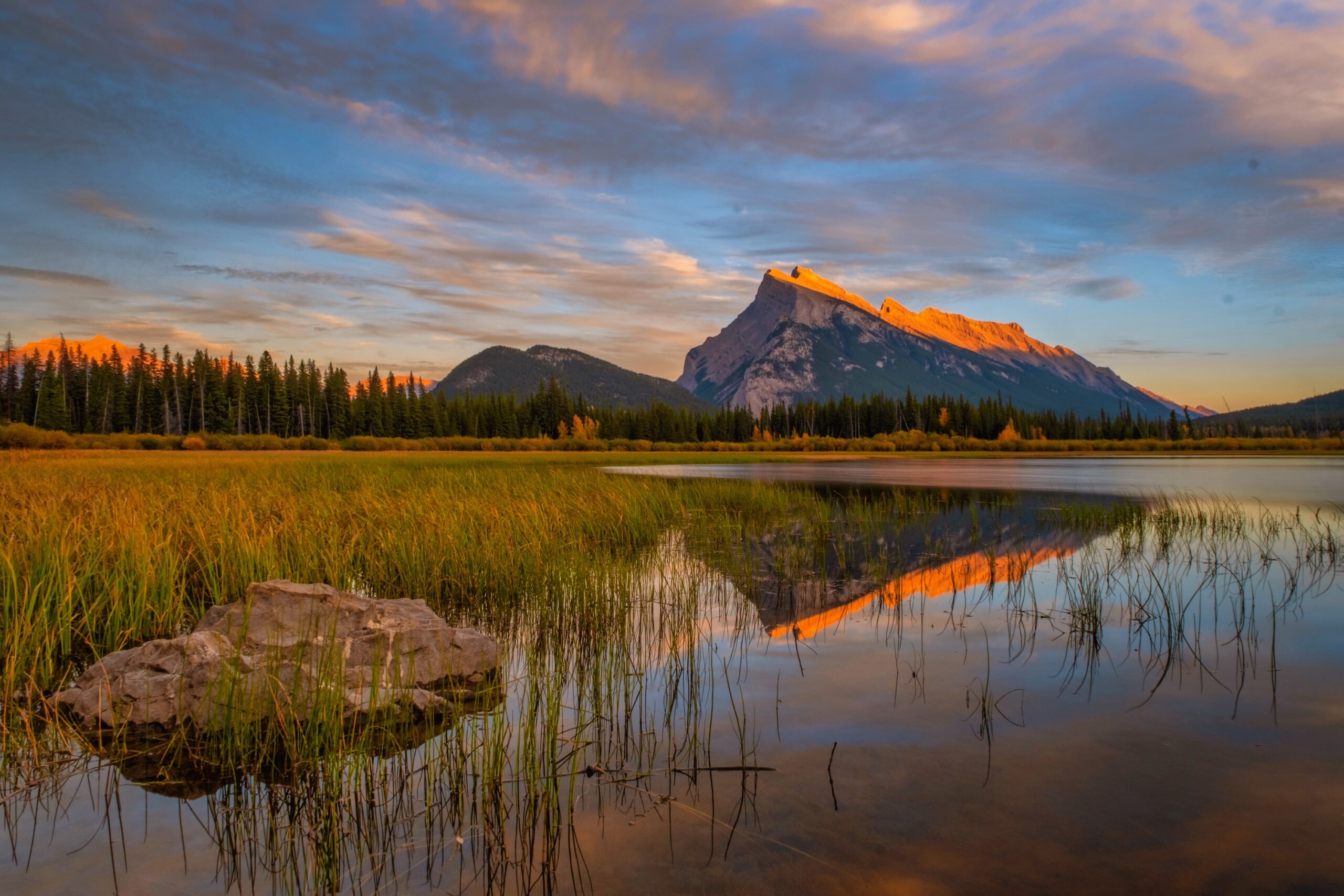 Vermilion Lakes, just outside Downtown Banff, offers a stunning reflection of the iconic Mount Rundle and is one of Banff's best sunrise and sunset spots.
During the golden hours, photographers flock to Vermilion Lakes to capture the sublime landscape and perhaps even spot some wildlife near town. You don't have to be a photographer to enjoy the magic here.
Vermilion Lakes is a fantastic spot to head with a book and enjoy the scenery. It's also possible to bring a kayak, canoe, or stand-up paddleboard and take it to the water. Vermilion Lakes, although windy sometimes, or one of the most accessible places to paddle in the Rockies.
---
Drive the Bow Valley Parkway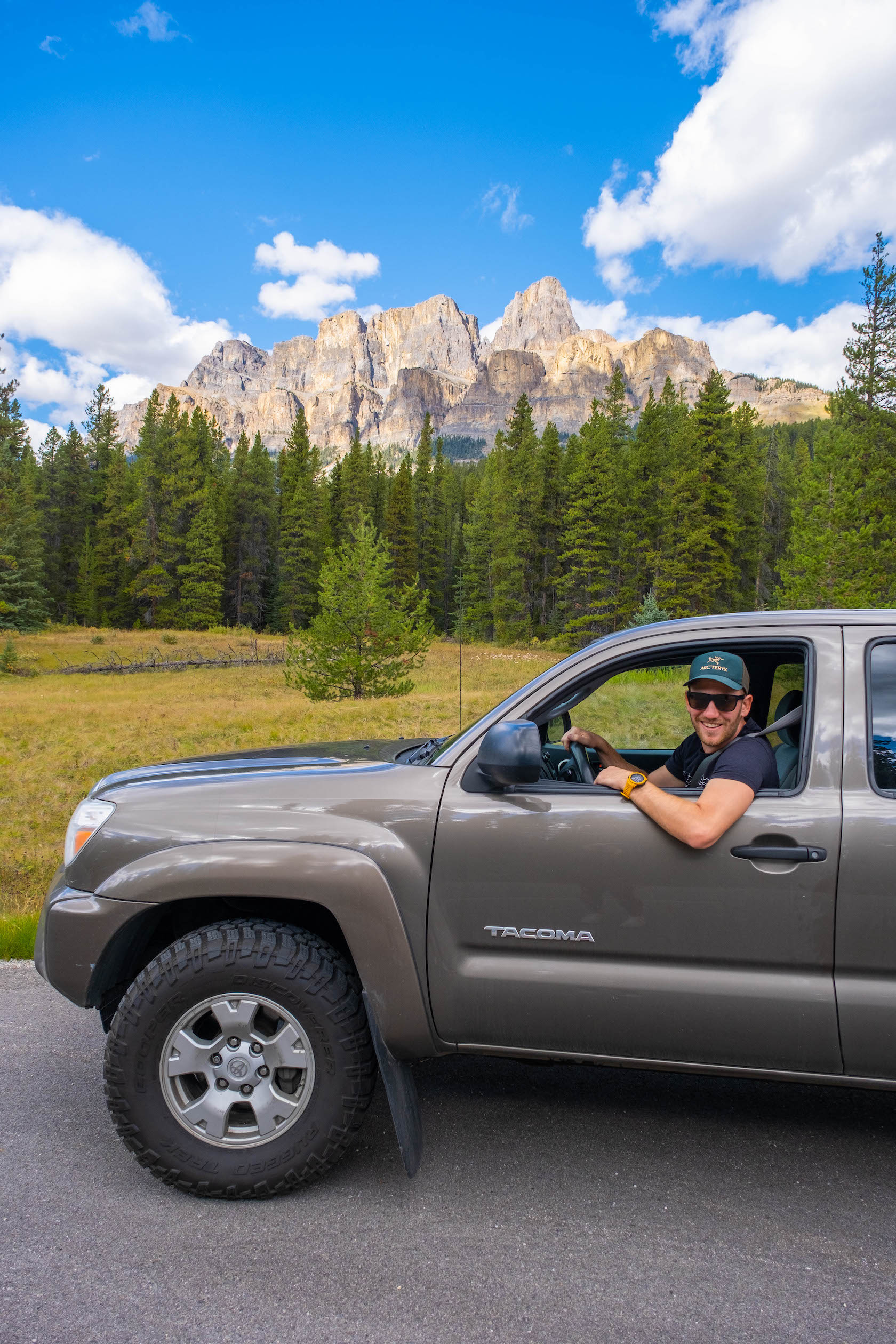 The Bow Valley Parkway (or the 1A) is a road that every visitor to Banff National Park should drive on at least once. Before Trans Canada, the Bow Valley Parkway was the original road linking Banff and Lake Louise in the early 1900s.
Now it's a road primarily used for sightseeing and outdoor recreation and is an excellent alternative to the Trans-Canada when connecting Banff to Lake Louise. Although it's much slower than the highway, it allows visitors ample time to leave their cars and enjoy the breathtaking views.
So if you have extra time driving from Calgary to Jasper, opt for the Bow Valley Parkway instead of Trans Canada – you won't be disappointed! Some of the best things to do on the Bow Valley Parkway are:
Johnston Canyon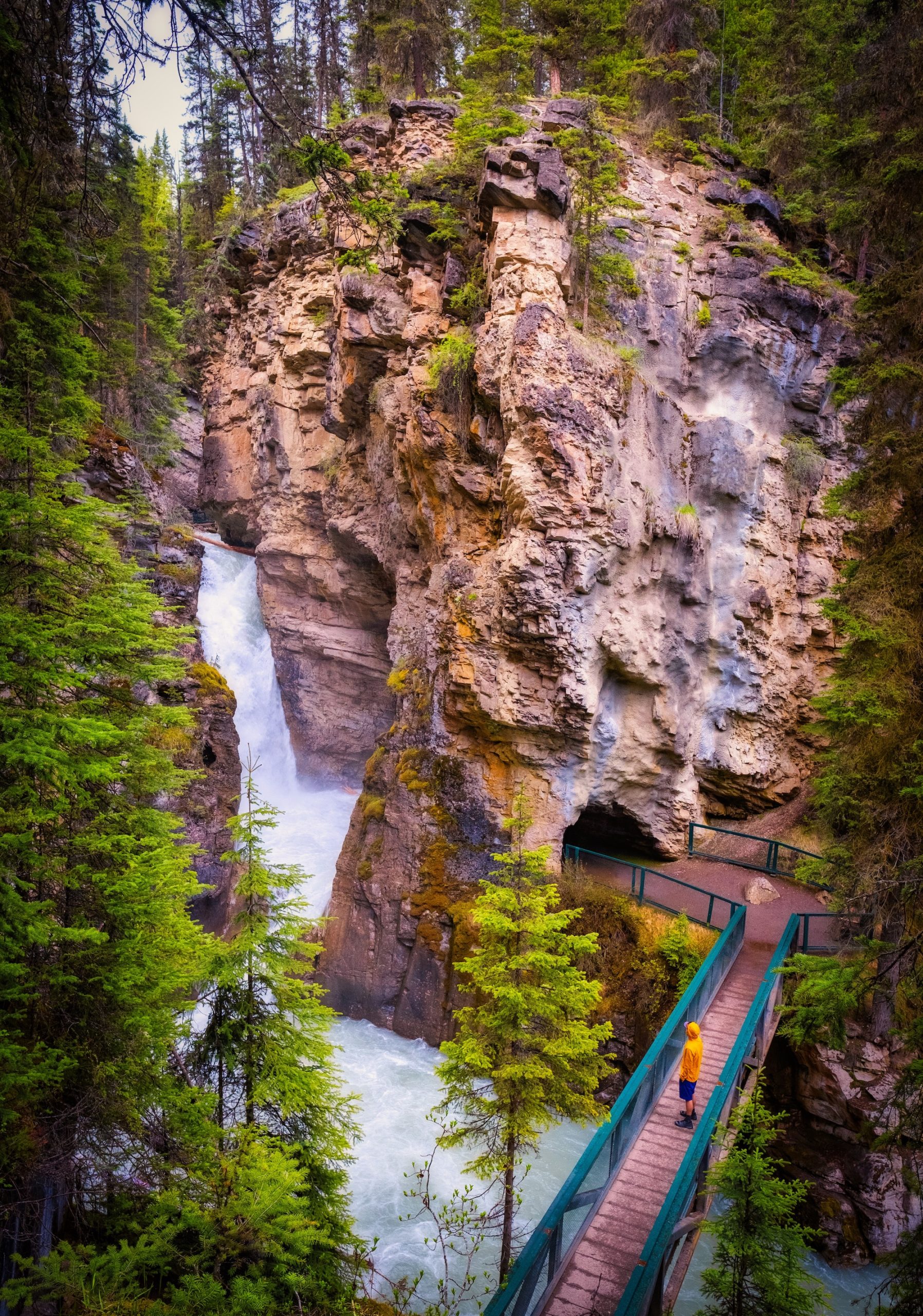 For many visitors to Banff, Johnston Canyon is a must-see destination and a family-friendly hike that's easy to tackle for most.
The trail winds through the narrow canyon, passing a few waterfalls along the way; it eventually leads to the Upper Falls, which is a sight to see. Johnston Canyon is a great winter and summer activity in Banff to enjoy.
Baker Creek Resort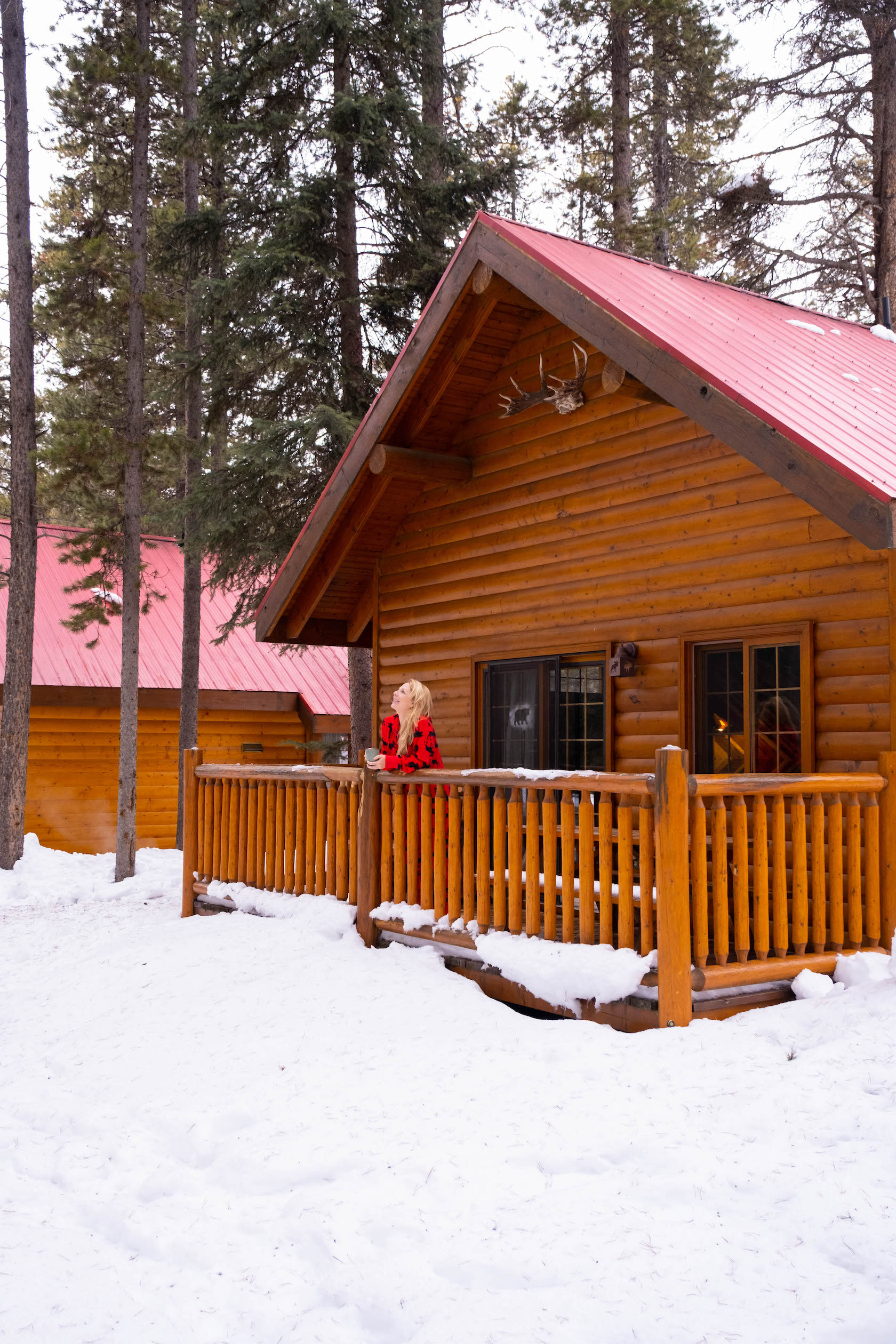 Baker Creek Mountain Resort is an enchanting resort that embodies everything that makes the Rocky Mountains special, from their beauty and tranquility to the sense of adventure and closeness to nature. Baker Creek is one of the best Banff cabins you can stay at, and if you can book a night here, don't hesitate.
Morant's Curve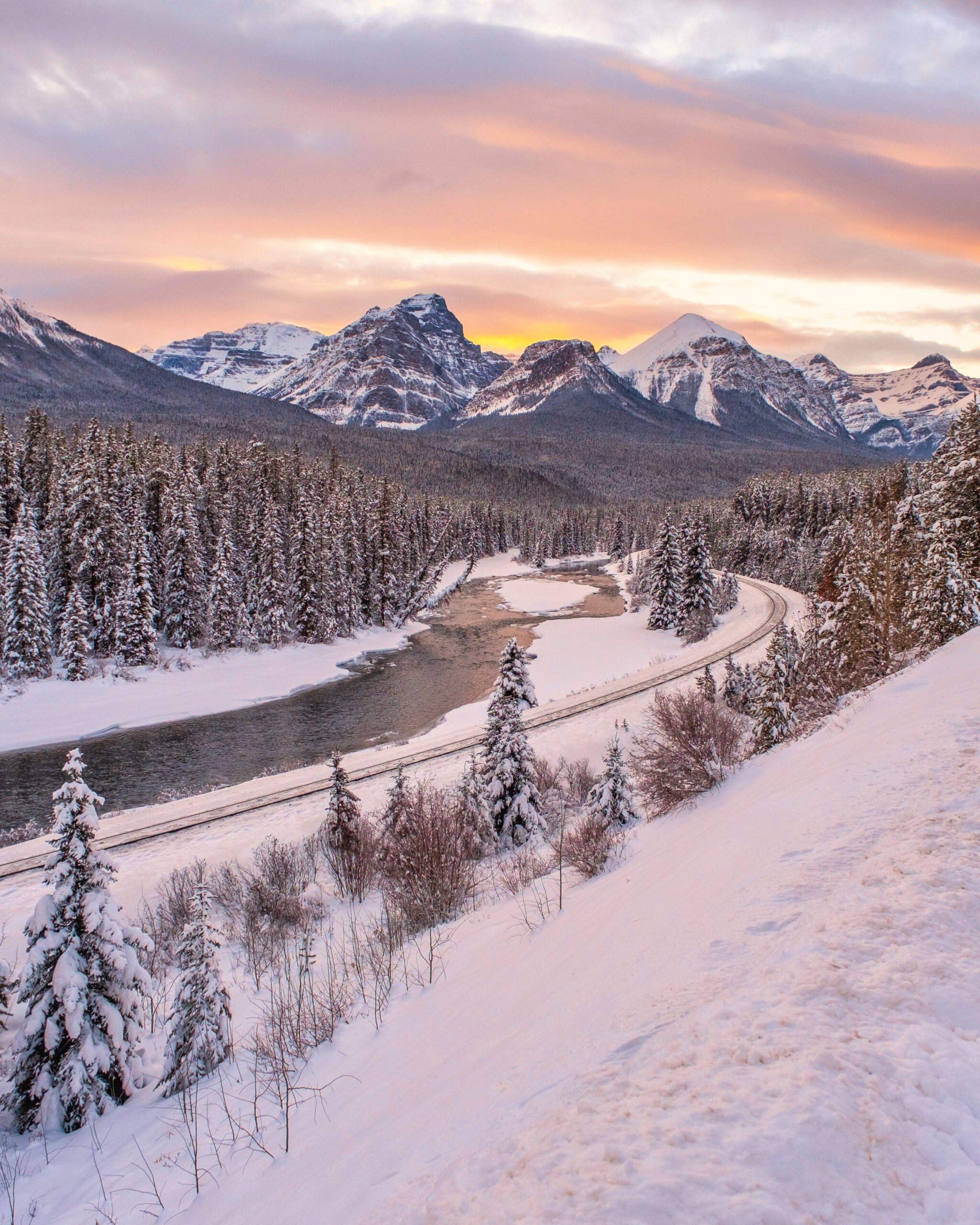 Just before you get to Lake Louise along the Bow Valley Parkway, Morant's Curve is a picturesque viewpoint offering a stunning view of a sweeping bend in the Bow River. It's a lovely photo point where trains traverse the Canadian Rockies against a backdrop of sheer beauty.
It's an excellent stop for visitors planning to drive leisurely down the Parkway. There's even a perfect viewing platform for tourists and photographers alike. Photographers often time their visit to capture the morning light as trains pass through the curve, resulting in an awe-inspiring shot.
There is no train schedule, so if you want to see Morant's Curve with a red Canadian Pacific train passing through, you'll have to wait it out and hope you get lucky!
---
Lake Louise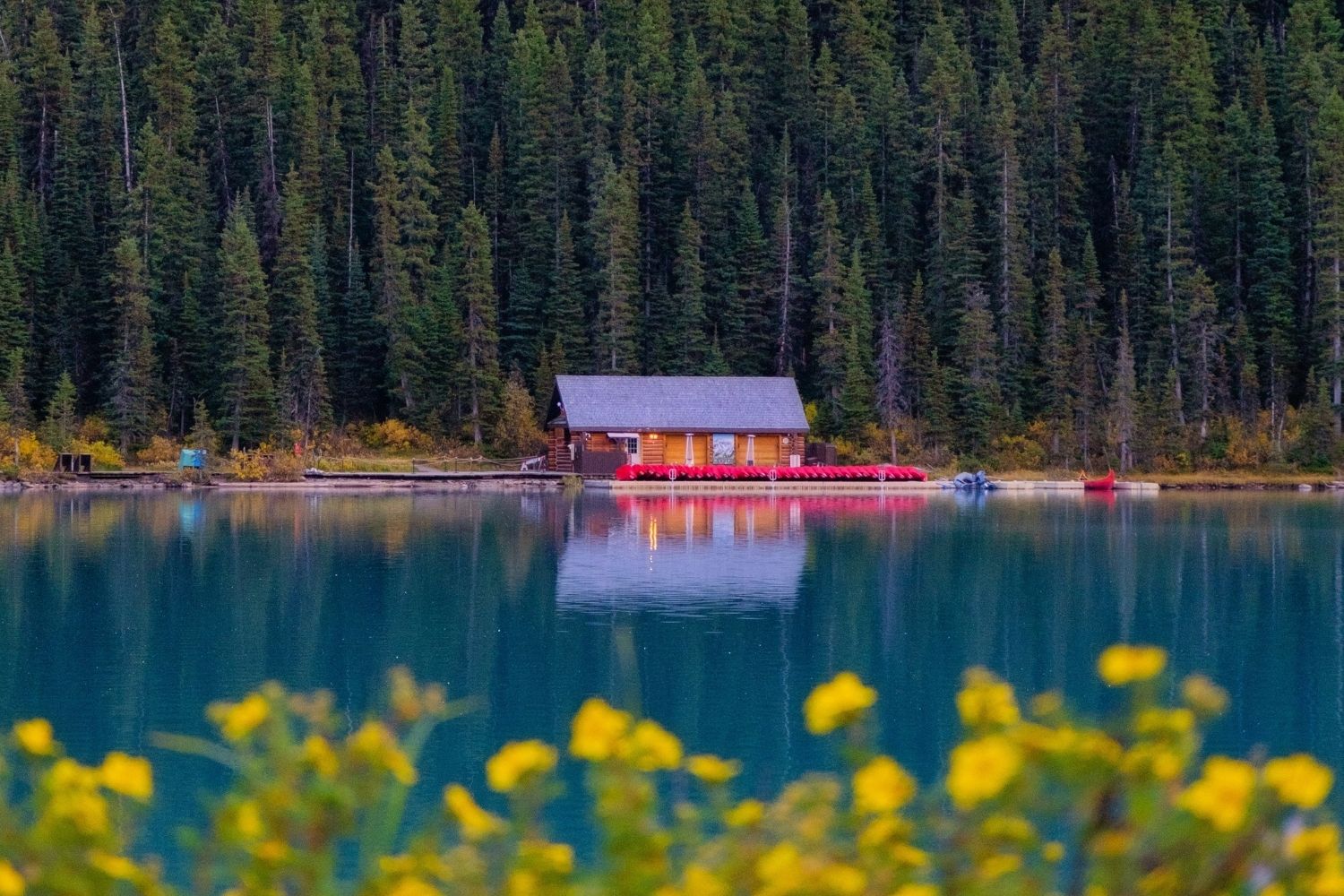 Lake Louise is one of the most popular lakes to visit in Banff, and if you have never seen it, it's best to work it into your Banff itinerary. Be forewarned that parking here can be a significant problem, so we recommend planning for an early visit, a late one, or taking the Parks Canada Park and Ride. You can read more about Lake Louise parking here.
Once at Lake Louise, take in the views from the lakeshore, have tea at the Fairmont, hike up to Lake Agnes and the Beehives, or go for a paddle on one of the bluest lakes you have ever seen.
30 AWESOME Things To Do at Lake Louise in Summer
---
Moraine Lake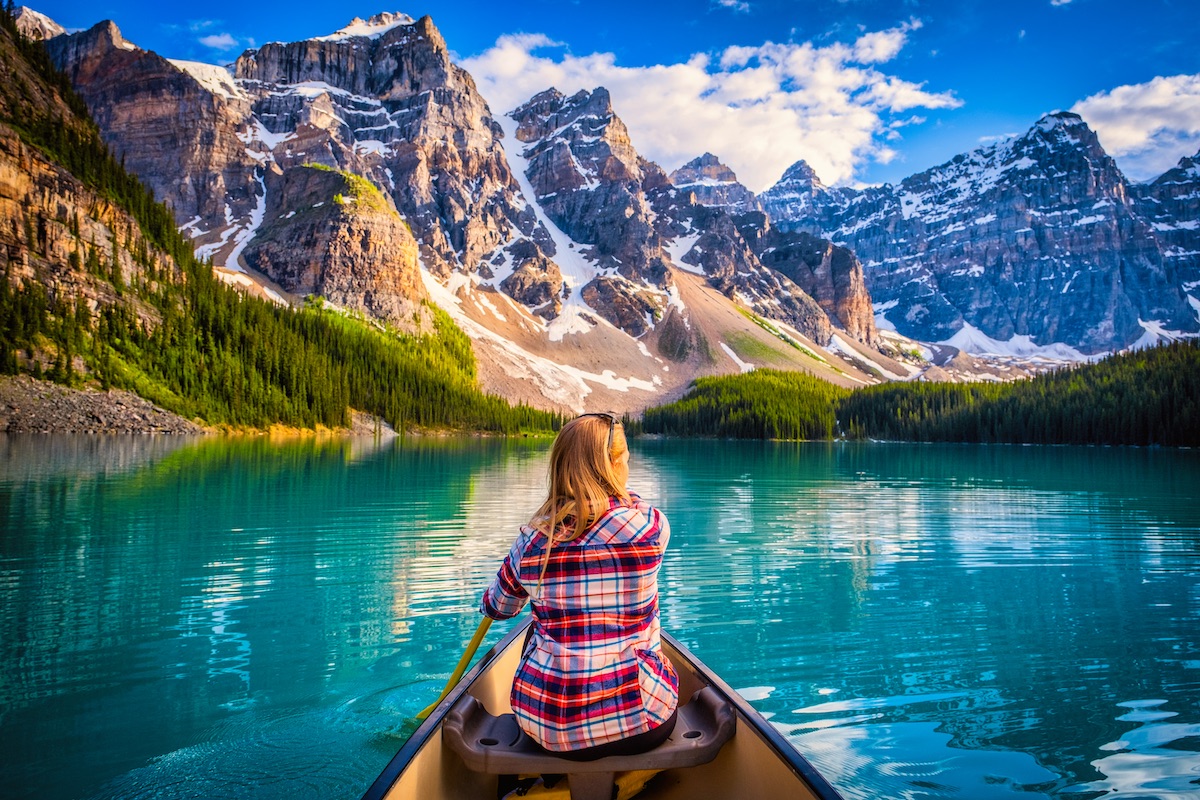 The one lake even more popular than Lake Louise is Moraine Lake. The alpine lake is a wild turquoise blue fed by glacier melt and set with a backdrop of the Ten Peaks. If heaven were a place, Moraine Lake could definitely be it.
However, you won't be able to drive right up to Moraine Lake while on your road trip, and you'll have to book the Parks Canada shuttle or a tour to get there. But your efforts will be worthwhile once you first touch this majestic space.e
Once at Moraine Lake, hike to Sentinel Pass, enjoy a coffee at Moraine Lake Lodge, or rent a canoe and go for a paddle.
Moraine Lake Parking: What You Need to Know
---
Drive the Icefields Parkway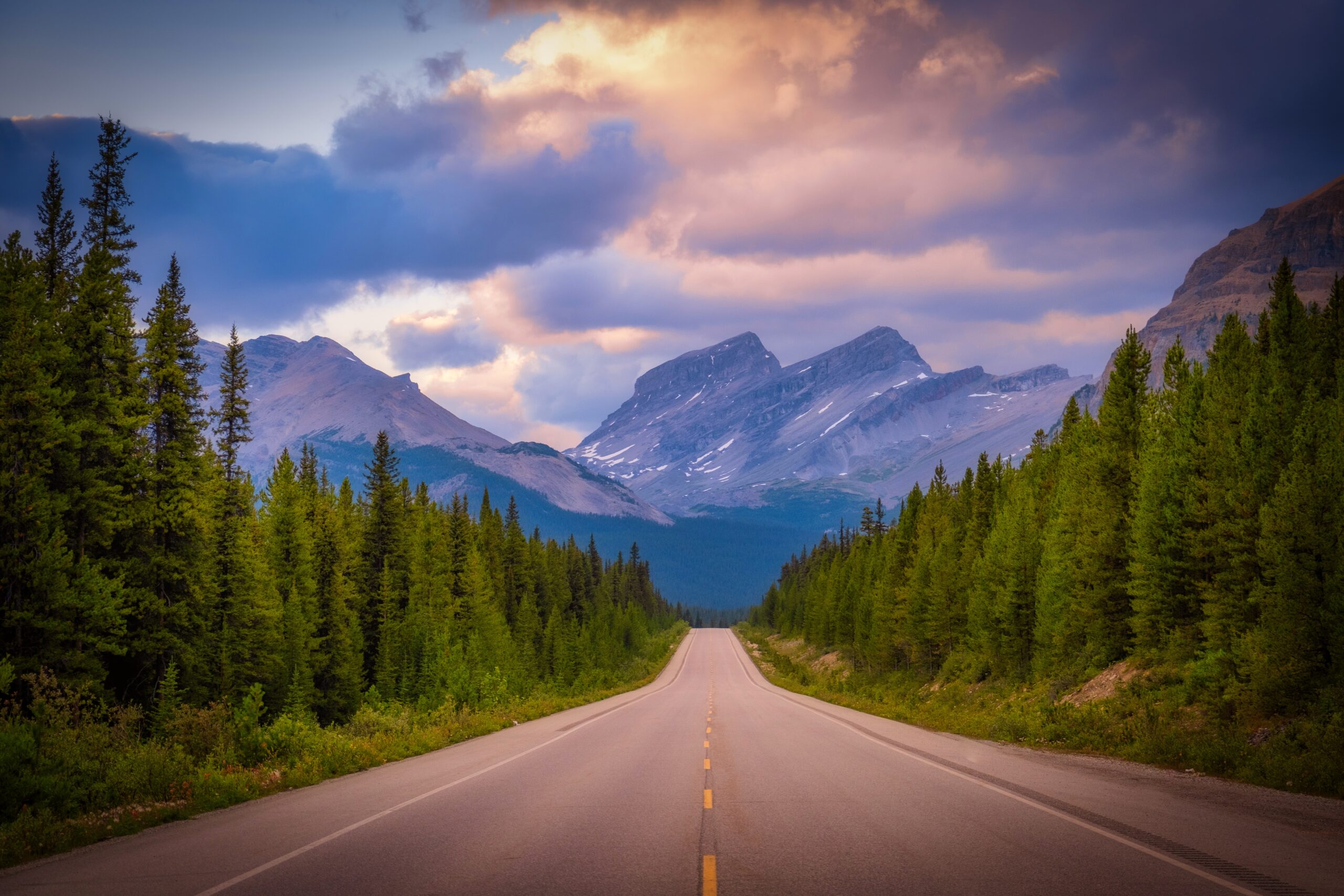 The Icefields Parkway is undoubtedly one of the most breathtaking road trips in the world. The good news is to get from Calgary to Jasper; this is really the only way to drive, so there is no way you can skip this part of the drive (not like you would want to, anyway).
Not only does it wind through the Canadian Rockies, but at every turn, it presents majestic mountains, icefields, waterfalls, and countless scenic viewpoints that will surely leave any traveler mesmerized. Having driven the Icefields Parkway many times, we can attest that it remains captivating on every drive.
This 232-kilometer stretch of the double-lane highway follows the Continental Divide and connects the beautiful towns of Lake Louise to Jasper. There are plenty of excellent stops along the Icefields Parkway; a few of the most notable ones are:
Bow Lake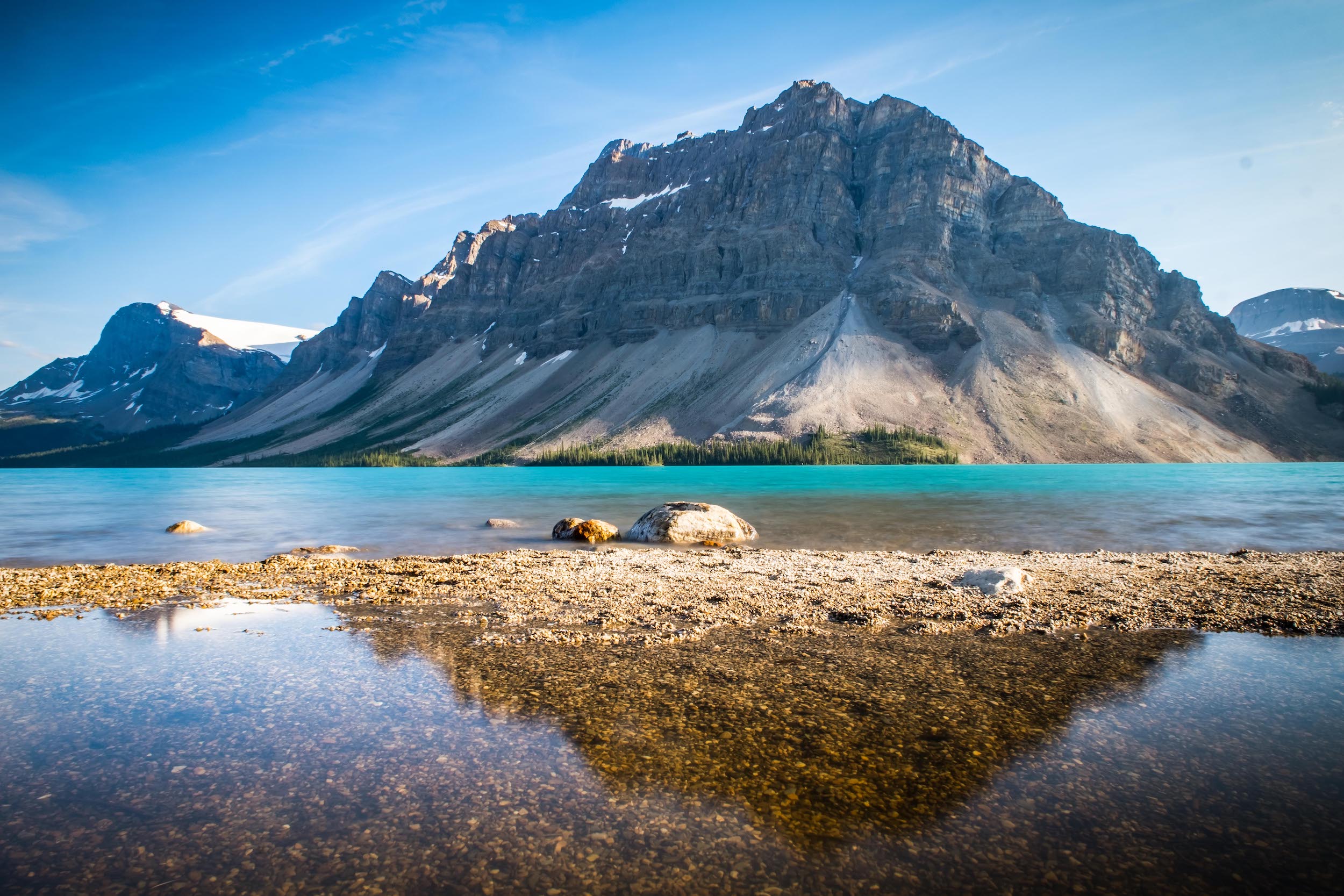 Among the numerous lakes adorning the scenic Icefields Parkway in Alberta, Canada, Bow Lake stands out as a favored attraction for visitors to Banff National Park. The region boasts many breathtaking views and pristine lakes; Bow Lake is no exception.
As one of our top recommendations for a brief stop on the Icefields Parkway, Bow Lake offers a family-friendly hike along its lakeshore trail or longer treks around the lake, and even up to Bow Glacier Falls, for those seeking a more comprehensive excursion. Want a truly epic scramble near Bow Lake? Check out The Onion or Mount Jimmy Simpson for full day (difficult) adventures.
Peyto Lake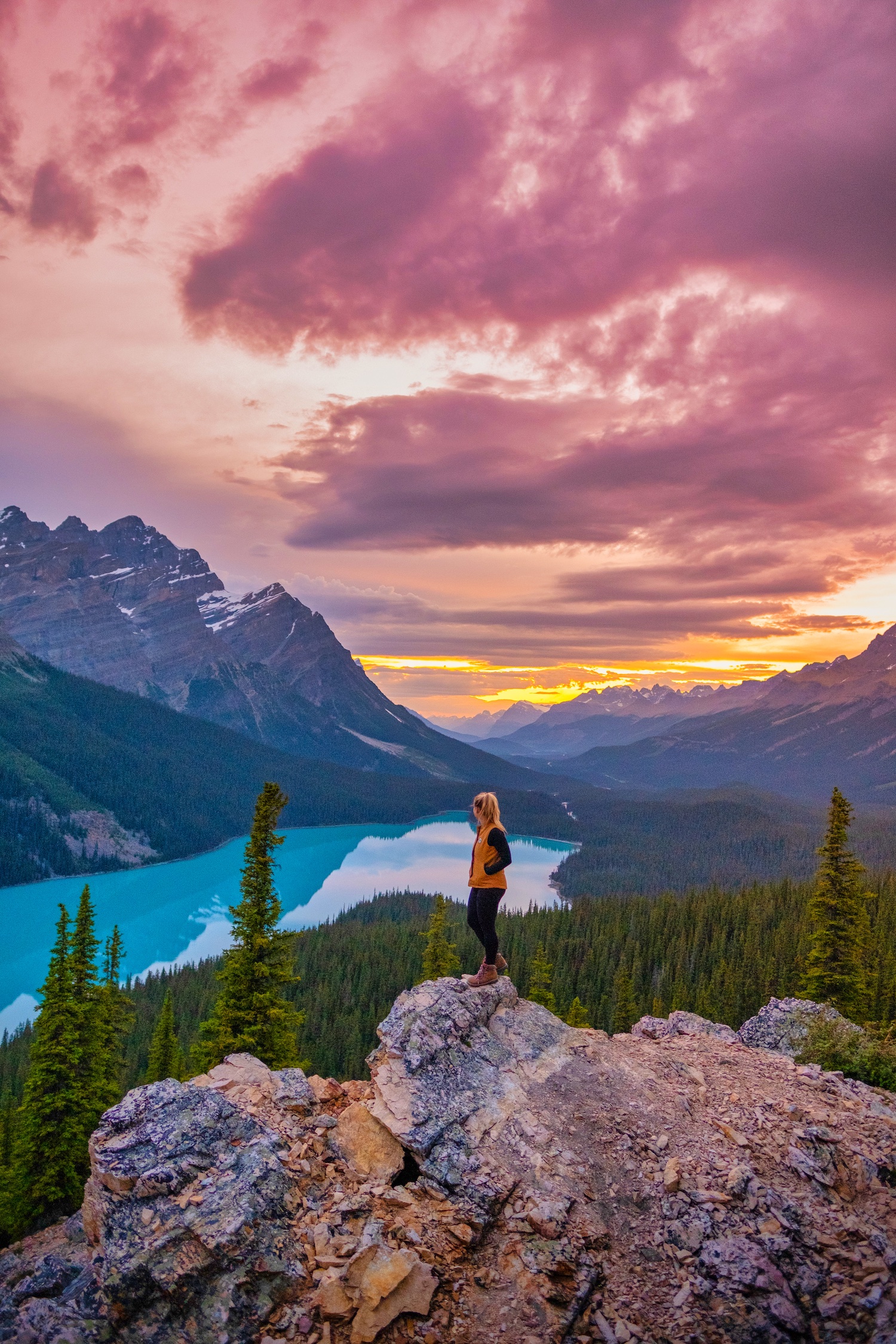 Peyto Lake, a stunning turquoise blue glacier-fed lake located 40 km north of Lake Louise, is one of the most iconic attractions in Banff National Park. Situated along the renowned Icefields Parkway, the lake owes its dazzling blue hue to the glacier-fed waters from the Peyto Glacier, part of the Wapta Icefield.
The viewpoint overlooking Peyto Lake is regarded as one of the most breathtaking in Banff National Park and is especially popular among photographers. With its exceptional beauty, Peyto Lake is a worthy contender to Moraine Lake, yet with fewer crowds. As such, visiting the lake's viewpoint is a must-do activity in Banff.
Mistaya Canyon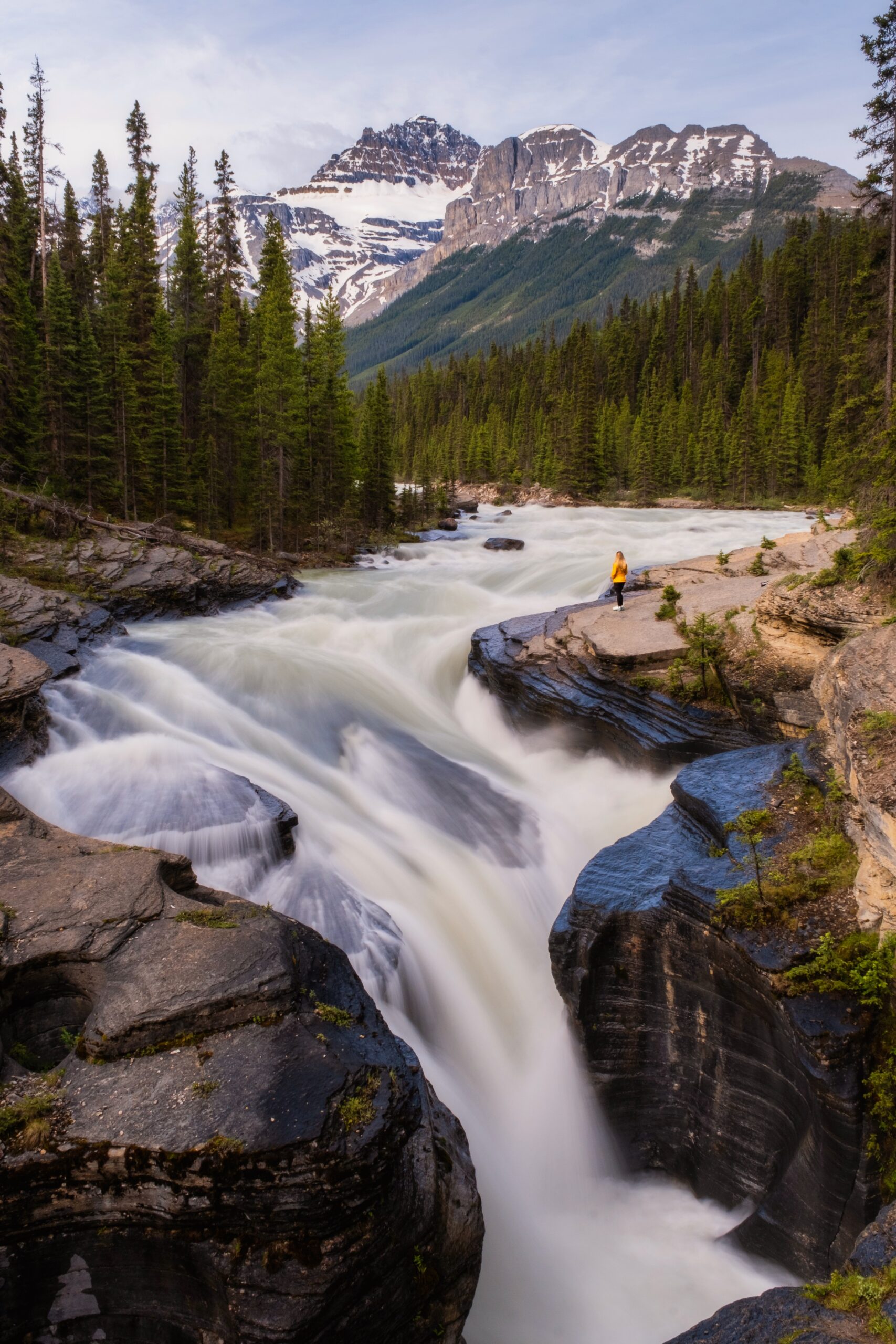 Mistaya Canyon is a favored destination on the Icefields Parkway, making it a popular stop for those traveling from Lake Louise to Jasper.
A brief and easy half-kilometer hike along a well-maintained trail leads to a fenced bridge where visitors can marvel at the breathtaking sight of powerful water cascading through the rocks beneath their feet. The curvy canyon walls, formed by the Mistaya River, only add to the area's charm, leaving tourists in awe.
However, during the peak summer months, parking at the pullout area on the west side of the Parkway is limited, and it can get quite crowded.
Parker Ridge Hike
Parker Ridge is undoubtedly one of the finest hikes along the Icefields Parkway. We highly recommend it as a must-do activity if you have 2-3 hours to spare when driving between Lake Louise and Jasper.
The gradual 2.5 km incline to the ridge was well-marked and straightforward, with no technical or scrambling involved. This makes it an excellent walk for individuals of all ages and skill levels, including young couples, families with children, and even leashed dogs.
Despite its ease, the view from the ridge is simply breathtaking, providing incredible vistas of the impressive Saskatchewan Glacier and a serene blue glacier lake.
Sunwapta Falls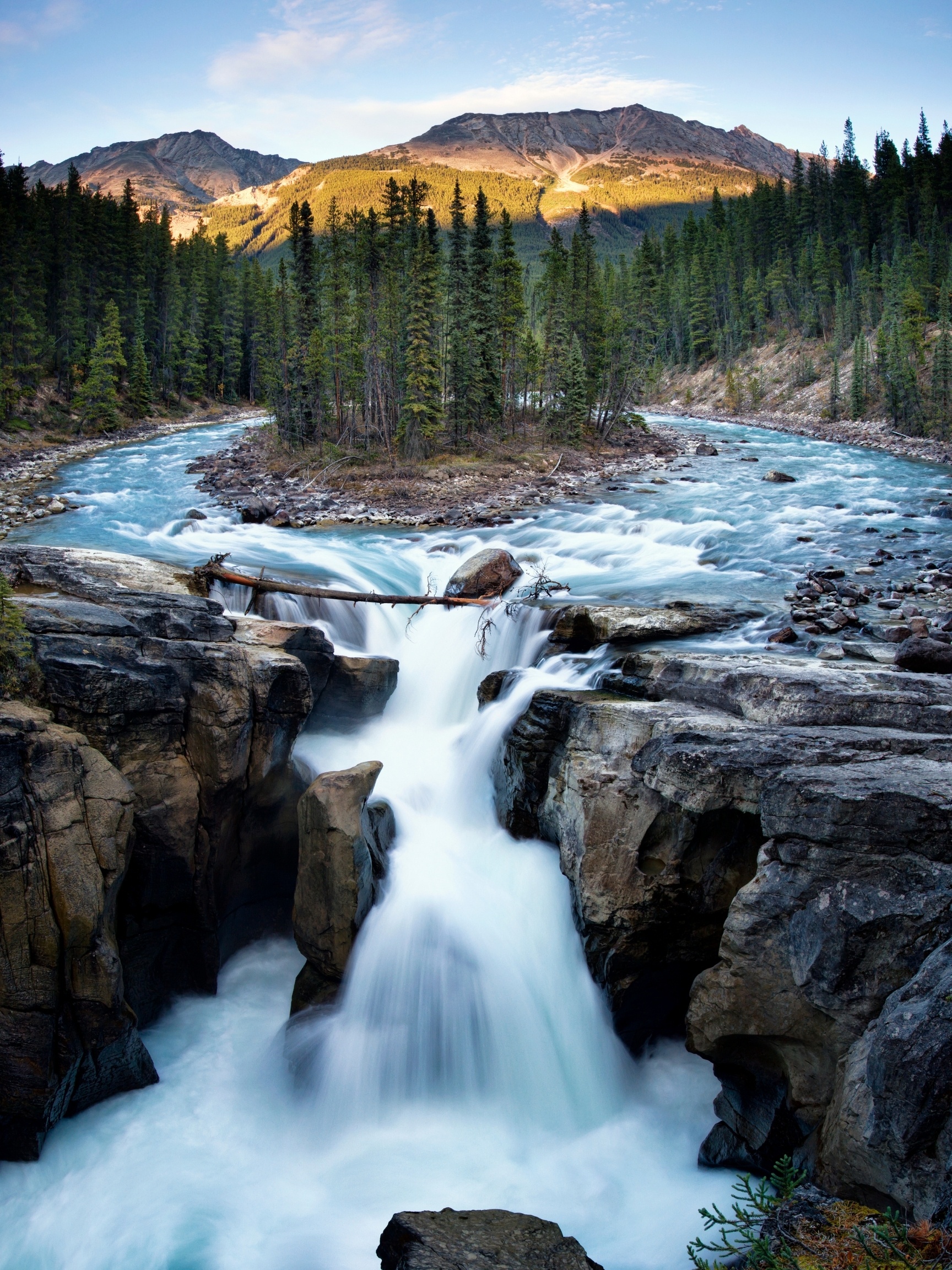 Sunwapta Falls is a must-see destination along the Icefields Parkway. It is composed of upper and lower falls, both of which are fed by the Athabasca Glacier.
Although the upper falls can get quite crowded, the lower falls are still reachable via a 1.3 km hike and provide a fantastic experience that is well worth the trek. The upper and lower falls are stunning and can be visited year-round in either summer or winter.
Athabasca Falls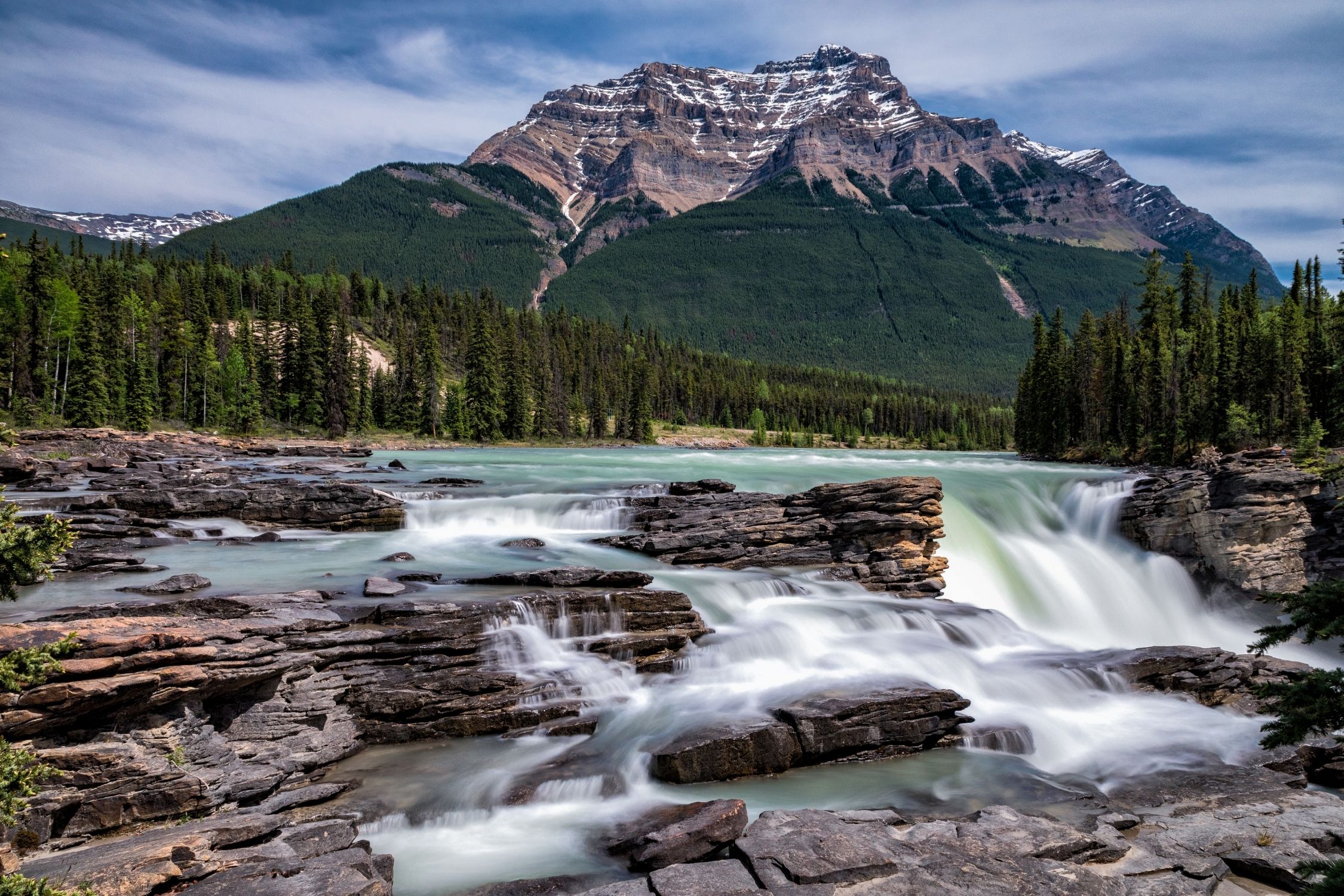 Athabasca Falls, located about 20 miles south of Jasper town, is a must-see attraction in Jasper National Park and one of your last significant stops on the drive from Calgary to Jasper. Despite not being a giant waterfall, its dramatic and majestic beauty makes it a popular destination for visitors.
The waterfall drops about 75 feet and is fed by the Athabasca Glacier. The volume of water that rushes over the edge is very high, making the upper Athabasca River roar, especially during the height of the thaw during the late spring months.
Plenty of hiking trails leading to viewing areas offer breathtaking views of the river and falls. However, it is crucial not to get too close to take a good picture, as the ground and rocks can be treacherous and slippery. Falling into the frigid water and rocky canyon would not end well.
Horseshoe Lake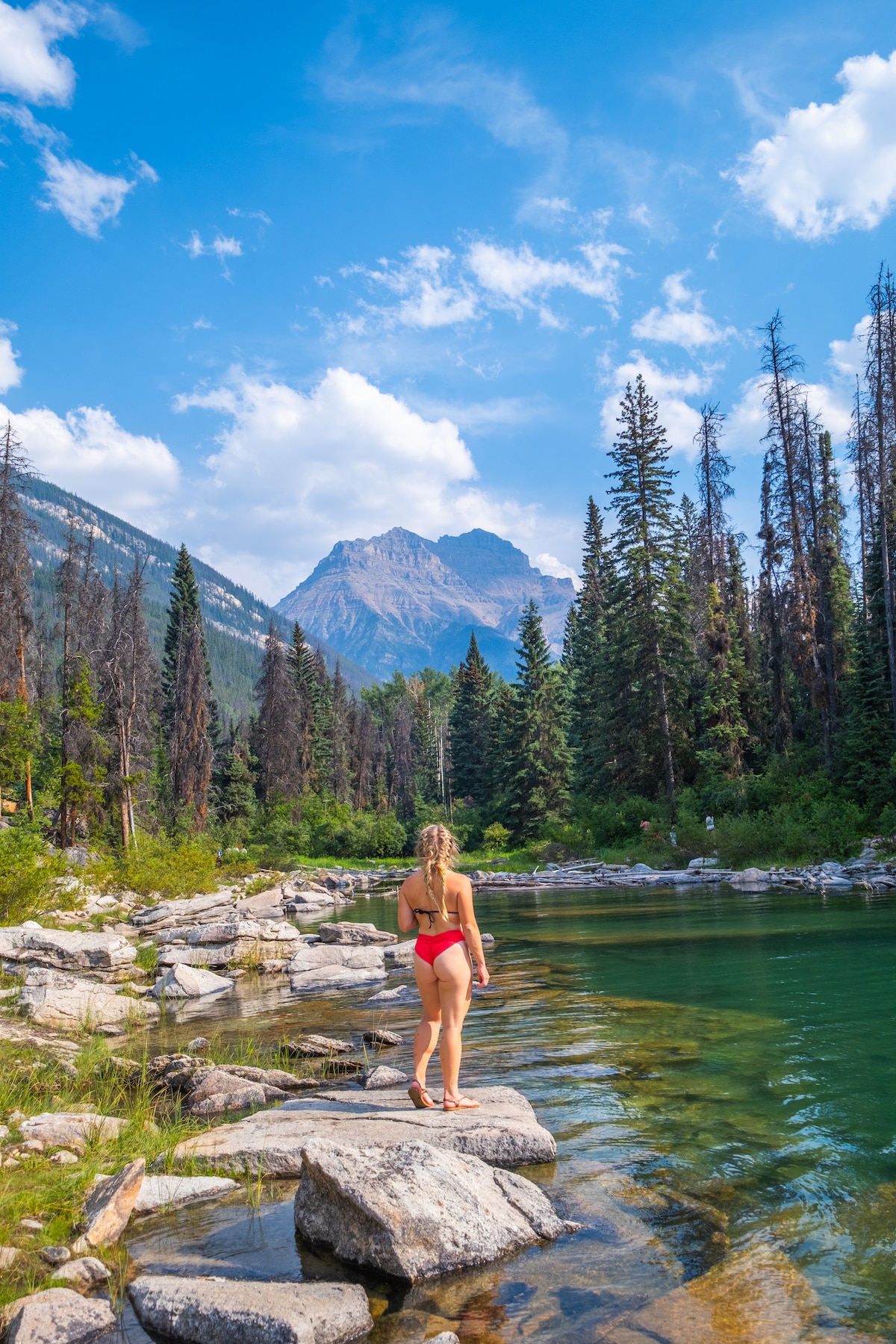 Horseshoe Lake is just a short drive past Athabasca Falls along the Icefields Parkway. It's a wonderful local lake that many visitors are unaware of, but it's well worth stopping! The lake is massive and forms none other than a horseshoe shape, and enclosed by cliffs where you can jump into the frigid Canadian waters.
There are numerous jump points, with the highest height rumored to reach 80 feet. Always make sure to check your landing and make sure it's safe before jumping!
Besides cliff jumping, you can enjoy a paddle on this beautiful lake in the summer.
---
Jasper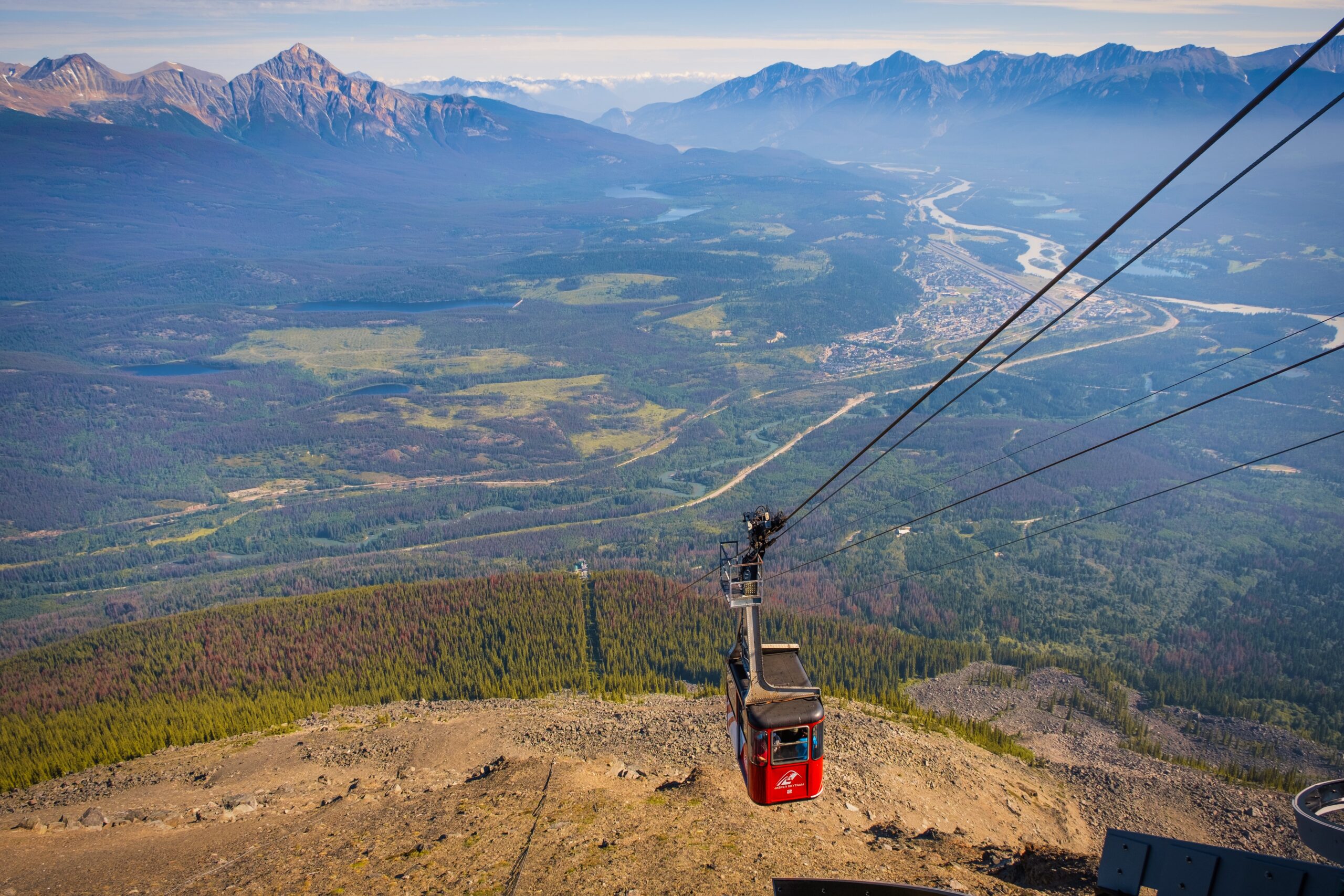 Woohoo! You have made it to Jasper! If you thought you had seen plenty on your Calgary to Jasper road trip, buckle up because there are so many fantastic things to do in Jasper.
For your first day, stroll around the Downtown area, have a beer at Jasper Brewing Company, and enjoy walking out to Pyramid Island on Pyramid Lake. Here are some ideas for the subsequent few days to fill your time.
Jasper Skytram: Book a trip up the Jasper Skytram. Once you get up there, take a hike to Whistlers Summit.
Paddle on Lake Edith, Annette, and Beauvert: Rent a paddleboard and enjoy a morning on one – or all of these Jasper lakes – which are all near each other. Our favorite is Beauvert, which has some of the most transparent blue water in the Rockies.
Maligne Lake Rd: A must-do in Jasper. Maligne Lake Road will take you to the best places in Jasper, including Maligne Canyon, Medicine Lake, and Maligne Lake.
10 BEST Spots For Breakfast in Jasper
---
Alternative Route – Calgary to Jasper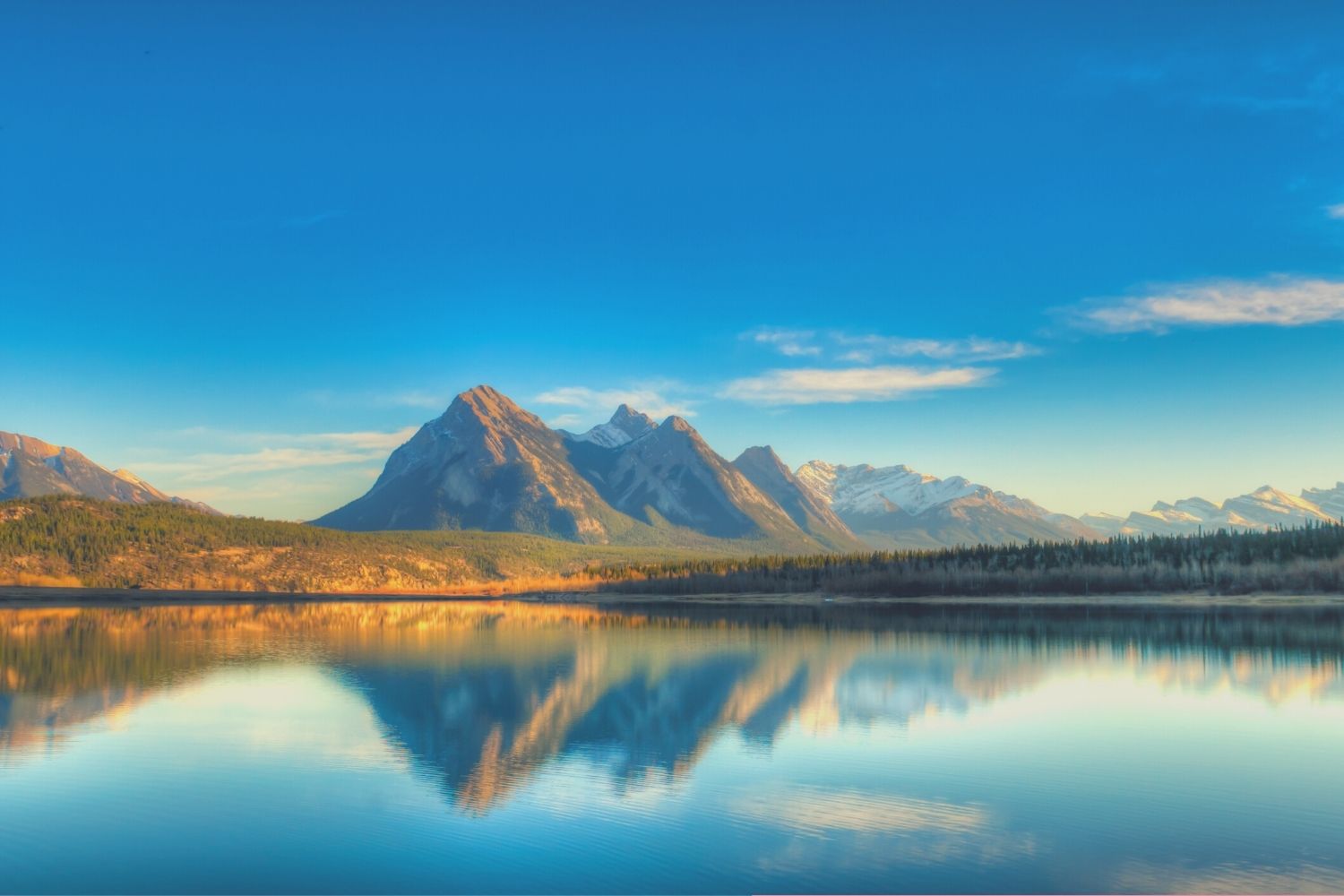 There are two alternative routes you can take to get between Calgary and Jasper, though neither are nearly as scenic as the one mentioned on this list. However, if you have driven this route before, or need to get to Edmonton, or Highway 93 is closed because of winter conditions these options will connect Calgary to Jasper.
David Thompson Country Route: Head towards Red Deer from Calgary via Hwy 2 N. Take Highway 11, the David Thompson Highway and drive through beautiful David Thompson Country. Stop at Abraham Lake before continuing onto Saskatchewan River Crossing, where you can hop on Highway 93 (the Icefields Parkway) and continue onto Jasper.
Edmonton Route: If you have a reason to travel to Edmonton, or really want to visit, you can drive around the mountains. Drive from Calgary to Edmonton via Hwy 2 N, eat at a great Edmonton Restaurant, and continue to Jasper via Yellowhead Hwy W/AB-16. This route is very long and will take at least 7 hours of driving.
---
Calgary to Jasper FAQ
What's the Drive from Calgary to Jasper Like in the Winter?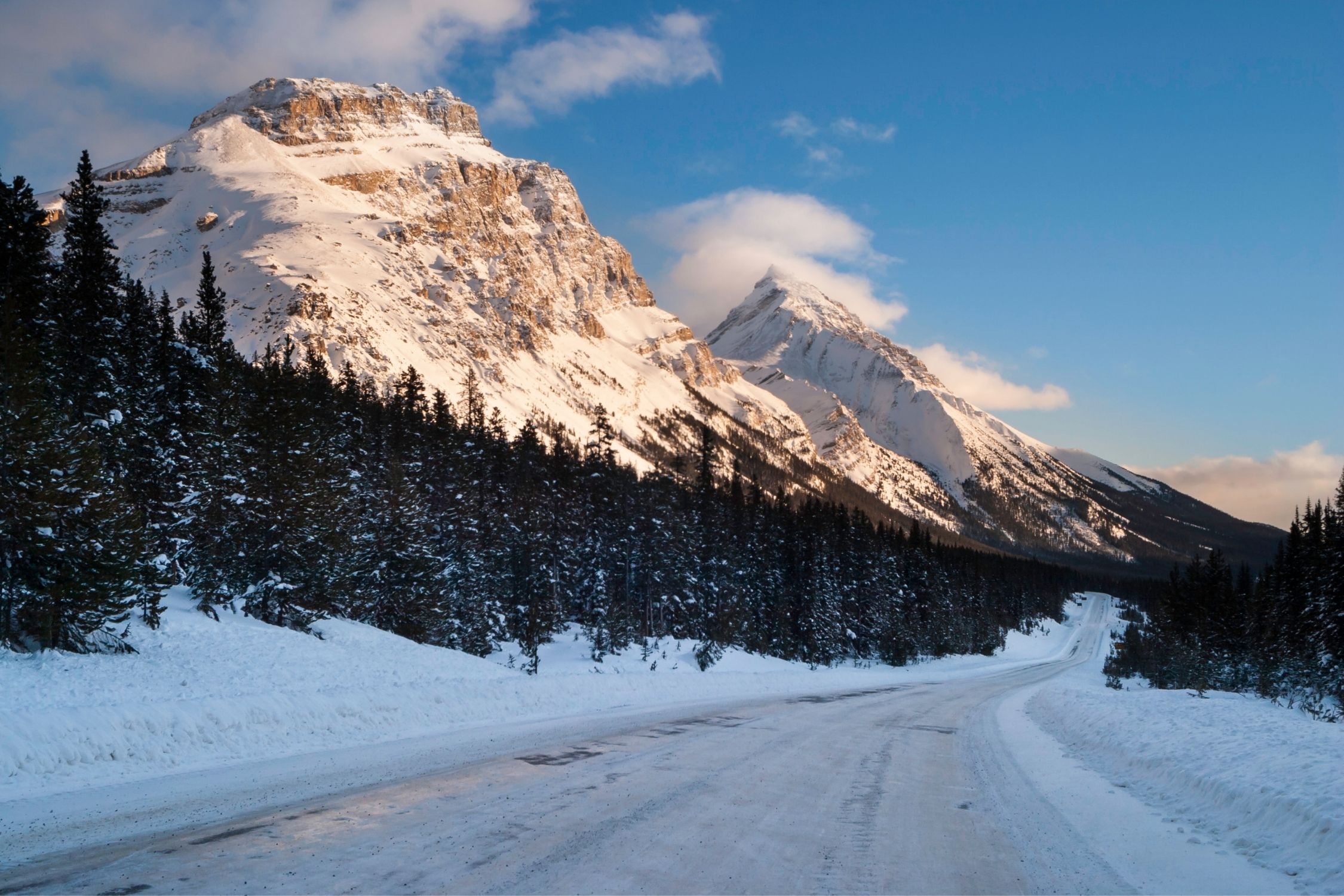 It depends on conditions and recent snowfall, but you can expect the drive to be very wintery between November and April. The worst part of the drive would be the Icefields Parkway section.
This road can turn treacherous during and after a winter storm., I strongly recommend avoiding it during winter unless you have experience driving in snowy conditions and have researched the current conditions on 5.11 Alberta.
If there has been heavy snowfall recently, it's essential to check the road conditions and ensure that your vehicle is sturdy 4×4 at the very least. Winter tires are mandatory on the Icefields Parkway from November 1st to April 1st. Equipping your vehicle with winter tires and an emergency kit is advisable, especially if you're driving in Alberta during winter. Just because you rented a car in Calgary in the winter does not mean the car automatically comes with winter tires. Winter conditions can last from late October/early November to April; even September can bring snow to the Rockies.
It's important to note that the Icefields Parkway is not plowed to the same extent as other roads in Alberta and is typically not salted. There's no cell phone reception in the area, and winter temperatures in Alberta can drop drastically. Being stranded without proper preparation could be a matter of life and death. Since winter traffic is low compared to summer, it could take a while for a passerby to come to your aid. I may seem like I'm being dramatic, but I'm just trying to prepare you for the worst in case it happens.
If you decide to tackle this as a winter drive, it's essential to note that the only gas station, the Saskatchewan River Crossing, is closed during winter. Meaning it's necessary to start your journey on the Icefields Parkway with a full gas tank. You can fill up in Lake Louise and also in Jasper. Additionally, no services are available on the Icefields Parkway during winter, so it's essential to pack enough snacks!
---
Where Are the Best Places to Get Fuel?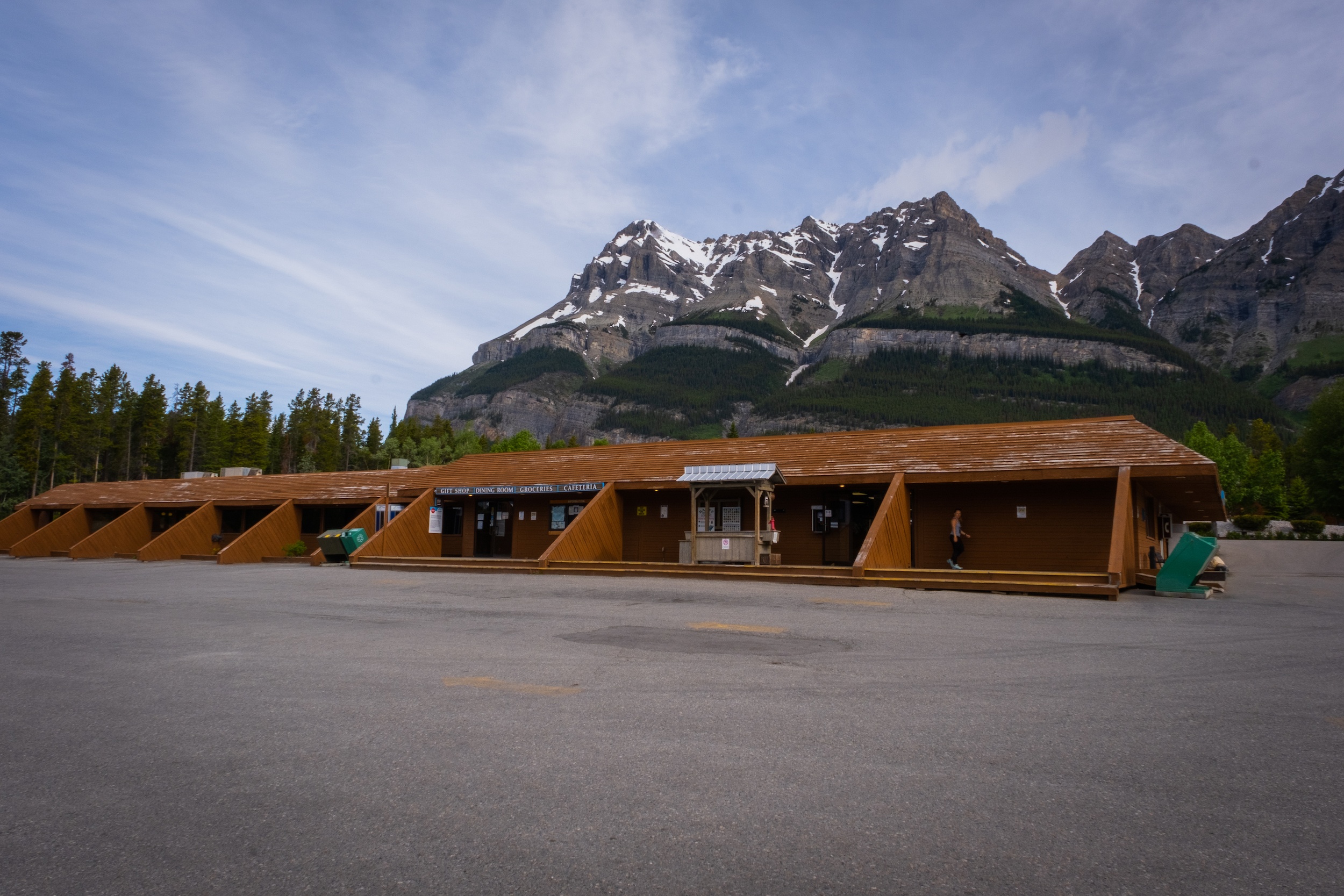 The best price you'll get on fuel is in Calgary, which is usually quite a bit cheaper than in the mountains. If you miss it in Calgary, fill up at the Petro Canada at the turn-off for Cochrane.
Past that, you should fill up in Dead Mans Flats, which is cheaper than in Canmore and Banff. Gas at Lake Louise and along the Icefields Parkway will be more expensive than anywhere else.
---
What's the Best Way to Get From Calgary to Jasper (or vice versa)?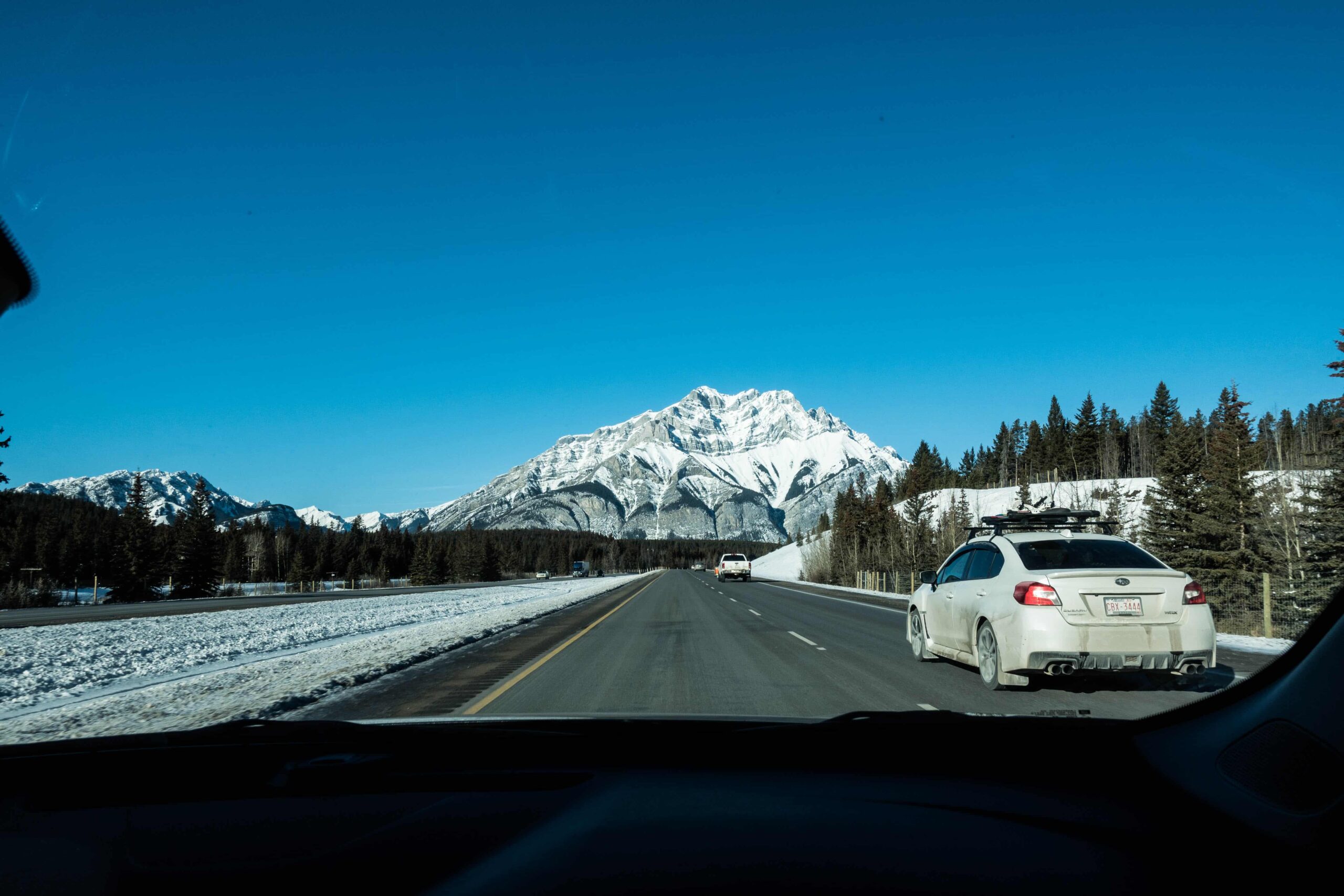 The only direct way is to drive between Calgary and Jasper. If you don't have a car, we recommend booking a rental car at the Calgary Airport or in Downtown Calgary with Rentalcars.com or Discover Car Hire.
Depending on the season, you can often rent cars for under $50 a day. We have even scored rental vehicles in Western Canada for $30 a day in the winter.
If you are flying into Calgary and out of Edmonton, opt for a one-way rental car between the two.
---
Is There a Bus from Calgary to Jasper?
Tour operators can guide you from Calgary to Jasper if you don't feel like driving the Parkway or would rather ride as a passenger to watch out the window. We recommend checking the routes with Sundog Tours, which is one of the only companies offering this type of tour.
---
Is There a Train Connecting Calgary and Jasper?
There is no direct train connecting Calgary to Jasper. If you really want a train journey, check out the Rocky Mountaineer, which has a train from Banff to Vancouver and then from Vancouver to Jasper. It's a luxurious train tour, so expect prices to be high.
---
Can You Fly From Calgary to Jasper?
There is no commercial airport in Jasper. If you want to fly, you can fly from Calgary to Edmonton and drive from Edmonton to Jasper. However, this wouldn't make much sense unless you have reason to travel to Edmonton, and it would take much longer than the drive.
---
Do I Need a Parks Canada Pass?
A Parks Canada Pass is necessary to drive between Banff and Jasper. You do not need a Parks Canada Pass for visiting between Calgary and Canmore, though if you venture into Kananaskis, you will need a Kananaskis Conservation Pass.
If you don't have a pass, you can purchase one right after leaving Canmore a the Banff Park Gates.
A Parks Canada Discovery Pass, which gets you entrance to all Parks Canada destinations for a year, is only $145.25 for a family. Day passes are $10.50 per person, so depending on how many days you stay in Canada, you may want to consider the Discover Pass.
You will need a Parks Canada pass to visit any sights in Jasper and Banff, so depending on how long your Banff and Jasper itinerary is, it's likely worth it to buy the Discovery Pass.
ULTIMATE Guide To Purchasing A Banff Park Pass (Parks Canada Pass)
---
Is There Wildlife Along the Drive?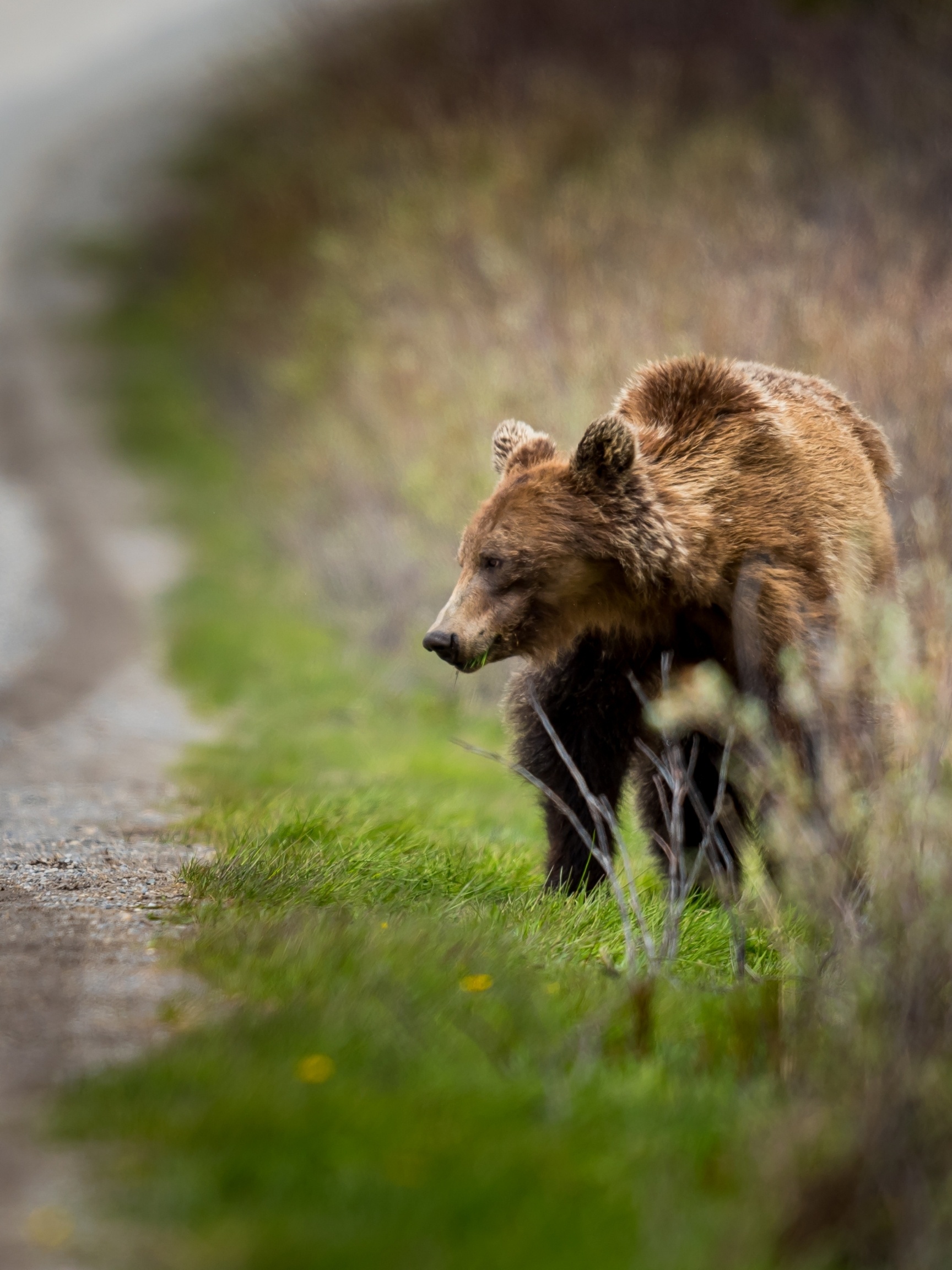 There are bears, mountain goats, sheep, elk, coyotes, and everything in between, which you will likely begin to see more of once you get to Canmore.
You may see one of these majestic creatures while driving if you get lucky. If you do, don't get out of the car, and give the animal its space. Don't create traffic. Slow down and keep driving; please don't stop for a long time or chase the animal for a photo.
---
Is There Cell Coverage?
There is cell coverage for most of the drive between Calgary and Lake Louise, though once you hit the Icefields Parkway, don't expect to have much of a signal again until you get to Jasper. The only reliable place I can get an okay alert on the Icefields Parkway is the Saskatchewan river crossing and the Columbia Icefields center.
---
What is the Total Distance?
From Calgary International Airport to Jasper, the total distance is 428.7 km. This does not include any stops or pull-offs.
---
How Long Does it Take to Drive From Calgary to Jasper?
If you drive straight from Calgary to Jasper, the drive will take under 5 hours in perfect conditions. If you plan to make any stops, it will take longer. We recommend a whole day just for the journey between Lake Louise and Jasper (the Icefields Parkway) alone!
---
How Many Days Do I Need in Banff and Jasper?
I would suggest at least spending seven days in the Canadian Rockies, though you will 100% leave wanting more. If you have the time and budget, consider a two-week trip to the area. This will give you ample time to explore Banff, Kootenays, Canmore, Jasper, Yoho, and more! However, we have lived here for years and still need a lifetime to explore t the Rockies.
---
---
Plan Your Trip to the Canadian Rockies