Although it's not the tallest or widest waterfall in the Rocky Mountains, Athabasca Falls in Jasper National Park is among the most powerful waterfalls in Alberta. In fact, it's so powerful that it has earned itself a class five waterfall rating! At 24 meters (over 75 feet high), its height is still impressive, especially when combined with its spectacular natural beauty.
Athabasca Falls is situated on the mighty Upper Athabasca River and was created when the Athabasca Valley Glacier retreated. That large amount of water you see flowing today flows from a glacier in the Columbia Icefield.
Athabasca Falls is one of the most visited waterfalls in the Rockies, as nearly everyone stops when driving between Banff and Jasper on the Icefields Parkway. It's the perfect pit stop on any visit to the region. Let's dig into a few tidbits before your visit!
---
All You Need To Know About Athabasca Falls (Jasper)
---
A Little History
The name Athabasca has origins in the indigenous Cree language still spoken by many in the region and you may see it spelled Athabaska as well. In English, it means "grass or reeds here and there" which describes some of the area's topography.
---
What to Do at the Athabasca Falls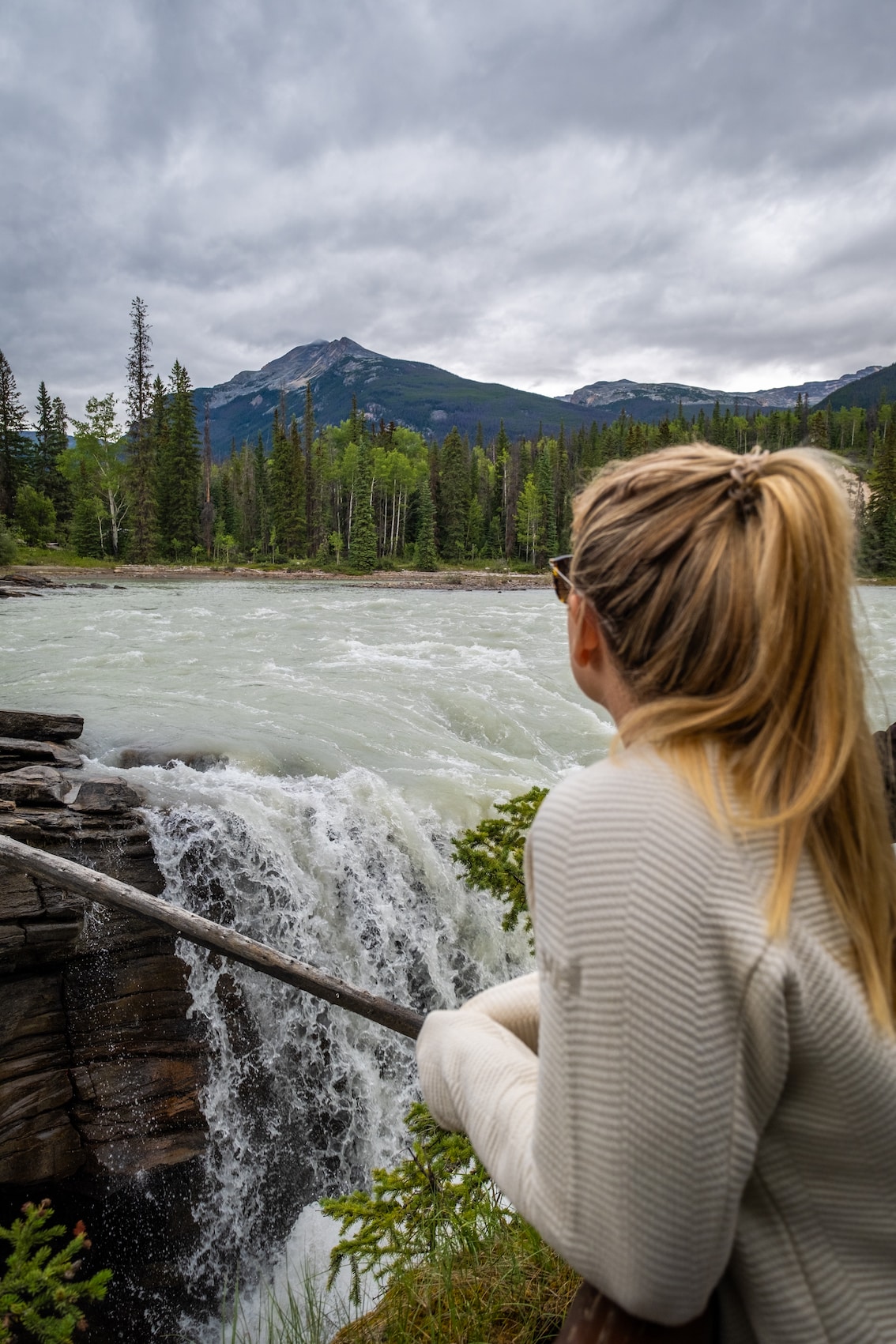 The hike to get to the falls is a thrill in itself. It takes less than 5 minutes to reach the viewpoint from the parking area and it's over easy terrain, so almost anyone can do it. The other trails in the area, including one that winds along a scenic canyon, offer different viewpoints of the forest, mountains and the waterfall itself.
Geraldine Lakes is another popular hike nearby, but it's for more seasoned hikers who don't mind a longer five-kilometer hike over challenging terrain. You'll need to hike almost 12 kilometers to reach the second lake.
During the warmer months, visitors enjoy swimming, canoeing, kayaking and paddleboarding on Pyramid Lake in Jasper and in winter, skating is a popular activity. Sunwapta Falls is just 25 km away, and Horseshoe Lake (one of our favorites) is just 4km down the road. If you aren't driving the entire Icefields Parkway in one day, and coming from the town of Jasper, combining some of these activities along with the hike to the waterfalls is a great way to make a full day out of your visit.
---
What's the Hike to Athabasca Falls Like?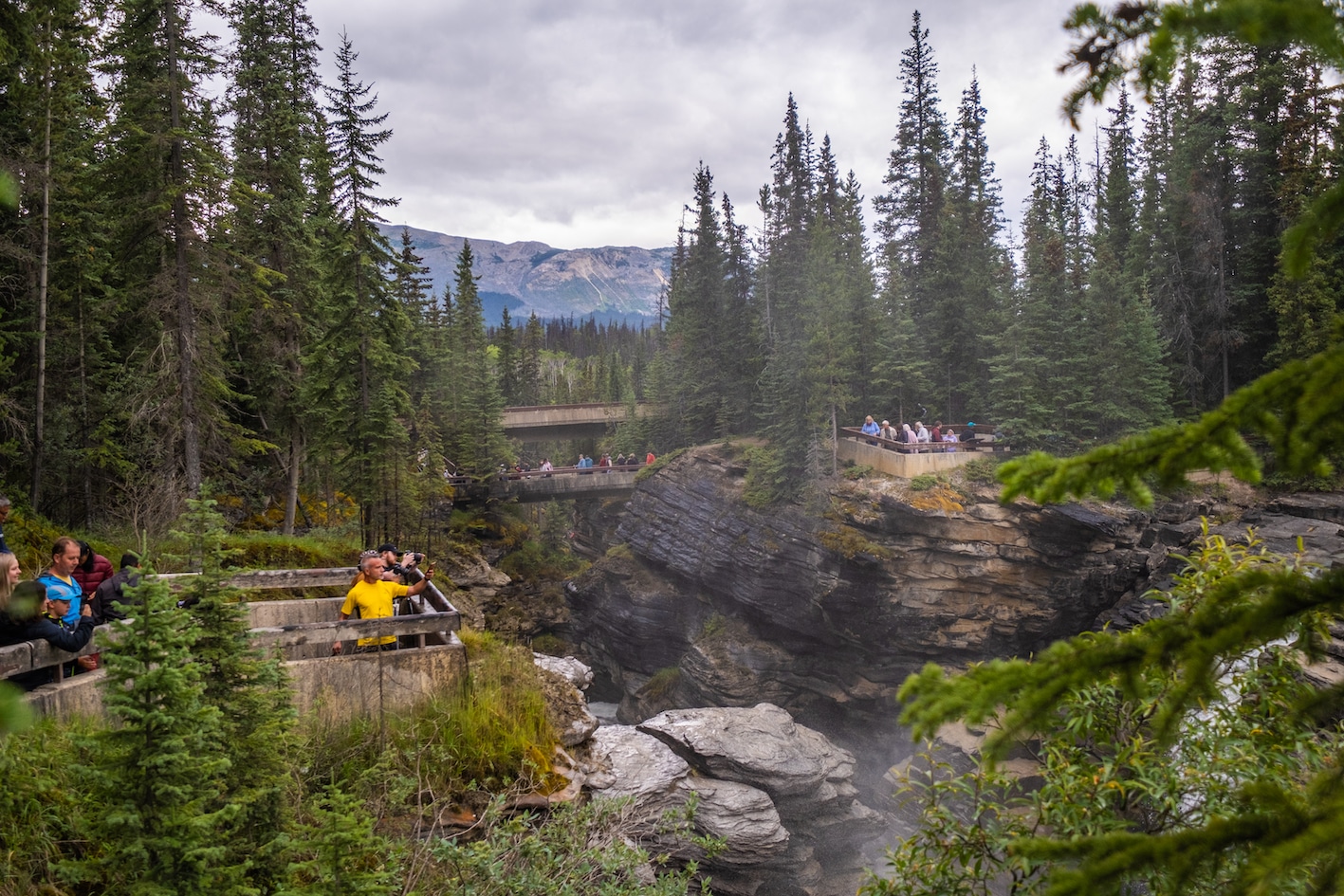 Athabasca Falls: The hike to Athabasca Falls offers stunning views and is relatively easy, covering a 1 km (0.6 mile) out-and-back trail that takes around 15 minutes to complete from the parking lot.
This easily accessible trail features paved pathways leading to various viewpoints overlooking the falls and canyon. Keep in mind that some of the viewing areas are small, so during peak times, there might be a wait to get close for photos. That's why we recommend arriving early in the morning if possible!
There is one main viewpoint in the form of a bridge. At this location, you can see Mount Kerkeslin commanding a view over the river as it cascades down a succession of rocky steps before vanishing into the gorge. But keep walking and you'll find plenty of other angles of Athabasca Falls, some getting you incredibly close to the action.
The Pothole: After the bridge, you'll reach a point where the trail divides into two directions. Turning right leads you to the river. The trail passes beneath Highway 93A, proceeding between two meandering rock walls as it descends a set of steps. You'll eventually encounter a pothole—an aptly named large cavity in the rock formed over the years by swirling water. Here you'll get up close and personal to Athabasca River.
Geraldine Lakes: When you drive to Athabasca Falls, you'll notice signs for Geraldine Lakes. The trek to Geraldine Lakes offers a more demanding experience compared to Athabasca Falls. Covering a 5.1 km (3.2 miles) out-and-back trail, this route is classified as moderate to challenging and may require a few hours to complete. For those seeking adventure, the trail meanders through the forest, providing close encounters with lakes and waterfalls.
To find the Geraldine Lakes trailhead drive past Athabasca Falls on the Geraldine Fire Road, a dirt road. The trailhead is situated approximately 6 km (3.7 miles) down this road, and there is generally sufficient parking available. However, be aware that the road is rugged, posing a potential challenge for smaller vehicles. It is not accessible in the winter months.
What makes this hike particularly exciting is the option to extend the challenge by hiking to a second lake, turning it into an 11.7 km (7.3 miles) journey.
---
Can You Whitewater Raft Over Athabasca Falls?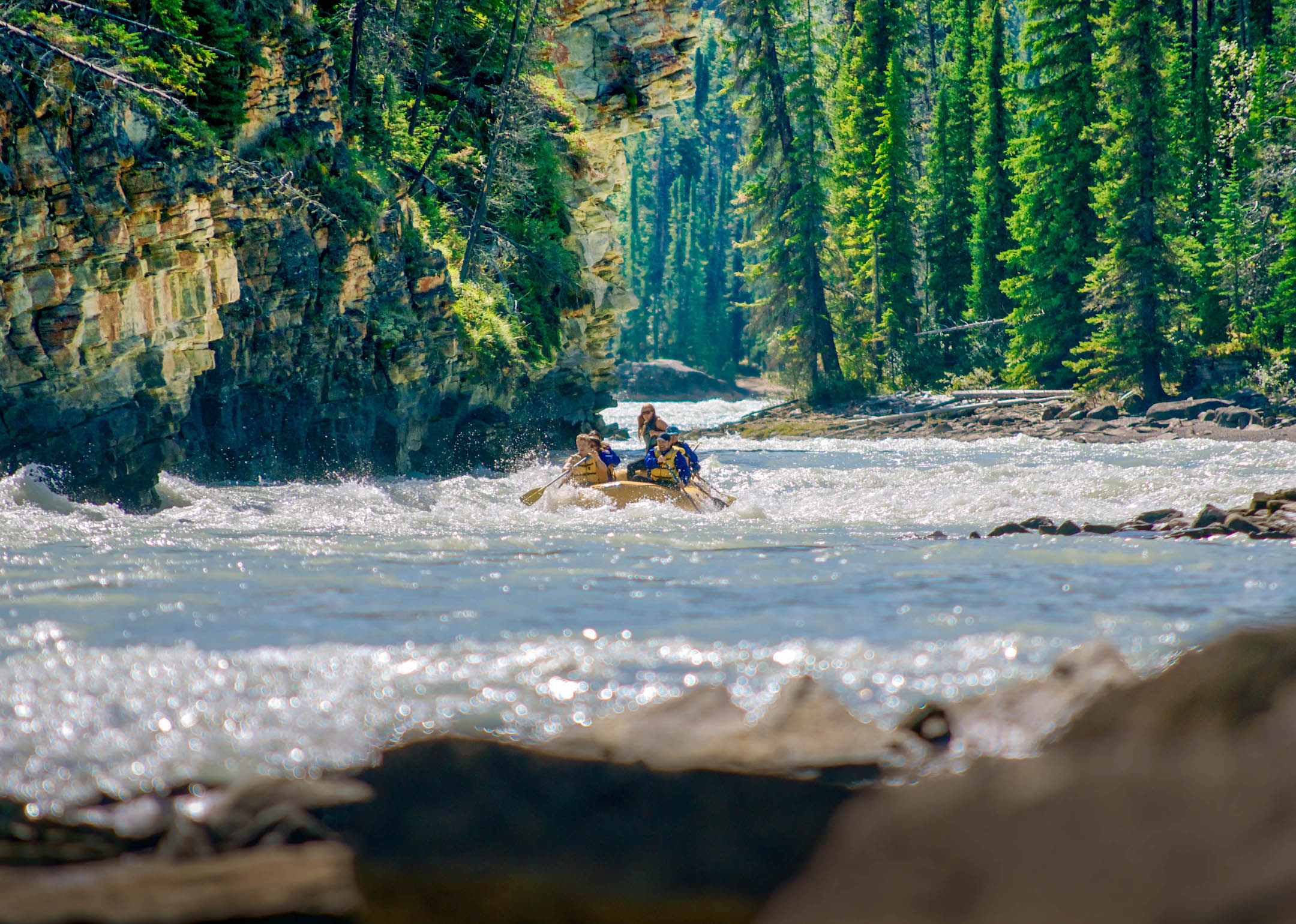 It is not possible to whitewater raft over Athabasca Falls as the reality is the water is just too rough and powerful. That being said, if whitewater rafting was something you thought you could enjoy on the rapids near the falls, there are some tours available through several companies based in Jasper that can take you rafting on certain areas of the Athabasca River.
---
Explore with a Group or Go Alone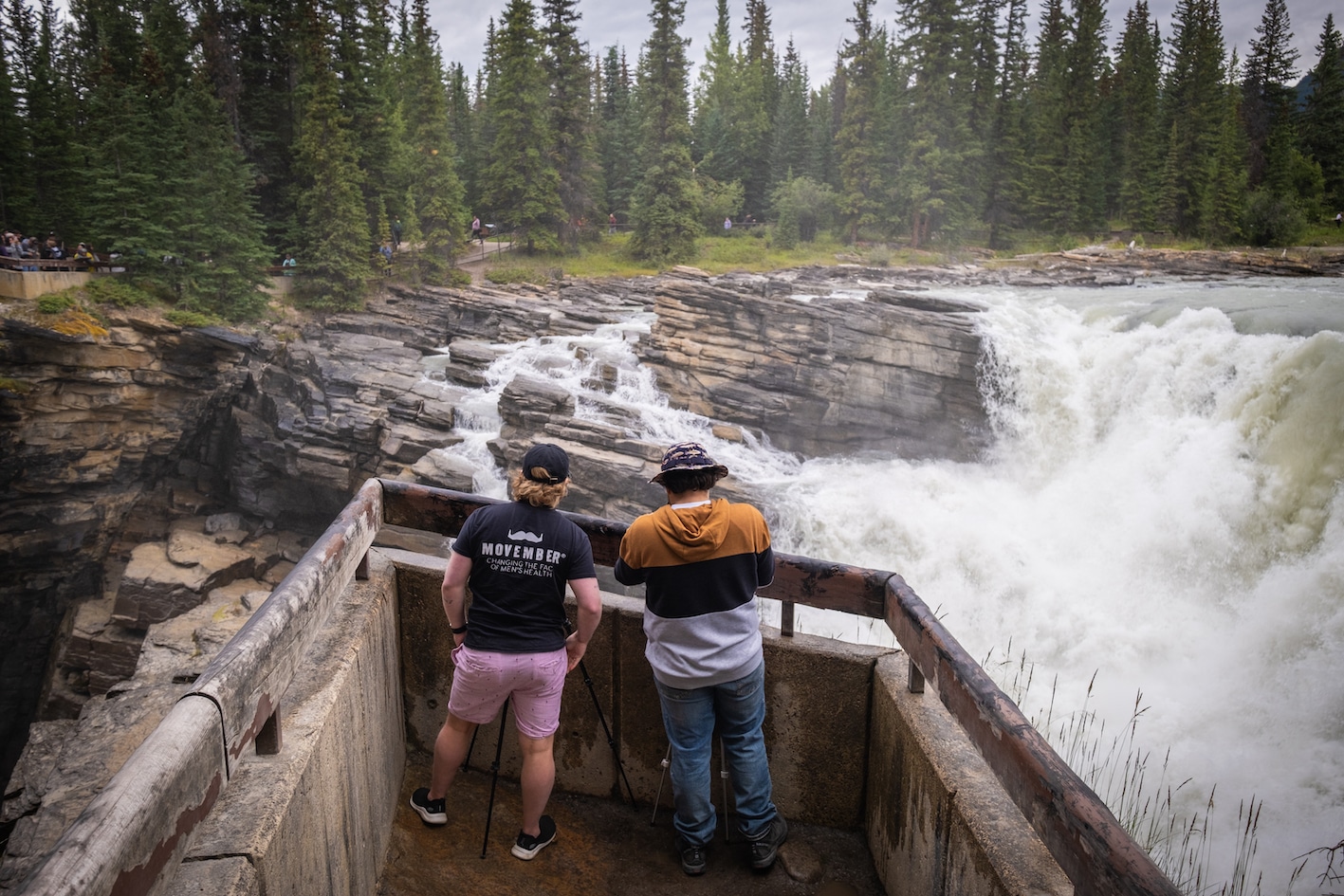 There are two types of travellers: those who prefer to explore on their own and those who prefer to have someone else do all the driving and planning for them.
If you want to explore Athabasca Falls on your terms, you can drive in your own vehicle or rent one from one of the car rental agencies in Calgary or Edmonton. Exploring on your own allows you to see the area on your time. You can arrive and leave whenever you want and take your time exploring the trails and enjoying the sights. We recommend checking our our complete Icefields Parkway guide, and downloading the Guide Along audio tour!
If you'd rather go on a guided excursion, several tours depart the town of Jasper and in Banff. Someone else does all the driving and planning for you but the best thing about these tours is most of them also include other top attractions in the region including Lake Louise, Crowfoot Glacier, Glacier Skywalk, Bow Lake, and the Weeping Wall. Here are a few of those tours:
There's even a guided sidecar tour available by Jasper Motorcycle Tours that include Athabasca Falls, and some tours go as far as Banff National Park, so you can enjoy some of the sights there as well.
---
When is the Best Time to Visit Athabasca Falls?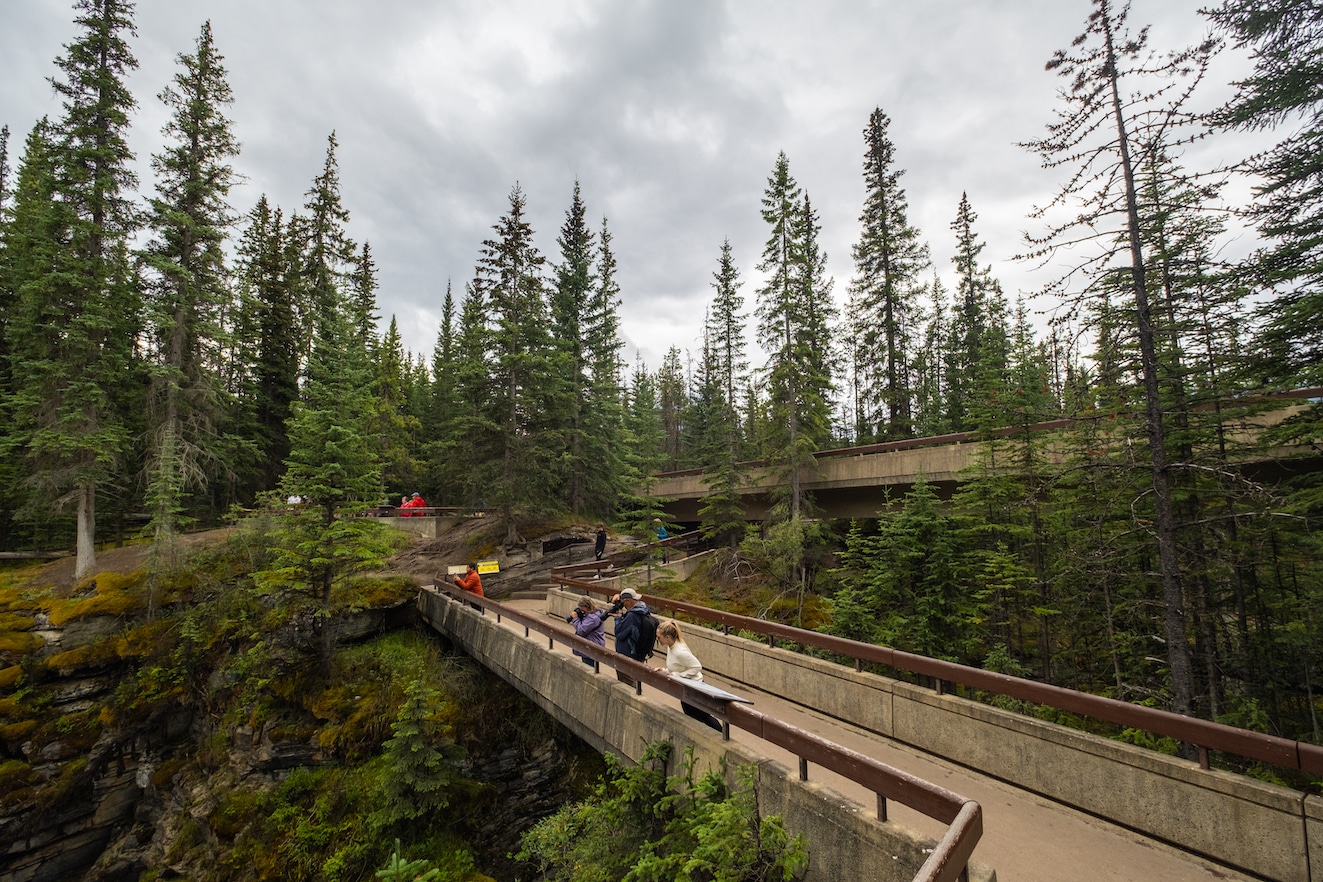 While many of the attractions are inaccessible during the harsh winter months, Athabasca Falls can be enjoyed any time of year and each season has something different to offer when it comes to the natural beauty of the terrain.
In autumn, the area is engulfed in the golden hue of the changing leaves. The temperatures are nice this time of year too so you'll have the best conditions for hiking and exploring.
In winter, the landscape transforms into a white wonderland that can only be described as magical. The waterfall itself is still as the cascades are turned to ice. You won't hear the deafening roar of the rushing water and the peace and quiet makes this otherworldly landscape seem even more surreal.
Just be sure to check road and weather conditions before you head out to make sure there are no closures on the Icefields Parkway.
In spring, that peace and quiet is shattered when the waterfall thaws and the fresh snowmelt turns it into a thunderous roar. Don't be fooled though; that thunderous roar is just as soothing!
In summer, the water calms down but there's still plenty of it so you can enjoy seeing and hearing the power of Athabasca Falls. The weather is warmer so you can spend more time exploring the area including the places that aren't as accessible in the colder months. The only downside is there are plenty of other people dying to see Athabasca Falls in thes summer, and you'll have to arrive before 8am to have the area to yourself.
No matter what season you visit Athabasca Falls, it's best to go in the morning or late afternoon when the crowds have thinned out. This gives you a better chance to get some great photos and enjoy it at its most peaceful.
---
Flora and Fauna Around Athabasca Falls
If you expect to see a lot of plant and animal life at Athabasca Falls, you won't be disappointed. This is the Rocky Mountains of Alberta, after all, so don't be surprised if you spot a variety of bird species and perhaps even a deer, elk, bighorn sheep, wolf, bear, or even an elusive mountain lion. If your main goal is to spot some wildlife, the best times to go are early in the morning or just before dark. Make sure to give wildlife plenty of space.
The plant life is just as diverse and includes a healthy forest filled with alpine fir, Douglas fir, Lodgepole pine and Engelmann spruce.
---
Unique Features of Athabasca Falls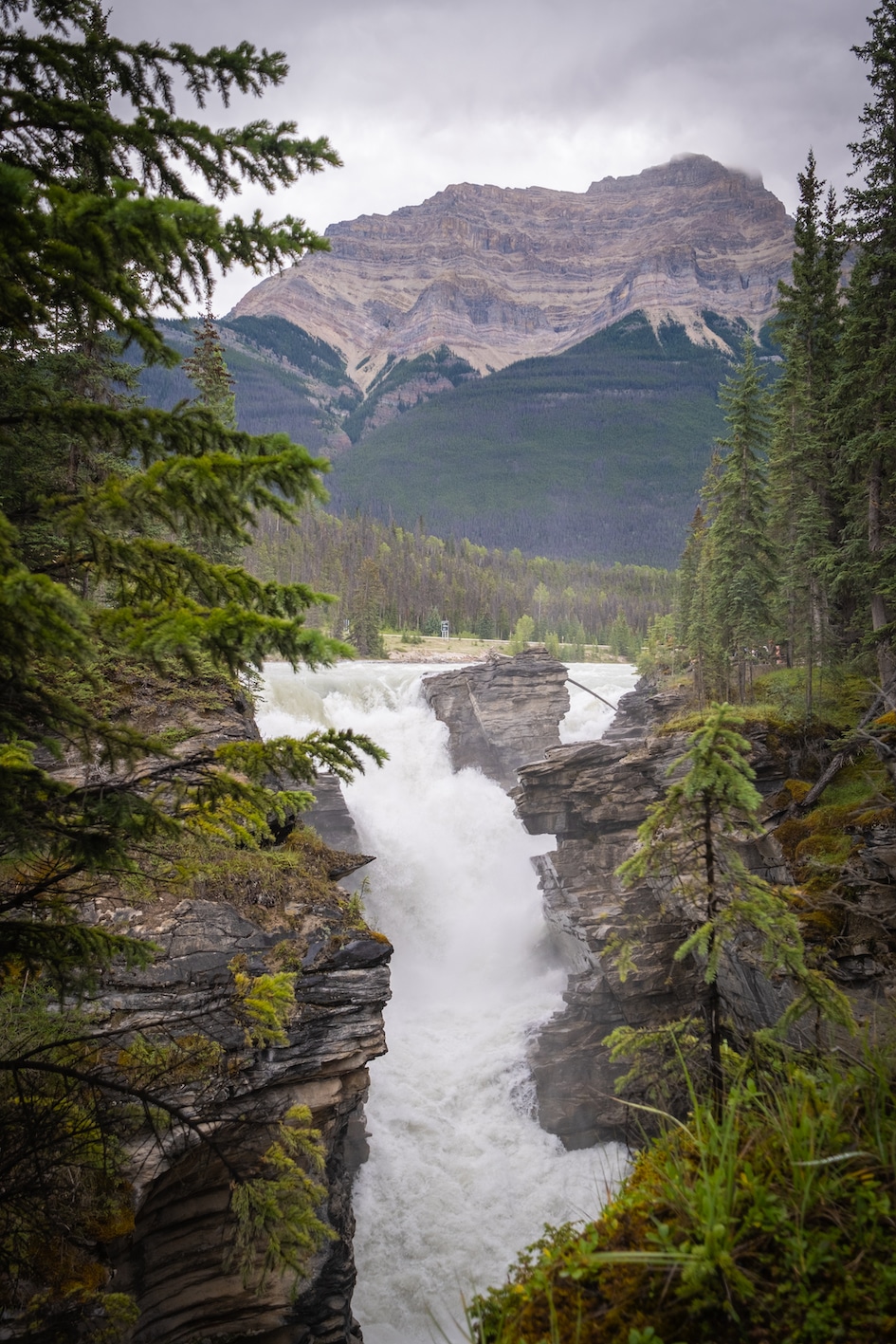 Besides the stunning backdrop and diverse flora and fauna, Athabasca Falls has some other intriguing features.
The water is so forceful that it carves out shapes in the rocks and some have been hit so hard by the force of the water that there are holes right through them!
In winter, it's the ice that takes on unique shapes to create stunning, naturally-made ice sculptures.
Another fascinating feature at Athabasca Falls is the fact that the water changes color with the seasons. This color change is caused by the glacial erosion that creates rock flour that also changes with the seasons.
---
Is it Free to Visit Athabasca Falls?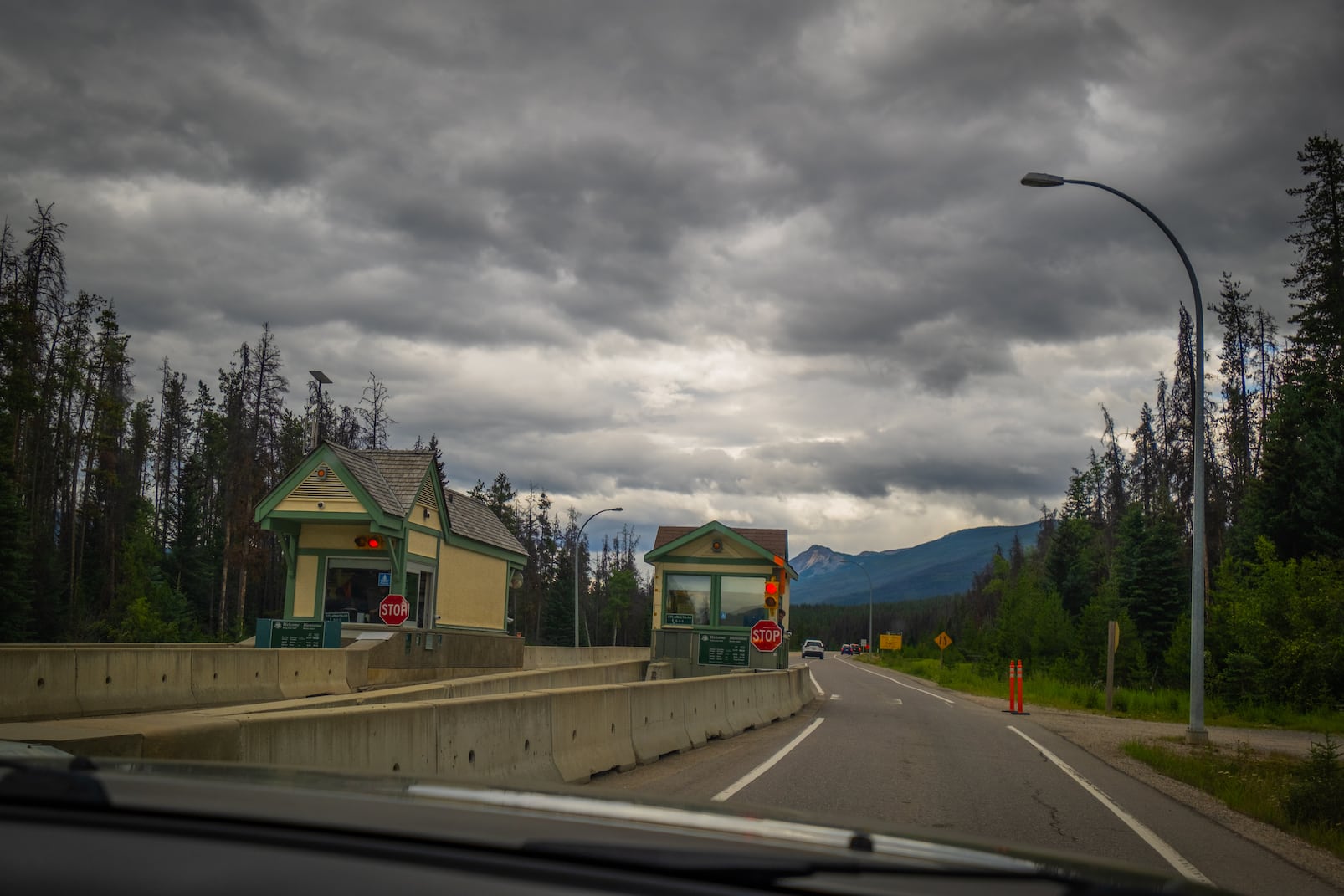 By now, you may be wondering how much it costs to visit Athabasca Falls. Well, you'll be happy to hear that it doesn't cost anything! The only fee you'll pay is for the Parks Canada Pass needed to access Banff and Jasper National Park.
This day pass costs $10.50 per adult and allows access to all the attractions within the park. You can purchase this pass online before your visit or purchase it at the kiosks before you hop on the Icefields Parkway. You can also purchase multi-day passes or the Discovery Pass which allows access to all the national parks in Canada, including nearby Banff National Park.
If you decide to take your vehicle to Athabasca Falls, there is a spacious parking lot on site and there's no extra fee to park there. For visitors with accessibility needs, the path from the parking area to the falls is wheelchair-accessible. Toilets and picnic tables are located on-site.
ULTIMATE Guide To Purchasing A Banff Park Pass (Parks Canada Pass)
---
How to Get to Athabasca Falls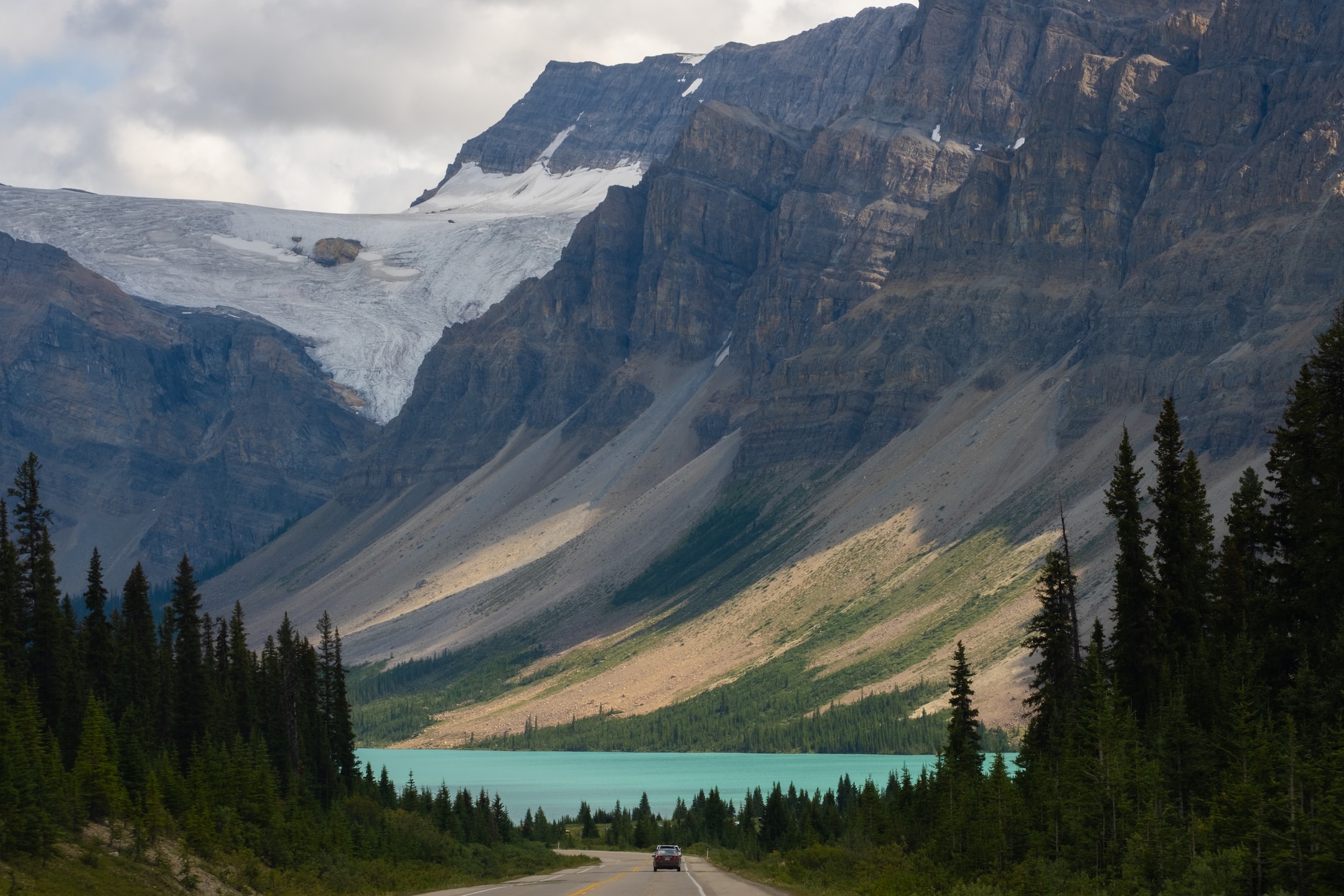 From Jasper: To get to the waterfall from the town of Jasper, you'll need to get on the Icefields Parkway, also known as Highway 93, and drive for about 32 kilometers before reaching the trailhead. The drive takes about 30 minutes, without any stops, however there are a few amazing places to stop between Jasper and Athabasca Falls, including Honeymoon Lake, Horseshoe Lake, and the Valley of the Five Lakes Trailhead (if you want to hike!) Venture a bit past Athabasca Falls for the most epic view from the Goats & Glaciers Lookout.
From Banff: From Lake Louise to Athabasca Falls will take 2 hr 20 min (200.8 km) via AB-93 N. If driving from Banff to Jasper along the Icefields Parkway, Athabasca Falls will be near the end of your journey before you get to the Town of Jasper. It will take 2.5 hours without any stops from Lake Louise, though it's likely you'll stop A LOT at sights like Bow Lake, Peyto Lake, Tangle Creek Falls and more!
---
Parking at Athabasca Falls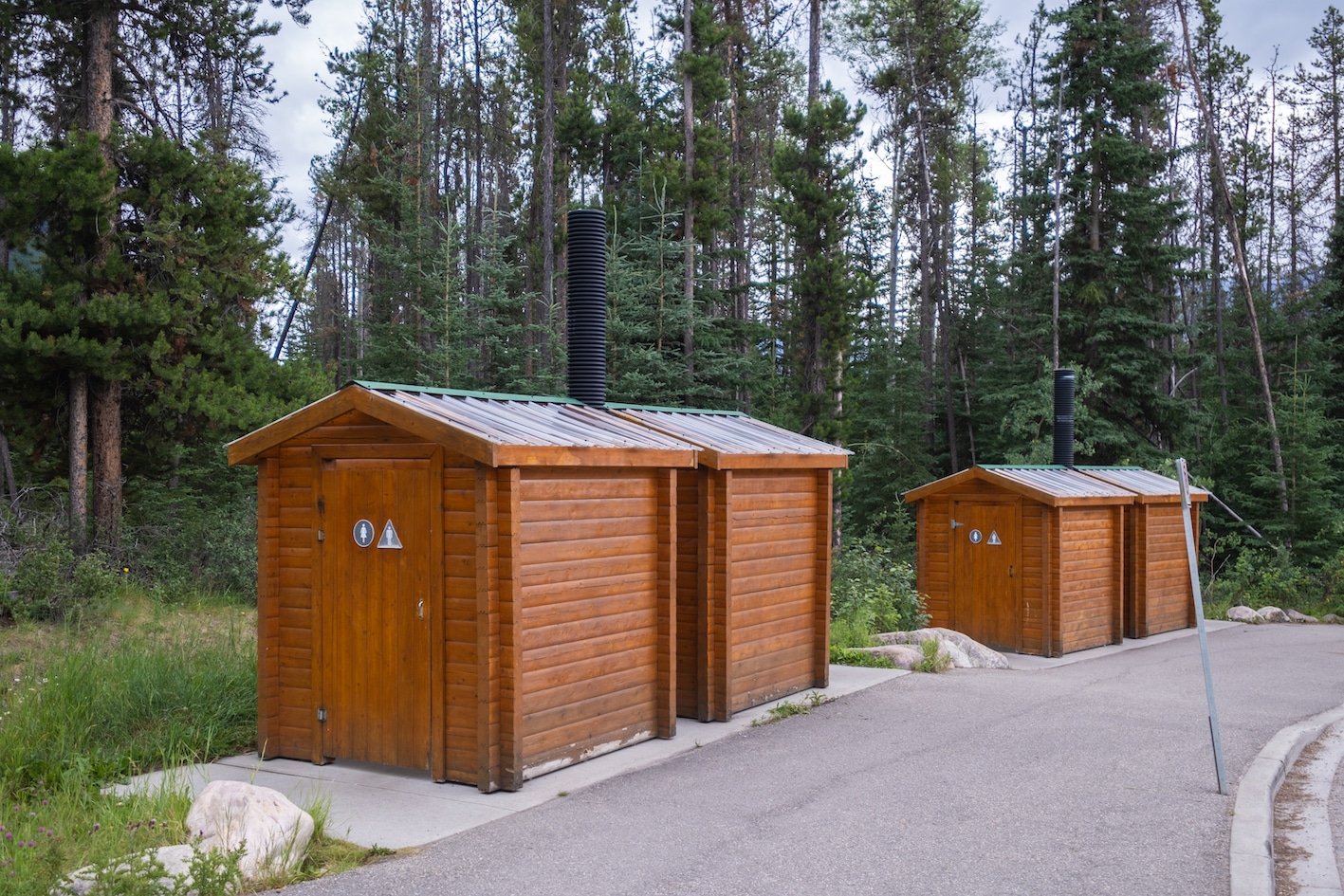 There is a large parking area for Athabasca Falls. It's free to park, and even in the middle of summer, we have never had an issue getting parking at Athabasca Falls.
---
Other Things to Do Near Athabasca Falls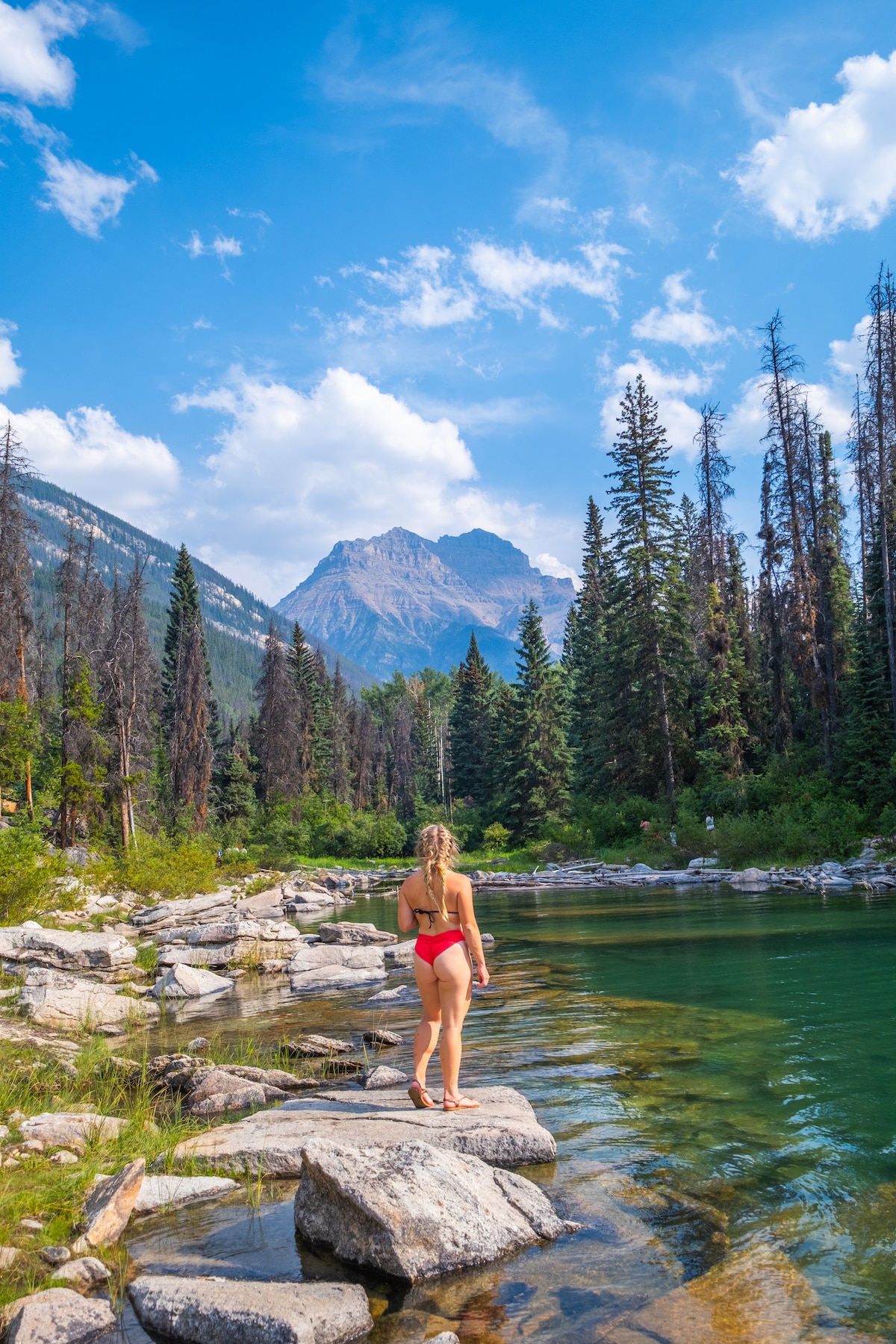 Athabasca Falls are located on the Icefields Parkway, and if you're visiting them, it's likely you have taken the whole day to drive the road. There are plenty of other amazing things to do in Jasper. Nearby to Athabasca Falls, you can find many natural attractions.
Sunwapta Falls
Sunwapta Falls is another highly recommended and easily accessible attraction near Athabasca Falls. Comprising upper and lower falls fed by the Athabasca Glacier, the upper falls, being more accessible, tend to be busier. However, a 1.3 km hike leads to the lower falls, offering a less crowded but equally spectacular experience. Whether in summer or winter, both sets of falls are captivating and well worth a visit.
Horseshoe Lake
Merely a 20-minute drive from Jasper along the Icefields Parkway, Horseshoe Lake is a hidden gem that often escapes the notice of many visitors. However, it's a destination well deserving of a stop! This expansive lake is uniquely shaped like a horseshoe, surrounded by cliffs that offer adventurous souls the opportunity to leap into the refreshing Canadian waters. Several jumping points are available, with whispers of the highest platform reaching an impressive 80 feet. Prioritize safety by thoroughly assessing your landing before taking the plunge. In addition to cliff jumping, Horseshoe Lake offers a serene setting for summer paddling enthusiasts to enjoy.
Valley of Five Lakes Trailhead
This easy hike stands out as a quintessential Jasper hike and is likely the park's most widely appreciated. The trailhead is easily found along Highway 93, just before reaching Downtown Jasper. This straightforward hike unfolds along a well-maintained and relatively flat path, showcasing five picturesque lakes. The trail's ease of navigation allows hikers to appreciate the beauty of the lakes, each displaying a spectrum of mesmerizing blue and green hues. If you have time to hike in your itinerary, the Valley of the Five Lakes is a great one!
Goats and Glaciers Lookout
The Goats & Glaciers lookout stands true to its name— this is a scenic point along the Icefields Parkway offering a panoramic view of the Athabasca River, framed by the imposing Mount Kerkeslin. This spot is known for attracting mountain goats that come to lick salt from the riverbank, though we have never seen any goats when we stop! It's a brief yet delightful stop, perfect for capturing memorable photos. Be attentive to spot the pull-off on your left when traveling from Banff to Jasper as it's super easy to miss!
---
How Busy is Athabasca Falls?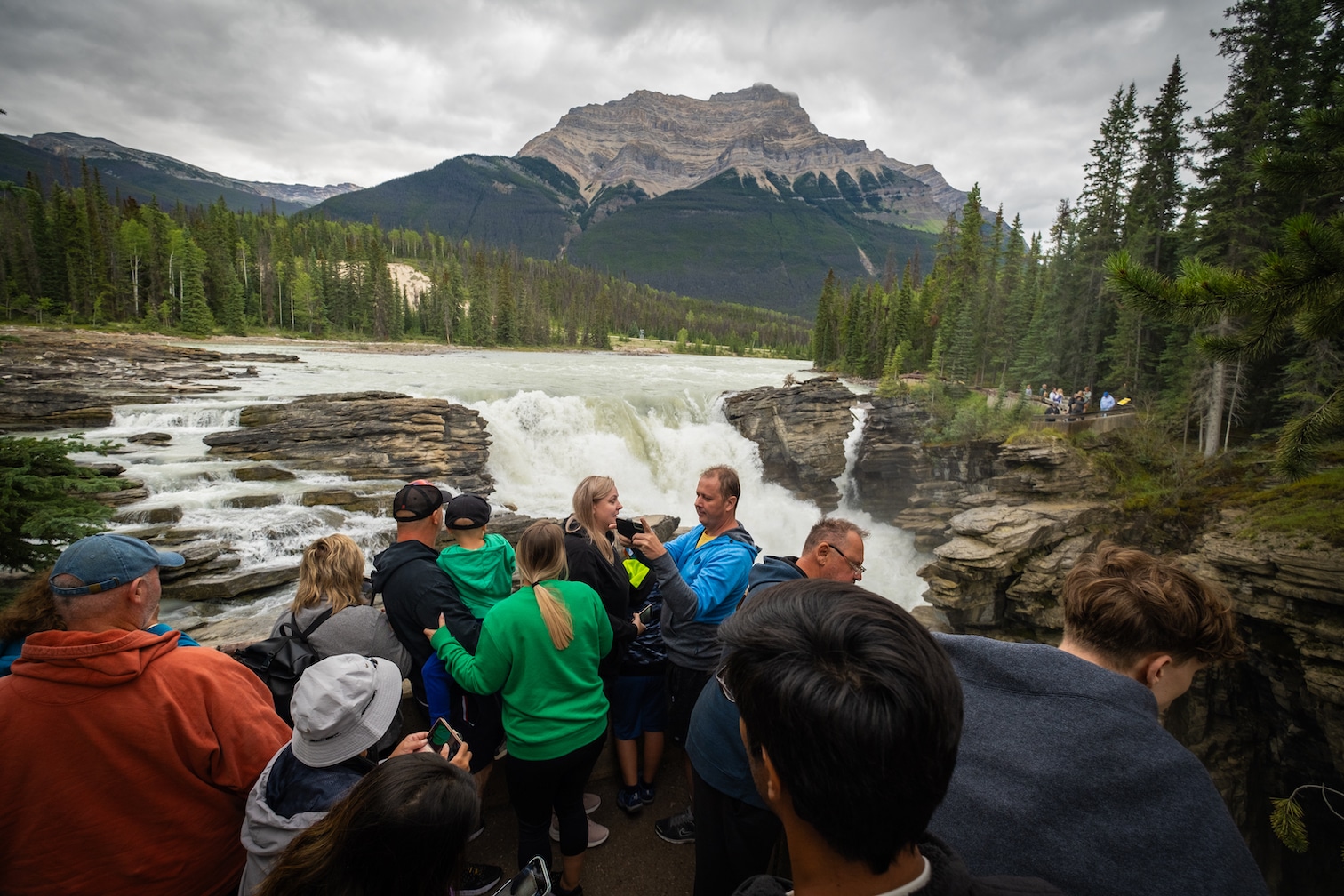 Athabasca Falls is a popular stop along the Icefields Parkway, given its proximity to Jasper and ease of access. Between June and September, it's unlikely you'll have Athabasca Falls to yourself unless you plan on arriving well before 8am or after 7pm.
That being said, during the shoulder season and Jasper winter months, Athabasca Falls is far from busy, especially on weekdays.
---
Can You Visit Athabasca Falls in Winter?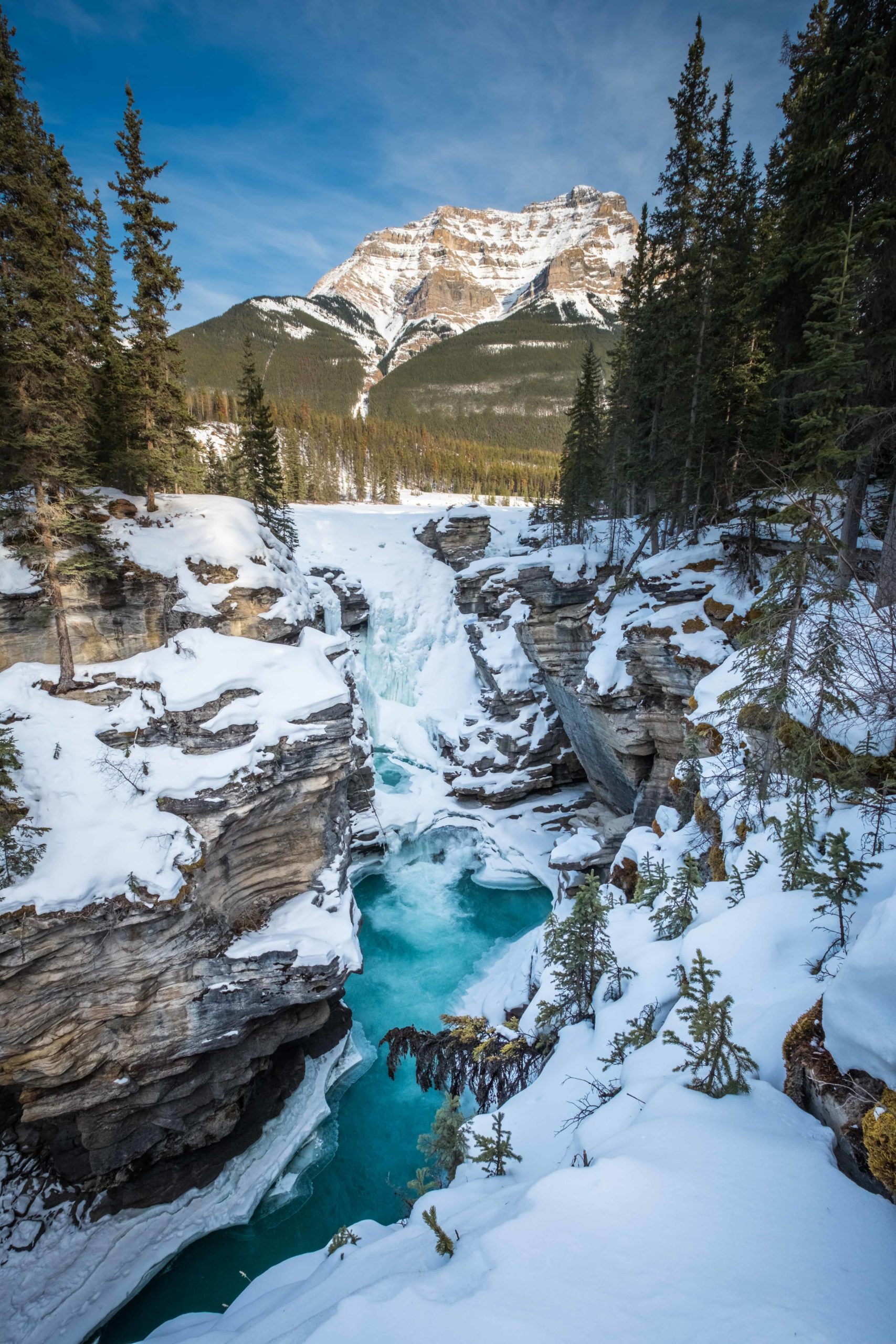 It's definitely possible to visit Athabasca Falls in the winter, and it's a gorgeous site! In my opinion, visiting Athabasca Falls in the winter is prettier than visiting in the summer, there are far fewer people around too!
There's something special about seeing a frozen waterfall as the surrounding peaks are covered in a fresh layer of snow. Though keep in mind that road conditions on the Icefields Parkway in the winter can deteriorate quickly, and it's imperative to check beforehand what conditions are on Alberta 5.11. We do not recommend driving the Icefields Parkway if it's snowing heavily.
---
Other Hikes in Jasper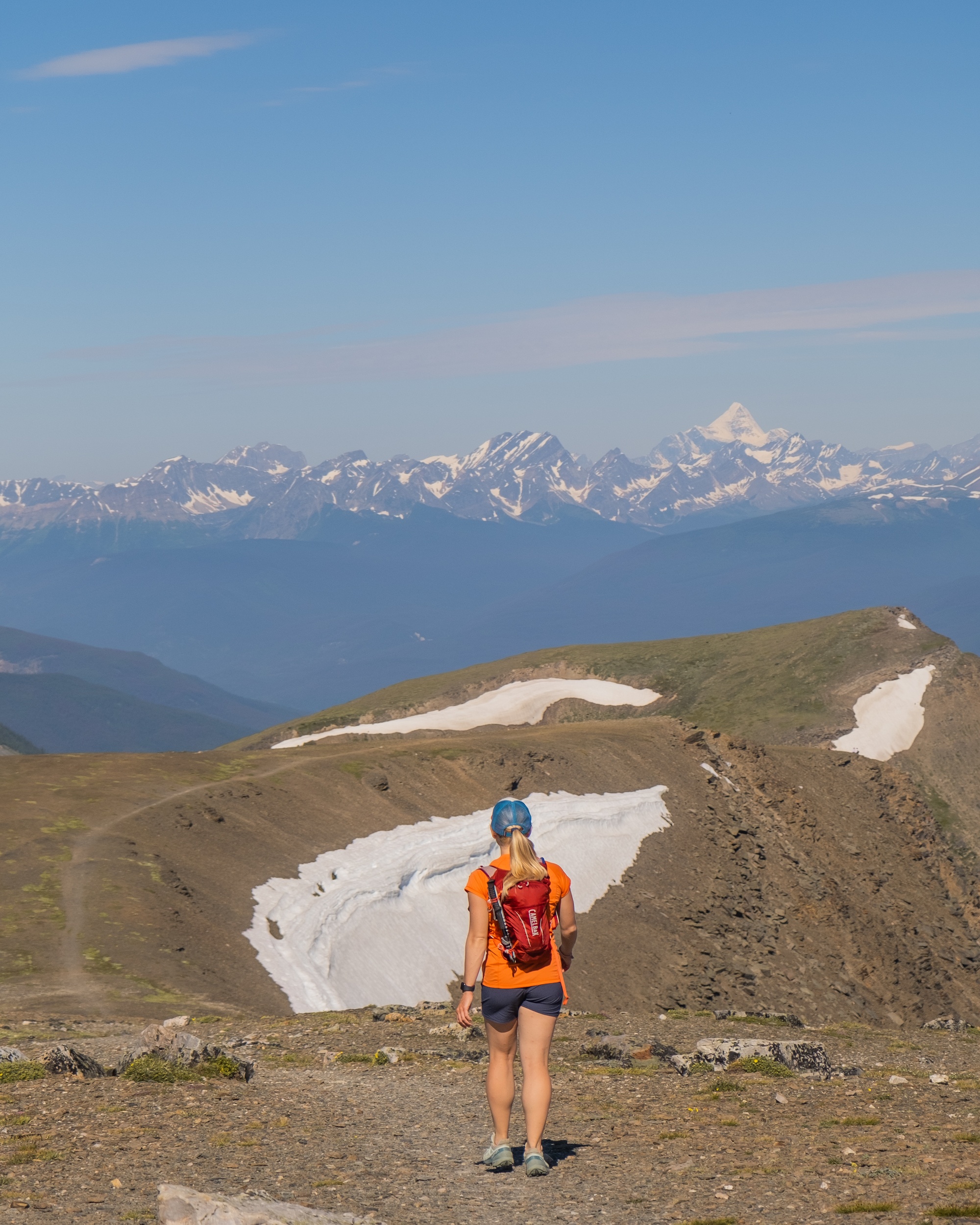 Looking for more of a hike in Jasper? There are plenty of beautiful hikes ranging from just a few hour outing to a full day hike!
Maligne Canyon (Easy)
Maligne Canyon is a classic hike in Jasper that is both wonderful in peak summer and winter. Carved slowly out of limestone over the years by the rushing waters within, the deep canyon walls reach nearly 200 feet in places, making it one of the most dramatic sights in Jasper National Park. It's accessible in both the summer and winter!
Edith Cavell Meadows (Moderate)
On the hike, you can expect alpine meadows, glacial lakes, a huge hanging glacier, sweeping views, and the towering Mount Edith Cavell. It's a real standout amongst the Jasper hikes and one that most visitors to the park absolutely rave about.
Whistler's Summit (Easy)
You can enjoy the views and restaurant from the top of the Jasper Skytram, but you can also continue to summit Whistler's Mountain. The Jasper Skytram assists you most of the way, but a 20-30 minute hike further will get you to the Whistler's Summit.
20 STUNNING Jasper Hikes You Shouldn't Miss
---
Plan Your Trip to the Canadian Rockies