The lakes around Banff National Park are a prime place to go for a SUP or stand up paddleboard in the summer months once they unthaw. It's one of our favorite ways to relax in the park and it's often we find ourselves alone on the water. What's great is you don't have to own one yourself as you're able to rent them from a number of locations in town.
See Also:
---
Where to Stand Up Paddleboard in Banff
---
The Bow River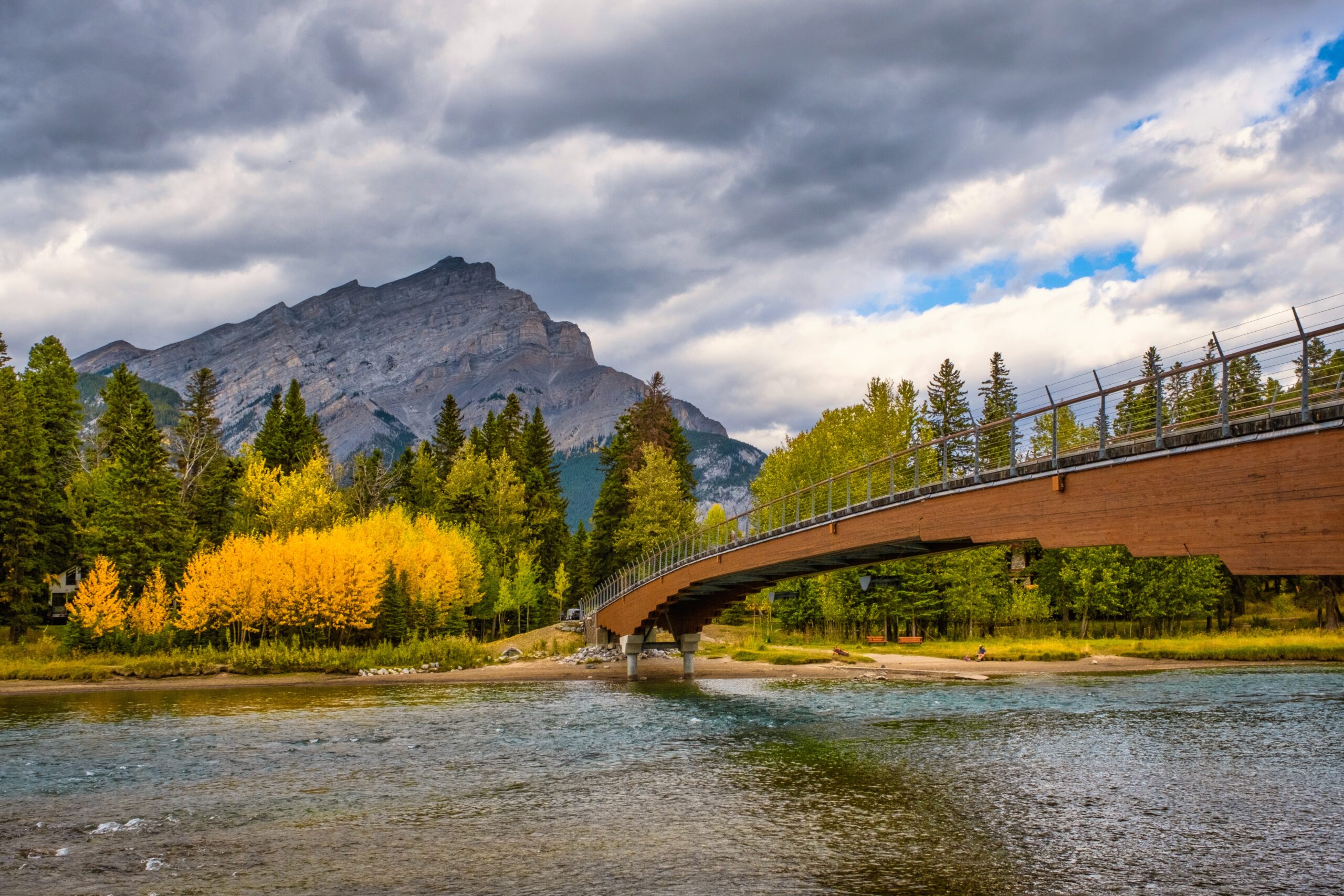 You don't have to go far if you're staying in downtown Banff if you want to rent a SUP. It's a short walk from the center of town to the Banff Canoe Club where you can rent a canoe, kayak, or SUP. Rental options range from hourly to daily.
From the Banff Canoe Club head up the Bow River in search of some beautiful natural scenery. The section of the Bow River is calm and has plenty of space for beginners to explore.
---
Vermilion Lakes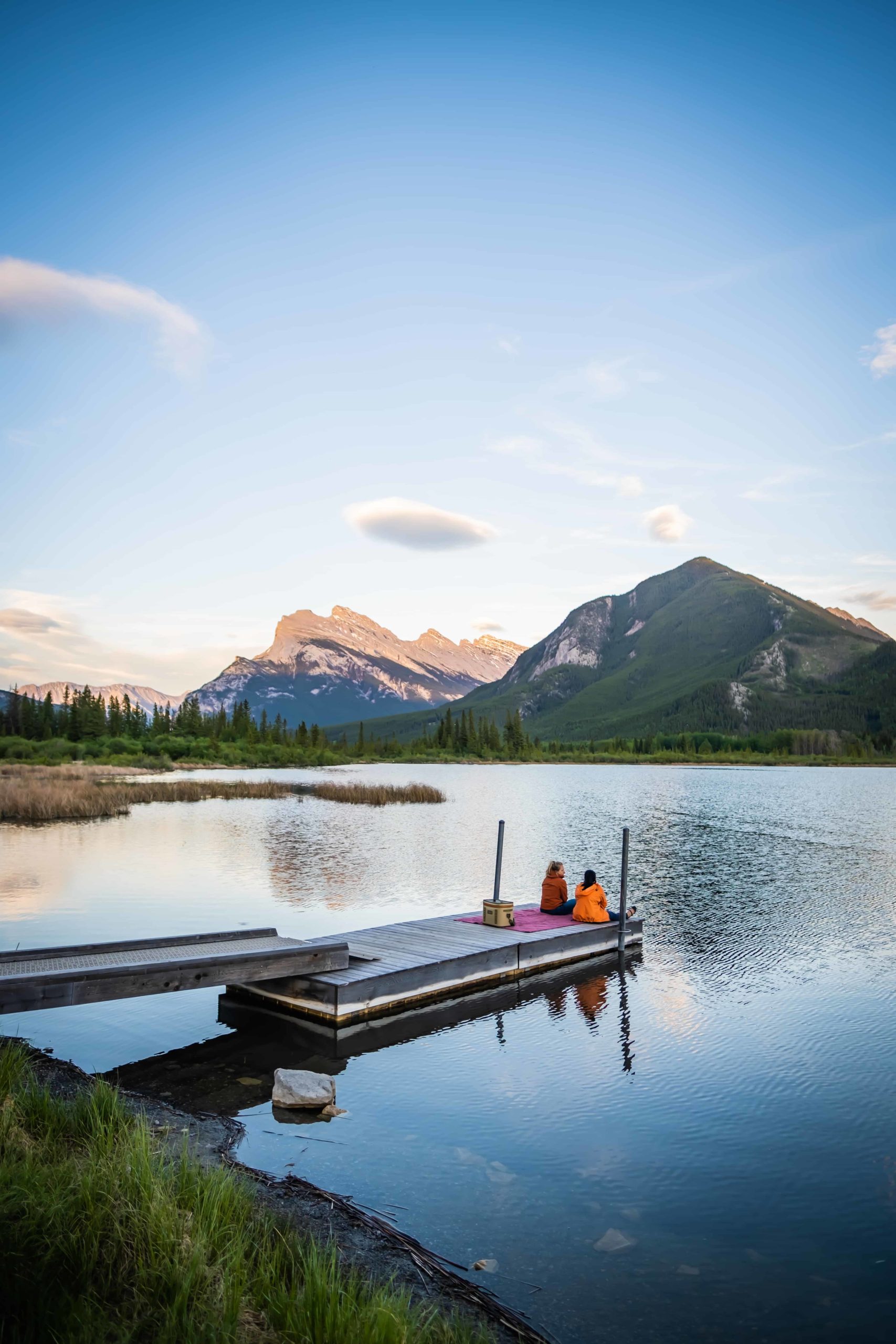 Vermilion Lakes is largely a marsh so it doesn't hold the brilliant blue waters like many of the other lakes around Banff, but it still makes for an incredible place to SUP. The lakes are well protected by the winds and the shallow water means that the waters remain calm on most days so it's an easier place to canoe kayak or SUP.
Vermilion Lakes are prime habitat for wildlife and it's a well-known spot for birders. We've personally seen beavers, bald eagles, owls, elk, muskrats, and herons. The docks also make it easy to enter the water and you don't even have to get your feet wet.
---
Johnson Lake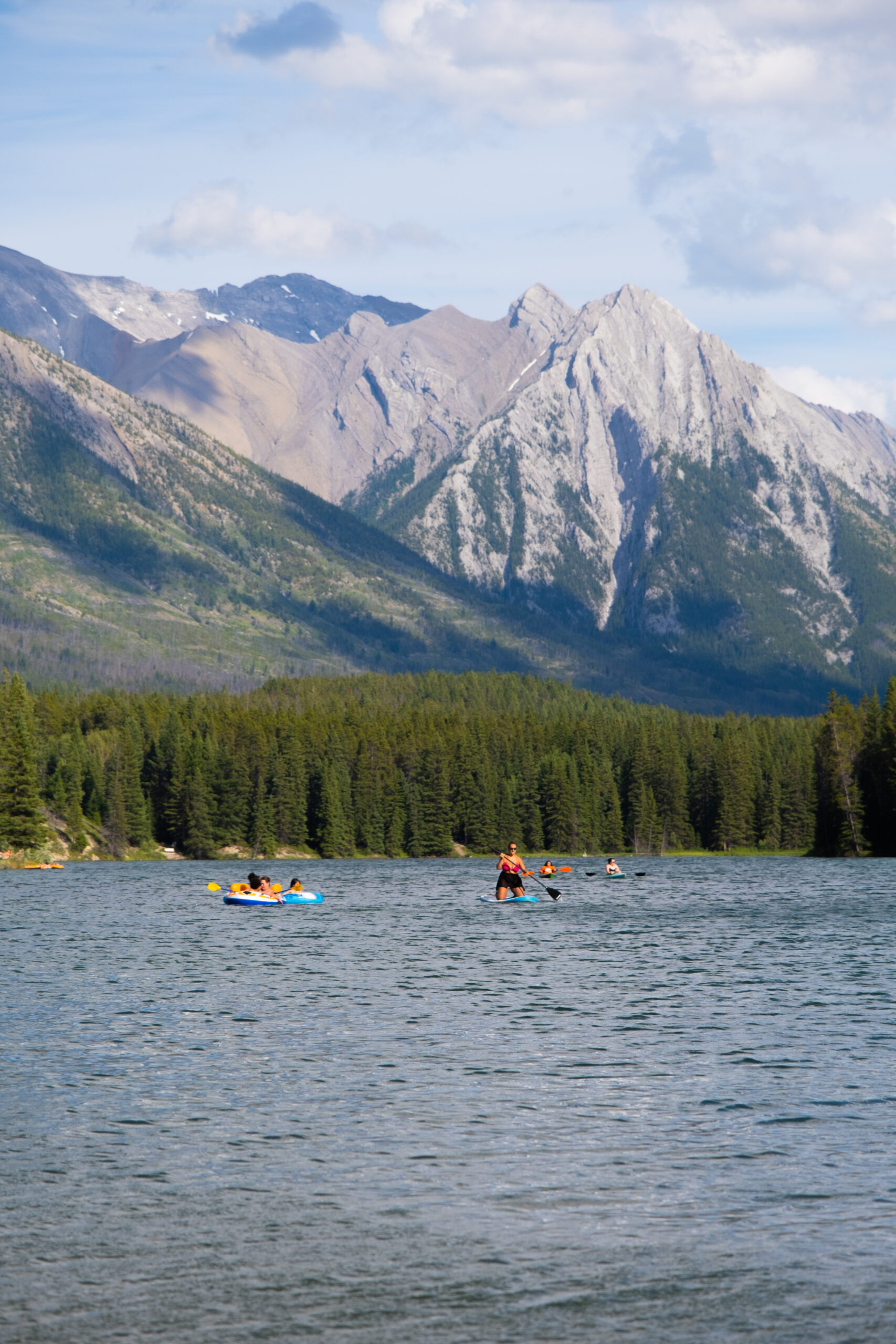 Johnson Lake is a quiet one lake just off the road to Lake Minnewanka. It's manageable size lack of crowds and protection from the wind makes it s a great spot to SUP in Banff. We love it for an evening or morning paddle as it's not too far from Banff town and very close to Two Jack Lake campsite.
The lake offers some astounding views out over the lake back to Cascade Mountain looming high above. The lake is tranquil and a great place to go stand up paddleboarding or even take a swim if you're brave enough. Keep an eye out for a rope swing!
---
Two Jack Lake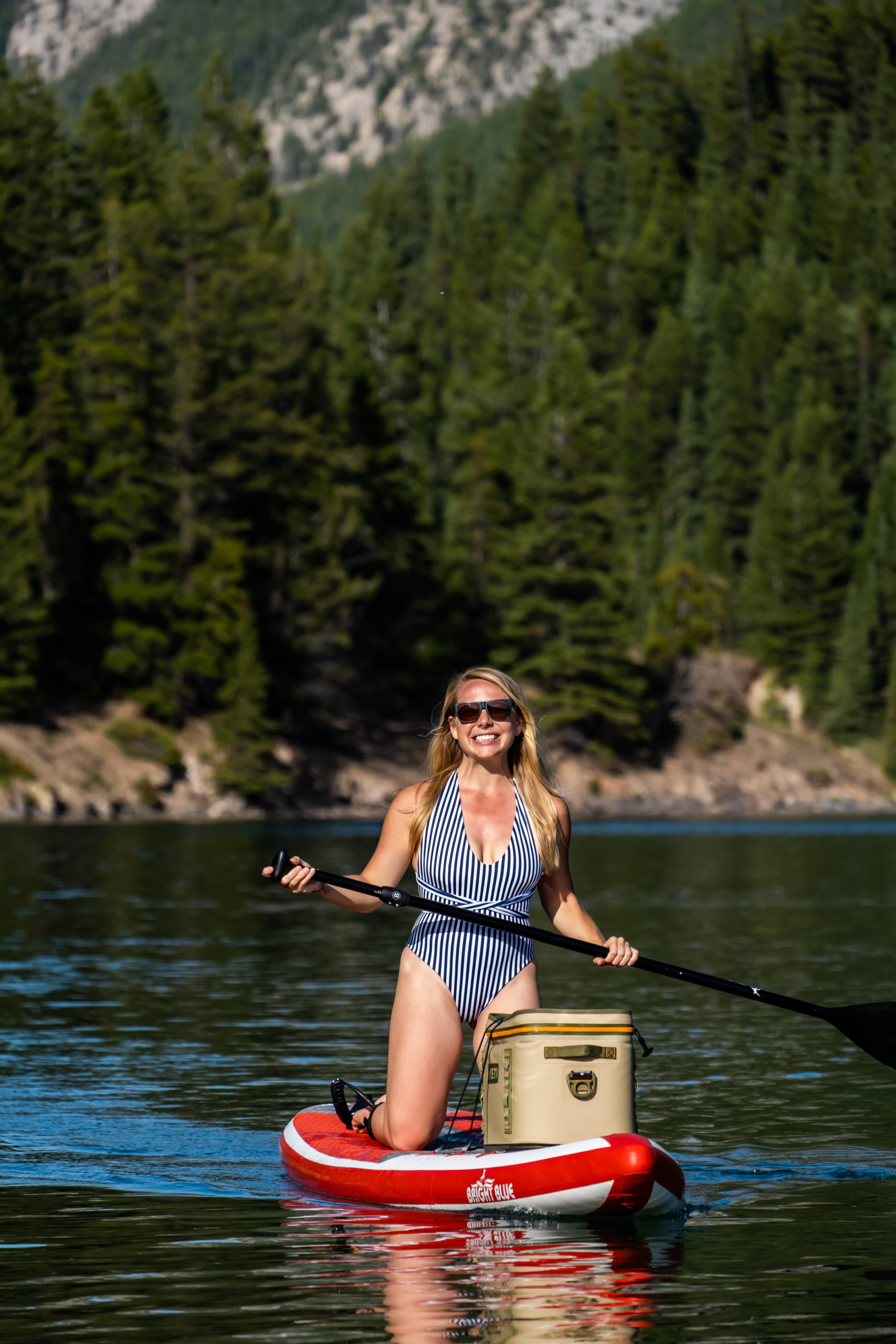 Just a ten-minute drive away from Banff is the scenic Two Jack Lake. Jack is one of the most photographed lakes in the Canadian Rockies, due to its awesome views of Mount Rundle. Its water is not quite as blue as other lakes in the park, but there is a teal tint that in the right light is striking. It's the steep forested banks on its sides that protect the lake from wind and the surrounding mountain views are fantastic.
It's one of the most popular places to paddle in the park so don't expect to be alone on a nice day. However, it's also a bit of fun as everyone is in good spirits swimming, kayaking, or even floating around. We love to bring a packed lunch and enjoy our time on the lake.
---
Waterfowl Lakes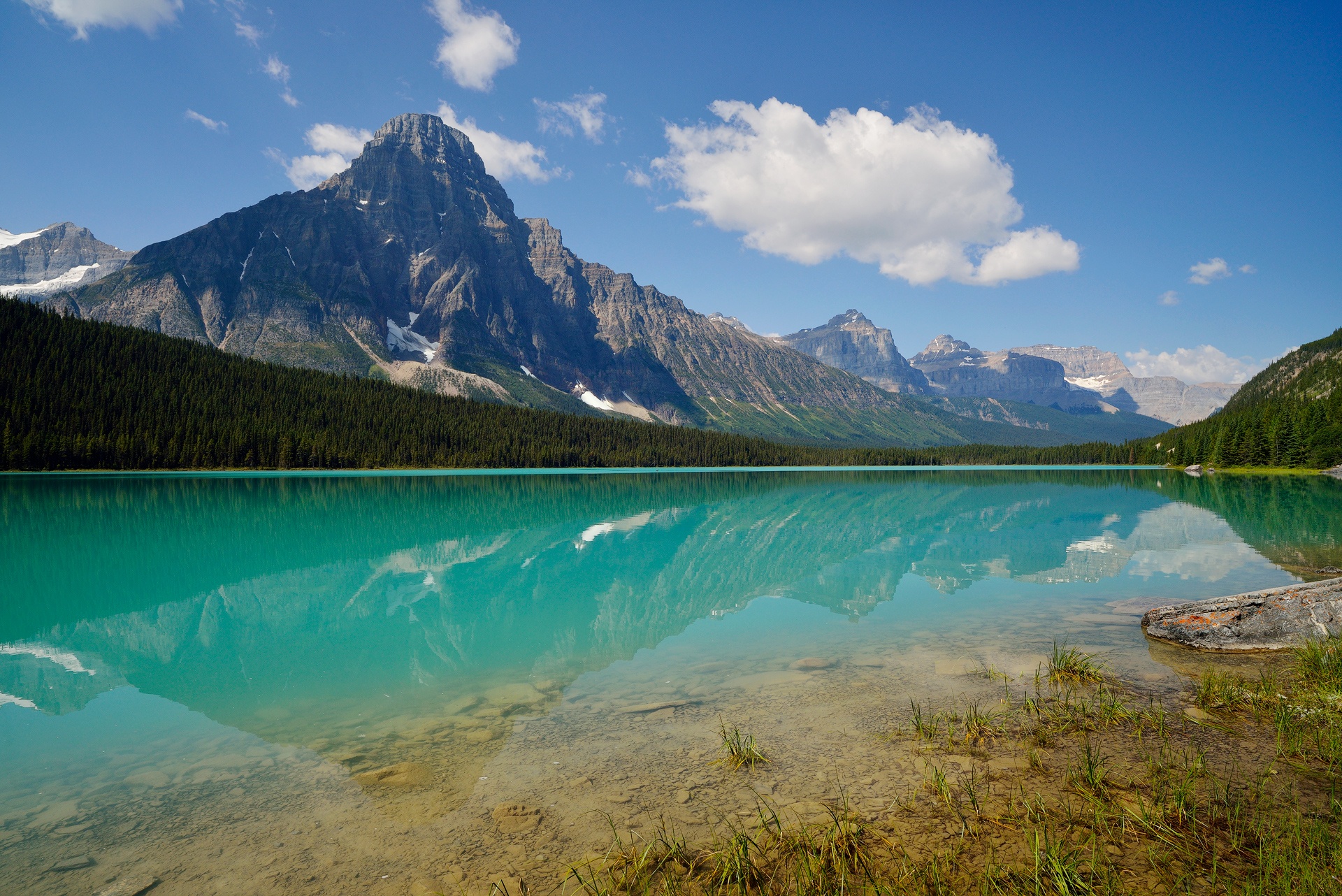 The Waterfowl lakes are two relaxed lakes in the park that see a fraction of the visitors you'll see the other lakes on this list. They're also very conveniently on either side of the Waterfowl Lakes Campground which we consider one of the best campsites in Banff National Park. The two lakes are glacial and have the classic blue color that radiates on a sunny day.
Even if you're not staying at the campground there is a public parking lot that provides access to hiking trails around the lake and a classic Banff hike up to Chephren Lake. The hike is pretty mild up to the lake so we've been debating carrying our inflatable paddle boards up in backpacks to Chephren Lake, I'll update if we make the trek.
---
Lake Louise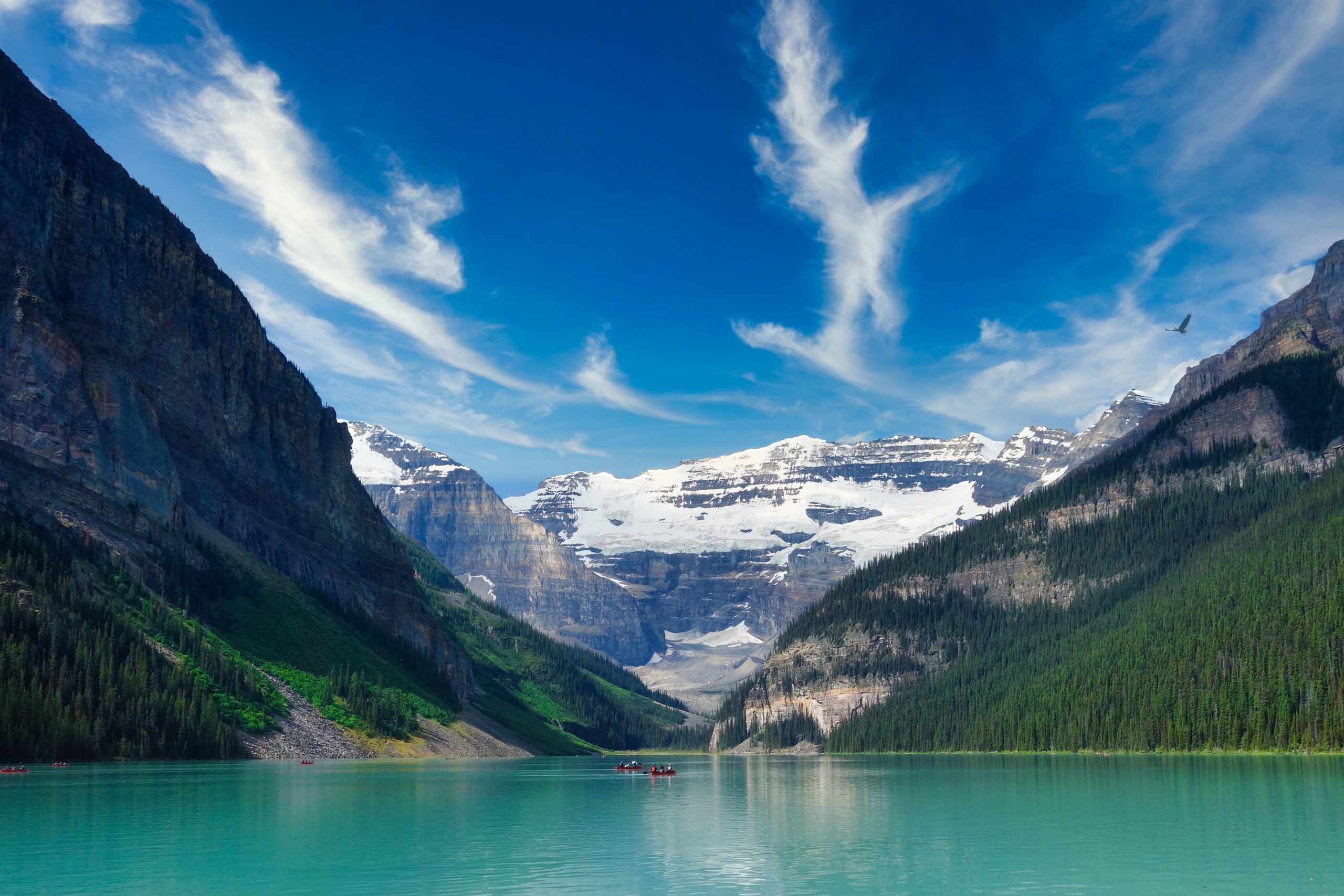 Lake Louise is one of the most spectacular scenes in the world. It's tough to find a more spectacular scene to paddle through as you look out to Mount Victoria and the hanging Victoria glacier. No need for fancy edits on your photographs the water in Lake Louise like Moraine Lake is truly that radiant turquoise blue.
You can pick up canoe rentals at the Lake Louise boathouse. However, if you have plans to SUP you'll either need to arrive early in the morning to secure a lakeside parking spot. Or if you inflatable stand up paddle boards you can carry them in a bag on the shuttle bus to the lake. Truth be told it's really tough to beat a SUP on Lake Louise so it is worth the effort.
---
Moraine Lake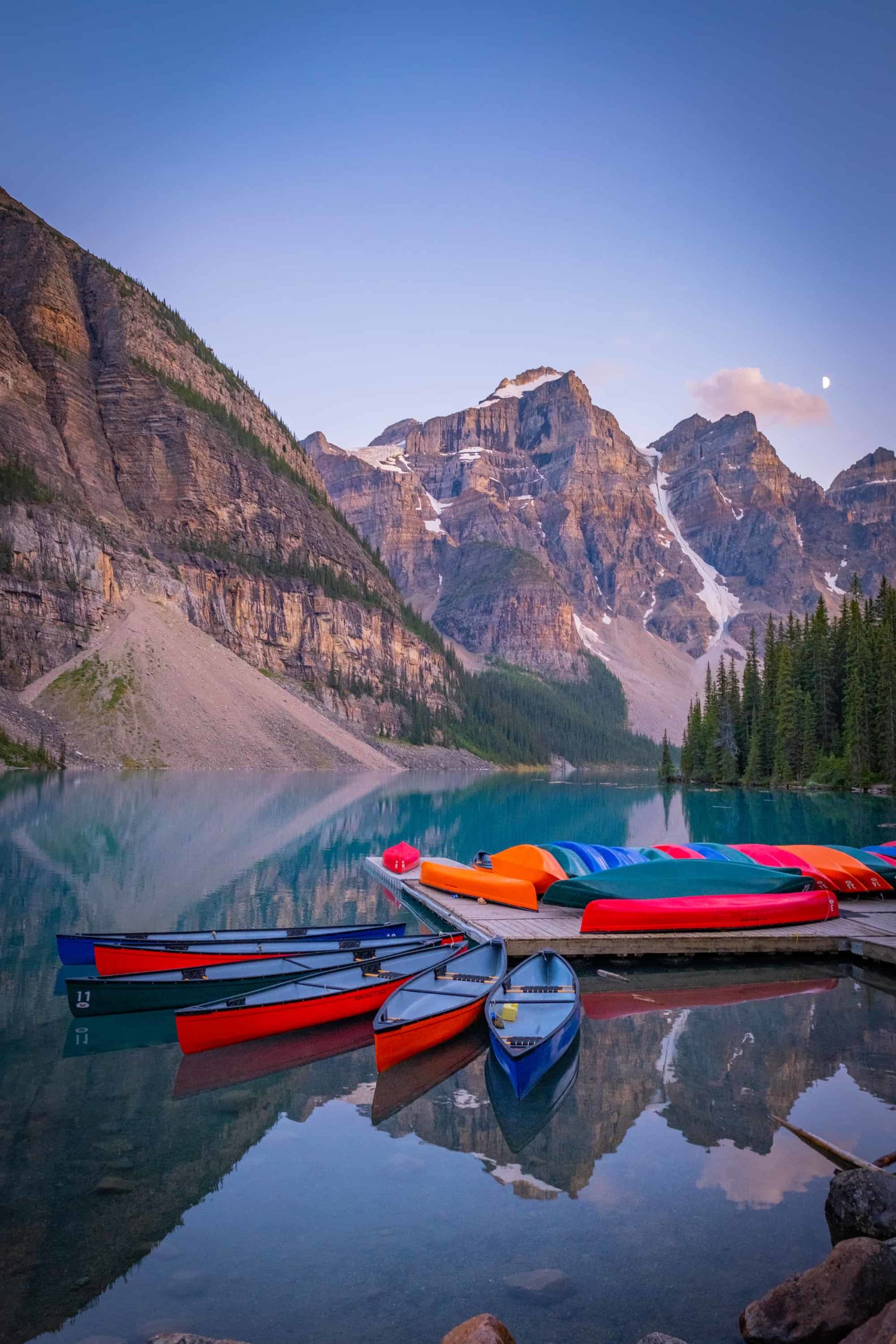 There is likely no lake in the world more beautiful to SUP than Moraine Lake. The turquoise waters of Moraine Lake are framed by the magnificent Ten Peaks for a splendid scene. It's an iconic view of Canada and at one point was on the back of the Canadian $20 bill.
To hop on a SUP here and paddle across the glacial waters is a memory you likely won't forget. Similar to Lake Louise it's going to take some work to be SUP at Moraine Lake, you'll need to bring your own as there are no rentals other than canoes.
---
Herbert Lake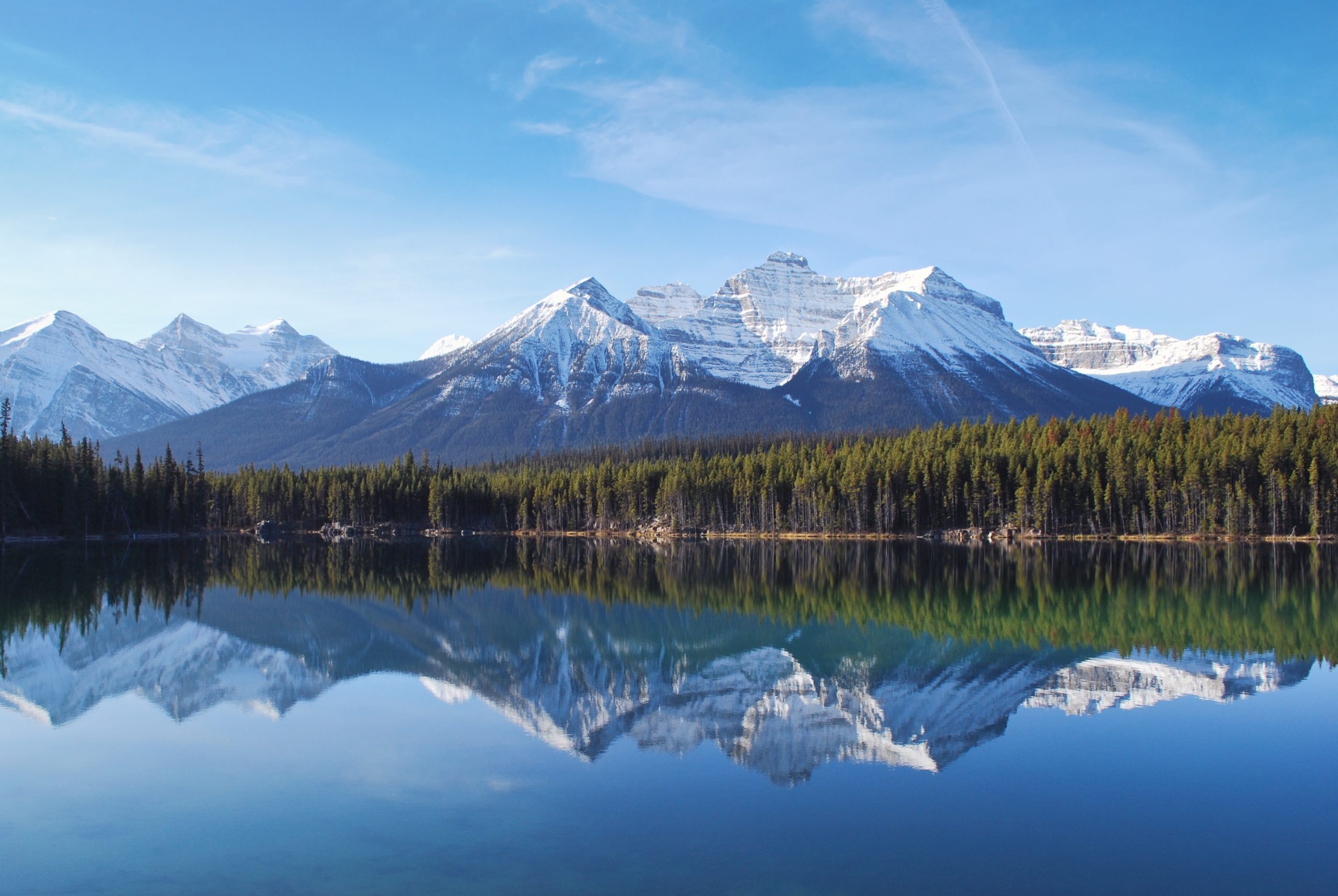 Herbert lake is a small lake just off the Icefields Parkway not long after you pass the park gates leaving the TransCanada highway. Its location and the fact that it's not considered a highlight in Banff means the lake remains quiet throughout the summer.
However, the lake is gorgeous and has some phenomenal mountain views from its waters. A picnic area right along the lake shores makes it easy to put a SUP in the water. While you're paddling around keep an eye out as there is a diving board if you're brave enough to take a dip in the frigid waters — make sure you pick a warm day.
---
Bow Lake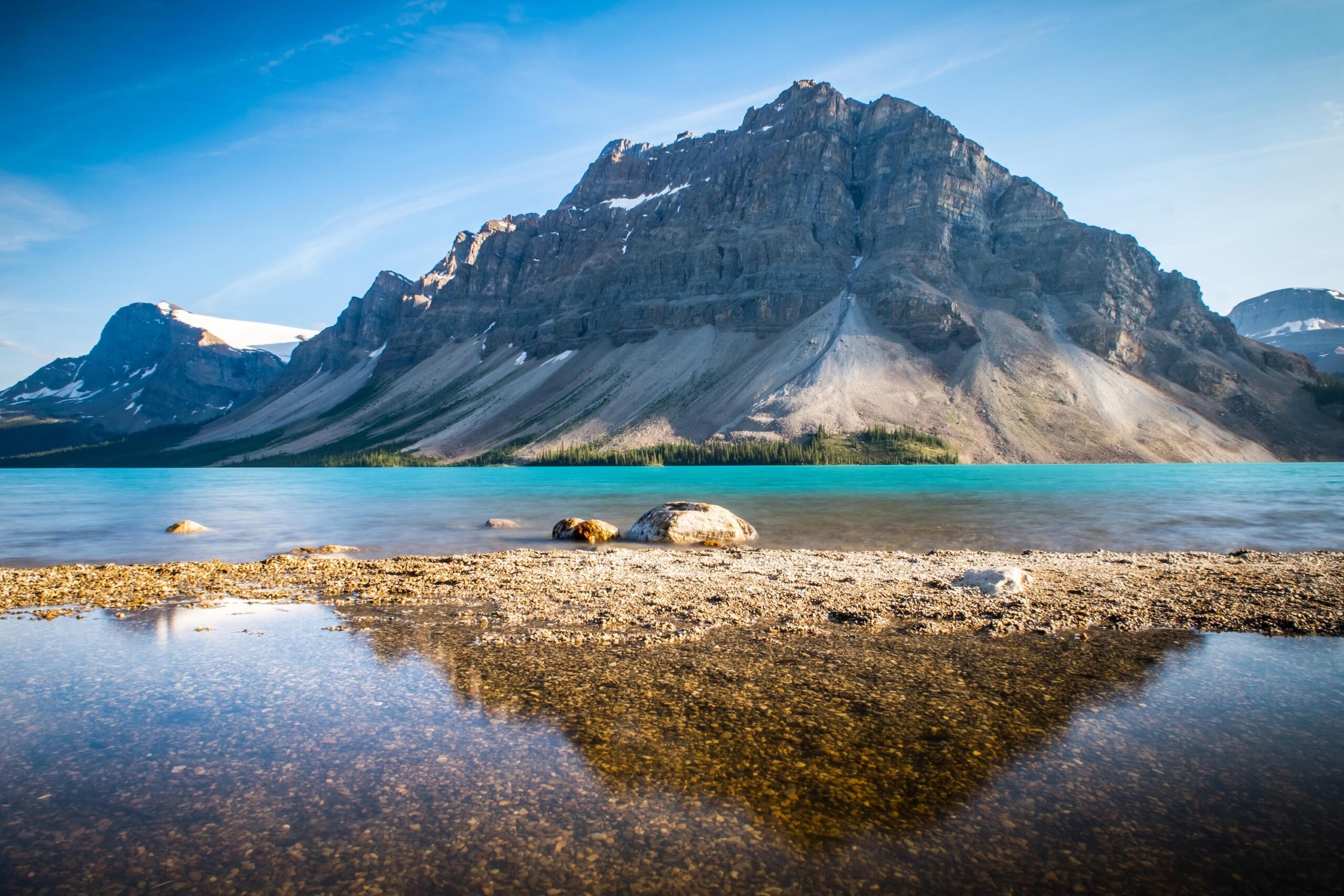 Bow Lake is arguably one of the most beautiful vistas in all of Banff so it makes for a prime spot to SUP. However, the lake is the largest one on this list and its position in the valley makes it very susceptible to winds.
It took us three separates attempts while on the Parkway to put our paddleboards here. So to be able to paddle on Bow Lake you'll need to catch it on a beautiful summer day with low wind.
---
Emerald Lake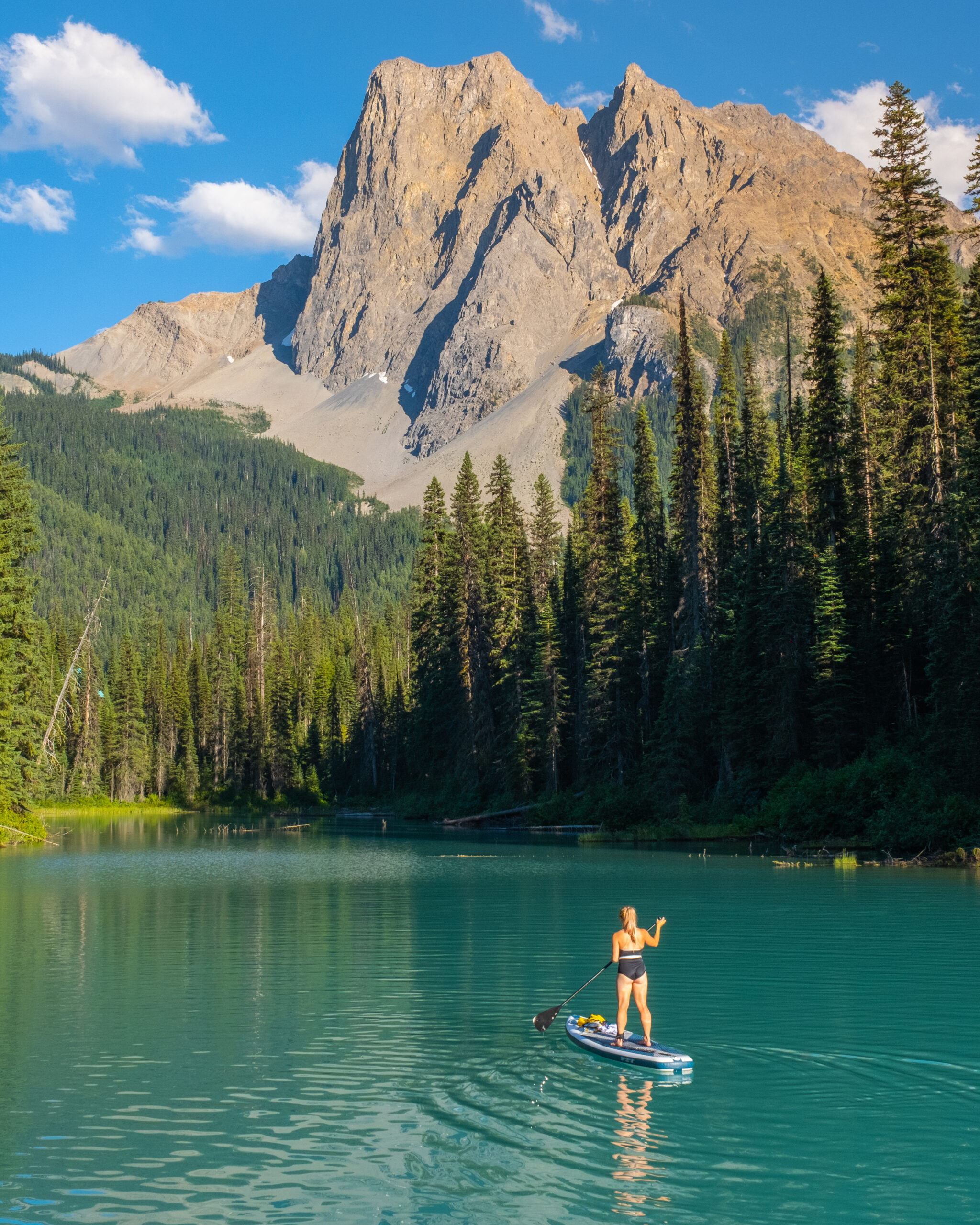 While it's not technically in Banff, Emerald Lake in Yoho National Park is too beautiful and convenient to reach not to include on this list. Parking here is a lot easier than at Lake Louise or Moraine Lake.
Sometimes you'll have to park pretty far from the lakeshore, that's when I like to drop our paddleboards off at the lake and then park afterward.
---
The Reservoir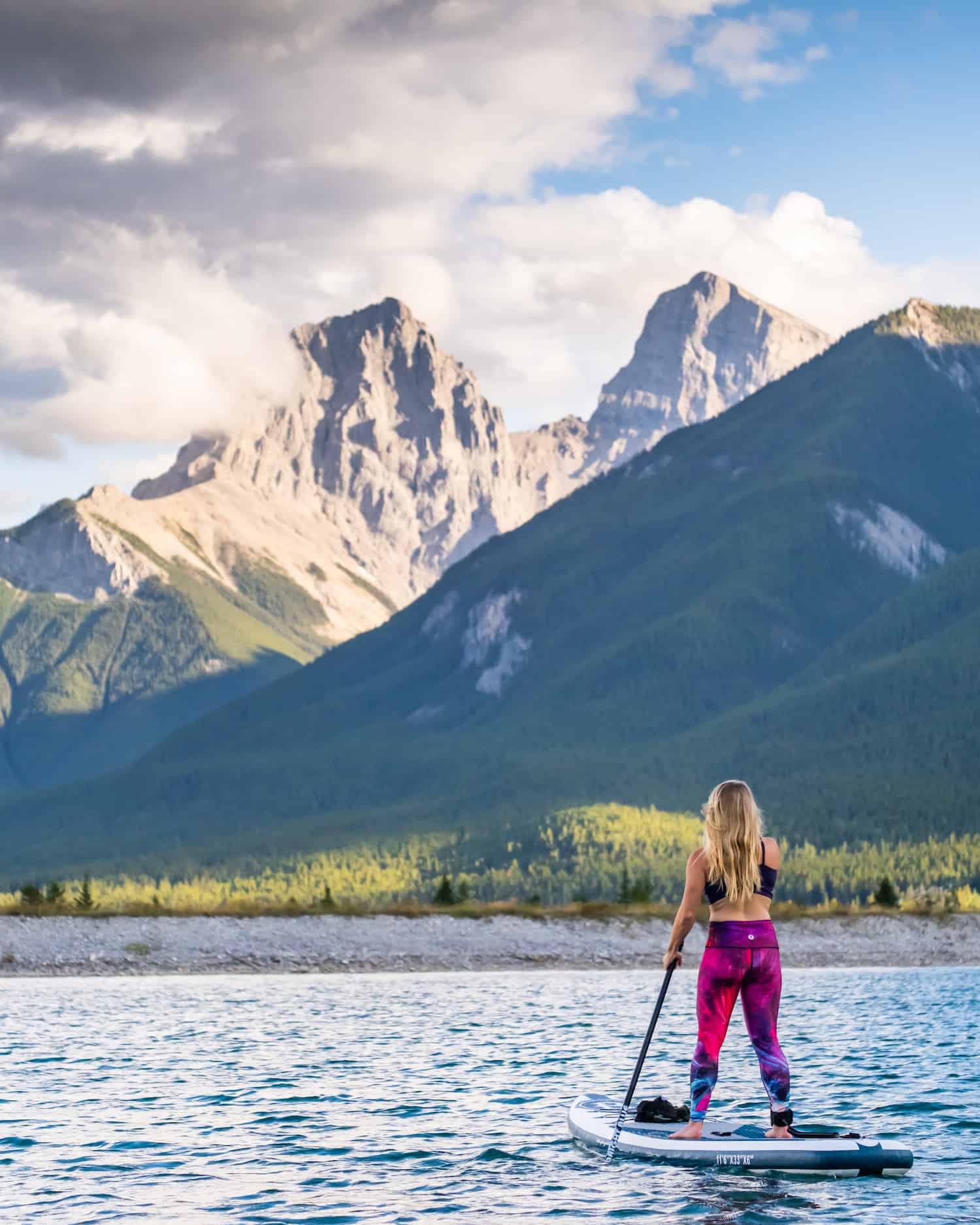 If you're staying in Canmore there are a plethora of places to go SUP in nearby Kananaskis Country. However, it's only a few minutes outside of town and probably the most popular spot for SUP in the town.
We often pop up here for a quick paddle when we're working from home. You have great views of Mount Rundle, the Three Sisters, and Ha Ling Peak.
---
Where to Rent a Stand Up Paddleboard in Banff
You have two options for stand up paddle board rentals in Banff at the Banff Canoe Club or the Adventure Hub. They both offer full-day rentals so you can take the rental out to any of the lakes on this list.
---
Sup Rental Rates at Banff Canoe Club
Daily Rate: $120
Hourly: $30
Wetsuit: $10