It's hard to narrow down the best of Banff because honestly, Banff is so amazing everywhere. However, if you came up to us on Banff Ave, and let us know that it's your first time exploring the park here is where we would tell you to go and check out. Make sure to check out the best things to do in Banff afterward!
---
The Best of Banff National Park
---
The Best Lake in Banff
---
Moraine Lake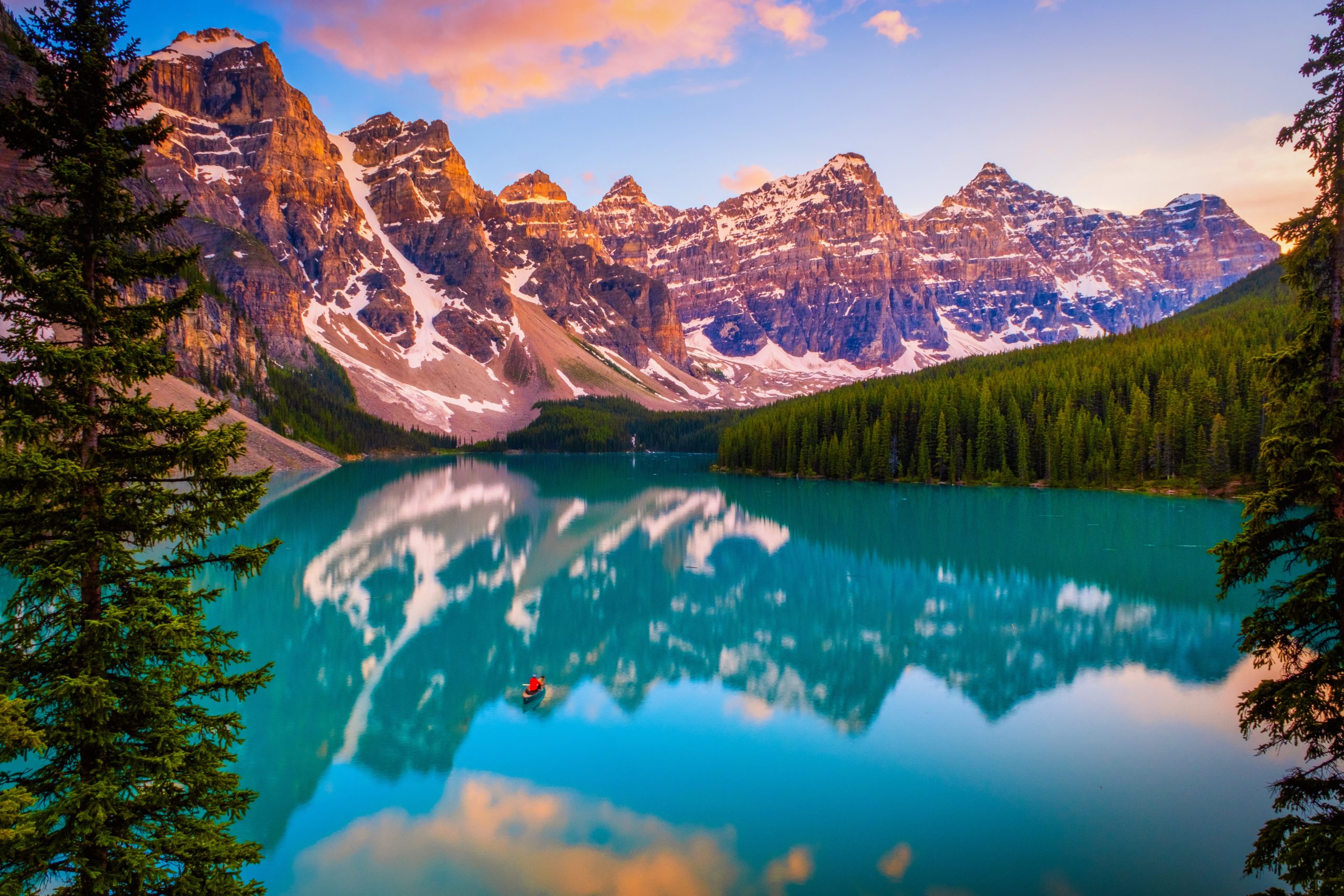 It's hard to mention the best of Banff and not refer to Moraine Lake. Moraine Lake is easily the most iconic lake in all of Canada and the lake was even featured on the Canadian twenty-dollar bill.
The brilliant turquoise color lake is set within a natural amphitheater called the Ten Peaks that tower above the lake. It is a magnificent sight to see in person and there is hardly a more soul-stirring scene on earth.
Moraine Lake is about an hour's drive away from Banff town, and only twenty minutes further than Lake Louise. With its popularity and millions of Instagram location tags you'll have to arrive around 5 am to grab a parking spot between June and September.
Moraine has more or less transitioned fully to a reservation system. Previously you could purchase a ticket for a shuttle bus from Lake Louise on a first-come-first-serve basis, but that is no longer the case as a reservation is required.
My other favorite lakes in Banff
---
The Best Mountain View in Banff
Vermilion Lakes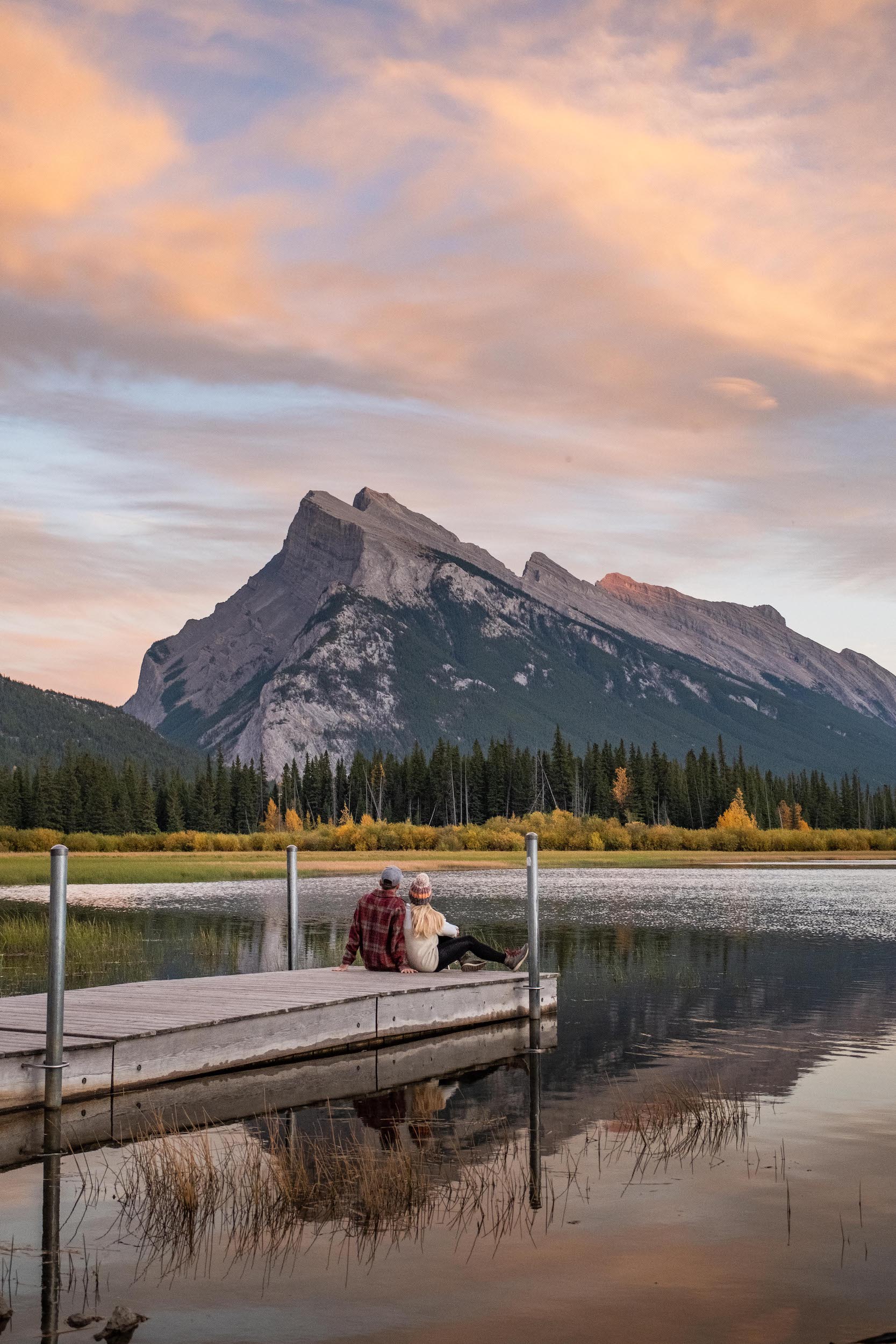 Whenever we want to enjoy some time in the mountains without having to put the effort of hiking in we head for Vermilion Lakes with a drink in hand. It's our favorite chill spot in all of Banff.
Vermilion Lakes is largely a marsh so it doesn't hold the brilliant blue waters like many of the other lakes around Banff, but it still makes for an incredible place to enjoy the park and get views of Mount Rundle.
The lakes are well protected by the winds and the shallow water means that the waters remain calm on most days so it's an easier place to canoe, kayak, or SUP.
Some of my other favorite mountain views
Castle Mountain Lookout
Sulphur Mountain
---
The Best Sunrise Spot in Banff
Two Jack Lake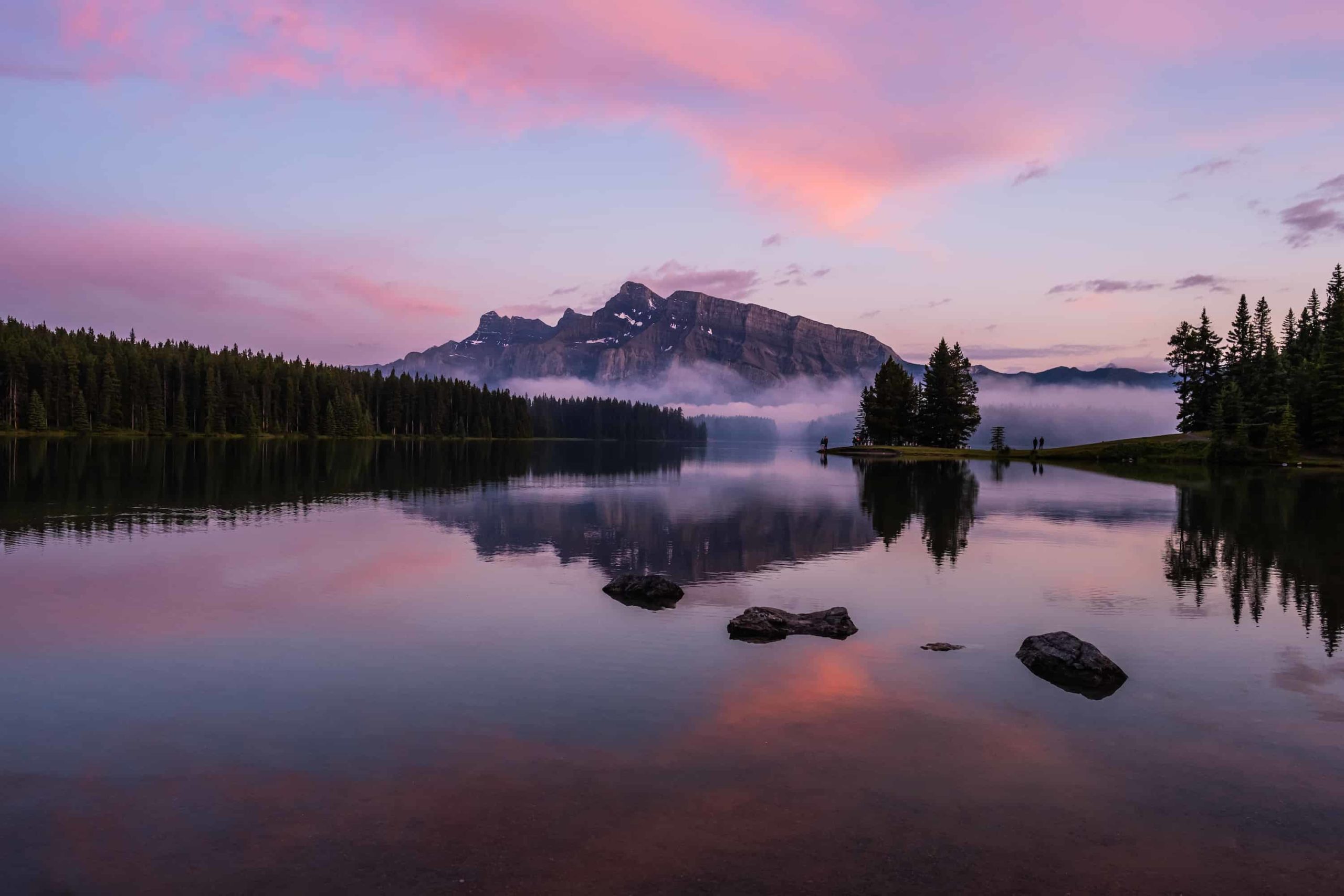 If you are looking for an epic sunrise spot in Banff head to Two Jack Lake. While Two Jack Lake is not a glacial-fed lake and is not nearly as blue as Moraine Lake mentioned above, it's still a must-visit in Banff.
It's only a short drive away from town and besides being a fantastic lake to canoe on, sup on, or even swim in it's also one of the most photographed spots in the park. Thanks to its neverending views of Mount Rundle photographers flock from all over to get a sot of Two Jack Lake.
Head here for sunrise (or sunset is honestly good too) and you might get lucky with a cotton candy sky. The best news is you don't have to try too hard to get a stellar photograph here. Right from the shore will give you fantastic views and images.
Other great sunrise spots
---
The Best Sunset Spot in Banff
Peyto Lake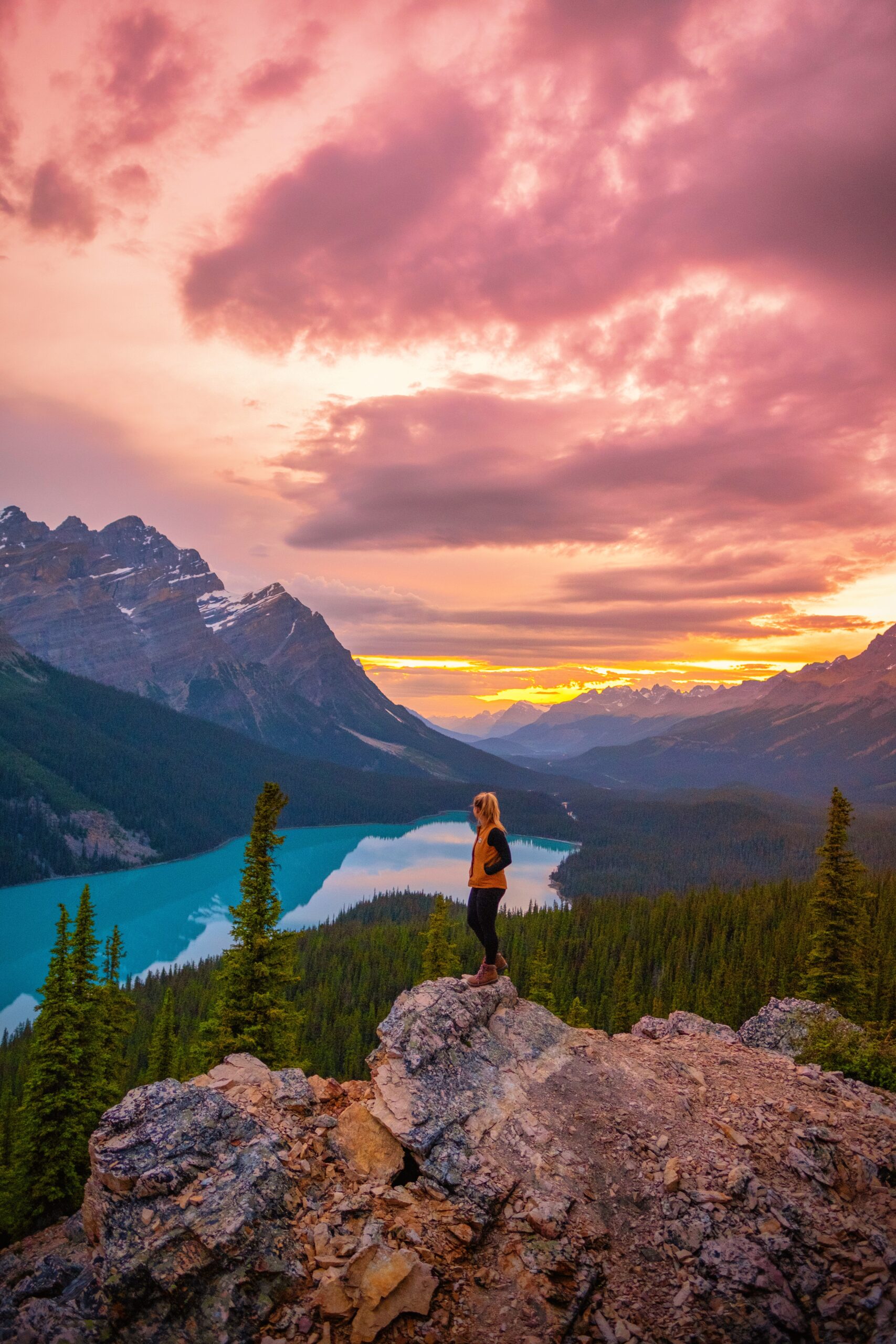 I love heading to Peyto Lake for sunset and getting views over the entire Icefield Parkway.
Peyto Lake is the most visited lake in Banff after Moraine and Lake Louise. It's another one that is easily accessible and only requires a short uphill hike to reach the viewpoint. It's a must-stop while driving the Icefield Parkway, especially in the summer when the brilliant display of blue is fed by the Peyto Glacier high above the lake and part of the Wapta Icefield.
The view from the viewpoint is one of the most spectacular in all of Banff National Park and a super popular spot for photographers. If you get lucky you can get an epic sunset here with beautiful colors.
Other great sunset spots
---
The Best Hike in Banff
Mount Bourgeau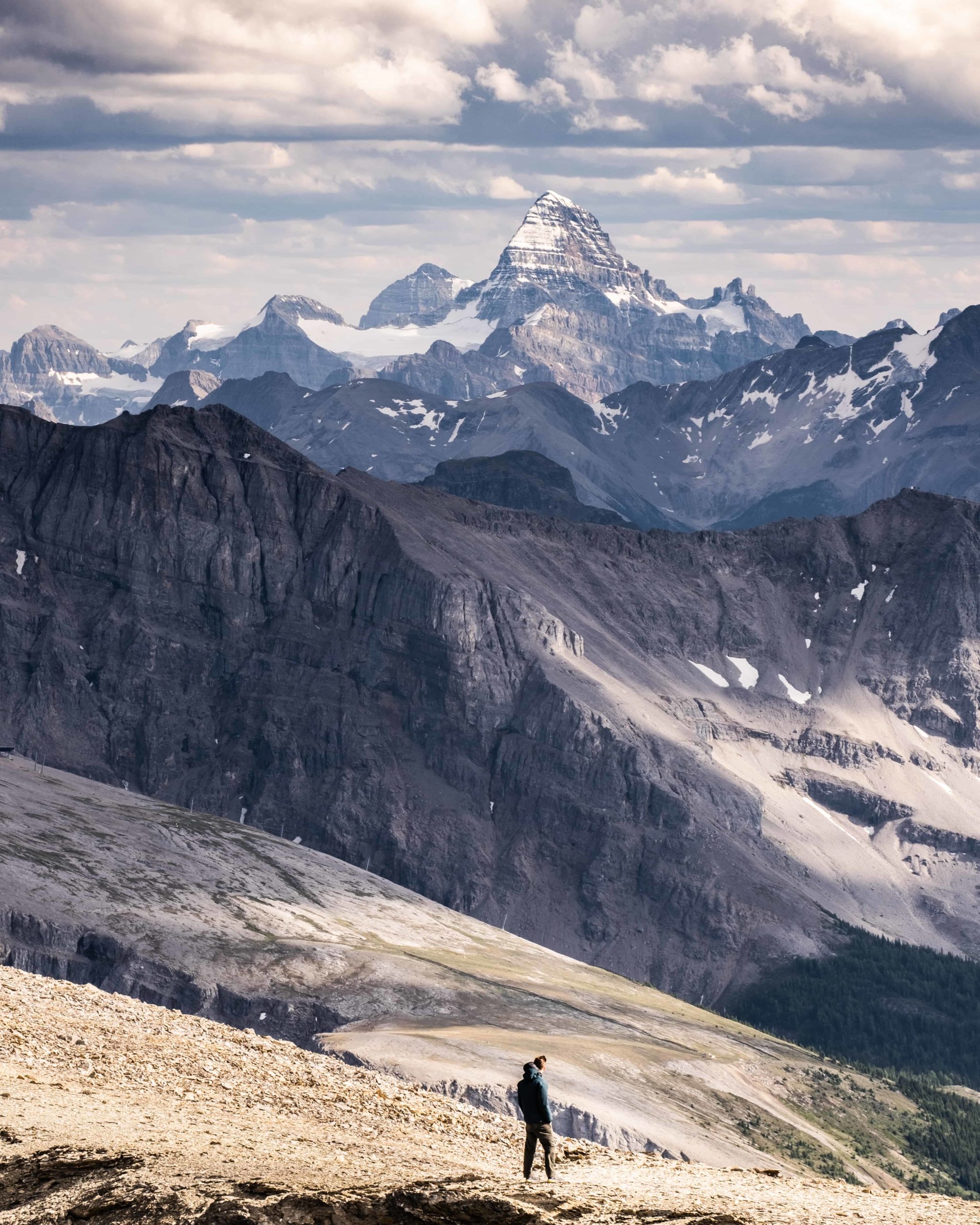 There are so many amazing hikes in Banff it's hard to narrow it down to a favorite. But I've thought long and hard about this and have to say that as far as summiting a big mountain over Banff without any scrambling or lots of experience Mount Bourgeau takes the cake.
Mount Bourgeau is a 2,931-metre (9,616 ft) tall mountain in the heart of Banff National Park promises some extraordinary views. It's easily accessible from the town of Banff and Canmore as it's only a 10-15 minute drive to the parking area. This makes it a great hike for those staying in Banff town. While the terrain is not challenging the sheer length and elevation gain requires strong legs.
By saying this is the best of Banff and a great hike does not make it easy. To reach the peak you climb over 1,700 meters or 5,600 feet and nearly 22km in a day. That being said it's one of the easiest peaks in the Rockies as it requires no scrambling or climbing.
However, on the way to the peak you cross the lovely Bourgeau Lake, witness stunning views from Harvey Pass, and then the whole park opens up from the summit. It's an expansive view that never disappoints.
Other great Banff hikes
---
The Best Scramble in Banff
Mt. Jimmy Simpson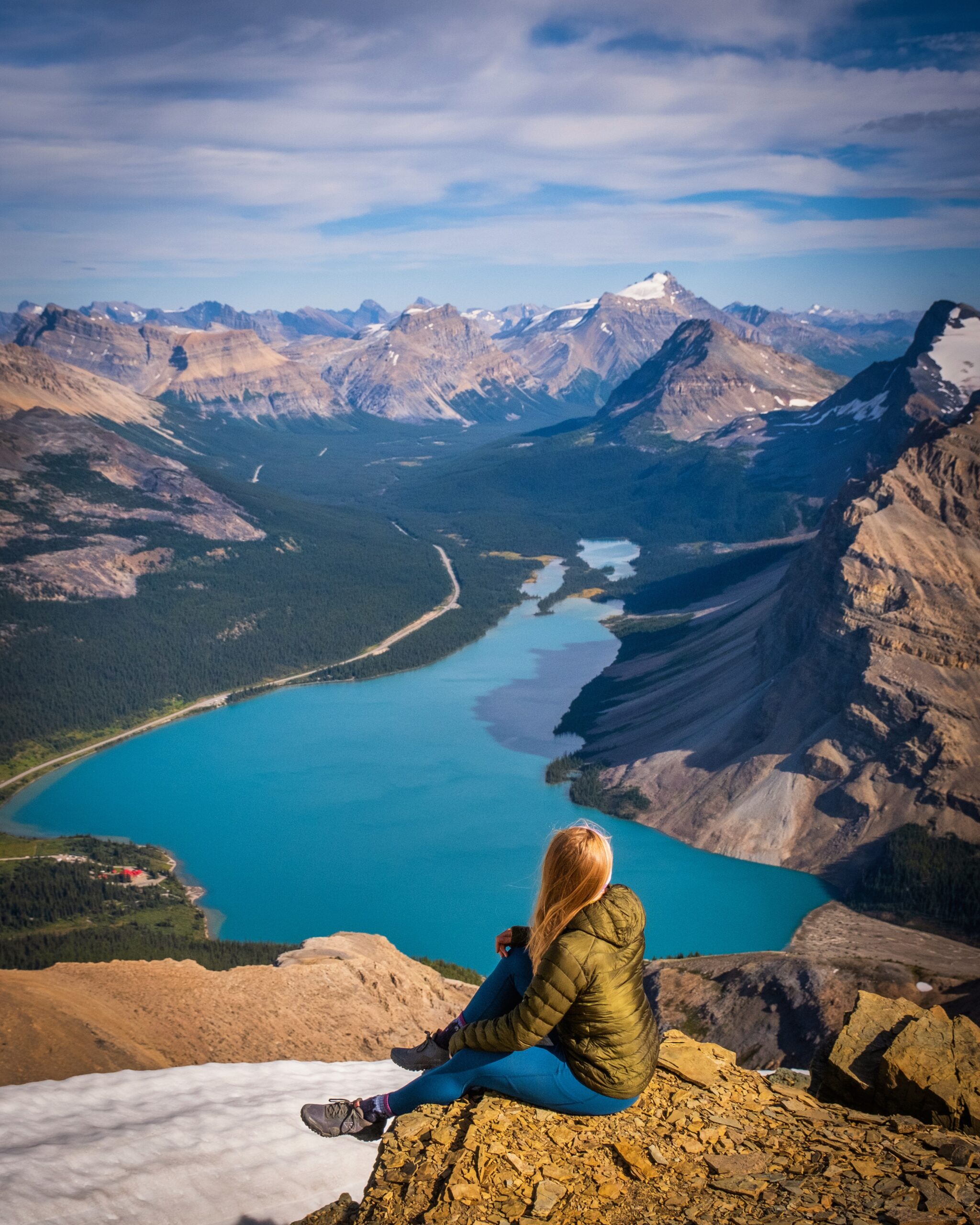 If you are a good hiker and want to try something more challenging try your hand at scrambling. Scrambling is a walk up steep terrain involving the use of one's hands. Three points of contact with your body are typically needed to classify a hike as a scramble. I love scrambling as it's more challenging than hiking, and it's typically required to access some of the big peaks in the Rockies.
It's a very popular sport in Banff, but it should not be confused with hiking. Some scrambles are dangerous and you should have proper experience with harder hikes and maybe even some beginner scrambling. August is the best time to scramble as most of the snow has melted off the mountain peaks.
Out of all the scrambles we've done I have to say that Mount Jimmy Simpson has been one of my favorites. The views from the summit are unreal.
Other great Banff scrambles
---
The Best Bike Ride in Banff
Bow Valley Parkway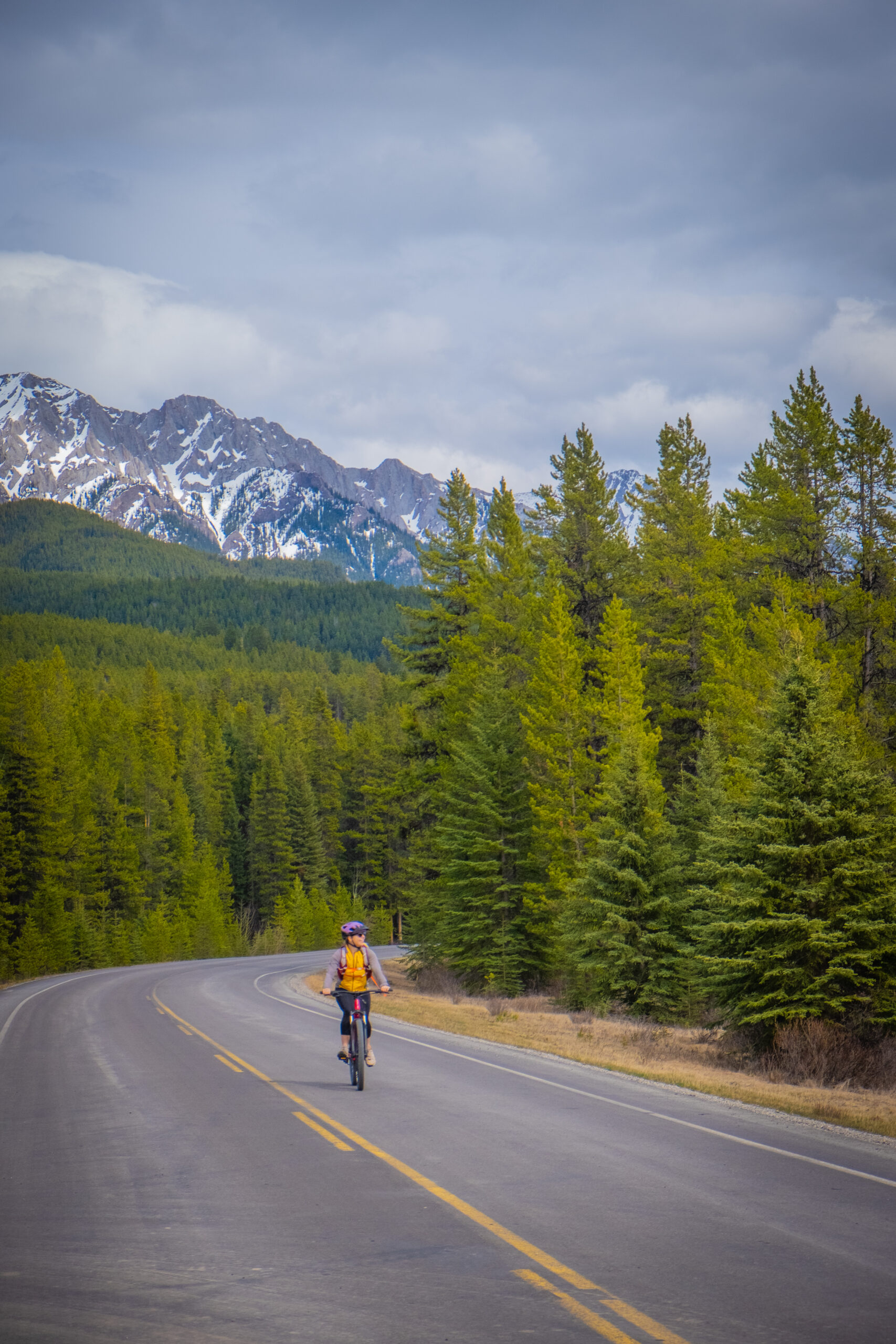 If there is a style of biking you enjoy you'll find an abundance of scenic places to get on a bike in Banff in the summer. My absolute favorite road to cycle though is the Bow Valley Parkway, especially when it's low season or closed to vehicles.
It's a well-paved road that starts right after Vermilion Lakes and can take you all the way to Lake Louise with astonishing views and stops the whole way. You don't have to ride the whole 60 km either, when I'm looking for a short ride I typically just ride to Johnston Canyon and back.
Other great Banff bike rides
Legacy Trail
Lake Minnewanka Loop
Bike to Moraine Lake
---
The Best Canoe/SUP/Kayak Spot in Banff
Lake Louise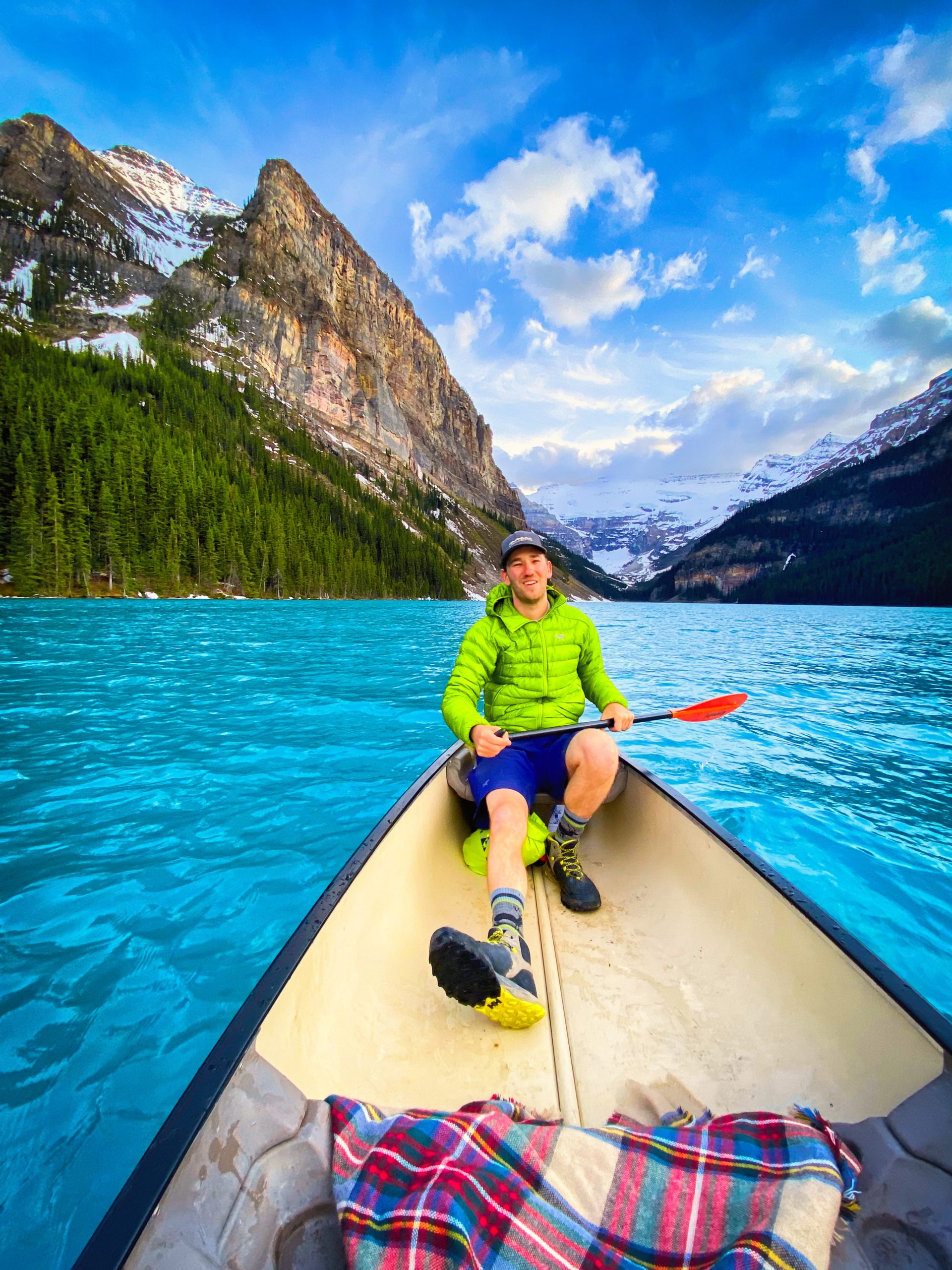 Okay, there are many lakes to paddle on in Banff but my favorite is Lake Louise. It's one of the most spectacular scenes in the world. It's tough to find a more spectacular scene to paddle through as you look out to Mount Victoria and the hanging Victoria glacier. No need for fancy edits on your photographs the water in Lake Louise, like Moraine Lake, is truly that radiant turquoise blue.
You can pick up canoe rentals at the Lake Louise Boathouse because even if you have your own you'd have to arrive very early in the morning to secure a close parking spot to carry the canoe.
If you have your own canoe or kayak there's no simple way to get it into the water yourself, though with enough will you'll manage to get your kayak in. The Lake Louise boathouse doesn't have kayaks for rent, but they do have canoes.
Other great Banff kayak and canoe spots
Waterfowl Lake
Herbert Lake
---
The Best Ski Resort in Banff
Lake Louise Ski Resort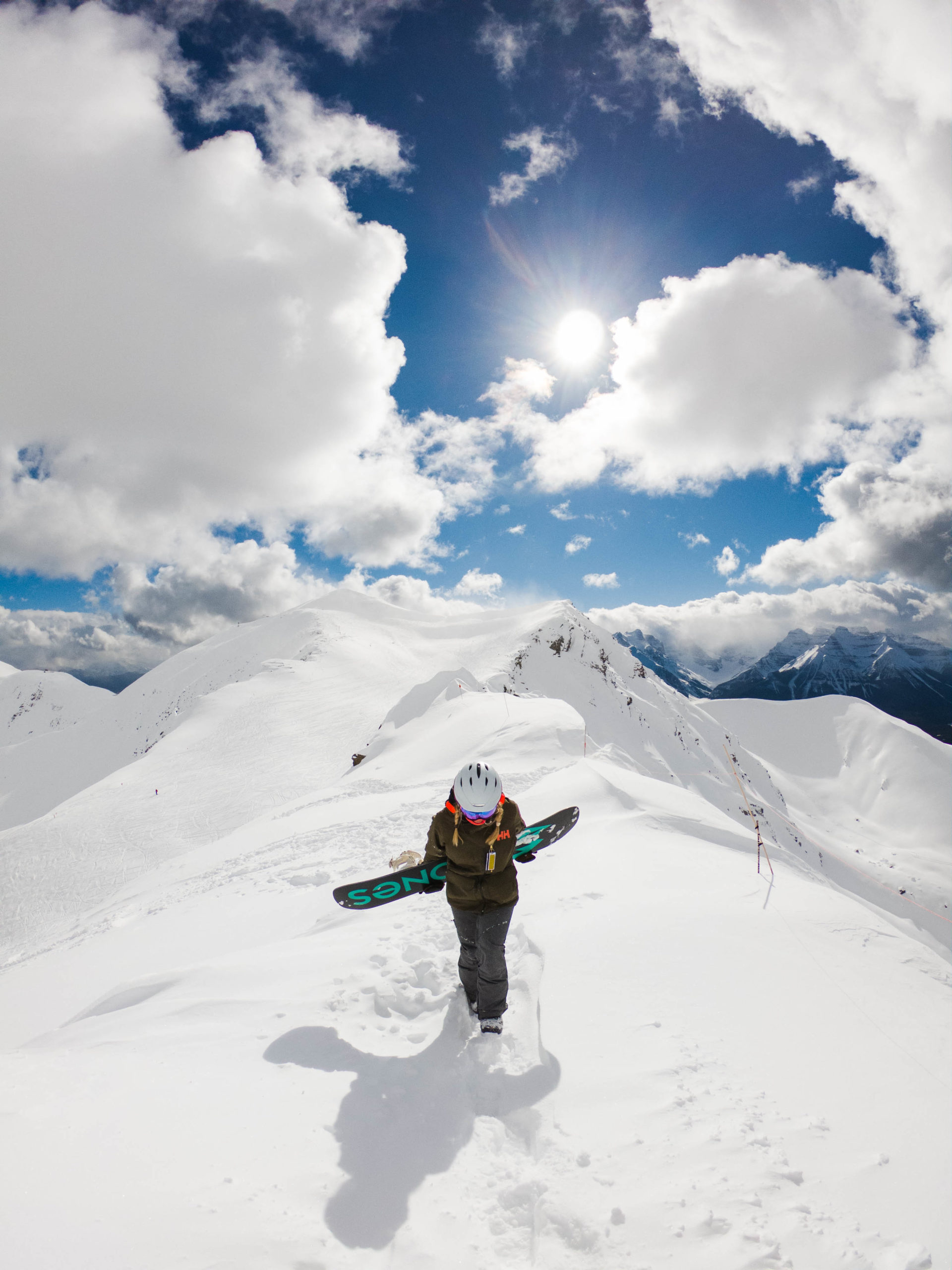 There is arguably no ski resort in the world with a better view than the Lake Louise Ski Resort. Located in Canada's oldest and first national park the resort has ample supply of natural scenery.
In between runs screaming down groomers, tackling a bowl, or defying death in a steep chute Banff National Park provides you some fresh air and stunning landscapes. There is something for everyone here with terrain that will thrill even expert skiers.
It happens to be one of our favorite ski resorts in the world and offers a lot of value for visitors skiing in Banff. Not only are lift tickets more affordable than comparable ski resorts in the United States the exchange rate only tips it more in visitors' favor. A member of both the Ikon and Mountain Collective pass means pass holders can take advantage of their pass for an affordable ski getaway in Alberta.
Other ski resorts in the Canadian Rockies
---
The Best Restaurant in Banff
Park Distillery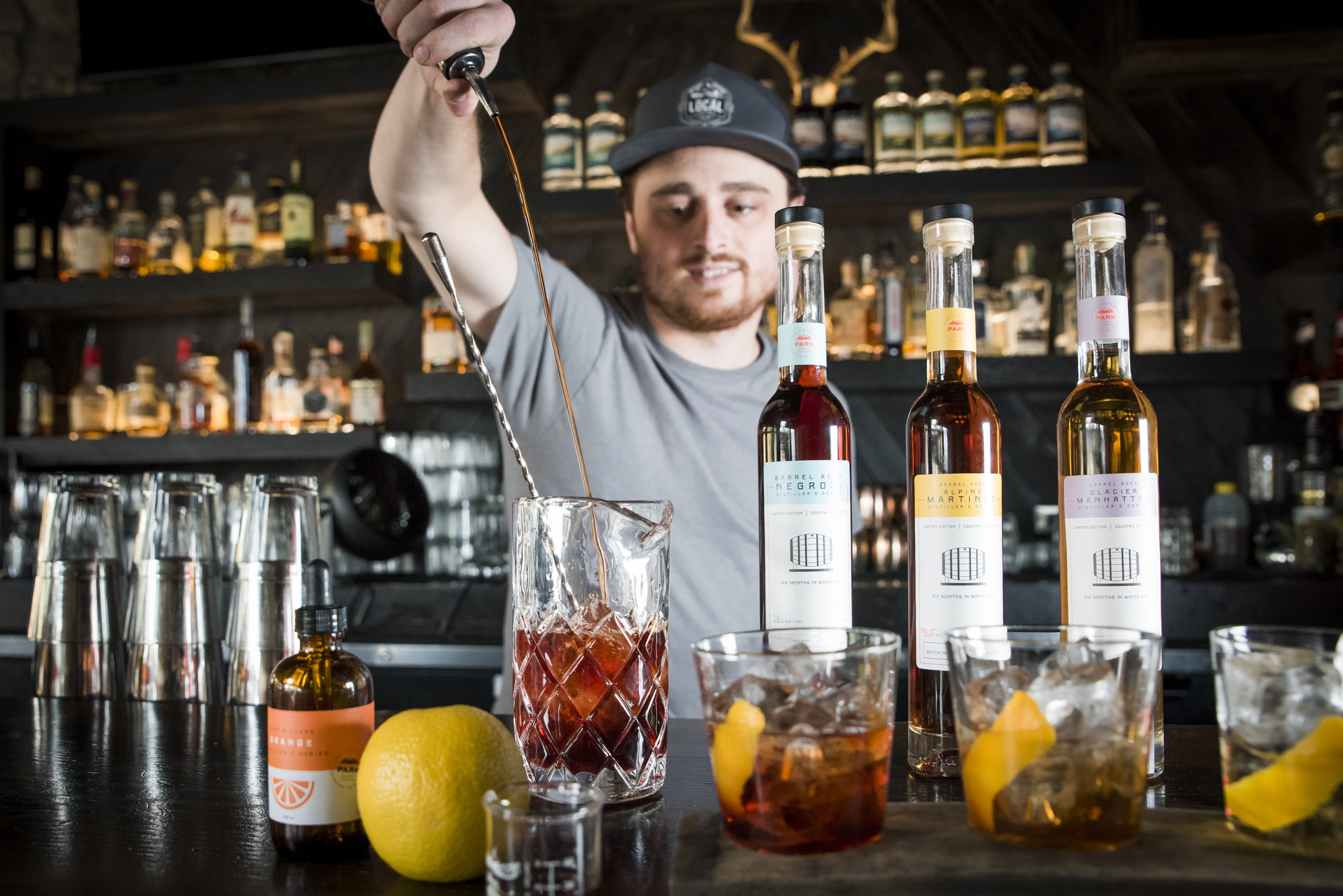 With a prime location on Banff Ave, it's tough to miss the local distillery as it's a fantastic Banff bar. Park Distillery is where we take friends and family to eat when they're in town.
Park Distillery has quickly made a name for itself in town for their spirits such as Gin and Vodka distilled with Rocky Mountain water. We love the modern mountain interior and they have large garage doors to open up the restaurant to fresh mountain air in the summer months.
The food here follows the theme of the camp and Canadian mountain food along with a number of vegan options. You'll find everything from tofu bowls to cornbread, short ribs, burgers, and baked beans, or a modern twist on s'mores for dessert on the menu.
They also have an extensive cocktail list of inventive cocktails made with their spirits. If you're looking for a classic try their Caesar made with chili vodka at brunch.
It's a popular spot and draws a crowd so expect to wait in peak summer or call ahead for reservations. Take a bottle of one of their spirits home for a gift or souvenir, perhaps both.
Other great Banff restaurants
Banff Sushi House
Magpie and Stump
---
The Best Cabin in Banff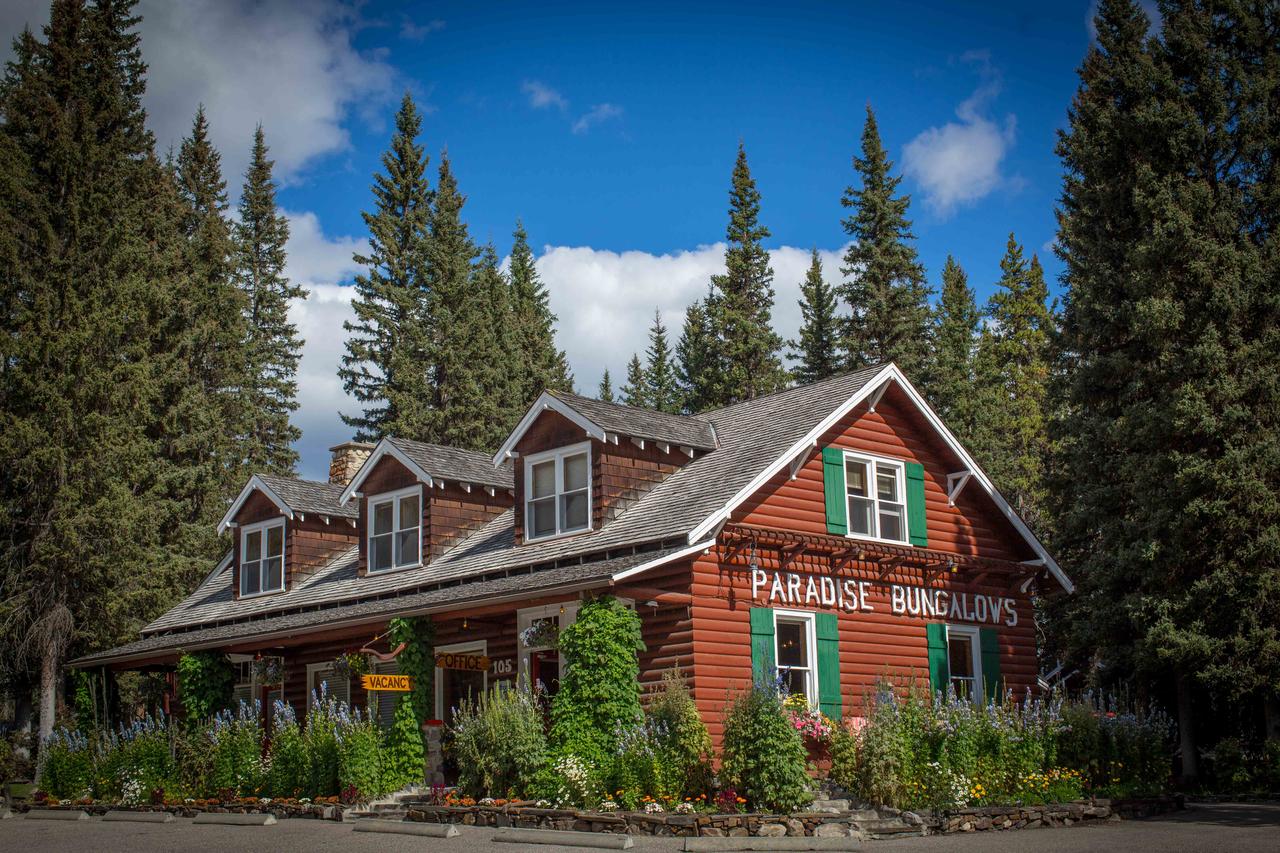 Paradise Bungalows are located at Lake Louise. They aren't right at the lake like the Fairmont, but only a short distance away. While they have more standard-style rooms you can stay at, they have some of the cutest Banff cabins there are.
The cabins have all been modernized even though they were built in the 1930s. They are cute and perfect for anyone wanting to live out their mountain fantasies.
Although they are modern with kitchens mini-fridges, microwaves, and coffee makers they are rustic and charming. Each cabin has a cozy fireplace to hang out on those chilly nights.
While most people prefer to stay at the Fairmont on Lake Louise I actually think the Paradise cabins are a much better value, more down to earth, and a whole lot cheaper. If you are willing to do a little work for your cabin stay consider hiking into the backcountry to stay at Sundance Lodge or having a chill weekend at Mount Engadine in Kananaskis.
Other fantastic Banff cabins
---
The Best Coffee Shop in Banff
Whitebark Cafe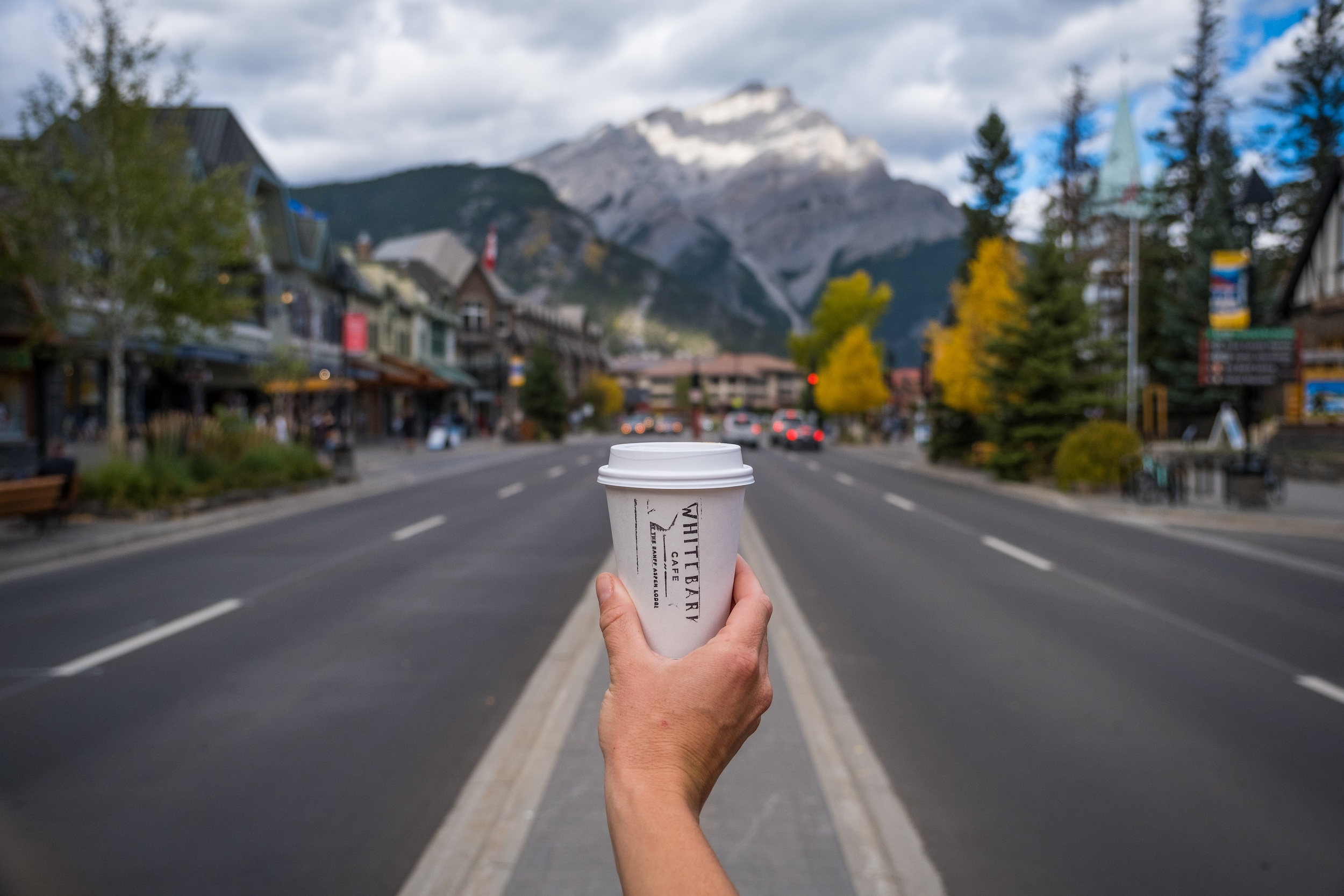 There aren't a plethora of coffee shops in Banff, but out of all of them, Whitebark is easily the best coffee shop in Banff. Whitebark has been known to deliver the best coffee in Banff for a while now.
On our first trip to Banff before we made the move here, we stopped by for several top-ups. They serve fair-trade organic coffee from Moja Coffee in North Vancouver and loose leaf teas from Banff Tea Co.
Other great Banff coffee shops
Evelyns
Trailhead Cafe in Lake Louise
---
Of course this is just a starter list of the best of Banff. We have tons of resources on this site to bring you more Banff goodness. Check here to see more!
---
↓ Join the community ↓
The Banff Blog Facebook Group is your headquarters for the Canadian Rockies' travel advice and information. Including hike info and off-season travel information. This is also where you can meet one another when you need adventure buddies. 

Plan Your Trip to the Canadian Rockies