Even after some time spent living in the Bow Valley, Baker Creek Mountain Resort reignited that 'awe & wonder' feeling in me that the mountains give their first-time visitors. This magical resort brought me back to everything the Rocky Mountains are: beauty, relaxation, adventure, nature, and comfort.
Whether you are visiting the Rocky Mountains for the first time or know the area like the back of your hand, I cannot recommend a stay at Baker Creek Mountain Resort enough.
Baker Creek Lodge offers some of Banff's best cabins and some of the most sought-after Banff accommodation.
---
Baker Creek Mountain Resort Quick Details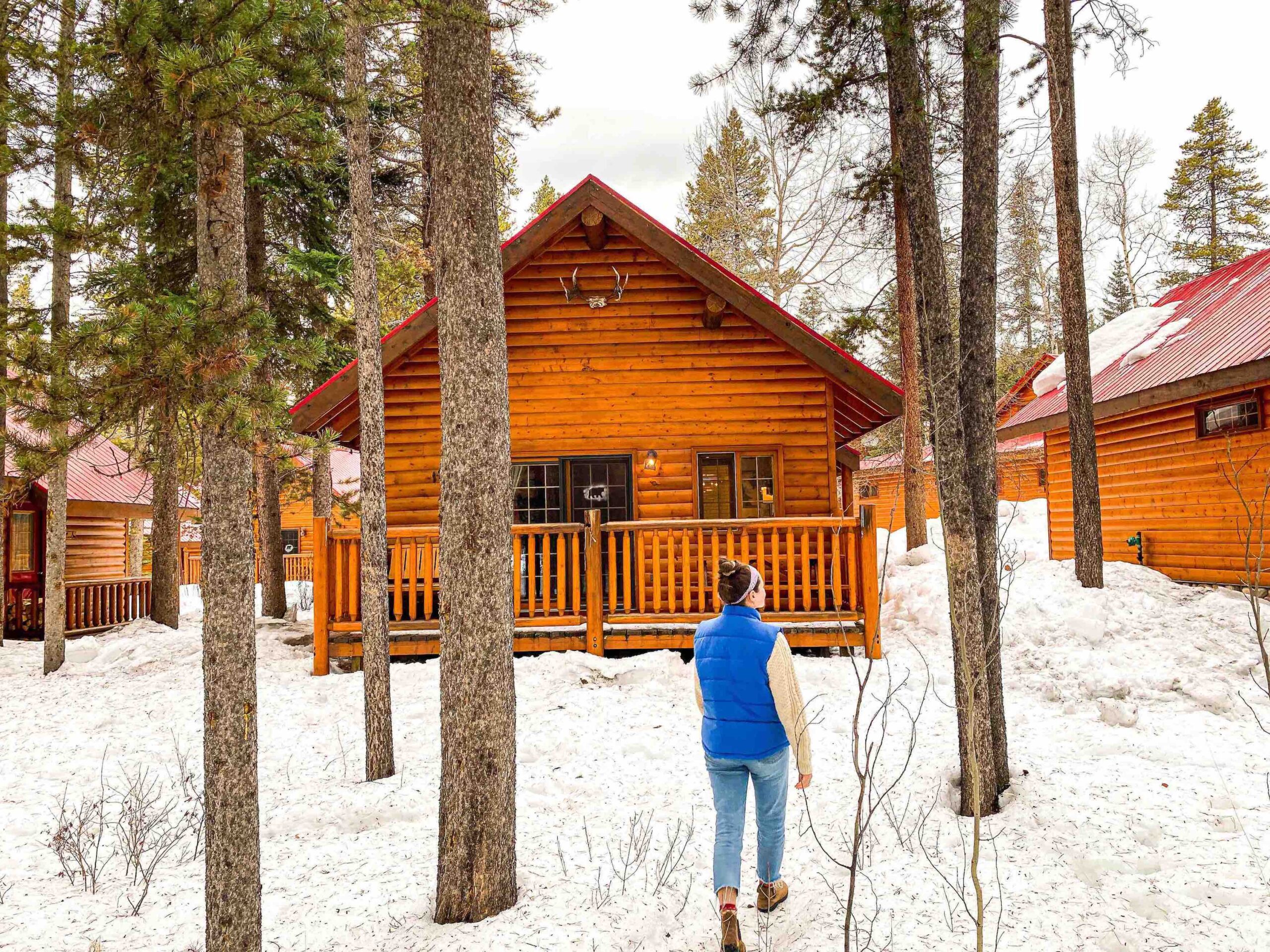 ---
Why You Should Book a Stay at Baker Creek Mountain Resort
---
Baker Creek Has the Ultimate Location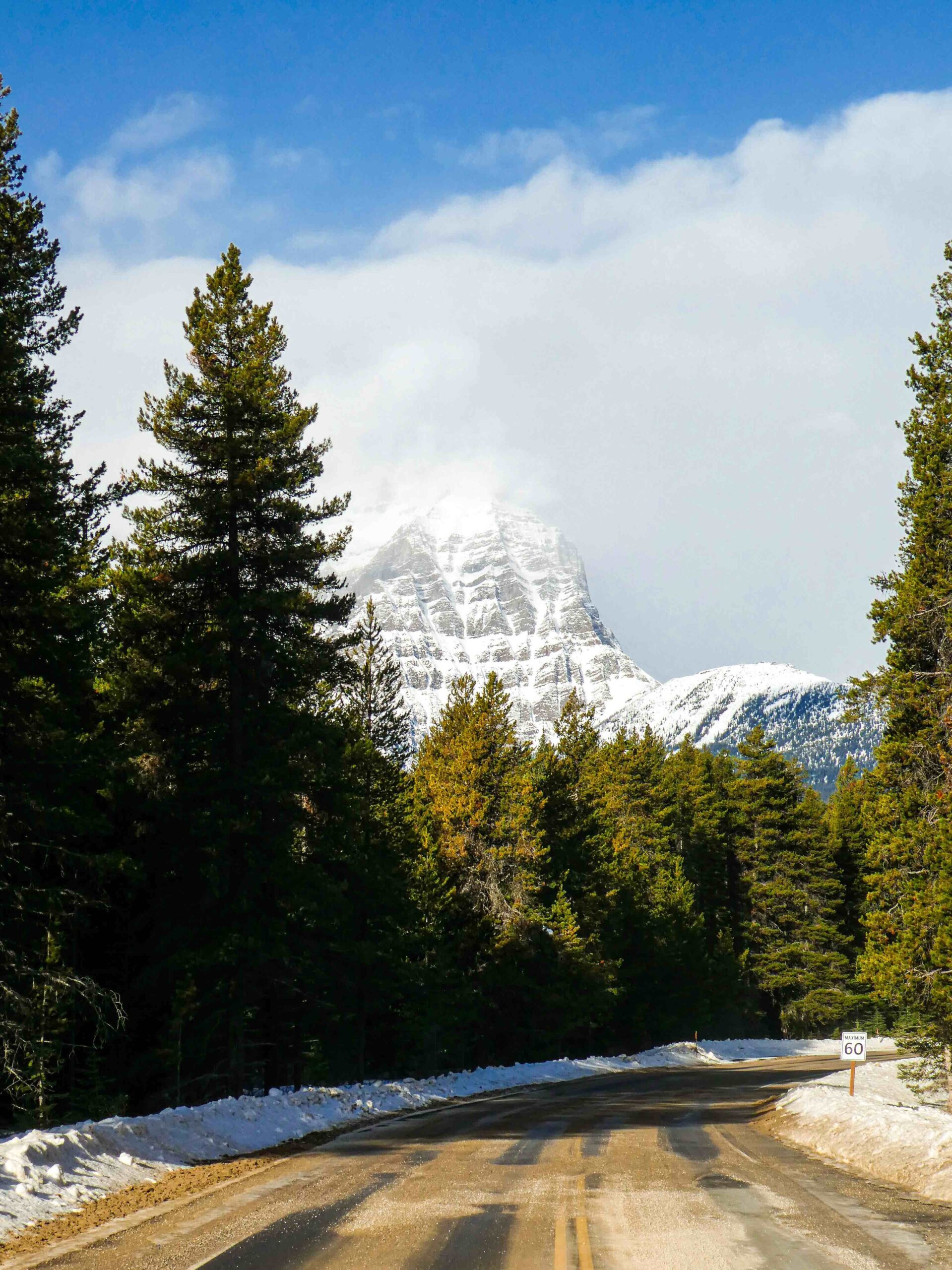 The Baker Creek Mountain Resort is in a prime location, with nothing but beauty and opportunity to offer. Some of the surrounding mountains include the infamous Mount Temple and the unique Castle Mountain. Temple is the highest mountain in the Lake Louise area, and can easily be admired from Baker Creek!
Along with the impressive mountain landscape, the resort sits along the crystal-clear Baker Creek, looks toward the picturesque Canadian Pacific Railway, and is located on the scenic (but quiet) Bow Valley Parkway. The Baker Creek Mountain Resort offers an oasis of serenity in a central location of the Canadian Rockies!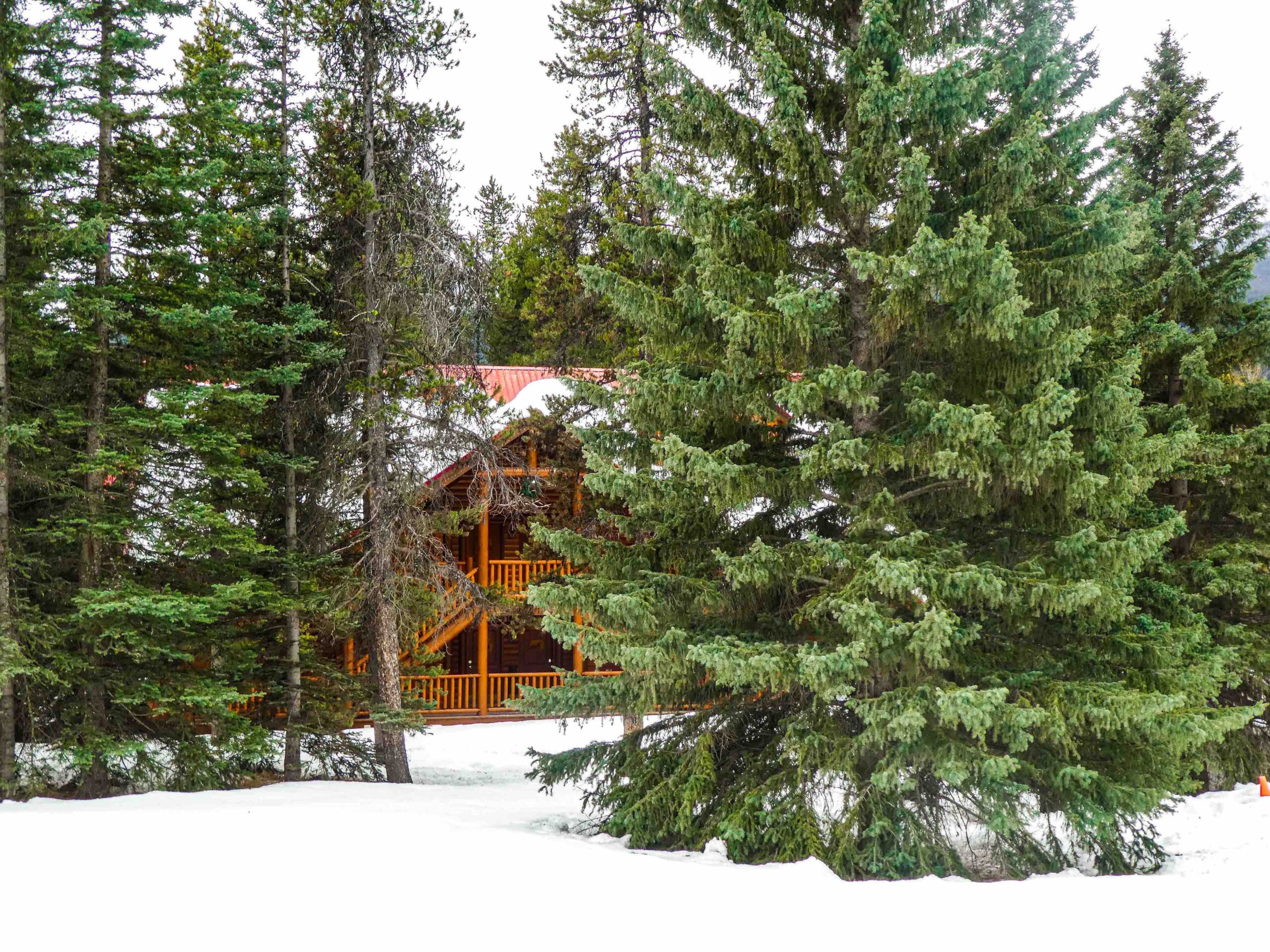 This resort is located a short drive from many must-see Banff National Park destinations like:
---
You're Truly Remote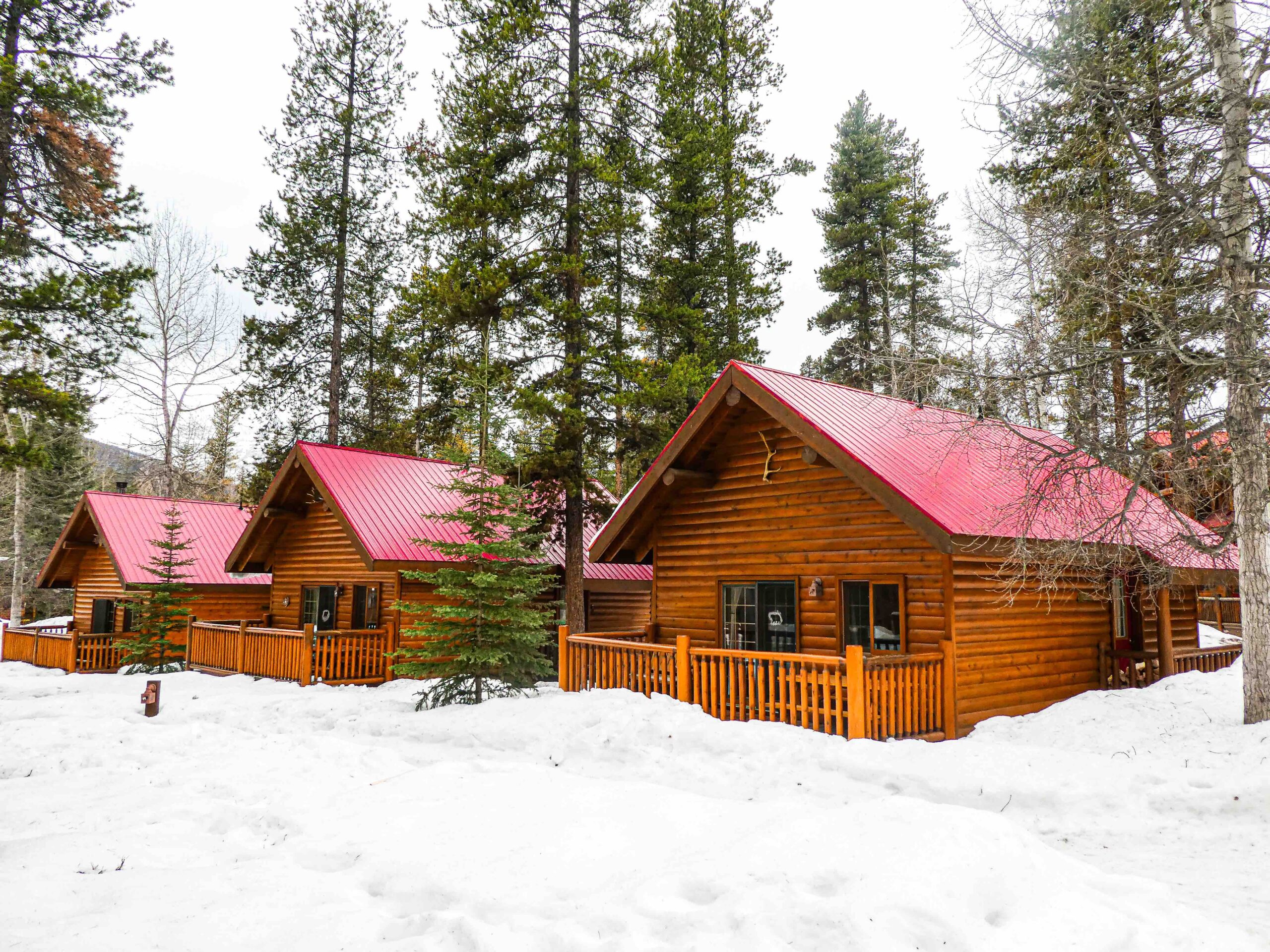 Despite being the ideal home base for a long list of tourist activities in Banff, the Baker Creek Mountain Resort still offers a remote setting. Tucked off a quiet section of the Bow Valley Parkway, this resort experiences no traffic noise.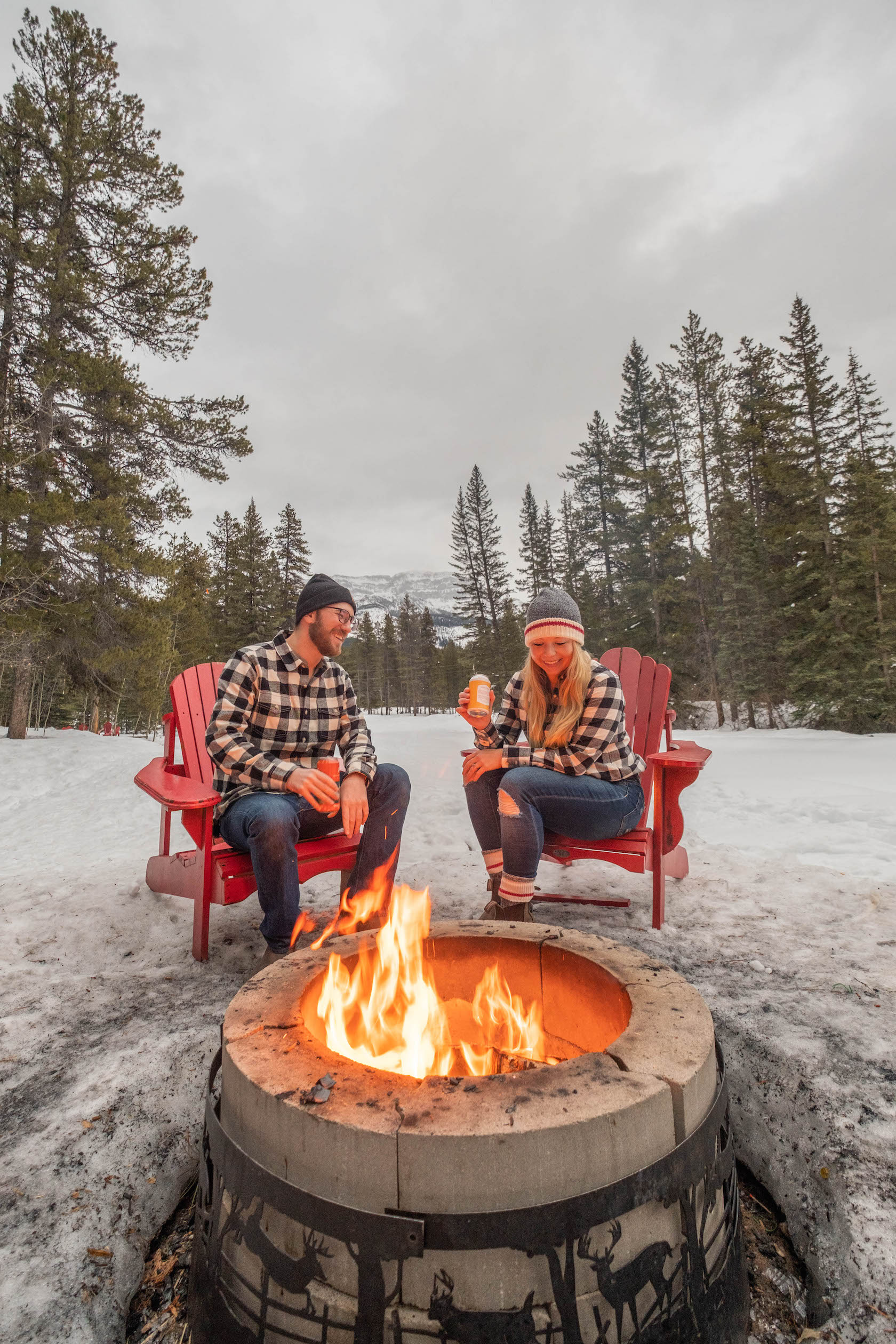 The first thing I noticed when stepping out of our car, was the peaceful silence of this place, with nothing but the sound of the creek trickling nearby and the rustle of the trees.
Though the railway is visible in the distance, you can only hear faint sounds of the train when you are outside – we did not hear it from inside our cozy Alberta cabin!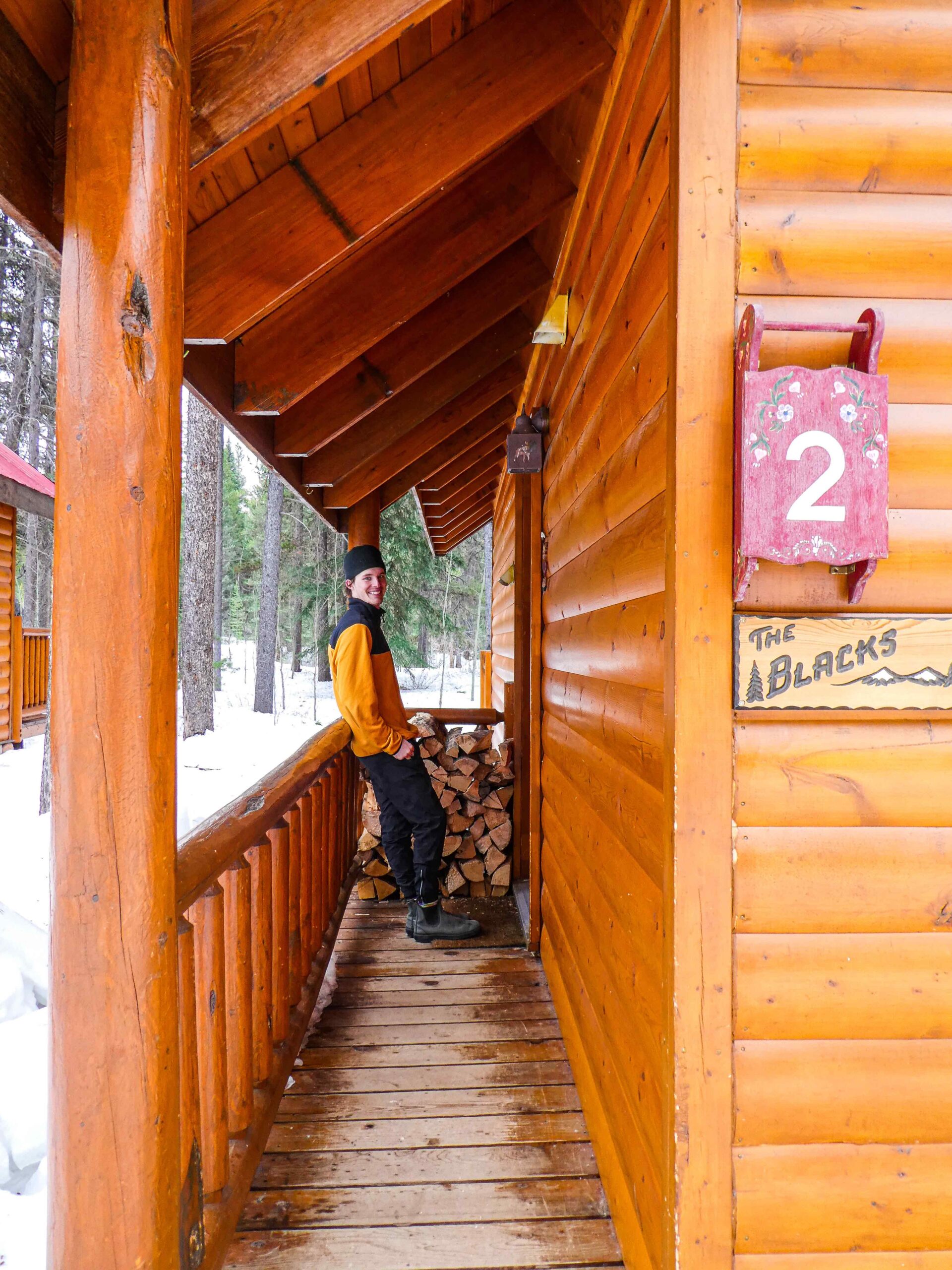 As soon as you park your car, it feels like there is nothing but the cabins around for miles. Baker Creek Mountain Resort has done an excellent job turning the series of cabins, lodges, and Bistro into an intimate community setting.
This is the ideal location to immerse yourself in the beauty of nature, while experiencing the luxury of this stunning mountain resort.
---
There's a Room Type to Suit Any Visitor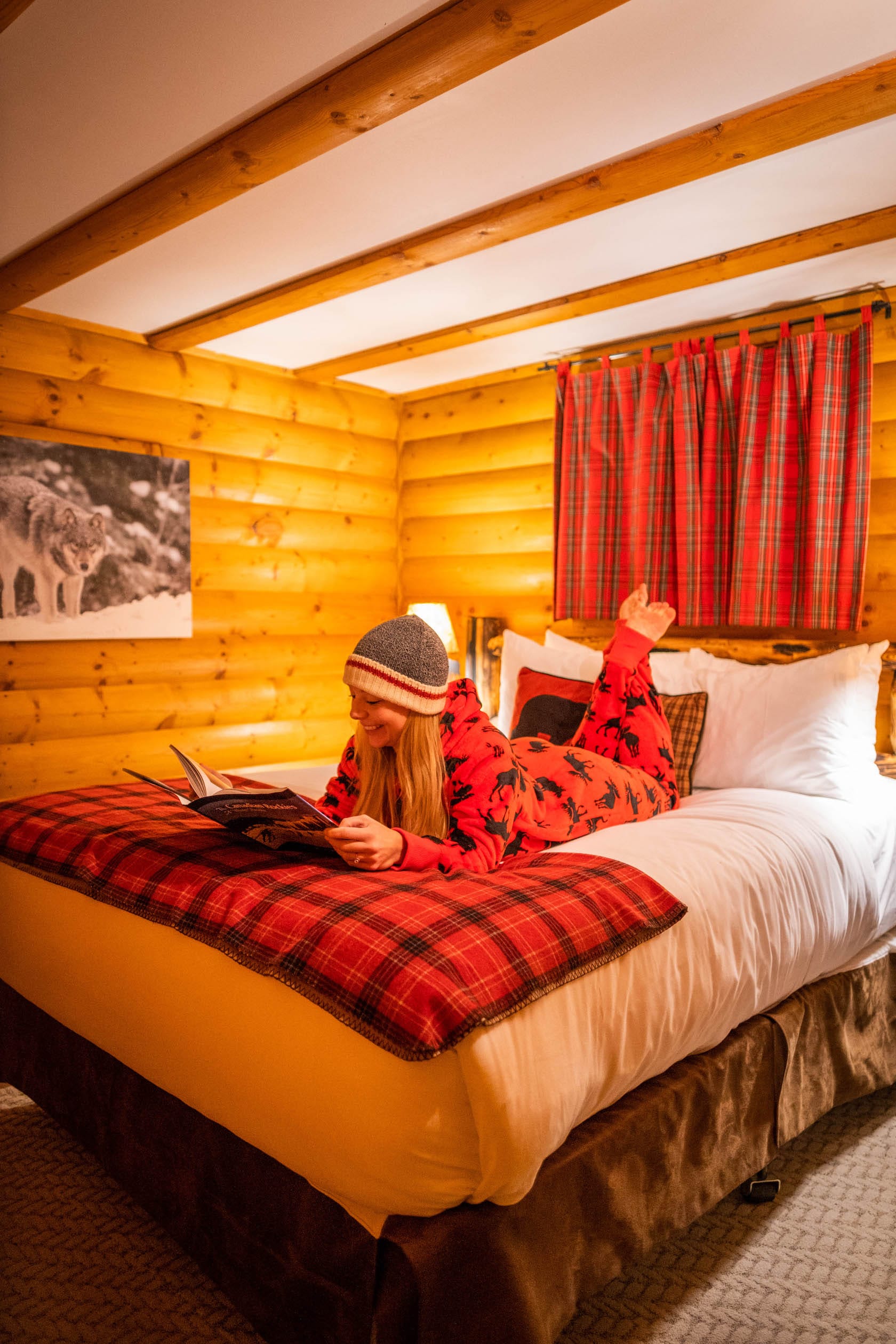 Baker Creek Mountain Resort offers a room style to suit every visitor. This resort caters well to a romantic honeymoon getaway, a family vacation, or a retreat with your friends! You can enjoy a lodge suite or have a cabin all to yourself. Let's dig into the varying room types at Baker Creek.
Lodge Suites
There are two lodges at the resort that offer three different room types. Each room type has its own beautiful balcony to allow you to enjoy the surroundings. The lodge suites are best for couples or small families.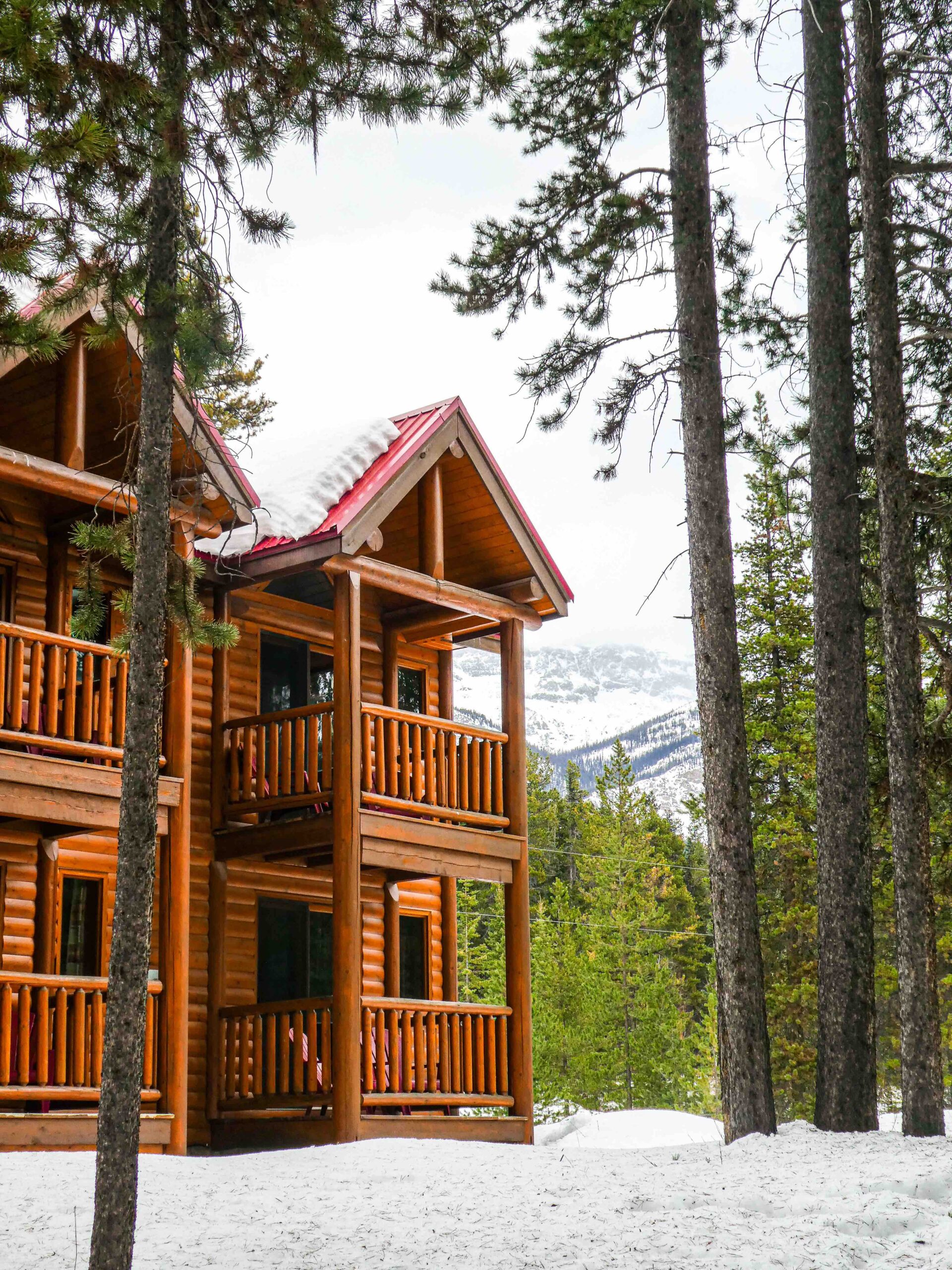 One Bedroom Suite: Offers one bedroom with a queen bed, 2 decks, a kitchenette and a gas fireplace. This is a cozy yet spacious suite, perfect for couples who are staying for a few nights and want space to lounge and cook.
Jacuzzi Suite: Offers a queen bed, a 2-person jacuzzi tub, a deck, a gas fireplace, and a microwave and fridge. This is the most intimate suite, ideal for couples looking for a romantic getaway.
Deluxe Loft Suite: Offers one bedroom with a queen bed, a loft with a queen bed and 2-person jacuzzi tub, 2 bathrooms, a kitchenette, a gas fireplace, and 2 decks. This suite is perfect for 2 couples, a small group of friends, or a single family.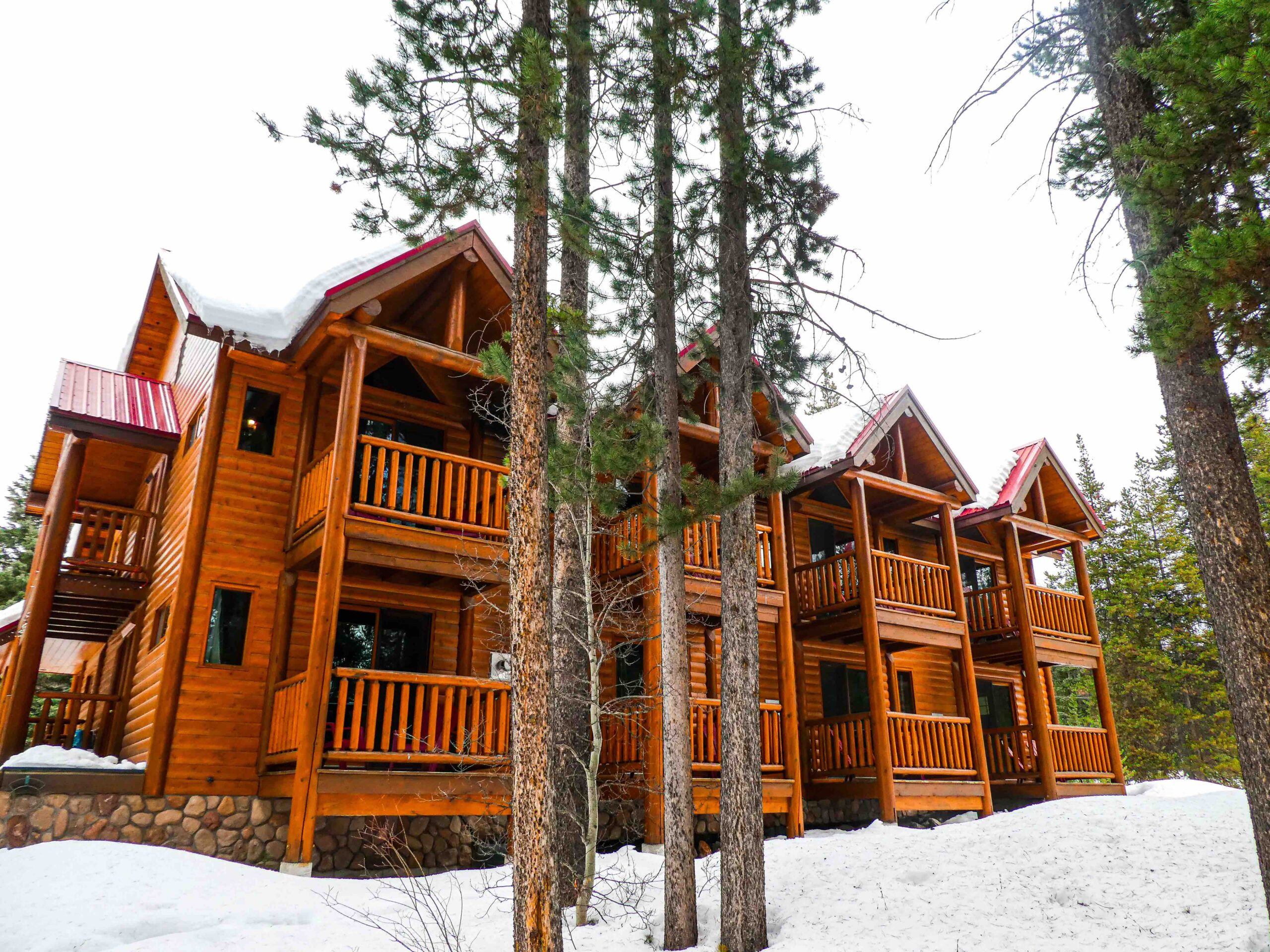 Cabins
The Baker Creek Mountain Resort is so unique are the private cabins that can be rented out by night. These cabins feel like a home away from home, with everything you need to complete your Rocky Mountain getaway.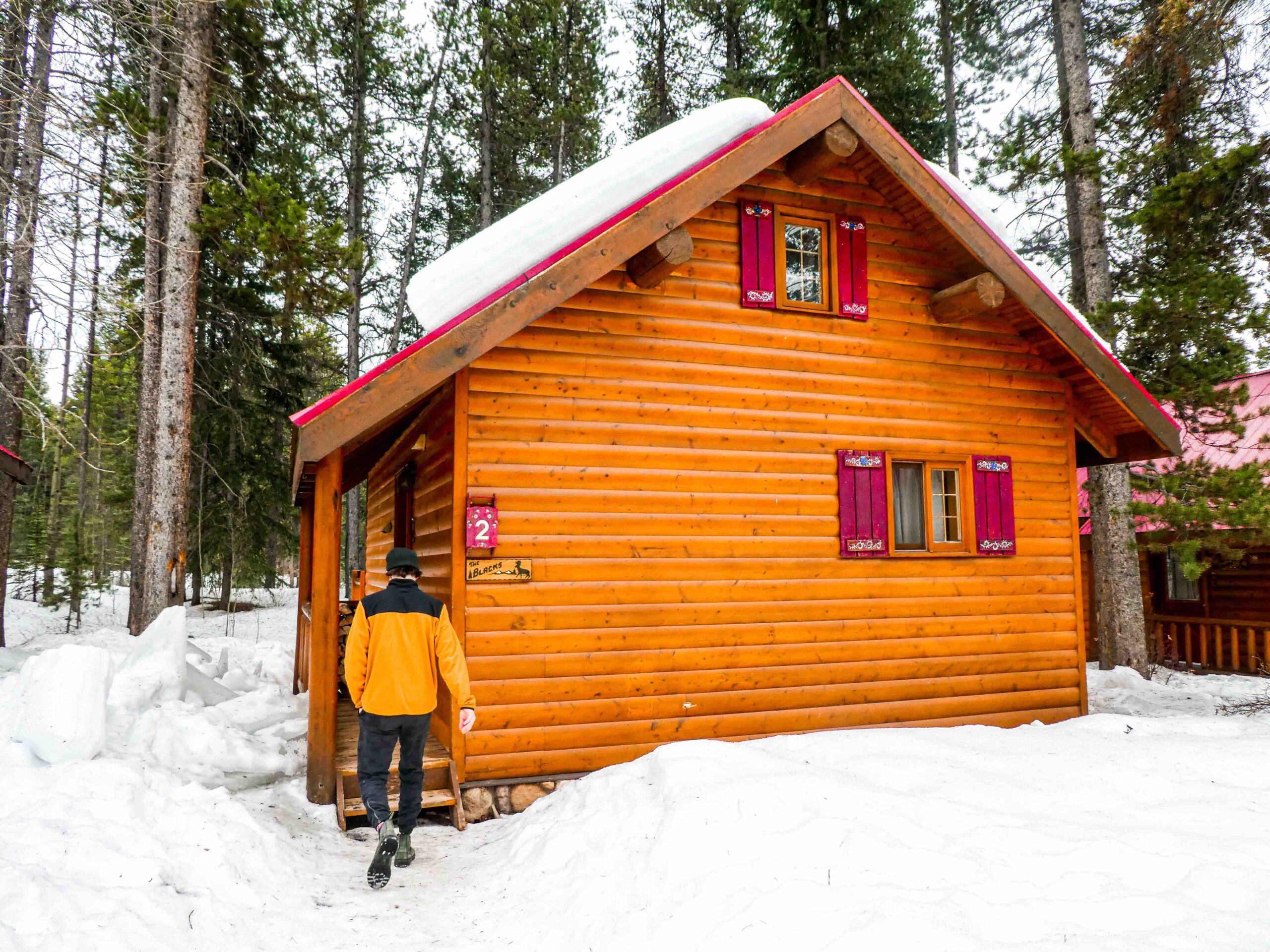 Loft Cabin – Ladder: One bedroom and queen bed, a loft with 2 twin beds accessed by a ladder, a kitchenette, a wood burning fireplace, a sofa bed, bathroom, and deck. This cozy cabin offers stunning views and has tons of lounging and eating space. This cabin is perfect for families with kids, who will love the tree-fort feeling loft!
Loft Cabin – Stairs: One bedroom and queen bed, a loft with 2 double beds accessed by stairs, a kitchenette, a wood burning fireplace, a sofa bed, bathroom, and deck. This cozy cabin offers stunning views and has a larger kitchenette than the Ladder style cabin. This cabin is perfect for larger families, 2 couples, or a group of friends!
2 Bedroom: One bedroom with a queen bed and a second bedroom with a bunk-bed. These cabins have a kitchenette, a wood-burning fireplace, a sofa bed, bathroom, and a deck. With the most sleeping options, biggest kitchen, and largest lounge area, this cabin is ideal for larger families or groups!
Heritage Trapper's: 1 queen bed, a 2-person jacuzzi tub, a wood burning fireplace, a kitchenette and a bathroom. This is the most intimate cabin, ideal for couples looking for the most romantic getaway possible.
We had the pleasure of staying in the Loft Cabin with Ladder for our visit! Everything about this cabin provided the cozy, warm, and beautiful atmosphere that you think of when staying at a cabin deep in the mountains.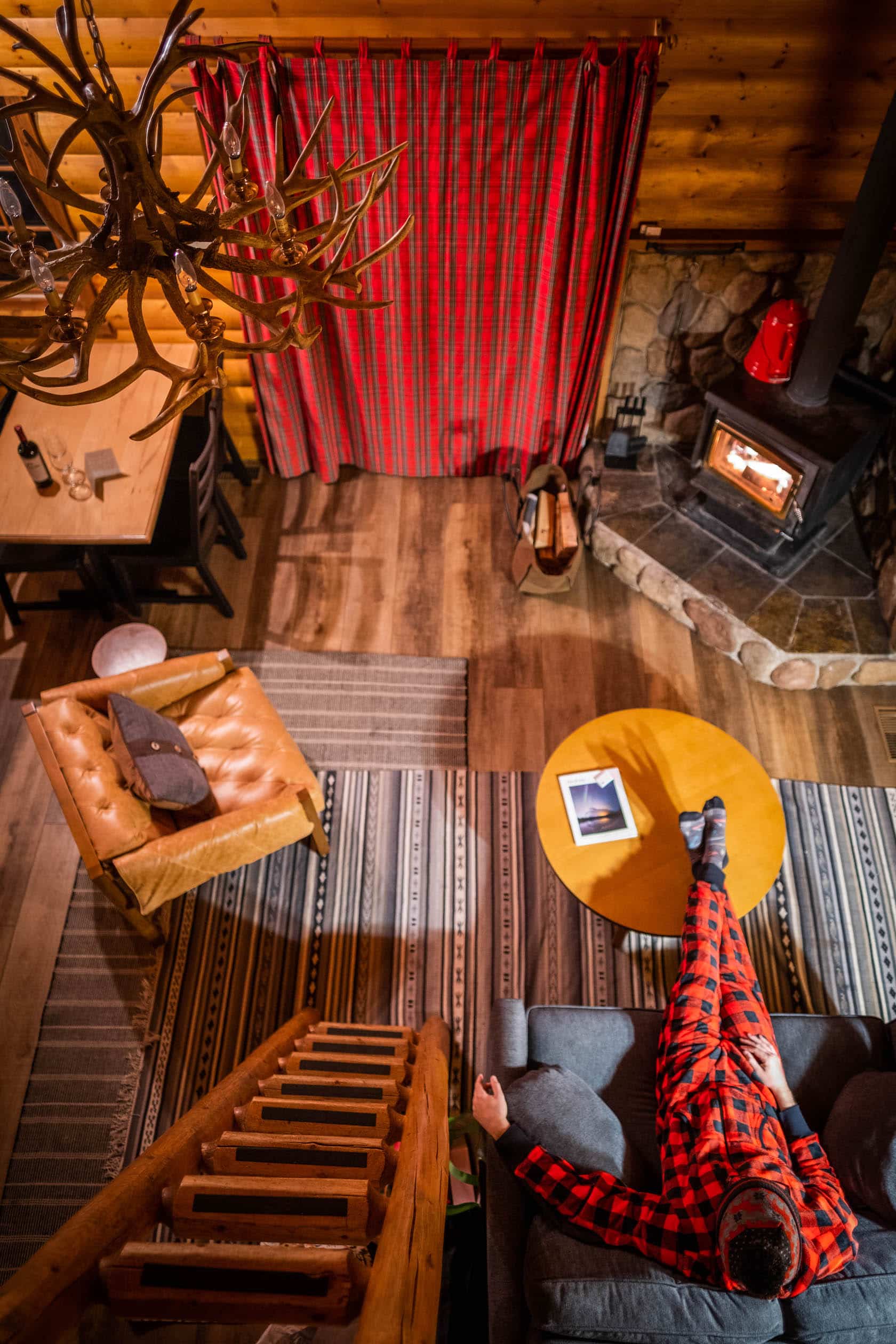 Our cabin had enough wood stocked to get us through the whole weekend, came equipped with a pair of binoculars, and even some fun board games and cards!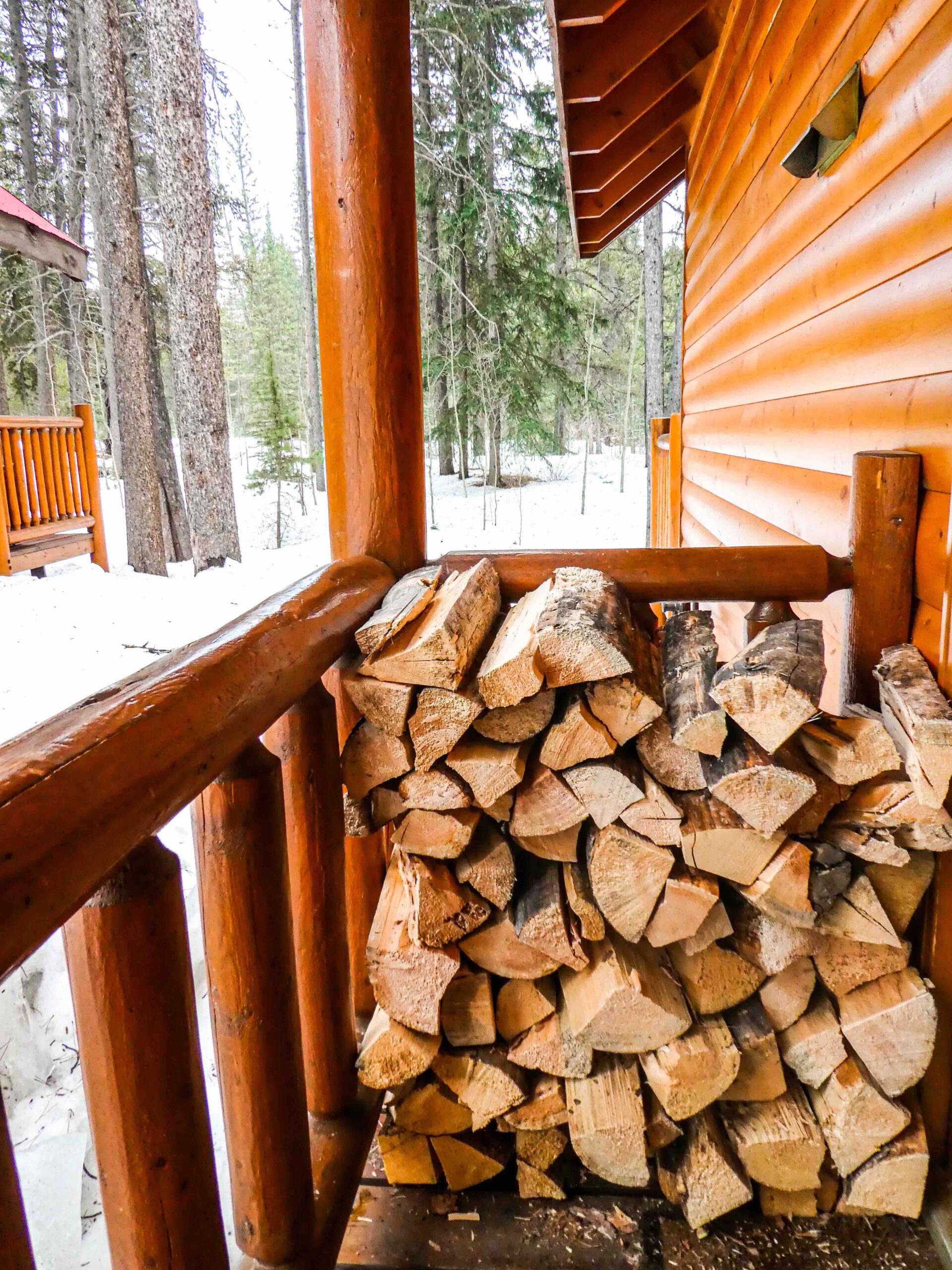 The kitchenette had everything we needed when prepping lunches or making dinner and breakfast. It was equipped with a mini-fridge with a small freezer section, a two-burner induction stove, a small oven, microwave, toaster, and kettle with a French press. The cabins offer everything you might need for a relaxing getaway in nature.
---
Baker Creek Mountain Lodge Provides a Cozy Atmosphere
Baker Creek Mountain Resort provides its visitors with a true mountain getaway. Thanks to its cozy atmosphere, you instantly feel relaxed. Everything about the rooms and cabins has been well thought out to deliver the ideal rustic escape, no matter the season.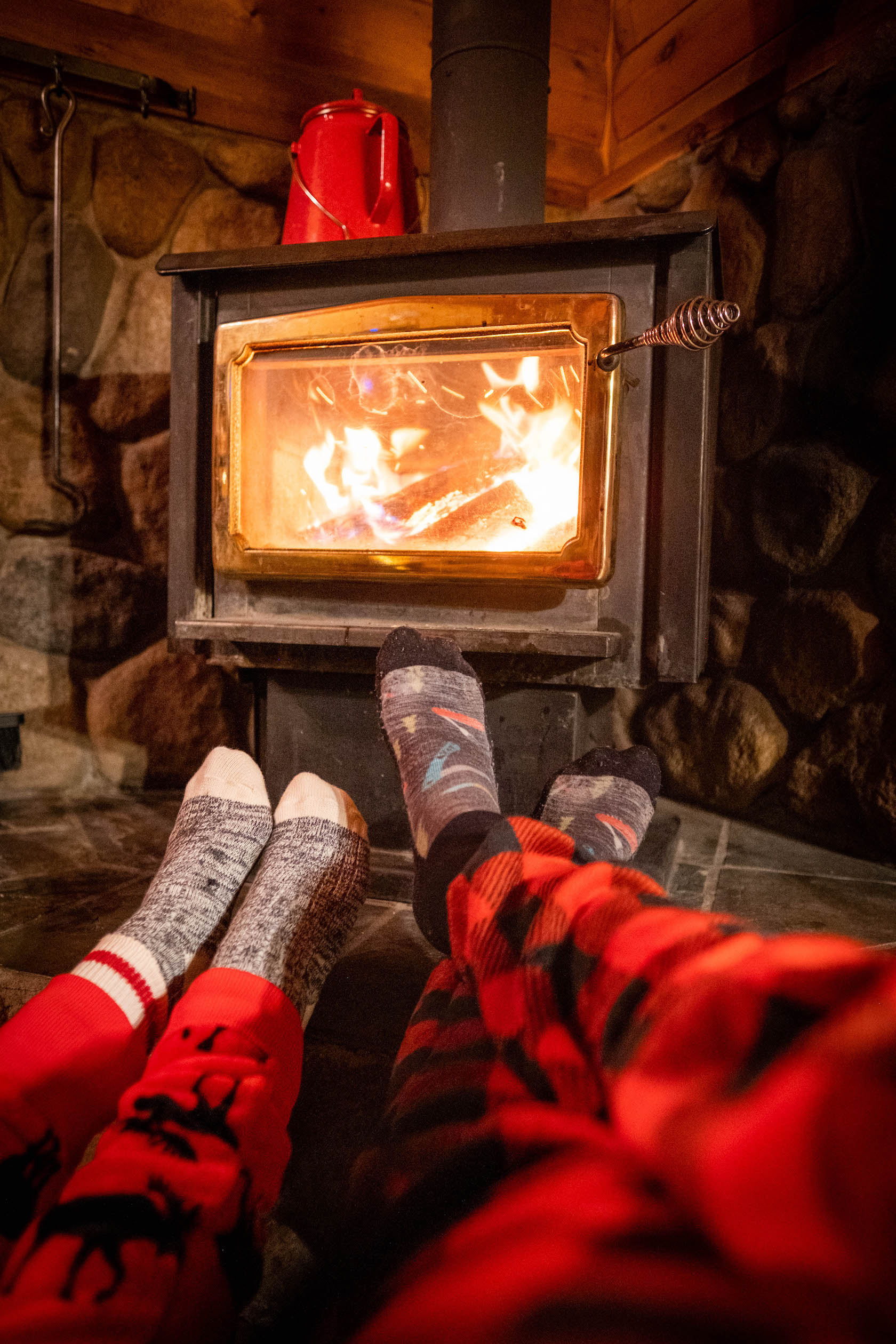 From the small things: various lighting options to get the maximum cozy feel, the plaid-themed curtains, and the cozy rugs and throw pillows.
To the big things: the fireplace, the deck, the loft – everything played a part in making this experience so relaxing.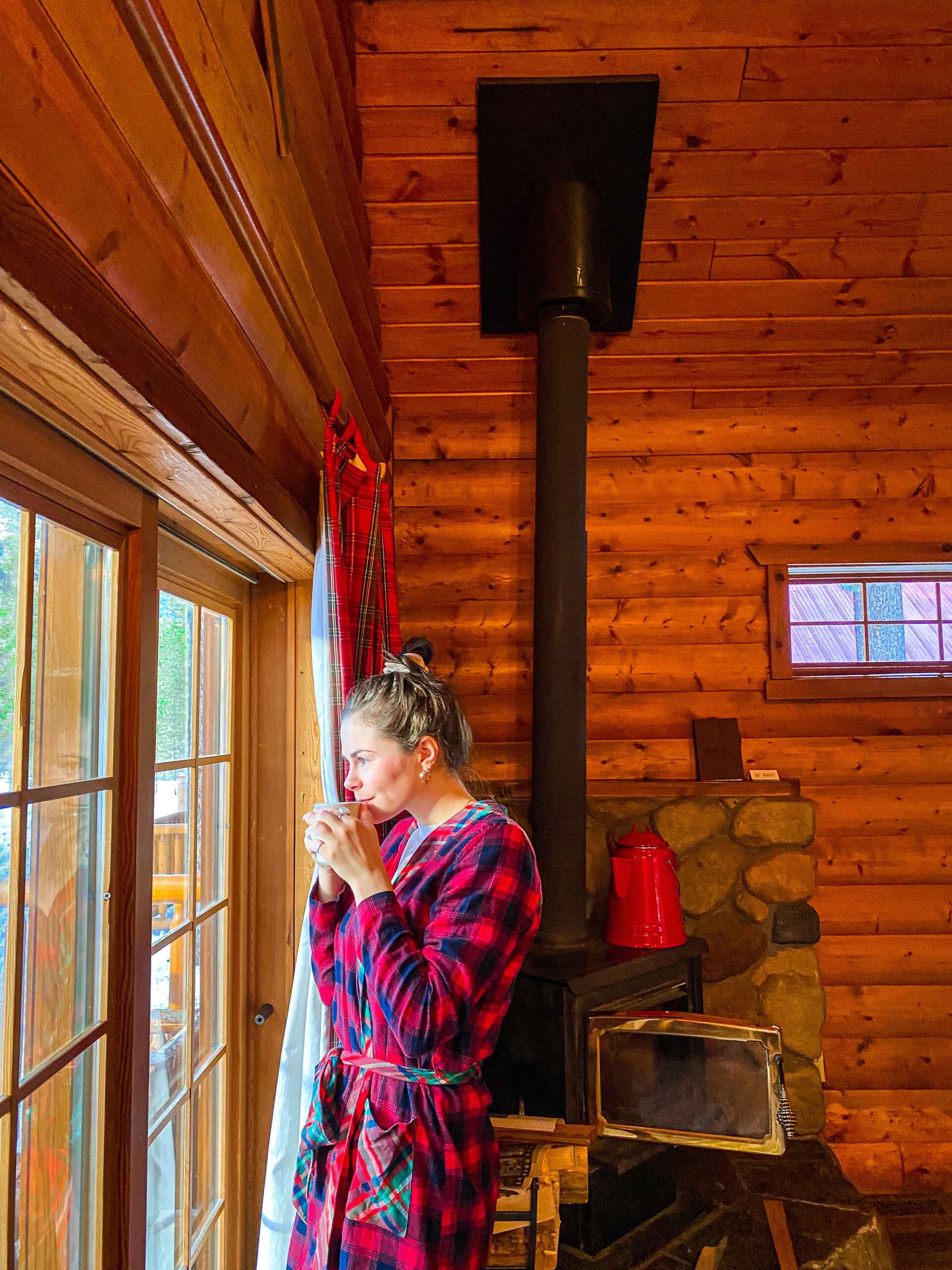 We loved starting a fire in our fireplace every morning to enjoy our coffee and every night to play cards. Sitting on our deck at the picnic table or rocking bench as the sun peaked over the mountains or as the stars twinkled overhead was the perfect way to soak in the mountain air.
We enjoyed our stay at Baker Creek Mountain Resort in Banff in March; as the snow was still around, we could enjoy sunny days outside, and the chill in the air urged us to cozy up by the fire.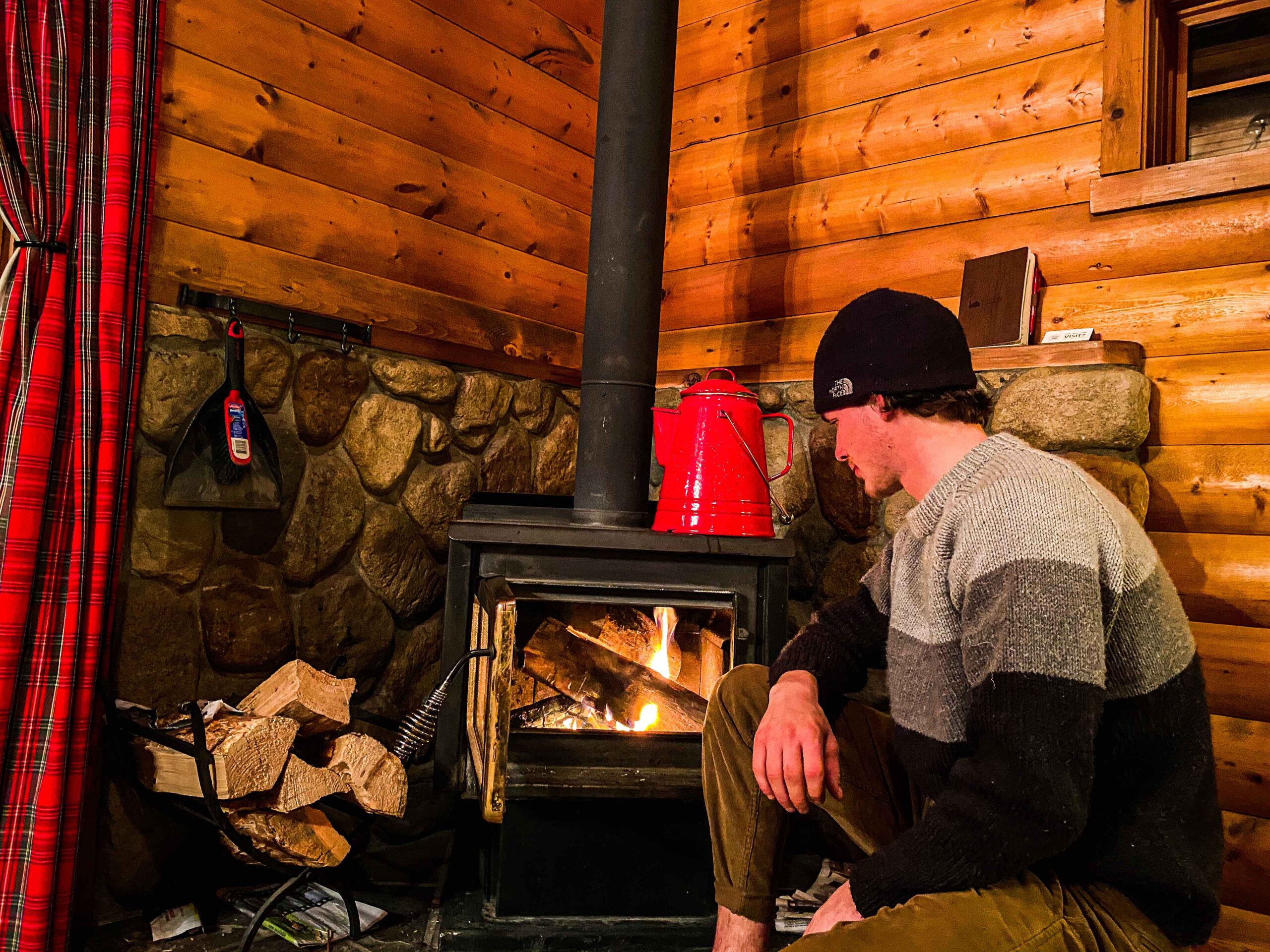 I would love to see the resort become even more magical around Christmas time, or see the resort as the creek thaws and the wildflowers bloom in the warmer months.
Where to Stay in Banff at Christmas Time
---
There Are Endless Activity Options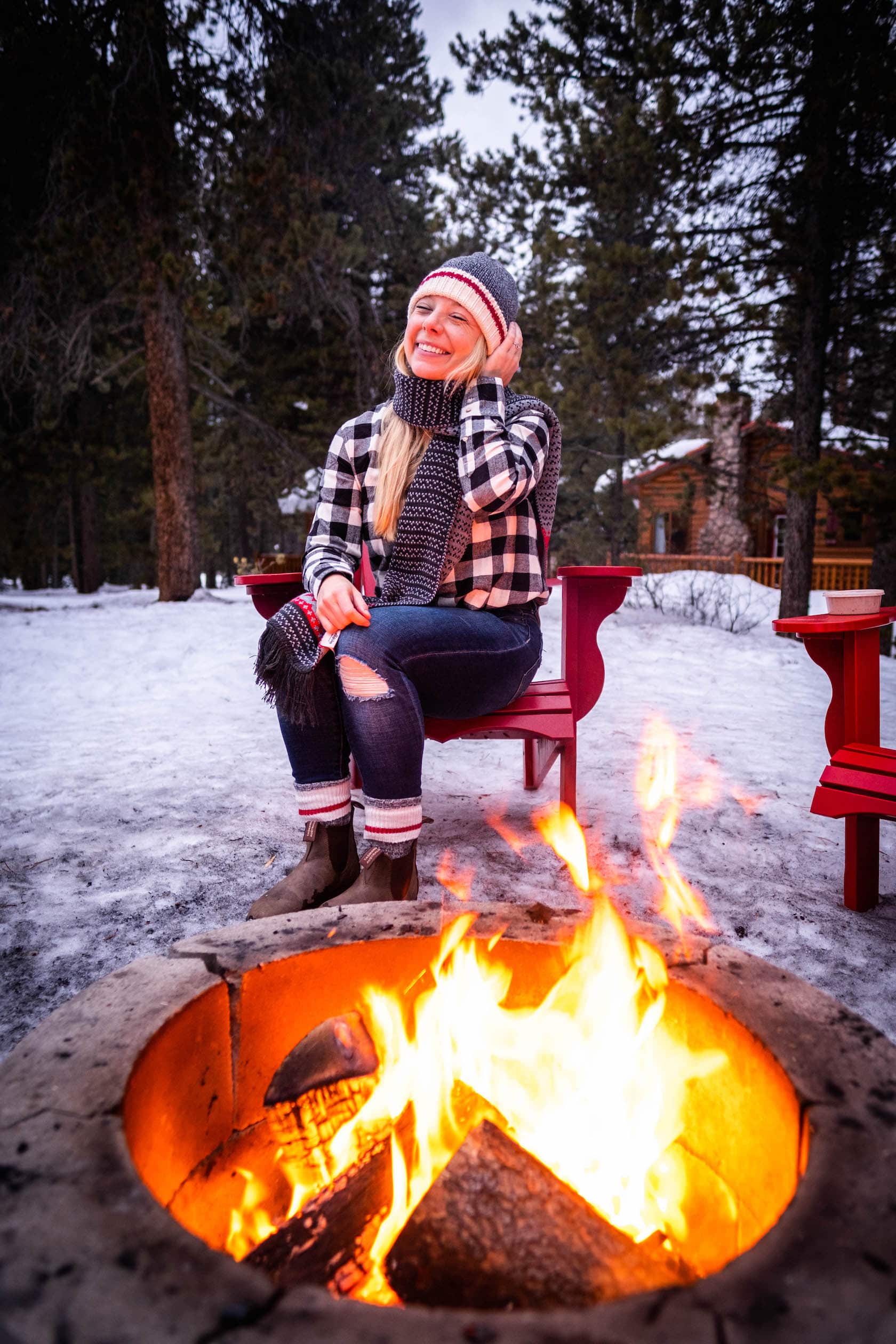 Though the snug atmosphere inside of the cabin makes it tough to leave, don't forget to get outside and experience all that the Canadian Rockies have to offer! The activities at the resort are endless: firepits along the river, cross country ski trails and a skating rink in the winter, or walking trails and a volleyball court in the summer.
Skating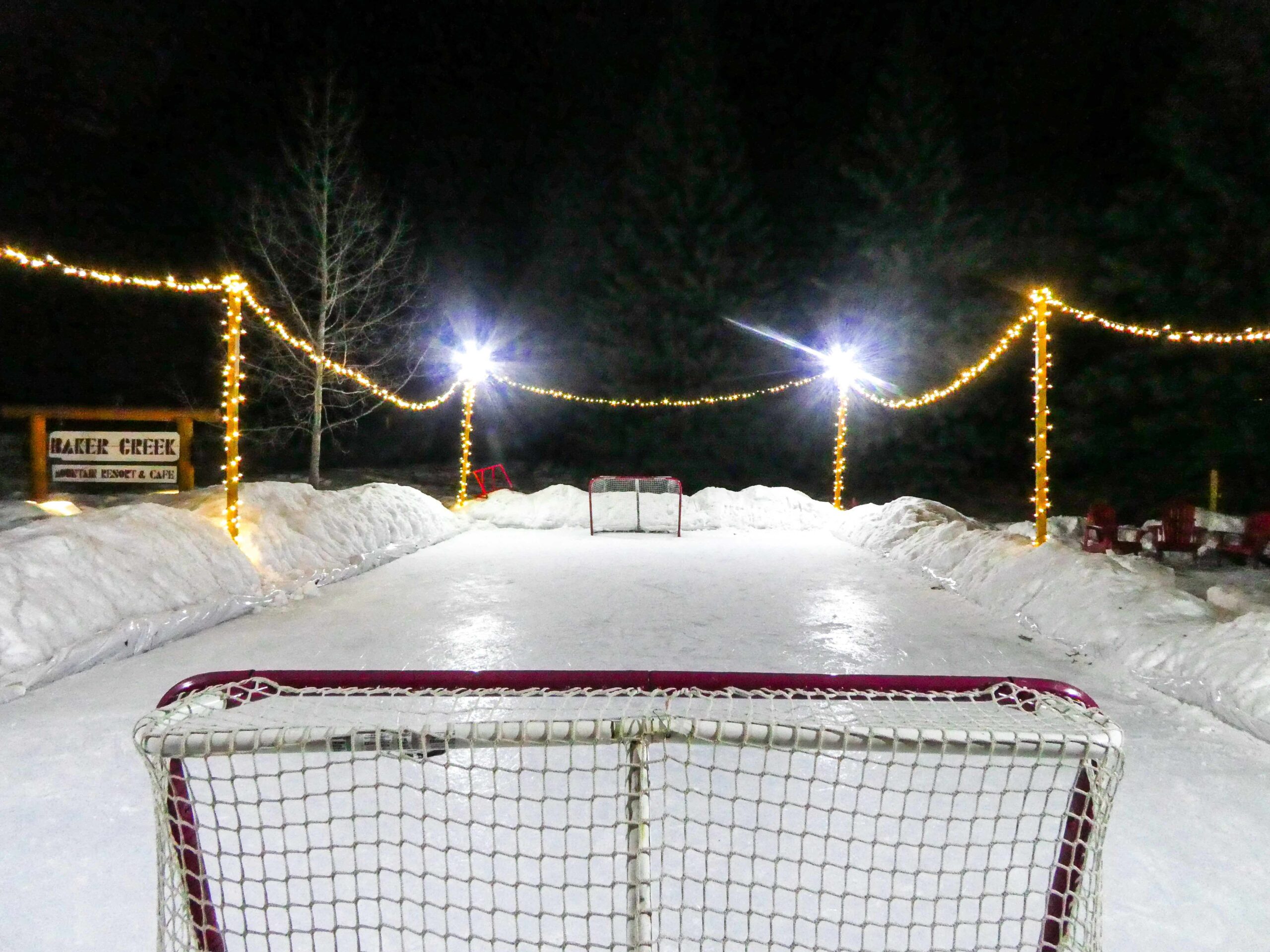 We spent the nights skating and playing hockey at their wicked outdoor rink during our visit in March! The rink is lit up all night long, so you can enjoy the rink after the sun goes down. The main office has skates to borrow, and there's a big bin of sticks and pucks right at the rink.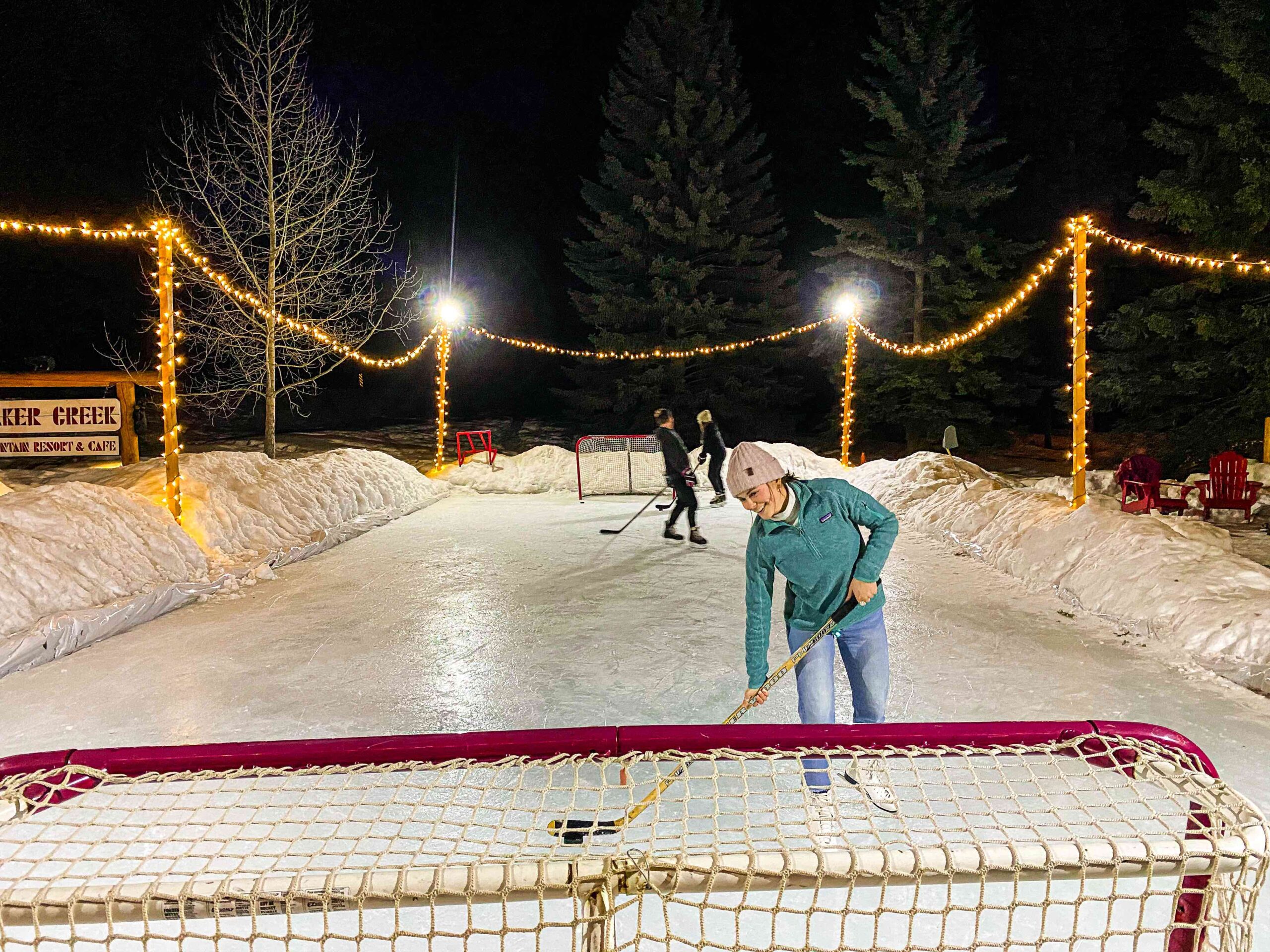 Fair warning – the smallest pair of hockey skates is a men's size 10. Though it's always fun to try something new, the bruises on my knees after catching those pesky toe-picks say otherwise! If you're a hockey player with smaller feet or figure skate with larger feet, be sure to bring your own skates to enjoy this fabulous skating rink.
Bonfires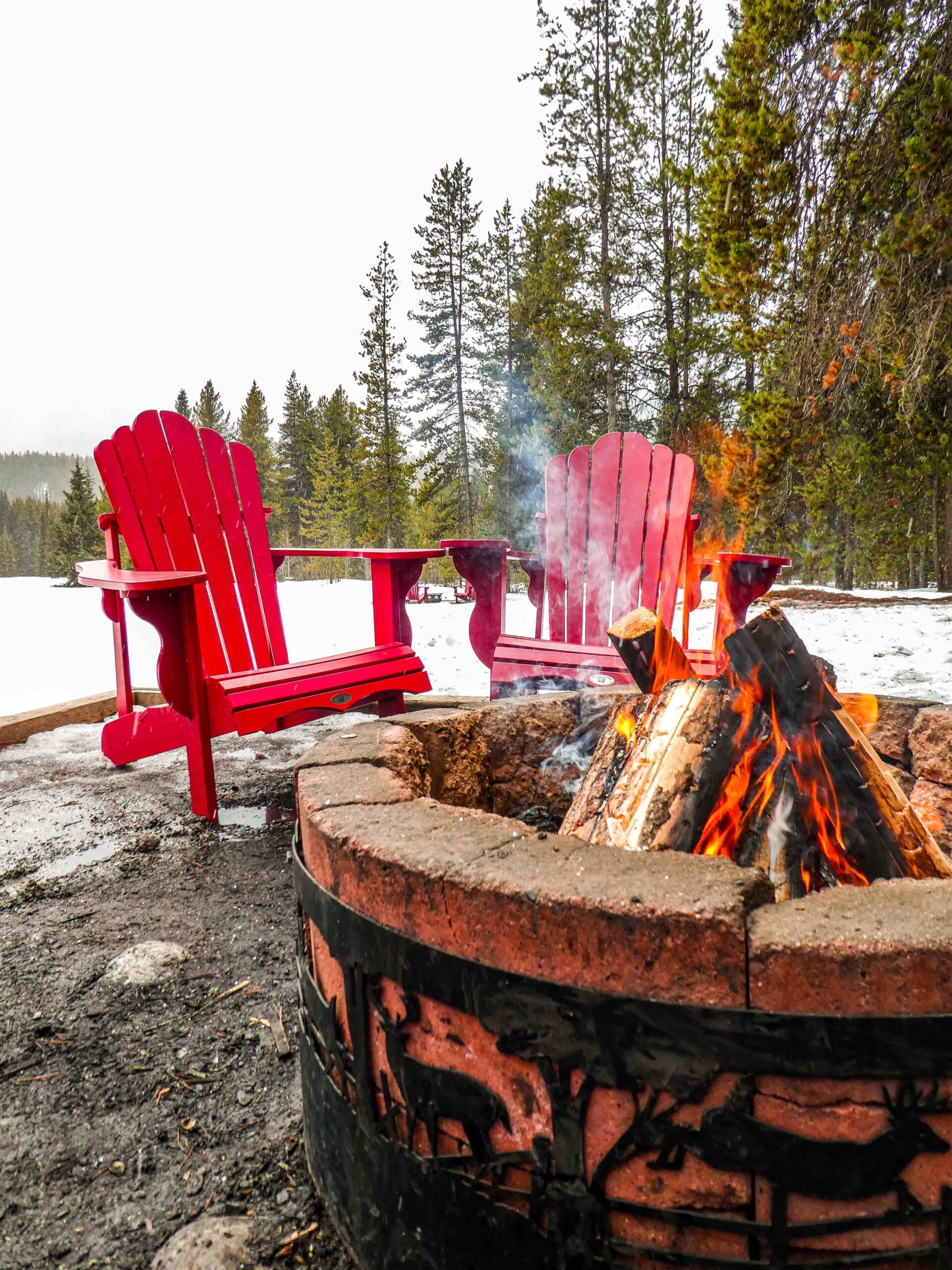 After skating, we warmed up by the fire pit. There is one fire pit beside the rink and about 5 or 6 fire pits along the creek. Each fire pit has lots of seating and a bin of firewood and kindling nearby. We visited during the week, so we had our choice of fire pit each day, but it would be fun to meet new people around the fire during busier stays!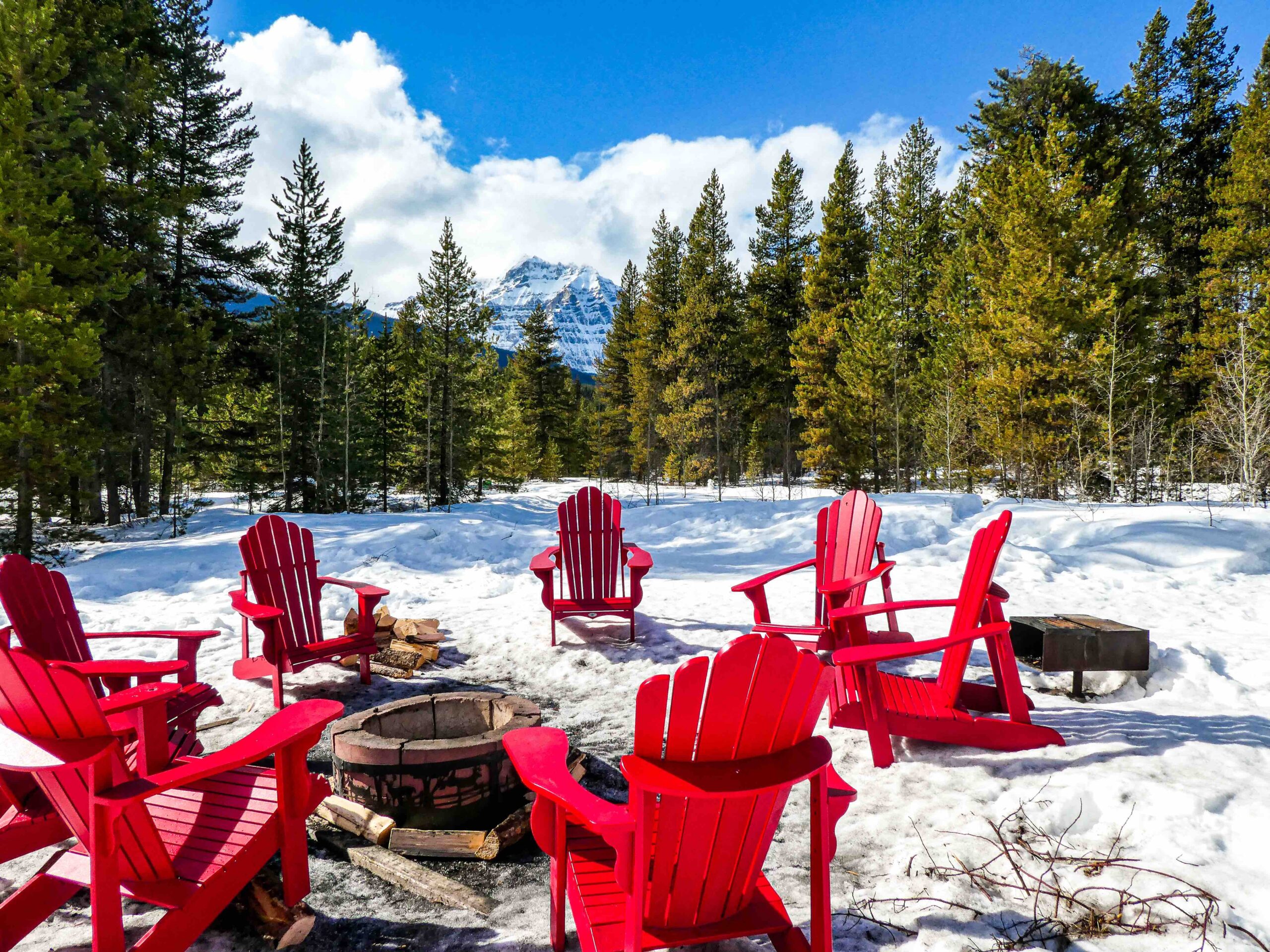 Cross Country Skiing
One of my favorite activities was cross country skiing! The lovely staff at Baker Creek maintains an x-country ski trail that starts right at the resort. After breakfast, we drove into Lake Louise and rented ski gear from Wilson Mountain Sports.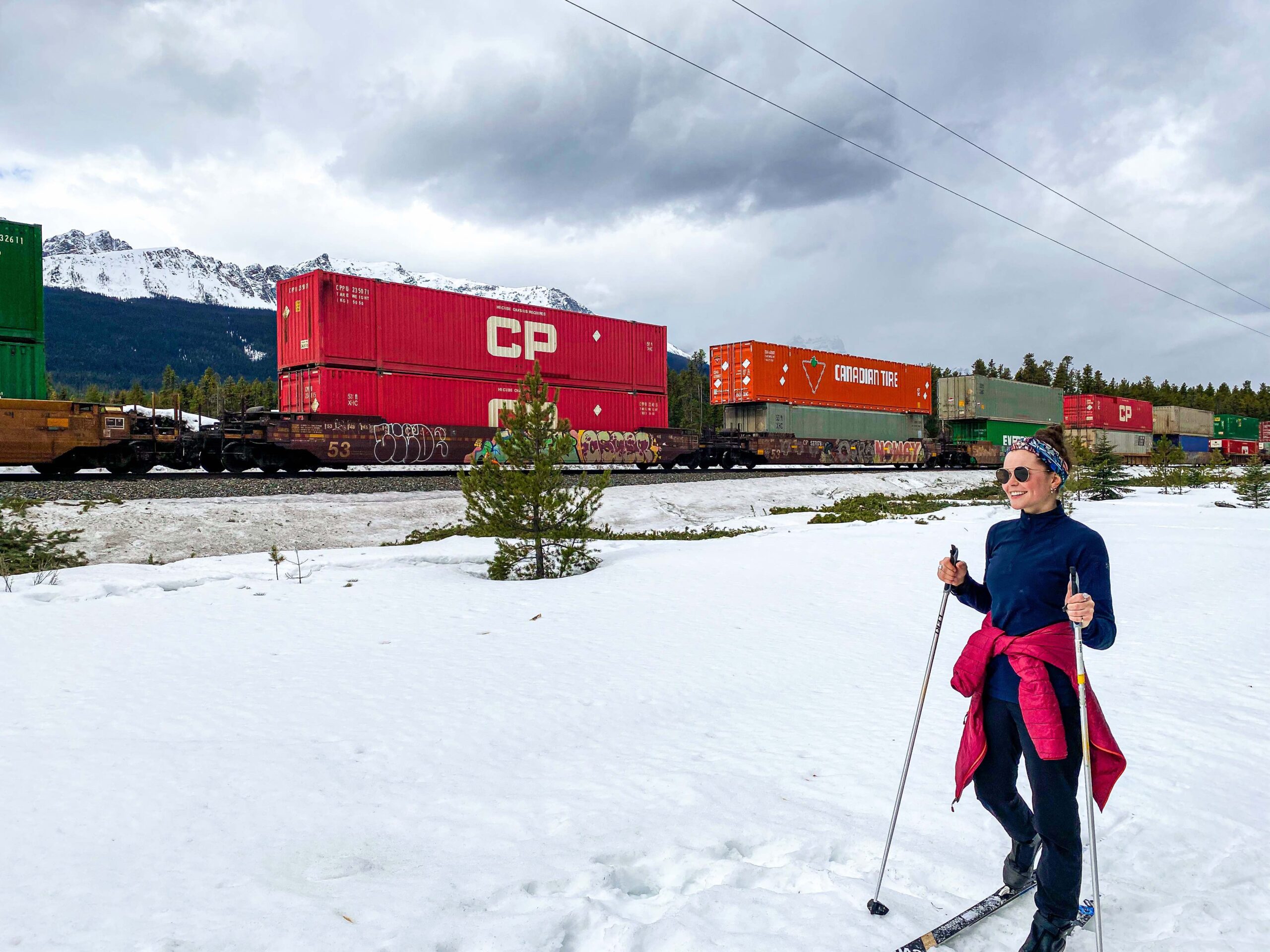 Back at Baker Creek Mountain Resort, the helpful office staff directed us to the trailhead, just a 2-minute walk up the road. We spent the morning nordic country skiing along their well-maintained trail. It took us to a beautiful lookout point of Castle Mountain, where we stopped for lunch before turning around.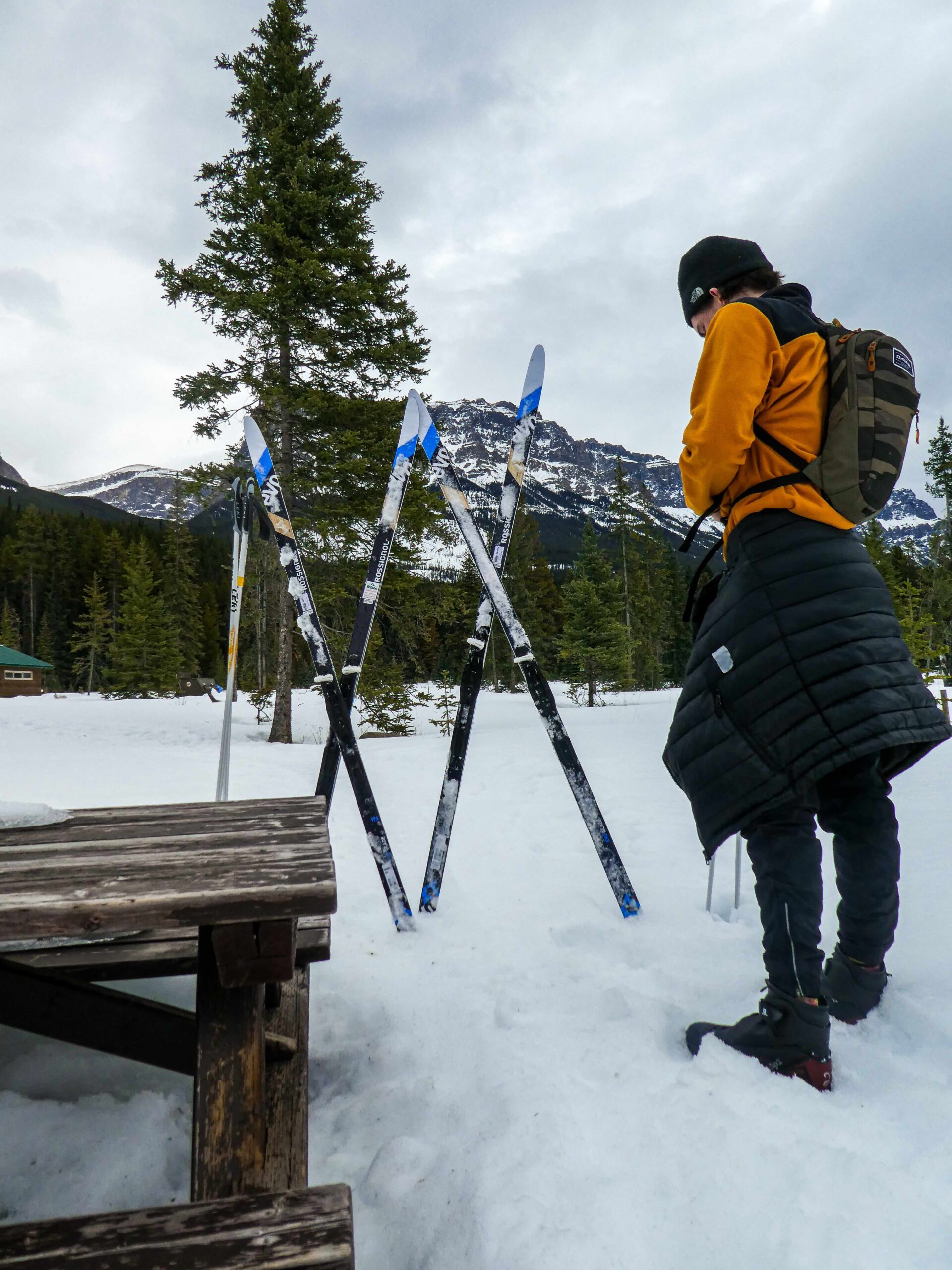 Snowshoeing and Tobogganing
If nordic country skiing isn't for you, the Baker Creek office also has snowshoes and toboggans for guests to borrow! Snowshoeing around Banff while pulling your little one in the toboggan, would be another great way to explore the area and its many trails.
Summer Fun
If you visit Banff in the summer, the skating rink becomes a volleyball court, and the ski and snowshoe trails become walking trails! You cannot get bored at the Baker Creek Mountain Resort no matter the season.
Other Nearby Activities
---
The Baker Creek Bistro Offers Delicious Food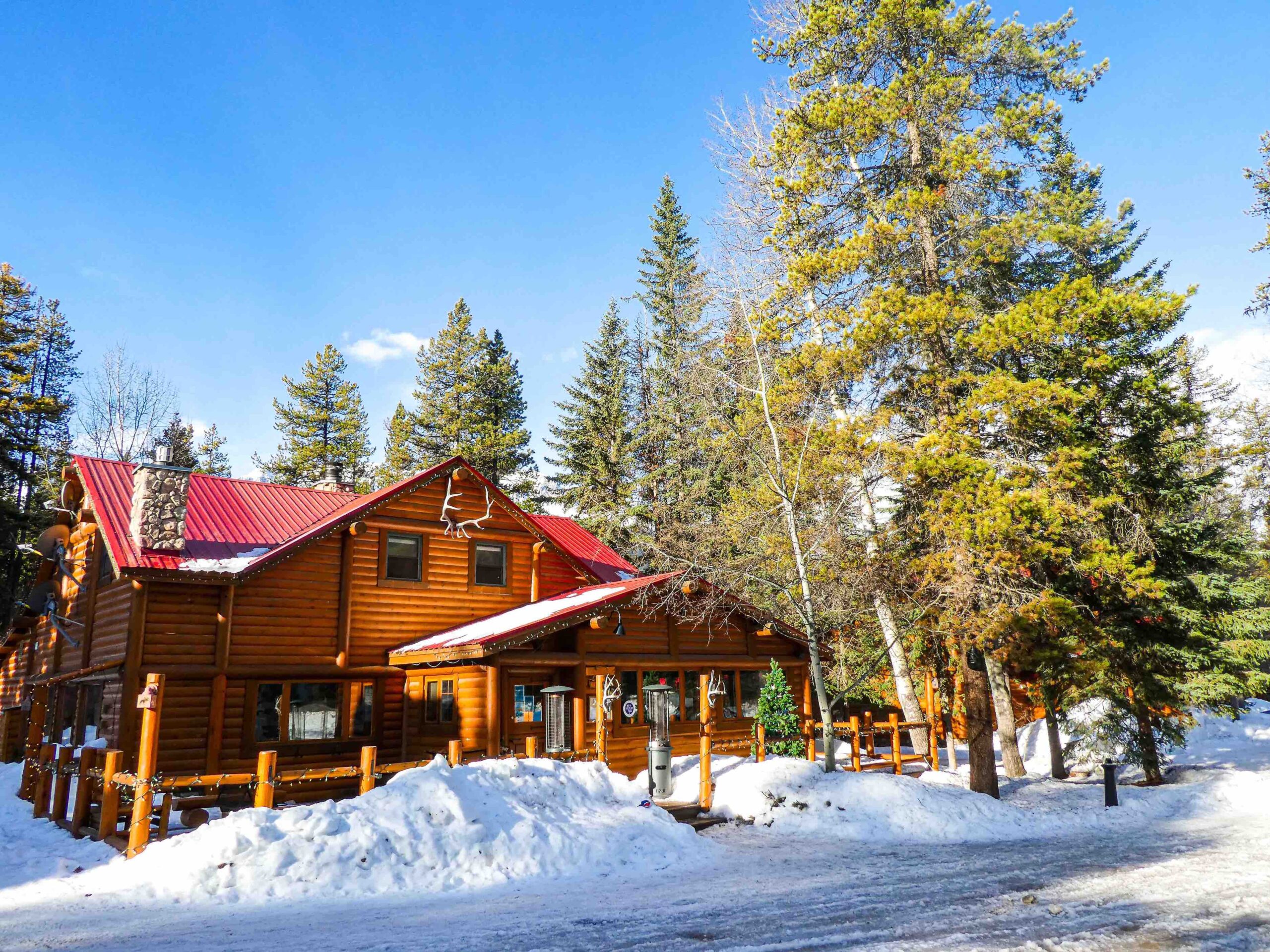 When staying at the Baker Creek Mountain Resort, do not miss your chance to enjoy a meal at the Bistro. The Bistro is located right beside the front office, barely a minute's walk from every cabin or room. Opening at 2pm, you can enjoy a late lunch, an afternoon drink, an appetizer, or a delicious dinner!
After spending the day outside and eating our packed lunch on the ski trail, we were hungry by the time we settled in the cabin for the evening. We visited the Bistro and ordered a charcuterie board to go – this was an excellent way to enjoy some tasty food while warming up by our fireplace after being outside all day.
The charcuterie board was delicious, making me even more excited about our dinner reservation!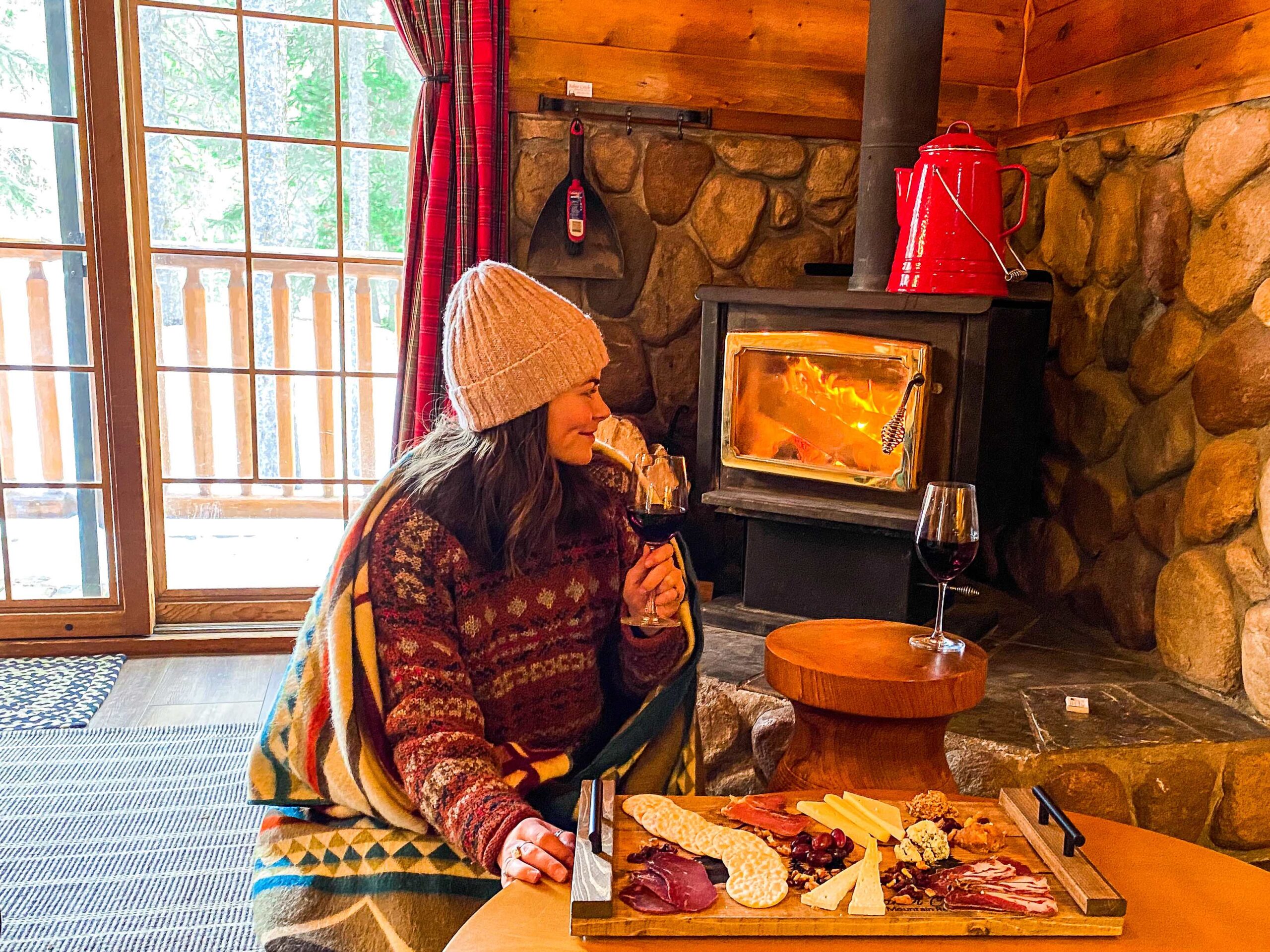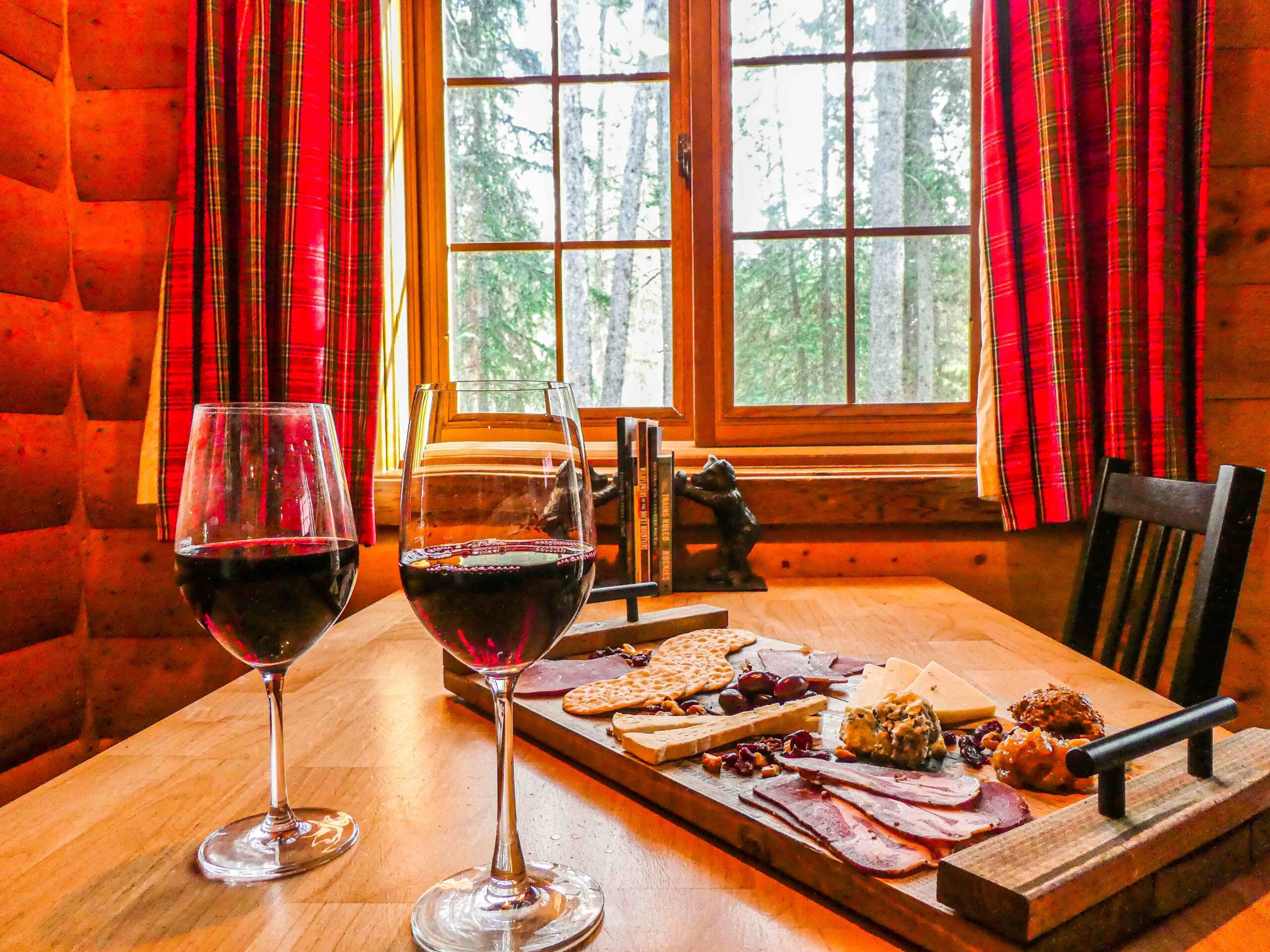 The Bistro interior is as cozy and mountain lodge-esque as the rest of the resort. The Bistro has a rustic wood-themed interior, warm fairy lights, and gorgeous local photography. We were lucky enough to be seated at the stone fireplace on the bar side of the restaurant.
The drink menu consists of tasty cocktails, a long list of wines, and our favorite local craft breweries. The dinner menu has plenty of delicious starters and decadent mains – vegetarians, meat lovers, and seafood connoisseurs will all be satisfied with this genuine Canadian menu.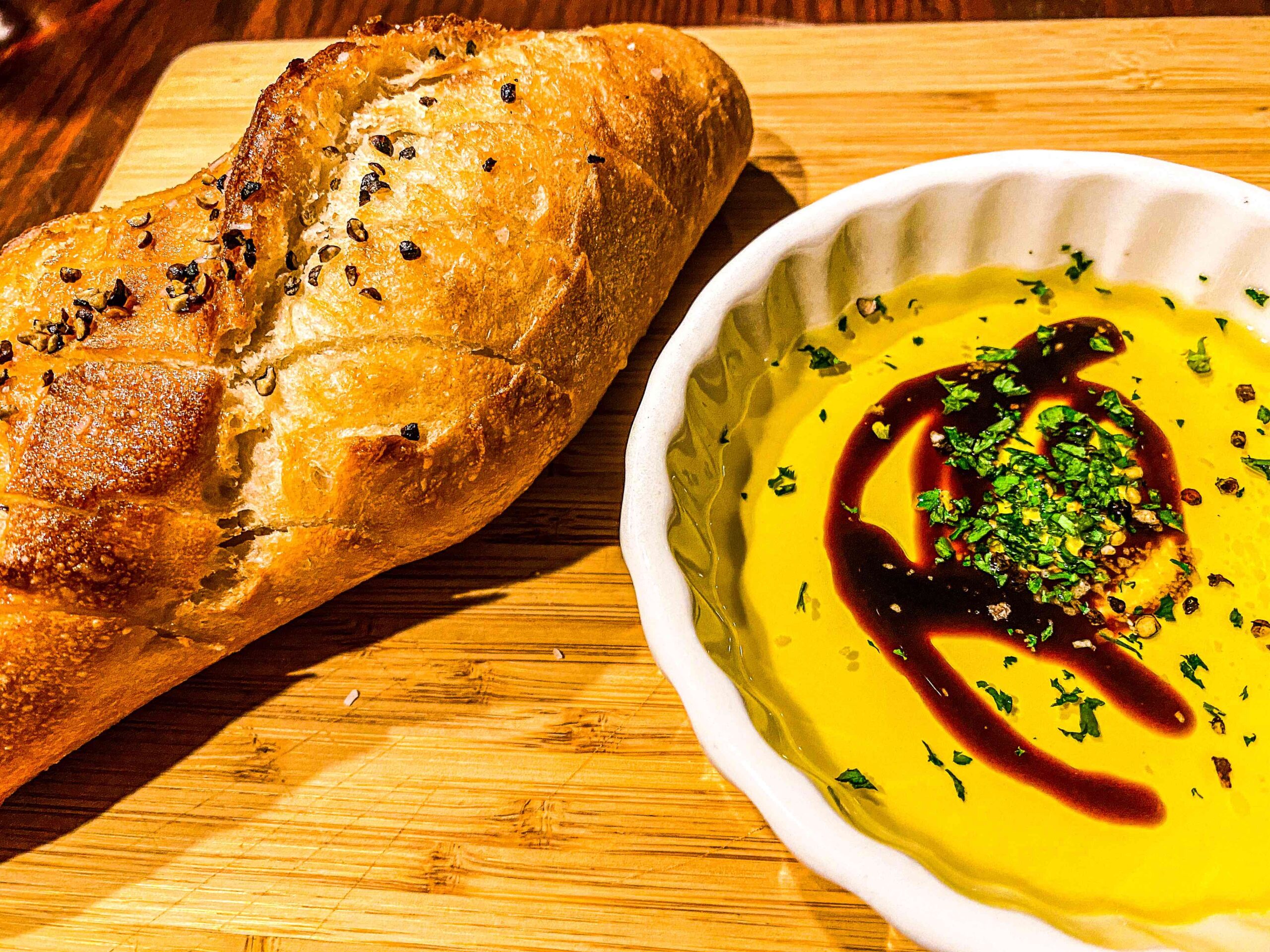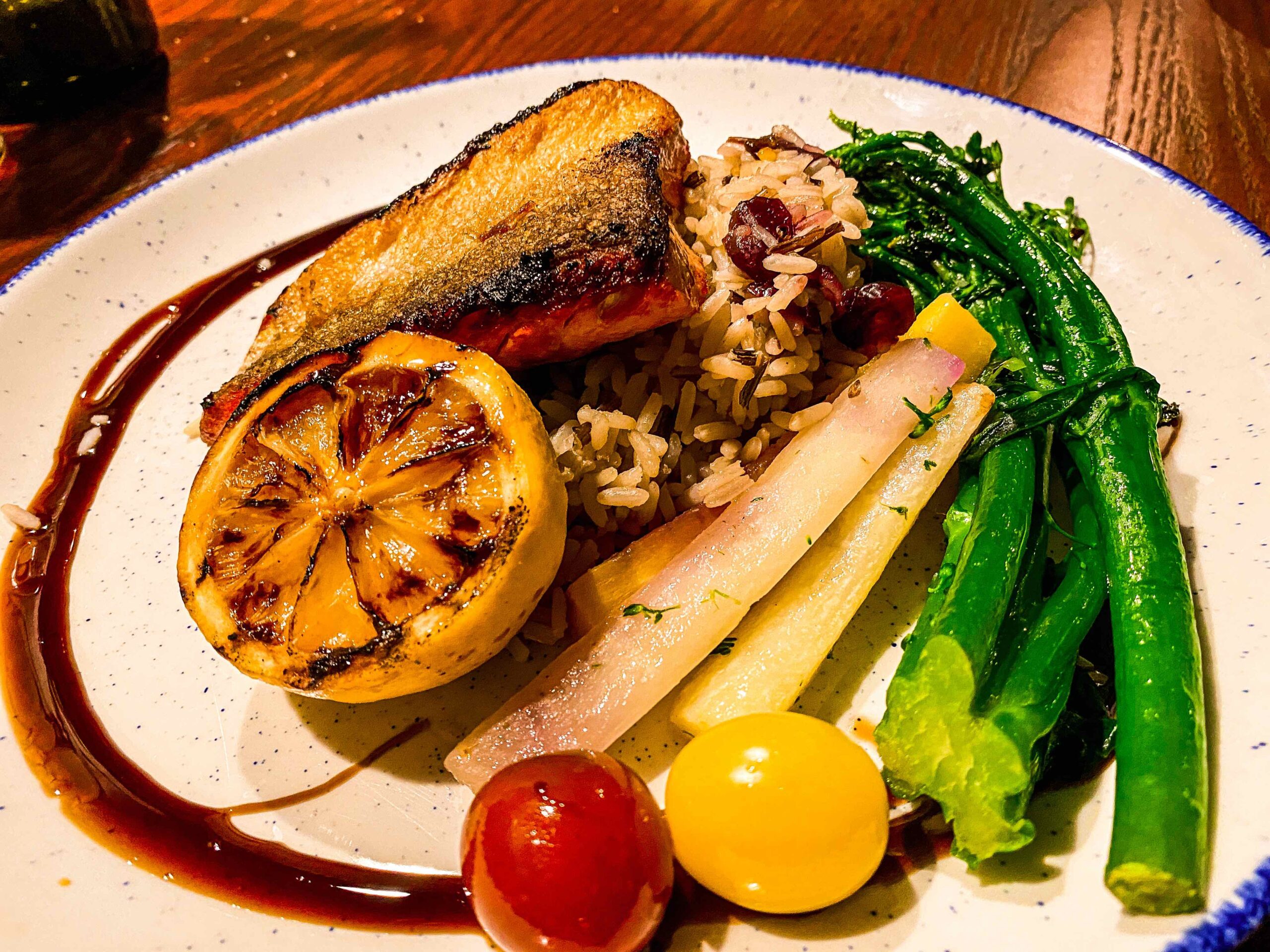 We were delighted with our Bistro experience. The serving staff were friendly and attentive, the ambiance was warm and cozy, and the meals were nothing short of perfect. The only thing to note is that I didn't see a kid's menu or any kid-friendly options – be sure to double-check this with the restaurant before bringing your family here!
**The Baker Creek Bistro is temporarily closed as it was destroyed by a fire in 2021** The Creekside Cafe is still open
The Creekside Café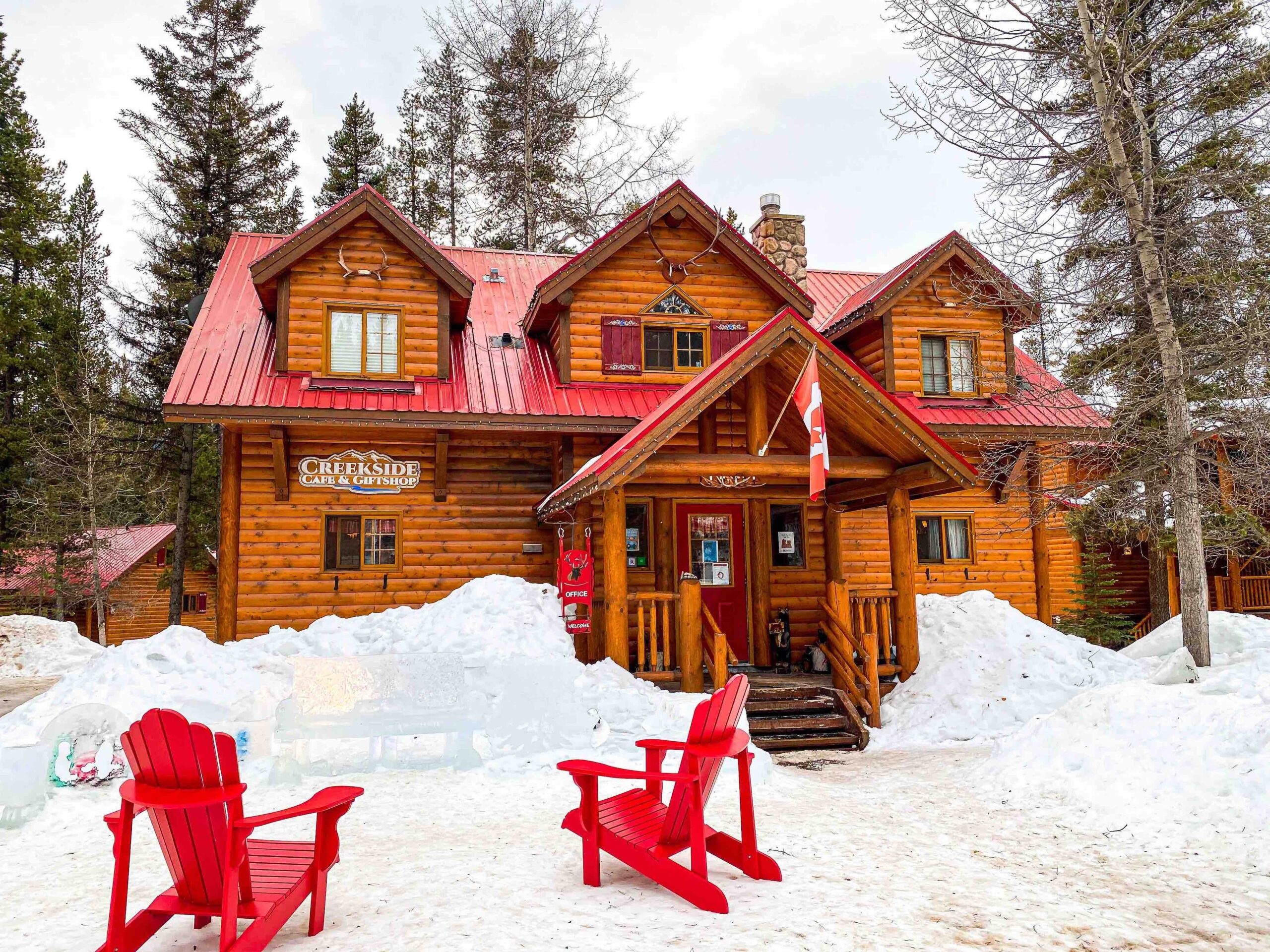 Inside the main office, there is also a cute cafe – The Creekside Café! Here you can get any specialty coffee you fancy, as well as baked goods. If you are in a hurry to hit the trails, the cafe also has some grab-and-go options: sandwiches, breakfast biscuits, yogurt parfaits, and bottles of juice, smoothies, and milk.
There's Also a Kitchen!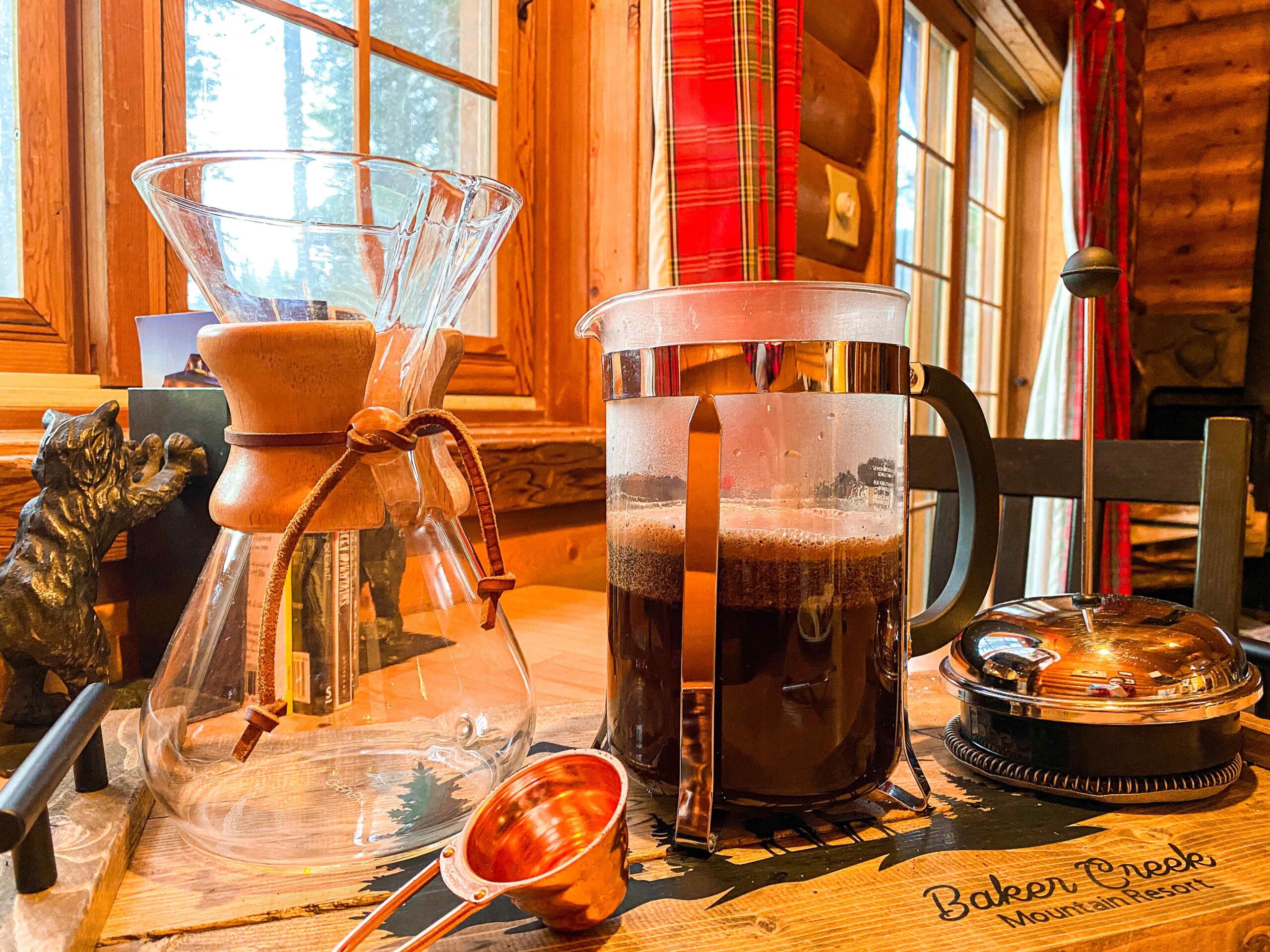 Though the Bistro was delicious and the cafe was convenient, making meals in your own kitchen is always a plus. All the cabins and some suites have their own kitchenette, allowing you to do your own light cooking when you please.
Keep in mind that the fridge is small and the stovetop only has two burners – try to keep your meals relatively simple, especially if cooking for a family or group of friends!
---
A Stay At Baker Creek Gives the Chance to Fully Disconnect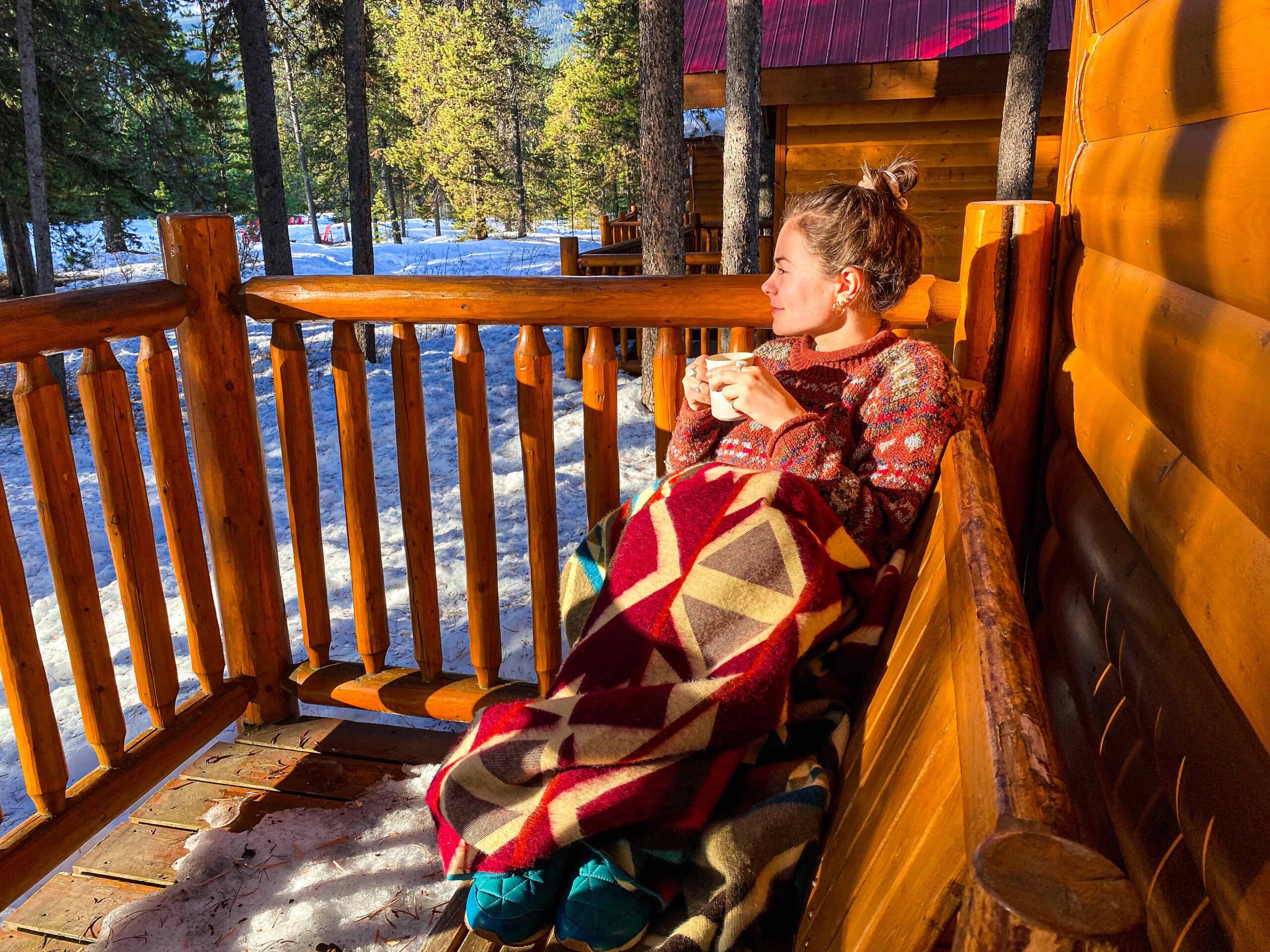 One of the best parts about the Baker Creek Mountain Resort is that it allows you to fully disconnect from the hustle of everyday life. There is no cell phone signal, no televisions, and minimal WiFi. This getaway gave me the digital detox I didn't even know I needed.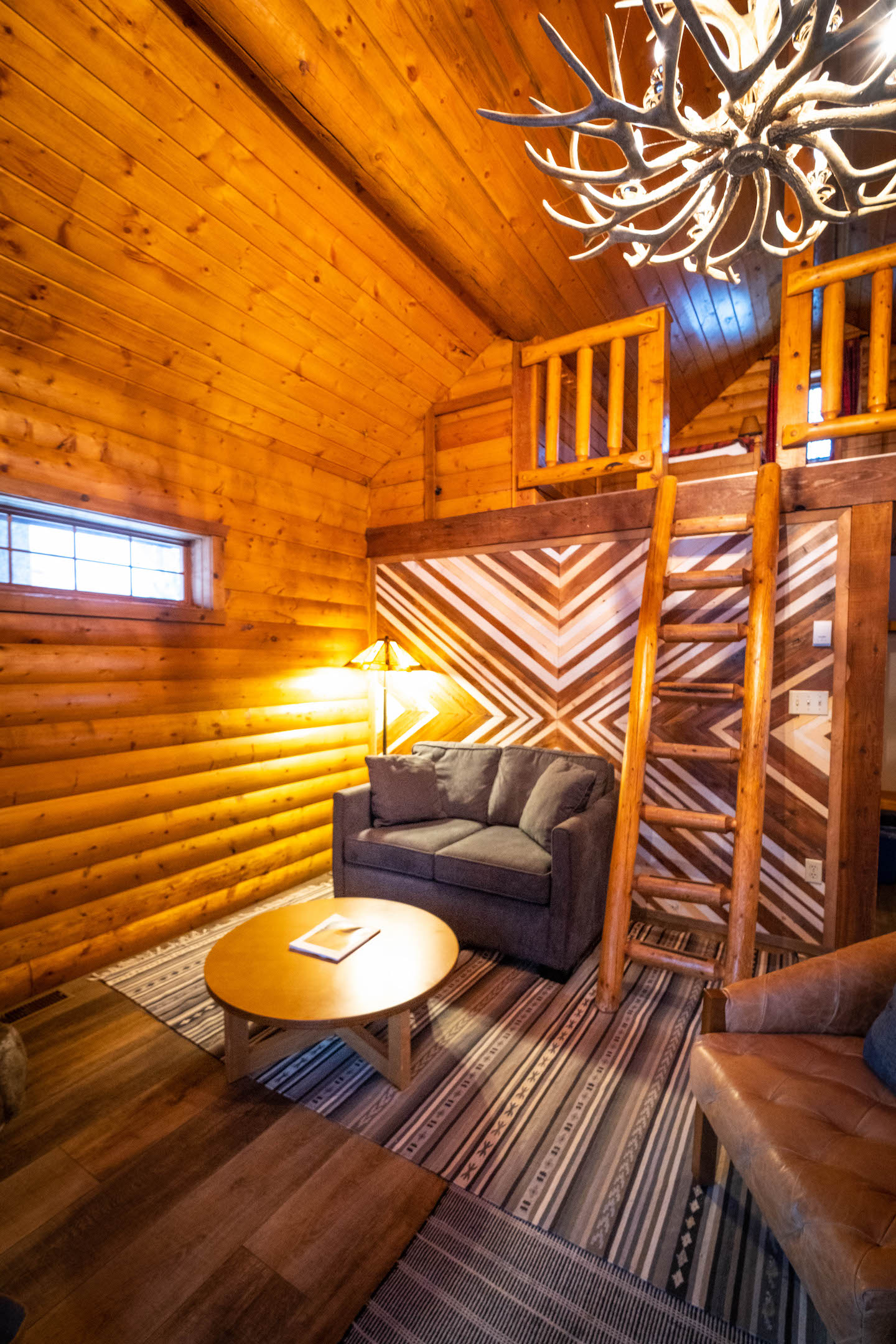 Being off the grid is a great way to become closer with your partner, spend quality time with your family, or unwind with friends. Without the distraction of cell phones and TV, you really appreciate the place you are at and the people you are with!
---
Baker Creek is Pet Friendly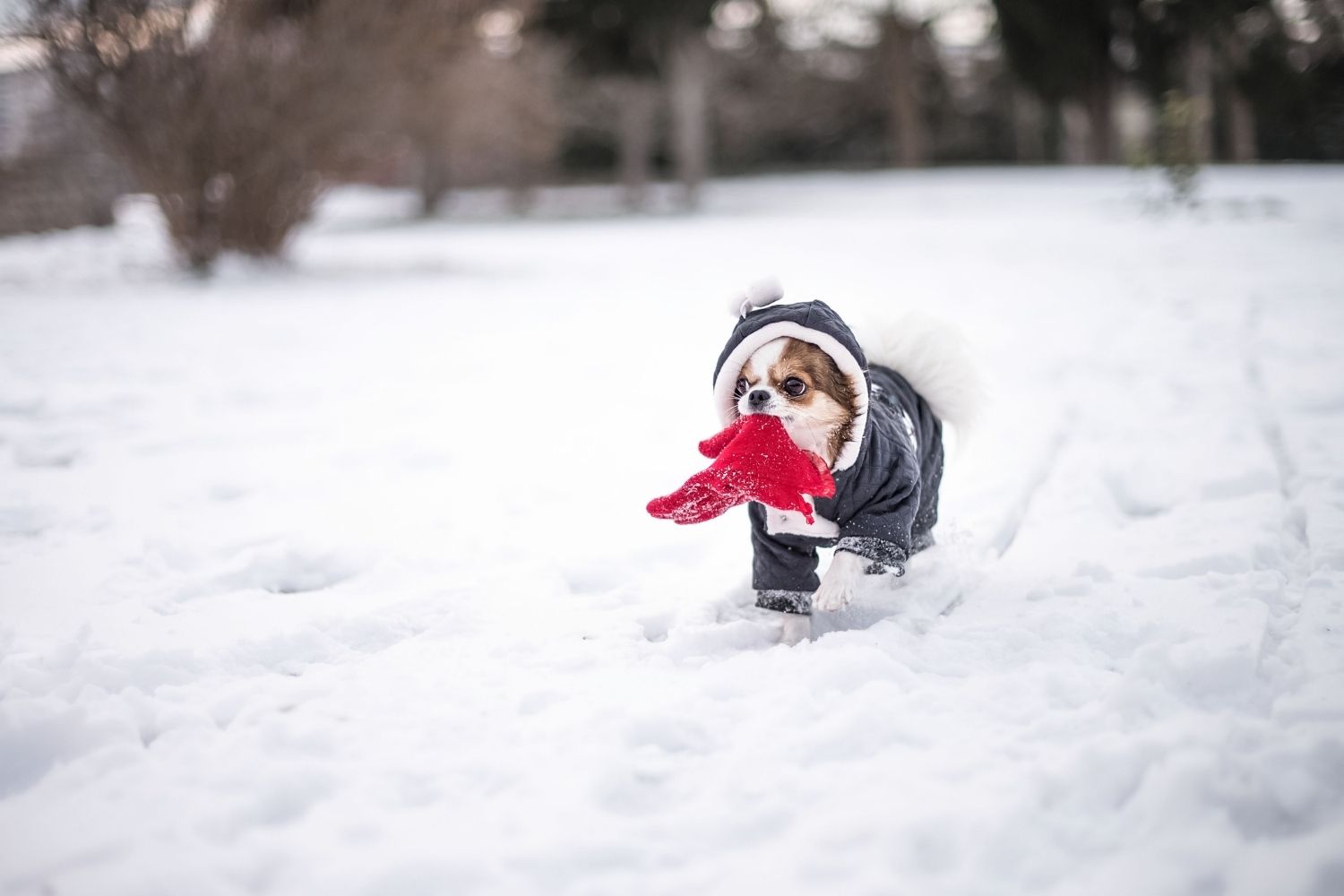 Baker Creek is pet-friendly Banff hotel, so bring your furry BFF, so they don't have to miss out on the amazing adventures and relaxation that come with a stay here. They will love the open space, walking trails, and new areas to explore.
Let Baker Creek know about your pet upon booking – there is a charge of $40 per night for the first pet, and $20 per night for the second. Don't forget that, being in the Banff National Park, you will always need to keep your pet on a leash.
This area is home to bears and other wildlife, so this rule is in place for the safety of both your pet and wild animals.
---
Overall Impressions of Baker Creek in Banff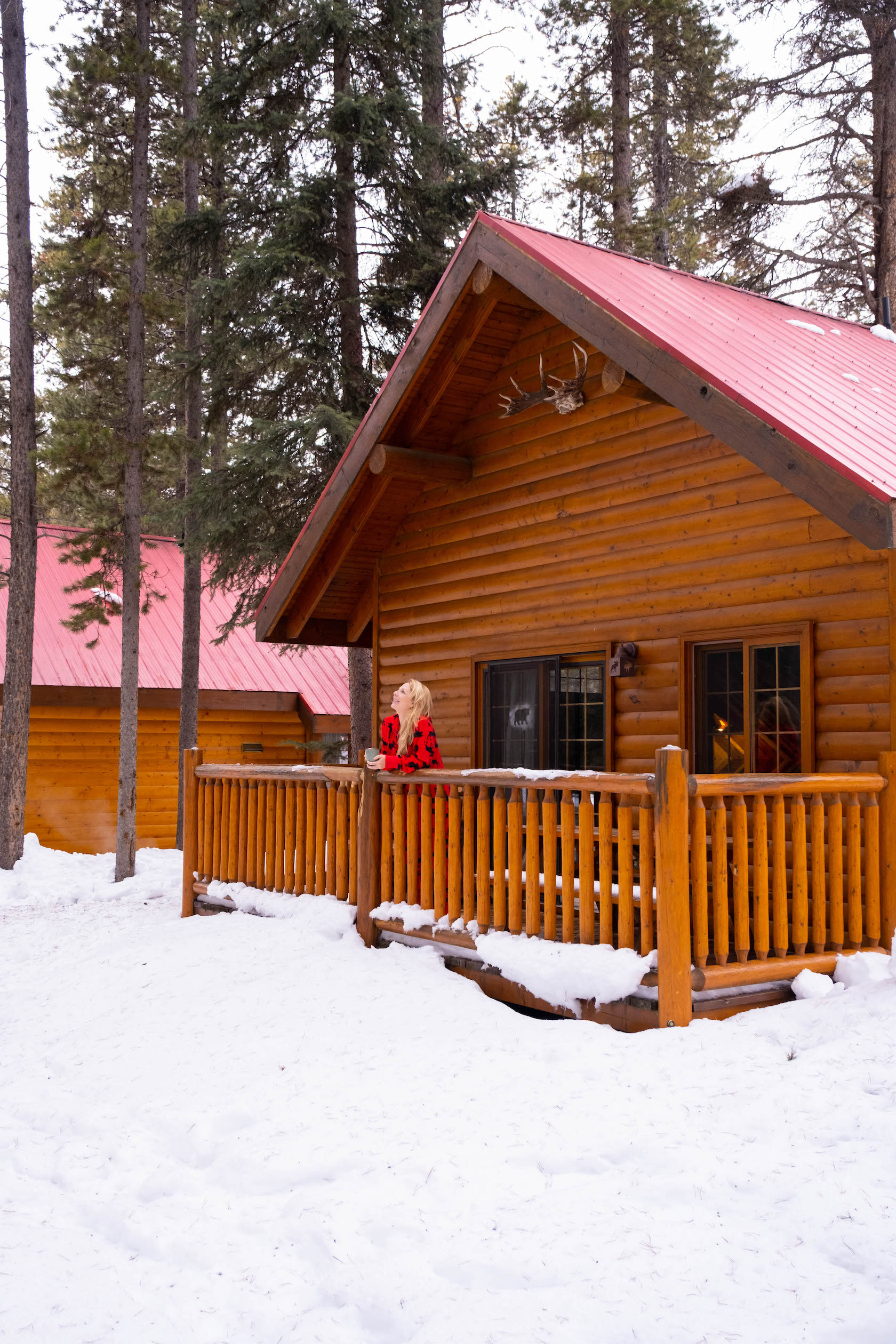 Overall, we could not be more impressed with our Baker Creek Mountain Resort stay. The staff were all amicable and helpful, the location is perfect for exploring Banff National Park, and every detail of the resort was excellently thought out.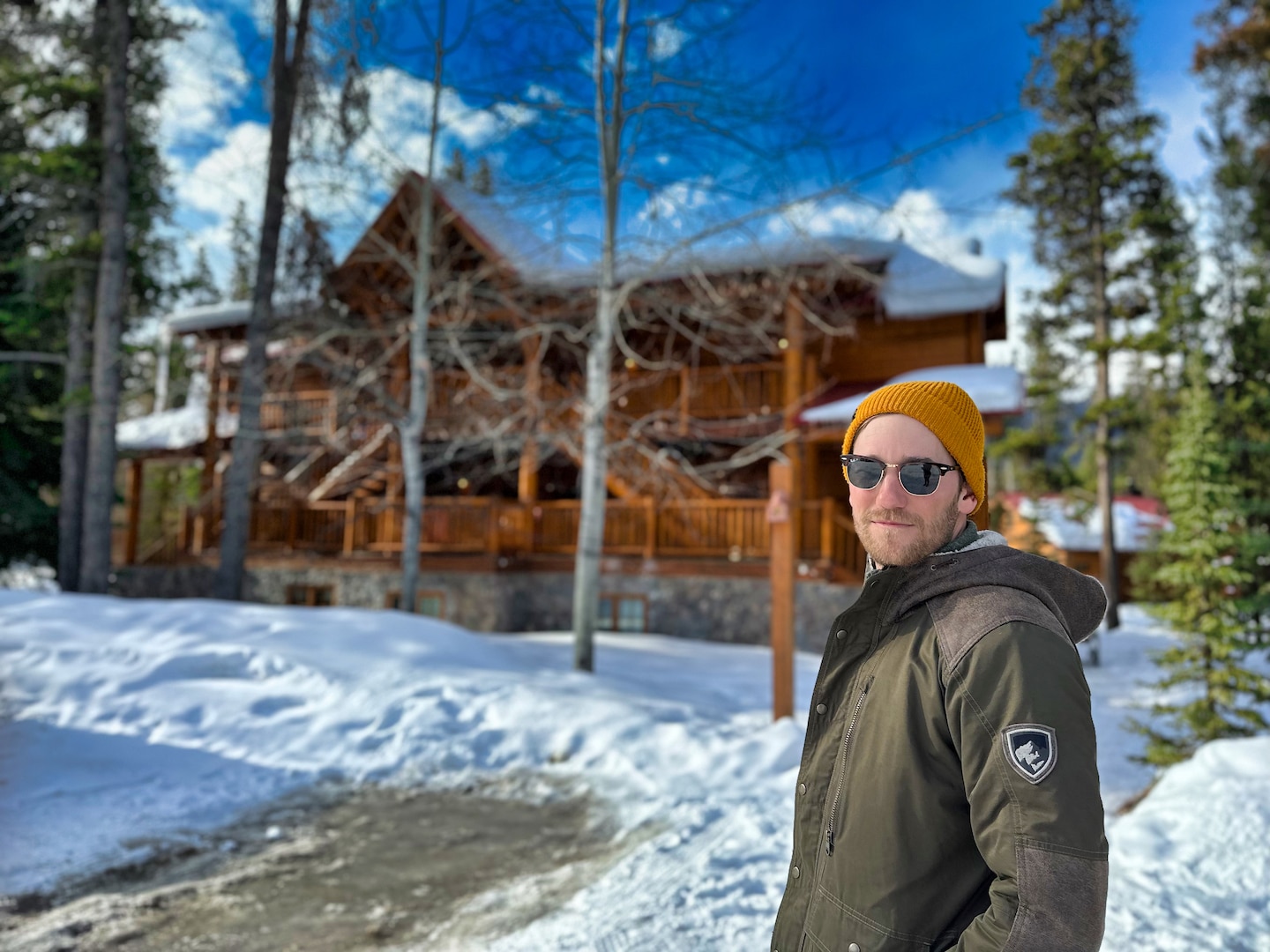 We often reference 'our time at the cabin' and our burning desire to revisit this relaxing resort often. If you plan to make a trip to the Rocky Mountains, Baker Creek must be added to your Banff itinerary!
---
Know Before You Go to Baker Creek Mountain Resort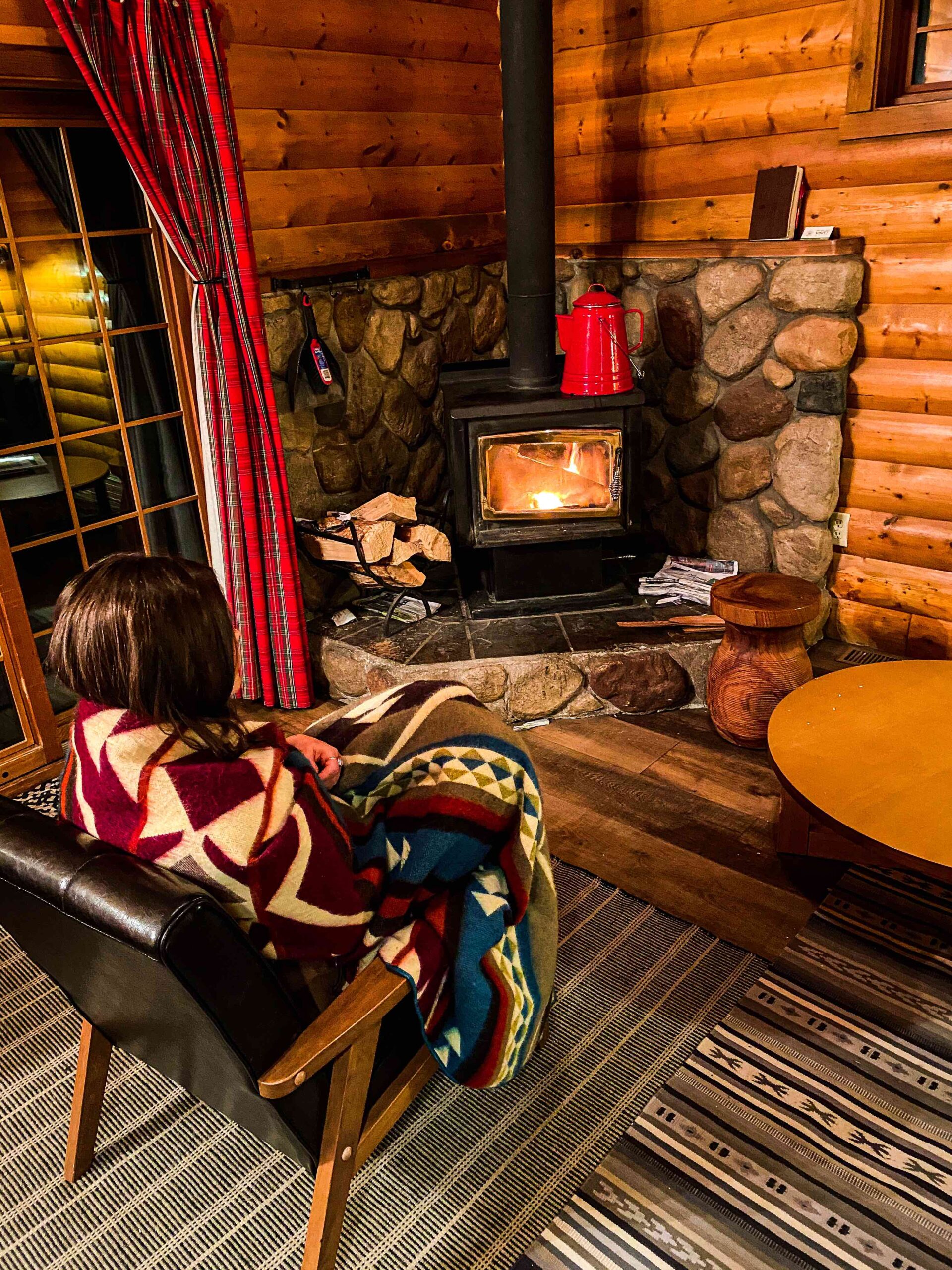 Located in Banff National Park: With Baker Creek Mountain Resort located in Banff National Park, you will need a National Parks Pass for your vehicle. This can be purchased at the park gate, or online before your arrival.
Gear rentals: The front desk will provide you with skates and hockey sticks, snowshoes, and toboggans, all free of charge. It is important to note that for anyone with feet smaller than men's size 10, they only offer figure skates. All of their gear is on a first come, first served basis! For cross country ski rentals or other gear rentals, check out Wilson Mountain Sports in Lake Louise.
Drinking water: The water at the resort, in every room and every cabin, is potable. There is no need to bring your own water, but don't forget your reusable water bottles to fill up before your adventures.
Fitness facilities: If hiking or skiing doesn't quite cut it for you, Baker Creek also offers a fitness facility! You can also enjoy their sauna and steam room after your workout.
Kitchen supplies: The kitchenette is fully stocked with pots, pans, dishes, and eating and cooking utensils for your stay. It also has a mini fridge, 2 burner induction stove, small oven, microwave, kettle, and coffee press. Salt and pepper are also provided. The main office can give you fresh coffee grounds whenever you need them!
Washroom supplies: The modern style washroom has all of the toiletries you could need – shampoo, conditioner, body wash, soap, and hand cream. A hair dryer and several fresh towels are also provided. I loved the high-quality products they provided, and the best part is that they're from a local Indigenous company: the Mother Earth Essentials.
---
Book Your Stay at Baker Creek!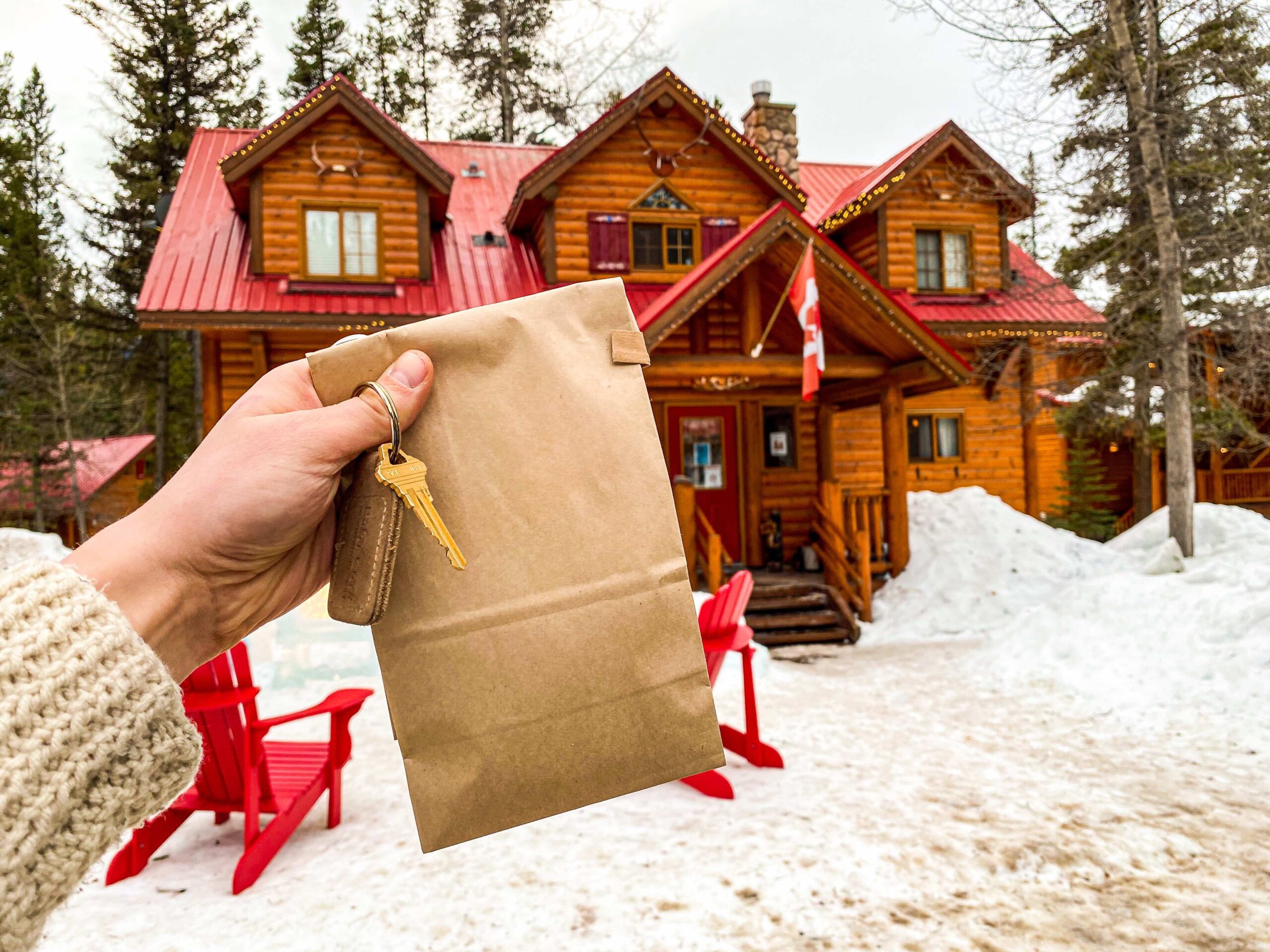 ---
Plan Your Trip to the Canadian Rockies
↓ Join the community ↓
The Banff Blog Facebook Group is your headquarters for the Canadian Rockies' travel advice and information. Including hike info and off-season travel information. You can also meet new adventure buddies.