Planning to visit Banff in March and curious to know what to expect? We have you covered! Banff in March means it's still very much winter. While some of Canada is starting to warm up and head into spring, it doesn't exactly happen in the Canadian Rockies.
That doesn't mean March is the wrong time to visit Banff, though! There's still so much to do in Banff in March, especially if you enjoy things like skiing and snowboarding. So what will the weather be like, and what should you pack? Let's dig in.
---
Things to Know Before Visiting Banff in March
---
What's the Weather Like in Banff in March?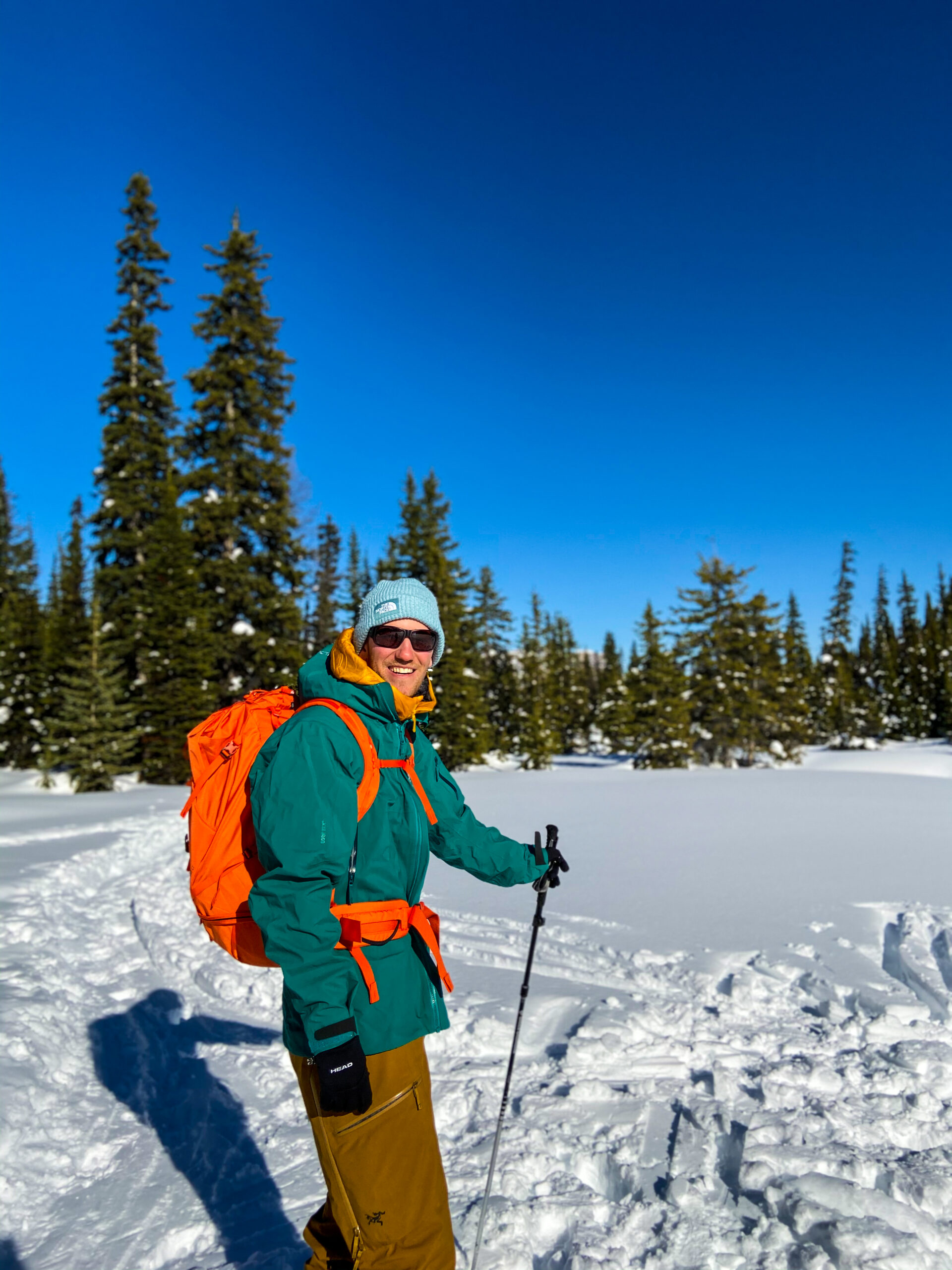 The average temperature of Banff National Park in March creeps above freezing (finally) up to around 2-4°C. The sun shines over the mountains this time of year (12 hours a day) the snow glistens, and signs of spring can be seen in less snowy places come late March.
There's still plenty of snow left on the slopes so ski season is still in full swing. By the end of March you might get a few days of spring riding, but you may also get a few frigid days. Every day is an adventure in Banff!
Depending on the year you may have a dry March, but we've seen plenty of powder days in the mountains during the month. Come expecting a few blizzards – or maybe not – hard to tell in the mountains.
All that being said, the nights in the Rockies still drop below zero. The weather can be pretty varied, so make sure you bring plenty of layers.
Feel like going ice climbing? March is a good time of year to do it! The lakes are still well frozen too so great winter activities like ice-skating and dog sledding are still in full swing.
If you're renting a car you'll want to know how to drive in the snow, there's still plenty of it on the road in March. Prepare for all types of weather in March, some days are beautiful with the sun shining and some days it will be blizzarding.
---
How Much Does it Snow in March?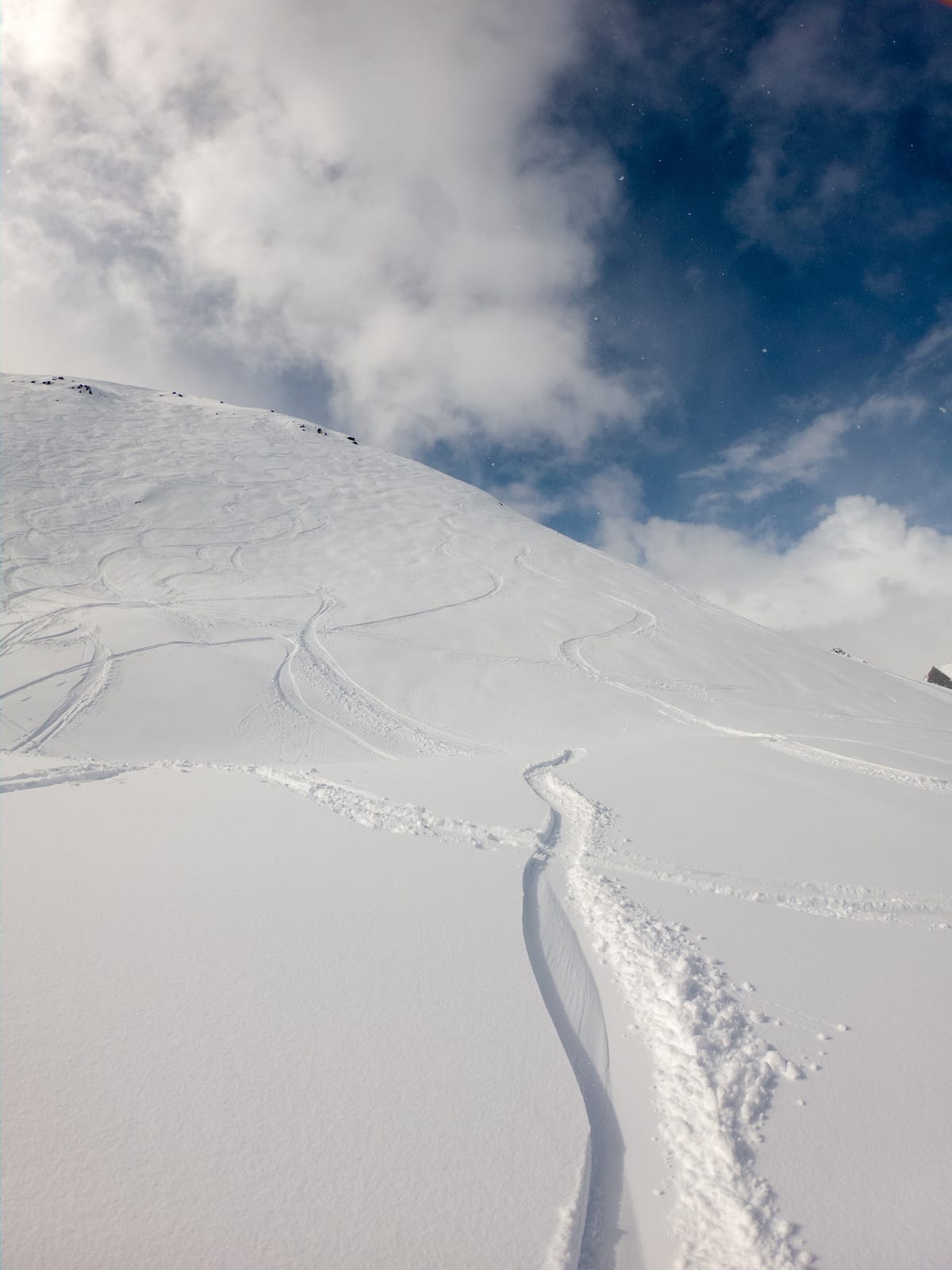 You'll still get plenty of snow in Banff in March, when you look at the past yearly forecast March actually gets more than January or February. The Town of Banff typically sees between 10-14 cm of snow per week, with between 4-5 snowy days a week.
Further up the valley near Lake Louise, you can expect up to 20 cm of snow and 5.2 days of snow – per week. Bring snow pants and good boots.
---
What Clothes to Wear in Banff in March?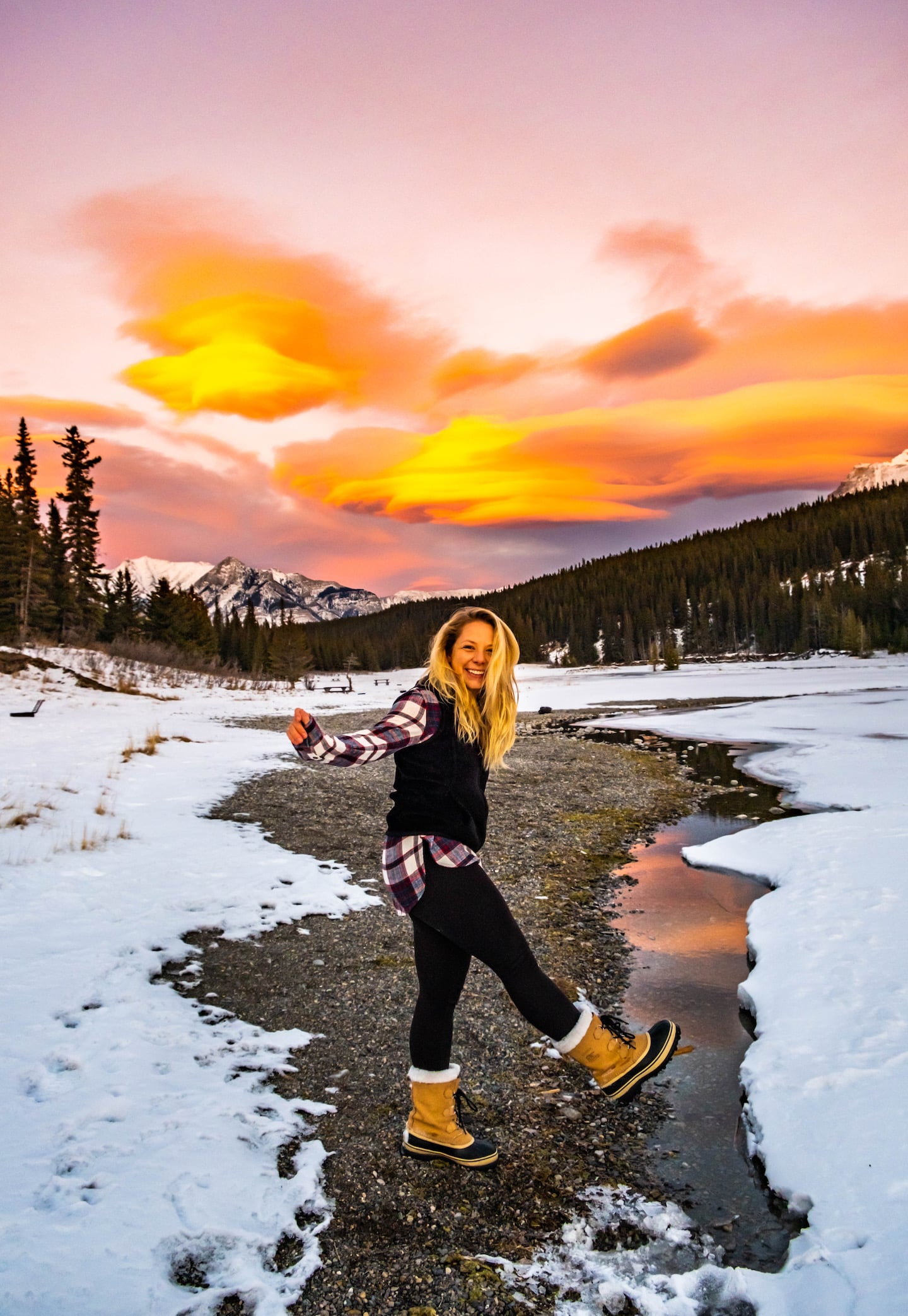 March is very much still winter in the Canadian Rockies and you'll need to pack for the occasion. That means layers and layers. You'll want a winter jacket, thermals, and warm waterproof boots as a basis. Don't bother with any sort of summer clothing, you won't need it here.
Here's a basic list to go off. The left column is for general winter packing and the right is if partaking in snow sports
Winter Down Jacket
Sweater
Flannel
Casual Pants
1 x Top Base Layer
1 x Bottom Base Layer
2-3 x Wool Sports Bra
2-3 x Wool Ski Socks
Mittens
Warm Hat
Winter Boots
1 x Mid-Layer Jacket
1 x Shell Jacket
1 x Shell Pants
1 x Insulated Jacket*
1 x Snow Pants*
1 x Mitts or Gloves
1 x Balaclava
1 x Buff Headwear
1 x Helmet* (if skiing or snowboarding)
Get the Full Winter Packing List Here
---
Can You Visit Lake Louise in March?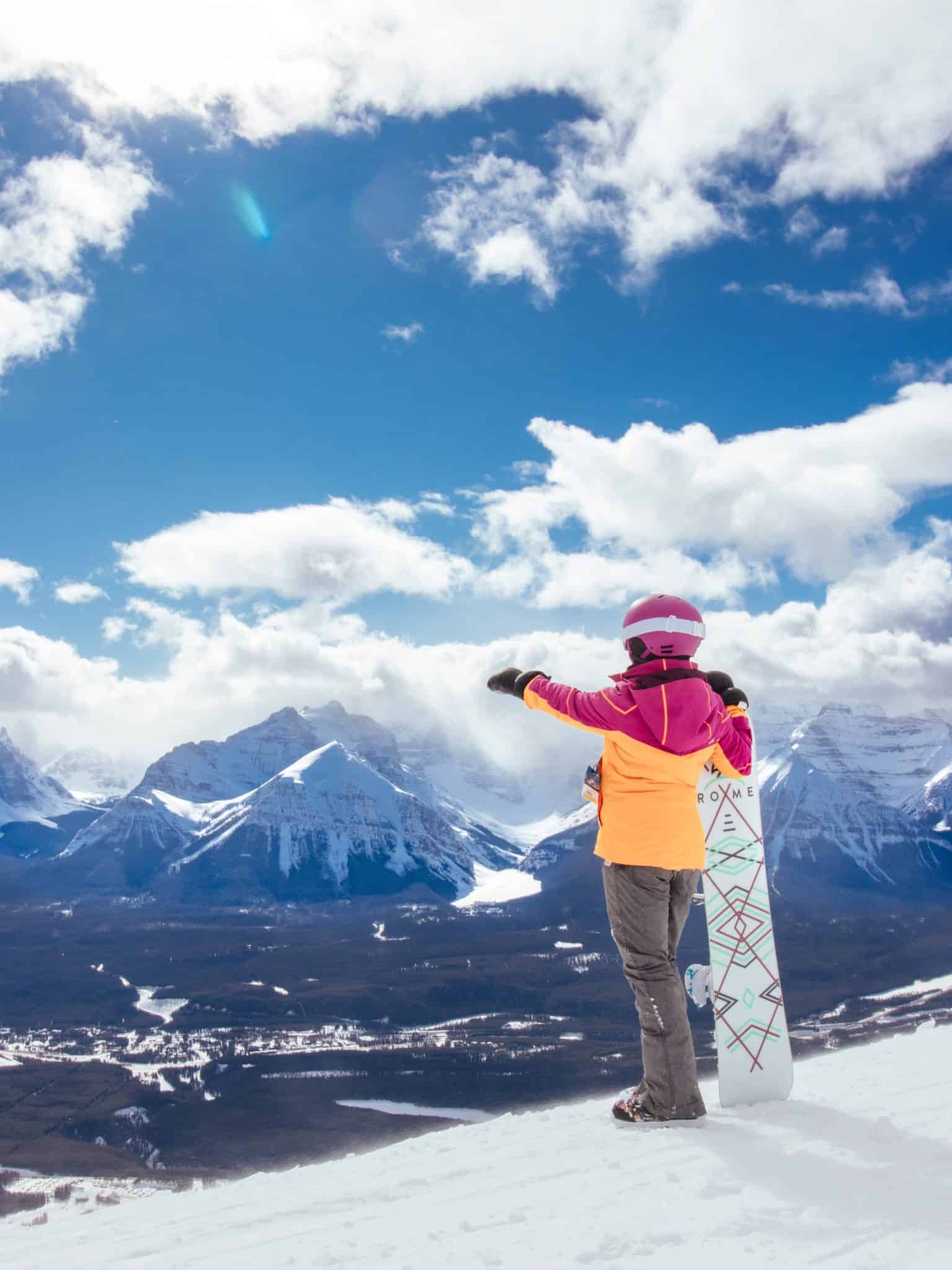 Lake Louise is still very frozen in March. Like January and February, you can still skate on Lake Louise, snowshoe around the lake, or enjoy a dog sled ride. If you like the snow and the feeling of being inside a beautiful snowglobe March is an excellent time to visit Lake Louise.
It's definitely not a bad time to travel to Lake Louise Ski Resort. If you're a powder hound and love to ski and snowboard you won't regret being here.
The Canadian Rockies have great spring skiing come later March and you'll likely still get a few powder days during the month. Keep an eye on that snow forecast – there's nothing better than a pow day at Lake Louise.
---
Things to do in Banff in March
---
Ski/Snowboard Big Mountain Terrain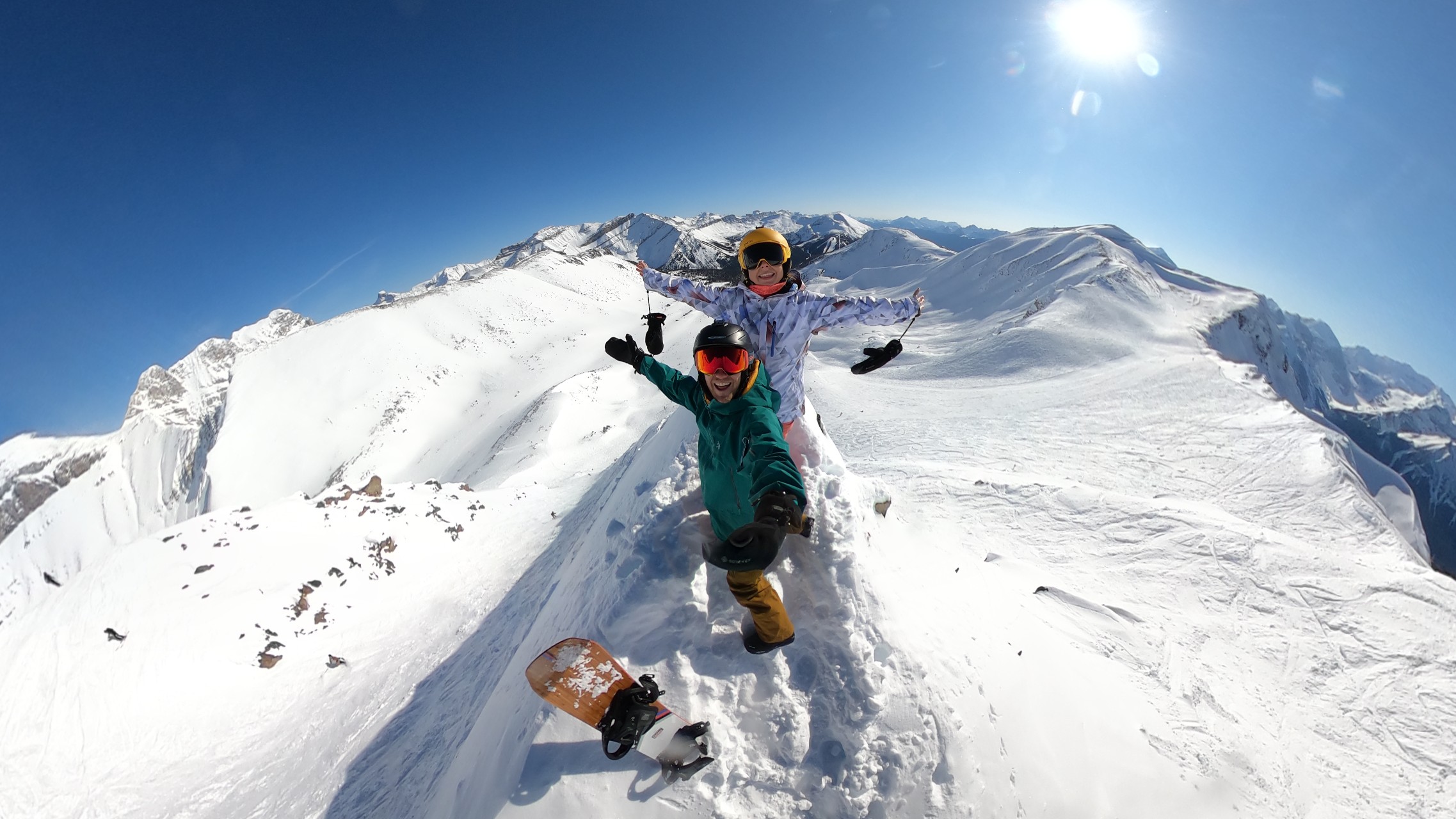 Snowboarding at all of the SkiBig3 resorts was our primary reason for heading to Banff in the winter years ago before moving to the Rockies. SkiBig3 is a collection of three mountain resorts all within Banff National Park. You have Lake Louise, Banff Sunshine, and Mt. Norquay which are all fantastic and unique Banff ski resorts.
Skiing or snowboarding here is one of the best things to do in Banff in the winter. It's also one of the many reasons we decided to relocate to the Canadian Rockies.
---
Johnston Canyon Ice Walk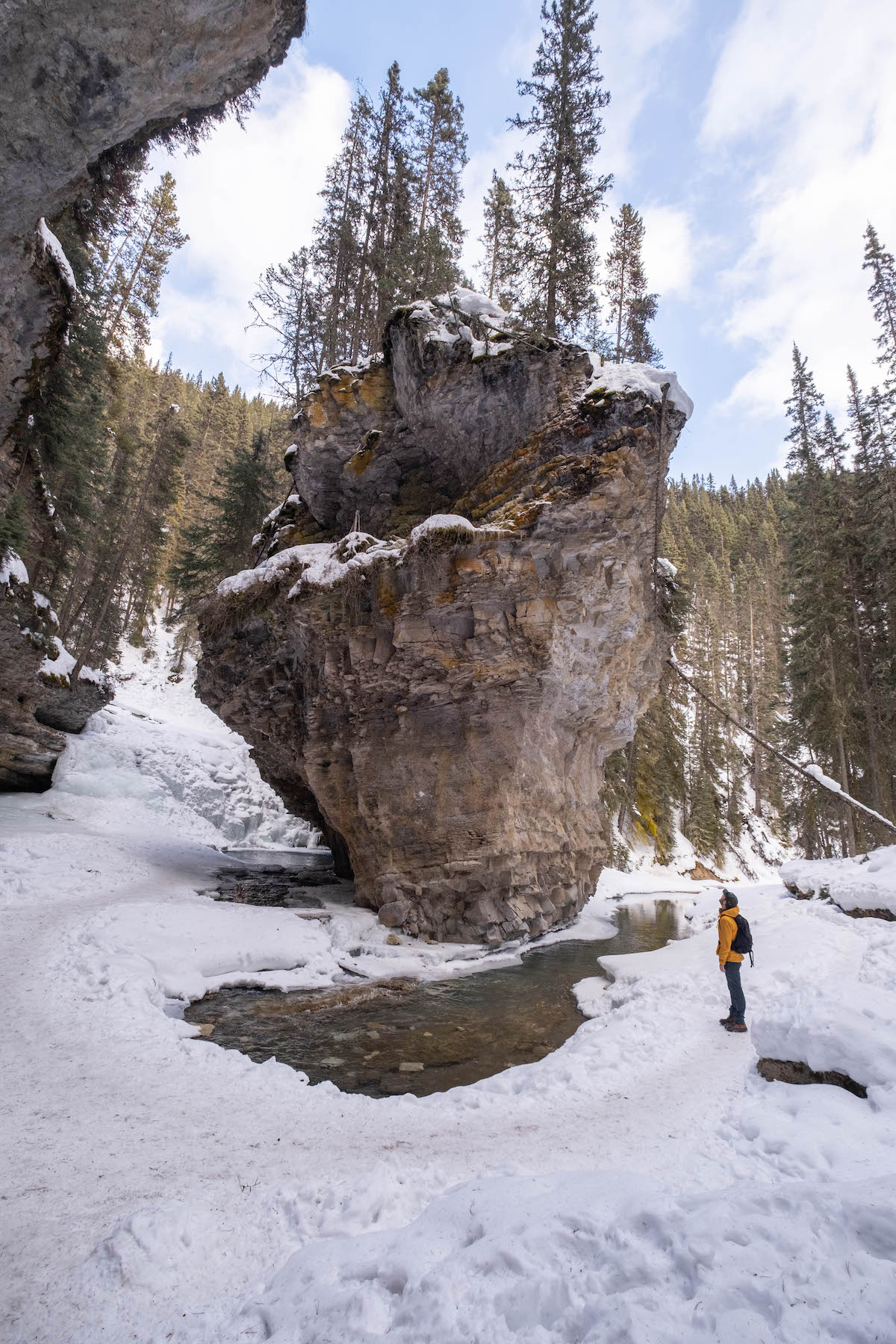 The Johnston Canyon walk is the best thing you can do in Banff in the winter for free. Have you ever stood on a frozen waterfall before? Neither had we until the Johnston Canyon hike.
Due to the elevation of the region and the sub-zero temperatures of winter the waterfalls of Johnston Canyon freeze in time. It's a pretty surreal experience and completely accessible for all.
As a tip, we suggest picking up some microspikes in town. Although the trail is well managed it can get icy and it's better to slip everywhere on the trail – ours were very handy. Once you reach the end of the trail and the most impressive frozen fall you'll probably find some ice climbers. If you're feeling adventurous book an ice climbing tour yourself with Yamnuska Guides.
---
Spot Wildlife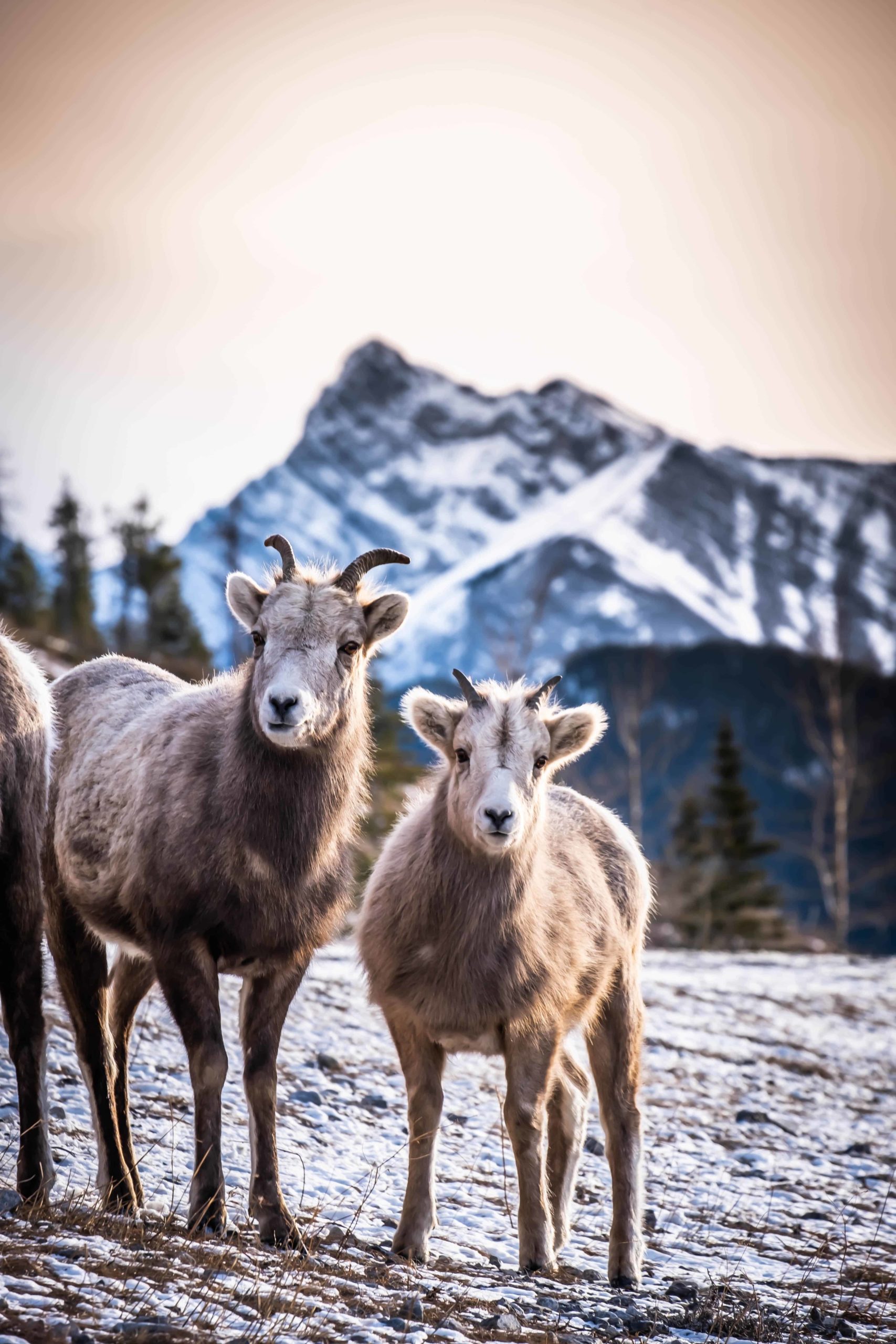 The wildlife doesn't leave Banff when summertime goes away. Apart from bears, you'll find moose, elk, deer, owls, foxes, wolves, and coyotes here all year round. I actually love spotting these animals in the winter more than in the summer – they look so much more majestic against the white snow.
Please remember if you want to pull over to take photos of wildlife to do so safely and make sure you are out of the way of traffic. You can spot wildlife on your own, but if you want the knowledge of the area and information about what you are seeing, it's best to book a tour.
---
Relax at Lake Minnewanka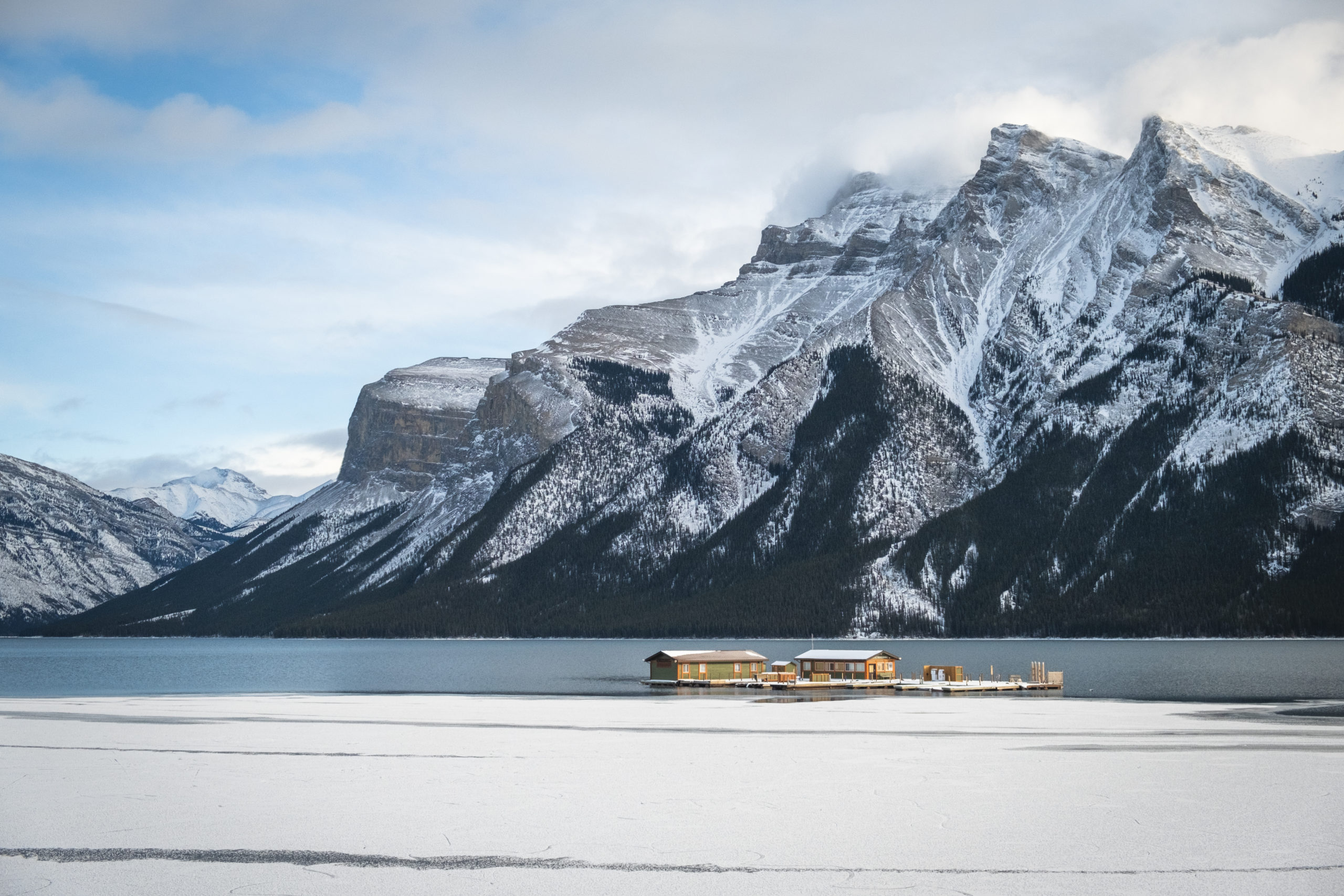 Lake Minnewanka is a glacial lake that is just a ten-minute drive away from the town of Banff. This lake is 21 km long and 142 meters deep. In the summer it's a busy place to hike and go canoeing on, but in the winter it's a sight to behold.
The mountains towering over Lake Minnewanka are seriously impressive all covered in snow. There's a short trail that skirts the lake for a bit in the winter if you aren't too cold. Make sure to stop at Two Jack Lake after and enjoy the views of Mount Rundle.
---
Enjoy the Town of Banff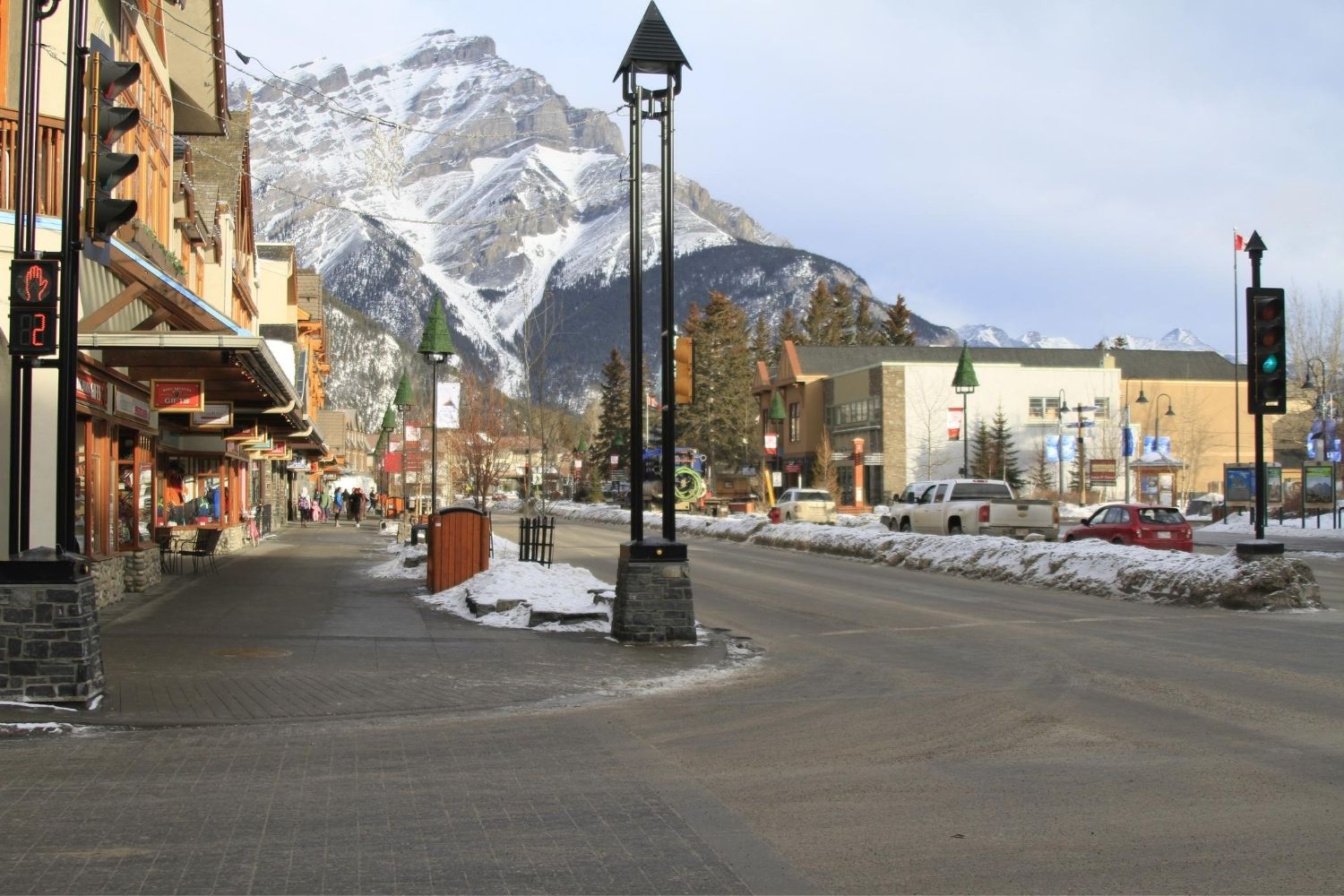 If you want a day of shopping, cappuccinos, and breweries stay in the town of Banff and enjoy a day of walking around. Banff Ave has tons of restaurants, boutique shops, awesome cafes, and cheesy souvenir stores to entertain all.
---
Mt. Norquay Tubing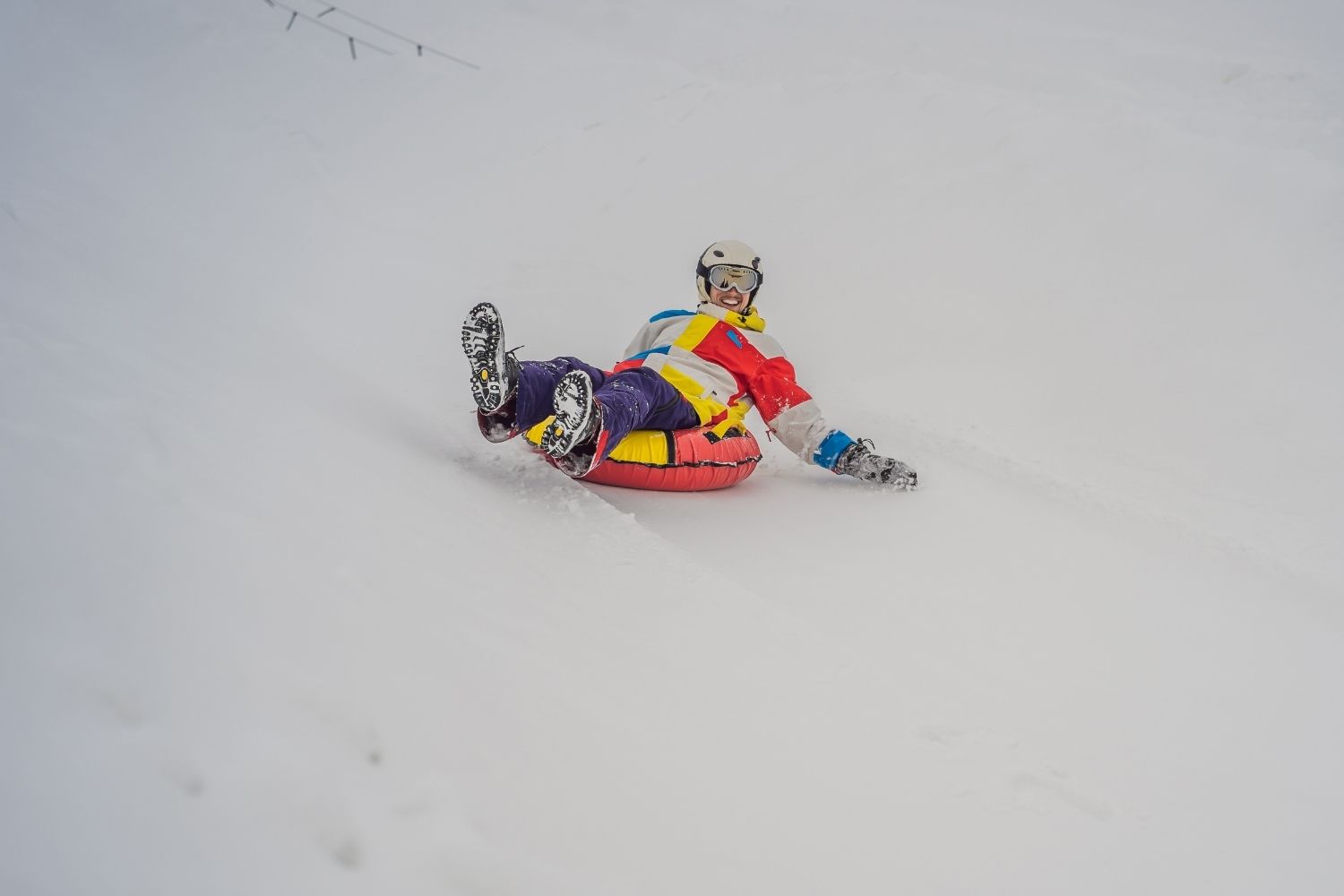 A fun thing to do in Banff with the family or friends is go tubing at Mt. Norquay. There's a set tubing park here and two different time slots to enjoy every day. On weekends there is often night tubing. But make sure to check the schedule first.
You can expect super long tube parks (the longest in Alberta), and they are extremely fast. Tickets cost $42 and include the tube. Be careful here, although it seems like a seemingly safe activity many people get hurt tubing every year by going too fast.
---
Kananaskis Nordic Spa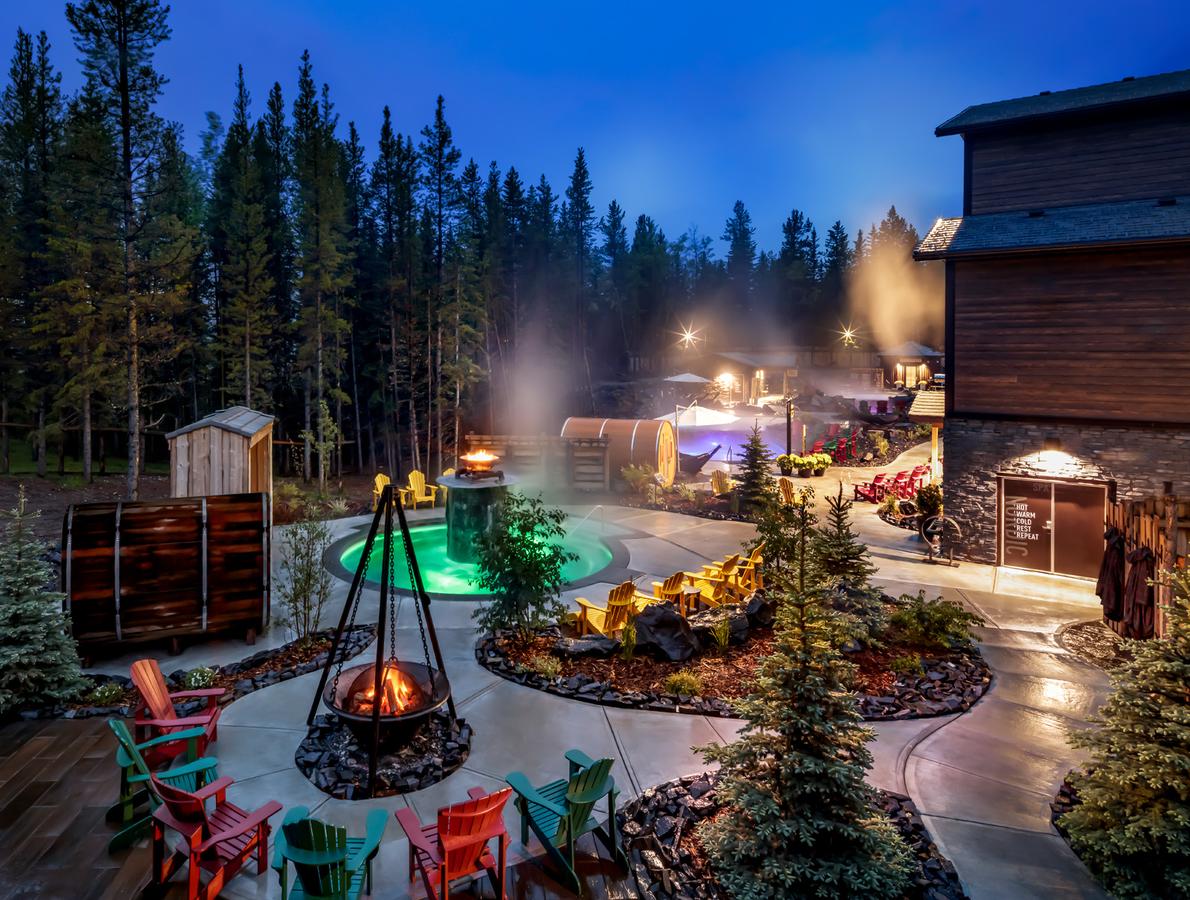 The Kananaskis Nordic Spa is in the Kananaskis Mountain Lodge in Kananaskis Country. Right near the base of Nakiska Ski Resort is this beautiful hotel. Their new Nordic Spa is the ultimate space for relaxation in the mountains.
Here they have a Eucalyptus Steam Room, Alchemist Steam Room, Finnish Sauna, an Exfoliation Cabin, and so much more. You could easily spend a whole winter day here enjoying the pools and other amenities.
If you really want to have a fabulous wellness weekend in the Rockies, book a stay at the Kananaskis Mountain Lodge, so you never have to hop in the car.
---
Snowshoe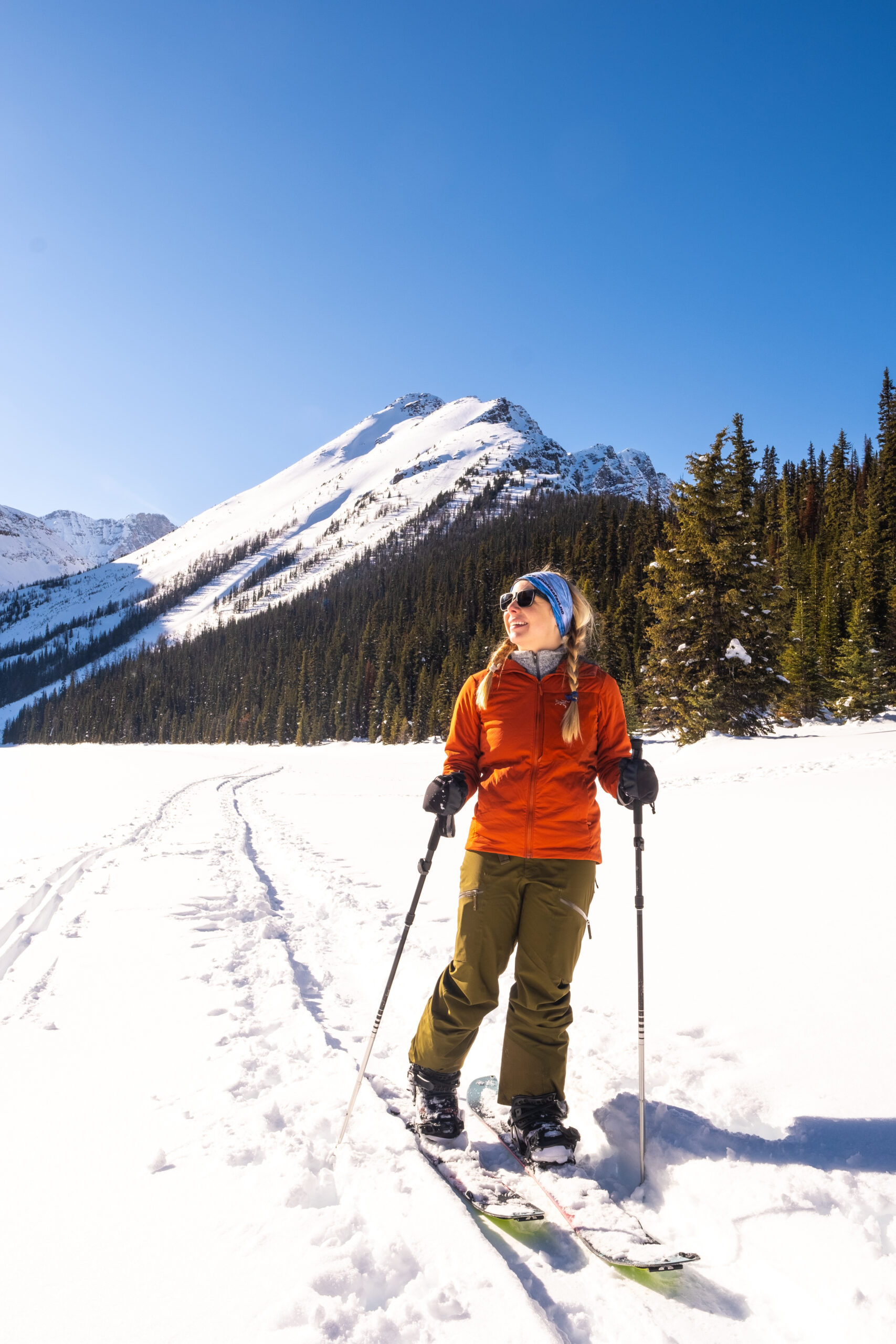 In March 2020, when the pandemic shut everything down one of the first things we did was skin/snowshoe up to Taylor Lake for some fresh air and freedom (before they closed all Canadian National Parks that is). It's a glorious time of year to snowshoe at different areas around the park.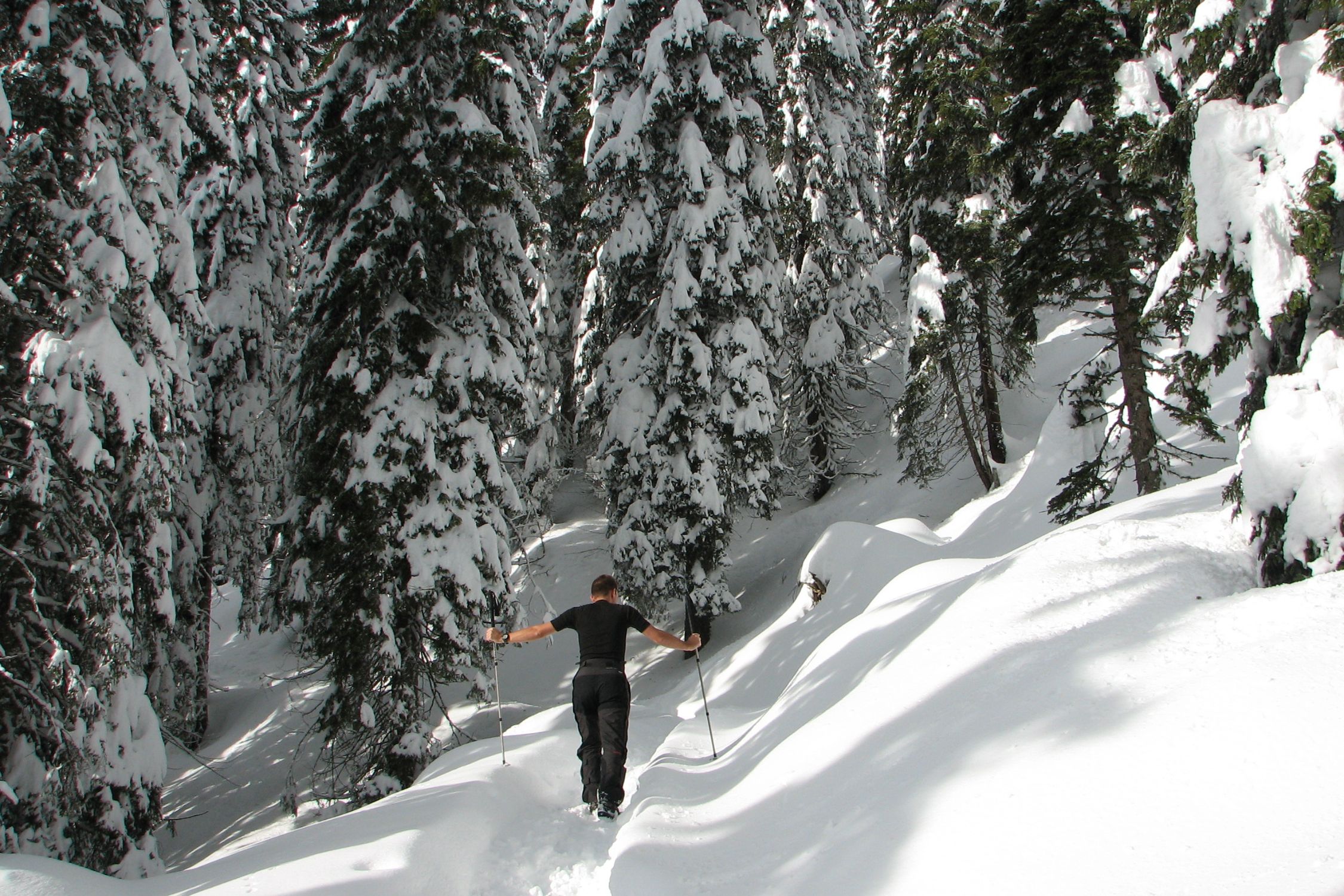 Please make sure not to venture into avalanche territory unless you have taken an avalanche safety course, are knowledgeable on the subject, and have a beacon, probe, and shovel. You can see some safe snowshoes we recommend here.
---
Warm Up at a Brewery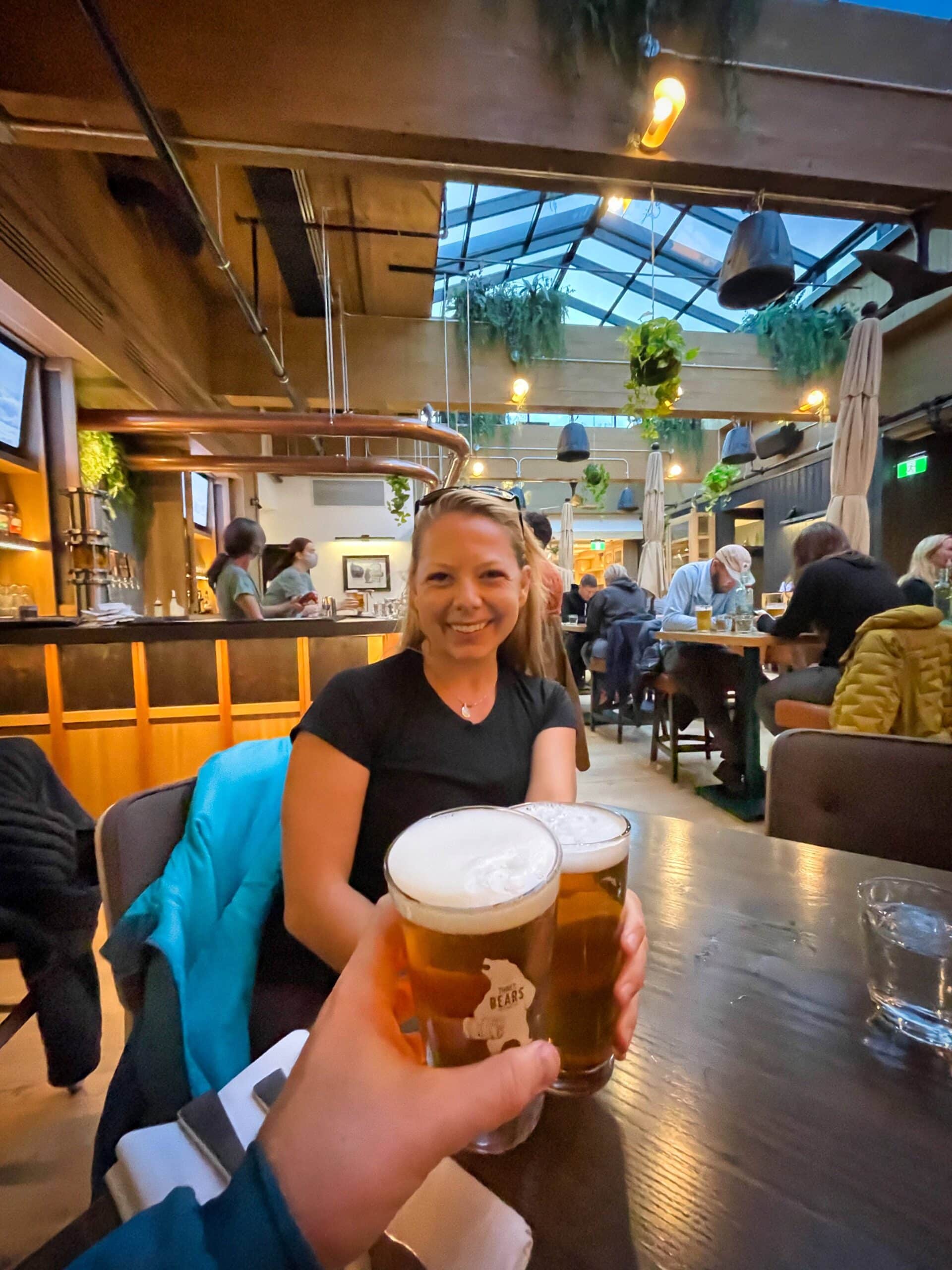 The Canadian Rockies have some pretty awesome breweries. There's Banff Ave Brewing on Banff Ave, Three Bears on Bear Street, and Sheepdog and Grizzly Paw in Canmore.
All these breweries have warm and inviting environments, perfect for grabbing a beer with friends after a cold day out in the mountains.
---
Is March a Good Time to Visit Banff?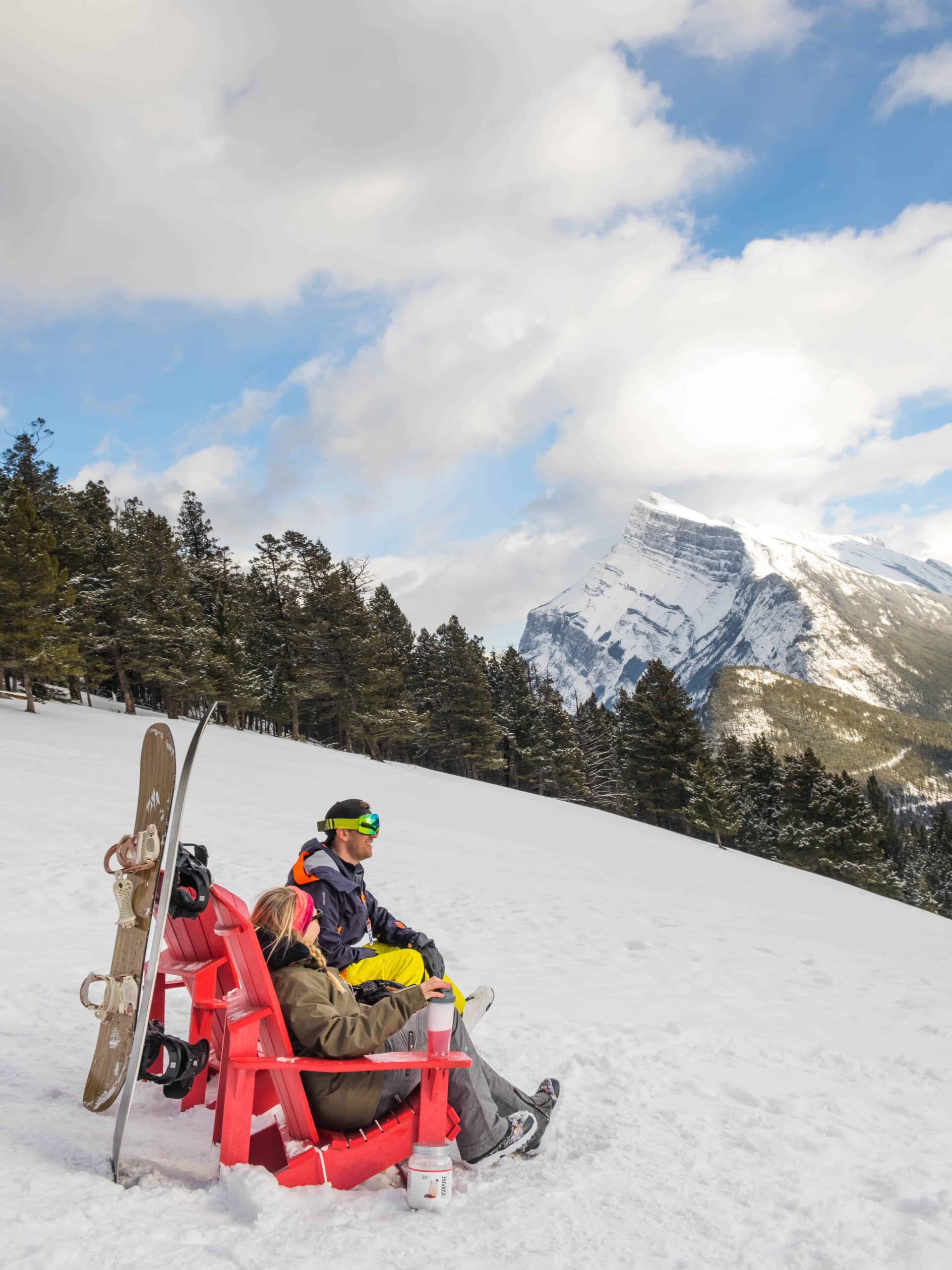 I'm certainly not going to say that March is the best time to visit Banff, but it's also far from the worst. If you are into winter sports, March is a fantastic time to visit.
If you don't like being cold or dealing with much snow, you should wait a few more months until you visit.
Due to it still being so cold in the Rockies, the ski resorts are prime in March. While many US ski resorts are winding down by the end of March, SkiBig3 Resorts still have more than a month left of awesome ski. Remember that more snow typically falls in March than February, and Banff ski resorts are open until the first two weeks of May.
With March being low season you'll be able to score some great winter rates on accommodation, with many rooms costing around $100 a night (a steal in the Rockies).
It's also quiet in town and although 2°C doesn't exactly sound warm, most of the freezing cold winter days are behind us.
If you are renting a car to visit Banff in March it will still need to have winter tires. Experience driving in winter conditions is helpful for any mountain driving.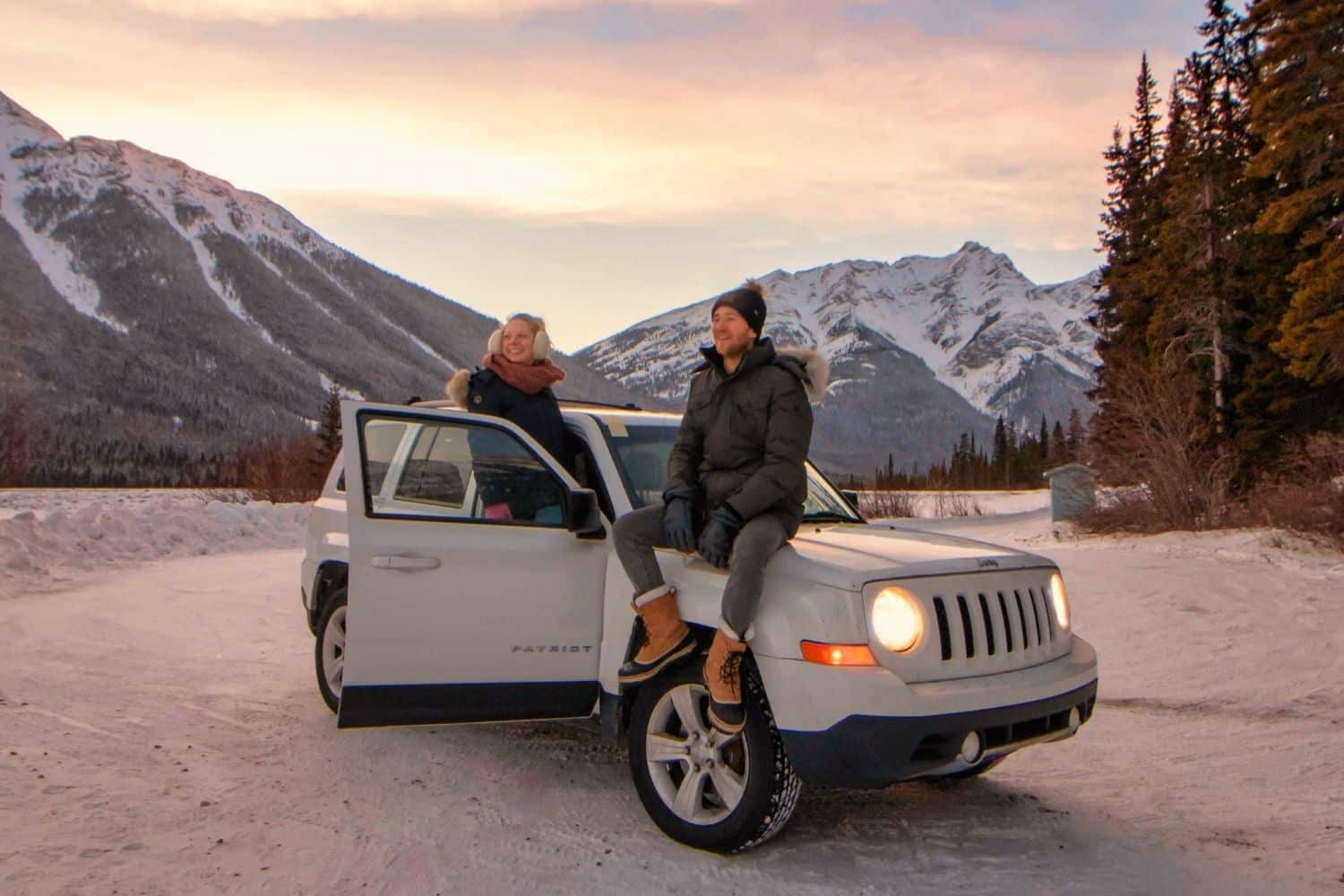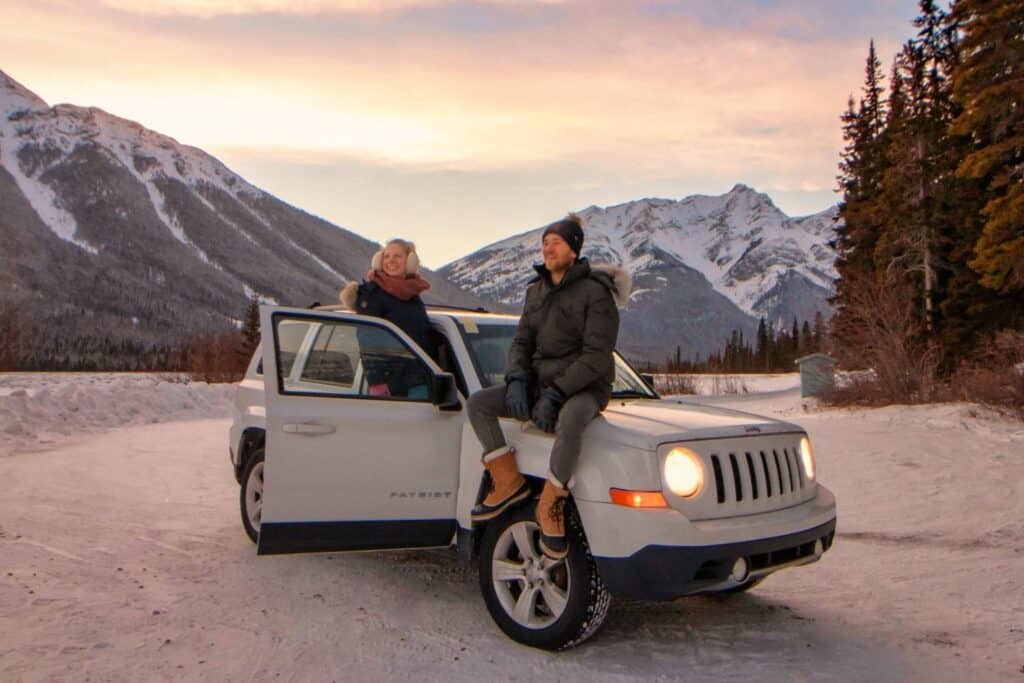 Rent a Car for Your Trip
---
Where to Stay in Banff in March
---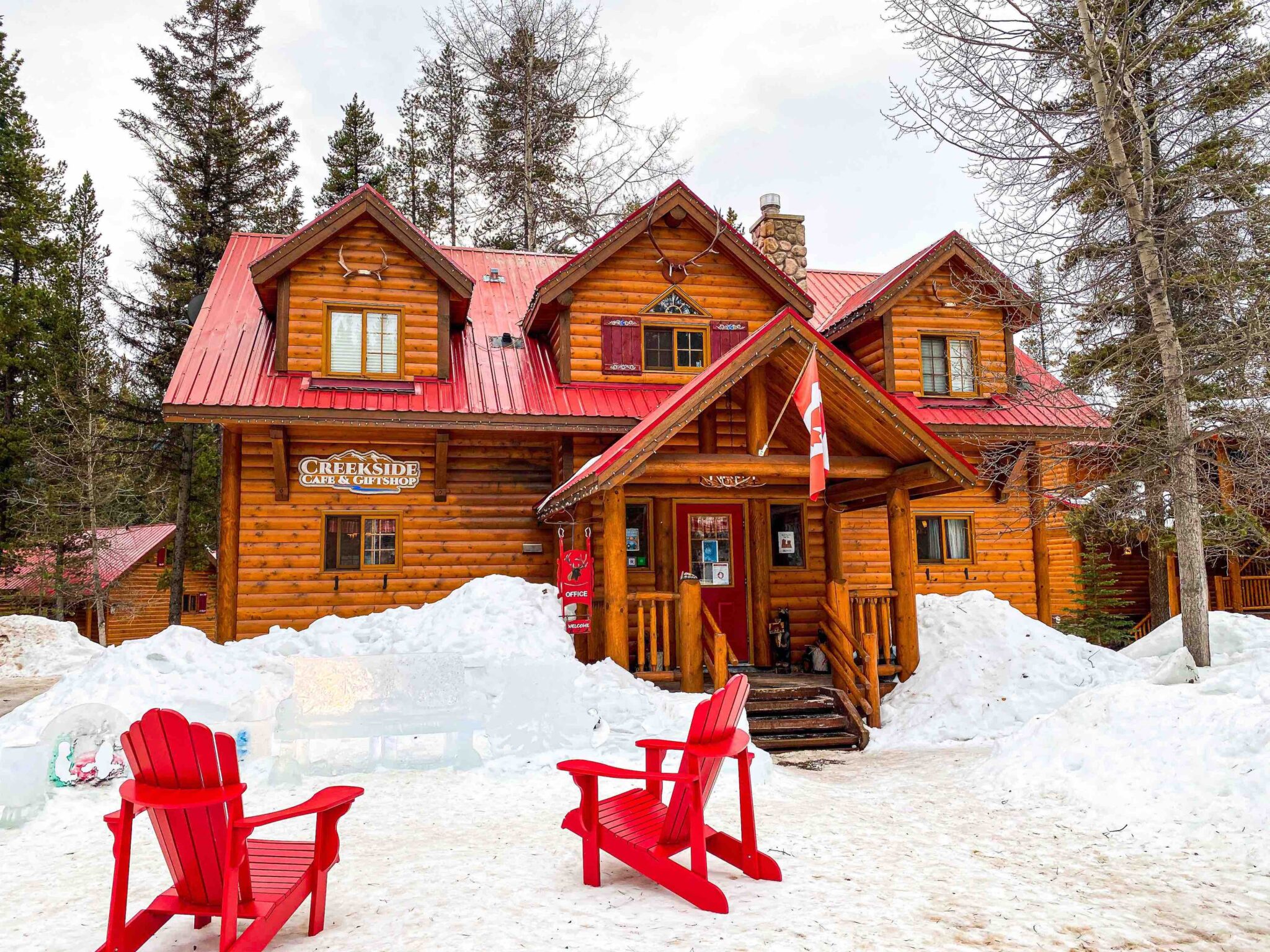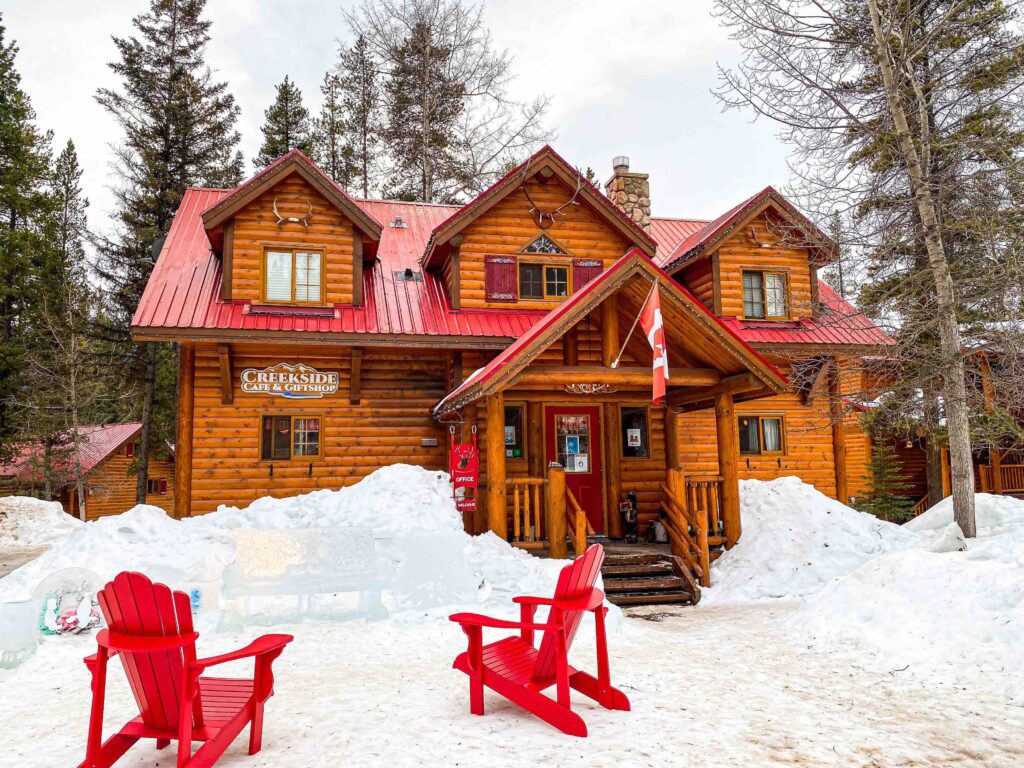 Baker Creek
Our absolute favorite place to stay in Banff in the winter is Baker Creek. These Banff cabins are as cozy as it gets! With a fireplace and robes there's very little to want here!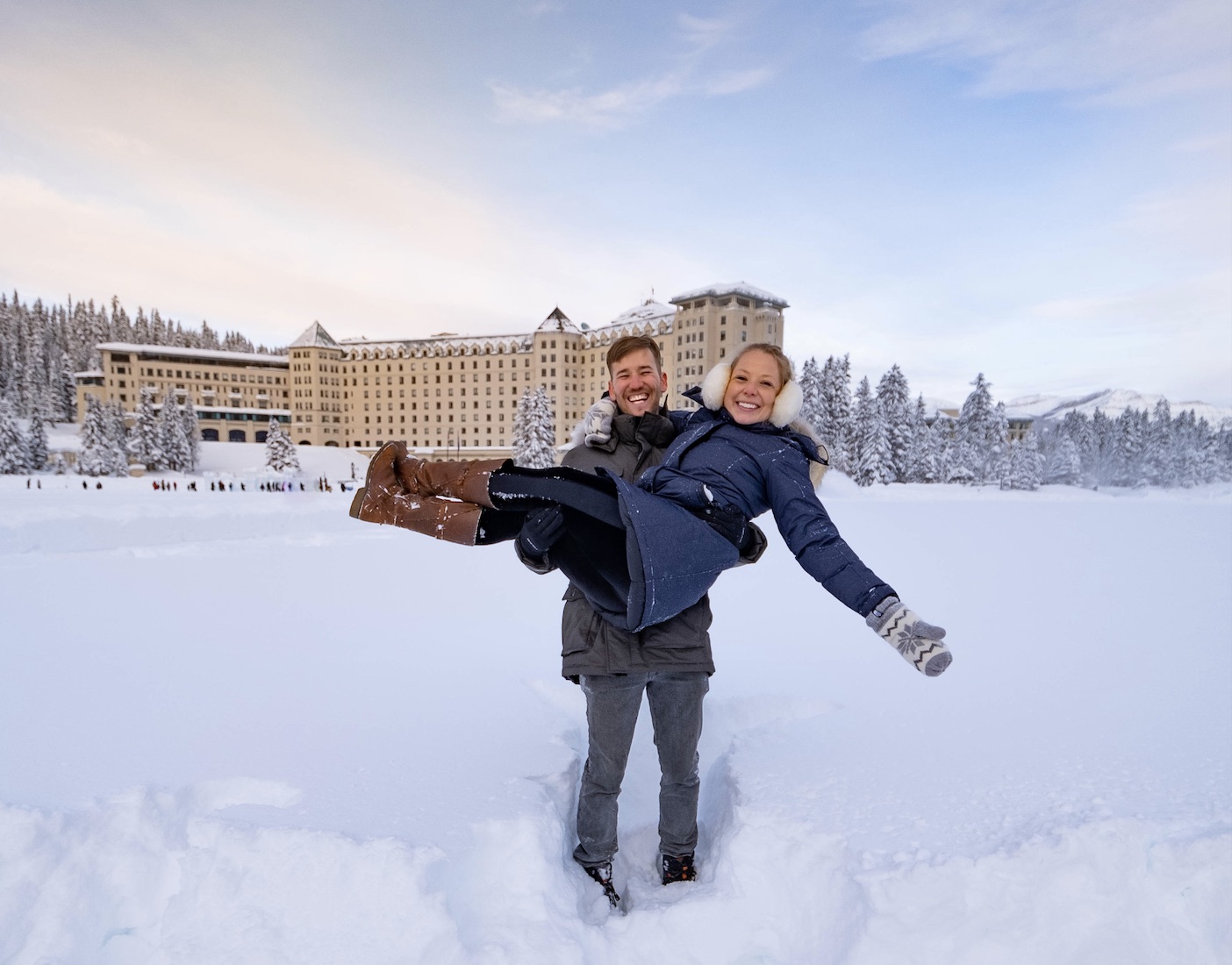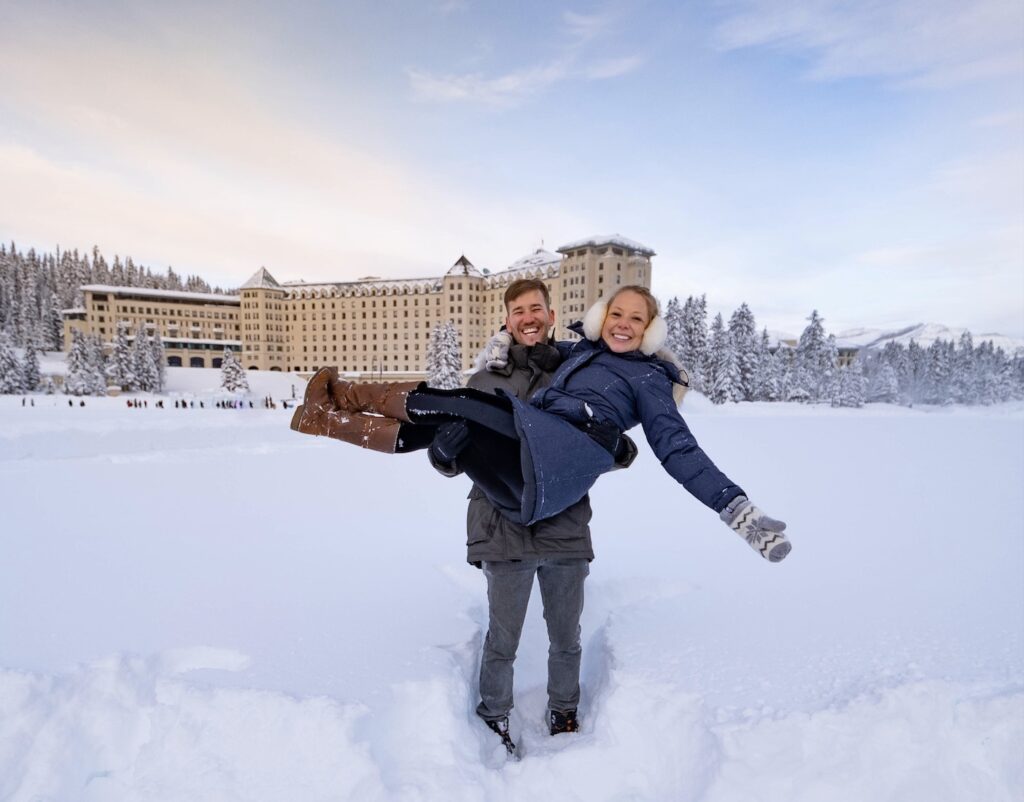 Chateau Fairmont Lake Louise
If you have dreamed at staying at one of the most iconic hotels in Canada March may be the season to do it! Sure you won't wake up to a bright blue unfrozen lake, but you will pay low season rates during this time.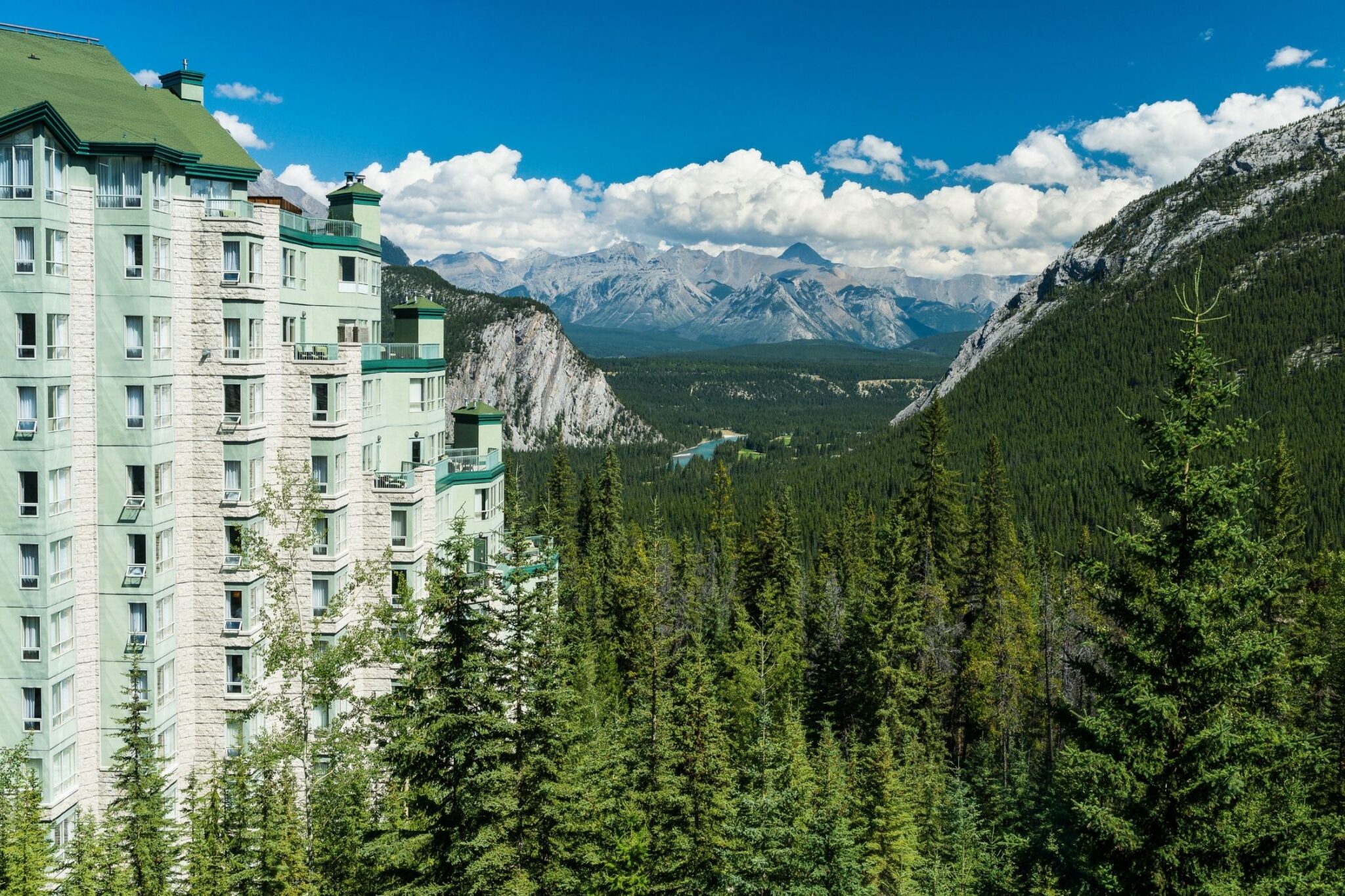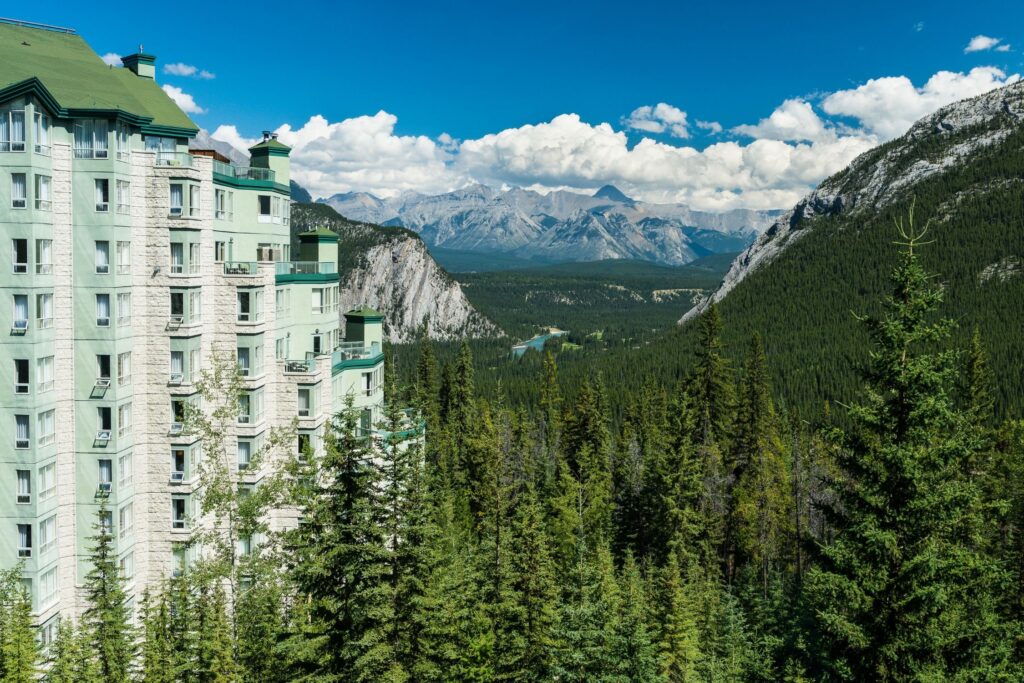 The Rimrock
Another one of the best hotels in Banff! The Rimrock is often sold out, and in the summer fetches rates over $500. However in March, you can often find rooms for half that price.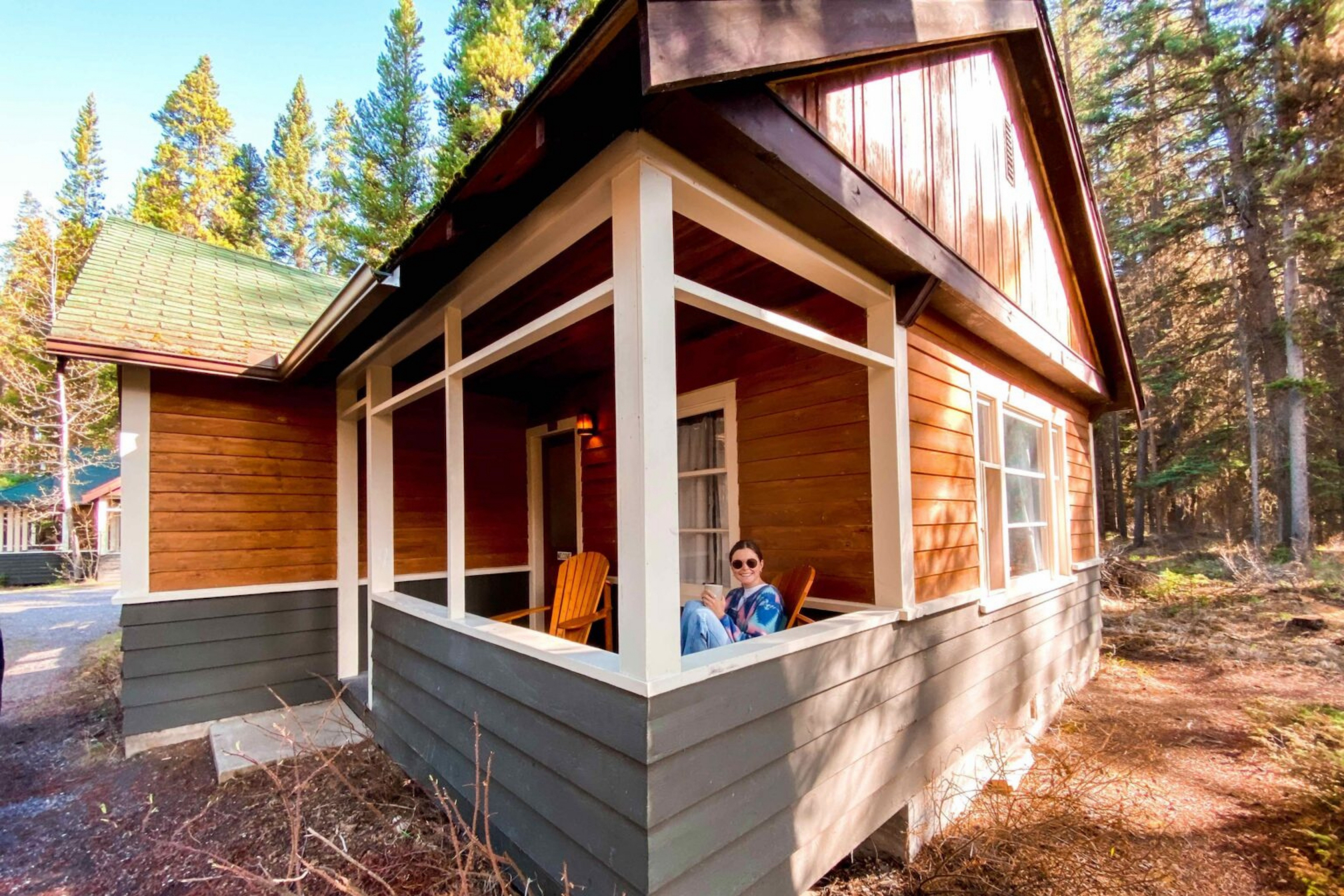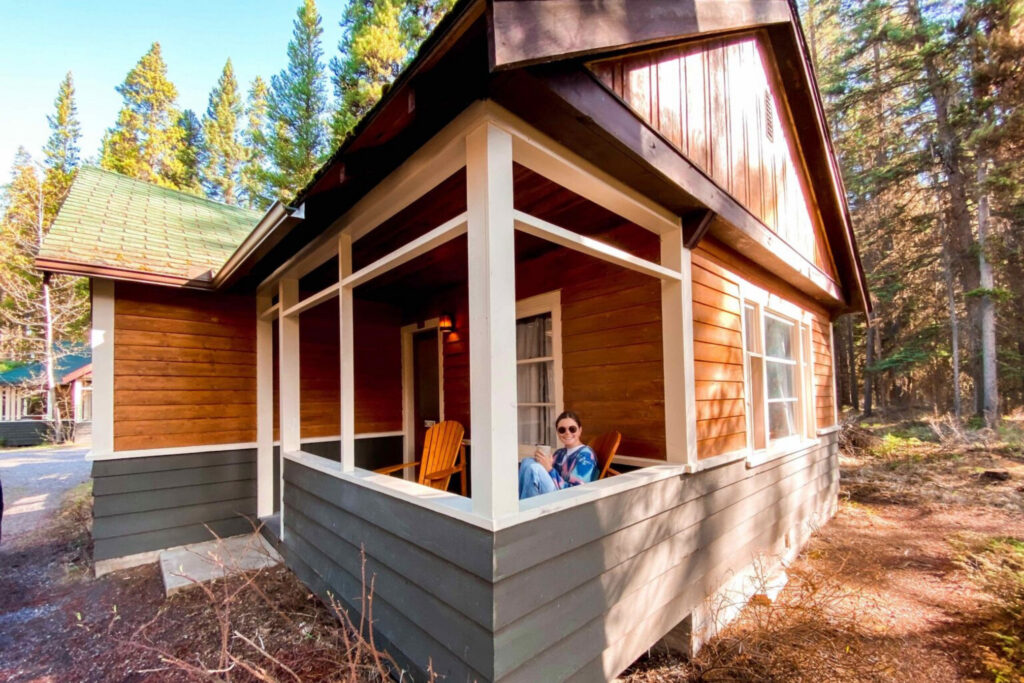 Johnston Canyon Bungalows
Right on the Bow Valley Parkway at Johnston Canyon are these awesome Alberta cabins. These are small cabins perfect for the whole family to enjoy! Plus you'll be the only people who get to stay overnight at the canyon!
---
Hopefully, this helped you determine if you want to visit Banff in March.
If you have any other questions leave a comment or see our Canadian Rockies travel guide for more articles about photography spots, lakes, hikes, and everything else.
---
↓ Join the community ↓
The Banff Blog Facebook Group is your headquarters for the Canadian Rockies' travel advice and information. Including hike info and off-season travel information. You can also meet new adventure buddies.

Plan Your Trip to the Canadian Rockies