Just because it's winter in Banff doesn't mean all tours have come to a halt. For those who want a little something extra on their Banff winter vacation, there are some extraordinary experiences that we recommend. Dog sledding, winter hiking, snowshoeing, ice skating, and even magical sleigh rides are all ways to experience the best of Banff in the winter. Let's dig into a few of our favorite recommended winter activities.
---
Best Winter Tours in Banff
---
Head Up the Banff Gondola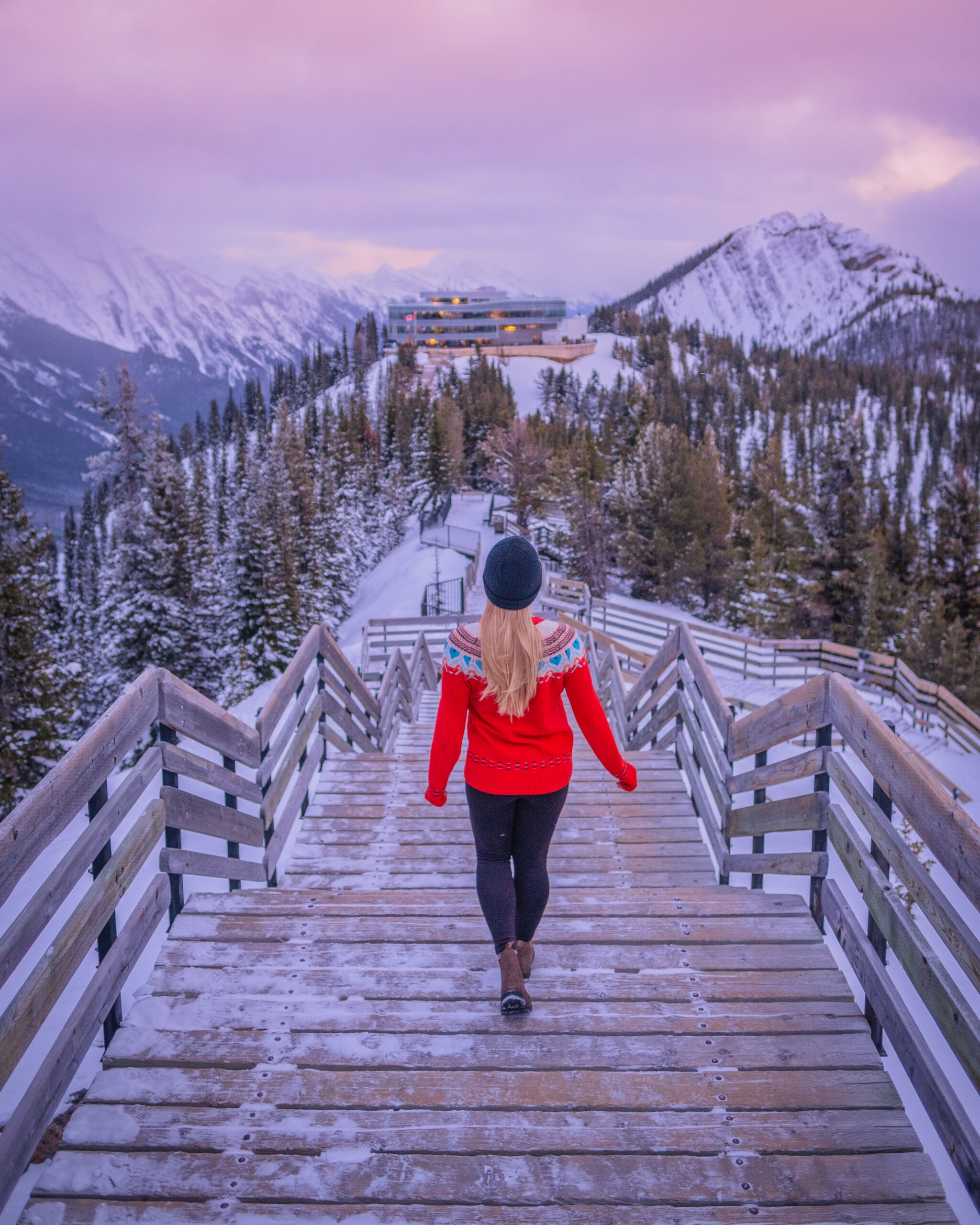 The Banff Gondola allows visitors to ride to the summit in gondola cabins with large windows enabling 360-degree views from the base. It's easily one of the best things to do in Banff all year round and is probably on every first-time visitor's Banff itinerary. It's a great activity all year round, but I particularly love going up the Banff Gondola in the winter to see Cascade Mountain covered in a blanket of snow.
A ride up Sulphur Mountain takes eight minutes and climbs to 2281 meters (7486 ft) above sea level. You climb 698 meters very quickly, and when you reach the top, you are on Sulphur Mountain. Here, you'll enjoy the Sky Bistro, an indoor coffee shop, an interactive learning center, and the fantastic boardwalk on top, allowing for incredible views over the Bow and Spray Valley.
One of the best things about visiting the Banff Gondola in the winter is the events. Banff Nightrise is an interactive experience that starts in November and runs through the winter. If you are visiting around the holidays, one of the best Christmas activities is A Mountaintop Christmas. Around this time, the kids will be able to see Santa, adults can sip on holiday cocktails, and there are Christmas events and decorations everywhere.
---
Johnston Canyon Icewalk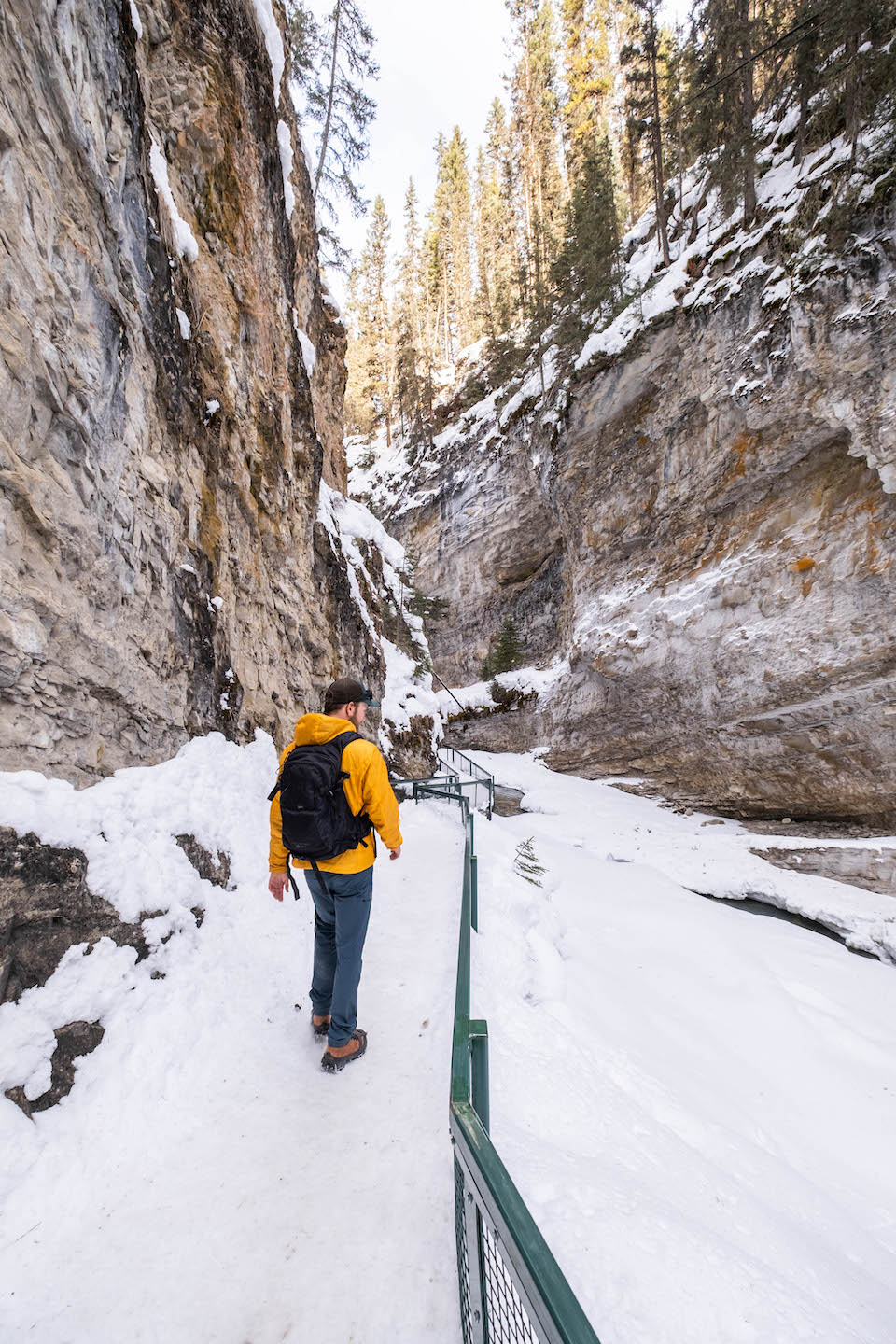 We generally prefer to avoid Johnston Canyon in the summer months as it's one of the most crowded experiences in Banff. However, in the winter, Johnston Canyon is one of the best winter hikes in Banff and an entirely different experience compared to summer. Between November and May, you'll be met with low crowds and surreal beauty on the Johnston Canyon trail, especially on weekdays.
See frozen waterfalls cascading down the mountains and the amazing Johnston Canyon. The tour picks you up in Banff and supplies a knowledgeable guide with equipment such as microspikes (a must at Johnston Canyon in the winter), poles, and snacks.
---
Sleigh Ride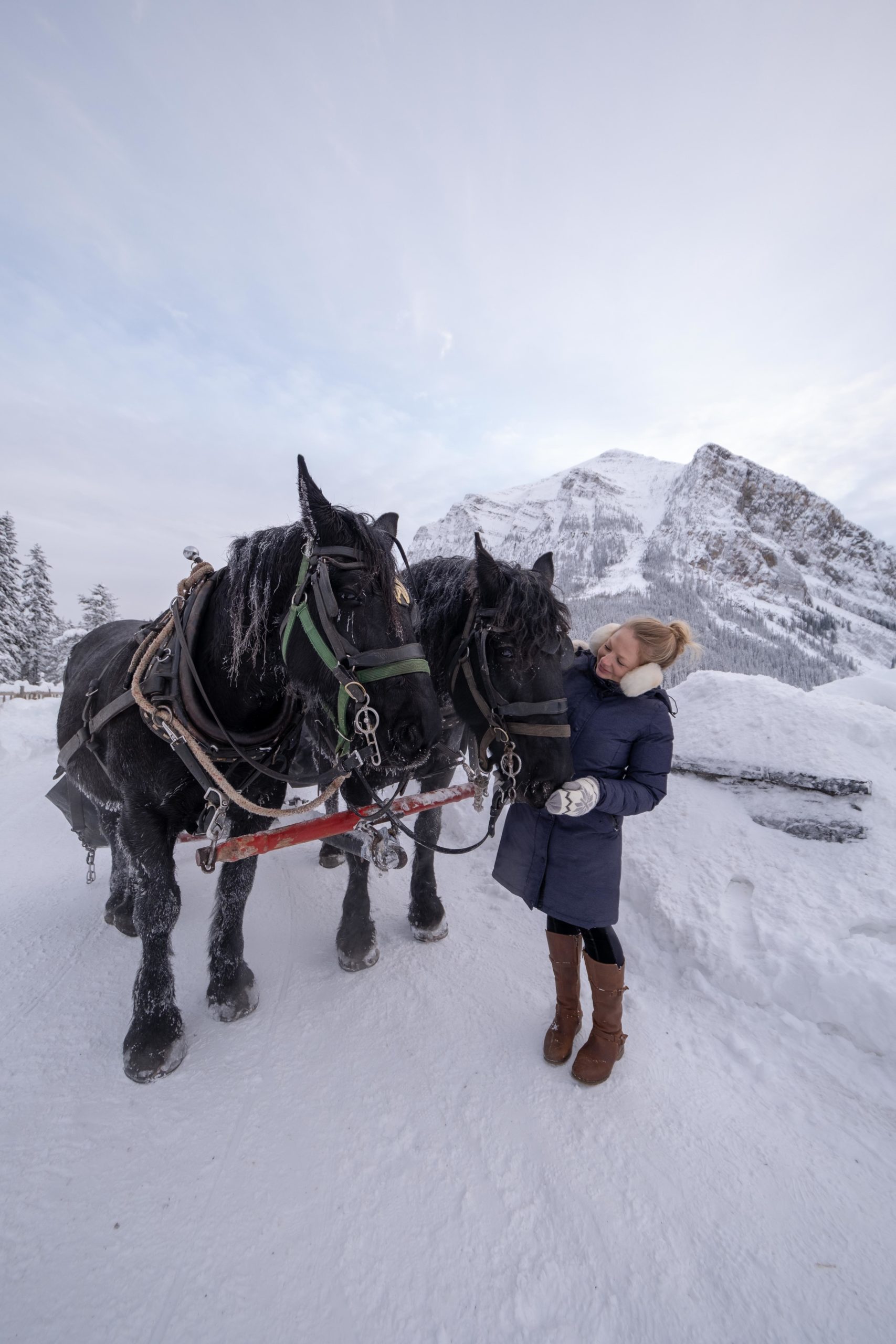 There aren't many places you can still ride on a real sleigh through a winter wonderland. However, that is not the case in the Rockies. You have two options for a horse-drawn sleigh ride in Banff and Lake Louise. In Banff, you can book a sleigh ride with Banff Trail Riders and take in views of Sulphur Mountain through the spectacular Bow River Valley. If you want a private experience or something a bit more romantic, they have those on offer too!
At Lake Louise in the winter, it's possible to enjoy the lakeside trail with the friendly horses from the Fairmont. Book a sleigh ride, followed by an ice skate on the stunning lake, and top off your Banff winter day with a hot cocoa from the Lake Louise Ice Bar.
---
Snowshoe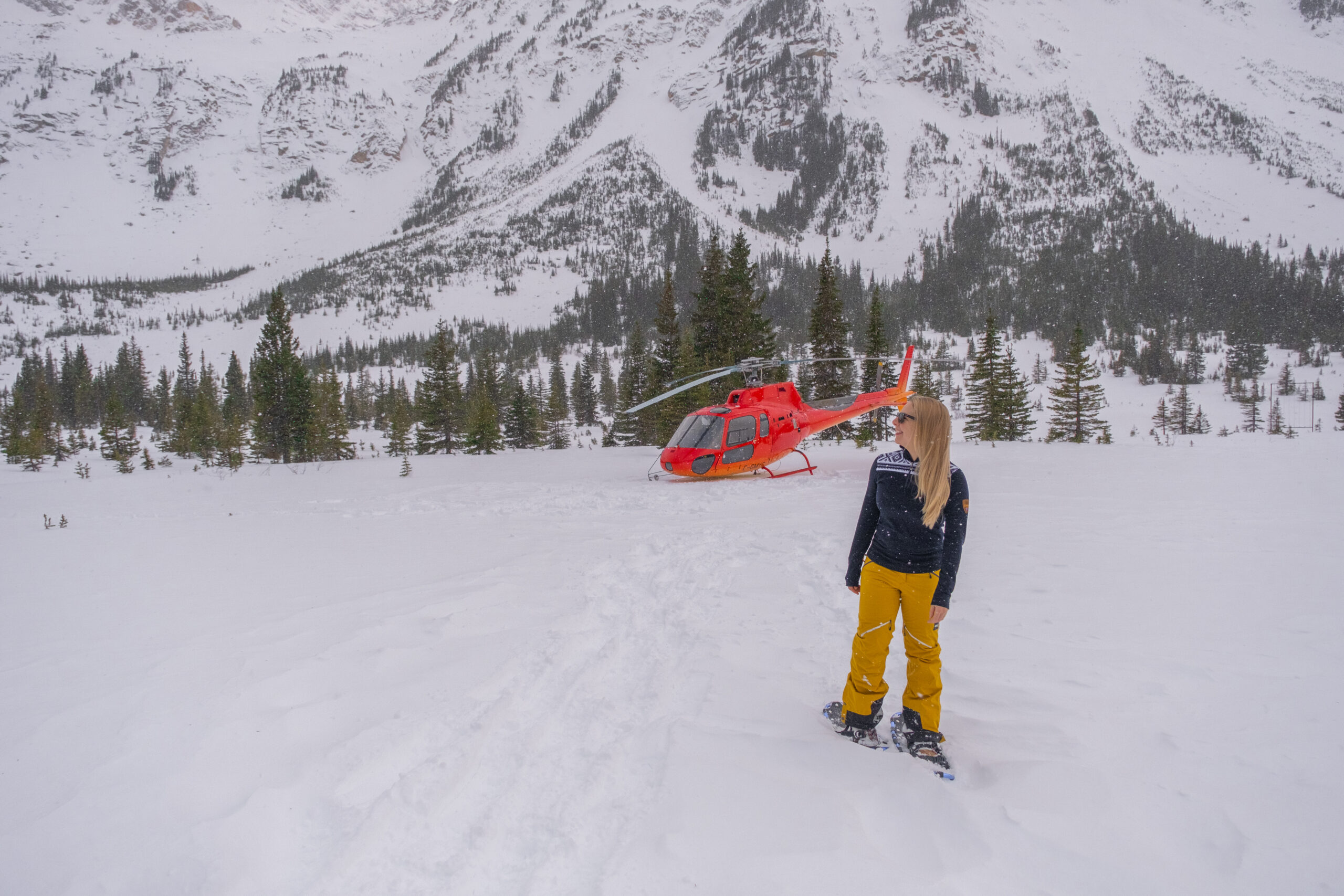 Banff is an absolutely wonderful place for a snowshoe tour. If you've never tried, take advantage of the winter trails throughout the park and hire a local guide to show you the ropes.
The most popular snowshoe is along the Northern side of Lake Louise, but you can also head up to Mirror Lake or over to Paradise Creek. You can grab rentals at Wilson Sports in the village or book a tour with a guide. A guided tour is recommended if you don't have avalanche training and knowledge.
---
Dog Sledding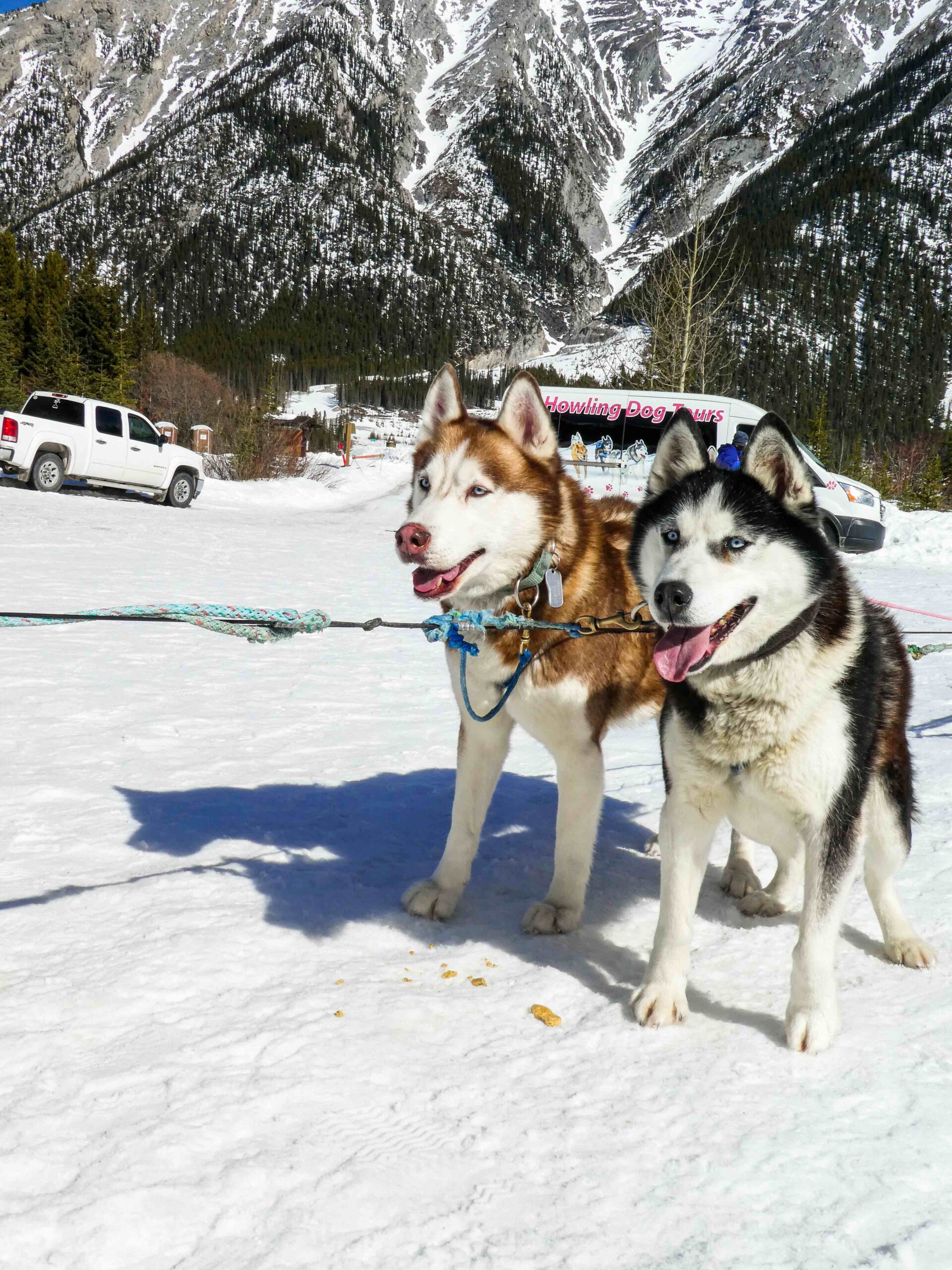 Dog sledding is a quintessential winter experience and will easily be a highlight of any winter vacation in the Canadian Rockies. You can go dog sledding in both Canmore in the winter and Lake Louise, but we recommend Canmore as the operators will take you along Spray Lakes Road, an area that not every tourist knows about in the Rockies.
We've gone dog sledding multiple times throughout the world and always love the sound of sliding through snow quietly with no other sounds than padded paws hitting the ground. Howling Dog Tours offers the chance to enjoy this experience deep in Kananaskis.
---
Grotto Canyon Icewalk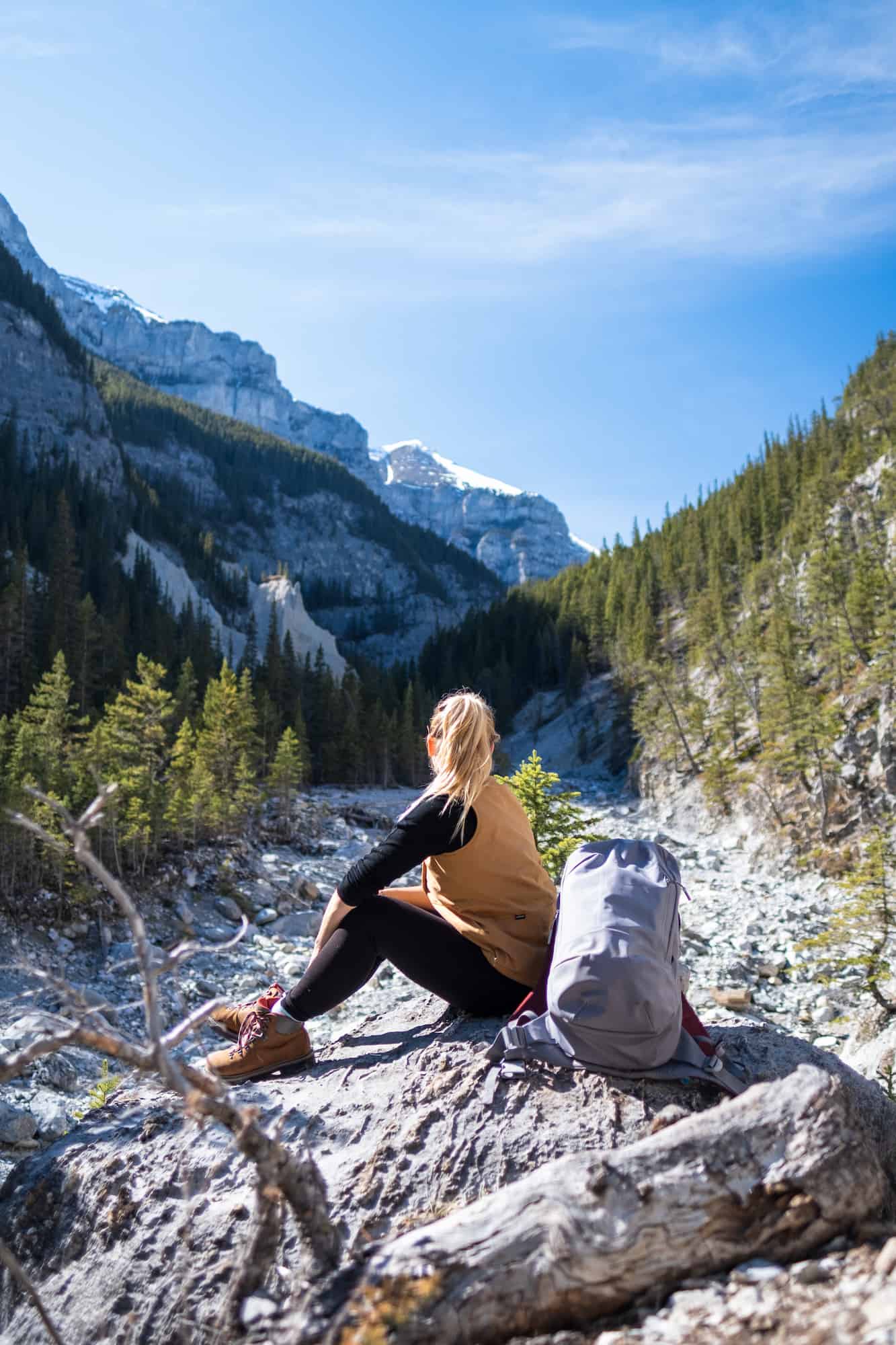 If you want to go for a hike, one of the best options in the winter is the Grotto Canyon hike in Canmore. It's one of the best Canmore hikes and will lead you to discover intriguing rock formations and delve into the rich history of the Hopi natives.
It's an easy Canmore hike that's good year-round. Even in the winter, this famous canyon with rock art is possible to walk along the frozen creek. At only 4km in length, you can check this one off the list in an hour or two. It is possible to hike Grotto Canyon by yourself, but if it makes you feel more comfortable hiking in the winter, Viator offers an excellent guided experience.
---

Icefields Parkway & Ice Bubbles of Abraham Lake Adventure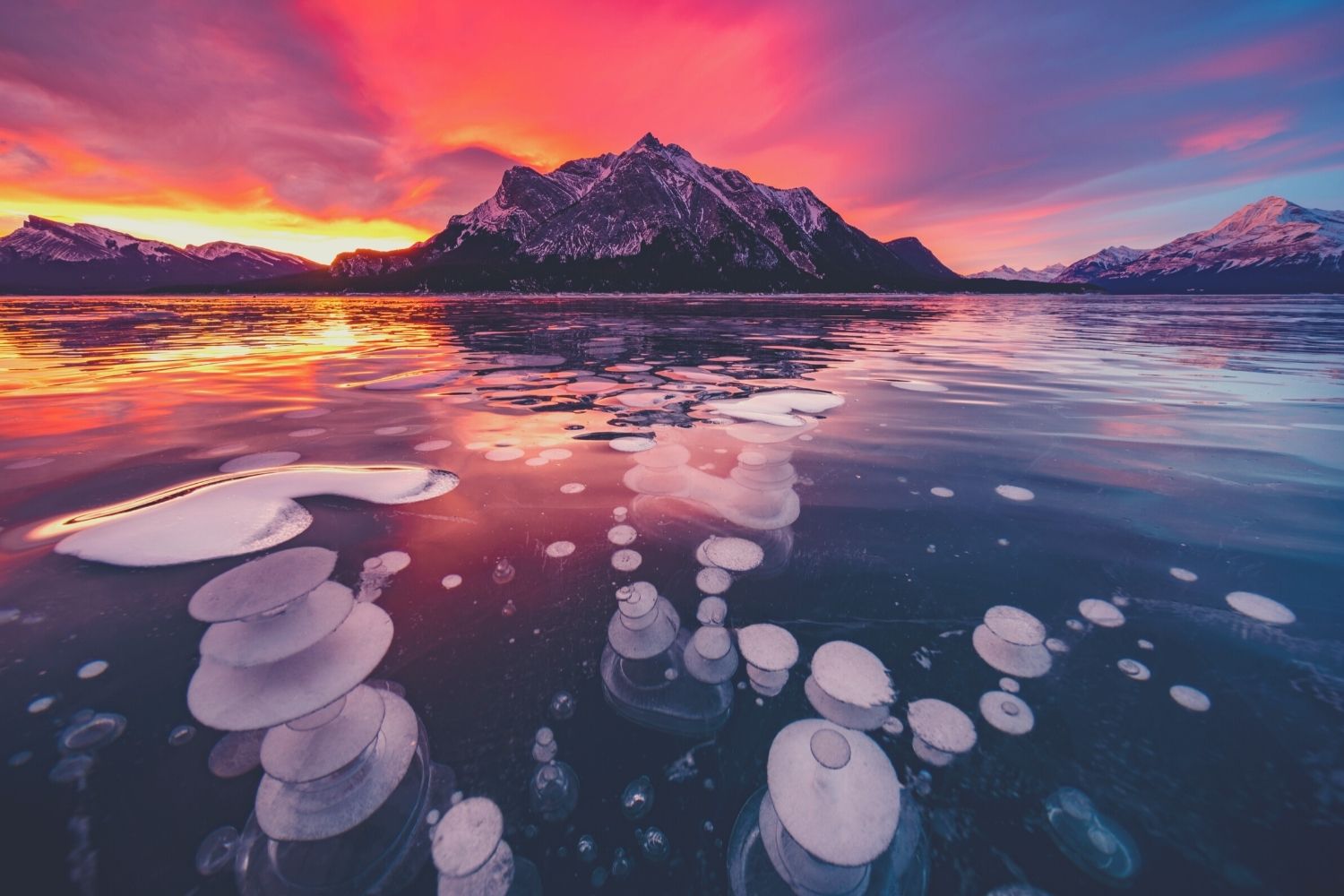 If you are a bit nervous about driving in the winter in the Rockies but don't want to miss out on the stunning Icefields Parkway, it may be best to hire a guide to drive you down the parkway. It's possible to book a combo tour which includes the scenic Icefields Parkway, and then hangs a right at the Saskatchewan River Crossing towards Nordegg.
Along the David Thompson Highway, you'll eventually come to Abraham Lake, one of the largest lakes in the Rockies. It's a stunner of a lake all year round, but in the winter, it's very famous for a natural phenomenon. If you come here between December and March, you stand a very, very good chance of seeing tons of frozen ice bubbles. These frozen ice bubbles happen at many lakes in the Canadian Rockies, but they are most prominent at Abraham Lake.
The ice bubbles are caused by trapped methane, which is created when organic matter, like dead plants and animals, sinks to the bottom. When this matter decomposes, it releases methane gas and rises to the top.
As the lake begins to freeze, the bubbles get trapped and stack on each other. This creates unique formations of ice bubbles in the winter, and when visiting in the winter, you are able to view the bubbles and maybe even ice skate on them (if conditions are safe)
---
Winter Wildlife Tour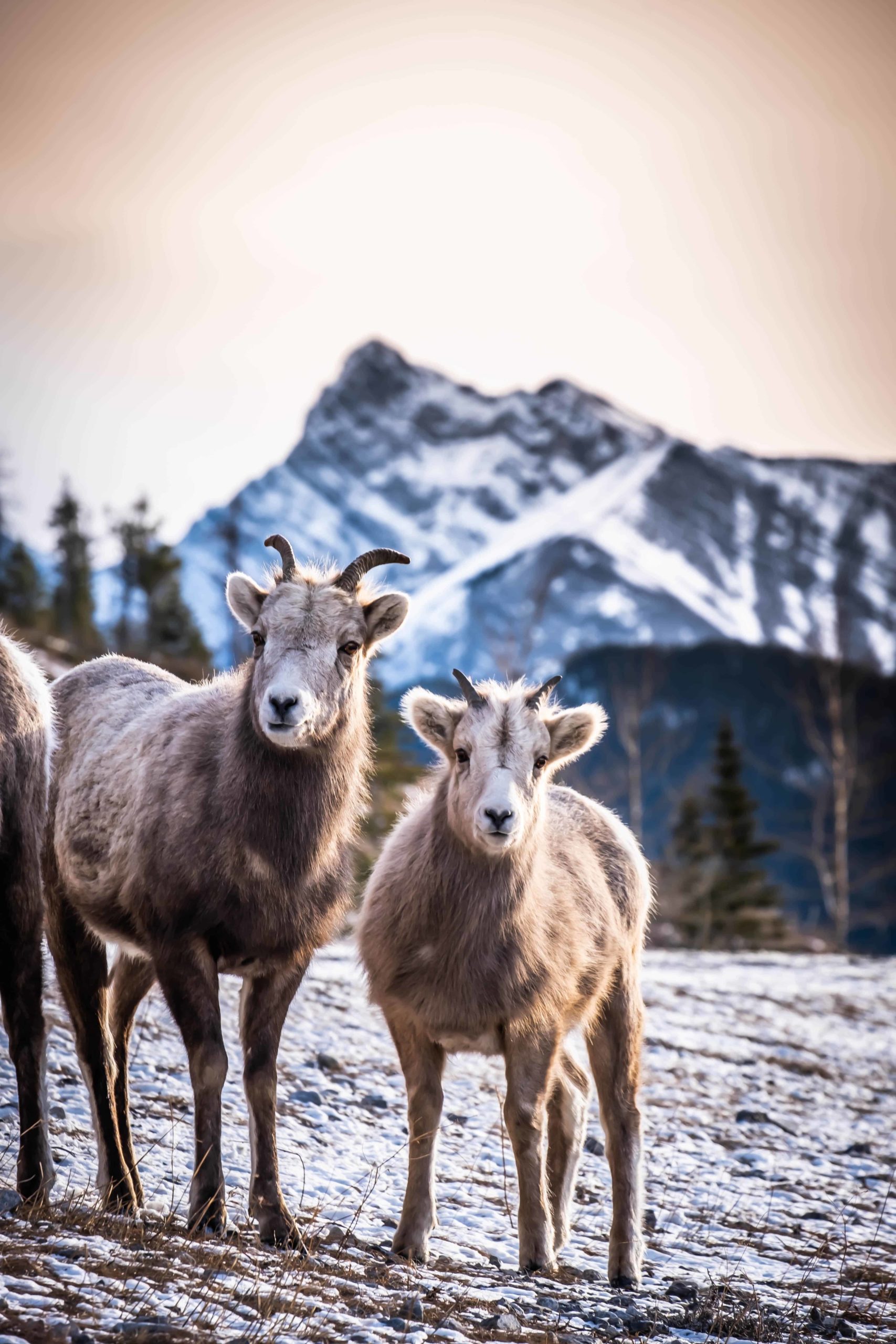 You can view wildlife in Banff all year round, but our favorite time is when the ground is covered in a fresh layer of snow. While it's pretty unlikely you'll see a bear, book a wildlife tour, and have the chance to see coyotes, deer, elk, sheep, and more in their natural habitat.
The excursion comes complete with round-trip transportation from your Banff hotel, an experienced guide, a light snack, and a steaming hot chocolate.
---
Lake Louise Ice Skating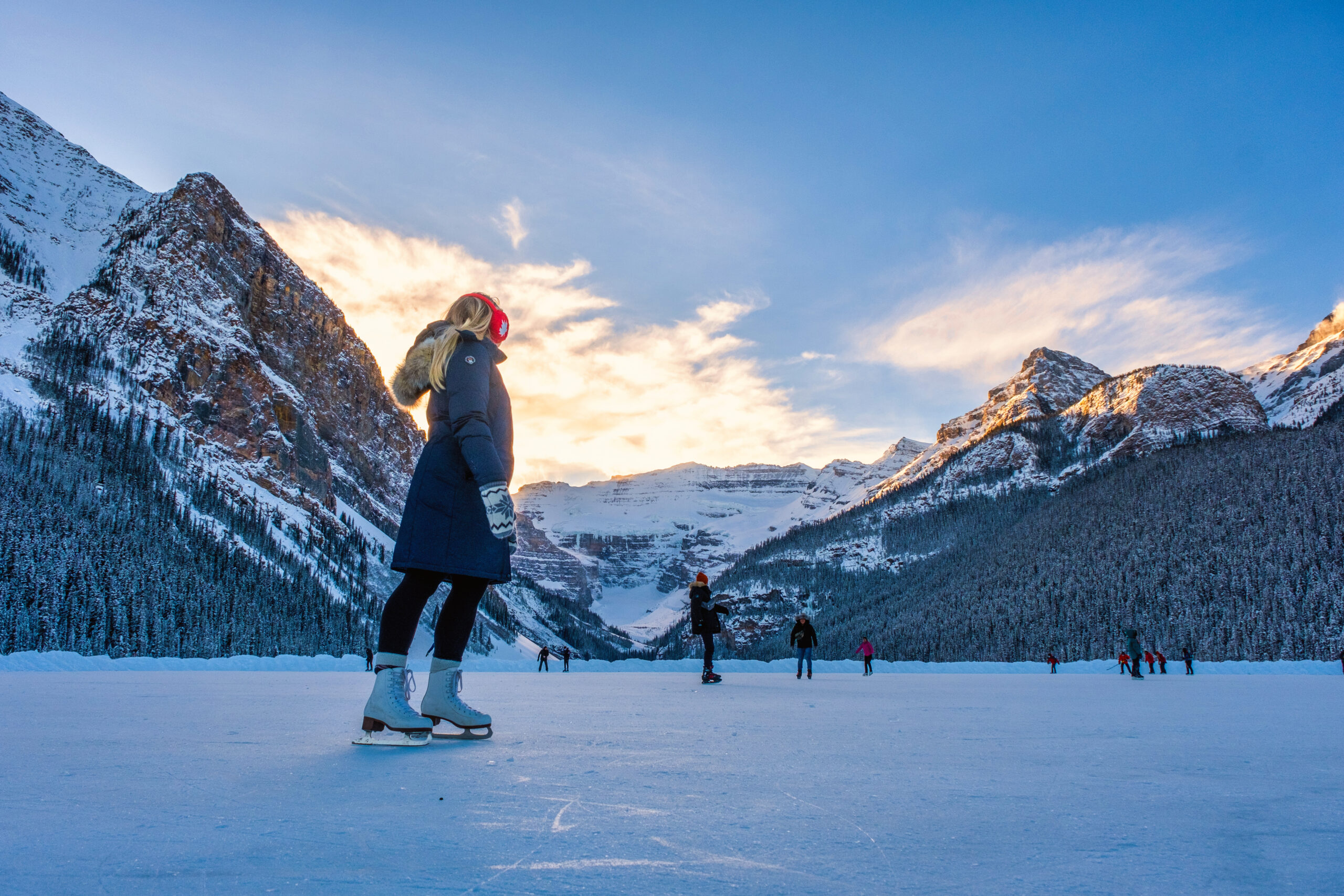 If you have dreamed about skating on a frozen natural lake, you'll have your chance in Banff National Park. At Lake Louise, there is a maintained natural ice skating rink that is free for all visitors. Lake Louise ice skating is typically good to go from early to mid-December to mid-April. While there are other natural bodies of water to skate on in Banff and Canmore, Lake Louise is by far the most safe.
While it's not your typical Banff winter tour with a guide (and costs involved), it's a fun activity to add to your Banff itinerary. We suggest planning a whole day at Lake Louise in the winter, involving dog sledding, a sleigh ride, and skating!
Plan Your Trip to the Canadian Rockies