Interested in tackling some of the best Canmore hikes? The town's locals and its visitors are fortunate to have a wide selection of walks, hikes, and mountains to scramble. The town of Canmore has around 70km of trails in town and is surrounded by many peaks that form the Bow Valley. In our opinion, Canmore is one of the best bases in the world for hiking and scrambling.
That means there is plenty of room for exploration as an extensive network links the various neighborhoods, parks, Canmore Nordic Center, and points of interest. Here are our favorite Canmore hiking trails starting with the easiest and working the way up to more challenging scrambles.
A Kananaskis Conservation Pass is Needed to Hike in Kananaskis
Visitors are required to hold a Kananaskis Conservation Pass. The area covered in the pass includes Kananaskis and the Bow Valley corridor. Passes may be purchased online and are attached to a license plate number. Requirements are around vehicles and parking, not the individual. This includes parking at the Canmore Nordic Center or Grassi Lakes.
Kananaskis Conservation Pass Prices
Daily Pass: $15 (registers one vehicle)
Annual Pass: $90 (registers two vehicles)
---
Easy Canmore Hikes and Walking Trails
(great Canmore hikes for beginners!)
---
Bow River Loop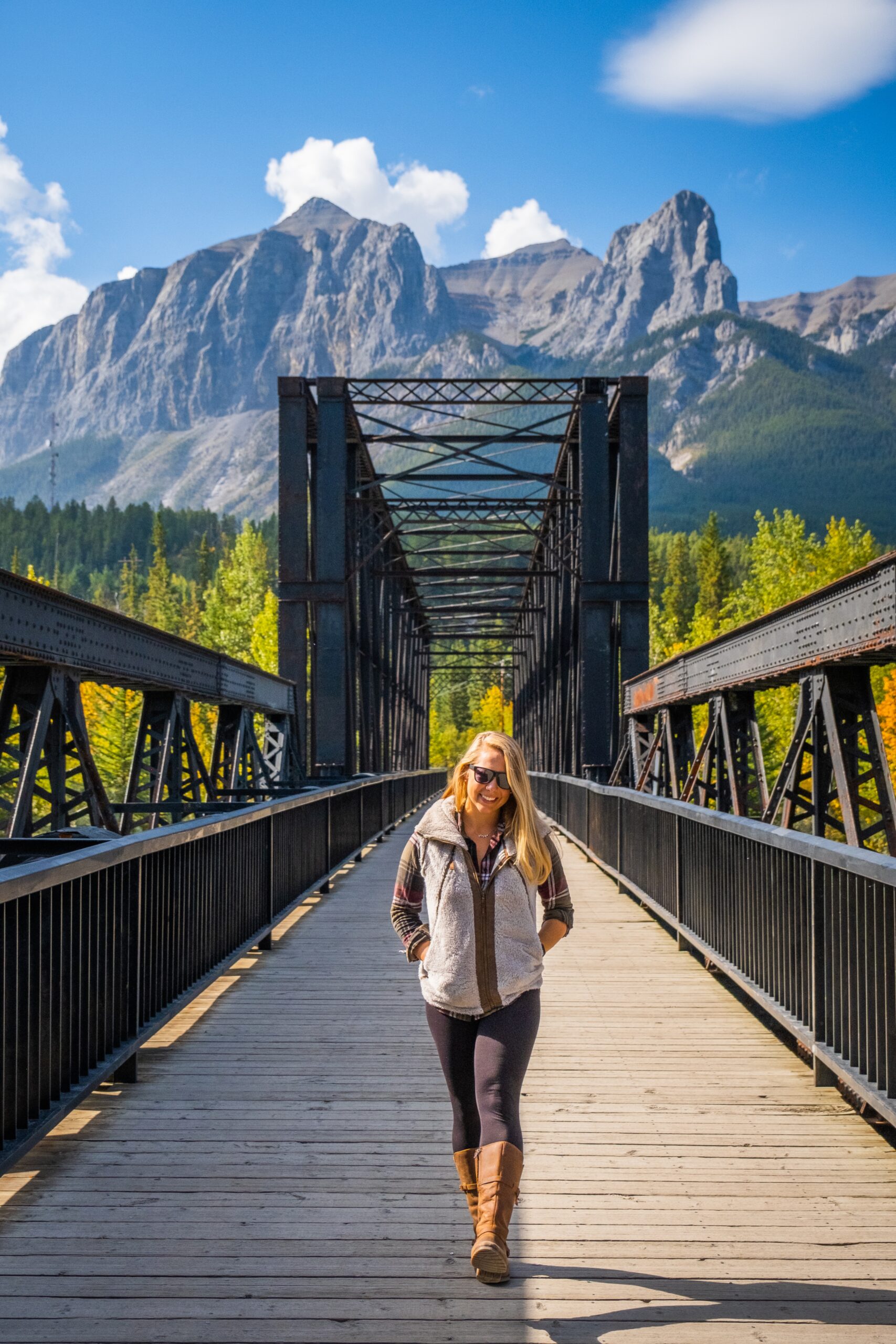 Difficulty: Easy
Elevation: N/A
Distance: 2 km
Time: 20 minutes
One of those super quick and easy Canmore hikes. The Bow River Loop is a pleasant circular walk around the Bow River outside the center of Canmore. The loop follows a gravel path that leads along the Bow River and over the two pedestrian bridges.
The highlight lies in the two bridges, the first off the main street bridge that offers fantastic views of a fork in the Bow River with views of the Three Sisters Mountains.
The second bridge is the Engine Street Bridge, an old railway bridge used by the mining companies that have been converted to a pedestrian bridge. The trail connects the two paths, and several offshoots offer exploration. We love to enjoy this Canmore walking trail with a cup of coffee from Eclipse Coffee Roasters in downtown Canmore.
---
Policeman's Creek Boardwalk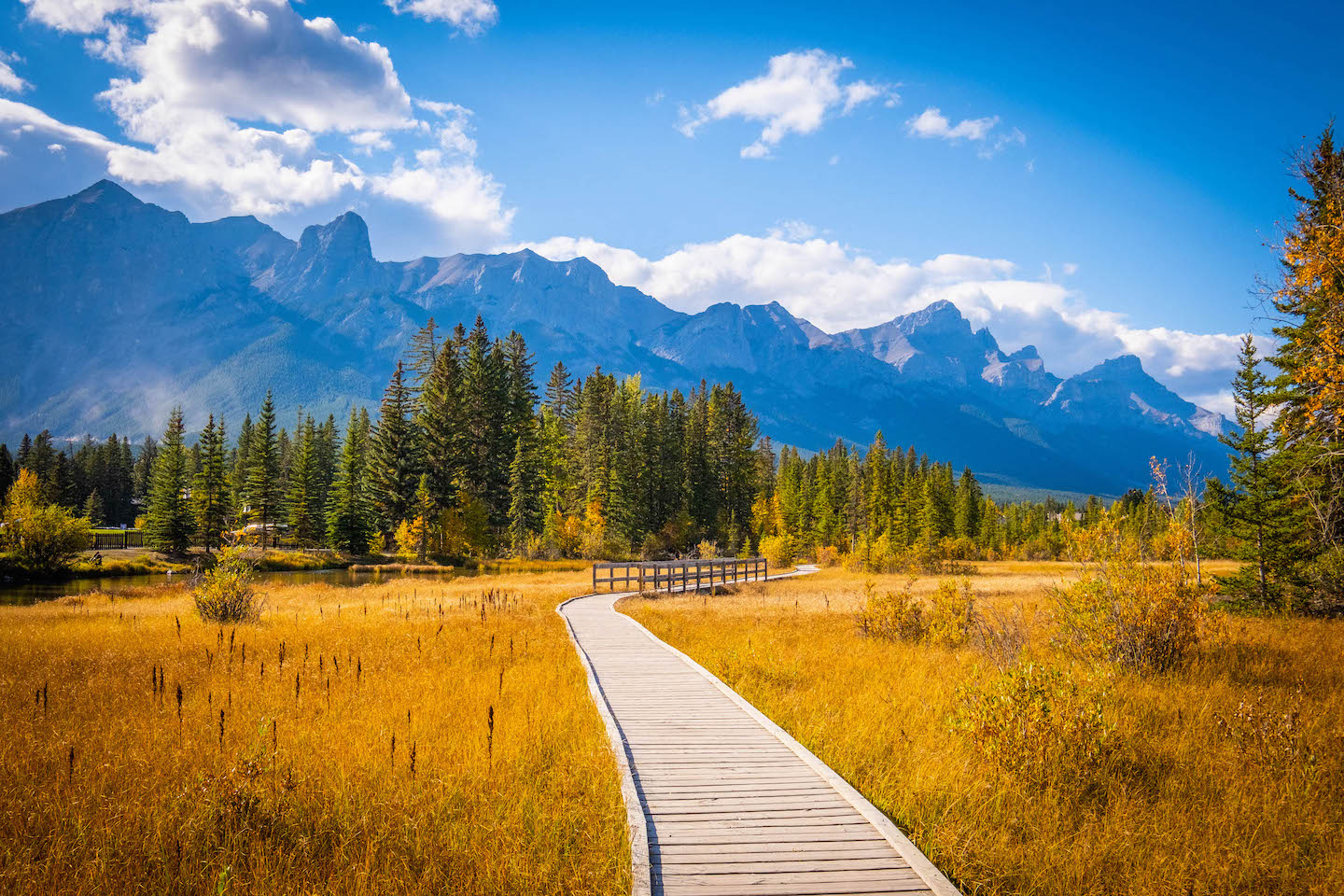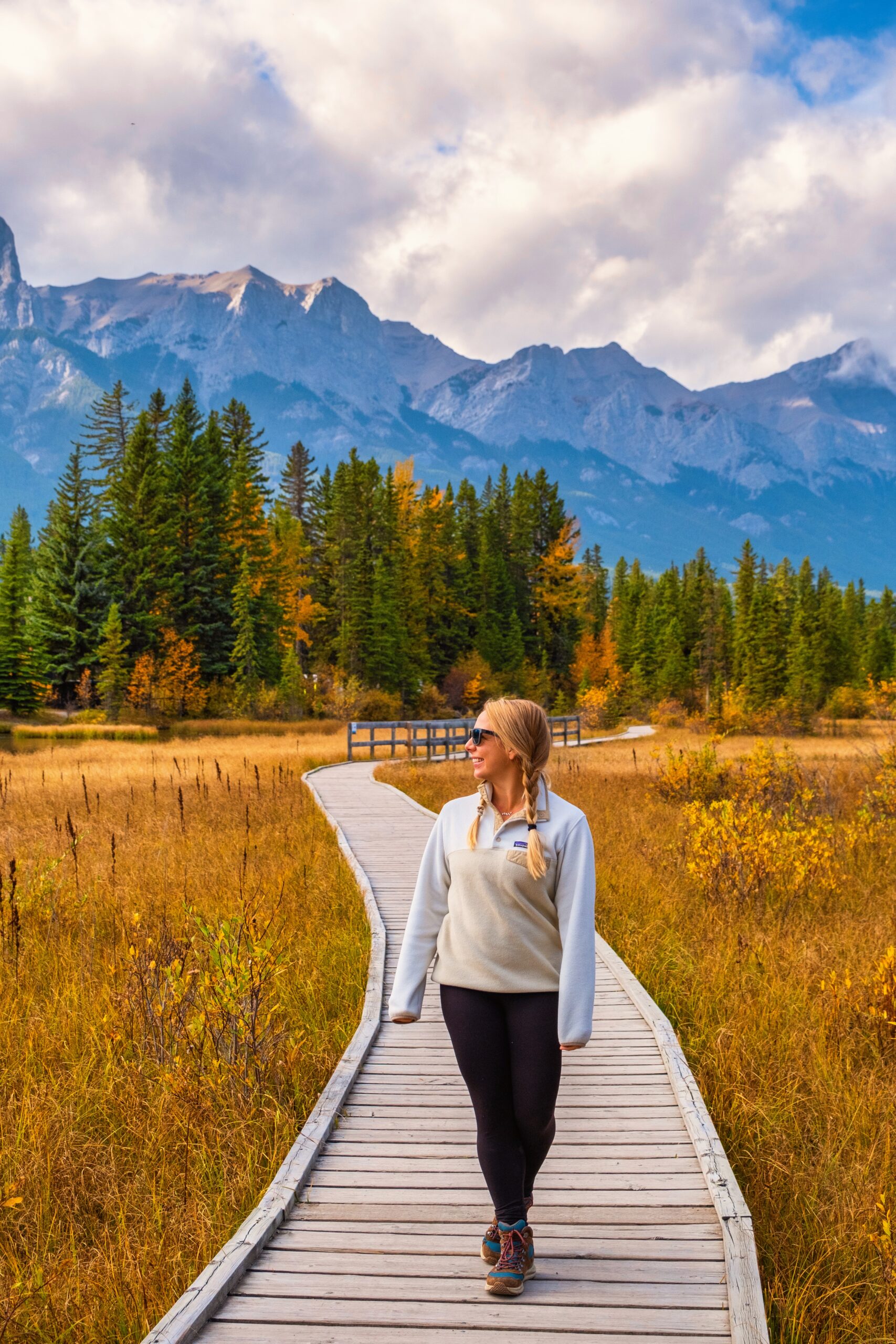 Difficulty: Easy
Elevation: N/A
Distance: 4 km
Time: 40 minutes
Another one of our favorite Canmore walking trails! The raised boardwalk along Policeman's Creek is a scenic and quintessential Canmore walk that great for birding. It's open year-round perfect for witnessing the various seasons in Canmore.
Policeman's Creek is a small branch off of the Bow River, and the walk stretches from the Canmore High School and down to the Spring Creek neighborhood.
It's a lovely walk, but the most popular route is to simply walk along the raised boardwalk from Main Street and down to Spring Creek. A short stroll that's an excellent way to pass twenty minutes, take a few photos and spot some birdlife. It's always a treat! I particularly love this one in Canmore in the winter!
---
Three Sisters Viewpoint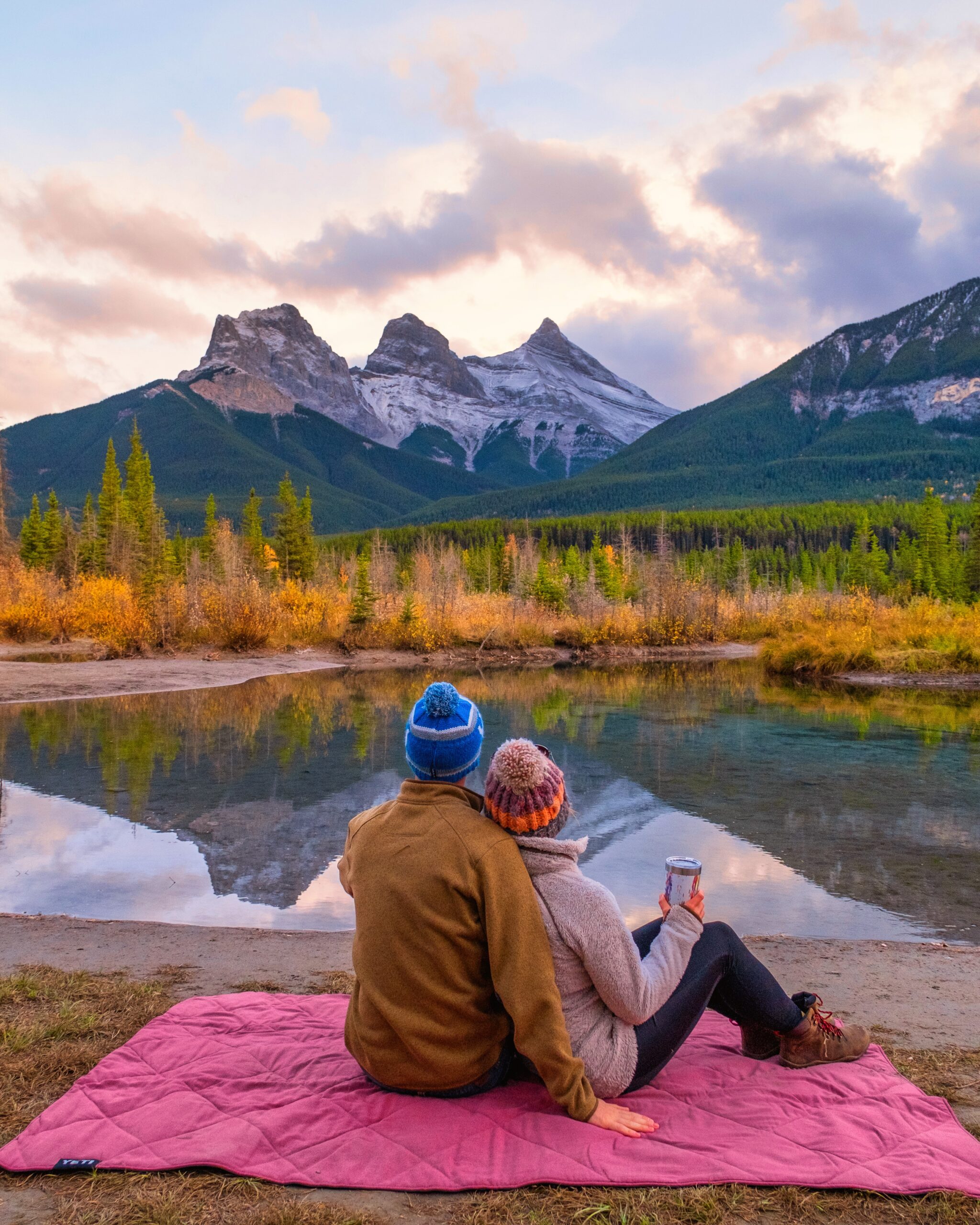 Difficulty: Easy
Elevation: N/A
Distance: 300 meters
Time: 20 minutes
This is one of the easiest Canmore walking trails with a beautiful payout. While you can see the Three Sisters from just about anywhere in Canmore, the best view is from the Three Sisters viewpoint.
It's only a 5-minute walk to get here, and it's well worth enjoying at any season in the early morning or evening. To get here Park at the town's off-leash dog park near the helipad on the Bow Valley Trail. Cross the road and go under the train tracks, and you'll find a faint path leading you to the photo point in about five minutes.
All About the Three Sisters in Canmore, Alberta
---
Rundle Forebay Reservoir (Canmore Reservoir)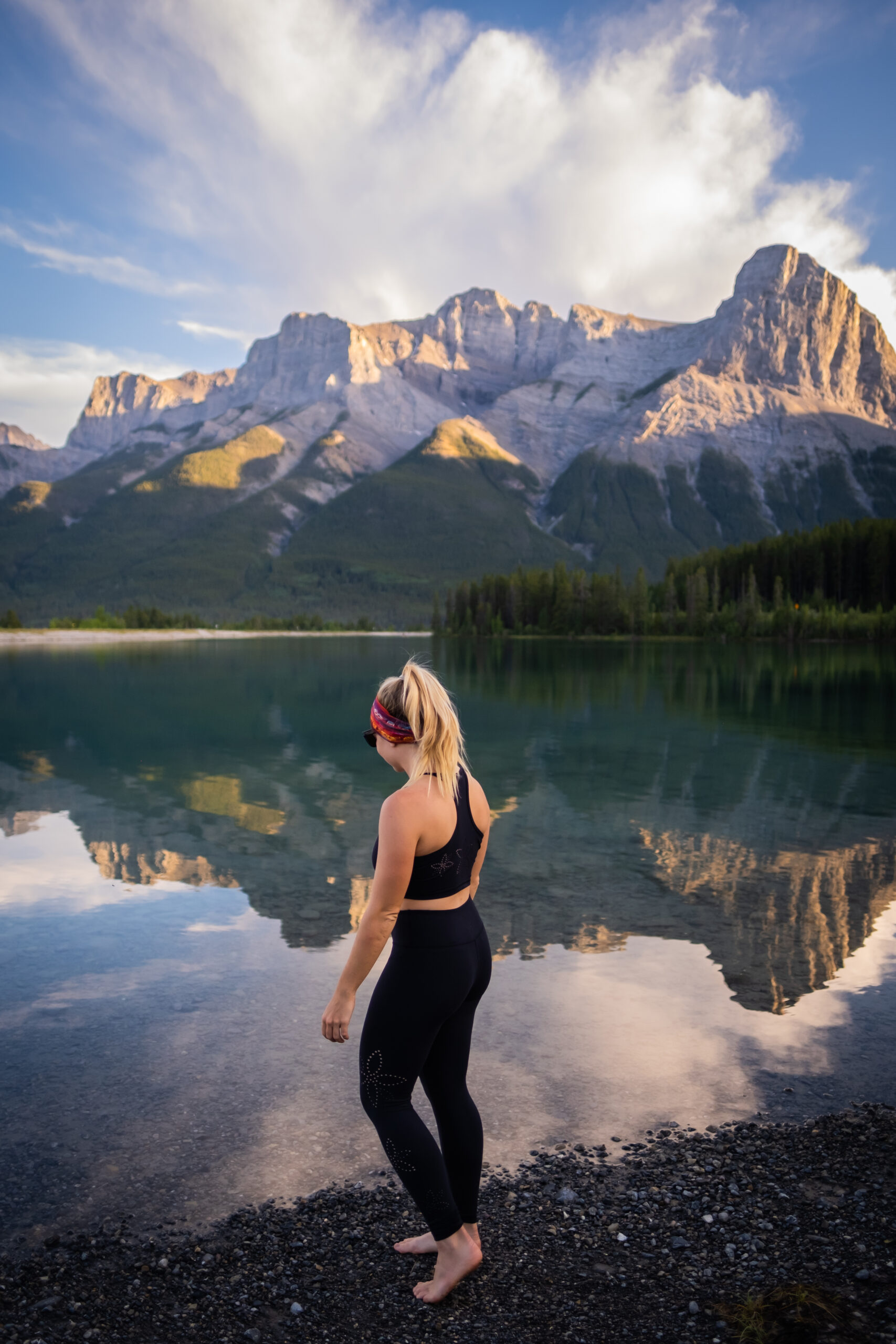 Difficulty: Easy
Elevation: N/A
Distance: 1-2 km
Time: 30 minutes
The Rundle Forebay Reservoir, or Canmore Reservoir as locals call it, is one of the best things to do in Canmore as it's a fantastic place to canoe, sup, kayak, and even swim in the summer. It also supplies the Town of Canmore with its water, so we are incredibly thankful for it.
Not only is it a practical place to visit, but it's one of the most beautiful as the magnificent Ha Ling Peak towers over it, and if you look to your left you'll get great views of the Little Sister. You can easily walk right up to the lake and dip your toes in, but there is also a paved pathway to the left of the reservoir that you can walk along or bring the bike.
This pathway takes you to the end of the reservoir, where you can either turn around or take the Powerline Trail for a longer walk. The Powerline Trail will connect you to Quarry Lake or go even further to the Three Sisters Mountain Village.
We frequently ride our bikes on the powerline trail when we're looking for a quick workout from home.
Canoeing in Banff • 20 Amazing Places to Paddle!
---
Larch Islands Interpretative Trail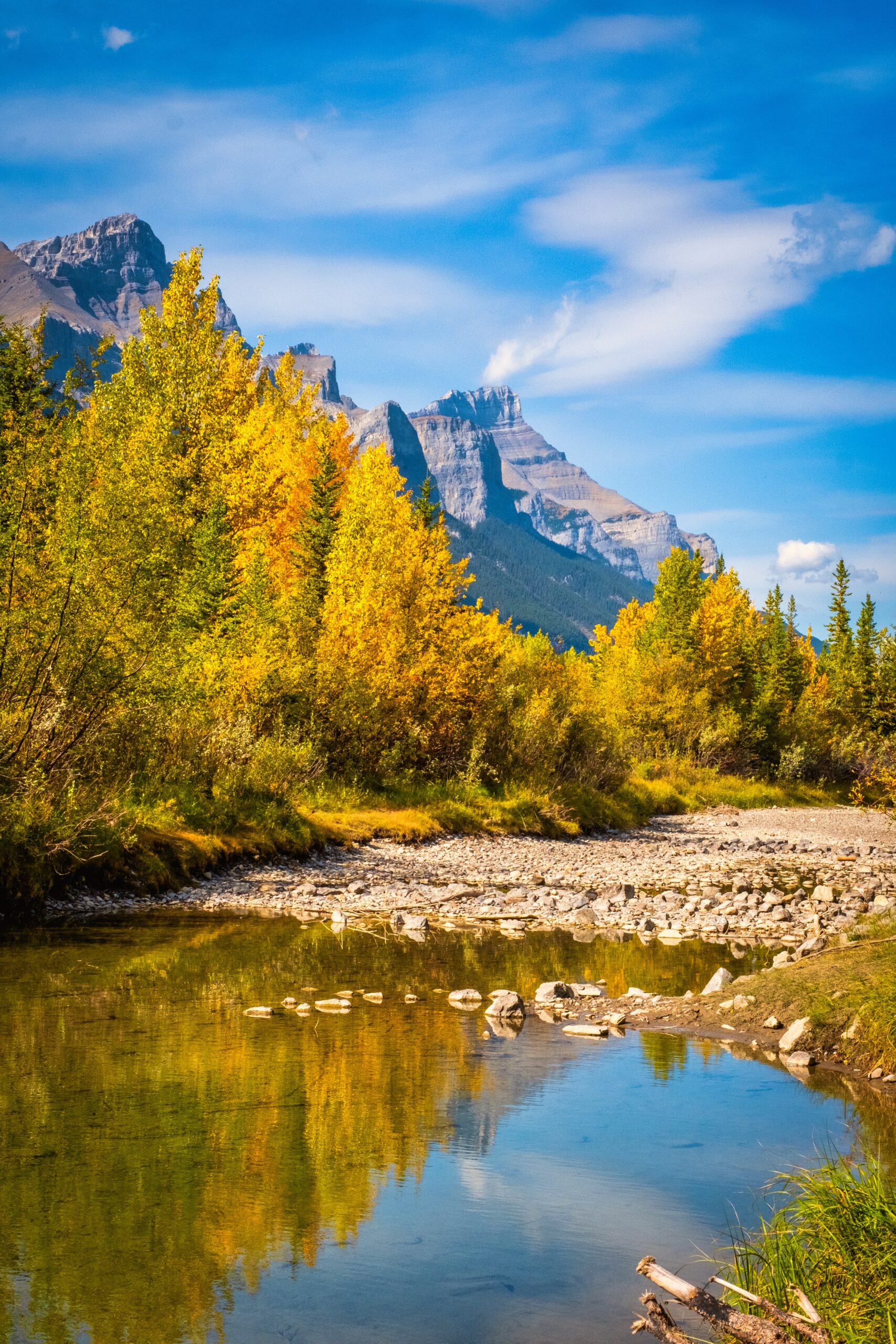 Difficulty: Easy
Elevation: N/A
Distance: 3.5 km
Time: 40 minutes
Larch Island takes its name from the trees found along the creek and Bow River shoreline. To reach the island interpretative trail, continue past the Engine Bridge along the Bow River. It's one of the best Canmore walks for everyone.
The trail follows along the shoreline and is often quiet, so you'll find a peaceful slice of nature. Turn left across a short footbridge that moves around the small island. In the summer months, you'll find wildflowers and birdlife, while it's a great trail to spot larches in the fall.
---
Benchlands Ridge Trail and Canmore Hoodoos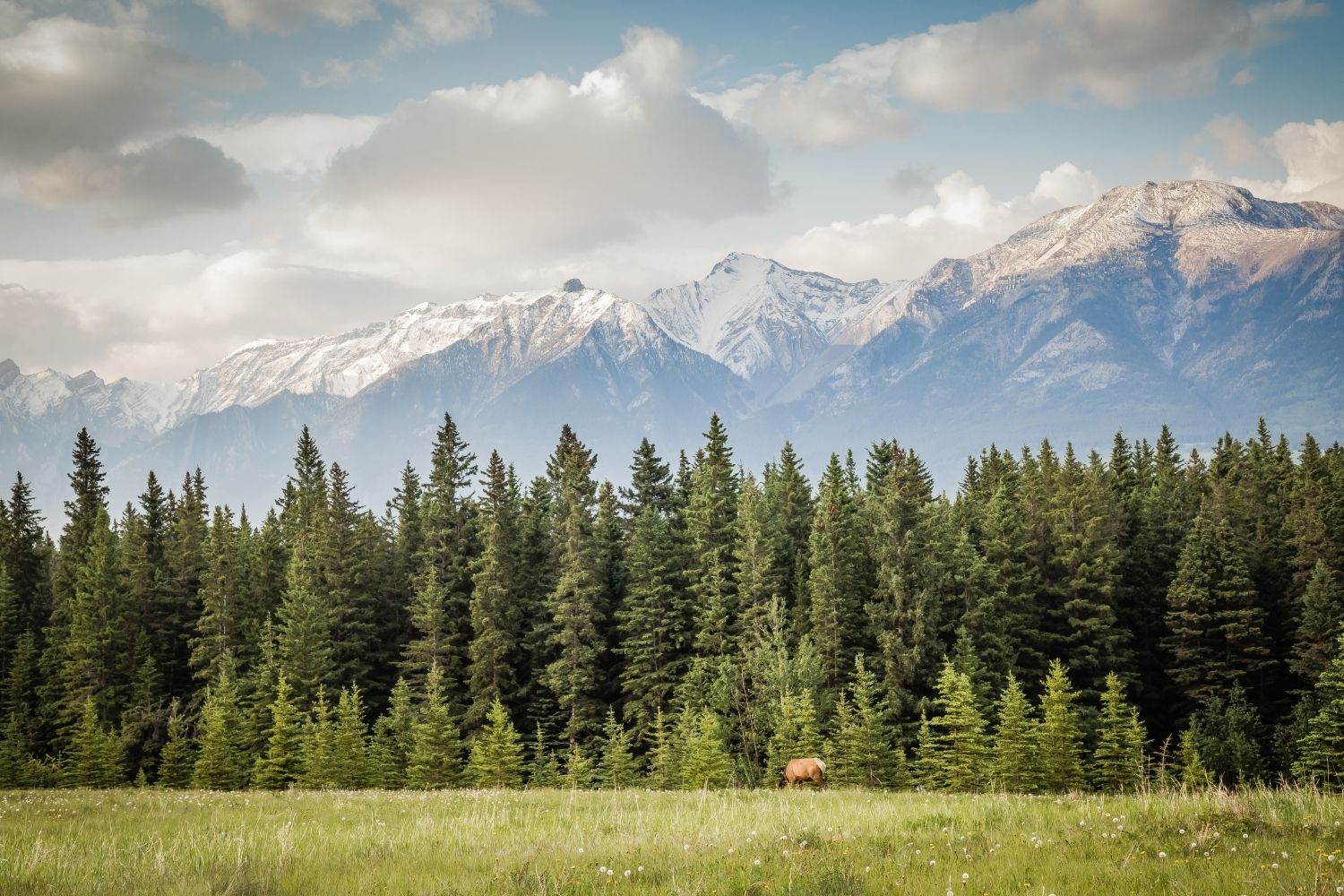 Difficulty: Easy
Elevation: 195 meters
Distance: 4.0 km
Time: 1 – 1.5 hours
The Benchlands Ridge Trail can be accessed from Downtown Canmore, but it does require walking over the busy highway overpass and up to Cougar Creek.
The most pleasant experience would be to start from the Cougar Creek parking lot opposite the dog park. It's a nice path that moves along a large bench and offers views across the Bow Valley to The Three Sisters.
It's tough to argue with the panoramic views, although it is over the TransCanada, so expect a little road noise. At the end of the ridge is a few small hoodoos that are worth checking out. For the best experience, combine the trail with the Montane trail to make a loop.
---
Quarry Lake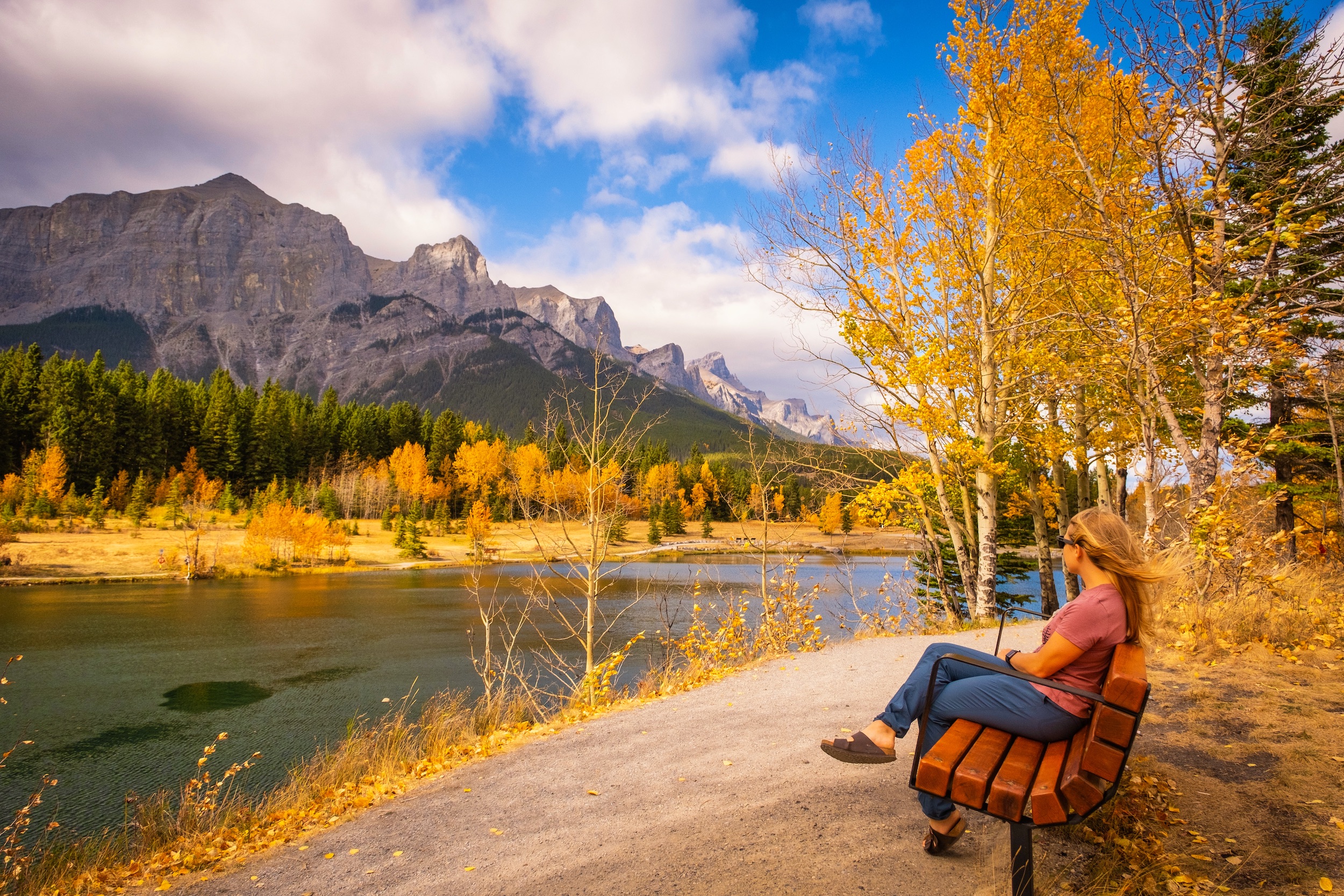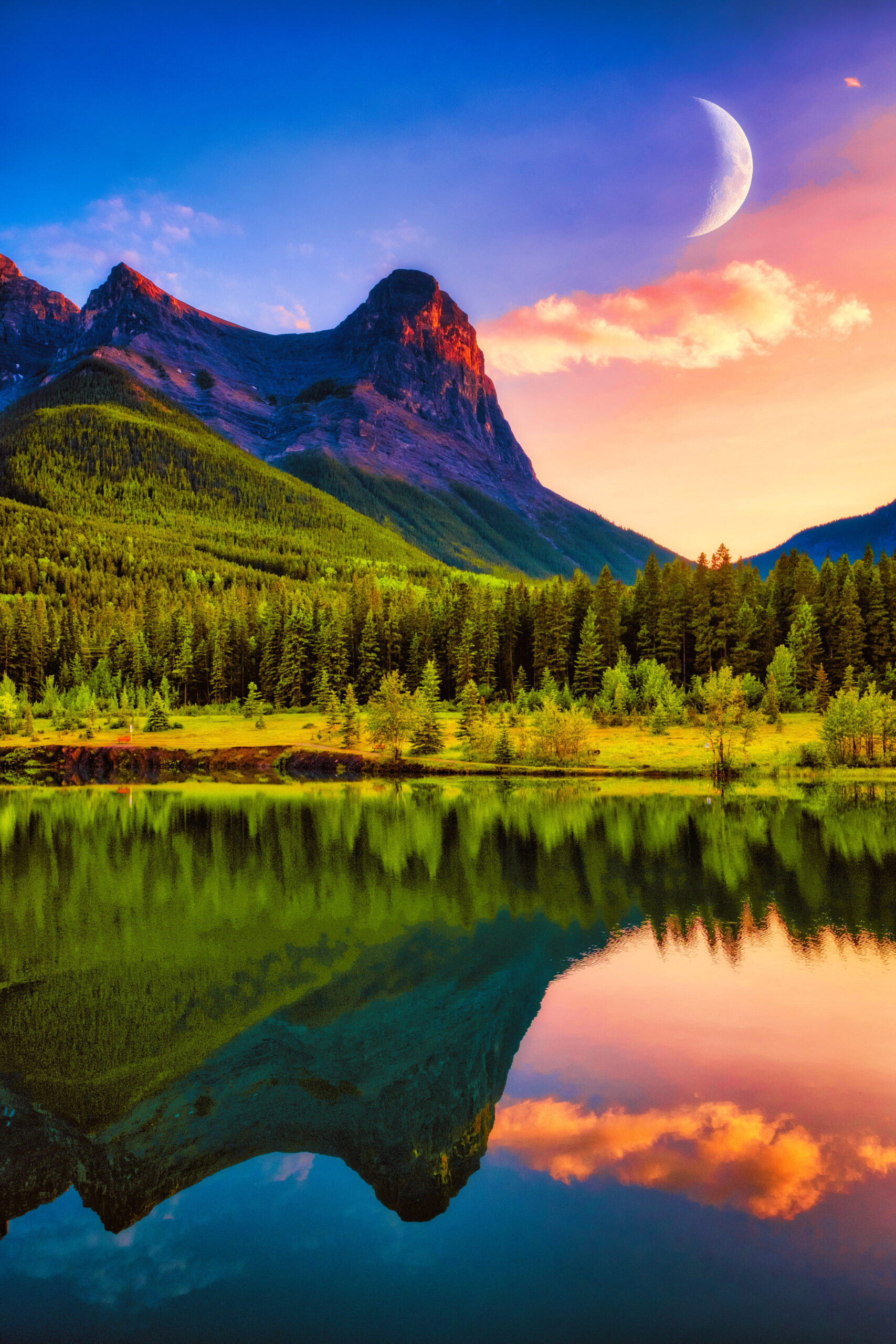 Difficulty: Easy
Elevation: 15 m
Distance: 3 km
Time: 30 min – 1 hr
Quarry Lake is the former site of the Canmore mine and a successful revitalization project beloved by the town's residents. It's been a local's hangout for years now, but the secret has gotten out. Now visitors flock to the park on weekend summer days to swim and enjoy the warm weather. It's also popular for the off-leash dog park that neighbors Quarry Lake, perfect for some catch or plays with you doggo.
The small lake has a nice loop you can walk around, and a plethora of trails extend out from the Quarry Lake into the surrounding neighborhoods and other trails like the Highline. If you venture out on the surrounding trails, keep in mind that several trails are biked-focused and managed by the local mountain bike organization; of course, hikers are welcome to walk the trails.
Quarry Lake has ballooned in popularity, especially on weekends, and it's been tough for even locals to find parking there anymore. With all the visitors comes plenty of trash that is left behind here. Please remember to pack out what you bring in and always Leave No Trace.
---
Three Sisters Pathway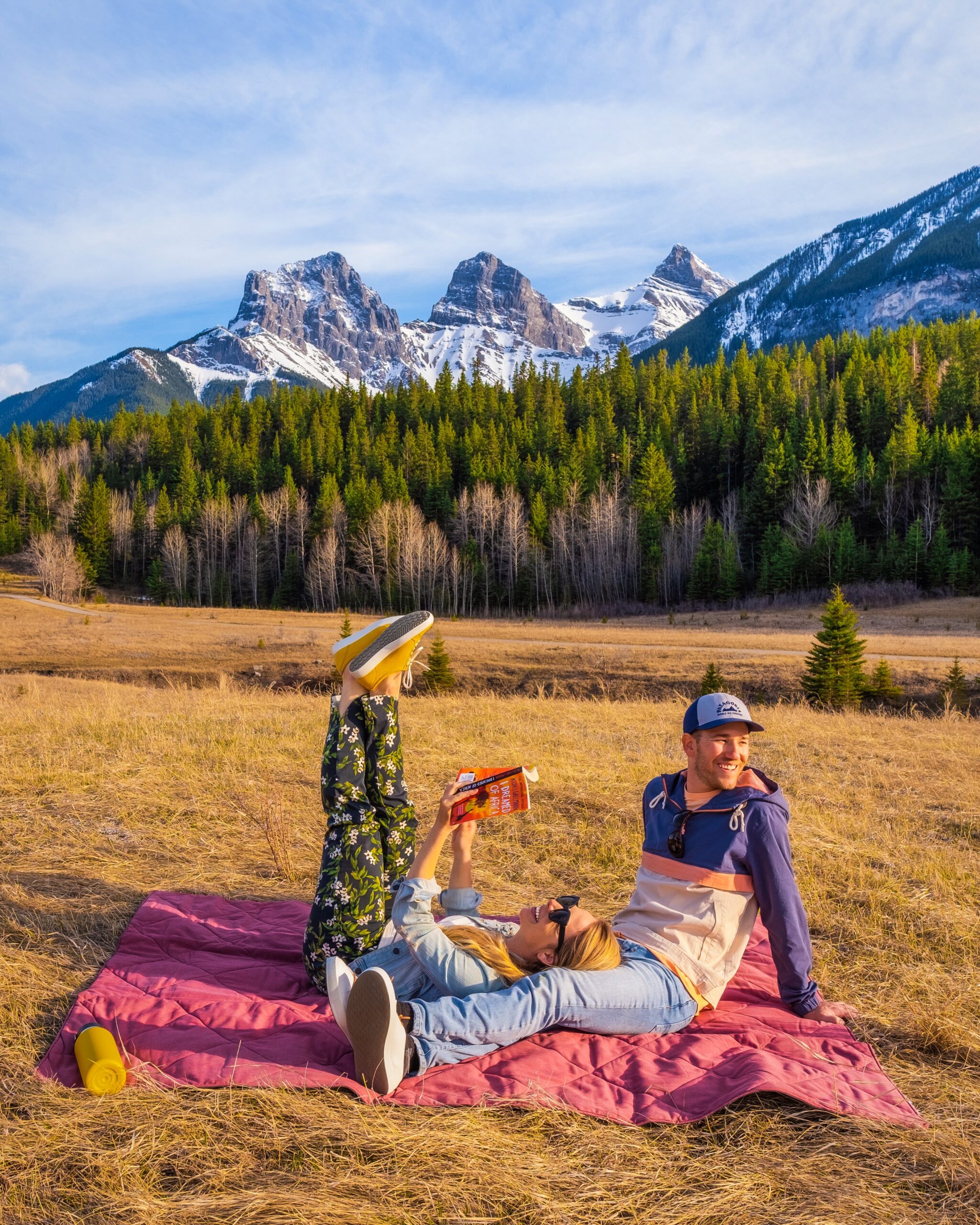 Difficulty: Easy
Elevation: 100 meters
Distance: 1 km – 15km
Time: 30 mins – 4 hrs
This is our favorite walk in Canmore, plus it's a great option for bikers and runners. Chances are you might even see us on the trail as it's our access into town from our home in the Three Sisters Mountain Village.
The trail is a mix of gravel and paved paths that follow the Bow River downstream to the Three Sisters. As the trail moves alongside the river, it passes several meadows, creeks, and forests.
We've seen a lot of wildlife along the trail, in particular birdlife in the river. There is also a good chance you'll come across some elk as they're plentiful, especially in the winter months. Don't worry about mountain views as they're plentiful, as with just about anything in Canmore.
---
Grassi Lakes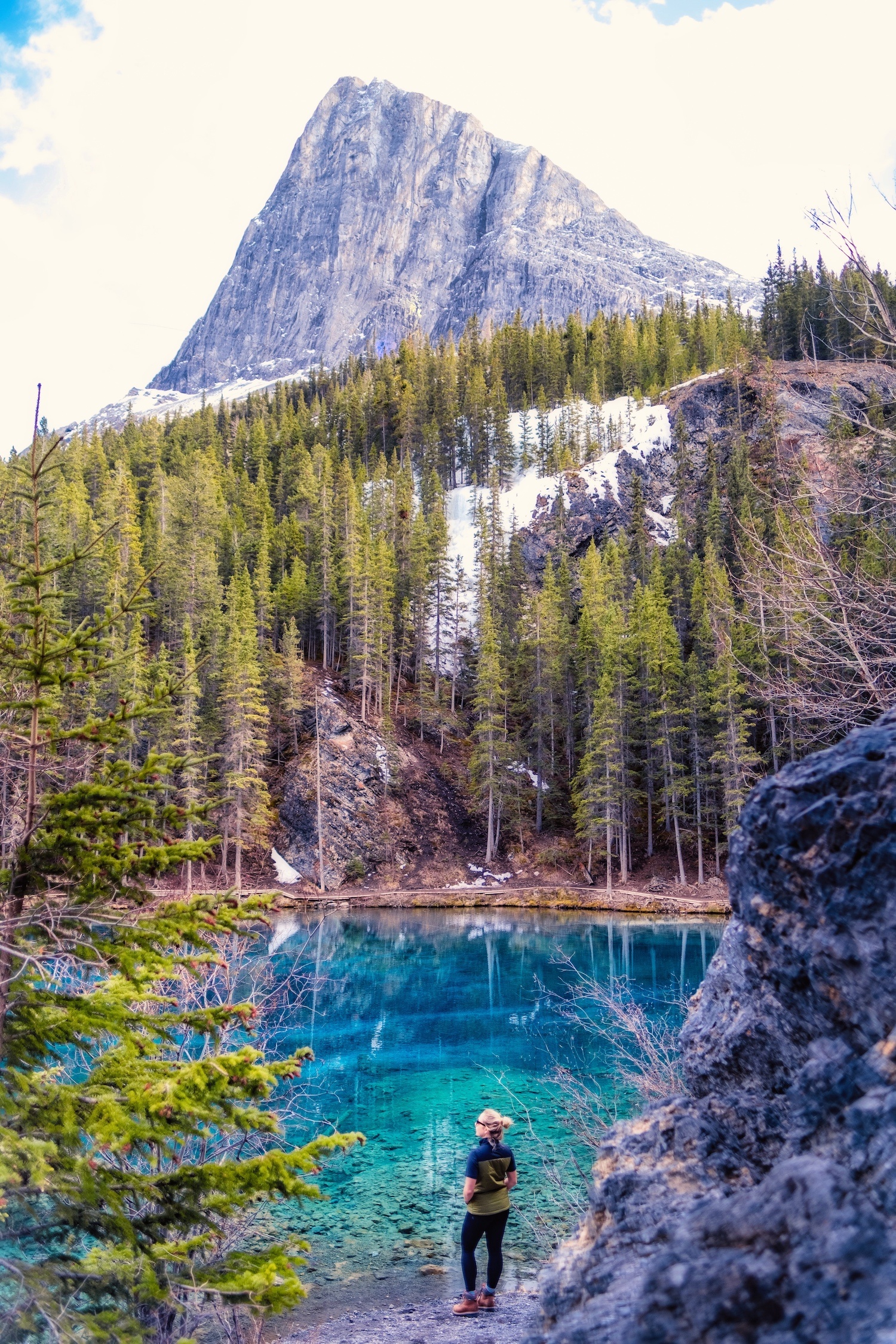 Difficulty: Easy
Elevation: 233 meters
Distance: 4.3 km
Time: 1 – 2 hrs
Note: The Grassi Lakes Trail is now open for the 2023 season.
Grassi Lake is one of our favorites and the one Canmore hike we've probably done the most in the Canadian Rockies as we live just down the road from the trailhead in Canmore.
The mesmerizing colors of the water at Grassi Lakes are remarkable and easy to reach on a short hike. Though there are other trails in the area, the Grassi Lakes trail is clearly marked, and you'll know to turn around when you've reached the impassably steep part.
About five kilometers south of town, the lakes are easy to get to, and you may want to consider packing a few some food for a picnic, as it's one of the most picturesque places around Canmore. Stunning views of a nearby waterfall and the town of Canmore below present plenty of photo opportunities, so grab your favorite travel camera before heading out.
Grassi Lakes Hike Near Canmore
---
Grotto Canyon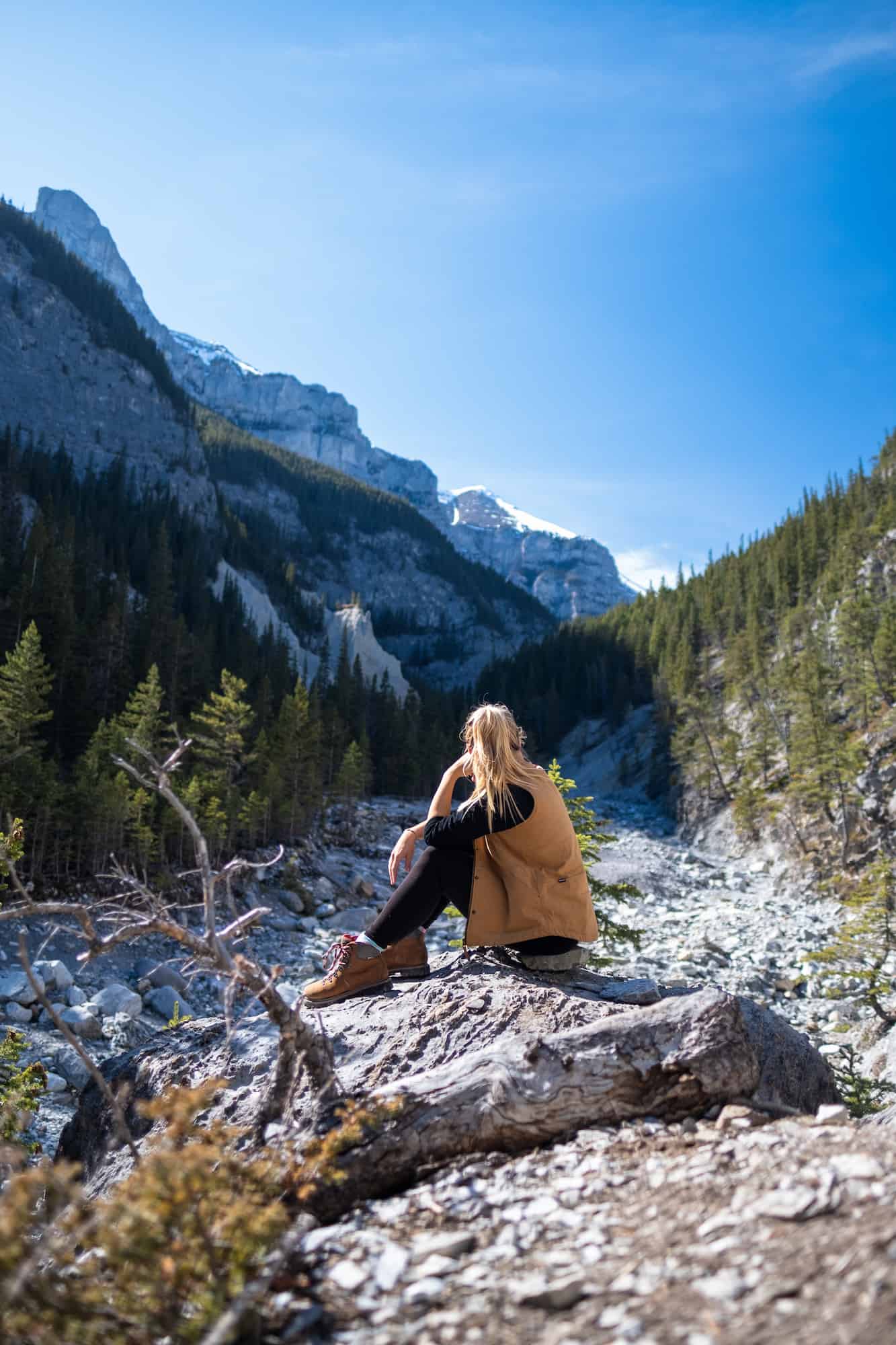 Difficulty: Easy
Elevation: 390 meters
Distance: 7.1 km
Time: 2 – 3 hrs
An easy Canmore hike that's good year-round is Grotto Canyon. Even in the winter, this famous canyon with rock art is possible to walk along the frozen creek. In the summertime, it's popular for families seeking to enjoy the narrow slot canyon and climbers looking to scale its walls. At only 4km in length, you can check this one off the list in an hour or two.
---
Moderate Canmore Hikes
(For those with a few Canadian Rockies hikes under their belt!)
---
Lady Macdonald Teahouse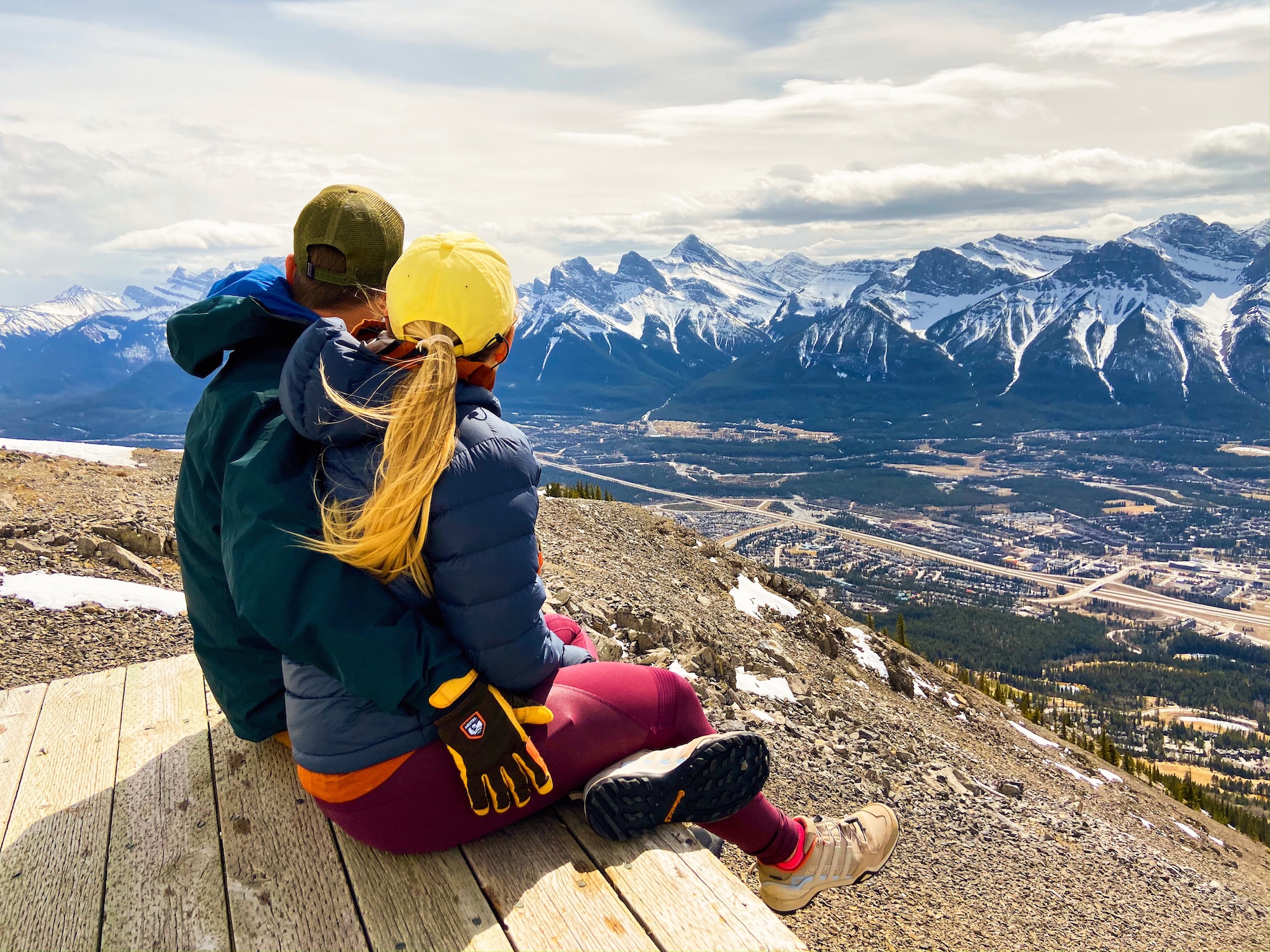 Difficulty: Moderate
Elevation: 1,015 meters
Distance: 8.7 km
Time: 1:30 – 5 hrs
Note: The Lady MacDonald hiking trail is now open after a long closure. Future closures will be needed as construction progresses. See more info.
This is a popular Canmore hike with locals and visitors for a quick workout or trail run. It's a good early season hike as the mountain receives a lot of direct sunlight, which melts the snow and has low avy risk late in the season. Once at the top, there is a large platform which was the site of a planned teahouse that never came to be.
It is the perfect spot to take in the views of Canmore down below. Most hikers will stop their journey at the "teahouse," but you can continue along to the true summit. However, the true summit requires some exposed scrambling along a narrow ridge.
Probably best to leave the summit for experienced hikers/scramblers. The majority of the hike is spent in the forest, so if you have peak summer hiking weather, I will choose another hike, plus the views are over the town and highway.
---
The Highline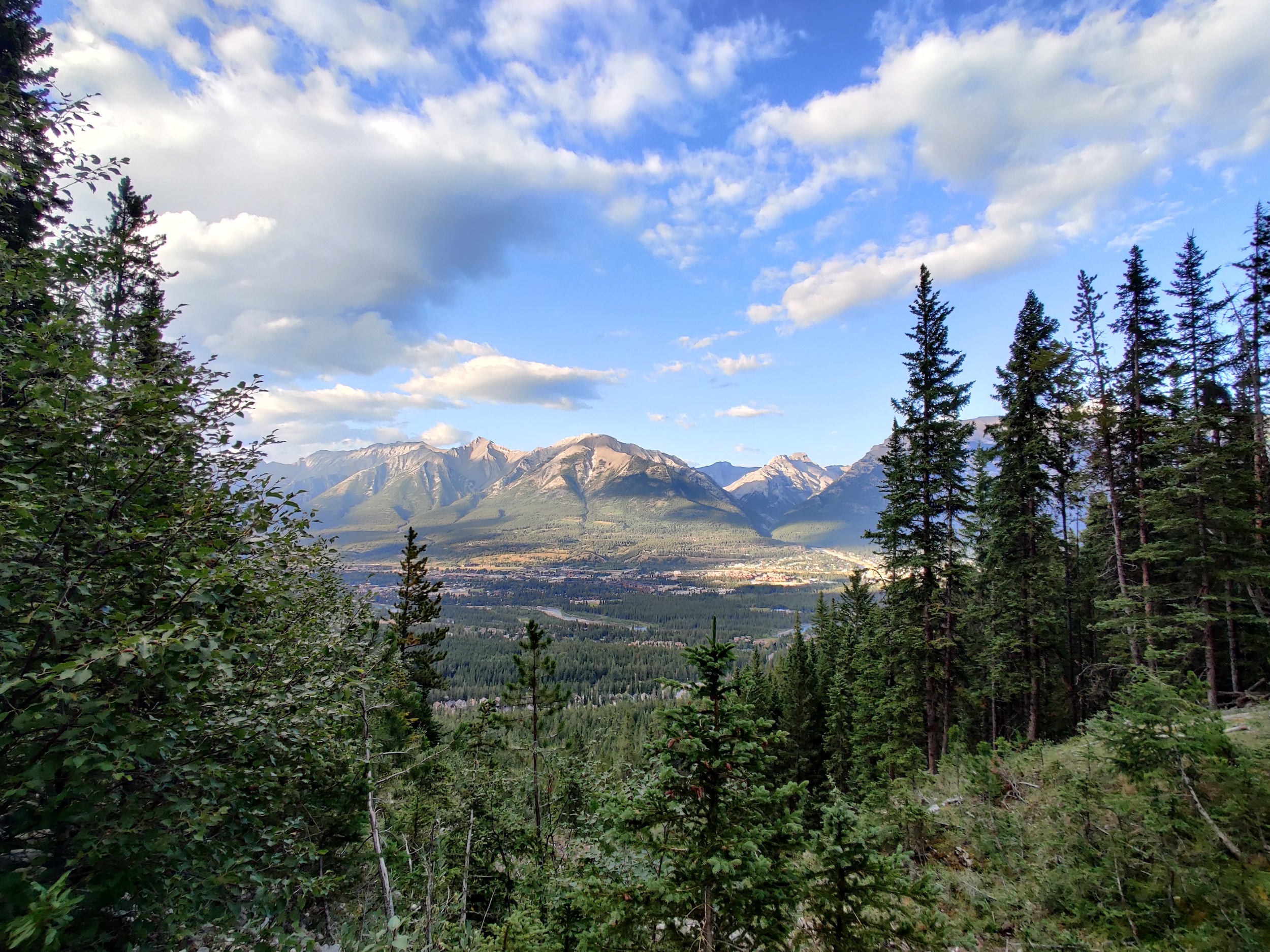 Difficulty: Moderate
Elevation: 300+ meters
Distance: 13 – 25 km
Time: 2 – 8 hours
The Highline is a worthwhile trail that connects Quarry Lake with the Three Sisters Mountain village via a shelf that sits below the peaks of Ha Ling and Lawrence Grassi. As the trail climbs a few hundred meters, it winds through a lush forest full of birdlife and the occasional large mammal. It is largely used by mountain bikers, myself included, as it's a great workout that can be done in an hour.
Despite the elevation gain, there is not much for views outside of a few avalanche paths/gullies that look down on the trail. It's also worth mentioning the extensive network of illegal trails (pirate trails cut through wildlife corridor) that cut through the wildlife corridor that makes it easy to get lost.
However, the main trail is largely self-explanatory. The trail is a point-to-point with multiple options up and down; this explains the large variation for distance and time.
35 Best Canmore and Banff Bike Trails
---
Grassi Knob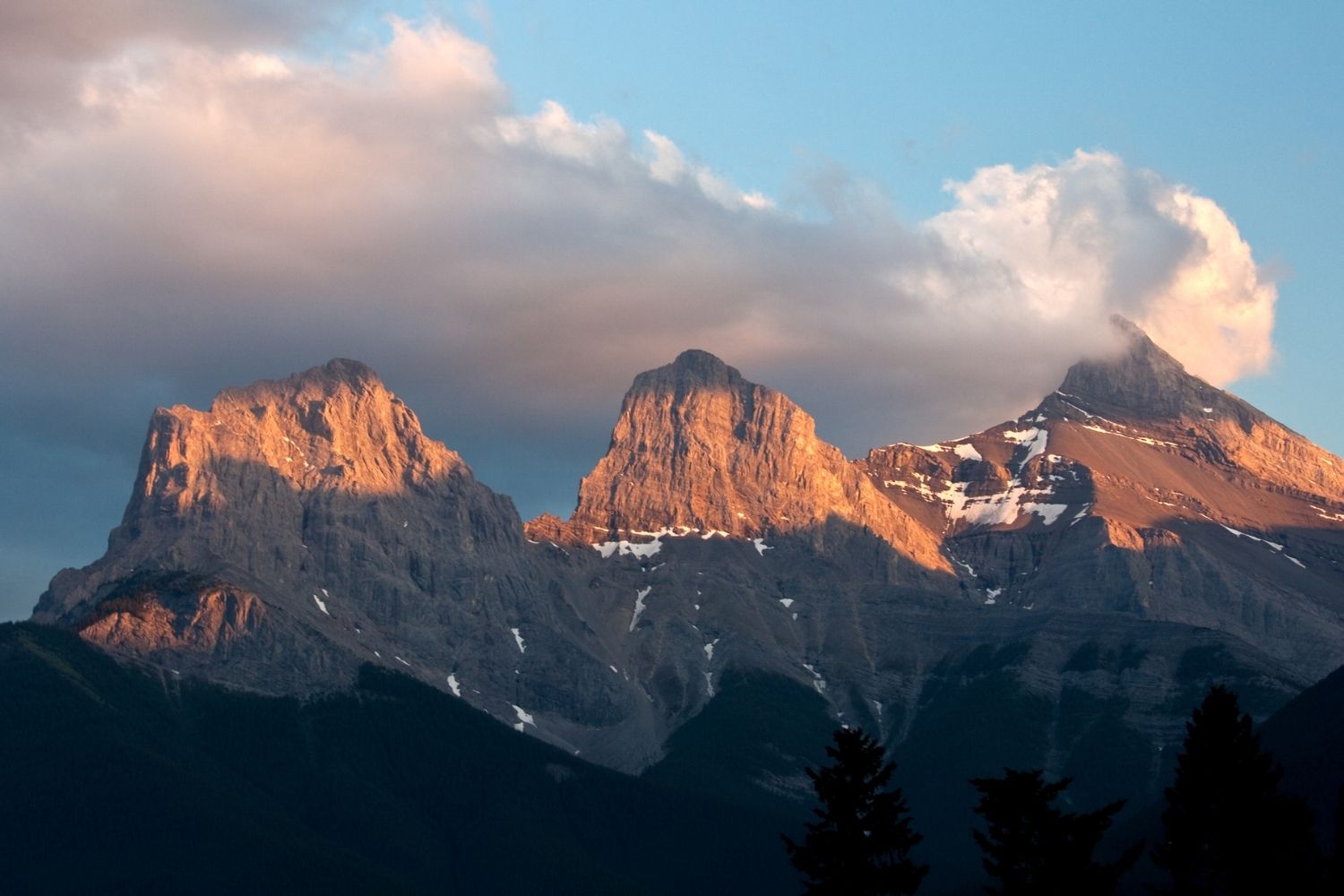 Difficulty: Moderate
Elevation: 758 meters
Distance: 6.4 km
Time: 2 – 3 hours
Grassi Knob is right above the Three Sisters development in Canmore and arguably has the best view of the Three Sisters in Canmore. It's a small peak that sits right below Ship's Prow and has no official trail or routes up to the top.
However, it is most easily accessed from the Three Sisters Creek to the Highline Trail. It's also increased in popularity over the year, so the path through the forest is easy enough to follow.
I'd suggest downloading a GPX track to avoid confusion. It's a steep climb to the top, so keep in mind that although it's short, you'll be keeping a high heart rate most of the time.
---
Wind Ridge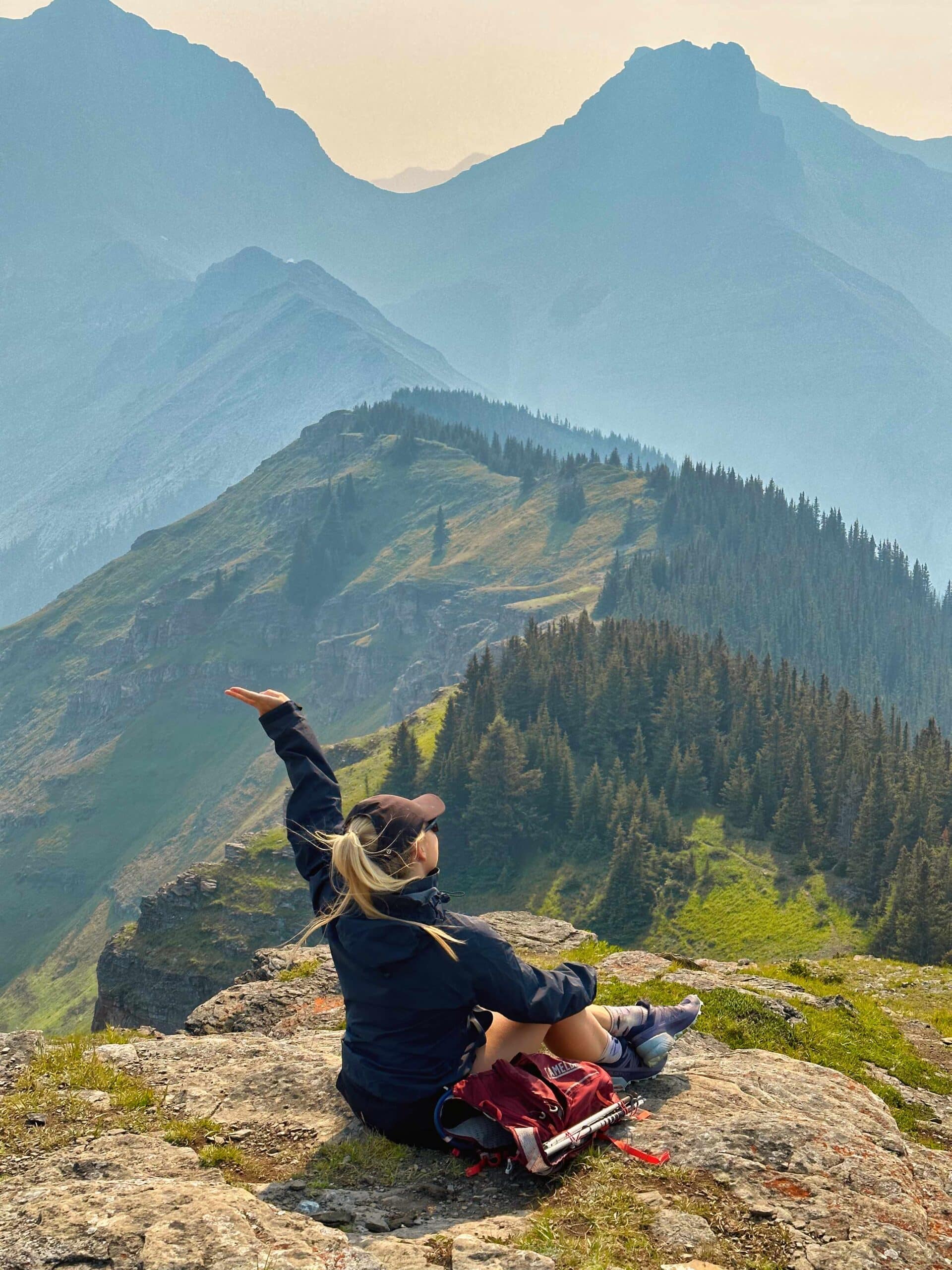 Difficulty: Moderate
Elevation: 800 meters
Distance: 14.5 km
Time: 4 – 6 hours
This hike leads up away from Canmore as you leave the Bow Valley and head into the West Wind Valley. This should not be confused with West Wind Pass, which is a hike on the Smith Dorrien Highway and easier than Wind Ridge.
Wind Ridge is a gorgeous hike and has tremendous views of the impressive Mount Lougheed. The hike starts from near the Banff Gate Mountain Resort, and trails through the woods on the West Wind Creek Trail. The trail starts off a bit monotonous through the trees, however once you exit the treeline you'll get amazing vies of Lougheed, Wind Tower, and Rimwall Summit.
Continue following the trail, which gets incredibly steep in section. There's a short scramble section, though you can bypass this on the right if you don't like heights.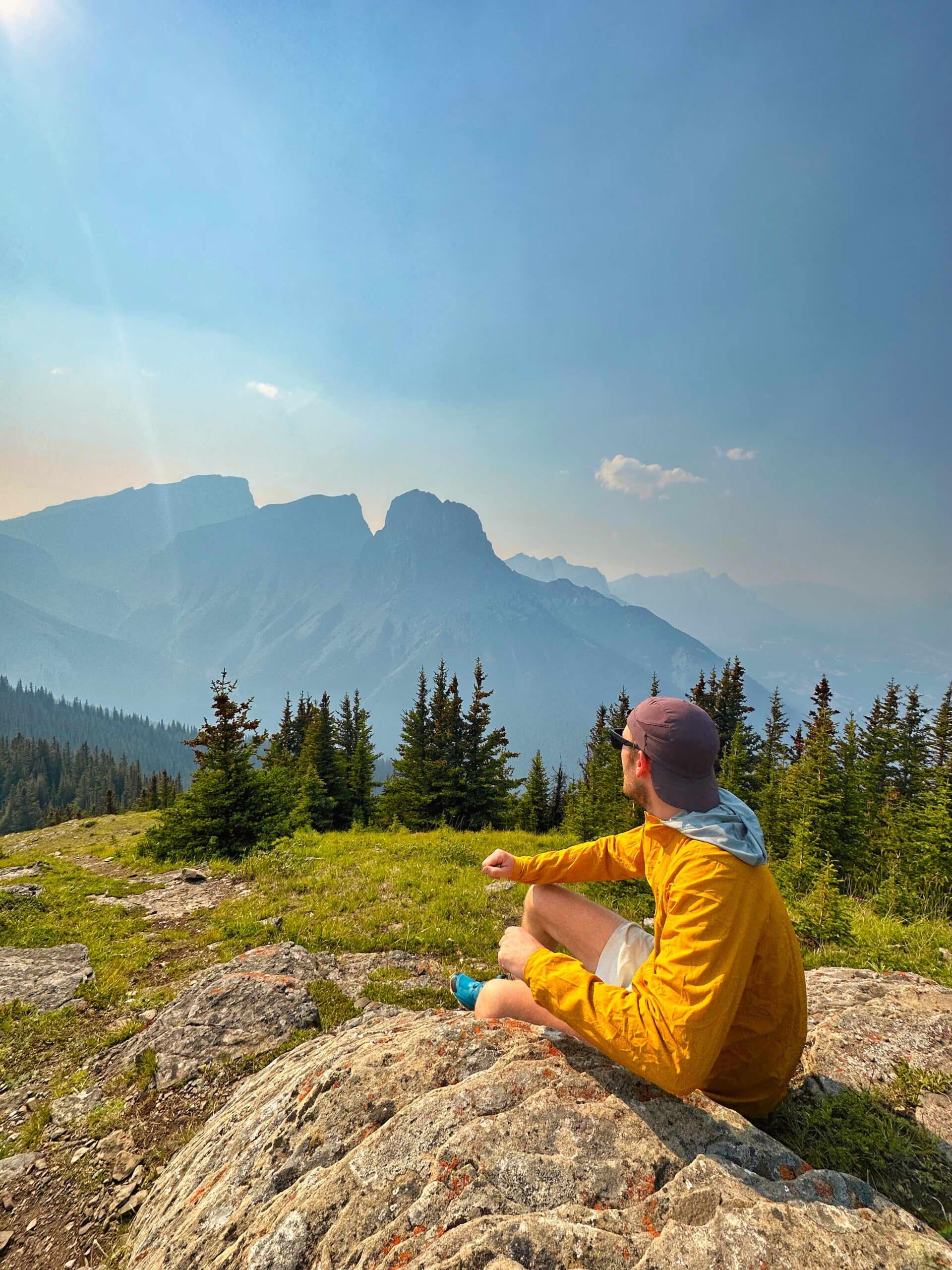 Once you get to the end of the Ridge you'll be treated to epic views of the backsides of the Three Sisters. If you are eager for more, you'll notice there's a trail to continue along the Wind Ridge Trail.
Bring a jacket, its name doesn't lie, and this ridge gets quite windy! Please respect the closure for wildlife from December 1st to June 15th.
---
Ha Ling Peak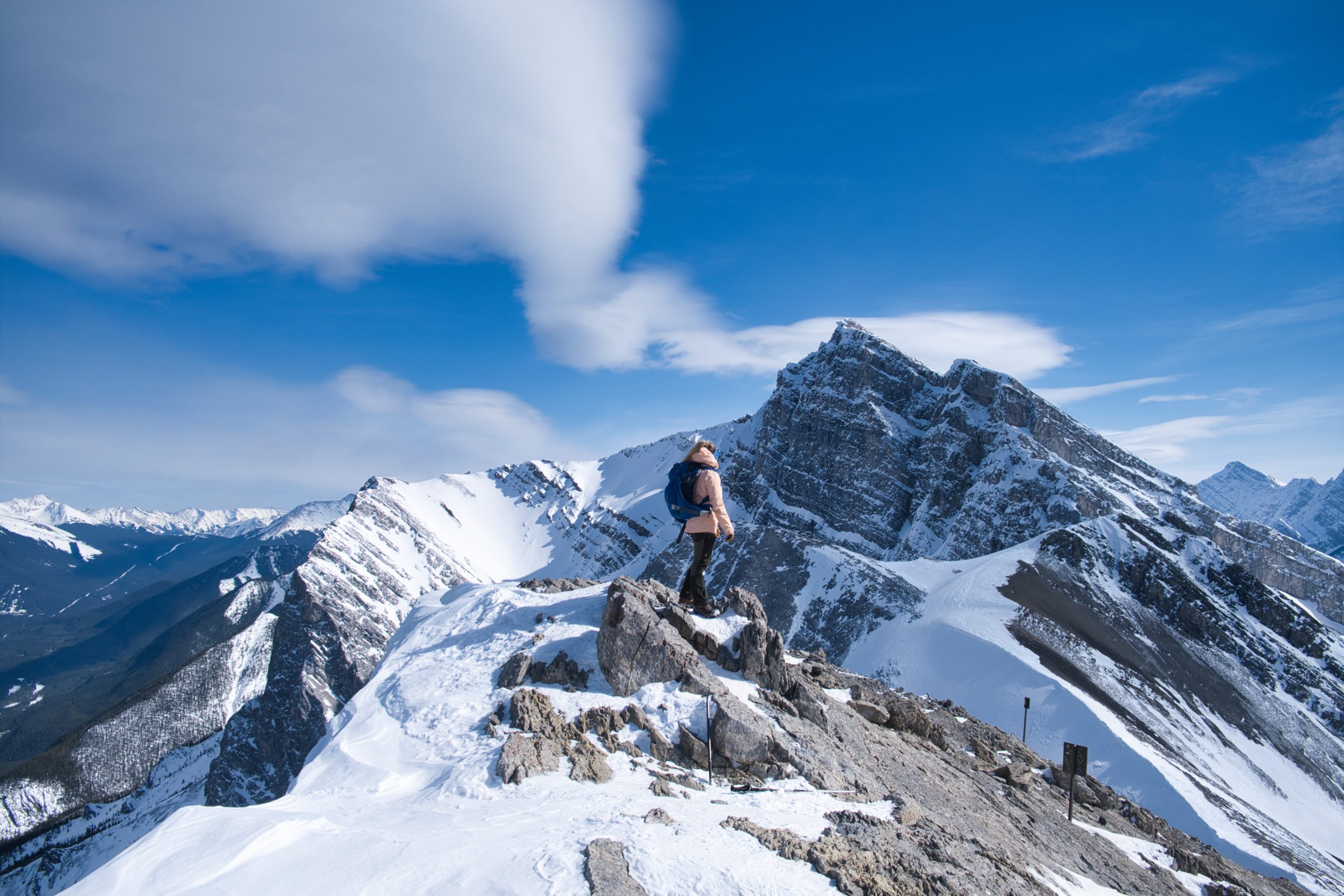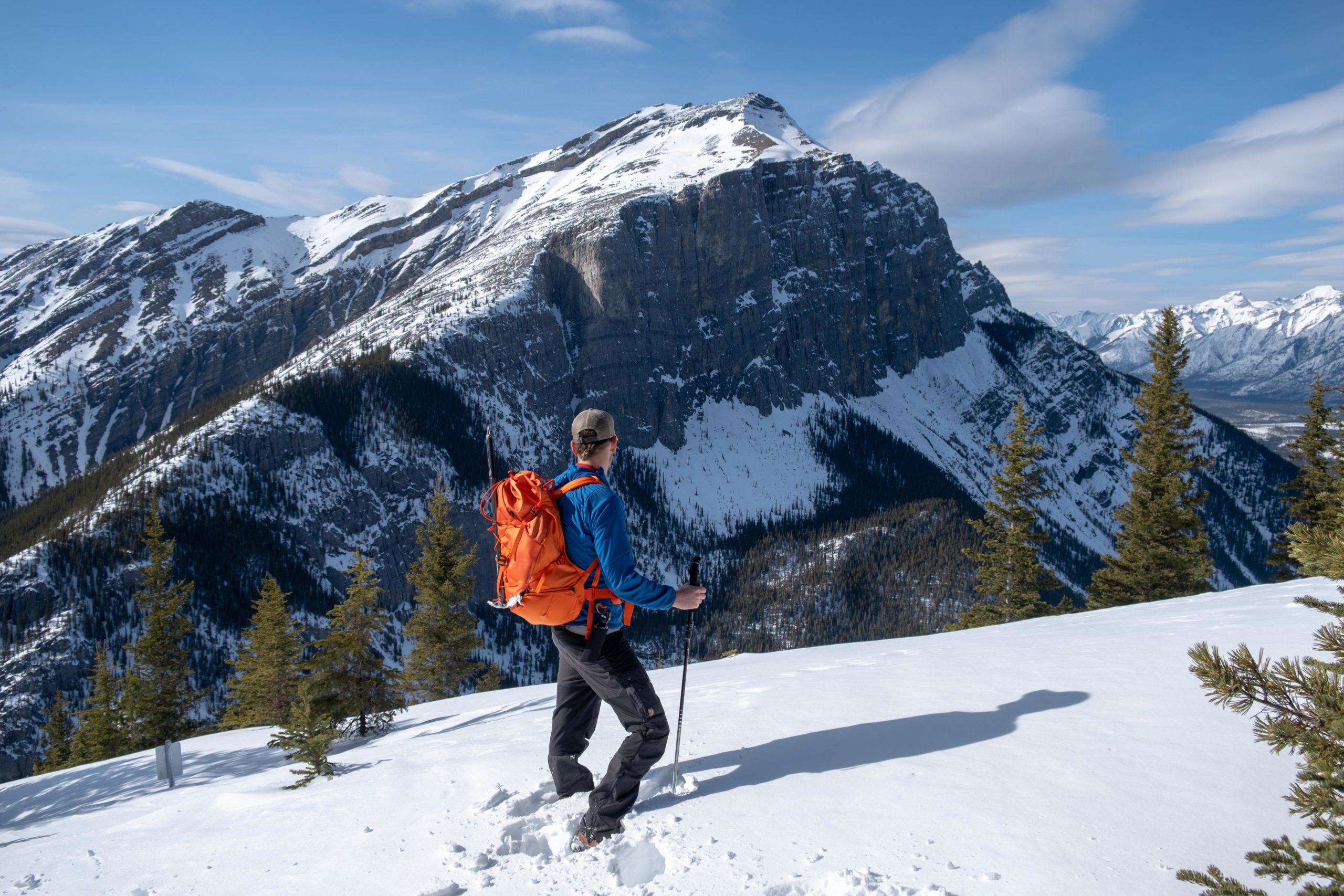 Difficulty: Moderate
Elevation: 790 meters
Distance: 7.9 kms
Time: 1:30 – 4 hrs
Note: The Ha Ling Trail is now closed for the 2022 season to allow for trail improvements.
Ha Ling Peak is impossible to miss from downtown Canmore and is the most popular peak in the area to climb. Nearly every local in town has likely clambered up to its peak, and over the years, it has grown to be one of the most popular hikes in the Canadian Rockies. Alberta Parks even invested in the trail with an extensive trail overhaul in 2019 that added steps and handrails.
While Ha Ling peak may look daunting from Canmore, the hike up the backside is not much more than a physical challenge. The peak is likely the most popular in Canmore, which may detract some, but if you're not comfortable in a wilderness setting on your own, there is some assurance in numbers.
Views from Ha Ling are tremendous, too, as you receive some wonderful views down the Goat Valley and Spray Valley. Ha Ling is particularly noteworthy as a great sunrise hike!
---
Read's Tower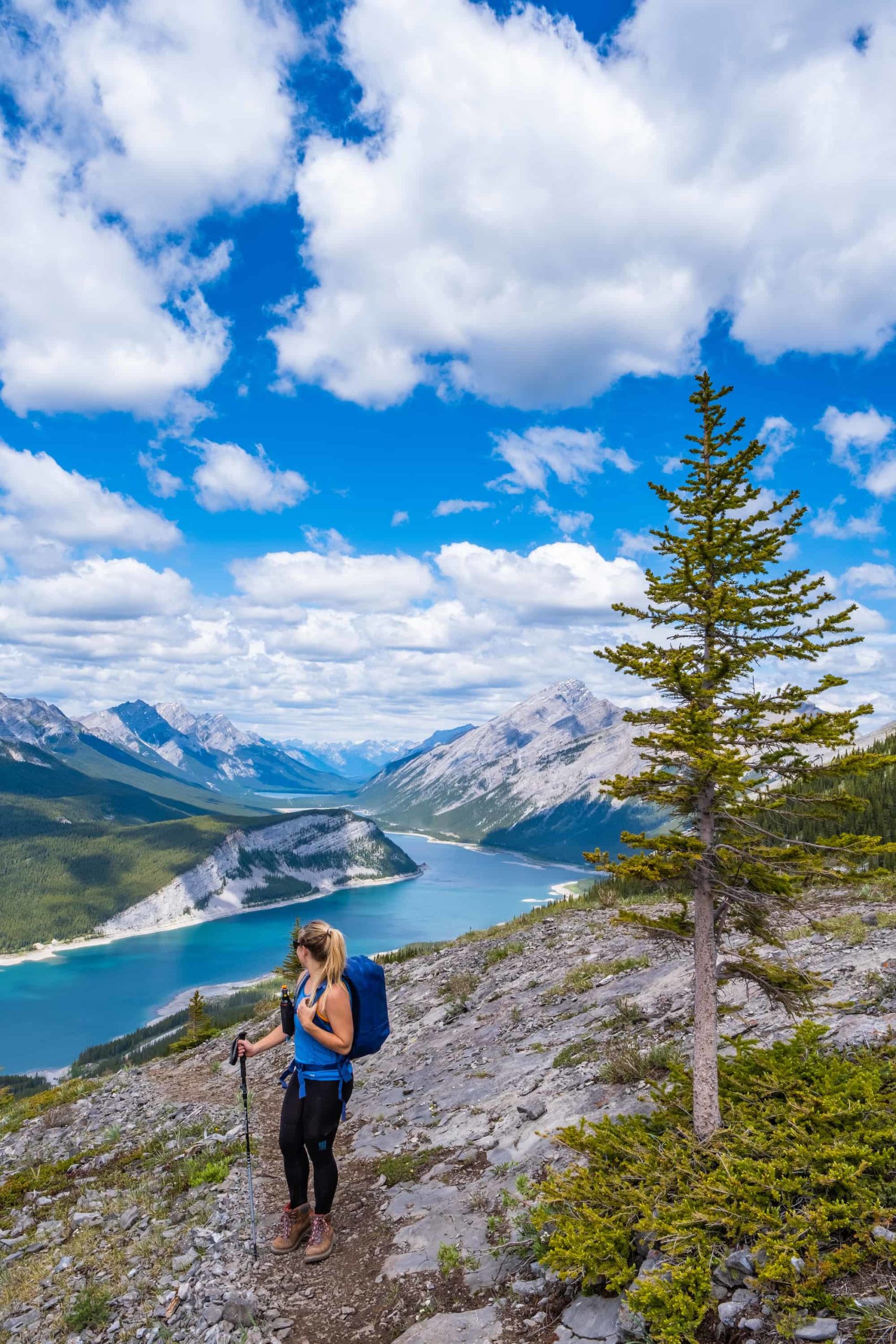 Length: 6.8km
Duration: 3-5 hours
Elevation Gain: 855m
Difficulty: Moderate
Read's Tower is a very rewarding hike for such low exposure and minimal scrambling effort. This one is perfect for those that want fantastic views over Spray Lakes but don't want to put in a whole day's worth of effort to get up.
This is only a four-hour round trip hike, but you do have the option to keep going past to scramble Mount Sparrowhawk for a more complete day.
The first hour or so of Read's Tower winds through the forest. Get used to going uphill, as it never really lets up once you start. Fight the rock slide and slabs uphill until it opens up. From there, you'll get a great view of both Mount Sparrowhawk and Reads Tower. Now is your choice of what kind of length and time you want to be on the trail.
If you choose Read's Tower, you have about a 45 minute to hour scree climb to the summit. Going up the treadmill scree is brutal, but the scree run down is super fun and quick!
21 STUNNING Kananaskis Hikes We Love (With Photos)
---
Difficult Canmore Hikes and Scrambles
(Light Scrambling is involved in most of these Canmore hiking trails)
---
East End of Rundle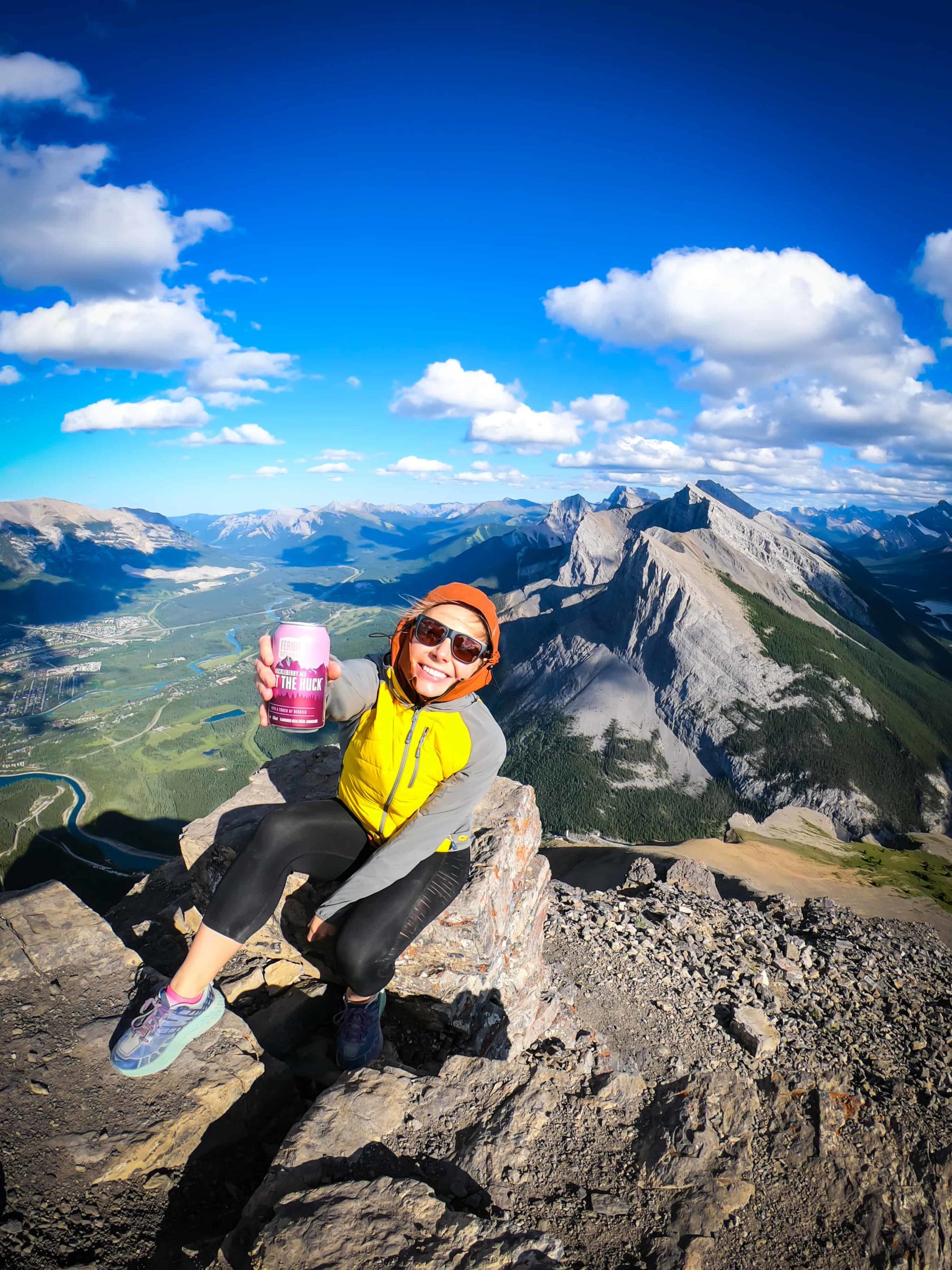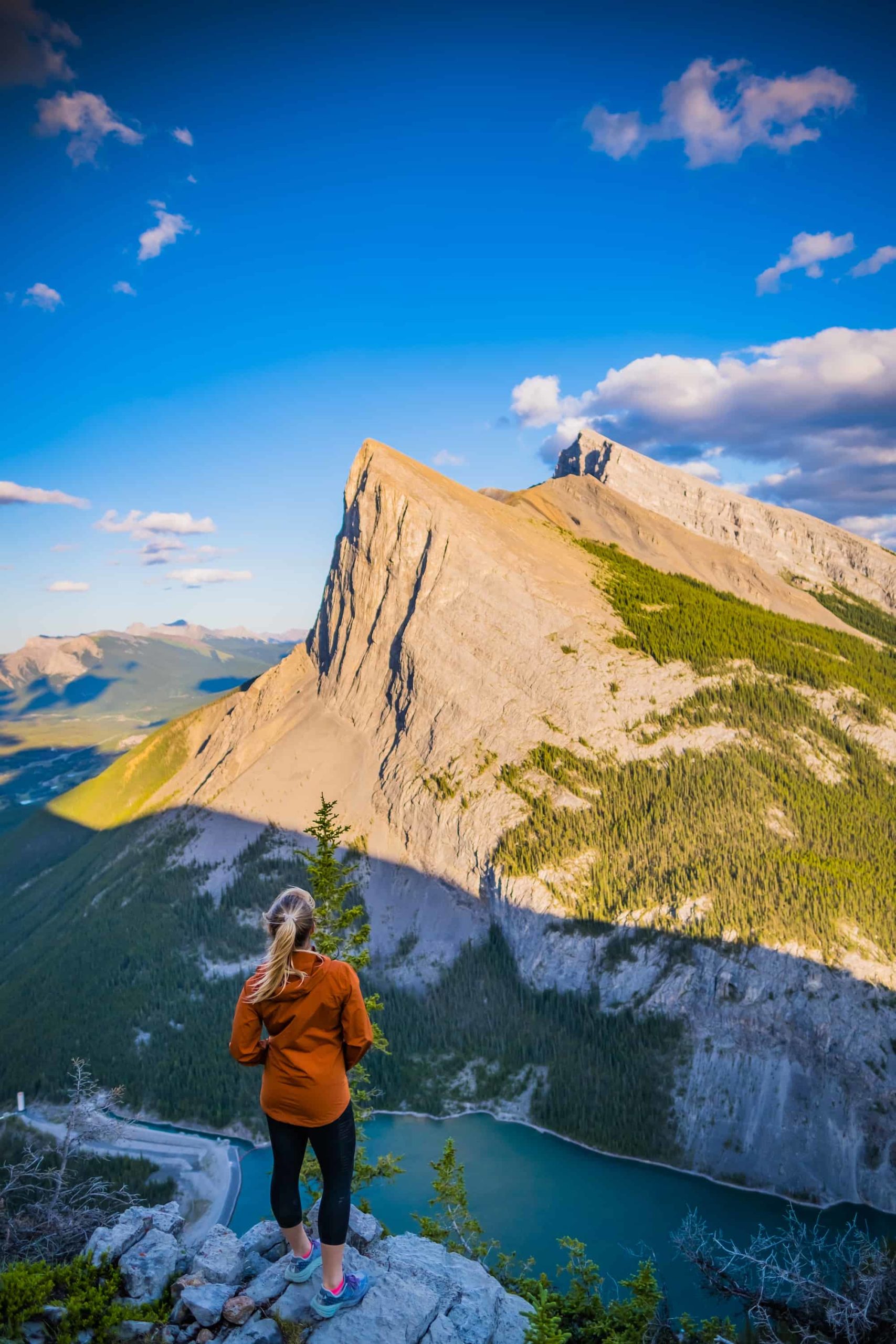 Difficulty: Moderate/Difficult
Elevation: 877 meters
Distance: 5.6 km
Time: 1:30 – 6 hrs
Note: The EEOR Trail is now closed for the 2022 season to allow for trail improvements.
East End of Rundle hike is easily one of the most popular hikes near Canmore. It's also the best effort to reward in all of the regions with breathtaking views of Spray Valley and Ha Ling Peak. Given its proximity to downtown Canmore and relative ease, it sees heavy foot traffic. It's a beautiful hike up that provides visitors with astonishing views over Canmore, the Bow Valley, and Ha Ling Peak.
Although, just because East End of Rundle (or EEOR, or "Eeyore" as locals like to call it) is close to town doesn't mean it's an easy climb up to the summit. There is a real physical challenge involved, and only a fraction of hikers make it to the true summit since it involves some easy scrambling up a cliff band a few meters from the summit. Don't forget to pack a summit beverage and sign the registry!
---
Tent Ridge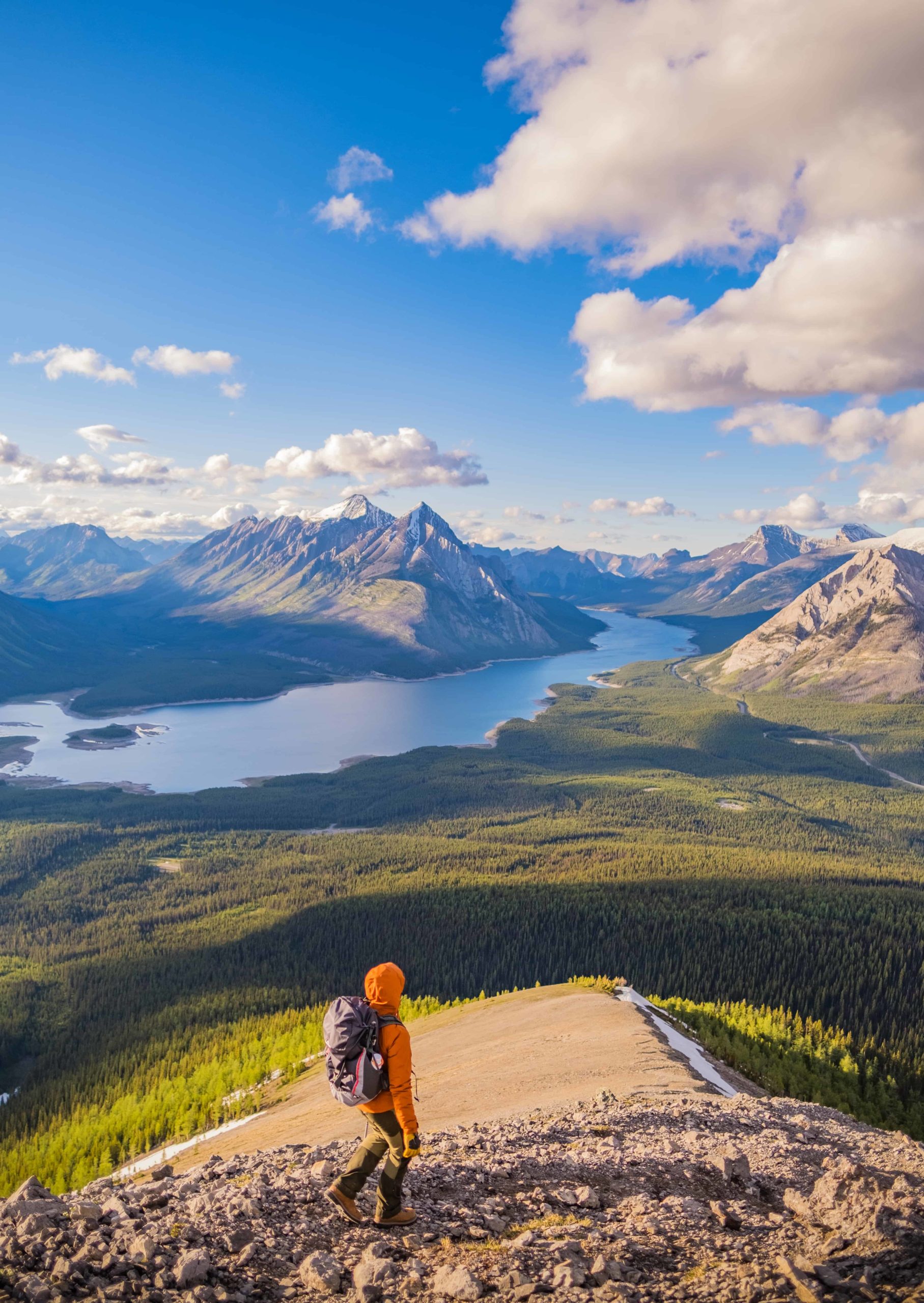 Difficulty: Moderate to Hard
Length: 10.6km (6.6 miles)
Duration: 4 – 6 hours
Elevation Gain: 750m (2460ft)
Tent Horseshoe Ridge is one of my favorite hikes in all of Alberta. It's the furthest from Canmore on this list, but it's well worth the drive. Located near Mount Engadine Lodge, this is a wonderful loop hike.
It's the perfect hike with amazing views of the surrounding mountains and lakes. In summer, you'll find wildflowers and bird watching. If you're looking for a quick but moderately difficult hike, Tent Ridge is a must-do.
Tent Ridge Horseshoe is a 10-kilometer loop trail. This trail took us about 5 hours, with LOTS of photo stops and a lunch break near the satellite tower. If we weren't taking any photos or video (or waiting around for the sun to get lower for sunset photography), we should have been able to do this loop hike in under four hours.
Although AllTrails rates this as hard, I would put it at a moderate. There are a few steep pitches that will have you panting, but I believe the real reason it's rated as hard is because of the scramble up (or down, depending on which way you go) from the ridge. I saw all ages of life on this trail; the scramble was slightly exposed in two sections but not too sketchy.
It's one of the best Canmore hikes on this list and one of the best hikes in the Rockies. Thanks to Instagram, the trail has exploded in popularity the past few years, so expect some crowds on weekends.
---
Windtower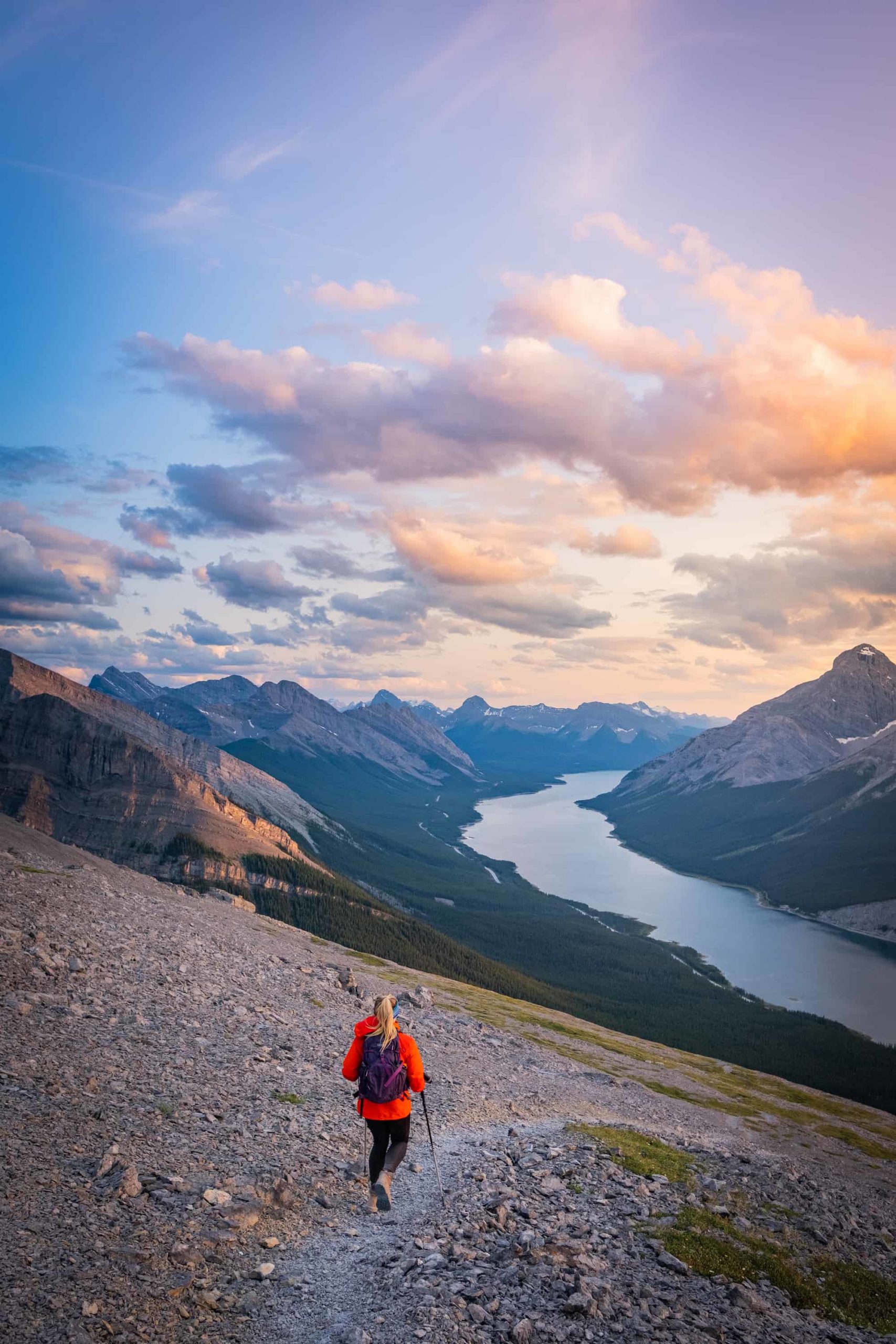 Length: 9.8km
Duration: 4-6 hours
Elevation Gain: 898m
Difficulty: Moderate to Hard
Another one of my favorite hikes near Canmore is Windtower. Windtower is located along the Spray Lakes Road and provides amazing views over Spray Lakes as well as over Canmore from the summit. It's a moderate to hard hike, with minimal scrambling involved.
We completed this hike in four hours on a fantastic summer day and were rewarded with an epic sunset from the peak.
To hike Windtower, you'll want to start across the street alongside the road. You'll hike in the treeline for the first 45 minutes or so until you reach West Wind Pass. If you want a nice, short, moderate hike – stop here and enjoy the views.
To conquer Windtower, you have at least an hour and some change, more light scrambling, and a moderate incline to go. Once you finally make it to the summit, don't get too close to the edge – it's a straight drop-off.
How to Hike Windtower in Kananaskis Country
---
Grotto Mountain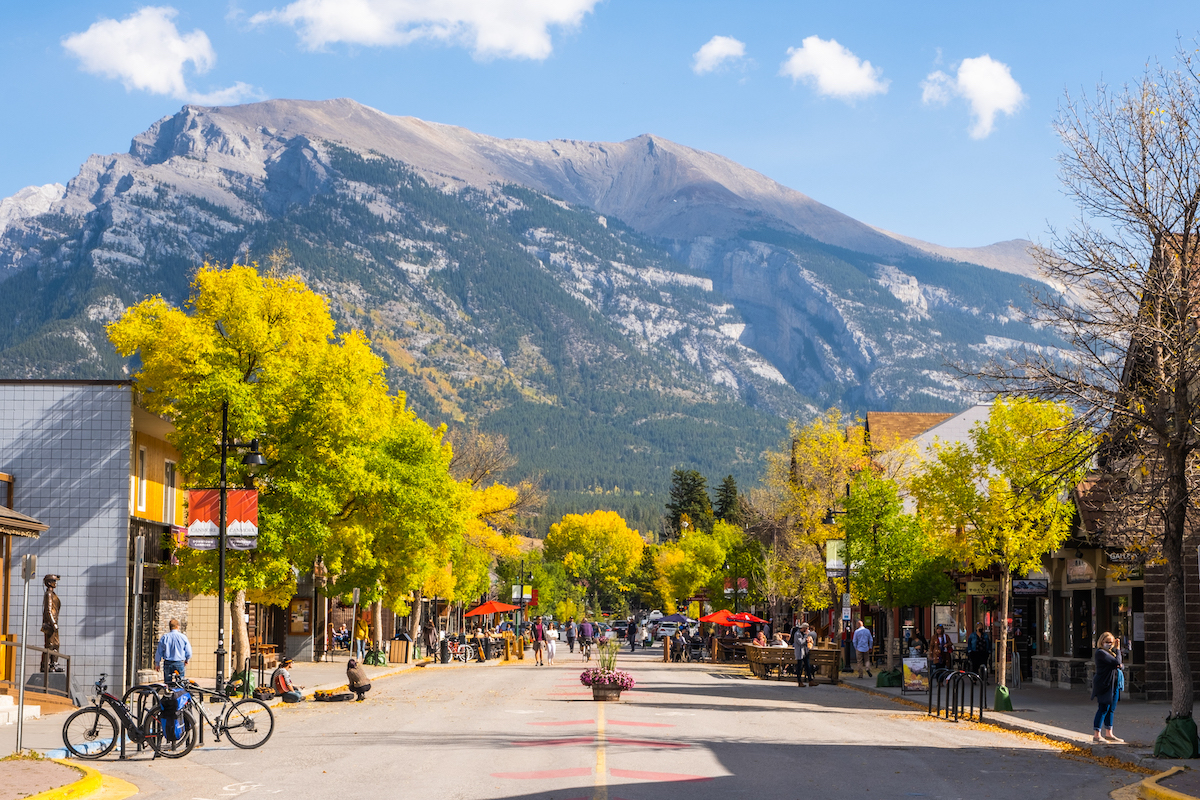 Difficulty: Difficult
Elevation: 1,352 meters
Distance: 8.9 km
Time: 2:30 – 7 hrs
Grotto Mountain may look unassuming, but the route up the peak packs a bit of a punch with a few technicalities and lots of elevation gain. A scramble up to the peak is sure to offer some impressive views over Canmore and out to the parries.
Those who choose to tackle this peak should come prepared for lots of scree and some hands-on scrambling. That being said, it's an easy scramble, and many competent hikers should be able to tackle the objective.
---
Middle Sister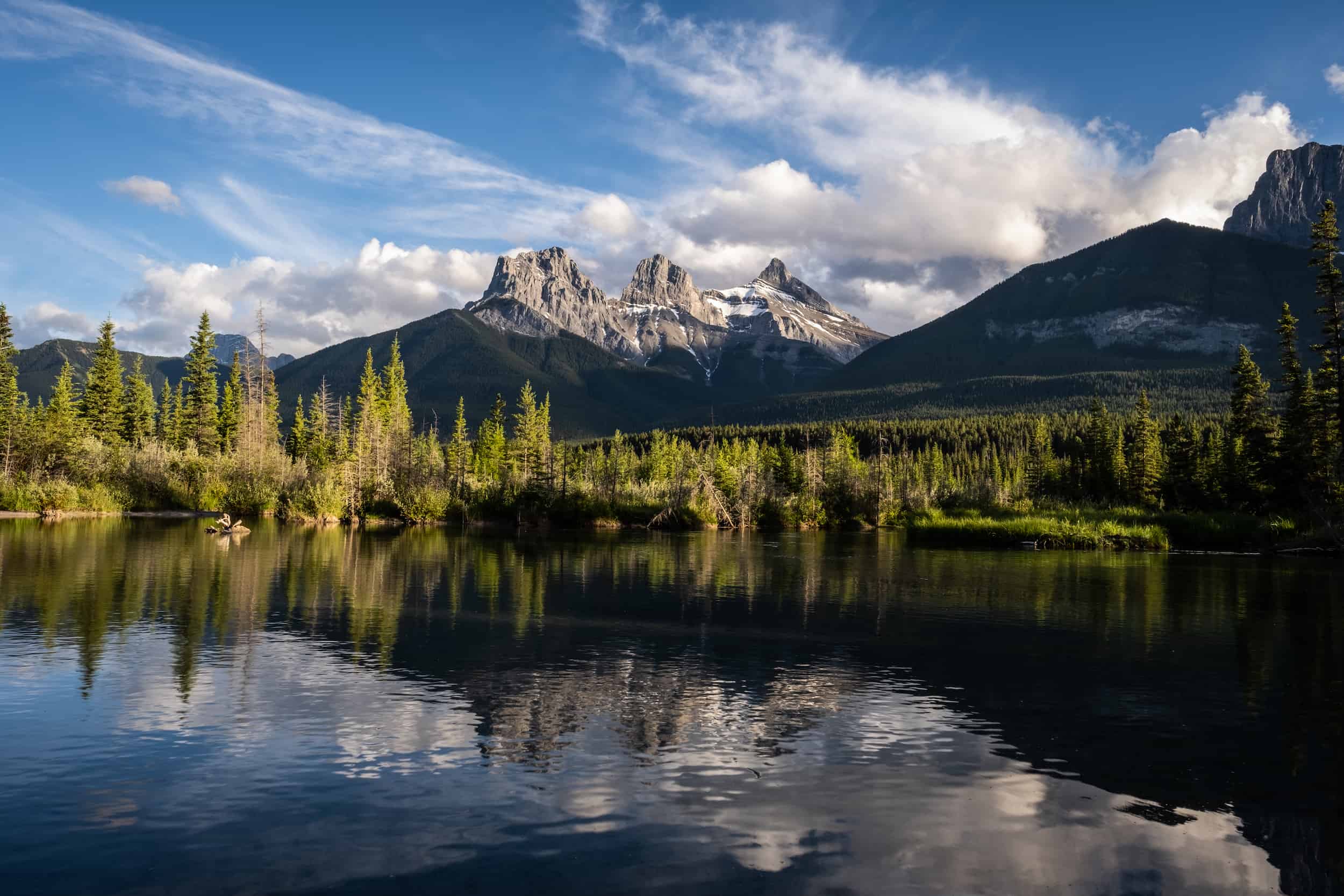 Difficulty: Difficult
Elevation: 1,521 meters
Distance: 17.1 km
Time: 3:30 – 8 hrs
Hikers and scramblers can climb either the Big or Middle Sister of the famous Three Sister Peaks. The Middle Sister route is the only one accessible from Canmore as the Big Sister ascent is from the Smith Dorrien Highway. It's likely the most difficult scramble I feel comfortable recommending on this list as it borders on a hike similar to Grotto Mountain.
To reach the peak, you begin your journey at the end of Three Sisters Mountain Village and ascend via Stewart Creek, which means many river rocks. After following the creek for several kilometers, the elevation really starts to add up with a big scree bash up to the summit.
---
Hiking Gear We Recommend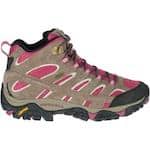 Many hikers will enjoy the security, comfort, and value in the Merrell Moab II. It's a great beginner hiking boot.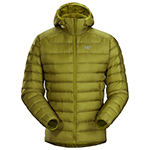 Arc'teryx Cerium is our pick for the best down jacket. It's incredibly light, and we bring it on almost every hike in the Rockies.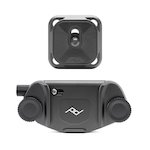 This nifty clip from Peak Design secures a camera to my backpack strap for easy reach. No more digging in the backpack!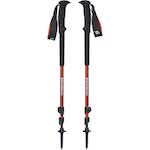 A pair of durable and lightweight hiking poles are a great asset on the hiking trail.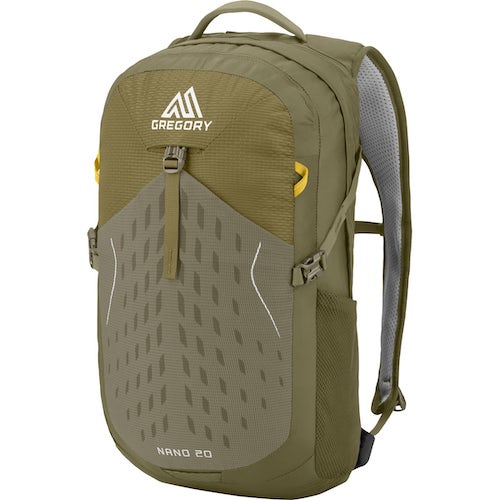 20L feels like the ideal size for quick hikes and scrambles. We love the Nano from Gregory with a hydration reservoir.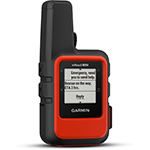 There is not much cell service in the Canadian Rockies. In case of emergencies, we carry an emergency beacon with GPS.
---
Advice For These Canmore Hiking Trails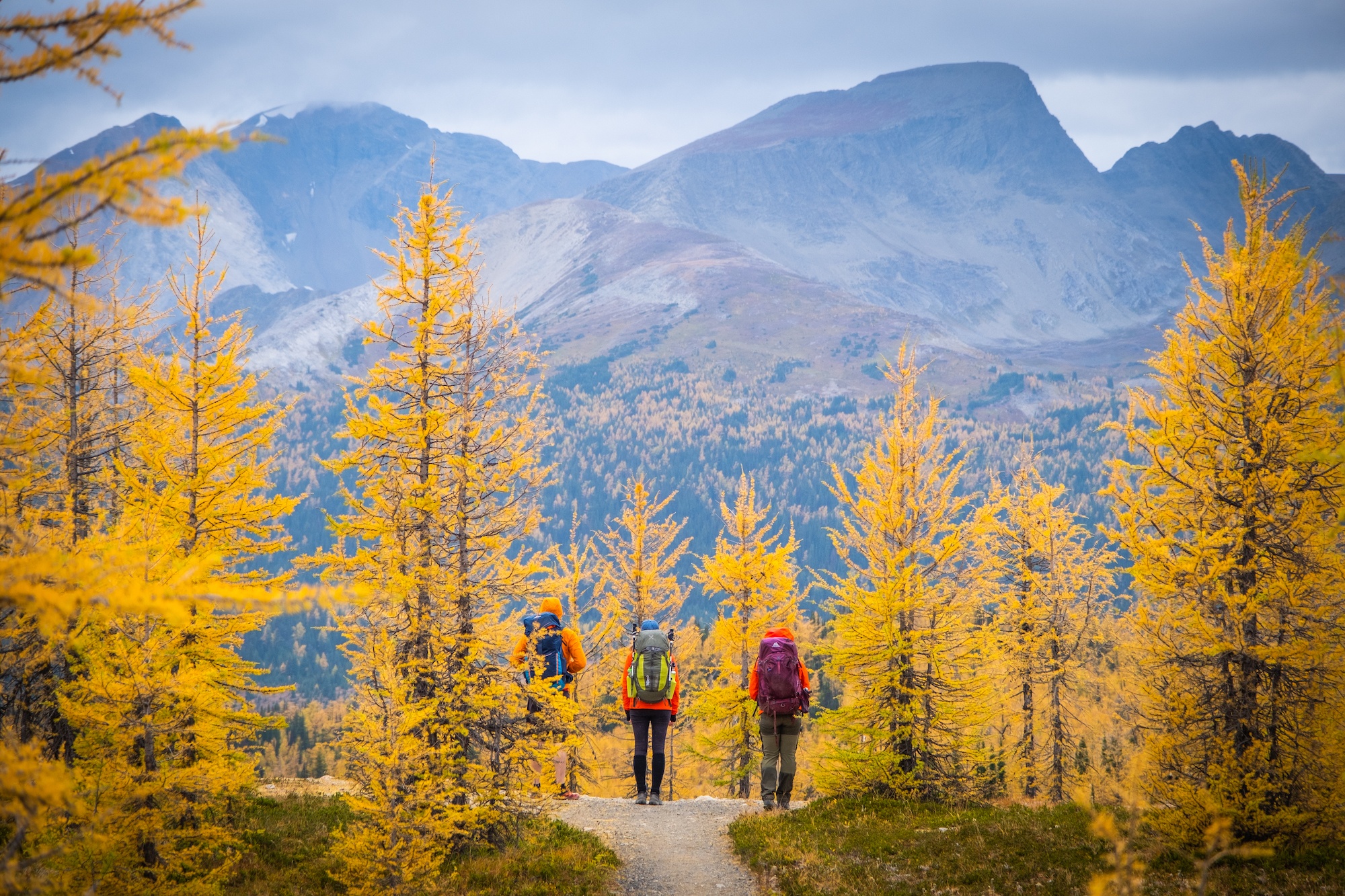 If this is your first time hiking in the Rockies take a conservative approach. Pick an adequate hike for your fitness, plan for plenty of time, pack water and food, and don't be afraid to turn around. If you want to learn more about what to wear hiking we have a great post. We also have an excellent post on tips for new hikers.
For long hikes, set a turn around time at the departure. Any time we set out for an objective I determine a time at which we need to turn around in order to arrive at the parking lot or campsite by dark. I would recommend not hiking in the dark as it's easy to get lost and it's not fun in bear country.
Always carry bear spray if you plan to hike in the park. We carry ours in the neighborhood and bears have been known to stroll through town and busy parking lots. Always practice wildlife awareness when you're on a trail, and please give animals space.
In regards to times keep in mind your mountain fitness as it's different than the gym. The low end of the times in this post is a constant fast pace uphill with little to no breaks and a brisk pace downhill. Most hikers should plan for a middle of the road time with the estimated duration.
A GPS could save your life – it's one of those backpacking essentials I like to have on me just in case I need to hit SOS. Alltrails is our favorite app to have on a hike. It shows the correct trail way, elevation, and other hiker reviews. It's not perfect by any means, but it is helpful to have on your phone as a back up. We paid the subscription fee so that we could download all the data we need to our phones.
12 Bear Safety Tips • How To Hike In Bear Country
---
Hopefully this helped you determine which of these Canmore hikes works for you!
If you have any other questions leave a comment or see our Canadian Rockies travel guide for more articles about photography spots, lakes, hikes, and everything else.
---
↓ Join the community ↓
The Banff Blog Facebook Group is your headquarters for the Canadian Rockies' travel advice and information. Including hike info and off-season travel information. You can also meet new adventure buddies.

---
Plan Your Trip to the Canadian Rockies