A cup of coffee is a great way to start your day when exploring Banff. Luckily, there are many great coffee shops in Banff to give you the energy to tackle the Rockies for the day.
Check out these local coffee shops around Banff for a tasty brew, snack, breakfast, or lunch. This all comes from two self-professed local coffee snobs.
---
Best Banff Coffee Shops
---
Whitebark Coffee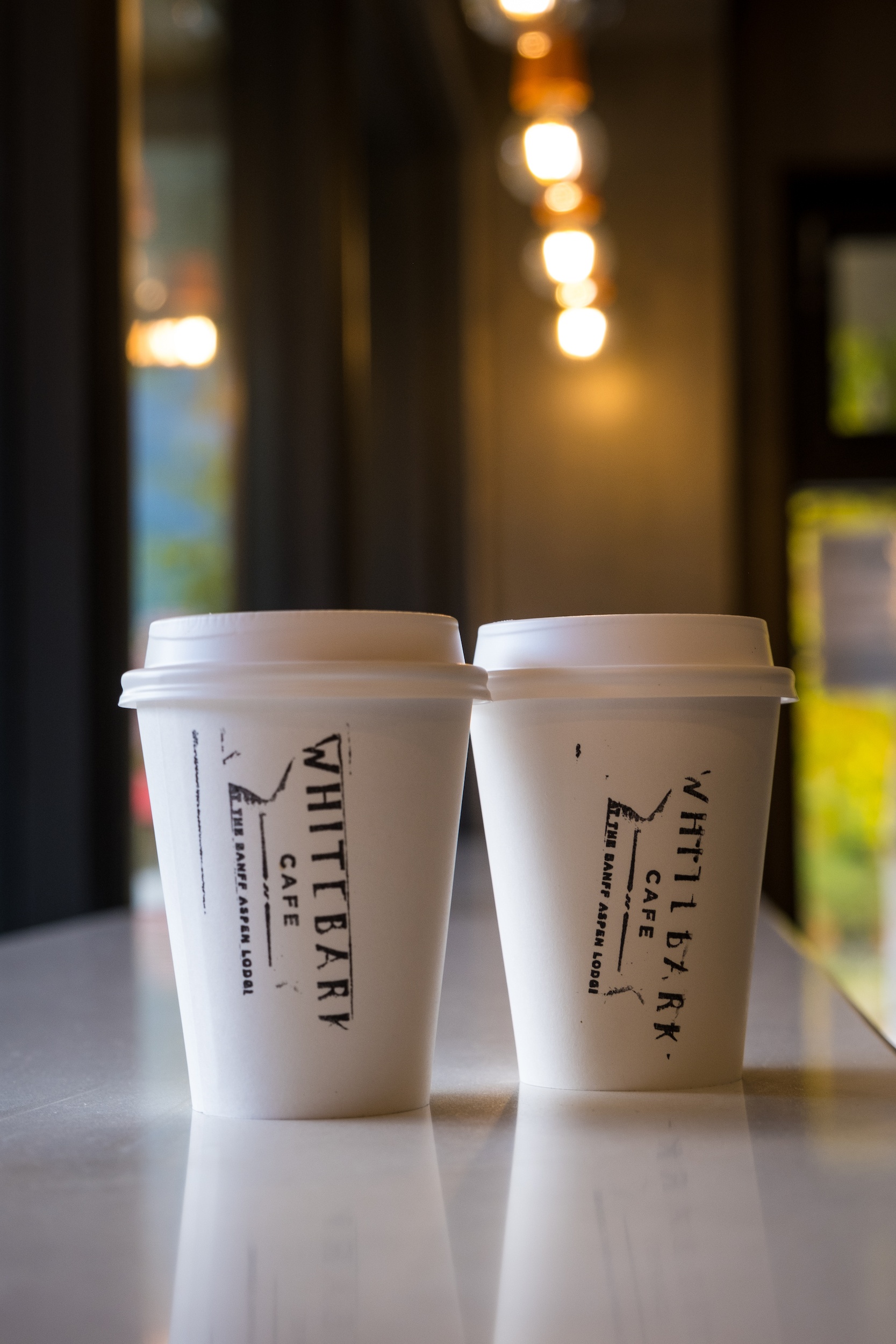 As far as Banff coffee shops go, Whitebark is the ticket. Whitebark has been known to deliver the best coffee in Banff for a while now. On our first trip to Banff, we stopped by for several top-ups.
Now that we live here, it's our treat when we're in Banff or on a bike ride through the valley. They serve fair-trade organic coffee from Mojo Coffee in North Vancouver and loose leaf teas from Banff Tea Co.
They serve several nice pastries that include the occasional vegan or gluten-free option. As far as espresso-based drinks like a cappuccino or flat white, they definitely serve the best in Banff. However, it's more a takeaway joint with only a small counter to sit at and a few outdoor tables.
Location: 401 Banff Ave, Banff (GPS)
Hours: 6:30 a.m. – 6:00 p.m.
---
Trailhead Cafe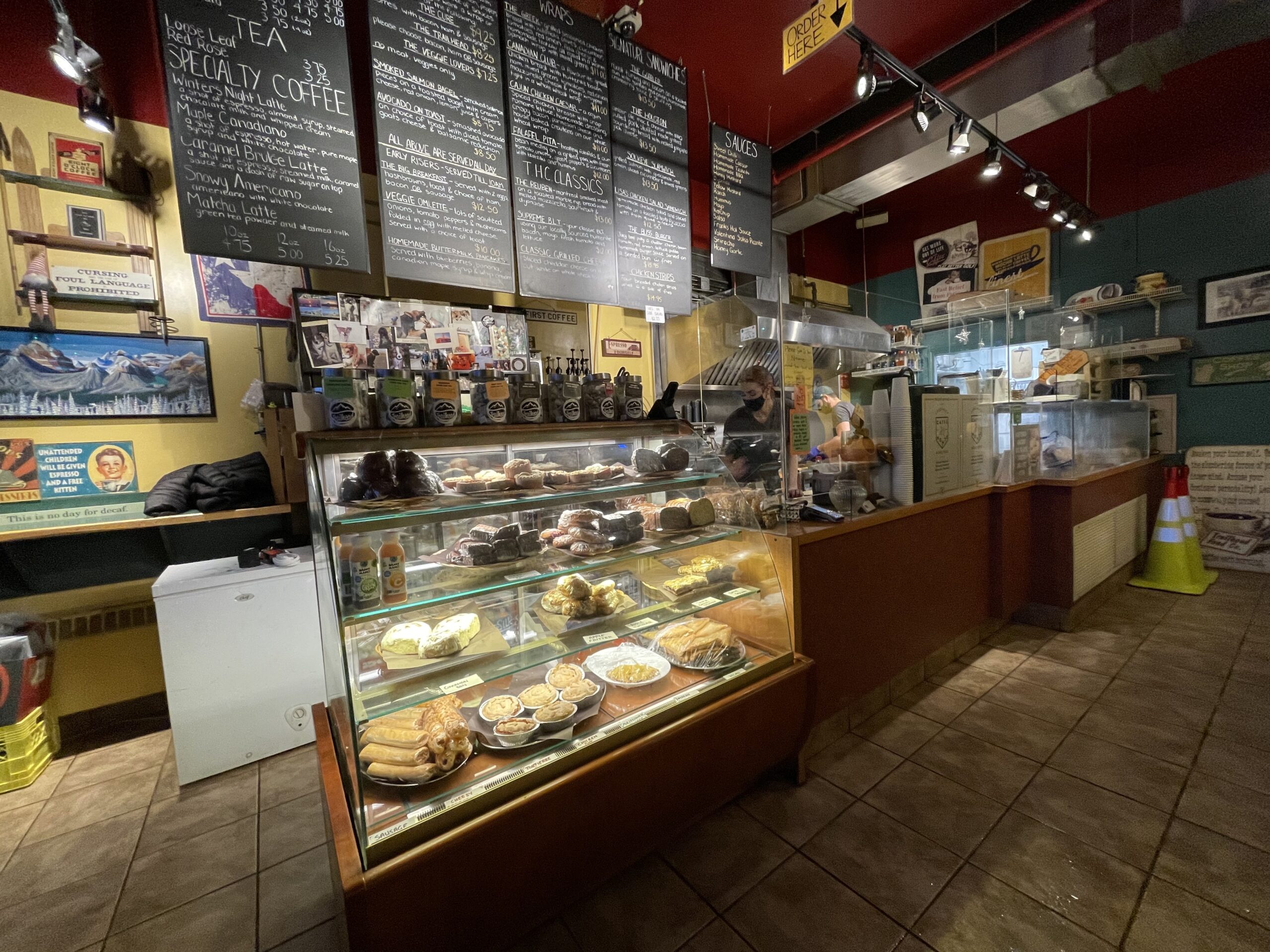 The Trailhead Cafe in Lake Louise Village is our favorite apres ski pick-me-up. A nice range of coffee drinks, tasty baked treats, soup, and sandwiches awaits you at this Lake Louise cafe. The staff is always friendly, and they serve some excellent coffee.
In addition to the usual hot drip coffee, they have espresso drinks and creative beverages like a peppermint latte or a "winter's night." We've yet to have something here we don't like! Makes for the perfect to fuel up on or recharge when enjoying a day out in the mountains or coming off a frigid day at Lake Louise Ski Resort.
A particular highlight is all of their tasty baked treats! If you're visiting from out of the country, you should try a Nanaimo bar, a classic Canadian pastry (warning they're pretty sweet).
Location: 101 Lake Louise Dr, Lake Louise (GPS)
Hours: 7:00 a.m. – 6:00 p.m.
---
Wild Flour Bakery/ Little Wild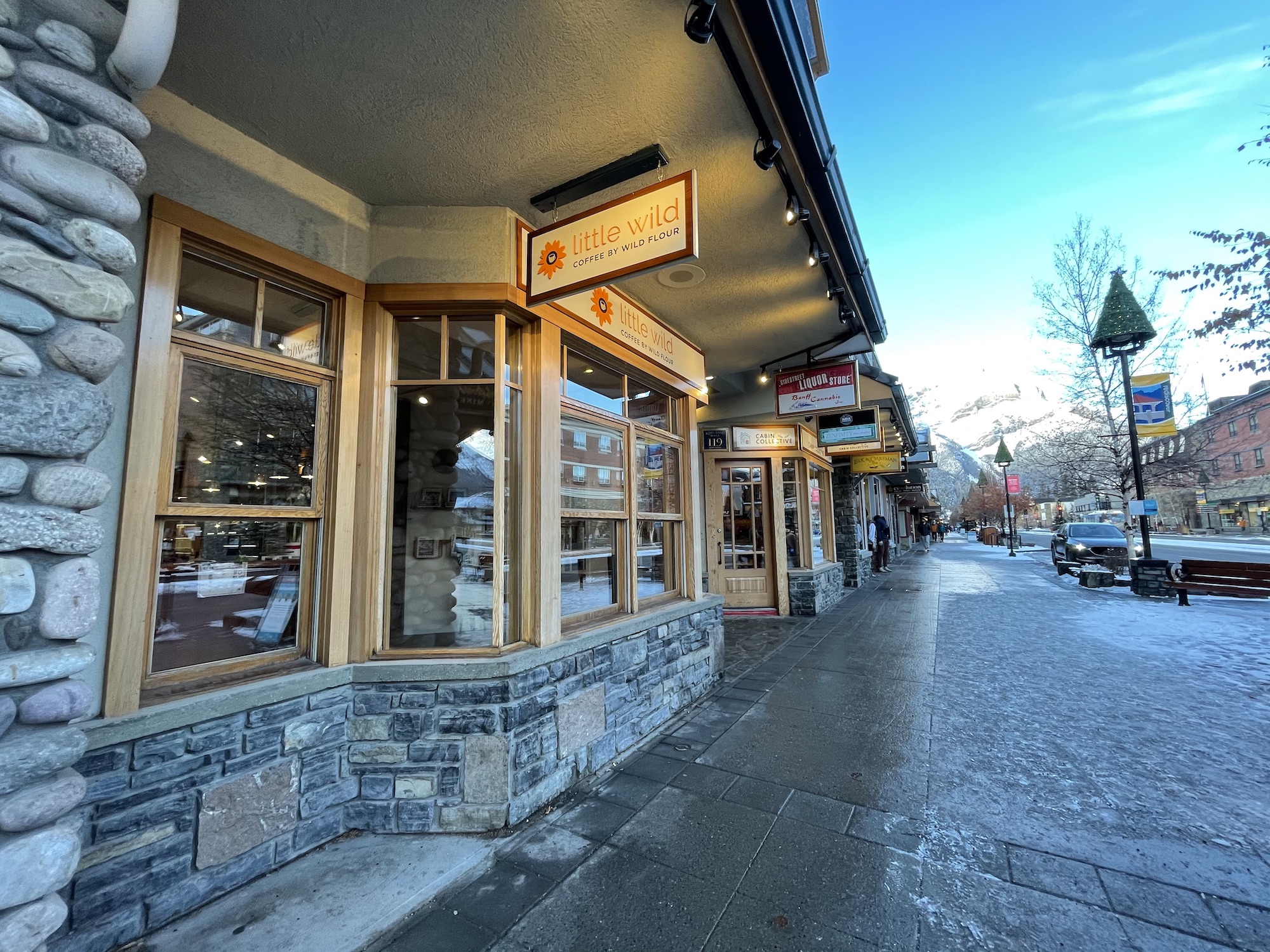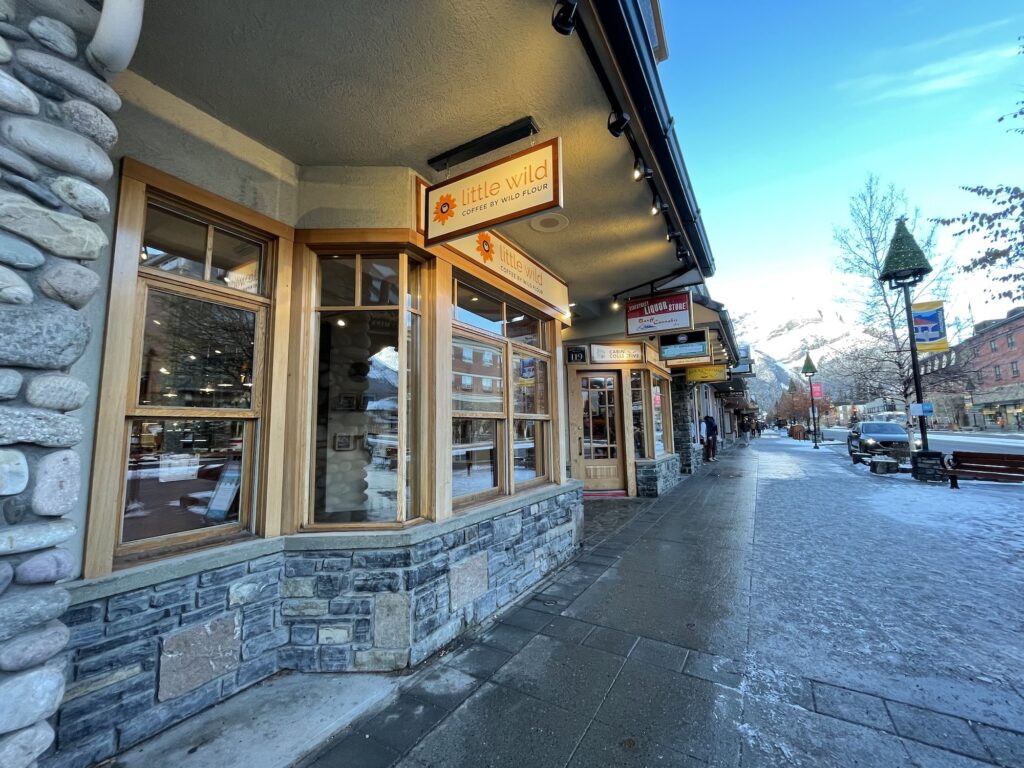 This cafe serves up some great coffee and tea along with fresh-baked bread, sandwiches, pastries, and baked treats. It's a great lunch spot as they have a great sandwich and soup/salad combo.
You can also find some gluten-free, dairy-free, and vegan food and drink options. They have two locations the main bakery on Bear Street, and a smaller cafe on Banff Ave called Little Wild.
If we're after espresso in Banff, it's a close second behind Whitebark as our go-to spot. Unless we're seeking lunch because they have some great sandwiches.
Location: 211 Bear St #101, Banff, AB T0L 0A0, Canada (GPS)
Hours: 7:00 a.m. — 4:00 p.m.
---
Evelyn's Coffee Bar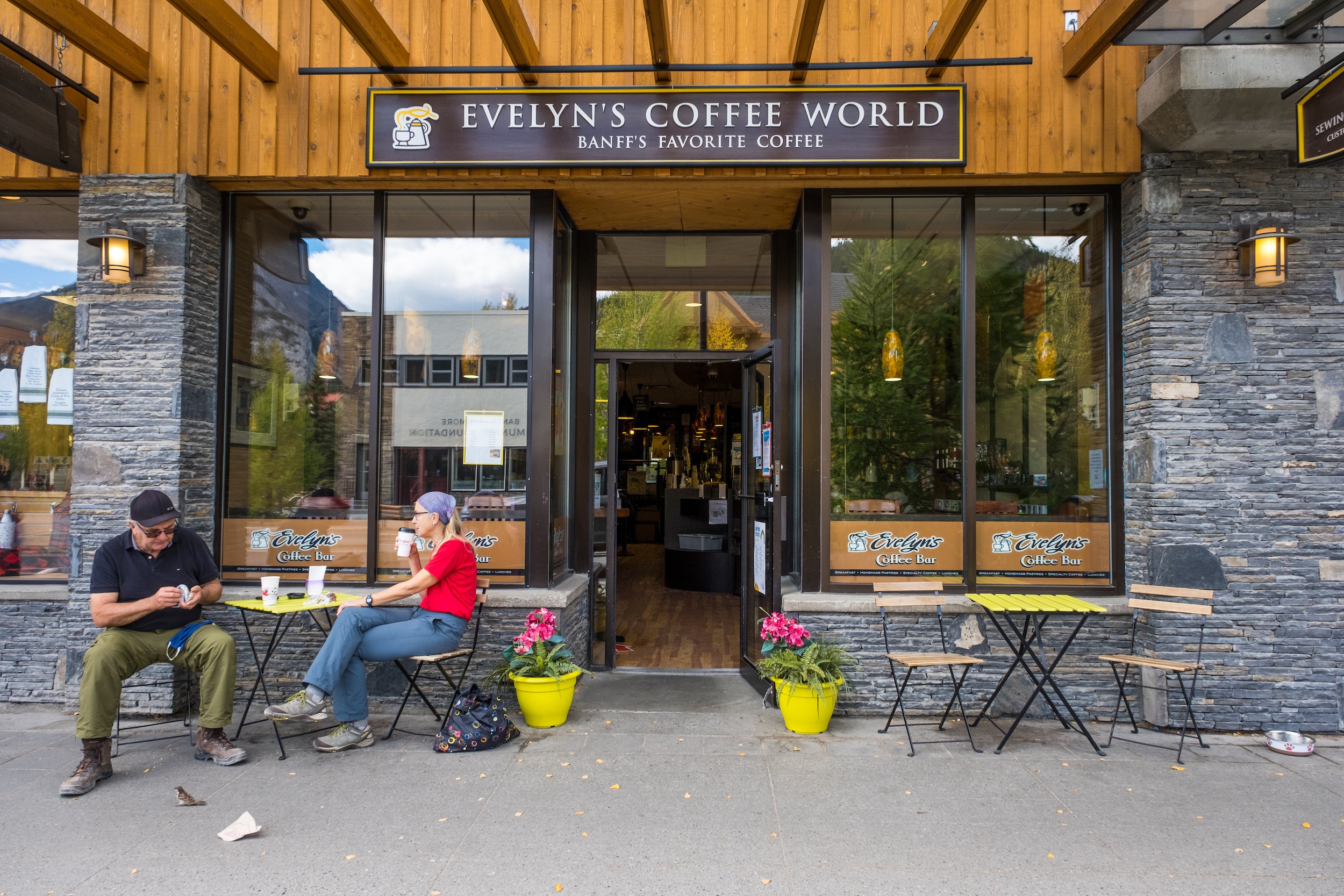 This coffee shop has been on Banff Ave for decades and has been serving coffee all this time. They have a nice seating area and serve several sandwiches, cakes, and wraps. It's not our favorite coffee in town, but its location is tough to beat.
Location: 215 Banff Ave, Banff (GPS)
Hours: 7:00 a.m. — 4:00 p.m.
---
Cliffhouse Bistro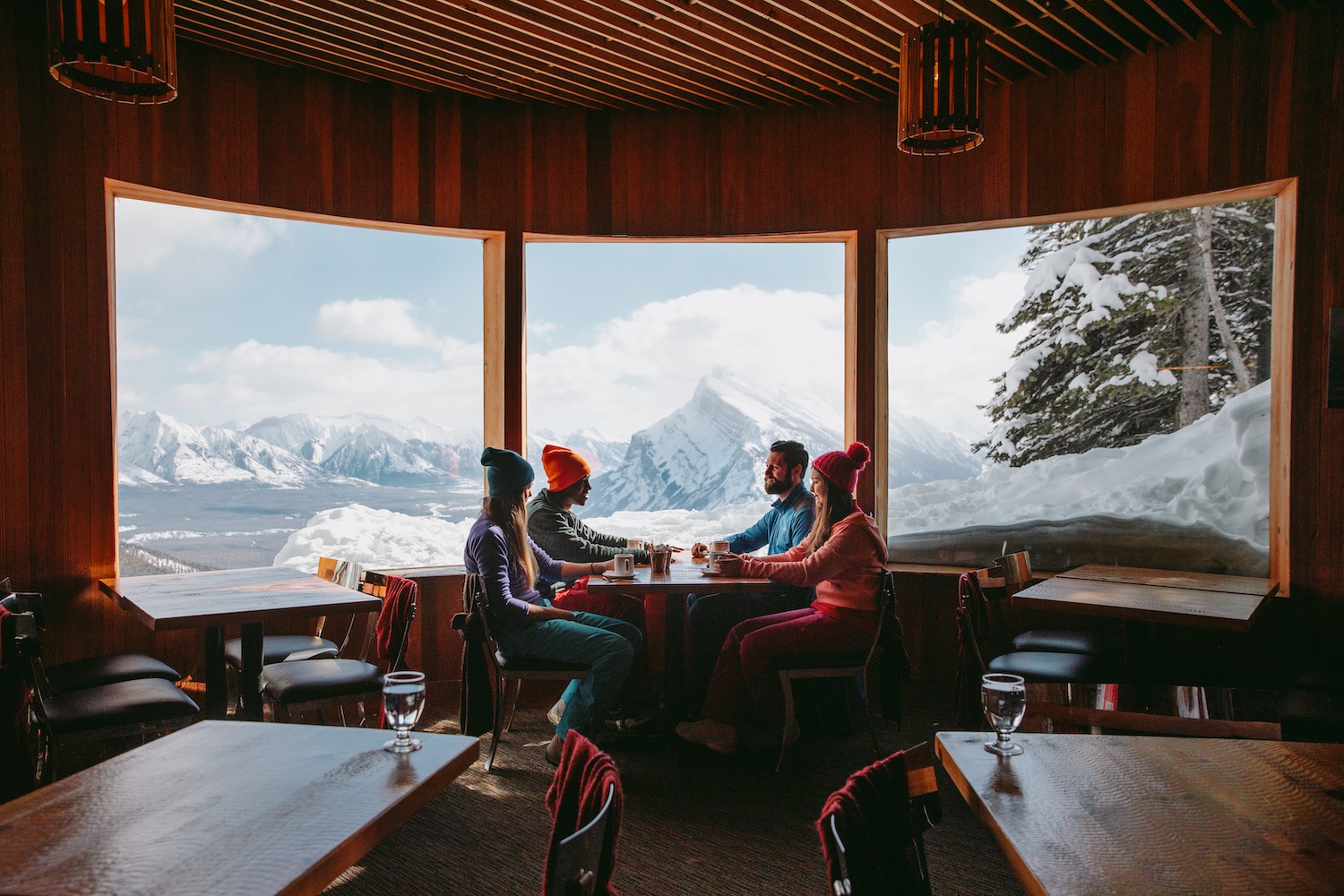 We hold a strong belief that coffee reaches its pinnacle of taste amidst the majestic mountains. Nestled within Mt Norquay ski resort, the renowned Cliffhouse Bistro awaits you, accessible via the Mount Norquay Chairlift in the summer.
The Cliffhouse Bistro is situated at the top of the Mt. Norquay Chairlift and is one of the most scenic restaurants in Banff. The Bistro started out as a meeting place for skiers that would brave some of the steepest slopes.
Since then, this 1950s tearoom has been restored and transformed into a modern bistro. The decor offers cozy cabin vibes, all while keeping its rich history.
Head here for a cappuccino and a full dining experience with views. Prepare yourself for an exceptional coffee experience complemented by awe-inspiring views of the mountains, as you savor your beverage at an elevation of 7,000ft.
Location: Mt Norquay Scenic Dr (GPS)
Hours: 11:00 a.m. — 8:00 p.m. (Summer)
---
Banff National Perk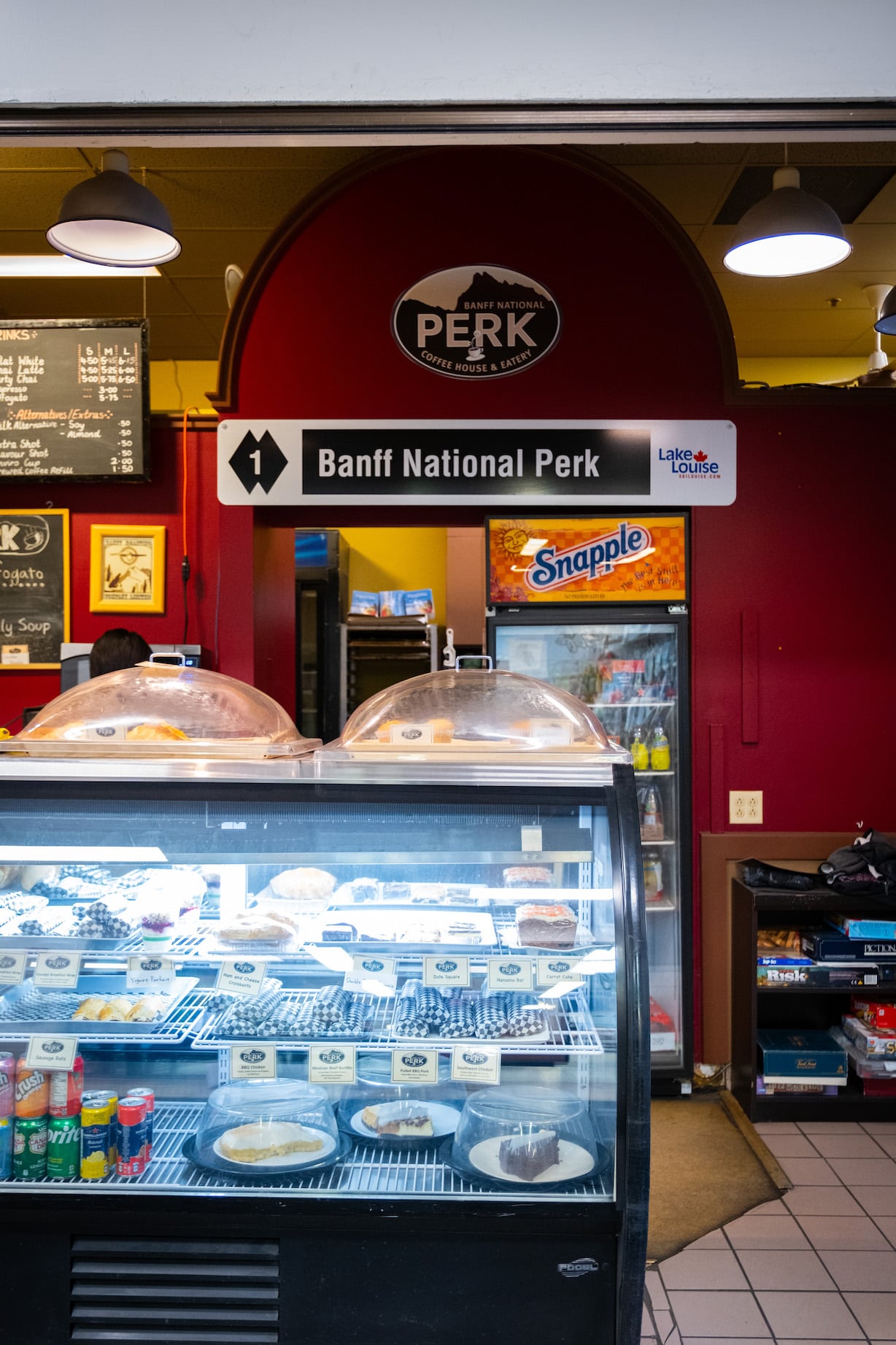 Banff National Perk, right off Bear Street in the Bear Street Mall, has been cherished by locals since 1988. Here you'll find a delightful array of specialty coffees, delectable baked goods, breakfast sandwiches, bagels, lunch sandwiches, wraps, soups, and desserts.
Additionally, if you're going out for a hike, The Perk offers convenient box lunches so you don't have to worry about what to eat while you're exploring the park for the day!
Location: 220 Bear St (GPS)
Hours: 6am – 9pm
---
Good Earth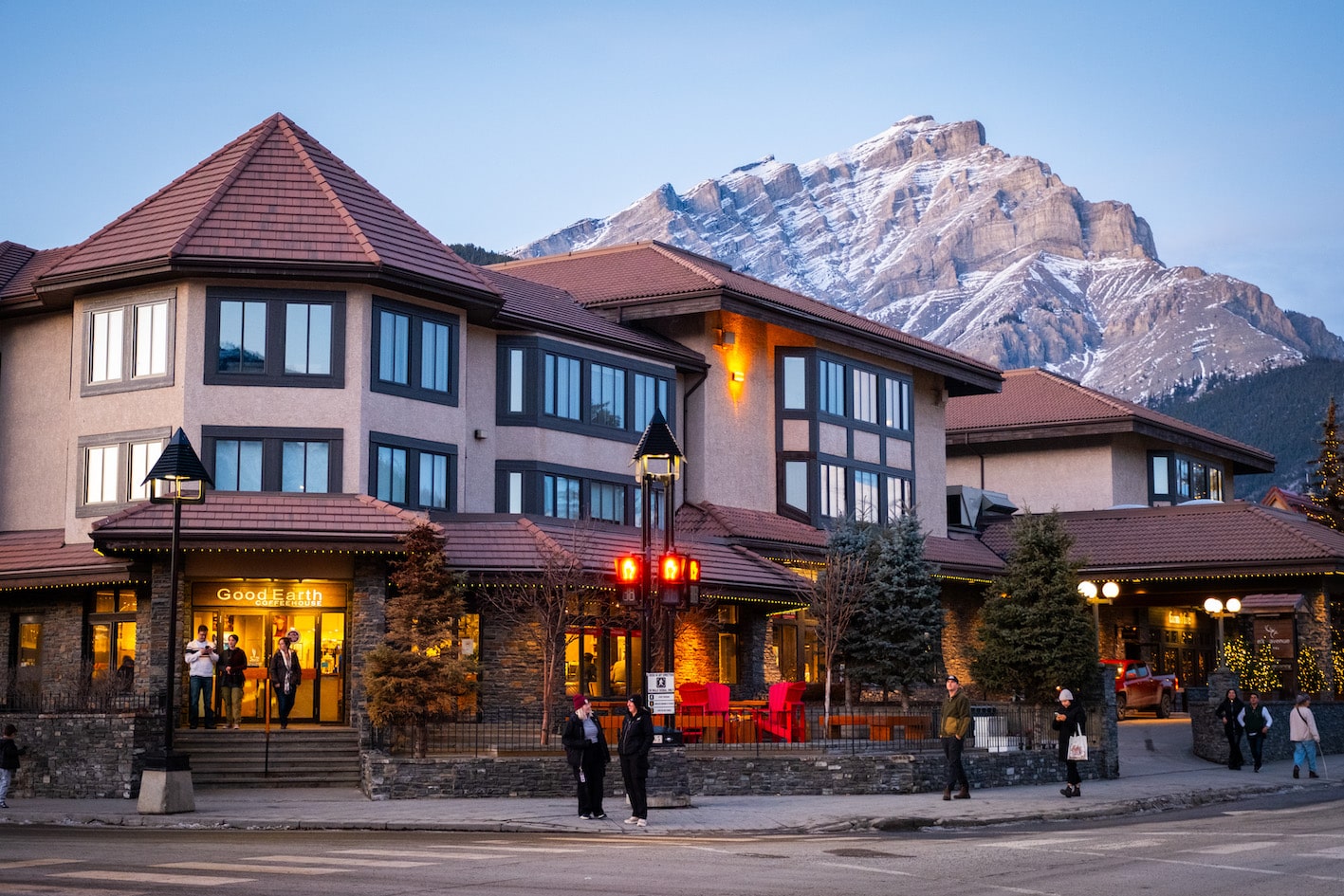 There are not a plethora of Banff coffee shops, but for a small town, you can always find a good spot for a cappuccino and to get some work done. Good Earth is one of those places! This is a local chain that began in Calgary that has since expanded all over Southern Alberta and Canada. While the Good Earth Coffeehouse is no longer in Canmore, you can still find a location in Banff, and in Calgary.
We love Good Earth as they're a reliable source of coffee. It's also conveniently off the highway on the way from the Calgary Airport to Banff. It may be a franchise, but it is locally owned, so we consider it a local coffee shop.
They also have great specialty lattes that change with the season, like a cherry blossom latte in the spring. Look for this Banff coffee shop at the Elk+Avenue Hotel.
Location: Banff – 333 Banff Ave
Hours: 7:00 a.m. — 8:00 p.m.
*Looking for cafes in nearby Canmore? See all our favorite Canmore coffee shops!
---
Teahouses (Summer Only)
Banff has a few notable teahouses that serves hikers in the summer. It's a great place to grab a cup of coffee or tea, paired with a baked good in nature after a long hike.
---
Plain of Six Glaciers Teahouse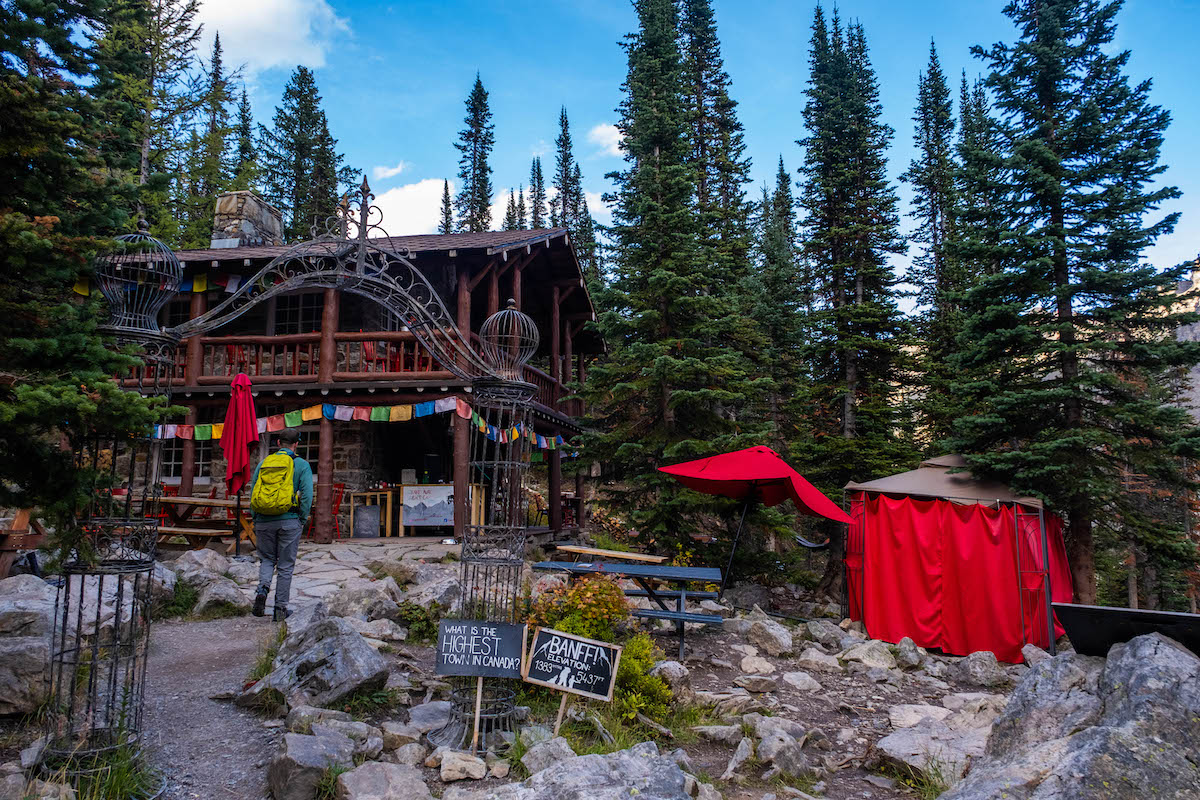 Approximately 5.5 km from the shore of Lake Louise, you will come to the Plain of Six Glaciers Teahouse. Here you can purchase light lunch options, baked goods, and tea before continuing along the Plain of Six Glaciers Trail. The historic teahouse was built in 1927 by the Canadian Pacific Railway and has been privately owned and operated by the same family since 1959.
The rustic and charming teahouse has been preserved in its original form, with no electricity. All of the food and beverages here are prepared on propane stoves and the supplies need to be carried in by the staff.
The Plain of Six Glaciers Teahouse typically opens up in late Spring and will stay open until the larch needles fall in early October. You will likely find that the Plain of Six Glaciers Teahouse is less busy than the very popular Lake Agnes Teahouse, making it an excellent alternative to hiking up to Lake Agnes. It's best to bring cash (Canadian Dollars) to purchase your goodies at the teahouse.
---
Lake Agnes Teahouse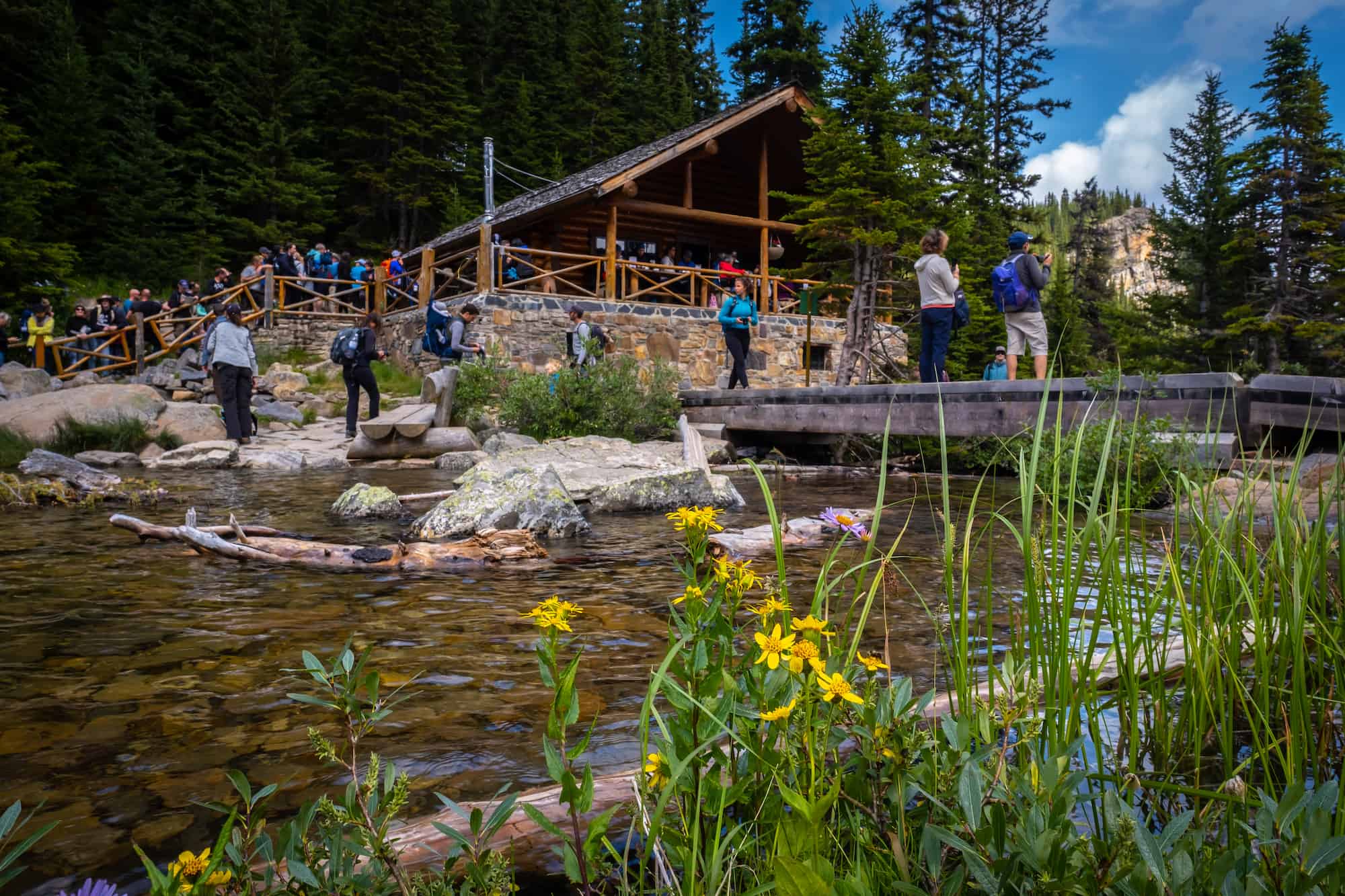 The Lake Agnes Tea House (commonly referred to as the Banff Tea House or Lake Louise Tea House) dates back to 1901 while the name itself takes the name of Canada's first First Lady, Lady Agnes MacDonald.
The historic tea house dates back to 1905 and has served hikers for over a century. If nothing else, it's worth checking out the wooded building just to get a sense of the history and its close ties to the conservation movement in North America. Though getting to this historic tea house doesn't come easily, and hikers will have to hike 7.6 km (round trip) and 433 meters of elevation to enjoy Lake Agnes and all the surroundings. We promise this Lake Louise hike is worth it though!
We recommend getting to the teahouse first thing in the summertime. Preferably before 8am. By midday, a long line forms outside the tea house, and the Lake Louise Tea House is packed with visitors.
---
Coffee Shops in Both Banff and Canmore
---
Starbuck's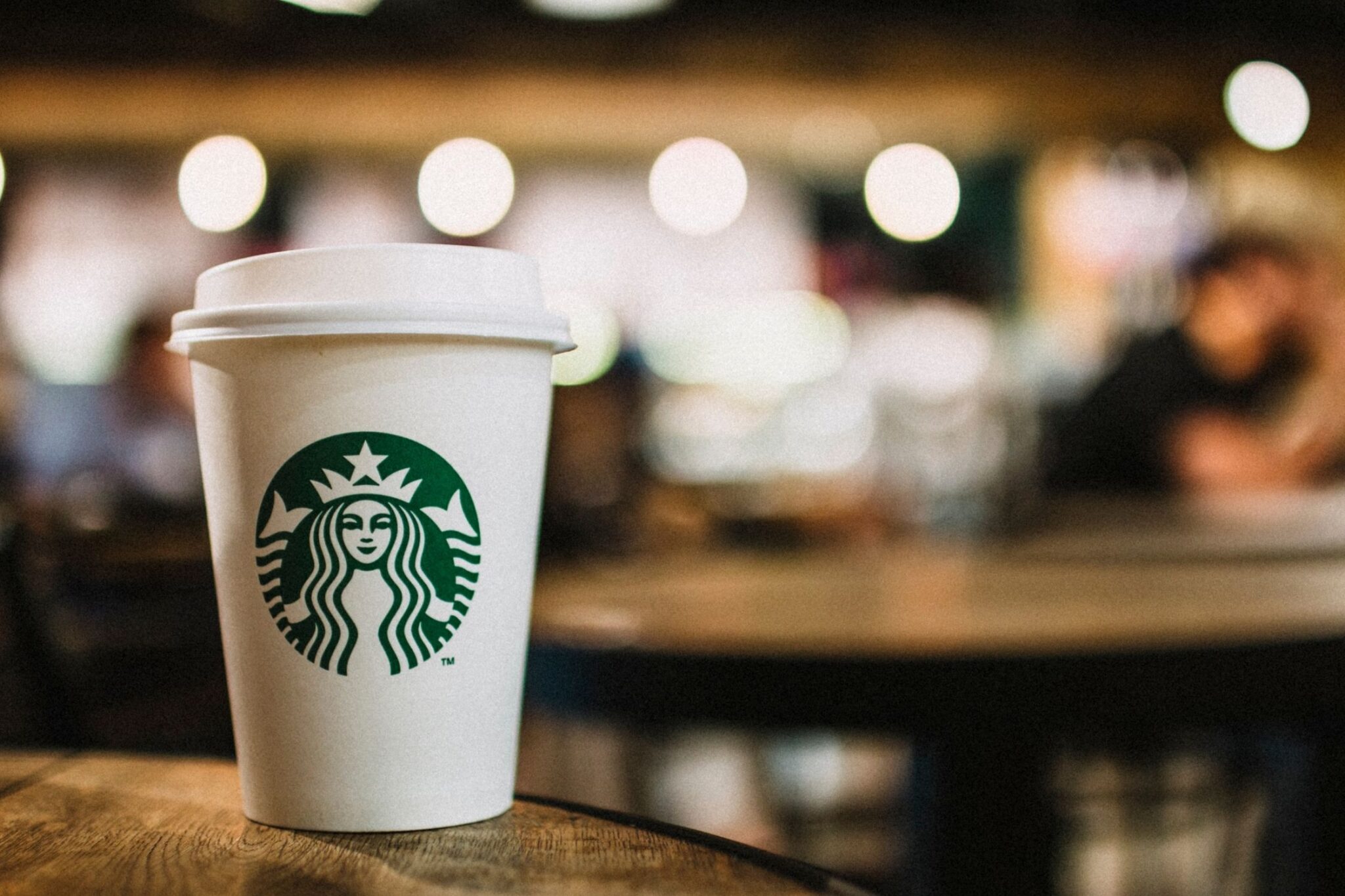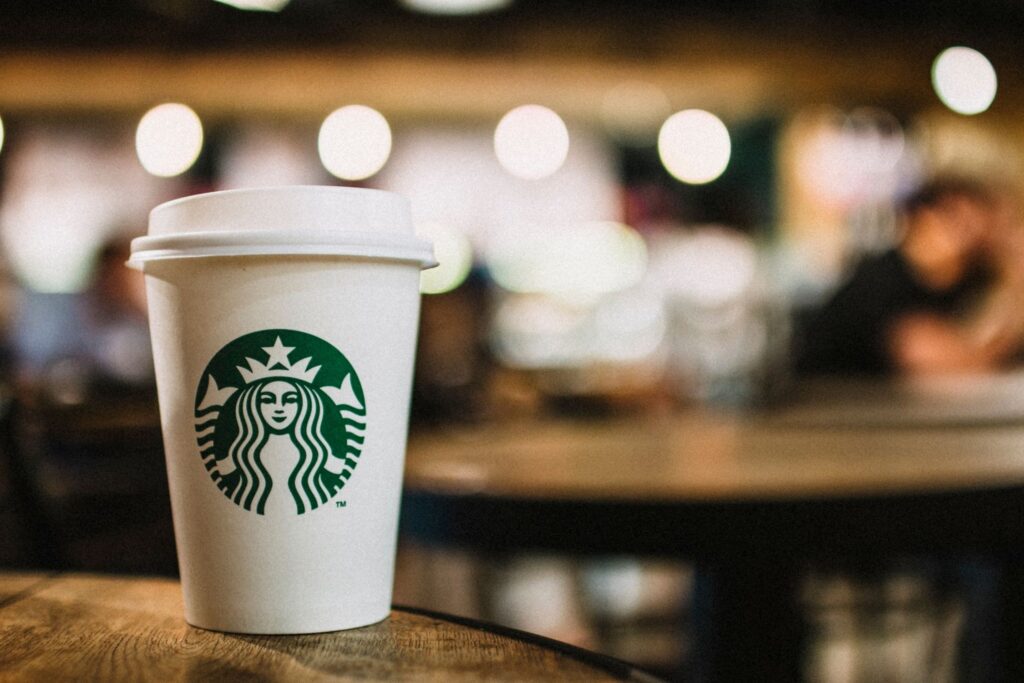 I don't think a lot needs to be said about Starbucks. It's pretty reliable, and they always have a sweet seasonal "coffee" concoction. They're open late and early, right in downtown Banff and next to Canadian Tire and Safeway in Canmore.
Also, their "You Are Here" coffee mugs are pretty cute for Banff and Alberta. At least better than some of the cheap coffee mugs you'll find in some tourist shops on Banff Ave. That being said, we'd recommend you choose a local business instead (we have camp mugs that we created directly on our store!)
Location: Banff – 718 8 S // Canmore – 1240 Railway Ave #112
Hours: 6:00 a.m. — 10:00 p.m.
---
Tim Horton's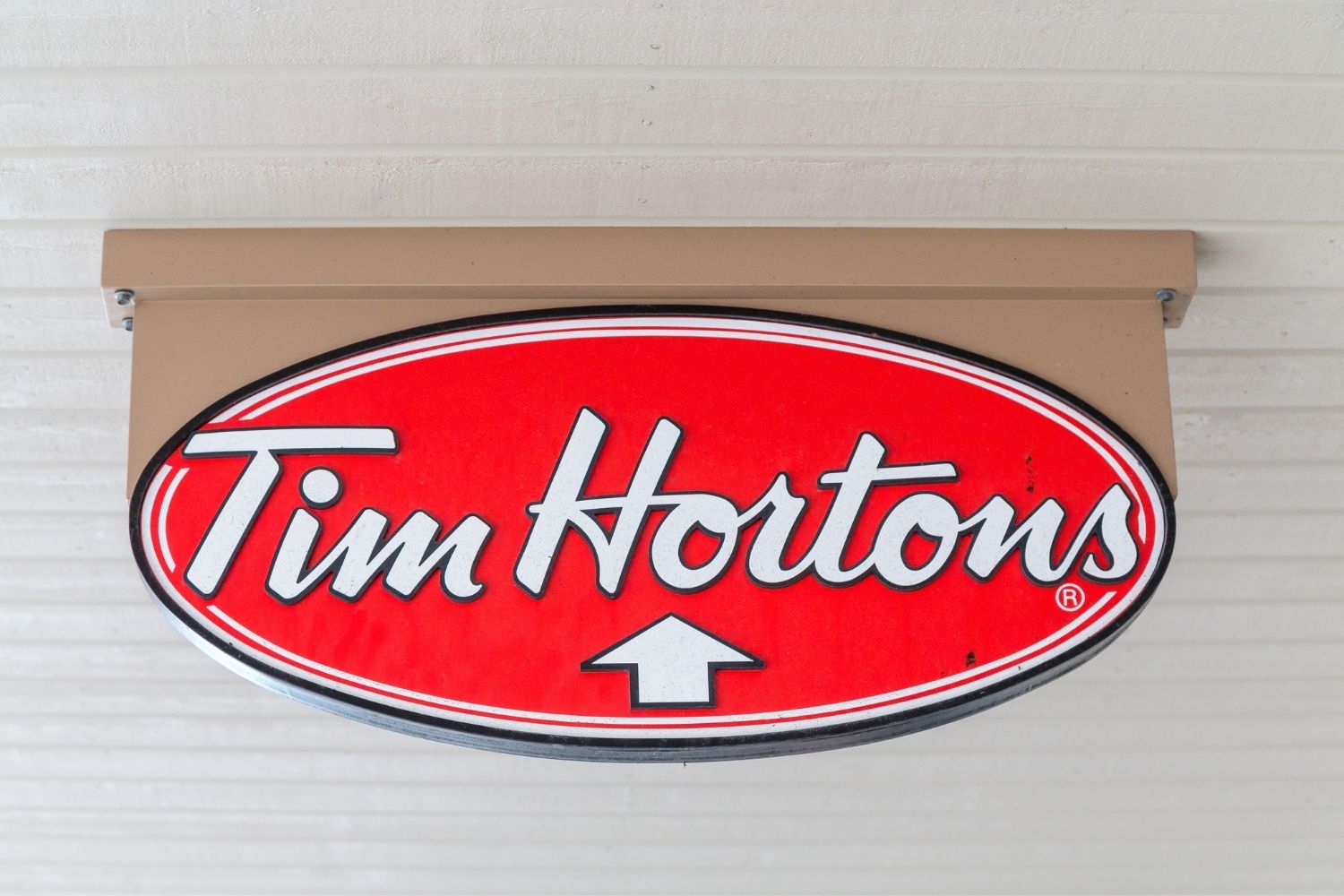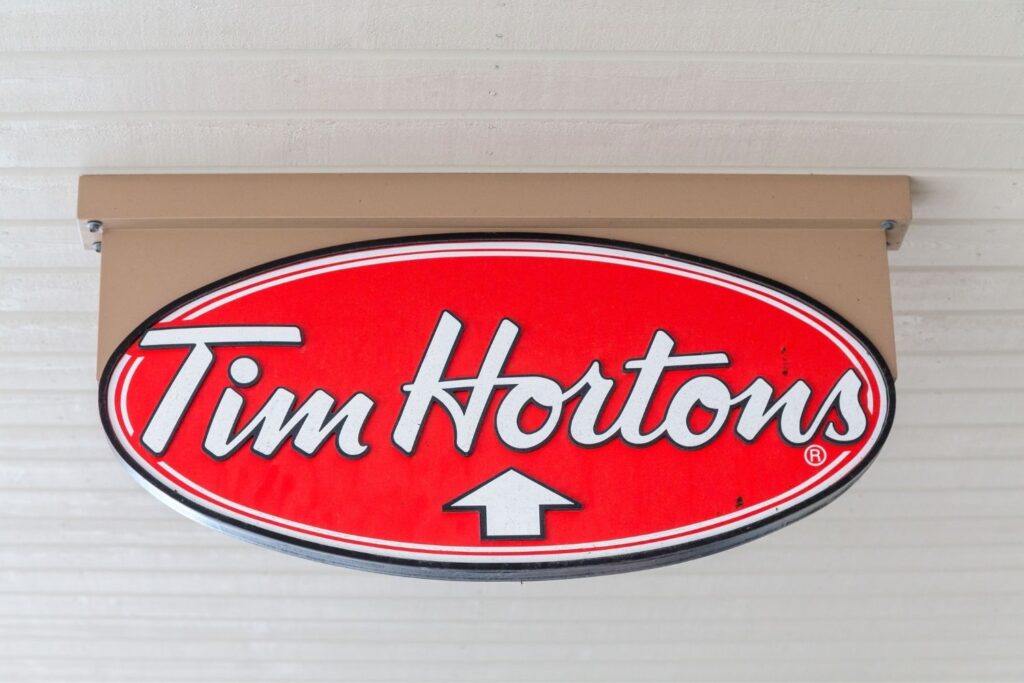 I feel obligated to add this one to the list because Tim Horton's is a Canadian Institution. I've had Tim Horton's coffee twice in my life, and Tasha even worked at one for two months before we left to travel the world.
In my opinion, twice was enough for a lifetime. It's cheap coffee that is drinkable and can save you in a pinch on a road trip. They also have the longest hours of any coffee shop in Banff or Canmore.
The classic order is a double-double with two creams and two sugars, but all of that is far too much for someone who drinks their coffee black.
Location: Multiple
Hours: 5:00 a.m. — 11:00 p.m.
---
The Best Coffee in the Region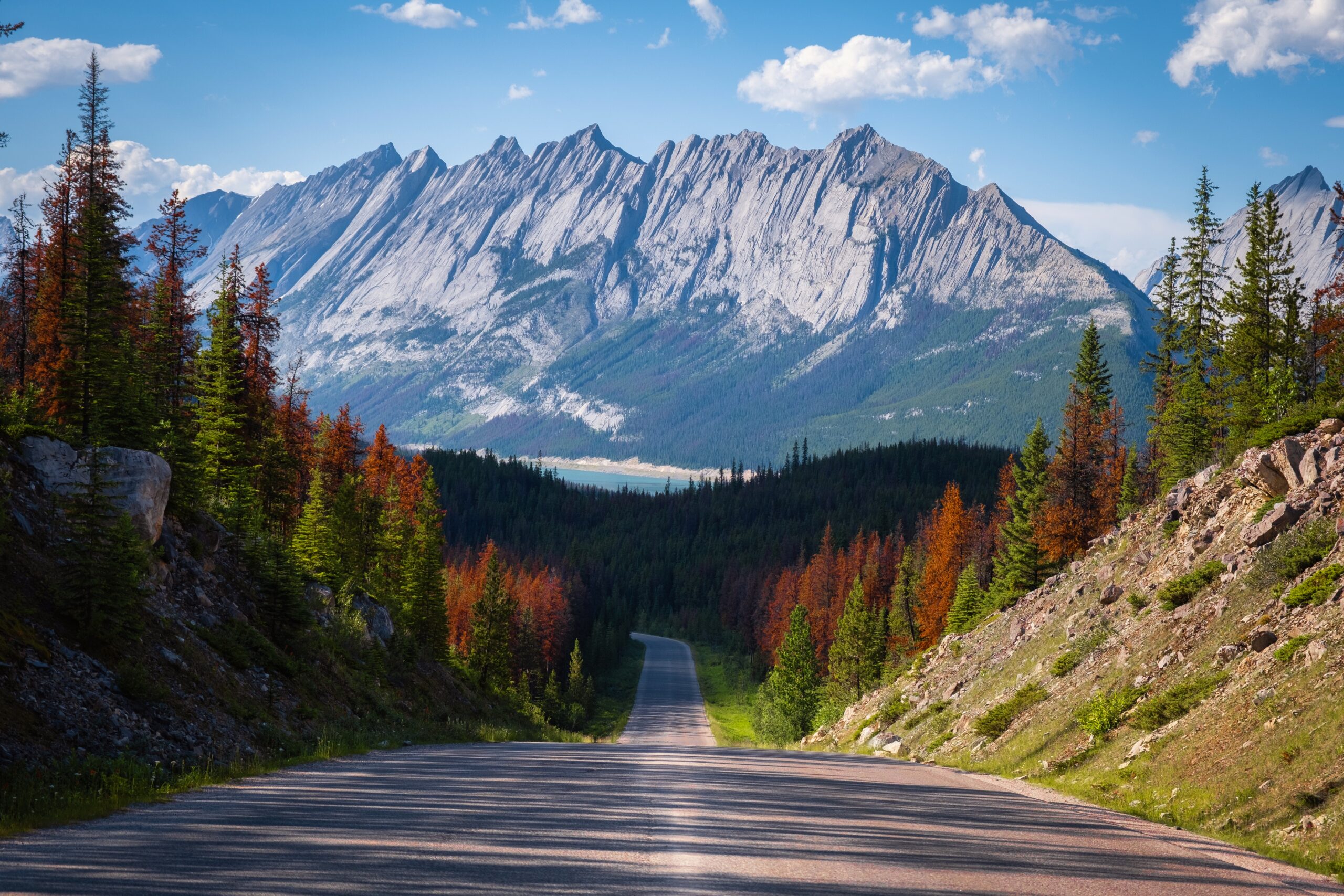 There are some excellent coffee shops beyond these Banff coffee shops, here are some of our favorites.
---
Monogram Coffee – Calgary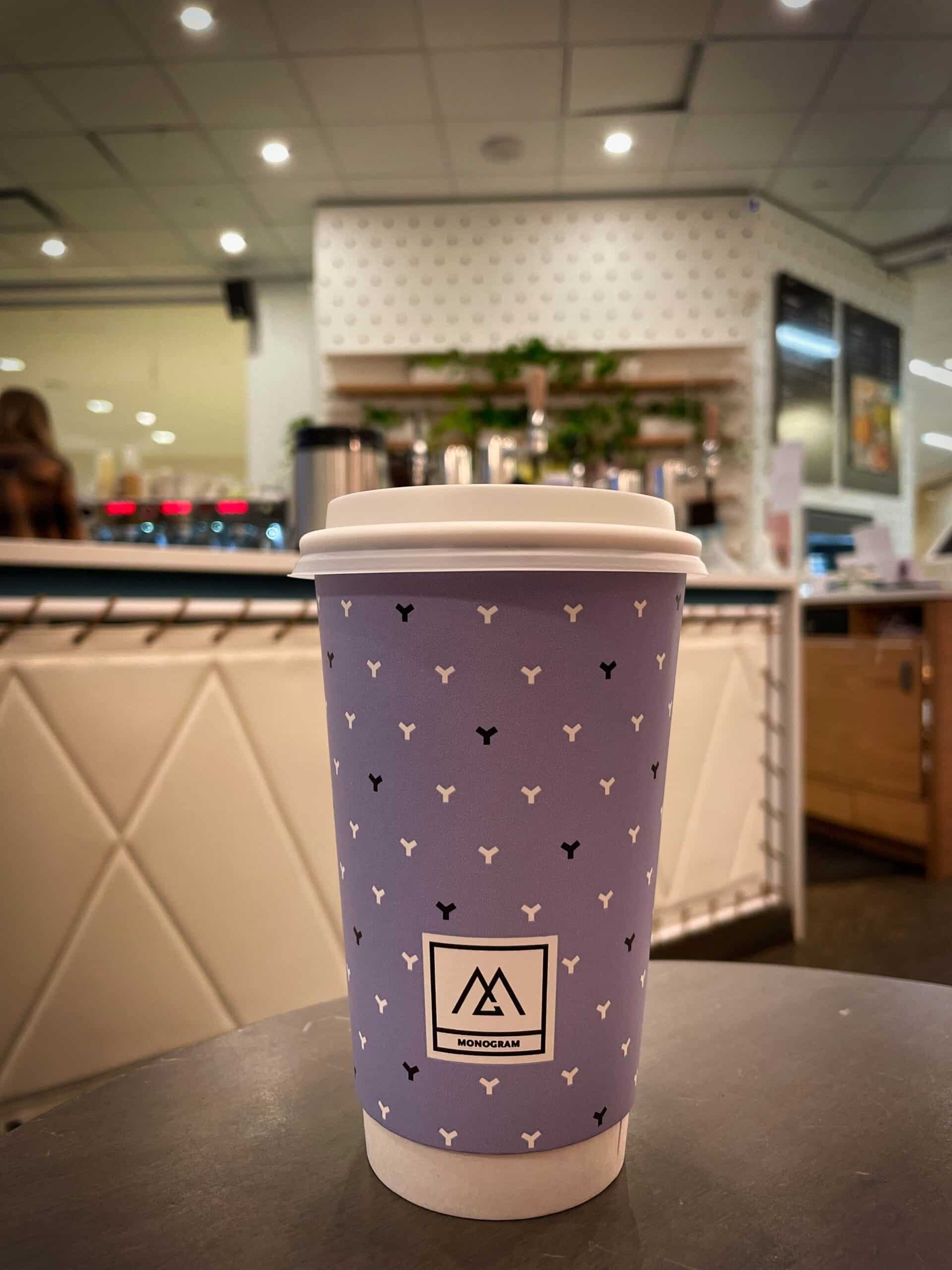 One of the best coffee shops in Calgary with great baristas and a minimalist, clean interior. They offer house-roasted coffees and single-origin pour-overs. Along with Eclipse in Canmore, they stand out for some wonderfully sourced single-origin beans and well-balanced blends.
This, in addition to some well-balanced flat whites and espresso-based drinks, make them a standout in Calgary. Brewing supplies are also sold here, and lovely baked goods that pair beautifully with the quality coffee. It's my favorite spot for coffee in Calgary but a bit out of the way for visitors to the area — more of a local's thing.
Location — 4814 16 St SW, Calgary (GPS)
Hours — 6:00 a.m. — 6:00 p.m.
---
Sunhouse Cafe – Jasper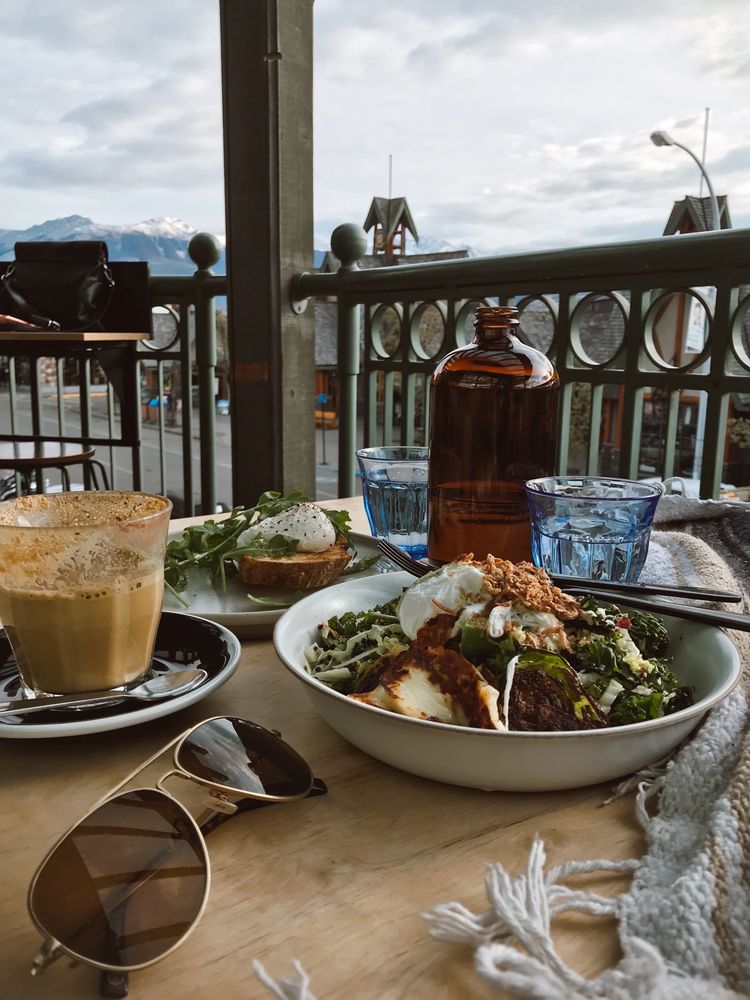 Sunhouse Cafe gets our nod for the best spot for breakfast in Jasper. The bright and airy cafe with modern decor serves some mouth-watering coffee and food. It's located on the second floor of a small mall, and the outdoor patio provides a pleasing view over Patricia Street.
Coffee is a strong focus here, and they serve some great espresso-based drinks along with single-origin pour-overs. The food here is excellent and original, with fresh ingredients and healthy options. This is the kind of place you'll find fancy avocado toast — and I mean that in a nice way.
All drinks can be made with milk alternatives like oat milk for vegans. Top marks all around from the service to the atmosphere, drinks, and food.
Location: 610 Patricia St, Jasper (GPS)
Hours: 8:00 a.m. — 3:00 p.m.
---
Rooftop Coffee Roasters – Fernie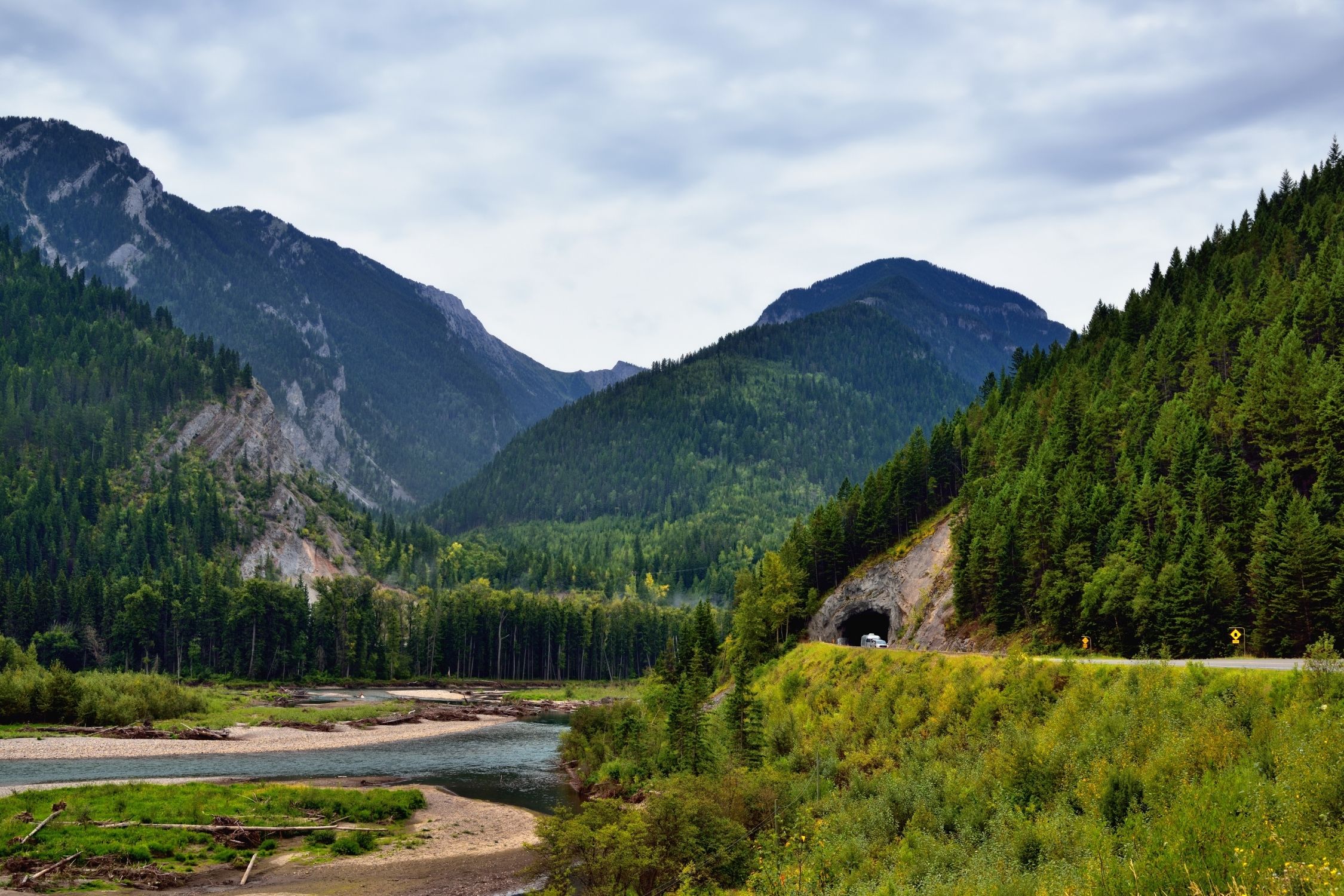 A newer coffee shop in Fernie that offers some super tasty coffee. It's set in a cozy little corner shop at the heart of the historic town center. I love the vibes inside the shop, and it's great to have some delicious morning espresso before diving into some deep powder at the ski resort.
Coffee roasts here are excellent, and they've really nailed the espresso drinks at perfect ratios. The great roasts also come in compostable coffee bags, which we really appreciate!
Location — 492 2 Ave, Fernie (GPS)
Hours — 9:00 a.m. — 4 p.m.
---
Phil & Sebastian – Calgary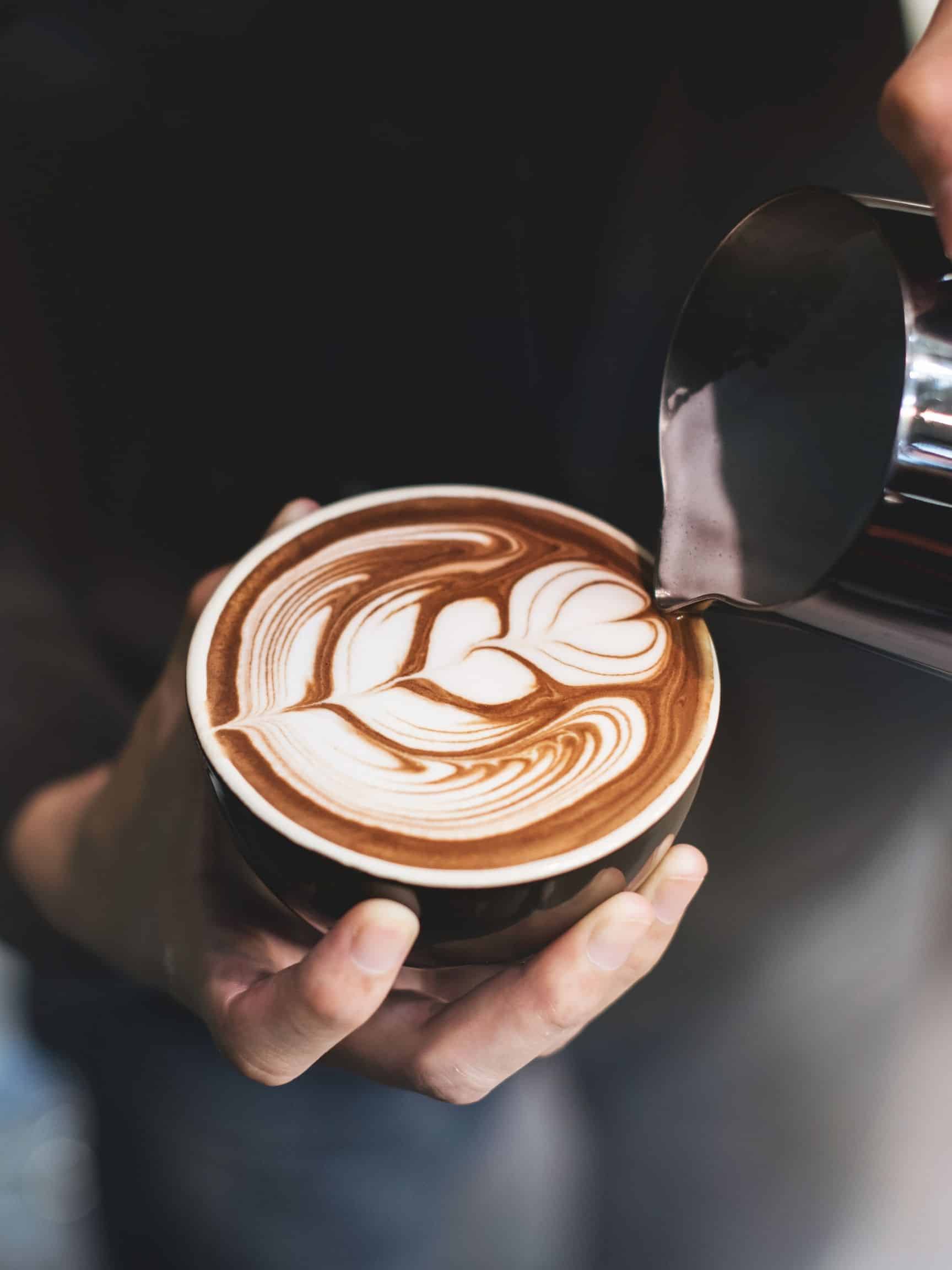 This is the most prominent roaster in Calgary, and the primary location has a chic interior full of wood, marble, and tile. It's right near the Bow River, so if you're out for a walk downtown, it makes for a nice pit stop.
They often have a seasonal roast and coffee drink that complements the season. It's some superbly roasted coffee and featured in many smaller coffee shops around the area, including several on this list.
Location —618 Confluence Way SE, Calgary (GPS)
Hours — 8:00 a.m. — 3:30 p.m.
---
Analog Coffee – Calgary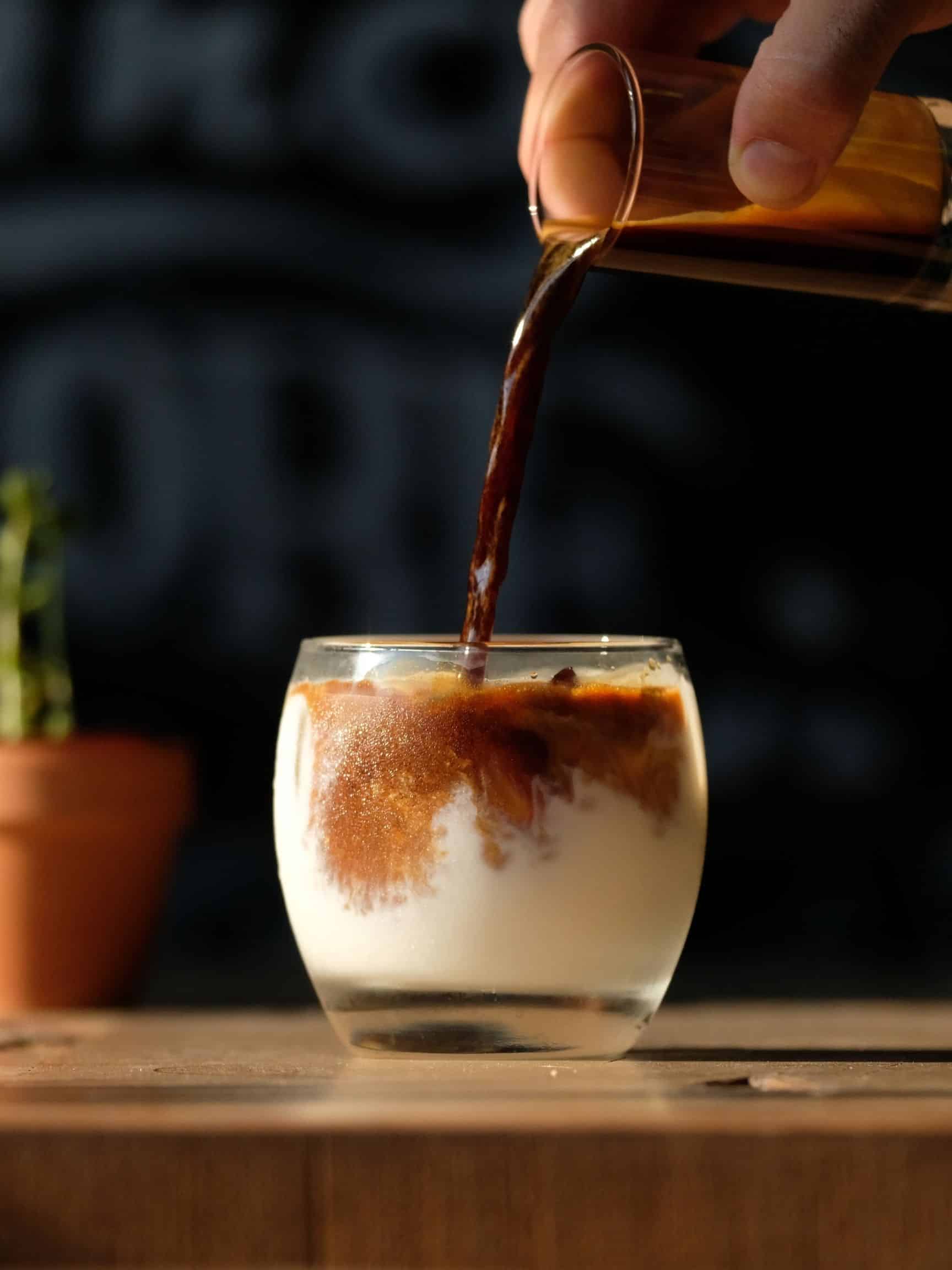 A quality little coffee shop with several different locations around Calgary. They have some decent house roasts and single-origin coffee. Espresso-based drinks are quality, and they have a great flat white.
The location off of 17th street is their primary store and offers some great pastries to pair with a coffee.
Location — 740 17 Ave SW, Calgary (GPS)
Hours — 7:00 a.m. — 8:00 p.m.
---
Wicked Cup – Jasper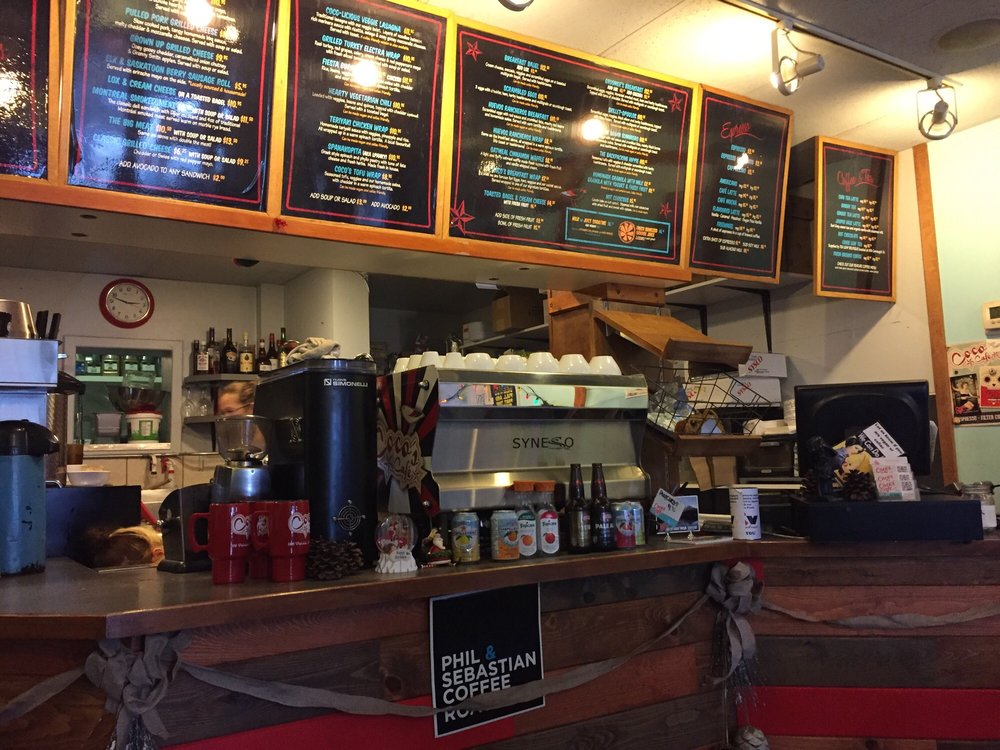 Coco's Cafe is a beloved local spot that's cozy and delicious. They've got all of the classics of a relaxed cafe, such as bagels, oatmeal cinnamon waffles, breakfast burritos, breakfast bowls, and huevos rancheros. These beans come from Phil & Sebastian, so you're getting a pretty quality roast.
A standout dish is the Breakfast Bagel, a tummy-filling Montreal-style bagel with cream cheese, avocado, and veggies. You can choose from a nice range of coffee and tea drinks like a cappuccino or London fog (The Jasper Haze). It's all pretty decent and can hit the spot if you're hungry in the early morning as they're one of the first breakfast spots to open in Jasper.
Location: 608-B Patricia St, Jasper (GPS)
Hours: 6:00 a.m. — 3:00 p.m.
---
Bluebird Cafe – Golden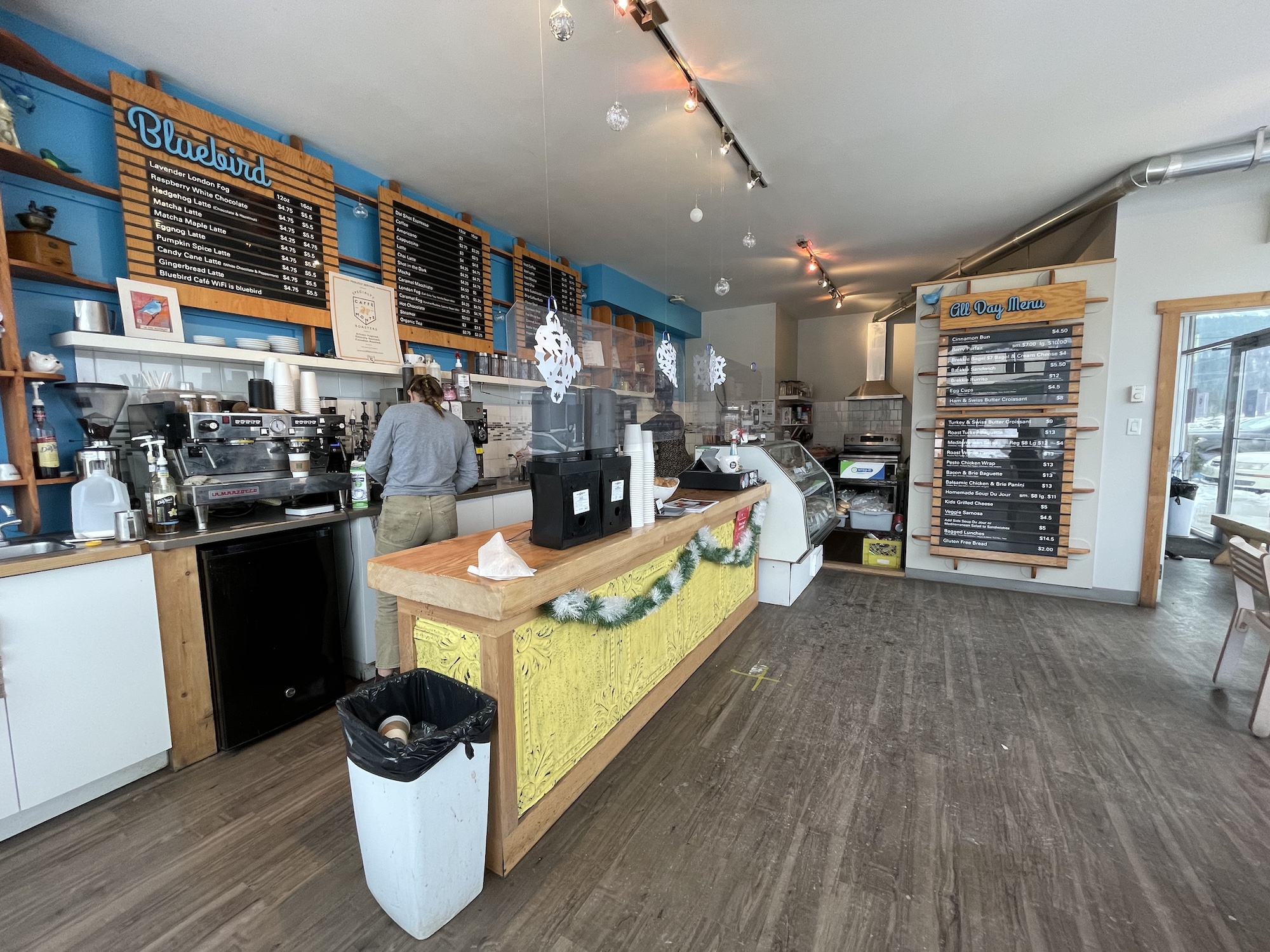 A great cafe in Golden is conveniently located right off the TransCanada and offers way better food or coffee than Timmies or McDonalds.
If you're driving from Banff to B.C. It's worth making a pit stop here to fill up on food or coffee — Golden is worth a stop altogether! It's a great local spot with options for lunch and dinner along with some good coffee.
Location — 802 9th St N, Golden (GPS)
Hours — 7:00 a.m. — 5:00 p.m.
---
Kicking Horse – Invermere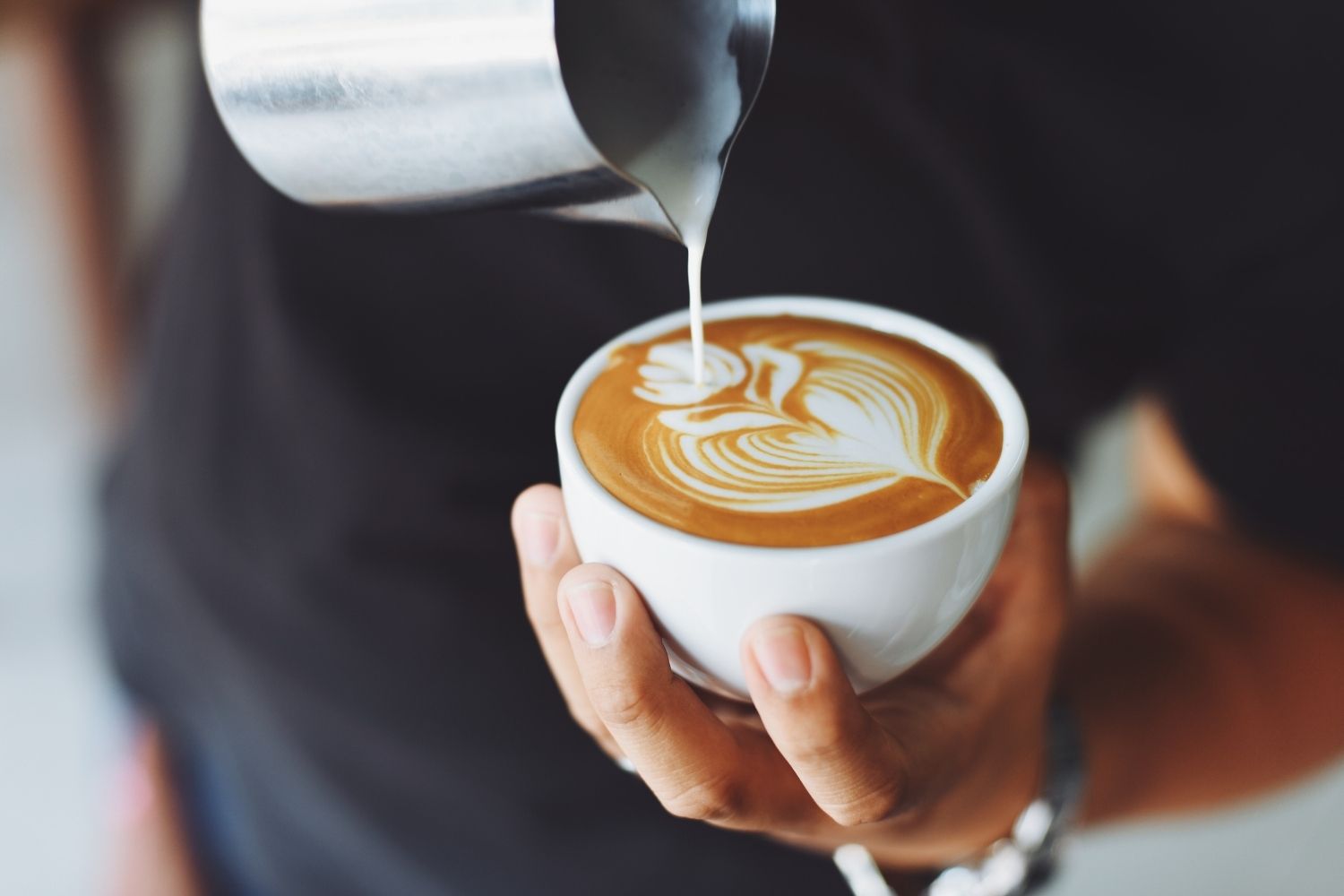 Invermere is a pretty quiet resort town on the shore of Lake Windermere, but one of the largest employers in town happens to be a coffee roasting company. They roast a ton of beans in town, and it's pretty tough to escape the delicious scent. We love to stop in for an espresso-based drink when we're driving down the Columbia Valley.
Kicking Horse is great, and we used to love their coffees, but success has lead to a slight drop in the quality of their roasts. I find them to be a tad over roasted, which results in oily beans.
Nevertheless, it's a brand that has spread across the country, and we've even seen it exported to the States. Pretty wild success for a coffee shop that started in Invermere! (The coffee shop is currently closed due to COVID-19)
Swing through if you're on your way out to explore the Bugaboos or some of the nearby hot springs.
Location — 491 Arrow Rd, Invermere (GPS)
---
Hopefully, this helped you pick out which Banff coffee shop to visit!
If you have any other questions leave a comment or see our Canadian Rockies travel guide for more articles about photography spots, lakes, hikes, and everything else.
---
---
↓ Join the community ↓
The Banff Blog Facebook Group is your headquarters for the Canadian Rockies' travel advice and information. Including hike info and off-season travel information. You can also meet new adventure buddies.

Plan Your Trip to the Canadian Rockies